continued from Disciples of Soul Part Two
"No egos, just great musicians working, travelling, and performing together and eating a lot of food late at night."
Mike Saunders talks to Horn Director Eddie Manion (baritone sax), Stan Harrison (tenor sax), Clark Gayton (trombone), Anthony Almonte (percussion), Rich Mercurio (drums), Jack Daley (bass), Lowell "Banana" Levinger (piano), Tania Jones and Jessie Wagner (backing vocals).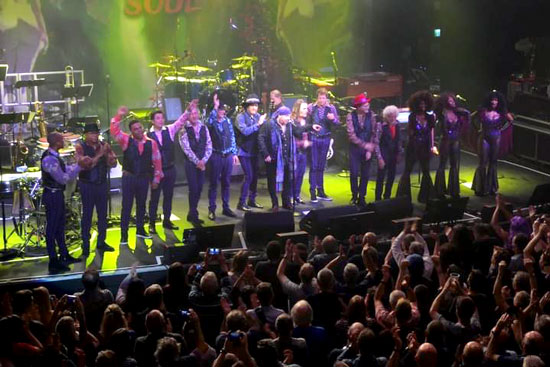 Which special moment, concert, or city from those three years on the road stands out for you, and why?
Eddie: Mobile, Alabama at the Soul Kitchen, a very small venue. It was the smallest audience of our tour but one of the most important. We were determined to win over this small but mighty crowd and do the best we could. All we had to do was play a good show, and the next time we came to Mobile we would be sold-out. We believed the word would spread. Stevie said many times that it would take three years or three tours in a row to win over the world.
Stan: This is next to impossible for me to answer. Lets just say that in addition to playing in a band that sounded incredible all the time, being a part of the Disciples of Soul horn section was magic on a nightly basis.
Clark: There were so many great performances, it would be hard to single out one specific moment. But there was a night in Milan that stood out. It was a turning point in the Summer of Sorcery Tour when the crowd showed up to really turn it up. Great turnout. I think it showed the potential of what the band could be with all the pieces in place.
Anthony: Madrid and Barcelona come to mind, but what stuck out to me are the places we didn't pack in — where we had to find the inspiration from within to put on a great show, simply because there was little audience to feed off of. The number of times those crowds would come to us afterwards and tell us, "This is the best show we've ever seen," I could not begin to count. The looks on their faces would say it all, and that's gratifying.
Rich: I'm sure you've heard this already, but Milan was nuts. Shows like that are unforgettable. Crazy encores.
Jack: For me, the very first show we did in London was super-important and set the tone for what was to come. Our last show at The Beacon, also sold out, showed just how far we came over those three years of touring.
Banana: It has to be the Cavern Club gig, for obvious reasons to a rock musician from the '60s. But the "moment" has to be "I Saw Her Standing There" with Paul McCartney and our Little Richard horn arrangement.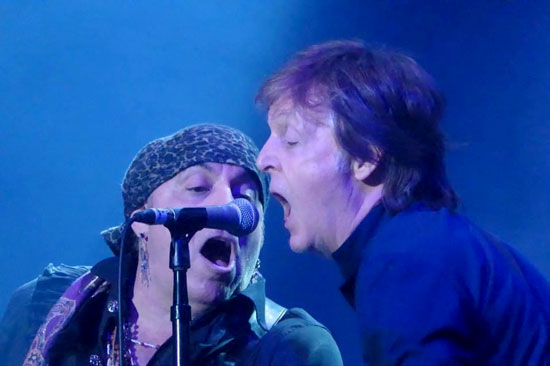 Tania: It was near the end of our second leg of the Soulfire Tour in Europe. We were in Madrid, Spain. We'd been playing together for a while, so we'd gotten pretty comfortable with each other — or maybe we were all excited about getting home to see our families after months of being away. Whatever it was, you could feel a shift in the energy. We started playing outside of our usual element, and vibing off of each other musically. The music went to another place, and the crowd reacted to it in the most amazing way. They sang along — they kept singing after the show — they harmonized, they made up their own parts. We captured something electrifying in that moment. I won't forget that.
Jessie: The first show I did was down in Jersey. If you're going to do a show with Steven, the best place to start is in his hometown. We were scrambling to find the outfits Steven had envisioned us in, and we were still trying to get our footing as part of this new project. But you can't help be invigorated by the love that was shown to us from that crowd. On top of that, Bruce came out to sing with us! It just couldn't have been a better way to start this journey.
How would you sum up the significance of being a Disciple of Soul, personally and professionally?
Eddie: I am very proud of all we've accomplished. Great music and songs stand up over time and last a lifetime.
Stan: It was one of the most incredible experiences of my life, especially because it was so unexpected.
Clark: My career has taken many loops and turns over the years, but playing with the band brought everything full circle. Playing, dance steps, early lobby calls… it reminded me of the things that are important. The teamwork and attention to detail. It saved my life. When I got called for the band, I had just experienced a heart attack and stroke. The discipline of being on the road gave me the focus I needed to recover and get my motor skills back on track.
Anthony: Being a Disciple of Soul has taught me so much. Steven would not only share his knowledge but his experiences as well. Travelling with so many folks with their own stories to tell, you learn from everyone. But most importantly: committing to preparation and work ethic, and not succumbing to mediocrity — that is etched in my mind.
Rich: Being a Disciple puts you in a lineage of people that makes you shake your head sometimes. Steven knows how to put great people together and make it work the best way possible. He and Marc Ribler really nailed it with this band. Steven's name brings such respect and admiration from everyone, especially in the music business, it's incredible. He's one of those musician/artists who ups everyone's status and musicianship along the way.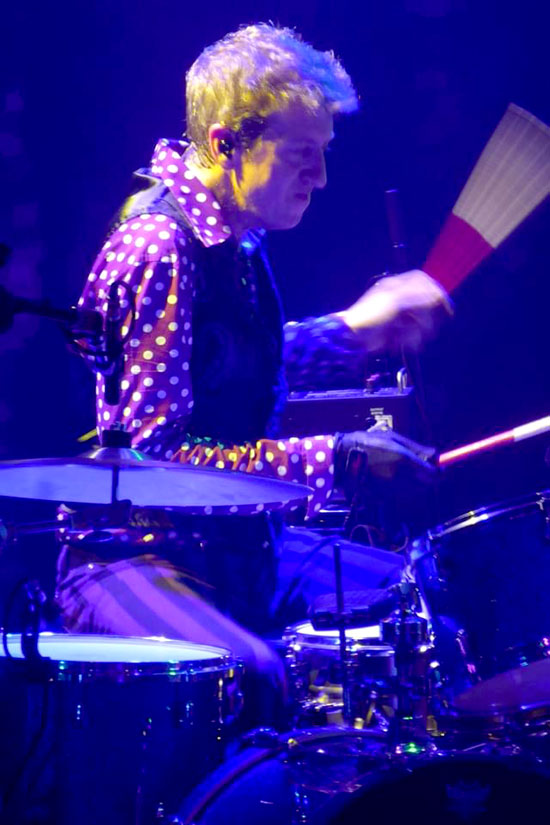 Drummer Rich Mercurio
Jack: I always loved being part of a band for an extended period and having that family vibe. Being a Disciple of Soul allowed me to enjoy this feeling again. And the music is so special, which makes it even more important.
Banana: To me, it is the dream gig of a lifetime! Thank goodness I have practiced and kept my chops up, and kept playing gigs both in bands and solo all these years, so that I could handle this gig and keep up — barely — with the best musicians I've ever played with. They are the cream of the crop of New York City/New Jersey cats. I've never been treated so well on the road. The quality of the music is amazing. Every band I've played in, there's always a tune or two I'd rather not play — not here! I'm sure that being a Disciple can only help my solo career. It has given me a new way to look at production and arranging, which I have already put to use on a couple of projects.
Jessie: It's always an honor to say you've worked with legends. I feel blessed to have had this experience. I met an extremely talented bunch of people, always willing to help each other out. I would never have been signed to Wicked Cool had it not been for being part of the Disciples of Soul. I'm eternally grateful for the opportunity.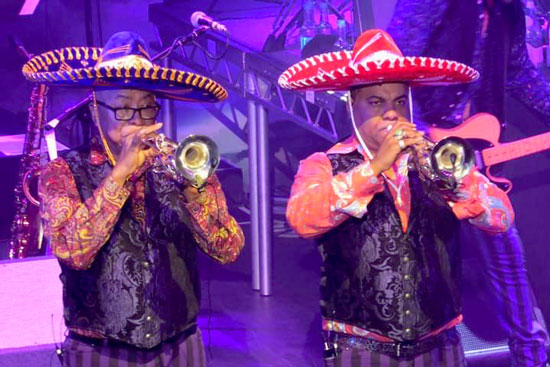 Trumpeters Ron Tooley and Ravi Best
What was the atmosphere like backstage at that final concert at the Beacon Theatre?
Eddie: It was a personal, peaceful moment to reflect on the past three years touring and playing with a great band. It was a pleasure and honor to work with these great musicians and Stevie Van Zandt.
Stan: For me it was an incredible mashup of feelings. Backstage at the Beacon sucks. Dressing rooms are small and spread out, and there's no real sense of being together. As a place for a possibly last gig forever, it's absolutely among the worst. On top of that, my horn decided to spring a leak, so between the end of the soundcheck and the beginning of the show I had to go downtown to my repairman, wait for him to fix my horn, and make it back to the Beacon. The fear of my horn breaking during the show hovered over my head. When you add the fact that it was the last of a run of over two-and-a-half-years, the atmosphere was happy, sad, strange… let's just call it complex!
Clark: It was bittersweet. We were happy to play again, since it seemed to be over for the tour (20 concerts were cancelled in September and October 2019 because Steven was sick). We were anxious to do the very best show ever. It was difficult to think it was all over, but that was the reality. We were moving forward. Little did we know…
Anthony: It was a blur that night for me, probably because of a whirlwind of emotions. We put on an unbelievable show to a full house, as you will see on the Blu-Ray. Once we finished the very last tune, it all settled in. I looked at everyone backstage and just took in every bit of it, trying to be as present as I possibly could. I loved this journey, every bit of it. It wasn't always easy, as anything else, but that is what is beautiful, to fully appreciate and love it all.
Rich: A bittersweet moment. A sold-out hometown show in that iconic venue, and the band and Steven firing on all cylinders after years of playing and travelling and living together. The vibe and love was palpable. I could write a chapter on how it was truly a culmination of all the blood, sweat and tears of the past three years. Brilliant!
Banana: Sweet and sad and excited and happy. We knew it might be [a while] before we toured again, since Bruce might tour. I had brought my wife from California. Everybody's partners were there as well. A lot of the partners had become close friends. The show was a blast, and the party afterwards next door was abundant with fond farewells.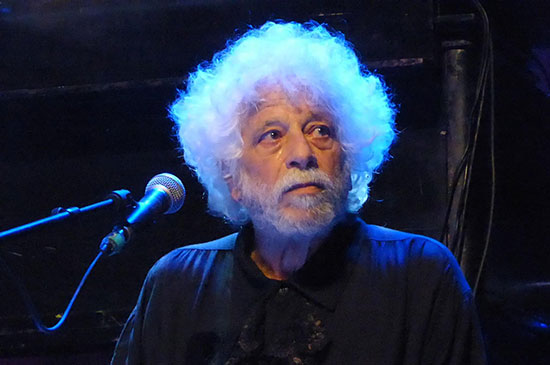 Pianist Lowell "Banana" Levinger
Jack: I would say the gig felt very triumphant, but… sad to see it end.
Tania: A bit intense. There was a lot of energy, and a lot of emotions were in the air. We set out on this journey in 2017. It felt in a sense like that final concert was something of a goodbye; it was the end of season. At the same time, though, it felt like we were coming home. Everyone was really joyous and glad to have been part of this very special experience. I think we all wanted to close the tour out with the absolute best performance we could give.
Jessie: It was joyful and melancholic. Everyone likes a hometown show, but nobody likes the end of the road.
How have you kept busy during the pandemic, and what are your future plans?
Eddie: The only thing that has gotten me through this past year has been recording my new album. It has been a very rewarding process so far, and it's keeping me busy and focused. It's a complicated album that I am proud of.
Stan: In addition to endless amounts of practicing, I've been composing. I started a project called Twenty Seconds of Something, a series of very short compositions/performances, often with guest musicians. Each is accompanied by a video. I hope your readers take a look and listen. My future plans are undecided. It's been a very strange year for us, and the future is much hazier and less easy to define or predict than usual. Not that it's ever that easy. I can only say that I hope it involves a lot of playing with a lot of great players.
Clark: I moved to West Virginia to lay low and suss out the situation. I worked out, practiced, and composed. I did quite a bit of remote recording and came back to New York to do performances for some school programs. I was contacted to participate in a TV series and decided to move back to Brooklyn. I am still working on the show now.
Anthony: The past year was rough, but we have to make the most of circumstances. I focused on songwriting and production, things I struggled finding time to do, and it has definitely paid off. I'm currently working on a number of productions, as a singer and/or percussionist, songwriter, co-producer. We have to feed the will to learn and grow!
Rich: The past year has obviously been a wild ride. I was fortunate to keep busy playing, writing, and producing a few things. Happy that we're starting to come out of the pandemic and get back to playing music with people more. Some live shots with a couple artists, some new projects, and some TV music work is kinda what's on tap now.
Jack: I spent most of the year finishing my studio dugdeepproduction.com in Asbury Park. In addition to that, I played with a new and upcoming artist on Saturday Night Live, you may have heard of him!
Banana: I've got a half-dozen original tunes that are ready to record, and as soon as everyone feels safer, I'll go into the studio and get the next project going. It's weird, though. In the past I spent a bunch of money making a CD. Then I used the CD as promotion to get gigs. Then I sold the CD at the gigs. But… no gigs! I've done some Zoom concerts, live streams, and Internet whatevers, and put up a load of YouTube videos. I put up a bunch of children's songs, figuring it might be of help to some parents. By fall I might be able to resume playing small, spaced-out gigs. Looking forward to Covid-free flights where everyone has been tested before boarding. I would feel much more comfortable knowing nobody has a virus in their nose than I do now knowing nobody has a bomb in their shoe.
Tania: I've laid low over the last year. When it became apparent New York was going to be badly hit, I left the city to wait it out. I've been producing my first solo project during my time away. I'm planning to release it later this year.
Jessie: So many band members contributed to my album, Shoes Droppin'. I'm working on new music now, and hopefully I'll have something to share this summer. I'd love to take my act on the road. That's the end goal.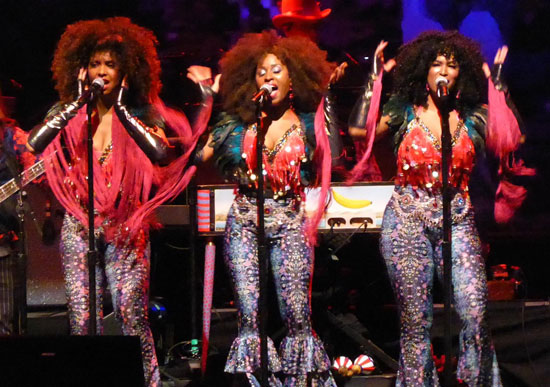 Backing vocalists Jessie Wagner, Sara Devine, and Tania Jones
At the end of every show, Steven said, "We'll be back, we always come back." Do you foresee a time when the industry will get back on its feet and, circumstances permitting, the Disciples of Soul will tour again?
Eddie: We'll see. I really think so. It will happen.
Stan: I believe that large-scale tours will resume, and big venues will be filled. But I'm not positive we'll be back, as much as I'd love to play with Little Steven and the Disciples of Soul again. Our almost three-year stint together was the result of many things all working out at the same time, one of the most important being that Steven was not with Bruce. I'm betting Bruce will be going on the road as soon as he's given the all-clear, and he'll be taking Steven with him. Bruce usually spreads his tours over a couple of years. I don't see how it would be possible for the Disciples of Soul to get back together for quite a long time. Who knows what everyone will be doing? We'd have to record new material before touring. I'd love to think we'll be back, but I would not bet on it. Someone please prove me wrong!
Clark: I think it would be possible, but I don't know what Steven's plans are. The pandemic did change things. It will never be the same. It might be better; there is the chance of that. I'm pushing for better.
Anthony: I think the pandemic will bring out an intense hunger to see live music and performances. I just hope this life-altering experience lights a fire under artists to put out their best work. Give people their very best and nothing short of it. After what we've been through, everyone deserves that. I believe the time will come, and I'm ready for it!
Rich: If there's a way to make it happen, he'll find it. If anyone can, he can. The new face of the concert industry will reveal itself over time. I sure hope we come back soon!
Jack: I want to remain optimistic! I think people will be starving for live music again, and once we are all vaccinated, the flood gates will open. So like Steven says, we'll be back.
Banana: Steven does not lie. Under what circumstances, who knows? I know that Steven craves this as much as anyone in the band. Imagine having such a powerful rock machine at your disposal for whatever creative impulses engage you. The family thing is important to him as well. Like all Italians, he likes to be reunited with his family.
Tania: I think eventually the concert industry will look something like it resembled pre-pandemic. But it's going to take a little more time. And I don't think it will look exactly the same. That's not necessarily a bad thing — it's just a change. Businesses across the spectrum have found ways to adjust or adapt to this new way of life, and I think the concert industry is no exception. I'd like to think that we'll be back, and it will be even better than it was before.
Jessie: This generation's eyes have been opened to a frightening reality of our mortality. I don't know what that means as far as audience sizes, or if there will be permanent restrictions in place for proximity. That's difficult when one of the perks of being an audience member is this shared euphoria that comes from being closely surrounded by people that are as in love with the music as you are. But people are desperate for those connections, desperate to form memories that can only come from witnessing your favorite band transcend the stage and take you with them to a higher plane. I don't know what it will look like, but concerts will come back, and I, for one, can't wait!

Disciples of Soul PART ONE: MARC RIBLER
"A new family of friends, loved one,s and people you could count on till the end of time have been etched into our lives."
Disciples of Soul PART TWO
"A loving, caring family of like-minded, hard-working, talented, supportive, simpatico people with no drama or bullshit."