KICKSTARTER UPDATE: STRETCH GOALS ANNOUNCED
It's an exciting place to be in a Kickstarter campaign: having our project quickly funded, thanks to early pledges, with time remaining to bring mnore backers on board and make our book even better.
Rock and Roll Future — written and photographed by Barry Schneier, edited by Chris Phillips, and published by Backstreets— is going to become a reality. To add some bells and whistles, to improve the overall quality, to say thanks again to all our current backers while encouraging new ones… we've come up with several Stretch Goals: funding tiers at which we can continue to enhance the beauty of the finished product as support continues to roll in.
We've already reached our first Stretch Goal: every backer's name will be listed in the book. We're so grateful to all the crowdfunders who are making this project possible, and we're now able to give credit where credit is due by adding pages for special Thank You section, giving every Kickstarter supporter a shout-out by name.
Looking ahead, here's what else we'll be able to add, with additional backing: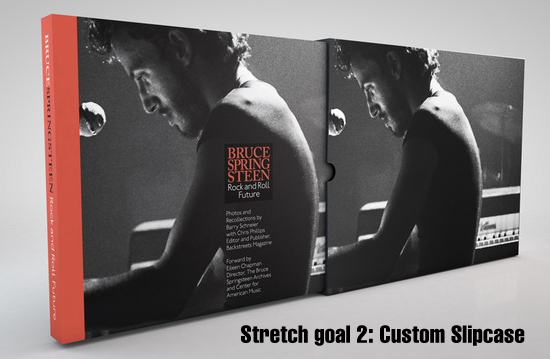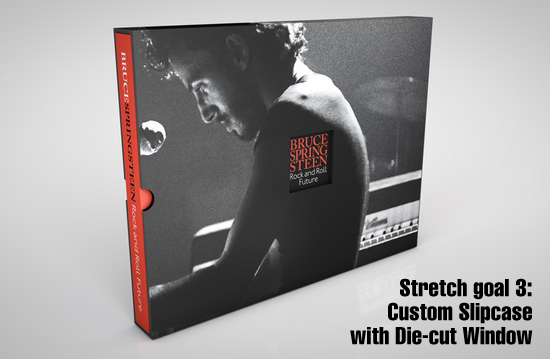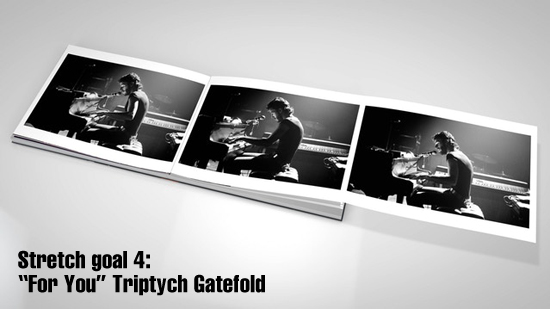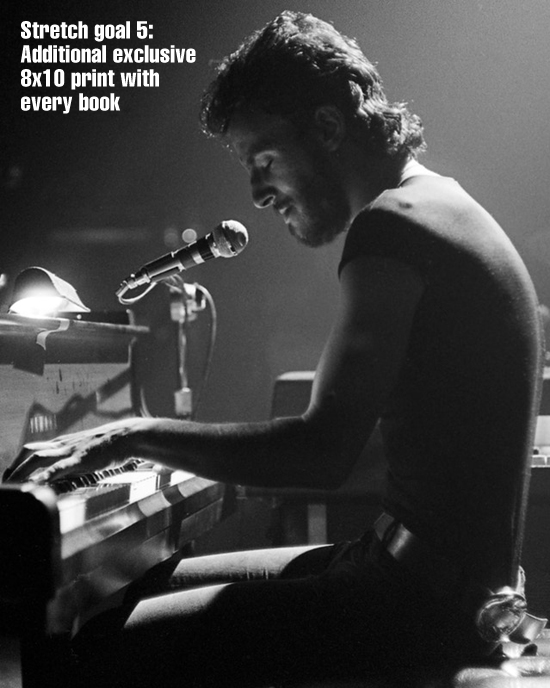 For more images and full details on each Stretch Goal, see our latest Kickstarter update here. As of this writing, we're tantalizingly close to reaching Stretch Goal #2, for the slipcase... If you like the looks of what we're putting together, please consider coming on board as a backer — the Kickstarter campaign is here. Thanks for your support, and we hope you'll help spread the word, as our book will get even cooler at each level!
- June 30, 2018

GO IN THE BATHROOM, PUT YOUR MAKEUP ON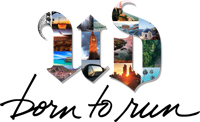 There's been "Born to Run" the song, Born to Run the album, Born to Run the Dave Marsh book, Born to Run the Bruce Springsteen book, and now... Born to Run the makeup collection. We always thought you wanted your makeup not to run, but Urban Decay must know what they're doing. This isn't any kind of officially licensed or sanctioned Springsteen merch, though one has to wonder if creator (and Urban Decay founding partner/chief creative officer) Wende Zomnir might actually be a fan trying to evoke a bit of Boss magic (all while steering clear of any infringing references, of course). After all, the eyeshadow pallette includes shades named "Breakaway," "Stranded," and "Wildheart." Click here to judge for yourself and find out how to get your own Born to Run kit.
- June 29, 2018 - Shawn Poole reporting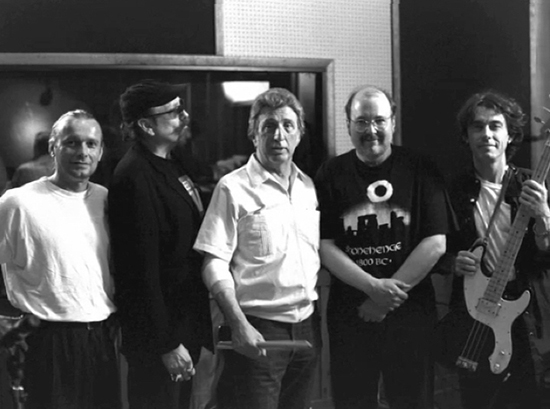 THROWBACK THURSDAY: D.J. FONTANA ROCKS WITH GARRY TALLENT
Unreleased version of Cheap Trick track produced by Garry, featuring D.J. Fontana and Scotty Moore
We first posted this track on Soundcloud back in 2016, in recognition of the passing of the great Scotty Moore, D.J. Fontana's bandmate in Elvis Presley's original backing band The Blue Moon Boys. Both D.J. and Scotty rocked out with Cheap Trick on this unreleased version of "Bad Little Girl," written by Mike Campbell and Robin Zander and produced by Garry W. Tallent 22 years ago this month at Woodland Recording Studio in Nashville, TN for the album All the King's Men.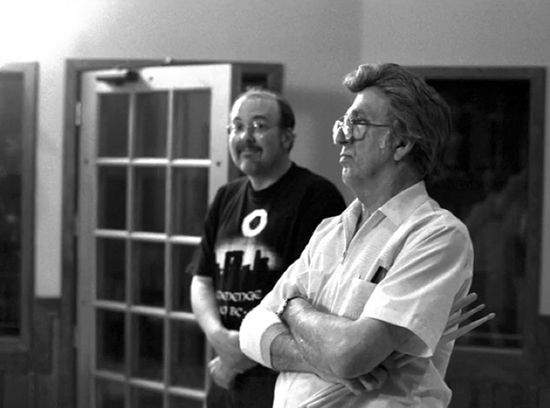 Now, with the last surviving member of The Blue Moon Boys having just passed, Garry Tallent's great "lost" recording of DJ and Scotty rockin' hard into their 60s is certainly worth revisiting. Click here to hear "Bad Little Girl," and check out these wonderful additional photos of D.J. Fontana with the members of Cheap Trick taken during the recording session, previously unposted here, from the archive of the late Dan Griffin, one of All the King's Men's executive producers.
- June 28, 2018 - Shawn Poole reporting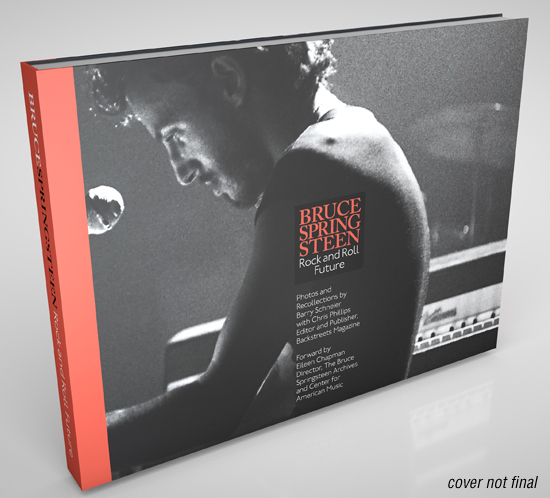 KICKSTARTER: WE'VE REACHED OUR GOAL!
By fans, for fans, the Rock and Roll Future book is a go
Thanks to so many early Kickstarter supporters, this dream is going to become a reality: a hardcover photography book focused squarely on Bruce Springsteen's legendary Harvard Square Theatre performance on May 9, 1974. With the E Street Band including Ernest "Boom" Carter, Clarence Clemons, Danny Federici, David Sancious, and Garry Tallent, it's the night that inspired Jon Landau's famous Real Paper review.
Rock and Roll Future is a collaboration between Backstreets Publishing and Barry Schneier, the only photographer in the venue that night 44 years ago. This is our first foray into online crowdfunding; it was quickly tapped as a "Project We Love" by Kickstarter, and we reached our initial funding goal less than a week into our 30-day campaign.
Now that we've reached the minimum funding we needed to publish, our focus moves from the chance to make a book to how to make the best book we possibly can.
The more backers we have by the campaign's close on July 13, the better we can make the finished product.
So the Kickstarting continues!
For the next 16 days, you can get exclusive Kickstarter rewards: early-bird pricing on the book... signed copies... beautiful photographs from the night as exclusive, signed prints, from 8x10 to 16x20... these are all still available when you pledge at various levels to support Rock and Roll Future.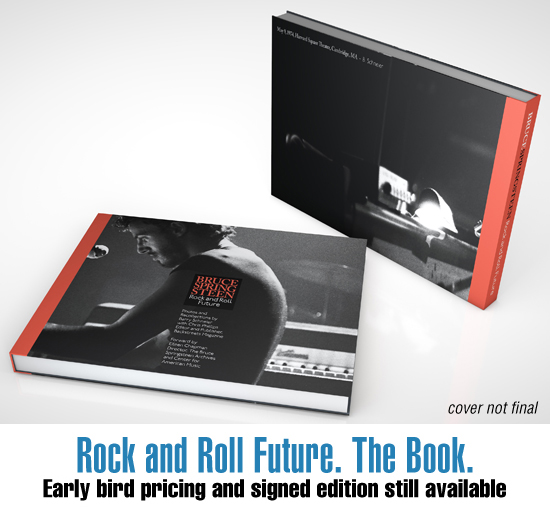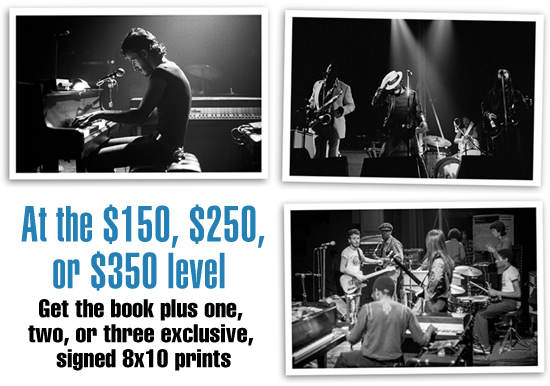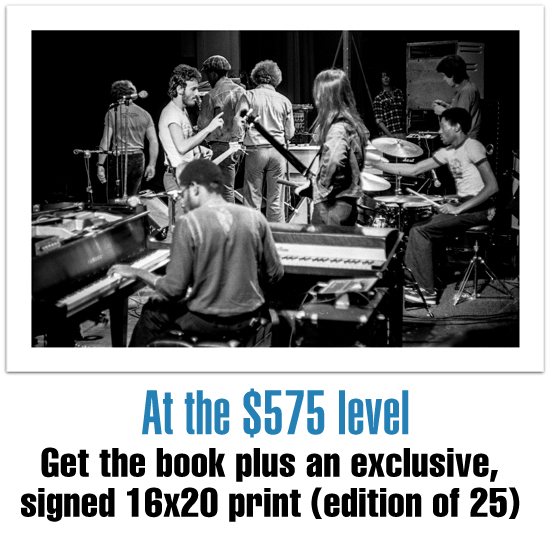 Further backing will get us closer to stretch goals that we'll be rolling out shortly — we have several ideas in mind to channel additional pledges back into the quality of the final book. Slipcases anyone? Stay tuned...
View the Kickstarter campaign here,
and spread the word!
Whether you were an early backer who helped us reach our goal or a new backer who helps us keep momentum going, we're so grateful for your support. In fact, as crowdfunded projects like these go... we literally could not do it without you.
- June 26, 2018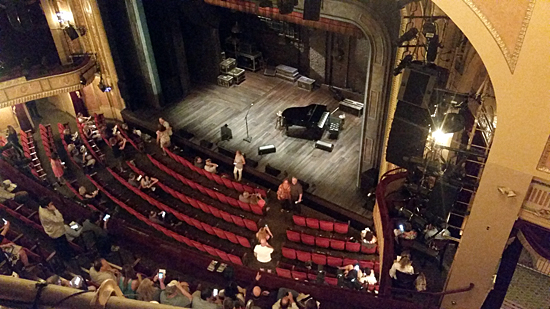 LAST NIGHT I DREAMED
A millennial's take on going off-script
Tuesday, June 19, was the fifth time I saw Bruce Springsteen. At 23 years old, I'm lucky to enjoy his music as much as I do, let alone to have seen him multiple times. That's thanks to my father, who I took to see Springsteen on Broadway as a very-late Christmas present.

I had only seen Springsteen in arenas in front of massive crowds, never in a stripped-down, acoustic setting. Simply getting to watch such a personal show, along with my Springsteen-loving Dad, who's been to more shows than I could count and imparted his love for Springsteen to me, would have been memorable. That we were treated to a singular show, an affecting, off-the-script one, was serendipitous and special.
I entered Walter Kerr Theatre mostly as a clean slate, knowing generally of the show, but I'd avoided spoilers and details. The setlist was a mystery to me, as were the tales Springsteen would spin.
Having played in Asbury Park the night before, he looked a little weary when he entered (though at his age and with his experience, perhaps weary is the only way one can appear). He ambled across the stage and told his stories, waxing poetic about his relationships with his father and mother. I came closest to tears when he invoked the spirit of the late, beloved Clarence Clemons, pounding out a gorgeous version of "Tenth Avenue Freeze-out" on the piano.
It was all a joy. Some stories, like the one about driving across the country in the night to try and make a gig in San Francisco, seemed straight out of a movie. His voice, aged and unable to quite hit the high notes that it used to, was still familiar, and still full of life.
All this, as I had expected, was on script. My father had informed me that, with a Tony Award in hand, Springsteen could possibly freelance a bit, utter a few new lines, or even perform an entirely different song. What we got was more than we bargained for.

You're likely aware by now of Springsteen's off-script excursion. He used his stage to discuss the events at our country's border, of the injustice being perpetrated in the name of Freedom. I have to quibble with Bruce's assertion that the aforementioned events are "un-American," as he called them, but he had my, and seemingly most of the theater's, agreement in calling the situation "disgracefully inhumane."

The speech Springsteen gave was poignant. His statement, "these days... some reminding of who we are and who we can be isn't such a bad thing," cut two ways. Springsteen reminded us, in bringing up the March for Life earlier this year and the youthful activism that has cropped up across the country, of who we can be. In confronting the events at the border head on, he also reminded of us who we are.
Perhaps most powerfully, Bruce quoted Dr. Martin Luther King, stating "the arc of the moral universe is long but it bends toward justice," before smartly adding, "I've also lived long enough to know that arc doesn't bend on its own. It needs all of us leaning on it, nudging it in the right direction day after day. You gotta keep leaning."
I've heard Dr. King's quote many times before. As a millennial, my life has occurred during the Iraq War, the Great Recession, and now, the Trump Presidency. So it's clear that the arc is long, but for someone like me, it has never particularly appeared to bend towards justice.
Hearing someone of Springsteen's stature utter those words, though, was piercing. Here was a man who has actually lived long enough to see the bend towards justice. For Bruce to say those words, as someone who has watched the country grapple with segregation, the Civil Rights movement, Vietnam, the Cold War, the War on Drugs and the War on Terror, well, it could have seemed naive, but instead it lent hope. That has always been one of Springsteen's better qualities, his ability to both see the tragic and the hope.
The crowd, for the most part, cheered. Those who disagreed just didn't clap; some fidgeted in their seats, remaining quiet in their dissent: there were neither boos nor displays of anger. (I chuckle a bit when fans seem displeased with Springsteen's politics: it makes me question whether they've ever actually listened to his words).
At this point, the show had been excellent but workmanlike, and the "The Ghost of Tom Joad" gave it new energy. Springsteen's voice had just a little more strength, and he strummed with a little more vigor. The show had a new momentum as he powered through "The Rising" and "Dancing in the Dark."

He finished, as always, with "Born to Run," and the crowd rose to its feet. The applause was resounding in appreciation of the effort. We had been treated to not only a wonderful show, but also a unique one — the 146th iteration of Springsteen on Broadway, and yet the first of its kind. It was one that few if any had expected. I will never forget it.
Celebrities, those with a broad reach, aren't exactly obligated to do what Bruce did, to use their voice to say something of substance. That Bruce chose to, in such an intimate setting and off script, was heartening. It was right.
- June 25, 2018 - Jake Devin reporting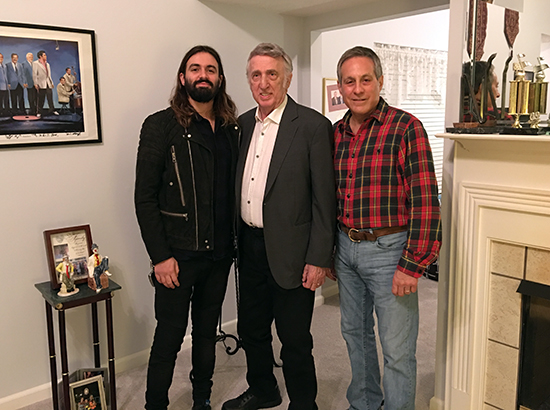 Jay Weinberg, D.J. Fontana, and Max Weinberg, November 28, 2015 - courtesy of Max Weinberg
R.I.P. D.J. FONTANA (March 15, 1938 - June 13, 2018)
Max Weinberg remembers his hero and friend, Elvis Presley's drummer
D.J. Fontana was the drummer I saw who made me want to be a drummer. Before Ringo. When I first saw D.J., I was five. I had older sisters, and I'm so grateful they were aware of Elvis Presley before The Ed Sullivan Show. He was on The Milton Berle Show and The Dorsey Brothers [Stage Show] way before Ed Sullivan. There was only one camera, and they had to get everybody in one shot. I actually have a kinescope of that. So it looked like four guys: Elvis, Scotty Moore, Bill Black, and D.J. Fontana. It wasn't just Elvis, it wasn't just the singer — it was four guys playing.
Bruce has said that the snare shot in "Like a Rolling Stone" was like an explosion that kicked open the door to his mind. As a five-year-old, D.J.'s drumroll in "Hound Dog" was an explosion for me. That drum roll, that triple roll, was shocking. So D.J. Fontana is someone who I was aware of as a little boy, and that's what got me started playing the drums. D.J. Fontana was my hero. And of course this is still kind of a surprise; it's a shock to have D.J. gone, the last member of that quartet.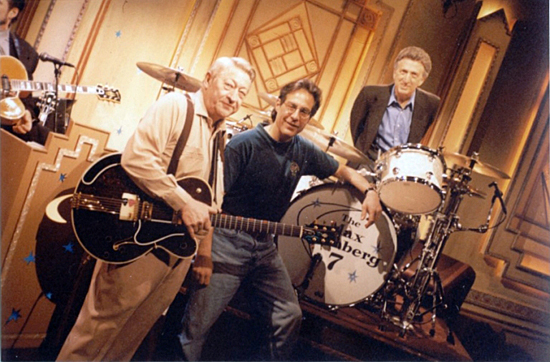 Scotty Moore, Max Weinberg, and D.J. Fontana on the set of Late Night With Conan O'Brien, 1998 - photo courtesy of scottymoore.net - thanks to Shawn Poole
I don't think that it's an understatement to say that he created and made famous rock 'n' roll drumming. What Elvis was to rock 'n' roll music — D.J. was the first guy. The archetypal rock 'n' roll drummer.
First, he was a Big Band drummer. Big Band drumming became rock drumming, and D.J. was the personification of everything that had gone on in drumming before. He absorbed all of that. In the '30s, Gene Krupa was the guy who drew attention to the drums. D.J. would speak about Don Lamond, who was about 15 years older and an amazing Big Band drummer — he played on all the Bobby Darin records, like "Mack the Knife" and "Beyond the Sea." Don Lamond, Buddy Rich… D.J. brought all that to rock 'n' roll music. He was an original.
D.J. was also very strong — a physically strong guy — so he had the big beat. As Levon Helm has said, D.J. added some architecture. D.J. had chops, he had power, he had taste... when he played the drums, no matter what he played on, it sounded like an Elvis Presley tune. It really did.
One of the greatest things I've ever seen was at that show in Red Bank that Garry [Tallent] put together [Alliance of Neigbors benefit, October 2001]. Garry was the musical director, and he had the Sun rhythm section come to play with Sonny Burgess. So Bruce came up to play a song with them, and they went into "Tiger Rose." As soon as D.J. hit the beat, the biggest smile came across Bruce's face — it sounded exactly like Elvis's rhythm. Nobody played that kind of music like D.J. Fontana.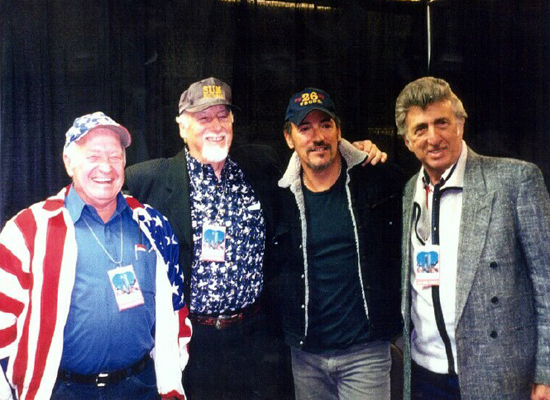 October 2001, Red Bank, NJ [L-R]: Kern Kennedy (of Sonny Burgess's band The Pacers), Burgess, Bruce Springsteen, D.J. Fontana - photo courtesy of legendarypacers.com - thanks to Shawn Poole
Being a great drummer... he would have been a great drummer under any circumstances. But D.J. was a great drummer, and he played with Elvis Presley. It's so important to have the right platform, to have great songs to play. Otherwise, you can be a great drummer, but no one will know about it! I myself was so fortunate to connect with Bruce and the band, and to have that platform; I've had a number of great platforms during my career. So D.J. had it all — the chops, the passion, and the platform.
My son Jay and I went to see him, not too long ago, in Nashville. More than just my biggest influence and hero, D.J. became an extremely close friend of the family. In his kitchen, he has all these pictures — polaroid camera, old '50s pictures — that you've never seen before, of Elvis and the band, traveling around together. They've never been in a book. It just makes you realize… I mean, the lead singer of that group of musicians was Elvis Presley. Arguably the greatest singer in the history of rock 'n' roll. What a position to be in — to know Elvis Presley. To be in those close quarters with Elvis before he was successful… there are only three other guys in history who knew what that was like, and we just lost the last one.
And this is really crucial, a lot of people may not realize: they were a band. It was Elvis, sure, but it wasn't like Elvis was "Elvis Presley" yet. On a daily basis, it was the four of them in a car, driving 400 or 500 miles, with only each other to count on. Taking turns driving, playing all these little honky tonks and small places — those guys were dependent on each other. Plus, D.J. was four years older than Elvis. Elvis was only 19 or 20, and D.J. promised Gladys, Elvis's mother, that he'd look out for him. And he always did.
One of my favorite stories of D.J.'s is in my book [The Big Beat: Conversations with Rock's Greatest Drummers]. I asked him about his drum tuning, about the snare tuning on "Jailhouse Rock" and how he got that sound. Elvis bought him that drum set. They were driving through Houston, and there was a big music store, kind of like Manny's [Music] in New York, and it was called Brochstein's. They go there, and he sees this copper-colored set, and it had the animal skin on it that you'll see in the old pictures. And D.J. told me, "That's how it sounded when I got it from Brochstein's!" The greatest drum sound ever, and he didn't do anything: "That's the way I got it from Brochstein's!"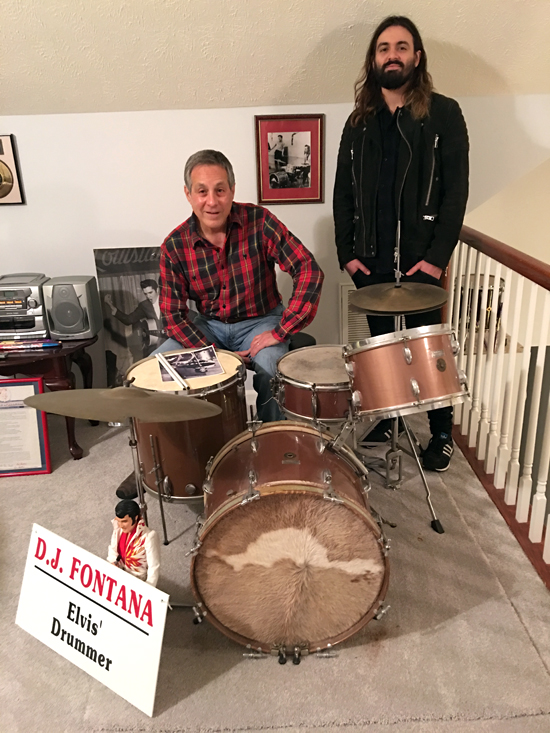 "That's the way I got it from Brochstein's!" Max and Jay Weinberg at the Fontana house, November 28, 2015 - courtesy of Max Weinberg
I think they made about $100 a week when they were playing. A lot of people don't know this, but the band broke up when Elvis went into the Army. Basically, Scotty and Bill quit when Elvis went into the Army, because they weren't making any money. Which is understandable. But D.J. said, you know, "I'm here." He did something — even if it was just tambourine — on just about every Elvis project until Elvis died.
In my book, he tells the story of the last time he saw Elvis. Elvis was standing by a horse rail fence, and he was in jeans. He never wore jeans in public; he wore a track suit or slacks. He never really dressed down. But here in private, he was in jeans and T-shirt. And he said, "D.J., sometimes I get so tired of being Elvis Presley."
But D.J. was a very successful session drummer for many years, and he did all the Elvis conventions. D.J. was softspoken, but he loved to talk about all those years, and he loved to sign autographs. For 45 years of his life, every day of his life, Elvis Presley. Always that guy, always happy to share his stories of the band, and fans loved him. He was a true gentleman.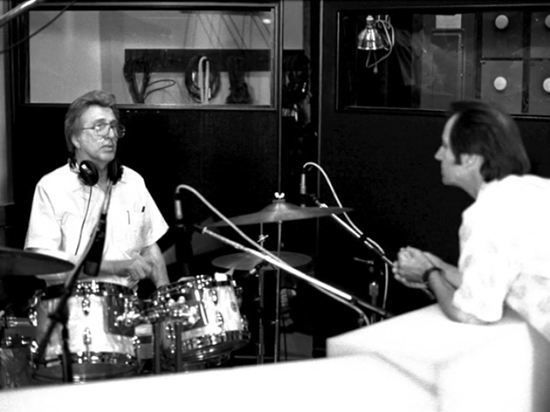 D.J. Fontana with Garry Tallent, June 1996
It wasn't that long ago that D.J. wasn't in the Rock and Roll Hall of Fame. Scotty Moore was, in the Sidemen category [2000], but D.J. was not. So I talked to Ringo, Charlie Watts, and Levon Helm — they were already in the Hall of Fame — and I said, "How about if I write a letter, and you'll all sign it? My signature might not mean much, but you all, as Hall of Fame members...." All three of them had a lot of weight. So I wrote this letter, and we all signed it. And I got a form letter back. "Gentlemen: We thank you for your interest in the Rock and Roll Hall of Fame. At this time, we have no plans to continue the Sidemen category...." It was a form letter.
But everyone I ever talked to about it thought the same thing: D.J. should be in! Even if he'd only played on "Jailhouse Rock," he should be in. Long story short, we finally got him in, in 2009. D.J. was still healthy — quite vigorous, actually — and it was the greatest honor to be asked to induct him. I really labored over the induction speech. And the first minute-and-a-half of the induction speech was just a list of the songs he played on.
Garry inducted Bill Black that night; he wasn't in either. One of best parts of the night was as the crowd was mingling before the event, we were standing near the stage, away from everyone else — D.J. Fontana, Scotty Moore, Garry, me. And suddenly, Jimmy Page and Jeff Beck come running over to Scotty Moore and genuflect. I mean, like 12-year-olds. I don't know if they'd ever met him. It was so cool to see Jimmy Page, with all that guy has done, and Jeff Beck, too, suddenly become 12 years old again and listening to Elvis Presley. And of course Scotty was a gentleman, too. They were gentlemen.
D.J. had a bit of multiple sclerosis, which would come and go kind of like shingles. But about a year ago, he got laid up — he was in bed. He never got out. I was playing Nashville, and I called Karen, his wife, and we had a friend on our crew pick him up — and this guy's big and strong, so I mean literally pick him up. He had a big truck, so we went over to D.J.'s house and picked him up out of bed, put him in the truck, and they both came to the whole show. D.J. hadn't been out of the house in a year. I made a very impromptu speech about him, and he got a huge standing ovation from the crowd. We played "Jailhouse Rock" in his honor — Garry was there too, and he came up and played bass. But D.J. was not doing well. He was 87 years old, and still the sweetest guy, but it was not a fight he was going to win.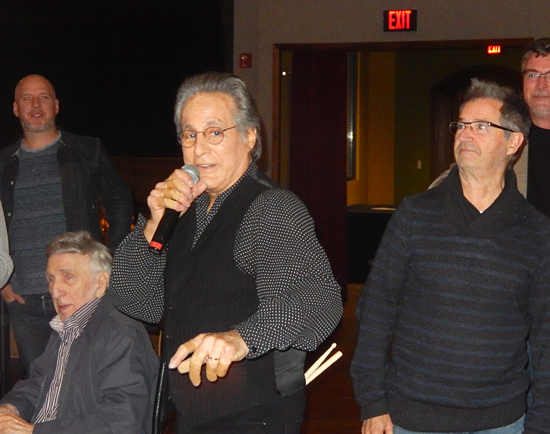 - D.J., Max, and Garry in Nashville, October 2017 - photograph by Michael Bodayle
He had a wonderful life, and a wonderful wife in Karen. And he had a card: "D.J. Fontana, Hall of Famer." It took years to get him in, but to have him recognized... that was certainly one of the highlights of my personal and professional life, to be up there for the guy who made me want to be a drummer when I didn't even know what it meant. He moved me. He transmitted that thing to me, and it stuck. So here we are 62 years later, and I'm proud and privileged to call him my good friend. And I miss him.
- June 22, 2018 - Max Weinberg, as told to Christopher Phillips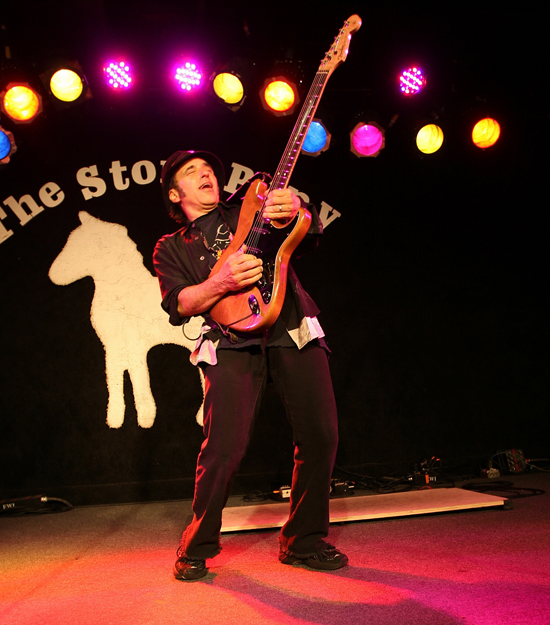 HAPPY BIRTHDAY TO THE GREAT NILS LOFGREN
Wishing Nils a happy 67 today! For tour dates, digital downloads, notes from Nils and more, visit nilslofgren.com.
- June 21, 2018 - photograph by John Cavanaugh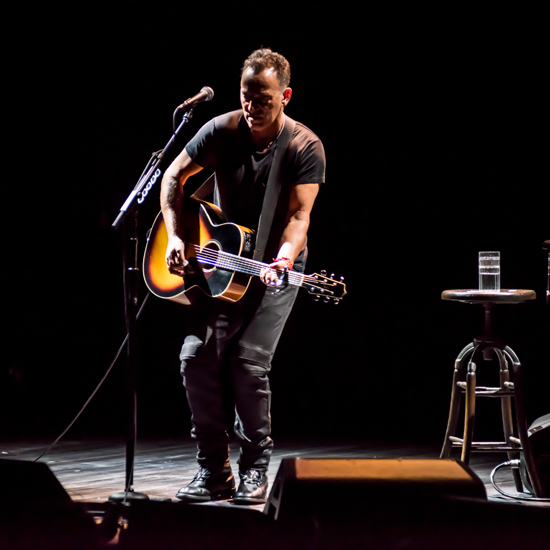 NOW TOM SAID
On Broadway, off-script: Springsteen addresses border and migrant crisis
Springsteen on Broadway hadn't yet gotten either topical or explicit about the national climate, but that changed on Tuesday night. Near the end of the performance, Springsteen weighed in on the border situation, where migrant children are being separated from parents, calling it "disgracefully inhumane and un-American."
Until that moment, Springsteen had used his Broadway stage largely as a vehicle for a personal narrative, using original songs to tell a story. He'd hinted at his feelings on the post-January 20, 2017 state of affairs — for longtime fans and observers, no stretch there — by invoking Dr. King, reminding patrons that the "arc of the moral universe is long but it bends toward justice."
He referenced that quote again last night, this time adding: "I've also lived long enough to know that arc doesn't bend on its own. It needs all of us leaning on it, nudging it in the right direction day after day. You gotta keep leaning."
Leaning into it himself, Springsteen made his feelings on the events of the day perfectly clear: "We have heard people in high position in the American government blaspheme in the name of God and country that it is a moral thing to assault the children amongst us. May God save our souls."
After "146 nights with basically the same setlist," Springsteen further made plain where he stands with an off-the-script version of "The Ghost of Tom Joad."
Springsteen's complete remarks:
I never believed that people come to my shows, or rock shows to be told anything.

But I do believe that they come to be reminded of things. To be reminded of who they are, at their most joyous, at their deepest, when life feels full. It's a good place to get in touch with your heart and your spirit, to be amongst the crowd. And to be reminded of who we are and who we can be collectively. Music does those things pretty well sometimes, particularly these days when some reminding of who we are and who we can be isn't such a bad thing.

That weekend of the March for our Lives, we saw those young people in Washington, and citizens all around the world, remind us of what faith in America and real faith in American democracy looks and feels like. It was just encouraging to see all those people out on the street and all that righteous passion in the service of something good. And to see that passion was alive and well and still there at the center of the beating heart of our country.

It was a good day, and a necessary day because we are seeing things right now on our American borders that are so shockingly and disgracefully inhumane and un-American that it is simply enraging. And we have heard people in high position in the American government blaspheme in the name of God and country that it is a moral thing to assault the children amongst us. May God save our souls.

There's the beautiful quote by Dr. King that says the arc of the moral universe is long but it bends toward justice. Now, there have been many, many days of recent when you could certainly have an argument over that. But I've lived long enough to see that in action and to put some faith in it. But I've also lived long enough to know that arc doesn't bend on its own. It needs all of us leaning on it, nudging it in the right direction day after day. You gotta keep, keep leaning.

I think it's important to believe in those words, and to carry yourself, and to act accordingly. It's the only way that we keep faith and keep our sanity.

I've played this show 146 nights with basically the same setlist, but tonight calls for something different...

Men walkin' 'long the railroad tracks
Goin' someplace there's no goin' back
Highway patrol choppers comin' up over the ridge
Hot soup on a campfire under the bridge
Shelter line stretchin' round the corner
Welcome to the new world order
Families sleepin' in their cars in the southwest
No home no job no peace no rest

The highway is alive tonight
But nobody's kiddin' nobody about where it goes
I'm sittin' down here in the campfire light
Searchin' for the ghost of Tom Joad

He pulls prayer book out of his sleeping bag
Preacher lights up a butt and takes a drag
Waitin' for when the last shall be first and the first shall be last
In a cardboard box 'neath the underpass
Got a one-way ticket to the promised land
You got a hole in your belly and gun in your hand
Sleeping on a pillow of solid rock
Bathin' in the city aqueduct

The highway is alive tonight
But where it's headed everybody knows
I'm sittin' down here in the campfire light
Waitin' on the ghost of Tom Joad

Now Tom said
"Mom, wherever there's a cop beatin' a guy
Wherever a hungry newborn baby cries
Where there's a fight 'gainst the blood and hatred in the air
Look for me Mom I'll be there

Wherever there's somebody fightin' for a place to stand
Or decent job or a helpin' hand
Wherever somebody's strugglin' to be free
Look in their eyes Mom you'll see me."

The highway is alive tonight
But where it's headed everybody knows
I'm sittin' down here in the campfire light
With the ghost of old Tom Joad

The highway is alive tonight
But nobody's kiddin' nobody about where it goes
I'm sittin' down here in the campfire light
Searchin' for the ghost of Tom Joad
- June 20, 2018 - photograph by Rob DeMartin


ROCKIN' PNEUMONIA AND BRUCE SPRINGSTEEN TOO
Bruce plays four at tonight's Asbury Lanes grand reopening
There was an air of excitement on Fourth Avenue in Asbury Park tonight, as the grand re-opening of Asbury Lanes drew curious music fans from around the area to check out the remodel of the bowling alley-turned-music venue that had for years been both clubhouse for local punk rock kids and showcase for up-and-coming bands from the tri-state area and beyond. The club's small stage, perched at the center of a row of active bowling lanes, had seen artists from surf-rocker Dick Dale to punk bands like The Menzingers, The Butthole Surfers, and Asbury Park's Bouncing Souls in its 15-year history. The venue closed for remodeling in 2015.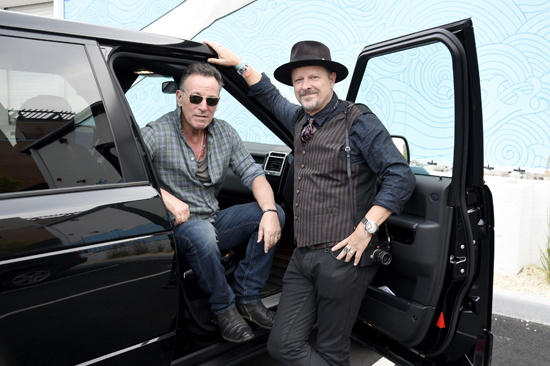 The excitement was no doubt for the event's star attraction, an announced guest shot by Bruce Springsteen, who was to sit in with his friend and collaborator Danny Clinch's Tangiers Blues Band. The band was introduced by Jay Sugarman, CEO of Asbury Park master developer iStar (co-owners of the venue), who thanked everyone for sticking by them during the city's redevelopment. He also thanked Bruce for his devotion to the city. For over 40 years, Sugarman said, Bruce was "keeping Asbury Park alive."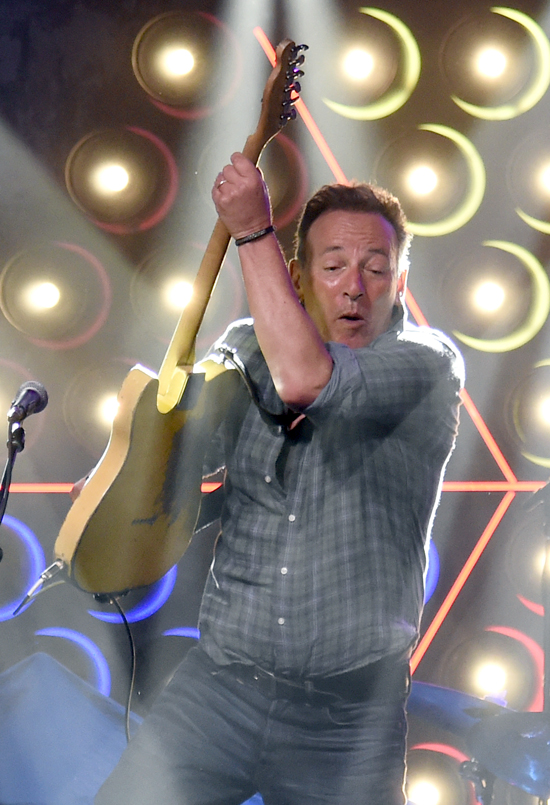 Sugarman was followed by a brief intro from the man himself, who commented on the changes the city has undergone, seeming more than a little wistful about the old days. "I feel like the Ghost of Christmas Past walking down the boardwalk," Springsteen said before introducing Clinch & Co, "but that's okay, because it's fun to watch Asbury's future unfold in front of me." Bruce watched from backstage as the Tangiers Blues Band, who have become a fixture at Light of Day events, got the crowd going with offbeat covers like "Life During Wartime" and the Beastie Boys' "(You Gotta) Fight for Your Right (to Party)."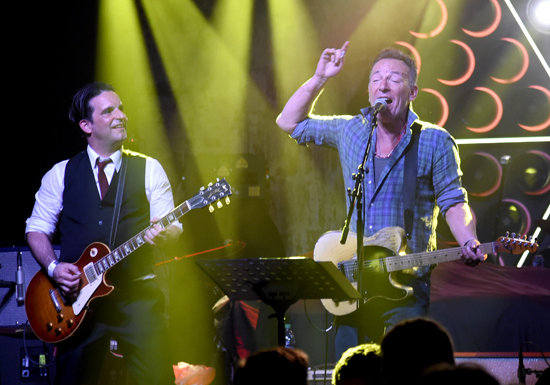 But folks were there to see Bruce, and he obliged by joining to band for a four-song set, the highlight of which was the opener, a cover of Huey "Piano" Smith's 1957 chestnut, "Rockin' Pneumonia & the Boogie Woogie Flu." [VIDEO] Dressed in jeans and work boots, Springsteen looked tan and happy as he walked onstage, trademark Fender in hand.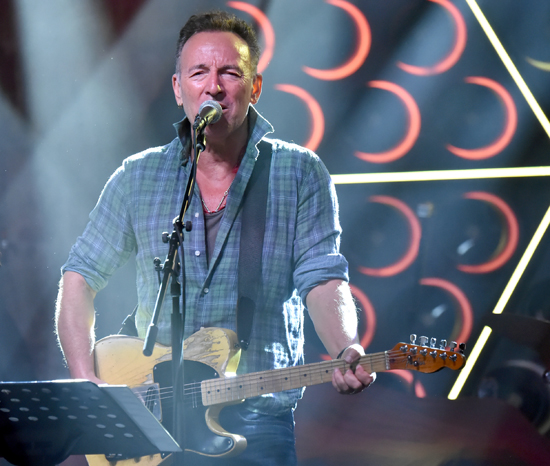 Next up was Willie Dixon's slow burning "I Just Want to Make Love to You" [VIDEO], which was punctuated by one of several steamy Springsteen guitar solos. He was definitely in bandleader mode, calling out solos and chord changes and generally keeping Clinch's band on their toes. For his part, the latter occasionally stepped back and shot photos mid-song (as he often does during Light of Day performances).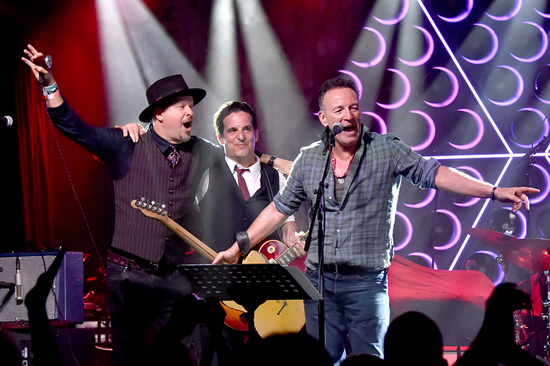 "Down the Road Apiece" [VIDEO], dedicated by Bruce to the "folks from the old Asbury Lanes who kept this place going," became a call-and-response, as he coaxed the audience into it by waving and shouting "down the road!" They finally picked up on it and repeated the phrase, prompting Bruce to yell back, "Yeah, keep driving. Coming down Ocean Avenue, now…"
That was clearly the end of the rehearsed material, as Bruce pushed back the music stand (no teleprompter tonight!) and called a quick huddle at center stage. What else could close a club jam but "Twist & Shout"? [VIDEO] Towards the end he cajoled the crowd to raise hands in the air, keeping the onstage energy up throughout the set with his usual flair. It was a brief but enjoyable appearance that opened the evening in fine fashion, and local fans can only hope it's not the only guest jam for Bruce this summer.
- June 18, 2018 - Lisa Iannucci reporting - photographs courtesy of Kevin Mazur/Getty Images - pro-shot event video courtesy of Asbury Lanes/TourGigs - special thanks to Rich Russo for the linked video clips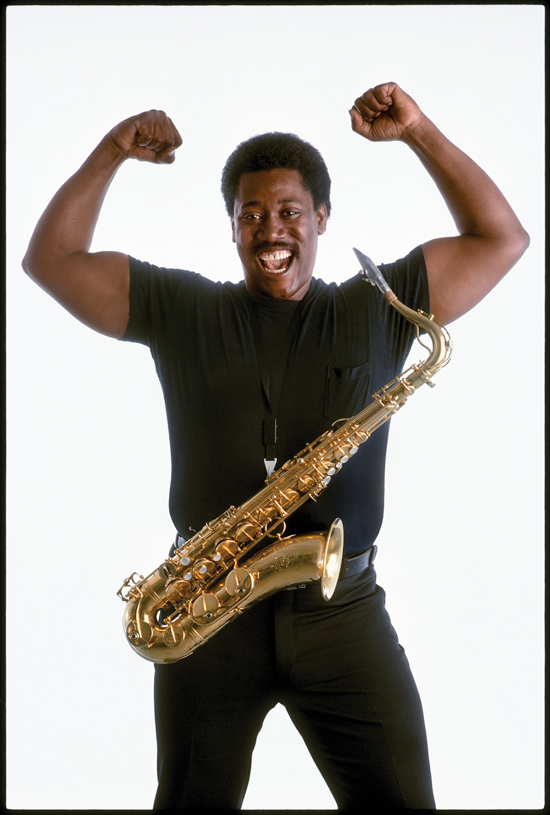 photograph by Eric Meola
CLARENCE CLEMONS WALKS INTO A BAR
By Don Reo
Clarence Clemons walks into a bar and everything stops.
That happened.
It happened every time he walked into any room with people in it.
Anywhere in the world.
Every time.
Every single time.
The men stared and felt smaller.
The women touched their hair and began to fidget with their jewelry.
Twisting their rings.
Brushing their necklaces with fingertips.
Clarence came in like a storm. Menacing and dark and dangerous.
Then he'd smile and sunshine pierced the clouds.
He made you think of possibilities missed.
Roads not taken.
You wanted to go where he was going cause where he was going was going to be good.
Good like this room felt when he came in.
When he was in the room you knew it was the place to be.
You felt lucky.
When he left it felt like something had died.
He changed the story.
Clarence walked all swagger and attitude and presence.
He was never overlooked.
Never unnoticed.
He always walked in the present tense.
He was right here, right now.
He walked with joy and with pain.
He walked with sticks.
He'd lean forward, into the wind.
To many he was more of a thing than a person.
Like a statue or a monument.
Something you stared at in wonder.
Something you observed from a distance.
Something you would travel to see.
You might not bring the children.
Sometimes he could fly.
He'd become untethered and drift above the ground like a giant balloon on Thanksgiving let loose and floating out over America.
He'd laugh that big booming laugh and he'd tell filthy jokes and praise Jesus and drink tequila and wine and beer and smoke a joint and drop some kind of elephant tranquilizer and get heavy lidded and amused at things only he could see.
Clarence picked up the saxophone and touched it like a lover.
It was a sexual act.
He caressed and teased it with his fingers and his mouth. He made it moan low, gently coaxing it to respond in a breathy whisper like the sound of caramel and butterscotch.
He made it scream.
The brass melted into his body and the keys opened like flowers to the heat and created the languid, primal melody of ecstasy.
The intimate, ancient ritual of two becoming one and creating something beyond themselves.
Clarence contained multitudes.
He was a syncopated giant, riffing and drifting on that cloud of feeling and memory and unstuck in time like Billy Pilgrim and Benny Profane.
He didn't need reservations.
Occasionally he wore a cape.
Nobody made fun of his cape.
He consumed life.
He was bigger than Manhattan.

He'd steal your heart.
He'd close his eyes and whisper something like:
"Sha la la,
You're my shining star
At the dark end of the street.
The screen door slams.
The kind I'd like to meet.
Don't worry baby, I'm alright.
Whatever gets you through the night."
He was Elvis singing "Don't be cruel" on a car radio one summer night south of Palm Beach with the top down and heat lightning burning the sky.
He had a jukebox mind filled with words and music.
"When we danced, the night was filled with pleasure,"
"We're waltzing through this wonderland together,"
"I'm with you body and soul,"
"Do you remember all the guys who gave us rock and roll?"
Clarence Clemons stands under a streetlight in the rain.
It's late and all hope has been put away for the night.
He plays "The Touch," the Viscounts version of the French gangster movie theme. He plays it for Harry and Trane and Stan and King and Jerry and Illinois.
He plays for the lonely on a saxophone called Candy.
A car drives by, tires hissing across the wet street.
A face looks out from the back seat,
The car slides by, filled with doubt. Should I have accepted his invitation?
A light goes out in a window across the way.
A siren wails in the distance.
There's the echo of empty rooms.
Clarence finishes, the last note quavers, hangs in space then fades and the air goes back to nothingness.
It holds no beauty, no art.
It's just air.
Clarence puts the horn in its case and walks down the street as the wind begins to howl.
He walks through the world.
He walks down your street.
One hand waving free.
He's walking through Miami and Makawao and San Sebastián and Rome and Hong Kong.
He's walking to New Orleans.
He's sipping a Cuban Breeze on a yacht in Key Biscayne.
He's like smoke, like wonder.
And tonight, right now, there's this wind and rain,
and he's walking through it.
Head down but leaning forward.
Always leaning forward.
Then there's the music.
Yeah, that's it.
That's the sound.
It's in sync with his heartbeat and the blood running through his veins.
He's heard it in his head for a thousand years.
It's the Swan Silvertones and the Zion Travelers and Dion and it's playing "White Port and Lemon Juice" and it's Red Prysock hand clappin and you can hear the ghost of Gene Krupa and Chet Baker in 1964 on the ferry to Newport with just his horn in a case wearing a white shirt and a dark blue blazer.
Just beyond the darkest hour.
It's his siren song.
Could this be magic?
He moves toward it inevitably.
It has to be like this.
It's always been like this.
More a memory than a dream,
He's been here many, many times before.
He opens the door and the wind blows it away.
Clarence Clemons walks into a bar and everything starts.
- June 18, 2018 - Don Reo is the co-author of Big Man: Real Life & Tall Tales; his epilogue, "The Big Man: The Final Chapter," appeared in Backstreets #91


THAT'S HOW I SEE YOU
We don't generally cover the non-musical doings of the Springsteen family... but when it's Father's Day sometimes you look the other way. Jessica Springsteen describes "What It's Like Having Bruce Springsteen As My Dad" to Women's Health, focusing on her father's support of her love of horseback riding and the impact that had on her decision to become a professional equestrian:
...my dad always reminded me that it's so rare in life to find something you're so passionate about, that brings you so much joy. And when you find that, you have to really respect it and pursue it. My dad has worked so hard and is very passionate about his work. Even when he has time off, he's thinking about the next project that he might be excited to do.... I was always in love with riding — and now I do it full time. Thanks to my dad, I'll never take that for granted.
Happy Father's Day 2018 to all you cool rockin' daddies out there!
- June 17, 2018


NEXT WEEKEND: 5th ANNUAL ROCKLAND-BERGEN MUSIC FESTIVAL
Joe D'Urso's summer fest to host Southside, Grushecky, and more
Joe D'Urso's annual Rockland-Bergen Music Festival keeps getting bigger and better every year. Next weekend the fest returns to Tappan, NY for its 5th Annual, with musical acts including Southside Johnny & the Asbury Jukes, Joe Grushecky, Steve Forbert, Jeffrey Gaines, Joe D'Urso & Stone Caravan, Jim Boggia's "Bruce Off Broadway," Joe Delia & The Thieves, Anthony D'Amato and more. Two stages, 16 artists, and 15 non-profit organizations help realize D'Urso's vision of a musical event that combines great music and important causes.
D'Urso says, "As we head into our fifth year, we keep fine-tuning what we have been told is a very laid-back and enjoyable experience. The unique German Masonic Park lends itself to the stripped-down feeling of the whole weekend. This is a professional production, while at the same time feeling like an extended family BBQ with lots of great musicians, some who happen to be in the Rock and Roll Hall of Fame and Grammy award winners."
Non-profts on site will include the Light of Day Foundation, WhyHunger, and Habitat for Humanity. "I come from a Harry Chapin/Pete Seeger school of thinking," says D'Urso, "and I trily believe we all live better, fuller lives when involved with organizations and people who have live hearts and live minds."
Tickets for the Saturday, June 23 festival at the German Masonic Fairgrounds are available through Ticketfly. Visit rocklandmusicfestival.com for more information and tickets for other weekend events, including the festival kickoff Friday night at The Turning Point in Piermont.
- June 16, 2018



BRUCE SPRINGSTEEN. ROCK AND ROLL FUTURE. THE BOOK. KICKSTART IT!
This morning, Backstreets has launched our first-ever Kickstarter project, to publish a book of photography by Barry Schneier that tells the story of one night in rock 'n' roll history: May 9, 1974, Bruce Springsteen and the E Street Band at Harvard Square Theatre.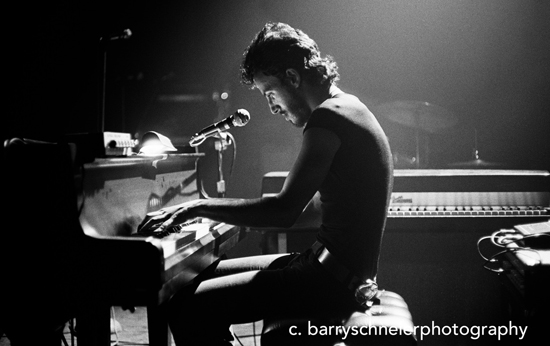 You're probably already familiar with Barry's work, given that his photographs are the only visual record of the night Jon Landau famously saw "rock and roll future"; we've shared some of his images here before. But for decades, no one was familiar with it: Barry's negatives sat in a box after he hung up his professional photography shoes in the '70s. So I vividly remember the first time I saw "For You" — his capture of Springsteen at the piano that night in '74 — when it won the Boston Globe's "Your Best Shot" contest in 2010. I couldn't believe pictures from that night existed. We were talking by the end of the day.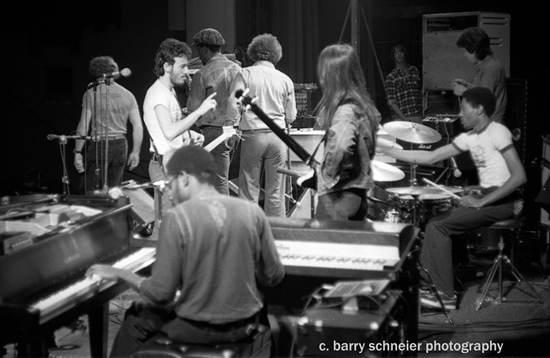 In the years since then, Barry and I have gotten to know each other as he's rediscovered his love of photography (he's been on assignment for Backstreets, too, photographing recent Springsteen shows for us, too). But when we've talked, we'd keep returning to 5/9/74: the unseen photos, the negatives unscanned, his memories of the night (which are more vivid than most peoples' of events 44 years in the past). Besides the night's historical nature, it's also a rare glimpse of the 1974 E Street Band, with both David Sancious and Boom Carter in the band, during both soundcheck and performance.
So after talking for a while about what a great book this would make... we finally decided to try and make it.

This wouldn't be the first book from Backstreets Publishing — longtime readers may remember our 50 Tips to Great Springsteen Tickets booklet from the '80s, or the three volumes of our You Better Not Touch guides, back when bootleg CDs were still a hot commodity. But if the crowdfunding is successful, it would be our first book of this quality: case-bound hardcover, offset printing, 105lb matte interior, color and B&W images... a handsome book of photography.

As with everything Backstreets does, this is by fans, for fans, which is why we wanted to try crowdfunding with Kickstarter. Much of the work is done already — Barry's been working wicked hard up in Boston for months, getting his recollections down on paper, combing through contact sheets, and working with a designer to figure out the best presentation for the text and images. High quality scanning awaits, as does the actual printing, of course. But if we can meet our crowdfunding goal, Barry's story of this legendary night is primed to be a beautfiul coffee table book — with some extra rewards for backers, including the book discounted for early supporters, signed copies, and multiple photographic prints that have never been offered in galleries.
Find out more on the project's Kickstarter page, and if you like the idea too, we hope you'll help us make it real.
- June 12, 2018 - Christopher Phillips reporting

R.I.P. BUTCH PIELKA, ORIGINAL STONE PONY PROPRIETOR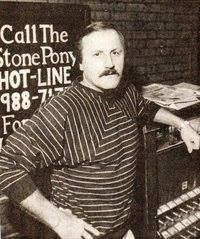 Longtime Stone Pony owner Robert "Butch" Pielka, who had suffered from undisclosed health issues in recent years, passed away on June 8. He was 72.
Journalist Jean Mikle, who spent many nights in the Pony during its heydey, told Backstreets that "it became the neighborhood bar for the Asbury Park music scene" under the management of Pielka and business partner/co-owner John "Jack" Roig.
"At a time when Asbury Park was starting its long downhill slide, the Pony was a stalwart supporter of live music," Mikle continued, "whether it be local, regional or national acts. Musicians, including Bruce Springsteen, and music fans felt comfortable there. Any night you went by the Pony, you knew the music would be good."
Pielka was an avid supporter of the Jersey Shore music scene who, along with Roig, transformed the Stone Pony from a modest Asbury Park club that hosted disco nights and employed local cover bands to an internationally famous music venue. The pair opened the Pony in early 1974 in the building that had formerly housed Mrs. Jay's Restaurant and Beer Garden (the latter establishment moved next door, where it gained notoriety as a biker bar).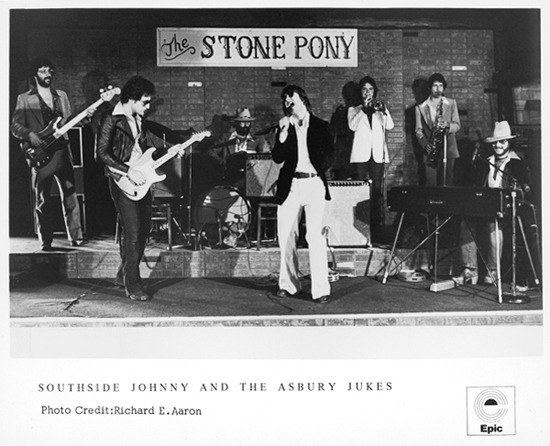 The Stone Pony first gained attention when Pielka booked the Blackberry Booze Band in 1975; the legendary jam band, which often featured Southside Johnny and Steven Van Zandt, eventually morphed into the Asbury Jukes, becoming the official house band in the mid-70s. Bruce Springsteen often sat in with the band, and Asbury Park, long a Jersey Shore music mecca, soon became an international focal point. Fans came from near and far to check out both the town and the bar that, in addition to Springsteen and the Jukes, had given rise to notables like The Shakes; Cahoots; Cold, Blast & Steel; The Diamonds; and La Bamba & the Hubcaps. The Stone Pony served as a home base and hangout spot not just for Bruce himself, but for Shore-based cover bands with whom he often jammed like Cats on a Smooth Surface.
During Pielka's era, from 1974 through the late '80s, the Pony famously hosted a wide variety of musical talent from The Ramones, Lone Justice and Elvis Costello to homegrown New Jersey favorites John Eddie and The Smithereens. Through it all, Pielka himself maintained a low profile, often lurking at the back bar as the mayhem of a mid-summer Springsteen guest shot reigned onstage.
Indeed, the Stone Pony was a neighborhood bar that, under Butch and Jack's watch, kept its local flavor despite its fame. While their club still stands at the corner of Second and Ocean and continues to host nights of great music (Max Weinberg's Jukebox, Southside Johnny and the Jukes, and Jake Clemons will all take the Pony stage this summer), the sale of the club to local businessman Steve Nasar in 1991 was truly the end of an era. Rest in peace, Butch.
- June 12, 2018 - Lisa Iannucci reporting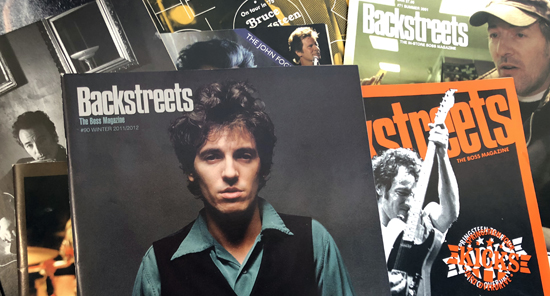 SOMEHOW YOU SURVIVE
Make sure the next issue of Backstreets knows where to find you!
As we near 40 years of Backstreets, we're pleased to confirm that, despite our ever-increasing focus on digital delivery of Boss news and features, the print edition continues. At long last, issue #92 of Backstreets magazine will be completed, printed, and mailed this summer to subscribers (with single copies in the shop, once in stock).
In preparation, especially given how much has transpired in all our lives since the last issue, we want to make sure we have correct addresses for all subscribers. If you've moved, please be sure to let us know your change of address, by email to orders@backstreets.com (old and new addresses, please). We'll have further updates as we go to press, but this is a good time to start the process of making sure our subscriber database is up to date.
As ever, we thank you for your patience between printed issues, and hope our online updates — including longreads like the new Chris Murray interview, or last week's Darkness 40 celebration, in case you missed it — scratch the Backstreets itch in the meantime. We appreciate your readership and support!
- June 12, 2018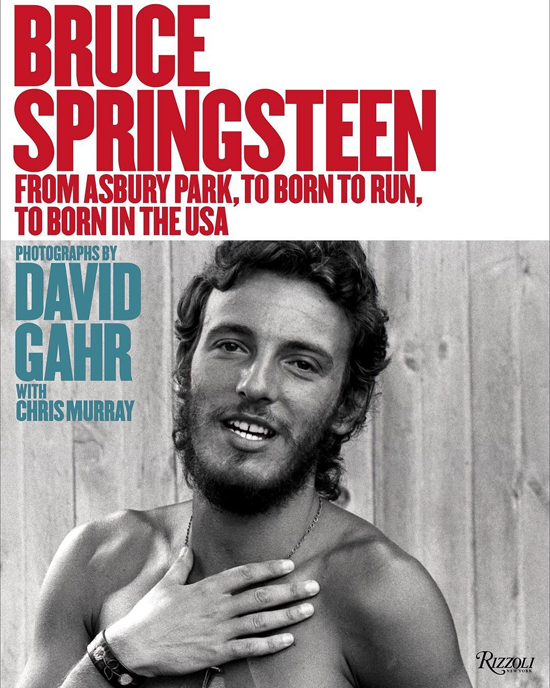 WILD AND INNOCENT: GAHR X SPRINGSTEEN, 1973 - 1986
Limited edition print of a W&I outtake, exclusively from Backstreets
This spring, Rizzoli published the first book of the late David Gahr's photography in 50 years, since 1968's seminal The Face of Folk. The new collection, edited by Govinda Gallery's Chris Murray, is all Bruce.
Bruce Springsteen: From Asbury Park, to Born to Run, to Born in the U.S.A. traces Gahr's work with Springsteen and the E Street Band over 13 years and more than 25 occasions, from their first session together (which yielded the album cover for The Wild, the Innocent & the E Street Shuffle) through the Born in the U.S.A. tour and the Live/1975-'85 era.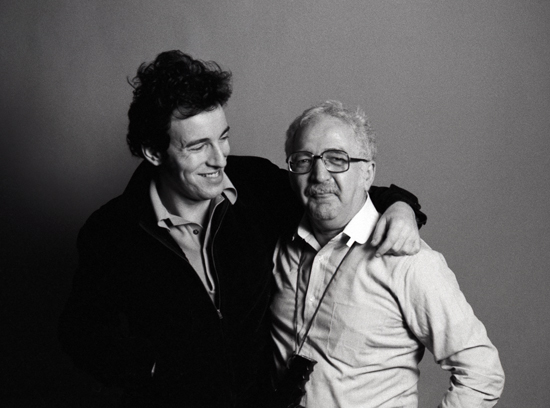 Bruce Springsteen and David Gahr, 1979 (©The Estate of David Gahr/Courtesy Govinda Gallery)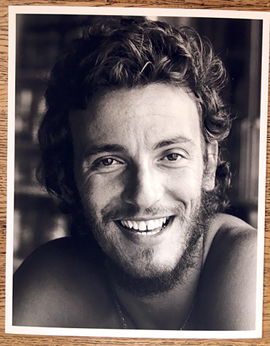 We're thrilled to offer something very rare to go along with the book: a limited edition, original David Gahr print that won't break the bank. Through galleries, a Gahr print starts in the four figures, at sizes of 11x14 or greater. In collaboration with The Estate of David Gahr and Govinda Gallery, Backstreet Records is able to make available a Gahr 8x10, in an edition of 300.
A beautiful B&W print from the original negative on fine art paper, it's perfect for matting and framing — and it's available exclusively through Backstreet Records as part of a $350 Book and Print Set. The hardcover includes a bookplate signed by Chris Murray; the print has the Estate of David Gahr stamp on reverse, editioned and signed in pencil by Murray, who is also the representative of the estate. For more information, and to order, see the set in our online shop.
For those who only want a copy of the book, we also have signed copies available separately.
Backstreets editor Chris Phillips recently spoke with Chris Murray at length about his work on the book, sifting through 7,000 of Gahr's Springsteen images on contact sheets and slides to find the gems. Read on....
THE BOOK OF DAVID
Talking David Gahr and Bruce Springsteen with Chris Murray
- June 11, 2018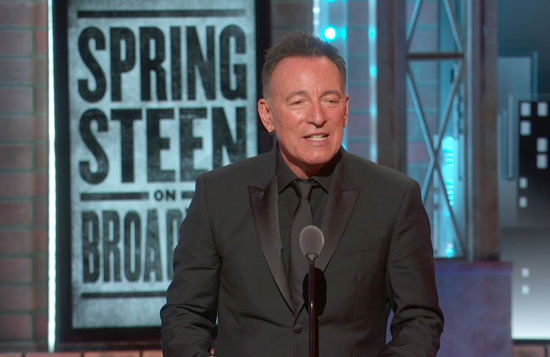 "THANKS FOR MAKING ME FEEL SO WELCOME ON YOUR BLOCK"
Tonight at the 72nd Annual Tony Awards, Bruce Springsteen was honored with a statue for his work on the Great White Way, presented to him by previous Tony winner Billy Joel:
I am honored to be back at the Tonys to present a Special Award to a fellow musician, an old friend, whose intimate show is Springsteen on Brodaway. It's all about the man and his music, not to mention the heartfelt stories behind 40 years of incredible songs. This extraordinary event began as an eight-week limited run but by the time it wraps up in December will have played 246 performances. The Boss is working hard! So for bringing hundreds of thousands of new theatergoers to Broadway, it's my pleasure to present the Special Tony Award to Bruce Springsteen.
Springsteen, who attended the Radio City Music Hall ceremony with his wife and Broadway co-star Patti Scialfa as well as their three children, took the stage to a standing ovation (and a little Brooocing, too). He gave Joel a hug before addressing the crowd:
Thank you. This is deeply appreciated, thanks for making me feel so welcome on your block. Being a part of the Broadway community has been a great thrill and an honor for me — it's been one of the most exciting things that I've ever experienced. I've got to thank Patti Scialfa, my beautiful wife and artistic partner, for her love and inspiration every night. I've got to thank Jon Landau, George Travis, Barbara Carr, and Jordan Roth for the great work of getting our show on stage. And last but not least, our wonderful audiences, who've made these shows so exciting and fulfilling. Evan, Jess, and Sam — Daddy loves you. You've been wonderful to me this season, thank you so much. God bless all.
Toward the end of the ceremony, the Boss was back to perform, brought on by none other than Robert De Niro. Though his initial impromptu remarks were bleeped on CBS, De Niro's scripted introduction was fully audible:
Do you have any idea how hard it is to get tickets for Bruce Springsteen's show on Broadway? It's easier to get tickets for Hamilton, and that's got a much bigger cast, actual dancing, and a history lesson. So when I got the call asking if I wanted to see Bruce perform, I said yes, without asking any questions. Bruce: You can rock the house like nobody else, and even more important, in these perilous times, you rock the vote — always fighting for, in your words, truth, transparency, and integrity in government, Boy, do we need that now. So congratulations on your Tony for Springsteen on Broadway, or as I like to call it, Jersey Boy. Ladies and gentlemen, my friend, Bruce Springsteen.
Taking a seat at the grand piano center stage, Springsteen began, "I grew up on Randolph Street..." telling the story of his family's life "in the shadow of the steeple" before performing an abbreviated "My Hometown."
Congratulations to Bruce on tonight's honor.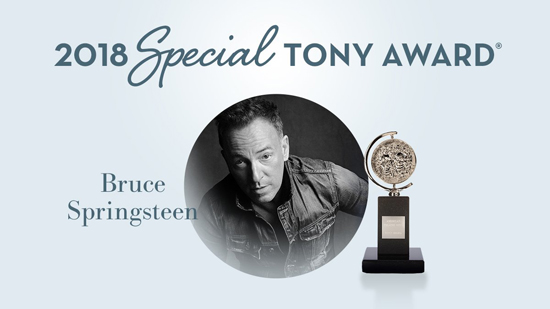 - Updated with video June 11, 2018 - photo courtesy of CBS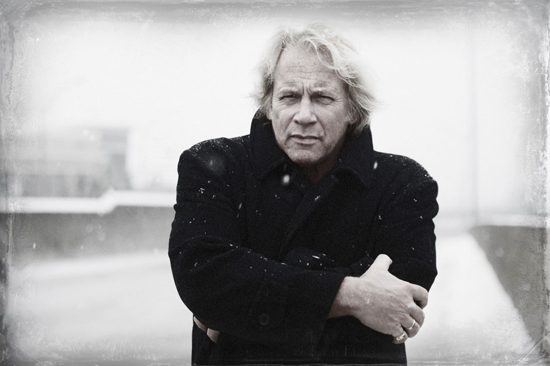 HOLLER IF YOU HEAR HIM
Stewart Francke's family launches GoFundMe campaign
We were saddened to learn that our friend Stewart Francke has had to face yet another serious medical crisis, and his family has launched a GoFundMe page to help address their medical expenses. Please click here to learn more and support it in whatever way you can.
In 2011, Francke, a Michigan-based singer-songwriter, wrote and recorded "Summer Soldier (Holler If Ya Hear Me)" with Bruce Springsteen. (Springsteen already had gone on record as being a long-time Stewart Francke fan, noting back in 2006 that Francke "makes beautiful music.") Stewart generously allowed Backstreets readers to download "Summer Soldier (Holler If Ya Hear Me)" along with several other tracks, free of charge. (You still may click here to do so.)
Stewart Francke also has battled leukemia successfully for the past twenty years; check out his 2013 memoir What Don't Kill Me Just Makes Me Strong. If anyone can overcome this latest health obstacle, we know it's Stewart, but we also know that he and his loved ones will need much support. If you've been touched by Stewart Francke's life and art as we have, please click here and give whatever you can.
- June 8, 2018 - photo by Kathleen Galligan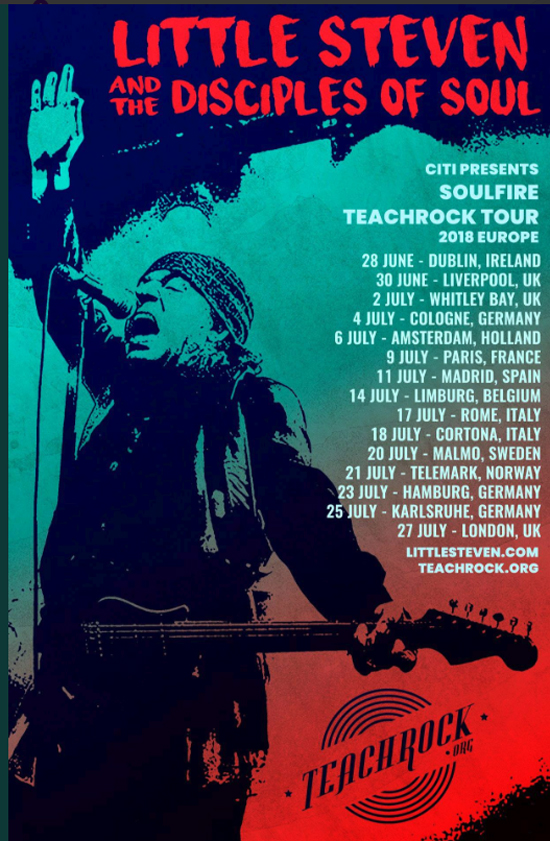 SUMMER SCHOOL OF ROCK
Little Steven's Teacher Appreciation Tour goes to Europe
Calling all teachers! You're the special guests on the European leg of Little Steven's Soulfire 2018 Teacher Appreciation Tour. Each stop features a professional development workshop during which Steven and the Rock and Roll Forever Foundation team will present exciting arts integration possibilities of the TeachRock curriculum. Local educators who attend the free sessions will also receive two complimentary tickets for that evening's show.
The tour kicks off in Dublin on June 28,and continues through the UK, Germany, Netherlands, France, Norway, Sweden, Italy, Spain, and Belgium. For full tour dates, visit littlesteven.com.
To register for free teacher workshops and show tickets, visit teachrock.org/tour. (For more detailed workshop information, contact Christine@teachrock.org.)
- June 7, 2018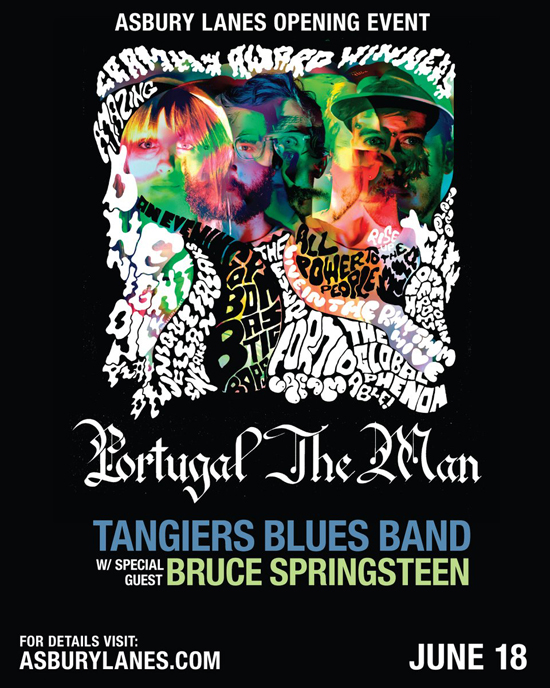 SPRINGSTEEN TO WELCOME BACK ASBURY LANES, JUNE 18
Asbury Lanes is back in business after a couple years of renovations, and when the vintage bowling alley/music venue celebrates its grand reopening in a couple weeks, there'll be no need to wonder "will he or won't he"... Bruce Springsteen's right there on the bill.
For the June 18 show benefitting the Boys & Girls Club of Monmouth County, Bruce will join Danny Clinch's Tangiers Blues Band on stage as special guest. Tickets have already gone on sale for the opening event, but 100 pairs have been reserved for a lottery for Asbury Park residents, and a sweepstakes is open to US residents: two tickets plus a night at The Asbury Hotel.
- June 4, 2018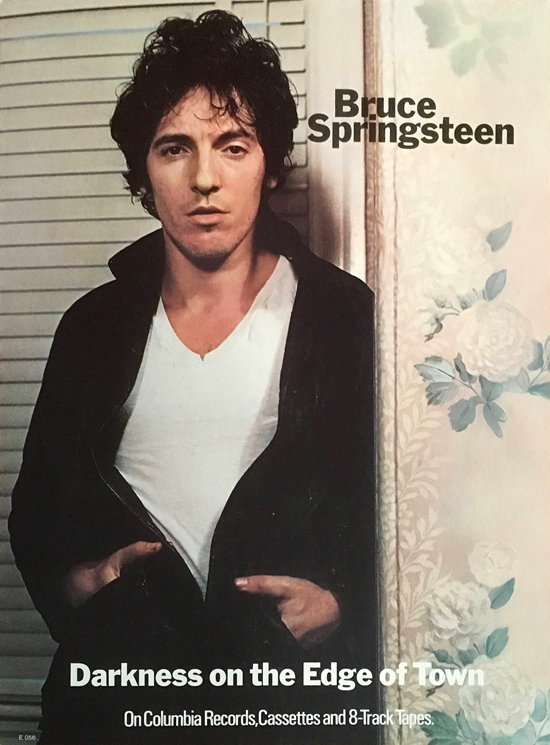 40 YEARS OF DARKNESS
Darkness on the Edge of Town, Bruce Springsteen's fourth album and follow-up to Born to Run, was released on June 2, 1978. It remains a timeless, stone classic. Forty years later, we've asked artists, fans, and friends of Backstreets — writers, musicians, photographers, and more — to reflect on the Carter-era masterwork that feels just as relevant in 2018.
"Everyone takes different things from a record," singer/songwriter Pete Yorn told us during the course of our discussions. "If I analyze a record and what a song means to me, sometimes it's a universal thing that everyone sees in the song, but a lot of times it has something to do with what's gong on in your own life."
You'll find that's true in these reminiscensces and tributes to the power and promise of Darkness from Eric Alterman, Eric Bachmann, Tom Batiuk, Serge Bielanko, Chris Carrabba, Ken Casey, Danny Clinch, Cerphe Colwell, Tom Cunningham, Gerry Duggan, Patterson Hood, Dennis Lehane, Greg Linn, Nils Lofgren, Lisa Lowell, Eric Meola, Joyce Millman, Mike Ness, Lauren Onkey, Pat Riley, Luke Russert, Mike Scully, Pete Souza, Frank Stefanko, Soozie Tyrell, Michael Weiner, Dick Wingate, and Pete Yorn.
HIDDEN WORLDS THAT SHINE
Celebrating 40 years of Darkness on the Edge of Town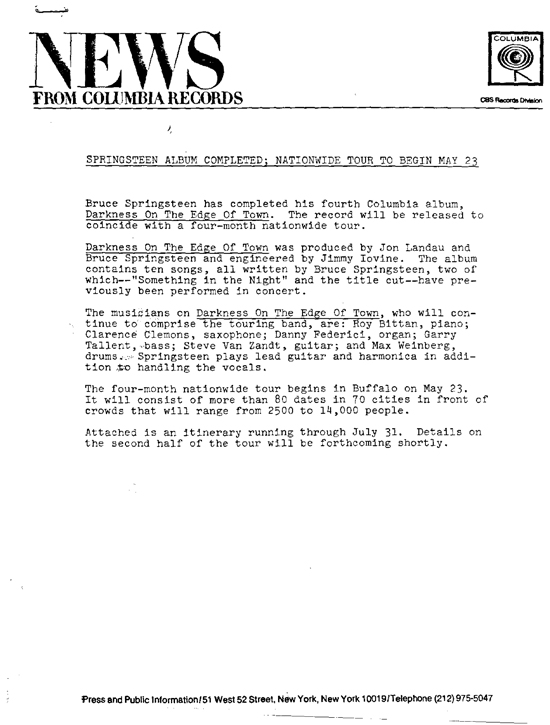 - June 2, 2018 - press release courtesy of Dick Wingate


STAY TUNED...
For our Darkness on the Edge of Town 40th Anniversary celebration, coming tomorrow.
- June 1, 2018

FIRST FRIDAY PUBLIC SERVICE ANNOUNCEMENT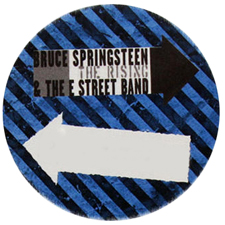 As we dive into the latest from Springsteen's live archive series (below), there's still an elelphant absent from the room: an official recording from the Rising tour. The 2002-2003 gap remains a source of frustration for many fans who can't understand why a single show from the Rising era has yet to emerge from the archives while other tours already have multiple titles (today's is the third from 2009). From what we've been able to piece together in recent weeks, from various sources, the omission is completely down to technical issues.
It seems all extant multi-track recordings of the Rising tour were made on an early, high-resolution DSD (Direct Stream Digital) system. Fifteen years on, there are major technical challenges in accessing the master recordings on the original platform. There is an ongoing effort to restore and extract the multi-track files, but to date, no complete show is available to mix for release. We hope those efforts are successful soon.
- June 1, 2018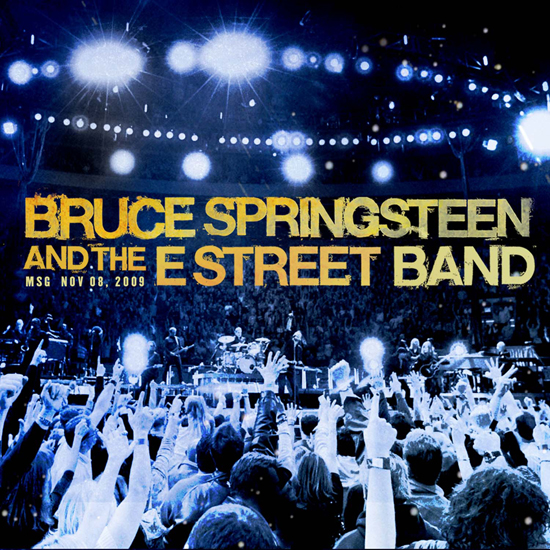 TAKE ME TO THE RIVER, FOR THE VERY FIRST TIME
First Friday brings Madison Square Garden's 2009 full-River debut
While Bruce Springsteen and the E Street Band gave The River a nightly live workout in 2016, it wasn't long ago that even one such performance of the 1980 two-LP set seemed too much to hope for. On the 2009 Working on a Dream tour, they had three complete LP sequences in their concert rotation — Born to Run, Darkness on the Edge of Town, and Born in the U.S.A. — and around and around they went.
But in the trek's final month, Springsteen planned three special one-offs, nights when he and the band would tackle three more albums in order: Greetings From Asbury Park, NJ (Buffalo, 11/22/09, a previous archival release), The Wild, the Innocent & the E Street Shuffle (NYC, 11/7/09, a glorious performance complete with string section debut), and, astoundingly, all four sides of The River (New York, 11/8/09). The last of these rolls our way today, the latest entry in the live archive series.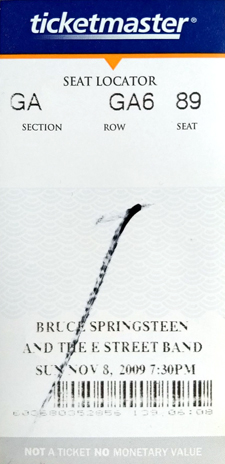 The buzz was off the charts at Madison Square Garden that night, and while the 20-song marathon may have been more proficiently performed in 2016, there's only one First Time. And proficiency ain't everything. The palpable excitement in the building, coupled with Springsteen's monumental energy — playing "as if his very life depended on it," Backstreets reported at the time — have kept this night from losing any luster in the wake of The River Tour Redux. In fact, 11/8/09 likely planted that seed: at the start of the Garden set, Springsteen pronounced the two-hour sequence "too long to do again." But once under his belt, the experience apparently proved too damn good not to do again.
Bruce and the band iced the cake with some terrific covers: "Seven Nights to Rock," "Sweet Soul Music," "Can't Help Falling in Love," and the perfect show-closer rediscovered late in the tour, Jackie Wilson's jubilant "Higher and Higher." But this night at the Garden will always be rightly remembered for the Main Event. It also bears mentioning, without detracting from Jake Clemons's MVP status in 2016, this is the only full River show featuring the album's original saxophone player. Do we have to say his name?
Read Jonathan Pont's original report here, with photographs from the night by Michael Zorn. MSG, November 8, 2009 is available now.
- June 1, 2018 - Christopher Phillips reporting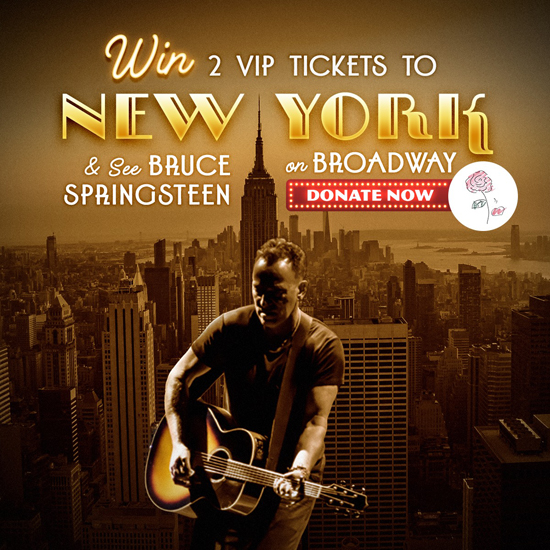 SPRINGSTEEN ON BROADWAY, FOR JUST A HAMILTON
Double your entries with a special Backstreets link
A chance to win a big Springsteen on Broadway meet-and-greet package ends this week. For making a donation as little as $10 to the Kristen Ann Carr Fund, you can be entered to win:
Roundtrip airfare and NYC hotel accommodations for winner and guest
Two second Row tickets to Springsteen on Broadway for any Friday or Saturday evening performance
Meet & greet w/ Bruce backstage
To enter to win, donate $10 or more to support the KACF's vital work funding the fight against sarcoma. Donating more earns more chances to win, with some add-on merch as well (including a Springsteen-signed '52 Fender Telecaster Guitar, if you've got $75,000). The campaign ends Thursday afternoon.
Update: use the link prizeo.com/backstreets to get double the amount of entries with your donation!
- May 29, 2018


D40: E STREET RADIO CELEBRATES 40 YEARS OF DARKNESS
All this week on E Street Radio (SiriusXM channel 20), tune in to hear '78-centric programming to commemorate the 40th anniversary of Darkness on the Edge of Town. Classic concerts from the '78 tour will air all week, including the Roxy, Agora, Capitol Theater (all three nights), Fox Theater, Winterland, and Houston Music Hall shows; plus, Dave Marsh and Jim Rotolo go track-by-track through the Darkness album, Nick Masi hosts an all-Darkness "Cover Me," and more. Visit the SiriusXM blog for the full line-up and broadcast schedule.
- May 28, 2018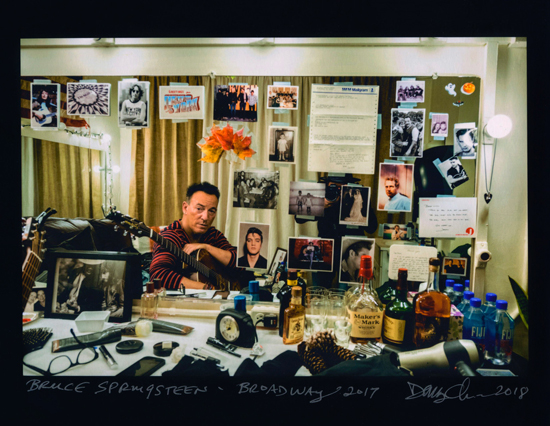 CLINCH OFFERS MEMORIAL DAY WEEKEND FLASH SALE, 200 BONES APIECE
Danny Clinch continues to post some amazing images from Springsteen on Broadway... if you're following him on Instagram, you may have already seen the portrait above, captured backstage in the Walter Kerr Theatre dressing room. Even better, this and more of Danny's Springsteen images — including his October 2017 Variety cover shot, below — will be part of a flash print sale for Memorial Day Weekend, which means you can have a Clinch on your wall without breaking the bank.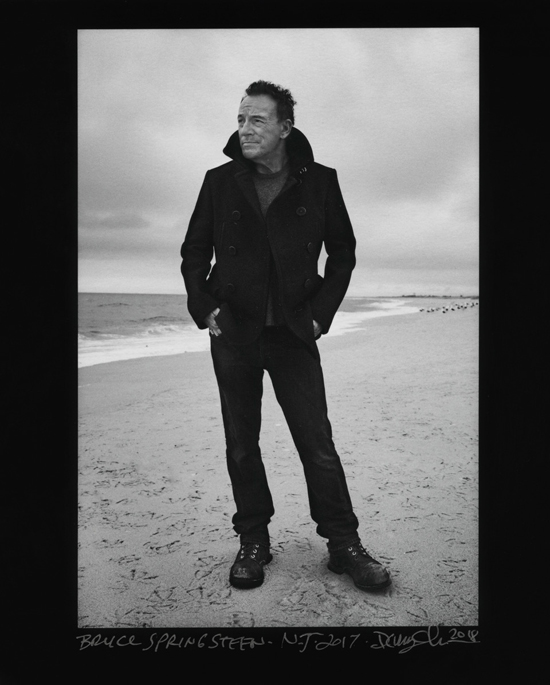 The print sale, which starts tonight at 6pm Eastern, is "in honor of Bruce Springsteen's amazing run on Broadway... At the end of the sale a donation will be made to the Kristen Ann Carr Fund! Friday 5/25 at 6pm EST to Monday 5/28 6pm, I am going to offer all the images under #dcxspringsteen in archival 8x10 format signed by me in silver permanent pen for $200 plus shipping."
For further information as the sale goes live, follow dannybones64 on Instagram.
Update: flash print sale link is dannyclinch.com/dcxspringsteen/
- May 25, 2018

SPRINGSTEEN GOES SOLO (OR SOLO GONE SPRINGSTEEN?)
Update: We posted this feature this morning for just a bit of Bruce-centric fun on the opening weekend of Solo: A Star Wars Story. Little did we know that father/son Solo screenwriters Lawrence and Jon Kasdan, in an interview published online today, would reveal a very real connection between Solo and Springsteen. Read the story at Uproxx.com.
Yahoo! We're all clear, kids! Today's the official U.S. release date for Solo: A Star Wars Story, hitting theaters across the country exactly 41 years after the original 1977 Star Wars film had its first public screenings. This new film explores the younger days of that lovable Correlian scoundrel, as well as his pals Chewbacca and Lando Calrissian. And while Solo draws inspiration from the likes of The Clash and Prince for its lead characters' style, there have also been several Solo/Springsteen internet intersections over the years.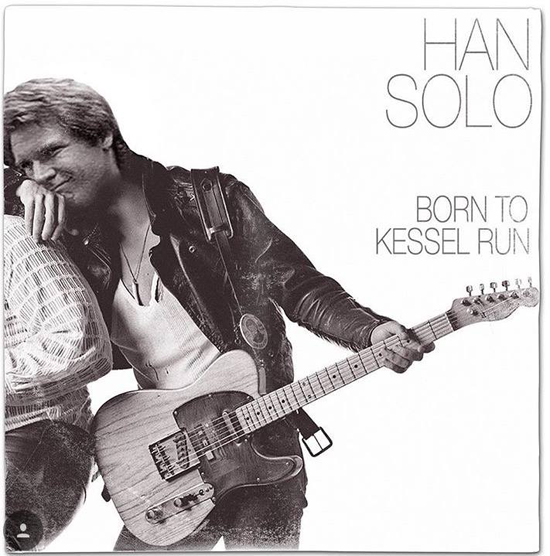 Of course there's the classic Born to Kessel Run. We have no idea what other track titles might be listed on the back cover, but you've gotta think "Tenth Avenue Carbon-Freeze out" is on there. This inspired lunacy is the brainchild of London-based digital artist Steven Lear, who creates and posts this kind of stuff regularly at whythelongplayface.com, where you can find more of his clever meldings of classic album covers with pop-culture references (including a few more Springsteen/Star Wars mashups.)
Another clever one from Lear references space-pirate Solo's classic line from The Empire Strikes Back, which later got delivered back to him perfectly in Return of the Jedi.
And a long time ago... well, a few years before Lear launched his site, anyway, Rolling Stone imagined Springsteen beating out Harrison Ford for his first starring film role, while Clor Studios offered up its own Solofied version of the Born to Run cover with Chewbacca as Big Man. That must be Han underneath the stormtrooper gear (a la Star Wars: A New Hope) — an actual stormtrooper's arms would've been pulled out of their sockets. Wookiees are known to do that.

To celebrate the opening, we're giving away our own Solo/Springsteen mashup: the "Johnny 99 Shot First" bumpersticker, connecting one of Nebraska's most memorable characters to the "Han shot first" controversy. We'll include one FREE with every order placed from now through the long Memorial Day weekend. No coupon code necessary, delivered to your door in less than 12 parsecs.
- May 25, 2018 - Shawn Poole reporting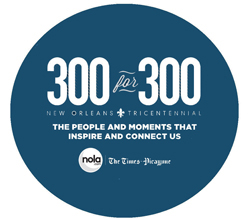 ON THE SCENE IN NEW ORLEANS
As part of the 300th Anniversary of New Orleans, the Times-Picayune has chronicled 300 key moments in the city's history, both online at nola.com and as part of an exhibit at the New Orleans Jazz & Heritage Festival. One of those moments is Bruce Springsteen's 2006 Seeger Sessions appearance at Jazz Fest, recently issued as part of the Archive series (read our report from Alison Fensterstock here). There are not many non-New Orleanians included in this auspicious list, so quite an honor from a city where music is part of its DNA.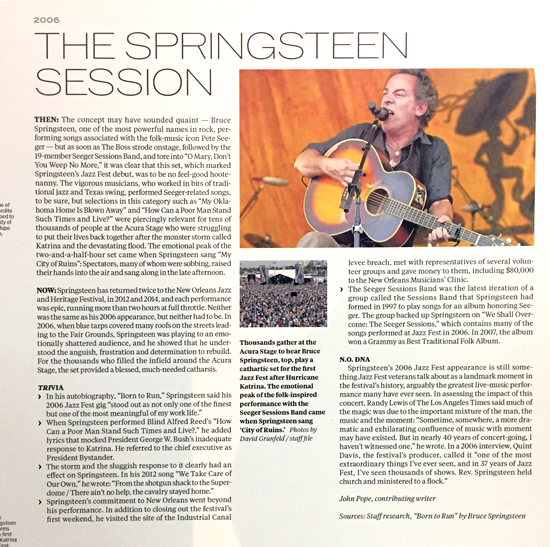 - May 23, 2018 - Caryn Rose reporting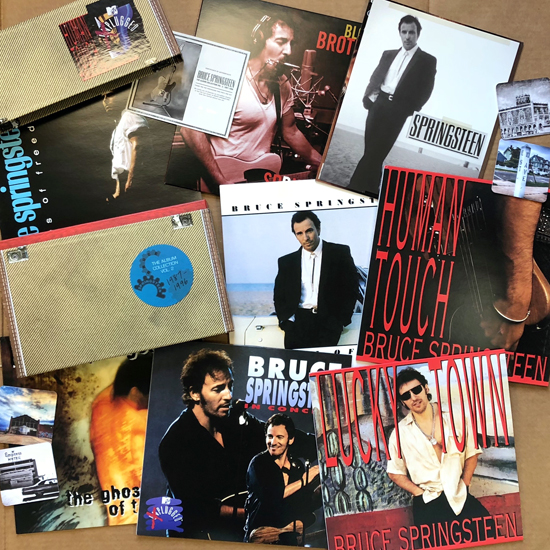 KEEP THOSE RECORDS PLAYIN'
Thanks to everyone who pre-ordered the Album Collection Vol 2 vinyl box from us — all pre-orders have been shipped, so yours is on its way if it hasn't been delivered already.
If you've got an active turntable and haven't purchased this new limited edition set of remasters, we do still have the box set in stock, still on sale, with the exclusive coaster pack that we created as a bonus to go with it. Take a look inside with our unboxing video, and order here.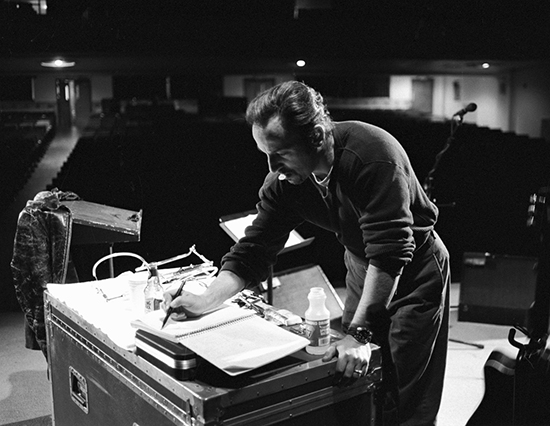 SPRINGSTEEN'S SPARE PARTS STOCKPILE GETS MAY 18 DIGITAL RELEASE
While tomorrow's Album Collection Vol 2 gathers all of Bruce Springsteen's LPs and two crucial EPs from the 1987-1996 era, it's not everything. Considering CD singles and their B-sides from the U.S. and around the world, there are a number of other tracks that needed to be taken into account.
Enter Spare Parts: The 9 EP Digital Collection, also available Friday, May 18. The digital-only release gathers officially released B-sides and live tracks from the Album Collection Vol 2 period and beyond, recordings that had not been previously available online (or collected on either Tracks or Essential).
These nine EPs will be available from Digital Service Providers for the first time, making their streaming debut, and collected as a "Spare Parts" playlist on Spotify as a companion piece to the box set. DSP debuts are in bold below.
1. "For You" (live) - Roxy 7/7/78

2. "Rosalita (Come Out Tonight)" (live) - Roxy 1978

3. "Fire" (live) - Winterland 1978

4. Incident on 57th Street (live) - Uniondale 12/29/80

1. "Roll of the Dice" (Album Version)

2. "Leap of Faith" (live) - Meadowlands 8/6/92

3. "30 Days Out" - Human Touch outtake

1. "Hungry Heart" (Berlin '95 Version)

2. "Streets of Philadelphia" (live with the E Street Band) - Sony Studios 4/4/95

3. "Murder Incorporated" (live with the E Street Band) - Sony Studios 4/4/95

4. "Thunder Road" (live with the E Street Band) - Sony Studios 4/4/95

1. "The Ghost of Tom Joad" (Album Version)

2. "Straight Time" (acoustic live) - Philadelphia, December 1995

3. "Sinaloa Cowboys" (acoustic live) - Philadelphia, December 1995

1. "Missing" (Album Version)

2. "Darkness on the Edge of Town" (acoustic live) - Berlin, 4/19/96

3. "Born in the U.S.A." (acoustic live) - Berlin, 4/19/96

4. "Spare Parts" (acoustic live) - Berlin, 4/19/96

1. "Growin' Up" (live) - UNPlugged outtake, 9/22/92

2. "Darkness on the Edge of Town" (acoustic live) - Philadelphia, December 1995

3. "This Hard Land" (acoustic live) - Philadelphia, December 1995

4. "The Big Muddy" (live) - UNPlugged outtake, 9/22/92

1. "Lonesome Day" (Album Version)

2. "Spirit in the Night" (live) - Barcelona, 10/16/02

3. "The Rising" (live) - Hayden Planetarium for the MTV Video Music Awards, 8/29/02

1. "What Love Can Do" (Album Version)

2. "A Night With the Jersey Devil" - Working on a Dream outtake

1. "Rocky Ground" (Album Version)

2. "The Promise" (live) - The Carousel House, Asbury Park, 12/7/10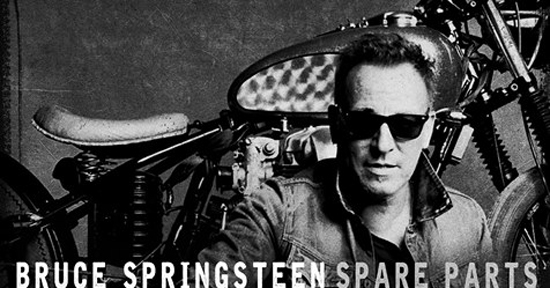 Click here for the Spotify playlist.
- May 17, 2018 - photograph by David Rose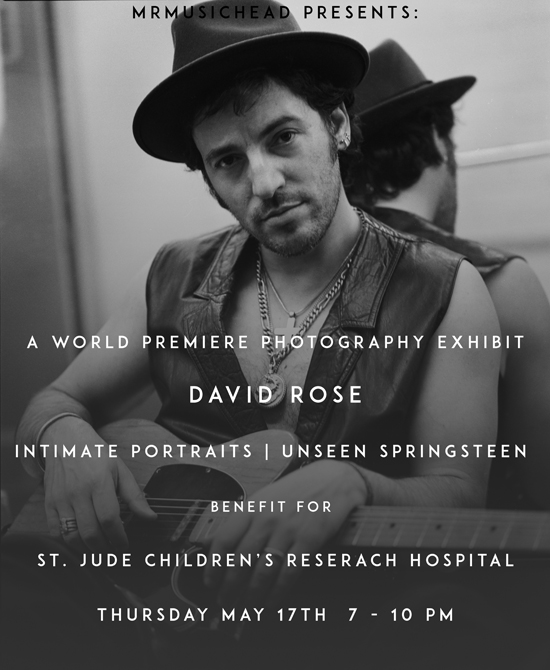 GOIN' CALI: '90S BRUCE IN DAVID ROSE'S L.A. GALLERY EXHIBITION
Opening at the Mr. Musichead Gallery in Los Angeles later this week is a world premiere exhibition of photographs by David Rose, called "Intimate Portraits: Unseen Springsteen." Rose worked with Bruce Springsteen during his early '90s L.A. period, and his images will be familiar to fans from the '92-93 era as well as the 1995 E Street Band reunion. On display from May 17 to June 2, the showing of Rose's work will include rarer glimpses as well, with more than 30 David Rose photographs on display. Two events, on Thursday and Friday, kick off the exhibition.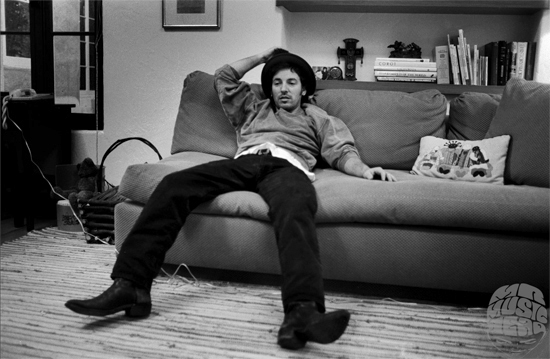 An Opening Reception on Thursday, May 17, with cocktails and a silent auction, is a benefit for St. Jude Children's Research Hospital. Tickets are available through eventbrite.
Given Rose's work on the covers of Human Touch, Lucky Town, and Blood Brothers — all represented in the new Album Collection Vol 2: 1987-1996 — Friday's event at the gallery is a Record Release Reception for the box set, in conjunction with Sony Legacy. RSVP here to attend this free event.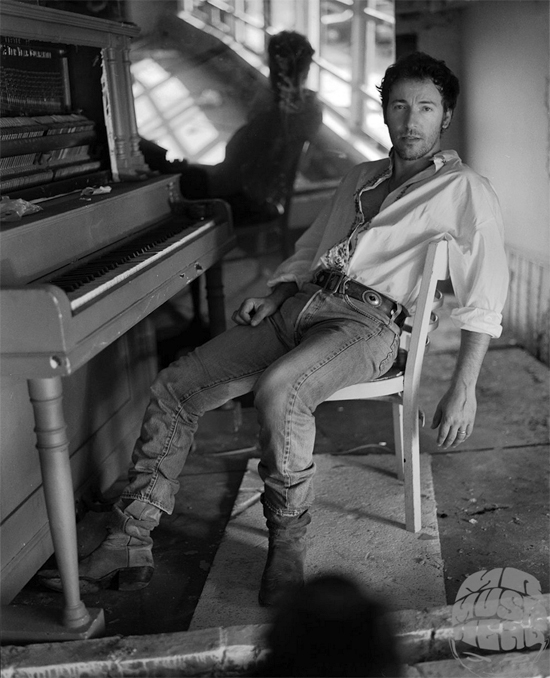 Mr. Musichead Gallery is located at 7420 W. Sunset Blvd., in the landmark Valdez Guitar Factory building across the street from Guitar Center. If you can't make it in person, view more of Rose's work and purchase prints at mrmusichead.com.
- May 16, 2018


UNBOXING THE SECOND WAVE OF REMASTERS
A look inside the forthcoming box of remastered vinyl LPs, as we tear off the shrinkwrap and pop the top for the first time. The official release is this Friday... and it's not too late to pre-order from Backstreet Records to get our sale price ($30 off list) plus an exclusive bonus, with thanks for supporting what we do!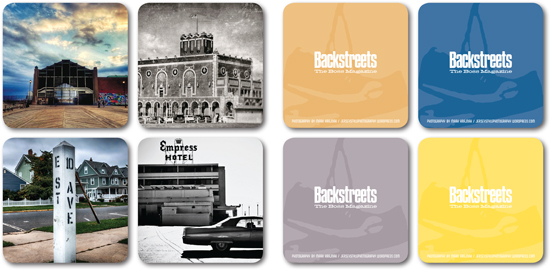 The bonus gift from us is this new set of four beverage coasters, as we once again teamed up with photographer Mark Krajnak for another four views from the Jersey Shore. Free with The Album Collection Vol 2: 1987-1996, only from Backstreets.
- May 14, 2018

I HAVE FALLEN IN THE FOREST, DID YOU HEAR ME?
The death of Frightened Rabbit's Scott Hutchison still has us feeling heartbroken, as one of our favorite bands and favorite singer/songwriters to emerge in the last 20 years. After spending much of the weekend revisiting Scott's music, here's a moment well worth sharing on Backstreets:
You can also hear Frightened Rabbit covering "Streets of Philadelphia" on SiriusXM via YouTube. But their own music is the best way to experience Scott's talents, his sharp-witted, heart-on-his-sleeve songwriting and plaintive vocals. For one of the best break-up records there is, try The Midnight Organ Fight, and chase it with the follow-up, The Winter of Mixed Drinks. We always thought "The Loneliness and the Scream," from the latter, would be perfect for Bruce Springsteen and the E Street Band. Today it's a difficult if cathartic listen.
Scott was only 36. Like Springsteen, he's an artist whose work we'd looked forward to following for decades. Also like Springsteen, Scott wrestled with depression. Tragically, those two things can't necessarily co-exist. A statement from his family reads in part:
Depression is a horrendous illness that does not give you any alert or indication as to when it will take hold of you. Scott battled bravely with his own issues for many years and we are immensely proud of him for being so open with his struggles. His willingness to discuss these matters in the public domain undoubtedly raised awareness of mental health issues and gave others confidence and belief to discuss their own issues.
We're raising an old fashioned to Scott, and our hearts go out to his family and bandmates, who write,
There are no words to describe the overwhelming sadness and pain that comes with the death of our beloved Scott but to know he is no longer suffering brings us some comfort. Reading messages of support and hope from those he has helped through his art has helped immensely and we encourage you to continue doing this. He will be missed by all of us and his absence will always be felt but he leaves a legacy of hope, kindness and colour that will forever be remembered and shared. Rest peacefully Scott.
- May 14, 2018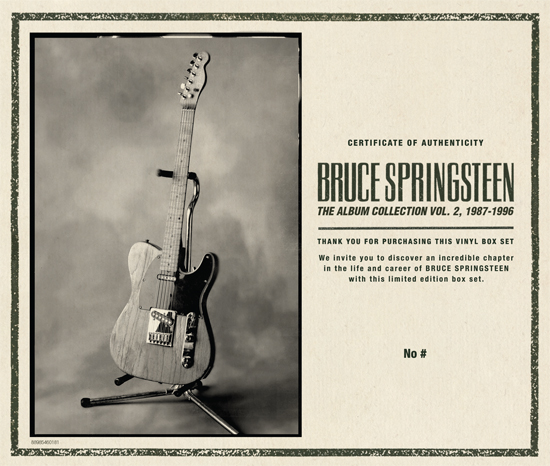 PRE-ORDER ALBUM COLLECTION VOL 2 NOW, DUE NEXT FRIDAY
Get our pre-order sale price and an exclusive Backstreets bonus
Dropping one week from today is Bruce Springsteen's The Album Collection Vol 2, 1987-1996, and we're still taking pre-orders for the numbered and limited edition boxed set. Unlike Vol 1, the second box in the series is being released on vinyl only in the U.S., including the first-ever pressing of the Blood Brothers EP on wax, exclusive to the box. Pre-ordering from Backstreet Records now will save you $30 off the list price, and you'll also get an exclusive gift from us.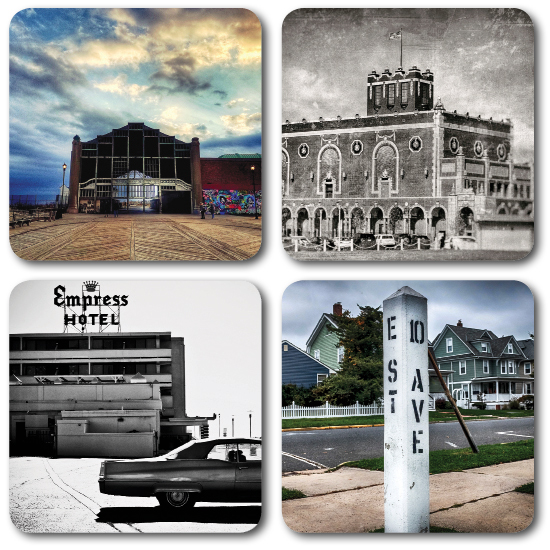 FREE coaster set, Vol 2: Yep, we're expanding the set! If you ordered The Album Collection Vol 1 from us, we included an exclusive bonus set of four scenic Asbury Park coasters. For Vol 2, we've again teamed up with photographer Mark Krajnak for another four designs — Volume 2 of our coaster pack, with four more scenes from the Jersey Shore.
As pictured above, images include the Casino on the Asbury Park boardwalk (where Springsteen filmed the 'Tunnel of Love' video), the Paramount Theatre (host to three landmark shows on the 1996 Tom Joad tour), and of course, a crossroads for the E Street Band. The new coaster set is yours FREE when you pre-order The Album Collection Vol 2, 1987-1996, only from Backstreet Records.
Pre-order The Album Collection Vol 2 on vinyl now
For those interested in compact discs, it looks like Sony Japan is keeping the CD alive for Vol 2, a seven-disc set with an expected release date of June 27. If we can import some of these ourselves for Backstreet Records, of course we'll spread the word. In the meantime, if you've got 13500 yen lying around... or a credit card, naturally... try cdjapan.co.jp for pre-ordering.
- May 11, 2018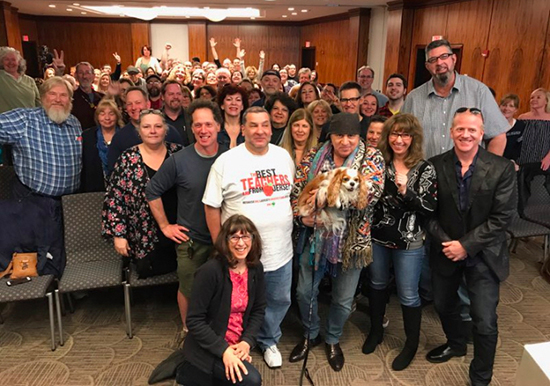 NO CHILD LEFT UNROCKED
Little Steven's newly launched Teacher Appreciation Tour provides support to teachers and students in the U.S. and abroad
Last week, as communities across the U.S. prepared to celebrate National Teacher Appreciation Week, Little Steven & The Disciples of Soul launched their Teacher Appreciation Tour in New Brunswick, NJ. This unique, groundbreaking tour offers direct support to educators and students in every location where the band performs, including the European cities on the tour's upcoming itinerary for June and July.
"[Little Steven's] TeachRock program brings an essential curriculum of music and culture into school and makes it available at no cost to educators. In a time of cutbacks in arts funding, Steve's programs are keeping kids engaged in the arts, and in school — this is his greatest legacy."
— Bruce Springsteen inducting Steve Van Zandt into the NJ Hall of Fame, May 6, 2018
In each town before each show, teachers can register for and attend a special free workshop where they'll learn how to use TeachRock.org with their students. The TeachRock.org website, initiated and designed by Steve Van Zandt with input from educational experts and others involved with Van Zandt's Rock and Roll Forever Foundation, offers teachers hundreds of free lesson plans (designed for grades 4-12,) audio/video clips and other resources. The plans and resources link rock, pop, soul and hip-hop music to common school subjects including Art, English, History, Mathematics, Science and Social Studies.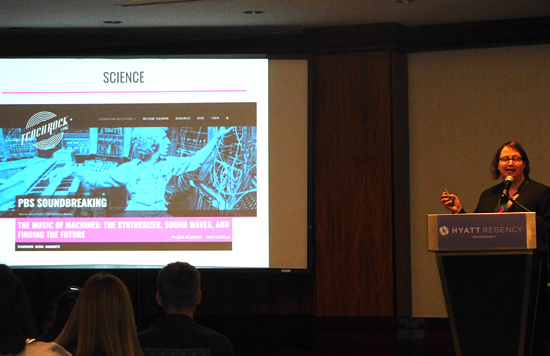 Each teacher who attends a workshop also receives a very special "stipend" for their time: two free tickets to that evening's Little Steven & The Disciples of Soul concert (one for the teacher and one for a friend or family member, who does not have to be a teacher). In addition, teachers receive a certification of their attendance and, depending on their school district's policies, can receive professional-development and/or continuing-education credit. Stevie himself has been known to drop by these workshops on occasion, as he did in New Brunswick [photo at top]. He even brought his beloved dog Edie with him, explaining to the teachers, "It was my turn to babysit."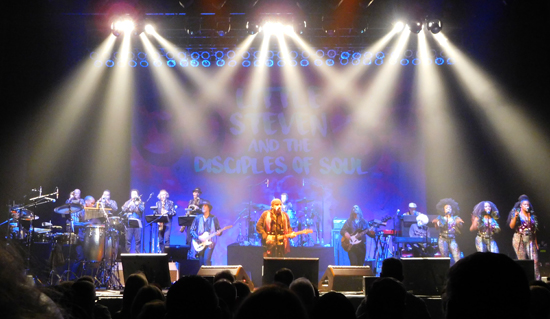 Not surprisingly, Steve and his band have continued to deliver excellent performances on this special tour, which simultaneously constitutes a new leg of their ongoing Soulfire tour. These shows also have been tweaked somewhat with an increased emphasis on musical history and education. (Two prime examples from the New Brunswick night: opening with a stellar cover of the Arthur Conley/Otis Redding classic "Sweet Soul Music," which namechecks many of soul music's greats, and Steve's introduction to his own song "Some Things Just Don't Change," where he spoke extensively about the musical importance of Detroit and revealed that he originally wrote "Some Things Just Don't Change" hoping that The Temptations' David Ruffin would record it.) It's far from a boring lecture-hall gig, though, instead continuing to offer a fun, inspiring evening of beautifully performed big-band rock and soul.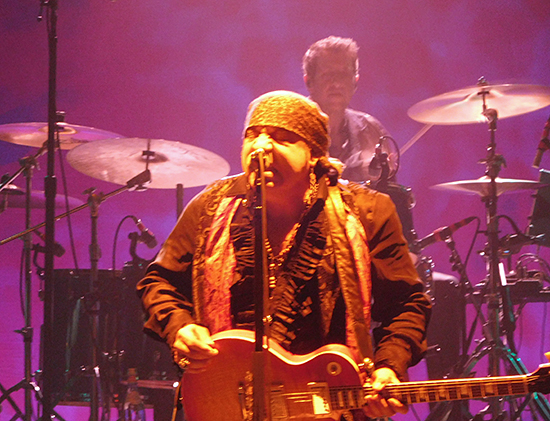 Though it's called the Teacher Appreciation Tour, at the initial pre-show workshop it was the teachers themselves who movingly expressed their heartfelt appreciation to Steve Van Zandt and his colleagues for implementing such a great idea. In a recent Sirius/XM "Town Hall" conversation hosted by Dave Marsh and centered around the Teacher Appreciation Tour, Van Zandt summed up the motivation behind the Tour: "We just want to show respect to the teaching profession. You see these teachers who are making, y'know, $40,000 or $35,000 a year buying pencils for the kids while we give another $40 million to the military. I'm sorry; something's wrong here, y'know? I mean really, it's just despicable what's going on. So anyway, we're doing whatever small thing we can do just to show respect and give teachers a couple of hours of 'escape' from the difficulties of this world... just enjoy some music for two hours and then go back to the real world."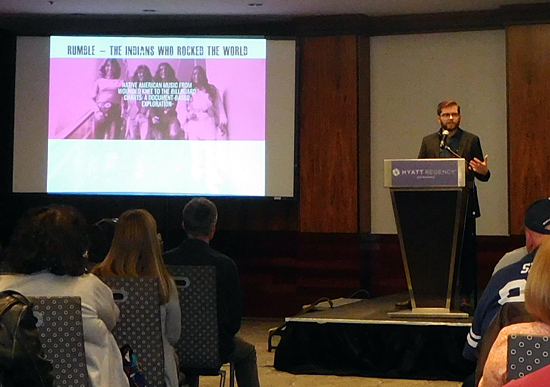 Thanks to the pre-concert workshops, however, educators also will re-enter the real world re-energized, re-inspired and equipped with some new tools to help them better reach their students. In a post-workshop e-mail message sent to all participants, Steven writes from personal experience about the impact that programs like TeachRock.org can have on students: "I was that hard-to-reach kid... When I found Rock and Roll, everything changed. I woke up — emotionally, intellectually, and socially... Music will forever be humanity's most effective and consistent source of inspiration and motivation, and, as we have learned, music turns out to be a solid common ground for establishing communication between teachers and students. And connection is where education begins. Rock on, baby!"
If you're an educator/administrator and would like to attend one of the upcoming TeachRock.org workshops, click here for more information. And everyone else interested in attending one of the Teacher Appreciation Tour's upcoming shows can click here for dates and tickets.
- May 9, 2018 - report and photos (from the 4/29/18 workshop and concert) by Shawn Poole - top photo courtesy of The Rock and Roll Forever Foundation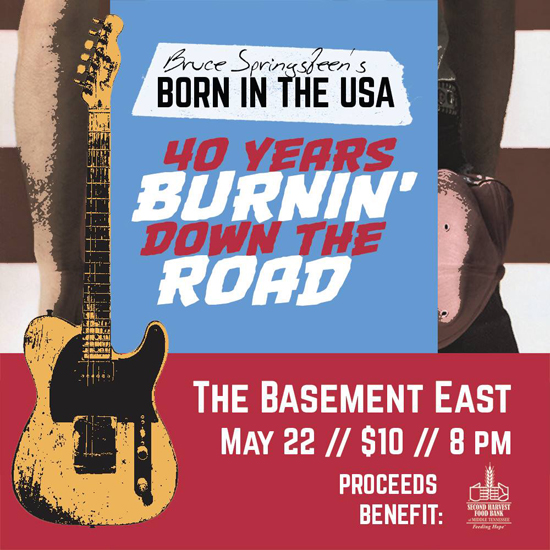 DRIVING IN TO DAVIDSON COUNTY
If you're down Nashville way, you might remember last year's Darkness on the Edge of Town tribute show that coincided with the eclipse. The same folks are gearing up for '40 Years Burnin Down the Road: Bruce Springsteen's Born in the USA,' another benefit for the Second Harvest Food Bank of Middle Tennessee, at The Basement East on May 22.
Performing the 1984 album in its entirety, Alex Fang tells us, will be the "same great band as last time, featuring musicians who play with the likes of Lady Antebellum, Tim McGraw, Darlene Love, Julien Baker, and many more. Charles Esten, star of hit TV show Nashville is performing a couple songs as well. It'll be a blast!"
Visit the event page on Facebook, and purchase tickets at ticketweb.com.
- May 9, 2018


"THE BOSS OF US ALL," FILM AT 10
After reporting on Blinded By the Light yesterday, with the Greeetings From Bury Park adaptation in its final week of filming, we're particularly happy to see this news report from last night, airing on ITV's News at Ten in the UK.
- May 9, 2018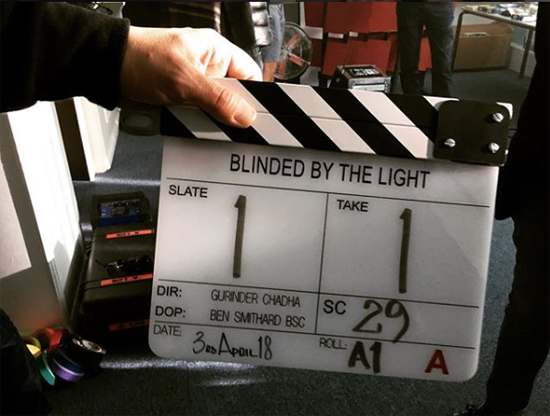 LIGHTS! CAMERA! ACTION IN THE STREETS!
Greetings From Bury Park adaptation coming to the big screen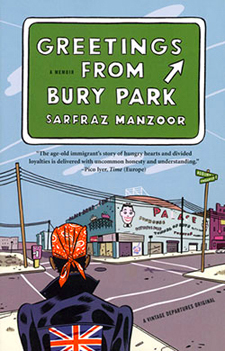 A feature film adaptation of Sarfraz Manzoor's acclaimed 2008 memoir Greetings From Bury Park is currently in production. It will be released under the title Blinded By the Light, directed by Gurinder Chadha — who was responsible for the global hit film Bend It Like Beckham — and Bruce Springsteen has given the film his blessing and permission to use some of his music in it.
Chadha has described the film as a "hybrid musical firmly rooted in the great British tradition of quirky comedies, but with a dash of youthful exuberance inspired by John Hughes' films from the 1980s." Variety is listing it already among the "hot titles" expected to do well in the sales market at this year's Cannes Film Festival.
An article in last Sunday's edition of The Observer (online version available here) further clarifies how Bruce's music will be used in the film. In short, don't think jukebox-musical-style a la Mamma Mia, where the songs actually serve as dialogue. Blinded By the Light instead will use some of Springsteen's recordings in a manner similar to that of many Scorsese films, where a classic record often gets used as incidental music to support the overall emotional tone of a scene. Judging from the content of Manzoor's memoir, it's also likely that there will be scenes involving one or more characters playing a Springsteen record or hearing/seeing Bruce perform on radio/TV. And the Observer article confirms that the character played by Rob Brydon, who in real life is a Springsteen fan, will sing "Thunder Road" in a scene.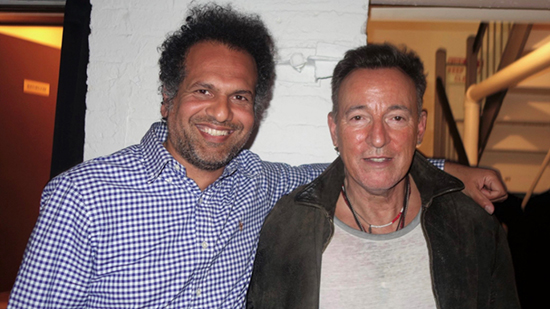 Manzoor (pictured above backstage with Bruce after the March 10 performance of Springsteen on Broadway) wrote his memoir to chronicle his experience of growing up in 1980s Luton — an industrial town north of London — as a working class British Pakistani Muslim and how the music of Bruce Springsteen inspired and transformed his life. Manzoor also wrote the screenplay for Blinded by the Light, working in collaboration with Chadha and Paul Mayeda Burges.
Manzoor and Chadha are both major Springsteen fans. Chadha has described the duo's encounter with Bruce at the 2010 London premiere of Thom Zimny's film The Promise, being surprised and excited to learn that not only had Springsteen read Manzoor's book, but admired it: "I quickly pitched him the film we wanted to make from the book on the red carpet and, to our excitement, Bruce nodded and said, 'Sounds good, talk to Jon.' We then spent several years developing a script we knew had to impress Springsteen and managers Jon Landau and Barbara Carr or there would be no film without his music and blessings."
Chadha added, "At a time of such political and social instability in the world, this film provides us with a vital reminder of our shared humanity and the transformative power of music on both a personal and global scale."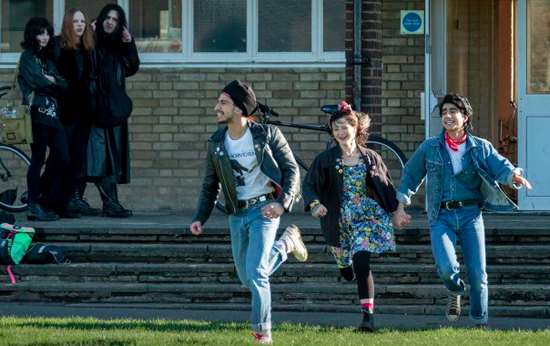 "Growing up in Eighties Luton as the working class son of Pakistani Muslim immigrants, my world felt very small," Manzoor explained. "In the music of Bruce Springsteen, I found both hope and wisdom on how I could transcend my circumstances and make my dreams to be a writer come true. The fact that I was so affected by Springsteen's songs shows just how powerfully music can transcend race, religion, nationality and class. Blinded by the Light is also a tribute to my late father, with whom I often fought in my teenage years, not realizing his generation also had dreams they were not able to follow."
The film is currently shooting in various UK locations and is expected to be released worldwide next year. We'll have updates on Blinded by the Light as the film's completion and release draw nearer.
- May 8, 2018 - Shawn Poole reporting - production slate photo courtesy of Gurinder Chadha - backstage photo courtesy of Sarfraz Manzoor - publicity photo courtesy of Cornerstone Films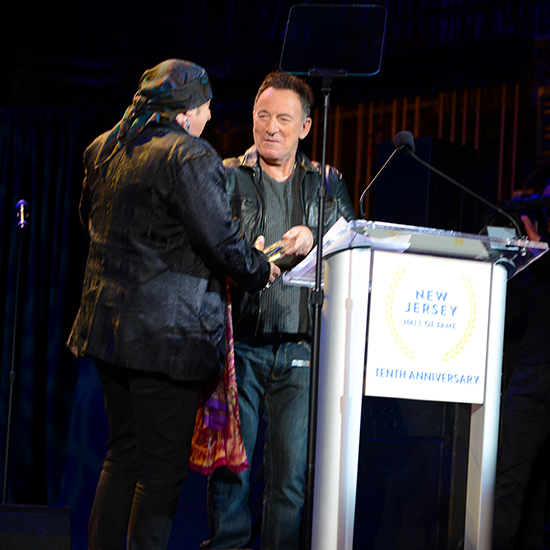 "ONE OF THE GREATEST LIVING WHITE SOUL PERFORMERS AND WRITERS WE HAVE"
Congratulations to newly inducted NJ Hall of Famer Steven Van Zandt
Last night at the Paramount Theatre in Asbury Park, Bruce Springsteen welcomed Steven Van Zandt into the New Jersey Hall of Fame as part of the Class of 2017: "Though born in Boston, Massachusetts, there is no purer distillation of the Jersey ethos than Little Steven Van Zandt." Watch Springsteen's induction speech as well as Van Zandt's acceptance below.
Bruce Springsteen:
Though born in Boston, Massachusetts, there is no purer distillation of the Jersey ethos than Little Steven Van Zandt. He is his own purest creation. Words you will never hear on the street: "Wow, that guy looks just like Little Steven!"
Roaring into New Jersey at seven years old, baptized at 13 in the holy spirit of The Beatles on Ed Sullivan, the Stones on Hollywood Palace, Steve's vocation, rock 'n' roll, chose him early. I first laid eyes on him at the Middletown Hullabaloo Club in 1966. As I walked in, there was Steve with his band The Shadows, knocking out a record-perfect rendition of The Turtles' "Happy Together." Who knew I had just met my black-vested, paisley-tied, teenaged, wild-eyed brother? One look at Steve and I knew that we'd both drunk the same Kool-Aid.
Then it was fast friendship, weekly trips to Greenwich Village and the Cafe Wha? to watch the bands, arguing about who was better, Led Zeppelin or the Jeff Beck Group, The Beatles or the Rolling Stones; who had the perfect clothes, the perfect guitar, the perfect hair; and thousands of hours of preparation for the day when folks could argue about us. Of course, this all culminated in our brotherhood in the E Street Band, Steve's service — playing, singing, producing as my irreplaceable lieutenant — and our lifelong friendship.
While I'm always blessed to have Steve at my side, his solo work speaks for itself. The incredible songs and productions he created for Southside Johnny, such as "I Don''t Want to Go Home," "Love on the Wrong Side of Town," "It's Been a Long Time"... Steve is one of the greatest living white soul performers and writers we have. His timely and classic Sun City recording — with an organization he created, Artists United Against Apartheid — was not only brave music but worked hard to combat apartheid in South Africa. His incredible work with his ongoing group, the Disciples of Soul. And all of this before you get to Steve's great contribution to Jersey lore as an actor: Silvio in The Sopranos.
Did I mention: he's a radio host, an entrepreneur with Little Steven's Underground Garage, where he plays all the music you need to hear, and captains the Wicked Cool record label, where he releases great records and gives young bands the shot they deserve.
Steve also has a long career as an activist, too lengthy to go into here, but let's just say he walks it like he talks it. His Rock and Roll Forever Foundation and his TeachRock program brings an essential curriculum of music and culture into school and makes it available at no cost to educators. In a time of cutbacks in arts funding, Steve's programs are keeping kids engaged in the arts, and in school — this is his greatest legacy.
To finish off, this is a man who was married to his lovely wife Maureen by Little Richard, who was serenaded down the aisle by the great Percy Sledge, is the sole creator of the male babushka, and is the only man I know besides Hugh Hefner who has figured out how to spend his whole life in his pajamas.... I love you, Steve! Welcome to the New Jersey Hall of Fame, Steven Van Zandt!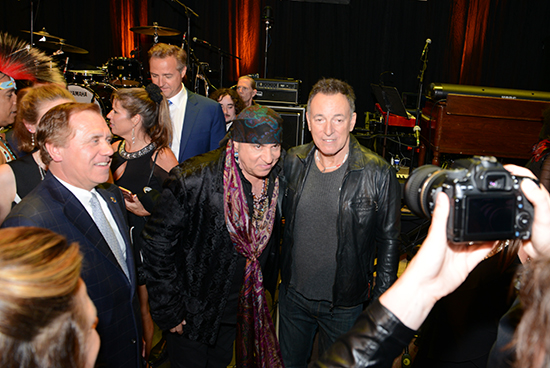 Steven Van Zandt:
So, destiny is a funny thing. You know, like Bruce was saying, when and where you're born, and the circumstances you're born into, really count. If I had been born ten years earlier, I probably would have been a teenage juvenile delinquent car mechanic, drag racing my car every weekend... and I'd be dead now. If my mother didn't marry Bill Van Zandt, I never would have left Boston and ended up in New Jersey. Growing up in New Jersey ended up being a very good thing. It was less pressure than a major city, so I got a chance to develop. At the same time, it wasn't so great that it made you want to stay there the rest of your life. It gave you some motivation.
Like I said at Rutgers, my life has really been about chasing greatness: I seek it out, I support it when I find it, and I create it when I can. But I wouldn't have known what greatness was if I hadn't grown up in the middle of a renaissance period, when the greatest art being made was also the most commercial. You know? That set your standards very high. Forever. We were lucky to grow up when we did. As I've said many times, nobody's born great. Greatness is developed. And being born when our country was so rich that it allowed the "teenage leisure class" to exist, and gave it time to develop, was very lucky, and the suburbs of New Jersey in the '60s was the perfect place to do it. So destiny and a little bit of luck goes a long way.
Most importantly, if I hadn't been in New Jersey in the '60s, exactly where I was, doing what I happened to be doing, in the manner I was doing it, I never would have met Bruce Springsteen.
Now, we've done a lot of good work together — and there's still more to come — but what was most important was, he was the only other person I had ever met for whom rock 'n' roll was everything. Not a job, not a convenience, not a way to fortune and fame, not a way to get laid — although it would be all those things. But you have to understand, when we decided to do it, it wasn't a legitimate business yet. And the only successful bands were from England, 3,000 miles away. Not New Jersey. So we needed each other's reinforcement. And with Bruce and the E Street Band, we would do what only a few had accomplished in history before us. We did the impossible... we made New Jersey hip.
And then 20 years later, I had the most extraordinary and unlikely fate of watching New Jersey become fashionable twice in one lifetime... unbelievable. You know, if I hadn't been in New Jersey, I wouldn't have met David Chase or been on The Sopranos. It all depends on where you are, you know? The right timing.... So, thank you New Jersey. You have been very, very good to me, and I hope someday, if my luck holds out, to eventually return the favor.
Thank you, Steve Edwards, thank you Carol Ross, thank you Maureen — I love you, baby — thank you Bruce, I love you. Thank you!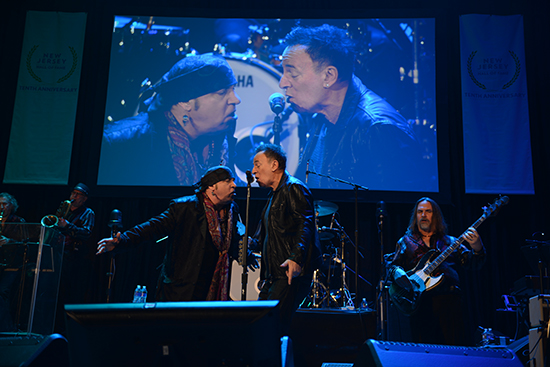 Following the speeches, Little Steven closed the ceremony with performances of "Soulfire" and "I Don't Wanna Go Home," joined on the latter by Springsteen at center mic.

- May 7, 2018 - photographs by Gary Gellman - thanks to Sammy Steinlight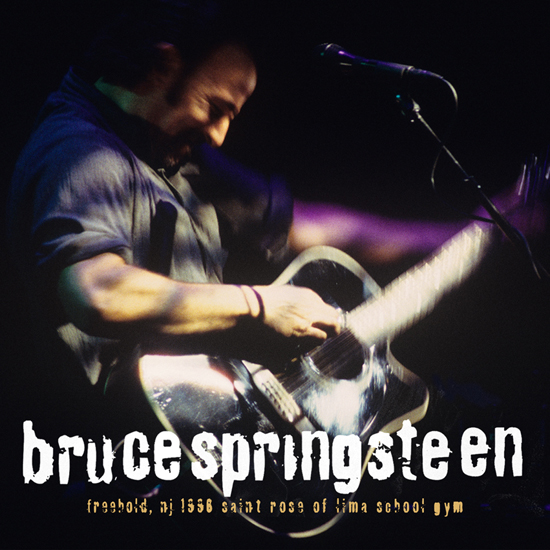 BACK-TO-SCHOOL NIGHT: FREEHOLD 1996
Springsteen's hometown concert for St. Rose of Lima arrives
When Backstreets reviewed Bruce Springsteen's 1996 headlining performance in his New Jersey hometown, we questioned whether the night's closing number, a song he'd written for the occasion, qualified as a proper tour debut. But there would be no such question today: the inherently funny and light-hearted "In Freehold" may never rise to the heights of "Born to Run," but it's a real song, full of autobiographical detail, full of geography, full of place. Those elements carry today's archive release: November 8, 1996, at St. Rose of Lima School, in Freehold.

courtesy of Billy Smith
The appearance at Springsteen's boyhood grammar school, a benefit show for its Hispanic Community Center, came about a year into the 18-month trek behind The Ghost of Tom Joad. He took a night off from the straight edge that characterized those shows, lightening the mood and stocking the set with homecoming material. It began with a dirge-like arrangement of "The River," complete with Drop D tuning and fiddle accompaniment from Soozie Tyrell (she and Patti Scialfa guested frequently throughout the show). The character's declaration of his place of origin set the tone for the evening.
Other songs served that purpose, too: "The Wish" appeared, as did lesser-played songs from Nebraska, "Growin' Up," and the first acoustic arrangement of "Racing in the Street." And to hear people applaud and cheer before a quiet song ends? Well, when it's "My Hometown" — played especially for the one that it's based on — that's just fine (Springsteen hadn't exempted his neighbors from his Joad tour "shut the fuck up" speech, but he modified it some).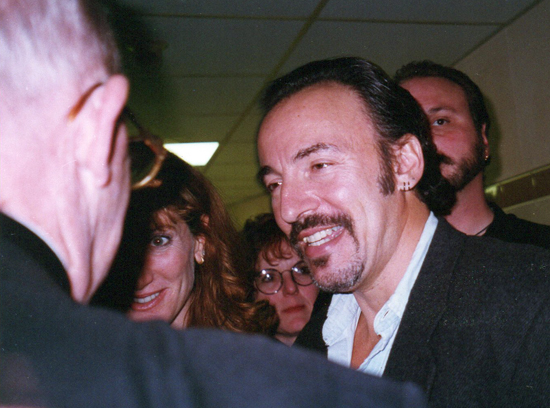 Scialfa and Springsteen in Freehold, 11/8/96 - photograph by Billy Smith
It was an occasion, to be sure: tickets were meant only for Freehold residents. (At least one out-of-towner secured a pair of tickets the old-fashioned way: with a well-placed phone call to the church and the offer of a substantial charitable donation.) Yet it wasn't the first time Springsteen had played there: his band the Castiles were something of a house band at St. Rose of Lima in the mid-'60s, playing CYO dances in the basement.
At one, probably in 1967, Springsteen recounted using a strobe light and a smoke bomb and smashing a vase of flowers — an attempt, he said in 2015, to emulate the artful destruction he'd witnessed at a Convention Hall concert by The Who. "I looked ridiculous," Springsteen said, "but I went home smiling, feeling a blood bond with Pete Townshend, and never looked back."
"In Freehold" suggests he never really had to: like anyone's primary experience, it was with him the whole time. Delivered as a heartfelt summation more than a last laugh, the song's touchstones included Tex and Marion Vinyard, his own kids, his boyhood house, his Catholic education, and, well, other things — dedicated to Freehold, naturally — and capped the evening perfectly. Like songs Springsteen hadn't played for a long stretch until that night, it was rough around the edges, requiring a "dramatic interlude," as he put it, to remind himself of the lyrics. But with grace and honesty, the song put Bruce's love/hate relationship with his hometown on full display, two decades before Springsteen on Broadway.
Springsteen played a trio of shows later that month in Asbury Park, ones that generally shaped up as celebrations of his first two records and his long-standing association with the other town that shared in his fame and history. But let the record show that Freehold was first.
- May 4, 2018 - Jonathan Pont reporting



ROCK HALL CAMERAS ROLLING ON MIGHTY MAX TONIGHT
Tonight in Cleveland, the Rock and Roll Hall of Fame will be filming Max Weinberg's Jukebox local stop for their education programs. Footage of the Hall of Famer will be used in videos for the Rock Hall's "Meet the Instruments" class for kids, and for their free online education platform, Rock Hall EDU. Tonight's show is at the Winchester Music Tavern in Lakewood, with tickets available here.
From there, Max's Jukebox heads to the DC area for the weekend, with Friday and Saturday night shows at The Barns in Wolf Trap, in Vienna, VA. See all dates at maxweinberg.com.
- May 3, 2018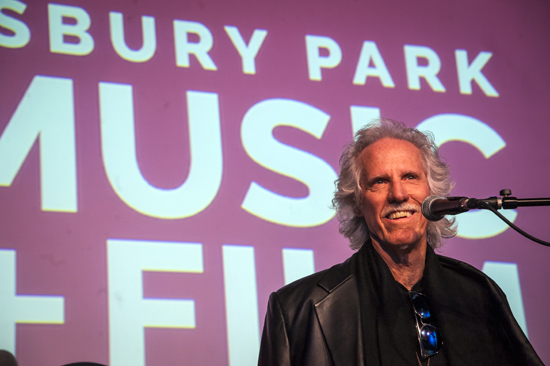 "BACK IN THE LAND OF BRUCE"
Bruce Springsteen has fondly recalled seeing The Doors at Convention Hall as a teenager. Ths past weekend, original member of The Doors John Densmore was back in town, attending the Fourth Annual Asbury Park Music & Film Festival for the world premiere of the film Break On Thru: A Celebration of Ray Manzarek and The Doors. The concert documentary won Best Feature Film; accepting the award, Densmore said, "It's good to back in the land of Bruce... Jim [Morrison] and Ray [Manzarek] would be very pleased."

The festival included appearences by Wyclef Jean, Jersey Governor Phil Murphy, and Asbury Park's own Danny DeVito, who highlighted the weekend with a look back on his career on Saturday night. While on stage at the sold-out Paramount Theatre, he had Asbury vocal hero Nicky Addeo join him for the doo-wop song "Over a Cup of Coffee."


- May 2, 2018 - thanks to Sammy Steinlight - Asbury Park Music & Film Festival photo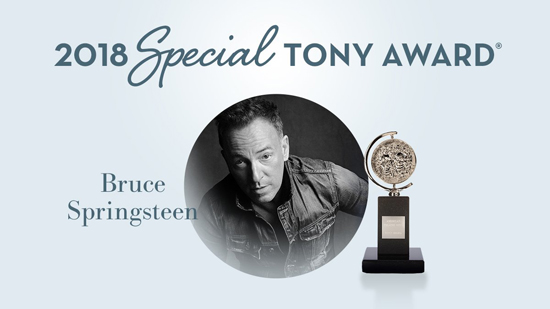 THREE DOWN, ONE TO GO
Bruce Springsteen will move one step closer to EGOT status next month, when he'll be presented with a Special Tony Award "for his ongoing engagement Springsteen on Broadway, a once-in-a-lifetime theatregoing experience for the Broadway stage, allowing fans an intimate look at a music idol."
Jay Lustig notes: "According to Tony rules, the Special Tony honors 'a live theatrical event that… does not fit into any other category of Tony Award to be awarded for the current season.' This is the category where Lena Horne got a Tony for 1981/1982 The Lady and Her Music; where Judy Garland was honored for her enthusiastically received shows at the Palace Theatre in 1951; and where, more recently, non-traditional Broadway fare such as Dame Edna: The Royal Tour, Sarah Jones' Bridge and Tunnel and Russell Simmons' Def Poetry Jam on Broadway has been honored."
The American Theatre Wing's 72nd Annual Tony Awards ceremony on Sunday, June 10 — which also happens to be a night Springsteen on Broadway is dark — will be braodcast live from Radio City Music Hall at 8pm on CBS.
- May 1, 2018