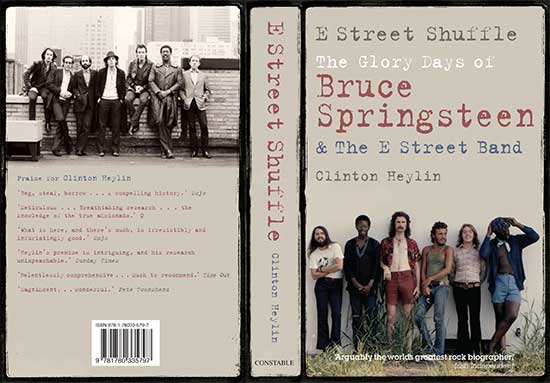 SET YOURSELF UP FOR THE NEW YEAR
We've had some killer Boss book offers in 2012... here's another one to start the new year off right.
Eminent music biographer Clinton Heylin has delved into the rich world of Springsteen's first seven albums with his new book E Street Shuffle: The Glory Days of Bruce Springsteen & the E Street Band. Heylin has written authoritative works on Bob Dylan, Van Morrison, the subject of Bootlegs, and much more; he's followed Springsteen for a long time as well, and we've been excited to see his smart, critical, and detailed analysis of Springsteen's work in the '70s and '80s in print — particularly knowing the access he got to the Sony recording logs.
Unfortunately the U.S. edition of E Street Shuffle, due in January, leaves a good chunk of it out. The U.S. publisher chose to excise what is arguably the most interesting part of the book for hardcore fans — Heylin's song-by-song analysis, with new data pulled from those studio logs — and release it as a separate, digital-only eBook. Thus, the forthcoming U.S. edition is more than 100 pages shorter than the U.K. edition, leaving out the section of color photos as well.
Never fear: we're importing the U.K. edition, complete as the author envisioned it, and taking pre-orders now.
Not only that... thanks to Mr. Heylin, we're also able to include an exclusive interview CD as part of a very limited package. Pre-order the U.K. edition of E Street Shuffle from Backstreet Records now, and it will come with an audio CD of an unheard 1972 interview with Springsteen by legendary rock critic Paul Nelson — presumably Bruce's first interview with a national music journalist. Conducted in December of '72, just prior to the release of Greetings From Asbury Park, NJ, it's an hour-long talk that has never been rumored, let alone circulated.
Between the book and the CD, it all adds up to a bounty of new insight into Springsteen's early, classic work and the rise of the E Street Band. We'll be shipping in late January/early February.
Pre-order from Backstreet Records now
to guarantee your copy of the U.K. edition with limited bonus CD
- December 30, 2012

ON OUR WAY TO CLARENCE CLEMONS DAY
Resolved: you want to be like him, but you can't. But this is not a tall tale — the New Jersey state Senate has passed a resolution naming the Big Man's birthday, January 11, "Clarence Clemons Day" in New Jersey. As the Asbury Park Press reports, it now needs to be approved by the state Assembly and Governor Chris Christie to become official. It's hard to imagine that final hurdle will be a tough one.
The Clemons Family is already planning the celebration: on January 12, they're having an "official" bash to honor the Big Man's birthday at the Wonder Bar in Asbury Park. The bill includes the Nick Clemons Band, Jobonanno & the Godsons, Steve Smith & the Nakeds, with special guest J.T. Bowen. Proceeds will benefit Jersey Shore school music departments affected by Hurricane Sandy. Tickets are available through Ticketmaster; find further info on Facebook.
- December 27, 2012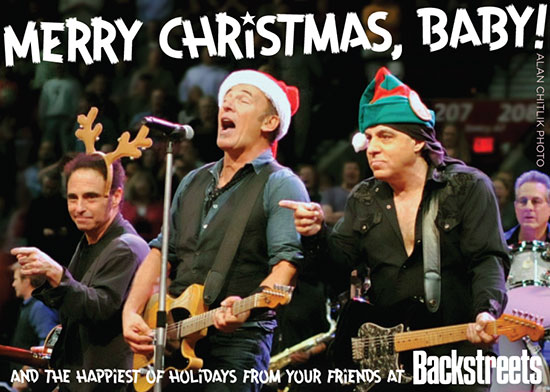 - December 24, 2012 - photograph by Alan Chitlik

E STREET RADIO GETS "HOLIDELIC" AND WRAPS UP 2012 A BIT EARLY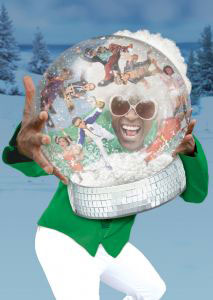 Today's edition of E Street Radio's Live From E Street Nation with Dave Marsh has scheduled a special guest just in time for the holiday season. Everett Bradley, currently providing additional percussion and backing vocals on the Wrecking Ball tour, is expected to drop by and discuss his work with the E Street Band. Everett will also speak about one of his non-E-Street projects, the funky holiday music-fest entitled Holidelic, making stops in New York and Philadelphia over the weekend. Bradley created Holidelic and plays its lead character, Papadelic, who describes the show as follows: "the most exclusive all inclusive holiday party in the universe... Your only requirement is to bring an open mind, an open heart, and a promise to shake yo rump!" Live From E Street Nation airs today on Sirius/XM channel 20 from 10am through 12pm ET, with a repeat broadcast from 8 to 10pm ET on Sunday, December 23.
Meanwhile Jim Rotolo, host of E Street Radio's live weekly Friday night call-in-request show The Wild & The Innocent with Jim Rotolo, harbors absolutely no superstitious fears about the world ending today. Since 12/21/12, however, also happens to coincide with Rotolo's final live show of the year, he's lined up a very special year-in-review episode. A panel of guests, including Backstreets contributors Lisa Iannucci and Shawn Poole, plus Mitch Slater of Lifebeat.org and Vinnie "Big Pussy" Pastore of The Sopranos, Light of Day and the onscreen cast of The Rascals: Once Upon a Dream, will join Rotolo in discussing one of the most active and inspiring years for Bruce Springsteen and the E Street Band. They might even delve a bit into what lies ahead in 2013, all while taking some song requests, too. Tune in for the live broadcast tonight from 6pm to 8pm ET on Sirius/XM channel 20 (followed immediately by another remastered replay of Springsteen's historic 3/9/12 concert at Harlem's Apollo Theater.) If you miss the live broadcast of Rotolo's show, a repeat broadcast will air on the same channel on Sunday, December 23, from 8 to 10am ET.
- December 21, 2012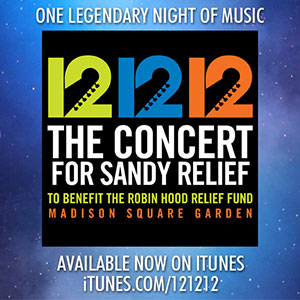 12.12.12 CONCERT ALBUM AVAILABLE DIGITALLY NOW
Bruce Springsteen and the E Street Band opened the 12.12.12. Concert last week, and they also kick off the resulting live album that's on iTunes now. It's not a complete document of the nearly six-hour show; the most any artist gets here is three songs, for a total of 24 tracks. Bruce and the band are represented by two: "Land of Hope and Dreams," and "Wrecking Ball." We would have enjoyed seeing "My City of Ruins" make the cut, with Bruce's Shore-touting speech and "Jersey Girl" coda; Bon Jovi fans don't get either of Jon's collaboraions with Bruce, either. But "Land of Hope and Dreams" and "Wrecking Ball" are the first officially released live recordings of the 2012-model E Street Band.
12-12-12 The Concert for Sandy Relief is available as a digital album now, at iTunes.com/121212, and will also get a physical release as a 2-CD set, planned for January 22. As with the concert itself, proceeds benefit the Robin Hood Relief Fund.
- December 20, 2012


BIG TEARS FALL
Nils Lofgren offers this live performance of "Big Tears Fall," a ballad from his 1985 album Flip, as a "prayer in song... for the families, and the precious children and teachers lost in Connecticut."
- December 20, 2012

EUROPEAN TOUR EXTENDS WITH ADDITION OF CARDIFF, 7/23/13
Following the July 20 Belfast show, which had been slated as the final show of the 2013 European tour, Bruce Springsteen and the E Street Band have added Cardiff, Wales to the schedule. They'll play Millennium Stadium on Tuesday, July 23, with tickets on sale tomorrow, December 20 at 9am.
For the official itinerary as it stands, ticket info & links,
visit our Tour/Ticket Info page
- December 19, 2012

'TWAS THE WEEK BEFORE CHRISTMAS...
Still holiday shopping? We've got you covered!
If you're still looking for the perfect gift for your favorite Springsteen fan, be sure to visit our online shop -- and yes, there's still time! Using our Expedited Shipping service, Backstreet Records can deliver via UPS to any U.S. address in one or two days, and we'll be working through the week to make sure everyone gets what they need.
Overnight shipping adds $35 to standard shipping charges; 2-Day adds $15. Expedited orders placed by 2:00 p.m. Eastern will ship the same day! Just make sure to specify a street address, as UPS can't deliver to PO boxes.
For delivery on:
Order by:
Expedited Shipping
Wednesday, 12/19
Tuesday, 12/18, 2:00 p.m.
Overnight
Thursday, 12/20
Tuesday, 12/18, 2:00 p.m.
Wednesday, 12/19, 2:00 p.m.
2-Day
Overnight
Friday, 12/21
Wednesday, 12/19, 2:00 p.m.
Thursday, 12/20, 2:00 p.m.
2-Day
Overnight
Monday, 12/24
Thursday, 12/20, 2:00 p.m.
Friday, 12/21, 2:00 p.m.
2-Day
Overnight
A little help for last-minute shoppers
For three days only, from now through Friday at 2:00 p.m Eastern, take 15% off any order of $50 or more! Simply enter the coupon code BETTERNOTCRY at checkout, where your discount will be applied across the board.
View our Latest Additions page to see what's new.
For all U.S. customers who ordered by December 10: as promised, your items have been shipped out, scheduled for delivery prior to Christmas. As always, we appreciate you getting your Boss fix through us!
- December 18, 2012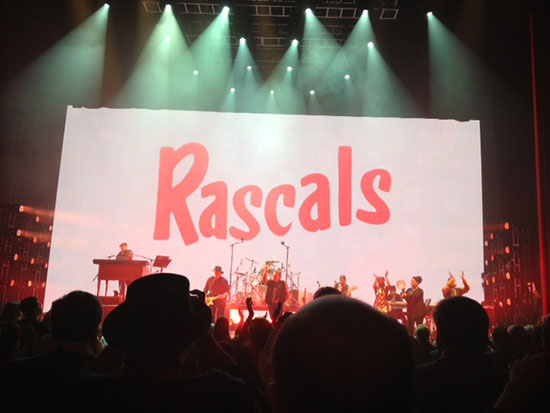 LOVE IS STILL A BEAUTIFUL THING… AND STILL WORTH STRUGGLING FOR
Little Steven's Rascals Reunion "BioConcert" arrives right on time
While my wife and I were traveling to Port Chester, NY for last Friday's show of The Rascals: Once Upon a Dream Reunion Project, we learned the horrific news of the Newtown, CT school shooting. Needless to say, that tragic event was on our minds throughout the evening and, most likely, on the minds of every other person onstage, behind the scenes, and in the audience that night. Anybody who happened to forget about our troubled, violent society for a moment or two probably got jolted right back into reality when — amazingly, during a tightly scripted production with pre-recorded video segments and rehearsed cues that had been finalized at least several weeks beforehand — up there on the huge video screen behind the band was a filmed dramatization along with narration from Rascals member Eddie Brigati about the time when, as a child, he was accidentally shot.
While it was impossible to have made that particular connection intentionally, connecting past and present events is very much at the heart of Steve Van Zandt and Marc Brickman's new hybrid production, a unique mix of band-biography/history-as-musical-theater (with plenty of Brickman's amazing lighting/video-projection work throughout) and a reunion concert by The Rascals themselves, who still sound absolutely fantastic live almost a half-century after their formation. It's currently labeled by Steve as "a BioConcert... until we think of something better."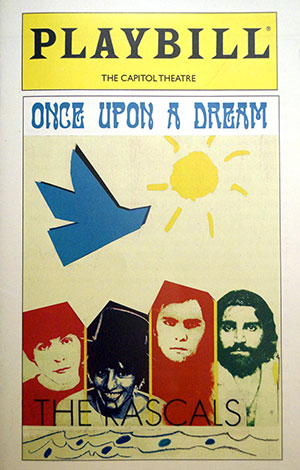 First and foremost, this BioConcert honors and celebrates a major influence on Van Zandt and many of his peers. The Rascals were the first band that Bruce Springsteen and Steve Van Zandt ever saw perform live, at New Jersey's Matawan-Keyport Rollerdrome in 1965. One of Once Upon a Dream's video segments with Rascals guitarist Gene Cornish directly references The Rascals' musical influence on Springsteen. In the 1980s, Steve recruited then-ex-Rascals drummer Dino Danelli for his short-lived band Little Steven and the Disciples of Soul, and Danelli also was featured in Max Weinberg's book The Big Beat: Conversations with Rock's Great Drummers. In 1997, The Rascals were inducted into the Rock and Roll Hall of Fame by Steve Van Zandt with a great speech that directly led to him being offered the part of Silvio Dante on The Sopranos.
At the same time, Once Upon a Dream also celebrates the best parts of the social/political climate of the 1960s that made it possible for a group of young white working-class men to appreciate African-American culture well enough to create and perform their own soul-based music lovingly and credibly. As the show unfolds, we learn how these same young men, with very little pomp or fanfare, took their own stands for equality, social justice, and peace both at home and abroad, and in the process inspired many in their audience to do the same.
If that sounds a lot like the story of Bruce Springsteen and the E Street Band, it should. Steve Van Zandt's note in the show's playbill acknowledges that The Rascals' "influence on me and my generation set standards we are still trying to meet." That's also the part of the story where Once Upon a Dream implicitly forces the audience to ask ourselves how this rich past connects to us all right here in the present.
The show's opening segment actually plays all of this for laughs, using its title to first relate The Rascals' story in extremely over-the-top fairy tale fashion, until the band members themselves show up shortly thereafter to remind us that, no, this ain't no dream; it all really happened. While it's a very funny sequence, the joke also reveals an important, sad truth. The Rascals' story can seem like such a fairy tale to us now because our present often feels so far removed from a time when the concept of love in its various forms — how we take care of not just our own, but of everybody — actually was on our national agenda. An early poem by Eddie Brigati about the creation of The Rascals, reprinted on the back of Once Upon a Dream's playbill, reads "each one was more than sure that together they would build a world in which they'd be secure." At a time when our world often feels less secure by the minute, Once Upon a Dream reminds us that building and maintaining a safer, saner society will always be difficult work, but joining together to do it remains both possible and necessary. As The Rascals' Felix Cavaliere, directly quoting two of his own major influences, Sam Cooke and Curtis Mayfield, wrote and sang so beautifully in "Heaven" this past Friday night, "...keep on pushing, 'cause there's a change that's got to come."
The Rascals: Once Upon a Dream will be performed three more times this week at the Capitol Theatre in Port Chester, NY. Click here to purchase tickets. The show has also just been scheduled for performances at the Seminole Hard Rock Hotel & Casino in Hollywood, FL on Memorial Day Weekend 2013.
- December 17, 2012 – Shawn Poole reporting – photographs by Dawn Leinberger and Shawn Poole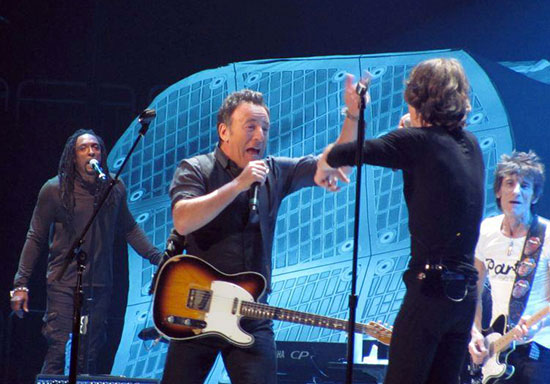 GOT TO ROLL ME
A few nights ago, at the 12.12.12 benefit, Bruce Springsteen and the Rolling Stones shared a building; last night they shared a stage. It wasn't the first time that Bruce has appeared with Mick Jagger — the two exchanged verses on "Satisfaction" at the Rock and Roll Hall of Fame induction ceremony in 1988. That night, Springsteen inducted Dylan while Jagger inducted the Beatles. Bob Dylan and George Harrison, among others, also joined in the performance of the Stones' signature song. Bruce found himself on stage again at the ceremony in 1989 when the Stones joined the Hall and reprised "Satisfaction."


Bruce saw the Stones when they first appeared on the Ed Sullivan Show on October 25, 1964, and soon thereafter hits such as "Satisfaction" and "The Last Time" became staples of the Castiles' repertoire. Through the decades, he has covered "Street Fighting Man," "Honky Tonk Woman," "Beast of Burden," and, as recently as 2009, the E Street Band played "The Last Time" and "Satisfaction" in concert. It is possible that in 1993 he soundchecked "Let It Bleed," and during the Born in the U.S.A. tour, "Cover Me" often included "it's just a kiss away" from "Gimme Shelter."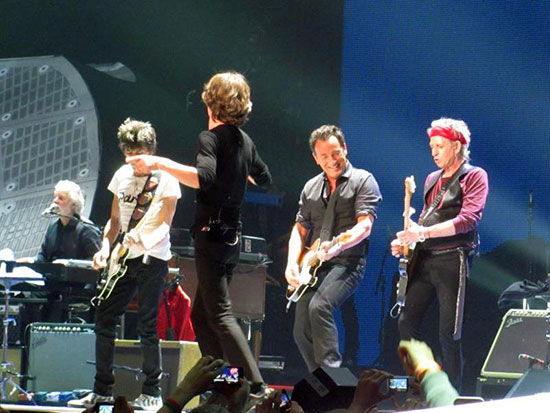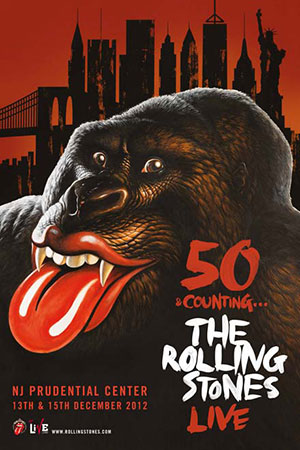 At the show in Newark, Bruce was the final special guest, and he must have been burning to take the stage because the night belonged to classic rock 'n' roll with electric guitars blazing. After Lady Gaga took the female vocals on "Gimme Shelter," John Mayer and Gary Clark, Jr. exchanged soaring solos on "Goin' Down," a blues standard written by Don Nix; the Black Keys exploded with Bo Diddley's "Who Do You Love," and Mick Taylor tore through "Midnight Rambler."

Jagger introduced Bruce by saying he had the shortest journey of all to the venue and joked he could have walked there. The band broke into "Tumbling Dice," and the duet between Mick and Bruce, as they exchanged verses and strutted toward and away from each other vaporized the already boiling crowd. For five glorious minutes, the two sang and Bruce played, at several points joining Keith Richards and Ron Wood to trade guitar licks. As Bruce walked off, Mick said, "Thank you, that was fantastic."

And it was. Mick announced that it was the final show of the 50th anniversary tour for the Rolling Stones. The evening ended with "Satisfaction." It couldn't end any other way.
- December 16, 2012 - Louis Masur reporting - photographs by Mayumi Mo



TONIGHT: SPRINGSTEEN JOINS THE STONES
Full pay-per-view details at rollingstones.com/watch.
- December 15, 2012

DADDY'S COME HOME FOR CHRISTMAS
Gary U.S. Bonds releases his first-ever Christmas album
When it comes to the founding fathers and mothers of the Springsteen/E Street sound, they don't get any more influential than the great Gary U.S. Bonds. And if you're looking for some cool rockin' music for your Christmas parties, you can always count on the man who originally recorded "Quarter to Three" (a Springsteen encore standard for years, released twice officially in live versions recorded on 11/18/75 and 12/8/78).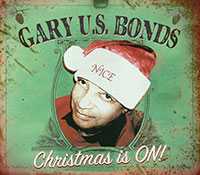 Bonds' new CD Christmas is ON! marks his first foray into Christmas-themed material since his 1967 single "Call Me For Christmas." Major kudos to Gary for not phoning it in with tired covers of the same old public-domain standards: this collection features ten songs, a whopping eight of which are original compositions performed in a variety of styles. They include a splash of reggae on "Santa Bring My Baby Home to Me," one of three tracks co-written by Gary and his daughter Laurie C. Anderson; the title track, which starts the party off just right with a rock-and-roll bang; "It's Christmas in Nu Awlins"; "We Wish You a Merry Christmas" (which shares only a title with the ancient Christmas carol); and "Christmas is a Phone Call Away." Even the two standards, "Santa Claus is Coming to Town" and "White Christmas," are performed in unique ways. (For "White Christmas," Gary and his collaborators toy with the great Drifters arrangement, as his wife and daughter provide the two lead vocals normally performed by males and Gary speaks rather than sings his parts.) The album closes with two original love songs, the upbeat "'Tis the Season to Be Lovin' You" and the sweet ballad "Baby, Baby It's Christmas."
Christmas is ON! is available directly from GaryUSBonds.com for only $15 in the U.S. and $18 elsewhere, all shipping and handling costs included. You can even request an autographed copy at no extra charge.
- December 14, 2012 - Shawn Poole reporting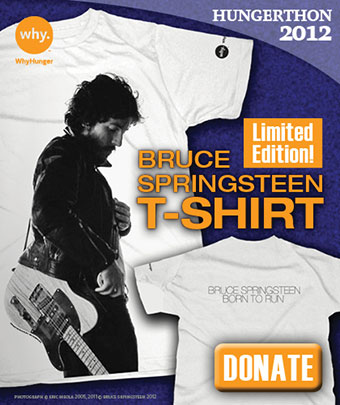 LIMITED EDITION BORN TO RUN SHIRT AVAILABLE NOW FOR HUNGERTHON 2012
Join Bruce Springsteen in supporting WhyHunger's fight against world hunger and poverty — their annual Hungerthon is in full swing this week.
Donate now to receive a limited edition Born to Run T-shirt featuring a never-before-released Eric Meola photo of Bruce from the 1975 album cover sessions. Visit hungerthonstore.com, where this exclusive shirt is available for a $50 donation.
Visit WhyHunger on Facebook. Also see charitybuzz.com for a number of Hungerthon auction items still up for bids, including a Billy Joel-autographed guitar.
- December 13, 2012


121212: E STREET BAND KICKS OFF CONCERT FOR SANDY RELIEF
In uncharacteristically prompt fashion, at 7:30pm last night, Bruce Springsteen and the E Street Band walked onto the stage of Madison Square Garden and launched into a vigorous "Land of Hope and Dreams," kicking off what would end up being a nearly six-hour marathon show featuring a bevy of the biggest names in rock 'n' roll.
With a jam-packed bill, set times at the show were extremely limited — Bruce's 30 minutes wound up being just as much as any other artist had, and more than several others. Given the limited time slot, Bruce opted to avoid his hits and instead chose a thematic approach to the setlist, performing several staples from the current Wrecking Ball tour. "Land of Hope and Dreams" was slightly abridged, but Bruce made sure to include the "let me see your hands!" exhortation at the end before the "People Get Ready" coda. "Wrecking Ball" included the now-familiar change to the lyrics: "Well, my home is on the Jersey Shore."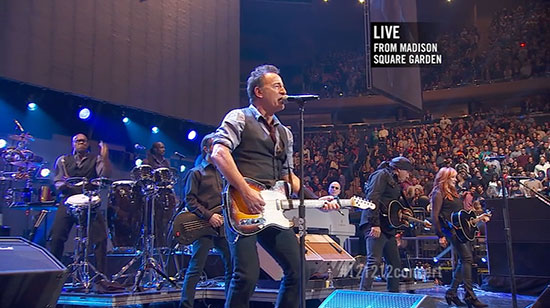 Attendees of post-Sandy Wrecking Ball shows may be familiar with Bruce's introduction to "My City of Ruins" and his shout-outs to New Jersey, but now with a much bigger television audience, Bruce expanded on his introduction, speaking at length about the Jersey shore:
This was a song I wrote for my adopted hometown, Asbury Park, when it was struggling on hard times. For 25 years, you could go to Asbury in the summer and there was no one on its beaches, no one on its boardwalk. And then over the past decade, thanks to an arts community moving in, thanks to the gay community, thanks to people who lived there and toughed it out for that whole quarter of a century, the town has had a renaissance and come back.

If you go there in the summer now, the beaches are filled with people, and the boardwalk is lined with local businesses, and there's all kinds of people there: there's rich people, poor people, brown people, black people, white people, all on the boardwalk at night.

So it was painful to see it damaged after all that time, from the recent storm, to see our Jersey shore damaged. Because the Jersey Shore's always been a special place. It's been inclusive. If you've got a few bucks, you can have a beach house. If you're a retired policeman or a retired fireman, you can have a cottage by the sea in Point Pleasant or Manasquan or Lavallette. And that's been a principal part of the characteristic of the Jersey Shore, and that's what's made it special. I'm sure there'll be a lot of difficult conversations when the rebuilding comes around. But I pray that that characteristic remains along the Jersey shore — it's what makes it special.
In one final nod to the shore, come the end of the song, Bruce added a coda of several lines from his cover of Tom Waits' "Jersey Girl." For their final song, the E Street Band was joined by fellow New Jerseyan Jon Bon Jovi, who joined in on vocals for the traditional house-lights-up version of "Born to Run" as Bruce's set came to an end.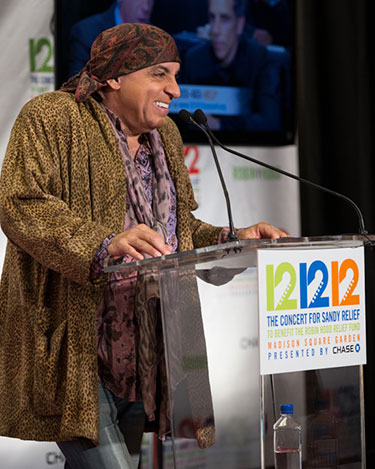 The time crunch unfortunately limited the opportunity for guest appearances between artists, so there would be no chance for a reprise of the Rock and Roll Hall of Fame show in 2009 with Billy Joel or Hyde Park 2012 with Paul McCartney. Steve Van Zandt took advantage of the early end to his performing night to join many of his Sopranos castmates at the phone banks, amongst the passel of celebrities who were taking calls and donations. Bruce was able to make one final appearance on stage, though, returning the favor with Bon Jovi, as he came out to join in on their 2005 hit about their home state, "Who Says You Can't Go Home." Strumming away on an acoustic guitar, Bruce traded off lines with Jon, including the familiar "it's alright, it's alright" chorus.
The 12.12.12 Concert for Sandy Relief raised funds for the Robin Hood Relief Fund to help those affected by Hurricane Sandy in the tri-state area; donations are still being accepted.
For the setlist from this and other recent shows,
visit our Setlists page
- December 13, 2012 - Glenn Radecki reporting - Steven Van Zandt photograph by Michael Zorn

DOUBLING UP DOWN UNDER
For each of the four Australian stops on the tour — Brisbane, Sydney, Melbourne, and Hanging Rock — a second show has been added. After yesterday's pre-sales, which indicated "intense demand," according to the Herald Sun, the general onsales are tomorrow at 9am. See the full 2013 itinerary as it stands on our Tour/Ticket Info page.
- December 13, 2012


THE 12.12.12 CONCERT
Where to watch: http://www.121212concert.org/broadcast
- December 12, 2012



12/10: ACROSS THE BORDER TO MEXICO CITY
"I have to be honest: I didn't expect such a wonderful welcome! You've touched our hearts, thank you. I'm so sorry we didn't come here sooner. But we'll be back!" —Bruce Springsteen
Monday night was the final show of the first-ever leg of a true North American tour, finally spanning Canada, the United States of America, and Mexico. I anticipated this show at the Palacio de los Deportes more than any of the others I attended on this tour — with the possible exception of Greensboro, for which I brought 25 middle school students to their first Springsteen show. There were so many questions I wondered about before this show, and I couldn't wait to see how it all panned out: would Bruce consider crowd-surfing in a sea of uninitiated fans? Would there be any request signs at all? (I needn't have worried about that one.) What would happen if there were no children ready to sing "Sunny Day"? What would happen when Bruce looked out and didn't see so many of the "friendly faces all around" him?
What do you do when you are performing for the first time in a country where you have almost no fan base to speak of, where radio airplay is nonexistent, and to top it off, minimal promotion of the event? Keep in mind that this is a country known for hot blood and Latin grooves, not necessarily the rock 'n' roll sound. Well, when you're Bruce Springsteen, you meet the challenge with the pedal to the medal and never look in the rear-view mirror.
This was a prime example of the kind of show for which song selection gives no indication of its greatness. The setlist does not give a glimpse into the energy, Bruce's state of mind, his interaction with the crowd — the performance. A look at the setlist does, however, reveal a set built specifically with the first-time attendee in mind. Most of the songs were safe bets with standard arrangements; no special treats for the hardcore fan, and even the songs "granted" for sign requests could have been planned already. But if you were to set out to craft the perfect Wrecking Ball-era set for a brand new audience, you could hardly do better.
The crowd at this show was truly unique in that by most estimates at least 75 percent of the audience were seeing Bruce for the first time — or as one young lady kept saying, "Most of us in the audience are virgins." This tour has taken the E Street Band to some interesting locales — their first shows in Portugal and Prague, for instance — but I imagine for the last time Bruce performed before such an uninitiated crowd, you would have to go back Japan in the 80s, or perhaps that special East Berlin, Germany show. There were probably fewer than 100 Americans, and just a small handful of fans from Europe and a couple who travelled from Japan to be present. The venue's staff gave the impression that this sparse crowd seemed like a full house through some effective curtain management, concealing any empty seats. However, while small, the crowd was definitely electric. Consider how much fun it is bringing a friend or relative to their first Bruce show, watching their faces and listening to their responses afterward... and then imagine an entire building full of them. This energy from the crowd definitely added freshness and fueled the excitement for a rollicking party atmosphere.
The pit area in front of the show was packed tight. By 9:00 the crowd was overflowing with anticipation, pleading Bruce to start the show with rhythmic mantras and repeated clapping. When the lights finally went out at 9:15, Bruce and the band walked into their positions as he greeted the crowd with a Spanish introduction. They then burst right out of the gate with a charged-up version of "Badlands," which had the crowd bouncing from the outset, and they went directly into a playful "Out in the Street." With no seating behind the stage, Bruce limited his movement to the three platforms to the front of the stage, where the precedent for crowd contact and interaction was set for the evening.
"Hungry Heart" was next up, with his usual trip to the small stage behind the pit. After seriously contemplating his next move for a long time, he threw caution to the wind and prepared for a crowd surf, although not before giving the crowd a sign language explanation of what he expected from them. He reminded me of a kid about to ride a bicycle for the first time, with a look of apprehension and repeating, "Are you sure you got me?" several times before letting go to trust, but never totally confident things would work out. He ended one of the most hair-raising surfs yet with "Gracias — se siente bien!" ("Thank you — it feels good!").
Through the trifecta of Wrecking Ball songs, I searched the crowd to gauge the interest for this new material, it was both obvious and surprising to me that the majority of the crowd was singing each and every word. The entire audience was standing — and this was true all the way to the rafters, something that never changed throughout the night.
The next song was "My City of Ruins," and Bruce showed respect for the home crowd by constantly addressing them in their native tongue, delivering the entire "spirits all around us" intro in Spanish. "Spirit in the Night" was an opportunity to tease the audience with constant interaction. This was a crowd which strained to touch him more than any I've witnessed, often compacting the pit to the breaking point. At one juncture he sat on one of the tiny speakers at the edge of the stage to the delight of two younger fans, and eventually collapsed backwards onto the stage. He doled out a kiss to a Peruvian fan (who during "She's the One" later in the show was also rewarded with a harmonica); he got the help of another young fan who sang the "birthday" line with him. During "The E Street Shuffle," he once again had to instruct the crowd as to their responsibility during the song, explaining what to do with their "magic fingers."
Venturing out to collect signs, Bruce grabbed probably more than I have ever seen and granted four requests in a row. They were certainly less than obscure, but if you're only going to see Springsteen once... hard to argue with "The Promised Land," "The River," "Because the Night," and "She's the One." During "The Promised Land," he held hands with a young boy and patted him on the head while simultaneously belting out a harmonica solo (he ultimately gave the harp to the youngster). "The River" began with Bruce and Little Steven alone at the front of the stage until the crowd took over the chorus, and eventually the band kicked in. The song ended with Bruce's haunting vocalizations, followed by another harmonica prize to a woman with a sign proclaiming, "I travelled 9,000 miles for a harmonica." "Because the Night" had the usual dramatic guitar solo with Nils going off to the admiration of the crowd, leading directly into "She's the One."
After honoring the sign requests Bruce went into Darlington County with an inordinate amount of crowd interaction. He stopped to speak to a woman wearing a neck brace which had "I broke my neck to see you" imprinted on it, and he lessened her pain with a kiss. Again, this time accompanied by Nils, Bruce ventured to the back stage, shaking the hands of most of the building, it seemed, along the way. While the audience contained very few kids, Bruce managed to find one at the back of the floor section to sing with; he also conversed with a woman sitting atop someone's shoulders, not restricted by the rules which often constrict United States audiences. Bruce returned to the front stage adorned with a stylish red and green pashmina, carrying even more audience request signs.
"Shackled and Drawn" was a fun addition to the show as usual, with Bruce encouraging the crowd in Spanish to "get louder!" Bruce and the band showed off their dance moves, and Bruce telling the crowd that, like Shakira, his "hips don't lie either!" Throughout "Waitin' on a Sunny Day" it was obvious that Bruce was scouring the multitudes, straining to find a suitable singing partner. Finally, he located a youngster and brought her up onto the stage, as she clung to him like a leech, seemingly holding on for dear life. However, when he asked her if she would like to sing, she sheepishly declined; he wasted no time reassuring her and stating, "Okay, I'll take it then — he sang the chorus and shouted out himself, "Take it E Street Band!"
The resurgence of the soul segment continued, after the "Apollo Medley" reappeared at the previous show in Arizona, complete with the intro story. Each mention of a soul great elicited a rousing cheer from this obviously knowledgeable crowd. "The Way You Do The Things You Do" provided another opportunity for more great dance moves, including Jake even doing "the worm" across the stage, and "634-5789" brought another return to the B-stage. As with every trip out there, Bruce returned sporting additional attire and props: this time a cowboy hat fashioned in Mexican colors, and a picture of himself, which he referenced later during a song.
"Thunder Road" ended with the E Street Horns at the front of the stage, adding so much power to the song that it made me wonder how the band performed without this horn section previously — until, of course, I recalled, "Oh yeah, they had Clarence." Outside the venue, several fans remarked that they were amazed at the horn section as well as the E Street Choir, not expecting Bruce's supporting cast to be so talented.
The encores saw six songs, beginning with a rousing rendition of "Born in the U.S.A." It was one of the few unusual choices of the night, though it was also a regular selection for the European encores over the summer. The anthem was sung by thousands of hoarse fans, mostly in a slight Spanish accent, and concluded with a brilliant solo by Mighty Max Weinberg. Next up was "Born to Run," with most of the front row getting an opportunity to strum the guitar. The count-off was in Spanish — and for those who count this kind of stuff, there were seven windmills. "Glory Days," with Bruce and Little Steven donning sombreros and ending with a booty shake, "Dancing in the Dark," "Santa Claus" and "Tenth Avenue" rounded out the show. However, it was not over until Bruce thanked the crowd for a great night: "Thank you Mexico, I didn't expect such a wonderful welcome," he exclaimed, promising, for a second time, to return in the future. He left everyone, veterans and the newbies alike, with genuine happy faces, claiming, "That was better than I could have imagined!"
"Muchas gracias and Feliz Navidad!"
For the setlist from this and all other Wrecking Ball shows to date,
visit our Setlists page
- December 12, 2012 - Michael Telesca reporting - photographs by Michael Hayes



"PHOTOGRAPHERS FOR SANDY RELIEF" RAISES WELL OVER $100K
A month ago, we announced an effort to raise funds for New Jersey victims of Hurricane Sandy. Thirteen photographers of Bruce Springsteen came together to donate original, signed prints, and thousands of Springsteen fans met them with $25 donations. Put it all together, and watch it add up: after this Photographers for Sandy Relief project took its final donation on Monday, we raised a total of $118,250 for the Community FoodBank of New Jersey.
And now, some lucky fans get something pretty to hang up on their wall, as these 22 participants each get one of the 22 original prints:
| | | |
| --- | --- | --- |
| Tracy Thomas | Polson, MT | Danny Clinch #1 |
| Phyllis Scherr | Waban, MA | Danny Clinch #2 |
| Jackie Walchuck | Orlando, FL | Lynn Goldsmith |
| Christine Brosonski | Washington, DC | D.M. Kennedy |
| Mary Slyne | Foxboro, MA | Annie Leibovitz |
| Stuart Reid | Winnipeg, MB | Jo Lopez #1 |
| Alston Ahern | South Pasedena, CA | Jo Lopez #2 |
| Reg Garner | Sanford, FL | Jo Lopez #3 |
| Ed Sherrier | Medford, NJ | Jim Marchese |
| Robert Salm | Fanwood, NJ | Eric Meola #1 |
| Gary Dietterick | Easton, PA | Eric Meola #2 |
| Hillary Adam | Portland, OR | Eric Meola #3 |
| Seth Bergman | Wyckoff, NJ | Neal Preston |
| RC McBeth | Brooklyn, NY | Barbara Pyle #1 |
| Mike Jaros | Rockdale, IL | Barbara Pyle #2 |
| Sylvia Marton | Burnaby, BC | A.M. Saddler |
| Bennett Berson | Madison, WI | James Shive #1 |
| Thomas Foti | New Providence, NJ | James Shive #2 |
| Jeanne Bolton | Bedford, NH | James Shive #3 |
| David Rubin | Venice, CA | Pam Springsteen |
| Thomas Symes | London, England | Frank Stefanko #1 |
| Noreen Cannamela | Wethersfield, CT | Frank Stefanko #2 |
But wait, there's more! A 14th photographer has donated two beautiful bonus prints, for two additional winners. We're not at liberty to say more, but Judith Green of Arlington, VA and Steven Boczulak of Endwell, NY (go Maine-Endwell Spartans!) will also be receiving original, signed Springsteen prints by a noted photographer. That brings the number of new-art-havers to 24.
CFBNJ President and CEO Kathleen DiChiara says, "A giant thank you to all! It's absolutely amazing that something so fantastic was put together so quickly — we are so grateful." We thank all of our Photographers For Sandy Relief, and everyone who pitched in over the past month, for a very successful effort that will help feed a great number of displaced and hungry New Jerseyans this holiday season.
- December 12, 2012

BRUCE & E STREET BAND TO OPEN 12.12.12 TOMORROW NIGHT
In Bruce Concert Time, 7:30 usually means more like 8:15. For the 12.12.12 Concert, though, look for Springsteen and the Band to start things off at 7:30 on the dot.
Television waits for no man, so concertgoers are advised to be in their seats no later than 7:15 — and at home, you'd be advised to be on your couch no later than 7:29 — as "the producers of 12-12-12 announced today that the legendary Bruce Springsteen & the E Street Band will kick off the historic concert taking place at Madison Square Garden tomorrow at 7:30 P.M (ET) sharp."
- December 11, 2012

SPRING 2013 SCANDINAVIAN SWING EXPANDS
More shows in Scandinavia: a third concert has been added in Stockholm (Solna) on May 11 (wth a Friday, 12/14 onsale), and a second show in Oslo on April 29 (with a Thursday, 12/13 onsale).
For the official itinerary as it stands, ticket info & links,
visit our Tour/Ticket Info page
- December 11, 2012

REMINDER FROM BACKSTREET RECORDS:
ORDER BY MIDNIGHT TONIGHT FOR PRE-CHRISTMAS DELIVERY!
As we do every year, we're guaranteeing pre-Christmas arrival for all orders placed by December 10 that are shipping to U.S. destinations. So if you're still in need of some Boss holiday goodies from Backstreet Records, today is the "Standard Shipping" deadline. (We can't guarantee arrival times outside of the U.S., due to customs, but we'll be working hard to ship orders out to everyone as quickly as possible.)
If you wind up ordering after today and need something prior to Christmas, you can always select "Expedited Shipping" to have it in one or two days within the U.S... but ordering by midnight tonight will save you some serious dough on postage.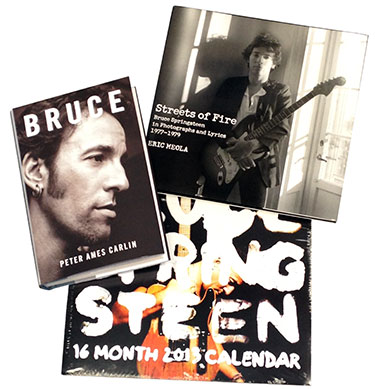 You'll find new Springsteen books, calendars and more in our Latest Additions section, and here are some more categories to peruse:
Thanks for shopping with us!
- December 10, 2012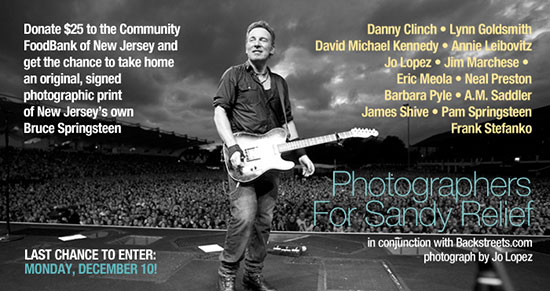 ONE HOUR LEFT!
To benefit the Community FoodBank of New Jersey's Hurricane Sandy relief, 22 different photographs of Springsteen and Clarence Clemons will go to 22 fans who give. Closes at noon Eastern! Full info and images at backstreets.com/sandy, or go directly to Give Now.
- December 10, 2012


THREE MORE SHOTS
Mexico City the first of three Bruce gigs this week; Bruce and Rolling Stones to share stage twice, for televised concerts Wed. & Sat.
The last U.S. show of the 2012 Wrecking Ball tour is behind us, but the last North American show is not: tonight in Mexico City, Bruce and the E Street Band play their first ever concert in Mexico, at the Palacio De Los Deportes. And even after the 2012 Wrecking Ball tour comes to a close tonight, still no rest for the Bruce and the E Street Band...
12.12.12: The Concert for Sandy Relief
E Street action continues this week with the big 12.12.12 Concert on Wednesday night, which will be simulcast around the world — click here for networks and other details. With the Rolling Stones now added to the bill of this massive Sandy benefit concert that already includes Bruce and the E Street Band, The Who, Eddie Vedder, Paul McCartney, and many more, it's an astonishing line-up. Accordingly, tickets to be at Madison Square Gaden in person are hard to come by. But if you're still trying... Springsteen himself has donated four 12.12.12 floor tickets to a charityfolks.com auction, with all proceeds to benefit the Community FoodBank of New Jersey. This one's for deep pockets only... but if you want to be at the Garden in person, and you've got the money for a good cause, don't miss today's 4pm Eastern deadline.
One More Shot
Even after Wednesday, Springsteen still won't be done. Or even done with the Stones. After sharing Wednesday's bill with them in New York, Bruce will join the Rolling Stones on Saturday, along with other guests, for their One More Shot: The Rolling Stones Live pay-per-view concert. The announcement came via the band's official app, where they announced this morning: "We're excited these extraordinary artists, Bruce Springsteen, Lady Gaga and the Black Keys, agreed to help celebrate our 50th anniversary as we share the night live with our fans all over the world... Now the fun begins of trying to figure out the best songs to perform together." The broadcast begins at 9pm Eastern on December 15, live from the Prudential Center in Newark.
- December 10, 2012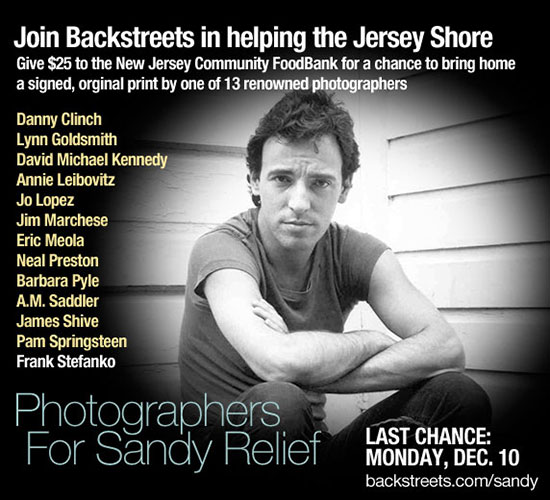 FINAL CHANCE TO ENTER: MONDAY AT NOON!
Our Photographers For Sandy Relief effort, which has so far raised more $90,000, is wrapping up tomorrow. Between now and noon Monday, every $25 gift to the Community FoodBank of New Jersey gets you another shot at one of 22 stunning, original signed prints! Full info and images at backstreets.com/sandy, or go directly to Give Now.
- December 9, 2012

MIDTOWN MEN WITHOUT WOMEN
Little Steven produces new version of "All Alone On Christmas,"
while (as always) keeping busy with many other projects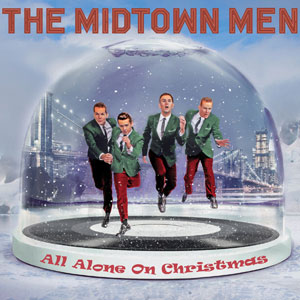 Fans of Stevie Van Zandt know that he's almost always juggling a bunch of different projects at once, all while remaining a loyal E Street Band lifer. Therefore, it shouldn't be too surprising at Christmastime to find Steve once again as busy as Santa.
And just like jolly old Saint Nick, Stevie's got some wicked cool presents to help brighten the holiday season. First up is a new version of his song "All Alone On Christmas," originally recorded by Darlene Love with the E Street Band. The new version is produced by Steve (who also produced the original) and sung by The Midtown Men, a quartet of former cast members of the hit musical Jersey Boys, backed by Van Zandt along with fellow E Streeters Roy Bittan, Charlie Giordano, Garry Tallent and the E Street Horns. The Midtown Men were among the featured performers in October when Little Steven received his "Big Man of the Year" honors from Little Kids Rock.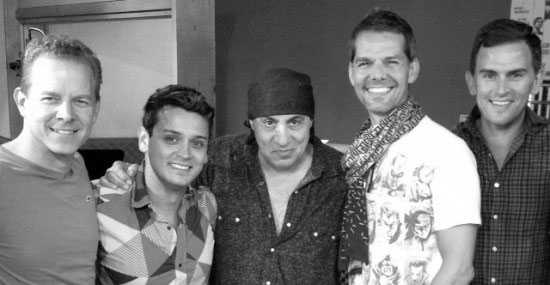 While already very busy (of course), Steve was glad that his wife Maureen asked him to work with the group. As he recently told Rich Russo, "They have a little bit of that Four Seasons thing, which I love, and the guys are just so great.... They were very respectful and very nervous about trying to cover Darlene Love," whom Steve readily identifies as "the greatest living female singer... I just said, 'Look, we're not gonna do it Darlene Love-style. If you were a female singer, I would be concerned,'" advised Steve, but he assured them that they would be okay since it's "four guys and a group doing it a whole different way." The result is an interesting new take on a modern Christmas classic.
"All Alone On Christmas" is available now as a digital download at iTunes and Amazon, with all proceeds going to the American Red Cross to help aid in the organization's Superstorm Sandy Relief and other relief efforts through the end of the year. A limited-edition CD-single-with-ornament package can be purchased here.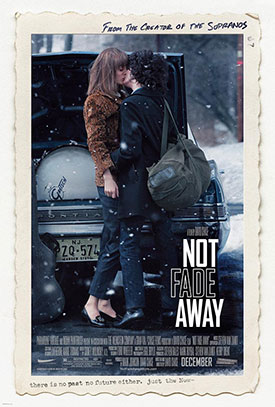 Steve's fingerprints are also all over Sopranos creator David Chase's new project, particularly in the music department. The New York Times had a sitdown with them both in Van Zandt's West Village office/studio. Along with actor James Gandolfini, checking in over the phone, they discussed Chase's new film, Not Fade Away, for which Stevie serves as an executive producer, musical advisor and soundtrack-album producer. Not Fade Away will be released in selected theaters on December 21.
Next week, Steve also unveils his long-awaited (and successfully-funded-through-Kickstarter) Rascals "Once Upon a Dream" Reunion Shows in New York. A limited number of tickets for the first three nights remain available, and three more shows in the following week were recently added. Click here to purchase tickets.
- December 6, 2012 - Shawn Poole reporting

I'D LIKE TO THANK...
Bruce Springsteen may be the Grammys' 2013 MusiCares Person of the Year, to be celebrated during Grammy Week in February, but don't go thinking that makes him any kind of a lock for Album of the Year. Rolling Stone, predictably, ranked Wrecking Ball at #1 on their 50 Best Albums of 2012 list. But the Grammys, nearly as predictably, left Springsteen out of their Album of the Year nominations altogether (in favor of the Black Keys, Fun., Mumford & Sons, Frank Ocean, and Jack White).
Springsteen did garner three Grammy nominations — Best Rock Performance and Best Rock Song, both for "We Take Care of Our Own," and Best Rock Album for Wrecking Ball. ("Springsteen" got some nods as well — Best Country Solo Performance and Best Country Song for the ubiquitous Eric Church track.)
The Grammy Awards will air live on February 10, 2013, on CBS.
- December 6, 2012

WRECKING BALL WORLD TOUR KEEPS FILLING IN
2013 to bring first E Street Band visit to Australia since the Rising tour
Announced today, after months of rumors and years of testing Aussie patience... four shows Down Under! With these new dates, the itinerary now has Bruce and the band getting back in action in March:
| | | |
| --- | --- | --- |
| Mar 14 | Brisbane Entertainment Centre | Brisbane, AUSTRALIA |
| Mar 18 | Allphones Arena | Sydney, AUSTRALIA |
| Mar 24 | Rod Laver Arena | Melbourne, AUSTRALIA |
| Mar 30 | Hanging Rock | Victoria, AUSTRALIA |
All four shows go on general sale December 14 at 9am (local time) through Ticketek, with pre-sales beginning December 12 at noon via frontiertouring.com/brucespringsteen.
For the official itinerary as it stands, ticket info & links,
visit our Tour/Ticket Info page
- December 5, 2012

WELL THE TIME SLIPS AWAY AND LEAVES YOU WITH... A LITTLE MORE TIME
Have you uploaded your film/video clip yet for Springsteen & I, the fan-focused film being produced by Ridley Scott Associates/Black Dog Films and directed by Baillie Walsh? If not, you better move fast, so when the film is released next year, you won't be cryin' alone in the theater as the credits roll. The deadline for all submissions, extended already due to the "unbelievable" response, is now midnight GMT on Monday, December 10. Click here for all of the details.
- December 5, 2012 - Shawn Poole reporting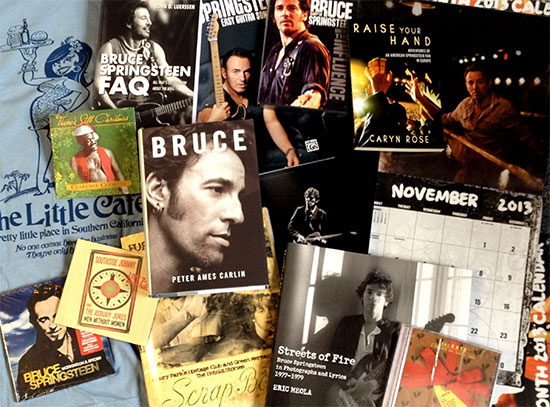 HOLIDAY SHOPPING AT BACKSTREET RECORDS
Santa Claus is comin' to town... and with the biggest collection of Springsteen and Springsteen-related merch under the sun, Backstreet Records can meet your Boss needs.
From rare vinyl and CDs to new songbooks and 2013 Calendars, we've got something for every Springsteen fan. Lots of new Bruce books among our latest arrivals, including Peter Ames Carlin's Bruce, Eric Meola's Streets of Fire, John D. Luerssen's Bruce Springsteen FAQ, and Caryn Rose's Raise Your Hand — plenty of good reading for a holiday break.
U.S. orders placed by December 10 are guaranteed for pre-Christmas delivery via standard shipping! Due to Customs, we're unable to guarantee delivery times outside the U.S., but we're working hard to get all orders sent out as quickly as possible.
Enter the Backstreet Records online shop
- December 4, 2012

OSLO, STOCKHOLM, COPENHAGEN, GENEVA!
This morning, additional 2013 shows have been announced via Live Nation — including long-awaited Scandinavian dates — which now show the E Street Band's European schedule to be starting in late April.
April 30, Oslo, Norway Presale starts December 6, onsale December 7.
May 3, Stockholm, Sweden Onsale December 7.
May 14, Copenhagen, Denmark Onsale December 10
July 3, Geneva, Switzerland Onsale December 6
For the official itinerary as it stands, ticket info & links,
visit our Tour/Ticket Info page
- Updated December 4, 2012


A FREE FORM CHAT WITH STEVE VAN ZANDT
Beginning Thursday week, on December 13, Little Steven's vision becomes real as The Rascals reunite for a six-night stand at Portchester's Capitol Theatre. For more on these "Once Upon a Dream" Rascals reunion shows, see Steve's successfully funded Kickstarter page.
Last night, our buddy Rich Russo — thats "King of Free Form Radio" Rich Russo — was hosting his Anything, Anything show, not bothering anybody, when the phone rang with who on the other end but Steve Van Zandt. That's "Coolest Little DJ in the U.S.A" Steve Van Zandt. They rapped about the Rascals reunion shows and a whole lot more. Listen above, in a podcast version including ten extra minutes of off-air discussion.
- December 3, 2012

SHIVE ARCHIVE HOLIDAY SALE ON NOW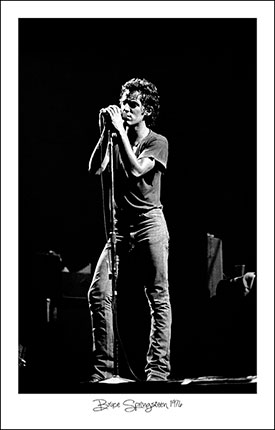 Photographer James Shive, longtime contributor to Backstreets and one of the organizers of Photographers For Sandy Relief, is making his annual Limited Edition offerings again this year, just in time for the holidays.
These vintage images, taken during the '70s and '80, and showcased at ShiveArchive.com, are all limited edition prints signed by the photographer and at reduced prices for the holidays. Just added to the Archive is this a recently restored image of Springsteen in 1976, standing in a solitary spotlight, entitled "Backstreets."
Shive is noted for having some of the most iconic pre-Born to Run images of Bruce Springsteen & the E Street Band available. His photographs have graced hundreds of book covers and magazines, and his image was featured in the 2011 Friends of Springsteen Special Collection fundraiser.
Prints ordered from the Shive Archive now through December 10 are guaranteed for Christmas delivery, even in Europe. Click here to see the full set of limited edition images.
- December 3, 2012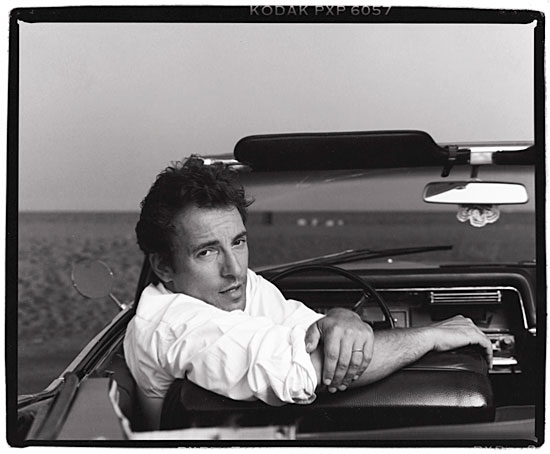 ANNIE LEIBOVITZ JOINS "PHOTOGRAPHERS FOR SANDY RELIEF"
Over just two weeks, our Photographers For Sandy Relief effort has so far raised more than $60,000 for the Community FoodBank of New Jersey, to help feed Garden State victims of Hurricane Sandy. So first of all, we want to say thank you to everyone who has joined this effort and given to the FoodBank. Reaching $60K via donations of just $25 each seems like quite a feat. It also puts the current odds of taking home one of the 20 signed prints at right around 1 in 120. (Sure beats those Powerball odds.)
Wait, did we say 20 signed prints? Make that 21. Yes, your odds have just improved, and in fine style. An additional print just added to the pool comes from a legendary photographer: Annie Leibovitz, who shot the iconic Born in the U.S.A. cover, is now one of our Photographers For Sandy Relief. She joins Danny Clinch, Lynn Goldsmith, David Michael Kennedy, Jo Lopez, Eric Meola, Neal Preston, Barbara Pyle, A.M. Saddler, James Shive, Pam Springsteen, and Frank Stefanko in providing signed prints as enticements to give.
Shown above, Annie's 16x20 Tunnel of Love-era print, shot in Asbury Park in 1987, sweetens the pot to make 21 photographs that we have waiting for 21 lucky fans.
Our fundraising effort runs through December 10. Find more information (and a gallery of all 21 photographs) at backstreets.com/sandy, or go directly to the FoodBank page to give now.
- Updated November 30, 2012 - photograph by Annie Leibovitz

GOODBYE TO "THE GODFATHER," PREMIER TALENT'S FRANK BARSALONA
So... been to any rock concerts ever? Well, then you've been touched by the hand one of the most influential figures in rock 'n' roll, perhaps without even knowing it: Frank Barsalona. Inducting Barsalona into the Rock and Roll Hall of Fame in 2005, Steven Van Zandt said, "He's the Godfather of rock 'n' roll... and I don't use that term lightly."
Frank Barsalona is the man behind the rock concert experience as we know it. He booked the first U.S. concerts by the Beatles and the Stones. Moreover, he facilitated the performing careers of so many of our rock heroes that just about everyone you saw perform live in the last 40 years was touched by the business model created by Frank and his Premier Talent Agency. Frank believed, in an era of pop singles and one-hit wonders, that it was the live performance that created the artist's relationship with its audience. This also created a business opportunity for artists, creating a revenue alternative to recording. Looking at the career of Bruce Springsteen, who was represented by Premier, we see the arc created by Frank's hand: start by performing in local clubs, step up to theaters... arenas followed, then stadiums... the world stage. Along with Bruce and the E Street Band this trajectory guided the performing careers of the Beatles, Led Zeppelin, The Who, the Rascals, Tom Petty, U2, Bon Jovi, Van Halen, Yes, Fleetwood Mac, and countless other artists.
Sadly, Frank Barsalona passed away last week. Our thoughts and prayers go out to his wife June and daughter Nicole (the great women behind the great man).
There are plenty of tributes coming his way from the industry; a very special one by Little Steven is on rollingstone.com.
Read: "Steven Van Zandt Remembers 'Lifelong Friend and Mentor' Frank Barsalona"
- November 29, 2012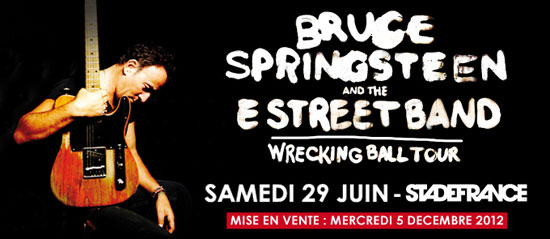 YES, VIRGINIA, THERE IS A 2013 TOUR
Despite plenty of recent rumors flying about European dates, until now we only had one official date for next year: Rock in Rio, in September 2013. Today we can start to connect the dots between here and there, as the Wrecking Ball tour continues and European dates for spring and summer begin to firm up through European promoters.
Just confirmed are 2013 dates for France and Germany:
Update: Ireland & N. Ireland too...
Update: Four in Italy!
And finally, another five dates in the camp's official announcement this afternoon bring the 2013 European show count to 17.
"In addition," reads the official announcement, "Bruce & The E Street Band's headlining performance at Rock In Rio 2013 has already been announced and other tour dates will be announced shortly."
For the official itinerary as it stands,
visit our Tour/Ticket Info page
- Updated November 28, 2012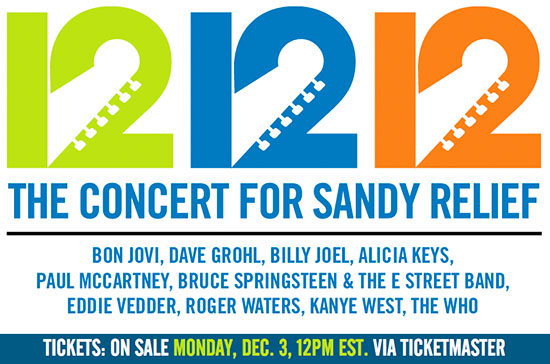 TICKET INFO AND MORE FOR SANDY BENEFIT CONCERT
Onsale info has been announced for the 12.12.12 Concert for Sandy Relief, featuring Springsteen and the E Street Band: this Monday, December 3, at noon Eastern. Tickets will be available through at Ticketmaster outlets, by phone and at ticketmaster.com (Ticketmaster is waiving its service charges for this event), as well as at thegarden.com and radiocity.com.
A pre-sale for Chase card members will start that morning at 9am.
Added to the bill: Dave Grohl and Eddie Vedder.
According to Variety, "HBO, AMC, Showtime and Sundance Channel are just four of the domestic networks that will televise the show... several more are likely to be added. The show will be also be livestreamed by Hulu, Yahoo and AOL."
- November 28, 2012


11/26, VANCOUVER: A GOOD COMPANION
Backstreets founder Charles R. Cross on his first show of the tour
For a whole variety of reasons — parenting demands, hellacious book deadlines, soccer tournaments, child custody schedules — Vancouver, BC was the first show of the current Springsteen tour I saw. Some readers, and many of my friends with dozens of shows under their belts, will consider that heretical, but "real life" has demanded more of me than it once did. There was a time when my biggest scheduling concern in life — back when I did little but follow Bruce tours around — was trying to time when the encore might end, so I could rush outside and hand out brochures for a magazine I had just started called Backstreets.
The Vancouver show was emotional for me before it even began. Sitting just to the left the stage, only a few rows up — I don't have the knees for G.A. — it suddenly hit me that this was the first show without him, the first E Street Band show for me without the Big Man's presence. It's not like I didn't know that going in, or hadn't watched the videos, or listened to the tapes. But it still hit me, as a reminder of my own mortality as well, that what once was will one day no longer be. And then when Charlie Giordano came on, a musician who I've always thought was absolutely top-notch, it was my reminder that Danny Federici was gone, too.
But when Bruce came onstage and started with the somewhat odd choice of "Shackled and Drawn," the new era began, and I was onboard. It was unlike any E Street show opener I'd ever witnessed, with Bruce on acoustic and a song itself that seemed more Seeger Sessions than E Street. But by the end of the song, with 12 other band members joining Bruce in a line at the front of the stage, the head-on assault won me over.
"Out in the Street" was more the traditional E Street mood, though "Hungry Heart" as the third song seemed strangely timed, as if we were starting the sing-alongs prematurely. And if Bruce's falling into the crowd was a bit too contrived to a veteran of many shows, it was still an impressive leap of faith, knowing that one drop to the concrete might shift history. Bruce seemed positively impassioned singing "We Take Care of Our Own," as if he were playing it on an election eve, and the song was an anthem that could change things. Maybe it did.
As one of the old guard, I find "Death to My Hometown" somehow off, the sea-shanty-like tone simply too far a shift from the guitar rock I grew up on, or even the acoustic folk of the solo work. But "My City of Ruins" followed, and it was one of the highlights of the night. Yes, Bruce has been playing this song for years now, but it comes off as if he wrote it in the past three weeks, and his gospel-tinged singing was magnificent. He spoke about Asbury Park, how the band all met there, how the town had spent 25 years trying to recover and finally did, only to be washed away. It is a song that has become on this tour about "ghosts," he said, "people or places or things that have scarred your heart, and that you will carry with you forever." He didn't need to mention his departed band members — everyone knew.
No one gets through life without grief, without loss. Even during Springsteen's ascendant Born to Run tour there was always a melancholy onstage, there in Bruce, not far under the surface, raw. Some of it may have come from unrequited romantic love (rock music's grandest theme). Some may have come from growing up in a house with a troubled father, or from facing the impossible dream of life as a musician when that seemed crazy itself. And some of that melancholy may have simply come as part of his nature. It is the "dark cloud" talked about when they were in the studio during the Blood Brothers filming. That cloud is, and has always been, his greatest musical signature, where his darkness touches a listener with a sadness, but also with something innately human.
That melancholy was all over "My City of Ruins," even if in Vancouver he was as far geographically from Asbury Park as he's going to get on this leg of the tour. It was also the song where I felt the original E Streeters were most present: Steven locked in, Garry playing as if he alone wrote it, Max powering through it as if he were driving a train against a gale-force wind. It was exquisite.
It didn't stay that intense, of course. What came next were old chestnuts, "Spirit in the Night" and "Does this Bus Stop at 82nd Street?," the latter played, Bruce said, as a request. They were nostalgic, but felt somehow less ancient than "My City of Ruins," written decades later.
In Bruce's nightly selection of signs there was a clear standout: A fan had created an anatomically correct, full-sized "Red Headed Woman," and her cut-out was pulled onstage. Bruce liked the sign so much he said he was going to take it back to the hotel to "study it later." "This sign is so good we're going to play this one, and we don't even know it anymore," he said. And he wasn't exactly kidding, as it was a bit rough, but it was the night's comedic highpoint.
"Streets of Fire" and "Because the Night" followed, then "She's the One" became the first song of the night from Born to Run, with Nils killing. And eventually, inevitably, there was the Born in the U.S.A. party segment with "Cover Me" and "Darlington County." As much as I dislike those songs, I still miss seeing Nils in the big foam hat, doing flips onstage, and seeing the whole band truly making it corny. "Raise Your Hand" was back more to my liking, and it works very well with the full horn section and the back-up singers. There were many times this giant super-sized E Street Band reminded me of Dr. Zoom and the Sonic Boom, with dozens of people onstage, and a musical landscape that could shift to soul music on a dime.
"The Rising" brought it back to traditional rock, and "Badlands" followed. And on "Land of Hope and Dreams" Max proved why he's the best drummer in rock, taking a song that isn't an anthem, and barreling through it until he alone turned it into one.
From "Racing in the Street" to open the encore, it was on to "Radio Nowhere," into "Born to Run," "Dancing in the Dark," "Santa Claus," and, finally, "Tenth Avenue Freeze-out" to end the night. A solid set, without any wild premieres or unheard of shout-outs, but for a show after a break, mostly tight and taut throughout.
If there was a part of the night that stood above all others to me — someone who came of age in the '70s, and for whom Bruce Springsteen's live shows then were an indelible part of the soundtrack to my life — it was the one-two punch of "Streets of Fire" and "Because the Night." Not because they were the best-played guitar-rock songs of the night (though they were), but because they had the transformative effect of making me feel young again. They reminded me of a time in my life when any and everything was possible, even the idea that Backstreets, something solely about Bruce Springsteen, was feasible. That was 32 years ago, but somehow listening to "Streets of Fire" and remembering the haunting, aching power of that song on my younger self, brought me back.
Vancouver was a solid show, though most of the die-hards will not likely rank it in the top 20 of the tour, due to setlist and the occasional rusty moment. But at least for this particular fan, it had an added significance that will always rank it high. It was my first Springsteen show with my 12-year-old son Ashland next to me, and his first show ever.
I decided never to force feed Springsteen to my child, so though he heard much over the years (and grew up in a house with Steel Mill posters), it became just part of the landscape, and not the paint on the walls. Eventually, he found Bruce on his own, mostly during the past year as he started to play guitar.
So when Bruce played "Because the Night" in Vancouver, I watched as my own pre-teen sang and air-guitar strummed along. He'd found "Because the Night" on his own, added it to his iPod, asked his guitar teacher to show him the chords, and now he was yelling along, just like his dad. There was my DNA, my beautiful reward, in a moment that I never could have imagined 32 years ago, back when I thought Backstreets was my life's only creation.
Vancouver wasn't the perfect Bruce show, but in a way it was my perfect Springsteen show. I'll stand by your side. You'll need a good companion for this part of the ride. Dreams will not be thwarted. All this darkness past. Faith will be rewarded.
For the setlist and this and all other Wrecking Ball shows to date,
visit our Setlists page
- November 27, 2012 - Charles R. Cross reporting - photographs by Alan Chitlik

CYBER MONDAY SPECIAL:
FREE CLARENCE CHRISTMAS CD WITH EVERY ORDER!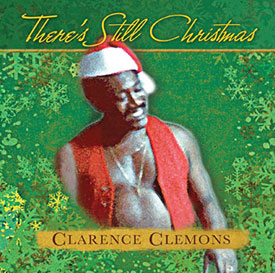 From now through Monday night at midnight, every order placed from Backstreet Records will ship with a FREE copy of the Big Man's There's Still Christmas holiday CD, a three-track EP with songs recorded in 1981. Clarence sings lead vocal on the tite track, and plays sax on two instrumental versions of "The Christmas Song (Chestnuts Roasting on an Open Fire)."
You don't need a coupon code or anything else — just place an order of any size in our online shop before the end of Monday, Eastern Time, and we'll throw in There's Still Christmas as a free gift when we ship your stuff!
Click here to see all of our Latest Additions,
including the official 2013 Springsteen calendar.
- November 25, 2012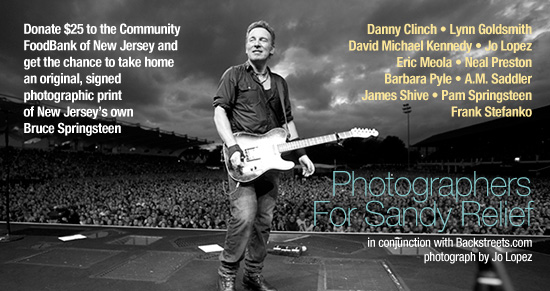 We think it was Kiss who said...
LET'S PUT THE GIVING IN THANKSGIVING
Feeding the hungry is a year-round effort — but it's on the minds of many of us at this time of the year. The devastation of Hurricane Sandy has hit many of us where we live, literally and metaphorically, making the concern all the more pressing this Thanksgiving. With displaced and struggling New Jersey families in mind, our Photographers for Sandy Relief effort has raised nearly $50,000 in its first week — through $25 donations alone. We hope you'll take part if you haven't already. Every $25 donation to the Community FoodBank of New Jersey gives you another chance to bring home one of 20 incredible, original, signed photographs by noted Springsteen photographers, all donated specifically for the cause. Click here for more information and to see the prints; or go directly to the GIVE NOW page.
Of course, there are many worthy groups working to feed the hungry. To help specifically on the Jersey Shore, we also recommend the Food Bank of Monmouth and Ocean Counties (for which 105.7 The Hawk's Bruce Brunch is raising funds, with Tom Cunningham's 7th annual all-request program this coming Sunday); and of course as Springsteen has been reminding us for decades as he comes to our towns, our own local food banks always need our support.
Another great organization is WhyHunger, formerly World Hunger Year, currently providing a great deal of assistance in the aftermath of Sandy. They've long worked with Springsteen in his efforts supporting food banks across the country. WhyHunger's annual Hungerthon — usually in full swing right now — has largely been pushed back to December this year, as a result of the hurricane. But they're starting to get things underway, kicking off with a Charity Buzz auction that includes guitars signed by Keith Richards and Johnny Cash, as well as a meal with Vincent Pastore.
In terms of general relief in the aftermath of Hurricane Sandy, Springsteen has publicly thrown his support to three different organizations so far: the American Red Cross, through the Hurricane Sandy: Coming Together telethon; the Robin Hood Relief Fund, beneficiary of the upcoming 12.12.12 concert; and Habitat for Humanity, as Bruce joined forces with President Jimmy Carter in the PSA below. "Superstorm Sandy devastated my home state of New Jersey," Springsteen says, "and destroyed communities all along the East Coast. You can help families desperately in need of a place to call home."
Something else to check out: the Restore the Shore Concert Series, an effort led by New Jersey musicians to assist the hundreds of thousands of Garden State residents affected by Sandy. First in the series is the Gary U.S. Bonds Christmas Show for Hurricane Relief, at the Strand Theater in Lakewood, NJ on November 29. Southside Johnny has just signed on; also scheduled are Marc Ribler and friends, who rocked the Stone Pony for the first "Asbury Angels" benefit earlier this year. Purchase tickets here; you can also keep up with the concert series on Facebook.
Happy Thanksgiving!
Don't forget to feed yourself, too.
- November 21, 2012

"MISS YOU C" A FREE DOWNLOAD AT NILSLOFGREN.COM
Nils Lofgren's 2011 album, Old School features a track called "Miss You Ray" that he refashioned and began performing as "Miss You C" after the death of Clarence Clemons.
I pound my nails, love my wife and kids
My gifts are not as grand as yours
Still this and every note you play
Heals our troubled hearts
We miss you C, I miss you C
Now, Nils has put his rewritten version down in a studio recording, a beautiful tribute to the ghosts on E Street and elsewhere — he sings of Danny, Terry, and Lenny, too — and he's sharing it for free. Download the mp3 at nilslofgren.com.
- November 21, 2012

LANDAU TALKS 12.12.12
While we wait for ticket information for the 12.12.12 Concert for Sandy Relief at Madison Square Garden, Andy Greene reports today on rollingstone.com that the Rolling Stones have been invited to join the bill. Greene also spoke with Jon Landau, getting some background on how Springsteen came to participate:
"Bruce Springsteen and his team were looking into booking their own benefit concert at New Jersey's Izod Center when the call came in from [President of Clear Channel Entertainment Enterprises, John] Sykes and [Harvey] Weinstein. 'I wanted to be sure that the funds would go throughout the devastated areas, not just New York,' says Jon Landau, Springsteen's manager. 'Bruce and I talked it over and he's thrilled to be doing it... The capacity in this format with these particular people to raise money is much, much greater than we could have done on our own. We decided that, at least right now, this is the best thing to do.'"
- November 21, 2012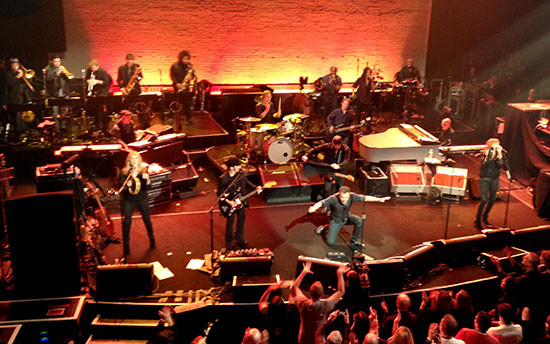 LIGHTING THE SOUL FLAME… ALL WEEK LONG
E Street Radio celebrates "The Soul of Springsteen"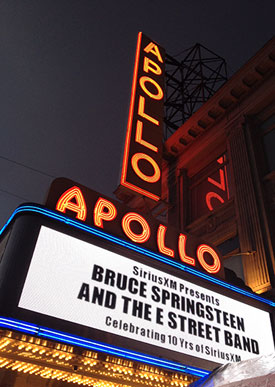 Do you like good music? That sweet soul music? Have you been dancin' down a dark hole, just searchin' for a world with some soul? Then here's something to be extra-thankful for this Thanksgiving: E Street Radio has launched a week-long celebration of "The Soul of Springsteen." From now through the end of Thanksgiving Weekend, every hour of their regular music mixes will spotlight some of Bruce's soul-influenced music along with tracks by some of his favorite soul artists (James Brown, Aretha Franklin, Marvin Gaye, Smokey Robinson, The Temptations, etc.).
This month's edition of the satellite-radio channel's "Springsteen Community Conference" also will focus on the importance of soul music throughout Bruce's career. The panel-discussion will feature the great Gary U.S. Bonds, music critic Brian Keizer and Dr. Lauren Onkey, Vice President of Education and Public Programs at the Rock and Roll Hall of Fame (and reigning Backstreets Trivia Contest Champ, to boot). E Street Radio's Dave Marsh will moderate. The conference will air on Wednesday, November 21 at 4pm, with re-airings on Thanksgiving Day at 12am and 8am, Black Friday at 10am, and Sunday, November 25 at 8pm (all times ET).
The week-long celebration of Springsteen Soul will conclude with encore remastered broadcasts of Bruce's March 9, 2012 concert at the place he declared to be "the true Temple of Soul," Harlem's historic Apollo Theater. The rebroadcasts will air on Thanksgiving Night at 8pm, Black Friday at 12pm, Saturday, November 24 at 8pm, and Sunday, November 25 at 12pm.
- November 20, 2012 - Shawn Poole reporting - photographs by Christopher Phillips



TRAMPS LIKE US TO REVISIT CLASSIC CONCERTS FOR SANDY RELIEF
Acclaimed tribute band Tramps Like Us has become renowned for re-creating historic Springsteen concerts from the '70s and the '80s. This holiday season, they'll be doing it again, performing three special concerts in NY, NJ, and MA and donating a portion of the proceeds to relief funds for victims of Hurricane Sandy.
Tramps Like Us will be re-creating the 9/19/78 concert from Passaic's Capitol Theatre at The Stone Pony in Asbury Park over Thanksgiving weekend, this Saturday, November 24. Then in December, They'll re-create the historic 8/9/78 concert from the Agora in Cleveland, twice: December 7 in New York City, and on December 22 in Foxboro, MA
Advance tickets are recommended for all of these shows. For more information, visit trampslikeus.com.
- November 19, 2012

THE BRUCE BRUNCH REQUEST LINE OPENS SUNDAY MORNING
Thanksgiving brings the annual all-request Bruce Brunch show on 105.7 The Hawk at the Jersey Shore to benefit the FoodBank Of Monmouth & Ocean Counties. For the seventh year, Tom Cunningham will play any Bruce Springsteen request/dedication/etc. that you can dream up (although if your dream trip is a visit to "Reno," you'll need to re-book) for a $25 donation to the FoodBank.
FoodBank staffers will be on hand to take down your song info and donation tomorrow morning, November 18, shortly after 9am. The number to call is 732-918-2600, and spaces are limited to 25, so only one per person. Requests will be played back on a special three-hour Bruce Brunch on Sunday, November 25, from 9am til noon.
- November 17, 2012

TOMORROW: THE BIG BRUCE BIOGRAPHERS' BROADCAST
Peter Ames Carlin to visit with Dave Marsh on E Street Radio
Dave Marsh, host of the weekly call-in show Live From E Street Nation on E Street Radio, will have a special guest in his studio this week: Peter Ames Carlin, author of the new Springsteen biography Bruce. This should be a very interesting on-air discussion between the authors of the major Springsteen bios. (Back in the '70s and '80s, Marsh wrote two authoritative and still-essential overviews of Bruce's life and career, Born to Run and Glory Days. In 2003, they were reissued as one expanded, updated volume entitled Two Hearts. Marsh also has written Bruce Springsteen On Tour 1968-2005.)
Listeners can call 877-70-BRUCE during this summit with comments and questions for Carlin and Marsh. The two-hour show begins airing live tomorrow morning, Friday November 16, at approximately 10:30 a.m. ET on Sirius/XM channel 20 and Sirius/XM Internet Radio. A repeat broadcast will air at 8 pm ET on Sunday, November 18.
- November 15, 2012 - Shawn Poole reporting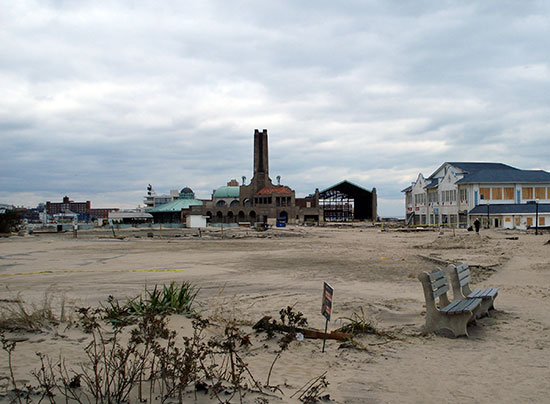 GREETINGS FROM ASBURY PARK
As we encourage fans to help New Jersey's hungry with Photographers For Sandy Relief, which is raising funds for the Community FoodBank of NJ... and Springsteen's 12.12.12 benefit concert for the Robin Hood Relief Fund was announced this morning... our Asbury Park correspendent Lisa Iannucci brings us a view from the hard-hit Shore along with additional ways to help with relief efforts.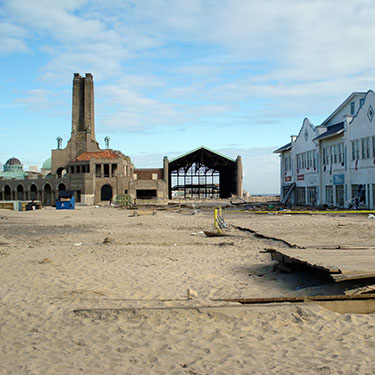 Two weeks after Sandy devastated the New Jersey coast, Asbury Park and its music scene are still recovering. Venues not directly affected (The Stone Pony, the Wonder Bar) have reopened, but the beach and boardwalk remain closed to the public. That's per the dictates of owner/developer Madison Marquette — but to the frustration of residents, who are have been kept in the dark as to the condition of historic landmark buildings Convention Hall and the Casino, as well as other oceanfront businesses. Latest information is that they hope to have the former building — currently being cleaned of several inches of backwashed sand — open by Thanksgiving; according to a new Asbury Park Press report this morning, "The Grand Arcade and Convention Hall are mostly intact, aside from exterior damage." Meanwhile, at the other end of the boardwalk, the Casino, also loaded with sand, suffered major damage from wind and surf, and its easternmost edge has collapsed into the sand. The fate of the complex, once slated as a shopping and entertainment center, remains unclear.
Planning for the annual Light of Day concert series has been set back several weeks by the storm and its aftermath, and several key venues, including Langosta Lounge and McLoone's Seaside Grill and Supper Club, suffered flooding and wind damage and may have a difficult time getting up and running for the holiday season. As of now they are still scheduled for Light of Day events.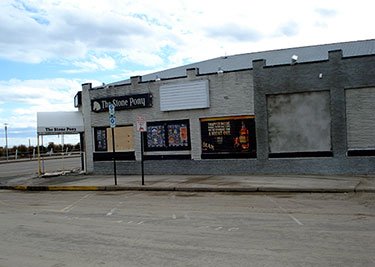 Several local musicians suffered property damage as a result of Sandy, including Keith McCarthy and Lindsey Miller of rising alt-country band The Sunday Blues and songstress Nicole Atkins, whose Neptune City family home was flooded by several feet of water. The tight-knit Asbury Park music community has rallied to their aid, and a handful of benefit shows have already been held with more in the works, including several events planned for the Stone Pony next month.
Asbury Park and surrounding towns suffered varying degrees of damage depending upon beach and dune maintenance and proximity to the ocean and nearby lakes and streams, and are in various stages of recovery. Belmar, former home of original E Street keyboardist David Sancious, had significant flooding and structural damage (the intersection of 10th Avenue and E Street was under water for several days), and access is still limited to residents only. New Jersey Transit (NJT) train service to the entire region on the North Jersey Coast Line is still down as a result of damage to Raritan Bay bridge crossings. Latest word from NJT is that they hope to have the system back to speed in the next couple weeks. Finally, the already swamped Food Bank of Monmouth and Ocean County has been receiving record requests as a result of the storm. Visit www.foodbankmoc.org for information on how to help.
There is still much work to do, and both local and national relief organizations have already stepped in. Residents have organized their own cleanup and relief efforts, and the United Way, Red Cross and Habitat for Humanity are just a few of the many charities lending a hand. That being said, volunteers are still needed, and donations of money, food, clothing and supplies are all needed and welcome. The Asbury Park Press has set up a detailed list of ways to help.
For information on the Light of Day events, please visit www.lightofday.org.
For information on upcoming benefits at the Stone Pony, please visit www.stoneponyonline.com.
Information on other benefits may be found at the city's events website, www.apboardwalk.com.
- November 15, 2012 - report and photographs by Lisa Iannucci

SPRINGSTEEN & E STREETERS TO PLAY 12.12.12 SANDY RELIEF CONCERT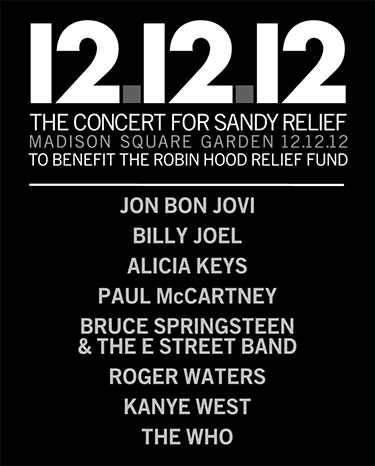 On December 12, two days after the last Wrecking Ball show of the year, Bruce Springsteen & the E Street Band will take the stage at Madison Square Garden for the all-star "12.12.12.: The Concert for Sandy Relief," benefitting the Robin Hood Relief Fund.
Along with Paul McCartney (together again!), Jon Bon Jovi, Billy Joel, Alicia Keys, Roger Waters, Kanye West, and The Who, the special one-night-only event will help provide assistance to the millions of people who have been affected by Hurricane Sandy.

There is a telecast planned for the event; more information should be available soon on that as well as ticket sales. We'll keep you updated here and you can also visit the concert's official sit at 121212concert.org.

The Robin Hood Relief Fund is help the entire tri-state area get back on its feet by providing essentials like housing, food and cash disbursements to those most in need.
- November 15, 2012


TWO BOOKS ARE BETTER THAN ONE
Wednesday night in New York City, two like-minded hearts will be appearing together for a big Boss event: Peter Ames Carlin, author of Bruce, and Eric Meola, author of Streets of Fire. Join Peter and Eric on November 14 from 6pm to 8pm at the 18th Street Barnes & Noble (105 Fitfth Avenue / 6 East 18th St), where they'll be discussing their working experience with Bruce Springsteen and signing copies of their books.
- November 12, 2012

SPRINGSTEEN & YOU: FILMMAKERS, ROLL YOUR TAPES!
From director Baillie Walsh and producers Ridley Scott Associates/Black Dog Films comes a film project Springsteen & I, inspired by Scott Free London's critically acclaimed feature film Life in A Day, and a call to fans to be a part of it:
Springsteen & I is a call out to YOU, the fans, to make a film about Bruce and what he means to you. We want your most personal insights, abstractions and reflections on how Bruce Springsteen and his music has affected your life. Springsteen & I is an open invitation to people all over the world to share stories that celebrate one of the greatest storytellers of our generation.

We encourage you to be part of this unique cinematic experience by either submitting a clip or getting in touch with us via email or phone. We are searching for a wide variety of creative interpretations, captured in the most visually exciting way you can think of, whether you've been a hardcore Tramp since '73 or have heard one of his songs for the first time today! If you have a parent, a sibling, a neighbor or a colleague who has an interesting tale, we want to know about them. If you can't use a camera or are not sure how to capture your story then get in touch and we will link you up with someone who can!

Springsteen & I is the ultimate collective filmmaking experience — for the people and by the people which will culminate in a unique feature music documentary, to be released in cinemas across the world in 2013.
Individual online submissions should be under five minutes; the window for uploading films is November 15 until November 29. For further information and guidelines, visit springsteenandi.com and follow @springsteenandi on Twitter for updates.
- November 9, 2012


11/8: STAND UP FOR HEROES 6
"Look! This is still in the crate!"... The punch-line to Bruce's best bawdy joke of the evening. Intrigued? Listen below for his very animated set-up at 2012 Stand Up for Heroes Thursday night at the Beacon Theatre, benefitting the Bob Woodruff Foundation. Working to help those who have sustained the "hidden injuries of war," the Foundation has supported more than one million veterans, service members, and their families since it began in 2008. Springsteen has performed at the benefit each of its six years, part of the New York Comedy Festival (hence the jokes).
The beautifully restored historic Beacon Theater served as a remarkably intimate venue for this star-studded show. The all-star line-up did not disappoint, with post-election laughs from Jon Stewart, an uproariously funny (albeit recycled from last year's show) routine by Ricky Gervais, the outrageously frenetic Robin Williams, and self-deprecating stylings of Patton Oswalt.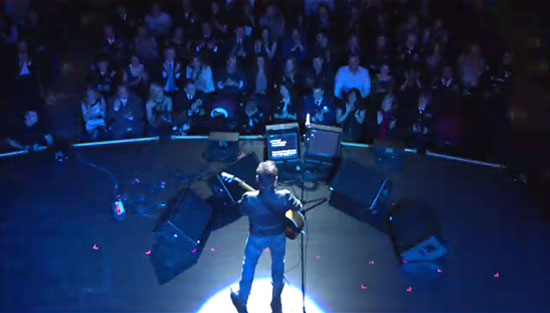 True stars of the evening were the 125 combat-injured servicemen and women assembled in the Beacon's first 3 rows. As for the musical highlights, with all due respect to John Mayer's instrumental of "The Long and Winding Road," and the under-utilized Max Weinberg Band (featuring E Street Horn member Eddie Manion), the clear runner-up for the evening's top performance was a stirring performance by a Roger Waters-led band, comprised of wounded warriors from Walter Reed, featuring a stirring cover of Levon Helm's "Wide River."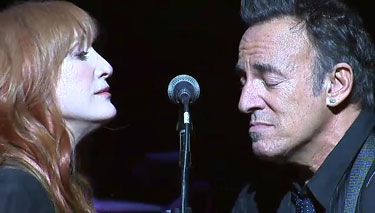 However, the highlight of the night had to be be Springsteen, who played a soulful, four-song acoustic set, beginning with "We Take Care of Our Own," which had become a staple of Bruce's campaign rally performances. This was followed by a spirited "Working on the Highway." Bruce then called Patti on to the stage for a tender duet on "Tougher Than the Rest" before concluding with a poignant "Land of Hope and Dreams."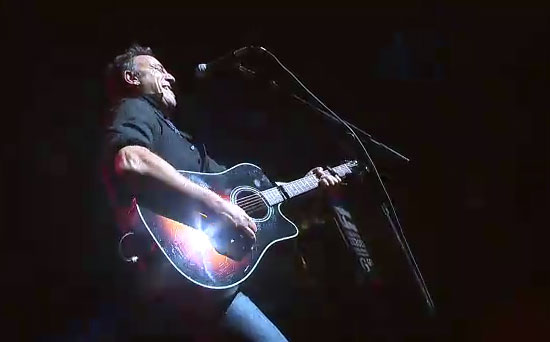 Following his set, Bruce put his guitar up on the auction block, adding perks as bidding ecalated — throwng in his harmonica, a "personal tour of the backstage area," and an autograph — to finally bring in $110,000 for the cause. And a little bit of "Mystery Train" on that guitar gave the auction winner one more story to tell.

Visit reMIND.org to donate to the Bob Woodruff Foundation
- November 9, 2012 - Chris and Gian Rosa reporting



TONIGHT: STAND UP FOR HEROES 6 STREAMS LIVE FOR THE FIRST TIME
Tonight, for the sixth year running, Bruce Springsteen once again plays the annual Bob Woodruff Foundation benefit, Stand Up for Heroes, at New York's Beacon Theatre. The show is sold out, but the first time, it will be streaming live. In addition to Springsteen, this sixth annual New York Comedy Festival event also includes the Max Weinberg Big Band along with Jon Stewart Patton Oswalt, Robin Williams, Ricky Gervais, and more. RSVP at remind.org to watch online tonight beginning at 8pm Eastern. Stand Up for Heroes supports our nation's wounded warriors and their caregivers; for more on the mission of the Bob Woodruff Foundation, visit Remind.org.
- November 8, 2012


BRUCE BIO AVAILABLE AS AUDIOBOOK READ BY BOBBY CANNAVALE
Peter Ames Carlin's new Springsteen biography, Bruce, was released in hardback and eBook last week. For those who prefer reading through their earholes instead of their eyeballs, It's also available from Simon & Schuster as an audiobook, read by actor Bobby Cannavale. Here's an exclusive excerpt, picking up in 1972:
The Bruce audiobook is available from Audible.com, iTunes, and directly from simonandschuster.com.
- November 7, 2012


Bruce Springsteen:
"For 30 years I've been writing about the distance between the American dream and American reality.... Our vote is the one principal way we get to determine that distance in that equation. Voting matters. Elections matter.... We get an individual hand in shaping the kind of America we want our kids to grow up in."
- November 6, 2012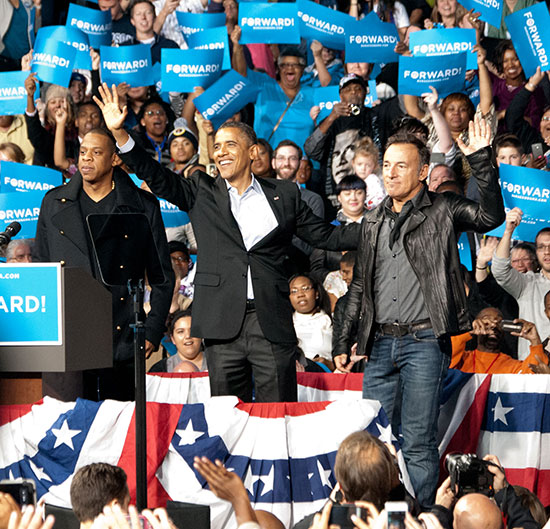 LOOKING FOR THE MAP THAT LEADS ME HOME
Yesterday, Bruce Springsteen performed at Barack Obama's final three rallies before election day, even riding Air Force One from Madison, WI, in the morning to Columbus, OH, in the afternoon as Washington Post reports. The one-day whistlestop tour dinished up in Des Moines, IA last night.
Each of Springsteen's performances featured a four-song set, closing with an acoustic "Land of Hope and Dreams" (hear it from Columbus below). At each stop, Springsteen also delivered a powerful stump speech. He "opened" for a different person in each city, though: in Madison, President Obama; in Columbus, Jay-Z; and in Des Moines, First Lady Michelle Obama.
For the setlist and further details from these perforamces,
visit our Setlists page

- Updated November 6, 2012 - photograph by Matt Orel [Columbus, OH]

ONE! TWO! ONE, TWO, THREE!
Tomorrow, the day before election day, Bruce Springsteen is goin' everywhere, man, joining President Obama for three final rallies in three different states on November 5. All three events are free and open to the public; see below for RSVP/ticket info.
1) Madison, WI - The event site opens Monday morning at 7am, with Springsteen expected to go on around 10:15am Central. Click here to RSVP and get your confirmation. 11/5 update: Live stream here.
2) Columbus, OH - For this afternoon rally at Nationwide Arena, Obama and Springsteen will also be joined by Jay-Z. (We can't be the only ones hoping for "Rocky Ground.") Doors open at noon, with Springsteen expected to go on around 3:15pm Eastern. Ticket distribution at Obama for America offices on East Long Street and West Broad Street in Columbus. 11/5 update: Live stream here / new rally start time is 3:30pm, Ustream link here
3) Des Moines, IA - For this evening rally, the last of the campaign, Springsteen and President Obama will also be joined at East Village by First Lady Michelle Obama. Gates open at 7:30pm, with Springsteen expected to go on around 9:15pm Central. Click here to RSVP. 11/5 update: Live stream here or here.
- Updated November 5, 2012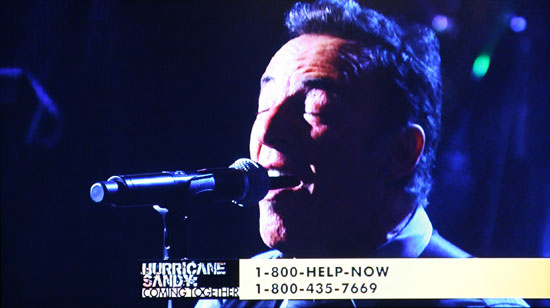 THUNDER'S ROLLING DOWN THIS TRACK #SANDYHELP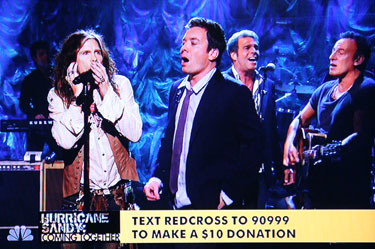 Friday night's Hurricane Sandy: Coming Together, a telethon broadcast live on NBC and affiliated networks, raised funds for the American Red Cross, the money going directly to hurricane relief. Matt Lauer hosted the hour-long, commercial-free benefit. Staten Island's Christina Aguilera, New Jersey's Jon Bon Jovi, and Long Island's Billy Joel all performed before Bruce Springsteen made his first appearance. Twenty minutes in, he was there to play acoustic guitar and sing backup for Jimmy Fallon on "Under the Boardwalk," sharing a mic wth Joel's sax man Mark Rivera. There were several other overqualified backing musicians onstage, too. As Jon Stewart said afterward, "Jimmy Fallon is a bold man to take the lead from Bruce Springsteen, Steven Tyler, and Billy Joel!"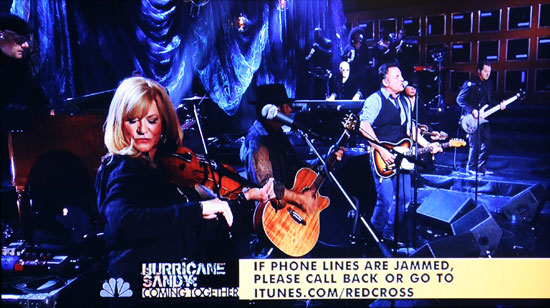 Of course, that wasn't the only performance from Bruce. The E Street Band was billed, and the E Street we got, as they closed the telethon in full force — no Patti, but E Street Horns and Choir present and accounted for. Stewart teamed up with Brian Williams to make the introduction, as two Jersey boys... who finally decided they could use a third. "We're gonna send this out to the people of NY and NJ," Springsteen said, "and to all those who put their lives on the line with their service this week. This is 'Land of Hope and Dreams.'" A five-and-a-half minute version, with blaring horns and the "People Get Ready" outro, concluded with Bruce calling out, "God bless New York, God bless the Jersey Shore!"
To donate, visit RedCross.org or iTunes.com/redcross; call 1-800-HELPNOW or 1-800-RED-CROSS; or text "REDCROSS" to 90999 to make a $10 donation.
- November 2, 2012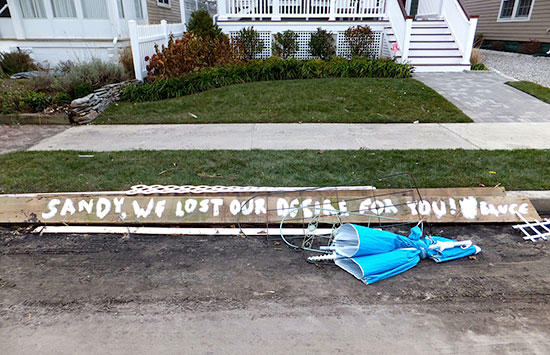 TELETHON TONIGHT TO HELP HURRICANE RELIEF EFFORTS
Tonight's NBC telethon benefitting the American Red Cross will feature Bruce Springsteen and the E Street Band performing live. Billboard.biz has more on Hurricicane Sandy: Coming Together:
"It's been the easiest thing to book because everybody wants to be involved," Matt Lauer, host of the telethon and Today anchor, told Billboard.biz in an interview this afternoon. He then added with a laugh, "If only booking the show were this easy always!"

The one-hour telethon will air live on the East Coast and tape-delayed on the West Coast on NBC, Bravo, CNBC, E!, G4, MSNBC, Style, Syfy and USA from 8 to 9 p.m. (other networks may still participate prior to airtime.) It's the result of a 48-hour process that kicked off Wednesday morning at about 6:45 a.m. ET, when Lauer spoke with NBC Universal chairman-CEO Steve Burke about the idea. Within four hours, Lauer made the first call to Jersey native Jon Bon Jovi, who was in London at the time and quickly booked a flight. Next, Lauer called Patti Scialfa while "NBC Nightly News" anchor Brian Williams reached out to Springsteen. Billy Joel and Sting were committed soon after...
There are also plans to live stream the concert on NBC websites. To donate, visit RedCross.org, call 1-800-HELPNOW or 1-800-RED-CROSS, or text "REDCROSS" to 90999 to make a $10 donation.
The Asbury Park Press, which has been doing a remarkable job covering the effects of the storm on the area, also has a page, "Here's how you can help," specifically for Monmouth and Ocean counties.
Above: Tana Reiff took this photo "yesterday, November 1, along 16th Avenue in Belmar, NJ, two or three houses up from the beach and just a few blocks from E Street. It's painted on a piece of the destroyed boardwalk that landed all over the street and yards. Perhaps I should have left sending the photo to the resident, but no one has power there and cell service is spotty... My daughter lives in Belmar and we were there to salvage stuff from her flooded basement. Had to go through a National Guard checkpoint to get into 16th Ave".
- November 2, 2012 - photograph by Tana Reiff

ERIC MEOLA AT M.U. — OFF, AT LEAST FOR NOW
In a joint statement today, photographer Eric Meola, Monmouth University, and The Friends of the Bruce Springsteen Special Collection announced the cancellation of Meola's presentation and book signing of Streets of Fire, Bruce Springsteen in Photographs and Lyrics 1977-1979 scheduled for November 9 at the West Long Branch, NJ university. "After all the heartbreak and sadness of the last few days, this is a time when everyone's attention needs to remain focused on recovery, and meeting the needs of so many of our friends and neighbors and fellow fans," said Bob Crane, executive director of The Friends. "Anyone who preordered Eric's book will receive an autographed copy, but delivery will be delayed, owing to storm-related issues. We hope to reschedule Eric's event for later in November."
- November 2, 2012

SPRINGSTEEN AND OBAMA, MONDAY IN MADISON
Talk about living it every day. Last night, Rochester. Tonight, State College, PA. Tomorrow, the NBC telethon, Hurricane Sandy: Coming Together. Saturday, Louisville, KY. And now, just announced...
On Monday, the day before the election, Bruce Springsteen will play another campaign rally for Barack Obama, this time with the President himself. As WKOW reports, Springsteen and Obama will appear together in Madison, WI, where Bruce will perform before introducing the President.
Update: Make that three rallies on Monday: in Madison, Columbus, and Des Moines, as the Washington Post reports, sharing bills with President Obama as well as the First Lady and Jay-Z.
- November 1, 2012

BRUCE AND E STREET BAND TO PLAY NBC TELETHON TOMORROW
As telethon host Matt Lauer announced this morning on the Today show, Springsteen and the E Street Band will perform on Hurricane Sandy: Coming Together Friday night, an NBC telethon to benefit the Red Cross. Billy Joel, Jon Bon Jovi, Sting, Jimmy Fallon, and Brian Williams also to appear. The commercial-free broadcast begins at 8pm Eastern Friday, on NBC/Universal stations including Bravo, CNBC, USA, MSNBC and E!
- November 1, 2012


THE JERSEY DEVIL COMES ALIVE!!!
Tonight's opener at the Rochester Halloween show, a live world premiere.
11/1 Update: Let's add some visuals...

And suddenly, to our surprise...

Full show report to come.
- Updated November 1, 2012