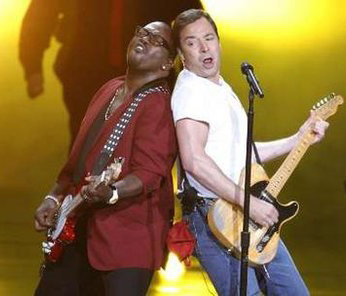 I WANNA DIE WITH YOU, EMMY, ON THE STREETS TONIGHT...
As MSNBC.com reports, Sunday night's Emmy Awards broadcast "started with a bang as [host Jimmy] Fallon joined forces with stars from Glee who complained, that, in the tradition of the high school students they play, they couldn't afford the tickets to the Emmycast. Solution: put on a show! The Glee stars joined forces with Tina Fey (30 Rock), Jon Hamm (Mad Men), Jorge Garcia (Lost), Randy Jackson (American Idol) and others in a song-and-dance rendition of 'Born to Run,' complete with Fallon in jeans and T-shirt channeling Bruce Springsteen."
- August 29, 2010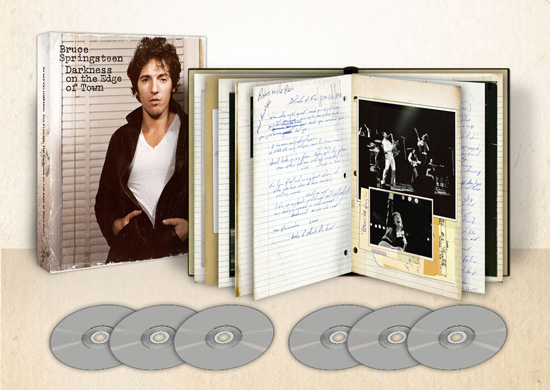 IT'S OFFICIAL: DARKNESS FALLS, NOVEMBER 16
Six-disc box set tells The Darkness on the Edge of Town Story
The long-awaited Darkness on the Edge of Town reissue, originally expected for the 1978 album's 30th anniversary, has grown to enormous proportions for its release on November 16 as The Promise: The Darkness on the Edge of Town Story. The 30th anniversary set for Born to Run comprised three discs, and it would have been reasonable to expect the same for Darkness; instead, this just-announced set doubles down, with six discs: three CDs, and three DVDs. (A 3-CD/3-BluRay edition will also be available.)
For this deluxe edition, the discs will be packaged with an 80-page notebook containing facsimiles from Springsteen's original notebooks from the recording sessions, which include alternate lyrics, song ideas, recording details, and personal notes in addition to a new essay by Springsteen and never-before-seen photographs.
So we're looking at more than six hours of film, and more than two hours of audio. Let's break it down...
CD1: Darkness on the Edge of Town Digitally remastered for the first time (and in our view, the album most in need of such treatment)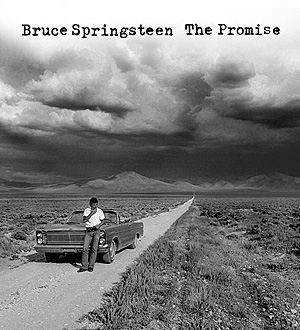 CD2 and CD3: The Promise Two discs (which will also be released separately as a 2-CD set and a 4-LP set) containing 21 previously unreleased tracks from the Darkness sessions — songs that, as Springsteen writes, "perhaps could have/should have been released after Born to Run and before the collection of songs that Darkness on the Edge of Town became." Of this material Bruce also writes, "Darkness was my 'samurai' record, stripped to the frame and ready to rumble… But the music that got left behind was substantial." All 21 songs have been mixed by Springsteen's long-time collaborator Bob Clearmountain. According to long-time manager/producer Jon Landau, "There isn't a weak card in this deck. The Promise is simply a great listening experience."

The Promise Disc 1

Racing in the Street ('78 rock version)
Gotta Get That Feeling
Outside Looking In
Someday (We'll Be Together)
One Way Street
Because the Night (original studio recording)
Wrong Side of the Street
The Brokenhearted
Rendezvous (original studio recording)
Candy's Boy

The Promise Disc 2

Save My Love (Listen now at Brucespringsteen.net)
Ain't Good Enough For You
Fire (original studio recording)
Spanish Eyes
It's a Shame
Come On (Let's Go Tonight)
Talk to Me (given to Southside Johnny)
The Little Things (My Baby Does)
Breakaway
The Promise
City of Night

DVD1: The Promise: The Making of Darkness on the Edge of Town. The documentary directed by Grammy- and Emmy Award-winning filmmaker Thom Zimny. The 90-minute film combines never-before-seen footage of Springsteen and the E Street Band shot between 1976 and 1978—including home rehearsals and studio sessions—with new interviews with Springsteen, E Street Band members, manager Jon Landau, former-manager Mike Appel, and others closely involved in the making of the record. The documentary will first screen at the prestigious Toronto Film Festival on September 14 and will make its television debut on HBO on October 7.
DVD2: A mix of E Street new and old: first the modern-day E Street Band tackles the Darkness album from start to finish (remember back in December, when Bruce and the E Streeters were doing some closed-door filming at the Paramount Theater?), then a wealth of vintage clips from the Thrill Hill Vaults document the Darkness-era band, both in-studio and live.
Darkness on the Edge of Town (Paramount Theater, Asbury Park, NJ, 2009)
A performance of the album in its entirety, shot in HD without an audience and recreating the stark atmosphere of the original album.

Thrill Hill Vault, 1976-1978
From studio rehearsals to live performances, clips here include brand new cuts of the Phoenix footage, re-edited by Thom Zimny.

Save My Love (Holmdel, NJ 76)
Candy's Boy (Holmdel, NJ 76)
Something in the Night (Red Bank, NJ 76)
Don't Look Back (NYC 78)
Ain't Good Enough For You (NYC 78)
The Promise (NYC 78)
Candy's Room Demo (NYC 78)
Badlands (Phoenix 78)
The Promised Land (Phoenix 78)
Prove It All Night (Phoenix 78)
Born To Run (Phoenix 78)
Rosalita (Come Out Tonight) (Phoenix 78)
DVD3: Houston '78 Bootleg: House Cut A holy grail of sorts, this is the complete show from December 8, 1978, at the Summit in Houston, TX toward the end of the tour for Darkness on the Edge of Town. They're calling this a "bootleg house cut," as it's the footage that appeared on-screen at the concert.
Badlands
Streets of Fire
It's Hard to Be a Saint in the City
Darkness on The Edge of Town
Spirit in the Night
Independence Day
The Promised Land
Prove It All Night
Racing in the Street
Thunder Road
Jungleland
The Ties That Bind
Santa Claus is Coming to Town
The Fever
Fire
Candy's Room
Because the Night
Point Blank
She's the One
Backstreets
Rosalita (Come Out Tonight)
Born to Run
Detroit Medley
Tenth Avenue Freeze-out
You Can't Sit Down
Quarter to Three
Stay tuned for ordering links shortly!

- August 26, 2010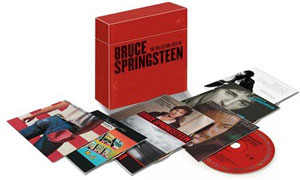 IN STOCK NOW AT BACKSTREET RECORDS
Just added to our online shop: a new, hard-to-find import from Germany, The Collection 1973-84 collects Springsteen's first seven CDs in mini-LP sleeves (including a gatefold sleeve for The River), housed in a red custom box. See more information and order now.
- August 24, 2010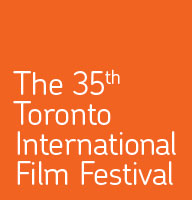 MR. SPRINGSTEEN GOES TO TORONTO
The Toronto International Film Festival confirms today that, in addition to the premiere of The Promise: The Making of Darkness on the Edge of Town, the festival will also be hosting an appearance from Bruce Springsteen himself. As part of TIFF's Mavericks series, Springsteen will be interviewed by actor Edward Norton, to "discuss the film as well as the relationship between his music and American filmmaking." Read more about the Mavericks series here.
TIFF.net also has additional information about The Promise, including a newly announced schedule: the documentary will premiere on Tuesday, September 14 at 9:30 p.m., with additional screenings on September 15 and 18.
- August 24, 2010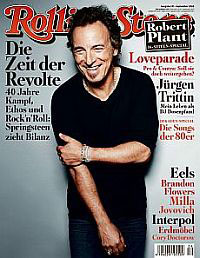 DARKNESS BOX WATCH
On the cover of the German Rolling Stone
The September issue of the German edition of Rolling Stone magazine will feature the Boss on the cover, with a feature entitled "Bruce Springsteen: Der Sound der Straße (The Sound of the Street)."
From the German: "Darkness on the Edge of Town will be reissued in the fall, but the Boss would rather look forward than look back. An interview about a magnificent career." See www.rollingstone.de.
- August 23, 2010


NILS TALKS TO BILLBOARD
Billboard.com has an update on Nils Lofgren, who's prepping for a U.S./U.K. acoustic tour. Lofgren tells Garry Graff that though he'll appear in the upcoming Darkness documentary film, there are "no plans" for a new E Street Band project at the moment. "Of course that's a sign for me to get back to my own thing, which I'm doing," Nils says. "But as a giant fan of the band, of course I'm hoping that changes and there's another chapter in our history."
- August 23, 2010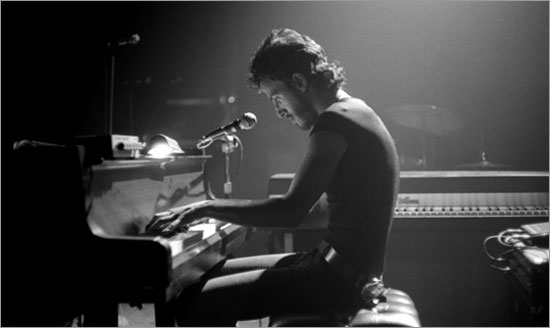 I HAVE SEEN THE WINNER OF THE PHOTO CONTEST...
Check out what took top honors in the Boston Globe's recent "Your Best Shot" concert photo contest: Springsteen at the piano in 1974, a photograph by Barry Schneier both beautiful and historically significant. It was taken at the Harvard Square Theater on 5/9/74, as the photographer notes, "the evening he opened up for Bonnie Raitt and journalist Jon Landau declared him the future of rock and roll in his review for The Real Paper." Visit barryschneierphotography.com for more of his images from that night.
- August 23, 2010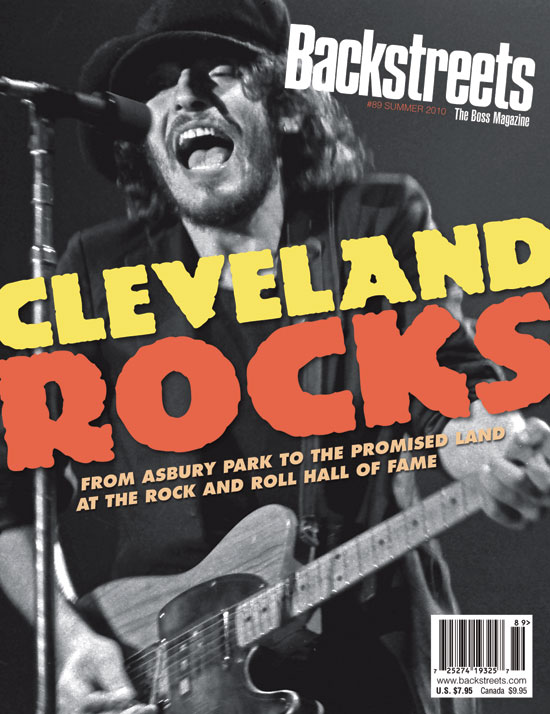 HOT OFF THE PRESSES: BACKSTREETS #89
The new issue of Backstreets Magazine has been printed and is mailing to subscribers now! Issue #89 focuses on the current Springsteen exhibit at the Rock and Roll Hall of Fame, taking you through "From Asbury Park to the Promised Land: The Life and Music of Bruce Springsteen" from floor to floor, and presenting the full interview between curator Jim Henke and Bruce Springsteen about what's on display. The Cleveland theme continues as WMMS program director John Gorman writes about Springsteen's rise in the region, culminating with an insider's look at the legendary '78 Agora broadcast.
Plus: The Backstreets Interview with Bruce's latest collaborator, Alejandro Escovedo; 2010 performances so far, including Dave Marsh on The Rascals and John Wesley Harding on WAMfest; Bruce's Ellis Island Foundation speech, and much more. All with gorgeous photography, as usual, much of it (including the cover shot) courtesy of longtime Cleveland photographer Janet Macoska. Click here for full contents list and page previews.
Subscribe and save!
New subscriptions begin with this issue — subscribe now for significant savings off the cover price, to eliminate shipping charges, and to automatically receive the issues to come.

If you'd like to receive this issue and more, susbcribe online now! Or call our order line to subscribe by phone, at 1-800-326-BOSS. Each year you subscribe for will get you four issues of the Boss magazine sent straight to your door. If you're a reader of this website, there's a lot more waiting for you in the pages of Backstreets Magazine... don't wait any longer to get on board!
Already a subscriber? Check our Subscriber Services page for more details on when you can expect your copy of the new issue, in the hands of the postal service now.
- August 19, 2010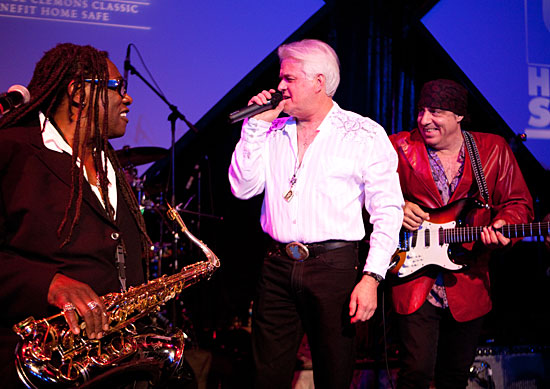 THE BIG MAN GETS "NAKED" ON THE BOARDWALK... FOR FREE!
They blew up the Chicken Man in Philly years ago, but fortunately the Big Man remains alive and well, planning to appear in a free concert this Saturday, August 21, out where the sand's turnin' to gold. Clarence Clemons will be performing again with Steve Smith & The Nakeds, this time in a free concert on the boardwalk at historic Dennis Courtyard outside Bally's Casino, 1900 Pacific Avenue (Park Place and the Boardwalk), Atlantic City, NJ. No tickets are required; gates open at 5 p.m.; show's scheduled to run from 6-10 p.m. Call 609-340-2000 for more information.
Update: Show info posted now at www.ballysac.com. Above: The Big Man and Steve Smith with Steven Van Zandt at the May 8, 2010 Clarence Clemons Classic to Benefit Home Safe.
- Updated August 19, 2010 - Shawn Poole reporting - photograph by Michael Zorn



"WHEN IT COMES TO GUITARS, PHIL PETILLO'S THE BOSS"
- August 17, 2010



R.I.P. PHIL PETILLO, "JUST ABOUT THE BEST GUITAR MAN I EVER MET"

We were saddened to hear of the death of Phil Petillo, Springsteen's longtime "guitar man" and a true renaissance man. Our condolences to his wife Lucille, to David, Phil's son and partner in Petillo Masterpiece Guitars and Accessories, and the rest of the family on their loss.

Petillo's guitar shop is where Springsteen bought his now-famous Fender for around $180, back when he had just signed his record deal with Columbia, and Petillo used his no small amount of skill to rebuild, experiment upon, and keep that "bastard" guitar — actually an Esquire neck on a Telecaster body — in working condition over the years of hard touring.
Phil was a fascinating guy and man of many talents; read last year's Premier Guitar magazine feature: "Phil Petillo: Master Luthier, Engineer, Scientist & Inventor".
- August 16, 2010


DARKNESS BOX WATCH
More details out of Toronto
Rolling Stone has dug up more details about The Promise, after speaking with TIFF documentary programmer Thom Powers. Like Wings for Wheels, the forthcoming Darkness doc combines black and white studio footage with modern-day interview footage, with subjects including Danny Federici and other E Street Band members, as well as Patti Smith. "What really struck me about these interviews is the vivid sense of recall that they have," Powers told Rolling Stone. "You don't get the feeling that these are the same old stories they've polished up for the press all the time — especially with Springsteen. He gave long interviews for the film and just about everything he says is really interesting." Read more of today's post at Rollingstone.com.
- August 13, 2010


DARKNESS BOX WATCH
First we take Toronto... then we take premium cable
Over the weekend, HBO announced that the network will be airing The Promise: The Making of Darkness on the Edge of Town in October. Following the film's premiere in Toronto, this will likely be the first chance for many fans to see the 85-minute documentary, prior to its release on DVD as part of the Darkness reissue package.
Philly.com has quotes from HBO execs: "They filmed the artistic process and put it in a vault. It's absolutely riveting, whether you're a huge Springsteen fan or not.". . . "We're thrilled to present a magical inside look at what it takes to make a work of art."
The HBO premiere is October 7.
- August 9, 2010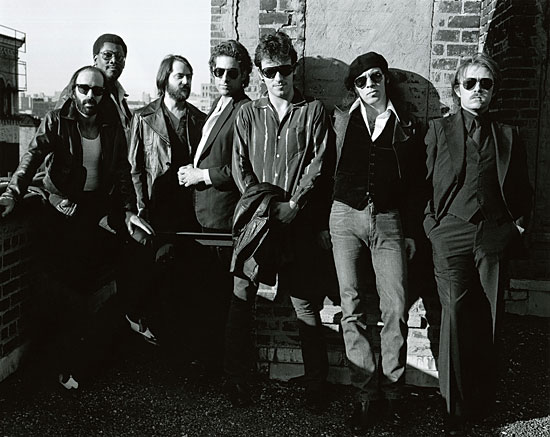 DARKNESS BOX WATCH
Package nearing completion, its documentary to premiere next month
Just announced this morning, the documentary that Thom Zimny has been working on for the impending Darkness box will premiere at the 35th Toronto International Film Festival as a Gala screening in September. Zimny created the Wings For Wheels doc for the Born to Run 30th Anniversary box; his new film is titled The Promise: The Making of Darkness on the Edge of Town.
Speaking to IndieWIRE, festival documentary programmer Thom Powers says that The Promise draws on "a treasure trove of footage from the 1970s. You see all the twists and turns of the making of this album. And we're the first people to announce that this film even existed... It's been in the works for a couple years now in total secrecy. And we're very proud to be presenting it."
The description of the film from TIFF.net: "The Promise: The Making of Darkness on the Edge of Town takes us into the studio with Bruce Springsteen and the E Street Band for the recording of their fourth album. Grammy and Emmy Award-winning filmmaker Thom Zimny has collaborated with Springsteen on this documentary, gaining access to never before seen footage shot between 1976-1978, capturing home rehearsals and recording sessions that allow us to see Springsteen's creative process at work."
TIFF runs from September 9 - 19. According to the festival website, a confirmed schedule will be posted August 24. Tickets are available now.
Update: A Shore Fire press release confirms that "Bruce Springsteen, Jon Landau Management, and Columbia Records are working on completing a new package related to Darkness on the Edge of Town, which will include the new Thom Zimny film The Promise: The Making of Darkness on the Edge of Town. Further details will be announced when they are finalized." The statement also gives the date for the TIFF premiere as September 14.
Toronto Star movie critic Peter Howell writes that "The pick of the The Promise as a Gala selection almost guarantees that Springsteen will come to Toronto to introduce it to the TIFF audience."
- Updated August 4, 2010 - photograph by Frank Stefanko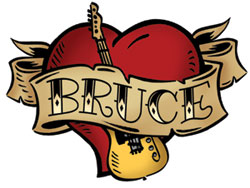 TATTOO YOU
We've always worn our heart on our sleeve, so this seems pretty fitting. Get one of these temporary tattoos free with your order of any amount from Backstreet Records.
No coupon code or anything else required — we're automatically including one as a freebie with every order that ships out.
2011 Calendars are in stock now!
See all the Latest Additions to our online catalog
- August 3, 2010


LIVIN' IN THE FUTURE....
Check out our Fight the Merger! page for some new updates on post-Ticketmaster merger legislative efforts. As developments continue to unfold and fans remain forced to deal with the reality of the Live Nation Entertainment monopoly, we're doing our best to keep our ears tuned to the ground and passing along what we hear.
- July 30, 2010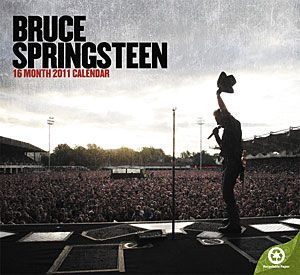 2011 BRUCE CALENDARS
ARE HERE
Thrill Hill Productions has put together another official Bruce Springsteen wall calendar, and we've got it in stock now at Backstreet Records.
Some beautiful photography from Jo Lopez (who took all the photos in the London Calling DVD package), with a different live shot for each month of 2011. And it's a 16-month calendar, with September through December 2010 on the first spread.
So whether you'll be using it yourself in the fall, or getting a jump on holiday shopping.... order now!
- July 29, 2010


29th JULY LULLABY
Sending out happy birthday wishes today to Patti Scialfa!

ALBERT LECCESE, 1953-2010
We were saddened to learn of the recent and untimely passing of Albert Leccese, who lost his five-year battle with lung cancer at the age of 57 on July 17. Leccese was the co-owner and vice president/director of engineering at Audio Analysts, the audio service company for all of Bruce Springsteen's tours since 1992, including last year's Working on a Dream tour and the triumphant Super Bowl XLIII halftime appearance that preceded it. In that capacity, Leccese was a key behind-the-scenes member of the Springsteen touring organization, responsible for helping to achieve the best sound possible in every venue on every night (an often difficult task, depending on the venue and/or the time allotted in which to set up and refine the sound system). Many fans may not have known who Leccese was, but they certainly benefited from his innovative efforts and expertise over the years. He was well-liked and respected by both colleagues and competitors in the concert sound industry and was involved with many major artists and projects throughout his career. Leccese was also known for his commitment to sharing his knowledge with others, regularly appearing at various educational seminars and industry events and mentoring many students of sound design. During last year's Springsteen tour, Leccese even agreed to appear on E Street Radio's Live From the E Street Nation call-in show, fielding fans' questions and, in a few cases, directly addressing complaints about the sound at some shows. There's more on Leccese's legacy in the obituaries and tributes at Mix Online, Pro Sound News and Dave Marsh's website. A great, detailed piece about Leccese's work with Springsteen and the E Street Band during the Rising tour also can be found in the archives of Live Sound International. Rest in peace, Albert, and thanks for all of the great-sounding shows over the years. Rumor has it that Heaven has one hell of a house band; if so, its concerts probably sound better already.
- July 27, 2010 - Shawn Poole reporting


ESCOVEDO COMES ALIVE!
More clips from Friday night... and special thanks to Lisa Iannucci for reporting in.
- July 26, 2010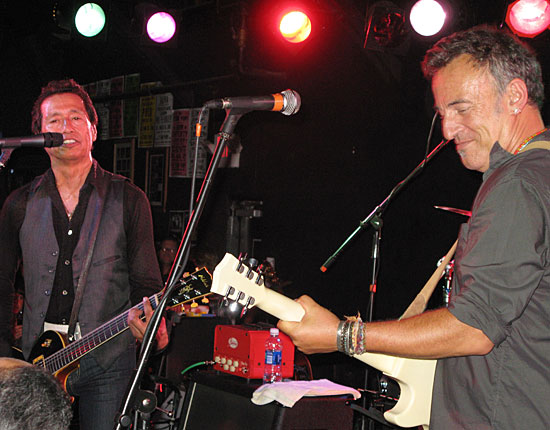 ALWAYS A FRIEND, BRUCE ROCKS THE PONY WITH ALEJANDRO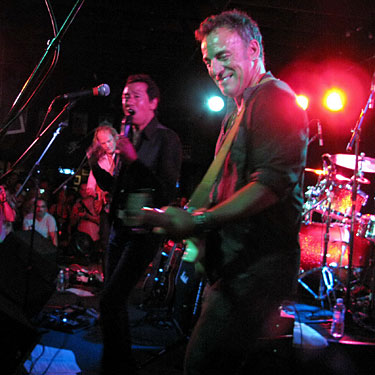 As Alejandro Escovedo posted on his Facebook page in the wee hours:
"Bruce Springsteen joined us at the Stone Pony! He came out for 'Always a Friend,' 'Faith,' and a first ever for The Boss, 'Beast of Burden,' turning in two scorching solos! What a night...what a way to cap off this great tour! A perfect send off for our return to Austin!"
Alejandro and his band the Sensitive Boys played from 10:30 to midnight at the Asbury Park club on Friday, offering up a good deal of material from his two most recent albums Street Songs of Love and Real Animal, before Springsteen came out for the sweat-soaked three-song encore.
Check out video below, and look for our interview with Alejandro in the forthcoming summer issue of Backstreets magazine, #89. Subscribe now!
For the full setlist from this and other recent shows,
see our Setlists page.
- July 24, 2010 - photographs by Mike Brazinski (1) and John Cavanaugh (2)

ROCK HALL'S 25TH ANNIVERSARY CONCERT IS COMING HOME
As Billboard reports, Time Life will release The 25th Anniversary Rock and Roll Hall of Fame Concerts home video on September 28. The three-DVD set will include the entire four-hour HBO broadcast from the October 2009 Madison Square Garden performances, which features Springsteen guesting with U2 on "Because the Night" and "I Still Haven't Found What I'm Looking For" and climaxes with guest-laden highlights from his set with the E Street Band. Broadcast selections: "Hold On! I'm Comin'" and "Soul Man" with Sam Moore; "The Ghost of Tom Joad" with Tom Morello; "Fortunate Son" and "Oh, Pretty Woman" with John Fogerty; "Jungleland"; "A Fine Fine Boy" with Darlene Love; "New York State of Mind" and "Born to Run" with Billy Joel; and "Higher and Higher" with all.
The broadcast special is spread over the first two discs, while a third DVD adds 16 bonus tracks. Two cuts here from Bruce and the E Streeters: "London Calling" with Tom Morello, and a full-length version of "Higher and Higher" not seen on HBO.
In addition to the standard DVD release, Best Buy will have an exclusive Blu-ray edition for the first 30 days.
- July 23, 2010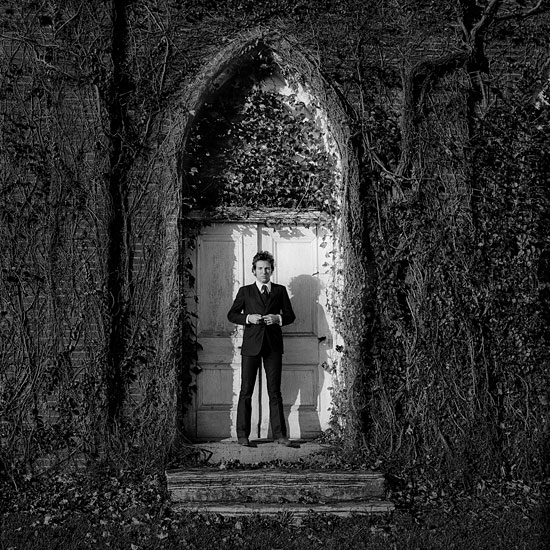 DARKNESS VISIBLE: NEW MEOLA EXHIBIT GOES BEYOND BORN TO RUN
In the world of Springsteen, photographer Eric Meola is, of course, best known for the iconic cover of Born to Run. That was far from his only session with Springsteen, though, and while his Darkness-era photographs turned up here and there (in magazine ads, on the "Badlands" sheet music), Meola's 1977-1978 work with Springsteen has gone largely unseen. Until now. Beginning August 3 at Snap Galleries in central London, a new exhibition will show many of these stunning photographs for the first time.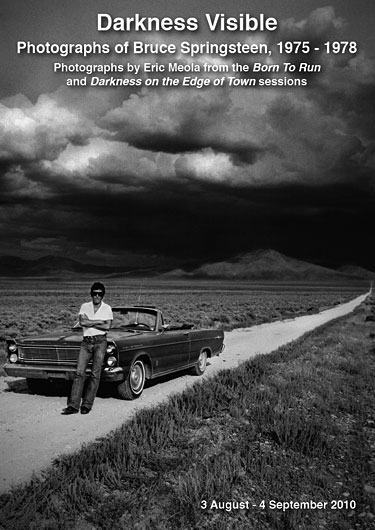 Meola writes of flying west with Bruce and shooting in Nevada:
...We left the road at Unionville, and grabbed a bite to eat at a nearby roadside cafe. And then we went back. And by then the sky had gone black and the wind had come up. I shot some more, including a shot of Bruce in front of the car, leaning on the hood—a long, thin dusty dirt road going off in the distance behind him, disappearing over Battle Mountain, as it began to rain and flashes of lightning filled the valley floor. It was one of those days and moments that will stay with you to the grave. There was that strong, fresh ozone smell after lightning has cleared the air, and the feel of the moisture mixed with the dry desert wind was something I had only felt once before.

A few weeks later I would be haunted when I heard the lyrics to "The Promised Land":

There's a dark cloud rising from the desert floor
I packed my bags and I'm heading straight into the storm
Gonna be a twister to blow everything down
That ain't got the faith to stand its ground
"Darkness Visible: Photographs of Bruce Springsteen, 1975 - 1978" runs from August 3 to September 4. Get there if you can... and if you can't, visit the Snap Galleries website for more images and more information, including a downloadable PDF.
- July 15, 2010

BEST OF THE OUGHTS
David Masciotra, author of Working on a Dream: The Progressive Political Vision of Bruce Springsteen (signed copies available here!) has posted an annotated list of his picks for Springsteen's top 15 songs of the decade. That's from Live in New York City through Working on a Dream — quite a rich period, and Masciotra makes an impassioned case for its appreciation, not least of all by Bruce himself:
There is no denying the enduring meaning, value, and power of Springsteen's early work, which contains some of the best songs in rock history. However, too many fans betray the artist who created those songs, along with the values delineated in those songs, when they run for a beer at arenas after hearing the opening chords of a new song and passively demand that Bruce Springsteen, a man whose creativity and artistic boldness produced the music they celebrate, stop being an artist and adopt the static performance personality of an oldies jukebox. None of this would be very important if it had no impact on Springsteen. Disappointingly, the tour for his latest album, Working On a Dream (2009) was much more nostalgia driven than its predecessors...
The list itself ranges from hard-to-argue-otherwise modern classics like "Land of Hope and Dreams" and "The Rising" to some with surely less consensus, like "Mary's Place" and "Black Cowboys." All albums are represented; it's good reading.
- July 14, 2010

MAX'S BIG BAND BACK ON THE ROAD THIS WEEK
After a month-long coast-to-coast trek earlier this summer, Max Weinberg is returning to the Midwest this week for two more shows with his Big Band: Tuesday in Lansing, MI and Wednesday in Minneapolis, MN. He spoke with Jon Bream for the Star Tribune, continuing to dance nimbly as a forest creature around the question of returning to play with Conan O'Brien, as well as looking toward the future: "Weinberg said he hasn't heard from Springsteen but suspects the Boss is writing songs for another album. Meanwhile, the drummer plans a vacation in Italy in late summer and a return to the road with the big band in October."
- July 12, 2010

E STREETERS JOIN IN AN ALL-STARR BIRTHDAY BASH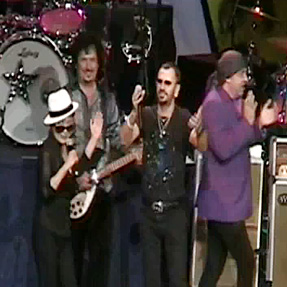 Happy 70th (!) to Ringo Starr, who celebrated last night with a big concert shindig at Radio City Music Hall. No Bruce appearance, despite advance rumors, but three E Street Band members were part of the festivities: Nils Lofgren, Steve Van Zandt, and Max Weinberg all on stage for "With a Little Help From My Friends"/"Give Peace a Chance" [video is here].
That might have felt like a grand finale, but as Andy Greene reports for Rolling Stone, there was one more special guest to come: "Then, just as the house lights threatened to rise, a roadie brought out Paul McCartney's signature Hofner bass and the sell-out crowd went into absolute hysterics. When McCartney himself ran onstage and burst into (of course) the White Album's 'Birthday,' [Update: better video here] the screams reached a decibel level rarely heard since the Beatles stopped touring nearly 45 years ago."
- July 8, 2010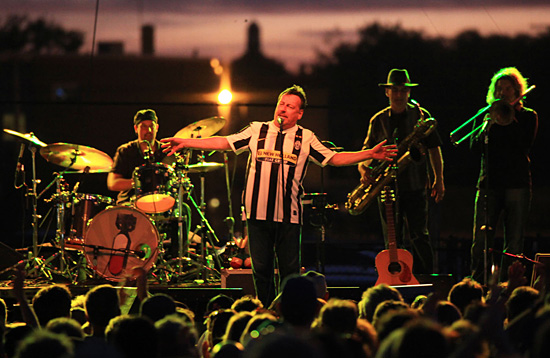 2nd OF JULY, ASBURY PARK (SOUTHSIDE)
Yep, that's Southside Johnny in Asbury above, kicking off the holiday weekend last night with the Jukes on the Stone Pony Summer Stage. [photograph by Mike Black]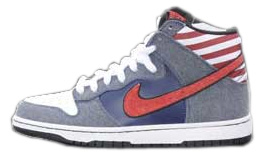 Also in Jersey this weekend: Remember those Born in the U.S.A.-themed Nikes we posted about a few months back? Just in time for the Fourth of July, the Nike SB Dunk High "Bruce Springsteens" are officially available today at NJ Skateshop locations. For more on the red, white, and blue denim kicks, see video here.
Happy Independence Day!
- July 3, 2010

NEW BRUCE INTERVIEW IN NEXT MONTH'S MOJO

The August 2010 issue of the great UK music magazine MOJO will feature Springsteen on the cover, and inside, the only interview Bruce has done to promote the London Calling DVD. You'll find a sneak peek at the 11-page feature at mojo4music.com:
"In a wide-ranging interview illustrated with candid Danny Clinch photos taken at Springsteen's New Jersey hideaway, Springsteen ponders the impact of his home state on his writing, his kinship with punk bards Joe Strummer and Patti Smith and his weakness for 'the darkness'.... a rapprochement with Mike Appel... The Boss conceding that Springsteen, Weinberg, Van Zandt and crew are stronger together than apart. 'We are unique. There's only one of us. When we're done, many other wonderful things will be done, but they won't do what we do.'"
The issue comes with a 15-track CD entitled Boss Sounds!, which collects some of Bruce's hand-picked faves from his pre-show walk-in playlists.
We're taking pre-orders for this issue now at Backstreet Records — place your order now to guarantee a copy!
Also online at mojo4music.com: an annotated selection of YouTube clips, "Springsteen's Greatest Flicks!"

- July 2, 2010

HAPPY BIRTHDAY, PROFESSOR!
Wishing Roy Bittan a good one today... The Professor turns 61, born July 2, 1949. Backstreets recently spoke with Roy, not only about Danny, but also about auditioning with Max and joining the E Street Band, the full-band Nebraska sessions, writing songs with Bruce in the early '90s, and much more. See the seven-page feature in Backstreets #88.


TEN YEARS BURNING DOWN THE ROAD
July 1, 2000 / Madison Square Garden / New York, NY
By Flynn McLean
Ten years ago tonight was the closing night of Bruce Springsteen and the E Street Band's 1999-2000 "Reunion" tour, their first tour together in more than ten years. Not only was it the final show of the tour, it was also the final show of a ten-night stand at Madison Square Garden. Fans had travelled to New York City from all across the globe to be at these shows, many having been to multiple shows over the course of the tour, and a film crew with high-definition cameras was on-hand to capture the last three shows.
Expectations of closing night were high. The show two nights earlier was a very strong performance of a mostly standard set list, while the show four nights prior included several underplayed nuggets, including the outstanding Tracks tracks "Loose Ends" and "Back in Your Arms," in another solid performance. (Well, let's be honest here — the E Street Band had never played better than they did those last two months of the tour.)
Many fans were wondering if the cameras caused Bruce to play it more cautiously than he normally would at the penultimate show and were concerned that a similar fate would affect the finale. However, everyone knew that Bruce would pull something special out for the last night; the only question was what. Springsteen took the stage later than usual that night, as the house lights didn't go down until nearly 8:45, which only raised tensions, and expectations, in the room.
The opener was a song that Bruce had debuted just three weeks earlier, at opening night of the Garden stand, "Code of Silence," a song he and Joe Grushecky co-wrote. The next four songs were very familiar to those who had followed the tour, but closing night brought an added intensity, as well as a bit of bittersweetness in some instances. One couldn't help but to smile wistfully when Bruce yelled, "C'mon, Steve, once more!" before counting off into "Two Hearts."
It was during the last chorus of "Atlantic City," though, when fans realized this night was going to be special. The call and response on "Meet me tonight in Atlantic City" between Bruce and the crowd went longer than usual, with the fans getting louder with each repitition. Bruce was truly "in concert" with this crowd.
In retrospect, the standard set list worked perfectly on this night. The show served as a summary of the tour: the opening five rocking the house, the quiet song duo, the Five Pack, the post-"Tenth" wild card (two on this particular night!), the quiet political song, the epic, the rockin' set closer, the rockin' first encore, and the communal final encore. Plus, the Garden stand saw the addition of the combination of "American Skin" and "The Promised Land," between the quiet song duo and the Five Pack. "American Skin" showed that Bruce could still write a relevant rock song, one that could shine a new light on a Springsteen classic.
Legendary Springsteen shows always feature intensity and goofiness, and the post-"Tenth" spots delivered each. The fun "E Street Shuffle," complete with a "Let's continue to be silly now" intro, let everyone show off their moves. The first tour debut of the night was "Lost in the Flood," which had topped many fans' wishlists. With Danny's slow organ fade-in and Roy's piano building the tension before the song exploded, "Lost in the Flood" stood out on a night when almost every other song was nailed perfectly by the E Street Band.
Bruce started the encores with a solo piano performance of "The Promise," the fourth time on the tour he had played the song. Since he had played "The Promise" two nights earlier, its inclusion wasn't a total surprise. After a roadhousin' "Ramrod" that saw his goofy side re-emerge, Bruce counted in "Bobby Jean," a song that normally would bring groans from many die-hards, but felt very appropriate on the last night of the tour. An all-house-lights-on "Born to Run" closed out the first encore. As the tour wound down, Bruce integrated a little schtick into "Born to Run," pointing at each side of the arena as Max pounded the drums just before the last verse, resulting in a thunderous response from the crowd. On July 1, the audience nearly drowned out the most powerful rock band in the land.
Another new song, "Further On Up the Road," opened the second set of encores with many fans hoping the song's chorus — "I'll meet you further on up the road" — would be prophetic. With a small handful of exceptions, every show of the tour, including this one, featured the same second encore: the classic "Thunder Road," the spotlight-sharing "If I Should Fall Behind," and the anthemic "Land of Hope and Dreams."
Before "Land of Hope and Dreams," Bruce thanked his managers, Jon Landau and Barbara Carr, the "mighty men and women" of the crew, the band, and the crowds in New York and around the world. Spntaneously, the crowd broke into a chant of "E Street Band! E Street Band!" Starting in the "pit area" in front of the stage as a result of the stage rush, the chant gradually took over the entire building, surprising and moving the band. Bruce finally told the lighting guys to "Put some damn lights on 'em," as the stage had been mostly dark, apart from Bruce's spotlight, up to that point.
As "Land of Hope and Dreams" wrapped up, more than a couple of eyes in the crowd had gotten a little misty. It was hard not to think about the previous 15 months of roadtrips, late night diners, and the evolution of many a relationship as Bruce sang about grabbing "your ticket and your suitcase" and laying "your head upon my chest."
When Bruce and the band made no indication they were leaving the stage after "Hope and Dreams," the big question was, what song would they do? They've already done "Ramrod," a popular "extra" throughout the tour. Would they go nostaligic with "Rosie," which some in the crowd were yelling for? A new song? Minds raced.
After Bruce gave a short plug for "Food for Survival," a New York City foodbank, he said, "We got one more we wanna do for ya, but we're gonna need a little bit of quiet. Come on, my friends." A single keyboard chord began, joined shortly by Max's high hat keeping a slow but steady beat. The crowd started clapping along, but was quickly quieted with a hand gesture from Bruce. The keyboard chord changed, and the progression made the song obvious: "Blood Brothers."
The last verse of the Greatest Hits version of "Blood Brothers" closed the song on a very ambivalent note, but nothing about the Reunion tour's promise of rededication was ambvialent. There was no way Bruce could sing that verse after this tour.
He didn't.
As the music settled after the "houses of the dead" verse, Bruce paused and motioned for everyone not behind a drum kit or keyboard to come to the front of the stage, where they joined hands to form a line, facing the crowd. With a slight twinge of uncertainty and more than a hint of emotion, he sang an entirely new closing verse:
Now I'm out here on this road
Alone on this road tonight
I close my eyes and feel so many friends around me
In the early evening light
And the miles we have come
And the battles won and lost
Are just so many roads traveled
So many rivers crossed
And I ask God for the strength
And faith in one another
'Cause it's a good night for a ride
'Cross this river to the other side
My blood brothers
The music built back up and the band soared, led by Bruce's harmonica and Clarence's saxophone, before gently coming to an end.
This new verse surprised everyone; many were moved to tears. Bruce ended everything — the song, the show, the stand, and the tour — in an absolutely perfect way.
- July 1, 2010