Don't forget: the Monster T-Shirt Sale at Backstreet Records runs continues all weekend, with all Springsteen shirts on sale from ten to 50 percent off through Sunday. Prices as low as $9! Sizes are starting to sell out... and they won't be back. No coupon necessary, prices as marked. Get while the getting's good, and help us clear more of these out to make way for new designs coming soon!
- October 31, 2008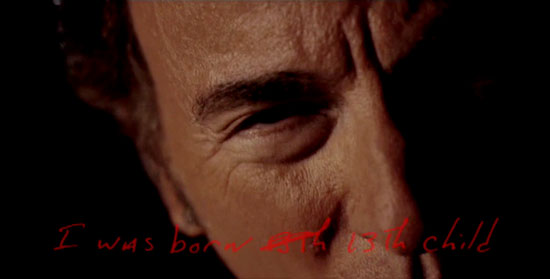 THE JERSEY DEVIL AND THE GHOST OF GENE VINCENT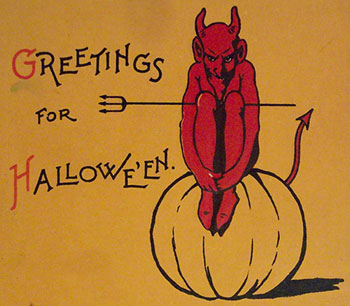 Gotta love it when Bruce gets into the Halloween spirit... and this year may be the biggest reason to believe yet. No doorbell ringers at the house this year, apparently, but you can go trick-or-treating at Bruce's official website today for a free new song.
"A Night With the Jersey Devil" is online now at Brucespringsteen.net, available as a free download and a kick-ass, sleep-with-the-lights-on video.
No telling how long it'll be there... grab it while you can. Happy Halloween!
- October 31, 2008

LONG TIME COMIN'
From Philly-based Backstreets contributor Shawn Poole:
"How are the Phillies doing? They're still hangin' in? Tonight, we'll give 'em a little blessing...." --Bruce Springsteen onstage in Philadelphia, PA, October 6, 2007

Belated thanks from all of us Phillies fans for your "blessing", Boss; it apparently helped. Okay, it took an extra year to kick in, but hey, when you have to wait over a quarter-century plus a two-day rain delay for your second championship, what's an extra twelve months?

- October 30, 2008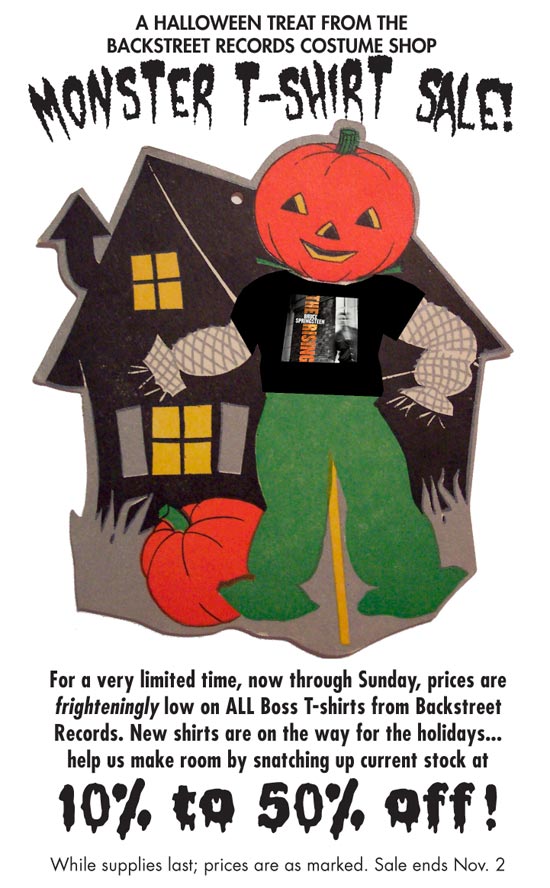 ALL THAT STUFF WE'RE SO SCARED OF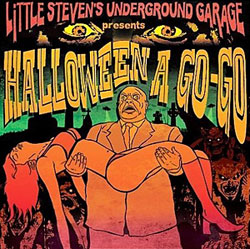 Just in time for Halloween comes the first official Halloween-themed compilation to feature Bruce Springsteen and the E Street Band. Little Steven's Underground Garage Presents: Halloween A Go-Go is a 15-track compilation that, according to Little Steven's own liner notes, "finds us probing the subconscious to confront our most persistent demons on Garage Rock's favorite holiday. We are visited by some of the usual cast of characters one would expect, Dracula, the Wolfman, Ghosts.... but are far more horrified by that which cannot be touched, controlled, bargained with, or avoided -- our own dreams.... Now you will learn why you fear the night!"
Springsteen and the E Street Band are represented by a previously released studio track, not a live treat from one of their great Halloween shows... but still, it's an appropriately eerie choice: "Restless Nights," the outtake from The River that finally surfaced on Tracks in 1998. Halloween A Go-Go is on Steven's own Wicked Cool Records label and available there as a digital download, or on CD from Backstreet Records.
In related Springsteen Halloween news, Bruce's official website now features a new message from Bruce and Patti wishing everyone a happy and safe Halloween. Unfortunately, the couple also announces that "due to 'catastrophic success' (read: too many visitors for the neighborhood to handle) and concern for the safety of kids and parents! we won't be having our usual Halloween display this year in Rumson."
- October 27, 2008

HAPPY BIRTHDAY, FUNKY!
Garry W. Tallent turns 59 today, born October 27, 1949.

A "DREAM" COMES TRUE FOR VINYL HOUNDS...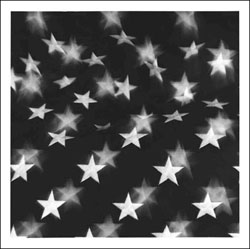 The "Dream Baby Dream" 10-inch was released earlier this month in the UK, with an official release date of 10/28 here in the States -- and we've got it in stock now! We've obtained enough of this limited edition release to fulfill all of our pre-orders, so if you put your order in early with us, your copy is either on its way to you now or it will be soon. Thanks for being a Backstreet Records customer.
More good news: there aren't many out there, but we'll be getting hooked up with additional copies of this vinyl EP, featuring Springsteen's live version of "Dream Baby Dream" as the A-side, after our pre-orders are taken care of. So if you need one of these, it's not too late to place an order with us -- we recommend getting your order in by Monday morning to absolutely guarantee it.
And downloaders, too: If you don't have a turntable, or you don't want to deal with converting your record to something you can listen to elsewhere, the EP's tracks are now available digitally -- as an mp3 from the iTunes Store, or in lossless digital format direct from the label, Blast First Petite.
- October 24, 2008

THIS TIME BABY'S HERE FOR GOOD
Fabchannel.com's recent live webcast of a smokin' Southside Johnny and the Jukes show -- opening with the Hearts of Stone album, in sequence! -- has now been archived, so you now can stream high-quality video any time, for free. In fact: watch it here! This is their October 10 performance at the Paradiso in Amsterdam, a 29-song set also featuring "Forever," "The Fever," "All the Way Home," and a few great Tom Waits cuts from the new Grapefruit Moon.
- October 24, 2008

FIRST LISTEN: TOM JONES TAKES ON "THE HITTER"

Tom Jones puts a Deep Soul spin on
Devils & Dust'
s "The Hitter." From Jones' forthcoming 24 Hours, due November 25 on S-Curve.
- October 21, 2008

"A GARDEN STATE OF MIND"
Today's New York Daily News has some more chatter from last week's Bruce/Billy Joel summit, including that it was Bruce's great notion to do "New York State of Mind."
Hanging out in his dressing room before taking the stage at Thursday's Democratic fund-raiser at the Hammerstein Ballroom, Joel told us he was wary when New Jersey's first son suggested they perform Joel's "New York State of Mind" together.

"I said to Bruce, 'How are you going to sing this song? You're going to throw in the Pulaski Skyway, aren't you? Change it to 'A Garden State of Mind,'" recalled Joel.

But in the end, Springsteen told us afterward, "I decided to stick to the script. We sang it like Billy wrote it."
Like this:
Lots more video from Thursday night to peruse on YouTube, courtesy of "backstreets208" (no relation).
If you find yourself wishing for a more professional documentation of the show, know hope: Rush & Molloy also report in that Daily News column, "The concert... was recorded." (They add, "Word is Obama will have a screening as a reward for his campaign staff.")
- October 20, 2008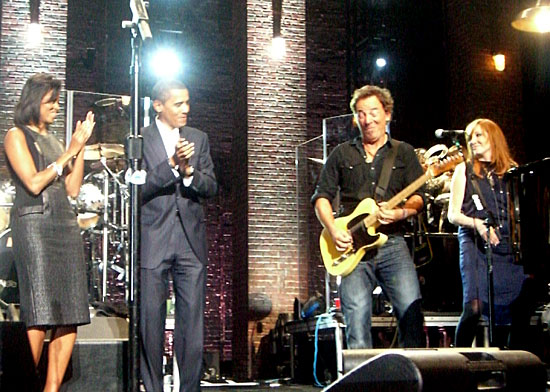 A NEW JERSEY AND LONG ISLAND STATE OF MIND
Benefit at NYC's Hammerstein Ballroom brings together Bruce and Billy -- and Barack
At the "Change Rocks" benefit concert in support of Barack Obama, Bruce Springsteen and Billy Joel joined forces, the favorite sons of New Jersey and Long Island meeting in Manhattan to co-headline a show that also featured John Legend and India.Arie. Caroline Kennedy introduced the artists, and Bruce had a few more words before the performances began -- first of all, about the undercard: "Billy and I thought we could sing until we heard India and John rehearsing earlier. We're just pretending." As for the main event, Bruce described it as a historic meeting of New Jersey and Long Island, suggesting (as you might imagine from this old demi-rivalry) that it wasn't the smoothest of collaborations: "I like to rehearse, Billy doesn't." He went on to joke that the whole affair was somewhat Palin-esque: "A lot of last-minute cramming and confident presentation... faking it like you really know what you're doing, but you don't. Hopefully no one will leave the room screaming like in rehearsals!"
Legend opened with his majestic solo piano take on U2's "Pride (In the Name of Love)," and was soon joined by Bruce, Patti Scialfa, and India.Arie for his new song, "If You're Out There." After short sets from Legend and Arie, Bruce was back for a little acoustic set of his own, with solo readings of "The Promised Land" and "This Hard Land." In between he gave a version of his recent Vote for Change stump speech, saying that electing Obama was just the beginning to "taking back our country," and that it would take everyone "from Jersey, Long Island, and all points west" to rebuild this hard land. Joel followed with his band (which would be the backing band for the rest of the evening) for two of his own songs, "Miami 2017" and "Baby Grand."
The main event featured the Boss and the Piano Man together. Backed by Joel's band, along with Patti and E Street pianist Roy Bittan, Springsteen and Joel traded off songs from their deep catalogs, opening with "Tenth Avenue Freeze-out" and closing with "River of Dreams." On "Tenth," Bruce sang, "They made that change uptown and the Piano Man joined the band..." and "when Jersey and Long Island bust this city in half!" Joel dedicated "Movin' Out" to George Bush and Dick Cheney. On "Thunder Road," simultaneous piano action from Billy ("I like this one!") and Roy. This was truly a blended set -- not only trading off songs, but trading off verses as they sang on each other's songs. Bruce was surprised that Billy didn't know "Spirit in the Night" -- he called out chords throughout -- but was really into his own verse on "New York State of Mind," a highlight of the night. Legend and Arie joined in as well, singing on "Spirit," "The Rising," and "Glory Days."
In the encore, one more Bruce tune: "Born to Run," Bruce leaping onto Billy's piano -- with permission! -- and the pair sharing a hug, Billy giving Bruce a kiss on the cheek. "People Get Ready" spotlighted all of the evening's performers, who then brought Barack Obama to the stage. Some inspiring words from Obama himself, who also offered plenty of praise for the night's artists:
I want to thank John, India, all the wonderful musicians, and especially the two giants -- Bruce and Billy -- that I grew up listening to, and whose songs give a voice to ordinary folks that go to work each day wondering how they are going to pay all their bills and afford healthcare. They write inspiring songs about the problems of everyday heroes that have been ignored for far too long by those in Washington, and that is what this campaign has been all about. I thank them for bringing all of you here together tonight. We have a lot of work to do in the next 18 days. So call your neighbors and e-mail all your friends and keep this great spirit from this room going until election day. One voice can inspire and change the mood of a room, can inspire and change the mood of a city, can inspire and change the mood of a state, can inspire and change the mood of a country, and can inspire and change the mood of the world.
Obama also revelaed that, backstage as they were listening to the show, he told his wife: "The reason I'm running for president is because I can't be Bruce Springsteen." The night closed with "Signed, Sealed, Delivered," Legend taking lead, with Obama and his wife Michelle dancing and clapping along.
- October 17, 2008 - photograph by William Borner

MEET ME IN THE FIELD...
Here's one way to be there for Superbowl Halftime in Tampa: at superbowlproductions.com they're "looking for approximately 600 men and women to be a part of our Pregame and Halftime Stage Crews for the massive production. The crews will assist in moving on to the field and assembling the modular rolling units that make up the stages and lighting rigs for the show. No previous staging experience or special skills are necessary.... Though volunteers will not be on the field or in the stadium for any of the game itself, you will be on the field for, and in integral part of the Pregame or Halftime Show." Volunteer form is here.
- October 16, 2008

YOU CAN'T BEAT THAT!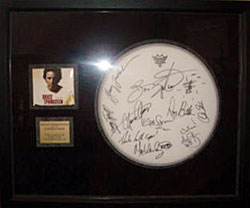 Up on eBay now: One of Max Weinberg's drumheads, autographed by Bruce Springsteen and the entire 2008 model E Street Band, donated to raise funds for charity. Max's son Jay Weinberg alerted us to this one -- no question that it's the real deal. "The charity is called Soccer Unites Utah," Jay says, "and the proceeds of the benefit go to Real Salt Lake soccer player Andy Williams' wife Marcia, who is in the hospital with a rare form of leukemia." The framed drumhead is signed by Bruce, Max, Garry, Clarence, Roy, Steve, Nils, Patti, Soozie, and Charlie. Minimum bid is $500, auction ends Saturday.
- October 16, 2008

TWO TICKETS TO PARADISO: SOUTHSIDE LIVE ONLINE TODAY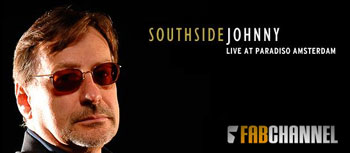 Tonight in Amsterdam, Southside Johnny and the Asbury Jukes play the Paradiso -- but you don't need to be there to see it. Video of the entire show will be streaming live on Fabchannel.com -- tune in here for the live webcast starting at 1:30 p.m. Eastern. If you miss any of the show, the entire webcase will be added to Fabchannel's online video archive in just a few days.
- October 10, 2008

PHOTO GALLERY: THREE DAYS IN OCTOBER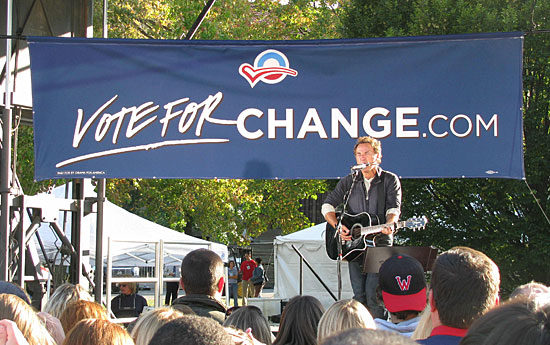 Columbus, OH, 10/5/08 - photograph by Ron Valle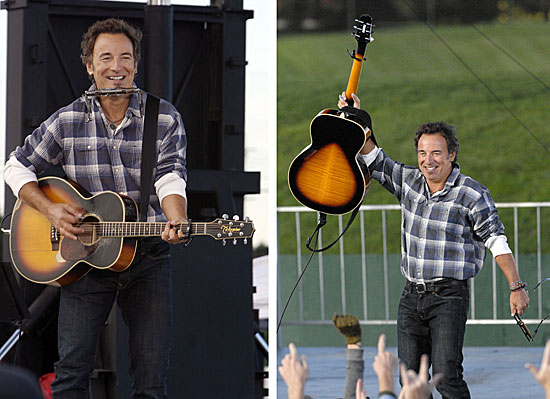 Ypsilanti, MI, 10/6/08 - photographs by Tom Tomich (left), Randall J. Mascharka (right)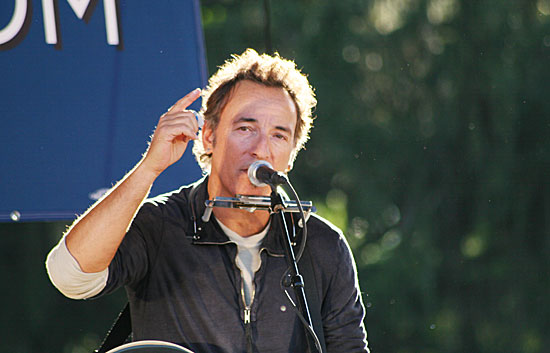 Columbus, OH, 10/5/08 - photograph by Cary Hock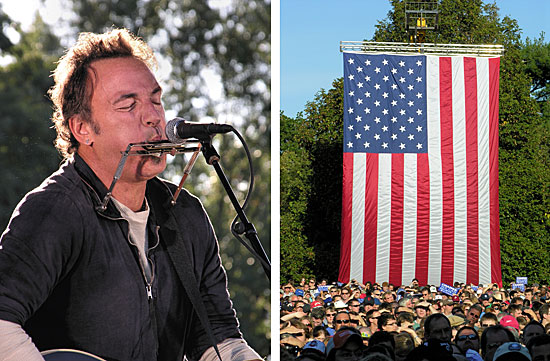 Columbus, OH, 10/5/08 - photographs by John Vujcec



Ypsilanti, MI, 10/6/08 - photograph by Matt Orel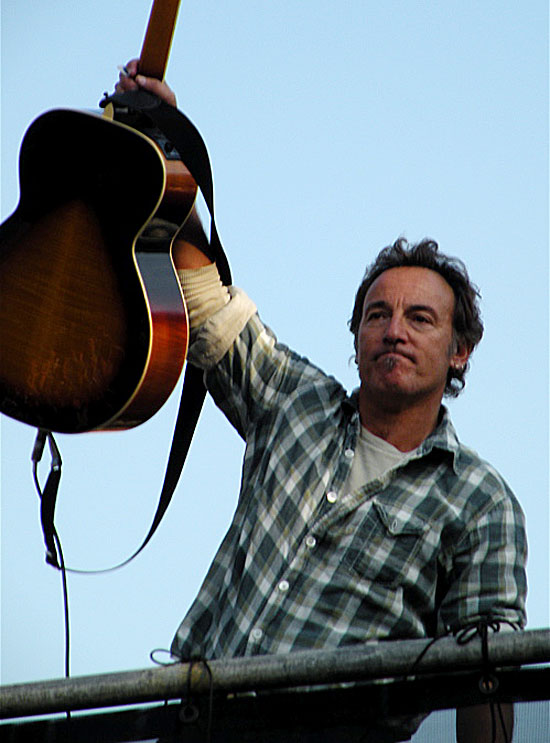 Philadelphia, PA, 10/4/08 - photograph by Rena Thompson
Thanks to all of our photographers -- we've got the tequila lined up for you.
- October 8, 2008

NILS: "I THINK I HAVE A SUPER BOWL TO GET READY FOR!"
We're relieved to hear Nils Lofgren's surgery went well -- now, he tells Backstreets today, it's a matter of "getting used to my two new hips." See today's new Note from Nils on his website for an update on the "adventure."
- October 8, 2008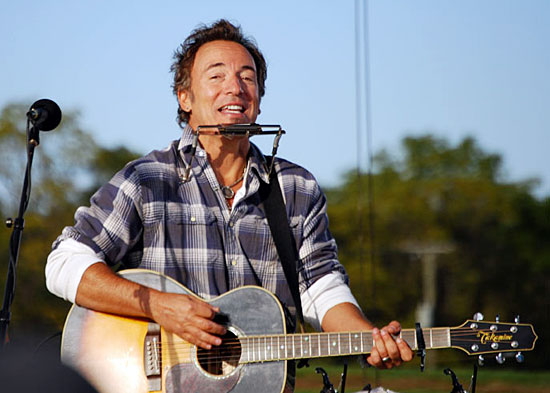 VOTE FOR CHANGE, DAY THREE OF THREE: MONDAY IN MICHIGAN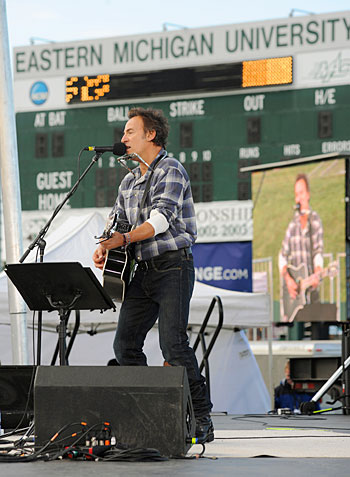 "Hello Ypsilanti!" Bruce greeted the crowd Monday afternoon at Eastern Michigan University's ballpark, "Glad to be here -- I don't know how to spell it, though." This was Springsteen's third Vote for Change rally for the Obama campaign in as many days. "I know our opponents have said they're abandoning their attempts at Michigan," Bruce said as he encouraged voter registration, "But I wouldn't be so sure about that! It's not a time to take anything for granted." Illustrating the point at the end of "No Surrender," he alluded to his efforts and hopes four years ago: "In 2004... I had the tequila lined up on the bar..." before concluding one more time, "No retreat, baby, no surrender."
An overcast day brightened up while Bruce was onstage, as the sun came shining through during "The Rising" as if on cue. His acoustic set expanded to eight songs this time, featuring the soldier's-eye-view of "Devils & Dust" and, just down I-94 from Detroit, a very rare "Used Cars." The mention of "Michigan Avenue" in the latter got a big cheer, Bruce adding that mentioning the name of the state you're in is "kind of a cheap applause-getter, but it works." He also got a few laughs of recognition as he recalled opening for Black Oak Arkansas in these parts way back when. Another inspiring speech, "Yes We Can" chants, "This Land is Your Land" to close, and a takeway message: "Let's take America back!"
See the Detroit News for a 360-degree view; Gary Graff's take here.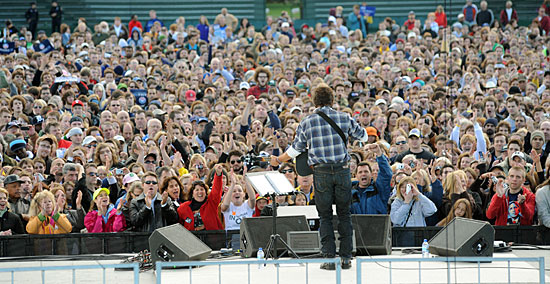 - October 7, 2008 - photographs by Matt Orel (1) and Randall J. Mascharka (2, 3)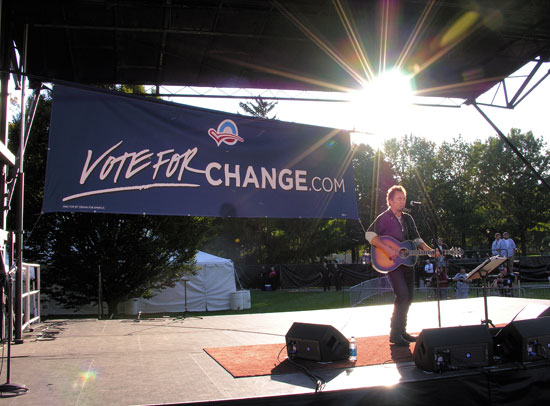 VOTE FOR CHANGE, DAY TWO: SUNDAY IN OHIO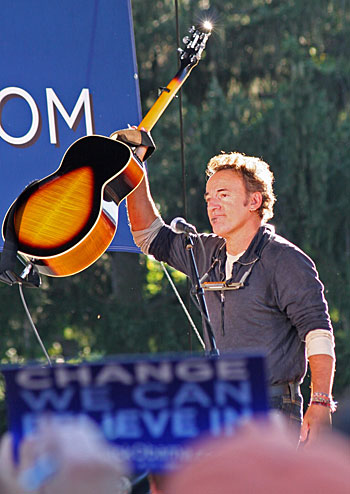 The second of Springsteen's Vote for Change rallies brought him to Columbus on Sunday afternoon, where he was introduced by Ohio native, Mercury astronaut, and former U.S. Senator John Glenn. Springsteen opened up with a bit of The Byrds' "Hey Mr. Spaceman" in his honor. After that, a seven-song acoustic set, as in Philly, beginning with "The Promised Land" and including a variation on his rousing speech from the previous day. One setlist change -- instead of "Does This Bus Stop," here in Ohio Bruce gave a nod to "Youngstown."
The event, which brought 10,000 to OSU's Main Oval, was "aimed at encouraging Obama supporters to take advantage of Ohio's weeklong same-day voting period," the Associated Press reports, "in which state residents can register and cast an absentee ballot on the same day.... Absentee voting in Ohio began Tuesday. The state's voter registration deadline is today."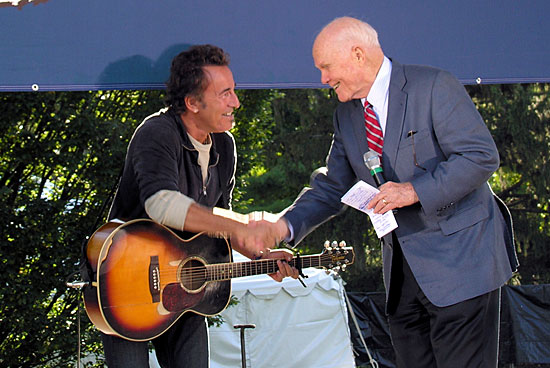 - October 6, 2008 - photographs by John Vujcec (1, 3), and Cary Hock (2)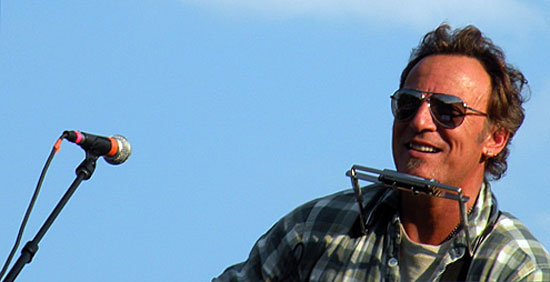 "AN AMERICAN RECLAMATION PROJECT"
Springsteen's speech on Saturday, before an estimated crowd of 50,000 in Philadelphia:
I've spent 35 yrs writing about America, its people, and the meaning of the American Promise. The promise that was handed down to us, right here in this city from our founding fathers, with one instruction: Do your best to make these things real. Opportunity, equality, social and economic justice, a fair shake for all of our citizens, the American idea, as a positive influence, around the world for a more just and peaceful existence.

These are the things that give our lives hope, shape, and meaning. They are the ties that bind us together and give us faith in our contract with one another.

I've spent most of my creative life measuring the distance between that American promise and American reality. For many Americans, who are today losing their jobs, their homes, seeing their retirement funds disappear, who have no healthcare, or who have been abandoned in our inner cities, the distance between that promise, and that reality, has never been greater or more painful.

I believe Senator Obama has taken the measure of that distance in his own life and in his work. I think he understands in his heart the cost of that distance, in blood and suffering, in the lives of everyday Americans. I believe as president, he would work to restore that promise to so many of our fellow citizens who have justifiably lost faith in its meaning.

After the disastrous administration of the past eight years, we need somebody to lead us in an American reclamation project. In my job, I travel around the world, and I occasionally play big stadiums, just like Senator Obama. I've continued to find, whereever I go, that America remains a repository of peoples' hopes, possibilities, and desires, and that despite the terrible erosion to our standing around the world, accomplished by our recent administration, we remain for many, many people this house of dreams. One thousand George Bushes and one thousand Dick Cheneys will never be able to tear that house down.

They will, however, be leaving office -- that's the good news. The bad news is that they'll be leaving office dropping the national tragedies of Katrina, Iraq, and our financial crisis in our laps. Our sacred house of dreams has been abused, it's been looted, and it's been left in a terrible state of disrepair. It needs care; it needs saving, it needs defending against those who would sell it down the river for power or a quick buck. It needs a citizenry with strong arms, hearts, and minds. It needs someone with Senator Obama's understanding, temperateness, deliberativeness, maturity, compassion, toughness, and faith, to help us rebuild our house once again.

But most importantly, it needs you. And me. It needs us, to rebuild our house with the generosity that is at the heart of the American spirit. A house that is truer and big enough to contain the hopes and dreams of all of our fellow citizens. Because that is where our future lies. We will rise or we will fall as a people by our ability to accomplish this task. Now I don't know about you, but I know that I want my house back, I want my America back, and I want my country back.

So now is the time to stand with Barack Obama and Joe Biden, roll up our sleeves, and come on up for the rising.
Watch Bruce's speech and "The Rising" above; for more video, visit cbs3.com.
- October 6, 2008 - Rena Thompson photo


VOTE FOR CHANGE COMES BACK TO PHILLY, FIRST OF THREE RALLIES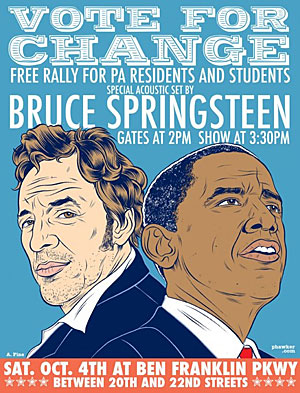 This afternoon in Philadelphia, Springsteen began his three-city tour of Vote for Change rallies for the Obama campaign. After the introduction by a wisecracking Governor Ed Rendell, Springsteen and his acoustic took the stage for a seven-song, 45-minute set that opened with "The Promised Land." "Great to be here in my home away from home, Philly," Bruce told the crowd -- a huge turnout on this Ben Franklin Parkway esplanade -- adding later, "I tried this four years ago... this time, we'll win it!"
Songs included the relevant-as-ever "The Ghost of Tom Joad," the invitation of "Thunder Road," the determined rallying cries of "No Surrender" and "The Rising," and for fun, "a song I played many, many times at the old Main Point," "Does This Bus Stop at 82nd Street."
Springsteen also prepared a speech the occasion, calling for a rock to keep his pages from blowing in the wind -- "Don't throw it!" He began by noting that he'd been writing about the American people for 35 years; he went on to what the Founding Fathers accomplished here in Philadelphia, what they stood for, and what their counsel would be these 200-plus years later: "Do your best to make these things real." Going on to address the difference between promise and reality in America, Bruce had some good laugh lines ("I occasionally play big stadiums like Senator Obama") and wrapped it all up by returning to that metaphor he liked to pull out on the Magic tour, of building a house together. "One thousand George Bushes and one thousand Dick Cheneys will never be able to tear that house down.... Come on, Philly, let's build that house."
Update: read the full text of the speech at brucespringsteen.net
Toward the end of the set, the crowd broke into a spontaneous "Yes we can" chant, Bruce adding some percussion on his guitar before offering up one more, a regular from the '85 stadium tour, Woody Guthrie's stirring "This Land is Your Land." And one final message to the throng of voters in Philly: "It's up to you now."
- Updated October 4, 2008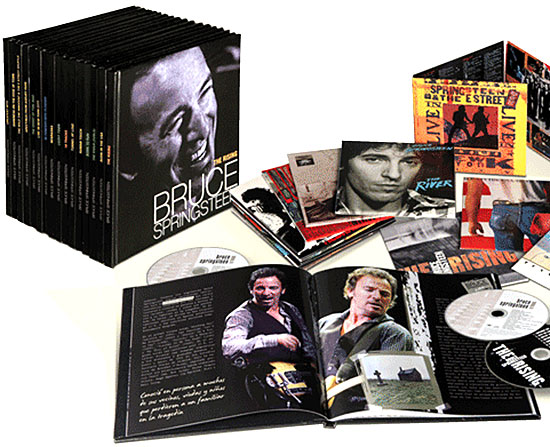 SPANISH SPRINGSTEEN REISSUE SERIES HAS BEGUN
16 CDs and 16 unique hardback books - order now from Backstreets!
Beginning on September 21, a large portion of Springsteen's discography is being reissued in Spain through the newspaper El Periodico. The paper is offering a different Springsteen CD each Sunday over the course of four months, for a total of 16 albums from Greetings to The Rising.
What makes this reissue series particularly compelling is the unique packaging: the CDs are stored in the new mini-LP sleeves, cool enough, and then each one comes with its own corresponding 36-page book, with new notes (in Spanish, written by Salvador Trepat), song lyrics (in English), album and tour reviews, and many unreleased photos. Each book is a 7" x 7" full-color hardcover -- makes for quite a nice set, all 16 lined up in a row...

We'll be importing the series and offering the full set of 16 for sale through Backstreet Records. It ain't cheap, but it's a big honkin' set, bound to become collectors' items. It's unlikely that we'll be able to obtain titles individually, so we're currently offering this as a complete set only.
The release schedule:
September 21 - The Rising
September 28 - Born in the U.S.A.
October 5 - The River
October 12 - Born to Run
October 19 - Human Touch
October 26 - Tunnel of Love
November 2 - 18 Tracks
November 9 - Lucky Town
(We'll send these first eight titles together to our customers in November)
November 16 - Nebraska
November 23 - In Concert/MTV Plugged
November 30 - Live in New York City
December 7 - The Ghost of Tom Joad
December 14 - Greetings From Asbury Park, NJ
December 21 - The Wild, the Innocent & the E Street Shuffle
December 28 - Darkness on the Edge of Town
January 4 - Greatest Hits
(We'll complete the set for our customers with a second shipment in January)
This offer won't last long. We have to get our final order in for these in a matter of days, so if you're interested, place your order with us ASAP to guarantee availability!
- October 3, 2008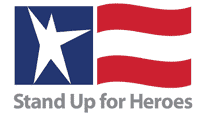 STANDING BACK UP FOR HEROES
Bruce returns for Woodruff Fund benefit's second year
Springsteen's fall performance schedule will extend beyond the election, as he's now on the bill for the second annual Stand Up for Heroes concert on Wednesday, November 5, at New York's Town Hall. The event, in honor of the United States' injured service members, is a benefit for the Bob Woodruff Family Foundation, which works to provide resources and support for wounded soldiers as they return home -- find out more at remind.org.
Bruce performed at last year's inaugural Stand Up for Heroes show, when he played a three-song set (including the only solo acoustic "Devil's Arcade" to date) and auctioned off his '91 Harley for the cause. He told a few jokes, too -- the benefit is part of the New York Comedy Festival. This year, he's on the bill with Patti Scialfa this time, along with Whoopi Goldberg, Ricky Gervais, and host Regis Philbin.
Press release is here; tickets available through Ticketmaster.
- October 2, 2008

SPRINGSTEEN SETS MORE RALLIES FOR OHIO, MICHIGAN
Bruce plans a three-state swing for Obama, Saturday through Monday
Following Springsteen's performance on Saturday in Philly, he'll hit the road to rally voters in two more swing states in the following days. That will complete a trifecta of Pennsylvania, Ohio, and Michigan, with Springsteen playing free concerts in each (he's expected to play 30- to 40-minute acoustic sets) in support of Barack Obama.
On Sunday, Springsteen comes to Columbus, OH (where he also appeared for John Kerry in 2004). He'll be playing an acoustic set at a rally "aimed at encouraging Obama supporters to register and take advantage of Ohio's early voting period."
Where: Ohio State University's Main Oval
When: Sunday, October 5. Doors open at 3:00, showtime is 4:30
How: For access to the best viewing area, preferred tickets will be distributed starting on Thursday, Oct. 2, from 10 a.m.-8 p.m. For ticket pick-up locations, see the Dayton Daily News.
On Monday, the final day to register to vote in Michigan, it's on to Ypsilanti to headline a rally at Eastern Michigan University's baseball stadium.
Where: Oestrike Stadium
When: Monday, October 6. Gates open at 3:00, showtime is 4:30
How: A limited supply of tickets will be made available Friday, Oct. 3, at Obama campaign offices as well as all EMU ticket offices. Tickets will be given out on a first- come, first-served basis. EMU students will be able to obtain one ticket by showing a valid EMU ID. Eastern Michigan University will expand its normal ticket office hours Friday to accommodate the expected demand. The expanded hours and locations are as follows: Quirk Hall, 10 a.m. to 5:30 p.m.; Student Center, 10 a.m. to 9 p.m.; and the Convocation Center, 10 a.m. to 5 p.m. The general public should use the Convocation Center location for ticket requests.
"Obviously Michigan is an incredibly important state in this election, along with Pennsylvania and Ohio," Brent Colburn, Michigan communications director for the Obama campaign, told the Ann Arbor News. "It's a place where we're trying to do everything we can to make sure everybody's registered to vote."
- October 2, 2008

ON THE STREETS OF PHILADELPHIA
Free acoustic show at Obama rally in Philly, October 4
The "Change Rocks" concert announced earlier today (Bruce teams up with Billy Joel, see below) is a fundraiser, so it don't come cheap. But Springsteen is playing a different kind of show for Obama this weekend -- and this one's free. On Saturday afternoon, Bruce will perform an acoustic set at a rally on the streets of Philadelphia. With Pennsylvania's voter registration deadline looming on Monday, the event is an effort to both to register voters and recruit volunteers.
Craig Schirmer, Pennsylvania State Director of the Obama-Biden campaign: "Senator Obama is a great fan of Bruce Springsteen and is honored to have his support. This will be a great opportunity to gather tens of thousands of our supporters together in one place as we register new voters and bring new volunteers into this campaign for change."
Where: Benjamin Franklin Parkway between 20th and 22nd Streets
When: Saturday, October 4. Gates open at 2:00, showtime is 3:30
How: For access to the best viewing area, preferred tickets will be distributed to those who sign up to volunteer -- beginning at 10:00 a.m. Wednesday at the Obama-Biden campaign office. General admission tickets can be secured online at pa.barackobama.com/springsteen.
- September 30, 2008


VOTE FOR CHANGE:
THIS YEAR'S MODEL
Ticket alert: Bruce Springsteen will be performing October 16 at New York's Hammerstein Ballroom, joining Barack Obama, Billy Joel "and friends" for a "Change Rocks" concert to benefit the Obama Victory Fund. Springsteen endorsed Obama back in April; this is his first benefit performance for the campaign. Tickets are available at three donation levels, starting at $500 for a balcony seat. For more information, download this PDF, or click here to purchase tickets online.
- September 30, 2008

AND WE ALREADY THOUGHT THOSE SOMERSAULTS WERE IMPRESSIVE
In a new Note From Nils on his website, Nils Lofgren has announced he's about to undergo major surgery at a hospital in New York: a double hip replacement. Though you wouldn't have known it from watching the whirling dervish on the Magic tour, he writes that both of his hips are "bone on bone with no cartilage left":
"Due to a long, beautiful life on the road (40 years) that's included back flips with guitars, dive rolls, leaping off drum risers and trying to break stage floors with pounding legs due to the amazing energy I gratefully continue to get from you, the audience, in addition to thousands of hours playing aggressive basketball... I have finally destroyed both of my hips...."
The surgery is scheduled for tomorrow. Optimistic as ever, Nils says he has "a great surgeon in a great hospital, so I should come through it fine"; he hopes to be back home by late October, to resume performing in 2009, but "right now I'm just focusing on the immediate future and would welcome your kind thoughts and prayers." You got it, Nils -- we'll be thinking about you, wishing you a successful surgery and a complete recovery.
Visit www.nilslofgren.com to read his complete note, for free song downloads, online guitar lessons, and more.
- September 29, 2008

"GOOD EVENING, AMERICAN FOOTBALL ENTHUSIASTS!"
Bruce is ready for some football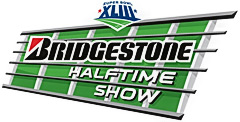 So we've got a concert date for 2009, and it's a big one. After months of rumors, the NFL made it official last night, announcing that Bruce Springsteen and the E Street Band will be the halftime entertainment at 2009's Super Bowl XLIII. In recent years the Stones have done it, U2, Paul McCartney, Prince and Tom Petty... and now, some three-and-a-half decades later, Mike Appel's plan comes to fruition. Super Bowl Sunday is February 1, 2009; the game and the halftime show, at Raymond James Stadium in Tampa, FL, will be broadcast worldwide in more than 230 countries and territories.
- September 29, 2008

LIGHT OF DAY RETURNS TO ASBURY PARK
Tickets on sale Saturday at noon


The ninth annual Light of Day benefit concerts have been officially announced -- including a return to the Stone Pony, where Light of Day was launched nine years ago, as well as LOD's first theater setting -- and tickets go on sale tomorrow. This year the shows will be celebrating the 50th birthday of Light of Day founder Bob Benjamin, as well as raising funds for the ongoing fight against Parkinson's disease as always.
Bruce Springsteen, of course, has been a frequent special guest at this annual event, though as evidenced by LOD8 last year, he's never a lock. If you attend the shows, we'd encourage you to set your expectations accordingly, turning out to check out the bands on the bill and support the cause. The LOD9 schedule:
Saturday, November 1
Paramount Theatre, Asbury Park, NJ
On the bill: Joe Grushecky & the Houserockers, Marah, Jesse Malin, Wilie Nile, Joe D'Urso & Stone Caravan, and more
Ticket sales: Saturday, 9/27 at noon, through LiveNation.com, Ticketmaster.com, and at the Stone Pony box office.

Sunday, November 2
The Stone Pony, Asbury Park, NJ
On the bill: John Easdale (Dramarama), Boccigalupe and the Badboys, Jobonanno & the Godsons of Soul, Tom Vella and the Wayside, Exit 105, and more.
Ticket sales: Saturday, 9/27 at noon, through LiveNation.com, Ticketmaster.com, and at the Stone Pony box office.
2008 LOD events are also planned for Canada and Europe, to follow the Jersey concerts; for more information, visit lightofday.org.
- September 26, 2008



WELL YOU CAN GO OUT WITH HIM, PLAY WITH ALL OF HIS TOYS
Witness the brickified, miniaturized, stop-motioned, Lego-ized E! Street! Band!
- September 25, 2008

HAPPY BIRTHDAY, BRUCE!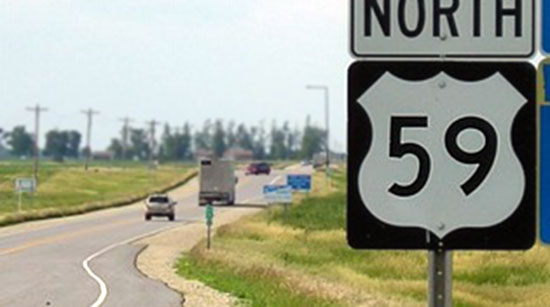 - September 23, 2008

SOUTHSIDE JOHNNY KEEPS ON SHINING
Grapefruit Moon and more new arrivals at Backstreet Records
Southside Johnny appeared on Late Night with Conan O'Brien last night, reuniting with old friends to showcase music from his new album, Grapefruit Moon: The Songs of Tom Waits. Yep, the project that Southside has been talking about for years is finally done and out -- his take on 12 Waits tunes, with out-of-this-world arrangements by Richie "LaBamba" Rosenberg and backed by LaBamba's Big Band. Waits himself shares vocals with Southside on "Walk Away."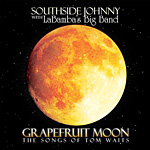 "I've always loved Tom's music... I met him years and years ago but even if I hadn't met him, I'd wanna do it because (he's got) just great lyrics and melodies," Southside said in an interview with the Great Falls Tribune. "I thought with the diversity of Tom's different styles and Richie's tastes, it would be great to have a big band album of Richie arranging everything.... It turned out so much better than I thought it would because it's such an adult project and I never think of myself as an adult."
Read a well-deserved rave at Huffingtonpost.com, and order Grapefruit Moon from Backstreet Records -- in stock now!

Lots more new arrivals in our shop -- including Marc Eliot and Mike Appel's long-out-of-print Down Thunder Road book, the new live Willie Nile on CD and DVD, and more. We're also looking ahead to October, taking pre-orders now for the limited edition 10-inch record of Springsteen's live "Dream Baby Dream."
- September 19, 2008

A BRONX CHEER
Free Nils Lofgren mp3: "Yankee Stadium"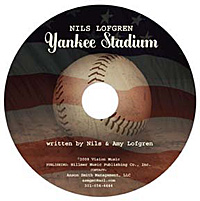 With the sunset of Yankee Stadium upon us -- and with encouragement from his wife, Amy, who came up with the seed for a song -- Nils Lofgren has recorded a tribute to the ballpark, available as a free download from his website. Songwriting credit goes to Nils and Amy together; Nils writes in his notes, "My fabulous wife Amy (a Jersey girl), remains a life-long Yankee fan with a great, emotional history of experience in Yankee Stadium from childhood to present.... This song is an homage born of respect and gratitude for all the emotional and spiritual beauty Yankee Stadium has offered to so many, for so long." For the free mp3, along with lyrics and Nils' complete notes, visit NilsLofgren.com. You'll find other fun freebies on his Downloads page, too.
- September 18, 2008

PAPA WAS A ROLLING STONE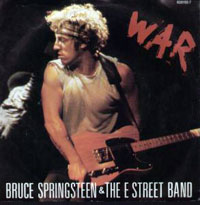 After an ongoing battle with diabetes, legendary R&B songwriter/producer Norman Whitfield passed away on Tuesday afternoon, September 16. Whitfield's credits are far too many and great to do justice to here; his greatest fame and success came at Motown when he took control of production duties for the Temptations, who recorded the original version of his co-write with Barrett Strong, "War." The song -- one of the most powerful musical statements on the subject ever committed to tape (and, of course, released in live version by Bruce Springsteen and the E Street Band on the Live 1975/85 set) -- would go on to reach immortal heights when recorded by Edwin Starr in 1970. Norman Whitfield, rest in peace.
- September 18, 2008

THE GHOST OF TOM JONES
Hold on to your hats, ladies -- Tom Jones is back, with his first album of the new millennium due this fall, and as the Associated Press reports, he'll be covering Springsteen. "The fire is still in me," Jones says, "Not to be an oldie, but a goodie. I want to be a contender." Appropriately enough, the Bruce song Jones is contending with: "The Hitter." The album, called 24 Hours, is scheduled for a November 25 release.
- September 17, 2008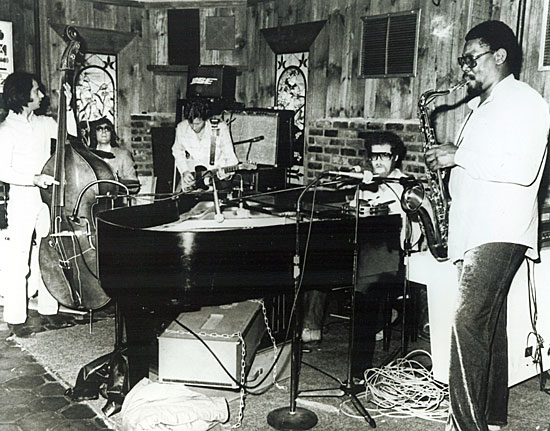 SOUNDS AND VISION
Stormin' Norman's Asbury Park History Lesson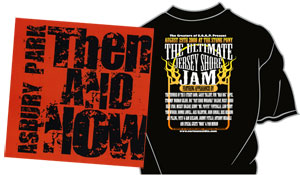 Coinciding with the "Creators of the S.O.A.P." concert at the Stone Pony just a few weeks ago, Creator Stormin' Norman Seldin has curated a personal collection of the Sounds of Asbury Park, available now as a two-CD set. As the Asbury Park Press describes it, Asbury Park: Then and Now, by Stormin' Norman & Friends is "40 years' worth of Jersey Shore sounds, everything from a cappella gems to stirring soul singles to horn-soaked rhythm and blues."
Of particular interest to Springsteen fans: eight never-before-heard recordings with E Street Band members Garry Tallent, Clarence Clemons, Max Weinberg, the late Danny Federici, and Roy Bittan, from a 1980 session. Seldin sings lead (while playing piano), with the legendary Billy Ryan on guitar and harmony on one track ("I Wanna Rock 'n' Roll") by Southside Johnny. [L-R above: Tallent, Ryan, Weinberg, Seldin, Clemons.] Plus: Clarence Clemons' first studio session (with the Joyful Noyze) Nicky Addeo, the Motifs, the Jaywalkers; and more.
Asbury Park: Then and Now is in stock now in our online shop, and thanks to Stormin' Norman himself, we've also got the official T-shirts from that August 2008 S.O.A.P. show, "The Ultimate Jersey Shore Jam." It's a kick-ass design on a black shirt, with all performers (including Tallent, Seldin, Vini Lopez, and more) listed on the back. Get 'em while they last!
- September 15, 2008

FIRST BLOOD: THE WRESTLER'S VENICE PREMIERE
Following this evening's The Wrestler screening and press conference, Pierpaolo Festa reports to us from Venice: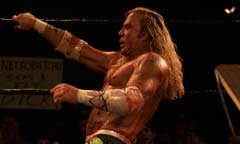 "First of all, this is a wonderful movie, very well directed (Darren Aronofksy films it almost like a documentary). Mickey Rourke is simply a god. This is a great comeback, his performance is so touching! His character is very similar to the ones created by Bruce in his songs. He used to be a great wrestler, but 20 years later he lives in a trailer, working at the mall and at a meat store. On the weekends he still fights in some events. Wrestling is depicted as entertainment, but with a very real risk factor -- Rourke's character, Randy 'The Ram' Robinson, has a heart attack and is forced to retire. He spends his nights in a strip bar, talking to Cassidy (Marisa Tomei) a 40-something stripper and single mom who does this job to take care of her child. Meanwhile, he tries to reconcile with his daugher (Evan Rachel Wood) whom he abandoned many years before. But there's a shot at redemption, another chance to get in the ring for a big match with his old wrestling nemesis -- if he's willing to risk his life in the ring.
"The song, over the closing credits is an acoustic track. It starts with a count -- 'one, two three...' -- and Bruce's foot beating the ground. He plays the guitar, but you get the piano at the same time. Many times he sings "have you seen me," connecting with the character of Robinson who feels like a nobody outside the ring. Clearly, many aspects of this character seem they come from Bruceland.
"Behind me was John Landis, a member of the jury... he was touched by the movie, and when he heard the song, he was just crying! I swear!
"Now the press conference: I asked the director how he approached Bruce, and if he had showed the movie to the Boss; Aronofsky said that he couldn't take credit for Springsteen's participation, that it was thanks to the longtime friendship of Bruce and Mickey, who met at the Stone Pony many years ago."
Aronofsky: Bruce is a huge fan of Mickey's. He's seen every movie of his and, like a lot of people, he was hoping for him to get back on track, go back to making movies. So he was following him, he wanted to know about his projects and so on. Bruce heard about the movie so he called [Mickey] and asked him how he was doing. Mickey gave him the script; Bruce read it and said he loved it. Nothing more. The song came out next. He wrote it while he was on tour in Europe. One day he called me -- Mickey gave him my number -- complimented me on the movie and added that he wrote a song for the character. The song came while we were almost done editing. The first time I met him with Mickey, I was just shaking -- I knew why they call him "The Boss"! He really is.

Rourke: "I've known Bruce for a long time now, since the 80's, I think. I hear from him a lot, he supports everything I do, especially now I'm on the road to recovery. Sometimes he calls me to [find out] about my projects, what I'm working on and things like that... I called him when one of his friends [Danny Federici] passed away, he had played with him for 40 years, they were like brothers. I called him as soon as I knew, to see how he was doing. I was a little embarassed and didn't know what to say... but even in such a situation he was great. He was trying to make it through. Then I heard from him this summer when he said he had this song for me. Anyway, Bruce is a great person, one of the best I ever met, and I feel honored to be his friend.

Aronofsky: Me and Mickey are really honored to have one of his songs in our movie. We are deeply moved.

Thanks to Vanessa Pappolla and Velntina De Rossi for the transcription. Oh, and the first line of the Ain't It Cool News review: "Brooklyn-bred Darren Aronofsky has gone to New Jersey and made his Nebraska."
- September 5, 2008

WRESTLER DEBUTS IN VENICE TODAY
"The Wrestler," the Aronofsky film boasting a new Springsteen title song, premieres today to close the 2008 Venice fim festival. That will be the public's first listen to the new song; a source who has heard heard the song in advance tells Backstreets:
"It's a quiet, simple song... guitar and keyboards... but it didn't really strike me as derivative of what he's done before -- there's a simple, haunting piano background that really sets it apart... long instrumental passages as intro and outro, but I'm not sure if those will be part of the song over the credits, or if they'll be used in the movie itself... definitely based on the movie, but the title is never mentioned in the lyrics, it's just a powerful portrait from the perspective of someone who's the epitome of down and out."
More soon as reports come in from Venice.
- September 5, 2008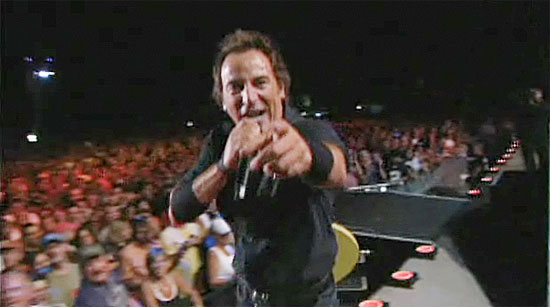 HARLEY DAVIDSON MOTORCYLCE ENTHUSIASTS!
Check 'em out -- with footage from the first three songs of the Milwaukee show -- in online video at Harley-Davidson.com.
Update: An additional 12 minutes of concert footage here!


- Updated September 5, 2008

SPRINGSTEEN PENS TITLE SONG FOR ARONOFSKY FILM
You know "The Hitter"; get ready to meet "The Wrestler." Springsteen is contributing a new original song to The Wrestler, a new film by Darren Aronofsky (Pi, Requiem for a Dream, The Fountain). Planned for the closing credits, the song is described by the director on his blog as "beautiful... a wonderful acoustic piece.... makes me choke up every time a hear it." As Variety's Anne Thompson reports, the film is debuting "late in Venice, concurrent with Toronto, because they're waiting for Bruce Springsteen to finish his song." Maybe he's still wrestling with it. According to Ain't It Cool News (also reporting that a brief scene for Bruce has been written into Judd Apatow's upcoming Funny People) The Wrestler will also screen at the New York Film Festival in October. Drop us a line if you get to see it!
- September 2, 2008