FREAKS, POLITICS, AND GENITALIA: STEVIE AND STERN GET SIRIUS
Little Steven joined fellow Sirius/XM Satellite Radio host Howard Stern this morning to discuss virtually everything, in an interview that lasted nearly an hour. As expected, Stern covered a myriad of topics, ranging from Steve's youth as a "freak," his departure from the E Street Band, his "political eduction," how E Street will cope without Clarence, his new show Lilyhammer, and of course, whether Steve and Bruce have seen each other naked.
Love him or hate him, Stern is among the best celebrity interviewers around, and this interview does not disappoint. In typical Stern fashion, this is radio that feels more akin to eavesdropping on a dinner conversation than a formal interview. The results are both engaging and hilarious, their rapport allowing Steve to be loose, insightful and fun throughout. In perhaps the most revealing part of the interview, Stern pressed Steve about the E Street Band's exclusion from the Rock and ROll Hall of Fame, even suggesting that Bruce should not have accepted his induction without the band. While he didn't take the bait, it's clear that Steve firmly believes that the band's exclusion from Cleveland is a snub.
Stern replays a segment from years ago where Clarence makes romantic overtures to Robin Quivers [side-splitting comedy if you've never heard it] and also asks Steve whether Bruce can actually "loosen up socially," or whether every conversation needs to be about "migrant workers."
The show has already made it's way to YouTube [Part 1 - Part 2 - Part 3 - Part 4], or you can catch the replay today if you have Sirius/XM [channel 100].
- January 31, 2012

HORNS!
With the 2012 E Street Band tour fast approaching, one question has been foremost in the minds of fans. Well, other than "How the hell do I get a ticket?" Of course, we're talking about the great sonic void created by the passing of Clarence Clemons — a void which, in our humble opinion, would be hard for just one other mere mortal to fill.
On Friday, as reported by the Star-Ledger, WCBS radio's Wayne Cabot asked Nils Lofgren "if the sax would be gone from the group for good. 'Of course not,' replied Lofgren."
Now, thanks to Southside Johnny, who spoke to The Record about his decades-long relationship with Bruce Springsteen, we have the first solid indication in black-and-white that a horn section is in the offing:
And, [Southside] notes with a laugh, the musical cross-pollination that began decades ago is still going on — most recently, with Springsteen's poaching of the Jukes' brass section.

"He's stealing my saxophone players to replace Clarence (Clemons, who passed away last year), so we steal from each other's bands occasionally."
Springsteen has toured extensively with a horn section twice in the last 25 years: the Tunnel of Love Express tour in 1988, and the Sessions Band tour in 2006, each featuring a line-up that included Asbury Juke Eddie "Kingfish" Manion on sax. The other current recent sax player for the Jukes is Joey Stann on tenor, who has been playing with Southside and Gary U.S. Bonds since the early '80s, and lately with the Soul Cruisers.
Of course, it ain't official until it's official. But for anyone who's been longing for a full horn section to rejoin the E Street Band on tour since the Horns of Love... or since the greatness of '76-'77... or since the Asbury Park holiday shows... or since trumpeter Curt Ramm became a regular at the end of the Working on a Dream tour... this might be just the thing to chase away the blues.
- Updated January 31, 2012

TICKETMASTER'S TRAFFIC JAM
After the onslaught of onsales on Friday and Saturday — "onslaught" being a fitting term, as many shut-out fans are still licking our wounds — Ticketmaster is pointing to scalpers' use of new technology to lock out fans while procuring tickets for the secondary market. In case you missed the fun:
Jennifer Maloney, Wall Street Journal: "Boss Fans Again Run Into Ticket Problems"
Three years after a ticket sales fiasco that led to a $16.5 million settlement, Bruce Springsteen fans were left frustrated on Friday when Ticketmaster's website was overwhelmed with traffic likely caused, the ticket giant said, by scalpers.

As seats went on sale at 10 a.m. Friday for Mr. Springsteen's performances at three venues in New York and New Jersey, traffic on the site shot up to a level 2.5 times higher than any point in the past year, Ticketmaster spokeswoman Jacqueline Peterson said.

Many fans trying to buy tickets received error messages and came away empty-handed. Meanwhile, online marketplaces such as eBay and StubHub listed tickets for sale by secondary brokers at prices hundreds of dollars higher than face value.

Ticketmaster's preliminary investigation suggests that much of the traffic came from "highly suspicious sources, implying that scalpers were using sophisticated computer programs to assault our systems and secure tickets with the sole intention of selling them in the resale market," Ms. Peterson said in an email...
Peggy McLone, The Star-Ledger: "Ticket scalpers jam computers, spoiling hopes and dreams of Springsteen fans"
..."We anticipate and prepare for volume, but what we experienced today was a highly suspicious source of traffic, and there was exponentially more traffic than other similar days with major 'onsales,' " Ticketmaster spokeswoman Jacqueline Peterson said.

Rep. Bill Pascrell (D-8th Dist.) said consumers need to be protected from scalpers using high-speed computers.

"We've got to take a very, very careful look at the use of high-tech computer programs. While many fans were unable to get tickets today, many brokers were able to get their hands on good seats ... and put them up on secondary ticket sellers' websites," said Pascrell, who will re-introduce federal legislation to improve oversight of the ticket industry...
Dan Rys, Billboard.biz: "Scalper 'Assault' Caused Website Jam for Bruce Springsteen Ticket Sales, Ticketmaster Says"
[In 2009, Pascrell] introduced the BOSS Act, which was aimed at creating transparency in the way Ticketmaster and other large ticketing companies worked, hoping to avoid conflicts of interest in the event that a ticketing company "locked out" fans while allowing others to buy large blocks of tickets for the purpose of resale on the secondary market. Pascrell has now promised to reintroduce the bill to Congress.

"I think it's important to note that while many fans were unable to get tickets today, many brokers were able to get their hands on good seats for Springsteen and put them up on secondary ticket sellers' websites where they were sold at higher prices," Pascrell said in a statement Friday announcing his intent to reintroduce the bill. "Whether today's problems are due to honest mistakes or dishonest market manipulation, regular folks who wanted a little entertainment were not able to get what they wanted at a fair price."...
For Springsteen's first U.S. leg, four cities have yet to go on sale: the two opening shows in the South (Atlanta, Greensboro), and two shows in California (San Jose, Los Angeles). They're all on sale this coming Friday and Saturday, February 3 and 4, and all through Ticketmaster. *Sound of heads banging against wall*
- January 30, 2012

TWEET OF THE DAY
- January 27, 2012

TECHNICAL DIFFICULTIES
While we fight our own traffic onslaught to keep Backstreets.com and BTX up and running today, Ticketmaster.com is apparenty dealing with a barrage of a different magnitude. Posted this morning on Bruce Springsteen's Facebook page:
We know that many of you have been having trouble purchasing tickets through Ticketmaster's website this morning. Here is an official update from them: "We have been experiencing highly abnormal traffic patterns on our site this morning that have impacted the fan buying experience for some customers. We are investigating the source of the problem and are working to resolve it as quickly as possible, but tickets are selling so please stay patient. We will update fans as we know more."
Of course, we'd expect "abnormal traffic patterns" any time Springsteen tickets go on sale... so there's the implication of an extra twist here. Do scalpers have a new trick up their sleeves? This morning's were some of the most weird and frustrating onsales on recent memory... keep your head up, though, and we'll post any news here as we hear it.
- January 27, 2012


"DOING THE IMPOSSIBLE": BOOKING BRUCE FOR JAZZ FEST
"The late addition of Bruce Springsteen & the E Street Band to the 2012 New Orleans Jazz Fest took many fans by surprise," writes Keith Spera in the Times-Picayune. "None more so than Quint Davis, the festival's longtime producer and director."
As the new year rolled over, the 2012 Jazz Fest was booked and finalized, with John Mayer headlining the opening weekend. A few weeks later, with a new single that references post-Katrina New Orleans, Bruce and the E Street Band are set to play that Sunday night slot. The Springsteen ask came on January 2, and "that stood the whole thing on its axis," Davis told USA Today's Edna Gundersen. "But doing the impossible is something we never shy away from."
Read: Bruce Springsteen joins New Orleans Jazz Fest [USA Today]
Read: "New Orleans Jazz Fest's Bruce Springsteen coup required extra money, a schedule swap and working email" [The Times-Picayune]
- January 25, 2012


THE PROMISE BACK ON THE BIG SCREEN IN NYC
In our interview in Backstreets #90, director Thom Zimny talks about his documentary The Promise: The Making of Darkness on the Edge of Town premiering on the silver screen at TIFF: "Toronto was a great experience because first of all, having it proected that way was an amazing moment. When it's projected, your film takes on a different life. [In the editing room] it's on a pretty big monitor, but it's not with an audience in a theater."
He'll get another chance as part of the Stranger Than Fiction documentary series next month, when the doc plays on February 28 at New York's IFC Center, Sixth Avenue and Third Street. Thom will be on hand for a Q&A after the screening — so if you want to follow up on anything from the Backstreets interview, here's a chance. Tickets are available now at movietickets.com.
- January 25, 2012

ONSALE DETAILS ROLLING IN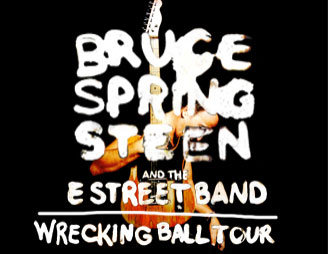 Onsales begin this Friday for the spring U.S. leg — and while most have yet to show up on ticketing sites, many venues have themselves confirmed sale times, which are posted now on our Tour/Ticket Info page.
The onsale times should bring some relief to those trying to catch multilple shows: on Friday, the Meadowlands dates are on sale at 10 a.m., Newark's Pru Center at 11 a.m., and Madison Sqaure Garden at noon. On Saturday, things are somewhat spread out as well: a few cities are bunched up at 10 a.m., but Philly is at 9 a.m., Buffalo and Tampa at 11 a.m. and Albany at noon. Watch the Tour/Ticket Info page for additional Ticketmaster links, etc., as they're available.
As more info is posted, we're also getting a better sense of what to expect. For these arena dates, as with the last tour, we're looking at an end stage with General Admission for the full floor. So far, ticket prices top out in the double digits (before service charges), at $98.
For anyone concerned about the spring leg passing their city/region by, note the title of the press release [emphasis ours]: "Bruce Springsteen and the E Street Band Announce First US Leg of 2012 'Wrecking Ball' World Tour." Though nothing is officially announced past the European leg, it would be difficult to imagine Bruce and the band not coming back for more later in the summer/fall. (Fingers crossed for you, too, Canada... and considering they're calling it a "World Tour," you too, Japan and Australia and elsewhere!)
There's already of plenty of buzz about Stateside shows later in the year. Under the headline "Springsteen skips Twin Cities on first tour leg," the StarTribune speculates, "Twin Cities fans likely won't get a date until the fall..." In Chicago, the Sun-Times reports: "Springsteen is rumored to be playing Wrigley Field in September." Keep hope alive, Pittsburgh and the Pacific Northwest!
- January 25, 2012


BRING IT ON! OPENING U.S. LEG IS OFFICIAL
March 6, the Wrecking Ball album arrives.
March 15, Springsteen gives the keynote address at SXSW.
March 18, the E Street Band wrecking ball starts swinging in the south, as the 2012 tour opens in Atlanta, followed by dates in North Carolina and Florida. A 19-date U.S.spring leg has just been announced, to precede Springsteen and the E Street Band's two-and-a-half month European jaunt in May. From March 18 through May 2 at Newark's Prudential Center, Bruce and the band will focus on stronghold cities in Northeast; a quick West Coast swing hits San Jose and Los Angeles, and Springsteen will also return to the New Orleans JazzFest, bringing the E Streeters to the scene of his triumphant 2006 performance with the Sessions Band.
March 18 – Atlanta, GA – Philips Arena (on sale Feb 4)
March 19 – Greensboro, NC – Greensboro Coliseum (on sale Feb 3)
March 23 – Tampa, FL – Tampa Bay Times Forum (on sale Jan 28)
March 26 – Boston, MA – TD Garden (on sale Jan 28)
March 28 – Philadelphia, PA – Wells Fargo Center (on sale Jan 28)
March 29 – Philadelphia, PA – Wells Fargo Center (on sale Jan 28)
April 1 – Washington, DC – Verizon Center (on sale Jan 28)
April 3 – East Rutherford, NJ – Izod Center (on sale Jan 27)
April 4 – East Rutherford, NJ – Izod Center (on sale Jan 27)
April 6 – New York, NY – Madison Square Garden (on sale Jan 27)
April 9 – New York, NY – Madison Square Garden (on sale Jan 27)
April 12 – Detroit, MI – The Palace of Auburn Hills (on sale Jan 28)
April 13 – Buffalo, NY – First Niagara Center (on sale Jan 28)
April 16 – Albany, NY – Times Union Center (on sale Jan 28)
April 17 – Cleveland, OH – Quicken Loans Arena (on sale Jan 28)
April 24 – San Jose, CA – HP Pavilion (on sale Feb 3)
April 26 – Los Angeles, CA – Los Angeles Memorial Sports Arena (on sale Feb 3)
April 29 – New Orleans, LA – New Orleans Jazz & Heritage Festival (on sale now)
May 2 – Newark, NJ – Prudential Center (on sale Jan 27)
As named in today's press release, the 2012 E Street Band is Roy Bittan, Nils Lofgren, Patti Scialfa, Garry Tallent, Stevie Van Zandt, and Max Weinberg, with Soozie Tyrell and Charlie Giordano. (Anyone wondering what horns might be present on stage will have to wait a little longer.)
As you can see above, ticket sales begin this Friday, with the majority of the onsales happening January 27 and 28.
For the full tour schedule,
including ticket links and additional information,
visit our Tour/Ticket Info page.
- January 24, 2012 - photograph by Jo Lopez

WRECKING BALL: SEE WHAT YOU'VE GOT
Now taking pre-orders for vinyl and CD formats at Backstreet Records

For an album called Wrecking Ball, they couldn't not do it as a big, round, black cirlce, could they?
Indeedy, Springsteen's new album will be available on vinyl, as a two-LP set. We're told it will consist of the album's primary 11 tracks, and the set will also come with a CD included — so you can take it in the car, rip it, etc. It's a nice move, giving vinyl-hounds a digital copy without dealing with download cards that don't always work internationally.
On compact disc, Wrecking Ball gets a 13-track special edition (including the two bonus cuts, "Swallowed Up" and "American Land") as well as the standard 11-track release. The special edition will come in an oversized package, similar to the deluxe Working on a Dream.
Pre-order your copy of Wrecking Ball now from Backstreet Records!
All formats are currently scheduled for March 6 release; as always, we ship pre-orders immediately upon availabity, in the order received. For fastest service, we recommend placing pre-orders separately from in-stock items (though it's fine to combine your order with other items, we'll just wait to ship together).
- January 23, 2012

THE NAME OF THIS BOOK IS LOVE GOES TO BUILDINGS ON FIRE

Will Hermes' Love Goes to Buildings on Fire: Five Years in New York That Changed Music Forever is a rare book for Springsteen fans as it's the first one that truly puts Bruce in context with his contemporaries in music history, with a focus on New York music history. It's a book that lists Brucebase in the footnotes and includes original source material as well, making it a must-read for Springsteen fans.

The book starts in 1973 and goes through to 1977. These were groundbreaking, critical years for Bruce's career, before the hype. If you weren't alive then, or weren't old enough to be sitting in Max's Kansas City on a random Tuesday night, this book will make you feel like you were. It provides critical pieces of context and understanding that will fill in the blanks and give color and background to the days before Bruce was a household word. It segues Bruce in with and between the careers of Patti Smith, Kool Herc, Bob Dylan, the New York Dolls, Grandmaster Flash, Talking Heads, Rahsaan Roland Kirk, the Ramones, and more.

Love Goes to Buildings on Fire is different than previous rock history books that included Springsteen, in that the history is solid and the context is true. In the past, other books covering these bands or this era either discounted, looked down on, sneered at or otherwise gave lip service to Springsteen because he was too popular, too rock, or considered unworthy for inclusion for some other reason; conversely, he's not given too much attention, either. All musicians and types of music are given the same even-handed treatment.

The history is top notch, with one exception: E Street was not a busy commercial strip in Asbury Park! Other than that, this is a book that will make you want to go through every single footnoted paragraph and comb YouTube and Spotify for hours, in search of songs and bands you've never listened to before.
- January 23, 2012 - Caryn Rose reporting

JUST ONE WEEK LEFT
Deadline reminder: The raffle to win a limited edition 16" x 24" print of photographer James Shive's classic 1978 photo of Bruce Springsteen and Clarence Clemons at the Spectrum takes place February 1, leaving only a few more days to get in on the action.
The raffle is open to anyone who either joins or renews an existing membership in The Friends of the Bruce Springsteen Special Collection, the organization that created and manages the 15,000-item research center on the campus of Monmouth University in West Long Branch, NJ. By joining The Friends, you help preserve irreplaceable materials that are each a part of Springsteen history.
Eligibility to win closes at 11:59 p.m. Jan. 31, and you can find all the details at www.friendsofthespringsteencollection.org/join-the-friends/.
To see more of Shive's work, visit shivearchive.com.
- January 23, 2012

WE TAKE CARE OF OUR OWN: RECOMMENDED READING
First of all, for anyone who's been listening to the new single and has been wondering exactly who they're listing to, props to Bruce Brunch and Boss Time Radio host Tom Cunningham for getting these credits out there:
Bruce Springsteen: vocals, guitars, banjo, piano, organ, drums, percussion & loops.
Ron Aniello: guitar, bass, keyboards, drums, loops.
Soozie Tyrell: violin & backing vocals
Patti Scialfa & Lisa Lowell: backing vocals
The New York String Section: strings
The Star-Ledger named "We Take Care of Our Own," their "Song of the Week." Tris McCall leads with a well-observed point about "Long Walk Home" and its flashback to the flag ("Bruce Springsteen is a master at moving around in time in a four-minute pop song," McCall writes) compared to the flying of the flag in the new single, and anticipates some who may not like what they hear:
For those who are tired of the moralizing strain in Springsteen's writing, "We Take Care of Our Own" is a bad sign. It's an indication that he'll be back on the barricades this time around, reminding us forcefully of our responsibilities to each other. But Bruce Springsteen is now 62 years old. He's lived through plenty, and we've always counted on him to spin resonant poetry from those experiences. If he says we've grown colder and more disconnected from each other — if the "hearts that run over with mercy" are harder to find — perhaps we ought to engage in some self-examination.
At the always-entertaining Blogness on the Edge of Town, Anne Haines gives the single a first listen:
Despite the broken-promise theme, I don't hear despair in this song. Not at all. Early word was that the album was angry — but I don't hear this song as angry either, as much as it is in search of resolve, in search of what's still worth holding on to in the face of betrayal. There are a lot of questions: "Where's the love that has not forsaken me? Where's the work that'll set my hands, my soul free?" The music itself, the way it soars and rises — and the promise of thousands of voices singing along, thousands of shining eyes taking in the spectacle on stage (which is surely "the work" in some sense), thousands of hearts beating along with that steady pounding drum – the song, and the live performance that it was written for, is its own answer to those questions.
Matt Orel, a Backstreets contributor (and curator of, among other things, an incredible Covers of Bruce Songs list), writes on his blog:
Perhaps "We Take Care of Our Own" really is unclear to some, in the way that "Born in the U.S.A." was a generation earlier. Both songs, ultimately, are a bit about reclaiming the flag.

In 2004 and 2008, Bruce Springsteen actively campaigned for the Democratic Party's nominee for President. Barack Obama campaigned behind the slogan, "Yes We Can." Springsteen debuted "Working On a Dream" at a campaign appearance for Obama just two days before the election.

When I listen to "We Take Care of Our Own," and I've been listening a lot over the past 24 hours, and I get to, "The road of good intentions has gone dry as a bone," I hear an accusation, a cry of betrayal from a former believer. And when the song asks where are the eyes with the will to see and the merciful hearts and the promise of the American Dream to the entire nation, I hear not just an echo of "(What's So Funny 'Bout) Peace, Love And Understanding"; I hear it scream, No, we didn't.
Some good food for thought at Bums Logic blog, including:
The track starts with pounding drums and high-pitched guitar noise. Compared to the safe pop/schlock of "Working on a Dream," this sounds like battle drums and sirens... Once the song kicks in and the guitars get a little heavier, Bruce knifes through America, not the right or left, but slicing right down the center: "From Chicago to New Orleans/From the muscle to the bone."
For NPR, Ann Powers notes an Arcade Fire influence and connects the song to the Springsteen canon beyond "Born in the U.S.A.":
Just as he did on "Born In the U.S.A.," "Glory Days" and even 2009's beautiful "Girls In Their Summer Clothes," Springsteen brings out big emotions and then demands we drop the delusions that often accompany them. When he delivers an old line like "from sea to shining sea," his patriotic stance is a spit back in the face of power — a demand that, in hearing such America-first language fresh, we admit that it's hollow unless it serves a real populist vision.
Peter Ames Carlin, author of a forthcoming and much anticipated Springsteen bio, offers amusing "Previews of the Reviews," including his take on the album in full:
It's a kick-ass record, is the thing. Musically intense and surprisingly diverse (those loops and electro-percussion on the single are a small hint of what's to come), Wrecking Ball is also a brutal analysis of life in these here economically divided, and politically absurd times.
- January 22, 2012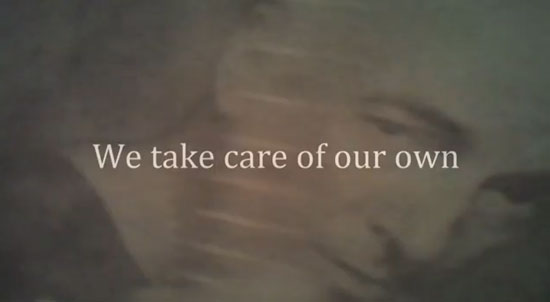 HECK OF A JOB, BRUCIE
The ultra-anthemic "We Take Care of Our Own" marches in with one of Springsteen's most martial rhythms — a kickdrum on every downbeat — since "Badlands." And you better believe it has some of the same "trouble in the heartland" concerns, too. But then there's that chorus: rousing, uplifting, and positioning "We Take Care of Our Own" to not only be Springsteen's most misinterpreted song since "Born in the U.S.A.," but misinterpreted in precisely the same way. With its imagery of flying flags, it's practically begging for it.
And there are takers. The L.A. Times' Randall Roberts describes the song as "an affirmation of national glory," with a chorus that reveals the song to be "about the country and hardship, but also about community and pride." The Atlantic Wire cheerily reports, "it's really, really good. This is to be expected, because it's Springsteen, and also because the song involves flags, loyalty oaths, and going through life with a heart-as-big-as-all-outdoors."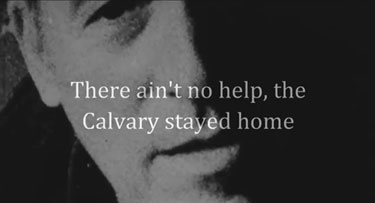 Of course, perhaps even more than with "Born in the U.S.A.," even half-listening to the verses brings the awareness that the chorus is not as rah-rah as it sounds. This is a song of searching, and not finding — searching for mercy, for love, for work, for spirit, for the American promise, and, recalling "Long Walk Home" from 2007's Magic, for "the map that leads me home." The few concrete nouns point to the Hurricane Katrina tragedy as Bruce's prime example to put the chorus in perspective, "from the shotgun shack to the Superdome." Following the line "There ain't no help, the cavalry stayed home," the "We take care of our own" chorus can be heard as cuttingly ironic: we don't.
In the New York Daily News, under a headline calling the song "a tale of American self-reliance," Jim Farber writes: "The interesting part is, you could view its title line in one of two ways. When Bruce sings, with steady determination, 'Wherever this flag is flown/we take care of our own,' it could read as either a sober reminder to those in power of what we owe each other. Or it could be seen as a simple statement of fact — an assertion of self-reliance, a key quality of the national character."
I'd argue that there are more than two ways to view the title. Aside from the ironic interpretation, it can also be heard as an accusation: we don't take care of everyone in this country; we take care of our own. With a subdivided America suffering from paralyzing partisanship as well as racism, homophobia, xenophobia... who exactly consitutes "our own" has become a far narrower subset than everyone who lives under that flying flag. As Bruce sang in "American Land," "The hands that built the country we're all trying to keep down." In that sense the phrase "we take care of our own" suggests bailed-out banks giving management bonuses, the wealthy giving tax breaks to the wealthy, "Marriage Protection," and a Federal Emergency Management Agency that shockingly appeared to view an American city as "other" in its response to Katrina.
Which leads to a darker connotation of "We take care of our own," a phrase often invoked by groups wanting to keep outsiders out, to justify violent, illegal, or immoral acts. Chew on this, from a 2009 article in The Nation called "Katrina's Hidden Race War," about a white "militia" shooting at least 11 African-American men "in the days after the storm, when the city fractured along racial fault lines as its government collapsed":
Surrounded by a crowd of sunburned white Algiers Point locals at a barbeque held not long after the hurricane, [militia member Wayne Janak] smiles and tells the camera, "It was great! It was like pheasant season in South Dakota. If it moved, you shot it." A native of Chicago, Janak also boasts of becoming a true Southerner, saying, "I am no longer a Yankee. I earned my wings." A white woman standing next to him adds, "He understands the N-word now." In this neighborhood, she continues, "we take care of our own."
From Chicago to New Orleans, that's trouble in the heartland.
As with "Born in the U.S.A.," it's Springsteen's powerful employment of ambiguity that allows this song to mean all these things at once: it's an anthemic call for compassion, and a scathing look at how we've fallen short; it's despairing yet inspiring; it damns while it praises. A song "about community and pride?" Hard to see that from where I stand. Maybe about the search for community and pride. But however you hear the chorus, it's clear that "We Take Care of Our Own" is another entry in Springsteen's documentation of the miles marked between the American promise and the American reality.
- January 19, 2012 - Christopher Phillips reporting


BRING ON YOUR WRECKING BALL: NEW ALBUM DUE MARCH 6
Bruce Springsteen's new album has been set for March 6 release on Columbia Records. Marking his 17th studio album, Wrecking Ball features 11 new Springsteen recordings and was produced by Ron Aniello with Bruce Springsteen and executive producer Jon Landau.
1. We Take Care of Our Own
2. Easy Money
3. Shackled and Drawn
4. Jack of All Trades
5. Death to My Hometown
6. This Depression
7. Wrecking Ball
8. You've Got It
9. Rocky Ground
10. Land of Hope and Dreams
11. We Are Alive
A special edition of Wrecking Ball will also be available including exclusive artwork and photography and two bonus tracks:
12. Swallowed Up
13. American Land
Said long-time manager Jon Landau, "Bruce has dug down as deep as he can to come up with this vision of modern life. The lyrics tell a story you can't hear anywhere else and the music is his most innovative of recent years. The writing is some of the best of his career and both veteran fans and those who are new to Bruce will find much to love on Wrecking Ball."
While this morning's press release does not specifically address U.S. tour dates, it does confirm: "Bruce Springsteen and the E Street Band will be touring extensively in the US and Europe in 2012."
The album's lead track and first single, "We Take Care of Our Own," can be purchased as a digital download now at Amazon and iTunes. The official video:

- updated January 19, 2012


AND I BELIEVE...
Terry Camp writes us following Light of Day: "Bruce's 'Big Man!' call during 'The Promised Land,' as the crowd itself sang the sax solo, was quite poignant. I think it was the birth of a moment that would be great to see on the tour, as Bruce, band and audience become one unit paying tribute to Clarence. It felt very natural, and of course the crowd is going to pick up that so-familiar solo. It's an uplifting moment that can stand alone — without an actual sax."
See more Light of Day video from YouTube users backstreetsbev and seashorerosie.
- January 18, 2012

LANDAU TALKS NEW ALBUM WITH ROLLING STONE
"An experimental effort... that both rocks and is very fresh"
Andy Greene writes for rollingstone.com today that "Bruce Springsteen is close to announcing his 17th studio album and a U.S. tour with the E Street Band"; and with the reveal of the album's first single, slated to hit tomorrow, you can take that to the bank.
In the article, Jon Landau describes the new record as a "big-picture piece of work. It's a rock record that combines elements of both Bruce's classic sound and his Seeger Sessions experience, with new textures and styles." He notes "social overtones" and "a very pronounced spiritual dimension." With Ron Aniello producing and Tom Morello guesting on the record, Landau calls it "an experimental effort with a new producer. Bruce and Ron used a wide variety of players to create something that both rocks and is very fresh."
Read: "Bruce Springsteen Returns with Wild New Album"
Springsteen and the E Street Band also top the RS Reader's Poll of "The 10 Most Anticipated Tours of 2012."
- January 18, 2012


THE FIRST VOLLEY
Judging by the new item added to Amazon.com, tomorrow should be a big day: the online retailer lists a January 19 digital release date for the "We Take Care of Our Own," the first single from Springsteen's new album.
- January 18, 2012

DANNY & FRANK RIDE AGAIN: DUAL PHOTO EXHIBIT HEADED TO PHILLY

As previously reported, the "From Asbury Park to the Promised Land" Springsteen exhibition returns to public view next month in Philly. In conjunction with that East Coast debut, a major Springsteen photo exhibition gets a second life, too: The Morrison Hotel Gallery's "From Darkness to a Dream," the joint show by photographers Frank Stefanko and Danny Clinch that ran in NYC in 2010, will be joining the Rock Hall exhibit at the National Constitution Center. [Danny's shot at left was the cover of Backstreets #83/84; Frank's shot at right was used as the cover of The River]
Featuring new and rarely seen photography from Stefanko and Clinch — fellow New Jersey natives, friends, and artistic collaborators of Bruce Springsteen — "From Darknes to a Dream" opens with an invitation-only launch party at the NCC on February 15. From February 17 to September 3, select works will continue to be on display with prints available for order at the gift shop.
For an expansive look at the Rock Hall exhibit that's headed to Philly, including a walk-through of the of the memorabilia on display and curator Jim Henke's lengthy interview with Bruce Springsteen about the whole shebang, pick up a back issue of Backstreets #89.
- January 18, 2012

NILS GETS READY FOR A BIG YEAR AHEAD
With a new album, Old School, as well as a new tour with Springsteen to prepare for, Nils Lofgren has two hefty irons in the fire. He posted in December on nilslofgren.com: "Certainly surprised and grateful to hear that the E Street Band will be performing next year. I welcome that musical challenge and when the schedule is clearer, I will look for windows to play the duo show with Greg [Varlotta], whenever possible, and keep promoting my new album throughout the year."
Now that the new year is upon us, Lofgren recently spoke with the Associated Press about getting the E Street Band back together. He's "dreading the journey to get up to speed without Clarence," he tells the AP's Kiley Armstrong, and not envying Springsteen's "ominous, complex issue" of filling that void, but feeling very optimistic nonetheless: "I look at the people standing... God willing, we'll all be up for it. I certainly am counting on that." Nils also drops a stat that highlights the sheer musicality of recent Springsteen shows: "Last tour with E Street, I think we had something like 53 instruments on the road."
Read: "E Street Band's Nils Lofgren: 'Life is Grand'"
Nils also spoke at length with Dean Pedley for seaoftranquility.org, about both Old School and E Street:
I was pleasantly shocked and surprised that Bruce decided to fire up the band and commit to shows in the UK and Europe. It's been two years now since we finished the last tour and had the horrible loss of Clarence who sadly I had to bury on my 60th birthday which made it a very unusual and bittersweet birthday for me. So I'm proud of Bruce and very grateful that he has done this; we certainly can't be the band we were but I think it's such an extraordinary cast of musical characters that I know Bruce will still want to challenge us to see what we can do...

It's a huge preparation because every tour we usually wind up doing 170 or 180 different songs. The last couple of tours we started doing songs that we never talked about or never even played together and Bruce would just pull signs out of the audience. It's great fun to be a part of a musical challenge like that where he'll throw a sign down the steps and the road crew has thirty seconds to find the lyrics on the Internet and get them into the teleprompter while we're working out an arrangement to a song we never played before. And at the same time we're standing in front of 50,000 people doing all of this.
Check out nilslofgren.com for videos, downloads, online guitar lessons, and the first installment of Lofgren's new project, "Blind Date Jam."
- January 17, 2012

A HELSINKI FINN-ISH FOR THE EUROPEAN TOUR?
We have a confirmed addition to the E Street Band tour schedule today — not one that U.S. fans have been waiting for with bated breath, but one that extends the European leg. Since the Euro dates were announced in November, two shows in Gothenburg, Sweden stood as the end of the leg, July 27 and 28. Now, an additional show has been added: July 31 in Helsinki, Finland. Tickets go on sale Wednesday, January 25, at 9:00 a.m. Finnish time.
For the full confirmed itinerary, with venue and ticket links,
see our Tour/Ticket Info page.
- January 17, 2012


A PARAMOUNT PERFORMANCE: BRUCE PLAYS LIGHT OF DAY 12
Light of Day 12 was the largest and most diverse yet of the now-international series of shows benefiting Parkinson's research. Featuring over 100 acts in 12 venues throughout Asbury Park, this year's event had a little something for everyone, from acoustic singer/songwriters to country, punk, and soul. The ever-expanding event included shows at new LOD venues like The Saint and Asbury Lanes, with most venues filled to near capacity with fans from as far away as Russia and Switzerland.
Standouts from previous nights included a strong set of brand new material by the always powerful Maybe Pete, thundering Lower East Side rock 'n' roll from the caustic and hilarious Dick Manitoba's new band, and a round of soul classics from J.T. Bowen & the Soul Cruisers. Friday night at the Stone Pony was dedicated to the many deceased Jersey Shore musicians who formed the heart of the so-called Sound of Asbury Park, including everyone from Clarence Clemons and Dan Federici of the E Street Band to former Jukes and John Eddie drummer Louie Appel.
But last night's event at the Paramount Theater was the main attraction, and with one of the strongest lineups in years, it did not disappoint. There were spirited sets by Lisa Bouchelle, longtime shore favorite John Eddie, the effervescent Willie Nile, and New Yorker Garland Jeffreys, who previewed several songs from an upcoming CD release. There were the bluesy guitar and vocals of the legendary David Bromberg. And there was also the Asbury Park debut of Southside Johnny & the Poor Fools, who presented both Jukes staples and unusual and well-chosen covers by the likes of NRBQ and Lucinda Williams in stripped-down arrangements that highlighted longtime Jukes keyboardist Jeff Kazee and the fiddle of Jukes alum Soozie Tyrell.
But it was clear that many were in attendance to catch the annual "surprise" appearance by Mr. Bruce Springsteen, who closed out the evening in raucous fashion. Wearing a black and grey plaid shirt and jeans, Bruce assumed guitar/vocals duties with Jeffreys on "Wild in the Streets" and with Willie Nile on "One Guitar," and followed this up with his by-now traditional set with Joe Grushecky and the Houserockers. Opening the segment alone at the mic for an acoustic "Incident on 57th Street," he began on a somber note. Bruce then left the stage while Bromberg sat in with the Houserockers, returning to lead off the louder portion of the program with "Darkness on the Edge of Town." As per usual, Bruce and Grushecky alternated material, Joe taking lead on "Never Be Enough Time" and Bruce on "Adam Raised a Cain."
The highlight of the set was Bruce's pop gem "Save My Love," which he introduced by declaring it one of his favorite melodies. Springsteen seemed particularly enthused to be there, several times referring to his upcoming tour and album release, and complimenting longtime friends John Eddie and Willie Nile on their performances. "Atlantic City" was followed by the full band version of "Johnny 99," during which Bruce jumped up and sat next to keyboardist Joe Pelesky, executing a perfect glissando with his right foot before winding up on top of the drum riser, where he ended the song lying backwards over the bass drum. "I'm Not Sleeping" (Bruce and Grushecky) was followed by "Because the Night," for which Bruce called out John, Willie and Garland to sing backing vocals.
Pausing for a moment midset, he commented, "I'm up late. I gotta get up at 7 tomorrow — I still have one at home — gotta make pancakes. Yeah, mostly I'm just a chauffeur and short order cook who plays guitar." The crowd-pleasing "Waitin' on a Sunny Day" followed, Bruce leading the singalong from atop the drum riser. Grushecky's "Pumping Iron" was next, after which Springsteen announced special guest Max Weinberg, who sat in on the remainder of the set, along with Tony "Boccigalupe" Amato on Hammond B-3. The stage filled with performers for "Light of Day" and "The Promised Land," and event founder Bob Benjamin received a belated birthday greeting and cake. "Twist and Shout" continued the all-star singalong, and the night concluded with an acoustic "Thunder Road" in tribute to Benjamin. The audience, which had been particularly enthusiastic in joining in on the vocals, sang along in unison, and as the house lights came up, smiles from locals and internationals indicated another successful Light of Day event.
For the setlist from this and other recent performances,
see our Setlists page
- January 15, 2012 - Lisa Iannucci reporting - photographs by A.M. Saddler

(SOMEBODY ELSE'S) FIRST LISTEN
The Hollywood Reporter has quotes today from someone who has heard the new, "as-yet-untitled" and "terrific" Springsteen record. Judging by this earwitness account, it's a wrecking ball of an album: "He gets into economic justice quite a bit. It's very rock 'n' roll. He feels it's the angriest album he's ever made. Bear in mind, though, that [Springsteen] wrote and recorded the majority of the album before the Occupy movements started, so he's not just setting headlines to music."
Sonically, look for "unexpected textures — loops, electronic percussion," according to the source, "an amazing sweep of influences and rhythms, from hip-hop to Irish folk rhythms." The Hollywood Reporter also confirms that the album was produced by Ron Aniello.
Read: Tim Appelo and Shirley Halperin's "Bruce Springsteen's New Album is His 'Angriest' Yet"
- January 13, 2012


OPEN ALL NIGHT
Six evening events in Philly, with savings for Backstreets readers
Philadelphia's National Constitution Center has just announced a series of six special evening events in conjunction with their upcoming exhibition of the Rock and Roll Hall of Fame's From Asbury Park to the Promised Land: The Life and Music of Bruce Springsteen.
For one night per month from February through August, fans can purchase tickets to a special evening event that also will get you into the exhibit after hours. Events will include specially catered/themed affairs, film screenings (including a May 23rd Director's Cut screening of Who Do I Think I Am? A Portrait of a Journey and a Q-and-A session with director Nick Mead after the film), concerts by the B Street Band, and more. Read all of the details and purchase tickets online now (or call 215-409-6700) for as many events as you'd like, with a special discount for attending all six events.
Backstreets discount: All Backstreets.com visitors can get the extra-special NCC-members-only discount by typing or mentioning the Promotional Code "backstreets."
- January 13, 2012 - Shawn Poole reporting

70 YEARS AGO TODAY, SOMETHING BIG WAS BORN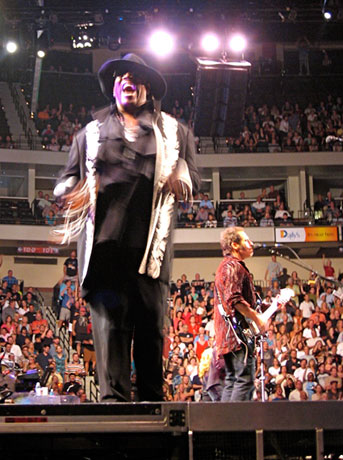 We're thinking about Clarence and missing the Big Man today, which would have been his 70th birthday. We like to think he's found his joy: fishing somewhere peaceful, saxophone at the ready for a jam later with King Curtis, Boots Randolph, and Junior Walker. And a whole roast chicken in the oven.

To mark the occasion, we've put some content from the new issue online today, Christopher Phillips' "On the Backstreets" editorial called "Parting Words."
A few lines from Springsteen's eulogy have been quoted again and again — that Clarence was too effing big to die, and "Clarence doesn't leave the E Street Band when he dies. He leaves when we die." But this is the passage that strikes us today, thinking of the years and years of "god's work" that Clarence had a hand in on this earth:
...his love and his story, the story that he gave me, that he whispered in my ear, that he allowed me to tell... and that he gave to you... is gonna carry on. I'm no mystic, but the undertow, the mystery and power of Clarence and my friendship leads me to believe we must have stood together in other, older times, along other rivers, in other cities, in other fields, doing our modest version of god's work... work that's still unfinished. So I won't say goodbye to my brother, I'll simply say, see you in the next life, further on up the road, where we will once again pick up that work, and get it done.
Happy birthday, Big Man.
- January 11, 2012

HOT OFF THE PRESSES: BACKSTREETS #90
The new issue of Backstreets Magazine has Boss coverage from A to Z: that's Appel to Zimny, this issue featuring extensive Backstreets interviews with each. For our first talk with Mike Appel in 20 years, we asked Born to Run photographer Eric Meola (who provided the front and back cover images for this issue) to sit down with Springsteen's former manager for a chat. In a wide-ranging discussion of his time with Bruce from the early '70s to their 2009 reunion in Buffalo, Appel describes shows like Sing Sing Prison and the Anne Murray blowout at Central Park along the way. For our massive interview with Thom Zimny, Backstreets editor Christopher Phillips spent multiple sessions at the filmmaker's NYC studio for an in-depth look at his recent work with Bruce. Part I takes Zimny from "Night with the Jersey Devil" through London Calling: Live at Hyde Park. In Part II with Zimny, it's The Promise, discussing Zimny's Darkness documentary as well as the Houston and Paramount performance films (and how the latter was influenced by Jean-Claude Van Damme). 84 pages, full-color. Click here for full contents list.
Subscribe and save!
New subscriptions begin with this issue — subscribe now for significant savings off the cover price, to eliminate shipping charges, and to automatically receive the issues to come.
If you'd like to receive these issues and more, susbcribe online now! Or call our order line to subscribe by phone, at 1-800-326-BOSS. Each year you subscribe for will get you four issues of the Boss magazine sent straight to your door. If you're a reader of this website, there's a lot more waiting for you in the pages of Backstreets Magazine... don't wait any longer to get on board!
Already a subscriber? Check our Subscriber Services page for more details on when you can expect your copy of the new issue, in the hands of the postal service now.
- January 10, 2012


LIGHT OF DAY WEEKEND WEEK BEGINS
Asbury Park Light of Day events o'plenty begin this Thursday, January 12, including a Just Around the Corner film screening, "Light of Day's First Note" at the Saint, and the Rock 'n' Roll Bowl-a-Thon featuring Robert Gordon. And of course, there are the high-profile events on Friday (a tribute to the "Asbury Angels" at the Stone Pony) and Saturday (the sold-out evening show at the Paramount). But the official Light of Day kick-off is actually tomorrow, in New York City: a birthday tribute to Clarence Clemons at The Canal Room.
This January 11 "Evening of Celebration and Hope" is presented by Team Fox (Michael J. Fox's charity) and the Light of Day Foundation. The Sensational Soul Cruisers with J.T. Bowen will headline, to play the Red Bank Rockers' Rescue and more, in celebration of Clarence's 70th birthday. Also performing will be Jake Clemons and his band, Willie Nile, Rich Pagano and the SugarCane Cups, Israel Nash Gripka, James Maddock, and Joe D'Urso & Stone Caravan. Tickets available here.
Another unique show this year is Friday night at Asbury Lanes, where "Anything, Anything" DJ Rich Russo presents a night of punk rock with the debut of Manitoba, an NYC punk supergroup led by Handsome Dick Manitoba of the Dictators. (Springsteen appeared on their 1978 album Bloodbrothers, and Handsome Dick currently hosts a show Little Steven's SiriusXM Underground Garage channel.) The following night, Russo will once again cohost the Paramount show with Vincent "Bug Pussy" Pastore.
More to see over the course of Light of Day 2012 includes an Asbury Blues jam at the Wonder Bar, featuring the Tangiers Blues Band, Billy Hector, Billy Walton, and more; LOD 4 Kids at Tim McLoone's Supper Club; and a Sounds of Asbury Park show at the Pony that features local legends like the Blackberry Blues Band, Stormin' Norman Seldin, Nicky Addeo,and Lance Larson.
For a full rundown of official Light of Day events, visit lightofday.org.
- January 10, 2012

ASBURY VIA NORFOLK: SATURDAY AT THE NORVA
An unbelievable show on Saturday night, the second of two Clarence Clemons tribute concerts, started off with a moment of serendipity when the MC, New Jersey's Terry Camp, approached center stage and gave a big shout-out to "Norfolk, New Jers..." and then, laughing at his mistake, corrected himself, "Hello, Norfolk, Virginia!" It was truly was an unintended slip, not a joke. That goes to show just how much the Jersey Shore vibe was present at The Norva, right from the very start, with the stellar line-up returning from Friday night's Attucks show. The Nick Clemons Band took the stage at a few minutes past 8, and the show didn't end until about 12:40 in the morning: four-and-a-half hours of heart-stoppin', earth-shakin' rock 'n' roll.
For this former Point Pleasant Beach, NJ native (now a Virginia Beach, VA resident), this show was reminiscent of my old Stone Pony glory days, where I would go with my friends to watch local Jersey Shore musicians jam until the wee hours of the morning, and where the love they felt for each other — and that they gave off to everyone in the audience — was tangible and real. The friendships and camaraderie among everyone on the stage was obvious. Gary U.S. Bonds made repeated reference to "the guy from New Jersey... what's his name? I keep thinking Bob Seger... but no, that's not it..." and when the audience responded with the inevitable "Brooooce," Bonds replied, laughing, "Yeah, I booed him too." That was the kind of joking that went on back and forth on stage all night long.
On a more personal note, what was really cool about the night for me — aside from the rock 'n' roll icons and awesome musical talent assembled on stage —was that I was accompanied by my soon-to-be 19-year-old daughter, who has attended countless Bruce concerts with me listened to me regale her with untold stories from my old stomping grounds. At the start of the night she leaned over to me and said, "I think I'm the only person here under 40." To which I replied, "You're the only person I know who's not even in their 20s yet and knows how cool it is to be here tonight." It was a happy night for us both, perhaps for different reasons, but it was a father/daughter evening I will cherish forever, the highlight of which was dancing together while Southside Johnny sang the timeless classic "Havin' a Party": "'cause I'm having such a good time, dancing with my baby!"
Southside also teamed up with Bonds on a powerful "You've Lost that Loving Feeling," and he stole the mic and the show for "On the Dark Side" with John Cafferty and the Beaver Brown Band.
After Jobonanno's "Spirit in the Night" brought the house down, already drenched in sweat from singing and dancing all night, I thought to myself, "This must be it; what a way to end the show." But then came "Tenth Avenue Freeze-out," and when I thought there couldn't possibly be more, then came "Rosalita." Jobonanno led what started off as a tender — but ended up raucous — "Suspicious Minds," in tribute to the anniversaries of his own father's birthday, Elvis Presley's January 8 birthday (which by that time, after midnight, it was), Clarence Clemons' birthday (January 11th), and Dr. Martin Luther King Jr.'s birthday (January 15th). And when I thought, "Okay, that was really it," then came an unbelievable encore medley led by Gary U.S. Bonds — with everyone on stage together, laughing, not knowing what song was going to be played next, forgetting the words, looking at each other with laughter and love in their eyes — starting with Chuck Berry's "Johnny B. Goode" and continuing with a medley of great bar-band, classic rock 'n' roll.The numerous anecdotes told throughout the night in tribute to Clarence by his friends and family were heartfelt, and the Big Man's spirit was present among us for sure.
- updated January 9, 2012 - Andre Hutchinson reporting


ASBURY VIA NORFOLK: FRIDAY NIGHT AT THE ATTUCKS THEATRE

It was great to be in Asbury Park last night — wait, I mean Norfolk, VA — for the first of two tributes to Clarence Clemons this weekend. For years I have made repeated treks up 13N to see such great musicians as Gary U.S. Bonds, Garry Tallent, Southside Johnny, Bobby Bandiera, and Vini Lopez, to name just a few, and finally after all these years, here they all were in my town, on my stage!
The historic Attucks Theatre was packed to the rafters with family and fans of Norfolk native Clarence Clemons, brought together not because of the faux buzz about some Boss, but to pay homage to one of our own. It was an electric night, and from my front row view, it was a piece of Jersey Rock heaven.
The evening opened with the Nick Clemons Band, being seen and heard for the first time by many of his relatives in the theatre. Said Nick, "Dad broke a lot of hearts in this town." Nick was followed by Jake Clemons [pictured right, with Nick in background], who did an acoustic set and spoke tenderly of his late uncle and how there wasn't one person in the room Clarence didn't touch. Jake showed off his Clarence-owned boots that had traveled for ten years, all over the world. "Clarence is in the garden now," he said as he sang "A Fool in Love" with assistance on the sax from Michael "Tunes" Antunes of the Beaver Brown Band.
Denise Christison of the Attucks Theatre did the official welcome and revealed that Clarence had seen James Brown in the theatre as a teenager. She then introduced Gary U.S. Bonds, who was the master of ceremonies for the rest of the night. Gary's band was a who's who of Asbury Park musicians, a supergroup consisiting of Vini Lopez on drums, Garry W. Tallent on bass [left], Bobby Bandiera on lead guitar, with the horn section including members of Nick's band, Jake, and Antunes.
Gary opened with "New Orleans" followed by "This Little Girl," Southside Johnny popping on stage to sing backing vocals with Bobby. Bonds sang the song Little Steven wrote for him, "Daddy's Come Home," and shared his feelings about Clarence when the song was first recorded and how haunting his sax solo was. "Quarter to Three" got the joint jumpin' and shook the theatre so hard pieces of the old rafters fell like snow.
Vini Lopez took two solo spots, "Going Down to Georgia" and "Crown Liquor," with assistance from Nick and Jake.
John Cafferty took the stage next, telling of his last time with Clarence at a fundraiser in Rhode Island and of how C treated everyone on the crew like family. But the emotional highlight of his set was during "Tender Years," when Antunes took the spotlight and spoke from his heart about how Clarence's talent has clearly passed on to his family; he then played the most emotional sax solo that drew a spiritual response from members of the Clemons family in the audience, plus cheers and tears and a standing ovation from the crowd.
The evening continued with sets from Southside Johnny (including "The Fever" and "I Don't Want to Go Home") and Bobby Bandiera [right], closing out with Garry Tallent anchoring a set of E Street specials. Jobonanno took lead vocals here for "Spirit in the Night," "Tenth Avenue Freeze-out," and a full-band, trainwreck-fun version of "Rosalita" immediately going into Jake doing the "Jungleland" solo to cap the night.
It was an emotional and highly charged evening of music by the family and friends who have loved and played with Clarence for over three decades, and it was truly our honor to have it here in Norfolk. This little girl is going to recharge for another tribute tonight at The Norva... tickets are still available.
- January 7, 2012 - report and photographs by Katherine Byrd

SOUTHSIDE JOHNNY ADDED TO JAN. 14 LOD LINE-UP

We're just a week away from the beginning of the 2012 Light of Day festivities in Asbury Park, and there's been a new addition to the Saturday night Paramount Theatre bill. If you've got tickets to that main event, you'll also be seeing Southside Johnny and the Poor Fools, a band which includes Jeff Kazee, John Conte, Tommy Byrnes and Soozie Tyrell.
Southside says, "The Poor Fools tour is a chance for me to try out different material and some Jukes standards in an acoustic-ish form. It will be a loose mix of songs, stories and banter between musicians and — hopefully — the audience. Just lookin' to have a good time. It'll be a little side trip between the usual Asbury Jukes touring and our next recording." Read more about the Poor Fools on Pollstar, and see a complete list of their upcoming dates at SouthsideJohnny.com.
They'll join a line-up on January 14 that includes David Bromberg, Joe Grushecky and the Houserockers, Willie Nile, John Eddie, Garland Jeffreys, Joe D'Urso and Stone Caravan, Lisa Bouchelle and the Rock N Roll Chorus. The Paramount Theatre show is sold out, but tickets remain to other Light of Day shows — see the calendar of events at lightofday.org.
- January 5, 2012

BILLY WORKS UPTOWN: FINAL NIGHTS FOR VAN ZANDT PLAY
Steven is not the only notable thespian in the Van Zandt family. His brother Billy, a well-known playwright and TV comedy writer, has had a successful off-Broadway hit comedy running for two years at The Triad Theatre on Manhattan's upper west side. This weekend will be the play's final three nights.
The New York Post called You've Got Hate Mail "the perfect bedroom farce... riotously enacted by a five person ensemble." Billy and his long-time writing/producing partner Jane Milmore star in the comedy of errors, along with Glenn Jones, Barbara Bonilla, and Fran Solgan. Called "the masters of modern farce" by the New York Times, the team of Van Zandt and Milmore have been among the most produced playwrights in the world for more than three decades; they've also garnered multiple film and TV awards for their work as stage actors, producers, and writers. Final nights are Friday Jan. 6 (7pm), Sat. Jan. 7 (9pm), and Sun. Jan. 8 (8pm). Tickets available through smarrtix; check out the play's website for more info.
- January 4, 2012


JUST WHEN SILVIO DANTE IS OUT, THEY PULL IN FRANK THE FIXER
We've posted a version of this trailer before, but it bears repeating — especially now that Steve Van Zandt's new series is coming to a small screen near you. If you live in the U.S., Canada, or Latin America, that is. Thanks to Netflix, which will begin streaming Lillyhammer on February 6, audiences on this side of the pond will get to see the show before it even airs in its Norwegian homeland.
Developed by Norway's Rubicon TV AS, the eight-episode first season of Lillyhammer features Van Zandt (also Executive Producer) as Frank "The Fixer" Tagliano, a mobster living in Lillehammer thanks to the witness protection program. "Lilyhammer is a well-observed, funny and occasionally brutal story of culture clash, focused on Stevie's inimitable portrayal of an East Coast mobster," said Netflix Chief Content Officer Ted Sarandos in a press release. "We're proud to introduce this terrific Original Series exclusively to our members. If you love the first episode, there is no need to wait until next week, or to set a DVR, to catch the next one."
"I am very careful with my choices and this project was so exciting to me because of the wonderful writing, the rich characters and the fascinating culture of Norway," says Stevie. "Netflix is the perfect home for such a unique show."
Clean air, fresh white snow, gorgeous broads... what could go wrong?
- January 4, 2012

A STAR BURNIN' BRIGHT, LIKE SOME MYSTERY UNCOVERED or
DARLIN', MY FEET (AND THE REST OF ME) ARE MADE OF CLAY

Many around the globe will conclude their winter holidays this Friday with the celebration of Epiphany, a.k.a. Three Kings Day, El día de los Reyes (The Day of the Kings), Little Christmas, etc. The Christian celebration traditionally marks the day that the three kings, or three wise men, are believed to finally have arrived with gifts in tow at the manger in Bethlehem after following a mysterious star.
All of which also gives us a great excuse/reason to link to a recently overlooked Springsteen-themed holiday item that appeared in Rolling Stone in December. For On Jimi! On Britney! On Weezy & Springsteen!, RS contributing editor Rob Sheffield provided humorous holiday-themed rewrites for lyrics to well-known tunes, transforming Springsteen's "Jungleland" into "Mangerland," a particularly appropriate selection for Friday's celebrations. The piece was illustrated by sculptor Liz Lomax's transformation of Bruce and other artists into clay-based characters who look like they stepped right out of a classic Rankin-Bass holiday TV special. An archived online version of the booklet (featuring an unprinted Lady Gaga parody) remains available, with "Mangerland" posted here.
- January 4, 2012 - Shawn Poole reporting - sculpture by Liz Lomax


30 YEARS AGO TODAY: THE NEBRASKA SESSIONS

Happy New Year, and Happy Anniversary, Nebraska. 2012 marks the 30th anniversary of one of the most personal and unique albums ever released by Bruce Springsteen or any other popular musician. While the album was released on September 20, 1982, today officially marks three decades since Springsteen began recording what would become his sixth album. In fact, one of the titles originally considered for the album was January 3, 1982, the date on which virtually all of the album's tracks were recorded. Springsteen put those stark, haunting songs to tape in a bedroom of his Colts Neck, NJ home [at top, photo by Donna Fenton, courtesy of Chuck Yopp] on his TEAC Tascam Series 144 cassette recorder. The remainder of the album was recorded a bit later on the same machine, now included in the Rock and Roll Hall of Fame's Springsteen exhibit, which makes its east coast debut this year in Philly, the same place where "they blew up the chicken man" in Nebraska's "Atlantic City."

Coincidentally, this two-page ad ran in the February 1981 issue of Musician, featuring Dave Marsh's cover-story/interview with Springsteen.
At the time, of course, Bruce did not intend for any of the tracks he was recording at home to be what listeners actually would hear when they played his next album. Springsteen thought he simply had found a convenient way to prepare a set of demos for the E Street Band to use as a guide in recording his new songs. The idea was just to make the recording process with his band more efficient and less expensive.
Some of the Nebraska-era demos actually led to successful full-band recordings that were released later (often sounding much different than the original demos), such as "Born in the U.S.A.," "Working on the Highway," and "Pink Cadillac." For the most part, however, it became clear pretty quickly that much of what Bruce had recorded at home was very special in and of itself. Even Steve Van Zandt, known usually to argue most forcefully for the garage-band three-minute-pop-song approach in the studio, concurred. As he later related to critic/Springsteen-biographer Dave Marsh, upon first hearing Bruce's homemade cassette recordings, Steve thought, "I love this. This is an album.... There was no basis for anyone to think about it that way. [But] it was a special moment. An artist could never get closer to his audience than this. Not because it was done with an acoustic guitar, but because he was literally singing for himself. It's like the most direct, personal, accomplished artistic statement that you can make." This time around, Steve actually wound up on the winning side of an in-studio debate, though it didn't happen without Springsteen and his associates first solving some very unique problems in mastering these recordings and presenting them properly to Bruce's audience.
We'll explore that process in more detail when we mark the album release anniversary later in the year. For now, we'll leave you with just a few interesting tidbits linking Henry Fonda, Sissy Spacek, Martin Sheen and even Peanuts comic-strip creator Charles Schulz to the creation of Bruce's darkest, most intimate record to date:
If a Nebraska box set ever gets issued, and Springsteen's working notes for the album get reproduced a la the notebook in the Promise box, Bruce's lawyers may very well have to work out a licensing deal with the Charles Schulz estate. Photographer Frank Stefanko, while shooting some unused photos for Nebraska, caught a beautiful shot of Bruce strumming his guitar with his Nebraska binder open on a nearby table. (It's on page 114 of Stefanko's great book Days of Hope and Dreams.) Stefanko has stated for the record that, although it can't be seen in his photo, the cover for the binder containing all of those dark lyrics featured none other than Charlie Brown's beloved dog Snoopy.
Speaking of the Promise notebook, that item also reveals just how early the creative process that led to Nebraska's title track may have begun. Item number one on a "Work Sheet" reproduced there is "Rent 'Badlands' movie." In his 1998 book Songs, Bruce also noted the influence on Nebraska of Terrence Malick's 1973 film, starring Martin Sheen & Sissy Spacek and based on the same Starkweather killing spree that inspired "Nebraska."
The late critic Paul Nelson, in a review of Nebraska recently republished in Everything Is an Afterthought: The Life and Writings of Paul Nelson, also noted what may be yet another cinematic influence on the lyrics of the album's title track. In the 1937 film You Only Live Once, Henry Fonda's character is being held in a prison infirmary before he faces the electric chair. He tells one of the prison guards, "You can sit on my lap when they throw the switch."
- January 3, 2012 - Shawn Poole Reporting


WOODY GUTHRIE'S NEW YEARS RULIN'S
The 2012 South By Southwest Music Conference, where Bruce Springsteen will give the keynote address, is also going to be celebrating Woody Guthrie's 100th Birthday. Moderated by Grammy Museum Executive Director (and Backstreets Associate Editor) Bob Santelli, a special SXSW panel will feature "family and artists gathering to discuss Guthrie's enduring work."
So as we look toward the new year and consider what resolutions we might want to make, what better guide than Guthrie himself? Courtesy of the Woody Guthrie Archives comes Woody's "New Year's Rulin's" from 70 years ago [above, click for larger image]. At #1 and #2: "Work more and better" and "Work by a schedule"... That stuff's at the top of our list, too, particulary with an exciting new year ahead. But we also can't forget to change socks, stay glad, and dream good.
Wishing you a safe and happy New Year's Eve and a 2012 filled with good playing and singing. And for everyone waiting for additional tour dates ("starting with a two-month U.S. arena leg in early March, sources say," as Rolling Stone reports), so you can work by a schedule, too... well, keep that hoping machine running!
- December 31, 2011