FEBRUARY 27, ROCHESTER: I WANNA BE GOIN' DOWN WITH YOU
Rochester?! Those setlist-watching from home may have expressed that sentiment many a time throughout Saturday night's barnburner of a concert at the Blue Cross Arena, but they would have forgotten one of the cardinal rules of this thing of ours: expect the greatest shows in the most unexpected of cities. Some may assume Bruce and the Band will deliver their best performances in the biggest markets, but the smallest, most rundown dumps of venues (I write that with the utmost endearment) located in oft-forgotten cities commonly bring out their absolute A game. And that's exactly what the electric fans squished into Rochester's tiny arena (with a capacity of just 13,000, one of the smallest of the tour) were treated to over and over again in yet another 34-song, three-hour-and-15-minute set. It included three tour premieres, including one rare outtake, one gem off their biggest-selling album, and the return of one of the most seminal songs in their entire catalogue, ultimately rivaling Philadelphia for the title of top show of the tour thus far.
Bruce and the band (sans Patti) took the stage in a particularly celebratory mood, and Bruce soon explained why in his introduction to The River: "Two big occasions tonight! One: Jake Clemons' birthday. He was born in the year The River came out. So he and The River are exactly the same age." This received a wave of laughter from the crowd (perhaps to mask how old they may have felt?) and was the perfect primer for yet another fantastic performance of The River (the other thing we were celebrating), with the band impressively locked-in given that this was their fourth show in seven nights.
Though Jake has looked increasingly loose at every stop on this tour, he seemed to really let it go on his special night. The River obviously prominently features the saxophone, and Jake put a little extra oomph into his playing, from his party noises on an especially rambunctious "Sherry Darling" (party vibes were definitely in the air all night long — come Saturday night we let our ramrods rock!) to miming cruising in a Cadillac as he made his way downstage for his "Cadillac Ranch" solo. From every conceivable position — on top of the speaker in front of Max's drums, on the front platform with a leg perched on the speaker in the faces of the dazzled front-row crowds — the birthday boy showed why there's only one letter separating sax and sex.
Yet he wasn't only in the spotlight during The River; it was clear as the post-album portion kicked off that this was a night for Jake when the sax-heavy "Night" made a welcome, jolting return to the setlist, soundchecked tonight but previously performed on this tour only at the second stop in Chicago. The exact shot in the arm the crowd needed after the morose (yet beautiful) "Wreck on the Highway," Bruce followed that up with an equally energetic Born in the U.S.A. favorite "No Surrender." Then things got really interesting.
Feeling the crowd 100% with him, Bruce immediately grabbed a sign that caught his eye. After its soundcheck rehearsal in Buffalo, the rare and rollicking River outtake "I Wanna Be with You" stunned the crowd in what was only the third performance of the song in the 21st century. Minus a little rough start, the top-notch performance of this wholly underappreciated power pop tune made it feel like a tour staple. And though it might have fallen on uninformed deaf ears in most cities, the faithful hordes packed into the Blue Cross Arena greeted the song with as much enthusiasm and noise as any of the classics that preceded it.
That alone probably would have appeased the diehards, but the surprises didn't stop there. Simply flipping the sign around, Bruce and the band returned to Born in the U.S.A. with uproarious rendition of "I'm Goin' Down." If "I Wanna Be with You" had a slight false start, this had a big one, with Bruce mistakenly counting it off instead of starting with the guitar riff, but they quickly ironed out the kinks for a fantastic performance.
It was clear from the start that this was a big home crowd for Bruce, full of fans who had made the trip to Rochester knowing how much he loves playing in such an intimate room. He said as much in the encores, declaring, "This is a great building to play, actually. It's the perfect size." Simply put, they were with him every step of the way, and they sang the "Badlands" chant so loudly that Bruce even had the band play a little softer just to hear fans' voices beautifully echoing off the old walls of the arena. "Badlands" was dynamite, and it put the crowd in state of euphoria, powering them through the usual stretch of "Because the Night" (featuring Nils flying around the stage like a madman during his solo, potentially his best of the tour so far) to "Rosalita."
More than just being engaged, this was a very E Street-literate audience, partaking in the crowd participation sections without Bruce needing to ask. They even knew the right times to hold up and put down their creative "Dancing in the Dark (with Bruce)" sign requests — which he visibly enjoys reading every night — without disturbing the experience of those behind them. Tonight's honors went to a woman who got to celebrate her 65th birthday onstage with Bruce. This was very evidently not the first show of the tour for a majority of the audience, and they were more than ready to celebrate the night's multiple special occasions. And there was still a big one to come.
After leaving "Rosalita" in a little café down San Diego way, Bruce made a signal to the band we'd yet to see on this tour: he held up ten fingers. Sure, he ended up finding a sign in the crowd afterwards requesting "Tenth Avenue Freeze-Out," but given the fact that it was soundchecked, you have to assume that he was planning to play it all along. And why wouldn't he? The song celebrates the event that ultimately led to Jake being able to celebrate his 36th birthday surrounded by 13,000 of his biggest fans: the creation of the E Street Band.
Though Roy messed up the introduction (a trend tonight for the tour debuts), it was everything that you could possibly want in a performance of "Tenth": an extra-long rev-up, Bruce in full-on preacher/James Brown mode, a crowd that knew every single joyous word. Tonight's version fell somewhere between the ecstatic, congregational style of the Reunion tour performances and the reflective, memorial style of the Wrecking Ball tour performances. And given what this tour seems to be about, that felt exactly right.
Near the end of The River performance every night, Bruce says that the album is about the finite time that we have, and how throughout your life "you walk alongside of your own mortality." In a way, "Tenth Avenue Freeze-out" may be the biggest reminder of the band's mortality in their entire catalogue. Though it wasn't accompanied by the Wrecking Ball tour's customary pregnant pause to let the crowd watch, an abbreviated version of the memorial montage from that tour was played tonight on the big screens as he sang the final verse, as "the change was made uptown and the Big Man joined the band."
Yet the montage was also superimposed over live shots of Bruce, who had made his way to the center platform to be surrounded by his adoring fans. Yes, this tour is very much about reflecting on the past — Bruce reflects throughout on the differences in perspective between his youthful River self and his current self — but this was a striking visual and musical declaration that as long as the band's up there and we're down here, the show will go on. Though many wondered how the E Street Band could survive after Clarence's death, here we are still rocking three tours later. And Jake is hugely responsible for that: he's a nightly reminder that this music will persist into the future, past the mortality of the original E Street Band members. Younger fans — and there seemed to be an inordinate number of families in attendance, perhaps because it wasn't a school night, including multiple signs exclaiming it was their first show together — will inherit the legend of the E Street Band from crowds like Rochester's and shows like Saturday night's.
We may walk alongside our mortality, but in a way, Bruce is in fact playing alongside of and in front of his own immortality every night in the form of Jake and these more diversely aged crowds. With the birthday boy on stage, Bruce on the center platform, and the crowd in between and all around, there were a literal lifetime's worth of memories and songs and stories and shows contained within the room that span from now all the way back to the origins of both The River and Jake himself, some of which were captured in the montage playing on the screens. It's safe to say that the legend of the E Street Band put forth in "Tenth Avenue Freeze-out" will not fade away anytime soon.
After a victory-lap performance of "Shout," the night of celebration had to come to an end, but not before Bruce took an extra few seconds alone on stage after the band had already left to soak in the crowd's deafening, joyful cheers one more time. Rochester?!... Rochester!
For the full setlist and reports from this and other recent shows,
see our Setlists page
- February 28, 2016 - Steven Strauss reporting - photographs by Bryan Lasky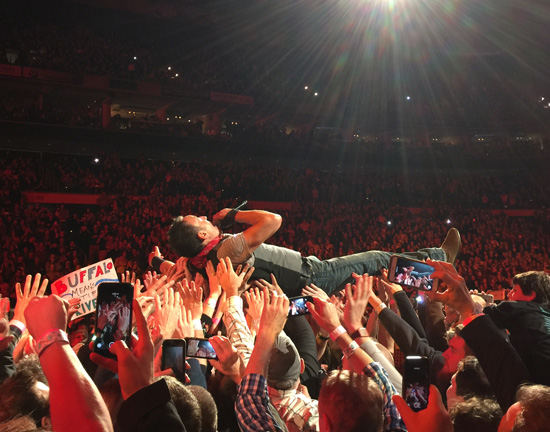 FEBRUARY 25, BUFFALO, NY: THE HEAT CAME DOWN
"This one's for the old timers." For the lucky fans within the walls of Buffalo's First Niagara Center who had escaped the chilly snowstorm outside, those six words uttered by Bruce midway through the evening introduced a smoking-hot, guitar-heavy stretch of three songs that proved to be the highlight of the show and epitomized the pure, unadulterated rock 'n' roll heat that Bruce and the band were slinging all night long at the crowd. By the time the 34-song set came to a close, the sweaty masses filing out of the arena — both old and new timers alike — probably wanted to jump in the piles of snow lining the streets of the city to cool off.
After the somber "Wreck on the Highway" conclusion of yet another masterful album performance, Bruce immediately got the crowd energetically "la-la-la-ing" back to their feet with the welcome return of "The Promised Land." And then, it was time to set the place ablaze.
For "the old timers," Bruce launched into the sole tour premiere of the night: a blazing "It's Hard to Be a Saint in the City." Though some may have expected a debut to be one of the excitement-generating soundchecked songs — "We Take Care of Our Own" and two outtakes, "I Wanna Be With You" and "Take 'Em as They Come" — Bruce instead decided to reach back for another rarity off his first album. This was the second show running to feature a tour premiere from Greetings after Cleveland's surprise "Growin' Up" on Tuesday. Perhaps the snow outside combined with the song's plethora of heat-related imagery inspired Bruce; perhaps it was the site of the album's only complete performance in 2009. No matter the reason, those in attendance — surely full of hot buffalo wings themselves — were treated to a blistering rendition of "Saint in the City," highlighted by Max's vicious drum solo and the customary, flame-throwing (yet too short!) guitar duel between Bruce and Little Steven.
Springsteen obviously felt good taking center stage with his guitar, following up "Saint" with a fiery "My Love Will Not Let You Down." Always a highlight, the song allowed him to rip off yet another scorching guitar solo. But no night full of E Street guitar solos is complete without letting Nils Lofgren command the spotlight for a few minutes, which he achieved with aplomb as always with his sizzling (and spinning) work on "Because the Night." The night belonged to guitars.
And yet, there was one more searing (don't worry, I'm close to running out of synonyms for "hot") surprise in store; after the main set ended with the usual song selections, Bruce opened the encore with perhaps his biggest love letter of a cover to red-hot rock 'n' roll: a feverish "Detroit Medley," which he dedicated to a Stephanie in the crowd for her 22nd birthday. Stephanie, Buffalo thanks you — not a bad present from the Boss for us all.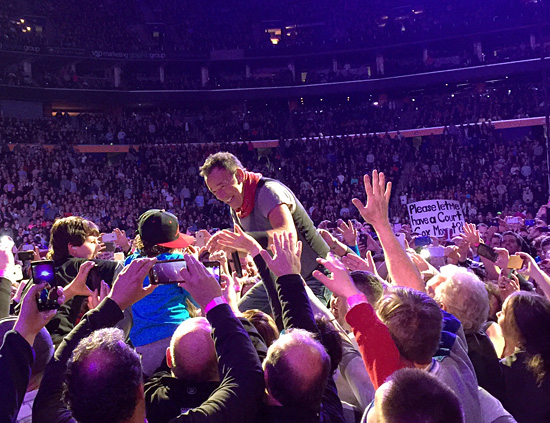 I've made a point of using as many heat-related descriptors as possible only because Bruce himself kept referring throughout the night to the snow descending upon Buffalo. For some reason, inclement weather of any kind tends to bring out the best in him. Rain, heat, wind, thunderstorms, snow... if there's any trace of these in the air, you know you're in store for a special performance, and tonight was no exception. Bruce repeatedly mentioned the poor weather conditions throughout the show, from changing the "Cadillac Ranch" lyric to "drivin' alone through the stormy Buffalo night," to noting the "little bit of snow out there — we like it!" during "Meet Me in the City." He was truly giddy from the get-go, starting the night by gleefully singing a riff on the classic opening line from "Buffalo Gals": "Buffalo won't you come out tonight?"
And what I'm sure many Buffalonians had come out tonight to see — the full River performance — was as stellar as ever. Bruce and the band once again found ways to add new little wrinkles throughout the 20 songs. To the tepid reaction he received to his nightly query "Who remembers their first kiss?" during the "I Wanna Marry You" introduction, Bruce responded, "Has to be more than that! How do you keep yourselves warm out there?!" Over the coda of "Point Blank" he poetically added, "Did you forget our love? Did you forget our pain?"
But the funniest difference in the performance of The River tonight belonged to Mr. Garry W. Tallent. Since Patti didn't make the trip to Buffalo, Bruce called on him to replace her call-and-response solo in "Out in the Street." Perhaps emboldened by the imminent release of his first solo album, Garry gave the slowest, completely off-tempo, yet coolest delivery of "meet me out in the street tonight." Keep doing you, Garry.
Though The River performance was as good as ever, Buffalo's show will probably be remembered for the consecutive sizzling guitar work on "It's Hard to Be a Saint in the City," "My Love Will Not Let You Down," and "Because the Night." This stretch should've reminded the tempest-tested Buffalo crowd that — to borrow and slightly alter a famous quote from Jon Landau — Bruce may no longer be rock and roll future, but he and the rest of the old-timers in the E Street Band on this River Tour are sure as hot hell the inextinguishable face of it right now.
For the full setlist and reports from this and other recent shows,
see our Setlists page
- February 26, 2016 - report and photographs by Steven Strauss


DOUBLESHOT: SOUTHSIDE & CLINCH ON THE BRUCE BRUNCH
If you're not a regular listener of the Bruce Brunch — or if you happened to be on the road in Lousville — you might have missed Sunday's installment. And with both Southside Johnny and Danny Clinch in the 105.7 The Hawk studio at the same time, it's a conversation not to miss. Good thing there's video. As host Tom Cunningham tells us: "Unintentionally, they arrived at the same time. I decided to put them on together, and it turned out to be a career highlight.

"

Southside Johnny is playing the Stone Pony with the Asbury Jukes this Friday and Saturday, behind their new record Soultime! Clinch, fresh from his 60 Minutes profile, is a co-chair of the Asbury Park Music in Film Festval in April.
- February 25, 2016


FEBRUARY 23, CLEVELAND, OH
I was a college freshman when The River was released. It was the first record I remember buying for my own turntable, to play through my own receiver, and to hear on my own speakers. I still have that turntable, that receiver, and those speakers, too, and I still use them regularly. Felt like the best $150 I ever spent… until tonight's show in Cleveland, more or less.
The ticket I bought to my first show on the original River tour was $12.50, tax included. I still have the stub, too. That first show, Bruce played "Independence Day" and introduced its meaning to him, about talking to his dad late at night: "I never once asked him what he was thinking about... and later I realized that what he was doing every night was, he was sitting there dreaming... but what happened to him was... he didn't have the strength any more, or the power to begin to make any of the things that he was dreaming about real." And that felt so real to me. Now I know the things you wanted that you could not say.
Things have changed for me besides the ticket price. I met a girl and I settled down. Our son is a college freshman. I may be on the other side of that kitchen table now. Bruce said back at that first show, about holding on to dreams, "that's the hardest thing you gotta hold on to, so don't lose it." Bruce now refers to "Independence Day as "the kind of song you write when you're young," but maybe that's only because it's the younger person doing the speaking. Punctuated by Soozie's melancholy violin, the song hits as hard now as it did then. Harder, maybe, for all of us who have walked parts of that dark and dusty highway these 35 years.
By following the album's script, this tour almost forces internal questions. I remember that first listen, already knowing a few songs from radio broadcasts, with most of the others being revelations. The feeling of being suddenly kicked in the gut when the title song rolled around, and then the procession of disoriented and lost souls on the second record: their struggles, desperation, and lonely demises. Even "Cadillac Ranch" and "Ramrod," though they rocked out, weren't really happy songs.
How to make it all real and now, that's a challenge, and Bruce came through for Cleveland. He may have called out "Party noises, Pittsburgh!!" before "Sherry Darling," but he quickly corrected himself and with a laugh blamed the gaffe on seeing Joe Grushecky backstage before the show. The stage is no frills, but it gives each of the players their space, in a "front line" tonight consisting of Bruce, Steve, Garry (in Patti's normal place stage left, Patti not being present this evening), Nils, and Soozie, and a back line of Roy, Charlie, Max and Jake. Bruce has easy access to the audience on the perimeter of the pit, and to the first rows of the side; he uses that space to draw in the crowd. "The River" features the audience singing out "union card and a wedding coat." "Crush on You" is a sing-along, too, and if Bruce doesn't hit all the high notes of that one, so what? The audience doesn't, either. But Stevie does, in harmony — how did his voice get better?
Most of all, I think Bruce has drawn his own band closer in to the show. Stevie hasn't been engaged in the show like this in many years, but here he is providing vocal and instrumental support for Bruce song after song. Bruce enabled this in part by sometimes stepping aside himself: for a three-song stretch beginning with "I Wanna Marry You," Bruce doesn't play the guitar at all, as Steve takes lead. Then, after the guitar and violin blow-out of "Cadillac Ranch," two more songs without the guitar. Steve's 12-string support for a funereal version of "The River" and for "Fade Away" are notable high points (nevermind that Bruce flubbed the second verse of "Fade Away" tonight). And the harmonies! It wasn't so long ago that, after a televised performance of "We Take Care of Our Own," a musician friend emailed to say, about Steve, "I think he was singing 'Cadillac Ranch.'" On this show, the harmonies soar. The jaw-dropping moment for me is the "Here She Comes" introduction to "I Wanna Marry You," with Bruce pulling out maracas, and then trading the "little girl" line with Steve over and over again, so earnestly and soulfully that we're transported to another reality: these aren't mid-60's men anymore, and we're not greybeards in the audience; we're all romantics on our street corners, this is our shared moment, and for these few seconds we can even forget that the "love" in the song is just "youthful imagining." Other times, they would be goofy but no less spot-on; during "You Can Look (But You Better Not Touch)" they even appeared to toss in phrasing from the local frat rock classic, the Human Beinz' "Nobody But Me."
This show also reminds just how great the songs of The River are. It's easy enough to imagine grown-up themes; this record and these performances make them resonate. "Stolen Car" may be the greatest hidden gem of Bruce's career. There's the 1980 arrangement of "Point Blank," a soul-wrenching "Fade Away," an intense of "Drive All Night," in which Bruce seemed to intentionally go hoarse, only adding to the sense of desperation. Add a goofy crowd-stroll of "I'm a Rocker" (aka "I Maraca" for me), "The Price You Pay," and finally, the terrifying vision of "Wreck on the Highway." All songs just from the second disc, rarely played in the past three decades, now dusted off and played as if they were brand new.
The River album portion of the show ends with the reminder that time is limited, but of course, our time for the evening doesn't end there. For me, seeing this show finally for the first time, it could be, and I'd leave happy. It's that good. But for Bruce, it's not enough; for one thing, as long as The River is, it's not three hours. And it's not like he would send the crowd home thinking about a wreck on the highway. So bring on some Darkness-era rockers. Experience Nils blowing off the roof not just with one of his patented twirl-o-rama solos, but two, as the tour premiere of "Youngstown" followed "Because the Night." Bring out another "just for Cleveland" moment with a fun tour premiere of "Growin' Up." Bring Joe Grushecky and Johnny Grushecky on to the stage for "Born to Run," for those Pittsburgh party noises. Find someone with the coolest sign of the night and have a nice dance. Heck, find two someones, and have two dances, and let the second guy play guitar (Bana Moureiden is the girl with the cool sign, and Scott Williams is the guitar-playing guy). And finally, dance the night away with a sweat-soaked "Shout," and only then, after more than three-and-a-quarter hours, call it a night. The audience soaked it up until the very end, responding to every emphatic shout of "Cleveland!!" with a return shout of "Broooce!!"
Finishing the drive home in my own car, the memories from the arena still fresh, I wonder not so much when I'll arrive, or even how I'll get through Wednesday. I keep in mind that time has passed, and there are still dreams to keep and things to say.
For the full setlist and reports from this and other recent shows,
see our Setlists page
- February 24, 2016 - Matt Orel reporting - photographs by Rene van Diemen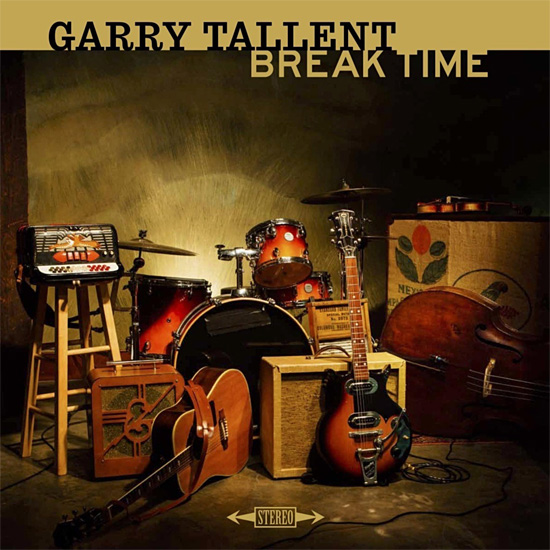 GARRY TALLENT GIVES US A BREAK
Garry's debut LP due next week — last chance to pre-order!
The last of the E Street Band hold-outs, Garry Tallent finally delivers his first solo album next week. Of course, many of the E Streeters have had notable solo careers: Nils Lofgren, Clarence Clemons, Little Steven... we hardly have to say their names. Patti Scialfa has released three albums on Columbia; Mighty Max celebrated his success on Conan with an album by The Max Weinberg 7. Honorary E Streeter Soozie Tyrell put out White Lines, and after several smooth jazz albums from Danny Federici, his keyboard compatriot Roy Bittan finally released his debut Out of the Box last year.
That has left one Garry W. Tallent, whose Break Time, due March 4, is a tribute to the music he loves — the classic rock 'n' roll he grew up on (and is a noted collector of), from rockabilly to rhythm and blues. The E Street Bassist switches to guitar for this album, tapping Johnny Cash bassist David Roe to play standup, part of a crack band of Nashville pals that also includes Los Straitjackets guitarist Eddie Angel. You'll also hear Nils Lofgren singing backup on the opener "Ooh, La, La" and Duane Eddy twanging away on "Promise to My Heart." In keeping with the era, and as you might expect from an old school record collector, the release is vinyl only — though he does make a concession to the digital age with a download of Break Time's 12 tracks, included free with the LP.
Garry spoke with Backstreets about the idea behind his long-awaited debut: "It's called Break Time, because it's basically an answer to all the fans who wonder what it is I do in between tours. They see me put on ice until the next tour, like I don't have a life otherwise," he laughs, "so it's kind of an answer to that. The fact is that I play, I have a band called The Long Players; we do shows, and I write, and I do my own music. These are my songs, and I've chosen the ones that fit into the mold of what I was trying to do: my tribute to the '50s, which has always been my favorite era of music."
Backstreets: When did you start songwriting?
Tallent: When I was about 12! But for the last 45 years, or however long it's been, I've kind of put that aside for my career as a band player. As the E Street Band became more popular, it really seemed redundant — because whatever I put out, it's going to be compared to Bruce. Even now, this record, I'm sure some people will expect it to be "Bruce Springsteen Jr." And it's not — it's my own thing. It's not headed for the Top 40, it's just the music I love being played with a bunch of friends. I'm happy to finally do it. I had a blast, and like I say, it answers the question: this is what I do on my break! We had a nice long break [after the High Hopes tour], and so I was able to put this together during that time.
These are all your own songs, some co-writes, but they're not all new. In your time as a Nashville producer, several of these songs showed up on other records, right?
Well, there have been no big, successful singles or anything like that, but yeah, I've had songs cut — some of the songs that are on the album have been cut by other artists.
We first heard "Tell 'Em I'm Broke" on the Southside record you did with him, Messin' with the Blues.
That's right. And Doug Kershaw cut "Bayou Love" — he does a guest vocal with me on my version, but he cut that for one of this records. You know, there are a lot of records that don't get heard. Henry Gross is a co-writer on at least one of the songs: "A Promise to My Heart" was on his album [Nothing But Dreams, 1996], but his version is very different from mine. And then some of them are brand new, which I've written for the album itself.
There are clearly a lot of early rock 'n' roll influences you're tapping here — who would you namecheck, in terms of inspiring these songs?
I think upon hearing it, it becomes quite obvious. There's Buddy Holly, there's definitely a song that's Buddy Holly-influenced; there's a Chuck Berry influence; there's a Lee Dorsey influence; there's I guess what I call Memphis Beat — all that stuff out of Memphis that's not necessarily Elvis, but that early rock 'n' roll that came out of Sam Phillips' studio post-rockabilly. Obviously, rockabilly is a thing. The single is very Wanda Jackson-inspired.
I saw Wanda play just a couple of years ago, and she was still fantastic.
I actually asked Wanda to do the duet with me on the single, but she was not in very good health at the time, so she couldn't do it. Which is the way it goes. Phil Everly was supposed to sing on the first track, the one that Nils wound up singing on, but two weeks after we spoke, he passed away. I actually got to the point where I was afraid to ask anybody else! I asked Duane Eddy, and he had a heart attack — he lived through it, thank God. Duane actually appears on the record. But I got to the point where I was afraid to ask anybody! But there aren't a whole lot of guest artists on it; it's basically the band, which I'm planning on taking on the road with me and having some fun.
Yeah, just like Nils, I know you had some dates lined up that you had to cancel because of the River Tour... do you have some sense of when you'll reschedule for? Or does it just kind of depend on what happens with the E Street tour?
Oh, everything depends on this band: The E Street Band is my number one priority. I've been in the band a long time, and I'm not gonna go off solo at this point in my life. This is just a side thing that I need to get out of my system, and the E Street Band... well, I'll be with it until I can't be anymore.
But as soon as we can get it together, we're gonna go out there and tour behind this. And I'm already working on the next album, which will be my tribute to the garage bands of the '60s.
Really? That's great!
Yeah, I'm not sure there's not going to be anything consistent about the things that I do. I'm just doing them now because I can.
And I bet Steve might be a good guy to play a part somewhere in your sophomore album.
We keep talking about working together, but he's so damn busy with his TV projects and everything else! He was gonna work on this one, but if we both had waited until our schedules actually aligned, things would just never get done. That's what's happened in the past. But I would love to have Steve with me on that. We'll see what happens.
And we do have a tour from you to look forward to, next time it's "break time."
Yeah, there you go!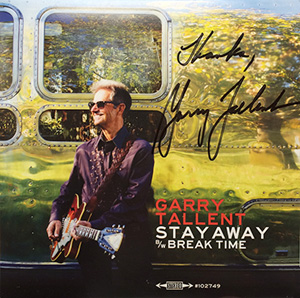 Pre-order Break Time from Backstreets for a chance at a limited, signed 45
Backstreets is taking pre-orders now for Break Time, a 12-track vinyl LP on Garry's new D'Ville Record Group Label. The LP has a very limited pressing of just 1,500 copies, and it comes with a free download code. Thanks to Garry, who autographed a stack of seven-inch singles for us, we've got a quite a few "golden tickets" we'll be slipping into Break Time orders as a bonus as we ship them out. In fact, we have 45 signed 45s to give away, "Stay Away" b/w non-LP B-side "Break Time," in a beautiful picture sleeve with photography and design by Bob Delevante. Each one is signed "Thanks, Garry Tallent." Only 500 of these singles were pressed, and far fewer bear Garry's autograph. Order now for a chance at one of these 45 copies, which we'll be inserting into packages completely at random as we fulfill pre-orders.
As of February 23, we've taken exactly 253 pre-orders for Break Time, which puts current odds of receiving one of the 45 signed singles at better than 1 in 6. Place your pre-order by this Friday, February 26, for a chance at a golden ticket!

Of course, Garry's busy on the road with the E Street Band, but with the official release of Break Time coming up next week, he's making time for a few promotional appearances — don't miss these coming up:
— Right now, you can listen to an interview with Garry on the new episode of the Keep Calm and Rock On podcast.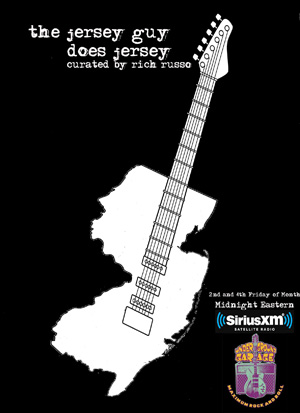 — This Friday night, you really don't want to miss a special program airing on Little Steven's Underground Garage on SiriusXM. DJ Rich Russo — aka "The Jersey Guy" — has put together an amazing two-and-a-half-hour program with Garry, featuring their extensive interview and lots of music. In addition to talking Break Time, they cover an incredible amount of ground, going way back to the Moment of Truth, Garry's first band in the late '60s, which also included Vini Lopez on drums. And not only do you get to hear about it, you get to hear it, with a live track from 1968. "Garry gave me a Moment of Truth tape," Russo tells us, "the first thing he played on." You'll find out how a vending machine might have affected the formation of the E Street Band. And just "crazy historical stuff," Russo says, "like the story of 'Fire,' and Elvis, and where the riff came from...." Tune in Friday night, February 26, at midnight Eastern (actually the wee hours of Saturday morning, February 27), on SiriusXM Channel 21, Little Steven's Underground Garage. The show will also be available On Demand via the Underground Garage app on March 4, the day of Break Time's release.

— Between the E Street Band's two Brooklyn shows, on Sunday, April 24, Garry will be appearing in person at Vintage Vinyl in Fords, NJ, for a signing event. Russo will be on hand to moderate a Q&A. Vintage Vinyl is also carrying the LP, and a pre-order from our friends there will include a wristband that gets you into the signing.

- February 23, 2016 - interview by Christopher Phillips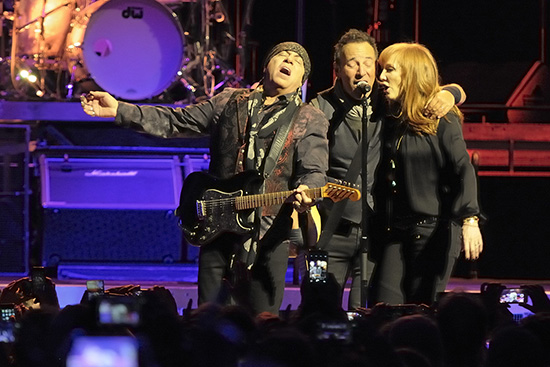 FEBRUARY 21, LOUISVILLE, KY
For all the River Tour's delights (Yum!), it hasn't exactly been a free-for-all. Even aside from the setpiece of the album performance, which we knew wouldn't change, the encore has been suprisingly static. For the past few weeks it's started with "Born to Run" and ended with "Shout," and you could generally predict what would be in between. So it was a particular treat (Yum!) when we could see Bruce and the band scrambling on stage after "Thunder Road": finally, a sighting of the ever-elusive audible. And instead of launching into a lights-up "Born to Run" as usual, Bruce gestured to the balcony behind him where there had been a request sign appearing throughout the night.
"We don't play this one too much, but we'll do it for these two guys back here — you guys have been with me all night long. You had the sign! You had the sign, I don't see the sign, but I know it was there! This is for you guys."
It was a thunderous, full-band "Born in the U.S.A.," the first appearance of the song on this tour, Bruce singing "Forty years burning down the road." With a gruff vocal, loud synths and a lot of power, it was in keeping with the band's performance all night. Louisville was a hot show all around, with a strong, vigorously played post-River set that carried momentum from one song to the next, "Badlands" into "No Surrender" and beyond. Tracks from 2002 that can sometimes feel tired — "Lonesome Day," "The Rising" — were dynamic and inspiring, and that energy carried all the way through the encore.
For "Dancing in the Dark," a sign advertising "5 Sisters, 1 Boss" got a quintet of same-shirted women onto the stage, and as Bruce partied his way through "Rosalita" and soaked himself down for a "Shout" that actually felt fresh, you had the feeling that he could go all night. But of course "Shout" would have to be the end, right? Like always? Nope, there was our second encore surprise, as he came back to the mic to keep it rocking, boys. "It's too late in Lousiville!" Springsteen teased over and over, to escalating cheers from the crowd. "Are you sure? Are you sure?!" The sixth and final encore was "Bobby Jean" — not a shocker of a selection, certainly not the River outtake sign request Steve could be seen eyeing, but no one was complaining about this show going long.
All that, of course, was the icing on the cake (Yum!) of the exquisite River performance that formed the first two-thirds of the night. Springsteen described the album as one "where I was trying to find my way inside — my first series of records were kind of 'outsider' records, we were all part of a marginalized community on the streets of Asbury Park."
Part of what's interesting about following the River Tour is that the setlist may not change from night to night, but the songs themselves do. Bruce sings them differently, the band plays them differently. I'll remind myself here to compare various takes on "Point Blank" as the downloads become available. "Crush On You" has become even more of a blast now that Springsteen has stopped apologizing for it — letting go of the self-deprecation from earlier on, he rips into this "lesser" song, commits to it, and reminds us that novelty songs can rock your socks off, too.
The more talking from Bruce the better, for my money, and his commentary on the album's songs is expanding as well. "Drive All Night," which built to an astounding climax in Lousiville, now gets an introduction: "As we got to the end of the record, we were looking for a song that would sum it up. I was looking for a love song. We found this, something we'd cut back for the Darkness album, in 1977, in one take."
The attention and focus from the crowd on a song like "Drive All Night" — like "The River," like the emotional heart of the album that is "Stolen Car"— was one of the biggest takeaways of the night. This was the most respectful crowd of the several I've seen on this tour, first noticeable when there was actually quiet for "Independence Day," and it continued throughout the set for those slower songs that demand attention. There's a tendency to call these songs "quiet," but it struck me in Louisville that the band is introducing more dynamics as the tour goes on. "Independence Day" becomes so big and majestic, it's leaving sit-down ballad territory. But in the quietest moments, fewer distracted fans in the crowd really boosted the experience. It also fed the energy that sustained the barnburner back third and the feeling that it just couldn't have gotten too late for Louisville.
For the full setlist and reports from this and other recent shows,
see our Setlists page
- February 22, 2016 - Christopher Phillips reporting - photographs by Rene van Diemen

FEBRUARY 18, ATLANTA, GA
There was a moment at the end of the River Tour's Atlanta stop when Springsteen executed his last mini-jump, bringing the Isley Brothers' "Shout" to a close. It wasn't exactly a grimace — there was a small but noticeable release in his face. Whatever he was feeling in that millisecond, the rest of the Philips Arena was feeling it as well.
If you're a hardcore fan sitting behind a laptop in Metuchen, NJ, you're going to write the show off due to the setlist. I know, I've done it myself. "Not special," we think to ourselves. But Thursday night saw the E Street Band in all of its power and glory playing a white-hot show in a market where it was relatively easy to score a ticket; a good ticket in fact.
The reason these particular shows are so wonderful is the level that the E Street Band is playing at. The old adage "addition by subtraction" seems to apply on this tour. Without the extraneous vocals, percussion, and horns, you get to the core of what the E Street Band can be about. More than the Magic tour or any I can think of, this is very much their garage band tour.
Part of this comes from the material they are featuring. Back when the High Hopes album was released, DJ Rich Russo tweeted (and I'm paraphrasing) "I prefer the arguments Steven lost to the ones Tom won." The subtext of this tour is about Steve Van Zandt as band leader and consigliere. Watching Steven on stage Thursday night, there were a number of times that he was truly basking in the crowd. After "Shout," while Bruce was off to the side holding hands with Patti and waving to the crowd, Steven was front and center, nodding up and down, hands outstretched like Pope Francis reveling in the reception they were getting. While the second half of the show is what drove the crowd wild, it's the performance of The River that is the diamond of this tour.
Sitting in Max's Coal Oven Pizza in the Marietta section of Atlanta Thursday afternoon, I was preparing my 12-year-old daughter for the show she was going to see. It was her fourth Bruce show in seven years, but she's still pretty new to The River. In the last ten weeks I've probably played The River as much or more than I played the original LPs back in 1980-81, to prepare her for this show.
"Rock 'n' roll bands often only get one real shot at a double album, and it's got to be at a time when they're firing on all cylinders and they've got the guts to think they've got that many great songs and that much to say," I find myself telling her. I start rattling off the classics — some she's heard, some she will: The Beatles' White Album, The Rolling Stones' Exile on Main Street, Husker Du's Zen Arcade, Stevie Wonder's Songs in the Key of Life, Bob Dylan's Blonde on Blonde, The Clash's London Calling, Prince's Sign of the Times, The Who's Quadrophenia, and on and on.
The River lands somewhere in the Top 3 of those titles for me (don't ask the other two, it changes daily). What I've come to realize is that when these River shows were announced in December, it seemed easy and safe. How often has Bruce started a tour behind a record and, 30 shows in, the ratio of new to classic songs flip? This time, he and the E Street Band are locked into this format, and it's demanding of both the people on stage and the people in the seats. Having caught my second show, playing The River start to finish is far more ambitious than I originally considered.
Most bands on the road would look at Springsteen's setlist from Thursday and start their shows with "Prove It All Night" and end with "Shout," with maybe another song or two thrown in for 90 to 100 minutes of music, and the crowd would go away happy.
There were so many great moments Thursday night, especially during The River segment: Soozie's understated violin in "Independence Day"; Bruce's electric 12-string during "The Price You Pay"; the subtle spotlights on Charlie, Garry, Max, Roy and Bruce during "Drive All Night" as well as the "Dream Baby Dream" section of the same song; Roy's sonic organ that moves the tempo forward on songs like "The Price You Pay" and "Brilliant Disguise"; Nils' acoustic guitar adding dimension to "Wreck on the Highway," Bruce's beer chug at the back of the pit in the middle of "I'm a Rocker"; the dedication of "Born to Run" to the Atlanta Community Food Bank and longtime Atlanta concert promoter Alex Cooley; and finally his dance with a woman fighting cancer during "Dancing in the Dark" topped off a wonderful night of crowd interaction.
But none of that can be witnessed or expressed in a setlist on a laptop.
For the full setlist and reports from this and other recent shows,
see our Setlists page
- February 19, 2016 - report and photographs by Bob Zimmerman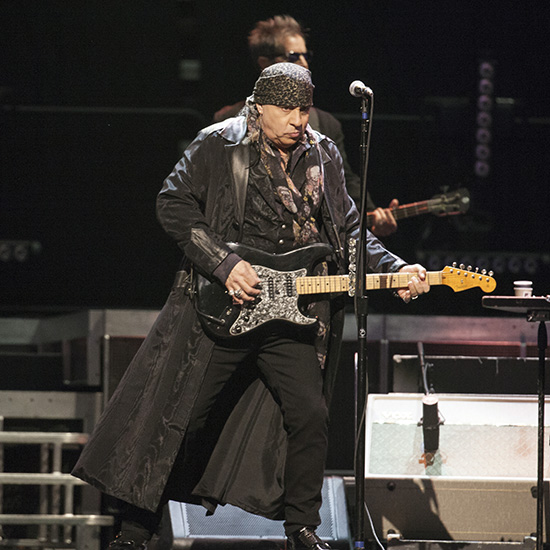 ROCK AND ROLL FOREVER: "SECONDARY TICKETING" WE CAN DIG, BABY
Rock and Roll Forever Foundation founder Steven Van Zandt has made available a limited number of tickets for The River Tour. Packages include prime seating (or a pit ticket), as well as a pre-show meet-and-greet and photo with Stevie.

All proceeds benefit the Rock and Roll Forever Foundation. If you're shut out of a show but would rather your money go to a great cause than to scalpers, then this is sweet charity for sure (packages are tax-deductable, minus the face value of your tickets). Visit teachrock.org for ticket and pricing information.
- February 18, 2016 - concert photograph by Lisa MacIntosh [Toronto 2/2/16]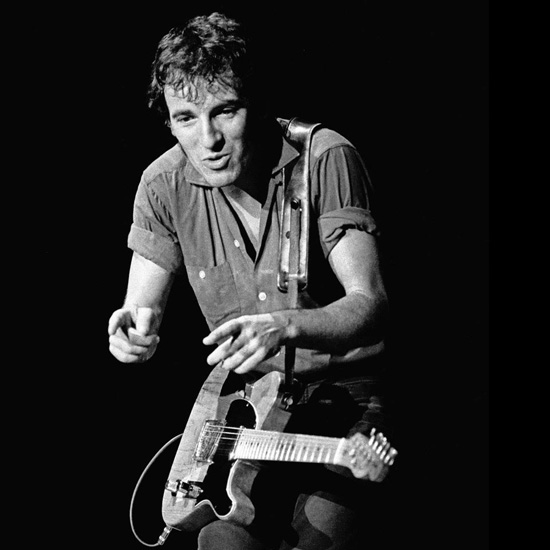 SHIVE ARCHIVE REVISITS THE ORIGINAL RIVER TOUR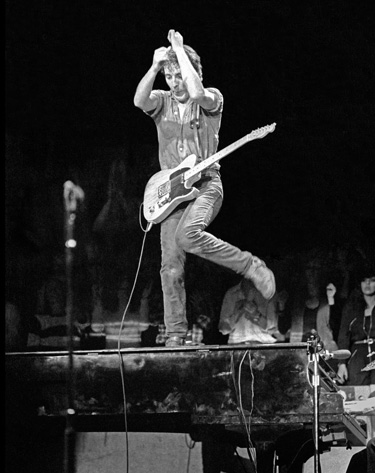 Inspired by the current and ever-expanding 2016 River Tour to look back at the original River outting in 1980, rock photographer and longtime Backstreets contributor Jim Shive of ShiveArchive.com is once again sharing a new gallery of never-before-seen images of Bruce Springsteen & the E Street Band.
Carefully chosen over the last several weeks, Jim dug deep through his archives to present "The River Collection Outtakes," an additional online tour of rare images captured on December 31, 1980. It was a historic night, one of Springsteen's longest ever (and officially released as part of the nugs.net download series), and Shive was the sole professional photographer on that memorable New Year's Eve. We've got some sneak peeks here, including a dance with the devil with the blue dress on... view the entire gallery of more than 25 newly uncovered images at shivearchive.com/river-outtakes.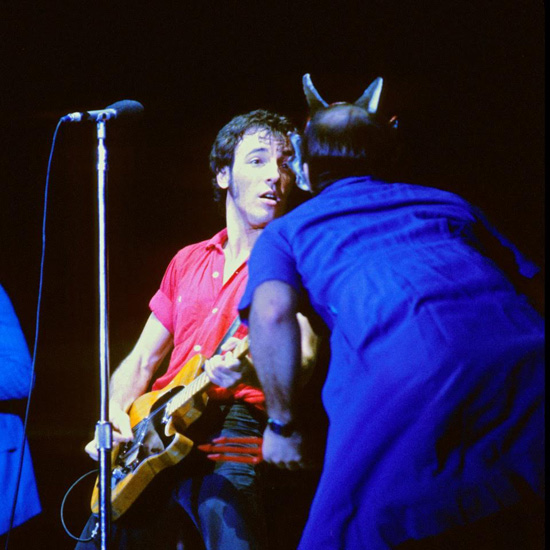 These outtakes supplement Shive's recent "River Collection" of Limited Edition prints, with additional Giclee Open Edition prints in smaller size prints to satisfy the hungriest Bruce hearts, fans and collectors. Backstreets readers, as always, will receive a special discount on all images, use code RIVER2016 to save 50 bucks at ShiveArchive.com.
- February 17, 2016 - photographs by James Shive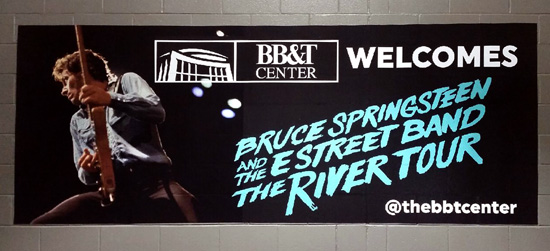 FEBRUARY 16, SUNRISE, FL
Thirty-five years down the road, the only thing that changed was the road. It seems like yesterday, nine of us stuffed in two small cars singing Bruce classics along the Indiana Toll Road to the Chicago Skyway, Dan Ryan and Kennedy and finally Lawrence Avenue and the already-seen-better-days Uptown Theatre. It was October 1980 and The River album was still on trucks, yet to be delivered to your now-long-gone neighborhood record store.
Times change, life changes over and over and, as the man says, it comes right at you. So this time the road was Alligator Alley, those Midwest winters finally too much to take, and just two of us headed off to someplace called Sunrise and a building named after a bank, with The River in a fancy box with lots of other stuff.
To this day I am convinced the only thing that rivals a Bruce show (and it is surely a show, not a concert) is the anticipation of it, and that just seems to raise the stakes. After all, we endured the online ordering nightmare wishing for the days when we stood outside for hours until our local Sears store with a ticket machine finally opened the doors.
But I did have a concern based on my only barometer for this tour, opening night in Pittsburgh. There was way too much chitchat that night, and that is being kind. Songs that resonated with me for the many decades were tainted by folks who were there for only old hits and arena-rattling rockers. As Bruce said again tonight as he led us down to the River: this album is about work, commitment and family. It deserves our time, our money and our respect.
I lucked out in Florida. The "best available" tickets turned out to be on the side of the stage, tucked in between Charlie's back and Soozie's side. And my newfound friends in section 122 were kindred spirits; they came for the music, all of it. A young lady in front of me even apologized in advance because she likes to dance a lot. I told her to just dance the night away.
By now you know the drill, and probably the setlist, too. No surprises, no premieres, and maybe one fulfilled request. So we'll go straight to the highlights, which included Bruce looking quite happy to escape the winter weather for this solo date in the Sunshine State.
I knew going in that "Independence Day" would be the litmus test for the entire evening, the first of the straight-from-the-heart treasure chest on the album. It was treated around me just as it was those nights at the Uptown, some couples even holding on to one another and just moving their lips.
The trio of "Out in the Street," "Crush on You," and "You Can Look" stood tall among the rockers, even more so than the old standbys of "Cadillac Ranch" and "Ramrod." Still, it was another threesome that would define the night, if you were in the right place with the right people, and tonight it was like winning the trifecta at a Florida greyhound track: "The Price You Pay," "Drive All Night," and "Wreck on the Highway" quietly soared, bringing me back to a place that I thought was long gone. Imagine, if you will, any tour of the last decades where you got all three in one night. I dare say you would have floated out of the arena.
Other notable moments included a marriage proposal in the rarified air of the third level during "I Wanna Marry You"; Jake at one point taking over duties on the harmonica; and Steve taking the stage for "Meet Me in the City" (a song that was finally well received, by the way) looking like a clone of Darth Vader or Johnny Cash.
Not everyone was as lucky as me tonight — reports from the pit of rude behavior were numerous, and it left a bad taste for many of the tour diehards. But as I walked out into the beautiful Florida night I thought about those many days and nights along the trail with Bruce and E Street since the Uptown Shows. I wouldn't change a thing and lets hope the sheer joy of The River never changes, either.
For the full setlist and reports from this and other recent shows,
see our Setlists page
- February 17, 2016 - Mike Collins reporting

SPAIN & SCANDINAVIA NOW ON THE MAP FOR RIVER TOUR 2016
The most recent additions to the European tour: three Spanish dates in May (Barcelona, San Sebastian, Madrid), and stops in Copehagen, Gothenburg, and Oslo in June. See the updated itinerary on our Tour/Ticket Info page.
Update: Belgium!
- February 17, 2016

PHILLY THROUGH THE LENS OF FRANK STEFANKO
As Bruce and the band head for sunnier climes, with tomorrow night's concert in Florida, let's take another look at the last show — February 12, in Philadelphia — through the eye of The River cover photographer himself. Frank Stefanko and his camera were at the Wells Fargo Center on Friday night, capturing moments from soundcheck to the return of The Philly Elvis on "Dancing in the Dark." It was just one day after the announcement of Springsteen's forthcoming memoir, which gives Frankie yet another "Springsteen cover" for his CV.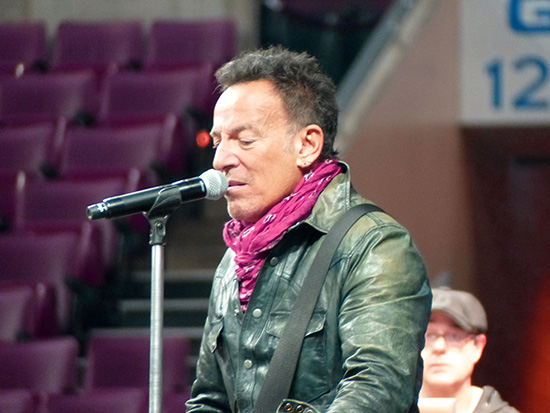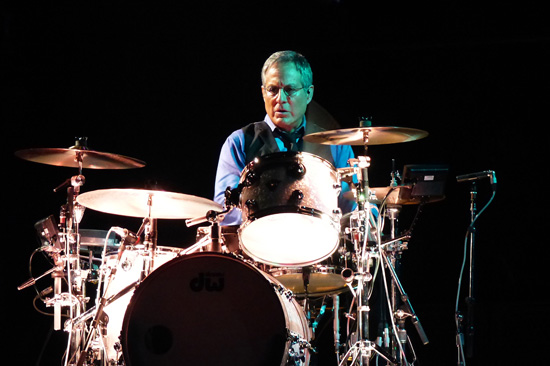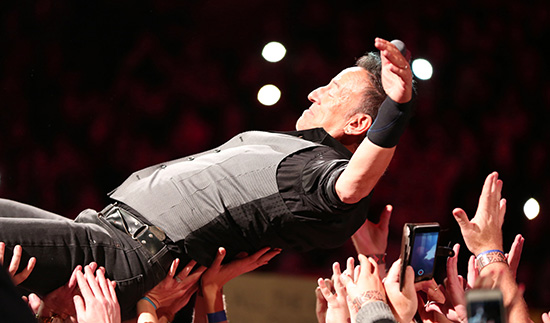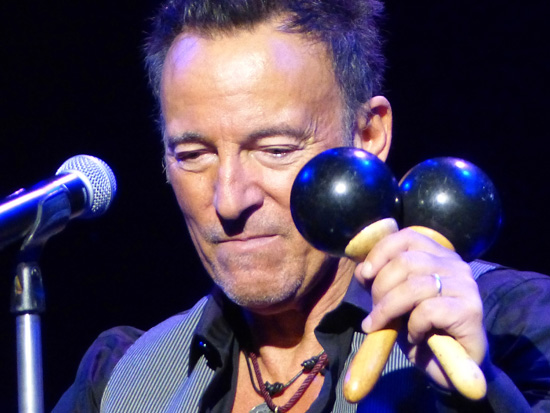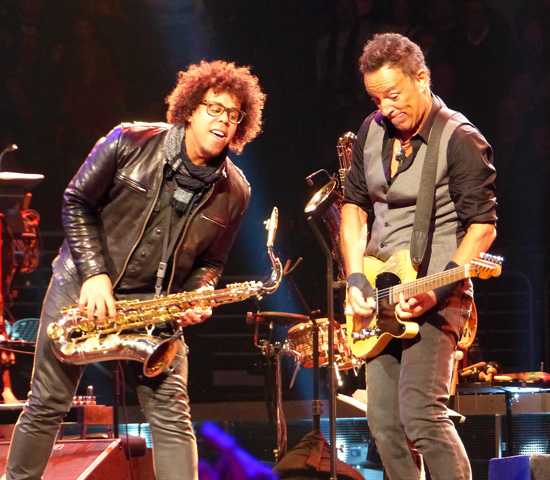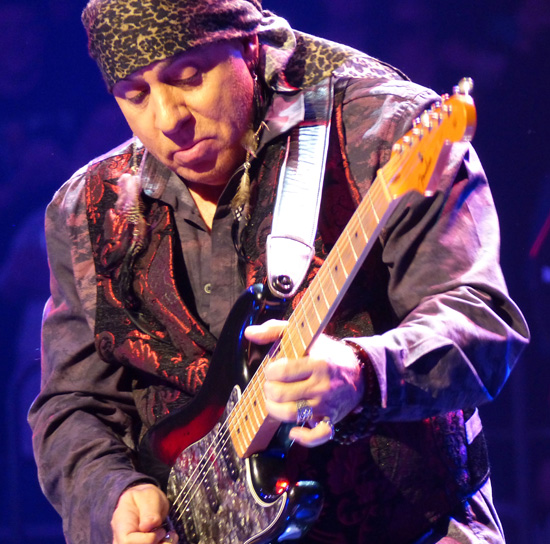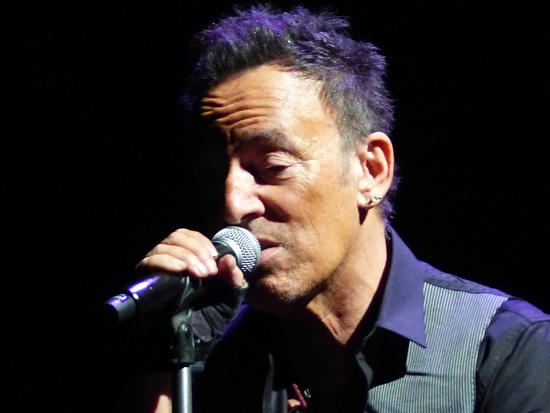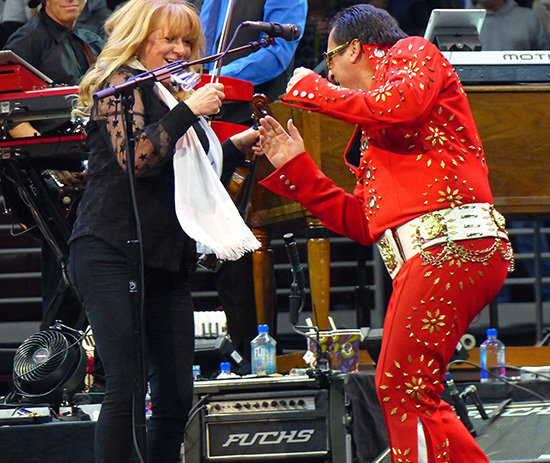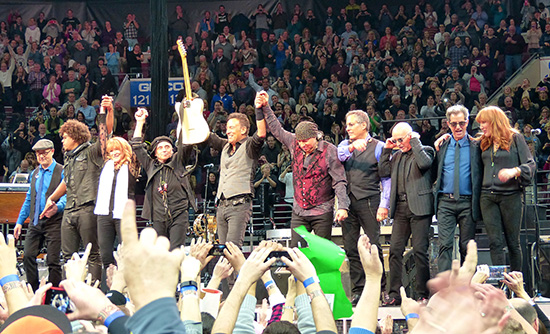 - February 15, 2016 - photographs by Frank Stefanko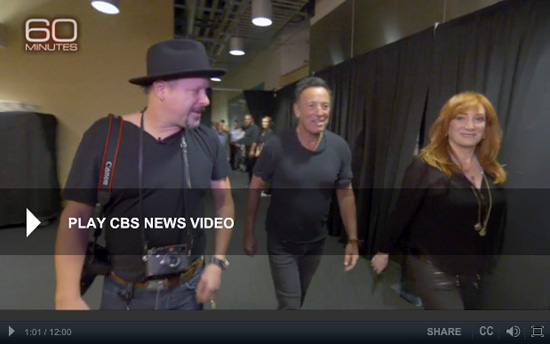 GUITARS, CADILLACS, ETC: DANNY CLINCH ON 60 MINUTES
Last night's 60 Minutes profile of photographer Danny Clinch is available to watch online now. As Anderson Cooper voiceovers, "Over the years, Clinch has taken thousands of pictures of Springsteen, and many have become classics." The CBS cameras go backstage with Bruce and Patti at the E Street Band's Pittsburgh opener and catch a bit of soundcheck, too; you also get a reminder of many of Clinch's "greatest hits," and a glimpse of him jamming with his Tangiers Blues Band. Watch the 12-minute segment at cbsnews.com.
At 60minutesovertime.com, some online extras: additional video and a photo gallery of Clinch's work.
- February 15, 2016



FEBRUARY 12, PHILADELPHIA
"The River was my coming of age record," Bruce Springsteen said before the second song of his only Philadelphia show this tour: "So, 30 years on, I want you to come with us as we go down to The River — let's see what we find."
Friday night's show at the Wells Fargo Center felt a bit more relaxed than on prior outings this tour, owing perhaps to the band's comfort in performing before a friendly, local, and boisterous audience. Taking the stage, Bruce greeted the crowd: "My brothers and sisters! We're so glad to be in the City of Brotherly Love," and asked "Are you ready to be entertained?" From the crowd's response, they were indeed. Bruce would grade the crowd's "Hungry Heart" participation as "A plus!"
A large contingent of the Springsteen family was present stage right (including an adorable sign reading "WE LOVE YOU UNCLE BRUCE"), providing additional subtext for "The River," as Bruce's sister and brother-in-law were acknowledged, and also as a foil for Steve, who had great fun reminding Bruce about what "Mama said" during "You Can Look (But You Better Not Touch)." It wasn't hard to recognize that Bruce's nightly introduction to "Independence Day," that "It's the kind of song you write when you're young and you're first startled by your parents' humanity," takes special meaning when his mother is watching. Bruce became audibly emotional at the end of the introduction, as he explained the setting, "a late night conversation around the kitchen table between two people that loved each other and were struggling to understand."
Bruce had more fun with his introduction to "I Wanna Marry You," as he came to the microphone gently shaking two sets of maracas, declaring that "Maracas are the instrument of love. They're the instrument of sex. Any idiot can do it." He shook the maracas some more, before continuing, "This song was a daydream, standing on the corner, watching someone you're never going to meet walk by. And you imagine this whole life with that person just by the way they're moving or walking. What your kids are going to look like, where you're going to live… You imagine the easiest kind of life, and it's all bliss, it's all first kisses. Who remembers their first kiss?" The crowd cheered in response, as Bruce referenced his story from "In Freehold," name-checking Maria Espinoza and his walk back home with a limp before starting the "Here She Comes," introduction. He stopped the band at the end, taking a pregnant pause, before cueing them and shaking the maracas in earnest for "I Wanna Marry You."
It wasn't until the second half of the record that the band's performance truly stood out with the introduction to "Point Blank," one of the most remarkable moments of this tour — one where even idiots yakking in the crowd (mostly) shut up because the musical vibration emanating from the stage demands such attention. It is gorgeous, and riveting, and remarkable, Steve on the Gretsch peeling off those Duane Eddy-esque licks, Garry in the back like some mysterious country gentleman, bass line reverberating. "Did you forget how to love? Did you forget how to fight?" Bruce added a refrain of these lines at the end, underscoring the theme of the song. And the nightly performances of "The Price You Pay" have helped the band finally exhibit the rollicking countrified masterpiece it is, complete with outstanding harmony vocals.
Bruce added a new introduction to "Drive All Night," explaining that when finishing the record, he wanted a love song for the end, and "went back into our archives and I found this, that we cut in 1977, I think, in one take." It's unfortunate that a Philadelphia crowd wouldn't rate additional actual outtakes from The River. The beginning of the encores feels like a missed opportunity, as a place where Bruce has in the past showcased rarities with great success. Tonight it was omitted, as Bruce counted right in to "Born to Run" as the house lights went up.
There was, however, a very welcome tour premiere of the Born in the U.S.A. outtake "My Love Will Not Let You Down," which was particularly energetic and rewarding, Max executing the solo with deliciously crisp precision and Bruce climbing up onto his amps to urge him on. Patti Scialfa returned to the stage for this show after two nights off and was featured on "Human Touch." Ordinarily a welcome highlight whenever Mrs. S. is there to sing with Bruce, tonight there was a different energy, even more intense, with a little Tunnel of Love flavor to it. Bruce wanted to sing with Patti and he wanted to play guitar with her too, locking eyes and keeping her close to the center even after the vocals were done. Happy Valentine's Day!
The big surprise of the night came next, as the familiar opening notes of "Jungleland" received a supersonic roar of approval and welcome from the crowd, as Bruce held the guitar aloft in the spotlight. Perhaps it was that applause that caused him to miss the cue for the first line of the second verse. He continued with a grin, and the crowd just sang louder in response. They cheered for Jake Clemons when he stepped up to play his uncle's signature solo, and they applauded in recognition as Bruce acknowledged him in the shadows after the solo ended. Come the final verse, as the band dropped out after "wounded, not even dead" there was silence, followed by a loud cheer, followed by a large "Bruuuce" before the Philadelphians joined Bruce for the final "down in Jungleland."
As "Shout" brought the proceedings to a close, Springsteen almost seemed ready to do one more song, but instead had the band keep modulating up in key changes as they circled back to the call-and-response portions of the song several times. The "Detroit Medley" will have to wait for another night, as Friday in Philadelphia was already the longest show of the tour to date, just short of three hours and twenty-seven minutes.
For the full setlist and reports from this and other recent shows,
see our Setlists page
- February 13, 2016 - Caryn Rose and Glenn Radecki reporting - photographs by A.M. Saddler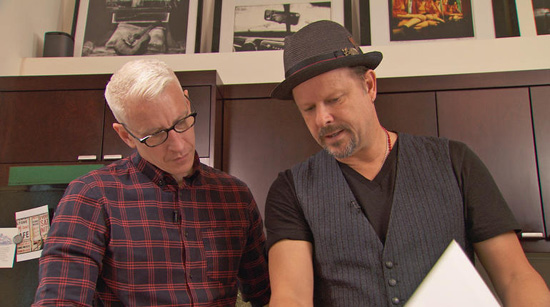 DVR ALERT: DANNY CLINCH ON 60 MINUTES THIS SUNDAY
When the River Tour kicked off in Pittsburgh last month, 60 Minutes cameras were there — not to capture the main attraction, but to focus on a photographer at work. Tune in tomorrow night to catch Anderson Cooper's 60 Minutes profile of Danny Clinch. In addition to being a go-to photographer for Bruce Springsteen, Danny has shot the Grammy Awards for the past 13 years; this segment airs on Grammy Eve, Sunday, February 14, at 7pm ET/PT on CBS.
- February 13, 2016 - CBS News photo

MEET ME IN THE CITY OF BROTHERLY LOVE TONIGHT
Not surprisingly, excitement has been building all week for Bruce Springsteen's return to his "home away from home" in Philadelphia, one of the original support-bases for him and the E Street Band. The Philadelphia Inquirer published Dan DeLuca's moving remembrance of the original River Tour's Philly shows back in December of 1980, as news of John Lennon's murder shocked and saddened the world. The Inquirer also reported that Philly's new mayor successfully sold his block of Springsteen tickets to help the troubled public-school system of the nation's poorest large city. And don't be surprised if the late, great Ed Sciaky, who recently earned his Asbury Angels wings, is spotted flying over South Philly to catch tonight's show.
- February 12, 2016 - Shawn Poole reporting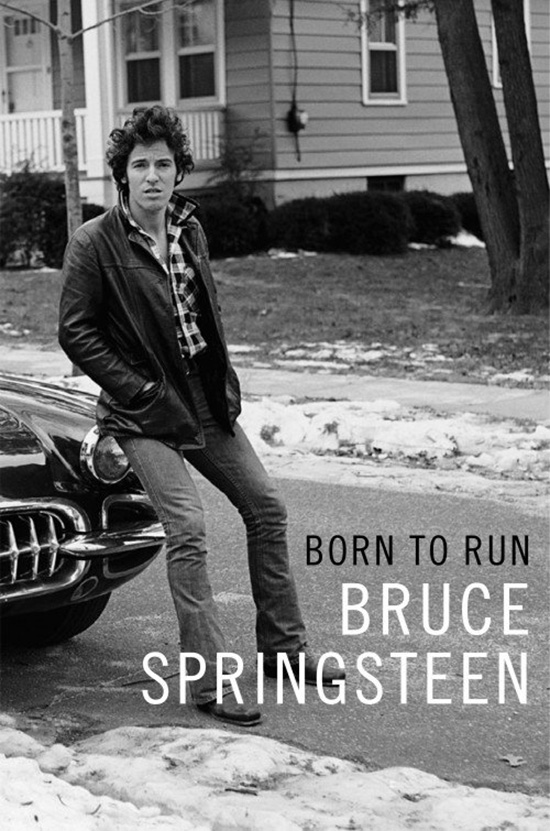 SPRINGSTEEN AUTOBIOGRAPHY TO BE PUBLISHED IN SEPTEMBER
Chatter about a memoir from the Boss began in 2009, when the New York Post reported, "Bruce Springsteen is said to be quietly working on his autobiography. Publishing insiders are already panting for the book — even though there is no manuscript yet."
A few years later, Bruce was asked about it directly at a Paris press conference for Wrecking Ball, and he seemed to feel the idea had lost its luster: "I wrote a little bit, and then I stopped for a couple of years. I haven't looked at it in quite a while. It's one of those things... I wrote a little bit at one time, but then I see in the newspaper that everybody else is writing them, and so you don't want to be just another goldfish in a bowl."
But clearly Springsteen kept at it, and seven years later, his autobiography will be published this fall, the week of his 67th birthday. While Bruce joked about a few potential titles in 2012 — The Handsomest Man in Show Business!... My Story!... I Believe... According to Me — the far sturdier Born to Run is due September 27 from Simon & Schuster. On the cover, Frank Stefanko's classic "Corvette Winter" shot from 1978.
In Born to Run, Springsteen describes growing up in Freehold, New Jersey amid the "poetry, danger, and darkness" that fueled his imagination. He vividly recounts his relentless drive to become a musician, his early days as a bar band king in Asbury Park, and the rise of the E Street Band. With disarming candor, he also tells for the first time the story of the personal struggles that inspired his best work, and shows us why the song "Born to Run" reveals more than we previously realized.

"Writing about yourself is a funny business," Bruce notes in his book. "But in a project like this, the writer has made one promise, to show the reader his mind. In these pages, I've tried to do this."
Also as noted in a press release this morning, Bruce's writing began "after performing with the E Street Band at the Super Bowl's halftime show," a reference to Springsteen's diary from the big 2009 event that Thom Zimny turned into a short film: Bruce Springsteen: A Superbowl Journey.
Born to Run will be published in hardcover, ebook, and audio editions by Simon & Schuster in the United States, United Kingdom, Canada, Australia, and India, and rights have already been sold to publishers in nine countries.
- February 11, 2016


FEBRUARY 10, HARTFORD
Nine shows in to the 2016 version of the River Tour and, as on past tours, things are finally starting to loosen up. The big story is that, for the third show in a row, the post-album set featured the tour premiere of another River outtake. Although not everyone in the Hartford crowd seemed to either recognize "Loose Ends" or realize the significance of getting another lost classic, a powerful performance left the cognoscenti overjoyed.
The second item of note is that, for the second show in a row, Patti Scialfa was missing from the E Street Band, with no explanation from Bruce. Or maybe it was acknowledged by him, as "Bobby Jean" made an appearance in the encores for the second show running, serving as the vehicle for the band intros as well. Without Patti, Garry Tallent stepped up into the front row, and Bruce put him on the spot early on, calling for him to sing on "Out in the Street." Garry seemed as shocked as anyone, but he recovered nicely to squeeze the line in. Throughout the night, Garry seemed to be more animated, after being liberated from the back of the stage.
The River album itself is showing positive effects of repeated playings, with different arrangements of songs starting to make their way in. Bruce has poked fun at "Crush on You" in the past as being a lightweight throwaway. However, since it is being played every night, the song is starting to fill out, sounding for all the world like a great Rolling Stones cover. "The Price You Pay" emphasized Garry Tallent's bass, particularly on the last verse. "Drive All Night" included the repeated refrain "I just want to see you smile" from "Dream Baby Dream." And maybe it was just wishful thinking, but "Ramrod" seemed a little faster.
Bruce introduces the album section each night stating that he wanted the River album to feel like an E Street Band show. With these fresh, evolving arrangements — and don't forget the extended intros to "I Wanna Marry You" and "Point Blank" — this is happening, as the live version of the record becomes more and more like a setlist, as opposed to just an album being run through in order.
Something that is really apparent from listening to the album over and over again in a live setting is how saxophone-heavy The River is. Throughout the reunion era, Springsteen's compositions have trended away from the sax-heavy, classic E Street sound that turned Clarence Clemons into a folk hero. But The River album itself is dominated by Clarence's sax (as well as Roy Bittan's piano and Danny Federici's organ — when it was released in 1980, one of the most common observations about the record was how the guitar took a back seat). For any sax player, there's a lot of heavy lifting to do with The River as the setlist. Add in that Jake is the only horn on the stage (after playing with an entire section on the Wrecking Ball and High Hopes tours) and the job becomes even larger. Jake doesn't have Clarence's power, but then again, who does? After all, time and again, Bruce referred to Clarence as a "force of nature." There are times when the difference is noticeable on the album tracks. But Jake would probably the first one to acknowledge the huge shoes he's got to fill, night after night. His salute to his uncle before the solo on "Thunder Road" is a regular reminder of that.
The post-album set was heavy on material from Born in the U.S.A., as "Bobby Jean" and the usual "Dancing in the Dark" were joined by "No Surrender" and "Cover Me" which led off the second set. Although it was on the setlist, Bruce dedicated "No Surrender" to a deserving sign maker, who wrote "Chemo yesterday, The Boss tonight."
For the full setlist and reports from this and other recent shows,
see our Setlists page
- February 12, 2016 - Lowell D. Kern reporting - photographs by Barry Schneier

TICKET ALERTS: THE EVER-EXPANDING RIVER TOUR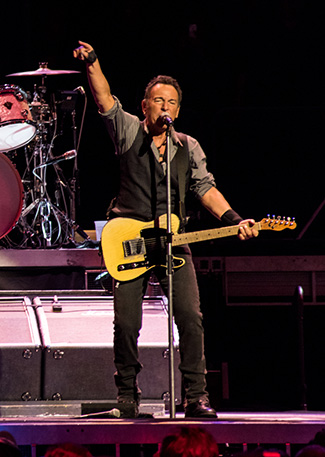 With a stop in The Hague added to Bruce Springsteen and the E Street Band's 2016 itinerary today, along with a recently-added Dublin date (info here), the European tour schedule is coming in dribs and drabs. But it is coming, with dates now lined up for May, June and July. With no big list on a press release just yet, keep an eye on our Tour/Ticket Info for new tour stops as we confirm them.
Also this week, dates were confirmed for Portland (3/22) and Seattle (3/24). Both go on sale this Friday, and there are several other onsales imminent. Here's what's coming up (all times are local times as usual):
on sale Thursday, Feb. 11
9am: Dublin, IE
on sale Friday, Feb. 12
10am: The Hague, NL
10am: Portland, OR
10am: Seattle, WA
on sale Saturday, Feb. 13
11am: Rome, IT
- February 10, 2016 - photograph by Barry Schneier

MAX WEINBERG AND THE SIXTY-PER-CENT SOLUTION
Following his recent interview with Bruce Springsteen for Rolling Stone, David Fricke is back with another River Tour Q&A, this time with Max Weinberg. Along with discussing the current outting, Mighty Max also looks back to the River era and some "tough love" from Bruce during those album sessions:
"Our modus operandi in the studio was to literally play thngs 30 or 40 times. To maintain your focus over 20, 30 takes, as a drummer, is next to impossible. I had to make the transition from being a young, talented, energetic drummer to grasping the true role of the professional. The instruction from Bruce was, basically, 'Talk to the guys you admire. Find out how they do it.' It was a little more forceful than that [grins].

"It was a wake-up call. It was during the recording of 'Out in the Street.' He took me down the hallway, and we had a face-to-face. Three minutes. Then we went right back in and recorded [the B-side] 'Be True.' Immediately, I was 60 percent better. What he transmitted to me was a little bit of tough love: 'I know you can do this. I believe in you. You need to apply yourself.'"
Read: Max Weinberg on 'River' Tour, What He Learned From Bruce Springsteen
- February 9, 2016


BLACK THOUGHT ON BRUCE
Remember when The Roots joined Springsteen and the E Street Band a few years back at Roskilde? If not, refresh yourself here... and treat yourself to some great storytelling above from the band's Tariq "Black Thought" Trotter. Recorded live for WNYC's Snap Judgement, Tariq's story includes his memories of that playing with Mr. Springsteen at that 2012 festival: "For me, it was a career high — I've never felt more American. I've never felt like more of an ambassador of the arts."
- February 9, 2016


FEBRUARY 8, ALBANY: YOU PROVE IT TO ME AND I'LL PROVE IT TO YOU
As the now-customary set-closer "Shout" was winding down at the end of Monday night's concert in Albany, I was fully prepared simply to go home, slip into my PJs, and write a normal recap of the show... until Bruce took an uncustomary break near the end of the song to survey the crowd one final time while repeatedly saying "Now all I got to say is... " Random people shouted back equally random responses, to which Bruce said "That's good... that's good too... "
And then he looked right at me.
"Alright, this one's going out to my man in the checkered shirt."
Wait, I thought to myself, I'm wearing a checkered shirt... and I'm a man! But no, I can't be his man — since I'm very aware that Bruce has perfected the ability to stare/point/gesture at various spots in the crowd that make multiple people think he's personally addressing them exclusively, I assume he must be talking about some other man in a checkered shirt. As such, I put on my best inquisitive face and tentatively point at myself, waiting for Bruce not to respond so that I can go back to my usual anonymity. Well...
"That's right — you brother!"
The crowd's eruption into cheers pale in comparison to the multiple nuclear bombs going off in every corner of my cranium.
"I see you every night... come backstage after the show! Let's give him a round of applause... "
The crowd's shockingly loud round of applause drowned out whatever Bruce said next on my mother's recording of the moment, as did the bells of joy ringing in my ears in the moment. I guess now would be a good time for some brief backstory:
Since I recently quit my job to pursue a lifelong dream of becoming a writer, I was afforded the rare yet incredible opportunity to follow Bruce and the band around to as many shows as possible on this tour. Though I'm not going to every show, I've been to every one thus far, which explains Bruce's "I see you every night."
Regarding the checkered shirt: I happened to be wearing it when I "won" the very first GA lottery in Pittsburgh, and being a superstitious fella, I've worn it to every show since, quickly becoming a rather lucky shirt for yours truly (I promise I wash the shirt in between every show... for the most part… and there's a t-shirt line of defense between the button-down and my profuse sweat every night. Thus ends my note to all of you hygienists out there).
But it wasn't only the checkered shirt that got me noticed by the Boss in Albany (and the other shows before that): I have been told on countless occasions — by people standing next to me and by people sitting way up in the rafters — that I'm by far the most expressively enthusiastic audience member in the building. I sing (hopefully not too loudly for those standing around me) all of the words, I dance to all of the songs, I jump up and down, I cry, I fist-pump, I air guitar, I do things that no one has figured out how to describe in words yet. Basically, I'm a joyous ball of energy, and apparently Bruce has taken note over the course of the shows on this tour, which is why he singled me out at the end of the evening in Albany in front of 20,000 fellow fans.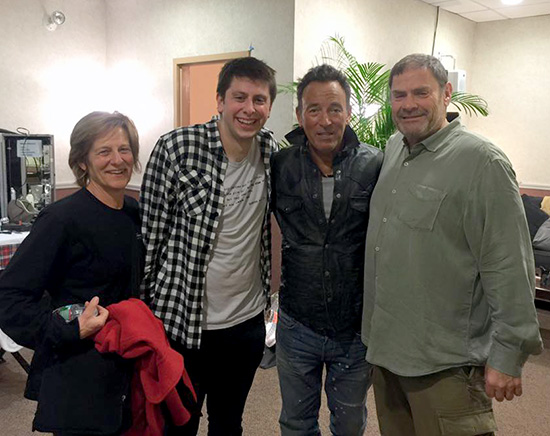 I won't go into detail as to what transpired during our backstage chat because that will stay between myself, Bruce, and my parents (who joined me backstage because I wouldn't be here without them for so many reasons — shout out to Bill and Margie Strauss!), but I will say that everything you've heard about meeting Bruce in person is 100% true. It can't be easy meeting so many people that consider you to be their hero, yet Bruce somehow exceeded my expectations, as he does with almost everything else.
I will say that he thanked me for the nightly passionate energy, which I only want to share because I think it's the moral of this story. I, more than most, have experienced this tour's relatively static setlists night after night, yet I've made a point not to let it diminish my love of these shows. I refuse to lose sight of the reason that made me decide to spend far too great a percentage of my money on all of these shows. You don't have to be Nostradamus to know that Bruce and the band have way more shows behind them than they do ahead of them, and I have reveled in the opportunity to see what may become some of the final concerts in the legendary reign of Bruce Springsteen and the E Street Band. I focus on the fact that future generations will kill to be able to experience any of these shows, in the same way that I would kill to be able to experience even the worst show on the Darkness tour.
I have these thoughts in the back of my mind every night. As such, it doesn't matter if I'm in the front row (thanks to the lucky checkered button-down!) or the back of the floor, I dance and sing and rock out like there's no tomorrow, because none of us really know how many tomorrows Bruce and the band — or any of us — have left. That's why I will throw my hands up every single night to come on up for The Rising, because in the future, I know I will give anything to be able to go back and experience just one more of these shows, setlist be damned.
So that's my plea to you: enjoy these shows as fully as humanly possible. I understand there's a lot to nitpick — as there always is with everything in life — but you're going to forget those nitpicks once Bruce and the band hang up their guitars for good. For now, dance until your body feels like it's going to collapse, sing until your vocal cords go hoarse, and rock out like you've never rocked out before. Bruce and the band clearly notice, and they feed off that energy, making all of these already incredible shows that much more special and memorable. You'll enjoy the shows more, Bruce and the band will enjoy the shows more, and we'll all go through this tour singing and dancing and rocking out in beautiful harmony as the increasingly death-defying E Street Nation. And who knows, maybe Bruce will even notice you. As someone I met on Monday night once wrote, "faith will be rewarded."
One final note about this whole ludicrous experience: the support that I felt from fellow fans both inside and outside of the Times Union Center in Albany on Monday night just made the evening that much more special. As I said before, the crowd's response to Bruce calling me out was overwhelming, as was everyone who came up to me to give me high-fives, hug me, call me their hero, etc. etc. etc. both as I was heading backstage and after the show as I was wandering around Albany in a complete daze of ecstasy. Instead of the expected jealousy, everyone seemed legitimately thrilled for me, and they all wanted to hear about what happened and to congratulate me; simply put, they just wanted to share in my special night. I've never felt more like a celebrity, and I think that's what's most unique and amazing about the community that Bruce's music has created: it can make an average joe like me feel like a special member of an even more special community of like-minded fans of the Boss. In a time that feels like people are more divided than ever, it was an unbelievable experience to feel like I'm a part of something that transcends everyday petty differences: an ardent love of the gospel of Bruce Springsteen and the E Street Band. And that's a love that nothing — not even the inevitable mortal hands of Father Time — can take away from us.
And now, back to our regularly scheduled recap (I'll try to be as objective as possible):
Throughout his career, one of Bruce's calling cards has been writing songs about "little" people, everyday folk who struggle to get through their days on the peripherals of society and who very rarely have songs written about their daily existence. Though the capital of the great state of New York, Albany can be considered a "little" city that few would mark as a must-visit destination on a tour itinerary.
And yet, rather fittingly, Bruce has a tendency to play memorable, gangbuster shows in such oft-overlooked working class cities full of the type of people that become the everyday romantic characters permeating his music. Bruce and the band's concert in Albany was yet another example of this uniquely Boss phenomenon, for they ripped through yet another outstanding outing at the Times Union Center on Monday night, one that may prove to be the first step towards really varying the setlists from night to night.
This setlist diversity was hinted at even before anyone was allowed into the arena: "Murder Incorporated" plus two River outtakes were sound checked: "Loose Ends" and "Be True." Though I was anxious to see which of these he was going to bust out for Albany, first came yet another marvelous full album River performance.
The most notable difference tonight: the absence of Patti Scialfa, who took the night off, allowing Garry to move down to occupy her space next to Steve on the front line (for all you Tallent-watchers, never fear: the move did not change the shade-wearing W's cool and collected energy one iota). Though Patti's background vocals were definitely missed on multiple songs (Jake replacing her part in the callback section of "Out in the Street" was priceless), Bruce made up for it by adding a few new bits into his usual song introductions, most memorably during his trip down memory lane before "I Wanna Marry You" when he asked the audience, "Who remembers their first kiss?!" and then immediately responded to himself with a chuckle, "Everyone remembers their first kiss... I remember all of my first kisses!"
Once they finished up "Wreck on the Highway," I was fully expecting them to launch into one of the soundchecked River outtakes, thereby cementing that spot in the setlist as the place to expect an outtake after premiering "Roulette" there in Boston on Thursday. And yet Bruce ended up skipping over the setlisted "Loose Ends" in favor of heading right into "Badlands." Though it's odd seeing such a landmark concert mainstay pop up in the middle of a set, Bruce must have had a very clear reason for making this quick decision: he likely sensed that sides 3 and 4 of The River— full of slow, beautiful ballads — had somewhat lost the Albany crowd, culminating in someone in the pit shouting, "If you want to talk, go outside!" to all those chatting their way through "Stolen Car." Bruce might have sensed the crowd's detachment from the material even earlier, as he decided not to ask for audience sing-alongs during moments when he usually does just that.
Though the diehard fans obviously want to hear those outtakes, Bruce must have recognized that he first needed to once again engage the vast majority of casual fans packed into the Times Union Center (as great as "Roulette" was in Boston, it didn't really land with that crowd in that slot). He followed up "Badlands" with "Wrecking Ball" and a soulful "Backstreets." Finally, he was ready to premiere another outtake; this time, he chose "Be True," introducing it as "a good one that got tossed in the trash, as many do" before dedicating it to "all our special friends." A fantastic performance of this beloved B-side led into "Because the Night," a great live song that felt a bit out of place here. Truthfully, this entire post-River song sequence felt oddly paced — full of strong songs, but played in a weird order.
And this brings me back to Bruce's dedication before "Be True" to "our special friends." I couldn't help but think he was talking to the diehards, whom he's clearly playing the outtakes for, but he hasn't fully figured out how to best fit them in yet. As such, he directed "Be True" to all of us — if we stick with him as he figures out the best way to vary up the post-River part of the show, he'll be true to us by continuing to play more and more rarities. That's how it struck me, anyway.
Yet I don't think anyone expected that he'd play another rarity so soon. I assumed "The Rising" would be the start of his same ol' song sequence through "Shout" — a belief that was only bolstered when he didn't replace the customary encore-starting "Badlands" with anything — but Bruce yanked a sign from the crowd after "Born to Run" and launched into the tour premiere of a raucous and hard-rocking "Detroit Medley." The diehards loved it, the casual fans loved it, everyone loved it. This simple diversification of the encores really added an extra oomph to the final stretch of the night.
Another surprise was in store before the end of the show as well: the return of "Bobby Jean" after only previously being played on the first night of the tour. With another fresh jolt of energy behind him, Bruce had the whole arena throwing up their hands and "Shout"-ing before the night was through.
Though they may not have yet figured out the best way to diversify the setlist after their monumental performance of The River, they're damn sure working on it, and my is it fun to watch them work every single night.
For the full setlist and reports from this and other recent shows,
see our Setlists page
- February 9, 2016 - Steven Strauss reporting - photographs by A.M. Saddler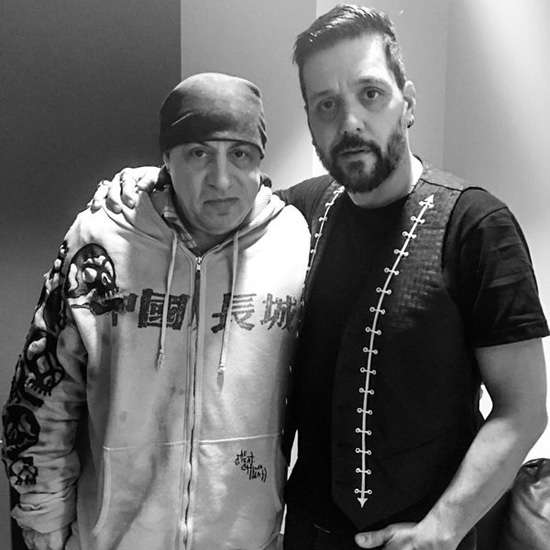 STEVIE'S SUNDAY SIT-DOWN WITH STROMBO
Last night on The Strombo Show, guest Little Steven Van Zandt joined host George Stroumboulopoulos to celebrate The River, talk about his Rock and Roll Forever Foundation, and reveal what's on his plate when the River Tour is through — including a return to Miami! The city, if not the nickname. Some snippets:
On the no-longer spontaneous setlist on The River Tour:
"It is different. It happens to be my favorite album, so I'm having a great time... But that last third is still very spontaneous. We try to get some favorites in every night, that people are requesting. There's just so many, man — so many songs now, you can only do the best you can. The River, we never have overplayed The River as an album, all of those individual tracks. So it feels new."

On the making of The River:
"We call them 'outtakes,' but you listen to "Loose Ends" or "Restless Nights" and all of those that are on the Tracks collection, they don't feel like outtakes. Then we've got a whole new album of outtakes that are fantastic — "Meet Me in the City," "Party Lights." I was impressed with our output from back then. I could barely remember half of these things, but man, they were good. We were just banging them out. Bruce came to me and said, 'I want you to co-produce this album, because we really want to get the band's sound that we have live onto the record....' "We were having trouble doing that. I said, 'Okay, that's my thing, man.' So we got the right studio and the right thing happening, and it became so comfortable to go to work. We didn't have to struggle to make it sound good. That's how it should be. You should walk into a studio and the band should sound good immediately. We were banging them out, two three songs a day. Stop. Maybe he'd sing it again, and maybe we'd do an overdub or two, and then boom, move on."

On the prolificacy of The River era:
"...When you get to 15, 20, 25 [songs] — it's like, whoa. What are we gonna do with all of these things? They're all great! At a certain point, he didn't write bad songs anymore... I said, let's put them out! What're we doing? Stop! Stop! Stop! Put them out, then we'll make some more. Put them out. Unfortunately in those days — we could put a record out every six months, you know? But we just didn't do that in those days. You were doing a two-year cycle or so. We ended up with all these songs and nowhere to go. By the time we got back in for Born in the U.S.A., that was another thing. We skipped the other two albums and started on that, which would've been the fifth album of those songs... It was just one of those things that you enjoy while its happening."

On what he will do after The River Tour:
"I go back and forth in my TV stuff. This is the first tour that I've done since Sopranos started, 15 years ago, where I'm not touring and doing a TV show at the same time. So this is a vacation for me. I've got two shows in development; the minute that the tour is over, I will start to work on one of them. I got two different things, they are both Hispanic-oriented, I'm into that lately. I have one that is historic and has to do with Cuba, which I might do for HBO. It's a big one. It's a really big show. The other one is more of an independent, family comedy, believe it or not, a Hispanic family comedy that I'd shoot in Miami. I might shoot the pilot as soon as we get a break here. Hopefully, if things roll right, whenever the tour ends, I'll try rolling into the production of something."

On what music he is listening to at 2:30am:
"That could be a lot of different things... epends on what mood I'm in. Sometimes it'll be something from Miles Davis, or it might be something from Bob Marley or it might be something, some old Stones record. You never know. Whatever mood you're in, there'll be something there for you. That's the great thing about music, that's the great thing about art — it's always there for you. Whatever mood, whatever you need, it is always there for you."
George says of the Toronto show: "It exceeded the hype — and the hype for a Springsteen show is crazy!" Listen to the full episode online here. The Strombo Show just celebrated 10 years on the radio dial in 2015, hosted by award-winning personality George Stroumboulopoulos on CBC Radio 2, Sunday nights 8-11pm.
- February 8, 2016

VIVA SEATAC! PACIFIC NORTHWEST SHOWS ON SALE THIS FRIDAY
Folks in our original stomping grounds were getting nervous... but they've finally got those River Tour dates nailed down for the Pacific Northwest: March 22 in Portland and March 24 in Seattle, both on sale this Friday, February 12, at 10am PT.
- February 8, 2016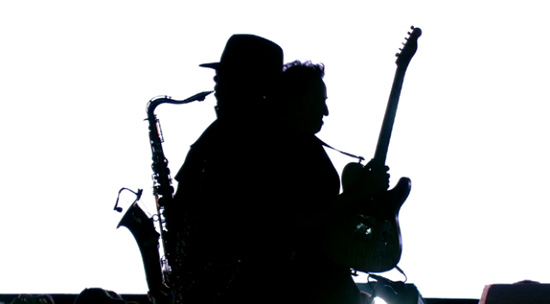 A HAT TIP TO CLARENCE CLEMONS IN SANTA CLARA
In case you missed it last night, Coldplay's "Fix You" performance at Super Bowl 50 featured clips of past halftime performances, including a rousing call from Springsteen, his famous knee-slide, and Bruce in silhouette with the Big Man. The last of these was juxtaposed with James Brown, Whitney Houston and Michael Jackson as Chris Martin sang "Tears stream down your face when you lose something that you cannot replace." Video here.
- February 8, 2016

TODAY IN THE FUNNY PAGES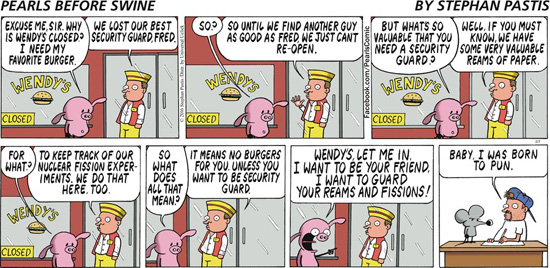 - February 7, 2016 - Stephan Pastis / Pearls Before Swine

A SUPER SUNDAY ON TOMORROW'S BRUCE BRUNCH
The Bruce Brunch on 105.7 The Hawk at the Jersey Shore is out in the street again tomorrow — and what better place to talk many things River than the River Rock in Brick, NJ? Garry Tallent will be phoning in, and host Tom Cunningham will have music from GWT's forthcoming first-ever solo album, Break Time. Garry is providing a pair of tickets to the sold out show at the Wells Fargo Center in Philadelphia on Friday night, which includes a pre-show visit with him. One entry per person, and you must be present to win. Plus's TC's got Garry's super cool 45 to giveaway, along with some album download cards.
There's more: J.T. Bowen and Marc Ribler will be performing songs from their new collaboration CD Out of the Shadows. J.T. remains a force, and the album was written, produced and mixed by Ribler. Marc's incredibly talented, and he recently was named musical director for Darlene Love, which means a very credible thumbs up from Stevie Van Zandt. There's no cover, no nothing. 9:00 a.m. Eastern at the River Rock, 1600 Route 70 in Brick, or listen online at 1057thehawk.com.
- February 6, 2016



FEBRUARY 4, BOSTON: DOWN BY THE RIVER THAT TALKS
It hardly feels like a Boston show without the appearance of Peter Wolf, so it's a good thing the J. Geils frontman got to come up at the end of the night and shake his tambourine on "Shout." Fans at the Gahden, 17,000 strong, had just thrilled to another marathon night with the E Street Band, high-energy Springsteen classics in the final stretch taking the show to the three-and-a-quarter-hour mark. You know, business as usual.
For us, the big takeaway of the night was about a four-minute pocket, mid-set. It was right after The River, when Bruce pulled out the tour debut of "Roulette" — a fist-pumping move for multiple reasons. A thrilling live cut just on its own merit, it's also the first River outtake that they've tapped for this tour besides the nightly opener "Meet Me in the City."
Springsteen stated his intentions before the tour started: "We'll play the record start to finish, and then we'll play some of the special outtakes that are there, and we'll play some favorites..." So we've been waiting eagerly for those special outtakes, with so many powerful, "lost" 1979/80 cuts just itching to be played. Whether or not "Roulette" opens the floodgates, it felt good just to hear him say the words after "Wreck on the Highway": "This is the first song we cut for The River. Never made it onto The River, but it should have." So this night's album performance, as magnificent as ever, was for the first time bookended by outtakes from the era.
Some of the double album's 20 tracks ("Fade Away," "Stolen Car", "Drive All Night") are bound to be highlights for me every time, guaranteed, and "I Wanna Marry You" has become a surprise cornerstone of the whole album sequence. But other contenders vying for attention are shifting from night to night. "You Better Not Touch" was blistering in Boston. It was unusual to hear Bruce harmonizing with Patti on "The River," being accustomed to hearing Steve's voice there, but it was a standout moment.
Strong contributions from Patti tonight all over, who besides being the backbone of the band's choral vocals also joined Bruce at center mic on "Because the Night" and "Human Touch." These kept energy high after another monumental "Candy's Room" (it's amazing what that one does to a crowd these days), and Mr. & Mrs. S.'s vocals on the "Because" bridge were tight. In slot 27, "Human Touch" was the first post-1980 song of the night; it fits right in with the River themes, though, and it's still a blast to hear the E Street Band take this one on. When it all kicks back in at the end, it kills. And while Nils, of course, killed as well on his "Because the Night" solo frenzy, the guitar hero of the night was really Bruce himself, with monster leads on songs like "Prove It All Night," "Candy's Room," and "Human Touch."
There were two charities in the house this night, with the Greater Boston Food Bank joined by The Food Project. A champion of the latter, serving on their board of trustees, was the late wife of longtime tour manager George Travis, and Bruce made sure to note the connection: "The Food Project was Lenore Travis's passion."
For the full setlist and reports from this and other recent shows,
see our Setlists page
- February 5, 2016 - Christopher Phillips reporting - photographs by Barry Schneier

NEW BRUCE INTERVIEW WITH ROLLING STONE
After an article earlier this week, don't miss David Fricke's Q&A with Springsteen at rollingstone.com. Along with plenty of River Tour talk, they touch on David Bowie's Blackstar and Bruce's own solo album that's in the can: "The next opening I have, we'll slot it in and get it out. It's unusual to have a record that you're sitting on."
- February 4, 2016


FEBRUARY 2, TORONTO, ON
Bruce Springsteen and the E Street Band's lone jaunt to the Great White North reaffirmed many age-old truths, but perhaps none more so than the classic adage: "You had to be there." Though setlist watchers will undoubtedly harp about the fact that the closest the show came to a tour premiere was the briefly soundchecked "Spirit in the Night" (the band played less than 30 seconds of it), those lucky enough to have actually been inside of Toronto's Air Canada Centre on Tuesday night were treated to one of the most raucous, intense, and flat-out joyous evenings so far on this tour.
Beginning with his now-customary "Meet Me in the City," the line "calling out nation to nation" took on added resonance when sung from the other side of the border. Though some have complained about the fact that the lights remain on during the song, the effect perfectly introduces the idea that he says is at the heart of The River: building a community through music. Being able to see everyone inside of the packed-to-the-rafters arena highlights how much the song is truly a rallying cry to everyone, young and old, to come with him and the band down to the river.
And they took us all the way down in Toronto. Though the band's performance of The River started off shockingly strong in Pittsburgh, somehow it keeps getting better. They've really found a way to simultaneously tighten their performance while still finding new times to add brilliant flourishes throughout. Those seeing the tour for the first time will revel in being able to enjoy one of Bruce's greatest albums played front to back, while the die-hard fans dabbling in repeat viewings are afforded the opportunity to notice these small yet powerful nightly adjustments.
In Toronto, they included Nils and Stevie's fantastic (albeit all-too-brief) guitar duel, at Bruce's behest, during an especially rambunctious "Cadillac Ranch"; the whole band lining up with their backs to the audience during "Ramrod" to show how they can literally "shake their booties"; and Bruce throwing in a few "dream baby dreams" within an increasingly breathtaking "Drive All Night."
Besides giving the band ample opportunities to shine, the songs on The River also call for the most audience participation out of all of his records, which brings us back to the community-building nature of the album. Perhaps partially because they knew exactly what songs to prepare for going into the show, the Toronto crowd was by far the most engaged and vocal of the tour. The River is stuffed to the gills with sing/chant-alongs, and Toronto — unlike other crowds who seemed to sit back and wait for Bruce to impress them — was exceedingly eager to show Bruce how impressed they were by singing loudly throughout, even garnering a stated "A+!" grade from Bruce after the "Hungry Heart" sing-along.
Could Bruce appease the die-hards by throwing in more rarities following The River? Of course. But I think it's very telling that he continues — especially last night — to play songs that are so conducive to mass audience participation. This show's oft-played yet still absurdly strong selection of songs — "The Promised Land," "She's the One," "Candy's Room," and "Because the Night" — combined with the tried-and true-run from "The Rising" through "Shout" all demand and were greeted with rapturous participation from 20,000 fans. Having perfected his ability to make everyone in the house feel included in the show, constantly playing to those sitting behind the stage, Bruce creates a unified E Street community within the arena every single night, none stronger than what was felt in the ACC on Tuesday.
For the full setlist and reports from this and other recent shows,
see our Setlists page
- February 4, 2016 - Steven Strauss reporting - photographs by Lisa MacIntosh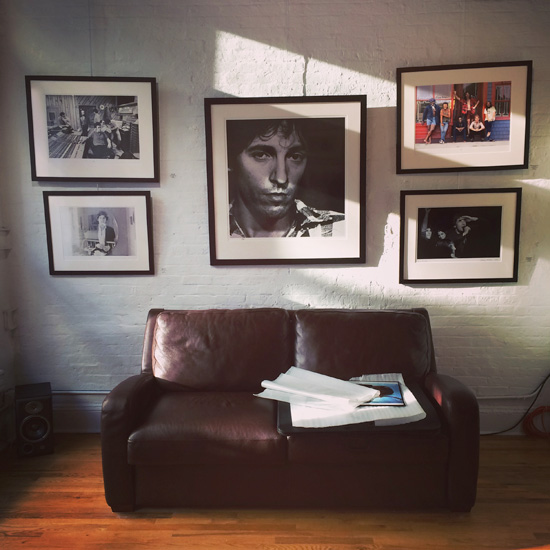 MORISSON HOTEL'S BRUCE EXHIBIT IN NYC UP FOR ONE MORE WEEK
For a Springsteen fan, walking into Morrison Hotel Gallery this week will feel like coming home. The entire gallery is currently dedicated to an all-Springsteen exhibition sparked by The Ties That Bind: The River Collection, and the room is full of images you will have seen before, as well as images that will be new to you. The photographers included in the exhibition will be familiar to you as well: Frank Stefanko, Lynn Goldsmith, David Gahr, Jim Marchese, Joel Bernstein, Barry Schnieier, and Patrick Harbron, featuring their work covering the years from 1972-1984.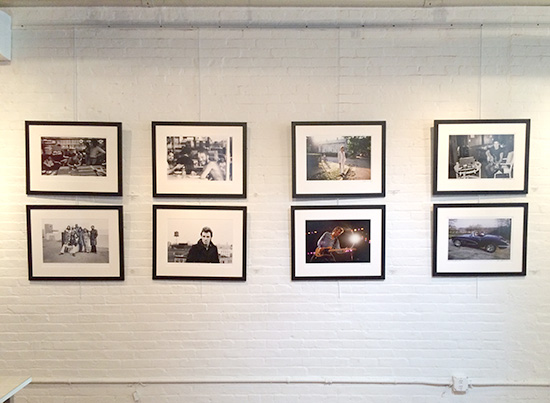 The experience of standing in the same room as a photograph is so incredibly different than seeing it in a computer, or even in a book. Especially with photography, there's just no substitute for a professionally-printed photograph where you can experience the shades of gray and black and silver. Plus, there's the size factor: almost everything in the exhibit is at least 16 x 20", with some that are even larger. That gorgeous Stefanko photograph of Bruce and the Corvette is blown up to 30x40", and there's a 30x30" of his portrait from the cover of The River [top center].
But also notable are the shots that came out of Frank Stefanko's archive only recently. "When Morrison came to me and said we want to do a The Ties That Bind/River [exhibit], celebrating Bruce's new tour and his box set.. .I said, I want to get some images up here that I haven't shown before. So there are about half a dozen photographs on the wall tonight that really haven't been published before, really haven't been seen before."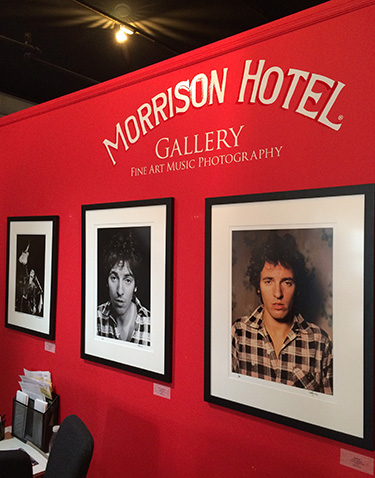 When asked which of the new images that he felt was the most striking, Stefanko said, "There's a shot on the wall over here called 'Backstreets'... it's a shot that's evocative of maybe a very early Bob Dylan, where Bruce is walking down this alley, this gravel road, there's a brick facade on one side, he's got his hands in his pockets and he's just walking along. And I said, if there ever was a true 'backstreets,' this is it. The image was raw — very raw, compared to some of my work — but it was evocative of a young Bruce in a setting that was befitting of the whole Darkness/River genre."
Stefanko also recommended another one of the previously unseen photos: "There's a shot on the red wall that's called 'Darkness Outtake,' and it's a shot of Bruce looking very vulnerable in his eyes, if you get really close to it. There's more than a couple of gals that contact me on Facebook, and they keep saying, 'Your shots of Bruce's lips are the best lips ever!' So there's some lip there."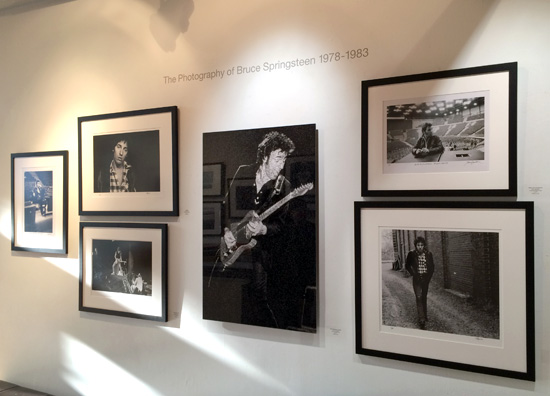 Lynn Goldsmith is represented by images that will be familiar to you if you've seen a copy of her highly-recommended Access All Areas book, but, again, the opportunity to see them in a respectable size is a different experience. The focal point of Goldsmith's contribution is what she calls a "Rock Mosaic" [above center], where she takes an image, blows it up, and then fills it with smaller images —numbering in the four figures, in this case. "It's filled with over 2,000 images which cover rehearsals, photo studio shoots, location portraits, being on the road with the band, with family, so it is different than anything else in the show," Goldsmith said.
Backstreets asked Goldsmith if there was ever a live shot of Springsteen that she wasn't able to catch. "No!" she answered immediately, laughing. "...There was a point in the show where Bruce jumped really high, really high — I mean, it was 'How did you get up that high?' And there was a light. And I planned where I would be when I thought he might be doing that, because I wanted the light to be shining down on him. I knew he would do certain things, and I could kind of feel the moment. But I think any photographer who's good, whether they're working in a documentary way like you do with concerts, or if you've got it controlled in a studio environment, you'ree only really good at what you do if you can really access your own intuition about what's going to happen right before it happens."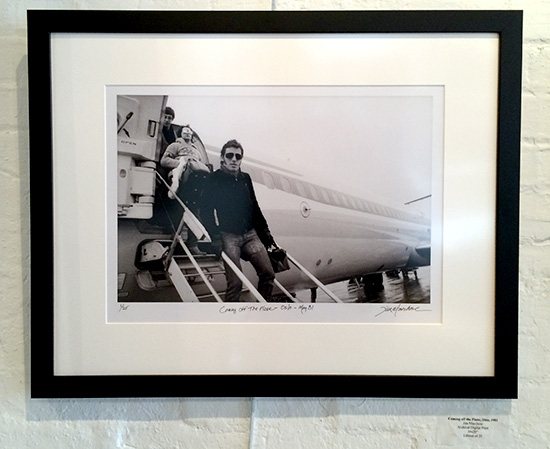 - Jim Marchese
While all of the images in the exhibit are each remarkable in their own way (there is no filler here), it's the photographs that were taken in the River era that will undoubtedly have particular resonance, specifically from Jim Marchese, who captured the band on the road in Europe, and Joel Bernstein, who was allowed in the studio during recording and ended up later staying at Bruce's house on Telegraph Hill. The Marchese photographs are remarkable for their view into a crucial moment into Springsteen history, when the band arrived in Europe for the first time. Marchese had never seen Springsteen play live before he got the call to come to Europe, and so he had to orient himself to the band and the performance, as well as the venues and life on the road in Europe. There's an elegance to his images of Springsteen at soundcheck especially, and feel more like portraiture than documentary work.
As the legend goes, Joel Bernstein was invited to the River sessions by Jon Landau after he told Landau that he loved the music on Darkness on the Edge of Town but hated the photographs. When asked if this was true, Bernstein said, "It wasn't that I didn't like the cover itself; I didn't think it was appropriate for the music or the title. Not even the photo — it was the lighting, is what I said to him. It's not like it's a bad photo of Bruce — although it is a little wooden, d'you know what I mean? As a portrait? The wallpaper is one of the nicest things about it."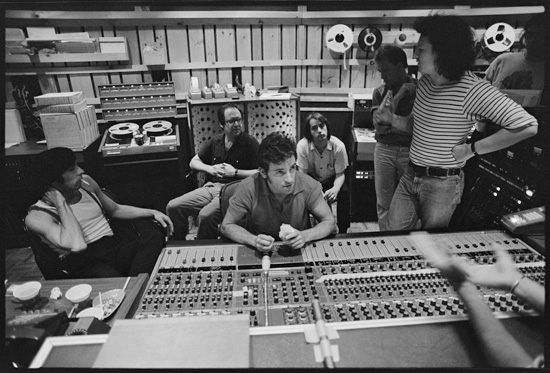 - Joel Bernstein
Another of the key images in the exhibit, and in the Ties That Bind box set, is the photograph of the band behind the console in the Power Station, grim looks and slumped postures. It's the kind of image that artist management wouldn't allow to be photographed these days, much less used publicly to any significant extent. About that shot, Bernstein says, "I love Miami Steve, I love the left to right, the sweep of that shot. And I love that Bruce is intently listening to someone, who we don't know — I bet it's a band member, who's gesturing — the person with the hands in the lower right, that are blurred, which shows you how little light there is. In other words, I'm hand-holding this shot: it's 1/8th of a second, or 1/15th, it's not even 1/30th of a second. Just getting it is not that easy."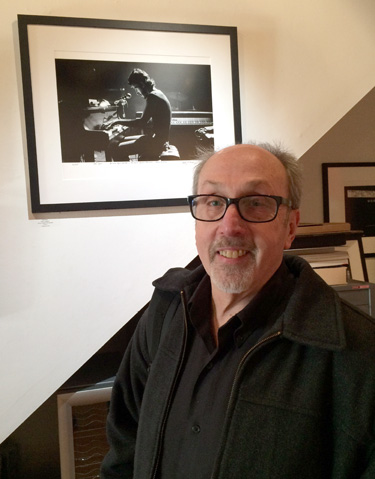 Other images of note include work from the late David Gahr, which range from '72 era photos down the Shore, to that wonderfully intense image of Bruce on the piano during the 1975 Bottom Line stand, to the image of the band with Ronnie Spector used on the "Say Goodbye to Hollywood" single. Barry Schneier's 1974 "For You" is there [right, with the photographer]; Neal Preston has a selection of live images, as does Patrick Harbron, with his collection of dynamic images of Bruce captured at the Maple Leaf Gardens in 1978. With Preston, the stage is higher, the photographers are farther away, shooting through long lenses; Harbron is right there in the middle of things, shooting Bruce in the audience and surrounded by fans.
It's a great collection of work, and a rare experience for fans to be able to be in the same room with all of it simultaneously. Don't miss it if you're in the area.
The Photography of Bruce Springsteen is at Morrison Hotel Gallery, in the Soho neighborhood of New York City, until February 9.
- February 2, 2016 - Caryn Rose reporting - gallery photographs by Christopher Phillips


SHOT RIGHT FROM THE HEART
Stefanko turns 70 and talks The River
Today is the 70th birthday of one of our favorite photographers and friends, Frank Stefanko. Frank's beautiful work graces the covers and packaging of both Darkness on the Edge of Town and The River, and he's contributed to several other Bruce Springsteen box sets and compilations over the years, including Live/1975-85, Tracks, The Essential Bruce Springsteen, The Promise: The Darkness on the Edge of Town Story, and The Album Collection: Vol. 1. "His photos had a purity and poetry," wrote Springsteen himself in the introduction to the Stefanko photo book Days of Hope and Dreams: An Intimate Portrait of Bruce Springsteen.
Stefanko's cover photos of Springsteen for Darkness and The River stem from the same 1978 winter-weekend photo sessions that also marked their first meeting. A week after those sessions, Stefanko then got to photograph Bruce with the E Street Band. Photos from each of these sessions were included in the original River album package, and now Frank's cover photography for The River has been reborn as the front and back covers of the newest Springsteen box set, The Ties That Bind: The River Collection. Frank also kindly contributed five more of his shots from his first sessions for a set of bonus postcards to accompany the Ties box, still available exclusively from Backstreets.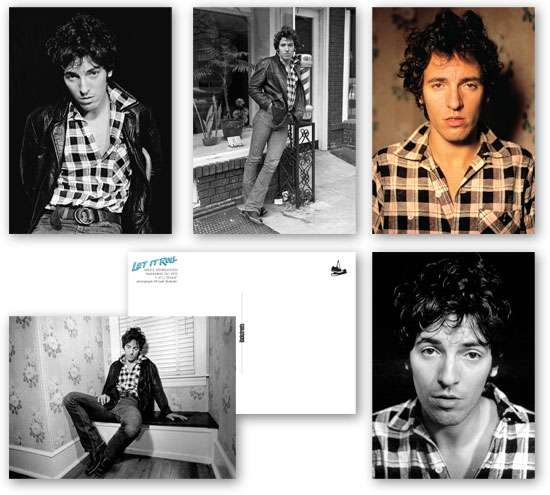 We recently got to ask Frank about his 1980 work on The River, which involved many overnight shipments and long-distance telephone calls from Stefanko's home/studio in New Jersey. "Bruce was in California working on the final mix," Frank recalled. "Jimmy Wachtel was the art director. Bruce and I worked long-distance for two weeks until they finally had the cover... front and back. He chose the front cover, shot in '78, because he felt the image best portrayed the characters in The River, which was a continuation of the characters in Darkness."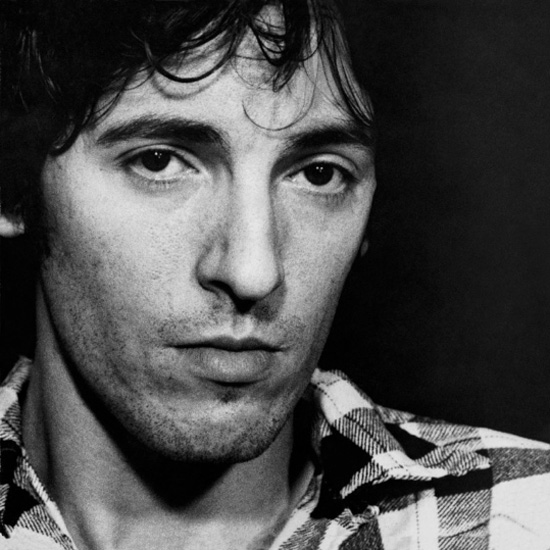 "In regards to the back cover, I shot it in a window of a paper goods supply house in lower Manhattan. It was shot sometime between '78 and '80 on one of my weekend trips to New York to visit friends and shoot around the city. When Bruce and I were working on the cover, he asked me to send him anything else I had, even photographs that didn't have him in it. I just thought it was interesting with all the symbolism. Not having heard anything off the album in advance, however, it was happenstance. The paper bride and groom representing the couple in the title song, the American flag... yes, the first time it showed up on one of Bruce's album-covers. I did another American flag later that appeared in several usages. It was a small American flag on a post of an old building on a dirt road. [Most prominently, it appears in the booklet for Live/1975-85, with Bruce's handwritten lyrics to 'Born In The U.S.A.' superimposed.] It just so happened that the imagery on the back cover fit the themes so well. Not to mention that Bruce was smart enough to pick up on the meaning of those tchotchkes from that paper goods supply house window."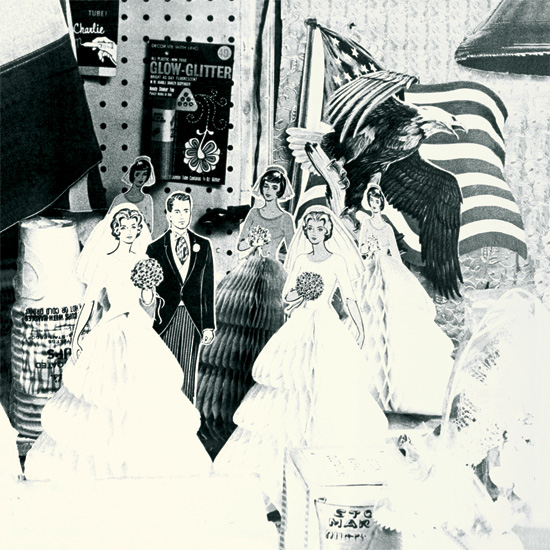 Stefanko concluded by reporting with pleasure that the artistic journey begun on the streets of Haddonfield and East Camden, NJ back in the winter of '78 continues to this day. "The collaboration and friendship I developed with Bruce so many years ago has remained to present...38 years and counting."
Fans in the New York area still have another week to catch many of Frank Stefanko's key Darkness/River-era images on display, as they're featured in Morrison Hotel Gallery's special The Ties That Bind exhibit. Click here for details, and watch for a closer look at that exhibit shortly here on Backstreets.com. More information on Frank Stefanko and his work also is available at his official website, StefankoStudio.com. Happy birthday, Frankie, from all of us!
- February 2, 2016 - Shawn Poole reporting - photograph of Frank by Mark Krajnak/JerseyStyle Photography - all other photographs by Frank Stefanko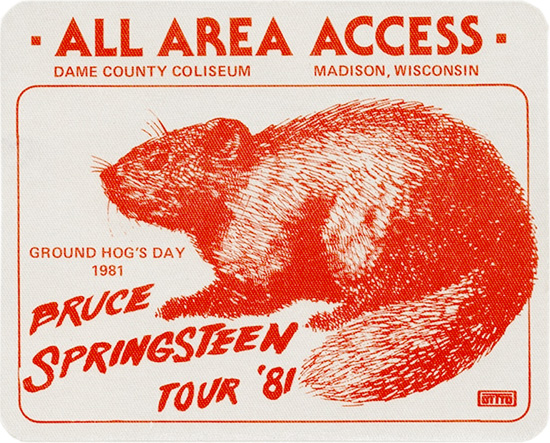 THERE'S A SHADOW IN MY BACKYARD
Throwback Groundhog Day: The River Tour 1981, 35 years ago tonight.
- February 2, 2016

ROLLING STONE'S FRICKE CHECKS IN WITH BRUCE & CO. IN PITTSBURGH
Knowing that at least Nils Lofgren and Garry Tallent had to cancel tour plans of their own when The River Tour 2016 came together, we're tickled by Max Weinberg's quote in the latest Rolling Stone:
"In all of my professional engagements, I have what I call the Springsteen Clause. It's inviolate. It's my own version of force majeure. It's an act of God or Bruce Springsteen. And it works all the time."
David Fricke spoke with Max, Stevie Van Zandt, and Jon Landau — and with Bruce Springsteen himself, at the most length — for "How Bruce Springsteen Got Back to 'The River.'" It's a great read to see how Bruce was thinking about things as the band got ready to kick things off in Pittsburgh, and a fun snapshot of rehearsal. But the most tantalizing element may be something that has zip to do with The River Tour, one left to Bruce's cohorts to speak about:
Springsteen declines to reveal details about his new solo album. Van Zandt, who has heard it, says it's "very good" with "real nice things on it, nice orchestrations." And Landau confirms that "it will be the next thing we release. It's something Bruce wants to stand behind."
- February 1, 2016


JANUARY 31, NEWARK, NJ
If last night's show at the Prudential Center in Newark was your first/only show of the tour, you surely walked out blown away by the power and the glory of Bruce Springsteen and the E Street Band. An outtake to open the show, followed by a masterful performance of The River album. A second half that featured three tour premieres ("Lonesome Day," "Working on the Highway" and "Atlantic City"), a mid-set song featuring Patti Scialfa on vocals ("Human Touch" in that slot) and a collection of Bruce's most loved songs, including a rare encore appearance of "Badlands." Crowd sing-alongs throughout, crowd surfing on "Hungry Heart," mugging to the crowd (with "Ramrod" and "Rosalita" being just two prominent examples) and two members of the crowd on stage for "Dancing in the Dark." And while Bruce's performance may appear to be slightly less physical than in the past, you could still marvel that a 66-year-old man can lead a band of his contemporaries through a three-hour-and-15-minute extravaganza that would leave most rock stars of any age breathless.
But if, like many Backstreets readers, night five of the tour wasn't your first show on this run, or if you are planning on seeing multiple shows as this tour extends into April (and beyond), mere statistics aren't as impressive. The outtake is the same one that has opened every show, and "Meet Me in the City" appears locked into that position. It also maintains the distinction of being the only outtake played on a tour in support of a box set that features more than 25 songs that were recorded for, but didn't make, The River. The 20-song album sequence on its face isn't going to change. And seven of the dozen or so songs that follow the album set appear to be every-nighters as well.
So what makes repeated attendance at these shows so compelling is the way in which the album sequence is presented. When most people get a new album, they listen to it multiple times. Maybe once or twice just to get a feel for the songs, and then you get into it deeper, finding individual favorites, brilliant lyrics, hidden gems, a musical phrase that catches your ear and, particularly, in the case of a Springsteen record, a theme that holds the whole thing together. Seeing multiple shows on this tour gives the listener the chance to do just that with the two-record masterpiece that is The River, but in a live setting, which gives the songs plenty of room to breathe.
It appeared that most of last night's home state crowd enjoyed the first two sides of the album more. Filled with uptempo rockers, it's easier for a concert crowd to get into. After all, being forced to listen to contemplative ballads in a room with 20,000 other people, each of whom have their own agendas and interests, can be a challenge at times. But if you can lock yourself in and ignore the conversations and picture taking going on around you, sides 3 and 4 of the album contain some of Springsteen's most masterful creations. The sequence starting with "Fade Away" through the closing "Wreck on the Highway" requires you to pay attention or you'll miss a lot of what makes repeated performances of The River worthwhile.
This six-song sequence is made up of five songs that were not concert staples in years past. In fact, those five songs — "Fade Away," "Stolen Car," "The Price You Pay," "Drive All Night" and "Wreck on the Highway" — barely survived the first leg or two of the original River tour. With Springsteen committed to the sequencing of the record, that's five songs that are relatively obscure to all but the most die-hard fans. And with the exception of a version of "Ramrod" which is played at the speed of a '32 Ford instead of a 2016 Ferrari, they are all slower/quieter songs. It's hard even for Bruce Springsteen to hold a crowd together for that kind of stretch.
But if you can do it, and just lock in with the band, it is oh so worth it. You can make connections between the songs that you wouldn't ordinarily get in a live setting.
Listening to "Fade Away" and "Stolen Car" back to back, night after night, drives home how the two songs are polar opposites in describing the end of the kind of adult relationship Bruce says he wanted to write about on The River. "Fade Away" takes more effort to actually listen to, as the crowd is still catching its collective breath after the back-to-back punch of "Cadillac Ranch" and "I'm a Rocker." But there was a reason it was the second single off of the album 35 years ago, as the pain in Bruce's voice highlights the lyrical pain of losing something you wanted to hold on to.
"Stolen Car" is the anomaly of the group, featuring a protagonist that is running away, instead of trying to hold on to what he has. The different viewpoint it presents is jarring after the desire in "Fade Away." And to their credit, last night's Jersey crowd even found a positive use for cellphones on "Stolen Car," lighting up the arena like fireflies, to a nice effect, even if it seemed a lot friendlier than the song reflects.
After "Ramrod," a friend turned to me and said ecstatically, "I can't believe we get to hear this song every fucking night!" as the band launched into the lost classic that is "The Price You Pay."
"Drive All Night," featuring Jake Clemons on his most moving sax solo of the night, could be the same protagonist as "Fade Away," trying desperately to hold on to a relationship by promising just about anything. And the protagonist in "Wreck on the Highway," which may be the scariest song Springsteen has ever written, is literally trying to hold on to his loved one, in the face of the outside world trying to take it all away.
Presented live in an arena, it takes more to hear the connections between these songs than it does with a pair of headphones in a dark room. But they have such a vibrancy in a live setting that it makes repeated listenings, even at the cost of a ticket and travel, worthwhile.
On a separate note to those who may be attending future/multiple shows on this run, pay attention to the venue emails and Backstreets.com, as the general admission process is experiencing problems that haven't been around since the Rising tour. A change in the personnel handling the fan GA line has led to confusion about the process, and communication between the tour and venue doesn't seem to be as sharp as it was. Stay alert if you are doing GA, as this situation bears watching.
For the full setlist and reports from this and other recent shows,
see our Setlists page
- February 1, 2016 - Lowell D. Kern reporting - photographs by A.M. Saddler


JANUARY 29, WASHINGTON, DC
Filing into the Verizon Center Friday night was the first time I'd attended a Bruce Springsteen show knowing the first 21 songs in the setlist, and I had a decent idea of the songs that would follow. There was the Tunnel of Love Express tour in 1988, and in some ways this tour has a similar strategy: a stated objective, a unified theme along with a limited, but now growing series of one-night stands. So where would the spark come from? What would make the show exciting?
But first, filing into the Verizon Center wasn't all that easy. What is it about DC Springsteen shows and getting to your seats? Nationals Park was a chore back in September of 2012, too. Tonight the doors didn't open until 6:55 p.m., though tempuratures were in the 30s and lines were all around the venue. Perhaps to compensate, the show didn't begin until well after the recent start times of 8 p.m.
Hitting the stage, Bruce and the band tore into "Meet Me in the City," a song that's certainly unknown to a large portion of those in attendance and yet it's so obviously "Springsteenesque" that it sets the house rocking from the get-go. "Did you survive the blizzzzzzzaaard?" screamed Bruce to the Verizon Center. What was immediately apparent was how good the sound in the building was. "Meet Me In The City" has everyone on stage firing away, and the separation was significant. Whether this is a new sound system or a new way of mixing the show, it's noticeable and only gets better as the show reveals itself through the moodier numbers.
You'd think that performing The River, a 35-year-old classic, would be a no-brainer. But as has been mentioned before, this is a fully realized performance of this album. Everything we see and hear is specific and deliberate. The backing vocals of Soozie, Nils, Steven and Patti were stunning. The eerie blue-green lighting at the end of the song "The River" combined with Bruce's "Lift Me Up"-like falsetto is haunting.
As time goes by and you experience so many songs in a Springsteen show, there are always one or two that hook you into wanting to return. During the 1999 Reunion tour I went to multiple shows just to hear "Land of Hope and Dreams" each night. On this tour, I'll try to catch shows just to hear "Stolen Car." Roy's piano lines sound like a lover's tears hitting the street at night; lonely, delicate and fragile. Combined with Garry Tallent's bass, perhaps the MVP of the E Street Band on this tour, Bruce sings what I think are the saddest, most universally relatable lyrics he's ever written. Crushing.
Am I the only one who got a Van Morrison "Madame George" vibe during "Drive All Night"? I was reminded of Bruce telling Backstreets that while he's never attended a full album show, he did watch Van Morrison's performance of Astral Weeks on DVD. I'll need to catch that to see what kind of influence Van's performance had on The River 2016 Tour.
It was also apparent that Bruce has thought hard as to how he's going to communicate to the audience. Gone are any "preacher raps" of the last dozen years. Bruce talks a lot more to the crowd, and it's very much in the voice of the characters. As Springsteen wraps up the album performance during "Wreck on the Highway," he gives the audience a postscript of sorts, summing up his intentions. Again he's speaking in the straightforward voice we heard in the 1984/1985 live renditions of "Racing in the Street" ("So that was the night that we left. We don't know where we're going yet, but I guess that will come in time....")
From there it was a barn burner, with a swath of songs getting their tour debutes. "Darlington County" turned DC into a roadhouse. "Prove It All Night" followed by "The Promised Land" had some hankering for a Darkness album experience. But the real highlight was "Tougher Than the Rest." Talk about an album that's been underrepresented in concert for so many years. Watching Bruce and Patti singing distant and then at the same mic was sublime. Springsteen changed the lyric from "Maybe your other boyfriends couldn't pass the test" to "Maybe some of your men couldn't pass the test." A small thing, but enough that he wanted to change it.
A shout-out for the DC Central Kitchen and the large group of Veterans in the house preceded Bruce's dedication and performance of "No Surrender" to Bobby Muller.
And though I may have tired of "Rosalita" over the years, tonight I was glad she was back. It was fun watching Patti and Soozie girl-grouping it on Patti's mic while Nils, Jake, Bruce and Steven contorted their faces every which way for the crowd. "Shout" may have seemed like too obvious a choice to close out a show, like maybe something Huey Lewis & The News would do. But it's really all about vamping and strutting and getting the crowd into it. Ending after 11:30 p.m., the crowd was well into it.
Where did the spark come from? Where did the excitement reveal itself? It was all on the stage and in the building.
For the full setlist and reports from this and other recent shows,
see our Setlists page
- January 30, 2016 - Bob Zimmerman reporting - photographs by Guy Aceto

HUNGRY HEARTS
As he has for decades, Bruce Springsteen is supporting local hunger-fighting organizations on each stop of the River Tour. So far those have included the Rainbow Kitchen in Pittsburgh and the Greater Chicago Food Depository, with five figures raised each night from fans alone. At the most recent show in New York, WhyHunger was in the house — the food bank mothership in Springsteen's world, which prompted his activism in 1984 and has long connected him with local organizations around the country.
As Springsteen told the crowd at Madison Square Garden before "Born to Run": "Harry Chapin started WhyHunger here in New York City in 1975, with the goal of ending hunger. WhyHunger provides fresh, nuritious food to families, veterans, seniors in need, and works to address the social issues that cause hunger in our community. If you see them out there tonight, support WhyHunger and their effort to end hunger all over the world. They're on the front lines doing God's work."
You can also support WhyHunger with this beautiful Born to Run poster, an oversized reproduction of the classic gatefold celebrating the 40th anniversaries of both the charity and Bruce's classic 1975 album. Officially sanctioned and sold exclusively through Backstreets, all net proceeds benefit WhyHunger.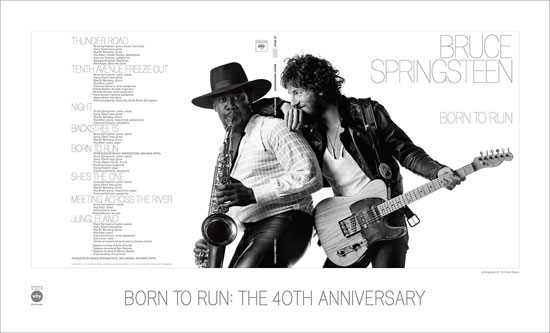 And of course, we encourage you to support your local community foodbanks as well. Tonight at Washington DC's Verizon Center, look for DC Central Kitchen.


JANUARY 27, NYC: THE RIVER RETURNS TO THE GARDEN
Holding his guitar aloft during the "Meet Me in the City" breakdown, Springsteen greeted the crowd: "Hello, snowbound New York! Did you survive?" The answer, of course, was affirmative, even if snowbanks are still melting messily all over town, and the first night of this two-night stand will have to be resuscitated in March. After Sunday's postponement, on what was to be Night Two, Springsteen and the E Street Band came on at 8:10 to give The World's Most Famous Arena a white-hot show worth waiting for.
The River portion of the River Tour may prove not to be for everyone — there were times during the quieter stretches of tonight's album sequence when the Garden might as well have been a coffeehouse, with the chat level in the audience. But the crowd proved their mettle after "Wreck on the Highway," with a locked-in enthusiasm that clearly buoyed Bruce and the band, creating one of those thrilling in-concert energy feedback loops to the stage and back. This was the toughest ticket of the tour, everyone in the packed "big room" was lucky to be there, and that's when the crowd as a whole felt it, and showed it. A classic Springteen concert tends to ask a lot of the audience along the way, with some trips into the darkness and the reward of blowing it all away in the encore; tonight that euphoric blowout lasted a full hour, the whole final third.
So it's a stronger show when the album doesn't have to carry the night. But the River sequence, back in the venue where it was debuted live in 2009, was no less magnificent for it. The band's rich backing vocal harmonies, a key element of so much of the River material, were even more prominent and on-point tonight, from the first chorus of "The Ties That Bind." The musical highlights just start piling up as The River rolls on: Jake's solo flowing into Stevie's flamenco-flavored lead on "Sherry Darling," the rhythm section on "Jackson Cage," with Max's steady propulsion punctuated by monster fills, working in tandem with Garry's complex basslines and giving Roy's piano something to ride. By "Two Hearts" — zipping along, no drag — my buddy J.P. and I were raising eyebrows at each other at the pace and the power.
Quieting things down with "Independence Day" is when the crowd issue reared its head, though. A constant buzz of chatter on this one — and really, on every slower song: "Stolen Car," which didn't suffer for it, and "Point Blank," which did — revealed that this was not an audience that wanted things a little bit softer now. It definitely affected the experience. I was waiting for the magic of that final verse of "Point Blank" that plays so effectively in the Ties That Bind doc, but in this venue it might as well have been background music. The irony, as Springsteen sang "it was hard to hear / The band was playing loud and you were shouting something in my ear," was not lost.
Even so, The River keeps revealing things in performance. It wasn't until last night, the second time I heard Bruce introduce "Independence Day" as "a conversation," that I realized the second verse and chorus could be the voice of the father. Maybe I'm slow on the uptake, but I'd always heard the song as a monlologue rather than a dialogue; it's a trick that Bruce would use more later in his career, shifting perspectives from one verse to another (think "Paradise" on The Rising), but it never occurred to me before on "Independence Day." It's just one of the aspects of The River this tour has opened up for me — even if it felt like only the minority was paying attention.
But get back to the rockers, and the crowd was right there. Who knew "Crush on You" would be a sing-along? Bruce went back and forth with the mic as the people shouted along — "got no style!" "meek and mild!" He joked with Steve before the song about it being his "masterpiece," but it really does have its place. It's a fun stretch, from the surfing on "Hungry Heart" to Bruce and Stevie trading off "Prove It"-style "yeah! yeah!" vocals on "You Can Look," and it played very well in the big room.
With a little snafu as Bruce tried to transition the band from his story into "I Wanna Marry You," it was a kick to watch him realize in real time and admit what the problem was. "We're gonna try that again — even the tightest band in the world sometimes fucks it up!" A few beats later, and you could see it hit him — Bruce himself had forgotten the "Here She Comes Walkin'" intro. "Oh!! I fucked it up!" he laughed. "I was ready to blame others... but I fucked it up. Because I was supposed to be doing this: Here she comes, walkin' down the street...." Good thing he remembered, because it's one of the continuing highlights of the River set, a beautiful duet with Steven, their cascading vocals intertwining: "Little girl, little girl, little girl, little girl..." "Didn't wanna leave that out!" he laughed at the end — and you better you bet.
Stevie's contributions are piling up, too, beyond the expected "Two Hearts" palling around or "Ramrod" roadhousing, as his commitment to this material really shines through. More of these songs are becoming duets: whether it's his vocals or his guitar, Steve is constantly right there as a regular counterpoint to Bruce. His 12-string and his harmonies on "Fade Away" (that's one to cue up when the NYC download drops), his noir guitar on "Point Blank"... "Drive All Night" is turning into another Bruce & Stevie showcase too. At least until Jake steps up to blow the whole fucking place apart.
Living with these songs and playing them night after night finds them opening up, with "Drive All Night" a case in point: Bruce is playing around a little more now with the vocal, with melody and phrasing, and it's a good indication of how the songs can start to breathe when they're not relegated to rarity status. As Bruce and the E Streeters keep at this material they've played so rarely since 1981, they're breaking it in like a new pair of shoes. Another nice touch was Bruce's dedication of "The River" to his sister Ginny and her husband, who inspired the song and were in the house: "I'm gonna sing this song tonight for my sister — gonna sing this for my sister and her husband Mickey."
"So that's the River!" Bruce said to rousing applause after "Wreck on the Highway," before adding, "I'm gonna carry on for a while." The crowd cheered, but I'm not sure anyone expected that "carrying on" to blow the night wide open as it did. Setlist watchers surely couldn't have gathered it. But soon the cheers were a roar. "She's the One" got things off to a good start, but it was "Candy's Room" where we really achieved liftoff. When the lights came up on the crowd just as everyone threw their hands in the air and shouted "Baby if you wanna be wild!"... it felt like a jet engine. It's easy to get all hyperbolic when writing about a Springsteen show, and I try to be conscious of it; so after the song I turned to J.P. just to doublecheck: "Did you feel that too?" He said, "Yeah, it was like the solid rocket boosters on a shuttle launch." Exactly. Liftoff.
And from there it was relentless. It felt like the band hardly paused for breath between songs from here to the end. Apparently Bruce dropped "I'm on Fire" from the written setlist, and even if that meant we were a song or two short (hooray, no classic rock legends died this time!), it was the right call. Much as I'd love to hear that Born in the U.S.A. track, it would have been a momentum-killer; as it was, the momentum felt unstoppable. It fueled "Because the Night" — Nils's solo, never perfunctory, was just face-melting. It fueled a punchy "Brilliant Disguise," a monumental "Wrecking Ball," "The Rising" — "he's not stopping for anything!" — and a "Thunder Road" where you could particularly feel the direct cause and effect of all the energy in the room: as the entire building shouted "pulling out of here to win," it propelled Bruce's leap into the air.
The rocket ride continued through the end of the encore, lights up all the way, as Springsteen pulled two different gals up to dance, and his wife got a dancing partner, too: Bruce couldn't resist a sign that read "This Aussie goes batty for Patti!" (though eventually he had to give the batty Aussie the boot). "Rosalita" was an absolute joy. There are nights during "Rosie" when you can see Bruce working hard, even forcing things a bit to try to get everyone's energy up, like, "Okay, now we need to get crazy..." Sometimes that's what a showman's gotta do. But with the energy level already in the crazy zone — certainly on "Rosalita," and well before it, too — the joy was in seeing Bruce just get to be in the moment, riding those waves. Not working. Playing.
For the full setlist and reports from this and other recent shows,
see our Setlists page
- January 28, 2016 - Christopher Phillips reporting - photographs by Barry Schneier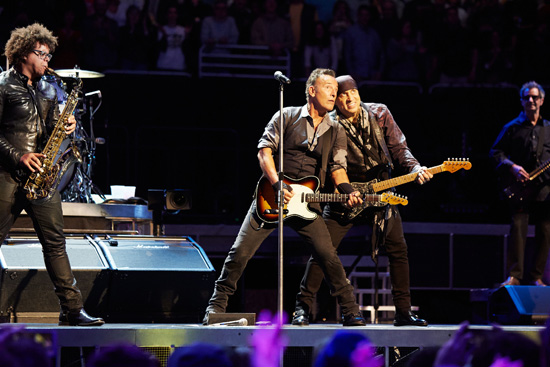 THE RIVER ROLLS ON: RIVER TOUR EXTENDED IN U.S.
Fourteen additional U.S. shows have just been added to the 2016 River Tour, extending Bruce and the E Street Band's Stateside jaunt through the end of April before they take it to Europe.
The new dates include a third L.A. show; a swing up to the Pacific Northwest; a stop in our own backyard, in Greensboro, NC; and other prime spots the first batch of shows missed, including Denver, Dallas, and Detroit. A pair of shows at Brooklyn's Barclays Center (where the E Street Band was inducted into the Rock and Roll Hall of Fame) on April 23 and 25 will close out the leg, and we also now have a Madison Square Garden make-up date. That blizzarded-out January 24 show has now been rescheduled for March 28.
Onsales begin this Friday, January 29, and unlike last time will be spread out over several days. See our Tour/Ticket Info page for the full itinerary with onsale details and links.
- January 27, 2016 - photograph by Danny Clinch

FIRST EUROPEAN DATE ANNOUNCED: MAY 19, LISBON
The River Tour 2016 is coming to Europe. After a reservoir full of rumors and buzz that the tour would be extending, we have our first official date beyond the initial leg: Bruce Springsteen and the E Street Band will play Lisbon, Portugal's Rock in Rio festival on May 19. Stay tuned for more dates as they become official.
- January 26, 2016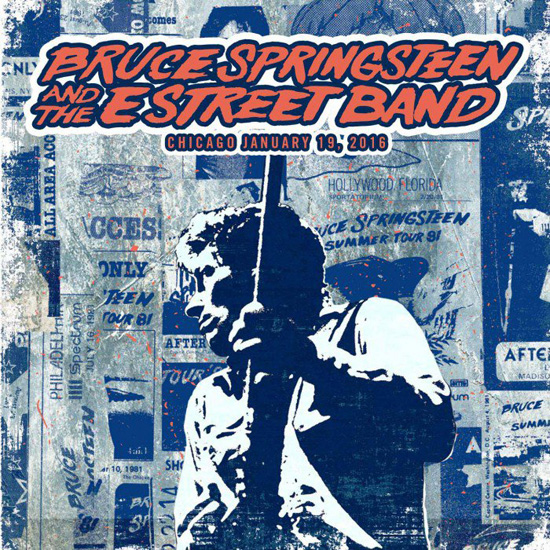 YOU GET A SHOW! YOU GET A SHOW!
With snow shutting down NYC1 tonight, Chicago MP3s are free for all
Were it not for Mother Nature (or would that be the Snow Miser? Jack Frost?), Bruce Springsteen and the E Street Band would, at this very moment, be wrapping up the full album portion of their first River Tour stop at Madison Square Garden. As it is, the blizzard has postponed the show (makeup date still TBA), and the Garden stage waits until Wednesday for Bruce and the band.
But they're still giving us a show tonight. As posted on brucespringsteen.net:
Out here on E Street, we're missing our fans at The Garden tonight and wanted to send this along.

Starting at 8PM tonight, the live recording of The River tour from the Jan. 19 Chicago show will be available as a free MP3 download for the next two days at live.brucespringsteen.net.
MP3s and CDs and higher fidelity formats will go on sale Wednesday.
- January 24, 2016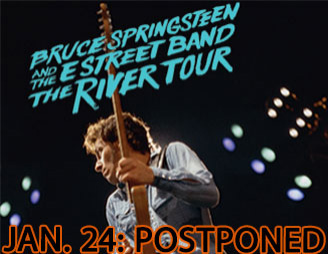 THROUGH THE SNOW...
Night 1 in NYC postponed
As announced this evening: Madison Square Garden and Bruce Springsteen and the E Street Band must postpone the performance set for Sunday (January 24) due to a tri state travel ban and safety concerns from severe weather. There is not an immediate date available for reschedule but more information will be coming shortly.
All ticketholders should retain their tickets, which will be honored for the rescheduled date.
- January 23, 2016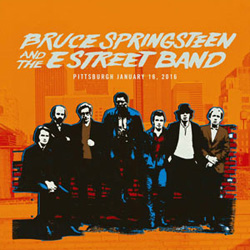 ALWAYS FINE TUNIN'
Pittsburgh getting remixed
Gotta hand it to nugs.net and everyone behind Springsteen's live download series: they're working hard to get things right. After a quick response to some customer dissatisfaction with the recent Rome 2013 set, which was subsequently remixed, Nugs.net is again reworking a new release, the recording of opening night in Pitsburgh. Their official statement:
Thanks for your feedback on the first night's mix. This is an ongoing process and we are working in real time to deliver a high quality service in a timely fashion. We will take a few more days to work on these live recordings, and we appreciate your patience and support
Nugs.net CEO Brad Serling tells us, "Everyone who purchased and downloaded the show will get the new remix gratis. No CDs have shipped yet, so all CD orders will get the new mix."
- January 23, 2016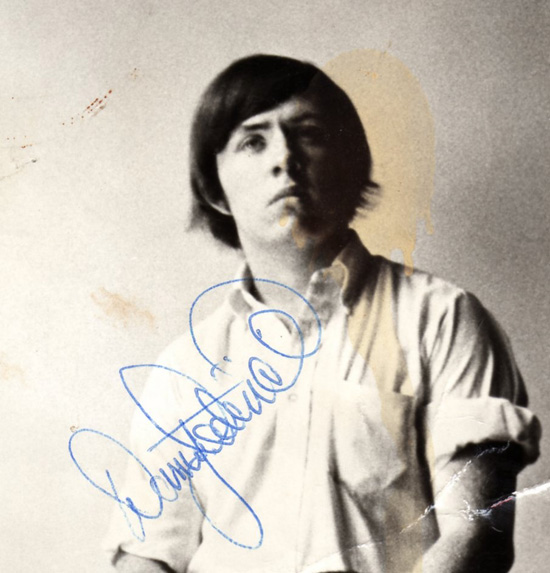 HAPPY BIRTHDAY, PHANTOM DAN
Remembering Danny Federici today — who was born 66 years ago, on January 23, 1950 — here's a shot of him at just 17, when he was in the Downtown Tangiers Band with Bill Chinnock, Vini Lopez, and Wendell John. Visit DannyFund.org to help the fight against melanoma in his name.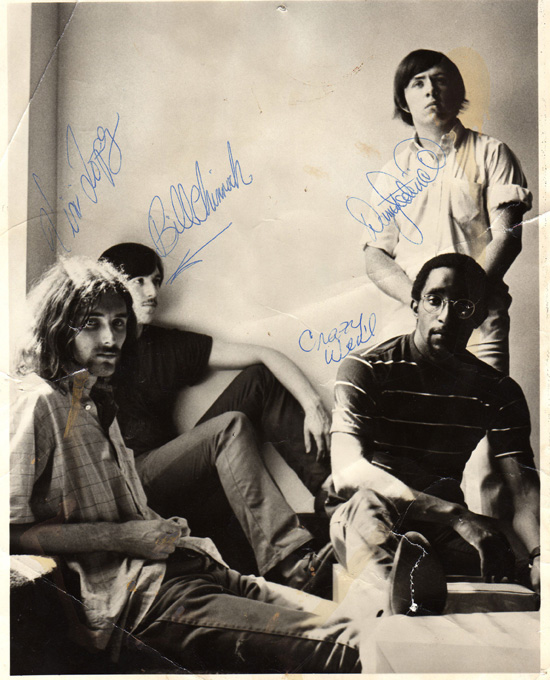 - January 23, 2016 - photograph courtesy of Billy Smith

THE MAN WHO SANG THE WORLD
In the wake of David Bowie's passing, amidst the stories and tributes, artifacts are being unearthed, such as this recording of Bowie in the studio, where he takes a break from working on his contribution to Absolute Beginners by imitating a series of artists, such as Lou Reed, Iggy Pop, Neil Young, Tom Waits, and one Bruce Springsteen.
The Springsteen imitation is right at the start of the clip so you don't have to listen to the whole thing, but we would strongly suggest you do if you enjoy laughing uproariously. Backstory is available at The Talkhouse.
- January 21, 2016 - Caryn Rose reporting


JANUARY 19, CHICAGO
The last time Bruce Springsteen and The E Street Band appeared in Chicago, in 2012, it was a very rainy evening at Wrigley Field on the Wrecking Ball tour. The weather for tonight's show in the City of Big Shoulders was incredibly cold, if dry, but it didn't take long for the crowd to warm up a packed United Center. After taking the stage shortly after 8:00pm, Bruce and the band launched into "Meet Me in the City," which had fans going from the first chords and chanting "Alright!!" During the first song's bridge, Bruce exhorted the crowd with "Chicago!!" and told us it's "his kind of town"; the fans reciprocated the love all night, for well over three hours.
When the band last stopped at the United Center, in September of 2009, it was the Working on a Dream tour's debut of the full album concept, with the first start-to-finish rendition of Born to Run outside New Jersey. This time, Bruce took another masterpiece off his bookshelf and played The River from start to finish in all its glory, sadness, elation, celebration and sorrow. The recorded double album contains 20 songs and clocks in at roughly 83 minutes. Live, it has run for nearly 2 hours on the first two stops of the tour, much of the overtime from Bruce's narrative before a few songs, crowd surfing during "Hungry Heart," and an extended intro of "Here She Comes" into "I Wanna Marry You." In addition to the 1980 River tour, this arrangement can also be heard on The Ties That Bind documentary from footage taken at Max's wedding in 1981. The arrangement has a very Drifters-esque feel to it, with latin beats, piano work from Roy, and Bruce and Jake playing the maracas.
With each sax solo, Jake would come to the center of the stage with the crowd cheering loudly every time, and he impressed with standout solos on "The Ties That Bind," "Night, "and "Thunder Road." Soozie added a whole other layer of sound with her fiddle solo on "Cadillac Ranch," which also featured searing guitar solos from Nils, Steve and Bruce. A real high point for me was the performance of "Point Blank," with an incredible piano introduction from Roy, exceptional guitar lines from Steve, and Bruce's vocals. After a haunting "Stolen Car," the band bit into "Ramrod" with glee and abandon, and the crowd gladly got into the action, too. A fan sitting next to me exclaimed, "This is one of his most underrated songs," and I have to agree after seeing this live version with Bruce and Steve mugging at center mic, Nils grooving while standing next to a beaming Max on the drum riser, and Bruce performing a slide guitar solo sans a finger slide. "Drive All Night" was a stunner with the passion in Bruce's voice and another incredible solo from Jake. Having heard it twice now on this tour, one could argue that "Drive All Night" is The River's "Jungleland" in its complex arrangement, epic sweep, and monumental sax solo.
Max's drumming tonight was incendiary. The man "who brings the power night after night" was smiling from the first downbeat until the last, adding fills I've never heard before in some songs and driving the entire band from song to song, most especially on "I'm a Rocker," "Night," "No Surrender" and "The Price You Pay." You'll note that two of those weren't played in Pittsburgh; Springsteen completely switched out the first five post-River songs in Chicago, with "Night" taking the place of "Badlands," a doubleshot of Born in the U.S.A. tracks in "No Surrender" and "Cover Me," along with "She's the One" and a rare "Human Touch." Some hot guitar playing from Nils on "Cover Me," playing with his teeth and dueling with Bruce. This being only the second show of the tour, that should answer at least some fan concerns regarding the tour's post-River setlist.
"No Surrender" hit a bit of a speedbump, and after two false starts, Bruce said, "I forgot how it goes!" before tearing into the guitar solo. Max pushed the train back on track with his thundering fills, and the crowd showed their approval and appreciation for a band that rarely makes mistakes. There were a few sign requests in the crowd, including one for blues staple "Sweet Home Chicago," though Bruce didn't pull or play any sign requests (fans may want to keep their signs at home this time around). But it was good to hear so much different material following The River — and while it's hard to imagine cornerstones like "Thunder Road," "Born to Run" and "Dancing in the Dark" leaving the set, it'll be interesting to see whether songs like "The Rising," "Rosalita," and "Shout" will retain their spots each night. That said, the fan sitting behind me nudged me after "The Rising" and exclaimed, "I don't know how any band can sound better than the E Street Band has played tonight." Indeed.
For the second encore, the lights were lowered to a single spotlight on Bruce as he strummed an acoustic guitar and the beginning chords of "Take It Easy," in tribute to Eagles co-founder Glenn Frey (and the song's co-writer, along with Jackson Browne), who passed the day before. At past concerts — including Saturday's in Pittsburgh, where he played "Rebel Rebel" for David Bowie — Bruce has paid homage to recently passed friends and heroes like Warren Zevon, Sam Phillips, Johnny Cash, and Levon Helm. For this one, Bruce stripped the classic song down to its bare essentials both musically and vocally, with Soozie adding some superb fiddle lines. As Bruce played, one by one, fans filled the darkened stadium with camera lights that reminded me of the "fireflies" that appeared in Boston a few years ago during "Frankie." As more and more lights shone brightly, and Bruce sang, I was reminded of another line from an Eagles song: "I want to sleep with you in the desert at night with a billion stars all around." This fan and many more were chilled and moved by the performance and the fireflies dancing amidst the crowd. Towards the end of the song, I could hear his voice break a little with emotion and could see the look of sadness on his face as he paid tribute to his fellow musician. Bruce concluded the song and simply said, "For Glenn Frey."
I am not sure of a better transition after the somberness of that moment, but a blazing-fast "Born to Run" got the crowd fired up into a frenzy. On "Dancing in the Dark," Bruce traveled to the back pit riser, like a man on a mission. He went directly to a place in the crowd looking for someone specific, and in this moment often reserved for a young woman asking to join him for a dance, Bruce pulled onto the riser a silver-haired lady who seemed to be in disbelief, and the crowd roared their approval.
What amazes me most at this point in his career is not the songwriting, the arrangements, the vocal phrasings, but that at the age of 66, Bruce Springsteen performs for three-plus hours, giving it all he has each and every night — not because that's what he has to do, but because it's what he loves doing for himself and for his fans. Bruce once said, "I believe that the life of a rock and roll band will last as long as you look down into the audience and can see yourself and your audience looks up at you and can see themselves, and as long as those reflections are human, realistic ones." Every night that he is on stage, Springsteen looks into the faces of his crowd and makes connections with the eyes and minds of his fans, brings fans onto stage to dance and sing, and, crowd-surfing the pit, literally puts his body and faith in the hands of his people. Springsteen puts his faith in his fans, and as they pass him forward, hand over hand, they repay that faith and belief in the promise of rock and roll a thousand times over. The characters on The River can attest to Jackson Browne and Glenn Frey's lyrics: we may lose and we may win, but we'll never be this way again, so open up by climbing in. At nearly every concert, Bruce implores Mary, the heroine "Thunder Road," to climb in to his car. Some of Bruce's characters may think it's a town full of losers, but we're all pulling out of here to win.
For the full setlist from this and other recent shows,
see our Setlists page
- January 20, 2016 - Ryan Hilligoss reporting - photographs by Suzanne Tennant

- January 19, 2016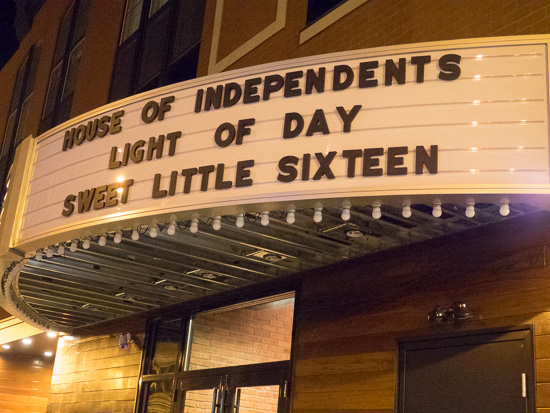 SWEET LITTLE SIXTEEN: LIGHT OF DAY WINTERFEST IN ASBURY PARK
With the absence of Bruce Springsteen from Light of Day 2016 (he had somewhere else to be on Saturday, January 16), it would have been easy to dismiss its 16th annual celebration. But over the years, Light of Day has expanded from a single event on a single night in a single location to multiple performances on multiple nights not just in New Jersey but in locations throughout the United States, Canada and Europe. The event's founders long ago expanded their vision beyond the event's humble origins in Red Bank, New Jersey, beyond the one night at the Stone Pony that may or may not include a Special Guest, and in doing so have developed a solid foundation of fans both at home and overseas, supporters who show up to support the event year after year regardless of time and circumstance.
With bleak weather and no Springsteen on the horizon, it would've been easy for music fans to dismiss this year's "Sweet Little Sixteen" event altogether, and indeed, there were those who, despite a sold-out Saturday night Main Event, predicted sparse attendance and low enthusiasm. But fans traveling from overseas began to arrive as early as a week beforehand, gleefully spending their time visiting various local landmarks and immersing themselves in all things Jersey Shore. By Thursday night's unofficial opening event at the brand new Asbury Park venue the House of Independents, area hotel rooms were filled with attendees eager to get the celebrations underway.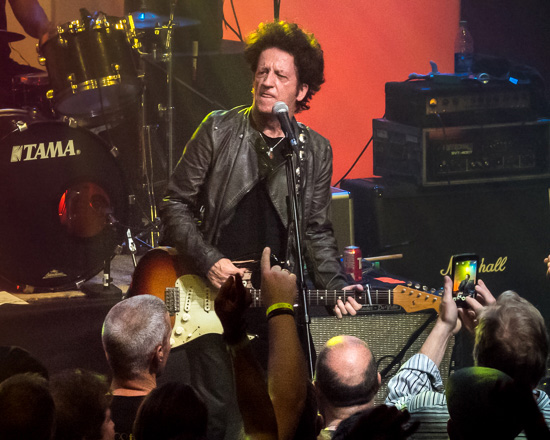 What has cemented Light of Day as more than an excuse for a Springsteen jam has been its core performers, who have over the years devoted their talent and energies to building a solid base of fans — artists like Joe Grushecky, Joe D'Urso, and Willie Nile (above), who whether they're in Denmark or Asbury Park demand and receive audience participation. And Light of Day Winterfest 2016 brought out the fans in full force, as most events drew large and enthusiastic audiences.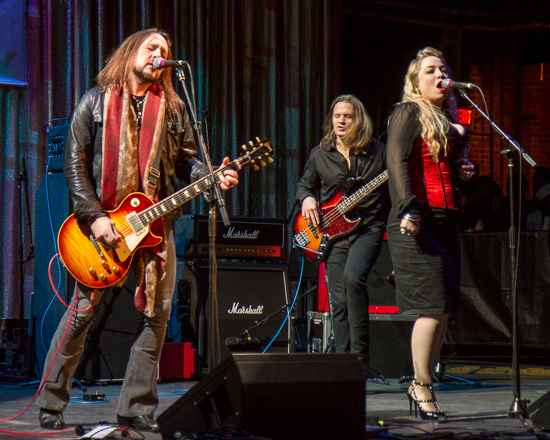 As always, the talent lineup drew heavily from the local music scene and the New York/New Jersey area. Of note this year were Matt O'Ree (above, fresh off his stint with Bon Jovi) and a reunited Dramarama, both of whom turned in raucous, energetic performances at several different venues throughout the week.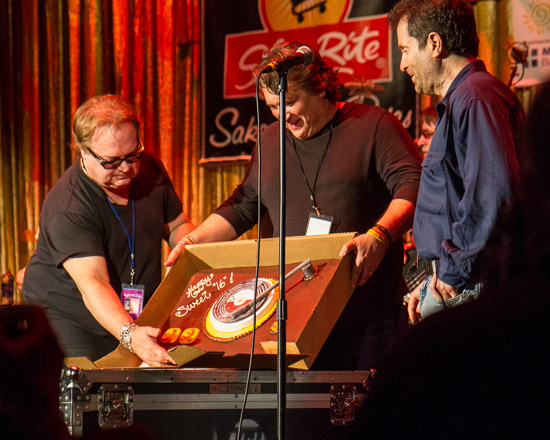 The Saturday night performance — dubbed "Bob's Birthday Bash," for founder Bob Benjamin (above right, with Tony Pallagrosi and D'Urso) — was capped by a late night performance by the Smithereens (below) and followed its typical structure of full-band main stage performances interspersed with emcees and acoustic performers.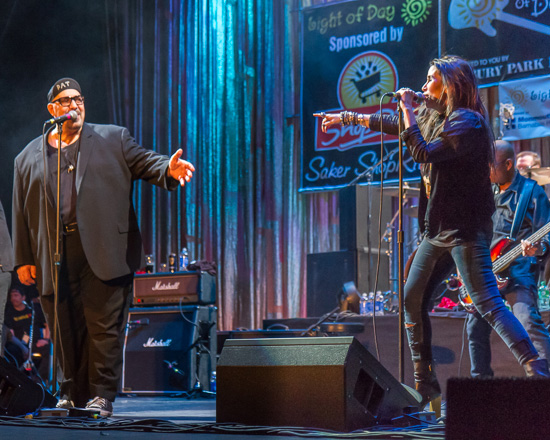 Often some of the best moments of this event are provided by the less-heralded "side stage" performers, and this year was no different, whether it was local up-and-comer Bobby Mahoney eliciting full-throated audience vocals on the chorus of "Held Up Without a Gun" (performed to fill the remaining two minutes of his time slot, just as it had been by Bruce and the band on New Year's Eve 1980), the ageless Jill Hennessey (yes, that Jill Hennessey), and the piercing soprano of Emily Grove, whose slight appearance belied a vocal powerhouse both on her own material and on a strong cover of the Cranberries' "Dreams."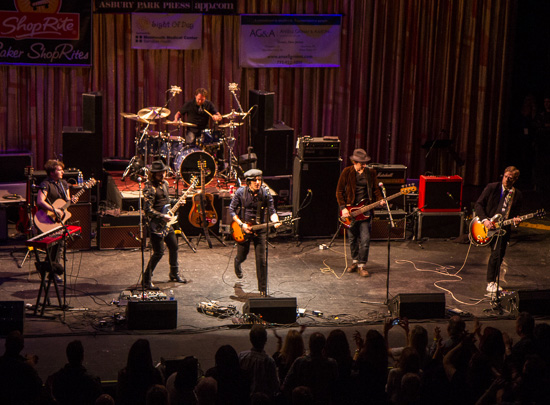 Over the years, Light of Day performances have also become fitting moments to pay tribute to those who have passed on, and numerous artists honored the recently deceased David Bowie, including Willie Nile, whose "Sweet Jane/Heroes" double shot on Saturday night was a performance highlight. Longtime participant Jesse Malin (above) brought his unique brand of New York attitude with a pair of performances that ran the gamut from Bowie to the Bowery and included Tad Kubler of the Hold Steady on guitar. Ever-present founding member/performer Joe Grushecky (at center, below) was also out and about, anchoring the Saturday event with a strong performance driven by Ed Manion on saxophone and Gordon Brown and Reagan Richards of Williams Honor, who helped lead the audience in a singalong of Springsteen's "Savin' Up."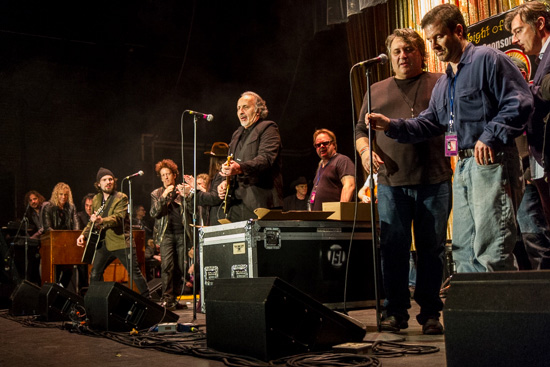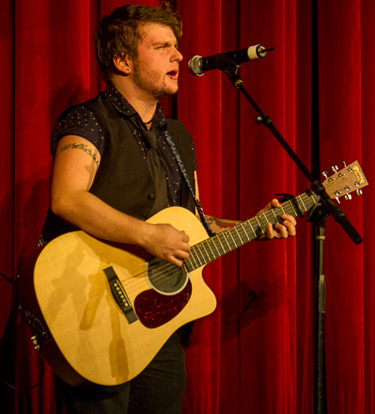 It was a long evening and a long week. There were late nights and spilled drinks and lost credentials; there was birthday cake and beer bottles and cold pizza, and drafty venues from Convention Hall to Cookman Avenue. With the weather and a little thing called the River Tour 2016, this year's Light of Day Winterfest could easily have been overlooked by music fans. But the strength and durability of the idea, driven by its indomitable founders and staff, by the countless artists who year after year devote their time and efforts and by the fighting spirit of its inspiration, Bob Benjamin, have turned Light of Day into something more than a concert series. "These are the real fans," declared Bobby Mahoney (right) from the Paramount Theatre stage. It was tough to argue with him.
Donate or find out more about the Light of Day Foundation and its efforts to fight Parkninsons Disease (and its related illnesses, ALS and PSP) at lightofday.org.
- January 19, 2016 - Lisa Iannucci reporting - photographs by A.M. Saddler


JANUARY 16, PITTSBURGH: THE RIVER WHERE THE RIVERS MEET
Thirty-five years after the River Tour, the River Tour begins. A good deal of rehearsing, in both New Jersey and Pennsylvania, paid off in one of the strongest tour openers in memory. At its close, Springsteen thanked the Pittbsburgh crowd multiple times for being an "incredible" audience, helping make for a great opening night, and that was spot-on — not just cheering at the mention of "the Johnstown company" and "through the Pennsylvania night," but right there every step of the way. There might as well have been terrible towels waving as a roaring crowd greeted Bruce and the E Street Band, dressed in shades of black and taking the stage just before 8:00 to begin the tour with a marathon straight out of the gate, lasting well over three hours.
As a concert opener, "Meet Me in the City" is as strong a statement of intent as anything in the Springsteen catalog. On paper the song may share the most with "Out in the Street," but kicking off this night it had the zero-to-sixty thrust of "My Love Will Not Let You Down," with the same call for connection, and it was a soundtrack for the scene: "I shoved my way through the heart of the crowd / Past the sign saying this is not allowed / To where someone's standing straight and shouting out loud..."
There's some magic in the night already, just seeing the E Streeters onstage for their first full show since 2014, and some additional enchantment with the band stripped back down to "just" a ten-piece. Much as I loved the contribution of the singers these last few years, and much as many of us pined and lobbied for another horn section for years after the Tunnel of Love Express Tour, seeing just the core band on stage — the band, not the orchestra — felt like coming home. Sometimes, as they say, less is more, and this was just the right unit to tackle the promise that was right there on the ticket: "Full 'The River' Plus!' Nevermind the fact that fully half of the players on stage weren't there in 1980-'81, this is who you want taking you down to the river in 2016. And after the promised River outtake, it was right into the full album, in slots 2 through 21.
"The River was the record where I was trying to figure out where I fit in," Bruce told the crowd. "By the time I got to that record, I'd taken notice of the things that bond people to their lives: work, commitments, families. I wanted to imagine, I wanted to write about those things, and I figured if I could write about them, maybe I'd get one step closer to reaizing them in my own life.... I wanted the record to contain fun, dancing, jokes, good comradeship, love, faith, sex, lonely nights, and of course, tears. And I figured if I could make a record that was big enough to contain all those things, maybe I'd get a little closer to the home I was searching for."
Given that there won't be setlist shake-ups for this sizable portion of the show, it's good to be starting with something so unshakable. From the jokes to the lonely nights, the built-to-last record sequence has all the peaks and valleys of a typical Springsteen concert in its bones. More than any other of his albums, as Springsteen told us in the Backstreets interview last month, The River was really created and sequenced to give listeners something like the experience of an E Street Band concert: "That's why we took all the time we did with it," Bruce told us, "it was our idea of new material that played like a show... with The River, we were taking a swing at trying to get some of that feeling and some of that ambiance onto the album." So seeing it come full circle — from the live show everyone raved about, to studio material meant to simulate it, back to the concert stage — is a deeply satisfying cycle.
Jake Clemons, holding it down for most of the night between Charlie Giordano and Max Weinberg, is a big enough man to not make the old horn section home base look lonely. And when he came down front for the solo on "The Ties That Bind," a friend leaned over and said, "Well, he's living up to the pedigree." No doubt about it. This was a big night for Jake, starting his first tour as the only sax player — the only horn — on stage. There's a lot of heavy lifting for him on The River, from "Sherry Darling" ("Party noises, we need party noises!" hollered Bruce) through "Cadillac Ranch" to "Drive All Night," and Jake was, in short, magnificent.
Jake even broke out harmonica on "Jackson Cage" — unusual to hear live, but it is on the record. That's indicative of the thought and attention to detail that went into this full River performance. Sure, it was informed by live touches that are familiar from recent years, including the "It Takes Two" coda on "Two Hearts" and Springsteen's crowd surfing on "Hungry Heart" (yep, he did it on opening night — hoisted from the back of the pit to the stage on outstretched hands). But Springsteen and the band also looked back to the original River tour for certain elements that hadn't been revived in decades. Roy Bittan's electrifying piano intro to "Point Blank" was last heard that way in 1981; commencing "I Wanna Marry You" with an extended "Here She Comes Walkin'" prologue was straight out of 1980 — and one of the most compelling moments of the night.
Well sometimes at night
When I lie in bed
I still see that face
Runnin' 'round my head...
Here she comes
Walkin' down the street
She looks so fine
She's looking so sweet...
Though they hit us with one song after another for the first few tracks without pausing for breath, Springsteen also broke up the album performance as it went on with some stories and reflections. It's effective, engaging, and further skirted any danger of this feeling like a recital. Speaking before "Independence Day," Bruce called it "The kind of song you write when you're young, and you're startled by your parents' humanity. You're shocked to realize that they have their own dreams, and their own desires. Because all you can see is the adult compromise that they had to make. And when you're young, you haven't had to do that yet. The idea of it frightens you. It frightened me. And all I could see was the world that they seemed locked into, and all I could feel was the desire to escape that world." Springsteen began the song alone at center stage, with the rest of the band bathed dimly in purple; subtle shifts in lighting as "Independence Day" continued added nicely to the drama.
The River sequence had it all — good opportunities to play to the back (the CONSOL Energy Center was packed to the rafters, with plenty of fans behind the stage) on songs like "Sherry Darling" and "Out in the Street," and moments for each band member to shine: Charlie on "Fade Away," Max pounding mightily on "I'm a Rocker," solos on "Cadillac Ranch" by not only both Nils and Steve, but also Soozie on fiddle. Great to see Ms. Patti Scialfa back on stage, she and Bruce shimmying toward each other and sharing harmonies at center mic. And of course, if you watch Garry — you do watch Garry, right? — back there next to Roy in his cool shades, there's a highlight every few bars. But probably most fun of all was seeing Steve Van Zandt so damn engaged. This is his wheelhouse, and it showed. From mugging on songs like "Crush on You" and "Ramrod," to his guitar playing — check out the mournful lines on his Gretsch Chet Atkins during "Point Blank" — to his crucial backing vocals throughout, the River co-producer is putting it on the line.
It's worth talking about those backing vocals, too. It's been a few years since the E Streeters have had to fully carry that weight, and based on their strength on certain numbers, it's clear that attention was paid. Ethereal backing harmonies on a monumental "Stolen Car," the full choral effect on "The Price You Pay"... it was a powerful blend of the voices we know and love: Soozie, Nils, Stevie and Patti all at their mics, and Jake back there, too. Of course Cindy and Curtis could have killed it — of course. But there's something about this material that makes it even more powerful with just the band, the band, the band.
As for Bruce's voice, he was in great form all night, but most astounding in soul-singer mode. "I Wanna Marry You," "Fade Away," and "Drive All Night" were all killer examples of the form. Springsteen prefaced "I Wanna Marry You" by calling it a "daydream": standing on a corner, watching "someone you'll never meet walk by, and you imagine an entire life with this person. Where you're gonna live, what kind of kids you're gonna have. Of course, it's the easiest kind of life: the one without the consequences. It's a young man's song! It's imagining love, in all of its glory! And its tentativeness. It's not the real thing. But you've gotta start someplace. So this is where I started." Bruce introduced "Fade Away" as "Steve's favorite song"; "Drive All Night" is where I literally got goosebumps, coming in waves as Bruce's vocal intertwined with Jake's saxophone at the end.
I could go on — about the fun of getting seldom-played rave-ups like "You Can Look" and, yes, "Crush on You"; the depth and power of "Stolen Car" and "Point Blank" — but hey, we'll have lots of chances to get into more River nitty-gritty, with all the full album shows to come. Suffice it to say that the dynamic, rarity-packed album sequence formed the heart of the show in more ways than one.
But Bruce wasn't close to through after "Wreck on the Highway." Given that 24 or 25 songs is probably average for a night with the post-reunion E Street Band, many fans were anticipating this tour as the 20-song River album plus a few more. The reality on the ground: 34 songs. It was a monster of a show in that way, backloaded with so many biggies, starting with "Badlands" (which drove the place nuts) and also including "Born to Run," "The Rising," "Thunder Road," "Dancing in the Dark," and "Rosalita."
Some of the selections tied in nicely with The River: for instance, before "Wreck on the Highway," Springsteen told the crowd that the album was also about time: the limited time we have, for work, for love, for life. Which made "Wrecking Ball," two songs later, feel like more than just Springsteen making sure he worked in a modern-era song. The crowd went nuts for that one, too. Separated by just a few songs, "Badlands" was a good reminder that Bruce had already written about "the price you (gotta) pay."
But it does seem apparent that this is where Springsteen's challenge will be, crafting a B-set after The River that feels like more than just The Hits. There must be a sense that, after more casual fans in the audience have experienced an album sequence that doesn't consist of popular favorites (a la Born in the U.S.A. or Born to Run), it doesn't make sense to dig deep for further obscurities. And how can you play a show without some of those warhorses? All true. But then there are the fans who are hoping for more of those River outtakes... so finding a balance should remain a challenge as the tour goes along, and an interesting one to watch Springsteen wrestle with.
(To anyone too frustrated by the concentration of chestnuts at the end, it's at least gotta be pointed out: "Waitin' on a Sunny Day" took a breather.)
But on opening night — or for anyone's first show as the tour goes along — the chance to see Bruce and the E Street Band blasting those big guns after a couple years off is bread from heavenly skies. And after such concentration on 1980, the back half of the show brought us a five-decade span of material, including a grand "Backstreets" and a welcome dip into Tunnel of Love, with Bruce and Patti sharing a mic on "Brilliant Disguise."
One big question of the night — how or whether Springsteen and the band would pay tribute to the dearly departed David Bowie — was answered as the encore began. "I don't know if people know it," Bruce said, "but he supported our music way, way, way back in the very beginning, 1973. He rang me up and I visited him down in Philly when he was making the Young Americans record. He covered some of my music — 'Hard to Be a Saint in the City,' 'Growin' Up' — and he was a big supporter of ours. I took the Greyhound bus down to Philadelphia, that's how early that was! Anyway... we're thinking of him." And with that it was into "Rebel Rebel," a fantastic blast of rock 'n' roll that felt perfect for the E Street Band. But then again, what doesn't? [video here]
With the crowd shouting along ("Hot tramp, I love you so"!), "Rebel Rebel" was a major highlight; but really, taking top honors tonight was the tour's namesake, the River album, full of heart and soul. Good thing it's gonna bear repeating. While perhaps lacking the "OMG" element of its one previous performance, at Madison Square Garden in 2009, this River had more subtlety, texture, and rehearsal. Which means they can do it again — 23 more times, at least — after all.
For the full setlist from this and other recent shows,
see our Setlists page
- January 18, 2016 - Christopher Phillips reporting - photographs by Guy Aceto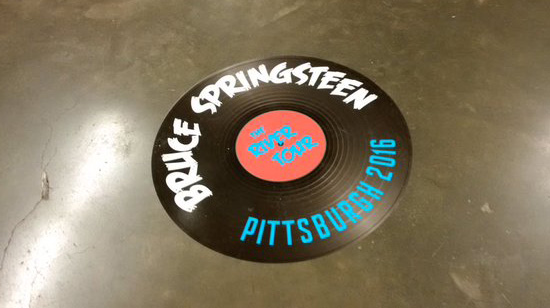 TAKE YOUR TIME, HURRY UP, THE CHOICE IS YOURS, DON'T BE LATE
Slight adjustment for tomorrow night's tour opener in Pittsburgh: doors will open at 6pm (earlier than previously stated), 90 minutes prior to the ticketed showtime of 7:30. Visit CONSOL Energy Center's Facebook page for info on the General Admission lottery, which has lottery wristband distribution between 2 and 5pm.
- January 15, 2016 - photograph via @springsteen/Twitter

LET'S DANCE
With the devastating loss of David Bowie coming in the midst of the E Street Band's rehearsals for The River Tour, and Bruce's thoughtful comments in tribute, it wouldn't be crazy to anticipate some kind of musical offering in honor of the man's passing at the tour opener this Saturday in Pittsburgh. Of course, no such thing appears on the setlist sneak peek [spoiler alert!] that @springsteen tweeted yesterday, but then, going offroad is sort of the man's stock-in-trade, full River performances or not.
The obvious choices might be the Springsteen songs that Bowie himself covered, "Growin' Up" or "It's Hard to Be a Saint in the City." For those who don't know the story, Bowie discovered Springsteen in '73, when he went to Max's Kansas City to see Biff Rose, who Bruce was opening for at the time. David didn't care for the acoustic set, but he was floored by the electric performances with the band; he promptly went out and bought Greetings and listened to it obsessively.
But if Bruce wanted to dive into the Bowie catalog for a cover, here are some suggestions, in order of possibility/reality.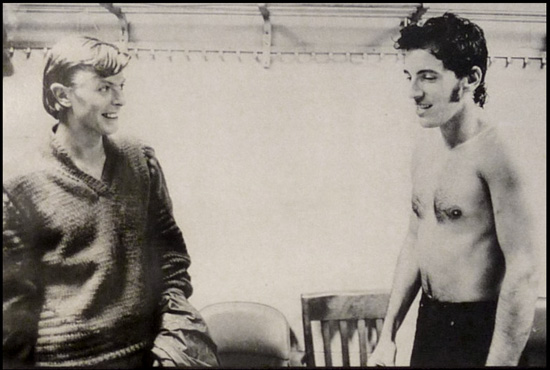 1. "Rebel Rebel"
Yes, it's the Captain Obvious of Bowie covers, but there's a good reason for that: it's an amazing rock 'n' roll song, with gritty, crunchy guitar chords (played by Bowie himself in the studio) and a gloriously Motown-like bass line just waiting for Garry Tallent. Thematically, it's about youth and rebellion, and rock 'n' roll style and flash, so that fits just fine. And it is really a perfect cover because of the crowd participation factor: can't you just imagine Bruce turning the mic to the crowd for "Hot tramp, I love you so"?
2. "Suffragette City"
If Bruce is looking for something more straight ahead, may we suggest the pedal-to-the-metal flavor that is "Suffragette City"? More glorious dirty guitar riffs, audience response opportunities in the verses — "Hey, man!" — and honky-tonk piano on the choruses, along with awesome sax work in the background. The live version even accommodates a guitar solo, should he choose to pursue that rendition. And the coup de grace: while not exactly G rated, the opportunity to watch Bruce shout "Wham, bam, thank you ma'am!" would be a once-in-a-lifetime event. There's no great thematic unity here, just a great rock 'n' roll song.
3. "Modern Love"
More in the pop vein, this hit from 1983's Let's Dance is more of a dance number with a gentler pace. But it's a great song, opening with classic chicken scratch guitar and strong rhythm, good horn lines, rock 'n' roll piano, and of course, that glorious sax solo, courtesy of none other than Asbury Jukes alumnus Stan Harrison. Bowie loved to have the crowd waving "bye bye" at him when he sang the line, and Bruce would love it, too.
4. "Young Americans"
Bowie loved soul and R&B, and he spent more than a few years trying to turn himself into a soul singer. The apex of this attempt was the 1975 Young Americans album, recorded in Philly's Sigma Sound studios. You can hear it in the vocal delivery, which Bruce would undoubtedly love to wrap his voice around. The underlying musical arrangement is sparse, dominated by tasteful jazz-like drumming, solid bass, and of course, amazing sax work from David Sanborn. And lyrically, it's a story Bruce tells in different ways on many of his songs, young love and facing adulthood and broken dreams.
5. "Heroes"
Yes, it's been covered to death, and covered badly. But it is possible to execute a good rock 'n' roll version of "Heroes," and Bruce's voice would be absolutely amazing, singing those lyrics. "Heroes" has had so many lives, as a tale of despair, remembrance, and even triumph, themes that all ring just as true in this camp. Even a solo acoustic version would be gorgeous.
6. "Look Back in Anger"
You may be thinking, "What is this song from the last album in the Berlin trilogy doing on this list? There could be few things less Springsteen than that." Yes, a bit of a wild card here, but "Look Back In Anger" is the most straightforward rock 'n' roll composition on Lodger, and devoid of its electronic niceties (as Bowie performed it on the "Serious Moonlight" tour) it's a powerful, driving rocker, the story of an angel coming to earth, delivered in a commanding voice, with a guitar solo that stands out by being a rhythm guitar solo. Bowie's range is slightly lower than Bruce's, but he could still pull this one off.
Honorable Mention: "Teenage Wildlife"
Structurally, this track already feels Springsteenian. It opens with a echoing, aching guitar line, underscored by a more melodic one, the vocal delivery is muscular, and the keyboards add color and brightness amidst the bleakness. Of course, the latter is courtesy none other than Mr. Roy Bittan, who walked across the hall at the Power Station to add his contribution to Scary Monsters while he was there working on The River. Lyrically, it's a tale of fame and youth and ambition, Bowie's tales of the "New Wave boys" can map to flashing guitars like switchblades, the same desire at their cores. But at almost seven minutes long, this one seems unlikely, more's the pity.
- January 14, 2016 - Caryn Rose reporting

"BORN IN THE U.S.A." STILL A STUMPER
"Born in the U.S.A." has been used and misused on the campaign trail practically since it was released in 1984; call it The Most Misunderstood Political Campaign Song in History. Ronald Reagan famously hoped to attach it to his '84 reelection campaign, and Bruce Springsteen has had to object to its co-opting by Bob Dole and Pat Buchanan as well. In 1996, Bruce penned a quick letter to the Asbury Park Press: "'I read in The Press this morning that my music was appropriated for the Republican rally for Bob Dole in Red Bank yesterday. Just for the record, I'd like to make clear that it was used without my permission and I am not a supporter of the Republican ticket.'' The song has been blared at political events on both the left and right, including Obama's acceptance of the Democratic nomination in 2008; as Parker Molloy wrote in 2014 for The Daily Beast, "years passed and politicians of all stripes continued to make use of 'Born in the U.S.A.' during campaign events, rallies, and victory speeches."
Donald Trump, who already received a cease-and-desist from Neil Young for playing "Rockin' in the Free World," has this week taken to playing "Born in the U.S.A." at campaign stops, as the Washington Post reports. The twist this time: beyond whatever rah-rah anthem anyone might hear, it's apparently a birther jab at Ted Cruz, trolling the senator from Texas over questions of his citizenship.
Springsteen wrote in Songs, "For years after the release of the [Born in the U.S.A.] album, at Halloween, I had little kids in red bandanas knocking at my door with their trick-or-treat bags singing, 'I was born in the U.S.A.' They were not particularly well-versed in the 'Had a brother at Keh Sahn...' lyric. But they all had plenty of lung power when the chorus rolled around. I guss the same fate awaited Woody Guthrie's 'This Land is Your Land' around the campfire. But that didn't make me feel any better."
Happy Halloween, everybody!
- January 14, 2016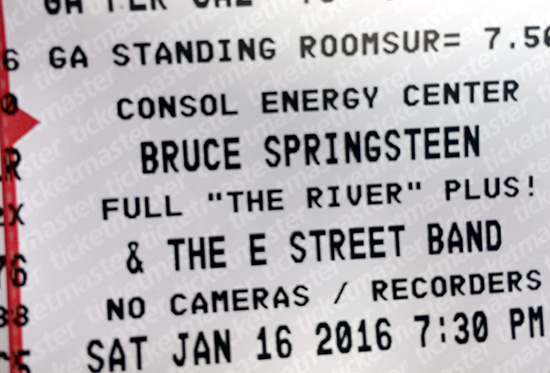 GENERALLY SPEAKING: ON 2016 G.A. LOTTERY PROCEDURE
For all those wondering about General Admission entry works for the upcoming River Tour, the Console Energy Center website has posted the GA lottery procedure for Saturday night's Pittsburgh opener.
It should be said up front, participating in the lottery (which involves picking up a numbered wristband between 2pm and 5pm on the day of the show, and being in line by 5pm) is not a requirement for GA ticketholders. As the procedures state:
The "lottery" allows holders of general admission tickets a random chance to enter the forward barricade area on the floor, closest to the stage. This is entirely optional and can be disregarded by GA ticket holders who do not wish to enter the lottery for a chance to be placed in the forward barricade.
But those who want a chance at "the pit," or a better position on the main floor, should familiarize themselves with how the lottery works here. While these procedures are specific to the Pittsburgh show, and we recommend checking venue websites for other cities as the tour goes along, we expect the basics to remain the same. Venue links for each show can be found on our Tour/Ticket Info page.
- January 13, 2016

DAVID BOWIE, 1947-2016
In the midst of sad news regarding the death of Rock and Roll Hall of Famer David Bowie, it's worth remembering his significant and longstanding E Street connections. Bowie was the first artist ever to cover a Springsteen composition, recording a version of "Growin' Up" (with Ronnie Wood on lead guitar) in 1973 during the sessions for his album Diamond Dogs. It remained unreleased, however, until the 1990 reissue of his all-covers album Pin Ups.
Bowie recorded "Growin' Up" nine months after seeing his first Springsteen concert at New York's legendary club Max's Kansas City on February 5, 1973. In some of his mid-1980s interviews, Bowie recalled seeing Springsteen and the E Street Band perform that evening; as he said on WNEW in 1986: "I thought it was another Dylan copyist, when he came on and started his acoustic set. Then the band came on, and I think it was probably the best rock band I've ever seen in my life, for about a half an hour.... I went out and bought his album, Asbury Park, and I thought, this is a great songwriter." Click here to view radio.com's animated "minimation" derived from that WNEW interview.
In late November 1974, one year after recording "Growin' Up," Bowie was busy at Philadelphia's famous Sigma Sound Studios working on various tracks for what would become his Young Americans album, including a version of Springsteen's "It's Hard to Be a Saint in the City" featuring Roy Bittan on piano. (Bittan later would work with Bowie on several more recordings; see sidebar.)
As the recording session approached midnight, legendary Philly radio personality Ed Sciaky, his wife Judy and their friend Bruce Springsteen arrived at Sigma Sound as invited guests of producer Tony Visconti. Despite Bowie already having seen Springsteen in concert, this was the first time the musicians had a face-to-face meeting.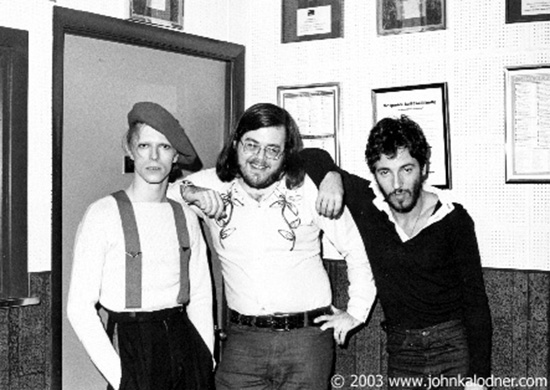 - Bowie, Sciaky, and Springsteen, Sigma Sound Studio, Philadelphia, 1974. Photograph by John Kalodner
Brucebase has extensive archived materials documenting this in-studio meeting, including more photos and a reprint of an article that appeared in the now-defunct Philly independent newspaper The Drummer. While The Boss and The Thin White Duke hung out and chatted between takes for quite some time, Springsteen never got to hear Bowie's version of "Saint," as Bowie felt it still needed more work. The track remained unreleased until 1989, when it first was released on Bowie's Sound + Vision box set.
On a 1979 BBC Radio One Stars Special, Bowie stated that after hearing Springsteen's original recording of "Saint" on Greetings From Asbury Park, NJ, he "never rode the subway again... That really scared the living ones out of me, that."
Roy Bittan on David Bowie
"What a loss. A true original. It was my honor to record with him over the years, especially his Thin White Duke period. In the studio, he would point in a direction and then let you be interpretive. He was always looking for a surprise and an addition he hadn't thought of. A real gentleman and one our most brilliant. I will miss him greatly."
— as told to Chris Phillips. In addition to playing on Bowie's version of "It's Hard to Be a Saint in the City," Roy Bittan appears on 1976's Station to Station and 1980's Scary Monsters (and Super Creeps).
Bowie's version also appeared on the 1997 benefit tribute CD One Step Up/Two Steps Back: The Songs of Bruce Springsteen, where Bowie recalled his 1974 meeting with Springsteen in his witty liner notes: "Springsteen came down to hear what we were doing with his stuff. He was very shy. I remember sitting in the corridor with him, talking about his lifestyle, which was very Dylanesque — you know, moving from town to town with a guitar on his back, all that kind of thing. Anyway, he didn't like what we were doing, I remember that. At least, he didn't express much enthusiasm. I guess he must have thought it was all kind of odd. I was in another universe at the time. I've got this extraordinarily strange photograph of us all — I look like I'm made out of wax."
And speaking of Bowie's famously sly wit, four decades after seeing his first Springsteen show and recording his first Springsteen cover, his The Next Day Extra EP featured the song "Born in a UFO" and a rather familiar-sounding chorus. For old times' sake, Major Tom floated by E Street one more time.

- January 11, 2016 - Shawn Poole reporting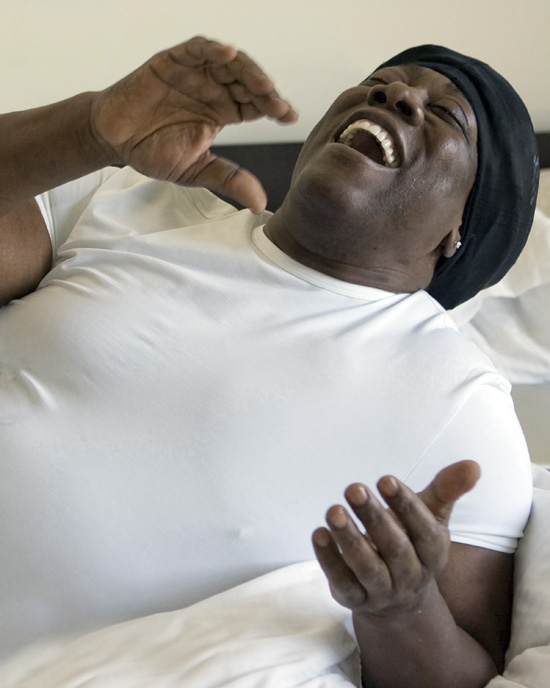 BIG SMILES AND JOY
Thanks to photographer Jo Lopez, who today sent us this shot from Clarence's wedding day to celebrate the Big Man's birthday with "big smiles and joy," as Jo says. One of his favorite shots, as Clarence lounged on the hotel room bed while getting dressed and ready for his marriage to Victoria, this image was also used on the cover of the memorial service program in 2011. See our interview with Lopez, Clarence's longtime friend and sax tech, in our Clarence Clemons tribute issue.
- January 11, 2016 - photograph by Jo Lopez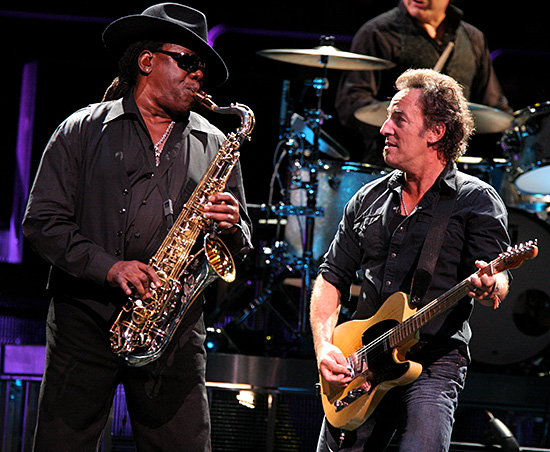 HAPPY CLARENCE CLEMONS DAY
The Big Man was born 74 years ago today, which makes it Clarence Clemons Day — in New Jersey, as officially declared in 2013, and everywhere else too, as far as we're concerned. This image was captured by photographer Guy Aceto on the Magic tour stop in Pittsburgh, where Bruce and the E Street Band will return this weekend to open the 2016 River Tour — with, of course, Clarence's nephew Jake Clemons keeping the spirit alive. Happy birthday, Big Man.
- January 11, 2016 - photograph by Guy Aceto [November 14, 2007]


PICTURES OF ALL YOUR LEADING MEN & MORE AT MORRISON HOTEL
Just in time for the Madison Square Garden shows, Morrison Hotel Gallery is staging a Springsteen photography exhibit — The River Collection — featuring the work of key photographers who were there back in the day: Joel Bernstein, David Gahr, Lynn Goldsmith, Jim Marchese, Neal Preston and Frank Stefanko.
The exhibit features images from the six photographers, featuring some of their work that was shot in the time period around The River, as well as other images of Bruce shot by the artists from 1974-1984. So you get to see the raw Frank Stefanko image shot for the cover of The River in a gallery setting, as well as that amazing Neal Preston shot from Wembley Stadium during Born in the U.S.A., along with other images you'll recognize from the Ties That Bind box set and documentary.
The River Collection also features some never-seen-before images from David Gahr (whose work you will remember from The Wild, the Innocent & the E Street Shuffle and the legendary 1975 Bottom Line shows, among others) and Jim Marchese (the photographer behind the wonderful European shots of Bruce and the band in the box set's book).
The exhibit runs from January 22 to February 10 at Morrison Hotel Gallery, located at 116 Prince Street in Soho. Some images will be available for sale. The gallery is open from 11am-7pm Monday to Saturday, and 12-6pm on Sunday. More information is available at morrisonhotelgallery.com. (Note: the catalog of images on the website is not final and is still a work in progress.)
- January 7, 2016 - Caryn Rose reporting - photograph by Joel Bernstein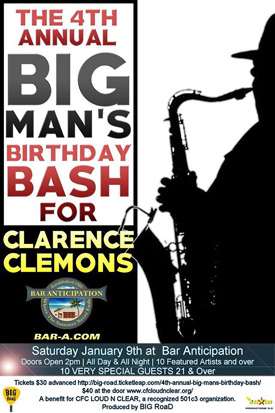 GREETINGS FROM ASBURY PARK:
JUST AROUND THE CORNER...
On Saturday, January 9, BIG RoaD Productions will present the 4th Annual Big Man's Birthday Bash at Bar Anticipation in Lake Como, New Jersey.
This year's event, supported by house band the BIG RoaD Allstars, features a little something for everyone, including a J. Geils Band tribute, an Elvis Presley tribute, and a headlining set by the Del Lords. Other local and national luminaries set to appear include Ricky Byrd (Joan Jett & the Blackhearts), J.T. Bowen, JoBonanno, Nick Clemons and Matt O'Ree.
The day-long event will benefit CFC Loud N Clear, a non-profit organization that provides free services to families suffering from addiction. Advance tickets may be purchased here; visit the Birthday Bash Event Page for further information.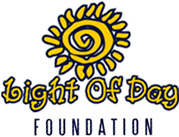 The following week brings the return of the Light of Day Winterfest. The weeklong celebration, which now includes events in both New York and Philadelphia as well as Asbury Park, will feature longtime participants like Joe Grushecky, Garland Jeffreys, Boccigalupe & the Bad Boys, Jesse Malin, Willie Nile and Joe D'Urso, with The Smithereens headlining the Saturday night Main Event show at the Paramount Theatre. Also on tap are sets by Jersey Shore favorites like Sunday Blues, the Danny White Band and Dawg Whistle, as well as Steve Forbert, Dramarama and a co-headlining show by Peter Asher and Albert Lee, with Malin set to headline the Friday night Asbury Angels show at the Stone Pony.
The Asbury Park area events begin on Sunday, January 10 with a Best of New Jersey Bar Bands event highlighted by a Cats on a Smooth Surface reunion. Tickets are available via Ticketmaster.com. Visit the Light of Day website for complete venue and lineup information.
- January 6, 2016 - Lisa Iannucci reporting

OUR SPIRITS RISE
We say goodbye to Stevie Wright, Natalie Cole, and Haskell Wexler
They say celebrity deaths often come in threes, and sadly that was the case over the holidays as it relates to the music of Bruce Springsteen. Just after Christmas, we lost Stevie Wright, lead singer and songwriter for the 1960s Australian band, The Easybeats. Their pop anthem "Friday on my Mind" is a favorite song of both Bruce and Steven Van Zandt and served as an inspiration for "Out in the Street." The E Street Band broke out the Easybeats song twice on their last visit to Australia inculding the Sydney performance below, of which Bruce wrote, "Steve's lifelong dream comes true!... as the band pulls off 'Friday On My Mind' (working on it since high school)." Known early on as "Little Stevie," Wright was 68.
On New Year's Eve, one of the great voices of soul and R & B, Natalie Cole, passed on at 65. Back in the 1980s, Natalie helped further popularize the "Dancing in the Dark" B-side, "Pink Cadillac," by recording her own dance version of the track. It shot up the charts in 1988, giving her own and Bruce's career a further boost.
Natalie Cole on "Pink Cadillac"
"Both "I Live For Your Love' and 'Pink Cadillac' were the brainstorms of producer Dennis Lambert… When I went to his house to work on 'Cadillac,' I was nervous. This was a dance song — and you remember how I felt about that disco dance stuff — but then I'd never worked with anyone quite like Dennis before. He was very passionate about his work, which turned out to be great for me, because his enthusiasm gave me the confidence that I could pull this off. Two very hot mixers named David Cole and Robert Clivilles (known collectively as C&C Music Factory) put a mix on 'Pink Cadillac' that was over the top, and it ended up as a huge hit in every dance club around the world. I had a dance hit. Me! It was hysterical.
"I thought to myself, 'I'm too old to be doing this kind of stuff.' I couldn't imagine myself onstage rockin' to the music like Tina Turner. But 'Pink Cadillac' turned out to be a big song, and it took us all over the place. With 'Pink Cadillac,' I started playing club dates where the gay crowd hung from the rafters — it was my Grace Jones kind of a vibe. The song became very big in Europe. It was wild, and it was a lot of fun. I was really very surprised. I never got a chance to talk to Bruce Springsteen, but word got back that he was blown away by it. He thought it was very cool that a woman could do this and it would come out so great."
- from Angel On My Shoulder: An Autobiography by Natalie Cole with Digby Diehl
The third death may be lesser known to some, but Haskell Wexler, a legend in the world of cinematography, passed on just before the new year. Wexler had a 50-year career as a cinematographer and director and worked on some of the greatest films of the 1960s and 1970s, including In the Heat of the Night, One Flew Over the Cuckoo's Nest, and Days of Heaven. He won two Oscars and was nominated three other times. Throughout his career, Wexler worked hard for social justice and his art resonated with efforts by workers and others to improve their lives. In fact, one of Wexler's Oscars was for the 1976 biopic of the champion of the underdog, Woody Guthrie, another one of Bruce's heroes.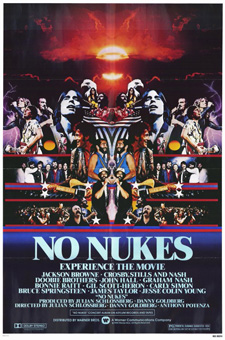 In 1979, Wexler was the photographer who filmed Bruce performing at the legendary, all-star No Nukes concert by Musicians United for Safe Energy in New York City. Springsteen's performances of "Thunder Road" and "The River" demonstrate Haskell's amazing skills.
Both videos — until recently the only filmed performances officially released of Bruce's classic 1979-1981 period — show the two dominant sides of the Springsteen myth and persona. Wexler perfectly highlights the joyful exuberance of "Thunder Road," especially where Bruce is grinning on the side of the stage, guitar in hand and ready to meet The Big Man for the song's triumphant finale.
"The River," which debuted at these shows, is also one of Bruce's greatest videos, thanks in no small part to Haskell's work. You can feel the burning intensity in his voice as Wexler closes in on the singer, then snaps back to a shot of a woman in the audience clearly mesmerized by the song.
The cinematographer also worked with frequent Bruce collaborator John Sayles on several films, including the superb Matewan. Haskell Wexler was 93.
- January 5, 2016 - Prakash Gandhi reporting, additional reporting by Shawn Poole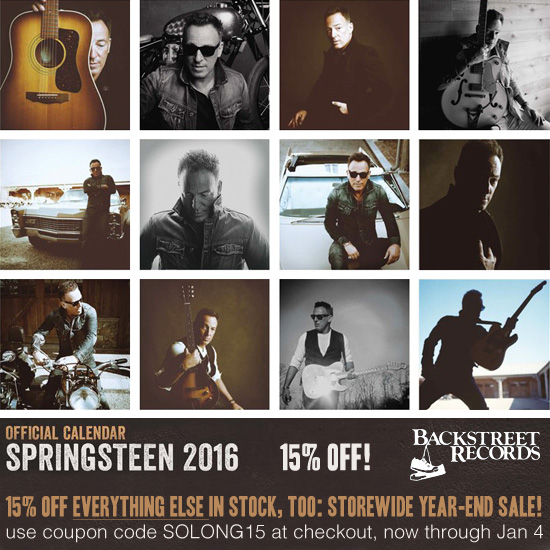 LAST DAY OF OUR YEAR-END SALE!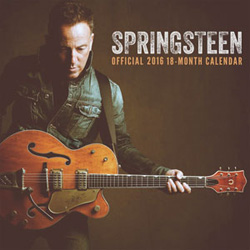 Set yourself up with the official Springsteen calendar for 2016 — the perfect place to write down tour dates. Order today, and it's just $12.75 (regularly $15) when you use the coupon code SOLONG15.
The calendar isn't the only thing on sale — take 15% off everything in stock at Backstreet Records when you use that coupon code. We're clearing out the shelves a bit for the new year, so come and get it — today's the last day of the storewide sale.
Simply use the coupon code SOLONG15 for a 15% discount on your entire order, applied at checkout. See all Latest Additions here.
- January 4, 2016

THE TIME THAT WAS... 2015
With 2015 now a wrap, just about everyone and everything has a Top Ten list. We already know that 2016 will be a very busy year for Bruce news; but despite no actual tour, 2015 also had its fair share of interesting moments. Looking back through our News Archives from the past year, we've compiled the top stories for 2015, with relevant dates so you can peruse the News Archives and/or Setlist pages for further details. So here you go, in no particular order.... Max, drum roll please: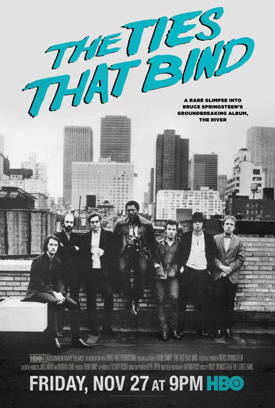 1. Down to The River
The long awaited, multi-disc River box set, The Ties That Bind: The River Collection, is announced on October 16, the eve of the 35th anniversary of the release of the double album.
Before the release, Thom Zimny premieres The Ties That Bind documentary at the DOC NYC film festival on November 14. On November 17, Thom brings the documentary and a one-hour cut of Tempe 1980 to New Jersey, screening both films in front of a packed house at Monmouth University's Pollack Theatre (presented by The Friends of the Bruce Springsteen Special Collection, along with Backstreets and Monmouth University). On November 27, a larger population of fans get a preview of the box set as HBO broadcasts the television premiere of the documentary; on December 2, E Street Radio premieres The River Outtakes in a special evening edition of Live From E Street Nation. The box set is officially released on December 4.
2. Into the River Tour We Dive
On December 4, Bruce and the E Street Band announce 24 live dates to celebrate The Ties That Bind. The tour focuses on 21 US cities with one stop in Canada. The announcement also notes: "Each night of the tour will be mixed for release on live.brucespringsteen.net as high-quality downloads and CDs. Recordings will be available within days of each performance."
On December 7, Bruce announces that the entire River album will be played in sequence at each of the announced 2016 shows. (The full River album has been performed only once in concert to date, on November 8, 2009 at Madison Square Garden.) Tickets for the 2016 concerts go on sale on December 11, many of them selling out in a matter of minutes. Frustrated fans, the media and government officials question the ticket selling process.
3. Seaside Bar Song
Bruce joins Joe Grushecky and the Houserockers, along with special guest Ed Manion, for a surprise two-hour-plus show at The Wonder Bar on July 18. The 15-song set is performed in front a packed house, as word leaks quickly after the soundcheck. A large crowd of fans who were not able to get into the club listen to the show on the streets of Asbury Park outside the iconic Jersey Shore bar. This was only the third time Springsteen has played the Asbury Park landmark.
4. Just Around the Corner
Springsteen makes his 11th unannounced appearance at the annual Light of Day benefit, at the 2015 finale at Asbury Park's Paramount Theater on January 17. Bruce performs with Willie Nile, La Bamba and Southside Johnny, before hitting the stage for a solo "Janey Don't You Lose Heart," followed by a 14-song set with Joe Grushecky and the Houserockers. The show ends with Bruce leading a sing along with all the LOD artists, and the packed house, on "Thunder Road" and "The Promised Land."
5. Where the Bands Are
During the summer, Springsteen makes a number of surprise guest appearances, mostly along the Jersey Shore:
On July 1, Bruce joins Brian Wilson at the PNC Arts Center in Holmdel, NJ for the encore and sings backing vocals on two songs, "Barbara Ann" and "Surfin' USA," strapping on a guitar as well for the latter.
On July 31, Bruce joins U2 on stage at Madison Square Garden for two songs, "I Still Haven't Found What I'm Looking For" and "Stand By Me."
The very next night, August 1, Bruce makes another appearance at The Wonder Bar and sits in with Timepiece for a series of classic covers.
On the eve of his 66th birthday, September 22, Bruce surprises the crowd at the Count Basie Theater in Red Bank, NJ, by joining old friend Jackson Browne for the last two songs of the night, "Take It Easy" and "Our Lady of the Well."
6. 57 Channels
Bruce appears on several late night tellyvision shows during the year:
On August 6, Bruce and the E Street Band appear on The Daily Show for a final farewell to his buddy and New Jersey compatriot Jon Stewart, with a rousing rendition of "Land of Hope and Dreams."That segues into "Born to Run,"with the entire Daily Show crew joining the band on stage.
On December 17, Bruce makes a guest appearance (no musical performance) on The Tonight Show with Jimmy Fallon to promote the Ties That Bind box set and discuss the upcoming tour.
On December 19, we get a glimpse of the upcoming tour as Bruce and the E Street Band perform "Meet Me in the City" and "The Ties That Bind" on Saturday Night Live. As the credits roll, the band plays "Santa Claus is Comin' to Town" as the entire SNL cast comes to the stage along with a surprise guest, Paul McCartney.
7. A Good Man is Not Hard to Find
Springsteen appears at a number of charitable events throughout 2015:
On February 6, Bruce performs at the MusiCares tribute to Bob Dylan. Joined by recent E Street Band member Tom Morello, he performs "Knockin' on Heaven's Door."
On May 18, Bruce has a mini-reunion with members of the Sessions Band at the Kristen Ann Carr Fund's "A Night to Remember," and they revisit four tracks: "Pay Me My Money Down," "O Mary Don't You Weep," "Jesse James," and "My Oklahoma Home."
On May 28, Bruce presents Pete Townshend with the Stevie Ray Vaughan Award at the MusiCares MAP Fund benefit and performs "My Generation" with The Who, and "Won't Get Fooled Again"with The Who, Billy Idol, and Willie Nile.
On November 10, Bruce performs for the ninth consecutive year at the Stand Up For Heroes benefit, playing a four-song acoustic set, adding a few requisite dirty jokes, and raising nearly $1 million for the Bob Woodruff Foundation during the night's auction.
On November 18, Bruce performs "American Skin (41 Shots)" with John Legend (supported by Roy Bittan, Tom Morello, and Max Weinberg)at Shining A Light, A Concert For Progress on Race in America.
On January 8, Bruce is honored at, but does not attend, the First Annual Lincoln Awards: A Concert for Veterans and the Military Family. Springsteen is the first to be honored in the Entertainer category, recognizing outstanding achievement and excellence in supporting and giving back to veterans as a performer.
8. Thanks For Comin' Down to the Show
Over the course of the year, Springsteen's Live Archive series releases downloadable versions of these classic shows:
The Tower Theater, 12/31/75
Nassau Coliseum, 12/31/80
Brendan Byrne Arena, 8/5/84
LA Sports Arena, 4/23/88
Value City Theater, Columbus, 7/31/2005
Ippodromo delle Capannelle, Rome 7/11/2013
and a special Christmas eve gift, the 10 songs from the Tempe 1980 show that did not make it into the River box set's concert film.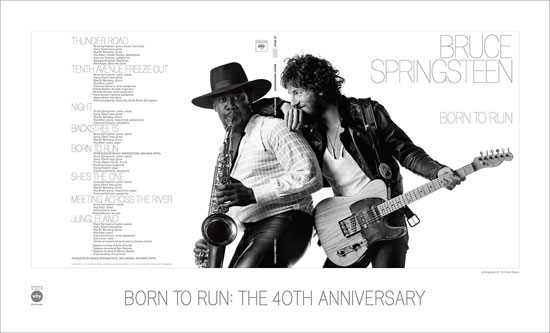 9. We Get to That Place We Really Wanted to Go
Born to Run turns 40 on August 25 and the anniversary is widely celebrated in the media.
E St Radio celebrates the 40th anniversary with a week of special programming highlighted by a 3 hour special dedicated to the album. This special BTR40 program offers specially selected live versions of every track from Born to Run, as well as some of the album's outtakes, interspersed with reflections and reminiscences from a variety of contributors.
Backstreets celebrates the anniversary with numerous posts throughout the summer and into the fall, including new interviews with Born to Run co-producer Mike Appel.
Backstreets also spearheads the creation of an official Born to Run 40th Anniversary poster to benefit WhyHunger, also celebrating 40 years in 2015. The 24" x 40" poster, overseen by photographer Eric Meola and current Columbia art director Dave Bett, reproduces the classic album cover in crisp detail, upsized 150% and is still available from Backstreet Records.
10. We Have a Call from "Bruce from New Jersey"
On December 9, Bruce calls into Live From E Street Nation and speaks with Dave Marsh and Thom Zimn, revealing a solo project in the works that's being bumped by the River box set and 2016 tour.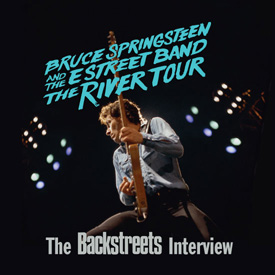 On December 10, Bruce continues his holiday phone calls and speaks with Backstreets editor Chris Phillips. "Many Rivers to Cross: The Backstreets Interview" is Phillips and Backstreets' third-ever interview withSpringsteen.
During the conversation, Springsteen touches again on the solo project, gives some hope to fans in cities other than the 22 on the schedule, reflects on his historical reluctance to document his concerts, and discusses what he loves about playing albums in their entirety. In the case of the upcoming River performances:
"I think it's going to be a relief to a certain extent! I mean, usually up there, I'm a third or two-thirds through the song, and my mind is already going, okay, what am I gonna play next? I enjoy doing that — and my band does that better than anybody out there — but it'll be fun playing music like it's a little opera or a little play. It'll be enjoyable to do that. I'm looking forward to it."
Honorable mention:
Southside Johnny's Prove It All Night: The Music of Bruce Springsteen at the Stone Pony on February 28
Rich Russo's final tour of The Upstage Club on March 27
Darlene Love's record release event at the Paramount Theater on September 12... Bruce contributed two songs to the Stevie Van Zandt-produced album, Introducing Darlene Love.
The opening of the photography exhibit Bruce Springsteen: A Photographic Journey at Monmouth University on September 27
Barbara Pyle's book of photography, Bruce Springsteen & the E Street Band 1975, published by Reel Art Press on November 23
- January 2, 2016 - Kevin Farrell reporting