SPRINGSTEEN-SIGNED TELE AND MORE BENEFIT WHYHUNGER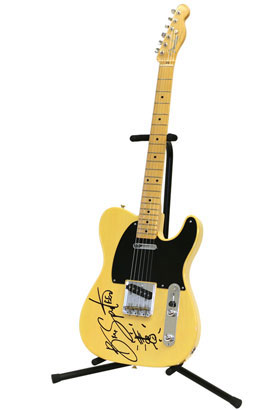 This year marks 40 years of WhyHunger, the hunger- and poverty-fighting organization that Harry Chapin and Billl Ayres founded as World Hunger Year in 1975. We're celebrating that milestone (and raising funds for the cause) with the exclusive Born to Run 40th Anniversary poster... and of course there are other ways to help their efforts.
An big auction currently running on charitybuzz.com ends tomorrow, with all proceeds benefitting WhyHunger. Lots of entertainment memorabilia experiences include several of interest to Springsteen fans:
See all WhyHunger auction lots here, and the Springsteen items here. Bidding closes tomorrow, June 30!
- June 29, 2015

PONY GIRL
Bruce and Patti to chair 2016 "Rockin Rio" benefit for U.S. equestrian athletes, including daughter Jessica
The United States Equestrian Team (USET) Foundation has announced Patti Scialfa and Bruce Springsteen as honorary chairs of USET's "Rockin Rio" benefit, to be held on January 22, 2016 in Wellington, FL. The event will raise funds for the U.S. Equestrian Team as it prepares to compete at the 2016 Olympic and Paralympic Games in Rio de Janeiro, Brazil. Bruce and Patti's daughter Jessica, a 2016 U.S. Olympic hopeful, has successfully competed at the highest levels of show jumping in national and international events.
In a joint statement, Scialfa and Springsteen said, "Helping this country's equestrian athletes and supporting the United States Equestrian Teams has been a family affair for us. We recognize the hard work and commitment it takes for riders to reach the pinnacle of the sport, and hope that as Honorary Chairs we can help make this benefit a huge success in support of our riders as they prepare and compete at the 2016 Olympic Games in Rio."
There's no indication whether the event will feature any performances from Bruce and/or Patti; click here to view the official announcement.
- June 26, 2015 - Shawn Poole reporting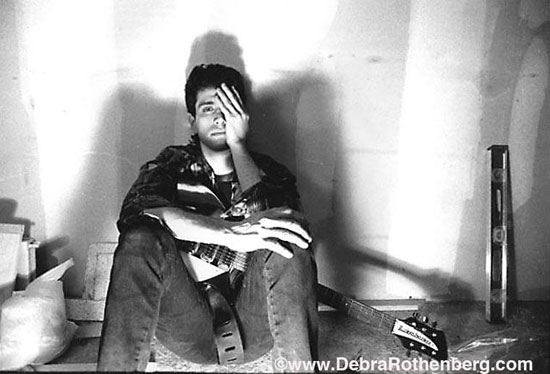 GREETINGS FROM ASBURY PARK: BRUCE TUNKEL BACK WITH A DOUBLE LP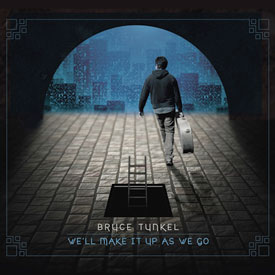 New Jersey singer/songwriter Bruce Tunkel, whose former band The Red House packed clubs up and down the Jersey Shore in the early '90s, has just released We'll Make it Up as We Go, a self-released double CD that stands as some of the finest work of his long career. The record features contributions from Frankie and Kelly McGrath (of the late, great Maybe Pete) and P.K. Lavengood, longtime guitarist in John Eddie's band. The deeply personal record includes several songs co-written with Kelly McGrath (including the title track), and showcases an expansive rock 'n' roll sound that draws from myriad influences including Bruce Springsteen, Steve Earle, Lucinda Williams and the Replacements. Of special note is "Never Gonna be the Same," a moving response to the death of Clarence Clemons.
Tunkel says working with Kell, has been "really been fantastic. I"ve known those guys [the McGraths] a really long time — they"ve been close friends. I've always respected their musical sensibilities. What that means as far as our collaboration is that I trust them."
For a self-professed "control freak," the prospect of an ongoing songwriting partnership is somewhat of a departure from what he's been doing as a solo artist over the last couple decades. But if it means more songs see the proverbial light of day, Tunkel is game: "It's something that if she's up for it, I'd love to continue doing it. Why sit on a song that [she could help me] get done, you know?"
Since the breakup of The Red House, Tunkel has written and performed as a solo artist, releasing several acclaimed CDs, appearing sporadically in local clubs and making a handful of Light of Day appearances while keeping fans in the loop via his blog. He will be appearing with a full band on September 11 at the Brighton Bar in Long Branch, NJ, with more appearances to be announced. Look for a full-length interview in the next issue of Backstreets, coming this summer, in which Tunkel discusses the recording process and his love for up and coming artist Frank Turner.
We'll Make it Up as We Go is available via iTunes and Amazon; visit Bruce Tunkel Music for CD purchase and information on upcoming dates.
- June 23, 2015 - Lisa Iannucci reporting - photograph by Debra L. Rothenberg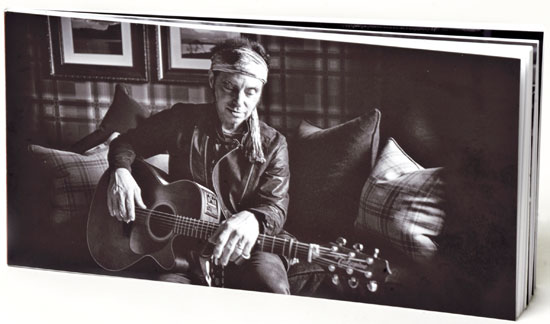 WHEN HE'S SIXTY-FOUR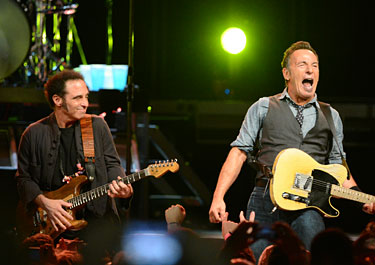 On this Father's Day we send a happy one out to all our fellow Dads out there... and we've also got birthday love for the great Nils Lofgren, who turns 64 today, born June 21, 1951. Celebrate with his 45-year career retrospective box set, the limited edition Face the Music. We spoke with Nils a few months back about the ten-disc set: "a momentous thing, after having so much of my old music out of print, to have a company, Fantasy-Concord, that wanted to go back and let me handpick the best of 45 years and get it out." Read the interview here. And have a rockin' birthday, Nils!
- June 21, 2015 - photograph by Alan Chitlik

THE WORKING LIFE
Producer Ron Aniello teamed up with Bruce Springsteen for Wrecking Ball, High Hopes, and American Beauty, and his work on Springsteen's music has continued into 2015. No official word yet on what is coming or when, but from out of the Twitterverse comes a fly-on-the-wall moment courtesy of L.A.-based engineer and bassist Raad Soudani:

- June 20, 2015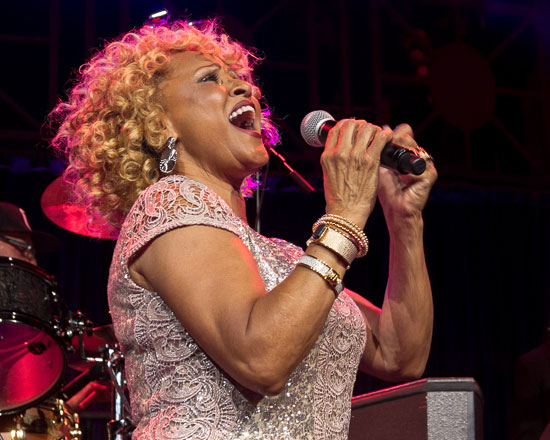 VAN ZANDT-PRODUCED DARLENE LOVE LP JUST A FEW MONTHS AWAY
The Darlene Love/Stevie Van Zandt mutual admiration society has been around for a long time — see their 1992 collaboration on the Van Zandt-penned "All Alone On Christmas," for one thing — and when Love was inducted into the Rock and Roll Hall of Fame in 2011, she expressed her thanks to Steve "for his continuous support and encouragement." In 2013, she was honored by Little Kids Rock as "Big Man of the Year," performing [above] as Van Zandt led the band.
Steve's latest "support and encouragement" of Darlene Love has been to produce and arrange her forthcoming new record. Last month Stevie enthusiastically told Backstreets, "You're gonna love it. We've got it ready for this fall, should be September." When we asked about song contributions from our favorite songwriters, he nodded: "Two from Bruce, and three from me."
Now, a press release makes it offiical, with Introducing Darlene Love set for an "early autumn" release on Stevie's own Wicked Cool label in partnership with Columbia Records. Other contributors to the album include Elvis Costello, Jim Webb, Linda Perry, Desmond Child, Joan Jett, and the team of Barry Mann and Cynthia Weil. Steve says, "Darlene's legendary status is well deserved, but I felt the time was long overdue to show a younger generation why she has earned that reputation. Partnering with Columbia Records is a dream come true because now I know the world will hear her."
- June 19, 2015 - photograph by A.M. Saddler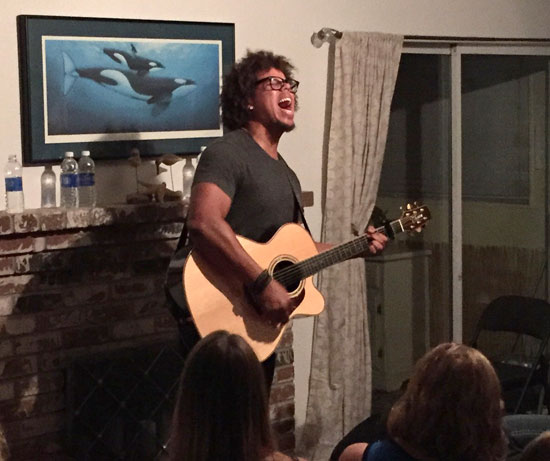 "THIS IS ANCIENT... STEEL, WOOD, SPIT AND AIR"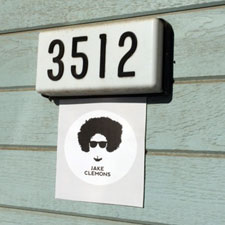 Today marks the 4th anniversary of the death of Clarence "Big Man" Clemons, who the world lost on June 18, 2011. So it's a perfect day to look at one of the ways his legacy and his enormous spirit are kept alive, through the music of his nephew Jake.
As the Modesto Bee reports, Jake Clemons has been bringing it to the people this spring in a very intimate way, with a series of #inyourlivingroom shows in the homes of fans. For these house parties, it's been basically just a man, his guitar and his sax — as Jake's website states, "You don't need any sort of sound system. All you need is a small space for Jake to perform and some kind of ambient lighting like a lamp on coffee table, floor lamp, etc." — and of course, his big voice and even bigger spirit. For the Bee, Nan Austin covered the final night of the Living Room Tour, this past Saturday in the home of longtime fan Jeff Brown, and it's well worth a read.
We got in touch with Jeff [below, far right, with his family and Jake], who told us more about this tour finale right under his roof in Ceres, CA:
What an amazing night — at my house! Jake played a 14-song set. The setlist only had 13, but he added a cover of "Wonderwall," playing for us for nearly two hours. His vocals were strong, and he told stories to tie things together and set up each song — it was magical.

The songs that stood out for me: "Friend of Mine," which he started with Marvin Gaye's "What's Goin' On," intertwining the two effortlessly; "Song For Hope," one of my favorite of Jake's songs, on which he had the audience recreate the horn parts; "Embracing Light," which showed the strength of his vocals — he yelled out the chorus, giving us goosebumps.

Those three songs stood out to me, but he was steady and strong throughout the entire set. Jake proved that he can take the frontman role and have an audience in the palm of his hand. It was a true house party, with Jake talking to the crowd throughout the show and having a good time. His storytelling was such a major part of the night. He painted such vivid pictures with his words.

It's still hard for me to believe that Jake was playing in my house. I look at the pictures and think, "Did this really happen?"

After Jake finished he hung out for a couple more hours, along with his brother Quincy, until after midnight. He signed autographs and took photos with anyone who was there, telling stories about his childhood, Clarence, Bruce, and just about anything in his life. We told him stories about us and our lives, too — who knows, maybe we'll inspire a song?

This night was far more than I expected. The show — and just hanging out with Jake — was something I, along with family, will cherish for the rest of our lives. I thanked him so many times, as he touched us all with his talent, his words and his love... but again, Jake, thank you from the lucky people who attended and got you know you.
As Jake said on Saturday night, "It's an amazing thing to just be right in front of people. This is a gift for me... For thousands of years this is how people experienced music. This is ancient. It was in living rooms, pubs, churches. People getting together – steel, wood, spit and air."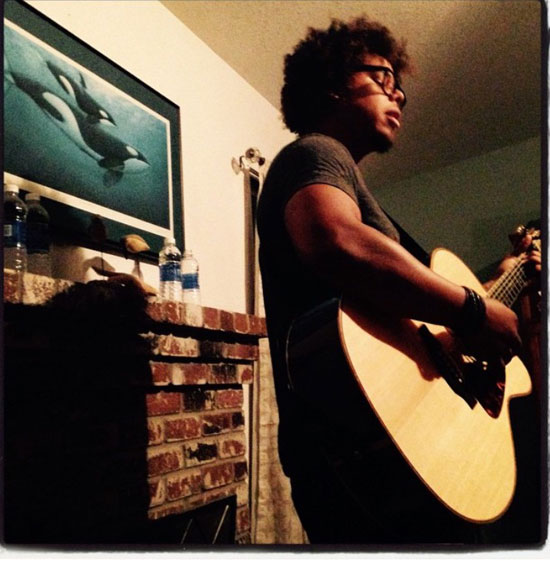 Keep up with Jake at jakeclemons.com, and read his thoughts on his uncle Clarence — and many other friends of the Big Man — in our tribute issue, Backstreets #91.
- June 18, 2015 - photographs courtesy of Jeff Brown

NALANI & SARINA CUT SOME PLACE OF THEIR OWN
Jersey girls drop their new EP and a fresh take on "No Surrender"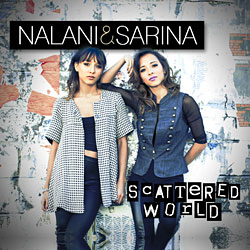 Last year, we introduced Backstreets readers to our friends Nalani & Sarina, mega-talented twin sisters who are natives of Danny Federici's hometown of Flemington, NJ. They told us about the influence and inspiration they've drawn from both Roy Bittan and Bruce Springsteen in creating and performing their own music. They also recorded a great cover of Springsteen's "Save My Love," which remains available here as an exclusive Backstreets.com free download.
Tomorrow Nalani & Sarina will release Scattered World, a new EP of self-composed material. The digital EP will be available at iTunes, Amazon and other digital music outlets. Scattered World also will be available as a CD via Nalani & Sarina's online store. For a First Listen, Backstreets.com is pleased to host a streaming audio preview of the entire EP here:
Building on the success of Lessons Learned, their first full-length recording, Nalani & Sarina offer a unique mix of pop, rock, folk, funk and soul. They get right down to it, too, as Scattered World's opening track, "We'll Be Free," finds the duo being just as funky as they wanna be on their first officially-released overtly political song. (Keith Creighton of Popdose recently cited "We'll Be Free" as ample evidence of Nalani & Sarina's ability to "out-Prince Prince.") Despite the EP's title, it's anything but scattered. The six tracks connect to each other and flow very much like an old-school album side, exploring themes of freedom, repression and our various struggles to find love, friendship, community and maturity while the world seems to fall apart.
All of which ties in perfectly with the latest Springsteen cover Nalani & Sarina have shared with us: a Backstreets-exclusive version of "No Surrender," the song they originally performed (in a unique arrangement with gorgeous harmonies) for Dave Marsh last week on his Sirius/XM Spectrum show Kick Out The Jams, and which Marsh also aired on E Street Radio's Live From E Street Nation.
Get the mp3 of "No Surrender" on our Downloads page
It's further proof that like Bruce Springsteen circa 1970 or so, Nalani & Sarina are dedicated, serious young Jersey-based musicians (which also came across very clearly in this recent New Jersey public-television profile partially shot in Flemington.) Check out NalaniSarina.com for more information on Scattered World and their upcoming live performances, including tomorrow night's gig at New York City's legendary The Bitter End, celebrating the release of the EP onstage with some of the top-notch players who joined Nalani & Sarina in recording it: Jim Hines, Will Lee, Tommy Mandel and Oscar Rodriguez.
- June 17, 2015 - Shawn Poole reporting

BORN IN THE DDR
This Saturday on BBC Radio 4: a one-hour documentary on Bruce and the E Street Band's July 18, 1988 concert behind the Berlin Wall: "This is the madcap and improbable true story of how the Stasi licensed a Bruce Springsteen gig in East Berlin, and started something they couldn't stop.... Jonathan Myerson's entertaining drama follows the rollercoaster tale of how 200,000 East Germans got to sing 'Born In The USA', in front of the Party hierarchy — and how one crazy night in Berlin fired the hearts of a generation." Further details at bbc.co.uk.
For more on the subject, see Erik Kirschbaum's book, Bruce Springsteen: Rocking the Wall, The Berlin Concert That Changed the World.
- June 17, 2015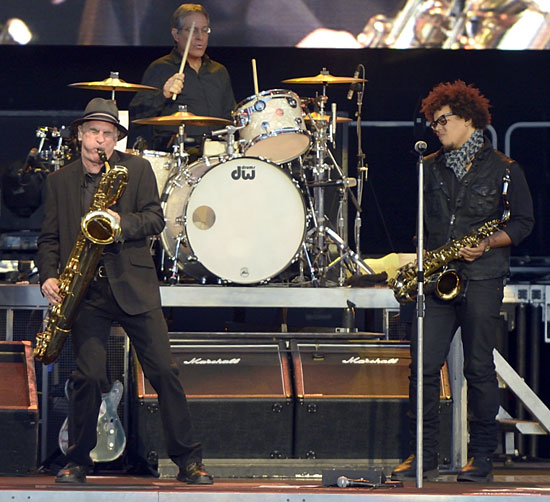 EDDIE MANION TEAMS UP WITH JOE GRUSHECKY FOR ROCKLAND MUSIC FESTIVAL AND MORE
Eddie "Kingfish" Manion, longtime sax player for the touring E Street Band and the Jukes, has been working with Joe Grushecky for some time now, not only playing recent shows as a pair but also recording together "off and on, for the last six years: We recorded some things with the Houserockers with a saxophone. It kind of grew out of that." Jay Lustig spoke with Eddie for NJarts.net, talking about the acoustic duo set with Grushecky as well as Manion's forthcoming second solo album, and his longtime friendship with Clarence Clemons: "...as far as horn players, I think I've played with Clarence probably more than anybody in the world, as far as live shows... We'd talk about music all the time. We had a lot of conversations about who our heroes were, and influences. From being in the Jukes back then, in 1976, we would get together all the time and talk about mouthpieces and saxophones. And when we were on the road, we would play poker up in his room. He still owes me a couple of bucks!"
Read: "Eddie Manion to join Joe Grushecky for more acoustic duo shows."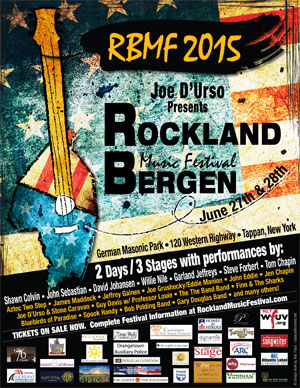 Upcoming gigs for Manion and Grushecky include June 26 at in Piermont, NY's Turning Point Cafe, and June 27 at the Rockland-Bergen Music Festival.
The Rockland-Bergen Music Festival is the brainchild of singer-songwriter Joe D'Urso, who has long worked closely with Light of Day and WhyHunger, both of which will have on-site presences at the weekend festival. "I sit on the board of directors for both," Joe tells Backstreets, and they are family to me. This is not a benefit event but more of mixing two worlds together!"
In addition to the Grushecky/Manion duo, artists of note playing the June 27-28 festival include Willie Nile, Garland Jeffreys, Shawn Colvin, David Johansen, John Eddie and D'urso himself with his band Stone Caravan. Find out more and purchase tickets at rocklandmusicfestival.com.
- June 17, 2015 - photograph by Rene van Diemen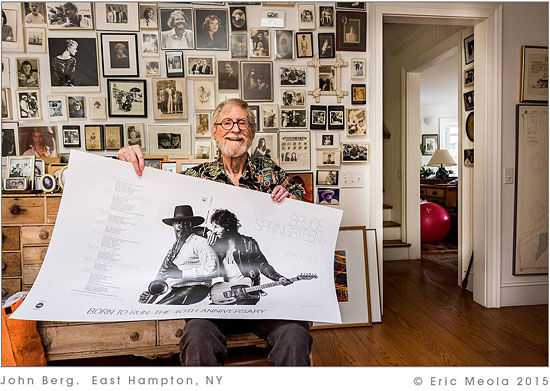 FACES OF BTR40: ART DIRECTOR JOHN BERG
"Wow!!!" was all he kept saying. "Wow, wow, wow!!!" Coming from John Berg, 83, the Columbia Records art director in the glory days of 12-inch LP covers, we take that as a major compliment. Sitting in his East Hampton, Long Island home in front of a wall of memorabilia, Berg was all smiles as he beheld our supersized version of his Born to Run jacket. Thanks to Sony's current head of design, Dave Bett, Berg's cover design for Born to Run has been recreated in all its glory — no easy feat since the typeface no longer exists — and is currently availabe in poster form exclusively through Backstreets. In honor of the 40th anniversary of Springsteen's classic 1975 album, net proceeds from the sale of these posters go straight to WhyHunger, also celebrating 40 years in 2015.

"Wow, look at the printing on this," was John's first reaction, "And the paper!" He reminisced about the creation of the Born to Run album album cover: "This was the very first cover of its kind where the artist was on the front cover and you had to open it up to find out who he was looking at... that had never been done before!" Speaking of Bruce Springsteen before he was famous, Berg said, "He always had time to stop by the secretaries' desks and ask them how they were... he made them feel important. And it was real."

Berg is famous for some of the most famous album covers of the '60s, '70s and '80s, and he went out of his way to shake things up in his field, including putting Milton Glaser's psychedelic silhouette of Bob Dylan on a poster inside Bob Dylan's Greatest Hits. John talked more about his work, including the making of the Born to Run cover, when it was recently on display at his Guild Hall gallery show:
Bruce Springsteen and Eric Meola, the photographer, came up unannounced one day with pictures from a photo session they had done on their own. Springsteen wanted to use a picture that looked like what John Updike used on the back of his books. I hated that kind of stuff. We already had one of those [The Wild, the Innocent & the E Street Shuffle], and we managed to mess with the type so that it was acceptable to me. I said, "leave me all the contact sheets." One of my unfailing good traits is I will actually look at your pictures. All of them. I mean relentlessly. I will find stuff the photographer never knew was there. Among the photos there were three or four shots, all more or less the same. But in this one they were just breaking up, or whatever the emotion was. It was perfect. It oozes charm. So I told to Springsteen and Meola that I wanted to use it as fold-out cover. I said, "Now I gotta try and sell this thing upstairs to management because the cost is twice as much to print a gatefold." The product manager came down and said, "We love it!" But I cooked all that up. What I was doing was I selling Springsteen the idea to avoid having another John Updike cover.
Meola says, "John Berg was the first art director who made me realize what art direction was about. John went through my Born to Run take and immediately saw the possibility of what became the cover shot. He extended the white background to the left of Clarence, and the 'movement' of Bruce leaning on someone carried over to the back cover, and the words 'Born to Run' suddenly came to life. When I first saw the mock-up of the cover I had that instant moment of knowing that John had taken a good image and used it in a way that made it even greater."

This 40th anniversary Born to Run poster is a tribute to John's simple, elegant design; we wanted to honor that, while also raising funds for WhyHunger in their 40th year of fighting hunger (Springsteen is a founding member of WhyHunger's Artists Against Hunger & Poverty).
Read more about this dual anniversary effort on the WhyHunger blog, and order your poster here.
If you've already placed an order, we're currently in the process of shipping out hundreds of these, and we're taking care to roll and pack each one carefully and well protected, to get it to you safely and in perfect shape. So we ask that you please allow the full four weeks for delivery, and we appreciate your patience with the shipping and handling!
- June 12, 2015 - photograph by Eric Meola


EMMYLOU HARRIS, "OUR AMERICAN TREASURE"
Bruce Springsteen and Patti Scialfa congratulate the incomparable Emmylou Harris, who was just honored with the 2015 Polar Music Prize in Stockholm. The prestigious Swedish award, founded in 1989 by Stig Anderson, recognizes exceptional achievements in music internationally. Springsteen himself was selected nearly 20 years ago, named a Polar Music Prize Laureate in 1997 [watch him receiving the award here]. In the video above, Springsteen warmly thanks Harris "for gracing our songs with your voice over the years — you are our American treasure. We love you." Congratulations to Emmylou; read more at Billboard.com.
- June 10, 2015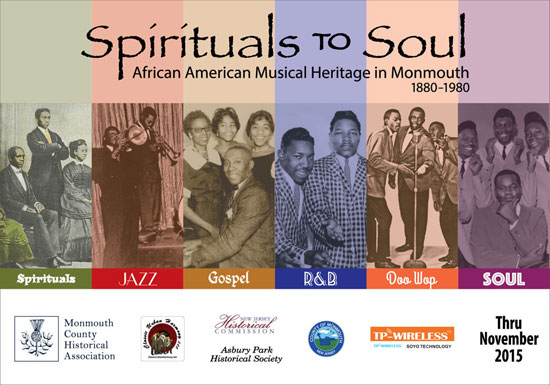 SPIRITUALS TO SOUL EXHIBIT OPENS NEXT WEEK IN FREEHOLD
Building on the overwhelming success of their recent exhibit on the music of Asbury Park's West Side at Monmouth University's Pollak Gallery, music historians Charlie and Pamela Horner have now expanded that presentation to encompass the history of African-American music in Monmouth County, New Jersey in an exhibit titled "Spirituals to Soul: African American Musical Heritage in Monmouth, 1880-1980."
The exhibit, which opens June 18 at the Monmouth County Historical Association (MCHA), located just across from the courthouse in Freehold, NJ, uses photographs, audio listening stations and memorabilia to trace the development of spirituals, jazz, gospel, rhythm & blues, doo wop and soul, as well as the history of some of the local venues in which these musical genres were crafted.
The Horners, with an online home at classicurbanharmony.net, have shown a tireless devotion to promoting the crucial but often overlooked role that the West Side of Asbury Park played in music history not just on the Jersey Shore, but on the state and national level. Here, Charlie and Pam have employed their encyclopedic knowledge of African American musical traditions in assembling a first-of-its-kind exhibit that, while comprehensive in nature, is still just the proverbial tip of the iceberg in terms of the significant contributions made by Monmouth County's African American community to the history of American popular music.
Says Charlie, "So much of the birthplace of rock 'n' roll took place in the African American community along Springwood Avenue and throughout Asbury Park, and the area has never received the accolades it deserves for preserving and popularizing this special brand of entertainment."
The exhibit will open with a 6 p.m. evening reception during which the neon marquee from Leo Karp's historic Turf Club will be lit for the first time in over 40 years. The Historical Association will also host an exhibit presentation by the Horners on Wednesday July 22 at 6 p.m. The MCHA museum is open Tuesday through Saturday from 10 a.m. to 4 p.m.; admission is $5 for adults, $2.50 for seniors. "Spirituals to Soul" will run through November 15.
- June 5, 2015 - Lisa Iannucci reporting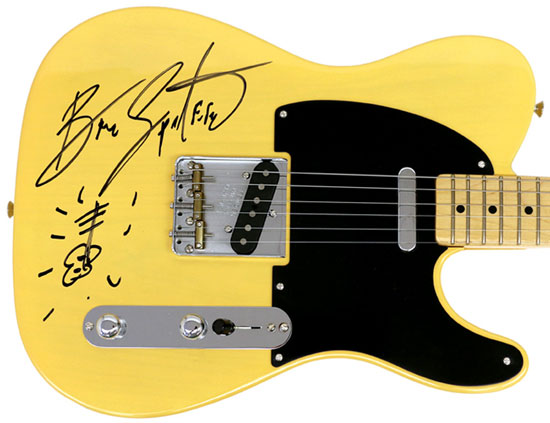 SURE AS THE TICKING OF THE CLOCK ON THE WALL
KACF online auction bidding-time's slippin' away
Less than a week remains to place your bids in The Kristen Ann Carr Fund's Spring 2015 online auction. There are plenty of cool items on auction, including the Springsteen-signed '52 Reissue Telecaster above, and many of them still don't require super-deep pockets to bid. All of the money raised will be used to fund the research and treatment of sarcoma with an emphasis on adolescents and young adults, the work of the KACF for 22 years now.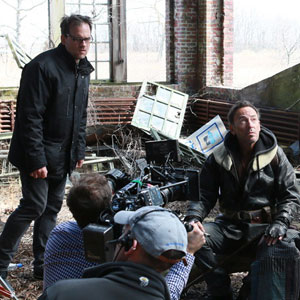 One of the most ingtriguing Bruce-related items on the block is the Thrill Hill Vault Screening Reception for 10 with Thom Zimny. On a mutually agreed-upon date, you and nine guests can spend a few hours in Manhattan at Post FactoryNY's state-of-the-art screening room, hosted by Bruce Springsteen's longtime video/film collaborator and archivist. Zimny, this year's KACF honoree, will screen two hours of personally selected film and video clips from Springsteen's official archives. Appearing this week on E Street Radio's Live From E Street Nation with Dave Marsh, Zimny announced that the screening will feature footage from various periods of Springsteen's career, ranging as far back as the early 1970s to as recent as pro-shot from the Sessions Band mini-reunion just a few weeks ago. Zimny also promised to screen a few "gems" that he's just discovered over the past few months.
This is the second such event that Zimny has donated to raise funds for the KACF this year; the first, auctioned off at A Night to Remember, went for $20,000. Bidding for this one is currently a small fraction of that (and consider you can divide it in tenths, if you've got nine friends who'll pony up). So don't let the time slip away and leave you with nothing, Mr. or Ms., but boring stories of missed chances. Click here to explore and bid now in the KACF's Spring 2015 online auction. Good luck!
- June 5, 2015 - Shawn Poole reporting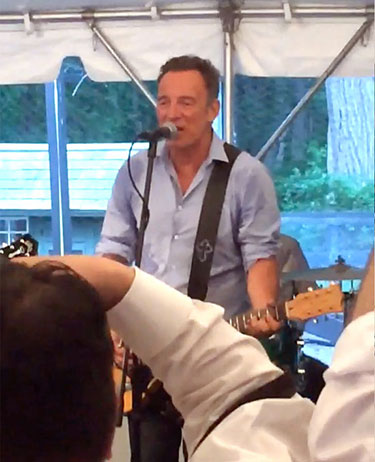 SON YOU MAY KISS THE BRIDE
Warm congratulations to Kelly Kilbride, Patti Scialfa's longtime assistant, who was married last weekend on a beautiful estate in Oakland, New Jersey. The Boss — Patti, that is — was on hand at the outdoor reception to sing "Tell Him" with Bobby Bandiera's band. The Boss's husband, Bruce, also joined in under the tent, playing guitar and singing lead on classics including "634-5789" and "Roll Over Beethoven" for a crowd of about 150 wedding guests. The "other" Boss culminated his tribute to Kelly and her new husband Ryan by leading the band through "Jersey Girl" as the newlyweds danced. We wish them a smooth ride through the tunnel of love and a lifetime of happiness together.
- June 5, 2015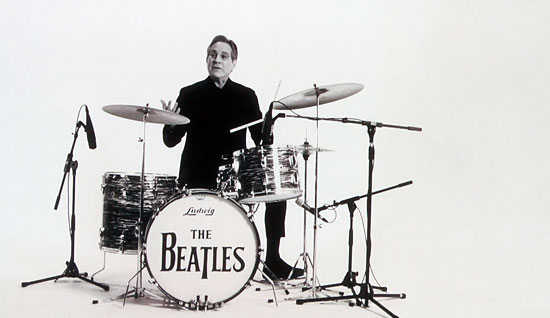 WITH THESE DRUMS AND THESE GUITARS
Playing Spot the E Streeter in HBO's 2015 Rock Hall broadcast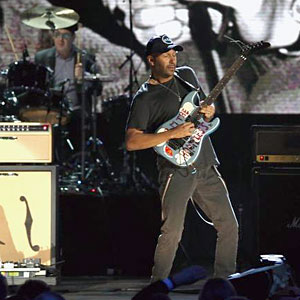 HBO's broadcast of the 2015 Rock and Roll Hall of Fame Induction Ceremony debuted this past weekend. In addition to multiple re-airings throughout June on various HBO channels, the program is also now available for viewing via HBO On Demand and HBO GO. Not surprisingly, the E Street presence felt at the ceremony itself has been retained in the television edit. Look for several shots of Steve Van Zandt in the audience, the most notable of which occurs during Joan Jett's acceptance speech as she personally thanks Steve (a member of the Hall's Nominating Committee) for his longstanding efforts to get her and the Blackhearts inducted. And, as he did on the High Hopes album and tour, Tom Morello contributes stellar guitar work during tributes to The Paul Butterfield Blues Band and to Ringo Starr.
The coolest E Street moment, however, is Max Weinberg's appearance in Alex Coletti's short film (produced and edited by Thom Zimny) preceding Ringo Starr's "Award for Musical Excellence" induction as a solo artist. Max and eight other famous drummers were filmed (in beautiful A Hard Day's Night-style black-and-white) sitting behind a classic Beatles Ludwig drum kit, discussing and demonstrating on the drums exactly why Ringo was and is such a great and influential drummer.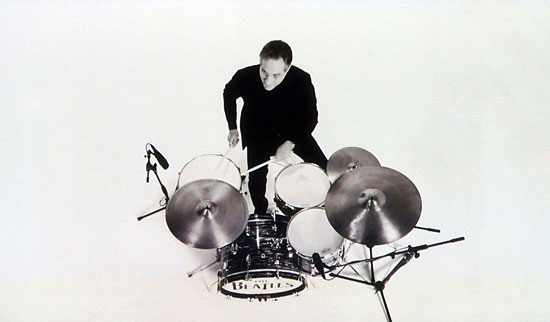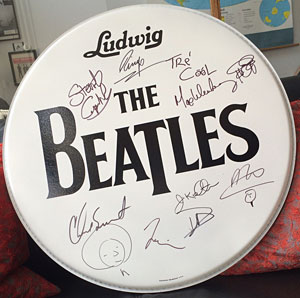 Max and all of the other drummers interviewed for the film (Tre Cool, Stewart Copeland, Dave Grohl, Taylor Hawkins, Jim Keltner, Abe Laboriel Jr., Chad Smith and Ahmir "Questlove" Thompson) have signed a Ludwig Beatles bass drumhead, currently on auction at Charitybuzz.com to benefit The Love Hope Strength Foundation's efforts against cancer. Ringo Starr himself also signed the drumhead on the day of his 2015 induction. Click here to place a bid.
Speaking of Charitybuzz, there's also still time left to bid in the 2015 Kristen Ann Carr Fund's online auction. Lots of cool items remain up for grabs, and all of the money raised helps to fund the research and treatment of sarcoma, with an emphasis on adolescents and young adults. Click here to see all of the items currently on auction.
- June 2, 2015 - Shawn Poole reporting - photograph of Tom Morello courtesy of rockhall.com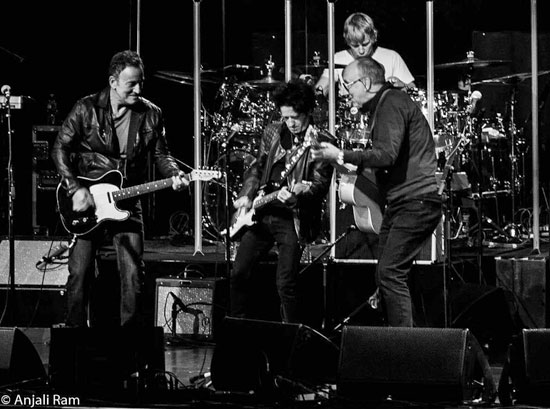 BRUCE TIPS HIS HAT, PICKS UP HIS GUITAR AND PLAYS
Pete Townshend has often said that without Mose Allison's "Young Man Blues," he wouldn't have written "My Generation." Fifty years later, Bruce Springsteen admits that without Townshend, there would be no "Jungleland" — and "I wouldn't be windmilling a Fender Telecaster." At last night's 11th annual MusiCares MAP Fund benefit concert, I was lucky enough to witness our Boss give the old boss one of the greatest rock 'n' roll award speeches ever. Pete's recent (and typically blunt) remarks about Springsteen to Rolling Stone — "I did [check out his shows] in the early days, but not anymore. It's a bit of blood and glory for me now" — didn't seem to put any sort of damper on Bruce's respect and admiration for Pete as player and artist, or his heartfelt recollection of his "blood bond" with Townshend, the power of the Who and their influence on a young Castile.
Bruce's full speech:
Pete's receiving the Stevie Ray Vaughan Award this year, for his dedication to helping others who struggle with drug and alcohol addiction. Through his work with The Who and his Double O charity, Pete's got a long history of working hard and raising spirits — and money — for worthy causes. Here's just a few: In 1986, Double O promotions put on the Colombian Volcano Relief Concert; 1989, The Who reconvened for an anniversary tour that generated over eight million dollars for children's charities throughout the U.S. and the U.K.; in the past years The Who have helped the Teenage Cancer Trust, raised close to three million pounds to provide cancerwards and screening units. There are plans on this tour to raise funds for charities as various as the Teenage Cancer Trust, the Michael J. Fox Foundation, the Andre Agassi Charitable Foundation for underprivileged children, the Robin Hood Foundation which funds and supports innovative poverty-fighting organizations in New York City…. I could go on and tell you much more about what Pete and The Who have done for others, but I think I'll tell you a little bit about what Pete's done for me.

I wouldn't be windmilling a Fender Telecaster if it weren't for Pete Townshend. It's the summer of '66 or '67, I'm not sure which one, but it was the first American tour that The Who were on, and I'm in a long line snaking out of Convention Hall down the boardwalk. The billboard read, in big type: "Herman's Hermits!"And then [smaller]: "The Who!" I was the young, pimply-faced teenager who managed to scrabble enough together to go see my first rock concert ever. Pete and the Who were young, pimply-faced teenagers with a record contract, a tour, and a rude, aggressive magic. They were, on this tour, of all things, opening for Herman's Hermits. There was no justice!

So I scrambled to my seat in what seemed like a cavernous Convention Hall, and I waited for the rumble to start. The first band out, I think, was a band called the Blues Magoos. They were out of New York City... Oh, there's a few folks who remember the Blues Magoos out there?... I don't believe you. [Laughter] But they had a great song called "Ain't Got Nothin' Yet," and they came out and they had these electric suits, and when all the lights went out in the hall the electric suits lit up, and it was... it was high-level special effects for the time.

Then the Who came out, and I think they played for probably no more than thirty minutes. Pete, in a cloud of smoke, demolished his guitar, bashing it over and over into the floor, and his amplifier. Now, the audience was filled with a significant number of teeny-boppers who were waiting for "Mrs. Brown, You've Got a Lovely Daughter." So they sat there with their mouths agape, wondering, like, of course, "Who are you?" Who are these guys? What are they doing? Why are they doing it? All I knew was, for some reason, this music, and the demolishing of these perfectly fine instruments, filled me with incredible joy. There was something wonderful about the wanton destruction of good, commercial property. It was the joy and giddiness of the riot that the Who somehow managed to safely attain. Semi-safely attain! But all I knew is that it made me happy, and it thrilled and inspired me.

It inspired me to a degree where I was in a young band called the Castiles, I was about 16 years old. We had a gig the next weekend at St. Rose of Lima, Catholic school, in the basement, for the CYO dance. So I went out and I bought a smoke bomb, and I bought a strobe light, and I brought them over to the gig. And as the night neared its end — not being able to smash my guitar, it was the only one I had! — at the end of the night I lit the smoke bomb, in the Catholic school basement, and I turned on the strobe light, and I climbed on top of my Danelectro amplifier holding a vase of flowers that I'd stolen from one of the upstairs classrooms. And with this huge flourish, melodramatically I raised the vase of flowers as the flickering, blinding strobe lit me, with smoke all around me, and as the nuns looked on in horror, I reached up and smashed them onto the dance floor! I jumped off the amp and stomped all over the petunias!

Of course, I looked ridiculous. Like I'd lost my mind. The vase of flowers simply failed to have the grandeur of a newly minted Telecaster being smashed to splinters, but we worked with what we had. I went home smiling, feeling a blood bond with Pete Townshend, and I never looked back.

As I grew older, the Who's music seemed to grow with me, the sexual frustration, the politics, identity… these themes coursed through my veins with every concurring Who album. I always found myself there somewhere in their music. "The Seeker" is the guy in "Born to Run." There'd be no "Down in Jungle… LAND" without Pete's slashing, bloody attack on his instrument.

Pete is the greatest rhythm guitarist of all time. He played such incredible rhythm, that he showed you don't have to play any lead, you know? It's an amazing thing to behold, really. Pete managed to take the dirty business of rock 'n' roll and somehow make it spiritual and turn it into a quest. He may hate this, but he identified the place where it was noble, and he wasn't afraid to go there. I took a lot of that with me as the years passed by. So Pete, I'm here to say, congratulations, well deserved, and thanks for not just Who's Next and 'Who Are You,' but for who I am.
The lucky fans had lined up early at the Best Buy (formerly Nokia) theatre on Times Square to take their lucky and reasonably priced mezzanine seats and bear witness to the first NYC MusicCares event ever. Apparently this will now be an annual soire in the Big Apple. In front of us in the theater were white couches filled with generous donors to the MAP Fund who remained rather mellow throughout the night — until Little Steven and the lovely Maureen Van Zandt, sitting up close and personal, got the crowd on their feet for the mostly dazzling performances. Roger Daltry, observing at one point how subdued the crowd was, said that with all the white couches he felt like he was playing to a bunch of psychiatrists.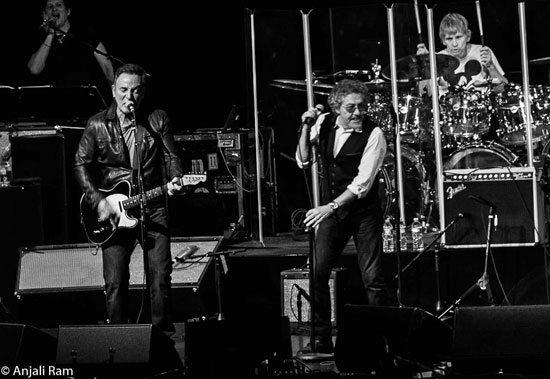 This was an alcohol-free event, in light of the aim of the charity that assists musicians with addiction recovery. The Who touring band (John Corey on piano, Loren Gold on keyboards, Pino Palladino on bass, Frank Simes on keyboards, Zak Starkey on drums, and Pete's brother Simon Townshend on guitars) was the house band for the roughly 90 minutes of music. It was great to see last year's Little Kids Rock honoree Joan Jett perform a killer "Summertime Blues" (though I wanted to see Bruce do that!) as well as "I Can't Explain." Willie Nile, in my opinion the hardest working guy in music, came on and did a yeoman's job on "Substitute" and "The Kids are Alright." Daltrey then joined the band after honoring the other star of the night, Who manager Bill Curbishley; Roger swinging his mic, and his vocals sounded strong on "The Seeker" and that Pete favorite, "Young Man Blues" (kudos from Roger to Zak Starkey on that debut for him).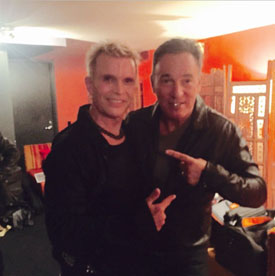 The acoustics were surprisingly excellent for a benefit and really kicked into gear when Billy Idol (with Bruce last night at left, from Idol's Instagram feed) blasted out "The Real Me" and "Who Are You". Idol seemed to particularly enjoy the song's "Who the fuck are you?!" line, repeating it as much as possible. Some in the crowd thought Billy stole the show with his performance.
Speaking of the F-bomb... one can always count on Pete being Pete. After Bruce's heartwarming and sometimes hysterical speech (though I'm not sure Peter Noone of Herman's Hermits or the sisters of St. Lima will like it) Pete took the stage with Roger and asked Bruce to join them on "My Generation". I felt very lucky that I heard this classic the last time Bruce and E Street performed it, at Penn State's Bryce Jordan Center six years ago, in May of 2009. This time Bruce took the f-f-f-fade away verse and brought new life to one of the greatest rock songs ever written [video]. The Bruce fans in the Mezz were SRO and finally on their feet. Pete followed this with "I'm the One" and then was going to play "Eminence Front," but after some tech issues he dropped a few F-bombs himself and shouted, "Let's just go to the finale!" That whole incident reminded me how much Pete is still Pete — and why I love rock 'n' roll and all its colorful characters.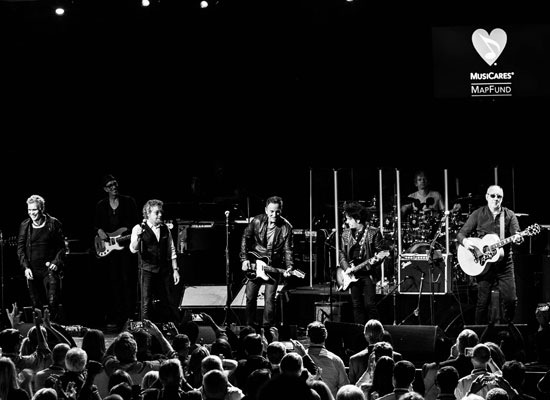 The finale seemed a bit rushed and frenetic after Pete attempted his version of an audible, but with Bruce front and center as either the new or the old boss, "Won't Get Fooled Again" was just great poetry to end a short but sweet night of classic rock.

- May 29, 2015 - Mitch Slater reporting - concert photographs by Anjali Ram

THROWBACK THURSDAY: MAD AL'S PROMENADE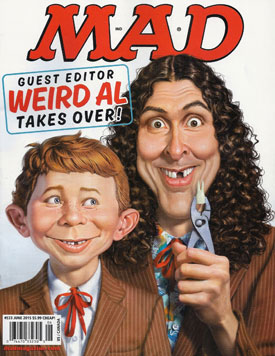 Congrats to our pal Al... "Weird Al" Yankovic, that is, on becoming MAD Magazine's first-ever Guest Editor. Issue #533, pictured right, is on newsstands now.
We also could have predicted this catastrophe... er, development... years ago. After all, back in our 2011 feature on notable Yankovic / Springsteen intersections, Al graciously agreed to a post-concert Backstreets photo shoot in Red Bank, NJ, where he posed with April 1987's MAD #270, as well as some other rag. As we wrote at the time (and as you can see below,) "When it comes to The Boss we hoped to impress, but it looks like Al still prefers Alfred E. Neuman's take on the subject."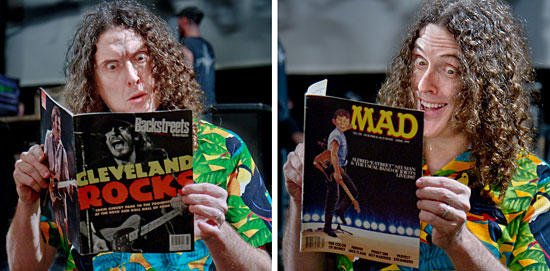 Our attention turned to Yankovic again in 2013 during National Accordion Awareness Month, but we never got to ask him the most obvious Bruce-related question: Why has there not been a "Weird Al" parody of a Springsteen song? Fortunately, ScreenCrush's Mike Ryan recently got a serious, on-the-record answer. ("It's not because he doesn't have a good sense of humor," Al specifices, "he's got a great sense of humor.")
- May 28, 2015 - report and art direction by Shawn Poole - photographs by A.M. Saddler


ONE FOR MEMORIAL DAY
- May 25, 2015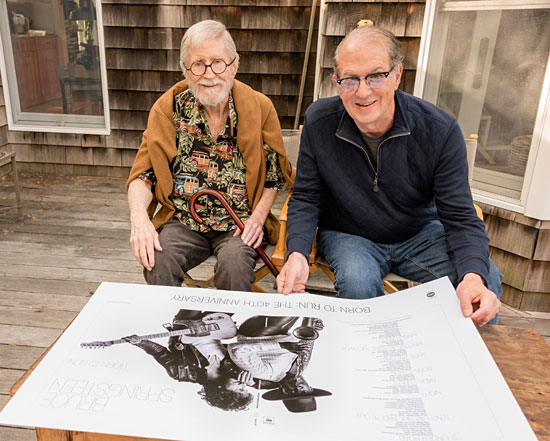 DREAMS AND VISIONS
Above, that's John Berg on the left, designer of the Born to Run album cover as Columbia Records art director in the mid-'70s, along with photographer Eric Meola, who captured the famous cover shot. The object of their affection: the special Born to Run: The 40th Anniversary poster we've collaborated on, to benefit WhyHunger (which also turns 40 this year). Jennifer Landes's new article in the East Hampton Star discusses the effort; she talked with Meola about the journey from photograph to album cover, and "the genius of the art director." Meola recalls seeing Berg's mockup for the first time: "It was beyond perfect. What John had done with the layout was miraculous. He made the image so much more powerful."
Read: "Springsteen's Born to Run: Marking 40 by Battling Hunger."
Net proceeds go directly to WhyHunger's continuing efforts to end hunger and poverty.
- May 22, 2015 - photograph by Joanna McCarthy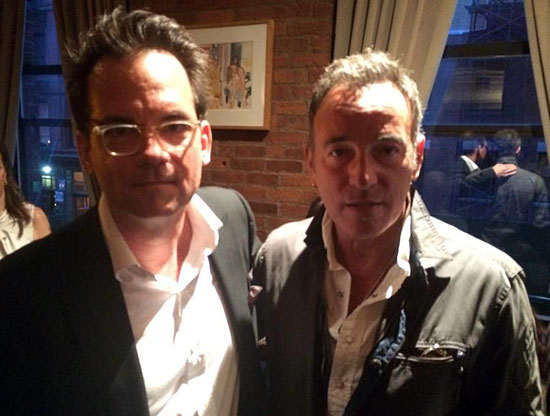 THOM ZIMNY: HONOREE, LEADER, SECRET WEAPON, PAL
More from the 2015 KACF "A Night to Remember"
Over the weekend, the big news was that Bruce Springsteen joined a recombination of Sessions Band players to play four staples of their 2006 tour. The occasion was the Kristen Ann Carr Fund's annual 'A Night to Remember' benefit at Tribeca Grill, which this year honored Thom Zimny (Springsteen's long-time film collaborator and archivist), and it's worth filling in some more color from Saturday night. As Honorary Chair, the Grammy and Emmy-award winning director was commended in speeches from Dave Marsh, Jon Landau, and Bruce Springsteen — as well as one of Bruce's patented stick-figure drawings in the program.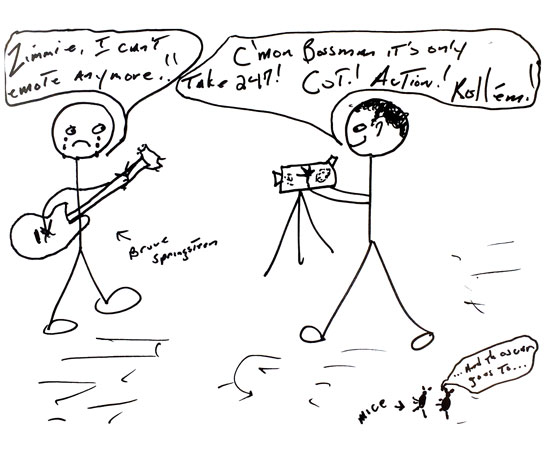 "Thank you Thom," said Marsh on behalf of the KACF, "for being one of the leaders. His leadership has been an amazing thing; to see what he can do not only as an artist and as a a friend, but as a leader, has been one of the exciting joys of this year's event." Landau talked about having "ensared Thom quite a while ago" to be part of the Thrill Hill team, praising him for having "the soul of an artist.... The overwhelming percentage of our visual work has been a collaboration between Thom and Bruce, and I think of him as our secret weapon." Springsteen expanded on that:
"As Jon was saying, people come into our orbit, and we're lucky enough to have them stay. What happens is, you establish a sort of a private language with them. I've been lucky that I have that kind of language with Jon; I have it with the E Street Band; and Thom and I have our private language about film and the video that we've made. Film is always frightening, it's collaborative, and Thom is someone who I have complete trust in. And also, he gives me access to the filmmaking apparatus so I feel like I have an enormous amount of control over it. And he does this with such great generosity... with such great confidence, he's made these projects a great pleasure for me, and I treasure what we've been able to do together. So Thom, thank you for how long you've been with me, for being such a great pal and working partner."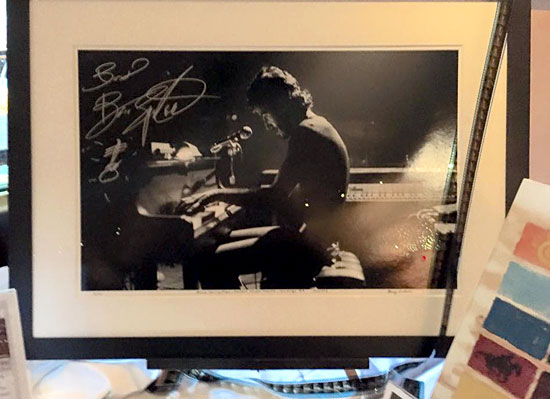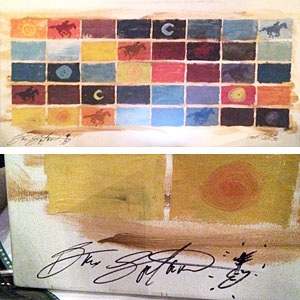 A silent auction was part of the event as usual, with all proceeds going to benefit the Fund's work fighting cancer. Most prominently, a large print of a Barry Schneier photograph from May 9, 1974, was signed by Springsteen [above] and wound up selling for $12,250. "On behalf of myself and Gallery591974, we were pleased to contribute to this great cause and thrilled the print brought in what it did," Barry tells Backstreets. "It was certainly a night to remember as we honored Thom for the great work he has done."
Also raising thousands was the one-of-a-kind "Outlaw Pete in Paint," an original painting by Frank Caruso on canvas depicting Pete's 40-day-and-40-night ride, signed by both Frank and Bruce.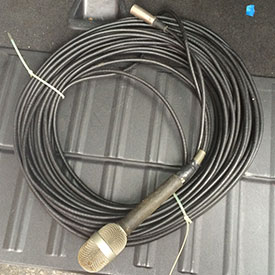 The fundraising now continues, with an online auction which has just begun and runs through June 10 at charitybuzz.com/kacf. More exclusive experiences and memorabilia now on the auction block to benefit the KACF include:
See all of the online auction lots here; learn more about the Kristen Ann Carr Fund at sarcoma.com.
- May 21, 2015 - photograph of Zimny and Springsteen courtesy of Kristen Ann Carr Fund/Facebook


"SESSIONS BAND, SESSIONS BAND... THEY'RE BACK!"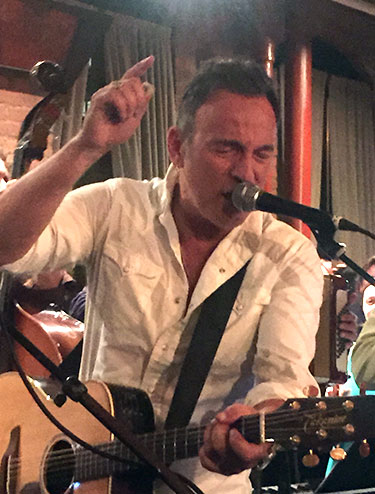 Saturday night in Tribeca it was a nine-year flashback, as Bruce Springsteen joined a mini-reunion of the Sessions Band the 22nd annual 'A Night to Remember' benefit for the Kristen Ann Carr Fund. The entertainment, known as the Gotham Playboys when they started playing private parties at Springsteen's farm in the late '90s, was billed for the evening as the Tribeca Playboys: Charlie Giordano on accordion, Jeremy Chatzky on stand-up bass, Larry Eagle on drums, Sam Bardfeld on fiddle & vocals, Soozie Tyrell on fiddle & vocals, Lisa Lowell on vocals & guitar (and washboard!), Ed Manion on sax, and Curt Ramm on trumpet — all players from the 2006 tour. After a full set that had Redheaded Women Lisa and Soozie fronting the Playboys for uptempo party tracks like "Fujiyama Mama," "Hound Dog," and "Man Smart (Woman Smarter)," Springsteen strapped on an acoustic to lead them through four Sessions Band classics:
This truly was an impromptu performance, as Chatzky told Backstreets afterward: "We honestly weren't sure that was going to happen at all. I mean, everyone hopes, but you never know. There was talk he might join us for two songs, but then he just kept it going." Asked if there had been any chance to rehearse with Bruce, Tyrell laughed: "We hardly had a chance to rehearse as a band — just a couple days last week." In keeping with the spirit of the Sessions Band, it truly was music being made on the spot, Bruce calling out players to take solos as they went along — "Come on, Sam!... Come on, Charlie!" — relying on muscle memory from 2006 and pure chops.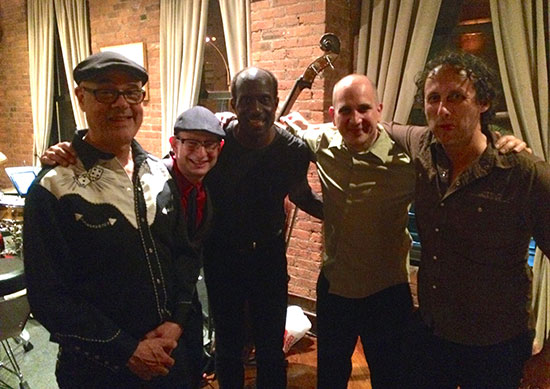 After the gig, L-R: Giordano, Eagle, King, Bardfeld, and Chatzky
Also joining in: Nils Lofgren on guitar, the Sessions Band's Curtis King on vocals, and restaurateur (and venue host) Drew Nieporent on washboard. "Twenty years ago," Drew told us outside his Tribeca Grill later that night, "I had these guys [then the Pinballs] play my 40th birthday party, and I strapped on the washboard for that... now I'm 60, I had to do it again!"
"Sessions Band, Sessions Band," Bruce repeated at the end of "My Oklahoma Home," "They're back! They're back!" While surely he meant just for that rollicking half-hour, it was hard for many in the place not to wish for more.
And as Lisa Lowell told us, "I hope in some dimension Kristen Ann was feeling the love." Visit sarcoma.com to learn more about the KACF and to support the cause.
- May 18, 2015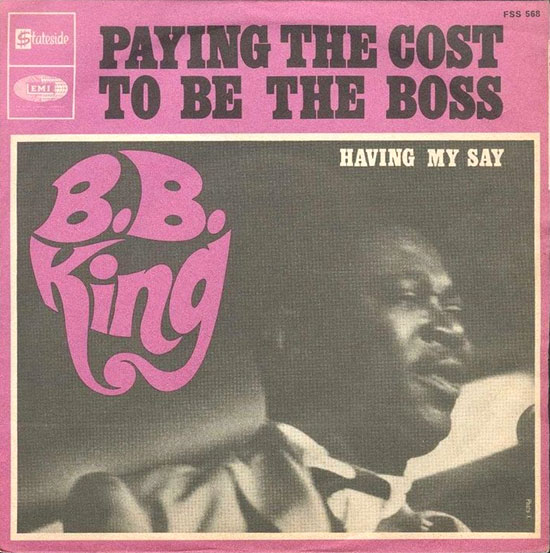 HE PAID THE COST TO BE THE BOSS
B.B. King, "The King of the Blues," 1925 - 2015
The paths of Bruce Springsteen and blues-legend/Rock and Roll Hall of Famer B.B. King, who died at 89 two days ago, rarely crossed publicly. Nevertheless, in addition to B.B. King's importance to virtually everyone who's picked up an electric guitar from the 1960s onward, you can count King as a major Springsteen influence due to his huge impact on The Allman Brothers Band, who in turn greatly influenced Springsteen's Steel Mill period.
Just as importantly, B.B. King also served as a role model for the kind of lifelong musician that Bruce has set out to be. "The Ambassador of the Blues" enthusiastically continued recording, touring and mentoring younger musicians through 2014, shortly after his 89th birthday. Around the time that King stopped, we learned of Nils and Amy Lofgren's hilarious tour bus encounter with "The King of the Blues" at 86, still very much alive and kickin'. "I saw him in Phoenix," Nils told us, "we got on his bus, and of course he was flirting with my wife, who loved it, and after a while, he looked at me and said, 'You know, Nils, you can leave now.'"
To celebrate a legendary life lived long and well, and that will continue to have an impact for as long as music lovers exist, here's audio/video of the only two onstage encounters between B.B. King and Bruce Springsteen:
March 1, 1994 – The 36th Grammy Awards – Radio City Music Hall, New York, NY - In this beautiful Curtis Mayfield tribute-medley, B.B. and Bruce were joined by Steve Cropper, Bonnie Raitt, Vernon Reid from Living Colour, the band Repercussions, Tony! Toni! Tone'!, Narada Michael Walden, Don Was and Steve Winwood.

January 12, 2002 – Clarence Clemons' 60th Birthday Party – B.B. King Nite Club at Foxwoods Resort Casino, Mashantucket, CT – At the newly-opened club, the very man after whom it was named showed up to present the Big Man with his birthday cake and then joined Clarence and Bruce for an epic, bluesy version of "Glory Days" (with a bit of "Happy Birthday" thrown in for good measure.)
- May 16, 2015 - Shawn Poole reporting, with special thanks to Flynn McLean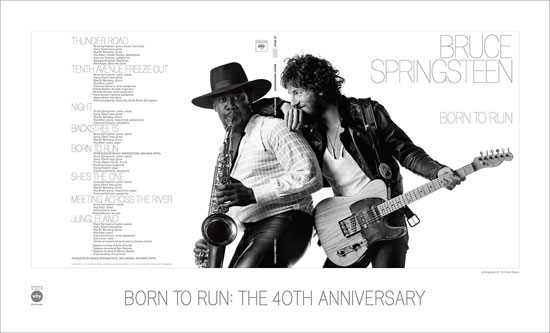 BTR40: THE CELEBRATION BEGINS
Official Born to Run 40th Anniversary poster benefits WhyHunger
This year marks a major milestone — 40 years since the release of Springsteen's career-altering masterpiece, Born to Run. Today's USA Today, in fact, features an article noting the anniversary on page 4A, focusing on 914 Sound Studios in Blauvelt, NY, where Springsteen recorded "Born to Run" four decades back (as well as his first two albums). The piece features talk with then-manager Mike Appel, studio founder Brooks Arthur, and assistant engineer Larry Alexander, who recalls, "During the early albums, the guys in the band and Bruce didn't like the long drive back to Jersey so they actually pitched a tent in the backyard of the studio and slept there."
Here at Backstreets this surely won't be the last you hear from us regarding the anniversary... in fact, let's keep it going right now. After looking at this for months with photographer Eric Meola and the Sony art department, with the blessing of Jon Landau Management, we can finally unveil a stunning piece of art, celebrating 40 years of not only one of the greatest albums, but greatest album covers of the rock era.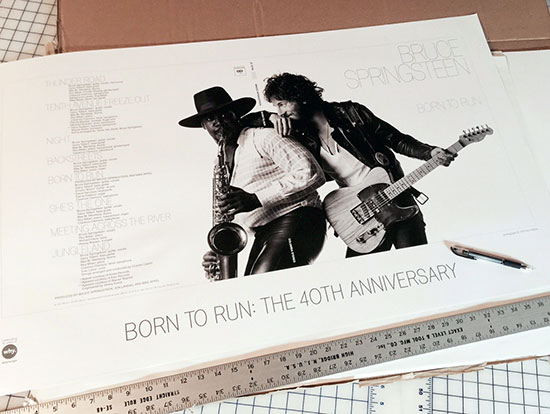 Available exclusively through Backstreet Records, this 24" x 40" poster features 1975's iconic album cover with Springsteen and Clarence Clemons, bigger, clearer and sharper than you've ever seen it, in all its glory and then some: the full gatefold cover is reproduced here at 150% its usual size, at 18" x 36". Printed on heavyweight, semi-matte paper stock, with plenty of room for framing. And since the artwork is sourced directly from the same files used for the new remastered LP, overseen by Meola (who provided a fresh scan of his original photo) and Sony art director Dave Bett, you can imagine just how impressive it looks at this size. [Click here to see a larger image]
There are 1,975 copies for sale through Backstreets, to commemorate the year 1975. Not only does this 40th anniversary poster give many fans the chance to own an affordable print of this quintessential image, it will also raise considerable funds for WhyHunger, a favorite charitable organization long supported by Springsteen. This year marks the 40th anniversary of not only Born to Run, but also WhyHunger, which began in 1975 as World Hunger Year, founded by the late Harry Chapin and Bill Ayres, who now serves as the organization's Co-Founder & Ambassador.
All net proceeds from the sale of this poster will benefit this non-profit 501(c)(3) organization and its work to combat the root causes of hunger, poverty and injustice, supporting grassroots solutions and promoting self-reliance.
Click here for more details and to order yours now
See all Posters / See all Latest Arrivals
- May 14, 2015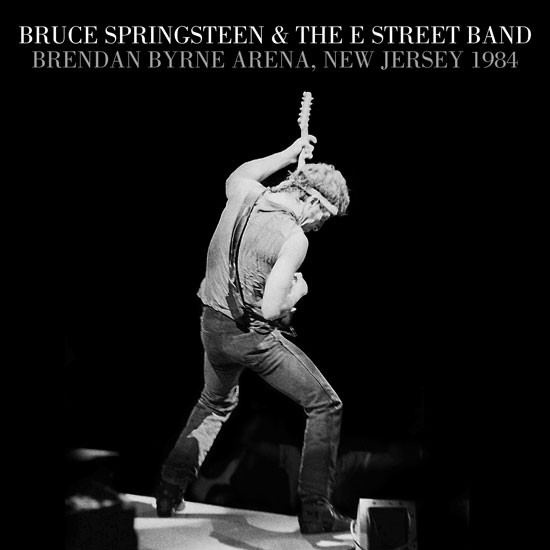 HOT FUN IN THE SUMMERTIME
Live archive takes us to the swamps of Jersey, August 5, 1984
The fifth release of the Bruce Springsteen archive series lands in a sweet spot: it's the summer of 1984, and the E Street Band, with two new records, two new members, and 20 shows under its belt, has come home to New Jersey's Brendan Byrne Arena for ten sold-out performances. Over the years, fans have heard bits from the stand ("Trapped," from the We Are the World LP, and "Tenth Avenue Freeze-out" from Live 1975-85), but now we have a complete document: opening night, August 5, 1984, appeared today as archive release number five. And whether you're just playing it in the background or taking a good, hard listen, it's a keeper. Its 29 songs feature four from Nebraska, six from Born in the U.S.A., a B-side, and the usual array of covers, including Tom Waits' "Jersey Girl" to lead a six-song encore.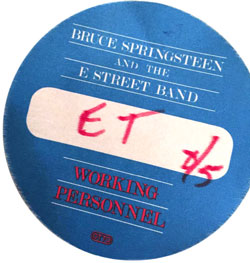 Before the count-in to "Born in the U.S.A.," a lengthy segment of ambient audience sound builds anticipation. When the music starts, as it did in 1984, a new sound emerges: recorded to 24-track analog tape and fully mixed, it's an excellent capture of the E Street Band as it began a year of unparalleled popularity.
Whereas the four previous archival releases had long circulated as complete soundboard tapes (or, in the case of the Apollo, a satellite radio broadcast), 8/5/84 only existed as a marginal, ten-song board tape and an average audience recording. In fact, it is the first complete line recording of a Born in the U.S.A. arena show, period, and, incredibly, offers the first official recordings from the tour of key performances, like the electrifying, full-band take on "Atlantic City," "Dancing in the Dark" and "Pink Cadillac" — all of which, in hindsight, seem like head-scratching omissions from Live 1975-85.
After a rocky start in St. Paul, Springsteen led the way through the midwest to New Jersey. The band had yet to become the well-oiled machine that plowed through the autumn, but that's precisely the appeal here. Now 20 shows in, this recording not only finds the band in fine form but also reveals much of the new E Street sound: despite the addition of Nils Lofgren, keyboards came way up front. Whether taking on material like "Used Cars" or "Dancing in the Dark," that was the sound in 1984. Guitars still crunch and sparkle nicely in spots where they should, namely in a noteworthy "Prove it All Night" and "Thunder Road," respectively. (It's worth noting that Max Weinberg's drums had yet to take on the mammoth trigger sound; on this recording, as for much of the summer, they retain their natural, mic'd-up acoustics.)
Fan speculation about this archival release had centered around the summer of 1984, and the Meadowlands stand in particular. But Toby Scott selected opening night, not the final night as many had expected. In an email, Scott explained his selection process:
"I'm not choosing shows from [the] best on down, or we would end up with less-than-spectacular shows a few years from now," Scott wrote. "I'm trying to evaluate something special in each show and, more importantly, shows recorded [on] multi-track, so we can give the fans a better mix of the performance instead of soundboard tapes."
He also clarified that only four concerts in the Brendan Byrne run had been recorded to multi-track (not all ten, as fans had long presumed).
Scott's criteria shed light on where the series might go in the coming months. The emphasis on multi-track recordings over straight board tapes likely moves some tours toward the front of the line and others toward the back.
This is the first archival release to appear in the ultra-high-quality DSD format, described as offering 64x the resolution of CD audio. The superior quality of the recording prompted the decision to offer the show in DSD.
- May 13, 2015 - Erik Flannigan and Jonathan Pont reporting - working pass courtesy of Doug Herzog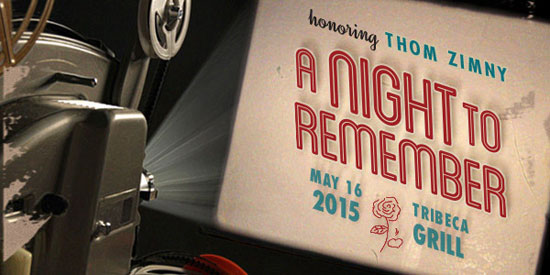 WE'RE GETTIN' THE BAND BACK TOGETHER!
Sessions Band members to reunite for Saturday's 'A Night to Remember'
This weekend, the Kristen Ann Carr Fund will hold its annual benefit gala, A Night to Remember. This is a cause very close to the extended Springsteen family, of course, established 22 years ago in honor of — and by the request of — manager Barbara Carr and Dave Marsh's daughter Kristen, who died in 1993 after battling Sarcoma. Springsteen's sold-out benefit concert at Madison Square Garden later that year got KACF off the ground, and since then the organization has been working steadily to provide grants for cancer research as well as seeking to improve all aspects of cancer patient life with an emphasis on adolescents and young adults.
In recent years, A Night to Remember has honored such supporters of the cause as Marilyn Laverty, Tracy Nurse, Jon Kilik, Michael Solomon, Greg & Lisa Linn, and Maureen & Stevie Van Zandt — who reunited the Rascals to perform for the occasion in 2010. This year's man of the hour is Thom Zimny, Springsteen's longtime film director and archivist (congrats, TZ), and the night's entertainment is another special reunion: eight of the Sessions Band players, performing together for the first time in nearly ten years, as the Tribeca Playboys.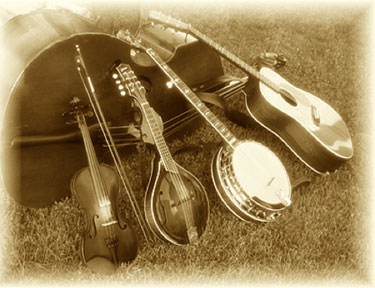 This Saturday night, May 16, the Tribeca Playboys will perform at the Tribeca Grill Loft for A Night to Remember: Charlie Giordano on accordion, Jeremy Chatzky on stand-up bass, Larry Eagle on drums, Sam Bardfeld on fiddle & vocals, Soozie Tyrell on fiddle & vocals, Lisa Lowell on vocals & guitar, Ed Manion on sax, and Curt Ramm on trumpet — all members of Springsteen's 2006 touring band — along with a special guest appearance by Nils Lofgren on guitar.
Event tickets, benefiting The Kristen Ann Carr Fund, start at $500. Reservations can be made at www.sarcoma.com or call 212-625-1025 for more information. A silent auction at the event will include signed photographs and memorabilia, as well as some rare experiences:
an hour-long sit-down with Tom Morello at LA's legendary Chateau Marmont
an exclusive screening of rare and never-before-seen clips from the Thrill Hill Vault with Thom Zimny
an opportunity to join Live From E Street Nation's Dave Marsh as a guest host
Additionally, an online auction will run from May 20 - June 10 to support the KACF with more exclusive experiences and memorabilia; more on that next week.
- May 12, 2015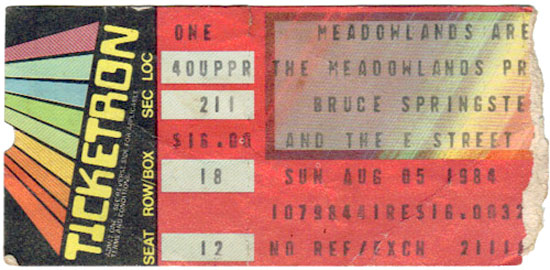 HEADS UP: NEW LIVE DOWNLOAD COMING TOMORROW
Wednesday, May 13, will bring the next installment of Springsteen's Live Archive series, and the first full concert recording from the Born in the U.S.A. Tour: August 5, 1984. This was the opening night of Bruce and the E Street Band's ten-night New Jersey stand at the Meadowlands from early in the 1984-'85 world tour. Brad Serling from nugs.net tells us, "The big news with this one is its our first DSD release — an audiophile format that's 64x the resolution of a CD."
We'll have more details tomorrow, when you can also hear Brad talking about the new release on SiriusXM's E Street Radio, guesting with Dave Marsh on Live From E Street Nation. The program airs from 10am-12pm Eastern and will be followed by a full play of the 8/5/84 Brendan Byrne Arena concert beginning at noon Eastern/9am Pacific.
- May 12, 2015 - ticket stub via Brucebase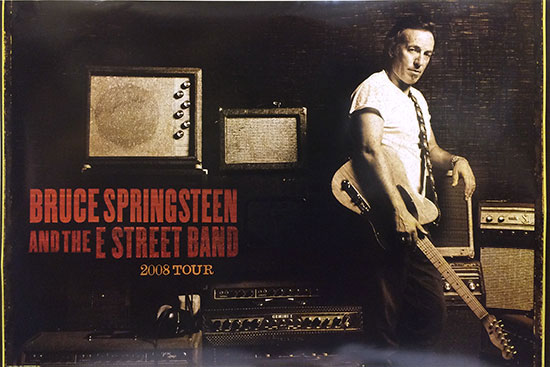 HEAVEN'S WALL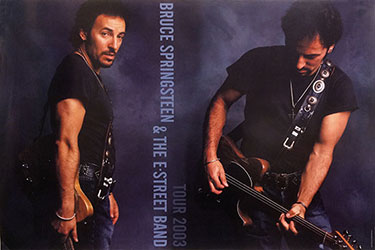 Here at Backstreet Records our poster selection is expanding again... and we've just put our hands on a couple small rolls of original tour posters.
Sold at E Street Band shows 12 years ago and 7 years ago, these have been safely stored, well preserved, and waiting to bring a little piece of heaven to your wall. Each is 2' x 3'. Not sure how long they'll last... get your hands on these vintage Rising tour posters and Magic tour posters while we've got 'em!
- May 11, 2015


"THAT'S MY MOM!"
When Adele Springsteen turned 90 less than a week ago, we linked to videos of her dancing with her boy onstage in 2012 and 2013. Bruce being the good son that he is, there's no shortage of these... here's a heartwarming one from 2009, for all the moms out there. Happy Mother's Day!
- May 10, 2015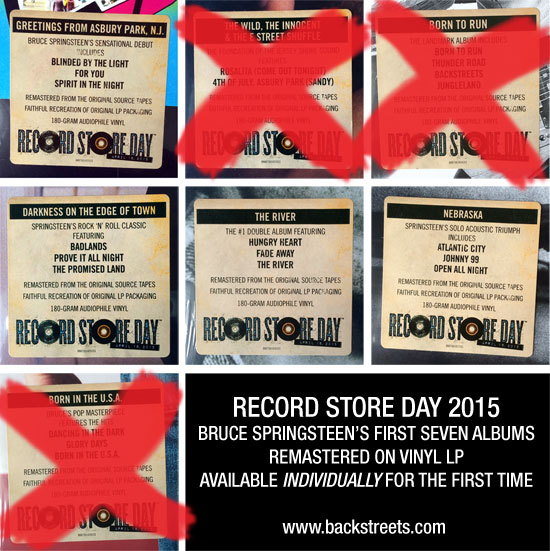 THREE STRIKES... BUT NOT OUT
Another sell-out, as the last Born in the U.S.A. LP has just gone out the door... but we've still got stock of four remastered LPs remaining. We specifically loaded up on Greetings (the album with arguably the most noticeable sonic upgrade) and The River (the remaster most fans have been crying out for), and Darkness, too (because, well, it's Darkness). But they'll all go soon enough. Get yours while they last.
And in the meantime, we've get to look at this record rack at our shop, brimming with factory-sealed classics — it's rare that we see such a beautiful sight.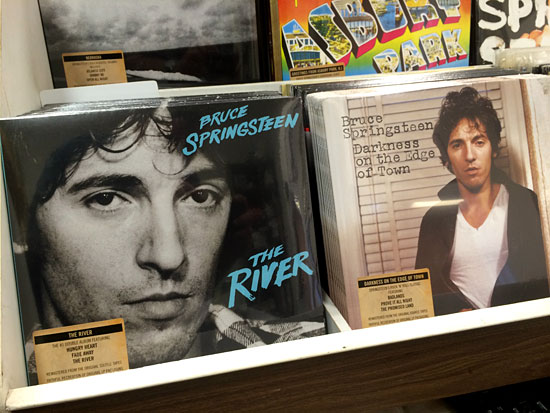 - May 8, 2015

IN MEMORIAM: LENORE TRAVIS


All of us at Backstreets were deeply saddened to learn about the tragic accident and untimely death of Lenore Travis. Lenore Gessner Travis died April 26 in an accident on the family farm she shared with her husband, George. George Travis is the Tour Director for Bruce Springsteen and has worked within the organization since 1978; Lenore also worked in the industry for decades, producing rock 'n' roll shows nationally for Tom Field and Associates and Mike Brown Grandstands in California. At last week's service, Springsteen performed "I Wanna Marry You" and "If I Should Fall Behind" accompanied by Patti Scialfa and Nils Lofgren, in her memory.
Lenore and George raised three children at their home outside of Boston, MA. She was actively involved as a volunteer for many charitable organizations, environmental projects and political causes. Donations to honor her memory may be made to The Food Project (www.the foodproject.org), Revels (www.revels.org), Farm School (www.farmschool.org), or to a community based organization of your choice. We at Backstreets and on behalf of fans worldwide wish to extend our condolences to George and the family. Our thoughts and prayers are with them all during this difficult time.
- May 7, 2015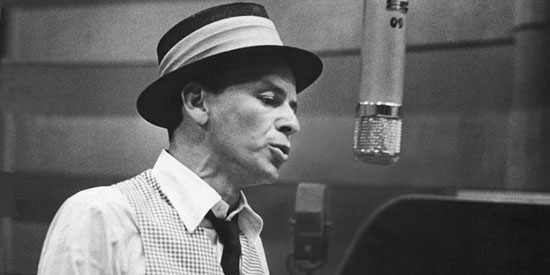 CELEBRATE SINATRA 100 WITH SANTELLI, SOUTHSIDE, MAX AND MORE
This Saturday, May 9, Monmouth University will be hosting "Sinatra: An American Icon," a daylong symposium on the life and legacy of that other New Jersey legend, whose centennial is being celebrated this year. Bob Santelli, director of the Grammy Museum and author of Greetings From E Street (as well as longtime associate editor for Backstreets), will moderate a panel discussion, which will include Max Weinberg (who recently spoke on the subject at the New York's Lincoln Center) and Southside Johnny. The presentation will include rare video clips and memorabilia. In addition to the symposium, Monmouth will host a special photography exhibit spanning Sinatra's boyhood days in Hoboken to the twilight of his career in the late '90s.
Tickets for the symposium in West Long Branch, NJ, are $10 and are available via the Monmouth University ticket office. Visit Monmouth University events calendar for further details.
And in a happy coincidence, Nils Lofgren will perform at Monmouth's Pollack Theater that very night. If you're there for the afternoon symposium, it'll be easy to stick around for An Evening with Nils Lofgren Acoustic Duo.
- May 5, 2015 - photograph courtesy of Monmouth University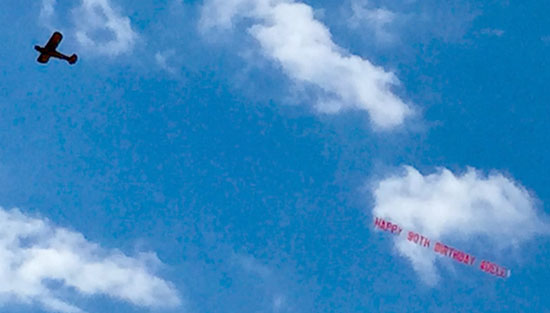 HAPPY 90th BIRTHDAY TO ADELE SPRINGSTEEN!

A few years back, at a Philadelphia stop on the Wrecking Ball tour, Bruce Springsteen brought his 87-year-old mother up for a dance and introduced her to the crowd: "She's almost ninety!"
Well, today is the day. Above, a banner in the heavens even proclaims it.
That's right, Adele Springsteen is officially a nonegenarian, entering her tenth decade today, and we send out heartfelt birthday wishes to the woman who bought Bruce Springsteen his first guitar... who had the car radio on the first time her son heard "Like a Rolling Stone"... whose lasagna has raised thousands of dollars... the sound of her makeup case on the sink still echoing down through 40-something years of Bruce's music.
Adele's impact on not only her son's life but his work life probably can't be overstated. As Springsteen said from the stage last year, while performing "The Wish" in Australia: "One of my favorite things about this point in my work life is that I get to look out into the audience, and I see fathers with their sons, and I see moms and grandmoms, and little girls, little sisters... We get people of all ages. And that was something I think my mom taught me when she was very young: she loved rock music, she loved rock 'n' roll, and her enthusiasm and passion for it rolled over on me."
Watch them dancing together again in 2013, pro-shot from London's Hard Rock Calling. Buon compleanno, Mrs. S.!
And: an E Street Daily Double today, as we also want to wish Sister Soozie Tyrell a wonderful birthday — whether it's written across the sky or not.
- May 4, 2015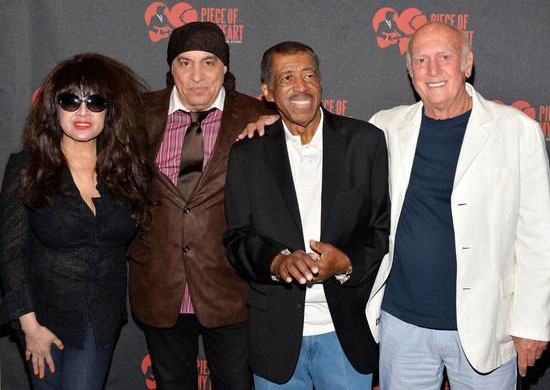 MOVIN' ON DOWN THE LINE
Ben E. King, 1938-2015
Rock and Roll Hall of Famer Ben E. King died last Thursday at 76. For his work with The Drifters, King was inducted early as a member of the Hall's third (1988) class of inductees. The Drifters entered the Hall with The Beach Boys, The Beatles and The Supremes as the first important 1960s groups to be inducted. King's post-Drifters work as a solo artist, however, also had a major impact on rock and soul music, and his presence looms large over the Asbury Park music scene. Indeed, it is difficult to overstate the magnitude of his influence on the life and work of its central figures — Southside Johnny Lyon, Bruce Springsteen and Steve Van Zandt.
King's debut single as a lead vocalist with The Drifters, "There Goes My Baby," was the record in which, as Dave Marsh noted in his book The Heart of Rock & Soul: The 1001 Greatest Singles Ever Made, "rhythm and blues took an irrevocable step toward soul music." King's lead vocal wasn't his only contribution to this history-making track, either; he also was one of the song's co-writers.
Steve Van Zandt first met Ben E. King on the oldies circuit in the early 1970s when Steve was touring with The Dovells, and Van Zandt has often cited his meeting King as a turning point in his life. "As I was trying to find my own identity, I decided to write a song for Ben E. King, and I wrote the first song that I ever really liked," he recently told USA Today. The song, "I Don't Want To Go Home," went on to be the title track of the Jukes' debut album and a cornerstone of their nightly repertoire.
The pair was reunited in 1981 when Van Zandt recruited King to work on Gary "U.S." Bonds' comeback album Dedication. He and Chuck Jackson backed Bonds on Bruce Springsteen's oft-overlooked soul ballad "Your Love." And in 1997, King performed "4th of July, Asbury Park (Sandy)" on the compilation One Step Up/Two Steps Back: The Songs of Bruce Springsteen. [Check out Jay Lustig's detailed report on King's version of "Sandy" here.] It was especially fitting that King recorded one of Springsteen's earliest, most romantic songs, for so much of Bruce's music from that period of his career was heavily influenced by the soulful romanticism of King's singing and writing. For his part, Springsteen directly acknowledged that influence onstage with his 1974 performances of King's first solo hit "Spanish Harlem."
But King meant so much more to the Jersey Shore music community than even all of his great, influential recordings. A longtime resident of the Garden State, Ben E. King had strong ties to many Jersey-connected musicians. (The Asbury Park Press' Chris Jordan details some of those connections here.) He maintained an especially longstanding friendship with Bonds, whom he had known for over fifty years. "With an extremely heavy heart," wrote Bonds on his Facebook page, "I must say goodbye to one of the sweetest, gentlest and gifted souls that I have had the privilege of knowing and calling my friend...." The two often seemed joined at the hip, with King joining Bonds for his 50th Anniversary party several years back, and more recently performing with Gary and Southside Johnny at Bobby Bandiera's 2012 Hope Concert in Red Bank, NJ. (Click here to watch a wonderful clip of Bonds and King clowning together onstage in London back in 2011.)
Another major influence on the Asbury Park sound, the legendary Sam Moore, also was a longtime friend and echoed Bonds' comments on Facebook regarding how much King was not only respected as a musician but loved as a human being. And his unforgettable songs — "Spanish Harlem," "There Goes My Baby," "Stand By Me" — popped up in Jukes and E Street Band sets over the years, blending seamlessly with Springsteen and Van Zandt originals like "I Wanna Marry You," "Love on the Wrong Side of Town" and "Princess of Little Italy," songs that had drawn so much from King's enduring work with The Drifters and on his own. Just last year, as Springsteen's Wrecking Ball/High Hopes tour drew to its conclusion, one of its final shows fittingly featured a great version of "Save The Last Dance For Me," the Doc Pomus/Mort Shuman song originally recorded as Ben E. King's final, classic track with The Drifters.
"Stand By Me," especially, became a sort of de facto anthem of the Jersey Shore music scene; to this day, one can count on hearing it at just about every benefit or special occasion, as its denizens can attest. (Click here to experience one of the most moving versions, recorded in 2001 just over a month after 9/11 to close the Alliance for Neighbors concerts at Red Bank's Count Basie Theatre, featuring Bruce Springsteen accompanied by many friends both famous and not-so-famous, several of whom have since passed, as well.) Ben E. King's immortal version of "Stand By Me," which achieved the rare feat of being a U.S. Top-Ten hit twice in 1961 and 1986, was recorded at the same session that produced his first solo single "Spanish Harlem." (Click here to read a 2013 account of the creation of "Stand By Me," as told by Mike Stoller and King, who co-wrote it with producers Jerry Leiber and Stoller.) King's voice gave "Stand By Me," to quote Dave Marsh once more, "its unique unity of terror and reassurance." And it is this song that will live on in people's hearts not just as a rallying cry, but also as a bittersweet reminder of careless youth, of halcyon days and, yes, endless summer nights at the shore.
- May 4, 2015 - Lisa Iannucci & Shawn Poole reporting - 2014 photo of (L-R) Ronnie Spector, Steve Van Zandt, Ben E. King & Mike Stoller from @VanZandtFans