BRUCE ALL OVER NEW 9-DVD SET OF ROCK HALL HIGHLIGHTS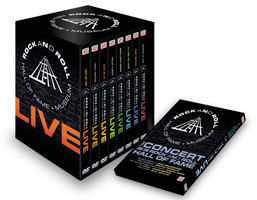 Coinciding with the 25th Anniversary of the Rock and Roll Hall of Fame (Bruce and the E Street Band are playing the October 29 Anniversary Concert at MSG), a box set of DVDs will finally collect Rock Hall performances from over the years for home viewing. Presented by Time-Life and available from www.rockhalldvds.com, Rock and Roll Hall of Fame LIVE is a nine-disc collection of one-of-a-kind performances and induction speeches from the Rock Hall's induction ceremonies — and of course, Bruce has been put in his fair share of time at these over the past 24 years. Footage from the 1995 Concert for the Rock and Roll Hall of Fame (when Bruce reunited with the E Street Band for the last time until 1999) is also included. Additionally, each DVD has over an hour of bonus material, including rare, behind-the-scenes material and rehearsal footage. Release date is September 11.
At least one Springsteen performance is included on each of the first seven DVDs. Can't say we see much rhyme or reason to how these are spread out, but here's how it shakes out:
Disc One: Light My Fire
• Mick Jagger, Bruce Springsteen and the Rock Hall Jam Band: "I Saw Her Standing There," 1988
• Roy Orbison with Bruce Springsteen and the Rock Hall Jam Band: "Oh, Pretty Woman," 1987
• John Fogerty & Friends: "Green River," 1993
• Bruce Springsteen & the E Street Band: "The Promised Land," 1999

Disc Two: Sweet Emotion
• Mick Jagger, Bruce Springsteen and the Rock Hall Jam Band: "(I Can't Get No) Satisfaction," 1988
• Bruce Springsteen & the E Street Band: "Tenth Avenue Freeze-out," 1999

Disc Three: Start Me Up
• U2 with Bruce Springsteen: "I Still Haven't Found What I'm Looking For," 2005

Disc Four: Feelin' Alright
• Chuck Berry with Bruce Springsteen & the E Street Band: "Johnny B. Goode," 1995

Disc Five: Whole Lotta Shakin'
• John Fogerty & Friends: "Born on the Bayou," 1993
• Bruce Springsteen & the E Steet Band: "Backstreets," 1999

Disc Six: I'll Take You There
• Wilson Pickett with Bruce Springsteen & the E Street Band: "In the Midnight Hour," 1999

Disc Seven: Come Together
• Bruce Springsteen and Axl Rose: "Come Together" (A Tribute to John Lennon), 1994
• John Fogerty & Friends: "Who'll Stop the Rain," 1993
See www.rockhalldvds.com for the full track listing (specific induction speeches and bonus material included have yet to be announced). Time-Life will also be offering a 14-DVD version of the set which also includes the book Rock and Roll Hall of Fame: The First 25 Years and the five-DVD History of Rock 'n' Roll series.
Speaking of the Rock Hall, parts two and three of Chief Curator Jim Henke's eight-part interview with Springsteen have now been posted; go to rockhall.com/blog to listen.
- August 30, 2009
ELLIE GREENWICH, 1940-2009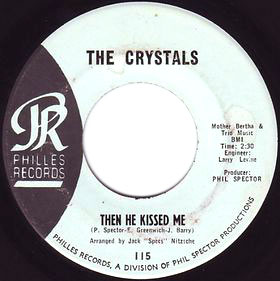 Only two weeks after losing Les Paul, another major influence on Bruce Springsteen's music (especially during his Born to Run period) has passed. Songwriter Ellie Greenwich, who died on Wednesday in Manhattan at the age of 68, collaborated with both Jeff Barry (her ex-husband) and legendary "Wall of Sound" producer Phil Spector on many of the greatest hits of both the Wall of Sound and the "girl-group" genres. Greenwich helped to create some of the most beloved and beautiful records ever, full of romance, excitement, wonder and heartbreak (often all at once). The list includes The Ronettes' "Be My Baby," The Crystals' "Da Doo Ron Ron" and "Then He Kissed Me," and The Dixie Cups' "Chapel of Love." Springsteen often covered "Then (S)he Kissed Me" during the Born to Run tour, and the Born to Run album is very much a descendant of the music that Greenwich helped to make, both emotionally and musically. The trio of Barry, Greenwich and Spector also wrote the now-classic "Christmas (Baby Please Come Home)," first recorded by Darlene Love and later directly referenced in "All Alone On Christmas," which was written by Steve Van Zandt and recorded with Darlene Love and The E Street Band (one of the few tracks that The E Street Band have ever recorded without Bruce Springsteen). Check out the special tribute page to Ellie Greenwich at littlestevensundergroundgarage.com More information about Greenwich and her work also can be found at her official website: elliegreenwich.com

"….Rock 'n' roll became the art form of rock. Beginning in 1965, it was the year the Beatles, the Stones, the Byrds and Bob Dylan influenced each other right into a new art form.... The 15 years of pre-art-form lyrics may not seem as important or meaningful in a social and political way, but as a 13-year-old hearing the super-sexy Judy Craig and the Chiffons sing Ellie Greenwich and Jeff Barry's 'I Have a Boyfriend,' don't tell me that wasn't important. More than anything else in the world, I wanted to be that boyfriend. I still do. That was my 'Blowin' in the Wind,' my 'Day in the Life,' or 'Sympathy for the Devil,' absolutely. If you wanna write, then learn how to do it."
--Little Steven Van Zandt, SXSW Festival, March 20, 2009
TWO PRE-ORDER SPECIALS FROM BACKSTREET RECORDS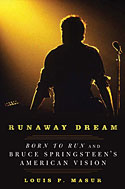 A couple new items of note for Boss fans are coming in early September, and we've got special offers available when you pre-order them from us:
John Fogerty: The Blue Ridge Rangers Rides Again. "I've wanted to do something with Bruce forever, probably 20-some odd years," says Fogerty, and on his new album he finally does: the pair teams up for a vocal duet on "When Will I Be Loved." "Pre-order the CD now to save 21%! Retail price is $14, our price is $11. (Available: September 1)
Runaway Dream: Born to Run and Bruce Springsteen's American Vision, by Louis P. Masur. A history and examination of Bruce's 1975 masterpiece, from the making of the album to its reception and beyond. Pre-order the hardback now to have your copy signed by the author! (Available: early September)
Pre-order specials are only guaranteed to last until items are in stock. As always, pre-orders will be fulfilled and shipped as soon as product arrives, in the order received. Thanks for supporting Backstreet Records!
- August 27, 2009
TICKETS & E STREET LOUNGE PASSES ON THE AUCTION BLOCK


Springsteen has once again donated tickets to raise money for various charities, so if you're looking to score for upcoming shows and want to benefit a good cause at the same time, check out these online auctions:
Keep your eye on charitybuzz.com for more auctions to come!
- August 27, 2009
G.A. ENTRY INFO: SARATOGA, TUESDAY NIGHT
To determine the order in which GA Pit ticket holders will enter the GA Pit area, the following lottery system has been put into place: Between the hours of 3:30pm and 5:30pm, sequentially numbered lottery tickets will be distributed to GA Pit ticket holders at the gate near the Route 50 parking lot. It's a big huge lot with a sign that says Saratoga Performing Arts Center. The only building in the lot is the box office, you can see it as soon as you drive in the lot. A table will be set up off to the side near the box office. At 5:30pm, one numbered ticket will be drawn at random to determine who gets entry first; all other GA Pit ticket holders who have been given a lottery ticket will then be lined up in sequential order according to their numbered lottery ticket (ie - if number 89 gets drawn, the person holding the lottery ticket numbered 89 will be the first person in line; number 90 will be the second person in line, and so on). Between 6:00pm and 6:30pm: the people who have already been lined up sequentially and wristbanded, will then be escorted to the GA Pit area. Anyone who has a GA ticket and arrives after 5:30pm, will then receive their wristband after they enter the Saratoga Performing Arts Center, as they enter the GA Pit area.
- August 24, 2009


SYMPOSIUM EARLY BIRD REGISTRATION EXTENDED TO SEPT. 1
Tickets for Glory Days musical events now on sale to the public
In an effort to allow more people to register at the lowest possible rates, early-bird registration for "Glory Days: A Bruce Springsteen Symposium" has been extended through September 1. In addition, tickets to the Glory Days musical events at the Stone Pony are now on sale. Go to www.cpe.vt.edu/glorydays/ to register now for the symposium and/or purchase tickets to the concerts.
The symposium, being held for the first time since its initial success in 2005, will appeal to academics and non-academics alike. If you're a fan of Bruce Springsteen, this is a weekend you won't want to miss, just days before the Giants Stadium stand begins right down the road. Speakers will include Robert Santelli, President of The Grammy Museum; Lauren Onkey, Vice President of Education and Public Programs for The Rock and Roll Hall of Fame; Vini Lopez of E Street Band fame; Tinker West, manager of Steel Mill; and many, many more.
The musical events will be a big highlight as well, with three nights of music at the Stone Pony and two special singer-songwriter events at Monmouth University. Performers at the Pony include Joe Grushecky and the Houserockers, Gary "U.S." Bonds, Willie Nile, Jobonanno and the Godsons of Soul, Stewart Francke, and The Jillian Rhys Band. Grushecky will also be conducting a special singer-songwriter acoustic event at Monmouth University on Friday afternoon, September 25; on Saturday, September 26, Songwriters by the Sea will feature Joe D'Urso, Joe Rapolla, Jen Chapin, Lisa Lowell and Scott Kempner performing original songs and Springsteen covers.
"Glory Days: A Bruce Springsteen Symposium" is being organized by Virginia Tech with Penn State Altoona and is hosted by Monmouth University and the Sheraton Eatontown Center. For more information, please contact Mark Bernhard at mcb7@vt.edu.
- August 21, 2009
KITTY'S BACK
Today on the Rock and Roll Hall of Fame + Museum's new blog, Chief Curator Jim Henke posts the first part of his interview with Bruce Springsteen as an audio clip. He writes:
In March, prior to the opening of the Rock and Roll Hall of Fame and Museum's new exhibit, From Asbury Park to the Promised Land: The Life and Music of Bruce Springsteen, I had the good fortune to go to New Jersey to interview Bruce. When I arrived at his house, Bruce was in a small studio room off the kitchen, wailing away on his guitar. His recording engineer, Toby Scott, was behind the board. Toby had played a major role in putting the exhibit together, serving as my main point person in the Springsteen camp to help me select the many artifacts for the exhibit. They finished laying down the track, and Bruce and I sat down in his living room to do the interview. He told me stories about several of the items in the exhibit. Everything went very smoothly, with one exception: Bruce's rather large cat kept running into the room and jumping on my lap. Since I have a dog and a cat at home, it didn't really bother me. But Bruce kept chasing the cat out of the room, shutting the door behind him. But the cat would push the door open and run back into the room. At one point, Bruce leaned down toward my microphone and said, "We have a fat-cat problem here!"
Head to rockhall.com/rockhallblog to listen to the first of eight weekly installments of Henke's interview with Bruce.
- August 21, 2009
TICKET ALERT
Three more shows go on sale tomorrow (all times are local to the host city):
Regarding Cleveland: Though the Quicken Loans Arena will be changing over to Veritix prior to the show date, that will not affect tomorrow morning's Ticketmaster onsale. The changeover is scheduled for sometime in October—at that point, if you go to Veritix.com, and you can buy a ticket through their system. You can always check the venue website, theqarena.com. and it will point you in the right direction. Meanwhile, tickets bought through Ticketmaster before the changeover will, of course, still be honored. The Paperless ticketing system will not be used for this show, to eliminate confusion on that front. "Both companies are working together to make this a smooth transition," we're told, "There are many other events scheduled in the arena during this time besides the Springsteen concert, and the venue says they are comfortable with the move."
G.A. ENTRY INFO: MANSFIELD
For the Comcast Center shows on Saturday and Sunday nights:
To determine the order in which GA Pit ticket holders will enter the GA Pit area, the following lottery system has been put into place: Between the hours of 3:30pm and 5:30pm, sequentially numbered lottery tickets will be distributed to GA Pit ticket holders to the left of the main gate. At 5:30pm, one numbered ticket will be drawn at random to determine who gets entry first; all other GA Pit ticket holders who have been given a lottery ticket will then be lined up in sequential order according to their numbered lottery ticket (ie - if number 89 gets drawn, the person holding the lottery ticket numbered 89 will be the first person in line; number 90 will be the second person in line, and so on). Between 6:00pm and 6:30pm: the people who have already been lined up sequentially and wristbanded, will then be escorted to the GA Pit area. Any one who has a GA ticket and arrives after 5:30pm, will receive their wristband after they enter the Comcast Center, as they enter the GA Pit area.

G.A.: YOU'VE GOT QUESTIONS, WE'VE GOT ANSWERS
And just in time, too. Here we are on the eve of the fall leg's opening night in Hartford, CT, a leg that includes shows in amphitheaters, arenas and Giants Stadium. Many have been wondering about the general admission procedure, particularly with the wrinkle of the new Paperless ticketing system for many of these upcoming shows. Here's what we've found out so far.
The first few shows of the leg—Hartford, Mansfield, Saratoga, and Tampa—will be in amphiteatres. Even though the G.A. section in these sheds will already be on the small side, there may also be a limited GA area in the front ("the pit"). In any case, G.A. entry order will be determined by random number lottery.
At the Comcast Theater in Hartford tomorrow night, there is no Paperless ticketing, so the G.A. entry procedure will be similar to previous U.S. shows: wristbands will be distributed by Gate C (by the big Dunkin Donuts cup) between 3:00 and 5:30; then the lucky lottery number will be drawn to see which number is first in line, and the entrance line-up will begin. The plan is for GA "doors" at 6:00.
Hartford Update: Here's the G.A. lottery info for tonight as supplied by the venue. They seem to be using the term "Pit" to refer to the entire GA area:
To determine the order in which GA Pit ticket holders will enter the GA Pit area, the following lottery system has been put into place: Between the hours of 3:00pm and 5:30pm, sequentially numbered tickets will be distributed to GA Pit ticket holders at the Citi Bank gate (located to the left of the box office - outside of the venue). At 5:30pm, one numbered ticket will be drawn at random to determine who gets entry first; all other GA Pit ticket holders will then be lined up in sequential order according to their numbered lottery ticket (ie - if number 89 gets drawn, the person holding the lottery ticket numbered 89 will be the first person in line; number 90 will be the second person in line, and so on). At 6:30pm, the Citi Bank gate will open and the group can proceed to the GA Pit wrist banding station within the main lobby - staff will be checking numbers again in the lobby to maintain the order.
Looking ahead to shows with Paperless ticketing: Don't forget, you'll need the credit card you used to purchase tickets as well as a government-approved photo ID for entrance. And if you've got a friend or friends going in with you, you all need to be together. Here's the basics of how the Paperless pit lottery will work:
Personnel from the venue and/or the Springsteen organization will man a table in a designated area, with a list of GA ticketholders.
When you show up to the table with ID, you'll be checked against the list to get a lottery wristband. Again, if you've also purchased tickets for a friend or friends, they need to be there too if they want lottery wristbands.
When the entry line is formed later, your credit card will be scanned, you'll get your tickets and enter the arena.
That's what we know right now—watch this space for further info and clarifications as they come in!
- Originally posted August 18, 2009 - updated August 19, 2009
THE FREEWHEELIN' BOB DYLAN
or
DRIFTER'S ESCAPE
or
CAN I PLEASE CRAWL IN YOUR WINDOW?
or
IT IS ME, BABE
or
BOOTS OF BLACK RUBBER
or
POSITIVELY WEST END COURT
or
STUCK INSIDE OF LONG BRANCH WITH THE WINNIPEG BLUES AGAIN
Oh, we could go on... but here's how ABC News titles the story that just made our weekend: "Was Dylan Searching for the Home Where Springsteen Penned 'Born to Run'?: Dylan Detained by NJ Cops on Springsteen's 'Backstreets.'" Enjoy!
- August 16, 2009
REMINDER: "GLORY DAYS" EARLY REGISTRATION DEADLINE TODAY
Symposium early-bird registration ends August 15... register now to save!
Glory Days: A Bruce Springsteen Symposium will run in New Jersey from September 24-27, 2009. This exciting event, first run in 2005, will feature such speakers as Vini Lopez, Tinker West, Robert Santelli, Lauren Onkey, Jim Musselman, Eric Alterman, Joe Grushecky, Jim Cullen and many others during this weekend educational gathering which will also include over 130 presentations on all things Springsteen. As part of the festivities, The Stone Pony will play host to three nights of live music including Joe Grushecky and the Houserockers, Gary "U.S." Bonds, Willie Nile, Jobonanno and the Godsons of Soul, Stewart Francke, and others. A Songwriters By the Sea songwriters' roundtable featuring Joe D'Urso, Joe Rapolla, Jen Chapin, Lisa Lowell and Scott Kempner will also be a highlight of the symposium's weekend activities.
While the registration deadline is September 10, you can save money by registering by August 15—that's today! Click here to register now and save. For more information, please contact symposium organizer Mark Bernhard at mcb7@vt.edu.
- August 15, 2009
THE REVELING TO PLAY SATURDAY NIGHT SHOWCASE IN NJ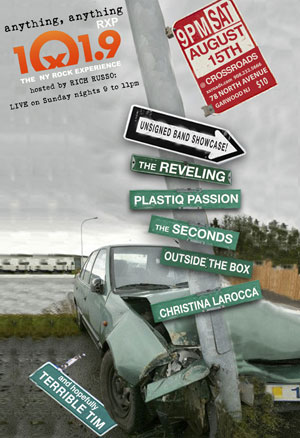 On Saturday night, Jay Weinberg's band The Reveling make their first appearance since Jay's return from E Street Europe. They'll playing at Crossroads in Garwood, NJ, as part of the WRXP 101.9 Showcase hosted by Springsteen fan and radio host Rich Russo.
Russo tells Backstreets, "I play some unsigned bands as part of my show, and I've been doing a monthly series of these live shows for local unsigned bands in the tri-state area—and The Reveling fits the bill. It's basically a showcase, with every band getting 25 minutes to play. And they have to do a cover—that's part of the deal."
Russo adds, "Outside the Box is the house band for the Stone Pony, they play every Wednesday night at the Pony and some weekend opening slots, too. So it's cool to have them at this show as well, it gives the whole thing a little Jersey Shore feel."
It's just ten bucks to get in; Crossroads is at 78 North Ave. in Garwood. For more information, visit www.myspace.com/thereveling.
- August 14, 2009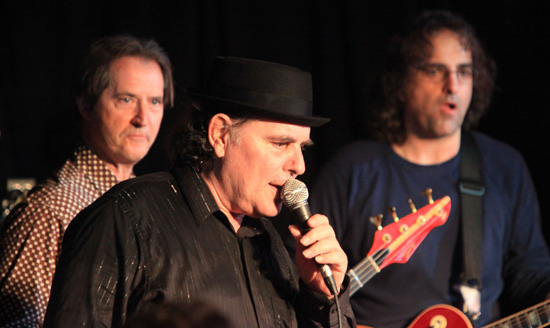 JOHN LURASCHI, REST IN PEACE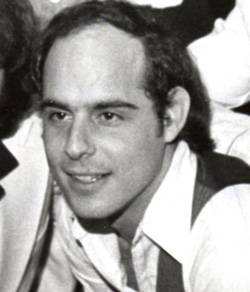 Les Paul isn't the only one we lost this week: bassist John Luraschi passed after a long battle with cancer. John was one of the original Upstage musicians, and he played bass in some of the most popular bands in the Asbury Park scene, including Cahoots and Cold Blast & Steel. His name is memorialized on the Asbury Park boardwalk as one of the Creators of the Sound of Asbury Park. For more on John read here, including news of the solo album he was able to complete and release just months before his death. John was a friend to Backstreets, and we mourn his loss; our thoughts are with his friends and family, those who loved him, and those who made music with him on the Jersey Shore for well over 40 years.
Top: John at the mic at his American Cancer Society benefit on March 22, with Garry Tallent and Joe DeMaio, photograph by Mike Black; at right, John back in the day, photograph courtesy of Billy Smith.
PARTY LIKE IT'S 1969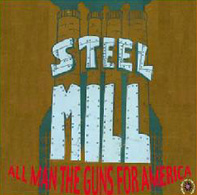 Steel Mill is back! With Bruce Springsteen's blessing, Vini Lopez (the original drummer for the E Street Band, of course, as well as for Springsteen's earlier band) has reassembled Jersey Shore players to recreate the 1969 sound of Steel Mill with a new CD, All Man the Guns for America. The album features eight previously unreleased Springsteen songs that he wrote in the late '60s for Steel Mill: "All Man the Guns for America," "Sherlock Goes Holme" (instrumental), "The Train Song," "Cowboys of the Sea," "Sweet Melinda," "Lady Walking Down by the River," "Do Run Daddy (Down to Mexico)," and "Resurrection." Also included is Bill Chinnock's "Crown Liquor," which the original Steel Mill played live.
Produced by Lopez and Carl "Tinker" West, All Man the Guns for America is available now, online and from Vintage Vinyl in Fords NJ.

Steel Mill is planning a worldwide tour for 2009-2010 to support the new album. The band's current line-up: Vini "Maddog" Lopez (drums, lead vocals), John Galella (lead guitar, backround vocals), Ed Piersanti (bass guitar), Steve Lusardi (B3 & grand piano), and Adam Glenn (keyboards). For further information, visit steelmillretro.com.
- Udpated August 16, 2009
"WELL, I GOT THIS GUITAR…."
Les Paul, inventor of the electric guitar, multi-tracking, etc., 1915-2009
Okay, practically every Springsteen fan knows that "the guitar"—the one that's on the cover of Born to Run and currently (but fortunately only temporarily) hangs on a wall in the Rock and Roll Hall of Fame—is a modified Fender Esquire. Before the Esquire, however, the guitar for Bruce Springsteen, especially in his heavy metal days with Steel Mill, was a 1967 Gibson Les Paul. Some photos of it, along with some excellent audio of it in action, can be found here. It's also on display with the Esquire at the Hall's current Springsteen exhibit.
Les Paul, who died at the age of 94 this week, invented not just the solid-body electric guitar but also multi-track recording and the in-studio "echo" effect, without which "Born to Run," for one, would not exist in the recorded form we know and love. Until his health deteriorated very recently, Paul also played the regular Monday night gig he held for the past 12 years at New York's Iridium Jazz Club. Despite many personal obstacles throughout his life, Paul happily maintained an active professional musical career for well over 75 years, setting a very high standard indeed for youngsters like Bruce Springsteen.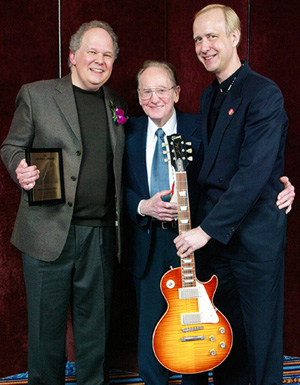 The Associated Press report on Les Paul's death mentioned Springsteen as one of the famous musicians who once sat in with Paul during one of those Iridium gigs, though the exact date of such an appearance remains unknown. In 2003, however, Bruce received the Les Paul Award from the Mix Foundation for Excellence in Audio, recognizing "individuals or institutions that have set the highest standards of excellence in the creative application of recording technology." The award (along with a custom-made Les Paul guitar) was presented by Les Paul himself. Unfortunately, Bruce was unable to attend, but he very appropriately asked his longtime mastering engineer, Bob Ludwig (also a previous Les Paul Award recipient), to attend and read a letter of acceptance on Bruce's behalf. (That's Paul in the middle, flanked by Ludwig, left, and Gibson chairman and CEO Henry Juszkiewicz, right.) Springsteen's letter concluded by directly thanking Les Paul for inventing the electric guitar, noting, "It's just what I needed."
Fans who visit the current Springsteen exhibit at the Rock and Roll Hall of Fame and Museum in Cleveland are also advised to check out the Museum's permanent exhibit on Les Paul and the electric guitar. There you will learn much more about this fascinating man, his amazing life and his many wonderful inventions. (You'll also see clips from the 1950s-era TV show that Paul shot weekly with his wife, singer Mary Ford, in their home deep in the heart of "Johnny 99" country: Mahwah, NJ!) And you'd be hard-pressed to find a more fitting, though coincidental, tribute to Les Paul than when Bruce recently donned a Gibson Les Paul Jr. to join The Gaslight Anthem on "The '59 Sound" during this year's Glastonbury Festival. Check out the video here. It's hard to imagine a better "song they're gonna play when we go."
Rest in peace, Les, and thanks again for inventing that electric guitar; it's just what we needed, too.

IT AIN'T OVER 'TIL IT'S OVER: MORE TOUR DATES ADDED
Three new tour dates were announced today, including two after the Nov. 18 Nashville show:
Fresh from playing Born to Run in Chicago, the band will play the Wells Fargo Arena in Des Moines, IA, on September 21. Tickets on sale August 22.
Bruce and the band return to Baltimore, MD on November 20 after a long absence (since 1973?). Tickets for the 1st Mariner Arena show will go on sale September 25.
The current final date for 2009 is November 22 in Buffalo, NY in the HSBC Arena. Tickets on sale September 12.
The press release announcing the dates was issued with the headline "Bruce Springsteen And The Legendary E Street Band Finalize Remaining 2009 Tour Dates." So, things are shaping up for Buffalo to be the final stop for 2009. That could change, of course, but we don't know of any credible rumors to the contrary.
TICKETMASTER: THE TALK OF THE TOWN
Check out the August 10 & 17 issue of The New Yorker for John Seabrook's eight-page article in the Annals of Entertainment section entitled "The Price of the Ticket." It's a look at the "dysfunctional" nature of the live music ticketing business, specifically Ticketmaster and Live Nation, highlighting recent Springsteen sales: "Two recent shows that Bruce Springsteen and the E Street Band performed at the Izod Center, in the New Jersey Meadowlands, on May 21st and May 23rd, have come to serve as a referendum on what's wrong with the live music business." A compelling read.
- August 9, 2009
"HARD ROCK CALLING" BROADCAST UPDATE
"London Calling," "Rosie," and "Jungleland" on the teevee
Later this month, a "Hard Rock Calling" special will bring us footage from Springsteen and the E Street Band's recent performance at London's Hyde Park. In the U.K., tune in to Sky Arts on August 14 at 9:00 p.m.; in the U.S., it airs a week later on VH1, VH1 Classic and Palladia.
Further U.S. details:
On Friday, August 21, at 9 p.m., VH1 Classic will premiere a one-hour show, opening with Springsteen's cover of the Clash's "London Calling." Bruce and the band also close the show with "Rosalita." In between: The Pretenders ("Middle of the Road"), the Dave Matthews Band ("All Along the Watchtower") and Neil Young ("Down by the River").
An extended version will air on VH1 and Palladia, a two-hour version featuring everything from the VH1 Classic version plus "Jungleland." Also in the two-hour version: the Gaslight Anthem, the Killers, the Kooks, Ben Harper, James Morrison, and more from the Pretenders and Neil Young.
- August 8, 2009
TICKET ALERT
Don't forget, two more ticket sales this weekend (all times are local to the host city):
NASHVILLE SHOW RESCHEDULED FOR NOVEMBER
The Nashville concert at the Sommet Center originally scheduled for September 10 has been moved to Wednesday November 18, following the E Street Band's 11/15 show in Milwaukee. All tickets for the original September 10 date will be honored on November 18 (refunds are also available). See Ticketmaster for further information.
Also part of the postponement press release: "As an added bonus for the Nashville audience, the band will be adding Born to Run in its entirety as part of the evening's full set list of Bruce Springsteen favorites!"
- August 7, 2009
TIVO ALERT: SPRINGSTEEN BIOGRAPHY AIRS TONIGHT
After some delays, the "Bruce Springsteen" episode of the Biography program is ready for prime time. The unauthorized, hour-long doc on Springsteen's lfe and music debuts tonight at 10 p.m. Eastern on Bio.


FOGERTY & SPRINGSTEEN: CHEATED & MISTREATED
As previously reported, John Fogerty's Blue Ridge Rangers will ride again this fall, with an album called... well, The Blue Ridge Rangers Rides Again. The September 1 album release includes Bruce Springsteen dueting with Fogerty on the Everly Brothers' "When Will I Be Loved." You can hear that track now, streaming at www.johnfogerty.com, with some killer high harmonies from Bruce. And pre-order the album now, at a special pre-order sale price, at Backstreet Records!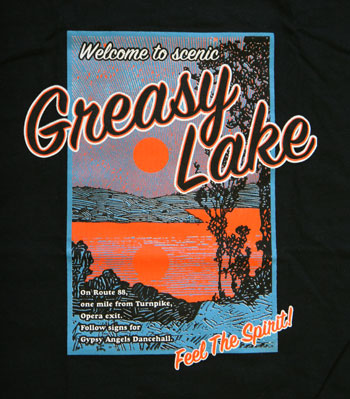 CRAZY JANEY WENT TO GREASY LAKE, AND
ALL I GOT WAS THIS LOUSY T-SHIRT
Well, not lousy at all—pretty damn cool, in fact. Take home your very own souvenir from "Spirit in the Night"'s magical, mythical Greasy Lake, courtesy of our friends at Protect, the National Association to Protect Children. This is another in their line of T-shirts from fictional locales, all to benefit the work that they do, and they're letting us make this one available to our readers through Backstreet Records.
With a concept assist from Dave Marsh, this is our favorite kind of "Springsteen" shirt: subtle, but those in the know will get it in a flash. This black organic cotton T-shirt has a Route 88 sign on the back, with graffiti: "Killer Joe passed out here"—nice touch. In stock now, in adult sizes from Small to XXL.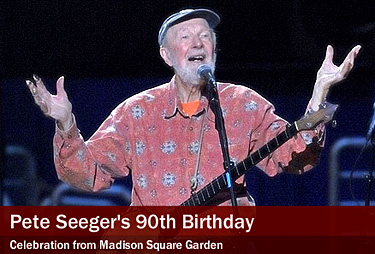 PETE SEEGER'S BIRTHDAY CONCERT DEBUTS ON PBS
Back on May 3, Bruce Springsteen helped celebrate Pete Seeger's 90th birthday at an all-star concert in New York City. A film of the show, recorded in High Definition, premieres this week on PBS as part of the Great Performances series. The first showing is on New York's WNET Thursday night, July 30, at 8:00 p.m.; look for broadcasts in other cities to follow shortly thereafter in early August. Check the tentative schedule for the top 30 markets below, or check your local listings.
| | | |
| --- | --- | --- |
| City | Station | Showings |
| Atlanta, GA | GAPTV | Aug 5, 9 pm; Aug 8, 10 pm |
| Baltimore, MD | MDPTV | Aug 2, 8:30 pm |
| Boston, MA | WGBH | Aug 1, 4 pm; Aug 2, 1:30 pm; Aug 6, 7:30 pm |
| Boston, MA | WGBX | Aug 4, 9 pm |
| Cleveland, OH | WVIZ | Aug 4, 9:30 pm |
| Dallas, TX | KERA | Aug 12, 8:30 pm |
| Denver, CO | KRMA | Aug 1, 2 pm |
| Detroit, MI | WTVS | Aug 1, 11:55 pm; Aug 15, 11 pm |
| Charlotte, NC | WUNG | TBA |
| Chicago, IL | WTTW | Sept 10, 7:30 pm |
| Hartord, CT | CPTV | TBA |
| Houston, TX | KUHT | TBA |
| Indianapolis, IN | WFYI | Aug 9, 9 pm |
| Los Angeles, CA | KCET | Aug 5, 8 pm |
| Miami, FL | WPBT | Aug 2, 9 pm |
| MPLS/St. Paul, MN | TPT2/17 | Aug 8, 7 pm; Aug 16, 6 pm |
| Nashville, TN | WNPT | Aug 8, 9 pm; Aug 10, 10:30 pm & midnight |
| New York, NY | WNET | July 30, 8 pm; Aug 2, 3 pm & 12:30 am |
| Orlando, FL | WMFE | Aug 2, 8 pm |
| Philadelphia, PA | WHYY | TBA |
| Phoenix, AZ | KAET | Aug 6, 7:30 pm |
| Pittsburgh, PA | WQED | TBA |
| Portland, OR | KOPB | TBA |
| Raleigh/Durham, NC | WUNC | TBA |
| Sacramento, CA | KVIE | Aug 2, 7 pm; |
| Sacramento, CA | KVIEHD | Aug 1, 8 pm; Aug 5, 9:30 pm |
| San Diego, CA | KPBS | Aug 5, 7 pm |
| San Francsico, CA | KQED | Aug 1, 7 pm; Aug 5, 8 pm |
| Seattle, WA | KCTS | Aug 8, 5 pm |
| St. Louis, MO | KETC | TBA |
| Tampa, FL | WEDU | Aug 2, 9 pm |
| Washington, DC | WETA | Aug 2, 9 pm; Aug 5, 11:30 pm |
Stations have the option of airing a 90-minute version or a 120-minute version of Pete Seeger's 90th Birthday Celebration from Madison Square Garden; both have Springsteen's "The Ghost of Tom Joad" with Tom Morello, as well as the group performance of "This Land is Your Land." The longer version addds the group "Goodnight Irene" to close. Here's hoping we get to see all of Bruce's speech praising Pete, the real showstopper.
The concert benefitted Hudson River Sloop Clearwater; see their website for two videos shown at the Garden that night. A DVD of the concert, also to benefit Clearwater, is in the works; more here as we know it.
- July 29, 2009
TICKET ALERT: PHILLY AND MORE ON SALE SHORTLY
Onsales continue tomorrow for fall dates, with the newly added third and fourth shows at the Spectrum in Philadelphia. Please note, Philly tickets are sold through ComcastTIX, as linked below and on our Tour/Ticket Info page. For the first Spectrum onsale, we had linked to LiveNation... which would have gotten you there, but it took a couple extra clicks. Sorry if that threw a monkeywrench into anyone's works; of course, we always try to post the most direct link to each onsale. Here's what drops over the next few days (all times are local to the host city):
And remember, especially if you're accustomed to trading tickets: A new Paperless Ticketing system is in place, which changes the playing field. Certain sections (GA floor, prime side seats) will be Paperless Ticket Delivery only. These tickets will be non-transferable, with original purchaser's ID and credit card required for entry at the venue. Pay close attention to the Event notes online, and familiarize yourself with these more detailed explanations from Ticketmaster and ComcastTIX. Forewarned is forearmed!
HAPPY BIRTHDAY, RED!
Birthday wishes go out to Patti Scialfa today, July 29—
hope to see you back on stage soon!
AARP MAGAZINE'S NEW SOON-TO-BE-60 COVERBOY
Luckily for us, Bruce Springsteen has no plans to retire anytime

soon. Nevertheless, the soon-to-be-sexagenarian graces the cover of the current issue of AARP (formerly American Association of Retired Persons) Magazine, the "World's Largest Circulation Magazine," The magazine is available as a member benefit for all persons 50 years old or older, retired or not, who join AARP. Even if you're not a member, you can check out the current issue's feature on Bruce plus extras online, including a Frank Stefanko photo gallery, and many interesting comments by Jon Landau, Luke Russert, Ron Kovic, Bonnie Raitt, Donna Summer, Nils Lofgren, Jonathan Demme, Kadiatou Diallo, Kristen Breitweiser, Frank Stefanko, John Kerry, Darren Aronofsky, John Hall, Ruth Pointer, Anita Pointer, Steve Earle and Bill Clinton.
- July 28, 2009 - Shawn Poole reporting
AMERICAN MADNESS, BY WAY OF SPAIN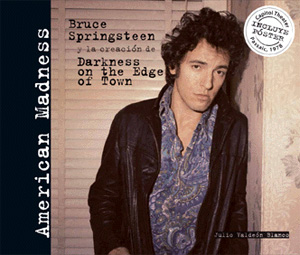 With Bruce and the E Street Band now into their five-show Spanish stretch to wrap up the European leg, there's a new book published in Spain to celebrate one of their crowning achievements, the 1978 Darkness album. Titled American Madness: Bruce Springsteen y la creacion de Darkness on the Edge of Town, it's a beautiful hardcover, with text by Julio Valdeon Blanco and well illustrated with photographs from Frank Stefanko, Eric Meola, Lynn Goldsmith, and lots more.
"The book focuses on the making of the record," Julio tells Backstreets, "the songs (the ones in the record and also all the outtakes), and also the legendary tour. It has more than 100 pictures, some of them never seen (from Eric Meola, Chuck Pulin, Lou Cohan)... I interviewed Jon Landau, Dave Marsh, Stefanko, Meola, Thom Zimmy, Erik Flannigan, Jim Cullen.... and the book also looks at Springsteen's influences: noir cinema, the arrival of the new generation of moviemakers like Scorsese, classics like Elia Kazan or John Ford, writers like Steinbeck, and a ton of musicians, from Elvis to Dylan, Fats Domino, Bo Diddley, Wilson Pickett, Billy Lee Riley, Jimmie Rodgers, Bobby Fuller Four, Dion, Jerry Lee Lewis, etc."
The text is in Spanish only, but the author tells us he's hoping for an English translation in the future. Visit Julio's website to see some spreads from the book; with more on the American Madness blog. If you're interested in purchasing this Spanish edition, visit our friends at the Point Blank shop.
- July 28, 2009
CHICAGO TO GET BORN TO RUN, START TO FINISH
Back in January, David Fricke looked ahead to the Working on a Dream tour in Rolling Stone, suggesting the prospect of a different kind of show: "One idea under consideration is a miniset each night devoted to a full performance of one of Springsteen's classic albums — 'a way of addressing the past,' the source says."
As we approach the end of the European leg, that idea hasn't come to fruition... but let's add a big "yet" as we look toward the fall U.S. leg. In the Chicago Tribune, Greg Kot reports: "Bruce Springsteen and the E Street Band are returning to play the United Center on Sept. 20, but this time with a twist: They'll perform his 1975 album Born to Run in its entirety (plus other songs from throughout Springsteen's career)." The Sun-Times (Jim DeRogatis citing his source as "Chicago promoters Jam Productions") and Rollingstone.com are now reporting the same.
No word yet on plans for other dates or other albums, but our ears are to the ground....
- July 28, 2009
TWO MORE PHILLY SHOWS ADDED, TIX ON SALE THURSDAY
We like today's headline in the Phildelphia Inquirer so much, we'll let them fill you in:
Springsteen to play Spectrum for year
Not really, but it's getting to seem that way. In what is becoming the longest goodbye since the last 15 minutes of Lord of the Rings: Return of the King, Bruce Springsteen and the E Street Band will play two more shows to help close the Spectrum. Bruce and band already are playing Oct. 13 and Oct. 14. Tickets went on sale yesterday. Now they'll also play Oct. 19 and Oct. 20. Tix to the added shows go on sale Thursday at 10 a.m. through ComcastTIX.com. Call 1-800-298-4200, show up at the Wachovia box office or selected Acme Markets, or go to LiveNation.com.
See our Tour/Ticket Info page for the full itinerary, onsale dates and links.
- July 28, 2009
TICKET ALERT: THE RULES THEY ARE A-CHANGIN'
Onsales begin tomorrow for some of the new batch of fall dates... here's what drops over the next few days (all times are local to the host city):
Be sure to note, especially if you're accustomed to trading tickets: beginning with these onsales, Ticketmaster will be implementing their new Paperless Ticketing system. For shows sold by Ticketmaster, like Nashville and Ft. Lauderdale, certain sections (GA floor, prime side seats) will be Paperless Ticket Delivery only. These tickets will be non-transferable, with original purchaser's ID and credit card required for entry at the venue. Flashbacks to the reunion tour, anyone? Pay close attention to the Event notes on Ticketmaster.com, and see their How It Works page for a more detailed explanation, with FAQ and video. Forewarned is forearmed!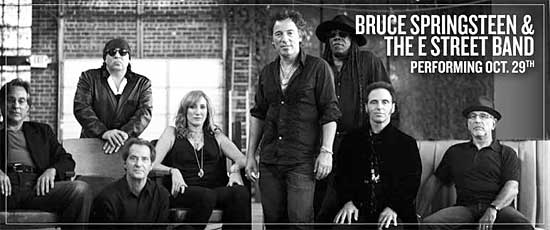 BRUCE & THE E STREET BAND TO CELEBRATE THE ROCK HALL'S 25th
NJ's finest join all-star line-up at Garden concerts in late October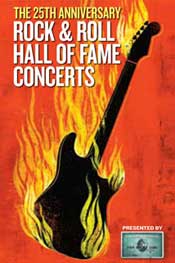 On October 29 and 30, two unique concerts at New York's Madison Square Garden will celebrate the 25th anniversary of the Rock and Roll Hall of Fame. Bruce Springsteen and the E Street Band will play Night One, along with Simon & Garfunkel; Crosby, Stills, Nash & Friends; Paul Simon; and Stevie Wonder. Night Two will feature Eric Clapton, Aretha Franklin; Metallica, and U2.
According to today's press release, the 25th Anniversary Rock & Roll Hall of Fame Concerts "will be packed with guest stars and unique collaborations designed to tell the story of rock and roll... with artists performing their own songs and the music that inspired them—tracing the history of genres ranging from soul to hard rock." Among those involved in "curating" the show are Jann Wenner, Tom Hanks, Robbie Robertson, and Cameron Crowe. All proceeds raised will go towards creating a permanent endowment for the Rock & Roll Hall of Fame Foundation and Museum.
For Bruce and the E Streeters, this 10/29 concert falls between their 10/26 Kansas City and 11/2 Washingtson DC stops of the Working on a Dream tour.
Pre-sale: Tickets will be available for purchase with an American Express Card through ticketmaster.com or by calling 800-745-3000, from 9 a.m. Monday, July 27, through Sunday, August 2 at 9 p.m. Public on-sale: begins Monday, August 3rd at 9 a.m.
FRIENDS, ROMANS, COUNTRYMEN, LEND BRUCE YOUR EARS
In advance of the Italian stretch of the Working on a Dream tour, which begins this very night, Vanity Fair Italy secured an exclusive interview with Bruce Springsteen, which ran as the cover story in their June 17 issue. Writer Leonardo Colombati spoke with Springsteen at length during the Stockholm stand, and has kindly provided us with the English version of his feature. Thanks to Colombati, and the permission of Vanity Fair and Conde Nast, here's Bruce looking forward to the shows in Italy—Rome tonight, Torino on Tuesday, and Udine on Thursday—and a couple other fun nuggets. We'll run the full interview in the upcoming issue of Backstreets Magazine, #88.

from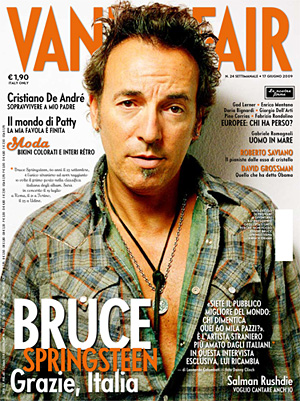 BRUCE SPRINGSTEEN:
My Deal with the Devil
THE BOSS TALKS TO A NOVELIST (WHO'S ALSO A FRIEND AND A FAN) ABOUT TIME, LOVE AND MUSIC, CONFESSING HIS COMMITMENT TO ROCK THE HOUSE WHILE ON TOUR IN EUROPE
By Leonardo Colombati
With Working on a Dream, Bruce became the first foreign artist to reach the #1 position on the Italian album chart ten times.
"Wow, that's incredible!" he says. "The Italian audience was always one of the most deepest and the most loyal and fanatic... It's an endless pleasure to come back to Italy, it's always magic. I always look forward to coming back."
It's a love story that started 24 years ago when you played at S. Siro Stadium in Milan for the first time.
"I remember that show pretty well."
Last time that we met, we recalled your second concert at S. Siro, in 2003…
"Yeah. After a couple of songs it started to rain very heavily, and we thought that we had to stop because of the lightning. But none of you 60,000 crazy Italians moved, so we continued to play and the result was one of the five most amazing shows of my entire career."
Talking about Italy, Sergio Leone, a film director that exerted a big influence on your work, died exactly 20 years ago. The first track of Working on a Dream, "Outlaw Pete," reminds me of the atmosphere of the soundtrack of The Good, The Bad and the Ugly…
"It was a little homage," he laughs. "I had a cowboy song and I said I got to dress this up with a little bit of Ennio Morricone's style. They were fabulous movies, and of course Ennio is one of the greatest composers for film in the world. He made an incredible body of work. A lovely man, I had the honor of meeting him a couple of times."
* * *
Show time is near. But I want to know about Bruce's future releases.
In the last couple of years you wrote some solo stuff…
"I'm always writing," he laughs. "I write all the time."
Will it be your next project?
"I don't know. I think that the E Street Band will probably take a rest for a little while. But it all will happen again. We're lifers, we're gonna go on forever..."
What about the Darkness box set?
"Oh yeah, that's something we're working on. We take it slow and try to put something together that would be nice for fans."
Bruce, before we finish… We were talking about requests. Can I do mine?
"Sure."
I would love to hear "Once Upon a Time in the West" while you are entering on stage in Rome, like you have done a couple of times in the past.
"Okay, let me write it down and see what we can do! Take care, my friend."
VANITY FAIR ITALY 17.06.2009
©2009 LEONARDO COLOMBATI / EDIZIONI CONDé NAST S.P.A
"HARD ROCK CALLING" BROADCAST DATE SET
A portion of Bruce and the E Street Band's set from London's Hyde Park will hit teevee screens in August, as part of a Hard Rock Calling special. In the U.K., tune in to Sky Arts on August 14 at 9:00 p.m.; in the U.S., it's scheduled for August 21 at 9 p.m. on VH1, VH1 Classic and Palladia.
- July 15, 2009
- July 14, 2009
GREETINGS FROM ACROSS THE POND
With Springsteen and the E Street Band taking Dublin by (rain)storm—currently in between a two-night stand, returning to the RDS Arena stage tonight—and preparing for a long-awaited visit to Glasgow on Tuesday, there's lots of media to coincide. Working on a Dream: A Super Bowl Journey airs this weekend on Ireland's City Channel. Nils Lofgren and Steve Van Zandt appeared on Tony Fenton's Today FM show on Friday, and you can listen online.
Today's Sunday Herald has a profile by Graeme Thomson called "The Brotherhood of the Boss," including insights from Lucinda Williams, Emmylou Harris, Jesse Malin, and Dave Marsh. Marsh tells Thomson: "The difference between this tour and any Bruce tour I can ever remember is that this feels like a victory lap. It's by no means glib, but it's fun. There are some dark moments, but ultimately it's about somebody who has discovered, to his surprise, that he's very good at living life, which is something I honestly don't think he thought he had in him. He's been a good parent, a good husband, he's been a good friend and band leader. He's evolved into an A+, works well with others. That's part of what this tour is all about."
And don't miss video of "London Calling" from Hyde Park, posted now on Brucespringsteen.net., where they say, "Look out for more from Hard Rock Calling in London on VH1, VH1 Classic and Palladia."
- July 12, 2009
SPRINGSTEEN MAKES "THE LIST"
Bruce duets with Rosanne Cash on her new album, due this fall
For Rosanne Cash's forthcoming new album, The List, she covers 12 classics recommended by her father—from a list of "essential country tunes" Johnny gave her in 1973—including songs by the Carter Family, Hank Williams, Merle Haggard, and Bob Dylan. Cash says, "If my father had been a martial arts master, he might have passed a martial arts 'secret' on to me, his oldest child. If he had been a surgeon, he might have taken me into his operating room and pointed out the arteries and organs. If he were a robber baron, he might have surveyed his empire and said, 'Honey, some day this will all be yours!' But he was a musician and a songwriter, and he gave me The List."
Bruce Springsteen appears on the album, dueting with her on Paul Hamilton and Hal David's "Sea of Heartbreak," notably performed over the years by Don Gibson, the Everly Brothers, Kenny Price, and the Man in Black himself. The List is due on October 6; read more at www.rosannecash.com.
- July 8, 2009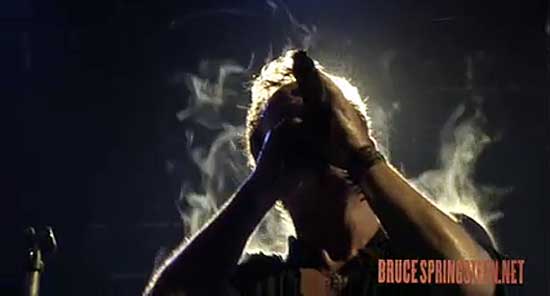 FROM DEALIN' WITH THE HEAT YOU'RE FEELIN'
Don't miss the steamy performance of "The River" from Glastonbury, video up now on Brucespringsteen.net.
- July 8, 2009
FRANKFURT RADIO BROADCAST TOMORROW
And more Fourth of July goodness from E Street Radio
Ah, a Fourth of July broadcast... takes us right back to '88! Tonight, Bruce and the E Street Band bring the Working on a Dream tour to Frankfurt [setlist now posted]. Tomorrow, SIRIUS XM Radio will broadcast a recording from the Frankfurt show on E Street Radio: Saturday, July 4 at 12:00 p.m. Eastern.
E Street Radio's extensive Fourth of July programming will also include a performance by Southside Johnny from the Stone Pony in Asbury Park, recorded live last night and airing tonight, Friday, July 3 at 8:00 p.m.
Tune in all weekend for archived Bruce Springsteen July 4th concerts from the past (including the July 4, 1985 concert at Wembley Stadium, England; the July 4, 1992 concert in Barcelona, Spain; and specially selected songs from a performance in 2008 in Gothenburg, Sweden) as well as the best loved live "party songs," selected from various Springsteen concerts over the years.
Also on SIRIUS XM: Another famous rare "live" recording of Bruce Springsteen re-airs this holiday weekend on, of all places, the Howard Stern channel (Sirius/XM 100). While Stern and his crew are on vacation, the channel is re-airing "The History of Howard Stern, Act II" which first ran last December, covering the period of the radio revolutionary's career from 1985 through 1990. This week's segments include one on Stern's short-lived 1986-87 syndicated weekend radio show, one episode of which featured Clarence Clemons as a guest. During Clarence's appearance, Fartman actually got The Big Man to try telephoning Bruce at home. While Springsteen never answered, listeners got to hear his answering-machine message, an original composition performed by Bruce himself (lyrics available here). The segment will re-air at various times over the weekend. Look for the display caption "Day 3...DIR Syndication Deal" on your Sirius/XM radio; Clarence's (and Bruce's) spot runs right near the beginning.

Happy Independence Day, have a great holiday weekend!
- updated July 3, 2009 - photograph by René van Diemen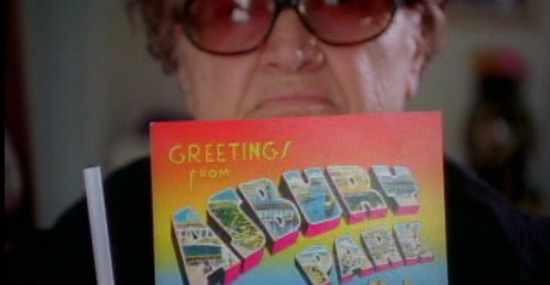 FOURTH OF JULY, ASBURY PARK DOCUMENATRY
Greetings from Asbury Park, an award-winning documentary feature film that offers a personal perspective on how eminent domain abuse has affected the Jersey Shore town, will air on PBS stations in New York, New Jersey and Philadelphia throughout the month of July, starting on the 4th.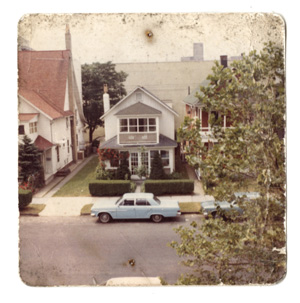 The film follows 91-year-old Angie Hampilos, a Greek immigrant and the great aunt of filmmaker Christina Eliopoulos, as she learns that her seaside bungalow—her home of over 50 years—will be taken by eminent domain to make way for luxury condominiums. In fact, 29 city blocks of homes, businesses, apartments and historic boardwalk attractions are now boarded up and ready for the wrecking ball. They belong to a private developer and will be razed to make way for 3,100 luxury condos.
The movie combines intimate recollections, home movies, rare archival footage, thrilling cinematography and a dynamic soundtrack to recreate the postcard playland and boardwalk dreamland that was the resort city of Asbury Park.
An orchestral score by composers George Vahamonde and Nik Everett employs the evocative strains of acoustic guitar, piano as well as toy instruments and music boxes to recall the mythic ideal of Asbury Park. Two rare, turn of the century piano compositions, "On the Boardwalk in Asbury Park" and "Wear a Boardwalk Smile," long considered lost artifacts, were found and recorded for the film.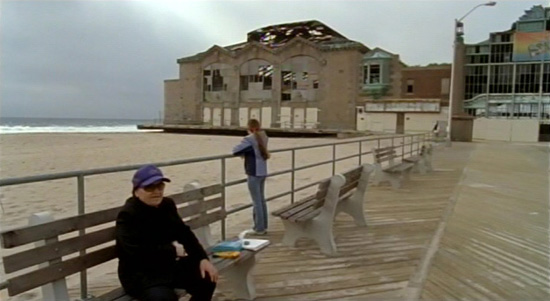 "Both George and Nik are children of the boardwalk with longtime ties to Asbury Park," said Eliopoulos. "They created an incredible score with exquisite sensitivity. The music takes us from the boardwalk funland to a wistful kind of memory or dream-like state, and on through to the city's decline and frustration." The film's dynamic soundtrack includes archival works, and numerous compositions from noted area bands and singer-songwriters including Jeff Saxon, The Misteriosos, as well as bandleaders from the fabulous '50s including Irvin Bell and Martin Weinblatt and Jersey favorite Red Mascara, who wrote and performed the jaunty little ditty "I'm from New Jersey."
Bruce Springsteen also approved the use of his music for the film: in one poignant sequence, "Tunnel of Love" plays over images of teenagers on the famous fun house rides of Palace Amusements and is followed by footage of the dismantling of the carousel horses, and finally, the destruction of the Palace.
"The Palace was a cultural touchstone and playland for those of us who grew up Asbury Park, and of course for anyone who knows Mr. Springsteen's music," director Eliopoulos tells Backstreets. "I am very grateful that Mr. Springsteen granted me permission to employ his achingly beautiful song, 'Tunnel of Love,' for the film. I've been in love with the song, hearing it not just on my iPod but in my head, for most of my life."
Stations airing the documentary in July include WHYY, NJN2 and WLIW. Check your local listings for details. For more information about the film, the broadcast schedule and to view a short trailer, visit greetingsfromasburyparkmovie.com.
- July 2, 2009