SO YOUNG AND…NOT IN LOVE?
A young Springsteen fan muses on the missing millennials
Maybe it's because he laid pretty low through most of the '90s, or perhaps it was the past two decades' massive changes in radio, music distribution and promotion. For whatever reason(s), as 24-year-old writer and Springsteen fan EJ Dickson asserts provocatively in the title of her salon.com essay, "Millennials hate Bruce Springsteen." (At least here in the U.S.) Even if you don't fully agree with Dickson — and we know there are at least a few Gen Y'ers reading these words — she's thought deeply on the subject, and her writing inspires readers to do the same.
Dickson also was a special guest on this week's edition of The Wild and the Innocent with Jim Rotolo, on E Street Radio. Rotolo and Dickson took calls from many Springsteen fans (including some millennials), who discussed her article and made interesting suggestions to Rotolo for his playlist of the most "millennial-accessible" Springsteen tracks. You can catch a replay this Sunday, September 1 at 8am ET on Sirius/XM channel 20.
- August 31, 2013 - Shawn Poole reporting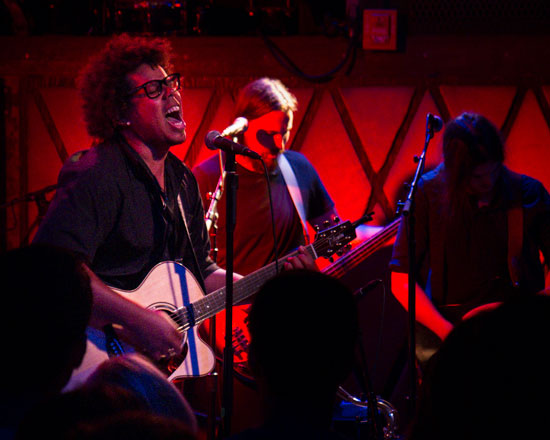 JAKE TAKES MANHATTAN
Jake Clemons and his band played to a sold-out crowd Monday night at Rockwood Music Hall's Stage 2, a cozy room on Manhattan's Lower East Side.
The evening provided an opportunity for those who know Jake only from the Wrecking Ball tour to see him step out of the sideman role (albeit a very prominently featured sideman) and into the lead. While Jake's talent, charisma and stage presence are obvious to anyone who has seen a recent Springsteen concert, Monday's show demonstrated that Jake has both a far deeper reservoir of musical skills, and a far broader range of musical interests and influences than might be supposed by those who haven't seen him playing his own music.
For those familiar with his solo work, the performance was a chance to see how much Jake's experience on the road with the E Street Band over the past year-and-a-half has enhanced his craft and increased his confidence in his showmanship.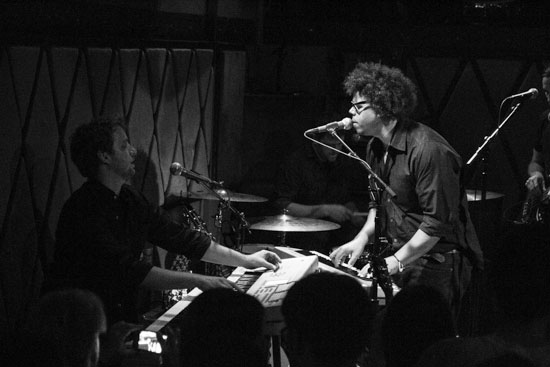 Backed by a tight band, Jake alternated with impressive dexterity between guitar, piano, and saxophone over the course of the evening. He also spoke movingly of what his uncle, friend, and father-figure Clarence meant to him, and of how profoundly he was affected by Clarence's loss. Jake said that he is effectively living two lives now, having undertaken to carry on Clarence's "mission to spread joy throughout the universe".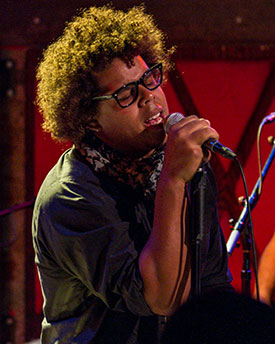 And it was a joyous evening, with songs ranging from Jake's buoyant new single "You Must Be Crazy", to a well-chosen cover of Ryan Adams' "Two," to one of Jake's older songs "A Fool in Love", which interpolated lyrics from Fleetwood Mac's "Dreams".
The E Street family was well-represented, with Cindy Mizelle and Maureen Van Zandt on hand to see the show. In all, the night showed that Jake is well-suited for the mission he's accepted, leaving no doubt that he will carry it forward with skill and soul.
Setlist:
Love'll Never Change
All I Need
Two
You Must Be Crazy
Song for Hope
Hold Tight
Fear & Love
Janine
A Fool in Love
Wherever You Are
Carry Me Through
Band:
Jake Clemons - lead vocals, guitar, sax, piano
Jason Crowgey - bass, vocals
Jake Hull - guitar, vocals
Brett Mayer - keyboards, vocals
Matt Musty - drums, vocals
- August 28, 2013 - Rob Abrams reporting - photographs by A.M. Saddler

COME ON BABY, PLACE A BID ON MY FENDERS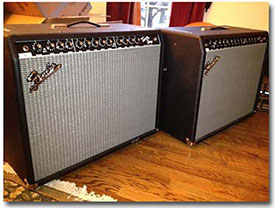 The great Nils Lofgren has a pair of his amps up for auction on eBay, Fender Twin 2x12" amps that he used on the Magic and Working on a Dream tours, and bidding ends tonight. Offered separately, each has been signed by Nils in silver sharpie. You can read more about the auctions and see a video on nilslofgren.com; Nils writes, "I have accumulated many great musical pieces over 45 years on the road and as I don't use everything, I'll be offering items occasionally through the website and ebay."
View the auctions on eBay: Amp #1 and Amp #2. Bidding, having started at $700, has now passed $2,000 for each one and closes just after 8:15pm Eastern.
- August 28, 2013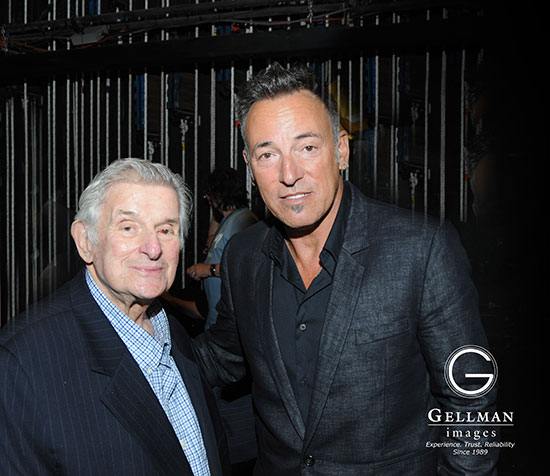 SID BERNSTEIN, BYE BYE
Last week we lost Sid Bernstein, the legendary concert promoter who kickstarted the British Invasion. Bernstein and Bruce Springsteen met in 2010, backstage at the New Jersey Hall of Fame induction ceremony; Bruce sought Sid out, but it was Sid who said, "You are my hero," in a moment captured below by NJHOF official photographer Gary Gellman.
Gellman told Backstreets, "I was backstage capturing images of the Governor when I heard, 'Where's Sid? Bruce would like to meet Sid Bernstein," from one of the Hall of Fame staffers. I then saw Bruce enter backstage looking for Sid, the man who brought The Beatles to America.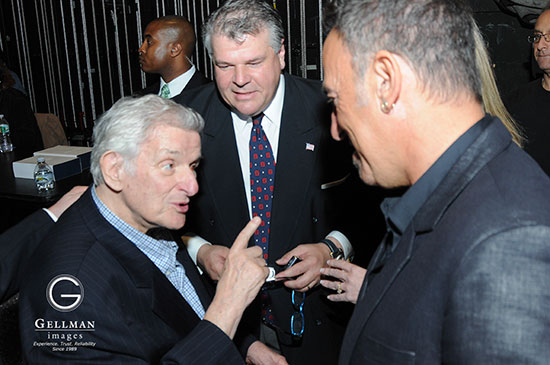 "Sid was thrilled to meet Bruce," Gellman continued, "and the first thing Sid said was, 'You are my hero.' They spent about five minutes together, and then the staffers swept Bruce away to prepare for his appearance. Sid told me later on our TV show that because of Bruce's fight to stop ticket gouging at concerts, Sid had gained a lot of respect for him."
Bernstein's illustrious career — which also included booking the Beatles at Shea Stadium and managing the Young Rascals — was celebrated in the 2010 documentary Sid Bernstein Presents..., featuring an interview with Steven Van Zandt. Bernstein was 95 years old; may he rest in peace.
- August 27, 2013 - photographs by Gary Gellman

JAKE CLEMONS TO GUEST ON SUNDAY'S BRUCE BRUNCH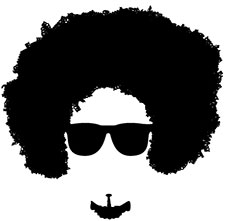 Jake is right between two shows with his own band — he played a sold-out show at the Wonder Bar in Asbury Park on Thursday night, and a New York City gig follows, also sold out, Monday night at Rockwood Music Hall. Here in the middle, he'll be calling in to the weekly Bruce Brunch radio show Sunday morning on the Jersey Shore's 105.7 The Hawk. Host Tom Cunningham tells us that Jake is the the third member of the Clemons family to hit his program, and in addition to some chat, they'll be premiering Jake's new song, "You Must Be Crazy." Tune in from 9am to 11am Eastern; if you're not in range, you can stream online at 1057thehawk.com.
Also check out Jake's newly revamped website, with videos, merch, and more, at jakeclemons.com.
- August 24, 2013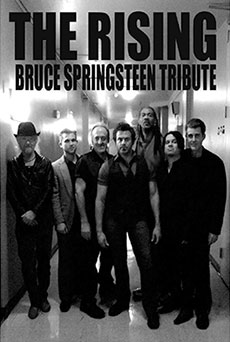 COME ON OUT FOR THE RISING
Bruce Springsteen tribute band The Rising is based on the West Coast — they'll be playing Santa Monica's Main Street Soulstice Festival on Sunday — but look for them to head east in just a few weeks. Tickets are on sale now for their concert at the Paramount Theater, in Huntington, NY on September 13. Jo Lopez is buddies with these guys, and he has great things to say about their show. You can expect to hear everything from the greatest hits to rarities — and the band encourages requests, so bring your signs!
Tickets for the Paramount show in Huntington are available through Ticketmaster; The Rising will also be playing the following day, September 14, in Atlantic City.
For more on the tribute, visit therising.tv. We also post dates for The Rising and selected other Springsteen tribute bands on our Concert Calendar.
- August 24, 2013

AUSTRALIA 2014: THE SCHEDULE EXPANSION BEGINS
Another chance to catch some Perth
No one thought Bruce and the E Street Band and the crew would fly all that way just to do one show in each city, right? Well, the first second show of the 2014 Australasia tour has just been announced, "due to the overwhelming response to this week's pre-sale for Bruce Springsteen and The E Street Band tickets in Perth." They'll be following the February 7 show at Perth Arena with another one on February 8. General onsale for both shows is 9am local time on Monday, Augsut 26.
We have the itinerary with ticket and venue links on our Tour/Ticket Info page; for additional information, visit frontiertouring.com/brucespringsteen.
- August 23, 2013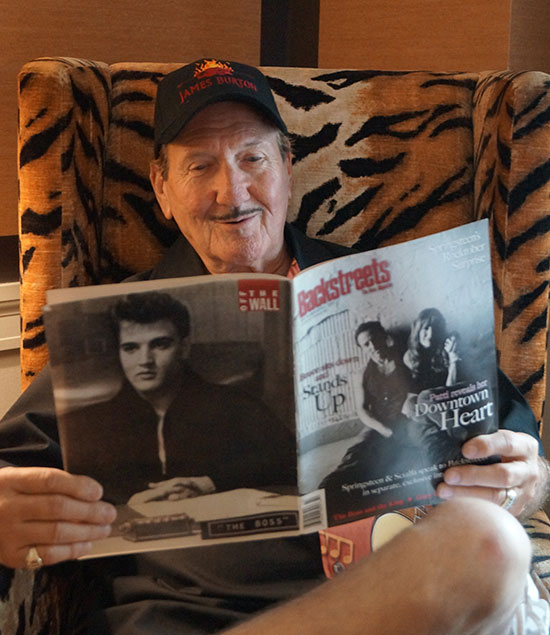 JAMES BURTON STILL TAKING CARE OF BUSINESS
The guitar legend turns 74 today
Happy Backstreets Birthday wishes go out to Rock and Roll Hall of Famer James Burton, who turns 74 today and is still going strong. Since 1957, Burton's distinctive guitar-playing with various artists on numerous recordings over the decades has played a major, influential role. When Elvis Presley assembled his TCB (Taking Care of Business) Band for his legendary return to live performing in 1969, James Burton was the first musician whom Elvis approached. Burton continued to perform and record with Presley for the rest of Elvis's life.
We recently caught up with Burton while he was in New York performing several shows at the Iridium Jazz Club and Lincoln Center. Like Bruce Springsteen, Burton remains a lifelong musician, continuing to perform and record both on his own and with others. We were thrilled and honored to present James with an early birthday present: a hard-to-find copy of Backstreets Magazine issue #80 (now out of print), containing our feature on the various connections between Elvis Presley and Bruce Springsteen and sporting the great "Boss Elvis" photo on the back.
Presenting James Burton with a copy of Backstreets was a way of thanking him, too, for his inspirational role in the recording of the song that gave us our name. As Mike Appel, who co-produced Born to Run, recalled for us back in 1991, "We were doing 'Backstreets' and I said 'Let's try to do an identifiable solo.' So I took [Bruce] into the office and I played 'Hello, Mary Lou' by Ricky Nelson. And James Burton plays the solo. And I pointed out how wonderful that solo was. That prompted the solo on 'Backstreets.'"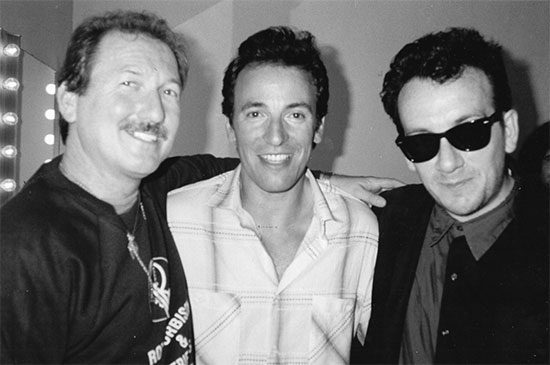 We also got to talk a bit with James about the only time to date that he and Bruce Springsteen have performed together: at the 1987 filming of Roy Orbison and Friends: A Black & White Night. That event also fittingly reunited Burton with the other members of the TCB Band for the first time since Elvis Presley's death. [Above: James Burton, Bruce, and the other Elvis from that night].
"I think Bruce would appreciate this," Burton told us. "One night, Elvis and I were talking, and I said, 'Elvis, if you had to pick or choose one of your favorite singers, someone you really admired for their vocal talent, who would it be? He thought about it for a minute or so and he said, 'Roy Orbison.' He loved Roy."
Burton continued, "It was an honor to play with Bruce. Of course, I've always loved his music and I was real familiar with his shows and a lot of his songs. Bruce was great. He jumped up there and he knew everything. His timing was perfect; everything was great. When we did 'Pretty Woman' [the final song of the show] for the actual filming, T-Bone [Burnett, A Black & White Night's musical director] said, 'Roy, when we do 'Pretty Woman,' at the end of it... go back into it and keep playing it, and that'll be for the credits, when the credits are rolling.' So when we got to the end, Roy was all excited, and I wasn't quite sure if he remembered to jump back into it, so I started playing, got back into it, then we all started and the jam-session thing happened. Bruce and I were switchin' licks and had a great time."
For his part, Bruce commented in a post-show interview, "You don't always get a chance to sing harmony with Roy Orbison and play guitar next to James Burton... that's a dream."
Burton's admiration for Springsteen has continued over the years. He recalled catching a performance by Bruce on television that particularly impressed him as a fellow guitarist. "Bruce was so great doing his solo thing... It was so cool to see him in that moment by himself with an acoustic guitar and singing. It was wonderful. He's a great showman. Onstage, he's got so much energy. He's all over the place. Y'know, the great thing about Bruce today and 'Born to Run' is the fact that he's still running. He's still doing it, man, and that's great. And I am, too... I love it."
Burton would love to play again with Bruce sometime, as well. He's even suggested a potential venue: the James Burton International Guitar Festival, an occasional Burton-with-friends event organized to benefit The James Burton Foundation, providing free guitars and music-education programs to recipients in need. Regardless of the venue, however, Burton hopes to "one day jump on the stage with him and Nils and just get down!"
Two other noteworthy Burton/E Street connections: Burton played guitar on Johnny Cash's 1983 album Johnny 99, which contained Cash's versions of two Springsteen songs: the title track and "Highway Patrolman." ("I love that," says James of the latter.) Burton also played with Garry Tallent and other famous musicians (including former TCB Bandmates Glen D. Hardin and Ron Tutt) in The Dream Players band assembled for Jim Lauderdale's 2008 album Honey Songs.
For more information on James Burton, visit James-Burton.net.
- August 21, 2013 - reporting and photo of James Burton in NYC by Shawn Poole - photo of Burton, Springsteen and Costello (1987) courtesy of James Burton


WEAR A TRIBUTE TO THE LEGENDARY E! STREET! FANS!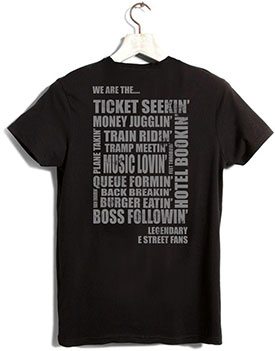 At the end of the Wrecking Ball tour's final European leg, Springsteen followed his introduction of the legendary E Street Band with a salute to the fans. If you missed it, take a look at the video above, from the last night in Kilkenny, as Bruce calls out to the "ticket-seekin', hotel-bookin', money-jugglin', plane-takin', train-ridin', queue-formin', tramp-meetin', feet-throbbin', back-breakin', burger-eatin', rain-endurin', music-lovin', Boss-followin', legendary E! Street! Fans!"
The salute originally comes from a T-shirt worn by Bruce fans Pauline Fairlie & Steven Woods at concerts throughout the summer. As photos of their shirts began to circulate, eventually Amy Lofgren brought it to Bruce's attention, and the rest is history. Pauline and Steven approached Jon Landau Management and asked for their approval if they sold these shirts on behalf of Daniel Harrison, and they readily agreed.
The shirts are available in a variety of designs and colors and can be purchased now from our friends at Badlands.co.uk, with all proceeds going to the Help Dan Fund.
- August 21, 2013

ELMORE LEONARD, "THE MASTER OF NAILING SOMEONE IN A FEW LINES"
We're sorry to hear of the passing of badass writer Elmore Leonard — hard to think who did it better when it comes to cowboys and crime. Leonard was the creator of such characters as Rayland Givens, Karen Sisco, and Chili Palmer; his books (well over 40 of them) also inspired great films such as Hombre, 3:10 to Yuma, Jackie Brown, and Out of Sight. (And you're watching Justified, right?) After suffering a recent stroke, Leonard died yesterday at 87.
Earlier this year, Springsteen sang Leonard's praises in an interview with Robert Santelli:
I know you're a big reader. What have you read lately that has stuck with you?
One of the things I've done recently was read all the Western stories of Elmore Leonard. If you're interested in character study, he's just the master of nailing someone in a few lines. He's good for songwriters because that's about all the time you have.
Read Elmore Leonard's 10 Rules of Writing.
- August 21, 2013

SPRINGSTEEN'S FIRST TWEET
- August 20, 2013

SECOND ANNUAL ASBURY PARK COMEDY FEST KICKS OFF FRIDAY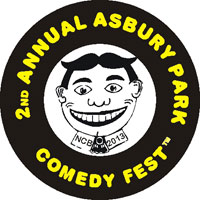 The Asbury Park Comedy Fest, produced by Clarence's eldest son Nick Clemons, returns to the Jersey Shore for three fun-filled events on August 23, 24 and 26 — from music and comedy at the Wonder Bar and the Paramount Theater, to a Celebrity Golf Outing that will include Vini Lopez on the links. Stand-ups on the bill this year include Artie Lange, Hal Sparks, Sunda Croonquist, Craig Loydgren, and Purnell Holloway. The festival, in its second year, brings national comedians to Asbury Park while raising funds for charity (Hometown Heroes and Restore the Shore). Visit asburyparkcomedyfest.com for details.
- August 20, 2013

B TO THE IZZO, S TO THE IZZESS
Last year, Harry Belafonte famously said this to the Hollywood Reporter regarding minority artists: "I think one of the great abuses of this modern time is that we should have had such high-profile artists, powerful celebrities. But they have turned their back on social responsibility. That goes for Jay-Z and Beyonce, for example. Give me Bruce Springsteen, and now you're talking. I really think he is black."
For The Weeklings and Salon.com, Daniel Browne revisits the comparison for a compelling piece, down to parallels between Human Touch/Lucky Town and the middling reception of Magna Carta Holy Grail. He writes, "My intent is not to defend Jay or to weigh in on whether he should devote more bandwidth to fighting injustice. Rather, I'd like to ask: Is the difference between these two artists really as, er, black and white as it's made out to be?"
Read Daniel Browne's "Same as the Old Boss"
- August 20, 2013


FROM IRELAND TO OZ, BRUCE ON 60 MINUTES AUSTRALIA
With ticket sales impending for concerts in 2014, 60 Minutes Australia spent more than a quarter of their time on "The Boss" last night. Liz Hayes reports, "The Boss is on fire: as he winds down one world tour, he's already preparing for another, which will once again bring him to Australia." Hayes interviewed Springsteen in Kilkenny, Ireland, about his career, his craft, and about being a "regular bloke." The segment features Kilkenny footage, including the view from backstage as Bruce and the E Street Band head out to greet the crowd.
They also talked about the Springsteen & I film, with an Extended Interview making it to "EXTRA MINUTES" posted online:
And more EXTRA MINUTES, Hayes takes us behind the scenes with this Reporter Discussion, having to choose between a broom closet and a bathroom for the interview:

- August 19, 2013

TALK ABOUT A DREAM, 40 YEARS OF CONVERSATION WITH BRUCE
Pre-order now for signed "Essential Interviews of Bruce Springsteen"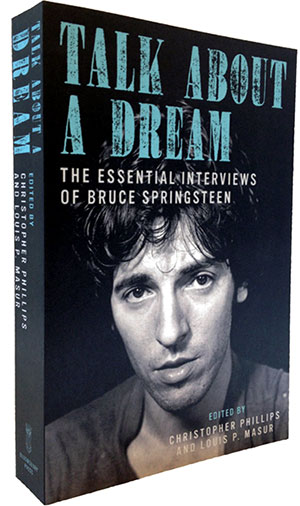 In this new book from Bloomsbury Press, Backstreets editor Christopher Phillips, working together with Lou Masur, author of Runaway Dream: Born to Run and Bruce Springsteen's American Vision, has collected 40 years' worth of Springsteen interviews that trace Bruce's entire career. Gathered here are more than 30 conversations from 1973 to 2013, with interviews by:
BARBARA SCHOENEWEIS - ROBERT HILBURN - ED SCIAKY - RAY COLEMAN - ROBERT DUNCAN - DAVE HERMAN - DAVE DIMARTINO - DAVE MARSH - ROGER SCOTT - PATRICK HUMPHRIES - CHET FLIPPO - JAMES HENKE - NEIL STRAUSS - BOB COSTAS - GAVIN MARTIN - JUDY WIEDER - WILL PERCY - MARK HAGEN - KEN TUCKER - CHRISTOPHER PHILLIPS - NICK HORNBY - PHIL SUTCLIFFE - SCOTT PELLEY - ELVIS COSTELLO - ROBERT SANTELLI
Chris will be signing copies for all Backstreet Records customers:
pre-order Talk About a Dream: The Essential Interviews of Bruce Springsteen now to guarantee a signed copy.
There have been anthologies and Bruce readers published before, but never a book like this, focusing solely on interviews. It's a hefty collection, well over 400 pages of Bruce Q&A, along with an 8-page photo folio from renowned photographers (including Frank Stefanko, who provided that soulful cover shot) capturing Bruce offstage throughout his career.
Find out more and pre-order now from Backstreet Records

DOESN'T IT TICK COUNTER-CLOCKWISE DOWN THERE?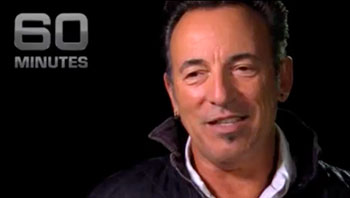 This Sunday night on 60 Minutes Australia, a Springsteen segment will include interview and live footage from Ireland. Get a taste with a quick video teaser. (There's a longer sneak peek here, but just about half of it is the "Born in the U.S.A." video.) No plans that we know of to air this in other countries, but we're gonna give this app a shot, see if that works. It's worth keeping your eye here, too. Down Under, this episode of 60 Minutes airs at 8pm Sunday, August 18, on the Nine Network.
- August 16, 2013



HAPPY NEW YEAR! 2014 HAS BRUCE & E STREET BAND BACK ON TOUR
The Wrecking Ball tour isn't yet done, and we've already got dates for the next one. As announced this morning, Bruce Springsteen and the E Street Band will be back on the road in 2014, with February/March shows in Australia and New Zealand first up on the official itinerary. Between February 7 and March 1, they'll play their first-ever shows in Perth and Adelaide; and their first in New Zealand since the Rising tour, in Auckland; along with stops in Melbourne, Sydney, Hunter Valley, and Brisbane. In a statement, manager Jon Landau calls this "our most far reaching tour of Australasia ever — and Bruce Springsteen and the E Street Band are planning to make it their finest."
February 7 - Perth, AU - Perth Arena
February 11 - Adelaide, AU - Entertainment Centre
February 15 - Melbourne, AU - AAMI Park
February 19 - Sydney, AU - Allphones Arena
February 22 - Hunter Valley, AU - Hope Estate
February 26 - Brisbane, AU - Entertainment Centre
March 1 - Auckland, NZ - Mt. Smart Stadium
Frontier Touring has ticket sale information: general onsales are on Monday, August 26, with pre-sales for Frontier members beginning on Wednesday, August 21. Frontier also names support acts: a reunited Hunters & Collectors in Melbourne, Dan Sultan in Melbourne and Hunter Valley, The Rubens in Hunter Valley, and Jimmy Barnes in Auckland.
"From the moment we finished the second show at Hanging Rock on March 31, we have been working on a plan to return next year," says Landau. Nothing in today's announcement suggests this is a continuation of the Wrecking Ball tour, and in fact, last week's press release about the September 2013 South American shows called them the "final Wrecking Ball dates." So what will the 2014 tour be? Connected to a new album? Will U.S. dates follow? All remains to be seen.
We do know that Springsteen and the E Street Band spent a day doing some studio recording in Sydney earlier this year, along with Tom Morello. Saying "I have stuff I'm working on that I'm very happy about," Bruce told David Fricke: "We've never had a recording session during a tour in our lives. We did a couple of things that I wanted to put down. So that was very exciting. And being with Tommy was exciting."
An item on news.com.au today, which quotes promoter Michael Gudinski, reports that both Morello and Steve Van Zandt will be making the trip this time. Gudinski told The West Australian the same: "There will be Springsteen fans all over the world envious to the fact that both Morello and Van Zandt are on stage together."
For the official itinerary as it stands, with links to onsales, venues, etc.,
visit our Tour/Ticket Info page
- August 15, 2013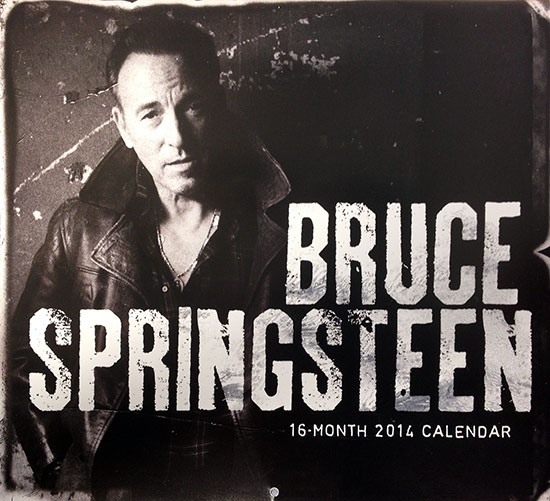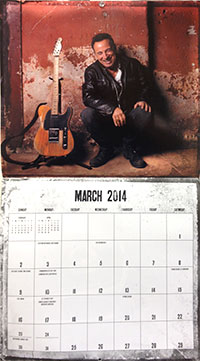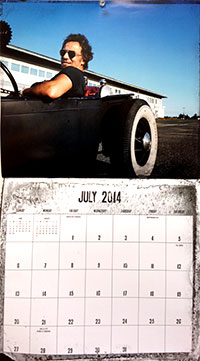 IN STOCK NOW: 2014 BRUCE CALENDARS
The official Bruce Springsteen wall calendars for next year have arrived! Actually, they're for this year, too: since it's a 16-month calendar, you can start using it as soon as September 1.
From Thrill Hill Productions, the 2014 Springsteen calendar features color and B&W photography by Danny Clinch. (Click here to see all images.)
Order yours now from Backstreet Records
- August 14, 2013

I'M GOIN' BACK DOWN, DOWN, DOWN?
Rumors of Bruce and the E Street Band heading back to Australia in 2014 have just come to a full boil, thanks to a Triple M web leak. Check out Corey Stephenson's #WreckingBallBlog website for details — Corey managed to get screenshots of a February 2014 tour itinerary with ticket sale info and more before the page was deleted.
We strongly advise not making any travel plans just yet, as we've seen plenty of web "leaks" never come to fruition... but for those of us with tour withdrawal, this is a fun thing to dream on.
- August 14, 2013

SUMMER IN THE SWAMPS OF JERSEY, TEN YEARS DOWN THE ROAD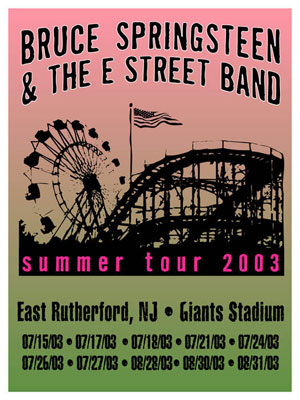 A decade ago this summer, the Rising tour landed Bruce and the E Street Band at Giants stadium for a ten-night stand: seven nights in July, and three more in August. In lieu of U.S. shows this year (sniff), on NJ.com Stan Goldstein takes a look back at 2003, when...
The 10 shows were more than just concerts, they were summer events. Everyone knew someone who was going to at least one of the 10 nights. Tailgating was a huge part prior to each show. It was a summer Bruce party at the Meadowlands. A boardwalk area with attractions was even set up in the parking lot.
Star-Ledger music critic Jay Lustig (now the paper's Arts and Entertainment Editor) was there all ten nights, and he's part of Stan's retrosepective too, including his ratings for each show.
Read: "Remembering Bruce Springsteen's 10 Giants Stadium shows in 2003"
- August 14, 2013

I SEE A DARKNESS: LOOKING AHEAD TO BRUCE NOIR FILM SERIES IN ASBURY
Springsteen has long acknowledged the influence of film on his writing, occasionally borrowing not just titles, but themes, characters, imagery and dialogue from the movies. As we previously reported, The ShowRoom, Michael and Nancy Sodano's art house theater on Asbury Park's thriving Cookman Avenue, will host Bruce Noir on August 23-24, a film series focusing specifically on the noir genre and its influence on Bruce Springsteen's life and work.
There is now a full event schedule for Bruce Noir, which will include post-film readings, discussion and interviews with New Jersey-based crime writers Wallace Stroby and Dennis Tafoya and photographer Mark Krajnak (along with "surprise" guests), as well as a Skype interview with Bruce author Peter Ames Carlin. Films on the schedule are Gun Crazy on Friday night, and four on Saturday: Badlands, Out of the Past, Atlantic City, and Thunder Road.
Tickets are on sale now, available online or at the theater box office. Visit the ShowRoom website for updated information on films and full event schedule.
- August 13, 2013 - Lisa Iannucci reporting

WHAT LOVE CAN DO
Fans worldwide offer to help "that NY couple" from Springsteen & I
Orange County, NY couple Eric and Kate are among the fans featured in the documentary Springsteen & I. In their film segment, the couple speak movingly about what Bruce's music means to them, despite the fact they've never been able to attend a concert. After seeing Springsteen & I, many fans around the world contacted Donna Gray, founder of Bruce Funds. Gray created Bruce Funds in the midst of the Wrecking Ball Tour as a direct way for Springsteen fans to help ensure that fellow fans with financial, health and/or family burdens still get to see a show wherever possible. She received numerous requests to launch a Bruce Funds campaign sending Eric and Kate on an all-expenses-paid trip to see the final Wrecking Ball show in Rio de Janeiro. After Gray contacted Springsteen & I's producer Svana Gisla and in turn directly informed Eric and Kate about the fans' fundraising proposal, Kate composed an eloquent, moving response that simultaneously thanked fans graciously and declined their generous offer. Gray has posted the full text of Kate's reply here. "Take the words to heart, dear community," writes Gray, "because they are written to each one of us who wanted to help. You still did good. No — you did great."
- August 12, 2013 - Shawn Poole reporting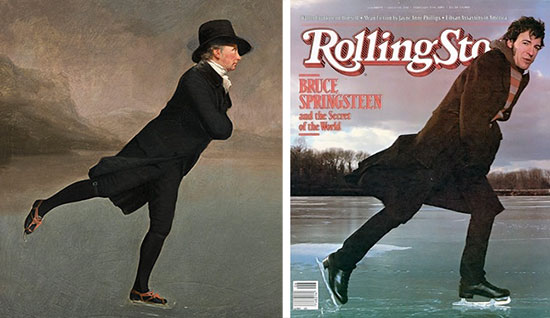 ART EVERYWHERE: THE ICEMAN
Beginning on Monday, great British art will be on display all over the UK, as billboards and other advertising sites host Art Everywhere. One of the 57 works — The Reverend Robert Walker Skating on Duddingston Loch (c. 1795) AKA The Skating Minister [detail above left] by Scottish painter Sir Henry Raeburn — may give you a bit of deja vu. At right, Annie Leibovitz's portrait of Springsteen on the cover of Rolling Stone #336, February 5, 1981. [Hat tip to Jim McKelly]
- August 9, 2013

GREETINGS FROM ASBURY PARK
Convention Hall is going, going... Fastlane is gone
Promoters of popular annual events like Light of Day and the Garden State Film Festival have been forced to consider alternate locations for next year, as Asbury Park's historic Convention Hall complex continues to deteriorate and disputes between the city and master developer Madison Marquette remain unresolved.
After a protracted disagreement, the city of Asbury Park has given Madison Marquette until September 30 to install fire sprinklers, which are mandatory if the building is to remain open for public events. The developer initially claimed sprinkler installation would be too expensive, but later cited a list of complaints against the city that it said would delay the project. Most of those issues have since been resolved, but it is still unclear whether Madison Marquette will be able to meet the new installation deadline.
Further complicating this situation was last Sunday's roof collapse in which a twelve-foot slab of concrete fell near Convention Hall's northeast corner. No one was injured, but the city has ordered Madison Marquette to hire a structural engineer to evaluate the building, and the northeast quadrant of the building has been closed to the public. Temporary steel supports are already holding much of the building's north promenade together after a number of prior collapses, and smaller pieces of the ceiling have been falling on a regular basis for some time. The building has been receiving quarterly inspections, but little real structural work has occurred since the new redevelopment plans were finalized nearly ten years ago.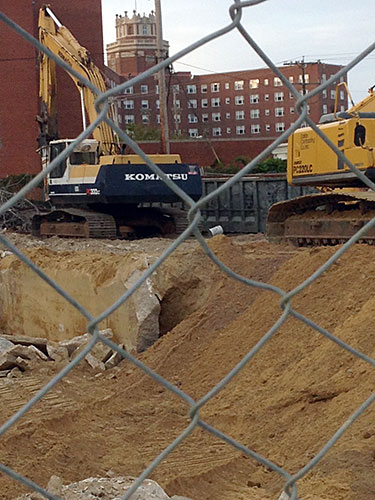 In other news, the legendary Fastlane, where Jersey Shore stalwarts like John Cafferty & the Beaver Brown Band, John Eddie and Jon Bon Jovi first gained a foothold in the Asbury Park music scene, was torn down in late July. In the early 1970s, the club, which also hosted a wealth of national talent including The Ramones and U2, was the only venue in town that booked original music, and it soon became a hangout for local musicians like Bruce Springsteen, E Streeters Garry Tallent and Max Weinberg, and assorted Asbury Jukes. With the demolition of the Baronet Theater in 2010, the only remaining venue on this once-vibrant stretch of Fourth Avenue is the Asbury Lanes, and current plans call for its demolition to make way for further condominium development.
- August 8, 2013 - report and photograph by Lisa Iannucci


DON'T CRY FOR ARGENTINA
Buenos Aires, just added for September 14, fills out the Wrecking Ball Tour's Final Four in South America. Tickets for the concert at Estadio G.E.B.A. go on sale Friday, August 9, via topshow.com.ar. The tour officially ends September 21 with the Rock in Rio festival in Rio de Janeiro.
- August 7, 2013


WATERFORD TAKES CARE OF THEIR OWN
A supergroup of musicians from Waterford Ireland, coming together as The Suspects & Guests, have recorded "The River" to support the Bolger Brothers Tragedy Fund, helping the families of three fisherman brothers who drowned at sea. The track premiered on Ireland's Hot Press website, which reported "The Springsteen camp have officially given the cover their blessing and volunteered to accept a greatly reduced royalty rate." Download the track now from iTunes, with 100% of the proceeds benefitting the Tragedy Fund.
- August 6, 2013


CUDDLE UP, MY LITTLE DOVES: THIS WAS 25 YEARS AGO TONIGHT
Hola Barcelona! A quarter-century ago, on August 3, 1988, the Tunnel of Love Express Tour came to a close in Barcelona, Spain. This is not a dark ride, though you may get a little misty as Danny comes out for a ticket, Clarence holds a rose in his teeth, and Terry Magovern smiles and whispers good luck...
- August 3, 2013

THE KILKENNY WEEKENDER — ANOTHER LOOK
After 127 shows, the 2012-13 Wrecking Ball tour reached its final European stop this past weekend. The last shows would be played in Kilkenny, Ireland, 80 miles southwest of Dublin and the smallest town the tour would play in. In most large cities in Europe, a Bruce Springsteen concert is likely to be but one of many major events on any given night. In Kilkenny, it was everything. Every hotel in a twenty-mile radius was sold out, and one couldn't walk three feet down the street without seeing a restaurant or bar or shop with a Bruce-themed poster in the window. The giant inflatable replica of Bruce's Fender Esquire guitar atop one of the local pubs was particularly impressive.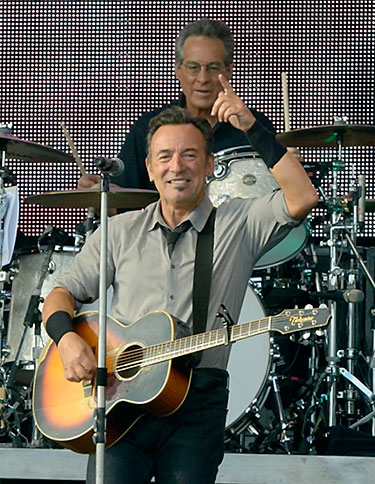 A rare pairing of shows on consecutive nights in the same city (dubbed the "Wrecking Ball Weekender"), the shows were for many the final opportunity to see the band after a year and half of touring, and expectations were high. Bruce had seemed to move into "anything goes" territory when it came to his setlists, no corner of his song catalog was untouchable, and he had started to make references in recent shows to the tour coming to an end.
Of course, the T-shirts on sale at the merchandise stand listed that September date in Rio de Janeiro, and additional South American shows were literally being announced contemporaneously with the arrival of the fans in Kilkenny. No one doubts Bruce's shows in South America will be spectacular, but playing to a new market and to many fans who hadn't had the chance to see him before, much like Mexico City in 2012, was clearly being treated as a separate outing, with Bruce wanting to first close the loop on what he'd been doing since March of 2012.
These two nights in Kilkenny would be treated as the grand farewell: for the regular fans down front, whom Bruce really seemed to enjoy seeing on a nightly basis; for Ireland, where the band had played five different shows in four cities (a far cry from even ten years ago, when a Springsteen tour of Ireland consisted of a single night at the RDS in Dublin); and for Europe, where Bruce had played 66 shows, comprising more than half of this tour's dates.
On night one, Bruce elected to not stray far from his standard European show, complete with a full-album performance of Born in the U.S.A. It wasn't the adventurous set that many were expecting, but it was certainly summational. "Jack of all Trades" returned to the show, and Bruce took one last opportunity to pull signs from the crowd seeking obscure covers from the E Street Band's past. It was, after all, a European show in 2008 where that particular feature began.
Speaking about the 1985 show at Slane Castle, which Bruce called a "huge day in [his] memory," it was striking to think about how many people in that stadium — from casual to die-hard — first became fans due to the Born in the U.S.A. album. Nobody just starts out as a connoisseur bringing signs to shows looking to hear obscure songs from Tracks; one first has to have a first exposure to Springsteen music, and for the majority of fans, that was what the Born in the U.S.A. album did.
Back for night two, it was quickly clear that if night one was the inclusive show, the final show would be the one for the die-hards. Even "Waitin' on a Sunny Day" took a seat, the first time it had left the setlist since April of 2009. Playing the hits on Saturday freed Bruce to do what he wanted on Sunday, even if it resulted in a song sequences that likely left large swaths of the crowd befuddled.
Noting that he had "debts to pay," Bruce granted three very specific requests for obscurities. Unlike "Shake" or "Sweet Soul Music," from Saturday's show, which could best described as well-intentioned messes, the requests granted on Sunday had all been carefully rehearsed and planned. Tellingly, none of the songs had been practiced at soundcheck — Bruce realizing that the element of surprise would be missing if those in the pit queue heard the songs while waiting to enter the stadium.
As in Rome, with "New York City Serenade," and in Cork with "The Price You Pay," and in Turku with "Wages of Sin," the E Street Band had rehearsed in secret and away from public view, so that when that one song finally did come out, it wouldn't just be played well — it would completely blow everyone away. The affirmation of faith for those fans who would just not give up could not have been exemplified better than the "Wild Billy's Circus Story" sign, with Bruce reading a long list of cities the sign had been to, admitting that "in many of these other shows, I have taken this man's sign, and I have not played the song — and he makes the same exact sign every single time!"
For both "When You Walk in the Room" and "Wild Billy's Circus Story," the attention to detail was inspiring, from Charlie and Roy's keyboard parts and Bruce's rare use of a 12-string electric guitar on the former, to Clark's tuba playing and the small touches added by Steve on mandolin and Everett on percussion on the latter.
And for "Man at the Top," the arrangement was simply stunning. Not only was the E Street choir brought to the front of stage left, but the entire horn section came down to gather around Nils' microphone. It was a palpably genuine moment of camaraderie among the musicians on stage, each adding a small contribution to a special performance.
The Sunday encores started straight with a reprise of hits from Born in the U.S.A., perhaps the one big disappointment of the show, as Bruce missed a final chance to address the Wrecking Ball album with either "We Are Alive" or "Rocky Ground," his usual choices to start the encore this tour. But the reprise of "Bobby Jean" certainly worked thematically, and the encore pressed on from a horn-highlighted "Seven Nights to Rock" to "Dancing in the Dark."
As the song started, the horn players started to retreat back to their riser but were stopped by Bruce. For this last show, he wanted them down front, performing their hilariously choreographed dance routine. No longer hidden behind Charlie and Max, at this final show, they were brought front and center for everyone to see. The singers quickly joined them on the opposite side of the stage, showing off their own set of moves as well. Just as Bruce had acknowledged the "core" E Street Band after finishing the Born to Run album performance earlier in the evening, this was his way of giving special recognition to the new faces in the band.
All that was left, as revealed during "Shout," was for the fans to get their special recognition, in a bit that was as touching as it was ingenious: the reading of a famed t-shirt worn in many lines this tour, saluting the "ticket-seeking... hotel-booking... queue-forming... feet-throbbing... burger-eating... E Street Fans!"
With "Thunder Road" having already been played, the final song of the evening was set to be a surprise, but not before Bruce addressed the crowd one last time, thanking the band and the crew, but also briefly reflecting on how he had been "losing so many people that were so close to us." He didn't need to mention them; everyone knew he was talking about those in the band – Clarence and Danny – and also those from the crew who had accompanied him and supported him as he toured the world but were now gone. With each tour, someone else was missing, and with Bruce choking up during "This Hard Land," it wasn't hard to see him considering that when he next returns to the stage, someone else may be gone as well. And so, with the final shouts of "if you can't make it, stay hard, stay hungry, stay alive" and Bruce's last words of "be good to yourselves," he bid his fans farewell, "till we meet again."

- August 2, 2013 - Glenn Radecki reporting - photograph by Rene van Diemen - videos by Dan French

SPRINGSTEEN SPECIAL COLLECTION ANNOUNCES NEW LEADERSHIP
Effective August 15, Melanie Paggioli of Oceanport, NJ, will become the second Executive Director of The Friends of the Bruce Springsteen Special Collection. Melanie will take over the position from Bob Crane, who is retiring. Check out Backstreets.com's Special Collection page for all of the details.
- August 1, 2013

JAKE CLEMONS, FROM THE BACK TO THE FRONT
Some people might take a break after a year and a half of shows... but Jake is using the time off before South America to play some gigs of his own, with his own band. Tickets are on sale now — and it sounds like they're going fast — for August 22 at the Wonder Bar in Asbury Park (tickets) and August 26 at Rockwood Music Hall in NYC (tickets).
Follow Jake on Twitter; for more upcoming dates by other Friends of Bruce, see our Concert Calendar.
- August 1, 2013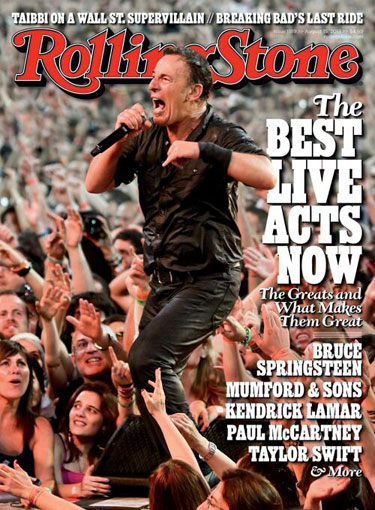 MAN AT THE TOP
Ah, the lows, the highs... Rolling Stone follows their infamous Boston bomber magazine cover with this, a dynamic Wrecking Ball tour shot from our friend Jo Lopez. (See more of Jo's recent photography in recent posts on brucespringsteen.net)
The new Rolling Stone cover story tallies the "50 Greatest Live Acts Right Now," with Springsteen riding high at #1, heading up a top five that includes Prince, the Rolling Stones, Arcade Fire, and Neil Young. RS writes: "Springsteen has always brought nearly superhuman levels of energy to his shows, but his current Wrecking Ball tour stands as one of his greatest and most thrilling." Hear, hear... though we'd like to add an additional three words we didn't see there (at least, not capitalized): E! Street! Band!
Congrats to Tommy Morello, too — Rage Against the Machine places in the Top Ten. The artists were voted upon by "a panel of writers, industry figures and artists [listed here, and including both Morello and Jon Landau]... To be eligible for the list, a performer must have toured within the last five years and not announced their retirement."
Click here to view the feature online, along with some consistently entertaining comments. "Skrillex? Bruno Mars? QUIT TAKING DRUGS FOR A SECOND RS EDITORS, WHERE THE F... IS IRON MAIDEN????" Up the Irons!
- August 1, 2013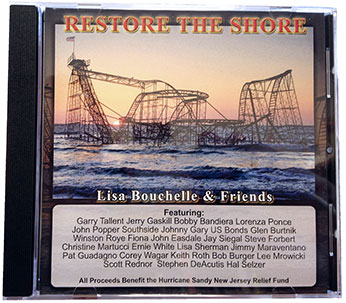 LISA BOUCHELLE & FRIENDS HELP "RESTORE THE SHORE"
A whole host of prominent New Jersey performers — including Garry Tallent, Southside Johnny, Gary U.S. Bonds, Glen Burtnik, Bobby Bandiera, and many more — have come together to help the victims of Hurricane Sandy. The anthem "Restore the Shore," written by Shore singer-songwriter Lisa Bouchelle along with Bill Frankel, is available now, raising funds for the
Hurricane Sandy New Jersey Relief Fund
.
You can purchase an mp3 download on iTunes; for a physical CD, visit restoretheshoresong.org.
- July 31, 2013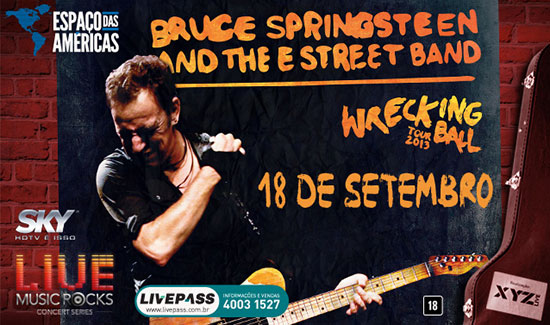 THIRD SOUTH AMERICAN ONSALE IS WEDNESDAY
It may feel like the Wrecking Ball tour has come to a close... but for our friends to the south, we're still in the onsale stage. A concert in Sao Palo, Brazil, to precede the E Street Band's Rock in Rio festival appearance, is the third Wrecking Ball tour date added in South America. Tomorrow, Wednesday, July 31, tickets for this September 18 Sao Paolo show at Espaço das Américas will be available via livepass.com.br.
- July 30, 2013

PICKIN' UP THE ROCK AND CARRYIN' IT ON
Fans transform Springsteen & I screenings into charity-benefits; catch the film again on Tuesday, July 30
In what has become wonderfully typical behavior throughout much of Springsteen fandom, several fans have been inspired to organize charity activities around screenings of Springsteen & I. For one, our friend Nick "The Philly Elvis" Ferraro, featured in the film and now living in Pennsylvania's Harrisburg area, organized a successful food collection drive at last week's Regal Harrisburg Stadium 14's screening. The drive benefitted the Central Pennsylvania Food Bank, an organization Bruce has supported previously in concert.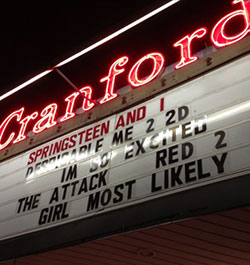 Westfield, NJ Springsteen mega-fan Mitch Slater is an Advisory Board member of Little Kids Rock, the music-education charity supported by Clarence Clemons, Jake Clemons, Bruce Springsteen and Steve Van Zandt, as well as many other famous musicians. Slater has organized a benefit screening of Springsteen & I, to be held tomorrow night, Tuesday, July 30, at New Jersey's Digiplex Cranford. Mitch tells us that 100% of the proceeds from the screening will support Little Kids Rock's efforts to restore and revitalize music-education programming in public schools. Click here to purchase tickets to the Cranford screening, where you'll also be able to contribute additionally to Little Kids Rock at the venue by buying one or more of their exclusive Big Man bracelets, as worn by "C" himself.
Many other screenings will be held in the U.S. tomorrow night as well. If you missed the big night last week, here's a second chance — and in most cases, the last chance — to catch Springsteen & I on the silver screen. Click here for more information and tickets for July 30 screenings. [Outside of the U.S., use the dropdown menu at springsteenandi.com for showings into August.]
- July 29, 2013 - Shawn Poole reporting - photograph by Mitch Slater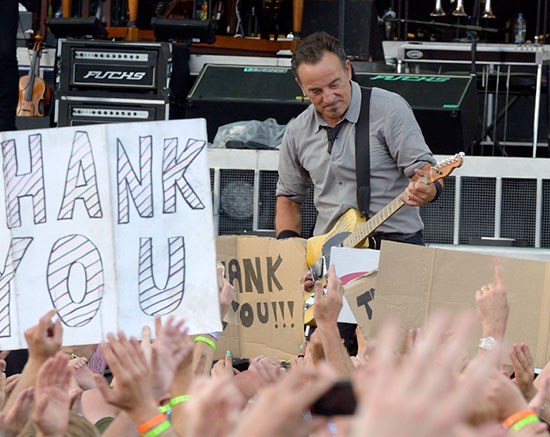 JULY 28, KILKENNY 2: STAY HARD, STAY HUNGRY, STAY ALIVE!
On Sunday afternoon, Kilkenny's hurling team (reminder: the mysterious sport that takes place at Nowlan Park) suffered a road loss at the hands of Cork. This, plus a bit of rain, threatened to cast a pall on the Kilkenny crowd. But not to worry, this was the second half of the Weekender, which had no trouble overcoming those obstacles and providing a rocking and victorious send-off for the tour proper.
From the outset, it was clear that Bruce viewed this as the last show of the tour. Direct references were made to "the last dance," "one last time," etc. But we were reminded of something tonight — Bruce doesn't look to history to decide what to do in a show, first or last of the tour. He does what he damn well pleases, and as usual, the result may be different than what we expected but still so memorable for so many reasons.
Tonight's show didn't have the heaviness of MSG 10 and Shea 3, the obscurities and band member indulgences of Kansas City '08 (Max on vocals, anyone?), or the "go back to the beginning to mark the end" feeling of the Greetings performance of Buffalo '09. Not that there's anything wrong with those... but instead this one was a celebration of a successful tour, an airing of the best album he's ever written (debatable, but not dismissible), and several tributes to the fans that went above expectations.
The show started with a nice recap of the tour — many of the warhorses (albeit in a different order) were there. "Spirit in the Night" had a particularly long intro vamp that discussed the length of the tour, and the hibernation of the band for "a very, very little while." Just as the worry was setting in that it would be another standard setlist, Bruce told us we would hear a set of songs to cover "some debts I have to pay." That comment evoked both hope (does he frequently use a song-for-song recreation of Winterland '78 as a bargaining chip?) and concern (does he conduct business deals with Working on a Dream album enthusiasts?). This was coming from a guy who has written a lot of songs about unsavory debts, so he had our attention.
The actual payment was four songs he promised to fans one way or another, including three straight tour premieres. First, another boisterous airing of "The River" for one fan's brother. Then, "Wild Billy's Circus Story" for the pit resident who is the biggest fan of that song ever (though the broader crowd reaction jammed bathrooms and beer lines). The jewel of the set was a gently instrumented, vocal-heavy, and fantastic "Man at the Top," played for another sign-wielding fan. Finally, the magnificent "When You Walk Into the Room" was covered for a group of ladies in the pit. Bottom line: the "debt" was to the persistent and loyal fans that he doesn't ignore; the payment is what they most longed to hear.
An "extra" debt repayment came in the form of the Born to Run album, played for Jimmy Iovine who was not named but shown lurking off stage. We'll ignore Bruce's loose accounting that Born to Run was recorded "25 or 35 years ago" and that Iovine was "14 years old" as an engineer. The performance was top notch, the fans loved it, and it's hard to complain about hearing "Jungleland" and "Backstreets" in the same show (the latter including some "Sad Eyes" verbiage for some 1978 throwback).
The closing bars of "Jungleland" conjured the rain, plus it was that time in the show, so surely we knew the next song would be one articulating patience for a clearing of inclement weather, the one that had been played every night in hundreds of shows over the last five years. But instead, Bruce had another gift for the fans and went straight to "The Rising." Only Bruce could stun the hardcores by not playing a song — for the first and only time on the entire tour. Well-played.
The winner of the encores was the kid with a dead serious, professional-level guitar face who strummed with Bruce during "Dancing in the Dark," then got to keep the guitar. The stunned "are you serious?" look from the kid was priceless. (That look could also have been: "Wait, does he really mean this or did I awkwardly steal a guitar from Bruce Springsteen?"). The coolest part of the encores — and one of the coolest things I've seen in a while at a show — was the salute to the fans, on the heels of the description of the history-makin', legendary E Street Band:
The ticket seekin', hotel bookin', money jugglin', plane takin', train ridin', queue formin', tramp meetin', feet throbbin', back breakin,' burger eatin', rain endurin', music lovin,' Boss followin', legendary E….STREET…..FANS!
After "This Little Light of Mine," Bruce came back with his acoustic guitar and a few more words to say:
Thank you, thank you, thank you. I don't know what else to say. I've been doing this, next July, for 50 years. I feel like I just started, man! I got another 50 in me. The older you get, the more it means. I've enjoyed this tour... even losing so many people that were so close to us, this tour has just been really wonderful to us. I gotta thank the E Street Band. I gotta thank our crew, who puts this show up every night. I gotta thank Jon Landau, Barbara Carr — my longtime partners. The older you get, the more it means."
All that was left was the final goodbye in the form of "This Hard Land," a moving acoustic rendition; it seemed a direct tribute to the traveling fans and the bond made fan-to-artist, artist-to-fan, and fan-to-fan. We'll miss following the tour online and in person, we'll miss our friends we meet along the way, we'll miss the music and the good times. Once again, we were left with hope for more shows in the near future. But 'til then...
For the full setlist from this and other recent performances,
see our Setlists page
- Updated July 29, 2013 - Michael Stutts reporting - photographs by Rene van Diemen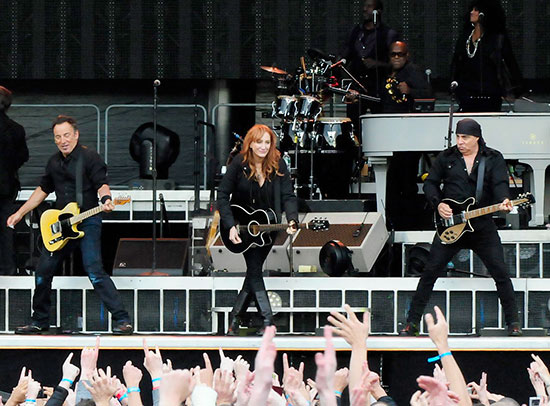 WELL, TODAY IS YOUR BIRTHDAY...
The European leg ends and Springsteen heads home just in time for Patti Scialfa to celebrate her birthday with her family in New Jersey today. Our favorite redhead (to be fair, Soozie's a blonde these days) was a rarer sight on the Wrecking Ball stage, particularly overseas, but Ireland got her last July [above]. Happy birthday, Pats!
- July 29, 2013 - photograph by Rene van Diemen [July 18, 2012, Dublin]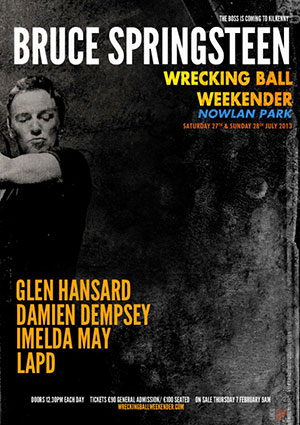 TWO MORE FOR THE ROAD
The Wrecking Ball Weekender is here; E Street Radio has a doubleshot of Kilkenny pre-shows
One of the many highlights of E Street Radio has been the satellite radio channel's live pre-show coverage from selected Springsteen concerts. Broadcasting from a location at or near the venue a couple of hours before showtime, the live pre-show usually offers a mix of reporting, commentary and speculation from the hosts, conversations with concert-attendees (sometimes famous, always fans) and even an occasional chat with a member of the band or crew. There's always some great music blended into the proceedings, as well. Listening to the pre-show coverage is at least a chance to tailgate, even if you can't make it to the main event.
For the Wrecking Ball Weekender in Kilkenny — the final two European shows of the current tour, this Saturday and Sunday — E Street Radio will broadcast its first-ever live pre-show coverage from Ireland, with a two-hour broadcast airing before each concert.
Bruce biographer Dave Marsh and Vinny Usuriello, the channel's program director, will co-host each show. The music they play between their conversations will focus on Springsteen songs that display an Irish influence. Tune into Sirius/XM channel 20 tomorrow and Sunday, beginning at 12 noon ET each day. And after each pre-show broadcast ends, the channel will play a complete ("audience-based") recording of one of Springsteen's back-to-back Dublin, Ireland shows from last year. On Saturday, Bruce's 7/17/12 concert (the first show after the now-infamous plug-pulling incident in London) will air, followed on Sunday by the 7/18/12 show.
- July 26, 2013

WHEN YOU'RE IN LOVE WITH A BURGER GIRL
The Burgers and Bruce blog is about exactly what you think it's about. As Hannah tells us, "it's where I talk about my travels to Springsteen shows, the food I eat... etc." Not long ago, she posted about her recurring dream of meeting Bruce and, of course, talking burgers with him. Well, sometimes dreams do come true: not only did she meet Bruce Springsteen last weekend, she talked burgers with him — the art of the burger, even. He called her "Burger Girl." She showed him her blog. He called it "very cool." He even wrote a note to her dad: "You've got a lovely, burger-eating daughter." You've gotta read this.
- July 26, 2013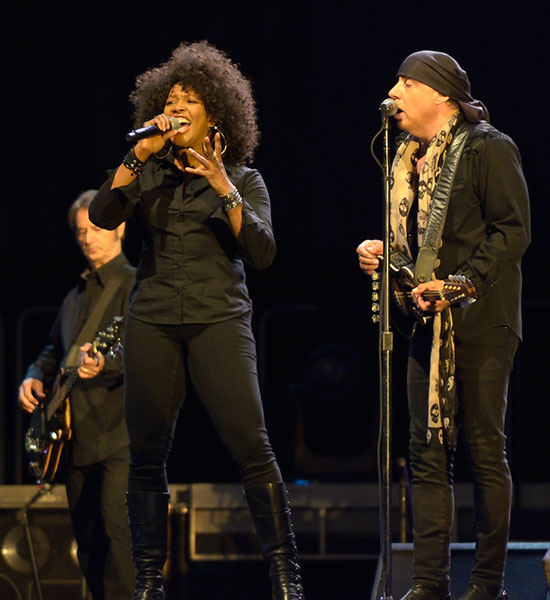 I WANT EVERYBODY TO STAAAAND UP...
Stand up and be counted tonight as we wish the amazing Cindy Mizelle the happiest of birthdays!
- July 25, 2013 - photograph by Rene van Diemen [Cardiff, 7/23/13]

"YOUR STRENGTH, BRAVERY AND FEARLESSNESS ARE AN INSPIRATION"
Bruce and Patti sign open letter of support for Pussy Riot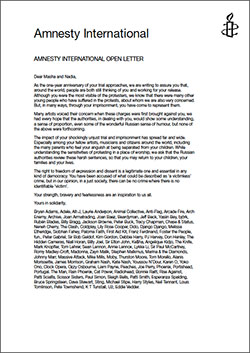 Patti Scialfa and Bruce Springsteen are among more than 100 well-known musicians who've signed an open letter of support for the imprisoned members of Russian feminist punk-rock group Pussy Riot. In February 2012, Pussy Riot performed part of a protest song in Moscow's main Orthodox cathedral that was critical of Russian religious and governmental authorities. Two members of the group — Maria "Masha" Alekhina and Nadezhda "Nadia" Tolokonnikova — were found guilty of "hooliganism" and each currently is serving a two-year sentence in one of Russia's notoriously brutal penal colonies. Alekhina, a single mother, was recently denied her request to defer serving her sentence until her son turned 14.
The open letter, written on Amnesty International letterhead, was signed by many musicians from various genres, including all four artists who joined Bruce Springsteen & the E Street Band on Amnesty International's 1988 Human Rights Now! Tour: Tracy Chapman, Peter Gabriel, Youssou N'Dour, and Sting. Click here to read the full text of the letter and the complete list of signatories.
Amnesty International and CBGB also have launched a "Take Action for Pussy Riot" message-writing campaign. The campaign's website states that Tolokonnikova and Alekhina "are prisoners of conscience and there is serious concern for their safety." For further information on the Pussy Riot saga, HBO Documentary Films' award-winning Pussy Riot: A Punk Prayer remains available as an HBO On Demand selection through September 1.
- July 24, 2013 - Shawn Poole reporting

AND THEN THERE WERE FOUR
With less than a week left on the Wrecking Ball tour's last European leg, our pal Glenn Radecki looks at the lay of the land (offering predictions and wishes, too) on his Stay Hard, Stay Hungry, Stay Alive blog:
In one week, after four remaining shows, the Wrecking Ball tour will reach its symbolic end in Kilkenny, Ireland.

Yes, Bruce and the band will be playing at least two (and likely three or four) shows in South America in September. That being said, what's transpired over the last few weeks of the tour certainly indicates that Bruce will be treating this coming week as the symbolic conclusion to his tour, in the same manner as the series of shows in Madison Square Garden in 2000, Shea Stadium in 2003, and in the midwestern United States in 2008.

The shows in August 2008 appear to be analogous to the situation on this tour, with the symbolic finale of the Magic tour being the St. Louis and Kansas City performances, despite having an additional "outlier" show played afterwards. In 2008, that was the Harley Davidson Anniversary Festival performance; this year, it's the Rock in Rio show and the South American dates surrounding it.

After two months of open-air shows, the tour will move back indoors for the next two shows. Tuesday's show at Millennium Stadium in Cardiff has a capacity of approximately 30,0000, and the venue's retractable roof will reportedly be closed to hang the curtains that create the smaller capacity. The next night, tour will visit the new arena in Leeds, which, with a 13,500 capacity is the third-smallest venue that the tour will visit. These shows, and in particular, Leeds, are highly anticipated for good reason, as the prior indoor shows on this leg of the tour (Oslo, Turku and Herning), were all outstanding performances, featured diverse setlists, and were not "album" shows....
- July 23, 2013

LADIES AND GENTLEMEN, AFTER BRUCE LEAVES THE BUILDING...
From "Burning Love" to "Jailhouse Rock" and "Follow That Dream," Springsteen has been tapping back in to the Elvis Presley songbook lately. If the whole King-meets-the-Boss thing turns your crank — or if you're just looking for a good post-show shindig in Cardiff and Leeds — here's something you'll want to check out: after the next two E Street Band shows, U.K. singer-songwriter (and professional Elvis Presley impersonator) Mark Wright has some post-show entertainment up his rhinestone-spangled sleeve...
"Mark Wright as Elvis performs 'The King Sings The Boss'" is, yep, an entire set of Springsteen songs performed by the King of Rock 'n' Roll, featuring "Pink Cadillac," "The Rising," "Badlands"... and Bruce's ambition of having Elvis perform "Fire" is finally realized!
Join Mark and our friends at Badlands: On Tuesday July 23, The King Sings the Boss post-show party will be at Tiger Tiger (Cardiff); on Wednesday July 24, the party will be at Tiger Tiger (Leeds).
Watch Mark turn into Elvis for "Thunder Road" at his recent performance in Coventry; you can also follow him on Twitter at @kingswing72.
- July 22, 2013

BLOOD BROTHERS AND SISTERS, TESTIFY!
The Backstreets Review of Springsteen & I, by Shawn Poole
"So, as Stevie Van Zandt says, 'Rock 'n' roll: It's a band thing.' And that includes you, the audience. Thank you for giving me access and entrance into your lives and I hope that I've been a good companion."
— Bruce Springsteen, Rock and Roll Hall of Fame induction acceptance speech; March 15, 1999
My first major writing assignment for Backstreets Magazine also involved my first interview with a fellow everyday, non-famous Springsteen fan. He was fortunate to have seen separate performances in the 1970s by both Elvis Presley and Bruce Springsteen at Madison Square Garden. "For me, seeing Elvis was like seeing God onstage," he told me, "but seeing Bruce was like seeing your brother or your best friend."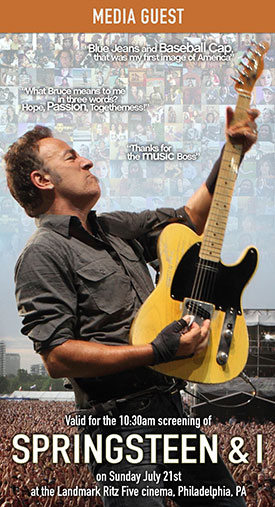 His words came back to me yesterday as I watched Springsteen & I, the wonderful new documentary about Springsteen fandom. It's an idea that gets repeatedly explored throughout the film, this notion that when you're among Springsteen's audience, the expectation isn't just to be awed or merely entertained by an immensely talented musician and his collaborators. It's to have yourself empowered by the experience, renewed and inspired to face your own life's challenges and somehow make things at least somewhat better for you, your loved ones, your community (including the community of fellow fans around you). The experience truly is akin to a long, rewarding dialogue with a close friend or a beloved relative... or, more accurately, many of them. Some even see it as a kind of religious/spiritual experience, except the music tends to rock much harder for longer, and our spiritual leader Brother Bruce is always willing at just the right moment to address, say, the finer points of cunnilingus for some needed laughs from the congregation. (Yes, that great onstage bit made it into the film, too.)
Springsteen & I's director, Baillie Walsh, actually served more like its editor, since almost the entire film was shot by fans themselves using primarily non-professional equipment (cell phones, digital home-video cameras, etc.) Walsh's task was to sift through thousands of fan-created videos and assemble them into a cohesive film that allows the fans' own voices to convey what it means to love the music of Bruce Springsteen.
A tall order, for sure, but fortunately, for both Walsh and his audience, the fans came through with the goods. They creatively shared stories about themselves that span the full spectrum of fandom. As a fellow fan, some of the stories may be somewhat familiar to you already, but most won't be; all are told/re-told in unique ways through Walsh's editorial choices. There's the hilarity of a mother insistent on tutoring her young son in all things Boss (as well as her kitchen table display of various Springsteen-related items, including several issues of Backstreets.) There's the on-its-face craziness of dreaming that you actually could dress up like Elvis Presley, jumpsuit and all, and sing onstage with Bruce, or tell him mid-concert about being dumped by your ex and get some encouragement and even a hug from him before the next song starts. And to top it all off, we see both of those seemingly crazy ideas lead to absolutely fantastic live moments. There's even a knowing nod to the many beleaguered spouses and other loved ones who don't quite share our fanaticism, no matter how much they may love us.
On the other end of the spectrum is the truck driver who speaks so eloquently of Bruce's artistry. Another fan driving his car (multiple scenes involving driving not a major surprise in a Springsteen-themed film) describes how Bruce's music turned him onto soul music before driving himself to tears as he addresses the impact of his lyrics. These are extremely powerful, moving moments that make clear just how deeply Bruce Springsteen's work has touched so many lives.
The video segments chosen for this film also successfully destroy the stereotype of the "typical" Springsteen fan. While there still are some aging working-class white folks who were born in the U.S.A. (making some great contributions, by the way), it's truly wonderful to see and hear from Springsteen fans all over the world who are of various ages, genders, cultural backgrounds, nationalities, and experiences. The broad reach of Springsteen's work is very well-represented by the fans chosen to appear in Springsteen & I.
That's not to say that one might not quibble with at least some of the opinions expressed in the film. There's also a major factual inaccuracy concerning when and where "Blood Brothers" was performed on the Reunion Tour. And left completely unexplored is how some fans have handled occasional disenchantments with some of Bruce's career moves — musically, politically, etc.— over the years.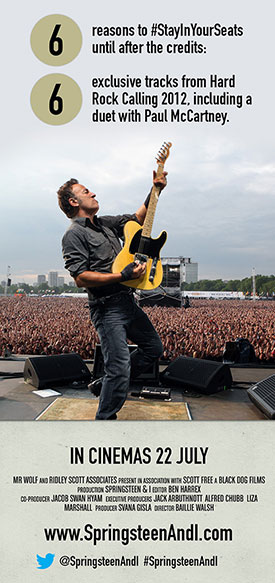 None of this, however, diminishes the power of seeing and hearing a group of fellow Springsteen fans testify on all that they've gotten from the man and his music, especially with great performance footage, some fan-shot and some professionally filmed, woven into the tapestry of their stories. Even the familiar footage, such as official clips from the Hammersmith Odeon and Live in New York City DVDs, feels fresh in this context. In some cases, the footage itself also was re-edited (presumably by Thom Zimny, who gets an onscreen credit) for renewed impact. One prime example is the clip of "Blood Brothers" from the final Reunion Tour show that refocuses on shots of Clarence Clemons, Danny Federici and the band-hand-holding moment for an even greater emotional punch than the original snippet that appears on the Live in New York City DVD. Another is the moving through-the-years montage that accompanies the closing credits.
While
Springsteen & I
was skillfully assembled to work for a general audience, it's still a film that's surely at its most powerful when seen on a big screen with a group of fellow Springsteen fans, the larger the better (especially whenever the music-segments play.) Therefore I strongly recommend catching one of the theatrical screenings that will be held all over the world beginning today. (Click
here
for available tickets, venues and dates. Be sure to stick around after the credits roll, too.) A November DVD release is expected and likely to contain extra material not seen in the theatrical release, but even when that happens, I'd still recommend seeing it with a group of fellow fans on the biggest screen you can find.
- July 22, 2013 - Shawn Poole reporting

A TALK WITH SPRINGSTEEN & I DIRECTOR BAILLIE WALSH
"Bruce insisted there would be no editorial input from his team — that's why he and his fans are the perfect subject for the film. The people really trust Bruce and he really trusts them." So says Springsteen & I director Baillie Walsh, who admits he wasn't a fan of Bruce Springsteen before this project. The English filmmaker — whose work includes Flashbacks of a Fool with Daniel Craig, the Oasis documentary Lord Don't Slow Me Down, and Massive Attack's seminal, one-take "Unfinished Sympathy" video — met with Bruce, Jon Landau, and Barbara Carr to discuss the development and was bowled over.
"Once I'd said 'yes' to the assignment, I flew to meet Bruce at a gig of his at Giants Stadium," Walsh recalls. "I was ready to try and talk them into making the picture, but found myself not needing to! They liked the idea, were open to it, and gave us their blessing — along with access to Bruce's own personal archive, which was vital to the thread I wove into the film."
Backed by Ridley Scott, Springsteen & I is a unique and simple film, dominated by footage filmed by Bruce Springsteen fans. It opens across the world today.
"We had over 2,000 filmed contributions from fans," says Walsh. "But what says it all to me about Bruce and his fans is that we didn't receive any of what I'd call 'crazy' videos; all the stories touch you and have made the documentary into a very emotional film. Like I say, I didn't come into this as a fan. I was asked to do it, thought about it for two minutes and said yes. The challenge for me was to make a series of contributors' clips into a film worth watching."
Has he managed to pull it off? The subject of the film's attention apparently thinks so — in fact, it made a lasting impression: "Bruce loves it! We had absolute freedom in making it and no requests to leave anything out. That tells you everything. There's a really touching epilogue too: Bruce had seen an advance copy and spotted a couple who are featured in the film at a recent gig in Copenhagen... I won't spoil the film for you, but he certainly remembered their faces!"
It's a story that's typical of Springsteen, the sort that makes us proud of the community that has grown around Bruce and the E Street Band. "His fans really expose their feelings in the film, and that's what he does on-stage," says Walsh, who will now concede to being an "admirer" (if not a fully fledged fanatic) of The Boss.
"The film has enormous charm," continues Walsh. "It really works because there are no camera crews — everything you see is completely natural. That's why I was full of fear going into the project, as I obviously didn't know the quality of the material I'd be working with — but that's exactly why the picture has turned out to be unique."
Stay tuned for Shawn Poole's advance review of the film, following yesterday's preview in Philadelphia
- July 22, 2013 - Alan O'Hare reporting [Alan O'Hare is a Springsteen fan and writer from Liverpool, England, and the singer/songwriter with Only Child]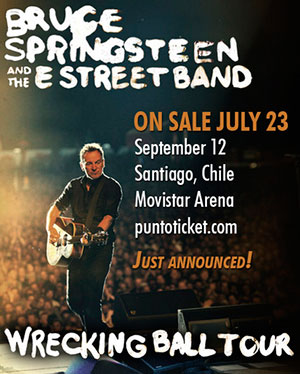 HEADING SOUTH: WRECKING BALL TOUR TO WRAP IN BRAZIL
Over the weekend, a new show in South America has been added to the Wrecking Ball Tour itinerary, with Bruce and the E Street Band playing Santiago, Chile, on September 12. This is the second show booked for South America, falling the week before the band's appearance in Rio de Janeiro, Brazil, for Rock in Rio.
The Santiago show will be at the Movistar Arena, with tickets on sale this week through puntoticket.com. (The onsale was listed as Wednesday, July 23; we're seeking confirmation as to whether the onsale will be Tuesday or Wednesday. Watch this space. Update: onsale now confirmed for Wednesday, July 24)
When the announcement was posted on brucespringsteen.net, it came with some additional, crucial information about E Street Band plans: Rock and Rio will be "the final performance of the Wrecking Ball Tour" (emphasis theirs). Looks like everyone's autumn just freed up.
- Update: July 22, 2013


25 YEARS AGO TODAY, BRUCE & E STREET BAND ROCKED EAST BERLIN
On July 19, 1988, on the Tunnel of Love Express Tour, Bruce Springsteen and the E Street Band played to their largest crowd ever, an open air show in East Berlin a year before the Berlin Wall fell. Introducing "Chimes of Freedom," Bruce took a moment to address the crowd in German:
Es ist schön in Ost-Berlin zu sein. Ich bin nicht für oder gegen eine Regierung. Ich bin gekommen, um Rock 'n' roll für euch zu spielen in der Hoffnung, dass eines Tages alle Barrieren abgerissen werden.

["It's great to be in East Berlin. I'm not for or against any government. I came here to play rock 'n' roll for you, in the hope that one day all barriers will be torn down."]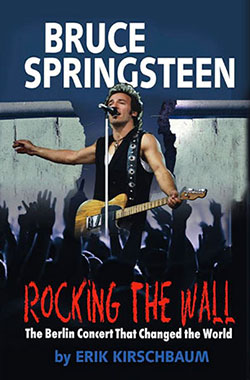 For that speech we looked to a new book by Erik Kirschbaum, Bruce Springsteen: Rocking the Wall. Subtitled "The Berlin Concert That Changed the World," the book makes the case that Springsteen's concert, and that statement in particular, was instrumental in the fall of the Berlin Wall in 1989: "Because it was so short, it may be one of the most underappreciated anti-Wall speeches ever made. But considering that it was delivered inside East Germany, it probably did more to shake the Cold War barrier than all the anti-Wall speeches in West Berlin combined, by Kennedy in 1963, Reagan in 1987, and everyone else between."
Kirschbaum, a correspondent for Reuters, goes in-depth on the 1988 event, speaking with attendees, concert organizers, and even Springsteen manager Jon Landau. Rocking the Wall has garnered a good amount of press, including an op-ed Krischbaum wrote himself, another piece he wrote on Greasy Lake, as well as stories in the Star-Ledger, ABC News , Rolling Stone, the Irish Times and The Guardian. The book is in stock and available now from Backstreet Records.
That concert, 25 years ago tonight, not only continues to reverberate in the minds of historians, fans, and surely all those who were there, but in Bruce's memory, too — he recalled it from the stage at the recent Leipzig show, as he often does when playing Germany, and he has said: "Once in a while you play a place, you play a show that ends up staying inside of you, living with you for the rest of your life. East Berlin in 1988 was certainly one of them."
Take a longer look below.

- July 19, 2013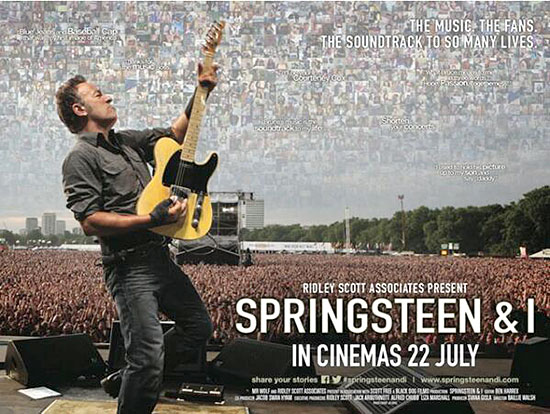 SPRINGSTEEN & I SCREENINGS JUST AROUND THE CORNER
The Springsteen & I documentary will be on big screens around the world this coming Monday night, July 22. Prior to that, thanks to a "Lucky Towns" contest, two cities will get special advance screenings over the weekend:
Wherever you watch Springsteen & I, be advised that there's more after the doc is done: stay in your seat for six full tracks from the Hard Rock Calling 2012 performance, including Paul McCartney's guest spot, and an epilogue to the film.
And more online:
- July 18, 2013

GONNA SEE WHAT THEM PET SHOP BOYS CAN DO
The UK's most commercially successful duo covers "Last to Die"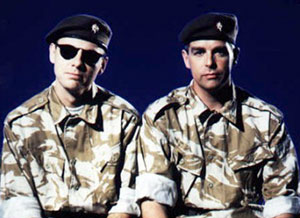 Pet Shop Boys' unique version of Bruce Springsteen's "Last to Die" is now available in free streaming audio at Pandora Radio. Click here to listen. The English synth-pop duo's twelfth studio album Electric, featuring their Bruce cover, will be released tomorrow.
During a recent interview with Popjustice.com, Pet Shop Boys' Neil Tennant briefly discussed their recording of the song with his typical mix of the sardonic and serious. When asked what he would like Springsteen to think of their cover, Tennant replied, "I'm sure he's going to think, 'wow, that's a good song I've written.' We've brought out its full potential. It was [fellow Pet Shop Boy Chris Lowe's] sister who suggested that. It's got a very good guitar riff, so of course you immediately think, 'great, that's the synth riff.' Then in the studio we turned it into a vocal riff. It's a powerful song, I like it."
Click here to view an interview segment from Sweden's national television network SVT in which Tennant dives a bit deeper into their version of "Last to Die," the reaction on "Bruce Springsteen forums," and the meaning behind the song.
- July 15, 2013 - Shawn Poole reporting


SPRINGSTEEN & I PREMIERES IN NYC
Last night, the New York premiere of Springsteen & I was held at the Sunshine Cinema on the Lower East SIde of Manhattan. Director Baillie Walsh was in attendance, along with about a dozen of the fan participants in the film.
A wide range of ages and sexes and nationalities is represented in the movie, with U.S. fans probably taking up 2/3 of the cast. There are moments that you will know or could recognize or might have heard about — Elvis in Philadelphia, a young man getting dating advice from Bruce after being dumped, a "Dancing in The Dark" story from Hyde Park 2012. There are other stories that will seem familiar, or that you will likely nod your head to. Walsh noted that he wasn't a fan and he didn't come into the project with preconceived notions, favorite songs or best concerts, and that the selection of songs came from the participants: "The fans informed me."
Following the film, Walsh and several of the fans took part in a live Q&A which was webcast on Rolling Stone's web site [above]. Walsh explained that he met Bruce for the first time when he flew to New York to meet with him, Jon Landau and Barbara Carr at Giants Stadium in order to convince them to let him do the film; he said that the film appealed to Springsteen because it was a film by the fans, and that the organization did everything they could to help and was behind it 100%.
That translated into access to pro-shot footage from the archives, whether Live in New York City, Hammersmith '75, or recent footage from the Wrecking Ball tour. When asked, Walsh noted that the goal was to have everything filmed by the fans, including concert footage, but it didn't always exist, or exist in a quality that would work on the big screen. The producers received over 2000 submissions from all around the world, and winnowed it down to the final group based on the thematic arc they wanted to pursue.
The film will be shown nationwide on July 22nd and July 31; check springsteenandi.com for details. The director noted that there are plans for a DVD and that there might be bonus footage but could not say what or when at this time.
- July 12, 2013 - Caryn Rose reporting

STEP INTO THAT LONG BLACK LIMOUSINE
It's premiere time for Springsteen & I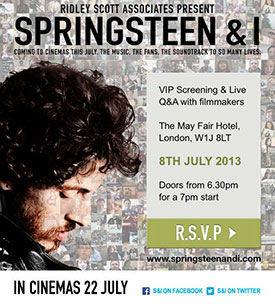 Springsteen & I, the unique documentary about and co-created by Bruce's global fanbase (with exclusive concert footage from the Springsteen archives), had its European press/VIP premiere earlier this week at London's May Fair Hotel.
Tomorrow night, the U.S. VIP premiere will be held in New York at the Landmark Theatres Sunshine Cinema. Dave Marsh and Jim Rotolo of E Street Radio will be broadcasting live from the premiere, interviewing Springsteen & I's creators and some of the fans featured in the film. Tune into the broadcast beginning at 6 pm ET on Sirius/XM channel 20. Rotolo will moderate a post-screening Q-and-A session as well, which will stream live at RollingStone.com.
There's also an ongoing contest in which fans can vote online to bring an exclusive advance screening of Springsteen & I to their town. Currently, two major Springsteen-stronghold cities are in the lead: Philadelphia for the U.S. advance screening and Barcelona for the European advance screening.
Springsteen & I will go into general release with selected single-night screenings in theatres all over the world beginning July 22. For details and to purchase tickets, visit the film's official website.
July 11 update: RollingStone.com's live post-screening stream starts tonight at 10 pm ET. The site also has a new, longer trailer, with extra clips of the concert performances and fan comments featured in the film. Click here to watch.
- Updated July 11, 2013 - Shawn Poole reporting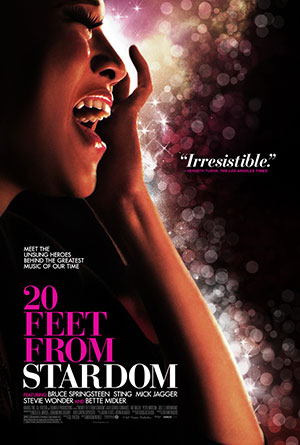 REMEMBER ALL THE MOVIES:
20 FEET FROM STARDOM

"That walk to the front [of the stage] is complicated." —Bruce Springsteen
20 Feet From Stardom, the new release from producer/director Morgan Neville (Crossfire Hurricane, Johnny Cash's America), chronicles the rise of background singers as a musical force in rock 'n' roll from the 1960s to the present. Long a staple of gospel — and later, soul & R&B — background singers changed the face of rock 'n' roll music by incorporating "call and response" vocals into records by everyone from the Rolling Stones to Lynryd Skynyrd and David Bowie.
The film acknowledges Darlene Love and her vocal trio The Blossoms as the true pioneers of rock 'n' roll backing vocals, following her career from early success through the lean years to her recent resurgence (thanks in no small part to David Letterman and his house band leader, Paul Shaffer, as well as to Bruce Springsteen and Steve Van Zandt).
Legendary talents like Merry Clayton, Lisa Fischer and Claudia Lennear are also featured in the film, which intersperses archival footage with more recent film and commentary from Springsteen, Sting, Mick Jagger and a host of other figures from the music business, shedding light on the creation of some of rock 'n' roll's greatest records by demonstrating how central the background vocals were to the overall sound. There is a wealth of information here — Merry Clayton's story about how she approached the vocals on "Gimme Shelter" is worth the price of admission — and some tremendous musical moments, not the least of which is the footage of Love performing "A Fine, Fine Boy" with the E Street Band that runs under the closing credits.
This is a rich topic with a complicated history, and by focusing on rock 'n' roll, Neville merely scratches the surface (there is little exploration of racial and gender issues, or of the use of background vocalists in other musical genres), but it's a promising and long overdue beginning.
20 Feet From Stardom is in U.S. theaters now and opens in additional cities on Friday. Click here for a list of cinema locations.
- July 9, 2013 - Lisa Iannucci reporting

ASBURY PARK CELEBRATES JUKESVILLE
Southside Johnny & the Jukes exhibit open now on Cookman Ave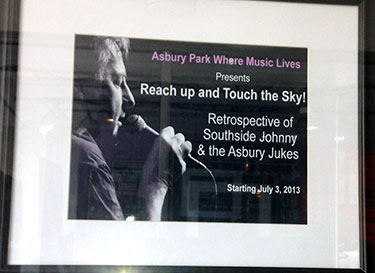 "Reach Up and Touch the Sky! A Southside Johnny Retrospective," a special exhibit dedicated to Southside Johnny & the Asbury Jukes, is now open at the Asbury Park Musical Heritage Foundation's gallery at 708 Cookman Avenue in downtown Asbury Park. The retrospective opened on July 3, with an official public reception last night.
The exhibit celebrates the history of the legendary band, from its beginnings as Stone Pony house band to major label record deals, international acclaim, and unquestioned status as a true Asbury Park institution. A wealth of rare materials includes a variety of memorabilia spanning the life band's 38-year history at the center of the Jersey Shore music scene.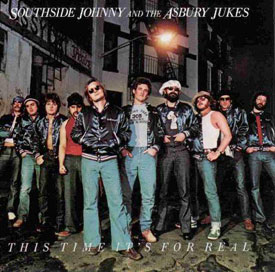 Exhibit highlights include video, passes and ticket stubs, colored vinyl pressings of Jukes singles on Southside Johnny's own Leroy Records, his harmonica case and custom labeled harmonicas, and his passport. Closets were raided for custom-made black Chuck Taylor high-top sneakers with an "Asbury Jukes" logo, and several t-shirts and jackets, including the iconic blue satin Jukes jacket featured on the cover of the band's second album, This Time It's For Real.
Also of interest are copies of the Jukebox fanzine, an original poster promoting the band's seminal 1976 live radio broadcast from the Stone Pony, and band lineups/setlists from a pair of stellar benefit concerts at Red Bank's Count Basie Theater that featured Southside Johnny and former Jukes lead guitarist Bobby Bandiera as well as guest appearances from Jon Bon Jovi and Bruce Springsteen. Photos include promo shots from the band's early days, and rarely seen images of Southside Johnny playing miniature golf and pinball (with Steve Van Zandt looking on).
Southside Johnny and the Asbury Jukes have received countless accolades over the years — some on display at the gallery — including the key to the city of Asbury Park (1978), and most recently, an honorary proclamation from outgoing mayor Ed Johnson, who cited Southside for his "numerous accomplishments... and commitment to the city of Asbury Park" in a brief ceremony preceding Wednesday night's annual Independence Day appearance at the Stone Pony.
The exhibit is free of charge, and runs through the end of the summer. For hours and other information visit asburyparkmusiclives.org.
- July 7, 2013 - Lisa Iannucci reporting

THE SPIRIT OF '76
Happy Indepedence Day from all of us at Backstreets — hope you have a happy and safe 4th!


- July 4, 2013 - photograph by Mauro Regis [Geneva, 7/3/13]


THE MISSING YEARS ON VINYL, AND MORE FROM BACKSTREET RECORDS
John Prine's The Missing Years is a perennial fave here at the Backstreets Towers, and not just for Bruce Springsteen's guest spot on "Take a Look at My Heart." We've carried the CD since it came out in 1991; now, for the first time, the album is going to be available on vinyl, as a 2LP set in a gatefold sleeve. This 180-gram pressing includes a new bonus track from the original album sessions, the previously unreleased (and perfectly suited for today) "The Third of July." Listen to the whole track here:
The Missing Years 180-gram, two-LP set is due next week, on July 9.
Pre-order now from Backstreet Records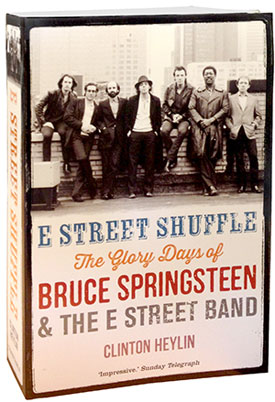 MORE NEW ARRIVALS: We've been adding a bunch of new stuff to our shelves lately, including the UK softcover edition of Clinton Heylin's E Street Shuffle: The Glory Days of Bruce Springsteen and the E Street Band. Like the UK hardcover (which we offer with an exclusive bonus interview CD, just a few left), the softcover includes a large swath of material that was cut from the US publication: a 100+ page "sessionography" section, detailing Springsteen's recordings from 1972-1984 (available in the US only as an eBook), as well a section of photos. We highly recommend Heylin's work.
Also imported from the UK is a collection of highlights from the Amnesty concerts over the years, including cuts from Springsteen both with and without the E Street Band — as well as Steve Van Zandt doing "Redemption Song" with Bob Geldof in 1986. Get Up! Stand Up! Highlights From the Human Rights Concerts, 1986-1998 is available on both DVD (region-free) and a 2-CD set.
See all Latest Additions to the Backstreet Records online shop
- July 3, 2013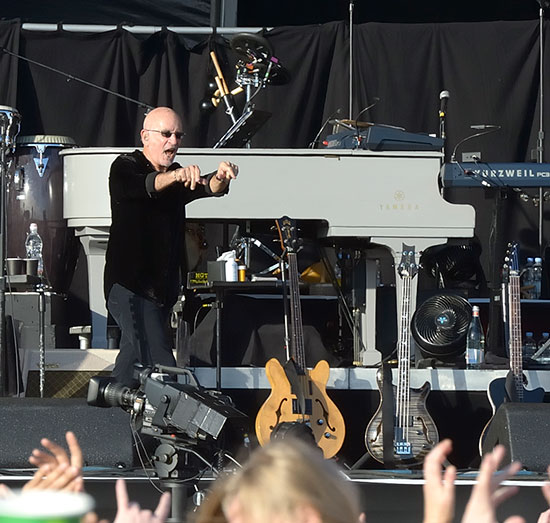 WHEN HE'S 64
Roy Bittan, pictured above at Sunday night's Hard Rock Calling festival, turns 64 today, born July 2, 1949. Happy birthday, Professor!
- July 2, 2013 - photograph by Rene van Diemen

STEVE'S NOT SURE EITHER
We want it to happen. You want it to happen. But is it gonna happen? As a return to the U.S. for more shows this year looks less and less likely, Steve Van Zandt tells Rolling Stone's Andy Greene that he's in the dark, too: "I really, really don't know... I know that Bruce is off in August. But what happens in October-November, I don't know. I really don't. I would tell you, but I don't know... I don't think we are [playing more shows]. But I honestly haven't been told we're not, so I don't know. We probably would have heard by now if we were."
Sounds like our Augusts just freed up, at least.
Steve also talks about how he'd prefer to tour, and says that "there'll be new records forever."
Read: "Steve Van Zandt: Not Sure If Bruce Springsteen Tour Is Returning to America"
- July 1, 2013