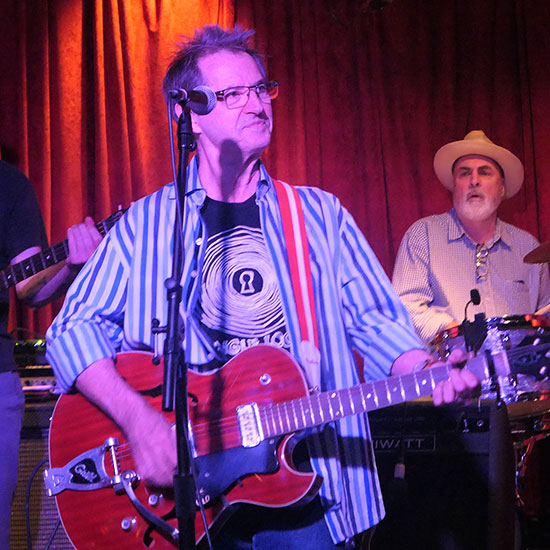 GARRY TALLENT & THE DELEVANTES
The 5 Spot, Nashville, TN
August 27, 2019
There wasn't much advance fanfare, and unless you were checking the venue calendar, you likely missed this delightful musical event... but Garry Tallent made a one-off appearance at Nashville's 5 Spot on Tuesday night, in the 6pm slot. While the room wasn't near capacity, all those who came out sure got their five-dollar cover charge's worth, with a set running nearly two hours.
Making his way onto the low 5 Spot stage promptly at starting time, Garry summoned up the players who he said represented "two of the three bands" that he has played with. This merger of his recent touring band with ex-Jerseyites and Americana pioneers The Delevantes made for an ensemble of mighty musicianship.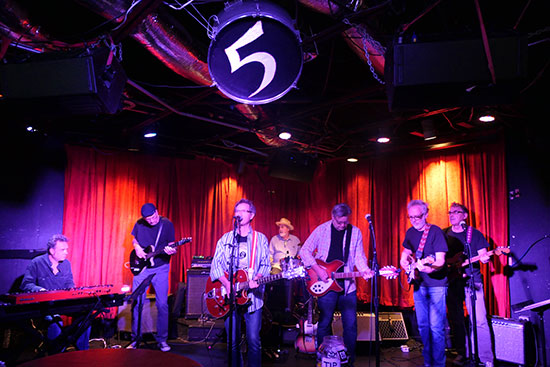 Tallent recently released his second solo record, More Like Me, which follows his 2016 debut, Break Time. With two full LPs behind him, there was plenty of material to play, and he and the band wound up playing most of his catalog. However, to make things interesting, the song running order for the night came courtesy of Garry pulling slips of paper with song titles out of a beer bucket!
With all this original music to choose from, it was quite a surprise when the first pick of the night was Eddie Cochran's "Twenty Flight Rock." It did, however, set the stage and show just how strong a band this was. Garry put his bass aside for the evening and played a hollow-body Guild electric guitar and was just one-fourth of the guitar army that included the Delevante brothers.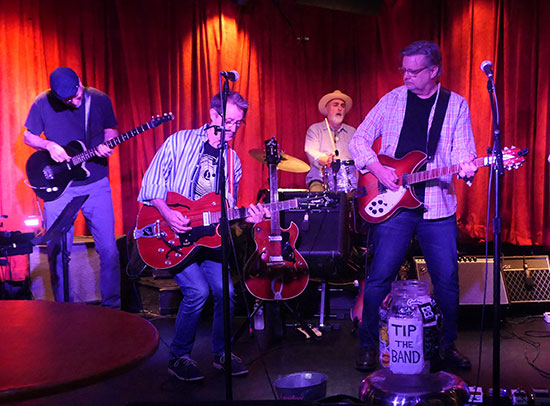 While Garry isn't known for being a singer, he made quite a fine effort as front man. As expected for an East Nashville event, there were other musicians in the house, and a few made brief appearances on stage. Bill Lloyd and Kristi Rose both shared vocals with Tallent, and Kristi's husband, Fats Kaplin, came on board with both his fiddle and accordion.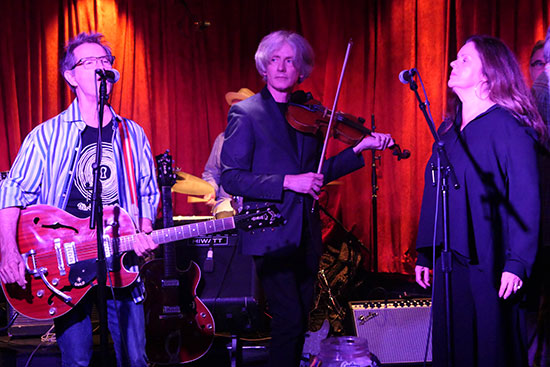 Tallent's musical collective really showed its chops on a few instrumentals, one of which was The Ventures' "Walk, Don't Run" that Garry chose when he pulled a "wild card" option out of the bucket. The Delevantes also had one of their songs selected from the bucket — Tallent produced both of their albums in the '90s — and also played another that Garry later requested from them after the bucket had run dry.
The final song of the evening was a redo of Garry's "Charlene," since he felt they didn't do it right the first time (he'd forgotten the words to the last verse). After the successful take, Garry remarked, "I thought we'd have to do them all over!" But that was far from the reality of the night — the band sounded like they had rehearsed for months rather than just getting together on such short notice. It was just another "Only in Nashville" night!
Signed copies of Tallent's new album, More Like Me, will be available in short order from Backstreet Records, on both CD and LP. Stay tuned.
- August 29, 2019 - report and photographs by Michael Bodayle

THE MILES WE HAVE COME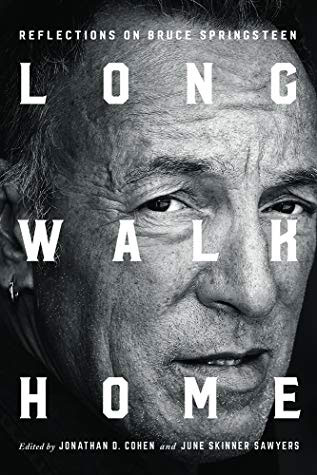 New book celebrates Springsteen at 70, with 9/23 launch event at Strand Books
With Bruce Springsteen's 70th birthday less than a month away, we're looking forward to the publication of Long Walk Home: Reflections on Bruce Springsteen, due on the big day itself (September 23) from Rutgers University Press.
A collection of essays and testimonials by noted critics, scholars, and fans, Long Walk Home was put together by two editors who know their stuff: Jonathan D. Cohen and June Skinner Sawyers.
Cohen is the managing editor of BOSS: The Biannual Online-Journal of Springsteen Studies. Sawyers is a ace at this sort of thing, editor of numerous anthologies including the crucial Racing in the Street: The Bruce Springsteen Reader and author of Tougher Than the Rest.
Inside, essayists include previous Springsteen book authors such as Eric Alterman (It Ain't No Sin to Be Glad You're Alive), Peter Ames Carlin (Bruce), Jim Cullen (Born in the U.S.A.), Louis P, Masur (Runaway Dream, Talk About a Dream), Frank Stefanko (Days of Hope and Dreams, Further Up the Road), and Daniel Wolff (4th of July, Asbury Park), as well as other fine writers including Martyn Joseph, Greil Marcus, Paul Muldoon, Lauren Onkey, Richard Russo, A.O. Scott, Colleen Sheehy, and Wesley Stace.
On publication day — Monday, September 23 — NYC's Strand Books will host a book launch, featuring a panel of writers from the book along with editors Cohen and Sawyers. On hand for discussion and signing will be Natalie Adler, Paul Muldoon, Deepa Iyer, A.O. Scott, and Daniel Wolff — nice crew with whom to celebrate Bruce's big day. Visit strandbooks.com for more details on the event and to sign up for admission.
If you can't make the Strand event, you can order Long Walk Home from Backstreet Records and save 10% with our pre-order sale price.
Update: a second book launch event will follow the next day, as Sawyers and another of the book's essayists, Ken Womack, will appear at McNally Jackson Books in Brooklyn. Joe Rapolla will be on hand to perform a few Springsteen songs. September 24, from 7pm to 9pm — see the Facebook event for details.
- August 28, 2019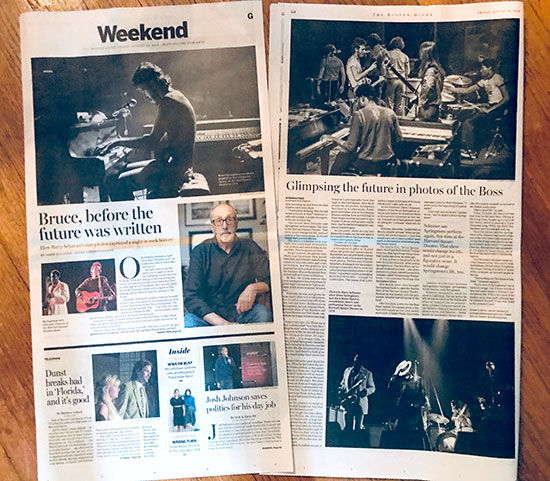 ALL THE NEWS THAT FITS... AND THEN SOME
For the Weekend, Boston Globe spotlights Bruce book
When writer James Sullivan contacted Barry Schneier to talk about his new book Bruce Springsteen: Rock and Roll Future for the Boston Globe, Barry wasn't sure what to expect. A former pop music and culture critic for the San Francisco Chronicle and an editor for Rolling Stone, Sullivan also has numerous books to his credit, covering everything from George Carlin to James Brown. Barry was glad to oblige — having had a few mentions in the past of his work in the Globe, he knew getting a little ink about the book wasn't so bad.
Rock and Roll Future's story takes place in Boston and Cambridge, in the midst of a vibrant music scene in the mid-1970s that Barry found himself totally immersed in, watching and photographing new acts as they came through town. One of them was a young Bruce Springsteen. Barry's early witness to his live shows led to an eventual opportunity to open for Bonnie Raitt at the Harvard Square Theatre.
The rest, as they say, is history. It's music history. If you're a resident of the Boston Cambridge area, it's local history: a testament to serendipitous sequences of events and the notion that, in a town with a hunger for what's new and an audience to embrace it, anything can happen.
So James was looking for something a little bit more this time. Not a quick rehash of a story retold, but a fresh look at something that's been on his radar for a while. When the piece was ready to go to print, he told Barry it would be a big spread. Barry's reaction: "He said it would be big. Not huge!"
Read "How a Holliston photographer captured the moment
Bruce Springsteen became rock 'n' roll's 'future'"
at bostonglobe.com
View/order Rock and Roll Future in our online shop
- August 23, 2019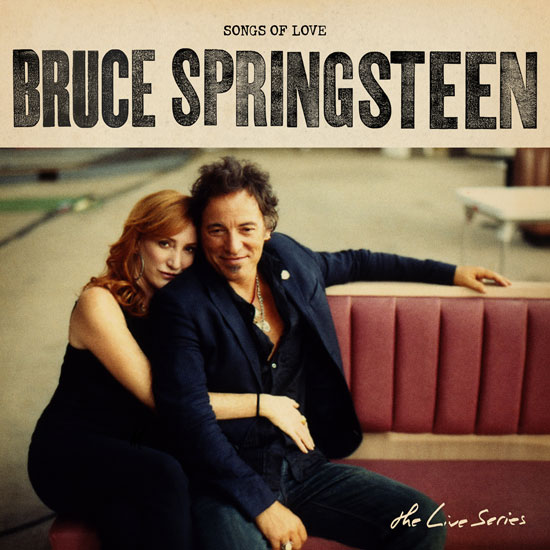 NEW LIVE SAMPLER: SONGS OF LOVE
Fourth archival playlist brings 15 more live tracks to streaming services
If you're looking for love... today brings a new entry to The Live Series, which selects Springsteen tracks from the decades of performances in his live archives to form thematic playlists. Adding to the officially available Springsteen music to stream via Apple Music, Spotify, and others, The Live Series is also a good way to sample the monthly goodness coming from nugs.net (if you haven't already jumped in with both feet), or just enjoy a well-curated batch of Bruce.
Following Songs of the Road, Songs of Friendship, and Songs of Hope, another 15 live tracks are now on streaming services as Songs of Love.
| | | |
| --- | --- | --- |
| 1 | She's the One | The Roxy, West Hollywood, CA - 10/18/75 |
| 2 | 4th of July, Asbury Park (Sandy) | Palace Theatre, Albany, NY - 2/7/77 |
| 3 | Rosalita (Come Out Tonight) | Madison Square Garden, NYC - 9/21/79 |
| 4 | Fade Away | Nassau Coliseum, Uniondale, NY - 12/31/80 |
| 5 | I Wanna Marry You | Wembley Arena - London, UK - 6/5/81 |
| 6 | I'm on Fire | L.A. Sports Arena, Los Angeles, CA - 4/23/88 |
| 7 | Tougher Than the Rest | Madison Square Garden, NYC - 5/23/88 |
| 8 | Brilliant Disguise | Shrine Auditorium, Los Angeles, CA - 11/16/90 |
| 9 | Human Touch | Brendan Byrne Arena, East Rutherford, NJ - 6/24/93 |
| 10 | If I Should Fall Behind | United Center - 9/30/99 |
| 11 | For You | Schottenstein Center, Columbus, OH - 7/31/05 |
| 12 | Tunnel of Love | Van Andel Arena, Grand Rapids, MI - 8/3/05 |
| 13 | Back in Your Arms | Croke Park, Dublin, Ireland - 5/27/16 |
| 14 | Secret Garden | MetLife Stadium, East Rutherford, NJ - 8/30/16 |
| 15 | Save My Love | Veterans United Home Loans Amphitheater, Virginia Beach, VA 9/5/16 |
Songs of Love spans more than 40 years, from 1975 to 2016, including numerous performances with the E Street Band, as well as the '92/93 band ("Human Touch") and solo ("Brilliant Disguise" from the legendary Christic shows, and a pair on keys, including a brilliant "Tunnel of Love," from the 2005 Devils & Dust tour). Wear your love without shame and listen now via Apple Music, Spotify, Amazon, Pandora, Tidal, or Deezer.
- August 23, 2019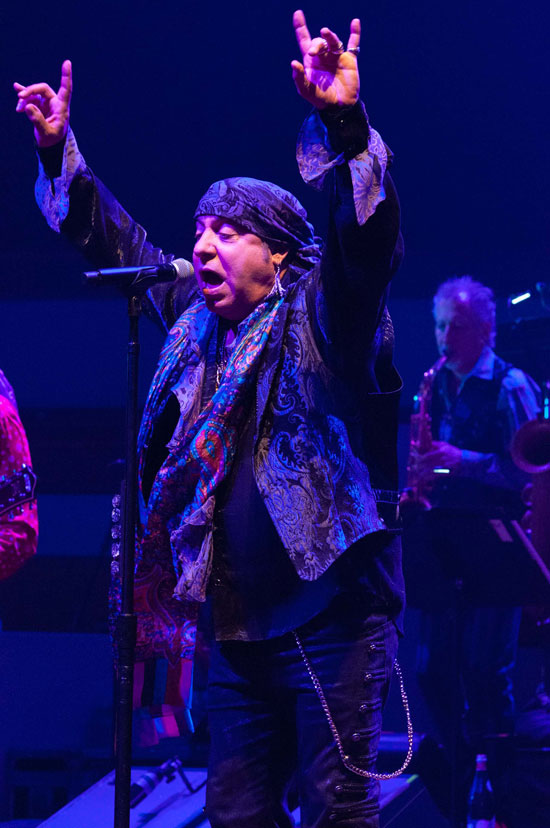 GALLERY: LITTLE STEVEN & THE DISCIPLES OF SOUL, 8/19 UTRECHT
On Monday night, Little Steven and the Disciples of Soul brought their summertime sorcery to Utrecht's TivoliVredenburg Pandora hall. Our Netherlands-based photographer Rene van Diemen soaked in the sights and sounds, and he shares some images with us here. The Summer of Sorcery tour continues in Europe through early September before returning to the States.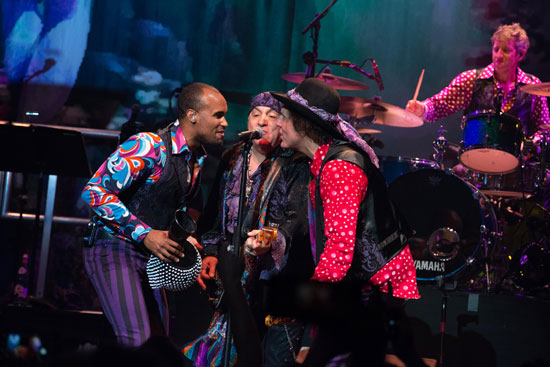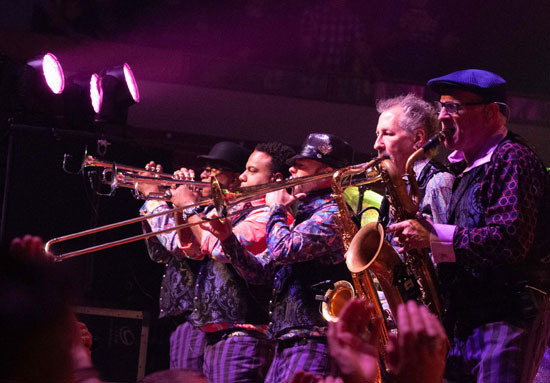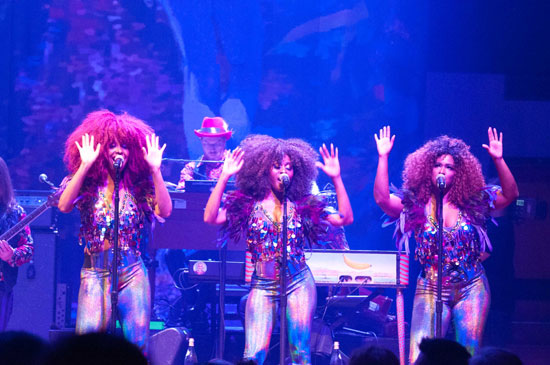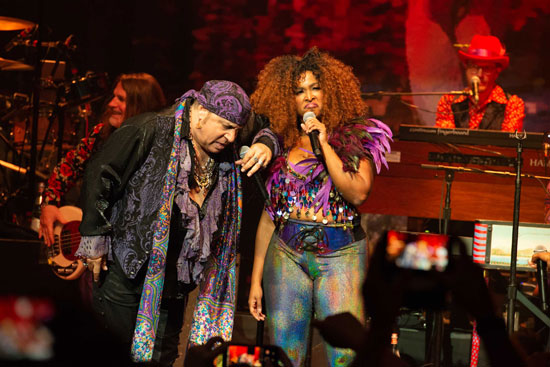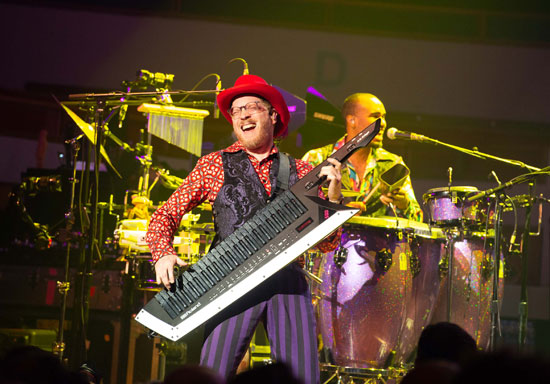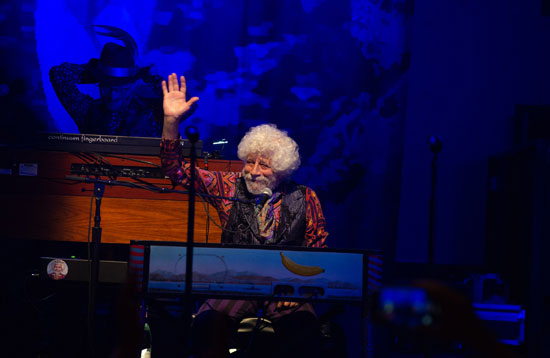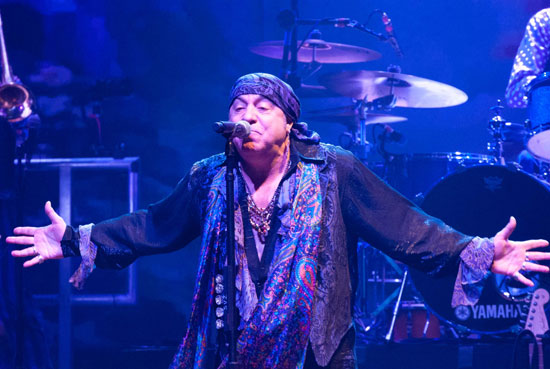 For further reading, see Mike Saunders' recent reporting for us on the Summer of Sorcery Tour as well as the Lilyhammer soundtracks and other Stevie news.
- August 22, 2019 - photographs by Rene van Diemen


SPRINGSTEEN SHINES BRIGHT IN NEW WESTERN STARS TRAILER
Over the weekend, moviegoers taking in the freshly released
Blinded by the Light
got an extra treat before the feature presentation: a trailer for Bruce Springsteen's
Western Stars
film. Following that exclusive first look,
the trailer is online now
.
The 83-minute Western Stars, an "intimate and personal concert film" directed by Springsteen (his feature-length directorial debut) and Thom Zimny, will debut at the Toronto International Film Festival next month. Picked up by Warner Bros., Western Stars will be showing worldwide on the big screen in October.
According to a press release, "Western Stars offers fans the world over their only opportunity to see Springsteen perform all 13 songs on the album, backed up by a band and a full orchestra, under the cathedral ceiling of his historic nearly 100-year-old barn."
Warner Bros. Picture Group Chairman Toby Emmerich says, "Bruce lives in the super rarified air of artists who have blazed new and important trails deep into their careers. With Western Stars, Bruce is pivoting yet again, taking us with him on an emotional and introspective cinematic journey, looking back and looking ahead. As one of his many fans for over 40 years, I couldn't be happier to be a rider on this train with Bruce and Thom."
Western Stars is "written and performed by Bruce Springsteen, with Special Guest Patti Scialfa. Thom Zimny, Jon Landau, Barbara Carr and George Travis produced the film, with Springsteen serving as executive producer. The original score is by Springsteen." Never too soon to hope for a soundtrack album....
- August 19, 2019


HOW LITTLE STEVEN SPENDS HIS SUMMER "VACATION"
Stevie's busy 2019 continues as the Summer of Sorcery Tour keeps sizzling well into the fall
Following Bruce Springsteen's announcement last December that there would be no E Street Band activity in 2019, Little Steven and the Disciples of Soul returned to the road in April to complete one world tour and begin another immediately afterwards. This is their third consecutive year on the international theater and festival circuit. When the Summer of Sorcery Tour ends at the Beacon Theatre in New York on November 6, they will have played more than 80 concerts this year and clocked up more than 200 since they returned to active service in October 2016.
The Disciples of Soul line-up comprises music director Marc Ribler (guitars); Jack Daley (bass); Rich Mercurio (drums); Andy Burton (B3 organ, synthesisers); Lowell "Banana" Levinger (piano); Anthony Almonte (percussion); horn section leader Eddie Manion (baritone sax); Stan Harrison (tenor sax, flute); Clark Gayton (trombone); Ron Tooley (trumpet); Ravi Best (trumpet) and Jessie Wagner, Sara Devine and Tania Jones (backing vocals).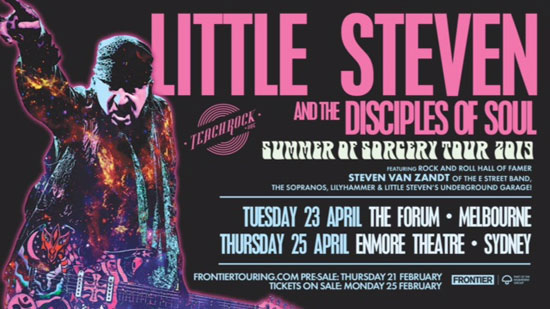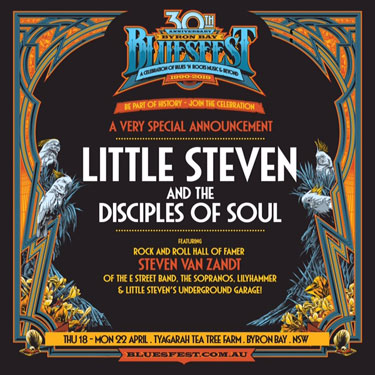 Their 2019 touring campaign began in Australia and New Zealand, with concerts in Perth, Adelaide, Byron Bay, Melbourne, Sydney and Auckland. The setlists remained largely identical to those of the previous two years but gave hints of the changes to come by cutting "Standing in the Line of Fire" (written for Gary US Bonds in 1984) and adding Little Steven's 1985 anti-Apartheid anthem "Sun City" plus two songs from the soon-to-be-released new album: "Love Again" and "Superfly Terraplane." In addition to their regular theater shows, the Disciples made two appearances at the Byron Bay Bluesfest, headlining the Crossroads stage with a full-length performance on April 18 and playing a shorter set on the Mojo stage on April 20, where they were second on the bill to Ben Harper.
In Sydney, Jimmy Barnes guested on "Ride the Night Away," the song that Little Steven wrote for him in 1985 (which was also covered by Southside Johnny and the Asbury Jukes on their Better Days album and recorded by Steven himself on Soulfire). Barnes remained onstage for "Sun City" and was joined by Peter Garrett of Midnight Oil.

The Auckland show marked the end of the international Soulfire tour. Afterwards, 75 percent of the material that the band had been playing since 2017 was dropped. Only "Love on the Wrong Side of Town," "I Am a Patriot," "Bitter Fruit," "Forever," "Out of the Darkness," and (occasionally) "I Don't Want to Go Home" would escape the purge.
Preceded in March and April by advance preview tracks "Superfly Terraplane," "Love Again" and "A World of Our Own," Summer of Sorcery was released on May 3 to streamers, downloaders and consumers of physical product. It featured 10 new original songs, a re-recording of "Education" from Little Steven's 1989 release Revolution, and "Suddenly You," a Lilyhammer outtake. The vinyl format (a double album with one blank side, like Soulfire before it) was also made available in a limited-edition "psychedelic swirl" option. This was intentional, but approximately 1000 copies that mis-spelled "Litle Steven" on the back cover and on all three labels were accidentally issued in Europe and became instant collector's items. Little Steven's art director Louis Arzonico explained, "an unapproved proof was sent to the main printing plant in the U.K. and that's what was printed. The misprint is on me. It is what it is."
A week after returning from New Zealand, Little Steven and the Disciples of Soul debuted a new psychedelic stage backdrop and reworked setlist with record release concerts at opposite ends of the country. As previously reported, their gigs at the Saban Theatre in Beverly Hills (May 4) and the Paramount Theatre in Asbury Park (8) featured Bruce Springsteen as special guest on "Tenth Avenue Freeze-out," "Sun City" and "I Don't Want to Go Home."
These gigs provided the setlist blueprint for the ongoing shows, which feature the entire new album, the holdovers from the Soulfire tour, "Sun City" and four other new selections from Little Steven's back catalog: "Little Girl So Fine" (from the second Asbury Jukes album This Time It's For Real), "Trapped Again" (from the third Jukes album Hearts of Stone), "Los Desaparecidos" (from Voice of America), and "Camouflage of Righteousness" (from Born Again Savage). In addition, Lowell "Banana" Levinger plays the opening section of his Youngbloods instrumental "On Sir Francis Drake" (a reference to the Marin County boulevard of that name) to introduce "I Visit the Blues."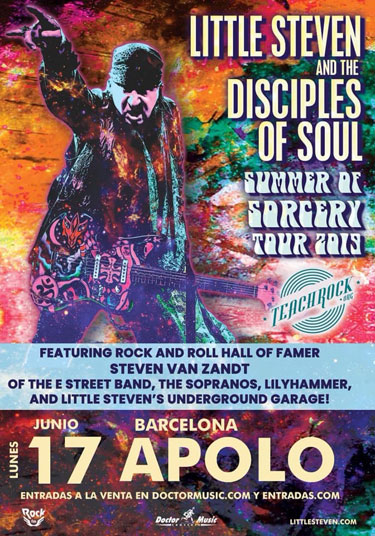 Now I wanna go to Europe
Little Steven crossed the Atlantic a week later to commence a 19-date European tour, mixing club and theater gigs with shorter festival sets in the U.K. (England and Scotland), Sweden, Norway, Denmark, Belgium, The Netherlands, France, Spain, Germany, Switzerland and Serbia. He began with a six-date U.K. mini-tour that consisted of indoor shows in Liverpool (his third appearance in the birthplace of The Beatles in the last 18 months), Leeds, Glasgow, Bristol, and London, and an outdoor gig at Bearded Theory's Spring Gathering festival at Catton Hall in Derbyshire.
The May 22 Bristol show took place on the same day as the worldwide one-night-only screening of the updated documentary Asbury Park: Riot, Redemption, Rock 'n' Roll. Realizing that ticketholders for the gig would miss the film, Dan French (creator of the Facebook group The Stevie Files), informed the distributors and an additional 5pm screening was added. Those who turned up at the Everyman Cinema that afternoon saw Little Steven both on and off the screen. He made a personal appearance to introduce the movie, spoke for more than six minutes about the Upstage and the Stone Pony years, and invited those without tickets to be his guests at the O2 Academy that night, where he included an encore of The Dovells' "Bristol Stomp" before its spiritual soulmate "Soul Power Twist."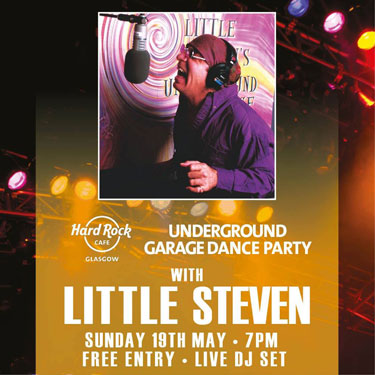 Little Steven also booked Underground Garage Dance Party DJ sets at the Hard Rock Cafes in Glasgow, London, Berlin, and Brussels. In reality, these events rarely feature dancing because they take place surrounded by diners.And while it's fun to imagine Little Steven spinning vinyl 45s on twin turntables, an assistant plays the music on a laptop while he announces songs, provides background information, signs autographs, and poses for photos. He was joined in Glasgow by various band members, celebrating his guitar technician Ben Newberry's birthday.
Indoor gigs continued in Berlin, Stockholm, Oslo, Hamburg, Brussels, Zurich, Milan, Barcelona, and Paris, with outdoor appearances at the Jelling Musikfestival (Denmark); the Hello Festival (Netherlands); the Music Legends Festival (Spain) and the Arsenal Festival (Serbia). The audience at Alcatraz in Milan on June 13 was particularly enthusiastic, earning an additional encore of the rarely performed (on this tour) "I Don't Want to Go Home." Stan Harrison missed this show to attend his daughter's graduation and was replaced by Baron Raymonde.
Back in the U.S.A.

Only five days after ending their European tour, Little Steven and the band began four weeks of North American shows, kicking off with appearances at The Memorial Park Concert in Omaha, Nebraska (June 28) and the New York State Blues Festival in Syracuse, NY (29).
They subsequently crossed the border for a five-date Canadian tour, appearing at the RBC Bluesfest in Ottawa and the Festival D'Ete De Quebec in Quebec City before moving indoors for gigs in London, Montreal, and Toronto. Garland Jeffreys and local resident Jake Clemons guested at L'Olympia in Montreal on July 8 for "Sun City." A series of east coast gigs followed, taking the band from Buffalo, NY to Richmond, VA. They ended this leg with a set at the Outlaw Jam near Annapolis, MD on July 28.
A performance at the Upstate Concert Hall in Clifton Park, NY on July 14 was cancelled because of a "scheduling conflict." Ticketholders were offered the chance to see Little Steven at the Orange County Fair in Middletown, NY on July 22 as an alternative, until that appearance was also cancelled due to storms and flooding in the area.
Although Summer of Sorcery includes political content, its primary focus is on community, common ground and (to quote Sly and the Family Stone) having Hot Fun in the Summertime. This ethos is reflected in the current concerts, which begin as the Disciples vamp the intro to "Communion" while the horn section and backing singers (carrying brightly colored parasols) march onstage. They end almost two-and-a-half hours later when the musicians take a bow after the final encore, "Out of the Darkness," and include various magical moments inbetween, including the three-song "Southside set" ("Little Girl So Fine," "Trapped Again" and "Love on the Wrong Side of Town").
As Little Steven has explained, each song on Summer of Sorcery is a fictional movie scene, featuring a different character. Illustrating this, at the beginning of "Love Again," the 14 personalities in the band intone individual lines of an introductory tale that encapsulates the essence of the show and explains that they will be the audience's tour guides for the night, transporting them "as if by wizardry" to a "romantic fantasy land called summer," where "the past, the present and the future reside in the same space," where there is common ground and communion with nature and where they will experience their "first summer of consciousness," "the thrilling tingle of unlimited possibilities," and "the universal meditation, medication and motivation of the magnificent magic of music."
Little Steven and the Disciples of Soul will be dispensing great music and good vibes on the road for another three months, and they demand and deserve your attention. Social media is awash with glowing reviews of their exciting, high-energy concerts. Even band members have been extolling the virtues of the album and tour and celebrating their involvement. Andy Burton recently said, "The band is tighter and more together than ever, on and off stage."
The thrilling tingle of unlimited possibilities continues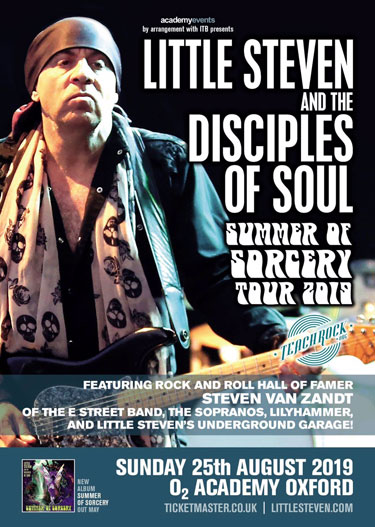 The band began a second European tour with an appearance at the Notodden Blues Festival in Norway on August 3. The 15-date itinerary includes return visits to the U.K. (with shows in Manchester, Oxford, Newcastle and Cardiff), Germany (Erfurt, Hanau and Nuremberg), Denmark and The Netherlands, plus additional performances in Ireland, Poland, Hungary and Monaco. A planned show in Luxembourg has now been cancelled. The tour concludes with a concert in Vienna, Austria on September 2. In addition, Little Steven will host an Underground Garage Dance Party at the Hard Rock Café in Manchester on August 20 and will broadcast his weekly Underground Garage radio show live from Tower Records in Dublin on August 22. Matt McDonald, who played on "I Visit the Blues" on Summer of Sorcery, is deputizing for regular Disciples trombonist Clark Gayton on this European leg.
A second North American tour begins on September 7 and will run for two months. Opening in Ventura, CA, it will wind its way to New York via Tucson, Austin, New Orleans, Atlanta, Detroit, Chicago, Cleveland, and beyond. There will be a sixth Canadian gig in Winnipeg, an appearance at Elvis Presley's Graceland in Memphis, and festival sets at the Big Blues Bender in Las Vegas, Kaaboo Del Mar near San Diego, and Bourbon & Beyond in Louisville.
Little Steven's New York show on November 6 (which also features Peter Wolf and the Midnight Travellers) could potentially be his last with the Disciples of Soul for some time if a new E Street album and tour materialize in 2020, so anyone who has yet to experience this amazing band in full flight is strongly advised to attend their nearest gig forthwith and without hesitation. The band hit the ground running in April and have improved exponentially ever since, so catch 'em while you can. A shimmering, sun-soaked, soul-deep, superfly sensation is guaranteed.
Check littlesteven.com for full information and concert listings. Teachers are eligible for free admission.
Visit The Stevie Files unofficial Facebook group to apply for membership (3,500 and counting). It's a fascinating forum for information about Little Steven's past and present activities, with nightly fan reports from the current tour.
Soulfire Live! is being aired on U.S. public television stations this month. Check local listings for details.
- August 15, 2019 - Mike Saunders reporting

BACK TO THE FUTURE
Today, rollingstone.com spotlights Barry Schneier's Bruce Springsteen: Rock and Roll Future, which Backstreets published earier this year, with the history behind Schneier's photographs and a look inside the book.
Rolling Stone's Andy Greene notes that the story of Springsteen's May 9, 1974 performance at Harvard Square Theatre, and the subsequent Real Paper rave by Jon Landau, is one that "has been told many times. What's far less known is that a young photographer named Barry Schneier was perched near the stage that night, snapping gorgeous photographs of the early show and the late show along with the soundcheck."
In addition to an annotated gallery of ten Schneier photos — rare shots of Bruce and the short-lived Davey Sancious/Boom Carter era of the E Street Band, all from that night — Greene interviewed Backstreets publisher Christopher Phillips about how the book came together to present "the only visual record of the historic evening."
Bruce Springsteen: Rock and Roll Future is available in standard hardcover and exclusive slipcased editions direct from Backstreet Records.
View/order Rock and Roll Future in our online shop
Read "The Night Bruce Springsteen Became 'Rock and Roll Future'"
at rollingstone.com
- August 13, 2019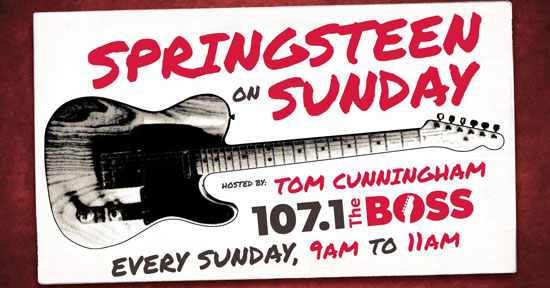 TOM CUNNINGHAM MOVES TO 107.1 THE BOSS
Springsteen on Sunday: same Boss time, new Boss channel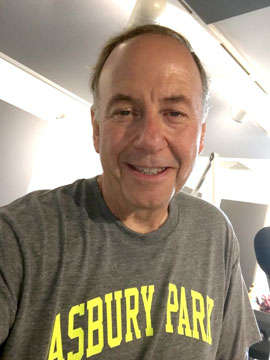 For more than 15 years now, DJ Tom Cunningham has been spending his Sunday mornings enlightening and entertaining fans of Bruce Springsteen and Jersey Shore music with his weekly radio show. Featuring thoughtful playlists of Boss tunes both studio and live, as well as smart interviews with regular guests from E Street and beyond, Tom's long-running Bruce Brunch program has brightened many a Sunday morning in Jersey (and streaming online) since 2003. It's appointmemt listening.
The knowledge Cunningham brings to his broadcasting is off the charts, as is the kindness he's shown us every time he's played host to someone from Backstreets. So it would be with much sadness that we have to tell you the Bruce Brunch on 105.7 The Hawk has come to an end... if Tom weren't picking up right where he left off with a new show called Springsteen on Sunday.
As of this coming Sunday, August 18, Cunningham will host Springsteen on Sunday in his familiar time slot from 9am to 11am, now on 107.1 The Boss. Station VP of Programming Jeff Rafter says, "It is an honor and privilege to have Tom bring his show to 107.1 The Boss. The station is at the heart of the Jersey Shore music scene, Springsteen on Sunday is a perfect fit. We can't wait to get started."
Tom can't wait, either: "I'm excited to begin the next chapter of my radio adventure. To be able to share this music and culture continues to be an incredible gift. I look forward to jumping in with both feet."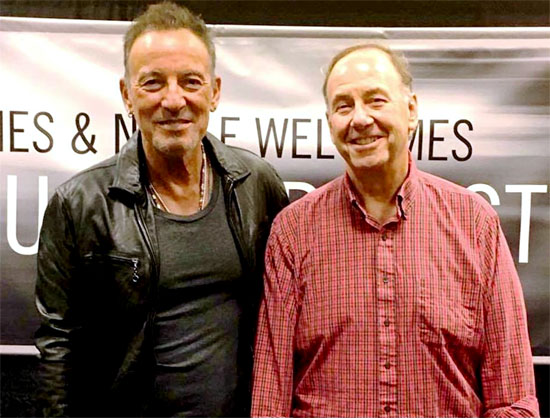 With more than 40 years under his belt in the music and radio biz, Cunningham is the Hot AC Editor at the All Access Music Group, and he has held National and Executive promotion posts at Reprise, Jive, Universal, and Vanguard Records. He worked at heritage New Jersey radio station WPST in his hometown of Trenton from 1979 to 1989 and began his broadcasting career while still a student at the University of Dayton.
If you haven't spent any Sunday mornings with Mr. C., there's no time like the present: 107.1 has a greater broadcasting reach, so those in Asbury Park will be able to tune him on their radio dials, and anyone can stream the station online or via a dedicated app.
Congratulations and best of luck at your new home, Tom — long may you run!
- August 12, 2019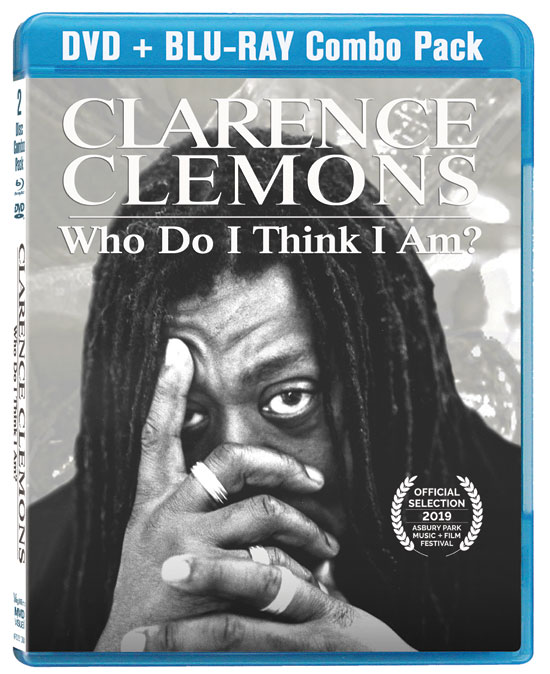 A NIGHT — AT HOME — WITH MR. C
Documentary coming 8/13 as a digital download and 8/27 on physical media, with special Backstreets offers for both
In the works since before his death more than eight years ago, a film that was a passion project for the Big Man himself, the documentary Clarence Clemons: Who Do I Think I Am? is finally coming home.
While Clarence got to see a version of this film on the big screen when it premiered at the Garden State Film Festival in 2011, his death prompted friend and director Nick Mead to continue working on the film, going beyond its original meditation on their trip to China that inspired a "transcendent awakening" and becoming a tribute to the life and work of the Big Man.
Featuring new interviews with fans and friends including Nils Lofgren, Jake Clemons, President Bill Clinton, and even some of us at Backstreets, the documentary screened in its final form at the Asbury Park Music + Film festival earlier this year.
This month, Who Do I Think I Am? will get a Blu-ray/DVD release from Virgil Films on August 27. As a digital download, the film will be available even sooner: this Tuesday, August 13. We have special offers for Backstreets readers, for either format you choose: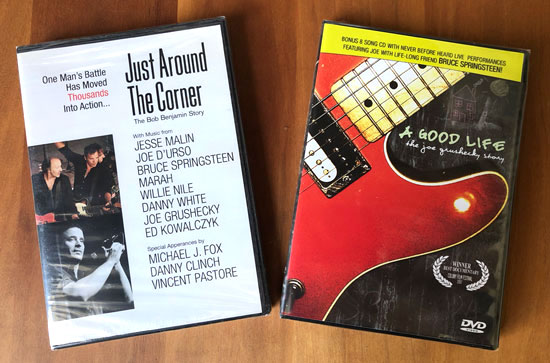 Physical Media: Along with the Blu-Ray + DVD pack, we'll be sending a BONUS DVD to our customers. Virgil Films has previously released other documentaries of interest to Backstreets readers on DVD, including a Light of Day documentary called Just Around the Corner: The Bob Benjamin Story, and A Good Life: The Joe Grushecky Story (which includes a bonus CD of live tracks with Bruce Springsteen). Choose one of these titles as a FREE add-on when you pre-order Who Do I Think I Am? from Backstreet Records.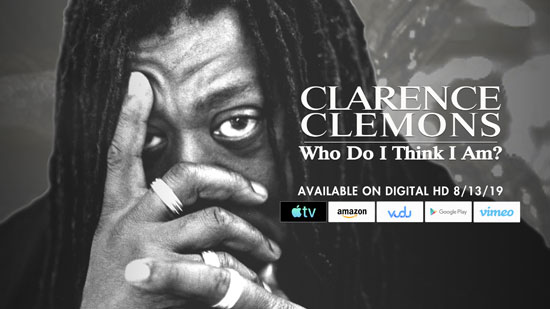 Digital Download: If you'd prefer to download the HD film from virgilfilms.com, where it can be pre-ordered now, we have a special discount for Backstreets readers. Click the "Use Coupon" box and enter the the coupon code backstreets to save $4, bringing the digital-only price down from $12.99 to $8.99.
Clarence Clemons: Who Do I Think I Am? will also be downloadable (without the Backstreets discount) from other DSPs including Apple and Amazon.
- August 11, 2019

"A STORY OF HEROES WHO FIGHT ON AT ANY COST"
With the soundtrack to
Blinded By the Light
comes, at long last, the official release of Bruce Springsteen's "I'll Stand By You." The song was
written for a motion picture
years ago but has found its place in another, one that's even more apropos — and opens wide in the U.S. next week. Listen above.
For additional details and full track listing, see the Blinded By the Light soundtrack in the Backstreet Records shop, where ordering is available for both CD (just out) and vinyl (coming August 30).
- August 10, 2019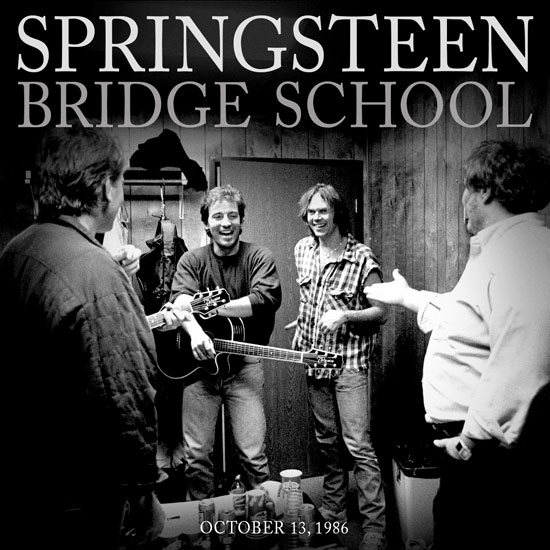 HAS ANYBODY SEEN THE BRIDGE?
August archive set reaches for landmark '86 acoustic benefit performance
Bruce Springsteen's appearance at the 1986 Bridge School Benefit helped inaugurate a San Francisco Bay Area cultural institution and marked the first major acoustic set of his career. The ten-song survey performance, released as the August installment of Springsteen's live archive series, showed that his music could go over just as well in a smaller format — whether by himself, in a trio, or with guest musicians on one song — as it could in full blast with the E Street Band. And as a first step, the Bridge helped set the stage for later mastery, from the two Christic Institute shows in 1990 to the 236-night run of Springsteen on Broadway.
Right up to showtime, conventional wisdom suggested that Nebraska material would make up a significant part of Springsteen's performance. But the spirit of the event called for a well-rounded set, and mostly the music sounded celebratory. Springsteen dedicated a beautiful "Follow That Dream" to Bridge School co-founders Neil and Pegi Young. CSNY lent harmony and more guitars to a loose version of "Hungry Heart." Nebraska got one song; Born in the U.S.A. got four.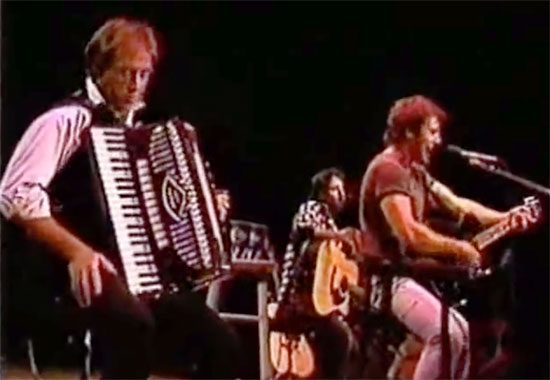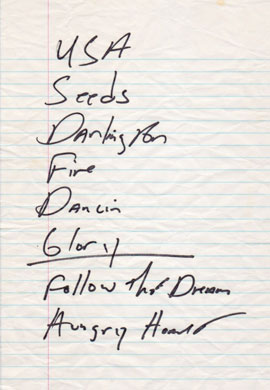 Nils Lofgren, who played his own set earlier in the evening, accompanied Springsteen, as did Dan Federici. The trio had rehearsed in New York, but there are still rough edges — well within the range of expectations for a one-nighter in an off year, and an acoustic one to boot. Bruce's coffee house days long behind him, the format would take some getting used to, particularly what had to happen between songs: guitar changes, finding the right harmonica, volume issues, and tuning — they seemed to come at him like the Plagues of Egypt. But Springsteen maintained his poise, even calling on Phantom Dan for accordion interludes ("Lady of Spain" won't you come out tonight?) to fill the gaps.
Springsteen arrived in the Bay Area with a small fleet of guitars, as photographer and Neil Young aide-de-camp Joel Bernstein recalled, "desperately needing new strings to be stretched and tuned (by me) in time for Bruce to do a soundcheck before doors." A handwritten setlist shows eight of the ten songs; Springsteen would add "Mansion on the Hill" midway through, and to begin he reached for something truly audacious: an a capella version of "You Can Look (But You Better Not Touch)" — snapping his fingers, moving in place, and looking quite relieved as he stepped away from the mic at its conclusion.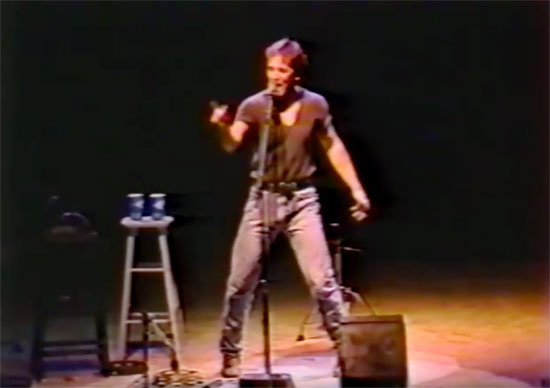 Another adjustment: the physical aspect of performing seated. Save for the odd piano number in the '70s, Springsteen had spent the entirety of the E Street era playing and singing while standing. He made use of the stool for the first half or so of the Bridge performance, before using "Fire" as a dramatic turning point (seen in the official video that accompanied the single from Live/1975-85) and staying on his feet to the end.
But if singing is supposedly more difficult while sitting, this night's versions of "Born in the U.S.A." and "Seeds" hardly suffer: they find Springsteen in good voice and accentuating lines and verses in ways he hadn't when backed by the E Street Band. Moreover, the reworkings of these two songs on this recording are unique.
Introducing the former as a song about a "snake that came around and began to eat its tail," Springsteen took the first shot at reintroducing his most famously misunderstood song. From the mold of his 1982 home demo, the arrangement Springsteen cops here is slower, slightly more melodic, and features a vocal that pushes the meters well into the red. The audience sounded stunned by the performance — applause afterward was akin to "what on Earth was that?"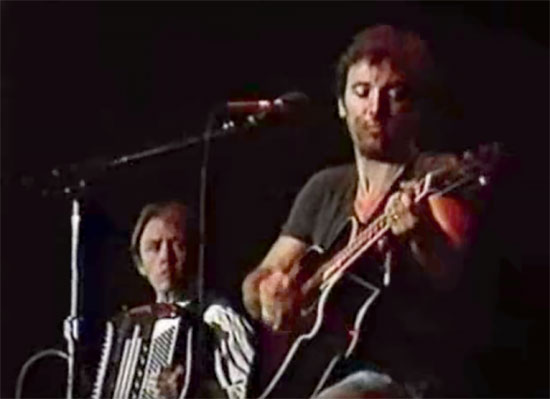 "Seeds" borrows the tune that carried the Born in the U.S.A. outtake "Rockaway the Days." Springsteen plays off the upbeat musical motif, building each verse until his vocal breaks like a giant wave in the fifth. Whether on this count or the parts Danny and Nils added, the reimagined version could have easily carved a place for itself on Live/1975-85 (which came out a month later).
Near the top of the program, Neil Young had invited Springsteen to sing on "Helpless," and he returned the favor to close Bruce's set, joining Crosby, Stills & Nash as guests on "Hungry Heart." Today's release omits two Springsteen appearances — "Helpless" and the concert's "Teach Your Children" finale. ("Fire" and "Born in the U.S.A." have appeared officially before; the latter leads the 25th Anniversary Edition.)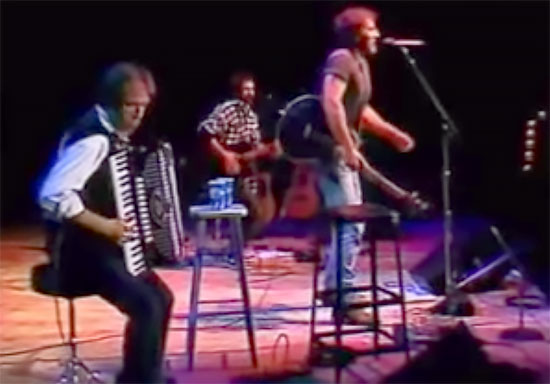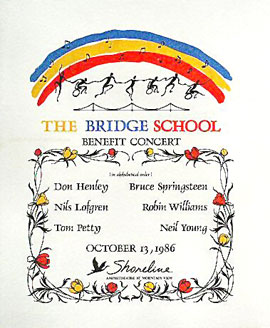 A year after the Born in the U.S.A. tour, an acoustic concert was something few people anticipated — precisely what motivated Pegi Young to invite Springsteen. "I thought that if he was anything like me, he'll want to do something completely the opposite," she told Rolling Stone in 2011. That was kismet: if Springsteen was trying to rebuild after the massive success of Born in the U.S.A., turning down and swapping the solid-body guitar for hollow-bodied ones was a good start.
This first-year line up was a doozie: Neil Young, Crosby, Stills, Nash & Young, Nils Lofgren, Don Henley, Tom Petty, and Robin Williams all appeared. Later Bridge concerts included just about everybody in popular music, from Jerry Garcia and Bob Weir to Eddie Van Halen and Sammy Hagar, David Bowie to Patti Smith, Brian Wilson to John Lee Hooker, Los Lobos to Foster the People, The Who to Pearl Jam, and Tony Bennett to Paul McCartney. Springsteen played the Bridge a second time in 1995.
Though the series ended in 2016 (and Pegi Young passed away in January of 2019), The Bridge School continues to educate children with "severe speech and learning impairments" — giving them the tools to foster "participation through communication," as Pegi Young wrote in her 2017 letter announcing the end of the annual concert. Two dollars from each sale of today's new release will benefit their ongoing work.
Also read: Erik Flannigan's latest nugs.net blog entry, "The Snake That Came Around and Began to Eat Its Tail"
- August 9, 2019 - Jonathan Pont reporting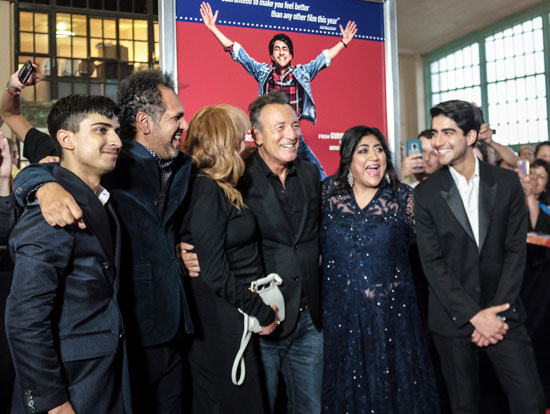 RUNAWAY AMERICAN DREAM FROM LUTON LANDS ON THE JERSEY SHORE
Springsteen helps celebrate the Asbury Park premiere of Blinded
Hollywood came to Asbury Park Wednesday night with the official premiere of Blinded by the Light, the Gurinder Chadha film based on Sarfraz Manzoor's memoir, Greetings From Bury Park. Next to the shop where you can normally buy a DOWN THE SHORE, EVERYTHING'S ALL RIGHT sign was a phalanx of bright lights and cameras alongside an honest-to-goodness red carpet arrayed on the floor of the Convention Hall arcade.

As a live karaoke band at the north end of the arcade played an enthusiastic rendition of "Blinded by the Light," various actors and actresses made their way down the carpet, striking poses and stopping to speak with journalists. The excitement reached an audible pitch with the arrival of the core cast members, along with the author and director. Actor Aaron Phagura, who plays the role of "Roops," the friend who introduces our hero Javed to the gospel of Springsteen, told Backstreets how overwhelming the whole experience was, and how he still listens to Bruce.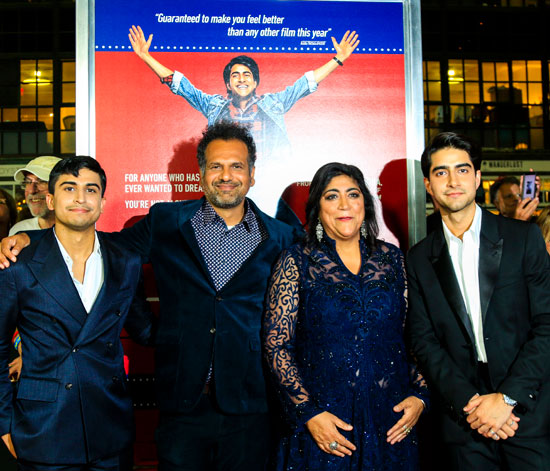 L-R: Aaron Phagura, Sarfraz Manzoor, Gurinder Chadha, Viveik Kalra
Diehard Bruce fan, Backstreets reader, author and screenwriter Manzoor made his way down the carpet. "All these people are here, to watch a film based on my teenaged life," as Saf told Backstreets, "This is kind of hard to work out that this is all because of something I did when I was 16!"
At that moment, there was a huge cheer from the other end of the red carpet, and the crowd and the cast went collectively bonkers at the arrival of a very tanned and relaxed Bruce Springsteen. Dressed in his trademark black pants / black shirt / black jacket / (no tie), Bruce was accompanied by Ms. Patti Scialfa, also rocking the all-black.
Viveik Kalra, who plays Manzoor's character in the film, dropped to the carpet and began the "I'm not worthy" motion. Bruce and the Missus greeted Manzoor, Chadha, her children (including a tiny daughter dressed in an exact copy of her mother's blue lace gown), Kalra and Phagura. Chadha's husband was live-streaming the glorious chaos on Facebook Live.
The red carpet basically came to a crashing halt after that, as the Springsteens made their way into the Paramount along with the rest of the fans, friends, family, and other invited guests. The audience was greeted with free drinks and popcorn as people made their way to their seats. Inside the Paramount was a specially constructed sound system along each side of the theater, a thoughtful detail that ensured that the critical part of the film — all seventeen Springsteen songs — would be heard at the appropriate volume.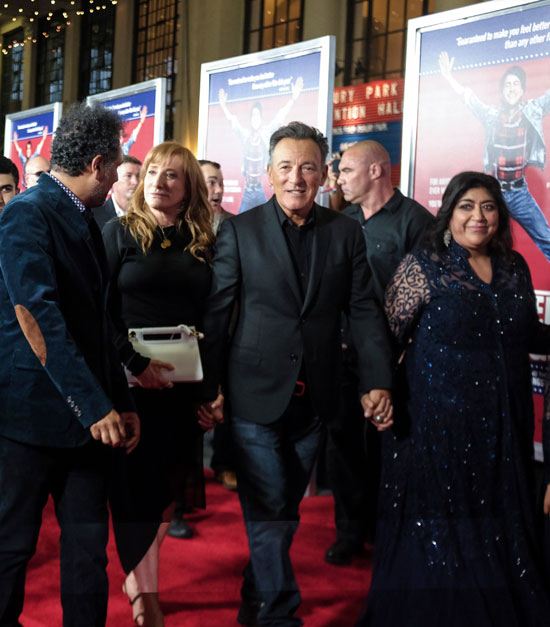 There was a definite celebratory feel to the entire experience: Viveik Kalra went up onstage and did a gleeful live-action version of the jump that's featured on the movie poster; Bruce and Patti took their seats in the middle of the house to wild applause and many iPhone flashes; Gurinder Chada welcomed and thanked us all, reminding us to please be sure to go see the film opening weekend, August 16, to help give them a much-needed push.
Being able to see the film in Asbury Park, in an audience of locals and other people who just get it was a surprisingly emotional experience. Folks were not shy about applauding, cheering, or laughing uproariously at key moments. (No one is going to be cheering Monmouth College or the Jersey Freeze anywhere else.)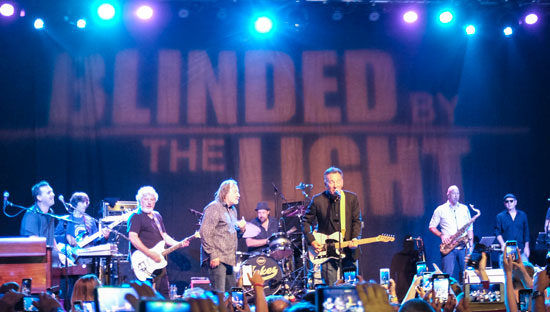 At the film's conclusion, invited guests walked across the arcade into Convention Hall, set up for the afterparty. There was cold beer at a very reasonable (free) price, Shore culinary delights such as pizza and chicken fingers, and, at the back of the hall, on the stage, a curious assemblage of rock 'n' roll instruments, with a drum set featuring the Asbury Jukes logo, and a curious amp of certain vintage tilted backwards, with a cream Telecaster sitting beside it.
After a welcome from Chadha, Southside and the Jukes, accompanied once again by Bobby Bandiera, strolled out and performed a half a dozen Jukes favorites, including "Angel Eyes" and one of Steven Van Zandt's best songs, "Forever."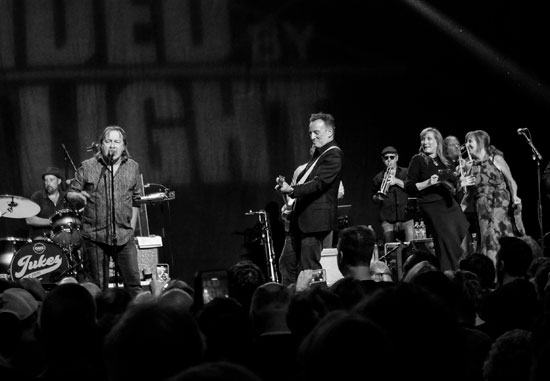 The crowd was rocking out to "Talk to Me" when from the wings emerged one B. Springsteen, accompanied by his wife and fellow vocalist Lisa Lowell. Bruce picked up the aforementioned cream Telecaster and got down to business, trading verses and lines with Southside, and grinning from ear to ear.
At the conclusion of "Talk To Me," there was a spirited discussion about what would be played, when it would be played, and what would be played at the end, as well as what key the actual next song would be in — which turned out to be that good ol' Wilson Pickett chestnut, "634-5789," with Bruce and Southside sharing soul shouting duties. This was followed by "Sherry Darling," and no one had to be encouraged to make as many loud party noises as they could, the audience singing, "HEY HEY HEY / WHAT YOU SAY / SHERRY DARLING!" as loud as possible.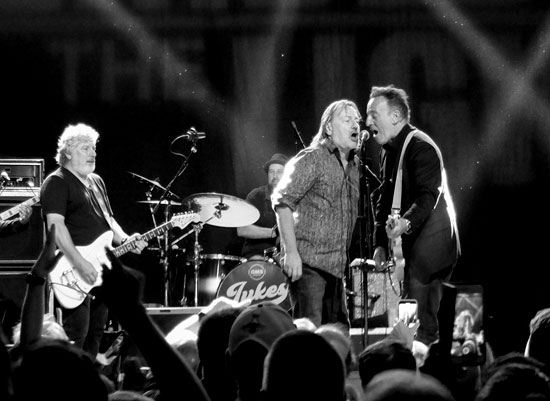 Bruce told Southside he had to go, nodding in the direction of the wings, which kicked off the only possible conclusion to this guest appearance [click here for full video] with echoes of Sam Cooke, echoes of vintage Asbury Jukes, echoes of vintage Asbury Park: "Havin' a Party," complete with guitar solo from the Guitar Slinger of Central Jersey. Waving goodbye, Bruce and Patti took their leave, the Jukes continued to play, and the afterparty kept on going, another magical Convention Hall night for the memory books.
- August 8, 2019 - Caryn Rose reporting - photographs by Mark Krajnak/JerseyStyle Photography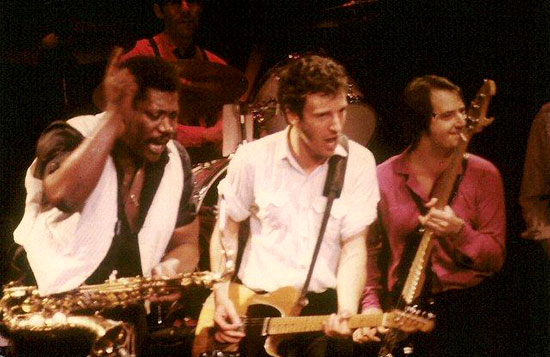 "GROWIN' UP" SPRINGSTEEN PHOTO EXHIBIT TO OPEN 9/19 IN CT
Plans from many corners are in motion to mark Bruce Springsteen's 70th birthday next month, including the publication of Long Walk Home (Rutgers University Press), the Springsteen: His Hometown exhibition in Freehold, and a series of parties from our pals in the Pink Cadillac Club. Another to add to the list: an exhibition in Greenwich, CT that will display some Boss images courtesy of an esteemed group of concert photographers, many of whom have shot for Backstreets over the years.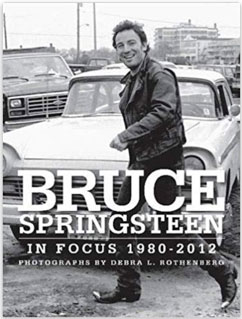 "Growin' Up: Bruce Springsteen at 70" opens on Thursday, September 19, at and runs through Sunday, September 29 at C. Parker Gallery, 409 Greenwich Avenue. Photographer Debra Rothenberg will be among those artists present on opening night, and she'll be signing copies of Bruce Springsteen In Focus, 1980-2012.
The exhibition will include images from Springsteen's earliest days performing in the Philadelphia area — rare, unpublished 1972-1975 photographs from the late great Phil Ceccola (whose work you've seen on the cover of Tracks and elsewhere).
Rene van Diemen shot the above in Rotterdam in 1981; he'll have images on display ranging from '81 to 2006. Additional fine photographers in the exhibition include Guy Aceto, Rocco Coviello, David Denenberg, and Jeff Ross.
In addition to the photographs (all of which will be for sale), gold records, signed memorabilia and artwork will also be on display to celebrate Springsteen's 70th. Visit cparkergallery.com/ for further details.
- August 5, 2019 - photograph by Rene van Diemen


A FIRST FRIDAY ANNOUNCEMENT FROM NUGS.NET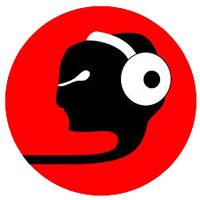 While new installments in Bruce's live archive series have been remarkably consistent, appearing regularly on the first Friday of each month, it seems inevitable that there would be a hiccup here or there. Today, a note from nugs.net says we've got to wait a little bit longer for this month's title:
This month's release in the ongoing Bruce Springsteen live archive series will be slightly delayed due unforeseen scheduling issues. Rest assured our August release will be out soon. Normal First Friday timing will resume in September.
Hey, you dive deep enough into the vault, you gotta be careful you don't get the bends. Watch this space for details as soon as the new set surfaces.
- August 2, 2019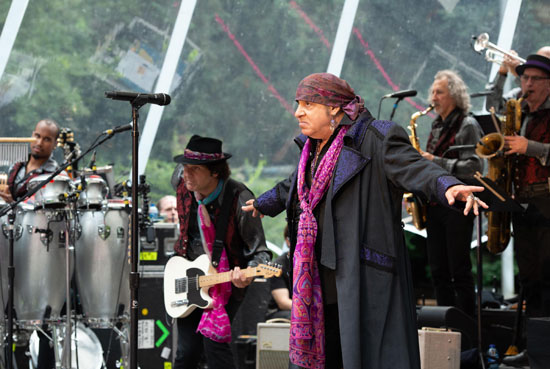 SVZ & Disciples of Soul in Brussels, June 7, 2019 - photograph by Rene Van Diemen
LITTLE STEVEN, INTERNATIONAL RENEGADE
Stevie releases Lilyhammer score, plans retrospective set and live document of 2019 tour, praises Western Stars, and speculates about future E Street activity
As if playing 80 gigs in six months with the Disciples of Soul wasn't enough — and the tour is ongoing — Little Steven has also been busy with other projects, including a compilation of highlights from a unique body of work that he recorded earlier this decade.
Van Zandt's involvement in the Norwegian/American TV series Lilyhammer extended far beyond taking the starring role of Frank "The Fixer" Tagliano, a New York mobster in the witness protection programme who'd been relocated to the Norwegian town. During its three-season, 24-episode run from 2012 to 2014, he was also credited as a co-writer and co-producer, directed the final episode, and composed most of the score. He's known for blending rock and soul, but on Lilyhammer, he brought together the disparate worlds of New York jazz and Norwegian folk music.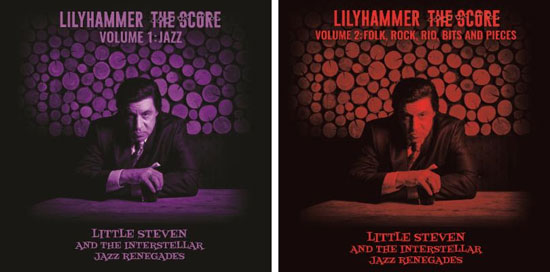 Lilyhammer The Score, a two-volume collection of Little Steven's soundtrack material was released on July 12 via Wicked Cool/UMe. It was credited to Little Steven and the Interstellar Jazz Renegades, a loose collective of some of New York City's finest session musicians, led by award-winning pianist, arranger, and orchestrator Lee Musiker and including current Disciple of Soul tenor sax and flute player Stan Harrison. Arranged and produced by Little Steven (who plays guitar on all but one track), the music was laid down at Renegade Studios in New York and at other studios in Norway. It was recorded, mixed, and co-produced by Geoff Sanoff and mastered by Bob Ludwig.
Volume One, Jazz, features 13 jazz tracks, a mixture of original songs, instrumentals, and standards (Little Steven sings lead vocals on "All of Me," Ring-a-Ding Ding" and "My Kind of Town").
"I figured I've got some of the most talented musicians in New York City, so why waste them on 15-second cues," he explained. "We decided to have some fun. I wanted to try something different and let these guys, who were used to reading their parts, express themselves for a change. We would basically arrange it on the spot. It was wild and extremely fruitful. After the success of the first session, I knew we had a legitimate jazz album in addition to an incredible score."
The genre-hopping Volume Two, Folk, Rock, Rio, Bits and Pieces, collects 36 tracks, ranging from short cues to full songs. Titles include "African Dawn," "Toboggan Negotiation," "Tandoori Epiphany," "Mojito," "Killer Surf" and a complete overhaul of "Out of the Darkness" that transforms it from a rock anthem into a bittersweet instrumental.
Two sampler tracks preceded the two albums in June: "Lilyhammer Nocturne (Theme from Lilyhammer)" premiered via JazzTimes, and the bluesy rocker "Espresso Martini" premiered via Ultimate Classic Rock. There is also a video that features Steven's performance of "My Kind of Town," plus memorable scenes from across the series.
Lilyhammer was the first Netflix series to feature original content and was reportedly watched by one-fifth of the population of Norway.
"I'm really proud of the music I created for it," said Steven. "This was especially rewarding because it gave me the chance to finally do a score completely. This was a full commitment. I loved doing it and experimenting with sound, putting it to pictures and seeing what effect it has. It was a lot of fun."
Little Steven still plans to make his out-of-print solo back catalogue available in a remastered retrospective boxed set, but the previously-stated release date of September may now have been pushed back. When asked recently about his albums, he tweeted, "It's all coming, end of the year." The collection should include Men Without Women (1982); Voice of America (1984); Freedom, No Compromise (1987); Revolution (1989) and Born Again Savage (1999), plus the anti-Apartheid album Sun City (1985). It will also feature "great extras," which will comprise "outtakes, extended 12-inch mixes, DVDs of key representative shows, and interviews from each album."
It's purely speculation at this stage, but additional content may include the following:
Duke Ellington's instrumental "Caravan" (a 1983 B-side)
"Rock 'N' Roll Rebel" (recorded and played live in 1983, but never released)
"Vote That Mutha Out" (a stand-alone single released before the 1984 Presidential Election)
Little Steven's 1985 original solo demo of "Sun City" (which eventually grew into the all-star album)
"The Time of Your Life" (recorded with Bon Jovi for the Nine Months soundtrack and released as a single in 1995)
One set of songs that apparently won't be featured is Nobody Loves and Leaves Alive, an album that Steven made with unknown musicians in the '90s as The Lost Boys. Two concerts that are deserving of inclusion in DVD form are those that were broadcast on the German Rockpalast TV show in October 1982 and August 1984.
Bruce Springsteen's revelation that he's written an album's worth of material for the E Street Band suggests that Little Steven's tour-closing New York show may be the last with his own group for the foreseeable future. "I booked the tour until November 6. I wanted to leave room in case Bruce wants to do an E Street album and tour," he recently told the Ottawa Citizen. "We'll talk about that in a couple of months but regardless of whether I go out with Bruce for a year or two or not, I'm going to find a way to keep the Disciples of Soul together because I intend to do more records and more touring. I give Bruce first priority of course, but I do want to keep this together."
Speaking to The Wrap, Little Steven expanded on his love of Springsteen's Western Stars: "He's so versatile and has a wide range of talent when it comes to his artistic vision and it's always interesting when he picks a new hybrid genre to explore. I thought it was wonderful." Steven emphasized that he was "planning on the possibility" of Bruce wanting to record a new album and take it on the road, even though he admitted that circulating rumours are "still rumblings and we'll see what happens." Somewhat optimistically, he added, "we will have time to do it in November, December, be able to deliver it in January and be out in the summer of 2020," adding cautiously, "if that's what he wants to do."
Finally, fans who've asked Little Steven on Twitter whether his current shows are being filmed or recorded received this reply: "There will be a live documenting of this year's tour eventually. Like the last." Watch this space.
- July 31, 2019 - Mike Saunders reporting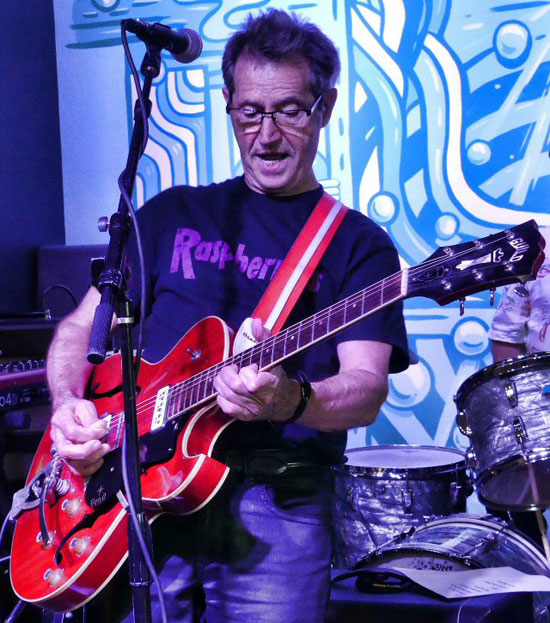 MORE LIKE GARRY
GWT launches his second solo album, More Like Me, in Nashville
Rock and Roll Hall of Famer and E Street Band member Garry W. Tallent put his talents on display as he and his four-piece band played a pre-release party (with free beer!) at Grimey's Record Shop in Nashville, Tennessee on Saturday, July 27.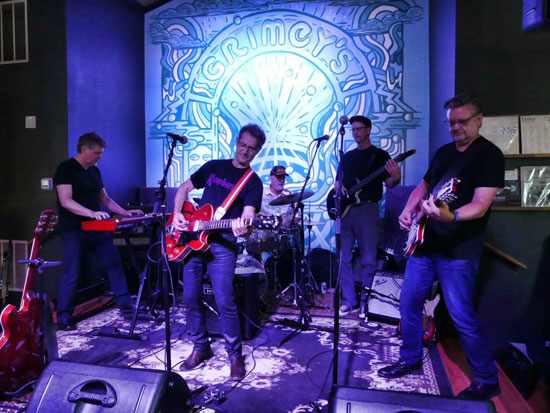 Garry was personable and welcoming during the seven-song set that featured tracks from the forthcoming More Like Me from the D'Ville Record Group. Garry advised that Springsteen completists would be interested in "Dirty Rotten Shame," which contains backing vox from his boss. Garry was available to sign merch for a substantial line of fans following the show.
- July 30, 2019 - report and photographs by Rockin' Rich Lynch




COMPLIMENTARY TICKETS FOR ASBURY PREMIERE OF BLINDED
First-come first-served, with BACKSTREETS promo code
On August 7, Blinded By the Light will premiere at the Paramount Theatre in Asbury Park, NJ, in advance of its August 16 wide release. An afterparty will follow, just down the street at the Stone Pony.
Thanks to Warner Brothers, and Sony/Legacy (which is releasing the film's soundtrack), we can extend an invitation to Backstreets readers for the evening's events in Asbury. Tickets are availabe on a first-come first-served basis; the promo code BACKSTREETS will give you priority access when you sign up for tickets here.
- July 26, 2019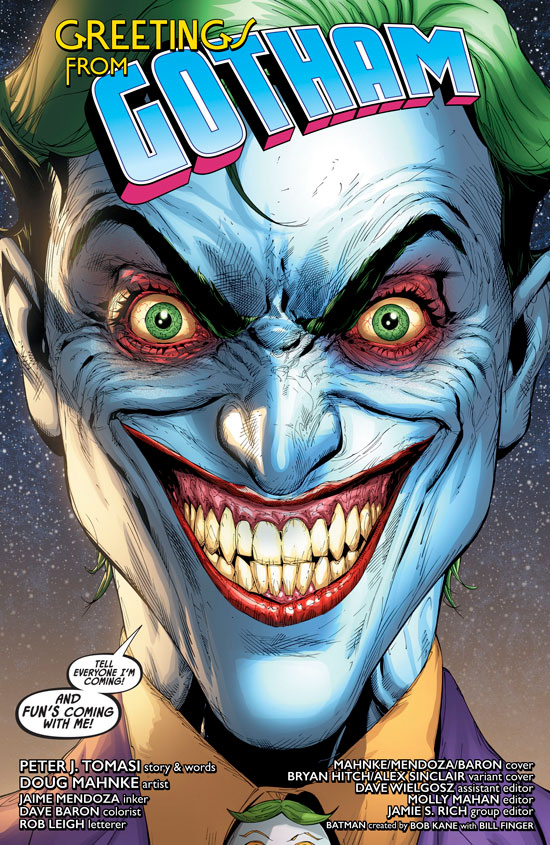 DARK KNIGHT ON THE EDGE OF TOWN
If you always thought that Tilly — Asbury Park's iconic clown face originally painted on the Palace Amusements building — was a little creepy, you won't be surprised to find that the Joker has found some kinship there. Reader Bob Capella wrote to fill us in on the new issue of Detective Comics, released yesterday. In issue #1008 of the long-running Batman title, writer Peter J. Tomasi and artist Doug Mahnke clearly have Springsteen (and Asbury Park) on the brain with a story titled "Greetings From Gotham."
Capella describes the action: "The Joker challenges Batman to come to their 'Favorite Amusement Park by the Sea,' where the Joker is holding parkgoers and vendors hostage with venom-releasing necklaces shaped like none other than Tilly. When Batman finally appears, it's in front of a wall painting of Tilly, in the classic color scheme from Asbury's Palace Amusements — a nice full-page piece of artwork."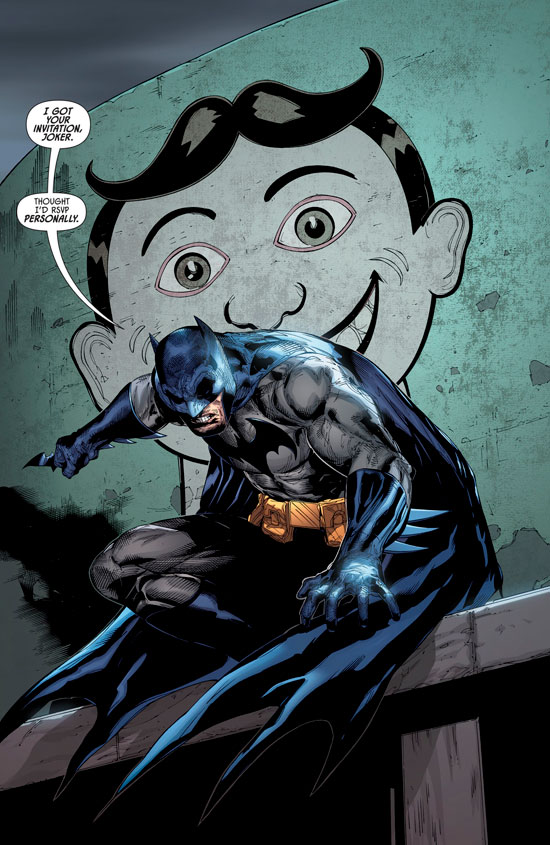 "Joker goads Batman into, yes, riding the rides (one of which is the Tunnel of Love) or he'll blow the place up. Joker also appreciates the seaside resurgence as much as anyone: 'Doesn't the park look great? They spruced it up since the last time we were here, like new!'
Look for further easter eggs, like Batman's fortune from a boardwalk fortune-telling machine: "Hearts of Fire Grow Cold." Detective Comics #1008 is out now, released July 24 from DC Comics.
- July 25, 2019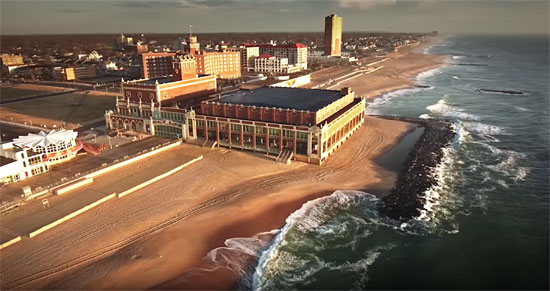 LOOKIN' FOR THAT HAPPY ENDING
Daniel Wolff on Asbury Park: Riot, Redemption, Rock 'n' Roll
In his 2006 book, the authoritative and entertaining 4th of July, Asbury Park: A History of the Promised Land, Daniel Wolff traced the Jersey Shore town over more than a century, finding a throughline in its music and its racial, societal, and economic tensions, also suggesting the story of America in microcosm. After a recent viewing of Asbury Park: Riot, Redemption, Rock 'n' Roll, Wolff shared with us his perspective on the documentary's version of history.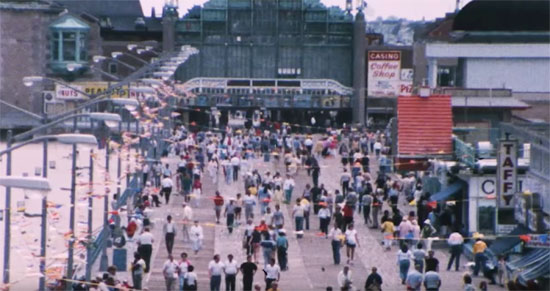 Asbury Park: Springsteen: America. You can switch the order if you want, but that's the equation. And it's not by accident. In 1871, when James Bradley founded Asbury Park, he conceived of the little New Jersey shore town as an all-American vacation land with all-American values. A century later, when an ambitious young singer/songwriter moved there, it was not only a city with clubs to play and a pool of gifted musicians, but it offered a built-in metaphor: "the boardwalk life" was America writ small.
The new feature-length documentary, Asbury Park: Riot, Redemption, Rock n' Roll, gets the equation, too. And for the first two-thirds of the film, it gives us valuable American history. Most importantly, it includes the city's West Side as a key element in the story. When Bradley bought a mile of Jersey shore and filled it with streets, hotels, churches, the half mile west of that, inshore and across the tracks, became home to the people who maintained those institutions: African Americans, Italians, Jews who ran the shops, dug the ditches, cleaned the hotel rooms.
It was a service economy before the term had been invented, and the film points out that the West Side developed its own culture, separate and unequal. Focusing mainly on music, Asbury Park highlights clubs that hosted African American jazz and blues. While tourists from the shore found their way west for the hot music, boardwalk clubs — and the boardwalk itself — was white only. Bradley explained it as a business decision: he wouldn't let Italian immigrants on the beach, either, or "any impecunious class."
The film's version of history leaves out the presence of the KKK in Asbury to jump to the early '70s and the Upstage Club, where white and black musicians jammed together. Here's where Springsteen met Steve Van Zandt, "Southside" Johnny Lyon, and future members of his E Street Band. The Upstage was a fragile outpost: African Americans like David Sancious made it eastward across the tracks, but they were exceptions to the city's rule of segregation, which extended from the beachfront to the public schools.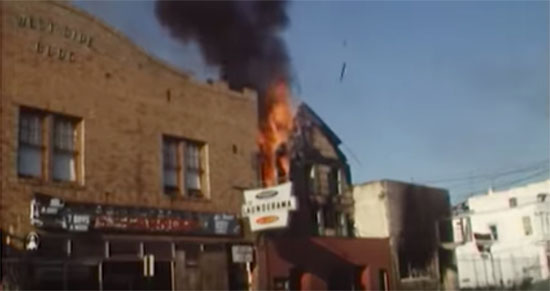 Then, the film claims, it all went bad. According to an accompanying press release, "Asbury Park erupted in flames during a summer of civil unrest, crippling the town for the next 45 years and reducing it to a state of urban blight." Springsteen climbs to the top of a water tower to watch the West Side burn; Van Zandt calls it a bad moment; Lyon and bassist Gary Tallent mourned the loss of the R&B record store. All make an effort to understand the decades of neglect that led up to people burning their own neighborhood. In the end, it looks and sounds more like rebellion than riot. As the film illustrates, if there was a riot in Asbury Park, it was by state troopers, who ran amuck with tear gas and rifle fire, brutally defending the white boardwalk and business section.
But it's wrong to say that's what crippled the city. Springsteen made a career chronicling the forces that emptied cities across America between the 1970s and the 1990s. In "My Hometown," he sings that "fights between the black and white" were part of the problem, but they're also "closing down the textile mill." Elsewhere, his music recognized the larger economic problem "from the Monongahela valley to the Mesabi iron range." Asbury Park was no exception, becoming that "town full of losers" he was born to run from.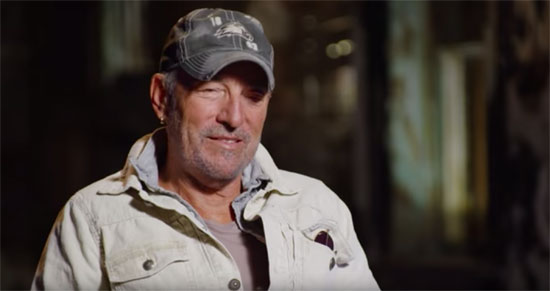 The "redemption" in the film's subtitle hinges on music. The upbeat last part of the movie has the LGBQT community moving into the wrecked city, clubs re-opening, kids going to rock 'n' roll school. There's even an occasional music event on the West Side. The result is today's "new" Asbury Park: upscale restaurants, multi-million dollar penthouse apartments, condominiums. Fade to a nostalgic reunion concert where Springsteen, Van Zandt, Lyon and others play together at the end of the boardwalk.
Except more than 30 percent of the present population of Asbury Park is living below the poverty line. That's about three times the national average. From the Hispanic families in apartments over Main Street to African American families proudly trying to get by in their West Side homes, the "redemption" has bypassed those most in need. The new Asbury looks a lot like Bradley's original vision of the city. A single man no longer owns the shoreline, but a single developer effectively does. As agents sell condos by lauding the city's rich musical history, it's become harder and harder for young musicians to afford to live there.
For all its evocative history and the well-meaning participation of locals and stars, Asbury Park blurs reality to get to its happy ending. The city today looks like the nation does: a tiny percentage of people control most of the wealth, while promising that someday it will trickle down — or, in this case, trickle inland. If we still believe in a different promised land — the one the best of Asbury's music evokes — we need to have an accurate picture of where we are now and how we got here. The equation — and the challenge — still hold. Asbury Park: Springsteen: America.
- July 24, 2019 - Daniel Wolff reporting - all stills from the film Asbury Park: Riot, Redemption, Rock 'n' Roll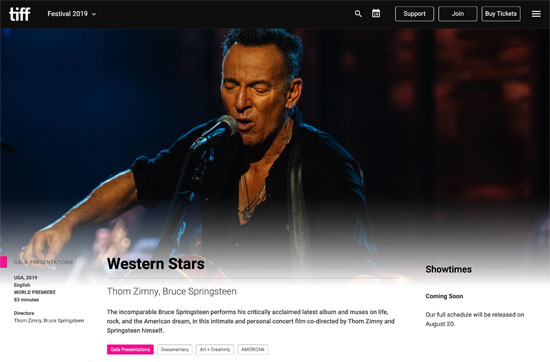 ZIMNY AND SPRINGSTEEN TO RETURN TO TIFF
Western Stars film will premiere at Toronto festival
In 2010, Thom Zimny's Darkness documentary (The Promise: The Making of Darkness on the Edge of Town) had its world premiere at the Toronto International Film Festival. Nine years later, Zimny will return with his latest film: Western Stars, co-directed with Bruce Springsteen. The film was announced today as one of the festival's Gala Presentations, to have its world premiere at TIFF in September.
The performance documentary runs 83 minutes; as described on the festival website: "The incomparable Bruce Springsteen performs his critically acclaimed latest album and muses on life, rock, and the American dream, in this intimate and personal concert film co-directed by Thom Zimny and Springsteen himself."
The 44th Toronto International Film Festival runs September 5–15, 2019, with the full schedule coming on August 20. Visit tiff.net for further information and tickets.
- July 23, 2019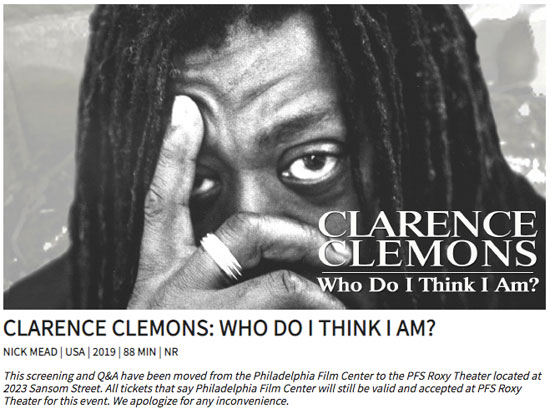 SHADES OF THE '70s: BIG MAN AT THE ROXY... IN PHILLY, NOT L.A.
Tomorrow night's Philadelphia premiere of Clarence Clemons: Who Do I Think I Am? has been moved from The Philadelphia Film Society's Film Center location to its nearby Roxy Theater location at 2023 Sansom Street.
All previously purchased tickets remain valid for admission to the new venue, and tickets still can be purchased for tomorrow night's screening. The screening begins at 7pm and will be followed by a Q&A with producer Joe Amodei and Backstreets contributor Shawn Poole, who also served as the film's chief researcher.
While the move was a practical one to accommodate some more screening locations/times for Quentin Tarantino's latest epic Once Upon a Time In Hollywood (with Brad Pitt coincidentally playing a stuntman who drives fast and falls hard,) it's also very fitting indeed that Big Man's film should end up playing at Philly's Roxy Theater. Not only did Bruce Springsteen and the E Street Band play some historic '70s gigs at L.A.'s famous Roxy Theatre, but their first official performances as headliners within Philly's city limits took place on November 17, 1973 at the long-gone Roxy Theatre that once stood in the city's Roxborough section.
- July 22, 2019


REVIEW / WHEN THE PROMISE WAS BROKEN: Short Plays Inspired by the Songs of Bruce Springsteen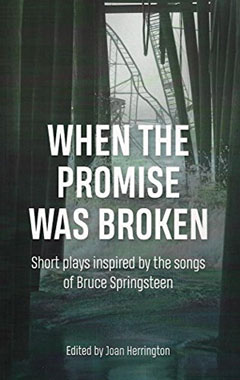 Have you ever wondered how that "baby" feels about her man "driving all night" just to…buy her some shoes? And what if "drive all night" is in fact a euphemism for…
To find out, read When the Promise Was Broken, an anthology from Smith & Kraus of 13 new short plays, each written by a different playwright, each inspired by a different Bruce Springsteen song.

Given the vivid characters and stories that run (and drive) through Bruce's catalogue, with narratives bursting beyond the brevity of a three-minute record, it's shocking that his canon hasn't resulted in a preponderance of fan-fiction. When the Promise Was Broken is here to fill the void, with a more professional package than we've come to expect from the genre. Editor Joan Herrington, chair of the Theatre Department at Western Michigan University, wrangled an array of playwrights, all at various points in their careers, to respond to one of Bruce's songs in whatever fashion they so desired — a deliberately vague prompt that basically granted free rein. If staged (as some of them were earlier this year at Union College), the plays would be about ten minutes long individually, featuring from one to six actors (a majority fall on the smaller end of the spectrum… and of course there's a Mary!).
Of the 13 plays, two — based on "Highway Patrolman" and "Nebraska" — pick up where their source material left off, chronicling the lives of the same dramatis personæ. With its intimate humanism, the bedrock of much dramatic writing, Nebraska is unsurprisingly the most represented album in the collection ("State Trooper" rounds out this melancholic trio). Perhaps that's the reason that, despite moments of levity, When the Promise Was Broken can be a depressing read.
Only two plays dabble in the comedic. They also happen to be the most overtly navel-gazing — which, in my book, is not a pejorative — delving into how Bruce's music influenced the playwrights. The title of the first describes itself better than I ever could: "a semi-autobiographical response to feelings of sexual inadequacy prompted by repeatedly listening to Bruce Springsteen's 'I'm on Fire' over and over for four hours straight — by Gregory Moss." (We've all been there, am I right?) And the second comes closest to retelling the original song's plot on stage, translating the musical language of "Growin' Up" into a visually theatrical vernacular to juxtapose Bruce's childhood with how it colored the author's upbringing.
Returning to "State Trooper," it's one of three tracks — along with "American Skin" and the aforementioned "Drive All Night" — that are expanded and expounded upon by fleshing out perspectives of characters initially short-shrifted. The rest of the plays (based on "Secret Garden," "Streets of Philadelphia," "Cover Me," "Terry's Song," "We Take Care of Our Own," "When You're Alone") wrestle with general ideas related to their inspirations. A handful comment on Springsteen's macro themes, narratives, and thematic narratives. Others update his treatment of sociopolitical issues for 2019; toxic masculinity — a concept that's turned up in his writing since long before the phrase entered the popular lexicon — is a frequent focus here, though many of the plays still center on the male experience.
These tales feel like they exist in the same artistic world Bruce has been building throughout his career (a Springsteen Extended Universe! The SEU!), full of people desperately yearning — and, usually, failing — to communicate with each other, and with themselves, to find or erect a bridge out of their lonely existential despair. They populate familiar Springsteenian haunts of Americana — bars, cars, and cathedrals. And our brief time with them strikes Bruce's sweet spot: specific enough to resonate deeply, but not too specific as to inhibit anyone's entry in; maintaining a universality that should be able to speak to most people on some level, while not so universal as to become uselessly general.
As with Bruce's oeuvre, figuring out how the plays might fit together to form a larger, interwoven mosaic of joint-meaning — where the whole is greater than the sum of its disparate-yet-cohesively-connected parts — remains open to endless interpretation. To me, this tapestry explores, from a variety of angles, the interrelated concepts of what we leave behind, and what lingers with us forever. What do we do with the histories — personal, familial, communal, societal, environmental, political, etc. — we're born into? When the Promise Was Broken posed a variation of that question to its playwrights, and the plays constitute their answers: how do we handle the history Bruce has left us in his songs? For those of us who've been shaped by them, making further sense of his music can help us in turn make further sense of ourselves, and each other.
- July 19, 2019 - Steven Strauss reportng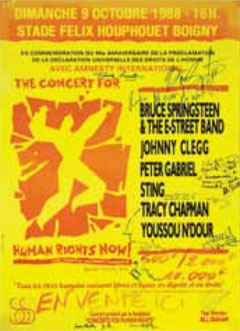 JOHNNY CLEGG, RIP
They shared one stage only, at the Stade Houphouet-Boigny on October 9, 1988 in Abidjan, Ivory Coast.
The cause was worthy — expanding awareness of the Universal Declaration of Human Rights, on the 1988 tour for Amnesty International — but as these things tend to go, there were collateral outcomes. One of which was to captivate and expose Bruce Springsteen fans to the infectious, multi-cultural music of South Africa's "White Zulu," a.k.a. Johnny Clegg.
From the time he was 12 years old, Clegg, who died Tuesday of pancreatic cancer, had crossed the line between blacks and whites in the very heart of the apartheid nation, becoming a symbol of hope and resistance through the power of music. For more, read Anastasia Tsioulcas's tribute for NPR, "Johnny Clegg, a Uniting Voice Against Apartheid, Dies at 66."
- July 18, 2019 - Bob Crane reportng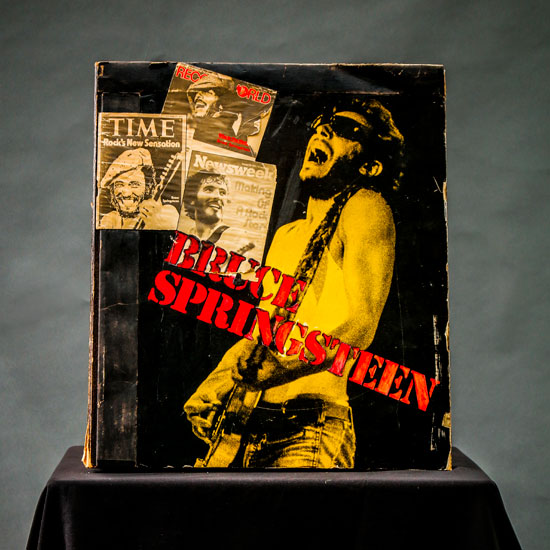 "SPRINGSTEEN: HIS HOMETOWN" OPENING SEPT 29
Exhibition to celebrate a local hero for Freehold's 100th
The Monmouth County Historical Association has announced a historical exhibit opening this fall in Freehold, NJ, just after Bruce Springsteen's 70th birthday, celebrating a favorite son.
Springsteen: His Hometown
will provide a comprehensive look of how Monmouth County, NJ has been thematically woven into Springsteen's music and art throughout his career.
Freehold is Springsteen's original hometown, as he recalled so evocatively in Springsteen on Broadway, and the exhibit's unveiling will coincide with the centennial of Freehold Borough.
The exhibit will display more than 150 unique items, featuring selections from both the Monmouth County Historical Association and The Bruce Springsteen Archives and Center for American Music at Monmouth University. Memorabilia and artifacts on display will include:
Original color poster from The Castiles, Bruce Springsteen's first band that originated in Freehold.
Personal scrapbook [pictured above and below] made by Bruce Springsteen's mother, Adele
1943 High School Yearbook of Bruce Springsteen's mother, Adele.
19th Century Civil War document that includes Alexander Springsteen, of lineal descent to Bruce Springsteen.
1801 document signed by John Springsteen, a patriot of the Revolution and direct ancestor to Bruce Springsteen.
"The MCHA is honored to have the opportunity to exhibit some of the most unique, and some never-before-seen, items that reflect the unparalleled career and life of Bruce Springsteen," says Linda Bricker, President of the MCHA Board of Trustees. "Springsteen remains an essential part of the fabric that comprises the deep history of Monmouth County."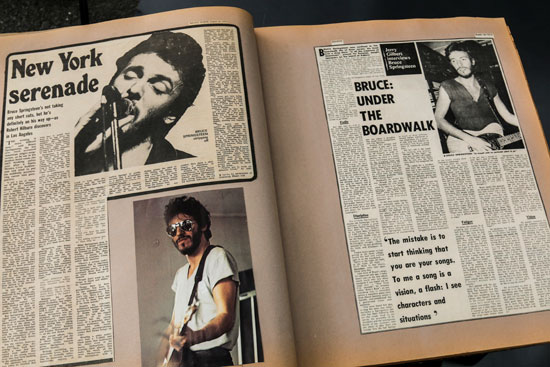 The exhibit is being co-curated by Melissa Ziobro, Monmouth University's Specialist Professor of Public History, and Bernadette Rogoff, Director of Collections for MCHA. "It's wonderful that the MCHA, with an exquisite gallery space in the heart of Bruce Springsteen's hometown, will be hosting an exhibit that will showcase the Archives and explore his life for a wider audience," Ziobro says. "I am so grateful for the team that has come together to make this vision a reality."
Eileen Chapman, Director of The Springsteen Archives, will serve as advisor to the exhibit, along with Robert Santelli, founding director of the Grammy Museum in Los Angeles.
The exhibition will open on September 29, 2019 and run through Fall 2020. Ticket information and sponsorship opportunities are now available at www.SpringsteenHisHometown.com. Proceeds from the exhibit will benefit MCHA, dedicated to preserving and sharing the story of Monmouth County.
- July 17, 2019 - photographs by Mark Krajnak for MCHA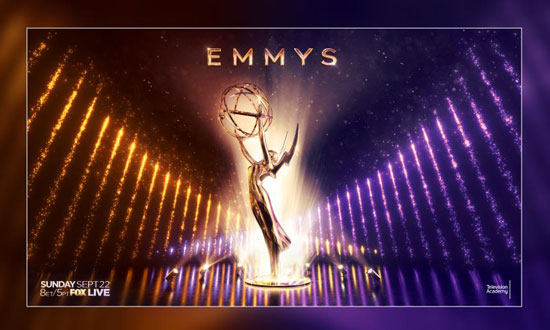 TWO EMMY NOMS FOR SPRINGSTEEN ON BROADWAY
Bruce Springsteen is officially one step closer to an EGOT, with today's announcements of nominees for the 71st annual Emmy Awards. Springsteen on Broadway, which came to small screens via Netflix in December, received an Emmy nomination for Best Variety Special. The Netflix special also earned a nomination for Thom Zimny, in the Directing for a Variety Special category.
The competition:
Variety Special (Pre-Recorded)
Carpool Karaoke: When Corden Met McCartney Live From Liverpool (CBS)
Hannah Gadsby: Nanette (Netflix)
Homecoming: A Film By Beyoncé (Netflix)
Springsteen on Broadway (Netflix)
Wanda Sykes: Not Normal (Netflix)

Directing for a Variety Special
Carpool Karaoke: When Corden Met McCartney Live From Liverpool, CBS (Ben Winston)
Homecoming: A Film By Beyoncé, Netflix (Beyonce Knowles-Carter, Ed Burke)
Live in Front of a Studio Audience: Norman Lear's 'All In The Family' and 'The Jeffersons,' ABC (James Burrows, Andy Fisher)
Springsteen on Broadway, Netflix (Thom Zimny)
The Oscars, ABC (Glenn Weiss)
As the Hollywood Reporter notes, Springsteen's potential EGOT status — that's boxes checked for Emmy, Grammy, Oscar, and Tony — would come with a small asterisk, as Springsteen's special Tony Award for Springsteen on Broadway was honorary and non-competitive. But he'd be in good company, as he would "join the ranks of other non-competitive EGOT winners including Barbra Streisand, Liza Minnelli, James Earl Jones, Alan Menken, Harry Belafonte and Quincy Jones."
But hey, we can pick those nits later if need be. It is, as they say, an honor to be nominated — congratulations to Bruce Springsteen, Thom Zimny, and everyone else who worked to bring Springsteen on Broadway from stage to screen. The 2019 Emmy Awards will air September 22, live on FOX.
- July 16, 2019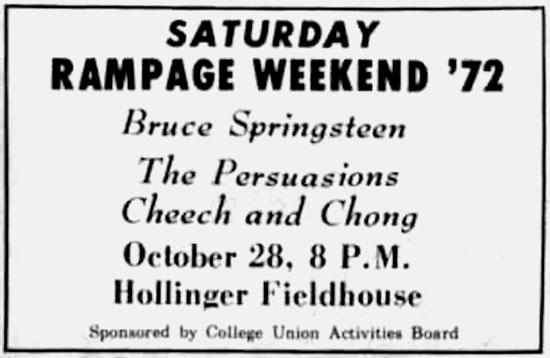 YOUR VOICE COMES CLEAR AND TRUE
Jerry Lawson of The Persuasions, 1944-2019
Jerry Lawson, the original lead singer, arranger and producer for the great, mainly a capella group The Persuasions, died at 75 last Wednesday. On October 28, 1972, Bruce Springsteen & the E Street Band played their first-ever official gig together at West Chester State College (now West Chester University) in West Chester, PA, on a triple-bill below The Persuasions and headliners Cheech & Chong. (The show also marked Bruce's first known performance in Pennsylvania and the first onstage appearance of Springsteen's now-iconic Telecaster/Esquire hybrid, the guitar featured on the cover of Born to Run.)
Lawson left The Persuasions in 2003, so he wasn't in the version of the group that backed Little Steven & the Disciples of Soul on Soulfire's "The City Weeps Tonight" and "I Don't Want to Go Home." In 2004, however, Lawson and fellow Persuasions founding member Jimmy Hayes recorded a beautiful, unique version of "Born to Run" on the now-out-of-print A Tribute to Bruce Springsteen. Listen here:
- July 15, 2019 - Shawn Poole reporting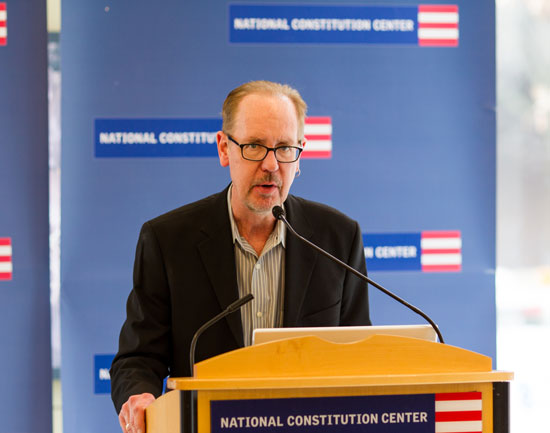 JIM HENKE, 1954-2019
We at Backstreets were saddened to learn of the recent passing of James Henke, former Rolling Stone writer/editor and chief curator for The Rock & Roll Hall of Fame and Museum from 1994 through 2012. Only 65, Henke died after a long struggle with dementia.
It was during Henke's term as curator at the Hall of Fame that the exhibit Bruce Springsteen: From Asbury Park to the Promised Land had an immensely successful run of almost two years in Cleveland, beginning in 2009, followed by another successful run at Philadelphia's National Constitution Center in 2012. Henke (pictured above speaking at the NCC) conducted an extensive interview with Springsteen that centered around the exhibit's artifacts, audio excerpts of which could be heard at listening stations during the exhibit's Cleveland run. Jim generously allowed Backstreets to publish a transcript of that interview in full, which appeared in issue #89.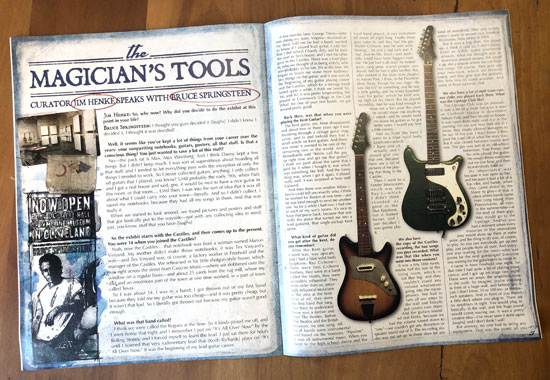 Henke also was the author of 1988's Human Rights Now!: The Official Book of the Concerts for Human Rights Foundation World Tour, featuring much Springsteen-related material, of course. And during the Human Touch/Lucky Town period, Jim Henke conducted three lengthy conversations with Springsteen in Los Angeles and New York. Published in the August 6, 1992 issue of Rolling Stone, his "Bruce Springsteen: The Rolling Stone Interview" remains one of the most revealing Q&As with the artist ever, in which Springsteen first discussed publicly and in detail his decision to break up the E Street Band, his experiences with therapy, the end of his first marriage, and his relationship with Patti Scialfa.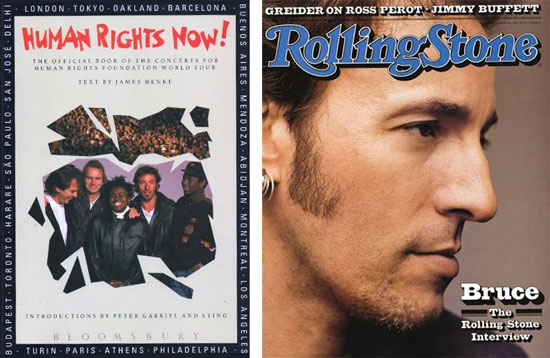 Click here to read the Rolling Stone obituary for Jim Henke, which outlines many more of his notable accomplishments as author, editor and curator. We at Backstreets extend our deepest condolences to all who knew and loved Jim, as we remember and appreciate his kindness towards us.
- July 12, 2019 - Shawn Poole reporting - photograph by Michael Zorn/Rock & Roll Hall of Fame (Archives)

KEEP YOUR EAR CLOSE TO THE PHONE
Springsteen calls to chat, announce Western Stars film, and say thanks
"I was just listening to the show, driving home from the gym, and I thought I'd call..." That's how Springsteen's impromptu 10-minute phoner started this morning, as he surprised Live From E Street Nation hosts Dave Marsh and Jim Rotolo on E Street Radio.
After a bit of chat about playing with Garry Tallent on Saturday night, Springsteen made some news: "We made a film of the Western Stars album," he said, likely explaining the performance footage we've seen in Thom Zimny's recent videos for "Tucson Train" and "Western Stars." "I play the record start to finish, along with some other things," Bruce continued. "Because we knew we weren't going to tour, so I was looking for a way to get some of the music live to an audience, so we figured that was the best way to do it.... It was a great time, we look forward to getting it to fans when we can."
As for Western Stars, Springsteen is not only "really proud" of the album itself, he's also excited by the response it's gotten: "Because I thought the record was a little off to the left, and I really didn't know what kind of response it was gonna get.... Seeing how the record was received, it was very exciting, and it made us look for how we could further that experience for the fans, without going out and playing live right now — because I'm still working on some other things, too."
Springsteen expressed a deep appreciation for his "great audience," one that "really follows me where I need to go.... They're not stuck in a rut, they don't only want to hear a specific group of songs, they're really adventurous — if I keep the quality of what I'm doing up, they're adventurous as far as where I want to go. And that's the greatest gift an audience can give an artist, is room to be who he is, create what he feels, and to know that you have open ears when you put that out. So it was very, very exciting to see the reception that the record got from the fans.
"If you want to be great," Bruce concluded, "you need to have a great audience. And it's something I'm very proud of over the years, how we developed together and how we've grown together."
Listen to the whole conversation below.
- July 10, 2019


BLINDED SOUNDTRACK DUE NEXT MONTH FROM SONY LEGACY
"I'll Stand By You" leads a handful of Boss rarities
The first bit of buzz to come out of the Sundance premiere of Blinded By the Light was that the film is a joyful success. The second bit, following very closely on those heels — at least for Boss diehards — is that the movie finally gives Bruce Springsteen's "I'll Stand By You" its moment in the sun. As we've recounted here before, Springsteen originally offered the original song to director Chris Columbus for the first Harry Potter movie, but the song went unused. In 2016 Bruce told the BBC's Simon Mayo that he still had hopes for the song to make it into theaters: "At some point I'd like to get that into a children's movie of some sort. It was a pretty lovely song."
With Blinded By the Light being just the right vehicle, "I'll Stand By You" will be officially released in August on the film's Original Motion Picture Soundtrack from Sony Legacy.
Due August 9 on CD and August 30 on 2LP Vinyl, the Blinded soundtrack is, as you'd imagine, heavy on the Springsteen (though it's filled out with additional songs from the era and dialogue from the film). Along with standards like "Born to Run," "Badlands," and the film's title track, of particular interest for fans will be a couple of rare live recordings: the No Nukes debut of "The River" from 1979 (previously issued in the nugs.net live series, this will be its first time on vinyl) and Bruce's powerful, solo-acoustic rendition of "The Promised Land" from Veterans Day 2014, broadcast on HBO's Concert For Valor.
You listen in advance to that live "Promised Land" now on Apple Music.
For additional details and full track listing, see the Blinded By the Light soundtrack in the Backstreet Records shop, where pre-ordering is available for both CD and vinyl. The film sees wide theatrical release on August 14.
- July 9, 2019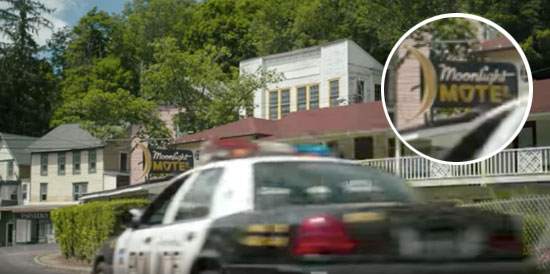 NOTHING BUT AN EMPTY SHELL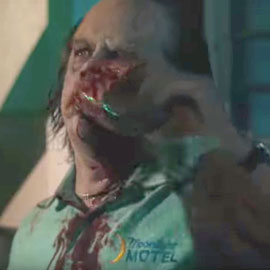 News Flash! Moonlight Motel overrun by zombies!
Jim Jarmusch's The Dead Don't Die, a fun summer horror-comedy-social-commentary mashup, has much to recommend it, including Tom Waits in a major role and a lawman played by Bill Murray. In addition, Springsteen fans will spot a familiar place in the film's sleepy, fictional little town: the Moonlight Motel.
Talk about giving a whole new layer of meaning to a Springsteen song... now we know the real reason the place is "boarded up and gone like an old summer song." After all, zombie infestations tend to hurt business a bit. Even former motel owner Danny Perkins (Larry Fessenden, right) can't help but help himself to the flesh of a guest or two. Still a nice shirt, though.
The Dead Don't Die is currently screening nationwide. Click here for more information.
- July 9, 2019 - Shawn Poole reporting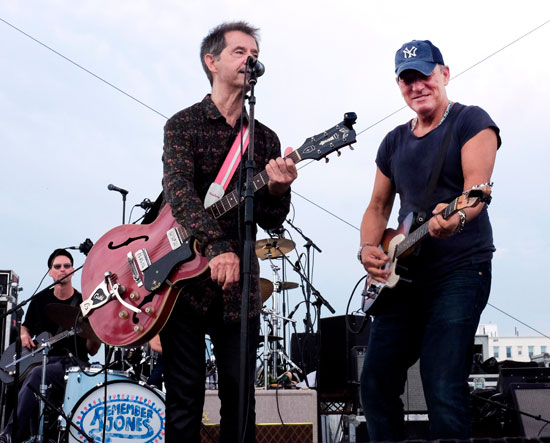 A HOT NIGHT AT THE STONE PONY
Summer Stage, July 6, 2019
In the middle of the first heat wave of the summer in New Jersey, things got even hotter at The Stone Pony on Saturday night. The humidity hung in the air all day, and the skies even opened over Asbury Park for a brief rainstorm at one point in the afternoon. All eyes were on the skies as the day wound down — there was a rock 'n' roll show to put on.
Southside Johnny and the Asbury Jukes were scheduled for the Pony's outdoor Summer Stage, along with Garry Tallent of the E Street Band, and Remember Jones, to add a little firecracker pop to the Fourth of July weekend on the Jersey Shore. Weather outlets were consulted, soundchecks were delayed, but by the time Garry (backed by his pals The Delevantes) hit the stage, some sun was peeking out to give everyone hope that the show would go on.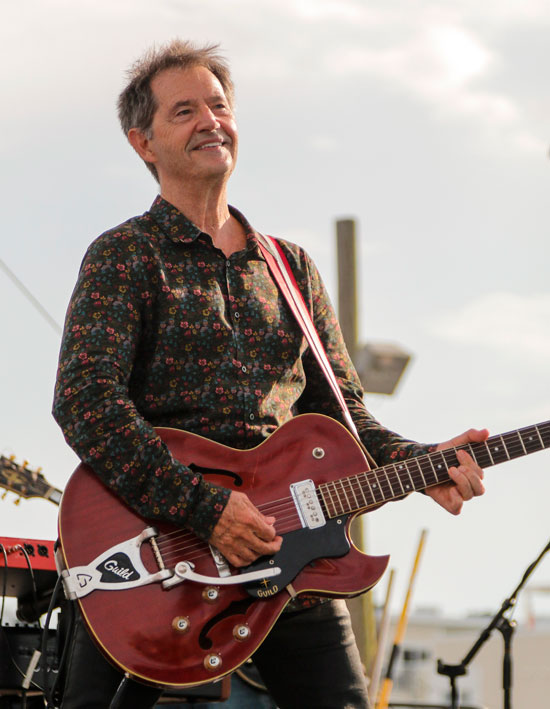 Garry, a Neptune, NJ native, was playing in support of his forthcoming new album, More Like Me, his follow-up to Break Time. With the new material inspired by early '60s garage rock, the sound mixed a bit of rockabilly with a lot of great guitar work. The crowd was already enjoying Tallent's talents, but then things went to another level when Garry asked a friend to come out to help with vocals on a new song.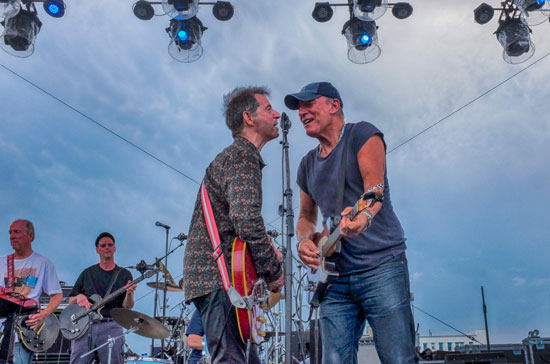 Clad in a dark T-shirt, dark jeans, scuffed work boots, and a faded New York Yankees cap, Bruce Springsteen came out to cheers. Previously, he had been taking in Garry's show stage left, nodding along in rhythm to his friend's tunes. Saying it was his shortest new song, Garry started off "Dirty Rotten Shame" and Bruce followed in step [VIDEO]. The crowd loved seeing these two old friends jamming on a Stone Pony stage.
It had been eight years since Bruce had performed at the Pony (though he and Patti did attend the memorial there for long-time Asbury Park music supporter Kerry Layton in June). This would have been enough for the packed crowd, but it was going to get better.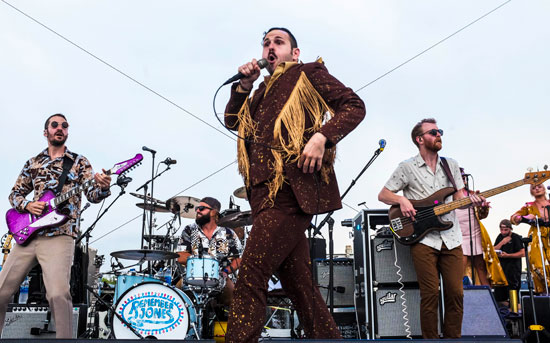 After a brief intermission, one of Asbury Park's hottest acts, Remember Jones, took the stage for a shortened set. Remember Jones, fronted by Anthony D'Amato, is a multi-piece unit that boasts a horn section, two keyboard players, backup singers, and all the energy you can ask for. Their retro outfits looked like they would feel right at home in the new film set in the late '60s, Once Upon a Time In Hollywood. Near the end of the Remember Jones set, the sky had turned cloudy again, but their version of "Let the Sunshine In" made the early evening brighter.
Of course, rippling across the crowd was the question of whether Bruce would join his old buddy, Southside Johnny, on stage. The last time they joined forces was for the "Upstage Jam," held during the Asbury Park Music & Film Festival in April 2017. Would it happen again?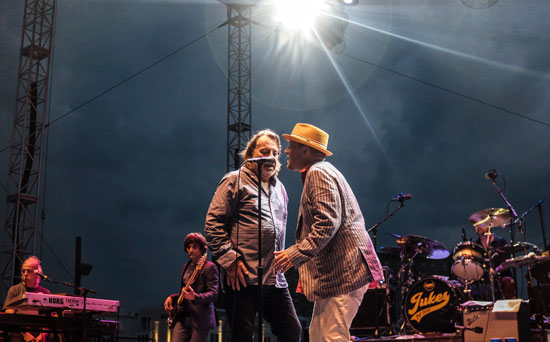 The Jukes came out blazing, starting off with "I'm Not That Lonely,"leading into "All I Needed Was You" and "Woke Up This Morning." Then, after about 12 songs, Johnny said those magic words: "Come on out, Boss Man!"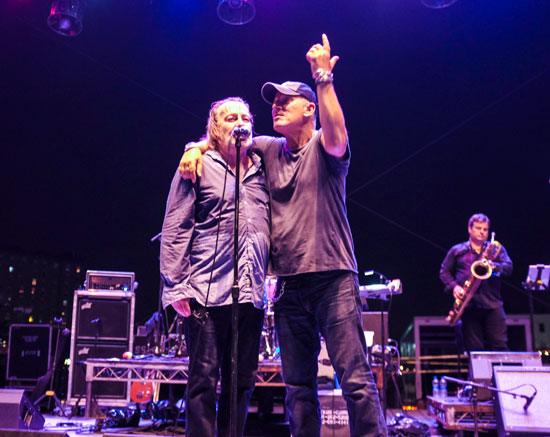 The packed crowd let out extended variations on "Bruuuce!" and grew even more excited as The Jukes and Bruce launched in to "Sherry Darling," a favorite Springsteen summer song, followed by a special version of "The Fever," and an animated "Talk to Me."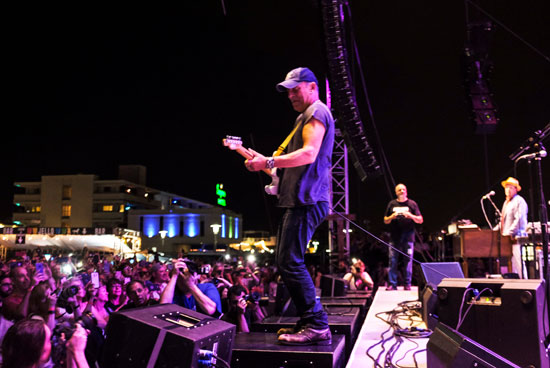 In all, Bruce would play seven songs (full setlist below) with Southside and the Jukes. This didn't seem to be a show-up-and-jam show, this was a full-on performance. Bruce wasn't the only guest on stage; singer/songwriter Lisa Lowell, a long-time friend of the Jukes, came up for the encore to add guest vocals on "Until the Good Is Gone" and "Got to Be a Better Way Home."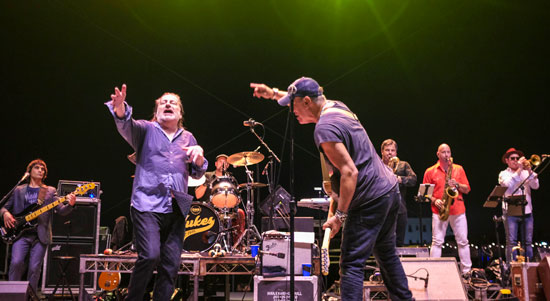 This hot day turned into one of those magical Jersey Shore nights, the kind that people who missed it will wish they had been there (or might say they had been) and the people who were there will always remember. The rain held off, the crowd stayed strong, and music filled the boardwalk. Pretty much a perfect summer night in Asbury Park.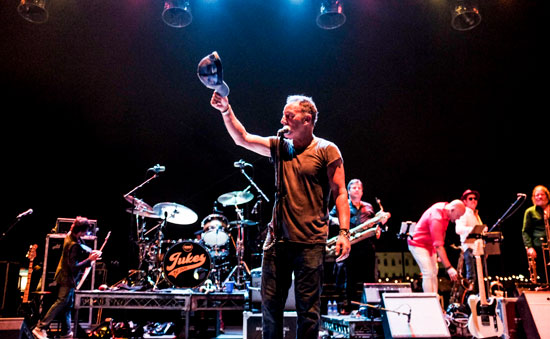 Southside Johnny & The Asbury Jukes Setlist for July 6, 2019
I'm Not That Lonely
All I Needed Was You
Woke Up This Morning
Love on the Wrong Side of Town
Broke Down Piece of Man
All I Can Do
Strange Strange Feeling
All the Way Home
Happy
Key to the Highway
Harder Than It Looks
Ride the Night Away
Sherry Darling [VIDEO pt 1] [VIDEO pt 2]
The Fever [VIDEO]
Talk to Me [VIDEO]
Kitty's Back [VIDEO]
I Don't Want to Go Home [VIDEO]
Mona/Not Fade Away [VIDEO]
Having a Party [VIDEO]
* * *
Until the Good Is Gone
Got to Be a Better Way Home
with Bruce Springsteen
- July 7, 2019 - report and photographs by Mark Krajnak/JerseyStyle Photography - thanks to Stan Goldstein for the video clips


FOURTH OF JULY WEEKEND, ASBURY PARK
Garry, Johnny, and Bruce — live at the Pony, and on E Street Radio tonight
Southside Johnny & the Asbury Jukes' Fourth of July bash is an annual tradition at the Stone Pony, and this year there were extra fireworks: with Garry Tallent opening and special guest Bruce Springsteen on the Summer Stage to play both with Garry and an extended guest set with the Jukes, last night was a real Saturday night special. We're talking "Sherry Darling," "Kitty's Back," "The Fever," "Talk to Me," and more. Full report with photos to come; in the meantime, you can hear it for yourself: tune in to E Street Radio tonight at 8pm ET for a reairing of last night's live broadcast.
- July 7, 2019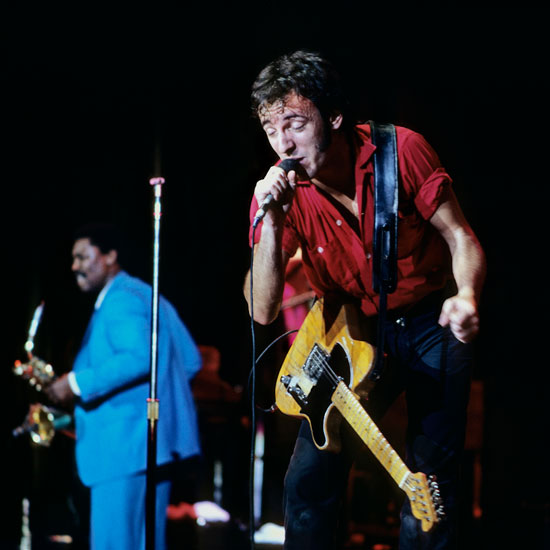 TWO SHOWS ARE BETTER THAN ONE
A 1980 two-fer: 12/29 drops, along with a new Jon Altschiller mix for 12/31

Few Bruce Springsteen dates go together like the last two of 1980, the second and third nights of his New Year's run at Nassau Coliseum. Maybe that's due to the infusion of holiday spirit, the wide range of material, or the shows' marathon running times: 12/31/80, an early entry in the
live archive series
, was believed for decades to be the longest one Springsteen and the E Street Band ever performed. Today's live release takes us back to Long Island for the stand's middle night,
Nassau Coliseum, New York, 12/29/80
.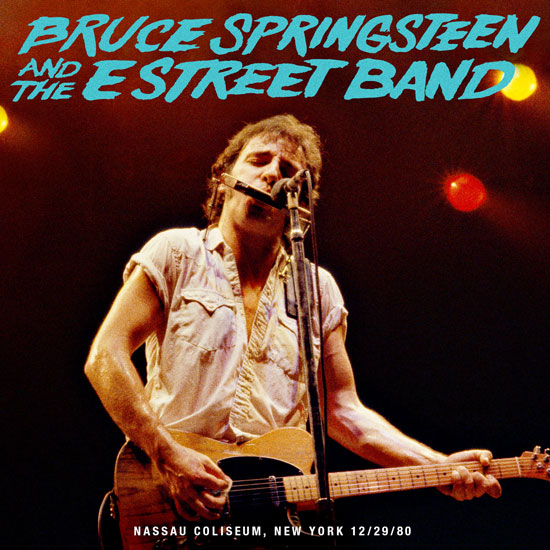 It's the third complete River-era recording in the Nugs line-up (along with Wembley Arena, June 5, 1981). Opening with the tour premiere of "Night," the new 35-song set features 12 songs from The River ("Stolen Car," "The Ties That Bind"), a bevy of newly-introduced covers ("Who'll Stop the Rain," "This Land is Your Land"), and a breakout performance of "Incident on 57th Street," one that fans probably identify the most from this date.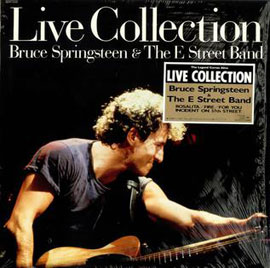 The song's sole River tour nod was its last until 1999; simpatico with more recent material, the '80s farewell to Spanish Johnny and Puerto Rican Jane remains an E Street Band highlight. Like three other songs from 12/29, "Incident" played a role in the making of the Live/1975-85 box set, though indirectly: left out of the proper 40-song sequence, the live recording became a B-side in Europe and North America. And in Japan, the track anchored a four-song EP called Live Collection. Now restored to its origins, "Incident on 57th Street" flows into "Rosalita," just as it did on Springsteen's 1973 LP The Wild, The Innocent & the E Street Shuffle.
Moreover, 12/29 features seven songs that don't appear on 12/31, like "Tenth Avenue Freeze-out," "For You," and "Point Blank," making it a fine complement to one of Springsteen's most legendary concerts. These performances were complex undertakings, packed with songs from seemingly every corner of the pop, folk, and rock universe. And if the coming new year caught anyone in a reflective mood, it was Springsteen himself: here, he sets up "Independence Day" and "Stolen Car" with spoken introductions that go straight to the heart of his River-era writing.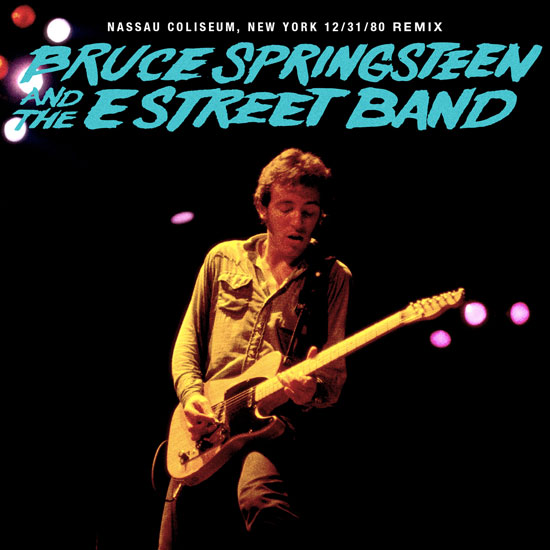 The New Year's Eve performance initially emerged from nugs.net in 2015, the series' fourth release overall. That first version lacked the clarity of later releases; it sounded fine, but was it a quantum leap over even the best source that had circulated among fans? No.
Whatever the motivation to circle back, a new 2019 mix for 12/31/80, also released today, corrects a modest flaw in the archive. With Nassau Coliseum, New York 12/31/80 Remix, the 38-song performance now features sound that maximizes the potential of the multi-track tapes. In addition to a new mix by Jon Altschiller, the 2019 transfer for 12/31 was done using Plangent, a process that corrects a range of imperfections and yields more accurate fidelity. In terms of sonics, that brings this version in line with where the archive series is today.
But it's not a re-do entirely. Archive watchers will remember a second version for the 2013 Rome recording, but that initial release was a true misfire, necessitating a remixed fileset from Nugs as a replacement. This month's surprise second take of New Year's Eve '80 requires a fresh purchase, although anyone who bought the original version released in 2015 can stream the new files for free in the "My Stash" section of the nugs.net mobile app (desktop streaming requires a separate subscription).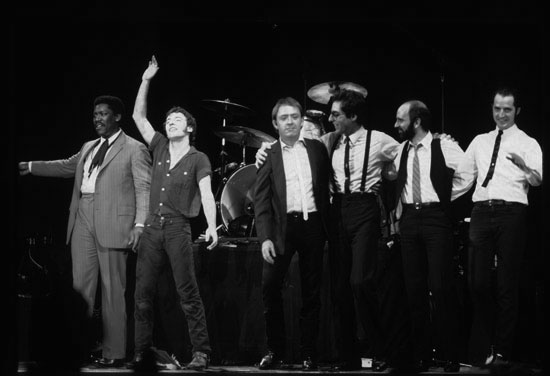 It's worth noting that the 12/31/80 concert most likely never actually held the record for the longest of Springsteen's career. Until Helsinki in 2012, that honor belonged to another 1980 show, December 19 at Madison Square Garden. That's according to an eminently reasonable methodology you can read about here.
Also read: Erik Flannigan's latest nugs.net blog entry, "My Brand New Record, Rosie, Made It All the Way to Number One"
- July 5, 2019 - by the Editors - 12/31/80 photographs by James Shive/ShiveArchive.com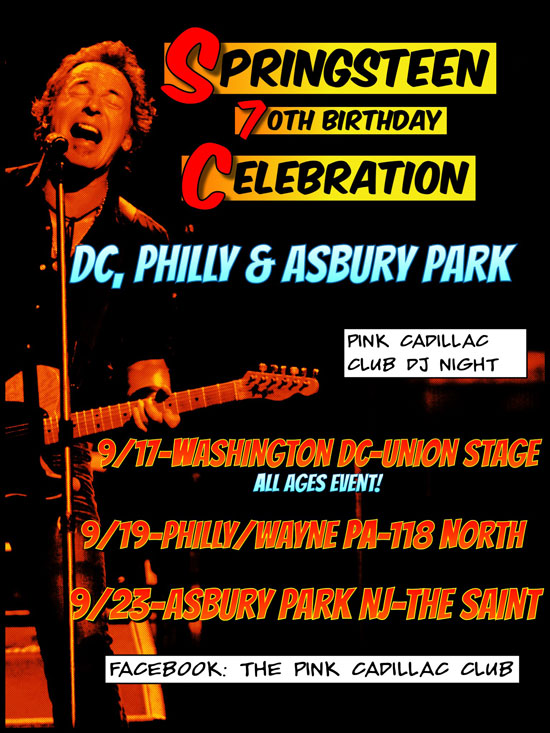 THE PINK CADILLAC CLUB RIDES AGAIN FOR SPRINGSTEEN'S 70th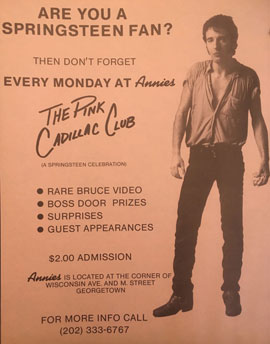 Thirty-four years ago in Washington DC, on the corner of M Street and Wisconsin Avenue, local bar Annie's turned its slowest night of the week, Monday, into a booming all-night Springsteen party under the handle The Pink Cadillac Club.
Regardie's magazine, then known as The Business of Washington, wrote: "After donating his services to such worthy groups as Vietnam Vets and unemployed steel workers, rock 'n' roll star Bruce Springsteen is now unwittingly being called upon to save the bars of America from slow nights."
With the occasion of Springsteen's milestone 70th Birthday coming up this September, and probably due to similar excitement being generated across the pond, The Pink Cadillac Club is returning for one week only this fall.
Dates are currently on sale in the Pink Cadillac Club hometown of Washington, DC on Tuesday, September 17; Philadelphia/Wayne, PA on Thursday, September 19; and Asbury Park, NJ at The Saint on September 23. Dates are still being negotiated for possible evenings in Pittsburgh and New York City....
Continue reading
"Having a Party Out Back at the Pink Cadillac"
for further details and ticket links
- July 3, 2019


BIG MAN HITTING BIG SCREENS IN JULY & AUGUST
A long-time-comin' project that began while he still was physically with us, Clarence Clemons: Who Do I Think I Am? finally begins hitting big screens in the U.S. this summer (watch the official trailer above.) The completed film, first screened selectively in a shorter, work-in-progress edition before the Big Man's passing, still features plenty of footage of Clarence himself (including newly added segments,) now supplemented by interviews with many who knew and loved him and/or his music. It follows his adventures on and off E Street, especially his late-in-life journey to China for a spiritual and musical re-awakening.
Several of this summer's screenings also will feature post-show conversations with key players in the creation of the doc: director Nick Mead, producer Joe Amodei, and/or the film's chief researcher, Backstreets writer Shawn Poole. Here's the rundown of where each of these special screening events will take place and who will be there:
July 16 - Beverly Hills, CA
Laemmle Theaters - Ahrya Fine Arts location
Post-screening conversation with director Nick Mead
Click here for tickets

July 18 - Pasadena, CA
Laemmle Theaters - Playhouse 7 location
Post-screening conversation with director Nick Mead -
Click here for tickets

July 23 - Philadelphia, PA
Philadelphia Film Center
Post-screening conversation with producer Joe Amodei and chief researcher Shawn Poole
Click here for tickets

August 16 - Newtown, PA
The Newtown Theatre
Post-screening conversation with producer Joe Amodei and chief researcher Shawn Poole
Click here for tickets
Clarence Clemons: Who Do I Think I Am? also will be showing:
July 19 at The Plaza Theatre, Atlanta, GA
Click here for a complete listing of all screenings and links to buy tickets, which will continue to be updated as any additional screenings and links are added.
- July 2, 2019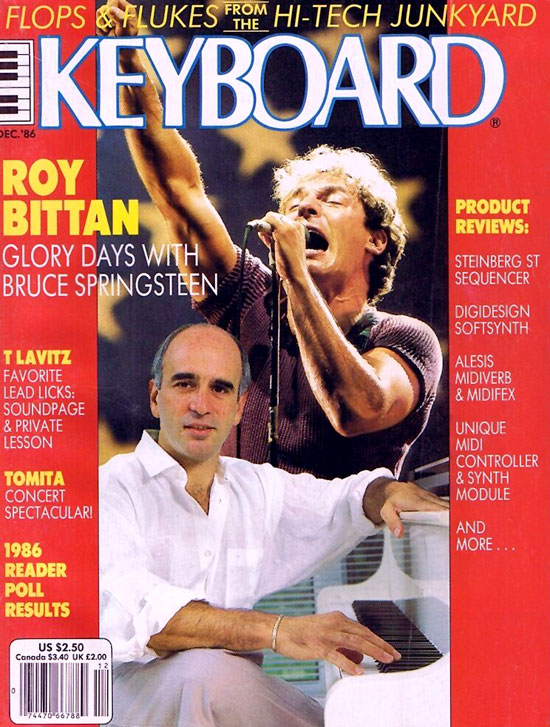 HAPPY BIRTHDAY PROFESSOR!
Nearly half his lifetime ago, Roy Bittan was a clean-shaven cover model for Keyboard magazine, celebrating "Glory Days with Bruce Springsteen" after 12 years with the E Street Band. Now 70 — born July 2, 1949 — those glory days continue with 45 years of E Street service and counting. Doesn't look like much else has changed besides the beard coming back. Happy birthday, Roy!
- July 2, 2019

THIRD OF JULY, ASBURY PARK
For this week's holiday, the Stone Pony & Tramps Like Us celebrate the 35th anniversary of the Born in the U.S.A. tour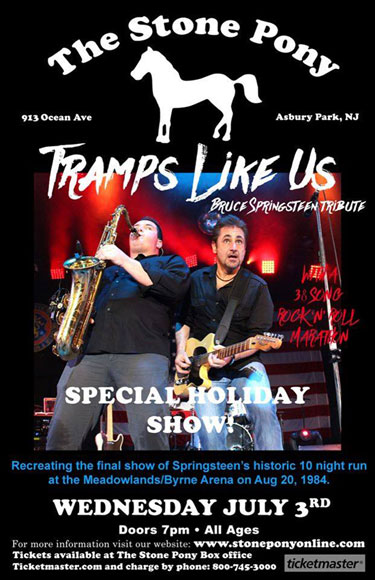 This Wednesday night, Independence Day Eve, acclaimed tribute band Tramps Like Us will be re-creating a classic concert from Bruce Springsteen & the E Street Band's 1984 tour: the August 20, 1984 concert in East Rutherford, NJ, which was the final show of their historic, ten-night, sold-out stand at Brendan Byrne Arena.
This Born in the U.S.A.-era marathon in the Meadowlands famously featured "Drift Away" and special guests Steven Van Zandt and the Miami Horns.
When the audio was released in official live archive series last year, Backstreets described the show as "one of the most memorable and special shows of Bruce's career." Though some of its magic moments would be impossible to recreate by anyone, this is a rare chance to see a legendary set brought to life on stage.
Advance tickets are recommended and available through Ticketmaster, but they will also be available at the Stone Pony door on a first-come, first-serve basis while they last. For complete information on Wednesday night's show, visit trampslikeus.com.
- July 1, 2019