LANDAU: "NOW ON A TRACK" TO GET MORE MUSIC OUT
Jon Landau scrolls through iTunes on his laptop (no, not an exclusive Boss iPod), playing Springsteen's "Bring 'Em Home" and "How Can a Poor Man Stand Such Times and Live?"... that's how the scene is set for Time Off's exclusive interview with Springsteen's manager. In a wide-ranging chat, Landau tells the Queensland, Australia paper that "There remains a substantial amount of material for some sort of Tracks II idea," and that "We have been paying more attention to the video archives. I think we're now on a track where, in between releases, we're going to find more and more ways of releasing stuff of Bruce's. We should get a lot of stuff out." Is an E Street record next? "I sure hope so." Read the full story here. (The interviewer, Sean Sennett, also spoke with Springsteen in the spring.)
-July 29, 2006

JULY 29: A RED-LETTER DAY
Today, Patti Scialfa turns... well, that's not for us to say, is it?
Happy birthday, Patti!


YOU GOTTA SERVE SOMEBODY
Bruce contributes to World Hunger Year benefit CD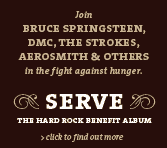 Hard Rock International has teamed up with World Hunger Year, a favorite charity of Springsteen's, to put together a new benefit CD called SERVE. The 12-track disc of rarities, sold at Hard Rock Cafe locations and online at the Hard Rock website, kicks off with Springsteen's contribution, the String Version of "Secret Garden."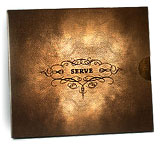 (You might recall some hand-wringing over that one in the Blood Brothers documentary.) Though released on multiple CD singles in the mid-'90s, the track has since been rare and out of print. Also on SERVE are cuts from Aerosmith, Ray Lamontagne, and The Hold Steady. All artists on the album are either members or friends of Artists Against Hunger & Poverty, a program of World Hunger Year, and proceeds from SERVE will go to help their efforts to fight hunger.
This is the second team-up between Hard Rock and World Hunger Year. -- the Springsteen Signature Series Tee, also benefitting W.H.Y., is still available.
-July 27, 2006

ENGLAND'S DREAMING
Springsteen to play Birmingham, London, Sheffield
A press release from Shore Fire Media today fleshes out the fall European tour itinerary with three additional shows, all in England. Between November 7 Antwerp and November 17 Dublin, Springsteen and the Seeger Sessions Band will play NEC Arena in Birmingham on November 9, Wembley Arena in London on November 11, and the Hallem FM Arena in Sheffield on November 14.
As it stands now (with, strangely, no dates currently scheduled for France), the fall European leg consists of 26 shows, from October 1 through November 21.
-July 25, 2006

ERIC MEOLA'S BORN TO RUN PHOTO SHOOT COMES HOME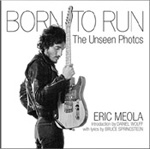 The Born to Run 30th anniversary celebration continues, with a magnificent coffee table book from cover photographer Eric Meola due in September. In Born to Run: The Unseen Photos, Meola shares a wealth of images from his 1975 cover session -- more than 100 black and white outtakes, most published here for the first time, in stunning quality. (The Worcester Telegram has a piece on the making of the book, including the $50,000 scanner and 350 hours of work for scanning alone). This 12" x 12", LP-sized hardback will also have Springsteen's complete lyrics from the album, an introduction by Daniel Wolff (author of 4th of July, Asbury Park: A History of the Promised Land), and a foreword from Meola himself to set the scene. The photographer is donating his share of the proceeds to the Community Food Bank of New Jersey.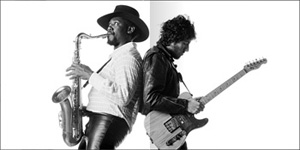 The Unseen Photos is being published by Insight Editions. And if you're familiar with their limited edition of Frank Stefanko's Bruce book, you have some idea of the quality to expect. Meola and Insight Editions are putting together a limited edition package for this book, too, including:
a signed and numbered copy of the hardback
a 12 x 12 photographic print also signed by Meola (titled "Elvis," a shot of Bruce showing off the Elvis button on his jacket)
a reproduction of the Born to Run script cover, which holds the above photo
all housed in a cloth clamshell case.
It's an edition of only 1,350. Guarantee yourself a copy and support Backstreets by getting yours here! We'll be carrying both the standard edition (just the book) and limited edition, shipping to customers immediately upon release in September, in the order received.
-July 13, 2006

I HAD A FRIEND WAS A BIG BASEBALL PLAYER...
Tivo alert: The Smithereens' Pat DiNizio describes 7th Inning Stretch, his hour-long TV special, as "baseball meets rock 'n' roll. There are similarities, as you well know if you've ever played in a band. There's a distinct relationship between being in a touring rock 'n' roll band and playing for a professional baseball team. You're on the road all the time; you're part of a team; you're playing for an audience." DiNizio's fellow Jersey rock 'n' roller Bruce Springsteen is among the show's many guests; 7th Inning Stretch premieres tonight, Wednesday July 12, at 10 p.m. on ESPN2, and repeats at midnight.
And if you're in the New York area, join Pat at Joe's Bar for a viewing party!
-July 12, 2006

JOE & BRUCE, TOGETHER AGAIN ON A GOOD LIFE
"Code of Silence" duet is the song's first studio recording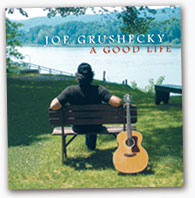 As he did on American Babylon and Coming Home, Bruce Springsteen picthes in on his friend Joe Grushecky's latest, A Good Life. "Code of Silence," a song they wrote together (and that Bruce debuted with the E Street Band on the reunion tour) is the lead-off track, with back-and-forth vocals from Bruce and Joe (Bruce rips the guitar solo, too). A Grammy-winning live recording appeared on The Essential Bruce Springsteen, but this is the first studio treatment of the song. Springsteen guests on three more tracks: the title song, "Is She the One," and "Searching for My Soul." Also featuring "Lake Pontchartrain," Joe's reponse to Katrina, the album is due on August 15.
-July 7, 2006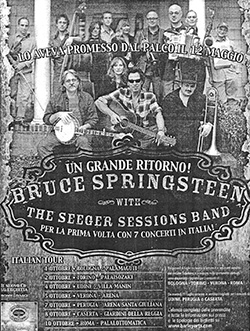 UN GRANDE RITORNO!
European dates keep coming in, including a third in Dublin
Quick sellouts in Dublin and Belfast this morning; as the Irish Independent reports: "A third date at the Point on November 19 was subsequently announced and tickets for that show were also sold out in a matter of minutes. Aiken Promotions says it took just 25 minutes for all 34,000 tickets to be sold."
Meanwhile the European schedule keeps filling in, with seven different Italian cities at the beginning of October, and five Spanish cities at the end of that month... plus Copenhagen and returns to Oslo and Stockholm.
-July 5, 2006

BORN ON THE FOURTH OF JULY
It ain't just a book title -- the author, anti-war activist Ron Kovic, was born 60 years ago today, on July 4, 1946. Reading his book and meeting the man inspired Springsteen's work with the Vietnam Veterans movement, as well as songs like "Born in the U.S.A." and "Shut Out the Light." Born on the Fourth of July has been reissued in a new edition by Akashic Books, with a powerful new introduction Kovic wrote in 2005. Highly recommended. And happy 60th, Ron!


MORE IN THE FALL: HAMBURG, COLOGNE, ANTWERP, ROTTERDAM
The European itinerary is starting to expand: in addition to the Ireland shows on sale Wednesday, two Germany dates have just been announced with ticket reservations being taken now. Springsteen and the Seeger Sessions Band will play Hamburg on October 12, and Cologne on November 6. See www.getgo.de or www.eventim.de for details and tickets. Also now on the schedule is Antwerp (November 7) on sale Friday July 7; and Rotterdam (October 13) on sale Saturday July 8.
-Updated July 4, 2006

SILVER ANNIVERSARY OF THE MEADOWLANDS
25 years ago, Bruce Springsteen and the E Street Band christened the brand new Brendan Byrne Arena, AKA the Meadowlands Arena, with a six-show stand on the River tour. The grand opening, on July 2, 1981, was also a homecoming show for Bruce and the band after a lengthy European tour, and they broke out their first-ever cover of Tom Waits' "Jersey Girl" for the occasion, "something special that we learned for you." Bruce later told Rolling Stone, "That was the best show ever. We couldn't hear each other on stage. I felt like The Beatles." Gary U.S. Bonds guested twice over the course of the stand, and of course, every night included "Independence Day." And while we're commemorating: happy 57th birthday to Roy Bittan, born July 2, 1949!


STUFF RUNNING 'ROUND OUR HEAD: JULY 4 EDITION
A news roundup for the holiday weekend...
Have a happy and safe Independence Day!
-July 1, 2006

57 CHANNELS... TWO THINGS ON
Tonight on the long-running British TV show Mastermind, "The Life and Works of Bruce Springsteen" will be the subject of a specialist round. Tune in to BBC2 for the action from the black leather chair tonight at 10 p.m.
And don't forget that Springsteen and the Seeger Session Band's St. Luke's performance is coming to Great Performances on PBS here in the States. According to the website, the program premieres on July 12; but some stations are airing it earlier, so check local listings.
-June 29, 2006

LUCK OF THE IRISH!
Seeger Sessions tour to hit Dublin, Belfast, in November
Just a few days after the end of the U.S. leg, and Bruce is already making good on his "See you in the fall!" promise to Europe. The first announced shows are three on Ticketmaster.ie: a return to The Point in Dublin with two shows, November 17 and 18, and a stop in Belfast on November 21. Tickets go on sale next week, on Wednesday, July 5. See our Tour/Ticket Info page for details, times, and links... and more dates as they come in!
-June 28, 2006
6/25, HOLMDEL: IT AIN'T OVER TIL THE TRAPEZE SWINGS
The second of two at the PNC: a drier night, another sold-out homecoming show, and the last of this 18-night U.S. tour. But there was no real air of finality tonight -- though Springsteen told the Jersey crowd, "This is our last date here in the States," it's well-known that he'll be taking the Seeger Sessions Band back out for another European jaunt in the fall. So consider this one a "season finale." As at the Devils & Dust tour-ender, Bruce had his family in the house: "My babies are here!" He also revealed one of the threats he uses to keep his kids in line: "They're not afraid of me anymore... but they're afraid of the horn section!" And with all six players in the horn line-up tonight, the kids must have been on their best behavior. The show opened with the Pogues-ish "American Land" for the third night running, and while setlist variation on this tour has been minimal, this second of two back-to-back shows in the same venue had Bruce making sure to shake things up for repeat attendees. "Long Black Veil" came in for "Eyes on the Prize," with "Long Time Comin'" and "Devils & Dust" also in the set. "My City of Ruins" appeared to be an audible, with Bruce starting alone as he has been lately for "Bring Them Home" in that first encore slot, but the band quickly coming out to join in. The biggest surprise of the night, though, was the closing number, played only once prior at the last Asbury rehearsal show: "The Man on the Flying Trapeze." In terms of song-choice, this old circus story may be kind of a head-scratcher, but as Bruce said, it's a "song that explains what we're trying to do... not what we're trying to do -- what we're doing." And yeah, it nicely suggests the derring-do of this whole project, the adventure and risk and fun of it all, the Big Top feel of this huge band working every night without a net. We've certainly gotten our fair share of thrills and chills.
Stay tuned for next leg dates as soon as they're announced... and in the meantime, don't forget you can watch a song from every show of this now-completed U.S. leg at AOL's 18 Nights of Bruce.
For the full setlist from this and other recent shows,
head to our Setlists page

MEET ME (AND MY 17-PIECE BAND) OUT IN THE STREET
This... is Bruce on CNN
Gearing up for this leg's final pair of shows, tonight and tomorrow, Springsteen had a nice long talk with CNN's Soledad O'Brien. He describes what he was going for on this tour: "This big, brassy, music-hall, tavern-style, street-type big band. What I wanted to capture was the vitality of the people that built the [country]. I said I want something like if we were playing it in a music hall in 1899, in some mining town, it would be immediately understood... obviously, we use a whole lot of amplification, but we could take the whole thing out on the street and play it as it stands." Bruce also confirms, "We're putting out a slightly expanded version of the record; ['Bring Them Home'] will be on it." More than ten minutes of the interview is viewable online -- grab a drink, settle in and watch now on CNN.com. (For more, the full interview is available on CNN Pipeline.)
-June 24, 2006

AND THEN THERE WERE THREE
Just three shows left in the leg, as Bruce and the Seeger Sessions Band come marching home to New York and New Jersey -- Madison Square Garden tonight, and the PNC in Holmdel on Saturday and Sunday. Some news & notes as we approach the finale:
-June 22, 2006

ONE WEEK LEFT IN LATEST "ROCK 'N ROLL" AUCTION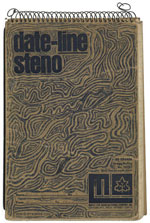 Hey big spenders: the latest It's Only Rock 'N Roll online auction includes numerous rare pieces of Springsteen memorabilia. Most are unique, handwritten lyric sheets -- including a spiral notebook of 19 songs from 1968. Bidding for that one has topped the $20,000 mark... but there are sheets currently still in the triple digits too, plus a signed Nils Lofgren guitar. Check out the Springsteen items here. Bidding continues for just one more week -- the auction closes on Saturday, June 24.
-June 18, 2006

BACKSTREETS #85, COMING SOON!
We're putting the finishing touches on the new issue of Backstreets Magazine, going to press shortly with the follow-up to our 25th anniversary edition (now available as a back issue). So this is a last call for classified ads, address changes, and subscriptions... If you dig Backstreets.com, we hope you'll support Backstreets and get our in-depth Boss magazine at the same time: subscribe now to guarantee yourself a copy of the new issue and the ones to come!
Fair Warning: This summer, Backstreets subscription rates will be going up for the first time in 8 years. Our reeeasonable price has held steady since 1998. But much has changed in the last eight years: since then we've added more pages and full color to the magazine, not to mention the rising costs of paper, freight, and postage. So something's gotta give. But before we change our price to reflect the times, we thought we'd ring that bell behind the bar for last call. Subscribe now to lock in the old rate!
Already a subscriber? Renew now to extend your subscription at the 1998 price. (Each year of your renewal adds another four issues to your subscription.) And if you've been meaning to change your address, now's the time. If you've moved, it's important to change your address with us -- the post office isn't required to forward Periodicals mail, so don't miss an issue: use our handy online change-of-address form before you forget!


"BRING THEM HOME" COMES MARCHING HOME
Official web release of Seeger Sessions studio outtake
A new recording has just added at brucespringsteen.net -- in addition to the live "Poor Man" from the Asbury rehearsals, you can now hear Bruce's studio version of "Bring Them Home (If You Love Your Uncle Sam)" at the official site. Springsteen recorded this track during the third Seeger Session, in January 2006, adding some verses of his own to Seeger's anti-war ballad; he polished it up in an Oslo studio last month, as reported below, laying down the final lead vocal between European tour stops.
-June 10, 2006

NEW TOUR SONGS: BRING THEM HOME?
You know how everybody (well, at least us and a lot of people we hear from) has been saying that Bruce should release songs like "Poor Man" and "Bring Them Home"? A couple bits of interesting news along those lines:
David Corn, The Nation editor and Springsteen fan, recently posted on his blog, "A reliable source informs me that Springsteen's version of Pete Seeger's antiwar tune 'Bring Them Home' will be released as a track on an expanded version of his recent Seeger Sessions album. And it will be available soon on iTunes."
And then there's the recent interview Bruce did with the Norwegian newspaper VG, solving the mystery of what he was doing in a recording studio in Oslo: "We discovered this beautiful little studio down by a canal. I had written some new lyrics for 'Bring Them Home (If You Love Your Uncle Sam)' on the way to Oslo, so I recorded some vocals there... Hopefully we'll be able to use it some time or another, maybe on a Seeger Sessions, Volume 2 sometime, who knows? But its certainly the first recording I have done in Oslo!" (Thanks to Lars Flugsrud for the translation.)
Nothing solid yet, but it's sounding like something is in the works. We'll keep you posted.
-June 8, 2006

THE BRITISH ARE COMING!
At least, one of their telly programs is. Good news for U.S. fans: that BBC program filmed live in London last month is making the leap across the pond. Newly added to the July line-up for PBS is a Great Performances presentation of "Bruce Springsteen: The Seeger Sessions Live at St. Lukes." It's a 60-minute show, available in HDTV with 5.1 surround sound, scheduled to air on July 12 at 10;30 p.m., right after the American Masters profile of Woody Guthrie. Air dates and times may vary -- some stations will be showing it earlier, on July 4 -- so be sure to check your local listings.
-June 8, 2006

BACKSTAGE WITH THE BOSS AND BAEZ
The Marin Independent Journal's Paul Liberatore accompanied his friend Joan Baez to pay a visit to Bruce at the recent Concord show. Springsteen spoke to this strange newfound difficulty of putting American asses in American seats: "In places like Paris and London, people were jumping out of their seats for American songs that are 100 years old... But in the Midwest, we're having trouble selling tickets." Read the whole article at www.marinij.com.
-June 8, 2006

THE WORD FROM CHOCOLATE GENIUS
We've mentioned this before in "Out on the Wire," but we'd be remiss not to remind you to check out Chocolate Genius' (AKA Marc Anthony Thompson's) blog as the tour rolls along. Here's a missive from end of the European leg:
The shows have been transcendent. Like your first trip to the circus, or a Baptist church where Ikea used to be, or like when you open your dad's closet door and out pops a snake charmer, or sort of like when you go to the barn for a smoke and find Shangri La and the girl that got away, or it's like finding 400 dollars in an old suit after you pay the rent, or like kissing the fisherman's wife because he asked you to, or riding 3rd point without having to paddle out, like magic without mirrors, like sex and sweat and sugar and smiles and sirens and sunshine and spit, like...well, like messy balls out love with everyone you've ever known.

Well, that's the first ten minutes anyway.
Bookmark www.chocolategeniusinc.com and click on "The Word."
-June 7, 2006

SPRINGSTEEN ON SEEGER SESSIONS IN USA TODAY
Check out USA Today for a new interview with Springsteen by Edna Gunderson. He talks about the "raucous" Seeger Sessions, his inspiration and his intent, as well as what he took away from the recording: "It's fascinating to record a song when musicians don't know it. It's a powerful tool, especially with experienced musicians, in getting a certain spontaneity that you lose with too much rehearsal. If people learn their parts too well, they consciously perform rather than flat-out play." He even looks ahead to where he might apply that lesson: "I've done it with the E Street Band at times over the years, but never an entire record. We may try it." Read "For Springsteen, 'Seeger Sesions' sends a message."
-June 7, 2006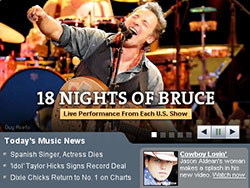 AMERICANA ONLINE
Watch a full song from each U.S. show, with AOL Music's "18 Nights of Bruce"
Sometimes, as on the Devils & Dust tour, we'll see official cameras filming away, but no idea if or when we'll ever get to watch the results. This time we will -- immediately. Springsteen has teamed up with AOL Music to provide a nightly glimpse of the Seeger Sessions tour for fans online. Each morning after every stop on this U.S. leg, we'll get video of a complete song from the previous night's concert. Each will be different and each will stay online, which means by the time Bruce finishes up at the PNC in Jersey, there will be 18 performances available for viewing -- almost a full show, representing the whole U.S. leg. We're still finding this hard to believe, but hey, in a post-E Street Radio world, apparently anything can happen. "18 Nights of Bruce" launched today with a catch-up trio of clips from Boston, DC, and Columbus -- "John Henry," "Erie Canal," and "O Mary Don't You Weep," respectively -- plus "Old Dan Tucker" fresh from last night in Indy. Check it all out at www.aolmusic.com.
-Updated June 1, 2006