THE POP, THE NOT-POP, & THE IPOD SHUFFLE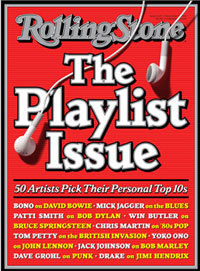 The new Rolling Stone [#1119/Dec.9] is "The Playlist Issue," in which 50 artists pick their personal favorite tracks — and not one but two artists offer up all-Bruce sequences.
Arcade Fire's Win Butler (who shared a SPIN cover with Bruce, and a stage with Bruce and the E Street Band for AF's "Keep the Car Running") picks his top ten Bruce tracks — "a mix of his pop and not-pop songs," ranging from "Two Hearts" to "Galveston Bay," with four Nebraska songs in between.
Jackson Browne, in a playlist not yet online, picks 15 Boss cuts for the well-annotated "Bruce Springsteen's Greatest Stories," from the "avalanche of exuberance" that is "Rosalita (Come Out Tonight)," to "Your Own Worst Enemy," which tells of "our integrity, our capacity for self-examination — telling the truth and doing the right thing." (Who knew Jackson Browne liked that sort of thing?)
Elsewhere in the issue, "Brilliant Disguise" makes Chris Martin's playlist of "'80s Pop" ("At the time, all I knew were the cute butt and the American flag. Today, I would follow him to Mount Sinai and listen to his every word"); Pete Seeger puts Springsteen's "We Shall Overcome" up there with other "Folk Music" from Woody Guthrie, Leadbelly, Bob Dylan, and The Weavers.
- November 30, 2010

SPEND YOUR THANKSGIVING WITH SPRINGSTEEN
And Landau! SIRIUS XM expands Darkness special for holiday encores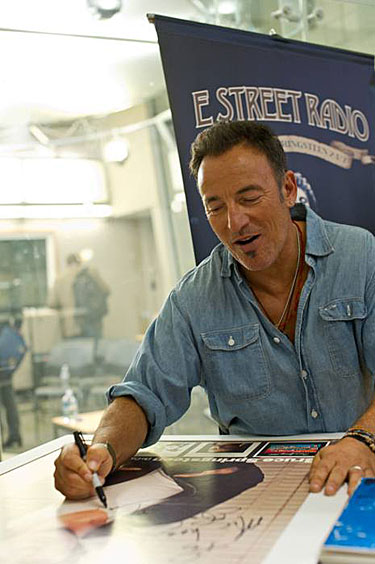 Last week's two-hour "E Street Radio on the Edge of Your Town" live broadcast with Bruce will re-air throughout this long holiday weekend, in something of a Deluxe Edition: along with the Springsteen Q&A, these encore broadcasts will also feature a new interview with manager Jon Landau.
The special, hosted by Dave Marsh, will be rebroadcast on SIRIUS XM today at 6:00 p.m.; Thanksgiving Day, November 25 at 2:00 p.m.; Friday, November 26 at 10:30 a.m.; Saturday, November 27 at 3:00 p.m.; and Sunday, November 28 at 8:00 a.m. (all times Eastern) on E Street Radio (SIRIUS channel 10 and XM channel 58).
Additionally, SIRIUS XM Stars (SIRIUS channel 102, and XM channel 155) will present a special encore of the Q&A session, with additional reflections from Marsh about the event and an excerpt from his interview with Landau, on Thanksgiving Day at 6:00 p.m. and Sunday, November 28 at 4:00 p.m. and 10:00 p.m.
Have a happy Thanksgiving!
- November 24, 2010 - photograph by Daniel Krieger

PROMISING CHART ACTION
The numbers are in... The Promise: The Darkness on the Edge of Town Story, in all its six-disc glory, debuted at #27 on the Billboard chart, becoming the fastest-selling box set of 2010, according to today's Shore Fire press release.
The Promise, the two-disc release, charted even higher, at #16 here in the U.S. Overseas, it debuted at #1 in Germany, Norway, Spain, and Sweden; #4 in Ireland and the Netherlands; #5 in Denmark and Austria; #7 in the UK, and #9 in Switzerland.
- November 24, 2010

IT'S HUNGERTHON TIME AGAIN: BRUCE AUCTIONS HELP THE CAUSE
Springsteen-autographed Fender up for bids today at 5 p.m.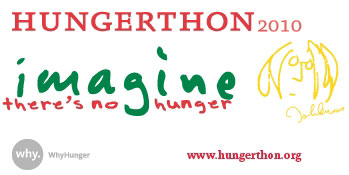 Join Bruce Springsteen in supporting WhyHunger and their work to help hungry children through their "Imagine There's No Hunger" Hungerthon campaign. Bruce has signed and donated a 1952 reissue Butterscotch Fender guitar for the charity's annual Thanksgiving Hungerthon — tune it to Sportsradio 660 WFAN today at 5 p.m. to bid by calling 1-800-548-6479 [PDF here]. Visit www.hungerthon.org to learn more.
Online, you can bid on an autographed The Promise double CD, a 16 x 20 print of Springsteen by Danny Clinch, and a set of three 11 x 17 Springsteen prints by A.M. Saddler — proceeds from these charityfolks.com auctions all go to benefit Hungerthon 2010. Help WhyHunger with their good work!
- November 23, 2010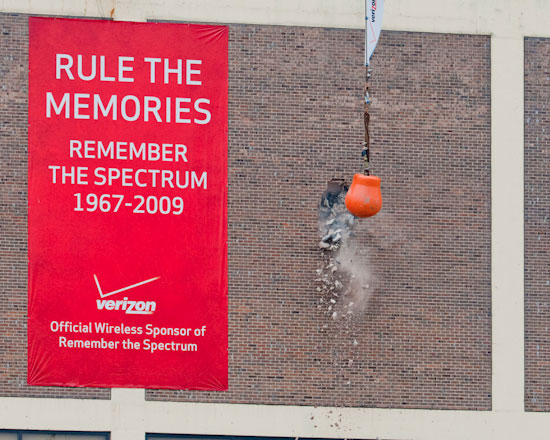 TEARDROPS ON THE CITY OF BROTHERLY LOVE
"I thought they were tearin' this place down! Last time we were here, they thought we were closin' the place; now we're back... we're still not closin' the place! The Spectrum will live FOREVAAAAH!"
—Bruce Springsteen, beginning his final series of performances at the Spectrum arena, Philadelphia, PA, October 13, 2009
Well, it took much longer than anyone, including Bruce Springsteen, thought it would, but today they finally brought the wrecking ball — literally — to the Spectrum, just over 13 months since Bruce and the E Street Band performed their final Spectrum show, and just under 13 months since Pearl Jam performed the final event ever to be held in Philly's doomed, legendary arena.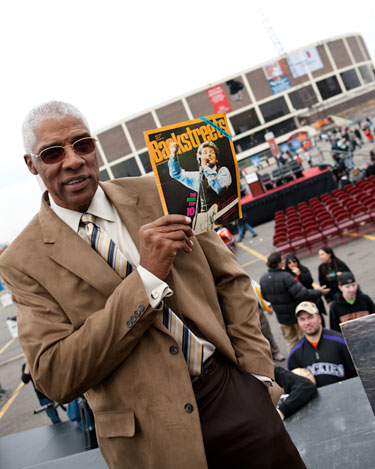 Today's public "Wrecking Ball" event held outside the arena was mainly ceremonial, since it will take more than just one day and one wrecking ball to level this behemoth. The Spectrum will be comin' down quickly now, however, so the wrecking ball's first blow was preceded by an early-afternoon block party that sent the tough old girl out in style. The gathering featured local heroes with Spectrum connections, including basketball Hall of Famer Julius "Dr. J." Erving [right], name-checked by Springsteen in the Philly-flavored version of "Wrecking Ball" he performed at his final Spectrum dates. A snippet of that performance was played today over the loudspeakers during the wrecking ball's initial swings.
Despite its rapidly deteriorating condition, cramped quarters, and notoriously inadequate restrooms (all located underground, with no elevators or escalators at any level), the Spectrum had a certain charm and level of intimacy that newer, larger arenas often lack. Philly-area Springsteen fans, in particular, will continue to cherish many fond memories of epic, rockin' nights at the corner of Broad and Pattison, one of the very first places where Bruce and the E Street Band made the successful jump to larger venues. Bruce was right, of course; the Spectrum will live forevaaaah.
- November 23, 2010 – Shawn Poole reporting – photographs by Michael Zorn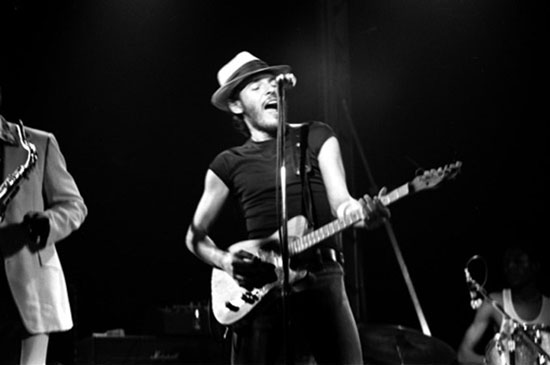 BRUCE RETURNS TO HARVARD SQUARE, 36 YEARS LATER
Some three decades on, Bruce Springsteen and the E Street Band have returned to Harvard Square in a new series of photos from the legendary night when then-Real Paper journalist and future manager Jon Landau saw "rock 'n' roll future."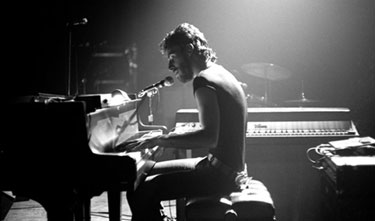 Through the end of November, the New England Folk Archives celebrates Harvard Square's rich history in music through a series of events, exhibits and performances. Included in these exhibits are a series of photographs of Bruce and the band from his landmark show at the Harvard Square Theatre on May 9, 1974. To date, with the exception of one photo which won this year's Boston Globe "Best Shot" competition, these photos have not been exhibited to the public. They capture Bruce's unique presence on stage as a young musician of 24 — not to mention Boom Carter on drums — through the lens of Barry Schneier.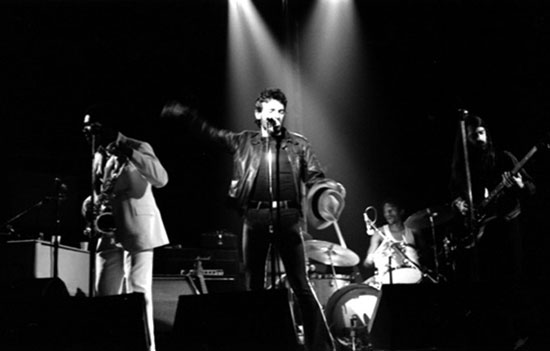 The exhibit runs through the close of November at the New England Folk Archives Gallery located at 30 Brattle Street in Cambridge, as well as on display in windows at The Tannery, 39 Brattle Street.
- November 23, 2010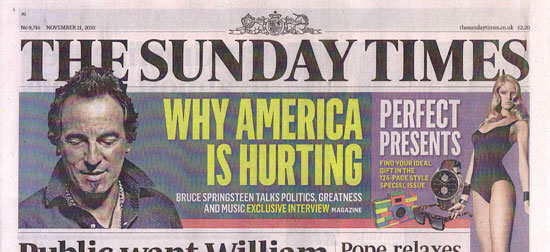 MONDAY MEDIA REVIEW: INTERNATIONAL EDITION
Rounding up interviews from the U.K., Australia, and Canada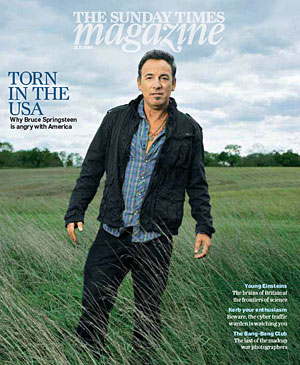 Springsteen appeared on the cover of yesterday's Sunday Times Magazine in the U.K., with a lengthy profile inside that largely bypasses Darkness talk for a more domestic agenda. In "Bruce Springsteen: Just a Regular Multimillionaire," Nick Rufford pays a visit to Bruce's New Jersey home to talk about everything from organic farming on his 300 acres ("It took five years to clean the soil, and some expense," says Bruce), to therapy, to home life, to the current political state of affairs: "The climate [in America] is very, very ugly for getting things done... The moderate reforms President Obama fought to make are called Marxist, socialist. I mean, the most extreme language is put into play to describe the most modest reforms that would move the economy back towards serving a majority of its citizens. There's a tremendous distortion of information."

Does his money make it difficult for him to write credibly about the poor and the dispossessed? He looks at me squarely. "Here's the only thing I know. I write very well about these things. And I think about them very seriously. I take a lot of time and effort in the music that I write to try and honour the experiences of the characters I write about. That's the best a writer can do."
Amid the political and agricultural talk, they also discuss Springsteen's endurance: both long-term, and on stage on any given night: "You have to be able to hold two somewhat conflicting ideas in your mind simultaneously.... One is, it's only rock 'n' roll. The other is, at this particular moment, on this particular evening, it's the most important thing in the world you can do. I feel the same as I felt when I was at the Elks Club in Freehold singing 'Twist and Shout' for the first time: abject fear that you've been given an opportunity [and] that you may waste it. I don't want to do that."
On Saturday, Australia's Channel Seven aired Molly Meldrum Presents: Bruce Springsteen: The Promise - The Darkness on the Edge of Town Story. The Australian music authority has notably interviewed Bruce a number of times and likes to go in depth, so this is well worth watching: a 45-minute program presented here in three parts:
And last week, while we were busy whipping our hair, a large portion of Ed Norton's conversation with Springsteen from the Toronto International Film Festival aired on WHYY's Fresh Air. Visit NPR.org to listen (or download) the program, including this rumination on the maps that led the way to Darkness:
"Some of the greatest blues music is some of the darkest music you've ever heard. And I had maps. Obviously, Dylan had come when I was 15, and obviously I listened to his music first, and his music contained a lot — I used to say when I heard 'Highway 61,' I was hearing the first true picture of how I felt and how my country felt. And that was exhilarating. Because I think 1960s small-town America was very Lynchian. Everything was there, but underneath, everything was rumbling. ... I think what Dylan did, was he took all that dark stuff that was rumbling underneath, and I think he pushed it to the surface with irony and humor, but also tremendous courage to go places where people hadn't gone previously. So when I heard that, I knew I liked that, and I was very ambitious, also."
- November 22, 2010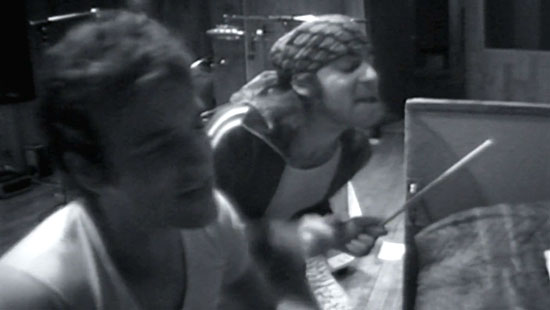 HEY HEY HEY, WHAT DO YA SAY, STEVIE'S 60!
Big birthday wishes going out to Little Steven Van Zandt today...
and you know that's the truth, baby!!
- November 22, 2010

TALKIN' 'BOUT THE WEEKEND


If you're in the Cleveland area, we encourage you to head to Lakewood and meet Lawrence Kirsch, publisher of The Light in Darkness and For You, at an event on Saturday night, November 20. Lawrence will be signing Darkness books at The Winchester Music Hall, where he'll be joined by another of our pals, photographer Rocco Coviello, who'll have some of his Springsteen photos on display. The night is also a listening/viewing party for the new box set, and there'll be live music, too, with the Springsteen tribute band Jersey. Visit foryoubruce.com for more details.
- November 19, 2010


THE MASTERING MASTER
Mastering engineer Bob Ludwig, who has been working with Springsteen since Nebraska, talks here to Portland, Maine's WCSH about his work on each aspect of the new box set, including remastering Darkness on the Edge of Town itself.
- November 18, 2010

MORE FROM ?UESTLOVE
"During rehearsal, when the producer said, 'Ladies and gentleman, 'Because The Night' with the Professor and Little Steven, here's Bruce Springsteen and The Roots' — I couldn't move." Read more from The Roots' drummer about "the most intense playing I've ever done," and the "quagmire" of being caught between opposite cues from Bruce and Steve in RollingStone.com's "Exclusive: ?uestlove on Rocking With Springsteen."
Oh, and Jay-Z dug it, too.

- November 18, 2010


BRUCE TURNS HIS SWAG ON AND KEEPS THE PARTY JUMPIN'
Plus: The Debearding
Above, the instant classic "Whip My Hair" from Tuesday night's Late Night with Jimmy Fallon; below, the aftermath.
You can also watch clips online of the "straight" performances with The Roots, "Because the Night" and "Save My Love" And you'll surely want to watch the full episode here if you missed it.
Here's what The Roots drummer and bandleader ?uestlove tweeted on Wednesday:
man. we rehearsed those two songs for 90 mins. and that was like an olympic workout. i can only imagine and appreciate max weinberg drumming for 4 hours a night for the last 40+ years. i remember that link i put up about avoiding your heros at all cost (well....you know who was on the show)---and true to form that's exactly what i did. but today DEADED all that. bruce truly lived up to all of the expectations i had for any god like figure in this world. he was engaging, hilarious, full of great stories, educational, informative....and generally it really seemed like he enjoyed playing with us. he made it pleasant and fun. and teaching us a thing or two about having fun with dynamics and volume. i know i say it EVERYTIME someone comes on @latenightjimmy, but i truly had the time of my life today.

i appreciate the love from this network. if you enjoyed what you saw tonight i beg you to continue to support the roots in the most effective way possible: please buy our albums. if you don't know where to start you can start here

we have 12 albums. all of which we bled and put the same painstaking scrutiny as if our life depended on it.
We concur.
- Updated November 18, 2010

AND NOW FOR SOMETHING COMPLETELY DIFFERENT
We take a small break from the celebration of all things Darkness to remember a major highlight of the record and tour that directly preceded it. To commemorate today's 35th anniversary of Born to Run's now-legendary Hammersmith Odeon show, a Pythonesque take on the event from Michael Palin.
- November 18, 2010

DARKNESS IN OUTLAW COUNTRY
The music of Bruce Springsteen has had a huge impact on roots rock and Americana artists, and is central to the mix on SIRIUS XM Outlaw Country, a format created by his longtime guitarist and consigliere "Little Steven" Van Zandt. To celebrate the release of The Promise: The Darkness on the Edge of Town Story, Outlaw Country hosts, songwriters and performing artists Steve Earle, Shooter Jennings, Elizabeth Cook and Mojo Nixon will gather for an hour of music and conversation to examine the influence of The Boss and Darkness on the Edge of Town on the Outlaw Country tradition, and vice versa.
"Darkness in Outlaw Country" debuts tonight at 6 p.m. Eastern, simulcast on Outlaw Country (Sirius 63, XM 12) and E Street Radio (Sirius 10, XM 58), and will be rebroadcast on Saturday, November 20 at 9 p.m. and Sunday, November 21 at 9 a.m.
- November 17, 2010



BROOOOOOOOOOOTS!
Prior to this evening's taping of the big Bruce guest spot on Late Night with Jimmy Fallon, the big question was whether he'd play with the E Street Band or Jimmy's Phillytastic house band The Roots. And the answer is: a little from column A, and a little from column B. For tonight's show Springsteen is backed by The Roots plus Steve Van Zandt on guitar and Roy Bittan at the baby grand for powerhouse versions of "Because the Night" and "Save My Love." ?uestlove pounding the skins, Steve and Captain Kirk Douglas making their guitars talk, the Professor's trademark piano work on one side and Tuba Gooding Jr.'s sousaphone on the other... it's the best of both worlds. After the cameras stopped rolling, Fallon was raving that there must be a permanent dent in the floor, since they rocked it so hard. Sneak peek here.
With no other guests tonight, the performance caps pretty much a full hour of Bruce, plenty of music and plenty of talk, for his only late night TV appearance to promote The Promise. Watch for Jimmy's "Pros & Cons" of the box set, Steve joining Bruce on the couch during the interview portion, and one thing we just won't spoil: Bruce's first musical performance of the night must be seen to be believed. Tune in late night tonight, at 12:35 a.m. Eastern/11:35 p.m. Central, on NBC.
- November 16, 2010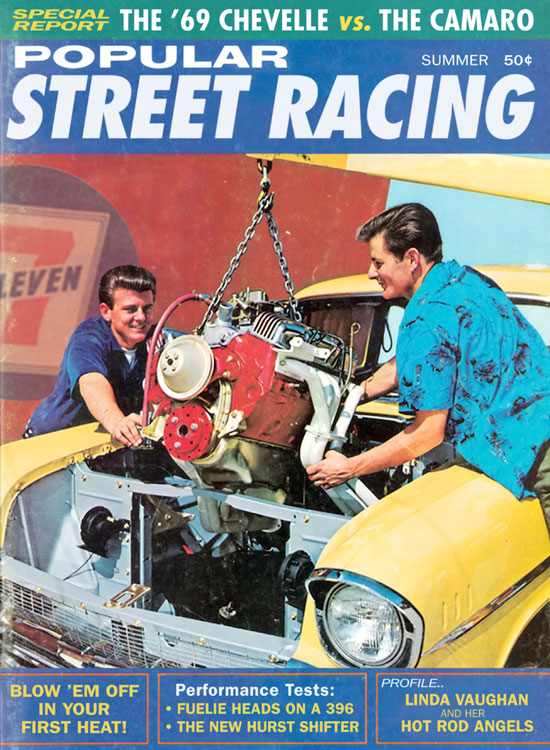 SOME GUYS COME HOME FROM WORK AND WASH UP...
...and put on this "Racing in the Street" T-shirt. Gals, too. On this momentous day, this new Backstreets shirt is now available worldwide, to celebrate another of today's releases. Printed in full color on a black tee, available in adult sizes Medium through XXL, check it out in our online shop for more details and to order yours!
- November 16, 2010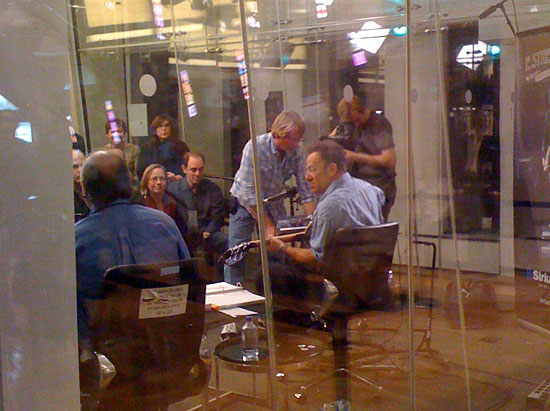 20 QUESTIONS, AND THEN SOME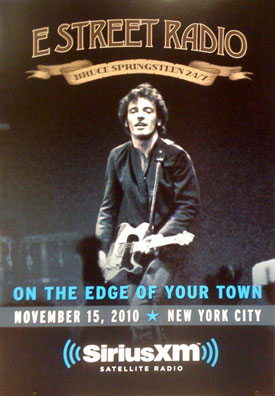 A game Springsteen meets E Street Radio listeners "On the Edge of Your Town"
Much has been made of the "conversation" Bruce Springsteen has been engaging in with his fans over the past 37 years (so much so that it's a knee-jerk, go-to joke for our annual April Fools festivities here on Backstreets.com — and will in all likelihood continue to be). In recent years, Bruce has made several attempts at making that conversation quite literal, giving his fans a chance to ask him questions directly. Not all have been successful (Somerville night two, anyone?). But when it works, as it did for two hours Monday night in midtown Manhattan, the results are priceless.
At the studios of Sirius Satellite Radio, in their intimate "fishbowl" performance space, Springsteen sat with host and moderator Dave Marsh to answer 20 questions from "E Street Radio on the Edge of Your Town" contest winners face-to-face — fans who won the contest precisely because their questions were goodies. The answers proved to be, too. There were times when Springsteen seemed to wish for a bit more levity in the proceedings, broadcast live on E Street Radio; but hey, given the chance to ask one question of their hero, how many diehard fans would come up with fluff? Whittling the roughly 3,000 entries down to 20 "was like amputation," Marsh said, but the result was a wholly substantive discussion of the many aspects of The Promise on the eve of its release.
Of course, Bruce cracked wise throughout the night — "Let's go!... he said with trepidation," was his greeting to the assembled winners. As one question began, "'The Promised Land' is one of the greatest rock 'n' roll songs of all time," Bruce interjected, "Keep going, you're doing great!" Did the struggles of the lawsuit period ever tempt him to give up? "No — we had no other skills!" On what his career would be like without Jon Landau: "I would be in the gutter right now, a poor boy playing for nickels and dimes." But though he played for laughs and got 'em, there were no real pat or superficial responses, Bruce instead going on to meet the thoughtful questions with answers equally meditative and revealing.
Asked about the Darkness tour's coveted "Prove It All Night" piano intro: "So you're one of the '78 piano intro guys.... there are clones of you throughout the United States." He talked about his intent at the time, before adding, to laughter: "If you'd like to hear it again.... that'll probably never occur, my friend. But it was good while it lasted!"
He discussed finishing many of the tracks on The Promise over the course of the summer "in my spare time... two or three hours in the afternoon, most of the time." His modus operandi: "If I was gonna finish it in 1978, how would I have finished it? That's the approach I took — and I was in a more relaxed position to do so."
In one of my favorite exchanges, Marsh talked about "The Promise" as being "about possibility"; Bruce answered quickly and directly: "It's also about, 'Gee, I wish I wasn't sued!'"
"The Way" as a hidden bonus track? "The main reason it's hidden is because I never liked it." Conjuring visions of Dean Stockwell, Bruce went on to say "I would like to see it placed in a David Lynch film over a sexually perverse scene. That, to me, is its righteous home." But well aware of how many fans disagree, he also noted that Jimmy Iovine "lobbied for it in '78 like he was gonna keel over."
The 20 in-house questions took us through the first hour; in the second, well-screened callers kept the quality up, getting Bruce to talk about literature and film's impact on Darkness, as well as how it was affected by the dawn of punk rock and the death of Elvis. If you missed the live broadcast, tune in as it reairs today at 8 a.m. and 4 p.m., tomorrow at 12 a.m. and 4 p.m., November 18 at 7 a.m. and 5 p.m., and November 19 at 8 a.m. and 11 p.m.
- November 16, 2010

COUNTDOWN TO DARKNESS: T MINUS 1!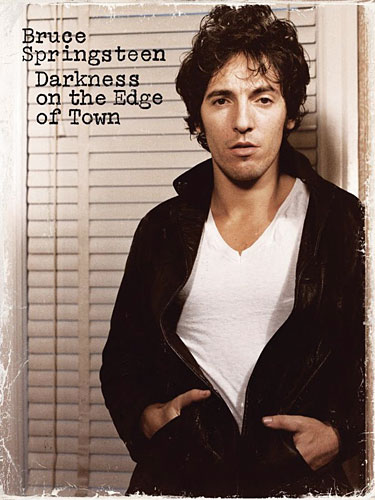 Did you know?: Given the abundance of new audio and video material on the Darkness box set, it would be easy to overlook the heart of the release: the remastered album itself. And it is something special.
Let's start with the cover. Given that this is the very album for which Bruce was so concerned with the photographic reproduction of the cover art that he took the unusual step of attending press check at the printer, the extant CDs are an abomination. Frank Stefanko's arresting image had become oversaturated to the point where Bruce's skin tone suggests he had fallen asleep under a sunlamp (dare we say, he's nearly Boehner-esque). The new CD cover is gloriously desaturated, the colors muted to match the faded wallpaper and Bruce's skin tone is cool and stark.
On the CD itself, the sound is also restored to what it should have been. There was always something a bit thin about the sound of the previous Darkness CDs, and what you hear right out of the gate with "Badlands" is something tightly wound, with aural highlights coming at the points where the tension is released and retaken. But interestingly, the soundscape remains composed; instruments don't leap out of the speakers but they do step forward when appropriate.
The big winners here are Mssrs. Tallent and Weinberg, as the new CD brings welcome shape and distinction to the low end. Take the start of "Adam Raised a Cain"—what strikes you is not the opening electric guitar salvo but the depth of the plodding "dum, dum, DUM" of the bass and drums. Garry's notes at the beginning of "Something in the Night" spread thick and deep, and when Max's drum roll comes in it has genuine body. Yes, like a pint of Guinness. And for whatever this word choice suggests, the drums on a song like "The Promised Land" finally sound round, and when the Mighty One hits the floor tom, it gives that big resonant hit that we all know from the live shows but never felt on the CD.
Others shine, too, like Danny's organ dancing on top of the backline in "The Promised Land"; Steve's guitar underpinning much more of "Prove It" than you remember; Bruce's vocals on "Candy's" and "Darkness" losing nearly all of that swishy sibilance (think of the sound of a trailing "S") that was noticeable on previous editions.
As a result, the crescendo that kicks off "Something," that moment when Bruce sings, "Well if she wants to see me…" in "Darkness," the opening four bars of "Prove It All Night" and so many other moments pay off like you always wanted them to. The credits say Bob Ludwig remastered the album in its entirety on June 2, 2010. Bob, that's one hell of a day's work.
- November 15, 2010

MONDAY NIGHT ON E STREET RADIO: THE BOSS ANSWERS TO FANS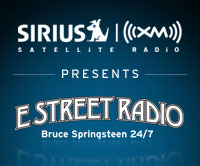 Don't forget: tomorrow night, Promise Eve, SiriusXM will broadcast a special two-hour show — E Street Radio on the Edge of Your Town — featuring Bruce Springsteen, live in the studio. An intimate studio audience of 20 contest winners will have the chance to ask him a question in-person about Tuesday's release. That's the first hour of the special; in the second, they'll open up the phone lines to E Street Radio callers — the number to call is 1-877-70-BRUCE — giving you the chance to speak to Bruce live as well.
Tune in to the live broadcast, hosted by Dave Marsh, at 8 p.m. Eastern on Monday, November 15 on E Street Radio. If you can't catch the live show, you can listen to rebroadcasts on November 16 at 8 a.m. and 4 p.m., November 17 at 12 a.m. and 4 p.m., November 18 at 7 a.m. and 5 p.m., and November 19 at 8 a.m. and 11 p.m.
- November 14, 2010

WHERE THERE'S A WILL...
The way you warm me baby when I'm cold
The way you make me want you body and soul
The way the rivers run to the sea
Well, that's the way... we felt when we heard "The Way" confirmed as a hidden bonus track on The Promise.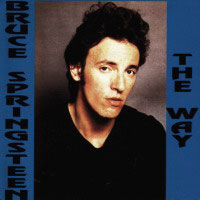 This long-lost gem from 1977 — previously unreleased, though long a favorite among collectors and traders, as well as the title track of a contraband collection during the bootleg CD heydey — provides a moving coda to the 21 listed tracks on the new two-CD set.
Many wondered why "The Way" didn't make the cut for Tracks 12 years ago; that it wouldn't appear on The Promise either seemed unfathomable. So don't tune out after "City of Night"!
- November 14, 2010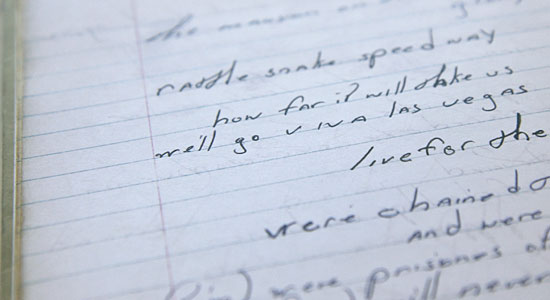 COUNTDOWN TO DARKNESS: T MINUS 2!
Did you know?: In one of the more revealing (and amusing) moments in The Promise documentary, Jon Landau implores Bruce to put his damn notebook away: "The only thing that can come out of this book is more work! Close the book and there's no more work!" Throughout the numerous drafts in the box set's notebook replica (surely just the tip of the iceberg) we find page after page of lyrics that fell by the wayside, countless rabbitholes just waiting for Springsteen to fall in. Maybe he still could — a lost record, say, between The Promise and Darkness on the Edge of Town?
Alternate storylines, lyrics that prefigure future records, observations that just fell by the wayside... a few of our favorite couplets that got away:
Lie still pretty darlin' / Don't scream
It's somebody else's dream
Though everything's gone and nothing left alive
You're at peace with the emptiness and somehow learned to survive
Me and Sonny we spend most of our time drinkin' / Drinkin' and drivin around
Sonny lookin' for somethin' he lost / Me I wanna lose everything I found
Make her run true
What else can we do
How far will it takes us
We'll go Viva Las Vegas
My eyes have seen the glory of the comin' of the Lord
He was peelin' down the alley in a black and yellow Ford
Candy had a sadness but I shoulda guessed that it was all her own
'Cause somethin' died the night I tried to give that sadness a home
People out on the Island talkin' rock + roll bands
When tonight the devil will walk these streets like a man
- November 14, 2010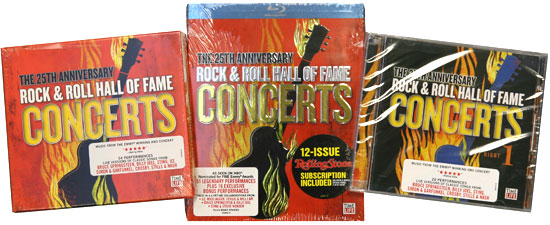 HAPPY 26th ANNIVERSARY TO THE ROCK HALL
So yeah, there's some Darkness something-or-others coming out on Tuesday... but that's not the only Bruce stuff new to store shelves. Springsteen's performance from a year ago with the E Street Band, U2, and others at Madison Square Garden is captured on The 25th Anniversary Rock & Roll Hall of Fame Concerts, released in September on DVD and now available in four configurations: 4CD, 2CD, DVD and Blu-ray. We've got 'em all in stock at Backstreet Records, and all are 10% off!
- November 14, 2010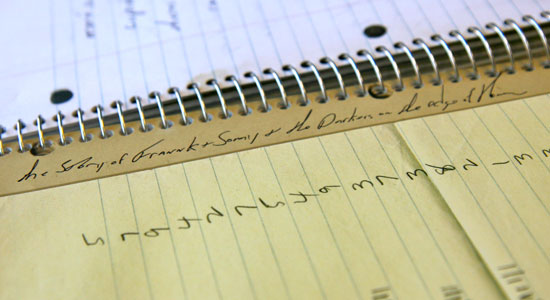 COUNTDOWN TO DARKNESS: T MINUS 3!
Did you know?: In most if not every tune stack reproduced in the booklet where Bruce contemplates a song sequence for the album, "Badlands" is the opener. So that much they knew. The rest was open to considerable refinement.
Other interesting tidbits along those lines from the voluminous notebook pages:
In inventory of songs in hand, "The Promise" is expanded by the parenthetical "(Return to Th. Rd.)"
Also carrying a parenthetical on its full lyric sheet: "The Darkness on the Edge of Town (The Racer)"
In the margin of a page that appears to be a Jon Landau's voting tabulation of songs for the album (led by "The Promise" with nine votes), Bruce writes out the title: "The Story of Frank & Sonny & the Darkness on the Edge of Town"
And of the many tantalizing titles written throughout the notebook that remain unheard and previously unknown, surely none is more intriguing than "Clint Eastwood Theme," listed as No. 12 on a page of "New Songs"
- November 13, 2010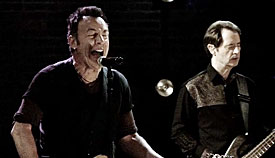 FRIDAY NEWS ROUND-UP
In between all the A/V sneak peeks (and holy blazing boulevards, here's another one!), plenty of other Bruce tidbits keep coming across the wire... let's do a Friday Night Linkfest:
- November 12, 2010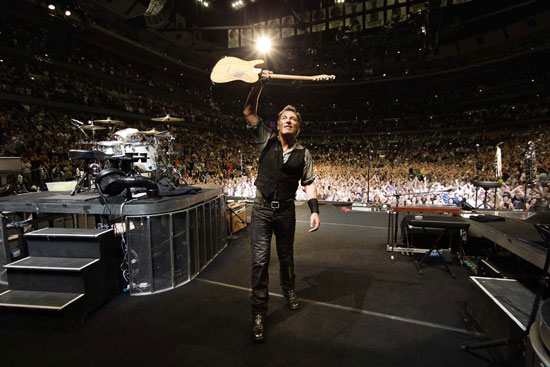 METAL RULEZ!
Jo Lopez's metallic Bruce prints on display in Miami in December
Photographer Jo Lopez, in ties with Bruce Springsteen and the E Street Band since 2002, will be sharing his never-before-seen collection next month featuring on-stage live performance shots. Jo's unique style comes to life in this exhibit, presenting images that summon viewers to "get on the stage" and share the experience from Bruce and the band's point of view, as you've seen in his photographs in the London Calling: Live in Hyde Park package. All prints will be beautifully displayed on aluminum and metallic.
The exhibit, which is an offshoot of Art Basel Miami Beach 2010, will take place on December 3 from 5 to 10 p.m. and December 4 from 1 - 9 p.m. at Carousel Studios, 3700 Northeast 1st Court in Miami (carouselstudios.com). The exhibit will also include images of a variety of other impressive artists such as Eric Johnson, Brad Whitford and Ernie Isley.
For more information, please email info@jolopezphotography.com or visit jolopezphotography.com.
- November 12, 2010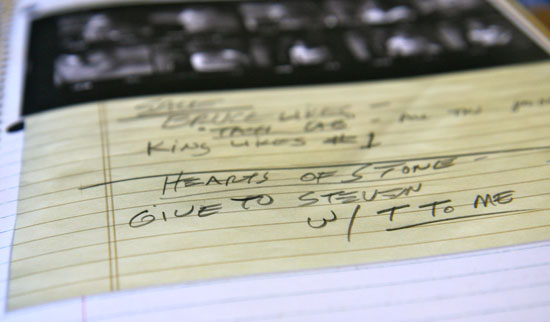 COUNTDOWN TO DARKNESS: T MINUS 4!
Did you know?: Among the guest musicians who appear on The Promise, the most unexpected are the players on "It's a Shame." Sitting on the drum stool is none other than manager Jon Landau, and playing bass is Bob Chirmside. If you don't know Chirmside, he was Springsteen's road manager circa 1975-1981.
Other nuggets from the album credits: the Alliance Singers (Tiffeny Andrews, Corinda Crawford, Michelle Moore and Antoinette Savage), who contributed choir vocals on The Rising, join Patti Scialfa and Soozie Tyrell as back-up singers on "Someday (We'll Be Together)" and "Breakaway." And old meets new in the horn sections. The 1977 recording of "Talk to Me" features some original Jukes/Miami Horns members: Rick Gazda (trumpet), Stan Harrison (tenor sax), Ed Manion (baritone sax), Bob Muckin (trumpet) and Richie "La Bamba" Rosenberg (trombone). Harrison and Manion reprise their roles on "It's A Shame," "The Brokenhearted" and "Breakaway," augmented by new players Barry Danielian (trumpet), Dan Levine (trombone) and recent friend-of-the-firm Curt Ramm (trumpet).
Re: "Talk to Me," another of the booklet's fascinating handwritten notations (this time in what appears to be assistant engineer Thom Panunzio's hand) notes that the song should be given "to Steven" along with "Hearts of Stone." And sure enough, both wound up on Southside Johnny & the Asbury Jukes' third album, Hearts of Stone, produced by Van Zandt.
- November 12, 2010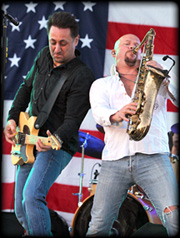 LISTENING PARTY AT THE STONE PONY
Tramps Like Us to re-create 9/19/78 to coincide with Promise release
On Tuesday, November 16, The Stone Pony in Asbury Park, NJ will be hosting a listening/release party which will feature a concert re-creation performance by the tribute band Tramps Like Us. The band will perform the legendary 9/19/78 Capitol Theatre concert from the Darkness tour in its entirety. Listening party starts at 5:00, and Tramps takes the stage at 7:00.
Sony Records will be participating in this special event at the Pony, giving away copies of the new box set and CDs to raffle winners.
Tramps Like Us will also be performing this historic concert in three other states beginning tonight:
Lawrence Kirsch, the publisher of The Light In Darkness, has also signed a limited amount of his books for these special concerts, and they will be on sale at all four shows.
Complete information on these all shows are available here
- November 12, 2010


LEGENDS OF SPRINGSTEEN: ALL IN THE FAMILY
In the midst of a worldwide media blitz, Bruce Springsteen cleansed his palate with a lower-profile gig, hopping up on stage with his brother-in-law's band Thursday night in Farmingdale, NJ. Timepiece, which includes Mike Scialfa, played Woody's Roadside Tavern last night, with a little help from the Boss on "Mustang Sally."
- November 12, 2010 - video by Rose A. Montana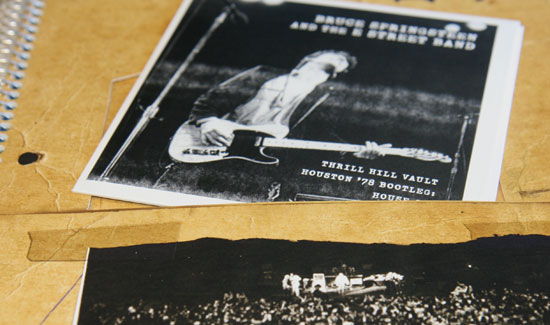 COUNTDOWN TO DARKNESS: T MINUS 5!
Did you know?: While you may have wished for mythical footage from Madison Square Garden or Winterland, we couldn't ask for a much better concert video from the Darkness tour than Houston, December 8, 1978. Shows from the aforementioned venues have long captured the imagination of folks pondering what sat in the vaults, but Houston is a show that evidence suggested should exist even though no one had ever seen a frame of it until recently. The Summit opened in 1975 and like other venues built in the era, it featured a state-of-the-art, in-house video system and big screens. These were used during games for the venue's primary tenant, the NBA's Houston Rockets, but also for the many rock and pop concerts held there. Fast-forward 25 years and video recordings of some Summit concerts began to leak out, including shows by the Who, Aerosmith, Queen and Prince. Given the Who show took place in 1975 and the Prince show in 1981, Springsteen's 1978 appearance seemed a likely candidate to have been recorded, and it turns out it was. How it wound up in the Thrill Hill Vault is another story.
There's much that makes Houston especially appealing, including its relatively late appearance in the itinerary of the eight-month tour. As such the set varies considerably from the oft-seen videos of Passaic and Largo, featuring three songs — "The Ties That Bind" (opening the second set with a bang and featuring Bruce on the rarely played Fender Electric XII guitar), "Independence Day," and "Point Blank" — that would appear on Bruce's next album, The River. We also get the as-yet-unreleased "Fire" and "The Fever," an epic "Mona">"She's the One" complete with the "I Get Mad" rap, the first video release of the beloved "Santa Claus is Coming to Town" and the only appearance of the Dovells' "You Can't Sit Down" from the tour's final leg.
For many of us intimately familiar with the Winterland radio broadcast that aired exactly one week after this show and has been replayed millions of times on bootlegs, the Houston footage solves one of its enduring mysteries. During the breakdown in the "Detroit Medley" at Winterland, Bruce teases, "See, it ain't so bad, when me and the Big Man do this. And it ain't so bad when me and the Big Man do this. And you could even get off with light injuries and a short trip to the emergency room, when we do this.... Now I bet all them guys on the radio are wondering what we're doing."
In Houston the rap is slightly different ("Are you tough enough to stand it when me and the Big Man do this? And can you take it when me and the Big Man do this? Can you hold on... when we... do this?"), but what we couldn't see on the radio from San Francisco, we now get to see on stage and in color in Houston. We won't spoil the surprise, but suffice it to say it involves some very impressive hand gestures.
- November 11, 2010 - Thanks to Johanna Pirttijärvi's "Storyteller" transcriptions at Brucebase for some of the info above

COME VETERANS DAY: DARKNESS EDITION
At the most recent Kennedy Center Honors, Vietnam veteran, author, and anti-war activist Ron Kovic told a beautiful story about the special meaning that Darkness on the Edge of Town's title track holds for him:
"I met Bruce Springsteen for the first time in 1978 at the Sunset Marquis Hotel in Hollywood, California. I remember on one afternoon seeing a young man swimming in the pool, and when he got out of the pool I went up to him and I said, 'You probably don't know me, but my name is Ron Kovic.... I wrote a book called Born on the Fourth of July, and I'm a Vietnam veteran.' He seemed surprised and he said, 'I just read that book!' We talked for a while, and he invited me to San Francisco to see him perform at the Winterland arena. It was my first Bruce Springsteen concert.... and then somewhere in the middle of that extraordinary performance that night, Bruce looked out into the audience and he said, 'This one's for you, Ron...' and he began to sing 'Darkness on the Edge of Town.' I remember as I sat in my wheelchair, I began to cry, and it was the first time I had cried in a long time. Being born on the Fourth of July has always meant a lot to me and knowing you, Bruce, has made it even more special to have been born in the U.S.A."
Springsteen's support for our troops has been considerable and consistent, evident as recently as last week's Stand Up for Heroes benefit. Today we honor all of our men and women in uniform, and we know we have more than a few readers currently stationed overseas — thank you for your service.
- November 11, 2010

SPRINGSTEEN ON FALLON, 11/16: WANNA RENDEZVOUS?
Secret code, just for us (shhh!), gives you a chance to be there live
Bruce Springsteen will perform live on NBC's Late Night With Jimmy Fallon on November 16, and the Fallon team is reserving the closest seats in the house exclusively for Backstreets readers!
The taping will take place in New York City on Tuesday afternoon/evening, to air that night (early Wednesday morning) at 12:35 a.m. Eastern/11:35 Central.
For a chance to win seats on the show's "band benches" and an opportunity to surround the stage during Bruce's performance, visit fallonbandbench.com and enter the code BRU. There's an extremely limited quantity of tickets, so act fast. Winners will be notified by email and phone no later than 24 hours before the day of the taping.
You won't see the code on that page with the rest, because it's being made available only to our readers, but it's active now. If you can get yourself there, enter now... and good luck!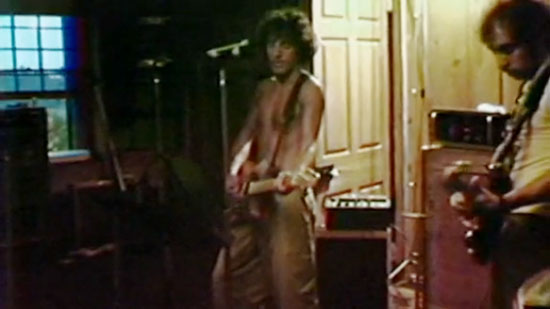 PORTRAIT OF "SAVE MY LOVE" AS A YOUNG SONG
The box set's booklet says: "'Save My Love' written in 1977, lyrics and recording 2010." So how does the song appear on the Thrill Hill Vault DVD from a '76 rehearsal? Here's how — yet another sneak peek preview clip, courtesy of New York magazine, is a fascinating look at a song starting to get up on its feet (and at a shirtless Bruce, and a hatless Miami Steve).
- November 10, 2010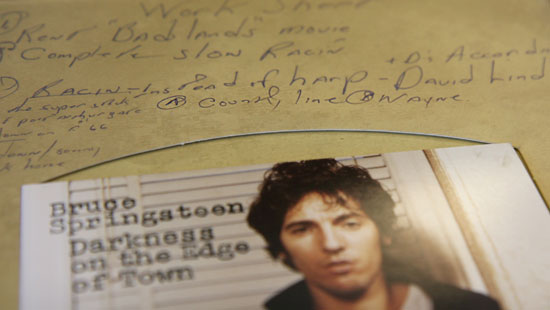 COUNTDOWN TO DARKNESS: T MINUS 6!
Did you know?: The Darkness box set booklet confirms an interesting detail Dave Marsh dropped in passing in his book Glory Days way back in 1987, namely that "Darlington County" had originally been recorded for Darkness before it was recut in 1982 for Born in the U.S.A.
On a page titled "Work Sheet" reproduced in the booklet, "Darlington County" is listed along with "Don't Look Back," "Badlands," "[The] Promise," "Fast Song," and "Racin'." The list captures Bruce's notes for how he wants to alter the recordings of each track. On the same page he also describes the album "cover" as: "Color--[Cor]vette & red jacket... headlights of two cars going same way on a 2 lane." Not where the Darkness cover art wound up, but reminiscent of several of the Eric Meola photos reproduced in the box set as well the eventual cover image of Nebraska.
"Darlington County" isn't the only song cut for both Darkness and Born in the U.S.A. — "Frankie" (spelled in several handwritten pages in the booklet as "Franky") was also recorded for both albums, with the 1982 version winding up on Tracks. Given its live performances in early 1976 and its inclusion in several of the handwritten lists of contemplated tracks found across the booklet, "Frankie" appears to be another song that Bruce would have considered for the "recording... that could have/should have been released after Born to Run and before Darkness on the Edge of Town."
- November 10, 2010


HOUSTON, WE HAVE A PREVIEW
Having gotten advance tastes of the first two DVDs already, today we get a first look at the third: from the complete Houston '78 show, courtesy of Spinner.com, here's "Because the Night." All eight minutes of it (don't worry, the lights do come up). And dig that scorching, two-minute guitar solo!
Spinner is also hosting The Promise streaming in its entirety.
- November 10, 2010

WILL THE REAL BRUCE SPRINGSTEEN PLEASE
STAND UP?
We're sure they'll get it all sorted out on Tuesday night, when Bruce Springsteen appears on the Jimmy Fallon Talk Show. They'll be talkin' 'bout issues, talkin' 'bout very important issues like the Promise box released that very day, and Bruce will be performing as well.

This is Springsteen's only scheduled TV stop for the box set, so be sure to set them Tivos!

Late Night with Jimmy Fallon airs on NBC at 12:35 Eastern, 11:35 Central.

Watch this page this afternoon for ticket giveaway info!
- November 10, 2010


THE TRUTH IN ITS PROPER USE
Talking to the Wall Street Journal about the Darkness box, Springsteen recalls his original direction post-Born to Run, much of which we hear on The Promise collection of outtakes: "I probably did start out trying to remake a Brill Building-influenced album... I hadn't moved into my passion for country music or political or social music. [But] I didn't want to be mistaken for a genre artist or neo-soul. I didn't want to be neo- anything." Remarking on the shift toward Darkness on the Edge of Town, Bruce concludes, "You don't risk, you don't get."
Read "The Heart of Darkness" — and WSJ.com is also hosting this sneak peek at the studio clip for "Ain't Good Enough For You."
- November 9, 2010


ZIMNY AND MARSH TOUR THE BOX SET
"The documentary works great in the box set because it tells a part of the story," says The Promise filmmaker Thom Zimny. "All the elements of the box set, to me as a fan, give me a piece of the puzzle." Watch Zimny and Dave Marsh sift through the puzzle pieces above.
And below, a thorough virtual tour of the box set's notebook, First Person Shooter-style:
I like pretending those are my hands, and it's me flipping those pages. But wait, when did I get that watch? Anyway, point is: our friends at Badlands in the U.K. provide a page-by-page flip through the box's contents, if you're one who likes to peek at your presents in advance. Just keep the drool off your keyboard.
If you haven't pre-ordered yet, there's just one week until the release... and we hope you'll get yours from us! We're carrying all configurations — the 3CD/3DVD box and the 3CD/3Blu-ray box, each of which contain the notebook seen above, as well as the 2CD set and the 3LP set — and we're offering a 10% pre-order discount across the board when you order now. We appreciate your support!
- November 9, 2010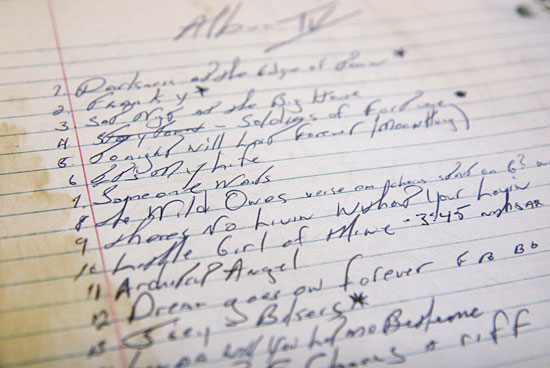 COUNTDOWN TO DARKNESS: T MINUS 7!
Did you know?: Along with numerous pages of handwritten lyrics, the box set's notebook also contains several lists Springsteen made at the time: of considered tracks, various configurations of songs to make up the A and B sides of the LP, album titles ideas, and more. In one such list titled "Album IV," Springsteen includes the Born to Run-era outtakes "Architect Angel" and "Linda Let Me Be the One," as well as the Animals' "It's My Life," which had become a staple of his 1976-77 shows.
- November 9, 2010

MIDNIGHT
MADNESS
With the Darkness box coming out a week from today, Jack's Music Shoppe in Red Bank has a big release party planned for the night before, with live music from The E Street Shuffle, a screening of the documentary, and of course, the goods available at midnight.
- November 9, 2010

COUNTDOWN TO DARKNESS: T MINUS 8!
The wait is almost over, with just eight days to go until the release of the amazing Darkness box set. Knowing how strong anticipation is, each day for the next eight days we will drop a little tidbit of information gleaned from the box contents to help tide you over until it arrives.
Did you know?: Virtuoso musician David Lindley plays violin on both "Come On (Let's Go Tonight)" and "Racing in the Street ('78)." Lindley was part of Jackson Browne's touring band for most of the '70s. His involvement in the early Darkness sessions was known, but until these tracks, the only evidence of it was a bootlegged alternate take of "Factory" (itself begat from "Come On [Let's Go Tonight]" featuring his violin overdub.



ALL THAT I'VE GOT TO GIVE
Unless you were at the Ziegfeld Theater last Thursday, you've surely been champing at the bit to see what this Darkness on the Edge of Town 2009 film looks like... well, hot damn, get a load of "Candy's Room"!
The clip is posted now at rollingstone.com, along with 15 of the Darkness outtakes from The Promise. Six of them weren't part of NPR's First Listen: "Someday (We'll Be Together)," "One Way Street," "Spanish Eyes," "Talk to Me," "The Little Things (My Baby Does)," and "Breakaway."
- November 8, 2010

DARKNESS IN NEW YORK
Thom and Max in the house for Paramount Theatre 2009 film premiere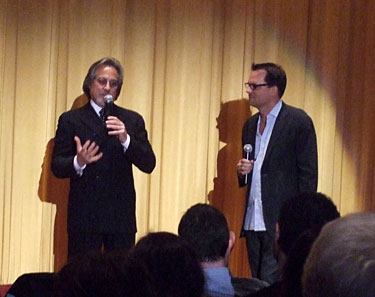 While Bruce was ripping it up with Joe Grushecky in Pittsburgh, a dark and rainy New York night was the setting on Thursday for the world premiere of Thom Zimny's concert film Darkness on the Edge of Town at the historic Ziegfeld Theater in midtown. The film captures Bruce & the E Street Band performing — without an audience last December at Asbury Park's Paramount Theater — an intense and blistering version of Darkness in its entirety. As an added treat to those in attendance, Zimny and Max Weinberg were there in person for a Q&A session held after the screening.
Filmed as bonus material for the release of the Darkness box set, Zimny noted that as he watched the film in Toronto, he felt that this one needed to be seen (at least once) on the big screen as well. For the fortunate fans that made it to the Ziegfeld, it was truly a special experience. With the audience chanting "Broooce!" and singing "Whoa-oh-oh-oh-oh" during "Badlands," this event almost had the feel of a live show.
Even though there was no audience in the film for Bruce and the band to play off of, we get to see another perspective: what it's like to be actually on stage with them. The camera zooms in close and swerves in and around the band. We see the communication between Bruce and the E Streeters, evident in slight physical cues in his body language. During the Q&A, Max mentioned how Zimny captured "the grit" of playing and the "concentration and the difficulty [it takes] to get the right moment" for each song.
As the night wrapped up, Zimny told the crowd, "you can say that you saw Bruce and the E Street Band in concert with Max in the audience!" Max commented on this new perspective as well: "I was fascinated by Bruce's eyes. I've never seen that view of him from the front like that."
Asked from the audience what he wanted to do next, Max exclaimed, "I want to get back on the road!" As to when that might be, Max said that Bruce and the E Street Band will probably get back out "on the sooner side of 'sooner or later.'" For those in the audience Thursday night (and for Bruce fans the world over), that moment couldn't come soon enough.
- November 7, 2010 - photograph and report by Erik Remec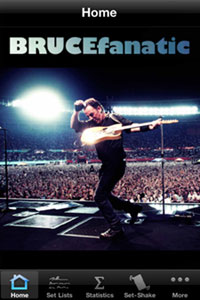 BRUCE SETLISTS?
THERE'S AN APP FOR THAT
In the iTunes store now is BRUCEfanatic, a new Bruce Springsteen setlist app for the Apple iPad, iPhone, and iPod touch. Created by Setlistics but "officially sanctioned," the app has searchable setlists from 1971 to the present and lets you "generate stats on the fly during a concert! Ever wondered how unique the set list is that you're currently seeing? Or how many times certain songs have been played in the same show, the same set, back-to-back, etc.... You'll never again utter 'when was the last time they played this?'" If you're a trainspotter like us, this could prove handy.
Plus, links to Springsteen info online (including Backstreets.com under "Official Fansite"), "instant playlists," shake feature to generate setlists, YouTube links, and more. Preview it now in the iTunes App Store.
- November 7, 2010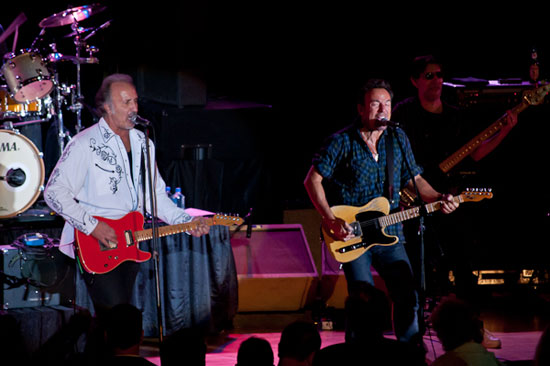 11/5: ONE MORE IN PITTSBURGH, JUST FOR THE LIKES OF JOE
Less tequila-fueled than the "loose" first night but just as much fun, Bruce Springsteen and Joe Grushecky's Friday show added a few more songs to the mix, cranked up the guitar, and had 'em dancing in the aisles. Bruce's opening acoustic set went from three to four songs, reprising "This Hard Land" from night one but switching out the rest in favor of "Your Own Worst Enemy" (a nice rarity), "Bobby Jean," and "I'm on Fire."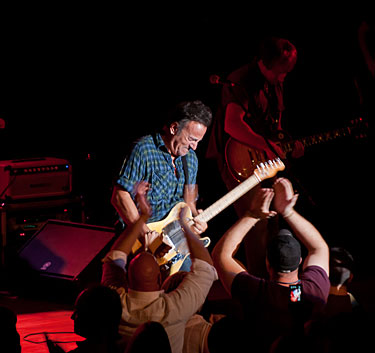 Trading his acoustic for electric, Springsteen joined the Houserockers to take fierce leads on songs like "Another Thin Line" and "Never Be Enough Time." While the basic blueprint for the body of the show was the same as night one, already heavy on songs Bruce and Joe co-wrote as well as Bruce's own, several additional Springsteen songs stretched things out. "Johnny 99" turned up early, with "Pink Cadillac" later replacing "Fire," and the doubleshot of "Light of Day" and "Glory Days" wrapping up the main set. Bruce had particular fun with "Pink Cadillac," changing the words as he sang to his old friend: "Joe, Joe, Joe... You may think I came all the way to Pittsburgh / Just for the likes of you... Come on over here and man-hug me." But the stand-out Springsteen song of the night was a callback from night one: "We've got a love song coming up, so I'm gonna wear my rose," he laughed, briefly tucking a flower behind his ear before "Save My Love," which the Houserockers absolutely nailed.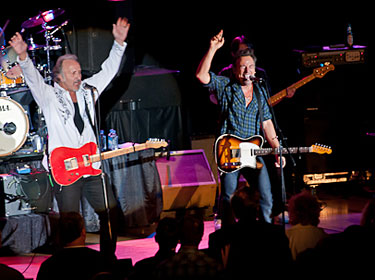 The Elvis Presley hit "Burning Love" opened the encore, and for "Twist and Shout," Grushecky's family came on stage to shake it up, too (Joe's son Johnny's band, I Drive, opened the show). As on night one, Bruce offered up a solo acoustic "Thunder Road" to wrap it all up, saying "Joe told me to send you home with this one." He also took a moment to sing Grushecky's praises, saluting, as he put it, "the simple excellence of what Joe and his band do" — and the elated hometown crowd was clearly in agreement. Happy anniversary, American Babylon!
For the full setlist from this and other recent shows,
see our Setlists page
- Updated November 6, 2010 - photographs by Frank Lanza


SERIOUSLY, DID YOU EVER THINK WE'D SEE THIS?
A sneak peek at the box set's second DVD — and at the use of longer takes from Barry Rebo than we got to see in the documentary — comes today courtesy of Pitchfork.com: a full, in-studio "The Promise" from '78.
- November 5, 2010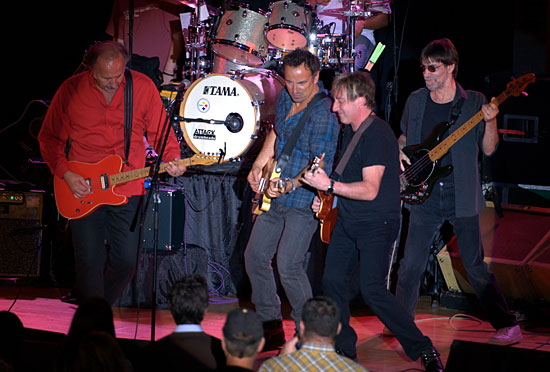 11/4: A 23-SONG SALUTE AT SOLDIERS AND SAILORS - NIGHT ONE
A guns-a-blazin' 23-song set kicked off Joe Grushecky and the Houserockers' special Pittsburgh stand with Bruce Springsteen Thursday night, heralding the 15th anniversary of Joe's American Babylon album and their 1995 October Assault shows together. Thursday night at the beautiful Soldiers and Sailors Hall (Bruce said he felt a "communion" with old buildings like these), Grushecky, Bruce, and the Houserockers launched a blistering new assault with a two-and-a-half-hour show that took some wild diversions from sets of recent Grushecky/Springsteen vintage.
Jawdroppers included a world premiere (an out-of-left-field, expertly played "Save My Love" from the upcoming The Promise), and a spotlight on Darkness, with rousing, inspired versions of "Adam Raised a Cain," "The Promised Land" and "Darkness on the Edge of Town." A solo-acoustic Bruce portion was something to savor as its own entity, what with a second-time-ever performance of "A Good Man is Hard to Find (Pittsburgh)," in addition to "For You," "This Hard Land" and a finale of "Thunder Road" that had the rambunctious crowd humming the guitar/sax coda over Bruce's acoustic. And seeing that we are at Soldiers and Sailors, how about some Army — as in Guitar Army. At times there were five guitarists on stage, wailing away along with Bruce and Joe's stinging leads, particularly on "Another Thin Line" and American Babylon's "Never Be Enough Time." Just spectacular stuff in Pittsburgh, with more variety than most were anticipating and rising above any preconceived notions. What will Night Two bring?
For the full setlist from this and other recent shows,
see our Setlists page
- November 5, 2010 - Pittsburgh Larry reporting - photograph by Jeff Ross

BEYOND THE BOSS: BABA BOOEY TO Y'ALL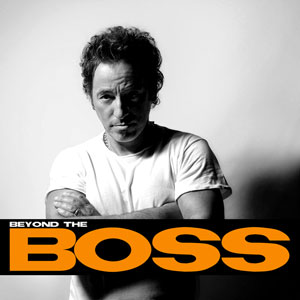 As a follow up to their profile on Backstreets Magazine, Beyond the Boss has introduced a new segment called the "Superfan Series." In the inaugural episode, released today, Beyond the Boss profiles Springsteen uber-fan and executive producer of The Howard Stern Show, Gary Dell'Abate. If you aren't a fan of the Stern show and haven't heard of Gary by name, you'll most likely recognize his nickname, which has become part of the lexicon of American culture: Baba Booey.
If you're not a fan of the Stern show, fear not: this podcast is stripper-free. It's a warm and humorous profile of Gary's life that touches upon his difficult childhood, his unique relationship with the King of All Media, and his obsession with all things Springsteen.
Growing up in Uniondale, Long Island, Gary was introduced to the Boss in the mid-'70s and has never looked back. In this episode, Gary talks about the impact Springsteen has had on his life, being an auctioneer for Bruce and Bono, Howard's reaction to his obsession, and many more great stories.
Listen now at beyondtheboss.com.
Beyond the Boss producer Neil Van Harte has been busy, as there are numerous episodes in the works. Coming soon to Beyond the Boss: a Superfan Series profile of NBC News Anchor Brian Williams, the "Springsteen Photographers Series" profiling Eric Meola, Frank Stefanko and Danny Clinch, and an in depth look at Lawrence Kirsch's book The Light in Darkness.
Gary's new book, They Call Me Baba Booey, is now available nationwide.
- November 4, 2010

PREPARE FOR THE NOVEMBER ASSAULT!
The Pittsburgh Tribune-Review previews tonight and tomorrow nights' Springsteen/Grushecky shows in Steeltown, including a glimpse of how their association began: "Give Steve Van Zandt credit. A little more than 30 years ago, the guitarist for the E Street Band was producing the Iron City Houserockers Have a Good Time, But Get Out Alive in New York City. He thought his bandleader, Bruce Springsteen, might find common ground with the scruffy group of musicians from Pittsburgh whose primal rock 'n' roll was comparable to that of the New Jersey-based band...."
Read: "Springsteen, Grushecky have rock 'n' roll bond"


BRUCE, MAX, AND ROY STAND UP FOR HEROES
Wednesday night at the Beacon Theater brought the meeting that some expected to place across the river back in September, when the Max Weinberg Big Band played the Stone Pony. Max's ensemble was the house band as Bruce Springsteen played the Stand Up for Heroes benefit last night in New York. He still performed just a handful of songs, as usual, but the team-up made for a very different, swingin' performance than what Bruce has done previously at this annual event.
After a short intro from Jon Stewart and some praise from Springsteen for Tony Bennett (going on stage after him, said Bruce, was "like following all of Mount Rushmore"), they launched into the Seeger Sessions arrangement of "Open All Night," featuring the full Big Band, with Max on drums, and surprise guest Roy Bittan on piano. After telling the requisite dirty joke, this being a New York Comedy Festival Event, Springteen and the band teamed up again for "Kitty's Back," a song that Max has been part of his Big Band's repertoire, but a first here with Bruce. Roy stood out as well, tearing it up on some fleet-fingered solos.
The press release also indicates that the Max Weinberg Big Band will be performing at tonight's event as well.
- November 3, 2010
And if Saturday still finds you hungry for more, the Max Weinberg Big Band plays the South Orange Performing Arts Center on 11/6, a homecoming show that is Max's final scheduled date for the year.
- November 2, 2010
I'm 24, I'm from Italy, and last night I was lucky enough to attend the preview of The Promise at the Rome Film Festival. In the Italian newspapers and TV news, since the word began to spread that the Boss would come to Rome to present the documentary about the Darkness recording sessions, it was suddenly Brucemania! The "wild bunch" of the die-hard fans (such as me) had already purchased the tickets for the screening of The Promise when we had no idea of such possibility, and you can imagine what a great surprise and joy it was to discover that we would be watching this wonderful documentary in the company of our hero. Under an irritating rain, we waited on the red carpet while the speakers of the Rome Auditorium blared the songs of Born in the U.S.A.
Then, at about 8:40 p.m., the music changed and the notes of Ennio Morricone created a magic atmosphere as Springsteen suddenly appeared, in his "cool rockstar look" with sunglasses at night and black leather jacket. He started signing autographs with the fans, and I was so lucky to have him sign my own vinyl copy of Darkness. People of all ages were standing on the fences of the red carpet, screaming like crazy while he proceeded with Jon Landau and Thom Zimny at his side. Then, after some photos for the press, it was time for the real event, when we sat down in the huge Sinopoli Hall (1,200 seats). Having seen the images of the London Festival, I thought he would have spoken for a minute, standing, before the film started. This was not the case. We didn't see Bruce before the documentary, we had only been told by the organizer of the Festival that "this was going to be an historic evening."
So, in a room full of Italian celebrities we watched this great film, and watching it in that place was a show within the show. You could really feel that this was an audience of Italian hardcore Bruce fans: applause in the middle of a scene, cries of "oooh!" during the concert footage, hand-clapping to the songs... but also religious silence during the calm parts, and an everlasting spontaneous applause during the final images, when the members of the E Street Band were shown in a row on the screen.
Galvanized by this experience, we watched as on the stage some chairs and tables were brought on, and, feeling what was about to come, we started behaving as if this was not an Auditorium but San Siro stadium! Cries of "Brooooce" all over the place, chanting of the "Badlands" chorus,even a guy offering a Telecaster guitar from the bleachers, and finally a standing ovation and fans jumping all around when the organizers called Bruce's name and he stepped on stage with Landau and Zimny. About watching the movie with this kind of audience, he said, "You know, the Italian fans are always... particular."
The conversation that followed was very relaxed, with the interviewer comparing the young Bruce to actors Al Pacino and Paul Newman, and Bruce laughing with surprise, or Bruce mocking Jon Landau for his loquacity. Barry Rebo, who filmed the historic footage in The Promise, was in the room, and Bruce called for appaluse for him, remembering him as "another one of the skinny men you saw in the film."
There was also time for serious questions, as when, talking about his search for identity in 1978, Bruce confessed, "I still don't know who I am." He talked about the way music was his way to answer questions as "What does it mean to be a son, a friend, an American," and the kind of "service" he could do for his audience. The conversation ended with Bruce speaking about Rome, where, he said, he likes "walking, walking and walking," like the day before, when with a group of lucky fans he took a walk to Saint Peter's Square, "still one of my favourite places."
Springsteen went away promising that next time he'll be here with a guitar. "It will be much easier!" he laughed, but nobody could complain about this fantastic evening.