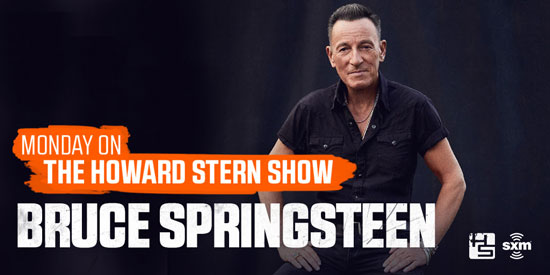 INCIDENT ON 52nd STREET
Springsteen's first interview with Howard Stern airs on SiriusXM
Howard Stern's much-anticipated interview with Bruce Springsteen, largely a smiling, genial conversation between one who dubbed himself the "King of All Media" and another who grudgingly came to accept his nickname "The Boss," came across as good, entertaining radio. It had moments of depth, but Stern packed a lot into the discussion, which ran for about two hours and ten minutes this morning on The Howard Stern Show.
Stern, a notorious germophobe, aired the program from his studio in the SiriusXM headquarters in midtown Manhattan for the first time in many months, having worked from home since the 2020 pandemic-related shutdown. The lead-in to Springsteen's appearance made for great listening, as the host recounted his return to both his New York City apartment and his workplace.
What took so long? may have been the question swirling around. If directed toward Springsteen and his holdout status from the show, Bruce strongly implied that Stern's remarks in the past were a factor — particularly the way some landed with Patti Scialfa. "She's Sicilian with a long memory," Springsteen said before tackling "Tougher Than the Rest" on the piano. Stern took his medicine: "I have a lot to apologize for," he said.
Whether Springsteen needed a permission slip, he surely didn't sound as if he held a grudge. In good spirits and wide awake for the call time that came just after 9 a.m., Bruce arrived at the studio for a short soundcheck before taking Howard's first question: whether he enjoys Halloween (he does, but he moved away from welcoming guests and trick-or-treaters a decade or so ago after it attracted too many people).
From there, the discussion ran swiftly, like a fast-moving stream, rather than a deep, slow river. Stern nonetheless elicited several revealing moments from Springsteen, both in story and in song.
With four guitars and a piano on hand for Bruce's use, the music he played, for the most part, was a recitation, meant to illustrate something about songwriting or to underscore a point of discussion. Such instances led to segments of "(It's Hard to Be a) Saint in the City," the piano introductions to "Jungleland" and "Backstreets," and even "Born to Run."
Stern asked whether Springsteen had, in fact, played guitar for Clarence Clemons on his deathbed, and Bruce confirmed that he had, reprising a good bit of "Land of Hope and Dreams." Springsteen broke into both "Not Fade Away" and "Darkness on the Edge of Town" to demonstrate how his voice has held up after nearly six decades and disk surgery (which required moving the vocal cords). Stern had asked whether he'd ever worked with a vocal coach, and Springsteen replied that he had not, citing his "naturally healthy technique." (His hearing has not fared as well: Springsteen said "it's bad" and revealed that he uses hearing aids "at home quite a bit and they help a lot.")
The more moving segments of music found Springsteen playing longer, like "Last Man Standing" and "The Rising." Neither was the polished, mid-tour reading one might expect, but it didn't matter. The first crested after Springsteen talked about seeing Castile bandmate George Theiss and of writing the song not long after he passed away in 2018. "The Rising" was, as Stern said afterward, "magnificent."
A lot of the discussion revolved around subjects readers of this publication know much about, from his favorite songs to Broadway. Springsteen talked about the role of therapy, his relationships with Patti Scialfa and Jon Landau, and sundry bits like not wanting a Ginger Baker-style drummer in 1974.
Still, to hear Bruce recount walking into his parents' house with his Oscar for "Streets of Philadelphia" was one of several winning moments. As he told it, Springsteen merely placed the statue on the kitchen table and sat down across from his father, Douglas, and said nothing.
"I'll never tell anybody what to do ever again," the elder Springsteen said.
That kind of detail carried the survey-style interview, a pleasant reminder for fans who knew it and probably more illustrative for Stern fans less familiar with the minutiae of the Bruce Springsteen story. The catalog and publishing sale to Sony came up in passing not long after the conversation began; Only the Strong Survive put in only a little more time than that (Springsteen and Stern talked over much of "Nightshift"). Springsteen continues to record at home, though his remarks implied that the covers work continues and that now years go by without him writing new music.
Springsteen said he'd be "glad to be back anytime." Perhaps then Stern could ask Bruce about last summer's ticket sales, characterized by astronomical pricing and dubious methods, an issue still very much top of mind for many fans and consumers. Somehow the topic eluded today's discussion, a glaring omission for an interviewer of Stern's caliber — though perhaps understandable that, after knocking at Springsteen's door for decades, the host didn't want it closed in his face.
Listen here with subscription.
- October 31, 2022 - Jonathan Pont reporting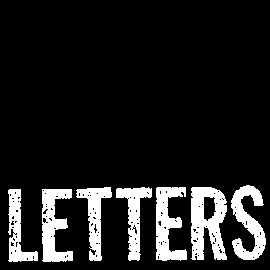 LETTERS TO THE EDITOR
With Bruce Springsteen's imminent release of Only the Strong Survive and his 2023 tour with the E Street Band approaching, too, we continue to receive your comments and responses to the summer U.S. onsale and its fallout. We thought we'd share a sampling, edited only for length and clarity.
Dear Editor:
I appreciated your forceful editorial on the ticket-pricing fiasco ["Freeze-out," July 24, 2022]. I experienced roughly the same thing as others: I was so excited to get in the "presale," but the prices were fluctuating before my eyes, and I started panicking that I might be shut out. So, I got a good (not great) seat for $429. I'll be going to this show by myself.
Landau's line about dynamic pricing is PR-speak. They're pioneering a new and different means of ticket distribution and calling it normal. And thanks for pointing out that another line they are putting out — that "only 11 percent" of tickets were affected by dynamic pricing — is an assertion that seems preposterous. When I looked for tickets at 10 a.m., I did see some cheap seats behind the stage. But everything else was prohibitively expensive.
What happened with these tickets is indecent. It will sour the experience of lots of concertgoers.
John M.
via e-mail
---
Dear Editor:
Kudos for Caryn Rose's review of Bruce's "interview" with Jann Wenner ["A Five-Star Event," September 14, 2022], especially the last paragraph ("In another lifetime, this event would have been overpriced but mostly benign.… But that was before we were presented the opportunity to spend $500 to sit behind the stage"). It expressed my sentiments exactly. So much seems to have changed once tickets went on sale for the 2023 tour, it's hard not to view things in that light. Especially given the information that has come out which substantiates Bruce's involvement with the ticket pricing.
I did manage to purchase two seats, side of stage, for around $300 each (before fees) for Buffalo, after a nail-biting several minutes. A friend was not so fortunate, ending up with floor tickets that cost her $800 apiece — that she now needs to sell, which may be very difficult to do for what she has paid. These stories are stomach-churning. And this came after Bruce cashed out big-time with the sale of his catalog.
Seeing Bruce was something my wife and I were looking forward to — as usual for a Bruce concert, as has been the case for me for decades — but now there is such a bad taste in the mouth, it's hard to get too excited about it. One begins to see things in a cynical light: maybe Bruce was really telling us something when he described himself as a "fraud"; maybe he's just basically an exceptional musical storyteller and live performer. It's hard to know what is really in someone's heart, and maybe those of us who thought that what was in his heart was being expressed in his music were being deluded. Maybe, with the help of Landau, he's been exceptional as well at maintaining a certain image. Now it's hard to know. After having garnered such good will among so many fans worldwide, it's a sad way to go out in the twilight of his career.
Stew G.
New York State
---
Dear Editor:
Firstly, thank you so much for Backstreets — it has been my constant companion through the fun times, the slow times, and now, the sad times.
Bruce shows were always — always — the light in the darkness for me, something to look forward to with great enthusiasm and optimism, and also to look back on with the fondest memories. A significant part of my life experience, and frankly, my identity.
It has been a great 40-year run, personally, but this train ride has come to the end of the line.
There is not even a shadow of a doubt in my mind that I have seen my last show. It sucks, and I feel we have been betrayed, but as I write this, there is no decision for me to ponder. It has been made for me. And somehow, I think that makes acceptance just a bit easier.
The weirdest part is that sadness is not my main emotion — yet. It feels more like a sign of surrender, acquiescing to this modern world and all the issues that constantly seem to arise and cause consternation.
I do not begrudge anyone for earning money, but it does come as a shock to see an artist with Springsteen's decades-long track record of low ticket prices, anti-scalping advocacy, and fan-friendly ticket policies — and in my opinion one of the most grounded, sincere American icons — simply give in to greed.
Sean F.
Valley Cottage, NY
---
Dear Editor:
I've been a fan since the '70s, one of the many loyal fans who have supported Bruce Springsteen for decades. He has the right to charge whatever he wants for his concert tickets, and his fans have the right to decide if they want to spend that money to see him in person. When he was on Broadway, he charged $700+ for some tickets. While I thought that was extreme, and I chose not to pay that; he was transparent with his pricing, and I respected that.

What's upsetting about this current tour is not only the wide discrepancy in the cost of the tickets, but the lack of transparency, the hypocrisy, and the greed that has accompanied the ticketing process. For years Bruce professed his loyalty to his audience, with procedures in place to avoid scalping so that tickets were in the hands of the fans. With the new Ticketmaster system, which he apparently agreed to, Bruce has replaced the scalper.

If Bruce wants to charge $1,000 a ticket, why not be honest and announce it? He can set his ticket prices at whatever price he thinks is fair — just be honest and be transparent. Instead, this process was deceptive and took advantage of his most loyal fans. It goes against everything he claimed he stood for.
The average person cannot afford his tickets, and his audience is now an elite group. The message this sends is that the "working man" is no longer valued by Bruce. The very people who helped build him up are no longer included in the party.

I am fortunate. I can afford his tickets. I chose not to buy them because I don't like being manipulated and taken advantage of. Bruce's silence now speaks volumes.
I'll cherish my memories and continue to wish Bruce happiness and success. It just won't be on my dime.
Lori S.
via e-mail
---
Dear Editor:
I was able to buy tickets for 11 European shows, all "Front of Stage" (or whatever it was called in the different countries) and at "face value." Gothenburg was the cheapest at $120. Tickets for German and Italian shows were around $155, while only Zürich and Oslo were around the $200 mark.
In the U.S., even before the wild fluctuations that took tickets into the thousands of dollars, $500 or more as the base price for a GA ticket or a very good seat is ridiculous. That is way more than in Europe.
I'm more angered by the "standard" U.S. prices than the dynamic pricing. I hope that very few dynamically priced tickets (at least those more expensive than, say, $1,000) will be sold. But as Hal Schwartz pointed out in the None But the Brave podcast, those skyrocketing prices lead people to think that prices between $500 and $1,000 are a bargain. That in itself is a cynical marketing tool.
How can they justify such a higher price for the U.S. shows? The only logical reason I can see is that they decided to put the highest prices on the market to somehow align with the idea that Bruce offers the best live performance (as Landau told the New York Times, "someone universally regarded as among the very greatest artists of his generation").
Bruce released a brilliant album ten years ago on which most songs dealt with the personal and social problems stemming from income inequality. As the rich get richer and the poor get poorer… at these prices, the rich will be able to buy tickets, and the poor will either sit at the back or have to stay outside looking in.
He has said his artistic goal is to write and sing about the difference between the American Dream and American Reality. What I see here is a gap between the things he used to sing and talk and write about and his ticket pricing policy.
So, even not being directly affected by these ticket prices (I never attempted to buy tickets for U.S. shows), a longtime European fan is angered by all this, has lost faith in Bruce Springsteen the artist and person, and understands the feelings of disappointment the U.S. fans are suffering.
Ralf D.
Germany
---
Dear Editor:
I followed that dream for 34 years. "And when the promise was broken, I cashed in a few of my dreams."
Though I live in Switzerland and we don't have dynamic pricing (yet!), I paid CHF 220 — approximately $230 — for a 2023 Tour ticket. Any higher, and I won't attend a Springsteen concert.

If Bruce really wanted to do something about these prices, he would seem to have the power to do so. What surprises me more than the dynamic pricing is that Bruce has not yet taken a public position on it! In my view there are two possibilities: he's uncertain how to react and hides, or he doesn't care anymore and has lost touch with reality (and his true fans). Either way, shame on Bruce.
My solution: Don't buy any tickets until the prices are on a level you agree is fair. And if they don't decrease, don't buy any. Maybe the best lesson would be for concert arenas and stadiums to be more than half-empty, with rich concertgoers unable to create the kind of atmosphere we all appreciated up to the last tour.
Pascal D.
Switzerland
---
Dear Editor:
I am not usually one to complain about much, let alone send an e-mail, but Jon Landau's statement that the "average ticket price has been in the mid-$200 range" is full of shit.
I clicked on sales right at 10 a.m., and first-choice ticket prices were astronomical. Caught in the moment, we purchased tickets at "face value first sale," not resales. We've got $5,000 on credit cards for eight tickets (six to Albany and two to Mohegan).
Soon my wife and I were looking at each other, worried about the bill due, and saying to each other, "What the hell did we just do and why?" We could've used that money for some home projects. We are the people Bruce writes about on The River — we both work, but with two little elementary-age kids, we are check-to-check. Yes, it was our choice to purchase, and we did — because of my adrenaline to see Bruce and getting caught up in the whirlwind of Ticketmaster.
I don't even want to go now. The wind has been taken out of my sail. And the crazy thing is, they have to be relisted at a couple hundred more than we paid in order to break even!
Bruce is mum, and I get it. But Landau sounds like a politician. I don't blame Bruce — he has the music and the whole production to worry about — but if I were him I would tell Landau to stand up and say, "Yeah, we fucked up and didn't realize they would skyrocket as soon as they went on sale."
People are calling it a money grab as the swan song. I've been on every tour since 1999, a fan since 1984, and I've never seen such a debacle. It really is sad. I don't expect them to do anything about it, but I feel it hurts Springsteen's legacy with his longtime fans.
And maybe he doesn't care! It's his right not to care! But we just feel it contrasts with his writings. Maybe the whole thing was just a magic trick. Maybe I should have called it quits after November 2009 in Buffalo at Clarence's last show.
Cameron C.
Pittsfield, MA
---
Dear Editor:
Your July 24 Editorial touched us, as it expressed every feeling and emotion we felt, beginning with Springsteen on Broadway, followed by the Jeep commercial, and brought to a boil by the U.S. ticket sales. You found the right words and drew the right pictures to express our disbelief and sadness that one of the "last men standing" for what we hoped could and should be a better, decent world has fallen to the "values" of the market.
It is good to know that you and your team are working through the shock, too. There is a changed attitude among fans here in Europe, with many in a state of disillusionment, even if they bought tickets for reasonable prices. Instead of being excited to see Bruce in this or that stadium, we're now most looking forward to reconnecting with each other in this city or that — and to see a Bruce concert, but with mixed emotions and uncertainty about the impact.
However we might have overhyped Bruce and his moral infallibility, the experiences, memories, encounters, friendships, and the strength and joy his music gave us throughout a major time of our life will remain.
Ras & Petra B.
Germany
- October 28, 2022

DON'T PLAY THAT SONG… TIL MIDNIGHT
Tonight at the stroke of 12, the third advance track from Only the Strong Survive goes live, with another new Thom Zimny-directed video. A big hit for both Ben E. King and Aretha Franklin, "Don't Play That Song" was written by Betty Nelson — King's wife! — with Atlantic Records co-founder Ahmet Ertegun.
Pre-order the album from Backstreet Records for our exclusive bonus:
THE BACKSTREETS LINER NOTES
detailing each of Only the Strong Survive's 15 songs
• Liner notes booklet FREE with the 2LP black vinyl
• Liner notes booklet FREE with the CD
- October 27, 2022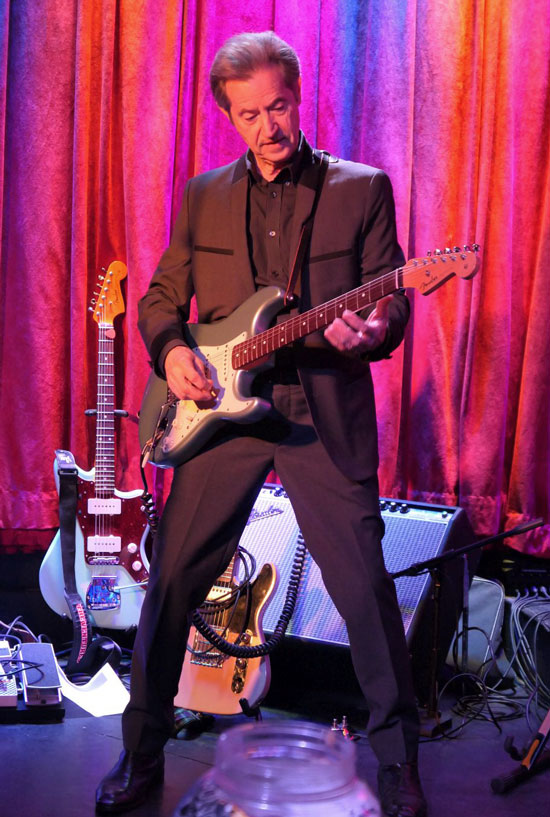 HBD GWT!
Happy birthday to original E Streeter Garry W. Tallent, 73 today and looking as road-ready as ever —as evidenced by this shot on stage in Nashville from earlier this year. All he needs to do now is lose two of those strings. Have a good one, Garry!
- October 27, 2022 - photograph by Mike Bodayle - The 5 Spot, Nashville, TN, 3/9/22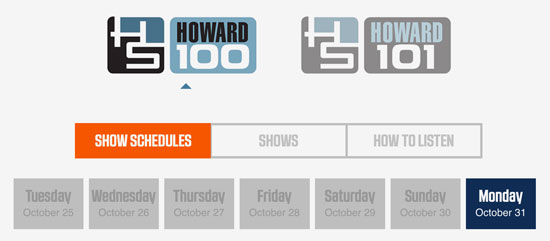 THE KING OF ALL MEDIA MEETS THE BOSS ON HALLOWEEN
We now have a date for Bruce Springsteen's appearance on The Howard Stern Show, and Howard is "super-stoked," as you can hear in the clip below.
"Coming Monday, October 31: The King of All Media meets The Boss, as we welcome Presidential Medal of Freedom winner, Oscar winner, 20-time Grammy-winning songwriter, and Rock and Roll Hall of Famer, Bruce Springsteen."
The Howard Stern Show airs live Monday - Wednesday, 7am-11am ET (with replays of Monday's and Tuesday's shows on Thursday and Friday) on SiriusXM channel 100.
- October 25, 2022 - thanks to Shawn Poole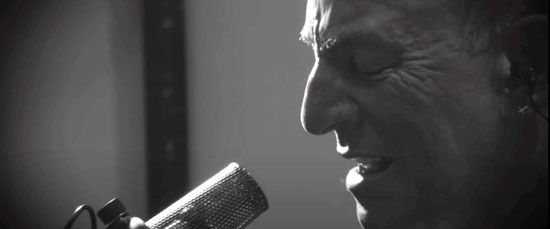 NOW ON LEGENDARY E STREET BAND: STUDIO-SINGER, VOL. 2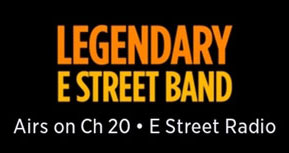 For the new episode of E Street Radio's Legendary E Street Band, host Greg Drew has decided to follow directly last month's "Springsteen as Studio-Singer, Vol. 1" episode with its companion volume, covering Bruce's continued growth and prowess as a studio-singer from 1999 through the present.
As with "Vol. 1," this follow-up mixes great tracks with Drew's commentary spotlighting Springsteen's expanding technical skills and range. Equally important, the episode will dig deeply into the singer's ability to inhabit his material, conveying fully to his listeners the emotions, situations, and characters within each song.
Legendary E Street Band's "Springsteen as Studio-Singer, Vol. 2" edition debuts today, exclusively on E Street Radio (SiriusXM channel 20) with replays scheduled as follows (all times ET):
Monday, October 24 - 3pm and 6pm
Wednesday, October 26 – 10am
Thursday, October 27 - 6 pm
Saturday, October 29 - 4pm
SiriusXM subscribers also can listen on-demand/online via the SiriusXM app.
- October 24, 2022 - Shawn Poole reporting - still from "Letter to You" (Official Video)

FINAL DAY FOR THE SHINOLA TICKET RAFFLE (DETROIT)
From TeachRock, another chance at Springsteen & the E Street Band tix
Donate before noon tomorrow, Tuesday Oct. 25, for a chance to receive the Shinola Detroit Golden Ticket charity prize package!
The Detroit Golden Ticket Charity Package is brought to you by Shinola Detroit and includes:
Two (2) premium seats or GA Pit tickets to Bruce Springsteen and the E Street Band's March 29, 2023 concert at Little Caesars Arena, Detroit, MI

Deluxe accommodations for a two (2) night stay at the Shinola Hotel

His and Hers Shinola watches
Each $25 donation to TeachRock is one chance to receive the Shinola Detroit Golden Ticket Package valued at $5,000.
Enter as often as you wish until 11:59am ET, Tuesday Oct. 25. Your tax-deductible donations are in support of Steven Van Zandt's education foundation, The Rock and Soul Forever Foundation / TeachRock.org.
- October 24, 2022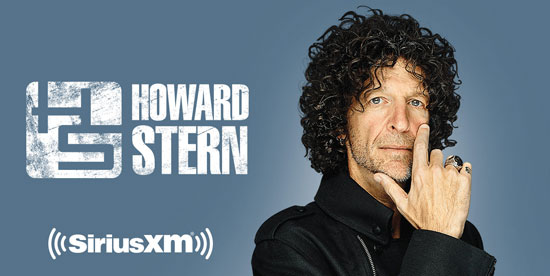 AT LAST, A STERN SHOW SIT-DOWN
Howard: Springsteen booked as guest for October
With Only the Strong Survive less than a month from its November 11 release, fans may not have to wait long to hear a new, in-depth interview with Bruce Springsteen. Another new element: Howard Stern, the radio host whose own Sirius XM station is a mere 80 clicks up the dial from E Street, will at long last conduct the proceedings.
On Monday, a Springsteen appearance seemed to be a go. "He's gonna bring his guitar, we're gonna sit, we're gonna talk," Stern said, adding that it should occur sometime this month.
For Stern, a rock and pop-culture aficionado who's grown far more comfortable with Springsteen's music and himself in recent times, landing Bruce would amount to a coup, as he's perhaps the most famous musician who hasn't appeared on the Stern show.
Whatever Springsteen's motivation, notable figures and his own peers have led to a domino effect in recent years, making for fascinating Stern show discussions with everyone from Hillary Clinton to a who's who of music greats, like David Crosby, Neil Young, Paul McCartney, Eddie Vedder, and Brandi Carlisle.
Those who've not heard Stern in a long time might be surprised by his more serene disposition, which has toned down considerably from his earlier personae, one rooted in what some might find distasteful. Expect the questions posed to Springsteen, then, to remain above-the-belt. (For more on Howard Stern and his evolution, listen to Terry Gross's two-part interview from 2019.)
Springsteen has appeared many times both as host and interviewee on E Street Radio. But a Channel 100 appearance, for which the radio pioneer has expressed his desire for several years, would be a first.
Springsteen has long eluded radio interviewers. Rockline, the syndicated weekly music, interview, and call-in program, endured Springsteen's absence during its heyday. Bob Dylan, Van Halen, R.E.M., and three Beatles are among the musicians who stopped in multiple times to talk with longtime host Bob Coburn, answering his questions and those from fans, too. Springsteen never appeared.
Could plans change at the last minute? Sure. But Stern knows better than anyone what he's doing and wouldn't go to air with a declaration like the one Monday unless it's a lock. Moreover, Stern, who assiduously prepares for interviews like the upcoming one with Springsteen, is doing his homework. "I think I'm up to 500 questions now," he said.
That's a good start. Come to think of it, we have a few of our own.
- By the Editors - October 19, 2022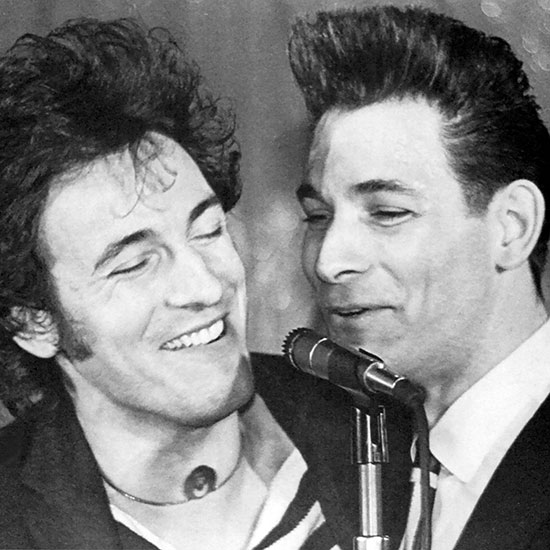 Bruce Springsteen & Robert Gordon teaming up at The Fast Lane in Asbury Park, March 14, 1979 - photograph by Donna Fenton
ROCKABILLY FOR LIFE: R.I.P. ROBERT GORDON, 1947-2022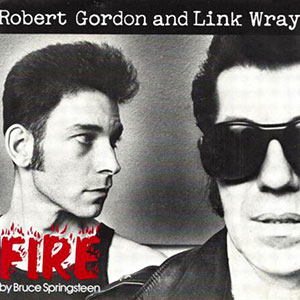 Rockabilly singer Robert Gordon passed away on October 18, at the age of 75. His version of Bruce Springsteen's "Fire" with legendary guitarist Link Wray was the first time the track was recorded, and Springsteen himself contributed piano to the track.
Robert Gordon was born on March 29, 1947, and grew up in Bethesda, Maryland. As one would suspect upon hearing most of his recorded output, he grew up listening to and loving early rock 'n' rollers like Elvis Presley, Eddie Cochran, Jack Scott and Billy Lee Riley. Moving to New York City in 1970, he eventually joined proto-punk CBGB denizens Tuff Darts.
In 1977 Gordon released the first of two albums he cut with legendary guitarist Link Wray for the Private Stock label. The albums signaled a full-on switch to the rockabilly sound Gordon adored, but this was no mere revival act. Gordon's new sound infused timeless rockabilly style with the energy of punk, making the albums instant favorites among the underground crowd and thereby bringing rockabilly to the attention of a younger demographic (as well as pleasing the rock 'n' roll revivalists).
The second album, 1978's Fresh Fish Special, which featured one-time Elvis Presley backing vocalists the Jordanaires, contained Gordon and Wray's take on Springsteen's "Fire." Though this version would not be a hit — that honor, of course, fell to the Pointer Sisters, who took the song to the Top 5 in 1979 — by all accounts, Bruce loved it, and he joined Gordon onstage on a few occasions over the next two years to perform "Heartbreak Hotel." Their first performance together was on December 2, 1977, the day after the "Fire" recording; Springsteen also performed "Fire" live with Gordon on March 14, 1979, at the Fast Lane in Asbury Park, and again on May 27, 1979, at the nearby Paramount Theatre.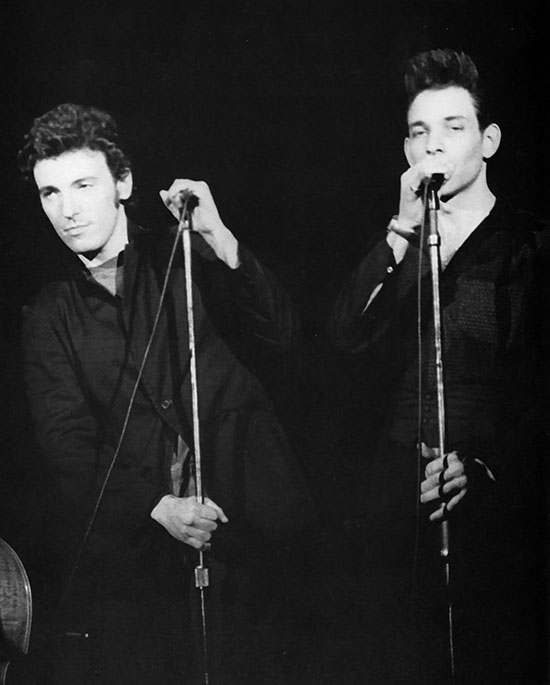 Another night in Asbury with Springsteen & Gordon, at the Paramount, May 27, 1979 - photograph by Joanne Jefferson
Following the dissolution of his partnership with Link Wray, Gordon signed with RCA Records and continued his run of classic albums. He teamed up with another legendary guitarist, Englishman Chris Spedding (fresh off a stint with Bryan Ferry), to release the Rock Billy Boogie LP. After his next album, 1980's Bad Boy, Gordon partnered with yet another great guitarist, Danny Gatton, for the Are You Gonna Be the One LP. That 1981 album, Gordon's best-selling release, contained the first recorded version of Marshall Crenshaw's classic, "Someday, Someway," a song Crenshaw had based around the type of hypnotic rhythm used in Gene Vincent's "Lotta Lovin'."
Gordon continued to release studio and live albums for the rest of his life, sometimes reuniting with Chris Spedding for recordings and international tours.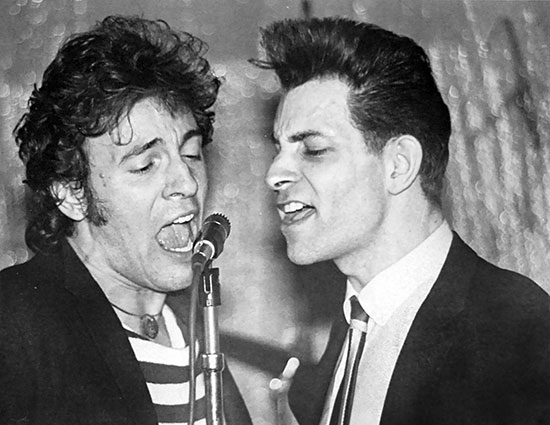 The Fast Lane, Asbury Park, March 14, 1979 - photograph by Donna Fenton
Robert Gordon was a rock 'n' roll visionary, an underrecognized trailblazer and innovator in a genre that leans more toward tradition, and a gifted vocalist who consistently worked with some of the best guitarists of his, or anyone else's, day. He clearly had impeccable taste in songwriters as well, as evidenced by the Springsteen and Crenshaw covers he recorded alongside his beloved rockabilly classics. Gordon championed rockabilly years before it had come back into mainstream fashion with the likes of the Stray Cats, missing the MTV boom that might have ensured more success.
Gordon's latest album, Rockabilly For Life, was released in 2020 and featured guest appearances from such luminaries as country singer/guitarist Steve Wariner, Go-Go Kathy Valentine, and David Letterman Band-leader Paul Shaffer. Cleopatra Records will posthumously release his final album, Hellafied, once again featuring guitarist Chris Spedding, on November 25.
- October 19, 2022 - John Howie Jr. reporting - all photographs from Chuck Yopp's 1983 book Greetings From Asbury Park: A Look at the Local Scene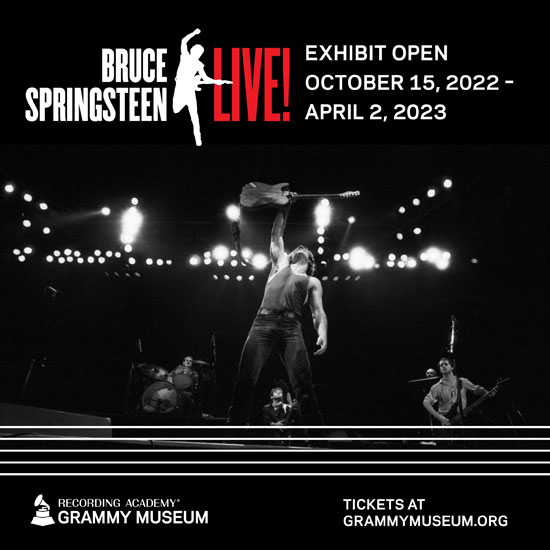 BRUCE SPRINGSTEEN LIVE! LANDS IN LOS ANGELES
Come meet photographer Barry Schneier at exhibit's opening weekend
After a year on the road, on display in Newark and Tulsa, Bruce Springsteen Live! is heading to The GRAMMY Museum in Los Angeles, where the exhibition began its journey and conception. It opens to the public this weekend.
Curated by The Bruce Springsteen Archives & Center for American Music with The GRAMMY Museum, the immersive exhibit chronicles nearly 50 years of the Springsteen concert experience, from his earliest days on the Jersey Shore to sold-out stadium shows. Bruce Springsteen Live! features iconic artifacts (like the Esquire guitar), live performance footage, instruments and stage costumes, exclusive interviews, concert posters and photography, as well as unique interactive displays.
The traveling exhibit launches at the Museum's downtown Los Angeles location this Saturday, October 15, where it will run through April 2, 2023.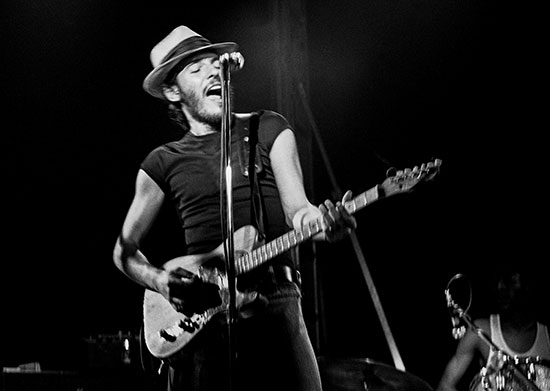 "Rosalita," May 9, 1974, Harvard Square Theatre, Cambridge, MA - photograph by Barry Schneier
One highlight of the exhibit is an interactive photo and audio display focusing on the night Bruce was deemed "rock and roll future" by then-music critic, Jon Landau. Hear band members Garry Tallent and David Sancious, and now-manager Jon Landau, recall that evening of May 9, 1974, when Bruce opened for Bonnie Raitt at the Harvard Square Theatre. Joining the commentary is our own friend and photographer, Barry Schneier; Barry was the only photographer in the house that night in '74, and his photos are on display as part of the exhibit.
Barry's photographs and commentary became the essence of Bruce Springsteen: Rock and Roll Future, which Backstreets Publishing helped Barry bring to life as a hardcover coffee table book.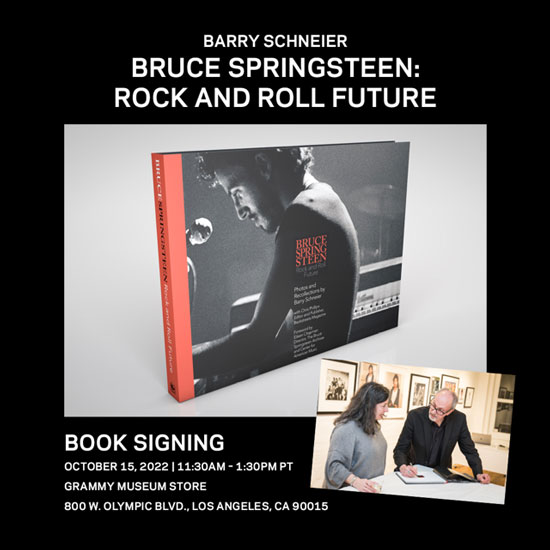 Barry Schneier will be in L.A. this Saturday for a signing event, part of the GRAMMY Museum's opening weekend, signing copies of his book in the museum bookstore on October 15 between 11:30 and 1:30. If you haven't purchased a copy yet, here's your chance to do so, meet Barry, and have him personally sign a copy for you.
We hope you'll come out and meet Barry if you're in the area! If you're not in Los Angeles this weekend, signed copies of Rock and Roll Future are available exclusively from our online shop.
- October 14, 2022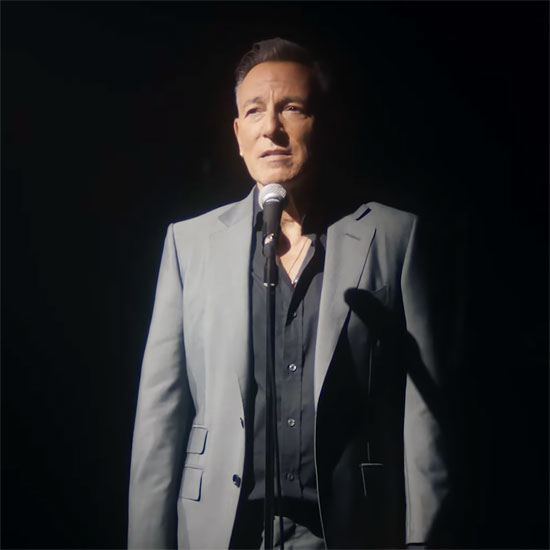 SOULFUL NOISE ON THE NIGHTSHIFT
Watch this space, below... premiering tonight at midnight is the second advance track from Bruce Springsteen's forthcoming album of soul covers, his rendition of The Commodores' "Nightshift," with a video directed by Thom Zimny.
"Nightshift" doesn't date back as far as than most of the music on Only the Strong Surivive; it's one of only two songs from the '80s. In fact, the Commodores single and Springsteen's "I'm on Fire" were Top 10 hits at the same time, peaking on Billboard's Hot 100 chart in April of 1985. While it may be an era outlier, the song is a thematic lock, paying tribute to '60s soul greats Marvin Gaye and Jackie Wilson (both of whom died in 1984).
The track has additional significance, according to a new press release: "An essential song selection in the early creation of Only the Strong Survive, the track inspired Springsteen, his producer Ron Aniello and engineer Rob Lebret to christen themselves 'The Nightshift' while finishing this new record."
- October 13, 2022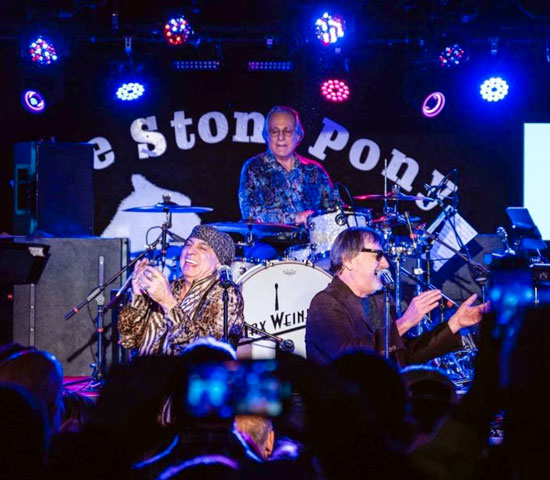 HAVIN' A "PARTY AT THE PONY"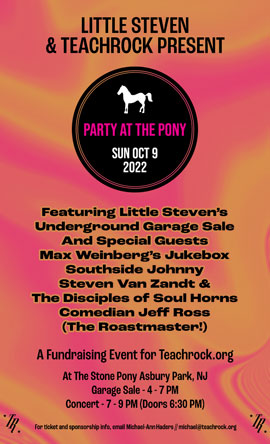 The October 9 "Party at the Pony," presented by Little Steven and TeachRock, was both a fundraiser and a roof-raiser. Tickets for the event ranged from $275 to $2,500. The event started in the afternoon with an "Underground Garage" sale in the summer stage area of the Stone Pony, in Asbury Park. Van Zandt offered personal items up for sale for the cause, everything from a pair of funky purple suede shoes (autographed, of course) to an eclectic array of stage/Sopranos garb could all be purchased. The proceeds of the sale went to support TeachRock, the free online educational resource that is a standard-aligned, arts curriculum using the history of popular music and culture to help teachers engage students, funded through Van Zandt's Rock and Roll Forever Foundation.
As the sun began to set the party moved inside the Pony, where a coveted pair of tickets to one of the upcoming Bruce Springsteen and the E Street Band shows was given away by the evening's host, Roastmaster extraordinaire, Jeff Ross. Ross successfully walked the line between funny and insulting and had the crowd cracking up.
Next up was a special edition of Max Weinberg's Jukebox, which featured members of the Weeklings. For this event the songs played were pre-selected by Underground Garage listeners, including party classic Sam the Sham & The Pharaohs' "Woolly Bully" and Steppenwolf's "Born to Be Wild."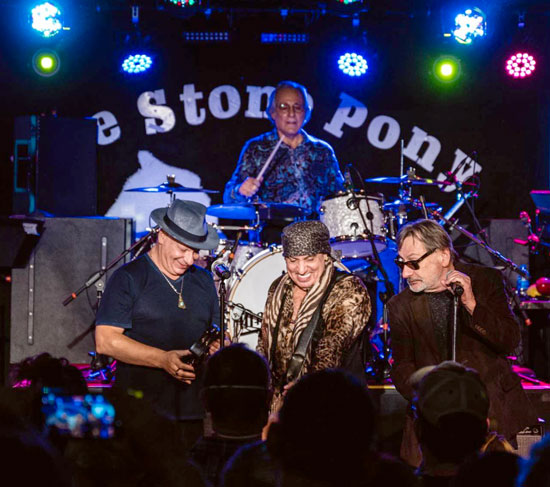 Southside Johnny, Steven Van Zandt, and the Disciples of Soul Horns joined Weinberg on stage, where they took the party up another notch with their own classics, including "I Don't Want to Go Home" and "Love on The Wrong Side of Town." The evening's crescendo came as Jeff Ross joined Van Zandt and Southside in singing "Havin' a Party," leaving the crowd both exhausted and exhilarated, having experienced the party of the season and knowing it was all for a worthy cause.
- October 12, 2022 - Kat McDonald reporting - photographs courtesy of @teachrockorg on Instagram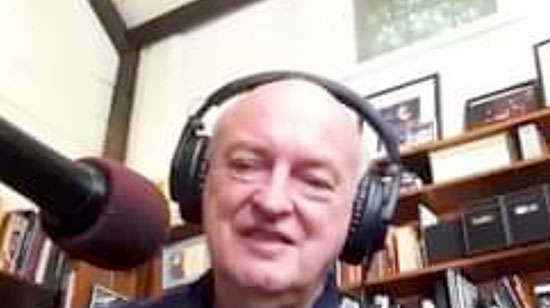 MARSH ANNOUNCES RETIREMENT FROM E STREET RADIO
Springsteen channel enters new phase, celebrates Tunnel of Love at 35
Last Thursday morning, Dave Marsh officially announced his retirement from E Street Radio. Marsh played a major role in launching the all-Springsteen channel and could be heard on it regularly from the start, serving as the main on-air personality for satellite-radio's first-ever 24/7 artist-focused channel.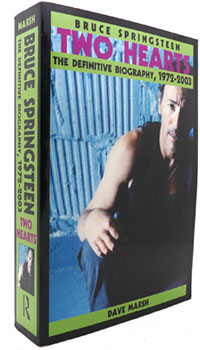 Of course, Marsh was already well-known for his excellent music writing (beginning back in the late 1960s at the original CREEM magazine) and as Bruce Springsteen's de facto biographer through his books Born to Run: The Bruce Springsteen Story and Glory Days: Bruce Springsteen in the 1980s. Despite Bruce later writing his own memoir, that pair remains essential reading for Springsteen fans (most recently made available in collected, expanded, and updated form as Two Hearts: The Definitive Biography, 1972-2003). Marsh's other Springsteen-centered book, Bruce Springsteen on Tour: 1968-2005, is well worth seeking out, too.
Marsh also played a major role in launching his own flagship show on the channel, Live from E Street Nation, which originated in 2009 from the idea of having fans call into the channel on the morning after Bruce Springsteen & the E Street Band's Super Bowl XLIII Halftime Show to share their reactions. For that first broadcast, listeners were treated to the extra surprise of called-in reactions from Springsteen himself, along with each E Street Band member calling in separately. That live call-in program was such a success that it quickly led to the weekly show Live from E Street Nation with Dave Marsh.
Last Thursday's episode of Live from E Street Nation closed with this recorded announcement from Marsh himself, followed immediately by the Live in New York City version of "Land of Hope and Dreams:"
Hi, this is Dave Marsh and I wanted to take a couple of minutes to speak to you, the E Street Nation. After today, I'm stepping down from my E Street Radio responsibilities. It's been one of the highlights of my career to be a part of this channel, and I have a few people to thank.

First off, "the powers that be" at Sirius Radio — Scott Greenstein, Steve Blatter, Greg Steele — who originally oversaw the channel, and Dave Wellington, who has done that the past several years. My E Street Radio family… Jim Rotolo, who has been my producer since the beginning and has shared hosting duties with me in recent years. And, of course, Vinny Usuriello and Greg Drew, who came later to the party but contributed as well.

I want to thank all the callers and listeners through the years; you've been a vital part of the shows, and I thank you for listening. And last but far from least, I want to thank Bruce Springsteen, the E Street Band, and his organization for their generous gifts of time and music.

I'm still going to be doing Kick Out the Jams on Sundays, and I hope you'll listen to that and Live from E Street Nation. I'll see you further on up the road.
Best wishes, Dave, from all of your friends at Backstreets, for a well-earned retirement.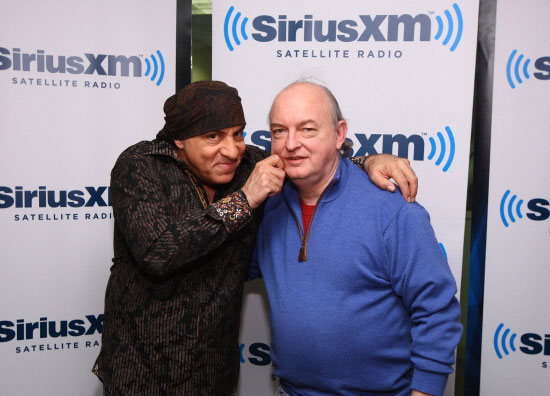 Photograph by Neilson Barnard/Getty Images Entertainment
In light of Marsh's announcement, Live from E Street Nation will undergo a brief hiatus and period of transformation. But the co-hosts of Thursday's episode, Jim Rotolo and Greg Drew, promised that E Street Radio will continue to offer fans live on-air opportunities to call in to the channel and share their reactions on all things Springsteen, beginning with next month's release of Only the Strong Survive.
Drew and Rotolo also announced that they will co-host a special program this week celebrating Springsteen's eighth studio album Tunnel of Love, released thirty-five years ago this month. The ToL@35 special debuts today, Monday October 10, exclusively on E Street Radio (SiriusXM channel 20,) with its airplay schedule as follows (all times ET): Monday, October 10 at 3 pm and 6pm; Wednesday, October 12 at 10 am; Thursday, October 13 at 6 pm; and Saturday, October 15 at 4 pm.
- October 10, 2022 - Shawn Poole reporting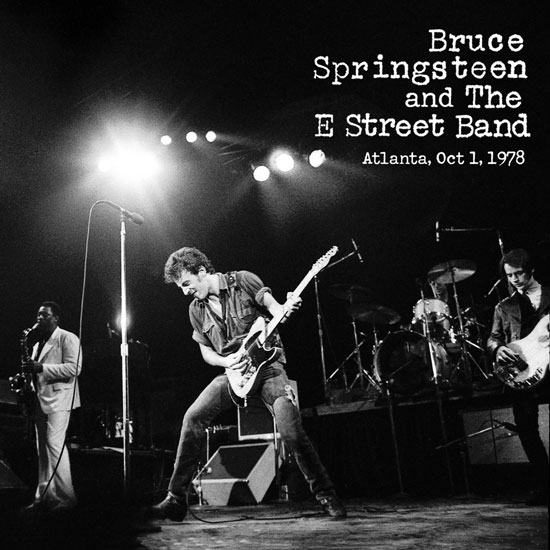 THE FIRST TIME FOR "THE LAST TIME"
Atlanta, October 1, 1978, heard in its entirety, is a stunner
The sole audience recording of Bruce Springsteen's second 1978 performance at Atlanta's Fox Theatre isn't very good. But it is notable from the outset for a cover of The Rolling Stones' "The Last Time," a first for Springsteen and The E Street Band. Beyond its novelty and the band's obvious thrill from playing a Stones song, even a poor audience tape conveys one thing clearly: this song swings.
"The Last Time" is the perfect set-up for the 24-song concert, which fans can hear in its entirety for the first time with the Live Archive release of Atlanta, October 1, 1978. Professionally recorded and newly mixed, this recording typifies the reach of that era's music, themes, and power. Whether originals or covers, The Fox is another instance, as one fan put it, of a time when "Prove It All Night" wasn't just a song title, it was a creed.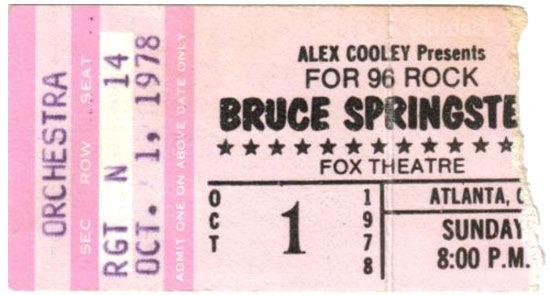 via Brucebase
Springsteen remarked during this second Atlanta show that it's "the last night of our tour" — indeed, October 1, their 86th date that year, was intended as the end; Bruce and the band wound up hitting the road again on November 1 for one more leg, wrapping two months later in Cleveland, where they reprised "The Last Time."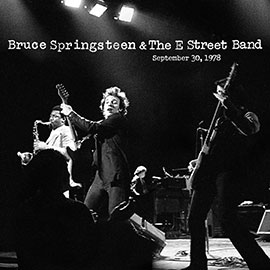 The first show in Atlanta, September 30, was one of five Darkness tour FM radio broadcasts (it joined the Live Archive series in 2020). That concert, with restored sound, took its place on its merits: no longer obscured by dodgy recordings, the music punches in a class with the other made-for-radio-and-beyond events from that year.
Night two never made it to radio, or anywhere else, really. With a first-set audience recording that only the most dedicated historian might find useful, and no record after intermission save for concertgoers' memories, October 1 became something of a mystery, driven in recent times by speculation over whether a professional recording existed.
Whatever recency effect the Live Archive series might produce, October 1 plays from start to finish not as an afterthought, recorded to help cover the sunk costs of the broadcast and recording equipment and staff — hey, it's only been 44 years now — but as another example of why Bruce Springsteen's 1978 tour behind Darkness on the Edge of Town ranks among the best that rock 'n' roll has to offer.
Playing what he presumes is his final outing behind his "samurai record," Springsteen leaned into a setlist that accentuated infrequently played numbers. Longer ones, meanwhile, like "Prove It All Night," "Kitty's Back," and the "Detroit Medley," approached the 15-minute mark.
Springsteen took his time, alright, and if the pacing felt just a bit off in the first half, chalk it up to a relaxed vibe that took over for the all-business one from the previous show, when he and the E Street Band played it straight for their fourth radio appearance. Back then, on nights after radio broadcasts — September 20 in Passaic, December 16 in San Francisco — Springsteen seemed to take himself down a notch and raise his performance in kind.
Beginning with "The Last Time," October 1 features new music ("Because the Night," "Point Blank"), a bevy of standard-bearers ("Badlands," "Tenth Avenue Freeze-out"), and nine songs that didn't appear the night before. Among them, "It's My Life," "Meeting Across the River" (into "Jungleland," of course), "Kitty's Back," and a crisp, chiming "Incident on 57th Street" (into "Rosalita") qualified as rarities in 1978; to hear them all in the same concert? It's as delightful now as it must have been back then.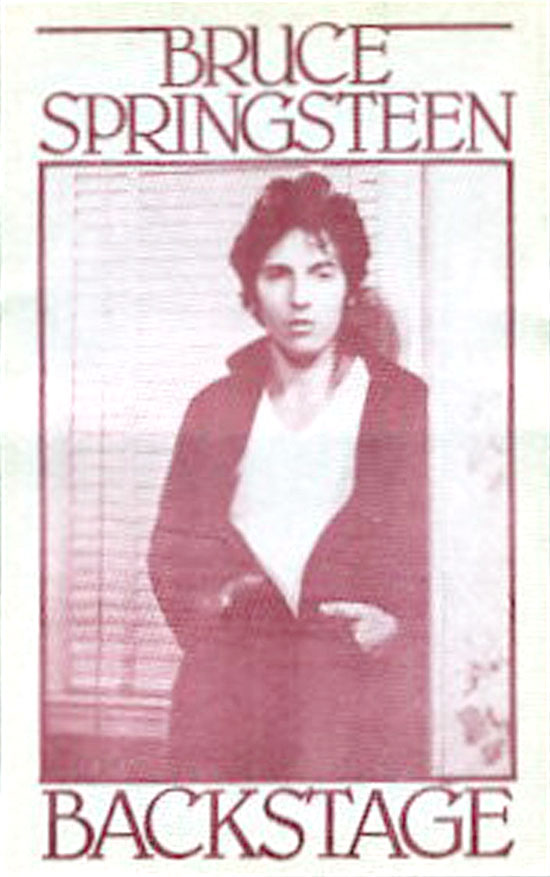 That tactical rebalancing yielded a pairing of "Heartbreak Hotel" with "Factory." It's a match that may not look quite right on paper, but it's one worth returning to: in addition to the sparkling music, Springsteen chose just the right words to bridge the songs, provided both with a setting, and set up a metaphor. Placed against a stern and lingering single note from Dan Federici's organ and a recurring Max Weinberg drumbeat, the segment sits in stark contrast with "Independence Day," which had appeared in roughly the same place on September 30.
"Heartbreak Hotel" first appeared three months prior, during the first Darkness radio broadcast (from The Roxy, July 7), seemingly to avoid dead air as Springsteen sent his main guitar off stage for tuning. But as the summer went on, the song found its place: the result, alongside "Factory," served as commentary on the dead ends that cropped up in Springsteen's 20th century America. Springsteen referred to it as "one of my most favorite songs" in Detroit, and earlier, he told a Miami audience that he'd considered using "Heartbreak Hotel" as the title of his fourth LP but he "didn't have the guts."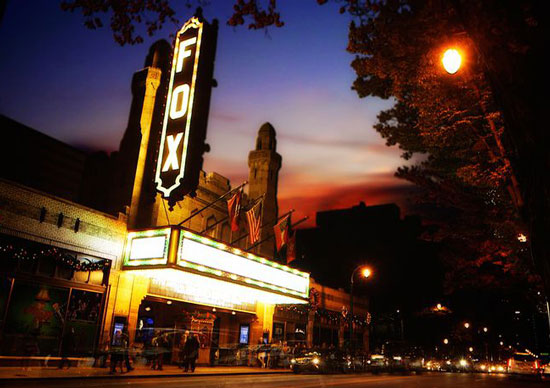 courtesy of Georgia Public Broadcasting
The Fox Theatre recordings complete a circuit. The September 30 radio broadcast served to win new fans, even though the weather made off-the-air tapes something of a second choice compared to, say, the Agora or Winterland. But at least you could hear something. Night two makes a different case, but one that's just as strong: it's a thematic complement, and, as one you've never heard, should prove just as exciting.
- October 7, 2022 - Jonathan Pont reporting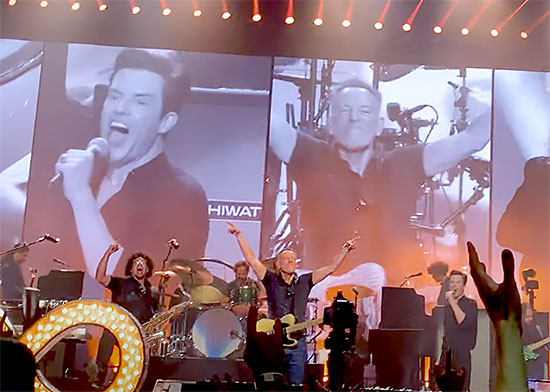 Jake Clemons and Bruce Springsteen with the Killers at Madison Square Garden, Saturday, October 1.
I BELIEVE IN THE LOVE THAT YOU GAVE ME
Tour-ready Bruce packs a punch at the Garden, 3 songs with The Killers
One of the things that has always been fun to love to hate, and hate to love, is the amount of rumor and speculation in Bruce World. Everyone thinks they have an inside scoop, an inside track, an extra tidbit that others don't. I was told last week that Springsteen would show up with The Killers by, yes, an "industry source"… so now I'm exactly the type of person I can't stand. I was ready to go to the show Friday night at the Garden; I extended my visit to New York and swapped tickets for Saturday. It's a good thing I did.
Following an exceptional 90-minute performance Saturday evening that could stand beautifully on its own, The Killers left the stage at the end of their main set only to return after a three-minute interlude.
"Everybody gets a little nervous when their boss shows up for work, right?" Killers frontman Brandon Flowers, who looks younger than his 41 years, opened the encore. "I don't know if you've noticed, but me and my friends have all been sweating bullets all night… because the boss is here. Ladies and gentlemen, Bruce Springsteen!"
A good ten seconds of applause and Brooocing followed. Springsteen, wearing his signature half-smirk, waved that right hand salute to Flowers and the crowd alike, took the mic with a staccato "Evening," positioned his hands like the craftsman he is in the key of E Major, and "One! Two!" into the opening riff of "Badlands."
The two traded lines for "Badlands," and there was an extra pop on the stage as Flowers, looking like all of us in the mirror at 15 years old, hardly able to believe his own good fortune, bellowed the lines that sums it all up:
I believe in the love that you gave me
I believe in the faith that could save me
I believe in the hope and I pray that some day it may raise me…
Bruce beckoned the crowd during the humming coda into the last verse, and Flowers, vein-poppingly excited by this point, joined Bruce on the duet: "For the ones who had a notion, a notion deep inside… that it ain't no sin to be glad you're alive.…" Indeed, by now, we had a notion.
Opening the second song, Flowers took the microphone: "This moment in the night is usually reserved for me to have people put their phones up and think about where their light comes from. Will you do that for us tonight? This is a very unusual circumstance for me tonight, because I get a lot of my light from you," motioning towards Springsteen. He then introduced "Dustland" — a revision of the Killers single "A Dustland Fairytale" from 2008's Day & Age, revisited last year under the shortened title with Springsteen on board.
Flowers opened the song, and Springsteen came in for his part. The two clasped hands in the air as anticipation bult. There was an elongated pause before the two begin nodding at each other and the driving beat kicked in. Soon they were singing in unison — "Saw Cinderella in a party dress, but she was looking for a nightgown — along with the rest of the Garden.
Following "Dustland," Flowers, looking pleased with himself, asked the crowd, "You want one more, or no?" Kevin Buell emerged to swap out Springsteen's Telecaster, and for an instant, time suspended. "I think we've got just the song."
Bruce counted "One! Two!" and in came "Born to Run," with Bruce in full faux-exertion mode. It's almost too good to be true: Jake Clemons on saxophone, Bruce leading the way through the verses, and The Killers packing a powerful punch. At Madison Square Garden. Indeed, Bruce, I believe in the love that you gave me.
Having as much fun as he had all night, Flowers savored the second verse, digging into "Just wrap your legs 'round these velvet rims, and strap your hands 'cross my engines!" — the largely nonsensical sexual metaphor as fun as ever — and practically rapping the next lines, "Together we could break this trap!"
And on "I want to die with you, Wendy, in an everlasting kiss!" Flowers again evoked the jubilation of a 15-year-old in the mirror.
Flowers deferred to Springsteen for the count-off into the final verse, but Bruce, in elder statesman mode, tastefully took the back seat as Flowers led the final verse of love and redemption we've all come to enjoy with the full house lights on.
"Jake Clemons!" Bruce hollered to cheers as the song wrapped, adding, "The Killlllerrrrs!" Then Flowers, ever the true, unadulterated fan, finished off his band's night at the Garden with two words: "Bruce Springsteen!"

- October 2, 2022 - Brandon Shaw reporting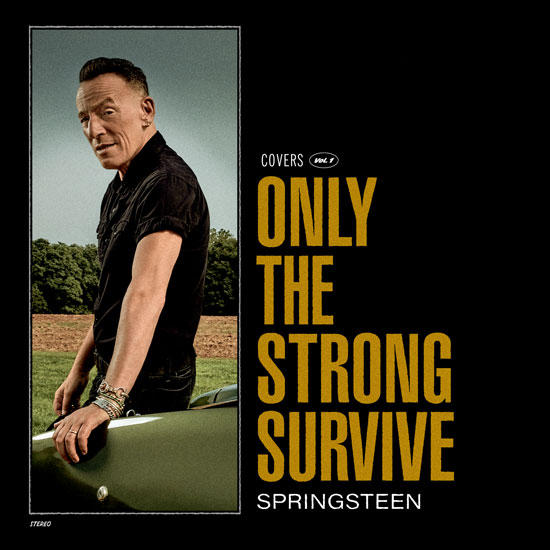 THAT SWEET SOUL MUSIC
Springsteen sings soul on Only the Strong Survive covers album, coming this fall
Bruce Springsteen's new album, a collection of 15 soul music covers titled Only the Strong Survive, will be released by Columbia Records on November 11. Featuring lead vocals by Springsteen and instrumentation primarily from his longtime producer Ron Aniello, Only the Strong Survive celebrates soul music gems from the legendary catalogues of Motown, Gamble and Huff, Stax, and many more.
Springsteen says: "I wanted to make an album where I just sang. And what better music to work with than the great American songbook of the Sixties and Seventies? I've taken my inspiration from Levi Stubbs, David Ruffin, Jimmy Ruffin, the Iceman Jerry Butler, Diana Ross, Dobie Gray, and Scott Walker, among many others. I've tried to do justice to them all — and to the fabulous writers of this glorious music. My goal is for the modern audience to experience its beauty and joy, just as I have since I first heard it. I hope you love listening to it as much as I loved making it."
The lead track from the album is out today: "Do I Love You (Indeed I Do)," originally performed and written by Frank Wilson. Thom Zimny directed the accompanying video:
Only the Strong Survive was tracked at Thrill Hill Recording in New Jersey, produced by Ron Aniello, engineered by Rob Lebret, and executive produced by Jon Landau. Soul legend Sam Moore provides guest vocals on Dobie Gray's "Soul Days" and William Bell's "I Forgot to Be Your Lover." Also featured are The E Street Horns, full string arrangements by Rob Mathes (Wrecking Ball, High Hopes, Western Stars), and backing vocals by Soozie Tyrell, Lisa Lowell, Michelle Moore, Curtis King Jr., Dennis Collins, and Fonzi Thornton.
Pre-order from Backstreet Records for our exclusive bonus:
THE BACKSTREETS LINER NOTES
detailing each of Only the Strong Survive's 15 songs
• Liner notes booklet FREE with the 2LP black vinyl
• Liner notes booklet FREE with the CD
As it says right on the tin, this is "Covers Vol. 1," though no additional details about the implied series are expected any time soon. For now, November 11 is the date to mark on your calendar, when Only the Strong Survive will be released on compact disc and as a 2LP vinyl set, with music on three sides (five tracks per side) and an etching on Side D.
Track Listing:
1. Only the Strong Survive
2. Soul Days [feat. Sam Moore]
3. Nightshift
4. Do I Love You (Indeed I Do)
5. The Sun Ain't Gonna Shine Anymore
6. Turn Back the Hands of Time
7. When She Was My Girl
8. Hey, Western Union Man
9. I Wish It Would Rain
10. Don't Play That Song
11. Any Other Way
12. I Forgot to Be Your Lover [feat. Sam Moore]
13. 7 Rooms of Gloom
14. What Becomes of the Brokenhearted
15. Someday We'll Be Together
Based on the track listing, below we've collected the original versions of the songs Bruce selected for Only the Strong Survive. Technically, the Walker Brothers did not record the original version of "The Sun Ain't Gonna Shine Anymore," but since Scott Walker is specifically mentioned in the press release, we've gone with their version instead of the original recording by Frankie Valli.
1. Only the Strong Survive

2. Soul Days

3. Nightshift

4. Do I Love You (Indeed I Do)

5. The Sun Ain't Gonna Shine Anymore

6. Turn Back the Hands of Time

7. When She Was My Girl

8. Hey, Western Union Man

9. I Wish It Would Rain

10. Don't Play That Song

11. Any Other Way

12. I Forgot to Be Your Lover

13. 7 Rooms of Gloom

14. What Becomes of the Brokenhearted

15. Someday We'll Be Together

Pre-order from Backstreet Records for our exclusive bonus:
THE BACKSTREETS LINER NOTES
detailing each of Only the Strong Survive's 15 songs
• Liner notes booklet FREE with the 2LP black vinyl
• Liner notes booklet FREE with the CD
- September 29, 2022

THE COUNTDOWN BEGINS (INDEED IT DOES)
Yesterday, Bruce Springsteen teased new music on social media, spinning around an FM dial for snippets; at 10:00 ET this morning, the dial stays put for the lead track from his forthcoming covers album.
Tune in below (we recommend at least a few minutes early) to watch Thom Zimny's official video for "Do I Love You (Indeed I Do)" when it goes live at 10am.

- September 29, 2022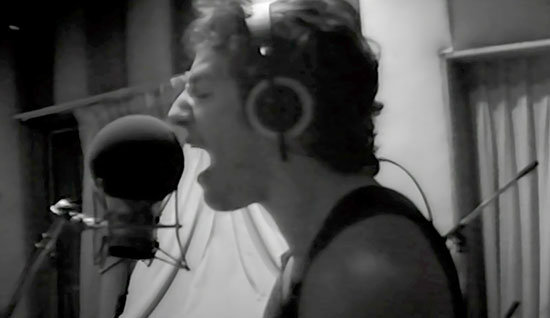 NEXT ON LEGENDARY E STREET BAND: SPRINGSTEEN AS STUDIO-SINGER, THE FIRST TWO DECADES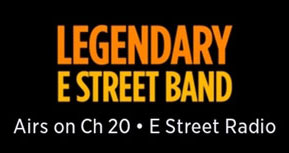 Greg Drew, the host of E Street Radio's Legendary E Street Band, knows a thing or two about what makes a successful studio-singer, having worked for years in New York City as a professional vocal coach. It's not coincidental that two of Drew's more famous clients — Living Colour's lead vocalist Corey Glover and international superstar Lenny Kravitz — each scored back-to-back Grammys after working with him. So the show's next episode, focusing on the first two decades of Bruce Springsteen's rapidly and consistently expanding strengths as a studio-singer, provides some especially interesting listening.
Beginning with a selection from Springsteen's first day of work in a Columbia Records studio (way back in 1972 with the late, great John Hammond producing) and following up with an hour or so of tracks and commentary that take us through to the mid-'90s phase of Springsteen's career, Drew makes the case for how quickly Springsteen developed into a great studio-singer and why. He also offers an expert's insight into the singularity and elusiveness of the skill set needed for all great studio-singers.
A sequel to this episode, focusing on Springsteen's 21st-century in-studio singing, is planned for future broadcast.
Legendary E Street Band's "Springsteen as Studio-Singer, Vol. 1" edition debuts this Monday, September 26, exclusively on E Street Radio (SiriusXM channel 20) with replays scheduled as follows (all times ET):
Monday, September 26 - 3pm and 6pm
Tuesday, September 27 – 10 am
Wednesday, September 28 – 12 am and 7 am
Thursday, September 29 - 6 pm
Friday, September 30 - 2 pm
Saturday, October 1 - 12 am and 4 pm
Sunday, October 2 - 1 pm
- September 25, 2022 - Shawn Poole reporting - still from "Don't Look Back" (NYC '78) from Thrill Hill Vault 1976-1978


WE HAVE A WINNER!
Thanks to everyone who took part in the raffle earlier this week by donating to TeachRock. We have high regard — eight miles high — for Stevie Van Zandt's non-profit, and every dollar of the funds raised directly benefits their work, improving students' lives by bringing music into the classroom.
Congratulations to the Golden Ticket Charity Package Grand Prize recipient, Rachel Ascher from NYC, who won 2 tickets to Bruce Springsteen and the E Street Band's 2023 Tour opener in Tampa, with an overnight stay at the Tampa Hard Rock Hotel and Casino, and more.
A Golden Ticket Runner-up Prize went to Tracey Powell of Maryland — that's an Asbury Park getaway including a night at the Asbury Hotel plus two tickets to TeachRock's October 9 Party at the Pony with Max Weinberg's Jukebox, Southside Johnny, and Little Steven's Undergound Garage Sale.
We'll be doing more with TeachRock to help put 2023 Tour tickets in the hands of fans, so stay tuned.
- September 22, 2022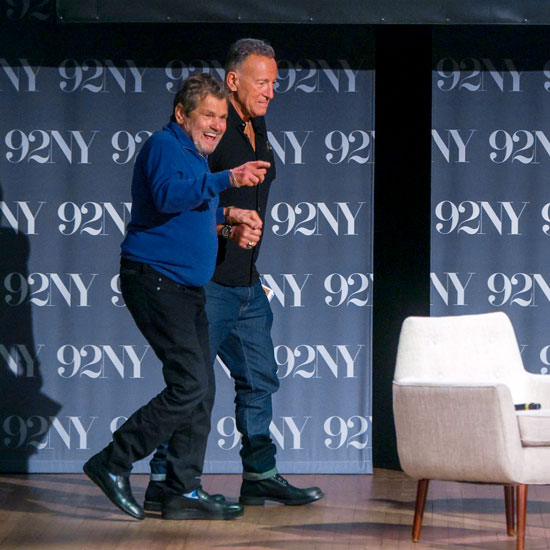 WEEKEND WATCH
It was an inversion of the Rolling Stone Interview on Tuesday night, with Bruce Springsteen asking the questions of magazine founder Jann Wenner, on stage in front of an audience at the 92nd Street Y. The hour-long conversation was sparked by the Wenner's new memoir published that day. Caryn Rose reported on the paid livestream for us below; now the video has been made available online via Facebook — watch here.
- September 16, 2022 - photo by Michael Priest Photography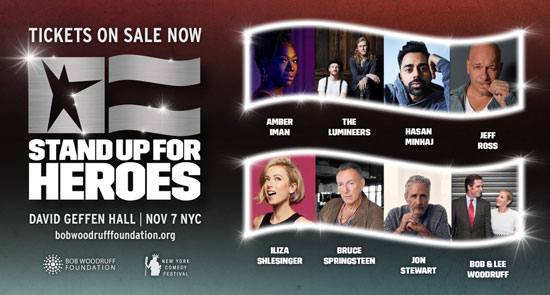 ICYMI: TICKETS AVAILABLE FOR STAND UP FOR HEROES 2022
Bruce Springsteen will return yet again to play this year's Stand Up For Heroes benefit, the 16th annual Bob Woodruff Foundation fundraiser held November 7 in NYC.
Along with returning regulars Springsteen and Jon Stewart, also on the 2022 bill are Amber Iman, The Lumineers, Hasan Minhaj, Jeff Ross, and Iliza Shlesinger.
For anyone mainly interested in seeing Springsteen's traditional four-songs-and-some-dirty-jokes set, the SUFH price of admission has always been high; now, it's more in line with what it costs to see the Boss. Of course, it's all for an excellent cause: honoring and assisting our nation's impacted veterans and their families. Plus, a military discount is available for service members, veterans, and first responders.
Stand Up for Heroes 2022 will be held at David Geffen Hall at Lincoln Center. Full details are here, including links for both general tickets and for the military discount.
- September 16, 2022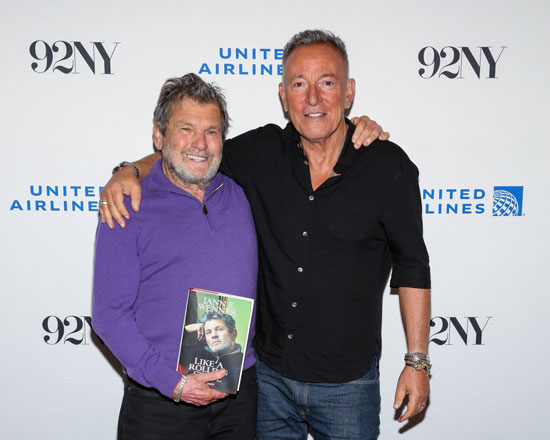 A FIVE-STAR EVENT WITH SPRINGSTEEN AND WENNER
One memoirist to another: How does it feel?
"We're both old men, attempting to gracefully face our extinction," is how Bruce Springsteen began his conversation with his friend Jann Wenner, founder and publisher of Rolling Stone magazine, at the 92nd Street Y in New York City Tuesday evening. The hour-long discussion between the two old friends was on the publication of Wenner's memoir, Like a Rolling Stone.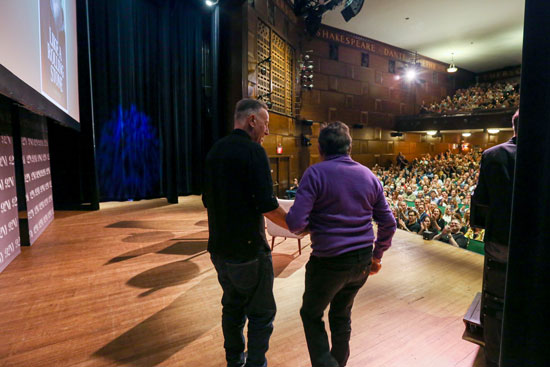 Bruce looked sharp, sporting the salt-and-pepper, short-back-and-sides hairstyle he's been favoring recently, and he commenced the evening by unselfconsciously donning a pair of clear-rimmed spectacles. He carried with him a turquoise, five-subject, spiral-bound notebook with a pen clipped to the inside, and he flipped back and forth between his notes in the pages to direct the conversation, which he executed with an excellent sense of pacing and aplomb.
"I am not actually an interviewer," Bruce insisted. "I am really here to throw Jann some softballs and get a couple of stars extra on my next album review." There was some nervous laughter in response to that.
Let's be honest — most people who attended in-person were there for the opportunity to spend a block of time in a small room with Bruce Springsteen. The two chums could have just jawed back and forth for an hour, and most folks would have been fine with it. (Maybe the people who shelled out $60 to watch the livestream less so.) But Bruce had read the book, had clearly prepared talking points, and also had the key interviewing skill of listening to the answers he was getting and changing his tack on the fly.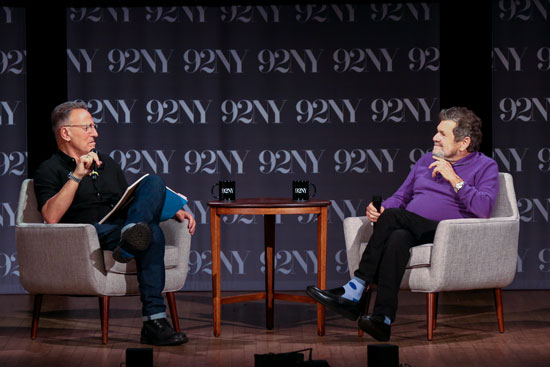 Wenner is by no means a difficult interview, but Springsteen kept the conversation focused while also occasionally sharing some insightful bon mots. "I once had a late-night conversation with [Bob] Dylan," Bruce recalled, the two songwriters sharing a couch. "He said that timing had an enormous amount to do with the impact that he had at that particular moment."
The pair discussed Wenner's skills as an editor, comparing the role to that of an album producer — a skill that Bruce freely admitted he did not have. Wenner noted, "Jon Landau would tell me that what he did in great part for you was that he edited you." They spoke about various Rolling Stone writers that they both admired, and people Wenner had interviewed over the years, including a discussion of his interview with President Obama the day after the 2016 election.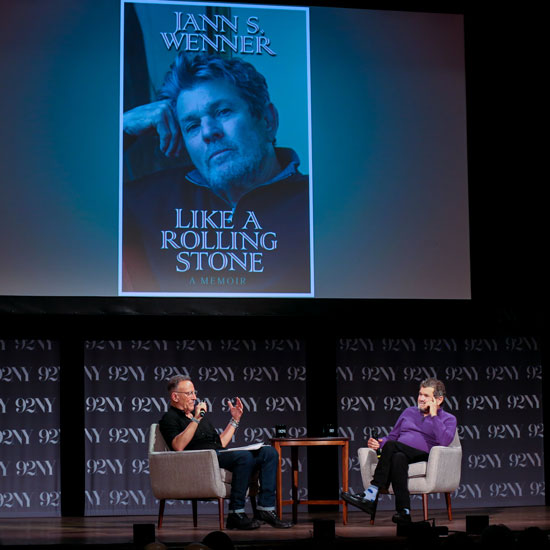 And then, of course, Springsteen couldn't resist coming back to one of his opening salvos: "People always wonder, when you become friends with the people you're writing about…" he began his question, leading to a softball convo about how Wenner loves music so much and was such a "crazy fanboy, he couldn't help himself."
"You know, if you want to give back a star to people — give us a little air. You may have gotten more five stars than anybody, but your records are so damn good," Wenner gushed. "No artist has ever really asked me to do anything I wouldn't want to do."
In turn, Bruce shared that while he was not asked to review Wenner's memoir, if he did, he would have given it an extra star. (I guess we can all imagine how many stars the next Springsteen album, news of which Wenner "leaked" in an interview he gave for the book, will likely get from Rolling Stone.)
There was also some light sparring about how Rolling Stone wouldn't put Bruce on the cover around the time of Born to Run, Wenner pointing out that Springsteen's appearance on the covers of both Time and Newsweek put him firmly outside of the counterculture Rolling Stone represented. He also shared that there was endless gossip in the New York City publishing world at that time: "How did they do that??!"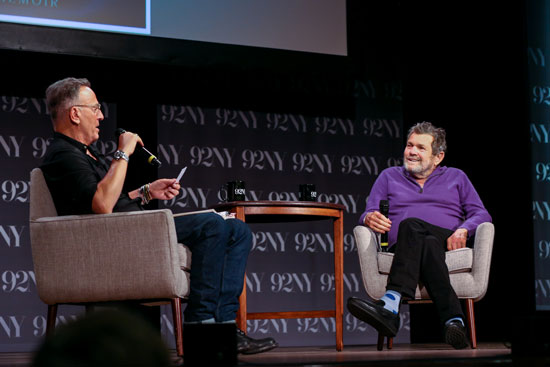 An area where Bruce was once again quite masterful was in parsing the audience questions. They had to be submitted on 3x5 cards (so no chance for "more of a comment than a question" or declarations of how Bruce's music has been the soundtrack of someone's life), and judging by the small pile he was holding, someone at the event vetted them. But he did pick thoughtful questions, and it was doing great until he got to this one: "What are the five most impactful records? Let's just say for you," Bruce said. He made a goofy face, and the audience laughed. "Go ahead," he continued. "Pretend I'm not sitting here." Wenner offered a vaguely amusing story about Bob Dylan asking about Bruce before saying it was impossible to name just five albums.
The event ended at 8pm on the dot, and Bruce helped his friend offstage, thus obviating any chance for a gaggle of the well-heeled (who else is paying $100 for one hour of conversation?) to rush the stage for high fives or autographs.
In another lifetime, this event would have been overpriced but mostly benign; it would be easy to just look at it as "two old friends are having a chat, and they're both doing favors for friends." But that was before we were presented the opportunity to spend $500 to sit behind the stage. Now it feels more like, "two really rich guys charged a bunch of people who are fairly well-off a fair amount of money for a free book (gotta juice those sales numbers) and some elevated dinnertime conversation, on the pretense that it's going to raise money for an organization that sits in one of the toniest zip codes in Manhattan and that both interviewer and interviewee could have each literally written a personal check for the same amount of money that it raised for the Y," and it feels kind of strange.
- September 14, 2022 - Caryn Rose reporting - all photos by Michael Priest Photography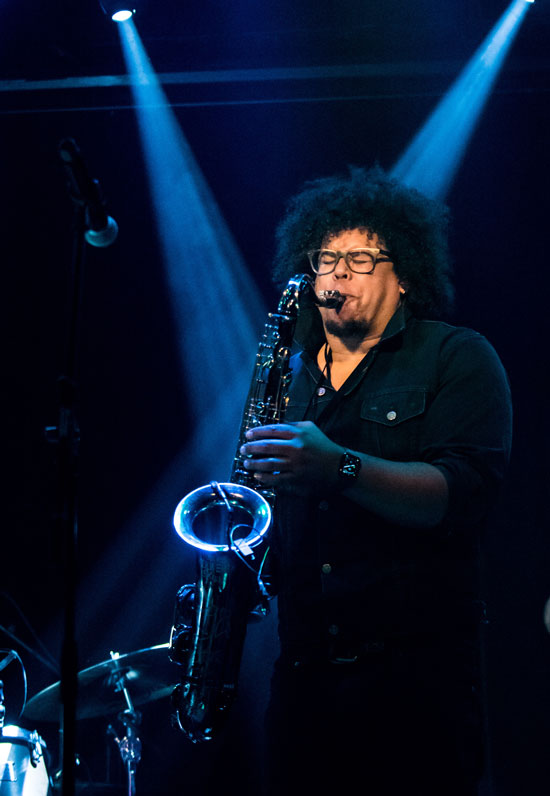 JAKE CLEMONS, ARTISTIC ACHIEVER
E Street saxophonist for a decade and a dedicated performer for much longer than that, Jake Clemons has entertained and moved audiences from living rooms (at intimate house parties) to massive stadiums (with the E Street Band), and venues of every size in between.
Monmouth Arts, a non-profit based in Red Bank, New Jersey, has taken notice: at its "Cheers to 50 Years of Art" Golden Celebration coming up on September 23, the Monmouth County arts advocacy organization will be honoring Jake with the Artistic Achievement Award in Musical Arts.

Backstreets contributor Anna Selden caught up with Jake to discuss this upcoming honor, his plans for the rest of 2022, and the 2023 Tour with Bruce Springsteen and the E Street Band.
From Monmouth County to the Yukon, and soon around the world
with E Street: "I'm ready to go back to school!"
Continue HERE to read our new interview with Jake
- September 14, 2022 - photograph by Jerry Frishman, Vienna, VA, July 23, 2022


WIN A "GOLDEN TICKET" PACKAGE FOR TAMPA 2/2/23
TeachRock x Backstreets raffle will get winner +1 in for opening night
Steven Van Zandt's TeachRock is holding a series of raffles, for Golden Ticket charity prize packages.
This week, Backstreets has partnered with TeachRock for their latest giveaway raffle, with one lucky Backstreets reader receiving a "Golden Ticket" package for two, to attend opening night in Tampa, February 1, 2023.
Donate to TeachRock.org today, and you could win:
Two (2) premium seats or GA/pit tickets (winner's choice) for 2/1/23, opening night in Tampa, FL
One-night deluxe accommodations at the Tampa Hard Rock Hotel and Casino
Deluxe breakfast for two on 2/2/23 at the Tampa Hard Rock Hotel and Casino
Enter the "Golden Ticket Tampa" TeachRock/Backstreets Raffle at https://bit.ly/gttampa
Each $25 donation is one chance to win and is also a tax-deductible contribution that puts the arts center-stage in students' lives!
The raffle is open for entries now and ends 9/20 at 11:59 am. We'll announce the winner here on Backstreets.com.
- September 13, 2022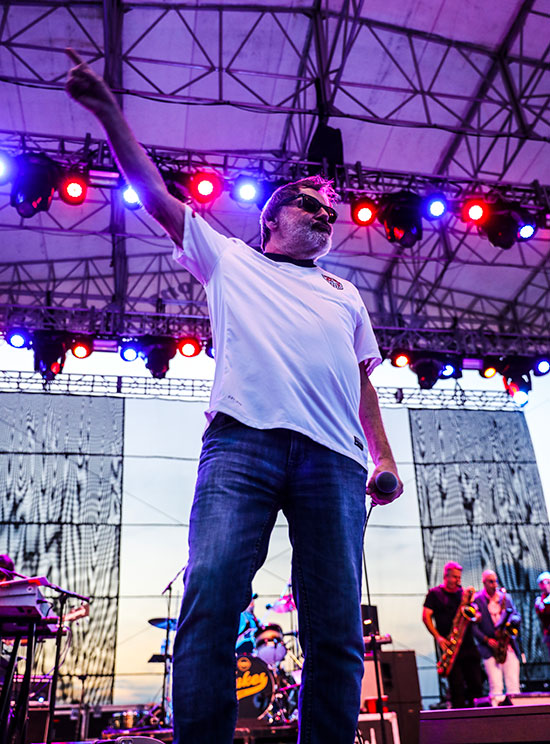 LET'S TRY THIS AGAIN
Southside Johnny & the Asbury Jukes
The Stone Pony Summer Stage
September 4, 2022
There's no better way to spend the Fourth of July in Asbury Park than watching Southside Johnny & the Asbury Jukes rock The Stone Pony Summer Stage under warm New Jersey skies.
Well, that was the idea two months ago, anyway. Mother Nature had other plans.
On the day of July 4, rain and high winds were called for all day long. The band, and the Stone Pony, had to make a decision about the show that night. So, around 2 pm, the gig was canceled and rescheduled for September 4 instead – Labor Day Weekend. Canceled, too, were the fireworks planned for the city that night.
Then a funny thing happened on the way too Little Eden…. The wind and rain never came! The Fourth of July ended up being a beautiful night in New Jersey.
Fast-forward two months, and this time everything went off beautifully. A warm New Jersey Sunday turned into a splendid, breezy Asbury Park night with Southside and 3,000 of the bands' closest friends rockin' the summer away.
Wearing his familiar US Soccer ringer tee shirt and faded jeans, Southside kicked it into full gear right off the bat, opening with "Better Days." From there, he and his band launched into 24 more songs for a truly exceptional setlist, along with some special guests.
Whether he was chatting with the crowd, playing his harmonica, or mugging with band leader Jeff Kazee [above], Johnny seemed to be enjoying the evening and the Stone Pony crowd.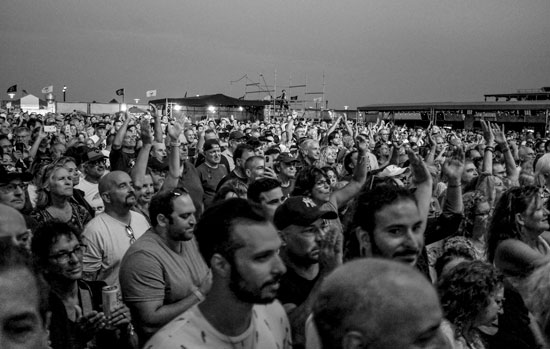 Special guests, there were a few: Bobby Bandiera (guitar on "Without Love"); vocalist Layonne Holmes (vocals on "Be My Baby"); Jim Mastro (guitar on "I Don't Want to Go Home"); Joe Bellia (drums on "Another Saturday Night"); Ian Gray (trombone on "We're Having a Party").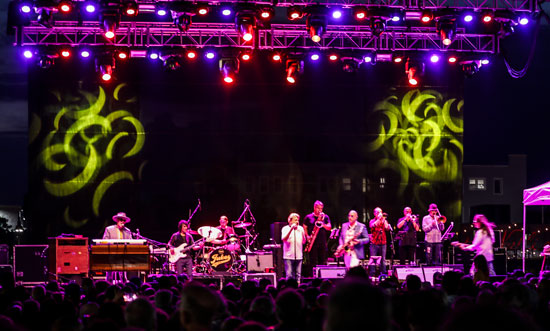 So, while everyone had to wait a couple of months, the wait was worth it!
Setlist courtesy of the Jukebox: Southside Johnny Fanzine Facebook page:
Better Days
Angel Eyes
Can't Find My Way Home/Forever
Love on the Wrong Side of Town
Broke Down Piece of Man
Passion Street
All the Way Home
Woke Up This Morning
Coming back
Walk Away Renee
Don't Waste My Time
Without Love
We'll Make This World Stand Still (sung by Johnny and Bobby)
Loving Cup (sung by Jeff with Neal Pawley on backup vocals)
Be My Baby (Layonne Holmes)
Don't Worry Baby (Layonne Holmes)
You Mean So Much to Me (sung by Johnny and Layonne)
Ride the Night Away
This Times It's For Real
The Fever
Talk to Me
I Don't Want to Go Home
* * *
Say Goodbye to Hollywood (Layonne Holmes)
Another Saturday Night
We're Having a Party
- September 7, 2022 - Report and photographs by Mark Krajnak / JerseyStyle Photography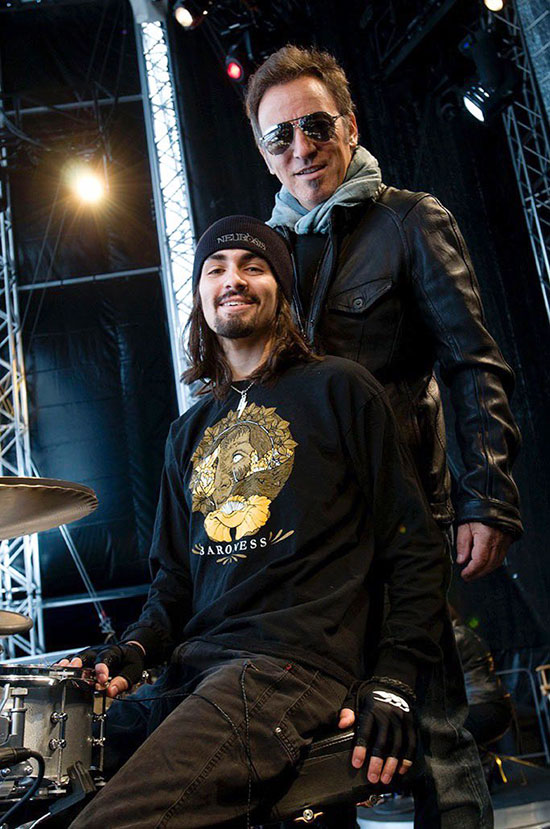 NOW ON LEGENDARY E STREET BAND: "THE UTILITY PLAYERS"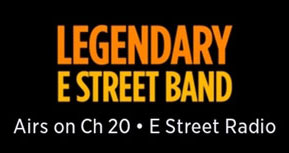 With Labor Day this week and the race for spots in baseball's post-season in full swing, what better time for E Street Radio's monthly series Legendary E Street Band to salute the various hard-working folks who've served as the E Street Band's "utility players" over the years?
Host Greg Drew describes this week's new episode as spotlighting both "the firsts and the fill-ins." This means you'll hear tracks and commentary focused on the likes of Ernest "Boom" Carter, Tom Morello, and Jay Weinberg (pictured above with his temporary employer/manager). You'll also hear from and about founding E Street Band members Vini "Mad Dog" Lopez and David Sancious, who of course made major, lasting contributions to the band despite relatively short stints, and newer players like Jake Clemons and Charles Giordano. And hey, let's not forget all of those horn players and other musicians like Curtis King, Eddie Manion, Cindy Mizelle, Soozie Tyrell, and others who have augmented the E Street sound.
Legendary E Street Band's "Utility Players" Edition debuted on Labor Day,
exclusively on E Street Radio (SiriusXM channel 20), with replays scheduled as follows (all times ET):
Wednesday, September 7 – 10 am
Thursday, September 8 - 6 pm
Saturday, September 10 - 4 pm
- September 6, 2022 - Shawn Poole reporting – photograph of Bruce Springsteen and Jay Weinberg (recently named Metal Drummer of the Year in Modern Drummer's 2022 Readers Poll) courtesy of @jayweinbergdrum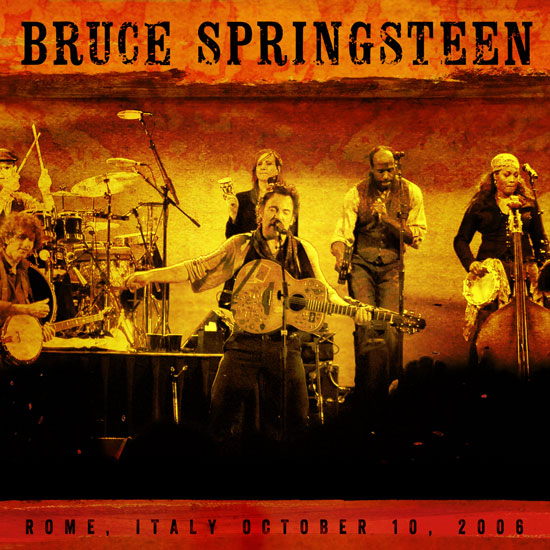 LIVE FROM "THE MOST BEAUTIFUL CITY IN THE WORLD
Rome 2006, the eighth of eight Italian shows, today comes all the way home
It was a very lucky year for Italian fans in 2006: for the first time in a Springsteen relationship that had endured since 1985, Bruce played eight shows in eight different cities in Italy, a surprising number that rivaled only the U.K. in terms of concerts that year on European soil. If we also consider that, by now, fans overseas have not had a visit from Springsteen for six years (which will stretch to seven), then we really have to think of those as glory days for us Italians who couldn't get enough.
Zooming out a bit in tour history reveals further glory: in 2005 there was the acoustic tour following Devils & Dust, then the 2006 tour with the Sessions Band, followed by the first Magic leg in 2007, the second in 2008, and in 2009 back again for Working on a Dream: a real Springsteen bonanza!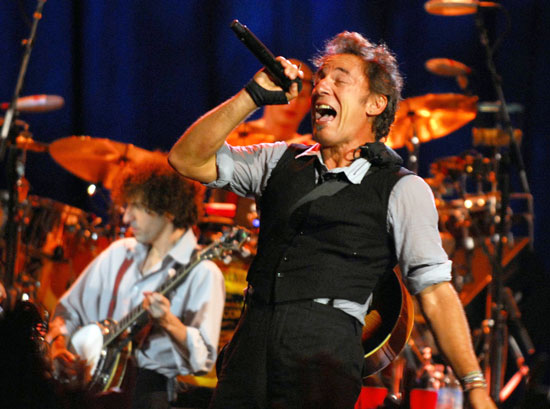 I was among the fortunate ones who took advantage of those wealthy times, and I'm therefore very excited that the new Live Archive release is one of those eight Italian stops of the Sessions tour: Rome, Italy, October 10, 2006 at the Palalottomatica arena, where I was among the lucky audience members (together with my rockin' mom and aunt!).
This is only the third Live Archive set from that tour, following the New Orleans Jazz & Heritage Festival show from 4/30/06 (released December 2017), and London's Wembley Arena from 11/11/06 (released in August 2020). And while the Sessions setlists might not be as diverse compared to other tours, there are still hidden gems here to make fans happy, not to mention a wonderful performance.
The Italian Springsteen audience is known to be one of the warmest in the world, and for this final night of an Italian residency of seven concerts starting October 1 (previously, there was a Milan stop during the first leg of the tour), it was clear from the first song that the Roman audience had studied the album well and was ready to go along with Bruce as if an 18th (!) member of the band.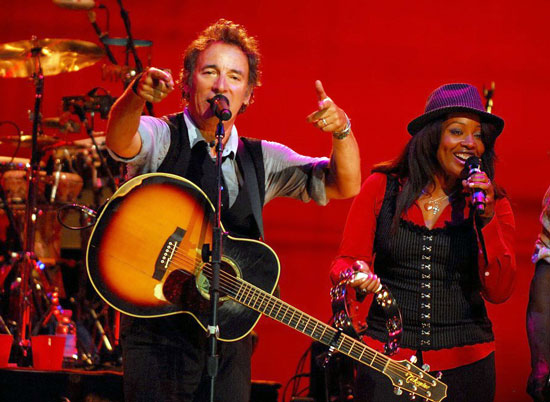 This is evident after the very first notes of songs like "Old Dan Tucker," "Erie Canal," or "Mrs. McGrath" — not necessarily anthems as as powerful as "Born to Run," let's say, but the audience invariably anticipates the band and sings the instrumental riffs at the top of their lungs. The Italian fans are just as enthusiastic with the claps and call-and-response chants that accompany wilder moments like "American Land," "My Oklahoma Home," or "Pay Me My Money Down."
These songs may not be part of the national DNA in Italy as they were for the Live in Dublin audience, but just as with The Ghost of Tom Joad, local audiences here have always been very curious about folk and traditional influences on Springsteen's lyrics, music, and politics. In this regard, I clearly remember a few days prior to this show, October 7, participating in a serious seminar entitled "My Hometown: Bruce Springsteen's America" in a theater in Rome, with American literature professors such as the renowned scholar (and Springsteen fan) Alessandro Portelli discussing Bruce's place in the American musical and literary tradition.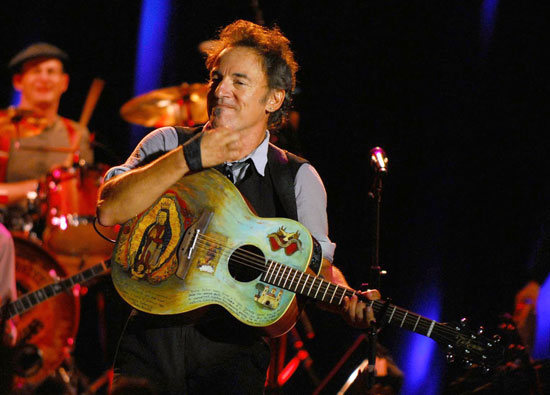 Obviously, in addition to the studying and analysis, with Bruce it's also about abandon and enthusiasm. And for that you won't need to go further than the impromptu chant on "All the Way Home," a song played here for the first time. It has only appeared in concert twice since — a minor song, perhaps, but it's welcomed as a classic. (Bruce introduces "All the Way Home" by saying he's happy to be in the "most beautiful city in the world," a statement that he will reiterate every time he'll play Rome, from stadiums to theaters to the Circus Maximus.)
Same thing happens with "Growin' Up," dedicated to a child bearing a "Growin' Up with Bruce" sign: although completely reimagined compared to the original album version, the audience is still ready to sing its "Ooh, ooh, growin' up" refrain at precisely the right time.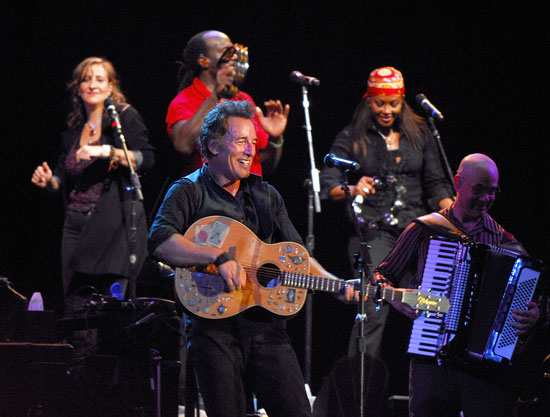 These seven Italian shows were the first concerts of the tour after a very long break (the band had July through September off), and therefore the setlist sees very welcome fresh entries. Bruce offers new traditionals arranged with great skill as well as new selections from his own repertoire not yet subjected to the "Sessions treatment."
Among the first of these — officially released here for the first time — is "Long Black Veil," already interpreted by masters such as The Band and Johnny Cash, which here finds a soulful interpretation in the warm voice of Marc Anthony Thompson, who alternates with Bruce singing the verses, as he will also do later in the beautifully lulling version of "When the Saints Go Marching In."
Among the revisited classics I surely must mention the brand new version of "The River" (premiered in Bologna on October 1). Though blasphemous to some purists, "The River" is transformed into a majestic march that seems to have been born in Scotland's highlands. For those who didn't have the pleasure of witnessing it live, this Live Archive release is the first official opportunity to hear this radical arrangement.
"Long Time Coming," also fully rearranged, is another great entry for a cut that would have deserved more outings with the E Street Band. As during the Devils & Dust tour, the last verse is performed with only sparse guitar and Bruce's voice over a silent and respectful audience before a roar at the line, "I ain't gonna fuck it up this time."
The concert goes on between magnificent horn jams ("Open All Night," "Jacob's Ladder," "Pay Me My Money Down") and ballads of pain and reconstruction such as "How Can a Poor Man Stand Such Times and Live?" (dedicated to New Orleans) and "My City of Ruins," with the horn arrangement and final a cappella choir that will later be replicated with the E Street Band.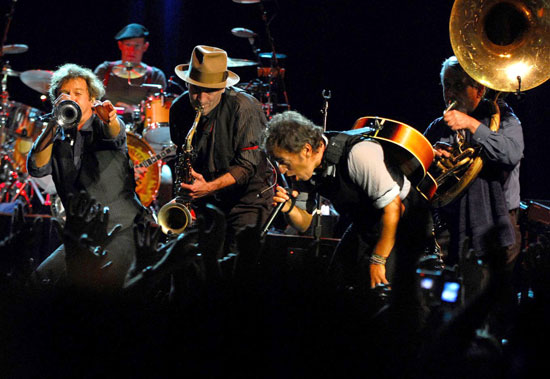 The finale, after the emotion of "Saints," includes a thank-you speech to the Italian fans, mentioning all the cities they traveled through, and it's all about unbridled fun and liberation. "This Little Light of Mine" is a true highlight, and "American Land" still fresh and unreleased at that moment, not yet a perhaps-overplayed staple of future encores.
The Bruce Springsteen of Rome 2006 was a 57-year-old man who seemed to have no desire to indulge in nostalgia, experimenting with different formats such as the solo shows of the year prior and this immersion in folk roots, before returning with new and politically engaged rock the following year. This release is an excellent opportunity to rediscover that phase of his career, and to remember with pleasure those days when it was possible to see Bruce live five years in a row… while many of us patiently wait for the chance to do it again next year.
Also read: Erik Flannigan's latest nugs.net blog entry, "A Fresh Map That I Made"
- September 2, 2022 - Guglielmo Latini reporting - all photographs, including the cover image, by Rene van Diemen from Italian performances in 2006