EVERYTHING THAT DIES SOMEDAY COMES BACK
Bruce Springsteen, "Immortal"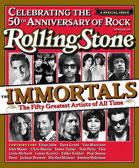 The new issue of Rolling Stone, #946, ranks their "Fifty Greatest Artists of All Time" as The Immortals. In the top three slots: The Beatles, Bob Dylan, and Elvis Presley. Springsteen was among the voters for the RS list, along with a host of critics and other artists (including Steven Van Zandt and Jon Landau); and he also placed in the upper half of this pack of greats, at #23. Fellow artists wrote tributes for each Immortal, and writing about Springsteen is none other than Jackson Browne, promptly returning a favor. "In many ways, Bruce Springsteen is the embodiment of rock 'n' roll," Browne writes. Sure beats a thankyou note.
- March 30, 2004

ANOTHER INCIDENT ON 57th STREET
"Days of Hope and Dreams" gallery show opens this week in NYC
Frank Stefanko's show of Springsteen photographs, which debuted at Washington DC's Govinda Gallery, opens in New York on Thursday, 3/25. "Days of Hope and Dreams" is fantastic collection of portraits of Bruce and the E Street Band from 1978-1982, by the photographer of the Darkness and River album covers, viewable for a month at the Earl McGrath Gallery (20 West 57th Street).
Please note the updated schedule: the Stefanko show will be running from March 25 to April 24. The gallery is open Tuesday - Saturday, 10 a.m. - 6 p.m.; with an opening reception on March 25 from 6 - 8 p.m.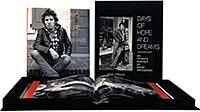 And be sure to check out the Limited hardback edition of Stefanko's Days of Hope and Dreams book. Only 450 were made, and each is signed and numbered. Each comes with an original photographic print also signed by Stefanko, an outtake from the Darkness cover sessions printed especially for this limited edition. It's a beautiful package, a great way to get an original Stefanko print, and it's available now exclusively through Backstreets.
- Updated March 22, 2004

57 CHANNELS: NCAA, VH1, OR HBO?
Don't forget to tear yourself away from March Madness to catch the Rock Hall induction ceremony broadcast on Sunday night.... unless, of course, you'll be watching The Sopranos instead. What's a Boss TV junkie to do? See below for a schedule of VH1's repeat airings of the ceremony, for one thing. And you can preview Springsteen's induction speech online now with a video clip at VH1.com.
VCR/DVR Alert: VH1's "2004 Rock and Roll Hall of Fame"
March 21 - 8 p.m. Eastern
March 21 - 10:30 p.m. Eastern
March 22 - 11 p.m. Eastern
March 23 - 7:30 p.m. Eastern
March 24 - 1 p.m. Eastern
And best of luck to any of you picking the Hawks of tiny Monmouth University in an upset vs. Mississippi State tonight... wish you were in our office pool!
- March 19, 2004

"SPRINGSTEEN READER" DUE APRIL 6
New book's editor to speak and sign in Chi-town


A new anthology, "Racing in the Street: The Bruce Springsteen Reader," is a treasure trove of Springsteen writings from the last 30 years, to be released on April 6. With a foreword by Martin Scorsese, the dueling Time & Newsweek articles, George Will's infamous 1984 column, pieces on Bruce from writers such as Greil Marcus, Dave Marsh, Mikal Gilmore, Lester Bangs, Nick Hornby (and several Backstreets staffers to boot)... this sucker's packed. To see the full contents, and to pre-order the book from Backstreets, see the item listing in our online store.
"Racing in the Street" editor June Skinner Sawyers lives in Chicago, where the Newberry Library (60 West Walton St.) is hosting a tribute called "Drive All Night: The Music of Bruce Springsteen" on April 7. After a set of Springsteen songs by local singer/songwriter Bucky Halker, Sawyers will give a talk about her new book, followed by a book signing. For more information, visit www.newberry.org or call (312) 255-3510.
- March 19, 2004

ROCK HALL GETS A HANDSOME DAN
Bruce inducts Browne at 2004 ceremony
"Ladies and Gentlemen, please join me in welcoming my very handsome friend, Jackson Browne, into the Rock and Roll Hall of Fame." On Monday night, March 15, the Class of 2004 was officially inducted into the Rock and Roll Hall of Fame, with Springsteen doing the honors for his old friend. "I couldn't ask for anybody better," Browne said before the ceremony.
Bruce recalled opening for the "bona fide rock 'n' roll sex star" back in the '70s: "Now, being a little competitive, I noticed that while the E Street Band and I were sweating our asses off for hours, just to put some fannies in the seats, that obviously due to what must have been some strong homoerotic undercurrent in our music, we were drawing rooms full of men. And not that great-looking men, either. Meanwhile, Jackson was drawing more women than an Indigo Girls show!"
Springsteen, who did not perform at the ceremony, named songs like "Late for the Sky," "The Pretender," "Rock Me on the Water," "Take it Easy" and "Doctor My Eyes" as songs he wish he'd written, "along with 'Like a Rolling Stone' and 'Satisfaction.'" (Wait-- Bruce really wishes he'd rhymed "pretender" with "ice cream vendor?") Browne performed "The Pretender," from the 1976 Jon Landau-produced album of the same name, and 1977's "Running on Empty." In attendance along with Springsteen were Patti Scialfa, Landau (who got a thankyou from Browne), Dave Marsh, and Steve Van Zandt.
On Sunday March 21, VH1 will show an edited broadcast of highlights, with several repeat airings in the following days. The ceremony kicked off with a three-song workout from Prince, had Seger reunited with his Silver Bullet Band for "Turn the Page" and "Old Time Rock and Roll," and also featured a closing all-star jam with Traffic, Seger, Browne, Keith Richards, Tom Petty, ZZ Top, the Dells, and more.
- Updated March 17, 2004

SUCH A FINE SIGHT TO SEE
Springsteen's first public performance of 2004
24 hours after inducting him into the Rock and Roll Hall of Fame, Springsteen played with Jackson Browne, at Browne's March 16 Beacon Theatre show in New York City. After watching much of the show with Patti Scialfa from the audience, Springsteen came out for the last encore, closing the show with "Take It Easy." Bruce played electric guitar and sang back-up on the song that Browne co-wrote with Glenn Frey.
- March 17, 2004

IT'S THE MUSIC, STUPID
"Look who [Kerry] likes: Bruce Springsteen! And I was with him at a Stones concert in Boston. What does Bush like? Wayne Newton! That's the choice for our country: Springsteen or Wayne Newton. I know what my choice will be."

--Rolling Stone founder Jann Wenner on the difference between Kerry and Bush, in the New York Daily News.

GOODNESS GRACIOUS: THE BOSS & THE KILLER
According to the folks at www.chuckberry.de, Jerry Lee Lewis has a new album in the works, and Springsteen is on it. Titled Old Glory and planned for 2004 release this year, it's largely a collection of pairings that brings to mind Sinatra's Duets album, including Bruce and Jerry Lee on Springsteen's own "Pink Cadillac." We're told that Lewis recorded much of the material himself in February of 2003, with guests adding their parts over the past year (reportedly around October for Springsteen). Numerous other guests include Mick Jagger and Keith Richards on "Evening Gown." We'll post further details here as we know 'em.
- March 10, 2004

GIMME FIVE!
Issue #79 of Backstreets Magazine is in the works now, and one of the features we're putting together is a Rising Tour Wrap-up, looking back at the tour as a whole -- and we want your help. As we did for the Reunion tour (in Backstreets #68/69), we're looking for "Top Five" lists from readers. Last time we had submissions ranging from "Top Five Solos" and "Top Five Songs Rearranged for This Tour" to "Top Five Beers at a Reasonable Price." This time... well, whatcha got? To-the-point or off-the-wall, we're looking for lists detailing the best and worst of the Rising tour experience. Send your list, numbered 1-5, to topfive@backstreets.com by March 5, and we'll run the best ones in the next issue.
Update: The poll is now closed, and thanks to everyone who sent in their lists. Look for these "Top Fives" in the action-packed issue #79 of Backstreets Magazine, scheduled to go to press later this month... don't miss it, subscribe now!
- Updated March 8, 2004

LITTLE STEVEN TALKS SHOP IN ROLLING STONE


Look for a Q&A with Little Steven in the latest issue of Rolling Stone. In addition to talking about his "Garage Crusade," Steven touches on early days with Bruce and Southside, politics, the Sopranos (don't forget the season premiere this Sunday night!), hats vs. bandannas, and the current status of the E Street Band: "We're back into that cycle of albums and tours. Honestly, I love it."
Also in RS #944: their 2004 Rock Rich List, running down the past year's biggest moneymakers, with some interesting facts and figures. Springsteen comes in at #2, just behind the Rolling Stones.
- March 4, 2004

BRUCE TO GUEST AT ROCK HALL CEREMONY
For a number of years, Springsteen turned up regularly to jam at the annual Rock and Roll Hall of Fame induction ceremony; in 1999 he was there to receive the honor himself and perform with the E Street Band. This year he's coming back. The 2004 induction ceremony is being held March 15 at New York's Waldorf-Astoria hotel, and Springsteen has just been confirmed as a Special Guest. The 2004 honorees include Jackson Browne, Bob Seger, Prince, the Dells, Traffic, ZZ Top, and in the Non-Performer category, Jann Wenner. A week later, VH1 will be broadcasting the festivities, airing March 21 at 8 p.m. and 10 p.m.
Update: According to Billboard.com, Springsteen will be giving the induction speech for Jackson Browne.
- Updated February 19, 2004

DUE IN JUNE: BRUCE & BONDS ON BACK IN 20
More details on the upcoming record from Gary U.S. Bonds, with Springsteen guesting as reported previously. It's now slated for June 1, with a new title of Back in 20 -- referring to the number of years since his last studio album. According to Rolling Stone, this one will include covers (Delbert McLinton, Otis Redding, Keb Mo') and Bonds originals, with Bonds planning to tour for the record following an appearance at SXSW in March.
- February 19, 2004

WE'RE BAAAACK!
Our recovery is complete: the Backstreets phone and fax lines are working again, after a fire in the building burned up our office's phone cables last week. Thanks for your patience if you've been trying to get in touch, or waiting for an email reply. As of this morning, we're back to business as usual: phone and fax lines are open, and operators are standing by to take your call...
- Updated February 18, 2004

STEVE OFFERS A STATE OF THE E STREET ADDRESS
Chatting with Billboard about his latest Underground Garage plans, Little Steven also gives some idea of what the future holds for the E Street Band. On the upside, Steve says the band will definitely record another album together again; on the downside, he suggests we're in for a bit of a wait:
"Hopefully, we'll take this year off. I know Patti [Scialfa] has her record about finished, so I would expect that to be coming out and for her to be spending time with that. I'm not sure if Nils [Lofgren] has something else coming out or Clarence [Clemons] possibly, as well.... I'm not sure what Bruce is up to. He's always writing and always doing something so you never know with him. I'm pretty sure we're taking the year off. I can't tell you absolutely. But we will make another record and we will be back for sure."
Steve also shares his thoughts on the idea of official E Street Band bootlegs--and we'll hope that Springsteen has different ideas on the matter. For more, read "Little Steven Spreads Garage Rock Love" at Billboard.com.
- February 14, 2004

FINAL SUNDAY WITH SPRINGSTEEN ON 2/15
After the recent death of Ed Sciaky, the Philadelphia DJ's friends and family came together to share their memories for part of a special final edition of Sicaky's show on WMGK. On Sunday, February 15, the station's staff and other friends of Ed will host the last Sunday with Springsteen, which will include thoughts, stories and a tribute to a Philly radio legend. It's a three-hour presentation, from 7 p.m. to 10 p.m., reportedly to include personal messages from a few of Ed's friends in the music industry including: Billy Joel, Little Steven and Bruce Springsteen.
- February 14, 2004

BACK TO THE SCENE OF THE CRIME: SUNDAY IS GRAMMY NIGHT
After being robbed of the Album of the Year trophy last time around, Springsteen is up for another Grammy Award on Sunday February 8: Best Rock Performance By A Duo Or Group With Vocal, for "Disorder In The House" with Warren Zevon. This year's ceremony includes tributes to the Beatles and Zevon, the latter to be honored in a segment that will feature Jackson Browne, Emmylou Harris, Timothy B. Schmit, Billy Bob Thornton, Dwight Yoakam, and Jorge Calderón. Will Bruce show? Quick flashes of him have been used in promo spots for Grammy night, but he's not currently slated to appear. Then again, with CBS airing the broadcast, you never know who is going to pop out -- er, up. We'll keep you abreast of any developments right here.
Update: Zevon and Springsteen beat out Radiohead, Foo Fighters, Train, and the White Stripes to take the "Rock Performance" award, which Zevon's son Jordan was onhand to accept.
- Updated February 9, 2004

TYRELL AND GRUSHECKY CELEBRATE THE PONY'S BIG THREE-O.
2004 marks 30 years of the Stone Pony, with an anniversary celebration planned for the last weekend of February to mark the occasion. On Friday 27: Soozie Tyrell headlines, with the Glen Burtnick Band and Pat DiNizio of the Smithereens. On Saturday February 28: Joe Grushecky (in support of a new record, True Companion), with John Cafferty & the Beaver Brown Band and Dawne Allyne.
- February 6, 2004

VOICE OF PHILADELPHIA: ED SCIAKY, 1948-2004
Ed Sciaky, the legendary Philly DJ, died on January 29 at 55. An early champion of Springsteen's music, you gotta wonder how Bruce's career could have taken off without him. Sciaky played Springsteen on the radio when few others would, and his enthusiasm was instrumental in bringing Bruce "Fever" to the masses during his long stint at WMMR in the 70s, cementing the vital Philadelphia fanbase that continues to this day. Countless fans a long way from Philly know that voice too, with Ed introducing the classic 2/5/75 Main Point radio broadcast. In recent years, Sciaky continued to bring his passion to the airwaves with his Sunday With Springsteen show on WMGK. His friendship with Springsteen spanned the decades too, from the early days when Bruce would stop by the studio unannounced while Ed was on the air, to last summer at the Linc, when the whole stadium could look to the video screens to see Bruce stopping to share a moment with Ed before the show. Steven Van Zandt told the Philadelphia Inquirer: "As long as the music of the bands he played lives, he lives. I loved him; I'll miss him. Ed Sciaky will never die." Ed was a good friend to all of us at Backstreets; we send our condolences out to his wife and daughter. Long may the Shockmobile run.
Update: Springsteen released a statement regarding Sciaky's passing, on www.shorefire.com: "Ed Sciaky was the kind of DJ whose passion was the lifeblood for artists like myself. His support for my work brought me to an audience in Philadelphia that has remained one of my strongest to this day. Ed was the DJ as true rock and roll fan...the very spirit of the music he loved. He will be greatly missed."
Update 2: Check out the Philadelphia Inquirer for a piece on Sciaky's funeral service, which featured the sweet strains of "Jungleland" and Max Weinberg serving as a pallbearer. "Ed, to us," said Weinberg, "was the guy who put us on the map."
- Updated February 6, 2004

WARREN ZEVON DVD DUE FEBRUARY 10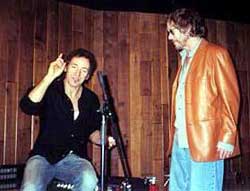 The DVD version of VH1's (Inside)Out: Warren Zevon, originally scheduled for March release, has been bumped up to February 10. This VH1 documentary focuses on the making of Zevon's final record, The Wind, including footage of Warren and Bruce together in the studio. The home video version adds more than an hour of bonus footage, including the video for "Disorder in the House" with Springsteen ripping it up on guitar. Order your copy now from Backstreet Records, for a special pre-order sale price.
- February 2, 2004

IT'S GONE, AND THAT'S THE BOTTOM LINE.
As www.savethebottomline.com put it: "Well, we tried." After nearly 30 years, Greenwich Village club The Bottom Line closed its doors for the final time on January 22, 2004. See the Bottom Line website for a final message from club owners Allan Pepper and Stanley Snadowski; also check out Backstreets #78 for a couple of vintage photos from Springsteen's August 1975 Bottom Line stand.
- January 30, 2004

"TROUBADOUR" BACK ON THE ROAD
"Springsteen: Troubadour of the Highway," the exhibit that began at the Weisman Art Museum in 2002 and hit Detroit last summer, continues its roadshow in 2004 with a West Coast stop at the Experience Music Project in Seattle. The multimedia exhibit, which focuses on the recurring theme of cars and highways in Springsteen's music, will be at EMP from the last week of January through March. A members-only opening shindig is planned for January 23.
After its Seattle run, "Troubadour" heads to the Newark Museum this summer for its New Jersey debut, where it will run from June 17 through August 29.
- Updated January 30, 2004

THE PRIDE OF FLEMINGTON, NJ
Wishing Danny Federici a Phantastic birthday,
born 1/23/50

DAVE MARSH BOOK SIGNING IN DC
On Wednesday night, January 14, Springsteen biographer Dave Marsh will be signing copies of his "Two Hearts" book at Washington DC's Govinda Gallery. This free event runs from 6pm - 8pm. Govinda Gallery is located in Georgetown, at 1227 34th Street NW.
- January 13, 2004

THE BIG MAN'S BIRTHDAY BASH
Clarence Clemons turns 62 on Sunday, January 11. He'll be celebrating this weekend at the Mohegan Sun Casino in Uncasville, CT, with shows there on Friday and Saturday nights. Viva Uncasville! And happy birthday, C.
- January 9, 2004

BRUCE NUMBER ONE ON 2003 "ULTIMATE TOP 10" LIST

50 Cent may have sold more records in 2003, but the Boss came out on top overall. As
Randy Lewis writes
for the L.A. Times, "The Ultimate Top 10" considers sales of both music and concert tickets to determine the highest-grossing artists of the year. Springsteen takes the number one slot at $132.8 million ($115.9 mil of which came from the Rising tour), followed by 50 Cent at $125 million, the majority of which came from album sales.
- January 9, 2004

LITTLE STEVEN 'S SATELLITE OF LOVE
The Underground Garage is about to go global: Steven Van Zandt has joined Sirius Satellite Radio programming staff as Creative Advisor. Steve will create and program a fulltime "Underground Garage" stream, which will debut later this year, as well as producing, hosting, and advising on other Sirius streams. Steve says: "Sirius will be making history by our channel being the only traditional rock and roll format in the country playing new music. All other new music channels or stations are hard rock, hip hop, or pop music based. The potential synergy between my syndicated show on terrestrial radio and the 24-hour Underground Garage format on Sirius will be tremendous. The Rock and Roll Revolution is on!"
- January 9, 2004

HAPPY NEW YEAR! BRUCE ON TRIO OF UPCOMING RELEASES

While 2004 is still young, we've already got a couple of things to look forward to. Out in early January from Clarence Clemons and his Temple of Soul is another live CD, Live in Asbury Park Vol. II, featuring a guest spot from Bruce. The album features more live material recorded at the Big Man's Labor Day 2001 Stone Pony stand, including "Raise Your Hand" from Springsteen's guest spot on 9/1/01 (Bruce took vocals and lead guitar). Also missing from the first volume but included here are "You're a Friend of Mine" and CC's take on "Pink Cadillac."
Due in March is an expanded DVD version of the Warren Zevon "Inside/Out" VH1 special. The original program was a look at the making of Zevon's final album, The Wind (which featured Grammy-nominated guest spots from Springsteen) with some great footage of Bruce and WZ together in the studio. The DVD version will include extra footage and "full interviews" with Springsteen and other musicians; Artemis Records is releasing the DVD on March 9.
Also coming this year is a new studio album from Gary U.S. Bonds, and his management tells us that Bruce will be pitching in on one song. The album is called Get More Bonds, release date to be announced. Springsteen is slated to appear on "You Can't Teach an Old Dog New Tricks," with other guests on the album including Phoebe Snow and Southside Johnny.
As for the eternal question "Silvio, Silvio, wherefore art thou, Silvio?"... we finally have an answer. The long-awaited new season of The Sopranos starts on March 7.
And as for what else this year might hold: here's hoping that the persistent rumors of Bruce heading to Atlanta this year to do more recording with Brendan O'Brien prove to be true... keep those fingers crossed, and we'll be here to follow any and all developments.
- Updated January 6, 2004