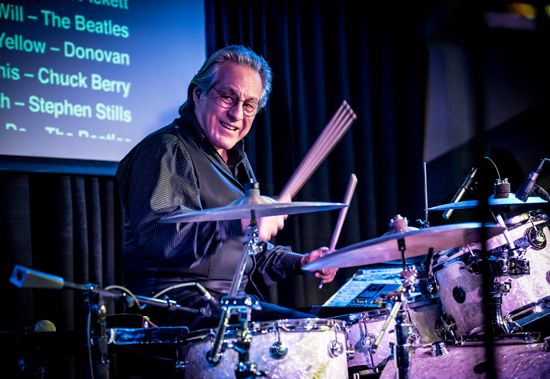 MIGHTY MAX TURNS ON THE MUSIC MACHINE
Moonlighting from the E Street Band, Max Weinberg has embarked on plenty of tours himself over the years, from the lecture circuit to leading his own bands in multiple genres. The Max Weinberg Big Band took a mighty 15-piece ensemble on the road, and the Max Weinberg Quintet stripped things down to display his jazzier side. While rock 'n' roll is never far from his heart or his performances, off E Street you'd more often find him leading a post-bop excursion or some swinging jump blues — until the recent advent of Max Weinberg's Jukebox.
Beginning in April 2017, Max has embraced a classic two-guitars, bass and drums line-up to recreate the rock 'n' roll songs he loves for audiences around the country. And as the name of the band suggests, he's taking requests. If you enjoyed the "Stump the Band" portions of E Street Band shows, Max has got a whole evening right up your alley.
Max Weinberg's Jukebox comes to The Stone Pony this Friday, August 31, with a growing fall tour itinerary listed at maxweinberg.com.
Max recently spoke with Backstreets' Christopher Phillips about the Jukebox shows and his own spectacular spinning songbook, touching on his E Street Band audition, the band's '90s hiatus, Springsteen on Broadway, and poring over records with Bruce and Jon Landau along the way.
Read the 2018 Backstreets Interview with Max Weinberg
- August 29, 2018 - photograph by Jerry Frishman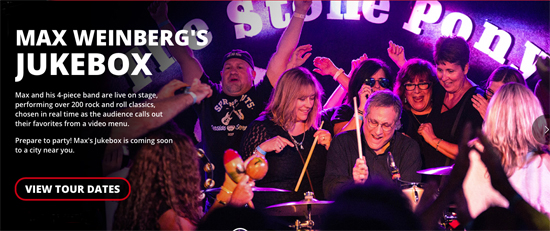 "YOU PICK THE SONGS, WE PLAY 'EM": MAX WEINBERG'S JUKEBOX
AT THE PONY AND BEYOND
Next week, Mighty Max returns to the Stone Pony in Asbury Park with Max Weinberg's Jukebox — get there if you can for a night of all-request rock 'n' roll. As Max tells Backstreets, "We play for about two hours, and it just goes by so fast. It's a fast-paced show, it's a fun evening, and that's basically what it's about... I'm all about nostalgia — in a good way. When was the last time you went to a show and knew every song?
Max Weinberg's Jukebox plays the Stone Pony on Friday, August 31 at 9pm, with doors at 7pm. Tickets are available now through Ticketmaster.
Between now and then, you can catch the show at City Winery in NYC (tonight), Big Chill Beach Club in Bethany Beach, DE (August 24), World Cafe Live in Philadelphia (August 25), and the City Winery in Boston (August 26).
This Sunday, August 26, tune in to hear Max guesting on Tom Cunningham's Bruce Brunch, which airs and streams live at 10am Eastern on 105.7 The Hawk; Max's guest appeareance this week with Dave Marsh on E Street Radio's Live From E Street Nation will replay on Sunday as well, at 6pm Eastern.
Later this fall, Max Weinberg's Jukebox will be back on the road for more shows in New York, New Jersey, Connecticut, Florida, and Wisconsin. Visit maxweinberg.com for all tour dates.
And stay tuned here for a new Backstreets interview with the Mighty One, coming next week!
- August 23, 2018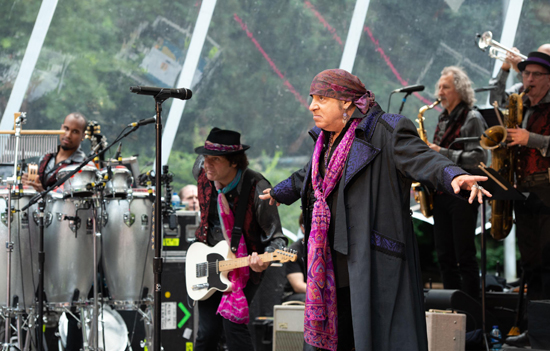 July 6, open air in Amsterdam Forest - photograph by Rene van Diemen
LITTLE STEVEN WRAPS EUROPEAN TOUR
Next: more U.S. dates, Soulfire Live! 7LP vinyl & Blu-ray, and more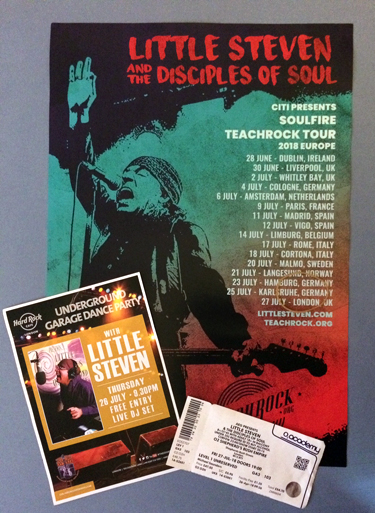 Little Steven and the Disciples of Soul wrapped up their European tour (their third in the past 12 months) with an unforgettable 25-song, two-and-three-quarter-hour, five-encore performance at Shepherds Bush Empire in London on July 27.
The band were introduced by Dave Clark of the Dave Clark Five, as they had been at the very first gig of the new Disciples era in London nearly two years ago. Resplendent in his full-length jacket and flowing scarves, Little Steven opened with an infectious cover of Arthur Conley's 1967 hit "Sweet Soul Music," conducting the band with outstretched arms, while musical director Marc Ribler took care of the guitar duties.
"Little Steven hit the stage and emptied his lungs into this soul classic," commented Paul Davies for the Express online. "Covered in purple and black, [he] controlled the stage like an old-school bandleader. Stopping halfway through, with the band in freeze mode, giving his fearsome Frank Tagliano death stare to the occasional audience member who broke the silence, he whipped up the hysteria to a frenzy before the band broke back into the song."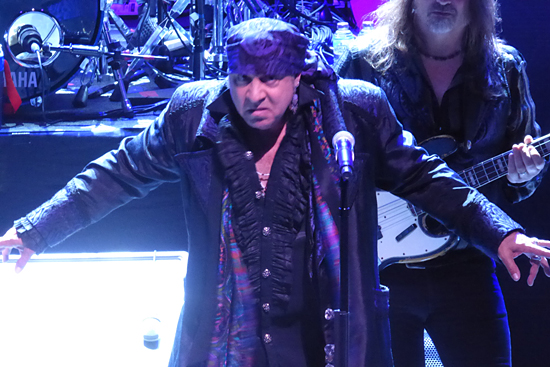 The "fearsome Frank Tagliano death stare" at Shepherds Bush Empire - photograph by Mike Saunders
The London set also included seven songs from the Men Without Women album, ten from Soulfire, covers of The Beatles' "Got To Get You Into My Life" and U2's "Out Of Control" and a unique performance of "Say Those Magic Words" by The Birds, a lesser-known mid-sixties British band that once featured Ronnie Wood on guitar. Adding a touch of authenticity, Little Steven brought out the band's original singer Ali McKenzie to handle the lead vocal.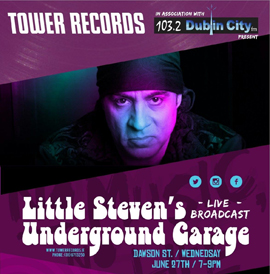 "It's refreshing to witness a show being presented in the context of a Soul Revue, with all players having their moment to shine," continued the Express review. "No sampling or drum machines, just top professional musicians blending their artistry and revelling in every moment. If music is where everybody can find a common ground, then tonight Little Steven produced a joyous connection to humanity with his Soulfire show."
On June 27, the day before the European tour's opening night in Dublin, Little Steven broadcast his weekly Underground Garage show live from Tower Records on Dublin City FM. He also hosted Underground Garage Dance Parties at the Hard Rock Cafes in Cologne (July 3), Amsterdam (5), Madrid (10), Rome (16) and London (26).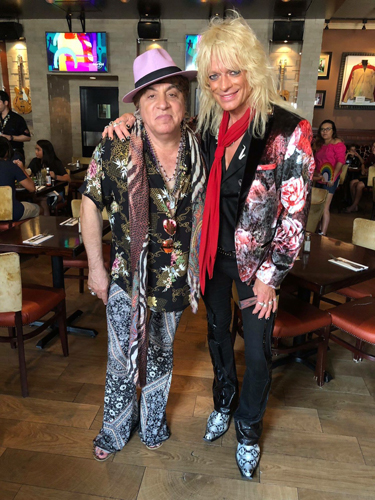 A combination of club gigs and festival appearances, the 16-date tour began on June 28 and visited Ireland, the United Kingdom (including a return to Liverpool), Germany, The Netherlands, France, Spain, Belgium, Italy (making up for cancellations last year), Sweden and Norway. The itinerary included shows at the 630-capacity Whitley Bay Playhouse, near Newcastle (where the band played "Club a Go Go" in honour of local legends The Animals) and the Noches Del Botanico Festival in Madrid, where ex-Hanoi Rocks lead singer Michael Monroe guested on "Dead, Jail or Rock and Roll," the song he co-wrote with Little Steven for his 1989 album "Not Fakin' It."
Right: July 10 with Michael Monroe at the Hard Rock Cafe in Madrid
The set lists (which grew longer as the tour progressed) were similar to last year's, with the omission of the "reggae trilogy" ("Solidarity," "Leonard Peltier" and "I Am a Patriot") and the addition of "Sweet Soul Music," "Lyin' in a Bed of Fire," and "Under the Gun." Cornerstones "Blues Is My Business" and "Down and Out in New York City" (with solos from all five horn players) had been retained, together with the mandolin and accordion-flavoured "Princess of Little Italy," and the rousing final encore, "Out of the Darkness."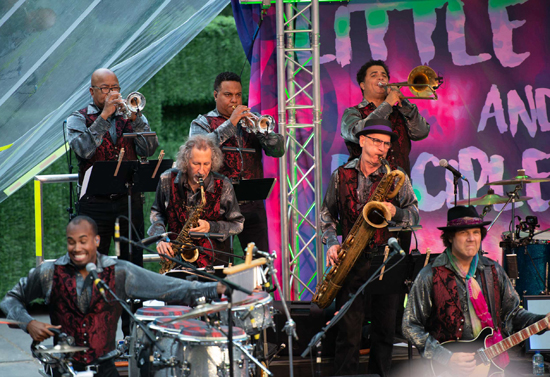 July 6 in Amsterdam - photograph by Rene van Diemen
The unchanged 14-piece Disciples of Soul line-up featured Music Director Marc Ribler (guitar, slide guitar); Jack Daley (bass); Rich Mercurio (drums); Andy Burton (B3 organ, accordion, synthesisers); Lowell "Banana" Levinger (piano, mandolin); Anthony Almonte (percussion); Horn Director Eddie Manion (baritone sax); Stan Harrison (tenor sax, alto sax, flute, oboe); Clark Gayton (trombone); Ron Tooley (trumpet); Ravi H Best (trumpet) and Jaquita May, Sara Devine and Tania E Jones (backing vocals).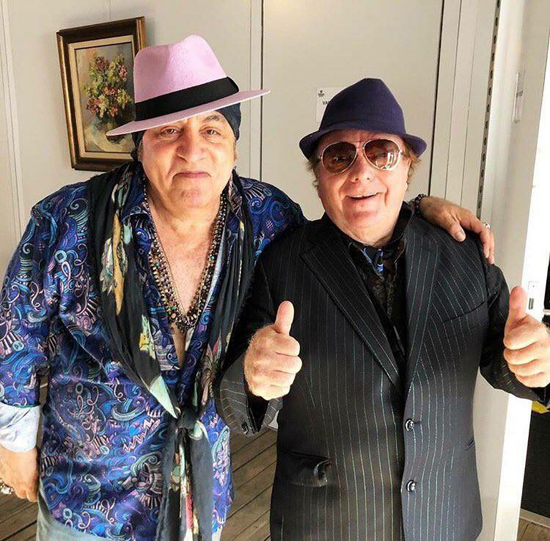 July 14 with Van Morrison at the Peer Blues Festival in Belgium. Photograph via Instagram/vanmorrisonofficial
Apart from providing some of the best live music around, the European shows (like the recent U.S. concerts) helped to promote the Rock and Roll Forever Foundation's TeachRock initiative. In each city, teachers were invited to attend a free professional development workshop and receive complimentary access to the gig.
"We want to show our appreciation to some of the hardest working, most underpaid people," Little Steven told Stuart Clark in an interview for Ireland's Hot Press magazine. "Teachers are under siege, their job has become much harder with this generation. The kids want everything now. They thought it was Attention Deficit Disorder, but they just have trouble paying attention because everything is instant. Teachers are on the front lines trying to deal with it. So we've come up with a TeachRock curriculum where they can use music as a common ground and establish communication with these kids because, thankfully, they're all into music. We've been working on it for ten years and it's proved to be very successful."
On a lighter note, onstage in London, Little Steven joked that the ongoing teacher appreciation tour was devised to compensate "for what I put 'em through in high school. It's going to be a long tour!"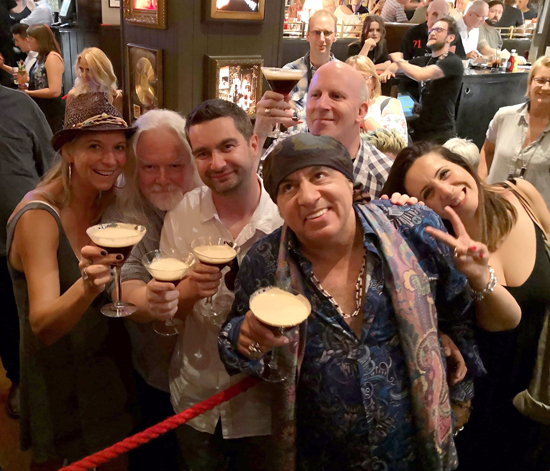 Espresso martinis all around, July 26 at Hard Rock London - photograph by Mira Belle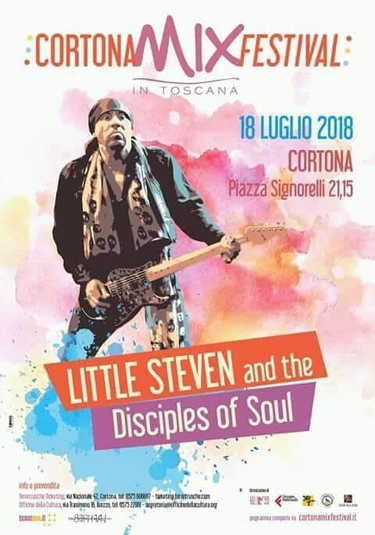 Little Steven also spoke to Steven Smith for the BBC's Newsnight. Their conversation covered Brexit and Donald Trump's presidency ("the ugliest part of humanity is now being endorsed"), but was not without humor. Referring to Little Steven as a "sophisticated clothes horse," Smith suggested that he might be mistaken for a character in Spinal Tap. Comparing his consigliere role in the Sopranos to his relationship with Bruce Springsteen, Smith asked, "I guess you haven't done many whackings for Bruce over the years?" "Nothing we can talk about," he replied.
An interview with Neil McCormick for Needle Time (filmed last year in London at the same time as the previously broadcast My Vintage) was aired on the Vintage TV channel.
Mojo magazine included Little Steven in its monthly feature "All Back to My Place," in which artists pick favourite records in different categories. His Saturday night record was 12 X 5 by the Rolling Stones ("they absorbed their roots so quickly, it blows my mind to this day") and his Sunday morning choice was A Hard Day's Night by The Beatles ("so great it's beyond comprehension"). For his all-time album, he selected The Temptations' Greatest Hits ("it's the most extraordinary combination of composition, arrangement, production and performance").
After the tour, Little Steven returned to Norway to teach at his annual Blues School. Between other commitments, he introduced Bonnie Raitt at the Notodden Blues Festival.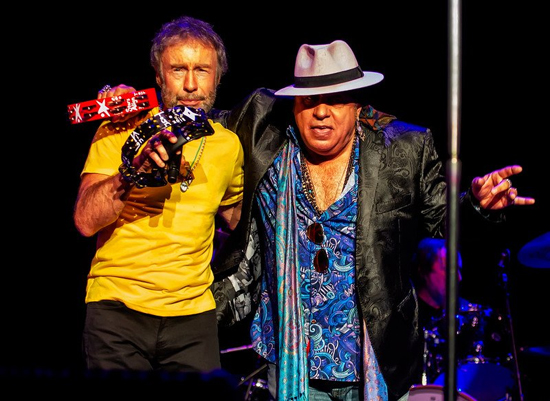 August 12 with Paul Rodgers in Holmdel, NJ - photograph via Twitter/@_paulrodgers
Back in New Jersey, Steven played at the Rockit Gala at the Two River Theatre in Red Bank, which honoured Eddie Brigati of the Rascals (August 9) and made a guest appearance with Paul Rodgers for "Rock 'n' Roll Fantasy" and "Cross Road Blues" at the PNC Bank Arts Center in Holmdel (August 12).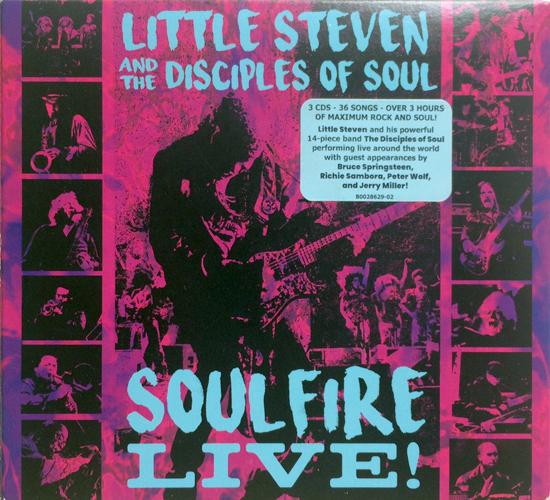 Following this month's release of Soulfire Live! on CD, a seven-disc vinyl boxed set and a two-disc Blu-ray version will be available at the end of the year, and both will include the 30-minute Beatles tribute concert that the Disciples of Soul performed at the Cavern Club in Liverpool last November. The Blu-ray will add behind-the-scenes footage, exclusive interviews and a documentary about the Liverpool gig. "Playing in the same venue where the Beatles started their careers was a childhood dream of mine come true," said Little Steven. "This was a band that set me on course for a life of music. It was an honor — no, make that an epiphany — to perform there."
Little Steven and the Disciples of Soul will resume their Soulfire TeachRock tour in the U.S. this fall, with 16 shows between October 18 and November 17. The schedule features stops in Atlantic City, Milwaukee, Chicago, Detroit and Cleveland and will include their 100th concert since their rebirth in 2016. View dates here.
Looking further ahead, a new studio album and another European tour are pencilled in for next summer. Whatever happens, as Steven emphasised onstage in London, the Disciples of Soul are "back for good." "You could get intellectual about it, but the truth of the matter is it's what we do, it's our identity," he told Hot Press. "You've gotta love travelling and experiencing different cultures. It's a different kind of sensibility. We don't feel alive unless we're rolling into a different city every day. You feel like you're accomplishing something. Whether we do an E Street Band record and tour or not, I want to keep coming back to the Disciples of Soul. Having reawakened this idea of rock meets soul, I want to see how far we can take it."
- August 22, 2018 - Mike Saunders reporting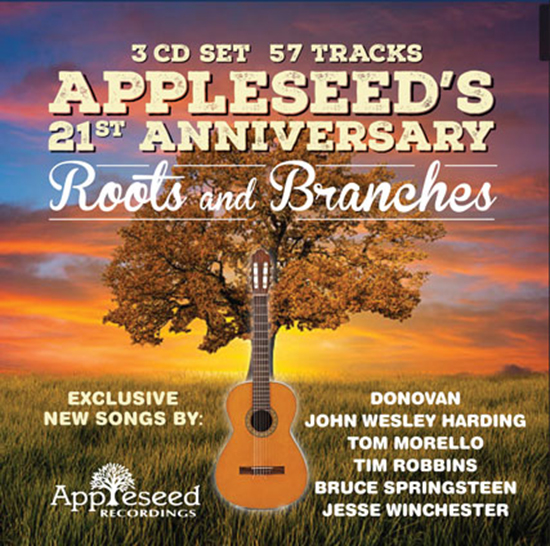 ANOTHER SEEGER SESSION FROM SPRINGSTEEN
"If I Had A Hammer" to be released in October
As announced in yesterday's press release, Bruce Springsteen's recording of "If I Had a Hammer," the classic folk song written by Lee Hays and Pete Seeger and first recorded in 1950 by their group The Weavers, will be released on October 19 as part of Appleseed's 21st Anniversary: Roots and Branches. The 3-CD Various Artists collection celebrates the continuing legacy of Appleseed Recordings, the independent, artist-centered and socially conscious record label founded by Jim Musselman in 1997.
Musselman's foray into independent recording was inspired deeply by the musical and social activism of Pete Seeger, so it made perfect sense that one of Appleseed's first releases was 1998's Where Have All the Flowers Gone? The Songs of Pete Seeger, Volume 1, featuring Bruce Springsteen's version of "We Shall Overcome." The recording of several Seeger-associated songs for possible inclusion on Where Have All the Flowers Gone? is what eventually led to Springsteen's own Seeger Sessions album and tour that followed it. Springsteen has since continued to contribute recordings to various Appleseed projects over the years. "If I Had a Hammer" will mark the sixth such contribution. Here's a listing of the previous five: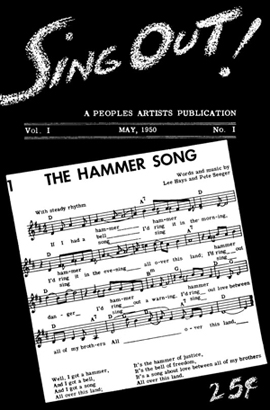 "If I Had a Hammer" (AKA "The Hammer Song") was among the Seeger songs that Musselman originally suggested to Bruce as something he could record for the 1998 tribute.
"It's one of Pete's most important songs," Musselman told us yesterday. "It appeared on the cover of the first issue of Sing Out! Magazine, and it's been performed by so many great artists over the years, including one who just passed, Aretha Franklin."
The Springsteen version of "If I Had A Hammer" that will appear on Roots and Branches is the one that Bruce recorded at Jim Musselman's suggestion more than 20 years ago, a bona fide Seeger Sessions outtake. Jim's been kind enough to provide us with the full liner notes' production credits for this version:
Produced by Bruce Springsteen
Recorded by Toby Scott, assisted by Ross Petersen at Thrill Hill Recording, NJ
Mixed by Bob Clearmountain, assisted by Brandon Duncan
at Mix This! Los Angeles, CA

Bruce Springsteen: lead vocals, guitar
Sam Bardfeld: violin
Frank Bruno: acoustic guitar
Jeremy Chatzky: bass
Mark Clifford: banjo
Larry Eagle: percussion
Charles Giordano: accordion
Lisa Lowell: vocals
Mark Pender: vocals
Patti Scialfa: vocals
Soozie Tyrell: violin, vocals
"If I Had a Hammer" won't be the only Springsteen-connected recording featured on Roots and Branches.
In addition to Springsteen's previously released version of "We Shall Overcome," the collection will include occasional E Streeter Tom Morello's radical folk-process alteration of AC/DC's "Dirty Deeds Done Dirt Cheap" rewritten to, as the press release states, "name-check 'U.S. foreign policy' and 'fake news.'" Tom Russell covers Springsteen's "Across the Border" in a version actually recorded at the Mexico/New Mexico line on the same day that the Trump Administration announced its plan to repeal DACA. And John Wesley Harding — friend to Backstreets and one of the few artists to serve as an opening act for Springsteen — delivers a new version of his own "Scared of Guns" with his twelve-year-old daughter Tilda reciting NRA donation figures.
Click here to hear in advance Harding's and Russell's recordings, as well as another Roots and Branches track: Jesse Winchester's "Get It Right One Day," his final, previously unreleased song.
Jim Musselman has assembled Roots and Branches in the "old-school" way, he tells Backstreets, as a collection of material (both new and archival) with deeply interconnected themes, flowing together like the best albums do. As he stated in yesterday's press release, each of the collections' three CDs or parts (in the case of the downloadable version) form a trio that "match my three goals in forming Appleseed Recordings — to provide an outlet for songs of social justice, both current and past; to release newly written songs of personal experience and emotion in modern times; and to keep alive the centuries of still-vital traditional songs from our country's and our world's history. To learn how to move forward, we can never forget the lessons, or songs, of the past." Consequently, Roots and Branches will be available for purchase as either a 3-CD set or a complete 57-track digital download, but none of the set's individual tracks will be available for individual purchase.
Musselman also has written an essay that will be included as part of both the 3-CD set and the digital download. In it, he touches upon Bruce Springsteen's history with the label, and the impact that Springsteen's Appleseed recordings have had during times of crisis. "In addition to my father, I've dedicated this project to two other people: Jon Landau and Bruce Springsteen, for their continued commitment to and support of our efforts."
Keep checking in with Backstreets.com for more on "If I Had a Hammer" and Roots and Branches as the October 19 release date draws closer.
- August 21, 2018 - Shawn Poole reporting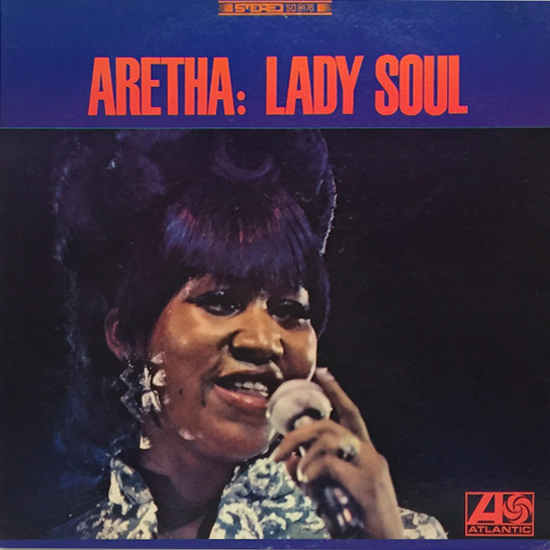 ARETHA FRANKLIN, THE QUEEN OF SOUL, 1942-2018
"Aretha Franklin sings the blues. But it is a blues with a difference. For the blues of today are a much different thing than the blues of the thirties, or, for that matter, the blues of the fifties. And it is Aretha more than anyone else who has given contemporary rhythm and blues their most effective expression, bringing the soul message to new mass audiences... Aretha always draws on her gospel roots in her performances. It is from her early church singing that she has acquired the skill to extend herself vocally and to project in the vibrant manner which moves her listeners so strongly. But unlike some gospel singers, she almost always controls her ability to project and uses it in a tasteful manner rather than for exhibitionistic purposes. Such self-control makes hearing her a pleasure, and it shows Aretha's tremendous artistic maturity. It is out of these roots of urban and rural blues, pop, and gospel that Aretha has put together the winning style which has made her the most important blues artist of today."
— Jon Landau, liner notes to Lady Soul (1967)
Despite their both being signed to Columbia Records by John Hammond and sharing ties to record-industry executive Clive Davis, Aretha Franklin's and Bruce Springsteen's paths rarely crossed. In 1994, they shared the stage for the all-star tribute to Curtis Mayfield during the Grammy Awards ceremony at Radio City Music Hall. Over a decade later, Franklin was present at the 2009 Kennedy Center Honors when Springsteen was honored, though she was there to help honor another member of the Kennedy Class of 2009, opera singer Grace Bumbry.
It also was rare for Springsteen to perform an Aretha Franklin hit in concert. Probably the most noteworthy such performance was "Chain of Fools" (Lady Soul's opening track) with Southside Johnny & the Asbury Jukes at The Stone Pony on May 27, 2001 (the 25th anniversary of Southside's legendary radio broadcast from the Pony.)
Nevertheless, E Street was paved over a base of soul. Therefore there's no question that E Street as we know it wouldn't exist without the enormous influence of The Queen of Soul, who also was the first woman ever to be inducted into the Rock & Roll Hall of Fame and Rolling Stone's #1 Greatest Singer of All Time.
We can't help but picture Aretha, right about now, zoomin' down that cosmic Freeway of Love (in her pink Cadillac, of course) with the Big Man himself along for the ride. Rest in peace, Lady Soul, and thanks for all of your great music. May you forever cruise on Better Than Ever Street.

- August 16, 2018 - Shawn Poole reporting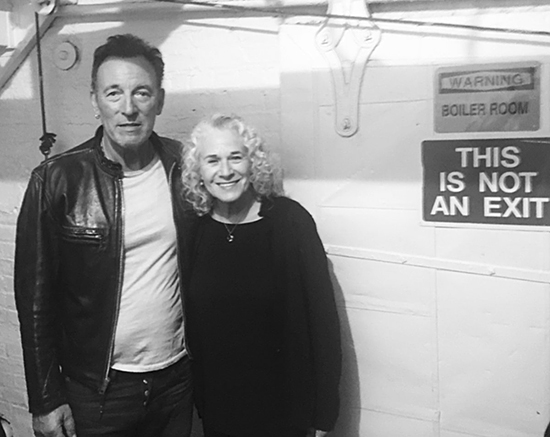 ONE FINE NIGHT
No Rock and Roll Hall of Famer has more Broadway cred than Carole King. Not only has King's show Beautiful: The Carole King Musical been a hit on The Great White Way for almost five years with no end in sight, but the original version of Mann/Weil's "On Broadway" (later immortalized by The Drifters in the classic Leiber/Stoller-altered version) was recorded by Goffin/King's go-to girl group The Cookies, with Gerry Goffin producing and Carole King arranging.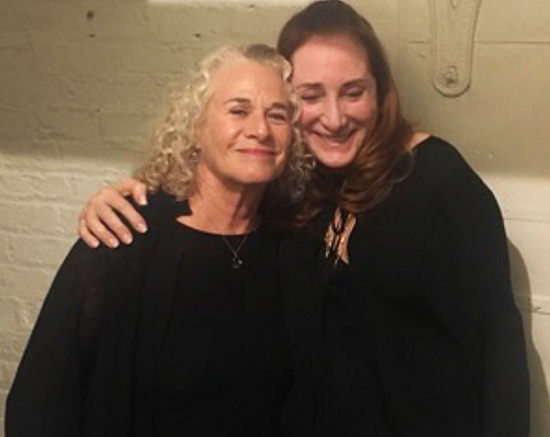 King saw Springsteen On Broadway last Friday night and raved about it on her Facebook and Twitter pages. Leave it to a great writer like King to describe Springsteen as having "more heart than a cardiology curriculum."
- August 13, 2018 - Shawn Poole reporting - photographs via @Carole_King/Twitter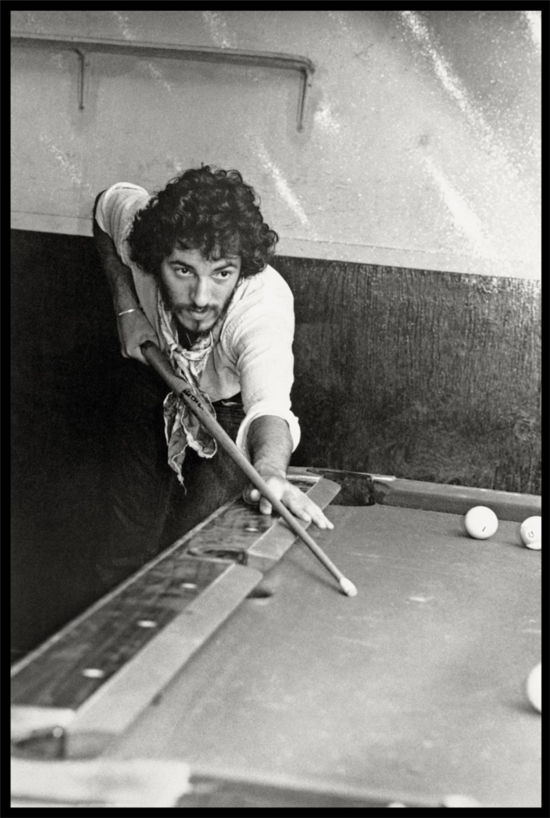 MEET BARBARA PYLE IN THE CITY, SPECIAL GALLERY SALE AUGUST 14
If you'll be in NYC next week, don't miss photographer Barbara Pyle in person at Carmine Galleries on Tuesday night, August 14. After two years of having her amazing Born to Run-era Springsteen photos on display, this event will be a last hurrah before switching out her work. Come see it before it goes, meet the photographer, and peruse some very rare collectible prints up for sale.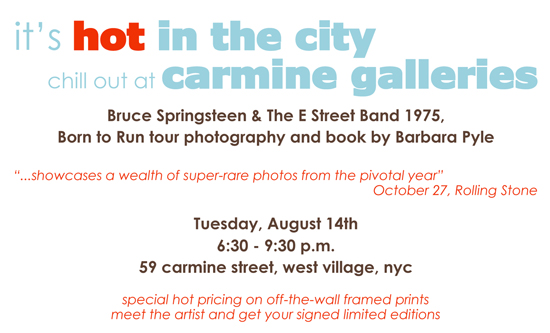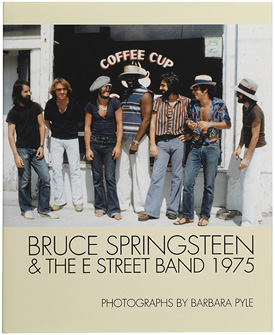 "I'm going to be selling some of my 1975 prints," Pyle tells Backstreets, and she doesn't just mean images from her book Bruce Springsteen & the E Street Band 1975. She means the ones she hand-printed at the time, "framed and signed by me in 1975!"
Meet Barbara at her gallery in the West Village on Tuesday from 6:30 to 9:30pm, where she'll be signing prints and books, even making available framed photos that have been part of the exhibition. "This is it," she says, "I'm selling them off the walls!"
Two summers ago, we had one of Barbara's fellow photographers interview her for Backstreets, and hers is an astounding story, straight outta Pauls Valley, Oklahoma... to New Orleans recording studios... to riding the Born to Run tour bus... to filmmaking around the world, being in at CNN on the ground floor, and and creating Captain Planet. Read The Meola/Pyle Backstreets Interview to learn more and see more of her incredible E Street Band images from '75.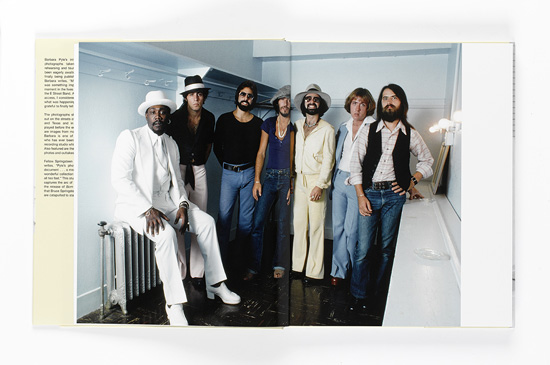 If you can't down to Carmine Galleries yourself, we can still hook you up with a signed book — we have copies of copies of Bruce Springsteen & the E Street Band 1975 in stock here at Backstreet Records, a beautiful hardcover that Barbara signed especially for us.
- August 10, 2018 - all photographs by Barbara Pyle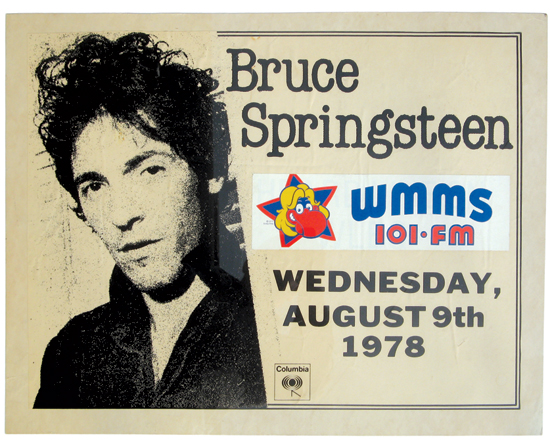 THROWBACK THURSDAY: THE BUZZARD & THE BOSS, 40 YEARS AGO TONIGHT
On this night in 1978, Bruce Springsteen and the E Street Band played the Agora in Cleveland for a soon-to-be-legendary broadcast on WMMS: The Buzzard. Introduced by Kid Leo ("round for round, pound for pound, there ain't no finer band around!"), Springsteen and the E Streeters opened this Darkness tour stop with Eddie Cochran's "Summertime Blues" into "Badlands." As then-WMMS Program Director John Gorman recalls in our special Cleveland issue, Backstreets #89, "The segue was like launching a rocket. Each song just kept building and building and building."
Gorman also noted that "the radio audience was estimated at three million, and the show was one of Springsteen's most-recorded and most-bootlegged." Fast forward four decades, and an official archive release has replaced many of those boots. (Read more about the concert and its 2014 release here.) Whatever you've got, it's a good day to throw on 8/9/78 and blast that baby all the way to New Jersey.
- August 9, 2018 - images courtesy of thelightindarkness.com


FROM THE TIN ROOFTOP
The feature-length Thunder Road's NYC premiere will take place
up on the roof... with some free tix and afterparty invites for Backstreets readers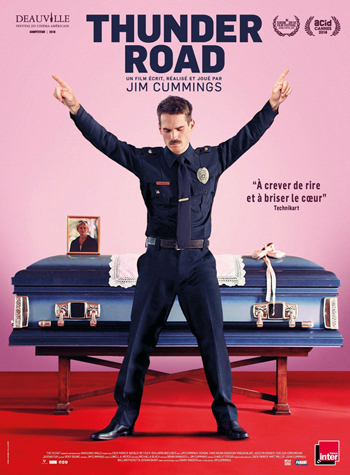 We first reported in March that independent filmmaker Jim Cummings has completed an expanded theatrical version of his 2016 seriocomic short film Thunder Road. The award-winning, critically acclaimed, feature-length version relates the further adventures of Officer James Arnaud (played by Cummings) after delivering an awkward eulogy for his late Bruce Springsteen-loving mother, Brenda Arnaud.
(Click here to watch Cummings' original single-scene short, and here to listen to our archived 2016 conversation with Cummings about the film.)
This coming Saturday, August 11, Rooftop Films will host the New York City premiere screening of the 2018 version of Thunder Road up on the roof of Brooklyn's The Old American Can Factory New Design High School on the Lower East Side. Jim Cummings will be in attendance and will participate in a post-screening Q-and-A.
Tickets are only $16 each and can be purchased by clicking here. Thanks to Rooftop Films, the first 20 Backstreets readers who enter the promotional code FREETHUNDER when placing their ticket order can receive up to two FREE tickets, and all Backstreets readers who order by clicking on the link from this page will be permitted to attend the screening's invite-only afterparty.
The New York City screening of the film is part of an ongoing series of theatrical Thunder Road screenings that will continue taking place in various U.S. locations before the film becomes available on iTunes in October. Cummings has entered into a unique distribution partnership with The Sundance Institute that allows him to retain complete ownership of his film and direct control over its distribution and marketing.
We recently re-connected with Jim, who expressed to us his enthusiasm for the Sundance partnership as well as this Saturday's screening in New York. Being a fellow Springsteen fan, Cummings also was very eager to inform us about Thunder Road's late-July New Jersey screening at Red Bank's Two River Theater — where Springsteen's 2005 VH-1 Storytellers special was filmed — as part of the 2018 Indie Street Film Festival.
And Jim Cummings isn't just bad and nationwide now; he's bad and worldwide, too. Check out the poster for Thunder Road's French theatrical run that Jim shared with us [above]. The film's international distribution plan eventually will result in theatrical screenings and/or online streaming access virtually everywhere on the planet. No matter where you live, Thunder Road will be coming soon to some kind of screen near you.
Cummings also talked about the connection he sees between the innovative work done by musicians like Bruce Springsteen and independent filmmaking's modern approaches to creation/distribution. "I was listening to Nebraska on my way to Thunder Road's world premiere in Austin at SXSW 2018," he told us, "and I started thinking about how creatively the available technology was used to make and distribute such an offbeat album. This kind of stuff's been happening in music for years; filmmaking's just catching up."
To keep catching up with news on Jim Cummings and the 2018 version of Thunder Road, visit the film's Facebook and Instagram pages regularly. And Jim looks forward to meeting many Backstreets readers at this Saturday's special New York screening. If you live in or near the Big Apple, click here to order your tickets today.
- August 6, 2018 - Shawn Poole reporting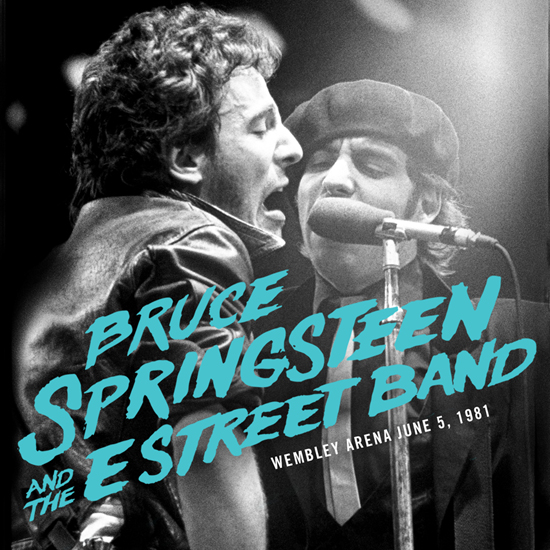 Photograph by Jim Marchese/jimmarchese.com
THE MEN WHO COULD
Latest First Friday archive release features Springsteen's triumphant June 5, 1981 London finale
In 1981, six years since his last visit, London was ready for Bruce Springsteen. "Hungry Heart" was a hit, and demand for tickets to his forthcoming U.K. tour outstripped supply by a ratio of three-to-one. Yet Springsteen was approaching his appearances in the capital with trepidation. After his over-hyped debut at Hammersmith Odeon in 1975, there was unfinished business to settle. Memories of that trip haunted him for a long time; in the interim, despite little media exposure, no concerts, and only two albums, his U.K. audience had grown considerably.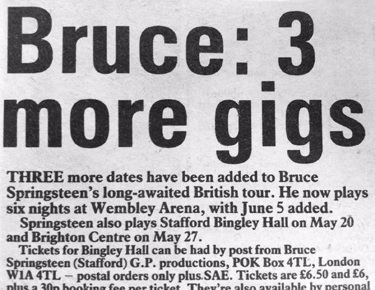 Springsteen was not the only one being cautious. As if testing the water, the tour came together gradually. Three shows, scheduled for March and April, were announced before Christmas 1980. Extra dates were added weekly throughout January. In March, four days before it was due to begin, the tour was postponed until May and June because Springsteen was exhausted after completing his U.S. dates. A month after this E Street reshuffle, four more shows were added, making a final total of 16 — his longest U.K. tour with the E Street Band to date.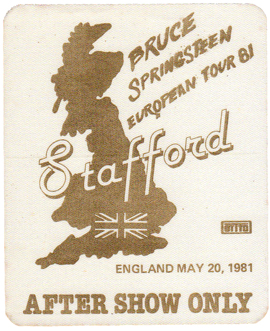 Following 17 shows in mainland Europe, Springsteen began his U.K. tour on May 11 and gradually worked his way towards London. There, he would play six nights at the 12,500-capacity Wembley Arena. The moment of truth was approaching, but beneath the nerves lay a commitment and determination that would see him through. In his autobiography, Bruce wrote, "We were not the naïve beach bums who stepped out of a British Airways 747 half a decade back. I knew I had a hell of a band and if we couldn't do the job, show me the men who could."
He needn't have worried. On May 29 he was greeted by an ecstatic crowd, and his performance inspired a string of superlatives in both the national press and the weekly music papers. "Any doubts he might have had about the London audience must have been dispelled the first time he held the microphone out and heard his words bellowed back at him without a moment's hesitation," reported Sounds. "This wasn't a concert, it was an event in rock music," said the Evening Standard, while the NME praised "an honourable and satisfying performance." Mission accomplished. With his fears allayed and his reputation reinforced, Springsteen could relax and enjoy the remaining Wembley gigs on May 30 and June 1, 2, 4 and 5.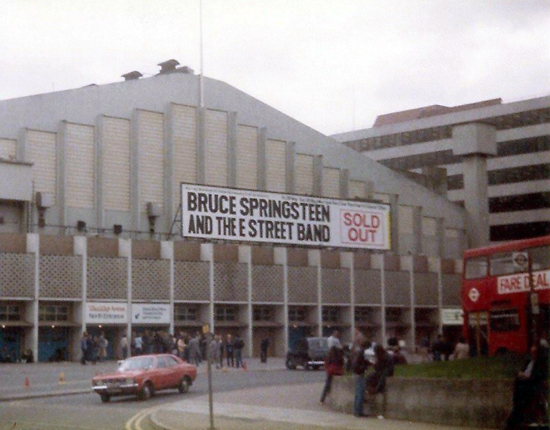 Photograph courtesy of the Point Blank Archive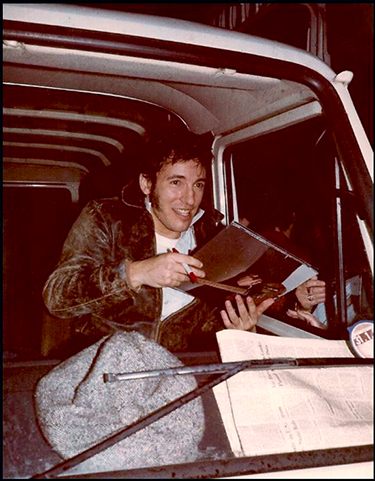 Having seen three shows in the space of five days, I was hungry for a fourth. I was 23 and no stranger to live concerts, but these were unlike anything I'd seen before, setting the bar impossibly high. Succumbing to temptation, I jumped on a train. Arriving at Wembley on June 5 with nothing but faith and hope, I paid a scalper six times face value for a seat near the stage, walked in, and never looked back.
Right: signing autographs outside Wembley. Photograph courtesy of the Point Blank Archive
A mobile recording truck was spotted outside the arena that night, and Point Blank fanzine soon reported that a four-track "Live at Wembley" EP was due for release later that year, but the plan was eventually scrapped. "There is to be no EP, although that show was recorded," confirmed Dave Marsh in subsequent correspondence with Point Blank editor Dan French, while Capital Radio DJ Roger Scott told him, "[Jon] Landau said it had been discussed, but it would probably not be happening because of lack of time for mixing the tracks." This proposed release would have enabled fans to obtain a high-quality audio souvenir, but instead the master tapes were consigned to the vaults.
Finally, 37 years down the road, thanks to the good folks at nugs.net, Bruce Springsteen's June 5 concert at Wembley Arena — the first official archive release from 1981 — is ready for the world.

Courtesy of Mike Saunders
There's perhaps no greater statement of intent than opening a concert with your most famous song. Thus, Bruce Springsteen began his final London gig with "Born to Run" and maintained an energy level that didn't subside until he and the E Street Band took their bows at the end. The notes I scribbled down afterward reveal that he began the first "serious" set at 8:10pm, broke for the regular intermission at 9:20pm, returned for the second "fun" set at 10pm, and didn't walk off for the final time after the last of several encores until 11:45pm.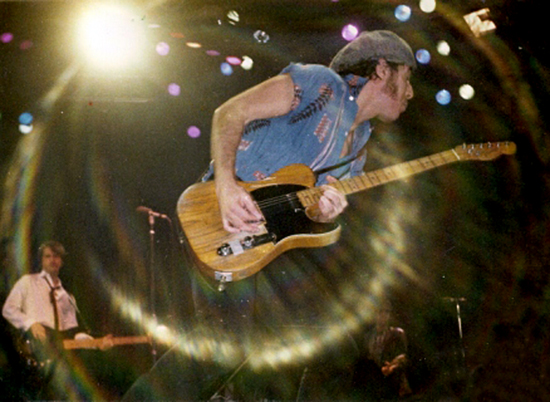 Photograph courtesy of the Point Blank Archive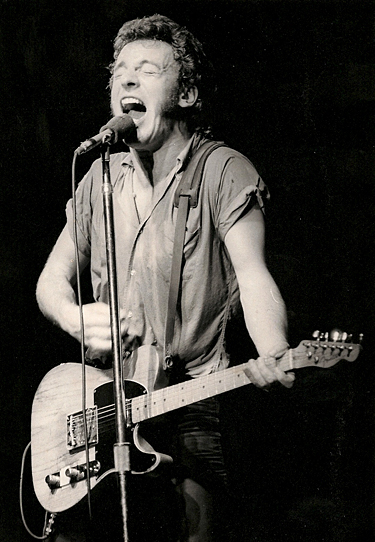 The 31-song set reflects how the shows had evolved since the tour began in October. Even at almost three hours, it was considerably shorter than the marathon concerts Springsteen had played at the end of 1980. Most of the album material was drawn from Darkness on the Edge of Town and The River (excluding many of the significant ballads from sides three and four). Only three songs from Born to Run appeared, and with the exception of "Rosalita," nothing from his first two records. I was struck by how these powerful live performances surpassed their recorded counterparts, and fascinated by embellishments like the piano prelude to "Point Blank" and the "Here She Comes" intro to "I Wanna Marry You," its U.K. debut and first performance since February.
Right: photograph by Geoff Nagle
One-third of the set consisted of unreleased songs or covers. Throughout the tour, Springsteen had been under the spell of John Fogerty and Woody Guthrie, as demonstrated by the appearance of "Who'll Stop the Rain" and "This Land Is Your Land." Also included were "Fire" and "Because the Night" (familiar now but a revelation then), a rare appearance of "I Fought the Law," and the live debut of "Jole Blon," from Gary U.S. Bonds' Dedication album.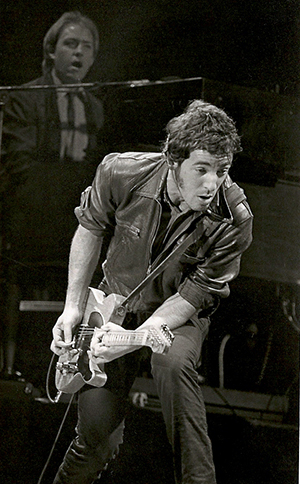 In Europe, the ghost of Elvis also exerted an influence. Springsteen unveiled three Presley-related songs on the tour and played them all on June 5. The first was a slowed-down, rewritten version of "Follow That Dream," the movie's title track. Second was "Johnny Bye Bye." Developed from the outtake "(Come On) Let's Go Tonight," it referenced Chuck Berry's "Bye Bye Johnny" and was slower and more elegiac than the version later released as a B-side. Lastly, he included "Can't Help Falling in Love" (its only U.K. appearance) in the encores, providing breathing space between the drama of "Jungleland" and a riotous, 11-minute, houselights-up "Detroit Medley." "Shake" and "Sweet Soul Music" augmented the usual four-pack and inspired the audience to stamp their feet so hard that the lighting rig above the stage began to bounce gently up and down on its moorings.
Left: photograph by Geoff Nagle

It was an undisputed rock 'n' roll masterclass. My memories include Clarence Clemons walking on wearing a bowler hat like a London city gent, and Bruce clambering over PA stacks to get close to the fans in the upper tiers. He also stood on the piano, did a knee-slide along the stage, talked about his dad before "Independence Day," danced with Obie during "Sherry Darling," and introduced the band during "Rosalita." Apologizing for the earlier postponement, he thanked everyone for their support in the years when he'd been conspicuous by his absence.
As I walked out into the night, I was hoping for a swift return engagement at the arena, but fate had other plans. As we would discover, the River tour was not the pinnacle of Springsteen's career. Three years later, Born in the U.S.A. made him a megastar, and when he eventually returned to north-west London in 1985, it was to play three nights at Wembley Stadium. Although he returned to Wembley Arena with other musicians in subsequent years, Springsteen has, to date, only played one other show there with the E Street Band. That makes their 1981 shows, and the final night in particular, even more significant.
Also read Erik Flannigan on June 5, 1981: "Follow That Dream"
- August 3, 2018 - Mike Saunders reporting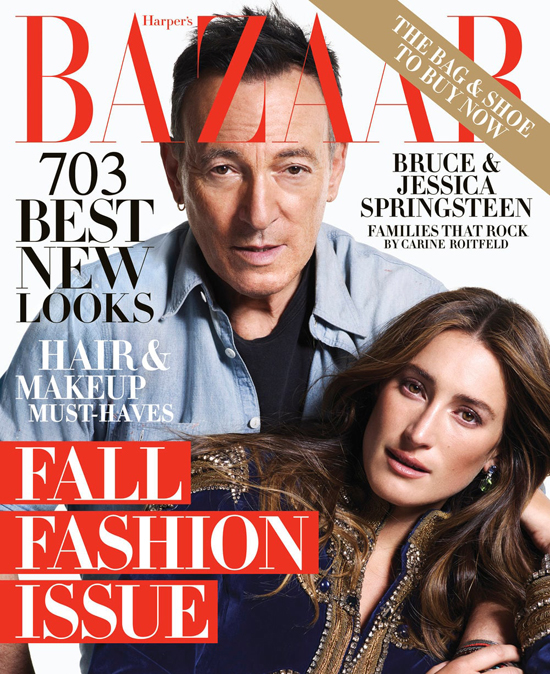 TELL HIM I'M GONNA BE A STAR...
'Cause I got my picture on the cover of Harper's Bazaar!
A new Harper's Bazaar cover story on "Families That Rock" spotlights apples falling close to the tree, as "the greats of rock, pop, and rap come together with their promising offspring and prove that the legacy lives on." Bruce and Jessica Springsteen grace the magazine cover, with the feature also spotlighting the families of Kanye West, Christina Aguilera, Erykah Badu, and Keith Richards. Get a sneak peak online: BAZARRICONS 2018: The First Families of Music. The September 2018 issue of Harper's Bazaar hits newsstands on August 21.
- August 2, 2018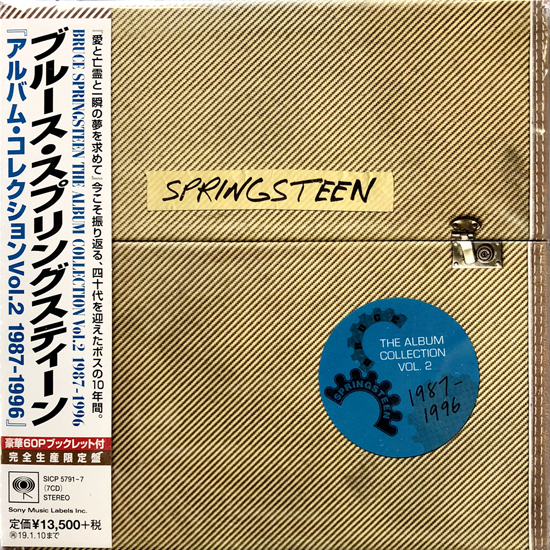 DOMO ARIGATO, SONY JAPAN
Latest arrivals at Backstreet Records
We were all more than a little surprised when the latest Springsteen box set, Album Collection Vol 2: 1987-1996, was released in vinyl and digital download configurations only. Major labels forgoing CDs for vinyl? That would not have been easily predicted in 1987-1996. But it's true: despite Vol 1's continued availability on compact disc, there's no silver disc love from Sony/Columbia for Vol 2.
Except in Japan.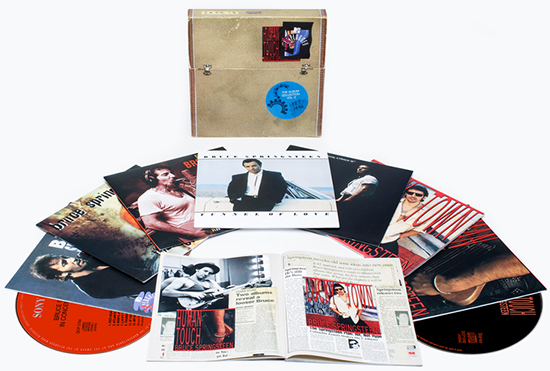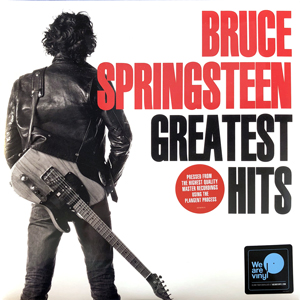 We've just imported a stack of the Album Collection Vol 2 CD box set, out this month from Sony Japan, which contains all the same albums and EPs on compact disc, in cardboard mini-LP sleeves (with mini obi strips, too). Act fast if you're in need — we'll try to keep restocking, but quantities are limited. As with the vinyl box, we're including our second Jersey Shore coaster pack with all orders as a bonus, exclusively from Backstreet Records.
Also new to our shelves: the Greatest Hits 2LP set on black vinyl. On Record Store Day the 1995 title — which is not part of the Album Collection Vol 2 box but a good companion to it — was reissued on red vinyl in a limited edition; this black 150-gram pressing is the wide release. Both utilize the same Plangent remasters.
See all Latest Additions in the Backstreet Records shop
- July 31, 2018


HAPPY BIRTHDAY TO A BROADWAY STAR!
Above, Patti Scialfa with her boss in 1988. Thirty years later, the former NYC busker is reprising the performance nightly on Broadway. Happy birthday, Pats!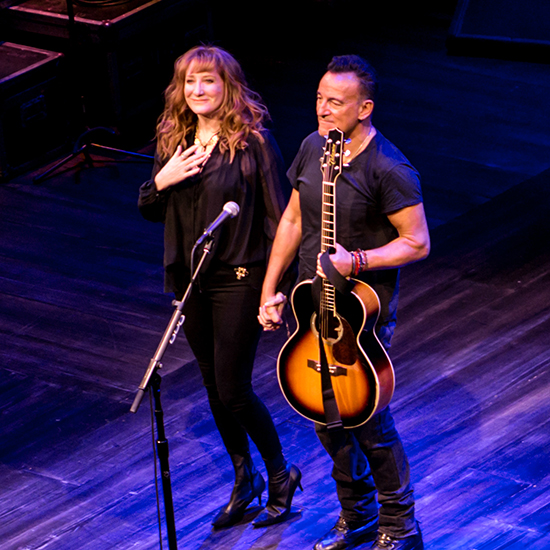 - July 29, 2018 - photograph by Raphael Pour-Hashemi



FINALLY, THE BIG SCREEN IS READY FOR ASBURIED IN TIME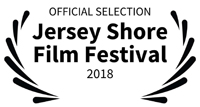 Years in the making, the feature-length documentary Asburied in Time: A Greeting Through Asbury Park's Unique History is up on the silver screen. After its theatrical premiere earlier this month at the ShowRoom on Cookman Avenue, the film has been accepted into the Jersey Shore Film Festival. Bridget Machete's 90-minute doc will be part of the festival's Gala Opening Night, screening at The Asbury on Thursday, August 2. Click here for advance tickets, available now!
- July 25, 2018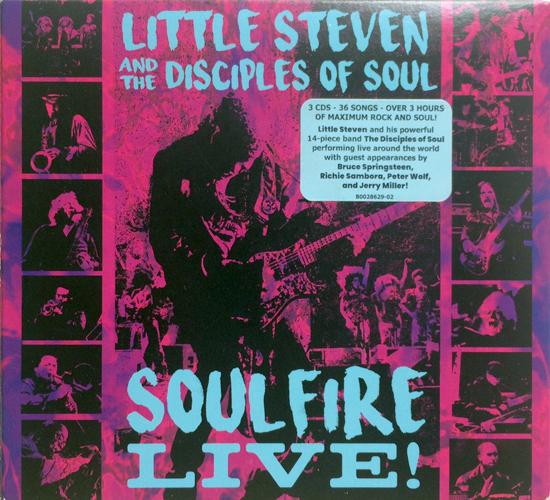 SOULFIRE LIVE! GETS PHYSICAL NEXT MONTH
Physical formats of Little Steven's live set to feature extensive notes, fan photos, and bonus tracks — two with Springsteen
Although not scheduled for release until mid-August, the CD format of Little Steven's Soulfire Live! is being sold at concerts on his current month-long European tour with the Disciples of Soul, which ends in London on July 27. With a total running time of 213 minutes across three discs, it includes 12 additional songs to the download version that was released nearly three months ago.
Recorded at various unspecified locations, the first two discs of Soulfire Live! replicate a typical show from last year's tour, from opener "Soulfire" to closer "Out Of the Darkness" by way of "Down and Out in New York City," with the addition of a once-only version of "Checkpoint Charlie" from Berlin and an introduction by legendary songwriter Mike Stoller from Los Angeles. "We recorded every gig," explains Steven in his liner notes. "We jump around from town to town, song to song, once in a while even in the middle of a song."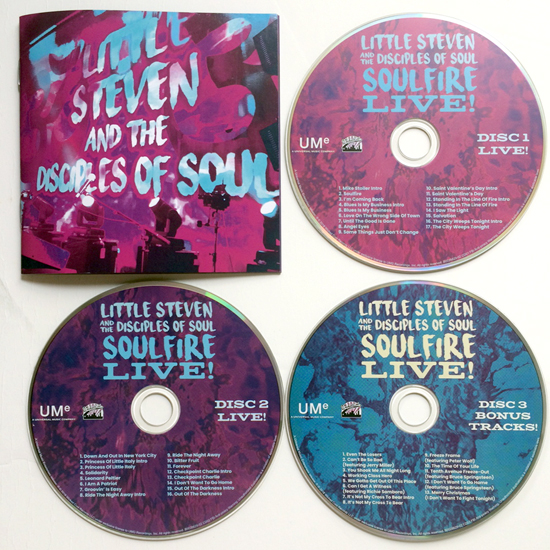 The fold-out package includes a 32-page full-color booklet packed with fan photographs, musician and production credits, and extensive song annotations by Steven. "We all passed through different genres growing up and blues was a big one for me," he says in relation to "Blues Is My Business." "You take a little bit from here and a little bit from there and that's how you form your identity. There's some Albert King in there, some Hubert Sumlin, some Buddy Guy and a lot of Mike Bloomfield, who I just love."
In the notes accompanying "Some Things Just Don't Change," Steven reveals how singing such material "made me appreciate Southside Johnny even more. When I gave him these songs I didn't really have any desire to be my own performer or a frontman, so I was able to express my artistic creativity through him. He's been out there all these years keeping my music alive, when I myself was not."
Of particular interest is the 60-minute-long third disc of bonus tracks, the majority of which are once-only covers of songs by the likes of Tom Petty, John Lennon and The Allman Brothers, while a few feature special guests. Among these are Richie Sambora, Peter Wolf and Bruce Springsteen, who appears on "Tenth Avenue Freeze-out" from Holmdel and "I Don't Want To Go Home" from Red Bank.
Soulfire Live! (which will also be released on vinyl) captures the exciting atmosphere of Little Steven's first tour in almost three decades and provides a musical history lesson as it switches genres from rock to soul, blues, jazz and reggae. If you were there, it's a perfect souvenir. If you weren't, it will make you want to come next time.
"This tour takes place at a transitional moment in my life as I re-introduce myself to my own work," says Steven, whose spoken introductions and stories are also included. "We wanted to capture that first connection to a new audience and I believe we did. This fantastic band and crew made Year One of my rebirth a great pleasure and I am grateful to them all. Much gratitude to the audiences worldwide for their enthusiasm and support. And by the way, no part of the show was re-recorded. It is what it is. Enjoy!"
See full track listing and pre-order the CD set
in our online shop
- July 23, 2018 - Mike Saunders reporting

BIDDING IS OPEN NOW FOR THE KACF SUMMER AUCTION
This summer is the 25-year milestone for the Kristen Ann Carr Fund, still going strong after Bruce Springsteen launched the organization with a sold-out Madison Square Garden benefit concert on 6/26/93. You can continue to help the cancer-fighting non-profit (and score some amazing collectibles) with the KACF Summer Auction, live now.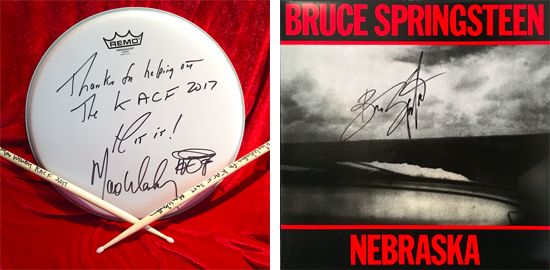 Unique items on the auction block include a drumhead and sticks autographed by Mighty Max Weinberg, a copy of the Nebraska LP signed by Springsteen, and a print of a classic 1981 River Tour soundcheck image by Europe '81 photographer Jim Marchese, signed by both Springsteen and Marchese.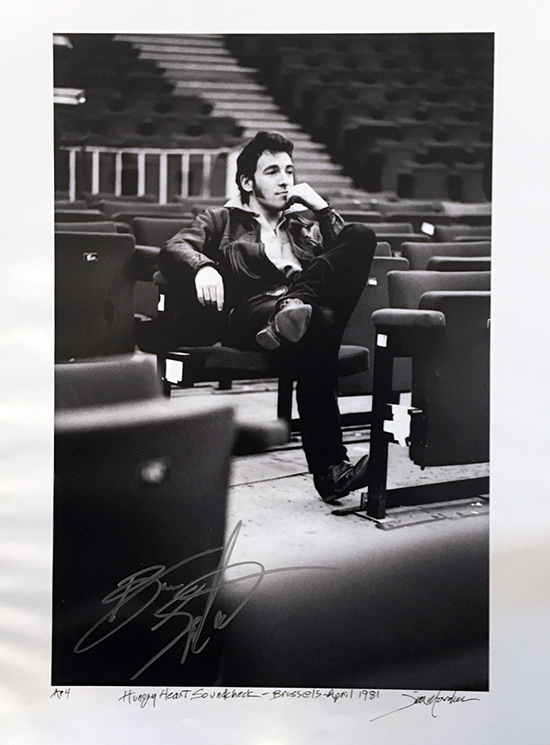 If you're looking to score prime Springsteen on Broadway tickets, the KACF Summer Auction has a pair in the center orchestra, second row. There's even a Springsteen on Broadway mixed media sculpture, by artist Jeff Frankel. Half the lots close on Thursday, the other half next Tuesday. Check it all out at charitybuzz.com/KACF.
- July 22, 2018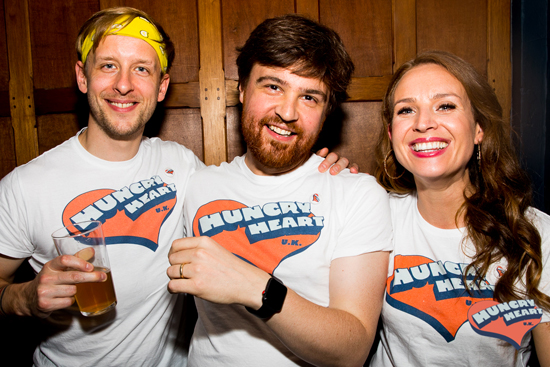 HUNGRY HEART PRESENTS BRUCE'S BIRTHDAY BASH IN LONDON
Grab tickets now for this Springsteen-dedicated party on Sat, Sept 22
You may remember a little while back we posted about London-based Springsteen blogger, Burgers and Bruce. Hannah, or Burger Girl (as Bruce calls her), is missing the big Springsteen stadium tours that used to define her summer months, so she has now taken matters into her own hands with Hungry Heart, the UK's only Springsteen-dedicated club night. Imagine the joyous, life-affirming and liberating feeling of being in a Springsteen pit... but in a club! With a beer in your hand! That's what Hungry Heart is going for.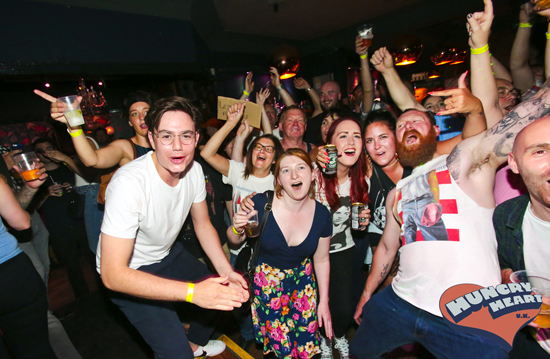 Hannah has buddied up with another Springsteen mega fan Thom (co-founder of the indy pizza chain Pizza Pilgrims) to bring these all-Springsteen parties to the good people of London (and beyond — we've already heard of people flying in from California, Ireland, and Norway just to be there).
The next night is taking place on Saturday, September 22, to celebrate — you guessed it — Bruce Springsteen's birthday. Hannah describes the event as "New Years Eve for Bruce fans, with a DJ spinning non-stop Springsteen tracks."
From the big hits to rarely heard versions, the mega sound system at Mick's Garage in Hackney Wick will be belting out crystal clear Bruce Springsteen bumper-to-bumper for seven whole hours. Drink, dance, sing, and make new friends at this big birthday bash. There'll be burgers from one of London's hottest street food traders (you saw the blog name, right?) and beers flowing (this is a brewery, after all).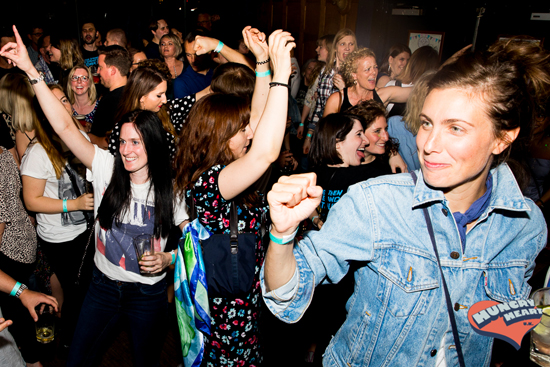 Hungry Heart's last few sell-out nights have gone down with rave reviews — grab your tickets now at hungryheartevents.com/tickets.
You can also give the Bruce-loving duo a like/follow on Instagram, Twitter and Facebook.
- July 20, 2018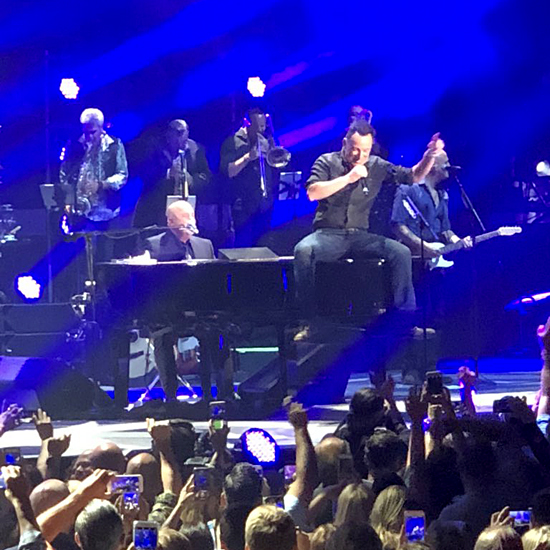 "JERSEY AND LONG ISLAND BUST THE CITY IN HALF"
Last night in NYC, Bruce Springsteen headed downtown from 48th Street to 33rd, to join Billy Joel for a big night at Madison Square Garden. Celebrating his unprecedented 100th lifetime show at the Garden, Billy brought Bruce out midway through Wednesday night's concert, introducing him as "an old friend of mine... an Oscar-winner, Grammy-winner... and a Tony Award-winner, please welcome Bruce Springsteen!"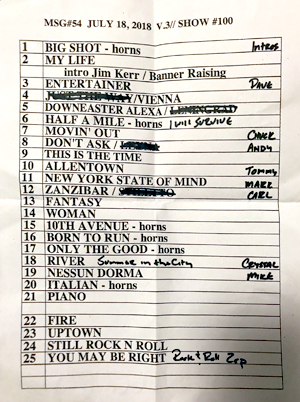 Taking the stage with mic in hand, to plenty of Brooocing and a hug from his pal, Springsteen congratulated Billy on 100 shows before counting the band into "Tenth Avenue Freeze-out." "Do it again, do it again!" he called to Billy's horn section, before working the stage and hopping up on the piano as he has at the Garden many times before — though not in the triple digits. Billy took the second verse, and Bruce didn't miss the opportunity for a perfect lyric change: "They made that change uptown, and the Piano Man joined the band!" And of course, "Jersey and Long Island bust the city in half."
Soon Bruce was strapping on his trusty Fender for one more: "Born to Run." Billy sang the second verse on this one, too, and his longtime saxman Mark Rivera joined Bruce center stage for a deft turn on the iconic sax solo. Interestingly, one other band member on stage has played that solo before, as this appearance also reunited Springsteen with '92-93 bandmember Crystal Taliefero.
Watch the full appearance above — pretty thrilling to see Springsteen not only back in his rock 'n' roll element with two classics, but to be sharing a big moment with his Columbia compatriot. As proclaimed by Governor Andrew Cuomo, yesterday was officially Billy Joel Day in the state of New York — congrats to Billy on the honor and on 100 nights at the World's Most Famous Arena.
- July 19, 2018 - photograph via Twitter/@WineConcierge - setlist via Twitter/@billyjoel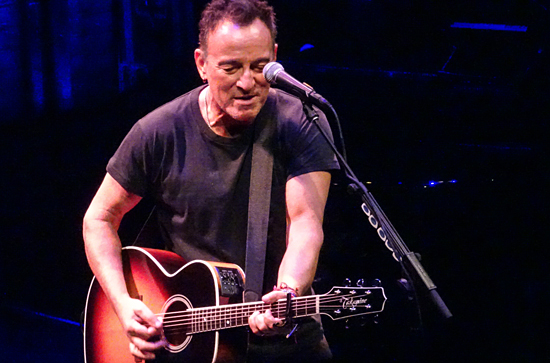 SPRINGSTEEN ON BROADWAY COMING TO NETFLIX DECEMBER 15
Landau: Broadway film will present the show "intact and complete"
Those who spotted TV trucks outside the Walter Kerr Theatre yesterday, or heard rumblings about filming this week, may not be surprised to hear it... perhaps the biggest surprise is that the news is officially confirmed already today: "Tony Winner Bruce Springsteen Coming to Netflix."
Five months from now, just as the Springsteen on Broadway run comes to a close on 48th Street, a filmed performance of the one-man show, directed by Thom Zimny, will debut on Netflix around the world. From today's Shore Fire Media press release:
Springsteen on Broadway will launch globally on Netflix on December 15, 2018, which is also the final night of Springsteen's completely sold out 236-show run at Jujamcyn's Walter Kerr Theatre on Broadway...

Springsteen on Broadway is written by Bruce Springsteen, and directed and produced by Emmy Award-winner Thom Zimny (Bruce Springsteen and the E Street Band: Live in New York City (2001)). In addition to Zimny, the film is being produced by the same team that produced Springsteen on Broadway, including Springsteen manager Jon Landau, Springsteen tour director George Travis, and Landau Management partner Barbara Carr.

Said Ted Sarandos, Chief Content Officer, Netflix: "We are thrilled to bring Bruce Springsteen — a master storyteller, humanitarian and voice of the everyman — to Netflix in this historic one man show. This groundbreaking experience defies the boundaries of theater, concerts and film and will give our global audience an intimate look at one of the biggest cultural icons of our time."

Said Springsteen manager, Jon Landau: "The purpose of the film is to bring this incredibly intimate show to Bruce's entire audience intact and complete. In addition to its many other virtues, Netflix has provided for a simultaneous worldwide release which is particularly important for our massive international audience. Ted Sarandos and the entire company's support has been a perfect match for Bruce's personal commitment to the filmed version of Springsteen on Broadway."

Bruce Springsteen's historic sold-out series of performances of his one man show Springsteen on Broadway began previews on October 3, 2017 and officially opened October 12. The show was extended three times after its initial eight-week run, and will close on Broadway on December 15, 2018, bringing the total number of performances to 236.
Monthly cost of the Netflix service: less than 15 bucks. Verified.
- July 18, 2018 - photograph by Harvey C. Brill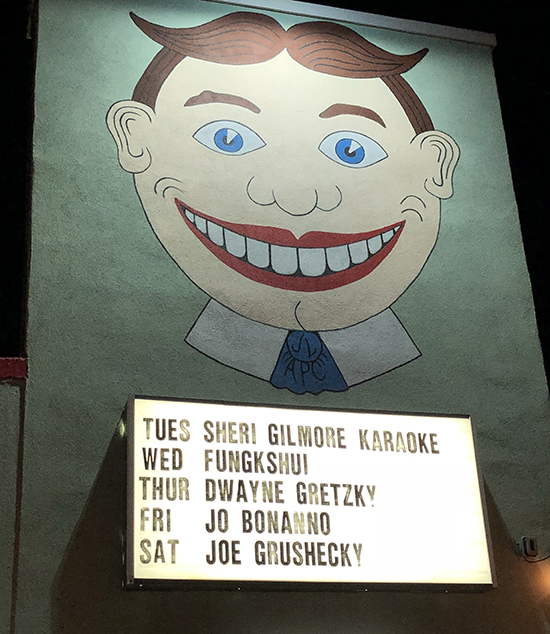 JOE GRUSHECKY & THE HOUSEROCKERS
JOHNNY PISANO'S PUNK ROCK PIZZERIA
July 14, The Wonder Bar, Asbury Park, NJ
Asbury Park, summertime, and music — the perfect trio. On Saturday night a cool breeze, the sounds of the ocean echoing along the boardwalk, and a sold-out crowd at The Wonder Bar provided the perfect setting for one of the Jersey Shore's favorite bands, Joe Grushecky and the Houserockers. On this night, the Wonder Bar was filled with fans who made the pilgrimage to Asbury from near and far to spend time with friends, both old and new, who share the same passion for a summer's night of music in the Park.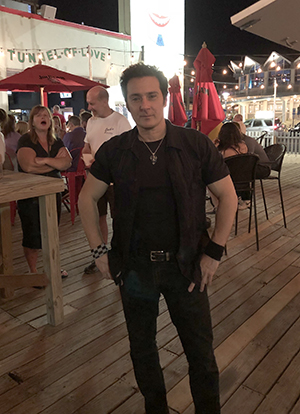 Johnny Pisano's Punk Rock Pizzeria began the evening. A boy from Brooklyn, Johnny [right] began playing bass at age 13 and has shared the stage with the likes of The Ramones, Debbie Harry, The Counting Crows, and Jesse Malin.
For the past ten years, Johnny has become most identifiable as the bass player for Willie Nile, recently deciding to take a leap of faith and front his own band. Johnny's set included a reggae version of the Nile hit "One Guitar," which brought the crowd to sing and sway on their feet. Pisano said he loves to play in Asbury Park because the fans are "so passionate for music…. The power of music, there is nothing like it", he smiled.
With one foot in the teaching world and one foot in the rock music world, Joe Grushecky has been a staple on the Jersey Shore scene for 25 years. Stating that he never wanted to give up his music career, Grushecky admits he doesn't know how he balances it all. "I just do," he laughed. He described Asbury as a "real music town — it's in peoples' DNA".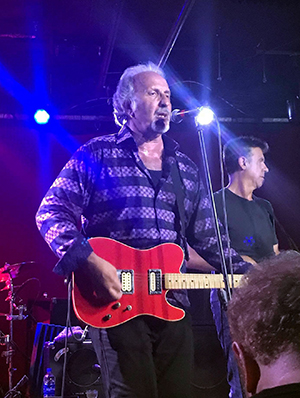 Calling it his best album yet, Joe highlighted his recently released More Yesterdays Than Tomorrows during the show with an energy that permeated the crowd. The album took about a year and a half to record, Joe's son and bandmate Johnny Grushecky having a heavy hand in the album's production. "That's What Makes Us Great," the album's new protest song that features Bruce Springsteen's vocals on the recording, came out toward the end of the night.
Also among the songs the Houserockers performed were five that Grushecky co-wrote with Springsteen: "Code of Silence," "Another Thin Line," "Homestead," "Dark and Bloody Ground," and "I'm Not Sleeping."
During the set, Joe's preamble to "Work in Progress" stated that he is just getting started, and that there's more to come. His poignant dedication of "Never Be Enough Time" to Bob Benjamin, a longtime friend and the founder of the Light of Day Foundation, allowed the crowd to feel the love and reverence he has for Benjamin. Grushecky credits Light of Day with "keeping Asbury alive." This sold-out crowd was happy — happy to be a part of this celebration of summer and this celebration of life.
- July 17, 2018 - reporting and photographs by Lisa Magliano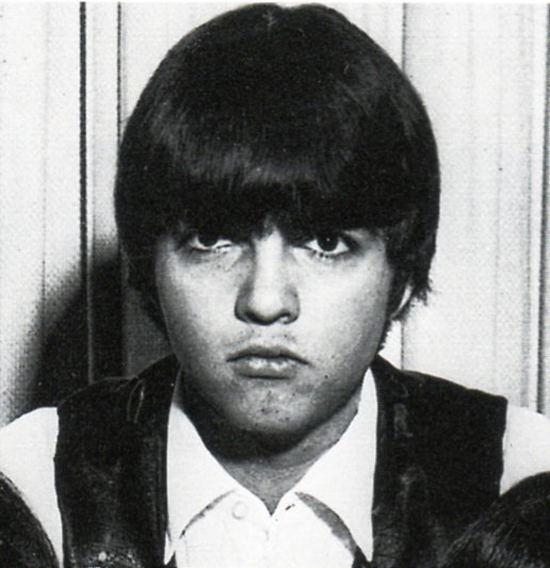 George Theiss from a 1965 Castiles band photo - courtesy of Billy Smith
GEORGE THEISS, 1949-2018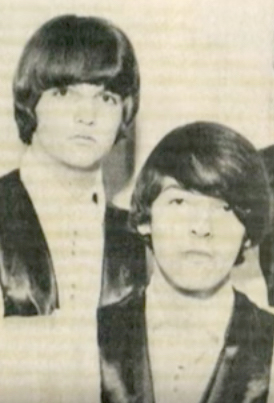 George Theiss died on Friday after a two-year battle with lung cancer. He was 68. Theiss was Bruce Springsteen's bandmate in their teen-years band The Castiles; Springsteen is now the last surviving member of that band.
Theiss formed The Castiles — named after the shampoo that he used — in late 1964 and was the band's lead singer. He had been dating Virginia Springsteen for a while before learning that her brother could play the guitar; George soon invited Bruce to join the band.
In his Born to Run autobiography, Springsteen identified The Castiles as "my first real band" and devoted an entire chapter to that important, formative period of his life. Bruce wrote lovingly of Tex and Marion Vinyard, a childless working-class couple in their thirties: "friends of George who had decided to surrender the fifteen square feet of what was called their dining room to local teenage noisemakers." He also described George Theiss as "the best vocalist we had. He had a real voice and charisma and did the job well. I was considered toxic in front of a microphone, my voice the butt of many of Tex's jokes, and years later, after selling millions of records, I would visit Tex and he would take grand pleasure in sneering at me, 'You still can't sing. George is the singer.'"
The memoir's acknowledgments section contains a special shout-out "to my friend and old bandmate George Theiss for jogging my memory on some of our Castiles adventures."
In 2002, both Springsteen and Theiss joined Marion Vinyard in Freehold, NJ for the dedication of Vinyard Park on the site where the Vinyards' home once stood [below.]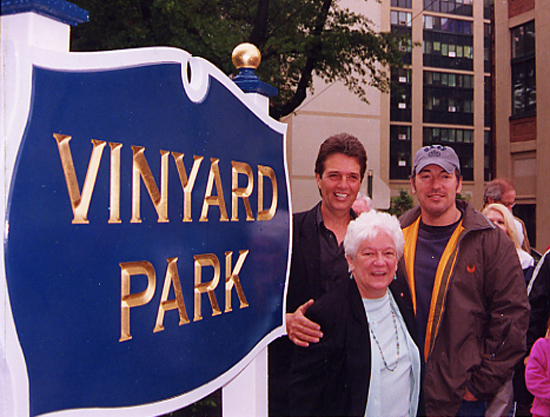 George, Marion, and Bruce at the Vinyard Park dedication, May 18, 2002 - photograph by Adrianne Peterpaul
The Castiles actually got as far as playing New York City's famous Café Wha? and doing a bit of recording. Their two-track recording of "Baby I," a song that Springsteen and Theiss wrote together, was featured on Chapter and Verse, the 2016 compilation released in conjunction with the Born to Run autobiography. Here's an officially released video of Bruce discussing the Castiles recording session that produced "Baby I."
To date, the only other officially released studio recording featuring both Springsteen and Theiss — who coincidentally were born just a day apart from each other — is the 1986 Jersey Artists for Mankind hunger-relief benefit record "We've Got the Love." (Theiss sang lead on the first appearance of the line, "Don't have to put your ear to the ground..." and Springsteen contributed a lead guitar part.)
After The Castiles broke up, George Theiss remained a fixture on the Jersey Shore music scene through the 1970s and 1980s, later leading Cahoots and The George Theiss Band, and continuing to write and perform. Click here to get a taste of just how good a singer Theiss remained, in this version of the Lee Dorsey classic "Ya Ya" from the November 17, 1990 Cahoots reunion at the Stone Pony.
Cahoots, which also included Tony "Boccigalupe" Amato, John Luraschi and Mike Scialfa, reportedly almost got a record deal at CBS in the mid-1970s, after Springsteen advocated on the band's behalf, but did not have the same luck as fellow Jersey Shore artists Southside Johnny & the Asbury Jukes. Amato, who remained close to Theiss, commented on Facebook upon his passing: "Last night I lost my best friend, bandmate, writing partner, and big (older) brother of 43 years. Handsome George with an infectious smile, who, upon my releasing songs he wrote, delightedly decided to tell me he hated the way I sing... Forever grateful to be with you until the end. Love you always."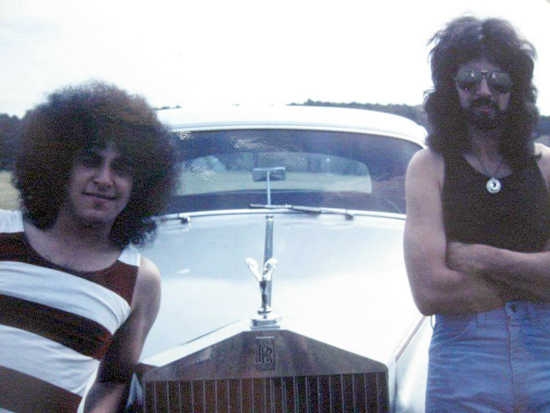 Hangin' with "Handsome George" (right) - photo courtesy of Tony Amato (left)
Theiss also had modest success with his eponymous band (which included former Steel Mill bassist Vinnie Roslin), frequently appearing at the Stone Pony and Big Man's West and even opening for Clarence Clemons' band the Red Bank Rockers at the Capitol Theatre in 1982. The 1999 CD compilation The Spirit of Asbury Park included the band's "Holy Lightning," which featured a strong Theiss lead vocal.
In his interview for the 2008 book Local Heroes: The Asbury Park Music Scene, Theiss reflected on the tendency towards artistic perfectionism and restlessness that he shared with his famous former bandmate: "I've got a little studio downstairs. I can spend hours, days in there, with coffee and cigarettes. I'm just pushing notes around. It drives my wife crazy, and sometimes it does the same to me," he said with a laugh. "I still like to play. Part of me just wants to have a good time; that's the part that makes me think: of course, of course, we're just having fun. But then the other side, the cautious side, takes over. That's why I always end up tearing my songs apart. Redoing them, over and over again."
Theiss and his wife Diana moved to North Carolina in 2010, and he continued to remain active musically with "Too Tall" Tom Dimmock, a fellow veteran of the Jersey Shore music scene who also emigrated to the woods of North Caroline. Check out Too Tall Tom's Facebook page, where he's just posted some great archival video clips of George Theiss in action, including some fun, kick-ass 2013 vocals on "Walking the Dog," "Deepwoodsball" and "It's All Over Now," as well as a moving in-memoriam video.
Backstreets extends our deepest condolences to all of George Theiss's family and friends.
- July 16, 2018 - Lisa Iannucci and Shawn Poole reporting - special thanks to Craig Scupp and Billy Smith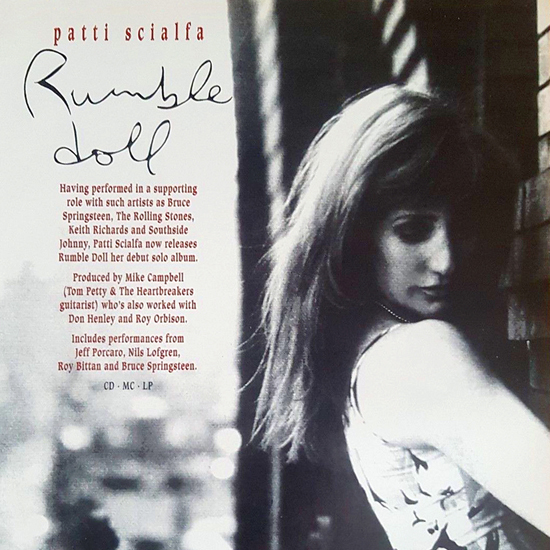 HAPPY 25th ANNIVERSARY TO PATTI SCIALFA'S RUMBLE DOLL
A quarter-century ago today, Columbia Records released the debut album by Patti Scialfa. Of course, Patti was well-known already as a vocalist in the E Street Band for more than a decade (not to mention for her choice of life partner). Rumble Doll announced her not as a singer, but a full-blown singer-songwriter to be reckoned with.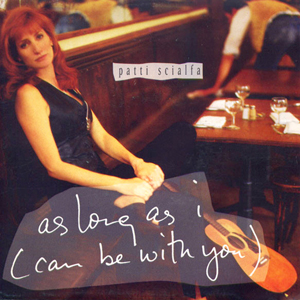 In the same way that her husband had been tackling adult themes in rock 'n' roll, Scialfa's missives dealt honestly and insightfully with growin' up and the complications of adult relationships. It may be tempting to try to glean some autobiographical revelations — from her work, Bruce's, or any other — and when Rumble Doll came out, it was easy to comb through a song like "Come Tomorrow" for lyrical confessions. But the power and appeal of Rumble Doll lies firmly in its songs as songs.
Produced by Heartbreaker Mike Campbell, Patti's music on Rumble Doll updated the sounds of many of her influences, particularly girl groups and '50s/'60s rock 'n' roll, with a touch of Campbell's Heartbreak, too. Twenty-five years later, Rumble Doll holds up — not only does the album not sound dated, it remains an achievement from start to finish, including the pop perfection of its singles "Lucky Girl" and "As Long as I (Can Be With You)."
If it's been a while — or if you've never spent time with Rumble Doll, released July 13, 1993 — there's no time like the present.
- July 13, 2018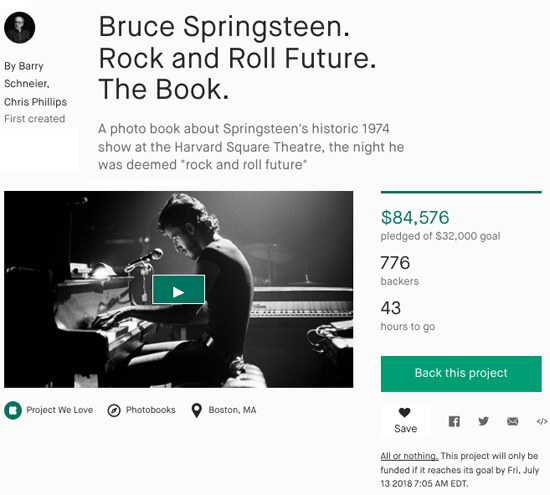 ROCK AND ROLL FUTURE: FINAL WEEK!
Our first Kickstarter campaign closes 7am Friday
We're on the home stretch. It's still not too late to pledge, get your name in the book, and even choose from a collection of special edition 8x10 photos from our Kickstarted Bruce Springsteen: Rock and Roll Future as part of your reward.
With two days left to go, this will be your last opportunity to take advantage of some of the one-time-only rewards created exclusively for Kickstarter. We've had an incredible response to date, allowing us to produce a book that is even better than we'd imagined. And we're so grateful to the community that made it happen.
Making your pledge for a book now will make sure one is reserved for you, and Kickstarter backers will be the first to receive Rock and Roll Future. If you choose one of the higher levels you'll also be rewarded with an 8x10 signed photo, or more. These 8x10s will no longer be available after the Kickstarter ends.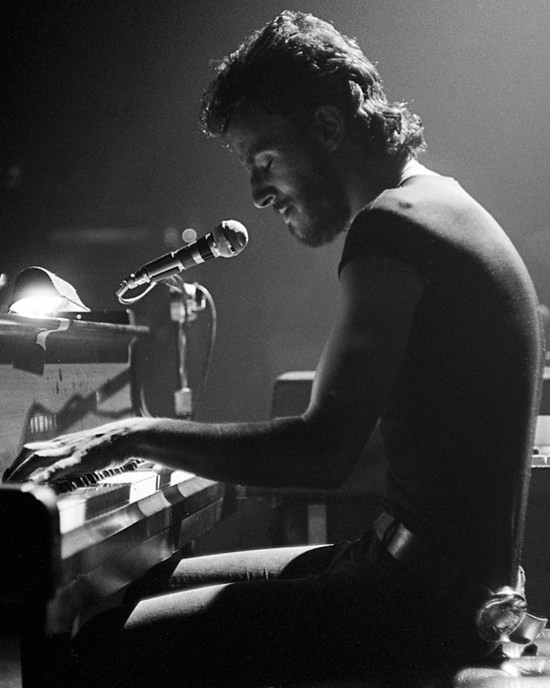 If we reach our last remaining stretch goal, all backers set to receive a book will get an additional special 8x10 photo along with it. This new take on a classic image [above] has never been offered before. That final stretch goal, $92K in funding, originally seemed like a real longshot... but as the end of the campaign approaches, it's actually within reach. With so much community support, backing the project and spreading the word, we're less than $8K away, as of this writing. If we make that final goal, everyone deserves a reward... and everyone will get one!
Click here to view the Kickstarter campaign and lend your support
- July 11, 2018




ROXY 1978... 40 YEARS LATER AT THE STONE PONY
We've had The Roxy '78 on the brain lately — not to mention blasting from our speakers — with the archive release of the historic Sunset Strip show on Friday and its 40th anniversary on Saturday. You can read more about 7/7/78 below, and see some classic Roxy bootleg covers on Instagram. And this weekend in Asbury Park, you can see the concert recreated live.
Tramps Like Us, the highly acclaimed Springsteen tribute band, and The Stone Pony will be celebrating the 40th anniversary with a performance of the full Roxy '78 set on Saturday, July 14. Advance tickets are suggested and can be purchased from Ticketmaster.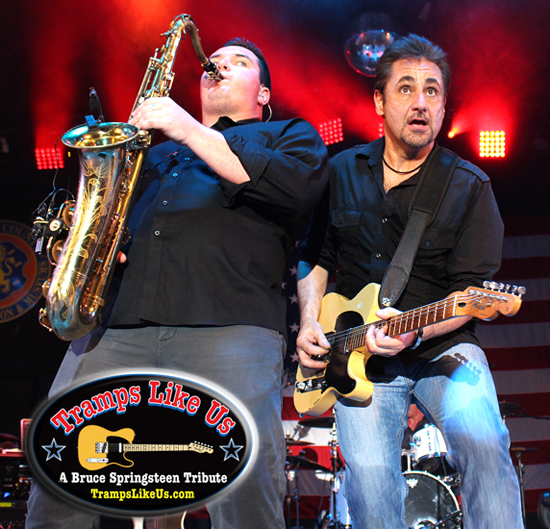 Having re-created nine historic Springsteen concerts so far, including the legendary Capitol Theatre and Winterland shows to name a few, Tramps Like Us will perform this entire magical Darkness show just as it was 40 years ago. Well, without the KMET broadcast.
More information about this special night at the Pony can be found here. Find out more about the band at trampslikeus.com and on their Facebook page.
- July 10, 2018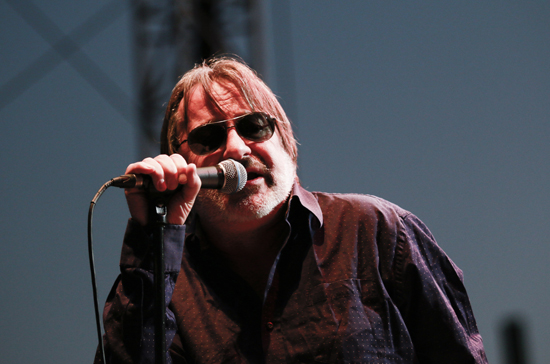 SOUTHSIDE'S SOULTIME! HITS THE SUMMER STAGE IN ASBURY PARK
Listen Wednesday for an encore broadcast on E Street Radio
There's nothing like a warm, summer evening in Asbury Park, New Jersey. And if you were down there this past weekend, you may have heard one of the true legends of the Jersey Shore music scene: Southside Johnny Lyon brought his Asbury Jukes and their Soultime tour to the Stone Pony's outdoor Summer Stage on Saturday for their annual July 4 extravaganza.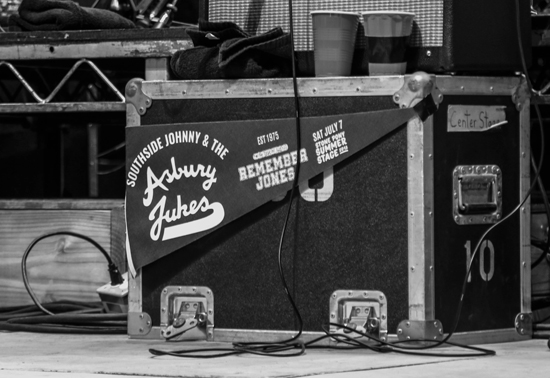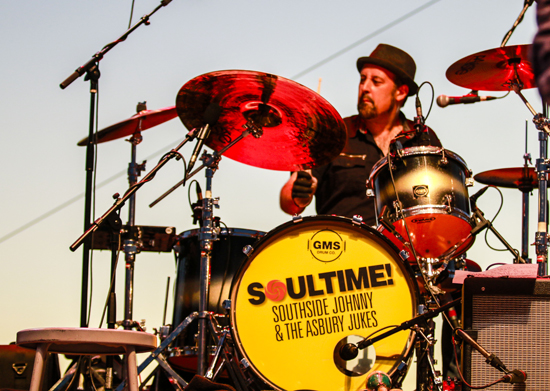 Much of New Jersey had been baking under an oppressive heatwave in the days leading up to the show, and by the time Southside hit the stage, the sun was still bright. When it was announced that the concert was being aired live on SiriusXM's E Street Radio, an extra cheer went up from the crowd. But no extra energy was needed from either the crowd or the Jukes, as they both brought plenty to the Summer Stage.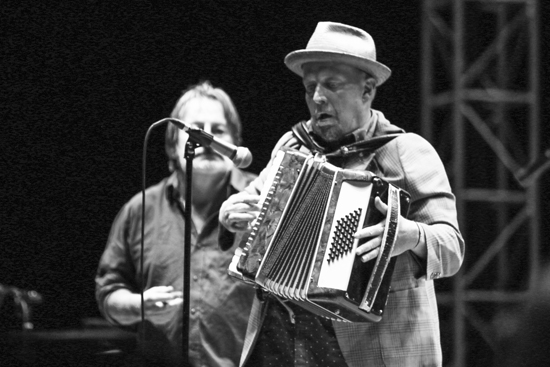 As the sun dipped behind the stage, Southside took off his shades, a breezy tradewind kicked in, and the heatwave broke. By the time Jeff Kazee — in his trademark porkpie hat — and Southside Johnny traded vocals on "I Don't Want To Go Home," the audience didn't want to go home, either.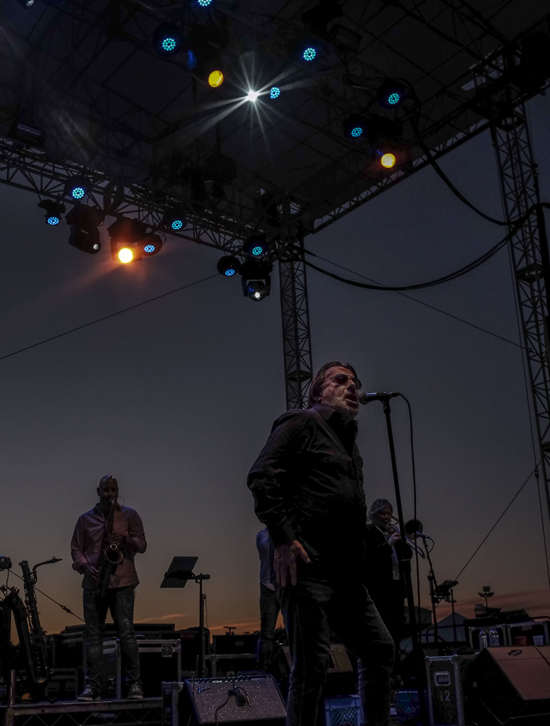 Evening slid into night, and the bright neon of the nearby Empress Hotel lit up the south side of the Asbury Park boardwalk. The capacity crowd of nearly 5,000 were happy — happy to be spending a beautiful Asbury Park evening singing and dancing along with Southside Johnny and his Asbury Jukes.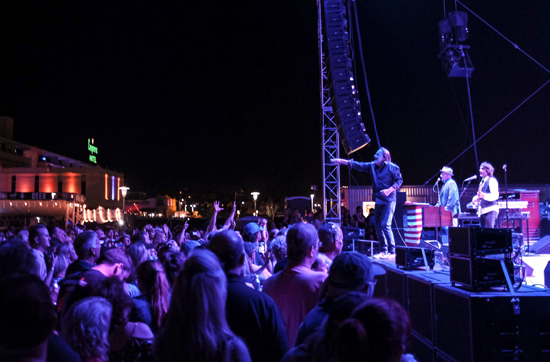 Remember Jones, a one-of-a-kind soul/pop singer, storyteller, and bandleader with a throw-back vibe and authentic energy, opened the late-afternoon festivities. Collaboratively supported by a large ensemble of musicians (featuring three backing vocalists, a horn section, and a six-piece rhythm section), he and a few of his bandmates would join the Jukes on stage during the encore for all-out blitz of music and dancing.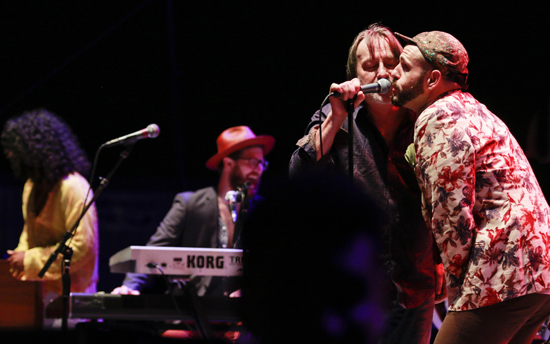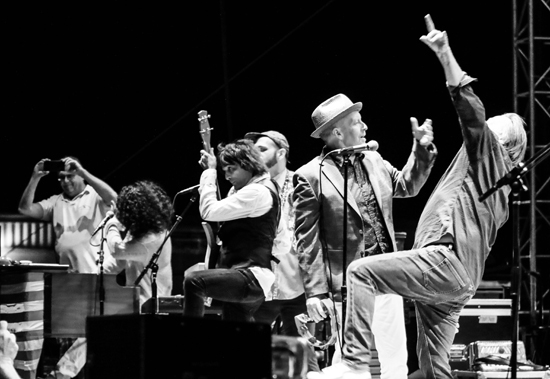 Mark Krajnak of JerseyStyle Photography was there to capture the fun and provided these photos. If you missed E Street Radio's live broadcast of the concert, you can catch again with a replay this Wednesday, July 11, after Live From E Street Nation at noon Eastern/9am Pacific.
- July 9, 2018 - photographs by Mark Krajnak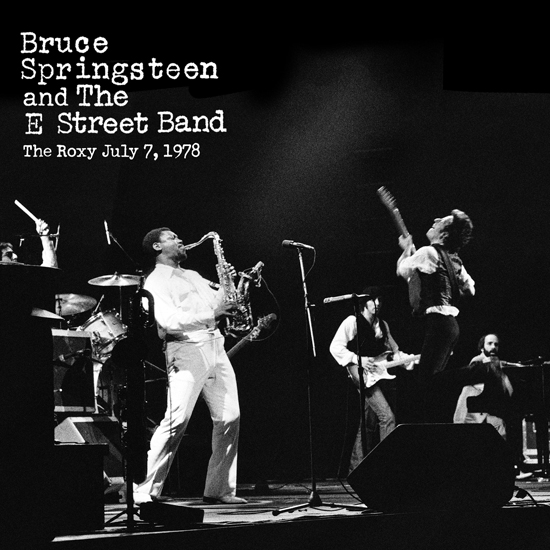 ALRIGHT, LOS ANGELES!
In time for its 40th, The Roxy arrives: remixed, restored, and rockin'
In short order, Bruce Springsteen's July 7, 1978 show in Los Angeles became known simply by the place where it happened: The Roxy. Select concerts earn that distinction — Sinatra has the Sands, the Grateful Dead have Cornell, the Who have Leeds — but Springsteen's Darkness on the Edge of Town tour has this one, the Agora, Passaic, Atlanta, and Winterland, too.
That's because Springsteen marshalled the power of radio that year. Each of these broadcasts had its own vibe, setlist, and geographic reach. Amplified thousands of times over by tape trading and its bête noire, bootlegging, they helped raise his profile in the U.S. and attract new fans overseas, too.
Previous Springsteen concerts had gone out over the airwaves — one in 1975 originated from the same Sunset Strip nightclub — but this, the first '78 radio performance, has shock appeal like no other. Taking the stage, Springsteen asked for lights, apologized for a messy ticketing situation, then offered the biggest understatement of his career: we're gonna do some rock 'n' roll for you.
Historian Clinton Heylin wrote that Jon Landau wanted something big for Los Angeles. The timeline afforded plenty of opportunity: Springsteen played the second of two shows in Berkeley on July 1, rocked the Forum on July 5, and wasn't due in Phoenix until July 8. Camped out in Los Angeles, he mixed live recordings from Berkeley and conducted interviews for both radio and television. The seven-minute segment with Channel 7's J.J. Jackson included footage from both sets at the Forum and likely stands as the first TV news interview Springsteen ever granted.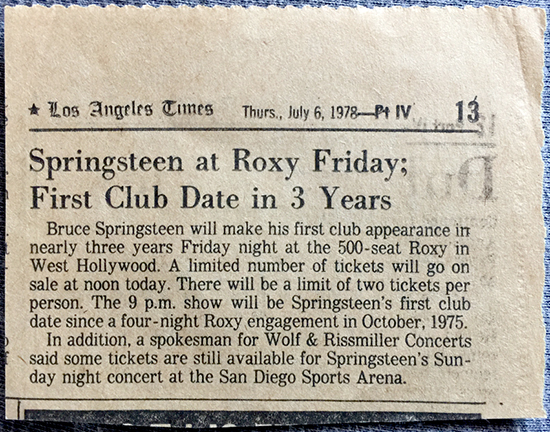 courtesy of Pete Howard
The date at the Roxy came together quickly, though there was enough time for a mention to appear in the Los Angeles Times. With demand for tickets far outstripping supply, an FM broadcast was bound to register as a bona fide event. Paired with the TV interview, the tour's radio debut became a de facto unveiling of the personae and structure that carried Springsteen and the E Street Band at least through Born in the U.S.A., forged in the aftermath of alleged hype, litigation with his first manager, and the death of Elvis Presley.
Buddy Holly was very much alive that summer, in spirit anyway: Springsteen had taken in a showing of The Buddy Holly Story that week, jammed with the actor Gary Busey (who portrayed the young singer in the film), and at some point worked up a spot-on take of "Rave On" with the E Street Band, with which Holly had a hit in 1958. Debuted at the Roxy, it remains one of their more audacious and memorable starts: in an instant, they just took off, making good on the promise of rock 'n' roll, stated or otherwise. By the end of the first set, when Springsteen paired "Racing in the Street" with "Thunder Road," he'd hedged his bet on innocence, telling of a sign he'd seen in the desert West that read, "This is a land of peace, love, justice, and no mercy."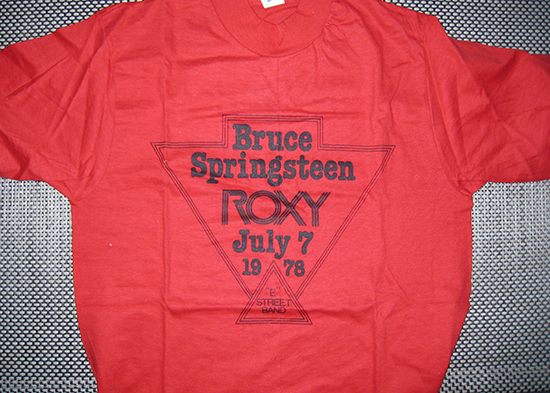 Official T-shirts printed by Columbia Records for the event - courtesy of Dick Wingate
Springsteen and the E Street Band played 26 songs that night, more than a third of which, like "Rave On," were unreleased or previously unplayed, including the first public airings of "Point Blank" and "Independence Day." The entirety sounded monumental, yet it wasn't out of the ordinary for that tour, whether "Prove It All Night" with the instrumental beginning or a fiery "Adam Raised a Cain." And Springsteen invoked Presley in the second set: when tuning proved too lengthy a proposition, he dispatched the Esquire and summoned the King, delivering a knockout cover of "Heartbreak Hotel."
That was a moment where hard work paid off. Already steeped and practiced in music, Springsteen sounded equally adroit in the art of radio. Between songs, he essentially called on listeners to imagine what it was he was doing. The best example came early, when the band didn't fire at the beginning of "Spirit in the Night." Springsteen turned that miscue ("now wait a minute — see, when I do this… let me do it again… this is what's supposed to happen!") into a make-believe moment for everyone tuned in at home or in the car.
For most fans, today's release supplants tapes made from the KMET signal; Springsteen began the second set by instructing bootleggers to "roll your tapes!" They did just that, yielding titles like Hands Toward the Sky and Roxy Night; in 2013, the file-sharing era upgrade Out There in Radioland, sourced from first-generation quarter-inch reels recorded at 7½ inches-per-second, superseded most if not all cassette captures. Officially, Springsteen himself called on nine selections from this performance for his Live/1975-'85 retrospective, making it the single biggest source for the box set and its attendant B-sides.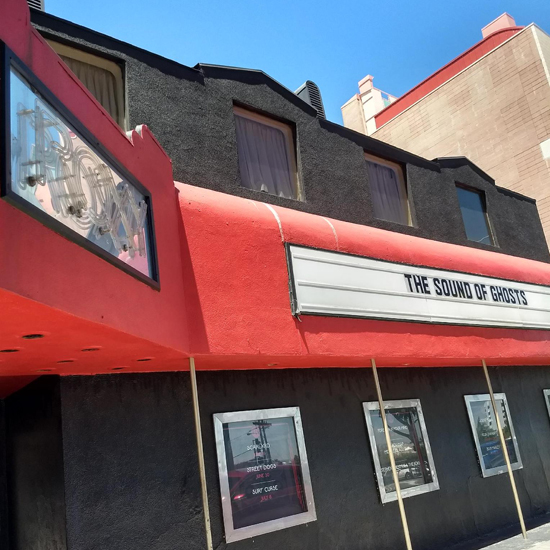 Stirring up some 40-year-old ghosts: The Roxy today - photograph by Jonathan Pont
This archival version coincides with the 40th anniversary of the broadcast and corrects many flaws, be it the occasional dropout, station ID, or the noise of telephone traffic as the sound traveled from the Roxy to KMET. It restores a notorious Live set edit, which excised the "Drive All Night"/"Sad Eyes" interlude in "Backstreets." Whether that served commercial, technical, or creative demands in 1986, it raised eyebrows and more than a few howls.
Fans invariably will compare The Roxy July 7, 1978 with the Live/1975-'85 set, one that Springsteen and his team of producers spent months assembling. Then, the Roxy material had to conform to a big '80s sound that framed the majority of the LPs' 40 tracks. Today, it only has to sound like we remember it: after 40 years of listening to what came over the air (or to recordings that arrived later) that's a heavy proposition, compounded by time and countless plays back. But if any set of music is up to that challenge, it's this one.
Also read:
"The Business of the Unexpected: Roxy '78" by Erik Flannigan
- July 6, 2018 - Jonathan Pont reporting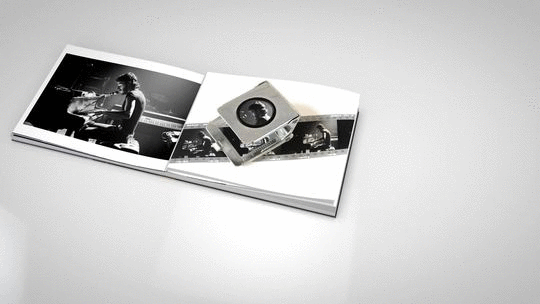 KICKSTARTER UPDATE: STRETCH GOAL REACHED FOR THE GATEFOLD!
As of last night, support for our forthcoming book on Kickstarter reached a level that allows us to add one more cool feature: a page that folds out, so we'll be able to fully display Barry Schneier's "For You" triptych of Bruce Springsteen at the piano.
This extra-wide print was originally a series commissioned in 2017 as a special limited edition of only 15, and we are thrilled to be able to include a reproduction of it in the book. Big thanks to everyone who made it happen.
This is the third stretch goal reached for the Rock and Roll Future book with your support, since the project reached its original funding goal two weeks ago. First we were able to add pages to print every Kickstarter backer's name in the book; next we added a slipcase (pictured below); and now we've got the gatefold.
And of course, none of these stretch goals increase the price of a pledge — they are true bonuses. Thanks to crowdfunding, more backers just means a better final product.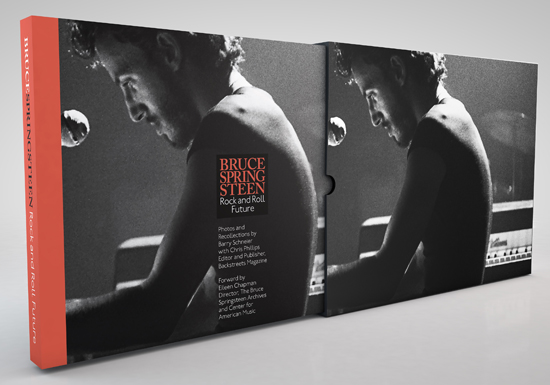 There's one stretch goal left, and it's a doozy: an exclusive 8x10 print with every book ordered via Kickstarter, no matter what the pledge level. When we came up with this idea, we thought we might be dreaming too big... but with one week left in the campaign, it's actually looking possible.
Barry Schneier's Rock and Roll Future is coming, thanks to the pledges of 594 Kickstarter backers and counting... we hope you'll check it out, watch the video, and join us if you haven't already!
- July 6, 2018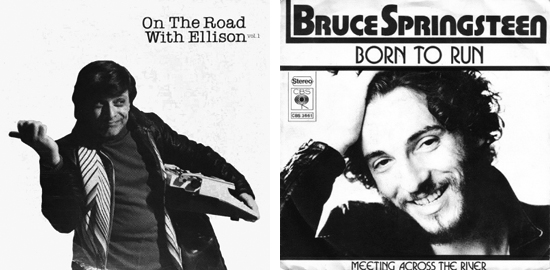 WHEN ELLISON MET SPRINGSTEEN ACROSS THE RIVER
Highly acclaimed, beloved, and controversial author Harlan Ellison died at 84 last week. A passing reference to Bruce Springsteen can be found in the post-tale "mini-glossary" of Ellison's humorous short ghost story "Mom," written in 1976 and published in the 1978 collection Strange Wine, but here's a more interesting and little-known Ellison/Springsteen connection: Ellison read Peter David's short story "Killing Time by the River Styx," for the 2005 audiobook version of the Meeting Across the River: Stories Inspired by the Haunting Bruce Springsteen Song anthology. He didn't just read it; he performed it, dramatically bringing David's version of Springsteen's unnamed narrator to full, vibrant life... er, afterlife.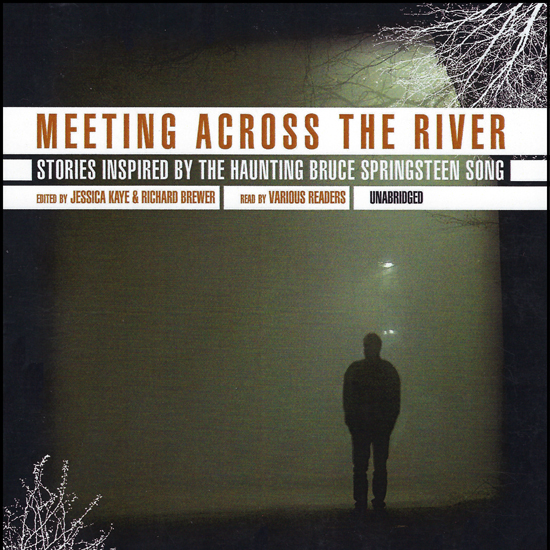 We asked Stefan Rudnicki of Skyboat Media, who produced and directed the audiobook version of Meeting Across the River, if he'd be kind enough to share with us some details about the project and Harlan Ellison's involvement with it. Here is Rudnicki's firsthand account:
The [anthology's] co-creators, Jessica Kaye and Richard Brewer, enlisted a group of writers distinguished mostly by their stylistic diversity. It seemed a testament to Springsteen's universally accessible creativity that this mosaic of talent could be united so fully by an ambiguous story-riddle in song.

My job as producer and director was to hire narrators as individual as the authors, and as invested in the tone and attitude of the song. This was August 2005, and I believe I had met Peter David at an event at Harlan's house not long before. When I read Peter's story, "Killing Time by the River Styx," it was a no-brainer to approach Harlan to perform it. I'd already been working with Harlan for about a decade as audio producer, and, besides being one of the finest and most authentic storytellers I've ever known, he seemed a natural for Peter's story.

Harlan was a musical omnivore, loving nearly every genre and style. He seemed to me familiar with at least some of Springsteen's music, and highly appreciative of it. All the more so as that music and its themes tied in to Harlan's own relationship with working folks and cities (New York especially). What Peter's story added to the mix is the stylistic amalgam he's best know for — noir fantasy.

In the studio, Harlan took a dive into the story, and in his typical fashion, nailed it. The result is there for anyone to hear.
Peter David also reminded us of what he wrote on his blog back in 2006, shortly after his friend's reading of the story received high praise from Publishers Weekly. David noted that Ellison "wouldn't have taken the gig if it wasn't cool with me. And part of me would have liked to do the reading myself, but then I thought, 'Y'know...it'll probably sound better if Harlan does it, so what the hell.' Obviously PW agreed."
Listen above to an excerpt of Harlan Ellison reading Peter David's "Killing Time by the River Styx." (Be advised that David's story contains some very colorful and NSFW, if highly appropriate, profanity.) After that, click here to order your own copy of the Meeting Across The River audiobook, hear Ellison read the rest of David's story, and check out all of the other stories and readers in the anthology.
- July 5, 2018 - Shawn Poole reporting

FOR INDEPENDENCE DAY 2018: FLASHING BACK TO "ONE OF THE GREATEST SONGS ABOUT HUMAN FREEDOM EVER WRITTEN"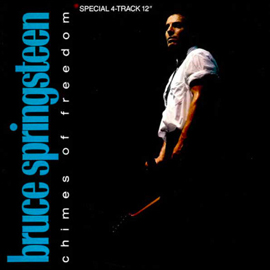 Thirty years ago today, Bruce Springsteen and the E Street Band were in the midst of the European leg of their Tunnel of Love Express Tour. Back home, it was the middle of a three-day Independence Day weekend. The first set of Springsteen's July 3 Stockholm concert was made available to the world via an international radio broadcast.
Bruce chose to close that set with something very special: a version of Bob Dylan's "Chimes of Freedom" (based on The Byrds' 1965 recording), a song that he and his band performed only once during the Darkness on the Edge of Town tour a decade before and had only just revived in each of the two shows preceding their July 3 show. Unlike any of those previous performances, however, this performance of "Chimes of Freedom" would feature a special introduction from Springsteen that was heard around the world:
Earlier today, Amnesty International announced a worldwide tour to celebrate the fortieth anniversary of the Declaration of Human Rights. The Declaration of Human Rights is a document that was signed by every government in the world forty years ago, recognizing the existence of certain inalienable human rights for everyone, regardless of your race, your color, your sex, your religion, your political opinion or the type of government that you're living under. I was glad to be asked to participate, and I'm proud to join Sting, Peter Gabriel, Youssou Ndour and Tracy Chapman in a tour that's gonna begin in early September and is gonna run for about six weeks. So I'd like to dedicate this next song to the people at Amnesty International and their idea.... When we come to your town, come on out, support the tour, support human rights for everyone now... and let freedom ring.
That version of "Chimes of Freedom," including its special introduction, first received an official release on Springsteen's 1988 Chimes of Freedom EP (recently re-released as part of The Album Collection Vol. 2, 1987-1996.) It also was included (in remixed form) on last November's complete official archival release of the July 3, 1988 Stockholm concert.
To date, no decent video of the 7/3/88 "Chimes of Freedom" has surfaced, but there is a great pro-shot video [above] of Bruce and the Tunnel of Love Express Tour-era E Street Band again closing their set with "Chimes" just a few weeks later in Copenhagen. On that night, Bruce introduced Dylan's classic as "one of the greatest songs about human freedom ever written." We're sending this version of "Chimes of Freedom" out today with wishes to all for a happy, safe Independence Day holiday. Crank it up, and let freedom ring... everywhere.
- July 3, 2018 - Shawn Poole reporting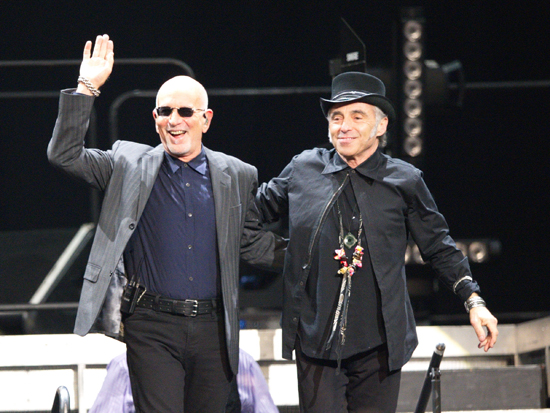 HAPPY BIRTHDAY, PROFESSOR!
Warm birthday wishes to Roy Bittan — the E Street Band's Secretary of Intelligence (and, of course, Dean of the University of Musical Perversity) is 69 today, born July 2, 1949.
- July 2, 2018 - photograph by Alan Chitlik