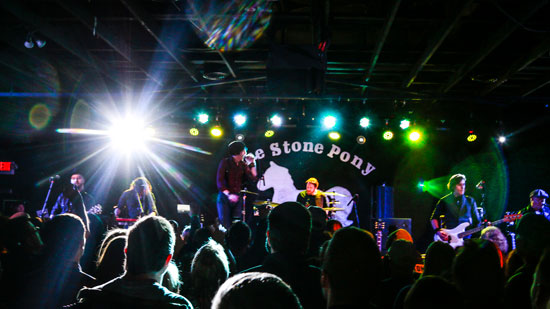 JESSE MALIN WRAPS SUNSET KIDS U.S. TOUR IN ASBURY
Saturday, February 22, The Stone Pony, Asbury Park, NJ
Back in the 1980s, then-New Jersey Governor, Tom Kean, was part of a tourism campaign that would have him intoning "New Jersey and you: perfect together" at the end of every commercial. The motto came to mind last Saturday night as a longtime Friend of the Jersey Shore returned to the Stone Pony... Jesse Malin and Asbury Park: perfect together.
A punk rock troubadour since his early teens, Queens native Jesse seems as at home in Asbury Park as in his trademark newsboy cap. When he's on stage at the Pony, a venue he's played many times, or perhaps Convention Hall during one of his numerous Light of Day appearances, you can tell he wants, and loves, to be there.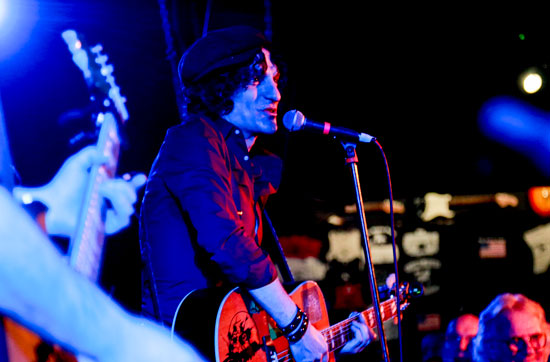 Currently touring to support his latest album, Sunset Kids, which was produced by Lucinda Williams (who will be appearing at the Asbury Park Music & Film Festival this April) and includes guest vocals by Billie Joe Armstrong (Green Day), Joseph Arthur, and Williams herself, Malin and his band (Derek Cruz on guitar, James Cruz on bass, Rob Clores on keys, Danny Ray on sax, Satish Indofunk on slide trumpet, and Randy Schrager on drums) heated up a packed Pony on this chilly late February night.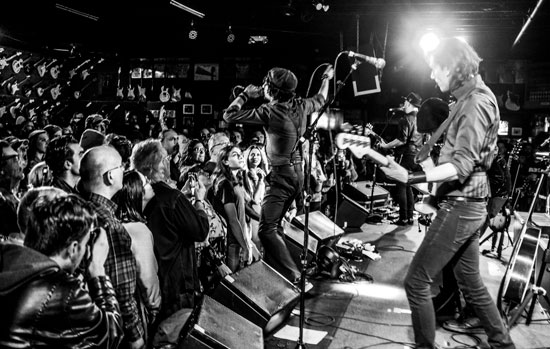 "My first album, The Fine Art of Self Destruction, was about finding glory in the wreckage," Malin writes on his website. "Sunset Kids is about owning it. The failure, the victories, the moments. And moving up from there."
When he first took the stage, Jesse had on his cap and a leather jacket zipped all the way up, his Joe Strummer-festooned guitar on his shoulder. A few songs in, the jacket came off, sleeves on the burgundy shirt got rolled up, and the guitar was humming.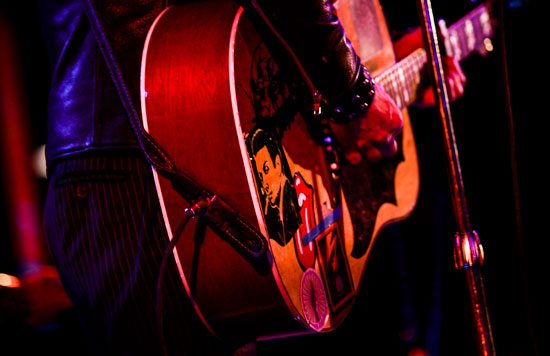 Eventually, the shirt could get unbuttoned, leaving his white tee shirt and suspenders. This was much more suitable for his energetic performance, which included two forays into the crowd, both of which ended up with him on top of the side bar. When he came out for his encore (well, it wasn't really an encore, just a short break because he told the crowd, "We're not done yet!") it was in a fresh, black Atomic Sound t-shirt.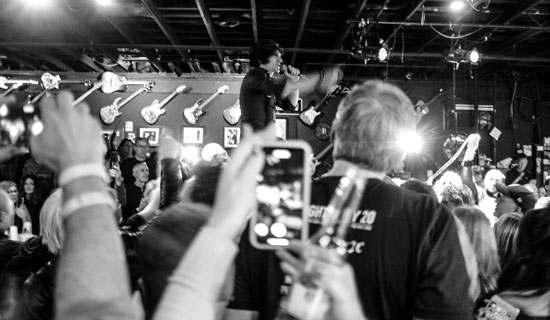 Malin's set was packed with a number of songs from Sunset Kids, with "Meet Me at the End of the World," "Room 13," and "Chemical Heart" being top-notch. Also great was "Shane," an ode to the legendary frontman of The Pogues, Shane MacGowan; a rollicking version of "Sally Can't Dance," and a closing cover of Dylan's "You Ain't Going Nowhere" featuring Jesse and his band as well as cats from the opening acts: Mike Montali from Hollis Brown, Drew Eckmann of The Eck's Men, Matty Carlock of Matty Carlock and the Jailbirds, plus Asbury Park songstress Rachal Ana Dobken.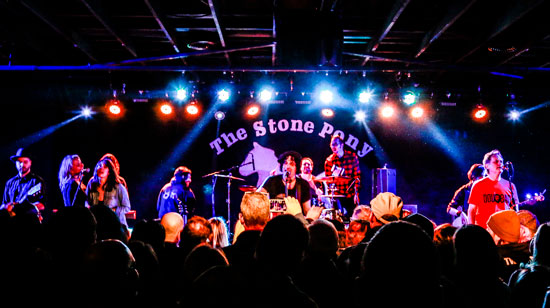 The Stone Pony stop was the last of Jesse's U.S. leg for Sunset Kids. March brings with it the overseas portion of the tour, blanketing the U.K. with a first stop in Nottingham this Sunday, March 1, followed by many more dates in Europe through early summer. Visit jessemalin.com/tour for the full schedule — and have no fear, Jesse and the band will be back in AP in the fall.
Because… Jesse Malin and the Stone Pony: perfect together.
- February 28, 2020 - reporting and photographs by Mark Krajnak/JerseyStyle Photography


"I'M TOM MORELLO, AND HERE'S WHY I LOVE BRUCE SPRINGSTEEN"
Guitar wizard Tom Morello has been a staunch "E Street Band ally" in the last decade — which you might imagine has some of his fans scratching their heads a little bit, despite Rage Against the Machine's "The Ghost of Tom Joad" cover and his work as The Nightwatchman. He explains all in this clip for Loudwire called A Metalhead's Guide to Bruce Springsteen, discussing not only "providing his services" on stage and on High Hopes, but what got him into Springsteen in the first place, and what it's like to now be pals with one of his heroes: "There are very few friends that I have that I subscribed to two fanzines about."
"I've always been drawn to heavy music," Morello says in the video. "First it was metal, then it was punk, then it was hip-hop for the lyrics. But it was through the music of Springsteen's Nebraska, and then Dylan's The Times They Are A-Changin' and records like that, that I realized that folk music could be heavier than all of that. With the right couple of chords and the right sort of dark poem, it can be as devastating as anything in the pantheon of heavy metal."
To go deeper, don't miss our extensive feature "Because the Nighwatchman: The Backstreets Interview with Tom Morello" in Backstreets #91.
- February 28, 2020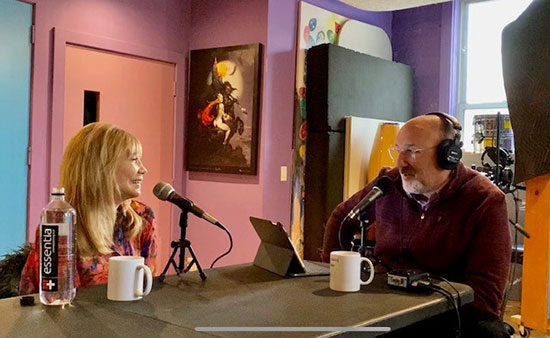 FINANCIALLY SPEAKING A-GO-GO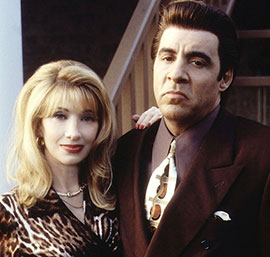 You might not expect a podcast called Financially Speaking to be a venue for chat about This Thing of Ours, but since host Mitch Slater is a hardcore Jersey Shore music fan, he'll take a ride down E Street any chance he gets. Last year, for instance, he had Thom Zimny on as a guest, talking Western Stars, Springsteen on Broadway and more; Mitch also spoke with Rock and Roll Forever Foundation executive director Bill Carbone about Stevie Van Zandt's TeachRock initiative.
Today's new episode of Financially Speaking with Mitch Slater welcomes the lovely and talented Maureen Van Zandt: actress, dancer, soul power twister, and the better half of one Steven Van Zandt — both in real life and onscreen, as Gabriella Dante in The Sopranos. (Only one of those marriages, presumably, was officiated by Little Richard with Bruce Springsteen as best man.)
We asked Mitch to fill us in on today's episode:
So imagine this 15-year-old blonde Catholic School girl from Newark, NJ, in the early 1960s taking the bus to New York City (after changing into a miniskirt) and heading to the infamous Café Wha, to groove (only soft drinks then) to a young blues guitarist named Jimi James (before he was Hendrix) and see bands with up-and-coming singers nobody'd ever heard of like Rod Stewart. That's just one story from my exclusive interview with Maureen Van Zandt for my Financially Speaking podcast. No math, as promised Maureen — there was some spelling, though!

I don't want to give spoilers, so you can enjoy the show in her own lovely voice and hear her take on The Business of Show Business, from her incredible perch: from being a dancer in the game-changing Broadway show Hair, to starting her own theater company, and, of course, appearing in possibly the greatest television series of all time. Oh, and — although denying she was the inspiration for Miss Penny Lane in Almost Famous — being a Zelig-like figure for the greatest moments in live rock history over the last 50 years, and that's aside from everything Little Steven and E Street.

We also talk dogs, of course. I hope you enjoy our interview, and feel free to share with everyone in E Street Nation globally. The world today needs more wonderful people like Maureen Van Zandt.
Listen to the interview now on Spotify.
- February 27, 2020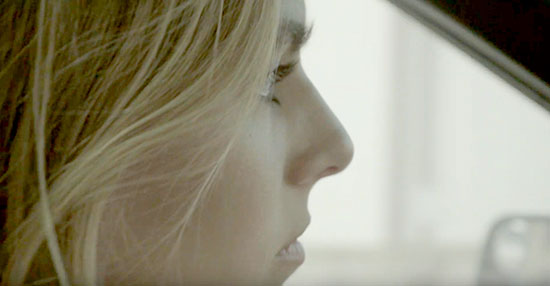 SEE ME WHEN I RIDE BY
Lauren Jenkins on her "Stolen Car" video: "When you have a story you want to tell, you find a way to tell it."
Last month singer-songwriter Lauren Jenkins released a digital single with her takes on two Bruce Springsteen songs, "Stolen Car" and "Hungry Heart" (read our January 17 report on the release). Today, Jenkins debuts her self-made music video for "Stolen Car."
It's a potent clip — which shouldn't come as much of a surprise to anyone who's familiar with Lauren's work up to this point. In addition to her musical talents, she also displayed a knack for filmmaking and acting in 2019 when she co-directed and acted in Running Out of Road, a short film built around several songs from her debut album. It plays like her own mini-version of Springsteen's Western Stars film, though it actually was completed and released nearly a year ago.
Lauren recently discussed the creation of her "Stolen Car" video, illustrating how much an artist can accomplish with just an iPhone and a vision:
At the end of 2019, I had this overwhelming desire to get out of town. So I headed West. Most of my time was spent in the car, just driving around New Mexico, taking it all in. That's where I got the idea to make a music video for my version of Springsteen's 'Stolen Car.' I didn't have a budget or any gear, but I decided that shouldn't get in the way of the vision I had. I think the backdrop of the West in all its beauty — and its loneliness, at times — perfectly captures the emotion behind the song. With the exception of one unused scene from my Running Out of Road short film, all of this video was shot on my iPhone. When you have a story you want to tell, you find a way to tell it. Hopefully this video helps you to feel this song in a deeper way. It's a no-budget, no-crew, no-gear, no-production representation of the essence of this song… at least through my car window.
Lauren also has advised us to stay tuned for a "Hungry Heart" video, coming soon. Visit LaurenJenkins.com for her latest news and tour dates.
- February 26, 2020 - Shawn Poole reporting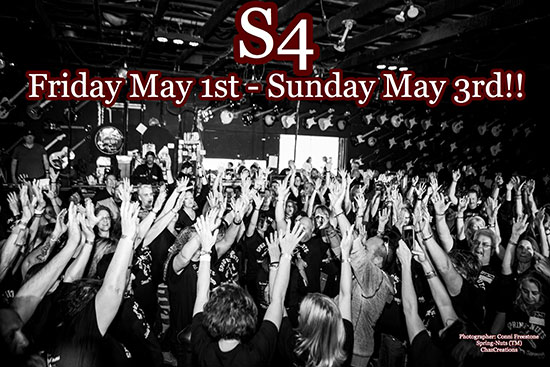 SPRING-NUTS SEASIDE SERENADE 4 COMING IN MAY
The Spring-Nuts, as you might already know, are like many of us: nuts for Bruce Springsteen. Check 'em out on Twitter, Facebook, and their website, springnutsworldwide.com. The group has been holding a yearly gathering on the Jersey Shore called the Spring-Nut Seaside Serenade, and the fourth annual event is coming right up this spring. Tickets are going fast but still available for Spring-Nut Seaside Serenade 4, the first weekend of May in Asbury Park.
Serenade 4 will be spread across three days, leading up to the main event on Sunday, May 3. Things kick off Friday night, May 1, when Jim Boggia plays two sold-out performances of his Bruce Off Broadway show at Danny Clinch's Transparent Gallery. On Saturday afternoon, May 2, also at the Transparent Gallery, performances by Mathew Aucoin, Alexandra Jardval, and Dan Amato and the Sentimental Gentlemen. Saturday night, accomnplished tribute band Tramps Like Us will be downtown at Asbury's House of Independents, performing "The Spring-Nuts Springsteen Super Setlist." And finally, the "Shore Shaker"… the Spring-Nut Seaside Serenade six-hour Main Event, Sunday, May 3 at the Stone Pony.
"We are really excited for this year's event," Spring-Nuts creator Howie Chaz tells Backstreets. "I was concerned that with the then-seemingly imminent announcement of a Springsteen tour, that might interfere with this year's Serenade date and plans. But my Serenade co-organizers, Amy Kalman and my wife Julie Chaz, sold me on the 'If you build it, they will come' theory, and ultimately we went ahead with it with high hopes.
"Well, in the end, they were right," Howie continues. "The day we put the tickets on sale, we sold more tickets in the first six hours than we sold for Serenade 3 in total! So this will be by far our biggest event ever. Just shows the power of the Serenade and definitely the passion of the Spring-Nuts."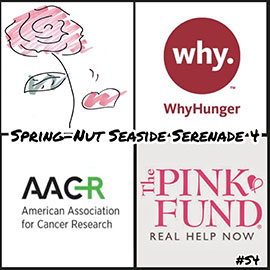 "The Warden" to the "Spring-Nut Asylum," Howie describes the Serenade as "not just a Springsteen-music-filled weekend" but a time when "Springsteen fans from literally around the world make the pilgrimage to Asbury Park and make those connections that Bruce always talks about, with other Springsteen fans who 'get it.'" And they're doing good along the way, with, as always, all proceeds from the Serenade going to charity. This year, S4 will benefit the Pink Fund, the Organization for Autism Research, WhyHunger, and the Kristen Ann Carr Fund.
Howie warns that "Tickets are almost sold out!" So act fast if you wanna go Nuts: click here for further details, the weekend's schedule, and tickets.
- February 23, 2020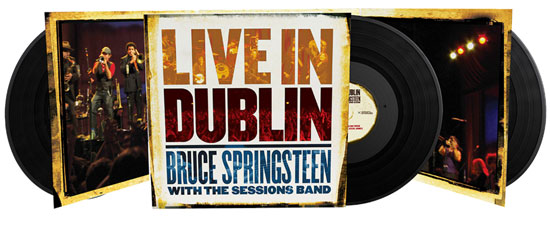 RELEASE DAY, OLD SCHOOL AND NEW
Live in Dublin: Bonus Tracks appears on digital, on top of vinyl reissues
Five Springsteen titles are newly released on vinyl today, reissues of 18 Tracks, Live in New York City, The Rising, and Devils & Dust, along with the first-ever appearance of Live in Dublin on vinyl, as a 3LP set.
Thanks to everyone who pre-ordered from Backstreet Records, all of whom were entered into a drawing for an original Live in New York City letterpress-print poster created by Hatch Show Print in 2001. With one entry per album ordered, we did the random drawing this afternoon — and the prize goes to Sam Sodomsky, for Live in Dublin.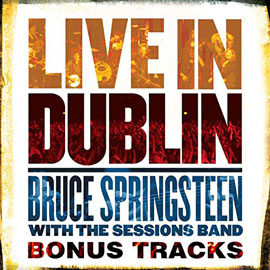 While these new records have been on our radar for months, there's also a release today that comes as a fine surprise, whether vinyl is your bag or not. To coincide with the reissues, five Dublin outtakes have just been released digitally. Check your digital service of choice (including Apple and Amazon) for the Live in Dublin: Bonus Tracks EP, which includes five additional songs recorded live with the Sessions Band at Dublin, Ireland's Point Theatre in November of 2006: "Bobby Jean," "The Ghost of Tom Joad," "Johnny 99," "For You," and "My City of Ruins."
Live in Dublin: Bonus Tracks was originally available in CD form as a "PBS Exclusive," a promo-only pledge-drive giveaway when the Dublin film aired on the channel.
To celebrate today's new records, our friends at E Street Radio are going all-vinyl all the time throughout the weekend. The 24/7 Springsteen satellite channel is playing material from the new reissues (along with tracks from other classic Springsteen albums and singles) all of it directly from vinyl sources only. Prepare to flash back to the "Glory Days" (that fifth single from Born in the U.S.A. is of course in the mix) of pops and clicks! To add to the fun, E Street Radio is letting their neighbors from SiriusXM Classic Vinyl — including Classic Vinyl DJs Earle Bailey, Meg Griffin, and Rachel Steele — take over the channel for the weekend, intro'ing and discussing the records they play. Catch the all-Springsteen-vinyl celebration on SiriusXM channel 20 all weekend long.
- February 21, 2020 - Christopher Phillips and Shawn Poole reporting



BORN IN EAST BERLIN RUNS TWO MORE WEEKENDS IN SF
Last week, we reported about the new play Born in East Berlin, written by Rogelio Martinez and directed by Margarett Perry, mounted this month by the San Francisco Playhouse. Driving the action is the Tunnel-era effort to arrange Bruce Springsteen and the E Street Band's concert performance in East Berlin, a now-historic real world event that occured on the other side of the wall on July 19, 1988.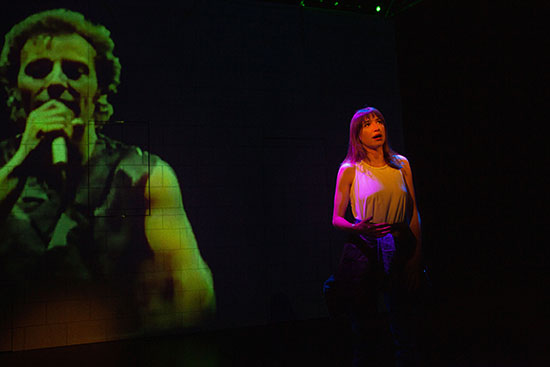 Following the play's February 14 opening, the San Francisco Chronicle's Lily Janiak reviewed the production: "Springsteen is the spark, the footnotes the fire in 'Born in East Berlin'"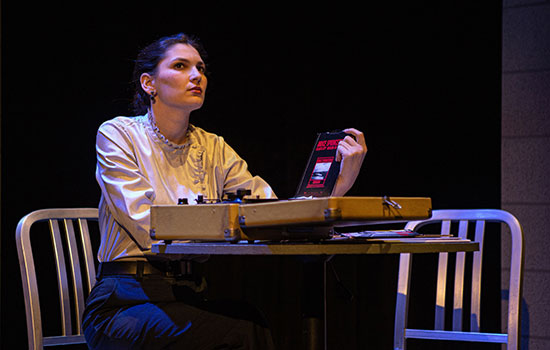 We also heard from reader Gene Casaretto, who wrote in to give us his take, note a few Springsteen Easter eggs, and encourage other fans to check it out:
Born in East Berlin is a solid, well-written piece of theater. The cast is strong, especially the women playing the main American and East German characters. Interesting sets, with the Berlin wall (back of stage) doubling as a background for videos.

Surveillance equipment is set up on a small table with a tape recorder and headphones, at far left of stage (reminiscent of the 2006 film about East Berlin, The Lives of Others). As we walked in, I looked over the props on the table for the opening scene: the Darkness and Tunnel of Love albums, plus two Tunnel of Love tour posters, 45's of "Open all Night" and "Atlantic City," and, my favorite oddity, the 12-inch single of "Cover Me."

The first half ends with the American character passionately quoting the lyrics of the second verse of "Rosalita" to her German handler. There is also a comic bit between a German mother and daughter about the meaning of the lyrics to "I'm on Fire." The main American character has a bootleg cassette that she cherishes — I may have misheard this, but it sounds like she says it's Albany 1977 — which, now, is available from Nugs!
The second half opens with negotiations over Springsteen's performing contract, including food and bottled water for the various band members. There was a big audience laugh when the East Germans mention the clause about delivering roast chicken to the dressing room of Clarence Clemons. For the concert itself, there is what appear to be actual photos/footage of the concert.
Overall we were impressed with this production, and it's not difficult to envision someone wanting to write a screenplay adaptation for a film. The matinee performance was almost sold out, so it appears that people are definitely interested in this play — it runs another two weekends.
Born in East Berlin premiered in San Francisco Playhouse's Creativity Theater, where it plays until February 29. For information and tickets, go to sfplayhouse.org.
- February 21, 2020 - photographs by Jessica Palopoli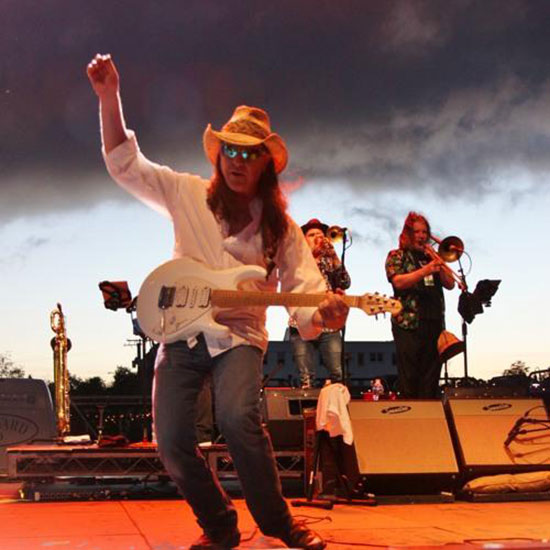 GLENN ALEXANDER: FROM SOUTHSIDE TO SHADOWLAND
Since stepping into Bobby Bandiera's shoes as guitarist for Southside Johnny & the Asbury Jukes over a decade ago, Glenn Alexander has secured a place in the pantheon of New Jersey axemen (Kansas branch). But his Jukes membership is only the tip of a large iceberg. He's also a veteran of La Bamba & the Hubcaps, La Bamba's Big Band, and The Mark Pender Band, and has worked with diverse other artists in a long and accomplished musical career.
Several years back, not satisfied with being a full-time Juke, Glenn formed Glenn Alexander & Shadowland, a band that includes the Jukes horn section and his daughter Oria Aspen, a talented singer-songwriter in her own right. Featuring mostly original material and "guitar-driven, horn-laced, in your face, blues-drenched music," their self-titled debut album was released in 2016. Jukes drummer Tom "Goose" Seguso played on every track, and Jeff Kazee and Southside Johnny made guest appearances.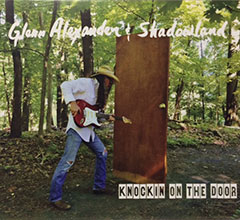 Shadowland's second release, Knockin' on the Door, appeared last year, around the same time as L.A.X. by LaRue/Alexander, a partnership comprising Glenn and his friend, bass player Dave LaRue, that plays "high-powered blues-rock material with a southern influence." In addition to playing Jukes concerts, occasional shows with Shadowland and LaRue/Alexander, and duo and trio jazz gigs with Oria, Glenn also teaches at Sarah Lawrence College in Bronxville, NY.
Catching up with him for Backstreets during the Jukes' winter break, Mike Saunders talks Jukes, jazz, supporting Jake Clemons, jamming with Springsteen, and jumping into frozen lakes with "The General" Glenn Alexander....
Continue reading "Glenn Alexander: From Southside to Shadowland"
- February 18, 2020 - Mike Saunders reporting - photograph by Phyllis McQuillan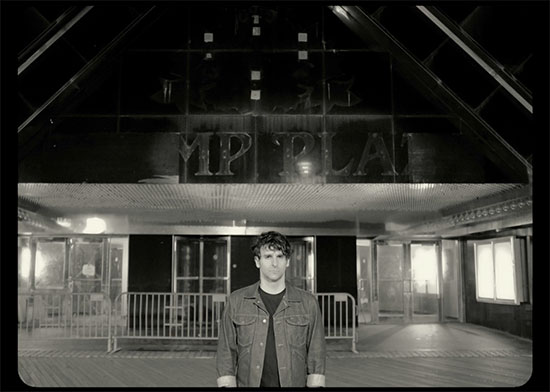 LOOK WHAT LOW CUT CONNIE DID
38 years on, Adam Weiner's band updates the "Atlantic City" clip
When the video for Bruce Springsteen's "Atlantic City" showed up on MTV in December 1982, heralded by the spinning globe and tinny drumroll of the WORLD PREMIERE intro, it was not what anyone expected to see. Not on MTV, anyway. It didn't look like anything else, it didn't sound like anything else, it didn't feel like anything else. For something put together by Columbia's Director of Creative Services in order to take advantage of the nascent video network — creating a video for a song in which the artist himself never appears — it was a terrific and happy accident that director Arnold Levine's end result was so evocative of the criteria behind the album. As Bruce would later articulate in Songs: "I wanted the music to feel like a waking dream, and the record to move like poetry."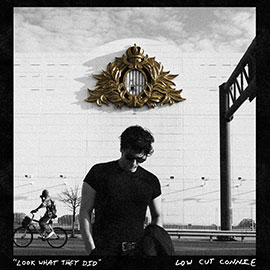 Ten seconds into the new video from Low Cut Connie, "Look What They Did," and the connection between it and "Atlantic City" is instant. At first, you think, "Wait a second…" and then a few more bars in, the synapses fire, the images register, and you know what's going on. The shots aren't identical to Levine's 1982 clip, they are just the images that tell the story, so they're evocative rather than equivalent.
As Low Cut Connie's Adam Weiner tells it, "I grew up in New Jersey and spent all my summers in Atlantic City. When I was a kid, Trump and his buddies convinced the town to let them come in and built all these vacuum-sealed casinos by promising a lot of things to the city that never happened.... Those times were the backdrop for Bruce's classic 'Atlantic City' song and video. I figured now that almost 40 years has passed, it was time for a little moral and civic check-in."
Shot by photojournalist Alex Wroblewski, the video is both a deliberate homage and an unvarnished snapshot of the current state of affairs.
Weiner continues, "Lets see where Atlantic City is at now... and what we find is some serious devastation."
But this isn't a retread of "Atlantic City," because that would be both pointless and boring. Instead, it's an update and a confirmation; it's a continuation of the same story, picked up and carried along, updated and renewed, like a modern folk tradition, the one that reminds the people in power that we notice, we are standing watch, we are paying attention.
This is the first new music released by the band since 2018's Dirty Pictures (Part 2). Low Cut Connie will be touring as a headliner throughout 2020 with more dates to be announced soon.
- February 17, 2020 - Caryn Rose reporting - photograph by Alex Wroblewski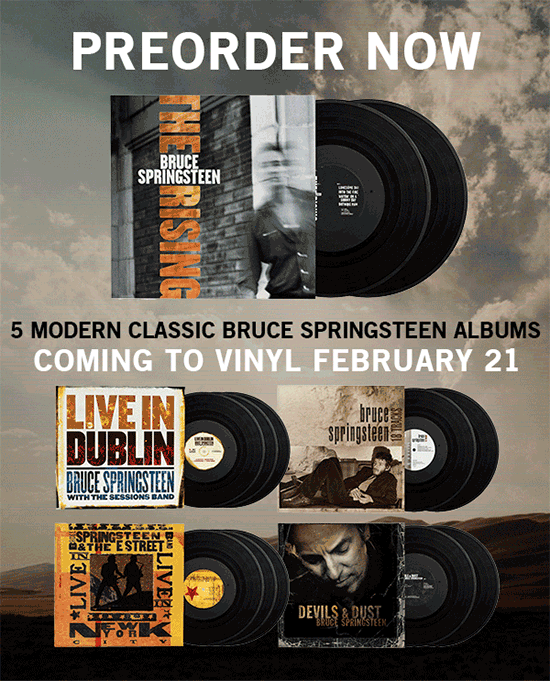 VINYL REISSUES COMING A WEEK FROM TODAY
Next Friday, February 21, five Springsteen titles are coming to vinyl that have either been out of print or never in print. Pre-order from Backstreet Records to reserve yours now and have them shipped to you immediately upon arrival.
Live in Dublin, capturing concert performances from November 2006 with the Sessions Band, will have its vinyl debut. Originally released in 2007 on CD/DVD/Blu-ray, the live album finally arrives as a 3LP set, in a double gatefold sleeve.

As for those coming back: Live in New York City, long out of print and commanding steep second-hand prices, will be reissued in its original 3LP configuration with gatefold sleeve. 18 Tracks, The Rising, and Devils & Dust will also be back in print in their original 2LP form.
While early waves of Springsteen's vinyl reissues made use of the Plangent Process for the best possible transfers from the original analog masters, no such step is required for this new batch of recordings from 1999-2006, all of which were originally released in the digital era. No remastering was deemed necessary. But each will be pressed from the highest quality masters and, like the previous reissues, pressed on 150-gram vinyl.
Plus: we're giving away this original Live in New York City letterpress print from Hatch Show Print! Pre-order any or all of the forthcoming vinyl to be entered into a drawing to win it.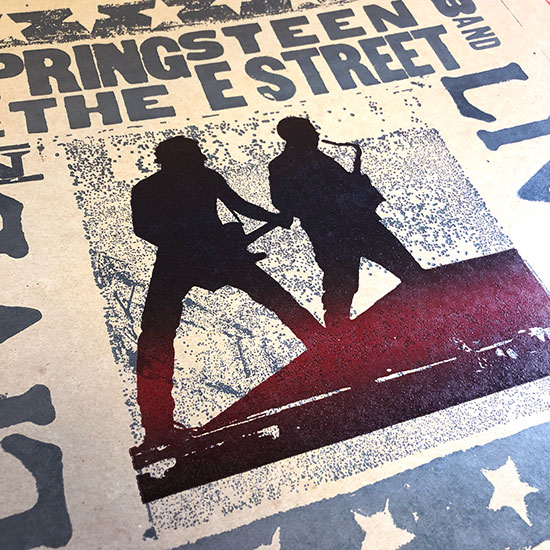 Live in New York City letterpress print giveaway
When the one-and-only Hatch Show Print shop in Nashville created the artwork for Live in New York City using old-school letterpress print methods, they also used the same blocks to create a limited batch of proofs and posters. A reproduction of one of these posters was included in the Greetings From E Street book… but we have an original. And we're giving it away.
In honor of the long-awaited reissue of Live in New York City on vinyl, we're holding a drawing to award this original Hatch letterpress poster to one lucky Backstreet reader. With typical Hatch Show playfulness, these posters varied widely — in terms of ink color as well as color and type of paper stock — making each one relatively distinct. Our particular specimen is pictured above, measuring 17.5"x23" with darker ink (blue and black blended into red) on medium-weight chipboard stock.
For each title you pre-order from the batch of February 21 LP releases (Live in New York City and/or any of the other albums coming that day: 18 Tracks, The Rising, Devils & Dust, and Live in Dublin), you'll be entered once into the drawing. Order all five, and get five entries.
In order to be entered into the drawing, pre-order(s) must be placed by February 20. Drawing will take place a week from today, February 21, and the winner will be announced as well as notified by e-mail.
Visit our shop to see the five titles coming Feb. 21
and pre-order now to enter the drawing
- February 14, 2020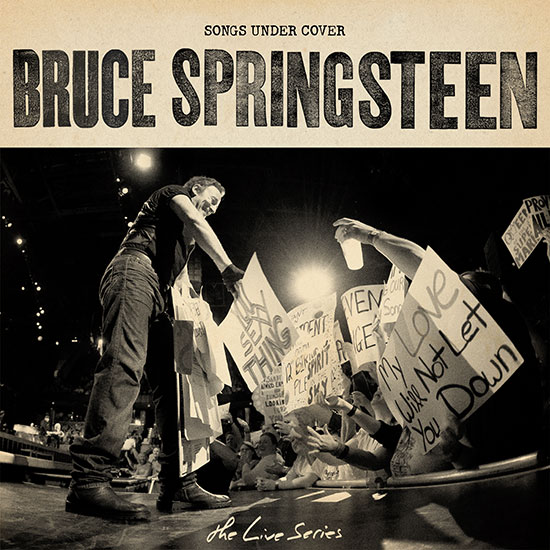 COVER ME? COVER YOU. NEW LIVE SERIES OUT TODAY
Sixth archival playlist brings 15 more live tracks to streaming services
Following Songs of the Road, Songs of Friendship, Songs of Hope, Songs of Love, and Songs From Around the Worlda new entry in The Live Series has arrived today, with 15 covers performed by Springsteen and, without exception, The E Street Band. Each new playlist adds to the officially available Springsteen music on Apple Music, Spotify, and other streaming services.
Today's new playlist, Songs Under Cover, underlines a phenomenon that has long been a fan favorite from Springsteen and the band's bag of concert tricks — taking another artist's song and making it their own. These 15 performances have them doing just that over more than 40 years, going back to "When You Walk in the Room" and "Twist and Shout" from 1975 all the way up through pouring one out for Prince and other specials from the 2016/2017 River Tour. With a disproportionate number of these from Australia, it's a reminder of the thrill of those Down Under specials in 2014, along with other tour-specific highlights like '81's "Can't Help Falling in Love" and '88's "Boom Boom." And still we can easily envision a Part 2. And a Part 3...
| | | |
| --- | --- | --- |
| 1 | When You Walk in the Room | Los Angeles, CA - 10/18/75 |
| 2 | Twist and Shout | Upper Darby, PA - 12/31/75 |
| 3 | Summertime Blues | Cleveland, OH - 8/9/78 |
| 4 | Detroit Medley | New York, NY - 9/21/79 |
| 5 | Can't Help Falling in Love | London, UK - 6/5/81 |
| 6 | Travelin' Band | Los Angeles, CA - 9/27/85 |
| 7 | Boom Boom | New York, NY - 5/23/88 |
| 8 | Higher and Higher | Buffalo, NY - 11/22/09 |
| 9 | I Don't Want to Go Home | Helsinki, FI - 7/31/12 |
| 10 | Stayin' Alive | Brisbane, AU - 2/26/14 |
| 11 | Highway to Hell | Brisbane, AU - 2/26/14 |
| 12 | Purple Rain | Brooklyn, NY - 4/23/16 |
| 13 | Lucille | Milan, IT - 7/3/16 |
| 14 | Brown Eyed Girl | Adelaide, AU - 1/30/17 |
| 15 | I Fought the Law | Hunter Valley, AU - 2/18/17 |
Arranged chronologically, the first nine tracks are taken from the live archive series, with the remaining six courtesy of the nightly tour releases from 2014 and 2016/2017. Listen now via Apple Music, Spotify, Amazon, Pandora, Tidal, or Deezer.
- February 14, 2020


PRE-ORDER NOW: SPRINGSTEEN AS SOUNDTRACK, SIGNED BY AUTHOR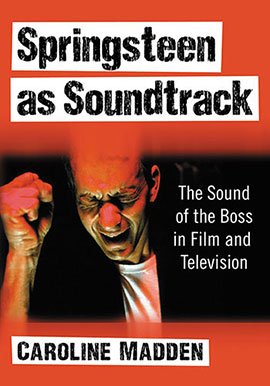 A quarter-century ago, Bruce Springsteen won an Oscar for "Streets of Philadelphia," his original song written for Jonathan Demme's Philadelphia. Until that point — though movies had a profound imact on Springsteen's work from Thunder Road to Badlands (and with a hat-tip to anyone who bought the Ruthless People soundtrack for "Stand on It") — unions of Springsteen and the silver screen were few and far between.
Bruce granted permission to independent filmmaker John Sayles for Baby It's You, but that was an outlier for some time. Peter Bogdonavich's Mask had the Springsteen soundtrack replaced with Bob Seger without the director's consent — "like cutting an arm off," he said. But as evidenced most recently by Bruce's contribution to Blinded By the Light (to say nothing of Western Stars), times have changed.
Film critic Caroline Madden has written a wonderful new book on the subject, Springsteen as Soundtrack: The Sound of the Boss in Film and Television (McFarland). Beginning by digging into the stories behind Baby It's You and Mask, the book proceeds with critical attention to film and TV projects including The Wrestler, High Fidelity, The Sopranos, and Show Me a Hero.
The author is both a longtime Springsteen fan and a sharp-eyed, observant viewer; along the way, in addition to smart discussions of the works themselves, Madden uses these shows and films as jumping-off points for related discussions of Springsteen's work and his own story, connecting dots and tying together many of his thematic pre-occupations. It's a prism we've rarely seen Springsteen's work through, and when, for instance, the Dead Man Walking chapter gets into Nebraska outtake "James Lincoln Deere," you know you're holding a book you've never read before. Serious and academic enough for a film studies class (attention, all you professors!), entertaining enough for any Springsteen fan — we give it two thumbs up.
Caroline has also been writing for Backstreets — she covered the Asbury Park Muic + Film Fesitval for us last year, here and here — and she very kindly jumped at the chance to sign her new book for our readers. So...
Pre-order now for a signed copy of Springsteen as Soundtrack!
Once we have a sense of how many copies we need, we'll be sending books to the author for her autograph, which we'll then ship out to everyone who has pre-ordered. So place yours now to guarantee a signed copy.
- February 13, 2020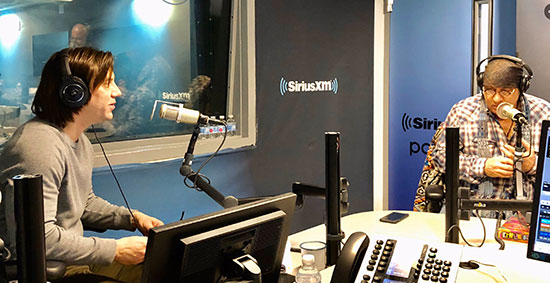 SVZ ON ESR: MORE MUSIC, VIDEO, AND (MAYBE?) FREE TIME IN 2020
Steve Van Zandt was the special in-studio guest on yesterday's edition of E Street Radio's Live From E Street Nation with Dave Marsh and Jim Rotolo. Van Zandt sat in for almost the entire two-hour show, from about twenty minutes in all the way through to the sign-off. Ostensibly, he was there to help promote his massive, new box set Rock N Roll Rebel – The Early Work, but inevitably the talk turned to his many other projects and plans for 2020.

In addition to officially released live recordings/video from the Summer of Sorcery tour and an all-CD version of Rock N Roll Rebel, Steve's fans also can look forward to the first official U.S. home-video releases of Little Steven & the Disciples of Soul's 1980s concerts that were filmed for international broadcasts, including their October 8, 1987 concert at New York's long-gone nightclub The Ritz, filmed for Japanese television and featuring a guest appearance from Bruce Springsteen.

Speaking of Springsteen in relation to Van Zandt's 2020 plans, Jim Rotolo asked Steve if he was "ready to go back out and do something" on the road again in 2020. Van Zandt replied, amidst some laughter, "Well, funny you should ask that… I was ready, as a matter of fact… So what can I say here that's not gonna make news? Let's just say that I thought I was gonna be busier than I am. So at the moment… 2020 seems to have opened up."

Later in the day, a fan asked Steve directly via Twitter if a 2020 Bruce Springsteen & the E Street Band tour wasn't happening, to which he replied:

Steve Van Zandt's February 12 appearance on E Street Radio's Live From E Street Nation is now available on-demand to subscribers via SiriusXM's online player and its cellphone app. Due to licensing restrictions, however, none of the music played on the show is available on-demand. So if you want to catch the complete show with all of the music (and Steve played and discussed a LOT of great music on the show,) we strongly recommend catching the satellite radio replay when E Street Radio airs it on Sunday, February 16 beginning at 6pm ET on Sirius/XM channel 20.
- February 13, 2020 - Shawn Poole reporting - photograph courtesy of @JimRotolo

HELLO, WALL
Springsteen's 1988 East Berlin gig at heart of new stage work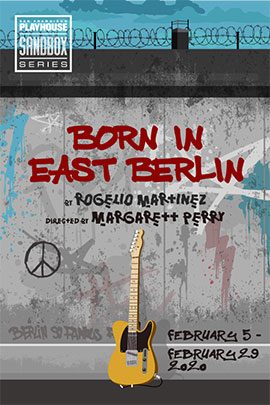 Thirty years after the fact, Bruce Springsteen's 1988 concert in East Berlin continues to matter. At the time, it sounded so loud and joyous that it may well have pushed its 300,000 attendees — the most to see any Springsteen gig — to push for greater freedoms than those simply afforded by a rock show.
Author Erik Kirschbaum chronicled the performance in his 2013 book Rocking the Wall, one of the few to take a single Springsteen performance as its topic. Now, the July 19, 1988 concert forms the central element of Born in East Berlin, a new play written by Rogelio Martinez and directed by Margarett Perry.
"In the play," writes Emily Wilson in a 48hills.org post, "an American has come to try and arrange for Bruce Springsteen to play a concert in East Berlin. Authorities aren't quite what sure what to do — grant her request? Or no?"
As we know, the concert went ahead. This work adds another layer of intrigue: like Kirschbaum, playwright Martinez relied on primary materials and even workshopped the play at the old East Berlin headquarters of the Stasi. Showing generational continuity, Wilson writes of a key assist Martinez got from his young daughter, which helped tip the project.
Born in East Berlin premiered in San Francisco Playhouse's Creativity Theater, where it plays until February 29. For information and tickets, go to sfplayhouse.org.
- February 12, 2020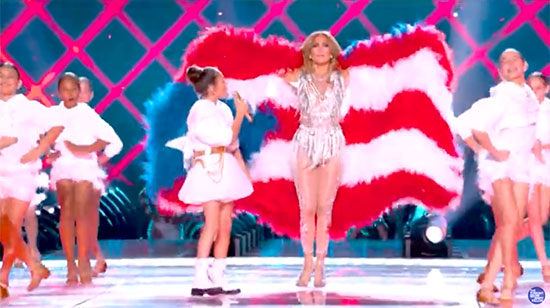 J. LO: HALFTIME NOD MADE BRUCE'S "HEART LEAP WITH JOY"
A week ago today, during the Super Bowl Sunday festivities, Jennifer Lopez turned E Street heads a couple of times. First, in a commercial for Hard Rock, she called out to "Stevie!" — and there he was, putting the Miami back in Miami Steve. Watch an extended cut of the Hard Rock commerical here, with J. Lo chasing down the Bling Cup and Stevie urging her on around the 1:35. "Freaky dude?" he asks from the stage, "Yeah... you can catch him if you hustle!"
Lopez's next call-out was to Bruce Springsteen, in the halftime show she shared with Shakira. It was a quick but pertinent use of "Born in the U.S.A." worked into their medley, her duaghter Emme Muñiz singing Springsteen's chorus and J. Lo herself proudly flinging open her U.S. flag drape to reveal the flag of Puerto Rico (the move surely a nod to Bono, as well).
As Ben Beaumont-Thomas wrote in The Guardian: "It is a potent image: Bruce Springsteen wrote the song to be bitterly ironic; this percolates into Lopez's performance. She and her daughter were born in the U.S.A., yes, but are perhaps feeling less patriotic than ever thanks to Trump's cruel policies. As with Springsteen, though, the melody has real nationalist fervour – the sound of someone wanting to love their country as much as they feel they should."
Running down her halftime performance on The Tonight Show, a guest spot posted to YouTube on Friday, Jimmy Fallon wondered if she had asked Springsteen's permission for the use. Lopez replied, "I did, I did — and he called after the Super Bowl and was like, 'You girls can really sing and dance!'" She added, "He and his wife Patti really loved hearing the song; he was like, 'It made our hearts leap with joy,' and he was really excited. So that was a great thing."
Watch below, with their Springsteen discussion beginning at the five-minute mark, followed the "Born in the U.S.A." portion from the Super Bowl LIV halftine show.
Backstreets reader Michael Vizzone wrote in to praise the performance, and with a reminder that Lopez attended Springsteen on Broadway during its run.
Vizzone writes: "'Born in the U.S.A.' being sung for even a snippet at the biggest event in the world was an absolutely shocking and even chilling moment. We know how many Bruce influences and inspires, but there is something extra-special about it when it's coming from artists who are not even part of his genre. But aside from thrill of the surprise, the reason she quoted the song — promoting inclusivity, and reminding us that Puerto Rico is part of our beautiful country — was even more inspiring."
Also part of Lopez's stage show were children in cages. Cages of light... but cages nonetheless, evoking this administration's detentions of immigrants at our southern border. Vizzone continues: "People want to come here to live the American Dream. No one sticks up for those people and becomes the voice of the voiceless more than Bruce. We know how the 'kids in cages' at the border struck him: so much that he incorporated the great 'This Hard Land' as an extra song at one of his Broadway shows, the day after that story hit the news. Lopez attended Springsteen on Broadway — it may well have had a profound effect on her, as it did with many attendees, and might even have led to what she did on Super Bowl Sunday.
"This was the biggest stage on the planet, the whole world watching," Vizzone concludes, "and without Bruce even being there, his inspiration is felt once again, reaching everyone with his compassion and heart."
- February 9, 2020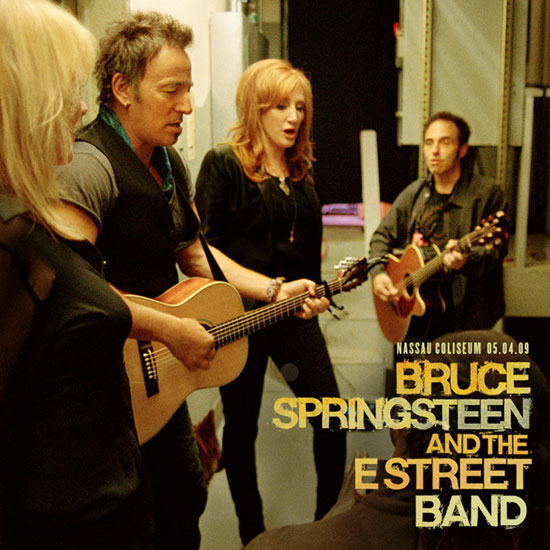 MAY THE FOURTH BE WITH YOU, EXPRESSLY!
Nassau Coliseum, May 4, 2009, leads 2020 as Archive Release #51
Bruce Springsteen's 2009 tour in support of Working on a Dream falls neatly into two parts: one that featured full performances of classic albums from the '70s and '80s, and an earlier stretch, where Bruce experimented with incorporating new songs into the set.
Previous archive releases represent the latter part of the tour, showcasing complete album performances from Philadelphia (Born in the U.S.A.), New York (The River), and Buffalo (Greetings From Asbury Park, N.J.). Today's release, from May 4, 2009, at the Nassau Coliseum in Uniondale, New York is the first recording from early in the tour.
Despite the brand-new record, initial '09 setlists were surprisingly light on new material. Even the still-somewhat-new Magic LP seemed underrepresented. This show, however, features four songs from Working on a Dream and one from Magic, and it's suggestive of the potential that a show heavier on new material could have. While Jay Weinberg filled in for his father on drums from time to time during this period, this show was all Max, all night.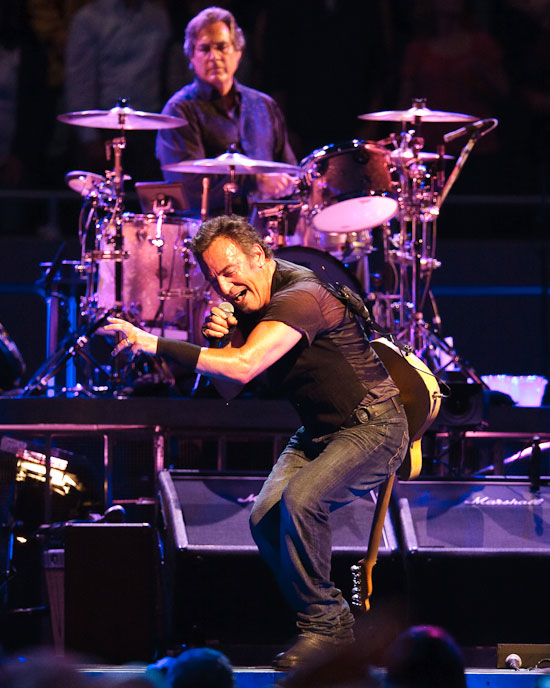 As with all the concerts that spring, Nassau opened with "Badlands, "and an equally strong "No Surrender" followed, two sure things to get the crowd going. "Outlaw Pete" came third, the first new song of the night, and one that Bruce plainly enjoyed performing — especially the "can you hear me?" refrain, to which the audience enthusiastically responded in the affirmative.
After a clean-up slot "She's the One," Bruce slowed it down a bit to deliver his thesis statement of the night in "Working on a Dream": "The E Street Band has come here tonight to fulfill its solemn vow to rock the house," he preached, "but we can't do it by ourselves." After talking about building enough houses to make any Long Island real estate developer envious, Springsteen — over Max Weinberg's build — implored the crowd, "Now sing it like you mean it!"
A trio of songs that became known as the "Recession Pack" followed, addressing economic uncertainty at a personal level with a thunderous "Seeds," a rockabilly "Johnny 99," and an electrifying "The Ghost of Tom Joad," featuring an intense guitar attack from Bruce, Nils Lofgren, and Little Steven.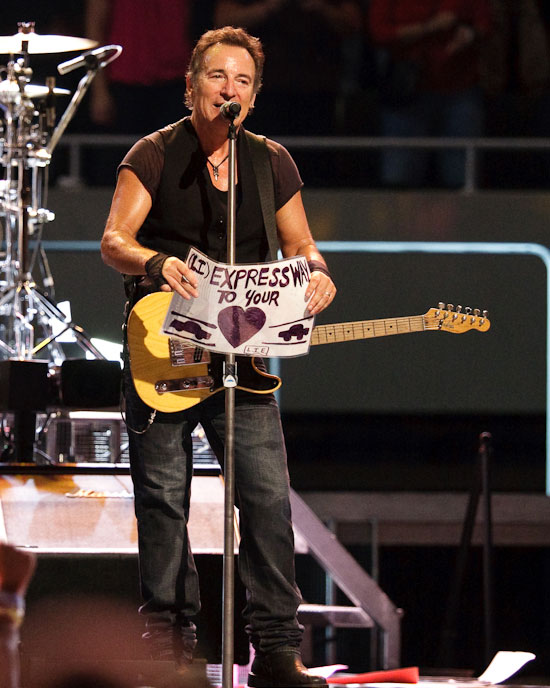 The "Raise Your Hand" riff led into sign-collection time — a ritual established the previous year, where fans requested songs via homemade signs in hopes of hearing them — and Bruce had a generous haul, as usual. The 2009 version of "Stump the Band" focused more on covers than Bruce originals, but again, May 4 changes the usual calculus: it featured just one cover, "Expressway to Your Heart," a 1967 hit by the Soul Survivors, in honor of the highway that extends from the Queens Midtown Tunnel all the way out to Riverhead on Eastern Long Island (even if one takes the Meadowbrook Parkway to go from the Long Island Expressway to the Nassau Coliseum).
As with many cover requests, this would be the first and only time Bruce and the E Street Band played "Expressway" — even if they did presciently rehearse it at soundcheck. (After the performance, Bruce said to the audience, "I knew somebody was going to ask for that one!") The next two requests brought Springsteen originals — "For You" and the tour debut of "Rendezvous" — plus a bonus "Night," which Bruce initially waved off, as he said they'd played it "a lot of times."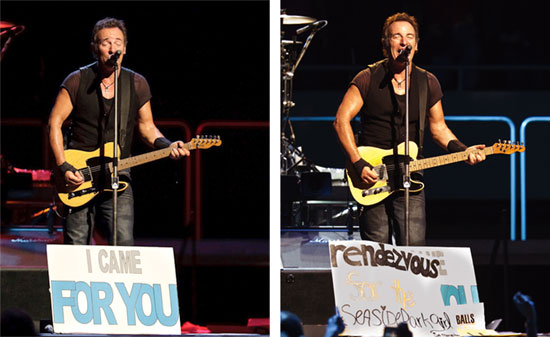 Two songs from Working on a Dream formed the show's heart: "The Wrestler" and "Kingdom of Days," one a Golden Globe-winner, the other Bruce's best song about an enduring relationship. Patti Scialfa had recently suffered a fall from a horse and had missed several shows, but she was back on Long Island for the main set, her presence elevating "Kingdom of Days." These two songs, highlights any time they were played, gave the show a depth that wasn't always present on that tour and are valuable additions to the live archive.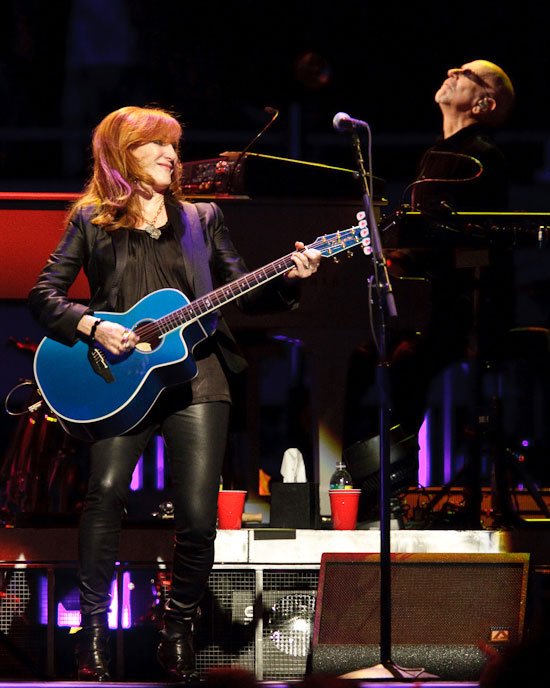 The main set concluded with a string of four rockers, highlighted by some of the best songs from the new millennium ("Radio Nowhere," "Lonesome Day," "The Rising") and capped with "Born to Run." From that burst of energy, Springsteen shifted gears again, opening the encore with another recession-themed song, a cover of Stephen Foster's "Hard Times."
Originally written in 1855, the song came with Bruce's observation: "the more things change, the more they stay the same." He dedicated it to Long Island Cares, an organization founded by Harry Chapin, one of pop music's most dedicated humanitarians. Clarence Clemons and backing singers Cindy Mizelle and Curtis King gave this a real gospel feel; "Hard Times" may have made a bigger statement about the state of the economy than the "Recession Pack" earlier in the show.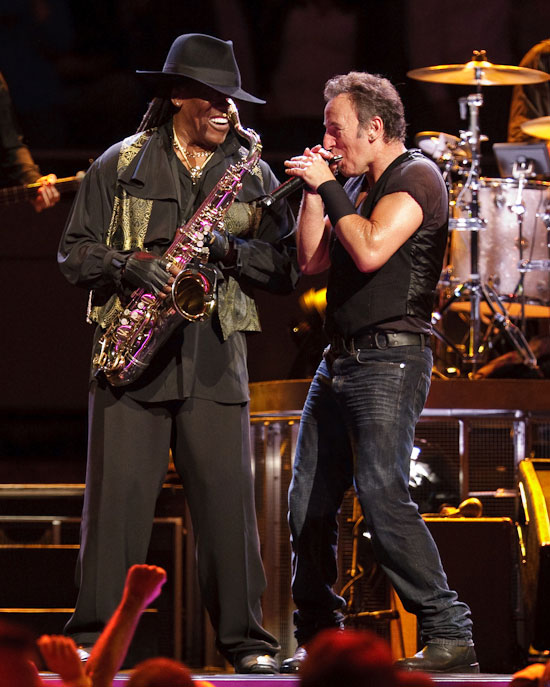 A standard encore for that part of the tour followed, although the inclusion of the epic-of-epics "Jungleland" — and Clarence's legendary solo — provided a soulful lift that took the show higher. Given a rest on the Magic tour after appearing every night on the Reunion and Rising tours, "Land of Hope and Dreams" came next, segueing perfectly into "American Land." And then it was time to party with a crowd-pleasing two-fer: "Dancing in the Dark" and "Rosalita." The performance of "Rosalita" may not have been the tightest, but most in the enthusiastic crowd probably didn't mind.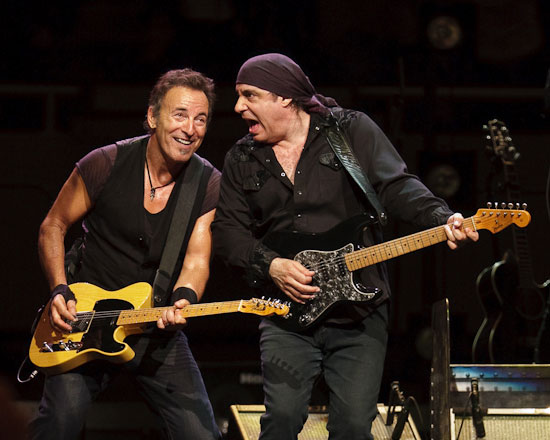 The first part of the 2009 tour may not have produced many overly memorable shows, but the Nugs treatment gives all eras of Bruce's career a chance to shine on First Friday (or on days that follow). This night — with glimpses of what could have been, had Springsteen focused more on Working on a Dream — should provide listeners with a fresh perspective of this period.
Also read: Erik Flannigan's latest nugs.net blog entry, "Expressway to Your Heart"
- February 7, 2020 - Flynn McLean reporting (Flynn co-hosts the podcast "None But the Brave") - photographs by A.M. Saddler, May 4, 2009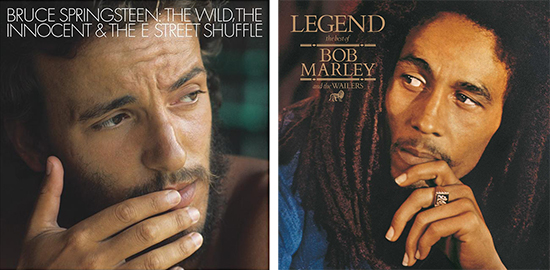 GET UP, STAND UP TO CELEBRATE MARLEY@75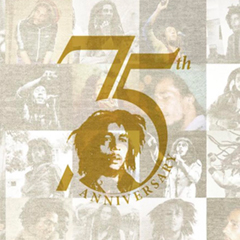 Today marks the 75th anniversary of the birth of reggae pioneer and international superstar Bob Marley. His official YouTube channel jump-started the celebration in high style with a new, beautifully animated music video for "Redemption Song", the moving, closing track from Uprising, which was the final Bob Marley & The Wailers album to be released during Marley's lifetime.
It's a perfect day to explore the various intersections of E Street and Trenchtown over the years. The connections began early on, with Bob Marley & The Wailers (then known simply as The Wailers) serving as the opening act for Bruce Springsteen & the (yet-to-make-the-marquee) E Street Band, in a historic July 1973 six-night stand (with two shows per night) at New York's legendary venue Max's Kansas City.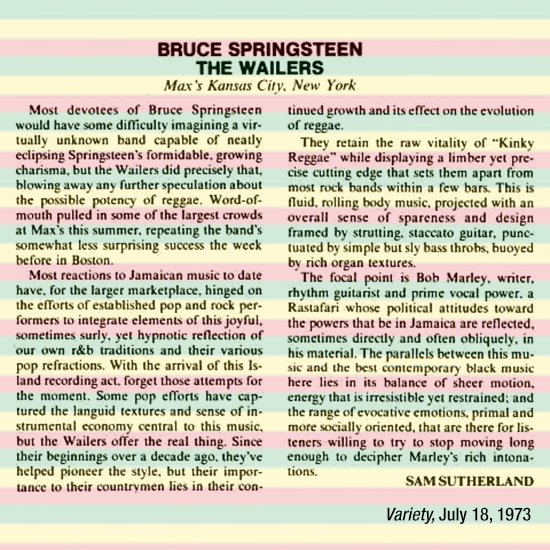 Critic and future Springsteen biographer Dave Marsh saw his first Springsteen and Marley concerts during that stand. Years later, he wrote the following about the experience in his 1985 anthology Fortunate Son: The Best of Dave Marsh:
The concept of seeing two figures as monumentally important to pop music in our time as Marley and Springsteen in a club which seated not more than two hundred patrons is still amazing and amusing to me. (I'd only lived in New York for about a month; maybe I thought that this was the way it would be all the time.)
Unfortunately, no onstage collaborations between Marley, Springsteen and/or members of their respective bands took place, but you can click here to hear a fairly decent recording of The Wailers performing "Don't Rock My Boat" (which later morphed into "Satisfy My Soul") during that July '73 Max's Kansas City stand.
The possibility of any kind of Marley/Springsteen collaboration is an enticing one, but back in 1976 England's New Musical Express went beyond just daydreaming. The November 20, 1976 issue of NME [pictured below] actually "reported" on alleged plans for a co-headlining package tour of the U.S. and Europe, slated to begin in April '77. Given what we know of Springsteen's ongoing lawsuit troubles during that period, as well as how he felt back then about performing in large outdoor venues, there doesn't seem to be even a kernel of truth to the NME article, and of course such a tour never came to pass... but it makes for quite a headline.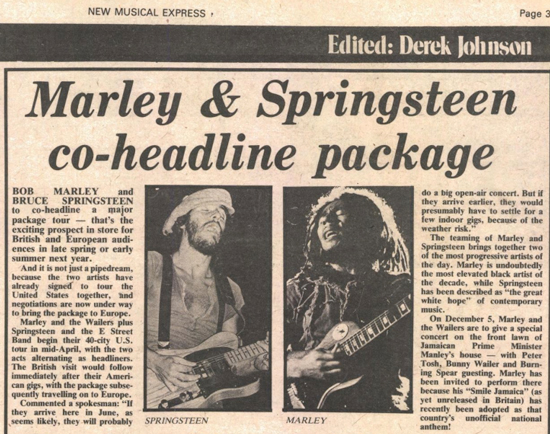 On May 13, 1981, Bruce Springsteen & the E Street Band performed in Manchester, England. It was Springsteen's first concert after news had broken about Marley's tragic, untimely death from melanoma on May 11. Marley was only 36 years old. At the May 13 Manchester show, Springsteen dedicated to Marley a beautiful, moving performance of "This Land Is Your Land", which you can hear below.
Six years later, on July 30, 1987, Springsteen made one of his patented surprise club appearances that was even more of a surprise than usual. He joined local reggae act Jah Love & The Survivors onstage at the long-gone Green Parrot nightclub in Neptune, NJ, for a three-song set. Together they performed a cover of Bob Marley's classic "One Love/People Get Ready," followed immediately by unique, reggaefied versions of "Born in the U.S.A." and "My Hometown." You can hear the full performance below.
The choice to cover "One Love/People Get Ready" was an especially appropriate and prophetic one. Just as Marley had done with one of his greatest songs, Springsteen, too, eventually would draw inspiration from Curtis Mayfield and The Impressions' "People Get Ready" for one of his own greats: "Land of Hope and Dreams". (The Wailers also recorded a version of "This Train", the folk/gospel traditional standard that was another major inspiration for "Land of Hope and Dreams".)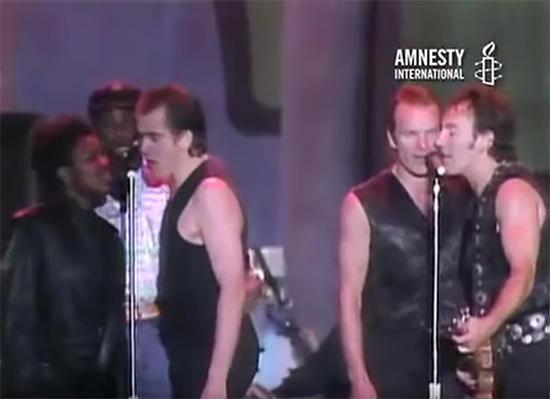 About a year after his performances with Jah Love & The Survivors, Bruce was back onstage singing yet another Bob Marley classic with another group of musicians. On each night of the 1988 Human Rights Now! world tour, Springsteen and the tour's other performers opened and closed each show by singing the anthemic "Get Up, Stand Up" together with their audiences. All officially released video versions of Bruce singing "Get Up, Stand Up" with his fellow supporters of Amnesty International remain available for purchase here, and the audio versions remain available physically here and here, while the digital-audio versions can be purchased here and here. Incidentally, the purchase of any or all of these items helps to support Amnesty International, which is a great way to honor Bob Marley's memory on the 75th anniversary of his birth.
Bruce Springsteen's official YouTube/Vevo channels also have posted the 1998 video of Springsteen performing "Get Up, Stand Up" with Tracy Chapman, Peter Gabriel, and Youssou N'Dour (three of his fellow musicians from the '88 Human Rights Now! tour) at the December 10, 1998 Paris "The Struggle Continues…" concert for Amnesty International. You can watch that video below.
Bob Marley even was among the artists referenced by Bruce Springsteen in his 2014 speech inducting the E Street Band into the Rock and Roll Hall of Fame. "For that," said Bruce, "is the hallmark of a rock 'n' roll band: the narrative you tell together is bigger than any one of you could have told on your own. That's the Rolling Stones. That's the Sex Pistols. That's Bob Marley... and the Wailers."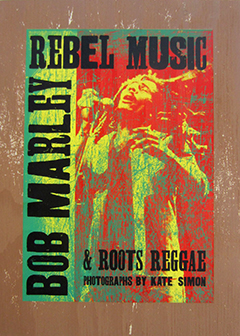 And speaking of the E Street Band, those strong connections between E Street and Trenchtown are found not only in the words and music of Bruce Springsteen but also in those of E Street Band member Steven Van Zandt. On the music side, check out this video of Van Zandt and Bob Geldof opening the 1986 Amnesty International Conspiracy of Hope benefit concert with Bob Marley's "Redemption Song". Then there's "Nail Pon Cross", in which Bob Marley's youngest son, Damian "Jr. Gong" Marley, sampled Van Zandt's "Solidarity" and gave him a co-writing credit, to boot.
No one has ever stated more clearly why Bob Marley is so important and beloved than Steven did in his contribution to Kate Simon's photo book Rebel Music: Bob Marley & Roots Reggae. We leave you with this from Little Steven Van Zandt on what would have been Bob Marley's 75th birthday: "From the purity of young romance, to the uncompromising commitment of Revolution, and every emotion in between, no voice has ever spoken such transcendent truth with such authority and communicated it so effectively. It will be many generations before music again produces an artist so respected and beloved worldwide as Bob Marley."
- February 6, 2020 - Shawn Poole reporting - special thanks to Flynn McLean



CHUCK BERRY, UP IN LIGHTS ON PBS
You may wonder what's left to say in a Chuck Berry documentary after 1987's Taylor Hackford film Hail! Hail! Rock 'n' Roll. We'll find out soon enough, as Chuck Berry: Brown Eyed Handsome Man comes to PBS at the end of this month. Narrated by Danny Glover, the film focuses on live footage, gathering performances by legendary artists — The Beatles, the Stones, Jimi Hendrix, Bruce Springsteen, and more — performing Chuck Berry songs, some with the Prime Minister of Rock 'n' Roll himself. According to udiscovermusic.com, the film includes Springsteen and the E Street Band backing Berry on "Johnny B. Goode" at the Rock Hall's grand opening 25 years ago. Although it's worth noting that "much of the footage has been digitally enhanced from the original source to present it in the best possibly quality for the first time," it's still not a performance worth getting too excited about. We'd much rather see a clip of "Little Queenie" or "You Never Can Tell." Just ask Stevie Van Zandt, who recently put a fine point on that Cleveland '95 back-up gig: "It sucked." But as Stevie also says...
So hail hail regardless, and tune in beginning on Saturday, February 29, when Brown Eyed Handsome Man will premiere on North American PBS stations. Check local listings for airtimes.
- February 4, 2020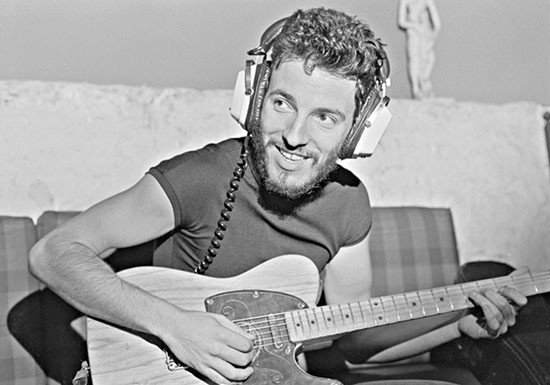 REMEMBER THE MAIN POINT
Springsteen photos by Phil Ceccola and more mark 45th anniversary
Next week will mark the anniversary of a classic performance by Bruce Springsteen at the E Street Band — like many of those, it was a radio broadcast that made its way to faithful fans and created plenty of new ones — 45 years ago at the Main Point in Bryn Mawr, PA. The February 5, 1975 set, bootlegged under titles such as You Can Trust Your Car to the Man Who Wears the Star and The Saint, the Incident & the Main Point Shuffle, included Suki Lahav on violin for a breathtaking opening "Incident" (and later, "New York City Serenade"); covers of Harold Dorman's "Mountain of Love," Bob Dylan's "I Want You," and Chuck Berry's "Back in the USA"; and, most famously, the live debut of an embryonic "Thunder Road" as "Wings For Wheels." The late, great DJ Ed Sciaky hosted the broadcast on WMMR.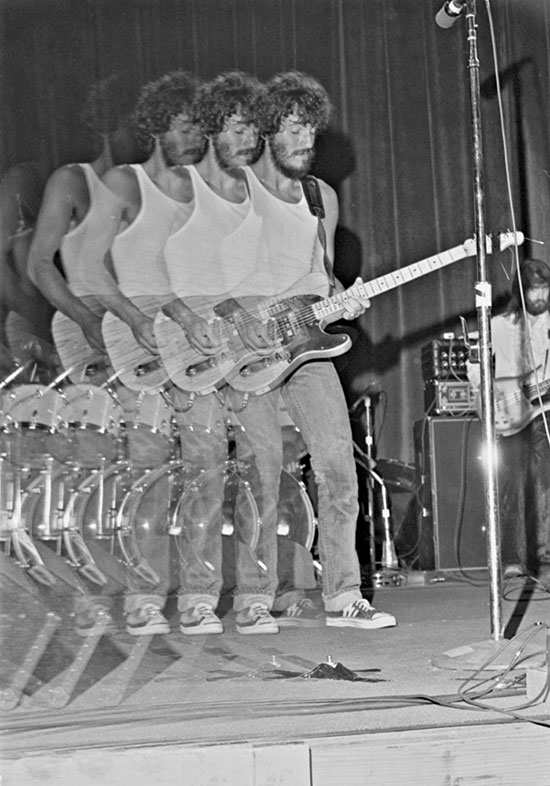 A gallery show opens next week to celebrate the milestone, at Coll's Custom Framing & Gallery in nearby Conshohocken, PA. A big draw for the show: numerous never-before-seen photographs by the late Phil Ceccola, a West Conshohocken native — who not only shot thousands of images of Springsteen in the mid-'70s, but was there at the Main Point that night. (In fact, his photograph of Bruce that graces the cover of Tracks was taken backstage at the club.) Ceccola was a longtime contributor to Backstreets, and his images have also appeared in numerous Springsteen books over the years.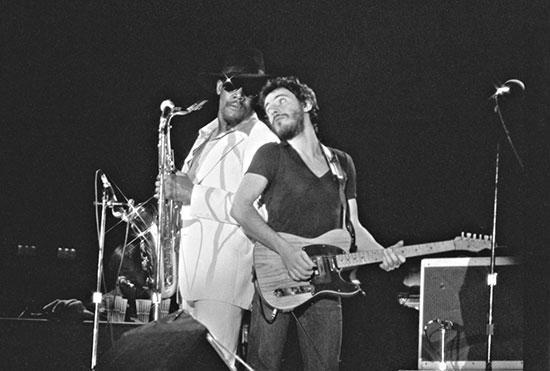 As the press release for Greetings From Conshohocken, PA states: "Ceccola used to chauffeur Bruce around Philadelphia in the early days. His photos are some of the best-known images from the beginning of Springsteen's recording career, starting with Bruce's first gig at the Main Point in 1973 during Bruce's 'bearded years' with many striking images from the early-to-mid-'70s. Sadly, Ceccola passed away in 2003, but his brother is now making available some of Phil's unseen photographs... for the first time in the Philadelphia area."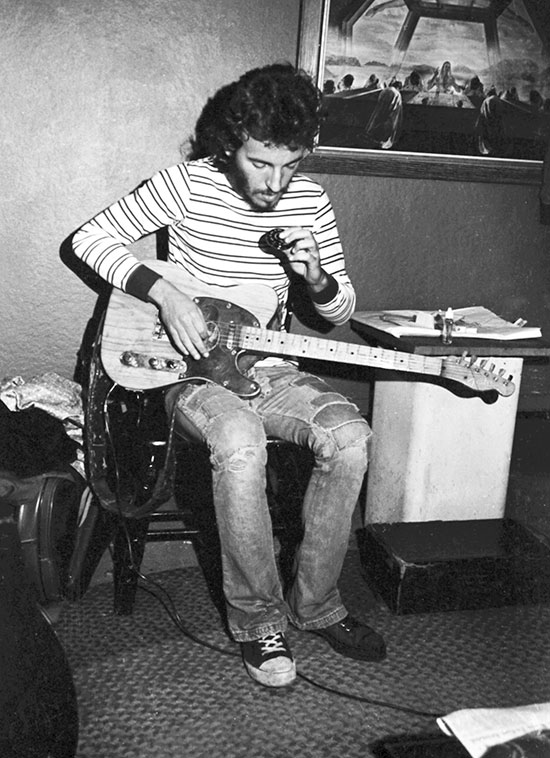 In addition to Ceccola's, Springsteen photos will also be on display from local photographers David Denenberg, Alex Lowy, Tom Collins, and others. A curated collection of Springsteen memorabilia will also be exhibited and available for purchase. Greetings From Conshohocken's opening reception, open to the public, will be held on the anniversary itself: February 5, from 5pm to 7pm. The exhibit will then run all month, on display through Saturday, February 29. Coll's Custom Framing & Gallery is located at 324 Fayette Street in Conshohocken. See the Facebook Event page for further information.
- January 30, 2020 - all photographs by Phil Ceccola, with thanks to Russ Ceccola and Scott Segelbaum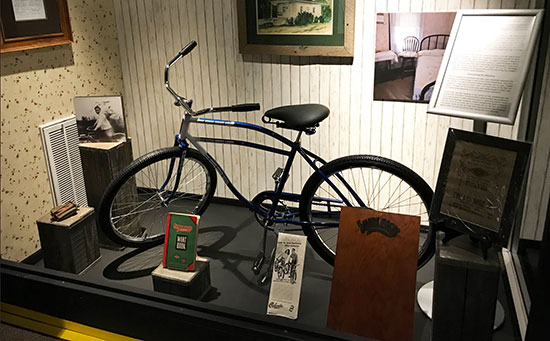 WINGS FOR WHEELS
Elvis Presley's childhood bicycle, featured prominently in Zimny's Searcher doc, gets restored and displayed for EP@85
Elvis Presley's newly restored childhood bicycle has made its debut this month on display in Graceland's Trophy Building, as part of the celebration of the 85th anniversary of Presley's birth.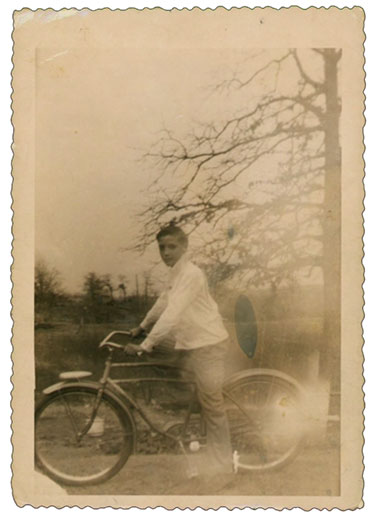 The bicycle served as a major visual metaphor in Thom Zimny's documentary Elvis Presley: The Searcher, which featured commentary from noted Elvis acolytes Bruce Springsteen and Jon Landau (who also was one of its producers.) The bicycle first appears in the film's opening image: a family photo of young Elvis astride his bike, accompanied by audio of Priscilla Presley stating, "Elvis was a searcher. It's a part of him that never left."
Later, in the documentary's moving penultimate sequence about Elvis recording "Hurt" at Graceland, the bicycle appears in its modern-day, pre-restoration form: rusty and broken down, but still mounted lovingly on the wall of Graceland's Smokehouse. (The bicycle used in several other re-enactment/mood-setting shots throughout the film was a replica-prop.)
At the 2018 world-premiere screenings of Elvis Presley: The Searcher, Zimny told us, "I worked with visual metaphors of things I got obsessed with; one of the early things was the bike. The bike in the film is an image of Elvis's childhood life. While taking a tour of Graceland, I saw a rusted bike... I then saw a photo of Elvis as a child with that kind of bike, and realized that there's a very good chance that it's the same one. I thought about the importance of that bike, and also his life: how many things he'd lost, but he held on to this bike.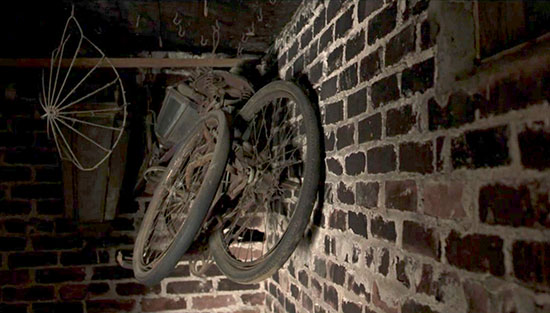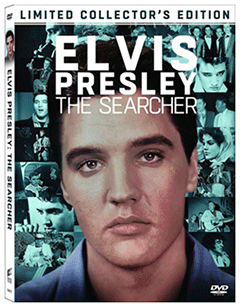 "So that became a visual metaphor for the film and also became a metaphor for the searcher himself — Elvis — because he would go on his bike, go around town, go to the churches, go to the different clubs and explore. All of that comes together in the cutting room [where, Zimny recently informed us, he kept a copy of the photo of Elvis and his bike displayed while editing his film] — many times unconsciously, but you try to stay in that dream space and try to tell a story that feels fresh, but also educates a generation in some ways about the beauty and music of this man."
Recently the Graceland Archives team succeeded in proving Zimny's and their suspicions to be correct: the bicycle in the family photo shown in The Searcher was indeed the rusted bike hanging in Graceland's Smokehouse. Click here to read more about the team's research and restoration.
Elvis Presley: The Searcher remains available as a DVD for purchase at Backstreet Records, in both a regular edition and Collector's Edition.
- January 27, 2020 - Shawn Poole reporting – Special thanks to Angie Marchese, Vice President of Archives and Exhibits at Elvis Presley Enterprises, and Thom Zimny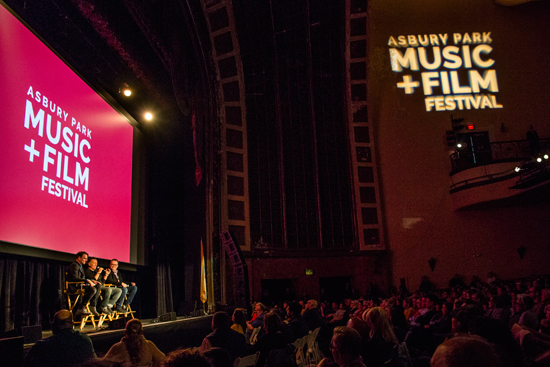 TICKET ALERT: ASBURY PARK MUSIC + FILM FESTIVAL
Zimny returns to APMFF for another dive into the Springsteen Archive
Last year, director and archivist Thom Zimny brought a slew of rare and unseen footage from The Bruce Springsteen Archives to the Asbury Park Music + Film Festival. This year, he's coming back for a sequel.
On April 25 at 4pm, a new batch of Zimny-curated unseen footage from the Thrill Hill Vault will show on the big screen at the at the Paramount Theatre in Asbury. Backstreets' Chris Phillips will again be on hand to moderate a Q&A with Zimny afterwards. No special guests are guaranteed, of course... last year's surprise was a last-minute surprise to everyone. But the Archives event was a hit well before the local hero showed up, for the astounding footage alone — so we hope you'll join us again in April. Tickets are on sale now at apmff.org/tickets.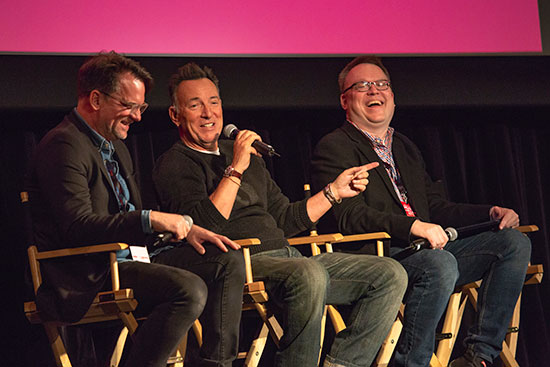 From this morning's press release:
THE BRUCE SPRINGSTEEN ARCHIVES RETURNS TO THE 2020 ASBURY PARK MUSIC + FILM FESTIVAL

Exclusive screening of rare and never before seen clips from the Thrill Hill Vault celebrating 20 years of collaboration in film between Bruce Springsteen and Thom Zimny

Asbury Park, NJ (January 21, 2020) - The Asbury Park Music + Film Festival (APMFF) and the Bruce Springsteen Archives and Center for American Music at Monmouth University are proud to announce the return of The Bruce Springsteen Archives taking place at the Paramount Theatre on Saturday, April 25 at 4:00 pm ET. Tickets are priced at $30.00 and $25.00 can be purchased at apmff.org/tickets.

Thom Zimny, long time film director and archivist for Bruce Springsteen, will once again present an exclusive screening of rare and never before seen footage of Springsteen from the Thrill Hill Vault spanning from his early years to recent tour highlights. Following the screening, a panel discussion and Q&A will take place moderated by Backstreets editor, Chris Phillips.

Zimny is a Grammy® and Emmy Award®-winning artist, who recently won an Emmy® for outstanding director for SPRINGSTEEN ON BROADWAY [NETFLIX / 2018]. His most recent feature WESTERN STARS [Warner Bros / 2019] was co-directed alongside Bruce Springsteen, and premiered at the Toronto International Film Festival and was an official selection at London's BFI.

Also premiering in 2019, THE GIFT: THE JOURNEY OF JOHNNY CASH [YouTube / 2019] which was made in collaboration with the Cash Estate, The Kennedy Marshall Company and Imperative Entertainment. The Gift premiered at the 2019 SXSW Film Festival and was featured internationally at the CPH:DOX film festival in Copenhagen. His previous film, ELVIS PRESLEY: THE SEARCHER, a two-part feature, premiered at SXSW and aired on HBO in 2018, receiving widespread critical acclaim.

He has previously directed and produced two feature length documentaries chronicling key chapters in Bruce Springsteen's recording career, winning a Grammy for WINGS FOR WHEELS: THE MAKING OF BORN TO RUN, while THE PROMISE: THE MAKING OF DARKNESS ON THE EDGE OF TOWN premiered at the Toronto International Film Festival and was subsequently released on HBO.

Zimny has worked with Springsteen for the past 20 years, directing both BRUCE SPRINGSTEEN'S HIGH HOPES [HBO / 2014] and THE TIES THAT BIND [HBO / 2015], the short film for High Hopes track HUNTER OF INVISIBLE GAME, co-directed with Bruce Springsteen, and several music videos. He has also helmed music videos for Bob Dylan, The Low Anthem and many others.

Zimny previously edited three seasons of the highly acclaimed HBO series by David Simon, THE WIRE. He has also served as a consulting producer on Trouper Production's DOWNLOADED (VH1 / 2014) and DEEP WEB (Epix / 2015) and as a Music Consultant on HBO Miniseries SHOW ME A HERO.

"I'm honored to celebrate my 20 year collaboration with Bruce and Jon (Landau) by sharing some of the treasures, both recent and past, from the Springsteen Archives with the fans," said Zimny.

"We are grateful to have Thom Zimny return to present rare concert footage of Bruce Springsteen's live career on stage at this year's Asbury Park Music + Film Festival," said Eileen Chapman, Bruce Springsteen Archives and Center for American Music at Monmouth University. "Last year's event turned out to be one of the real highlights of the year in Asbury Park and we look forward to another memorable afternoon again on April 25th."

The not-for-profit APMFF will benefit underserved children in Asbury Park and its surrounding areas by providing music education, instruments and social connection opportunities.

The APMFF returns for its sixth year and is scheduled for April 23-26 in Asbury Park, NJ. The Festival will also feature "An Evening With The Sopranos Creator David Chase" on Saturday, April 25 at 7:00pm and performance by Melissa Etheridge on Thursday, April 23 at 7:30pm, both happening at the historic Paramount Theatre. Dylan Archives V, a Festival staple over the last four years, will make its return on Sunday, April 26 at noon at the House of Independents.
- January 21, 2020 - photographs by Chris Spiegel/Asbury Park Music & Film Festival


WINTERFEST WEEKEND, JUST LIKE OLD TIMES
After five years, Bruce was back to help celebrate 20 years of Light of Day
January 2020 brought the 20th year of the Light of Day festival to Asbury Park, NJ. Two decades on from its humble beginnings — as a gathering of friends performing and celebrating local music manager Bob Benjamin for his birthday, following his diagnosis of Parkinson's disease — Light of Day Winterfest has grown to encompass two full weeks of performances in New Jersey, New York City, and Philadelphia, as well as tours in Canada and Europe. Light of Day 2020 brought to the table many artists, both familiar and new, local and international, all to bring the total monies raised to find a cure to over 6 million dollars this weekend.
Winterfest's focus in Asbury Park over the past few days included a music crawl downtown and non-stop bills at every location in town that could fit a stage and P.A. Highlights included Remember Jones, who did a stellar full album performance of The Who's Tommy [above], as well as an album release party by The Weeklings and a rare reunion performance by The Bongos. As usual, the Light "Main Event," still a birthday party for Benjamin, was Saturday night at the Asbury boardwalk's Paramount Theatre.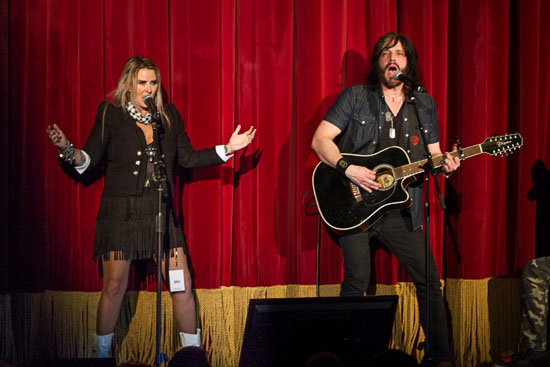 The Paramount bill was stacked with longtime supporters of the cause: Willie Nile, Jesse Malin, Joe D'Urso, Joe Grushecky and the Houserockers, as well as actress Jill Hennessy, James Maddock, The Weeklings, Jersey Country duo Williams Honor [above], Dramarama, and more. All fairly typical for Light of Day, maybe… but with Bruce Springsteen back in the house after a five-year absence, this night was going to be anything but ordinary.
The secret was out for many who had been listening at the door outside in the Convention Hall arcade, as the familiar strains of "Because the Night" echoed through the vacant Paramount Theatre during soundcheck. But many in the sold-out crowd were unaware of the presence of the hometown hero — unbilled, as always — until he walked out from stage left during Jesse Malin's early evening set.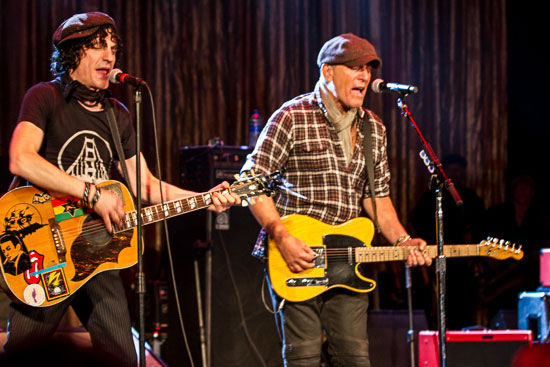 Bruce joined Jesse for a heartfelt duet on "Broken Radio," a song that originally paired the two on Malin's Glitter in the Gutter album. Springsteen, dressed smartly in Born-to-Run-era newsboy cap and plaid flannel shirt, then stuck around to contribute guitar and vocals to "Meet Me at the End of the World."
Perennial Light of Day favorite Willie Nile can always be relied upon to get audiences going, and his brief, lively set, including "House of a Thousand Guitars" (dedicated to Clarence Clemons) did not disappoint. The anthemic "One Guitar" drew a not-so-surprise appearance by Bruce, who once again appeared from stage left to contribute guitar solo and backing vocals.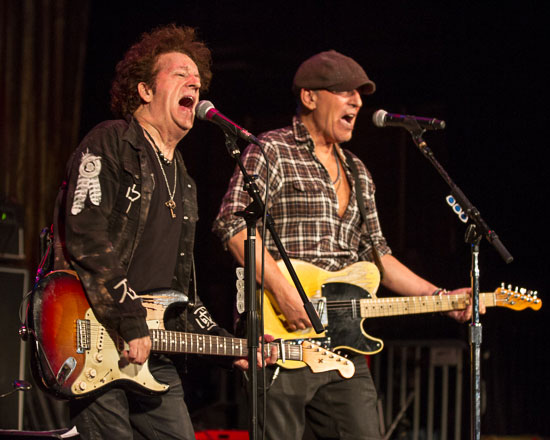 Given these two appearances, and with Joe Grushecky's headlining set yet to come, the audience was now lying in wait for another assault from Springsteen and the Houserockers, customary for Springsteen's LOD appearances over the past two decades. This time out, their set was further elevated by the energetic presence of Jeff Levine (John Eddie, Red Bank Rockers) on organ.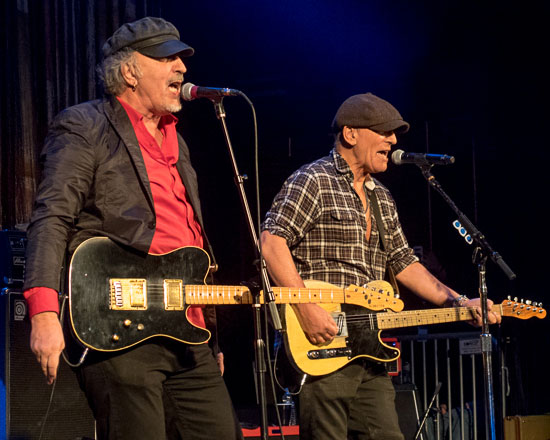 Grushecky, Springsteen & Co. opened with Joe's "Talking to the King" and rocked their way through an eight-song set that interspersed Springsteen classics like "Atlantic City" (always a highlight and audience favorite), "Darkness on the Edge of Town" and "The Promised Land" with the Houserockers standard "Pumping Iron" and American Babylon's "Never Be Enough Time."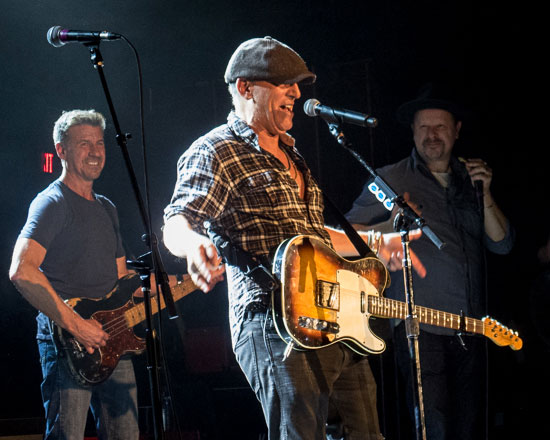 Photographer and longtime Springsteen collaborator Danny Clinch came out for a rousing version of "Pink Cadillac" [above], which was followed by a set-closing "Savin' Up." The Springsteen-penned tune was originally performed by soul man J.T. Bowen on C.C. & the Red Bank Rockers' Rescue album, but fairly infrequently by Bruce himself.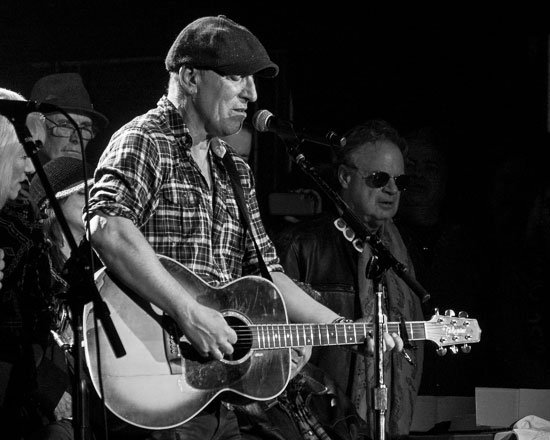 House lights up for the encores, it was time for the sing-along portion of the program, as various Light of Day performers packed themselves onto the stage for the annual group performance of the event's theme song. "Thunder Road" followed [above], reinvented as an audience tribute/sing-along, after which Bob Benjamin was brought to the mic for a birthday tribute. Happy birthday, Bob, and happy 20th to Light of Day — almost old enough for a toast. Next year!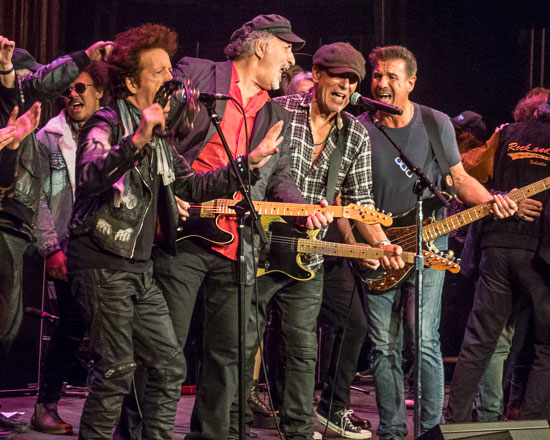 Setlist:
Broken Radio (with Jesse Malin)
Meet Me at the End of the World (with J.M.)
One Guitar (with Willie Nile)
Talking to the King (with Joe Grushecky & the Houserockers)
The Promised Land (with J.G. & the Houserockers)
Pumping Iron (with J.G. & the Houserockers)
Atlantic City (with J.G. & the Houserockers)
Never Be Enough Time (with J.G. & the Houserockers)
Darkness on the Edge of Town (with J.G. & the Houserockers)
Pink Cadillac (with J.G. & the Houserockers + Danny Clinch)
Savin' Up (with J.G. & the Houserockers)
* * *
Light of Day (with all)
Thunder Road (acoustic, with all)
Happy Birthday (with all)
- January 20, 2020 - Lisa Iannucci reporting, with thanks to A.M. Saddler and Craig Scupp - photographs by A.M. Saddler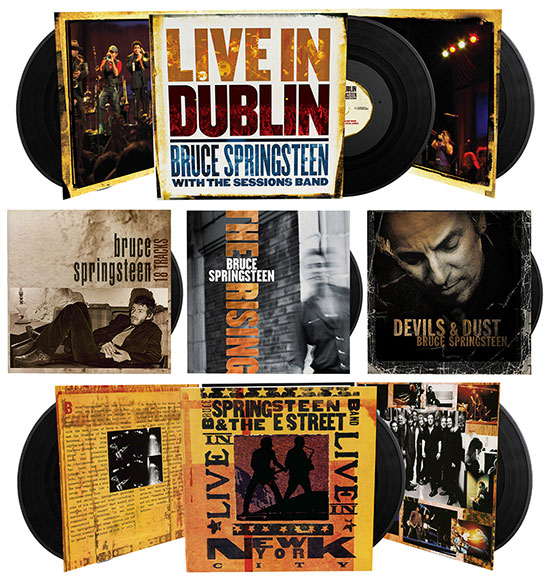 THIRD WAVE OF VINYL REISSUES DUE FEBRUARY 21
Pre-ordering open now at Backstreet Records, with a drawing for one lucky winner
In 2014, Columbia Records/Sony Legacy began a reissue campaign for Bruce Springsteen's albums, beginning with the first seven, collected in The Album Collection Vol. 1, 1973-1984. In 2018 a second batch followed, with new pressings of platters from Tunnel of Love through the Blood Brothers EP; these were collected im a second box as The Album Collection Vol. 2, 1987-1996.
Next month, the third batch arrives. Though it's only Volume 3 in spirit — there will be no box set to collect these titles — the next wave of Springsteen vinyl will arrive on February 21, 2020, bringing four LPs back into print and one album to vinyl for the first time. All five are now up for pre-order from Backstreet Records.
Live in Dublin, capturing concert performances from November 2006 with the Sessions Band, was originally released in 2007 on CD/DVD/Blu-ray. The 2020 vinyl debut will be a 3LP set, in a double gaetfold sleeve.
But likely the most in-demand title, despite its previous availability, will be Live in New York City. Long out of print and commanding steep second-hand prices, this title will be reissued in its original 3LP configuration with gatefold sleeve.
The remaining titles are all also long out-of-print and very welcome additions to the available catalog in 2LP form: 18 Tracks, The Rising, and Devils & Dust.
While Volumes 1 and 2 made use of the Plangent Process to for the best possible transfers from the original analog masters, no such step is required for this new batch of recordings from 1999-2006, all of which were originally released in the digital era. No remastering was deemed necessary. But each will be pressed from the highest quality masters and, like the previous reissues, pressed on 150-gram vinyl.
For a truly analog piece of memorabilia... check out the original Live in New York City letterpress print from Hatch Show Print we're giving away below! Pre-order any or all of the forthcoming vinyl to be entered into a drawing to win it.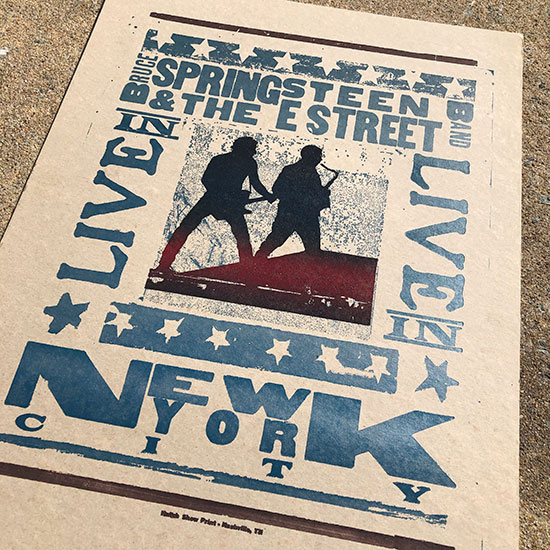 Live in New York City letterpress print giveaway!
When the one-and-only Hatch Show Print shop in Nashville created the artwork for Live in New York City using old-school letterpress print methods, they also used the same blocks to create a limited batch of proofs and posters. A reproduction of one of these posters was included in the Greetings From E Street book… but we have an original. And we're giving it away.
In honor of the long-awaited reissue of Live in New York City on vinyl, we're holding a drawing to award this original Hatch letterpress poster to one lucky Backstreet reader. With typical Hatch Show playfulness, these posters varied widely — in terms of ink color as well as color and type of paper stock — making each one relatively distinct. Our particular specimen is pictured above, measuring 17.5"x23" with darker ink (blue and black blended into red) on medium-weight chipboard stock.
For each title you pre-order from the batch of February 21 LP releases (Live in New York City and/or any of the other albums coming that day: 18 Tracks, The Rising, Devils & Dust, and Live in Dublin), you'll be entered once into the drawing. Order all five, and get five entries.
In order to be entered into the drawing, pre-order(s) must be placed by February 20. Drawing will take place on release day, February 21, and the winner will be announced as well as notified by e-mail.
Visit our shop to see the five titles coming Feb. 21
and pre-order now to enter the drawing!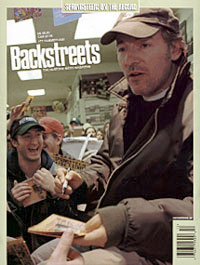 For more on the design and printing process for the Live in New York City cover art, see our story in Backstreets #71, which included an interview with Hatch Show designer, director, and master printer Jim Sherraden. Among many other insights, he reveals that the stars on the LINYC cover were printed with blocks originally used on an Elvis Presley poster in 1956.
NO PURCHASE NECESSARY for this sweepstakes: entries will also be accepted by mail. Write your name, email, phone number, and shipping address on a 3x5 notecard and mail individually for arrival by February 20 to: BACKSTREETS, 1818 MLK Jr. Blvd. #300, Chapel Hill, NC 27514. A maximum of five entries per person will be allowed, and any personal information we collect will not be shared.
- January 18, 2020

I TOOK A WRONG TURN AND I JUST KEPT GOIN' ON ELDRIDGE AVENUE
Lauren Jenkins releases a unique pair of country-tinged River@40 covers
Today our pal Lauren Jenkins, the young singer-songwriter whose debut album No Saint has been garnering much critical acclaim and positive word-of-mouth, releases a pair of unique, country-tinged Springsteen covers to kick off The River's 40th anniversary year in high style.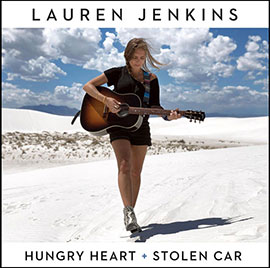 A major Springsteen fan, Jenkins has just released a digital single containing her versions of "Hungry Heart" and "Stolen Car."
"I'm not a big cover-song person," Lauren tells us. "I don't do a lot of covers at my live shows or record many of them, but I've wanted to record my own version of 'Stolen Car' for quite some time. I wanted to share with others the version that I've had playing in my head, which is kind of a cross between Bruce's original recording and Patty Griffin's cover.
"And I especially wanted to record my version's repetitive 'It's gonna be alright' ending, because that's an image that's stuck with me after listening so intensely to this song for so many years: somebody trying to convince themselves that things will be alright when they won't."
For those familiar with the turf that Jenkins usually covers in her own songwriting, it should come as no surprise that she is especially fond of Springsteen's darker, troubled-relationships-themed material. That includes "Hungry Heart."
"'Hungry Heart' is one of his songs where the story contains so much sadness, despite the upbeat music," Jenkins tells us. "I really wanted to record a version that sounded and felt like what the lyrics were saying." Her version of "Hungry Heart" — which, along with "Stolen Car," was recorded with her friends Gabe and Gideon Klein at their Shuffle Brother Studios — musically matches the melancholy aspect of Springsteen's lyrics.
Hearing these two songs performed back-to-back in this digital-single release makes it even easier to hear that the narrator in each of these story-songs could very well be the same person, telling you different details about the same failed relationship. Jenkins also kept in all of the original pronouns that Springsteen wrote and sang, adding additional layers of perspective and meaning to songs that the world first heard almost four decades ago.
"I've been in pitch meetings where people will submit songs for me to consider recording," Jenkins told us, "and I often want to say to them, 'Do you have anything that you wrote, like, 40 years ago, that still holds up today?' Because that's what it's like with Bruce's stuff: these forty-year-old songs are still that good."
Click here to purchase/download/stream Lauren Jenkins' "Hungry Heart"/"Stolen Car" digital single. Later this month, Jenkins will launch a two-week tour of Europe with country-music star Brett Eldredge. (Just a coincidence: Eldredge's last name sounds like, though isn't spelled quite the same as, the name of the avenue in "Stolen Car.") On these upcoming European tour dates, audiences at each show can expect to hear Lauren perform at least one of the Springsteen songs she's recorded, and she also intends to perform several new songs of her own that are slated for her next album, currently in pre-production mode. Visit LaurenJenkins.com for details, dates, and tickets.
E Street Radio subscribers can check out Lauren's 2019 Guest DJ session, which is being re-aired today at 4 pm on Sirius/XM channel 20, and again tonight at midnight and tomorrow (Saturday) at 8am (all times ET). Jenkins talked to us about this session and her Springsteen fandom in our first Backstreets conversation with her last June, now archived here.
- January 17, 2020 - Shawn Poole reporting

LOD UPDATE: SPRINGSTEEN ON SUNDAY TO BROADCAST LIVE
Drop anchor in the Grand Arcade for Cunningham's "Morning After" show
Light of Day Winterfest is in full swing, kicking off last night in Asbury Park and with big events all weekend, including the Asbury Angels show tonight and the cornerstone Paramount Theatre concert tomorrow — see our highlights listing below and the complete schedule at lightofday.org.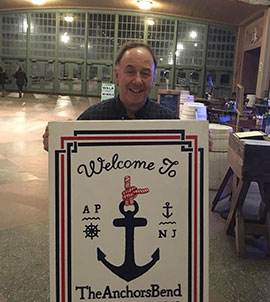 One more Light of Day 20 event we just added: Sunday morning, Tom Cunningham will be broadcasting his Springsteen on Sunday show live from the Asbury Park boardwalk.
Join Cunningham at the Anchor's Bend in the Grand Arcade for his annual "The Morning After'" live broadcast, on 107.1 The Boss in Asbury Park. For the fourth year in a row, he'll be joined by a bevy of guests, most of whom will have performed at Bob's Birthday Bash the night before at the Paramount.
All attendees will have a chance to win the limited edition Springsteen on Sunday T-shirt plus other cool Boss swag, and someone will walk away with a copy of the newly re-released book For You: Original Stories and Photographs by Bruce Springsteen's Legendary Fans.
"There's no admission charge, and the Anchor's Bend has an amazing brunch and breakfast menu — it's always a good time," says TC. Join him Sunday morning from 9 to 11, or listen live on 107.1 The Boss at the Jersey Shore, streaming anywhere at 1071theboss.com.
- January 17, 2020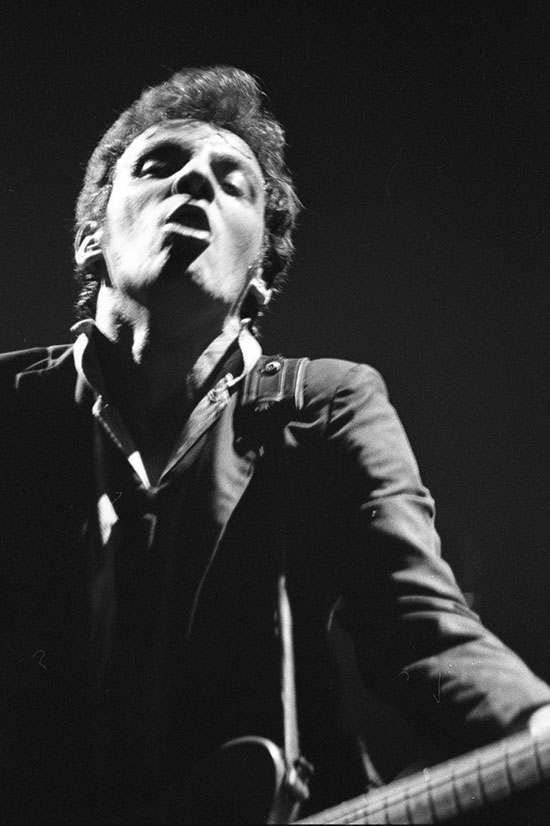 "A TOTAL ASSAULT ON THIS REGION"
The strategic significance of the Winterland shows and the five '78 radio broadcasts
Some collectors refer to them as the Fab Five, them being the quintet of radio broadcasts on the Darkness tour from The Agora in Cleveland, The Roxy in Los Angeles, the Capitol Theatre in Passaic, the Fox Theater in Atlanta and, finally, on December 15, 1978, Bill Graham's Winterland in San Francisco.
All five broadcasts (four of which have been officially released in the live archive series) have been beloved by fans from the moment they aired and were undoubtedly recorded on thousands of home tape decks as they happened. Over the next 40+ years, those tapes spawned myriad copies, famous bootlegs like Piece de Resistance and Live in the Promised Land, and gray market European CDs — all of which helped spread the gospel and build the legend of Bruce Springsteen in concert.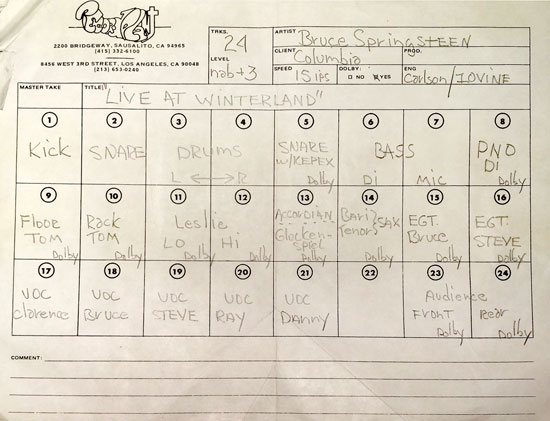 In hindsight, the '78 broadcasts look like one of the greatest marketing decisions of all time. Now, thanks to contemporary documents shared with Backstreets by former Columbia product manager Dick Wingate (who worked closely with Springsteen in the Darkness era), we can see the strategic planning that went into the radio broadcasts and, interestingly, the tour's final leg.
In an October 26, 1978 memo to Fred Humphrey, then Columbia's head of national album promotion, Jon Landau explains the purpose of the Nov-Dec shows as "developmental," hitting markets where one more performance could push Bruce over the top, rather than return to cities already conquered. "We can finish the job," he writes.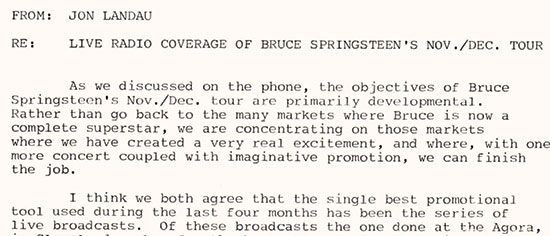 Landau goes on to say that the radio broadcasts have proven to be the "single best promotional tool" in the arsenal.
Surprisingly, San Francisco was on the list of cities yet to be conquered. Bruce played theater-size venues in Berkeley and San Jose in June; by comparison, he was already hitting arenas in Los Angeles and Phoenix just a few days later.
Landau's memo lays out a plan to distribute copies of the Agora broadcast recording to stations in upcoming tour markets to air a few days before Springsteen and the band hit town, priming the pump for the performances and undoubtedly ensuring those shows were sellouts by the time they arrived.
"The one exception to the use of a prerecorded tape would be our show at Winterland," he writes, where the San Francisco show would air live on local FM station KSAN as well as key markets in the Northwest.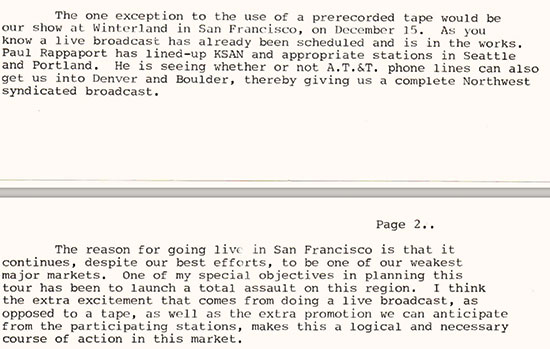 "Despite our best efforts, [San Francisco continues] to be one of our weakest major markets," Landau acknowledges. "One of my special objectives in planning this tour has been to launch a total assault on this region." The original press release announcing the Nov-Dec tour lists only one show scheduled in San Francisco. A second was ultimately added, which meant demand for Springsteen was already growing prior to the broadcast.

Regardless of the organic fan growth occurring prior to the shows, the Winterland broadcast forever cemented Springsteen's relationship with the Bay Area. It became one of those "Oh my god, you were there?" performances, the stuff of legend. When Springsteen returned to the Bay in 1980, he quickly sold out two shows at the Oakland Coliseum Arena and it has been one of his strongest markets ever since.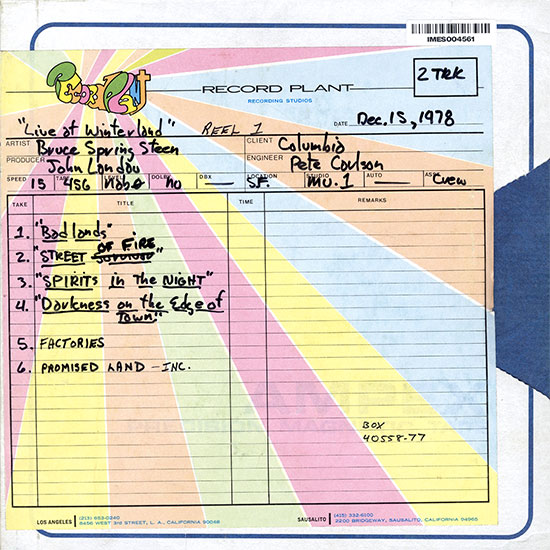 The archive release of both shows — the legendary December 15 broadcast from newly discovered two-track master reels and the previously unheard second night from December 16 — only expand on the Winterland legend, capturing Bruce and the band at the top of their game and, we now know, on a strategic mission to claim another territory for E Street Nation.
- January 16, 2020 - Erik Flannigan reporting - 12/15/78 concert photograph by PJay Plutzer/@prisonerofrockandroll - special thanks to Dick Wingate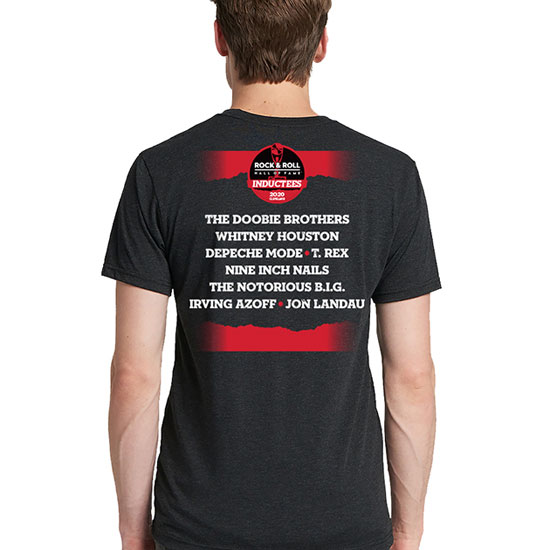 WE SAW ROCK AND ROLL HALL OF FAME FUTURE
And its name is Jon Landau
It flashed before our eyes this morning, with the announcement of the next Rock Hall inductees: Jon Landau — rock journalist and critic, editor, record producer, and, crucially, artist manager — will this year follow Bruce Springsteen (Class of 1999) and the E Street Band (Class of 2014) into the Rock and Roll Hall of Fame. Landau will be honored with the Ahmet Ertegun Award at the 35th Annual Rock & Roll Hall of Fame Induction Ceremony this spring, making him part of the Class of 2020.
It's too soon to confirm who will do the speechmaking honors when it comes to Landau's induction, but we have a fair guess.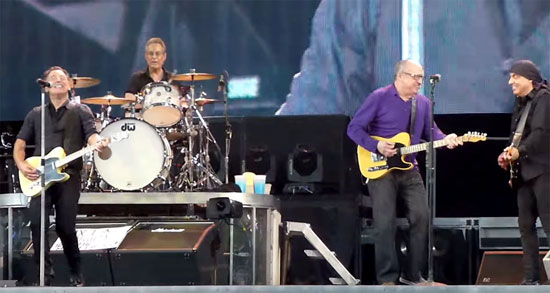 Springsteen has already spoken about his longtime manager and friend on the Induction Ceremony stage; when accepting his own honor in '99, Bruce had many kind words for "Jon Landau — or as I sometimes call him, Jon 'Thank God I'm a Country Boy' Landau":
I've seen the future of rock 'n' roll management, and its name is Jon Landau. Return the favor, there [laughs]. That quote was managing. It was a mite burdensome for me, but as he often said, "That's your job." But Jon's given me something beyond friendship and beyond guidance: his intelligence, his sense of the truth, his recognition of my intelligence. We were worlds that collided. His creative ability as a producer and editor — speechwriter earlier this evening — his ability to see through to the heart of matters, both professional and personal, and the love he's given me has altered my life forever. What I hope to give to my fans with my music — a greater sense of themselves and and greater freedoms — he with his talents and his abilities has done that for me. There's no "thank you" tonight that's gonna do the job. It's a debt that I can't repay, one that I treasure owing.
This morning, an "ecstatic" Landau appeared by phone on SiriusXM's E Street Radio, discussing today's Rock Hall announcement with Live From E Steet Nation hosts Dave Marsh and Jim Rotolo:
Thank you very much. I'm really enjoying today. Two great things today… One is our daughter Kate's 35th birthday — hello, sweetheart, if you're out there listening, which she does — and being inducted into the Hall of Fame, being given this award named after one of the most creative figures in the history of popular music, Ahmet Ertegun.

John Sykes, who is the new Chairman of the Hall of Fame — he's in his first year, having succeeded Jann Wenner — told me over the weekend, and I was just ecstatic. What else would you be, you know? I've been intimately involved with the Hall of Fame almost since the beginning, and I've done everything I can to help to create and maintain a high level of integrity about who is inducted, how we go about it, and the fairness of the process. And to turn around and be honored by the Hall of Fame is a very moving thing for me.

I was very pleased that when John first told me about this, he pointed to three things. The first was my contribution to music journalism, which began in the mid-60s, and went on until 1977, in particular my association with Rolling Stone from the first issue of the magazine in 1967, and the role I played in developing the whole process of intelligent, real, serious — and humorous, sometimes — commentary about popular music. People have no way of knowing it, but around the time The Beatles came out, rock criticism at your daily newspaper would be somebody from the sports desk who didn't have anything else to do that night being sent to The Beatles' concert to write a review.

There was no consciousness, there was no sensibility about covering and talking about the music in some kind of real way, and there were many pioneers in this. One of them is an old, late friend named Paul Williams, who created Crawdaddy Magazine, the original Crawdaddy, where I first published. Paul did as much as anybody to launch the idea of the modern discussion of our music in a real way. So that was a great blessing for me, to have met Paul and be involved.

The next really influential figure in that process was Jann Wenner, and Jann, with Ahmet, Allen Grubman, Seymour Stein, and Suzan Evans Hochberg, had the original idea for the Hall of Fame. But Jann — his role in creating Rolling Stone, the first thirty years of Rolling Stone, especially — became a central platform for the ongoing conversation about the music. So that was a thrill to be a part of, and for that to be part of the recognition, or the reason for the recognition, as it was explained to me.

And then of course I morphed from a critic into a producer, and from a producer into a manager, and… wow. I've spent the last 45 years working with and, I think, having a very singular relationship with one of the greatest artists we're ever gonna have in any field, which has been immensely satisfying and thrilling to be recognized for whatever it is I did in that regard.

I was an above-average guitar player in the '60s. Many rock writers are wannabe musicians and figured out that they weren't good enough and found some other way to stay in the game, and that was me. I had a band in college, and I was offered a record contract, and I decided that we were pretty good but we weren't good enough, and were never gonna be great. So I turned my attention to writing about the music, and then being able to work with artists and contribute something to what they're doing, to add a little piece and to be part of the game.

I developed a great interest in the visual arts, going back 40 years. Through the success I've had, I've been able to collect art, and what has most interested me is… I sort of go backwards, and it's the art of the Renaissance and the art of the Baroque, the classic European art. And to be so deeply immersed in pop music and in classic visual art… they speak to each other in a funny way. And I love to, with my art-oriented friends, drive them crazy when I say that as great as Michelangelo was (and there was no limit to his greatness), when you hear a perfect record — for example, Martha and the Vandellas' "Heatwave" — fundamentally, it's the same experience. It's the emotional depth at which the artist can reach you. And the whole distinction between "high art" and "low art," "popular art" and "serious art"… I reject all of it. There's only one art, and it's the art that can communicate from one heart to another heart, and that's what it's all about.
The 35th Annual Rock and Roll Hall of Fame Induction Ceremony will be held on May 2 at Public Auditorium in Cleveland, Ohio, the first-ever induction ceremony to be broadcast live, exclusively on HBO.
- January 15, 2020 - Christopher Phillips and Shawn Poole reporting, with thanks to our friends at E Street Radio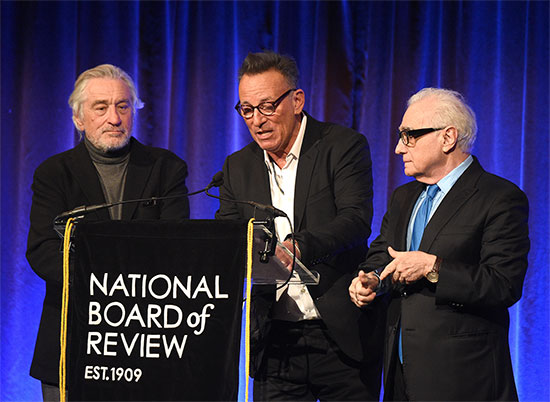 WHAT'S EATING BOB, MARTY, AND AL
Bruce on "my mentors at a distance... no one in films has ever done it better "
No recognition for Western Stars among today's nominations for the 92nd Academy Awards, but The Irishman (which features a turn from Stevie Van Zandt as Jerry Vale) garnered a whopping 10 nods. As we reported last week, Bruce Springsteen recently praised the film and its main players, presenting the Icon Award to the trio of Martin Scorsese, Robert De Niro, and Al Pacino at the January 8 award ceremony for National Board of Review.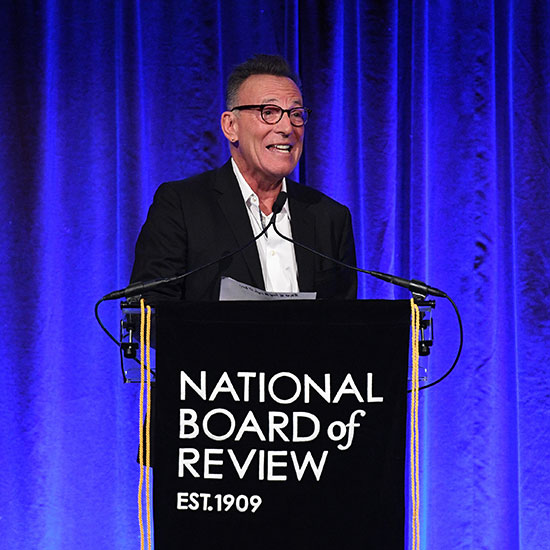 Thanks to brucespringsteen.net, we have the full text of Springsteen's remarks:
I once read Marty said that it's the job of the artist to make the audience care about his obsessions. If that is our measure of success, then filmmaker Martin Scorsese, actor Robert DeNiro, and actor Al Pacino, the three men we've come to honor tonight with the Icon Award, have been deeply successful. An icon is a beacon notable to all that ultimately stands for much more than itself.

So what do these men represent to us? Longevity? Each of them has been at their respectful trades for half a century, culminating with a historic collaboration in their new film, The Irishman. Is it excellence? If awards are the measure of value, they have 27 Oscar nominations and four wins between them. And even with that, they've been screwed!

If a hold over the public consciousness is that measure, well, the public long ago told us how important the work of these three men has been to them. I remember standing in long Avengers-like lines, stretching around the block, thrilled, waiting to see Taxi Driver and The Godfather, blockbusters, and recently, with many others, counting down the days until I could slip into the world of The Irishman.

Maybe it's America? The melting pot. Marty, Bob, and Al all hail from a tiny 20 square mile island that nevertheless, if you've seen their films, feels like the capital of the world. They're the fulfilled promise of a nation forged by immigrants and their sons and daughters.

For me, it's the depth of the storytelling. It's a death-defying trip making your emotional and inner life available in the dark to complete strangers. You're on a tightrope, and your commitment is what makes an actor or a filmmaker obsessively watchable. I believe it's the artists with something eating at them that we can't take our eyes off of. Brando, Sinatra, Hank Williams, Dylan. You can't look away.

What has been eating at Marty and Bob and Al all these years, though rampant Catholicism helps, I still don't know. But I hope it never leaves them alone.

They've drawn these strings together beautifully in The Irishman, the occasion of which brings us here tonight. The Irishman plays like an elegy looking back on a life lived in all its triumph and regret. I'm 70 now, and that struck a particularly emotional chord in me and my own work. To watch them do it with such grace and certitude was lovely to behold.

Let me speak as a fan now. I love these guys, I love them for what they've given to the art of filmmaking, for what they've told us about ourselves, and for what they've revealed to us about our country. They have been my artistic role models since my youth, my mentors at a distance, guiding me in the principles of doing my work. In them I've seen the religious commitment, the intensity and dedication it takes to bring forth your vision, reveal your heart, and to tell your story. No one in films has ever done it better than Marty, Bob and Al. It is no wonder we celebrate them tonight. With that, it is my pleasure to present the National Board of Review's Icon Award to Martin Scorsese, Robert DeNiro and Al Pacino.
- January 13, 2020 - photographs courtesy of National Board of Review / @NBRfilm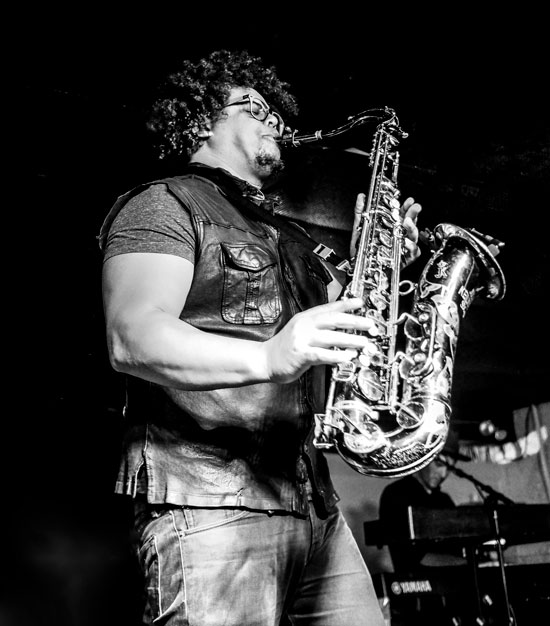 A WINTER BASH FOR THE BIG MAN
Jake and Jarod Clemons team up at the Headliner for Clarence's birthday
As the clock struck midnight at the Jersey Shore, turning Friday into Saturday and officially ushering Clarence Clemons' birthday, a Clemons was on stage.
Not one, actually, but two.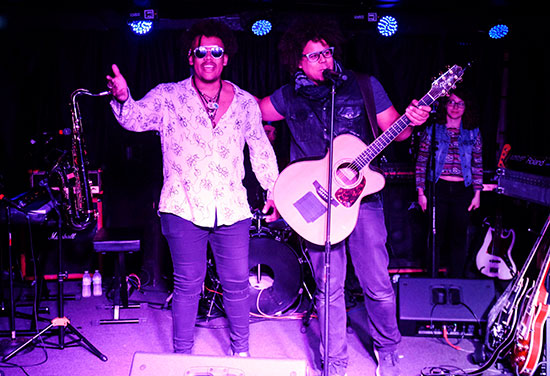 At a little Jersey Shore bar in Neptune, New Jersey, right on the banks of the Shark River, Clarence's son, Jarod [left], and his nephew, Jake [right], stepped to the front of the Headliner stage to honor their father and uncle.
Softly, acoustically, the two performed Clarence's hit song, "You're a Friend of Mine," before a dedicated audience that came to Winter Bash! A Celebration of New Jersey's Annual Clarence Clemons Day, the start of a full-weekend celebration of C's life.
Clarence, as we all know, was a big man with a big heart and a big appetite for all things. Perhaps an acoustic song wasn't the expected way for Jake to kick off his headlining set. Perhaps the audience expected him to pick up his saxophone and strike that classic Clemons pose we all know so well and do a sorrowful version of "Jungleland."
This was not a memorial, however, but a rock 'n' roll birthday party that saw four acts – Mike Rocket, Jarod Clemons and The Late Nights, Bob Polding, and Eddie Testa – precede Jake to the stage.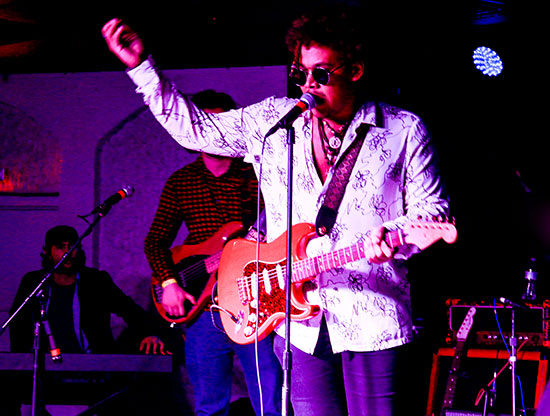 Jarod Clemons, who was 13 when his father passed, has been hard at work laying the foundation for his own musical career. He recently released his debut single, "On the Waves,"which he played during his set at the Winter Bash, and he will be appearing at various venues in New Jersey and Pennsylvania over the next month.
In addition to the single, Jarod and his band also played their brand of bluesy rock into "Ramblewood Parkway," "Why I Sing the Blues," and the Hendrix classic, "Hey Joe."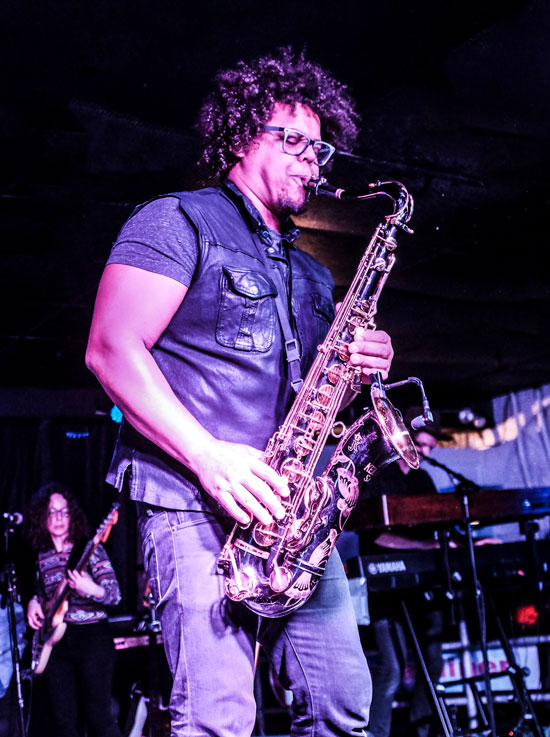 Jake, too, is making his own way in the musical world. He's on tour supporting his second album, Eyes on the Horizon, and, one has to think, waiting to see if an E Street tour is on the near-term docket, like the rest of us. Jake's musical chops were on full display during his set with his band, as he played keyboards, a number of guitars, and, of course, his black-and-gold saxophone. Songs like "Democracy," "We, The People," "Swan Song," and the new album's title track put these skills on full display.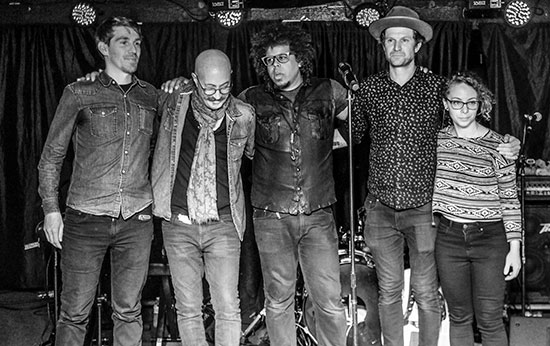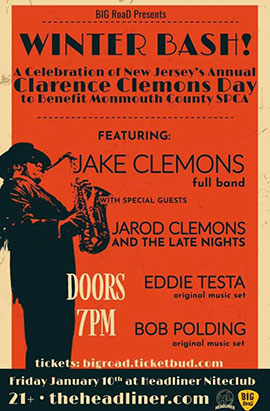 In past interviews, Jake has said he thinks about his uncle every time he performs. On the Headliner stage, he recalled discussing his uncle's passing with Bruce Springsteen, and the question of what he should do next. The advice Bruce imparted to him was along the lines of "…if you carry life around the right way, you don't lose people. You carry them with you." Jake said, in his living and his music, he's trying to keep that in perspective and continue moving forward.
"All you need is a little hope," Jake said, as he launched into a full-Headliner sing-along of that refrain with the crowd.
The BIG RoaD'S Winter Bash helped raise money for the Monmouth County SPCA. Big Man's Brew. There will also be a second Winter Bash show, benefiting the same cause, tonight, Saturday, Jan. 11 at Bar Anticipation in Lake Como, featuring The BIG RoaD All Star Band (including Eddie Testa, JoBonanno, Lisa Sherman, Jillian Rhys McCoy, JaQuita May, Bob Polding, Killer Joe Ferraro and others), The B Street Band, Whiskey Fueled, Colossal Street Jam, Moroccan Sheepherders, Sandy Mack & Friends, Guilty Pleasure, Rich Meyer, Jake Thistle, Tommy Byrne and Ryan Maher.
- January 11, 2020 - reporting and photographs by Mark Krajnak / JerseyStyle Photography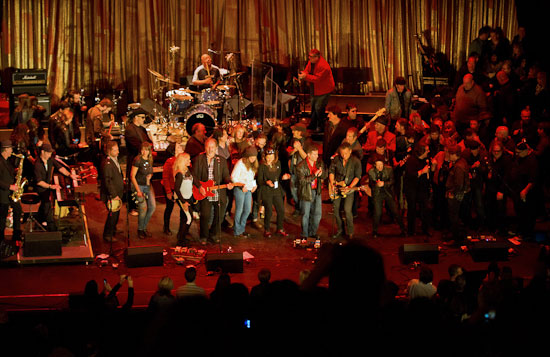 LIGHT OF DAY 2020 REVS UP TONIGHT
Enormous line-up on tap for LOD Winterfest, centering on Asbury Park
It's a brand new year, and, just like that, it's time for the return of the Light of Day Winterfest. Kicking off tonight, the extended 2020 festival will take place January 10-25 in Asbury Park and various location throughout the tri-state area. Winterfest welcomes back longtime participants like Joe Grushecky, Willie Nile, James Maddock, and Joe D'Urso, with many returning artists set to perform at the Saturday night "Bob's Birthday" main event show at the Paramount Theatre (lineup TBA).
Also on tap are sets by Jersey Shore favorites like Billy Walton, J.T. Bowen, and JoBonanno, country duo Williams Honor, up-and-comers like Hollis Brown, and Garden State-based indie bands like The Bongos and Dramarama. The Friday night Asbury Angels show, long a central focus of the festival, will be headlined by The Weeklings, who will be holding their album release party, along with the ever-popular John Eddie.
New this year will be an "After-Fest Matinee" with singer/songwriter Steve Forbert, who will perform his breakthrough 1979 album Jackrabbit Slim in its entirety. Also of note is a Remember Jones performance of Tommy at the Paramount Theatre.
The Asbury Park area events begin on Sunday, January 12, with the return of the "Cover Me" event to the Stone Pony, which will be highlighted by Bob Burger and his band performing a tribute to Elvis Costello. Tickets for all events are available via Ticketmaster.com.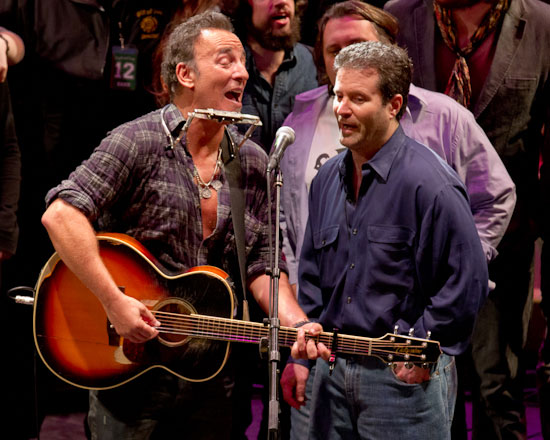 Bruce Springsteen with Light of Day founder Bob Benjamin at LOD 2012 - photograph by A.M. Saddler
Below is a partial listing of Light of Day events; all events are in Asbury Park unless otherwise noted.
Friday, January 10
8 p.m.: Light of Day North Jersey at Outpost in the Burbs, Montclair, NJ. Willie Nile, Jill Hennessy, James Maddock, Glen Burtnik and Bob Burger (from The Weeklings), Joe D'Urso, Danielia Cotton, Williams Honor, Emily Grove, Rick Winowski.
Saturday, January 11
8 p.m.: Light of Day Philadelphia at City Winery Philadelphia. With Willie Nile, Joe Grushecky & the Houserockers, James Maddock, The Weeklings, Joe D'Urso & Stone Caravan.
Sunday, January 12
1:30 p.m.: "Cover Me" at the Stone Pony. With Moroccan Sheepherders, Bob Burger & Friends (Elvis Costello tribute), Experience Janis with CC Coletti, the Carl Gentry Band, others.
3 p.m.: Light of Day Rockland at Penguin Rep Theatre, Stony Point, NY. With Joe D'Urso, Adam Falcon, Guy Davis, Alice Leon, Arlon Bennett, Caleb Caming, Over the Line, Dave Frye.
Wednesday, January 15
6:45 p.m.: Light of Day New York at the Cutting Room. With Willie Nile, Hollis Brown, The Weeklings, Joe D'Urso & Stone Caravan, Jeff Slate.
Thursday, January 16
6:30 p.m.: "Badlands Kick-Off" at House of Independents. With Marc Ribler & Friends (Rolling Stones tribute), Willie Nile, Williams Honor, Colossal Street Jam, Vendetta Rose. Waiting on Mongo.
7 p.m.: "Sandy Mack's Wonder Jam" at the Wonder Bar. ELECTRIC: Fungkshui, Cosmic Jerry Band, Secret Sound, Dogs in a Pile. ACOUSTIC: Nicole Possin & Pete Tonti, Deseree Spinks & Jimmy Farkas, Strumberry Pie, Lindsey DeSena & Zack Loria, ResX Unplugged.
7 p.m.: "First Note" at The Saint. With Foes of Fern, Smooch, Natalie Farrell, New Narratives, 8 Break Plans.
7 p.m.: Monmouth University's Blue Hawk Records Presents at Langosta Lounge. With Vini "Maddog" Lopez, Jarod Clemons & The Late Nights, Dan Amato & The Sentimental Gentlemen, Max Adolf and Francesca Fuentes, Dillon Schindler, Bryan and Alexa Haring, Kelli Faith, Vianna Rose.
Friday, January 17
6:30 p.m.: Remember Jones' Tommy at the Paramount Theatre.
7 p.m.: "Asbury Angels" at the Stone Pony. With The Weeklings (album release party), John Eddie, Hollis Brown, The Anderson Council, Bobby Mahoney & The Seventh Son, Lorenzo Semprini, Hans Ludvigsson, Miss Emily, Gary Tripps, Peter Högklint, others.
7 p.m.: Night of Covers at Silverball Museum. With Kenny K and the Way, Kevin Mulvany & Friends, Joe D'Urso & Stone Caravan, White Lightning.
7 p.m.: Open Mic at the Blue Bar at Berkeley Hotel.
7:30 p.m.: "Friday Night Live" at House of Independents. With Dramarama, The Bongos, The Grip Weeds, others.
7:30 p.m.: "Rock Heavy" at The Saint. With Pierced, The J.A.C.K.S., Tonal Crush, Blood Red Roses.
8 p.m.: Neil Berg's "100 Years of Broadway" at Tim McLoone's Supper Club.
8 p.m.: "Acoustic Carousel" at Langosta Lounge. Hosted by Peter Scherer. With Dentist, Ryan Gregg, Marc Muller, Paul Whistler, Williams Honor, Ray Andersen, Mark Sunshine, Keith Roth, Cranston Dean, Cara Smith, Rob Tanico, Chris Mardini, Rick Barth, Pete Mancini, Marc Swersky, Michael Brett, Gregory Schwartz.
9 p.m.: Soundbooth at The Asbury. With Oh, Elis, Brother Andrew, Lowlight.
9 p.m.: "Friday at the Club" at Asbury Park Yacht Club. With Stringbean & The Boardwalk Social Club.
Saturday, January 18
Noon: "Asbury Blues" at the Wonder Bar. With Billy Walton Band, JoBonanno & The Godsons of Soul, The Wonderful Winos, Norman Seldin, RB3, JT Bowen & The Mighty Kings of Soul, Poppa John Bug, Sharon Lasher, Chuck Lambert, Pam McCoy, Miss Emily, Mary McCrink, James Dalton.
Noon: "Women of Song" at The Saint. With Christine Martucci, Strumberry Pie, Mary McCrink, Pam McCoy, Lisa Bouchelle, Jo Wymer, Dawn Hopkins.
Noon-7 p.m.: "Asbury Underground Music Crawl." Various locations. Artists TBA.
12:30 p.m.: "All Together Now: The Beatles Acoustic" at Tim McLoone's Supper Club. With Bob Burger (host), Adam Ezra, Quincy Mumford, JD's Acoustic Excursion, others.
6 p.m.: "Bob's Birthday Bash" at the Paramount Theatre. Artists TBA.

"Sweet '16": Tony Pallagrosi, Joe D'Urso, and Bob Benjamin celebrate Bob's Birthday Bash, LOD 2016 - photograph by A.M. Saddler
7 p.m.: "Full Tilt Boogie" at the Wonder Bar. With Billy Hector Band, Adam Ezra, Christine Martucci, Peter V Blues Train, Rick Winowski, Gary Wright, Michael Askin, Sandy Mack and Mike Flynn.
7:30 p.m.: "Rock Heavy" at The Saint. With The Morgan Freemasons, Tedesco's Bittersweet 8-Ball, Lou Montesano & Jeremy Korpas, others.
9 p.m.: "Langosta Live" at Langosta Lounge. With Mamadrama, Bottled Blonde, Spinning Bad.
9 p.m.: Soundbooth at Asbury Hotel. With Carl London Band, Catherine Quintana, Moonwater.
9 p.m.: "Saturday at the Club" at Asbury Park Yacht Club. With Cranston Dean, Frank Lombardi.
Time TBA: Blue Bar at Berkeley Hotel. Tom Kanach Band, Jon Caspi & the First Gun, Mike Rocket Band.
Sunday, January 19
9 a.m.: Tom Cunningham hosts Springsteen on Sunday's "The Morning After" episode, broadcasting live until 11am from the Anchor's Bend in the Grand Arcade. Many LOD performers will be joining him on-air, and attendees will have the chance to win some swag.
Noon: "Remembering Harry Chapin" at the Paramount Theatre. With singer-guitarist John McMenamin, Harry Chapin Band members Howard Fields (drums) and John Wallace (bass, vocals), guitarist Robert DeVitis, keyboardist John Gebhart, and cellist Genevieve Brogdon.
Noon: Best of The Eagles (Eagles tribute), Miss Emily, The Bob Polding Band at Asbury Lanes.
Noon: "Songwriters by the Sea Boardwalk Crawl, No. 1" at Watermark. With Adam Ezra, Mary McCrink, Taylor Tote, Hans Ludvigsson, Kent Nicholson, Peter Högklint, Matt Jaffe, Arlon Bennett.
Noon: "Kids Rock" at the Stone Pony. With Indigo Mane, Lauren Gill, Sunsets From Jupiter, Jake Ryan, So Far Under, School of Rock Red Bank, The Nobodies, Rock'n Music Academy, Rockit, Ham by the Pound, Ezra Caspi, Ross Owen, Julia Fleming, Evan Rotella, Double A, Jake Thistle, Matt Levine.
Noon: "Musicians on a Mission" at The Saint. With Tommy B & The Deep Sea, Jake Tavil & Indigo Soul, Calabrese/Swerlin Band, Connor Bracken and the Mother Leeds Band, We're Ghosts Now.
Noon: Blue Bar at Berkeley Hotel. Xol Azul, Scott Wolfson & Other Heroes, Somewhat Relative, Virago.
1 p.m.: "Café Artiste" at the Jersey Shore Arts Center, Ocean Grove. Artists TBA.
2 p.m.: "Asbury Music Hall" at The Asbury. Artists TBA.
3 p.m.: "Songwriters by the Sea Boardwalk Crawl, No. 2" at the Langosta Lounge. With Pat Guadagno, Brian Dunne, Bruce Tunkel, Lisa Bouchelle, CC Coletti & Anthony Krizan, Tess Cameron, Scott & Kyle.
5 p.m.: Chameleonize, Soundswell at the Danny Clinch Transparent Gallery.
6 p.m.: "Songwriters by the Sea 3" at Tim McLoone's Supper Club. Upstairs with Joe Grushecky, Willie Nile, Joe Rapolla, Peter Elkas, Danielia Cotton, Anthony Krizan. Downstairs with Joe D'Urso, Miss Emily, Vini Lopez, James Maddock, Quincy Mumford.
7:30 p.m.: "Last Note" at The Saint. With The Shady Street Show Band, Inflatable Head, others.
Monday, January 20
10 a.m.: Goodbye Brunch at Tim McLoone's Supper Club.
Saturday, January 25
2:50 p.m.: "After-Fest Matinee" with Steve Forbert & the New Renditions at House of Independents. Show will include Forbert's 1979 Jackrabbit Slim album in its entirety.
For more information including late additions to the schedule, visit LightOfDay.org.
- January 10, 2020 - Lisa Iannucci reporting - all photographs by A.M. Saddler (top: LOD 2015)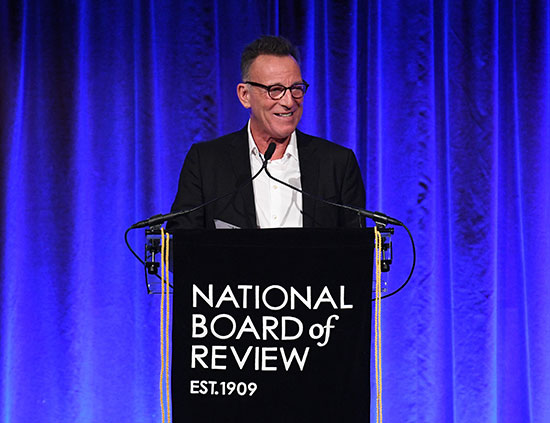 BIG SCREEN? NETFLIX? TRY "LIFETIME"
Springsteen helps honor a trio of film legends
Bruce Springsteen was on hand in New York City on January 8 to present film director Martin Scorsese and actors Robert De Niro and Al Pacino with the Icon Award, for meaningful contribution "to the history, culture, and excellence of motion pictures."
The occasion was the National Board of Review's annual awards ceremony. That event confers excellence in film and stretches back 110 years (predating the Academy Awards by 20 years). It takes into consideration the votes of both film enthusiasts and professionals.
Scorsese's most recent work The Irishman took the honor for best film, which neatly dovetailed with the Icon Award — it features both actors (Al Pacino wasn't present, but Scorsese and De Niro joined Springsteen at Cirpriani 42nd Street, which hosted the gala).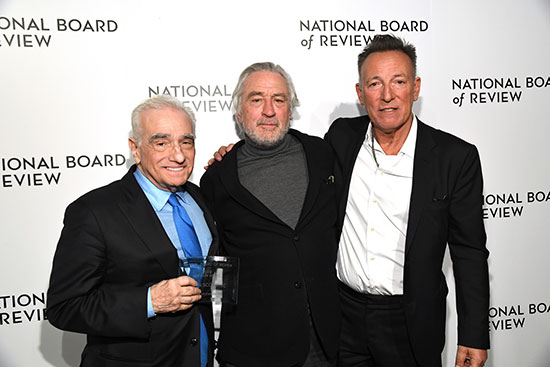 The Icon Award is a new category, joining 17 others that recognize typical ones like best director (this year, Quentin Tarantino for Once Upon a Time in Hollywood), best actor (Adam Sandler for Uncut Gems) and best actress (Renée Zellweger for Judy).
As Deadline reports, "Springsteen, unspooling a deeply felt meditation on The Irishman that wouldn't have been out of place in his Broadway solo show, recalled decades watching Pacino, Scorsese and De Niro work. The film's themes hit home because he is now 70, he added. 'If you've been with them on this whole journey, it is beautiful to behold,' he said."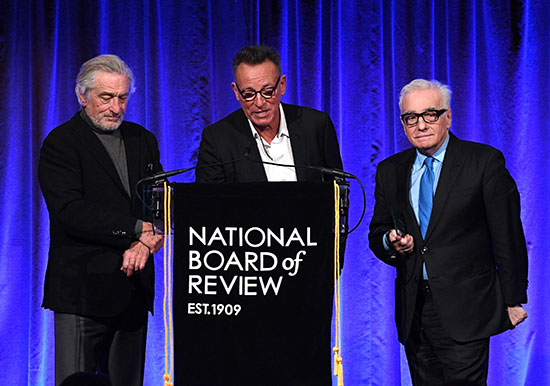 Though we don't have a full transcript of Springsteen's remarks, it's no surprise that he should speak to the length of the collective arc of these three film legends: The Irishman alone apparently was in the works for over 20 years — longer even than the time put into making any of Springsteen's LPs (Tracks aside). There's so much resonance among these artists' ongoing works; maybe as Springsteen takes home similar awards for his own journey, these gents could return the favor.
- January 9, 2020 - by the Editors - photographs courtesy of National Board of Review / @NBRfilm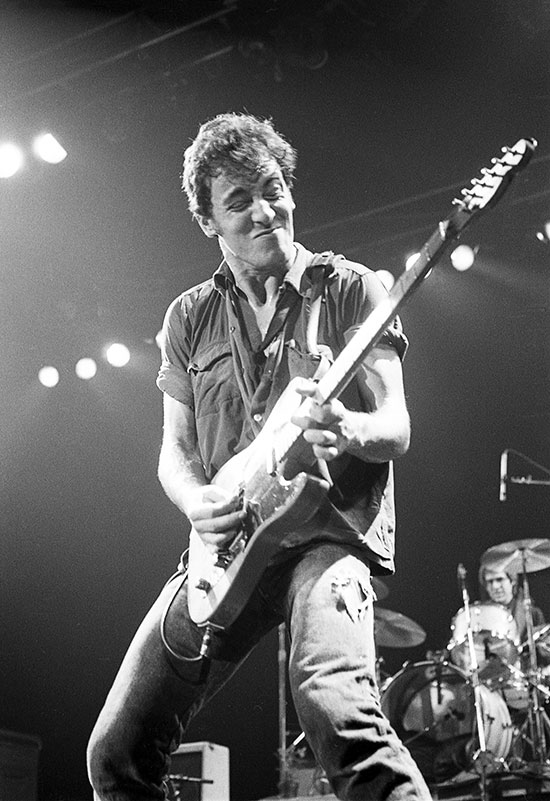 FOR ALL THE SAN FRANCISCO NIGHT RIDERS
PJay Plutzer's photo archive gives us further views of Winterland '78
While we anticipate the next installment in Bruce Springsteen's live archive series, let's have another look at Winterland, December's dual release, courtesy of cover photographer PJay Plutzer — with more of his rarely seen frames from both nights in San Francisco. December 15, 1978: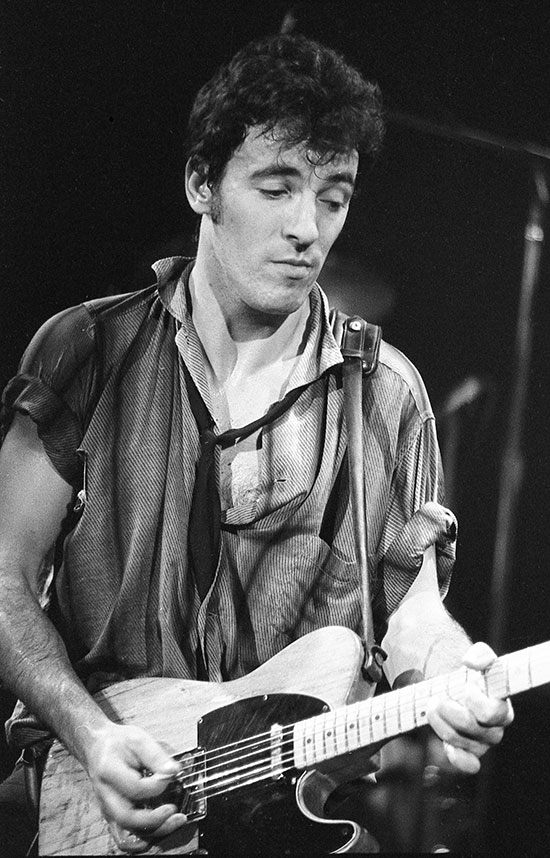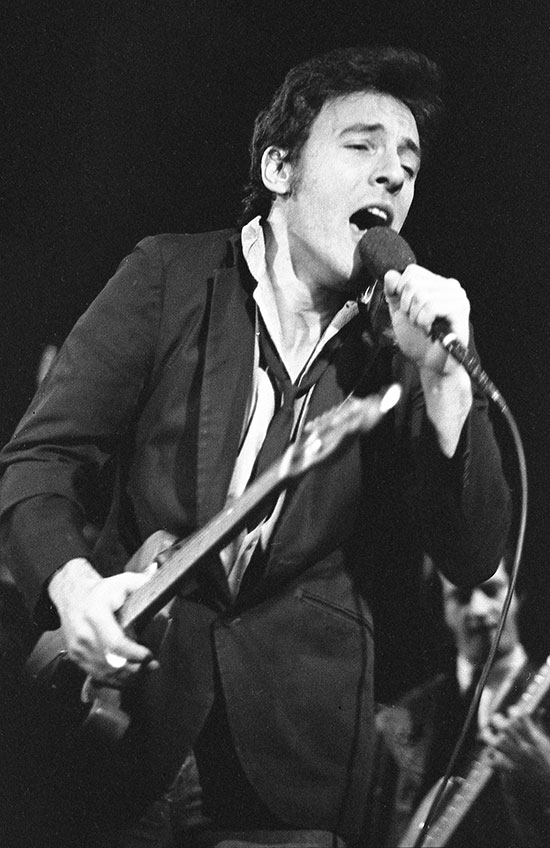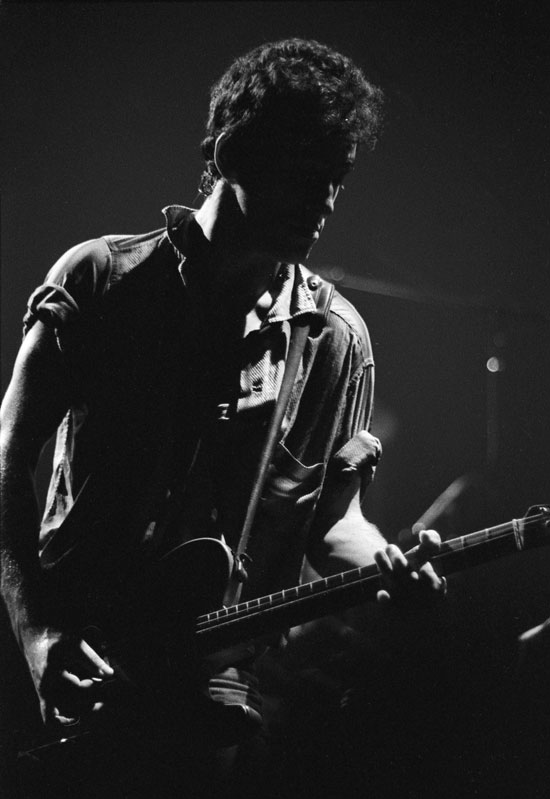 You might think, given the photographer's positioning and quality of the images, that he had the luxury of a photo pass... but no, this was some intrepid image-making, requiring not just talent but stealth, stamina, and determination. "The Winterland shows were general admission, so it was harder for them to control who had cameras," PJay told Backstreets in 1995, when we first ran some of these images. "But I'll tell you, having waited in line seven or eight hours to get in, both nights, it was tough. I'd been to Winterland a lot, but those shows were so tough because everyone was so closely packed, especially at the stage. And I was at the stage, and I could hardly lift my arms to take pictures. It was difficult, but I managed to get some great shots." December 16, 1978: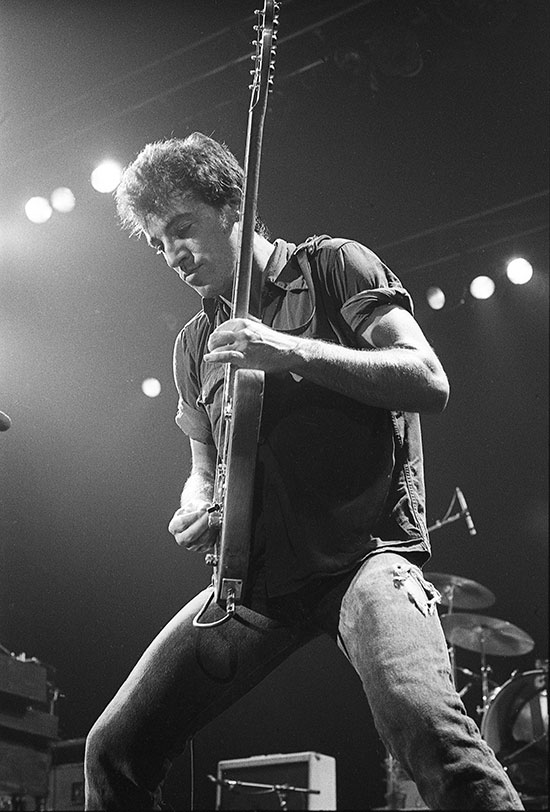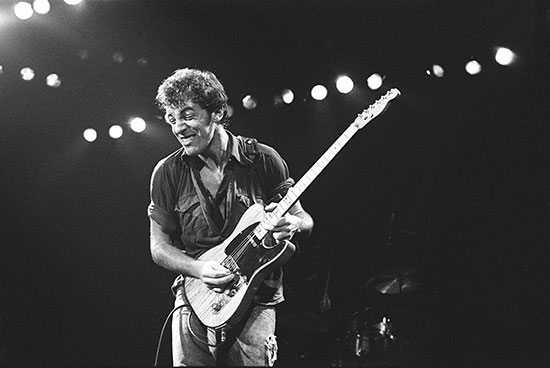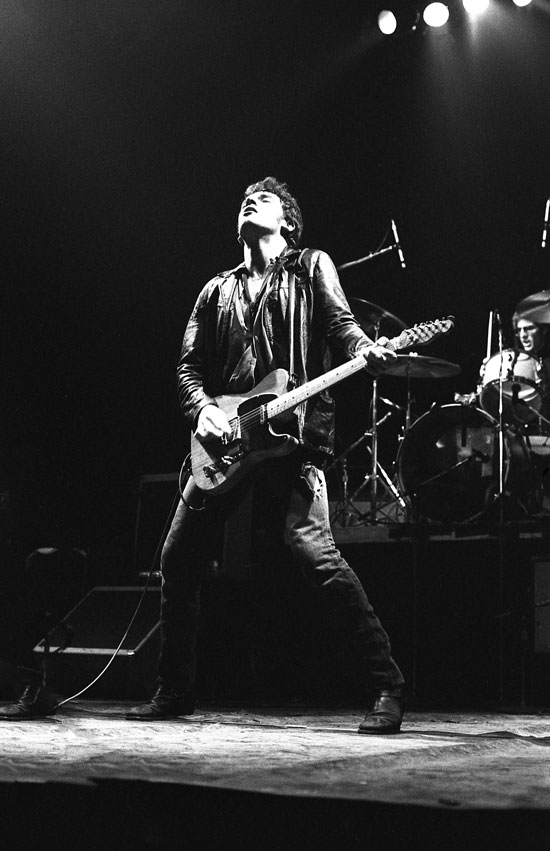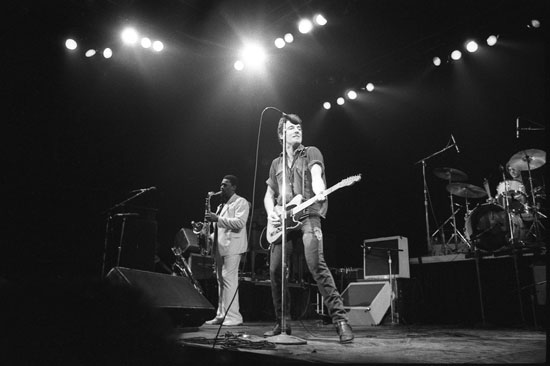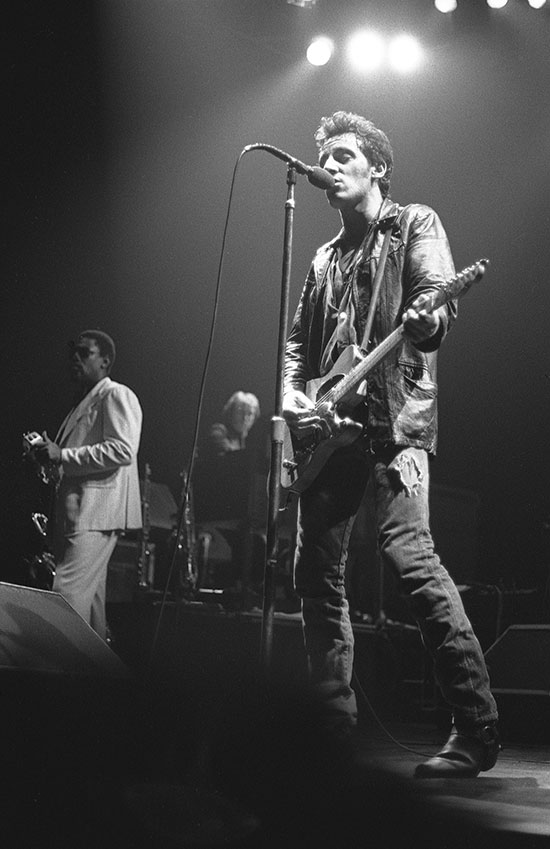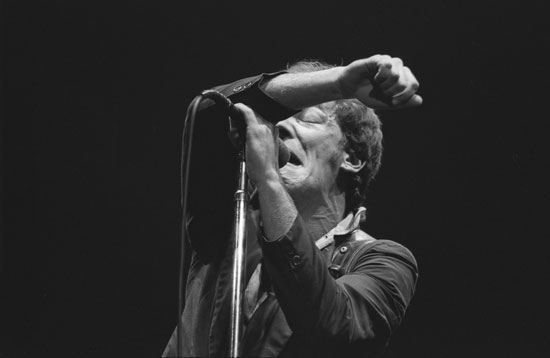 "Those shows, they were historic," PJay continued. "The level of emotion that went through the show, as anyone who's heard the tapes from the radio can tell you, he'd lift you up, then bring you down a bit, then lift you up again. And by the end of the show, you were just frantic with emotion."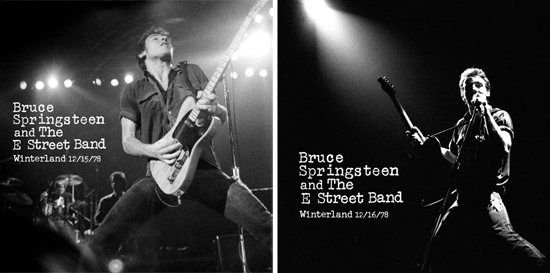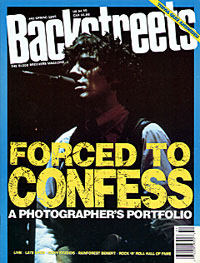 Backstreets featured a PJay Plutzer portfolio as a cover story in issue #49, Spring 1995, which is where PJay's Winterland recollections first appeared. In that interview PJay also talked to us about getting busted shooting earlier on the Darkness tour, San Jose '78, as well as photographing other legendary Springsteen shows — particularly the 1977 run at Boston Music Hall (the cover image, right, is a Boston '77 shot, from March 25). Backstreets #49 is still available as a back issue, and 25 years later we're still thrilled to see his Winterland images grace the cover of official releases from Bruce Springsteen. You can follow PJay on Instagram. - January 7, 2020 - all photographs by PJay Plutzer/@prisonerofrockandroll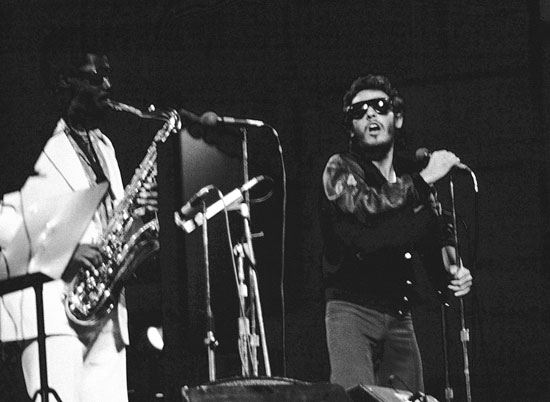 RAY AMATI, 1946-2019
Remembering a fan and photographer, with a view of Central Park
Ray Amati passed away on December 28, leaving thousands of images from years spent as a photographer. Known primarily for shooting sporting events, Amati captured one of Bruce Springsteen's more remarkable concerts: August 3, 1974 in New York's Central Park.
That was the show where Springsteen and the E Street Band famously opened for Anne Murray — a moment that reinforced the idea that, moving forward, everyone would benefit from Springsteen headlining his own shows.
As then-manager Mike Appel (who did his best to change the order of the bill) later told Backstreets: "When Bruce left after ripping up that place, maybe a dozen people were still waiting there for Anne to come out. It was the worst disaster I ever saw. But everybody was forewarned."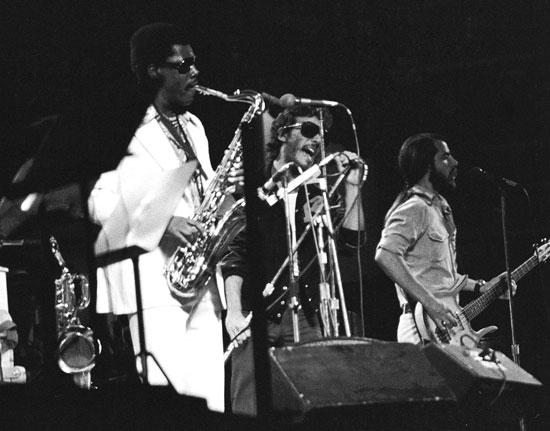 It's another instance from 1974 where a single photographer managed to be in the right place at the right time. Amati's images from Central Park join Barry Schneier's documentation of a Harvard Square Theater appearance just a few months before. Together, the two sets of photos preserve key moments in Springsteen history. Amati's pictures show Springsteen mostly in profile, wearing a leather jacket at first, then just a tank top and sunglasses.
Amati was a native of New York City and "an avid concert goer," son Ray Amati wrote in an email, "attending many shows at classic New York City concert halls... most frequently Madison Square Garden. He liked all genres of music, but mainly classic rock. He saw and shot everyone from Mott the Hoople to the Velvet Underground, Queen, The Rolling Stones, The Who, Van Halen, AC/DC, and most frequently, Bruce Springsteen, who he had seen over 25 times." That includes a 2003 father/son outing to one of Springsteen's holiday shows in Asbury Park.
Amati's work as a sports photographer found him shooting the Jets, Giants, and Cosmos before moving to Florida in the mid-'90s. There, Amati joined Pat Riley as one of the state's biggest Springsteen fans — with a unique portfolio to boot.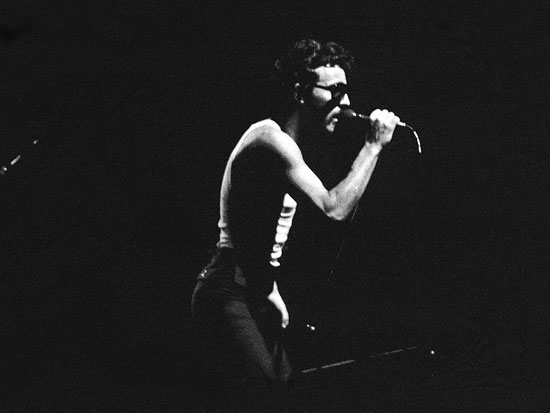 Joe Favorito, a River Vale, New Jersey-based sports marketing executive, credits Amati's presence as "steadying," a trait that helped him capture images like the ones from Central Park. "His talent for people exceeded his skills as a photographer," Favorito wrote in an email, "and we need more people like him in sports and entertainment."
A service to remember Amati took place in New Jersey on December 31; to celebrate Ray's life and work, the family suggests contributions to the Ray Amati Fund at the International Center of Photography.
- January 6, 2020 - all photographs by Ray Amati, August 3, 1974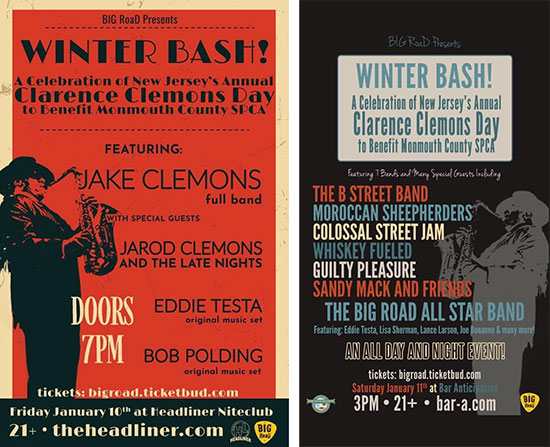 BIG MAN'S BIRTHDAY BASH 2020
Next weekend, January 10-11, BIG RoaD LLC will present Winter Bash 2020, an annual celebration of Clarence Clemons Day in New Jersey. Taking place at two well-known venues on the Jersey Shore — Bar Anticipation in Lake Como, and The Headliner in Neptune — the weekend will benefit the Monmouth County SPCA.
The two-day event will be anchored by the Winter Bash All-Star Band, featuring vocals by Shore area stalwarts Eddie Testa, JoBonanno and Bob Polding, among others. Winter Bash 2020 features a little something for everyone, including original bands fronted by both E Street saxophonist Jake Clemons and Jarod Clemons (youngest son of the Big Man), as well as performances by Sandy Mack & Friends, Moroccan Sheepherders, Colossal Street Jam, and the B Street Band. NJ 101.5-FM's Bill Spadea will host the Saturday night event.
Tickets are $30 for the Friday show, $25 for the Saturday show, or $40 for a combo ticket for both nights. Visit the Big Road event page to purchase tickets and for further information.
- January 4, 2020 - Lisa Iannucci reporting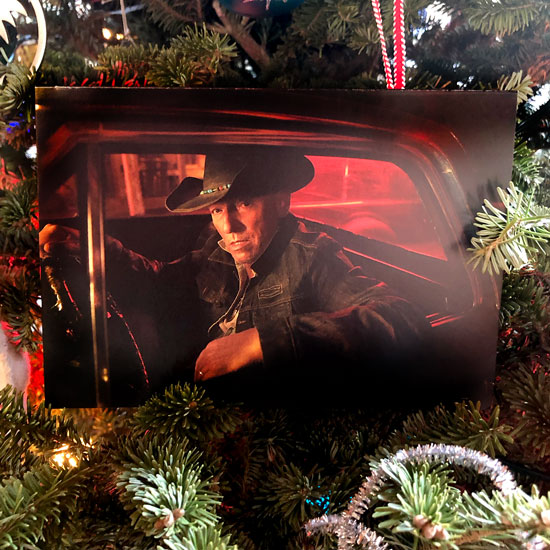 ON OUR TREE SHINES ONE BEAUTIFUL STAR
Everybody out there had happy holidays? We hope so, and we're excited for what the new year might bring — especially with Bruce Springsteen saying stuff like this about going back on tour in 2020: "Yeah, yeah — I got to go back to the day job, you know. Got to pay the bills, got to pay the bills!" Nothing firmly established yet, of course, but watch this space as 2020 progresses and we'll keep bringing you the dope.
Before the season gets too far behind us, an extra thanks to Danny Clinch, for hooking us up with a killer shot of Springsteen for our annual holiday card (above) — an outtake from his Western Stars shoot. We still have some left, and we wanna keep spreading the good cheer... so if you'd like one for yourself, we'll be including this card FREE with any and every order we ship out from Backstreet Records, throughout the month of January. Happy New Year!
- January 2, 2020 - Bruce Springsteen photograph by Danny Clinch/@dannybones64