BLASTING OFF INTO THE NEW YEAR
It was a very good year, as Sinatra sang. Colored, of course, by some of the same melancholy as the Ervin Drake tune, as 2008 was also the year we lost the beloved Danny Federici to melanoma. But as we said goodbye to Phantom Dan, we were also privy to some amazing E Street Band performances: one last one with him and many in his honor, cathartic and celebratory, from arenas to stadiums, from Stockholm to St. Louis, request-fests, and a Mountain of Love-ly rarities. And even after the Magic tour's freight train pulled into the roundhouse, the E Street Band kept things rolling in the studio as Bruce readied a new record and continued to be out there on stage as well: stumping for the now-President-Elect, playing for our soliders, and, as late as last night, spreading some holiday cheer. 2008 came and went without a much-talked-about Darkness on the Edge of Town 30th anniversary retrospective, which was only partially completed and is shelved for the time being. But only, it would seem, because Springsteen had now too much on his mind. We'll take it.
And in 2009, he'll hit the ground running: Working on a Dream comes out in January -- don't miss a new note from Bruce on how the album came together -- and Super Bowl Halftime gets the E Street treatment on February 1. (Watch the announcement video here, if you haven't already seen it.) Along the way we'll finally have the new issue of Backstreets out the door, too -- your patience is appreciated -- with our tribute to Danny and much more, as we keep scrambling to keep up with a busier Boss than most of us would have imagined at this point. Did we mention he'll turn 60 in the new year? One thing a a time, one thing at a time... For now, our attention is on that new record that drops in a month's time and the tour that's bound to follow. We'll keep you posted right here, and as always, we appreciate you riding that train with us.
The Backstreets office will be closed for the holidays from December 24 through New Year's; we'll repoen for business as usual on Monday, January 5. Our Backstreet Records online shop will be open to take orders 24/7 as usual, but please note that after a busy December 23 sending out last-minute gifts, the shipping department gets a vacation until Jan. 5. Hope you get a good break, too... enjoy the holiday, Happy Hanukkah, Merry Christmas, Happy New Year, and get ready for more in '09!
- December 23, 2008

BACK AT THE BASIE WITH BANDIERA, BONDS, BON JOVI, & MR. GRINCH
Springsteen drops in to wish Red Bank crowd a Merry Christmas, Baby!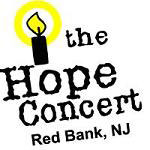 It's all cold down along the beach... the wind's whipping down the boardwalk... and it's freezing in Red Bank, where Bruce showed up tonight to bring some extra warmth to the newly renovated Count Basie Theatre. Just as in 2006, with no area holiday shows of his own, Springsteen chose to join in the festivities at Bobby Bandiera's Hope Concert. On the bill with Bandiera's Jersey Shore Rock-N-Soul Revue were Tim McLoone and the Shirleys, Brian Fallon, Nicole Atkins, Gary U.S. Bonds, Southside Johnny, and Jon Bon Jovi; Springsteen's surprise appearance came at the end of the night, as he joined the house band and a few of the bill-toppers for a few Christmas songs, two classic covers, and one of his own.
The night's format had crossover between artist's sets: Gary U.S. Bonds (after notably performing Bruce's "Action in the Street") was joined by Southside Johnny for "This Little Girl" to segue into Southside's set; Johnny was joined on his last song by Jon Bon Jovi for "This Time It's For Real." When it came to Bon Jovi's last song, out came Springsteen to back him up on "Run Run Rudolph," playing lead guitar and hollering backup on the final chorus.
"Happy holidays!" said Bruce, otherwise a man of few words tonight. (Leave the quotables to Southside: "I'd wish you a merry Christmas, but it would be out of character" and "I get so sentimental, I have to drink myself into oblivion.") Springsteen opened his own set with a doubleshot of his holiday B-sides, "Merry Christmas, Baby" followed by "Santa Claus is Coming to Town." Southside -- "Mr. Grinch" -- joined in on the latter, and LaBamba came downstage to take Clarence's part, "you better be good for goodness' sake." (LaBamba and Mark Pender brought the horn section headcount to eight for Bruce's set.) After Bruce went it alone on "634-5789," Bon Jovi came back out to split the vocals on "Tenth Avenue." And a final encore, as Springsteen was joined by Southside, singing lead, and Bonds for a rousing "Havin' a Party." Weather outside: frightful. Inside: plenty hot.
- December 22, 2008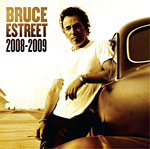 2009 CALENDARS:
BACK IN STOCK!
We've been sold out of these for a few weeks, but we've just restocked an additional 100 copies of the 2009 Springsteen calendar. Featuring photography by Danny Clinch -- including what is now the cover shot from the upcoming Bruce Springsteen & the E Street Band Greatest Hits album. When these are gone, that's it!
- December 22, 2008

E STREET BAND'S GREATEST HITS COMING TO WAL-MART JAN. 13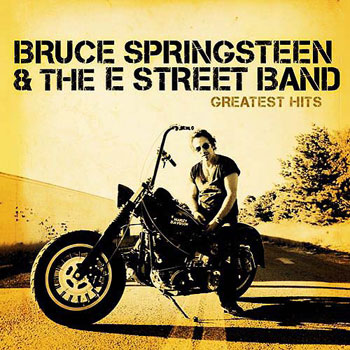 Another new album? Well, yeah, sorta -- Bruce will be kicking off the new year not with Working on a Dream, but first following in AC/DC's footsteps with a Wal-Mart exclusive Greatest Hits album. Scheduled for January 13, and at a low price point, it looks to serve as a Super Bowl primer for the big Half Time show a few weeks later. It's distinguished from 1995's Hits album by the artist: not Bruce Springsteen this time, but Bruce Springsteen & the E Street Band. 12 tracks skip over the non-E Street records like Nebraska, Tunnel, Human Touch, Lucky Town, and Joad, to provide a broad career overview from "Rosalita" through "Radio Nowhere":
1. Rosalita (Come Out Tonight)
2. Born to Run
3. Thunder Road
4. Darkness on the Edge of Town
5. Badlands
6. Hungry Heart
7. Glory Days
8. Dancing in the Dark
9. Born in the U.S.A.
10. The Rising
11. Lonesome Day
12. Radio Nowhere
In other "big chain" news, f.y.e.. has some special pre-order offers for Working on a Dream -- pre-order at an f.y.e. store to get a collectible Bruce gift card, or pre-order online at fye.com to get a free poster.
- December 22, 2008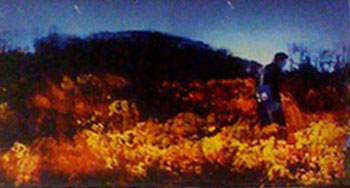 IN
FIELDS
OF
RED
AND
AUTUMN
BROWN
Through a glass darkly:
An album art sneak peek.


- December 22, 2008

LAST-MINUTE HOLIDAY SHOPPING? WE CAN HELP!
If you're still looking for the perfect gift for your favorite Springsteen fan, be sure to visit our online shop -- and yes, there's still time! Using our Expedited Shipping service, we can deliver via UPS to any U.S. address in one or two days, and we'll be working until December 23 to make sure everyone gets what they need. Expedited orders placed by 2:00 p.m. Eastern will ship the same day!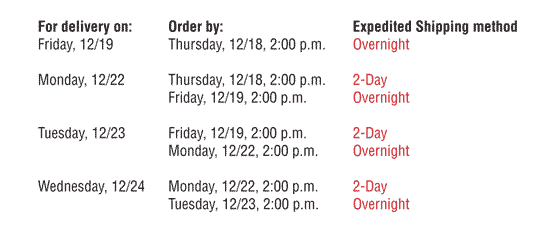 Backstreet Records is our Springsteen specialty store, where we've been doing mail-order for more than 20 years. Visit our Latest Additions page to see what's new, or peruse by section: Concert Shirts, Springsteen CDs, Covers/Tribute CDs, Related Artist CDs, Vinyl, DVDs, Promo/Other, Books, Songbooks, Tourbooks, Magazines, Backstreets Back Issues, and Backstreets Merchandise (including shirts, stickers, and baseball caps).
As always, we appreciate you getting your Boss fix through us. We're collectors and fans just like you, so we'll treat you the way we'd like to be treated ourselves. Coming in the new year, we'll be taking pre-orders for Working on a Dream deluxe CD/DVD and vinyl LP!
- December 18, 2008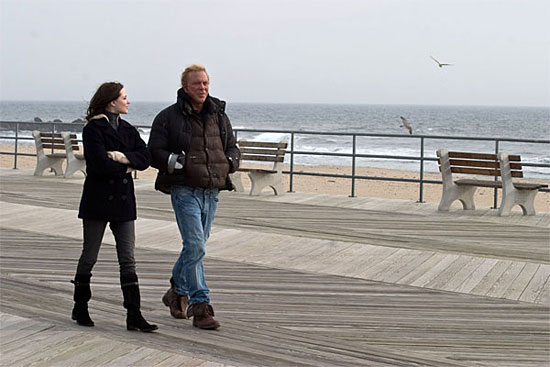 ARE YOU RRREADY TO WRRRRRESTLLLE?
Film opens tonight; download Bruce's title track on iTunes now
Can you smell what the Boss is cookin'? It's opening night for The Wrestler in Los Angeles (Pacific Arclight, The Landmark) and New York (Lincoln Plaza, Sunshine Cinemas), where audiences get first look at the Mickey Rourke comeback flick featuring Springsteen's title track tonight. Theaters in additional cities will be showing the film in the coming weeks. Watch the trailer here.
Rourke recently talked to Uncut about how his old friend wound up writing a song for the movie: "I wrote Bruce a letter, because we've known each other over twenty years, and he knows what I used to be, or whatever. Where I went. What I'd been reduced to. I told him how I felt lucky now and didn't have to end up being this guy, being Randy (character from The Wrestler). A while later I got a call in the middle of the night: he said he'd written a little song, for nothing. It's fucking beautiful, right? I was honoured he took the time, because he's a busy cat. I mean, I'm so goddam proud of this magical movie and to have Bruce's input… ain't nobody in Hollywood with all their millions can just ring the man and he'll do a song, y'know?"
Springsteen's song, of course, will be included as a bonus track on Working on a Dream; as of this week, it's also now available for download from iTunes.
In addition to Bruce's Golden Globe nomination for the song, there's certainly an Oscar Watch: yesterday's press release from the Academy of Motion Picture Arts and Sciences confirms Bruce as up for Oscar consideration, with "The Wrestler" on a list of 49 songs "contending for nominations in the Original Song category." That'll be whittled down in early January, when the songs are screened for voters to determine nominations.
New York Magazine's Vulture blog writes: "Expect to see the Boss on Oscar night. Bruce Springsteen's song "The Wrestler," written exclusively for the film, plays over the closing credits, and it's straight from The Ghost of Tom Joad — aching, sad, gorgeous. The song's so good, you almost expect Sean Penn to write another movie based off it, like with The Indian Runner and Bruce's 'Highway Patrolman.'"
And finally, this Friday at 4:00 p.m., director Darren Aronofsky will be discussing the film on E Street Radio -- that's Sirius channel 10, and XM channel 58.
- December 17, 2008

SPEED DATING WITH WORKING ON A DREAM
Are you the type who likes to peek at your presents? Head to Amazon.co.uk for a sneak preview of Working on a Dream: 30-second samples of each song are online now. Hard to judge much based on snippets, but at the very least it gives us an idea of the stylistic variety on this record.
Update: Easy come, easy go... audio has been pulled. Track times remain:
1. Outlaw Pete (8:00)
2. My Lucky Day (4:00)
3. Working on a Dream (3:29)
4. Queen of the Supermarket (4:38)
5. What Love Can Do (2:56)
6. This Life (4:30)
7. Good Eye (3:00)
8. Tomorrow Never Knows (2:13)
9. Life Itself (4:00)
10. Kingdom of Days (4:02)
11. Surprise, Surprise (3:24)
12. The Last Carnival (3:11)
13. The Wrestler (Bonus Track) (3:50)
- December 15, 2008

WORKING ON A DREAM - DELUXE PACKAGE DETAILS
In addition to the standard CD and vinyl releases, the January 27 release of Working on a Dream will be available as a "Deluxe Package," featuring the CD and a bonus DVD. Here's what's in store:
The DVD features a look behind the scenes at the making of a Springsteen album; nothing in the film is staged. Produced, directed, and edited by longtime Springsteen associate and Emmy- and Grammy-winner Thom Zimny, the documentary film includes in-studio footage edited to the tracks of "My Lucky Day," "Queen of the Supermarket," "Kingdom of Days," "Working on a Dream," "Life Itself," and "The Last Carnival." Fans may also revel in never-before-heard demos and early versions of various songs as they see Springsteen and the E Street Band at work from a fly-on-the-wall point of view.
- December 11, 2008

"BORN IN THE U.S.A." USED AS "MUSIC TORTURE"
Following reports of music being used as part of psychological torture in Iraq, Afghanistan, and Guantanamo Bay -- "blasting tracks such as Britney Spears's 'Baby One More Time' and Bruce Springsteen's 'Born in the U.S.A.' into cells at high volumes for hours on end," according to the Daily Mail -- a number of musicians have joined together to protest. According to the new Zero dB campaign, "The UN and European Court of Human Rights have banned music torture, but to this day its use in secret prisons around the world is widespread."
More from Telegraph.co.uk:
According to British organisation Reprieve, US military interrogators play tracks by artists such as Metallica, AC/DC, Eminem, Bruce Springsteen and even Britney Spears at deafening volume to detainees in Iraq, Afghanistan and Guantanamo Bay....

Reprieve, which represents 33 detainees at Guantanamo Bay, teamed up with high-profile musicians to launch its Zero decibels project, Zero dB, on the 60th anniversary of the Universal Declaration of Human Rights.

The campaign urges supporters to help bring to an end the "brutal practice of music torture." It will feature minutes of silence during concerts and festivals while a petition will call on governments and the UN to uphold their obligations under the UN Convention Against Torture.
The Associated Press also has a report. Tom Morello, Massive Attack, and Elbow are part of the campaign, along with Reprieve and the Musicians Union. For more information, and to sign a petition, visit Zerodb.org.
- December 11, 2008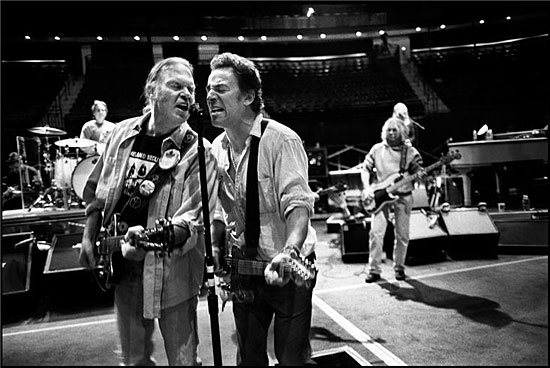 THE BOWERY'S GOT ITS BUMS -- AND DANNY CLINCH
Opening today in NYC: a new Danny Clinch exhibit, gathering typically stunning images from the photographer's entire professional career (from 1991 to this year). The show runs at the Morisson Hotel Gallery in the Bowery through the new year. A number of Springsteen images are there, of course, including the above with Neil Young in 2004, a beauty from Harley Fest, and a portrait of Bruce on a Harley, printed on a 2.5 foot by 3 foot piece of brushed aluminum. Images are online (to view and to purchase) if you can't get there in person, but either way it's a must-see.
- December 11, 2008

"THE WRESTLER" IS GOLDEN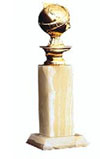 Hot on the heels of Springsteen's two Grammy nominations for "Girls in Their Summer Clothes," "The Wrestler" has just garnered a Golden Globe nomination for "Best Original Song - Motion Picture." Springsteen's title song for the Darren Aronofsky film puts him up against Peter Gabriel (Wall-E), Clint Eastwood (Gran Torino), Miley Cyrus (Bolt), and Beyonce (Cadillac Records). The Golden Globe Awards, given by the Hollywood Foreign Press Association, air live on January 11, 2009, on NBC. Can an Oscar nod be far behind?
- December 11, 2008

TOUR NOTES: 2008 RAKES IT IN, 2009 GLASTO RUMORS SWIRL
Springsteen and the E Street Band came in at number two on the list of 2008 Top Grossing Tours as reported to Billboard Boxscore -- second only to fellow New Jerseyans Bon Jovi (cue gritting of teeth from various corners). Bon Jovi at $210.6 million and Springsteen at $204.5 mil sit atop Madonna, the Police, Celine Dion, Kenny Chesney, Neil Diamond, the reuinted Spice Girls, the Eagles, and Rascall Flatts.
The annual Bruce-at-Glastonbury rumors are making the rounds once again, with Pollstar.com reporting Springsteen as "expected to headline next year's Glastonbury Festival." Planetrock.com also puts the rumor out there, saying that Bruce "is being hotly tipped to play the Sunday night of the festival..." rightly going on to point out: "It has to be said that these are simply rumours and that there is literally no evidence to support them, and Springsteen has been tipped to be playing the festival for three years running."
- December 11, 2008

BTX GROWING PAINS
Sorry that BTX is down for the moment -- of course you can't have an upgrade without running into a glitch here and there. We're currently working on the problem and hope to have it solved and back up and running soon.

BACKSTREET RECORDS CUSTOMERS: ORDER BY WEDNESDAY
FOR GUARANTEED BEFORE-CHRISTMAS DELIVERY IN THE U.S.!
Shopping for Boss gifts for loved ones this holiday season? If you place your order with Backstreet Records by December 10, we can guarantee pre-Christmas delivery to U.S. addresses using just Standard Shipping.
Of course, if you miss tomorrow's deadline, you can always use Expedited Shipping (overnight or 2-day) to get quick delivery for the holidays. If you need delivery by a certain prior date -- for Chanukkah, etc. -- we recommend Expedited Shipping as well. Overnight or 2-Day orders placed by 2:00 p.m. will go out the same day; after 2:00 p.m. will ship the following day. We'll be working right up to December 23 to make sure everyone gets what they need.
But if you just need something by Christmas, save on shipping charges by getting your order in by Wednesday night and selecting Standard Shipping -- no Expedited upgrade necessary as long as your order is in by December 10 at midnight!
Non-U.S. customers: we regret that we're unable to guarantee a delivery date, but we'll do our best to get your order sent as quickly as possible!
- December 9, 2008

WORKING ON WORKING ON A DREAM
Check Billboard.com for some interesting Working on a Dream details, noting that Danny Federici (as well as his son Jason) was involved in the sessions and can be heard on the album. Songs range in length from just over two minutes ("Tomorrow Never Knows") to a whopping eight minutes (the opening "Outlaw Pete").
Billboard also confirms that a deluxe edition will include a 38-minute DVD of studio footage (not live footage, as previously reported elsewhere). Thom Zimny was filming in the studio, and so far we've seen the results in the "Working on a Dream" and the "My Lucky Day" videos; look for for the bonus DVD to give us more behind-the-scenes glimpses like the first two minutes of the "My Lucky Day" video, with seven songs presented in all.
Backstreet Records will be taking pre-orders for both the deluxe edition CD/DVD and the vinyl LP release. Stay tuned!
- December 9, 2008

MEET ME IN THE FIELD...
If you're interested being there for Bruce and the E Street Band's Super Bowl XLIII halftime performance, the producers are "looking for enthusiastic volunteers to be part of the on-field audience for the show." To apply you must be at least 16 years old, form a group of ten or more volunteers, and be available for rehearsals in Tampa the week prior to Super Sunday. Find out more at SuperBowlCast.com.
- December 8, 2008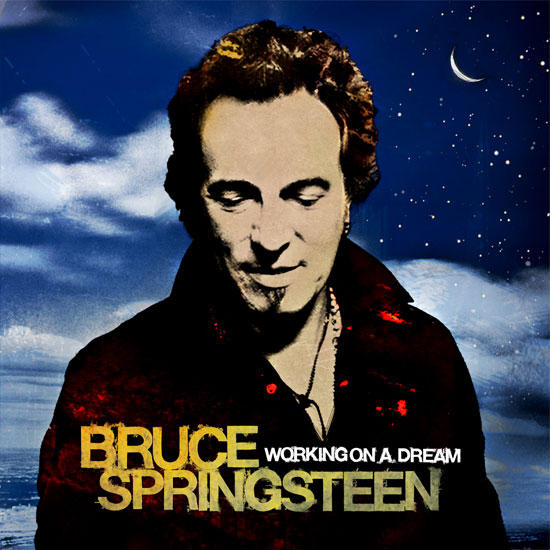 THE MOON COMES SKIMMIN' AWAY THE STARS
The new album cover.
- December 8, 2008

BUILDING A BETTER BTX
At the beginning of this week, we unveiled a big upgrade to our BTX message boards, featuring a new look and some significant new features. We're still tweaking (and still getting used to it), but so far so good.
If you're having trouble logging on, it's most likely a cookies issue -- clearing the Backstreets.com cookies from your browser should solve the problem. Click here for details.

HAVIN' A CHRISTMAS PARTY WITH GARY U.S. BONDS
"You ready to rock and roll this Christmas?" Gary U.S. Bonds has a gift for all his fans -- a free download of his new holiday song, "We Wish You a Merry Christmas." A great slice of holiday cheer in Bonds' signature style, the track appears in the new family comedy DVD release, The Town That Banned Christmas, but it's yours for nothin' at Garyusbonds.com. "Come on, people, let's get it in gear / We're gonna party now the rest of the year!"
- December 5, 2008

THINGS BEEN A LITTLE TIGHT... BUT GRAMMY HONORS "GIRLS"
Magic didn't even get a nomination for Album of the Year last time around, and it lost out for Best Rock Album... but a year later, "Girls in Their Summer Clothes" has Springsteen in the running for two more statues at the 51st Annual Grammy Awards. With the song's "pass me by" refrain, it seems quite apropos. "Radio Nowhere" took top honors in two categories last year, and "Girls" puts Bruce back in contention as defending champ for "Best Rock Song" (along with fellow nominees Radiohead, Death Cab for Cutie, Kings of Leon, and Coldplay) and "Best Solo Rock Vocal Performance" (with John Mayer, Paul McCartney, Eddie Vedder, and Neil Young). See Grammy.com for a full list of nominations. The awards ceremony airs live on Sunday, February 8, on CBS.
- December 4, 2008

BALLROOM BLITZ
Lots of chatter about inauguration events today -- and after Bruce Springsteen was so involved in the Obama campaign during the run-up to the election, he's now topping the watch list for the afterparty. The Associated Press notes Springsteen as "widely expected to be involved" on January 20. The L.A. Times plays it as a done deal, with a subhead today reading: "He'll be playing. That much is sure. The question is: where?"
Describing Springsteen as "next to [Obama] himself... the guy most in demand during the coming inaugural season" and "the popular choice to head the celebratory ticket," the Times article goes on to specify: "the Boss is believed to be on board." Of course, he was also believed to be on board for the DNC in August. Regardless, clearly a story to watch.
The Super Bowl, of course, is the only 2009 gig currently on the schedule. As rumors also swirl of E Street Band shows lining up for the spring, the December 11 Rolling Stone reports, "A world tour is expected to begin around the time of [Working on a Dream's Jan. 27] release."
- December 3, 2008

R.I.P. ODETTA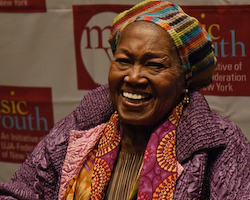 When Odetta performed "57 Channels (and Nothin' On)" at Carnegie Hall's "Tribute to Bruce Springsteen" last year, she not only brought the house down, she was praised for "the greatest version of '57 Channels' ever." By the guy who wrote it. A greatly influential folk singer often called "The Voice of the Civil Rights Movement," Odetta Holmes died yesterday of heart disease at 77. Read more in the New York Times. [Photograph by A.M. Saddler, Carnegie Hall, 4/5/07]
- December 3, 2008



ZIMNY SHOOTS IN THE STUDIO FOR "MY LUCKY DAY" VIDEO
In addition to the "My Lucky Day" download, available starting today, Amazon.com also has a streaming video for the song -- watch it online now. Directed by Thom Zimny, it captures Bruce and the E Street Band recording the song in the studio, with a nice behind-the-scenes intro of them working it up before the song kicks in. Also at myspace.com.
- December 1, 2008

SECOND SINGLE READY FOR DOWNLOAD MONDAY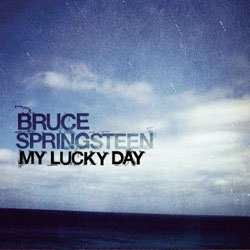 Slowly but surely, we'll be getting a better sense of
Working on a Dream.
While the title song remains an
iTunes exclusive
download for the next couple weeks, a second track from the new album is about to drop elsewhere: starting Monday, December 1, "My Lucky Day" will be an
Amazon.com exclusive
download (and there's a sample snippet there now).
Speaking of Amazon: they've been listing a CD/DVD Deluxe Edition of Working on a Dream. A little investigation tells us a Deluxe Edition with a bonus DVD is indeed in the planning stages, but not necessarily with the "30 minutes of tour footage" advertised on Amazon. We'll keep you posted when we determine exactly what's in store.
- Updated November 28, 2008


THIS HOLIDAY WEEKEND ONLY: STOCKING STUFFER SALE!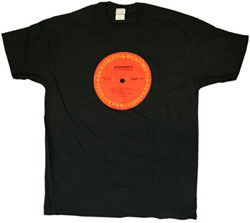 Black Friday cometh, and we've got lots of great new stuff in stock at Backstreet Records for holiday gifts -- like the
2009 Springsteen Calendar
,
E Street Band sweatshirts
, and new limited edition Backstreets shirts. Two of the three limited edition designs have sold out, but we still have the
record label shirts
-- grab one while they last! Plus, as always, tons of Springsteen
books
,
CDs
,
DVDs
, and more to explore in our
online shop
.
With both the holidays and the economy in mind, we've also taken a look at our shelves to see what we could offer on the small scale -- great stocking stuffers all, with sale prices to match the size. We're offering huge savings on these little guys, this Thanksgiving weekend only!
See all of our STOCKING STUFFER SALE items here. Prices good through Monday, December 1, while supplies last. The Backstreets/Backstreet Records office will be closed for the holiday, but our online store is open 24/7. Any orders placed during this time using "standard shipping" to U.S. addresses will arrive in time for Christmas, guaranteed. (Outside the States -- we'll do our best!)
Have a happy and safe Thanksgiving!
- November 26, 2008

BRUCE AT THE MOVIES: "THE WRESTLER"

Chris here... and as Bruce comes back to the silver screen with "The Wrestler" next month, we've once again got Ain't It Cool News's
Capone
on the case:
About a month ago I saw the new film by Darren Aronofsky called THE WRESTLER, a movie I'm sure you're familiar with because it features a stark and wonderful new song (played over the end credits) of the same name performed by Springsteen. What's fascinating about the song is that, knowing Bruce's long history and friendship with the film's star Mickey Rourke, it's just as much about Rourke's troubled life and tentative comeback in recently years in such films as DOMINO and SIN CITY. I think it's pretty clear from the song that Bruce was not just inspired by the screenplay by Robert D. Siegel, but he was also moved to write a tribute to a friend who has seen rough years but survived long enough to deliver the greatest screen performance of his career.

Because I can't help myself, when I interviewed the director the first question out of my mouth was about Springsteen, and Aronofsky was more than willing to indulge me. In the interest of full disclosure, I first met Darren about two years ago when he was promoting his previous work THE FOUNTAIN. And it became clear to me that, although we'd never met, he knew exactly who I was and the organization I worked for. When a director asks me, "Are you Capone?" that's almost always a sign that we're in synch right from the beginning. So being back in a room with Aronofsky recently was just like picking up the conversation where we left off. I doubt he could have anticipated my first question, but like I said, he was game. Enjoy this excerpt from our conversation, and look for the full interview on Ain't It Cool News shortly before THE WRESTLER's limited release on December 17 (to qualify for Oscar contention) and wider release in January.

Capone: I'd like to spend our entire half hour together discussing the process of getting Bruce Springsteen to write a song for you.

Darren Aronofsky: [laughs] I'll tell you that story! To be frank, I can take absolutely no credit for that. I think while he was shooting HOMEBOY, Mickey met Bruce in the Stone Pony over drinks.

Capone: So we're talking late '80s…

DA: I think so, yeah, must have been. And Mickey was a big star, and they became friends. When we finished this film…well, we always had a nice poster of The Boss in "The Ram's" trailer [Rourke plays a wrestler named Randy "The Ram" Robinson]. I don't know if it's actually photographed, but it was clear that Bruce was a big influence on this character. We're in Jersey. The character is sort of a stock Bruce character in a way.

Capone: Well, there's that one shot of the boardwalk that I've seen dozens of times in TV pieces about Bruce.

DA: Yeah, yeah. Exactly. Mickey wrote him a letter and sent him the script, and Bruce wrote a letter back saying, "Nice to hear from you, Mick. I'm on tour in Europe, and I'll read the script, and if something hits me…" Then he wrote back that he loved the script, and that he had an idea. At this point, we're in post production. So I got a phone call. And I knew he was going to call, but still, when you get the phone call: "Hey, it's Bruce Springsteen. I like the project, and I've got a few ideas. I'll put them down, and if you like them you can use them..." Yeah, right! [laughs]
So, the date that it was supposed to happen came and went, and then Bruce was coming back through New York and playing Giants Stadium, and Mickey's like, "Let's go to the show." So we go to the show, and we're standing in the front row. And I've never seen a Bruce show before.

Capone: Really?

DA: No. I grew up in Brooklyn in the '80s, so I definitely gravitated toward the hip-hop thing. Of course I knew Bruce Springsteen, but I wasn't a fanatic in any way. I wasn't that big a fan. I mean, I've always respected him because he seems unbelievably cool in his skin and aware of who he is. And then we went back stage after the show, and the next thing I know I'm standing in the Giants locker room with The Boss and Mickey. Mickey introduces us and then he says, "I know you've got business to talk over; I'm going to leave you." So suddenly I'm in the Giants locker room alone with Bruce Springsteen after just seeing him rock out 80,000 people. And I literally got stage fright for the first time in my life [laughs]. He grabbed his guitar and motioned for me to sit down. So I sat down, and I didn't know what to say. And slowly but surely my chin started going lower and lower toward my body. I was like, "Oh my God, I'm having stage fright in front of Bruce Springsteen."

Capone: So he played you the song?

DA: Yeah. So we just started talking, and he was a very, very cool guy. And he said, "Yeah, I wrote down a few things, and he pulled out a spiral notebook and played the song, and it was amazing, just amazing. Basically what I found out during that meeting was… well, he said, "I admit, I haven't seen your films, but I've heard about you and I know you're serious about what you do. I did this because I've been a fan of Mickey's for years, and I've been hoping Mickey would get an opportunity like this. And when I read the script, it just made sense, so I'm glad to help in any way I can." As I said, I take no credit for it. It was all because of The Boss's respect and love for his friend Mickey Rourke.

Capone: Has he now seen the film?

DA: He did. He's only seen it on DVD. After we put the song in, I sent it to him, and he called me up. I sent it to him with two slightly different endings, one where the song begins in the final shots of the film, and the one we went with where it begins as soon as the film is over and we've got to black. He said very nice things and really respected it. He called Mickey and made Mickey cry, so Mickey was happy that it all worked out. Mickey is very thankful and loves the song and won't stop playing it. It's an amazing song... we wanted to incorporate it earlier in the film, but he captured the whole spirit of the film and told the story of the film, so I felt that putting it earlier would be too much of a comment before I was ready to comment.

Capone: He has a real gift for doing that, as we've seen with "Streets of Philadelphia" and "Dead Man Walking" and "Missing." It's not so much summarizing it as capturing it.

DA: What did you think of the song? Did you get to hear it?

Capone: Of course. I knew it was coming and I didn't move. As soon as I heard him counting in, I focused on nothing but the song. Will the song be available to buy?

DA: I think it's going to be on the soundtrack.

Capone: Among all the heavy metal songs?

DA: Exactly. [laughs]

Of course, we now know that the song will see release as a bonus track on Bruce's upcoming WORKING ON A DREAM. Hope you gathered a bit of insight into this song's inclusion in THE WRESTLER. Obviously, it would be a dream interview to get a chance to talk to Springsteen about his approach toward writing for film, the use of his songs in movies, his acting career (let's not forget about that wonderful HIGH FIDELITY cameo), and cinema in general, since he's a known film enthusiast. Perhaps one day, I'll be in a locker room in Giants Stadium getting the chance to do just that. Meanwhile, THE WRESTLER is an absolutely crucial film-watching experience, and not just for the new tune at the end. Until next time...

-- Steve (Capone) Prokopy
Chicago Editor, Aint It Cool News

- November 26, 2008

NYC ROCK HALL ANNEX NOW OPEN
Wanna get a gander at Springsteen's old '57 Chevy? The New York Annex of the Rock and Roll Hall of Fame, in the works for two years, has opened this week. You'll find Bruce's wheels, a Clash exhibit, and lots more rock history at the new space in Soho, which has "preview hours" for the next week and is open for regular hours beginning December 3. Read more in the New York Times.
- November 26, 2008

DEVIL, I CAST THEE OUT!
A revision to the Working on a Dream track list at Brucespringsteen.net caught our attention -- two bonus tracks were originally announced, to supplement the album's 12 tracks, but now only "The Wrestler" remains as lucky 13. This afternoon we confirmed it: "A Night with the Jersey Devil" has been exorcised. At least for now, it will remain a Halloween treat only.
- November 25, 2008

"WORKING ON A DREAM" NOW AN iTUNES EXCLUSIVE
If you missed yesterday's free download, "Working on a Dream" can still be yours for a whopping 99 cents. It's available in the iTunes store exclusively through December 9.
- November 25, 2008

DON'T BURY THE BRUCE!
In addition to today's single giveaway (see below), you can also check out a "remastered" version of the NFL's "Working on a Dream" premiere -- it's the same 80-second edit, but remixed, we're told, "in response to fan criticism that they couldn't hear the song."
- November 24, 2008

TODAY ONLY -- "WORKING ON A DREAM," ON THE HOUSE!
The single release is upon us. Beginning on Tuesday, you'll be able to buy the "Working on a Dream" digital track through the iTunes store.
But today... you don't have to pay a dime. Download the new Springsteen song today via the iTunes store or Brucespringsteen.net, for free!
- November 24, 2008

ALL-REQUEST "BRUCE BRUNCH" COMING RIGHT UP
Time again for the yearly tradition on Tom Cunningham's Sunday morning radio show: The 3rd Annual All Request Thanksgiving Bruce Brunch to benefit the FoodBank of Monmouth and Ocean Counties will be next Sunday, November 30, on Jersey's 105-7 The Hawk. For a donation of $25 to the FoodBank, Tom Cunningham will play any Bruce request (and/or dedication) that you can come up with (although a trip to "Reno" is not on the menu). For the first time, the show will be extended from two to three hours, from 9 to noon -- that's more requests, and more money raised! He'll start taking requests starting tomorrow morning at 9:00, at (732) 918-2600; slots usually fill up fast. As always, you can listen to the streaming broadcast at www.1057thehawk.com.
- November 22, 2008

58 CANDLES
Here's wishing Little Steven a wicked cool birthday, born November 22, 1950.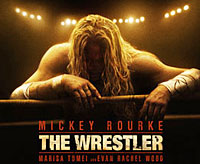 WRESTLER TRAILER FEATURES SPRINGSTEEN TITLE TRACK
If "Working on a Dream" leaves you wanting more, here's another online preview of the new album. Check out the new trailer for The Wrestler, the Darren Aronofsky film featuring Mickey Rourke due December 17. Springsteen's "The Wrestler," which he wrote for the film and which will be included as a bonus track on Working on a Dream, gets significant play.
- November 21, 2008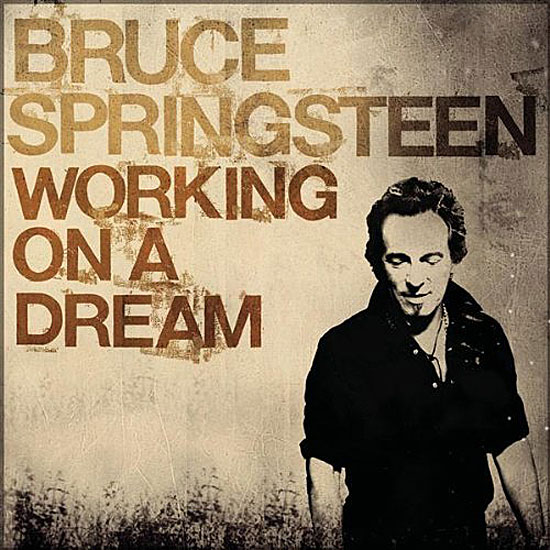 "WORKING" SINGLE -- HEAR IT NOW!
"Working on a Dream," the title track from Springsteen's forthcoming album, is going to radio today and Monday -- that's the single art above. Go to Q1043.com now to stream the song on demand.
- November 21, 2008

AUCTIONS TO BENEFIT DANNY FEDERICI FUND
Our friends over at Greasy Lake have launched an auction to benefit the Danny Federici Melanoma Fund, "not only to raise money for a very worthwhile cause, but also to keep Danny's memory alive among his fans." The cornerstone item, with a starting bid of $1,000, is a set of Springsteen CDs signed by Bruce and the 2008 model E Street Band; other items signed by Bruce and various band members are also on the block. All proceeds go to the Fund -- see the items and place bids on eBay.
- November 19, 2008

BACKSTREET RECORDS UPDATES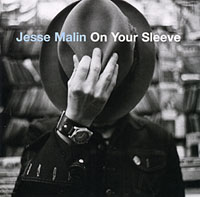 Just in: Jesse Malin's new album of covers, On Your Sleeve, including his recording of Springsteen's "Hungry Heart," the Hold Steady's "You Can Make Them Like You," and 12 more.

Plus: the "Santa Claus is Comin' to Town" CD single is back in stock for the season... limited edition Backstreets T-shirts are going fast... and we've just knocked 20% off Chuck Yopp's photo book, Greetings From Asbury Park: A Look at the Local Scene!
- November 18, 2008

WAITING TO TAKE YOU AWAY
While we all wait to find out who exactly Outlaw Pete and the Queen of the Supermarket are, Jeff Copeland of Freehold asks, "What's with all the Beatles song titles?" Revolver's "Tomorrow Never Knows" jumps out, of course, but Jeff also points out "Surprise Surprise" from John Lennon's Walls and Bridges and "Life Itself" from George Harrison's Somewhere in England. They're here, there and everywhere!
- November 17, 2008

NEW ALBUM: WORKING ON A DREAM SET FOR JANUARY 27 RELEASE
It's official: Bruce Springsteen's new album is set for January 27 release on Columbia Records. Working on a Dream was recorded with the E Street Band and features twelve new Springsteen compositions plus two bonus tracks. It is the fourth collaboration between Springsteen and Brendan O'Brien, who produced and mixed the album.
Track list:
1. Outlaw Pete
2. My Lucky Day
3. Working On a Dream
4. Queen of the Supermarket
5. What Love Can Do
6. This Life
7. Good Eye
8. Tomorrow Never Knows
9. Life Itself
10. Kingdom of Days
11. Surprise, Surprise
12. The Last Carnival

Bonus tracks:
The Wrestler
A Night with the Jersey Devil
Springsteen said, "Towards the end of recording Magic, excited by the return to pop production sounds, I continued writing. When my friend producer Brendan O'Brien heard the new songs, he said, 'Let's keep going.' Over the course of the next year, that's just what we did, recording with the E Street Band during the breaks on last year's tour. I hope Working on a Dream has caught the energy of the band fresh off the road from some of the most exciting shows we've ever done. All the songs were written quickly, we usually used one of our first few takes, and we all had a blast making this one from beginning to end."
Working on a Dream is Bruce Springsteen's twenty-fourth album and was recorded and mixed at Southern Tracks in Atlanta, GA with additional recording in New York City, Los Angeles, and New Jersey. [press release from www.shorefire.com]
The album drops just five days before Bruce and the E Street Band play the halftime show at Super Bowl XLIII. A preview of the album's title track came last night on NBC's Sunday Night Football, a 90-second edit of the song over halftime highlights:
- November 17, 2008

NEW BOSS SHIRTS IN STOCK AT BACKSTREET RECORDS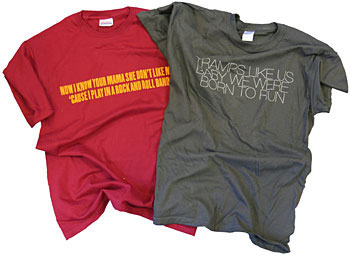 Just in from the Magic tour: two different "lyric" shirts, for "Born to Run" and "Rosalita." We've had a ton of requests for these, and we've finally gotten our hands on them, in all sizes from Small to XXL.
Plus, we've got three different limited edition Backstreets shirts, original designs that you might have seen in the crowd at recent shows... quantities on these are limited, grab 'em while you can. And the E Street Band hoodie is back, just in time for colder weather!
- November 14, 2008

TELL ME W.H.Y.
Bruce donates signed guitar, rare track for World Hunger Year
Thanksgiving is just a couple weeks away, and in addition to going above and beyond for his local foodbank (see below), Springsteen is also lending his traditional hand to World Hunger Year and their annual Hungerthon. This year, he's donated a signed guitar for their auction, a butterscotch '52 Fender. "This is really one of a kind," W.H.Y.'s co-founder Bill Ayres tells Backstreets, "In addition to his signature, Bruce has added these little drawings -- it's not like anything I've seen him do before." The guitar will be auctioned on Tuesday, November 25, between 5 and 6:30 p.m., on WFAN. For more information and to bid, call 1-800-5-HUNGRY.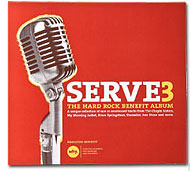 Springsteen has also donated a rare track to Serve3, the third Hard Rock benefit album for World Hunger Year. The previous volumes of Serve have featured his music, but this year his selection is particularly fitting: it's "Remember When the Music," Bruce's tribute to Harry Chapin, who co-founded W.H.Y. in 1975. This live performance from 1987 was released on the Harry Chapin Tribute album, which has been out of print for years; the track, at more than seven minutes long, makes it to Serve3 with Bruce's rap about Harry's inspiration intact. See www.hardrock.com for ordering information.
- November 14, 2008

A SIRIUS BOON FOR XM RADIO LISTENERS
With the recent merger of SIRIUS and XM, Bruce Springsteen is now bouncin' off even more more satellites. A new channel lineup went into effect yesterday, finally allowing XM satellite radio subscribers the chance to hear E Street Radio, SIRIUS's 24/7 Boss channel, on channel 58 -- right next door to Little Steven's Underground Garage on channel 59. On SIRIUS, E Street Radio remains on channel 10, and the Underground Garage is on channel 25.
- November 13, 2008

IN THEIR HOUR OF NEED


After supporting of the Community Foodbank of New Jersey for 23 years, Bruce is stepping up his involvement, lending his image publicly to the organization by appearing in its new ad campaign "We Can't Let This 'Bank' Fail!" With demand for food among state residents far outpacing supply, the campaign is a call to action for people to contribute in any way they can, due to the urgency of the situation.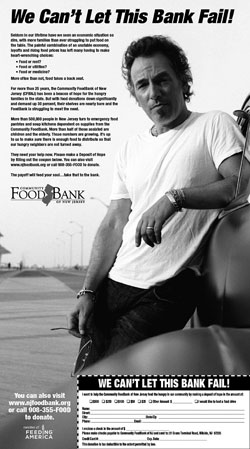 A campaign representative tells Backstreets, "This is an extremely trying time for the CFBNJ, as well as food banks around the country, especially during the economic downturn. In New Jersey alone, there is a 30 percent increase in those needing food this year, which is being met by a significant decrease in donations. In fact, [FoodBank founder Kathleen DiChiara] says that the current amount of food they have stored is the least they have had since the very early days of the CFBNJ back in the early '80s. This is part of the reason why Bruce agreed to help out."
"With the shelves at our warehouse bare, the situation has felt bleak, until the moment when Bruce Springsteen volunteered to help our cause," says DiChiara. "We believe that his generous spirit will inspire others to contribute and lend a hand to those in need. He is a symbol of hope."
The ad will appear in The New York Times, The Star-Ledger, The Bergen Record and The Daily Record this Sunday, November 16. We encourage you to visit www.njfoodbank.org or call 908-355-FOOD (3663) to donate or find out more -- or, click the image above for a PDF that you can print and mail in with a contribution.
- November 13, 2008

COME VETERANS DAY...
...and I'm thinking about where I was a year ago today, watching Bruce and the E Street Band play for wounded soldiers (and the rest of us) in our nation's capital on the Magic tour. I wrote the following for Brucespringsteen.net just after returning from the D.C. shows, but it's never run here. No time like the present:
...A couple hours before the show, I was in the bowels of the Verizon Center, where I was to interview Patti Scialfa. Time got too tight, though, and the interview had to be postponed, because she, along with Bruce and their son Evan, had spent their Veterans Day afternoon visiting wounded soldiers at Walter Reed Army Medical Center. Much as I'd been looking forward to the interview, that's a punch I can roll with. And it gave me a lot to think about as I lingered a while in that backstage hallway, especially as it started to fill up with a host of visitors against the painted cinderblock walls. Some had canes, some were in wheelchairs -- all from Walter Reed, I found out. One soldier in a wheelchair -- not a vet, he was still on active duty -- was there with his young son, probably all of nine years old, both sporting Magic T-shirts. Bruce had invited them all to the show, and they were waiting for him to come out and say hi. And as long as nobody was ushering me out, I was going to stay and watch.

I thought back to 1981, when at the L.A. Sports Arena on August 20, Springsteen played a benefit for the Vietnam Veterans of America Foundation. The show has become legendary, not only for the almost frighteningly intense performance, but also because it's no overstatement to say that benefit show singlehandedly sustained a struggling movement. VVAF President Bob Muller has said as much, numerous times. In 2001, we put together a special issue of Backstreets magazine [Backstreets #72] to mark the concert's 20th anniversary, with an interview with Muller as a centerpiece. Here's just a small part of what Muller had to say about the significance of that '81 show:

"That was the turnaround event, really, in our history of putting together a coherent Vietnam veterans' movement. The organization that I was president of, the Vietnam Veterans of America, went on to become the only congressionally chartered organization in this country for Vietnam Veterans. It led the fight for the whole range of benefits that ultimately got enacted. So it was the critical organization and voice for Vietnam vets at a very appropriate and necessary time.

"I'd started the organization in the very beginning of 1978 and struggled to keep it going. And literally, right at the time that we got connected with Bruce Springsteen, it was several years down the road and I just said, you know, 'that's it.' We'd hit the rocks five times where we thought the organization was going to fold. We got to the point where I said, 'we cannot rally one more time and pull this thing out,' even after those remarkable survivals... we were going down. It was our darkest moment, and I say that very honestly.... We were finally about to give up the ghost. And that's when Bruce came in. It literally turned us around."

Muller draws a direct line from that night -- from not only the money raised, but more importantly, Springsteen's public support -- to "ending the silence that surrounded Vietnam," to getting better programs in place for veterans, to the Vietnam Veterans Memorial.

Putting together that anniversary feature for the magazine, I had the chance to sift through a great number of images from that night, courtesy of photographer Neal Preston. Neal sent me a stack of photos and contact sheets, which I slowly sorted through at my desk shortly after 9/11, somewhat awestruck. Not only stage shots, showing Springsteen sweat-soaked and intense, but glimpses of backstage: a young and skinny Bruce, in a tight, faded jean jacket, down on his haunches listening intently to a guy in a wheelchair. A closer look, and I realize the guy has no legs. A shot of a riser by the stage with a long row of vets in wheelchairs, waiting for the show to start. Bruce again in a squat with his hand on the arm of Muller's wheelchair (Muller himself, as a lieutenant in the Marine Corps, was wounded in combat in 1969), a broad grin on Springsteen's face as Muller holds court. The images went on and on -- we ran as many as we could in the magazine -- and those are what I see in my head now when I listen to that Vets show (through the wonder of a, er, "fan-based recording").

Powerful as they are, those photos are locked in time, those photos are history. To someone like me, born in the middle of the Vietnam era, the vets in those images, with their mustaches and afros, could be nothing but our parents' generation. For me, they call up memories of being around my dad's friends as a kid, them drinking Schaefer, me gawking at a new motorcycle, a time when I had very little awareness of anything that was going on in the world at large, let alone anything to do with war, lost limbs, life and death.

Standing in that hallway Monday night, this Veterans Day, there was no mistaking this for history. These guys are my age, these guys are far younger. This is my generation and practically the next, still fighting and suffering in a war many of us don't understand, and on their faces were some of the same looks I saw on the faces of the vets in Preston's photos -- smiles that say they've seen much more than I have, and they've got a better handle on it all than I feel like I ever could. Like that soldier right across the hall from me, in the wheelchair, the one with the kid. I mustered up the courage to strike up a conversation, remarked on his T-shirt, muttered something with "thanks" in it, but really, I didn't know what to say.

Bruce did. Soon there he was, making his way down the hall and lighting it up as he went, posing for snapshots, talking and listening... what was said, I'm not sure. It was mostly a buzz, and being the fly on the wall that I was, I was constantly mindful of not wanting to intrude. But there were smiles all around, and a few times as Springsteen hunkered down in that same familiar squat, his hand on the arm of a wheelchair, making a connection, the years collapsed. Here's Springsteen a quarter-century later, doing it all again -- it's both wonderful and tragic. Muller, too, is still extremely active, as president of what is now Veterans for America, and this scene made me think of something else that Muller told us about that Night for the Vietnam Veteran in '81:

"This wasn't a one night, wham-bam, thanks goodbye. The fact that [Bruce] maintained a relationship, the fact that he kept an eye on how we were doing and stepped up several times, quietly, sometimes not being asked, just to give us continuing support, is remarkable. It was done very quietly and privately."

The night before, Springsteen had dedicated "The Promised Land" to some folks from Bethesda Naval Hospital; on this night it'll go out for Walter Reed. Was there the same scene backstage the night before? How many other times has Bruce done that without Neal Preston there to capture the moment?

During the Monday night show, there are those same guys in wheelchairs off to the side of the stage. Fewer mustaches, and no riser, but a strikingly similar scene to the L.A. Sports Arena, if more discreet. And there's Springsteen, heading over to stage left with a huge grin on his face, pointing with the neck of his guitar and playing his heart out for these soliders, making sure they're having a good time. He sends out "Devil's Arcade," with its depiction of a hospital ward surely much like what he saw that day at Walter Reed, simply "for Veterans Day." After some final bows, Bruce dashes over to the side of the stage and gives that soldier's son his harmonica. It's a small, quick gesture, and it's not like he didn't have enough to remember the night by, but the look on the boy's face is priceless.

Backstage before the show, as he was signing the boy's shirt, Springsteen said, "Hey, I'm glad you made it!" His response: "I'm glad you made it too, Bruce."

You and me both, kid.

- Chris Phillips
Happy Veterans Day, Armistice Day, Remembrance Day... and a heartfelt thanks to all of our men and women in uniform.
- November 11, 2008

"WORKIN' ON A DREAM" TO PREMIERE ON SUNDAY
Are you ready for some football? Well, even if you're not, you'll probably want to tune in to the Cowboys/Redskins Sunday Night Football game on November 16. As NBC's Al Michaels announced last night: "Next week we'll have the world premiere of Springsteen's new song 'Workin' on a Dream' set to NFL highlights at halftime at next week's game." Springsteen performed an acoustic version of the new song last week in Cleveland; this will be our first chance to hear the studio recording.
- November 10, 2008

JUST WHEN YOU THOUGHT THE VOTING WAS OVER...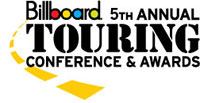 Bruce Springsteen and the E Street Band are up against four other touring acts for the Eventful 2008 Fans' Choice Award -- essentially, "Concert of the Year" at Billboard's Fifth Annual Touring Awards. Bruce and the E Streeters better than Bon Jovi, Kenny Chesney, Madonna, and the Police? Cast your vote here. Competition ends November 19, winners revealed November 20 at the Roosevelt Hotel in New York.
- November 6, 2008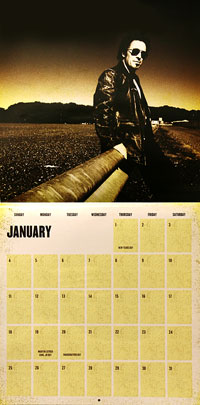 JOIN THE BOSS-A-MONTH CLUB
2009 Springsteen calendars in stock now at Backstreet Records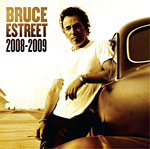 The official Bruce Springsteen calendar for 2009 is here. It's been a few years since we've had one of these, but it's back: another great month-by-month wall calendar from Thrill Hill Productions. This one celebrates the Magic era, with beautiful images of Springsteen courtesy of photographer Danny Clinch. Each month has a large (12" x 12") photo, some sepiatone and some in color. Like previous Thrill Hill calendars, this Bruce-licensed 2009 model is high quality on glossy stock and very useful, with space to write for each date and major holidays marked.
A perfect holiday gift for any Springsteen fan, of course… but this edition also includes the last four months of 2008 on the first page, so you can start using it immediately.
- November 6, 2008

HEY, DIDJA HEAR THE ONE ABOUT...
Bruce plays three-song, two-joke set at NY Comedy Festival last night
The day after the first Tuesday in November, and Bruce Springsteen was back on stage -- not for another political event, but to honor our soldiers and veterans. Springsteen returned for the second annual Stand Up for Heroes benefit, raising money for the Bob Woodruff Family Fund to help wounded soldiers. At the beginning of the night, Bob and Lee Woodruff stated that this was not intended as a celebration of the results of the election, and that set the tone for the evening. Without a word about the election, Springsteen performed three songs solo acoustic, joined by Patti Scialfa on vocals for "Thunder Road," and tipped his hat to the veterans in the audience at both the beginning and end of his set.
Acknowledging that he was the only musician on the bill for this New York Comedy Festival event, he got into the spirit of the show with a couple of jokes between songs. He said that the only jokes he knows are the ones the band tells him on the bus. And the two that he told -- variations on this one and this one -- were old enough that he probably heard them in the days when the band actually travelled by bus.
After his set, they once again auctioned off one of his motorcycles, a 1994 Harley Davidson Dyna Wide Glide, which Springsteen rode onto the stage with the engine running. After he threw in his leather jacket, it went for $70,000. The guitar Bruce played during his set was auctioned as well, bringing in an additional $50,000 for the cause.
- November 6, 2008

ANOTHER BRUCE BIKE ON THE BLOCK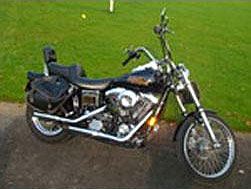 Bruce is back on stage tonight for the Stand Up for Heroes benefit at New York's Town Hall. And for the second year running, Springsteen has donated one of his choppers to benefit The Bob Woodruff Family Foundation. His 1994 Harley Davidson Dyna Wide Glide motorcycle will be auctioned live at the event tonight -- and thanks to Charity Folks, you can be part of the action. Bids will be accepted online until 3 p.m. today. If you won't be present at the show, just fill out your maximum bid online and they'll bid on your behalf tonight -- they'll even have you on the phone. Details and bidding at Charityfolks.com; if you have any questions, call Kelly Fiore at (646) 747-5953.
- November 5, 2008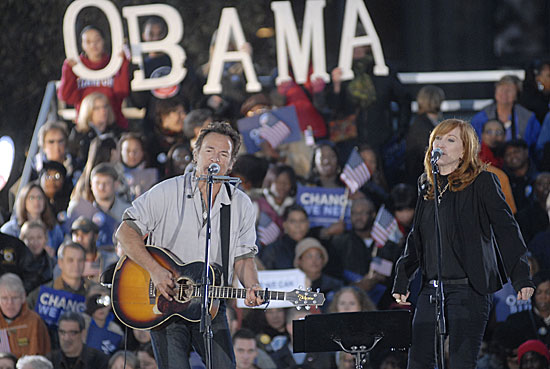 "HEY, MR. PRESIDENT, I KNOW YOU GOT YOUR PLANS..."
The first song played over the loudspeakers after Barack Obama's history-making first speech as U.S. President-Elect last night in Chicago's Grant Park was Bruce Springsteen's "The Rising." The Obama victory came two days after the candidate and his family joined the Springsteen family onstage at a rally in Cleveland [see below]. All politics aside, witnessing Bruce and his music play a role in such a historic event must be acknowledged as a significant highlight of his career.
"I saw myself less as a partisan for any particular political party, than as an advocate for a set of ideas. Economic and social justice, America as a positive influence around the world. Truth, transparency and integrity in government. The right of every American to a job, a living wage, to be educated in a decent school, to a life filled with the dignity of work, promise, and the sanctity of home. These are the things that make a life, that build and define a society. These are the things we think of on the deepest level, when we refer to our freedoms." --Bruce Springsteen, November 2, 2008 [full speech here]

"It's been a long time coming, but tonight, because of what we did... change has come to America.... There will be setbacks and false starts. There are many who won't agree with every decision or policy I make as president. And we know the government can't solve every problem.... But I will always be honest with you about the challenges we face. I will listen to you, especially when we disagree. And, above all, I will ask you to join in the work of remaking this nation, the only way it's been done in America for 221 years: block by block, brick by brick, calloused hand by calloused hand.... And to those Americans whose support I have yet to earn, I may not have won your vote tonight, but I hear your voices. I need your help. And I will be your president, too." --President-Elect Barack Obama, November 4, 2008

- November 5, 2008 - Reporting by Shawn Poole, photograph by Tom E. Puskar (Cleveland, OH, 11/2/08)



- November 4, 2008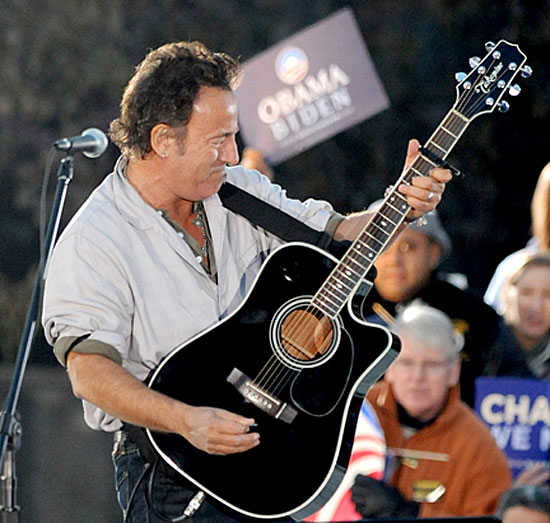 SPRINGSTEEN DEBUTS NEW SONG AT FINAL RALLY FOR OBAMA
Four years later, nearly to the day, and there was Bruce, once again, on the stump in the battleground state of Ohio in the final hours of a presidential campaign, doing his best to get a Democratic president back in the Oval Office. With four more years of history to chew on, Springsteen has been energetic in his support for Barack Obama at a total now of four rallies in the past month, including Sunday afternoon's Change We Need rally in Cleveland. Yes, it was the same mall, in the shadow of the same, cold, neo-classical government buildings, where Springsteen joined John Kerry on November 1, 2004. This time around, though, more of an air of cautious confidence was evident as Bruce contributed his final set to the cause and introduced Obama's family to his own. "This time!" Bruce said, "This time!"
"I was here a while back, in 2004," Springsteen told the crowd, adding, "I'm glad they let me come back -- that they didn't think I might jinx them or something." A six-song set, similar to the Columbus set a couple weeks ago, added a welcomed duet with Patti on a new song: "Workin' on a Dream." The song has been recorded for the follow-up to Magic, which Springsteen has been working on this fall, an album expected to see release around the time of the Presidential Inauguration in January 2009.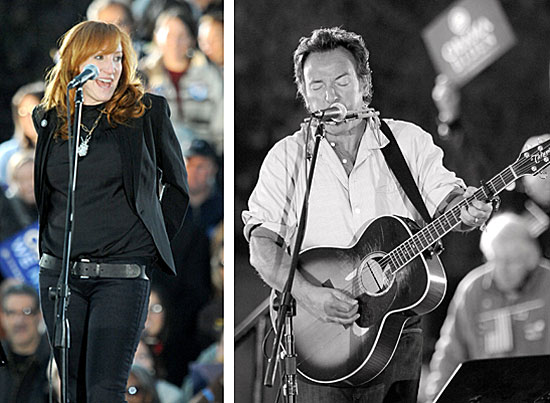 The world premiere of "Workin' on a Dream," which Springsteen dedicated to Obama, followed "The Promised Land," "Youngstown," and "Thunder Road" and preceded "This Land is Your Land." On the Woody Guthrie classic, Bruce seemed to think the packed mall wasn't singing up to their potential and laid a little hometown guilt on them by pointing out that Cleveland was one of the founding cities of rock 'n' roll, so, well, get singing!
His now-familiar stump speech PSA and percussive "Yes We Can" chants were well received as he closed with "The Rising" before introducing Barack Obama. This slightly truncated set may have had more to do with the fact that Obama was due in Cincinnati later in the evening and had just arrived from Columbus.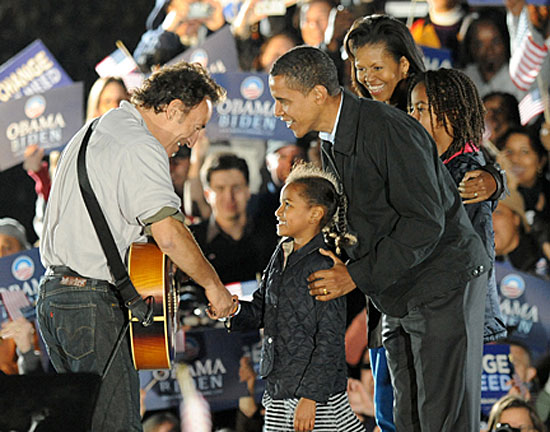 Standing off stage along with Patti were their three children, all of whom joined Bruce onstage moments after he introduced Obama and his family to the crowd. It was a special moment as Barack's youngest daughter, Sasha, sheepishly shook Bruce's hand after her father introduced the two. For a minute, both families blended together on stage as Barack thanked Bruce for his support, Obama telling the crowd, "A rising is coming!"
Find video on CSpan.com. under "Recent Programs."
- November 3, 2008 - photographs and reporting by Ed Hall, Jr.

BACK TO OHIO TODAY
Springsteen's Change We Need rally performance in downtown Cleveland this afternoon will be his second appearance in the state for Obama. It's a free event, no tickets required. According to WKYC:
The gates open at 2 p.m. and Springsteen is expected to start playing at 3:45.

Senator Obama will take the stage after the Cleveland Browns football game lets out.

Police are encouraging people attending the rally to use public and mass transit to get to and from downtown, because the streets are usually congested for an hour or so after a Browns game.
To watch online, try CNN.com or CSPAN.org, or local stations WKYC.com, newsnet5.com, or myfoxcleveland.com.
- November 2, 2008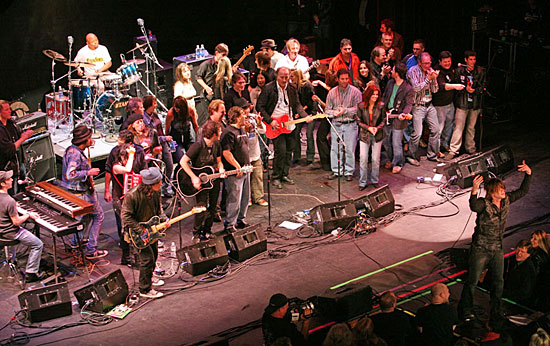 LIGHT OF DAY 9 BRINGS IT TO THE BOARDWALK
No Bruce last night, but a big night for Light of Day's ninth annual benefit. This year's Saturday night show was at the Paramount Theatre in Asbury Park, many local artists and FOBs raising money to fight Parkinson's as usual, and celebrating the big 5-0 for LOD founder Bob Benjamin. Pictured above are the Goo Goo Dolls' Johnny Rzeznik (out front), with Benjamin, Joe Grushecky & The Houserockers, Joe D'Urso , Jesse Malin, Willie Nile, Marah, Jon Caspi, Rob Dye, Bobby Strange, Danny White and Bruce Tunkel, Frankie and Kelly of Maybe Pete, Tony Pallagrosi, Dawne Allynne, and more. This year's LOD continues today with Boccigalupe & the Badboys, Jobananno & the Godsons of Soul, and more at the Stone Pony. Happy birthday, Bob!
- November 2, 2008 - photograph by Mike Black

BRUCE TO JOIN OBAMAS FOR SUNDAY RALLY IN CLEVELAND
While many eyes are on Asbury Park's Paramount Theatre tonight, for the 9th annual Light of Day benefit, we have definitive word of Bruce Springsteen's Sunday whereabouts: he'll be joining Barack and Michelle Obama for a Change We Need Rally in Cleveland, OH, tomorrow afternoon. Click here for details.
- November 1, 2008