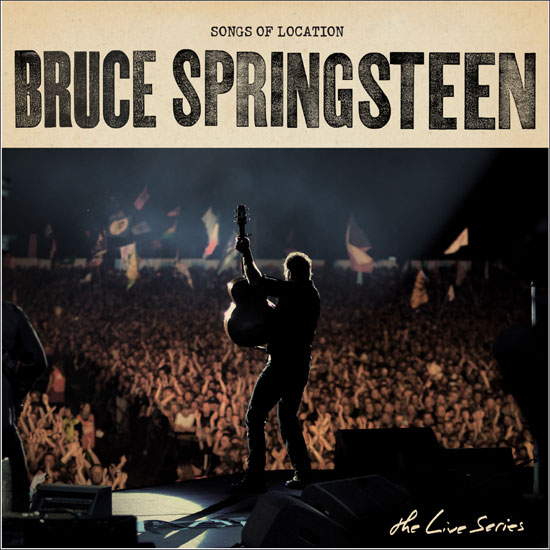 YOU REMEMBER THE FACES, THE PLACES...
The Live Series today returns with 15-track Songs of Location
This month is a rare one with five Fridays, so even though it might feel like today is right for another Live Archive release, the next First Friday is still a week away. There is, however, a new playlist of live tracks online today, the latest entry in The Live Series that brings select Archive performances to a wider audience.
With The Live Series: Songs of Location, another 15 live Springsteen tracks debut on Spotify, Apple Music, Amazon Music, among others. These songs previously appeared in the context of full-show releases from the Archive and are now available available for streaming (beyond the nugs.net app).
From "My Hometown" to "Lucky Town," the setting is the focus for Songs of Location. Like previous Live Series entries, the themed playlist spans Bruce's career from 1975 to 2016. The playlist includes performances from the '70s ("Lost in the Flood, "Candy's Room," "Streets of Fire"), the '80s ("Across the Borderline," "My Father's House"), the '90s ("Lucky Town, "Streets of Philadelphia"), and into the 21st Century ("American Land," "Meet Me in the City), sourced from notable shows like Roxy '78, Winterland, and the Christic benefits. Click here for links.
This is the tenth playlist in The Live Series, following Songs Under Cover Vol 2., Stripped Down, Songs of Summer, Songs Under Cover, Songs From Around the World, Songs of Love, Songs of Hope, Songs of Friendship, and Songs of the Road — in all, that's 150 selections from the Live Archive concerts added to the mix for streaming audio.
- April 29, 2022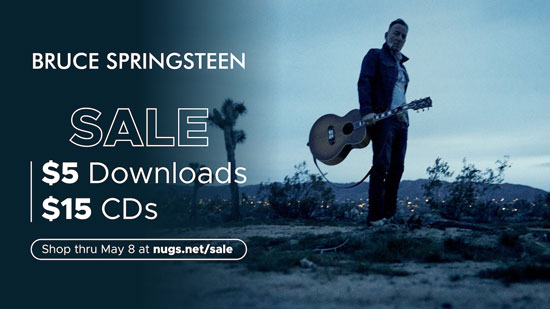 HOLY GRAIL, ON SALE: LIVE ARCHIVE DISCOUNTED VIA NUGS
If you've missed any of Bruce Springsteen's Live Archive series along the way, or have a wishlist you've been meaning to tick off, now is a great time, with some serious savings available on every show in the series from nugs.net.
With the Live Archive sale running through May 8 (which also happens to encompass the First Friday in May), you can pick up CD sets, usually $23, for just $15 per show. If you just want to download, mp3 filesets are cut in half from $9.95 to $5 per show (the sale does not apply to other file formats).
Be sure to check both the Bruce Springsteen and Bruce Springsteen & the E Street Band sections... or just do a search for the show(s) you're looking for.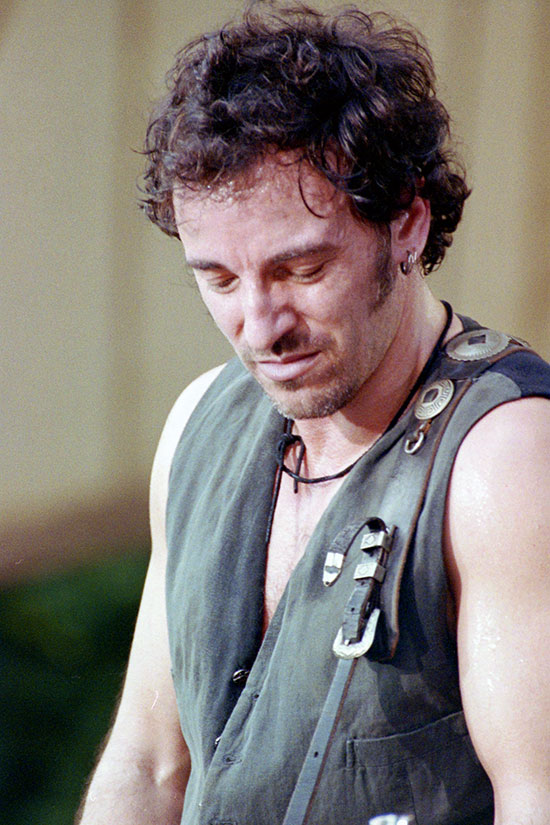 Photograph by Florian Spintler, captured at the most recent show added to the Live Archive, Berlin, May 14, 1993
Along with the offer, Nugs has provided a list of recommendations from our own Erik Flannigan, who also provides the monthly write-ups about each release on the nugs.net blog. "For Bruce Springsteen fans raised in the bootleg and tape-trading era, Erik writes, "the idea that dozens of high-quality, official live recordings would be released from almost every tour Bruce and the E Street Band have ever done is nothing short of discovering the holy grail. Navigating the bounty of the Live Archive series, which contains some of the most famous shows Bruce has ever performed, can be delightfully daunting. These performances are especially near and dear to me.…"
This list of "Flannigan's Faves" includes his rationale for each pick; we'll also provide the chronological list below, with links to our own write-ups for each release for further reading.
Though the Live Archive releases are also available via live.springsteen.net, be sure to note the sale prices are only offered on nugs.net, through May 8.
- April 28, 2022

GOT TO BE GOOD LOOKING 'CAUSE HE'S SO HARD TO SEE
Springsteen's appearance on Sunday night in DC, as part of the 2022 Mark Twain Prize ceremony at the Kennedy Center [see below], was professionally filmed for future viewing: the event honoring Jon Stewart will air thanks to Public Broadcasting, premiering June 21. But of course many of us don't want to wait two months to see Springsteen's first public performances of the year.
Full clips of both "Born to Run" (a solo-acoustic performace) and "Come Together" (with Gary Clarke Jr.) are on now YouTube. These are crowd-shot and bit distant, but it's proof of life… right now.
- April 27, 2022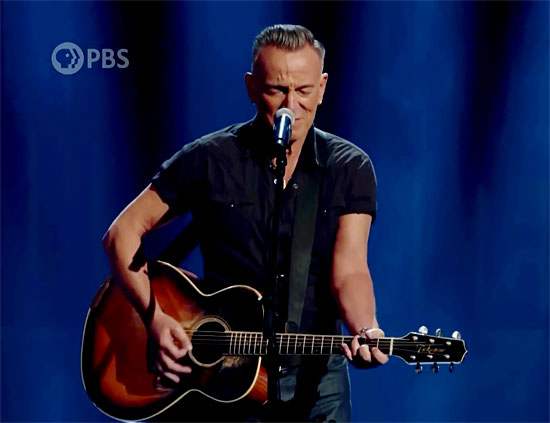 BRUCE RETURNS THE COMPLIMENT AT MARK TWAIN PRIZE EVENT
Jon Stewart got to be a joker he just do what he please
"Whenever I see Bruce Springsteen do anything, he empties the tank… every time." That was Jon Stewart, memorably saluting Bruce Springsteen at the 2009 Kennedy Center Honors. So it was particularly fitting that the Boss would return to pay his own respects, with Stewart the man of the hour at the Kennedy Center last night, the beloved former host of The Daily Show winning the 23rd Mark Twain Prize for American Humor.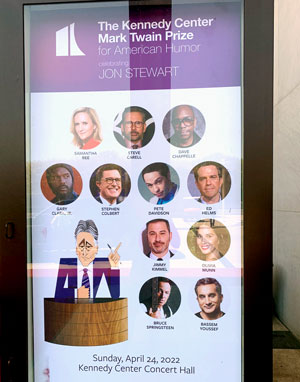 Springsteen made a special trip to Washington DC yesterday to be a surprise guest at the 2022 prize ceremony — he wasn't on the advance bill, but his face appeared on the event poster when attendees arrived at the John F. Kennedy Center for the Performing Arts.
As Stewart took the stage at the beginning of the night, it was to the sounds of Springsteen performing with Gary Clark Jr., dueting on the Beatles' "Come Together." The New York Times describes the song selection as "an ode to Mr. Stewart's long-held aspirations for America, despite his career based on biting political satire"; we wouldn't be surprised if Bruce likes it just as much for its line describing his magic trick: "He say, 'one and one and one is three.'"
Later in the evening Springsteen later returned to the stage by himself, playing "Born to Run" on his Takamine acoustic guitar and praising Stewart, the StarTribune reports, "as a patriot determined to speak truth to power."
The ceremony was filmed for broadcast, to premiere on PBS stations nationwide June 21 at 9pm Eastern.
- April 25, 2022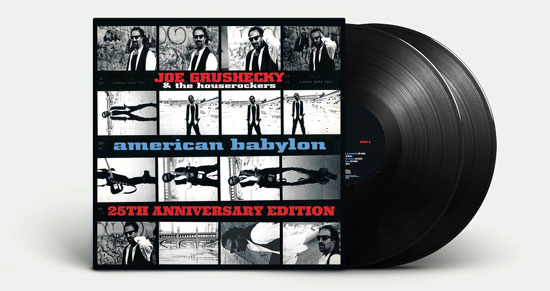 BRUCE & JOE'S ORIGINAL LABOR OF LOVE, COMING TO VINYL
One week from today, the 25th Anniversary Edition of American Babylon arrives on vinyl. The 1995 Joe Grushecky & the Houserockers album was produced by Bruce Springsteen, who also played on and co-wrote songs for the album as well. A quarter-century later, it stands as Springsteen's most substantial collaboration on another artist's record since Gary U.S. Bonds.
American Babylon was remastered and expanded for a 25th Anniversary release on compact disc last year, and now it's finally time for the vinyl edition, due next Friday, April 29. Other than beyond a very limited European run in 1995, this is the album's first commercial release on vinyl.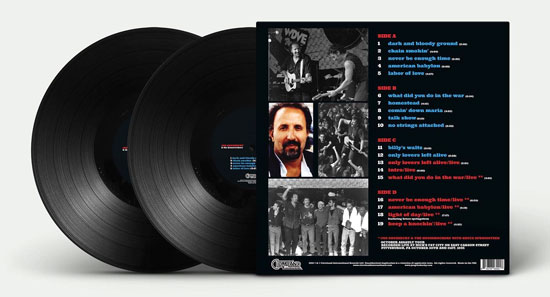 The new 2LP set features the newly remastered 12 tracks from the original studio recording, plus six live songs from 1995's October Assault tour, when Bruce performed with the band as an honorary Houserocker.
While the vinyl doesn't include as many bonus tracks as the 2CD set (which has additional live tracks as well as a few song demos), it does include Springsteen's vocal turn on "Light of Day" and a never-before-heard version of Little Richard's "Keep a Knockin'," exclusive to this two-record set.
We're now taking pre-orders for the American Babylon 25th Anniversary 2LP, and we've recently added other new items to our store as well...
See all Latest Arrivals in the Backstreet Records shop
- April 22, 2022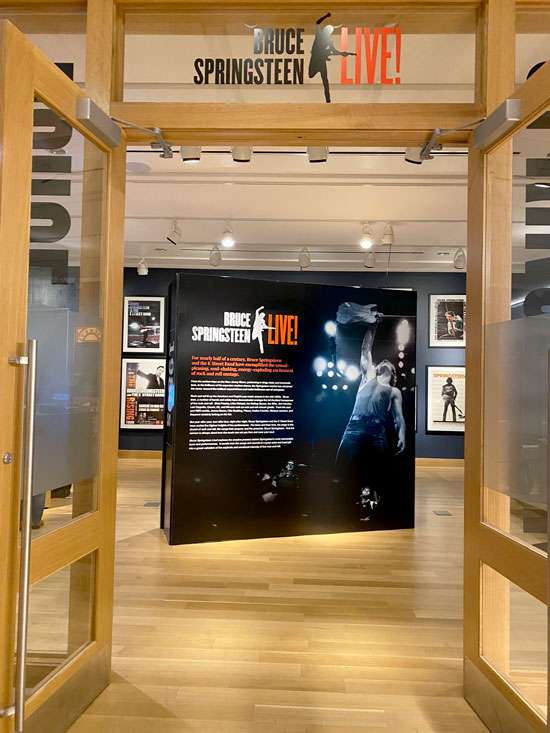 Doors are open for Bruce Springsteen Live! at the Woody Guthrie Center - photograph by Nicki Germaine
BRUCE SPRINGSTEEN LIVE! IS NOW ON TULSA TIME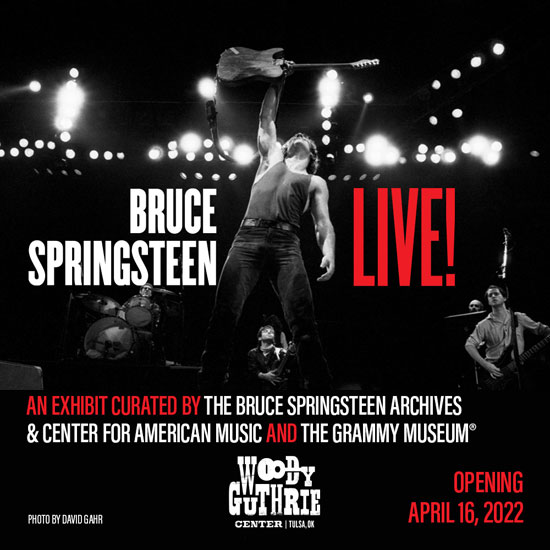 Following its six-month run at the GRAMMY Museum Experience Prudential Center in Newark, NJ, the Bruce Springsteen Live! traveling exhibition arrived in Tulsa, Oklahoma over the weekend. Curated by the GRAMMY Museum and The Bruce Springsteen Archives and Center For American Music, the interactive exhibit opened to the public April 16 in its new home at the Woody Guthrie Center.
"Springsteen's connection to Woody Guthrie is unequivocal," Springsteen Archives director and co-curator Eileen Chapmen said in a statement, "as he often remarks on how Woody's work inspired his own music and performing Guthrie songs regularly in concert."
"It's an honor for us to be featuring the 2021 Woody Guthrie Prize recipient, Bruce Springsteen, in this special exhibit," added the Guthrie Center's executive director Deana McCloud. "As an artist who follows directly in Guthrie's footsteps, telling the stories of the common people, Springsteen truly embodies the spirit and vision of the Woody Guthrie Center."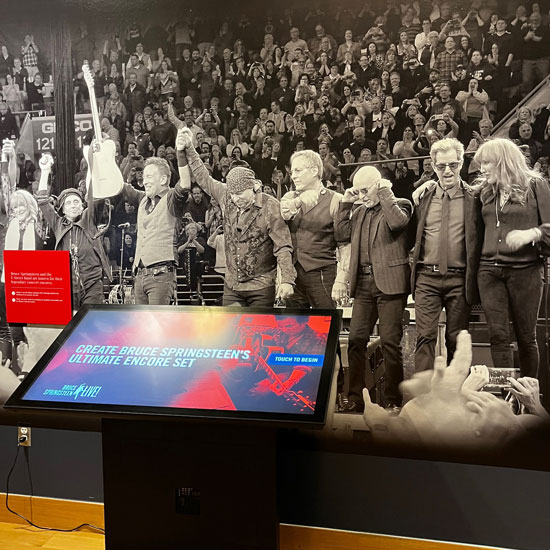 Above and right, photographs from the newly opened exhibit in Tulsa by Kat McDonald
As a 48-year follower of Bruce Springsteen and the E Street Band, I knew I had to make the trip to Tulsa for the opening — and the exhibit was worth every minute of the seven-hour drive from Austin, TX. I attended the member-exclusive preview of the exhibit on April 15, and I instinctively knew it was going to be an experience of a lifetime. Being surrounded by artifacts, photos, and memories of Springsteen and the E Street Band was nearly overwhelming. Bruce's Esquire is of course a major attraction, but it was Clarence's black-and-gold saxophone and Danny's accordion that brought tears to my eyes while also invoking memories of these master musicians performing on stage. Stunning photographs of the band surrounded the exhibit, while the interactive displays provided a more intimate connection with Springsteen and the E Street Band.
The opening event included a revealing discussion with curators Bob Santelli (founding executive director of the GRAMMY Museum) and Eileen Chapman, moderated by Steven Jenkins, executive director of the Bob Dylan Center (also in Tulsa, to open in May). Two surprise guests also made an appearance: founding E Street bassist Garry Tallent, and photographer Nicki Germaine, who captured a very young E Street Band 48 years ago in Texas.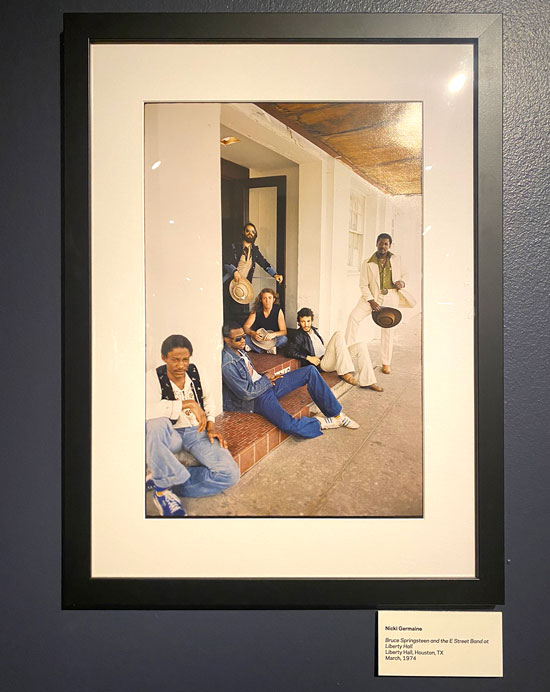 Photograph by Nicki Germaine - of a Nicki Germaine photograph from 1974 on display in the exhibit
Germaine discussed being there to photograph Bruce and the E Street Band as they played their first show in Texas in 1974, at Liberty Hall in Houston. As she recounted it, the band was very laid back prior to the show, but when they hit the stage, they exploded — and she knew she had to capture this phenomenon. Her photography is among others included in the exhibit by Danny Clinch, PJay Plutzer, Barry Schneier, Frank Stefanko, the late Phil Ceccola, and more.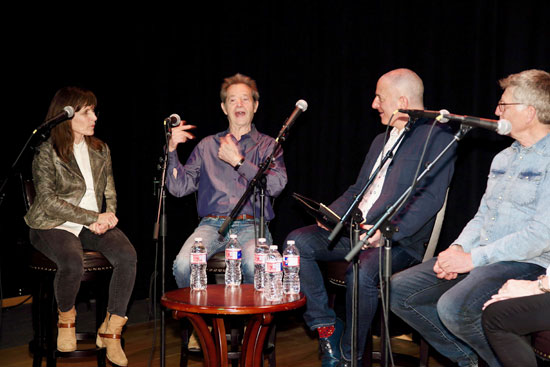 At the April 15 opening in Tulsa, L-R: Nicki Germaine, Garry Tallent, Steven Jenkins, Bob Santelli - photograph via Twitter/@WoodyGuthrieCtr
Tallent recalled the band's now-legendary 1988 concert in East Berlin, for a massive crowd of 300,000 behind the Berlin Wall. He remarked how he felt privileged to be an American after seeing the suppression and censorship being imposed on the people of East Berlin. That July 19, 1988 concert is included in the exhibit's top ten list of Springsteen shows.
Bruce Springsteen Live! will be on display at the Woody Guthrie Center (where General Admission tickets include access to the exhibition) through September 25, at which point it's currently scheduled to move on to the GRAMMY Museum in Los Angeles. Read more about the exhibit in its initial Newark run here.
- April 19, 2022 - Kat McDonald reporting


BIG THINGS ONE DAY COME
Hearing "Born in the U.S.A." as never before

When Bruce Springsteen convened the E Street Band to record in 1982, he brought with him a cassette of acoustic demos he'd completed at home. Much of that tape became his narrative masterpiece Nebraska, and other elements helped launch his best-selling 1984 LP Born in the U.S.A..
How those songs made the jump to E Street is a subject that has long fascinated fans; this weekend, a major window opened when RockXMéxico posted an April 4 presentation by Toby Scott. In illustrating Scott's studio process, the YouTube video [below] reveals how Bruce and the band worked up parts and arrangements for the storied title track, taking the lament of a Vietnam Veteran from its rugged, raw form to multi-platinum, worldwide fame.
Toby Scott served for decades as Springsteen's mixer, recorder, and archivist. In 1982, he captured "Born in the U.S.A." at the Power Station in New York, and its story anchors this 90-minute masterclass held at the SoundCheck Expo conference in Mexico. In it, Scott uses the stems, or isolated tracks, to demonstrate, quite simply, how a song gets recorded.
Forty years on, hearing the straw spun into gold not only is useful for music professionals, but also it provides a fascinating glimpse for fans who've long understood that the E Street Band recorded "Born in the U.S.A." in two takes. That may be the case — once they copped the final arrangement.
Scott's whistle-stop through the song's various stations — unused keyboard parts, Springsteen instructing the band, isolated drum and bass parts — clearly shows the song's evolution. "Alright, I'll start it out," Springsteen says ahead of the second take. "Come in on the second verse."
By this point in its history, the E Street Band was recording live. Scott illustrates how they set up in the Power Station and even where they stood: on this track, Clarence Clemons plays a shaker in a hallway just outside the main studio. Explaining how sounds and effects got placed, Scott's presentation pays particular attention to Max Weinberg's drums, Springsteen's voice, and his guitar.
"We often called Bruce's guitar track 'the primal scrub,'" Scott said, playing the track on its own to demonstrate the sound to his audience. "It was just sort of a wall of noise… but if you took it out of the mix, the mix fell apart." As for the voice, you can hear Bruce's live vocal as an isolated track starting at 1:11:18 — a hair-raising moment for sure.
From knowing how to mic the room to his ability to mix on the fly, Scott was instrumental in the sessions, in which, by his count, the E Street Band committed 65 songs to tape from 1982 to 1984. And while recording would stretch on for two more years after getting "Born in the U.S.A," they worked quickly. "Back in the days when I learned to record," Scott said, "you adjusted everything to go to tape so that it was almost pre-mixed." (Their biggest problem, of course, was bringing the sound from Springsteen's demo tape to heel — Nebraska is a whole other story.)
Scott's deep dive into "Born in the U.S.A" follows a similar one that mixmaster Bob Clearmountain appeared in a year ago — recommended further viewing if you enjoy seeing how Springsteen and the E Street Band recorded one of Bruce's best songs.
- April 11, 2022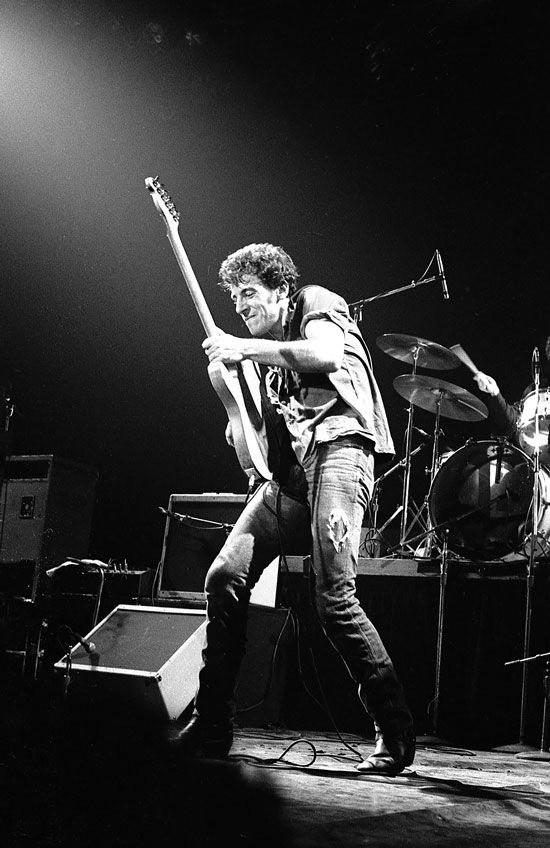 Springsteen makes it talk at Winterland, 12/16/78 - photograph by PJay Plutzer
HEAR THE GUITARS RINGING OUT AGAIN
Legendary E Street Band celebrates Springsteen as guitar-slinger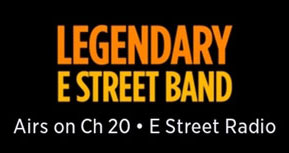 Happy International Guitar Month! Our friends at E Street Radio are celebrating with a new themed episode of its monthly series Legendary E Street Band. This time around, host Greg Drew will focus on Bruce Springsteen and the E Street Band's original lead guitarist and longtime member: Bruce Springsteen himself.
Clocking in at two hours, Greg's show digs deep, starting with the only Greetings From Asbury Park, N.J. track to feature any electric guitar work and continuing through many of Springsteen's best guitar-playing moments in the studio and on the stage, both on and off E Street, in the five decades that have followed. With this much great music, combined with the host's insightful commentary, it's made abundantly clear that while the E Street Band has been blessed with several guitar wizards over the years, the band's leader is also among their ranks.
Legendary E Street Band's International Guitar Month Bruce Springsteen Edition debuts today, Monday April 11, exclusively on E Street Radio (SiriusXM channel 20), with replays to follow over the coming week (all times ET):
Monday, April 11: 3pm and 6pm
Tuesday, April 12: 10am
Wednesday, April 13: 12am and 7am
Thursday, April 14: 6pm
Friday, April 15: 2pm
Saturday, April 16: 12am and 4pm
Sunday, April 17: 1pm
- April 11, 2022 - Shawn Poole reporting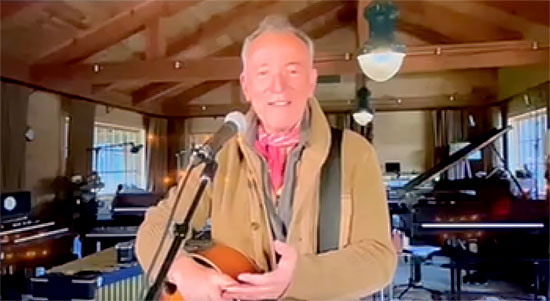 "THIS IS FOR YOU, CLIVE": SPRINGSTEEN SALUTES DAVIS FOR HIS 90th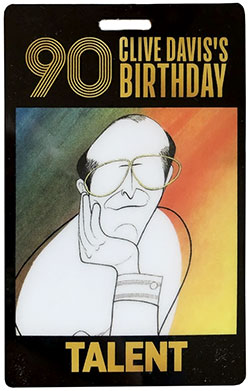 Prior to performing for Clive Davis's 90th birthday party on Wednesday night, Bruce Springsteen has expressed his gratitude to the man countless times over the years, including a thanks in his Rock and Roll Hall of Fame induction speech. While John Hammond often gets sole credit for signing Springsteen to Columbia Records in 1972, label president Davis played no small part. Young Bruce auditioned for him as well, that day in 1972, and Davis was quickly won over, becoming a dependable and crucial source of consistent support at the label.
As Springsteen put it just a few years ago [see clip below from the documentary Clive Davis: The Soundtrack of Our Lives], Davis displayed "a tremendous personal commitment to my own career."
Davis also had a different perspective on their new Columbia signee than Hammond, recalling in his 2013 memoir, The Soundtrack of My Life, that Hammond "viewed Bruce as essentially an acoustic artist, whereas…I felt he was a rock artist by both taste and inclination. I believed it was essential to emphasize that element in his sound."
So it's no surprise that, when Clive Davis was feted on Wednesday night for his birthday, Springsteen was one of many prominent artists to pay tribute and serenade the newly-90 music business legend. The surprise: Bruce had to do so via video screen, since he was quarantined at home.
As Variety reports:
Bruce Springsteen, appearing from his home studio in a pre-recorded video projected onto the venue's several big screens, apologized for not being present but said he was "quarantined" at home — which sounds alarming but he didn't seem terribly concerned about it; his rep did not respond to requests for comment, but it seems possible that someone on his team had tested positive.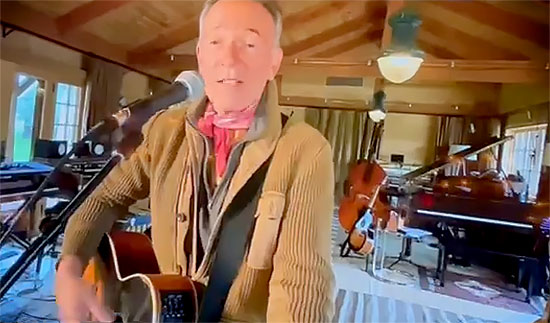 Springsteen remained engaging and entertaing despite not being in the room, appearing healthy and in good spirits as he addressed Davis and the others assembled, guitar in hand. His acoustic performance of "Blinded By the Light" was prefaced by a warm, heartfelt tribute to the man of the evening, emphasizing Clive's "all-in" support as well as just how far the two go back:
Fifty years ago! Fifty years ago with just an acoutsic guitar in my hand, and nothing else, and sitting down and playing you a few songs, and you were so kind, and generous, and gentle, and patient with an absolute nobody who came up to New York City on the Lincoln Transit bus with his guitar between his legs. I can't thank you enough for that moment — I'll never forget it as long as I live.

For the crowd there: when Clive is with you, he is with you all the way! One-hundred percent. When our record was released, Greetings From Asbury Park… oh, first, Clive tells me, "It's not good enough." And he gives it back to me. And he says, "There's nothing we can play on the radio." So I go home, and I sit on the beach, and in a day I write "Blinded By the Light" and "Spirit in the Night"… Clive was so correct! [Laughs] As always! Two of my best songs on that record, thank you, Clive.

And then when the record came out, Clive recited the lyrics like they were the Dead Sea Scrolls — like they were Shakespeare's lost sonnets, like they were missing pages of Revelation — filmed himself, and sent that film all across the United States, to every Columbia Recording office in the U.S.A. That was all-in, Clive. And so in your honor, and 'cause I love ya so much, and 'cause you've been so good to me, and you've made such change in my life, I'll never forget it… I'll never forget you. This is for you, Clive!
"Madman drummers bummers," Bruce began to sing, performing "Blinded" in its entirety for the camera. As Jem Aswad writes in the Variety report, "It's not a song he plays often these days, and it was amusing watching his face as he struggled at a couple of points to recall the knotty lyrics, then burst into a 'hey! I got it!' smile as he remembered them after just a millisecond's hesitation."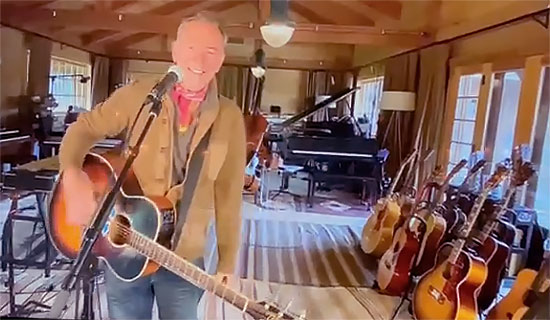 While Springsteen's contribution was filmed in his New Jersey home studio (Nancy Pelosi, diagnosed with Covid-19, sent a video as well), the birthday bash was held at Casa Cipriani in NYC, with performers and attendees including Jon Landau, Little Steven, Patti Smith (who sang "Because the Night"), Jann Wenner, Barry Manilow, Alicia Keys, Lin Manuel Miranda, Narada Michael Walden, Dionne Warwick, Robert De Niro, Busta Rhymes, Gayle King, Lorraine Bracco, Jimmy Iovine, and many more (showbiz411.com has a more exhaustive list). Happy birthday, Mr. Davis!
- April 8, 2022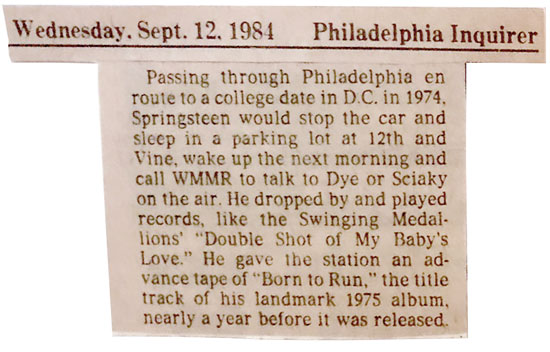 UNBURIED TREASURE: BRUCE SPINNING WAX IN '74 ON WMMR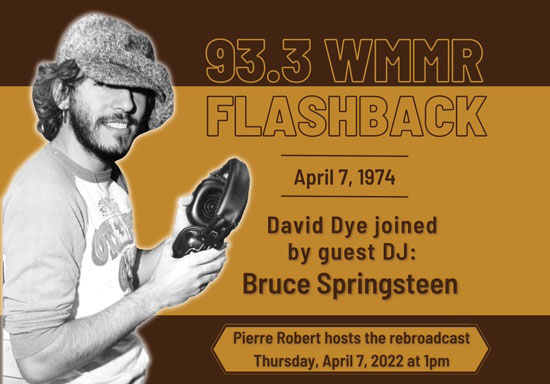 Back in 1974, between April shows at Burlington County College in South Jersey and one at Seton Hall University in South Orange, Bruce Springsteen arrived at the studios of Philadelphia's then-progressive FM radio station, WMMR, to do a guest DJ set on Sunday, April 7.
The tapes that recorded this event were swallowed up by the radio station's vault and only recently discovered by a current employee (despite being housed in a box that was clearly labelled "BRUCE SPRINGSTEEN. SAVE. HISTORICAL VALUE.") Portions of the tape of the show — which MMR staff fully admitted was not of the highest quality ("I'm not even sure this is original, I think a fan taped it off the air and sent it to David," they shared) — aired yesterday, exactly 48 years later, on the Pierre Robert show.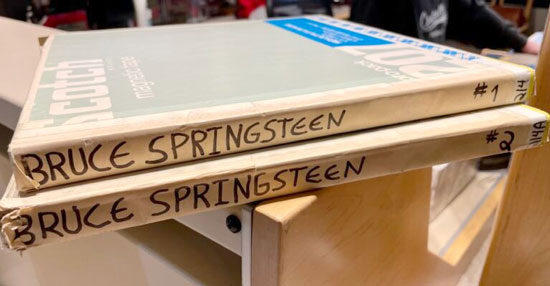 Other historically significant reels from the WMMR archives, these containing the legendary Main Point '75 show broadcast by the station the following year - via wmmr.com
Invited by disc jockey David Dye (known then and now as a major supporter of Bruce's music), Springsteen rolled into Rittenhouse Square sounding like he'd just woke up after a hard night. Dye introduces Bruce noting, "He had a gig last night and he looks like..." only for Bruce to protest, "That's not why I look that way!" Dye has to repeatedly remind his guest to lean into the mic, and Bruce is not exactly enunciating clearly, which is why MMR likely didn't just air the entire tape.
David Dye, now semi-retired (but still doing a Sunday morning show at Philly public radio's WXPN) called in to yesterday's rebroadcast to share what he remembered. He noted Bruce's seemingly uncharacteristic recalcitrance, explaining that Springsteen was known to be a little shy in circumstances that weren't onstage — which is why he'd invited him to do a guest DJ set, rather than a straight interview, as it might put him more at ease.

Bruce introduced the pile of records he'd pulled out of the WMMR library as "things that influenced me, got me where I'm going," with the Young Rascals' "Good Lovin'" first up. Other tunes, as relayed by Kevin Gunn (the employee who'd found the original tape) and DJ Robert included "Spanish Harlem" as recorded by Aretha Franklin, Elvis's "Jailhouse Rock," and the Beatles' "Twist and Shout."
"If you want to talk to Bruce Springsteen, call us at [number redacted]," Dye offers several times during the broadcast. One of the calls inquired as to the origins of "Rosalita."
"The story behind it? That is the story," Bruce insists, saying that "you end up messing with the magic of the whole thing" if you have to start explaining things.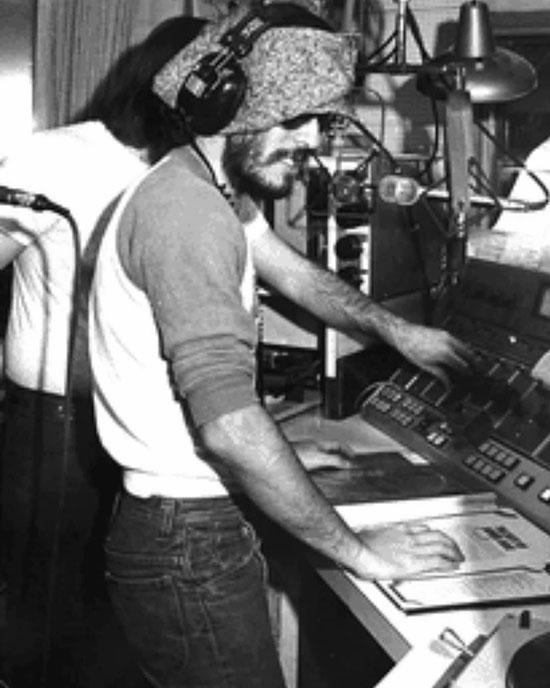 Right: Springsteen at WMMR for another guest DJ session in 1974, this one with Ed Sciaky, as tweeted by Pierre Robert last year
Dye begins grilling him as to which songs were autobiographical: "Sandy?" Bruce responds, "I don't really like to say — it's not as clear cut as 'yes it is' or 'no it isn't.' I don't like to get into talking about it, because if I could talk about it I probably would've never wrote it."
Having seen his share of Springsteen shows even at that point, Dye asked Springsteen which songs were most popular with live audiences.
"Usually 'Rosalita,' you know… they like to hear 'Rosalita.' 'Kitty's Back' is real popular, 'New York City Serenade'…"
Dye can't resist leaning in: "He starts off with 'New York City Serenade' most of the time, which is a real balls move."
While admittedly, none of this is exactly earth-shattering information, it is definitely from a time period where there isn't a lot of this material lying around, and it's a fascinating artifact from that standpoint alone. If you missed yesterday's broadcast, WMMR has made the half-hour of flashback audio available online so that everyone can enjoy this window into the past.
- April 8, 2022 - Caryn Rose reporting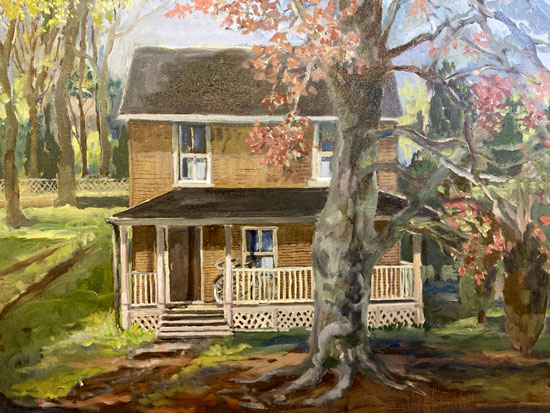 Artist's oil rendition of 87 Randolph Street, painted by Susan Winter
RANDOLPH STREET REVISITED
If you've read any of the Bruce Springsteen biographies, particularly his own memoir, or watched the Broadway show, you know how important his grandparents' Freehold home at 87 Randolph Street was. Bruce lived there, "in the shadow of the steeple," for his first six years, along with his little sister Virginia, their parents and paternal grandparents. The site of the house, which was torn down in 1962, is now the parking lot for the Saint Rose of Lima Church.
No known photos of this house exist. Researchers and Springsteen family members — especially Bruce's cousin Glenn Cashion, who is writing a family history — have searched for years for a photo, with no success (though one still may be hidden in the wedding album of some Freehold couple long ago married at Saint Rose). Finally, after many unsuccessful attempts to find one, Glenn came up with the idea of having an artist's rendition of the house created. This rendition would be based on the recollections of three family members: Glenn, Virginia, and Bruce himself.
Glenn had previously worked with local artist Susan Winter, a native of Freehold presently living in Hightstown, and he knew that she would be perfect for this project.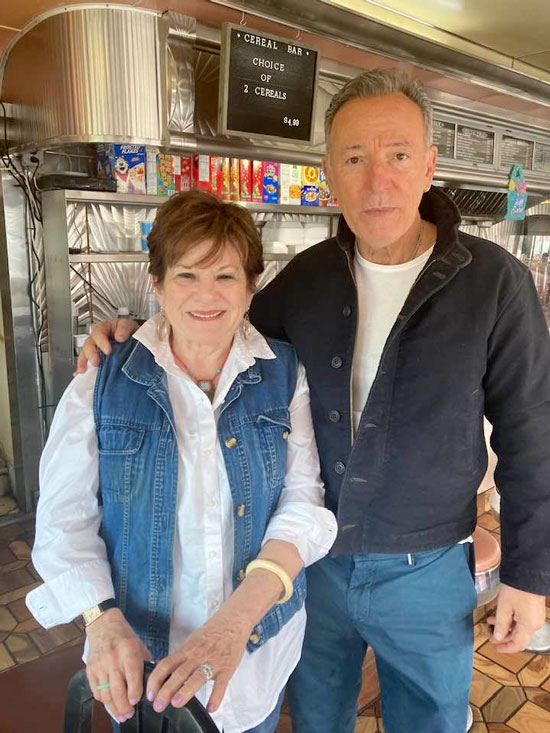 Artist Susan Winter with a former occupant of 87 Randolph Street, last Friday in the Freehold Diner - Photograph by Glenn Cashion
For reference, Glenn found a similar house in Freehold, and the three family members filled in the details for the artist. Based on their memories, these details included such things as the color of the shingles, the color and angle of the roof, the porch configuration, steps, windows, and, of course, the famous beech tree. Near the front door you'll also notice young Bruce's brown Schwinn bicycle, which was once stolen right off of that porch.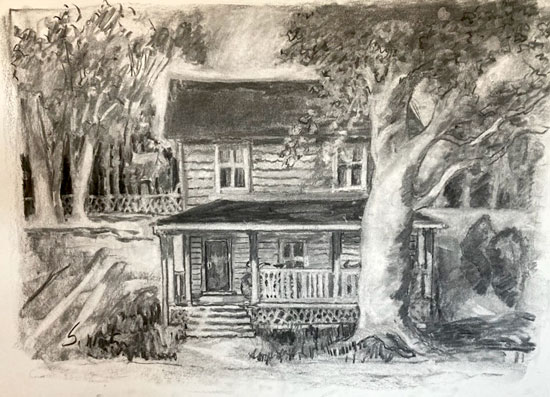 Charcoal drawing by Susan Winter
The project, started in early January, is now finished with both oil and charcoal renditions; both are shown above, though the image does not do the original painting justice — it's beautiful! Susan Winter did a remarkable job recreating the image of this long-ago demolished Randolph Street home, and everyone who has seen the painting has been amazed.
- April 7, 2022 - Carl Beams reporting, with thanks to Glenn Cashion, Virginia Springsteen, and Susan Winter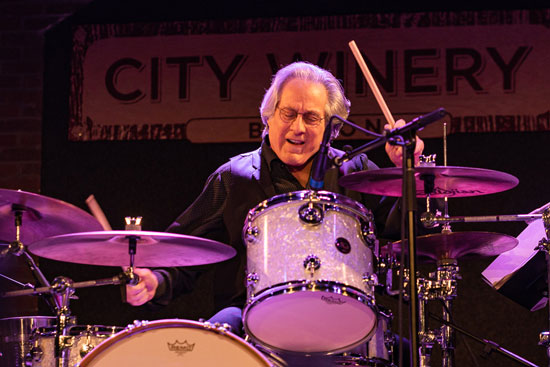 Max Weinberg's Jukebox
City Winery / Boston, MA / March 23, 2022
One thing is for certain, Max Weinberg is in fighting shape and ready for shows. For two hours on a recent Wednesday night at City Winery Boston, Max was his usual non-stop freight train of motion on the drum set as he led his Jukebox band. Getting to watch him drumming at the lip of the stage instead of all the way in the back was truly special.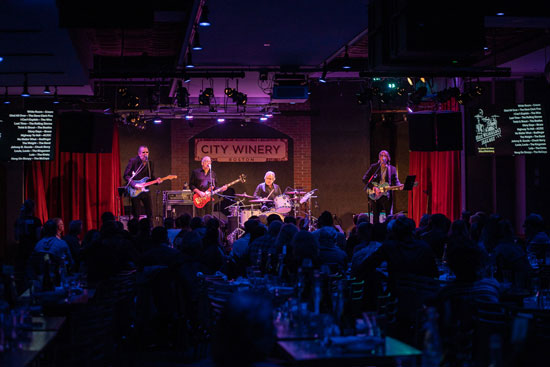 The setlist was driven by audience requests, as usual for a Max Weinberg's Jukebox cocert: before the show started, as hundreds of song titles scrolled on video screens, showgoers wrote their selections on pieces of paper and dropped them in an ice bucket. Max picked from the bucket throughout the night.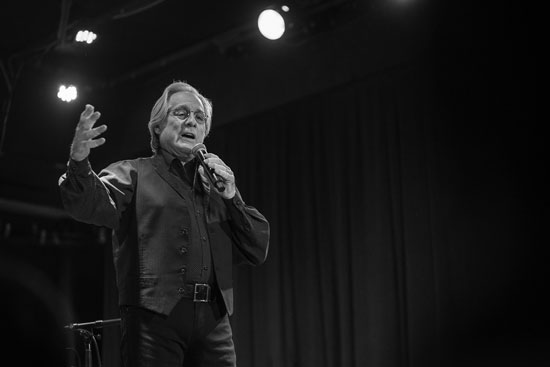 We didn't only get great music, though — Max was also very talkative throughout the night. Any E Streeter needs to know their rock 'n' roll history, and Max had plenty of it to share with the audience. He spoke about playing in Levon Helm's all-star band in 1987, and how weird it was to have to fill in for the legendary drummer, who had been injured while filming a movie. Max also spoke multiple times about Charlie Watts, how great he was and how no one played like him, especially when the Rolling Stones didn't know how to end a song and the late, great drummer woud just make it happen.
For "Jumpin' Jack Flash," a random audience member was tapped to come up and play the cowbell, and it wound up being an old friend who worked at Zildjian for years. Max made sure we knew he wasn't a plant.
There were a few times when the band had to figure out what key the next song was in, and it was a running joke all night that Max doesn't care what key anything is in, ever, since he just needs to keep the beat. He also doesn't need to know the words to the songs, since he's not a vocalist, which led to an audience member asking him to sing. Max responded with the story of the 1974 Village Voice ad leading to his drum/vocal audition for the E Street Band — he was told to stick to drumming — and, much later, singing "Boys" in Kansas City.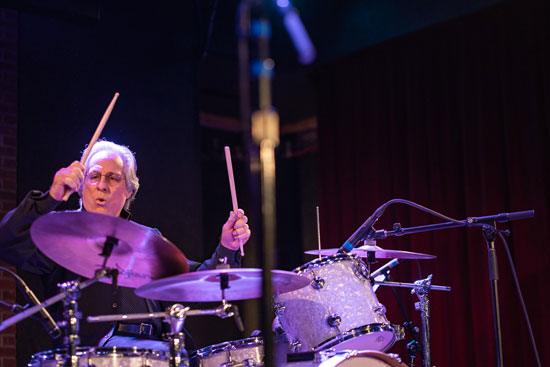 The subject of "Boys" led Max to a story about Ringo Starr, who he interviewed in 1985 for his book The Big Beat. Max recalled going on to Ringo about how many records and tickets were being sold, with the Born in the U.S.A. tour in full swing, and how fans were following them post-show, and no one could believe it. Ringo, with his perfect comedic timing, replied, "That's all fine but you must never forget, I was in The Beatles."
The set itself covered a good chunk of rock 'n' roll history. The night started at "All Day and All of the Night" by The Kinks and moved on to David Bowie's "Rebel Rebel." "Walk the Line" by Johnny Cash was the only song that seemed a little out of place, but it was quickly followed by "Wooly Bully" by Sam the Sham and the Pharaohs, as Max clearly felt like rocking out after the slower tune. There was a powerful rendition of Led Zeppelin's "Good Times Bad Times," a song he recalled hearing for the first time while driving on Route 22, and it made him pull his car over.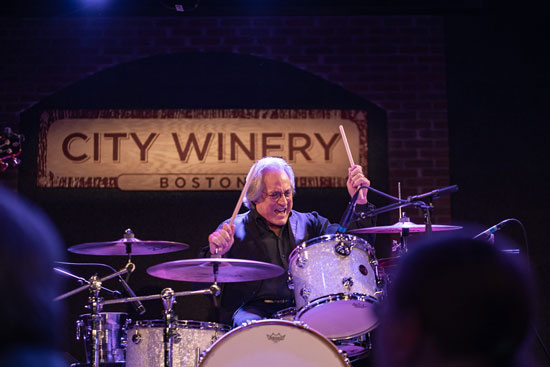 Of course, some of the night's requests were for songs that Weinberg played on originally. We got two Springsteen songs back to back, with "Pink Cadillac" and "She's the One." Max had to fix his cymbals after "She's the One," and he laughed that this is how he got his nickname, "Mighty Max" — for hitting his drums hard enough to break them.
The show ended with a wild "I Can See For Miles" followed by "Glory Days," Max prefacing the latter by telling the crowd, "I'm about to be 71 — and as long as I keep drumming, I'm going to feel like a kid forever."
Max Weinberg's Jukebox returns to the road in May — visit maxweinberg.com for the full schedule.
- April 6, 2022 - Report and photographs by Bryan Lasky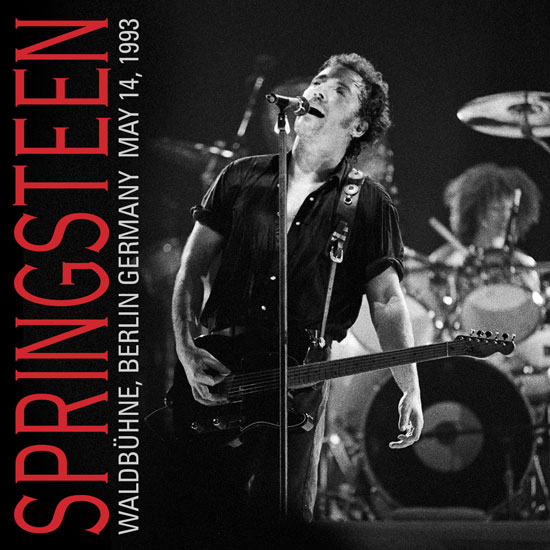 BACK TO BERLIN
Covers, acoustic set carry the first 1993 European show in the Live Archive
Bruce Springsteen's European concerts in 1993, the final leg of a year-long trek behind Human Touch and Lucky Town, were framed by three oft-discussed U.S. dates : the warm-up rehearsal in Red Bank (which featured the one-off cover of "Achy Breaky Heart"), and a pair of benefits (with plenty of guests) at the end. The June 24 homecoming show at the Meadowlands was released in the Live Archive series four years ago; now the European leg, once overlooked, gets heard with Waldbühne, Berlin Germany, May 14, 1993.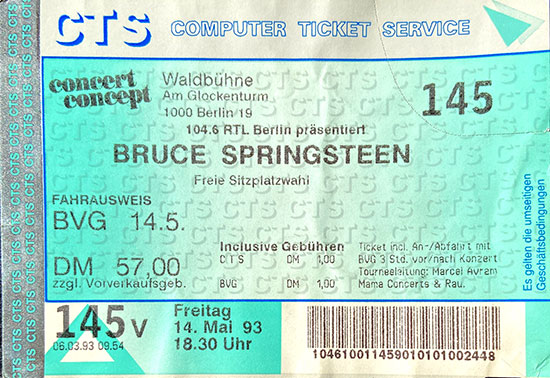 The initial Europe '93 stops were indoors (except Verona) and mostly two-night affairs. After a short break, they played outside (except Mannheim). By tour's end it wasn't the U.K., Spain, or Italy which had the most shows: it was Germany, with five. And it was the first Springsteen tour to play more shows in Europe than in the U.S.
The Berlin concert took place midway through the second part of the leg, May 14 at the famous Waldbühne, an outdoor venue filled to capacity with 22,000 people. Springsteen had performed once before at this beautiful amphitheater next to the Olympiastadion: in 1988, three days after the historic, well-documented E Street Band concert in East Berlin. Between 1988 and 1993, the wall was torn down, Germany was reunified… and Bruce got a new band.
For the 1993 portion of the Human Touch/Lucky Town tour there were quite a few changes in the set as songs from the new albums were put aside. Older chestnuts, however, did not replace them. Instead, Springsteen added some never-played covers, which gave the backup singers more opportunities to shine on stage.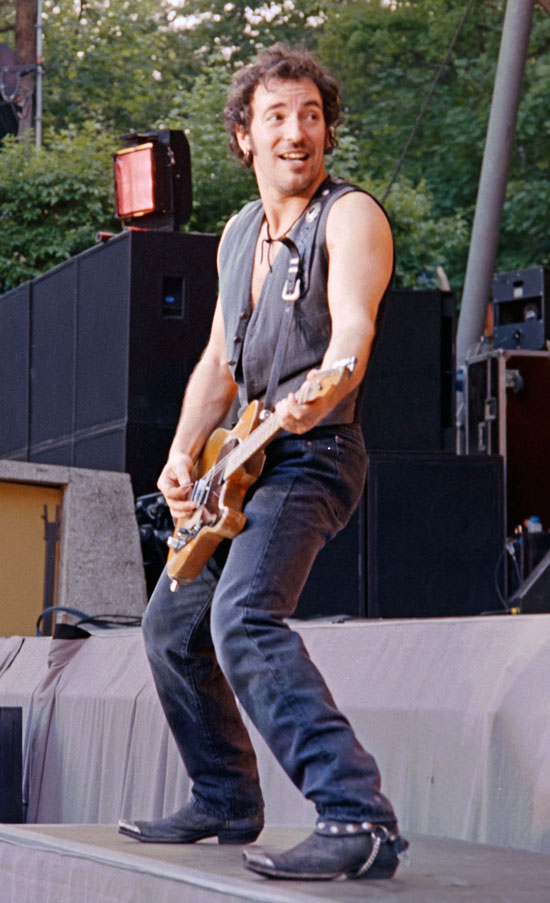 What's more, Springsteen started all of these concerts with an acoustic set. In the early-to-mid '70s, shows often began with a piano-led acoustic song. But for Bruce to go out on his own before the band with an acoustic guitar in true folk-singer-style? That had only happened once before (on "Independence Day" in London, 1985). The '93 acoustic set included a mindblower in the unreleased-at-the-time "This Hard Land," preceded this night by "Darkness on the Edge of Town" and "Adam Raised a Cain" (the latter with an introduction spoken in German for a song "about fathers and sons").
Then he announced, "We're gonna try something different," calling the singers on stage for the live debut of "Satan's Jeweled Crown," which they'd begun to rehearse at soundcheck a few days earlier. Written by Edgar Edens and originally released by The Louvin Brothers on their 1959 album Satan Is Real, the song was also recorded by Emmylou Harris for her Elite Hotel album. With a few line changes, Bruce's was a really beautiful rendition played only five more times on that tour.
"This Hard Land" got a huge response from the audience, which led him to remark, "You bought the bootlegs!" with a smile. As far as I remember, Roy accompanied him on accordion. Then the rest of the band took the stage, and they tore into "Better Days" and "Lucky Town."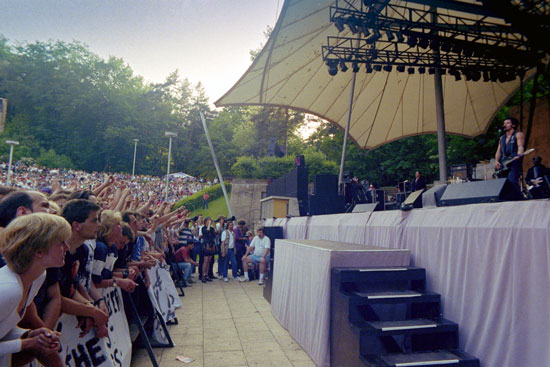 Other first-set highlights included "Badlands," with its famous chant (established, I believe, in 1992 in Milan) bringing a reprise — one of only a couple instances in 1993 (the other time at the second show in Dortmund, in early April). "Many Rivers to Cross" had been played a few times that year, a beautiful and meaningful addition to the set. During "Leap of Faith," Bruce leaned into the audience as much as possible, but the venue setup made a full leap impossible, and it was a far cry from the crowd surfing in later years.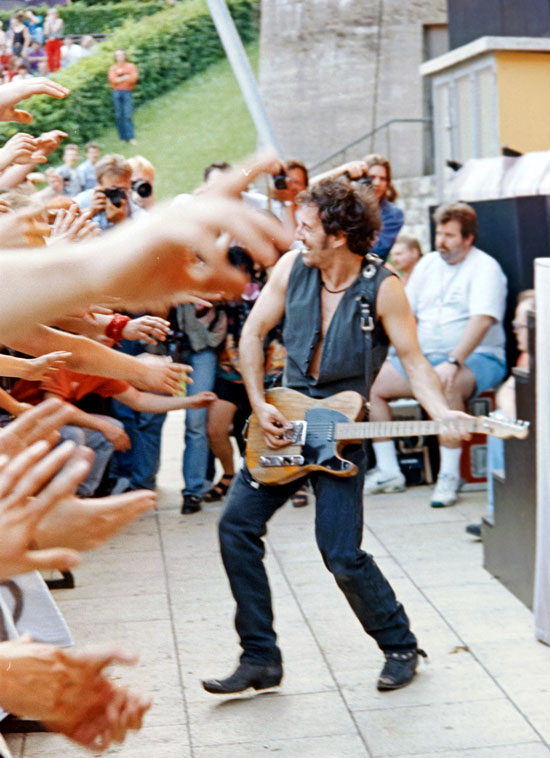 The second set started with "Downbound Train," followed by a few relationship songs (including one from the new albums he was still promoting, "Human Touch"). As the audience sing-along of "The River" faded, the mood of the concert changed as a deep keyboard hum crept in and Bruce introduced "Who'll Stop the Rain" as a prayer for Bosnia and Herzegovina. (At the time, a horrendous war was raging in that part of southern Europe.) The CCR classic led into a robust "Souls of the Departed," followed by his interpretation of the "Star-Spangled Banner" and a thrashing "Born in the U.S.A." — a powerful combination.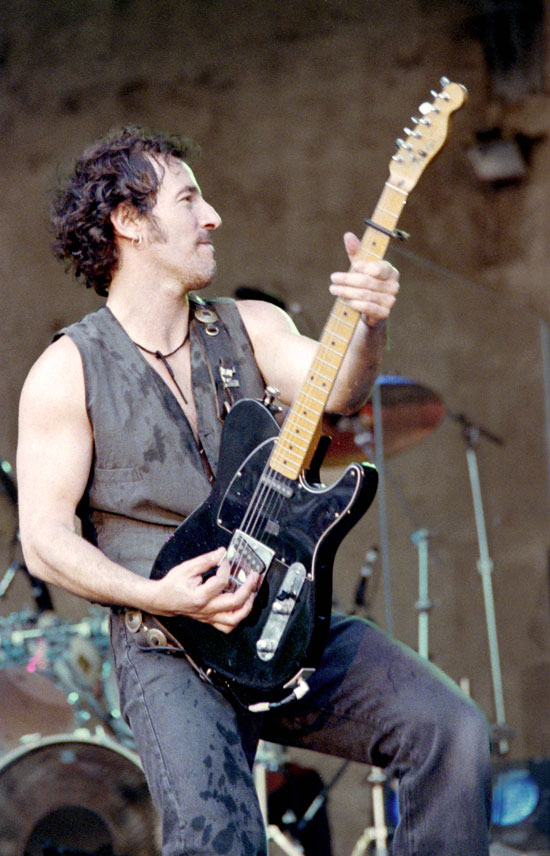 The second set ended with a hard-rocking version of "Light of Day," much longer than the renditions on the Tunnel of Love tour, including that wild "I drove thousands of miles" / "I'm just a prisoner of rock 'n' roll" routine.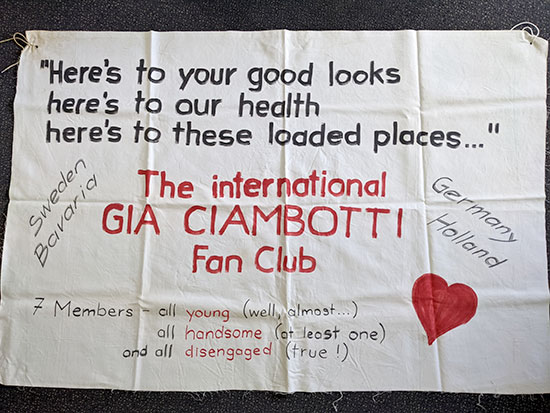 In the Waldbühne, there are a few pretty high light poles. For the encores, one probably drunk fan climbed on top of one of those and saw the show from a pretty vantage point. Bruce saw him and greeted him. The encores included the usual crowd-pleasers starting with "Hungry Heart" and "Glory Days". During the band introduction, Bruce mentioned that Gia Ciambotti had her own fan club at the show (made up of a couple of regulars on that tour).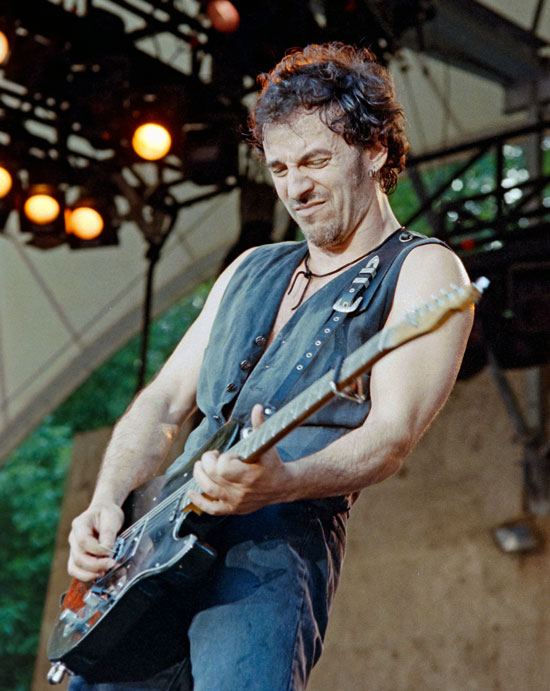 Instead of the acoustic rendition of "Thunder Road," Bruce had swapped in an interesting cover song a week before in Spain: "Across the Borderline" (written by Ry Cooder, John Hiatt and Jim Dickenson for the soundtrack of the movie The Border and later also released on Ry Cooder's Get Rhythm album). While he sang lines in Spanish at the shows in Spain, in Germany Bruce sang entirely in English. But he introduced it as a song for Berlin, and it captured very well the feelings of some people in eastern Germany towards the effects of the reunification after nearly three years. Following a wonderful rendition of "My Beautiful Reward" there was a bit of that "I'm too tired"-shtick in German, and three more crowd-pleasers to close out the show.
At the time, there was a lot of discussion among fans about how well this "other" band was capable of playing those old E Street Band classics, the arrangements being pretty close to what we were used to from earlier tours. In retrospect, it seems Bruce could have been a bit bolder in rearranging his songs to suit the possibilities of the '92-93 musicians — witness, after all, what he would do with the Sessions Band in 2006. Now, together with the Nugs releases from 1992, Berlin gives you another chance to judge for yourself — and, finally, the high point of the World Tour that 1993 represents.
Also read: Erik Flannigan's latest nugs.net blog entry, "You For My Soul Reach Down"
- April 1, 2022 - Ralf Dissman reporting - photographs by Florian Spintler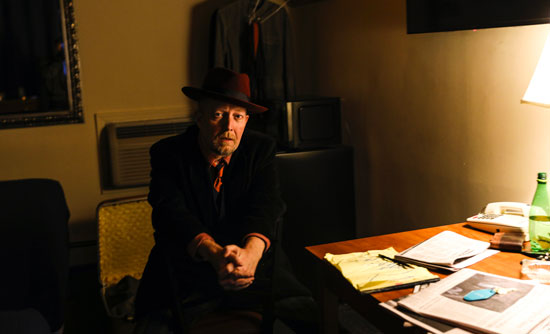 JEFF KAZEE SAYS THANKS FOR CHECKING IN
Asbury Jukes keyboardist talks with Backstreets about his new solo album
Jeff Kazee joined Southside Johnny and the Asbury Jukes in 1998, the same year his debut album No River was released. Today, almost 25 years later, he releases the follow-up: Thanks for Checking In is a ten-song, 38-minute collection that showcases alternative aspects of his musical personality.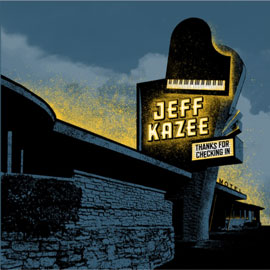 "It's a side of me that I haven't been able to scratch, as my day gigs — which I love — have stylistically defined me for quite a few folks, I'm sure," he reveals. "It's not a traditional rock/soul record. It has elements of that, how could it not, but it's my version of a pop record that lives in my head. It's basically a combination of American '70s and British '80s, in a contemporary setting. There are fastballs and curves, because that's what I like in a collection."

Kazee wrote, produced and arranged the record. He also sang vocals, played piano, Wurlitzer and Rhodes electric pianos, Hammond B3 organ, accordion, harmonium, mellotron, synthesisers, vibraphone, shakers, tambourine, cowbell, guiro, celeste, glockenspiel and tubular bells, and added "ambient textures." Other musicians who play on the album include Disciples of Soul drummer Rich Mercurio, and Jeff's fellow Asbury Jukes Chris Anderson (trumpet) and Neal "The Dude" Pawley (trombone). Bob Delavante provided the cover art.

The act of 'checking in' with each other is an absolute necessity in these complicated days," writes Kazee in his liner notes. "I thank my many friends who've been there for me, through thick and thin. To all the fans that have allowed me to tour the world, living out my dreams through music, I'm grateful and humbled by your passion and spirit. The past few years have shown how much we depend on music and each other."

Thanks for Checking In is now streaming on all the usual platforms, and is available as a digital download and CD from jeffkazee.com.

"Record freaks, I hear you," he says. "Vinyl down the road."

Continue reading for our new
INTERVIEW WITH JEFF KAZEE

- March 30, 2022 - Mike Saunders reporting - photograph by Mark Krajnak/JerseyStyle Photography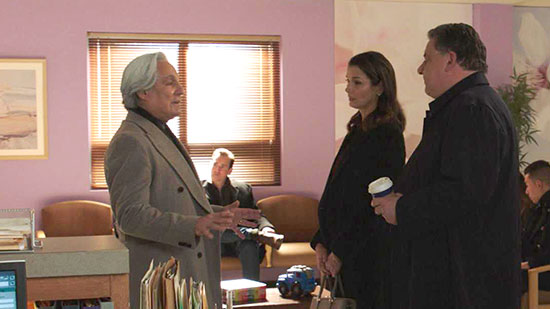 Weinberg with Bridget Moynihan and Steven Schirripa on Blue Bloods (season 12, episode 17), airing 4/1/22 - courtesy of CBS-TV
A MESSAGE FROM THE MIGHTY ONE
Max Weinberg on tour… on television… and on an ancestral escape from Russia, with prayers for peace. Max writes:
Checking in with all of our friends at Backstreets and dedicated citizens of the E Street Nation!
The Max Weinberg Jukebox rolls on and on. Sadly, Covid-19 hit some of the "mom and pop" sort of clubs and theaters hard, and we will miss playing them. Fortunately, many of our regular venues managed (though with difficulty) to stay open the past two years and are back to regular programming. Please check out MaxWeinberg.com for more info on upcoming dates through the end of 2022.
Although the news of the day is the "slap heard 'round the world" from the Oscar broadcast, I have some exciting television news (for me, anyway!) to break here:
This coming Friday, April 1, I'll be appearing on CBS-TV's Blue Bloods series, reprising for the third time my role as gangster Mario Vangelis. In this episode, "Hidden Motive," Vangelis has been released from his two-year country club prison bid, sporting a deep tan and more than ready to continue his nefarious activities.
I had a blast again working on this production. Bridget Moynihan — for 12 seasons, the lovely and talented star of the show as Assistant District Attorney Erin Reagan — made her directorial debut with this episode and totally nailed it. I have two scenes pivotal to the arc of the series centered around the developing relationship between Erin and Vangelis.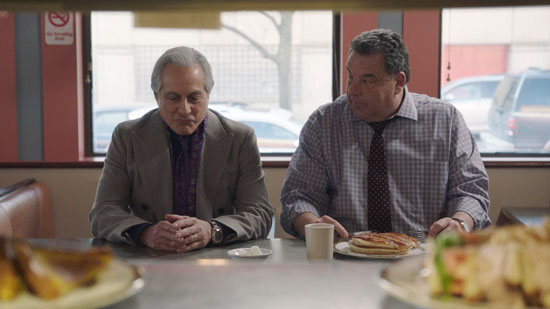 From the set of Blue Bloods, Max Weinberg and Steven Schirripa - courtesy of CBS-TV
The always fun-to-act-and-hang-with Steven Schirripa, as Detective Anthony Abetemarco, reminds me of Clarence when you're with him. Puts that big arm around you, and you feel safe. As I've said before, Clarence would invariably come up behind me as we waited to hit the stage and give me a quick but powerful trapezius and neck muscle squeeze. It became a tradition. As Steven (Van Zandt) knows, Steve S. is simply the best guy — a real mensch, as my dad would say.
Both were a big help to me, as always, at the studio in Astoria, NY, and the Brooklyn diner where one of the scenes was shot.

So, please tune in if you're able. That's CBS at 10pm ET on Friday, April 1, 2022. This is NO April Fool's joke!

On a more personal note: as an American Jew of Russian (now Belarus) descent, I and my family join the rest of the world in condemning the brutal actions of the Kremlin butcher Putin as he soullessly wages his horrifying, heartbreaking, and criminal assault on the people of Ukraine. The murder of babies, the wanton destruction of homes, the tears of millions of refugees — it's just appalling.
Tragic episodes in history unfortunately and unfailingly repeat themselves. For me, with memories seared into my soul by my elders (in our very large, extended family during the 1950s) of the atrocities perpetrated by the Nazi madman and his evil regime, this feels like a present-day version of 1939. Our hearts are broken, and — speaking for Becky, Ali, Jay, and their spouses — we pray this unholy action ceases now.

Slava Ukrani!

I thought I'd send along this photo of my namesake grandfather, Max Mindlin, and several of his eleven siblings. Their family fled at night under cover from that area of Russia in the 1880s to escape the pogroms of Tsar Alexander, a systematic program to eliminate the Jewish population of the Russian Empire. Reminiscent of the story of Fiddler on the Roof (inspired by the book by the great Jewish writer Sholem Aleichem), my ancestral family, then named Ulyanov, fled the area with nothing more than the tattered clothes they wore. They pulled children along in wagons and crowded into the bowels of steamers from Hamburg, Germany, to begin anew in America.
My grandfather Max started out as a pushcart peddler in the Lower East Side of New York and created a life for his wife, Celia, and their five daughters. He became an on- and-off yet successful businessman, real estate developer, and sometime inventor in late 19th century America — truly for them the land of milk and honey and opportunity. My mother Ruth (also known as "Mighty Momma" by you-know-who) was the youngest of his girls; she lived until the age of nearly 98 and was as devoted a Bruce fan as anyone who ever saw him perform. It was always fun when she and her older sisters came out on the road with us!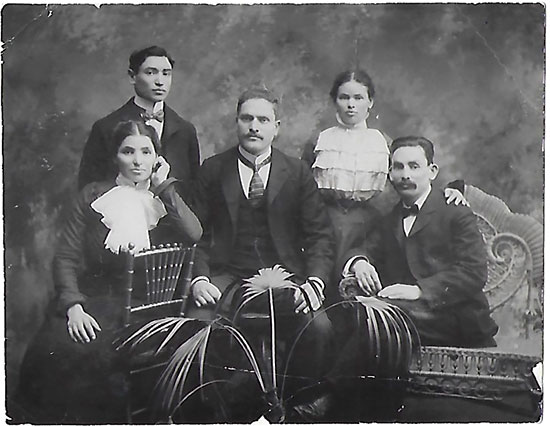 So here's a picture of my grandpa, seated in the center. Big guy, strong as an ox, and in my view, the original "Mighty Max."
- March 29, 2022 - with thanks to Max for checking in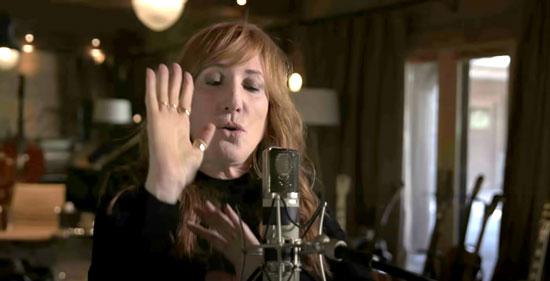 From the official music video for Dion's "Angel in the Alleyways"
LEGENDARY E STREET BAND: WOMEN'S HISTORY MONTH EDITION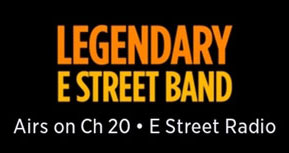 The Legendary E Street Band series from Greg Drew of E Street Radio explores the unique contributions and strengths of each band member. This week's new episode harmonizes nicely with Women's History Month and focuses on the First Lady of Love herself, Ms. Patti Scialfa.
Greg has assembled another compelling playlist for the ongoing series, spotlighting some of Scialfa's best work as a singer and a songwriter, both on and off E Street. It even includes a cover of one of her solo album cuts, recorded by two other female artists known for often selecting great material from many of our best songwriters for their records.
As usual, Greg offers plenty of his own insights about the spotlighted E Streeter, drawing from his extensive knowledge and experience as not just a Springsteen fan since the early 1970s — and a Patti Scialfa fan since her early-'80s stint with Southside Johnny & the Asbury Jukes — but also a longtime professional musician, music teacher, and manager.
Legendary E Street Band, the Patti Scialfa edition, debuts today, Monday March 21, exclusively on E Street Radio (SiriusXM channel 20), with replays to follow over the coming week (all times ET):
Monday, March 21: 3pm and 6pm
Tuesday, March 22: 10am
Wednesday, March 23: 12am and 7am
Thursday, March 24: 6pm
Friday, March 25: 2pm
Saturday, March 26: 12am and 4pm
Sunday, March 27: 1pm
- March 21, 2022 - Shawn Poole reporting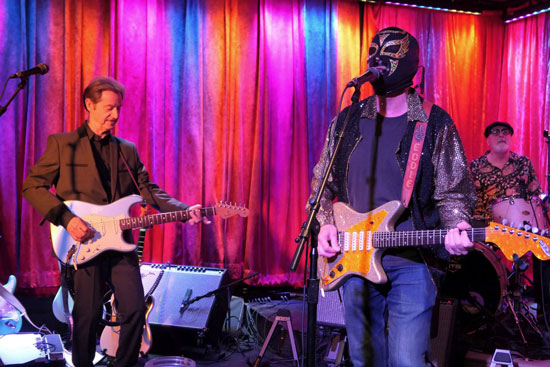 NEVERMIND THE MASKED MAN, WHO WAS THAT GUITAR MAN?
The Surfaris with Eddie Angel's Guitar Party featuring Garry Tallent
The 5 Spot / Nashville TN / March 9, 2022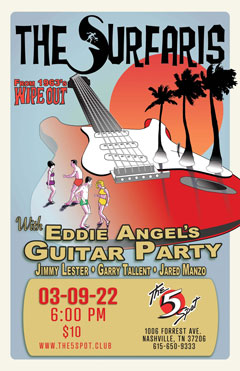 It was a big "surf's up" on a Wednesday night at Nashville's 5 Spot. Courtesy of The Surfaris, newly based in Tennessee, all that was missing was the sand, the boards, and Frankie and Annette. The house was packed last week for this $10 bargain 6pm show that also featured local guitarist Eddie Angel of Los Staitjackets fame as the opener — with the E Street Band's Garry Tallent a part of his Guitar Party band.
The Surfaris of "Wipe Out" fame were just fantastic. Sadly (since the other three original members are no longer with us) and surprisingly, the band now consists of founding member Bob Berryhill on guitar with his wife on bass and their two sons on guitar and drums. They were spot-on to the classic Surf Rock sound, and for you Surfaris fans, yes, they even did "Surfer Joe."
Unaware of how great the headliner would be, yours truly was more interesting in seeing Eddie and Garry — and they did not disappoint. Arriving early, I managed to catch their soundcheck of The Ventures' "Walk Don't Run," which marked for me the first time to ever see Angel without his trademark mask. I was also surprised to see that Garry would be playing guitar tonight instead of bass.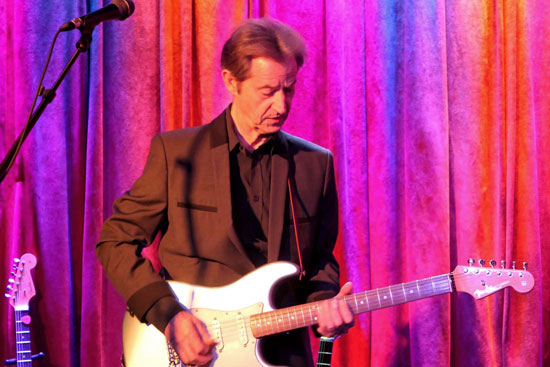 While Angel as usual donned the mask and cape of a Mexican wrestler at showtime, Tallent looked very Beatlesque in a sharp black suit and Beatle-like boots. Both also played some wicked surf guitar, making for a perfect pairing of the night's acts.
Eddie and Garry both played lead guitar throughout the 40-minute set of mostly instrumentals with Eddie providing vocals on one number, "the only love song he has ever written," "Ballbuster Baby." Garry had the spotlight on two songs, "Walk Don't Run," (a tune he also played when he last headlined at The Five Spot in 2019) and "Apache," a song made famous by The Shadows. Garry's vibe was also appropriate for the band's version of an old Beatles chestnut from their Hamburg days called "Cry for a Shadow."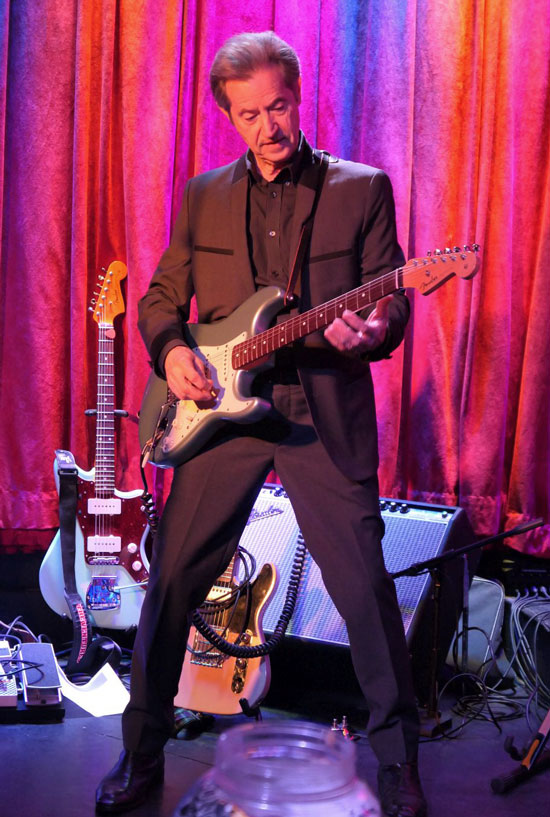 With all the night's players living close by, I sure hope that we get to have another surf's up night at The 5 Spot real soon, and it was a treat to see Garry back on stage, no matter how many strings on his instrument.
- March 18, 2022 - report and photographs by Mike Bodayle

- March 16, 2022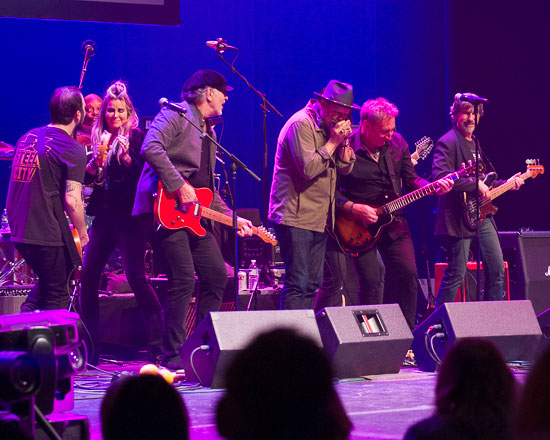 Danny Clinch an honorary Houserocker for "Gimme Shelter" in Red Bank, NJ, 3/12/22 - photograph by A.M. Saddler
LIGHT OF DAY AT LONG LAST FINDS SHELTER IN RED BANK
"War, children / It's just a shot away…"
Saturday night's big Light of Day concert, the March 12 "Bob's Birthday Bash" in Red Bank, NJ, came as a relief for several reasons. The annual Light of Day Winterfest was relegated to computer screens last year; in 2022, Winterfest's main event had already been relocated from Asbury Park's Paramount Theatre to the venerable Count Basie Theatre due to structural issues with the traditional venue at Convention Hall (a complex and ongoing battle) before the entire festival was postponed altogether. Winterfest shifted to early March due to the virulence of this winter's COVID-19 variant, which was rampant both in the United States and Europe during the event's usual mid-January start date. Even with the waning of the latest COVID spike by late February, no one was quite sure what type of crowd would be showing up for this year's Light of Day — and then the horrific events in Eastern Europe caused further disruption to travel plans from overseas.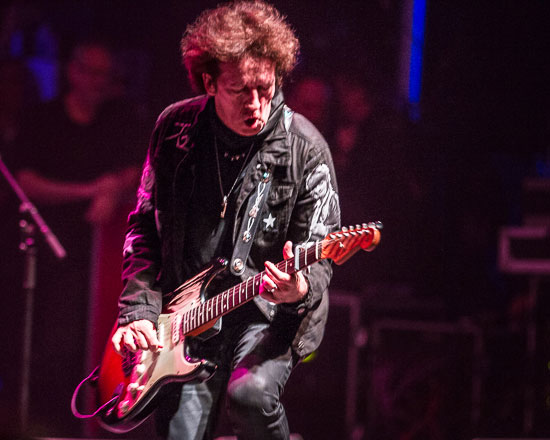 Willie Nile - photograph by A.M. Saddler
But Light of Day '22 went on as (re)scheduled. In the days before the Birthday Bash, for the first few LOD events, the weather had been warm and sunny, the promise of spring in the air. But winter was not quite done with the Jersey Shore yet, and attendees of this year's Main Event were greeted on Saturday morning with frigid temperatures, gusty wind, rain, and the possibility of snow later in the day. Yet another reason showgoers would be very glad to be inside the Basie, now rebranded as Hackensack Meridian Health Theatre.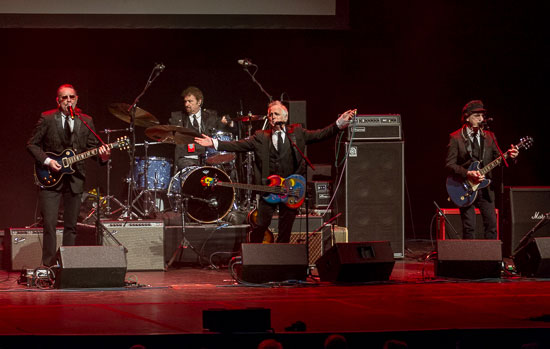 The Weeklings - photograph by A.M. Saddler
The expected snow did indeed show up late in the afternoon, complicating travel to Red Bank, but all these obstacles did not seem to daunt the near-capacity crowd, which remained attentive and engaged throughout the evening. The Birthday Bash lineup did not deviate much from previous years, alternating between brief acoustic sets and 25-minute main stage performances that forced artists to tighten their sets and limit onstage banter. That being said, many artists made mention of the claustrophobia of life during the pandemic, of being trapped indoors with little to do but write, and some performers dedicated significant set time to that new material.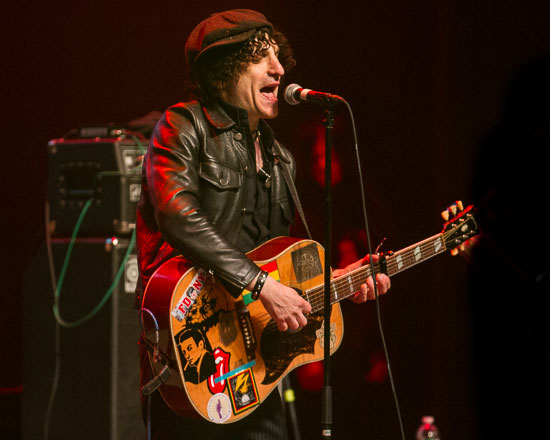 Jesse Malin - photograph by A.M. Saddler
Standouts included Jesse Malin, whose energetic set focused on last year's Sad and Beautiful World album; The Weeklings, whose Beatlesque power pop is a perennial favorite on Little Steven's Underground Garage; the always-engaging Willie Nile; and the funk-rock stylings of Remember Jones and band, whose highly choreographed presentation, in addition to a high-energy cover of the late Meat Loaf's "All Revved Up With No Place to Go," also included a couple of costume changes and a prodigious helping of magenta wardrobing.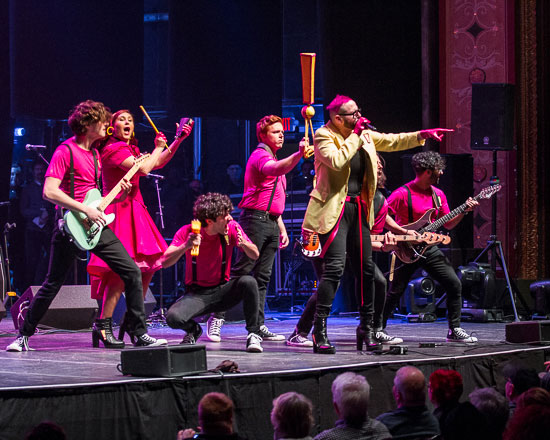 Remember Jones - photograph by A.M. Saddler

It was a night of performances that, after a long period of collective isolation, celebrated the shared experience of live performance, but also a night that carried the weight of trauma and unspeakable loss, and of the alarming events overseas. The general mood of sorrow and foreboding was brought deftly home by a stunning performance from blues guitarist Guy Davis that silenced the room.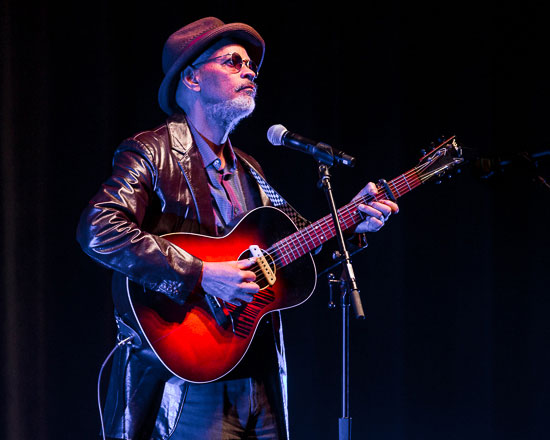 Guy Davis - photograph by A.M. Saddler
Davis, the son of actors and civil rights legends Ruby Dee and Ossie Davis, has enjoyed a long and celebrated career as an acoustic bluesman. His first exposure to the genre was at a summer camp run by Pete Seeger's brother, John, and Davis went on to receive multiple Grammy nominations in large part for his unique songwriting ability. A true renaissance man, Davis is also an author, a music teacher, and a film, television, and Broadway actor.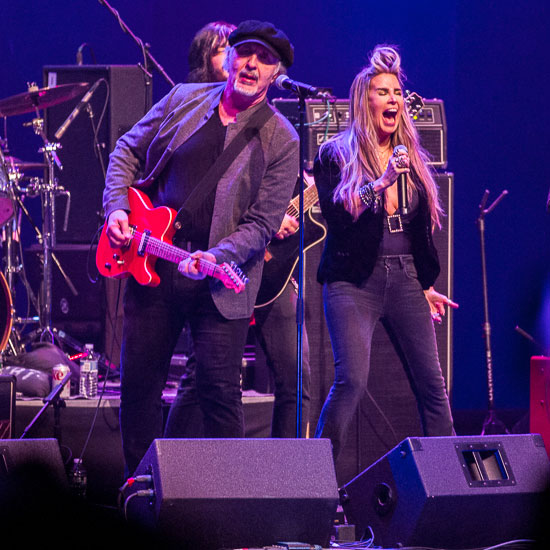 Grushecky with Williams Honor's Reagan Richards, doing her best Merry Clayton - photograph by A.M. Saddler
The evening concluded, as always, with a set by Joe Grushecky and the Houserockers, who leaned heavily on the American Babylon album, which recently celebrated a 25th anniversary. Late in the performance — as it finally dawned on some in attendance that a certain Freehold native was not in the house — Grushecky called out some "friends" for "Gimme Shelter," who turned out to be Gordon Brown and Reagan Richards of Williams Honor and photographer/musician Danny Clinch. While not reaching the apocalyptic heights of Jagger/Richards and Co., their rendition seemed the perfect capstone for what had proved to be a somewhat somber evening. And of course, the finale brought an ensemble sing-along on "Light of Day" and a raucous "Happy Birthday" to Bob Benjamin, whose ongoing battle with Parkinson's inspired the annual event.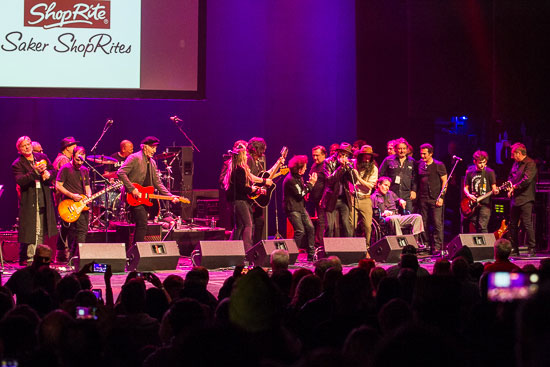 LOD founder Bob Benjamin, seated near right, on stage with all for a "Happy Birthday" serenade - photograph by A.M. Saddler
For more about the Light of Day Foundation and to donate to their efforts to defeat Parkinson's disease (and its related illnesses ALS and PSP), visit lightofday.org.
- March 15, 2022 - Lisa Iannucci reporting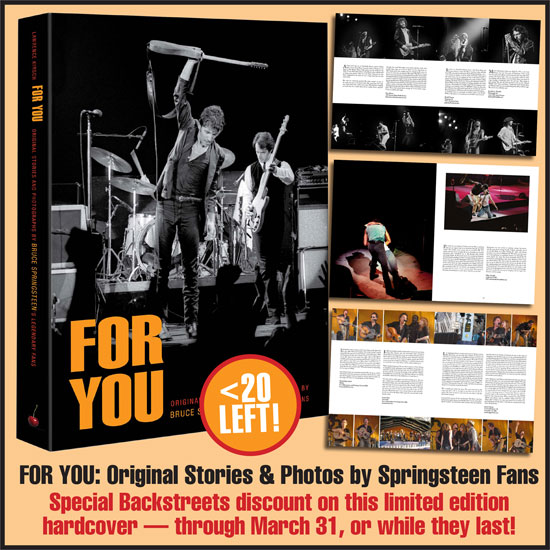 AND THE WINNERS ARE…
As we help publisher Lawrence Kirsch blow out the last remaining copies of his For You book, we want to thank everyone who snapped up a copy by Friday, March 11 — all were entered into a random drawing for a bonus item to be included along with their book.
Originally there were to be five names drawn, but Lawrence was feeling generous. So here are the names of the six winners who will be receiving a limited-edition, signed 8x10" photo, The River Tour from the Lawrence Kirsch Comm archive.
Chris Barber - Illinois
Charles Guido - New York
Christopher Larsen - Virginia
Cheryl Levenbrown - New York
Paolo Rossi - Italy
Hans-Georg Schmitt - Germany
While the contest is over, there is still time — until March 31 or the book is sold out, whichever comes first — to take advantage of our special Backstreets discount on the remaining copies of For You, a limited-edition, hardcover collection of photographs and stories from Springsteen fans. Fewer than 20 copies remain… order now!
- March 15, 2022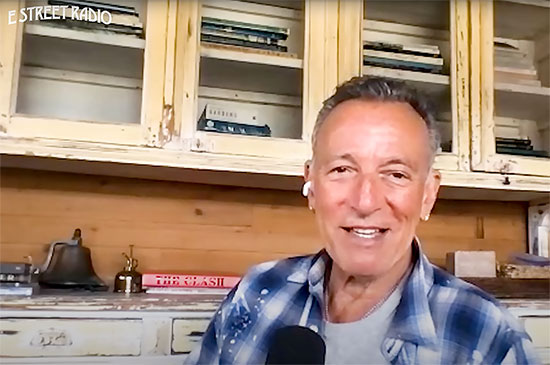 "PUT ON THAT SHOW!"
In Wednesday's check-in with E Street Radio, Springsteen celebrates his Apollo show on its 10th anniversary and touches on future tour plans:
"We're getting our plans for touring together, and we'll be out there. We hoped to be out there this year, but I just didn't have confidence or want to take the risk for my audience that it was going to be okay… So we put it off a little while, but we're working on plans to get it all together now, and so you'll be seeing the E Street Band pretty soon."
On Wednesday, March 9, Bruce Springsteen could be heard exclusively on
E Street Radio
, engaged in a special conversation with Jim Rotolo centered around the 10th anniversary of
Springsteen's March 9, 2012 performance with the E Street Band at New York City's legendary Apollo Theater
.
As Rotolo noted, the concert — with tickets limited strictly to invited guests and SiriusXM contest-winners — marked several special occasions simultaneously. "It was the tenth anniversary for satellite radio," said Jim, "the first full show of the Wrecking Ball tour, sort of a 'warm-up' show for you… You'd never played at the Apollo Theater before… Wrecking Ball had just come out a few days prior."
But both Rotolo and Springsteen agreed that the most significant aspect of this concert is that it was the first E Street show without Clarence Clemons onstage.
"That was the biggest thing," said Bruce. "It was Jake's first gig, and our first gig without Clarence — the E Street Band's first gig since its inception without Clarence Clemons. So that sort of took over everything else you were feeling. It was the knock on your door to the next incarnation of the band, and how it was going to develop, and how it was going to be accepted by the fans. It was a test for the band, a true test for the band that night. So it was great that it was in that place. I look back very fondly on the fact that we were able to play there, and that was the spot for Jake's first sax solo. And Clarence would've loved that, of course. He would've loved us being there.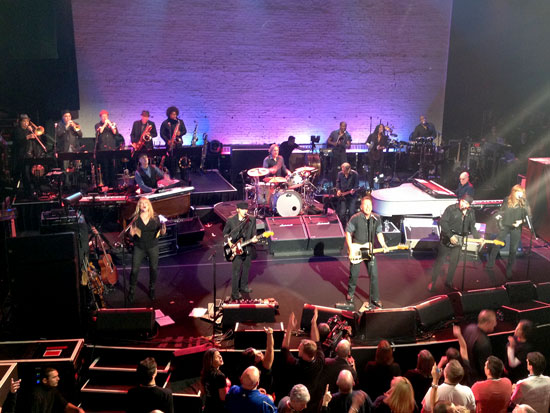 The full 2012 E Street Band at the Apollo, including horn section with Jake Clemons, backup singers… and notice the film camera operator at the lip of the stage
"You have to respect your audience," Springsteen continued, "and their memories, their experiences, and their history they've had with you in the past. So we wanted to make sure we were doing that. At the same time, we wanted the band to move on and be able to deliver the kind of powerful performances that we had in the past, and to be able to continue to be a part of our audience's lives. So we were sort of gingerly taking baby steps that night, just feeling it all out and seeing how it went.
"I think the moment I'll remember the most was Jake's first solo, in 'Badlands.' As soon as he blew through that, and the audience erupted into applause, I knew. Everybody took a deep breath and knew that everything else was gonna be okay."
Rotolo agreed enthusiastically. "That moment when that solo hit," said Jim, "you could feel there was… not tension, but nervous energy for Jake."
"Yeah," replied Bruce, "the nice thing about Jake is he's the kind of guy you root for. And the reason is his heart, his soul; it's so deep. It's coming deep from the place where the band comes from, and that was just who he was. That's something… You can put the notes out there, you can have somebody blow the notes, but you can't make that part up. It's like I said with Clarence. I could call Clarence 'the Big Man,' but he had to be the Big Man. And it was similar for Jake.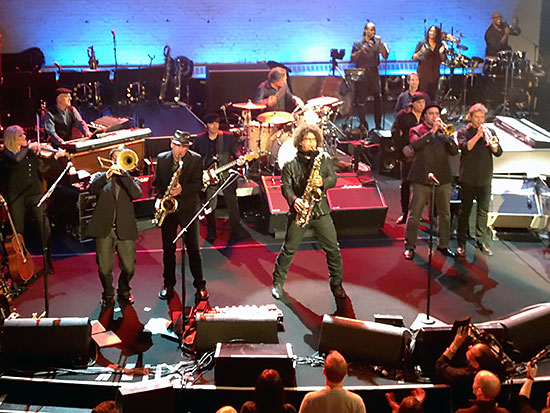 "Jake had to find his own spot that was going to work for him, and for us, and for the audience. A very, very tricky balancing act for him. He's a young guy, he put his heart and soul into it — and still does — and we couldn't have found a better guy to do that job. There couldn't have been somebody better than Jake. I tease him a lot in [the Born to Run autobiography] about us getting together, but in truth he was and is an incredible guy to take up that flag and to carry it further on. I can't think of the Apollo without thinking of Jake and his first night there, and how he really delivered for the band and the audience."
Rotolo also got Bruce to talk about the many great Apollo-style showmanship moves that Bruce displayed that night, including his self-composed/self-delivered offstage introduction and, of course, his heart-stopping climb up to the theater's balcony. That bit of daredevilry culminated in his stepping over to the outside of the balcony's railing.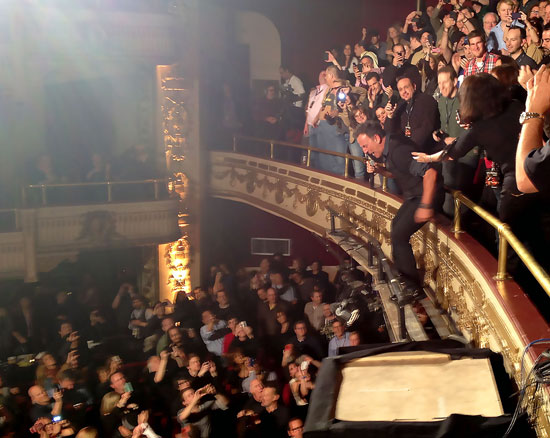 "It just looked doable," Springsteen said with a giggle. "It was one of those things where, I'm not gonna be back here again any time in the immediate future, so I figured I'd make the most of it. And of course the Apollo Theater was known for its great showmen and great show-women, y'know? I mean, it's the hallmark of the place. That's where we get all our shtick and our showboating from. It's from all the soul men — the soul men were showmen. Showmen! That's right. Don't be afraid of puttin' on a show. I mean, Sam Moore, who's still my friend — we just talked to him a week or so ago — he'd say, 'Don't be afraid of puttin' on a show; put that show on!' That's what you gotta do."
Towards the end of the conversation, Springsteen — completely on his own, with no prompting from Rotolo — teased the possibility of fans finally getting to see an officially released film version of the Apollo Theater performance. "There is film of it," Bruce said, "and I'll have to see what the story on that is some time, because my recollection was the night was filmed pretty well, and it might be fun to see that someday."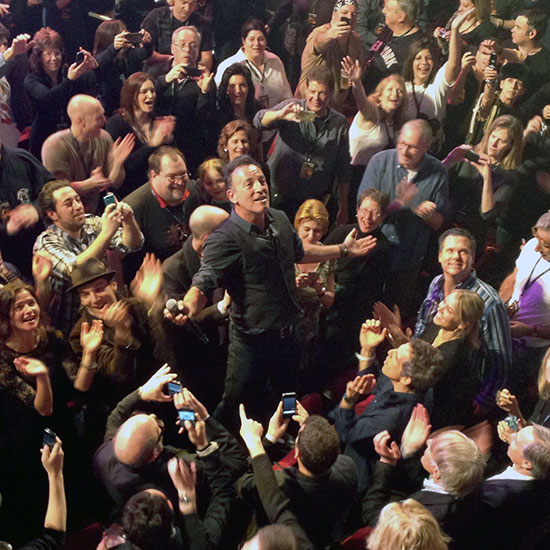 Finally, Jim asked Bruce about future plans and what he's been up to lately.
"I've been busy doing things," Springsteen replied with another giggle. "The rest is a surprise, but I've been busy doing things. And it's all good.… We're getting our plans for touring together, and we'll be out there. We hoped to be out there this year, but I just didn't have confidence or want to take the risk for my audience that it was going to be okay, you know? So we put it off a little while, but we're working on plans to get it all together now, and so you'll be seeing the E Street Band pretty soon.
"And, you know, just a lot of nice things happening at home and making a lot of nice music, Patti and I are. She's working on her record. She's doing a great job; she's got a great record coming. So we're staying busy, and all is well."
For SiriusXM subscribers, the complete E Street Radio "Bruce Springsteen talks his Apollo performance" conversation with Jim Rotolo remains available for listening On Demand. Also on demand from the broadcast archives, the Apollo Concert Pre-show & Full Concert.
- March 11, 2022 - Shawn Poole reporting - Apollo 3/9/12 photographs by Christopher Phillips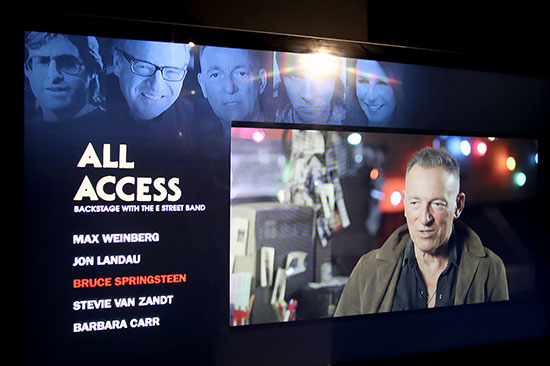 LAST CALL FOR LIVE!
Walking through Bruce Springsteen Live! in Newark before it moves on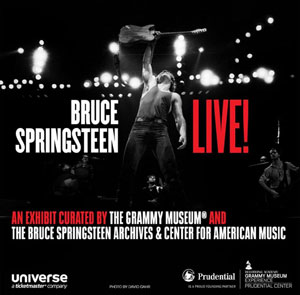 Here's the thing about Bruce Springsteen and the E Street Band: apparently they don't throw anything away. And that's good news for tramps like us.
The Bruce Springsteen Live! exhibit, co-curated by The Grammy Museum in Los Angeles and the Bruce Springsteen Archives and Center for American Music in New Jersey, is closing up shop at The Grammy Museum in Newark, NJ, in just ten days. Fans who want to be treated to artifacts, photographs, and some wonderful interactive displays can attend Thursday through Sunday until its closing on Sunday, March 20.
Driving through the city of Newark to get to the Prudential Center, the first thing a visitor might think of is West Side Story. Spielberg's recent retelling of the American classic was filmed with Newark filling in as New York City, and yet it's instantly recognizable.
Once inside the museum, separate from the Springsteen exhibit, you can get a sense of the recent Grammy winners and a modern history of the awards ceremony in a mini-theater showing film clips of Grammy performances from the last 20 years. An interactive band set-up allows wannabe musicians the chance to play on stage. Year-round, there's a "New Jersey Legends" display that features memorabilia from not only Springsteen and Southside Johnny, but The Smithereens, Whitney Houston, Dionne Warwick, Bon Jovi, Frank Sinatra, Count Basie, Al Di Meola, and more.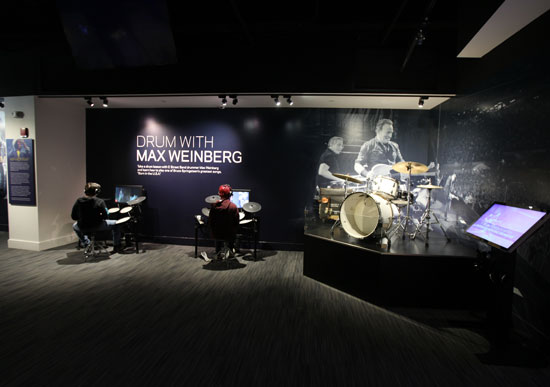 From there another interactive display, "Drum with Max Weinberg," leads directly into the Springsteen exhibit. Max's 1985 stadium drum kit is there (including loose wires where, presumably, the electronic triggers from those Born in the U.S.A. shows were connected), and two stations of electronic drums feature a video monitor where the Mighty One teaches museum-goers how to play "Born in the U.S.A." On a recent visit these seats were always full of teenagers bashing away to America's most misunderstood pop hit.
Inside the exhibit proper we're first treated to an interactive display featuring interviews with Jon Landau, photographer Barry Schneier, Garry Tallent, and David Sancious discussing perhaps one of Springsteen's most important live performances, Harvard Square Theatre, May 9, 1974, opening for Bonnie Raitt. This was the night that birthed Landau's famous "rock and roll future" quote that kept Springsteen on Columbia Records at a time when he probably needed the support the most.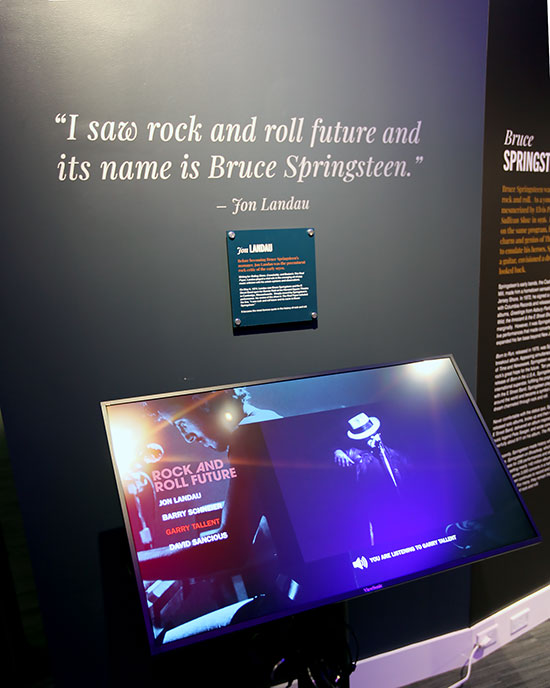 From there the displays are broken down by decade. Walking right up the 1970s display, Bruce's legendary Fender Telecaster/Esquire hybrid is just there — just sitting there, not given the usual prominence and spotlit reverence from past Springsteen exhibits.
Mark Conklin, Director of Artist Relations & Programming for The Grammy Museum laughs when discussing the guitar: "I still think the Esquire, Telecaster, Born to Run guitar is… I'm… I'm still amazed it's in the building every time I look at it!"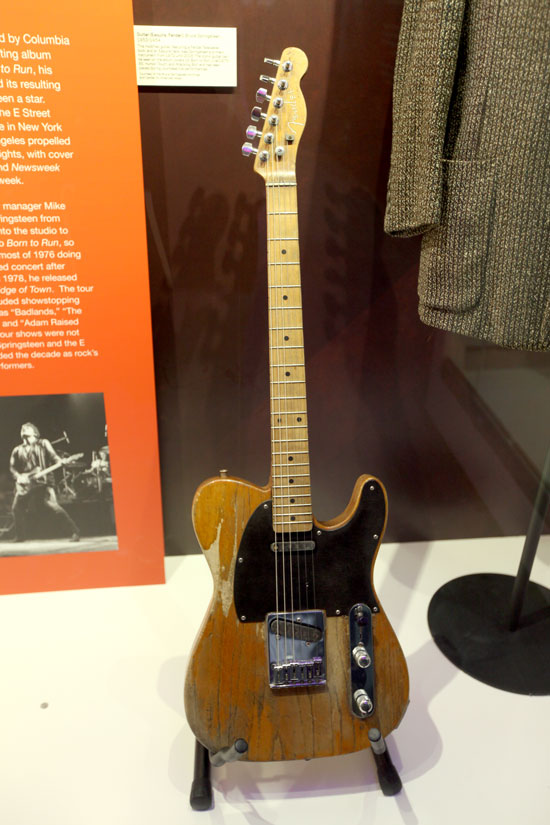 The 1980s section features one of Springsteen's leather jackets that certainly looks like the one on the cover of the "Dancing in the Dark" single. One of the most interesting '80s artifacts is actually exhibited in the 2000 display case: Roy Bittan's synthesizer features his crib notes from the 1985 stadium tour with shortcuts for songs like "My Father's House," "Glory Days," and "Lose Heart" — shorthand for "Janey, Don't You Lose Heart," which was played in Los Angeles at the end of the '85 tour.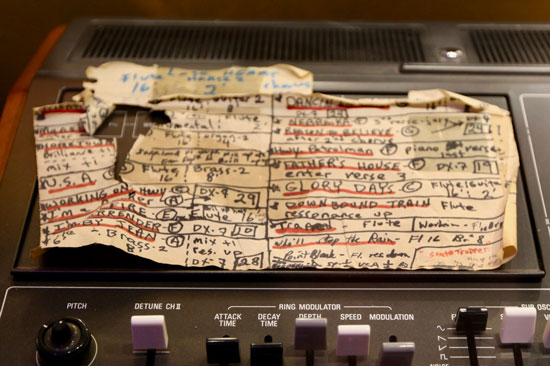 The Tunnel of Love tour is featured with the ticket booth stage prop, which was manned nightly by Terry Magovern, and the calliope used to open shows on the Magic tour is also prominently displayed. Recent performances are represented, too, including a display of Bruce and Patti's Springsteen on Broadway wardrobes. While some will be ogling Patti's white boots, others may try to figure out all the zippers and laces on Bruce's work shoes.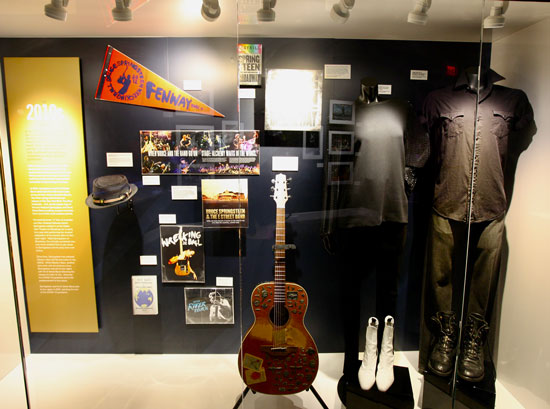 The interactive displays throughout are plentiful and informative no matter how many Springsteen exhibits you've explored in the past — from Max discussing the night of recording "Born in the U.S.A." in the studio, to various E Street Band members and management describing how they prepare on the day of a show, to Bruce himself discussing at length why he goes out on tour and what he hopes to get across each time. On a separate kiosk, Bruce's description of how he builds his encores goes into much more detail, including music theory, then the average fan might conceive. (Eyeballing the footage and making an educated guess, it looks as though the interviews were conducted and shot during the Western Stars era.)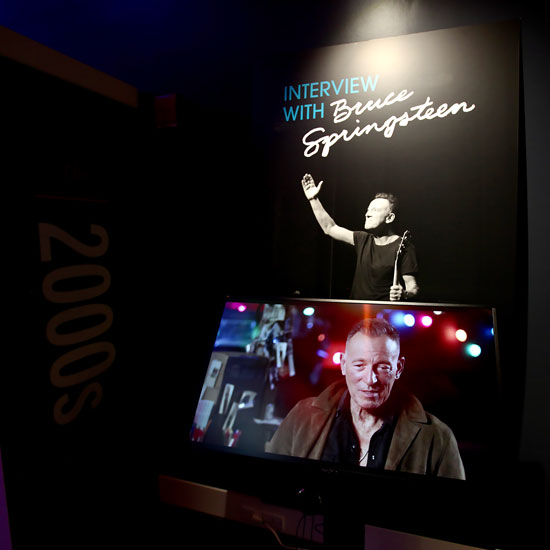 A photography display features wonderful and familiar frames from all the usual suspects (Clinch, Stefanko, Schneier, Goldsmith, etc.) and a striking, previously unseen 1974 band portrait captured in color in Houston, TX, by photographer Nicki Germaine.
The exhibit ends, most poignantly, with Danny Federici's accordion and Clarence Clemons's saxophone.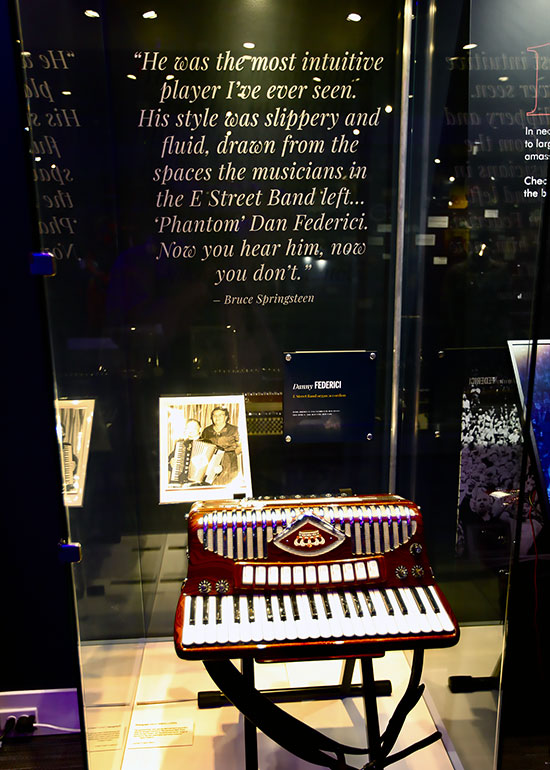 With only two weekends left, it would behoove a fan to make their way down to the exhibit on Lafayette Street. According to Conklin, "It's been the best attended exhibit that we've had — and that's saying a lot, since a large part of our attendance is groups and school groups, and we haven't had that with the pandemic. It's been very well attended."
After closing in Newark, Bruce Springsteen Live! moves on to open April 16 at the Woody Guthrie Center in Tulsa, OK, and will be there on display through September 25. Ultimately the exhibition will move on to Los Angeles, CA.
You can get tickets for Bruce Springsteen Live! here. The GRAMMY Museum Experience Prudential Center runs Thursdays to Sundays through Sunday, March 20, 11am to 6pm on non-event days and 11am to 8pm on event days.
- March 10, 2022 - reporting and photographs by Bob Zimmerman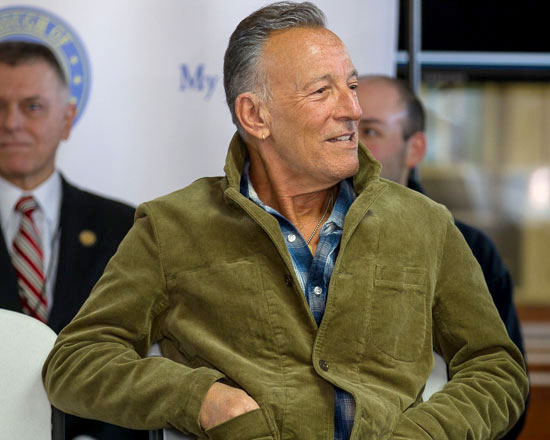 INTO THE FIRE(HOUSE)
With the Bruce Springsteen Story Center coming to "the coolest building in town," the Boss addresses Freehold, "the center of my art and my life"
On Tuesday in Freehold, New Jersey, home of many a Bruce Springsteen landmark, plans for a future such landmark brought local notables downtown to Main Street for a press conference and signing ceremony.
At the current Freehold Fire Department building — soon to become My Hometown: The Bruce Springsteen Story Center — principals from the Borough of Freehold and the Bruce Springsteen Archives and Center for American Music came together for a formal signing to announce their collaboration on this future exhibition space.
Archives director Eileen Chapman, Monmouth University president Patrick Leahy, and Freehold Borough Mayor Kevin Kane all spoke about plans for the Archives outpost, part of the Freehold Center Core Redevelopment that will include relocating the town's fire department [see below for further details].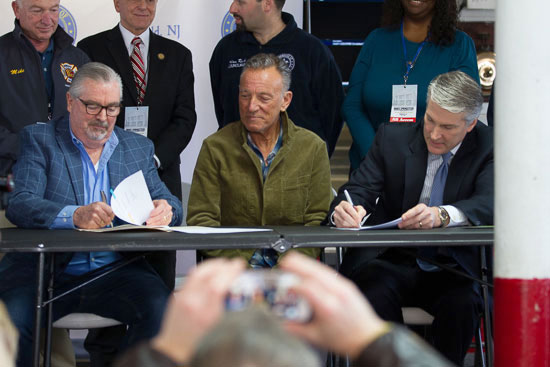 Also at the firehouse: Bruce Springsteen himself, who put his John Hancock on the plan.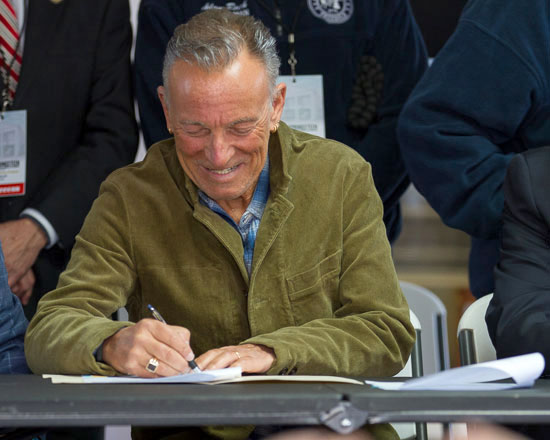 "They didn't tell me I was going to have to say anything," Bruce laughed as he approached the podium (after receiving a handsome Freehold Borough sweatshirt from Kane with personalized "The Boss" embroidery). "I just thought I was going to come down and get my picture taken!"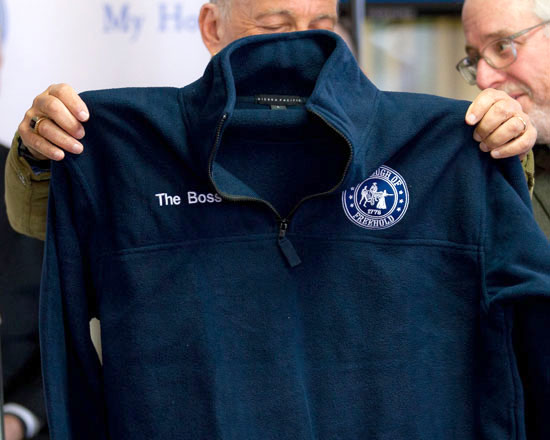 While he may not have planned it, Springsteen wound up delivering a warm, off-the-cuff speech to close the day's remarks, expressing his gratitude and his feelings about his hometown — even if he still doesn't fully understand them.
Everything I learned of deep importance, I learned in this town. You learn most of what makes you who you are — gosh, I don't know, by the time you're 12, maybe. Maybe your teen years. And I had all the usual joy and heartbreak of growing up in a small town like this. And of course the minute the opportunity arose, I got the hell out, all right? [Laughs] And I suppose the unusual thing was that, moving around the world as I did, all I knew is: I always came back. I always came back. And to this day, I've spent quite a bit of money and time trying to figure out what I keep coming back for. And so far, no answer — I'll let you know as things go along.

But I think one of the things I come back for is just this. This is nice, you know? Who mentioned to me first this idea, of putting the Archives in here in connection with… Was it you, Mike? [Former Mayor] Mike Wilson. [I thought,] Aw, no, they're going to do it at Monmouth University [shakes head]… I didn't want to step on anybody's toes.… Mike [says], "Well, they want to put it in the firehouse."

Firehouse? That's the coolest building in town! [Laughs]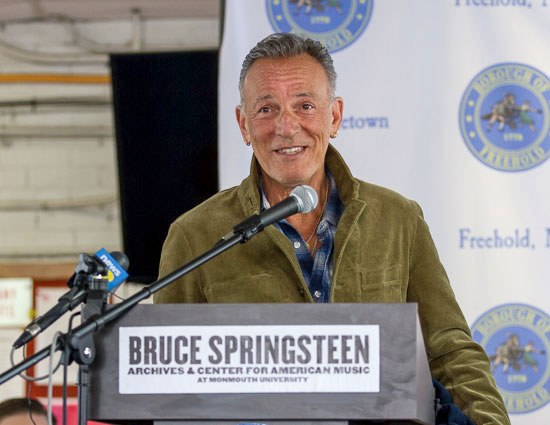 So, I said, "Gee, I don't know, that sounds … well, if you can do it without… you know, if everyone's agreed on what it's going to be and how it's going to work, that would be wonderful for me."

I mean, the bottom line is, you can't get away from the fact that it feels bizarre. I sat three blocks from here, came up with a few songs and things that I liked, and the idea that 50 years later anybody was going to be interested in them at all — I mean, what are the odds, folks? [Laughs] They're very small.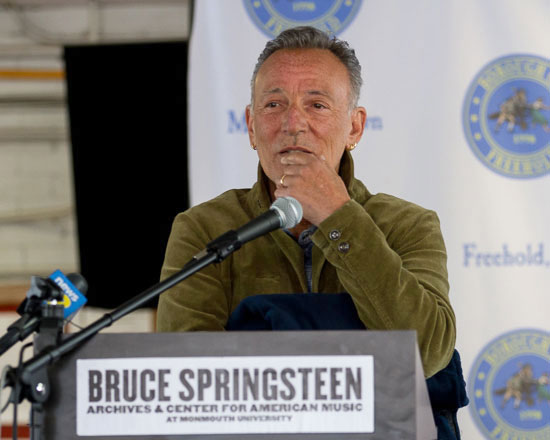 I've got on [holds up hand]… this is the ring … my first manager Tex Vinyard passed away… and we were over there in Texas [a section of Freehold], over by the rug mill, and he gave me this ring. And I wear it on very special occasions because it's the one thing I have that deeply connects me to Center Street, and the town in general, and my great old friends that I knew at the time, and worked with, and played with — that remains some essential part of me. I could not even tell you why. I don't know why. All I know is, it has. And it's the reason I'm skipping breakfast to be here today [laughs].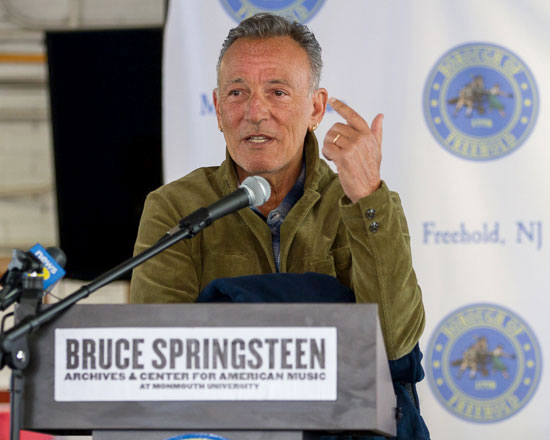 But all I can really do is thank everybody: Mike, and everybody here on the dais, you guys are all of the best. I come to the town often — very, very often. We'll be sitting at Federici's, or I'll just drive through on my own. I still do all the time. So… I'm watchin' ya!

It's been wonderful having this town as the center of my art, and of my life. I look forward to doing that 'til they put me in the box. Thanks.
You can watch the speech below — it's worth skipping breakfast for.
- March 10, 2022 - all photographs by A.M. Saddler


THE REDEVELOPING, ARCHIVE-EXHIBITING TOWN… OF FREEHOLD
Springsteen Archives to open museum outpost in Freehold Borough
The Bruce Springsteen Archives and Center for American Music at Monmouth University has announced a new collaboration with the Borough of Freehold to create an exhibition space in downtown Freehold celebrating the life of Freehold's most famous son, Bruce Springsteen.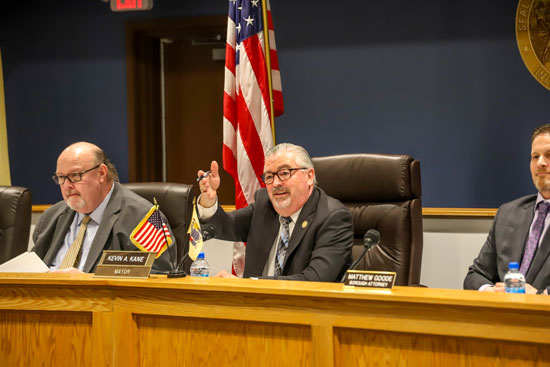 Freehold Borough Mayor Kevin Kane, center, at last night's Council meeting approving the collaboration - photograph by Carl Beams
At a meeting last night, the Freehold Borough Council enthusiastically and unanimously passed the resolution, item 5 on the night's agenda: "Resolution Authorizing Memorandum of Understanding with the Bruce Springsteen Archives and Center for American Music at Monmouth University."
It was made official this morning with a press conference and formal signing at the future site of the multimedia Springsteen museum: the current Freehold Fire Department building, located at 49 W. Main Street. Springsteen himself was in attendance (details to come).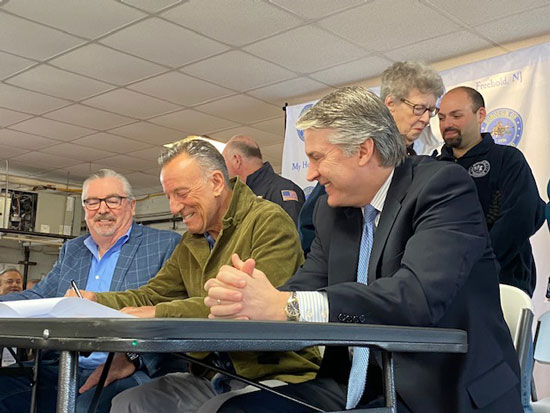 Courtesy of The Bruce Springsteen Archives and Center for American Music at Monmouth University
The Freehold firehouse will be renovated to accommodate the new exhibition space, while the Fire Department will be relocated as part of the Freehold Center Core Redevelopment Plan.
Archives Director Eileen Chapman said, "Together, the Springsteen exhibition in Freehold and The Bruce Springsteen Archives and Center for American Music on the campus of Monmouth University will ensure that the musical legacy of Springsteen and his important role in American music history remain in New Jersey for generations to come."
The anticipated opening date is mid-2024. The exhibition will include artifacts, photographs, multimedia displays (voice, film, concert footage, interviews), and interactive displays.
Freehold Borough Mayor Kevin Kane said, "On behalf of the entire council, I can say we are so excited to see this collaboration with the Springsteen Archives move forward. This will be the centerpiece of our redevelopment project and will be a fabulous addition to historic downtown Freehold."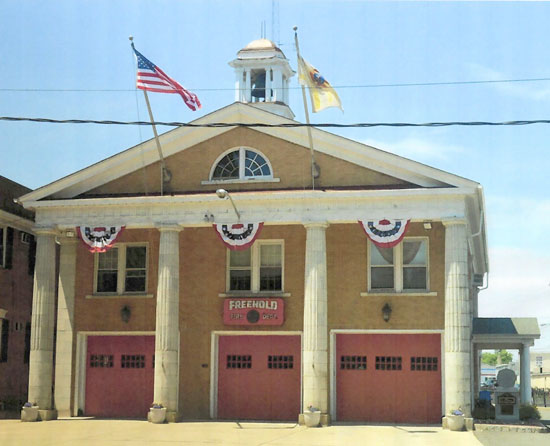 In Freehold, 49 W. Main Street: the future home of a new Springsteen Archives exhibition space - courtesy of The Bruce Springsteen Archives and Center for American Music at Monmouth University
Monmouth University President and Chairman of the Archives Board of Directors Patrick Leahy added, "The Bruce Springsteen Archives and Center for American Music is pleased to welcome our new Freehold partners as we develop on the campus on Monmouth University one of the country's premiere cultural and educational institutions dedicated to preserving the legacy of Bruce Springsteen and celebrating the long, rich story of American music."
According to Chapman, "The Springsteen exhibition in Freehold will allow us to provide not only exciting exhibits that tell the story of Springsteen's early years, but also dynamic educational and public programs with strong ties to the community and area schools. This exhibition will be an educational resource for teachers, with pre-tour activities for school groups. In addition, visitors will come from all over the world to see the exhibit."
The Springsteen Freehold exhibition will be curated and programmed by The Bruce Springsteen Archives and Center for American Music, along with Freehold historian Kevin Coyne and other members of the Freehold community deeply familiar with the Springsteen story. As Coyne said, "The central idea behind the Freehold project is to tell the story of Bruce Springsteen as a writer, as a storyteller, as a chronicler of America, and how his story and the story of his hometown intertwine to tell the larger story of his country."
- March 8, 2022 - special thanks to Eileen Chapman and Carl Beams


- March 7, 2022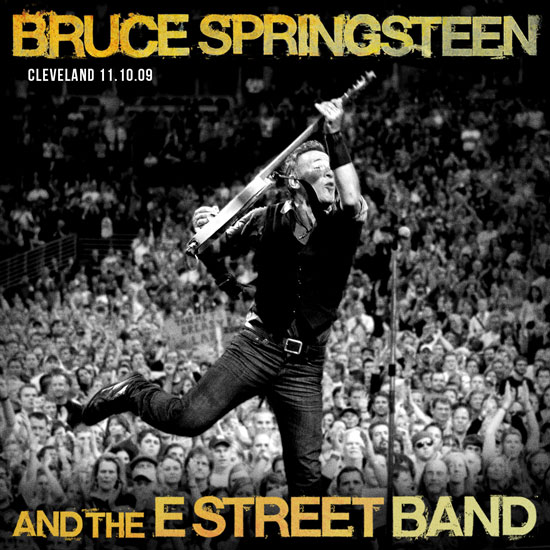 "WE GOT ONE MORE GEAR!"
Back in the arms of Cleveland with 11/10/09 from the Live Archive
As the E Street Band leaned into the riff of "Higher and Higher" at the end of their November 10, 2009, Cleveland, OH concert — lights full on, everybody up — Bruce Springsteen, Cindy Mizelle, Curtis King, and Soozie Tyrell headed out to the riser in the middle of the floor, singing, dancing, and revving up the crowd. The Jackie Wilson song had quickly become a perfect way to end the night after its debut in Philly just a couple of weeks earlier. It hadn't been played since the short 1977 tour, and it was a great reminder of the E Street Band's soul roots. After a few rounds of the chorus, Bruce shouted, "We got one more gear! One more gear!" and up the band climbed a step, goosing the crowd as that musical trick always does, blasting out in pure joy.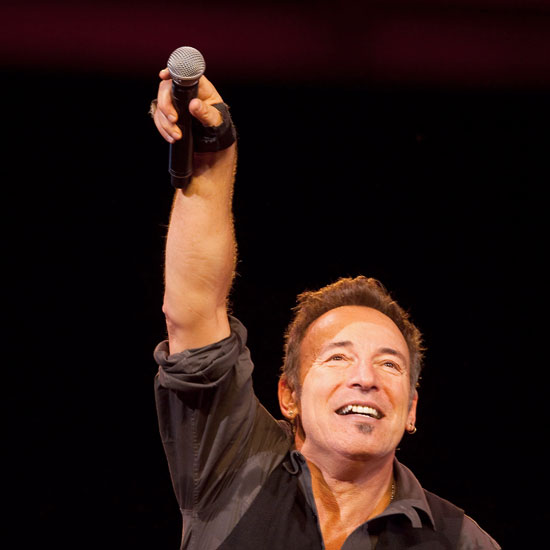 Rather than closing with it, as they had at the previous five shows, Bruce and the band found one more position on that magical gearshift, adding "Rosalita," an old-school fan favorite perfect for Cleveland. Everyone around me just burst into a grin. "Rosie" capped a joyous and nostalgic night in one of first cities to embrace him, reveling in the past with a fantastic, full Born to Run album performance and the kind of soul music I always love hearing from the band.


Nearly a year prior, two days before Christmas 2008, Springsteen put out a statement announcing the release of Working on a Dream. He shared that recording began at the end of the Magic sessions and continued during the 2007-08 tour. "I found there was more than enough fuel for the fire to keep going," he wrote. "We found time to book sessions, get the band while it was hot off the road, write and record a new record, while giving our audiences what I hope was some of the best E Street shows we've ever done."
In a January 2009 interview with David Fricke for Rolling Stone, Bruce reflected on the pace he was keeping: "Patti said it — 'You are in a manic state, running like crazy from, let me think, death itself?' It's a funny thing to say. But I've got a deadline! And that fire I feel in myself and the band — it's a very enjoyable thing. It carries an element of desperateness. It also carries an element of thankfulness. We are perched at a place where we want to continue on — with excellence."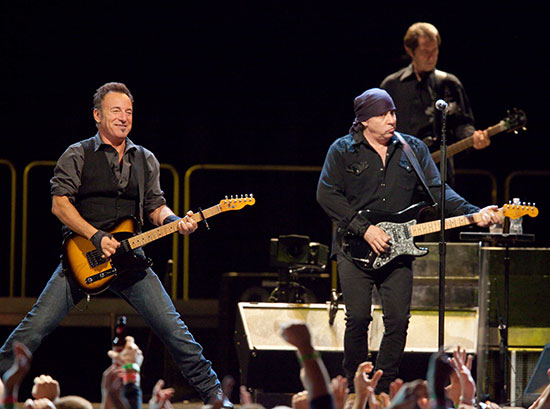 And what a year they had. It was bookended by two events that burnished his "national treasure" reputation: singing on the steps of the Lincoln Memorial during President Obama's inauguration weekend in January, and receiving a Kennedy Center Honor in December. In between, the band lit up the Super Bowl, played major festivals for the first time — Bonnaroo, Glastonbury, PinkPop, Hard Rock Calling in Hyde Park — stole the show at the Rock and Roll Hall of Fame's 25th anniversary celebration, and closed down two legendary venues headed for the wrecking ball, Giants Stadium and the Philadelphia Spectrum. They played 83 nights on the Working on a Dream tour between April and November, shows that included an insane "stump the band" section that inspired an incredible run of covers the band had never played before, including "My Generation," "Expressway to Your Heart," and "Like a Rolling Stone." Running like crazy, indeed.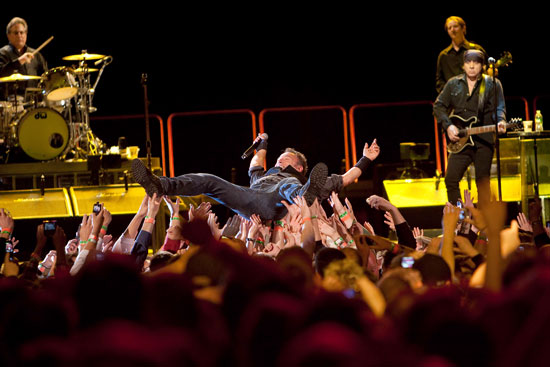 But although Springsteen and the band were in top form, and Bruce was at one of the high-water marks of cultural visibility and relevance that year, the tour was more nostalgic than forward-thinking. The creative and beautiful songs from the new album — I'd put "Kingdom of Days" and "Life Itself" up there with anything he's ever done — never secured a sustained focus in the sets, and by the fall U.S. shows, they were mostly gone. In fact, at this Cleveland show, only the title track was performed from Working on a Dream (Flynn McLean and Hal Schwartz did a great job of breaking down the 2009 tour on the None But the Brave podcast last year.) By the fall, after two years of solid touring, Springsteen added full-album performances to the set, which resulted in some killer performances — including the first full-band The River and Wild & Innocent shows previously released from the Live Archive, and now the first Born to Run, a beautiful and intense album sequence that really resonated with the Cleveland crowd.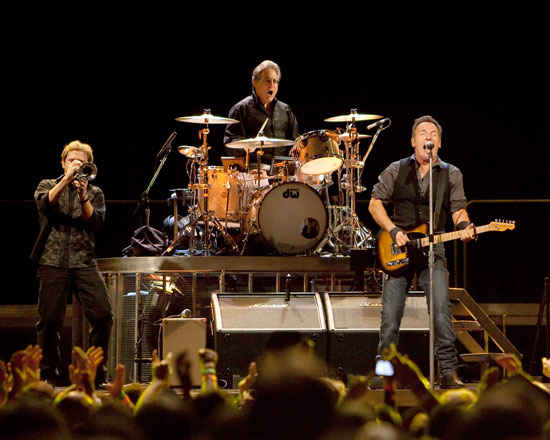 Maybe more than any other album, BTR feels like a carefully sequenced story, and hearing those songs in order was deeply moving. The songs that get played often echoed differently, like "Backstreets" off a ferocious "Night," and songs rarely played, like "Meeting Across the River" with gorgeous trumpet by Curt Ramm, really shone (Ramm, above left, began guesting frequently in late September). We know now that this was one of Clarence Clemons's last shows, and he rose to the occasion of probably his greatest album performance on songs like "She's the One" and "Jungleland." Bruce's singing on the break in "Backstreets" echoed his soul influences.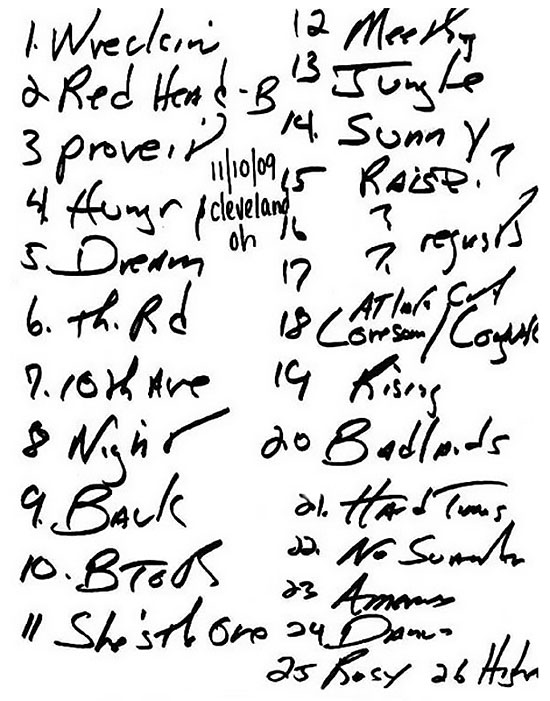 Right: Springsteen's handwritten setlist. Calling changes on the fly as usual, he held "Red Headed Woman for later in the set, granted a request for "Pink Cadillac," added "Radio Nowhere," "Bobby Jean," and "Can't Help Falling in Love," among other switch-ups.
In a setlist that stopped making any kind of narrative sense months earlier, it was soul music that I heard as a throughline that night. The band vamped like they were playing at the Satellite Lounge on "Raise Your Hand" while Bruce collected signs, and I was hoping for more covers. We didn't get any until "Higher and Higher," but instead we got a titanic soul original, the 1995 outtake "Back in Your Arms."
Here in downtown Cleveland, it's simply the best version of "Back in Your Arms" he's ever done, and that's saying something. The long spoken intro evoked Clarence Carter's zany version of "Dark End of the Street" over piano, drums, and organ, with the Big Man's vocal encouragement as Bruce expounded on "blowing a good thing." Falling on his knees on the downbeat as he started to beg, he wrung all the emotion out of the song before bringing it to a mournful, gentle conclusion.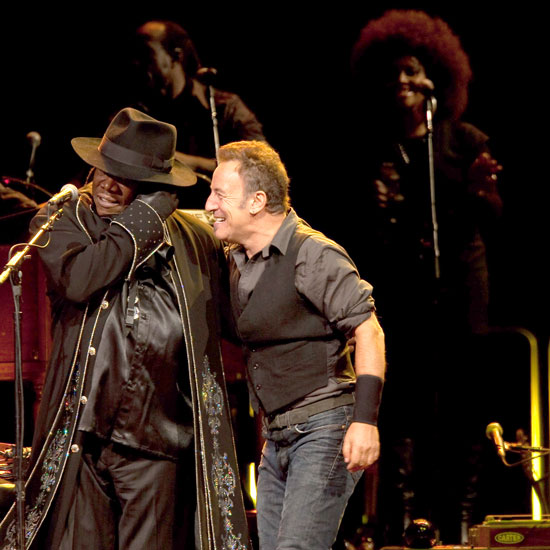 If you want a show to party and dance to — including a nice, long, slow dance — this one is it. Cleveland 11/10/09 didn't break new ground, but in honoring the band's deep roots so powerfully, it set the stage for the creative breakthroughs on the Wrecking Ball tour, as we all figured out how this thing was going to work without the Big Man.
Also read: Erik Flannigan's latest blog entry for nugs.net, "Tonight's Gonna Be Everything That I Said"
- March 4, 2022 - Lauren Onkey reporting - photographs by Robbie Gantt, Cleveland 11/10/09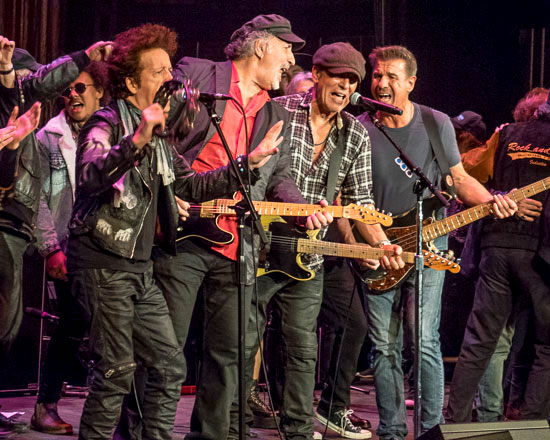 Bruce Springsteen's 12th and most recent performance for Light of Day, with longtime regulars Willie Nile and Joe Grushecky, January 18, 2020 - photograph by A.M. Saddler
BRUCE AT LOD: A DOZEN YEARS ROCKING THE HOUSE
Stan Goldstein back at Bruce Springsteen's 12 Light of Day appearances

TICKET ALERT: On Wednesday, March 2, a limited number of additional LOD Winterfest 2022 tickets have been released for the 3/12 Main Event at the Count Basie Theatre, available while they last via Ticketmaster.
Just two months before the COVID-19 pandemic would wreak havoc and shut down our stages, it took many by surprise on January 18, 2020 when Bruce Springsteen showed up as a special guest at
Light of Day
, even though it was for the 12th time. For quite a few years Springsteen's appearance at the annual concert was more the rule than the exception by far, but this Saturday evening show at the Paramount Theatre in Asbury Park was the first time he had played the benefit since 2015.
The night before, Bruce was in Wellington, Florida, where he performed two songs — "Mustang Sally" and "In the Midnight Hour" — with Patti Scialfa at the United States Equestrian Team Foundation's "Take Me to Tokyo" gala. Though it seemed far-fetched, especially as a minor snow storm was approaching, many wondered if Springsteen might make his way back up to New Jersey to be part of Light of Day 2020.
That question was answered about 5pm when Bruce showed up to soundcheck with Joe Grushecky and the Houserockers. Word quickly spread around Asbury Park, and through social media, that The Boss would be in the house.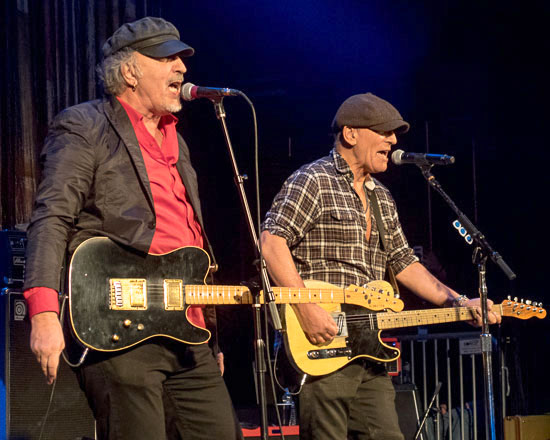 He's often guested with other artists on the bill, but every time Springsteen has shown up for Light of Day, it's been to rock the house with headliner Joe Grushecky - photograph by A.M. Saddler, January 18, 2020
Bruce joined Jesse Malin for two songs that night, Willie Nile for one, and he played a full set with Joe Grushecky and the Houserockers. It remains his longest public performance backed by a band in five years, since his show with the E Street Band on February 25, 2017 in Auckland, New Zealand. (There was the April 2019 filming of the Western Stars songs in his barn as well as the November 19, 2019 Boston College benefit show at the Stone Pony, but those were in front of private, invite-only audiences.)
Light of Day was founded in 1998 by music manager Bob Benjamin with the help of concert promoter Tony Pallagrosi. It began as a birthday party in November 1998 at the Downtown Cafe in Red Bank, New Jersey, to celebrate Benjamin's 40th birthday. Benjamin had recently been diagnosed with Parkinson's disease, and in lieu of gifts he asked that donations be made to the Parkinson's Disease Foundation. The first official Light of Day concert took place November 3, 2000 at the Stone Pony in Asbury Park, and it soon turned into an annual "Bob's Birthday Bash" concert (AKA the Main Event, as LOD quickly grew into a multi-day affair).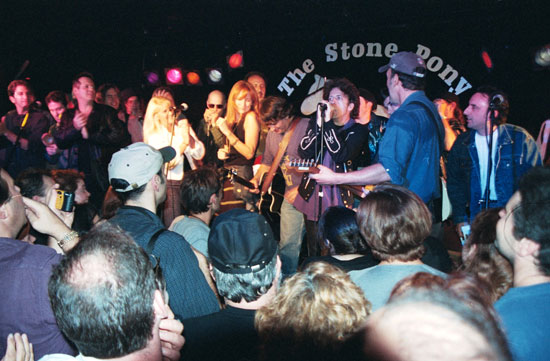 How it all began: Springsteen at the finale of the inaugural Light of Day benefit concert, November 3, 2000, celebrating Bob Benjamin's birthday with others including Patti Scialfa, Joe Grushecky, and another LOD stalwart, Joe D'Urso - photograph by John Cavanaugh
To date, Springsteen has appeared at 12 of 20 Light of Days. While he's never been an announced Light of Day performer, and the show is always a hot ticket in any case, each year there's always the speculation: "Is Bruce going to be there?"
After a virtual-only event in 2021, and this year's having to be postponed due to Omicron, Light of Day Winterfest 2022 returns live and in-person this month. Bob's Birthday Bash is set for March 12, held for the first time at the Count Basie Theatre in Red Bank. As ever, no one knows for sure what the night will bring, but we can take a look at what's already in the books, with a year-by-year roundup of Springsteen's Light of Day history...
Continue reading
BRUCE AT LOD: A DOZEN YEARS ROCKING THE HOUSE
Looking back at Bruce Springsteen's 12 Light of Day appearances
By Stan Goldstein
- March 2, 2022 - Stan Goldstein reporting, with special thanks to Brucebase