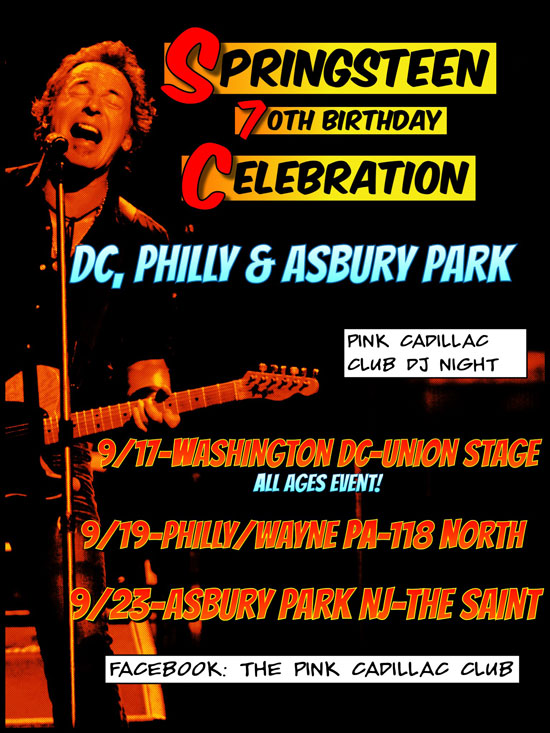 Everything dies baby that's a fact
But maybe everything that dies someday comes back
— Bruce Springsteen, "Atlantic City"

Thirty-four years ago in Washington DC, on the corner of M Street and Wisconsin Avenue, local bar Annie's turned its slowest night of the week, Monday, into a booming all-night Springsteen party under the handle The Pink Cadillac Club.
Regardie's magazine, then known as The Business of Washington, wrote: "After donating his services to such worthy groups as Vietnam Vets and unemployed steel workers, rock 'n' roll star Bruce Springsteen is now unwittingly being called upon to save the bars of America from slow nights."
With the occasion of Springsteen's milestone 70th Birthday coming up this September, and probably due to similar excitement being generated across the pond, The Pink Cadillac Club is returning for one week only this fall.
Dates are currently on sale in the Pink Cadillac Club hometown of Washington, DC on Tuesday, September 17; Philadelphia/Wayne, PA on Thursday, September 19; and Asbury Park, NJ at The Saint on September 23. Dates are still being negotiated for possible evenings in Pittsburgh and New York City.
Behind the Pink Cadillac Club resurgence is 35-year Backstreets contributor Bob Zimmerman. Why now, after all these years?
"The first thing that struck me is that the year surrounding Bruce's 70th birthday might be the most active of his career. With last December's release of Springsteen on Broadway on Netflix and record, followed by Brian Hiatt's book The Stories Behind the Songs, the just-released Western Stars, next month's release of the Blinded by the Light film, the September release of the book Long Walk Home: Reflections on Bruce Springsteen, as well as the talk of E Street activity to come… and this guy's turning 70? Man, that's something we have to celebrate as a fan community!"
Asked if a U.K. revival of Springsteen nights had anything to do with bringing back the Pink Cadillac Club to the East Coast, Zimmerman is straightforward: "Absolutely! What Hannah [Summers] and the Hungry Heart U.K. crew showed me is that it's not an outdated idea.
"People want to get away from their computer screens, look up from their phones, and meet like-minded fans like themselves," Zimmerman continues. "Fans like to get together, and whether it's a debate across a bar about their favorite albums or concerts or taking to the dance floor to 'Ramrod' all night long. I love what Hungry Heart U.K. is doing, just like I loved what The Boss Club in Los Angeles was doing in 1984."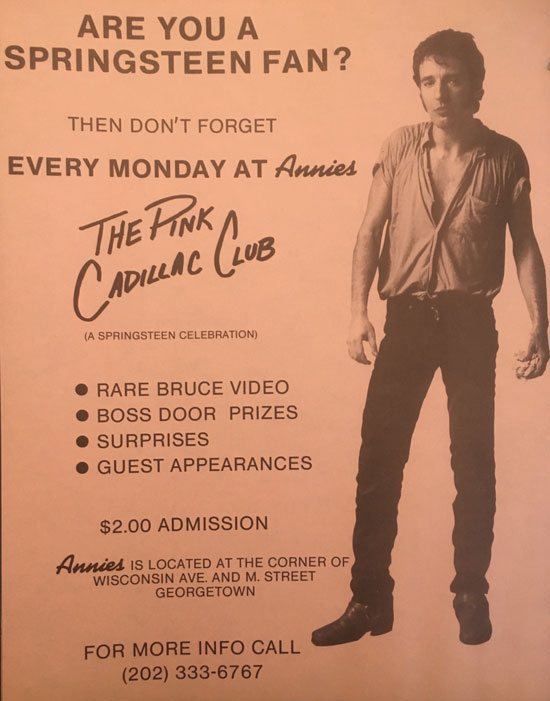 How will the Pink Cadillac Club be different in 2019 than it was in 1985?
"For one thing, when we first started this back in 1985, Bruce only had seven albums — and one of those was Nebraska. It was a bar, and we had to keep it hopping for five hours, so we had very generous souls bringing cassettes of live performances and outtakes. Today Bruce has 19 studio albums, 48 live albums (between Columbia and nugs.net) and unreleased songs from nine compilations and box sets. So today the exact opposite is true — there's almost too much great music. But being able to curate it into a night everyone can enjoy is fun and a part of the challenge."
"What's also cool this time around is that, in many of the locations, family members of different ages can come out. Each of the evenings is starting at 6pm. The DC show at Union Stage is all-ages. The Philly event is at a bar/restaurant location, so minors can attend if accompanied by a parent or legal guardian. Our Asbury Park gig is 18 to enter, 21 to drink. When we first started out in Georgetown, we actually had a couple meet, wed, and have 6 kids — and they're still together. But I think now it's going to be a lot more wide open as to who attends."
Tickets for the first three announced events are on sale now:
9/17 - Union Stage - Washington DC - TICKETS

9/19 - 118 North - Wayne, PA - TICKETS
To keep up with what's going on all things Pink Cadillac, you can follow on Facebook, Instagram, and Twitter.