This weekend, The Smithereens and Southside Johnny Lyon will be among those honored with induction into the New Jersey Hall of Fame, part of this year's class for the 11th annual ceremony on Sunday, October 27. The red carpet induction ceremony will be streaming live, beginning at 5:45pm Eastern. Here, longtime Backstreets contributor Bob Zimmerman speaks with and salutes The Smithereens.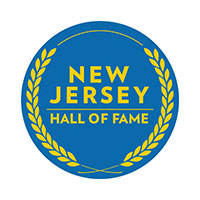 Late fall of 1986 and the music on the radio is as miserable as the weather outside. The mainstream pop charts are devoid of the breakthrough sounds from just a couple years prior. Prince, Cyndi, Michael, Madonna, and Bruce are mostly nowhere to be found. Billboard's top hits are lightweight, adult contemporary fare: "That's What Friends Are For," "Say You, Say Me," "I Miss You," "On My Own." No thanks.
Looking for something new and the "alternative" scene is British heavy with The Smiths, Love & Rockets, Depeche Mode, New Order, XTC and others soaking up airtime on stations left of the dial. R.E.M. is getting through, but Sonic Youth and Hüsker Dü are still too "heavy" to get played. While waiting for Springsteen's Live/1975-'85 to be released, a steady diet of BoDeans' Love & Hope & Sex & Dreams, Elvis Costello's Blood & Chocolate, and Chris Isaak's self-titled debut are in heavy rotation.
Then, out of nowhere, a thick, melodic bass line jumps out of a car's speakers, slicing through the nonsense and confusion. A baritone voice that must have smoked a million cigarettes follows with some arresting observations:
It was long ago
It seems like yesterday
Saw you standing in the rain
Then I heard you say
I want to love, but it comes out wrong
I want to live, but I don't belong
I close my eyes and I see blood and roses
"We were the alternative to the alternative scene," laughs bass player Mike Mesaros. It's October 2019 and he and his fellow remaining bandmates are taking the time to ruminate on the unlikely career of New Jersey's The Smithereens. The occasion? The band's nomination and induction into the New Jersey Hall of Fame, which takes place this Sunday, October 27, at the Paramount Theatre in Asbury Park, NJ.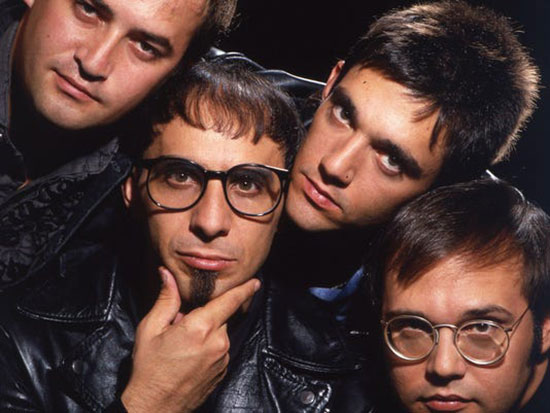 A late-'80s publicity shot (L to R: Jim Babjak Pat Dinizio, Mike Mesaros, Dennis Diken)
The New Jersey Hall of Fame will induct the four original members of The Smithereens: Carteret, NJ, native sons Dennis Diken, Mike Mesaros, and Jim Babjak, and Scotch Plains, NJ's Pat DiNizio, who passed away in 2017. Also being inducted into the class of 2019: Southside Johnny Lyon.
"It's a total irony and so wonderful that we're being inducted with (Southside) Johnny," says Mesaros. "Because Johnny was really, really good to us early in our career, when we got out on the road and played a lot of college gigs with those guys. I had the same feeling about Johnny that I had about Steven (Van Zandt). I don't mean to make those guys feel old, and it's corny... but they're a generation older, so they're like our older cousins. So to feel this sense of inclusion when we were really young meant everything to us. Plus, we all really like Sam Cooke!"
Prior to Sunday's induction there are a few more ways to celebrate with the band. On Thursday, October 24, at the Grammy Museum in Newark, NJ, there will be a conversation with The Smithereens and the unveiling of their inclusion in the New Jersey Legends exhibit.
On Saturday night, October 26, The Smithereens play what could be one of their biggest, most celebratory and also bittersweet shows at The Stone Pony in Asbury Park, a venue the band has both attended (Diken: "In 1976 after Southside's first album it was pretty easy to get shut out on a Saturday night, so I remember listening through the door!") and played since very early in their career.
Babjak remembers playing the Pony back in the 80's. "We had played the WNEW concert series on the beach at Asbury Park, and there were like 30,000 people there. Then later that night we played The Stone Pony, and it was oversold and unbelievably packed. I mean, you couldn't breathe!"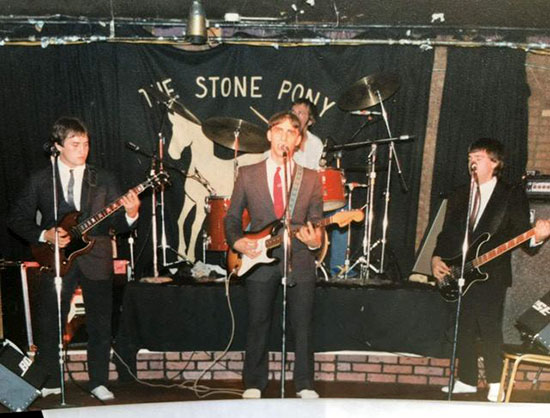 The Smithereens live at the Stone Pony in 1980 - photgraph courtesy of The Smithereens
With all the activity this week, The Smithereens are celebrating their induction into the New Jersey Hall of Fame.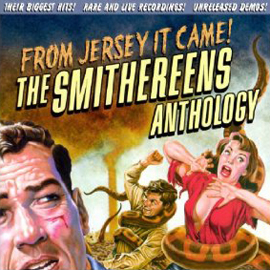 "Whatever I say might sound trite, but it's such an honor!" says drummer Dennis Diken. "We grew up in New Jersey listening to the AM radio, loving music, and being smitten with rock 'n' roll. And we knew this is what we wanted to do. Being recognized by our peers and the state of New Jersey is very meaningful. I grew up listening to the Four Seasons and The Rascals, and the Four Seasons were from Newark — that's where I was born. And I thought, maybe if these guys from New Jersey can do it, we can do it!"
Guitarist Babjak concurs, but also offers a slightly different outlook: "We're honored. On the one hand, I thought when they started this [NJ Hall of Fame] it'd be a no-brainer that we would be in. And now, how many years has it been? (Laughs) And then I kind of gave up on it. And now with Facebook and everything, the fans voted us in, which is an incredible testament to our band."
But the induction will be reflective for the band and their fans as well. Mike Mesaros explains, "Well, this Hall of Fame starts with Frank Sinatra. And then it goes to Bruce. Frank to Bruce and everyone in between. But my heart breaks because Pat [DiNizio] isn't here. And it would have meant the world to him. It really would have."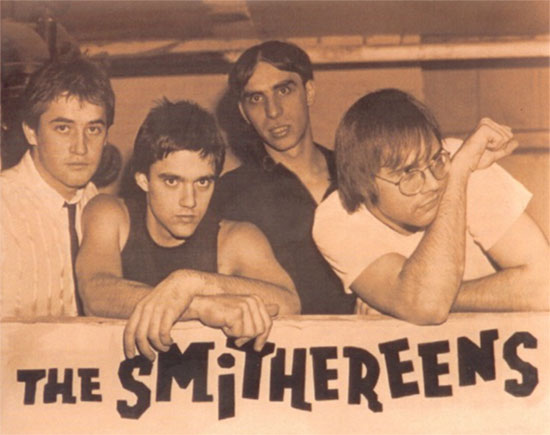 The Smithereens in the early '80s, promo photo later used as the cover for a collection of early demos
The Smithereens got their start in High School in Carteret, NJ, when Diken, Mesaros and guitarist Pat Babjak would jam together as a three-piece. Several years after high school Diken met Pat DiNizio, and the four would join forces to become The Smithereens.
After releasing a couple EPs in the early '80s (Girls About Town and Beauty and Sadness) The Smithereens released the album Especially For You in 1986. Acceptance on rock radio, decent MTV airplay, and relentless touring sent the band on their way. Green Thoughts and their commercial zenith 11 followed into the 90's. While never at the very top of the charts, The Smithereens had a huge string of songs often played on FM radio that were instantly catchy and very recognizable: "Blood & Roses," "A Girl Like You," "Blues Before and After," "Only a Memory," "Blue Period," "Behind the Wall of Sleep," "Yesterday Girl," "Top of the Pops," "In a Lonely Place", "Beauty and Sadness," "House We Used to Live In," and on and on.
Like many before and since, The Smithereens experienced the highs and lows of the music business. Where they have excelled is in their longevity and their well-established, devoted fan base which has come out to see them play raucous, energetic live shows for decades. At one point the band was playing 300 shows a year.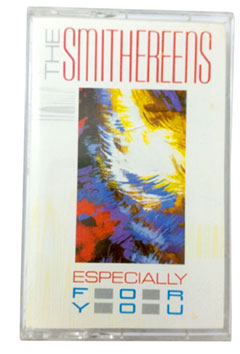 Because The Smithereens came of age on their own, they weren't really a part of any identifiable movement. Their commitment to heavy guitars, strong lead bass lines ala John Entwistle of The Who, and ridiculously melodic hooks put them ahead of bands like The Pixies. A couple of people who were listening closely were Kurt Cobain and his fellow bandmate Krist Novoselic. When Cobain's diaries were published in 2002 as Journals, the book included a handwritten list of more than 25 of Kurt's favorite albums at the time. Sitting squarely at #8 was The Smithereens' Especially For You. So impressed by the album, Cobain lobbied hard for Especially for You producer Don Dixon to do the honors for their breakout album, Nevermind. The job instead went to Butch Vig.
In a 2001 interview with Rolling Stone's David Browne, Novoselic made it clearer: "We were listening to things like the Smithereens then, and the Beatles. We had one tape we listened to in the van — this was before we recorded Bleach. On one side was The Smithereens. And on the other side was this heavy metal band, Celtic Frost. That tape was always getting played, turned over and over again. I think back now and go, 'Yeah, maybe that was an influence.'"
In a cruel twist of fate, it was the emergence of the Seattle sound (and the bands imitating that sound) that pushed The Smithereens to the sidelines, at least when it came to rock radio airplay.
Back on the East Coast the question remains: musically, where do The Smithereens and Springsteen intersect? Both bands have a lot in common. As an aside, Diken, when not touring with The Smithereens is the drummer for Ronnie Spector. Still, if one were to make a Venn diagram between the two acts, it would probably boil down to Buddy Holly and The Who. Think of Springsteen's obsession with Buddy Holly in 1978 after seeing The Buddy Holly Story, and The Smithereens' song "Maria Elena," about Holly's young widow. Or Springsteen's formative years listening to The Who and later hanging with Daltrey — and at times overthinking rock 'n' roll a la Pete Townshend — while one of The Smithereens' best studio albums is their 2009 take on The Who's Tommy, and their regular cover of "Sparks" (and sometimes an extended Tommy medley) is often a nightly highlight of their live sets. Truth be told, if The Smithereens were ever to record an album of Springsteen covers, Disc 2 of the box set Tracks would be the perfect place to start.
While the band grew up as kids idolizing locals like The Four Seasons and The Rascals, as teenagers they cut their teeth on The Beatles, The aforementioned Who, Chuck Berry, and The Kinks. They also, of course, became familiar with another New Jersey musical force.
"I remember hearing about (Bruce) on WNEW-FM, which was the powerhouse station in New York where Scott Muni was king — and he certainly was a huge supporter of ours," remembers Diken. "[Muni] and all the DJs at that station played a lot of new music each week. And Springsteen had quite a buzz when those first two albums came out. And we were very aware of him. And again, it resonated with us: a guy from New Jersey… from down the Shore… okay, maybe we have a chance. And he seemed to be a regular guy. So that all spoke to us. It made us think maybe we can play the songs the way we want to play them. It really did have an effect on us. And he really did put Jersey on the map."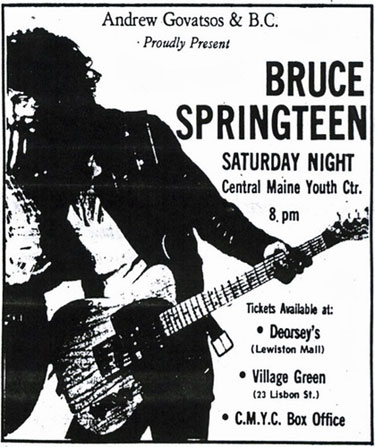 "My first awareness of Bruce is when I went away to college up in Maine, 1975 to '76," remembers Mesaros. "Born to Run was out, and we used to have keg parties in my dorm every single weekend. Bruce's first two records and Born to Run were always being played at those parties, and being from New Jersey, it made me proud.
Right: Mike Mesaros' first Springsteen concert, March 19, 1977
"I went to see Bruce and the band in a hockey rink up in Lewiston, Maine," Mesaros continues. "That's the first time I saw those guys. It had to be 1977. And I always used to say, 'I feel like I just saw Little Richard!' You know? This is rock 'n' roll! And I got such an electrical charge from seeing Bruce and those guys. And there was this tremendous fun element to the band, where you could tell they were having a great time! You throw Clarence in, and there's Lee Allen or King Curtis solos from Coasters records! That's what I was thinking, anyway."
While The Smithereens were, as Mesaros states, a generation behind Springsteen, Van Zandt, and Lyons, there are other musical and cultural touchstones where their careers, if not they themselves, met.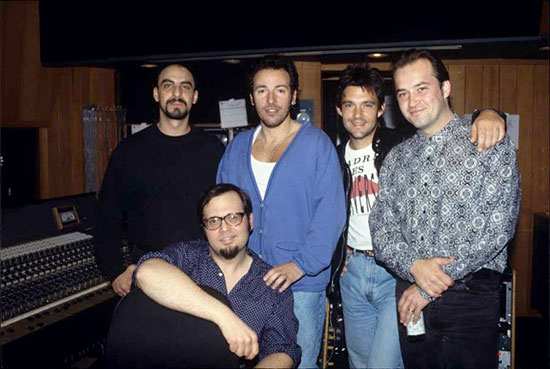 Springsteen and The Smithereens, Capitol Recording Studios, Los Angeles, CA, 1991 - photograph by Henry Diltz (courtesy of Sivak Entertainment)
While recording their 1991 release Blow Up at Capitol Studios in Hollywood, CA, they had a visitor who was working on a couple records in one of the adjoining studios. Legendary music photographer Henry Diltz, who was hanging with The Smithereens, happened to have his camera handy and captured the moment when five guys from the Garden State were very far from home. Whatever transpired during this meeting, most of the band are pretty mum on the subject. "He just came in to hang," said Mesaros. "I think we all had a beer. We took a little break and just had a beer with Bruce, you know? It was great!"
September 1997 saw The Smithereens contribute in a number of ways to the Capitol Records compilation One Step Up, Two Steps Back: The Songs of Bruce Springsteen. To start, Dennis Diken produced Rock and Roll Hall of Fame member Ben E. King's track of "4th of July, Asbury Park (Sandy). Then the band, produced for the first time by Mike Mesaros, contributed their version of "Downbound Train," truly one of the stand out tracks on the compilation.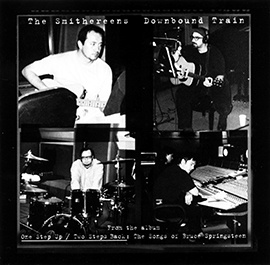 "I think ["Downbound Train'] was my suggestion," says Mesaros. "It was my favorite track off of Born in the U.S.A. You know the bridge and the breakdown? There's a lot of words in there. I think Pat may have paraphrased a bit in there. [He didn't —BZ] But that's one of my favorite tracks, really, that we've ever done. We captured the melancholy sadness of that song. We recorded it in Chicago in the wee hours. I remember coming out of the studio, and the sun was coming up, and just being so isolated from the real world. That was one of Pat's main themes: alienation, being a social outcast. Bruce wrote a lot about that, too. The guy living on the edge. One thing that I'll always love about Bruce is he's always writing about people that don't get written about. That's Bruce to me, really. "
One thing that came of that chance Los Angeles meeting in 1991 is that DiNizio and Springsteen hit it off and became friendly. Pat recounts this early in the 2005 documentary he made for ESPN Entertainment called 7th Inning Stretch.
A great mix of baseball and rock 'n' roll, the doc features Springsteen and Pat playing a game of catch in Springsteen's backyard while Bruce runs down in some detail his failed Little League career and his obsession following Maris and Mantle in the summer of 1961.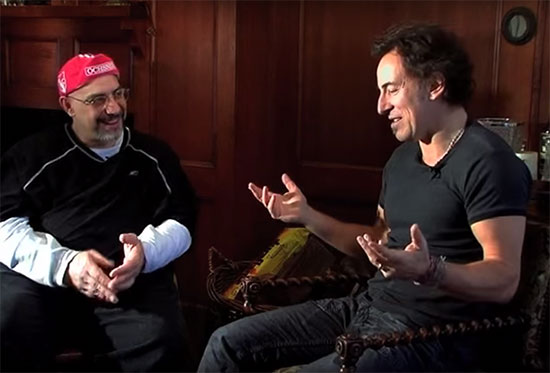 DiNizio and Springsteen talk baseball in 7th Inning Stretch (ESPN Entertainment)
One of The Smithereens' strongest supporters has been E Street bassist Garry Tallent. In fact, it was Tallent who recruited Smithereens drummer Dennis Diken for the house band at the Alliance of Neighbors 9/11 Benefits on October 18 and 19, 2001.
"We were good friends with Garry Tallent going back to the time of our first album," Diken says. "He befriended us, and we hung out a lot with Garry. He sat in with us quite a few times. And Garry called on me at this time to be in the house band. I was like, 'Wow, this is going to be fun! I get to play with Felix Cavilerie and Joan Jett and the Sun Rhythm Section!' I knew Max was going to be there to play the show, but at the time he was doing the Conan O'Brien show, so he couldn't make the rehearsal. So I did a... oh, I don't know… three-hour rehearsal with Bruce? And that was really cool. That was really fun. I remember at the end of the second night Bruce gave me a really big hug and said, 'We really got it tonight!' That was a nice moment."
VIDEO: Joan Jett and Bruce Springsteen perform "Light of Day" at the October 2001 Alliance of Neighbors 9/11 benefit, with Dennis Diken on drums
While The Smithereens played the Alliance of Neighbors show as a band, it was during various other artists' sets that some of the band sat in with Springsteen. To date, Springsteen has never joined The Smithereens on stage at any of their gigs.
"I used to joke all the time, jeez, we're the only band in New Jersey Springsteen hasn't played with!" laughs Jim Babjak. Mesaros remarks on the missed opportunity, too: "I don't know why that's never happened, you know? It certainly would have made my night."
Less than two years ago, in December 2017, tragedy struck the band. After a period of failing health, lead singer Pat DiNizio suddenly passed away at the age of 62. Diken, Mesaros, and Babjak instantly found themselves back where they started: as a trio.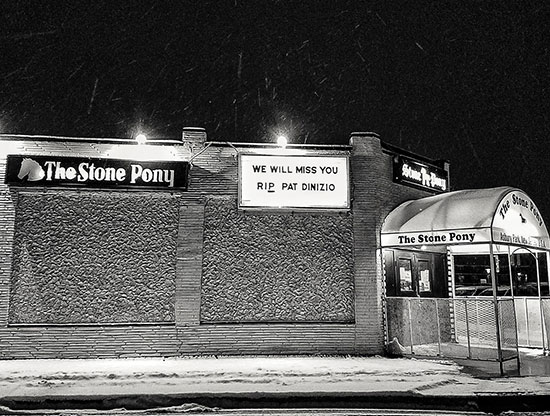 Asbury Park, NJ, December 2017 - photograph by Mark Krajnak
Not knowing what to do or how to go forward at the time, the more pressing matter was that they had a Smithereens show booked for January 2018 at the Count Basie Theatre in Red Bank, NJ. Before cancelling the show, a wise voice emerged from the shadows. Dennis Diken explains: "We didn't know what to expect. It was already booked as a Smithereens gig, and when Pat passed, Steve Van Zandt suggested we turn it into a tribute to Pat. So we did.
"We enlisted all these singers, and it was a long day," Diken remembers. "We didn't have time to rehearse with the singers in advance, so we had a long day rehearsing and soundchecking and then doing the actual show. We didn't have much time for reflection — we just went for it. It was a draining day emotionally and physically, but it was really a beautiful night."
Jim Babjak was surprised by how quickly things moved after Van Zandt's suggestion. "It was pretty amazing how it came together so fast. We just called our friends, and then we had other people offering their services."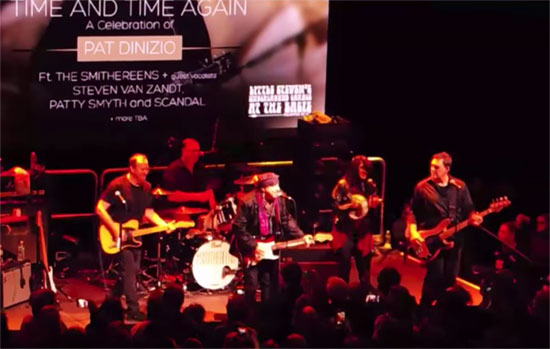 Steven Van Zandt fronts The Smithereens at the Count Basie, January 13, 2018, Red Bank, NJ
In addition to Van Zandt himself providing lead vocals, the lineup was impressive: Scandal vocalist Patty Smyth, Marshall Crenshaw, Ted Leo, Robin Wilson of the Gin Blossoms, Freedy Johnston, Richard Barone of The Bongos, Graham Maby, Peter Zaremba and Keith Streng of The Fleshtones, and Bebe Buell among others played on that January night to both bring closure to the band's career and happily begin a new chapter as well.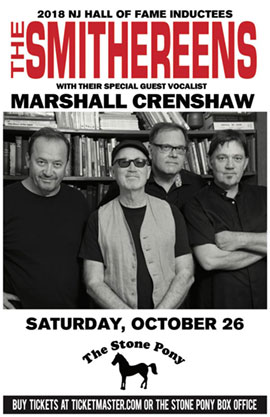 As a result of the show and the overwhelming fan acceptance, The Smithereens have been recently playing shows with rotating frontmen. "Right away both Marshall Crenshaw and Robin Wilson said if you want to play more shows, we want to front the band," says Babjak.
On the verge of their 40th anniversary as a band, Diken sees a way forward. "We'll be recording new material in 2020. We just need to schedule it. I guess what we came away with is realizing that the music is open to interpretation. Of course, we still have the essence of the sound with Mike, Jimmy and myself performing — I mean, we grew up playing together since 1965. It was never our intention to find a sound-alike for Pat, but we were hoping to move forward with someone who got the music and could make it their own."
God Save The Smithereens!