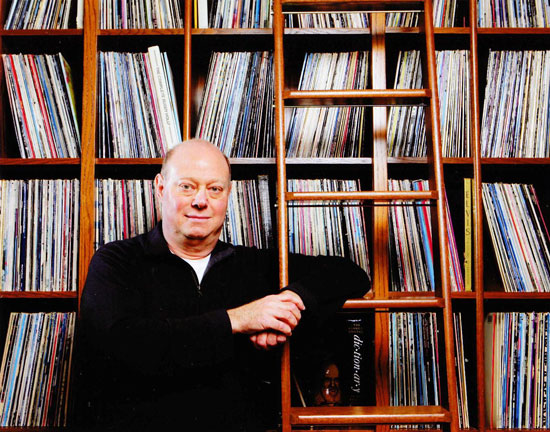 One day in the early '70s, says John Scher, Bruce Springsteen and Steven Van Zandt called him and asked if they could stop by his East Orange, N.J. office.
"I said, 'Yeah, sure.' They were friends,' " remembers Scher, who was already on his way to becoming New Jersey's leading concert promoter of the '70s and '80s. (He still presents concerts in New Jersey and New York through his company, Metropolitan Entertainment.) "And they came to my office. We chatted, and they said, 'Listen, we'd like you to consider being our manager.' And it was very much 'our' at the time, still."
Mike Appel had not yet come into the picture. They were still being managed by Tinker West.
"We talked about it. And I loved their music. Loved it, loved it, loved it. There's nothin' not to love. You'd have to be fuckin' dead from the shoulders up if you didn't love what they were doing. I said to them, 'What about Tinker?' And they said, 'If we work with you, that's gonna be your first job. You've got to get us out of the Tinker contract.' So I said, 'Is there really a contract?' In my own mind, I fantasize that they told me it was like on a napkin or something. But I don't really remember. It certainly wasn't any kind of formal, written contract that would stand up in court.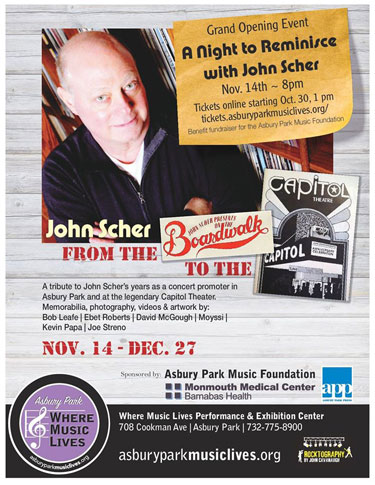 "But they weren't going to go to court. This is their good friend, but they figured that he didn't have the relationships and the connections to move them forward. And even though I was still sort of in my rookie season, I knew more than Tinker did. And they figured that out. And I remember saying, 'Guys, I love you. I love your music. But if you're gonna fire Tinker, you need to fire him. You can't send me to fire him. It's just not right.'
"So, actually, it was never discussed again."
They continued working together, though. Scher was one of Springsteen's first major allies in the music business, though his importance hasn't always been recognized in Springsteen biographies. Beginning this Saturday, November 14, an exhibit at the Where Music Lives Performance & Exhibition Center in Asbury Park will give the promotor his due. Backstreets asked him to talk in depth, for the first time, about his relationship with Springsteen and the many shows he promoted for him from the early '70s to the early '80s, and he agreed. (This article is condensed from a two-hour conversation.)

John Scher grew up in Northern New Jersey, though he went to college at Long Island University and got his first concert-promoting experience there. One summer — he thinks it may have been 1969, but looking back on Springsteen's performance history, 1970 seems more likely — he got a job at the Sunshine In in Asbury Park, booking shows
"If I remember correctly, it was about a block off the beach, maybe two," says Scher. "It was a big open space with a stage on one end.
"I got turned on to Bruce and Steve Van Zandt… I think it was Steel Mill at the time, but it might have been any one of those early incarnations of him. Tinker was the guy who sort of turned me on to them. They were a great bar band. I mean, that's really what they were at the time. It was probably very early in Bruce's and Steve's songwriting careers. But they played there a lot — 'a lot' meaning, over the summer, maybe a half dozen times. And I got to know them pretty well and built up a friendship."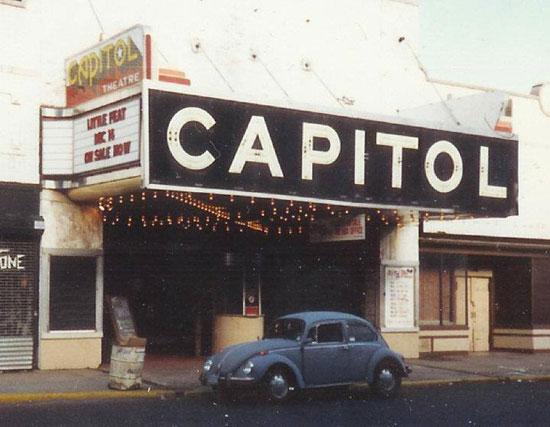 - courtesy of John Cavanaugh/Where Music Lives gallery
In 1971, Scher converted the Capitol Theatre, a movie house in Passaic, NJ, into a concert venue, and started doing shows at the Casino in Asbury Park as well. Moe Septee was the promoter up the boardwalk, at the larger Convention Hall.
"Very good guy, very interesting guy," says Scher. "Didn't know a thing about what was going on in contemporary music, and actually — and it's hysterical to say that in this day and age — actually trusted the agents, that they'd sell him the right shows. He'd been doing it, and I had gone to shows when I was a teenager: I used to spend much of the summers down in Bradley Beach, and we used to walk over to Asbury Park and go to Moe Septee's Summer of Stars."
This was another era, though.
"We really sort of buried Moe," said Scher. "Nothing personal or anything, but like I said, he was booking acts that the agents told him to book, and some of them were past their prime. And then we came back the second year and put together just a dynamite lineup. Remember, this was an era when there were no arena shows, really. It was theaters, ballrooms, clubs, and we did some really great shows. I remember we did The Band down there. And by just sort of doing shows at that end of the Boardwalk, I became one of the characters in Asbury Park.
"In the middle of the second season that we had there, Moe called me and said, 'I'd like to take you out to lunch.' We went out to lunch, and he said to me, 'Look, this is not my game. I can see that you understand this music, and that I can't keep up. So if you want to move some of your shows over to Convention Hall, that'd be great.' "
Scher started closing the Capitol for the summer and doing shows at Convention Hall instead.


- courtesy of John Cavanaugh/Where Music Lives gallery
"I spent my summers down there and reacquainted myself with Bruce and Steve," Scher says. "They'd show up at the shows. Bruce in particular used to come to the shows, just to see them. There was always a pass there for him. And some of those days, they were really starving: They were barely able to feed themselves. Bruce used to come, sometimes, to shows that I thought were completely out of character, but we always had a big barbecue and a spread on the veranda behind Convention Hall. Sometimes he just came to eat. One time he actually admitted it to me. But he also went to a bunch of shows, to see the show."
Scher says Springsteen never took the stage as an unannounced guest at any of them.
"He was pretty shy in those days," he says. "He came alive onstage, and almost from the very beginning that I knew him, he was almost a mystical figure down there. But no, he never jumped onstage. And to tell you the truth, I never played the band in Convention Hall. There was a time when, 'cause I had an exclusive there and at the Paramount (Theatre, which is part of the Convention Hall complex), I gave him the Paramount to rehearse in, over the years, when they didn't have any money to rehearse."
One talk Scher had with Springsteen during this era really stands out in his mind. Springsteen came to one of those Convention Hall shows, Scher says: "I can't remember who the act was, but it was something that neither he nor I were very interested in, and we decided to take a walk down the boardwalk, to Mrs. Jay's, which was a great hot dog place. I remember it like it was yesterday. We were just bullshitting about general things. And as we walked by … People were passing by, and they didn't bother him, but a bunch of people said, 'Hey, Boss!,' 'Hi, Boss!'
"Now, people would call Bruce the Boss behind his back, almost from the beginning — maybe not going back to the Sunshine In, but very, very early. But it was always behind his back. And there was always this thing of, 'You can't say that to his face.' And here it was, just average people on the boardwalk, recognizing him and calling him the Boss. I remember we got to Mrs. Jay's, we sat down on a stool, we ordered some hot dogs, and I turned to him and said, 'I gotta ask you a question.' He said, 'Yeah, what's that?' I said, 'I assume you know that, sort of behind your back, everybody calls you the Boss. But I've never seen anybody say it to your face. Does it bother you?' And he said, 'No, not at all. I like it.'
"He said to me, 'Let me tell you why.' And I said, 'Sure, why?'… And Bruce said to me, his father used to come home from work, and he'd sit there and complain, the damn boss did this, the fucking boss did that. And he looked at me with a big, big grin and said, 'Now, I'm the boss.' "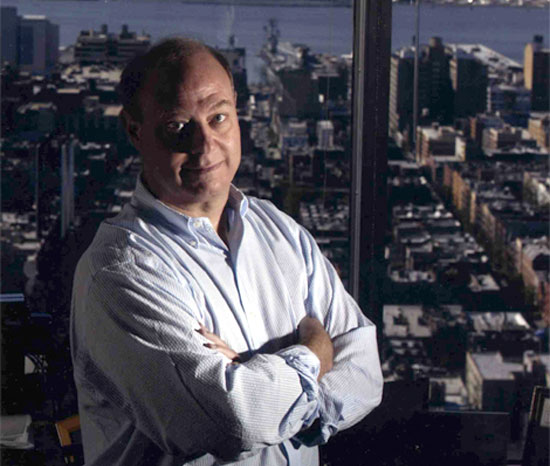 - courtesy of John Cavanaugh/Where Music Lives gallery
Scher promoted early Springsteen shows all over New Jersey, at venues like Seton Hall University and Kean College (now Kean University). "There were two guys that I would say, in my observation, were really head and shoulders more important to the Springsteen scene that was being developed, than anyone else," he says. "One was Steve Van Zandt, who, musically, was probably more sophisticated than Bruce, in those days. And he was Miami Steve in those days; I'm one of the very few people who will still call him Miami once in a while. Very smart guy, very talented guy, and he sort of was, in the early days, a bit of a big brother to Bruce. I don't know what their age differences are. But Steve, in those formative years, was very much a partner with Bruce. He might not have been an equal partner, but he was very much a partner. I saw him encourage Bruce to do all kinds of things. I was never privy to the songwriting process, so I don't know where Steve fit in there, but from an arrangement point of view, you could just tell from rehearsals.
"And then the other guy who was vitally important, and doesn't get credit at all, and gets forgotten: a guy named Marc Brickman. Marc Brickman, to this day, is one of the world's most accomplished, most successful, most talented lighting designers and set designers. He did Pink Floyd's later tours. He did 'The Wall.' He's got an incredible, incredible resume. Very sweet guy. Wound a little tight, but in a very sweet way. And extraordinarily talented. And he was the production manager, of everything, I think, in the very beginning. I actually witnessed soundchecks, rehearsals, where Marc would be screaming at Bruce, 'Bruce, jump out there! Jump onto the floor! Jump onto the table!' 'Cause Bruce started out, when I first knew him, as a relatively shy guy. A lot of people early on were more likely to make the comparison to early Dylan than to early Rolling Stones. But he obviously had the natural showmanship, and Marc and, to some degree, Steve Van Zandt, brought that out of him.
"It worked every time I saw it. It gave him more and more confidence, and became part of his persona. I was at the Bottom Line for two of those nights (in 1975). That's when it manifested itself."
Scher explains his decision not to pursue managing Springsteen this way: "It was just a matter of the way I was brought up. It's that simple. Tinker never did anything bad to me. He was an honorable guy. I admired the way he was so conscientious about managing them. And I imagined if they just went to him and said, 'Tinker, we just need someone with a little more experience,' Tinker would have backed away, or maybe there might have been a marriage between me and him, from a business perspective. I don't know.
"Then Appel took over, in whatever year. The situation as a promoter became a little different. Mike's personality was a completely no-nonsense, drill sergeant kind of thing. It didn't quite fit with my personality. I'm a little foggy on this, but I'm assuming he wasn't really thrilled to have me be pals with them. But he got them a record deal and was clearly able to take them to the next step. I stayed in touch. I played dates (with them) here and there."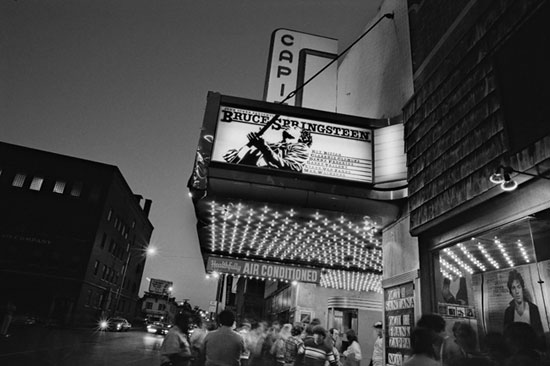 - Three nights at the Capitol Theatre in September, 1978. The marquee from this famous stand will be on display as part of the Where Music Lives exhibition in Asbury Park. Photograph courtesy of Marty Venturo.
Scher booked Springsteen and the E Street Band to play at the Capitol Theatre for one show in 1974, and three in 1978. In '74, they were scheduled to play second on a bill that was headlined by John Sebastian and featured Dan Fogelberg as the opening act. But they ended up closing.
During soundcheck, says Scher, "I was just sitting in the empty theater, watching what was going on, and John Sebastian came over and sat down next to me. And we were just bullshitting. And then, ten minutes, 15 minutes into bullshitting, the E Street Band started playing. And in those days — it could still be in these days, I don't know — they took every second they were on the stage very seriously. They weren't just fucking around. They were playing. I can't remember how long they soundchecked for. Somewhere between a half hour and an hour, I would say.
"And when they were finished, Sebastian turned around to me and said, 'There is not a chance in the fucking world that I'm following this! Not a chance, John. There's nothing you can say that will get me to close the show.' And I said, 'Look, you're the headliner.' He said, 'I don't give a shit. I'm not following this!' And so, after I determined that he wasn't screwing around, and he was dead serious, I went backstage and talked to Bruce. And I said, 'Here's what Sebastian said. Will you close? Do you mind?' And of course he didn't mind. He was fine. And Sebastian was great. But Bruce followed him."


- The 1978 Capitol Theatre marquee design by Arlen Schumer, courtesy of Marty Venturo
The '78 shows at the Capitol took place on three consecutive nights, as part of the Darkness on the Edge of Town tour. Springsteen "was already an arena act all over the country," says Scher. "But there was no arena in New Jersey."
He says that whole run "was sort of magical" and that one of the elements of it was "Bruce and, to a lesser degree, me and my staff, thumbing our nose at New York. Here's one of the biggest acts in the world, and he hasn't forgotten home. So that was amazing."
Springsteen and the E Street Band appeared at the Capitol Theatre one other time, too. On New Year's Eve, 1977, various members sat in with Southside Johnny & the Asbury Jukes, then the entire band played an impromptu mini-set after the Jukes' show was over.
Throughout that entire evening, says Scher, "There was euphoria in the audience, there was euphoria in my staff, there was personal euphoria for me. Because I love Southside, too, Love, love, love Southside, to this day. And (he's) very underrated, from a historical perspective.
"So the show's over, finally. And, you know, it's 2 o'clock in the morning, 1:30 in the morning. The house lights are on. Probably a third of the audience has left the building. And Bruce walked over to me, and he said, 'Hey, John. Do you think we could do a little set of our own?' And I said, 'Fuck, yeah! Are you serious?' And he said, 'Yeah.' So two things happened simultaneously. I got on the mic right away and I said to the audience, 'Sit down, give us a couple of minutes to reset the stage. Bruce Springsteen and the E Street Band are coming to play.' Then I sent all our security guys and a lot of our ushers out into the street, where people had already left the building, and were going to get their cars. And they said, 'Come on back, here's what's going on.' "
"They hadn't rehearsed. They hadn't played together in however many months. They really were raggedy, but it was fun. Fun as hell. Maybe that experience was my coolest experience ever at the Capitol. There was a sense of family that embraced every single person there."

- Southside Johnny & the Asbury Jukes at the Capitol Theatre, December 31, 1978. At the 2:20 mark, Southside drags Scher out and they dance together — a very rare instance of Scher letting his hair down in public.
Around this time, Jon Landau replaced Appel as Springsteen's manager. "I got along with Jon great," says Scher. "I found him intelligent, I found him articulate. He knew his music inside and out. And I thought it was probably a pretty good match."
At one point, they even talked about presenting a free Asbury Park concert that Springsteen would headline and Scher would produce. "They flew me out to a show… I think it was in Detroit. I flew out with Landau from New York, and we were talking about doing a free concert on the beach in Asbury Park, which never happened. But there was a lot of thought put into it.
"Even in the early '80s, even up to the late '80s, there was still this generation gap that existed. The World War II generation, in the '80s, were in their 50s, and they were police chiefs and the mayors and the councilmen. The politicians in Asbury Park, and really all the Jersey shore towns that I had to do business with… there was still this generation gap. There was still this, 'A free concert? What are you talking about? How many people are going to come?' We said, '10,000. Maybe 20,000.' 'Oh, no! There could be a riot. People will drown.' It never got off the ground. But we were pretty damn close.

- courtesy of Brucebase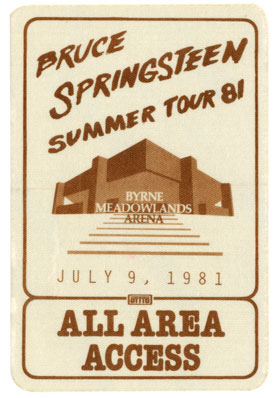 In 1981, Scher booked Springsteen to play the first shows ever — six concerts over eight nights — at the Brendan Byrne Arena (later re-named the Continental Airlines Arena) in East Rutherford, N.J. Here's where the story gets messy. Landau and others in the Springsteen camp clashed bitterly with Scher on the distribution of comp tickets to the show. Scher assumed they would work out their differences and put it all behind them, but they never did.
And Scher never produced another Springsteen show.
Scher now concedes he was "probably 50 percent wrong" on the comp ticket issue, and "probably stayed way too stubborn." Still, this seems to remain something of an open wound, after all these years.
"My relationship with him sort of ended at the opening of the Meadowlands. And it's never been repaired," he says. "I know (Springsteen has) never heard my side of the story, because I never talked to him (in depth) again. He's come to a couple of shows of mine over the years, where we'd say hi.
"I've stayed friends with (some) band members. I've stayed friends with Marc Brickman. But I have very little hope that this will ever get reconciled. The well has been poisoned way too much.
"It's a shame, because this is a relationship that happened organically, way before he was a big star. We weren't best buddies; we didn't go to the movies together. But we became friends. And I tried to be as helpful as I could in the early part of his career."
Jay Lustig is a former rock critic for New Jersey's largest newspaper, The-Star-Ledger, and the Founder and Editor of NJArts.net.