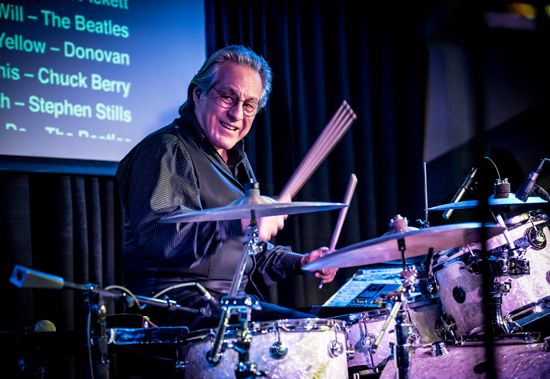 Photograph by Jerry Frishman
Moonlighting from the E Street Band, Max Weinberg has embarked on plenty of tours himself over the years, from the lecture circuit to leading his own bands in multiple genres. The Max Weinberg Big Band took a mighty 15-piece ensemble on the road, and the Max Weinberg Quintet stripped things down to display his jazzier side. While rock 'n' roll is never far from his heart or his performances, off E Street you'd more often find him leading a post-bop excursion or some swinging jump blues — until the recent advent of Max Weinberg's Jukebox.
Beginning in April 2017, Max has embraced a classic two-guitars, bass and drums line-up to recreate the rock 'n' roll songs he loves for audiences around the country. And as the name of the band suggests, he's taking requests. If you enjoyed the "Stump the Band" portions of E Street Band shows, Max has got a whole evening right up your alley.
Max Weinberg's Jukebox comes to The Stone Pony this Friday, August 31, with a growing fall tour itinerary listed at maxweinberg.com.
Max recently spoke with Backstreets' Christopher Phillips about the Jukebox shows and his own spectacular spinning songbook, touching on his E Street Band audition, the band's '90s hiatus, Springsteen on Broadway, and poring over records with Bruce and Jon Landau along the way.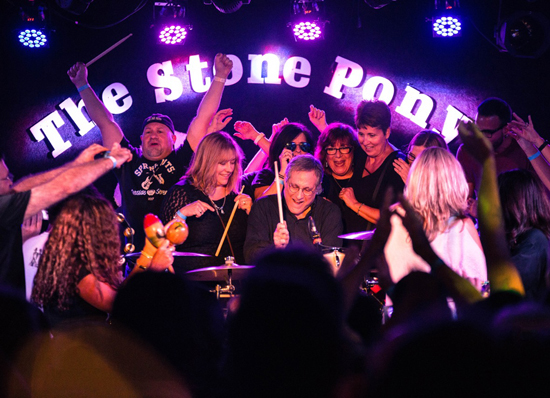 Photograph courtesy of Max Weinberg
It sounds like things are going well with the Jukebox shows — we're hearing from a lot of people who come out to see the show and just have a blast.
That's good to hear, and for me it's been really fun — that's the whole idea of this "Jukebox": it's a party, not a concert. And as a party, it's really working well. You get to hear the songs you want to hear, and I'm revisiting all this material that, through my musical life, I've respected and learned from. Apart from Elvis Costello and his spinning wheel, I don't think anybody's quite ever done this. Of course with the E Street Band we've done the couple of songs a night from signs, which started in Europe — mostly Bruce songs at first, then some non-originals. In this show, we play everyone else's songs!
Let me ask you about those songs. We've reported on your show a few times and shown photos of the party aspect, with a lot of the crowd onstage dancing, but one thing that I don't know: is there a list of songs? Do you hand one out?
On either side of the stage, we have two large video screens with a constant scroll of several hundred songs. When you first walk in, and you're taking your seat or getting a table, you see these songs. So you have a bit of advance notice of what you might want to hear. Then we come out, and I give a little talk about what the show is about. It's interactive and audience participatory. The crowd very much gets up close and personal — that's a really nice aspect of it.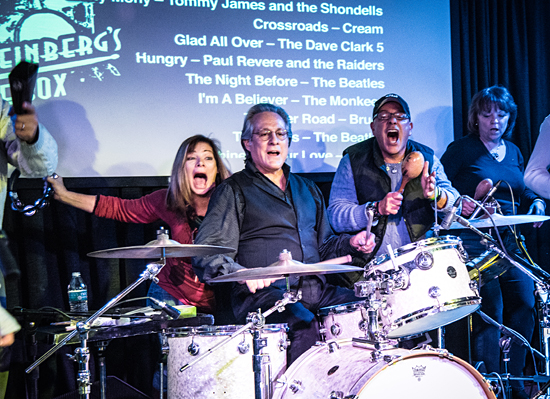 Photograph by Jerry Frishman
Is it an all-request night?
Yeah — when I open it to the audience, it's just, "Call out a song! What do you want to hear?" I take them in threes and fours: okay, we'll play that, we'll play that. And then later on I usually run out into the audience and go to the back of the house, shake a hand, and ask for requests. I'll have my wireless microphone and ask, "Well, why did you want to hear that song? Was that played at your prom?" And I'll go back and forth, finding out who these people are and why a song is particular to them — why do you like that song?
So you're doing crowd work!
A lot of it. And I'm utilizing performing aspects of my personality that I was able to develop through working on the Late Night program for 17 years, where I became very comfortable both being extemporaneous and usually the punchline of a bit [laughs].
Are you telling stories, too?
Definitely. For example, The Who's "I Can See For Miles" is on the list, so somebody called that out when we first starting doing this. I'd never played that song — even The Who didn't play it very often — but I've heard it a million times. When it was called out, it reminded me that when we recorded The River, Bruce and Steve were encouraging me to play like Keith Moon. Bruce had so many extra songs that never got released. There was one that was eventually released on one of the outtake albums called "Mary Lou," which became "Be True" — the words, anyway. So back when we recorded one version, it reminded me a little bit of "I Can See For Miles," and I played it that way. I channeled Keith Moon. I'm no Keith Moon, but it was a pretty good imitation, and it fit the song.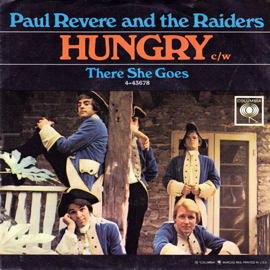 In fact, recently somebody asked us to play "Hungry" by Paul Revere and the Raiders, which we did. I realized as I'm playing it, I can't believe it, it's the drum beat for "Badlands"! It was a combination of the tambourine and the snare drum from "Hungry," and if you listen to that, it's the "Badlands" beat!
And you'd never made that connection before?
I only realized it while we were playing "Hungry" at the Jukebox show — I had no idea when we recorded "Badlands" in 1977. Back then it felt familiar to me… but it was just the beat I played.
With this show, I respect the material in terms of the way I play it: feel, tempo, arrangements… the little things that give a great song personality. When you've heard a song 10,000 times, those bits are your subconscious.
I tell you, we play for about two hours, and it just goes by so fast. It's a fast-paced show, it's a fun evening, and that's basically what it's about. I'm not breaking any new ground here; I'm all about nostalgia — in a good way. When was the last time you went to a show and knew every song?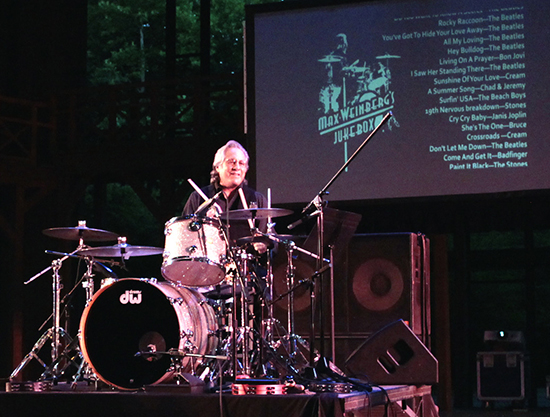 Photograph by Danny Bolin
Are there any misconceptions about what you're doing? Anyone come to the show expecting something different?
When we first started, a few people thought I was spinning records like Questlove — you know, DJ-ing. We've done almost 70 shows so far, and it seems like the word is out as to what we're doing.
That list you put together, does that mean that you and your band have rehearsed all of those songs? Or those are songs you feel like, if someone called for them, you could get them up on their feet?
Both. One of the fun and challenging aspects of the Jukebox is when someone asks for something not on the list — we'll give it a shot if someone in the band knows it. That happened with "Good Time Bad Times." John Merjave, our guitarist from the Weeklings, knew it — and I'm no Bonham, but I've heard the song a thousand times, so we gave it a shot. Came out great, and the crowd loved that we tried it.
As for the list, we've been "rehearsing" these songs all our musical lives. They're just sort of the basic vocabulary of rock 'n' roll. If you are above the age of 50 and you don't know how to play "Louie Louie" like the record, you shouldn't be on the stage! You know, "Wild Thing." Things like that.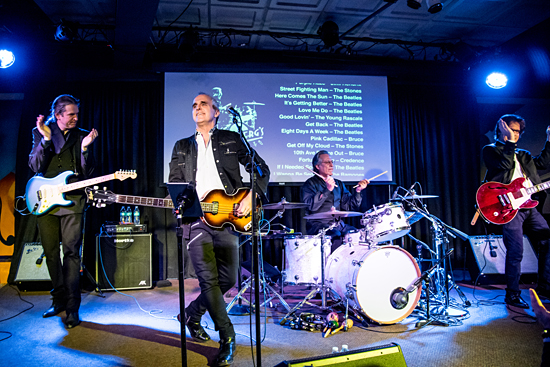 Photograph by Jerry Frishman
Who's been playing with you that our readership might know?
Marshall Crenshaw did one or two gigs, that was interesting. We played "Louie Louie," and he played the guitar solo exactly like the record. His wheelhouse is more the '60s rockabilly kind of thing, which worked well. But I play with a group of guys from Jersey — Glen Burtnick, Bob Burger, and John Merjave (from Brooklyn), who are three-fourths of The Weeklings.
They're very detail-oriented musicians. They listen to the records, and they know a lot of different songs. And while none of these songs is unfamiliar to the people in particular who come to see me, that age group, and as I mentioned, we approach them with this deep respect for the original recordings. If you've heard "Midnight Hour" for the last 50 years, played at weddings, bar mitzvahs, CYO dances, you know that everybody has their own way of playing it. I think the originals are the best, so I don't tend to change things. Even down to the little accents, personality licks that maybe only I know.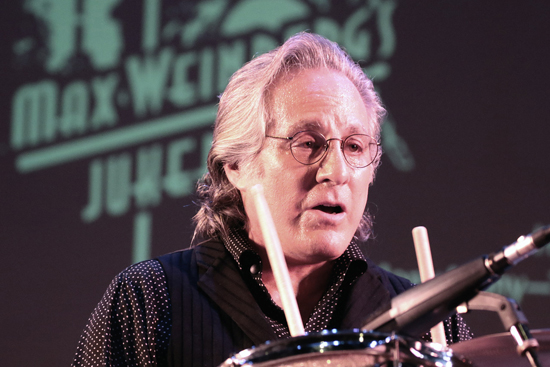 Photograph by Danny Bolin
Something that was very important to me as a young drummer, when I joined the E Street Band, was that I spent hours and hours with both Bruce and Jon Landau — and Steve Van Zandt, when he came into the band — listening to drum parts. I can remember sitting in Bruce's little bedroom in the house he rented in Long Branch, NJ, dissecting records that he loved.
For example, Panama Francis, the drummer on Dion's "The Wanderer." Panama opens the beat up going to the sax solo with the cymbal, and as soon as it comes back down to the vocal he shuts it down. Bruce pointed that out to me — he loved that. Details, details, details. If you're listening to the whole thing... of course, you love the record, but then you start to analyze it. What are the mechanics of it? There was a lot of that in the early days.
I remember being with Bruce and listening to the [Neil Young] album After the Gold Rush and the way the drummer played the high hat with a subtle touch. And on those long bus rides — when we finally got a bus — we spent hours listening to records on the bus, listening not just for the overall impact of the song, but what it was about the mechanics of what everybody was doing that went together to make this song swing.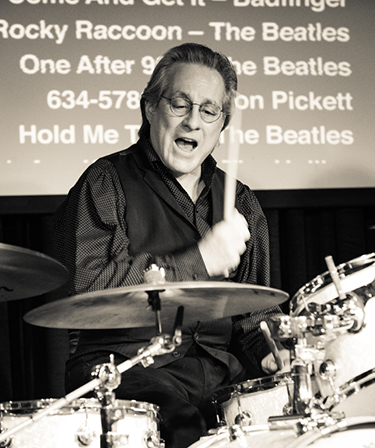 That's fascinating. Do you remember what other records you broke down like that?
A lot of the Stax and Muscle Shoals stuff. Particularly in those days, that was the music Jon Landau loved, and of course Jon was a big influence on all of us in the band.
Photograph by Jerry Frishman
So listening to Roger Hawkins [drummer for the Muscle Shoals Rhythm Section], or Al Jackson, the great Stax drummer, and the kind of things they did, that was all very important — particularly Al Jackson — in recording the Born to Run album. By the way, Jon's obituary for Al Jackson Jr. in Rolling Stone is a classic.
With Born to Run, if you could hear the original rehearsal versions, which I don't think ever even got recorded, the way we were rehearsing songs that ended up on that record… Jon came in and streamlined everything we were doing. References were to made to, you know, someone like Roy Orbison. I remember rehearsing in a little warehouse on Heck Avenue in Neptune, NJ, and Jon came down. He wasn't at that point actively involved in terms of management or anything like that. He was Bruce's friend. We were playing "Backstreets" in a completely different way, and I think Jon just said to Bruce: "Running Scared" by Roy Orbison. And Bruce said, "Yeah, play something like this," and he air-drummed the tom-tom part, which became the drum part on "Backstreets."
We were always very attuned to specific things that musicians were doing, particularly the drums. And I think Jon impressed upon Bruce — he certainly did on me — the importance of the drums, and how the drums really have to be right.
I remember when Born to Run came out. I had also played a little bit of tambourine. And you know, in those days it was very popular to put, if you had a credit on a record, "Drums and percussion." So when Born to Run came out, it just said "Drums." I looked at it, and I said, "Gee, I played some other stuff too...."
Jon pointed out to me, "You know what? You played drums on this music, that's all you need to say." If you're credited with playing drums on the Born to Run album — of course, Boom Carter, as everybody knows, played on "Born to Run" the song — that's all you need to say. That was the importance of the drums to him, and the drummers he admired.
In my early education in the E Street Band, a lot of focus was put on other drummers' drumming. Which I internalized in some cases, imagined myself in their heads. They were generally not contemporary drummers — they were drummers who played on the records we loved. And that's what this show is about: it's music that I love.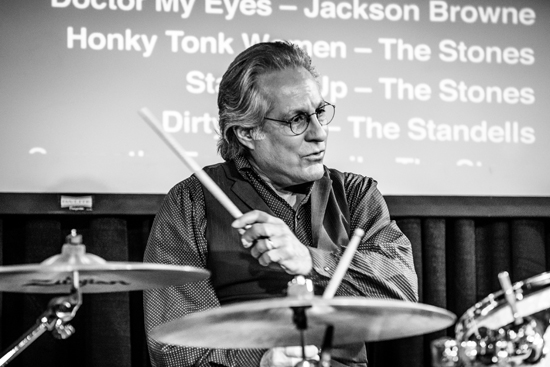 Photograph by Jerry Frishman
Well, you love a lot of different kinds of music, and you've got quite a few different bands.
You know, I've played with the Big Band, playing Buddy Rich/Count Basie-ish music on the road; I've got the 12-piece Stax and Motown band I generally hire out for private functions, when they need a dance band; I have a 23-piece society orchestra that I don't even drum in, I just lead it from the front, in a white dinner jacket and bow tie. There's a big Latin/salsa music element in there. But the "Jukebox" — two guitars, bass and drums — you know, that combination worked for the Beatles [laughs]. It is the basic approach to rock 'n' roll.
I know that you've been playing "American Girl," and then after Fats Domino passed, you've played some of his as well. Did you know either of those guys?
Well, I knew Tom pretty well — neat guy. It was just so unfortunate — and having heart problems myself — to see someone struck down at such an early age from a sudden heart attack. I mean, in 2017, that was just terribly shocking. We've played a bunch of Tom's songs. Somebody, every night, will call out "American Girl" or "Breakdown."
Fats, no, I never got to see him play live. The first time [the E Street Band] played Zurich, Switzerland, I can remember that my wife — who was my girlfriend at the time, Becky — was coming over to Zurich, Switzerland, to visit me. She got there the day that we got there, and Fats Domino was playing that night in Zurich. The whole band went down, but I didn't. Becky and I stayed in my room the whole night; we didn't leave the room! I remember Bruce coming in the next day, raving about Fats Domino's show.
Bruce said he asked Fats, "Why do you set up so close to the drums?" And he says, "I've gotta feel that bass drum right against my body." I always remember that statement — he had to feel the drummer.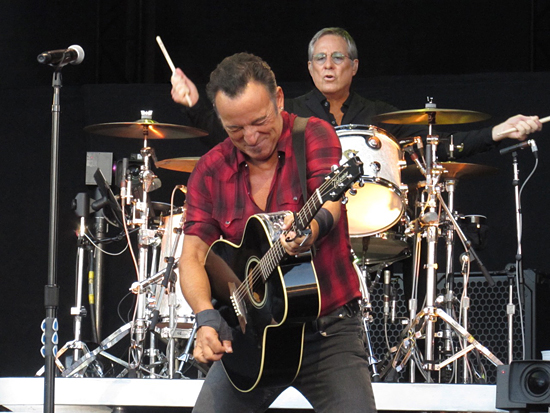 Photograph courtesy of Max Weinberg
As legend has it, it was your audition of his "Let the Four Winds Blow" that got you the E Street gig, is that true?
Well, yes, it was that song we were playing, which at the time was — if you listen to some of the early bootlegs of Boom playing that, it was fusion-esque. It was a little like "Rosalita"; the drumming was really complicated — lots of syncopated accents. But basically, it's a shuffle. So I played a shuffle — simplified it. And yeah, that was the song. Had I known more about Bruce and the band other than what I saw going on in front of me, I probably would have been nervous. So I passed the first audition. Then I really wanted the gig, and I was very nervous the second time. Jeez, I thought I blew it. The second time I played was just about five days later.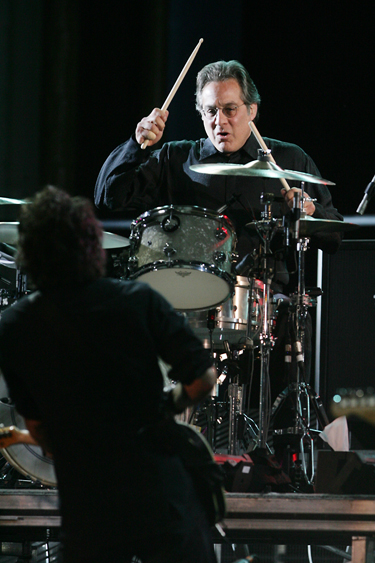 But yeah, in "Four Winds Blow" he did this big physical movement — sort of like an umpire calling a base runner. It was obviously— stop. You know, cut. He later told me he'd do it a few times. And if a drummer missed the first, that was bad; if you missed it again, that was worse; if you missed it three or more times after that, you weren't even in the running. It was really easy, to see that: stop. So I stopped.
Photograph by Mark R. Sullivan
People always ask me about this. In fact, I did ask Bruce, 20 years later, why he picked me. And he said there were some really good drummers; there were some guys who came in who knew both records cold. They knew every beat of every song. And I didn't know anything. I'd never heard a Bruce Springsteen record. But I was a good improviser, and I was very good at taking direction. So when he threw his arm out, I hit a rimshot. Stimulus/response, you know, because that's what a drummer does (at least in the old days). If a dancer kicks, you hit a cymbal, that kind of thing. And I had a lot of experience doing shows where the drums were used to promote action rather than sort of drum soloing. Apparently I was the only guy out of 60-something drummers who made that cue. And Bruce told me all those years later, that was the moment he knew I was the guy. I paid attention.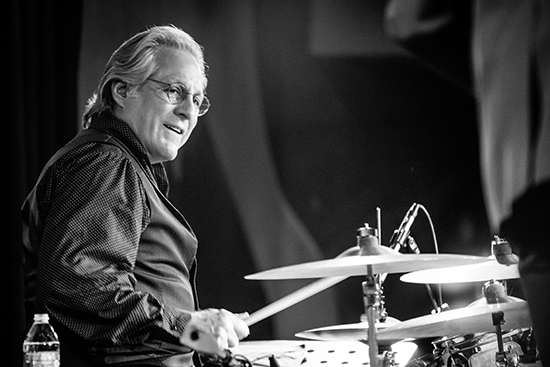 Photograph by Jerry Frishman
My chops were basically good. We played a Chuck Berry tune, we played that shuffle tune, we played a blues. I didn't know any of his songs, and I said, y'know, "Sorry!" But I took direction really well, and that's where he was going with his music. He wanted it to be more stable, and I guess what he saw in myself and Roy was that we were professional musicians. We had both done a lot of different kinds of playing. And that was something that Bruce and the guys in the band really didn't have that much experience with. They were really good at what they did — rock 'n' roll, and the kind of songs you'd be required to play at dances— but I also did Broadway and other things like that.
I was going to say — playing on Broadway, that's one thing you did before Bruce.
Yeah, I had the Broadway experience. I was in the original Godspell, which was a pretty big show — a very big show in those days, actually. Playing in a pit band, I had that gig when I was 22. I was going to college, playing the show at night, and my dreams of being in the kind of rock band I wanted to be in were kind of over by that point. It didn't seem to be happening. [Godspell] was a good gig, and it paid really well, but I could tell that it was, for me, spiritually, kind of a dead end.
I figured, well, maybe I could parlay this into being a freelance drummer. In those days you could really have a great career doing that. But that's not really where my talents were. I mean, I was a freelance drummer, but a studio drummer of the caliber of Bernard Purdy, or Steve Gadd, really great studio drummers.… nah. I wanted to go out and play my ass off in a rock band.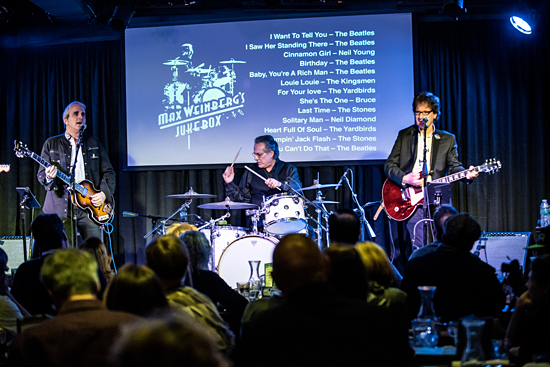 Photograph by Jerry Frishman
I could have left drumming — I could have done something else. And I would have done something else, but I met Bruce and the band over that summer. I was very disillusioned with where music was going. And suddenly I fell into this situation where they were playing, you know, Chuck Berry-style rock 'n' roll. And that was kind of unusual for the day. Jazz-rock was really big back then. Fusion. Miles Davis's Bitches Brew and Jack Johnson... Billy Cobham was everybody's favorite drummer. So the sort of simplistic way that I like to play was out of vogue at that point. And then suddenly I dropped into the E Street Band, and it was exactly the way I wanted to play.
Being in a Broadway show, at first, wow, it's great. You're working every night, and I was playing club dates and going to college during the day. But I realized: okay, it's drumming, but it's not what I wanted to do. When I was 23, I didn't think that I'd ever get to do exactly what I wanted to do, and then over the summer of '74 I met Bruce and the guys. And there it is.
So it's been tremendous — the whole experience, the whole 43 years, even the 10-year hiatus, while we weren't playing together. I probably saw Bruce during that time period more than I ever did, before or after. He was very available to everybody and was very conscious of maintaining the ties with everybody, even though we weren't actively playing together.
You'd see him in what context?
I'd stay at his house. I probably stayed at his house probably every six weeks in L.A. — I was looking for work. He'd let me stay in his guest house, and we'd go to dinner, go for long drives. My sense, looking back on that period now, is that he was very concerned about everybody.
In what way?
Well, concerned both about our reaction to his deciding to go it alone and what everybody would do, how everybody would cope. At the time it felt very disconnecting, but all these years later, I realize he was very concerned about us as individuals, as people.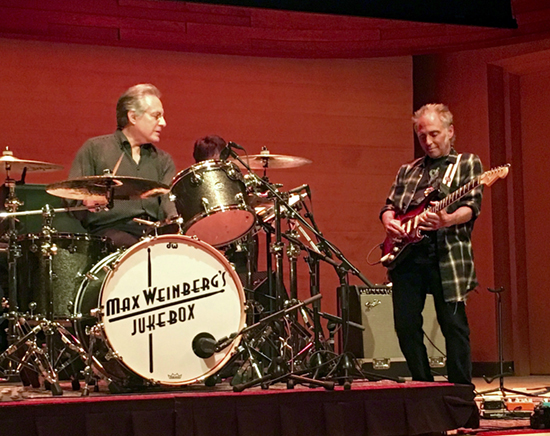 Nils Lofgren guesting with Max Weinberg's Jukebox in Phoenix, 9/27/17. Photograph by Ed Gray
I can remember sitting on his lawn, in these two deck chairs at the first place he lived in L.A., and I was telling him I wanted to go to law school. I just didn't see myself bouncing around in different bands and going on the road. I was married, I had an 18-month-old daughter, my wife was pregnant with our son, Jay. And Bruce listened, and he heard me. He got it, but he also said, "Don't stop drumming. Whatever you do, do whatever you're gonna do, but don't stop drumming." I know now why he cautioned me not to stop drumming. It was because if you stop, you will eventually forget how to do it, not be able to play — that has happened to people.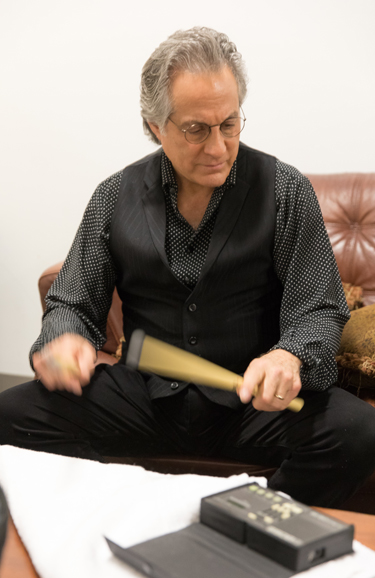 Is that right? It's not like riding a bike?
No. It's not. There's a point at which you will not get it back. And I almost reached that point. It was about three, three-and-a-half years after that conversation, where I would sit down to play the drums and it wasn't automatic. It has to be automatic. And I had to think about playing. That freaked me out — the synapses weren't connecting.
Photograph by Leland Sandberg
This must have been pre-Conan, so it must have been what, '92?
Yeah, it was pre-Conan by about a year — I needed to play. I can remember going back and calling everyone I knew who had gigs. I called La Bamba. I worked bar mitzvahs with La Bamba, just to play! I was working in the music business as a talent agent for a label, which I thought would be my future, but one thing led to another… and as we've talked about before, I met Conan in the street. Suddenly I put the band together, I got the gig, I hired the band, and I had a platform for drumming every day. I didn't know whether that show would last. Obviously, nobody did. But I can remember watching Conan work the first couple of weeks, and I could tell that the thing he had, in what he wanted to do, was exactly like Bruce.
In terms of drive?
Yeah. Drive, smarts, inspiration to the people around him. I didn't know the first thing about the mechanics of comedy. There is a mechanics of comedy. But I could tell that this guy had it, and all the people around him knew he had it.
And that really reminded me of when I first met Bruce and the band. Because it wasn't just Bruce's command of the situation at that audition, it was the way that Clarence and Garry and Danny related to him. Which, to me, was always the hardest thing about being in bands: to get people to be on the same page, pushing in the same direction, musically and otherwise. And that was totally apparent with my first audition, which was just Bruce, Clarence, Danny and Garry. That was pretty special, and I saw that with the first couple of production meetings with Conan — before we even went on the air. There were a dozen or so writers, and he was the boss. He was the smartest guy in the room and the funniest guy in the room.
And he had everybody on the same page?
Everybody. Even though with those kinds of creative minds, there was a lot of give-and-take, but he was the best editor. It was his show, and he was clearly the guy who deserved to be in that seat. Consequently I realized very quickly, having had the experience being with Bruce and the E Street Band for 15 years, that oh my god, I just fell into the same situation, except in comedy! What are the odds of that? I mean, we struggled; the first four years were a struggle on that show. Friday nights, we didn't know if we'd be on Monday night. But in the fourth year we caught on, and then it was a huge success. And all those years doing those crazy bits and being impromptu really has helped me doing this Jukebox show.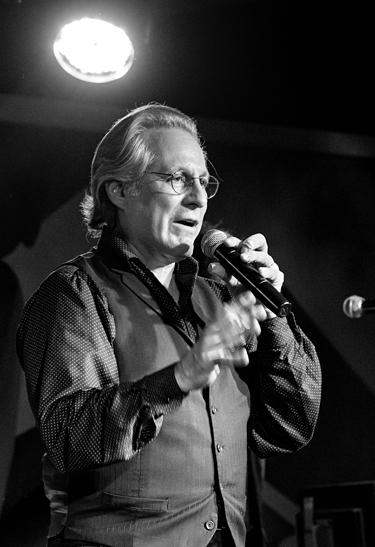 Having seen you do the Big Band show, that was one of the fun parts about that, the way you not only led the band but really related and talked to the audience. So you're doing that even more now?
Much, much more. Telling those stories — nothing I wrote down, but things that pop into my mind when someone calls a song, you know? It's all related to the music. I'm 67, I look back… I've been doing this a long time, and I've got a good memory and a lot of stories. And people seem to enjoy that.
Photograph by Jerry Frishman
Well, you do have a good memory — Bruce has referred to you as the historian of the E Street Band. And you know, I was recently looking back at something we posted, a photo of Bruce and Clarence from the 1980 Halloween show at the L.A. Sports Arena, the night you opened with "Haunted House" and Bruce came out in the coffin… do you have memories of those things? How's your memory for special nights like that?
Oh, yeah, of course! It was always fun to do that stuff, to learn a specialty song — the coffin thing with Jimmy McDuffie, who was on tour with us back then.
I've always heard he was game for anything. What else can you tell me about McDuffie, and what he did in that regard?
Jimmy McDuffie was and is a friend, and he is one of the unspoken-about, unsung heroes, certainly through the Born in the U.S.A. tour, of the band and of Bruce's life, particularly. Jimmy was a friend of one of our road managers. Jimmy visited him on the road, somewhere in the Midwest. We all went out to... I think we were at Denny's. Something was left on the bus, and Jimmy volunteered to go get it. Ran out of the restaurant, across a highway divider, tore ass to get it and bring it back. It so impressed Bruce that Jimmy became Bruce's first aide de camp.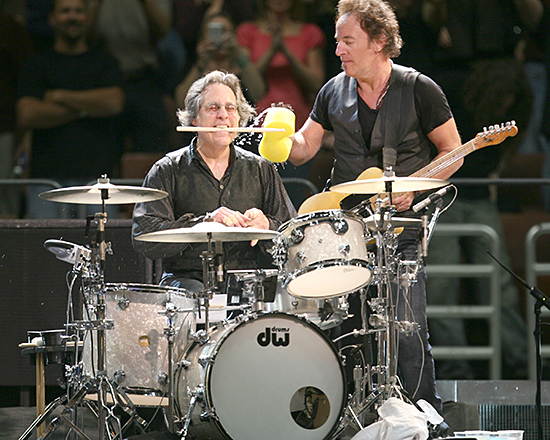 photograph by Levi Pervin/levrock.com
Like Terry Magovern before Terry Magovern?
Definitely. Yeah, during the Born in the U.S.A. tour, Terry was Clarence's assistant. So Jimmy.... there's this great story of a night in Tacoma, Washington where Bruce got unbelievably sick. Like, little-kid sick. It happens — I've been there on tour — sick.
Oh, I remember that — the Tacoma Aroma!
The Tacoma Aroma. Something made Bruce sick, and it was one of those sicknesses where you don't think you're gonna make it through the night. And Jimmy stayed up all night with him in his room. He was incredibly dedicated, and the hardest worker, the sweetest guy. From I think Darkness or The River up through the Born in the U.S.A. tour, and then, you know, Jimmy wanted to raise a family, he wanted to become independent— he left, and he became a businessman, very successful.
I love Jimmy McDuffie. When you see Jimmy, he's got a face that just lights up the room. Just a salt of the earth kind of guy. His daughter and my daughter were born within just a couple of days of each other. When I did my first lecture tour, in 1986, Jimmy came with me as sort of my road manager, just the two of us traveling around together. But he was extremely important to the initial organization of our touring operation, basically. Before him, there was nobody like that — to attend to what Bruce needed specifically, the concept of a kind of assistant.
And he would do a lot of the costume and prop stuff, right?
He could be Santa Claus, or he could be a tree... you know, Bruce would enlist everybody to do that type of stuff. But Jimmy was up for anything, so he would play a doctor, or he would be one of the guys carrying out the stretcher. Even today, we have these things — you know, after we played in Hyde Park and they turned the electricity off, the next show we did was in Dublin, a couple days later. Bruce did a bit bringing bobbies — cops — on stage to stop the show, and we had this big prop made of an electrical switch.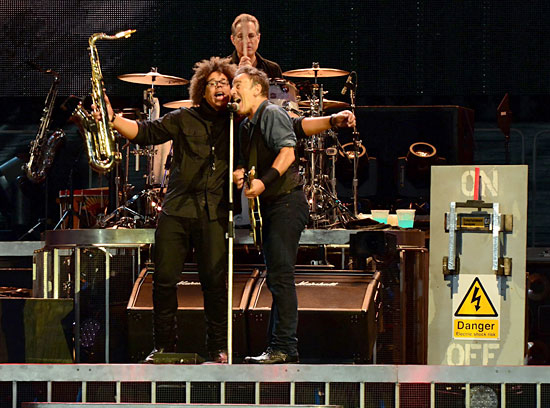 Switched on in Dublin, 7/12/12 - photograph by Rene van Diemen
I remember that — who takes care of stuff like that these days?
Well, we have carpenters on the tour, and they're always building things and fixing things. Stadium tours, you get like 150 people on the road, with another 50 or 60 local people. It's a circus, traveling around.
Like the Jukebox tour, I can only imagine.
Yeah, my thing is substantially more modest [laughs]. I'm the road manager, tour director, travel agent… and I like it, because it forces me to work at all levels of the business. I set up and tune the drums because they're, you know, my tools. We jokingly refer to this tour as the No Overhead Tour. And finally, when I get to play the drums after everything else I've done during the day, I am really that 14-year-old kid, playing the drums. The same songs I played 50 years ago, but with all this experience being on TV, in the E Street Band, and everything else I've done, being a music director and organizing bands. So it's really a fantastic, fantastic time for me right now. Everything is beautiful, baby!
You've seen Springsteen on Broadway, isn't that right?
Yes. Twice. The whole band went opening night, and of course the performance blew us away. We were, however, sitting in the front row stage left and were a bit conscious of eyes on our necks, if you know what I mean. Loved the show — I thought, I'm glad I know this man. Someone once wrote that Bruce is the Steinbeck of rock, which, if you think about it, is a great analogy. This show, he's more like the Thornton Wilder, in my experience.
I went back by myself and caught a show this past spring. Sat by myself in the balcony and took it all in. It was so refreshing to be drawn into his world in that way. I laughed, I cried, I related. It was a completely immersive evening, and the feeling lasted a long time.
My mother, who lived to the age of 98, was a Broadway show fanatic who took my older sisters and I to a performance early every weekend. We'd sit in the upper balcony seats, way back — I think they were two bucks! I saw many of the greats: Yul Brynner in The King and I, Mary Martin in Peter Pan and South Pacific, Zero Mostel in Fiddler on the Roof, Dick Van Dyke and Chita Rivera in Bye Bye Birdie. I was fortunate to have those experiences, though I think I've never been as spiritually moved by any show I saw on Broadway as I was Bruce's.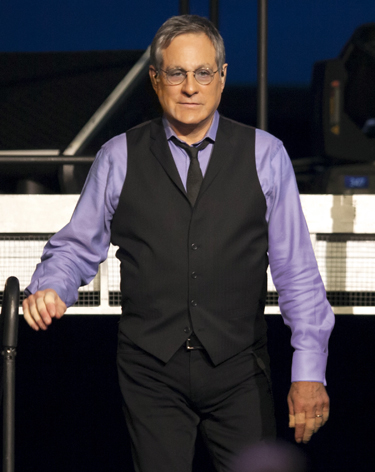 Photograph by Joseph Quever
Any last thoughts?
Sure, here's one — topical, too. Right after the verdict came down in the Paul Manafort trial, I heard an interview with one of the jurors. She and her husband are ardent supporters of the president, but she voted to convict on all 18 counts. She said, "The law's the law" — I hold that posture as well. She came across on the radio as a very well measured and thoughtful citizen, and she had a great suggestion: What she'd like to see is a red cap that carries the slogan "Make America KINDER Again."
That's what I'd support — a way to recall and honor a more genteel time in our history when the back-and-forth back of our national conversation was advanced by what they called "civil discourse" — accent on "civil." You know, it's simple. We can disagree, but let's be agreeable and civil as we take positions, comment, and engage.
View all upcoming dates for Max Weinberg's Jukebox at maxweinberg.com