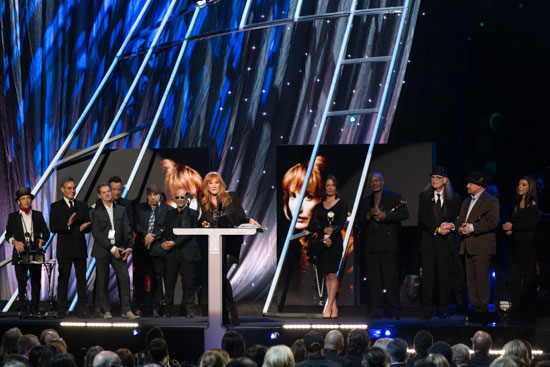 As Steven Van Zandt said from the podium at Barclays Center, "For those of us whose religion is Rock 'n' Roll, this is the one day a year we get to give thanks." And for those of us who've been waiting for years and years to see the E Street Band get this Rock and Roll Hall of Fame honor, April 10 was the one day period that we were able to hear their thanks. So while some Kiss or Nirvana fans may have been shifting in their seats at nearly an hour of E Street talk... we enjoyed every minute. And we're glad no one stuck to the suggested 30 seconds.
"We were all coming back from Cincinnati," said Patti in her remarks, "And we were talking about all these old-time stories that we knew on the plane, because I hadn't been out on the tour in a while, and we were just going through all these great stories and said, 'Yeah, we all have to get up there and tell these amazing stories that no one knows!' And we're drinking a lot of red wine, and having a good time, and the next day we get an email that said, 'Please cut your speech to 30 seconds, one minute at the most."
Well, we want to hear those stories. No time limit.
In the meantime, here's every inducted E Street Band member (and family members accepting in their stead) and what they had to say. Congratulations once again to the legendary E Street Band.
- all photographs by Michael Zorn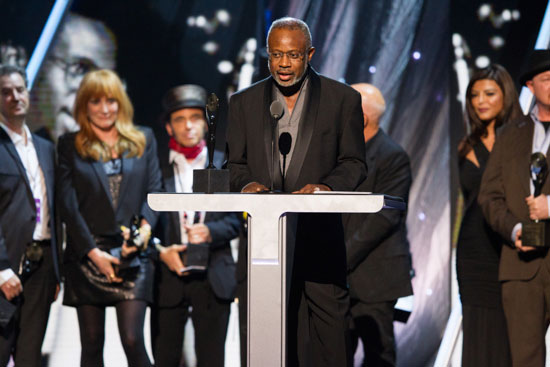 DAVID SANCIOUS
"I get to play with some of the best musicians on this planet, and it's beyond any dream I had as a kid — the reality of my life now far surpasses anything I imagined when I was younger."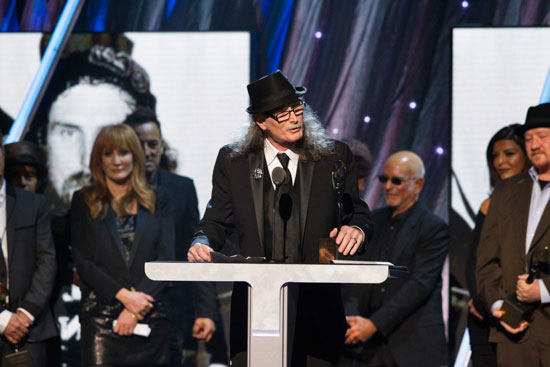 VINI LOPEZ
"All I can say is whoa-ho ho, man! This is incredible!"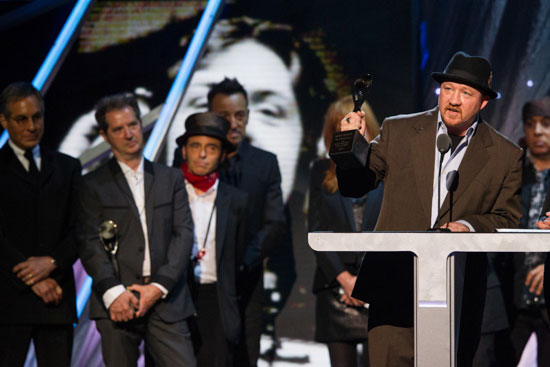 JASON FEDERICI accepting for DANNY FEDERICI
"This really meant a lot to my father... my father just had a really special way of putting his soul into every note that he played."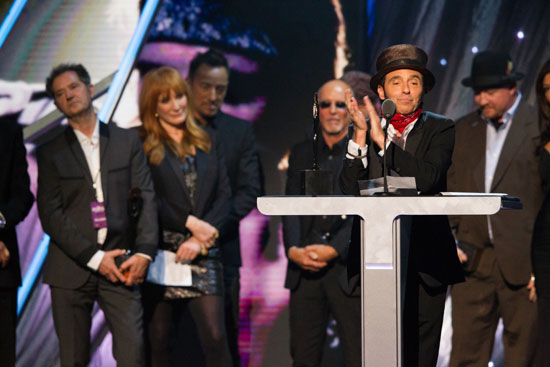 NILS LOFGREN
"I've been in the band 30 years, so I'm 'the new guy.' Words can't describe how incredible it is to play inside the band's energy and feel."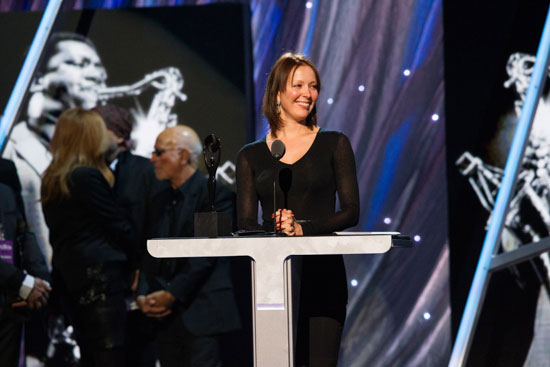 VICTORIA CLEMONS accepting for CLARENCE CLEMONS
"I really wish Clarence was here tonight to receive this award; it would have meant so much to him. But I'm sure he is here tonight with us, smiling down on all of us."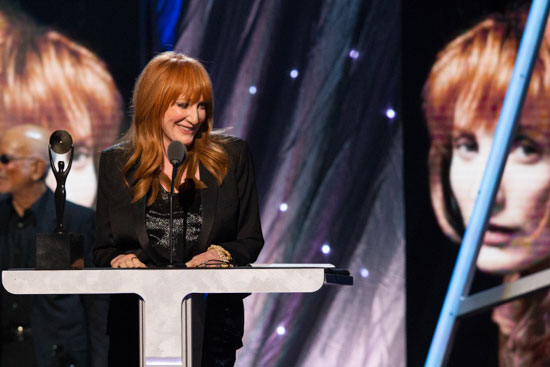 PATTI SCIALFA
"I was in a little bit of a quandary... do I want to date the Beatles? Or do I want to be in the Beatles?"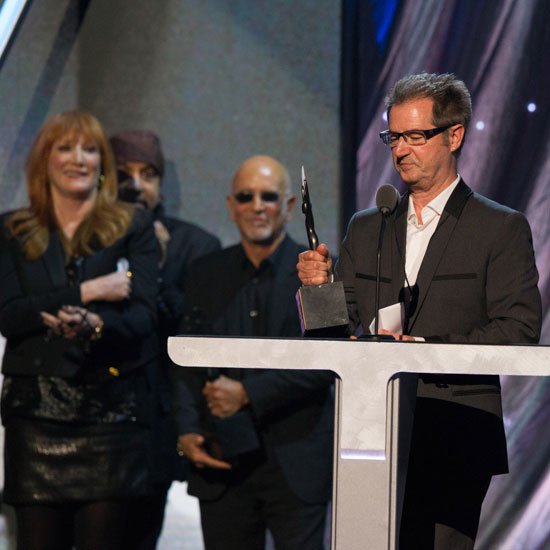 GARRY TALLENT
"I'm proud to stand here with the greatest musicians and friends I ever could have imagined; thank you to the E Street fans for making it fun night after night."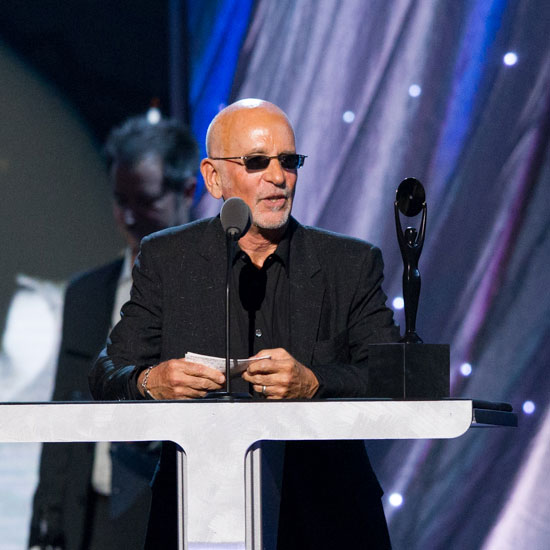 ROY BITTAN
"Our fearless leader... walks where courageous men fear to tread. But enough about him at the moment — tonight is about us."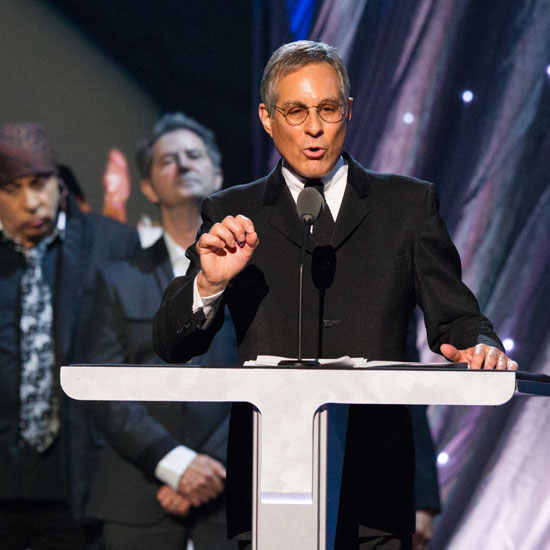 MAX WEINBERG
"The opportunity to work for — and, uniquely in the E Street Band, alongside — an artist like Bruce is so special... illustrating by his dedication, his discipline, and his desire, to always, as he said, and I quote, "give the people more than their money's worth."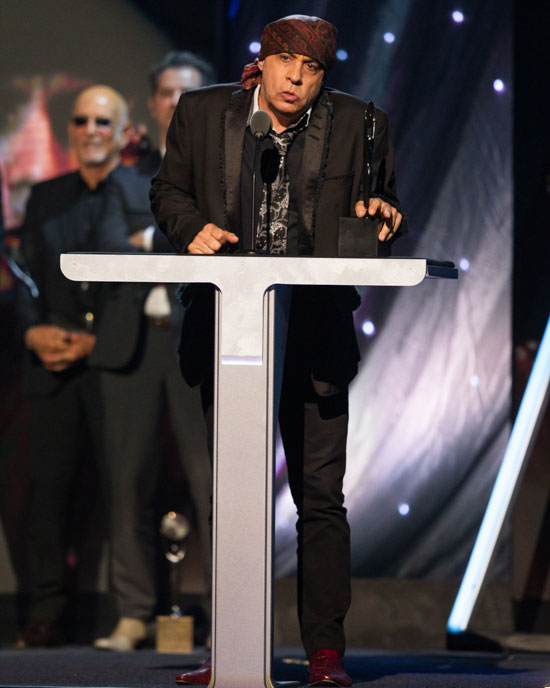 STEVEN VAN ZANDT
"The fact that we are still getting better and more popular around the world is due directly due to our leader's relentless strive for greatness, his insistence on our constantly evolving musical excellence, and his continuing to write songs at an unnecessarily high level of quality that is both historically unprecendented and profoundly inspiring.... And now being part of an institution where most of my heroes will live forever makes me very proud of the life's work we have chosen, that we've been lucky enough to do it, because it's the work I've loved doing and continue to love doing."
- From the April 10, 2014 Rock and Roll Hall of Fame induction ceremony - all photographs by Michael Zorn