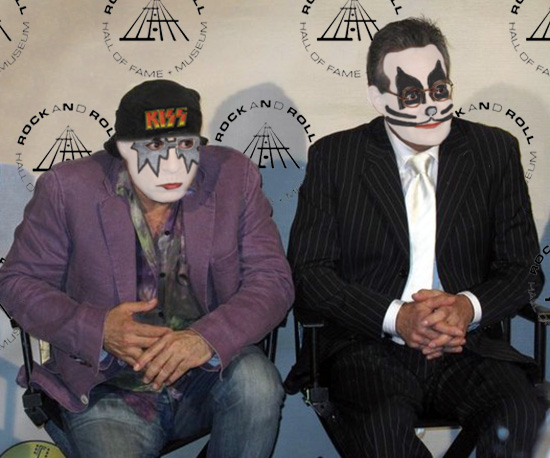 GODS OF THUNDER
Steve & Max save the day — and dress to kill — for Rock Hall ceremony
E Street Band fans are, of course, looking forward to the band's long-deserved induction into the Rock and Roll Hall of Fame on April 10 in Brooklyn. Members of the KISS Army are anticipating their idols' honor, too. But there were many sad soldiers when it was announced that, due to dissension between current and former band members, no version of KISS would be performing at the ceremony.
E Streeters, to the rescue: shouting it out loud at this morning's Rock and Roll Hall of Fame + Museum press conference, Steve Van Zandt and Max Weinberg took the stage in full makeup to announce that they'll be filling out the KISS line-up for the occasion. "For a band who famously wants to rock and roll all night," Steve said, "We couldn't just stand by while they didn't rock and roll for even a small portion of the night."
"Spaceman" Steve also cited his fondness for vodka and orange juice, while "Catman" Max promised those in attendance "the best goddamn version of 'Beth' you've ever heard."

The press conference gave Van Zandt the opportunity to unveil plans for his new SiriusXM channel, Little Steven's KISSing Booth, conceived along with noted KISS afficionado Dave Marsh. "Basically, we're gonna play 'Strutter,' songs that influenced 'Strutter,' and songs that 'Strutter' influenced. Oh, and 'Lick It Up,' too."
This news follows the announcement of the forthcoming Springsteen EP, Give the Girl a KISS, comprised of four songs that didn't make the cut for American Beauty. Among the tunes — including the reworked title track and two KISS covers — an eight-minute version of "I Was Made For Loving You" reportedly includes new lyrics about a character from the Old West.
- April 1, 2014

THE VAULT OPENETH
Springsteen to begin Archive Series of concert downloads
Following the successful introduction of concert downloads from this winter's tour, another fan dream comes true as Bruce Springsteen will use the technology to offer official recordings of historic concerts.
"We've got the material, the archives are there, and the time seems right," says manager Jon Landau. "Fans have long maintained interest in something like this, obviously, and we decided it could be an integral part of the conversation Bruce has been having with his fans for years. It's the part of the conversation where you have to remind somebody of what you already told them a while ago."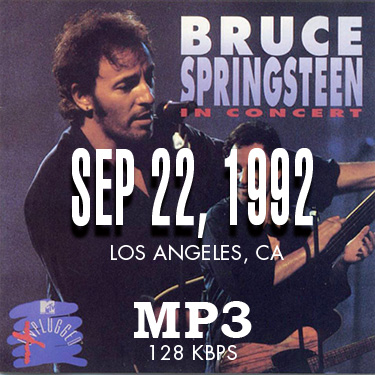 The challenge, in kicking off this Archive Series, was where to begin.
"A classic show that we felt was right down the middle, something everyone could agree on," Landau told Backstreets, "was 1993's In Concert, also known as MTV Unplugged, Unplugged, XXPlugged, or simply Plugged. Here was our chance for MTV XXplugged 2.0."
This digital release will, for the first time, contain the complete performance from September 22, 1992 — if not an absolute holy grail for fans, then at the very least a collection of recorded material.
Before you can ask, the answer is yes: "Roll of the Dice," a hard-to-find bonus track way back when, will make the cut this time. "No more clumsy LaserDiscs," a source close to Springsteen tells Backstreets. "This set will make LaserDiscs obsolete."
To download the set, fans simply need to order a Plugged LaserDisc replica, intended for display as a piece of memorabilia and fitted with a USB thumb drive that will allow one download of the 128kbps mp3 files.
Watch for more 1992-'93 performances to become available as the Archive Series continues!
- April 1, 2014

HIGH HOPES TOUR CONTINUES WITH NEW SUMMER DATES!
Heatwave no more: this summer, cold climes for Bruce & E Street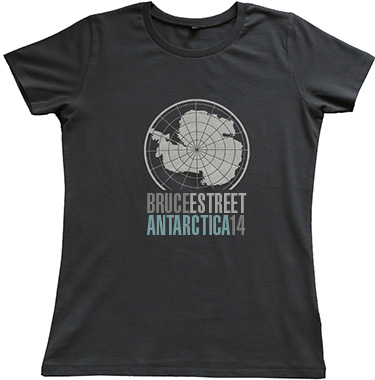 Dying to know what Bruce Springsteen has up his sleeve following the U.S. spring tour? Wonder no more: following up on their mega-successful winter in the Southern Hemisphere, Springsteen and the E Street Band will kick off summertime with their first-ever tour of Antarctica.
Speaking with Rolling Stone, Jon Landau notes, "The tremendous response we received from Bruce's South America, South Africa, Australia, and New Zealand shows had us looking around to see what else we could do down there. We figure, if Prince Harry can do it, so can we."
Springsteen posted on brucespringsteen.net, "As the light from the oncoming train gets brighter, I want to make sure every continent gets exposed to the E Street Band. Also, I'm really eager to pose for more pictures with penguins."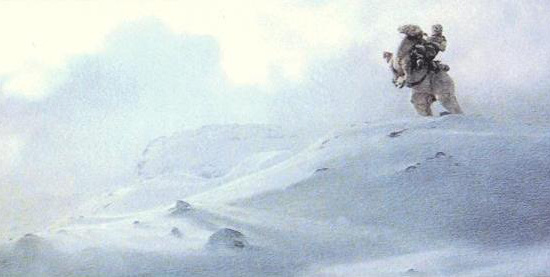 Confirmed dates:
June 3, Trinity Church, Bellingshausen (club show)
June 5, McMurdo Station
June 6, U.S. Outpost 31
June 9-10, Mount Erebus Festival (with OutKast)
June 13, Base Esperanza

Plans remain hazy beyond June, as Springsteen continues work with Robert Santelli on his follow-up to Songs, tentatively titled Selfies. But the High Hopes tour is expected to continue into the second half of 2014. While Landau maintains that he and Springsteen are "acutely aware" that fans elsewhere in the U.S. and Europe are clamoring for return visits, the lure of more undiscovered country may prove too much. "Northern Canada is on the table, I can say that much. Greenland. As it turns out, global warming is really opening up new markets for us."
"I've considered," Springsteen writes, "that the lights from that oncoming train I've been talking about might actually be the aurora borealis."
- April 1, 2014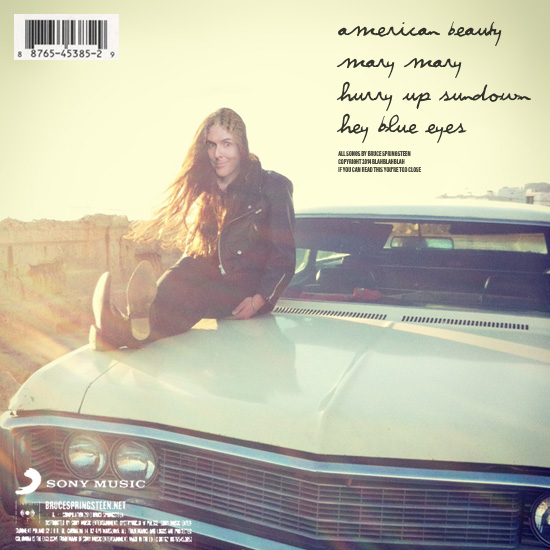 FIRST LOOK: BACK COVER OF AMERICAN BEAUTY
Many Bruce-watchers have wondered who that gal sitting on the hood of the Chevy might be... look no further than the back of the sleeve, where an alternate shot provides the reveal.
"Al was sort of my muse for this record," Springsteen writes in the EP's liner notes. "We actually started with what the names of his versions might be and worked backwards from there. Wait 'til you hear 'American Boobie.'"
- April 1, 2014


PIANO MAN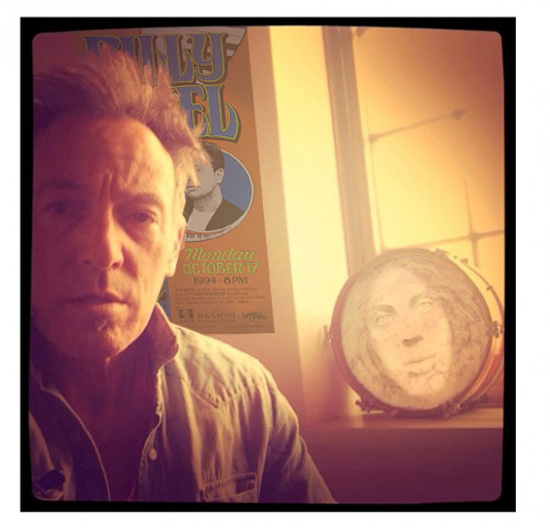 Good morning and welcome from my penthouse suite high above the rolling hills of central New Jersey. Shirt by Levi, bed head by Beethoven, inspiration by Long Island!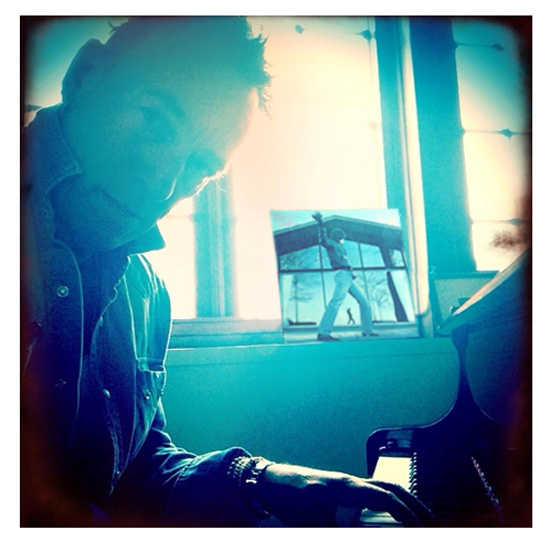 It just may be a lunatic you're looking for!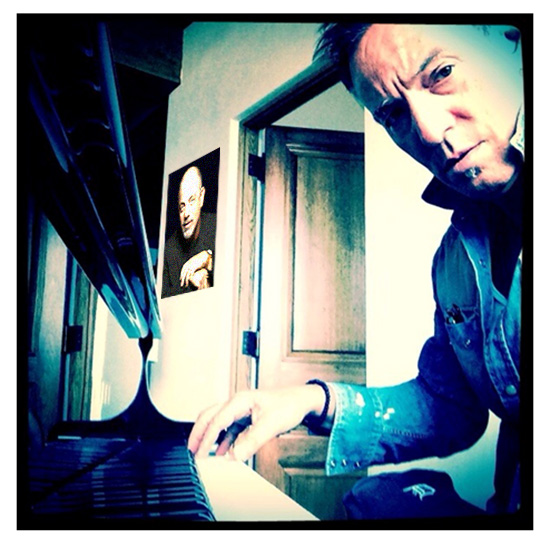 Sure am glad I'm not the only one who calls it a "tonic and gin."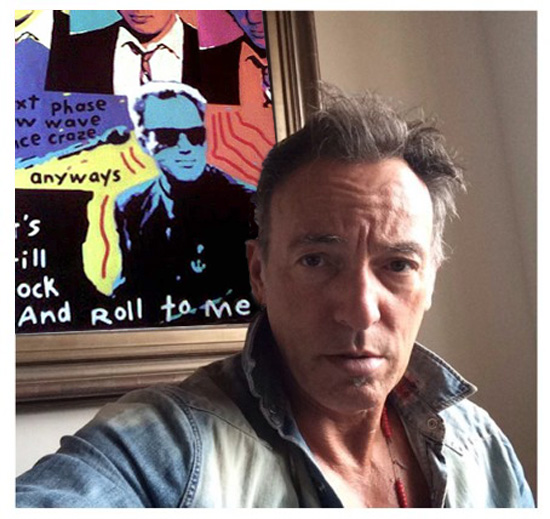 What's the matter with the clothes I'm wearin'?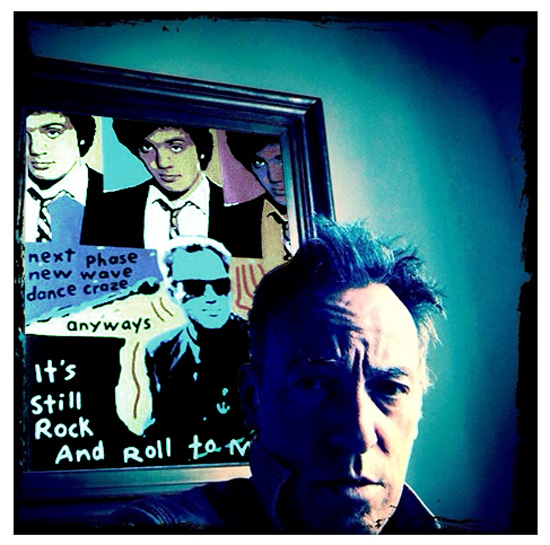 You always write best with your mentor on your shoulder. See ya up the road!
- April 1, 2014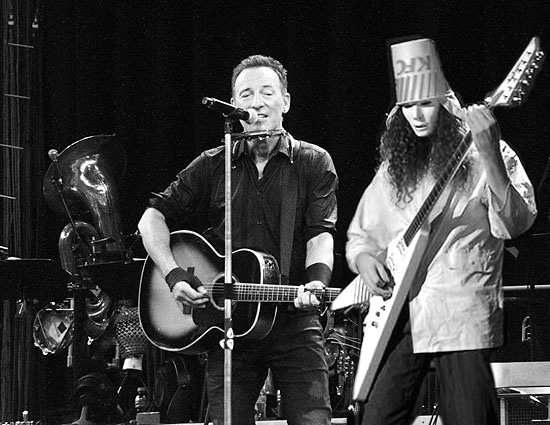 IT'S OFFICIAL: MORELLO ON LEAVE, BUCKETHEAD FILLING IN
With Tom Morello taking a leave of absence from E Street this month (filming begins April 5 for Wall Street 3: Gecko Uber Alles), many fans have feared that the High Hopes tour might have to go on with fewer than 17 players on stage. Fear not: with Morello suggesting potential replacements, and Springsteen holding auditions throughout March, the E Street Band won't be short a guitar-slinger. Sorry, Zakk Wylde, Vivian Campbell, and Daron Malakian... brucespringsteen.net announced today (with a photo from rehearsals, above) that none other than Buckethead has made the cut, to join the tour for the spring U.S. leg.
"I have to tell you," says Buckethead from somewhere in there, "I am a casual Bruce Springsteen fan. I mean, a very casual fan. You could even say I'm a lifelong non-fan. I tend to work with — heck, I subscribe to magazines about — people who are largely unfamiliar with the work of Bruce Springsteen. I asked Bootsy Collins, Les Claypool, Mike Patton, John Zorn... they all sorta drew a blank. But Tommy Stinson gave Bruce the thumbs-up, Serj did as well, and of course Morello vouches for the guy, so here I am."
Already, Bruce himself is over the moon. Speaking to Rolling Stone for the eleventieth time, he describes the new addition as "muse-like, if slightly inscrutable." He also credits Buckethead with lighting a fire — an actual fire, just for fun, that cleared out SIR Studios at the end of last week and leaves the band scrambling for rehearsal space with less than a week before Dallas.
- April 1, 2014

UNICORNS!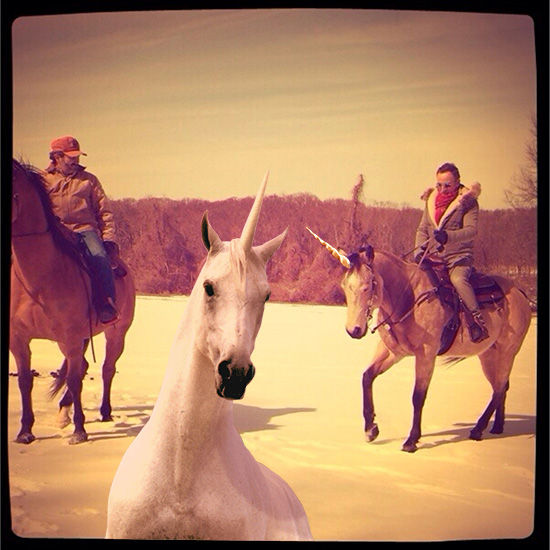 - April 1, 2014