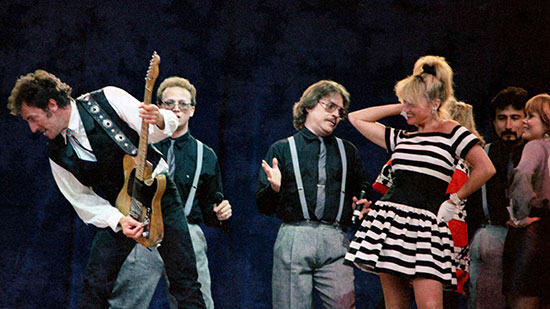 Mike Spengler (center) and the Horns of Love get some extra attention on 1988's Tunnel of Love Express Tour - photograph by Rene Van Diemen
Although his professional career accomplishments were many and varied, Bruce Springsteen aficionados probably knew trumpet player Mike Spengler best as a member of the five-piece Horns of Love on Springsteen's Tunnel of Love Express Tour featuring the E Street Band. But Spengler was also a member of Southside Johnny and the Asbury Jukes/Miami Horns, Little Steven and the Disciples of Soul, La Bamba and the Hubcaps, and La Bamba's Big Band, and he worked with Diana Ross, Ben E King, The Isley Brothers, Michael Bolton, and many others.
With the Asbury Jukes, Spengler is featured on the live album Reach Up and Touch the Sky and Missing Pieces, a collection of 1982 demos released two decades later. He played on Little Steven's first solo album Men Without Women, Dedication by Gary U.S. Bonds, and Grapefruit Moon: The Songs of Tom Waits by Southside Johnny and La Bamba's Big Band. With Springsteen, he's featured on Tracks ("Hearts of Stone" and "Lion's Den"), The Rising ("Mary's Place"), the Chimes of Freedom EP, and the five Live Archive sets from the Tunnel tour.
Born in Paterson, NJ, in 1952 and raised in Englewood, Spengler began learning the trumpet at the age of nine and later studied at Syracuse University, naming Miles Davis, the Cannonball Adderley Quintet, and Hugh Masekela as his early influences. He also undertook years of tuition with master Juilliard School trumpet teacher Edward Treutel.
Throughout his career, Mike played with numerous artists in and out of the spotlight, in venues great and small. His encounter with The Big Time took place from 1980 to 1988, when he performed with the giants of New Jersey rock and a Motown superstar, touring internationally and performing for many arena, stadium, and festival-size crowds.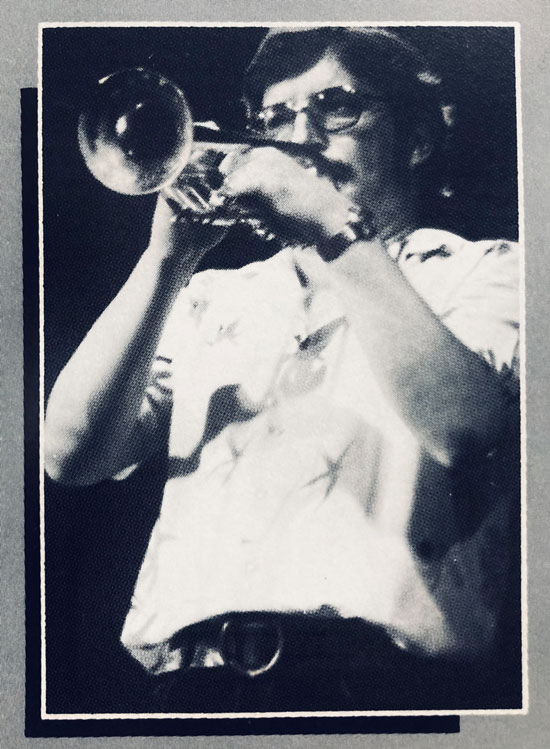 From the sleeve of Reach Up and Touch the Sky, the 1981 live album by Southside Johnny & the Asbury Jukes
Mike and sax player Joey Stann joined Southside Johnny and the Asbury Jukes in spring 1980. The band had just completed Love Is a Sacrifice with a depleted horn section comprising Richie "La Bamba" Rosenberg (trombone), Eddie "Kingfish" Manion (baritone sax) and Rick Gazda (trumpet). The arrival of Mike and Joey brought the horns up to full strength for a major summer tour, which included shows at Freehold Raceway, Blossom Music Center near Cleveland, and Robin Hood Dell in Philadelphia. On December 31 of that year, Spengler played the fourth consecutive Jukes New Year's Eve concert at the Capital Theatre in Passaic, NJ, a wild experience that he'd repeat in 1981.
In early 1981, Joey Stann left to work with Gary U.S. Bonds, and the Jukes horn section continued as a four-piece, with Eddie Manion playing both tenor and baritone sax. That summer, they played The Savoy in New York. Gene Simmons of Kiss was on the guest list, and his "plus one" that night was then-girlfriend Diana Ross. Impressed by the horns, she invited them to join her band for a ten-night stand at the Riviera Hotel and Casino in Las Vegas in August. For this, they added a fifth horn player — saxophonist and ex-Juke (1977-79) Stan Harrison — and needed to hire a replacement for Rick Gazda, who couldn't make the gig. Spengler's recommendation, an unknown young trumpet player named Mark Pender, who'd blown in from Kansas City the year before, proved to be a perfect fit and later joined the Jukes permanently. They occasionally played "Stop In the Name Of Love" around this time.
By 1982, the band had parted company with Mercury, were experiencing business problems, and had yet to decide on their future musical direction. Spengler and the others opted for the financial security of a tour of North America and Europe with Diana Ross, but they also honored all Asbury Jukes dates (Harrison only played the Diana Ross gigs) until the late summer and became involved in the formation of Little Steven's new band, the Disciples of Soul.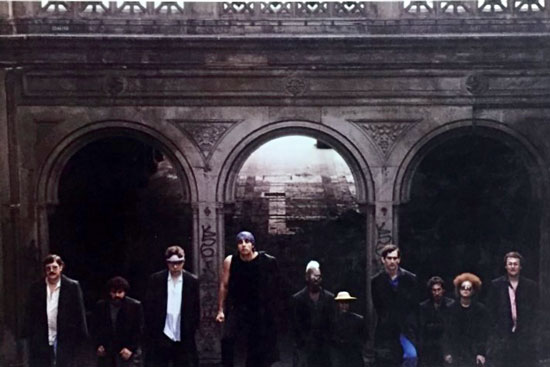 "Appropriately grizzled": the Disciples of Soul in Central Park, 1982, Spengler at far left - photograph by Jim Marchese
Speaking to me last year in an email conversation about Jukes history, Spengler described 1982 as "a hellaciously busy year." Throughout June, the horns toured Europe with Diana Ross, playing four nights at London's Wembley Arena and two at the Palais des Sports in Paris among others. Back home, they took part in a first anniversary gig for the Brendan Byrne Arena in East Rutherford with the Asbury Jukes on July 2, moved across the Meadowlands complex to perform with Diana Ross at Giants Stadium on Independence Day, then played with Little Steven at the debut concert by the Disciples of Soul at the Peppermint Lounge in New York on July 18. The five horns were also involved in the final Men Without Women sessions, filming for its companion movie and an album cover photoshoot in Central Park. Spengler recalled the latter took place "after an all-nighter. Steven told us, 'No smiling.' Not hard to do. No sleep, walking around in those long Disciple coats in 90-degree weather. We looked appropriately grizzled."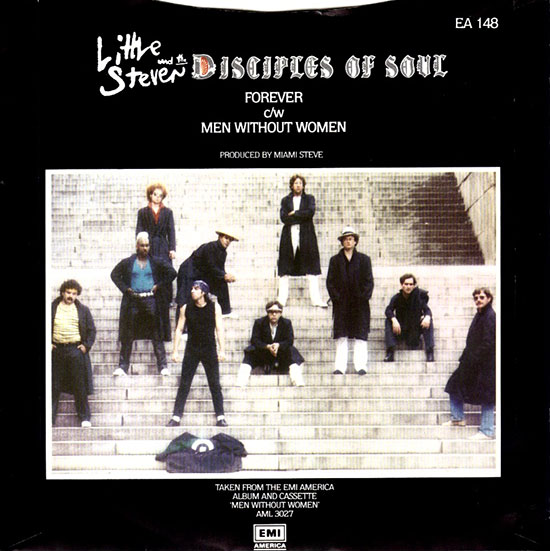 Another shot from Central Park, Spengler at far right - photograph by Jim Marchese

Little Steven's enticing touring plans eventually forced the Jukes/Diana Ross horns to make major decisions about their future employment. A change was gonna come.
"I clearly remember the discussion about leaving both Diana Ross and Southside was held one afternoon outside Caesar's in Vegas," said Spengler. "I also remember deciding on recruiting a replacement horn section for Southside." La Bamba, Manion, and Pender subsequently hit the road with the Disciples of Soul. Harrison initially played with them while Diana Ross was off the road, and then joined David Bowie's Serious Moonlight tour. The Asbury Jukes continued with a brand-new three-piece horn section.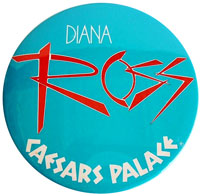 Mike Spengler, meanwhile, chose not to tour with the Disciples of Soul and remained with Diana Ross for another five years: "I was facing a move that meant tripling my rent, and Steven's plans were vague, so I made the decision to stay. Nelson Bogart took my place." During that time, he played with Diana in countless arenas and several more Caesar's Palace residencies, returned to Europe, and took part in her famous Central Park concert for an estimated crowd of 450,000.
In 1983, for both financial and artistic reasons, Little Steven decided to continue without his horn section, otherwise known as La Bamba's Mambomen. Mark Pender then rejoined the Jukes, La Bamba formed the Hubcaps, and Eddie Manion formed Eddie Manion and the Slydes and became musical director for Gary U.S. Bonds.
During breaks in Diana's schedule, Spengler often played with the Hubcaps. "I was part of it through the mid-'80s. Pender and I alternated. When Southside was off the road and Diana was on the road, he did the gigs, and vice versa. In 1987, Diana got pregnant, did three weeks, then cancelled the rest of the year. I ended up doing a bunch of gigs with Ben E King, a different set of very fond memories and stories. Ben E was a wonderful guy to work for."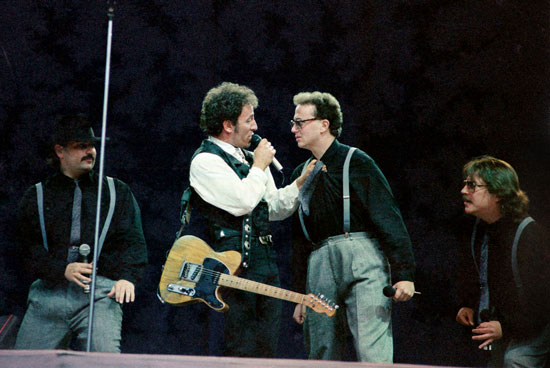 Spotlight on the Horns of Love, 1988: Mark "Love Man" Pender gets a Boss inspection as LaBamba (left) and Spengler (right) look on - photograph by Rene Van Diemen
When Bruce Springsteen decided to take a horn section on the road for the Tunnel of Love Express Tour in 1988, he asked Little Steven to create the arrangements and rehearse musicians. The Horns of Love featured Spengler, Mark Pender, La Bamba, Eddie Manion, and tenor sax player Mario Cruz. It was almost a full reunion of the Jukes and Diana Ross line-up, but Stan Harrison was contractually obligated to working with Duran Duran at the time.
Shorter than most Springsteen roadtrips, the Tunnel of Love Express Tour began in February '88. Three months of U.S. arena shows included five nights each at the LA Sports Arena and Madison Square Garden. The tour then moved into large outdoor European venues during the summer and included Bruce's famous concert for an estimated crowd of 160,000 at the Radrennbahn Weissensee in East Berlin in July, a year before the wall came down.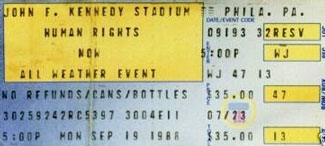 Bruce didn't use horns for the Amnesty International Human Rights Now! Tour, but Mike Spengler shared a stage with him one more time in 1988, when the Miami Horns guested on several songs at Philadelphia's RFK Stadium. He did the same at the Concert to Fight Hunger at the Brendan Byrne Arena in East Rutherford in June 1993.
In late 1998, Spengler performed at a White House gala celebrating the 30th anniversary of The Special Olympics, alongside Eric Clapton, Sheryl Crow, Tracy Chapman, Jon Bon Jovi, and Mary J Blige. A Very Special Christmas Live From Washington, DC was released the following year. He also played at Bruce's two Asbury Park Christmas shows in December 2000, and in La Bamba's Big Band when Bruce guested with them during Light of Day 2015.
In the past two decades, Spengler played lead trumpet with Diane Moser's Composers' Big Band and the Wallace Roney Orchestra, among others, in addition to maintaining a teaching role at the Montclair Music Studio.
In November 2021, Mike announced on Facebook that he'd suffered kidney failure; he wrote regular updates about his medical experiences and gradual adjustment to a "new normal": "Dialysis is three days a week, three hours a day. Like a pain-in-the-ass part-time day gig, until you realize the gig involves simply keeping your sorry ass alive".
Because of his illness, Mike was not able to play La Bamba's Holiday Hurrah at the Stone Pony on December 19. "Especially sweet was a text sent by La Bamba that featured all the musicians I would have been playing with, waving and hootin' 'n' hollering my name. Boy, did I miss being there with those guys, and I'm thankful for the shout-out."
On December 23, he described "a day of exercise, lots of eating, napping, laundry, practicing the horn, followed by two zoom lessons after dinner." The next day, he signed off with "And to all, a Merry Christmas Eve."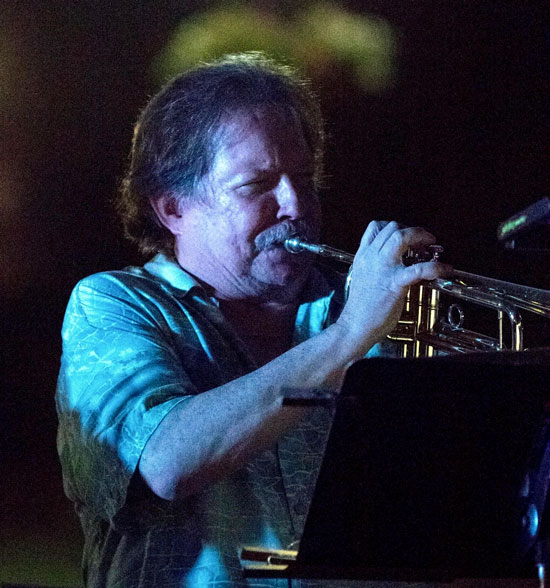 Photograph by Mark Weiss
I asked four of Mike Spengler's primary friends and associates to write personal tributes. Their heartfelt comments below reveal deep admiration and love for an accomplished professional and an admirable human being.
Richie "La Bamba" Rosenberg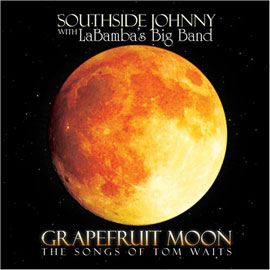 "Mike is gonna be missed by many. Along with his extraordinary trumpet artistry and a tonal quality brass players strive for, he was one of the kindest souls you'd ever want to meet. Mike Spengler could have stepped onto any bandstand — we're just lucky he stepped onto ours. There's a movie called Good Neighbor Sam. Well, Mike was 'Good Neighbor Mike.' When you're on that tour bus, and on or off the stage, it's not easy to find a level-headed, easy-going road warrior like Mike. All who knew him could always depend on him as a player and a friend. During his time off from touring with Diana Ross, Mike stepped in as an original Hubcap. A few years later he was with us for the Tunnel of Love tour. He played exquisitely on Grapefruit Moon — his classically-trained sound can easily be heard on the opening of 'Johnsburg, Illinois.' Mike stepped up to the plate to join in on La Bamba Big Band shows too. We'll miss Mike dearly. He'll always be with us up on that horn riser and in our thoughts."
Eddie "Kingfish" Manion
"Throughout his life, Mike Spengler was a real musician in every sense of the word. He practiced daily, putting in his two or three hours on the horn, playing long tones, exercises, and fine-tuning his improvisational skills. He loved all kinds of music and was an avid listener of jazz and classical. He was a professional. He played in tune and had a beautiful sound on the trumpet, flugelhorn, and assorted brass instruments. He could read his ass off, and I never heard him make a mistake. He was a loyal and strict union guy and expected to be paid fairly for his expertise and the time he put into practicing and playing the trumpet.
"Our greatest experience playing together was in Diana Ross's band, led by Elvis Presley's great conductor Joe Guercio. Playing with Mel Brown on drums, Tim Weston on guitar, and Phil Baker on bass was an accomplishment many musicians would never obtain. Everything in being a good musician came into play, and Mike was up to the task at hand. Night after night he nailed his parts and solos. You don't play the big room at Caesar's Palace with Diana Ross and fake your way through it. You play your ass off or get fired. There is no finer person, musician, trumpet player, and friend than Mike Spengler. I will miss his beautiful smile and positive outlook. He was an inspiration to us all, a good teacher and role model."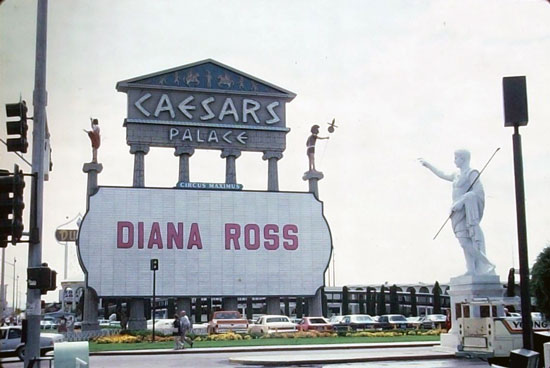 via vintagelasvegas
Stan Harrison
"Mike and I first met about 40 years ago, when we started touring with Diana Ross. A few things were immediately obvious. He was passionate about music. He was passionate about fairness and justice. He was passionate about learning. He loved to laugh. He was a great guy. I wanted to have Mike as a friend as well as a section mate. Being successful at both these things requires one to be especially good at one thing: listening. And Mike had this ability in abundance. He knew that you couldn't play with other musicians unless you listened to them carefully. When we played together, I knew he was not only aware of what everyone was playing, but also how they were playing. He listened to their intonation, their phrasing, their feel. He did everything necessary to make the section sound great.
"And he knew being a good friend was as much about listening as anything else. When I spoke with Mike, I had his full attention. Nothing went by him. He forced me to think clearly because if I didn't, he'd call me on it. Mike kept me honest. I couldn't have asked for a better or longer-lasting gift. He cared about people, fairness, justice. About the ideals and the highest degree of integrity to which we all aspire. Mike lived his life on a daily basis with these things in mind. He didn't have to think about doing the right thing, he just did it. To Mike this stuff was second nature.
"Mike taught me a lot over the years. In fact, the last time we spoke, just a week or so before he died, he introduced me to music I hadn't heard. He did this in spite of what was going on in his life. Mike recently suffered from kidney failure and was in need of dialysis three times a week. He had trouble finding the energy to play his horn. Walking more than a few steps was a challenge. His favorite foods were now forbidden. His life's twists and turns were requiring him to make difficult adjustments. He knew his future was uncertain, but he continued to face everything with the same steadfastness that was his natural way of being, the way of someone with deeply held principles. There was not an ounce of self-pity. Not an ounce of anger. He accepted things that he could not change, and he showed me, once again, what true dignity and integrity look like. This I will never forget, and I'll always be grateful.
"Here's to the memory of Mike Spengler. We will miss him as a dear friend, a dedicated musician, and an example of what it means to live a good life."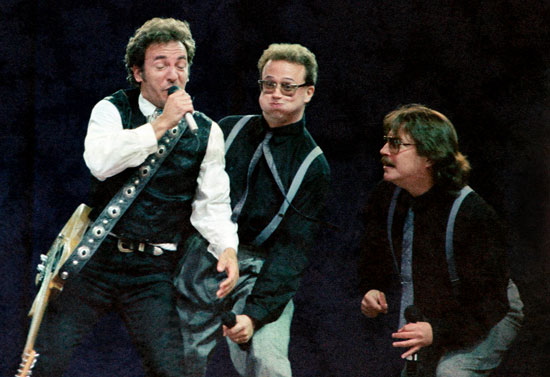 "I find it hard to imagine what my life and career would have been like without my dear friend Mike Spengler," writes Pender, here together with another friend in 1988 - photograph by Rene Van Diemen
Mark "Love Man" Pender
"Mike Spengler was an important contributor to the Asbury Jukes horn section, as a great trumpet player, but also as a consummate professional. He knew what worked, the musicality behind it, and what worked with the players involved. I met Mike in 1980 after moving to North Jersey from Kansas City. I was 22, and the NY/NJ music scene was, and still is, a tough nut to crack. Mike could play all styles, and shortly after meeting him, he recommended me for Jazz gigs, Latin gigs, and R&B gigs. He was integrated into all of those scenes. The kindness he showed me by taking me under his wing and introducing me to so many great musicians is something I will forever be grateful for.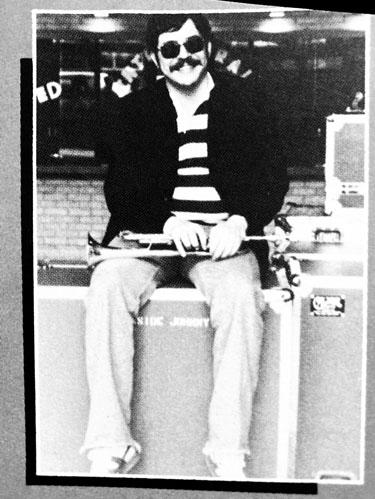 Another shot from the Reach Up and Touch the Sky sleeve
"The Jukes horns were asked to work with Diana Ross. Their other trumpet player, Rick Gazda, was unable to do the run. Mike called and said, 'If you can get here in 30 minutes, the gig might be yours.' I had a 1972 Oldsmobile Cutlass and rushed over from Fort Lee to Ridgewood, NJ, to a house where they were rehearsing — I would later learn it was Southside Johnny's house. When I got there, I was greeted by Mike's smile and the friendly but unsure faces of Eddie Manion, Richie Rosenberg, and Stan Harrison. We started to run down charts, and at the end of a long day I was asked back. I was thrilled. This was by far the best gig I had since my arrival in the area, running around playing for little money. A week later, I'm taking the second airplane flight of my life from Newark to Las Vegas.
"I was asked to play with the Asbury Jukes when we returned from Vegas. It wasn't luck, it was Mike Spengler. Mike had brought with him four or five tapes of the Jukes. In those days, nobody had written down any of the horn parts. I go to his room, he hands me the tapes and writes down a list of about 22 or so songs and says, 'Learn whatever trumpet part you hear, and I'll play the other one.' A gig was coming up within days of our return, and there was no rehearsal planned. I show up after cramming for the show, and Mike indeed played whatever harmony part I wasn't. It was nearly flawless. I'll never forget it. Staten Island, about 700 or so people. And of course Southside Johnny, who mutters to me after the show, 'I heard every mistake!' and slams his dressing room door. Classic Johnny.
"Often musicians don't embrace guys who play the same instrument as them from a competition basis. Mike wasn't like that. He was genuinely happy to recommend and introduce as many guys as possible. And with the business what it is, I'm not ashamed to say Mike bailed me out more than once, when I had trouble paying the rent or was short on cash. I did pay him back. This is a guy whose ethics and beliefs of fairness and kindness knew no bounds. He wrote a pamphlet explaining the impossibly-worded Musicians Union pension plan so actual musicians could understand it, served on several labor boards at the local, and all of this without any compensation or recognition.
"I find it hard to imagine what my life and career would have been like without my dear friend Mike Spengler. Over the years, we played with Steven, Bruce, Johnny, Diana, and many others, and I always rested assured that I was in good hands with him next to me. His loss has cut very deep. It was just a comfort knowing he was in Englewood, practicing his horn, doing gigs, and chiming in on what was going on. Forever in my heart, soul and fiber."

In lieu of flowers, contributions may be made to The Juilliard Scholarship fund. Please direct tributes to the Ed Treutel Scholarship Fund. Mike's family will celebrate his life and memory at a memorial service in the spring.
Thanks as always to Brucebase for being an excellent resource.