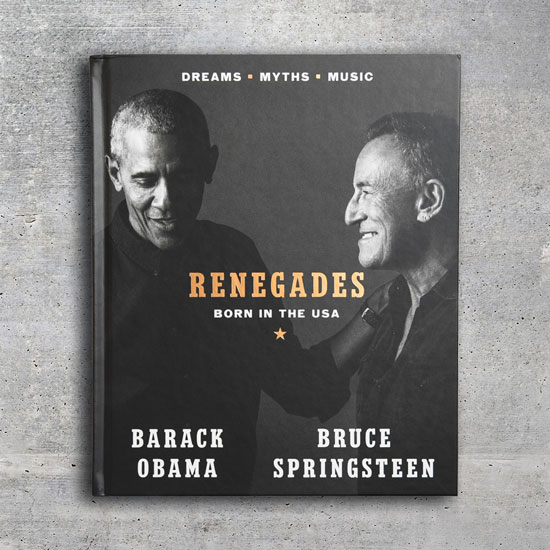 RENEGADES: Born in the USA
By Barack Obama and Bruce Springsteen
303 pp. Crown Books. $50

Allow me, as a veteran's wife, to launch my review of RENEGADES: Born in the USA with what is known in the armed forces as the BLUF. BLUF is the acronym for Bottom Line Up Front, a method of streamlined communication using speed and clarity when writing or speaking — sort of a militarized TL;DR.
Here's the BLUF on RENEGADES: Yes, you want this book. Yes, it is worth what you'll pay for it, be it the print or digital edition. No, you don't have to take my word for it: You can read an excerpt here and see if you're not inclined to agree.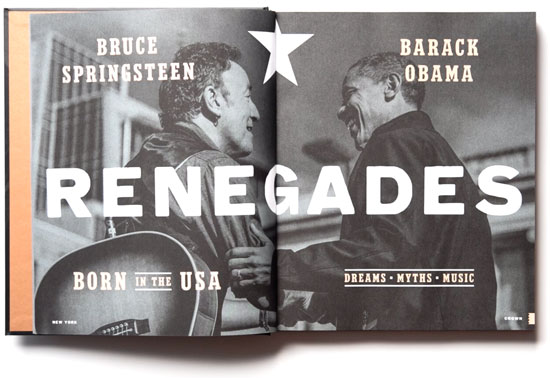 Book jacket copy relies on superlatives, since nothing moves copies like gales of hype (though a two-part interview on CBS doesn't hurt). The promotional text of this book loads quite a bit of bait on the hook it dangles before potential readers:
…a candid, revealing, and entertaining dialogue between President Barack Obama and legendary musician Bruce Springsteen that explores everything from their origin stories and career-defining moments to our country's polarized politics and the growing distance between the American Dream and the American reality… In a recording studio stocked with dozens of guitars, and on at least one Corvette ride, Obama and Springsteen discuss marriage and fatherhood, race and masculinity, the lure of the open road and the call back to home. They also compare notes on their favorite protest songs, the most inspiring American heroes of all time, and more. Along the way, they reveal their passion for — and the occasional toll of — telling a bigger, truer story about America throughout their careers, and explore how our fractured country might begin to find its way back toward unity and global leadership.
That's a lot for a book to promise, but RENEGADES actually delivers.
The cover, featuring a stunning black and white photo by Rob DeMartin, a go-to still photographer for Springsteen in recent years, tells the tale: Above all else, this is a close-up portrait of a friendship between two men of disparate origins who are, it turns out, quite similar.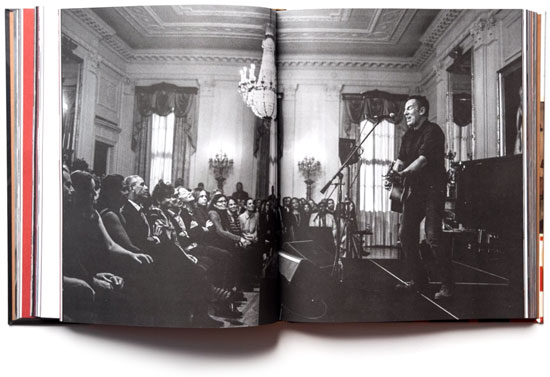 Seeing Bruce Springsteen perform live is like being kicked in the face by a mule. And Jesus happens to be riding on the back of that mule. The brute force and blood-shrieking religiosity is something to behold, and with such legendary energetic heft, one might think he'd outshine Obama, who, even though he is a two-term President, was schooled in a more reserved form of public presentation and engagement. But Obama has shown, over many years, that low-key charisma and the ability to capture a political audience is a form of rock star status in its own right.
And while Springsteen, by his own account, is just a guitar-playing high school graduate from Freehold, New Jersey, let that not lead you to assume that Obama is the brainiac in the duo — it turns out that in conversation, they are intellectually well-matched. Their dialogue, transcribed for the book and visually captured throughout in more photos by DeMartin, manages to feel simultaneously anthemic and intimate, as if the men — both icons of broad-stroke appeal — broadcast the same essential strengths, concerns, passions, and values, just on different frequencies.
Once you finish the original introductions, one written by Obama and another by Springsteen, you can flip (or click) through the pages and find exclusive material from the RENEGADES podcast recording sessions — enjoyable regardless of whether you listened to the original. Ephemera and archive geeks will rejoice at Obama's never-before-seen annotated speeches and Springsteen's song lyrics, including handwritten originals for songs spanning his 50-year career, including "The Promised Land," "My Hometown," "Stolen Car," "American Skin (41 Shots)," "My Father's House," and "Born in the U.S.A."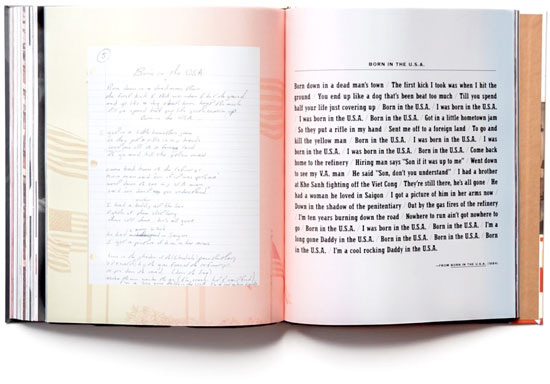 Readers will note that Obama writes with small, controlled script of a man quite used to scribbling in the margins (literally and metaphorically), while Bruce has a loose and fantastical hand indicating that, possibly, he learned penmanship at wizard school. (Fun facts: Obama is a lefty, Bruce is a righty).

Among the historical photographs and documents that contextualize the exchanges between the two men are 350 photos from their personal archives — of their parents, their own early childhoods, and candids that get behind the facade of the professional personae we've come to know. In one photo, Obama works at his desk in the Oval Office while his daughter Sasha sneaks behind a couch, and in another, the Obama family plays Uno in an RV on the campaign trail.
There are many of Springsteen onstage and off, including family snapshots — a darling one is a circa early-'90s winter pic of Bruce, Patti, and their two eldest kids in one of those goofy, old-fashioned sleds that parents are always suckered into buying (myself included) because they look so Christmas-card perfect, even though they often barely function and are so weirdly designed, you can never seat your kid right. In the image, the proud parents are smiling, at ease, and looking like a million bucks, while the kids are squashed into their snowsuits, listing sideways, and looking fear-stricken as if they're about to slide out of an airplane cargo hold at 30,000 feet. (Celebrities! They're just like us!)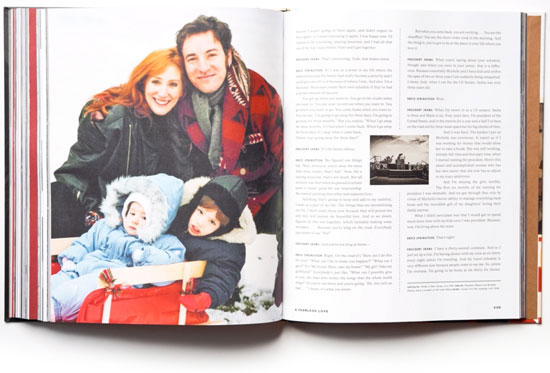 One weak-sauce critique of the RENEGADES podcast, which could also be leveled against the book, is that it isn't angry or radical enough — that the players play it too safe. That's a very strange criticism of work featuring two moderate Democrats who built their brands on hope and populist appeal. And honestly, I'm not spending $50 to read about how broken and hopeless people think the world is; I can get that on the Internet for free.
As coffee table tomes go, the book is plenty radical enough in its own way — if not politically, then personally. We rarely see men of such stature open up so much about their emotional lives.
Obama describes how, with a largely absent father, he pushed himself to obtain overachiever status as a subconscious means of trying to nail down the approval of a man who, ultimately, he barely knew. Having had two children with wife Michelle while they were quite young, Obama sacrificed precious family time to build his political career, passing the burden of care on to his wife, who had her own career aspirations.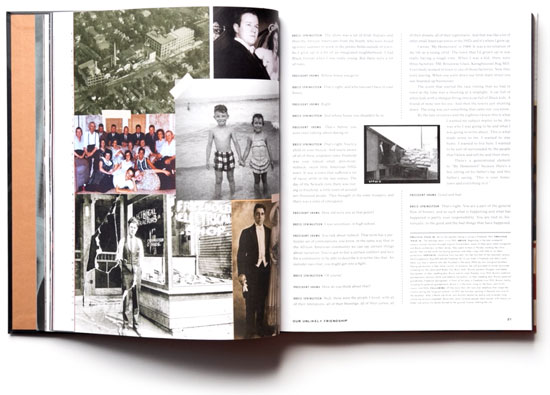 Bruce is honest and self-aware, too — for instance, about how his early romantic life was a series of short-lived trash fires, largely (he realized through psychoanalysis) due to a compulsive repetition of the family-aversion exhibited by his mentally ill father. Honestly, these dudes both could've skated on the emotional development front and still become men of great repute, but they knuckled down, married estimable and accomplished women, and raised families while undertaking the task of undoing the legacy of toxic masculinity that was handed down to them.
Although as Barack mentions in the book, Michelle Obama does nudge him to hang out with Bruce more, since she feels Bruce has "done the work." (Which I assume means Bruce is a little more therapized, and thus, evolved. Which, frankly, also takes some guts for a guy to admit in a book, so Obama deserves an Emotional Awareness gold star for that.)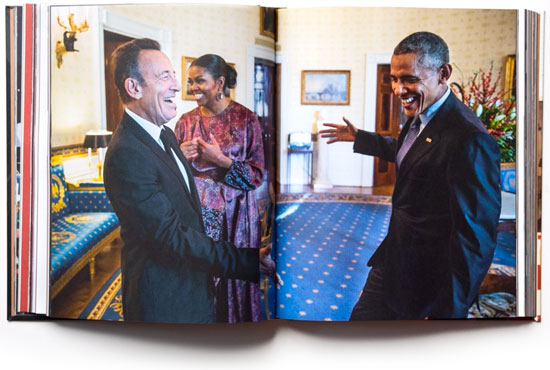 The topic of race in America, thoughtfully if cautiously explored, is broached as a wraparound for the relationship between Springsteen and beloved E Street Band sax player Clarence Clemons, who passed away in 2011. If you are enjoying Springsteen's current God, Ghosts, and Guitars thematic incarnation, as I am, you will find this section especially moving. The photos of the musical soulmates together will grip your heart.
Bruce goes deep on how race was an intractable barrier for Clemons throughout his life, yet despite that experiential chasm between them, they managed to form of those rare synergistic personal and artistic unions where the sum is greater than its parts (Bruce fans recognize this as the 1+1=3 equation). Springsteen's mourning of their earthly bond is on oblique display here, much as it is in the subtle Clarence-honoring sax riffs at the end of "House of a Thousand Guitars" and "Ghosts" on 2020s Letter to You. It is a way of keeping the Big Man alive.
While the book succeeds as something of a catch-all document of liberal Boomer perspective, its real triumph is in its representation of male companionship and emotional rapport. The give-and-take between the two men, building toward a commonality of experience and vision from wildly differing vantage points, is unique and compelling. What a shame that American culture has such a paucity of representations of deep male friendship, because seeing it exhibited in a way that is both open-hearted and civic-minded is deeply gratifying. If anyone needs a testosterone flourish, there's always the two friends tearing around Bruce's New Jersey farm in his vintage Corvette: Obama at the wheel, Springsteen shotgun, Secret Service agents in chase.
I loved this book, and, even at a fully packed 300 pages, I was sad when it ended. I passed my copy along to a friend who is a Bruce superfan, to her great delight. Seasonally speaking, that's news you can use. If you're thinking about holiday gifts for the Bruce enthusiast in your life (including yourself), any one of them would be happy to receive this book. Even your uncle who voted for Trump and gripes about how he wishes Bruce would "just stick to music," though he'll surely skip certain parts.
I'm not about to tell someone which format to purchase, since, in my view, any book read by any means is a good thing; however, the print edition does have a certain satisfying heft that one can't get from the digital version. The matte cover and pages have a soothing, masculine, almost 'zine-y feel, evoking the same vision of minimalist Americana found in Springsteen's video and film projects directed by Thom Zimny (glossy pages, with the fanciness and fuss they imply, would just be wrong). Unironic and unadorned, manly but devoid of dude-bro pyrotechnics or elusion, the design suggests that these two men, despite their worldwide celebrity, are down-to-earth and real.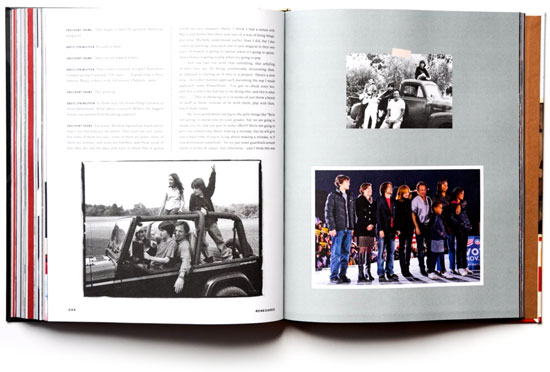 RENEGADES is more than a fancied-up recap of the podcast tossed together as a cash-grab. Thoughtfully expanded and illustrated, the book is an engaging and necessary conversation about America — the dream and the reality of it — that you can hold in your two hands, as well as powerful testimony to the generative power of friendship. Beautifully designed, rich in not just historical gravitas but also fan-geeky fun, and admirably more provocative than the assignment required, RENEGADES is politically seasoned comfort food. Consume with pleasure and let your soul be sated.

Before becoming a military spouse, Lily Burana was a columnist for the seminal punk zine, Maximum RocknRoll. In addition to Backstreets.com, her writing has appeared in The Washington Post, The New York Times, The Atlantic, and numerous other publications. She is the author of four books, including I Love a Man in Uniform: A Memoir of Love, War, and Other Battles (Hyperion), and most recently Grace for Amateurs: Field Notes on a Journey Back to Faith (W/Harper). Follow her at @lilyburana on Twitter and @lily_burana on Instagram.