February 10 / XL Center / Hartford, CT
Notes: Nine shows in to the 2016 version of the River Tour and, as on past tours, things are finally starting to loosen up. The big story is that, for the third show in a row, the post-album set featured the tour premiere of another River outtake. Although not everyone in the Hartford crowd seemed to either recognize "Loose Ends" or realize the significance of getting another lost classic, a powerful performance left the cognoscenti overjoyed.
The second item of note is that, for the second show in a row, Patti Scialfa was missing from the E Street Band, with no explanation from Bruce. Or maybe it was acknowledged by him, as "Bobby Jean" made an appearance in the encores for the second show running, serving as the vehicle for the band intros as well. Without Patti, Garry Tallent stepped up into the front row, and Bruce put him on the spot early on, calling for him to sing on "Out in the Street." Garry seemed as shocked as anyone, but he recovered nicely to squeeze the line in. Throughout the night, Garry seemed to be more animated, after being liberated from the back of the stage.
The River album itself is showing positive effects of repeated playings, with different arrangements of songs starting to make their way in. Bruce has poked fun at "Crush on You" in the past as being a lightweight throwaway. However, since it is being played every night, the song is starting to fill out, sounding for all the world like a great Rolling Stones cover. "The Price You Pay" emphasized Garry Tallent's bass, particularly on the last verse. "Drive All Night" included the repeated refrain "I just want to see you smile" from "Dream Baby Dream." And maybe it was just wishful thinking, but "Ramrod" seemed a little faster.
Bruce introduces the album section each night stating that he wanted the River album to feel like an E Street Band show. With these fresh, evolving arrangements — and don't forget the extended intros to "I Wanna Marry You" and "Point Blank" — this is happening, as the live version of the record becomes more and more like a setlist, as opposed to just an album being run through in order.
Something that is really apparent from listening to the album over and over again in a live setting is how saxophone-heavy The River is. Throughout the reunion era, Springsteen's compositions have trended away from the sax-heavy, classic E Street sound that turned Clarence Clemons into a folk hero. But The River album itself is dominated by Clarence's sax (as well as Roy Bittan's piano and Danny Federici's organ — when it was released in 1980, one of the most common observations about the record was how the guitar took a back seat). For any sax player, there's a lot of heavy lifting to do with The River as the setlist. Add in that Jake is the only horn on the stage (after playing with an entire section on the Wrecking Ball and High Hopes tours) and the job becomes even larger. Jake doesn't have Clarence's power, but then again, who does? After all, time and again, Bruce referred to Clarence as a "force of nature." There are times when the difference is noticeable on the album tracks. But Jake would probably the first one to acknowledge the huge shoes he's got to fill, night after night. His salute to his uncle before the solo on "Thunder Road" is a regular reminder of that.
The post-album set was heavy on material from Born in the U.S.A., as "Bobby Jean" and the usual "Dancing in the Dark" were joined by "No Surrender" and "Cover Me" which led off the second set. Although it was on the setlist, Bruce dedicated "No Surrender" to a deserving sign maker, who wrote "Chemo yesterday, The Boss tonight."
- Lowell D. Kern reporting - photographs by Barry Schneier
Setlist:
Meet Me in the City
The Ties That Bind
Sherry Darling
Jackson Cage
Two Hearts
Independence Day
Hungry Heart
Out in the Street
Crush On You
You Can Look (But You Better Not Touch)
I Wanna Marry You
The River
Point Blank
Cadillac Ranch
I'm a Rocker
Fade Away
Stolen Car
Ramrod
The Price You Pay
Drive All Night
Wreck on the Highway
No Surrender
Cover Me
She's the One
Loose Ends
Because the Night
The Rising
Thunder Road
* * *
Born to Run
Dancing in the Dark
Rosalita (Come Out Tonight)
Bobby Jean
Shout

February 8 / Times Union Center / Albany, NY
Notes: As the now-customary set-closer "Shout" was winding down at the end of Monday night's concert in Albany, I was fully prepared simply to go home, slip into my PJs, and write a normal recap of the show... until Bruce took an uncustomary break near the end of the song to survey the crowd one final time while repeatedly saying "Now all I got to say is... " Random people shouted back equally random responses, to which Bruce said "That's good... that's good too... "
And then he looked right at me.
"Alright, this one's going out to my man in the checkered shirt."
Wait, I thought to myself, I'm wearing a checkered shirt... and I'm a man! But no, I can't be his man — since I'm very aware that Bruce has perfected the ability to stare/point/gesture at various spots in the crowd that make multiple people think he's personally addressing them exclusively, I assume he must be talking about some other man in a checkered shirt. As such, I put on my best inquisitive face and tentatively point at myself, waiting for Bruce not to respond so that I can go back to my usual anonymity. Well...
"That's right — you brother!"
The crowd's eruption into cheers pale in comparison to the multiple nuclear bombs going off in every corner of my cranium.
"I see you every night... come backstage after the show! Let's give him a round of applause... "
The crowd's shockingly loud round of applause drowned out whatever Bruce said next on my mother's recording of the moment, as did the bells of joy ringing in my ears in the moment. I guess now would be a good time for some brief backstory:
Since I recently quit my job to pursue a lifelong dream of becoming a writer, I was afforded the rare yet incredible opportunity to follow Bruce and the band around to as many shows as possible on this tour. Though I'm not going to every show, I've been to every one thus far, which explains Bruce's "I see you every night."
Regarding the checkered shirt: I happened to be wearing it when I "won" the very first GA lottery in Pittsburgh, and being a superstitious fella, I've worn it to every show since, quickly becoming a rather lucky shirt for yours truly (I promise I wash the shirt in between every show... for the most part… and there's a t-shirt line of defense between the button-down and my profuse sweat every night. Thus ends my note to all of you hygienists out there).
But it wasn't only the checkered shirt that got me noticed by the Boss in Albany (and the other shows before that): I have been told on countless occasions — by people standing next to me and by people sitting way up in the rafters — that I'm by far the most expressively enthusiastic audience member in the building. I sing (hopefully not too loudly for those standing around me) all of the words, I dance to all of the songs, I jump up and down, I cry, I fist-pump, I air guitar, I do things that no one has figured out how to describe in words yet. Basically, I'm a joyous ball of energy, and apparently Bruce has taken note over the course of the shows on this tour, which is why he singled me out at the end of the evening in Albany in front of 20,000 fellow fans.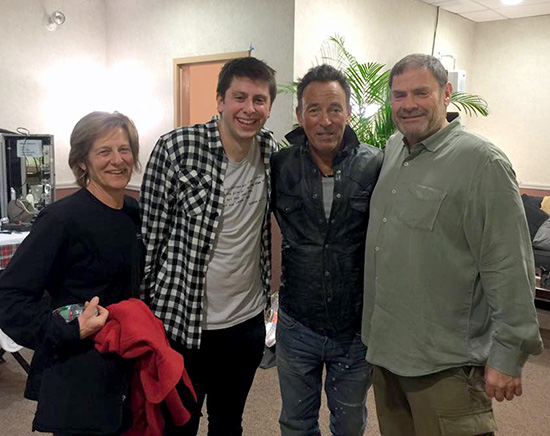 I won't go into detail as to what transpired during our backstage chat because that will stay between myself, Bruce, and my parents (who joined me backstage because I wouldn't be here without them for so many reasons — shout out to Bill and Margie Strauss!), but I will say that everything you've heard about meeting Bruce in person is 100% true. It can't be easy meeting so many people that consider you to be their hero, yet Bruce somehow exceeded my expectations, as he does with almost everything else.
I will say that he thanked me for the nightly passionate energy, which I only want to share because I think it's the moral of this story. I, more than most, have experienced this tour's relatively static setlists night after night, yet I've made a point not to let it diminish my love of these shows. I refuse to lose sight of the reason that made me decide to spend far too great a percentage of my money on all of these shows. You don't have to be Nostradamus to know that Bruce and the band have way more shows behind them than they do ahead of them, and I have reveled in the opportunity to see what may become some of the final concerts in the legendary reign of Bruce Springsteen and the E Street Band. I focus on the fact that future generations will kill to be able to experience any of these shows, in the same way that I would kill to be able to experience even the worst show on the Darkness tour.
I have these thoughts in the back of my mind every night. As such, it doesn't matter if I'm in the front row (thanks to the lucky checkered button-down!) or the back of the floor, I dance and sing and rock out like there's no tomorrow, because none of us really know how many tomorrows Bruce and the band — or any of us — have left. That's why I will throw my hands up every single night to come on up for The Rising, because in the future, I know I will give anything to be able to go back and experience just one more of these shows, setlist be damned.
So that's my plea to you: enjoy these shows as fully as humanly possible. I understand there's a lot to nitpick — as there always is with everything in life — but you're going to forget those nitpicks once Bruce and the band hang up their guitars for good. For now, dance until your body feels like it's going to collapse, sing until your vocal cords go hoarse, and rock out like you've never rocked out before. Bruce and the band clearly notice, and they feed off that energy, making all of these already incredible shows that much more special and memorable. You'll enjoy the shows more, Bruce and the band will enjoy the shows more, and we'll all go through this tour singing and dancing and rocking out in beautiful harmony as the increasingly death-defying E Street Nation. And who knows, maybe Bruce will even notice you. As someone I met on Monday night once wrote, "faith will be rewarded."
One final note about this whole ludicrous experience: the support that I felt from fellow fans both inside and outside of the Times Union Center in Albany on Monday night just made the evening that much more special. As I said before, the crowd's response to Bruce calling me out was overwhelming, as was everyone who came up to me to give me high-fives, hug me, call me their hero, etc. etc. etc. both as I was heading backstage and after the show as I was wandering around Albany in a complete daze of ecstasy. Instead of the expected jealousy, everyone seemed legitimately thrilled for me, and they all wanted to hear about what happened and to congratulate me; simply put, they just wanted to share in my special night. I've never felt more like a celebrity, and I think that's what's most unique and amazing about the community that Bruce's music has created: it can make an average joe like me feel like a special member of an even more special community of like-minded fans of the Boss. In a time that feels like people are more divided than ever, it was an unbelievable experience to feel like I'm a part of something that transcends everyday petty differences: an ardent love of the gospel of Bruce Springsteen and the E Street Band. And that's a love that nothing — not even the inevitable mortal hands of Father Time — can take away from us.
And now, back to our regularly scheduled recap (I'll try to be as objective as possible):
Throughout his career, one of Bruce's calling cards has been writing songs about "little" people, everyday folk who struggle to get through their days on the peripherals of society and who very rarely have songs written about their daily existence. Though the capital of the great state of New York, Albany can be considered a "little" city that few would mark as a must-visit destination on a tour itinerary.
And yet, rather fittingly, Bruce has a tendency to play memorable, gangbuster shows in such oft-overlooked working class cities full of the type of people that become the everyday romantic characters permeating his music. Bruce and the band's concert in Albany was yet another example of this uniquely Boss phenomenon, for they ripped through yet another outstanding outing at the Times Union Center on Monday night, one that may prove to be the first step towards really varying the setlists from night to night.
This setlist diversity was hinted at even before anyone was allowed into the arena: "Murder Incorporated" plus two River outtakes were sound checked: "Loose Ends" and "Be True." Though I was anxious to see which of these he was going to bust out for Albany, first came yet another marvelous full album River performance.
The most notable difference tonight: the absence of Patti Scialfa, who took the night off, allowing Garry to move down to occupy her space next to Steve on the front line (for all you Tallent-watchers, never fear: the move did not change the shade-wearing W's cool and collected energy one iota). Though Patti's background vocals were definitely missed on multiple songs (Jake replacing her part in the callback section of "Out in the Street" was priceless), Bruce made up for it by adding a few new bits into his usual song introductions, most memorably during his trip down memory lane before "I Wanna Marry You" when he asked the audience, "Who remembers their first kiss?!" and then immediately responded to himself with a chuckle, "Everyone remembers their first kiss... I remember all of my first kisses!"
Once they finished up "Wreck on the Highway," I was fully expecting them to launch into one of the soundchecked River outtakes, thereby cementing that spot in the setlist as the place to expect an outtake after premiering "Roulette" there in Boston on Thursday. And yet Bruce ended up skipping over the setlisted "Loose Ends" in favor of heading right into "Badlands." Though it's odd seeing such a landmark concert mainstay pop up in the middle of a set, Bruce must have had a very clear reason for making this quick decision: he likely sensed that sides 3 and 4 of The River— full of slow, beautiful ballads — had somewhat lost the Albany crowd, culminating in someone in the pit shouting, "If you want to talk, go outside!" to all those chatting their way through "Stolen Car." Bruce might have sensed the crowd's detachment from the material even earlier, as he decided not to ask for audience sing-alongs during moments when he usually does just that.
Though the diehard fans obviously want to hear those outtakes, Bruce must have recognized that he first needed to once again engage the vast majority of casual fans packed into the Times Union Center (as great as "Roulette" was in Boston, it didn't really land with that crowd in that slot). He followed up "Badlands" with "Wrecking Ball" and a soulful "Backstreets." Finally, he was ready to premiere another outtake; this time, he chose "Be True," introducing it as "a good one that got tossed in the trash, as many do" before dedicating it to "all our special friends." A fantastic performance of this beloved B-side led into "Because the Night," a great live song that felt a bit out of place here. Truthfully, this entire post-River song sequence felt oddly paced — full of strong songs, but played in a weird order.
And this brings me back to Bruce's dedication before "Be True" to "our special friends." I couldn't help but think he was talking to the diehards, whom he's clearly playing the outtakes for, but he hasn't fully figured out how to best fit them in yet. As such, he directed "Be True" to all of us — if we stick with him as he figures out the best way to vary up the post-River part of the show, he'll be true to us by continuing to play more and more rarities. That's how it struck me, anyway.
Yet I don't think anyone expected that he'd play another rarity so soon. I assumed "The Rising" would be the start of his same ol' song sequence through "Shout" — a belief that was only bolstered when he didn't replace the customary encore-starting "Badlands" with anything — but Bruce yanked a sign from the crowd after "Born to Run" and launched into the tour premiere of a raucous and hard-rocking "Detroit Medley." The diehards loved it, the casual fans loved it, everyone loved it. This simple diversification of the encores really added an extra oomph to the final stretch of the night.
Another surprise was in store before the end of the show as well: the return of "Bobby Jean" after only previously being played on the first night of the tour. With another fresh jolt of energy behind him, Bruce had the whole arena throwing up their hands and "Shout"-ing before the night was through.
Though they may not have yet figured out the best way to diversify the setlist after their monumental performance of The River, they're damn sure working on it, and my is it fun to watch them work every single night.
- Steven Strauss reporting - photographs by A.M. Saddler
Setlist:
Meet Me in the City
The Ties That Bind
Sherry Darling
Jackson Cage
Two Hearts
Independence Day
Hungry Heart
Out in the Street
Crush On You
You Can Look (But You Better Not Touch)
I Wanna Marry You
The River
Point Blank
Cadillac Ranch
I'm a Rocker
Fade Away
Stolen Car
Ramrod
The Price You Pay
Drive All Night
Wreck on the Highway
Badlands
Wrecking Ball
Backstreets
Be True
Because the Night
The Rising
Thunder Road
* * *
Born to Run
Detroit Medley
Dancing in the Dark
Rosalita (Come Out Tonight)
Bobby Jean
Shout

February 4 / TD Garden / Boston, MA
Notes: It hardly feels like a Boston show without the appearance of Peter Wolf, so it's a good thing the J. Geils frontman got to come up at the end of the night and shake his tambourine on "Shout." Fans at the Gahden, 17,000 strong, had just thrilled to another marathon night with the E Street Band, high-energy Springsteen classics in the final stretch taking the show to the three-and-a-quarter-hour mark. You know, business as usual.
For us, the big takeaway of the night was about a four-minute pocket, mid-set. It was right after The River, when Bruce pulled out the tour debut of "Roulette" — a fist-pumping move for multiple reasons. A thrilling live cut just on its own merit, it's also the first River outtake that they've tapped for this tour besides the nightly opener "Meet Me in the City."
Springsteen stated his intentions before the tour started: "We'll play the record start to finish, and then we'll play some of the special outtakes that are there, and we'll play some favorites..." So we've been waiting eagerly for those special outtakes, with so many powerful, "lost" 1979/80 cuts just itching to be played. Whether or not "Roulette" opens the floodgates, it felt good just to hear him say the words after "Wreck on the Highway": "This is the first song we cut for The River. Never made it onto The River, but it should have." So this night's album performance, as magnificent as ever, was for the first time bookended by outtakes from the era.
Some of the double album's 20 tracks ("Fade Away," "Stolen Car", "Drive All Night") are bound to be highlights for me every time, guaranteed, and "I Wanna Marry You" has become a surprise cornerstone of the whole album sequence. But other contenders vying for attention are shifting from night to night. "You Better Not Touch" was blistering in Boston. It was unusual to hear Bruce harmonizing with Patti on "The River," being accustomed to hearing Steve's voice there, but it was a standout moment.
Strong contributions from Patti tonight all over, who besides being the backbone of the band's choral vocals also joined Bruce at center mic on "Because the Night" and "Human Touch." These kept energy high after another monumental "Candy's Room" (it's amazing what that one does to a crowd these days), and Mr. & Mrs. S.'s vocals on the "Because" bridge were tight. In slot 27, "Human Touch" was the first post-1980 song of the night; it fits right in with the River themes, though, and it's still a blast to hear the E Street Band take this one on. When it all kicks back in at the end, it kills. And while Nils, of course, killed as well on his "Because the Night" solo frenzy, the guitar hero of the night was really Bruce himself, with monster leads on songs like "Prove It All Night," "Candy's Room," and "Human Touch."
There were two charities in the house this night, with the Greater Boston Food Bank joined by The Food Project. A champion of the latter, serving on their board of trustees, was the late wife of longtime tour manager George Travis, and Bruce made sure to note the connection: "The Food Project was Lenore Travis's passion."
- Christopher Phillips reporting - photographs by Barry Schneier
Setlist:
Meet Me in the City
The Ties That Bind
Sherry Darling
Jackson Cage
Two Hearts
Independence Day
Hungry Heart
Out in the Street
Crush On You
You Can Look (But You Better Not Touch)
I Wanna Marry You
The River
Point Blank
Cadillac Ranch
I'm a Rocker
Fade Away
Stolen Car
Ramrod
The Price You Pay
Drive All Night
Wreck on the Highway
Roulette
Prove It All Night
She's the One
Candy's Room
Because the Night
Human Touch
The Rising
Thunder Road
* * *
Badlands
Born to Run
Dancing in the Dark
Rosalita (Come Out Tonight)
Shout

February 2 / Air Canada Centre / Toronto, ON
Notes: Bruce Springsteen and the E Street Band's lone jaunt to the Great White North reaffirmed many age-old truths, but perhaps none more so than the classic adage: "You had to be there." Though setlist watchers will undoubtedly harp about the fact that the closest the show came to a tour premiere was the briefly soundchecked "Spirit in the Night" (the band played less than 30 seconds of it), those lucky enough to have actually been inside of Toronto's Air Canada Centre on Tuesday night were treated to one of the most raucous, intense, and flat-out joyous evenings so far on this tour.
Beginning with his now-customary "Meet Me in the City," the line "calling out nation to nation" took on added resonance when sung from the other side of the border. Though some have complained about the fact that the lights remain on during the song, the effect perfectly introduces the idea that he says is at the heart of The River: building a community through music. Being able to see everyone inside of the packed-to-the-rafters arena highlights how much the song is truly a rallying cry to everyone, young and old, to come with him and the band down to the river.
And they took us all the way down in Toronto. Though the band's performance of The River started off shockingly strong in Pittsburgh, somehow it keeps getting better. They've really found a way to simultaneously tighten their performance while still finding new times to add brilliant flourishes throughout. Those seeing the tour for the first time will revel in being able to enjoy one of Bruce's greatest albums played front to back, while the die-hard fans dabbling in repeat viewings are afforded the opportunity to notice these small yet powerful nightly adjustments.
In Toronto, they included Nils and Stevie's fantastic (albeit all-too-brief) guitar duel, at Bruce's behest, during an especially rambunctious "Cadillac Ranch"; the whole band lining up with their backs to the audience during "Ramrod" to show how they can literally "shake their booties"; and Bruce throwing in a few "dream baby dreams" within an increasingly breathtaking "Drive All Night."
Besides giving the band ample opportunities to shine, the songs on The River also call for the most audience participation out of all of his records, which brings us back to the community-building nature of the album. Perhaps partially because they knew exactly what songs to prepare for going into the show, the Toronto crowd was by far the most engaged and vocal of the tour. The River is stuffed to the gills with sing/chant-alongs, and Toronto — unlike other crowds who seemed to sit back and wait for Bruce to impress them — was exceedingly eager to show Bruce how impressed they were by singing loudly throughout, even garnering a stated "A+!" grade from Bruce after the "Hungry Heart" sing-along.
Could Bruce appease the die-hards by throwing in more rarities following The River? Of course. But I think it's very telling that he continues — especially last night — to play songs that are so conducive to mass audience participation. This show's oft-played yet still absurdly strong selection of songs — "The Promised Land," "She's the One," "Candy's Room," and "Because the Night" — combined with the tried-and true-run from "The Rising" through "Shout" all demand and were greeted with rapturous participation from 20,000 fans. Having perfected his ability to make everyone in the house feel included in the show, constantly playing to those sitting behind the stage, Bruce creates a unified E Street community within the arena every single night, none stronger than what was felt in the ACC on Tuesday.
- Steven Strauss reporting - photographs by Lisa MacIntosh
Setlist:
Meet Me in the City
The Ties That Bind
Sherry Darling
Jackson Cage
Two Hearts
Independence Day
Hungry Heart
Out in the Street
Crush On You
You Can Look (But You Better Not Touch)
I Wanna Marry You
The River
Point Blank
Cadillac Ranch
I'm a Rocker
Fade Away
Stolen Car
Ramrod
The Price You Pay
Drive All Night
Wreck on the Highway
The Promised Land
She's the One
Candy's Room
Because the Night
Brilliant Disguise
The Rising
Thunder Road
* * *
Badlands
Born to Run
Dancing in the Dark
Rosalita (Come Out Tonight)
Shout
January 31 / Prudential Center / Newark, NJ
Notes: If last night's show at the Prudential Center in Newark was your first/only show of the tour, you surely walked out blown away by the power and the glory of Bruce Springsteen and the E Street Band. An outtake to open the show, followed by a masterful performance of The River album. A second half that featured three tour premieres ("Lonesome Day," "Working on the Highway" and "Atlantic City"), a mid-set song featuring Patti Scialfa on vocals ("Human Touch" in that slot) and a collection of Bruce's most loved songs, including a rare encore appearance of "Badlands." Crowd sing-alongs throughout, crowd surfing on "Hungry Heart," mugging to the crowd (with "Ramrod" and "Rosalita" being just two prominent examples) and two members of the crowd on stage for "Dancing in the Dark." And while Bruce's performance may appear to be slightly less physical than in the past, you could still marvel that a 66-year-old man can lead a band of his contemporaries through a three-hour-and-15-minute extravaganza that would leave most rock stars of any age breathless.
But if, like many Backstreets readers, night five of the tour wasn't your first show on this run, or if you are planning on seeing multiple shows as this tour extends into April (and beyond), mere statistics aren't as impressive. The outtake is the same one that has opened every show, and "Meet Me in the City" appears locked into that position. It also maintains the distinction of being the only outtake played on a tour in support of a box set that features more than 25 songs that were recorded for, but didn't make, The River. The 20-song album sequence on its face isn't going to change. And seven of the dozen or so songs that follow the album set appear to be every-nighters as well.
So what makes repeated attendance at these shows so compelling is the way in which the album sequence is presented. When most people get a new album, they listen to it multiple times. Maybe once or twice just to get a feel for the songs, and then you get into it deeper, finding individual favorites, brilliant lyrics, hidden gems, a musical phrase that catches your ear and, particularly, in the case of a Springsteen record, a theme that holds the whole thing together. Seeing multiple shows on this tour gives the listener the chance to do just that with the two-record masterpiece that is The River, but in a live setting, which gives the songs plenty of room to breathe.
It appeared that most of last night's home state crowd enjoyed the first two sides of the album more. Filled with uptempo rockers, it's easier for a concert crowd to get into. After all, being forced to listen to contemplative ballads in a room with 20,000 other people, each of whom have their own agendas and interests, can be a challenge at times. But if you can lock yourself in and ignore the conversations and picture taking going on around you, sides 3 and 4 of the album contain some of Springsteen's most masterful creations. The sequence starting with "Fade Away" through the closing "Wreck on the Highway" requires you to pay attention or you'll miss a lot of what makes repeated performances of The River worthwhile.
This six-song sequence is made up of five songs that were not concert staples in years past. In fact, those five songs — "Fade Away," "Stolen Car," "The Price You Pay," "Drive All Night" and "Wreck on the Highway" — barely survived the first leg or two of the original River tour. With Springsteen committed to the sequencing of the record, that's five songs that are relatively obscure to all but the most die-hard fans. And with the exception of a version of "Ramrod" which is played at the speed of a '32 Ford instead of a 2016 Ferrari, they are all slower/quieter songs. It's hard even for Bruce Springsteen to hold a crowd together for that kind of stretch.
But if you can do it, and just lock in with the band, it is oh so worth it. You can make connections between the songs that you wouldn't ordinarily get in a live setting.
Listening to "Fade Away" and "Stolen Car" back to back, night after night, drives home how the two songs are polar opposites in describing the end of the kind of adult relationship Bruce says he wanted to write about on The River. "Fade Away" takes more effort to actually listen to, as the crowd is still catching its collective breath after the back-to-back punch of "Cadillac Ranch" and "I'm a Rocker." But there was a reason it was the second single off of the album 35 years ago, as the pain in Bruce's voice highlights the lyrical pain of losing something you wanted to hold on to.
"Stolen Car" is the anomaly of the group, featuring a protagonist that is running away, instead of trying to hold on to what he has. The different viewpoint it presents is jarring after the desire in "Fade Away." And to their credit, last night's Jersey crowd even found a positive use for cellphones on "Stolen Car," lighting up the arena like fireflies, to a nice effect, even if it seemed a lot friendlier than the song reflects.
After "Ramrod," a friend turned to me and said ecstatically, "I can't believe we get to hear this song every fucking night!" as the band launched into the lost classic that is "The Price You Pay."
"Drive All Night," featuring Jake Clemons on his most moving sax solo of the night, could be the same protagonist as "Fade Away," trying desperately to hold on to a relationship by promising just about anything. And the protagonist in "Wreck on the Highway," which may be the scariest song Springsteen has ever written, is literally trying to hold on to his loved one, in the face of the outside world trying to take it all away.
Presented live in an arena, it takes more to hear the connections between these songs than it does with a pair of headphones in a dark room. But they have such a vibrancy in a live setting that it makes repeated listenings, even at the cost of a ticket and travel, worthwhile.
On a separate note to those who may be attending future/multiple shows on this run, pay attention to the venue emails and Backstreets.com, as the general admission process is experiencing problems that haven't been around since the Rising tour. A change in the personnel handling the fan GA line has led to confusion about the process, and communication between the tour and venue doesn't seem to be as sharp as it was. Stay alert if you are doing GA, as this situation bears watching.
- Lowell D. Kern reporting - photographs by A.M. Saddler
Setlist:
Meet Me in the City
The Ties That Bind
Sherry Darling
Jackson Cage
Two Hearts
Independence Day
Hungry Heart
Out in the Street
Crush On You
You Can Look (But You Better Not Touch)
I Wanna Marry You
The River
Point Blank
Cadillac Ranch
I'm a Rocker
Fade Away
Stolen Car
Ramrod
The Price You Pay
Drive All Night
Wreck on the Highway
Lonesome Day
Working on the Highway
Atlantic City
Human Touch
Wrecking Ball
The Rising
Thunder Road
* * *
Badlands
Born to Run
Dancing in the Dark
Rosalita (Come Out Tonight)
Shout

January 29 / Verizon Center / Washington, DC
Notes: Filing into the Verizon Center Friday night was the first time I'd attended a Bruce Springsteen show knowing the first 21 songs in the setlist, and I had a decent idea of the songs that would follow. There was the Tunnel of Love Express tour in 1988, and in some ways this tour has a similar strategy: a stated objective, a unified theme along with a limited, but now growing series of one-night stands. So where would the spark come from? What would make the show exciting?
But first, filing into the Verizon Center wasn't all that easy. What is it about DC Springsteen shows and getting to your seats? Nationals Park was a chore back in September of 2012, too. Tonight the doors didn't open until 6:55 p.m., though tempuratures were in the 30s and lines were all around the venue. Perhaps to compensate, the show didn't begin until well after the recent start times of 8 p.m.
Hitting the stage, Bruce and the band tore into "Meet Me in the City," a song that's certainly unknown to a large portion of those in attendance and yet it's so obviously "Springsteenesque" that it sets the house rocking from the get-go. "Did you survive the blizzzzzzzaaard?" screamed Bruce to the Verizon Center. What was immediately apparent was how good the sound in the building was. "Meet Me In The City" has everyone on stage firing away, and the separation was significant. Whether this is a new sound system or a new way of mixing the show, it's noticeable and only gets better as the show reveals itself through the moodier numbers.
You'd think that performing The River, a 35-year-old classic, would be a no-brainer. But as has been mentioned before, this is a fully realized performance of this album. Everything we see and hear is specific and deliberate. The backing vocals of Soozie, Nils, Steven and Patti were stunning. The eerie blue-green lighting at the end of the song "The River" combined with Bruce's "Lift Me Up"-like falsetto is haunting.
As time goes by and you experience so many songs in a Springsteen show, there are always one or two that hook you into wanting to return. During the 1999 Reunion tour I went to multiple shows just to hear "Land of Hope and Dreams" each night. On this tour, I'll try to catch shows just to hear "Stolen Car." Roy's piano lines sound like a lover's tears hitting the street at night; lonely, delicate and fragile. Combined with Garry Tallent's bass, perhaps the MVP of the E Street Band on this tour, Bruce sings what I think are the saddest, most universally relatable lyrics he's ever written. Crushing.
Am I the only one who got a Van Morrison "Madame George" vibe during "Drive All Night"? I was reminded of Bruce telling Backstreets that while he's never attended a full album show, he did watch Van Morrison's performance of Astral Weeks on DVD. I'll need to catch that to see what kind of influence Van's performance had on The River 2016 Tour.
It was also apparent that Bruce has thought hard as to how he's going to communicate to the audience. Gone are any "preacher raps" of the last dozen years. Bruce talks a lot more to the crowd, and it's very much in the voice of the characters. As Springsteen wraps up the album performance during "Wreck on the Highway," he gives the audience a postscript of sorts, summing up his intentions. Again he's speaking in the straightforward voice we heard in the 1984/1985 live renditions of "Racing in the Street" ("So that was the night that we left. We don't know where we're going yet, but I guess that will come in time....")
From there it was a barn burner, with a swath of songs getting their tour debutes. "Darlington County" turned DC into a roadhouse. "Prove It All Night" followed by "The Promised Land" had some hankering for a Darkness album experience. But the real highlight was "Tougher Than the Rest." Talk about an album that's been underrepresented in concert for so many years. Watching Bruce and Patti singing distant and then at the same mic was sublime. Springsteen changed the lyric from "Maybe your other boyfriends couldn't pass the test" to "Maybe some of your men couldn't pass the test." A small thing, but enough that he wanted to change it.
A shout-out for the DC Central Kitchen and the large group of Veterans in the house preceded Bruce's dedication and performance of "No Surrender" to Bobby Muller.
And though I may have tired of "Rosalita" over the years, tonight I was glad she was back. It was fun watching Patti and Soozie girl-grouping it on Patti's mic while Nils, Jake, Bruce and Steven contorted their faces every which way for the crowd. "Shout" may have seemed like too obvious a choice to close out a show, like maybe something Huey Lewis & The News would do. But it's really all about vamping and strutting and getting the crowd into it. Ending after 11:30 p.m., the crowd was well into it.
Where did the spark come from? Where did the excitement reveal itself? It was all on the stage and in the building.
- Bob Zimmerman reporting - photographs by Guy Aceto
Setlist:
Meet Me in the City
The Ties That Bind
Sherry Darling
Jackson Cage
Two Hearts
Independence Day
Hungry Heart
Out in the Street
Crush On You
You Can Look (But You Better Not Touch)
I Wanna Marry You
The River
Point Blank
Cadillac Ranch
I'm a Rocker
Fade Away
Stolen Car
Ramrod
The Price You Pay
Drive All Night
Wreck on the Highway
Darlington County
Prove It All Night
The Promised Land
Tougher Than the Rest
Wrecking Ball
The Rising
Thunder Road
* * *
No Surrender
Born to Run
Dancing in the Dark
Rosalita (Come Out Tonight)
Shout

January 27 / Madison Square Garden / New York, NY
Notes: Holding his guitar aloft during the "Meet Me in the City" breakdown, Springsteen greeted the crowd: "Hello, snowbound New York! Did you survive?" The answer, of course, was affirmative, even if snowbanks are still melting messily all over town, and the first night of this two-night stand will have to be resuscitated in March. After Sunday's postponement, on what was to be Night Two, Springsteen and the E Street Band came on at 8:10 to give The World's Most Famous Arena a white-hot show worth waiting for.
The River portion of the River Tour may prove not to be for everyone — there were times during the quieter stretches of tonight's album sequence when the Garden might as well have been a coffeehouse, with the chat level in the audience. But the crowd proved their mettle after "Wreck on the Highway," with a locked-in enthusiasm that clearly buoyed Bruce and the band, creating one of those thrilling in-concert energy feedback loops to the stage and back. This was the toughest ticket of the tour, everyone in the packed "big room" was lucky to be there, and that's when the crowd as a whole felt it, and showed it. A classic Springteen concert tends to ask a lot of the audience along the way, with some trips into the darkness and the reward of blowing it all away in the encore; tonight that euphoric blowout lasted a full hour, the whole final third.
So it's a stronger show when the album doesn't have to carry the night. But the River sequence, back in the venue where it was debuted live in 2009, was no less magnificent for it. The band's rich backing vocal harmonies, a key element of so much of the River material, were even more prominent and on-point tonight, from the first chorus of "The Ties That Bind." The musical highlights just start piling up as The River rolls on: Jake's solo flowing into Stevie's flamenco-flavored lead on "Sherry Darling," the rhythm section on "Jackson Cage," with Max's steady propulsion punctuated by monster fills, working in tandem with Garry's complex basslines and giving Roy's piano something to ride. By "Two Hearts" — zipping along, no drag — my buddy J.P. and I were raising eyebrows at each other at the pace and the power.
Quieting things down with "Independence Day" is when the crowd issue reared its head, though. A constant buzz of chatter on this one — and really, on every slower song: "Stolen Car," which didn't suffer for it, and "Point Blank," which did — revealed that this was not an audience that wanted things a little bit softer now. It definitely affected the experience. I was waiting for the magic of that final verse of "Point Blank" that plays so effectively in the Ties That Bind doc, but in this venue it might as well have been background music. The irony, as Springsteen sang "it was hard to hear / The band was playing loud and you were shouting something in my ear," was not lost.
Even so, The River keeps revealing things in performance. It wasn't until last night, the second time I heard Bruce introduce "Independence Day" as "a conversation," that I realized the second verse and chorus could be the voice of the father. Maybe I'm slow on the uptake, but I'd always heard the song as a monlologue rather than a dialogue; it's a trick that Bruce would use more later in his career, shifting perspectives from one verse to another (think "Paradise" on The Rising), but it never occurred to me before on "Independence Day." It's just one of the aspects of The River this tour has opened up for me — even if it felt like only the minority was paying attention.
But get back to the rockers, and the crowd was right there. Who knew "Crush on You" would be a sing-along? Bruce went back and forth with the mic as the people shouted along — "got no style!" "meek and mild!" He joked with Steve before the song about it being his "masterpiece," but it really does have its place. It's a fun stretch, from the surfing on "Hungry Heart" to Bruce and Stevie trading off "Prove It"-style "yeah! yeah!" vocals on "You Can Look," and it played very well in the big room.
With a little snafu as Bruce tried to transition the band from his story into "I Wanna Marry You," it was a kick to watch him realize in real time and admit what the problem was. "We're gonna try that again — even the tightest band in the world sometimes fucks it up!" A few beats later, and you could see it hit him — Bruce himself had forgotten the "Here She Comes Walkin'" intro. "Oh!! I fucked it up!" he laughed. "I was ready to blame others... but I fucked it up. Because I was supposed to be doing this: Here she comes, walkin' down the street...." Good thing he remembered, because it's one of the continuing highlights of the River set, a beautiful duet with Steven, their cascading vocals intertwining: "Little girl, little girl, little girl, little girl..." "Didn't wanna leave that out!" he laughed at the end — and you better you bet.
Stevie's contributions are piling up, too, beyond the expected "Two Hearts" palling around or "Ramrod" roadhousing, as his commitment to this material really shines through. More of these songs are becoming duets: whether it's his vocals or his guitar, Steve is constantly right there as a regular counterpoint to Bruce. His 12-string and his harmonies on "Fade Away" (that's one to cue up when the NYC download drops), his noir guitar on "Point Blank"... "Drive All Night" is turning into another Bruce & Stevie showcase too. At least until Jake steps up to blow the whole fucking place apart.
Living with these songs and playing them night after night finds them opening up, with "Drive All Night" a case in point: Bruce is playing around a little more now with the vocal, with melody and phrasing, and it's a good indication of how the songs can start to breathe when they're not relegated to rarity status. As Bruce and the E Streeters keep at this material they've played so rarely since 1981, they're breaking it in like a new pair of shoes. Another nice touch was Bruce's dedication of "The River" to his sister Ginny and her husband, who inspired the song and were in the house: "I'm gonna sing this song tonight for my sister — gonna sing this for my sister and her husband Mickey."
"So that's the River!" Bruce said to rousing applause after "Wreck on the Highway," before adding, "I'm gonna carry on for a while." The crowd cheered, but I'm not sure anyone expected that "carrying on" to blow the night wide open as it did. Setlist watchers surely couldn't have gathered it. But soon the cheers were a roar. "She's the One" got things off to a good start, but it was "Candy's Room" where we really achieved liftoff. When the lights came up on the crowd just as everyone threw their hands in the air and shouted "Baby if you wanna be wild!"... it felt like a jet engine. It's easy to get all hyperbolic when writing about a Springsteen show, and I try to be conscious of it; so after the song I turned to J.P. just to doublecheck: "Did you feel that too?" He said, "Yeah, it was like the solid rocket boosters on a shuttle launch." Exactly. Liftoff.
And from there it was relentless. It felt like the band hardly paused for breath between songs from here to the end. Apparently Bruce dropped "I'm on Fire" from the written setlist, and even if that meant we were a song or two short (hooray, no classic rock legends died this time!), it was the right call. Much as I'd love to hear that Born in the U.S.A. track, it would have been a momentum-killer; as it was, the momentum felt unstoppable. It fueled "Because the Night" — Nils's solo, never perfunctory, was just face-melting. It fueled a punchy "Brilliant Disguise," a monumental "Wrecking Ball," "The Rising" — "he's not stopping for anything!" — and a "Thunder Road" where you could particularly feel the direct cause and effect of all the energy in the room: as the entire building shouted "pulling out of here to win," it propelled Bruce's leap into the air.
The rocket ride continued through the end of the encore, lights up all the way, as Springsteen pulled two different gals up to dance, and his wife got a dancing partner, too: Bruce couldn't resist a sign that read "This Aussie goes batty for Patti!" (though eventually he had to give the batty Aussie the boot). "Rosalita" was an absolute joy. There are nights during "Rosie" when you can see Bruce working hard, even forcing things a bit to try to get everyone's energy up, like, "Okay, now we need to get crazy..." Sometimes that's what a showman's gotta do. But with the energy level already in the crazy zone — certainly on "Rosalita," and well before it, too — the joy was in seeing Bruce just get to be in the moment, riding those waves. Not working. Playing.
- Christopher Phillips reporting - photographs by Barry Schneier
Setlist:
Meet Me in the City
The Ties That Bind
Sherry Darling
Jackson Cage
Two Hearts
Independence Day
Hungry Heart
Out in the Street
Crush On You
You Can Look (But You Better Not Touch)
I Wanna Marry You
The River
Point Blank
Cadillac Ranch
I'm a Rocker
Fade Away
Stolen Car
Ramrod
The Price You Pay
Drive All Night
Wreck on the Highway
She's the One
Candy's Room
Because the Night
Brilliant Disguise
Wrecking Ball
The Rising
Thunder Road
* * *
Born to Run
Dancing in the Dark
Rosalita (Come Out Tonight)
Shout

January 19 / United Center / Chicago, IL
Notes: The last time Bruce Springsteen and The E Street Band appeared in Chicago, in 2012, it was a very rainy evening at Wrigley Field on the Wrecking Ball tour. The weather for tonight's show in the City of Big Shoulders was incredibly cold, if dry, but it didn't take long for the crowd to warm up a packed United Center. After taking the stage shortly after 8:00pm, Bruce and the band launched into "Meet Me in the City," which had fans going from the first chords and chanting "Alright!!" During the first song's bridge, Bruce exhorted the crowd with "Chicago!!" and told us it's "his kind of town"; the fans reciprocated the love all night, for well over three hours.
When the band last stopped at the United Center, in September of 2009, it was the Working on a Dream tour's debut of the full album concept, with the first start-to-finish rendition of Born to Run outside New Jersey. This time, Bruce took another masterpiece off his bookshelf and played The River from start to finish in all its glory, sadness, elation, celebration and sorrow. The recorded double album contains 20 songs and clocks in at roughly 83 minutes. Live, it has run for nearly 2 hours on the first two stops of the tour, much of the overtime from Bruce's narrative before a few songs, crowd surfing during "Hungry Heart," and an extended intro of "Here She Comes" into "I Wanna Marry You." In addition to the 1980 River tour, this arrangement can also be heard on The Ties That Bind documentary from footage taken at Max's wedding in 1981. The arrangement has a very Drifters-esque feel to it, with latin beats, piano work from Roy, and Bruce and Jake playing the maracas.
With each sax solo, Jake would come to the center of the stage with the crowd cheering loudly every time, and he impressed with standout solos on "The Ties That Bind," "Night, "and "Thunder Road." Soozie added a whole other layer of sound with her fiddle solo on "Cadillac Ranch," which also featured searing guitar solos from Nils, Steve and Bruce. A real high point for me was the performance of "Point Blank," with an incredible piano introduction from Roy, exceptional guitar lines from Steve, and Bruce's vocals. After a haunting "Stolen Car," the band bit into "Ramrod" with glee and abandon, and the crowd gladly got into the action, too. A fan sitting next to me exclaimed, "This is one of his most underrated songs," and I have to agree after seeing this live version with Bruce and Steve mugging at center mic, Nils grooving while standing next to a beaming Max on the drum riser, and Bruce performing a slide guitar solo sans a finger slide. "Drive All Night" was a stunner with the passion in Bruce's voice and another incredible solo from Jake. Having heard it twice now on this tour, one could argue that "Drive All Night" is The River's "Jungleland" in its complex arrangement, epic sweep, and monumental sax solo.
Max's drumming tonight was incendiary. The man "who brings the power night after night" was smiling from the first downbeat until the last, adding fills I've never heard before in some songs and driving the entire band from song to song, most especially on "I'm a Rocker," "Night," "No Surrender" and "The Price You Pay." You'll note that two of those weren't played in Pittsburgh; Springsteen completely switched out the first five post-River songs in Chicago, with "Night" taking the place of "Badlands," a doubleshot of Born in the U.S.A. tracks in "No Surrender" and "Cover Me," along with "She's the One" and a rare "Human Touch." Some hot guitar playing from Nils on "Cover Me," playing with his teeth and dueling with Bruce. This being only the second show of the tour, that should answer at least some fan concerns regarding the tour's post-River setlist.
"No Surrender" hit a bit of a speedbump, and after two false starts, Bruce said, "I forgot how it goes!" before tearing into the guitar solo. Max pushed the train back on track with his thundering fills, and the crowd showed their approval and appreciation for a band that rarely makes mistakes. There were a few sign requests in the crowd, including one for blues staple "Sweet Home Chicago," though Bruce didn't pull or play any sign requests (fans may want to keep their signs at home this time around). But it was good to hear so much different material following The River — and while it's hard to imagine cornerstones like "Thunder Road," "Born to Run" and "Dancing in the Dark" leaving the set, it'll be interesting to see whether songs like "The Rising," "Rosalita," and "Shout" will retain their spots each night. That said, the fan sitting behind me nudged me after "The Rising" and exclaimed, "I don't know how any band can sound better than the E Street Band has played tonight." Indeed.
For the second encore, the lights were lowered to a single spotlight on Bruce as he strummed an acoustic guitar and the beginning chords of "Take It Easy," in tribute to Eagles co-founder Glenn Frey (and the song's co-writer, along with Jackson Browne), who passed the day before. At past concerts — including Saturday's in Pittsburgh, where he played "Rebel Rebel" for David Bowie — Bruce has paid homage to recently passed friends and heroes like Warren Zevon, Sam Phillips, Johnny Cash, and Levon Helm. For this one, Bruce stripped the classic song down to its bare essentials both musically and vocally, with Soozie adding some superb fiddle lines. As Bruce played, one by one, fans filled the darkened stadium with camera lights that reminded me of the "fireflies" that appeared in Boston a few years ago during "Frankie." As more and more lights shone brightly, and Bruce sang, I was reminded of another line from an Eagles song: "I want to sleep with you in the desert at night with a billion stars all around." This fan and many more were chilled and moved by the performance and the fireflies dancing amidst the crowd. Towards the end of the song, I could hear his voice break a little with emotion and could see the look of sadness on his face as he paid tribute to his fellow musician. Bruce concluded the song and simply said, "For Glenn Frey."
I am not sure of a better transition after the somberness of that moment, but a blazing-fast "Born to Run" got the crowd fired up into a frenzy. On "Dancing in the Dark," Bruce traveled to the back pit riser, like a man on a mission. He went directly to a place in the crowd looking for someone specific, and in this moment often reserved for a young woman asking to join him for a dance, Bruce pulled onto the riser a silver-haired lady who seemed to be in disbelief, and the crowd roared their approval.
What amazes me most at this point in his career is not the songwriting, the arrangements, the vocal phrasings, but that at the age of 66, Bruce Springsteen performs for three-plus hours, giving it all he has each and every night — not because that's what he has to do, but because it's what he loves doing for himself and for his fans. Bruce once said, "I believe that the life of a rock and roll band will last as long as you look down into the audience and can see yourself and your audience looks up at you and can see themselves, and as long as those reflections are human, realistic ones." Every night that he is on stage, Springsteen looks into the faces of his crowd and makes connections with the eyes and minds of his fans, brings fans onto stage to dance and sing, and, crowd-surfing the pit, literally puts his body and faith in the hands of his people. Springsteen puts his faith in his fans, and as they pass him forward, hand over hand, they repay that faith and belief in the promise of rock and roll a thousand times over. The characters on The River can attest to Jackson Browne and Glenn Frey's lyrics: we may lose and we may win, but we'll never be this way again, so open up by climbing in. At nearly every concert, Bruce implores Mary, the heroine "Thunder Road," to climb in to his car. Some of Bruce's characters may think it's a town full of losers, but we're all pulling out of here to win.
- Ryan Hilligoss reporting - photographs by Suzanne Tennant
Setlist:
Meet Me in the City
The Ties That Bind
Sherry Darling
Jackson Cage
Two Hearts
Independence Day
Hungry Heart
Out in the Street
Crush On You
You Can Look (But You Better Not Touch)
I Wanna Marry You
The River
Point Blank
Cadillac Ranch
I'm a Rocker
Fade Away
Stolen Car
Ramrod
The Price You Pay
Drive All Night
Wreck on the Highway
Night
No Surrender
Cover Me
She's the One
Human Touch
The Rising
Thunder Road
* * *
Take It Easy
Born to Run
Dancing in the Dark
Rosalita (Come Out Tonight)
Shout

January 16/ CONSOL Energy Center / Pittsburgh, PA
Notes: Thirty-five years after the River Tour, the River Tour begins. A good deal of rehearsing, in both New Jersey and Pennsylvania, paid off in one of the strongest tour openers in memory. At its close, Springsteen thanked the Pittbsburgh crowd multiple times for being an "incredible" audience, helping make for a great opening night, and that was spot-on — not just cheering at the mention of "the Johnstown company" and "through the Pennsylvania night," but right there every step of the way. There might as well have been terrible towels waving as a roaring crowd greeted Bruce and the E Street Band, dressed in shades of black and taking the stage just before 8:00 to begin the tour with a marathon straight out of the gate, lasting well over three hours.
As a concert opener, "Meet Me in the City" is as strong a statement of intent as anything in the Springsteen catalog. On paper the song may share the most with "Out in the Street," but kicking off this night it had the zero-to-sixty thrust of "My Love Will Not Let You Down," with the same call for connection, and it was a soundtrack for the scene: "I shoved my way through the heart of the crowd / Past the sign saying this is not allowed / To where someone's standing straight and shouting out loud..."
There's some magic in the night already, just seeing the E Streeters onstage for their first full show since 2014, and some additional enchantment with the band stripped back down to "just" a ten-piece. Much as I loved the contribution of the singers these last few years, and much as many of us pined and lobbied for another horn section for years after the Tunnel of Love Express Tour, seeing just the core band on stage — the band, not the orchestra — felt like coming home. Sometimes, as they say, less is more, and this was just the right unit to tackle the promise that was right there on the ticket: "Full 'The River' Plus!' Nevermind the fact that fully half of the players on stage weren't there in 1980-'81, this is who you want taking you down to the river in 2016. And after the promised River outtake, it was right into the full album, in slots 2 through 21.
"The River was the record where I was trying to figure out where I fit in," Bruce told the crowd. "By the time I got to that record, I'd taken notice of the things that bond people to their lives: work, commitments, families. I wanted to imagine, I wanted to write about those things, and I figured if I could write about them, maybe I'd get one step closer to reaizing them in my own life.... I wanted the record to contain fun, dancing, jokes, good comradeship, love, faith, sex, lonely nights, and of course, tears. And I figured if I could make a record that was big enough to contain all those things, maybe I'd get a little closer to the home I was searching for."
Given that there won't be setlist shake-ups for this sizable portion of the show, it's good to be starting with something so unshakable. From the jokes to the lonely nights, the built-to-last record sequence has all the peaks and valleys of a typical Springsteen concert in its bones. More than any other of his albums, as Springsteen told us in the Backstreets interview last month, The River was really created and sequenced to give listeners something like the experience of an E Street Band concert: "That's why we took all the time we did with it," Bruce told us, "it was our idea of new material that played like a show... with The River, we were taking a swing at trying to get some of that feeling and some of that ambiance onto the album." So seeing it come full circle — from the live show everyone raved about, to studio material meant to simulate it, back to the concert stage — is a deeply satisfying cycle.
Jake Clemons, holding it down for most of the night between Charlie Giordano and Max Weinberg, is a big enough man to not make the old horn section home base look lonely. And when he came down front for the solo on "The Ties That Bind," a friend leaned over and said, "Well, he's living up to the pedigree." No doubt about it. This was a big night for Jake, starting his first tour as the only sax player — the only horn — on stage. There's a lot of heavy lifting for him on The River, from "Sherry Darling" ("Party noises, we need party noises!" hollered Bruce) through "Cadillac Ranch" to "Drive All Night," and Jake was, in short, magnificent.
Jake even broke out harmonica on "Jackson Cage" — unusual to hear live, but it is on the record. That's indicative of the thought and attention to detail that went into this full River performance. Sure, it was informed by live touches that are familiar from recent years, including the "It Takes Two" coda on "Two Hearts" and Springsteen's crowd surfing on "Hungry Heart" (yep, he did it on opening night — hoisted from the back of the pit to the stage on outstretched hands). But Springsteen and the band also looked back to the original River tour for certain elements that hadn't been revived in decades. Roy Bittan's electrifying piano intro to "Point Blank" was last heard that way in 1981; commencing "I Wanna Marry You" with an extended "Here She Comes Walkin'" prologue was straight out of 1980 — and one of the most compelling moments of the night.
Well sometimes at night
When I lie in bed
I still see that face
Runnin' 'round my head...
Here she comes
Walkin' down the street
She looks so fine
She's looking so sweet...
Though they hit us with one song after another for the first few tracks without pausing for breath, Springsteen also broke up the album performance as it went on with some stories and reflections. It's effective, engaging, and further skirted any danger of this feeling like a recital. Speaking before "Independence Day," Bruce called it "The kind of song you write when you're young, and you're startled by your parents' humanity. You're shocked to realize that they have their own dreams, and their own desires. Because all you can see is the adult compromise that they had to make. And when you're young, you haven't had to do that yet. The idea of it frightens you. It frightened me. And all I could see was the world that they seemed locked into, and all I could feel was the desire to escape that world." Springsteen began the song alone at center stage, with the rest of the band bathed dimly in purple; subtle shifts in lighting as "Independence Day" continued added nicely to the drama.
The River sequence had it all — good opportunities to play to the back (the CONSOL Energy Center was packed to the rafters, with plenty of fans behind the stage) on songs like "Sherry Darling" and "Out in the Street," and moments for each band member to shine: Charlie on "Fade Away," Max pounding mightily on "I'm a Rocker," solos on "Cadillac Ranch" by not only both Nils and Steve, but also Soozie on fiddle. Great to see Ms. Patti Scialfa back on stage, she and Bruce shimmying toward each other and sharing harmonies at center mic. And of course, if you watch Garry — you do watch Garry, right? — back there next to Roy in his cool shades, there's a highlight every few bars. But probably most fun of all was seeing Steve Van Zandt so damn engaged. This is his wheelhouse, and it showed. From mugging on songs like "Crush on You" and "Ramrod," to his guitar playing — check out the mournful lines on his Gretsch Chet Atkins during "Point Blank" — to his crucial backing vocals throughout, the River co-producer is putting it on the line.
It's worth talking about those backing vocals, too. It's been a few years since the E Streeters have had to fully carry that weight, and based on their strength on certain numbers, it's clear that attention was paid. Ethereal backing harmonies on a monumental "Stolen Car," the full choral effect on "The Price You Pay"... it was a powerful blend of the voices we know and love: Soozie, Nils, Stevie and Patti all at their mics, and Jake back there, too. Of course Cindy and Curtis could have killed it — of course. But there's something about this material that makes it even more powerful with just the band, the band, the band.
As for Bruce's voice, he was in great form all night, but most astounding in soul-singer mode. "I Wanna Marry You," "Fade Away," and "Drive All Night" were all killer examples of the form. Springsteen prefaced "I Wanna Marry You" by calling it a "daydream": standing on a corner, watching "someone you'll never meet walk by, and you imagine an entire life with this person. Where you're gonna live, what kind of kids you're gonna have. Of course, it's the easiest kind of life: the one without the consequences. It's a young man's song! It's imagining love, in all of its glory! And its tentativeness. It's not the real thing. But you've gotta start someplace. So this is where I started." Bruce introduced "Fade Away" as "Steve's favorite song"; "Drive All Night" is where I literally got goosebumps, coming in waves as Bruce's vocal intertwined with Jake's saxophone at the end.
I could go on — about the fun of getting seldom-played rave-ups like "You Can Look" and, yes, "Crush on You"; the depth and power of "Stolen Car" and "Point Blank" — but hey, we'll have lots of chances to get into more River nitty-gritty, with all the full album shows to come. Suffice it to say that the dynamic, rarity-packed album sequence formed the heart of the show in more ways than one.
But Bruce wasn't close to through after "Wreck on the Highway." Given that 24 or 25 songs is probably average for a night with the post-reunion E Street Band, many fans were anticipating this tour as the 20-song River album plus a few more. The reality on the ground: 34 songs. It was a monster of a show in that way, backloaded with so many biggies, starting with "Badlands" (which drove the place nuts) and also including "Born to Run," "The Rising," "Thunder Road," "Dancing in the Dark," and "Rosalita."
Some of the selections tied in nicely with The River: for instance, before "Wreck on the Highway," Springsteen told the crowd that the album was also about time: the limited time we have, for work, for love, for life. Which made "Wrecking Ball," two songs later, feel like more than just Springsteen making sure he worked in a modern-era song. The crowd went nuts for that one, too. Separated by just a few songs, "Badlands" was a good reminder that Bruce had already written about "the price you (gotta) pay."
But it does seem apparent that this is where Springsteen's challenge will be, crafting a B-set after The River that feels like more than just The Hits. There must be a sense that, after more casual fans in the audience have experienced an album sequence that doesn't consist of popular favorites (a la Born in the U.S.A. or Born to Run), it doesn't make sense to dig deep for further obscurities. And how can you play a show without some of those warhorses? All true. But then there are the fans who are hoping for more of those River outtakes... so finding a balance should remain a challenge as the tour goes along, and an interesting one to watch Springsteen wrestle with.
(To anyone too frustrated by the concentration of chestnuts at the end, it's at least gotta be pointed out: "Waitin' on a Sunny Day" took a breather.)
But on opening night — or for anyone's first show as the tour goes along — the chance to see Bruce and the E Street Band blasting those big guns after a couple years off is bread from heavenly skies. And after such concentration on 1980, the back half of the show brought us a five-decade span of material, including a grand "Backstreets" and a welcome dip into Tunnel of Love, with Bruce and Patti sharing a mic on "Brilliant Disguise."
One big question of the night — how or whether Springsteen and the band would pay tribute to the dearly departed David Bowie — was answered as the encore began. "I don't know if people know it," Bruce said, "but he supported our music way, way, way back in the very beginning, 1973. He rang me up and I visited him down in Philly when he was making the Young Americans record. He covered some of my music — 'Hard to Be a Saint in the City,' 'Growin' Up' — and he was a big supporter of ours. I took the Greyhound bus down to Philadelphia, that's how early that was! Anyway... we're thinking of him." And with that it was into "Rebel Rebel," a fantastic blast of rock 'n' roll that felt perfect for the E Street Band. But then again, what doesn't? [video here]
With the crowd shouting along ("Hot tramp, I love you so"!), "Rebel Rebel" was a major highlight; but really, taking top honors tonight was the tour's namesake, the River album, full of heart and soul. Good thing it's gonna bear repeating. While perhaps lacking the "OMG" element of its one previous performance, at Madison Square Garden in 2009, this River had more subtlety, texture, and rehearsal. Which means they can do it again — 23 more times, at least — after all.
- Christopher Phillips reporting - photographs by Guy Aceto
Setlist:
Meet Me in the City
The Ties That Bind
Sherry Darling
Jackson Cage
Two Hearts
Independence Day
Hungry Heart
Out in the Street
Crush On You
You Can Look (But You Better Not Touch)
I Wanna Marry You
The River
Point Blank
Cadillac Ranch
I'm a Rocker
Fade Away
Stolen Car
Ramrod
The Price You Pay
Drive All Night
Wreck on the Highway
Badlands
Wrecking Ball
Backstreets
Because the Night
Brilliant Disguise
The Rising
Thunder Road
* * *
Rebel Rebel
Bobby Jean
Dancing in the Dark
Born to Run
Rosalita (Come Out Tonight)
Shout