News
Updated April 1, 2011


ALBUM/TOUR ALERT: ALL OF THE RUMORS ARE TRUE
Every last one of them!
After 2010 came and went without any new product from Bruce Springsteen (a six-disc box set notwithstanding), the drought is finally coming to an end. Though we're still awaiting a press release from Shore Fire Media, Springsteen's plans are now set in stone and Backstreets can confirm that, after a great deal of speculation among fans, every bit of that speculation has proven to be true.
That means we can expect two new albums in the fall: Running Scared, ostensibly a solo record, will be released September 19, in time for Grammy eligibility. A month later, on October 17, another new album titled Cloudburst, featuring players from both the E Street Band and the Sesssions Band, will ensure that Springsteen is up for Grammy nods in 2013 as well. Although sessions for both records have just begun in New Jersey, Springsteen has already firmly decided exactly what songs he wants on which album, and the precise running order for each.
Touring for the near-simultaneous releases will be a bit trickier, but by taking a cue from the old club days, with an early show and a late show, Springsteen apparently plans on pulling it off. A solo tour is slated to begin in Europe in early October, and with a small combo in tow, a 6:30 solo set will be followed in each city by a separately ticketed band performance. The fall trek, which runs through December, will dovetail with a few select E Street Band dates, as Bruce and his blood brothers dash over to Croatia to play Zagreb's Maksimir Stadium, and to Australia, for their first trip Down Under since 2003. With Jake Clemons filling in for his uncle, these won't actually be billed as E Street Band shows — as Max Weinberg has intimated, the E Street Band proper won't actually be touring until 2012, when their worldwide jaunt truly begins in February, supporting their new album to be released that month. Another new E Street record drops in July, when the band begins their lengthy Giants Stadium stand. Concerts will be interspersed with campaign rallies, presuming Springsteen wins the Democratic nomination for New Jersey state senate. Watch this space for full album details and tour dates, which are all completely locked in.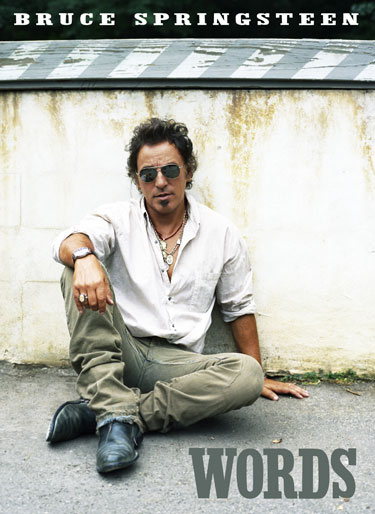 Meanwhile, Avon Books has announced the November 2011 publication of Springsteen's much-rumored autobiography, just in time for holiday gift-giving. Bruce has been working in earnest on his life story since 2008, reportedly spending a good deal of that time considering titles: first Book, then Life, before settling on Words.
According to manager Jon Landau, "Words is a continuation of the ongoing conversation Bruce has been having with his fans throughout his career. In this case, the conversation may seem a bit one-sided. But imagine you're having dinner with Bruce, and he sees that you're still chewing your food, so he keeps talking, just so there won't be any awkward silence and so that you won't feel like you have to talk with your mouth full."
A special limited edition Words package will house the hardback in a clamshell case with a bonus DVD (featuring Thom Zimny's This Life: The Making of Words documentary, plus the 2010 Carousel performance) and a T-shirt that says "Words" on it. Look for a sneak peek of the book this summer, when Rolling Stone will publish an excerpted chapter, "1993: Stop Bendin' the Shafts!"
- April 1, 2011

CHAMBERLAIN'S TWITTER ACCOUNT SUSPENDED — LITERALLY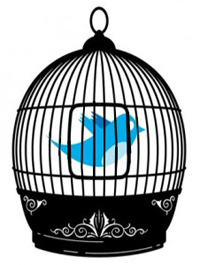 When drummer Matt Chamberlain recently posted a pair of tweets about heading to New Jersey to play with The Boss, the buzz quickly spread to Springsteen fans everywhere about recording sessions underway. Within hours Chamberlain's Twitter account (@Chamberdrums) could no longer be viewed, new visitors being greeted with the message "Sorry, that page doesn't exist!"
The page did, however, continue to exist — as authorities discovered earlier today when they forcibly entered Jon Landau's basement. Responding to a neighbor's reports of faint cries for help (in 140 characters or fewer) coming from somewhere the behind the twisted, wrought-iron gates, local police expedited a warrant and soon discovered Matt Chamberlain's Twitter Account being held against its will in the vast, dank, lead-lined underground "dungeon" of the Landau compound. Matt Chamberlain's Twitter Account was soon freed from the cramped birdcage where it had spent a grueling 48 hours, but its ordeal felt far from over.
"I'm not sure I'll ever get over it," Matt Chamberlain's Twitter Account told Backstreets in an exclusive interview. "I mean, the food was great, and he's got some amazing wine, but oh, the horror, I mean... hang on..."
"Okay, new tweet. You wouldn't believe what else — I wasn't alone down there. He's also got the Electric Nebraska tapes locked up... wait..."
"I'm back," Matt Chamberlain's Twitter Account continues. "So those tapes have been down there for who knows how long, practically falling apart, plus Bruce's hip-hop record, and all of his bandanas!"
Though police will neither confirm nor deny, Matt Chamberlain's Twitter Account also purports to have witnessed Arthur Baker remixes for "I'm on Fire," "Glory Days," "I'm Goin' Down" and "My Hometown" shackled to a stone wall, alongside drummer Zach Alford.
- April 1, 2011

18 TRACKS DOC COMES TO A STANDSTILL
Confirmation comes today that work on Thom Zimny's proposed documentary The Other Promise: The Making of 18 Tracks has been halted due to a lack of available footage.
Zimny had been working on the documentary for close to ten days when he realized, "There's nothing in the closet. I mean, nothing that can tell this story."
Sources familiar with the production said that during a meeting toward the end of the making of The Promise: The Making of Darkness on the Edge of Town Zimny was surprised to hear Springsteen talk of never feeling more harassed than when the box set Tracks was released without "The Fever" or "The Promise." "Everywhere I went, some asshat is screaming, '"The Fever," Bruce! Where's "The Fever"?' And then I go on with Charlie Rose, a journalist I really admire, and he's breathing down my neck, going, '"The Promise," Bruce, why isn't "The Promise" on this thing?'"
Zimny tells Backstreets,"So I thought to myself, wow, this is actually a great idea for a film! Here you are this zillionaire rock star, starting to come to grips with your fanbase on the internet, and you can't buy a suit at Barney's without the guy taking your inseam insisting on 'The Fever' being officially released."
Springsteen later confided to Zimny that no one mentioned "Trouble River."
The filmmaker continues, "A while later I told Bruce what I was thinking, and he said it was okay for me to go to Connecticut and get the keys from Barbara Carr and then drive down to New Jersey to see if we had anything 'in the vault.' After ten days, I realized that there was really nothing." Nothing at all? "Well, not what it would take to tell the story. I mean, I found five hours of footage of Toby Scott mixing a lot of these outtakes, but with him singing over top of Bruce's vocals, it's really unlistenable." While Zimny's search proved fruitless, he did make the suggestion to either move the vault to Connecticut or the keys to New Jersey.
Zimny also said he has footage of art directors Harry and Sandra Choron putting together the cover for 18 Tracks. "The real drama there was during the making of Tracks, when they spent hours photoshopping the pack of cigarettes out of the cover photo. But for 18 Tracks, the work was already done."
- April 1, 2011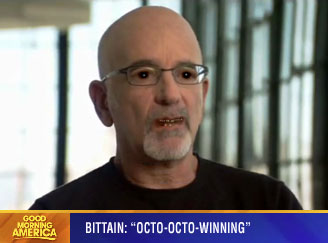 ROY BITTAN IS A WHOLE BARRELFUL OF CRAZY
"Charlie's a fucking amateur," Roy Bittan told a shocked Andrea Canning this morning on Good Morning America. E Street Band fans may be relieved to know he was referring to Mr. Sheen, not Mr. Giordano, but many are still concerned over remarks from Springsteen's heretofore mild-mannered pianist. "Bi-winning?! I'm octo-octo-winning, bro. I win 88 times, one for every key. Duh!"
"I've teamed up with Clarence Clemons for a chicken fight — on the bottom," continued Bittan. "I recorded 'Jungleland' in the studio with one arm tied behind my back and the other one on fire. Boom! I'm tired of pretending I never actually took David Bowie to Mars. The magic and poetry in these fingertips make Glenn Gould, Sergei Rachmaninoff and Vladimir Horowitz look like obtuse, gouty toddlers with Crohn's disease. When David Sancious saw me do 'Incident,' his head literally exploded, and when Boom Carter wept over it, I saved his tears in a tiny vial I wear around my neck. I'm Roy Bittan, bro. Tiger blood? Try great white shark blood on for size — Carcharodon carcharias, dude, I'm half-shark, half-alligator, half-man."
Carcharodon carcharias? "You think they call me 'The Professor' for nothing? My mind could be arm-wrestling Charlie Sheen while I'm in NREM delta sleep, and I'd still manage to work the James Bond theme into 'Ramrod.' That's how I roll."
Filmmaker Thom Zimny has been tapped to document Bittan's solo tour, a film tentatively titled Shut Up, I'm the Fucking Professor.
- April 1, 2011

IT WILL COME BACK TO YOU
Thanks to Bruce, Dropkick Murphys experiment with "Irish" sound
Dropkick Murphys frontman Ken Casey was "blown away" when Bruce Springsteen agreed to pitch in on their latest record — and the Boss himself was responsible for their collaboration taking a very different turn. In Thom Zimny's forthcoming documentary Lilting Laughter: The Making of "Peg O' My Heart," Casey explains: "Both of my grandmothers are named Peg. If you ever want to win brownie points with your grandmothers, record a song for them. So for what became Going Out in Style, the first thing we did was 'Peg,' by Steely Dan."
"It sounded great," Casey continued, "But there was something missing. I looked around, and I said, 'Hey, you know who we need to get for those Michael McDonald parts?' It was like this big light went on. And everybody pretty much said it at the same time: Bruce Springsteen."
"We weren't sure if Bruce was a fan of 'The Dan,' but it seemed worth a shot... so we finally got up the nerve and sent him an e-mail," Casey said. That's when Springsteen threw them a curveball — not only emailing them right back, but suggesting "Peg O' My Heart" instead, a song that dates back to 1913.
"At first we were like, What??!" Casey laughs, "That song's old! Tim [Brennan, guitarist] was making fun of it, doing this crazy jig. But the more we listened to it, the more we started to dig that sort of, I don't know... that Irish thing going on, and when we thought about it some more — well, we may downplay it in our music, but we do actually like that kind of thing."
- April 1, 2011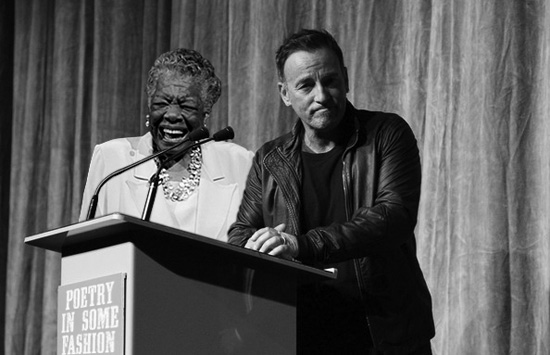 ME AND MAYA BECAME FRIENDS
Springsteen's line-by-line "Backstreets" reading reveals all
There were 28 lucky Wake Forest University students in attendance at yesterday's much-anticpated literary event, "I Know Why the Jackson Caged Bird Sings: Maya Angelou and Bruce Springsteen In Conversation." Part of WFU's "Poetry in Some Fashion" festival and originally called "Maya Angelou and Bruce Springsteen In Conversation, if Maya Lets Bruce a Word in Edgewise, Which is Unlikely," the four-hour session was filmed by Thom Zimny for a proposed 15-minute special on VH1 Classic.
While Angelou's final reading — "On the Pulse of Morning" eloquently blended with Springsteen's "Surprise, Surprise" — was all the talk as students emerged, the highlight for Springsteen fans had to be his thorough explication of "Backstreets." Though some of the power of the Born to Run fan-favorite may lie in its ambiguity, it's hard to imagine any fan wouldn't want to hear the story behind the song from the man himself, in one of his patented line-by-line readings. "Here, I'll take you through this sucker..."
One soft infested summer me and Terry became friends
[Yes we did]
Trying in vain to breathe the fire we was born in
[Aren't we all?]
Catching rides to the outskirts tying faith between our teeth
[That's my job.]
Sleeping in that old abandoned beach house getting wasted in the heat
[Ah, the life of a young Jersey boy!]
And hiding on the backstreets, hiding on the backstreets
With a love so hard and filled with defeat
[When is love not?]
Running for our lives at night on them backstreets
[Running for our lives. Running for OUR lives. That's what made the song feel real to me — and to you, I think. It's where the audience finds itself in this particular piece of music.]

Slow dancing in the dark on the beach at Stockton's Wing
Where desperate lovers park we sat with the last of the Duke Street Kings
['Duke Street Kings'... I just liked how that sounded]
Huddled in our cars waiting for the bells that ring
In the deep heart of the night to set us loose from everything
[Music can do that. Other things can, too.]
To go running on the backstreets, running on the backstreets
We swore we'd live forever on the backstreets we take it together
[And that right there, that's the key to the song.]

Endless juke joints and Valentino drag
Where dancers scraped the tears up off the street dressed down in rags
[If you've been there, you know.]
Running into the darkness, some hurt bad some really dying
At night sometimes it seemed
You could hear the whole damn city crying
[This is one of those moments when everything seems possible, and nothing seems possible. And you put enough of those moments together... and bang, you know?]
Blame it on the lies that killed us
Blame it on the truth that ran us down
You can blame it all on me, Terry, it don't matter to me now
[Ah, but does it?]
When the breakdown hit at midnight there was nothing left to say
But I hated him and I hated you when you went away
[Self-explanatory]

Laying here in the dark you're like an angel on my chest
Just another tramp of hearts crying tears of faithlessness
[That's right. Relationships...]
Remember all the movies, Terry, we'd go see
Trying to learn how to walk like heroes we thought we had to be
[Later I discovered John Ford, The Searchers, you know, Grapes of Wrath...]
And after all this time to find we're just like all the rest
Stranded in the park and forced to confess
[Somebody once said that a good rock song is only one good line. You only need one good line that gets you where you want to go... and the other stuff is kind of like getting there. And I think that's true, as long as you find that one good one that takes it and puts it on the record.]
To hiding on the backstreets, hiding on the backstreets
We swore forever friends on the backstreets until the end
Hiding on the backstreets, hiding on the backstreets
[That's it!]
- April 1, 2011

Main News
News Archives
Tour/Ticket Info
Setlists
Concert Calendar
Save Tillie
Library Project
Downloads
Fight the Merger!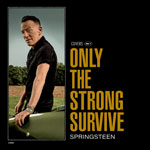 ONLY THE STRONG SURVIVE
The Backstreets Liner Notes, our own song-by-song printed booklet, comes exclusive and FREE with each CD & LP!
ORDER NOW
Backstreet Records is the mailorder division of Backstreets, delivering Springsteen merchandise to fans for more than 25 years. We carry numerous collectibles, tour shirts, books, magazines, and imported CDs and records.
The world's best selection of Springsteen collectibles, all available by mail.
See all the new arrivals in our online shop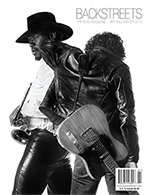 BACKSTREETS #91
Our most recent issue honors a very Big Man. More than half of the 116-page, perfect bound Backstreets #91 is a tribute to the life and music of... do we have to say his name?

Full contents list


Order a single copy


Back issues
---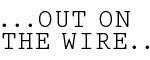 Hop up out the bed


Turn my swag on


Pay no attention to them haters


'Cause we whip 'em off


We ain't doing nothing wrong


So don't tell me nothing, I'm just tryna have fun


So keep the party jumping


Don't let the haters keep me off my grind


I whip my hair back and forth


You gotta whip your hair

Updated 4/1/11
---


We also post all known concert dates for some of our favorite Jersey Shore (and Shore-adopted) musicians:

Willie Nile


Bobby Bandiera


Southside Johnny


John Eddie


JoBonanno


Joe D'Urso... and more.
For more information on upcoming shows such as these, check out our Concert Calendar.

---


SAVE TILLIE
Many from the Springsteen community banded together to preserve this Asbury Park landmark.... and Tillie has now been saved!
Check our Save Tillie page for the latest developments.
---
THE SPRINGSTEEN SPECIAL COLLECTION
Organized by Backstreets in 2001, this storehouse of Boss books and magazines is the largest such collection outside of Bruce's mother's basement. Thanks to the generosity of fans around the world, total holdings are now well over 11,000. But the collection is by no means complete.
Check out the Springsteen Special Collection page for more info.

---


FIGHT THE MERGER
With the Ticketmaster / Live Nation merger approved, we encourage fans to get involved to help protect ticket-buyers.
Check our Fight the Merger page for the latest developments