THE STREETS' ALIVE: A STATE OF BACKSTREETS MAGAZINE ADDRESS
Despite rumors to the contrary, the printed magazine ain't dead. While the Backstreets.com website has required a whole lot of time and energy in these recent years of non-stop touring, we're determined to keep Backstreets alive in printed form — because we're magazine people at heart, because it's the thing we're proudest of, and because we've committed to do so for our subscribers and longtime loyal readers. I can't tell you how much we appreciate your patience during this longest gap ever between issues, and I want to assure you that the presses will be rolling more regularly again this year. It won't be much longer until issue #88 will at long last see the light of day, and we've got the next few issues mapped out as well, with a good deal of content ready to go.
We believe there still is a place for a magazine, even in the instantaneous world of the internet, and we've done a lot of thinking in recent months about why: about what the magazine should be at this point, about what will keep it interesting, current, and, perhaps most importantly, sustainable. After wrestling with a number of considerations — and listening to our readers — we've determined a few things:
1) We all want Backstreets magazine to publish on a more regular basis. Back in the day, when the magazine truly was a quarterly (a frequency we'd like to return to), the average size of an issue stood at 36 pages. In recent years, our page count has ballooned, doubling the old standard in many cases, with several issues nearing or surpassing the 100-page mark. That was partly because there's been so much more to cover, and so much we were pleased and proud to print; but we also entered into a vicious cycle where these enormous issues prevented us from getting another one out as quickly, and then as more time passed we felt the need to publish an even bigger one to make up for the delay, and so on. We need to rein it in, to keep our reach from exceeding our grasp, to return to a more manageable size that we can actually put out on a regular basis.
2) The magazine and website should complement and supplement each other; we don't want Backstreets magazine to rehash what you've already read on the web. While there's the lure to have the magazine continue to be the complete "resource of record" for Springsteen news — to cover absolutely every Boss happening in its pages — that's been a productivity killer, too. We used to have to stretch to find enough news tidbits for the "On Lips" column, but the sheer volume of Bruce news in recent years practically procludes our ability to cram it all in. Completists we may be, by nature, but something's got to give. So it's our intent to take the magazine even further in the direction of in-depth articles and features, exclusive interviews and analysis that you won't find on the website. If that comes at the expense of letting some things go — leaving, for instance, Bruce's congratulatory video for Brian Williams' Walter Cronkite Award as something you read about on Backstreets.com and not necessarily in the pages of the magazine — we hope you'll be cool with that.
3) Along those lines, something we've continued to wrestle with is tour coverage. Since the Tom Joad tour began nearly 15 years ago, we've worked to provide two separate show-by-show tour reports: one online, and a different, more in-depth one in the magazine. However, as our online concert notes have become more and more detailed and comprehensive, we've begun to wonder how much value there is in revisiting show-by-show reportage in the pages of Backstreets. Some, surely. But when more and more of us turn to the web to look up a setlist or show info, and when we've already provided that online, might all that magazine real estate be better spent another way? Not to mention the manhours and effort required to revisit and recapture each show. I can't say I'm convinced this is something we can — or should — drop completely. I'd miss it in print form, and I know some readers would too. But at least for the short term, since you can find that info on our site in more detail than ever, we've decided to go forward with stuff you haven't already read.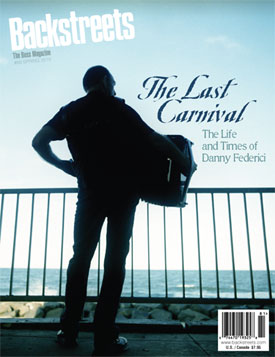 So, what will be in #88? Our Danny Federici tribute is the centerpiece. We're proud to be able to print every eulogy from Danny's service —not only Springsteen's moving words from that day, which you probably read online, but also touching and enlightening speeches from Max Weinberg, Dave Marsh, and more. I also spoke with most of the E Streeters — Max, Nils, Garry, Clarence, and Roy — for a series of exclusive interviews about Danny. You'll find pieces on Danny's pre-E Street group The Story Tellers, his solo albums, reminiscences from his son Jason as well as from longtime Backstreets scribes Robert Santelli and Charles R. Cross, and more. Filling out the issue will be more material you haven't read elsewhere, like Clarence Clemons talking about his new book, and our exclusive English version of Springsteen's Vanity Fair Italy interview. A new collectors' column looks at the latest to surface and sell in the world of Bruce memorabilia. Mike Saunders delves further into "The Mystery of the Miami Horns," this time tracking down Steve Paraczky, Bruce's trumpeter on the 1976/77 "Lawsuit" tours. And of course, we can't publish an issue at this point without Magic/Working on a Dream tour coverage, but this issue will be more of a wrap-up, focusing on material we haven't already put on the web, like some interesting tour-end stats, the top recordings (selected by Flynn McLean), and stunning photography. We hope you'll dig what we've finally come up with.
In the issues to come, a combination of the current and the historical: we just had photographer Eric Meola sit down with Mike Appel, for the first Backstreets interview with Bruce's original manager since the early '90s. We've interviewed Meola himself, a fascinating talk about his work with Bruce in the mid-to-late '70s (with some fantastic accompanying images, too). A feature on Springsteen's roots in R&B, occasioned by his recent performance at the Rock and Roll Hall of Fame 25th Anniversary concerts, will include our Bruce-centric interviews with Solomon Burke and Sam Moore. I spoke at length with film director and editor Thom Zimny about his most recent work with Springsteen, digging into his collaborations with Bruce on "Night with the Jersey Devil," "The Wrestler," and the Super Bowl Journal. We continue to have such positive reactions to our song-by-song looks at Tracks and Devils & Dust, I'm putting together something similar for both Magic and Working on a Dream. We'll be going in-depth on the current Rock and Roll Hall of Fame exhibit, "From Asbury Park to the Promised Land," as well as on the Long Branch house where Bruce wrote Born to Run (and which Bob Dylan was recently caught scoping out). It's all coming, and we hope you dig the direction Backstreets continues to take, in trying to craft both a website and a magazine that make sense together.
- March 20, 2010