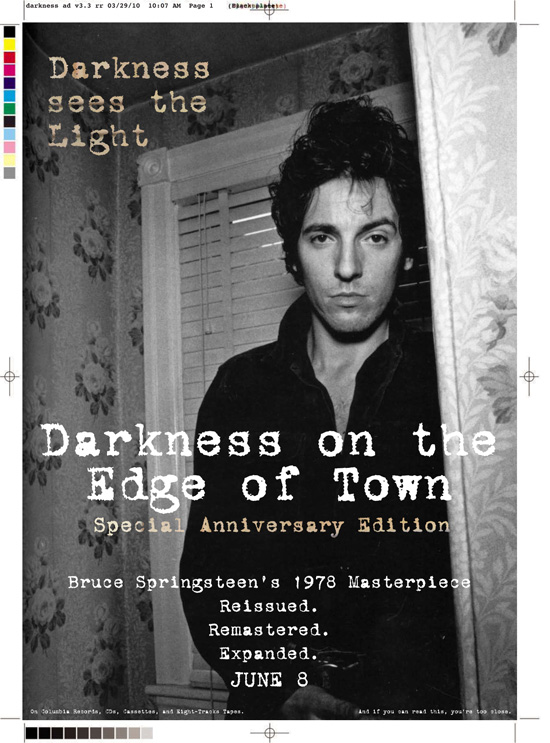 "DARKNESS SEES THE LIGHT": PLANS REVEALED FOR REISSUE BOX
In 2008, the 30th anniversary of Darkness on the Edge of Town came and went without a Born to Run-style anniversary box. Fans have been crying, waiting, and hoping since then... but the wait is almost over. In early June, the 32nd anniversary of the release of the original album, we'll see the release of Darkness on the Edge of Town: Special Anniversary Edition.
Or should we say Editions? Following the lead of Radiohead, Nine Inch Nails, and Barry Manilow, Springsteen and Sony are releasing the Darkness box in several configurations. The basic set echoes the format of the 6x12 Born to Run box:
Disc 1: remastered Darkness on the Edge of Town CD
Disc 2: DVD documentary, Straight Into Darkness, on the making of the album, including interviews with band members, staff of the Record Plant, and cover photographer Frank Stefanko
Discs 3-4: DVD of the August 15, 1978 show at Largo, Maryland (22
songs, starting with "Summertime Blues")
Not enough for you? You might want the Expanded Anniversary Edition, which also includes:
Disc 5: CD of 13 outtakes from the Darkness sessions, none of which have been previously released, including "Preacher's Daughter," "Spanish Eyes," a studio take of "Fire," and a full band "The Promise"
Disc 6: Darkness Bloopers DVD, two hours of mistakes committed during the 1978 tour. Wait until you see Roy start "Streets of Fire" instead of "Fire." Watch Bruce switch the second and third verses of "Rosalita." Includes bonus mistakes from when the band played the album in full for the first time at the Count Basie Theater in Red Bank.
But wait, there's more. Much more. In the Special Radio Broadcasts Edition, you also get full performances of four FM simulcasts from the 1978 tour:
Discs 7-9: Los Angeles (the famous July 7 Roxy show; kicks off with "Rave On," includes an impromptu "Heartbreak Hotel")
Discs 10-12: Passaic (September 19, 1978; widely bootlegged as Piece de Resistance, features a wild "Kitty's Back")
Discs 13-15: Atlanta (September 30 show, with "Night Train")
Discs 16-18: San Francisco (you may know this December 15 Winterland show, with an outstanding "Fever," as Live in the Promised Land)
Each three-disc show is housed in gatefold digipacks with pull-out replicas of ticket stubs, advertisements for the shows, backstage passes, and hand-written setlists. The Passaic packaging also includes a map of the New Jersey Turnpike.
Still got room on your shelf? Try the Special Radio Broadcasts Video Edition.
Discs 19-20: DVDs of the Los Angeles show
Discs 21-22: DVDs of the Passaic show
Discs 23-24: DVDs of the Atlanta show
Discs 25-26: DVDs of the San Francisco show
All the DVDs in this edition were supervised by Martin Scorsese, Brian
DePalma, Jonathan Demme, and John Sayles.
You've waited a long time, so you want more. You can get more in the Special Documentary Edition:
Disc 27: DVD documentary, The Making of Straight into Darkness, on the making of the documentary about the making of Darkness.
Disc 28: a blank DVD, included to balance the package and keep it from
falling over
There's also a Special Complete Edition:
Discs 29-176: complete session takes from the many months in the studio the E Street Band took to make Darkness. Highlights include a CD with 43 different versions of "Candy's Room" (including aborted takes!), Springsteen and Landau talking for 56 minutes about the sequencing of Side Two of the original LP (you'll never hear the space between "Factory" and "Streets of Fire" the same way again), and a bonus disc in which band members give roadies orders for the deli around the corner from the Record Plant. You've never heard an order for a roast beef sandwich until you've heard one from The Big Man.
And finally, there's the Special Complete Edition, Delivered: no new music or footage that isn't in the 176-disc edition, but the Delivered edition is just what the title promises: Jon Landau delivers the set to your house personally. (You get to keep the hand truck!) He also delivers Dave Marsh, who sits with you as you make your way through the box set and comments throughout. It is the ultimate fan experience, like having a Sirius studio in your own home.
Prices and packaging are still being worked out. Watch this space for more details as they come in.
- April 1, 2010

HIGH SCHOOL MUSICAL: PRIVATE BENEFIT AT THE PONY LAST NIGHT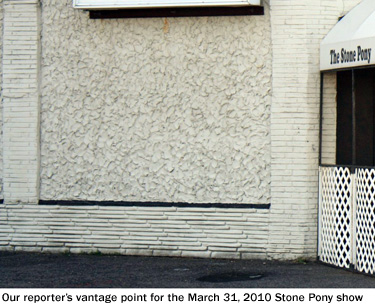 Springsteen sure knows how to do a parent/teacher conference right: Last night, March 31 at the intimate Stone Pony in Asbury Park, Bruce put on another of his patented school benefits.
Teachers (who get in free) and parents by this point know what to expect: a night of rave-up covers, interspersed with a few of Bruce's own more uptempo numbers, backed by Bobby Bandiera's band. In that sense, last night was no different. The covers themselves, however, most decidedly were.
Rather than taking the stage to "634-5789," Bruce came on while Bobby and the band vamped on Curtis Mayfield's "Move on Up." "That's right, ladies and gentleman!" Bruce hollered, "We're movin' on up! For years you've been comin' to these things, and we've been giving you the same '60s [unintelligible from outside]... Well now, we're movin' on up to the '70s! Hang on to your hats!" At that, the band turned on a dime and kicked off Hot Chocolate's "You Sexy Thing." A wild ride ensued, with "Drift Away," "Billy Don't Be a Hero," "Jackie Blue," and one from 1977 Best New Artist Grammy winners Starland Vocal Band, "Afternoon Delight." It was either that, or Alan O'Day's "Undercover Angel," it was difficult to tell.
A true highlight of the night was Bruce's own "Working on a Dream," in a medley with Gary Wright's "Dream Weaver," Aerosmith's "Dream On," and Cheap Trick's "Dream Police." Soon, however, Springsteen's own material went completely out the window as Southside Johnny emerged to put the hammer down, taking the "Rubber Duck" parts on C.W. McCall's classic "Convoy." Southside remained on stage for a pair of England Dan & John Ford Coley duets with Bruce, "I'd Really Love to See You Tonight" and "Nights are Forever Without You." Or it could have been "We'll Never Have to Say Goodbye Again," things got a bit muffled there on the other side of the wall. Or maybe Dan Hill's "Sometimes When We Touch." In any case, you can imagine the look on Southside's face for those! Which, really, is all we can do. Patti Scialfa also joined in, taking lead on what had to be either "Muskrat Love" or "Midnight at the Oasis."
Said Bruce at night's end, "Hey, thanks for [something something], and when I [something], I'm gonna [something]... see you [robble robble]!
- April 1, 2010



SPRINGSTEEN TO PLAY FULL EPs AT BASIE BENEFITS
Remember that first magic moment when you heard "Meeting Across the River" into "One Step Up"? Now you can hear it again... live! Bruce Springsteen has announced a series of three concerts in May to benefit the historic Count Basie Theater, and as part of the set each night he'll be performing a different CD Maxi-Single in order, in its entirety. This will be the first time ever that Springsteen concertgoers will experience these songs in their recontextualized context. Ticket/onsale info has yet to be announced, but we've got the schedule for these "full EP" shows:
May 17: The Ghost of Tom Joad EP
The Ghost of Tom Joad
Meeting Across the River
One Step Up
Nebraska

May 18: Dead Man Walkin' EP
Dead Man Walkin'
Highway 29
This Hard Land
Does This Bus Stop at 82nd Street?

May 19: 57 Channels (And Nothin' On) EP
57 Channels (And Nothin' On) (LP Version)
57 Channels (And Nothin' On) (Little Steven Mix Version 1)
57 Channels (And Nothin' On) (Little Steven Mix Version 2)
57 Channels (And Nothin' On) (There's a Riot Goin' On)
Says manager Jon Landau, "You can look at Bruce's recording career as an ongoing conversation he's having with his audience. Sometimes, on albums, it's quite a conversation. Sometimes, on singles, it's more of a quick hit, making up in emotional impact what a three-minute record can't deliver in terms of extended narrative. These maxi-singles are somewhere in between, like a confusing long-distance call with someone you half-remember about something that doesn't quite make sense."
There's already chatter about a "special guest" for the final night, bet you can guess who... We'll be waiting for the moment when Bruce calls Steve down front and says, "and that's the guy who made the record." Let him know, let him know!
- April 1, 2010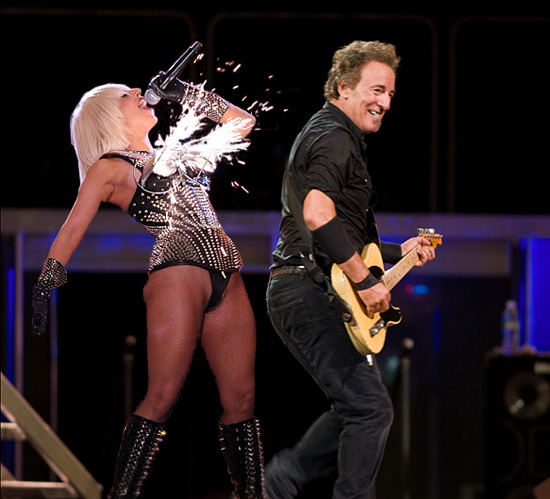 SPRINGSTEEN GOES GAGA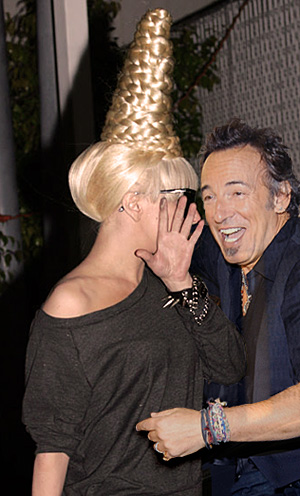 Fans had many guesses what Springsteen would be releasing during the current E Street Band hiatus. Some of them were obvious (manager Jon Landau had already spilled the beans on a Working on a Dream tour DVD and the Darkness box), but few expected what Bruce himself revealed today.
"I can sum up the next two years in two words," Springsteen said. "Fashion and duets."
The fashion part is pretty straightforward — "In Some Fashion," his new boutique venture, launched last week. But fans more into Springsteen for his music than his clothes and accessories will be more interested in the duets series. The first installment in the series is a CD of duets with Lady Gaga, someone who knows a thing or two about fashion, entitled Drop on Down and Cover Me.
"What was liberating about The Seeger Sessions," Springsteen continued, "is that I didn't have to write any of the songs for it. I picked the right players, the right songs, and we were off. Same thing here. Gaga and I did cut a few songs I'd written long ago ['Protection' and the title track] as duets, but for the most part we had a series of conversations that revealed how much we have in common musically and personally. Not many people know that Gaga is deep into prewar country blues, which is why we did Son House's 'Mississippi County Farm Blues.' And I figured it was time to show how much I loved Chic, which is why we did 'Good Times.' And 'Le Freak.' And the 'Yowsa, Yowsa, Yowsa' thing."
Instead of a traditional tour, Springsteen and Gaga will be performing songs from Drop on Down and Cover Me at "In Some Fashion" outlets up and down the Garden State Parkway. "We're wearing matching outfits," Springsteen promises. "And we'll be using matching accordions."
- April 1, 2010

BOB DYLAN RETURNS TO MONMOUTH COUNTY
After previously being picked up by authorities near Springsteen's former West End Court home in Long Branch, NJ, Bob Dylan was apprehended by policemen who found the iconic singer/songwriter standing in the pouring rain in front of the house where Springsteen lived in the early 1980s and recorded Nebraska. According to state trooper Joe Roberts, "Mr. Dylan was very gracious and apologized for causing any trouble. He also asked us the quickest way to get to Sayreville so he could see where Jon Bon Jovi wrote Slippery When Wet."
- April 1, 2010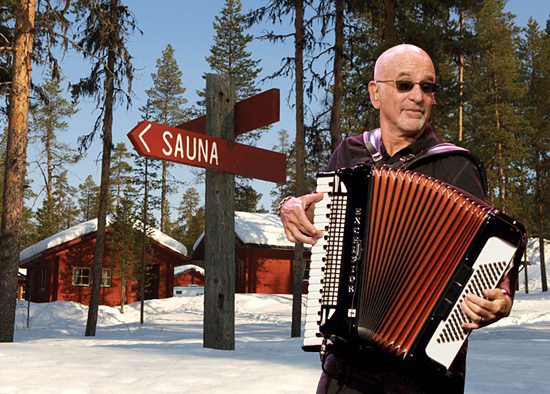 ROY BITTAN IN THE LAND OF THE MIDNIGHT SUN
Coming to Finland's YLE TV2 in the fall: Roy Bittan has the leading role in Pähkähullu Professorina (The Nutty Professor), a classic fish-out-of-water situation comedy. Uusimaa reports that Bittan has been spending a good deal of time in Finland this year, after "falling in love with the place" during recent E Street jaunts to Tampere and Helsinki. According to TV2, Bittan will star as "a music professor from Long Island who winds up in Jyväskylä, teaching at the university. Culture shock — and hilarity! — ensues."
- April 1, 2010

ALBUM WATCH: FIRST SINGLE ON ITUNES NOW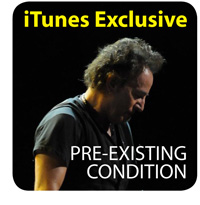 In recent weeks, chatter has been steadily increasing about of a third, mostly acoustic collection of songs in the vein of The Ghost of Tom Joad and Devils & Dust. Though Shore Fire Media has yet to confirm it, sources say an announcement is imminent regarding Springsteen's Border Life and Other Pre-existing Conditions, a "concept album about health care in the west." Rumored song titles: "Border Life," "Pre-existing Condition," "Turn Left at Albuquerque," "Coyotes," "Medicine Ball," "Minuteman," "The Fence," "59-41," "And the Wind Cries Maria," "(Ain't Got No) Public Option," "Traveling Mariachi Blues," and "Pre-Existing Condition (reprise)."

Our first official indication that it ain't just talk: the lead single, "Pre-existing Condition," is available on iTunes today.
PRE-EXISTING CONDITION
by Bruce Springsteen


Billy's got a family, and he's got a wife
His kids are the best things goin' in his life
But he's got some special interests, yeah, he picked up a little taste
Sometimes it makes him feel like a medical waste
There ain't no hole in Daddy's arm where all the money goes
But man, you should see what he puts in his nose
And sometimes he shoots it between his toes
Who really pays for the methadones
When it's a pre-exisiting condition

On Cassie's back there's a thin red line
And a thick one, and a rash like rosé wine
Might be rosacea, might be contact dermatitis
Psoriasis, scabies, or chronic gastritis
For all she knows it's viral hepatitis
Fightin' with the insurance man's givin' her laryngitis
But her head's held high —
It's gotta be, to get the lotion applied
It ain't much of a salve
When it cuts her money in half
Yeah, it's a war of attrition
'Cause it's a pre-existing condition

Antonio Medrano Rojas, he grew up fast, and he spent time in the Zona Norte where the Zona de tolerancia paraditas stand in the callejones
As twilight fell he whispered to his dark-haired beloved about new sores on his cojones
Antonio's brother Esteban took care of horses named Rio and Arboles and Esperanza and Estrella and Drogas and Coche, and he did the jobs many wouldn't do,
But he drew the line at recuparing medicine for you-know-who
"Hermano, your sins and your prescription benefits are your own," Esteban said to his hermano in the fading San Clemente light.
"I cannot be your clinician.
But I do hope she believes
It's a pre-existing condition."

[Bridge]
I feel like I got one arm tied behind my back
And the other one's cut off at the elbow
There's a third one growin' outta my back
Guess I'm a funny-looking fellow
But that's alright, now, that's alright
Yeah, that's alright…

Now, the stars above my campsite
Are bright and swirling in the heavens above
As the dark river flows onward
The shadowy tree branches whisper the secrets of love
If I have any regrets
Yeah, if I had to do it all over again
I'd have held her in my arms
When she reached out for my hand
I never imagined I'd be in this position
But love's just...
Yeah, life's just...
A pre-existing condition

I'm just a single payer now
With a pre-existing condition

Yeah, just a single-payin' daddy…
Just a single-payin' daddy now…
- April 1, 2010