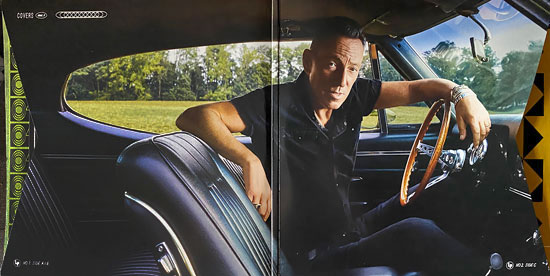 Only the Strong Survive gatefold - photograph by Danny Clinch - art direction & design by Michelle Holme and Meghan Foley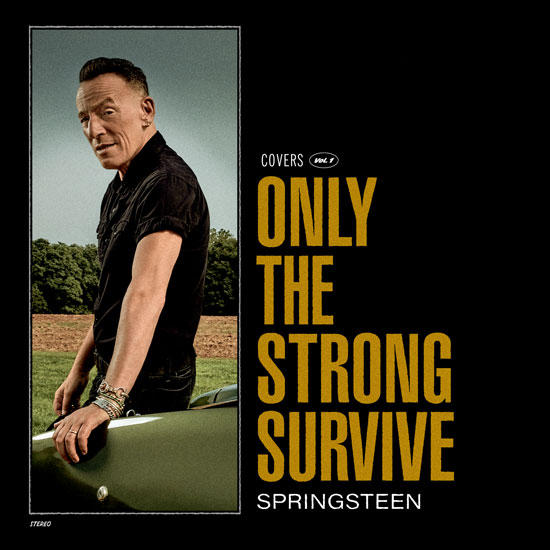 Bruce Springsteen releasing an album of soul covers is no surprise. Soul music has been a throughline in his career, even back to his mid-'60s band The Castiles. No matter when you became a Springsteen fan, you heard soul music in his concerts: the Contours' "Do You Love Me?" in the Born in the U.S.A. megastardom days, Curtis Mayfield's "People Get Ready" in the reunion era, Arthur Conley's "Sweet Soul Music" on the Tunnel tour. Back in the early 1970s, he'd pull out Chris Kenner's "Something You Got." He's created medleys of his songs and soul covers that work as thematic centerpieces of his shows, like "The E Street Shuffle/Havin' a Party" (1975), "Two Hearts/It Takes Two" (1999), and "Mary's Place/The Monkey Time/Turn on Your Lovelight" on the Rising tour. Wilson Pickett guested in the set at Bruce's Rock and Roll Hall of Fame induction. Soul has obviously influenced his own songwriting and singing on songs like "Fade Away," "If I Should Fall Behind," "I Wish I Were Blind," and of course "Back in Your Arms," just to name a handful.

He's also paid homage to soul musicians throughout his career, acknowledging the debt he owes to soul bands. As far back as a 1975 interview ("Local Boys, Trailer Parks, and the Godfather of Soul," printed in Backstreets #57), when asked about his influences, Springsteen said: "All the Stax stuff and Atlantic stuff, I'm very into that. Wilson Pickett, Sam Cooke, Sam and Dave, Eddie Floyd, the MGs, Steve Cropper... most of your better band leaders have been your soul band leaders. Because the white guys always tend to be a little too sloppy, too lazy; they think it's part of the act to be not together or something.... The best band leaders of the last ten, 20 years, from what I've listened to, have been your soul band leaders. They whip them bands into shape. I tend to use my band that way. I'm doing different things, but in that tradition. Ain't nobody does it better than them soul artists."
Springsteen's clarity here is remarkable. In many ways, he's laid a foundation for a project like this over his entire career. And yet, I can't quite make sense out of Only the Strong Survive. The only statement we've gotten from Bruce so far is that he wanted to make an album that showcased his singing. Only the Strong Survive does that. His vocals are wonderful throughout — full throated, hitting all the notes, urgent or tender as the song requires. It's a superb set of songs: lots of Motown, double doses of songs sung by titans Jerry Butler, Levi Stubbs, and William Bell, and even a couple of hits from the 1980s. The song selection is surprising — Springsteen has never played any of these songs before in concert — and reflects the breadth of the soul landscape. The tracks also feature wonderful backing vocals from Bruce regulars Curtis King, Soozie Tyrell, Lisa Lowell, and Michelle Moore, and also Fonzi Thornton and Dennis Collins — incredible singers who have worked with the likes of Chic, Aretha Franklin, and Luther Vandross.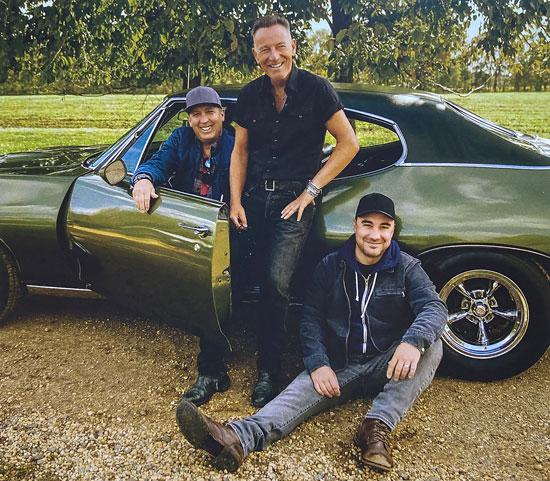 "Three guys in a room": Ron Aniello (musician/producer/engineer/mixer), Springsteen, and Rob Lebret (producer/engineer/mixer) - photograph by Rob DeMartin

But the quality of the vocals are often undercut by the lack of ambition in the music. These recordings, with virtually all instruments played by Ron Aniello, replicate the original arrangements — two songs, "Do I Love You (Indeed I Do)" and "Turn Back the Hands of Time," even include samples from the original record. (As Bruce told Questlove in an interview on the podcast Questlove Supreme this week, "it was basically three guys in a room," and he didn't see any need to reinvent songs that had such great arrangements in the first place). As a result the record often feels antiseptic, which is especially jarring after Bruce was so enthusiastic about recording Letter to You live, as well as the way his 16-piece band in 2012-13 took on so many great covers.

The album begins with the words "I remember," setting the tone for its nostalgic and mournful mood. Like much of Western Stars and Letter to You, there's a deep sense of loss here, the singer reflecting on relationships he can't get back, as in "If I Could Turn Back the Hands of Time" and "I Wish It Would Rain." The losses run deep — you can hear it in the desperation of "7 Rooms of Gloom" or the awareness of failure in "I Forgot to Be Your Lover." The saddest and one of the most moving vocal performances, "The Sun Ain't Gonna Shine Anymore," recorded by both Frankie Valli and The Walker Brothers in the mid-'60s (not to mention Clarence Clemons in the mid-'80s), would have fit beautifully as part of the Western Stars project.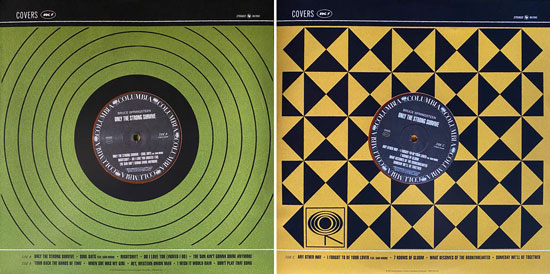 But soul music resonates beyond individual stories of lost love. In soul's heyday, songs like "Dancing in the Street" or "Smiling Faces Sometimes" gave voice to the experience of Black people navigating the racism, violence, and discrimination in this land of broken dreams. The title track, Jerry Butler's brilliant "Only the Strong Survive," exemplifies soul's political power. The song was released just months after Dr. King's murder in 1968 and the subsequent uprisings that summer. It offers comfort and support while also calling for strength and resistance. In The Heart of Rock and Soul Dave Marsh describes it as using "motherly wisdom about love as a code that signifies black power."
It's surprising, then, that Bruce isn't using this project to offer that cultural context. In the prerelease promotion for the album, soul reads as apolitical, a symbol of a lost past where Black and white kids danced together to Motown and listened to great radio. And that's soul history, too, the story of white fans using the music to feel better about race, where fandom for Motown tricks you into thinking you've actually done something to change society. The second song on the album, "Soul Days," gives off that vibe (an echo of Bruce's namecheck of Ben E. King in "The Power of Prayer" from Letter to You). "Soul Days" seemed to have inspired a couple of the social media teasers for the album (the car radio, the country road). It's a little too on-the-nose about soul music — telling rather than showing, as it were, and in the process, risks reducing soul to boomer white nostalgia.
In the "Race in the United States" episode of Renegades, the Springsteen/Barack Obama podcast, Obama asks Bruce about his relationship with Clarence Clemons, and the conversation turns to the cover of Born to Run. Bruce launches into his take on the symbolism of the cover that he's talked about often since the reissue of the album in 2005: "It was filled with the resonance and the mythology of rock's past, and freshness calling toward its future.... It was the story of our pursuit of the musical version of the beloved community." But Obama pushes him past that rosy picture: "But part of what you're describing is that Clarence provided something to you, personally and to the band, that helped capture what would end up being your sound, your spirit. Also at some level, here's an older Black man who's been hustling out there for a long time, and he's gotta hook up with a young white guy... who is less experienced than him. Now, it works out beautifully for the both of you. But there are complications, right? To that whole relationship. And I wonder if you guys ever talked about it."
Bruce agrees, and he quickly moves to the story of playing the Ivory Coast in 1988 on the Amnesty International tour, where for the first time he played to a Black audience. But he deflects the deeper issue here: that white rock 'n' rollers have reaped great rewards from Black music. Only the Strong Survive has pushed me to wonder whether Bruce has ever questioned his role in performing this music, his right to it, as it were.

In some states, teachers now risk their jobs if they teach a class about the racial politics of music or the arts, or if they address the racial and economic power structures of the music business in a way that challenges white people's love for Black culture. In these times, and in the wake of Bruce's provocative and thoughtful takes on music and culture in From My Home to Yours, I expected more from this album. It feels like a retreat. Perhaps this is rooted in the music on the record, which doesn't have the heft of the vocals. I look forward to hearing Bruce talk about these songs and what they mean to him. And if he finds a place in the 2023 setlists for a song like "What Becomes of the Brokenhearted" in the kind of provocative dialogue with his own music that we've come to expect, this project may live up to the power of soul music and the reckoning it demands for us to keep on pushing.

Lauren Onkey is Director of the Corcoran School of the Arts & Design, George Washington University