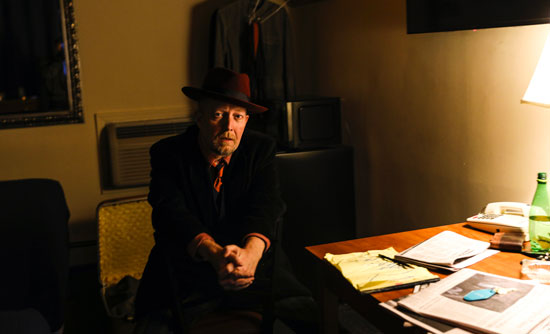 Photograph by Mark Krajnak/JerseyStyle Photography
Jeff Kazee joined Southside Johnny and the Asbury Jukes in 1998, the same year his debut album No River was released. Today, almost 25 years later, he releases the follow-up: Thanks for Checking In is a ten-song, 38-minute collection that showcases alternative aspects of his musical personality.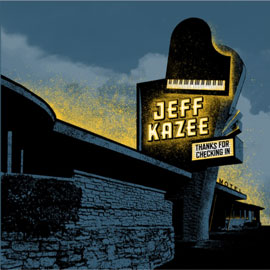 "It's a side of me that I haven't been able to scratch, as my day gigs — which I love — have stylistically defined me for quite a few folks, I'm sure," he reveals. "It's not a traditional rock/soul record. It has elements of that, how could it not, but it's my version of a pop record that lives in my head. It's basically a combination of American '70s and British '80s, in a contemporary setting. There are fastballs and curves, because that's what I like in a collection."

Kazee wrote, produced and arranged the record. He also sang vocals, played piano, Wurlitzer and Rhodes electric pianos, Hammond B3 organ, accordion, harmonium, mellotron, synthesisers, vibraphone, shakers, tambourine, cowbell, guiro, celeste, glockenspiel and tubular bells, and added "ambient textures." Other musicians who play on the album include Disciples of Soul drummer Rich Mercurio, and Jeff's fellow Asbury Jukes Chris Anderson (trumpet) and Neal "The Dude" Pawley (trombone). Bob Delavante provided the cover art.

The act of 'checking in' with each other is an absolute necessity in these complicated days," writes Kazee in his liner notes. "I thank my many friends who've been there for me, through thick and thin. To all the fans that have allowed me to tour the world, living out my dreams through music, I'm grateful and humbled by your passion and spirit. The past few years have shown how much we depend on music and each other."

Thanks for Checking In is now streaming on all the usual platforms, and is available as a digital download and CD from jeffkazee.com.

"Record freaks, I hear you," he says. "Vinyl down the road."

Mike Saunders spoke to Jeff last weekend about the album and his lengthy tenure as an Asbury Juke.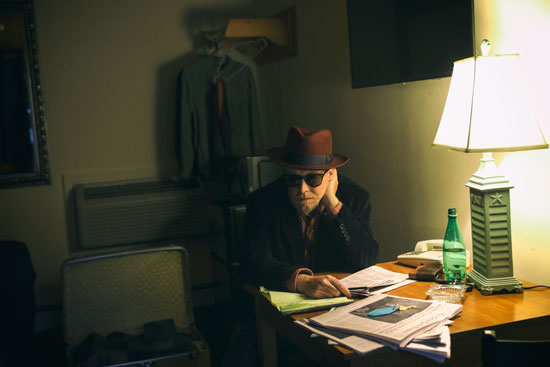 Photograph by Mark Krajnak/JerseyStyle Photography
You released your debut album No River in 1998, almost a quarter-century ago. How would you compare it to Thanks for Checking In, and the musician you were then to the one you are now?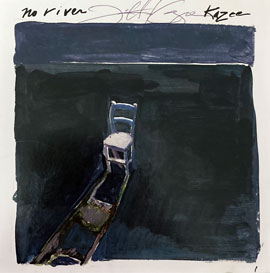 No River was rock-oriented, with a leaner sound. Thanks for Checking In features more piano and orchestration, with extremely focused lyrics. Wow, 24 years is a lifetime lived. Since 1998, my wife Constance and I raised two kids, put them through college, and watched them start their own careers. I've played thousands of shows, cashed some big checks, and missed out on others. Grinded my way through the music business, but never lost the love of the music, or the dedication to growing my talent through practice and being open to change. In short, I'd say I've become much less self-aware, and my energy is twice as focused as it's ever been.
What kind of timeline are we talking about with regard to the writing and recording? Was it a lockdown record? Or did it take shape over a longer period?
It was a lockdown record only in the sense that I was gonna be extremely upset if I didn't come out of that period with a finished piece of work that I was proud of. I started recording with drummer John Morgan Kimock and bassist Andy Hess in October, cutting the basics to eight-track in two days, with just scratch vocals and no overdubs.
I had picked three songs from a 2002 recording session with drummer Rich Mercurio and bassist Steve Count, cut at Bearsville Studios in Woodstock, NY. I broke open the hard drive from that session and started to work those pieces into the 2021 sessions. I subsequently set up shop a few days a week at Bob Stander's Parcheesi Studios in Long Island, NY, cutting vocals, guitars, and flying in all my other keyboard parts, percussion, guitars, orchestral treatments and what not. Bob is an outstanding engineer and musician and deserves a huge shout-out for his work, and fabulous mix, on this album. I finished the record the first week in February.
Two songs that jumped out at me on first hearing were the title track, about the importance of friendship, and "A Little Bit of Sunshine," with its images of dark clouds drifting away and finding a light inside to share with others. If the album has a theme, it's right there.
I gravitate to the bittersweet, but "Sunshine" was written as an ode to celebrating the moment when things seem hopeful and joyous. If one feels it, one must reveal it.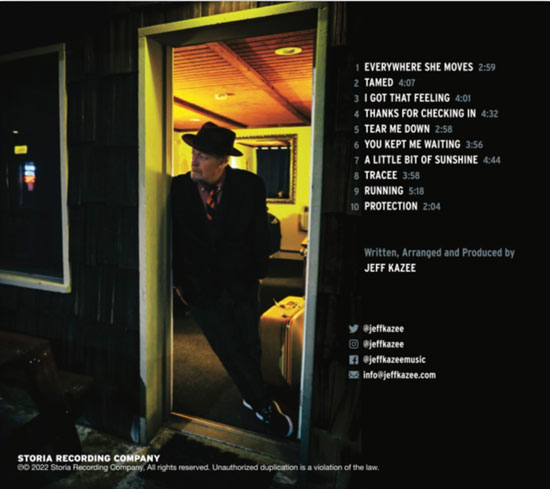 Back cover photograph by Mark Krajnak/JerseyStyle Photography
The protagonist in "Running" is on the move, with no time to settle down, while "Protection" describes someone who has "stripped away every fear of rejection." They're "one man alone" and feel alive. What can you tell me about those two songs?
"Running" is about being alive in this fast-paced world and revealing the anxiety of surviving and thriving in it. It's a lot of work to have a decently successful career, on and off the road, and keep a family together. I've had incredible highs and demoralizing lows, and my health suffered from it a few times. Life interrupts.
"Protection" is about me coming to terms with who I am now and describes my "live to be present" mode. I haven't come out of life unscathed, but I'm smiling while kicking. That's why it's the last track. And only two minutes long!
Rich Mercurio, Chris Anderson, and Neal Pawley appear on the record, but the other names may be less familiar to listeners. What's their connection to you?
I've been lucky to work with some of the best musicians in America, and I've always kept a few colleagues in mind for certain songs or moods. Guitarists Andy York from Mellencamp, Jeffrey Lee Campbell from Sting, studio great and jazz giant Oz Noy, Scott Wendholt on trumpet for the Bacharach-orchestral part in "Tracee." They're all friends and I'm happy to have them on my music.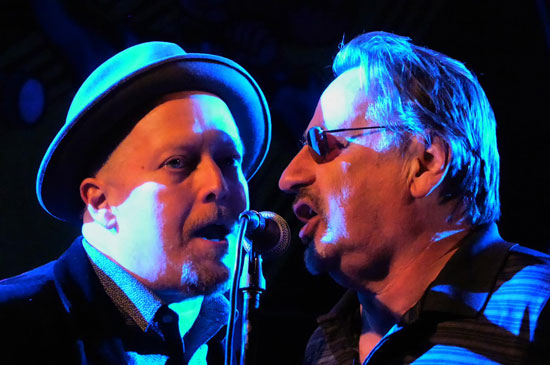 Photograph by Mike Saunders
What were you doing before you joined the Jukes?
I came to New York in 1993 and instantly made a living working with the best sidemen in the studios and clubs, and many short stints with name artists. Jingles, corporate parties, weddings, singer-songwriter gigs in The Village.… But I had no defining gig. I often joked that I was gonna get a business card that read "Jeff Kazee – Sideman to the Sidemen of the Stars." I was hustling!
You thank Southside in the liner notes for a lifetime of rock 'n' roll. How has your role in the Jukes and your relationship with him developed over the years?
Southside has always trusted me to have his back, musically and personally. We've always communicated easily, often through our common love of songs, records, and books. I've been able to, for the most part, follow/lead him through his oft-winding path onstage. I'm sort of attracted to that kind of tightrope walking. It's great when it works, but it's a long fall if it doesn't. In real time, in front of people, and now on the Internet. Not for the faint of heart.
As the years went by, we started writing and producing for the Jukes together. That process forced us into a real exchange of honesty and ideas, just to write a decent song. Neither of us loves co-writing, so it was challenging, to say the least. Still is, for me. It's about trust and being vulnerable. Digging deep inside, sharing our best and worst thoughts, and putting it to music. But we certainly feel that we've got a thing, and we're proud of the work we've done. It's kept the band engaged and current, and kept the old man interested in doing shows! The collaboration process has deepened our bond as bandmates, creative spirits, and friends. He loves having an onstage foil with a contrarian side to keep him honest and in it. So, for better or for worse, I've kept up my end of the deal.
He's a magnificent talent, singer, and communicator. It's been an honor to be his bandleader the past dozen or so years, following the great Little Steven Van Zandt, Billy Rush, and Bobby Bandiera in the lineage of South's ringmasters. A 45-plus-year career and he's still kicking hard.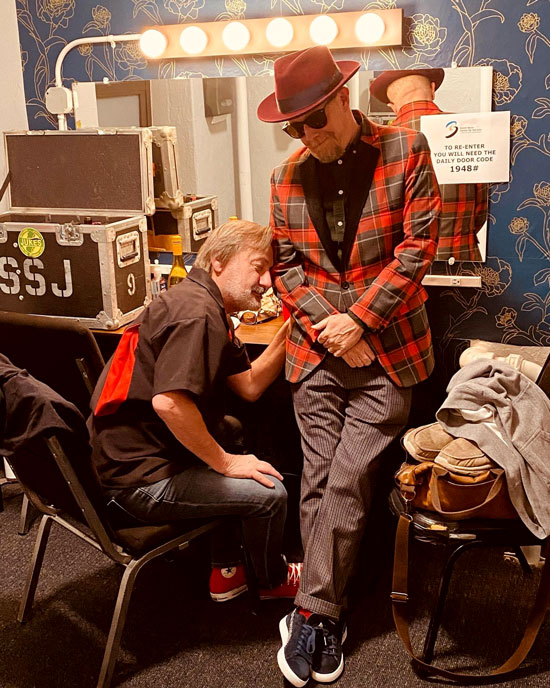 Photograph by Pete Fox
You've done a lot of outside work with other artists. One example would be touring with Bon Jovi almost 20 years ago. How did that experience compare to playing with the Jukes? And what memories do you have of sharing a stage with Bruce Springsteen?
Jon was a great boss. The pay, travel, and perks were top notch. The golfing streaks on days off with Tico Torres were unforgettably wonderful. The music and experience was fun. Childhood friends and family finally recognized the name of an artist that I was working with! But I was certainly in a role that was expendable. When we'd come back home after a couple of months on the road, I'd squeeze in a run with the Jukes, to my wife's dismay. I missed having agency with a band, and South kept the door open for me.
Bruce is a living legend, and his combination of gravitas and showmanship is one to emulate. Anytime Bruce is onstage with you, the air is electric. I greatly admire his artistry.
You also undertake your own live projects, such as playing with the Early Elton trio. How did that idea come about, and what influence has Sir Elton had on your own work?
Myself, Jukes bassist John Conte, and Fab Faux drummer Rich Pagano improvised an 11.17.70 version of "Take Me to the Pilot" at some random soundcheck, and we agreed to do a one-off for our own pleasure, performing what we felt was Elton's best era of work (1970-1973), but not as a tribute band. We were careful to keep Elton's [original] trio approach in regards to a full-on rock experience, opening up sections of songs for improvisation. That led to selling out rooms in New York City for the next 10 years. I've always been impressed by Elton's commitment and earnestness on those early records, and that material written with Bernie Taupin was top-notch. Impressive.
Throughout the pandemic, your Live From the Living Room Lounge shows at home in Queens went out on Facebook. How did it feel playing for an audience in cyberspace, without that physical reaction?
It felt like a television show and talk radio. We had a blast doing it. We used that format to raise over $26,000 to fight hunger. That fed the soul, man.
Who are your primary musical influences? I'm sure Ray Charles would be on that list.
Ray, Jerry Lee Lewis, Elvis, Bach, Rachmaninoff, Stax, Van Morrison, Brian Wilson, Crowded House, Squeeze, Keith Jarrett, Miles Davis, Charlie Rich, Bob Seger, Paul McCartney, Jackson Browne, Bob Dylan, Aretha Franklin, Burt Bacharach, Randy Newman, Allen Toussaint, James Booker, and The Band. Next interview I'll give you another dozen.
Will you be doing any gigs to promote Thanks for Checking In? You sang the title track with the Jukes at the City Winery in New York last week [above]. Many of the new songs would fit right in.
There will be many shows this year, in many incarnations, that will feature music from my record. And Southside has informed me that I absolutely have to perform a song or two at Jukes shows. If they tank, I'm sure the edict will be withdrawn!
Interview by Mike Saunders - Thanks for Checking In is available now via digital services and on CD from jeffkazee.com