HOLIDAY REMINDERS FROM BACKSTREET RECORDS
Our "Standard shipping" ordering deadline for the holidays is December 15, which means you've got through the weekend to shop with Backstreet Records and have guaranteed delivery to U.S. addresses before Christmas. After Sunday, you can still select Expedited for deliveries anywhere in the States, but ordering this weekend will definitely save you bucks on shipping!
Even though the Western Stars Blu-ray isn't out until December 19... which cuts it pretty close... if you pre-order it by December 15, we'll guarantee you have it for the holidays.
International customers — we truly value your support, and we'll do our best to get your stuff to you as quickly as possible... it's just difficult to guarantee delivery time with international shipping.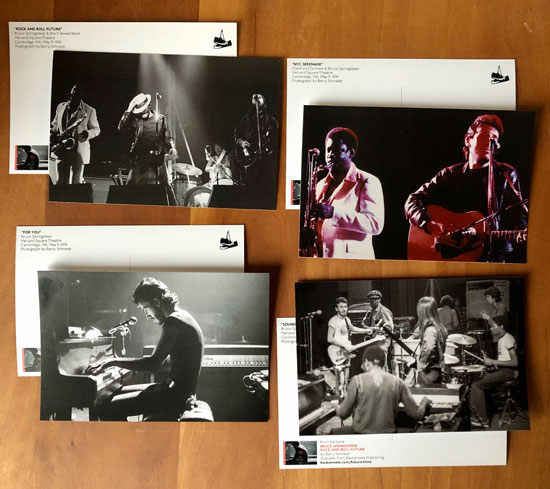 Every order of $50 or more will include this four-pack of postcards (Barry Schneier's photographs of Springsteen from May 9, 1974, from his book Bruce Springsteen: Rock and Roll Future) as a FREE gift! Included automatically with qualifying orders — no coupon code required.
In stock today: Western Stars: Songs From the Film 2LP vinyl (pictured above, sweet gatefold sleeve!), and limited quantity of the "Western Stars" seven-inch released for Record Store Day's Black Friday event, while they last! This week we also got in some rare official Springsteen kids' shirts, pictured below.
See these and more of our Latest Addtions here!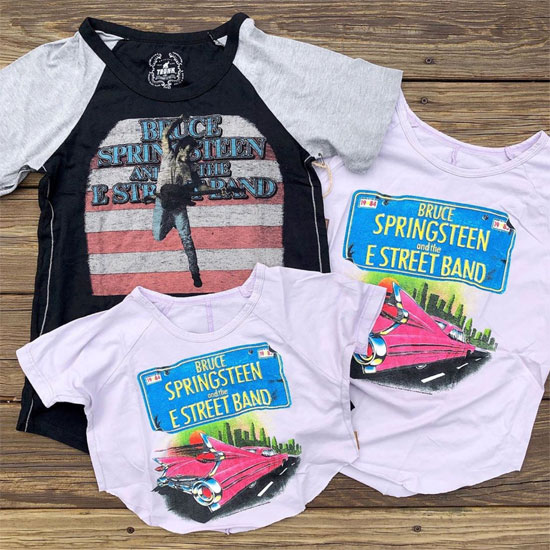 Thanks as ever for shopping with Backstreet Records and supporting what we do.
- December 13, 2019

BECAUSE "THE NIGHT" HAS A NEW LIVE TRACK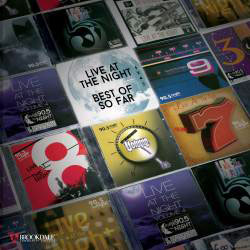 A Springsteen rarity from 2005 has just been offiically released on vinyl. Back in that Devils & Dust era, Bruce appeared on Brookdale Public Radio WBJB, 90.5 The Night with host Jeff Raspe and performed two songs live on air during their fall membership drive, "If I Should Fall Behind" and "All the Way Home."
"'If I Should Fall Behind' we used on the Live at the Night Volume 3 CD some years ago," Raspe tells Backstreets. "The other one has been in the archives until now."
The live radio performance of "All the Way Home" is included on a new collection available with a donation to the Lincroft, NJ station. Best of Live at the Night... So Far is the station's first-ever vinyl release, gathering highlights from years of live, in-studio performances at the station. Along with the previously unreleased Springsteen performance, you'll find live cuts from Jesse Malin, Glen Hansard, Josh Ritter, Pete Yorn, Jim Boggia (of Bruce Off Broadway: A Ukulele Tribute to The Boss), and more. You can select the album as a gift with any donation of $35 or more — click here to donate to 90.5 The Night.
- December 13, 2019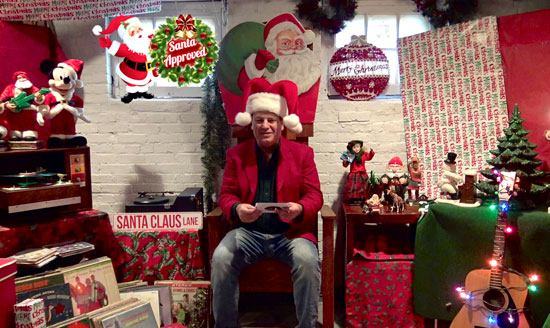 BEYOND JINGLE BELL ROCK
Freeform DJ Rich Russo's got a sackful of presents for your earholes
You may know our pal Rich Russo as a DJ and radio host (Anything, Anything and The Jersey Guy Does Jersey) — or from the bunker he occupies beneath the Underground Garage. He's also got the biggest, deepest, wackiest, most gobsmacking record collection we've ever seen. So when he announces a four-hour exploration of the holiday music in his collection, we pay attention — you can rest assured he'll get you in the holiday spirit with some off-the-wall selections that have not been played into the ground — or even heard at all, by most of us.
Turn it up and welcome Santa to the neighborhood on Christmas Eve with "A Christmas Chord With Rich Russo," a special holiday music set with rarities galore airing Tuesday, December 24, from 8pm to midnight Eastern on SiriusXM's Little Steven's Underground Garage Channel 21. The show will also be available OnDemand on the SiriusXM app on Christmas Day.
"Throughout the years, I've amassed thousands upon thousands of holiday records," Russo says. "The selections will be comprised of records pressed on small labels as 'one-offs,' some of which are really great and deserve to be heard. Others are simply awful with themes that are downright mind-blowing but reflect the time they were recorded as well as some major label and artists whose holiday songs may have fallen through the cracks. As I have been doing for years I'll celebrate the holidays utilizing my vast collection, giving the listener a different side of the holiday music."
"I guarantee you'll hear some songs you've never heard before… and you'll never want to hear again," says Steven Van Zandt.
Russo has also launched a series of "Christmas Chord" video Webisodes, viewable at www.achristmaschord.com
In addition to "A Christmas Chord with Rich Russo," Russo will host "Christmas, Jersey Style," featuring Jersey-related holiday songs on SiriusXM Channel 21 on Friday, December 13, at 11pm Eastern and then available OnDemand.
Russo's Terrestrial radio program "Anything, Anything" will host a Holiday Extravaganza that will air in two parts — Sunday, December 15 and Sunday, December 22 — across multiple stations. For station and programming information, visit richrusso.net.
- December 13, 2019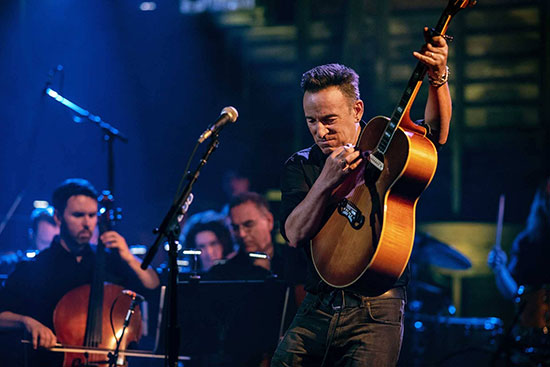 WESTERN STARS SHINING ON THE SMALL SCREEN DEC. 19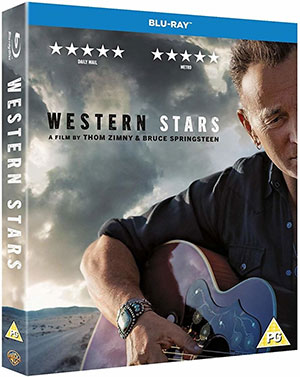 After film festival and theatrical screenings this fall, Bruce Springsteen and Thom Zimny's Western Stars documentary/concert film is coming home for the holidays. In the U.S., Western Stars will be available digitally and on Blu-ray on December 19.
We're taking pre-orders now for the Western Stars Blu-ray, at a sale price of 10% off list. Plus, order the Blu-ray now and we'll include one of our exclusive Western Stars bandanas FREE!
As always, we ship out pre-orders as soon as the product is available, in the order received.
This year, our holiday shipping deadline is December 15 — if you order from our Backstreet Records online shop by Sunday, we guarantee delivery to U.S. addresses before Christmas, via Standard shipping. (After that date, Expedited shipping can still guarantee delivery time.)
This does apply to the new Blu-ray as well: place your pre-order by December 15, and we'll make sure you get yours in time for gift-giving! With that free bandana for a stocking stuffer, too.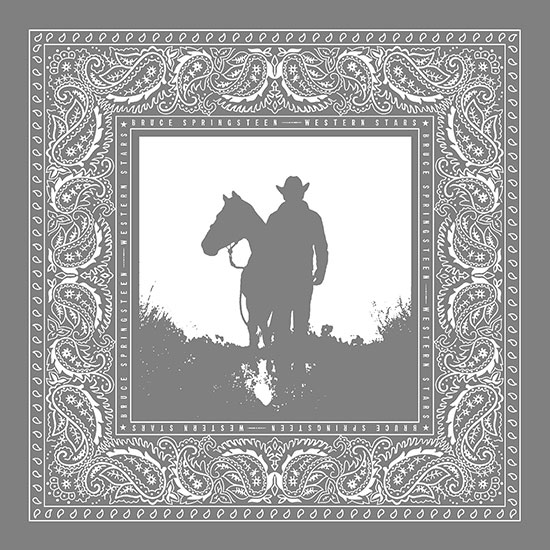 Don't need the Blu-ray but want the bandana? This official Springsteen bandana is a promotional item available exclusively from Backstreets, and we're giving one away with each and any of the following items — we'll send you one bandana for each item ordered:
- December 11, 2019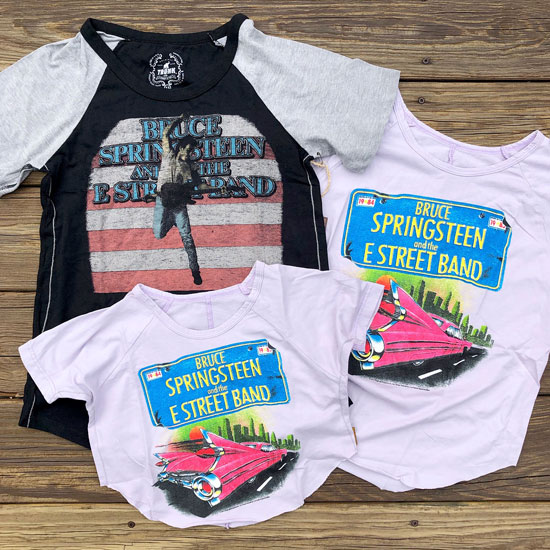 OUTTASITE KID TEES NOW IN OUR ONLINE SHOP
We're continuing to get new Boss stuff in at Backstreet Records as the holidays approach, and the latest arrival is a batch of Springsteen shirts for the smaller set. It's not often we can score official shirts in toddler, children, and youth sizes, but these Pink Cadillac and Born in the U.S.A. kids' shirts are in stock now, in many sizes ranging from 2T up to Youth Large.
Limited quantities for each size, while they last... check 'em out and watch for more new stuff soon in our Latest Arrivals section, and/or see the Shirts section for more Boss wear.
- December 11, 2019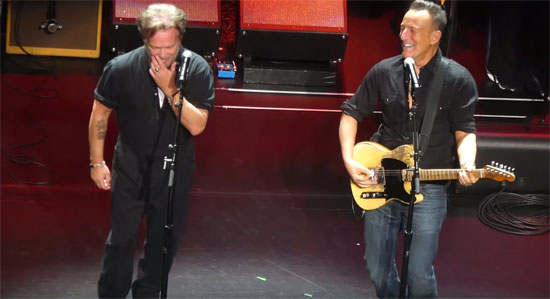 SOMETHING TO SEE, BABY
We'll Be Together: The Rainforest Fund 30th Anniversary Concert
December 9 / The Beacon Theatre / New York, NY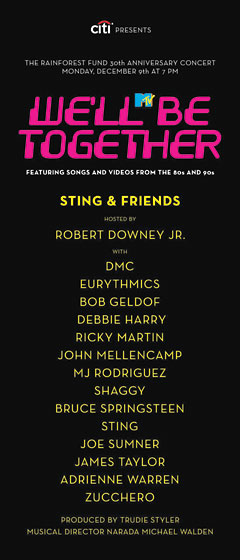 If you, like me, are a Child of the 1980s, last night at the Beacon Theater was a reminder and a celebration of our youth, our vitality, and the Golden Age of music videos and music activism that shaped us.
Sting and Trudie Styler's Rainforest Fund 30th Anniversary concert embraced an '80s and '90s theme for the evening, and it was an inspired choice for a climate change call-to-action wrapped in a musical revue. It was also a ton of fun, and that rarest of beasts: an "Anything Can Happen Night" — and so many things did.
If there was any doubt about the evening's adherence to its theme, it was dispelled before the first featured artist even took the stage. When the house lights dimmed, a classic MTV promo filled the giant video screen, followed by the complete video for Cyndi Lauper's "Girls Just Wanna Have Fun" as walk-on music. By the time the lights came up on Robert Downey Jr. and MJ Rodriguez's terrific cover of Robert Palmer's "Addicted to Love," the Beacon was already a giant dance party.
As with Rainforest Fund concerts past, the evening featured a parade of artists playing both their own hits and surprising covers, often inviting other featured artists to join them. In a wonderfully fun touch, for most of the evening's setlist the video screens projected each song's original music video while they were reprised or covered on stage. The periodic PSAs were tight tonight (Bruce was one of the few artists who made no reference to the cause at all), and even the intermission kept the energy level high, with a string of classic MTV videos played at full volume. There wasn't a hint of irony in the house, although with Downey as the evening's emcee, sardonicism was on full display.
First-set highlights included Shaggy's on-your-feet cover of "Electric Avenue," Bob Geldof's Boomtown Rats classic "I Don't Like Mondays" (which technically broke with the theme since it came out in 1979, but let's not quibble), and DMC's set-closing "Walk This Way" with Sting and James Taylor on backing vocals (I wouldn't have believe it if I hadn't seen it with my own eyes).
The second set kicked it up a notch, though, with the evening's top highlights coming in rapid order, starting with Sting and Lisa Fischer's bring-the-house-down performance of "We'll Be Together." Fischer is a vastly under-appreciated talent whose presence elevates every stage she stands on, and her performance last night eclipsed even her show-stopping "Tenth Avenue Freeze-out" duet with Bruce at her last Rainforest Fund appearance two years ago.
Sting covered Peter Gabriel's "Sledgehammer" shortly after, and I fully expected Bruce to follow up immediately with "Pink Cadillac." It remains a missed opportunity for a perfect pairing.
When John Mellencamp took the stage with an acoustic guitar for a mellow "Jack and Diane" sing-along, I honestly wasn't anticipating that Bruce would join him. But sure enough, without any fanfare, Bruce strolled out to join John for his second number: "Pink Houses," one of my favorite Mellencamp songs, and a song that sounds like it was written for Bruce. Heck, it sounds like it was written by Bruce. Fans of both artists have long wished for this particular team-up, and the two men did not disappoint.
While Springsteen and Mellencamp have shared a stage before on a few occasions, those were all as part of ensembles. Last night, "Pink Houses" marked their first-ever performance together as just the two of them playing their own material, and it was worth the wait. Both men looked like they were having a blast, and it's hard to image a better-suited song for them to make their better-together debut.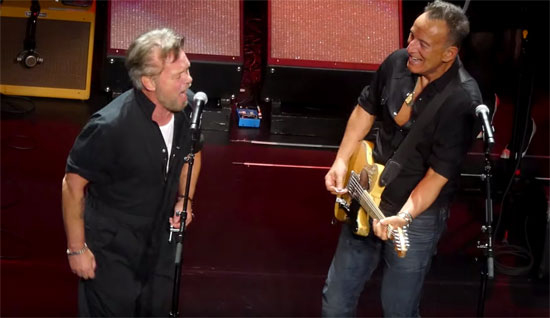 What followed next we the evening's gutsiest scheduling, a bet that paid off handsomely: rather than segue from Mellencamp to Bruce's show-closing set (he was already on stage, after all), the show's producers sandwiched the reunion of the Eurythmics in between them.
Annie Lennox and Dave Stewart hadn't performed their own material together in almost a decade and a half, but from the moment they took the stage, the crowd's energy level was off the charts. Their three-song set was a giant dance party sing-along and easily the night's top highlight. In fact — and I can't believe I'm about to write these words — the Eurythmics flat-out stole the show from John and Bruce, and if I'm completely honest, Bruce never quite fully stole it back afterwards.
For the first time in my recollection, Springsteen found himself as the one following the impossible-to-follow act rather than vice versa. "I'm on Fire" was set listed as his first number, but he appeared to have wisely decided to drop it — the crowd was way too hot to be brought down.
Instead, Bruce called Mellencamp back on stage to return the "Pink Houses" favor — this time on Bruce's vintage hit, "Glory Days." John took the song's second verse, and when he sang about stopping by to visit an old girlfriend, for a brief moment, I thought he was singing "Cherry Bomb" — and I realized with a shock that "Glory Days" and "Cherry Bomb" are very, very similar songs (another missed opportunity for a great pairing).
Bruce's set wasn't as tight as John's, though. John missed his entrance cue on "Glory Days," and the ending was a train wreck: Bruce appeared to have been aiming for his traditional butt-shaking drumroll false ending, but the band didn't pick up the cue. Bruce admitted on mic, "We fucked it up!" and brought the song to an abrupt end.
They fucked up the beginning of Bruce's next song, too, when the band couldn't quite get the intro Bruce wanted for "Dancing in the Dark," leading to the second restart of the night, barely a minute after the last one. Once it got going, though, "Dancing in the Dark" was a great show-closer. We've grown used to hearing Bruce play it acoustically on Broadway and at benefits these past few years, but this was a full-band version in a completely new arrangement — one that felt very '80s, yet not at all the original version.
Bruce stayed on stage for the evening's encore, an all-artists jam on Journey's "Don't Stop Believin'" (Bruce's second such ensemble performance of that iconic song), but despite some good-natured prodding from the other artists, he seemed determined to stay in the background. (I was absolutely positive we'd see a "Do They Know It's Christmas?" encore given Geldof's presence, but alas it wasn't to be.)
Springsteen's set may not have been his cleanest or most galvanizing performance, but you know what? It didn't matter: for the first time in years, we had full-band performances of Bruce's biggest crowd-pleasers, complete with shtick and call-and-response choruses. No quiet lyric-mouthing here: we sang the "oh-oh-oh-oh's" and the "hey baby's" full-throated and at full volume, and it felt good. Let's hope Bruce gets back on the road again soon, because the man is ready.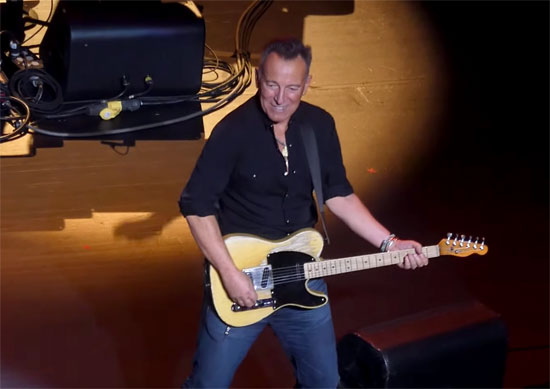 And as for the future of the Rainforest Fund concerts, let's hope that 30-year tradition continues, too — and that it someday becomes a celebration of social change instead of an urgent call to arms.
Setlist:
Pink Houses (with John Mellencamp)
Glory Days (with John Mellencamp)
Dancing in the Dark
Don't Stop Believin' (with all)
- December 10, 2019 - Ken Rosen reporting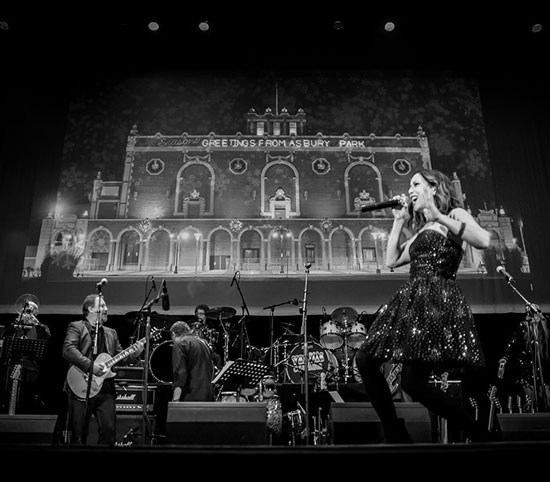 A HOLLY JOLLY NIGHT IN VERY MERRY ASBURY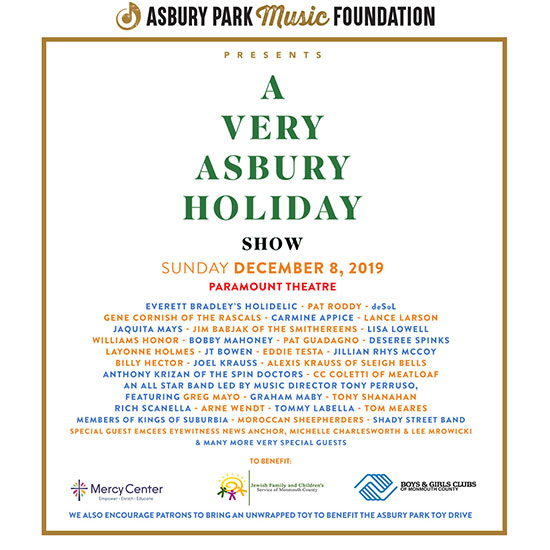 Last night, December 8, Asbury Park was definitely ready for a Sunday evening holiday party at the Paramount Theatre. Convention Hall was gaily decked out for the city's annual holiday bazaar, the Paramount stage was lit by Christmas tree and menorah lights, and many in the crowd were themselves decked out in holiday attire. The stage was set for a festive evening, and the 50-odd musicians participating in A Very Asbury Holiday Show did not disappoint.
The second annual event, emceed by former Stone Pony DJ Lee Mrowicki and this year dedicated to the memory of longtime Asbury Usher Kerry Layton, was again presented by the Asbury Park Music Foundation and benefited that organization along with several other local charities. The evening's lineup — which ran the gamut from Jersey Shore music scene veterans like Billy Hector, Joel Krauss, Lance Larson, and Glen Burtnick to a group of high school students studying at the Lake House Music Academy — was overflowing with talent.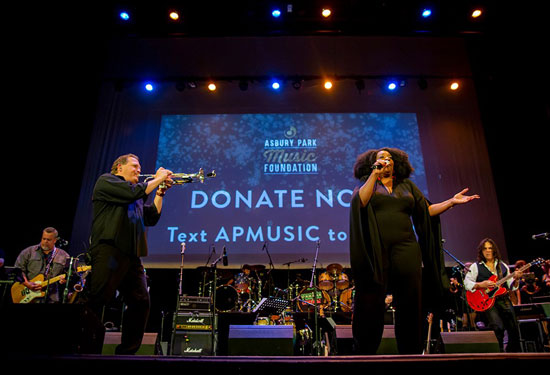 The massive house band, led by musical director Tony Perruso (above on trumpet, with singer Layonne Holmes), was laid out in standard big band format, boasting a lineup that included ex-Jukes, current Kings of Suburbia (Jon Bon Jovi's backing band for his solo gigs), and an assortment of local guitarists, keyboardists and guest vocalists. The horn section was anchored the legendary Joey Stann, while the rhythm section (which was augmented by an extra drum kit) benefited from the talents of Graham Maby (Marshall Crenshaw, Joe Jackson) on bass and Joe Belia on drums.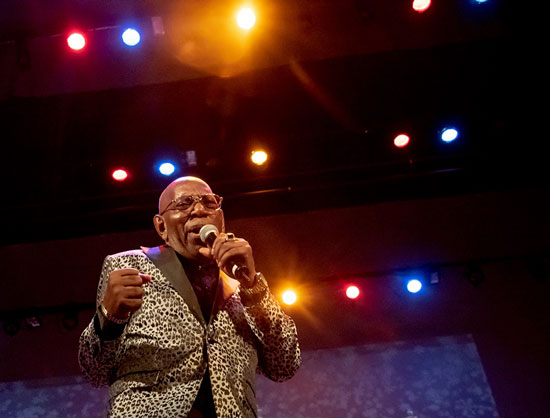 Local cover band favorites like the Moroccan Sheepherders (top) and Pat Roddy expertly brought the audience to its feet several times, and unusual guest artists like Anthony Krizan of the Spin Doctors along with powerhouses vocalists J.T. Bowen (above), Lisa Lowell, Layonne Holmes, and Deseree Spinks, country duo Williams Honor, and vocal performers like CC Coletti and Jillian Rhys McCoy kept the energy level high throughout the night.
There were many fine performances, but at nearly four hours, it was almost too much of a good thing. After last year's inaugural show (which was more than four hours long), feedback suggested a trim was in order; but the lengthy duration of this year's event again tested some concertgoers' stamina, detracting from its festive intentions. And the lineup, while consistently strong, was presented in an order that seemed counterintuitive — a nearly 40-minute opening set of high energy holiday funk by Everett Bradley's Holidelic would have been more welcome towards the end of the night, while lengthy covers like "Baba O'Riley" and "With a Little Help From My Friends" might have been better served towards the beginning. This year's welcome addition of an intermission helped, but the Very Asbury Holiday Show, while entertaining and filled with the spirit of the season, could still benefit from further streamlining.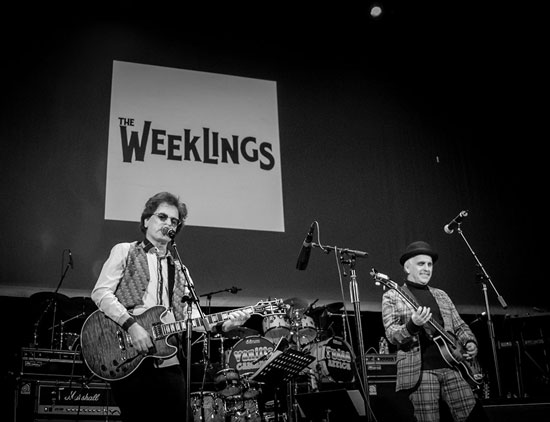 Among the many highlights: a show-opening holiday second line by local brass ensemble Ocean Avenue Stompers; The Weeklings' brand new power pop holiday single, "Gonna Be Christmas" (above); Joel Krauss performing with daughter Alexis on a pair of classic Motown duets; the nattily attired J.T. Bowen prowling the stage as he belted Bruce Springsteen's "Savin' Up"; Lisa Lowell's seductive "Santa Baby"; Smithereens guitarist Jim Babjak's monster licks on "A Girl Like You"; and a set-closing "Santa Claus is Comin' to Town" performed in full Springsteen-esque fashion by the entire crew. Happy holidays from the Asbury boardwalk to all!
- December 9, 2019 - Lisa Iannucci reporting - photographs by Conni Freestone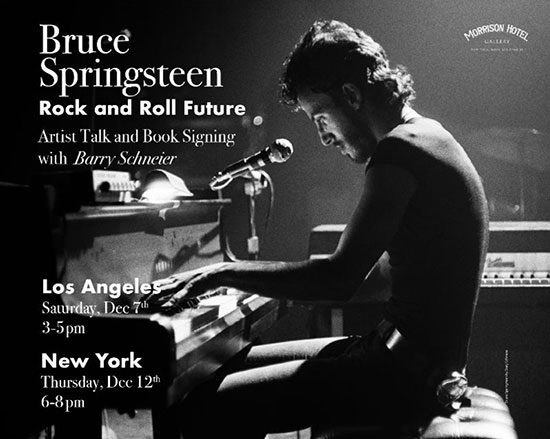 MORRISON HOTEL GALLERY HOSTING ROCK AND ROLL FUTURE
Come meet Barry Schneier, photographer/author of the perfect gift to leave under the tree for any Springsteen fan this year
Coast to coast! Author/photographer Barry Schneier will be appearing at Morrison Hotel Gallery twice in the coming week, at both their Los Angeles and New York locations, for talks and signings of his book Bruce Springsteen: Rock and Roll Future.
Tomorrow afternoon, Saturday, December 7, we hope you'll come see him if you're in the L.A. area — the gallery is at the Sunset Marquis Hotel, and the event runs from 3:00 to 5:00pm.
Then next Thursday, December 12, the NYC location on Prince Street in Soho will host Barry's event from 6:00 to 8:00pm.
Barry will be talking about his experience photographing Springsteen and the E Street Band's legendary show on May 9, 1974, at the Harvard Square Theatre, and about the coffee table book that gathers his images and reflections. Morrison Hotel Gallery will be selling copies of the book on site for Barry to sign.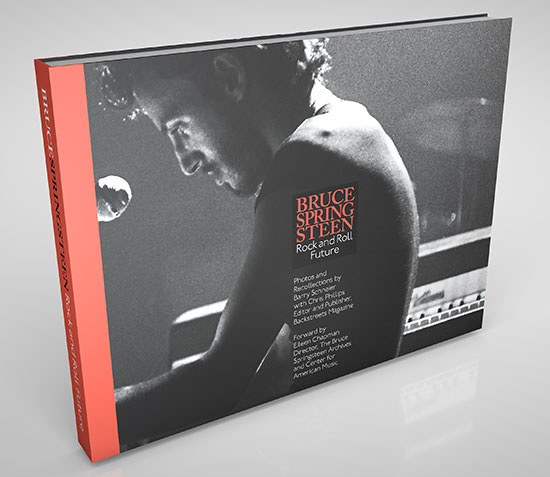 We also have the book available in our online shop — Bruce Springsteen: Rock and Roll Future is our first foray into book publishing, and if we do say so ourselves, it truly is a fantastic holiday gift for any hardcore Springsteen fan — a deep dive in words and images into the very night that Jon Landau witnessed "rock and roll future."
E Streeters Garry Tallent, Ernest Carter, and David Sancious all contributed first-person perspectives to the book; Christopher Phillips's introduction gives the history of "the quote heard 'round the world"; and a foreword from Eileen Chapman (Director of The Bruce Springsteen Archives and Center for American Music) further sets the scene. From there, the book is filled with photography from 5/9/74 (both soundcheck and performance) and Barry's recollections and observations from a truly unique perspective, as the only photographer in the house that night.
In stock at Backstreet Records (and a very few select other galleries and bookstores), Barry's book is a handsome hardcover on its own, and we also have an exclusive slipcased version if you want to go the extra mile.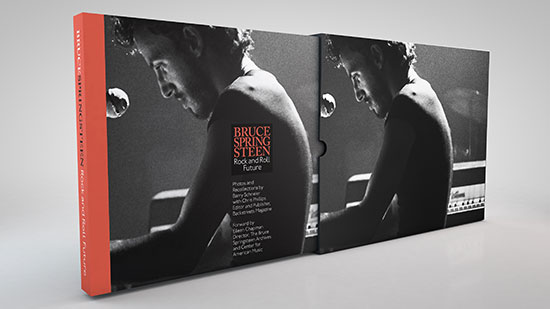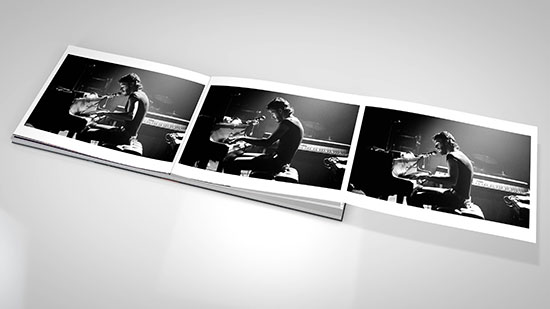 Above, the exclusive slipcased version available only from Backstreets; below, the gatefold triptych included in every copy of the book, thanks to our crowdfunders on Kickstarter.
Blogness on the Edge of Town recently selected Rock and Roll Future for their list of "5 recent Bruce books you need for the fan in your life — or yourself," and Pete Chianca had some very kind words:
Let's face it: If Rock and Roll Future was nothing but wall-to-wall Schneier photographs without a word of text, it would still be a monumental release. That so many of the Boston-area photographer's images from one of the most momentous nights of Bruce Springsteen's early career — the Harvard Square performance that inspired Jon Landau's "I have seen rock and roll future" review — remained unseen for so long is unbelievable. But are we ever lucky to have them now.

That said, this volume is a lot more than just a scrapbook, thanks to the meticulous efforts of both Schneier and his collaborator, Backstreets Magazine editor Chris Phillips. The production values are stunning, with crisp reproduction and an impressive fold-out featuring Schneier's immediately iconic shots of Bruce at the keyboard. And the writing absolutely adds to the package, in particular a fine forward by Eileen Chapman of The Bruce Springsteen Archives at Monmouth University, and a heartfelt introduction by Phillips in which he declares the May 9, 1974 concert "my time machine show." I suspect he's not the only one.

Throw in some great reproductions of Bruce ephemera from the era, first-person recollections from the likes of David Sancious and Garry Tallent, and Schneier's own remembrances from that very special night — plus, while supplies last, a slipcover! (I'm a sucker for slipcovers) — and you have a volume that will leave a glaring hole in your collection if you don't get your hands on it.
More reviews:
"From soundcheck to showtime, Schneier gives readers a window into a legendary performance via images and commentary… [a] unique snapshot of a pivotal show in the rock legend's career."
— Publishers Weekly
"...an opulent hardcover coffee-table book that miraculously does the impossible. Well, the improbable, at least. And that is to distill the essence of the magic of rock 'n' roll in words and pictures.… To turn each thick page, and see that band, on that night, being explained so profoundly, to gaze lovingly — as any Bruce fan would do — at these incredible photographs, so large and in-your-face, is to relive the thrill that most of us rock 'n' roll fans first felt at Bruce's first flush of fame.… You feel it all over again with this combination of words and pictures."
—The Aquarian
"It's a gorgeous shot — this shaggy, wiry, intensely focused Springsteen character, his back curved as he hunches over the keyboard… With a few clicks of the shutter, more than half a lifetime ago, [Barry Schneier] ensured himself 'a one-way ticket to the promised land.'"
—Boston Globe
Order Bruce Springsteen: Rock and Roll Future here
Here at Backstreet Records we're still guaranteeing pre-Christmas delivery via Standard shippng to anywhere in the United States. Internationally, it's harder for us to guarantee timing... but we'll be doing everything we can to get your order out the door and on its way to you as quicky as possible.
Plus, this holiday season when you order Barry's book — or anything else totalling $50 or more — you'll also get this FREE pack of four postcards, each image of Bruce Springtseen and the E Street Band captured by Barry Schneier that night in 1974.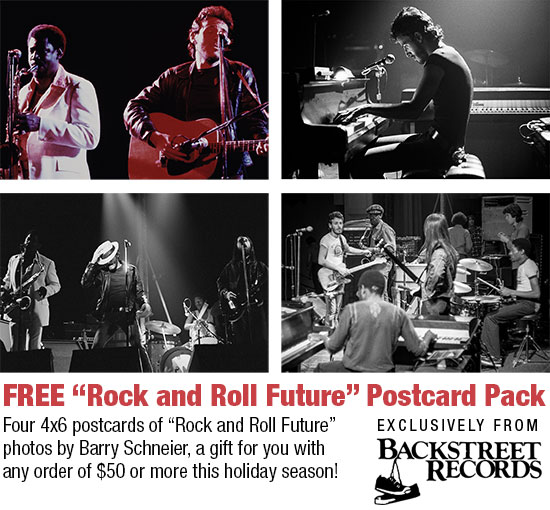 - December 6, 2019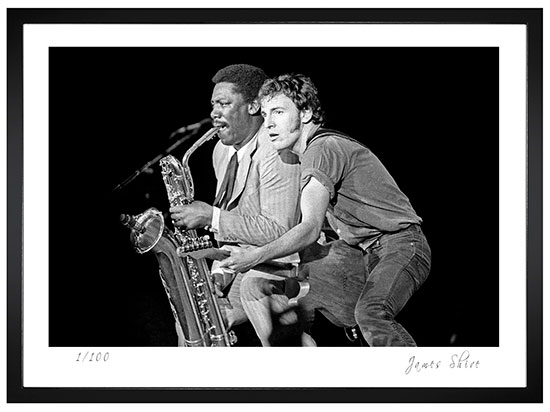 OUT IN THE DESERT: A HOLIDAY OFFER FROM THE SHIVE ARCHIVE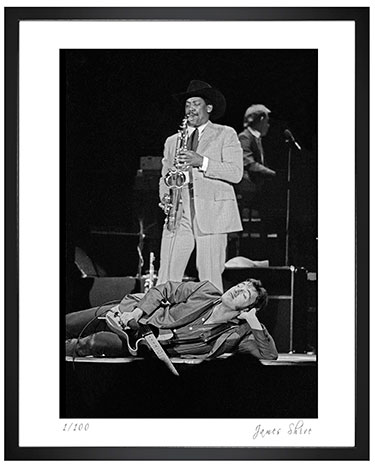 Rock photographer Jim Shive of ShiveArchive.com is a longtime Backstreets contributor — you've seen his work here before, as he shot many Bruce Springsteen & the E Street Band shows from the mid-1970s through the mid-'80s. Best known for his classic rock photographs, he produced thousands of images of rock 'n' roll's most illustrious concerts during that era and gone on to remain a lifelong professional photographer.
Now, Jim is once again announcing a new gallery of never-before-seen photographs, but this time they're a little different —the photographer is offering, for the first time, a series of new limited edition images titled "The Western Stars Collection," in celebration of Bruce's latest album and film, and his 70 years as a musician.
"The Western influence has been heard in so much of the music Bruce has written over his entire career," Jim writes. "As a photographer traveling through these parts of the country, it is not difficult to be inspired by the same majestic views."
With this series of striking landscapes just added to the Archive, Jim is offering a holiday treat exclusively for Backstreets readers, with the chance to bring this one home for FREE: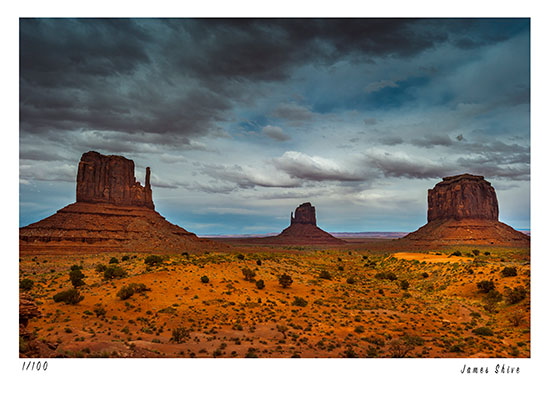 Order ANY of Shive's limited edition prints over $450 and you'll also receive this 13x18 color Giclee print valued at $250.00 from "The Western Stars Collection." This classic Southwest scene was photographed at Monument Valley, where The Searchers and other classic John Ford/John Wayne movies were filmed.
Of course, prints from any of his collections will qualify for the bonus, whether it's another "Western Stars" landscape or Boss concert shots from "The 1976 Collection," "The 1977 Collection," "The Darkness Editions," "The River Collection," or beyond. For many Springsteen concerts, Jim Shive was often the only professional photographer in front of the stage during this time period, and he has been sharing images for all to see and/or purchase as limited edition prints at ShiveArchive.com.
- December 6, 2019

A MESSAGE FROM NUGS.NET
While we hate to be the bearer of bad news, it's good to know what's going on — in this case, that we'll have to wait until later in December for a new release in the live archive series. This just in today from Nugs:
The holidays are here and per archive series tradition, we're hard at work on a special release for Christmas. Due to that ongoing work there will not be a First Friday release tomorrow, but rest assured it will be worth the wait.
- December 5, 2019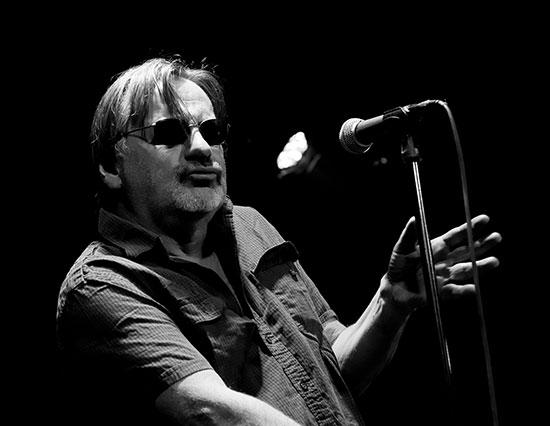 HAVIN' A BIRTHDAY PARTY
Happy birthday to Southside Johnny Lyon! Born December 4, 1948, Johnny had a momentous 70th year, inducted last month into the New Jersey Hall of Fame, featuring in Asbury Park: Riot, Redemption, Rock 'n' Roll, and still tearing it up on stage with the Jukes. Read Mike Saunders' recent interview with SSJ for Backstreets, "Southside Johnny's State of the Union Address," and here's to 71!
- December 4, 2019 - photograph by Jerry Frishman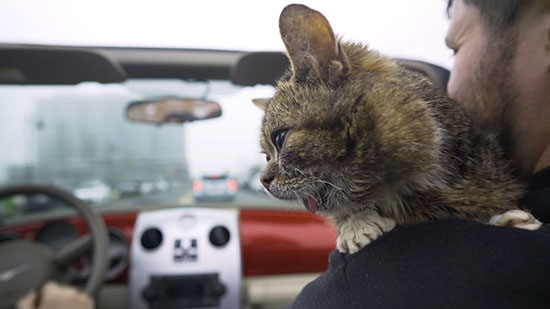 IN MY HEART YOU STILL SURVIVE
Remembering Lil BUB's "Born to Run" Catsbury Park Cruise
Cute-cat lovers all over the internet are mourning the passing of Lil BUB over the Thanksgiving weekend. Earlier this year, BUB, along with her "dude" (caregiver) Mike Bridavsky and record producer (er, engineer) Steve Albini, took to the streets of Asbury Park in their tricked-out red PT Cruiser. Watch the Facebook video of their ride through town, set to audio from the Live 1975-85 music-video version of "Born to Run."
BUB and her posse were in town for the Catsbury Park Cat Convention, raising funds for Catsbury Park Cat Café and its partner charities. Bridavsky told the Asbury Park Press that the Catsbury Park convention was their favorite. "It's one of the only ones where exclusively all of the proceeds benefit animals in need. Beyond that, it's the people that put it on that are just really great."
Rest in peace, Lil BUB. Against all odds, you lived a much longer and happier life than expected, and your legacy of cuteness, fun, love, and charity lives on. "GOOD JOB, BUB."
- December 3, 2019 - Shawn Poole reporting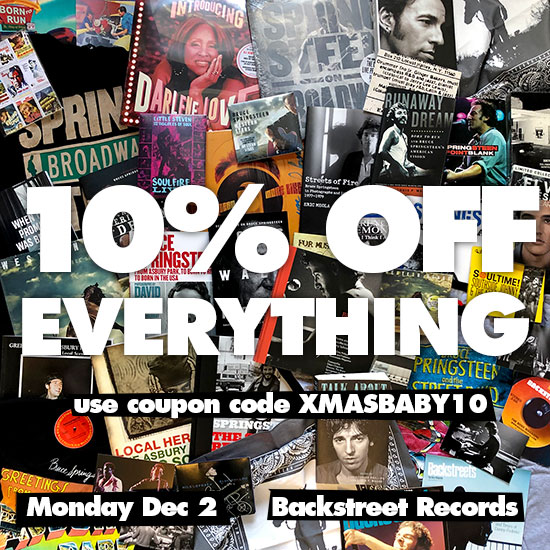 CYBER MONDAY ONLY — 10% OFF EVERYTHING!
Plus, FREE gifts from Backstreets & more ideas for your favorite fan
The holiday shopping season is officially upon us, and as always Backstreet Records is one-stop shopping for Springsteen fans.
Check our LATEST ADDITIONS page for recent arrivals, and while there is sadly no official Springsteen calendar this year, we still have hundreds of Boss items in stock: you can peruse SHIRTS, BOOKS, CDs, RECORDS, and more by category, including SIGNED ITEMS and STOCKING STUFFERS,
And today only — Monday, December 2 — all of it is on sale!
Use the coupon code XMASBABY10
to take 10% off your entire order.
Discount will be applied at checkout.
Offer good on all in-stock items,
shipping anywhere it the world, Monday only!
Now, how about some freebies on top?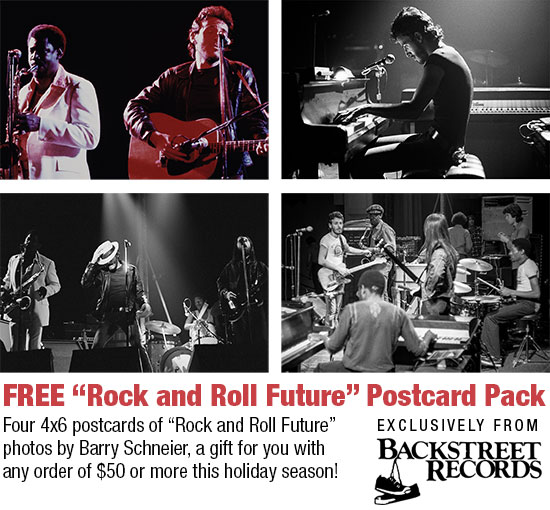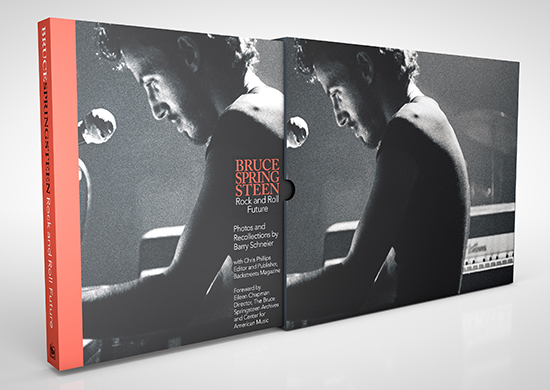 Any order of $50 or more will get a FREE set of four postcards [shown above], of Bruce Springsteen and the E Street Band on the night Jon Landau discovered "rock and roll future." These images were shot on May 9, 1974, at the Harvard Square Theatre, by photographer Barry Schneier. They're taken from his book Bruce Springsteen: Rock and Roll Future [right] — itself a perfect gift, if you know a fan who doesn't have a copy yet. And we have a special slipcased edition you can't find anywhere else. Click here to purchase the coffee-table book, with optional slipcase — and ordering just one of these books will be enough to get you that free postcard pack as a bonus!
Plus: don't miss some other Backstreet Records exclusive giveaways, still available...
We're giving away one of these official Western Stars bandanas with every copy of Western Stars — the studio album, on compact disc and 2LP vinyl — and/or the Western Stars: Songs From the Film soundtrack — the compact disc, out now, or the 2LP vinyl, to be released on December 13.
We also still have this official Springsteen on Broadway pewter & enamel pin — a promotional item exclusive to Backstreets to celebrate the 14-month run at the Walter Kerr Theatre. One of these is yours with each copy of the Broadway album on double CD or 4LP vinyl.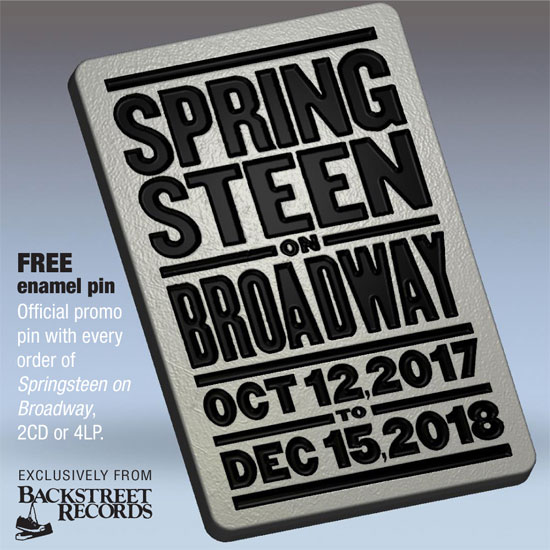 And don't forget, coupon code XMASBABY10 for 10% off your entire order, today only! It's rare that we have store-wide sales like this, so we hope you'll take advantage. Thank you for shopping with Backstreet Records — at the holidays and on all the days, we appreciate your support of what we do!
Click here for Latest Additions

- December 2, 2019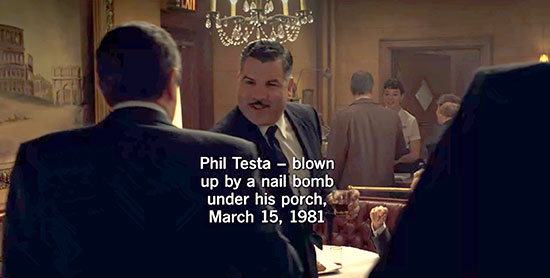 THE MOB TIES THAT BIND
How Bruce and Stevie are "connected" to Scorsese's The Irishman,
and how their friendship influenced David Chase's The Sopranos
While they blew up mafioso Phillip "The Chicken Man" Testa in Philly more than 38 years ago now, he remains immortal in great works of art. Not only does he get name-checked in the opening line whenever Bruce Springsteen performs "Atlantic City," but he also appears briefly (as played by actor Larry Romano) in Martin Scorsese's latest mob epic The Irishman, now streaming on Netflix.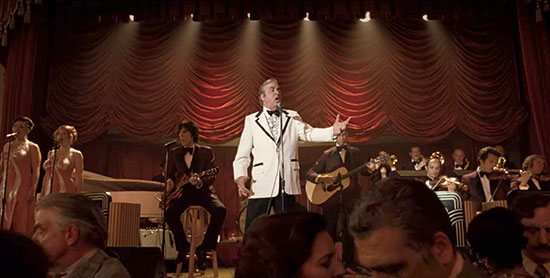 Steven Van Zandt also appears in The Irishman: as singer Jerry Vale, performing in a scene set inside the long-gone legendary NJ/Philly-area nightclub The Latin Casino. Scorsese's film is based on Charles Brandt's non-fiction book I Heard You Paint Houses: Frank "The Irishman" Sheeran and Closing the Case on Jimmy Hoffa. Van Zandt has gone on record deeming I Heard You Paint Houses as "the best Mafia book I ever read, and believe me, I read them all. It's so authentic."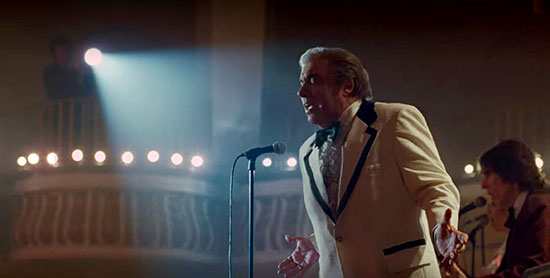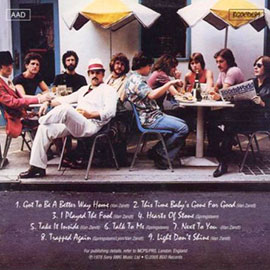 Another interesting Stevie connection to The Irishman: The film depicts the famous 1972 murder of "Crazy Joe" Gallo at Umberto's Clam House in New York City's Little Italy. According to photographer Frank Stefanko, Van Zandt requested that the back-cover photo of Southside Johnny & the Asbury Jukes' Hearts of Stone album be taken at Umberto's.
"I think they were fascinated with that spot because that's where Crazy Joe Gallo got assassinated. That's a whole other story in itself," wrote Frank in his Days of Hope and Dreams book.
Speaking of whole other stories, the Crime Story podcast explores further connections. Our pal Kary Antholis is an Oscar-winning filmmaker and former HBO exec who helped bring Thom Zimny's High Hopes and The Ties That Bind documentaries to HBO, as well as one of the producers of Zimny's Elvis Presley: The Searcher. Also holding a JD from Georgetown Law, Antholis now produces and hosts Crime Story, which recently explored the origins of The Sopranos.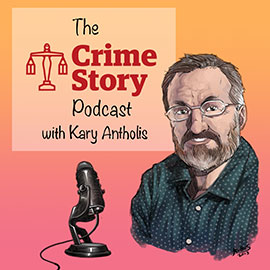 For the podcast, Antholis conducted a two-part sitdown with Sopranos creator David Chase. As part of the lengthy interview, Chase details Van Zandt's involvement with his groundbreaking Mafia-themed series; in Part Two, he talks about the influence of the real-life Bruce Springsteen/Steven Van Zandt relationship on the fictional relationship between Tony Soprano and Silvio Dante.
Chase also discusses how at one point Van Zandt was seriously considered for the role of Tony Soprano, back when the creator was contemplating a very different tone for the show — more along the lines of "a live-action Simpsons." Click here to listen.
- December 1, 2019 - Shawn Poole reporting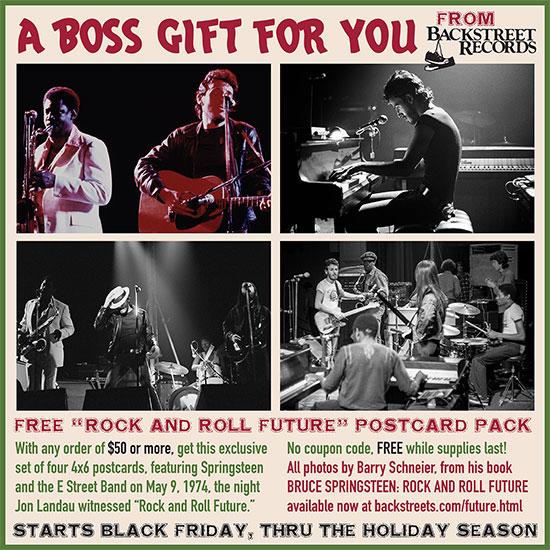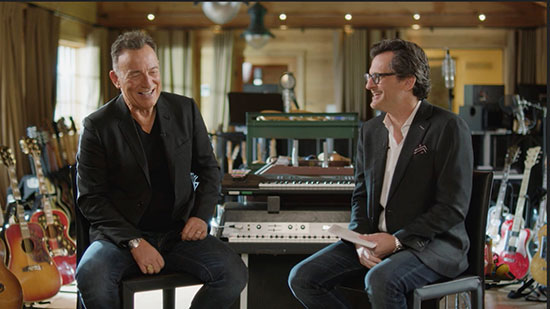 BREAKING CLASSIC MOVIE NEWS!
TCM's Ben Mankiewicz talks Bruce — "the interview I wanted most" — with Virgil Films' Joe Amodei for Backstreets
I first met Ben Mankiewicz close to ten years ago at a Turner Classic Movies festival in Hollywood, CA. It's a festival for film geeks of all ages, and Ben — who had been the second permanent host hired by TCM, sharing duties with Robert Osborne — had become kind of a hero of mine. His sometimes brash, often bitingly comedic introductions to classic film turned some people off initially, but I loved it.
When the legendary Osborne passed away in 2017, Mankiewicz slowly moved into the number-one spot on the network, where he has developed into his own brand of host. Not only does Ben come from Hollywood royalty (his grandfather Herman co-wrote Citizen Kane, and his Uncle Joe directed All About Eve), his family was also a part of the Washington scene: his father Frank worked as press secretary for Robert Kennedy as well as campaign director for George McGovern.
During those frequent festivals, however, I never had a conversation with Ben about movies or politics. Whenever we spoke it always ended up being not old Hollywood lore, but about Bruce Springsteen. Ben's love of all things E Street matched my own, and discovering that he was "one of us" was pure delight.
When I heard that Ben was going to sit next to Bruce Springsteen and introduce The Searchers and A Face in the Crowd on the TCM channel earlier this month, I knew well just how much this meant to him. I got in touch with Ben to discuss all of this with him, to see what it was like, how it all happened, and how the hell he kept his composure throughout the time spent with the man who has been a part of the fabric of our lives for so many years.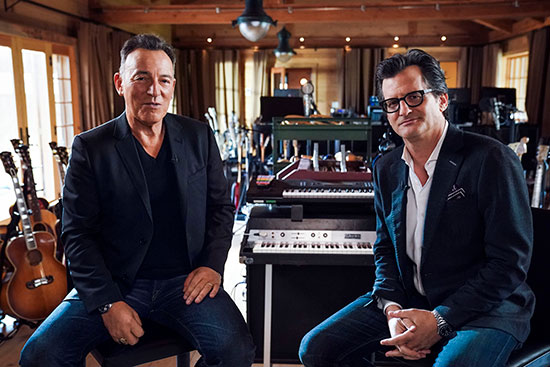 Ben's first Springsteen album
"I had Born to Run, but I was 8. I certainly didn't 'get it.' I knew that he had that [title] song — which was great — and that 'Thunder Road' was too slow. Clearly, I knew nothing about music at the time. So I would say The River was the album that got me. I don't even recall owning Darkness until I was well into my teens. But I remember listening to The River with my friends, and they were trying to say smart things like '"Sherry Darling" is not a serious song,' and I was thinking, 'Wait, I love this song.' It's festive, and it was so easy for a 13-year-old like me to see the Mom being in the back seat of the car, being a pain in the ass. I could visualize that scene so clearly."
Ben's first Springsteen concert
"My first show was the band's first appearance back in the States after the European tour for Born in the U.S.A.: August 5, 1985, at RFK Stadium. I went with my girlfriend and a bunch of friends, and we sat on the floor. I remember Bruce apologized for the show being 'short,' since the band was jet lagged — and it was still over three hours. He opened the second act with 'Cover Me,' which I didn't really care for on the album, and I remember after seeing it live thinking, "I now love this song, this is fantastic!" Turns out that's what happens when you see Bruce perform live. You learn to love everything. The extending of 'Glory Days' was euphoric joy to me. That, in a sense, told me that I needed to find a way to go to more of these concerts. But I didn't see him again until the reunion tour. Since then, I've been to over 40 shows or so. Which, I know, makes me a rookie to a lot of Bruce fans.
Politics and Bruce
"I shunned politics as a kid. It intimidated me. Embracing the political world my father inhabited took a long time. But seeing how Reagan manipulated Born in the U.S.A., and how Bruce objected to it, played a role in my awakening. It got me to read the lyrics of the song more closely and realize it is a truly patriotic song, but not in the way Reagan interpreted it."
E Street Radio
"That channel is not an insignificant development in the good part of my life. It has made a palpable difference in my enjoyment of the day."
The genesis of the TCM interview
"The folks at TCM knew that, throughout the years, the interview I wanted most was Bruce. Clearly, to me, this was a guy you could bring in and talk about John Ford movies for a month. You knew he would speak the language of Ford. So that's where it started. Then Western Stars comes out, and I thought the movie version of the album was just beautiful. I thought his moments of introspection in between songs added a layer of understanding to the music. Plus it's full of stories about the movies — I mean there's a John Wayne reference in the title track. Anyway, I saw the movie at a screening at Warner Brothers and bumped into the publicist for the film, and I told her if there was anything we could do to help we would be interested. Simultaneously, our head of talent at TCM, Susana Zepeda, was on it, too, as she was keenly aware of my interest in Bruce. Conversations took place, and it was set up."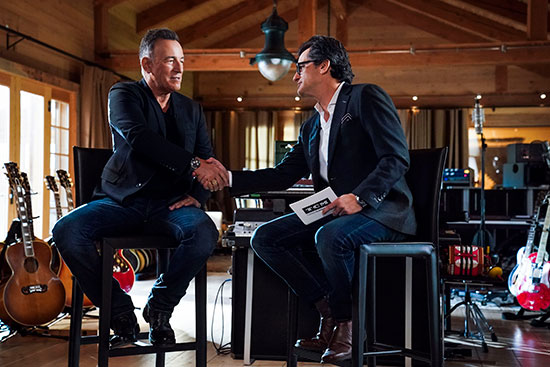 The taping
"We shot on Monday and aired on Saturday, which is not the normal process. We move at a far slower pace at TCM. I mean, there is rarely "breaking classic movie news." But we have a terrific staff of producers and editors who worked hard and pulled it off. For me, I was so focused on being prepared and not wasting Bruce's time — you can imagine a rookie ballplayer at Yankee stadium who needed a hit. Of course I thought it was cool, but I was incredibly focused.
"Meeting Bruce in a situation where we had something to talk about was critically important to me. It was work, so I wanted to deliver something of value to our viewers. And he did. Experiencing him take the time to answer questions — he was consistently so thoughtful and deliberate in his answers — left me thinking that I don't know anybody who understands what motivates us, what paralyzes us, what makes us soar, and what makes us devolve into our worst angels better than this guy. He just gets it, understands it, and he can express it."
On location
"We had a little over an hour with him. The guys from E Street Radio were there that day as well. We shot in his studio on the grounds (those are not my guitars!). The barn sat a couple hundred yards away — the farm is really quite idyllic. Afterwards I called my wife and said the most obvious thing in the world: 'You would love to live here.'"
Western Stars
"It was a slow roll-out with the three songs that were released first. I was thrilled for new Bruce music, but I didn't really feel it in my bones until the whole album came out. And then, when I saw the movie, it shot up to the top half or maybe even top third of my favorite albums. I mean, just this week, I'm driving my six-year-old daughter to school (her name, by the way, is Josie Jole Mankiewicz — I can't believe I forgot to tell Bruce my daughter's middle name comes right from "Jole Blon"). So we're driving, and she asks — I swear this is true — if we could listen to "Tuscon Train"and "Western Stars."I mean, I think I can retire today as a parent and feel like I did my job."
With additional thanks to Ben Mankiewicz and TCM, enjoy these seven clips from Ben's talk with Bruce, filmed for the November 2, 2019, Springsteen-programmed double feature of The Searchers (1956) and A Face in the Crowd (1957).
- November 27, 2019 - Joe Amodei reporting - Amodei is President/CEO of Virgil Films & Entertainment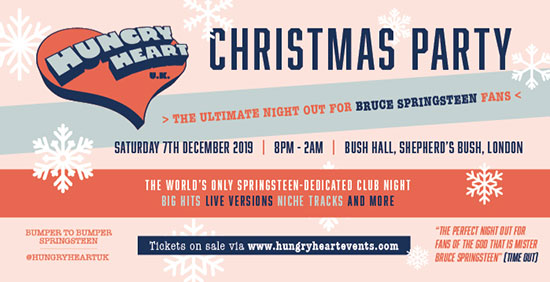 AIN'T NOBODY LIKE TO BE ALONE
Hungry Heart U.K. returns to London for Dec. 7 holiday party
It's been a big year for our friends across the pond, Hannah and co. from Hungry Heart — the U.K.'s all-Springsteen club night — and they've got one more big event planned. Following a sell-out U.K. & Ireland tour in the spring, a 900-fan-strong birthday bash for Bruce's 70th, and a U.K. launch party of Western Stars, they'll be back for some Boss holiday festivities in London on Saturday, December 7, at the iconic Bush Hall.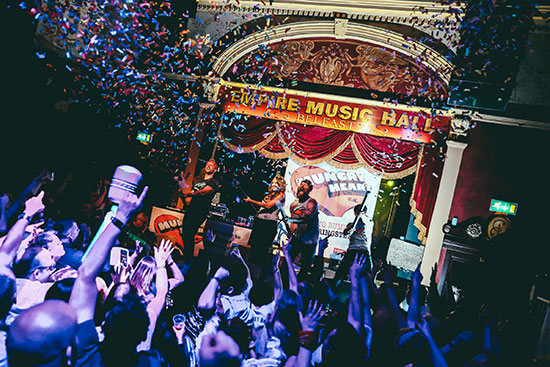 This confetti gun's for hire: Hannah Summers, center, and Hungry Heart revelers in Belfast
The night is run by Hannah Summers of "Burgers and Bruce" (you may remember we wrote about Hannah's meeting with Springsteen a few years back) and her team of DJs who spin Springsteen all night long. Hannah is obviously a big Bruce fan, so you can trust in Hungry Heart to deliver a well-curated night for fellow fans: "All the big hits," she says, "as well as B-sides, random rarities, and select live versions… it's a night of pure, unadulterated fun, and most importantly, non-stop Springsteen."
Along with bumper-to-bumper Bruce, much of the appeal of Hungry Heart is what Hannah describes as a welcoming, liberating, and joyful atmosphere. "It's really a room of like-minded fans, with lots of solo attendees soon making friends," she says, "and we get fans of all ages — adult kids dragging their parents along, and vice versa."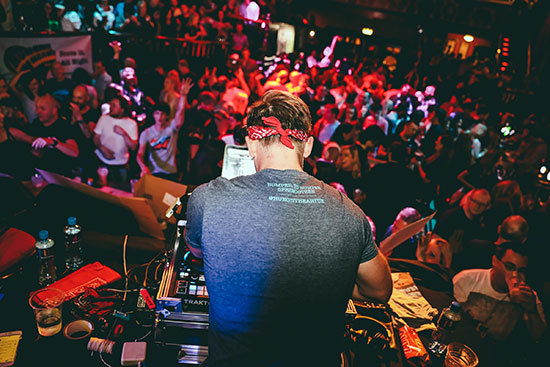 So if you wanna hear Springsteen songs blasted out loud, dancing and singing with fellow travelers for six whole hours, then this might just be a night for you. Tickets are available via the site: hungryheartevents.com

Hannah also hints that she's got an eye on the States for a future Hungry Heart expansion... we wouldn't put such a British Invasion past her, so watch this space. You can also follow Hungry Heart on Instagram and Facebook.
- November 26, 2019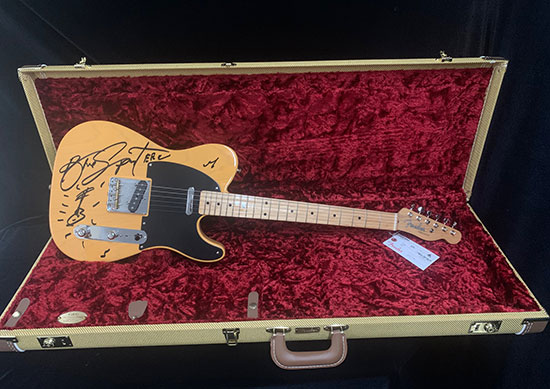 FIGHT HUNGER LIKE THE BOSS FOR THANKSGIVING
Signed Tele, tees, hoodies & more: Springsteen teams up with WhyHunger to support the 34th annual Hungerthon


As a long-time supporter of WhyHunger and founder of their Artists Against Hunger & Poverty program, Bruce Springsteen is once again taking a stand against hunger, offering exclusive merchandise and auctions to WhyHunger's annual Hungerthon campaign. Now in its 34th year, Hungerthon is a Thanksgiving tradition and public outreach campaign that has raised millions to support communities across America while building awareness about hunger and it root causes.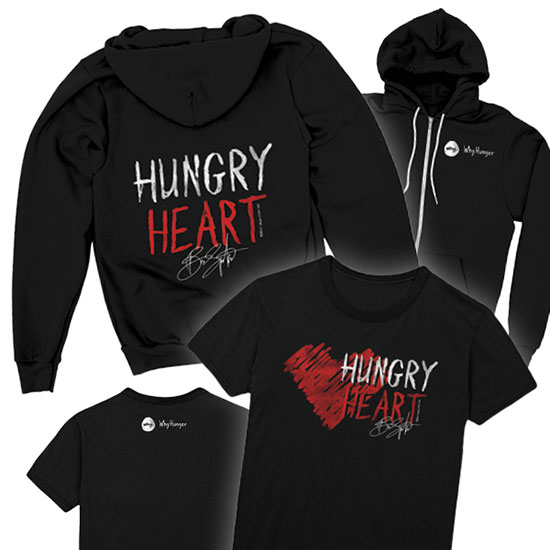 Hungerthon 2019 features two signature gifts from Bruce Springsteen: a "Hungry Heart" t-shirt for a $50 donation and a "Hungry Heart" zip hoodie for a $100 donation. Take your support to the next level and get both bundled together for a $125 donation. Head over to Hungerthon.org and donate to receive these limited edition Bruce Springsteen gifts for yourself or a loved one. 100% of proceeds support WhyHunger's mission to end hunger.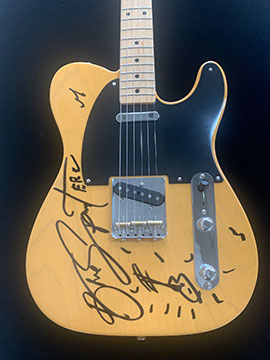 This year's campaign also features an extensive online auction through Charitybuzz, which includes three items of particular interest for Bruce fans: A Bruce Springsteen Autographed 1952 Fender Reissue Telecaster Guitar, the chance to guest host with Dave Marsh on Live From E Street Nation on SirusXM, and the chance to guest host on SiriusXM's The Wild and the Innocent with Jim Rotolo. Visit Hungerthon.org/Springsteen to bid on these items now until December 11.
The holidays are a great time to give thanks and give back to one of Bruce's long-time charity partners. With 37 million Americans, including 11 million children, struggling to get the nutritious food they need, you can join Bruce and WhyHunger to make a lasting difference. Funds raised through Hungerthon are invested in sustainable community-based solutions to end hunger and it root causes across the U.S.
Founded in 1975 by the late Harry Chapin and radio DJ Bill Ayres, WhyHunger is a four-star charity with the highest ratings for excellence in fiscal management, accountability, and transparency from Charity Navigator. 86 cents of every dollar raised goes directly to programmatic work. You can learn more at whyhunger.org and follow them on Facebook, Twitter and Instagram, and donate today at Hungerthon.org to help Bruce fight hunger in America.
- November 25, 2019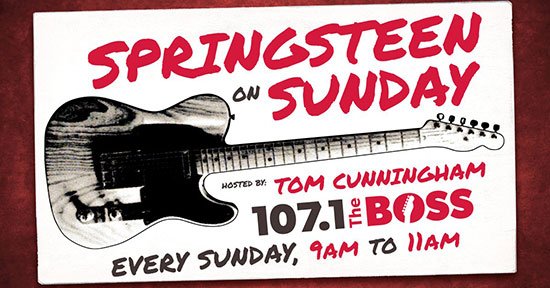 TC'S 14th ANNUAL ALL-REQUEST SHOW HELPS FIGHT HUNGER
Call and donate this Sunday, November 24, to get your request in!

The Thanksgiving all-request edition of Tom Cunningham's all-Springsteen radio show will return for its 14th year, with all proceeds benefiting FULFILL (formerly, The Foodbank of Monmouth and Ocean Counties).

Springsteen on Sunday airs weekly on 107.1 The Boss (WWZY-FM), and Tom has been hosting his show for 16 years now, featuring the music of Bruce Springsteen and other Jersey Shore legends on Sunday mornings.

For this 14th annual fundraiser, he'll be taking requests this Sunday, November 24, and he'll play those requests the following Sunday on a special three-hour program, December 1 from 9am ET to noon.

There's space for 20 songs, with a $25 (minimum) donation for each, with all proceeds going to FULFILL to help the hungry — FULFILL distributes more than 12 million meals annually through a network of over 300 feeding programs. Listeners are invited to pick the Bruce Springsteen song of their choice and may include a personal dedication as well.

To make a request and help fight hunger, call (732) 643-5891 beginning at 9am this Sunday morning, November 24, with donations accepted via credit card.

"The annual all-request show has become a wonderful tradition at the Jersey Shore, and beyond," says Cunningham. "I can't recall the last time that I left a Bruce Springsteen show and didn't see people collecting donations for those in need of a meal or two. That we're able to help out and have fun at the same time is the best kind of win/win. Especially at Thanksgiving time."
- November 22, 2019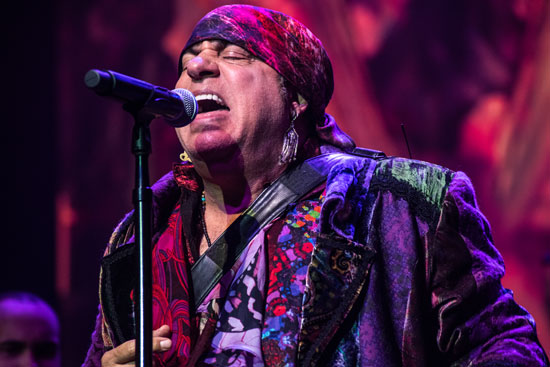 BIRTHDAY PARTY MAMBO: STEVIE'S 69!
Happy birthday to the coolest DJ in the U.S.A., leader of the Disciples, Silvio Silvio wherefore art thou Silvio... aw hell, there's just too many things to list — Sugar Miami Little Steven Van Zandt! Loving the '60s as he does, he's staying in his 60s one more year: the man is 69 today, born November 22, 1950.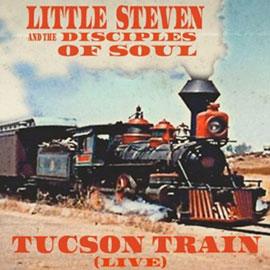 Of course Stevie has a huge box set coming in just a couple weeks — Rock 'n' Roll Rebel: The Early Work, which is the collection we've all been waiting for. In the meantime, in case you missed it, Stevie's latest release is a digital single available on Apple Music: a live cover, with the Disciples of Soul, of Bruce Springsteen's "Tucson Train" — recorded in Tucson, natch. Download now to celebrate the day.
But the big party, of course, is tomorrow, when Steven will be the guest of honor at the Rock and Roll Forever Foundation's First Annual Gala, Saturday night at the Hard Rock Cafe in Times Square. Entertainment by Southside Johnny and Asbury Jukes, as Stevie is saluted for his dedication to education — but you have to think there'll be some birthday cake, too.
- November 22, 2019 - photograph by Barry Schneier, 11/2/19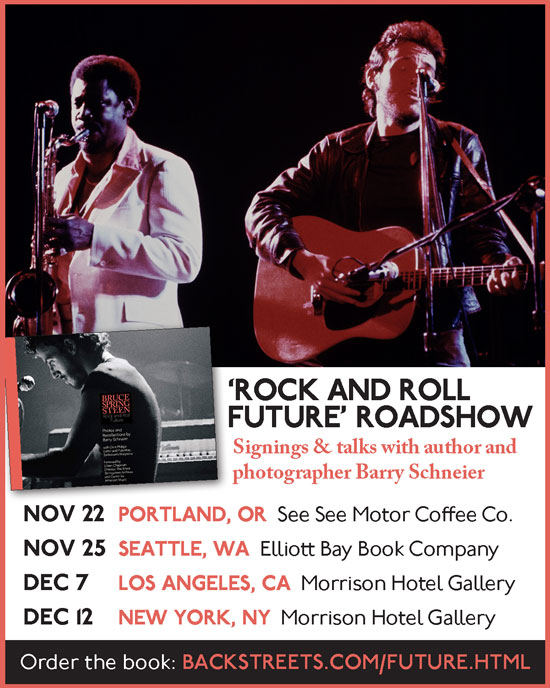 MORE DATES FOR ROCK AND ROLL FUTURE BOOK TOUR
Barry's bringing the Future to Portland, Seattle, L.A. and NYC
Friday night in Portland, OR [see below], photographer Barry Schneier kicks off a new run of signing events for his Bruce Springsteen: Rock and Roll Future coffee table book, from Backstreets Publishing. He's had the chance to do it on the East Coast, and now its time to go West. From Portland he'll head to Seattle and Los Angeles, followed by his first book event in NYC.
November 22 - Portland, Oregon
See See Motor Coffee Co.
1642 NE Sandy Blvd
Book signing and gallery show, 7pm
November 25 - Seattle, Washington
Elliott Bay Book Company
1521 Tenth Avenue
Book signing and talk, 7pm
December 7 - Los Angeles, California
Morrison Hotel Gallery
Sunset Marquis Hotel, 1200 Alta Loma Road
Book signing and talk, 3pm
December 12 - New York, New York
Morrison Hotel Gallery
116 Prince Street
Book signing and talk, 7pm
If you live in or nearby any of these burgs, we hope you'll come by and say hello to Barry — he's looking forward to getting out and meeting more Kickstarter backers and other Springsteen fans, signing books, and talking Bruce.
If you can't make it in person, you can order the book from Backstreet Records, follow Barry on Twitter, Instagram, and Facebook, and visit his website at barryschneierphotography.com.
- November 21, 2019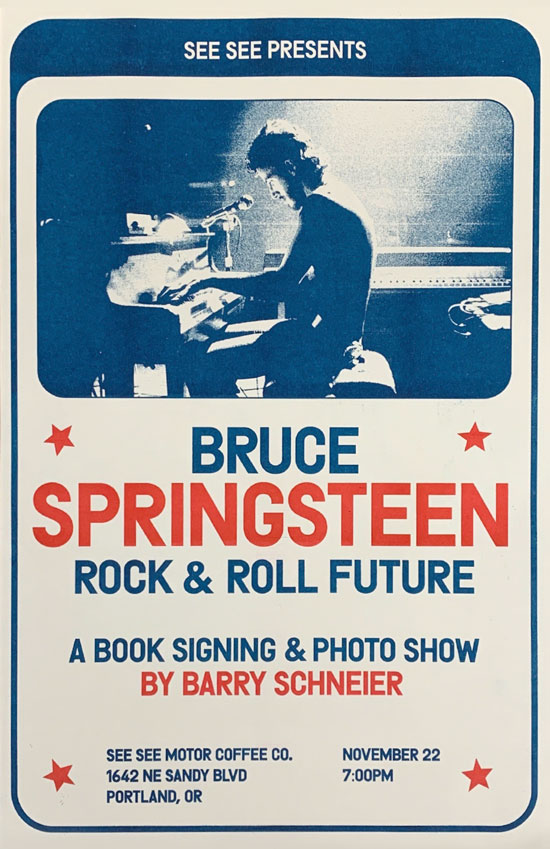 THE ROCK AND ROLL FUTURE ROADSHOW GOES WEST
First stop this Friday in the City of Roses
Hey West Coast: author/photographer Barry Schneier is heading your way! When we published Barry's book Bruce Springsteen: Rock and Roll Future earlier this year, he was able to do a few book events on the East Coast, in New Jersey and the Boston area. Now we're sending him out west — including the birthplace of Backstreets in the Pacific Northwest — for another run of talks and signings.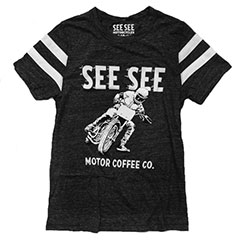 This Friday night, Barry makes his first stop in Portland, OR, at See See Motor Coffee Co. (1642 NE Sandy Blvd.). With a gallery show featuring selected images from the book (and a few others) on display, as well as a DJ spinning a curated Bruce mix, Barry will be speaking about the book and signing copies — it'll be a rockin' kickoff to his West Coast tour.
Following Portland, it's on to Seattle for an event at the Elliott Bay Book Company on Monday, November 25. More dates to come!
Come on out, join the festivities, and say hi to Barry. And if you can't make it, copies of Rock and Roll Future are still in stock — inlcuding a special slipcased edition only available here — at backstreets.com/future.html
- November 19, 2019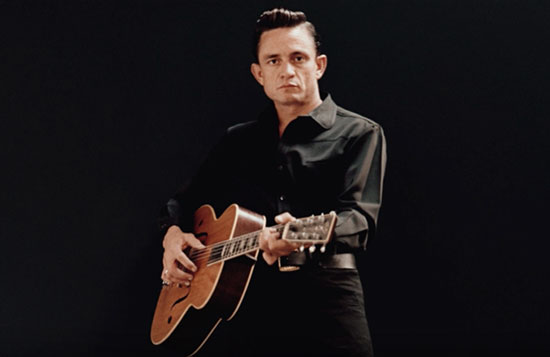 ZIMNY KEEPS A-ROLLIN'
The Gift: The Journey of Johnny Cash now on YouTube in two versions, plus digital-only soundtrack release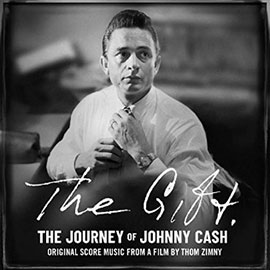 Thom Zimny's feature-length documentary The Gift: The Journey of Johnny Cash is now available on YouTube. Zimny's film was created with the full cooperation of the Cash estate and is rich with archival materials, many of which were unearthed during the making of the film. It explores Johnny Cash's entire life and career, using his 1968 Folsom Prison live-recording project as a central motif.
Bruce Springsteen is among the many famous Cash devotees who recorded new interviews for the film, along with Jackson Browne, John Carter Cash, Rosanne Cash, Rodney Crowell, Robert Duvall, Emmylou Harris, Loretta Lynn, Graham Nash, Rick Rubin, Buffy Sainte-Marie, Marty Stuart, Benmont Tench, and Dwight Yoakam. In the effective style that Zimny developed in his Elvis Presley documentary The Searcher, these interviewees don't appear onscreen but are simply heard and identified with onscreen captions over relevant archival and/or original footage.
The film has been released in two versions: the "Official Documentary," which can be watched free of charge on YouTube by anyone, and the "Bonus Cut" version, which requires a YouTube Premium membership for viewing. (Click here for details.)
Both versions include Zimny's complete documentary, but the Bonus Cut includes more than 15 minutes of deleted scenes that play after the film ends: more details on the writing of "I Walk the Line"; Cash's childhood and his relationship with his father; the personal impact of his first-ever prison concert in Huntsville, Texas, in 1956; his career's twists and turns during the 1970s and 1980s; the Folsom concert backstory; the enduring influence of the gospel music performed at his brother Jack's funeral; Folsom Prison as Johnny Cash's "sinner's church"; and Jackson Browne on Cash's "train poetry." (Trainspotters' note: No additional commentary from Bruce Springsteen is featured in these deleted scenes.)
A digital-only release of the film's soundtrack album also is now available. It features selections from the score composed and performed by Pearl Jam's Mike McCready, recordings by Johnny Cash (including his version of Springsteen's "Further On (Up the Road)"), and segments of comments from the film's interviewees, including Springsteen. Click here for soundtrack streaming options, or here to purchase mp3 downloads from Amazon.
- November 19, 2019 - Shawn Poole reporting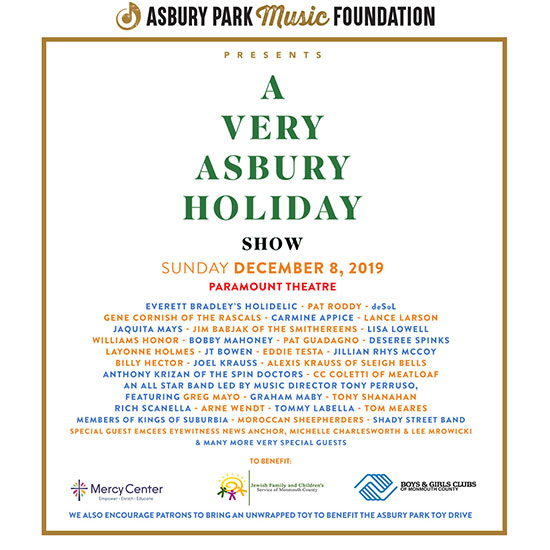 GREETINGS FROM ASBURY PARK
Tickets on sale now for second annual Very Asbury Holiday Show, Dec. 8
The wind's whipping down the boardwalk, which means it's almost time for holiday music in Asbury Park — and for the 2019 season, the big concert event will be the second annual A Very Asbury Holiday Show. With the demise of other Jersey Shore area holiday shows like Bobby Bandiera's acclaimed Hope Concerts, music fans looking to get into the spirit were pleasantly surprised by last year's sellout inaugural Very Asbury event, which despite its length proved a lighthearted, festive way to kick off the season.
This year's show — December 8 at the Paramount Theater in Convention Hall — will once again feature a revue-style format with a backing band led by Musical Director Tony Perruso (Asbury Jukes). The 2019 band lineup will include Graham Maby and Tony Shanahan as well as members of the Kings of Suburbia (aka Jon Bon Jovi's "other" band) like Rich Scanella, Arne Wendt, Tommy LaBella and Tom Meares. Featured performers include local veterans like Lance Larson and Billy Hector, bar bandleader extraordinaire Pat Roddy, Joel Krauss and daughter Alexis (Sleigh Bells), powerhouse vocalists like J.T. Bowen, Deseree Spinks and Layonne Holmes, and Everett Bradley's Holidelic.
"This annual event supports the surrounding community in so many ways, from fostering live music collaborations to benefiting charities that help local families and individuals, and by encouraging visitors to go to Asbury Park's exceptional shops, restaurants, art galleries and music venues," says Roddy.
Local charity beneficaries are the Boys & Girls Club of Monmouth County, The Mercy Center, Asbury Park Music Foundation's Youth Initiative, and Jewish Family & Children's Service of Monmouth County.
So grab your tickets and head down to the Paramount on Sunday, December 8! Tickets are onsale now via Ticketmaster or the Stone Pony box office. The evening's festivities, which begin at 7pm, include an afterparty at the Wonder Bar, and attendees are urged to bring new, unwrapped toys for donation to Asbury Park's annual toy drive. Visit asburyparkmusiclives.org for more information.
- November 18, 2019 - Lisa Iannucci reporting

WALK TALL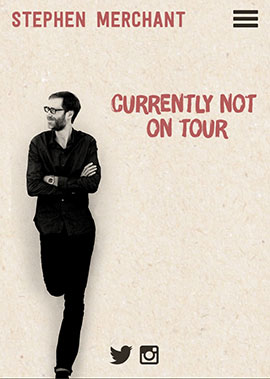 The brilliantly funny actor/writer/director Stephen Merchant, whose television/film career launched when he co-created the original BBC version of The Office, also happens to be a big Springsteen fan. More accurately, he's a very tall Springsteen fan. 6'7", to be precise.
While recently promoting the anti-Nazi satire Jojo Rabbit, in which he plays a Gestapo officer, Merchant participated in The A.V. Club's regular "11 Questions" feature. Question # 10 was, "If you could be in any band, past or present, which one would it be?"
I'd be in the E Street Band. I love Bruce Springsteen, I think he's just amazing in every way. I wouldn't be so presumptuous as to be Bruce. Just let Bruce be Bruce. But I'd be more than happy to be in the band, maybe drumming, or keyboards, or guitar. I'm not taking away from any of the existing E Street Band members; I love them all. But I'm just saying, if there's an extra space for me, I'd very much like to be there. They always look like they're having fun on stage. They're playing great songs, which I as a listener never get tired of, so I certainly wouldn't get tired of playing them. Bruce is doing most of the heavy lifting — he's doing the singing, he's writing the songs — so you essentially just show up to rehearsals. And he's the one that gets slagged off by Donald Trump. I don't know if you saw, but recently Donald Trump referred to Bruce Springsteen as "little Bruce Springsteen," which is amazing to me. First, I was upset that he attacked Bruce. I thought that was completely uncalled for. Of all the things that Donald Trump's done, please, firstly, lay off Bruce. Secondly, is that really your best attack? That he's "little" Bruce Springsteen? He thinks that he can call people little cause he's 6'2"; I am 6'7", and to me, Donald Trump is "little Donnie Trump."
As part of the "11 Questions" bonus round, Merchant also had to devise a question for the next "11 Questions" interviewee to answer — and then answer it for himself, as well. Here's how Merchant answered his own question, "If you could go back in time to any historical event, which would you go back to, and why?":
I told you before about my love of Bruce Springsteen, and there's a famous concert Bruce did in 1975 at the Hammersmith Apollo [aka Hammersmith Odeon.] It was his first appearance in London, he had never performed there before. And the British press really had the knives out for him. They were like, "Who's this Bruce Springsteen guy?" Everyone's raving about him, there were posters up all over town. He was a bit overhyped, so they all went [to the concert] ready to write a damning review. And by the end of the concert, they were giving him a standing ovation. He won them over with the strength of one concert. And that concert is available in film form, but being there and seeing a musician convert a potentially hostile crowd through sheer talent would be exhilarating. And as we know, I would be in the band, of course. Or, given that I have no musical ability, I'd be one of the roadies, just reaching things down from high shelves.
Click here to read The A.V. Club's "11 Questions: Most of Stephen Merchant's survival skills involve being tall." And for more from Merchant on Springsteen, click here and here. Finally, it's worth noting that Merchant isn't the first British comic genius to reference Hammersmith '75 in simultaneously glowing and funny terms. One of Merchant's major influences, Monty Python's Michael Palin, did it way back in 1979, as evidenced here.
- November 18, 2019 - Shawn Poole reporting - special thanks to Dawn Leinberger


BRUCE & BOBBY, BACK AT THE PONY ON SATURDAY NIGHT
Boston College benefit, November 16, 2019
The Stone Pony, Asbury Park, NJ
Bruce Springsteen returned to the Stone Pony inside stage for the first time in eight years, since October 22, 2011, to play a private benefit for Boston College on Saturday night. That 2011 show was also a benefit for BC, and this was the fourth time Bruce has played a benefit show at the Pony for his oldest son Evan's alma mater.
Springsteen was backed up by Bobby Bandiera's band, including a three-piece horn section. Max Weinberg was also in attendance and played about half the show. While Bruce, of course, sang lead most of the night, Bandiera took over for much of "From Small Things"; singer Layonne Holmes (who, along with her late mother Delores Holmes of the early-'70s Bruce Springsteen Band, has backed up Springsteen several times before) sang lead on one song in addition to backup all night.
After running through most of the entire show in a soundcheck earlier in the evening, Bruce took the stage at 7:40pm to start a 22-song, two-hour set, performed for about 400 guests in attendance.
Setlist:

1. 634-5789
2. Seven Nights to Rock
3. Darlington County
4. Spirit in the Night
5. Growin' Up
6. Because the Night
7. Two Hearts
8. Cadillac Ranch
9. Rendezvous
10. The Boy From New York City (featuring Layonne Holmes)
11. From Small Things (featuring Bobby Bandiera)
12. I'm on Fire
13. Waiting on a Sunny Day
14. Talk to Me
15. 4th of July, Asbury Park (Sandy)
16. Tenth Avenue Freeze-out
17. Dancing in the Dark
18. Born to Run
19. Rosalita
20. Detroit Medley
21. Twist & Shout
22. Thunder Road (solo acoustic).
Show over at 9:40pm.
Bruce sounded good and was in good spirits, calling for "shots of tequila" before "Cadillac Ranch." He did a little storytelling during "Talk to Me," about having done something wrong with Patti and having to beg and plead for her forgiveness — a familiar story from some E Street Band shows. Following "Sandy," Bruce talked about how great Asbury Park is now, a good spot to spend a few hours. He marveled that Madam Marie's booth is still there and said to check out Convention Hall: "It's a great place to hang out."
Only three people listened for most of the night on the sidewalk outside the Stone Pony. And how times have changed in Asbury Park: several people walked by during the course of the evening, heard the music, and just kept walking — while Bruce Springsteen played live at the Stone Pony.
- November 17, 2019 - Stan Goldstein reporting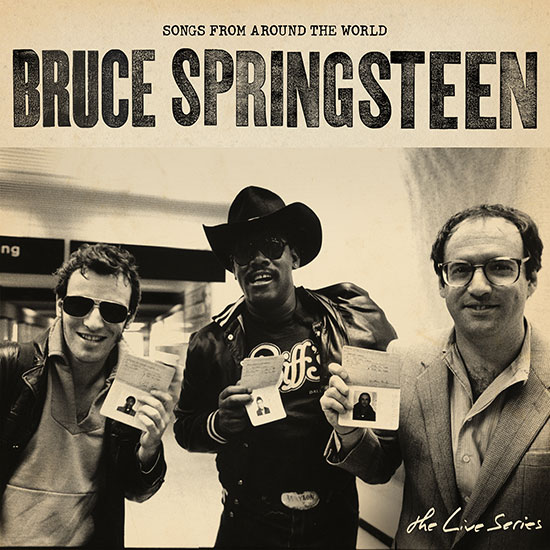 ROCKIN' ALL OVER THE WORLD WITH THE LIVE SERIES
Fifth archival playlist brings 15 more live tracks to streaming services
Following Songs of the Road, Songs of Friendship, Songs of Hope, and Songs of Love, another 15 live tracks have been collected as Songs From Around the World. Each new playlist adds to the officially available Springsteen music on Apple Music, Spotify, and other streaming services.
Today's new entry in The Live Series of thematic playlists kicks off, naturally, with "Rockin' All Over the World." Otherwise, the theme has more to do with where songs were played rather than what was played. Sourced from performances in Europe, Australia, and New Zealand, it's a taste of Springsteen's global market, representing 15 different concerts played for international fans.
| | | |
| --- | --- | --- |
| 1 | Rockin' All Over the World | Olympiastadion, Helsinki, FI - 7/31/12 |
| 2 | High Hopes | Bellville Velodrome, Cape Town, SA - 1/26/14 |
| 3 | New York City Serenade | Entertainment Centre, Brisbane, AU - 3/26/14 |
| 4 | Johnny Bye-Bye | Wembley Arena, London, UK - 6/5/81 |
| 5 | Radio Nowhere | Hope Estate Winery, Hunter Valley, AU - 2/23/14 |
| 6 | Spare Parts | Stockholm Stadium, Stockholm, SE - 7/3/1988 |
| 7 | Lonesome Day | Olympiastadion, Helsinki, FI - 6/16/03 |
| 8 | Crush on You | Ricoh Arena, Coventry, UK - 6/3/16 |
| 9 | Something in the Night | Stadio San Siro, Milan, IT - 7/5/16 |
| 10 | Murder Incorporated | King's Hall, Belfast, UK - 3/19/96 |
| 11 | Incident on 57th Street | Ippodromo delle Capannelle, Rome, IT - 7/11/13 |
| 12 | Loose End | Mount Smart Stadium, Auckland, NZ - 3/1/14 |
| 13 | Johnny 99 | Wembley Stadium, London, UK - 6/5/16 |
| 14 | Thundercrack | First Direct Arena, Leeds, UK - 7/24/13 |
| 15 | Born in the U.S.A. | Stadio San Siro, Milan, IT - 7/3/16 |
Belfast '96, Helsinki '03 and '12, Leeds '13, London '81, Rome '13 and Stockholm '88 are all from the live archive series; the rest of the playlist fills out thanks to the nightly tour releases from 2014 and 2016. Grab your ticket and your suitcase and listen now via Apple Music, Spotify, Amazon, Pandora, Tidal, or Deezer.
- November 15, 2019 - cover photograph by Jim Marchese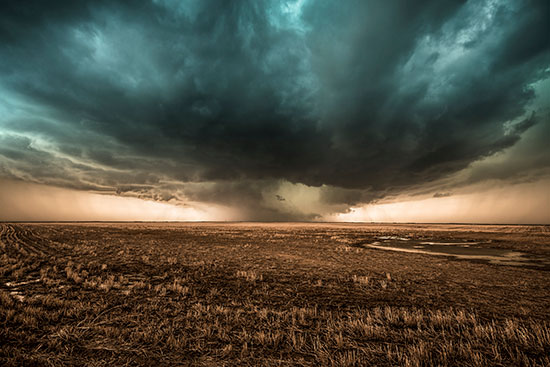 FIERCE BEAUTY SPECIAL OFFER FROM SNAP GALLERIES
Earlier this week we posted about Fierce Beauty, the new book from photographer Eric Meola in which he returns to capture the kind of desert storms he first witnessed with Bruce Springsteen in 1977.
If these images and that story capture your interest, here's a special offering from Eric and his gallery in the U.K., Snap Galleries: for a limited time, now through this weekend (extended just for us!), you can get a signed, dedicated print along with your First Edition hardcover of Fierce Beauty.
The signed print is a B&W image from that original 1977 trip to Nevada, a scene that should be familiar to Springsteen fans (see the cover of The Promise), and very much a companion piece to a photograph featuring Bruce that appears in the book. Purchase the book plus signed print (which you can have dedicated, if you so choose) from Snap by U.K. midnight this Sunday, November 17.
- November 14, 2019 - photograhs by Eric Meola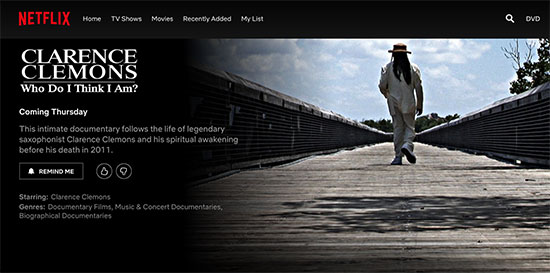 THE BIG MAN JOINS THE BANDWIDTH
Clarence Clemons: Who Do I Think I Am? launches on Netflix
Beginning tomorrow, Thursday November 14, Netflix subscribers can stream Nick Mead's award-winning film, Clarence Clemons: Who Do I Think I Am?
The feature-length documentary, which first began to take shape while Clarence was still alive, provides an overview of Big Man's time on and off E Street, and then delves deeply into his personal spiritual journey to China, its lasting impact, and the unique, moving and powerful solo music that flowed from it towards the end of his life.
Clarence Clemons: Who Do I Think I Am? is a Virgil Films release. It was directed by Mead, who co-produced it with Joe Amodei and Clarence Clemons. In addition to narration and onscreen appearances by Clemons himself, the documentary also features interview footage filmed with many who knew Big Man and/or were inspired by his life and music, including Jake Clemons, President Bill Clinton, Nils Lofgren, Narada Michael Walden, Backstreets editor Chris Phillips, and Backstreets contributor Shawn Poole, who also served as the film's chief researcher.
Add the documentary to your Netflix list now!
- November 13, 2019

I WASN'T JUST TALKIN'
Springsteen wins CCDA for Western Stars, for Best Narration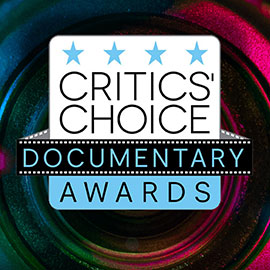 Congratulations to Bruce Springsteen for winning a coveted Critics Choice Documentary Award — already! — for the Western Stars film. As Deadline reports, the fourth annual ceremony was held in Brooklyn on Sunday, and Springsteen won in the "Best Narration" category, as both narrator and writer.
In London last month to promote the film, Springsteen described to interviewer Edith Bowman how the film's voiceover developed, adding a crucial element to what was originally conceived as a straight performance film:
At some point I said, 'Well, gee, this is all new music, how am I going to get people into the inner life of these songs that they've never really heard before?'... I need to introduce them somehow. And one night in front of the television I was sitting there and I just started to scribble my thoughts down for each song. And it was all right there. So I ended up with the script that that is the voiceover.

And then once we had the voiceover, we needed something for it to "voice over." So Thom had some images, and we'd shot a little film during the photo session for the record, and we just started to play with that, and it started to feel good... and then I started to score the voiceover, and that got us into this whole other section of the film. Which is really what turned it into a movie, you know, rather than just a concert film. So it really happened very organically, just bit by bit.
A prized industry honor, the Critics' Choice Documentary Awards are an off-shoot of The Critics' Choice Awards, which are bestowed annually to honor the finest in cinematic and television achievement.
- November 12, 2019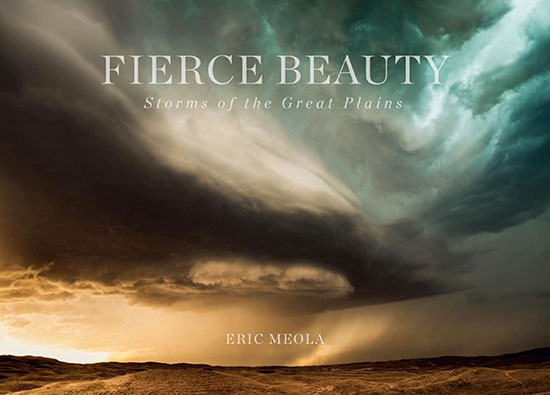 DARK CLOUDS RISING FROM THE DESERT FLOOR
How a 1977 road trip with Springsteen led to Meola's latest work
Photographer Eric Meola, well known to Bruce Springsteen fans from his cover photographs for Born to Run and The Promise, and books such as Born to Run: The Unseen Photos and Streets of Fire, has a new book out today — and it shows just how seriously he took that line, "I packed my bags and I'm heading straight into the storm."
Stormchasing is exactly what Meola has been focusing on in recent years. Four decades on, still inspired by the road trip he and Bruce took into the Nevada desert to make images for the Born to Run followup, the photographer has been capturing twisters and other dramatic, stormy landscapes from America's heartland. The very weather that inspired "The Promised Land" — he and Bruce witnessed that "dark cloud rising" together back in 1977 — clearly left its mark on Eric, too.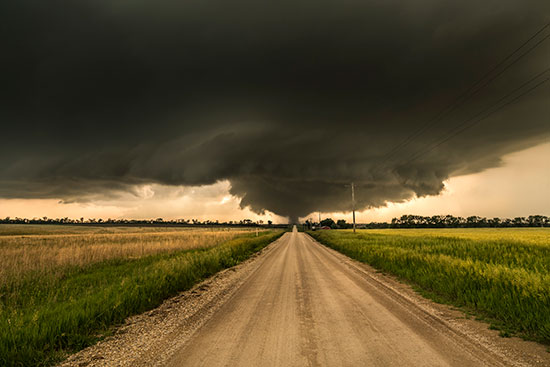 "I always wanted to go back to that day," he says, and he's been making that dream a reality (as much as anyone can) by returning again and again to America's Tornado Alley when the conditions are right. For this series, Eric tells Backstreets, "I did 19 trips with [storm chasing company] Tempest Tours, and another dozen on my own — all in all, I made about 30 trips."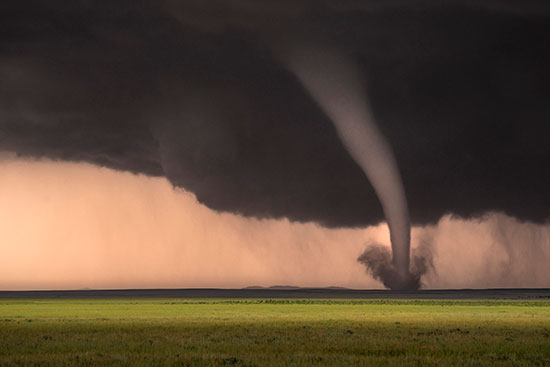 The resulting landscape images are truly awesome — in the original sense of the word. Dust storms, lightning strikes, threatening twisters... scenes of the vast elemental forces at work, the power and sometimes otherworldiness of nature in Tornado Alley. If you follow Eric on Facebook, you already know. With today's publication, he has collected more than 100 of these photographs in Fierce Beauty: Storms of the Great Plains.
"Chasing storms is a rite of spring for me," Meola writes. "It's in my blood and I feel empty when I'm not there. No one can express what it's like to stand on the plains while lightning and hail strike the ground around you."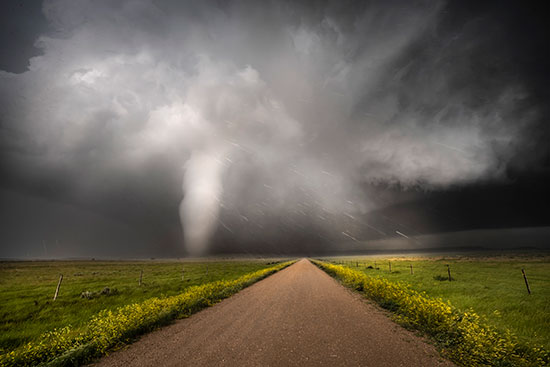 Springsteen himself wrote a blurb for the new book, setting the scene well for Fierce Beauty: "In 1977, Eric Meola and I took a trip to the American Southwest to take some photos for my album, Darkness on the Edge of Town. As usual, Eric caught some great pictures but what he really captured was something in the sky and in the lay of the land that deeply revealed the grandeur and character of the country. This book extends that narrative and reaches something profound..."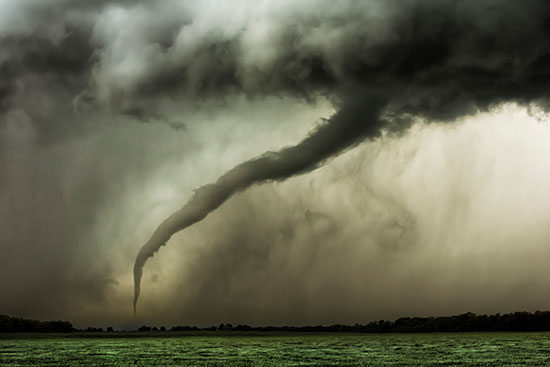 The oversized (15"x11") hardcover presents that narrative in not only Eric's breathtaking images but also his words, eloquent as usual. With his permission, we can reprint here a portion of his Introduction.
In August 1977, a few days after Elvis Presley died, I stood in the muggy air on a hot summer night outside a gas station in Nevada owned by Eugene DiGrazia, who had bought the property in 1932. "Gas station" is a misnomer, for the Valmy Auto Court, lit by neon like an Edward Hopper set piece, was once a miner's shack dating to 1900 that had evolved into a combination general store, post office, Shell station, and Greyhound bus depot. At that time the population of Valmy was less than three-dozen people and a few dogs. DiGrazia had been appointed the town's postmaster by Franklin D. Roosevelt's postmaster general, and the notice of that appointment was tacked to a wall.

In a 1987 interview with the Los Angeles Times writer Charles Hillinger, DiGrazia said, "I bought the gas station, store, post office, bus depot... when I was 19 for $1,800. I later bought 140 acres surrounding the place for $2,100... the station had only one pump and in the beginning cars and trucks were few and far between. A narrow two-lane road went through here. Gas sold for 25 cents a gallon. I paid 191/2 cents for it." DiGrazia continued, "We saved for 12 years to get a telephone and have contact with the outside world. I bought 30 telephone poles for $1,500 in 1942, and a friend and I strung a wire along the poles for 21/2 miles to tie in with the main telephone line." And then he added, "Whatever happens, as long as I live, I want Valmy to stay just as it is today, which isn't much different than what it was when I first came here."

An hour's drive west of Valmy, if you turn south on State Route 400, you will soon be on dirt and gravel roads leading off to the Humboldt mountains to the east. That summer in 1977 I was with musician Bruce Springsteen, and I was making photographs that eventually would be used on an album called The Promise. Driving on one desert road after another for nearly thirty hours straight, with the top down on our rented, red 1965 Ford Galaxie, we turned left on S.R. 400, swerving through the washboard ruts, heading toward Unionville on a gravel road that went into the Humboldt Range and beyond, into infinity.

After driving several miles farther on we stopped, and I placed my Hasselblad camera on a tripod and asked him to drive a half-mile down the road, then turn around and head toward me. Bruce humored me as I made some photographs, and then the sky began to darken. After I shot a roll, we left the road and went back to Interstate 80 to a nearby roadside café. In less than half an hour the sky had turned black, and I insisted we go back to the gravel road. As a cumulonimbus cloud formed in the sky above the long, thin ribbon of a road going off in the distance, I photographed as Bruce drove the car toward me several times, kicking up a dusty plume. Soon it began to rain as flashes of lightning filled the valley. The hypnotic scene etched itself into our eyes and minds, and a few days later Bruce wrote the lyrics to a song called "The Promised Land." I will never forget hearing the words for the first time:

There's a dark cloud rising from the desert floor
I packed my bags and I'm heading straight into the storm
Gonna be a twister to blow everything down
That ain't got the faith to stand its ground

Faith. That was the word that stayed with me from that stanza. In two lines, the confluence of "twister" and "faith" haunted me. What held the people to this land, and why did they live here? In his father's obituary in the December 2, 1990, Reno Gazette-Journal, DiGrazia's son stated, "I don't think he ever thought he could die... even at 77 he acted like he was 25. He was up and at 'em to the end." DiGrazia held his ground in Valmy as a jack-of-all-trades, including service for fifty-three years as postmaster, longer than anyone else in the West; and like Springsteen's father, he was also a bus driver.

A storm in the desert had provided Bruce with the material for an anthem, and he ended each stanza by declaring "I believe in a promised land." I always wanted to go back to that biblical, storm-filled day when we drove up on a hilltop and watched as lightning revealed the valley floor in staccato bursts of thunder. Standing in the rain as the wind whipped against our bodies, we leaned into the squall, laughing with sheer energy as though we were privileged to be present at a small moment of Creation. I photographed several bolts of lightning from the hill, and then we drove down into the valley and back out onto Interstate 80, heading west toward Reno.

It would take more than three decades before I went back — not to Nevada, but to Tornado Alley and the Great Plains. As I watched TV one night in the spring of 2012 and saw the havoc wreaked by the dark blur of a tornado, I thought back to that night in 1977 when we were racing the storm. As the survivors told their stories of loss and devastation, I had an epiphany—the time had come to go out to the plains to photograph the fierce beauty we had witnessed that night in Nevada. I owed myself a road trip. I had a story to tell, and photographs to make...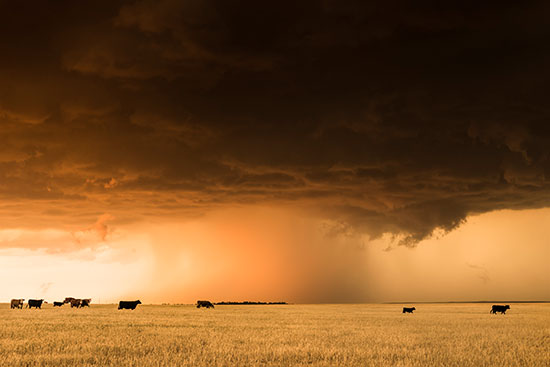 While the recent images collected in Fierce Beauty were captured without Springsteen physically in tow, Bruce was never far from Eric's mind as he continued his treks to storm country.
"There's lots of material that I didn't use [in Fierce Beauty]," the photographer tells Backstreets. "Old buildings, churches, small towns.... I wanted to concentrate on the storms, so in the end I decided not to use most of that material except for a few images in the introduction. But every time I was in a small town, one or more of Bruce's lyrics would come to me. I'd see a vignette of everyday life, and it was as if he were there. In the last page or two of the intro I recount some of those scenes, one in particular about a waitress in a cafe, and a farmer in overalls. I wish Bruce had been there to see and hear that, because I know it would end up in a song."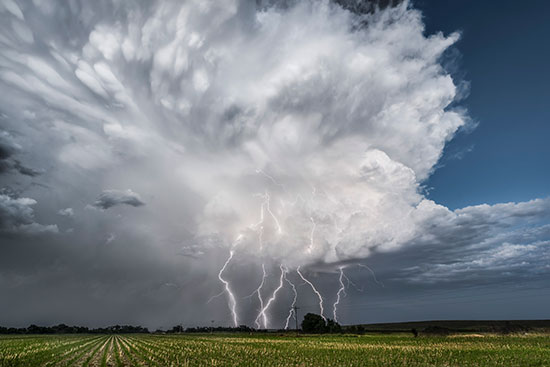 Fierce Beauty: Storms of the Great Plains is out today from The Images Publishing Group of Australia, available now from Amazon or wherever you get your books.
- November 11, 2019 - Christopher Phillips reporting - all photographs by Eric Meola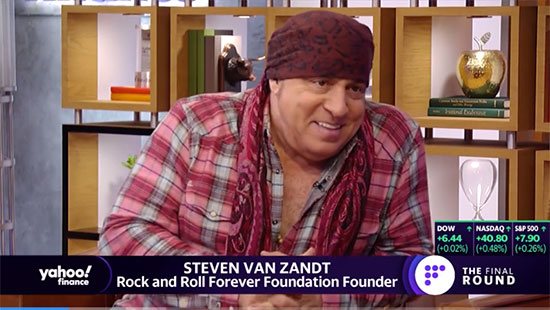 DOW, NASDAQ, S&P 500 & SVZ INDEX ALL UP AT FRIDAY'S CLOSE
Fresh off his latest world tour — the Disciples of Soul closed out their Summer of Sorcery last week in Boston and NYC — Steven Van Zandt guested on Yahoo Finance's The Final Round on Friday. You'll find embedded interview clips at that link.
Subjects include Stevie's philanthropy and deep involvement in music education; his political activism; the upcoming Rock and Roll Forever Foundation Gala, where he'll be honored in two weeks; his work on stage, on television, and with the E Street Band; and his recent pedal-to-the-medal solo career.
"It's probably been the most productive two years of my life," Stevie says, looking back at his recent output and looking ahead to his Early Work box set coming next month — "which will be my fifth album project in two years! That's the most productive I've ever been."
Links below take you directly to the two interview clips:
Visit TeachRock.org for further details about the November 23 gala in NYC and to purchase tickets.
- November 10, 2019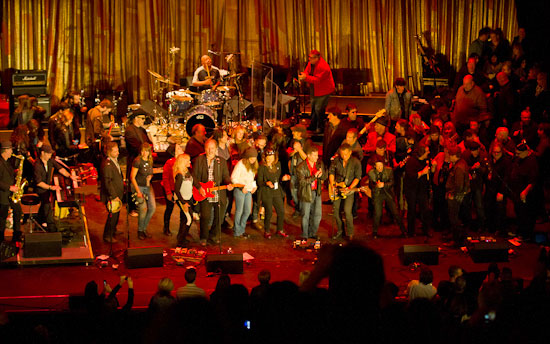 LIGHT OF DAY WINTERFEST 2020 ON SALE SATURDAY, NOV 9
For two decades now, the Light of Day Foundation has been fighting Parkinson's (and related illnesses ALS and PSP) through the power of music, hosting plenty of amazing concerts along the way — that all-hands-on-deck party shot above is from 2015, when Bruce Springsteen made one of his many appearances at Light of Day's annual "main event," now part of an extended festival called Light of Day Winterfest.

Tomorrow, tickets go on sale for Light of Day Winterfest 2020, celebrating the organization's 20th anniversary from January 10-20. With more than 50 events by 150 music acts in five cities and three states, Light of Day's annual anchor event continues to grow — we encourage you to visit the LOD wesbite for details on the complete Winterfest lineup.

The 2020 "main event," Bob's Birthday Bash (celebrating LOD founder Bob Benjamin) will be held on Saturday night, January 18, again at the Paramount Theatre in Asbury Park. While a full lineup has yet to be announced, a first wave of announced performers includes returning LOD stalwarts Joe Grushecky and the Houserockers, Willie Nile, Joe D'Urso and Stone Caravan, Jesse Malin, and Vini "Mad Dog" Lopez.

Tickets go on sale tomorrow, Saturday, November 9, at noon Eastern. Many of the events, including the Saturday night Paramount show, will be on sale via Ticketmaster; also check lightofday.org for many more details including ticket package options.
- November 8, 2019 - photograph by A.M. Saddler

LONG WALK HOME BOOK EVENT IN DC, NOVEMBER 12

With all the hubbub surrounding Springsteen's 70th birthday, we hope you haven't missed Long Walk Home, published on that day by Rutgers University Press. Subtitled Reflections on Bruce Springsteen, it's a collection of new essays by some fine writers and longtime followers, including Eric Alterman, Peter Ames Carlin, Greil Marcus, Louis Masur, Lauren Onkey, Richard Russo, Colleen Sheehy, A.O. Scott, Wes Stace, Frank Stefanko, Daniel Wolff... the list is long.
Three of those writers will appear at a book event in Washington DC next week, along with Jonathan Cohen, who co-edited the collection with June Skinner Sawyers.
Join Cohen, Deepa Iyer ("From the Backstreets to the Badlands: My Springsteen Journey"), Lauren Onkey ("Shackled and Drawn"), and Daniel Wolff ("Work and Play: Mid-Life Music") at Kramerbooks & Afterwords Cafe near Dupont Circle for a panel event on Tuesday, November 12, at 6:30, where they'll "discuss Bruce Springsteen's legacy and music" and sign books. See the Facebook event for further information.
- November 8, 2019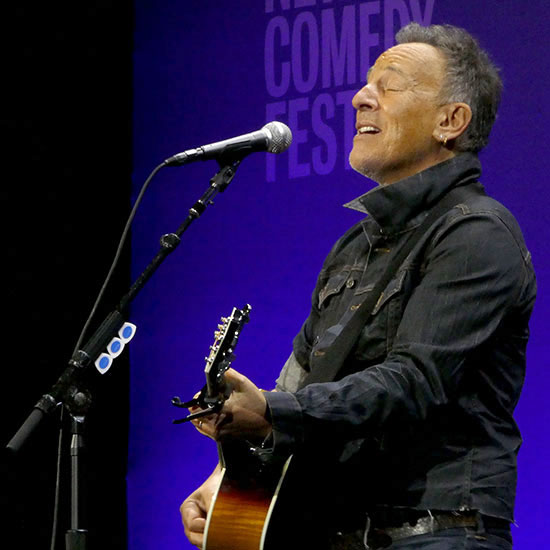 TO THIS ONE I'M SWORN
Springsteen continues aid to veterans at 13th annual SUFH
Monday night, November 4, Bruce Springsteen returned to the Hulu Theater stage at Madison Square Garden to perform at the Stand Up for Heroes benefit — for more than a decade, a regular November date for him — to honor and assist wounded servicemembers and their families. In the front rows, a group more than 60 veterans and their caregivers sat as honored guests for Bruce's set and the rest of the evening's entertainment at the annual New York Comedy Festival fundraiser.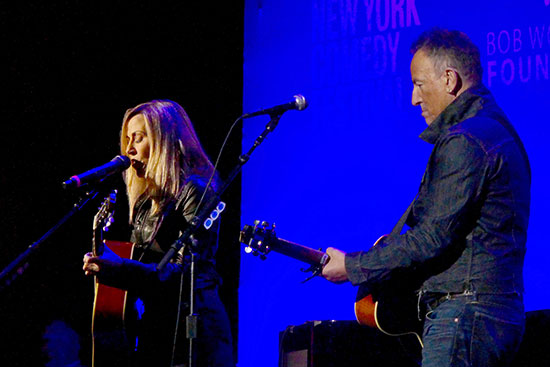 Also on this year's bill were Jon Stewart, John Oliver, Ronny Chieng, Hasan Minhaj, Frédéric Yonnet, and fellow singer-songwriter Sheryl Crow; Springsteen's first appeareance of the night came when he joined Crow for a duet. In the middle of her three-song set, she welcomed Bruce to the stage (to much Brooocing, of course), and the pair blended acoustic guitar and vocals on Crow's "Redemption Day" from her 1996 self-titled album. The performance also let Bruce walk a bit in Johnny Cash's shoes — Cash's recording of the song appeared on American VI: Ain't No Grave, and Crow revisited her song earlier this year as a posthumous duet with the Man in Black.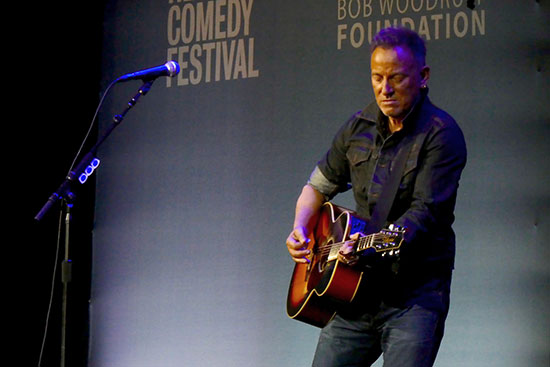 Later in the evening Springsteen returned to close the show, introduced by Jon Stewart. No stranger to introducing the Boss, this time Stewart related that the next performer "decided to take a little break from touring on the road — you know, to take it easy for a little bit — so in that time he wrote a #1 bestelling autobiography, turned that #1 bestselling autobiography into one the of the greatest Broadway shows I've ever seen in my life, turned that into a phenomenal Netflix special, and then decided — just for schnicks, 'cause he was bored — to put out a fantastic album and movie that goes along with it, Western Stars. The point is this: you people... need to get off your asses and start doing things.
"Ladies and gentlemen, the man, the myth, the legend — Mr. Bruce Springsteen."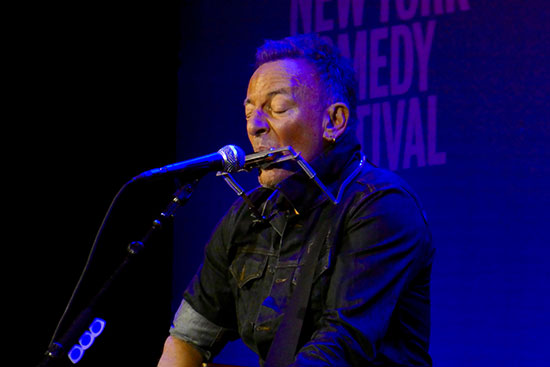 After a hearty hand-clasp with Stewart, Springsteen stepped to center mic, harp rack in place and already strumming his acoustic, to begin not with usual favorite "Working on the Highway" but instead "Bobby Jean" [VIDEO]. Without Patti Scialfa, who often joined her husband for duets here in years past, Bruce continued to offer a different mix of material in a five-song solo set: "I'll Work For Your Love" [VIDEO], "I'm on Fire" [VIDEO], and a Springsteen on Broadway-style "Dancing in the Dark" into "Land of Hope and Dreams" [VIDEO]. Regular attendee Eason Jordan, who shot these photographs, tells Backstreets, "I was especially moved by his opening number, 'Bobby Jean.' I'd never heard it solo, and it was lovely."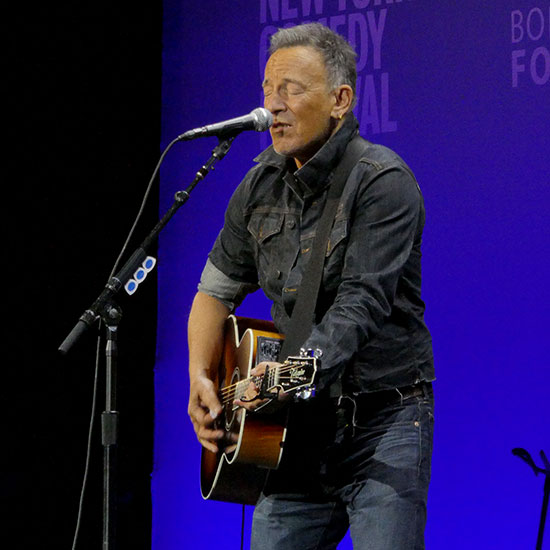 In earlier years, an auction was typically part of the show; Bruce would often sweeten the pot with the addition of his mother's lasagna, or a guitar lesson, to further benefit the Bob Woodruff Foundation. The fundraising portion of the show itself has been minimized, so no more auctioneering from the Boss... but the crowd did still get his comedy stylings. In the event's 13 years Springsteen has only missed it once — so that's been a dozen opportunities to groan at some corny, dirty jokes. For his riffs on dildo shopping and more, we have Andy Greene at rollingstone.com to thank for transcriptions.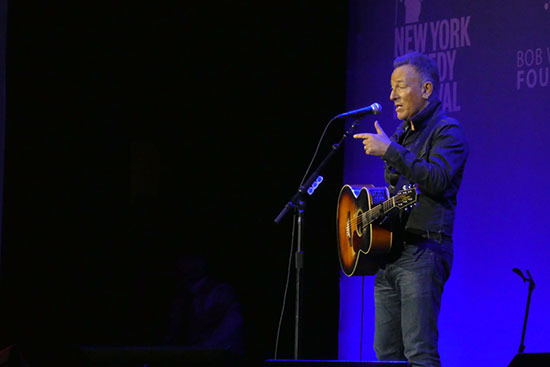 Setlist:
Redemption Day (with Sheryl Crow)
* * *
Bobby Jean
[Sex shop joke]
I'll Work For Your Love
[Bob and Ray joke]
I'm on Fire
[Bridge builder joke]
Dancing in the Dark
Land of Hope and Dreams
As bobwoodrufffoundation.org reports, the 13th annual Stand Up for Heroes raised more than $5.7 million to support veterans through the Bob Woodruff Foundation. Since its inception in 2007, it has raised more than $55 million. Click here for donation options.
- November 6, 2019 - photographs by Eason Jordan - thanks to Sammy Steinlight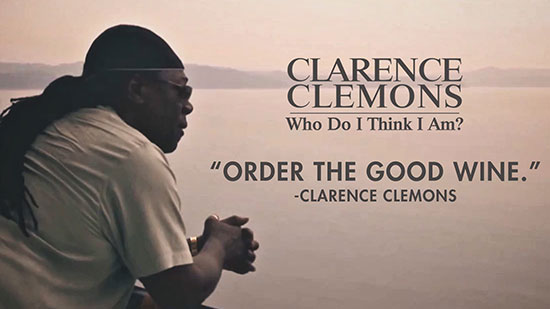 ONE MORE BIG NIGHT ON THE BIG SCREEN WITH THE BIG MAN
This Friday night in Hopewell, NJ, gives you one more chance this year to see Clarence Clemons: Who Do I Think I Am? on the big screen. The Hopewell Theater will host a special screening of Nick Mead's award-winning film, followed by a talkback with the film's co-producer (and Virgil Films founder/president) Joe Amodei, Director of The Bruce Springsteen Archives & Center for American Music at Monmouth University Eileen Chapman, and Backstreets contributor Shawn Poole. Shawn served as the film's chief researcher and is among its interviewees, along with Backstreets editor Chris Phillips, Jake Clemons, Nils Lofgren, President Bill Clinton, and more.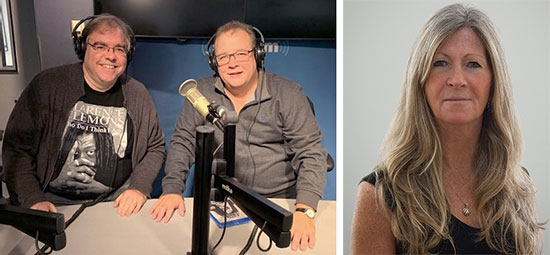 (L-R) Poole and Amodei visiting E Street Radio last month; Chapman at Monmouth U.
A few tickets remain available. Click here to buy yours.
- November 5, 2019



STEVIE'S BACK!
Little Steven and the Disciples of Soul, November 2
Chevalier Theatre, Medford, MA
After an eight-week hiatus from his Summer of Sorcery Tour, allowing Steven Van Zandt to recover from sinusitis, Saturday's return to the stage showed absolutely no ill effects from the break. Little Steven and the Disciples of Soul were ready to rock Boston, and rock they did.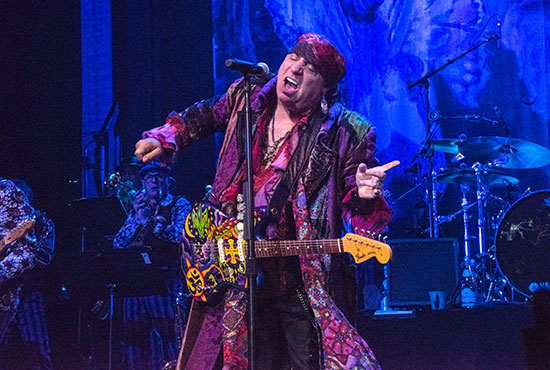 From the opening chords of "Communion" (also the lead track from latest album Summer of Sorcery), as the backup singers and horn section took the stage in New Orleans Second Line style, you knew this would be an evening of celebration. Steven and the Disciples made it very clear this was a night to step away from all the troubles of the world, to celebrate the joys and freedom "summer" brings (even though it was a chilly November night), and to make it a party.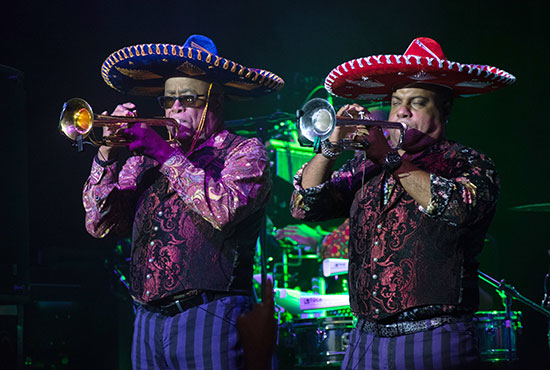 Drawing a healthy mix of material from Steven's latest releases as well as classic early work, this evening's two-and-a-half-hour performance kept fans on their feet from open to close. And Steven would make sure that it was an evening not just to celebrate but to remind us of what is important in our lives.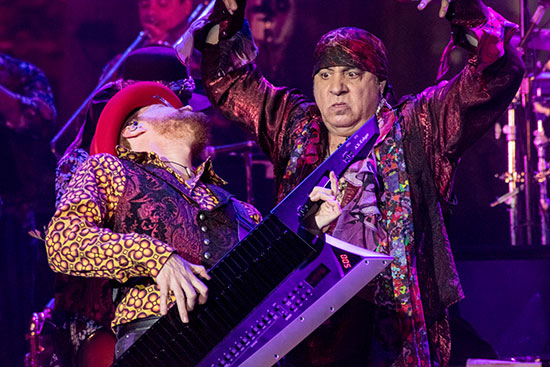 For Steven, the work teachers do is paramount. His efforts with his TeachRock educational program and the open invitation for teachers to attend his shows for free is evidence enough, but Saturday night he spoke passionately about the profession, with a shout-out to what he described as "the most underpaid and most highly important position today... teachers, they create our future." Cue up Summer of Sorcery's "Education."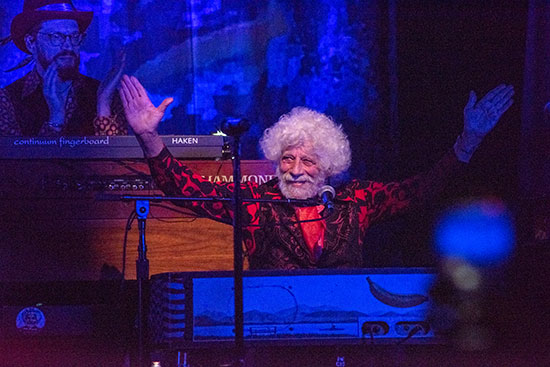 Steven took a moment to single out current Disciple Lowell Levinger AKA "Banana" (keyboards and mandolin) as a musician for whom he holds the upmost respect [above]. As Stevie cited Levinger's band The Youngbloods, Banana graced us with "On Sir Francis Drake" from his group's 1969 album Elephant Mountain. As Steven said, "Without Sir Francis Drake, there would be no California; without California, there would be no Los Angeles; without Los Angeles, there would be no Beach Boys; and without the Beach Boys, there would be no Summer."
Paying tribute to his own history, Van Zandt treated the audience to a three-song medley of material he and Bruce Springsteen wrote together for Southside Johnny and the Asbury Jukes: "Little Girl So Fine," "Trapped Again" and "Love on the Wrong Side of Town."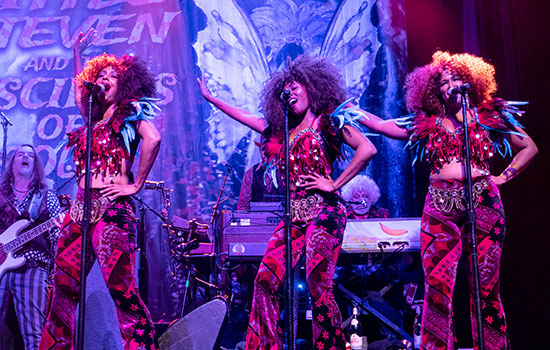 With "World of Our Own," Steven reflected on the great girl groups of the 1960s, giving a nod not only to the great songwriting teams that created the hits of that era but to the importance of seeing these groups rise to success and perform on the top television programs of the day. A time when, in a male-dominated music scene, young girls could watch and feel empowered to follow in those footsteps.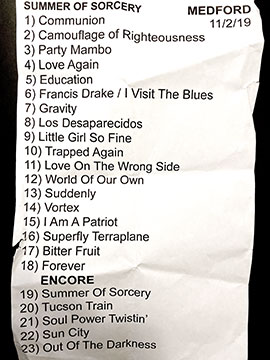 Steven has never been one to shy away from politics. In the past he's said that he was compelled to bring up issues that weren't being noticed. Less so today — in our politically saturated culture, he considers his concerts more useful for giving us a break from it all. He did, however, discuss the principle of the "false choice" — as in, being told you can have a good economy or a clean environment. You can be a patriot or a global citizen. As Steven argues, you can be both. With that he introduced "I Am a Patriot," dedicating it to Greta Thunberg.
"Bitter Fruit" brought the house to a fever pitch, featuring a great "drum-off" between Anthony Almonte on percussion and Rich Mercurio on drums, segueing into the classic "Forever" to close out the set with the house shaking.
Back for a five-song encore, Van Zandt offered that his friend Bruce Springsteen hadn't been working for a while — so we should all go out and see Western Stars to ensure Bruce has some income during this time. That brought a Disciples rendition of "Tucson Train" before they finished the night with "Out of the Darkness," sending us home with not just the satisfactions of a lengthy break from the stressors of life but an inspiration to carry these messages of hope and joy forward.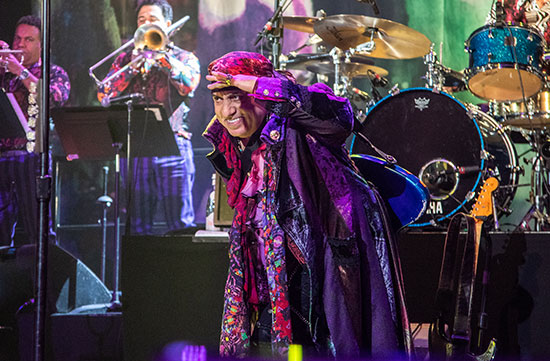 This was first of the two remaining shows on the Summer of Sorcery Tour, with the final performace this Wednesday, November 6, at New York's Beacon Theatre — both being filmed for an upcoming live DVD. Steven will also appear in NYC later this month as the guest of honor for TeachRock's First Annual Gala, November 23 at the Hard Rock Café.
- November 4, 2019 - report and photographs by Barry Schneier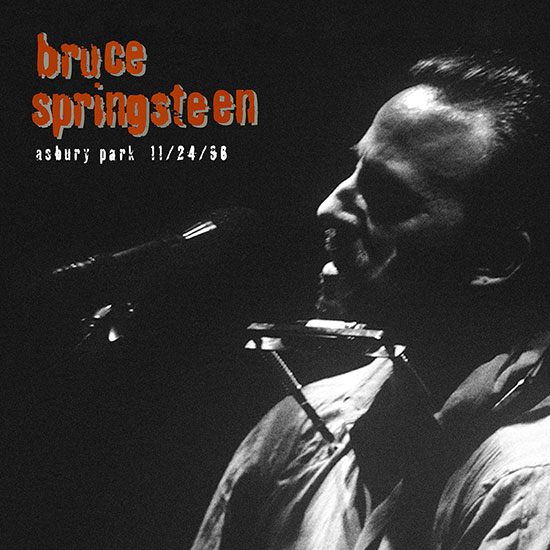 THE BOARDWALK IS ALIVE TONIGHT
Tom Joad brings friends to Asbury Park with today's live archive release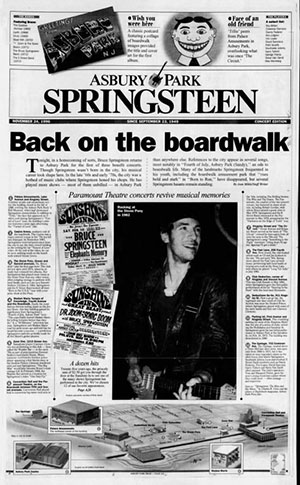 Bruce Springsteen's tour for The Ghost of Tom Joad tour spanned an astonishing three years — a long run for a solo project. Close to the end of the second year, after touring all over North America and Europe, Bruce brought it all back home for three shows on the Asbury Park boardwalk, at the Paramount Theatre. After the dark ride that had been the Joad tour to that point, the Asbury stand allowed a ray of light to enter the proceedings, with friends and family joining in and a homecoming feel.
Today's archive release is November 24, 1996, the first night of that stand. It's the third Joad tour archive release, following Belfast (March 19, 1996) and Freehold (November 8, 1996) — the latter another local special from just a few weeks prior, but with a markedly different setlist and tone.
Appropriate to the setting, 11/24/96 includes three early favorites from Greetings From Asbury Park, N.J.: "Blinded by the Light," "Does This Bus Stop At 82nd Street?," and "Growin' Up." Not only was this a dramatic departure from the typical Joad set, it was stunning simply to hear those songs performed solo, and acoustically, much as John Hammond did at his Columbia Records office in the early '70s. But as much as this performance looks back, it also points the way forward.
From the standpoint of nearly a quarter century later, it is astonishing to see how the 1995-'97 World Acoustic Tour led Bruce Springsteen's artistic trajectory to where it is now. We can now trace the 70-year-old man of today to the one who walked onstage to present the ghostly tales of John Steinbeck's Depression-era hero Tom Joad back in the mid-'90s. And how that album resonates right now, with its accounts of desperately sad and forgotten people roaming the dark byways of America, and those who risked everything to cross over from a much worse elsewhere to the Promised Land.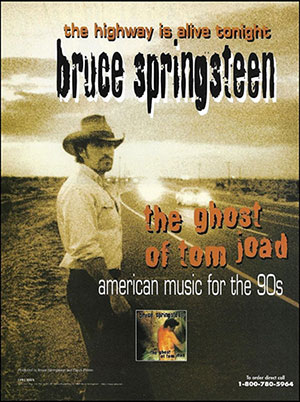 Bookended by his first solo album Nebraska (1982), and Devils & Dust (2005), The Ghost of Tom Joad (1995) was a bracing palate-cleanser from works like the oft-misunderstood Born in the U.S.A. Springsteen proved that you could go from thousands of people singing every lyric to your songs in a sports stadium to small theaters where people listened, rapt, to your stories. No one had taken that leap before; no one would have wanted to. This was not the usual career arc; certainly it wasn't the one your record company wanted you to take.
The tour's intimate setting and radically different tone highlighted Springsteen's self-deprecating humor. It was alternately known as the Shut The Fuck Up tour — because he warned every night that the audience had better do so or risk him abandoning his "man of the people image." Obviously, Springsteen had spent a lot of time thinking about his life and his work; he had been irrevocably changed by love, marriage, and having a family. We did not know this guy, exactly; it was the first time we had ever met him. He was beginning to peel his own soul like an onion, a process that would go on for years, and reveal more of himself with every layer. It's been an ongoing journey that we are lucky to witness, an act that helps us learn about ourselves as well.
Years later, there would be an autobiography that struck us to the bone with its stark honesty, and a Broadway production marrying that book to a solo show. Most recently, we can point to the bold remembrances that frame the songs in his directorial debut, Western Stars.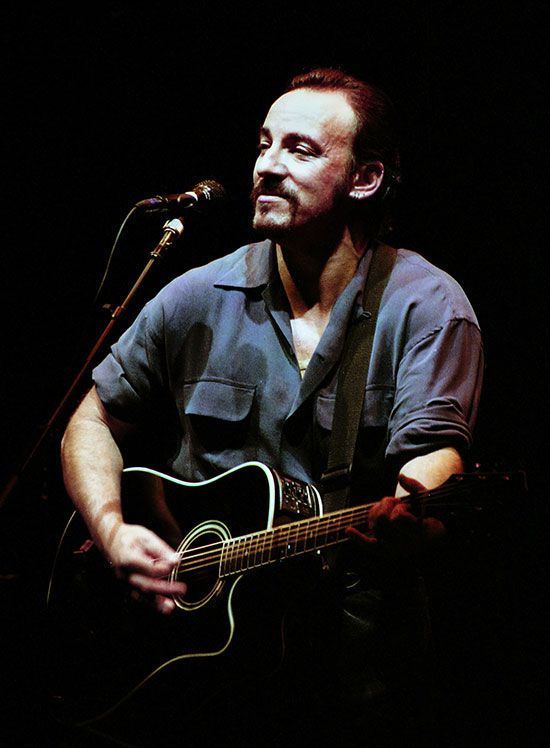 Paramount Theatre, Asbury Park, NJ, November 24, 1996 - photograph by Mark R. Sullivan
This night marks Springsteen's first official Asbury Park concert in decades (guest appearances and Stone Pony surprises aside) — before all those rehearsal performances and holiday concerts in Convention Hall, from 1999 on. Like the Freehold performance, the three shows here took cues from Springsteen's past. Belfast was a straight-up Joad show, but with its sense of place, Freehold set the stage for the Boardwalk: with only five selections from the Tom Joad LP ("Straight Time," "Sinaloa Cowboys," "The Line," and "Across the Border," along with the title track), the Paramount Theatre shows fully embraced Springsteen's own musical history.
Lesser played touchstones — "Wild Billy's Circus Story," "Rosalita," and "4th of July, Asbury Park (Sandy)" — folded seamlessly into the fabric of the usual tour setlist (November 24 features four tour debuts: these, plus "Independence Day"). The brilliant pairing of "Shut Out the Light" and "Born in the U.S.A." — drastically re-arranged, almost to the point of not being recognizable — revealed the depth of sorrow and heartbreak for those who fought hard and long for our country while getting so little back.
Unlike the rest of the tour, the three-night stand in Asbury featured special guests. Soozie Tyrell and Patti Scialfa graced "Shut Out the Light" with violin and voice, also appearing together on "Two Hearts" and "When You're Alone"; Soozie added fiddle to a rare "Racing in the Street." Danny Federici brought his accordion and famous boardwalk sound for "Wild Billy" and "Rosalita," and later, for the night's penultimate number, when he accompanied Springsteen on "Sandy." Especially given that the E Street Band had yet to be reunited and rededicated, this one was a magical boardwalk moment. Over the three-night run, Bruce invited Scialfa, Tyrell, and Federici along with Big Danny Gallagher, Vini Lopez, and Little Steven to join in on different songs, further exploring the mighty Glory Days of Asbury; this was probably as cathartic for them as it was for fans.

Paramount Theatre, Asbury Park, NJ, November 24, 1996 - photograph by Mark R. Sullivan
At this stage, re-arranging songs was fast becoming one of the more compelling aspects of Springsteen's songcraft. Known to occasionally build a new song from a line or two of an older one, now he took old songs and made them new — with no better example than the cornerstone of the show, closing the night once again, "The Promised Land." Stripped of its power rock dynamics, it became a somber anthem that told of dreams deferred and derailed, and yet, and yet… there was still hope. At the end, with his hand keeping rhythm under the dirge-like melody, Springsteen throws his head back, eyes closed, and forsakes the lyrics entirely to an otherworldly, fierce keening.
That song was the dark heart of the night. But this Asbury release reveals a Joad show that had lightened considerably, as Springsteen deftly wove a place for old songs and old friends, and did so with customary flair.
Also read: Erik Flannigan's latest nugs.net blog entry, "A Place Where You Could Find Yourself"
- November 1, 2019 - Holly Cara Price reporting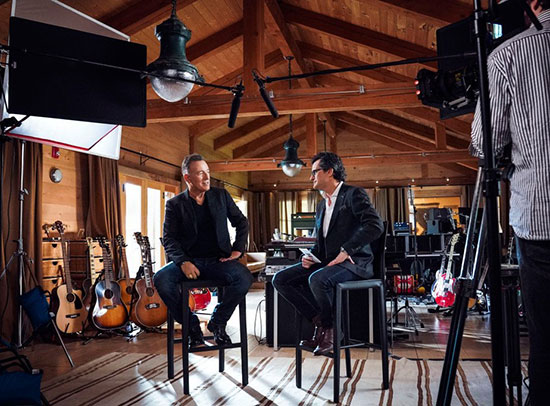 REMEMBER ALL THE MOVIES
Saturday with Springsteen matinee double feature on TCM tomorrow
Tomorrow afternoon it's time to break out the popcorn — and maybe two raw eggs and a shot of gin — as we have the chance to take in a double-feature with Bruce Springsteen. Bruce will appear on Turner Classic Movies on Saturday, November 2, to "guest program" TCM for the afternoon, talking film with Ben Mankiewicz and presenting two of his favorite movies.
As a 3:30pm matinee, John Ford's The Searchers (1956) is up first, the classic John Wayne Western that has long been a favorite of Bruce's. For the second film, at 5:45pm, Springsteen selected Elia Kazan's A Face in the Crowd (1957), in which "a female radio reporter turns a folk-singing drifter into a powerful media star."
In addition to the preview clip above, you can see two more at rollingstone.com. As Rolling Stone reports (and as you'll recognize if you caught Gayle King's recent visit to Stone Hill Studio on CBS), "the interview segments were shot at Springsteen's home studio in New Jersey."
- November 1, 2019

For older news, visit our News Archives