TODAY IN TORONTO
Above, watch Bruce Springsteen meeting and greeting fans at the Indigo Bay & Bloor bookstore — more than eleven minutes of footage — via CP24.com.
- October 27, 2016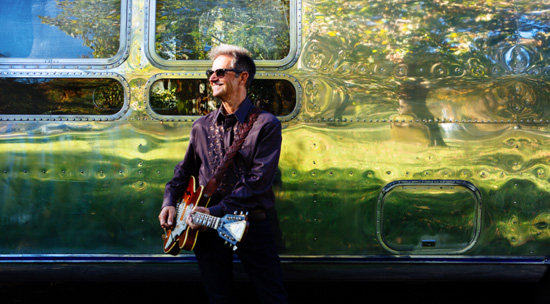 HAPPY BIRTHDAY GARRY, LONG MAY YOU PLAY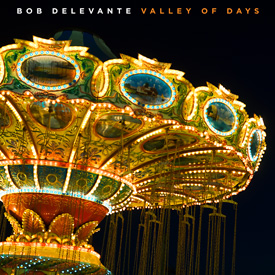 Wishing a happy 67 today to the Tennessee Terror, Mr. Garry W. Tallent!
As we've all learned, Garry doesn't just sit around during break time... check out some of his most recent studio work on Valley of Days, the new album by his "pal from Hoboken, now Nashville," Bob Delevante. Bob is also a designer, illustrator, and photographer — he took the portrait of Garry above, as well as the Break Time album cover.
Valley of Days is out now on Relay Records; you can pick up the CD at bobdelevante.com or download from the usual online sources.
"I am playing a little bass on there," Garry tells us (he's on eight of the album's eleven tracks), "but give it a listen anyway."
- October 27, 2016 - photograph by Bob Delevante

SPRINGSTEEN GOES MEMOIR-HOPPING
Just weeks after Born to Run, Bruce turns up in I Am Brian Wilson

Bruce Springsteen makes a surprise cameo appearance in Brian Wilson's new memoir, I Am Brian Wilson (Da Capo), just as he did when the two songwriting legends teamed up to perform a couple of Wilson hits at a charity concert in 2007.
As Wilson remembers, "I was playing a benefit show at the Count Basie Theatre in Red Bank, New Jersey. The whole time we were playing our show, there was a guy sitting in a folding chair on the side of the stage."
It turns out this "guy," who was "so quiet there on the side of the stage.... [i]t was almost like he was taking notes," was Springsteen himself. To Wilson's surprise and joy, Springsteen jumped on stage with the head Beach Boy and his band to play guitar on "Barbara Ann" and sing harmonies on "Love and Mercy."
When the two legends "hung out for a little while" after the concert, Springsteen told Wilson that his songs "were American masterworks."
The ever humble Wilson writes, "It was nice of him to say. He has written some himself."
- October 27, 2016 - Paul Gleason reporting - read Paul's full review of I Am Brian Wilson at stereoembersmagazine.com

O CANADA... SPRINGSTEEN IS COMING!
After meet-and-greets in the U.S. and England (and a press stop in Frankfurt, too), the Born to Run book tour will be heading to Toronto this week. Bruce Springsteen will appear at Indigo Bay & Bloor this Thursday afternoon, October 27, to meet and have his picture taken with 600 fans. Event info is here; tickets go onsale today at 1pm Eastern via Eventbrite.
- October 25, 2016

GREETINGS FROM ASBURY PARK: LIGHT OF DAY TICKET ALERT
Time to start booking those hotel rooms — it's Light of Day announcement time! Organizers Jean Mikle and Tony Pallagrosi visited Tom Cunningham's Bruce Brunch yesterday morning (as they do every year) loaded with tantalizing tidbits about January's annual Light of Day (LOD) Winterfest. As always, the festivities benefit Parkinson's research, though at this early stage some logistics have yet to be ironed out. There are lineup details — headliners in particular — that cannot yet be announced. But with themed shows ranging from pop standards to tribute nights to the annual Asbury Angels induction, LOD Winterfest 2017 includes something for everyone, and it's shaping up to be another essential event for Jersey Shore music fans.
Those who have been following closely will note that, as in prior years, there have already been Light of Day "Winter Shows" in 2016 down in Australia, this year with saxophonist extraordinaire Eddie Manion at the helm. And, as has also been the case for the last few years, Europe and then Canada have shows some weeks prior to the Asbury Park extravaganza, with familiar faces like James Maddock, Joe D'Urso, and Joe Grushecky in the core lineup. But the "main event" is always in Asbury Park, and once again, those same artists will appear at multiple venues at the January Winterfest. Other notable artists announced yesterday include Dramarama, dynamic soul singer Remember Jones, and the ever-popular Bobby Bandiera and band. Long a fixture as both bandleader and sideman (Asbury Jukes, Bon Jovi), guitarist/vocalist Bandiera has been rocking New Jersey since his teens in cover bands like Holme and Cats on a Smooth Surface, and while he has stopped by to sit in a couple times in prior years, it's nice to see him in the official lineup this time out.
The Winterfest begins on Friday, January 6, 2017 and runs through Monday January 16, and includes venues in the Philadelphia area and New York City as well as Asbury Park. D.J. Cunningham, who has emceed at the Saturday night "Birthday Bash" show for some time, will have expanded duties this time out, too, with a live Bruce Brunch broadcast set for the 15th at Convention Hall.
Tickets for January's festivities go on sale this coming Saturday the 29th at noon via Ticketmaster. And, as always, stay tuned to the Light of Day website for announcements and up-to-date venue and lineup information.
- October 24, 2016 - Lisa Iannucci reporting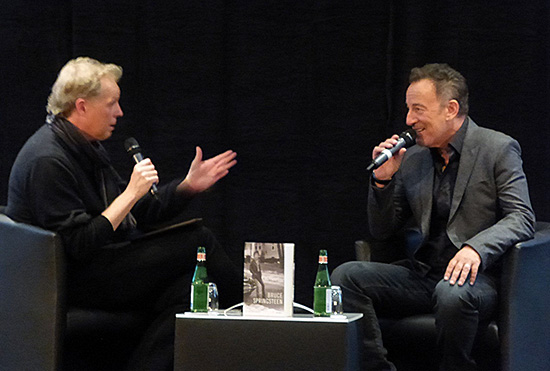 BORN TO RUN TOUR QUIETLY COMES TO GERMANY
Last week, the Frankfurt Book Fair was bustling with rumors. With Bruce Springsteen having made the trip to Europe, would he come to the world's biggest such fair to present his autobiography? It happened Thursday — not at the fair itself, but in a nearby hotel to which his German publisher had rather secretly invited about 150 journalists from Germany and neighbouring countries. They were instructed not to mention the name of the hotel, even after the event.
Bruce was asked questions about his book and his life by German radio journalist Thomas Steinberg. The author also read portions from his autobiography ranging from his teenage dream of replacing Mick Jagger to the moving story of Doug Springsteen admitting that he hadn't been very good to his family. And that kind of acknowledgement was all he needed, said his son in Frankfurt.
Springsteen talked about Bob Dylan's Nobel Prize ("I'm sure he is very happy") and, when asked whether he himself wouldn't like to be running for President, said he had no political talent whatsoever. When asked what his mother (who had always wanted him to be an author) thought about Born to Run, Bruce responded that she suffers from Alzheimer's disease now but would have liked the book for sure. Time passed quickly, leaving many press questions unanswered — but that surely would have taken all night.
When Bruce stood up, many rushed to the stage asking for autographs. Although this was apparently not wanted by the organizers, he did sign quite a few books before he went on to the bar for a glass of beer and quick individual chats with the journalists. It was announced again that people were — bitte! — not supposed to take photographs or ask for signatures. But Bruce did sign, and he did smile for pictures. And then time was up. Springsteen left the building and was ushered into a car at the front door where two or three fans were waiting for him and got their autographs as well. And then he was gone.
- October 23, 2016 - report and photograph by Olaf Dellit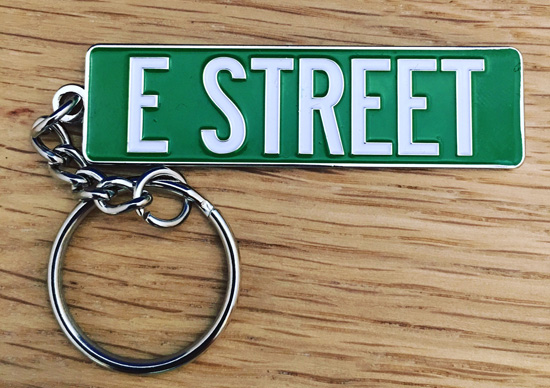 FOR YOUR KEY TO THE UNIVERSE
Our friends at Print Mafia keep tramping the streets. Following their series of enamel pins featuring Springsteen-inspired street signs, they've produced an E Street keychain, nickel-plated solid iron. Shuffle on over and get yours here.
- October 21, 2016

TICKETS ON SALE TODAY FOR 5th ANNUAL BIG MAN B'DAY BASH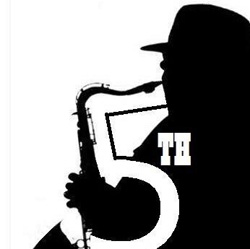 It's time to think about next year already, and what better way to kick off 2017 than to come "down the Shore" to celebrate Clarence Clemons at his 5th Annual Birthday Bash? The day-long benefit event returns to Bar Anticipation in Lake Como, NJ on Saturday, January 7, 2017 with a stellar lineup starring Gary U.S. Bonds, John Eddie, John Cafferty (Beaver Brown Band) and the Nick Clemons Band. Other performers include Jersey Shore stalwarts J.T. Bowen, JoBonanno and guitarist Ricky Byrd (Joan Jett & the Blackhearts).
This year's show, besides being a festive birthday celebration for the Big Man, benefits drug addiction support charities CFC Loud N Clear and TOPAC (The Overdose Prevention Agency Corp.). "My father always taught me to 'give back' and remember the less fortunate," said Nick Clemons in a press release.
Tickets are now on sale via big-road.ticketleap.com. Visit the event's Facebook page for up-to-date lineups and event information.
- October 21, 2016 - Lisa Iannucci reporting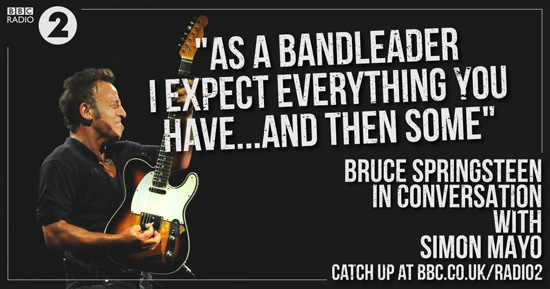 ONLINE NOW: SIMON MAYO'S SPRINGSTEEN INTERVIEW FROM RADIO 2
The interviews from the UK keep coming, with Bruce Springsteen in London this week for book press. Don't overlook the Channel 4 interview we embedded below... and today, there's the new one with Simon Mayo on BBC Radio 2. As promised, Springsteen answers fan questions after a discussion of the memoir; he goes on the record about the elusive "I'll Stand By You Always," the song he wrote for a Harry Potter film, "but they didn't use it!" Listen to the full Simon Mayo Drivetime interview online now at bbc.co.uk.
- October 20, 2016

ANOTHER SHOT AT SONGS OF SPRINGSTEEN: TEST PRESSING AUCTION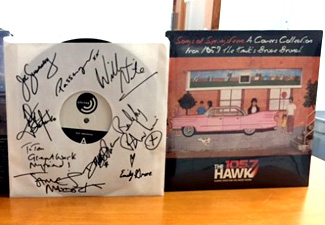 Back in April when the limited edition Songs of Springsteen: A Covers Collection From 105.7 The Hawk's Bruce Brunch was released on Record Store Day, it sold out in less than two weeks. A pet project of Bruce Brunch host Tom Cunningham, the ten-inch record was a benefit effort for Ocean of Love, with all profits going to the charity.

Tom isn't done yet: Up for bids right now is a test pressing of the rare EP, a one-of-a-kind item, with the sleeve signed by all of the artists (both musicians and photographers) involved: Bobby Bandiera, Danny Clinch, Joe Grushecky, James Maddock, Willie Nile, Passenger, and Frank Stefanko.

The auction will run through Friday, October 21st at 3PM and the high bidder will take it. Click here for further details; the auction is part of the Ocean of Love Billboard Radiothon from 105.7 The Hawk.
- October 20, 2016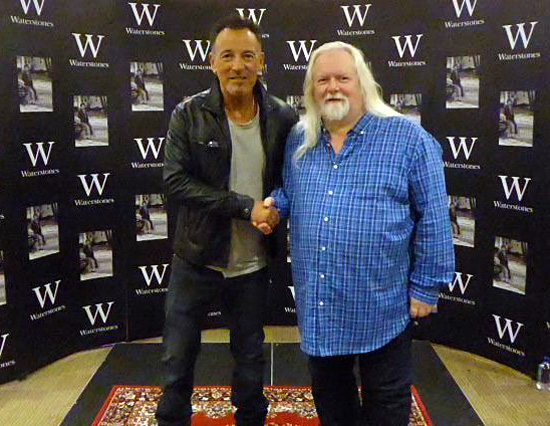 SPRINGSTEEN BOOK TOUR MOVES TO LONDON
When details of Bruce Springsteen's book promotion tour of the U.S. became known, European fans began to speculate whether he would make any appearances on the other side of the Atlantic. Given the massive audience he has in that part of the world, it seemed extremely unlikely that Bruce would restrict his activities to his home country. As the tour progressed from coast to coast, anticipation grew higher. The tension was broken on October 10, when it was announced that prominent retailer Waterstones would be hosting a Born to Run event, featuring a guest appearance by its author, at an unspecified location in "central London" on October 17. Limited to one per person and priced £22, e-tickets went on sale at 8pm the following day, via the Ticketscript website, and predictably sold out faster than you could read the book's shortest chapter.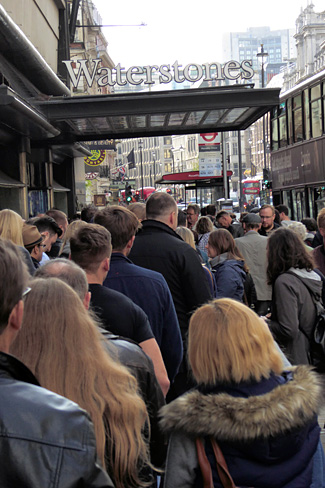 The price of admission gave buyers the opportunity to have their picture taken with Bruce (one group or individual, no selfies) and to obtain a copy of Born to Run "with a pre-signed book plate." The venue was disclosed to ticketholders only by e-mail on October 16, together with a list of 23 terms and conditions of attendance. "For safety and security reasons" they were discouraged from revealing the location to anyone else, in order to stem the inevitable flood of hopeful, ticketless fans the following day.
It was no big surprise to discover that Bruce was scheduled to appear at the six-story Piccadilly branch of Waterstones, a short distance from the rumbling traffic and bright neon signs of Piccadilly Circus. Notable for being the largest bookstore in Europe, this was the only branch in the city with the floorspace necessary to accommodate a large crowd of Springsteen fans. The air of secrecy was maintained on the day when the store, devoid of any Born to Run window displays or other promotional paraphernalia, closed at 2pm "for a private event," giving no indication of what was about to happen inside.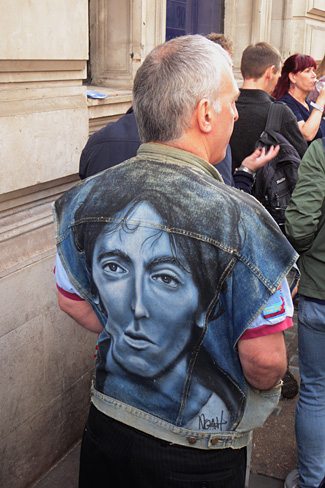 Ticketholders had been warned not to begin lining up until after 2pm, but also to ensure they did not arrive later than 4pm, because "the exact time at which the event ends will be determined by the promoters" and late arrivals "may not have the opportunity to meet Bruce Springsteen." In reality, given the fact that the guest of honor was accustomed to giving regular four-hour performances, it was very unlikely that the plug would have been pulled before the last fan had left the building.
It was also made clear that Bruce would not be autographing anything, but attendees were encouraged to bring gifts, which could be deposited with a member of the Waterstones team prior to meeting the man himself. "Please be assured," said an explanatory e-mail, "that all gifts will be passed on to Bruce Springsteen, except pitches, demos and scripts."
When I arrived at 2:45, there was already a line of several hundred fans stretching along Piccadilly, down the alley at the side of the store and around the corner. As ticket bar codes were read and wristbands were fitted, it felt like we were waiting to enter the pit at a Springsteen concert. Soon afterwards, stewards began moving the crowd into the building, in large groups at regular intervals. First stop was the basement, where attendees were required to leave their belongings (they'd been encouraged to bring along as little as possible in order to streamline the process) at a bag drop. They were then escorted up to a holding area on the third floor, where regular updates were given. It soon became apparent that Bruce was in the building and had begun his duties much earlier than the official start time of 5:30pm.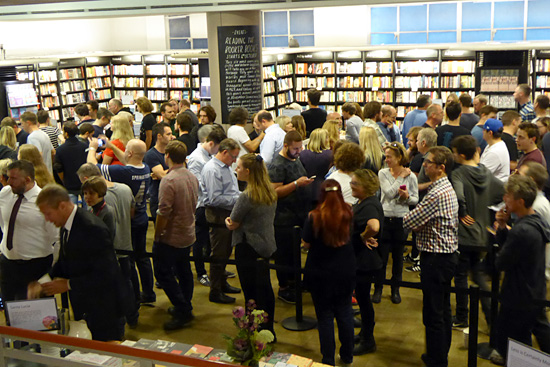 From a second holding area on the first floor, it was possible to see Bruce in the background, looking tanned and fit, and wearing his regulation uniform of leather jacket and jeans. The line snaked back and forth several times until it reached the Crime section, which was effectively the home straight. By that point, this 58-year-old Backstreets contributor was locked in a titanic battle with his inner teenager. My objectivity was being gradually eroded by nervous excitement and heightened levels of eager anticipation. By this stage in my life, I thought I'd been there, done that, and bought the t-shirt, but I'm happy to report that the adrenalin was flowing and my heart was pumping. Is there anybody alive out there? Oh yeah!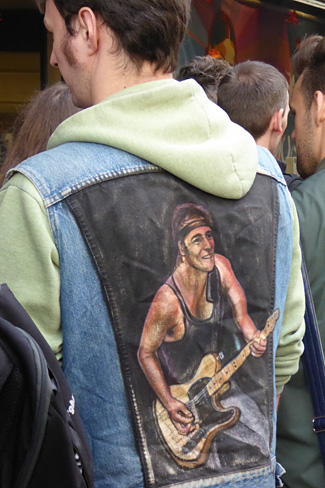 Once they'd entered the inner sanctum, ticketholders handed cellphones and cameras to a member of staff (professional cameras were in evidence, but they were not utilized for fan photographs), stood beside Bruce on a red patterned carpet in front of a Waterstones backdrop, posed for their photo, and gave way to the next person. Back at the ground floor entrance they were given the aforementioned signed version of the Born to Run autobiography (plus a promotional paper bag displaying the Frank Stefanko cover shot) and were politely but firmly directed out of the building and back into the real world, where (in keeping with previous advice to dress for all weathers) it was now raining.
Kudos goes to Waterstones and publishers Simon and Schuster for organizing this unique event, to everyone involved in the impressively swift and efficient handling of the crowd control process, and to Bruce himself, for agreeing to do it in the first place. He could have stayed at home while Born to Run topped the bestseller lists, but he chose to commit to a gruelling (try meeting hundreds of people in one afternoon and see how you feel afterwards) tour that allowed a small but significant percentage of his worldwide fanbase to get up close and personal and obtain photographic evidence. Opportunities such as this, where a meeting with a musical hero is part of the package and not the result of random luck, are extremely rare. For that reason, those lucky enough to attend this London date will be eternally grateful.
Bruce's UK promotional schedule included pre-recorded TV interviews for Channel Four News [above] and the BBC Ten O'clock News (both aired on October 18) and for the Andrew Marr Show on BBC Two (due for broadcast on October 23). He also undertook one radio interview, airing on the Simon Mayo Show on BBC Radio Two on October 20, but his only public appearance was at Waterstones. Although it took place in a bookstore, this was not a book signing, a book reading, or a book-related interview. It was a plain-and-simple meet-and-greet. Specifically, it was a blink-and-you'll-miss-it photo opportunity. Given the number of people (reportedly 500) that had to be ushered past Bruce in less time than he would spend onstage at an average concert, this gave each one a personal slot of roughly ten seconds. Click, flash, thank you, and goodnight, this way please, be careful on the stairs on your way out. Nevertheless, this was all that those in the long and winding queue required. They knew this was not going to be the one-on-one conversation with Bruce over a couple of beers that existed in their wildest dreams; it was simply, as the Waterstones blurb stated, a "once in a lifetime opportunity" to move within his orbit for a brief but unforgettable moment.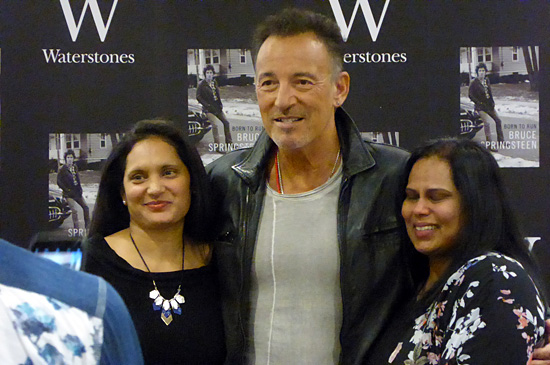 Throughout his career, Bruce has been connecting with his international audience through his lyrics, music and marathon concerts. Here in the heart of London, a representative sample of that global following got the chance to make a much more tangible connection, to shake the hand that scribbled the lyrics, played the guitar and wrote the book, to look into the eyes of the man they'd probably most recently seen on a giant screen in a stadium and, yes, to hug him. Beyond the expected handshakes, there was more physical contact than would normally be on display at a literary event. There was little time for a mumbled "Hello," let alone a complete sentence, but words weren't really necessary. There was mutual understanding. Fans expressed thanks and admiration and Bruce acknowledged their enduring support with heartfelt man-hugs, emotional embraces and backslaps, the most basic of human communication methods. The room was aglow with beaming smiles and (to quote from the book that had brought us all together on this October afternoon in London's West End) it felt "a lot like love." And when we touched, sparks flew on E Street.
- October 19, 2016 - report and photographs by Mike Saunders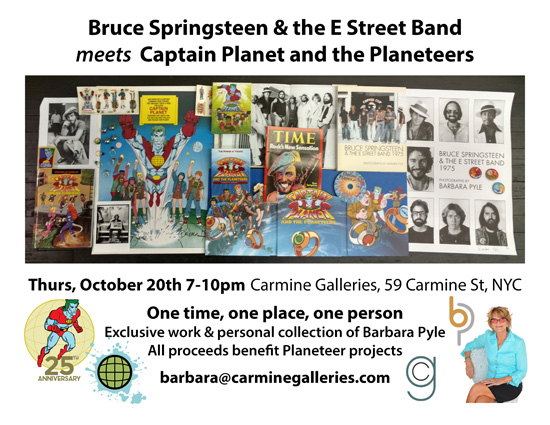 WANT TO MEET BARBARA PYLE? THE POWER IS YOURS!
If you missed photographer Barbara Pyle's gallery appearances earlier this year, she's having one more party at Carmine Galleries in NYC before she returns to the islands.... Catch her tomorrow night, Thursday, October 20, at 7pm. You'll be able to see some of her stunning Born to Run-era images of Bruce Springsteen and the E Street Band, and she'll have prints for sale as well as copies of her beautiful hardcover book. (She's also selling her private collection of all things Captain Planet, with all proceeds going to her Planeteer Charity). For more on Barbara — and where Captain Planet fits in — read the recent Backstreets interview with her, conducted by Eric Meola.
Barbara Pyle's Bruce Springsteen & the E Street Band 1975 is also available signed from Backstreets Records.
- October 18, 2016

OUT ON THE CUTTING ROOM FLOOR
As most Springsteen fans will agree, sometimes the outtakes are the best parts. Witness Rolling Stone's latest interview with Springsteen, published in RS 1272 and online here; today, they've published "the rest of the interview," in an exclusive online follow-up. Interviewer Brian Hiatt calls it "fan-friendly bonus Q&A" on Twitter, and that says it — good stuff here:
How do you see Human Touch and Lucky Town now?
I like those records, myself. There's great songs on those records. Of course, Steve [Van Zandt]'s comment at the time, was you should do these again and cut them with the E Street Band. You know? I just finished the record! The first thing he says to me, "You ought to make it again." That explains our relationship in a nutshell, having that kind of immediate interaction. And then when I played him Lucky Town, he said, "That's more like it." There was something correct about what he was saying, in a lot of ways. I think that while I loved the experience of playing with the musicians that I played with on that record and I learned a great deal from doing so, it might have gotten in the way of people hearing both of those records. And there are still plenty of songs on them that that we play. We played "Better Days" and we played "Living Proof." I love "Living Proof."

Me too.
And "Lucky Town." These are songs that we should play more of.

It feels like the stripped-down rock of "Living Proof" and "Lucky Town" is still a direction you could explore more at some point.
Maybe so.
Springsteen also talks Tom Joad, Prince ("one of the greatest showmen to come along"), and more. Read it here. And as for Stevie's idea... we firmly believe, it's never too late!
- October 17, 2016

BORN TO RUN by Bruce Springsteen
The Backstreets Review by Jonathan Pont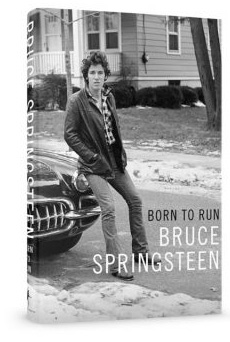 By now the rock autobiography has become for the older musician a lot like autotune was a few years back for the younger one: ubiquitous and de rigueur for the sheen of 21st-century commercial appeal. No matter the number of five-star reviews Rolling Stone keeps in cold storage, new music for the so-called "heritage" artist often meets with equally chilly sales, or worse, public indifference. Even the archival project seems almost spent: witness the price point of the upcoming Bob Dylan box set. Shelf space and buyers seem locked in a foot race to the vanishing point.
That was true when Bruce Springsteen announced his foray into the genre, seemingly a lifetime ago (it was February), long enough for it to seem far off into some autumnal future, long enough to recall names like Tinker West, road trips to the Pacific Coast in 1969 and 1982, venues from the Upstage to Hammersmith Odeon to the L.A. Coliseum, Mad Dog, Boom, Max, Zack, and all the way back. Danny. Clarence. Pins on a map — some leapt out, smaller ones we couldn't quite see. Dave Marsh connected some, and Peter Ames Carlin did, too. Patrick Humphries, Chris Hunt, Clinton Heylin, Charles R. Cross, Erik Flannigan, Jim Cullen, Caryn Rose, Chris Phillips — many have weighed in over the years, chronicling shows, records, parts of the entirety, or offering astute analysis.
But as Springsteen remarked when introducing "Born in the U.S.A." on the Ghost of Tom Joad tour, the writer always gets the last shot. That's what he takes with Born to Run, a 508-page entry in the rock autobiography genre, earning a new place in the bookshop long before he writes about having sung a note for John Hammond. It's a chance, Springsteen writes in the foreword, to explain what he calls his "magic trick," itself the sum of his talents, work, and personae. Just how much is illusory? That's part of the act, something the musician and listener will have to agree on (or not). What began as a diary entry about his halftime performance at the 2009 Super Bowl has morphed into something greater: a memoir that gives both casual readers and longtime fans a detailed and insightful account of Springsteen's life and work, unparalleled in its scope and magnitude.
Born to Run is divided into dozens of chapters over three larger sections, and it's modular in style, which makes picking it up and finding a favorite instance in Springsteen's career somewhat tempting. But that would dull the book's cumulative effect, like listening to a record out of sequence. Three decades on, note the unprecedented candor as he recounts the mid-to-late-'80s. One chapter tells of a fishing trip to Mexico, a gift from his father. Springsteen lovingly recalls a reasonably good time, a nerve-wracking boat ride, and his father's frailty. And then the next chapter is Tunnel of Love, where Springsteen's composure wavers but his music takes off, and in a new direction. After the glare and distortion of Born in the U.S.A., the record makes for a daring, introspective pivot. Such complexity abounds in Born to Run, with the good times and not-so-good times never having much space between.
Codify and contextualize disparate elements, add new stories, and make room for confession. This formula carries the memoirs of Springsteen's predecessors and contemporaries as well, whether Patti Smith's M Train, Bob Dylan's Chronicles, or Keith Richards' Life — perhaps the one that people buy, remember, and talk about most. It's Keef, after all, and rock's archetype must have more stories than there is ink. But Born to Run had a runway longer than either the song or the album; moreover, its release coincided with a cresting of social media (in an election year, no less), spawning thousands of "And then this happened" memes with photos of a smiling Springsteen next to faithful fans. Then it landed at the top of the New York Times Best Sellers list. Seven years in the making and seven-and-a-half months after announcing it, we have arrived at peak rock memoir.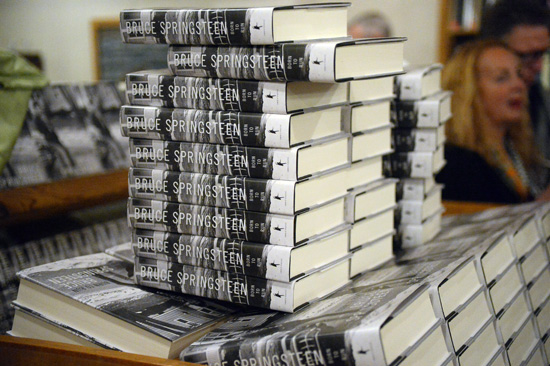 A work like this may render a future Springsteen biography an unenviable if not downright impossible task. Could any subsequent account convey authority the way the primary one does? Maybe. Pete Townshend's Who I Am only devoted a few pages to "I Can See for Miles," the band's most interesting single on its most coherent '60s LP. And Chrissie Hynde's autobiography took lumps for too little attention paid to the Pretenders — maybe part two is coming? No memoirist is the best teller of all the parts, except when they're all in one place.
In some cases, Springsteen's compression of events feels like a smart choice, skimming over oft-told tales to make room for greater revelations. Take 1975's towering shifts of landscape: the breakthrough album emerges, cover stories in Time and Newsweek appear, and Springsteen questions the soundness of his contractual relationship with manager Mike Appel. There are worlds in a smaller detail about "Born to Run" that appears casually along the way, as if it were a well-known part of the song's construction and history; once caught, it will certainly add some new dimension. But the book doesn't linger on the Born to Run era the way one might expect. Really, in 2016 how much more is there to learn about the make-or-break record? Springsteen made a documentary film about it, after all. A similar economy extends itself to Darkness on the Edge of Town: it, too, is stripped down to fundamentals. But some readers will flip through a time or two and wonder where they missed a recounting of the 1976 walk up the driveway at Graceland to meet Elvis Presley, or the eleven months the E Street Band spent on the road afterward. Minor omissions in a now-67-year timeline, but they're curious nevertheless: one event became legendary, and another is an era that remains one of Springsteen's lesser known.
Springsteen devotes roughly the same number of pages to the 1981 tour of Europe as Townshend did to "I Can See For Miles." That's a pivotal moment where Springsteen pushed the boundaries of his music, engaged other cultures, and bonded with an overseas audience. It's a short chapter, but there's density in what he chooses to write about: limbering up a German audience on opening night, experiencing the passion of the Spanish crowd, and returning to the stage in London far more prepared than he had been in 1975. Springsteen doesn't treat the tour as a fan or scholar might — there's no mention of the Stockholm tapes, or "Run Through the Jungle," "Follow That Dream," or "Trapped." On the one hand, it's hard to imagine that none of these occurred to the performer as they might to the fan. On the other hand, he lets the reader in way past where audience recordings and inspired additions to the set list leave off, recounting a retreat back to his hotel from a Hamburg sex market (after having searched a bit for an old Beatles haunt). Episodes like this reveal a frame of mind, how Springsteen conducted himself, and ultimately, his depth of character. And they're places where Born to Run works best. If celebrity tends to obscure humanity, credit the author with numerous passes to show more the latter.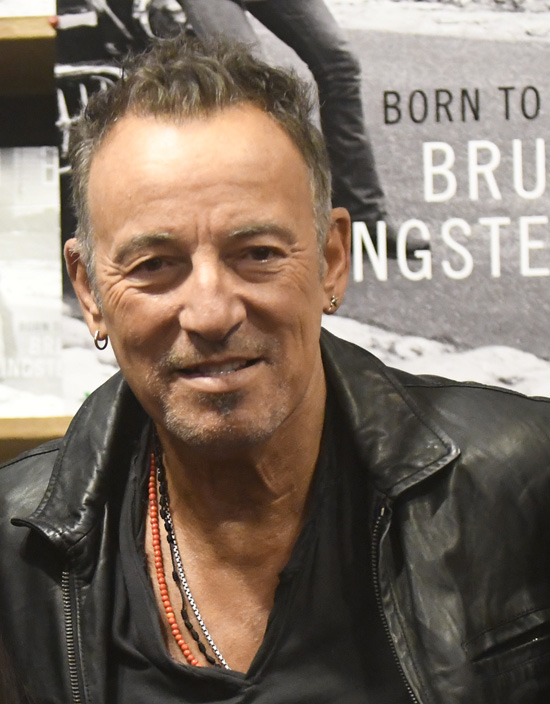 Handling the curves with grace, Springsteen doesn't just coast through the straightaways. The finished work contains what Fresh Air host Terry Gross called "a rhythm and music in it even though it's not a song" — almost as if one could hear Springsteen telling the story (he wrote in longhand and revised several drafts). Occasionally, however, that constitutes one of the book's flaws: his gift for writing as if he were speaking can lead to passages that ramble. And a few events don't fall in the correct time or order ("Roulette," the first track Springsteen cut for The River, was recorded five months before the No Nukes shows, not after). Nevertheless, the totality shows Springsteen to be a gifted long-form writer, corralling a bevy of issues in one place (as he does in the chapter on Jon Landau, for example), or finishing a thought with career advice for a young musician. And even when Springsteen repeats himself, it's likely to emphasize a point, like his decision to make his way as a solo artist, unencumbered by the democratic requirements of being a band member. When a reader encounters a favorite era, or Springsteen reveals a deeper, more complete narrative about a past event — see Steve Van Zandt's 1984 departure from the E Street Band — it reads like a thriller.
Of course, Bruce Springsteen had a life before 1984, before 1981, before 1975, sometimes rewarding, sometimes troubled. While Springsteen's landmark third record marks a major turning point, he doesn't rush to 1975, where section two begins. Pay no mind, for a moment, to the mythology that began taking shape then before solidifying in the mid-'80s. Reaching before "year zero" poses a challenge for anyone who ever carved a public image, but this book gives his early years the attention and care they deserve. Springsteen writes at length about his family, his town, and the culture that shaped him, and it's a moving first-person account, where he shows not only his own history, but also that of his parents.
Springsteen explores The Castiles and Steel Mill in similar detail, and the treatment of both bands is magnificent. Their chapters are among the longer ones, coming in at 18 pages each. He reminds us (and likely informs the more casual fan) that he had years of experience playing in bands with various styles long before he was "rock and roll future," certainly before "Dancing in the Dark" fell into heavy rotation on MTV. By that time, he had cultivated his craft, eked out a living, and grounded a part of himself.
That grounding, and the others he had to work harder to achieve, constitute the book's nexus and prove valuable in looking closer at what Springsteen calls his magic trick. They're cause to put the book down, and then pick it up again: all of life's heart and heartbreak, from his mother's will and composure to his father's silent ways and mental illness, and the musician's struggles with isolation, a failed marriage, and depression. His obvious love for his three children and attempts to be a good father. His relationships with Jon Landau, members of the E Street Band, Patti Scialfa, and losing the rain. It is, to borrow a word from Keith Richards, life, and the proof lives in many passages in the last third of the book. It's where Springsteen dismantles his popular image, builds a more durable life, and finds, one might argue, a more authentic self.
By the mid-'90s, Springsteen was well into a major transformation, encompassing where he lived, the kinds of music he'd write and perform, and most important, his marriage to Patti Scialfa and the family they'd start together. Taking on the "post-" is where Born to Run meets its biggest challenge: showing how Springsteen strove to adjust and overcome, accommodate and accept. Writing about marriage and fatherhood is something the memoir demands, but book three elicits empathy. There's a lot of struggle, a lot of loss, and a lot of figuring out to do. It's also the place where Springsteen does great service in fixing the discussion about mental illness and depression.
Concluding that Born to Run is about music is a testament to the power of Springsteen's magic trick. Life and career overlap, though, and in places one might not expect. That's the case when Springsteen reveals that he wasn't always "completely fair" to his father in his songs, "universalizing" their relationship for the sake of the art. That admission not only adds depth to, say, "Adam Raised a Cain," but also comes so early on it gives Springsteen ample room to return to his father. He seizes those opportunities, making space to give Douglas Springsteen a fuller and more nuanced portrait than any song has. He's a central character, and the son's compassionate treatment — unflinching, like "My Father's House" — will stand as one of the book's great achievements.
Born to Run is really about terrain, geography, people, and time. Guitars, cars, and motorcycles are important, as are factories, midtown Manhattan office buildings, and of course, magnetic tape and the odd mastering lathe. But the image that appears first and last will also endure: that of a copper beech tree in front of Springsteen's boyhood home in Freehold. It's the one he climbed as a child — higher, he writes, than any other child at the time, a place where he could escape (is it the one he leans against on the Born in the U.S.A. lyric sheet?). By book's end, the tree is no more, leaving him to imagine and remember on a street that will never appear the same way again.
Born to Run
by Bruce Springsteen
508 pages. Simon & Schuster. $32.50.
- October 14, 2016 - photographs by Alan Chitlik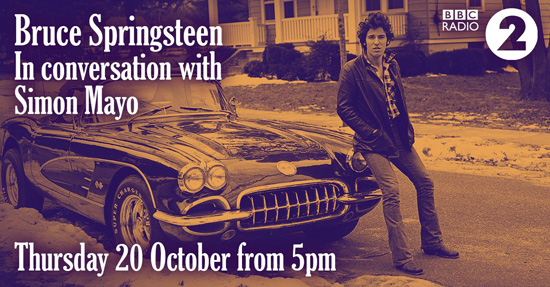 LONDON CALLING FOR QUESTIONS, FOR BRUCE INTERVIEW NEXT WEEK
While in London for next week's Waterstones meet-and-greet, Bruce Springsteen will be doing some press as well, with an interview set to air on BBC Radio 2 next Thursday, October 20, at 5pm. Springsteen will be appearing on Simon Mayo Drivetime, and Mayo is looking for suggestions: "To make the chat extra special, we want you to send us your questions for him and who knows, it may get asked!" Click here for details.
- October 14, 2016



INSIDE THE ESQUIRE
Bruce Springsteen has largely retired his most famous guitar — the guitar — from performance. But the Esquire/Telecaster "mutt" will always loom large in his career, as he writes in Born to Run ("With its wood body worn in like the piece of the cross that it was, it became the guitar that I'd play for the next 40 years") and as Allen St. John writes for Men's Journal:
Unlike most rock stars who go through instruments as quickly as they do groupies, Springsteen has been a monogamist in this area. He bought the guitar in 1973, around the time he released his debut album, Greetings From Asbury Park. That same guitar was featured prominently the cover of Born to Run in 1975 (during Bruce's street poet phase) on Live 1975–1985 (held by a clean-shaven pumped-up Born in the USA-era Boss) and on 2012's Wrecking Ball (as the high-mileage instrument of rock's elder statesman).
The Esquire also makes cover appearances on 1992's Human Touch and 1995's Greatest Hits. Speaking with luthiers including the late Phil Petillo, who sold Bruce the guitar and kept it running for decades, St. John takes an up-close tour of the instrument Bruce has called "an integral part of me" in "The Story of Springsteen's #1 Guitar."
- October 14, 2016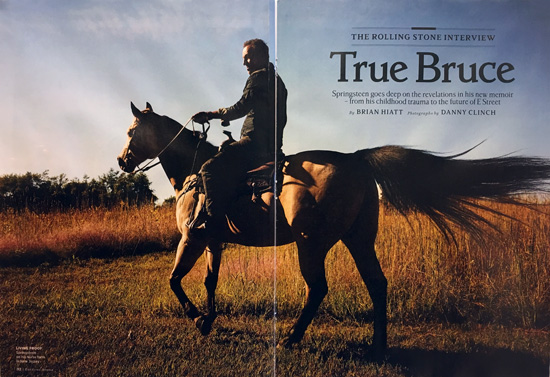 BRUCE IN ROLLING STONE: PODCAST AND PRINT
The new Rolling Stone interview with Bruce Springsteen, conducted by Brian Hiatt just a few weeks ago in Colts Neck, NJ, is highlighted in a new podcast, the premiere installment of Rolling Stone Music Now. The magazine's first podcast features Hiatt chatting about Born to Run and Springsteen a bit, as well as some talk of other new music, but the bulk of it is exclusive audio from the interview. Click here to listen.
The interview, "True Bruce," can be read online here; it's also the eight-page cover story of the October 20, 2016 issue of Rolling Stone, which is now stock at Backstreet Records.
- October 13, 2016

WOKE UP ELECTION DAY...
As Bruce Springsteen hints at doing something more than just commenting on POTUS Election 2016, Backstreets.com's Shawn Poole offers his own opinion and analysis of Bruce and electoral politics as a guest blogger over at Blogness on the Edge of Town. Check out "What He'll Do and What He Won't: A Leftist Take on Springsteen and U.S. Electoral Politics."
- October 13, 2016

CONGRATS TO BOB DYLAN: FATHER OF OUR COUNTRY, NOBEL LAUREATE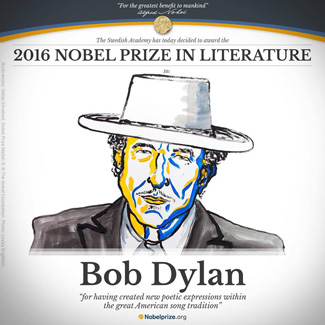 In 1988, Bruce Springsteen inducted Bob Dylan into the Rock and Roll Hall of Fame, saying, "Dylan was a revolutionary — the way that Elvis freed your body, Bob freed your mind. He showed us that just because the music was innately physical, it did not mean that it was anti-intellect. He broke through the limitations of what a recording artist could achieve."
Today, Bob Dylan has been awarded the Nobel Prize in Literature "for having created new poetic expressions within the great American song tradition." Read more in the New York Times.
Update: At brucespringsteen.net, read Springsteen on Dylan from the pages of Born to Run, posted today with congratulations on the Nobel.
- Updated October 13, 2016

"HE ALREADY KNOWS ME. HE SANG TO ME ALL THOSE SONGS."
Read "Dear Bruce: The Thing We Wanted to Say" and meet five-year-old Juniper "Junebug" French, daughter of journalists Kelley and Tom French. The couple flew with their kindergartner — born a micro preemie — from Indiana to Boston earlier this week to meet Bruce Springsteen, "in a sea of people who, I'm certain, were bursting with things they couldn't say. All our worst moments, and our best, are tied up in your lyrics. Our story is tangled in yours." In the French family, that's particularly true.
For more of their story, check out their recently published memoir Juniper: The Girl Who Was Born Too Soon.
- October 13, 2016

RADIO WAVES: BRUCE'S CITY ARTS INTERVIEW TO AIR SUNDAY
Bruce Springsteen's San Francisco City Arts & Lectures interview, recorded last week, will be broadcast on Sunday, October 16, at 1pm PT on KQED, SF's public radio station. Repeat airings will be on Tuesday 10/18 at 8 pm PT and Wednesday morning (10/19) at 2 am PT. You can listen online at kqed.org. The show is syndicated to more than 130 stations in the U.S. that may air it at other times; see cityarts.net for a list of stations.
- October 12, 2016 - Jon Greer reporting


Boston's CBS channel WBZ-TV reports from yesterday at the Coop, spotlighting our own reporter/photographer on the scene [see below], Barry Schneier.
- October 11, 2016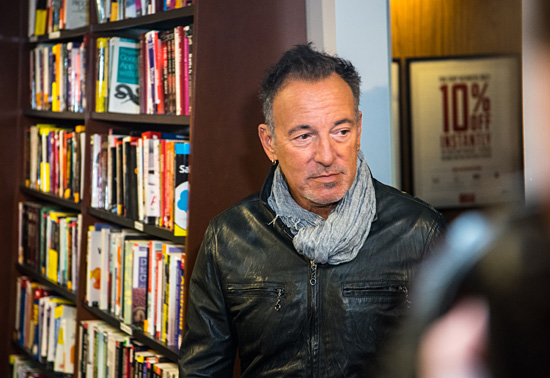 BRUCE IN CAMBRIDGE: THE MAGIC STILL EXISTS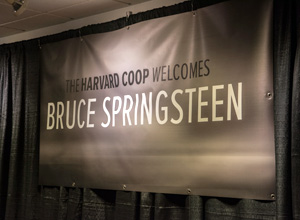 Google Maps says it's 200 yards from the Harvard Coop to the Harvard Square Theatre. In another sense, as 1,000 fans lined up yesterday for their autographed copy of Born to Run and a photo op with Bruce Springsteen, there's 42 years between these two Cambridge landmarks. Springsteen's U.S. book tour ended on the same block where, in 1974, he earned a major shot in the arm for his burgeoning career and deepened a connection with future manager Jon Landau.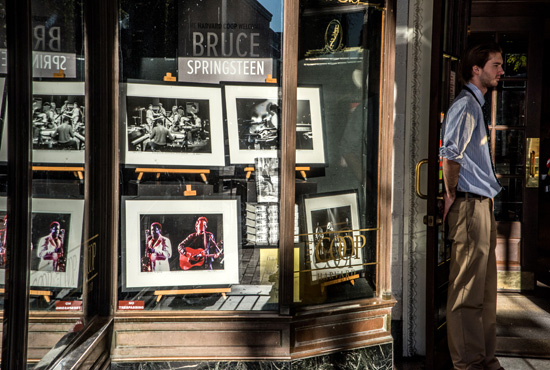 The Harvard Coop clearly saw the significance and made the connection, displaying photos from Bruce's famous "rock and roll future" performance on May 9, 1974; fans queuing for the Coop event stood right below Harvard Square Theatre marquee.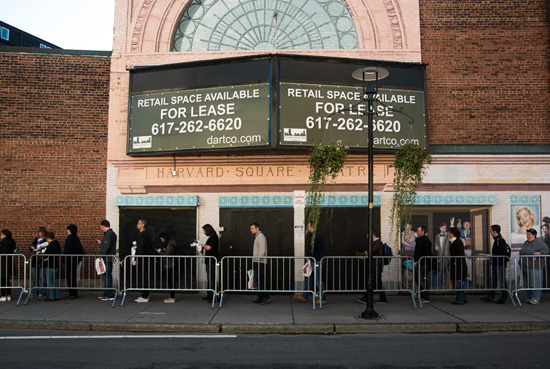 The Coop event, like previous stops on the book tour, brought out a mix of the young and old: from children who danced onstage with Bruce just a matter of months ago, to fans that been following him since he played in bars down the street in 1974.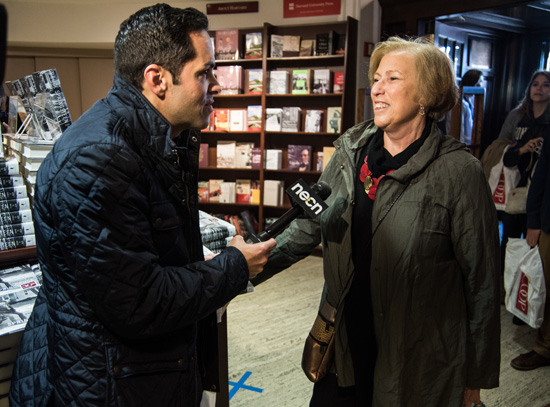 Ellen Rothman has been a devoted fan since early 1974, when Bruce was playing local bars in Cambridge, and like many fans has never let up in her appreciation and devotion to his music. Ellen even enjoyed her 15 minutes of fame as a local news outlet, New England Cable News, spent time with her to learn more of her story.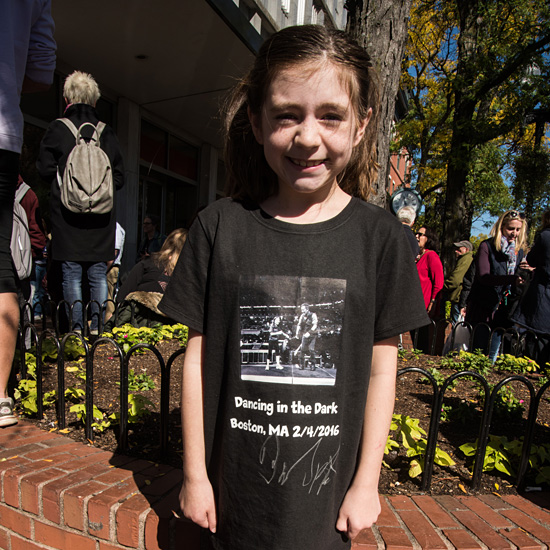 And then there was ten-year-old Michaela, proudly wearing a t-shirt emblazoned with her moment of glory when Bruce called her up to dance at Boston's TD Garden River Tour show. Now her t-shirt sports the signature of the man himself.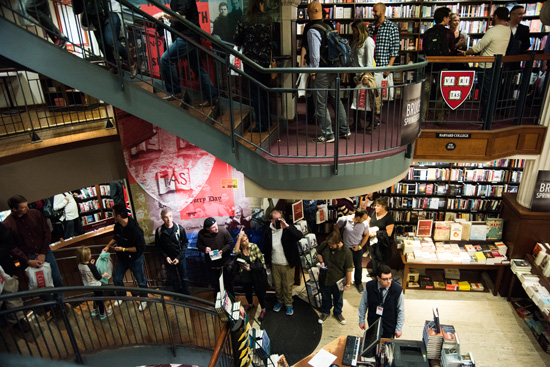 Fans arrived as early as 5am, and it was just after 8 when they were escorted in. Wrapped in and around the Harvard Coop interior, they made their way up and down antique staircases and bookshelves. Like the institution that bears its name, the Coop has its own rich history. Founded as the Harvard Cooperative in 1882, its function was to supply books, school supplies, and wood and coal for students' winter heating. Today it was there to offer another brand of warmth to its patrons.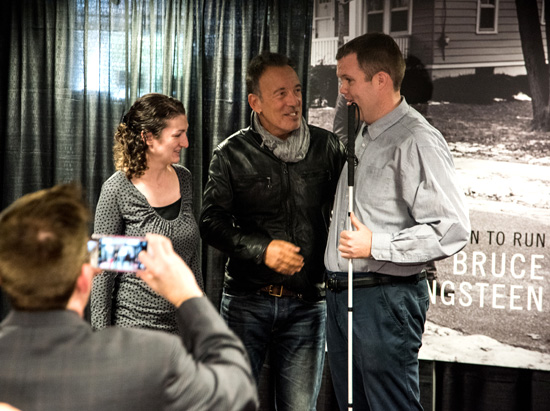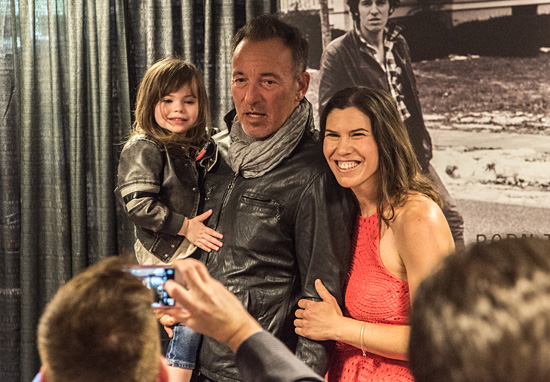 Though scheduled for a noon beginning, Bruce arrived just after 10:30 and greeted his fans with a hearty hello. One can truly admire Springsteen, who, after entertaining tens of thousands nightly on a nine-month tour, is able to meet and greet his fans warmly one by one. There wasn't a soul leaving today who didn't feel a little more love than when they went in.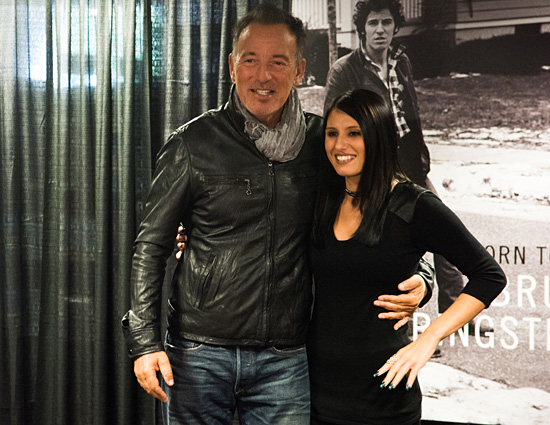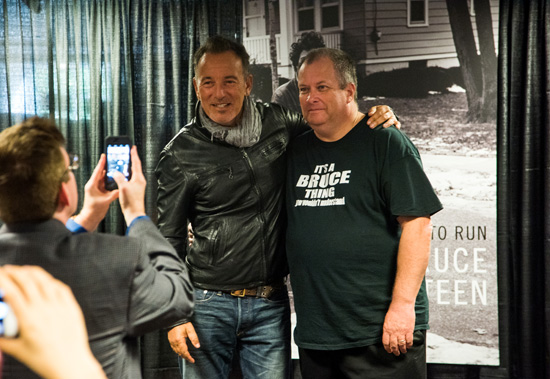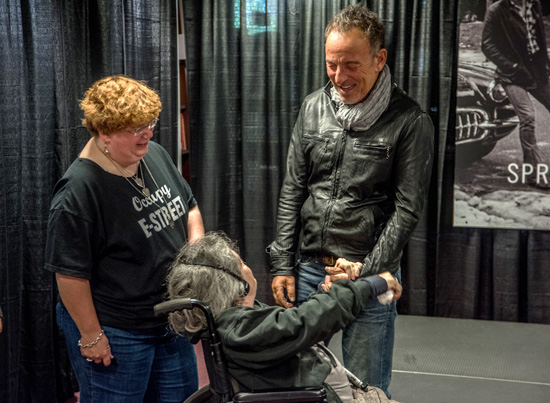 So that does it for U.S. dates. But Europe, are you ready? He's coming your way. Next week: Waterstones in London. Tickets on sale tonight at 8pm.
- October 11, 2016 - report and photographs by Barry Schneier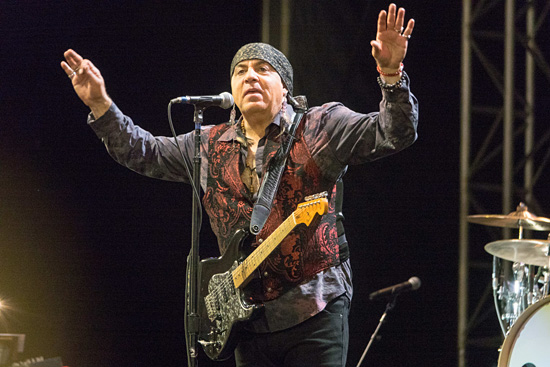 LITTLE STEVEN: NOW, WHERE WERE WE?
Disciples of Soul announce UK gig
Didn't see this one coming? Neither did we. After a break lasting just over a quarter century, Steven Van Zandt will reform the Disciples of Soul, performing October 29 as part of the three-day BluesFest. That's a transatlantic festival of blues, soul, and roots music and will feature musicians like Van Morrison, Maxwell, and Mary J. Blige. For this October surprise, Steve and his band will take the stage at indigo at The O2 in London.
Van Zandt released four Disciples of Soul LPs between 1982 and 1989, exploring everything from R&B to rock to electronica. It's hard to imagine that Van Zandt would organize a one-off gig and fold the tent back up. But right now, this is all we have to go on. No word of who's in the band, whether new music will make its way across the Atlantic, or any U.S. dates. But it is encouraging that the stateside venue for BluesFest is Brooklyn Bowl. Maybe they can somehow convince Steven to consider a gig or two a little closer to home. Along with a new album. And some more gigs.
Tickets for the October 29 concert in London go on sale at 9 am this coming Friday, October 14 — visit theo2.co.uk for details.
- October 10, 2016 - photograph by Geoffrey Robinson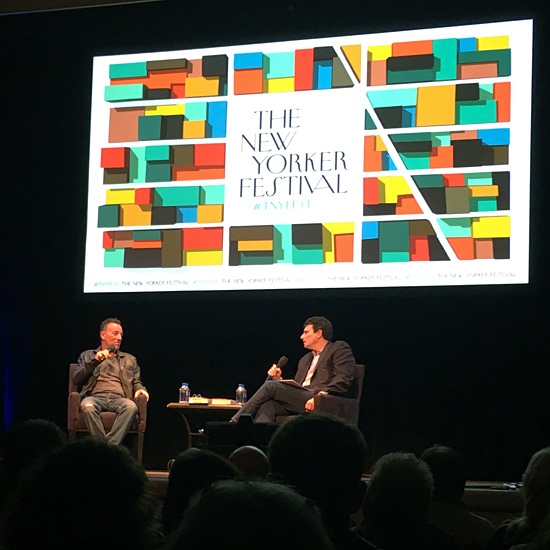 SPRINGSTEEN AT THE NEW YORKER NEW JERSEY FESTIVAL
Even before Friday night's New Yorker Festival event, it was clear that the audience would be in good hands with David Remnick. A Pulitzer Prize-winner and the magazine's editor since 1998, Remnick had penned a Bruce Springsteen profile for The New Yorker in 2012 that presaged the Born to Run book in many ways (in retrospect, we know that Springsteen was midway through writing the memoir). "We Are Alive" touched on Bruce's clinical depression before that subject made headlines last month; Springsteen also told Remnick at a Wrecking Ball Tour rehearsal: "My parents' struggles, it's the subject of my life. It's the thing that eats at me and always will." For that piece Remnick spoke at length with not only Springsteen, but also Jon Landau, Patti Scialfa, and Steve Van Zandt. Along the way he wrote of seeing Springsteen and the E Street Band at Madison Square Garden in 1973 and the Palladium in 1976, making it plain that he's no casual admirer. That level of experience, insight, and history paid off in a wide-ranging, free-flowing onstage interview with Springsteen at Town Hall that stands as the best of the bunch on this recent book tour.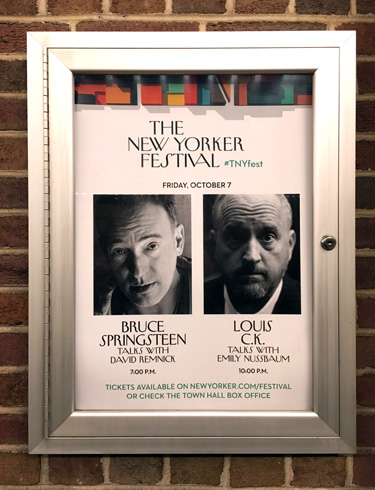 "Welcome to an event that sold out in six seconds," Remnick addressed the crowd at the top, in an introduction met with applause and cheers even before the man of the hour took the stage: "At least for tonight, we have rebranded The New Yorker Festival in his honor as The New Jersey Festival." He had the crowd from the beginning, not only with that classic state name pandering but with his recollection of seeing Springsteen for the first time in '73, opening for Chicago. Bona fides established.
"Bruce Springsteen has written the book of his life," Remnick stated. "He's written a terrific, supple, funny, honest, and self-revelatory book that is as vivid and as pedal-to-the-floor as the voice on the records, as the guy on the stage. It casts a spell, and it tells its truth. October 2016 finds us at an unnerving and dangerous moment in our history. It needs great Americans to help sustain what's best in us. One such guy is here with us tonight." Springsteen walked out in jeans, a sweater, and a light leather jacket, and we got right to it. In good spirits and fully engaged, Springsteen cast a spell here, too, reading portions of his book (reading glasses on — "put those cameras down!") and conversing comfortably despite the lack of a guitar in his hands.
They began by talking about the creation of the book itself — now a number one bestseller, as Remnick noted. "With a bullet," Bruce added. "I wrote it all out longhand — I had no computer facility," he said, describing the process of writing, dictating, printing it out, editing, and dictating all over again. And again. Throughout the conversation, Springsteen was forthcoming, expanding on what he'd written in the book, rather than retelling it — but only to a point. When Remnick asked what Bruce couldn't bring himself to write about in the book, we got a big uh-uh, and one of the biggest laughs of the night: "If we could talk about it, I would have written it!"
Of the subjects he did write about in the book, Springsteen said it took him "thirty-five... forty... fifty years, and two psychiatrists — one died on me already" to get enough of a handle on them.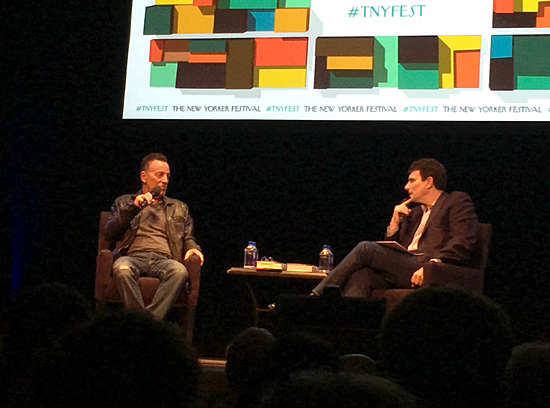 As "Baby I" played over the P.A., Bruce looked reflective, smiling and nodding along a little, but he held up his hand as the crowd applauded: "It's not necessary, folks... it was our first shot." Music was "something that obsessed me when I was young," he said, "but I didn't have any idea where it was going to take me. I mean, you looked at the covers of those records, and you dreamed and dreamed... but it was a million miles away." For a while, at least. Soon enough: "You're young, you're a sponge, and you're obsessively determined."
"We played all over," Bruce said. As Remnick pointed out, a young, constantly gigging Springsteen even played the Marlboro Psychiatric Hospital, where he covered The Animals' "We Gotta Get Out of This Place." Springsteen's main recollection of that one: "The guy got up on stage, gave a long introduction of the band; he went on, went on, went on, we were waiting to go on... and then someone went up and took him away."
But the discussion didn't just center on the early days; Springsteen touched on his work as recent as the River Tour shows in September: "It was very interesting playing some of the earliest records at those ten shows that we did. We started to play some one afternoon at soundcheck, and we said, 'Oh, we should do a whole show where we pull from the early records,' because it was just something we hadn't done for so long... and it was just a lot of fun, it was fun revisting all that music. You know, you share your own history with your fans. And if the songs are good, they gather the years in, and they become more resonant as time passes. And if you're present, and your heart is right there in it, it comes back to life."
Part of Remnick's strength as an interviewer is his own ability to be present: listening actively, reacting quickly. ("You're that person for three hours on stage," Bruce begins; "Four, Bruce," Remnick interjects.) He notes, "You keep saying 'we,' but this is not a democracy; this is not the Beatles, where everyone gets a vote. It's you."
Springsteen doesn't argue. "I spent myself on democracy very early on. I actually had bands — the Castiles, Steel Mill, Earth, Child — and at some point it just became too complicated and too hard to keep together. And also I was doing all the writing and all the singing, so I was taking on a big part of the burden of the work.... I had such a long experience in bars, I was a band musician. Because I'd learned everything you needed to know about leading a band, arranging a band, putting the music together, putting the set together, making an exciting evening or a show, But by nature, I had a vision that I thought was my own, and I was interested in exploring that. So I was a combination of these two things that came somewhat uncomfortably together. So I created something that wasn't quite fish or fowl — Bruce Springsteen and the E Street Band — so I kind of have it both ways."
Another nice catch from Remnick came during a discussion of "Born to Run," the book's "title track":
Springsteen: I wanted to make a sound that would feel completely cathartic, over the top. I was trying to make one of the greatest records I'd ever heard.... You're looking for the things that... make you feel unbearably alive. That's what you're always in search of. So ["Born to Run"] was one of the few records that I ever came home and put on a few days later and said, "That sounds exactly the way I want it to sound."

Remnick: Though when the record was finished, and you released it, you threw it into a swimming pool, because you didn't think it was ready yet.

Springsteen: Well, I had second thoughts.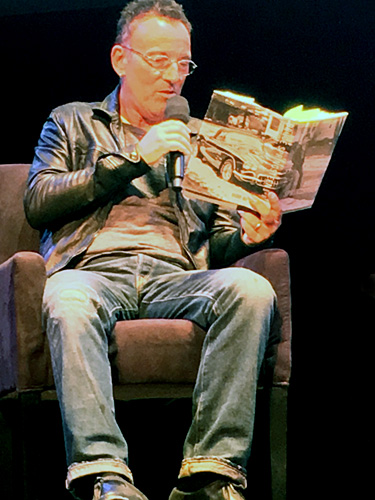 Bruce spoke of playing music as a purification ritual. "I would simply go out and play until I was burned up or felt incandescent inside." When Remnick marveled at the lengthening shows in the mid-to-late '70s, "as if you were trying to lose yourself on stage," Springsteen agreed and then some:
"Losing myself was something I was shooting for. I'd had enough of myself! To want to lose myself. I went on stage to do exactly that. Playing is orgiastic. It's a moment of both self-realization and self-erasure at the same time. You disappear and blend into all the other people that are out there, and into the notes and the chords and the music that you've written — you kind of rise up and vanish into it. And that is something I was pursuing. I was pursuing intoxication. Why have people gotten intoxicated since the beginning of time? Why will the war on drugs never be successful? Because people need to lose themselves. We can only stand so much of ourselves."
They talked about Asbury Park ("it was a Jersey Shore Fort Lauderdale"); his Columbia Records audition ("The single greatest thing Mike Appel ever did... that was when John Hammond was seeing idiots off the street"); self-flagellation ("one of my lifetime specialties"), and throwing a guitar at Jon Landau ("the Takamine sailed past Mr. Landau's head, making the sound of death in the night in the House of 1,000 Guitars, smashed itself on the wall").
Toward the end of the evening, on the subject of politics, Remnick brought up Donald Trump — "You knew we were going there," he said as the audience laughed.
Springsteen: When he was just a big, bloviating New York billionaire, he could be highly entertaining, and funny — he's not funny as a presidential candidate. I predict he will not win, but I do believe he's done a lot of damage already. I believe that he's let loose some forces from the alt-right movement that he's brought into the mainstream that are not going to go away when he goes away... and he's not going to go gently into that good night....

Remnick: Are you planning to help Hillary defeat him?

Springsteen: Hmmmmmmm.... Sure!
While this was greeted with some of the loudest cheers of the night, Bruce quickly added, "But I haven't come up with anything I'm going to particularly do."
Referencing a recent New York Times piece ("In Bruce Springsteen's America, Many Turn Toward Donald Trump") Remnick asked for Bruce's own take on the article's subject. "It went through various landscapes in your songs — Youngstown; Badlands, South Dakota; Johnstown, Pennsylvania; Darlington, South Carolina — these are all Trump-voting areas, and white working class areas have changed dramatically since the days of Bobby Kennedy. What do you make of that, and do you feel you have as key a hold on some of these landscapes as you once might have?"
Springsteen: Well, I think if you look at the history of Youngstown or any of the places you mentioned, you see that basically I've written about the last 40 years of deindustrialization and globalization that hit a lot of people very, very, very hard. And their concerns and their problems and their issues were never addressed, by either party. So there's this sea of people out there who are waiting and hoping and looking for something that's going to bring some meaning back into their lives. So it's not a surprise, someone comes along and says, "You want your jobs back? I'm gonna bring them back. You're uncomfortable with the browning of America? I'm gonna build a wall, keep all those folks out." You want to hear these kinds of solutions to your problems. Unfortunately, it's fallacious. It's a con job. But I completely understand why a voice like that would be appealing.
Remnick observed that two women in Springsteen's life provided some "framing" for Born to Run: "If the hero of the first part of the book was in some ways your mother Adele, there's a royal presence in the latter part of the book: your wife Patti." (Big cheers for Patti Scialfa, who was in the Town Hall audience along with Patti Smith, Elliott Murphy, and Charlie Rose.) Springsteen talked about meeting her in 1974: "Before the Born to Run tour she came in and auditioned. We were going to take a singer out at the time, which we didn't end up doing. But we sat at the piano together, and she played me some of her songs... and then we saw each other regularly after that. I always kid Patti, I say, 'Before you were you... you were me.' She was a musician; she was independent; she was very single-minded in pursuit of her work. We just had a lot in common... and needless to say, when I've had my rough times, she's been there and continues to be there."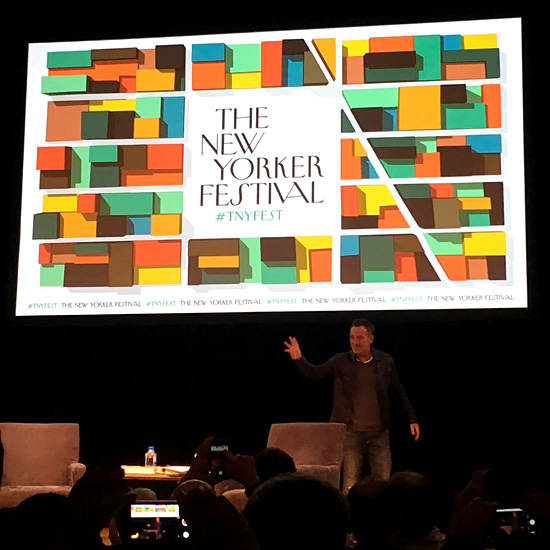 Just as any show needs a good encore, this night came to a close with Bruce slipping his reading glasses back on to read one of the last passages in his autobiography — its final words before the epilogue. "On a November evening during the writing of this book, I drove once again back to my hometown, back to my neighborhood," Bruce began. "The streets were quiet. My corner church was silent and unchanged..." No book spoilers here, but it was a moving, hushed moment with a literal benediction on a night that proved to be yet another one of Springsteen's magic tricks.
- October 10, 2016 - Christopher Phillips reporting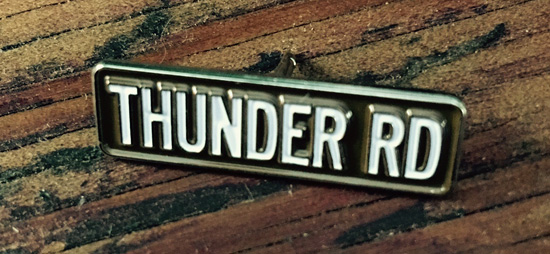 SIT TIGHT, TAKE HOLD, NEW PIN
Our friends at Print Mafia are back at it, back on the streets, with a third street sign in their enamel pin series. After E Street and and 10th Avenue, here's the new Thunder Road pin, hot off the press. Collect 'em all!
- October 7, 2016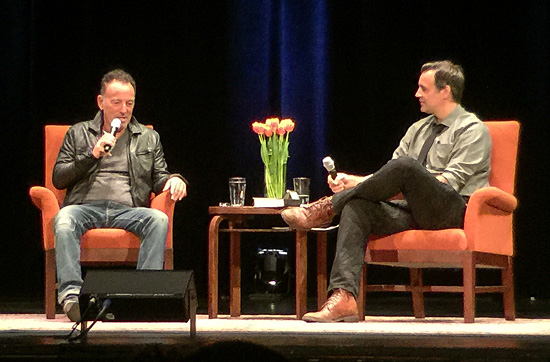 SEARCHING FOR A GROOVE AT CITY ARTS
For the final west coast stop of Bruce Springsteen's Born to Run book tour — after bookstore signings in Seattle, Los Angeles, and Portland — the author appeared in San Francisco for a City Arts & Lectures evening discussion on Wednesday night. With an interview handled by Dan Stone, editor in chief of Radio Silence, the event at the Nourse Theater lasted an hour and 15 minutes, for a crowd of approximately 1,700 — and the air was crackling with energy. The audience must have interrupted Bruce more than 20 times with applause. It continues to amaze how much emotion and energy the man brings out in his fans, even at a non-music event like this. Orchestra seats came with signed copies of the book, but boxes of signed books were also available for sale, and some attendees came away with three or four copies in their arms. Not a bad holiday present.
Unfortunately, the rather ordinary interview was less of a gift. Maybe you can chalk that up to an embarrassment of riches lately, but after taking in that day's fine Fresh Air broadcast — as well as the Late Show and Apple store interviews, and some compelling print pieces in Vanity Fair and Rolling Stone — this one felt like a missed opportunity. Stone seemed to know very little about Springsteen beyond the obvious — for instance, he revealed that he had only just learned through the book about the connection between Nebraska and Born in the U.S.A.
For a similarly casual, general audience, I imagine this was a great event, particularly entertaining when Bruce read three passages from the book (the "radio man" story about his grandfather, the section about his kids' musical taste, and the story about smashing a vase at a St. Rose of Lima Castiles show, a la Pete Townshend). Bruce is always fun to listen to, and if you hadn't heard or read a lot of what he'd said before, I'm sure much of it sounded fresh and interesting. But Stone's questions weren't terribly incisive and included yawners about Bruce's musical inspiration and what it felt like to be described as a "voice of a generation." It felt like the guy who got to interview Bruce was the least-rabid Bruce fan in the house.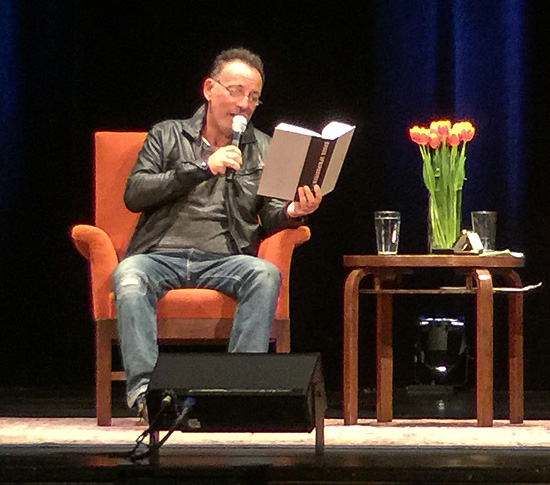 Still, Springsteen held up his end. On the subject of Nebraska/Born in the U.S.A.: "I might have not even recorded Born in the U.S.A., except we had cut the track 'Born in the U.S.A.,' and I knew this thing was lightning in a bottle. When it came on it just electrified you. So I've got to make a record to go with this, I've got to put this out. But I was always dissatisfied with it. Nebraska, I was deeply, deeply invested in, and I knew it was the best that I could do. When I made Born in the U.S.A., I felt like it was the best I could do right now."
As to being the voice of a generation: "Being the voice of anything, there's an obligation. Most artists run from obligation. That was the whole point."
After reading the passage about his kids' musical taste, Bruce added that he wasn't really interested in immersing them in his music because "I wasn't looking for three more fans."
Pre-submitted questions from the audience gave us some interesting tidbits about his literary life. Asked about what books he reads, Springsteen said the most recent was Moby Dick, "which everyone said was going to be hard, but it was quite easy to read — except for the fact that you're going to find out a lot more about whales than you ever wanted to know." He also said that he recently read "all the Russian guys — Chekhov, Tolstoy, Dostoevsky," and Mr. S: My Life with Frank Sinatra, by former valet George Jacobs, which he called "fantastic."
As a child, it was The Wizard of Oz exclusively. As Bruce told it, he would sit in a rocking chair on the porch and read a little of that book everyday. His parents didn't read to him, and "I didn't really read until I was well into my twenties; then I became enamored of the noir writers like Jim Thompson and Flannery O'Connor. The psychology in them is incredible, and it resonated with my soul."
Stone asked if Springsteen had any thoughts about writing fiction himself. "I don't think I have the slightest interest," Bruce replied. "I think this is my swan song. I can't imagine writing another one."
So then, Stone asked, what unmet ambitions do you have? Bruce: "Do you mean, what am I going to do with myself?... Same old thing." Works for us.
- October 7, 2016 - Jon Greer reporting - photographs by PJay Plutzer


SPRINGSTEEN TO RS: "I'M STILL FIRING ON ALL EIGHTS"
Springsteen's first Rolling Stone cover in four years, since Jon Stewart interviewed him for the magazine in 2012, is next up. For the October 20, 2016 issue (#1272), RS senior writer Brian Hiatt visited Springsteen's Colts Neck, NJ farm just after the end of the 2016 River Tour for a lengthy talk — published online today — about the Born to Run autobiography. Along the way, they touch on such subjects as depression, masculinity, the current presidential election, Black Lives Matter, and Springsteen's future plans. "I'm still firing on all eights," Springsteen says of his professional activities, looking ahead. "I'm completely committed like I was when I was 16 or 21 years old."
The next few years and beyond: Is the idea to just move between the different modes you have – E Street, solo, archival releases?
Yeah. All of the above, you know. At this point, my plan is to do everything that I do and at different intervals. I'd love to tour solo again. I look forward to playing with the band again. We're going to play in Australia this winter. And whatever else comes my way, whatever projects come my way. I don't have any five- or six-year plan, outside of having whatever music I'm making now and getting out and just continuing my work life.

You've said you have an album done that's influenced by Glen Campbell and Jimmy Webb's collaborations.
I don't want to overemphasize the influences too much, because people may hear it and go, "What's that got to do with that?" But it was sort of a place where I found some inspiration.

Is that a different record than the one you almost finished before Wrecking Ball?
It's the record I wrote before Wrecking Ball but could not finish, and in attempting to finish it, I wrote Wrecking Ball. So the roots of the record go back quite a ways. Sometimes you have to wait for these puzzles to sort themselves out, and it can take years. I mean, I have a record that I've been working on that's 20 years old. That's just the way the process is working at the moment.
Read: "True Bruce: Springsteen Goes Deep, From Early Trauma to Future of E Street"
- October 5, 2016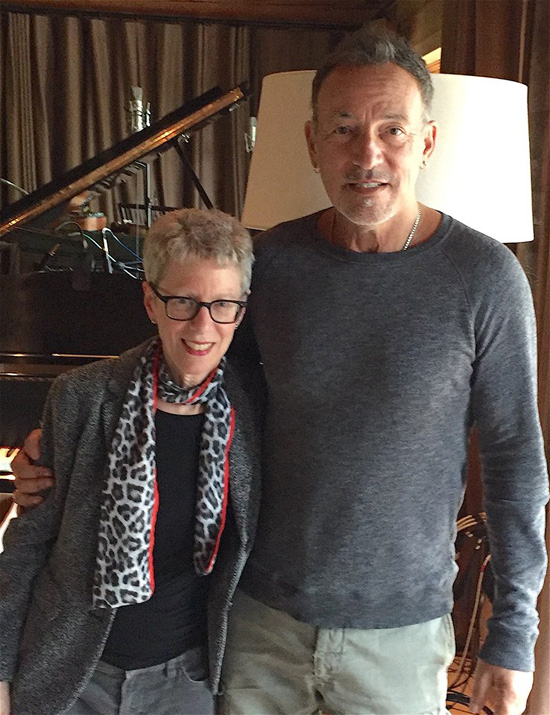 FRESH FRESH AIR WITH BRUCE
A new Fresh Air interview with Bruce Springsteen debuts today, October 5. Check your local NPR station for airtimes or listen below, with a transcript npr.org. Fresh Air host Terry Gross conducted the interview with Springsteen at his home studio last week.

Gross' excellent 2005 interview with Springsteen was conducted backstage in Philadelphia during his Devils & Dust Tour; it is archived for online listening here.
- Updated October 5, 2016 - Shawn Poole reporting - photograph courtesy of WHYY/Fresh Air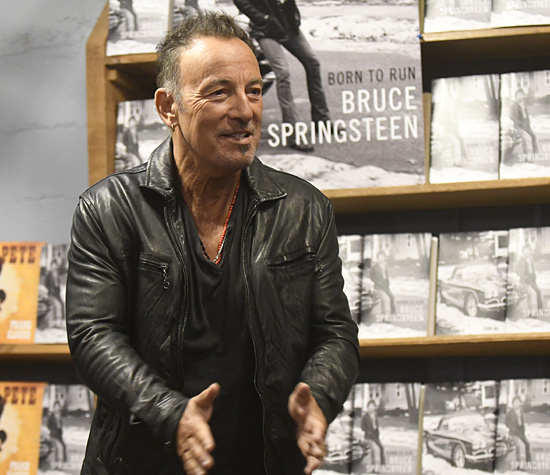 SPRINGSTEEN IN SEATTLE
It's no surprise to see long lines of fans waiting to see Bruce Springsteen... but at 10am? Outside of a bookstore? Perhaps the circumstances were a bit unusual, but here in the birthplace of Backstreets the same giddy sense of anticipation filled the air as if it were the evening of an epic four-hour show.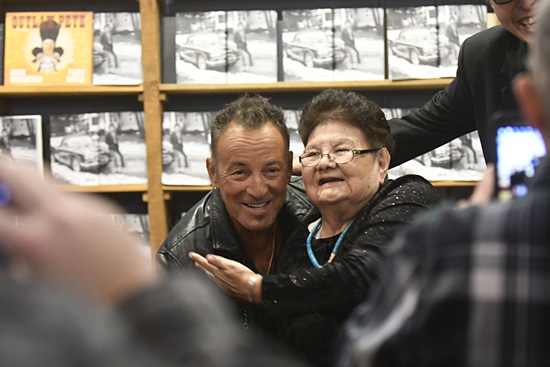 Approximately 1,200 Bruce fans in Seattle got up early on Saturday, October 1, and withstood some morning rain to get in line outside venerable independent bookstore Elliott Bay Book Company for the chance to take home a signed copy of Born to Run and shake Bruce's hand. As with previous events on the book tour, there was no reading, no signing (books were pre-signed for advance ticket holders), no Q&A. But this was a chance for these fans to finally get face to face with a man they idolized.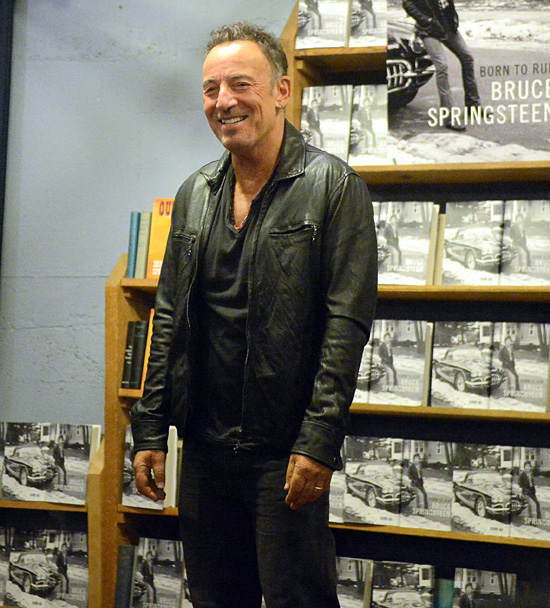 And Bruce made it worth their while. Despite the fact that the guest of honor may have felt a little out of place — he made a self-conscious joke before the crowds poured in about being "on stage" without his usual trusty guitar — he made his fans feel right at home. Displaying his signature (and always remarkable) warmth and open connection with his followers, he welcomed excited fan after fan up into the stage. Even though the greeting was brief, the photo op fast, and the whole interaction lasting barely 60 seconds, each fan experienced the moment for what it was: a genuine, personal interaction with a man who is simultaneously a rock legend and, based on his demeanor at Elliott Bay, a grounded man of the people.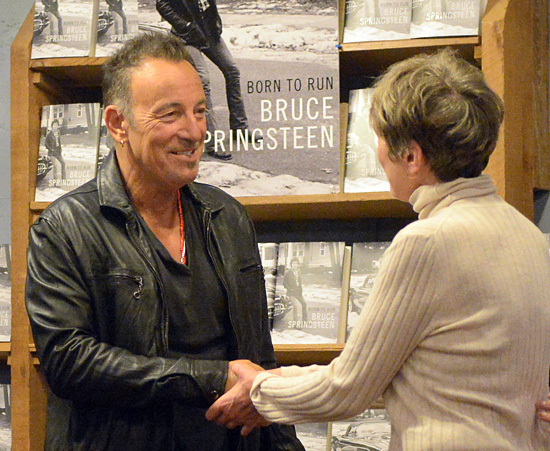 Springsteen clearly knew what this once-in-a-lifetime moment meant to these gathered masses, and he made the effort to make sure it lived up to the promise.
He spontaneously pecked one 40-something woman on the cheek, and she burst out with a Beatlemania squeal. He admired a Boss tattoo proffered by another female fan. And he graciously posed for photo after photo — for two continuous hours — making the line around the block (three blocks, actually) more than worth the wait.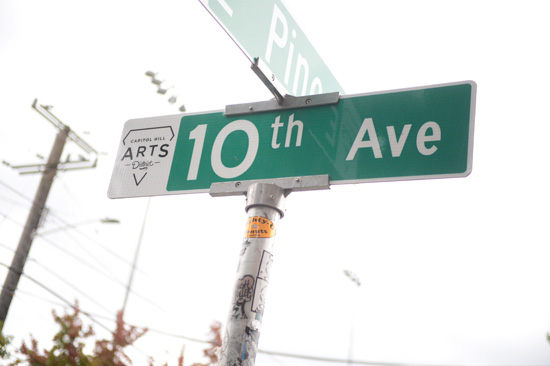 - October 3, 2016 - Dan Johnson reporting - photographs by Alan Chitlik



"WHERE DO WE GO FROM HERE?"
Mary J. Blige and "American Skin (41 Shots)"
Mary J. Blige recently interviewed Hillary Clinton for Blige's Apple Music series The 411 with Mary J. Blige (click here to watch the entire interview free of charge). At the 17:40 mark, Blige sings a portion of Bruce Springsteen's "American Skin (41 Shots)" to the presidential candidate and asks her, "Where do we go from here?" Backstreets is honored to have Danny Alexander, author of Real Love, No Drama: The Music of Mary J. Blige, write about this important moment for us.
After this election's first Presidential debate on September 26, Twitter erupted over a 16-year-old Bruce Springsteen song — not that most of the comments had anything to do with Springsteen. The controversy stemmed from a promo for Mary J. Blige's new Apple Music show, The 411, featuring guest Hillary Clinton. In that clip, Blige sang the key verse of Springsteen's "American Skin (41 Shots)," the song's mother pleading with her son: "If an officer stops you, promise you'll always be polite.... promise Mama you'll keep your hands in sight."
Blige was roundly attacked for everything from the glasses she was wearing to her choice to sing to Secretary Clinton during the interview. The most damning headline read, "We Lost Her: Mary J. Blige Thinks Being 'Polite' Will Keep Police from Killing Us." More subtly dismissive was a meme showing Blige asking Clinton how to stop the "hateration in this dancerie," referencing Blige's 15-year-old party jam "Family Affair."
Springsteen fans might be reminded of the "shut-up-and-play-yer-guitar" controversy that surrounded his debut of the song in 2000. Springsteen first performed the multifaceted song in Atlanta a few months after the acquittal of four New York police officers who killed 23-year-old immigrant Amadou Diallo because he reached for his wallet. Within days, hundreds of police protested Springsteen, the Patrolmen's Benevolent Association called for a boycott of Springsteen's music, and the head of New York's Fraternal Order of Police called Springsteen both a "dirtbag" and the bizarre, homophobic epithet "floating fag." Mayor Giuliani condemned Springsteen, and New York Senator Clinton said nothing.
When the Blige show finally aired on Friday, September 30, viewers saw Clinton at least partially redress that grievance. A longtime Obama supporter, Blige approached Clinton as a fan, but more importantly she focused her interview on their common ground as women, particularly their knowledge of the abuse women suffer asserting themselves in traditionally male territory. Interviewer and interviewee held hands after Blige sang the Springsteen verse, and Clinton stated, "I particularly want white people to understand what that's like, and to feel that they must be part of the solution.... We need to work with our police and do better training so they don't immediately draw the wrong conclusions, like the song said: a gun, a knife or a wallet?" At the interview's end, she repeatedly told Blige, "That was so emotional," and it was. In that sense, Blige's interview did what the artist does best, reach for the heart with a call for humanity.
In these polarized times, big tent artists like Mary J. Blige (the Queen of Hip Hop Soul) and Bruce Springsteen (the classic rocker with an ear to hip hop and soul) seem, at once, politically out of step and uniquely important. Both Blige and Springsteen assert some level of class consciousness into everything they do, meaning they run against the grain of the star-making machinery that surrounds them. At the same time, they navigate that machinery cautiously, leaving Springsteen in particular always too liberal for some, too conservative for others. What matters here is the fact of their broad-based audiences intersecting. After 16 years, Springsteen's call for justice has been taken up by Blige, tied by the times to the Black Lives Matter movement and carried to the mainstage of a one-of-a-kind Presidential race.
- October 2, 2016 - Danny Alexander reporting

OCTOBER 1 IS BRUCE SPRINGSTEEN "BORN TO RUN" DAY IN KING COUNTY
In honor of Bruce's appearance today at Seattle's Elliott Bay Books during his Born to Run book tour, King County Executive Dow Constantine has issued a Proclamation declaring October 1 as "Bruce Springsteen 'Born to Run' Day in King County." The Proclamation extolls many of Bruce's significant accomplishments and contributions, and ends with:
"I encourage all residents to join me in honoring Bruce Springsteen for his artistry, his activism, and his many contributions to the American songbook," Constantine urges.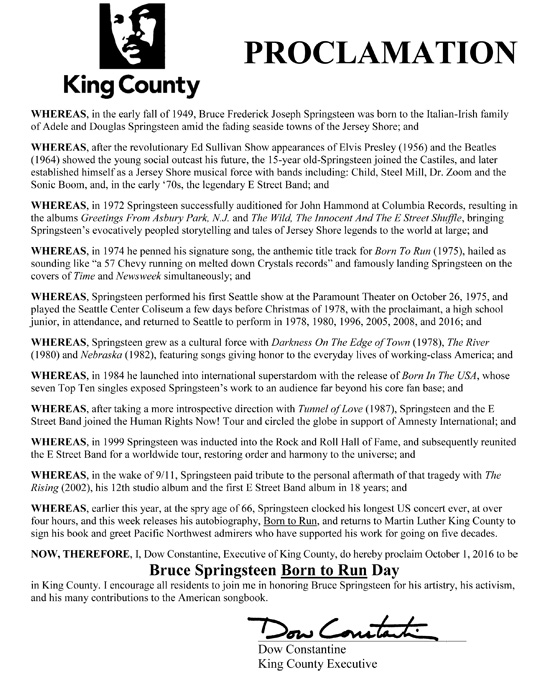 - October 1, 2016 - Caryn Rose reporting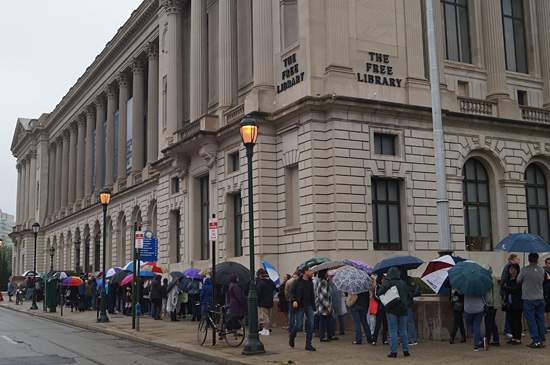 FROM THE CHURCHES TO THE JAILS TO THE LIBRARY
It was a dark and stormy day. (Forgive me, dear readers, but given the weather and the literary focus of Bruce Springsteen's Philadelphia meet-and-greet, how could we begin this report any other way?) Nevertheless, despite yesterday's inclement conditions, more than 1,200 loyal fans still lined up for their Special Springsteen Selfie Moments at the Free Library of Philadelphia's Parkway Central location.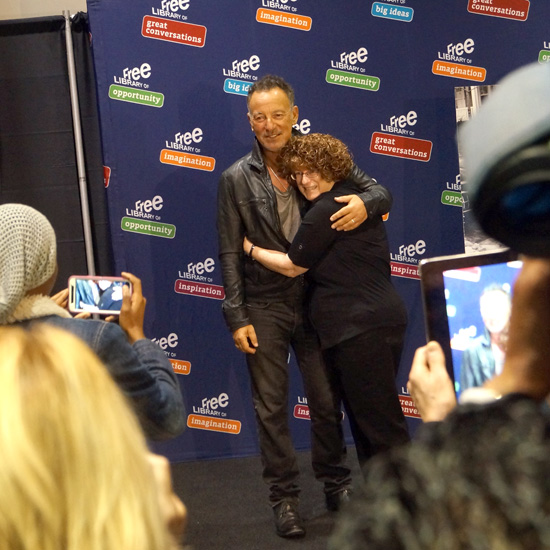 This stop on the Born to Run book tour was Springsteen's first and only one at a public library, but there were never any stern admonitions from staff members to keep the noise level down. In fact, the library's main lobby, which served as a waystation for fans waiting to meet Bruce, was filled with the music of Pandora's Bruce Springsteen station.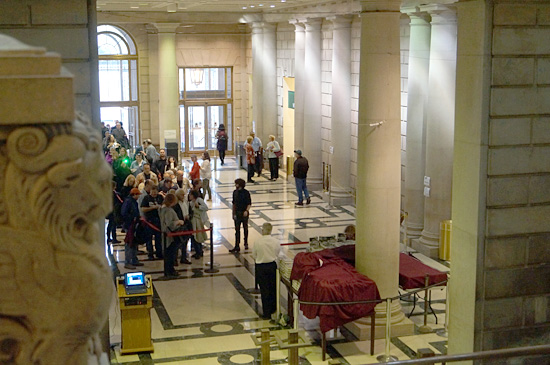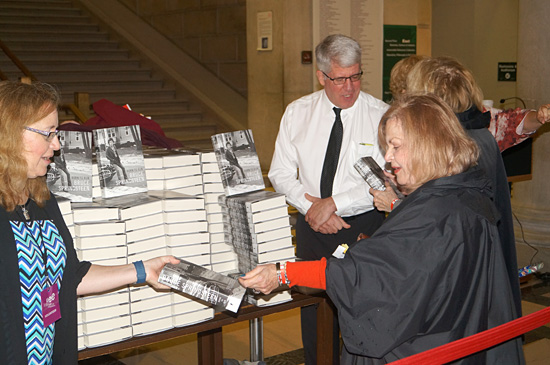 On a personal note, covering yesterday's event for Backstreets was an especially pleasant endeavor for two reasons. The first is that many moons ago I used to work for the Free Library of Philadelphia, in this very buliding. Of course, I got a kick out of seeing the man himself greet so many Philly-area fans right near the same doors I often used to enter and exit when working in the reference stacks.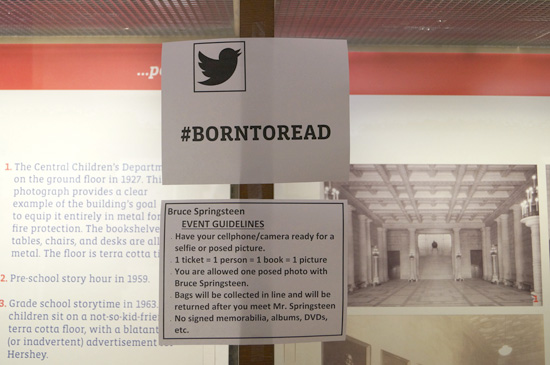 The other and much more important reason is that when I first learned that thousands of fans would be at these events, and then I did the math, I grew concerned that fans could walk away feeling unsatisfied after such a brief interaction. Watching it all in action yesterday here in Philly, however, was yet another beautiful experience of witnessing Bruce Springsteen connect with every single person, as he always attempts to do in concert. (Click here for one of the best individual stories from the Philly event.) Nobody I saw walked away from the encounter with anything other than huge smiles or tears of joy. What a beautiful gift he's giving to so many of his fans with these rare and unique appearances. Kudos to everyone involved in organizing them.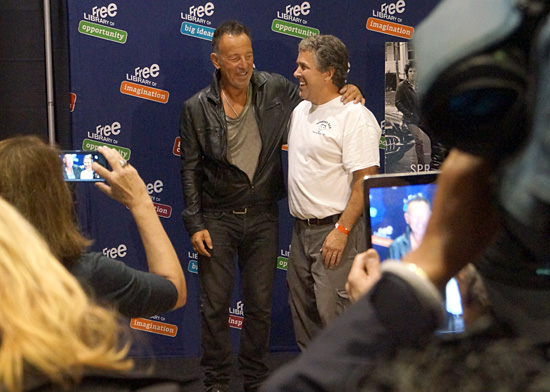 - September 30, 2016 - report and photos by Shawn Poole



THROWBACK THURSDAY: ACROSS THE STREETS OF PHILADELPHIA
At today's Born to Run meet-and-greet with Bruce Springsteen, more than 1,200 fans filled the sidewalk surrounding the Free Library of Philadelphia's main branch. The above left photo was taken today at the intersection of 19th and Vine Streets, just across the street from John W. Hallahan High School, where nearly a quarter-century ago, back in 1993, Hallahan students leaving school for the day were filmed for Bruce's "Streets of Philadelphia" music video (above right). More from today's Philly event to come.
- September 29, 2016 - Shawn Poole reporting


FIGHTING FOR #1 WITH BRUCE SPRINGSTEEN
What happens when you release your brand new album the same day as one of your musical heroes? If you're Passenger (aka Mike Rosenberg) you write a song about it. Passenger's young as the morning old as the sea and Bruce's Chapter and Verse have been running neck and neck at the top of the Singer/Songwriter chart in the US, UK, and Australia. And his love for Bruce is real. Passenger did a great version of "Dancing in the Dark" for Songs of Springsteen: A Covers Collection From 105.7 The Hawk's Bruce Brunch and has recorded three different covers for SiriusXM's The Coffee House channel: "I'm on Fire," "Dancing in the Dark" and "The River."
- September 29, 2016 - Tom Cunningham reporting


APPLE INTERVIEW STILL WATCHABLE ONLINE
Last night's discussion between Bruce Springsteen and Apple SVP Eddy Cue was streamed live on Facebook; if you missed it, the 45-minute chat can still be viewed here. In front of a small audience at the Apple Store in SoHo, the Born to Run autobiography was a springboard for Springsteen and Cue to discuss various aspects of Bruce's career — as well as his love of cheeseburgers (shout-out to the Windmill!) and the newer artists that have caught his attention (Kendrick Lamar and Kanye West). Cue's final question regarded the new album we've been hearing is in the can. Bruce: "I don't want to talk too much about it. It's been done for a while. It's pretty good — I hope it's good. It's kind of a solo record. Maybe we'll get it out sometime this year, if we're lucky."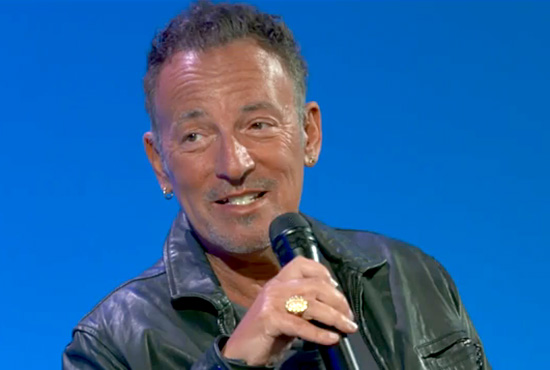 The Apple Store appearance followed another Barnes and Noble meet-and-greet earlier in the day, just a little ways uptown in Union Square. Today, the book tour stops at the Free Library of Philadelphia.
- September 29, 2016


WATCH TONIGHT'S NYC APPLE STORE EVENT ON FACEBOOK LIVE
With Bruce Springsteen's book tour underway, most of us fans — not in Freehold yesterday, or Union Square today — have only been able to experience these glory days vicariously. But tonight, anyone with access to Facebook will be able to catch Springsteen's speaking event, the third stop on the tour. Tune in at 7pm ET as the hosted discussion with Springsteen at the Apple Store SoHo will stream live at facebook.com/brucespringsteen. Event information is here.
- September 28, 2016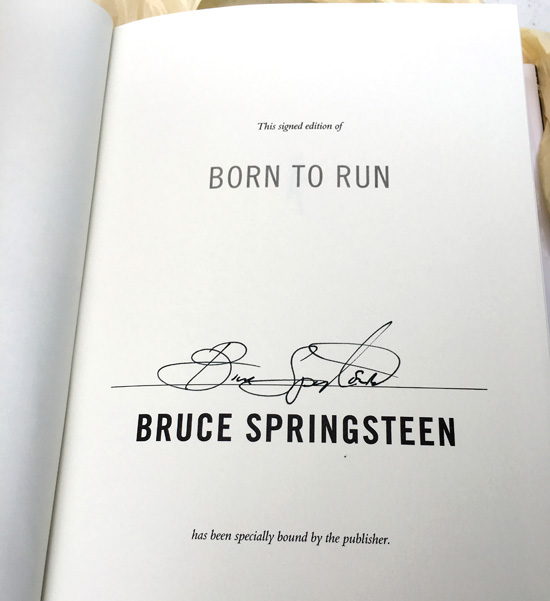 SPRUNG FOR PAGES ON HIGHWAY 9
Fall on the Jersey Shore is a time when the weather gets cooler, the summer crowds go home, and the beaches are empty. The humidity returned today, as did the crowds — but they weren't flocking to the beach. The destination was a bookstore in Freehold, as 2,000 fans descended upon Bruce Springsteen's hometown for an opportunity to meet their hero. Springsteen's autobiography, Born to Run, was released today by Simon & Schuster, and his meet-and-greet book tour kicked off at the Barnes & Noble on Highway 9.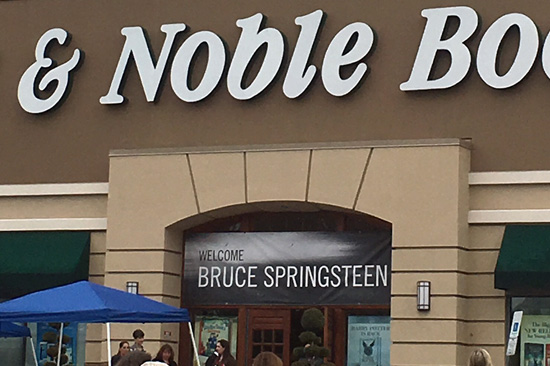 Fans began lining up as early as Sunday night (although the store discouraged it), but everyone with a ticket had their chance to meet the author and get a signed copy of Born to Run. The event was scheduled to begin at noon; when I arrived a little beforehand, I walked past fans who had already had their moment with Bruce. Dressed all in black, he had actually arrived 90 minutes before the scheduled start time, meeting fans and posing for pictures until late in the afternoon.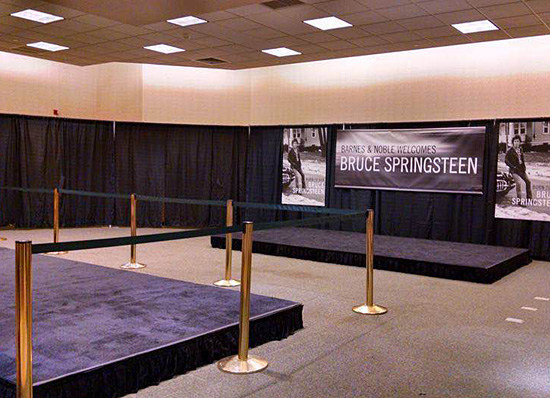 - Matt Wolf photo
Smiling from ear to ear, ecstatic fans unanimously described the event as an amazing experience. Blase Berner drove up from Virginia, finding the trip well worth it: "It was a great day, with great friends and the man we all love." Ali Scales from New York called the experience "spectacular, joyous and humbling."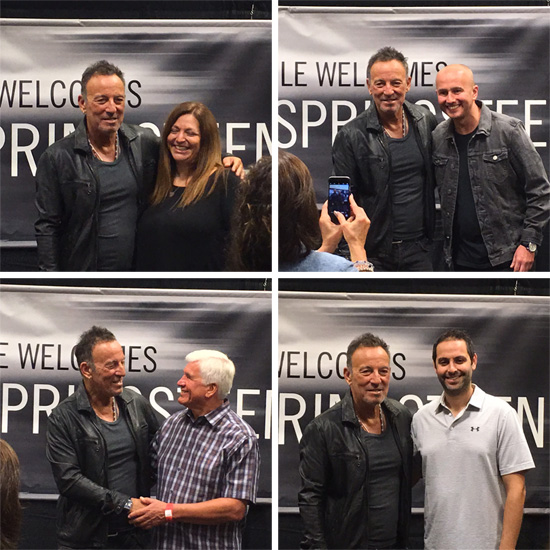 Stephanie Interrante from Barnes & Noble said that they were very honored and happy to host Bruce in his hometown; the store did a tremendous job organizing the large crowd. The entry process resembled the pit lottery familiar from concert tours. Fans initially lined up to get a wristband, which enabled them to buy a pre-signed copy of the book. The wristband also allowed fans to line up again, this time for the meet-and-greet with Bruce. Unlike the concert pit lottery, everyone with a wristband had a winning draw.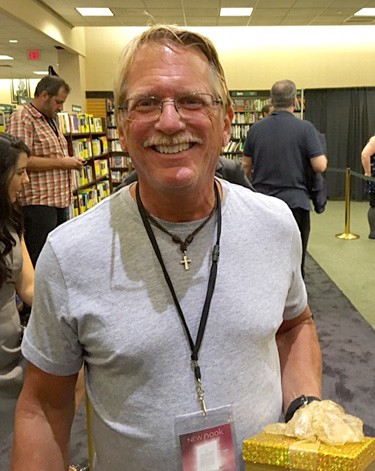 E Street Radio set up shop right outside the front door and played Bruce's music for the waiting crowd. SiriusXM's Dave Marsh, Jim Rotolo, Vinny Usuriello and Caroline Magyarits all greeted fans as they entered and exited the bookstore. As Rotolo said, "The fans were great, Barnes & Noble did a great job, and a smiling Bruce was really enjoying himself."

Other DJs were on hand, too: Rich Russo (Anything, Anything; The Jersey Guy Does Jersey) called the day an overall great experience and very well run; Tom Cunningham (The Bruce Brunch) said that Bruce appeared to be very proud of the book, adding how cool it was that he chose Freehold for the first book tour stop. Illustrator Frank Caruso (Outlaw Pete), Bob Benjamin, and guitar tech Kevin Buell [above left] were also among the many local Jersey Shore celebrities in attendance.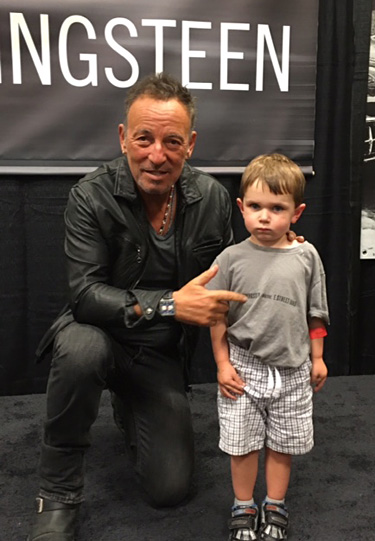 As fans filed out of Barnes & Noble, a large group of E Street Nation's finest descended upon Federici's in downtown Freehold for an afterparty, swapping stories and relishing the joy of getting to meet the man himself. Social media has been ablaze with pictures and stories from a group of very happy fans.
The fan who may have had the best day was three-year-old Jackson Puza [right] from Manchester, Connecticut. Jackson met Bruce, who also signed his copy of Outlaw Pete. At Federici's, Jackson then met Frank Caruso, who added his signature to the book for the toddler.
Fall may be here, but today felt like a summer party on the Jersey Shore.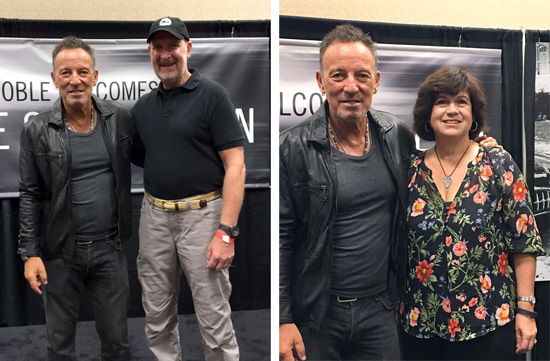 The party continues tomorrow in New York City, where the Barnes & Noble in Union Square will be hosting a similar event with Springsteen, followed by an evening discussion at the Apple Store Soho.
- September 27, 2016 - Kevin Farrell reporting - photographs by Kevin Farrell (L) and Melanie Paggioli (R)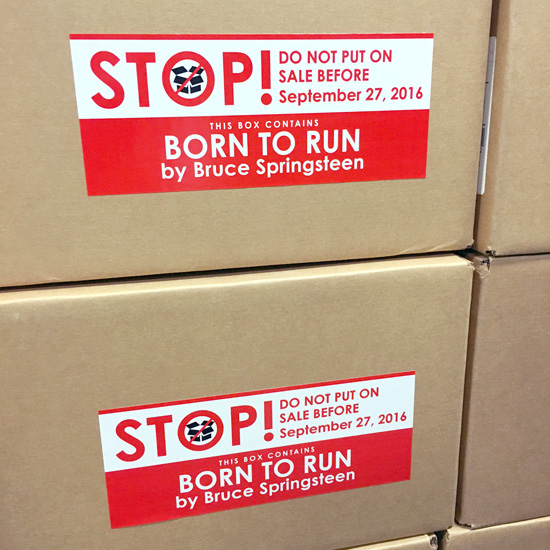 START!
Born to Run is officially released tomorrow, as Bruce Springsteen begins his book tour in Freehold. Here at Backstreet Records we're all loaded up and practically walled in by boxes. We've got all hands on deck, packing and shipping as fast as we can this week (along with those bonus promo posters), and we appreciate your patience as we get these all these books and book bundles out the door and on their way. Thanks as ever for supporting Backstreets. Please pray for our mail carrier's back.
- September 26, 2016


JACKSON BROWNE TAKES THAT RIDE
For last night's Concert Across America to end gun violence, Jackson Browne brought Springsteen along in spirit with a cover of "American Skin (41 Shots)" at New York's Beacon Theatre, backed by Vy Higginsen's Gospel Choir of Harlem. The nationwide effort has "the dual goals of keeping guns out of dangerous hands and making the issue of gun violence prevention top of mind for members of Congress, the presidential candidates, and the American people as they go to the polls in November 2016." For more, visit concertacrossamerica.org, and you can sign the petition supporting gun violence prevention here.
- September 26, 2016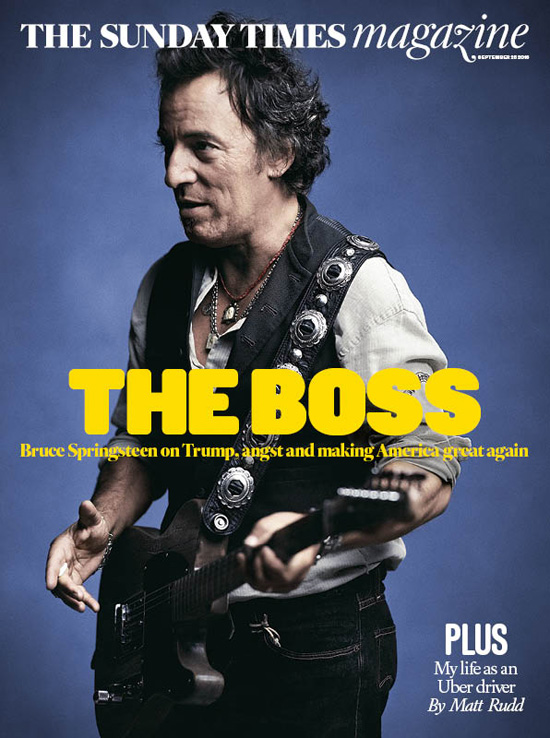 SPRINGSTEEN ON TRUMP IN THE SUNDAY TIMES AND ROLLING STONE
Sunday Times writer Nick Rufford was backstage with Bruce Springsteen earlier this month at Gillette Stadium, the final show of the 2016 River Tour, for today's cover story in The Sunday Times Magazine. On the whole it's less interview than book report, with all eyes right now on Born to Run, but their pre-show discussion was heavy on issues facing the States today, from gun control to the presidential election. As he's made clear in recent days, The Boss is no fan of The Donald:
"Since the whole story of 'Mexicans are rapists,' he [Trump] has been in the business of stirring up hate. His favourite thing now is that the election is gonna be rigged. In other words, if he doesn't win, whoever does win is illegitimate. He has a lot of followers out there. You tell them that their government is illegitimate, I personally don't know what some of them might do. My fear is that he is moving the country beyond democracy into more of a mob rule."
Read: "The Interview: Bruce Springsteen, rock god and American icon." If you're not a Sunday Times subscriber, you can also read the full piece online here.
As Caryn Rose pointed out last week for MTV News ["Bruce Springsteen and the Political Tour That Wasn't"], Springsteen's latest election-year tour was conspicuously light on explicit political commentary. But off-stage, promoting Born to Run in the days since, Bruce has shifted gears. He described Trump's candidacy to Skavlan as "a great embarrassment if you are an American" and, speaking to Rolling Stone, flat-out called Trump a "moron":
"Well, you know, the republic is under siege by a moron, basically. The whole thing is tragic. Without overstating it, it's a tragedy for our democracy.... The ideas he's moving to the mainstream are all very dangerous ideas — white nationalism and the alt-right movement. The outrageous things that he's done — not immediately disavowing David Duke? These are things that are obviously beyond the pale for any previous political candidate. It would sink your candidacy immediately.

"I believe that there's a price being paid for not addressing the real cost of the deindustrialization and globalization that has occurred in the United States for the past 35, 40 years and how it's deeply affected people's lives and deeply hurt people to where they want someone who says they have a solution. And Trump's thing is simple answers to very complex problems. Fallacious answers to very complex problems. And that can be very appealing."
Read: "Bruce Springsteen Calls Donald Trump a Moron," an excerpt from an "extensive interview" by Brian Hiatt that will run in the next issue of Rolling Stone.
- September 25, 2016


ICYMI: LAST NIGHT'S LATE-NIGHT BIRTHDAY TELLYVISION
Last night, Bruce Springsteen — or as Stephen Colbert introduced him, "the master American troubadour of my lifetime" — guested for four full segments on The Late Show, the night's only guest. Taping in the Ed Sullivan Theater, Colbert was able to point out to Springsteen the corner of the balcony where the girls were filmed screaming for Elvis and the Beatles. This time they screamed (and Broooced) for Bruce. "That's why I got here," laughed Springsteen, "That's why I'm here." Watch the full episode at CBS.com, or individual segments on YouTube.
Springsteen's half-hour segment on Skavlan aired last night, too. The program was previewed yesterday with a clip discussing Trump, but the full interview is wide-ranging, from family to country, subjects springing from the Born to Run memoir. Skavlan airs in Sweden and Norway; watch it here:

- September 24, 2016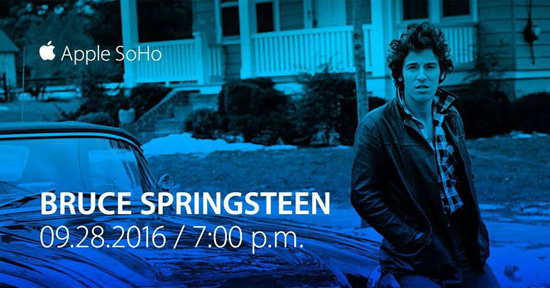 HEY SIRI, WHERE CAN I SEE BRUCE SPRINGSTEEN NEXT WEEK?
Add another stop to the Born to Run book tour: next Wednesday, September 28, after he spends the afternoon at Barnes & Noble Union Square in NYC, Bruce Springsteen will head downtown to the Apple Store SoHo for a 7pm talk. According to the Facebook event page, "This event is a hosted discussion with Bruce. It is not a meet and greet nor a signing." This makes three such nights on the tour, along with the 10/5 City Arts & Lectures and the 10/7 New Yorker Festival.
The Apple SoHo event is limited to 350 guests, and seating is limited and not guaranteed. Registration opens at 3pm Eastern tomorrow (Saturday, 9/24); see Facebook for further details.
- September 23, 2016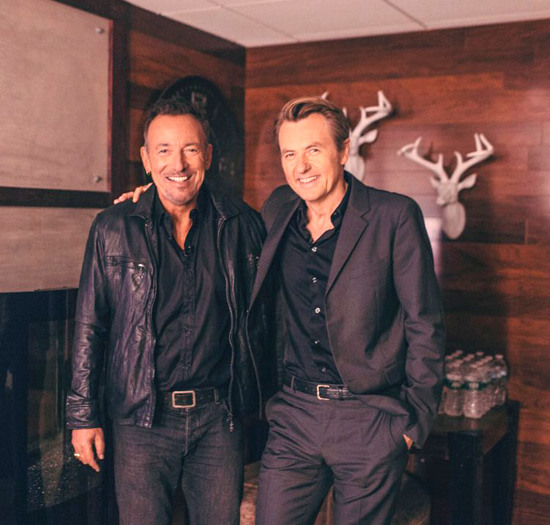 COLBERT, SKAVLAN, BOTH AIR TONIGHT
Tonight, don't forget to tune in to CBS for Springsteen's birthday appearance on The Late Show with Stephen Colbert, taped yesterday. Meanwhile across the Atlantic, Scandinavians will also be treated to a late-night talk show appearance, with Springsteen guesting on Skavlan. As NRK reports, the program, which airs in Norway and Sweden, was recorded yesterday in New York as well. Along with the autobiography, Springsteen and host Fredrik Skavlan [above] discussed the U.S. presidential election, specifically the candidacy of Donald Trump. "I can't find, in any of your songs — I can find a lot of characters, but I can't find Donald Trump," says Skavlan. Springsteen replies: "That would be... you'd have to search out the carny barker." Watch the preview clip here.
- September 23, 2016 - photograph via Twitter/@FredrikSkavlan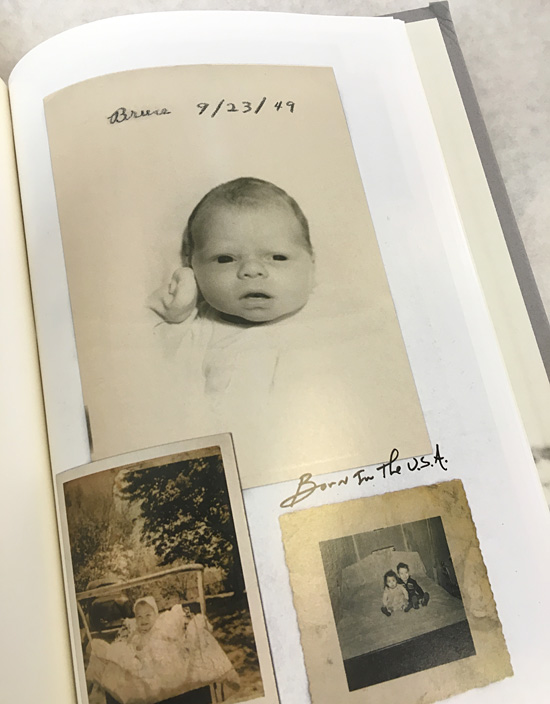 HAPPY BIRTHDAY BRUCE!
From the pages of Born to Run, there's baby Bruce Frederick Joseph Springsteen — born 67 years ago today. Leave it to Springsteen to give presents to us for his birthday. The new autobiography, due next week, looks back over his first two-thirds of a century; Chapter & Verse, out today, is the story in song, from a 50-year career. And counting, of course.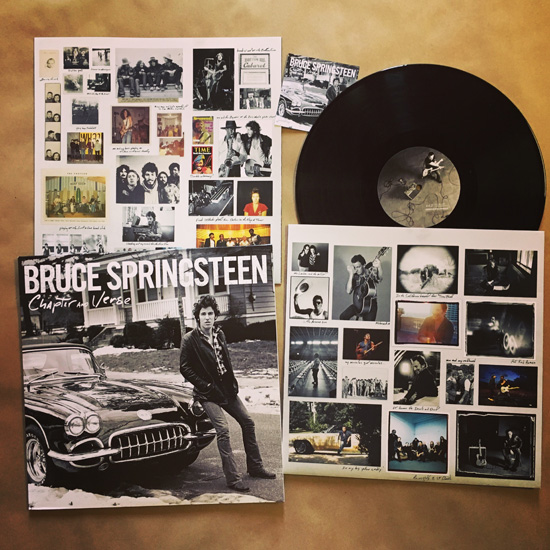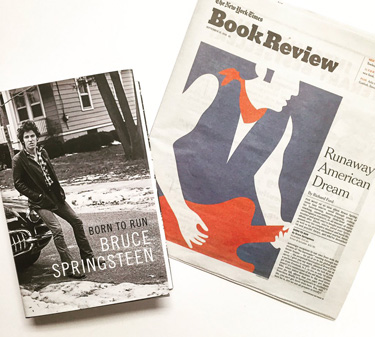 But what do you get for a man who's got all the riches any man ever knew? Well, the New York Times Book Review has the right idea: you get one of the greatest novelists of our time (and one of Bruce's own favorites) to review his book.
In this Sunday's edition, Richard Ford considers Born to Run — and it's practically a love letter. Two years ago in those same pages ["Bruce Springsteen: By the Book"] Bruce raved about the novelist: "I love the way Richard Ford writes about New Jersey. The Sportswriter, Independence Day and The Lay of the Land are all set on my stomping grounds and, besides being poignant and hilarious, nail the Jersey Shore perfectly." In his new 2,200-word cover story, Ford returns the compliment:
It helps that Springsteen can write — not just life­imprinting song lyrics but good, solid prose that travels all the way to the right margin. I mean, you'd think a guy who wrote "Spanish Johnny drove in from the underworld last night / With bruised arms and broken rhythm and a beat-up old Buick..." could navigate his way around a complete and creditable American sentence. And you'd be right. Oh, there are a few gassy bits here and there, a jot too much couch-inspired hooey about the "terrain inside my own head." A tad more rock 'n' roll highfalutin than this reader really needs — though the Bruce enthusiasts down in Sea-Clift won't agree with me. No way. But nothing in Born to Run rings to me as unmeant or punch-pulling. If anything, Springsteen wants credit for telling it the way it really is and was. And like a fabled Springsteen concert — always notable for its deck-clearing thoroughness — Born to Run achieves the sensation that all the relevant questions have been answered by the time the lights are turned out.
Not a bad birthday treat, especially for a man who once said to his parents from the stage, at the Roxy in '78, "one of you wanted a lawyer, and the other one wanted an author. Well, tonight, you're both just gonna have to settle for rock 'n' roll."
From the cradle to the cape, it's been a ride, ride ride... happy birthday, Boss! And many more.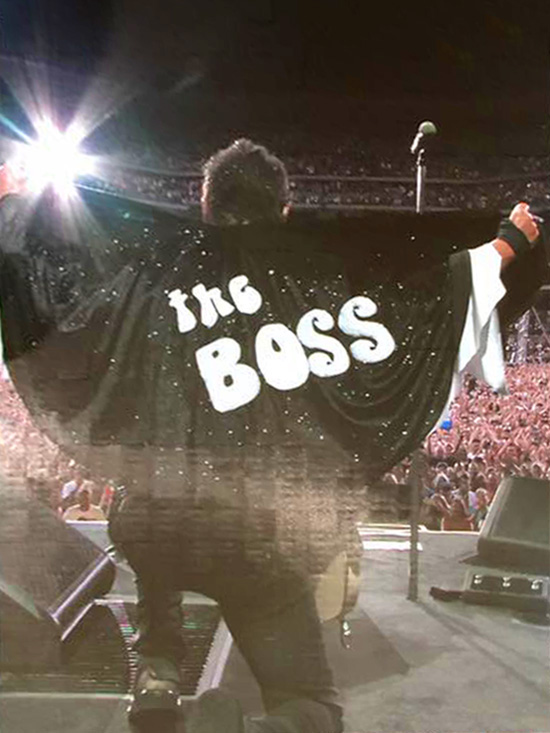 - September 23, 2016 - Top: the first of 16 pages of photos in Bruce Springsteen's Born to Run (Simon & Schuster) - Bottom: photograph by Ryan Hilligoss, Philadelphia, 9/7/16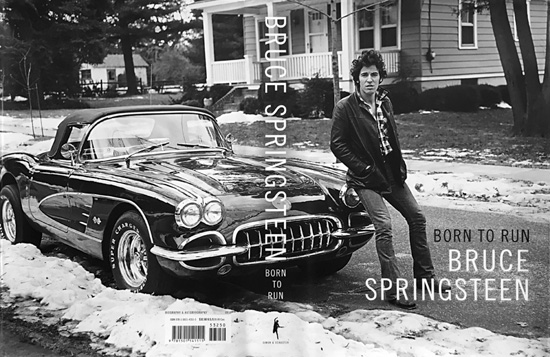 VETTE VUES
You've seen a lot of Frank Stefanko's "Corvette Winter" lately. You'll be seeing it on your nightstand shortly, on the cover of Born to Run; it's on the cover of Chapter and Verse, too, due tomorrow and the 2017 Springsteen calendar as well — "a trifecta I'm kinda proud of," Frank tells us. "Corvette Winter" dates back to 1978, from a weekend shoot in Haddonfield, NJ that also resulted in the covers for Darkness on the Edge of Town and The River. Frank wites in his book of Springsteen photography Days of Hope and Dreams (where you'll also see "Corvette Winter" on a double spread):
"Bruce seemed to come to Haddonfield in a different vehicle each time. After his initial visit in that old Chevy pick-up truck, the next day, Sunday, he arrived in a slick '60 Corvette. I think that car was his pride and joy. It was loaded, it was sleek, it ruled Route 9 and the New Jersey Turnpike. I imagined what it would be like to be Bruce, cruising in that Vette up the Pike under that giant Exxon sign in the wee, wee hours, thinking up song ideas while listening to his favorite tunes in that bad-ass Corvette."
"Corvette Winter" has also become one of the best-selling photographs in the history of Morrison Hotel Gallery, as you'll see in the new video above. Listen to Frank narrating the story of the image, and the happy accident of its evocation of "Thunder Road." Morrison Hotel still has the fine-art photograph for sale, in an 11x14 open edition or the monumental 30x40, each taken from the original negative and hand-signed by Stefanko.
- September 22, 2016


67 BRUCE SONGS
Let the birthday celebrations begin! Our buddy Rich Russo — musicologist and host of Anything Anything on the FM dial and The Jersey Guy Does Jersey on the Underground Garage channel on SiriusXM — has put together a special Mixcloud playlist to commemorate Bruce Springsteen's 67th birthday this Friday. Befitting Russo's freeform tastes, "67 Different Springsteen Songs by 67 Different Artists" runs the genre gamut, including rock, country, pop, jazz, soul, hip-hop, punk, and even classical. As Rich says, "This is not some definitive ranking or the best version — in some cases, they may be the worst. There will be things you have heard, and perhaps things you haven't or didn't even know existed." It's just as the title says, 67 songs all written by one man, by 67 different artists, in no order, with no theme — other than who wrote the songs.
There are plenty of twists and turns here. The English band who recorded what is Springsteen's only #1 song is here — but not with that song. Did you know those guys recorded four versions of thre Bruce songs? And did you know that a famous group of sisters who had a big hit with a Springsteen song had actually recorded another Bruce song as well? Yep, Russo skips the hit there, too.
"The opener is the oldest song on this list and the closer is a fitting way to end it, but the rest," Rich says, "just fall where they fall. This clocks in at over four hours — fitting, considering Bruce and E Street's recent concert lengths."
- September 21, 2016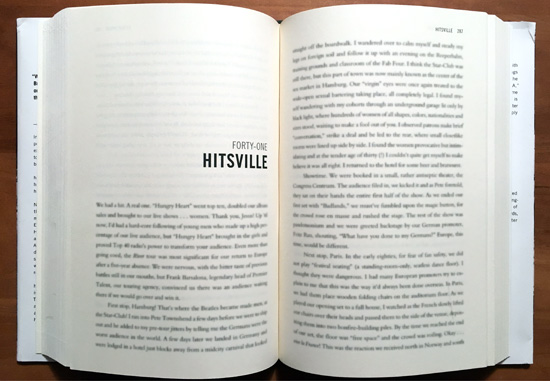 HITSVILLE!
A week out from the September 27 release of Bruce Springsteen's autobiography, the reviews have started to appear. The New York Times and Washington Post have weighed in — and so far, Born to Run is looking like a hit.
In the New York Times, Dwight Garner writes, "The book is like one of Mr. Springsteen's shows — long, ecstatic, exhausting, filled with peaks and valleys... His writing voice is much like his speaking voice; there's a big, raspy laugh on at least every other page. There's some raunch here. This book has not been utterly sanitized for anyone's protection, and many of the best lines won't be printed in this newspaper. Most important, 'Born to Run' is, like his finest songs, closely observed from end to end."
Read: "Bruce Springsteen's Memoir: Riding Shotgun With the Boss"
In the Washington Post, Joe Heim calls Born to Run "a 508-page offering that, like his four-hour concerts, delivers enough punch and laughter, sorrow and succor, to satisfy your soul and still, somehow, leave you wanting more.... these chapters reveal many new sides, not all flattering, of a person who has been telling his story for nearly a half century.... It turns out Springsteen fans did need an autobiography after all."
Read: "Why would Bruce Springsteen need to write an autobiography? Everyone has secrets"
Update: More in today...
Richard Williams writes for The Guardian: "In a book that bears the hallmarks of having been written by his own hand, Springsteen is particularly good at capturing the exhilaration of his rise to success with the E Street Band.... The book is as rich in anecdote and detail as in anguish and doubt.... Overwriting and repetition sometimes make it feel as though he has chosen to issue the literary equivalent of the four-CD deluxe version, complete with demos and out-takes, instead of the finished album itself."
Read: "Born to Run by Bruce Springsteen review – inside the mind of the Boss"
- Updated September 21, 2016


ICYMI: "THE FUEL THAT STARTS THE FIRE" ON CBS SUNDAY MORNING
Above, the Springsteen segment from yesterday's CBS Sunday Morning, including a stroll through Freehold and Bruce's old Catholic school ("I'm gettin' the willies!"), some sneak peeks at the pages of Born to Run (get the pause button ready), and a candid discussion of depression. Oh, and — from the memoir's 16-page photo section — baby pictures.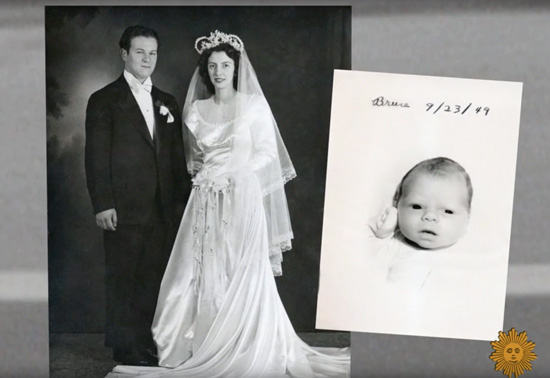 A text version of the story is at cbsnews.com, along this web exclusive video, Bruce talking to Anthony Mason about finding his voice while writing Born to Run.
- September 19, 2016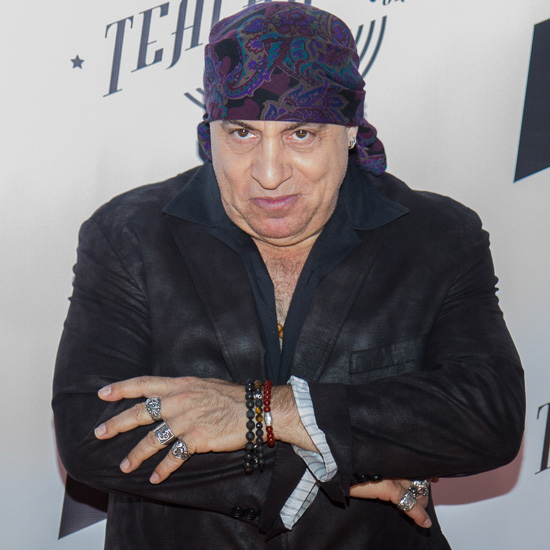 STEVIE REMAINS BUSY EIGHT DAYS A WEEK (OF COURSE)
Van Zandt co-hosts NYC premiere of new Beatles doc
Not surprisingly, only eighteen hours after The River Tour 2016 ended, Stevie Van Zandt was busily engaged in another of his many pet projects. On Thursday night, Steve was at The Village East Cinema, co-hosting the New York City premiere of Ron Howard's new documentary The Beatles: Eight Days A Week - The Touring Years.
Many other celebrities were in attendance for the event, a benefit for Steve's The Rock and Roll Forever Foundation, including his E Street bandmates Max Weinberg and Charlie Giordano as well as his former Sopranos castmates Vincent Pastore, Tony Sirico and Vincent Curatola. Co-host Paul Shaffer joked with the audience about Steve just before the film started: "This man just finished a grueling tour. Just last night... How long was it? Four hours? Wow. I just want to remind you, Steven, of one thing. The Beatles did 20 minutes." Stevie replied, "As Max has been saying, the show we did last night was longer than an entire Beatles tour."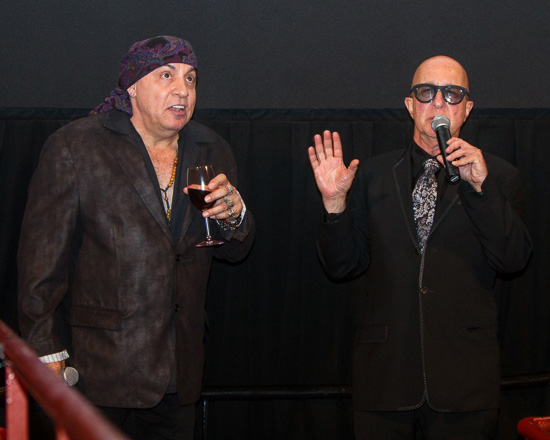 In addition to the joy of experiencing beautifully restored footage and sound of The Beatles live in their prime on the big screen (including an in-theaters-only restoration of The Fab Four's legendary Shea Stadium concert following the documentary,) the main purpose of the evening was a very important one. "Music education matters," said the Foundation's board chair David Roth. "It matters that thousands of young people all across this great country, extraordinarily diverse groups of people — socioeconomically diverse, ethnically diverse, geographically diverse — they can all come together to learn about and support that which helps define us culturally."
Some of the educators involved in bringing the Foundation's Rock and Roll: An American Story curriculum alive in U.S. public schools were present and recognized at the premiere. Proceeds from the premiere also will be used to support teachers' training in a new Beatles-themed element of the curriculum that incorporates Howard's documentary. It explores not only The Beatles' musical influences and impact but also the significance of their arrival during a period of immense social changes, both in the U.S. and abroad. "We are launching the most extensive Beatles-based educational materials that have ever been done," said Dr. Warren Zanes, the Foundation's executive director.
It won't surprise anyone reading this report that both Thursday's fundraising premiere and the launching of the new Beatles-themed educational materials wouldn't have happened without the tireless efforts of Steve Van Zandt, who spearheaded both projects. "It's hard to say no to Stevie Van Zandt," Dr. Zanes said smilingly at the premiere. "Jeff [Jones, CEO of Apple Corps] didn't. I want to thank him for that."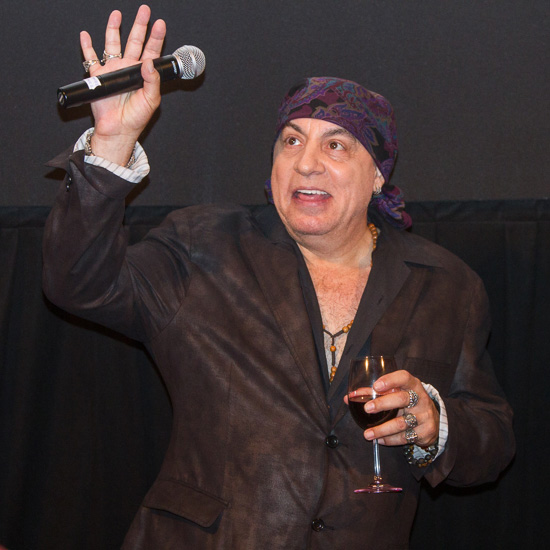 Steve himself drew the biggest connections between The Beatles' lasting impact and what led him to join with others in forming The Rock and Roll Forever Foundation. Recalling the moment when he and his younger brother first heard The Beatles' "I Want To Hold Your Hand" over a transistor radio in their shared bedroom, Steve said, "We were hearing unbridled joy for the first time. That's what The Beatles communicated... and that unbridled joy turned into an art form just a year later, changing pop music forever. They started influencing each other — The Beatles and Bob Dylan and the Stones and The Byrds... and suddenly an art form was born. And that 'coup' that rock and roll staged, taking over the radio, turned into a revolution. And the revolution turned into a renaissance. We were just lucky enough to be there at the time, but I believe this renaissance will be inspirational and motivational and studied for hundreds of years to come. I sincerely believe that. So that's why we do what we do. We're trying to make sure that renaissance period of this most amazing music ever made is accessible for future generations."
For more on The Rock and Roll Forever Foundation, click here to read our archived May 2016 interview with the Foundation's executive director Dr. Warren Zanes.
To learn where and how to see The Beatles: Eight Days A Week - The Touring Years, click here to visit the film's official website.
For more on The Beatles' lasting impact on E Street, click here to read our archived February 2014 feature celebrating the 50th anniversary of The Beatles' first live U.S. television appearance on The Ed Sullivan Show.
- September 18, 2016 - Shawn Poole reporting - photographs by A.M. Saddler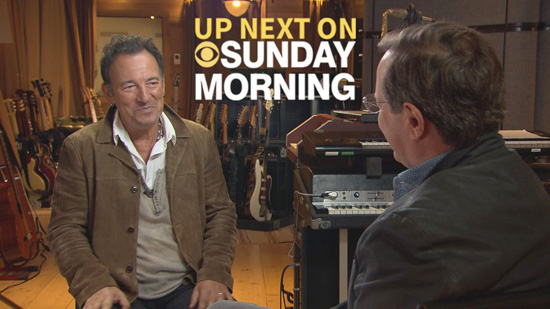 DVR ALERT: CBS SUNDAY MORNING THIS WEEKEND, COLBERT NEXT WEEK
Bruce Springsteen's book tour doesn't get underway until Born to Run's September 27 release, but the promotion begins shortly with high-profile television appearances on CBS. Next week — on Bruce's birthday, in fact — he'll guest on The Late Show with Stephen Colbert for an "extended interview." That's Friday, September 23. First, though, you can spend Sunday with Springsteen.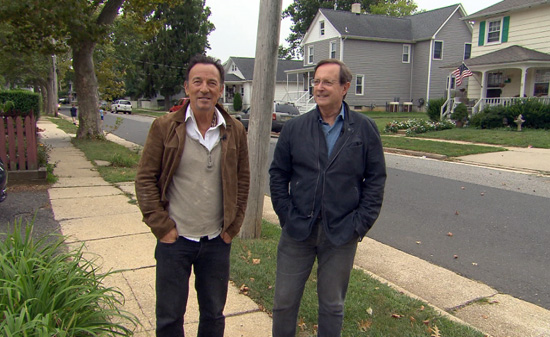 - Springsteen and Anthony Mason on the streets of Freehold, NJ
This Sunday, September 18, Springsteen's first televised interview about the new book will air on CBS Sunday Morning. In a wide-ranging interview, he talked with Anthony Mason about his battles with depression, his childhood in Freehold, his complicated relationship with his father, losing Clarence Clemons, songwriting, and much more.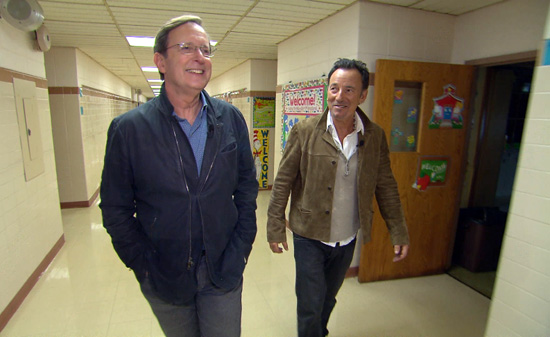 - In the halls of Springsteen's old school, Freehold's St. Rose of Lima
His depression, Springsteen tells Mason, lasted for a long time. "It lasted for more than a year and then it would slip away. Then it would come back for a year and a half." He credits Patti Scialfa with helping him get through it. "It sneaks up on you. I got to where I didn't want to get out of bed, you know? And you're not behaving well at home, and you're tough on everybody. Hopefully not the kids. I always try to hide it from the kids. But, you know, Patti really had to work with me through it — and she was... her strength and the love she had was very important."
A preview:
Tune in to CBS Sunday Morning on September 18 at 9am ET on CBS.
- September 16, 2016


"AN INCREDIBLE TOUR... I'D JUST LIKE TO THANK EVERYBODY"
Via E Street Radio, a special tour-end message of thanks to the fans from Bruce Springsteen, recorded backstage at Gillette Stadium yesterday and played at the end of their pre-show broadcast.
- September 15, 2016



SEPTEMBER 14, FOXBOROUGH: LAST DANCE FOR THE 2016 RIVER TOUR
"Hello, Foxborough! You're looking good!" Bruce Springsteen greeted the vast expanse of Gillette Stadium as the E Street Band took the stage for the last night of The River Tour 2016. As has become the new normal over the previous nine shows, the band opened the evening yet again with "New York City Serenade." "Yet again" seems like such an improper way to address the fact that everyone who showed up got to see this elusive masterpiece, but clearly, that's how Bruce wanted it. "Serenade" is such a rich, diverse number that it can take on different shades and tones based on Bruce's mood, the audience, the venue, or general feeling in the air. Tonight it was loose and languorous. It felt like the end of summer, Bruce vamping, "Sometimes you gotta walk on… just walk on" at the end, as though the older version of the song's narrator was offering some sage advice to Billy and Diamond Jackie. (Or maybe it was just the Junkman talking.)
With a nod to Roy Bittan, the piano introduction to "Prove It All Night" began, making it obvious that this wasn't any "Prove it," but "Prove It '78," complete with the accompanying Springsteen guitar wizardry. Tight and compact, his intro solo was executed with precision, strong, almost linear. And then, as Bruce brought the guitar neck down for the last time, the band came thundering right into place and the body of the song kicked in. There are so many of those moments to watch at a Springsteen show, but this one was breathless as you followed the solo, waiting for that moment of, well, climax. The power of the arrival of the band was a declaration of intent: the E Street Band is here and ready for business. It was almost a second opener.
The now-familiar '73 run of songs (which was not on the printed setlist; this was originally meant to be a Darkness night) featured Bruce in prime storytelling, end-of-tour summational mode. He offered versions of many of the tales he's been telling over the last few weeks, presumably inspired by what we'll soon be able to read in Born to Run. A tale of living above the beauty salon in Asbury Park prefaced "Blinded by the Light": Bruce had handed his record in to the record company, and they said, "'There's no hits on it! There's nothing we can play on the radio!' So I went home; I got out my rhyming dictionary, and I looked out my window. And I saw Mad Dog Vincent Lopez in a tirade on the street in front of me! He was assaulting a young man for taking his parking place. And I thought…" With that, Bruce launched into "Blinded by the Light," madman drummer bummers and all.
"Saint in the City" began with the tale about arriving in front of Columbia A&R exec John Hammond. Introducing "Growin' Up," Bruce proudly crowed, "Before my upcoming smash biography, this was my biography — 'Author, author!'" He also included the now-familiar story of how he earned his first guitar, "the only honest work I would do in my entire life," performing a series of tasks for his various relatives at the price of 50 cents an hour.
But let's not overlook the performances of the actual songs. "Saint in the City" was a locomotive, the band driving hard and Bruce egging Steve on at the solos. "Steve!" he yelled at the first lick, and then again, affectionately, but still: "Steve!" until Van Zandt delivered to the Boss' satisfaction. "Lost in the Flood" was delivered with martial precision. And "Incident" was drop-dead gorgeous and ethereal, making you feel like you were there at that moment. The music marshalled attention and what felt like an impossible silence throughout the stadium at the second to last verse: Johnny sitting on the fire escape, Garry Tallent oh-so-effortlessly providing both the bottom and the melody to move Bruce through the song. You felt the seasons change; you knew summer was gone. And then, that tumble once again into "Rosalita," that utter explosion of joy.
A large sign collection effort followed "Rosalita," but Bruce clearly didn't get everything he wanted, as he would keep shuffling through them. Unlike many of the shows this leg, the signs didn't just map to what he'd already decided he wanted to play. The signs resulted in a surprisingly passionate "Boom Boom," which Bruce had tremendous fun with, in full blues shouting mode. "I mean RIGHT NOW," he would — goddamn! — testify. That level of driving power would continue into "Darkness on the Edge of Town," another choice from the sign pile, where it felt like Bruce was raising the level of intensity from verse to verse. By the time he reached that last "on the edge of TOWnnnnnnn," you felt it, hard, right along with him. It was visceral. The sign for "Radio Nowhere" garnered a strong response from the front pit, but Bruce needed a few seconds to run through the chords. "I think I got it," he said, as he ran his fingers along the fret board. There were many excited shouts of anticipation, to which Bruce responded, laughing, "I'm going as fast as I can!" (The people at the top of Gillette Stadium are probably still wondering what on earth was going on down there.) Later, a sign referencing the Patriots' Deflategate would spur a frenetic, rave-up version of the "Detroit Medley," which felt like a Hullaballoo Club dance party with the E Street Band. "Light of Day" wasn't from a sign, but it would be the perfect follow-up to the Medley, the crowd not needing an engraved invitation to sing on the "Land of 1,000 Dances" refrain, spurring Bruce's energy yet further.
Despite this being a tour closer, the mood tonight was buoyant, loose, celebratory. Bruce's unmistakable cackle would be heard multiple times, and he grinned ear to ear pretty much nonstop. The mood was matched by the rest of the band, whose expressions ranged from delighted to bemused, especially at moments like Bruce miscalculating how long it would take him to run back to the pit divider for "Spirit in the Night." (Jake Clemons would also seemingly lose track, having to flat-out sprint off stage in order to get back there in time.) "If you're gonna Bruuuuce me, Bruuuce me right," he giggled in the middle of "Growin' Up." When he reached the key line of "Bus Stop," he leaned forward, cupped his hand around his ear, and urged the crowd to shout, "Man, the dope's that there's still hope!" back at him. That resulted in yet another delighted cackle when the line was delivered at a volume that met his satisfaction.
"4th of July, Asbury Park (Sandy)" was the result of another sign, resulting in a mad scramble by Roy to get the accordion and scurry over to the other side of the stage, only for Bruce to stop the band and announce that he'd let them know when they would come in. He said he wanted to try something different. "Something different" would end up being just Bruce and the electric guitar, with a delivery that felt less like the hipster beach bum of the original story, more like he'd grown up and was telling us about a life that he used to live, relating it warmly and affectionately. It felt like Bruce was reinterpreting it for himself right in front of us, figuring it out as he went along. The band kept watching him with an eagle eye the way they always have to, waiting for him to cue them in. (Roy looked like he was thinking, "This thing is heavy, Boss.") And Bruce knows they're standing there ready to jump in, and he gently stage-whispers, "Not yet," before taking another verse, and another, before letting them finally come in at the end, finishing things up beautifully. The song felt like that last warm week after Labor Day, when the tourists are gone and the locals get the beach to themselves.
"American Skin" maintained its spot in the show, never faltering, always there to remind us that we don't have the luxury of not remembering. Plenty of fans held their hands up in solidarity alongside Jake Clemons' gesture of silent protest. But again, as it should be, "American Skin" was backed up by "The Promised Land," reminding us — as we'd get in a minute, with "what we'll do and what we won't" — that we should be doing better.
This theme would continue in the encore, after the nod to the local hunger initiative, the Food Project. "This the last night of our tour," Bruce told the crowd. "We've been through the United States, and we've been through Europe and back here for these ten shows…. They've meant a tremendous amount to us, I can't tell you how much we appreciate you folks coming out and seeing us tonight. It never gets old. It's an amazing thing to see all the people who still support your music after all these years. So along with all of you, I've had to live through the election campaign, and I gotta say, it's gotta be one of the ugliest I've ever seen. And there was just a lot of speaking to our worst angels. You let those things out of the bottle, all that ugliness — the genie doesn't go back in the bottle so simple. Anyway, I'm going to do this with that in mind. This is 'Long Walk Home'." As in Pittsburgh on the previous weekend, it was fantastic to hear this underrated Magic number take pride of place again, the crowd on the refrain, just Bruce and acoustic guitar, stripping the song down to its barest essentials, perhaps in hope it wouldn't be misunderstood.
The epic for Boston was "Jungleland," guitar aloft in tribute, the crowd on their feet, shouting along, living the journey with Bruce as he took us through it one more time. It's something that never gets old, the hoots of joy and satisfaction from the old timers who are happy to hear it one more time, and the smiles and high-fives between the kids in their 20s who are glad to get to hear it. It is ritual and remembrance and so much about the reason we are all here. That organ line on "from the churches to the jails" never fails to deliver goosebumps, and Jake Clemons once again delivered a strong interpretation of the sax solo, earning another decisive embrace from Bruce at its completion.
The sight of the entirety of Gillette Stadium on their feet as the house lights came on for "Born to Run" was gorgeous; it's always the best thing to look around at that moment and see the elation and the excitement and remember what it was like to hear that song for the first time, when it was all so new. It wouldn't be a Springsteen show in Boston without Peter Wolf showing up, which he did for "Shout," doing his best to provide background vocals precisely accurate to the Isley Brothers original.
Then the sequined cape comes out. The becaped Boss crawls down the stairs, still holding a guitar, and actually sits on the top step of said stairs. "The Boss has left the building," Steve tells the audience, glancing backward. "No, that is not him that you see idling at the top of the stairs." The camera cuts to Bruce, hamming it up and shaking his head "Noooooo" just before he leaps up and reappears, dropping to his knees and striking that Elvis "American Eagle" pose from Aloha from Hawaii. (And I swear that Max matched it with the same drumbeats that Elvis used at that entrance). It is a great bit of showmanship that hearkens back to the music that influenced every single person on that stage, and it is gratifying to watch this bit of rock 'n' roll history preserved.
Speaking of rock 'n' roll history: the big surprise was next, as those unmistakable chords heralded "Rockin' All Over the World," ringing out across the Foxborough night. It would be the perfect ending, the absolute right decision, the crowd singing loud and proud, the band smiling approval across the stage, Bruce continuing the tradition, Bruce tying his music back to its roots, making that explicit connection once again.
What's that? One more? Of course: it's time for "Bobby Jean," one more stadium waving back at Bruce, that song of goodbye and remembrance and memory, before the band comes to the front and waves and smiles and blows kisses and points at fans in the crowd. Bruce reminds us, as though we'd ever forget: "The E Street Band loves you!" After Bruce's final wave goodbye after ushering the band offstage, Donna Summer's "The Last Dance" comes on over the PA, instead of the usual choice of Alison Krauss' lovely "Down to The River to Pray." It ended the night on that celebratory high note, making you dance off the field, out of the stands and home, another E Street Band tour put to bed — at least, until the next one.
[For the record, tonight would clock in at 4:02:15, Bruce's third-longest show in history.]
For the full setlist and reports from this and other recent shows,
see our Setlists page
- September 15, 2016 - Caryn Rose reporting - photographs by Barry Schneier (1-8, 11) and Caryn Rose (9-10)



SEPTEMBER 11, PITTSBURGH: CERTAIN THINGS ARE SET IN STONE
"Back where we started," Bruce Springsteen remarked to the packed CONSOL Energy Center at the onset of Sunday night's stellar 3:45 concert. Before the show even began, there was a lot to distinguish this penultimate stop on the 2016 River Tour: not only was it a return to the stage where the nine-month trek kicked off in January, it was also a rare arena stop at this point on the tour, and most significantly, the first time Bruce and the E Street Band would play a concert on September 11 following the 9/11 tragedy 15 years ago.
They were back where they started, sure, but not much was "full circle" about the return to Pittsburgh. This was a radically different setlist and performance — more than two hours went by before a single song repeated from the January show. With the full River sequence just a dot in the rearview mirror, Springsteen combined the 1970s wayback machine of recent concerts with an extended, moving 9/11 memorial as well his most explicit commentary to date on the 2016 election. Even if sorta by proxy. (In the same city, it's worth nothing, where he responded to Ronald Reagan in 1984.) Taken together, the 9/11 Pittsburgh performance was a time-hopping, peaks-and-valleys look at the state of our nation. Trouble in the heartland, to be sure... but plenty of rising up, too.
If finding something more breathtaking than the opening "New York City Serenade" would seem like a challenge, Springsteen rose to it by cueing up "Into the Fire" right away in the second slot. The first of four songs in a row from The Rising, "Into the Fire" had been performed once before on this tour, in Paris over the summer. But given Sunday's occasion — and the immediate confirmation that Bruce and the band would be marking it — it was a powerful moment up there with the biggest setlist surprises. That was the case with the cathartic "Lonesome Day" that followed, too: less of a rarity, but it came with with a visceral thrill: "Oh, we're doing this." In context, paired with "Into the Fire," "Lonesome Day" hadn't hit me this way since the Rising tour 13 years ago.
But the real intake of breath came next, as Roy Bittan began his lullabye introduction to "You're Missing": unplayed since the Devils & Dust tour in 2005, and not with the E Street Band since the Rising tour. Springsteen stood still at center stage to deliver the heartrending vocal, and the years melted away. "Mary's Place" lifted us back up, with Bruce in high spirits — "Now listen," he said, "shhhhhh," as he always does, and then with a barely contained smile, "Don't Bruce me! Don't Bruce me right now. I'm workin'!" After pacing the lip of the stage, calling to "Let it rain! Let it rain!" and joining with the band for the final gospel harmonies, Springsteen had Max keep the drums rolling as he grabbed a new guitar from Kevin Buell. The moment of tension stretched out: would it be a fifth song from The Rising? No, we were on to "Darkness on the Edge of Town." But it became clear, "I lost my faith when I lost my wife" resonating so soon after "You're Missing," that this song was part of the same arc. Bruce called "Darkness" as an audible; as he sang about "lives on the line where dreams are found and lost," less than 90 miles from the Flight 93 National Memorial, you knew why.
But so much of the night, as with the opening song, was a New York story. This leg's amazing run of early material not forgotten, Bruce took us further back in the next bit of time travel to the New York and New Jersey of the early '70s, when the towers still stood. Following "Does This Bus Stop at 82nd Street?" Springsteen gave some narration that tied it all together: "So I'm on the bus. I've got my busted-up old guitar. I'm going to New York City for my big record label audition. I'm shitting my pants!" Soon we're on the elevator with him, rising "up… up… way up above the street... up past the clouds... up past the angels singin'... up! I get out, I go to the office of John Hammond, one of the greatest record executives of all time... I sit down in my chair, and I say: I had skin like leather and the diamond-hard look of a cobra..."
"It's Hard to Be a Saint in the City" was diamond-hard for sure, highlighted as usual by Bruce and Stevie facing off on guitar as the crescendo builds and builds and Max pounds his way to the end. On a joyous "Growin' Up," it was story time again. Bruce took us even further back in the time machine (after saying one more time, "Don't Bruce me!"). It's almost like the guy's been writing his memoirs or something:
There I was, stranded in my little town, in 1964. Shortly after the disappearance of the dinosaurs. Very unfriendly place, little New Jersey town in 1964. Very unfriendly. And I was a little bit of a frrreak! So I had to find something — I needed something I could do. Something I could do that would make me feel good. I had one thing... [crowd laughs]... there's only so many things you can do for four hours! So I was looking for something else. And I walked past a Western Auto store that sold guitars and car parts, and I saw this old, funky, acoustic guitar in the window.

And I knew to get that guitar I was gonna have to work! So I want to my aunts and uncles, my Uncle Warren came out, showed me how to cut the hedges with the shears, mow the lawn.... I painted the house across the street. Tarred the roof in mid-summer heat, 95 degrees. For 50 cents an hour. And that was the last honest work I ever did.

I went downtown, I picked out that guitar, I took it home, and I started to practice. Practice. Practice. One hour. Ten hours. 100 hours, 200 hours, 5,000 hours. Did that guy [Malcolm Gladwell] say 10,000 hours? Takes more than that! 20,000 hours! Until soon, I picked it up one day, and it went...
Well, you know how it went. Goosebumps as the band rumbles in and Bruce is off to take his vacations in the stratosphere. "Spirit in the Night" had him circling the pit and deciding, "Love in the dirt... I think that's the title of my next album!" The Greetings fest continued with "Lost in the Flood," full power and glory on display as Springsteen cranked out a jawdropping lead, bathed in red light, and Roy's magnificent piano bookended the song.
Next Wild & Innocent gave us three in a row, with the jazz exursions of "Kitty's Back" followed by the reuniting of "Incident" and "Rosalita" after a night apart in Philly. And it felt so good. "Incident" was musically magnificent as usual, with spotlight on Garry Tallent before the whole thing swells at the end, Bruce letting his guitar talk. The transition from "Incident" was not lost on the Pittsburgh crowd — you could kinda feel the room holding its breath and hoping — and then "Rosie" had the whole place rocking to the rafters. Riding that uptempo wave, local hero Joe Grushecky and son Johnny came out for "Light of Day" (they'd actually been in Jersey for that very event when the E Street Band played here back in January).
And then it was on to another powerful and poignant arc, one that brought the thematic time machine right back to this millennium. "Streets of Fire" set the scene; "American Skin (41 Shots)" was a true tour de force, one of the most moving songs of the night (which is saying something); and "The Promised Land" blew it all away. Think of how much history Springsteen packed into one set already: from the mean-ish streets of small town New Jersey, to boogalooing down Broadway, to Amadou Diallo, to the 9/11 attacks and their aftermath, to "Hands up, don't shoot," and still the promise up ahead. And still time for a bit of River history too, on The River Tour, eschewing go-tos like "Hungry Heart" and "Out in the Street" for deeper cuts "Cadillac Ranch" (an audible) and "I'm a Rocker."
Another peak came with "My City of Ruins" into "The Rising," bringing the night's total to six songs from 2002 album. (And none of them "Waitin' on a Sunny Day"!) There was definitely magic in the night on "My City of Ruins," as the place lit up with "fireflies," points of light dotting the floor and the stands throughout the venue. Bruce and the band's call to "rise up!' — and the crowd's too — was explosive. "The Rising" on a night like this would surely have had plenty of potency on its own, but with "My City of Ruins" as a lead-in, that title track felt more vital than it has in years.
Just when you thought we might be done with current events (especially after "Badlands" tied it all up with a big effing bow) Springsteen called an audible to start the encore alone — and address the most current. Rather than leading the band into the setlisted "Secret Garden," he worked out some chords on his guitar and held up what looked like a pamphlet. "Somebody gave me a copy of the Constitution of the United States," he told the crowd to loud cheers. "Uh, it does say 'Fuck Trump' on the front of it." The cheers for that were even louder. "And this was his request." Movingly performed alone on acoustic guitar, "Long Walk Home" was a long time coming, a stand-out from Magic that remains all too appropriate during this bizarre election season — eight years later, a perfect song for the moment. Performed in this stripped-down fashion for the first time, the lyric was heard loud and clear, and one of Springsteen's greatest modern verses was met with the applause it deserves:
"...that flag flying over the courthouse
Means certain things are set in stone
Who we are, what we'll do and what we won't."
Follow all that with an intense, beautifully delivered "Backstreets," and you've earned a lights-up, dance party blowout. Which of course was provided. It was one of those nights when Springsteen seemed to grow younger as the night went on, shedding years and gaining energy. The man was moonwalking during the encore and giddy enough during "Shout" that when the cape routine kicked in, you didn't believe he was actually exhuasted for a second.
"Thank you Pittsburgh, for everything," Bruce hollered at the end. "Another fantastic Pittsburgh crowd... thank you for opening the tour, and closing!" Now, everyone at Gillette Stadium for the last dance will surely have a different take on the matter — including Bruce and the E Street Band. But in the moment, you knew what he meant. That's how it felt.
For the full setlist and reports from this and other recent shows,
see our Setlists page
- Updated September 14, 2016 - Christopher Phillips reporting - photographs by Guy Aceto - video clips by Nick DominicOH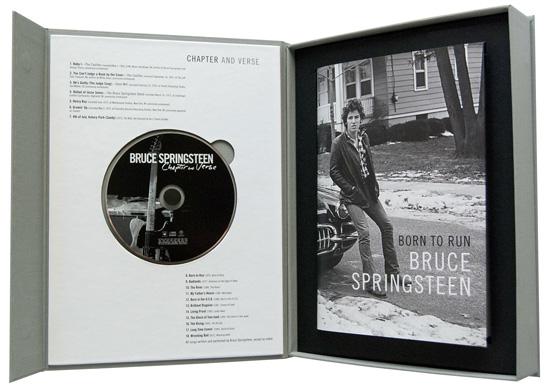 LTD. ED. DELUXE BOX CONTAINS SIGNED/NUMBERED BORN TO RUN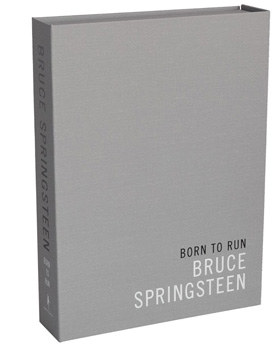 Another way to get a signed copy of Springsteen's autobiography, announced this afternoon at brucespringsteen.net: "For the ultimate Bruce Springsteen fan, the Born to Run Deluxe Limited Edition contains a signed and numbered copy of Springsteen's autobiography, Born to Run, and a CD copy of Chapter and Verse, presented together in a handsome box set."
The limited box is available for pre-order in the U.S. exclusively from Barnes & Noble for $350, as well as from Waterstones in the UK and Europe for £250, and Indigo in Canada for $450 Cdn.
For the standard hardcover edition (unsigned, at a tenth the price), you can still pre-order Born to Run from Backstreet Records, by itself or in bundles with Chapter and Verse, to receive a FREE bonus Born to Run promo poster.
- September 14, 2016

DON'T BOGART THE BOSS!
Not surprisingly, the first round of ticket sales/reservations for Bruce Springsteen's Born to Run book tour left bookstores... well, booked. His appearances in Freehold on September 27, New York City on September 28, Seattle on October 1, San Francisco on October 5 (in conversation with Dan Stone) and Cambridge on October 10 are now all sold out.
Rounding out this week's on-sales will be the tickets for Springsteen's October 7 NYC appearance at The New Yorker Festival (in conversation with David Remnick,) going on sale at 12 pm ET today, tickets for his October 4 appearance in Portland, going on sale at 1 pm ET today and tickets for his September 29 appearance in Philadelphia, going on sale this Friday at 10 am ET. [Springsteen's October 3 appearance in Los Angeles will have a day-of-event wristband distribution. Click here for details.]
In the spirit of "we take care of our own," it's worth remembering the following as so many fans try for the relatively small number of tickets that are available. Should you be lucky enough to score a meet-and-greet ticket, there's no need to go all Humphrey Bogart in The Treasure of the Sierra Madre. None of these dates are performances; only Bruce's San Francisco (10/5) and New York (10/7) appearances are speaking engagements. All of the other appearances will follow the same format best described on Cambridge's event page: "Event is meet & greet with photo only. No book discussion, personalized signing, or performance. You are allowed one posed photo with Bruce Springsteen... Bruce will not sign anything during the event (books will be pre-signed), so no memorabilia or other items are allowed." So it doesn't make much sense to attend more than one meet-and-greet, especially with so many fans hoping for a shot… don't bogart the Boss!
- September 14, 2016 - Shawn Poole reporting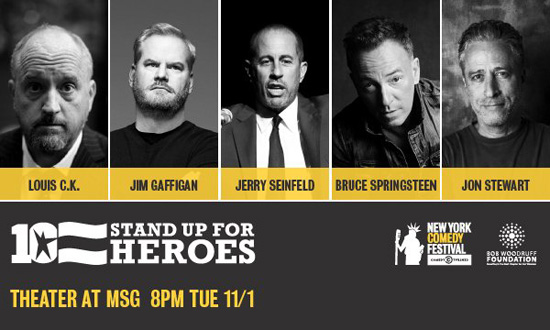 SPRINGSTEEN AT STAND UP FOR HEROES: A PERFECT 10
Another Stand Up for Heroes, another Bruce Springsteen performance (and likely another few dirty-ish jokes). The man is committed. This will be Springsteen's tenth appearance, at the tenth annual Bob Woodruff Foundation benefit honoring injured soldiers and veterans. Part of the New York Comedy Festival (and also featuring Louis C.K., Jim Gaffigan, Jerry Seinfeld, and Jon Stewart), this year's Stand Up for Heroes will be held November 1 at The Theater at Madison Square Garden. See nycomedyfestival.com for event details, with tickets on sale now through Ticketmaster.
- September 13, 2016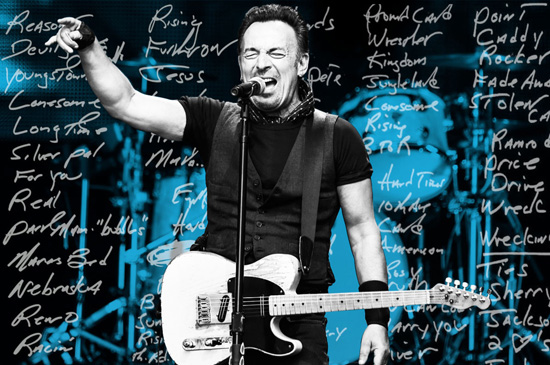 AMERICAN TOP 314
Longtime Backstreets contributor Caryn Rose, after three-and-a-half months of work, offers an exhaustive examination and ranking of Bruce Springsteen's songs today at Vulture.com. All 314 of them, annotated and in order, from "Mr. Outside" all the way up to — spoiler alert — "Born to Run." (With "Thunder Road" at number two: "It was a tough call there.")
Will you (or predictably outraged folks on the interwebs) agree with everything? Do we? Of course not. Is that very much beside the point? We think so. It's a smart, funny, insightful, honest, thought-provoking, argument-starting look at Bruce's output — every officially released, Springsteen-penned song in the catalog — from a writer, critic, and fan who's been thinking about and bearing witness to This Thing of Ours since Lieutenant Jimmy Bly was in short pants. A long read to savor. Even as you're doing a spit-take or two.
Read: All 314 Springsteen Songs, Ranked From Worst to Best
If you're interested in backstory, some of the process behind the piece, check out Caryn's blog at jukeboxgraduate.com.
- September 13, 2016 - photo illustration via Vulture/Getty Images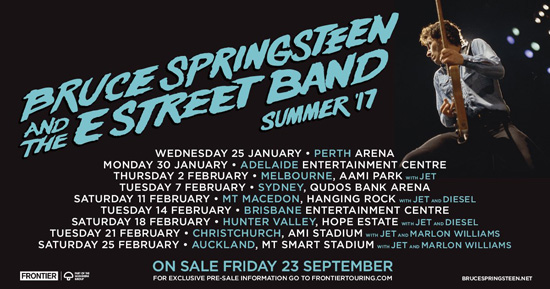 G'DAY!
First we got book dates, now E Street Band dates for Jan/Feb 2017
The E Street Band rolls on: The 2016 River Tour wraps up here in the States on Wednesday, but just a few months later they'll be back on stage for Summer '17 Down Under, returning to Australia and New Zealand three years after their last visit. The leg kicks off January 25 in Perth, running through February 25 in Auckland. Ticket presales begin September 20, with general onsales beginning on Springsteen's birthday, September 23. Visit frontiertouring.com for details, including their Pre-Sale Survival Guide.
- September 12, 2016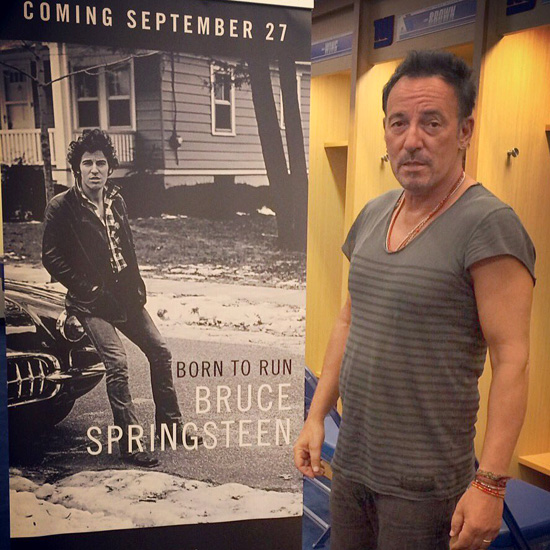 AUTHOR, AUTHOR!
As one tour ends, another begins: dates have just been announced for Bruce Springsteen's book tour for Born to Run, two weeks after The River Tour wraps in Massachusetts. Beginning where it all started in Freehold, on the day of the memoir's release (September 27), Springsteen will spend at least two weeks promoting his autobiography with appearances from coast to coast — not performances, to be clear, but appearances. All stops will include a pre-signed copy of the book.
In addition to afternoon bookstore events at Barnes & Nobles and independent booksellers, there will be a pair of evening discussions, in San Francisco and New York. At the City Arts & Lectures event on October 5, Springsteen will be in conversation with Dan Stone; advance ticket sales are currently open to members. At the New Yorker Festival on October 7, Springsteen will be in conversation with editor David Remnick; tickets on sale this Wednesday, 9/14.
Tuesday, September 27 - 12:00 pm
Barnes & Noble Freehold
Freehold, NJ
Facebook event page

Wednesday, September 28 - 12:00 pm
Barnes & Noble Union Square
New York, NY
Facebook event page

Thursday, September 29 - 12:00 pm
Free Library of Philadelphia
Philadelphia, PA
Facebook event page

Saturday, October 1 - 12:00 pm
Elliott Bay Book Company
Seattle, WA
Facebook event page

Monday, October 3, - 12:00 pm
Barnes & Noble at The Grove
Los Angeles, CA
Facebook event page

Tuesday, October 4 - 12:00 pm
Powell's City of Books, 3rd Fl. Pearl Room
Portland, OR
Facebook event page

Wednesday, October 5 - 7:30 pm
San Francisco Arts & Lectures, Nourse Theater
in conversation with Dan Stone
San Francisco, CA
Facebook event page

Friday, October 7 - 7pm
New Yorker Festival, Town Hall
in conversation with David Remnick
New York, NY
Facebook event page

Monday, October 10 - 12:00 pm
Harvard Coop
Cambridge, MA
Facebook event page
Watch this space for further information as we have it.
- September 12, 2016 - photograph via Twitter


SEPTEMBER 9, PHILLY 2: RISING UP ON A HOT NIGHT
It might already be September, but the weather and the E Street Band cooperated to create a hot summer night at Citizens Bank Park in Philadelphia Friday evening. It was warm and sultry in the twilight as the string section once again took their places on the riser behind Roy Bittan before the band entered, Bruce came onstage, and the unmistakable introduction of "New York City Serenade" filled the ballpark for the second night. "Serenade" remains this incredible jewel of a moment, and the band still seems slightly amazed by the beauty that is created in those ten minutes at the start of these shows. "I'm a young man, I talk it real loud," Bruce sang, with echoes of remembrance and longing. Roy once again excelled in performance tonight, with an energetic crispness to the notes. It's also lovely how absolutely psyched the string players seem, and their enthusiasm shines through their performance.
At the end, the very end, Bruce is telling us about the junkman, and he's singing, and singing that last refrain, stepping back from the mic a bit, giving the vocals some more room to grow. Part of it was probably to encourage the audience to raise their voices, but it just seemed like he didn't want to break the spell. Finally, however, the song came to a close, and Bruce regarded the band and the auxiliary musicians with a warm, satisfied smile before acknowledging the strings as they stood for a bow and left the stage.
"How we doing tonight?" Bruce asked. "It's hot!" he said, stating the obvious, especially to those at the front of the stage who had been standing in 90-degree heat for the last four hours. The show would kick off with "Out in the Street" and "Sherry Darling" before a lengthy sign collection interlude — almost as though Bruce was trying to clear the sightline to the stage, because there were so very, very many — and as a result, tonight would veer all over the place.
The first result of this collection would be a version of "From Small Things (Big Things Come)" that echoed St. Louis more than Memphis, Roy channeling his best Johnnie Johnson. "I'm Goin' Down" was a crowd sing-along favorite. "Loose Ends" was a welcome surprise to the audience, but it seemed like a not-so-welcome surprise to Jake Clemons, who did not seem to be acquainted with the sax solo. He eventually figured it out, but not before cracking up Bruce and various members of the band as a result.
"I'd like to bring out an original member of the E Street Band," Bruce said, bringing on "Saint Vincent Van Gogh Lopez" aka Vini "Mad Dog" Lopez. "This kindly looking senior citizen was a freakin' mad dog in 1973," Bruce assured the audience. Vini would contribute his tambourine stylings to a strong "It's Hard to Be a Saint in the City," complete with sizzling guitar duel between Bruce and Steve. Vini also waved the tambourine around on "Spirit in the Night," which ended with Bruce howling at the moon, literally hanging over the very top of the stadium in the back.
"4th of July, Asbury Park (Sandy)" was soft and perfect, dedicated to anyone from the Shore, but then the opening notes of "Kitty's Back" brought the room to attention, sparking off Bruce's fretboard. "Kitty" is always interesting, but let's be honest: live, it's an extended, free jazz exploration that can, sometimes, veer off course, or meander a little too much — it's just the nature of the composition, the risk you have to take to get the end result. Tonight, however, was another story. The song swung like nobody's business. The band was tight yet loose, weaving together, soloing in a compact, concise fashion with no bloat. Charlie Giordano's solo embodied some of the late Phantom's swing and lift; Jake's solo was sharp and melodic; and once again, the Professor just brought it home with a strong, authoritative run, Max Weinberg crisp behind him, and Garry Tallent holding the bottom down almost invisibly. Bruce urged them all on, intently watching every note. And then of course, he took his own solo, sweat visibly pouring down his fingers. It was the E Street Band at its best. (Props to the audience member on screen wearing a full-head cat mask, jumping up and down holding a sign reading "Kitty.")
From here, Bruce decided it would be a good idea to jump straight into "Rosalita," bypassing "Incident on 57th Street" entirely. To be fair, it was very hot, and "Kitty" was huge, and intense, and it might be greedy to expect it after the previous four shows following that form. But "Rosalita" did not work here; it threw the audience off completely, and it just didn't make sense. This is probably why Bruce went back to the signs, pulling out one reading "Can a College Student Play 'No Surrender,'" with impressive notation about capo placement and chords. The young man was brought up onstage to accompany Bruce on acoustic guitar. While an audience member might not generally expect to pay $196 for a talent show, the gentleman did actually possess talent and personality, and Bruce had a great time up there with him.
The next sign would end up supplying the emotional heart of the show, when Bruce pulled a sign out of the audience reading "We Rose Up" and displaying a photograph of the World Trade Center. "My City of Ruins" was next, and it was a great moment — but what made it even greater was the fact that Bruce chose to follow it with "American Skin," huge and raw as it ever was, and how it always is, Jake Clemons holding the "hands up, don't shoot" pose in the back, quietly, persistently. And then, the coup de grâce, the only possible follow-up, the logical conclusion: "The Promised Land." It was tremendous. It was strong. It was bold, it was courageous, and it was undeniable. You stood there, afterwards, vibrating from it all, not believing that it just happened.
"Candy's Room" and "She's the One" brought us back to mundanity, and then, another sign would steer the set back to course: "Racing in the Street." For some reason, this was like putting up a sign that read "Everybody Talk Now." But it didn't matter, because it was "Racing in the Street." Those opening chords, tender and tragic; the opening lines, matter-of-fact and tragic. The organ comes in to decorate a little, bring in some light. Sometimes Bruce is telling a story, sometimes he's in the story, but he always makes you believe it before handing you over to Roy Bittan. And tonight, Roy's solo was astonishing, and extraordinary: it was rich and expressive, full of complexity and shadows, a palette of color and emotions. And the interplay with Max was enormous, this piano/drum improvisation that you felt in the center of your chest. The instrumental is the end of the story; it's what goes on after Bruce finishes singing to you, the conclusion. Sometimes it's bright; sometimes it's deep; tonight it was borderline Coplandesque, making you feel a sense of hope and promise.
"Lucky Town" is always a welcome thing to hear, and it would be the last off-track rarity as the band charged into the back stretch of hits. "Streets of Philadelphia" would be dedicated to the evening's charity beneficiary, Philabundance. "Streets of Philadelphia" is the oddest candidate for a stadium, and most people were cheering the word "Philadelphia," but it remains one of Bruce's best opening lines, and it is an undeniably powerful and important song that should actually get played in more places besides the city in its title.
The epic tonight would be "Backstreets," guitar aloft in tribute, the audience at attention. And it was during this song that you knew that part of what you'd miss if you couldn't see this band anymore was the communal feeling of standing shoulder-to-shoulder with people who are singing the same words as you are, the words you've sung for years, feeling the shared goosebumps, that collective energy that you can only get from seeing live music, from only this group of musicians. And it's "Backstreets" — "We swore we'd live forever," Bruce sang, with all of the pathos necessary to deliver this song. You never think he doesn't mean it; you can't phone "Backstreets" in. At the end, over the piano refrain, Bruce would murmur, "Forever friends" repeatedly, both arms aloft, eyes closed, visibly moved, and you would swear it wasn't sweat at the corner of his eyes — or maybe it was yours, too.
And then, that moment, that guaranteed moment of awe and delight, that count you'd know in your sleep: "One, two!" "Born to Run" careened off the stage for yet another night. There would be dancing and tribute and more dancing. Bruce introduced the band by running down everyone's educational achievements: Roy the only college graduate, Garry graduated high school, Stevie didn't get out of grammar school. That delightful James Brown cape moment — where does one order a sequined cape reading "The Boss" anyway? — is extended as Bruce retreats down the stairs, and Stevie is left to vamp at the mic: "Bruce is crawling back up the stairs…" "Bobby Jean" comes back because Bruce clearly loves the sight of an entire stadium waving back at him, and then there's "Jersey Girl," and there's more sweat pooling near the corner of Bruce's eyes (and again, maybe yours) before the fireworks go off and you turn into a pumpkin, your feet suddenly hurt and your hands ache from clapping and your throat is sore from singing and yelling. You've just seen the E Street Band.
For the full setlist and reports from this and other recent shows,
see our Setlists page
- September 10, 2016 - Caryn Rose reporting - photographs by A.M. Saddler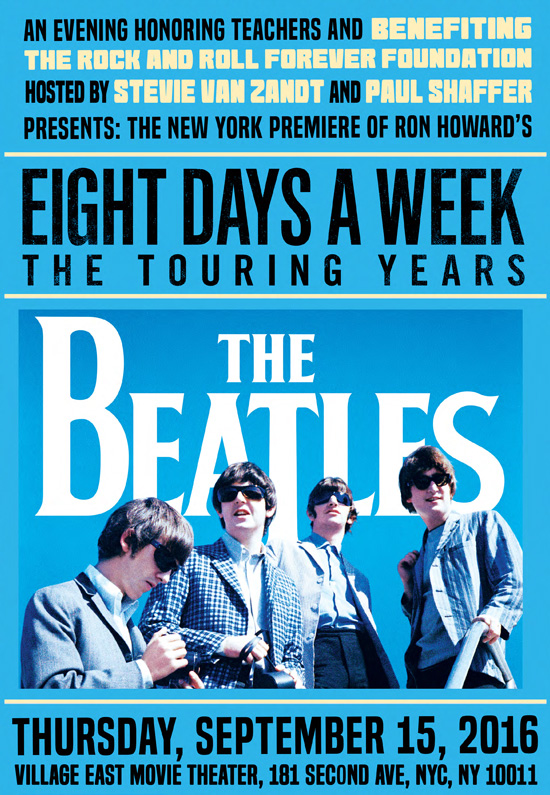 STEVE VAN ZANDT HOSTS FAB FUNDRAISER NEXT WEEK IN NYC
After The River Tour wraps next Wednesday, wouldn't you think Steve Van Zandt might take a break? Nah, you really wouldn't. And true to form, he keeps dancing after the last dance: the very next night, Stevie will be in the East Village along with Paul Shaffer to host the New York premiere of Ron Howard's new Beatles documentary, Eight Days a Week - The Touring Years. This exclusive fundraiser, on Thursday September 15, honors teachers and benefits the Rock and Roll Forever Foundation.
Ticket packages are still available: see teachrock.org for details.
For more on the work of Steve's Rock and Roll Forever Foundation, read our recent interview with executive director Warren Zanes.
- September 9, 2016



SEPTEMBER 7, PHILLY 1: BRING HIM BACK, PHILADELPHIA!
Last night, Bruce Springsteen and the E Street Band began the final week of The River Tour 2016 by returning to Pennsylvania, the state where it all began. It was the first of two Philadelphia shows in the Phillies' ballpark, to be followed by a return on Sunday to Pittsburgh's Consol Energy Center, January's tour opener, before ending the tour in Boston next Wednesday.
At this point, The River Tour 2016 has morphed into something very different, at least in terms of Bruce's choice of material. In that sense, it's now pretty much The River Tour 2016 in name only, with only two songs from The River being performed last night, as was also the case with the preceding Virginia Beach show. The spirit behind this tour, however, remains very much intact. Each night, Bruce and the band continue to present much of his classic material from various phases of his career. None of these songs are new, of course, but many new shades of meaning, connections and musical approaches continue to be found. And most important of all, Springsteen and the E Streeters are still firing on all cylinders, delivering some of their best performances ever.
Returning to Philly, a town that has showered Bruce with much love and support since his recording career began, always raises expectations, and they certainly were met last night. Springsteen not only set a new record for longest North American show (for the fourth time in two weeks), but he did it with the first half of the show consisting solely of songs he recorded for his first two albums.
The evening began with members of the evening's string section taking their seats before Bruce and the band took the stage, signaling that they would once again open the show with a gorgeous version of "New York City Serenade," a hallmark of this leg. On a beautiful late-summer Philly night, a ballpark filled with thousands of concert-goers immediately felt as if it were transformed into the legendary Main Point, the long-gone Philly-area club that served as one of Springsteen's earliest venues for his many legendary local shows. Following "Serenade" with a hard-driving version of "Does This Bus Stop at 82nd Street?" kept the time-machine vibe going, and that vibe continued for the next two hours or so as each 1972-'74-era song was performed.
This was not, however, a mere nostalgia trip. With his much-anticipated Born to Run autobiography just weeks away from publication, and its recently previewed foreword focusing on the "why" of what he does as an artist, this lengthy portion of the show seemed designed to highlight (for what is now a large, multi-generational audience) the depth and vision Bruce already had even as a young songwriter, and how that vision remains connected to his later work.
It also helps greatly, of course, that this material holds up so damn well, especially with the live arrangements utilized last night. These sprawling songs really showcase the interplay and performance prowess of the E Street Band, with Roy Bittan a particular standout. It seemed like everybody in the crowd, no matter what their age or history with this phase of Bruce's career, couldn't help but dig "It's Hard to Be a Saint in the City," "Growin' Up" (which included a full "There I was..." story about the meaning and importance of Bruce's first guitar,) "The E Street Shuffle," the one-two punch of "Incident on 57th Street" straight into "Rosalita," etc. (Well, almost everybody, with almost every song. I must confess that while I love the album version of "Kitty's Back," when it comes to all of that extended soloing on the live version, my personal take is if I wanted that much noodling with my Springsteen music, I'd have brought some ramen with me to the tailgate. Your mileage may vary, of course.) They capped off this lengthy stretch with two tour debut Philly specials, "Thundercrack" and the sign-requested "The Fever."
After a hard-rocking "Night" moved the time-travel controls a bit forward into 1975 territory, the second half of the evening was a much more heterogeneous mix of material that moved both backward and forward through various albums and eras. Nevertheless, the thematic connections remained strong throughout the evening. When Bruce sang of "these romantic dreams in my head" in "No Surrender," I couldn't help but think back to all of that romanticism in the early material we'd just heard in the first half. And how could the moralistic railing against religious hypocrisy, war and violence in "Lost in the Flood" not be linked to the righteous indignation of "Death to My Hometown" and the heartbreaking mass of contradictions and denial in "Jack of All Trades" (in its beautiful, new strings-and-harmonica arrangement), especially since they all flowed from the same songwriter's pens? For that matter, even "closets are for hangers" in "Rosalita" could be linked to the plea, sung in the encore, to not "leave each other alone like this on the streets of Philadelphia," especially given the somewhat bewildered depictions of queer culture found in some of Springsteen's early work.
Lest we sat (or stood) around thinkin' about all of this high-falutin' stuff a bit too much, the evening also was filled with plenty of healthy, off-the-charts joy and frivolity. Highlights included Bruce rocking a straw cowboy hat during "Darlington County" and "Working on the Highway," an ingenious Kevin Buell impersonator (go Emily!) pulled onstage during "Dancing in the Dark" (to the delight of everyone — possibly even Mr. Buell himself, who danced with her like a good sport), and a wonderful new twist on the whole James Brown/Elvis-influenced cape routine during "Shout." Stevie Van Zandt offered his best take on the late, great announcer Al Dvorin, who immortalized the phrase "Elvis has left the building" by announcing it at the end of each evening during Elvis Presley's 1970s concert tours. "The Boss has left the building," announced Stevie gravely after helping an "exhausted" Bruce descend the steps off stage with his "The Boss" cape draped over his shoulders. The giant video screens revealed Bruce sitting on the steps, listening intently for the crowd's response. "Wait a minute," Stevie said. "He's hiding in the stairwell. Bring him back! Bring him back! Bring him back, Philadelphia!"
And we did, of course. All in all, one of the best shows I've ever seen by anyone, let alone Bruce. Thanks for letting us bring you and your great band back to Philly, Boss. See y'all again tomorrow night.
For the full setlist and reports from this and other recent shows,
see our Setlists page
- September 8, 2016 - Shawn Poole reporting - photographs by Joe Papeo/irocktheshot.com


SEPTEMBER 5: GREETINGS FROM VIRGINIA BEACH, V.A.
When the storm was rolling into Virginia Beach late last week, we were advised that the Bruce Springsteen concert was the only event not cancelled at the time — and we knew we were in for a good show. When Saturday's show was eventually rescheduled, we knew we were in for an even better one come Monday night. We were not disappointed. Clocking in at 3:49 and 32 songs, the makeup show at Veterans Home Loan United Amphitheater took its rightful place in line as another great "quality show" on this leg, even if the quantity was a bit smaller than the recent recordbreakers. But just a bit. Bruce and the band were embraced by the fans waiting and believing we'd be getting some magic — and of course we did.
For the first hour, the show felt more like he was touring behind Greetings From Asbury Park, N.J. (and wonderfully so) than the advertised The River. As I noticed the string section was not present for the evening, Bruce came out alone for a soft opener — something besides "New York City Serenade" for the first time on this leg. Instead, he settled in at Roy Bittan's piano to start with a solo "For You." For the full-band hard opener, "Does This Bus Stop at 82nd Street?" was on point — and it was the second of what would be six straight songs from Greetings. Where better than a beach town?
As Roy played the familiar beginning notes of "Growin' Up," you could feel the energy of the crowd practically bursting. Reflecting once again on his now-legendary 1972 audition for John Hammond at Columbia, Springsteen was really throwing us back to a time in his early career when Virginia was a home away from home. As the band rolled into "Spirit in the Night," the fifth song from the debut album, the crowd was ready for their audience-participation role. As always, Bruce was very interactive with the crowd, and they gave it right back to him ten-fold. The required response of "all night!" resonated throughout the amphitheater.
Number six was "Lost in the Flood." I was surprised there weren't more rain-related songs played this evening — but was this one played! From there into "Kitty's Back," we were leaving the Greetings album and stepping into The Wild, the Innocent & the E Street Shuffle with no idea how far we would go into Springsteen's second album of 1973.
Pretty far, it turned out, with four out of its seven tracks following right in a row. After "Kitty" was the tour premier of "The E Street Shuffle," Bruce looking around for guidance as to what key he needed to be in. The highlight for me was seeing Garry Tallent singing some back-up, as he also would again on "Rosie"… but not before "Incident," of course. "Incident" going straight into "Rosie" was a heart stopping moment. It's always a treat to hear "Rosie" early in a show, but when you hear it coming right out of "Incident," one can't help but feel blown away. Seeing Garry make his way to center stage again for this song made most around me literally do a double-take to see if this was really happening.
Being in Clarence Clemons' old stomping grounds was not lost on anyone around me. As I was reflecting on how this past Sunday was the anniversary of the first time Bruce and Clarence played together some 45 years ago, I believe you could hear a giant sigh come over Bruce as he brought up The Big Man and his roots in Virginia.
Bruce took a good walk around, looking for signs to fill the next hour or so. First up, a sign request for a full-band "Thunder Road" — for a marriage proposal, no less. Rather than heading over to each end of stage during the last bit of this song as usual, Bruce and Jake remained on the center platform to help celebrate with the couple that just got engaged. From there we were treated to a slowed down, bluesy version of "Pink Cadillac" — only the second time performed on this tour, another sign request. A little storytelling had Bruce comparing ancient Mesopotamia and South Jersey, as well as telling the crowd just what Eve really accomplished by pulling the apple from the tree.
Introducing "Save My Love," Bruce namechecked Lonnie Donegan and reminisced of days long ago, when he'd walk the streets late at night with his transistor radio. "The streets were all mine," he said. He found it almost impossible that anyone in the audience would remember those tiny transistor radios.
"We got a little something for you today," Springsteen told the crowd after a "Candy's Room"/"She's the One" combo, introducing the tour premiere of "Factory" in recognition of Labor Day. Also in the back half of the set, Bruce remembered The River with "Hungry Heart (including the return of the crowd surf) and "Out in the Street." "Mary's Place" made a rare appeareance, as it did when they last played Virginia Beach in 2014 (when Bruce called it "some beach music of our own"), though this time he had to ask the band to "stop the fucking music!" "Because the Night" was accompanied of course by a breathtaking solo from Nils Lofgren, and "Land of Hope and Dreams" closed the main set.
In the encore, "Backstreets" was followed by the usual suspects. "Dancing in the Dark" gave me flashbacks to April's cowgirl fest in Dallas. But Bruce closed the show much like he opened it, all by himself. This time on acoustic guitar, he gave us a stunning "This Hard Land" to say goodbye, played often this summer in Europe but a U.S. tour premiere.
For the full setlist and reports from this and other recent shows,
see our Setlists page
- September 6, 2016 - Ali Scales reporting - photographs by Jerry Frishman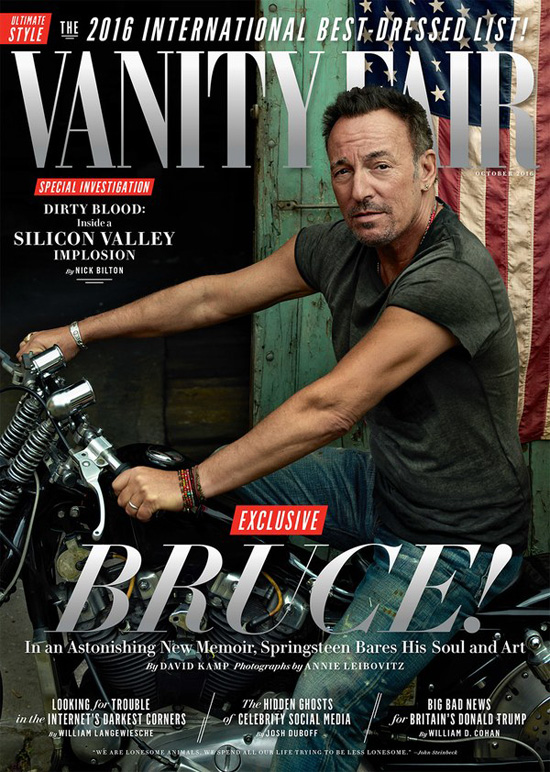 SPRINGSTEEN "GOES THERE" WITH VANITY FAIR ON NEW MEMOIR
Thirty-two years after photographing Bruce Springsteen in front of an American flag — an image you may be familiar with — Annie Leibovitz does it again for the cover of Vanity Fair. That's just one of many highlights of the October 2016 issue, with a hefty Springsteen cover story by David Kamp. Kamp spoke with Bruce this summer for the piece (as well as with Steve Van Zandt, Jon Landau, and Patti Scialfa), focusing largely on the forthcoming Born to Run memoir (which Kamp has read). "I knew I was gonna 'go there' in the book," Springsteen says. "I had to find the roots of my own troubles and issues — and the joyful things that have allowed me to put on the kind of shows that we put on."
The cover reads, "In An Astonishing New Memoir, Springsteen Bares His Soul And Art" — and the revealing discussion in this interview alone suggests that isn't just hyperbole. The cover story (with additional Leibovitz images) was posted online today.
Read: The Book of Bruce Springsteen [Vanity Fair, October 2016]
We'll let you take the story's insights and revelations as they come. But just for logistics' sake it's worth noting this bit of news: Kamp writes, "the River Tour '16 will be swiftly followed by a series of promotional dates for Born to Run, the book. A publisher's dream, Springsteen has committed to a multitude of promotional and in-store appearances...."
More here as we know it.
- September 6, 2016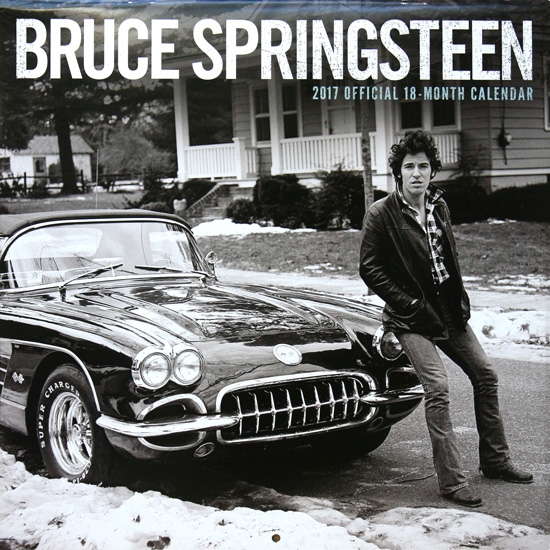 2017 CALENDAR IN STOCK NOW
Frank Stefanko's "Corvette Winter" image is really getting a workout this fall, as the cover for Bruce Springsteen's Born to Run autobiography... the Chapter and Verse collection... and now the new official calendar from Thrill Hill.
Like the forthcoming memoir and album, the 2017 calendar is a career-spanning production, with four decades of photos from Stefanko, David Gahr, Joel Bernstein, Pam Springsteen, Jo Lopez, Anton Corbijn, and Danny Clinch. It's also an 18-month calendar, so you can start using it immediately.
Click here for more calendar images
and to order from Backstreet Records
- September 5, 2016

IN THE EYE OF A HURRICANE THERE IS QUIET
Viriginia Beach concert rescheduled from tonight to Monday
As announced this morning, concerns regarding Tropical Storm Hermine have bumped tonight's concert at Virginia Beach by two days, now to take place on Labor Day, Monday, September 5. The same tickets may be used for entry, or refunds are also available.
This is the second storm delay of the tour, after a Madison Square Garden date had to be postponed due to a January blizzard. Today's announcement from Live Nation: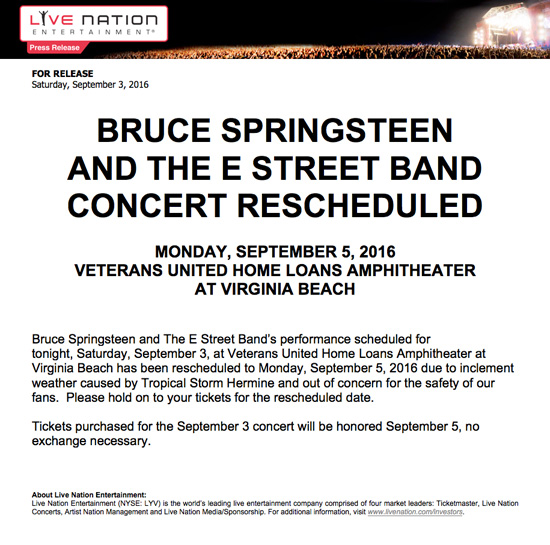 - September 3, 2016



SEPTEMBER 1, WASHINGTON DC: IF IT AIN'T BROKE...
How do you follow the show heard 'round the world? That was the question facing Bruce Springsteen and the E Street Band for their stop at Nationals Park in America's capitol, a mere two days after their instantly legendary concert at New Jersey's MetLife Stadium on Tuesday. They provided an answer almost immediately: simply do it all over again. Instead of resting on their laurels, they put on another whopping 34-song, 3:45 extravaganza that was every bit as impressive as — and closely followed the template of — its Garden State predecessor.
The similarities began from the start with "New York City Serenade" accompanied by a string section. Though their recent performances of this masterpiece have been uniformly majestic, they somehow keep upping their game (due in no small part here to Nationals Park's crystal clear sound, with the exception of a few sporadic echoes). Bruce repeated a few lines in an effective bit of spoken word delivery during the orchestral sections. As he and the band become more comfortable with the song's nuances, their renditions have gotten increasingly looser, allowing the song more room to breathe.
This held true for a majority of the night's performances, especially for those rarities played in Jersey that made reprisals here: the E Street Band repeatedly improves upon their own high standards when they get to revisit a seldom-played gem multiple times, especially when they're as totally locked-in as they were in DC. This phenomenon was on display for "Summertime Blues" — a fitting choice for this balmy summer night in an outdoor baseball stadium, the first venue of the tour that houses America's favorite summer sport — but really showcased over the stretch beginning with "Growin' Up." That sign request kicked off eight consecutive songs predating Born to Run. All but one of them ("Lost in the Flood") also made appearances at MetLife 3 and were somehow given superior performances here. Bruce even added an introduction to "It's Hard to Be a Saint in the City":
"This is the song I sang to John Hammond when I went up to his office to audition for him at Columbia Records. I wrote it in an abandoned beauty parlor on the mean streets of Asbury Park…. Well, not so mean; just unkind."
This story served as a reminder of the stark differences between the recorded versions of many of these early songs and their live counterparts. Whereas Greetings from Asbury Park, N.J. sounds folksy, acoustic, and very guitar-lite, its songs become dynamically alive in concert thanks to the full power of the E Street Band, which Bruce gives ample time to shine through a plethora of solos, most notably on "Bus Stop." Despite Mr. Hammond diminishing the sonic role that Bruce wanted guitars to play on the album, they are the most remarkable aspect of these live renditions, from Bruce's introductory licks in "Growin' Up" to his duel with Stevie at the end of "Saint in the City." Stevie even added some nice fills over Max's opening drumbeat on "Spirit in the Night."
Bruce's blistering guitar work on "Lost in the Flood," a searing solo to close the song, proved a breathtakingly perfect — let me repeat: perfect — lead-in to the guitar-heavy, walloping Wild, the Innocent & the E Street Shuffle three-pack of "Kitty's Back," "Incident on 57th Street," and "Rosalita." The beloved transition from "Incident" into "Rosie" hinges upon the differentiated tempos between Bruce's gorgeous yet somber playing during the former and the rollicking wall of guitars in the latter, crucially connected by Roy's coda. Bruce's guitar prowess on "Lost" and "Kitty" added greater fuel to this glorious shift. Ultimately, the slow, intense burn that is "Incident" feels like a dynamite fuse leading to the rock 'n' roll explosion that is "Rosie," the combination of which worked this very strong crowd into an absolute frenzy.
Yet instead of slowing down the pace like he did with "Pretty Flamingo" on Tuesday, Bruce built upon the unbridled momentum of "Rosie" with "Night," a sign request for "Trapped," and the only tour premiere — and my personal highlight — of the night: "Better Days." It was only the fourth E Street Band performance of this song in America in the 21st century. Even so, their execution made it sound like a tour staple, and the crowd actually ate it up as such. Combined with "Living Proof," these top-shelf renderings will hopefully convince Bruce that he should delve further into his underrated early-'90s albums, which contain some of his most soulful, emotionally autobiographical writing.
After Bruce made time for a social statement with "American Skin" mere blocks away from the Capitol Building in America's political center, the remainder of the setlist actually felt like an elongated encore, full of warhorses and greatest hits. Two standout exceptions: "Secret Garden," another one building on its surprise appearance at MetLife 3; and the more-than-welcome return of "Seven Nights to Rock," which raucously elevated the actual encores.
Even the more conventional second half had its fair share of memorable moments. Bruce was given flowers during "Hungry Heart," and he then threw them to an ecstatic little girl in the front row (she was later invited on stage for "Dancing in the Dark"). Jake seemingly forgot to join Bruce on the mid-audience platform for "Hungry Heart," so he had to play his solo while sprinting around the pit; he soon got a chance to redeem himself by singing Soozie's part on "Out in the Street." Nils sang an entire verse of "Darlington County" by himself, and Patti elevated "Because the Night" with her unique vocal stylings. Jake literally made it rain with his "Jungleland" solo. Bruce decided to lie down on the back stairs instead of leaving the stage for his exhausted, James Brown-cape-shtick during "Shout" — needless to say, the man deserved a break after this phenomenal run of shows.
Speaking of which, everyone is going to ask the obvious question: was MetLife 3 or DC better? Honestly, it's a complete toss-up. The oldies seemed to resonate more in Jersey, because they're so inextricably linked with his early career and locales only a few miles away from the stadium. And of course there was more novelty in experiencing the '73 stretch without having any idea what would come next ("Incident" into "Rosie," for instance, didn't have quite the same wow effect the second time… but it was still amazing because, you know, "Incident" into "Rosie" is "Incident" into "Rosie"). On the other hand, the performances in Washington were more refined and hard-hitting, not to mention the vastly improved sound and louder (albeit equally yappy) crowd.
But really, does it honestly matter which is "better"? That's like choosing between your two favorite children. What interests me is why Bruce has suddenly felt compelled to reach way back into his past by so heavily relying on his first two records. The answer, I believe, brilliantly conforms to the original purpose of this tour. During the full album performances of The River — which has largely been left behind on this leg, with only three songs from it being played here — Bruce and the band were making a 35-year-old record come alive again in such a vital way that so many of its songs and themes felt pressingly relevant today. Now that they're reaching the end of this tour, they're making even older music feel even fresher in the midst of epic-beyond-epic concerts that'd make you believe they're just now entering the dawn of their career instead of the dusk. In doing so, they hopefully allow themselves and the crowd to feel as young as they were back in 1973, except with the knowledge and experience that only time can bring. Youth and wisdom are often oxymoronic, but in Bruce Springsteen and the E Street Band's world, that's the type of combination only rock 'n' roll can provide… every night.
For the full setlist and reports from this and other recent shows,
see our Setlists page
- September 2, 2016 - Steven Strauss reporting - photographs by Guy Aceto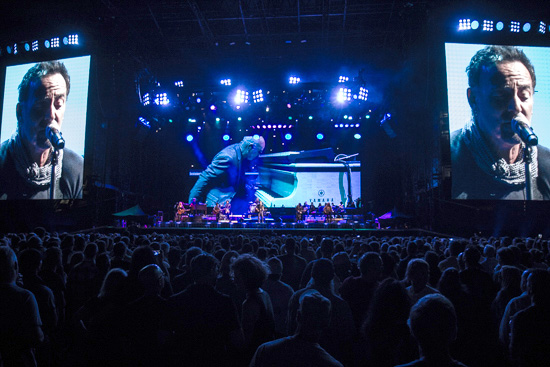 MEADOWLANDS DOWNLOADS GETTING FAST-TRACKED
Describing the recent trio of concerts at MetLife Stadium as "destined to be the most famous and classic shows of the whole River Tour," live.springsteen.net has announced that these three late-August recordings are being fast-tracked in the ongoing download series: "We are mixing the shows right now and hope to release all three on Monday 9/12, jumping ahead of the remaining European shows." Purchase the shows here, individually or at a discount in a three-night bundle. For those ordering physical media, the CDs (12 of them!) will ship in October.
- September 1, 2016 - photograph by A.M. Saddler [8/30/16]

SPRINGSTEEN TALKS WRITING BTR, BOOK, FINDING HIS VOICE
In a new video posted today, we hear Bruce Springsteen talking about writing his memoir, an effort that he began in 2009. He describes it as "very similar to the songwriting process," in terms of the number of drafts he goes through, and suggests that the more recently something happened, the more challenging it is to write about. Born to Run is divided chronologically into three sections, and Bruce says, "The hardest part was the third book, where you had to write about the present, because it's all people you're living with in your life today." Watch below.
Pre-order Born to Run from Backstreet Records, by itself or in bundles with Chapter and Verse, to receive a FREE bonus Born to Run promo poster.
- September 1, 2016

For older news, visit our News Archives