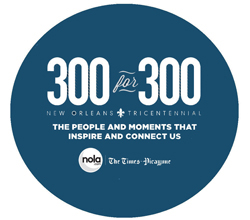 ON THE SCENE IN NEW ORLEANS
As part of the 300th Anniversary of New Orleans, the Times-Picayune has chronicled 300 key moments in the city's history, both online at nola.com and as part of an exhibit at the New Orleans Jazz & Heritage Festival. One of those moments is Bruce Springsteen's 2006 Seeger Sessions appearance at Jazz Fest, recently issued as part of the Archive series (read our report from Alison Fensterstock here). There are not many non-New Orleanians included in this auspicious list, so quite an honor from a city where music is part of its DNA.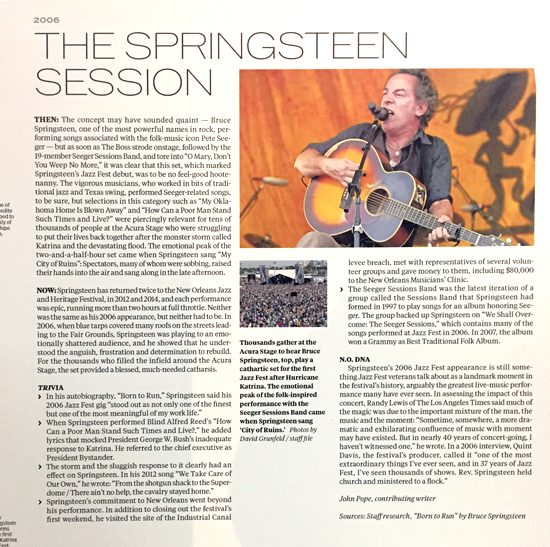 - May 23, 2018 - Caryn Rose reporting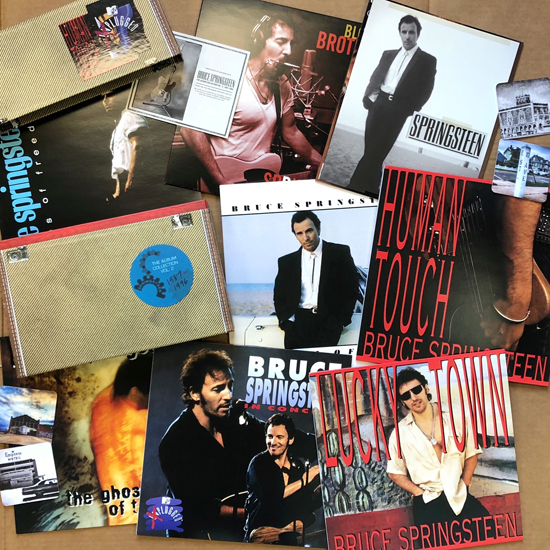 KEEP THOSE RECORDS PLAYIN'
Thanks to everyone who pre-ordered the Album Collection Vol 2 vinyl box from us — all pre-orders have been shipped, so yours is on its way if it hasn't been delivered already.
If you've got an active turntable and haven't purchased this new limited edition set of remasters, we do still have the box set in stock, still on sale, with the exclusive coaster pack that we created as a bonus to go with it. Take a look inside with our unboxing video, and order here.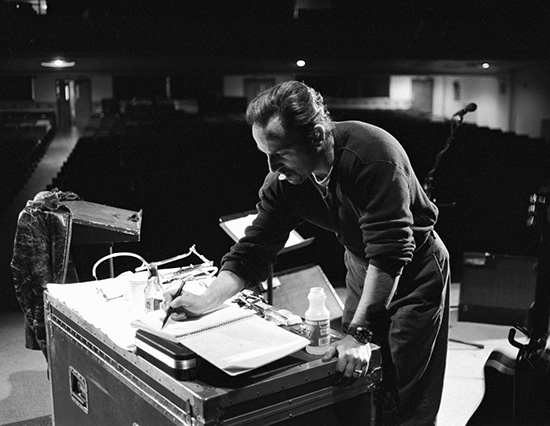 SPRINGSTEEN'S SPARE PARTS STOCKPILE GETS MAY 18 DIGITAL RELEASE
While tomorrow's Album Collection Vol 2 gathers all of Bruce Springsteen's LPs and two crucial EPs from the 1987-1996 era, it's not everything. Considering CD singles and their B-sides from the U.S. and around the world, there are a number of other tracks that needed to be taken into account.
Enter Spare Parts: The 9 EP Digital Collection, also available Friday, May 18. The digital-only release gathers officially released B-sides and live tracks from the Album Collection Vol 2 period and beyond, recordings that had not been previously available online (or collected on either Tracks or Essential).
These nine EPs will be available from Digital Service Providers for the first time, making their streaming debut, and collected as a "Spare Parts" playlist on Spotify as a companion piece to the box set. DSP debuts are in bold below.
1. "For You" (live) - Roxy 7/7/78

2. "Rosalita (Come Out Tonight)" (live) - Roxy 1978

3. "Fire" (live) - Winterland 1978

4. Incident on 57th Street (live) - Uniondale 12/29/80

1. "Roll of the Dice" (Album Version)

2. "Leap of Faith" (live) - Meadowlands 8/6/92

3. "30 Days Out" - Human Touch outtake

1. "Hungry Heart" (Berlin '95 Version)

2. "Streets of Philadelphia" (live with the E Street Band) - Sony Studios 4/4/95

3. "Murder Incorporated" (live with the E Street Band) - Sony Studios 4/4/95

4. "Thunder Road" (live with the E Street Band) - Sony Studios 4/4/95

1. "The Ghost of Tom Joad" (Album Version)

2. "Straight Time" (acoustic live) - Philadelphia, December 1995

3. "Sinaloa Cowboys" (acoustic live) - Philadelphia, December 1995

1. "Missing" (Album Version)

2. "Darkness on the Edge of Town" (acoustic live) - Berlin, 4/19/96

3. "Born in the U.S.A." (acoustic live) - Berlin, 4/19/96

4. "Spare Parts" (acoustic live) - Berlin, 4/19/96

1. "Growin' Up" (live) - UNPlugged outtake, 9/22/92

2. "Darkness on the Edge of Town" (acoustic live) - Philadelphia, December 1995

3. "This Hard Land" (acoustic live) - Philadelphia, December 1995

4. "The Big Muddy" (live) - UNPlugged outtake, 9/22/92

1. "Lonesome Day" (Album Version)

2. "Spirit in the Night" (live) - Barcelona, 10/16/02

3. "The Rising" (live) - Hayden Planetarium for the MTV Video Music Awards, 8/29/02

1. "What Love Can Do" (Album Version)

2. "A Night With the Jersey Devil" - Working on a Dream outtake

1. "Rocky Ground" (Album Version)

2. "The Promise" (live) - The Carousel House, Asbury Park, 12/7/10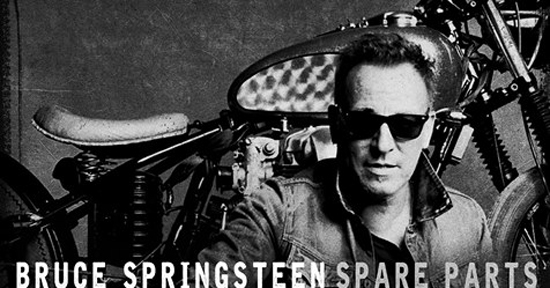 Click here for the Spotify playlist.
- May 17, 2018 - photograph by David Rose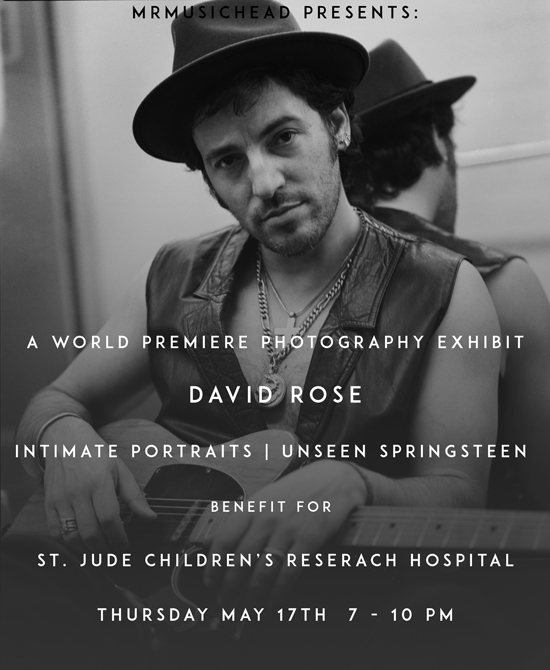 GOIN' CALI: '90S BRUCE IN DAVID ROSE'S L.A. GALLERY EXHIBITION
Opening at the Mr. Musichead Gallery in Los Angeles later this week is a world premiere exhibition of photographs by David Rose, called "Intimate Portraits: Unseen Springsteen." Rose worked with Bruce Springsteen during his early '90s L.A. period, and his images will be familiar to fans from the '92-93 era as well as the 1995 E Street Band reunion. On display from May 17 to June 2, the showing of Rose's work will include rarer glimpses as well, with more than 30 David Rose photographs on display. Two events, on Thursday and Friday, kick off the exhibition.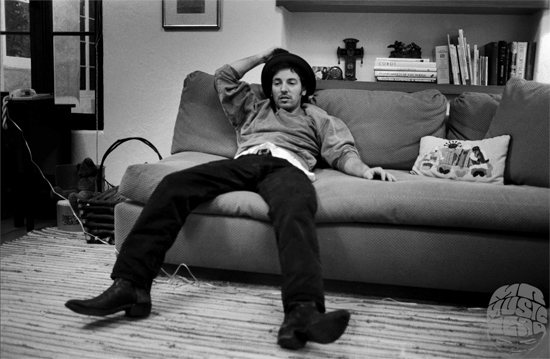 An Opening Reception on Thursday, May 17, with cocktails and a silent auction, is a benefit for St. Jude Children's Research Hospital. Tickets are available through eventbrite.
Given Rose's work on the covers of Human Touch, Lucky Town, and Blood Brothers — all represented in the new Album Collection Vol 2: 1987-1996 — Friday's event at the gallery is a Record Release Reception for the box set, in conjunction with Sony Legacy. RSVP here to attend this free event.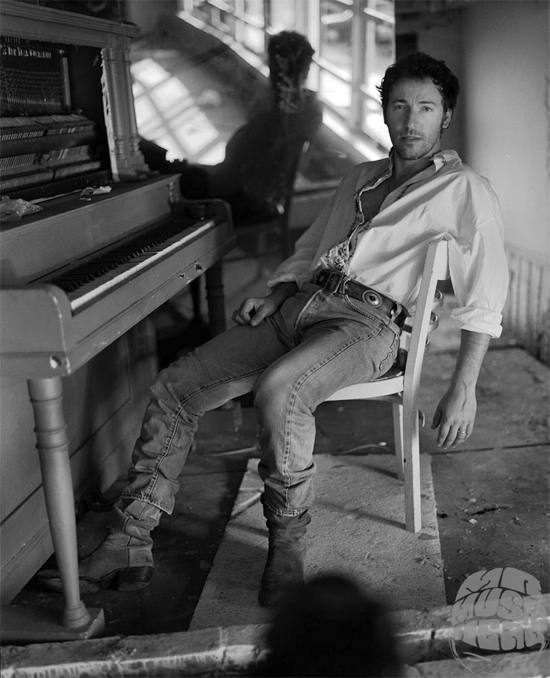 Mr. Musichead Gallery is located at 7420 W. Sunset Blvd., in the landmark Valdez Guitar Factory building across the street from Guitar Center. If you can't make it in person, view more of Rose's work and purchase prints at mrmusichead.com.
- May 16, 2018


UNBOXING THE SECOND WAVE OF REMASTERS
A look inside the forthcoming box of remastered vinyl LPs, as we tear off the shrinkwrap and pop the top for the first time. The official release is this Friday... and it's not too late to pre-order from Backstreet Records to get our sale price ($30 off list) plus an exclusive bonus, with thanks for supporting what we do!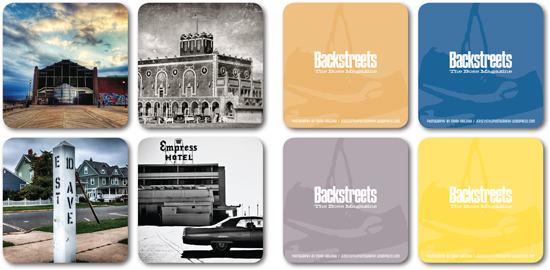 The bonus gift from us is this new set of four beverage coasters, as we once again teamed up with photographer Mark Krajnak for another four views from the Jersey Shore. Free with The Album Collection Vol 2: 1987-1996, only from Backstreets.
- May 14, 2018

I HAVE FALLEN IN THE FOREST, DID YOU HEAR ME?
The death of Frightened Rabbit's Scott Hutchison still has us feeling heartbroken, as one of our favorite bands and favorite singer/songwriters to emerge in the last 20 years. After spending much of the weekend revisiting Scott's music, here's a moment well worth sharing on Backstreets:
You can also hear Frightened Rabbit covering "Streets of Philadelphia" on SiriusXM via YouTube. But their own music is the best way to experience Scott's talents, his sharp-witted, heart-on-his-sleeve songwriting and plaintive vocals. For one of the best break-up records there is, try The Midnight Organ Fight, and chase it with the follow-up, The Winter of Mixed Drinks. We always thought "The Loneliness and the Scream," from the latter, would be perfect for Bruce Springsteen and the E Street Band. Today it's a difficult if cathartic listen.
Scott was only 36. Like Springsteen, he's an artist whose work we'd looked forward to following for decades. Also like Springsteen, Scott wrestled with depression. Tragically, those two things can't necessarily co-exist. A statement from his family reads in part:
Depression is a horrendous illness that does not give you any alert or indication as to when it will take hold of you. Scott battled bravely with his own issues for many years and we are immensely proud of him for being so open with his struggles. His willingness to discuss these matters in the public domain undoubtedly raised awareness of mental health issues and gave others confidence and belief to discuss their own issues.
We're raising an old fashioned to Scott, and our hearts go out to his family and bandmates, who write,
There are no words to describe the overwhelming sadness and pain that comes with the death of our beloved Scott but to know he is no longer suffering brings us some comfort. Reading messages of support and hope from those he has helped through his art has helped immensely and we encourage you to continue doing this. He will be missed by all of us and his absence will always be felt but he leaves a legacy of hope, kindness and colour that will forever be remembered and shared. Rest peacefully Scott.
- May 14, 2018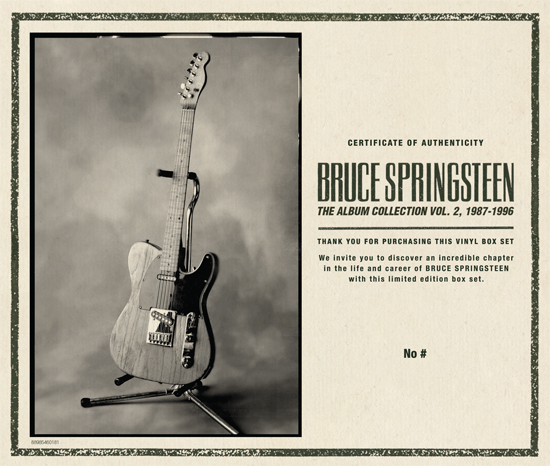 PRE-ORDER ALBUM COLLECTION VOL 2 NOW, DUE NEXT FRIDAY
Get our pre-order sale price and an exclusive Backstreets bonus
Dropping one week from today is Bruce Springsteen's The Album Collection Vol 2, 1987-1996, and we're still taking pre-orders for the numbered and limited edition boxed set. Unlike Vol 1, the second box in the series is being released on vinyl only in the U.S., including the first-ever pressing of the Blood Brothers EP on wax, exclusive to the box. Pre-ordering from Backstreet Records now will save you $30 off the list price, and you'll also get an exclusive gift from us.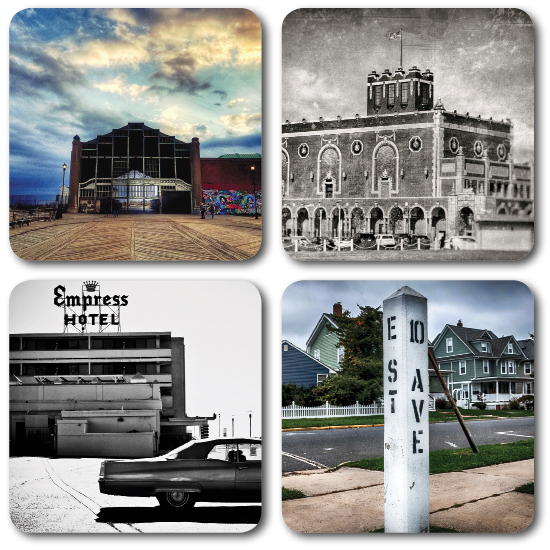 FREE coaster set, Vol 2: Yep, we're expanding the set! If you ordered The Album Collection Vol 1 from us, we included an exclusive bonus set of four scenic Asbury Park coasters. For Vol 2, we've again teamed up with photographer Mark Krajnak for another four designs — Volume 2 of our coaster pack, with four more scenes from the Jersey Shore.
As pictured above, images include the Casino on the Asbury Park boardwalk (where Springsteen filmed the 'Tunnel of Love' video), the Paramount Theatre (host to three landmark shows on the 1996 Tom Joad tour), and of course, a crossroads for the E Street Band. The new coaster set is yours FREE when you pre-order The Album Collection Vol 2, 1987-1996, only from Backstreet Records.
Pre-order The Album Collection Vol 2 on vinyl now
For those interested in compact discs, it looks like Sony Japan is keeping the CD alive for Vol 2, a seven-disc set with an expected release date of June 27. If we can import some of these ourselves for Backstreet Records, of course we'll spread the word. In the meantime, if you've got 13500 yen lying around... or a credit card, naturally... try cdjapan.co.jp for pre-ordering.
- May 11, 2018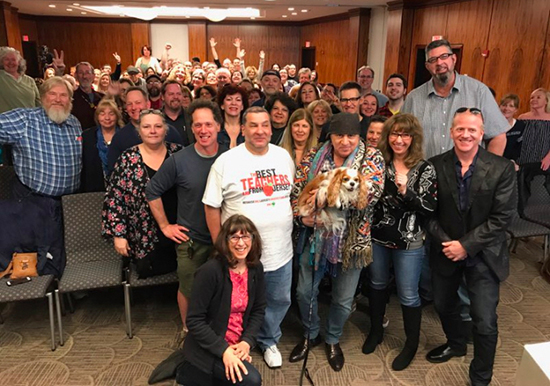 NO CHILD LEFT UNROCKED
Little Steven's newly launched Teacher Appreciation Tour provides support to teachers and students in the U.S. and abroad
Last week, as communities across the U.S. prepared to celebrate National Teacher Appreciation Week, Little Steven & The Disciples of Soul launched their Teacher Appreciation Tour in New Brunswick, NJ. This unique, groundbreaking tour offers direct support to educators and students in every location where the band performs, including the European cities on the tour's upcoming itinerary for June and July.
"[Little Steven's] TeachRock program brings an essential curriculum of music and culture into school and makes it available at no cost to educators. In a time of cutbacks in arts funding, Steve's programs are keeping kids engaged in the arts, and in school — this is his greatest legacy."
— Bruce Springsteen inducting Steve Van Zandt into the NJ Hall of Fame, May 6, 2018
In each town before each show, teachers can register for and attend a special free workshop where they'll learn how to use TeachRock.org with their students. The TeachRock.org website, initiated and designed by Steve Van Zandt with input from educational experts and others involved with Van Zandt's Rock and Roll Forever Foundation, offers teachers hundreds of free lesson plans (designed for grades 4-12,) audio/video clips and other resources. The plans and resources link rock, pop, soul and hip-hop music to common school subjects including Art, English, History, Mathematics, Science and Social Studies.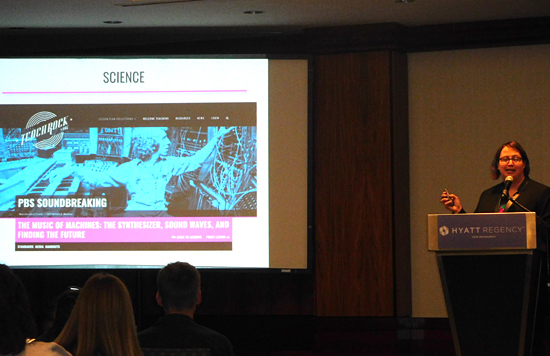 Each teacher who attends a workshop also receives a very special "stipend" for their time: two free tickets to that evening's Little Steven & The Disciples of Soul concert (one for the teacher and one for a friend or family member, who does not have to be a teacher). In addition, teachers receive a certification of their attendance and, depending on their school district's policies, can receive professional-development and/or continuing-education credit. Stevie himself has been known to drop by these workshops on occasion, as he did in New Brunswick [photo at top]. He even brought his beloved dog Edie with him, explaining to the teachers, "It was my turn to babysit."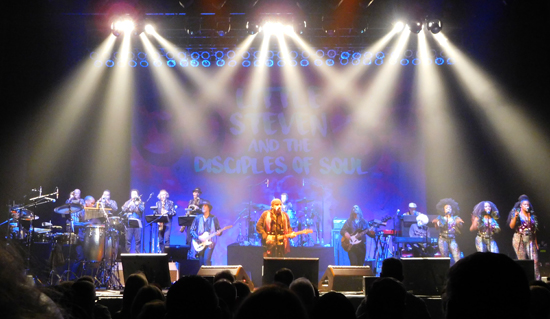 Not surprisingly, Steve and his band have continued to deliver excellent performances on this special tour, which simultaneously constitutes a new leg of their ongoing Soulfire tour. These shows also have been tweaked somewhat with an increased emphasis on musical history and education. (Two prime examples from the New Brunswick night: opening with a stellar cover of the Arthur Conley/Otis Redding classic "Sweet Soul Music," which namechecks many of soul music's greats, and Steve's introduction to his own song "Some Things Just Don't Change," where he spoke extensively about the musical importance of Detroit and revealed that he originally wrote "Some Things Just Don't Change" hoping that The Temptations' David Ruffin would record it.) It's far from a boring lecture-hall gig, though, instead continuing to offer a fun, inspiring evening of beautifully performed big-band rock and soul.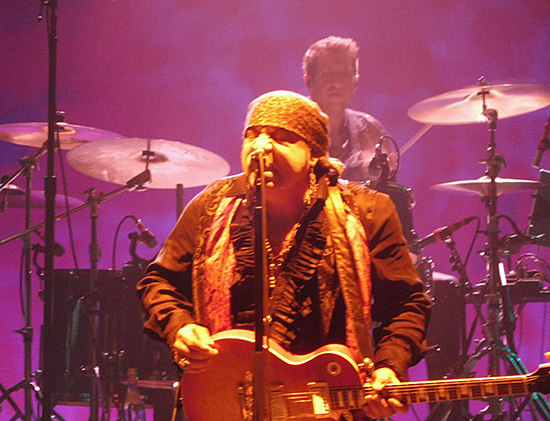 Though it's called the Teacher Appreciation Tour, at the initial pre-show workshop it was the teachers themselves who movingly expressed their heartfelt appreciation to Steve Van Zandt and his colleagues for implementing such a great idea. In a recent Sirius/XM "Town Hall" conversation hosted by Dave Marsh and centered around the Teacher Appreciation Tour, Van Zandt summed up the motivation behind the Tour: "We just want to show respect to the teaching profession. You see these teachers who are making, y'know, $40,000 or $35,000 a year buying pencils for the kids while we give another $40 million to the military. I'm sorry; something's wrong here, y'know? I mean really, it's just despicable what's going on. So anyway, we're doing whatever small thing we can do just to show respect and give teachers a couple of hours of 'escape' from the difficulties of this world... just enjoy some music for two hours and then go back to the real world."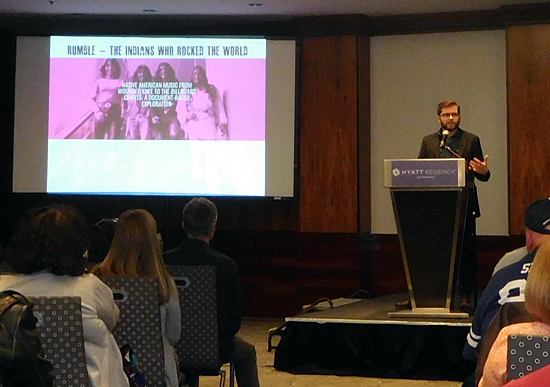 Thanks to the pre-concert workshops, however, educators also will re-enter the real world re-energized, re-inspired and equipped with some new tools to help them better reach their students. In a post-workshop e-mail message sent to all participants, Steven writes from personal experience about the impact that programs like TeachRock.org can have on students: "I was that hard-to-reach kid... When I found Rock and Roll, everything changed. I woke up — emotionally, intellectually, and socially... Music will forever be humanity's most effective and consistent source of inspiration and motivation, and, as we have learned, music turns out to be a solid common ground for establishing communication between teachers and students. And connection is where education begins. Rock on, baby!"
If you're an educator/administrator and would like to attend one of the upcoming TeachRock.org workshops, click here for more information. And everyone else interested in attending one of the Teacher Appreciation Tour's upcoming shows can click here for dates and tickets.
- May 9, 2018 - report and photos (from the 4/29/18 workshop and concert) by Shawn Poole - top photo courtesy of The Rock and Roll Forever Foundation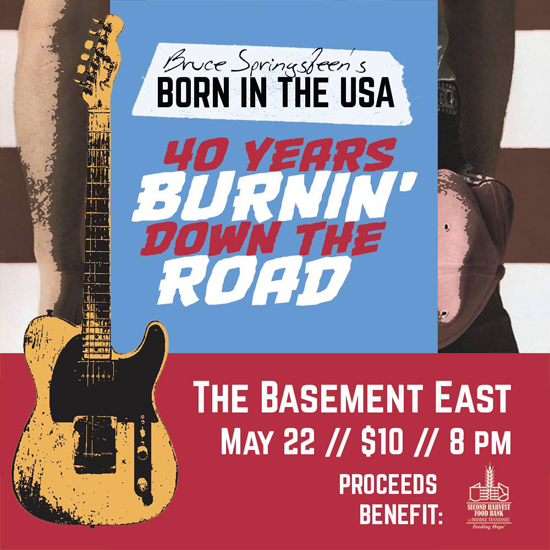 DRIVING IN TO DAVIDSON COUNTY
If you're down Nashville way, you might remember last year's Darkness on the Edge of Town tribute show that coincided with the eclipse. The same folks are gearing up for '40 Years Burnin Down the Road: Bruce Springsteen's Born in the USA,' another benefit for the Second Harvest Food Bank of Middle Tennessee, at The Basement East on May 22.
Performing the 1984 album in its entirety, Alex Fang tells us, will be the "same great band as last time, featuring musicians who play with the likes of Lady Antebellum, Tim McGraw, Darlene Love, Julien Baker, and many more. Charles Esten, star of hit TV show Nashville is performing a couple songs as well. It'll be a blast!"
Visit the event page on Facebook, and purchase tickets at ticketweb.com.
- May 9, 2018


"THE BOSS OF US ALL," FILM AT 10
After reporting on Blinded By the Light yesterday, with the Greeetings From Bury Park adaptation in its final week of filming, we're particularly happy to see this news report from last night, airing on ITV's News at Ten in the UK.
- May 9, 2018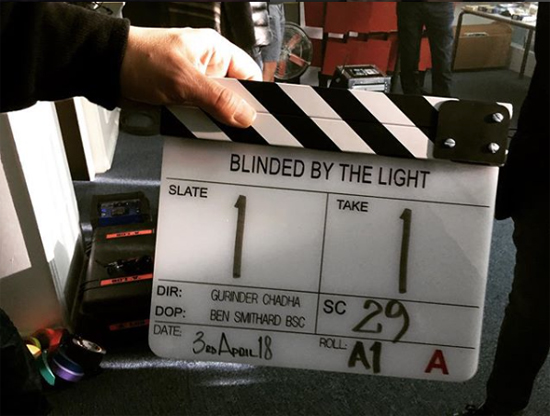 LIGHTS! CAMERA! ACTION IN THE STREETS!
Greetings From Bury Park adaptation coming to the big screen

A feature film adaptation of Sarfraz Manzoor's acclaimed 2008 memoir Greetings From Bury Park is currently in production. It will be released under the title Blinded By the Light, directed by Gurinder Chadha — who was responsible for the global hit film Bend It Like Beckham — and Bruce Springsteen has given the film his blessing and permission to use some of his music in it.
Chadha has described the film as a "hybrid musical firmly rooted in the great British tradition of quirky comedies, but with a dash of youthful exuberance inspired by John Hughes' films from the 1980s." Variety is listing it already among the "hot titles" expected to do well in the sales market at this year's Cannes Film Festival.
An article in last Sunday's edition of The Observer (online version available here) further clarifies how Bruce's music will be used in the film. In short, don't think jukebox-musical-style a la Mamma Mia, where the songs actually serve as dialogue. Blinded By the Light instead will use some of Springsteen's recordings in a manner similar to that of many Scorsese films, where a classic record often gets used as incidental music to support the overall emotional tone of a scene. Judging from the content of Manzoor's memoir, it's also likely that there will be scenes involving one or more characters playing a Springsteen record or hearing/seeing Bruce perform on radio/TV. And the Observer article confirms that the character played by Rob Brydon, who in real life is a Springsteen fan, will sing "Thunder Road" in a scene.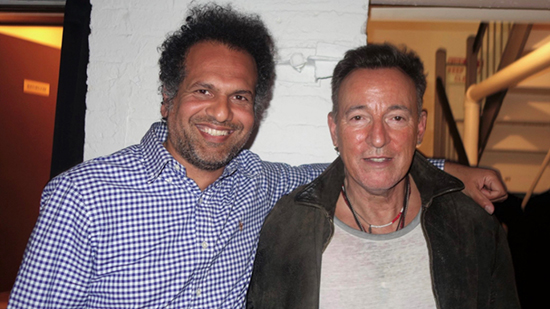 Manzoor (pictured above backstage with Bruce after the March 10 performance of Springsteen on Broadway) wrote his memoir to chronicle his experience of growing up in 1980s Luton — an industrial town north of London — as a working class British Pakistani Muslim and how the music of Bruce Springsteen inspired and transformed his life. Manzoor also wrote the screenplay for Blinded by the Light, working in collaboration with Chadha and Paul Mayeda Burges.
Manzoor and Chadha are both major Springsteen fans. Chadha has described the duo's encounter with Bruce at the 2010 London premiere of Thom Zimny's film The Promise, being surprised and excited to learn that not only had Springsteen read Manzoor's book, but admired it: "I quickly pitched him the film we wanted to make from the book on the red carpet and, to our excitement, Bruce nodded and said, 'Sounds good, talk to Jon.' We then spent several years developing a script we knew had to impress Springsteen and managers Jon Landau and Barbara Carr or there would be no film without his music and blessings."
Chadha added, "At a time of such political and social instability in the world, this film provides us with a vital reminder of our shared humanity and the transformative power of music on both a personal and global scale."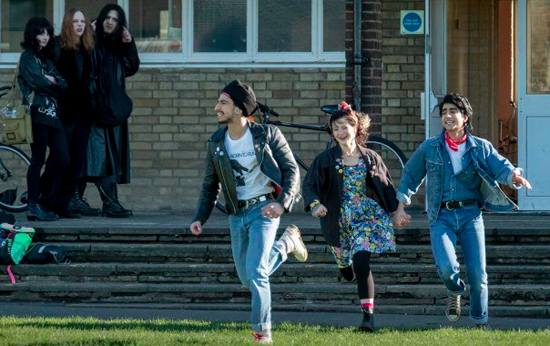 "Growing up in Eighties Luton as the working class son of Pakistani Muslim immigrants, my world felt very small," Manzoor explained. "In the music of Bruce Springsteen, I found both hope and wisdom on how I could transcend my circumstances and make my dreams to be a writer come true. The fact that I was so affected by Springsteen's songs shows just how powerfully music can transcend race, religion, nationality and class. Blinded by the Light is also a tribute to my late father, with whom I often fought in my teenage years, not realizing his generation also had dreams they were not able to follow."
The film is currently shooting in various UK locations and is expected to be released worldwide next year. We'll have updates on Blinded by the Light as the film's completion and release draw nearer.
- May 8, 2018 - Shawn Poole reporting - production slate photo courtesy of Gurinder Chadha - backstage photo courtesy of Sarfraz Manzoor - publicity photo courtesy of Cornerstone Films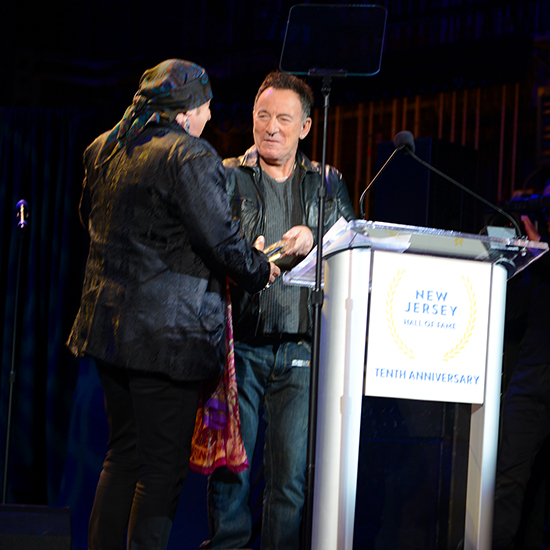 "ONE OF THE GREATEST LIVING WHITE SOUL PERFORMERS AND WRITERS WE HAVE"
Congratulations to newly inducted NJ Hall of Famer Steven Van Zandt
Last night at the Paramount Theatre in Asbury Park, Bruce Springsteen welcomed Steven Van Zandt into the New Jersey Hall of Fame as part of the Class of 2017: "Though born in Boston, Massachusetts, there is no purer distillation of the Jersey ethos than Little Steven Van Zandt." Watch Springsteen's induction speech as well as Van Zandt's acceptance below.
Bruce Springsteen:
Though born in Boston, Massachusetts, there is no purer distillation of the Jersey ethos than Little Steven Van Zandt. He is his own purest creation. Words you will never hear on the street: "Wow, that guy looks just like Little Steven!"
Roaring into New Jersey at seven years old, baptized at 13 in the holy spirit of The Beatles on Ed Sullivan, the Stones on Hollywood Palace, Steve's vocation, rock 'n' roll, chose him early. I first laid eyes on him at the Middletown Hullabaloo Club in 1966. As I walked in, there was Steve with his band The Shadows, knocking out a record-perfect rendition of The Turtles' "Happy Together." Who knew I had just met my black-vested, paisley-tied, teenaged, wild-eyed brother? One look at Steve and I knew that we'd both drunk the same Kool-Aid.
Then it was fast friendship, weekly trips to Greenwich Village and the Cafe Wha? to watch the bands, arguing about who was better, Led Zeppelin or the Jeff Beck Group, The Beatles or the Rolling Stones; who had the perfect clothes, the perfect guitar, the perfect hair; and thousands of hours of preparation for the day when folks could argue about us. Of course, this all culminated in our brotherhood in the E Street Band, Steve's service — playing, singing, producing as my irreplaceable lieutenant — and our lifelong friendship.
While I'm always blessed to have Steve at my side, his solo work speaks for itself. The incredible songs and productions he created for Southside Johnny, such as "I Don''t Want to Go Home," "Love on the Wrong Side of Town," "It's Been a Long Time"... Steve is one of the greatest living white soul performers and writers we have. His timely and classic Sun City recording — with an organization he created, Artists United Against Apartheid — was not only brave music but worked hard to combat apartheid in South Africa. His incredible work with his ongoing group, the Disciples of Soul. And all of this before you get to Steve's great contribution to Jersey lore as an actor: Silvio in The Sopranos.
Did I mention: he's a radio host, an entrepreneur with Little Steven's Underground Garage, where he plays all the music you need to hear, and captains the Wicked Cool record label, where he releases great records and gives young bands the shot they deserve.
Steve also has a long career as an activist, too lengthy to go into here, but let's just say he walks it like he talks it. His Rock and Roll Forever Foundation and his TeachRock program brings an essential curriculum of music and culture into school and makes it available at no cost to educators. In a time of cutbacks in arts funding, Steve's programs are keeping kids engaged in the arts, and in school — this is his greatest legacy.
To finish off, this is a man who was married to his lovely wife Maureen by Little Richard, who was serenaded down the aisle by the great Percy Sledge, is the sole creator of the male babushka, and is the only man I know besides Hugh Hefner who has figured out how to spend his whole life in his pajamas.... I love you, Steve! Welcome to the New Jersey Hall of Fame, Steven Van Zandt!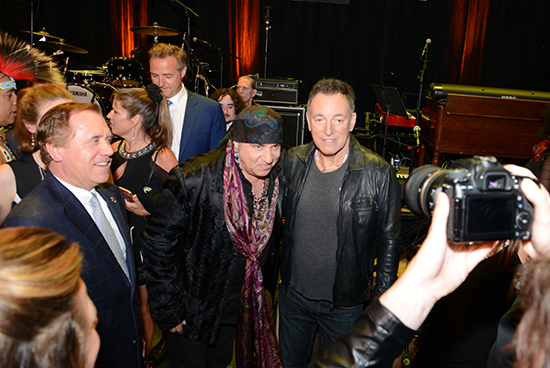 Steven Van Zandt:
So, destiny is a funny thing. You know, like Bruce was saying, when and where you're born, and the circumstances you're born into, really count. If I had been born ten years earlier, I probably would have been a teenage juvenile delinquent car mechanic, drag racing my car every weekend... and I'd be dead now. If my mother didn't marry Bill Van Zandt, I never would have left Boston and ended up in New Jersey. Growing up in New Jersey ended up being a very good thing. It was less pressure than a major city, so I got a chance to develop. At the same time, it wasn't so great that it made you want to stay there the rest of your life. It gave you some motivation.
Like I said at Rutgers, my life has really been about chasing greatness: I seek it out, I support it when I find it, and I create it when I can. But I wouldn't have known what greatness was if I hadn't grown up in the middle of a renaissance period, when the greatest art being made was also the most commercial. You know? That set your standards very high. Forever. We were lucky to grow up when we did. As I've said many times, nobody's born great. Greatness is developed. And being born when our country was so rich that it allowed the "teenage leisure class" to exist, and gave it time to develop, was very lucky, and the suburbs of New Jersey in the '60s was the perfect place to do it. So destiny and a little bit of luck goes a long way.
Most importantly, if I hadn't been in New Jersey in the '60s, exactly where I was, doing what I happened to be doing, in the manner I was doing it, I never would have met Bruce Springsteen.
Now, we've done a lot of good work together — and there's still more to come — but what was most important was, he was the only other person I had ever met for whom rock 'n' roll was everything. Not a job, not a convenience, not a way to fortune and fame, not a way to get laid — although it would be all those things. But you have to understand, when we decided to do it, it wasn't a legitimate business yet. And the only successful bands were from England, 3,000 miles away. Not New Jersey. So we needed each other's reinforcement. And with Bruce and the E Street Band, we would do what only a few had accomplished in history before us. We did the impossible... we made New Jersey hip.
And then 20 years later, I had the most extraordinary and unlikely fate of watching New Jersey become fashionable twice in one lifetime... unbelievable. You know, if I hadn't been in New Jersey, I wouldn't have met David Chase or been on The Sopranos. It all depends on where you are, you know? The right timing.... So, thank you New Jersey. You have been very, very good to me, and I hope someday, if my luck holds out, to eventually return the favor.
Thank you, Steve Edwards, thank you Carol Ross, thank you Maureen — I love you, baby — thank you Bruce, I love you. Thank you!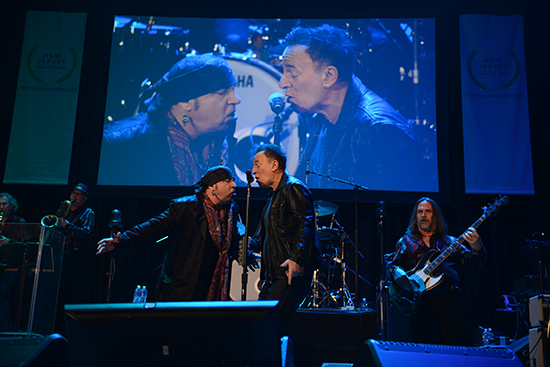 Following the speeches, Little Steven closed the ceremony with performances of "Soulfire" and "I Don't Wanna Go Home," joined on the latter by Springsteen at center mic.

- May 7, 2018 - photographs by Gary Gellman - thanks to Sammy Steinlight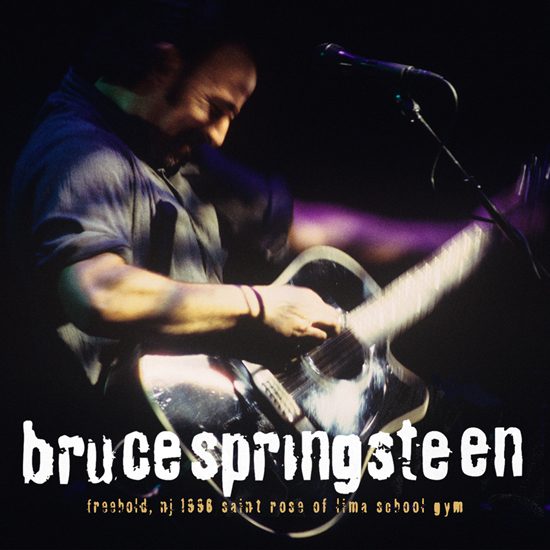 BACK-TO-SCHOOL NIGHT: FREEHOLD 1996
Springsteen's hometown concert for St. Rose of Lima arrives
When Backstreets reviewed Bruce Springsteen's 1996 headlining performance in his New Jersey hometown, we questioned whether the night's closing number, a song he'd written for the occasion, qualified as a proper tour debut. But there would be no such question today: the inherently funny and light-hearted "In Freehold" may never rise to the heights of "Born to Run," but it's a real song, full of autobiographical detail, full of geography, full of place. Those elements carry today's archive release: November 8, 1996, at St. Rose of Lima School, in Freehold.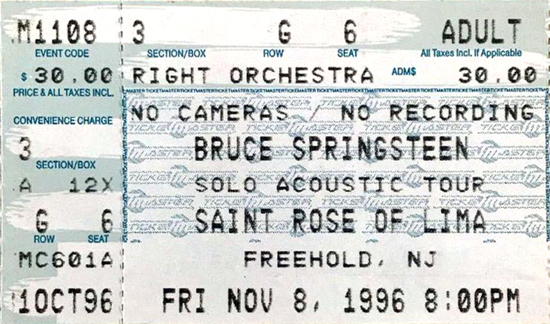 courtesy of Billy Smith
The appearance at Springsteen's boyhood grammar school, a benefit show for its Hispanic Community Center, came about a year into the 18-month trek behind The Ghost of Tom Joad. He took a night off from the straight edge that characterized those shows, lightening the mood and stocking the set with homecoming material. It began with a dirge-like arrangement of "The River," complete with Drop D tuning and fiddle accompaniment from Soozie Tyrell (she and Patti Scialfa guested frequently throughout the show). The character's declaration of his place of origin set the tone for the evening.
Other songs served that purpose, too: "The Wish" appeared, as did lesser-played songs from Nebraska, "Growin' Up," and the first acoustic arrangement of "Racing in the Street." And to hear people applaud and cheer before a quiet song ends? Well, when it's "My Hometown" — played especially for the one that it's based on — that's just fine (Springsteen hadn't exempted his neighbors from his Joad tour "shut the fuck up" speech, but he modified it some).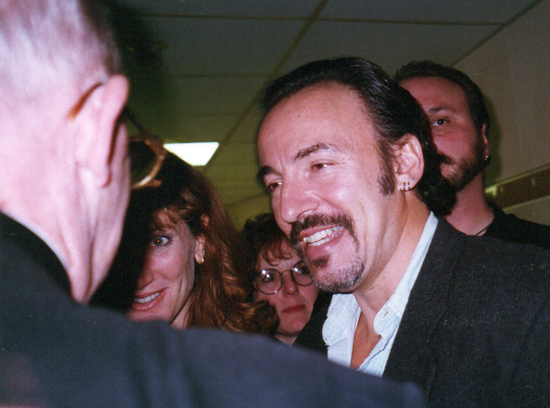 Scialfa and Springsteen in Freehold, 11/8/96 - photograph by Billy Smith
It was an occasion, to be sure: tickets were meant only for Freehold residents. (At least one out-of-towner secured a pair of tickets the old-fashioned way: with a well-placed phone call to the church and the offer of a substantial charitable donation.) Yet it wasn't the first time Springsteen had played there: his band the Castiles were something of a house band at St. Rose of Lima in the mid-'60s, playing CYO dances in the basement.
At one, probably in 1967, Springsteen recounted using a strobe light and a smoke bomb and smashing a vase of flowers — an attempt, he said in 2015, to emulate the artful destruction he'd witnessed at a Convention Hall concert by The Who. "I looked ridiculous," Springsteen said, "but I went home smiling, feeling a blood bond with Pete Townshend, and never looked back."
"In Freehold" suggests he never really had to: like anyone's primary experience, it was with him the whole time. Delivered as a heartfelt summation more than a last laugh, the song's touchstones included Tex and Marion Vinyard, his own kids, his boyhood house, his Catholic education, and, well, other things — dedicated to Freehold, naturally — and capped the evening perfectly. Like songs Springsteen hadn't played for a long stretch until that night, it was rough around the edges, requiring a "dramatic interlude," as he put it, to remind himself of the lyrics. But with grace and honesty, the song put Bruce's love/hate relationship with his hometown on full display, two decades before Springsteen on Broadway.
Springsteen played a trio of shows later that month in Asbury Park, ones that generally shaped up as celebrations of his first two records and his long-standing association with the other town that shared in his fame and history. But let the record show that Freehold was first.
- May 4, 2018 - Jonathan Pont reporting



ROCK HALL CAMERAS ROLLING ON MIGHTY MAX TONIGHT
Tonight in Cleveland, the Rock and Roll Hall of Fame will be filming Max Weinberg's Jukebox local stop for their education programs. Footage of the Hall of Famer will be used in videos for the Rock Hall's "Meet the Instruments" class for kids, and for their free online education platform, Rock Hall EDU. Tonight's show is at the Winchester Music Tavern in Lakewood, with tickets available here.
From there, Max's Jukebox heads to the DC area for the weekend, with Friday and Saturday night shows at The Barns in Wolf Trap, in Vienna, VA. See all dates at maxweinberg.com.
- May 3, 2018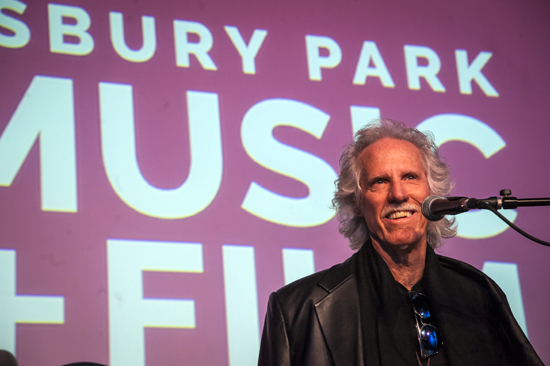 "BACK IN THE LAND OF BRUCE"
Bruce Springsteen has fondly recalled seeing The Doors at Convention Hall as a teenager. Ths past weekend, original member of The Doors John Densmore was back in town, attending the Fourth Annual Asbury Park Music & Film Festival for the world premiere of the film Break On Thru: A Celebration of Ray Manzarek and The Doors. The concert documentary won Best Feature Film; accepting the award, Densmore said, "It's good to back in the land of Bruce... Jim [Morrison] and Ray [Manzarek] would be very pleased."
The festival included appearences by Wyclef Jean, Jersey Governor Phil Murphy, and Asbury Park's own Danny DeVito, who highlighted the weekend with a look back on his career on Saturday night. While on stage at the sold-out Paramount Theatre, he had Asbury vocal hero Nicky Addeo join him for the doo-wop song "Over a Cup of Coffee."

- May 2, 2018 - thanks to Sammy Steinlight - Asbury Park Music & Film Festival photo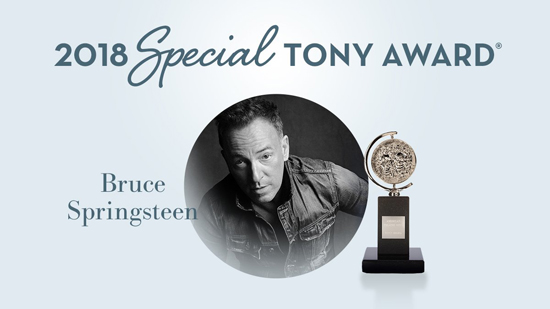 THREE DOWN, ONE TO GO
Bruce Springsteen will move one step closer to EGOT status next month, when he'll be presented with a Special Tony Award "for his ongoing engagement Springsteen on Broadway, a once-in-a-lifetime theatregoing experience for the Broadway stage, allowing fans an intimate look at a music idol."
Jay Lustig notes: "According to Tony rules, the Special Tony honors 'a live theatrical event that… does not fit into any other category of Tony Award to be awarded for the current season.' This is the category where Lena Horne got a Tony for 1981/1982 The Lady and Her Music; where Judy Garland was honored for her enthusiastically received shows at the Palace Theatre in 1951; and where, more recently, non-traditional Broadway fare such as Dame Edna: The Royal Tour, Sarah Jones' Bridge and Tunnel and Russell Simmons' Def Poetry Jam on Broadway has been honored."
The American Theatre Wing's 72nd Annual Tony Awards ceremony on Sunday, June 10 — which also happens to be a night Springsteen on Broadway is dark — will be braodcast live from Radio City Music Hall at 8pm on CBS.
- May 1, 2018


HELP GET ASBURIED IN TIME DOUMENTARY UP ON THE SILVER SCREEN
After years in the works, the feature-length documentary Asburied in Time: A Greeting Through Asbury Park's Unique History is ready for its theatrical premiere. Exactly when and where... well, that largely depends on the success of a GoFundMe campaign to meet the cost of a theater rental, ideally the Paramount in Asbury Park.
Filmmaker Bridget Machete writes: "Our film is complete, and we are reaching out to the public for donations on getting us a local screening in Asbury Park this June. Our film was 90% self funded and I am looking for donations to project this amazing film onto the big screen."
Visit the film's Facebook page for more info, and help out if you can!
- April 30, 2018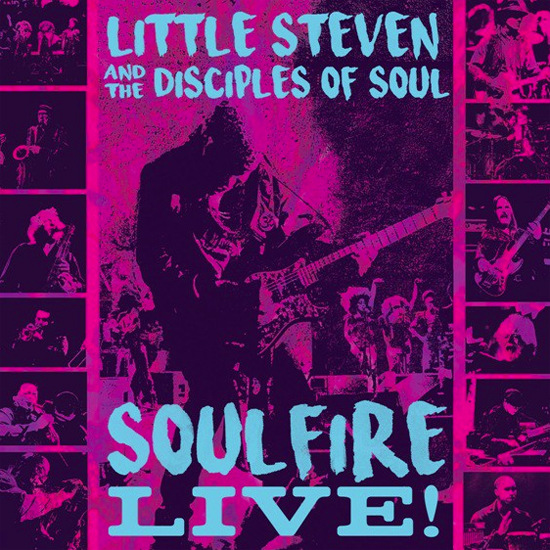 LITTLE STEVEN'S FIRST LIVE ALBUM, OUT NOW!
Along with Little Steven's appearance on the Today show this morning comes the surprise release of Soulfire Live! — a live album with the Disciples of Soul available now on streaming services and as a digital download. Its 24 songs were recorded on tour last year in North America and Europe, mixed by Bob Clearmountain and mastered by Bob Ludwig. Physical media — CD, vinyl, and Blu-ray — will be available this summer; in the meantime you can hear it now.
On Today, Stevie talked with Megyn Kelly [video] about his upcoming tour, on which teachers get in free: "We're celebrating the teaching profession, the most underpaid, underappreciated profession in the world... in solidarity for all the teachers' strikes that are out there right now." Steven and the Disciples kick it off this Sunday night in New Jersey, with US stops through May and on to Europe in June and July. View all dates and purchase tickets at littlesteven.com.
Watch their "Today Citi Concert Series" performances this morning of "Soulfire" and "Love on the Wrong Side of Town."
- April 27, 2018


CONTEST RESULTS: THREE WAS THE MAGIC NUMBER
Thanks to everyone who entered our giveaway contest for John Wesley Harding's Greatest Other People's Hits LP, which includes covers of "Wreck on the Highway" (live, backed by Springsteen himself) and "Jackson Cage." The vinyl edition was a Record Store Day exclusive, but a CD edition is coming soon from Omnivore Recordings.
From those who answered our contest question correctly — there are three, count 'em, three covers on Springsteen's High Hopes album — we selected 10 entrants using a random number generator, all of whom will receive the album autographed by John Wesley Harding:
Jan Alin - Vasa, Finland
Martin Cervelli - Albissola Marina, Italy
Mike Lawler - Bethlehem, PA
Cindy Mullins - Akron, OH
Sal Nunziato - Astoria, NY
Steve Popovich - Parma, OH
Dave Rayburn - Riverside, CA
Pamela Scerba - Clifton Park, NY
Tim Todd - San Diego, CA
Kate Vessey - Chapel Hill, NC
You might think the answer was an easy one — there are three covers on High Hopes: the title track, "Just Like Fire Would," and "Dream Baby Dream," right? But you might be surprised... There were 33 people who gave "2" as their answer (perhaps forgetting, after Bruce made "Dream Baby Dream" his own, that the song was originally by Suicide?). Two people answered "4," one answered "5," and one hunter of invisible game answered "15," which is more songs than are on the album. But we thank everybody for playing.
For more on Wes's Springsteen covers — and each of the selections on his new collection — read "Covers Cover Notes by John Wesley Harding" over at omnivorerecordings.com. He writes, "On the video, I appear to be giving someone the finger as Mr. Springsteen enters. It's true, I was: the whole audience, who hadn't believed me when I introduced him." Thanks again to Wes, Cheryl Pawelski, and Omnivore Recordings for thinking of all of us over here on the Backstreets.
- April 25, 2018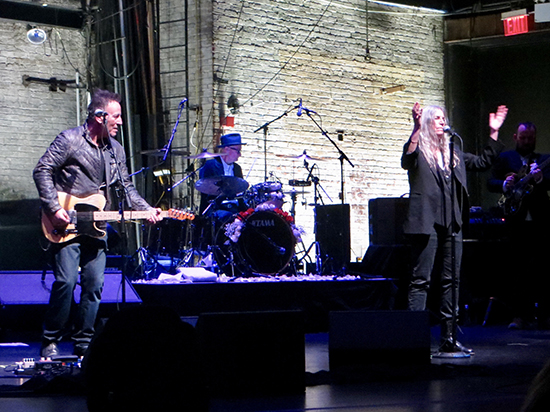 THE BOY LOOKED AT JOHNNY
On break from Springsteen on Broadway, Bruce lands with Patti Smith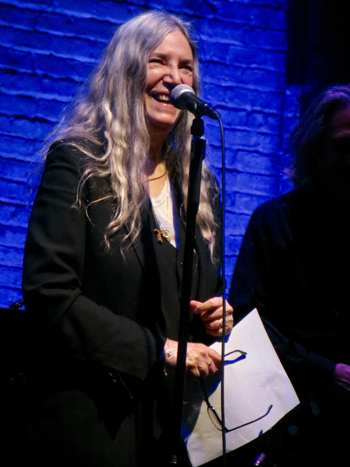 The Monday night screening of the documentary Horses: Patti Smith and Her Band was, after all, another star-studded Tribeca Film Festival premiere, so the appearances of the likes of Clive Davis, Jon Landau, and Jimmy Iovine wasn't exactly unusual. Given that the film captures a live performance of Smith's now-classic debut album during the tour launched to commemorate that record's 40th anniversary, it made sense that the head of the label that signed Smith out of CBGB would be there, along with the upstart producer that helped her achieve what's widely regarded as her commercial breakthrough, and, well, the manager of the guy who let the upstart producer take an unfinished demo cassette across town to a sister Jersey swamp rat. Ancient history, but you could be easily forgiven if your mind connected those dots.
After the 70-minute film, the screen went up and the Patti Smith Group were in place behind it. The set had been advertised as "Patti and her Band will perform the title track of Horses along with some of their signature songs." It was a lovely bonus to hear the band whose history was just shown on film play live, but no one expected more than a handful of songs. From the right angle, you could see Iovine sitting in the wings, which made sense given his Executive Producer credit and the involvement of Apple Music as the film's distributor.
But what absolutely no one truly expected to happen was when, after performing "Land," Patti stepped up to the mic holding an I<3NY mug and, with a mischievous grin, offered thanks to Mr. Iovine before adding, "And I want to thank this fellow...."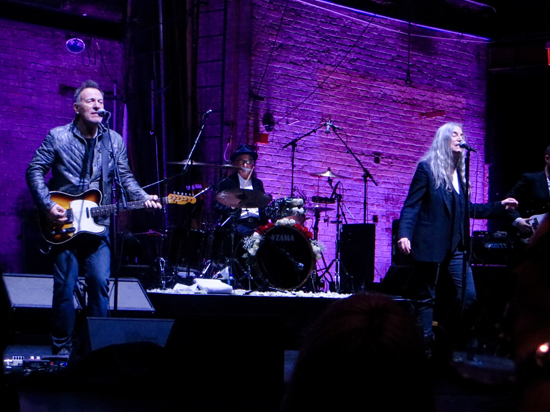 There was a bit of a pregnant pause before none other than Bruce Springsteen strode onstage with an impish grin as the entire Beacon Theater lost their marbles. The two embraced, and Patti came back to the mic to note, "This song always makes me think of three men: Fred 'Sonic' Smith, who inspired it; Jimmy Iovine, who produced it; and Bruce Springsteen, who wrote it." Playing a sunburst Telecaster, Bruce joined Smith on the first chorus before stepping up for the second verse. "Because the night belongs to... Bruce," Smith sang, cueing him into a compact but satisfying solo. It was delightful to watch Bruce sing the words to himself on Smith's verses, only for her to do the same when he was at the mic. [video]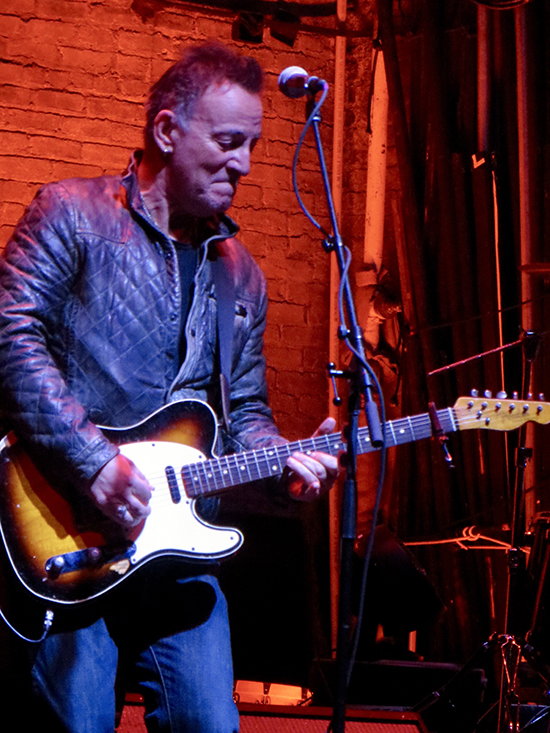 The two exchanged another embrace at the end, and just when we thought Bruce was going to be departing the stage, Kevin Buell made an appearance for a guitar change. "I have another song for you," Patti announced, before bringing on her daughter and... Michael Stipe! "Fred 'Sonic' Smith and I wrote this song with the great hope that it would inspire and incite people to action," Patti introduced what was, of course, her great anthem "People Have The Power" [video], which Bruce last performed (along with Stipe and R.E.M.) on the Vote For Change tour in 2004.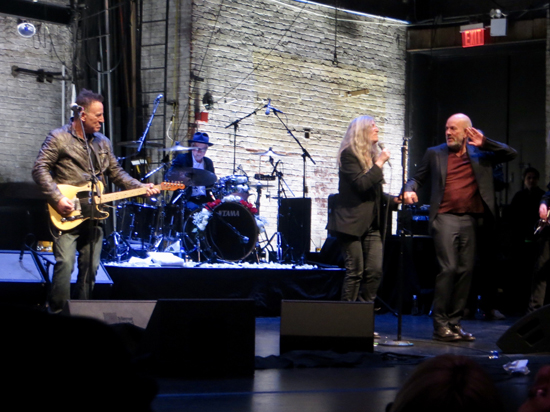 At the end, Smith hugged Stipe and her children and then Bruce, and the two walked offstage companionably holding hands. Six songs, two surprise guests, a theater of buzzing music fans, and a set of beautifully connected dots spanning across 40 years.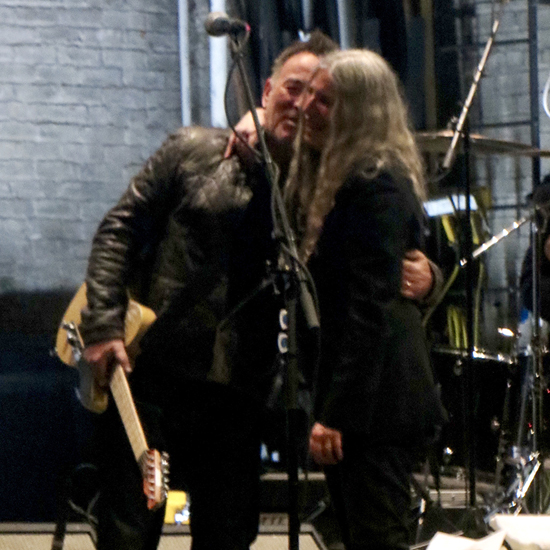 - April 24, 2018 - Caryn Rose on the scene - photographs by Ruth Barohn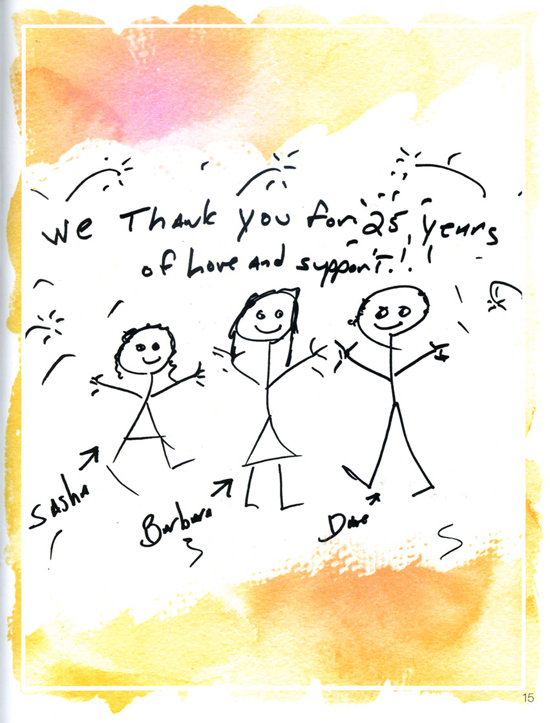 KACF: 25 YEARS OF LOVE AND SUPPORT
Bruce Springsteen was in attendance at Tribeca Grill on Saturday night for A Night to Remember, honoring Barbara Carr, Dave Marsh and Sasha Carr for 25 years of the Kristen Ann Carr Fund. Following speeches from Kristen's friends Ilyse Lesser and Michael Solomon, Jon Landau, and the honorees, Bruce presented the family with a framed "timeline of the past 25 years and all the good the programs have done, all the doctors that have been funded." Springsteen also once again lent his artistic talents to the night's program, above.
"I loved Kristen very much," Bruce said, with Patti Scialfa by his side. "I love Barbara, Dave and Sasha, and I'm simply astonished at what they've done over the past 25 years. Their strength, love, and dedication has just been inspiring."
The Kristen Ann Carr Fund honors the life of Kristen Carr (1971-1993), who died at the age of 21 from sarcoma, a form of cancer which is difficult to treat with current methods. Established at Kristen's request — "The seed money for the Fund came from our first fundraising event," Landau recalled, "which was a [6/26/93] concert that Bruce did at Madison Square Garden" — the Fund continues in her spirit and convictions. Find out more at sarcoma.com.
- April 23, 2018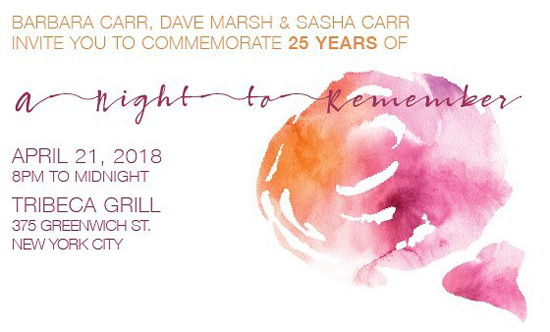 KRISTEN ANN CARR FUND CELEBRATES 25 YEARS
Auction & raffle of Springsteen rarities benefit their support of cancer patients, doctors, and research
Bruce Springsteen's final show of the 1992-93 tour — a benefit at Madison Square Garden on June 26, 1993 — kickstarted the Kristen Ann Carr Fund a quarter-century ago. This weekend, the sarcoma-fighting nonprofit celebrates the 25 year milestone at their annual A Night to Remember gala at New York's Tribeca Grill. Danny Clinch's Tangiers Blues Band will be rocking the joint.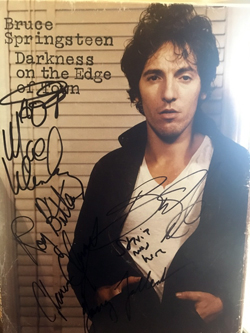 As usual, a KACF auction will provide additional fundraising — anyone can participate online, and among the many lots there are some killer Springsteen and related Jersey Shore music items up for bids.
Check out some jawdropping prints from photographers Frank Stefanko, Barry Schneier, Jim Marchese, and David Gahr — all signed by Springsteen as well.
There's a Springsteen on Broadway package, a VIP meet-and-greet Little Steven package, and similar packages for Southside Johnny, Jackson Browne, and Light of Day too.
You might want to guest host with Dave Marsh on E Street Radio, or bring home a copy of the Darkness box set autographed by the '78-era E Street Band.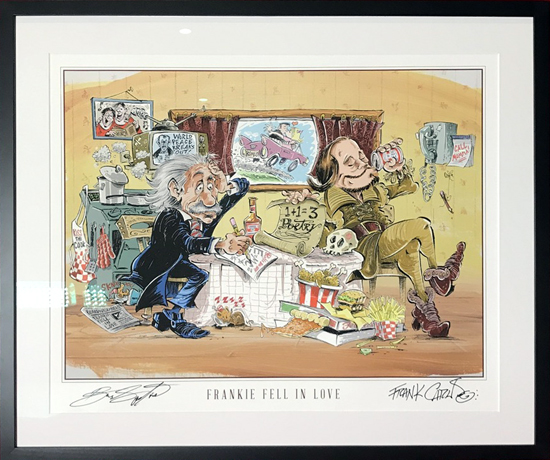 And don't miss the latest "interpretation" from Outlaw Pete artist Frank Caruso, illustrating the lyrics to "Frankie Fell in Love"! The framed print is signed by both Caruso and Springsteen.
"Hey, I know it's not a signed guitar," Frank tells us, "but I jammed in 16 lyrical references in my Cracked Magazine style, which I felt captured the fun of Bruce's lyrics and the song itself. There maybe a few other hidden bits in there, too.... I created a lyric legend that points out all the references that will be attached to the back of the frame."
There's much more to peruse, including Stefanko's Further Up the Road book, Tom James' artwork based on "If I Should Fall Behind," and the Ultimate Elvis Package, all up for bids.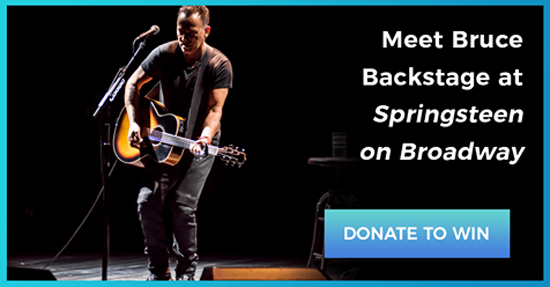 But it's not just those with deep pockets who can take part — the most exclusive item will be given away via raffle. For donations starting at just 10 bucks at Prizeo.com, you have the chance to win a trip to see Springsteen on Broadway and meet the man himself. The prize includes show tickets, lodging and airfare:
We'll fly you and a friend to NYC, put you up in a hotel, and get you a pair of VIP tickets to see The Boss — from the second row! Then you'll get to go backstage and meet the legend in person!
All funds raised by the auction and raffle benefit the mission of the Kristen Ann Carr Fund, providing grants for cancer research and seeking to improve all aspects of cancer patient life with an emphasis on adolescents and young adults. Find out more and donate at sarcoma.com.
- April 19, 2018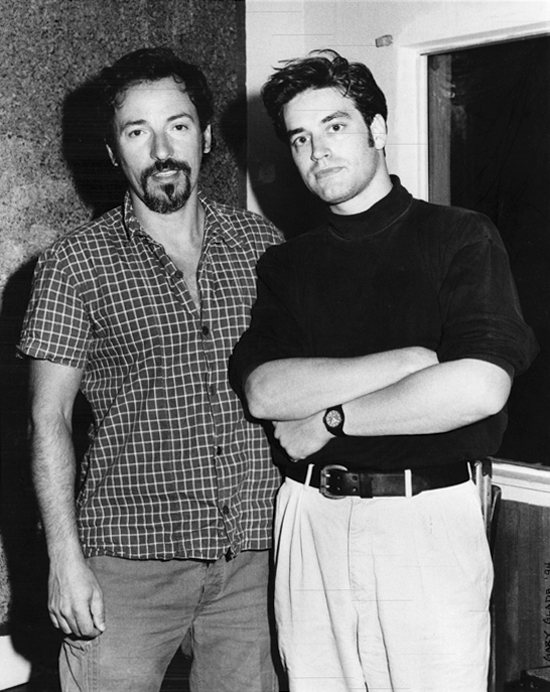 SPRINGSTEEN & JOHN WESLEY HARDING COMING TO VINYL FOR RSD
"Wreck on the Highway" video premiere & signed LP giveaway from Backstreets
Bruce Springsteen's Greatest Hits isn't the only Boss entry for Record Store Day 2018. For this Saturday's annual celebration of (mostly) wax, Omnivore Recordings is releasing an album of covers by John Wesley Harding (AKA Wesley Stace) that features not only two Springsteen songs, but also Bruce Springsteen himself.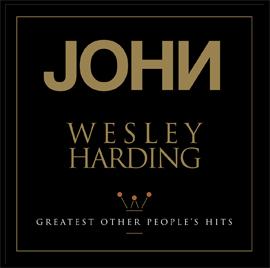 With typical wit, the album title alone suggests it's a good companion piece for Springsteen's RSD release. Bruce has Greatest Hits? Wes has Greatest Other People's Hits. Along with songs written by the likes of George Harrison, Roky Erickson, Madonna, Pete Seeger, and Serge Gainsbourg, Wes's first covers collection includes his takes on two songs from The River, "Jackson Cage" and "Wreck on the Highway."
These are previously released recordings — on CD, most easily obtained as bonus tracks on Harding's Awake album — but this is their first appearance on vinyl.
"Wreck on the Highway" is a live performance and a duet with Springsteen. It was recorded at McCabe's Guitar Shop in Santa Monica in 1994, when Bruce made a surprise appearance to join his friend on guitar and harmony vocals. The pair have appeared together a few times over the years: a year after the McCabe's show, Wes was a very rare opening act for Bruce, two nights in Berkeley at the beginning of the Tom Joad tour; they played together again at the 2010 WAMFEST, as part of a unique event along with poet Robert Pinsky. But that June '94 night at McCabe's was their first team-up. Over the years, we've heard tell that video footage exists... and with thanks to Ominvore Recordings, we're very pleased to premiere it.
Now, what's better than that on your turntable? How about a copy signed by John Wesley Harding himself? He's kindly autographed 10 copies of the record for us to give away to Backstreets readers. We'll just need you to answer one simple question:
How many cover songs are on Springsteen's last studio album, High Hopes?
To enter to win one of ten signed LPs, send an email to contest@backstreets.com with your answer in the subject field, and your name and shipping address in the body of the email. Must be formatted that way to be a valid entry; one entry per email address, please. From those with the correct answer, we'll do a random drawing to select the ten lucky people who get the goods. Send your email by Tuesday, April 24, at noon Eastern; we'll draw ten names that afternoon and notify the winners!
And of course, visit your local mom & pops for Record Store Day this Saturday, April 21 — to seek out Greatest Hits, Greatest Other People's Hits, or both.
- April 17, 2018 - photograph by Gary Glade via mccabes.com



LITTLE STEVEN'S GOT THE BLUES... IN THE BEST POSSIBLE WAY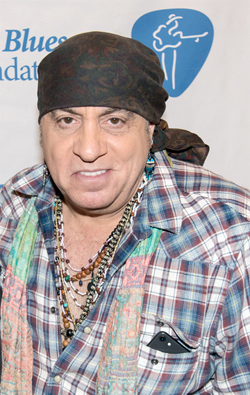 There has never been a Blues Music Week quite like one that will be happening next month, and it all starts and ends with Little Steven Van Zandt. Back in January, Stevie served as a finals judge for the International Blues Challenge, and he came away so impressed with the Blues Foundation's work to preserve blues heritage and celebrate blues recording and performance that he offered to return as the host of the Blues Music Awards.
Steven will launch Blues Music Week with a special Little Steven and the Disciples of Soul show at Memphis's Minglewood Hall on Tuesday, May 8. Then, on Thursday, May 10, he'll emcee the biggest awards show in blues at the Cook Convention Center.
You can be there for it all, too! Memphis is a music mecca, so Blues Music Week just might be the perfect time to explore. Tickets for the Little Steven show on May 8 can be had via minglewoodhall.com; tickets for the Blues Hall of Fame Induction Ceremony on May 9 are here, and for the Blues Music Awards on May 10, hosted by Little Steven, here. Hope to see you in Memphis!
- April 16, 2018 - Cheryl Pawelski reporting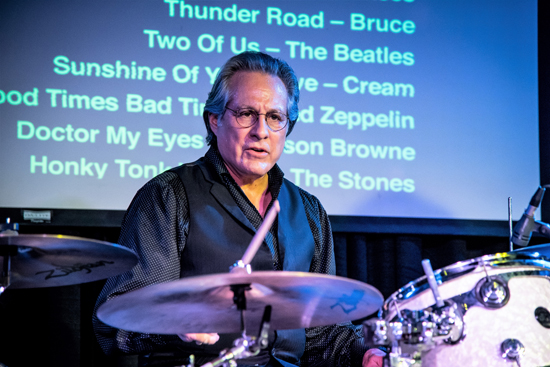 HAPPY BIRTHDAY TO A JUKEBOX HERO
Sending out birthday wishes to Mighty Max Weinberg, 67, born this day in 1951. If you haven't seen his Max Weinberg's Jukebox show yet, he's keeping it on the road this spring and summer — as he tells Backstreets of his all-request concept, "It's a party, not a concert.... You get to hear the songs you want to hear."
Here's the current Jukebox schedule, with more to come:
April 18 - City Winery - Chicago, IL
April 27 - South Orange Performing Arts Center - South Orange, NJ
May 3 - Winchester Music Tavern - Cleveland, OH
May 4 - Wolf Trap - Vienna, VA
May 5 - Wolf Trap - Vienna, VA
June 6 - The Bull Run - Shirley, MA
June 8 - Paramount Hudson Valley Theater - Peekskill, NY
June 16 - The Stone Pony - Asbury Park, NJ
July 21 - Lincoln State Park Amphitheater - Lincoln, IN
August 24 - TBA - Bethaney Beach, DE
August 25 - World Cafe Live - Philadelphia, PA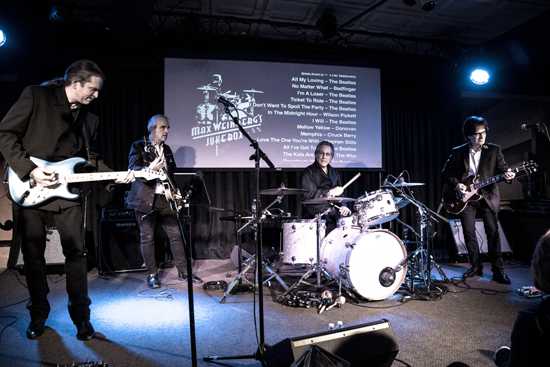 Further info, ticket links, and meet-and-greet packages at maxweinberg.com.
- April 13, 2018 - photographs by Jerry Frishman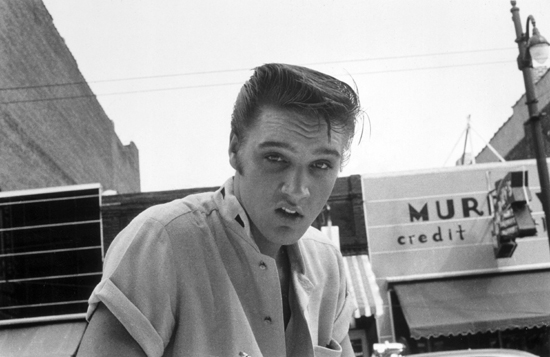 FOLLOW THAT DREAM
HBO's Elvis Presley: The Searcher, the Backstreets Review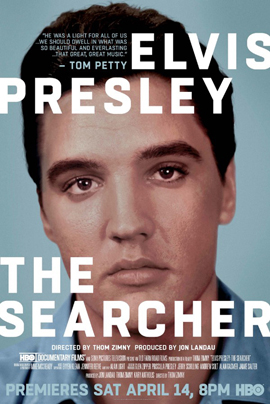 Elvis Presley: The Searcher, a two-part, three-hour documentary premiering this Saturday, April 14, on HBO, is unlike any other Presley documentary that has come before. From the outset — a telling quote from co-producer Priscilla Presley from which the doc gets its name, then a scene from Elvis' triumphant 1968 "Comeback" NBC-TV Special — The Searcher's mission is clear: to highlight the musical, creative journey of one of the most influential figures in popular music, from life to death, to explore Presley's vision in the context of the music he loved and that he created.
The Searcher was helmed by a team most often associated with Bruce Springsteen: directed by his archivist and go-to filmmaker Thom Zimny, and produced by Springsteen manager Jon Landau. Those familiar with the pair's collaborative work on previous documentaries such as Wings For Wheels: The Making of Born to Run and The Promise: The Making of Darkness on the Edge of Town will recognize a similar focus on artistry — on the genesis and creation of the music over personality, mythology, or other distractions. To paraphrase Tom Petty, The Searcher cuts through the clatter and noise and focuses on the art of Elvis Presley....
Continue reading "Follow That Dream"
- April 12, 2018 - John Howie Jr. reporting - photo courtesy of ABG / Graceland Archives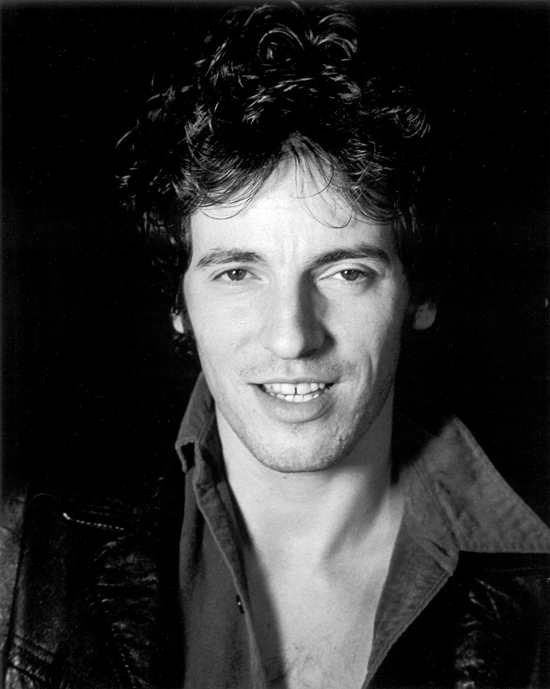 SPRINGSTEEN SYMPOSIUM KICKS OFF TOMORROW AT MONMOUTH
Celebrating Darkness at 40, this weekend Monmouth U welcomes Carlin, Stefanko, Wingate, Zimny and more, along with fans and scholars from around the world
This weekend on the Jersey Shore, Monmouth University in West Long Branch will host Bruce Springsteen's Darkness on the Edge of Town: An International Symposium. Though there have been several Springsteen Symposiums held at Monmouth over the years, this is the first to be organized by the Monmouth University-based Bruce Springsteen Archives and Center for American Music.
Pre-conference activities will commence tomorrow, Thursday, April 12, and conclude on the afternoon of Sunday, April 15. The conference will welcome an international roster of participants, as well as a host of keynote speakers and musical acts celebrating the life and times of the Jersey Shore and popular music.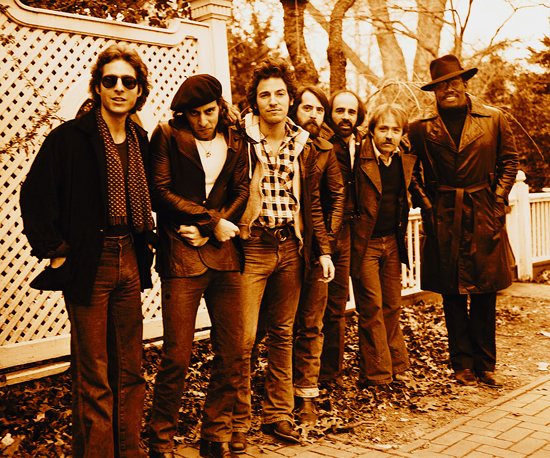 One of those speakers is Darkness cover photographer Frank Stefanko, whose photos you see here and whom you can catch twice during the course of the weekend. First on Saturday, Frank will be talking with Jerry Zolten, a Q&A event titled "Lunch With Frank Stefanko" [noon, Pozycki Hall].
"As the theme of this year's seminar is Darkness on the Edge of Town, I guess they figured I have seen a thing or two, so I can discuss a thing or two," Stefanko tells Backstreets.
Other "Lunch With" interview subjects will be Dick Wingate, Columbia's product manager for Darkness on the Edge of Town, on Friday; and The Promise: The Making of Darkness on the Edge of Town director Thom Zimny on Sunday.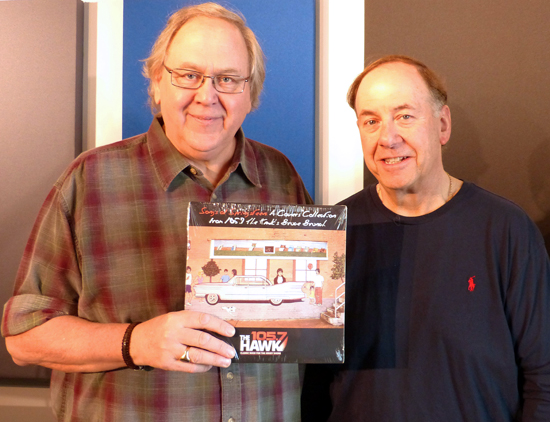 Frank "Frankie Maracas" Stefanko, left, with Tom "Tommy Boy" Cunningham - photograph by Carol Reed
Later on Saturday afternoon, Frank will return to the stage for a panel called "The Lighter Side of Darkness" [3:30, Wilson Hall], moderated by Bruce Brunch host Tom Cunningham.
"I'll be looking forward to getting silly with my old bud, 'Tommy Boy' from The Hawk [105.7] radio station," Stefanko says." I call him Tommy Boy, and he calls me Frankie Maracas, since he loves my close up photograph of Bruce with his maracas that's in my new book [Further Up the Road].... It should be a fun and lively discussion, with Lisa Lowell, Vini Lopez, and Jon Leidersdorff also on the panel. Tom Cunningham, beside being a great DJ, is one of the most knowledgeable Springsteen personalities on the E Street planet, so I'm looking forward to a great panel and and some laughs."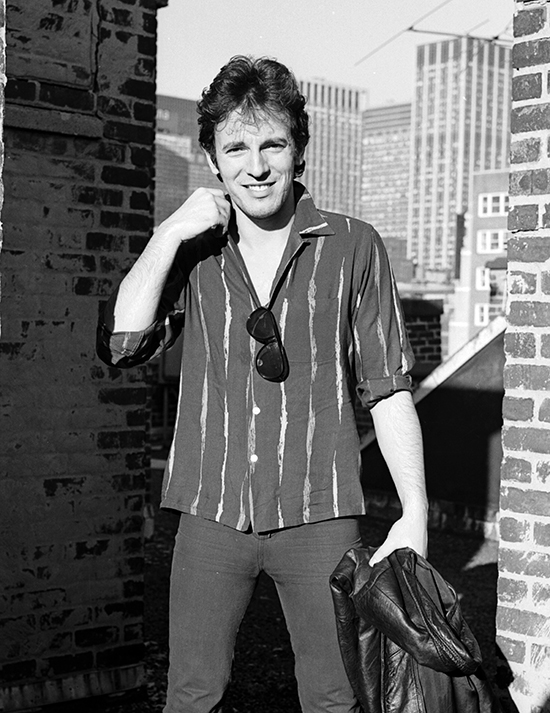 Also on the docket: local tours by Stan Goldstein and Jean Mikle, Vini Lopez performing at the Wonder Bar, a keynote address by Bruce author Peter Ames Carlin, and a screening of Zimny's The Promise, plus breakout sessions throughout the weekend with panel topics ranging from "Darkness and Depression" to "Springsteen in the Movies."
For further information, registration, and schedules, visit monmouth.edu.
- April 11, 2018 - all Springsteen/E Street Band photographs by Frank Stefanko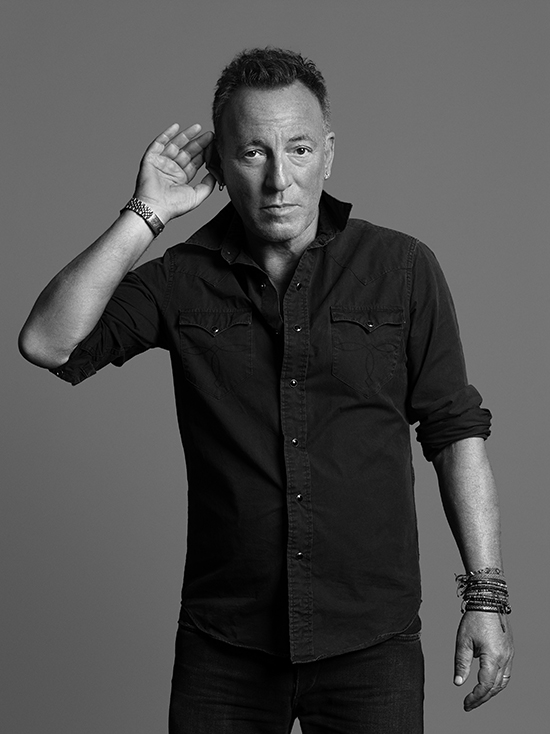 CAN YOU HEAR ME?
The Hear the World
Foundation, helping people in need with hearing loss, welcomes Bruce Springsteen as an ambassador for the cause, supporting the non-profit's hearing loss prevention campaign. Bryan Adams — yes, that Bryan Adams — took the "official ambassador portrait" above, as he has for
more than 100 famous ambassadors
in support of the organization. Find out more at
hear-the-world.com
.
- April 11, 2018 - photograph by Bryan Adams

ZIMNY TALKS ELVIS AND THE SEARCHER ON TODAY'S 1A
This morning on NPR's 1A, Joshua Johnson hosted a discussion of the forthcoming Elvis Presley documentary The Searcher, directed by Thom Zimny and produced by Jon Landau. For "Reconsidering The King: Elvis in America," Johnson welcomed Zimny along with screenwriter Alan Light and Stax songwriter David Porter to discuss the making of the film, the music, the image, and questions of cultural appropriation. Listen to the hour-long segment at the1a.org. You can also read more about the HBO documentary in our report from The Searcher's world premiere at SXSW.
- April 9, 2018

SOMETHIN' FOR NOTHIN'
Record Store Day, April 21, brings the release of Bruce Springsteen's Greatest Hits on exclusive red vinyl; Sony Legacy is also giving away a copy of the limited edition 2LP set through their April Vinyl Giveaway promotion — link below.
- April 9, 2018


WORKING ON A DREAM
Stevie Wonder, who led the successful 1980s effort to establish the federal Martin Luther King, Jr. Day holiday, has coordinated and released on his newly launched YouTube channel a video entitled The Dream Still Lives. The video was released this past Wednesday in commemoration of the 50th anniversary of King's assassination. With a version of Wonder's 1970 hit "Heaven Help Us All" serving as background music, the video compiles clips of numerous celebrities sharing their dreams — a few being humorous to lighten the mood a bit, but most deeply inspired by and sharing Dr. King's vision of peace, equality, social and economic justice. Bruce Springsteen clocks in at the 4:36 mark, saying, "My dream is to live in a world where that justice has come to fruition."
Springsteen recorded his contribution to The Dream Still Lives in his Walter Kerr Theatre dressing room for Springsteen on Broadway, during each performance of which he notes from the stage, "Martin Luther King said that the arc of the moral universe is long, but it bends toward justice. I hope that's true. I believe that it's true. And I believe that what we're seeing now is just a bad chapter in the ongoing battle for the soul of the nation." Bruce also has posted the complete version of the video he recorded for The Dream Still Lives on Instagram.
For more on Springsteen and the 50th anniversary of Martin Luther King, Jr.'s assassination, see our April 4 report below.
- April 9, 2018 - Shawn Poole reporting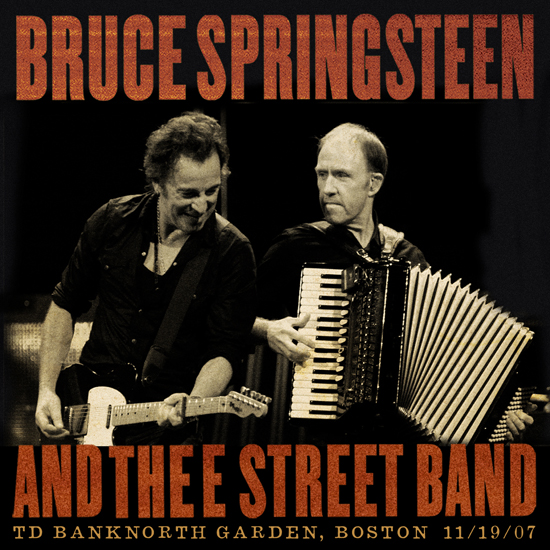 THE LAST CARNIVAL
Boston 2007 — Danny's show, released today
Ten years ago this month, the world lost Dan Federici, a founding member of the E Street Band and a pillar, as Bruce Springsteen called him, of its sound. Today we remember "Phantom" Dan through the music he made, marking the archive release of his last complete performance with the E Street Band, TD Banknorth Garden, Boston, 11/19/07.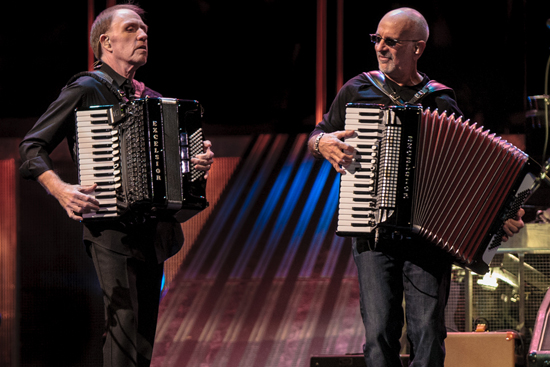 An official recording from the first leg of the Magic tour has hovered near the top of fans' wish lists, and November 19 has considerable merit. But the performance joins a short list — the 1981 Night for the Vietnam Veteran; Clarence Clemons' last ticketed performance from 2009 — where the occasion endures as much as the music has.
November 19 was the 24th and final show of the year in North America, a month-and-a-half tour behind Magic, Springsteen's 2007 LP. Shows that autumn featured compressed setlists and running times, but what they lacked in length they made up for in dynamism: the efficiency seemed to power the new material even more. Boston features excellent variety, including three songs from The Wild, The Innocent & The E Street Shuffle and the tour premiere of "This Hard Land." A revved-up "Reason to Believe" keeps the throttle open wide, as does the effective pairing of "Candy's Room" and "She's the One." In the encore, Peter Wolf guests on "Tenth Avenue Freeze-out."
Fans will particularly welcome the eight songs from Magic, which comprise a third of the 24-song set. "Magic," "Devil's Arcade," and "Last to Die" all appear; each figured prominently that autumn. (As the tour went on, Springsteen moved away from a Magic-oriented setlist, playing instead what seemed like almost anything; a summertime romp in St. Louis, in August, 2008, was a modern-era E Street Band classic, released in this series a year ago.)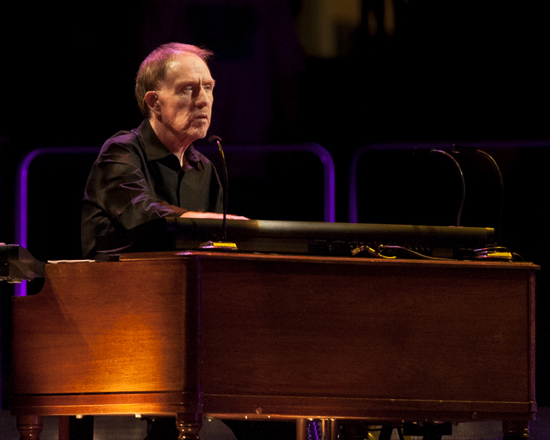 But Danny Federici remains this show's focal point. We know it now in hindsight — this is Danny's Last Show — and many concertgoers in Boston that night sensed something was in the air. Though Springsteen didn't announce Federici's hiatus until two days afterward, fans had noticed Charles Giordano in Albany on November 15, listening in on a headset and taking notes (the Sessions Band veteran took up the station a week later and has graced it to this day). And Chris Phillips's report from Boston, written the next morning, makes clear that this was a moment, and everyone there knew it.
November 19 / Boston, MA / TD Banknorth Garden
Notes: Amid rumors that Danny Federici's health would prevent him from making the trip to Europe next week, Bruce and the E Street Band closed out their North American leg with a stunner of a show in Boston. And while we believe strongly in respecting his privacy, we simply can't talk about this night without talking about Danny. His talent, the band's love for the man, the crowd's love for the man — all were there for all to see. This show was all about Dan Federici. The setlist (and oh, what a setlist) was clearly crafted with him in mind. There were the two tour premieres — "This Hard Land" giving Danny a stretched-out solo spot, "Tenth Avenue Freeze-out" recalling the formation of the E Street Band, of which Danny was of course a founding member (easy to forget that only he, Clarence, and Garry go all the way back). And then the three songs from those Wild & Innocent early days — reprising the "4th of July, Asbury Park (Sandy)"/"E Street Shuffle" two-fer from Albany, and adding "Kitty's Back" for good measure — all of which gave Danny chances to shine.

Federici's "Kitty" solo, at Bruce's urging, went on and on. "Sandy," too, was a spotlight moment, with Danny strapping on the accordion; bringing him front and center, Bruce called out, "Ladies and Gentlemen, winner of the Ted Mack Amateur Hour!" Tossed-off ad lib that it was, that remains a significant moment to me as I think back on the show today. It was a night of good humor. It was a night of musicianship, of history, of shared history, and of the joy of making music together in the present moment. It wasn't a maudlin night. There was no overt reference to any leave of absence, certainly no mention of any health issues. What do you do in the face of those things instead? You get up there and play. And they played their hearts out. "Darkness" was ablaze. The whacked-out funk coda of "E Street Shuffle" was a killer, with Max going nuts on the drums. "The Rising" was more determined than I've heard it since '03. "Tenth Avenue Freeze-out" was a blast, and wicked tight, even with a way-loose Peter Wolf up there shakin' it with Patti.

And what else do you do? If you're Nils, you spend as much time as you can up on the organ riser, playing shoulder-to-shoulder. If you're Bruce, you head over to Danny during the bows at show's end and throw your arm around him, with a look on your face that says "godammit, I know we said we weren't going to talk about this tonight, but you can't stop me from doing this," and you bring him to the center of the pack, and he takes a bow of his own. And if you're the crowd, you chant "Danny! Danny! Danny!" It was as spontaneous as the "E Street Band" chant at Madison Square Garden on July 1, 2000 — with fewer dry eyes, I imagine, both onstage and off.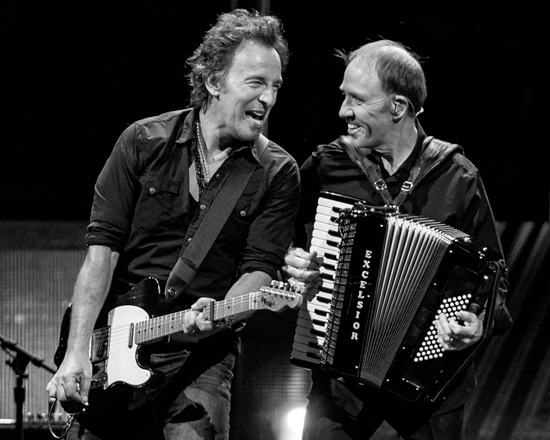 Following this U.S. leg, the Magic tour continued the next week in Europe and then picked back up in February 2008. Federici rejoined the band in Indianapolis for eight songs in March, the very last time he played with the E Street Band. In the ensuing decade, the band went on and its legacy grew: there was still new music to write, record, and perform, more loss to suffer, and changes made uptown. But the document released today not only captures an inflection point — Magic may well be Springsteen's most cohesive Reunion-era recording — but also takes us back to the end of an era: the final performance by the band's classic lineup, the last carnival with the founders of the E Street Band.
- April 6, 2018 - Jonathan Pont reporting - additional reporting by Christopher Phillips - photographs by A.M. Saddler


PRE-ORDERING OPEN NOW FOR ALBUM COLLECTION VOL 2
Get our pre-order sale price and an exclusive Backstreets bonus
Bruce Springsteen's The Album Collection Vol 2, 1987-1996 is coming on May 18, and we're taking pre-orders now for the limited edition boxed set. Unlike Vol 1, the second box in the series is being released on vinyl only, including the first-ever pressing of the Blood Brothers EP on wax, exclusive to the box. Pre-ordering from Backstreet Records now will save you $30 off the list price — our sale price is $240, down from $270 list — and you'll also get an exclusive gift from us.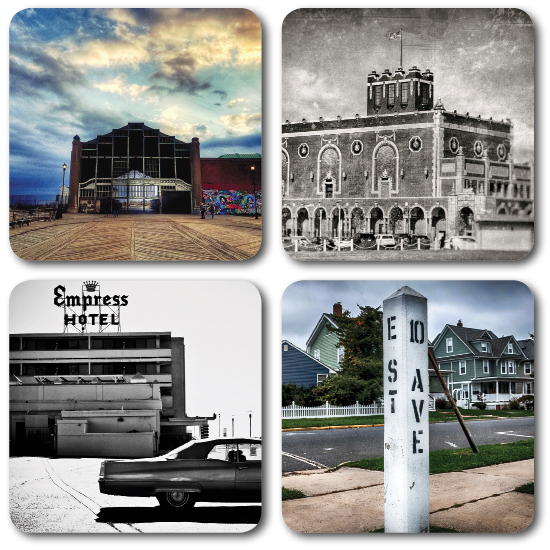 Yep, we're expanding the set! If you ordered The Album Collection Vol 1 from us, we included a bonus, exclusive coaster set (still available with either the vinyl or compact disc configurations of Vol 1). For Vol 2, we've again teamed up with photographer Mark Krajnak for another four designs — consider it Volume 2 of our coaster set, with four more scenes from the Jersey Shore.
As pictured above, images include the Casino on the Asbury Park boardwalk (where Springsteen filmed the 'Tunnel of Love' video), the Paramount Theatre (host to three landmark shows on the 1996 Tom Joad tour), and of course, a crossroads for the E Street Band. The new coaster pack is yours FREE when you pre-order The Album Collection Vol 2, 1987-1996, only from Backstreet Records.
Pre-order The Album Collection Vol 2 now
- April 5, 2018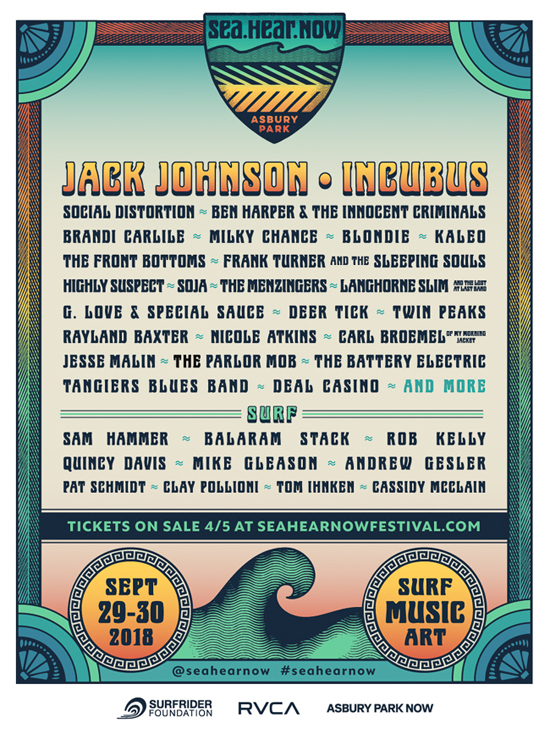 SURF'S UP IN ASBURY: SEA.HEAR.NOW FESTIVAL COMING IN SEPT
Asbury Park, New Jersey has long been on the musical map; with annual events such as Light of Day and the Asbury Park Music & Film Festival, it's finding a prominent spot on the festival map as well. And Asbury will be come a destination once again this fall with Sea.Hear.Now, a two-day music, surf culture and arts festival coming to shore in late September.
Sea.Hear.Now is the brainchild of photographer, filmmaker, musician (and now promoter) Danny Clinch, and its inaugural lineup has just been announced for September 29-30. Jack Johnson and Incubus will headline, along with a deep roster of other performers that should appeal to just about any music fan: Social Distortion, Blondie, Brandi Carlile, Frank Turner & The Sleeping Souls, Jesse Malin, local artist Nicole Atkins, and many more.
Clinch is co-promoting Sea.Hear.Now with C3 Presents, promoters of Lollapalooza, Austin City Limits and others. Tickets go on sale tomorrow, Thursday, April 5, at 10am EST via frontgatetickets.com; visit seahearnowfestival.com/tickets for further info.
- April 4, 2018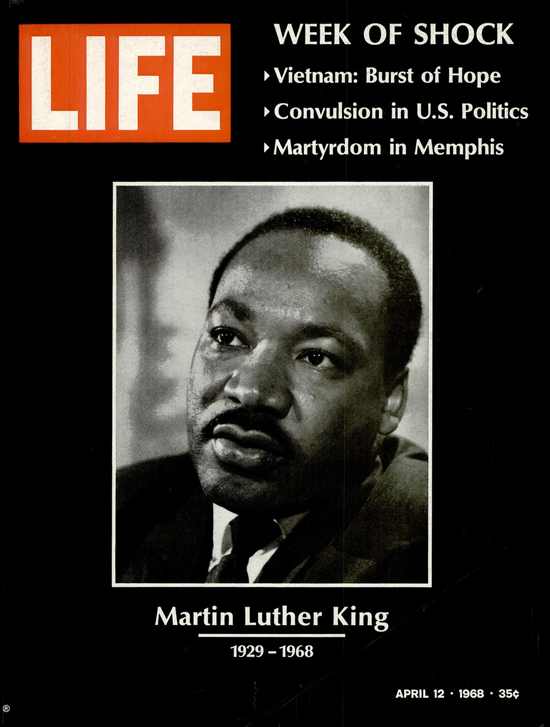 A DARK CLOUD RISING: MLK ASSASSINATED 50 YEARS AGO TODAY
"Well, I don't know what will happen now. We've got some difficult days ahead, but it really doesn't matter with me now, because I've been to the mountaintop... Like anybody, I would like to live a long life — longevity has its place — but I'm not concerned about that now. I just want to do God's will. And He's allowed me to go up to the mountain, and I've looked over, and I've seen the Promised Land. I may not get there with you, but I want you to know tonight that we, as a people, will get to the Promised Land!"
— excerpt from Dr. Martin Luther King, Jr.'s final speech, April 3, 1968

"I believe that Promised Land that Martin Luther King so eloquently envisioned and died for is still attainable, but it's not here and we're not there. It's somewhere up ahead... maybe in my kids' future, maybe in your kids' future. I hope so, but right now we need to protect the tool that will allow us to build the kind of country where future generations will find their opportunities, their rights and their dreams well-protected. That's our job now... Let's stand together in defense of that Promised Land."
— Bruce Springsteen, introducing "The Promised Land" on October 27, 1996
Above, Bruce Springsteen and Clarence Clemons open their June 18, 1988 set at the SOS Racisme benefit concert in Paris with a one-time-only acoustic duet performance of "The Promised Land."
- April 4, 2018

READY FOR THE LONG HAUL PLAYER ONE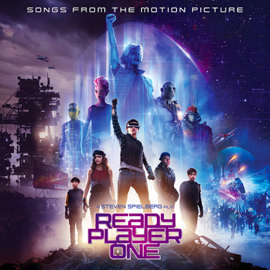 Steven Spielberg's new film Ready Player One, adapted from Ernest Cline's futuristic 2011 novel, is chock-full of 1980s pop-culture references. Therefore it ain't exactly a spoiler to learn that there's some Springsteen music in the mix.
"Stand On It," the outtake from the Born in the U.S.A. sessions originally released in 1985 as the B-side of "Glory Days," is used fittingly during a scene involving a race. Billboard reports that Spielberg himself picked "Stand On It" for inclusion in his film (Cline's novel contains no references to Springsteen or his music).
This isn't the first time that "Stand On It" has been part of a movie soundtrack. The last time it happened was, of course, back in the 1980s. Springsteen's song was part of the soundtrack of the 1986 comedy crime-caper Ruthless People. It also appeared on the film's soundtrack album.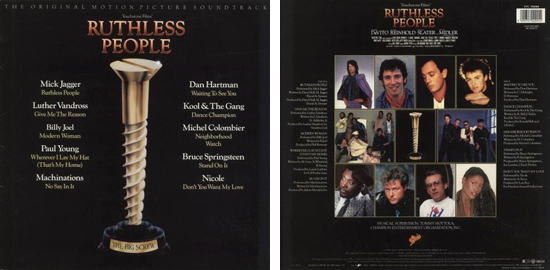 The version used in Ruthless People and released on its soundtrack album was the 1985 B-side version. Ready Player One, however, uses the version of "Stand On It" first released officially in 1998 on Tracks. That version contains a full in-concert-style ending with no fade-out and an extra verse that begins, "Bobby was leadin' the pack, he settled back and he got ready for the long haul...."
Springsteen's Tracks version of "Stand On It" is also included on the digital-only release Ready Player One: Songs From The Motion Picture, which can be purchased by clicking here.
- April 2, 2018 - Shawn Poole reporting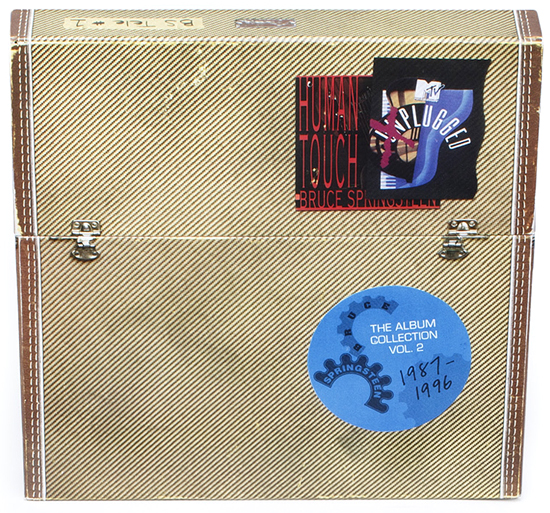 ANNOUNCING THE ALBUM COLLECTION VOL 2, 1987-1996
Second box of remasters follows Bruce's exit off E Street, with a mid-'90s Blood Brothers reunion
In 2014, a long-awaited remastering effort brought us overhauled versions of Bruce Springsteen's first seven albums, packaged together as The Album Collection Vol 1, 1973-1984. This spring, it's time for Volume 2.
May 18 brings us The Album Collection Vol 2, 1987-1996. As the title indicates, the series has skipped 1986's Live/1975-85 (already a box unto itself) and collects Springsteen's albums from 1987's Tunnel of Love through 1995's The Ghost of Tom Joad, along with two crucial EPs from the era. That includes Blood Brothers, in its first vinyl pressing, closing out the largely solo box with an E Street reunion.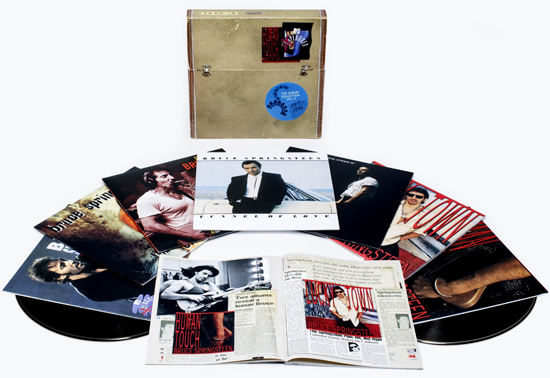 Of course, The Album Collection Vol 2 is not only bringing these Springsteen releases back into print, it's also delivering a quality upgrade — remasters from fresh transfers, courtesy of acclaimed audio engineer Bob Ludwig, working with Springsteen and Toby Scott. As with Vol 1, as stated in today's press release, "the albums were transferred from the original analogue masters using the Plangent Process playback system." And this time, "to maximize audio quality" for albums from the CD era, "1987's Tunnel of Love and 1992's Human Touch have also been expanded across two LPs." (No bonus tracks, to be clear — just better sound from the vinyl.)
So with four sides of wax for Tunnel and another four for Human Touch, we're looking at 10 records in the box, 20 sides in all:
Tunnel of Love (1987) - Double vinyl, to maximize audio fidelity
Chimes of Freedom (1988) - Single 12-inch EP, as originally issued
Human Touch (1992) - Double vinyl, to maximize audio fidelity
Lucky Town (1992) - Single LP, as originally issued
In Concert/MTV Plugged (1993) - Double vinyl as originally issued in Europe
The Ghost of Tom Joad (1995) - Single LP, as originally issued
Blood Brothers (1996) - Single 12-inch EP, on vinyl for the first time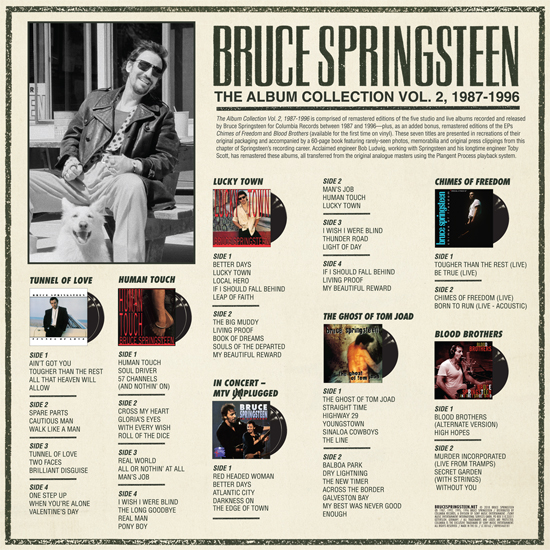 While the remastered LPs will be broken out of the box later for individual sale, the Chimes and Blood Brothers EPs will remain exclusive to the box. The limited edition box set will be numbered, with a certificate of authenticity, and include digital download of the remastered audio files.
A 60-page book, also exclusive to the box, features rarely seen photos, memorabilia and original press clippings from the period.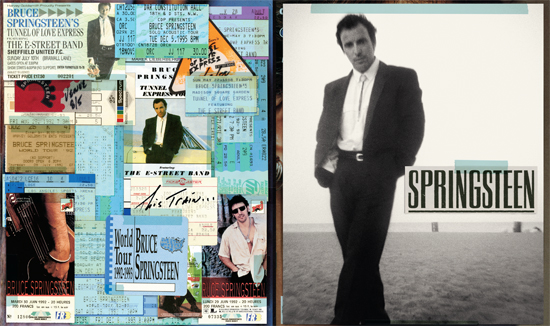 One major release from 1987-1996 left out of The Album Collection Vol 2 box is 1995's Greatest Hits, which is being reissued separately — on red vinyl on April 21 for a Record Store Day Exclusive, to be followed by a standard black vinyl edition on July 6.
For even more from the era, a concurrent digital-only release will tie up some loose ends, gathering B-sides and live tracks from '90s singles that had yet to be made available on digital platforms to date (recall the numerous live tracks from Joad singles, etc.) Further details will be forthcoming.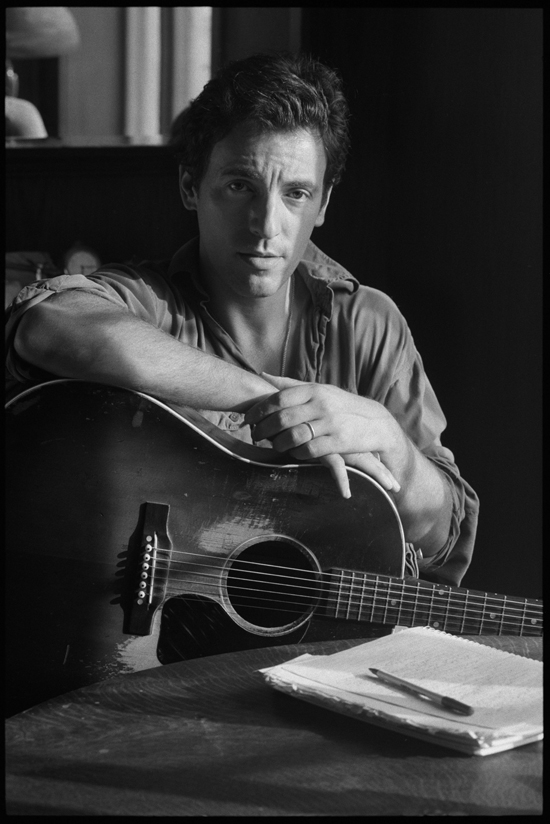 Backstreet Records is now taking pre-orders for The Album Collection Vol 2, 1987-1996, with a pre-order sale price of $240 ($30 off the $270 list price).
- Updated April 2, 2018 - photograph by Pamela Springsteen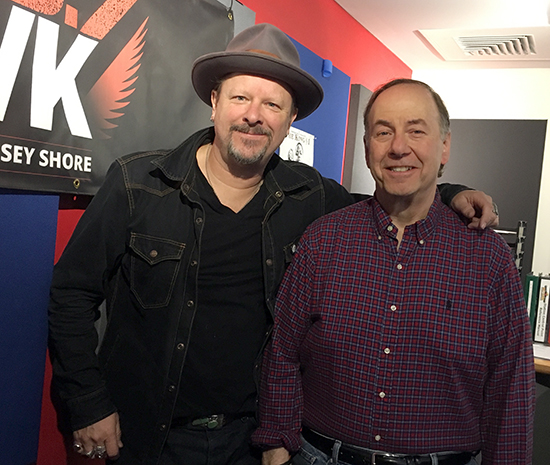 YOU'RE A KEEN ONE, MR. CLINCH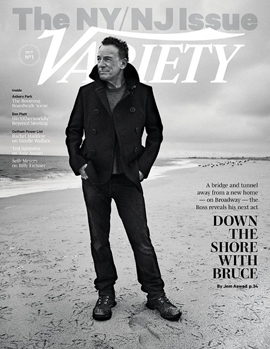 Photographer Danny Clinch visited with host Tom Cunningham on his most recent Bruce Brunch program, March 25, making for some great Sunday morning conversation.
Danny is a key player in the upcoming Asbury Park Music & Film Festival, and who can forget last year's Upstage Jam with Bruce, Stevie, and Southside sharing the stage with the likes of Vini Lopez and Sonny Kenn and numerous players from some golden glory days.
Danny also discusses his photo shoot with Bruce Springsteen for the cover of last fall's Variety magazine (Sandy Hook or bust) and talks candidly about the day that Bruce dropped by the Danny Clinch Transparent Gallery at the Asbury Hotel.
Listen below via Soundcloud. The Bruce Brunch airs Sunday mornings on 105.7 The Hawk at the Jersey Shore.

- March 28, 2018 - Thanks to Tom Cunningham for sharing and Gary Titus for the edit


THE FURTHER ADVENTURES OF OFFICER JAMES ARNAUD
Jim Cummings' Thunder Road short gets a feature-length expansion and major recognition at SXSW
Great news for all of us fans of Officer James Arnaud and his recently deceased Springsteen-loving mother, Brenda. Now we'll get to find out what happened after the funeral.
Independent filmmaker Jim Cummings' seriocomic short film Thunder Road won the 2016 Sundance Short Film Festival's Short Film Grand Jury Prize, and became an internet hit after Cummings secured permission to use Springsteen's "Thunder Road" for its Vimeo release. (Click here to watch Cummings' original single-scene short, and here to listen to our archived 2016 conversation with Cummings about his unique film.)
Earlier this year, Cummings conducted a successful Kickstarter campaign to finance the filming of an expanded, feature-length version of his 2016 short. The feature version, shot in just over two weeks, opens with a newly filmed version of the original short's funeral scene and then moves on to what happens next in the lives of Officer Arnaud (played, as in the short, by Cummings himself,) his family and friends. Cummings tells us that there are additional Springsteen-related moments to be found in the expanded feature, as well.
The 2018 version of Thunder Road just walked away with the Grand Jury Prize for Narrative Feature at the 2018 SXSW Film Festival. The audience loved it, Cummings tells us, and it also made The Hollywood Reporter's list of the ten best films of SXSW 2018.
All of these developments put Cummings in a very good, well-deserved place for negotiating a major distribution deal. Therefore, it's just a matter of time before the feature-length version of Thunder Road will become available for viewing by many more interested fans. When that happens, of course we'll be very happy to help let everyone know. In the meantime, you also can visit Thunder Road's Facebook and Instagram pages to keep updated.
- March 22, 2018 - Shawn Poole reporting


GOLDSMITH X BRAINWASH X BRUCE
If you like the looks of that, imagine it seven feet tall. This one-of-a-kind artwork is a collaboration between photographer Lynn Goldsmith and street pop artist Mr. Brainwash (AKA Thierry Guetta, seen in Exit Through the Gift Shop). It's up for auction now on eBay and tax-deductible, with 100% of the proceeds benefitting Connecting to Cure Crohn's and Colitis.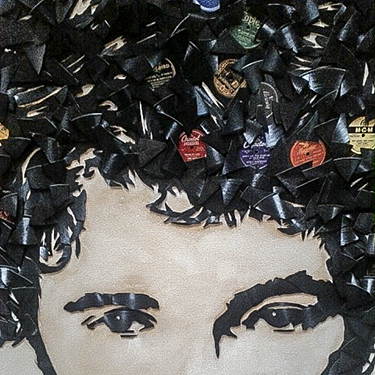 "Mr. Brainwash contacted me about wanting to do something with one of my photographs of Bruce," Goldsmith tells Backstreets, "that he wanted to make out of vinyl records. I let him create this piece from my photo, knowing that it would be used to raise money and awareness for a great cause — I know people who suffer greatly from these diseases."
"It is a unique piece, makinging it even more valuable, as there is only one and no more will be made," she says. As the item description notes, Brainwash used Goldsmith's iconic 1978 portrait of Springsteen as a basis; "the photograph is printed high contrast and then covered entirely with broken vinyl records and mounted onto wood... meticulously cut and carved with hundreds of records and CDs."
"The price is really low on eBay," Goldsmith adds, with a starting bid of $4,000. "Brainwash's work normally starts at $10,000... then there's me... and it's Bruce!"
The auction closes on Monday, March 26. View it here, and learn more about the cause at connectingtocure.org.
- March 21, 2018



BRUCE KEEPS IT ROCKING ON BROADWAY THROUGH DECEMBER 15
For anyone still searching for Broadway tickets, another chance is right around the corner: a third extension has been announced today for Bruce Springsteen's one-man-plus-one-woman show, which will keep the lights on at Walter Kerr Theatre through mid-December. Springsteen on Broadway was originally scheduled for an eight-week run from October to December 2017; this final extension of 81 additional shows starting July 10 will keep Bruce on the boards for well over a year. According to today's press release, December 15 will be the production's "final New York City show."
Tickets for the new run will go on sale a week from today, Wednesday, March 28, at 11am, through Ticketmaster Verified Fan.
As stated on brucespringsteen.net/broadway, where you'll also find a FAQ, "for this onsale, only fans who previously registered [for Verified Fan], and have not purchased tickets, will be eligible to receive an invitation to the onsale. Eligible fans will receive additional information on Monday, March 26 to prepare in advance."
- March 21, 2018 - photograph by Harvey C. Brill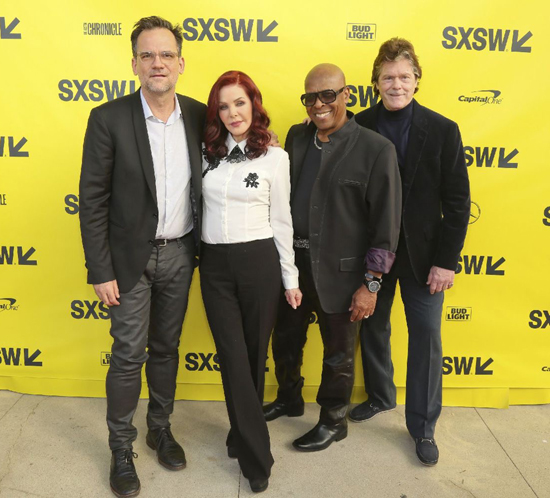 SEARCH ACROSS TEXAS
Elvis Presley: The Searcher's world premiere at SXSW 2018
The world premiere of Elvis Presley: The Searcher took place last week in Austin, TX as part of the 2018 SXSW Film Festival. Director Thom Zimny's two-part film, running a total of 3 hours and 15 minutes, will make its television debut next month on HBO. Both Jon Landau, who's one of the film's producers, and Bruce Springsteen comment extensively on Presley's enduring legacy throughout the film.
Click here to read Shawn Poole's King-sized, on-the-scene coverage of the film's world premiere, including exclusive Backstreets interviews with Zimny, HBO's Kary Antholis, Priscilla Presley, and Jerry Schilling.
- March 20, 2018 - Above, L-R: Thom Zimny, Priscilla Presley, David Porter and Jerry Schilling - Austin, TX, 3/14/18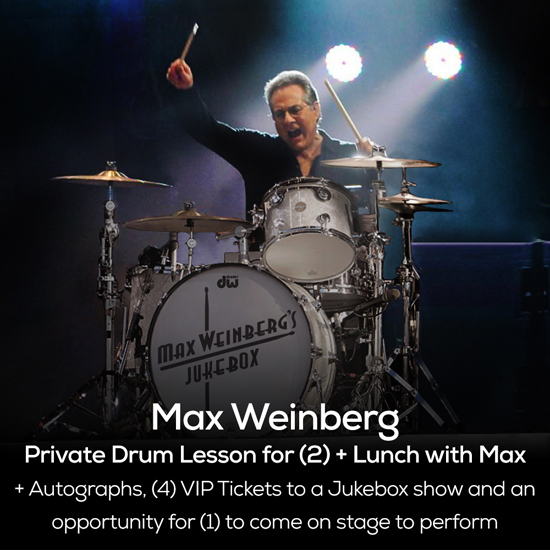 MIGHTY MAX AUCTION TO AID STONEMAN DOUGLAS FAMILIES
Max Weinberg has donated a very special package to the MSD Strong Auction, to help the families of the Marjory Stoneman Douglas school shooting. Along with tickets to his Max Weinberg's Jukebox show, up on the block is a private drum lesson and lunch with the Mighty One, plus signed sticks, a signed drumhead, and the chance to join his Jukebox band on stage. 100% of the proceeds will go to the Parkland, FL victims and their families. Other auction items — and there are many — include a tennis lesson with Jimmy Connors and an Eddie Vedder/Pearl Jam package with meet and greet. The Mighty Max auction ends on March 25th at 5:29 pm Eastern, see all details here.
- March 19, 2018


ENDLESS UKE JOINTS
Our new pal Jim Boggia informs us that his initial performance of Bruce Off Broadway: A Ukulele Tribute to The Boss in January was a sold-out success, and now he's busy lining up some more shows. First up is a pair of NJ/NY dates at the end of this week:
Friday, March 23: Bruce Off Broadway makes its Asbury Park debut at The Saint; click here for tickets.

Saturday, March 24: Boggia's tribute returns to New York's East Village, this time at Mercury Lounge; click here for tickets.
Jim's one clever, funny dude and this show has plenty of laughs for sure, but he's also a very talented musician who can be deadly serious when the music calls for it. For evidence of the latter, check out his ukefied version of "Born in the U.S.A." above. As Jay Lustig's recent NJArts.net profile notes, Boggia is also an auxilliary member of the Fab Faux. Visit Jim Boggia's Facebook page regularly for updates on future Bruce Off Broadway shows and Boggia's other activities.
- March 19, 2018 - Shawn Poole reporting



BROADWAY (#94) REVISITED
Someday we'll look back on this and it will all seem funny
After going dark for most of February, Springsteen on Broadway has returned to the Walter Kerr Theater for its third and for-all-we-know final extension, a 17-week run currently set to wrap in June. All shows are long past sold out — but on Wednesday night, a packed house of contest winners (largely SiriusXM subscribers) was treated to a special performance of Broadway's most unlikely hit since… what was that hip-hop musical about the treasury secretary? That one.
A freak evening squall made for a theatrical backdrop, snow swirling sideways down 48th Street, looking like the work of a film crew. Early arrivals took shelter in the alley beside the theater, where E Street Radio's Jim Rotolo and Dave Marsh were hosting a pre-show broadcast, interviewing fans and some only-in-New-York celebrities. Jenny McCarthy and Donnie Wahlberg stopped by for an on-air chat, while others — Stephen Colbert, Howard Stern, Ricky Gervais, Liev Schreiber, Emmylou Harris — skipped the cold to head inside.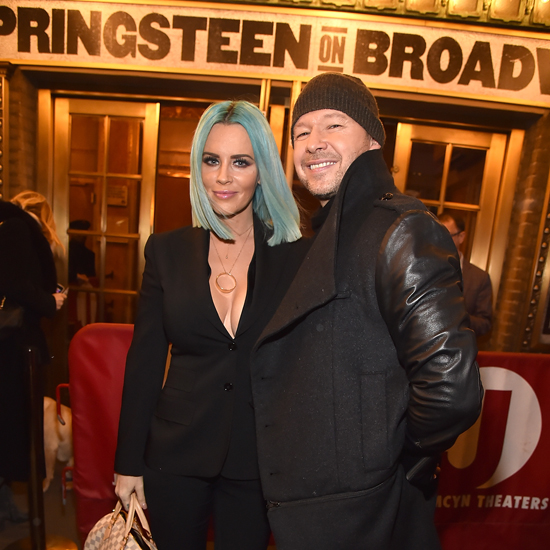 Having caught an early performance last November, I was curious how Broadway had evolved, 94 shows in. The songs, of course, remain the same, with the setlist a constant since opening night — save for a few occasions when Patti Scialfa took ill and alternate songs were swapped in for the two duets.
If you were watching the clock, which nobody was, tonight's performance was actually two minutes shorter (2 hrs 13 mins) than the one I saw last fall. He's streamlined a few sections, expanded and embellished others — and while the pacing of the second half still feels hasty, overall the transitions are smoother, the impressions more developed, the dramatic pauses more dramatically paused. Springsteen has found his comfort zone without getting too comfortable, or foregoing that man-on-a-wire balancing act between scripted and spontaneous. Like a river that knows exactly where it's flowing, he moves through Broadway with confidence and purpose, all while nodding at something deeper roiling below the surface. Before the audience even notices, the stream will suddenly change course, shifting from joy to melancholy, present to past, light to darkness in an instant.
In November it was the darker themes that stood out: the intensity of the childhood stories, the poignant ruminations on aging and loss. "I had no idea it would be so sad," a friend said as we headed home, quietly absorbing what we'd seen.
The sadness is still there — enough, apparently, to reduce Reese Witherspoon to a sobbing puddle of tears — but on second viewing you realize how laugh-out-loud hilarious the show is, right alongside the melancholy, often in the very next breath. Take it from Gervais: "Just came out of @Springsteen on Broadway," he tweeted after the show. "Fucking killed me. Honest & beautiful. What's really annoying is how funny he is too."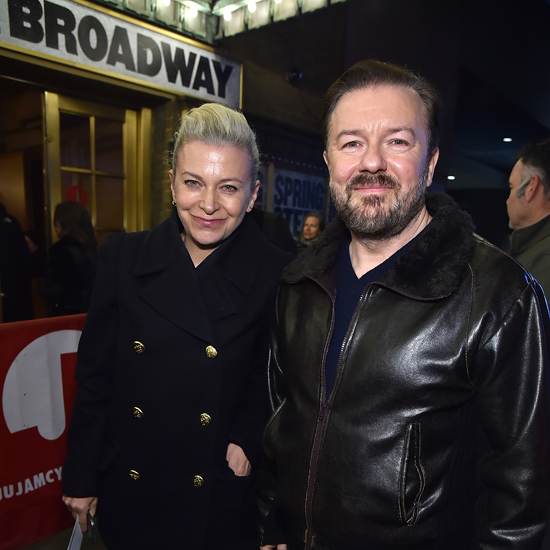 That's not a side of Springsteen that's been front-and-center in his music, at least not since the Ford Administration. Humor isn't the first or fifteenth thing a layman would associate with Springsteen the Rock Icon — he of clenched jaw and troubled gaze, staring out from the covers of Darkness or Devils & Dust. Springsteen the Icon was always dead-serious. But Bruce the Performer was often downright hysterical, blessed with a comic actor's timing and a stand-up's surfeit of material. Think of the legendary raps of the '70s and '80s — shaggy-dog stories and goofy cosmic tales that came off ad-libbed but were in fact carefully honed. (It takes work to sound that off-the-cuff.)
"There I was, one night, just a normal guy," he'd stage-whisper back in 1978, channeling his best Vinnie Barbarino. "And then, there I was, the next night…. Goddamn it, I was still just a normal guy!"
To those lucky enough to hear them, those live raps were an essential part of Springsteen's charming regular-dudeness, a giggly, self-effacing side few casual listeners would've been aware of. It didn't exactly carry through to the records, or to Bruce's mythic public persona. So it's refreshing to find him rediscovering his comic gifts of late, first with the Born to Run memoir, equal parts eloquent and uproarious, and now with Springsteen on Broadway, which aims even more squarely for laughs, but never unearned ones. Having spent years trafficking in hardcore drama, who'd have guessed that Bruce would someday look back and it would all seem funny?
The '70s Sweathog staccato has now dropped to a gravelly murmur, which makes for even stronger comedy. Tonight's finessed jokes landed better than they did in the fall. The great line about having "never worked five days a week until these shows" found an even bigger laugh with the gruff addendum "And I don't like it." A lament about being stuck in the sticks playing "fireman's fairs and midnight-madness supermarket openings," wondering if he'd ever hit the big time, took flight with a new riff on his home state: "Why not me? Because I live in the fucking boondocks. There's no one here. And there's nobody coming down here. There was no 'Jersey, Jersey, Jersey Strong, Jersey, Jersey, Jersey—shit, I invented that."
His physical delivery, too, has been calibrated for the small stage. He recounted his "first show," performing in the backyard for a group of local kids, fake-strumming a newly acquired, still-mystifying guitar. "I slapped it! I shook it! Most importantly, I posed with it!" At this, the boy onstage held his Takamine aloft, in an uncanny impression of Bruce Springsteen. (Memo to Ben Stiller and Jimmy Fallon: Bruce's Bruce is funnier than yours.)
The show's strongest passage was a tender tribute to Springsteen's 92-year-old mother Adele, segueing into a plaintive piano rendition of "The Wish," a Tunnel of Love­–eraouttake that's at once the most obscure song in the set and the most Broadway-esque. With its heart-on-the-sleeve, just-shy-of-sappy sentimentality, "The Wish" feels built for this setting and guaranteed to make anyone born to a mother well up. (By the second verse I was a Reese Witherspoon-size puddle on the carpet.)
One other change since last fall: Springsteen's acknowledgement of his mother's seven-year struggle with Alzheimer's, which he hadn't addressed directly in earlier shows. The word hit the audience like a gut punch, shading his otherwise bright recollections of Adele's joie de vivre. And the sweet chorus of "The Wish" — with the line "I'm older, but you'll know me in a glance" — became all the more poignant.
The duets with Patti Scialfa have been a highlight of the Broadway run, benefitting from pin-drop acoustics and superb sound design. Listening to their voices intertwine, I was catapulted back to 1988, 30 years ago this winter, watching Bruce and Patti share a mic (and a surprising amount of personal space) on "Brilliant Disguise." I remember thinking to my then-17-year-old self, "Someday I hope someone looks at me like those two look at each other." How affirming to watch them sing it again three decades later. But that's the miracle of any Springsteen performance, in any setting: all the years seem to gather into a single night, compressed into that "everlasting NOW" that's sustained Bruce and so many of us for so long. For the lifelong fan, Springsteen on Broadway packs in more history than Hamilton.
Some commenters have expressed surprise at how "non-partisan" the show is, given Bruce's political outspokenness, but I'm not sure that's accurate. The introduction to "Long Walk Home" may not spell it out, but naming names isn't necessary; the message is lost on no one. Tonight's intro was longer and decidedly angrier than it was last fall:
I've seen things over the past year on American streets that I thought were resigned to other, uglier times — things I never thought I'd ever see again in my lifetime. Folks trying to normalize hate…. daily assaults on the truth and the institutions that allow our democracy to breathe and flourish… folks appealing to our darkest angels, calling upon the most divisive, ugliest ghosts of our past. We've come too far and worked too hard, and too many people have paid too high a price for us to allow that to happen…. We're going through a terrible chapter in the battle for the soul of our nation. So… good luck.
Did Bruce know that Gary Cohn, Trump's recently departed economic advisor, was in the audience? No word on whether Cohn enjoyed the show.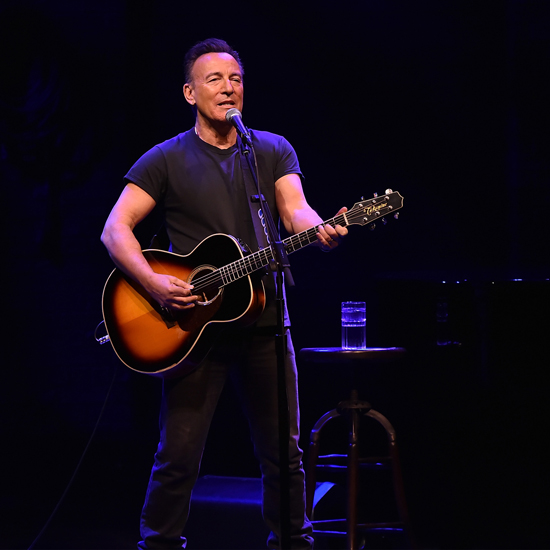 Other moments took on unexpected nuances. The show's dreamlike final section finds Bruce outside his boyhood church in Freehold, where "the words of a very strange but all too familiar benediction" suddenly come rushing back. "These were words that I've chanted so many times—sing-song, bored out of my fucking mind, in an endless drone before class, wearing the green blazer, the ivory shirt, the green tie, the green trousers of St. Rose's unwilling disciples…. But these were the words that came back to me. And they flowed differently."
He's referring, of course, to the Lord's Prayer, which he recites before the show-closing "Born to Run." But it occurred to me that he could just as well be describing "Born to Run" — a prayer he's led thousands of times for the full-throated faithful; an incantation so familiar its words now transcend meaning, if they ever made sense at all (what exactly is a "hemi-powered drone"?); a lyric his entire audience could recite without thinking, and indeed often do, like schoolboys chanting the Rosary — or, for that matter, like lesser rock stars, rotely phoning in the hits.
For 45 years Bruce Springsteen has not only avoided phoning in the hits, but has appeared physically incapable of doing so. For all sorts of reasons (some laid bare in this show), the man can't do anything halfway. So a fan returning to Broadway, five months into the run, could legitimately wonder if the star might feel hemmed in by repetition, caught in his own scripted trap. Can a performer known for spontaneity pull off his trickiest magic yet — making a static setpiece appear genuinely alive out there? Would he tire of playing the same gig, night after night after night?
Tonight's answer: Apparently not. Sure, some moments felt rushed, and at others the narrator seemed distracted or impatient. But the setting clearly suits him, and after so many shows he's developed an easier give-and-take with the theater audience, playing off our silences, our laughter, our pent-up urge to leap from our seats and sing along.
So does it matter that the second act basically turns into a concert? Should it bother us if "Dancing in the Dark" doesn't really fit the storyline? Perhaps you were hoping for more about fame, fatherhood, New York City, the '90s, or a few more songs from this century? Hey, we all were. But this is his story, not ours, even if we each have our own (too long) Bruce Springsteen tale to tell. Besides, he's only got 2 hours and 13 minutes to relay his version.
"The job of the artist is to make the audience care about your obsessions," Springsteen recently told Variety, quoting Martin Scorsese. That's the singular achievement of Springsteen on Broadway. It's less autobiography than a review/revue of obsessions and obfuscations, dreams and disappointments, all adding up to an undeniable reality. And though we may never stand outside St. Rose of Lima Church in Freehold, New Jersey, we know exactly how it looks and feels to that eight-year-old kid with his toy soldiers and horses, and to that 68-year-old homesick troubadour, searching the sky for his beloved copper beech tree, and for the boy he left in its branches.
A perfect show? Not quite. The best a fan could hope for? Impossible. But Springsteen on Broadway really is that good, and five months in, it's only getting better.
- March 16, 2018 - Peter Jon Lindberg reporting - event photographs by Kevin Mazur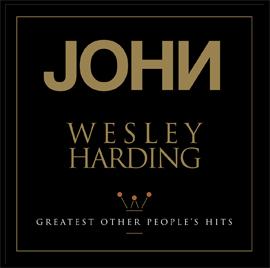 JWH ON VINYL?
GIMME! GIMME! GIMME!
Along with Springsteen's red vinyl Greatest Hits, here's another Record Store Day release to look out for on April 21: on Omnivore Recordings, from the ever-waggish John Wesley Harding, it's a vinyl LP of Greatest Other People's Hits.
Wes is a longtime Springsteen fan (and occsional contributor to Backstreets), who donated a cover of "Jackson Cage" to One Step Up/Two Steps Back: The Songs Of Bruce Springsteen in 1997 and recorded "Wreck on the Highway" live with Springsteen himself in 1994. Both recordings appear on Greatest Other People's Hits.
The digital-minded can obtain both as bonus tracks on JWH's Awake CD, but this is their first time on wax.
- March 14, 2018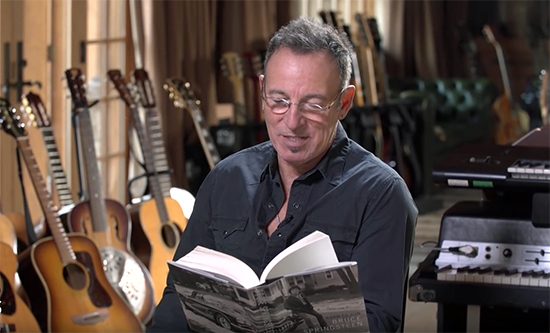 YOU BETTER LISTEN TO ME BABY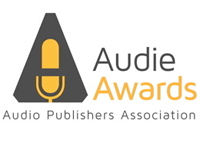 With the success of Springsteen on Broadway, the Oscar- and Grammy-winning Bruce Springsteen moves ever closer to being able to achieve EGOT status (Emmy, Grammy, Oscar, Tony). As long as we've got eyes on the prize, how about an EGOAT? Because the Audies are coming up in May, and Springsteen's 18 hours of reading for the Born to Run audiobook could well get him the "A."
Winners of the 23rd annual Audie Awards, presented by the Audio Publishers Association, will be revealed at the 2018 Audie Awards Gala on May 31 at the New York Historical Society in NYC. Springsteen is up against some stiff competition in the Autobiography/Memoir category, including Al Franken, Trevor Noah, Alec Baldwin, and Hillary Rodham Clinton. Visit theaudies.com for further details.
- March 13, 2018

PITCHFORK'S TOP BOSS BOOKS, NOW ON SALE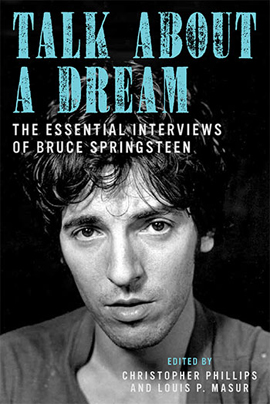 Pitchfork.com has compiled a new list of the 8 Best Bruce Springsteen Books, ones that "manage to find new insights into his career and question assumed narratives in ways that can be enlightening to both the obsessed and the intrigued." Two books by Backstreets writers made the cut: longtime contributor Caryn Rose's Raise Your Hand: Adventures of an American Springsteen Fan in Europe ("captures the beauty and insanity of this community"), and Backstreets editor Christopher Phillips's Talk About a Dream: The Essential Interviews of Bruce Springsteen.
Co-edited with Runaway Dream author (and another frequent Backstreets contributor) Louis Masur, Talk About a Dream is, as Pitchfork's Sam Sodomsky writes, an "essential tome... a goldmine of information, with a particularly revelatory selection on his otherwise underwritten 'wilderness years' in the '90s. It showcases an artist who thinks carefully about his work and discusses it with a critic's attention to detail."
If you're a Springsteen fan who reads this page, we hope you already have Talk About a Dream — but if you don't, here's some extra incentive to pick one up.
To celebrate the hat-tips, Backstreet Records is offering a discount on all in-print books from the Pitchfork list — all 20% off for a limited time.
Born the U.S.A.(33-1/3) by Geoffrey Himes [softcover]
Down Thunder Road: The Making of Bruce Springsteen by Marc Eliot [out of print]
Big Man: Real Life and Tall Tales by Clarence Clemons and Don Reo [out of print]
Raise Your Hand: Adventures of an American Springsteen Fan in Europe by Caryn Rose [softcover]
Talk About a Dream: The Essential Interviews of Bruce Springsteen by Christopher Phillips and Louis P. Masur [softcover]
Bruce Springsteen on Tour: 1968-2005 by Dave Marsh [out of print]
Use the coupon code PITCH20 at checkout to take 20% off the current price on each of these titles, through March 15.
- March 9, 2018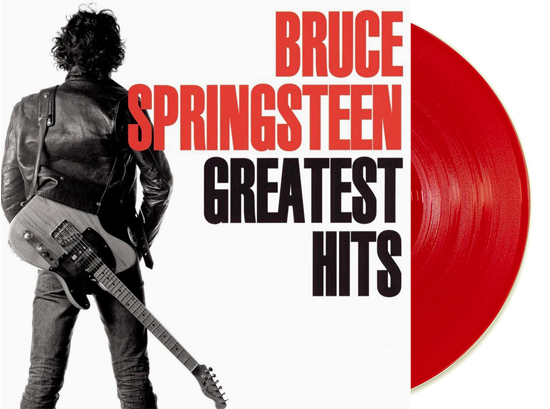 SEEING RED FOR RECORD STORE DAY
Record Store Day is coming up next month, on April 21, and this year's list has a Springsteen entry: 1995's Greatest Hits, remastered and pressed on red vinyl as a RSD exclusive. The original black-vinyl Greatest Hits 2LP is long out of print; the new release's classifcation as an "RSD First" suggests the remastered set will be more widely available a couple months later, likely back to black. While recordstoreday.com currently lists the label as Infamous Records, of course this is an official title from Columbia Records/Legacy Recordings.
Greatest Hits gathers "Streets of Philadelphia" along with 13 more highlights from Springsteen's pre-Joad catalog, as well as four previously unreleased tracks: "Secret Garden," "Murder Incorporated," "Blood Brothers," and "This Hard Land." The sessions for these reunited the E Street Band for the first time since the Human Rights Now! Tour, as captured in the Blood Brothers documentary.
For all those waiting for Volume 2 of the Album Collection vinyl remasterings, we wouldn't be surprised if this release is a shot across the bow.
- March 7, 2018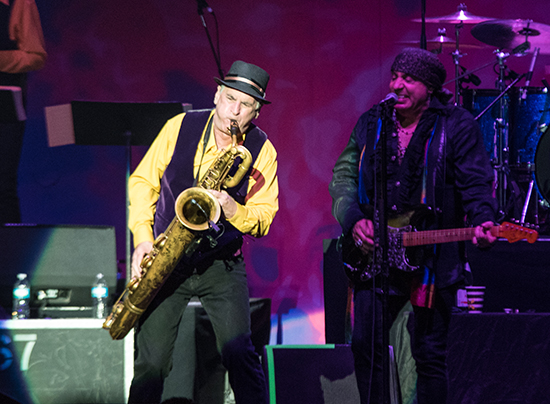 DRIFT AWAY WITH THE KINGFISH
Eddie "Kingfish" Manion, the Jersey Shore's stalwart baritone sax man, was one of those Miami Horns on stage for the landmark August 20, 1984 E Street Band performance released Friday in Springsteen's archive series. A longtime Asbury Juke and current Disciple of Soul, Eddie's certainly no stranger to Springsteen's stage either, backing him up as early as 1976, and later on the Tunnel of Love, Seeger Sessions, Wrecking Ball and High Hopes tours. We asked him for his memories of that hot August night in '84.
I remember playing baritone sax in 1984 with Bruce Springsteen and the E Street Band and Steven Van Zandt at Brendan Byrne Arena — I remember 8/20/84 like it was yesterday.
The call came from Jon Landau and Bruce's management. I think the live album — Bruce Springsteen and the E Street Band, Live/1975-85 — was in the making, and Bruce wanted the horns on "Tenth Avenue Freeze-out" for the recording. Not sure, but I think so.
I remember quite clearly rehearsing with Steve and Bruce right before the show backstage in a small room, learning a new horn arrangement by Miami Steve of Dobie Gray's great R&B rock 'n' roll song "Drift Away." Steve is a musical genius and can arrange and produce on the spot. He's spot on, too! Great musician — hears everything!
I also remember the tremendous applause, love, and respect for Steve Van Zandt as he came onto the stage that night, how special the vocal duet on "Drift Away" between Steve and Bruce sounded. Impeccable performance, and I think we did pretty good too!
[As for how emotional it might have been to have Steve back], my job is to concentrate on my performance and what Bruce wants to hear. There's no time to be looking around. It's always 110% music when I play with Bruce Springsteen. But the applause that night for Steve was reminiscent of another show I performed with Springsteen at Brendan Byrne Arena, and that was the night the "Big Man" Clarence Clemons appeared on stage, June 24,1993.
August 20, 1984 may have been a good sign of some good things to come for me, like the Tunnel of Love Express Tour with the horns and the 2012-2014 Wrecking Ball/High Hopes tour with the E Street Horns. I am proud to be a part of some the E Street Band's finest moments in history, like 8/20/84 and the Super Bowl halftime show in 2009 with the horns.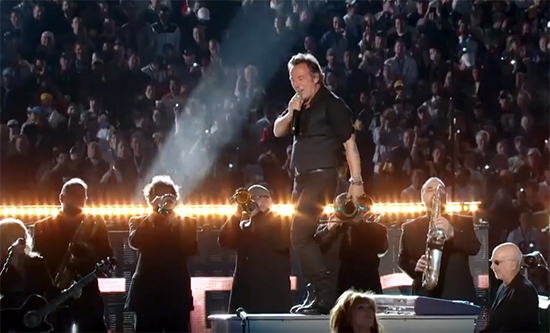 Since 1976, whenever Bruce wanted horns he has always called me — I take it seriously and know the music. My first complete show with Bruce Springsteen and the E Street Band was August 1, 1976 at the Monmouth Arts Center [now the Count Basie Theatre] in Red Bank, New Jersey. I think I did six shows with Bruce and the band there — it may have been called the Carlton Theater at the time. When I am on that stage with the E Street Band, we are all in the same band backing Bruce Springsteen and play together as one.
I was fortunate to play "Drift Away" twice in my life with Bruce and the E Street Band: once on 8/20/84 at Brendan Byrne, and once on 8/18/12 at Gillette Stadium in Foxboro, MA on the Wrecking Ball tour. Both times were magical for me.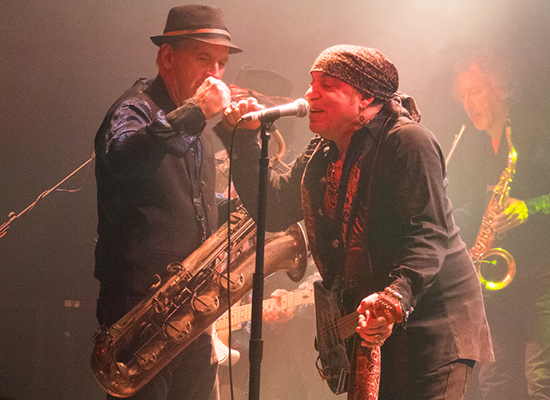 The horn intro to "Drift Away" played on 8/20/84 is very much a signature horn line of Steve Van Zandt's and is very close to the intro to our new version of Steve's original song "I Don't Want to go Home" on Soulfire. I play baritone sax with Little Steven and the Disciples of Soul and am presently horn director for the band, working closely with Little Steven on his horn arrangements.
If "Drift Away" from 8/20/84 sounds good to you and you want to get lost in your rock 'n' roll, then come see myself and Little Steven and the Disciples of Soul on our 2018 tour starting April 29 at the State Theater in New Brunswick, NJ. All proceeds are benefiting the Rock and Roll Forever Foundation created by Little Steven for music education. Tickets are on sale now at littlesteven.com.
- March 6, 2018 - as told to Christopher Phillips - photographs by Jerry Frishman (top) and Geoff Robinson (bottom)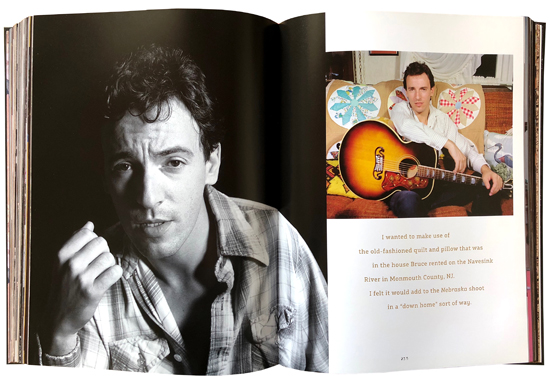 STEFANKO'S "SERIOUS LOVE LETTER"
Frank Stefanko's massive photography career retrospective, Further Up the Road, got a nice spotlight over the weekend in the Los Angeles Review of Books, reviewed in tandem with Afshin Shahidi's Prince: A Private View. Eric Deggans writes:
Ultimately, each of these editions is a serious love letter to fans, filled with enough insider knowledge and details about pivotal events to entice the devoted. But they also provide a look at how Prince and Bruce Springsteen developed the visual styles that became integral parts of their careers — showing times when the biggest superstars in pop music needed little more than a talented collaborator with a sense of adventure and a camera to turn their innate charisma and image-consciousness into iconic photos.
Read: "Behind the Lens: Prince and Bruce Springsteen as Seen Through Their Personal Photographers"
Further Up the Road was printed in a limited run of 1,978 by Wall of Sound Editions. While the boxed Deluxe Edition is sold out, the slipcased Collector Edition can still be obtained through Backstreet Records.
- March 5, 2018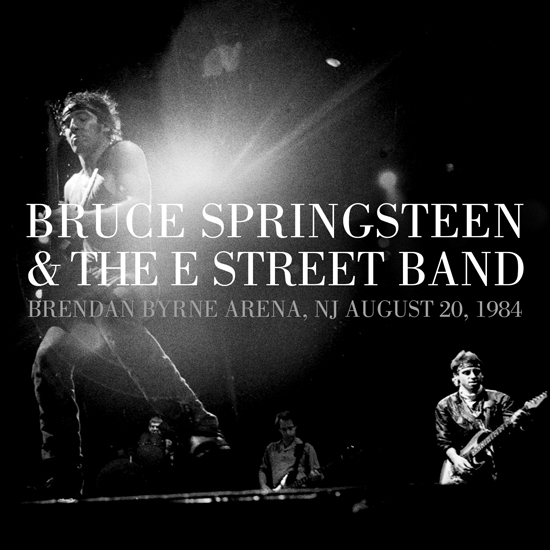 I WANT TO GET LOST IN YOUR ROCK 'N' ROLL
Archive series bookends Meadowlands '84 stand with horn-driven Night 10
When Bruce Springsteen began releasing live performances from his archive, one factor in selecting them was how well-known they were. One might point to the 1980 New Years' Eve show at Nassau Coliseum, an early arrival in the series, or Helsinki 2012, now considered his longest show ever. Today's release, Brendan Byrne Arena, NJ August 20, 1984, is the last of ten nights at the Meadowlands that summer and ranks as one of those special performances. It joins the first night of the residency, August 5 (released in 2015), and reprises many of those numbers from the Born in the U.S.A. tour ("Atlantic City," "Backstreets"). It presents a half-dozen other songs, too, like "Spirit in the Night," "I'm Goin' Down," and "Darkness on the Edge of Town."
But the unquestionable star — heard officially for the first time — is "Drift Away," a cover of the song Dobie Gray made famous in 1973. Sung as a duet with Little Steven, who guested with the Miami Horns, its professional recording has long been a holy grail. More than 31 years after "Tenth Avenue Freeze-out" gave us a taste of the multi-track recording on the Live/1975-85 box, today we get to hear this landmark performance in its entirety.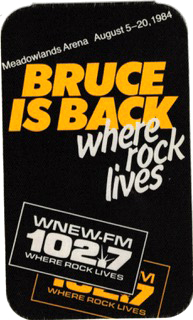 "All ten shows were amazing," author, documentarian, and Backstreets contributor Robert Bader wrote in an email. "The band was playing as well as it ever had, the Nebraska songs were played live for the first time, and the new album hadn't become the overplayed stuff you didn't want to hear. Trust me: 'Glory Days' and 'Bobby Jean' were huge.
"What probably set night ten apart from the other nine was what it seemed to mean to Bruce. It was like he had conquered New Jersey and now owned it. He just looked different at the end of that show: the smile was wider, the laughs were louder, and he just seemed so proud. Sort of like the look of a quarterback who just won the Super Bowl. I had never noticed that before, and I had seen him do some spectacular shows at the Palladium, the Garden, the Spectrum and the Capitol Theater.
"It would be easy to say the best shows were the earliest, but 8/20/84 has something going for it on my personal best list that no other show has. And I'm still not sure I've explained it. I consider 'Drift Away' from that show as one of the top moments I've ever experienced at any show by anybody.
Bader wrote this remembrance of August 20 for Magela Ronda's 2012 Spanish-language book Bruce Springsteen: De Greetings From Asbury Park a La Tierra Prometida. We are happy to include it here, appearing in English for the first time.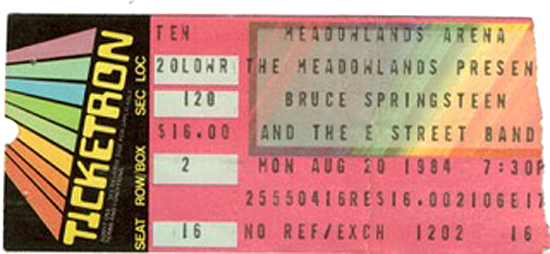 When Bruce Springsteen first started performing in larger venues like sports arenas, his home state didn't have one. So in 1978, as the Darkness on the Edge of Town album expanded his audience across the United States, his shows in New Jersey were at the relatively tiny Capitol Theater and a few lucky colleges. Across the river in New York Bruce was filling Madison Square Garden while also playing shows at the much smaller Palladium. That all changed a few years later when, during the River tour, New Jersey finally got a sports arena. Bruce's six shows in July 1981 served as the grand opening of the Brendan Byrne Arena in the New Jersey Meadowlands. As the arena operated under various names — the Meadowlands Arena, Continental Airlines Arena or the Izod Center — one thing stayed the same. Bruce Springsteen made the place his home. His shows there took on legendary status, and fans from around the world journeyed to New Jersey to see Springsteen in his home arena.
As Bruce and the E Street Band took the world by storm with Born in the U.S.A. in 1984 they passed through their own backyard for ten shows near the beginning of the tour. Nearly a quarter million tickets for these shows sold out as quickly as they could be printed. And everyone wanted to go to the closing night — August 20, 1984. Fans attending the first nine shows were not disappointed as Bruce and the band gave the locals their first chance to hear material from the new album as well as some of the first live performances of the songs from Nebraska. Guests at those shows included Southside Johnny, Gary US Bonds and The Who's John Entwistle. It didn't seem like there was anything special left by the time August 20 rolled around. But the surprises continued on closing night as the Miami Horns joined Bruce for "Tenth Avenue Freeze-out" early in the second set.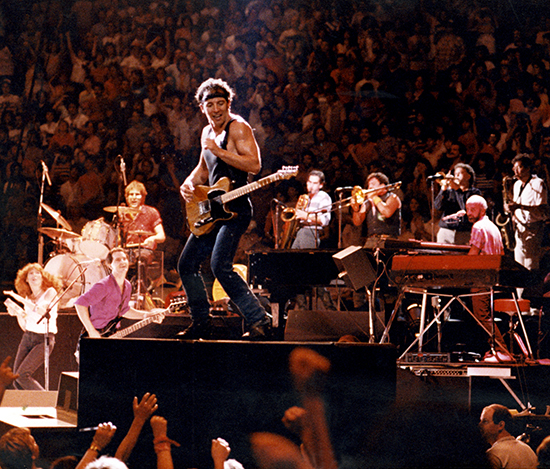 August 20, 1984 - photograph by Robert Bader
From the opening burst of "Born in the U.S.A" it was clear to attendees of any or all of the previous nine shows that something very different was in the air on August 20. Fans tend to hope for something special on closing night but on this evening it seemed that Bruce was hoping for something special, too. And he did not disappoint. Intensity level of a performance is difficult to quantify — especially for an artist who gives incredibly high-level performances so consistently — but those who were there on August 20, 1984 experienced an otherworldly form of Bruce Springsteen.
Bruce did a lot of talking at the show, not an altogether unusual thing for him, but the 1984-85 tour would be somewhat transitional in that what he once called his "fabled monologues" would gradually be phased out of the show. So old fans were seeing the last of something as new fans got a glimpse of what the old days were like. In a particularly heartfelt introduction to "My Hometown" when Bruce said, "…this is our place, this is our town, this is our state …" the packed house at what by this time could have easily been called the Bruce Springsteen Arena felt his emotion for the audience that came to his place as he was heading out to conquer the rest of the world.
But a super-charged emotional Bruce Springsteen concert would be a description that would have been appropriate for any of the first nine shows of that Meadowlands run. The spectacular moment that made August 20, 1984 stand apart as one of the finest concerts Bruce Springsteen ever played came during the encores. When Miami Steve Van Zandt left the E Street Band to become Little Steven, many fans could not imagine the band without him — and in spite of the fine job done by Nils Lofgren in Steve's spot, Steve was missed.
This was the first tour since Steve had joined the band in 1975 to not include him. One of the new songs on Born in the U.S.A., "Bobby Jean" was clearly a tribute to the departed band member and friend. And it was played that night with perhaps a bit more emotion than usual. Bruce knew why. The audience was let in on the secret when Steve came out for an encore of "Two Hearts," a song rarely played without him. It was the return of an old friend — not just for the band, but for the audience as well.
With a little help from the Miami Horns, Bruce and Steve made the moment perfect with a stellar duet on Dobie Gray's 1973 hit "Drift Away." When they reached the line, "Thanks for the joy that you've given me," many in the crowd and on the stage were seen wiping tears from their eyes. Bruce and Steve would reprise "Two Hearts" and "Drift Away" in Memphis, Tennessee later in the tour, but that August night in New Jersey remains one of the most memorable and special shows of Bruce's career.
Also read Erik Flannigan's essay "I Believe in Your Song," on the nugs.net blog.
- March 2, 2018 - by the editors of Backstreets, with special thanks to Robert Bader for reporting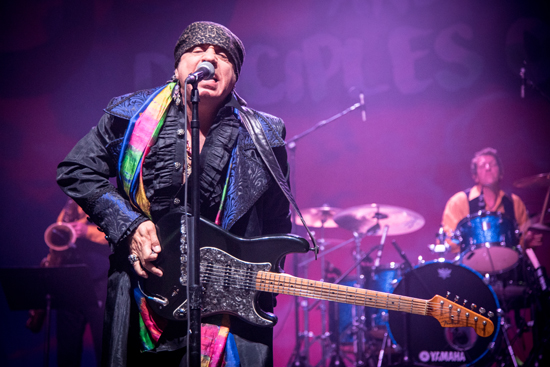 LITTLE STEVEN & THE DISCIPLES OF SOUL'S TEACHROCK TOUR 2018
The Soulfire tour wrapped in December, but you didn't think Stevie was done, did you? Little Steven and the Disciples of Soul are hitting the road again this spring with the Teachrock 2018 tour, which will raise funds for Van Zandt's music education efforts. Tickets go on sale tomorrow, Friday March 2, for the first five dates:
April 29 - State Theatre - New Brunswick, NJ
May 1 - Ridgefield Playhouse - Ridgefield, CT
May 2 - Playstation Theatre - New York, NY
May 4 - The Palace - Albany, NY
May 5 - Mayo Performing Arts Center - Morristown, NJ
All proceeds from the tour will go to TeachRock, the Rock and Roll Forever Foundation's national initiative to bring music curriculum into middle and high schools across the country. On May 6, Stevie will be inducted in to the New Jersey Hall of Fame, after which the Teachrock 2018 Tour will continue with additional dates to be announced.
For complete details and ticket availability, visit littlesteven.com.
- March 1, 2018 - photograph by Jerry Frishman

For older news, visit our News Archives