REVIEW / WHEN THE PROMISE WAS BROKEN: Short Plays Inspired by the Songs of Bruce Springsteen

Have you ever wondered how that "baby" feels about her man "driving all night" just to…buy her some shoes? And what if "drive all night" is in fact a euphemism for…
To find out, read When the Promise Was Broken, an anthology from Smith & Kraus of 13 new short plays, each written by a different playwright, each inspired by a different Bruce Springsteen song.

Given the vivid characters and stories that run (and drive) through Bruce's catalogue, with narratives bursting beyond the brevity of a three-minute record, it's shocking that his canon hasn't resulted in a preponderance of fan-fiction. When the Promise Was Broken is here to fill the void, with a more professional package than we've come to expect from the genre. Editor Joan Herrington, chair of the Theatre Department at Western Michigan University, wrangled an array of playwrights, all at various points in their careers, to respond to one of Bruce's songs in whatever fashion they so desired — a deliberately vague prompt that basically granted free rein. If staged (as some of them were earlier this year at Union College), the plays would be about ten minutes long individually, featuring from one to six actors (a majority fall on the smaller end of the spectrum… and of course there's a Mary!).
Of the 13 plays, two — based on "Highway Patrolman" and "Nebraska" — pick up where their source material left off, chronicling the lives of the same dramatis personæ. With its intimate humanism, the bedrock of much dramatic writing, Nebraska is unsurprisingly the most represented album in the collection ("State Trooper" rounds out this melancholic trio). Perhaps that's the reason that, despite moments of levity, When the Promise Was Broken can be a depressing read.
Only two plays dabble in the comedic. They also happen to be the most overtly navel-gazing — which, in my book, is not a pejorative — delving into how Bruce's music influenced the playwrights. The title of the first describes itself better than I ever could: "a semi-autobiographical response to feelings of sexual inadequacy prompted by repeatedly listening to Bruce Springsteen's 'I'm on Fire' over and over for four hours straight — by Gregory Moss." (We've all been there, am I right?) And the second comes closest to retelling the original song's plot on stage, translating the musical language of "Growin' Up" into a visually theatrical vernacular to juxtapose Bruce's childhood with how it colored the author's upbringing.
Returning to "State Trooper," it's one of three tracks — along with "American Skin" and the aforementioned "Drive All Night" — that are expanded and expounded upon by fleshing out perspectives of characters initially short-shrifted. The rest of the plays (based on "Secret Garden," "Streets of Philadelphia," "Cover Me," "Terry's Song," "We Take Care of Our Own," "When You're Alone") wrestle with general ideas related to their inspirations. A handful comment on Springsteen's macro themes, narratives, and thematic narratives. Others update his treatment of sociopolitical issues for 2019; toxic masculinity — a concept that's turned up in his writing since long before the phrase entered the popular lexicon — is a frequent focus here, though many of the plays still center on the male experience.
These tales feel like they exist in the same artistic world Bruce has been building throughout his career (a Springsteen Extended Universe! The SEU!), full of people desperately yearning — and, usually, failing — to communicate with each other, and with themselves, to find or erect a bridge out of their lonely existential despair. They populate familiar Springsteenian haunts of Americana — bars, cars, and cathedrals. And our brief time with them strikes Bruce's sweet spot: specific enough to resonate deeply, but not too specific as to inhibit anyone's entry in; maintaining a universality that should be able to speak to most people on some level, while not so universal as to become uselessly general.
As with Bruce's oeuvre, figuring out how the plays might fit together to form a larger, interwoven mosaic of joint-meaning — where the whole is greater than the sum of its disparate-yet-cohesively-connected parts — remains open to endless interpretation. To me, this tapestry explores, from a variety of angles, the interrelated concepts of what we leave behind, and what lingers with us forever. What do we do with the histories — personal, familial, communal, societal, environmental, political, etc. — we're born into? When the Promise Was Broken posed a variation of that question to its playwrights, and the plays constitute their answers: how do we handle the history Bruce has left us in his songs? For those of us who've been shaped by them, making further sense of his music can help us in turn make further sense of ourselves, and each other.
- July 19, 2019 - Steven Strauss reportng

JOHNNY CLEGG, RIP
They shared one stage only, at the Stade Houphouet-Boigny on October 9, 1988 in Abidjan, Ivory Coast.
The cause was worthy — expanding awareness of the Universal Declaration of Human Rights, on the 1988 tour for Amnesty International — but as these things tend to go, there were collateral outcomes. One of which was to captivate and expose Bruce Springsteen fans to the infectious, multi-cultural music of South Africa's "White Zulu," a.k.a. Johnny Clegg.
From the time he was 12 years old, Clegg, who died Tuesday of pancreatic cancer, had crossed the line between blacks and whites in the very heart of the apartheid nation, becoming a symbol of hope and resistance through the power of music. For more, read Anastasia Tsioulcas's tribute for NPR, "Johnny Clegg, a Uniting Voice Against Apartheid, Dies at 66."
- July 18, 2019 - Bob Crane reportng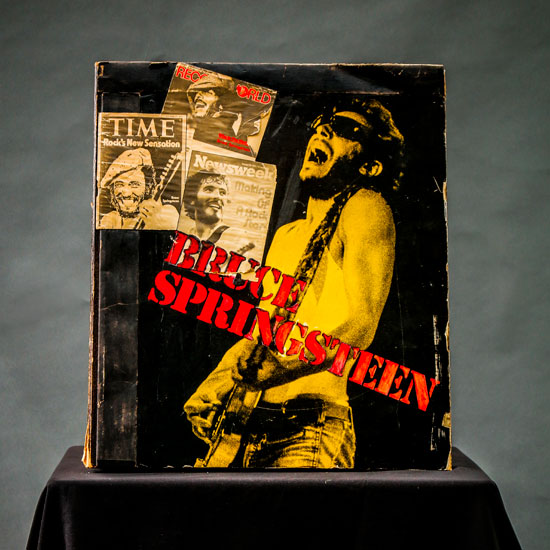 "SPRINGSTEEN: HIS HOMETOWN" OPENING SEPT 29
Exhibition to celebrate a local hero for Freehold's 100th
The Monmouth County Historical Association has announced a historical exhibit opening this fall in Freehold, NJ, just after Bruce Springsteen's 70th birthday, celebrating a favorite son.
Springsteen: His Hometown
will provide a comprehensive look of how Monmouth County, NJ has been thematically woven into Springsteen's music and art throughout his career.
Freehold is Springsteen's original hometown, as he recalled so evocatively in Springsteen on Broadway, and the exhibit's unveiling will coincide with the centennial of Freehold Borough.
The exhibit will display more than 150 unique items, featuring selections from both the Monmouth County Historical Association and The Bruce Springsteen Archives and Center for American Music at Monmouth University. Memorabilia and artifacts on display will include:
Original color poster from The Castiles, Bruce Springsteen's first band that originated in Freehold.
Personal scrapbook [pictured above and below] made by Bruce Springsteen's mother, Adele
1943 High School Yearbook of Bruce Springsteen's mother, Adele.
19th Century Civil War document that includes Alexander Springsteen, of lineal descent to Bruce Springsteen.
1801 document signed by John Springsteen, a patriot of the Revolution and direct ancestor to Bruce Springsteen.
"The MCHA is honored to have the opportunity to exhibit some of the most unique, and some never-before-seen, items that reflect the unparalleled career and life of Bruce Springsteen," says Linda Bricker, President of the MCHA Board of Trustees. "Springsteen remains an essential part of the fabric that comprises the deep history of Monmouth County."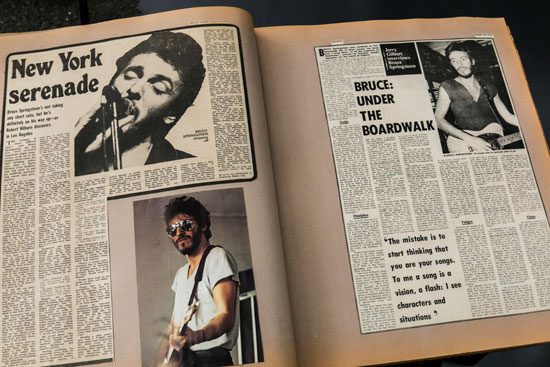 The exhibit is being co-curated by Melissa Ziobro, Monmouth University's Specialist Professor of Public History, and Bernadette Rogoff, Director of Collections for MCHA. "It's wonderful that the MCHA, with an exquisite gallery space in the heart of Bruce Springsteen's hometown, will be hosting an exhibit that will showcase the Archives and explore his life for a wider audience," Ziobro says. "I am so grateful for the team that has come together to make this vision a reality."
Eileen Chapman, Director of The Springsteen Archives, will serve as advisor to the exhibit, along with Robert Santelli, founding director of the Grammy Museum in Los Angeles.
The exhibition will open on September 29, 2019 and run through Fall 2020. Ticket information and sponsorship opportunities are now available at www.SpringsteenHisHometown.com. Proceeds from the exhibit will benefit MCHA, dedicated to preserving and sharing the story of Monmouth County.
- July 17, 2019 - photographs by Mark Krajnak for MCHA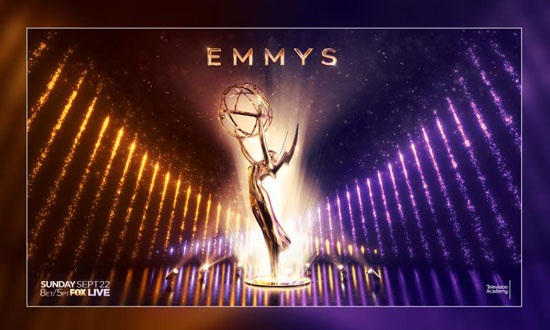 TWO EMMY NOMS FOR SPRINGSTEEN ON BROADWAY
Bruce Springsteen is officially one step closer to an EGOT, with today's announcements of nominees for the 71st annual Emmy Awards. Springsteen on Broadway, which came to small screens via Netflix in December, received an Emmy nomination for Best Variety Special. The Netflix special also earned a nomination for Thom Zimny, in the Directing for a Variety Special category.
The competition:
Variety Special (Pre-Recorded)
Carpool Karaoke: When Corden Met McCartney Live From Liverpool (CBS)
Hannah Gadsby: Nanette (Netflix)
Homecoming: A Film By Beyoncé (Netflix)
Springsteen on Broadway (Netflix)
Wanda Sykes: Not Normal (Netflix)

Directing for a Variety Special
Carpool Karaoke: When Corden Met McCartney Live From Liverpool, CBS (Ben Winston)
Homecoming: A Film By Beyoncé, Netflix (Beyonce Knowles-Carter, Ed Burke)
Live in Front of a Studio Audience: Norman Lear's 'All In The Family' and 'The Jeffersons,' ABC (James Burrows, Andy Fisher)
Springsteen on Broadway, Netflix (Thom Zimny)
The Oscars, ABC (Glenn Weiss)
As the Hollywood Reporter notes, Springsteen's potential EGOT status — that's boxes checked for Emmy, Grammy, Oscar, and Tony — would come with a small asterisk, as Springsteen's special Tony Award for Springsteen on Broadway was honorary and non-competitive. But he'd be in good company, as he would "join the ranks of other non-competitive EGOT winners including Barbra Streisand, Liza Minnelli, James Earl Jones, Alan Menken, Harry Belafonte and Quincy Jones."
But hey, we can pick those nits later if need be. It is, as they say, an honor to be nominated — congratulations to Bruce Springsteen, Thom Zimny, and everyone else who worked to bring Springsteen on Broadway from stage to screen. The 2019 Emmy Awards will air September 22, live on FOX.
- July 16, 2019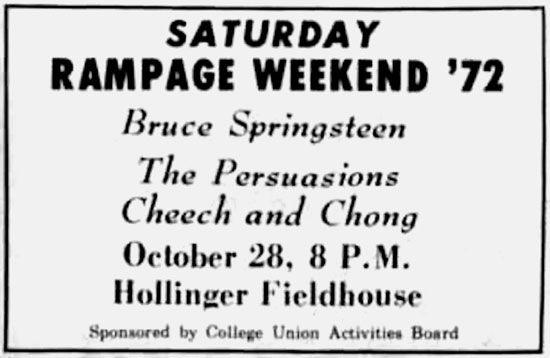 YOUR VOICE COMES CLEAR AND TRUE
Jerry Lawson of The Persuasions, 1944-2019
Jerry Lawson, the original lead singer, arranger and producer for the great, mainly a capella group The Persuasions, died at 75 last Wednesday. On October 28, 1972, Bruce Springsteen & the E Street Band played their first-ever official gig together at West Chester State College (now West Chester University) in West Chester, PA, on a triple-bill below The Persuasions and headliners Cheech & Chong. (The show also marked Bruce's first known performance in Pennsylvania and the first onstage appearance of Springsteen's now-iconic Telecaster/Esquire hybrid, the guitar featured on the cover of Born to Run.)
Lawson left The Persuasions in 2003, so he wasn't in the version of the group that backed Little Steven & the Disciples of Soul on Soulfire's "The City Weeps Tonight" and "I Don't Want to Go Home." In 2004, however, Lawson and fellow Persuasions founding member Jimmy Hayes recorded a beautiful, unique version of "Born to Run" on the now-out-of-print A Tribute to Bruce Springsteen. Listen here:
- July 15, 2019 - Shawn Poole reporting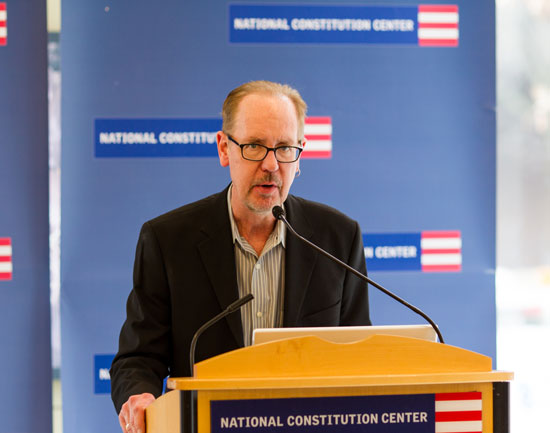 JIM HENKE, 1954-2019
We at Backstreets were saddened to learn of the recent passing of James Henke, former Rolling Stone writer/editor and chief curator for The Rock & Roll Hall of Fame and Museum from 1994 through 2012. Only 65, Henke died after a long struggle with dementia.
It was during Henke's term as curator at the Hall of Fame that the exhibit Bruce Springsteen: From Asbury Park to the Promised Land had an immensely successful run of almost two years in Cleveland, beginning in 2009, followed by another successful run at Philadelphia's National Constitution Center in 2012. Henke (pictured above speaking at the NCC) conducted an extensive interview with Springsteen that centered around the exhibit's artifacts, audio excerpts of which could be heard at listening stations during the exhibit's Cleveland run. Jim generously allowed Backstreets to publish a transcript of that interview in full, which appeared in issue #89.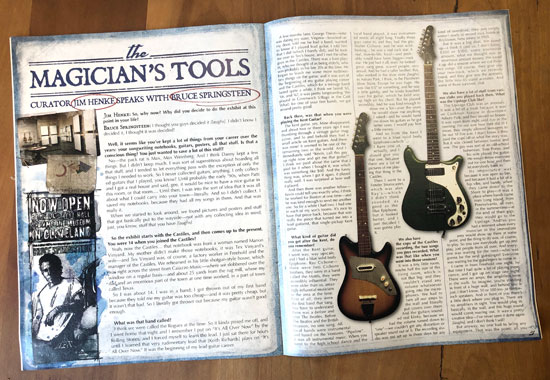 Henke also was the author of 1988's Human Rights Now!: The Official Book of the Concerts for Human Rights Foundation World Tour, featuring much Springsteen-related material, of course. And during the Human Touch/Lucky Town period, Jim Henke conducted three lengthy conversations with Springsteen in Los Angeles and New York. Published in the August 6, 1992 issue of Rolling Stone, his "Bruce Springsteen: The Rolling Stone Interview" remains one of the most revealing Q&As with the artist ever, in which Springsteen first discussed publicly and in detail his decision to break up the E Street Band, his experiences with therapy, the end of his first marriage, and his relationship with Patti Scialfa.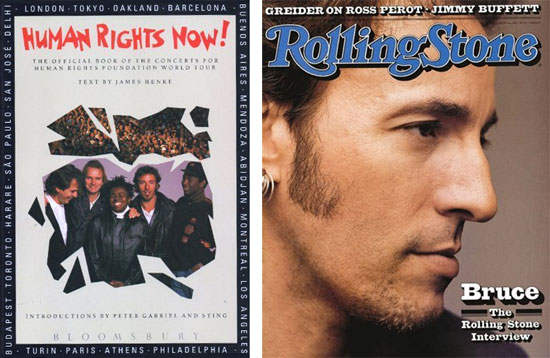 Click here to read the Rolling Stone obituary for Jim Henke, which outlines many more of his notable accomplishments as author, editor and curator. We at Backstreets extend our deepest condolences to all who knew and loved Jim, as we remember and appreciate his kindness towards us.
- July 12, 2019 - Shawn Poole reporting - photograph by Michael Zorn/Rock & Roll Hall of Fame (Archives)

KEEP YOUR EAR CLOSE TO THE PHONE
Springsteen calls to chat, announce Western Stars film, and say thanks
"I was just listening to the show, driving home from the gym, and I thought I'd call..." That's how Springsteen's impromptu 10-minute phoner started this morning, as he surprised Live From E Street Nation hosts Dave Marsh and Jim Rotolo on E Street Radio.
After a bit of chat about playing with Garry Tallent on Saturday night, Springsteen made some news: "We made a film of the Western Stars album," he said, likely explaining the performance footage we've seen in Thom Zimny's recent videos for "Tucson Train" and "Western Stars." "I play the record start to finish, along with some other things," Bruce continued. "Because we knew we weren't going to tour, so I was looking for a way to get some of the music live to an audience, so we figured that was the best way to do it.... It was a great time, we look forward to getting it to fans when we can."
As for Western Stars, Springsteen is not only "really proud" of the album itself, he's also excited by the response it's gotten: "Because I thought the record was a little off to the left, and I really didn't know what kind of response it was gonna get.... Seeing how the record was received, it was very exciting, and it made us look for how we could further that experience for the fans, without going out and playing live right now — because I'm still working on some other things, too."
Springsteen expressed a deep appreciation for his "great audience," one that "really follows me where I need to go.... They're not stuck in a rut, they don't only want to hear a specific group of songs, they're really adventurous — if I keep the quality of what I'm doing up, they're adventurous as far as where I want to go. And that's the greatest gift an audience can give an artist, is room to be who he is, create what he feels, and to know that you have open ears when you put that out. So it was very, very exciting to see the reception that the record got from the fans.
"If you want to be great," Bruce concluded, "you need to have a great audience. And it's something I'm very proud of over the years, how we developed together and how we've grown together."
Listen to the whole conversation below.
- July 10, 2019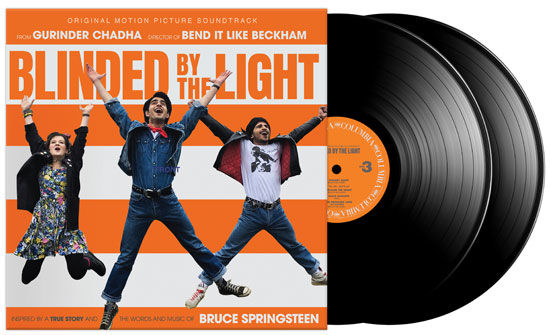 BLINDED SOUNDTRACK DUE NEXT MONTH FROM SONY LEGACY
"I'll Stand By You" leads a handful of Boss rarities
The first bit of buzz to come out of the Sundance premiere of Blinded By the Light was that the film is a joyful success. The second bit, following very closely on those heels — at least for Boss diehards — is that the movie finally gives Bruce Springsteen's "I'll Stand By You" its moment in the sun. As we've recounted here before, Springsteen originally offered the original song to director Chris Columbus for the first Harry Potter movie, but the song went unused. In 2016 Bruce told the BBC's Simon Mayo that he still had hopes for the song to make it into theaters: "At some point I'd like to get that into a children's movie of some sort. It was a pretty lovely song."
With Blinded By the Light being just the right vehicle, "I'll Stand By You" will be officially released in August on the film's Original Motion Picture Soundtrack from Sony Legacy.
Due August 9 on CD and August 30 on 2LP Vinyl, the Blinded soundtrack is, as you'd imagine, heavy on the Springsteen (though it's filled out with additional songs from the era and dialogue from the film). Along with standards like "Born to Run," "Badlands," and the film's title track, of particular interest for fans will be a couple of rare live recordings: the No Nukes debut of "The River" from 1979 (previously issued in the nugs.net live series, this will be its first time on vinyl) and Bruce's powerful, solo-acoustic rendition of "The Promised Land" from Veterans Day 2014, broadcast on HBO's Concert For Valor.
You listen in advance to that live "Promised Land" now on Apple Music.
For additional details and full track listing, see the Blinded By the Light soundtrack in the Backstreet Records shop, where pre-ordering is available for both CD and vinyl. The film sees wide theatrical release on August 14.
- July 9, 2019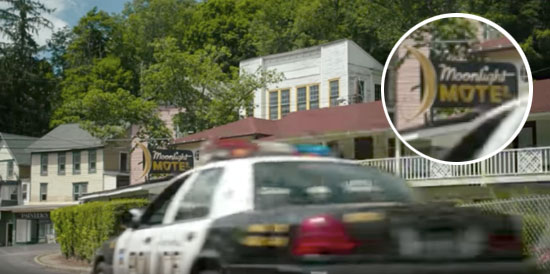 NOTHING BUT AN EMPTY SHELL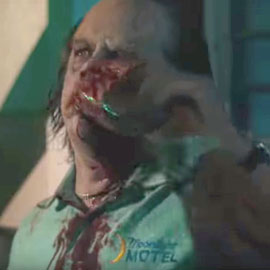 News Flash! Moonlight Motel overrun by zombies!
Jim Jarmusch's The Dead Don't Die, a fun summer horror-comedy-social-commentary mashup, has much to recommend it, including Tom Waits in a major role and a lawman played by Bill Murray. In addition, Springsteen fans will spot a familiar place in the film's sleepy, fictional little town: the Moonlight Motel.
Talk about giving a whole new layer of meaning to a Springsteen song... now we know the real reason the place is "boarded up and gone like an old summer song." After all, zombie infestations tend to hurt business a bit. Even former motel owner Danny Perkins (Larry Fessenden, right) can't help but help himself to the flesh of a guest or two. Still a nice shirt, though.
The Dead Don't Die is currently screening nationwide. Click here for more information.
- July 9, 2019 - Shawn Poole reporting


A HOT NIGHT AT THE STONE PONY
Summer Stage, July 6, 2019
In the middle of the first heat wave of the summer in New Jersey, things got even hotter at The Stone Pony on Saturday night. The humidity hung in the air all day, and the skies even opened over Asbury Park for a brief rainstorm at one point in the afternoon. All eyes were on the skies as the day wound down — there was a rock 'n' roll show to put on.
Southside Johnny and the Asbury Jukes were scheduled for the Pony's outdoor Summer Stage, along with Garry Tallent of the E Street Band, and Remember Jones, to add a little firecracker pop to the Fourth of July weekend on the Jersey Shore. Weather outlets were consulted, soundchecks were delayed, but by the time Garry (backed by his pals The Delevantes) hit the stage, some sun was peeking out to give everyone hope that the show would go on.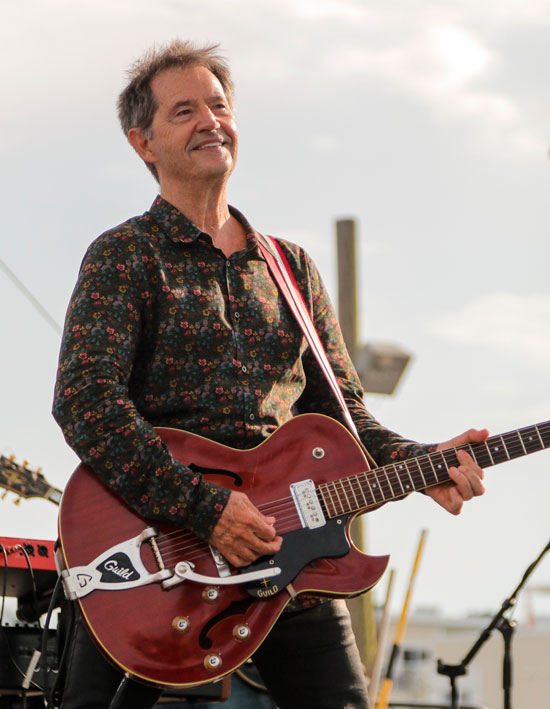 Garry, a Neptune, NJ native, was playing in support of his forthcoming new album, More Like Me, his follow-up to Break Time. With the new material inspired by early '60s garage rock, the sound mixed a bit of rockabilly with a lot of great guitar work. The crowd was already enjoying Tallent's talents, but then things went to another level when Garry asked a friend to come out to help with vocals on a new song.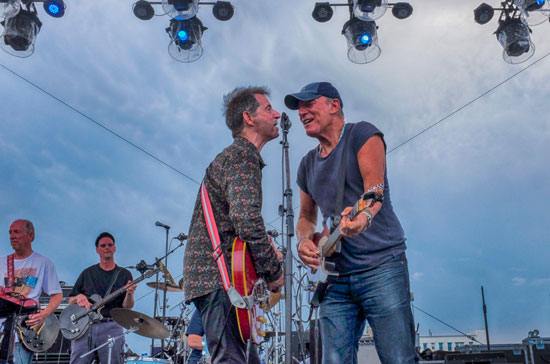 Clad in a dark T-shirt, dark jeans, scuffed work boots, and a faded New York Yankees cap, Bruce Springsteen came out to cheers. Previously, he had been taking in Garry's show stage left, nodding along in rhythm to his friend's tunes. Saying it was his shortest new song, Garry started off "Dirty Rotten Shame" and Bruce followed in step [VIDEO]. The crowd loved seeing these two old friends jamming on a Stone Pony stage.
It had been eight years since Bruce had performed at the Pony (though he and Patti did attend the memorial there for long-time Asbury Park music supporter Kerry Layton in June). This would have been enough for the packed crowd, but it was going to get better.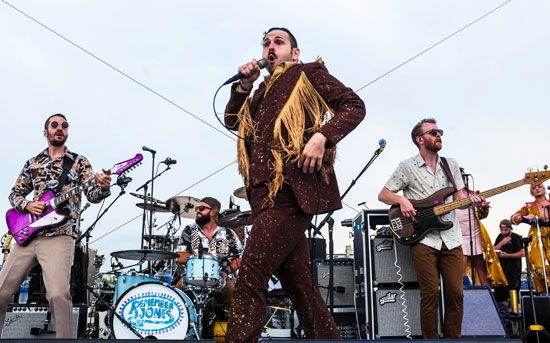 After a brief intermission, one of Asbury Park's hottest acts, Remember Jones, took the stage for a shortened set. Remember Jones, fronted by Anthony D'Amato, is a multi-piece unit that boasts a horn section, two keyboard players, backup singers, and all the energy you can ask for. Their retro outfits looked like they would feel right at home in the new film set in the late '60s, Once Upon a Time In Hollywood. Near the end of the Remember Jones set, the sky had turned cloudy again, but their version of "Let the Sunshine In" made the early evening brighter.
Of course, rippling across the crowd was the question of whether Bruce would join his old buddy, Southside Johnny, on stage. The last time they joined forces was for the "Upstage Jam," held during the Asbury Park Music & Film Festival in April 2017. Would it happen again?
The Jukes came out blazing, starting off with "I'm Not That Lonely,"leading into "All I Needed Was You" and "Woke Up This Morning." Then, after about 12 songs, Johnny said those magic words: "Come on out, Boss Man!"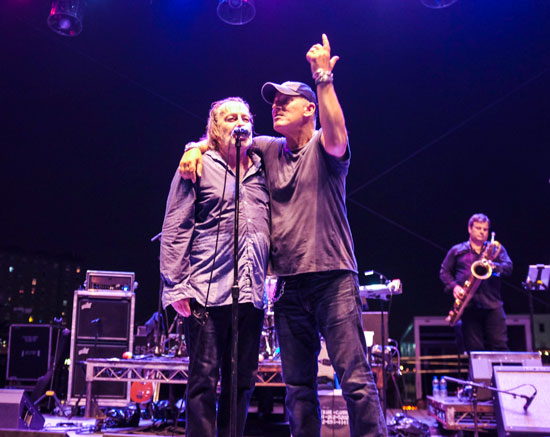 The packed crowd let out extended variations on "Bruuuce!" and grew even more excited as The Jukes and Bruce launched in to "Sherry Darling," a favorite Springsteen summer song, followed by a special version of "The Fever," and an animated "Talk to Me."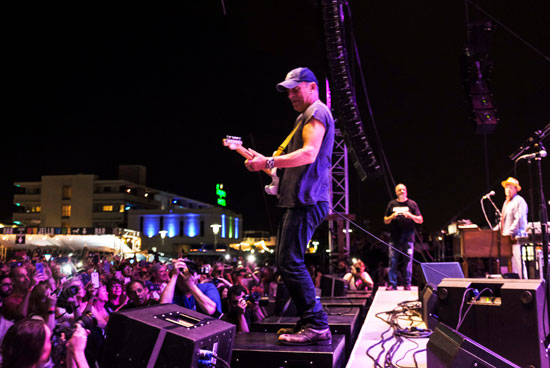 In all, Bruce would play seven songs (full setlist below) with Southside and the Jukes. This didn't seem to be a show-up-and-jam show, this was a full-on performance. Bruce wasn't the only guest on stage; singer/songwriter Lisa Lowell, a long-time friend of the Jukes, came up for the encore to add guest vocals on "Until the Good Is Gone" and "Got to Be a Better Way Home."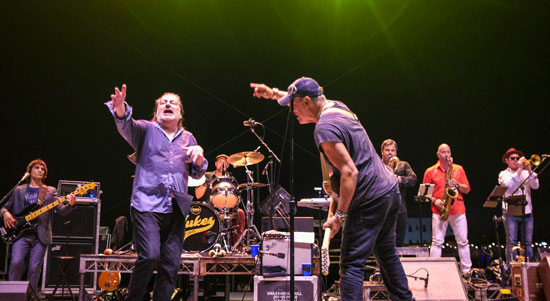 This hot day turned into one of those magical Jersey Shore nights, the kind that people who missed it will wish they had been there (or might say they had been) and the people who were there will always remember. The rain held off, the crowd stayed strong, and music filled the boardwalk. Pretty much a perfect summer night in Asbury Park.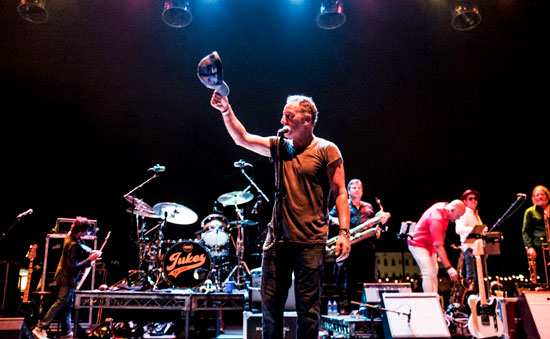 Southside Johnny & The Asbury Jukes Setlist for July 6, 2019
I'm Not That Lonely
All I Needed Was You
Woke Up This Morning
Love on the Wrong Side of Town
Broke Down Piece of Man
All I Can Do
Strange Strange Feeling
All the Way Home
Happy
Key to the Highway
Harder Than It Looks
Ride the Night Away
Sherry Darling [VIDEO pt 1] [VIDEO pt 2]
The Fever [VIDEO]
Talk to Me [VIDEO]
Kitty's Back [VIDEO]
I Don't Want to Go Home [VIDEO]
Mona/Not Fade Away [VIDEO]
Having a Party [VIDEO]
* * *
Until the Good Is Gone
Got to Be a Better Way Home
with Bruce Springsteen
- July 7, 2019 - report and photographs by Mark Krajnak/JerseyStyle Photography - thanks to Stan Goldstein for the video clips


FOURTH OF JULY WEEKEND, ASBURY PARK
Garry, Johnny, and Bruce — live at the Pony, and on E Street Radio tonight
Southside Johnny & the Asbury Jukes' Fourth of July bash is an annual tradition at the Stone Pony, and this year there were extra fireworks: with Garry Tallent opening and special guest Bruce Springsteen on the Summer Stage to play both with Garry and an extended guest set with the Jukes, last night was a real Saturday night special. We're talking "Sherry Darling," "Kitty's Back," "The Fever," "Talk to Me," and more. Full report with photos to come; in the meantime, you can hear it for yourself: tune in to E Street Radio tonight at 8pm ET for a reairing of last night's live broadcast.
- July 7, 2019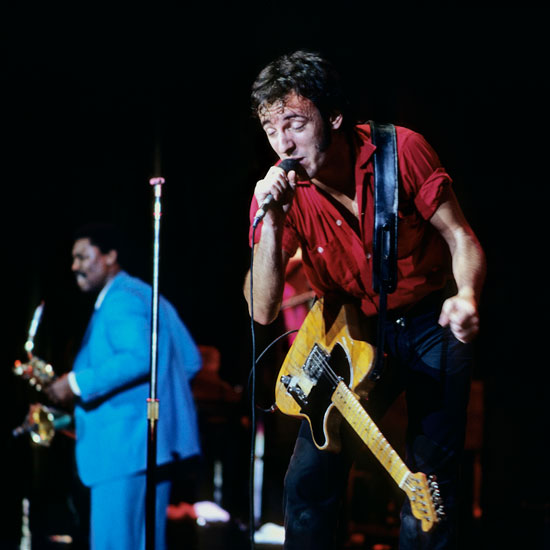 TWO SHOWS ARE BETTER THAN ONE
A 1980 two-fer: 12/29 drops, along with a new Jon Altschiller mix for 12/31

Few Bruce Springsteen dates go together like the last two of 1980, the second and third nights of his New Year's run at Nassau Coliseum. Maybe that's due to the infusion of holiday spirit, the wide range of material, or the shows' marathon running times: 12/31/80, an early entry in the
live archive series
, was believed for decades to be the longest one Springsteen and the E Street Band ever performed. Today's live release takes us back to Long Island for the stand's middle night,
Nassau Coliseum, New York, 12/29/80
.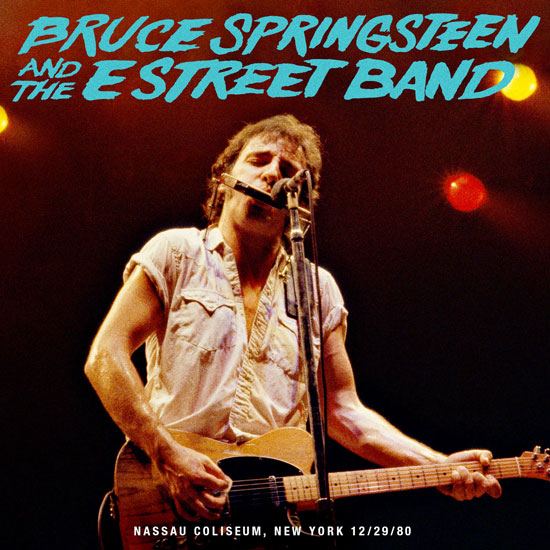 It's the third complete River-era recording in the Nugs line-up (along with Wembley Arena, June 5, 1981). Opening with the tour premiere of "Night," the new 35-song set features 12 songs from The River ("Stolen Car," "The Ties That Bind"), a bevy of newly-introduced covers ("Who'll Stop the Rain," "This Land is Your Land"), and a breakout performance of "Incident on 57th Street," one that fans probably identify the most from this date.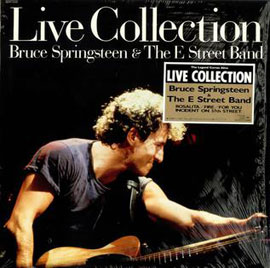 The song's sole River tour nod was its last until 1999; simpatico with more recent material, the '80s farewell to Spanish Johnny and Puerto Rican Jane remains an E Street Band highlight. Like three other songs from 12/29, "Incident" played a role in the making of the Live/1975-85 box set, though indirectly: left out of the proper 40-song sequence, the live recording became a B-side in Europe and North America. And in Japan, the track anchored a four-song EP called Live Collection. Now restored to its origins, "Incident on 57th Street" flows into "Rosalita," just as it did on Springsteen's 1973 LP The Wild, The Innocent & the E Street Shuffle.
Moreover, 12/29 features seven songs that don't appear on 12/31, like "Tenth Avenue Freeze-out," "For You," and "Point Blank," making it a fine complement to one of Springsteen's most legendary concerts. These performances were complex undertakings, packed with songs from seemingly every corner of the pop, folk, and rock universe. And if the coming new year caught anyone in a reflective mood, it was Springsteen himself: here, he sets up "Independence Day" and "Stolen Car" with spoken introductions that go straight to the heart of his River-era writing.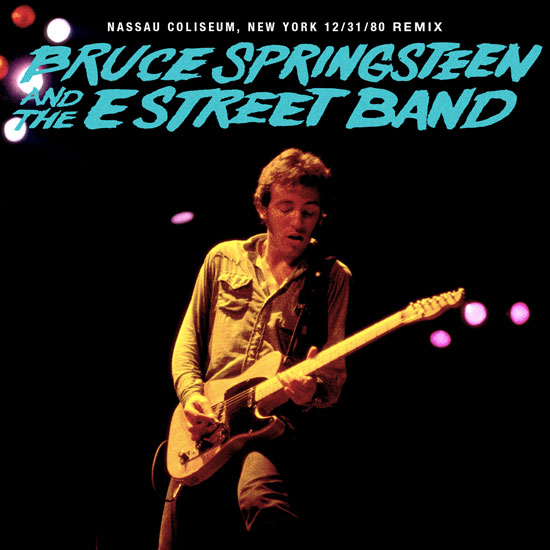 The New Year's Eve performance initially emerged from nugs.net in 2015, the series' fourth release overall. That first version lacked the clarity of later releases; it sounded fine, but was it a quantum leap over even the best source that had circulated among fans? No.
Whatever the motivation to circle back, a new 2019 mix for 12/31/80, also released today, corrects a modest flaw in the archive. With Nassau Coliseum, New York 12/31/80 Remix, the 38-song performance now features sound that maximizes the potential of the multi-track tapes. In addition to a new mix by Jon Altschiller, the 2019 transfer for 12/31 was done using Plangent, a process that corrects a range of imperfections and yields more accurate fidelity. In terms of sonics, that brings this version in line with where the archive series is today.
But it's not a re-do entirely. Archive watchers will remember a second version for the 2013 Rome recording, but that initial release was a true misfire, necessitating a remixed fileset from Nugs as a replacement. This month's surprise second take of New Year's Eve '80 requires a fresh purchase, although anyone who bought the original version released in 2015 can stream the new files for free in the "My Stash" section of the nugs.net mobile app (desktop streaming requires a separate subscription).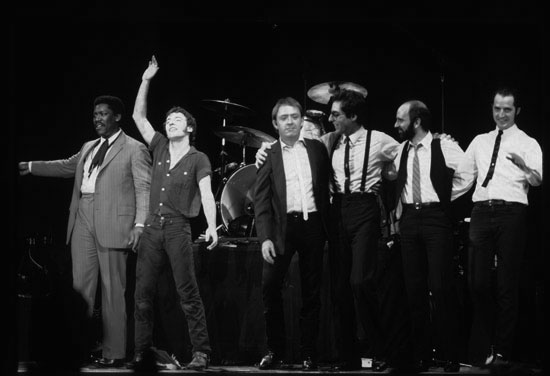 It's worth noting that the 12/31/80 concert most likely never actually held the record for the longest of Springsteen's career. Until Helsinki in 2012, that honor belonged to another 1980 show, December 19 at Madison Square Garden. That's according to an eminently reasonable methodology you can read about here.
Also read: Erik Flannigan's latest nugs.net blog entry, "My Brand New Record, Rosie, Made It All the Way to Number One"
- July 5, 2019 - by the Editors - 12/31/80 photographs by James Shive/ShiveArchive.com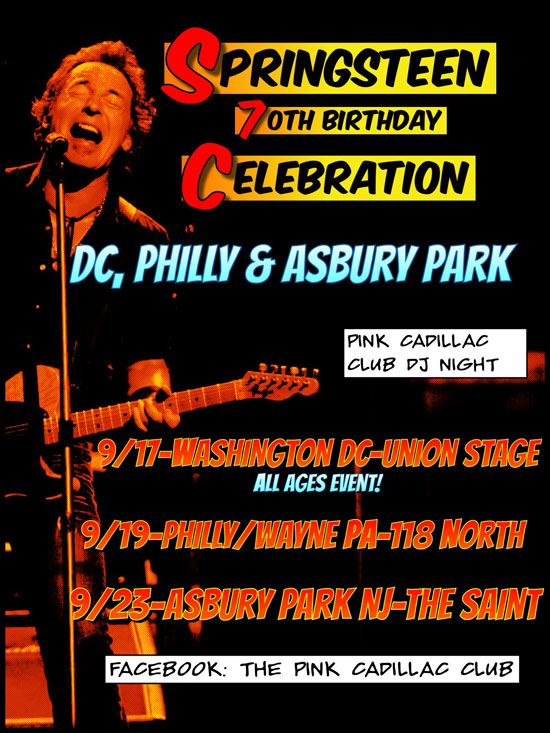 THE PINK CADILLAC CLUB RIDES AGAIN FOR SPRINGSTEEN'S 70th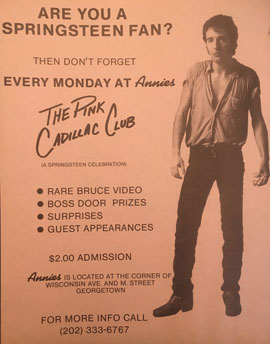 Thirty-four years ago in Washington DC, on the corner of M Street and Wisconsin Avenue, local bar Annie's turned its slowest night of the week, Monday, into a booming all-night Springsteen party under the handle The Pink Cadillac Club.
Regardie's magazine, then known as The Business of Washington, wrote: "After donating his services to such worthy groups as Vietnam Vets and unemployed steel workers, rock 'n' roll star Bruce Springsteen is now unwittingly being called upon to save the bars of America from slow nights."
With the occasion of Springsteen's milestone 70th Birthday coming up this September, and probably due to similar excitement being generated across the pond, The Pink Cadillac Club is returning for one week only this fall.
Dates are currently on sale in the Pink Cadillac Club hometown of Washington, DC on Tuesday, September 17; Philadelphia/Wayne, PA on Thursday, September 19; and Asbury Park, NJ at The Saint on September 23. Dates are still being negotiated for possible evenings in Pittsburgh and New York City....
Continue reading
"Having a Party Out Back at the Pink Cadillac"
for further details and ticket links
- July 3, 2019


BIG MAN HITTING BIG SCREENS IN JULY & AUGUST
A long-time-comin' project that began while he still was physically with us, Clarence Clemons: Who Do I Think I Am? finally begins hitting big screens in the U.S. this summer (watch the official trailer above.) The completed film, first screened selectively in a shorter, work-in-progress edition before the Big Man's passing, still features plenty of footage of Clarence himself (including newly added segments,) now supplemented by interviews with many who knew and loved him and/or his music. It follows his adventures on and off E Street, especially his late-in-life journey to China for a spiritual and musical re-awakening.
Several of this summer's screenings also will feature post-show conversations with key players in the creation of the doc: director Nick Mead, producer Joe Amodei, and/or the film's chief researcher, Backstreets writer Shawn Poole. Here's the rundown of where each of these special screening events will take place and who will be there:
July 16 - Beverly Hills, CA
Laemmle Theaters - Ahrya Fine Arts location
Post-screening conversation with director Nick Mead
Click here for tickets

July 18 - Pasadena, CA
Laemmle Theaters - Playhouse 7 location
Post-screening conversation with director Nick Mead -
Click here for tickets

July 23 - Philadelphia, PA
Philadelphia Film Center
Post-screening conversation with producer Joe Amodei and chief researcher Shawn Poole
Click here for tickets

August 16 - Newtown, PA
The Newtown Theatre
Post-screening conversation with producer Joe Amodei and chief researcher Shawn Poole
Click here for tickets
Clarence Clemons: Who Do I Think I Am? also will be showing:
July 19 at The Plaza Theatre, Atlanta, GA
Click here for a complete listing of all screenings and links to buy tickets, which will continue to be updated as any additional screenings and links are added.
- July 2, 2019


HAPPY BIRTHDAY PROFESSOR!
Nearly half his lifetime ago, Roy Bittan was a clean-shaven cover model for Keyboard magazine, celebrating "Glory Days with Bruce Springsteen" after 12 years with the E Street Band. Now 70 — born July 2, 1949 — those glory days continue with 45 years of E Street service and counting. Doesn't look like much else has changed besides the beard coming back. Happy birthday, Roy!
- July 2, 2019

THIRD OF JULY, ASBURY PARK
For this week's holiday, the Stone Pony & Tramps Like Us celebrate the 35th anniversary of the Born in the U.S.A. tour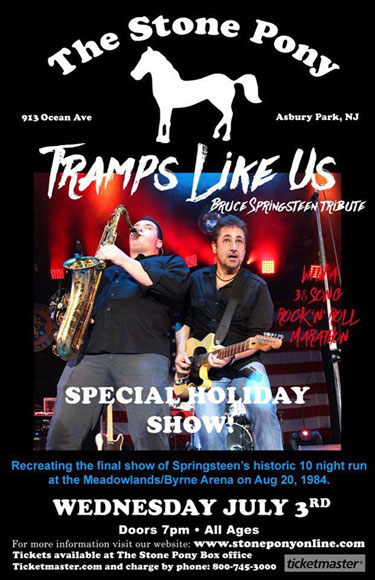 This Wednesday night, Independence Day Eve, acclaimed tribute band Tramps Like Us will be re-creating a classic concert from Bruce Springsteen & the E Street Band's 1984 tour: the August 20, 1984 concert in East Rutherford, NJ, which was the final show of their historic, ten-night, sold-out stand at Brendan Byrne Arena.
This Born in the U.S.A.-era marathon in the Meadowlands famously featured "Drift Away" and special guests Steven Van Zandt and the Miami Horns.
When the audio was released in official live archive series last year, Backstreets described the show as "one of the most memorable and special shows of Bruce's career." Though some of its magic moments would be impossible to recreate by anyone, this is a rare chance to see a legendary set brought to life on stage.
Advance tickets are recommended and available through Ticketmaster, but they will also be available at the Stone Pony door on a first-come, first-serve basis while they last. For complete information on Wednesday night's show, visit trampslikeus.com.
- July 1, 2019


"WE NEED YOU NOW"
Somewhere across the border, a photograph, a song, and a plea for action

To be honest, I only looked at the photograph once. That's all I could handle. But it was enough. If you haven't seen it yet, you will. But allow me to describe
the image, photographed by Julia De Luc
, originally published this week by
La Jornada
and quickly spread around the world. Face down in the dank, turbid water of the Rio Grande is a dead man in a T-shirt and jean shorts. To his left is a small girl, his daughter. She is inside his shirt, her tiny body stretching the material. It must have seemed a good idea: that way they wouldn't be separated in the brown, rushing waters. In the end, father and daughter drowned together.
Their names were Óscar Alberto Martínez Ramírez and Angie Valeria. She was 23 months old. The girl's mother, Tania, watched hopelessly on Sunday night as the river swept them away, according to news reports. They were from El Salvador, which means the family travelled 1,470 miles, probably on foot, to reach the border and a chance at a better life. Late Monday their bodies were discovered on the Mexican side of the river.
And if your thoughts immediately fix on Bruce Springsteen's "Matamoros Banks," from 2005's Devils & Dust, no one would blame you. That is precisely where they were found, directly across from Brownsville, on a riverbank littered with beer cans.
It is instinctive to reach for songs to contextualize tragedy, especially in times of tragedy, and especially songs that are prophetically accurate and right there in front of you, like now. We've all known "Matamoros Banks" described a very real and often repeated tragedy. Thousands of migrants lie decaying in the southwest, never to be discovered, many never named, but forever mourned in faraway places.
The website humaneborders.org maintains a database of bodies identified by the Pima County Medical Examiner, just one county along the U.S./Mexico border. On a map you can see thousands of red dots. Each dot is a life ended, and whether named or not they all tell a story. There will never be enough songs for all of them. And almost none of them will become a photograph we share in our curated shock over morning coffee.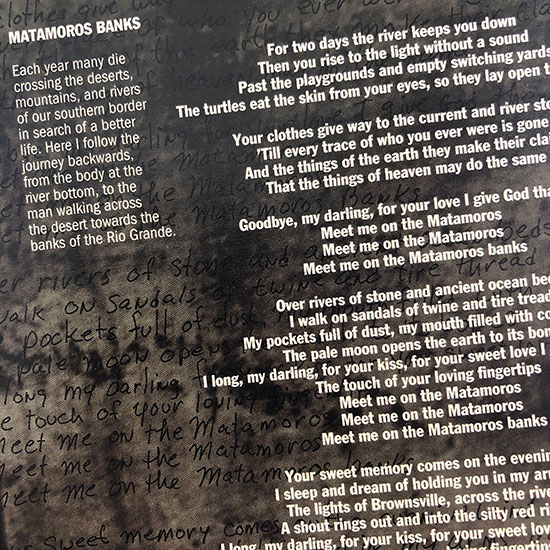 I grew up thinking rock 'n' roll could save the world. Maybe you did, too. In the fires of my youth, I was convinced that just the right performance, or just the right song, could transform the public consciousness and provide a cathartic, communal experience. Remember Live Aid? The next day Bob Geldof took out a full-page ad and told us all, "remember on the day you die someone in Africa is alive because one day you watched a pop concert." That concert did save lives, and it challenged a generation to look at new ways to tackle foreign aid and disaster relief. We were naïve to think it solved the problem, but it was nice to believe it, just for a while.
And I'm sure we all remember the story of the man who called out to Springsteen on a Rumson street shortly after the September 11 attacks. "We need you now," he yelled. Soon after, work on The Rising began, and the long process of healing from our worst modern national tragedy was made slightly easier by its invitation to grieve communally. It wasn't a cure-all, but it helped.
With this picture, this crisis, we've reached another "we need you now" moment. But who is needed, and who is asking? With the divisions we now face as a people, as a nation, what could rock 'n' roll possibly do in this situation? In both 1985 and 2001 there was unity, a collective sense of empathy or outrage, at least. The images moved us. The music compelled us. But the picture of those two bodies in the river will simply not move some people anymore. They're already turning it into horrible memes and disinformation. No need to look.
In a review of Western Stars a week ago, I wrote that the album may serve as a fitting epilogue to the stories of the West that Springsteen has told across the canon of his solo albums. So much of The Ghost of Tom Joad and Devils & Dust took place in or near the borderlands. The songs painted a varied and expansive picture of life on the edges of America, literally and metaphorically.
We cannot blame Bruce Springsteen for not making a more pointed political statement on Western Stars, or furthering the stories he told in "Matamoras Banks," "Balboa Park," or "Sinaloa Cowboys." That's his muse to follow.
But I look at that photograph again, and I think, "we need you… now." Trouble is, I'm not sure who I am begging. Springsteen? I can't say it didn't occur to me, as I can imagine a well-organized concert, a barnstorming tour of the border states, or a special download of "Matamoras Banks" benefitting No More Deaths, the group facing federal prosecution for the unspeakable crime of leaving water in the desert. But rather than looking elsewhere, perhaps the connection between the song, the image, the singer, and his priorities demands something of all of us.
"We need you now." Maybe it is their voices, the dead bodies on the side of the river among the rushes and bass beds, calling to us. Because this is not terrorism or a war that is causing this. And as a nation we are not ill-equipped to address it. We've spent $21 million an hour since September 11 fighting wars. We simply lack the compass. It is a failure of leadership, of resolve, of compassion, of the very reason we empower people to act for us in government.
I just know that rock 'n' roll alone seems inadequate for the task. I still believe music can inspire us to reach for higher ground. But I fear we're unprepared, all of us, to do the heavy lifting. As a father I am sickened. As an Irish descendent whose forebears crossed the Atlantic half-starved, I am ashamed. As an American I feel completely impotent. And God is watching. More importantly, our own daughters and our own sons are watching.
Whomever Bruce imagined the tender, steadfast voice in "Matamoras Banks" to be, he now has a name, and a family. And we cannot claim we didn't hear the message. The songs told us. So have nameless, countless others. And now Oscar and Angie and her grieving mother Tania have told us. Will it ever be enough? Are we even able to listen anymore? The country we carry in our hearts is still waiting. We still have a chance to create it, for everyone. Or we could just as easily lose it for good.
We encourage readers to contact their representatives and senators to demand a humane border and immigration policy that protects children, values human life, and allows unrestrained access to detention facilities by aid agencies and human service organizations. We also encourage you to visit these sites for more information and ways you can help:
- June 28, 2019 - John Duffy reporting - Duffy is a father and a high school English/Social Studies teacher living in Elizabethtown, PA. He's been writing about music and culture for 25 years. He reviewed Western Stars for Saving Country Music and presented a paper on Springsteen, the Tragically Hip and national identity at the recent Darkness on the Edge of Town: A Bruce Springsteen Symposium, at Monmouth University. This is his first contribution to Backstreets.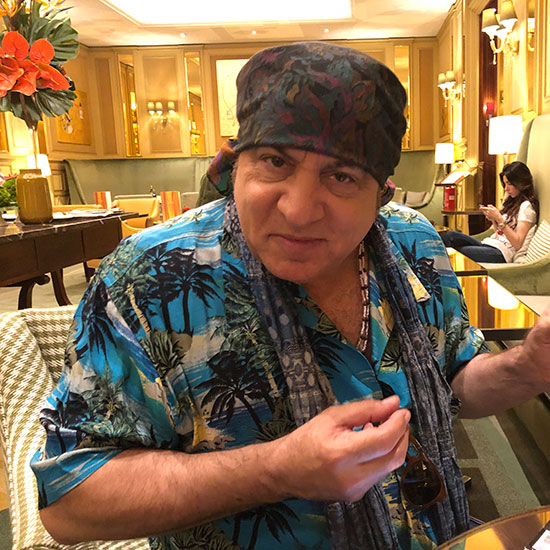 "EVERYONE IS DEPRESSED, AND I'M LIKE, 'COME ON, LET'S DANCE!'"
Little Steven Q&A, Milan, Italy, 6/13/19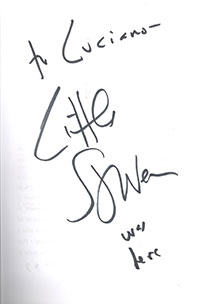 Following Sunday night's concert in Paris, Little Steven and the Disciples of Soul have just wrapped up the first European leg of their tour for Summer of Sorcery. After just a few days off, they'll begin a North American trek this Friday night. In between, let's catch up with the chief sorcerer.
On Friday, June 13, the morning after Stevie's performance in Milan, longtime Italian fan Luciano Gardini had the opportunity in his hometown's Principe di Savoia Hotel to catch up with Van Zandt.
"It was a really fantastic moment for me," Gardini tells Backstreets. "I told him that I'm an occasional freelance writer for an Italian rock magazine — this month he's on the cover, and he'd seen it. He was so patient and helpful. I was there with a friend of mine, Tiziana, and we sat and talked about a lot of things — the Milan concert, the tour, and music life in general — and we took some pictures, of course!"
Luciano: Hi, Stevie, how are you doing?
Stevie: Great! It was the best show of the tour, last night. Hamburg was really good, and Zurich, too… but Milan was the first time the audience started to know the music, the melodies.
Wow! You say this just because you're in Italy?
No — because finally the audience is starting to learn the record. [Summer of Sorcery] has been out five weeks now, and last night, for the first time, the audience is singing the songs.
Just one date in Italy. Why? How is it possible?
Yeah, we had a change, a new promoter, and… you know, we'll try to get more. I want to do more, of course, but at the moment it's difficult, business-wise. We'll try.
It's very different from the Soulfire tour. Do you feel it's something better?
Very different — completely different shows from the Soulfire tour. We kept only three or fours songs out of 23 or 24; the others are new. The Soulfire tour was fantastic, and I thought we'd have trouble doing a better show than that, but I think we did. I think the show is actually better.
On this tour you're more confident, isn't that so?
Yes, that's true. As a frontman, you know, as a singer, it was like starting from zero — because the last time I did it was in the '80s. Thirty years ago, a long time! So, I've had to learn to be a frontman again. I think another couple of tours and I'll be all right! [Laughs]
So you'll be ready for another one?
It depends on Bruce and what he wants to do next year. If I go out with him, two years go by.
Anything else about the Summer of Sorcery Tour?
It has been difficult during these last two years, very difficult. To come back and reconnect people to my music… you know, there's not too many people from 30 years ago. Maybe five or ten percent.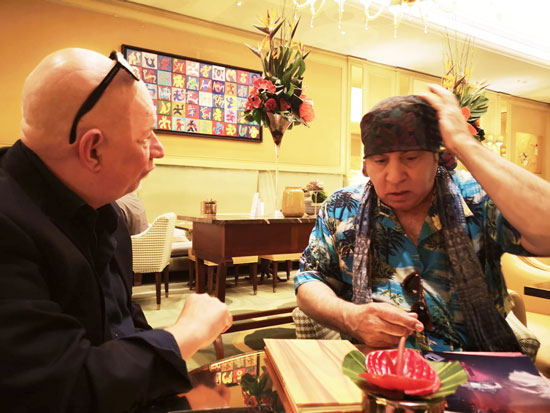 Stevie, I want to make a question not about the music. How do you feel about the situation in the world?
Big trouble. I think we're going into another dark age. I think the world is more nationalist, more fascist, with more religious extremes, everywhere you look. It's terrible, terrible, terrible times. For a while. I don't think it's gonna be better for few years. So we have to try to survive, and we need some good news right now.
That's why I wanted to do a positive album, hopeful and optimistic, which is Summer of Sorcery. That's what my usefulness is right now.
It's funny because in the '80s, for my first solo five albums, everybody was rich and happy, having a party. I put out the records and sing: "Everything is fucked!" I was the bad news in the '80s. Now, everyone is all depressed, and I'm like, "Come on, let's dance!" [Laughs]
Because we have no choice. We need a balance. In the '80s we had some realities… everybody was having a party, and at the same time people were suffering all over the world. So, you try to be useful to the society.
In the music world, there's not another one like you.
Not exactly… there are many artists with positive thinking and doing positive things.
But not like you, with your message and your voice.
Well, I'm extreme. I was always extreme, you can't compare me to… but there are good people around: Eddie Vedder of Pearl Jam, good guy; Dave Grohl, Foo Fighters; Green Day.
What kind of music are you listening to now?
Well, different things...
One or two names you like at the moment?
Believe it or not, I like a lot of newer artists. I like Bruno Mars. I like Billie Eilish, too.
Okay, Stevie, we've finished. Thank you so much for the time, and please, let me hug you… Best wishes for the tour. I hope to see you as soon as possible.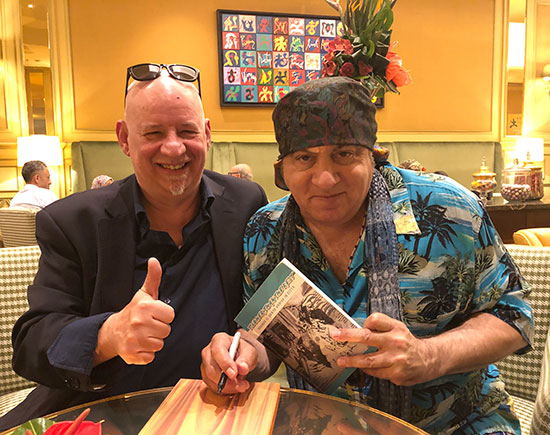 Catch Little Steven and the Disciples of Soul as the Summer of Sorcery Tour 2019 continues all summer and into the fall: North America in June and July, with a return to Europe to follow in August. Dates and ticket links are at littlesteven.com/on-tour.
- June 25, 2019 - interview and photographs courtesy of Luciano Gardini


WESTERN STARS JUMPS UP THE CHARTS (AND TOPS MANY, MILES FROM HOME)
Plus: our record review rodeo round-up
As Billboard reports, when the new Billboard 200 U.S. album chart is published tomorrow, Bruce Springsteen's Western Stars will debut at #2. Madonna's Madame X, "bolstered by a concert ticket/album sale redemption offer with the Queen of Pop's upcoming theater tour," took the top spot. "Damn the Artist Formerly Known as Madge," you might say... but this does make for Springsteen's 20th career Top Ten on the Billboard 200. Not at all shabby for a guy with only 19 studio albums.
Around the world, Western Stars is making Springsteen the Man at the Top in numerous other countries, so far charting at #1 in Australia, Belgium, Germany, Holland, Ireland, Italy, New Zealand, Norway, the Netherlands, and the U.K.
Lots of ink, much of it glowing, has been spilled over the new album, including our own Backstreets review and a heartwarming rave from Drive-By Truckers' Patterson Hood. Now that most have a had a chance to spend some time under those Western stars, this feels like a good time for a review roundup.
If you read only one, we'd have to point you to this beauty from Ann Powers via NPR Music: "All He Wanted Was to Be Free: Where Bruce Springsteen's Western Stars Came From." In a way, the Powers piece is an outlier — not in suggesting the album is a success, as most have, but in astutely plucking "The Ballad of Easy Rider" out of Springsteen history as a reference while most eyes have been on the Jimmy Webb circles. Springsteen performed the Roger McGuinn song only once (at his landmark 8/20/81 "Night for the Vietnam Veteran" benefit), but it's no less significant for that. Easy Rider becomes a potent touchstone for the "masculine damage" and "state of being lost" that pervades Western Stars, and Powers pulls in other compelling song cousins from the Vietnam and post-Vietnam era. Bonus points for her Companion Playlist:
On with the round-up! Click through on each for full context.
THE GOOD
"It's possible to trace the path taken by Springsteen's new, highly orchestrated solo album, Western Stars, all the way back to his decision to cover 'The Ballad of Easy Rider' thirty years ago..... Reworking it in concert, the Boss also paid tribute to a type of hit he often emulated on his own albums: the big, highly produced existential rock ballad, whose rise dates from around the time Easy Rider redefined the road movie as an expression of young people's confusion and weariness as the 1960s ended and the Nixon era began."
Ann Powers, NPR Music
"Western Stars shows Springsteen pulling back the curtain on his craft in much the same way Springsteen on Broadway did. In fact, in its elliptical narratives, it might have the makings of a good musical itself."
Will Hermes, Rolling Stone (4 out of 5 stars)*
*"Rolling Stone SLAMS Bruce Springsteen With Rare Four-Star Review; The merely enthusiastic rating is the worst they've given him in nearly 25 years."
Rhodes Murphy, Slate
"...an absolutely gorgeous collection of excellent songs. It's an album that pushes him into new, uncharted territories as a singer and performer, all while standing proudly alongside his classic albums of yesteryear."
Patterson Hood, Tidal
"Springsteen albums are usually grand affairs but he's never made one that sounds so vast and luxurious throughout."
Sam Sodomsky, Pitchfork (7.9 out of 10)
"...both unexpected and of a piece with its author's back catalogue. Normal service may well be resumed in due course, but Western Stars is powerful enough to make you wish Bruce Springsteen would take more stylistic detours in the future."
Alexis Petridis, The Guardian (4 out of 5 stars)
"It's not an album courting new young fans or claiming any 2019 zeitgeist. It's more like a speculative alternate history: What if Springsteen's music had taken a very different direction at the start?"
Jon Pareles, New York Times
"The record is haunted by the Utopian romance of the Western frontier, but, because this is a Bruce Springsteen album, it's encountered mainly in brokenness and loss. When the album is strong, which it is far more often than not, it manages to refresh those clichés, partly with lucid lyrical detail, but especially sonically."
Carl Wilson, Slate
"Springsteen drives proceedings with acoustic strumming, the rough tones of his voice rooting the symphonic gorgeousness in gritty reality. It stands comparison with his very best solo albums."
Neil McCormack, The Telegraph (5 out of 5 stars)
"By structuring the music around an orchestra, he has achieved a remarkable freshness. It is important to stress that the orchestral setting, executed with invention and subtlety, is integral to almost all 13 tracks. It is not mere ornamentation...."
Joe Breen, Irish Times
"Placing intricately detailed portraiture on massive musical backdrops has been a Springsteen trademark for years, of course, and Western Stars continues this legacy, transforming the enormous into the intimate. That's the sort of magic Springsteen specializes in conjuring — and he clearly has little interest in slowing down his ride."
Maura Johnston, Entertainmemt Weekly (A-)
"Springsteen adapts his singing to the sweeping backdrops, favoring the soaring high end of his natural range on songs like the advance single 'There Goes My Miracle.' At his age, these operatic flourishes don't come easy, and the strain in his voice gives the record an extra layer of vulnerability. This fragile quality is just right for an album about getting older, experiencing loss, and staying in the game in spite of it all."
Mark Richardson, Wall Street Journal
"...it is quite unlike anything else he's ever done. If his recent meta-musings cleared some space between Springsteen the man and Springsteen the icon, Western Stars feels like the start of a new creative path unburdened by his own rich history."
Steven Hyden, Uproxx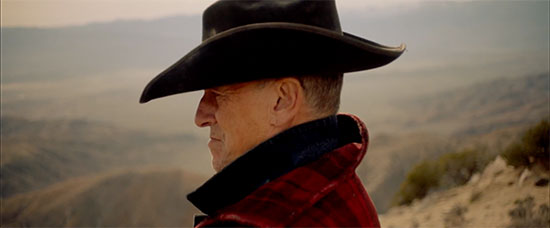 "...well worth a ride. It features some of his most confident 'solo' work ever and is remarkably consistent in the face of his recent mediocre material in recent decades.... Majestic in its scale, but traditional in its subject matter and narratives, Western Stars is a wonderful thing."
Thomas Smith, NME (4 out of 5 stars)
"Sonically, there's nothing quite like Western Stars in Springsteen's (mostly) stellar back catalogue and he deserves full credit for pushing his own creative boundaries.... Springsteen conjures up a shamelessly nostalgic, romantic view of America. Perhaps it's the blue collar firebrand's way of dealing with his nation's troubled times, providing us with an antidote rather than delivering a polemic."
Simon Cosyns, The Sun
"...Springsteen has had some moments of greatness in 1992-2019, too, and Western Stars, I believe, should be regarded as one of his best albums of that time period. And let me remind you, now, that Springsteen is 69 years old: I can't think of another artist who has, at that age, released an album that has been so solid in its songwriting as well as such a big departure from the artist's sonic norm."
Jay Lustig, NJArts.net
"Despite the lower volume, Bruce Springsteen sounds positively invigorated on Western Stars. With a new sonic palette and renewed focus on the LP as a means of writing short stories, it's easily his best album of new material since 2007's Magic."
Dan Caffrey, Consequence of Sound
"...with Western Stars, Springsteen largely succeeds in the tricky task of working within an established genre, and nonetheless delivering a personal statement that fits with the themes he's been exploring his entire career."
Dan DeLuca, Philadelphia Inquirer
"...hauntingly brilliant... Springsteen, ever the searcher, on highways near and far, looking for emotional and spiritual fulfillment."
Chris Jordan, Asbury Park Press
"That Springsteen remains willing to try new things on his 19th album, on the cusp of turning 70, is another testament to his imagination. Few musicians at his age, or his level of success, work as hard to challenge themselves while staying so connected to the musical vision they've been pursuing all along."
Eric R. Danton, Paste
"...nothing short of a late-period masterpiece.... beneath the John Williams-style crescendos and Pacific Palisades twinkles, Springsteen's sublime portraiture of the American struggle — his protagonists walking with him through the ages of life as he goes — endures.... Where most rock superstars sink into trad tedium by 69, Springsteen is still crafting sophisticated paeans of depth and illumination, a rock grandmaster worthy of the accolade."
Mark Beaumont, The Independent
"Unlike 'Outlaw Pete,'... Springsteen's writing here is masterfully concise, sharply observed, and self-aware.... This album balances gravitas and grace, burden and beauty, as well as any in Springsteen's canon."
Ken Capoblano, Boston Globe
"The clichés are intentional. All of its allusions to the culture of the '60s and early '70s... conjure a collective memory of a time when hippie ideals faded in the dawn of the '70s. This isn't a piece of nostalgia on Springsteen's part, though. These references deepen a collection of songs that are sweet, sad, and searching, songs that feel finely etched on their own terms but gather a deep, lasting resonance when collected on this enchanting album."
Stephen Thomas Erlewine, AllMusic
"How do you follow the runaway success of The Broadway Show.. of The Best Seller? You swing into a completely new sonic genre. A place where stories unfold, with a lush musical soundtrack that vividly colors the scenery, without ever running it over.... It's a bold statement, hinged on a bold vision. It's an American masterpiece."
Tom Cunningham, 105.7 The Hawk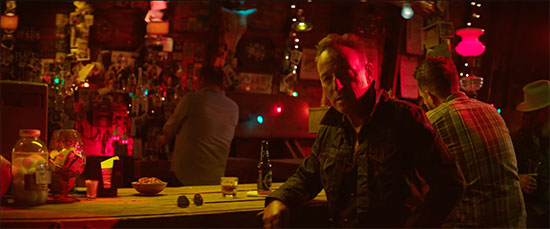 THE MIXED
"Nothing pushes too hard here, and few songs appear to be future Springsteen classics, at least on the surface. But it's a lush, gorgeous record that sounds unlike anything Springsteen has recorded in the past.... When the album coalesces, as it often does, it's Springsteen's most satisfying since 2002's The Rising."
Michael Gallucci, Ultimate Classic Rock
"There's never been a release in Springsteen's catalog of 19 studio outings that counts as a genre exercise quite the way this one does. So even though he's not adhering strictly to one template, your appetite for Western Stars may come down to how much of your life you've spent in 'Galveston' or clocking what hour it'll be by the time you get to Phoenix … that is, how much predilection you have for old-school California pop about sad sacks in the desert states."
Chris Willman, Variety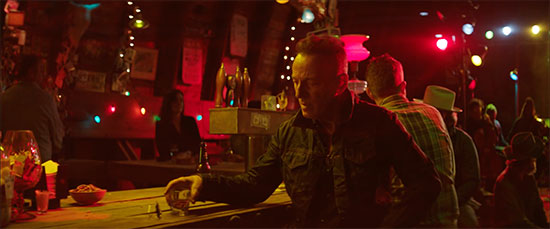 THE BAD
"It's a delight to hear the man summon the musical spirits of his past, but it's all a bit overly tasteful and mannered to have the force of his usual work. The rough-around-the-edges element of his music has always been a highly calculated aspect of Springsteen's perfectionist tendencies, but in crafting this record of genteel retro Americana, his smooth sound is missing some bite."
Alex McLevy, AV Club
"Simple orchestral riffs and warm west coast production are thickly glooped onto a collection of songs that otherwise may have been too mellow for his rock canon, yet too nice for a stripped-down solo Bruce record. God, 'nice' is a damning word."
CJ Thorpe-Tracey, The Quietus
"He croons. He swims in a sea of strings and horns. He sounds smooth. He shifts Broadway bombast a couple thousand miles west, to a Vegas lounge.... The large-scale orchestrations rarely complement the mood. Instead, they barge in, a river of syrup that drowns the sense of betrayal in 'Stones,' gushes through 'The Wayfarer' and inspires some of Springsteen's most egregious Gene Pitney-style over-emoting in 'Sundown' and the disastrously overdone 'There Goes My Miracle.'"
Greg Kot, Chicago Tribune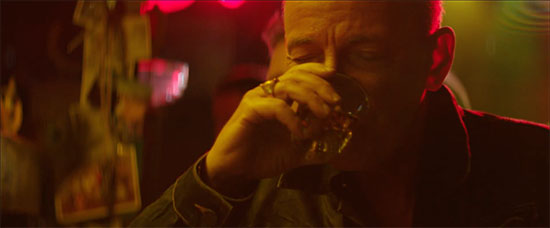 THE UGLY
"During each of Bruce Springsteen's marathon stadium concerts — amid all the joy, conviction and chest-pounding rock grandeur — there is a bathroom song.... what if The Boss released an album composed almost entirely of 'let me go pee real quick' triggers? Such is life on Western Stars, Springsteen's highly anticipated and profoundly tedious new solo record — the most disappointing studio project of the New Jersey icon's nearly 50-year career."
Bobby Oliver, NJ.com
- June 24, 2019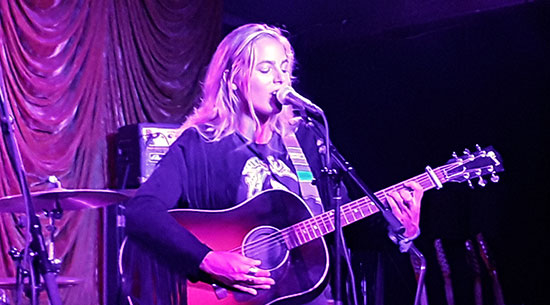 NO SAINT IN THE CITY
Listen to Lauren Jenkins guest DJ this week on E Street Radio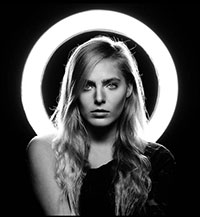 Lauren Jenkins is a young singer-songwriter who released her highly acclaimed debut album No Saint on Big Machine Records earlier this year. She is touring the U.S. and Europe through the summer, with a series of solo-acoustic and band-backed gigs.
Jenkins also is a big Springsteen fan who recently recorded a Guest DJ session for E Street Radio. It will receive its debut airing on SiriusXM channel 20 today — Monday June 24 — at 4pm ET, with replays airing tonight at 11:59 pm, Tuesday June 25 at 8am, Wednesday June 26 at 6pm, Friday June 28 at 4pm and 11:59 pm, and Saturday June 29 at 8am. (All times are ET.)
Jenkins boldly has promised E Street Radio listeners to "make you cry." Her playlist will feature some of Bruce's darker, more complex songs about relationships and the struggle to sustain them. Familiar territory, of course, for everyone who's been digging Western Stars lately, as has Jenkins. ("Hello Sunshine," the only officially released Western Stars track available at the time her Guest DJ session was recorded, was a shoo-in for her playlist.)
This is fitting, since Jenkins' own music often covers similar ground. Standout tracks on No Saint include "Give Up the Ghost," "Payday," "Running Out of Road," "Blood," and the title track. And like much of the music on Western Stars, Jenkins' music incorporates many country elements but is impossible to label as "pure" country — or "pure" any other genre of music, for that matter.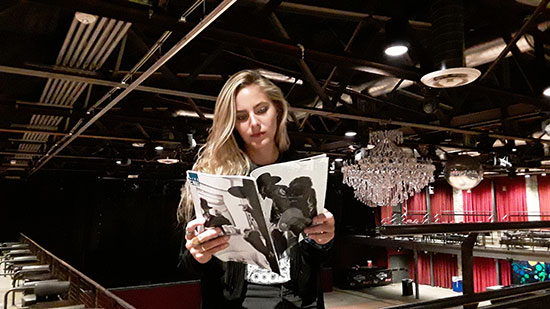 Speaking to Backstreets after a recent performance in Philadelphia, Jenkins told us that she prefers it that way. "The alternative would be to make some different creative choices in order to fit into a box, and I don't play nicely in the boxes," she said with a laugh. "Yeah, it's definitely made it more challenging and it makes the road longer, but it's better... for me, anyways."
Jenkins also counts Springsteen among the major influences on her own work. She first discovered his music as a teenager, rummaging through her father's record collection, which featured Born in the U.S.A. At the time, she thought that album was good, but Springsteen's artistry didn't really hit her until she got to hear tracks like "Stolen Car," "Reno," "Highway 29," "Secret Garden," and "Nebraska." "I was listening to all of the dark, sad 'songwritery' songs. So some of his amazing, energetic, and horn-section stuff... that's not what I was seeking out at first, but now, later in life, I'm a fan of absolutely all of it."
Check out Lauren Jenkins on E Street Radio this week and learn more about her music and upcoming concerts at laurenjenkins.com. There you can even score a copy of No Saint bundled with a bandana, à la the Backstreets-exclusive bandana-bundled editions of Western Stars. A chance connection... but hey, collect 'em all!
- June 24, 2019 - report and photographs by Shawn Poole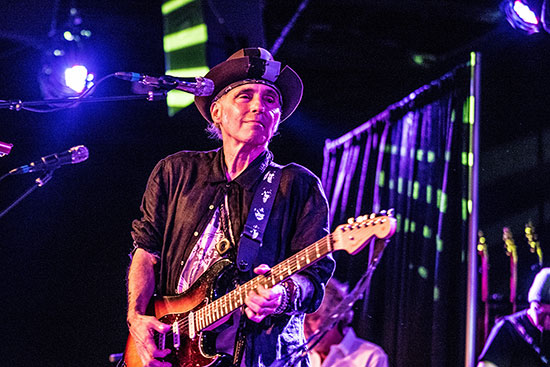 BIRTHDAY WITH NILS
Sending best wishes out to the great Nils Lofgren today, born June 21, 1951, and pictured above in May on tour for Blue With Lou. (Photographed by Jerry Frishman at the Birchmere in Alexandria, VA.) That leg with the Nils Lofgren Band wrapped on June 2, but we've got fingers crossed that he'll head back out for another round — keep your eyes on nilslofgren.com for any updates. Below, some of the amazing press the new record has garnered... congratulations, Nils, and happy birthday!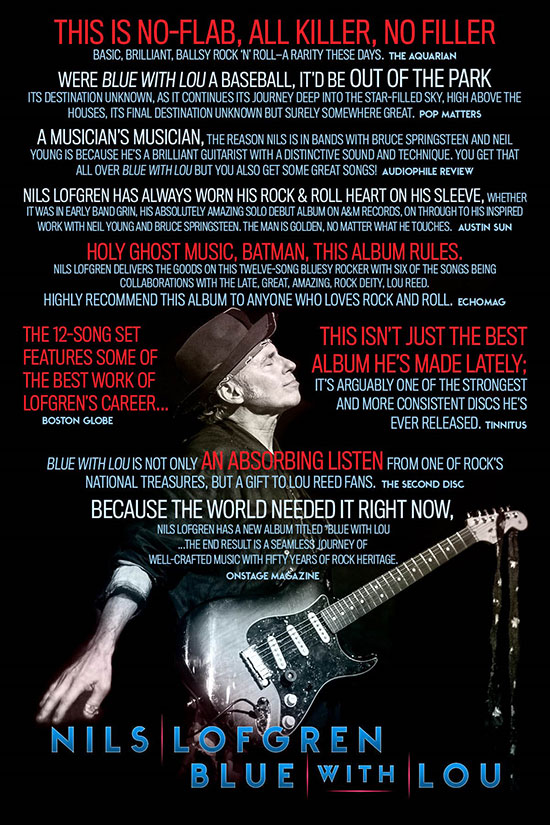 - June 21, 2019 - top photograph by Jerry Frishman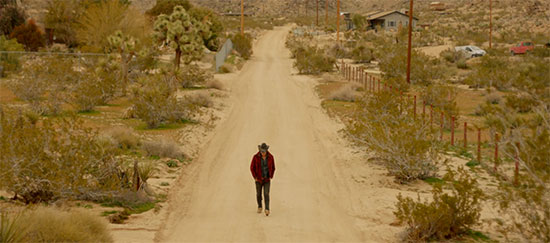 TROUBLE ON MY MIND
Clearly, many of the characters in Western Stars are alone. Either by choice or by circumstance, they have left loved ones or been left by the same. But in "Sundown," could Bruce Springsteen be touching on a different kind of isolation, one that sadly has become all too familiar for him and members of his own family?
On the surface, "Sundown" seems to be a location, a place with bars and cafes, and where the character is "wishing you were here with me." But perhaps Springsteen also could be referring to a neurological phenomenon known as "sundowning" or "sundown syndrome" that is associated with confusion and restlessness in patients with some forms of dementia.
"Sundowning isn't a disease, but a group of symptoms that occur at a specific time of the day that may affect people with dementia, such as Alzheimer's disease," according to the Mayo Clinic website, explaining that sundowning behaviors can include "confusion, anxiety, aggression, ignoring directions … pacing or wandering." In most human circadian rhythms, sunset naturally triggers melatonin production as the body prepares for sleep. In individuals with dementia, however, research shows that melatonin production may be decreased, possibly leading to sundowning behaviors. The night's fading light can also introduce different, confusing shadows for those affected.
There is a lot of information available online about sundown syndrome and how to manage symptoms and mitigate triggers, but even knowing a little about the phenomenon provides another lens through which to view Springsteen's song. Our character finds himself in Sundown, which "ain't the kind of place you want to be on your own" and where "all I've got's trouble on my mind." There are references to time being skewed, from the sense of "a hundred years since you've been near to me" to the feeling of "long, hot, endless days and cold nights all alone. The character feels isolated "here in lonely town" and may even be aware of his altered state, pointing out, "that little voice in my head's all that keeps me from sinking down." (Medical experts say patients likely understand that their behavior is out of the ordinary.)
Springsteen began speaking extensively onstage about his mother's struggle with Alzheimer's during the Springsteen on Broadway run. He also has spoken publicly about his late father-in-law's struggle with the disease, and in his Born to Run autobiography he recounted his father's depression and mental illness. But perhaps another reason that Bruce may have wanted to address this kind of personal isolation on Western Stars has to do with one of the album's major influences: Glen Campbell.
Bruce already has stated on record that the music on Western Stars was greatly inspired by the work of the multiple Grammy award-winner and Country Music Hall of Fame inductee. Springsteen also was interviewed in the 2014 documentary Glen Campbell: I'll Be Me, which chronicled some of Campbell's last years before his death in 2017 and offered an intimate look at how Campbell and his loved ones lived with his having Alzheimer's.
"Sundown" features a guitar line that sounds like it could've been played by Campbell himself. The lyrical references to "trouble on my mind" and "the county line" also could be interpreted as bittersweet nods to two of Campbell's biggest hits: "Gentle on My Mind" and "Wichita Lineman."
"My father-in-law passed away from Alzheimer's," Bruce says in I'll Be Me. "So I've seen it in every stage from that first day when suddenly somebody looks at something and goes, 'What's this?' And it's a lock.... And then to where it snows overnight, and: 'How did that get here? What is that?'"
Springsteen talked about his mother's progression with Alzheimer's during his Springsteen on Broadway run. In the performance recorded and filmed for posterity, Bruce shared that Adele Springsteen, who was 93 at the time, had been battling the disease for seven years.
So if Western Stars' "Sundown" does allude to the medical phenomenon of sundowning, perhaps it's only fitting it's one of the more danceable tracks on this brilliant album. "Dancing and that desire and need to dance is something that, it hasn't left her," Bruce said on Broadway. "It remains an essential, primal part of who she is. It's beyond language. It's more powerful than memory. And when she comes in the door, we make sure there's music on. She wants to dance, you know? These things were the embodiment of my mother. They were her heart. She carried on and she carries on as if they never, never deserted her."
- June 17, 2019 - Nancy Calaway reporting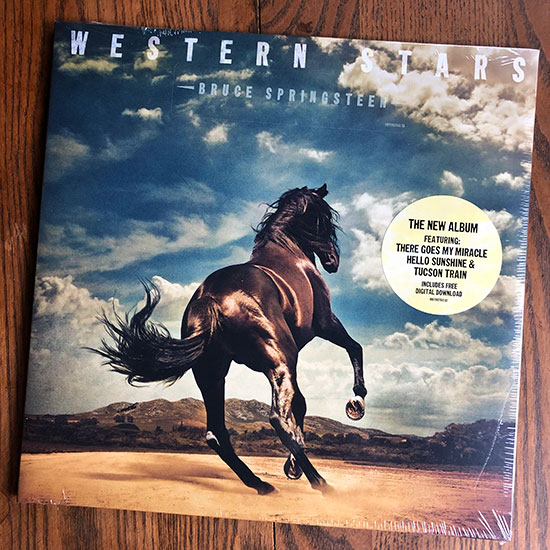 MEN WITHOUT WOMEN
Here's to the cowboys: Springsteen does his time in the desert on
Western Stars
Bruce Springsteen, by his own admission, is no stranger to finding inspiration in the music he loves. As a songwriter, it's one of the aces up his sleeve. There's the Wall of Sound production of "Born to Run," the Suicide-esque "State Trooper," homages to Chuck Berry, the Raspberries, and the Beach Boys. Nods to the Drifters, Smokey Robinson, Van Morrison, Roy Orbison, The Animals... heck, like it or not, the guy was a "new Dylan" at one time. Don't forget Gary U.S. Bonds (what was "Sherry Darling" if not Bruce's stab at his own "Quarter to Three"?) and Elvis Presley ("Fire" says it all). "Man's Job" is such an effective Sam & Dave-style number, Bruce even got Sam Moore to sing it with him. While other artists attempting this trick may rarely go beyond pastiche, Springsteen manages to make it all... Springsteenian.
Western Stars, the inspired solo album that's long been Bruce's worst-kept secret (both he and Jon Landau have teased it in the press for years), sustains that trick for its entire running time....
Continue reading:
MEN WITHOUT WOMEN
The Backstreets Review of Western Stars
- Updated June 14, 2019 - Christopher Phillips reporting

ON THE EVE OF WESTERN STARS
Coming tomorrow: the release of Bruce Springsteen's 19th studio album. Coming later today: the Backstreets Review of Western Stars. In the meantime, some sneak peeks inside the package here — inner LP sleeve fronts and backs, all photographs by Danny Clinch — with more on our Instagram page.
- June 13, 2019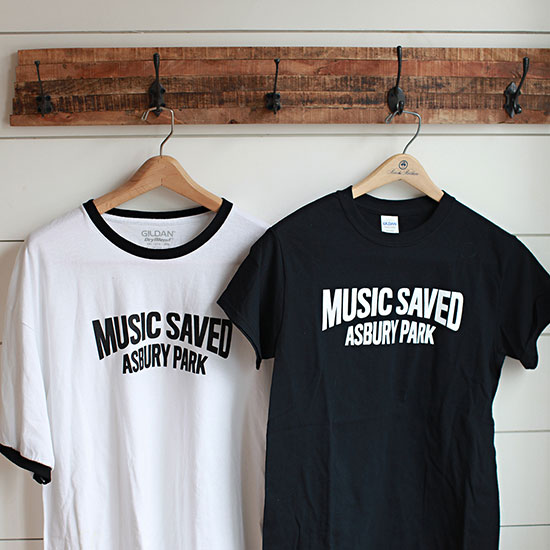 GREETINGS FROM THE ASBURY PARK MUSIC FOUNDATION
Asbury Park: Riot, Redemption, Rock 'n' Roll makes a good case for how music saved Asbury Park... and after recent screenings of the documentary helped benefit the Asbury Park Music Foundation, these Music Saved Asbury Park T-shirts will further help the Foundation's work with music education in the area. Get yours now, with these shirt designs and several others — plus hoodies, caps, and mugs — now available in their new APMF online shop.
The proceeds from the sales of the Music Saved Asbury Park T-shirts and merchandise help fund music education for in-school programs, after-school programs, summer camps, instruments and scholarships to underserved youth in the city of Asbury Park. Scholarships to The Music Saved My Life youth music education programs are delivered through a partnership between Asbury Park Music Foundation and Lakehouse Music Academy. These programs provide engaging music education and life-changing experiences to the youth in the Asbury Park, one the most challenged communities in the country.
The Asbury Park Music Foundation also provides free summer concerts to the community. Music Mondays in Springwood Park affords opportunities for the residents to see live music at no cost and to engage with people from all over the city. Asbury Park Live on Wednesday nights at the 1st Avenue Green provides music from emerging talent. In its 74th season, the AP Concert Band provides a big band sound every Thursday evening in front of Robinson Ale House. Both concerts are on the Asbury Park boardwalk. Merchandise is available for sale at all of the Foundation's summer events.
For more information on the Asbury Park Music Foundation and its mission please visit asburyparkmusiclives.org
- June 10, 2019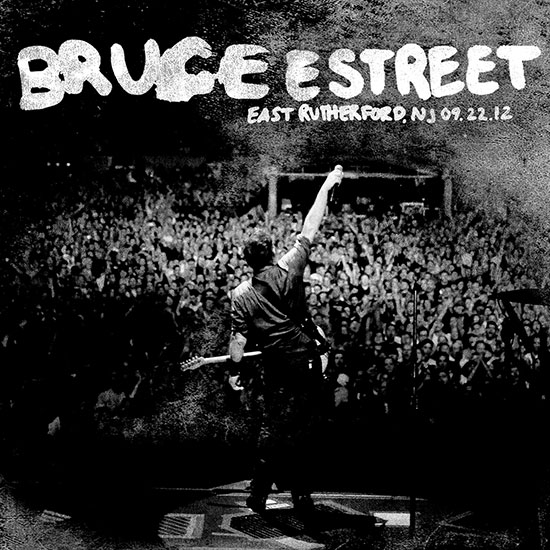 DID I MENTION IT'S MY BIRTHDAY?
Archive Release #41 lets you eat cake, capturing 9/22/12, New Jersey
As the summer of 2012 waned, September 22 brought the last of three Wrecking Ball shows at MetLife Stadium, and it carried particularly high expectations: New Jersey! Saturday night! Bruce Springsteen's birthday eve!
As if to wring every ounce of anticipation out of the evening, a major thunderstorm swept through East Rutherford just before showtime. The threat of lightning forced attendees to remain in the stadium's concourse level for a two-hour wait. Despite the tedium, the delay held quite the silver lining: Bruce would be playing on his birthday. Weather, cake, and music: this show has it all, and now everyone can listen, as the 34-track East Rutherford, NJ 09.22.12 is the latest release in Springsteen's live archive series from Nugs.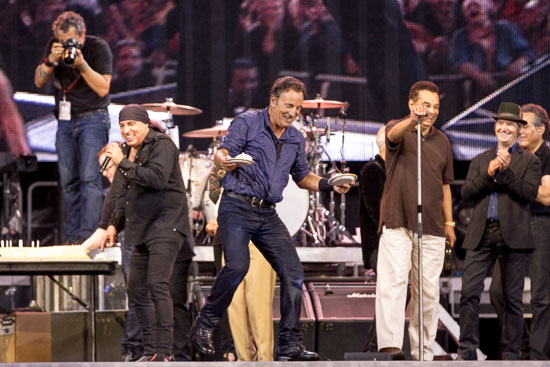 The delay also fueled speculation: with a start after 10pm, would Bruce play a full show? That would mean he'd play until almost 2am. Doubters had little ground to stand on: Springsteen had played for more than four hours that summer in Helsinki — would he really play a shortened show in the Great State of New Jersey? The answer, of course, was no. While the show didn't beat Helsinki in terms of length, no one went home disappointed in a performance that stretched to nearly three-and-a-half hours.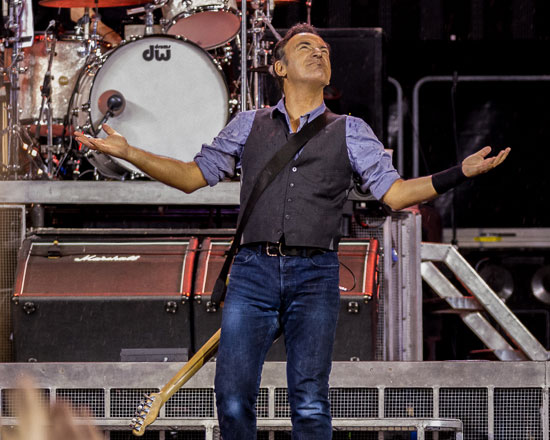 With a light drizzle still falling, Bruce and the E Street Band took the stage to the strains of Wilson Pickett's "In the Midnight Hour" over the PA (spoiler alert: not the last time that song would play that night) and Bruce addressed the crowd: "I think I just invited 55,000 people to my birthday party!" Then, to make sure the rain delay hadn't sapped any energy from the building, he counted off "Out in the Street." Judging by the crowd's response, the party started with a bang.
And what a party it was. The set was a perfect mix of new music from Wrecking Ball, rarities, E Street classics, guest appearances by old friends (and relatives), and appropriate covers. (At home, "setlist watchers" logged on to the Backstreets message board BTX — moments after the show began, the system logged 471 concurrent users, its highest ever.)
"Cynthia" was the first surprise. A handwritten setlist showed the Born in the U.S.A.-era outtake in the opening slot, but Bruce waved it off in favor of a couple of E Street classics to get going. Once warmed up, attendees were ready for something different. Addressing the titular character — and the crowd — at the end of the song, Bruce mentioned his new number: "You're lookin' good… but at 63, everybody looks fuckin' good!" This marks the first official release of an E Street Band live performance of "Cynthia." Another outtake from that era — "Janey, Don't You Lose Heart" — appeared later in the show, its only full-band arrangement of the tour.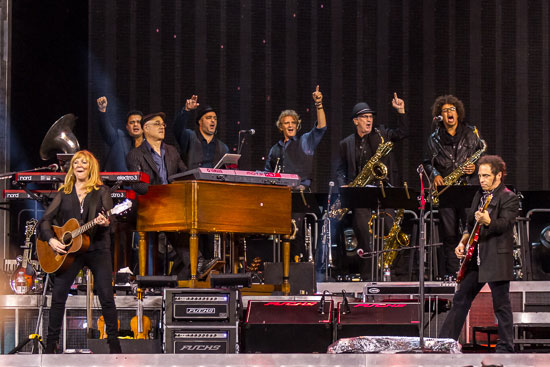 The opening stretch included a thematic three-pack of "Who'll Stop the Rain," "Cover Me," and "Downbound Train." Each appears infrequently in the Reunion era, and the rain imagery — literal and figurative — was a perfect fit for this concert.
"We Take Care of Our Own" began a four-song sequence that typified the heart of a Wrecking Ball show. This night, the burn seemed brighter: fans cheered more than usual on the applause lines in "Wrecking Ball" ("swamps of Jersey," "my home's here in these Meadowlands," and "Giants played their games"); vocals on the chorus and the "hard times come and hard times go" refrain sounded more defiant. Introducing "My City of Ruins," Bruce tried to recall the last time he played on his birthday (it was in Oakland on the 1988 Human Rights Now! tour).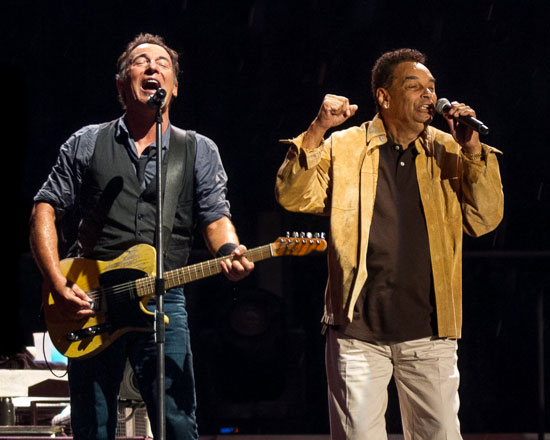 Gary U.S. Bonds joined for "Jole Blon" and "This Little Girl," songs from the album Dedication. The crowd's enthusiastic response indicated the reprise from the night before was most welcome, as the best word to describe these two old friends performing together is "fun." The fun carried through into the next song, "Pay Me My Money Down," with tons of crowd involvement.
The clock struck midnight during "Janey, Don't You Lose Heart," and fans sang the evening's first rendition of "Happy Birthday." Bruce then gave himself a little present, leading the E Street Band in their first performance of "In the Midnight Hour" since New Year's Eve 1980, calling out the chord progressions before counting into the song.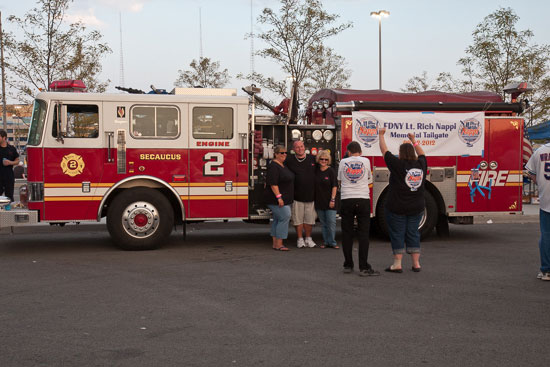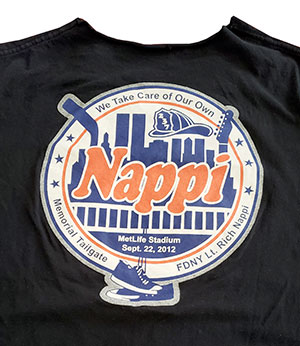 Of the four tour debuts, "Into the Fire" was the most poignant: Springsteen dedicated it to Rich Nappi, a decorated veteran of the Fire Department of New York, who died on April 16, 2012, while battling a warehouse fire in Brooklyn.
Nappi was also one of "us," a huge Springsteen fan whose screen name — Firerich7 — was familiar to those who frequented Springsteen internet fan forums as far back as the '90s. At shows in the New York/New Jersey area, he was a presence. Friends organized a memorial tailgate before this performance, and commemorative t-shirts reached Bruce's road crew — some wore them that night.
Springsteen was aware of Rich's passing and the tailgate, and he dedicated "Into the Fire" to Rich and his wife Mary Anne. The only tour performance of the song was achingly beautiful.
A cross-section of the E Street canon followed, starting with a '70s double-shot of "Because the Night" and "She's the One." "Shackled and Drawn" followed a loose "Working on the Highway," and the stretch ended with the crowd-pleasing "Waitin' on a Sunny Day."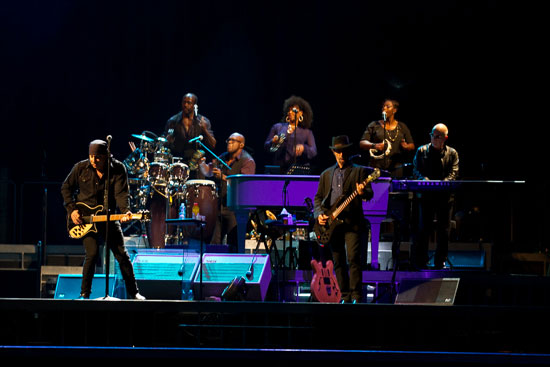 Ideal conditions greeted the pairing of "Meeting Across the River" and "Jungleland": a misty rain falling at nearly 1am in New Jersey. Jake Clemons' solo on the latter earned the crowd's approval. If the original album sequence was meant to reflect a long day, the end of "Jungleland" felt like the early morning hours. They got as close to the original vision as ever this night.
Introducing "Rocky Ground," Bruce thanked everyone for their patience, adding, "Glad I got to see you on my birthday!" The expanded E Street Band shone on this underplayed song, with a Curt Ramm trumpet solo to start, Michelle Moore's verse to end, and tons of horns and gospel-like voices in between.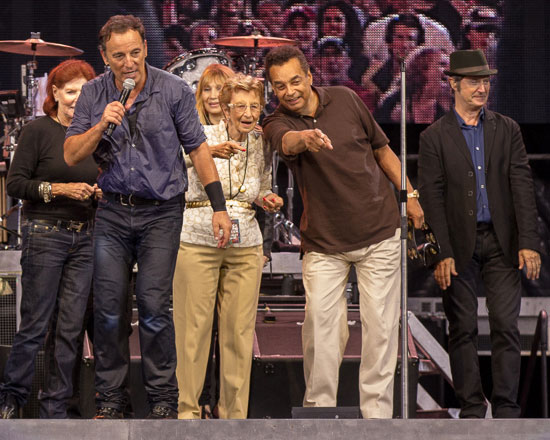 Then the party was on: "Born to Run," an appropriate "Glory Days," "Seven Nights to Rock," "Dancing in the Dark," and "Tenth Avenue Freeze-out." At its conclusion, a large cake was wheeled out, and Bruce's mother Adele ("the boss of bosses!"), sister Ginny, mother-in-law Pat Scialfa, brother-in-law Michael Scialfa, Gary U.S. Bonds, and Maureen Van Zandt led a reprise of "Happy Birthday."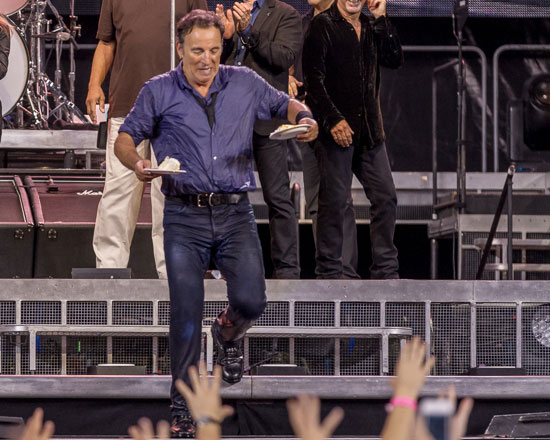 Bruce served (with plates and forks!) birthday cake to fans in the front rows; appropriately, "first fan" Obie received the first slice. The friendly "attack of the relatives" stayed on stage for the show-closing "Twist and Shout," adding background vocals and dance moves.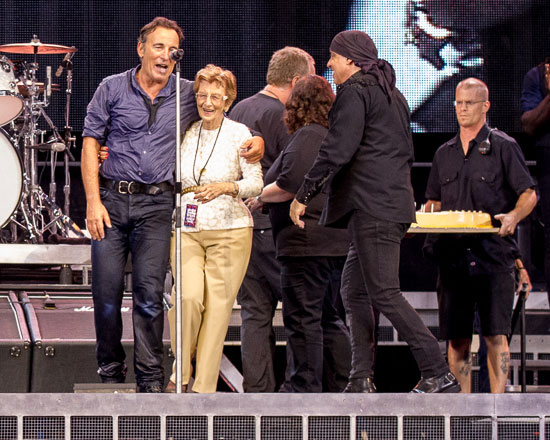 This is the archives series' fifth release from the Wrecking Ball era, taking a one-show advantage over the Darkness tour. But variety abounds: 15 songs from September 22 don't appear on the other 2012-'13 recordings, making this one unique. And it's the third "birthday" show to appear, joining 9/20/78 (Passaic, NJ) and the September '79 No Nukes concerts.
There's quite a difference between those two and this one. In Passaic, Bruce gladly accepted gifts from fans who passed them to the stage; a year later, however, he unceremoniously threw a cake that someone had brought to Madison Square Garden into the audience ("Send me the laundry bill," he said). In 2012, just after the clock struck midnight, Bruce actually encouraged the crowd to sing "Happy Birthday." No intermission, longer shows, and bigger venues must mean that turning 63 is easier than turning 30. And if you went home wearing cake in the wee hours of September 23, 2012, it's your own damn fault.
Also read: Erik Flannigan's latest nugs.net blog entry, "That's When My Love Comes Tumbling Down"
- June 7, 2019 - Flynn McLean reporting - photographs by A.M. Saddler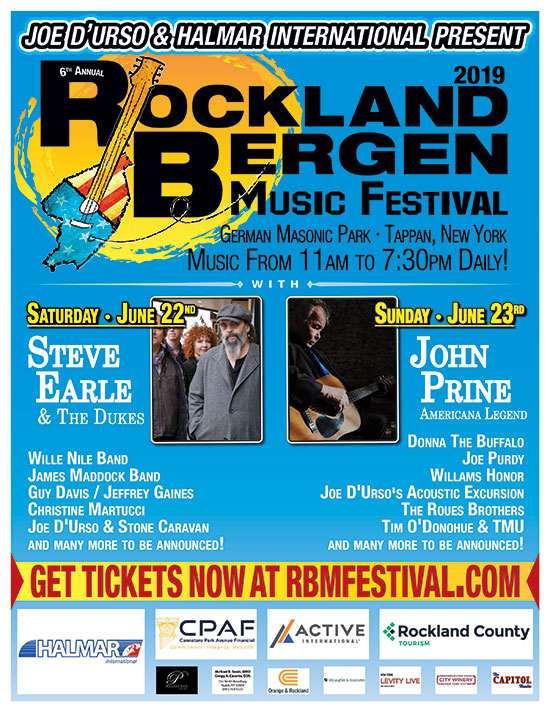 STEVE EARLE, JOHN PRINE HEADLINING THIS MONTH'S RBMF
Coming up in just a couple weeks: the return of Joe D'Urso's annual Rockland Bergen Music Festival, for its sixth year. Joe tells Backstreets that this one is "the best to date," and just looking at those headliners, it's hard to argue: Steve Earle & The Dukes on June 22, and John Prine on June 23. Willie Nile returns to the festival, and D'Urso will be playing, too, with Stone Caravan on Saturday and acoustically on Sunday.
"When I first started this festival five years ago on my 50th birthday," the Light of Day veteran says, "I hoped to see it grow and bring in many of the world's best songwriters as well as involve more local charities and communities in both Rockland and Bergen counties. Both counties have been underserved with outdoor entertainment/national talent over the years. I had a few 'goal' songwriters in mind when I started, and I am extremely proud to present John Prine and Steve Earle this year as they were part of the 'goal' writers I was thinking about."
With events beginning on Wednesday, June 19 with the First Annual Rockland County Music Awards, the Festival again lands at German Masonic Park in Tappan, NY, for the weekend.
In addition to his work with Light of Day, D'Urso is also on the Board of Directors for WhyHunger, one of the many organizations the festival will benefit. Joe tells us, "We'll have 16 charities on site each day, in keeping with my love of Harry Chapin and Pete Seeger... I am still very much grass roots: no Live Nation, no Ticketmaster, and no 15-dollar beers!"
For tickets and more information, visit rbmfestival.com.
- June 6, 2019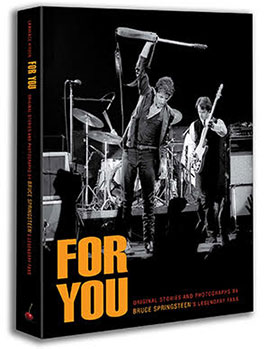 FOR YOU: IS IT FOR YOU?
After ten years of being hard to find, Lawrence Kirsch's For You might be coming back into print — if enough fans say it's for them.
Originally published in 2007, the limited edition book For You: Original Stories and Photographs by Bruce Springsteen's Legendary Fans has been sold out since 2009, occasionally appearing on eBay or Amazon for hundreds of dollars.
Publisher Kirsch is considering a second printing — an exact reprint of the original book, including all the rarely seen photos, stories, and memories from fans in more than 30 countries — and he is reaching out to the Bruce Springsteen fan community to gauge interest.
If you missed it the first time and would like another chance to own a copy, take the For You book survey at ForYouBrucebook.com.
- June 4, 2019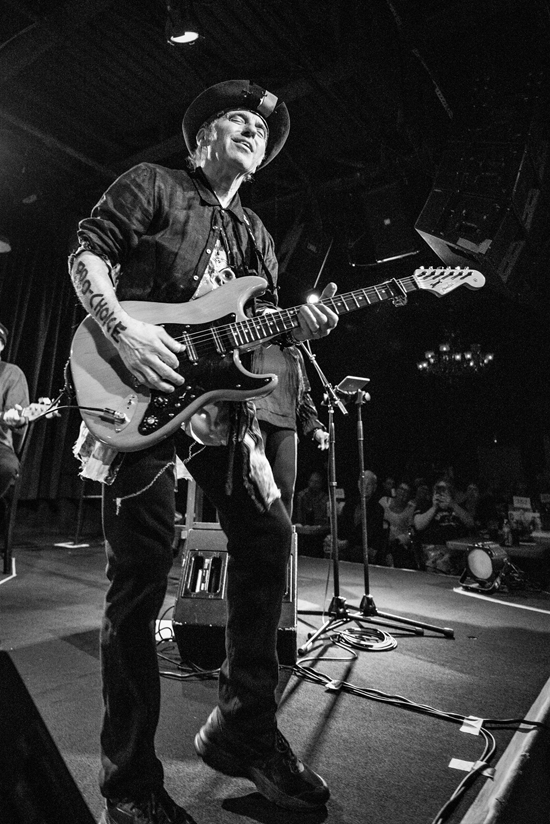 NILS WALTZING ACROSS TEXAS THIS WEEKEND
There are just a few dates left to catch Nils Lofgren and his band on tour for Blue With Lou — seen here through the lens of photographer Jerry Frishman, who was on hand to capture the Birchmere show in Alexandria, VA last week.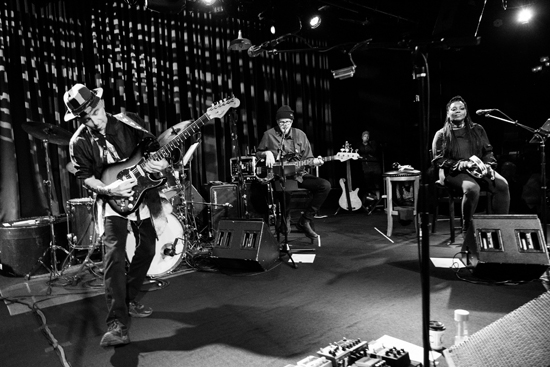 The Nils Lofgren Band includes brother Tom Lofgren on guitars, keys, and vocals; Andy Newmark on drums; Kevin McCormick on bass and vocals; and E Street darling Cindy Mizelle on vocals.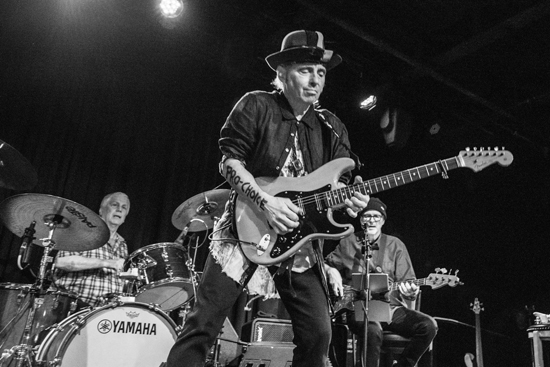 The band's current itinerary runs through this weekend, with the last stop on Sunday night. If you're in Texas, you're in luck: Nils will be in Houston tonight, Beaumont on Saturday, and Dallas on Sunday. Visit nilslofgren.com for venues, details, and links. And of course we'll keep you posted with fingers crossed that Nils will extend the tour, which we've only heard raves about. As Barry Schneier wrote, reviewing Lofgren's Boston stop a couple weeks ago, "The man is clearly a master of his craft, and it was on full display."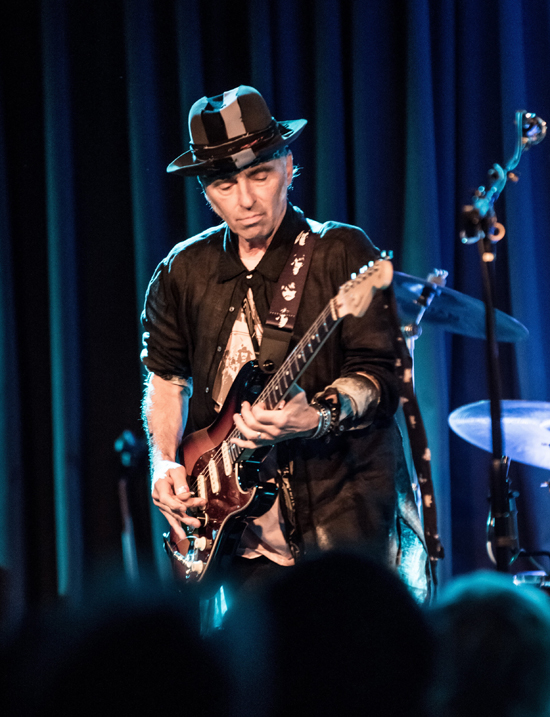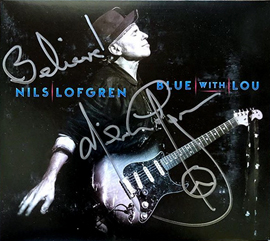 Once Nils is back home next week, he'll be signing another batch of his new album for us. If you haven't already, pick up a copy of the Blue With Lou CD from Backstreet Records to have yours autographed by the great Nils Lofgren!
For PopMatters, Jedd Beaufoin writes of the new album: "Were Blue With Lou a baseball, it'd be out of the park, its destination unknown, as it continues its journey deep into the star-filled sky, high above the houses, its final destination unknown but surely somewhere great." New Jersey's The Aquarian also considers the album a home run: "This is no-flab, all killer, no filler, basic, brilliant, ballsy rock 'n' roll — a rarity these days."
- May 31, 2019 - photographs by Jerry Frishman

SUNSHINE, WON'T YOU STAY
A Letter to the Editor we received this morning recommends a new article at rollingstone.com: "All-American Despair," by Stephen Rodrick. It's not unusual for a Rolling Stone piece to mention Bruce Springsteen (which this one does), but it is rare for one to come to us with a trigger warning. As the subhead reads: "For the past two decades, a suicide epidemic fueled by guns, poverty, and isolation has swept across the West, with middle-aged men dying in record numbers."
Dear Editor:

I am a longtime Backstreets reader, and I wanted to share this Rolling Stone article — about about the rise of suicide, specifically among white men in the western U.S. — because I think it's incredibly well written, and as I read it I really could not help but think of one of Bruce's new songs. Ample warning: sorry in advance for the morbidness of the contents of the article.

The story talks about the great number of men who feel isolated, work intense jobs, and deal with a turbulent family life, who have no access to mental health facilities and are surrounded by guns. It's an astonishing look at a particular group of people and a lifestyle that many of us can't fathom.

As I was reading about these people struggling to find ways to overcome their depression, I couldn't help but think of Bruce's new song, "Hello Sunshine." Sure enough, the article specifically mentions a man in Wyoming who finds solace in that particular song and relates it to his life.

For such a heart-wrenching article, it is encouraging to see that people from all walks of life dealing with the same things across the country can find similar meaning in some of Bruce's songs. I know Rolling Stone has published plenty of articles and notes on Bruce in recent days, but I wanted to make sure you saw this one — the Bruce mention is a quick sentence in an otherwise very long article, but it's all certainly worth a read.
Evan Higgs
via e-mail
Read: "All American Despair" by Stephen Rodrick
For those who are experiencing crisis, please call the National Suicide Prevention Lifeline at 1-800-273-TALK (8255), or contact the Crisis Text Line by texting TALK to 741741.
- May 31, 2019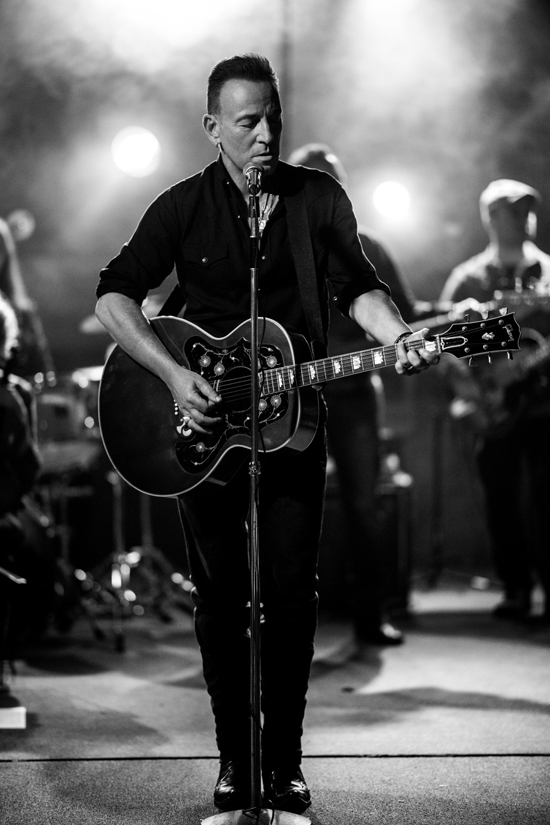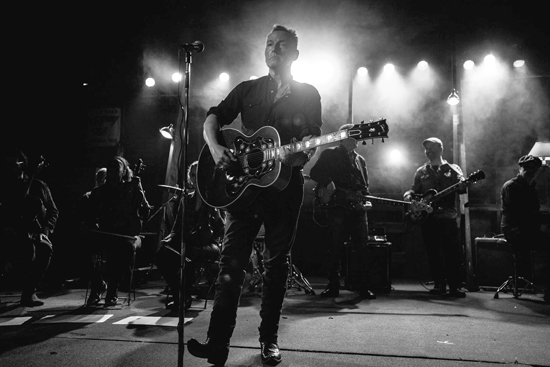 WATCH FOR THAT TUCSON TRAIN COMIN' DOWN THE TRACK...
Next up from Western Stars, look for the imminent release of the third track from the album, "Tucson Train." According to Springsteen's Twitter account, a video for the song is "coming soon"... and as these stills show, it will be the first performance video from the new record, following lyric videos for "Hello Sunshine" and "There Goes My Miracle." Our friend Hannah Summers, who attended an album listening party last night in the U.K. that included the video's premiere, calls it "orchestral, cinematic, special."
Update: the "Tuscon Train" video is now set to premiere tomorrow morning, Thursday May 30, at 8am Eastern. Watch it here!
- Updated May 29, 2019 - stills by RobDeMartin via Twitter/@springsteen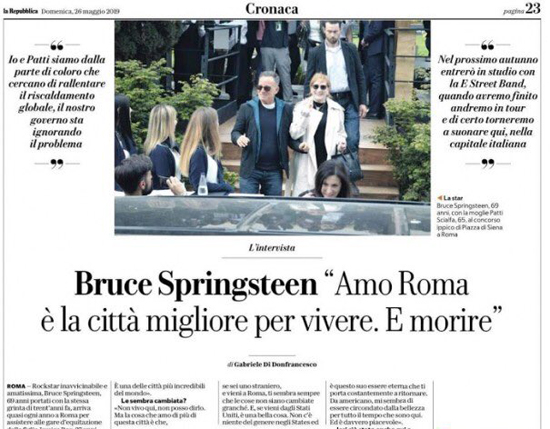 TO LIVE AND DIE IN ROMA
Springsteen touches on Wetern Stars, a 2020 E Street Band tour, global warming and more over Memorial Day weekend in Rome
In the Eternal City on Friday to attend an equestrian competition, Bruce Springsteen spoke a Repubblica reporter for an impromptu interview. Those who approached Springsteen at the Piazza di Siena horse show earlier in the day didn't come away with a story, as Gabriele di Donfrancesco recounts: "'When I'm with my family I don't talk to journalists,' he says to those who try to stop him before he sits in the grandstand, jeans, boots and sweater, next to his wife Patti Scialfa." But di Donfranscesco had better luck in the evening, when it was time for a drink back at the hotel. "I'll answer anything," Springsteen told the reporter, "just don't ask me questions about politics."
Read (in Italian): "Bruce Springsteen: 'Amo Roma, ci tornerò anche con il tourero" ("Bruce Springsteen: "I love Rome, I'll be back with the tour")
As excitement is building not only for Western Stars, nearer on the horizon, but also for a future E Street Band tour — which Bruce teased earlier this month at FYSee and discusses here as a plan for 2020 — it's worth some Q&A translation for all those non-Italian speakers interested. Be sure to note: details and nuances may literally be lost in translation, and we're unable to confirm certain details — like the exact nature of a Western Stars-related film. So take it all with a grain of Italian sea salt... but none of this can exactly be considered rumor, when it's coming from the horse's mouth.
Repubblica: What do you love about this city?
Springsteen: It is simply so alive: one of the most alive cities on Earth. I always say: if I could choose where to live, I'd choose Rome. If I could choose where to die, I'd choose Rome [laughs]. Absolutely. It is one of the most incredible cities in the world.

Does it seem changed?
I don't live here, I can't tell. But the thing I love most about this city is that, if you are a foreigner and you come to Rome, it always seems to you that things have not changed much. And if you come from the United States, it's a beautiful thing. There is nothing like it in the States, and it is this eternal being that constantly brings you back. As an American, I seem to be surrounded by beauty for as long as I am here. And it's really nice.

Yesterday there was also the second global strike against climate change here in Rome. In Europe the movement is growing a lot.
A few weeks ago my wife and I read in the newspapers how many species are about to become extinct due to climate change. And unfortunately in the United States our government is completely ignoring them — it's a crime against humanity. So yes, we are on the side of people trying to do something to slow down global warming.

(His new album will be released worldwide on June 14th.)
It's called Western Stars, it's a good [album], I'm very happy. We also shot a backstage film, in which we filmed the whole recording process from start to finish, at my house. The album contains many small narratives set in the American West.

Will there be a tour, and will it also stop in Rome?
We will go on tour next year. I will go into the studio to record with the E Street Band, starting in the fall, and when we finish we will go on tour. Of course, I always come to Rome. I love it.
- May 28, 2019


"BEEN THERE, FELT IT, NEED TO GO BACK": MIGHTY MAX NEEDS NZ
"I Need New Zealand" contest will send one of our readers to feel it, too
The E Street Band's more frequent trips to the Southern Hemisphere have clearly given Mighty Max Weinberg a special place in his heart for New Zealand. After visits with Springsteen to Auckland in 2014, Auckland and Christchurch in 2017, the drummer finds the country "spectacular," as he says in the new 60-second spot above for I Need New Zealand.
Max's current involvement in their tourism campaign involves not only being a spokesperson, but also, since I Neeed New Zealand creates customized NZ vacations, selecting his own favorite experiences — like stargazing on Tekapo South Island (little did we know The Mighty One has an astronomy bent).
So here's a cool opportunity for Backstreets readers in the U.S.: after discovering Max's favorite NZ spots, I Need New Zealand wants to bring a Backstreets reader there to experience them, too. Yep, one lucky winner and a guest will win a rockin' trip to the other side of the world, the land of Lorde, to take in some Max-curated sights. Enter the drawing for a trip for two to New Zealand here.
During rehearsals for his current Max Weinberg's Jukebox tour, I Need New Zealand sat down with Max for a fun Q&A lightning round: over the course of more than 30 quick questions, Max names his favorite movies, favorite musicians, and the best street food he's ever tasted ("Roy Bittan's favorite bratwurst joint in Zurich"). He touches on his love of architecture, offers relationship and travel advice, and of course talks about playing with his longtime bandmates:
Apart from your drumsticks what is the most essential travel item when touring with Bruce Springsteen & the E Street Band?

The right frame of mind. To realize and appreciate how special the experience is, particularly after 45 years.
Asked to choose between bungee jumping or skydiving, Max laughs: "Drumming for Bruce Springsteen is the most thrilling thing I do!"
Read the full Max Weinberg interview here,
where U.S. readers can also enter WIN a trip to New Zealand
- May 24, 2019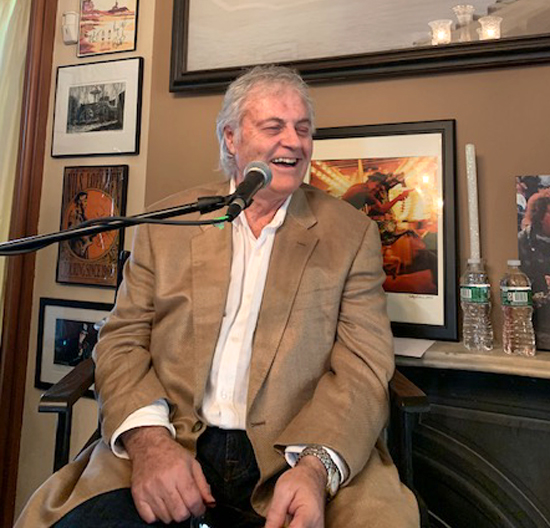 MIKE APPEL IN THE HOUSE
Appel shares the spirit of '74 at Staten Island house concert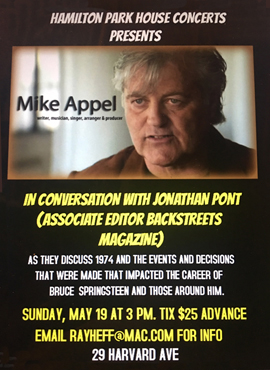 Mike Appel is not a man of few words. Ask him to recall a story from 1974 and you're going to get all the details as if it happened yesterday. Speaking in front of an audience in Staten Island, New York, on Sunday, May 19, Bruce Springsteen's first manager and producer shared colorful memories of Springsteen's rocky start and rise to stardom.
The nearly two-hour conversation, moderated by Backstreets Associate Editor Jonathan Pont, was part of the Hamilton Park House Concert series at the home of Ray Heffernan and Maureen Campbell. While there were many areas that could have been covered, Pont focused on 1974: the events and music of the year that shaped Springsteen leading up to Born to Run and the simultaneous covers of Time and Newsweek in 1975.
"There really was no plan in 1974," Appel said. "The plan was for Bruce to write hit songs, and for me to get promotion and to make money."
Appel, who first met Springsteen in 1971, set the scene by recalling that "Bruce wasn't writing hits, something that mainstream radio wanted. He was writing 'Blinded by the Light' and 'Spirit in the Night.'" When Bruce auditioned for John Hammond at Columbia Records, as Appel related the story, Hammond told them, "I have the power to get you on Columbia Records."
Columbia CEO Clive Davis was a big Bruce ally but was fired in May of 1973 after accusations of misappropriation of funds. That left Bruce without internal record company support and, within a year, he was almost dropped from the label.
"The executives were excited about Billy Joel at the time, and it was sort of a competition between Bruce and Billy at Columbia," Appel said. Things were rough in the Springsteen world when The Wild, The Innocent & The E Street Shuffle, which came out in November of 1973, didn't even sell as well as Greetings From Asbury Park, N.J., according to Appel. Going into 1974, he said, "We were very down."...
Continue reading
"MIKE APPEL IN THE HOUSE"
- May 23, 2019 - Stan Goldstein reporting - photograph by Frank Fontana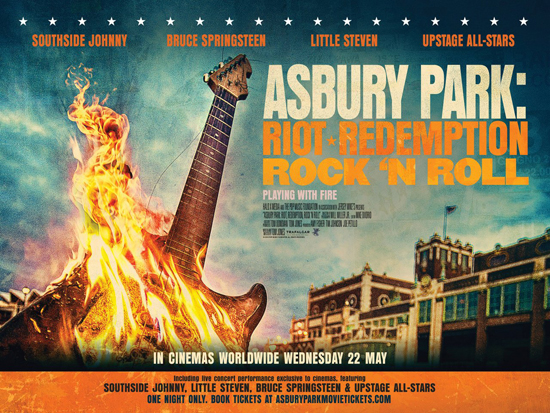 TONIGHT'S THE NIGHT
Asbury Park is calling out around the world tonight, with Tom Jones' documentary about the city and its music showing on theater screens internationally for a special one-night-only event. Asbury Park: Riot, Redemption, Rock 'n' Roll is a must-see for fans of the Jersey Shore music scene and anyone curious about the real history behind Bruce Springsteen's line "troubled times had come to my hometown."
With first-person accounts of the 1970 riots, and plenty of testimony from other side of the coin — the music that brought the city's people together — the documentary gathers important voices from the community for an entertaining, enlightening, and moving look at the Jersey Shore music scene in historical context. As film critic Caroline Madden wrote for Backstreets, covering last month's premiere at the Asbury Park Music + Film Festival, the film shows "how music cut across the tracks — literally — and brought the town together in the darkest of times."
As TimeOut reports this week, "Springsteen fans will love a new documentary about the glory days of the place where he honed his New Jersey Sound — and the riots that nearly burned it to the ground."
Visit AsburyParkMovieTickets.com to find a theater near you and purchase tickets. Fans in the U.S. get a second shot next week, if you can't make it tonight, with another opportunity to see the film in theaters on May 29.
Proceeds from these special screenings will benefit various programs for kids' music education in Asbury Park and beyond, including Lakehouse Music Academy (featured in the film), Beat Bus, and more, inspired by Stevie Van Zandt's TeachRock project. Director Jones is passionate about this cause, as he told Backstreets last month when discussing the fundraising aspect of the cinema event: "We're going to be able to do something significant for both Asbury Park and kids in general. That's the part I'm excited about. The only thing that'll be covered on the film are the hard costs, and everything else goes right to those programs."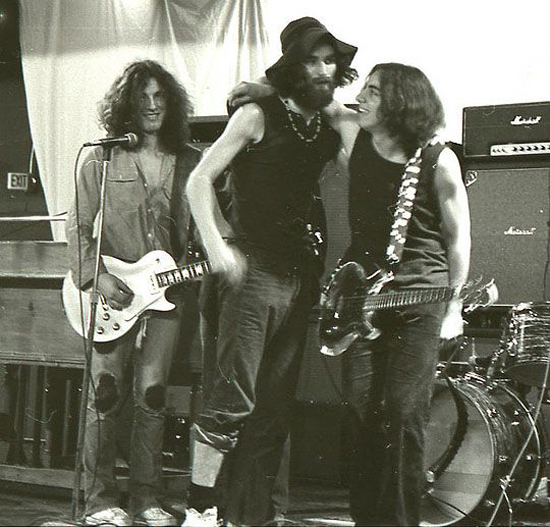 Bruce Springsteen, Vini Lopez, and Steven Van Zandt - from the film Asbury Park: Riot, Redemption, Rock 'n' Roll
With Little Steven currently on tour in the U.K., fans in Bristol will get an extra bonus tonight: Stevie is not only playing Bristol's O2 Academy with the Disciples of Soul but also making an appearance at the 5pm Everyman Cinema screening prior to his performance.
Steven is one of many musicians featured in the film, shown revisiting his old haunt at the Upstage and interviewed inside. Stevie has talked about the documentary in recent press, telling the Boston Herald, "It's a little unusual for me, but I was glad somebody was interested in this and talked about the history of the town." He told digitaljournal.com, "It turned out to be a really cool movie, which I am very happy about. It is a good piece of history to document. I wanted to encourage Tom to get it done. I wasn't sure that it was ever going to turn into a real movie. It sure turned out great and I am glad it got done."
Also featured in the documentary: Springsteen (also interviewed inside the Upstage, as well as shown performing live with the Upstage All-Stars), Southside Johnny, David Sancious, Ernest Carter, Garry Tallent, Bobby Bandiera, Max Weinberg, Albee Tellone, Tinker West, Vini Lopez, and many more.
- May 22, 2019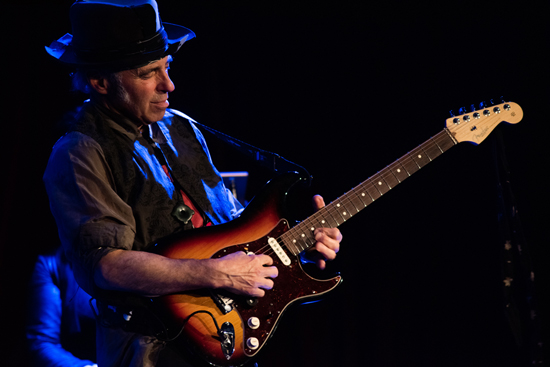 A FAMILY AFFAIR
The Nils Lofgren Band
City Winery, Boston, MA
May 18, 2019
In support of his new release, Blue with Lou, Nils Lofgren and band arrived at the City Winery in Boston on Saturday, after just completing the first week of the tour. Nils was quick to say onstage how happy he was to be back in Boston, reflecting on days past when he performed at local landmark venues Paul's Mall and the Jazz Workshop. Those two rooms, in their heyday from 1963-1978, were the go-to places in Boston to see great music. Nils performed there in 1976. That was then, this is now — Nils still loves it here, and at the City Winery, Boston loved him right back.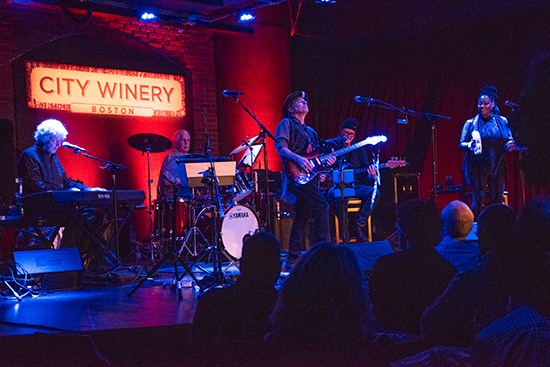 Lofgren co-wrote half of Blue with Lou's songs with the late Lou Reed, and on this night Nils was happy to share with audience the story of their collaboration. He recalled when working on his 1979 solo album, his producer connected the two songwriters. Nils had six songs with melodies intact but no libretto; a phone meeting with Lou revealed that Lou had words but no music. So a plan was hatched, and Nils sent a cassette. After a few weeks without hearing back, Nils was ready to keep moving — until a fateful morning (4:30am, to be exact), when Lou returned his call, excited and in full manic mode, declaring he'd been up for three days straight listening to the cassette and was ready to dictate. Dictate? Nils, with landline in hand, put on a pot of coffee and wrote the lyrics down by hand as Lou reeled them off over the phone. As Nils said, it's the first album he ever wrote in his sleep.
A few of those collaborations were recorded and released over the years, but fast forward to 2019, when the bulk of them found a home at the Lofgren residence. Nils based his latest offering around these songs, recording in his home state of Arizona with his wife, Amy, co-producing as well as designing the band's tour merchandise. The circle is complete, and the band hits the road.
Joining Nils on tour is Andy Newmark on drums, Kevin McCormick on bass and vocals, and E Street favorite Cindy Mizelle on vocals, all of whom perform on the album. Nils remarked that the ability to tour with musicians that you recorded with is a rare treat. Add to the lineup brother Tom Lofgren (who was part of Nils's first band, Grin) and you have a family affair.
Early into the set was a gutsy performance of "Attitude City," the opening track from Blue with Lou. Reflecting on this Reed collaboration, Nils spoke to how the song reflects the "sickness" that comes with power and money — written years ago, but sadly still relevant today. Nils drew attention to his beautiful Gretsch Black Falcon guitar as he introduced the song. He told a story of early days touring with the E Street Band where wardrobe on stage was up to the individual. After that experiment failed, Bruce decided band members could wear whatever they wanted… as long as it was black. Nils had been pining for the white version of the guitar but, upon this declaration by the band's leader, he opted for black.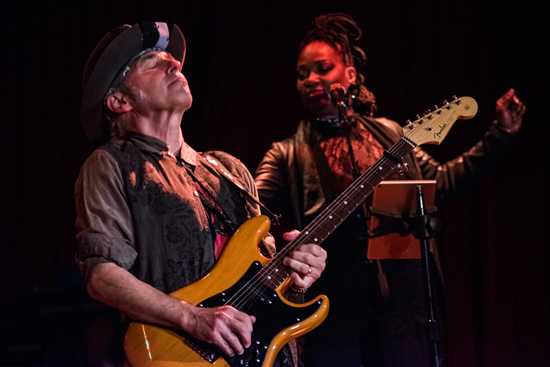 "Too Blue to Play" filled the room with sweet harmonies as Cindy took us to church with her gospel-infused vocal style. One might not necessarily make the connection between the latest album's title and the bluesy sound that dominated much of the night;" Cut Him Up" showcased Nils's deft piano skills while giving Tom a chance to showcase his solid guitar chops ripping out a sensuous blues solo. Family ties are strong on this one.
Considered by many to be one of the most proficient guitarists practicing, Nils has the ability to create sounds that range from tough and tenacious to poignant and tender. The audience clearly approved, often applauding many of his solos. David Byrne states in his recent book How Music Works that, in his opinion, Nils is the preeminent guitar player around today. The man is clearly a master of his craft, and it was on full display.
Taking a turn back to his 1975 solo release, Nils gave us "Goin' Back." That classic Goffin/King cover capped off a brief discourse into the benefits of recording with live tracking versus multi-tracking. Nils talked about the joy of a band playing as one, live in the studio, doing something together that you can't recreate any other way. His love for his band and his love for playing music were themes that he would come back to throughout the night, along with sharing a few personal gems from his own history. Nils said that when he worked with Neil Young on After the Gold Rush, he was asked to play piano. Nils at first wasn't ready to comply, but the producers insisted that since he could play the accordion, piano would be a natural. To prep for the session, Nils would bang out a few melodies, which he then demonstrated on stage: one that caught Neil's attention in the studio at the time and became the foundation for "Southern Man."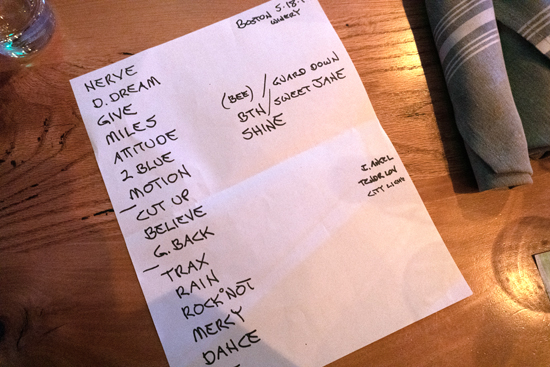 The two-hour set closed with the triumphant "Shine Slightly" from Nils's 1979 solo release, the same album that heralded his first collaboration with Lou Reed, bringing the night full circle and the audience to its feet.
The Nils Lofgren Band continues their U.S. tour this month and into June — see nilslofgren.com for dates and ticket links.
- May 21, 2019 - report and photographs by Barry Schneier


LOOK WHAT HE'S DONE: SECOND SINGLE FROM WESTERN STARS IS HERE
After countin' on a miracle for so long, Springsteen watches it walk away on the second released track from Western Stars, "There Goes My Miracle." With a bigger, more sweeping sound than lead single "Hello Sunshine," you'll hear more of the orchestration that has been associated with the forthcoming record. The string section was conducted by Scott Tibbs, who Springsteen and co-producer Ron Aniello have worked with before, most notably on the High Hopes recording of "American Skin (41 Shots)." It's the multi-talented multi-instrumentalist Jon Brion on that Bacharachian tympani. And this is one of four tracks on the new album with vocal arrangements by Patti Scialfa, who sings backup along with Michelle Moore and singer/songwriter Matthew Koma (who previously co-produced the "Rocky Ground" remix). But the performance highlight has to be Springsteen's own vocal, bold and clear on the soaring chorus. Available now from the usual DSPs.
Pre-order Western Stars compact disc
+ exclusive Springsteen bandana
Pre-order Western Stars 2-record set
+ exclusive Springsteen bandana
- May 17, 2019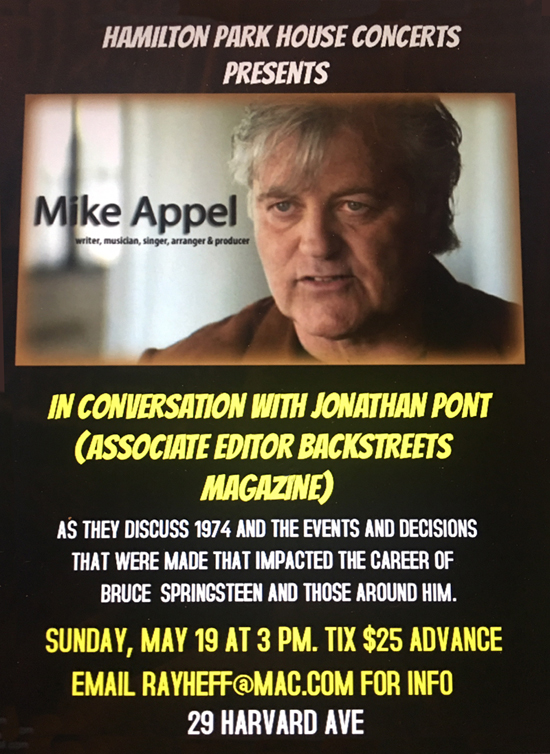 MIKE APPEL "HOUSE CONCERT" THIS SUNDAY IN NYC
If Staten Island is in reach, be there this Sunday afternoon for a live conversation between Springsteen's first manager and producer Mike Appel and Backstreets Associate Editor Jonathan Pont, in a very intimate setting — part of the Hamilton Park House Concerts series. They'll be talking about the events and music that shaped 1974 for Springsteen, leading up to the success of Born to Run.
"One of the the topics I'll be talking about is how Bruce Springsteen almost got himself dropped from Columbia Records," Mike says, "when Clive Davis, the CEO of Columbia, was himself fired.... He was our champion, he was our advocate, and losing Clive was a devastating blow and almost got Bruce Springsteen's career sabotaged."
And then there's the tme "when I decided to be a 'promotor for a day,' so to speak, I almost got myself killed — and a number of other people. It was one of the most difficult days I can remember on tour. It's just because I was lucky that nothing bad happened, but it's an incredible story and you'll hear it."
Appel will also discuss the Born to Run studio sessions, tell the story behind the simultaneous covers of Time and Newsweek, and take questions from the audience — all in what might as well be your living room, for what should be a unique experience.
"In Conversation: Mike Appel" takes place this Sunday, May 19, at 3pm on Staten Island. See the Facebook event page for further details and advance tickets.
- May 16, 2019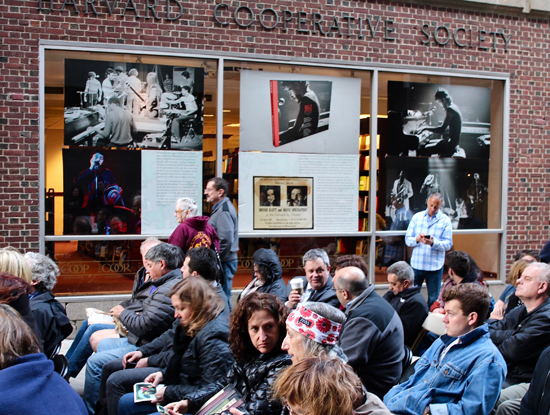 ROCK 'N' ROLL FUTURE IN HARVARD SQUARE, 45 YEARS LATER
This past Thursday, May 9, the Harvard Coop in Cambridge, MA and the Harvard Square Business Association celebrated their neighborhood's contribution to rock 'n' roll history by hosting a book signing and celebration for Barry Schneier's Bruce Springsteen: Rock and Roll Future in the same block where it all happened in 1974.
A chilly May evening didn't stop fans from turning out to hear Boston Globe music and arts contributor Jon Garelick sit in conversation with author Schneier to discuss the book, the era, and the impact that one night — the E Street Band's May 9, 1974 performance at the adjacent Harvard Square Theatre, 45 years prior — had on Bruce Springsteen's career.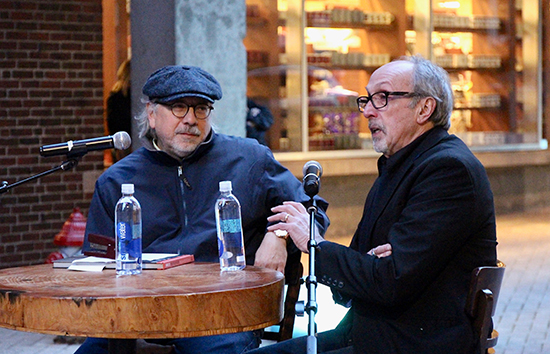 Jon Garelick, left, with author/photographer Barry Schneier, May 9, 2019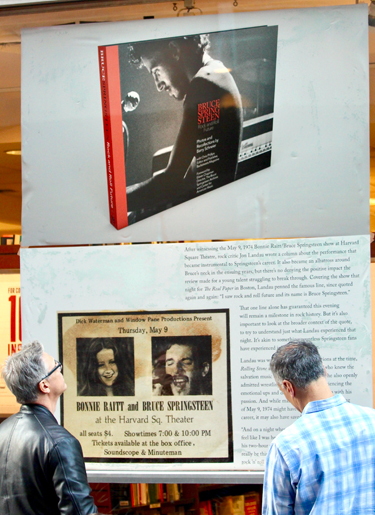 Garelick, a long-time contributor to the local music scene, reflected on the era in music and shared his admiration for Bruce's musical contributions over four decades. He reminisced about his own experience first seeing Bruce at Charlie's Place in Cambridge in the spring of 1974 — interestingly enough, just two days before Schneier did.
Jon and Barry discussed first witnessing the uniqueness of Bruce's musical approach, in both his songwriting style and his performance. They agreed on the feeling of seeing a star in the making in 1974, one that they both needed to tell the world about (not unlike the themes in Jon Landau's concurrent Real Paper review in which he "saw rock and roll future"). Garelick read excerpts from Schneier's book to the assembled Harvard Square crowd, emphasizing the uniqueness of the community that was forming around Bruce's music at the time, which, he noted, has increased in numbers no other artist today can rival.
Additionally, the two veterans of the 1970s Boston and Cambridge music scene examined in-depth the exceptionality and informality of the era, when rock musicians were still finding their way and photographers could roam the stage freely.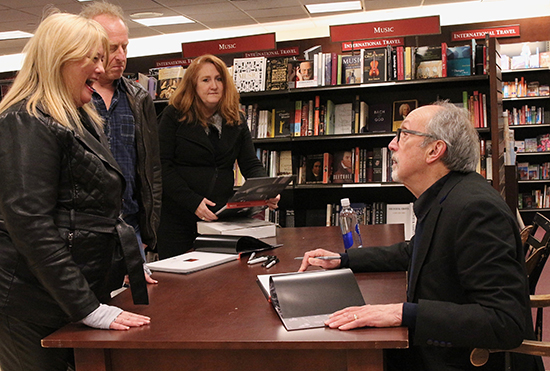 The evening began with local favorite Mike Hastings performing acoustic versions of many Springsteen favorites and concluded with a book signing inside the Coop.
Schneier's Bruce Springsteen: Rock and Roll Future, from Backstreets Publishing, is available now in hardcover and in an exclusive slipcased edition from Backstreet Records.
- May 15, 2019 - photographs by Cary Mulcahy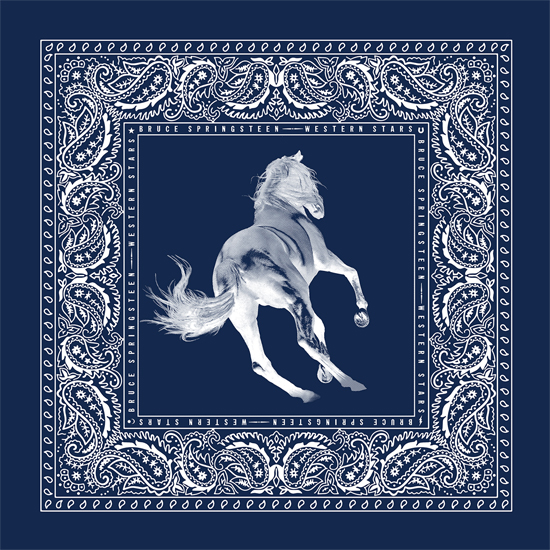 WHERE THE BANDANAS ARE
Official promo Western wear with your Backstreets pre-order
Bruce Springsteen's Western Stars, coming June 14, is now available for pre-order from Backstreet Records. All copies of the new album, on either vinyl or CD, will ship from us with a FREE bonus: this Western Stars bandana, an official promotional item for Springsteen's 19th studio album.
A Backstreets exclusive. Quantity is limited, order now to guarantee yours!
Pre-order Western Stars compact disc
+ exclusive Springsteen bandana
Pre-order Western Stars 2-record set
+ exclusive Springsteen bandana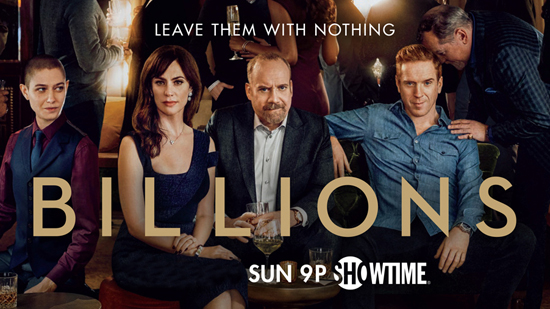 A SPRINGSTEEN / VAN ZANDT DOUBLE SHOT ON PRIMETIME TELLYVISION
The Backstreets Interview with Billions co-creator Brian Koppelman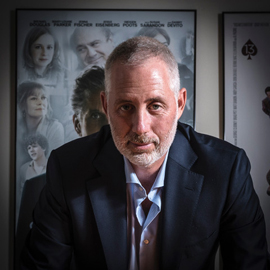 Showtime's breakthrough series Billions recently proffered a two-fer for Springsteen fans (S4 Ep3), featuring not only a track from the Boss himself, but from consigliere Little Steven. Regular Billions viewers know that music plays a critical role in the show's storytelling, with past episodes featuring artists from the Springsteen "sphere" such as Bob Dylan, The Hold Steady, Son Volt, Tom Morello, and Southside Johnny. Show co-creators Brian Koppelman [right] and David Levien have not been shy about their Springsteen fandom, so it was only a matter of time before Bruce's music made an appearance.
Photograph by Ben Lazar
We recently had an opportunity to chat with Koppelman via email about Springsteen and all things Billions.
You've mentioned Bruce Springsteen a number of times in interviews as well as your own podcast, and you recently tweeted: "Nebraska is one of the most important albums of my lifetime." Tell us how Bruce first appeared on your radar and what influence he subsequently had on you as a fan and as a writer.
The first album I actually bought with my own money was The River. I remember listening to "The Ties That Bind" over and over before I even went on to the next song. His influence on me as a writer is immense, of course. After I got into The River, I went backwards, and from the moment I heard "Meeting Across the River" I became kind of obsessed with the story of that song — with who they were, what their coded language meant, all of it. I am sure the echoes of that are felt in my work. I should point out that my creative partner, David Levien, was also hit quite hard by that song and story.
As for Nebraska: the stories on that record have also haunted me since I first heard them. That album kept me company on some of the worst, coldest (externally and internally) nights of my life, when I was 19 years old.
Season four, episode three of Billions featured Bruce's "Atlantic City" and Little Steven's "Soulfire" in an episode called "Chickentown." This marked the first time a Springsteen song was featured on Billions. While the song choice seems like a no-brainer given the show title, can you give us a little background on how that came to be?
David and I had the idea to use "Atlantic City" the second we decided on the story for that episode. Of course, we had no idea whether Bruce would give us permission. The day that he did was a day of a lot of high-fiving around the ol' Billions offices.

Almost immediately after we hear Bruce's version of "Atlantic City," Kelly AuCoin [as Dollar Bill Stearn] sings the opening lyrics to the staff at Axe Capital. Kelly sold it like a fan. Did that take much coaxing?
If Kelly "Dollar Bill" AuCoin is one thing, it is game. He dove into it with zero hesitation and a ton of heart. And the man crushed it.

The addition of "Soulfire" was a surprise bonus after hearing Bruce at the head of the episode. Was that a happy coincidence?
That Stevie album killed me when it came out a couple years back. I listened to it all summer. Dave and I have always loved Little Steven's music. And I know Stevie a little bit, so I asked him if we could use the song. His only request was that we not "bury" it. I assured him the song would be noticed. And it was.
Billions is brilliant in its ability to deftly integrate music into each episode's narrative. In some instances, actual song lyrics [e.g. Gerry Rafferty's "Baker Street"] are woven into the script. It seems the entire writing staff is made up of deep music aficionados. Tell us about the process of music selection for the show and how the writers work with Eskmo, the original music composer.
David and I pick all the songs in the show. Sometimes an editor or writer will make a suggestion, but 98 percent of the time, it's coming from us. We have spent a lifetime listening to music together, talking about it, sending songs back and forth. We are steeped in this stuff, and obviously how it works against picture, to amplify the stories we are telling.
Eskmo is crucial to our show. His score is as identifiably Billions as our dialog is. We work closely with him, and our music editors, to really tailor his music to the given scenes. He is a master, and it's a privilege to work with him.
How does music influence your writing? Do you hear specific songs in your head while navigating plot points?
I listen to music all the time as I write. Right at this moment, as I respond to your questions, I'm listening to The Mountain Goats, and they are helping my fingers move across the keyboard.
Music doesn't generate plot, though. It locks in tone, voice, spirit. When writing dialog, I have to find a song that feels like it is pushing me closer and closer to the mindset of the characters, to the mood of the scene in question.
Bruce has often cited novels and films as great influences on his work, particularly with his character development. Do you find yourself doing the same through artists like Bruce, Dylan and others?
Yes. Of course. Dylan, Bruce, Joni, David Baerwald, Michael McDermott, Craig Finn, Jason Isbell, Aimee Mann, Randy Newman, Lou Reed, and many, many others. If you are a writer and love music, you have to notice the economy of language deployed by the best songwriters.
Dylan, Metallica and a few other artists have made multiple appearances on Billions. Possible we'll hear more Springsteen should the story call for it?
I hope so!
Brian Koppelman is co-creator of Billions on Showtime and host of his own podcast, The Moment.
- May 10, 2019 - Neil Van Harte reporting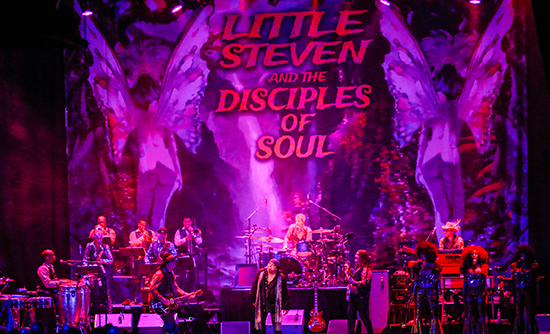 A SUMMER OF SORCERY STARTS IN ASBURY PARK
Little Steven and the Disciples of Soul celebrated SOS release at the Paramount last night, with special guest Bruce Springsteen
There are signs of summer popping up all around the Jersey Shore. Ice cream shops, long dormant for the winter, are starting to re-open. Announcements about Memorial Day parades dot Main Street as you drive through Bradley Beach and other shore towns. And when you step onto the boardwalk in Asbury Park, the salt air of the Atlantic Ocean hits your nose.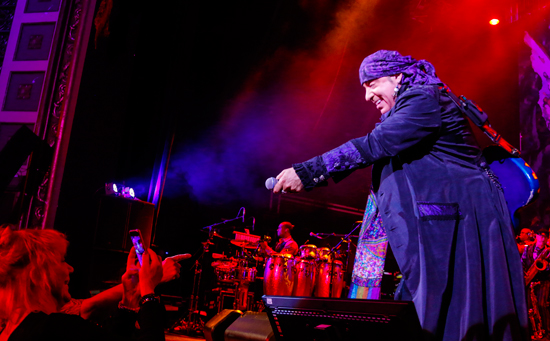 But summer started off early in the Paramount Theater on Wednesday night, May 8, as Little Steven & the Disciples of Soul raised the roof and blew down the doors to kick off the East Coast leg of their tour in support of the new album, Summer of Sorcery.
Led by bandleader Van Zandt, music director Marc Ribler [above left], and horn director Eddie Manion, the Disciples of Soul powered through 24 tunes, all 12 from the new album and many classics as well.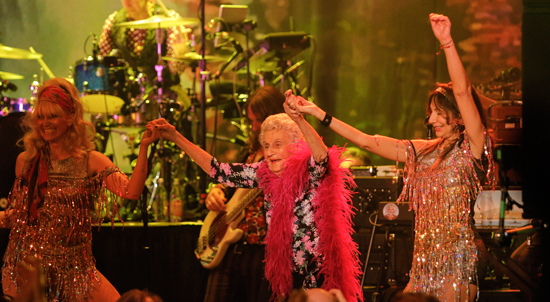 The whole night had a party atmosphere to it — from when the Disciples horns section strutted on stage via the Paramount's center aisle to the all-out jamming and twisting that featured 92-year-old Bea Slater [above] in a red boa, to the delight of the crowd.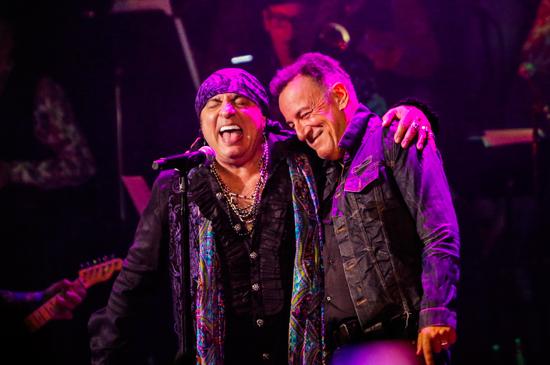 The crowd was even more delighted when Stevie's old buddy, Bruce Springsteen, joined the fun to the opening horns of "Tenth Avenue Freeze-out."
"They made the change uptown when Little Steven joined the band!" sang Bruce, pointing to his long-time dreaming buddy. Bruce stayed on stage with the band for "Sun City" [video] and the ever-popular "I Don't Want to Go Home" [video] — a sentiment, as ever, shared by everyone in the building — before Steven and the Disciples closed out their show with "Out of the Darkness."
This was the East Coast record release concert to kick off Little Steven's Summer of Sorcery World Tour 2019. Last weekend, the West Coast version happened when the band hit the stage at the Saban Theater in Los Angeles, where Bruce joined in the fun as well. Little Steven and the band will now embark on an epic world tour, beginning May 16 at Liverpool, UK's 02 Academy, and continuing through the year.
Every U.S. headline date on the Summer of Sorcery Tour 2019 will benefit Van Zandt's TeachRock education initiative and offer an introduction to the Teachrock.org curriculum. Earlier in the day before the Paramount show, the TeachRock staff hosted a free professional development workshop designed to engage educators with techniques and content through which they can comfortably use music to inspire students, even if they've never touched an instrument.
According to John Zurka [above], a teacher in Union, NJ, about 200 educators, including himself, attended the workshop, which featured an appearance by Little Steven. Several teachers were in the audience, too, including Tom Evans of Tunkhannock, Pennsylvania, and Annette Dahlin, of Sweden. Many proudly sported their I Teach Rock t-shirts.
Sometimes-Springsteen collaborator and often-times Light of Day performer Jesse Malin also was on hand to take in the show, but he did not take up the guitar. Malin will headline The Stone Pony on May 17.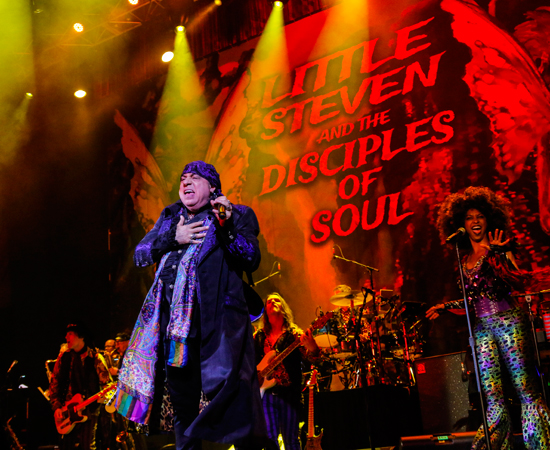 But the night belonged to Little Steven and his Disciples of Soul. Not only did they kick off their tour in a grand way, they also kicked off the summer at the Jersey Shore in rockin' fashion as well.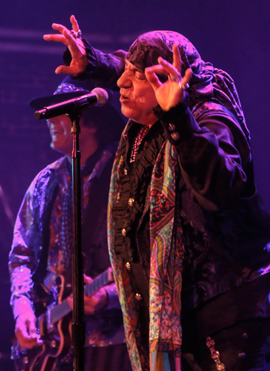 Setlist:
Communion
Camouflage of Righteousness
Party Mambo!
Love Again
Education
I Visit the Blues
Gravity
Los Desaparecidos
Little Girl So Fine
Trapped Again
Love on the Wrong Side of Town
A World of Our Own
Suddenly You
Vortex
I Am a Patriot
Superfly Terraplane
Bitter Fruit
Forever
* * *
Summer of Sorcery
Soul Power Twistin'
Tenth Avenue Freeze-Out (with Bruce Springsteen)
Sun City (with Bruce Springsteen)
I Don't Want to Go Home (with Bruce Springsteen)
Out of the Darkness
- May 9, 2019 - report and photographs by Mark Krajnak / JerseyStyle Photography. Follow Mark on Instagram at @jerseystyle_photography


PRETTY SOON IS NOW
Nils Lofgren's new video for "Pretty Soon," from his new album Blue With Lou. The video was directed by Kii Arens, shot on the Gila River Indian Reservation. Andy Greene writes, "The song is about a young man that joins the military to impress his girlfriend. 'He becomes "woke"in a war zone and is determined to get back to her,' Lofgren tells Rolling Stone. 'Rough journey, though I think he makes it.'" As the Washington Post reports, "Guitarist Nils Lofgren used to to do backflips at concerts. Now he tap dances"; that latter skill is also on display in the new clip.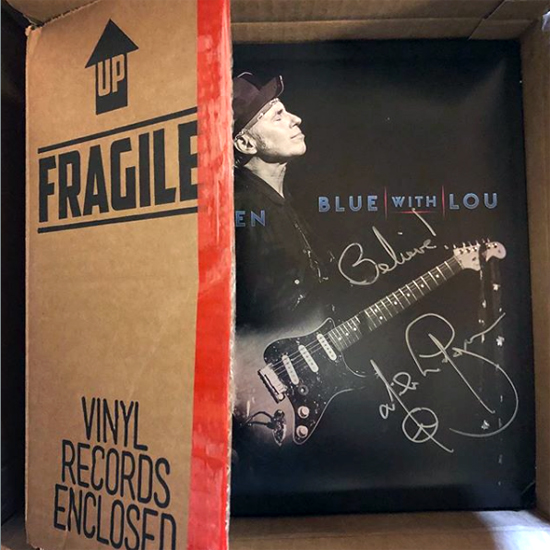 Blue With Lou is out now on Lofgren's Cattle Track Road Records. For those who ordered the signed double LP from Backstreet Records, the autographed vinyl has just arrived from Nils and we'll be shipping it out this week. The Nils Lofgren Band is on the road now in support of the album — visit nilslofgren.com for news, tour dates, and more.
- May 9, 2019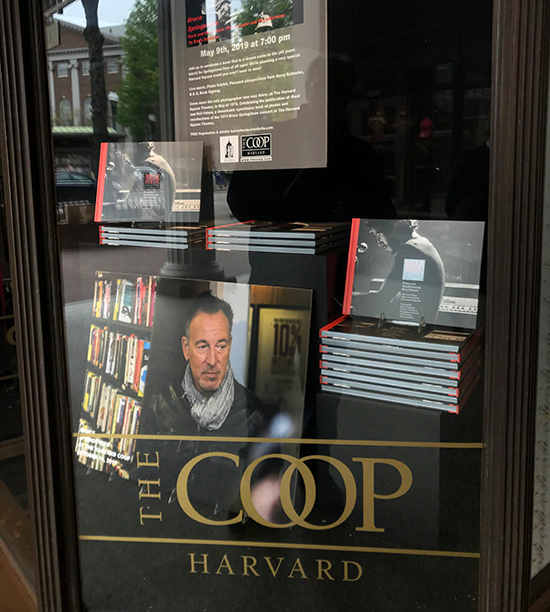 CALLING ALL BOSTON-AREA BRUCE FANS
Block party in Harvard Square celebrates the anniversary of 5/9/74 with an evening of music, stories and photographs
Tomorrow, Thursday May 9, the Harvard Square Business Association and the Harvard Coop proudly present an evening of all things Springsteen, as they celebrate the 45th anniversary of his legendary career-making performance at the Harvard Square Theatre.
Featured will be photographer Barry Schneier, returning to the scene in Cambridge, MA, where he documented Springsteen and the E Street Band opening for Bonnie Raitt on May 9, 1974, for this book launch party. The press release notes: "Schneier's newly released book, Rock and Roll Future, is a remarkable eyewitness account of photos and recollections of the seminal concert." Tomorrow's event will take place on Palmer Street, which will be closed for the evening and converted block-party-style for the festivities. (Palmer Street in Cambridge actually borders the building in which the Harvard Square Theatre, now shuttered, is housed.)

6:30pm: Harvard Square favorite Mike Hastings returns to the Square after his crowd-pleasing set at Make Music 2018, for a performance of Springsteen covers.
7:30pm: Photographer Barry Schneier, in conversation with Jon Garelick, freelance writer, who currently writes for the Boston Globe, DownBeat, Jazziz, and other publications.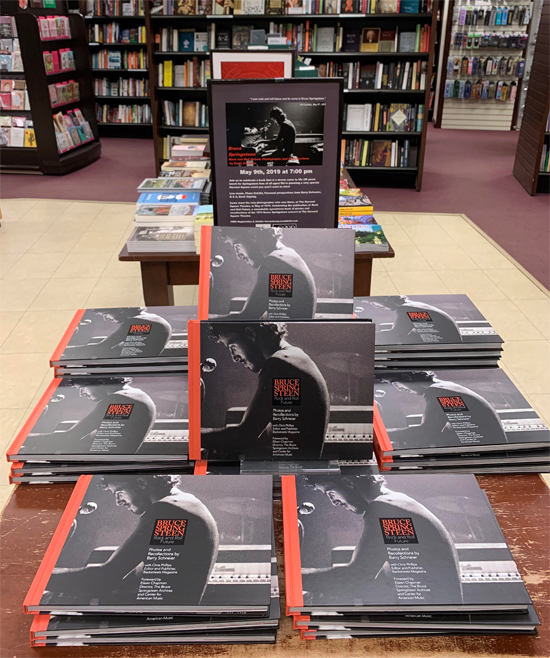 Following the discussion, attendees are invited inside the Coop to meet Schneier as he signs copies of his book, which will be available for purchase. Barry's photographs will be on display in the Coop windows.
Attendees may also enter a raffle to win a First Edition hardcover copy of Born to Run, signed by Bruce himself! (You must be present at the event to enter and present at the drawing to win.)
In the event of rain, this event will be moved inside the Harvard Coop.
Free registration is requested and greatly appreciated, but not required. Seating is first come, first served. Registration does not guarantee a seat. Late arrivals will be admitted and/or seated at the discretion of the event manager.
- May 8, 2019

45 YEARS AGO THIS WEEK, SOMEONE SAW "ROCK AND ROLL FUTURE"
And someone else photographed it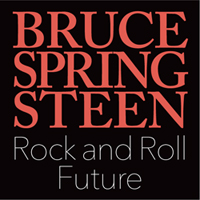 This week, a look back at a watershed moment in Bruce Springsteen's career and also a look inside the book Bruce Springsteen: Rock and Roll Future, which celebrates that evening in stories and photos.
This Thursday, May 9, will mark the 45th anniversary of the historic evening in Cambridge, MA, when Jon Landau famously "saw rock and roll future" at the Harvard Square Theatre as Springsteen and the E Street Band opened for Bonnie Raitt. Backstreets Publishing is proud to have teamed up with photographer Barry Schneier to produce Bruce Springsteen: Rock and Roll Future. The book looks at the night through the lens of Barry's camera as well as taking a narrative deep dive into the concert, the era, the events that led up to the evening and what followed after. Though Barry's work with Springsteen and other music luminaries has since been internationally recognized and exhibited, many images included in the book have never before been seen.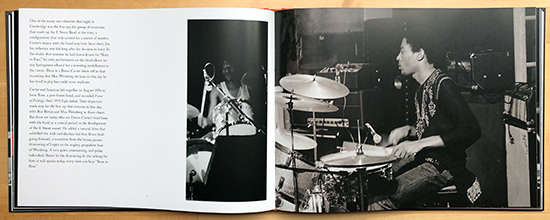 Also contributing to the narrative are early members of the E Street band: bassist Garry Tallent, drummer Ernest "Boom"" Carter, and pianist David Sancious, all of whom performed that night in Cambridge.
First, let's hear from Boom.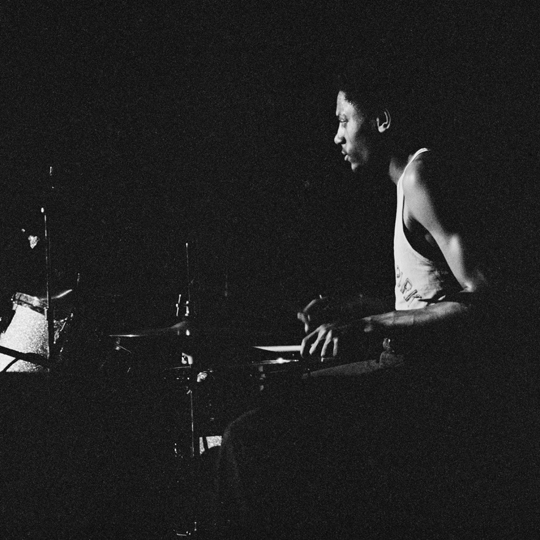 LOOKING BACK: ERNEST CARTER, 2018 (EXCERPT)
Bruce was very focused, not a party dude. And I liked that. I don't like to just hang out. I don't haul all my drums around for nothing. I like to work, and that was a good environment. It was a little difficult at first, because I had to find the groove to his music. It wasn't anything I hadn't heard before, but the way he constructed his music was new to me. His songwriting — it was different. It was rock. It was soul. And the lyrics! I never played with anybody who did all that talking and singing.
So I figured it out with a little help from Garry — feeling out the rhythm section, coming in after Vini's style — and David, and Danny, and everybody. I picked it up quick in some ways. We had to go right out and do a show. But I had to do a lot of homework.

It came down to paying attention to Bruce's body language, and his approach to guitar. I played a lot off of what he was doing on his guitar. You know that lick people talk about that I do on "Born to Run"? That riff was inspired by the guitar lick that Bruce was playing — my drumming matches what he's doing a little bit. That's where that came from.
You had to pay very close attention to him, because you'd never know what was going to happen. Maybe that's why I don't have memories of this performance. I've thought about it, but it's just… life on the road and another gig, I guess. Flying together. All together — we all moved together. I do remember Bonnie Raitt's show. I couldn't take my eyes off her. It was just amazing. I'd never seen her before, and I had never heard a sound like that before. Her band was just smoking.
My whole thing, playing with Bruce, was not to think about anything else but the music. Next thing you know, the show's over and you don't even know what happened — except that you just did your job. You can't think about what happened before, or how the audience liked that last song. You're thinking about the next thing. That was my main focus: watching Bruce and making sure I didn't miss a beat.
Looking at these photos, it's like… just when I thought I was out, they pull me back in. I didn't think anybody had any history of me playing with the band, except for that one photo in that greatest hits album. Photos of me are rare. I'm really thrilled to see these — especially my Asbury Park Track shirt. And I think, how freaking young we look. I look at that Rogers pink champagne drum set, which I wish I had in my possession again. I think about playing with the fellows and the good times we had. Good music and good people — no problems with anybody in that band. Just a good bunch of human beings. That's what they were.
- as told to Barry Schneier, from the book Bruce Springsteen: Rock and Roll Future
Listen to E Street Radio tomorrow, Wednesday May 8, to hear Schneier and editor Chris Phillips guesting in the studio on "Live From E Street Nation," to talk about the Harvard Square Theatre anniversary, the book, and more. The program airs from 10am to noon ET on SiriusXM channel 20.
- May 7, 2019 - all photographs by Barry Schneier, May 9, 1974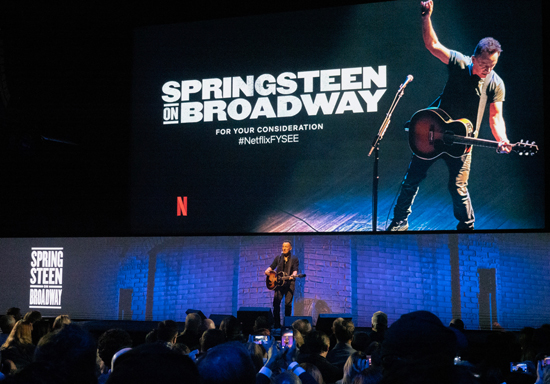 Photograph by Hal Schwartz/@shotsfromthecrowd
ARE YOU CONSIDERIN' ME?
Springsteen discusses new E Street material and more with Scorcese at May 5 Netflix FYSee
It's Emmy For Your Consideration (FYC) season, and Academy of Television Arts and Sciences members are being bombarded with invitations to events put on by the networks and studios in attempts to get Academy members to nominate their shows. With so many broadcast, cable, and streaming platforms available, you have to do something above and beyond the standard screening/moderated panel discussion/reception formula to stand out and be remembered when voting starts in June. Netflix is one of the streaming platforms that always stands out, and when you have a show like Springsteen on Broadway on your platform, it brings FYC to another level.
In this case, that level included an in-person appearance by Bruce Springsteen himself, at Hollywood's Raleigh Studios for Sunday night's Netflix FYSee Opening Night. The event began with Springsteen on Broadway director Thom Zimny introducing an abbreivated, edited version of the Netfilx concert film, saying that after working with Bruce for 19 years, this film was his master class in storytelling. After the screening, Chief Content Officer of Netflix Ted Sarandos talked about remarkable things that happen, such as Greetings From Asbury Park, NJ and Mean Streets being released at the same time. He then introduced their creators, Bruce Springsteen and director Martin Scorsese.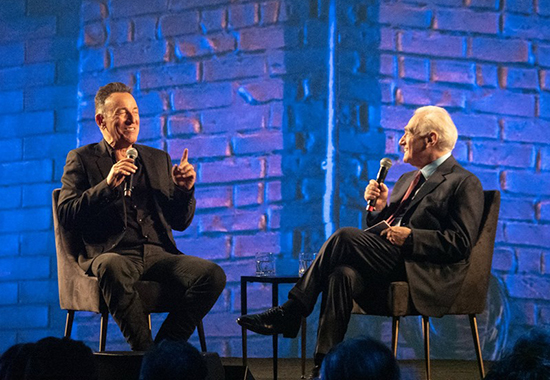 Photograph by Hal Schwartz/@shotsfromthecrowd
Instead of Scorsese interviewing Bruce, it was a conversation between old friends. They talked about meeting at the Roxy in Los Angeles in 1975, when Scorsese brought Robert De Niro to hear the band. A day later, the director screened Mean Streets for Bruce.
Scorsese: "…They wind up wounded, and not even dead…"
Springsteen: "That was Mean Streets."
The pair went on to talk about the use of music in Scorsese's films and the influence of Catholicism on both their lives and work; they discussed trust, loyalty, betrayal, and faith as themes that run through both Bruce's music and Scorsese's films. Bruce spoke about always wanting to base the heart of his work in the dark side of things then find his way to earn the light. He went on to say that the artists he finds interesting are the ones he wants to know, "What's bothering that guy?"
They next talked about how Springsteen on Broadway evolved almost by accident thanks to President Obama, during the last weeks he was in office, inviting Springsteen to play at the White House. Bruce said he rewrote sections of his autobiography as a spoken word piece, in order to play around 90 minutes in the East Room of the White House. That was the genesis of the Broadway show. They compared the common ground between how Scorsese shot The Last Waltz and how Springsteen on Broadway was treated by Tommy Zimny. Springsteen and Scorsese also spoke about how the show was a gateway to a larger experience, and how "…as the songs come out of the monologues, it's as if you never heard those songs before." They talked about how the creative process in both film and music is akin to capturing a small piece of the divine.
Springsteen: "Raging Bull to me is like one long, violent prayer, man."
Scorsese: "That's all of your thing, one long, noisy prayer"
Springsteen: "That's my life, that's it, that's my job."
One of the biggest takeaways: during the conversation Bruce revealed that he hadn't written any new band material since Wrecking Ball, but that in the last month he realized he had written almost enough songs for a new E Street Band album — enough, even, for another tour.
"I've spent about seven years without writing anything for the band. I couldn't write anything for the band. And I said, 'Well, of course... you'll never be able to do that again!' It's a trick every time you do it, you know? But it's a trick that, because of that fact that you can't explain, cannot be self-consciously duplicated. It has to come to you in inspiration.

And then about a month or so ago, I wrote almost an album's worth of material for the band. It came out of just... I mean, I know where it came from, but at the same time, it just came out of almost nowhere. And it was good, you know? I had about two weeks of those little daily visitations, and it was so nice. It makes you so happy. You go, 'I'm not fucked!' There'll be another tour!"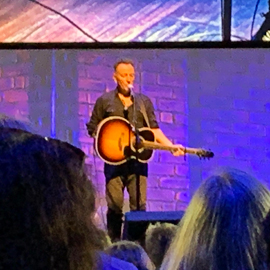 Springsteen went on to praise Scorsese for the music he chooses for his films. The event concluded with Bruce choosing some songs of his own, performing two tracks from Springsteen on Broadway — "Dancing in the Dark" and "Land of Hope and Dreams" — on acoustic guitar for the enthusiastic Emmy voters.
For more from the Springsteen/Scorcese summit, read Melinda Newman's article for Billboard, "Bruce Springsteen on the Next E Street Band Tour, Catholicism, His Netflix Special and Funeral Crashing." Watch video at deadline.com.
- Updated May 7, 2019 - Report and additional photographs by Larry Lerner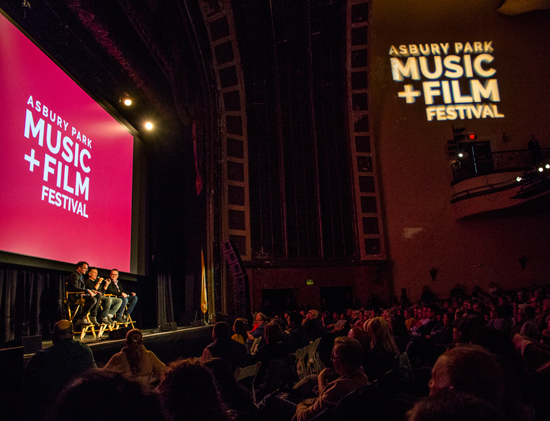 Photograph by Chris Spiegel/Asbury Park Music & Film Festival
APMFF: BONUS FEATURES
More highlights from last weekend's Asbury Park Music + Film Festival
The Asbury Park Music & Film Festival is unique in that it highlights the town's extensive musical history — the very fabric of its identity. The festival not only offers films and documentaries centered on music and its makers, but also a plethora of concert performances. One of those, on Friday April 26, gathered prominent Jersey Shore favorites Joe Grushecky, Bobby Bandiera, Jeff Levine, and Boccigalupe for Gary U.S. Bonds' Unusually Big Birthday Bash.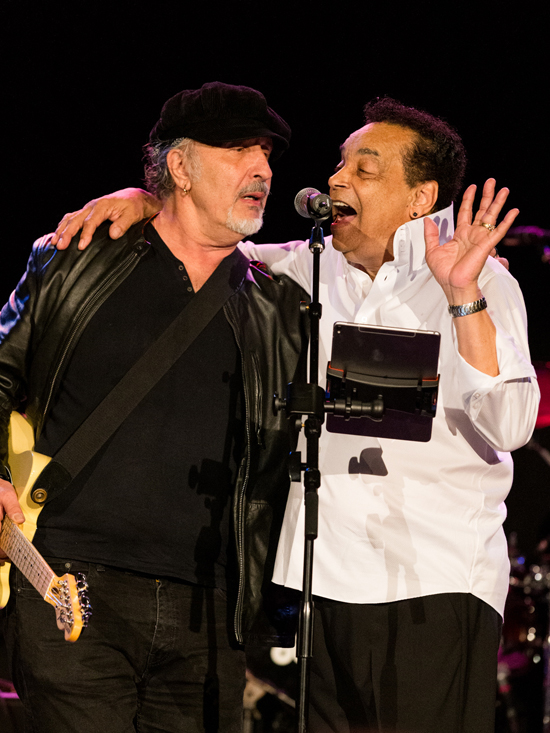 Still the swinginest at 80, Bonds [right] with Grushecky - photograph by Michael Zorn
Pittsburgh's Grushecky and the Houserockers ushered in the evening with their hard, driving sound. Joe tipped his hat to Bruce Springsteen for his contributions to "Another Thin Line" and "Never Be Enough Time," collaborations that irrevocably changed his life. Gary U.S. Bonds arrived onstage with flashy panache in his gold lamé jacket. It was hard to believe he was celebrating his 80th birthday, as he and the band crackled with an infectious, spirited energy. Backed by a three-piece horn section, the rich, rocking songs — many of which were produced or written by Bruce and Steven Van Zandt, including as "Jole Blon," "Rendevous," "Soul Deep," "Club Soul City," "Daddy Come Home," and "Dedication" — filled the auditorium with a vivacious enthusiasm. Bonds dedicated "Talk to Me" to Southside Johnny, who was playing a gig in Connecticut that night. Before performing "Out of Work," Bonds joked that he was annoyed with Bruce for writing better than himself about being poor despite being so rich. Bonds closed his set with the exuberant hits "This Little Girl" and "Quarter to Three," prompting the audience to leap out of their seats and dance. The lively encore of "(Your Love Keeps Lifting Me) Higher and Higher" was an invigorating finale that culminated with a fan sweetly bestowing Bonds a birthday balloon.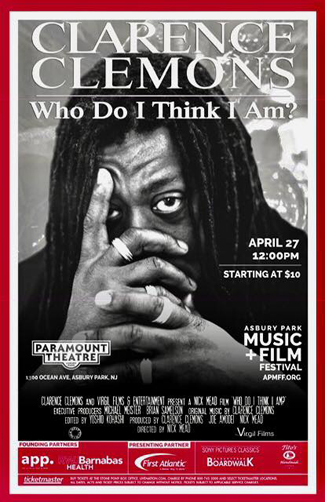 The documentary Clarence Clemons: Who Do I Think I Am? that premiered on April 27 met the unique challenge of originally being shot when Clarence was alive and then reformulated after his death, forging a moving work that is half personal manifesto and half eulogy.
Clarence appeared in interviews with his booming voice resounding through The Paramount, his final words in a film that he desperately wanted to make so that the world would know who he truly was, as someone more than just an E Street Band luminary. Slow-motion black and white close ups of Clarence waxing poetic about his own journey of self-discovery and living life to the fullest — interspersed between interviews from band members, family, and friends rhapsodizing about their dear friend — positioned him as a heavenly figure, like a watchful god benevolently looking after his loved ones. Director Nick Mead described him as having an "aura of greatness," while former President Bill Clinton said he was the kind of person who made you feel you were together the day before even if it had been months or years since your last meeting. Clarence was consistently described as someone who loved his friends dearly and would help them in any way he could — a man who let everyone in, was open and loving.
Noticeably absent from the interviews was Bruce Springsteen himself, but there were plenty of clips and photographs of their spectacular performances together; these were the only few spots of color in the documentary, emphasizing their blissful significance in Clarence's life. The documentary also touched upon on how Clarence's innate positivity combated the racism and segregation he grew up with. Jake Clemons mentioned in the panel discussion afterward that his uncle had to learn how to run away from dogs that were trained to kill black men. In the film, Backstreets writers Shawn Poole and Chris Phillips discussed how Clarence effortlessly integrated within the white rock world, particularly through the action of his soul kiss with Bruce. Clarence was the emotional pull of Bruce's songs and indispensible to his sound, the most notable example being the legendary "Jungleland."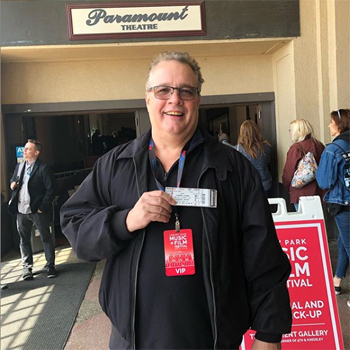 Right: Joe Amodei, producer of Who Do I Think I Am?, ticketed and ready for the big premiere - photograph by Christopher Phillips
If there was one thing that Who Do I Think I Am? impressed upon the audience, it the Big Man's deep spirituality. Mead accompanied Clarence on his pilgrimage to China, where he remained largely anonymous and played saxophone on the Great Wall. As Clarence confessed, he believed it was the hand of God that caused the car accident that forced him to leave football behind and pursue music instead. One of the best moments of the documentary was when he listened to one of his saxophone solos in the recording studio. With his eyes shut and mouth spread in a wide, rapturous grin, he gently absorbed the sounds that seemed to belong to the higher power he placed so much faith in. He let the delicate way he could hold "power and peace in the same breath," as bandmate John Colby said, wash over him. The documentary never touched on his complicated personal life and was arguably very rose-colored, but it firmly focused on what Clarence wanted to do the most: bring joy and light in the world. Nils Lofgren's mournful "Miss You C" as the credits rolled was the perfect cap to a bittersweet documentary that shed light on the hulking Big Man and what lied beneath his looming star presence. During the panel discussion, Clarence's nephew Jake remarked, "I just lost 20 pounds of tears. It's a beautiful, beautiful film," while Nick Mead rejoiced in knowing that Clarence's dream of his film playing again in Asbury Park — after the 2011 Garden State Film Festival premiere of an earlier cut — had come true.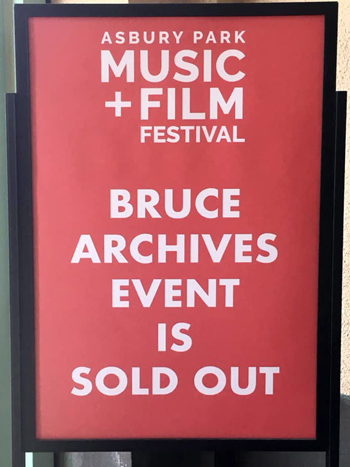 The most memorable event of the weekend for Springsteens fans was the Springsteen Archives screening on April 27. Lucky fans were treated to never-before-seen clips ranging from 1973 to 2012, and The Boss himself made a guest appearance on the panel to discuss Thom Zimny's ongoing archival project, talking on stage with Backstreets' Chris Phillips before a sold-out festival crowd. The atmosphere in the Paramount during this delightful presentation was almost that of a real concert, with the entire audience rapt in euphoric wonder, moved by the power and life-affirming quality of the footage.
For more on the Archives event and Springsteen's participation on the panel, read here. For more on what Bruce had to say from the stage about his 2006 Jazz Fest performance (complete film of which was released one week after this Archives event), read here.
Screening the following day in the same venue was Asbury Park: Riot, Redemption, Rock 'n' Roll. The documentary had premiered at the Asbury Park Music and Film Festival in 2017 under a different title, still a work in progress and missing a crucial component of the city's motley music scene: Bruce Springsteen. After attending that 2017 screening, Bruce phoned the director Tom Jones and asked, "Why am I not in this?" as he joked to audiences at the Archives show the previous day. Jones quickly secured an interview with Bruce inside the Upstage, now incorporated into the new cut.
Inside the Convention Hall Grand Arcade - photograph by Christopher Phillips
The documentary opened with an arresting shot of a guitar on fire, nestled in the sand beside the beautiful Convention Hall, before cutting to gorgeous aerial shots of the city by the sea. As the title indicates, the breezy documentary is divided into the three sections as it explores the town's rock 'n' roll history, riots and history of racism, and eventual redemption. Many prominent musicians appear in interviews, including David Sancious, Ernest "Boom" Carter, Steven Van Zandt, Garry Tallent, Max Weinberg, Southside Johnny, Bobby Bandiera, Vini Lopez, and many more. Several clips of The Who, Rolling Stones, and The Doors performing at Convention Hall during the '60s were a treat to see.
Much attention was paid to the Upstage, an electrifying club Southside Johnny said was "like our college," where young musicians performed until the early hours of the morning. Bruce described them as "alchemists" who "combined all the sounds on the shore." The Upstage was a glorious haven for "freaks," as self-described by Van Zandt, to hone their craft. This rock 'n' roll section featured lots of great pictures from the era (thanks to Carrie Potter Devening's trove of photos from her grandparents, who ran the club) and video snippets of a young Bruce. It was the Upstage, as well as a surplus of other clubs, that made Asbury Park the "Liverpool of America."
On July 4, 1970, the racial tensions between the East and West Side that had been fermenting since the town's inception in 1871 exploded. Molotov cocktails rained in the streets, setting Springwood Avenue ablaze. Jones glides his camera over the newspaper articles and photographs from the cataclysmic event to give the audience an overwhelming sense of what it was like to experience the chaos. Bruce recalled watching the smoke billow from high above a water tower near Tinker West's surfboard factory. The documentary offered a fair perspective of the riots, as many of the interviewers agreed it was a difficult situation and natural for those on the West Side to be fed up with their decrepit living conditions. As Springsteen said, it was a "sad moment in the city's history but it probably needed to happen"; he also expressed a need for the West Side to have the same prosperity as the East Side today, a sentiment clearly shared by the filmmaker. After the riots, it was concerts and events at the Stony Pony that gave people a reason to come back to Asbury again. "Local bands are the thread that holds us together . . . We are the fixers of broken things," Bruce explained.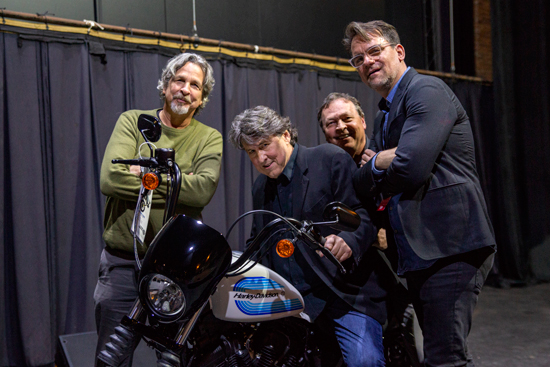 The Farrelly Brothers, Cameron Crowe, and Thom Zimny, all in town for APMFF events, backstage at the Paramount Theatre - photograph by Chris Spiegel/Asbury Park Music & Film Festival
The documentary valiantly takes care to spotlight the fact that Asbury Park also owes much of its recent resurgence to the LGBTQ community. Their ideals of pure love and acceptance pervade the town. Music is once again at the heart of Asbury Park's new life, and Jones shifts his focus to the generations to come with footage of the Lakehouse Music Academy, a place where kids of all different upbringings now unite over the glory of music — a quality the Lakehouse shares with the Upstage, as Phillips and Jones discussed in the post-film Q&A. The film caps off with footage of Bruce and other past Upstage regulars enthusiastically jamming with the young Lakehouse Junior Pros, captured at the APMFF in 2017.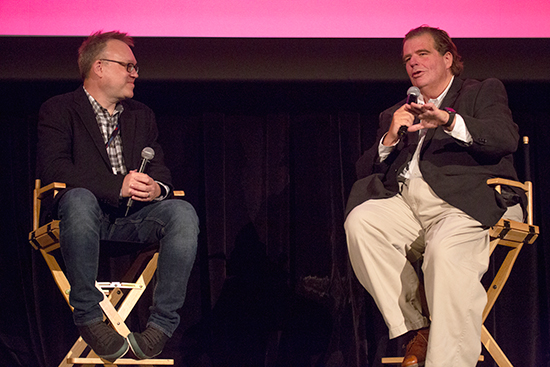 Phillips and Jones at the Paramount, following the Asbury Park documentary screening - photograph by Chris Spiegel/Asbury Park Music & Film Festival
During the panel discussion, the enthusiastic Jones said he wanted to show how music cut across the tracks — literally — and brought the town together in the darkest of times. His documentary proves how music is intertwined into Asbury's identity. Asbury Park: Riot, Redemption, Rock & Roll had a quick pace and buoyant energy, tied together with sleek graphics, taut editing, and the deep voiceover narration of Big Joe Henry that was engaging and propelled the film's steady flow. The poetic final shot showed Bruce as the last one to exit the Upstage club before its renovation into apartments. After the screening, the brilliantly talented Lakehouse Junior Pros performed hard-rocking songs such as "Piece of My Heart" and "Livin' on a Prayer," demonsrating the documentary's insistence that the storied Asbury Park is a haven for rock 'n' roll talent. The Asbury Park Music and Film Festival once again validated the notion that the city's rich musicality and values of inclusivity will prosper for years to come.
- May 6, 2019 - Caroline Madden reporting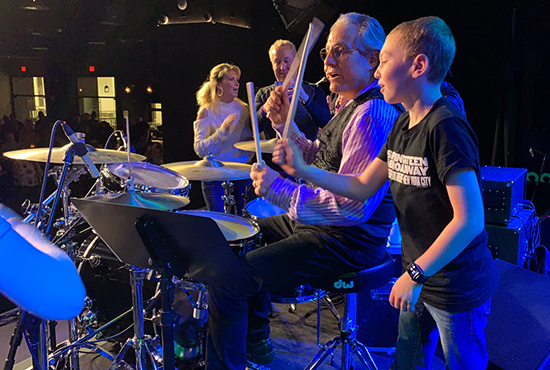 BACKBEAT OF E STREET REVVING UP HIS SPRING/SUMMER JUKEBOX TOUR
Mighty Max returns to New York's Capital Region, talks "Electric Nebraska"
Max Weinberg's Jukebox performed for the third concert at the newly opened Skyloft Theater last week in Albany, NY, the band's second area appearance this year. With mostly tables scattering the floor, it seemed as though it took the audience a little while to warm up, but not Max and his band — they hit the ground running from the first song. The band opened with "Mony Mony" and then jumped into a hard-rocking version of "You Shook Me All Night Long."
From here out Max took requests the rest of the evening with his magical Jukebox, including two they'd never played before. His first Springsteen cover of the night was "Tenth Avenue Freeze-out," which included a throwback to the audience for the "Big Man joined the band" line. One of the changes from his previous appearance in January was that this was only one of three Bruce songs (last time he played many more). Max and the band tapped a wide array of selections including "Bus Stop," "I'm a Loser," "Brown Sugar," "She's the One," "I Want You to Want Me," "Daydream Believer," and "I Want to Be Sedated."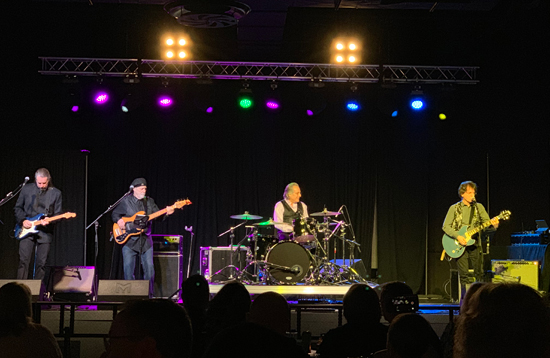 The band included two members of New Jersey's the Weeklings, Bob Burger and John Merjave on guitar, with Greg Hollister on bass replacing Weekling Glen Burtnick from last visit They did a fantastic job as Max's band, nailing both of the show's two "world premieres." A fan asked Max if there was one song on the list that they hadn't played yet, and "Night Moves" came to the fore. Merjave took on the lead vocals and guitar, and you wouldn't have guessed it was the first time out. Max clearly enjoys playing with this band, and it's fun to watch him sing along to the music.
When Max started to talk about song arrangements, he discussed Springsteen's Nebraska album and how the E Street Band tried electric versions of those songs in the studio, saying he prefers them to what was released.
The band then rolled through "White Room," "Pretty Woman," "My Generation," and an incredible "I Can See For Miles," with some amazing Keith Moon-style drumming from Max. The second debut of the night came from an audience member who asked for a song not on the list. It was a potential "stump the band moment' — Max does say at the outset that they only play songs from his list — but he looked back at Berger when Tom Petty's "Running Down a Dream" was requested and got a nod. They did a blistering, inpromptu version of Petty's song and brought the house to its feet.
The show ended with Elvis Costello's "Pump It Up" before moving into the encore for "Glory Days," when Max invites the audience on the stage to dance and take pictures, or play his drums. While the performance was shorter in length and songs from his earlier show in January, Max once again demonstrated his talent as a drummer, bandleader, and host, fully enjoying being the showman that he is. Catch 'em if you can, with more tour dates listed at maxweinberg.com.
- May 6, 2019 - report and photographs by Howard Kibrick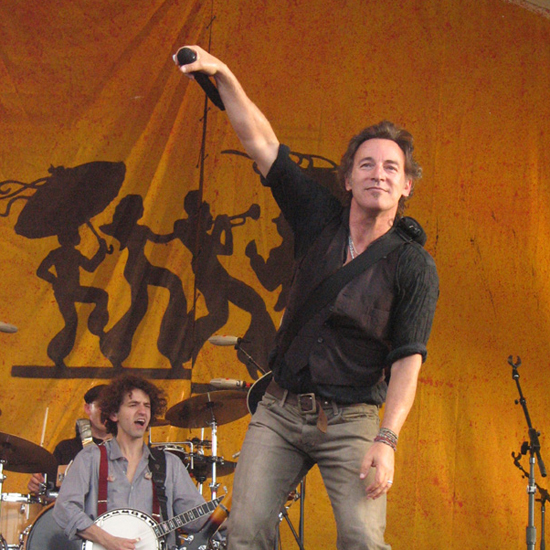 JAZZ FEST 2006 CONCERT FILM COMES MARCHING IN
This final weekend of the 50th New Orleans Jazz & Heritage Festival, Bruce Springsteen has his own way to say happy anniversary: with a brand new concert film of his legendary first Jazz Fest performance in 2006, available now — for free — on YouTube. The concert film, edited by Thom Zimny, captures the debut of the Sessions Band on April 30, 2006, just eight months after the devastation of Hurricane Katrina.
The performance of "My City of Ruins" from this new film screened last weekend at the Asbury Park Music and Film Festival, where Springsteen and Zimny were both on hand to talk with Backstreets editor Chris Phillips on stage at the Paramount Theatre.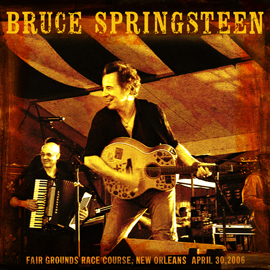 "The nice thing is, we have the entire film of the band at Jazz Fest that we just finished, so that's gonna be coming out," Springsteen revealed. "We had LaBamba, we had the Loveman [Mark Pender] on the trumpet, so there was a lot of the Asbury/Steve Van Zandt/Southside horn section alumni getting to do their New Orleans thing, and it was just a great, great and lovely day."
"We came down the day before," Springsteen recalled, "and we went down to the Lower Ninth Ward and saw a lot of the devastation. Rock 'n' roll is at its best when there are high stakes on the table. That's when something much, much larger than yourself can happen. It's music that's meant to push up against things, whatever they may be: against troubles, against hard times. It's a lovely and fortuitous day to be able perform a small service for people… it's one of my favorites, one of the Top Five of my lifelong musical experiences."
In December 2017, the full audio from 4/30/06 was officially released as part of Springsteen's live archive series. Reporting for Backstreets, Alison Fensterstock wrote, "Every live recording, of course, is unique, but the New Orleans 2006 Jazz Fest set is something else entirely: a snapshot of raw joy and pain, anger and uncertainty, true American history caught on tape."
"The Sessions Band was just a great band," Springsteen said last Saturday, adding, "I want to do that again sometime." In the meantime, enjoy their auspicious debut in full color and in full — and happy 100th to Pete Seeger.
- May 4, 2019 - photograph by Ruth Barohn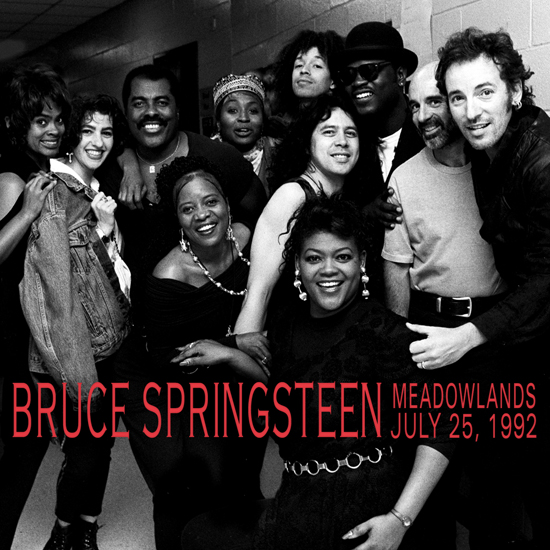 1992: ALL OR NOTHIN' AT ALL
Another month, another release, an "Other" band — 7/25/92, New Jersey
One carryover from the E Street era to 1992's new one: Bruce Springsteen's commitment to performing at the highest level. Like hundreds that came before, shows that year were generally terrific. Today's archive release brings us Meadowlands July 25, 1992, the second date of 11 at Brendan Byrne Arena. Played to a full and enthusiastic house on a Saturday night, its robust, well-paced, 30-song set looks great on paper and sounded even better at the time.
As a First Friday installment, 7/25 joins 1993's Concert to Fight Hunger as a complete performance from the "Other Band" era. Captured near the outset of the year-long World Tour 1992-'93 — the July/August Meadowlands stand kicked off the North American leg, which would run through December — this new live set affords a chance to reassess how Springsteen approached Human Touch and Lucky Town, the LPs he'd released that March after a four-and-a-half year absence from record shops.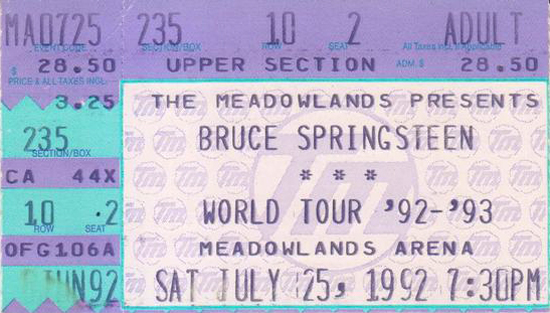 At that moment, new country, hip-hop, and a genre some called "alternative" were in the ascendant, and MTV had a hit with its acoustic series Unplugged. Seeking reinvention, acts like R.E.M. and U2 moved away decisively from their '80s roots. Springsteen's dismissal of the E Street Band was a more profound change than others made in musical styles and setlists, which seemed cosmetic in comparison.
Initial steps in his decade-long shift away from E Street encountered a mixed response: when the U.S. tour began, with Roy Bittan on keyboards and a group of newly-hired musicians, Lucky Town sat, Springsteen remarked incredulously, at "a hundred and fucking five" on the charts. Yet his support of the records was unwavering, and he appeared energized and happy.
While the new band generated a range of opinions, few could fault the experience overall. Back then, Backstreets founding editor Charles R. Cross heaped praise on Springsteen himself: "His performance was exceptional, and he played more guitar than he has in years. He jumped into the crowd… and he struggled to prove himself again onstage with the difficult task of presenting the new material. He was, in a word, loose. As the Meadowlands stand wore on, he got even looser, and towards the end you wondered if even he knew what he might do next."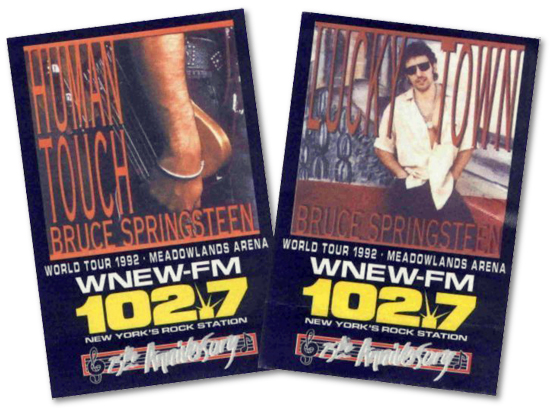 Framed by an amalgam of gospel and '90s gloss, the high-energy rock show focused on the present. Domesticity and parenthood provided recurring themes, newly-discovered joys tempered by numbers like "Souls of the Departed," which encapsulated the lament of the serviceman and the civilian alike. The novelty "57 Channels (and Nothin' On)," written to bemoan the state of cable TV, got recast as a bitter and timely reminder that holds up today. Throughout, Springsteen's guitar playing was excellent: "Lucky Town" and "Cover Me" from this night reveal as much.
July 25 includes other elements that made 1992 remarkable. Anyone who saw or heard Springsteen cut loose on "Living Proof" knew how deeply he'd invested in his new music (listen for a timely sweetener afterward). On this night, that verve reached "Real Man," perhaps the catalog's most maligned track. "What can I say?" he asked as he set it up. "It's how I feel" — an honest appraisal before the song's last-known performance. Though played fewer times overall, "All or Nothin' At All" fared much better, giving the second set a rousing start. Springsteen beckoned fans from their seats and the concession stands; with an eminently singable chorus and good crowd response, why it didn't appear more remains a mystery.
A stirring "Ninety-Nine and a Half (Won't Do)" followed. Based on a song made popular by Wilson Pickett, it featured vocalists Bobby King and Angel Rogers and had much to recommend — maybe too much. It matched the tone of '92, voices rose beautifully, but its full potential seemed to elude them. An "A" for effort — and an improvement over the other time they tried it, in an unaired segment after a June radio broadcast — it never got played again. A few tweaks could have yielded a showstopper.
Conversely, "Open All Night" was a resounding success. One reason: the mostly pre-dawn narrative squarely contrasted with Springsteen's newer material, not to mention his station in life at the time. Reprising a story from the Born in the U.S.A. tour, Springsteen gets in the car in search of an old Jersey haunt; the masterstroke comes as he recounts a waitress who bridged the two worlds. The entirety was pitch-perfect. Accented by Shane Fontayne and Roy Bittan, this version shines as an ensemble piece, even more with its rave-up ending.
Though the band acquitted themselves admirably every night, these two songs brought them to a place of origin and exemplified their ability to collaborate. That was a chance they deserved, and on which they made good. More than a quarter-century later, far from "other," these instances evoke a place one wishes they would have gone more often, or perhaps dwelt.
Springsteen knew the demands of the audience and what was tenable in a show that stretched close to three hours. Fans always want to hear familiar songs, and they weren't disappointed: strong showings here include "Darkness on the Edge of Town," "The River," and "Tougher Than the Rest" (oddly enough, for the final time on the tour). Greatest hits packed the encore: "Glory Days" clocked in at over 13 minutes, a gospel-tinged "Hungry Heart" hinted at an earlier reimagination, "Thunder Road" became acoustic, and a new cast turned "Born to Run" into something like its old self.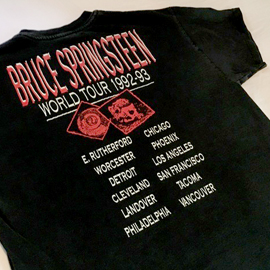 As the run continued, a debate over Springsteen's new direction took shape: was it new enough? Maybe a better time to ask was after this series of homecoming shows, which by its nature required more frequent set changes and a lot more older material. Moving on in September, Bruce plugged in a tailored version of a typical 1992 setlist for his Unplugged segment. That was an unexpected choice for the performer who'd delivered towering acoustic sets for the Christic Institute two years before, but befitting the same one who believed in his new music, record sales be damned.
By the time the U.S. tour ended in Lexington in December, audiences in most cities saw the band play a single night. Relieved of the duty of having to entertain repeat customers — a factor that undoubtedly makes this recording appealing — Springsteen brought new focus to tracks like "The Big Muddy," "Gloria's Eyes," and "Soul Driver."
That made the autumn shows the most representative ones of the 1992 tour; by year's end, another tour of Europe was in the offing, where Springsteen altered the show's structure considerably — the Concert to Fight Hunger generally followed that model. Each leg offered something different, and that makes a future archive installment from late '92 a worthy proposition.
Also read: Erik Flannigan's latest nugs.net blog entry, "Ninety-Nine and a Half Won't Do"
- May 3, 2019 - Jonathan Pont reporting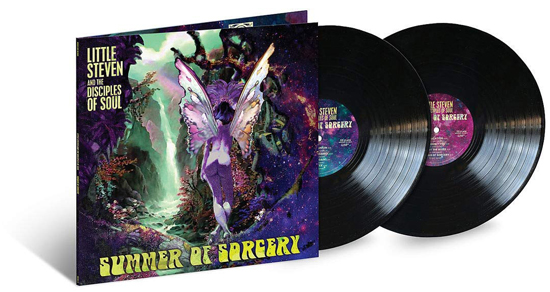 THE TIME IS RIGHT: SUMMER OF SORCERY IS HERE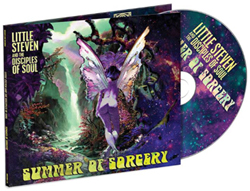 Little Steven's follow-up to Soulfire has arrived! Out today, the 12-track Summer of Sorcery is available now on compact disc and 2LP vinyl, an album Stevie describes as "our labor of imagination to serve as part of your soundtrack to the summer of 2019."
Little Steven afficionado, historian, and all-around authority Mike Saunders has spent some time with SOS, he's soulfired up, and he's written all about it for Backstreets:
Two years ago, Little Steven reactivated his long-dormant solo career with Soulfire, which featured his own recent recordings of material that he'd written for other artists. It re-introduced his songwriting skills to the world at large but primarily celebrated his past achievements. Having previously adopted different musical genres on each album, he'd returned to his rock-meets-soul blueprint for the first time in 35 years and revealed that he wanted to "push it forward in an evolutionary sense." Instead of heading in a new direction, he planned to "stick with it and see where it can go. What happens with the lyrics and the stories? I don't know yet."Summer of Sorcery provides the answer.

Recorded at his own Renegade Studios in Manhattan last September, produced by Little Steven with Marc Ribler and Geoff Sanoff and mixed and mastered by Bob Ludwig and Bob Clearmountain, Summer of Sorcery retains Soulfire's cavernous wall of sound and stylistic blend, but the album largely abandons the personal and political subject matter that dominated his previous solo records in favor of fictional material.

"The concept was capturing and communicating that first rush of summer," Steven explained in an extensive press release in early March. "The electricity of the feeling of unlimited possibilities. Of falling in love with the world for the first time. Obviously there are occasional personal references, and a bit of what's going on socially scattered throughout, but I achieved what I set out to do. I'm quite proud of it."
For much, much more, read Mike Saunders'
SUMMERTIME, BLUES, AND PSYCHEDELIC HUES
Master magician Little Steven conjures cinematic Summer of Sorcery
- May 3, 2019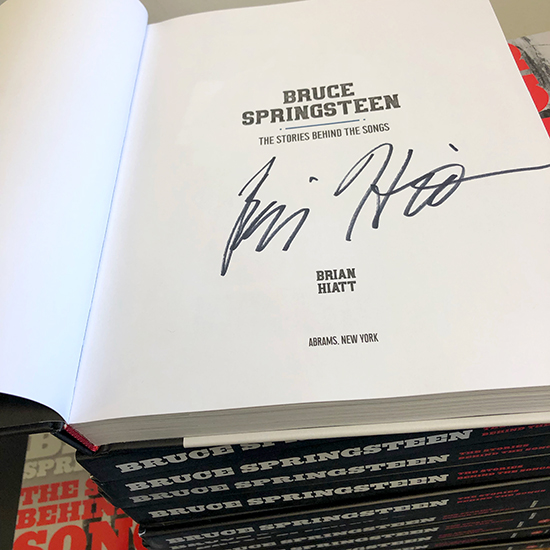 BACKSTREET RECORDS UPDATE: SIGNED STORIES BEHIND THE SONGS
With all the logistics involved, it's taken us longer than we'd hoped to get our signed copies of Brian Hiatt's new book down to Backstreets HQ, but the eagle has landed! Bruce Springsteen: The Stories Behind the Songs, autographed by the author on the title page, is in stock as of this morning and will be shipping out ASAP to all those who pre-ordered from Backstreet Records. Thanks to Brian for signing for us, to the folks at Abrams for making it happen with the multiple shipments required, and most of all to our customers for waiting. We might have saved some time and hassle by doing bookplates instead, but we think you'll dig that nice big signature scrawled right on the title page, and we appreciate your patience. Shipping out just as fast as we can pack 'em up.
If you missed it, read our lengthy Backstreets Interview with Brian Hiatt: "The Stories Behind The Stories Behind the Songs."
- May 2, 2019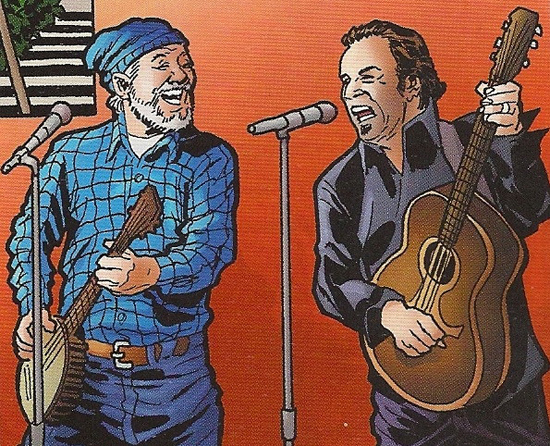 CELEBRATING SEEGER AT 100
This Friday, May 3, will mark the 100th anniversary of the birth of a real-life superhero: Pete Seeger. Seeger died in January 2014 at the ripe old age of 94, but his life and work continue to influence both music and politics all over the planet. Pete Seeger also remains the only artist for whom Bruce Springsteen has ever recorded an entire album's worth of songs in tribute: 2006's We Shall Overcome: The Seeger Sessions.
E Street Radio is starting the celebration a bit early and continuing it through the weekend. Beginning tomorrow, Thursday May 2, the satellite radio channel will air a special expanded edition of its fans-as-DJs program Be the Boss. This Seeger@100-themed episode will be hosted by blogger Ryan Hilligoss, with special contributions from Backstreets.com's own Shawn Poole, who recently sat down with Appleseed Recordings founder/president Jim Musselman [pictured below] to discuss Musselman's major role in getting Springsteen to begin recording material associated with Seeger. Excerpts from Poole's conversation with Musselman will be played throughout the show, along with plenty of great music, of course, including Appleseed's most recently released Springsteen recording of a Seeger song (co-written with fellow Weavers member Lee Hays), "If I Had a Hammer," available on Appleseed's 21st Anniversary: Roots and Branches.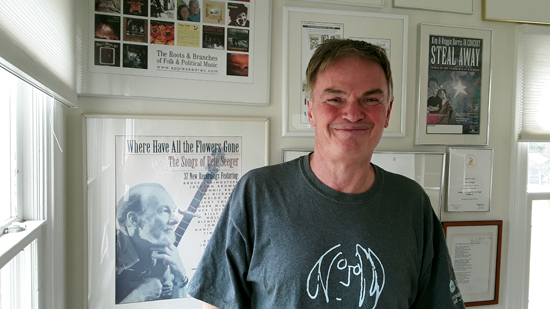 Here's a short preview of the show, with Jim Musselman talking about Pete Seeger's feelings on NBC News' post-9/11 usage of "We Shall Overcome," Springsteen's recordings and performances of songs associated with Seeger, and what it was like for Seeger to perform "This Land Is Your Land" with Springsteen at the 2009 inaugural ceremonies for newly elected President Obama:
Catch E Street Radio's special tribute to Pete Seeger at 100, airing exclusively on Sirius/XM channel 20 on Thursday May 2 at 5pm, Friday May 3 at 9am, and Saturday May 4 at 6pm (all times ET.) Also check out Ryan Hilligoss' blog entry adapted from the E Street Radio show's script, "The Power of Music: Pete Seeger and Bruce Springsteen"
- May 1, 2019 - comic panel from IDW's Barack Obama: The Comic Book Biography - photograph of Jim Musselman by Shawn Poole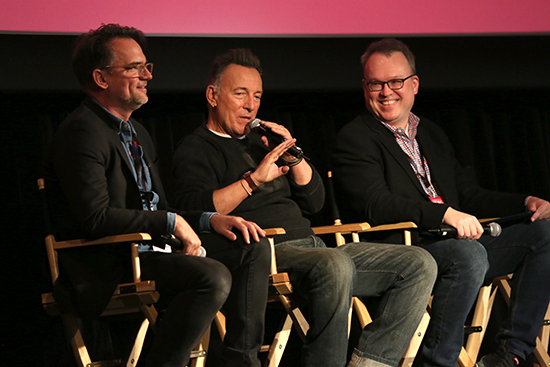 THE BIG PLAYBACK
Springsteen joins Zimny & Phillips for Archives event at APMFF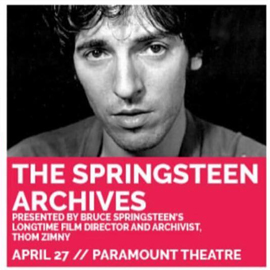 One of the most memorable events at the 2019 Asbury Park Music and Film Festival was on April 27 at the Paramount Theatre, hosted by The Bruce Springsteen Archives & Center for American Music at Monmouth University. Audience members had to put their phones in sealed pouches to keep secret never-before-seen concert footage found and assembled by Springsteen's archivist Thom Zimny from the ever-elusive vault. Even Bruce himself had never seen them, as he informed the crowd during the panel discussion with Zimny led by Backstreets editor Chris Phillips.
After surprising the audience and being greeted with a rapturous standing ovation, Springsteen explained that he used to be superstitious about being filmed because he "felt that a magician should not look too closely at his magic trick." This is why early footage of the E Street Band is so rare and the film festival event was such an extraordinary opportunity. It was thanks to band associate Barry Rebo, whom he pointed out in the audience, that young Bruce was even filmed in the first place. Since then, Springsteen has found a close-knit collaborator in Zimny, who he considers to be "another member of the band." The panel also discussed Zimny's direction of Springsteen on Broadway for Netflix, particularly his use of "invisible" style camerawork and editing so that they would not "fuck this thing up." Springsteen praised Zimny's sensitive and intelligent approach to the production.
Running an hour and twelve minutes, the ten clips Zimny selected and arranged spanned from the earliest incarnation of the E Street Band to a fiery performance at The Apollo Theatre in 2012. It was incredible to witness the band's metamorphosis and Bruce's evolution as a performer throughout the screening. The Springsteen Archives event affirmed Bruce yet again as a masterful live performer whose versatility, rollicking energy, and zeal is unparalleled.
The first clip was a wide, one-camera color shot of Bruce and the E Street Band performing "When You Walk in the Room" during the fabled Bottom Line concerts in August 1975. It was after these riotous shows, Springsteen explained, that they were "finally contenders… we were no longer expected to be good, we were expected to be great." Despite the graininess of the film, nearly 45 years old, the sharp, crystal-clear sound quality and Bruce's energetic movements easily conveyed the band's ascension into greatness.
Bruce began his rollicking "The Way You Do the Things You Do"/"634-5789" medley at The Apollo Theater on March 9, 2012 by paying homage to soul legends and influences Smokey Robinson, Sam Cooke, Marvin Gaye, and Aretha Franklin, who once performed on the same stage. The velvety, soulful voices of Bruce, Patti Scialfa, Curtis King, Cindy Mizelle, Everett Bradley, Soozie Tyrell, and Jake Clemons perfectly melded together. The infectiously joyous performance ended with Bruce running through the audience and scaling the legendary theater's balcony like Spider-Man. With impressive camera coverage of the spectacle, thanks to what Thom Zimny called "the genius of [director] Chris Hilson," the archivist/filmmaker was able to incorporate humorous cuts to Patti's disbelieving grin at the sight of her wall-crawling husband.
Bruce remarked on his delightfully spontaneous decision to head for the balcony: "I don't know what I was thinking when I did that. It wasn't planned, no one was following me." Zimny pointed out, "If you look at the footage, it's after he makes a mistake." Bruce agreed: "I just said fuck it! [After I] fucked up the whole arrangement with the band. I was just glad to find some pipes to hold on to." Before moving discussion on to the next selection, Phillips recalled, "I don't know if you could tell at the time, but everyone at the Apollo that night was so scared for you — that you might fall!" Springsteen replied, "That's why it's called live. We perform death-defying acts!"
David Sancious' sweeping piano introduction to "New York City Serenade" opened the third clip. The high-contrast footage presented the first incarnation of the E Street Band with drummer Vini Lopez in the humble surroundings of Nassau Community College on December 15, 1973. Springsteen languidly performed the song with half-lidded eyes as if under the rapturous spell of Sancious' swirling ivories. Bruce called Sancious "one of the most musical people I have met — one of the most musical people on the planet, I think. He had such a large background in jazz and gospel, his ability to cover everything… Davey was just a master. He was lovely to have in the band."
As moderator, Phillips took the opportunity to segue into Sancious' contribution to the upcoming album Western Stars: "Speaking of Sancious, the elephant in the room is that you've got some new music coming out. And you brought Davey back for this record." The crowd cheered the news, but Bruce quickly established boundaries: "Yeah, he plays a little bit on it. But we don't have to talk about that." The audience laughed, and Phillips replied, "Let's move on!"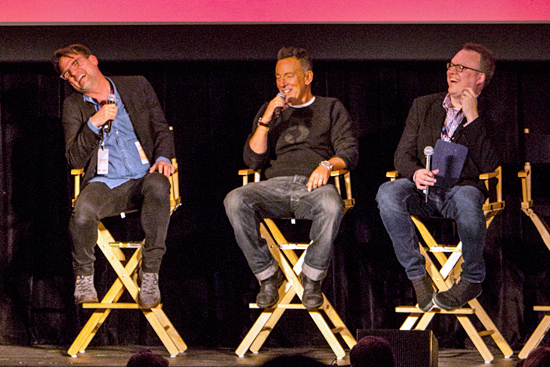 Returning to The Bottom Line in 1975, the next clip featured a young, lithe Bruce at his manic best bouncing all over stage like a pinball machine from a table in the front of the stage to Danny's organ then Roy's piano. During this wild "Quarter to Three" frenzy, he dropped his guitar pick, and the camera captured a kind fan handing it back to him. On the opposite end of the performance spectrum was the haunting footage from Bruce's November 8, 1996 concert at his former school St. Rose of Lima. Shot in a hazy close-up, the ethereal, slowed-down acoustic version of "The Promised Land" felt like a precursor to the Broadway performance of "Born to Run," with its sonorous guitar thumping. The falsetto cries he interspersed into the chorus coupled with his searching and anguished expression was goosebumps-inducing.
Pro-shot, multiple camera footage of Bruce performing "My City of Ruins" with the Seeger Sessions band at the New Orleans Jazz Fest on April 30, 2006 followed. Bruce's resounding calls of "Rise up" imbued his audience affected by the devastation of Hurricane Katrina with a sense of hope and the promise of renewal. It was a powerful performance that Bruce considers one of his Top Five shows. Chris Phillips discussed the song's versatility and its roots as a prayer for the revival of Asbury Park; Bruce replied, "It's lovely to come through Asbury, and see it so alive. Now I get to walk down the boardwalk like the Ghost of Christmas Past. But I like it — I'm very happy for the city." Bruce also expressed interest in getting the Sessions Band back together in the future: "That was a great band. I'd like to do that again sometime."
Perhaps the highlight of the afternoon was a clip of "Who Do You Love?"/"She's the One" from the Tunnel of Love tour in Rotterdam, Netherlands. "The sight of the Big Man and the maracas," Bruce chuckled to himself during the panel discussion, was enticing, along with Bruce grinding into his guitar. After walking from opposite ends of the stage, Clarence and a dark suit-clad Bruce took their infamous soul kiss to the next level by gyrating on top of one another, their chemistry scintillating off the screen. This footage encapsulated their incomparable willingness to be physically and erotically intimate with one another, boldly transcending the barriers of race and defying society's conventions of manhood and sexuality.
A hushed and brooding version of "Fourth of July, Asbury Park (Sandy)" from the same performance at Nassau Community College was next. "I thought I was going to fall asleep at any moment. I went to the bathroom and came back, and I was still playing!" Bruce joked. Shot in a grainy black and white, the performance is at times frustratingly slow, but it beautifully showcases Danny Federici's enchanting accordion that perfectly captures a summer night on the waning boardwalk.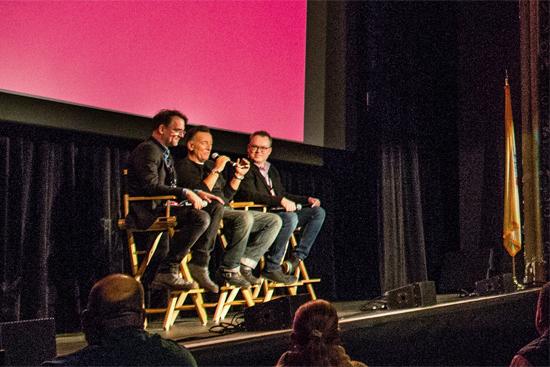 "'Sandy' was when things were just starting to happen for the band," Springsteen recalled during the panel discussion. "It was a goodbye to Asbury Park. The last night Danny Federici played with us (Indianapolis, March 20, 2008) I asked him what he wanted to play, and he said, 'Sandy.' The song was appropriate because I wrote it as the ending of something wonderful and the beginning of something new. We were leaving Asbury Park just as things were changing."
Zimny managed to track down footage of Patti Scialfa singing "Tell Him" by The Exciters with Cats on a Smooth Surface at the Stone Pony's tenth anniversary celebration concert in 1984, the very evening Bruce met his wife for the first time and fell in love with her voice. The distinct footage of her strong, silky vocals brought the story he recalls in the Broadway show to life and put the audience in Bruce's shoes on that fateful night.
The final presentation was of the "Growin' Up" performance on November 22, 2009 in Buffalo, New York — Clarence's final show. In his well-known monologue on screen, Bruce recounted the nor'easter that brought him to his blood brother with the towering saxophone sound. The close pair ended their recollections with the legendary Born to Run cover pose before Bruce whispered, "I love you" in the ear of his dear friend. During the panel discussion, Bruce remarked that he had never seen the clip before, and that it was "lovely" to see his companion again on the big screen. "The story is completely true, all those things. It actually happened. Looking at that, I really miss the Big Man." The eternal preservation of this heartrending moment cements the significance of the Springsteen Archives as a whole and its commitment to safeguarding the ineffable magic of the heart-stopping, pants-dropping, love-making, earth-quaking E Street Band.
Zimny and Springsteen were fairly mum about any plans to release most of what was shown, but they did confirm that the complete 2006 Jazz Fest performance would be out soon, and Bruce also expressed interest in releasing a full Tunnel of Love Express Tour show. What Zimny curated and presented Saturday afternoon will remain with the audience at The Paramount for now, but hopefully more and more Bruce Springsteen fans will be able to witness the incredible work that has been put into cinematically documenting one of the greatest live acts of all time.
- April 30, 2019 - Caroline Madden reporting - photographs by Chris Spiegel/Asbury Park Music & Film Festival


STEVIE FELL IN LOVE (AGAIN)
Little Steven & the Disciples of Soul continue to roll out advance tracks from their Soulfire follow-up Summer of Sorcery, Stevie's first album of new material in 20 years. Coming this Friday, May 3!
- April 29, 2019


HELLO, "HELLO SUNSHINE"
Above, the official U.S. premiere of "Hello Sunshine," our first taste of Bruce Springsteen's forthcoming Western Stars. Lyrically, Springsteen captures in a few neat strokes not only the wax and wane of depression, but the lure of darkness and solitude: "had a little sweet spot for the rain… you can get a little too fond of the blues." To revisit a metaphor of his from 2005, imagining a hammer in one hand and a lantern in the other, the song is a wish to build, not burn. "You fall in love with lonely," Springsteen warns, "you end up that way."
Musically, Western Stars takes "inspiration in part from the Southern California pop records of the late '60s and early '70s." In this lead single alone, one hears elements of the "sunshine pop" of that era — the Fifth Dimension, the post-Pet Sounds Beach Boys sans the harmonies — but you'll also find the overwhelming influence of the records that marked the place where country music and pop began to mix.
"Hello Sunshine" contains many elements that eventually became trademarks of "the Nashville Sound," or "Countrypolitan" music: sparse pedal steel, sweeping strings, brushes on a snare drum. Bruce himself namechecked Glen Campbell and Jimmy Webb (whose "Up, Up and Away" was a top 10 smash for the Dimension in 1967) when discussing this new material in 2017.
The technique of mixing traditional country music instruments (like pedal steel guitar) with more pop-oriented arrangements (utilizing strings) had been popularized by the production work of Chet Atkins. By the late '60s, the style was being used in earnest to produce crossover hits like the Billy Sherrill-produced Tammy Wynette smash "Stand By Your Man."
Rather than going for a full-blown Nashville Sound, "Hello Sunshine" evokes the gentler and, yes, darker songs of the era. In fact, the song is a bit of a flip of one penned by country singer/songwriter Mickey Newbury, as recorded in 1973 by Springsteen fave Scott Walker, called... "Sunshine."
While some are hearing "Everybody's Talkin'" in its rhythms and "Good Time Charlie's Got the Blues" in its melody, "Hello Sunshine" overall strikes us as an answer song in response to Newbury's. Embracing darkness like an old friend, Walker tells sunshine, "Don't bother me.... move on down the street." Springsteen asks, "Won't you stay?"
- April 26, 2019 - John Howie Jr. and Christopher Phillips reporting


GIDDY UP!
Springsteen's next studio album, Western Stars, ready to ride on June 14
Come, my friends,
'Tis not too late to seek a newer world.
Push off, and sitting well in order smite
The sounding furrows; for my purpose holds
To sail beyond the sunset, and the baths
Of all the western stars, until I die.
—Lord Alfred Tennyson, "Ulysses"
Western Stars is the title of Bruce Springsteen's 19th studio album, coming June 14 from Columbia Records. The 13-song set of all new originals arrives mere months after the Springsteen on Broadway soundtrack, but five years since his last studio release, 2014's High Hopes. Produced by Springsteen and Ron Aniello, the new album is "a return to my solo recordings featuring character-driven songs and sweeping, cinematic orchestral arrangements," Bruce says. "It's a jewel box of a record."
A solo project that Springsteen, Aniello, and manager Jon Landau have all discussed in the press for some years, Western Stars' origins pre-date Wrecking Ball, with most of its material written prior to that 2012 release. As Springsteen told Jem Aswad for Variety in 2017, "I stopped making that record to make Wrecking Ball, and then I went back to it."
As Springsteen on Broadway was newly underway, Bruce assured Aswad that the solo album would still have its day: "I've just been caught up in other projects. It's kind of waiting for its moment. Good music doesn't go away!"
That moment is here, as officially confirmed this morning, with first single "Hello Sunshine" coming our way before the next sunrise. Further details and track listing from this morning's press release:
Bruce Springsteen's first new studio album in five years takes his music to a new place, drawing inspiration in part from the Southern California pop records of the late '60s and early '70s. The album was recorded primarily at Springsteen's home studio in New Jersey, with additional recording in California and New York...

The 13 tracks of Western Stars encompass a sweeping range of American themes, of highways and desert spaces, of isolation and community and the permanence of home and hope.

The song "Hello Sunshine" and a video will be released just after midnight ET tonight.

Ron Aniello produced the album with Springsteen and plays bass, keyboard, and other instruments. Patti Scialfa provides vocals and contributes vocal arrangements on four tracks. The musical arrangements include strings, horns, pedal steel and contributions from more than 20 other players including Jon Brion (who plays celeste, Moog, and farfisa), as well as guest appearances by David Sancious, Charlie Giordano, and Soozie Tyrell. The album was mixed by Tom Elmhirst.

Western Stars Song Titles
1. Hitch Hikin'
2. The Wayfarer
3. Tucson Train
4. Western Stars
5. Sleepy Joe's Café
6. Drive Fast (The Stuntman)
7. Chasin' Wild Horses
8. Sundown
9. Somewhere North of Nashville
10. Stones
11. There Goes My Miracle
12. Hello Sunshine
13. Moonlight Motel

All songs written by Bruce Springsteen.
The material that became Western Stars was first on producer Ron Aniello's plate when he began working with Springsteen, before the inspiration struck for Wrecking Ball. In 2013, he described this batch of songs to Rolling Stone as "very unique for him, unlike anything I'd ever heard... lovely songs... I hope Bruce doesn't slaughter me here, but I would compare them to Aaron Copland. It has a very open-landscape feel... You wouldn't call it country. It's just very hard to describe. You'll just have to wait."
Western Stars' moment almost came in 2016. Following the late-2015 release of The Ties That Bind, Springsteen talked to Backstreets about his sudden impulse to play shows behind that newly released River box, which changed his course: "It was a surprise to us, too, you know? We were kind of heading on a slightly different path — I had some new music, which was a little more of a solo record. I thought that I'd be out on that next. But then the box set came out, and we started to fool around with the idea of playing maybe a show...."
The 2016 River Tour took up much of the year. Within weeks of its close, a little memoir called Born to Run took center stage. That lit the footlights for Springsteen on Broadway in 2017 and 2018. Even so, Western Stars was waiting in the wings.


A trio of western images shared on Springsteen's social media in anticipation of today's album announcement, photographed by Danny Clinch on a 2019 trip with Bruce to Joshua Tree National Park
Whetting appetites early, Bruce described the album to Variety as "influenced by Southern California pop music of the '70s... Glen Campbell, Jimmy Webb, Burt Bacharach, those kinds of records. I don't know if people will hear those influences, but that was what I had in my mind. It gave me something to hook an album around; it gave me some inspiration to write. And also, it's a singer-songwriter record. It's connected to my solo records writing-wise, more Tunnel of Love and Devils & Dust, but it's not like them at all. Just different characters living their lives."
As the man said, good music doesn't go away. Stay tuned for "Hello Sunshine," coming tonight/tomorrow, depending on your time zone. Pre-order information for the June 14 release will follow.
- April 25, 2019 - Christopher Phillips reporting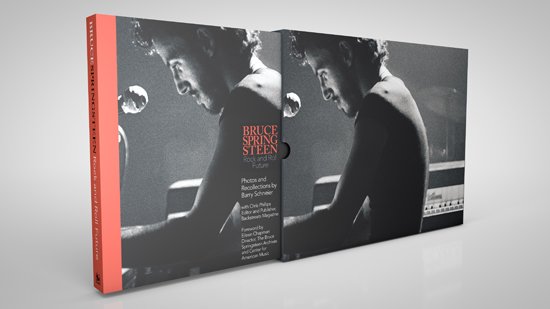 GOING LOCAL WITH BRUCE SPRINGSTEEN: ROCK AND ROLL FUTURE
The creation of Barry Schneier's Bruce Springsteen: Rock and Roll Future was a grassroots enterprise, start to finish. From fan questions that inspired Barry to begin writing about his photographs, to the early days of calling on friends for feedback, through the team that helped us create and sustain a Kickstarter crowdfunding campaign, to our family members pitching in to pack and ship the books to 1,001 backers, the publication of Rock and Roll Future has been an effort fueled by our community. As we begin to bring the book to a wider audience, the author is looking to continue that approach.
This weekend Barry Schneier will begin his "tour" right in his hometown of Holliston, MA, speaking at a new local bookseller, Aesop's Fable. If you live in the MetroWest area of Boston, this will be a great opportunity to hear Barry speak about the book and the events that led to that legendary night at the Harvard Square Theatre, in a small, intimate environment — all while supporting an independent book store. Click here for event details.
Barry also spoke recently with the MetroWest Daily News about the book and this event; read the Q&A at metrowestdailynews.com.
Bruce Springsteen: Rock and Roll Future will be available for purchase and signing at the Aesop's Fable event, April 26, 7-9pm. But if you're not in the area, you can purchase your copy of the book right here from Backstreet Records (a mom & pop shop, of course).
- April 24, 2019


ASBURY PARK DOC: ON THE BOARDWALK AND AROUND THE WORLD
With big-screen events upcoming, director Tom Jones talks Riot, Redemption, Rock 'n' Roll with Backstreets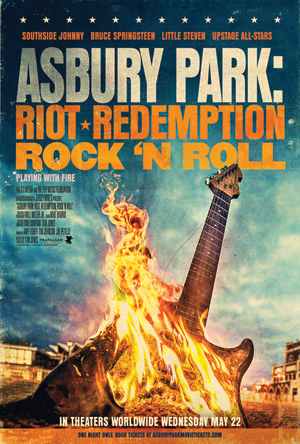 This weekend, in the Jersey Shore town that is the film's focus, the feature-length Asbury Park: Riot, Redemption, Rock 'n' Roll documentary will have its big screen premiere at the Paramount Theater. Check out the trailer above.
For anyone who can't be on the Asbury boardwalk this Sunday: on May 22, the film will also play on silver screens worldwide, for a one-night-only international showing in well over a thousand theaters (U.S. fans wil get a second chance on May 29). Visit the film's website for locations, tickets, and more information.
But the Asbury Park Music and Film Festival event this Sunday, April 28, remains a special one, with director Tom Jones on hand to premiere the film's new edit (I'll be moderating a Q&A with Jones as part of the event) and a performance by the Lakehouse Junior Pros, who also feature in the doc. Tickets are still available, if you can join us.
An earlier cut of Jones' film screened at the 2017 APMFF under a different name, Just Before the Dawn. In its new form, the documentary incorporates footage from that star-studded premiere event two years ago — remember the Upstage Jam? [below] — as well as new interviews with Bruce Springsteen and Max Weinberg.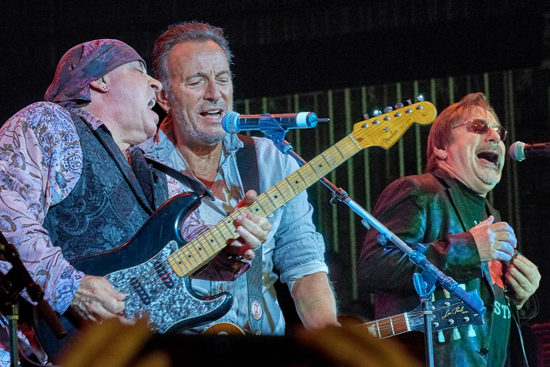 Stevie, Bruce, and Southside at the Upstage Jam, Paramount Theatre, Asbury Park, NJ, April 28, 2017.
"There was a certain moment in time," Springsteen says in the film, in an interview Jones conducted inside the Upstage, "when something happened here that wasn't happening anyplace else — that mattered." Asbury Park illustrates it well, deftly connecting the rich local music scene with the history of the town, from the Civil Rights era to its modern resurgence, using rare footage and interviews with key players to tell the tale of how the power of music can unite a divided community.
Compared to what screened in 2017, "I'd say it's about 50 percent a different film, maybe more," Tom Jones tells Backstreets. "The one we showed two years ago — I really liked it, but it had a glaring omission... and that was Bruce. We talked about him in the film, but he hadn't sat for an interview, and we just ran out of time. We had committed to the festival, so we finished it, and I was happy with it, but I felt that it was not quite complete. So Bruce surprised us and came to watch the screening, and then he played the concert afterwards, which was such a great treat. And then he very graciously called and said, 'I'd like to be in it. Would you want to have me in it?'"
So Springsteen sat for an interview with Jones inside the Upstage — at the very last possible minute, considering its imminent demolition. "When Bruce called and wanted to do the interview there," the director recalls, "I had to run down to Asbury Park and get them to stop destroying the building so we could do it. He literally was the last man out. And when he walked out of the building, they started swinging the hammers. There's certainly some poetic value to that."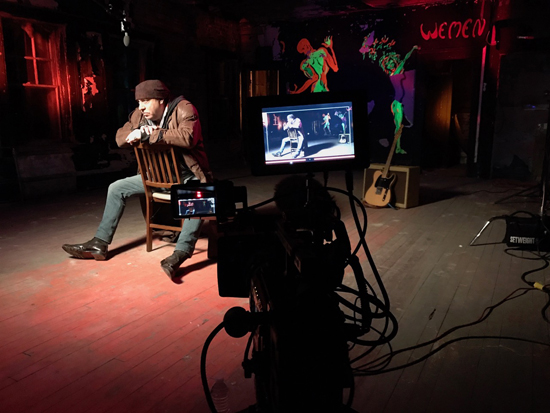 Steven Van Zandt inside the Upstage, before the hammers swung, for the Asbury Park documentary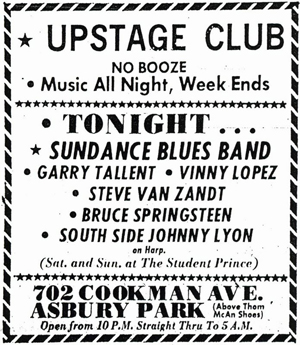 In addition to the story of Asbury Park — and Asbury as a "microcosm of the country" — Jones says his documentary is a testament to "the power of music. Music is a place people turn to again and again in good times and bad, and it's a unifying force. It brings people together. That's what interests me most about this story: in high times and low, Asbury Park always had music. Music was the real social binder, the thing that brought people across the tracks from the west side to the east side and vice versa. It's what has brought Asbury Park back from the ashes.
"And I think music can serve a similar purpose for us all," he adds, "especially kids. Kids love music, and it's a great vehicle to reach them."
Jones think a lot about the future musicians of the world, like those Lakehouse Junior Pros who'll be peforming on Sunday. "The film is going to be a good fundraiser for the educational stuff that's going on here in Asbury Park and beyond," he says. Lest we forget, it wasn't just grizzled Upstage vets but youngsters on stage for that Upstage jam, too — those Lakehouse kids, students from the Lakehouse Music Academy who also feature in the film, performed alongside creators of the sound of Asbury Park.
"To me, that's a rich part of the film," Jones says. "Watching that 11-year-old trade guitar licks with Bruce, that was worth its weight in gold to me.
Proceeds from the film's May screenings will go to Lakehouse and other educational programs "in Asbury Park and beyond," with Jones also citing Beat Bus ("a kind of rolling recording studio built into a bus that we take around to schools") and Stevie Van Zandt's TeachRock foundation. "If we can sell those out, we're going to be able to do something significant for both Asbury Park and kids in general. That's the part I'm excited about. The only thing that'll be covered on the film are the hard costs, and everything else goes right to those programs."
After working for years on the documentary, the idea of these music eductaion programs reaping its rewards has Jones most excited. "That's what's kept me in it! I'm looking forward to that part of it more than anything."
For more information and ticketing for this weekend's APMFF event, visit apmff.org.
To purchase tickets for the May 22 theatrical events around the world — and again on May 29 in the U.S. — visit asburyparkmovietickets.com.
- April 23, 2019 - Christopher Phillips reporting

LOOKING FOR JAKE
Thanks to director Nick Mead, whose
Clarence Clemons documentary
screens this weekend at
APMFF
, for hipping us to this trailer for
Broken Poet
. Starring singer/songwriter Elliott Murphy as Jake Lion, Emilio J. Ruiz's film also features guest spots from Bruce Springsteen and Patti Scialfa.
Mead tells us, "A couple of years ago I met with Elliott Murphy in Paris. I love this gentleman — a real poet, a real wordsmith, a real thinker, an inspiration. Over the years we've been talking about doing something together and we may be slowly getting there... meanwhile, I was happily surprised when this little gem turned up on my timeline. I don't know much about it, but it's chock full of surprises. Seems to be set in New York and Paris, with a cast of wonder!"
- April 22, 2019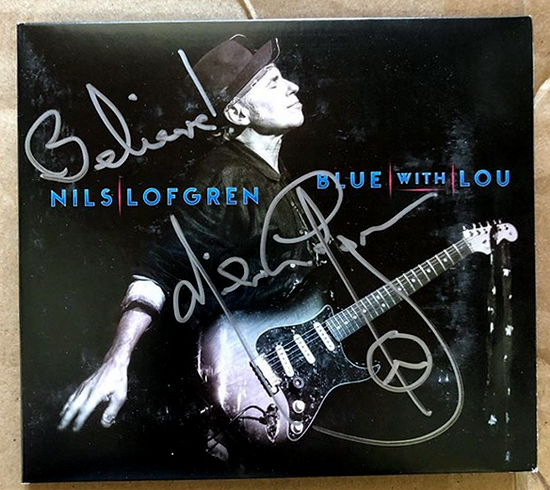 BLUE WITH LOU DROPPING FRIDAY
Til then, last chance to save 10% off Nils Lofgren's back catalog
This Friday, April 26, is the official release date for Blue With Lou, Nils Lofgren's first studio album in eight years. As you can see above, Nils has autographed compact discs for us, pre-order now to get yours!
We'll have signed copies of the vinyl as well, but we want to pass along that those will take a little longer to ship. After a factory delay, the LPs weren't ready until after Nils went into the studio with Neil Young and Crazy Horse. But he'll be back and able to sign the 2LP set for us shortly following its release, after which we'll fulfill all vinyl pre-orders.
In the meantime, all of Lofgren's back catalog is on sale here at Backstreet Records, to celebrate his upcoming release. Use the coupon code LEFTY to get 10% off any and all of the following: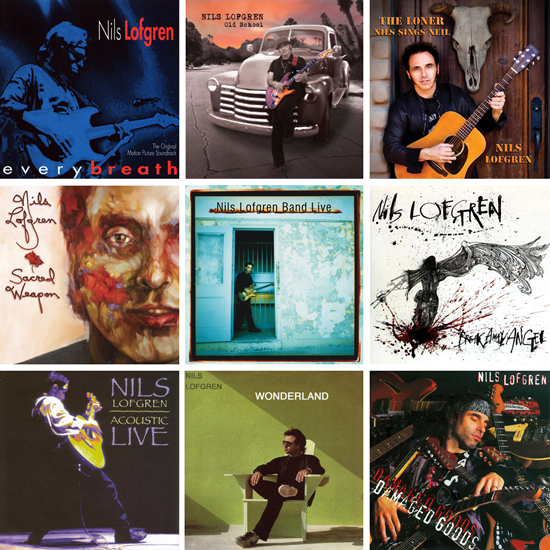 Compact Disc
DVD
Vinyl
Remember to use the coupon code LEFTY at checkout to receive the 10% discount. Coupon expires April 27, 2019.
- April 22, 2019


THE FUTURE. READY TO SHIP.
Backstreets is pleased to announce, having completed fulfillment of our successful Kickstarter campaign, Bruce Springsteen: Rock and Roll Future, the book, is now available to the general public. We want to thank our 1,001 backers who made this book possible, and all who followed and supported, it making Rock and Roll Future the number-two most popular photobook in the U.S. and the number-five most popular photobook globally on Kickstarter in 2018!
Bruce Springsteen: Rock and Roll Future is a coffee table collection of Barry Schneier's photography and memories from a historical night and turning point in the career of Springsteen and the E Street Band. Featuring contributions from Ernest "Boom" Carter, Eileen Chapman, Christopher Phillips, David Sancious, and Garry Tallent. Shipping now!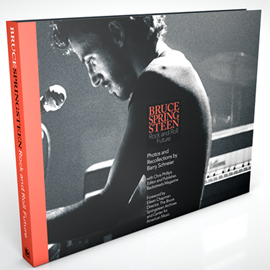 In early 1974, a young Bruce Springsteen had released two albums with minimal sales success and was actually in danger of being dropped by his record label. May 9, 1974 proved to be a watershed moment in his career, as Springsteen and the E Street Band opened for Bonnie Raitt at the Harvard Square Theatre in Cambridge, MA.

Famously in the audience that night, 45 years ago next month, was Jon Landau, music critic for Rolling Stone magazine and columnist for Cambridge-based The Real Paper. What Landau witnessed that night, and would write about afterwards, would alter the trajectory of Bruce's career forever — as well as his own (as Springsteen's producer/manager-to-be). One line in Landau's Real Paper column, perhaps the most famous concert review of all time, would reignite support for the artist. Emblazoned in ads and repeated in the press, it became known as "the quote heard 'round the world":

"I saw rock and roll future and its name is Bruce Springsteen."

Photographer Barry Schneier was also in attendance that night, on duty with his camera. His photographs, which remained entirely unseen for decades, are the only visual record of this storied performance. After numerous requests to tell the stories behind the photos, Barry teamed up with Chris Phillips and Backstreets, collaborating to produce a hardcover book as the defining record of this legendary evening.

This 150-page, richly designed, narrative and photographic journey through the night features Barry's personal recollections along with both color and black-and-white images of the Harvard Square Theatre performance.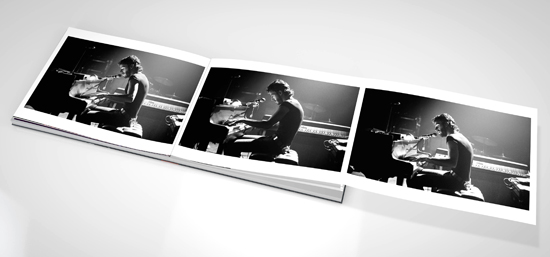 Also included are reminiscences from all three living members of that era's E Street Band depicted in the book: Ernest Carter, David Sancious, and Garry Tallent. Phillips, editor of Backstreets, wrote the book's Introduction, and Eileen Chapman, director of The Bruce Springsteen Archives and Center for American Music, contributed a Foreword. Designed by Jay Inman, the presentation includes a gatefold incorporated into the casebound hardcover, which folds out to display a triptych of Barry's "For You" piano series [above].
Order directly from Backstreets for the best price, and the option to add a custom slipcase.
Bruce Springsteen: Rock and Roll Future is also now available via Amazon.com. If you have a copy and you dig it, we encourage you to rate and review it on Amazon and/or Goodreads!
- April 19, 2019


LITTLE STEVEN LOOKS BACK, AND MOVES FORWARD, WITH "A WORLD OF OUR OWN"
Another track from the forthcoming Summer of Sorcery
The world can now listen to another preview track from Little Steven & the Disciples of Soul's forthcoming album Summer of Sorcery. First previewed exclusively at Billboard.com and now available on Little Steven's YouTube/Vevo channel, "A World of Our Own" clearly recalls the glories of Steven Van Zandt's musical past, as someone who grew up loving '60s rock, pop and soul and then later got to make his own contributions to the music as a songwriter, performer and bandleader. Longtime listeners will recognize the sound and sensibility of the girl groups and Southside Johnny & The Asbury Jukes (including a lyrical nod to a "heart of stone"). There's even what sounds like an honest-to-God harpsichord thrown into the mix. At the same time, the song concludes with the very modern, mature recognition that none us really gets to live in a world of our own, and we desperately need to stop trying to do so. "A World of Our Own" is one of Little Steven's most beautiful, heartbreaking ballads; it's also just as socially and politically astute as anything he's ever done.
- April 18, 2019 - Shawn Poole reporting

ARE YOU TALKING TO ME?
Springsteen, Scorsese slated to appear at May Netflix event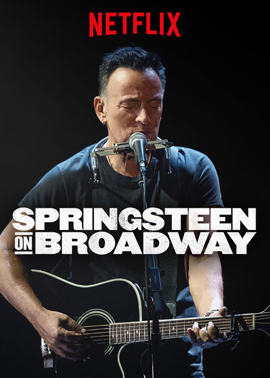 It's always awards season somewhere, and this spring Netflix wants people to know. That's why it's reprising FYSee (short for "For Your Consideration"), a month-long series of events designed to promote its offerings ahead of nominations for the 2019 Emmy Awards. And it has help from Bruce Springsteen, who will appear at a May 5 kickoff event in Los Angeles.
We're biased: we obviously loved Springsteen on Broadway, Thom Zimny's long-form document of the hit Broadway performance. (We're fans of The Crown, Black Mirror, and Ozark, too.) Like the choices consumers face for their bundling or app dollars, now Emmy nominations and voting are matters of serious competition. With the success of Springsteen on Broadway — not to mention an EGOT hanging in the balance — it's easy to see why he'd be eager to promote the platform.
To that end, the partnership with Netflix worked well enough that Springsteen agreed to join fellow creators like Oprah Winfrey, David Letterman, and Martin Scorsese. While a press report in Variety didn't make clear whether Springsteen and Scorsese will sit down for some type of joint question-and-answer session — an event that should be a Netflix special on its own — we can only hope. We've reached out to Netflix to learn more, including whether there will be any public ticket availabiity (most FYSee events appear to be open to Television Academy National Active members).
Emmy nominations take place for two weeks in June and are slated for announcement on July 16; the awards telecast takes place on September 22.
- April 17, 2019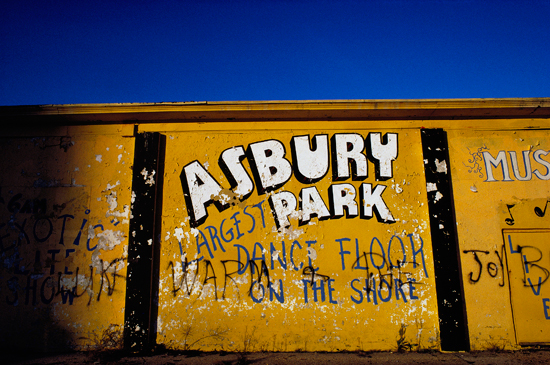 IN CAHOOTS IN ASBURY PARK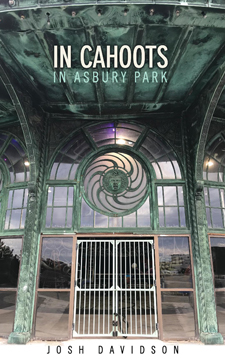 From author Davidson, a look at foundations of the local scene
Josh Davidson's In Cahoots in Asbury Park is an entertaining insider look at the Jersey Shore music scene of the 1970s, focusing upon local bands that laid the foundation for breakouts like the Jukes and the E Street Band later in the decade. The book traces the rise of a handful of local musicians from the closing of the Upstage, the late night club where many of the artists integral to the Asbury Park sound initially met, to the emergence of the Stone Pony as a hangout, giving voice to the likes of Ernest "Boom" Carter and the local and visiting jazz artists of the West Side who inspired him to pursue his own music career.
The other focus of Davidson's book is the formation of Cahoots, the hardworking bar band comprised of area musicians who were the backbone of the scene: George Theiss, Tony Amato, John Luraschi [below], John Oeser, Steve Schraeger, Tommy LaBella and Mike Scialfa. Where other accounts of the Asbury Park scene typically center upon Bruce Springsteen and Southside Johnny, Davidson takes a closer look at the foundational role of early Shore bands like Cahoots, The Shakes, and The Shots that regularly graced the stage in the early days of the Stone Pony.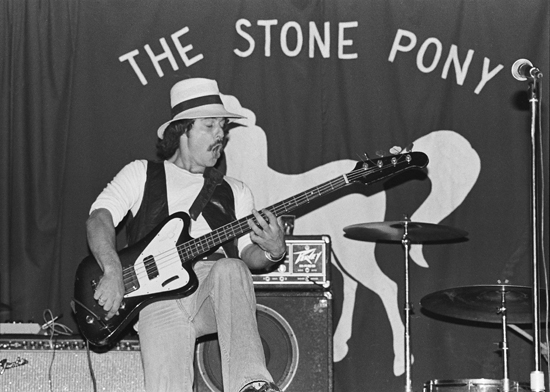 The familiar rock 'n' roll themes are all here: band formations and breakups, brotherhood, bawdy antics, record company blues, and the shot at the elusive brass ring. The camaraderie between these local bands and Bruce's E Streeters is heartwarming and inspiring, and keyboardist Tomy Amato [below] credits Steve Van Zandt (who booked Cahoots) and Bruce for championing the emerging scene even as their own fortunes rose.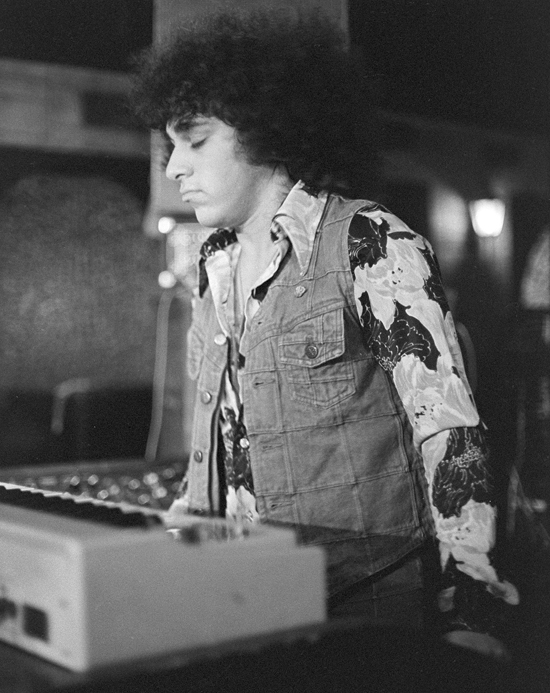 "You can't talk about the Asbury music scene or the Jersey Shore at that time, in that era, without mentioning Bruce Springsteen and Steve Van Zandt," says Amato. "They had a lot of input in to our bands. Steve helped the Shakes, Bruce helped Cahoots. Steve Van Zandt is 80 percent responsible for the sound of Asbury Park and 80 percent responsible for that whole music. He created it."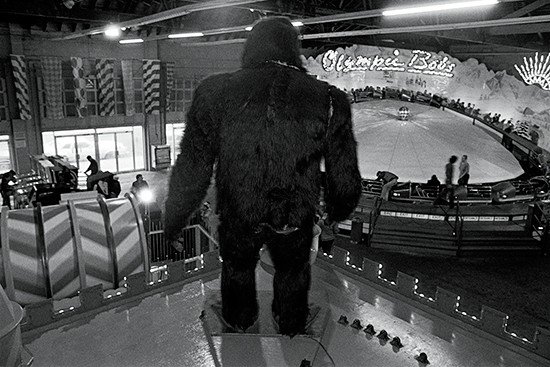 Inside Palace Amusements, Asbury Park, NJ, 1981 - photograph by Lewis Bloom
In Cahoots is chock full of gossipy tales of the band's constant battles with original Stone Pony owners Butch Pielka and Jack Roig; Davidson also gives voice to longtime fans like journalist/historian Robert Santelli, guitar-slinger Billy Hector, and Lewis Bloom, whose photography perfectly captures the excitement and passion of the Asbury scene. Like Anders Martensson's Local Heroes, In Cahoots illuminates the essential but often overlooked role of local musicians who paved the way and helped write the history of the city that became internationally famous.
Independently published, In Cahoots in Asbury Park is available now from Amazon (Paperback/Kindle), Barnes & Boble (Paperback/Nook), and Google.
- April 17, 2019 - review by Lisa Iannucci and Craig Scupp - book cover by Michelle Slevin - photographs by Lewis Bloom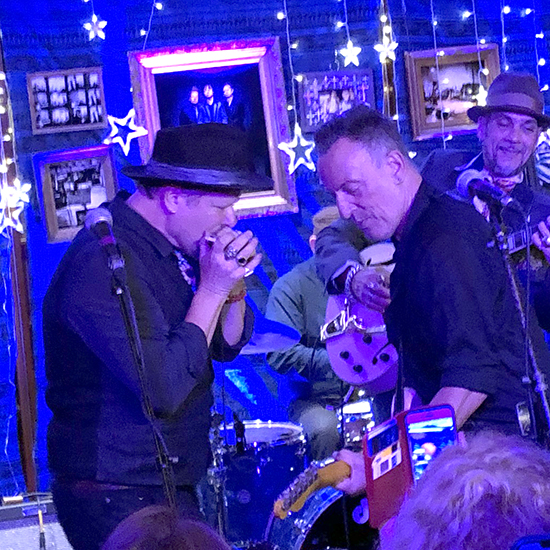 A NIGHT TO REMEMBER 2019
Springsteen straps on a guitar for Danny Clinch's big night
Saturday night in New York, Bruce Springsteen returned to the stage for the first time since Springsteen on Broadway, rocking out on two songs with the Tangiers Blues Band.
Featuring Danny Clinch on harp, the band was entertaining at the Kristen Ann Carr Fund's annual A Night to Remember benefit. After opening with bluesy takes on Prince's "Kiss" and the Velvet Underground's "I'm Waiting for the Man" as Springsteen watched from offstage, the band was joined by Asbury Park's Rachel Ana Dobken for a vocal duet with Danny. Dobken, whose When It Happens to You LP came out in October, is also Musical Director at Clinch's Asbury-based Transparent Gallery. So Danny had an easy segue for the night's next special guest: "Do we have any other New Jersey musicians who want to join us?"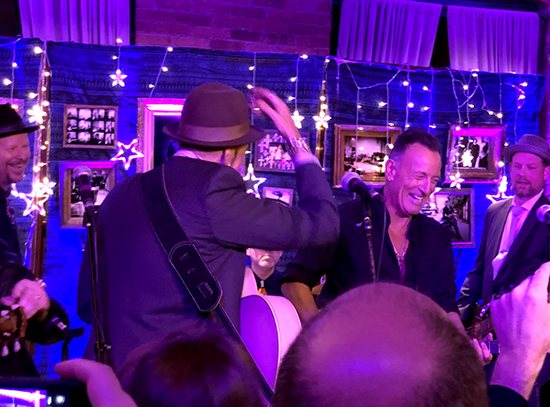 From stage left, a lean-and-mean Springsteen grabbed a Fender Telecaster and stepped right up. At center mic, Bruce led the band into "Rockin' Pneumonia and the Boogie Woogie Flu." The room — the upstairs loft at Tribeca Grill — was even smaller than the Walter Kerr Theatre, where Springsteen had been in residence all of last year, but the noise was bigger, and it was a thrill to see Bruce crank it up for a couple of shouters.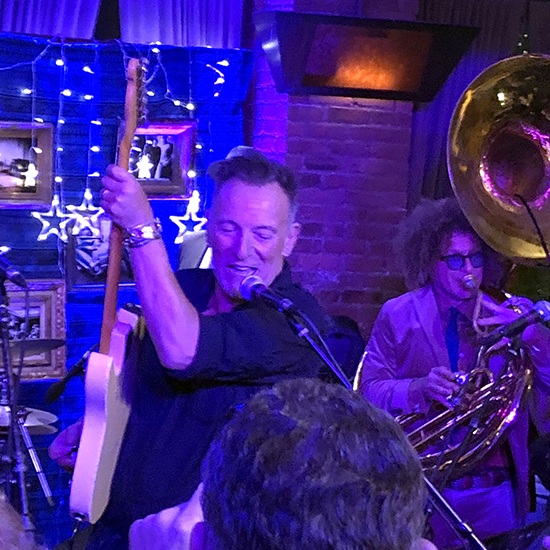 Joined by the Preservation Hall Jazz Band's Ben Jaffe on tuba, Springsteen took lead vocal again on "Down the Road a Piece." After shredding on guitar and facing off with Clinch at center stage, Bruce called out a few times to keep the song going before finally calling it good. It was a short but inspiring burst of rock 'n' roll from Springsteen, his first public performance of 2019 — and considering this is the year the man turns 70, a potent confirmation that he ain't too old to rock and roll. As if you had any doubt.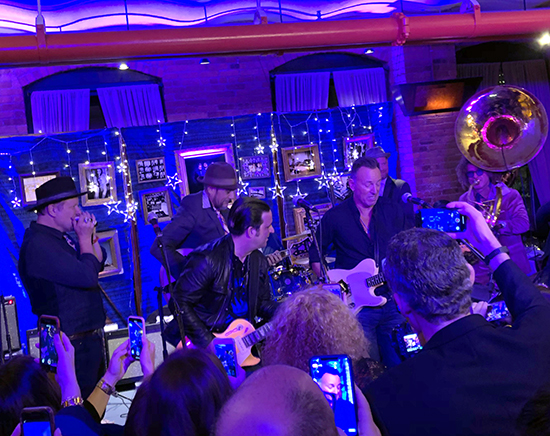 Springsteen has jammed with the Tangiers Blues Band before, celebrating the reopening of Absury Lanes last June by jumping on stage with Clinch and his band for these two songs plus two more.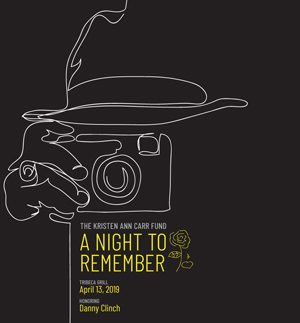 This time, Bruce was in the house specifically to raise a glass to Danny Clinch, this year's Honorary Chair for A Night to Remember. At the evening's outset, Clinch was brought on stage along with wife Maria to be thanked for his work on behalf of the Kristen Ann Carr Fund. The Fund's Michael Solomon called the rock 'n' roll photographer "always the coolest guy in the room, which is saying something," before remarks from Kristen's parents, Dave Marsh and Barbara Carr.
"Danny Clinch is a wonderful friend, a colleague, a member of the E Street family," said Carr. "We called him the renaissance man from Asbury Park, because he does so many different things — he's such a generous guy that I can't really list all the things he's helped or all the different people he's brought together, all the great people he's photographed. We're very proud, Danny, to have you here tonight, and your lovely wife Maria, and your son and daughter."
"I'm the guy who wrote, 'I have seen the future… of... photography!" said Jon Landau, throwing his arm around Danny's shoulder. "And it's this man, right here!"

L-R: Barbara Carr, Danny and Maria Clinch, Michael Solomon, Bruce Springsteen, Jon Landau
Introducing the next one to speak, Landau continued, "He's known as The Boss wherever he goes, whatever street he walks down there's always somebody: 'Hey, Boss, how you doing'…. Actually, there are not many people for whom he's the boss. But along with Mrs. Landau, he's my boss…" and as the crowd laughed, Bruce took the mic.
"Danny's been such a big part of my life," Springsteen said. "He's contributed so much to my work. We've had a lot of great adventures together. I want to say he's a fabulous photograher, but he's also been tremendously important to us down in Asbury Park. He's part of our community, and he's a great friend of mine."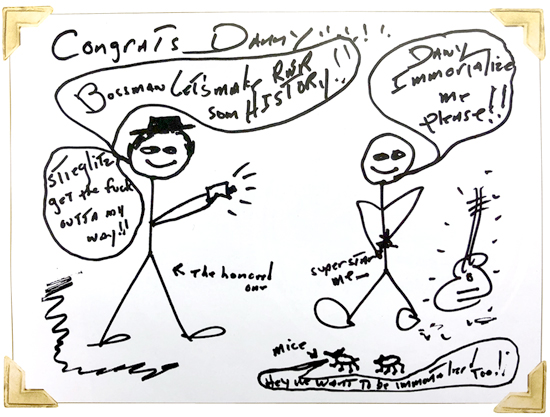 Clinch and his subject as envisioned by "Superstar" Springsteen himself, from the night's program
Clinch himself said a few words, before his band took the stage and the night's entertainment began: "I'm really honored and grateful to be here, in honor of Kristen and the great work that her family has done — Sasha [Carr], Dave, and Barbara. As I was growing up, I gravitated toward a lot of great music and great bands that got me excited about wanting to document them. One being Bruce Springsteen and the E Street Band. Pearl Jam, bands like Dave Matthews, Patti Smith, and the Beastie Boys.... funny enough, those are all people who give back to their community. It's been a big inspiration to me and part of the reason why I do that sort of thing."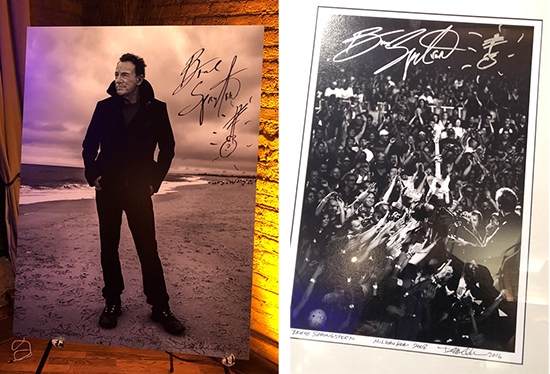 A couple of Springsteen-signed Danny Clinch prints the photographer donated to Saturday night's auction
The Kristen Ann Carr Fund provides grants for sarcoma research and seeks to improve the lives of cancer patients. A silent auction — featuring prints by Clinch and fellow photographers Eric Meola, Frank Stefanko, Pete Souza and more, as well as an Eddie Vedder-signed ukulele — raised funds for KACF on Saturday night. Additional items are on the block now at charitybuzz.com, including a Little Steven & the Disciples of Soul ticket-meet-and-greet package, with more to be added in the coming weeks. You can also donate to the KACF online at sarcoma.com.
- April 15, 2019 - report and photographs by Christopher Phillips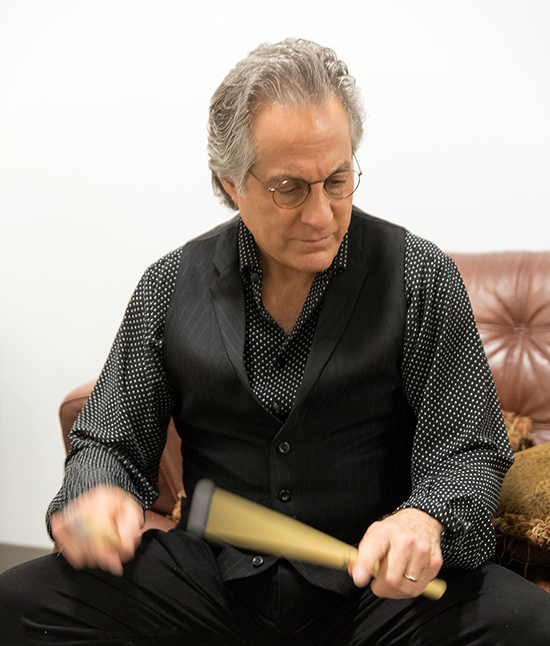 HAPPY BIRTHDAY, MIGHTY MAX!
Max Weinberg turns 68 today, born April 13, 1951. He returns to the road later this month with Max Weinberg's Jukebox, playing Hopewell NJ's Hopewell Theater on April 25, with many more shows to follow throughout the summer and into the fall. See the full schedule at maxweinberg.com.
- April 13, 2019 - photograph by Leland Sandberg


1974 IN FOCUS: MIKE APPEL WITH BACKSTREETS' JONATHAN PONT
May 19 event in NYC looks back on the lead-up to Born to Run
Forty-five years gone by now, 1974 was a year of change for Bruce Springsteen, bringing shifts on a host of fronts. On May 19, Springsteen's first manager and producer Mike Appel (above) will join Backstreets Associate Editor Jonathan Pont to look at the events and music that shaped the year.
"There are years that history tends to obscure, and 1974 is one," Pont says. "So much went into setting up the success that Born to Run became."
Appel, of course, served Springsteen from 1972 to 1976, and they formally parted ways in the spring of 1977. "Mike tells the story as only he can," Pont says. "He was there for everything, from the business and the creative side."
"In Conversation: Mike Appel" takes place on Sunday, May 19, at 3pm as part of the Hamilton Park House Concerts series on Staten Island. See the Facebook event page for further details and advance tickets.
- April 11, 2019 - photograph courtesy of Mike Appel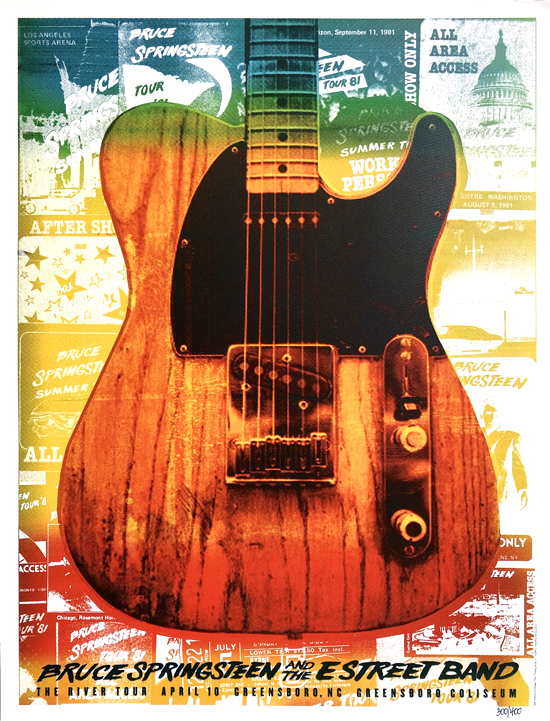 GREENSBORO POSTERS: OUT OF THE VAULT AND ONTO YOUR WALL
Previously unseen, original 4/10/16 concert posters to benefit Equality NC
Three years ago today: the Greensboro show that wasn't. After North Carolina state legislators passed the discriminatory HB2 (The Public Facilities Privacy & Security Act), Bruce Springsteen made the decision to bypass the state on his 2016 River Tour. Taking a stand in "this fight against prejudice and bigotry," he cancelled the E Street Band's April 10 concert — the tour's only scheduled stop in North Carolina — "with deepest apologies to our dedicated fans in Greensboro." [See Springsteen's full statement here]
From the Backstreets office in Chapel Hill, NC, we wrote three years ago tonight:
At this very moment, in a parallel universe, we're just down the highway in Greensboro, NC, reveling in the power and the glory of the E Street Band in concert, with friends and family from our homestate and from much farther afield. Over there, they're at "Born to Run" right about now. Of course, that alternate timeline is one in which Bruce Springsteen doesn't hold the conviction that nobody wins unless everybody wins.

Can't say there's much pleasure in not seeing a Springsteen show tonight, but the sense that this was an important stand to take rules the day.
While the show itself did not go on, show posters had already been designed and printed for the Greensboro Coliseum concert. The eleventh-hour cancellation was too late to stop the presses — but it's clear from the rainbow-themed design that the Springsteen camp had already been paying attention to the human rights issues taking center stage in North Carolina.
Unseen and unsold until now, these original Greensboro posters are now for sale through Backstreets. We thank the Springsteen organization for making them available to us, to raise funds for an non-profit in our home state that continues the fight Bruce spoke of.
Last month, additional concert posters from other stops on The River Tour 2016 were sold to benefit WhyHunger (a few remain — see the offering here). The Greensboro poster is exclusive to Backstreets, with proceeds benefitting Equality NC.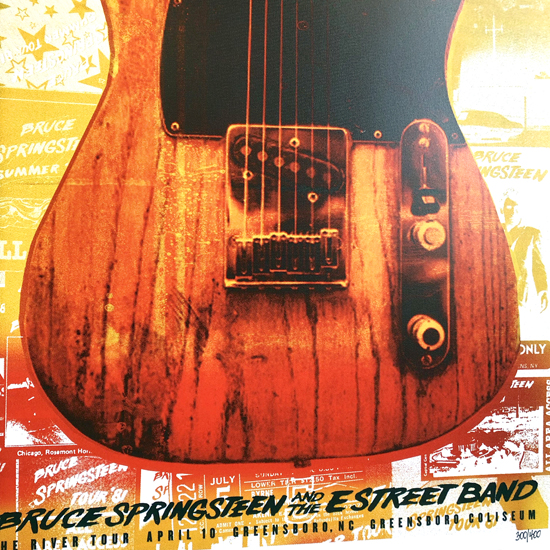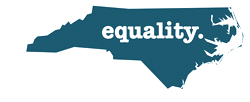 As Equality NC executive director Kendra R. Johnson tells Backstreets, the non-profit "is engaged in the ongoing fight to secure equal rights and protections for all LGBTQ North Carolinians. Much of our efforts are currently focused on anti-violence work for the most vulnerable members of our communities and ensuring that LGBTQ people are protected to the fullest extent of the law."
Johnson tells us that they were "impressed by the attention that Bruce Springsteen and others brought to the discriminatory nature of HB2," describing the boycott as "a useful tactic at the time... [it] sent a message to legislators that discrimination against our transgender brothers, sisters and siblings won't be tolerated."
In 2017, following boycotts by Springsteen, Pearl Jam, Ringo Starr, and other entertainment acts — as well as the NBA, PayPal, Deutsche Bank, and numerous other corporations and state governments — NC state legislators repealed HB2.
They replaced it, however, with a compromise bill, HB142, which "remedies some of the problems encompassed by its predecessor while still failing to adequately remedy the damage done," according to Johnson. "Notably, HB142 still imposes discriminatory restrictions on public accommodations for trans people and prevents local municipalities from passing non-discrimination ordinances until 2020."
Proceeds from our sale of these original Greensboro posters will aid Equality NC's efforts as they work with lawmakers to repeal HB142 and thereby fully and finally repeal HB2.
A limited quantity is available of this piece of history, from a hand-numbered edition of 400. See the poster in our shop for more information and to order, while they last. Limited to two (2) per customer, please.
- April 10, 2019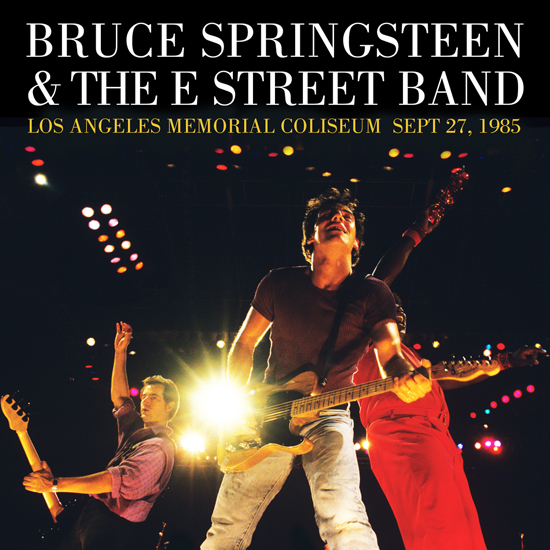 GOOD GOD, Y'ALL! IT'S LOS ANGELES, 1985
As the tour's last stand begins, it's "War" as Springsteen stays on point
The end of the Born in the U.S.A. tour was Bruce Springsteen's biggest public moment, a four-night stand at the Los Angeles Coliseum that showed everything he and the E Street Band had worked more than a decade to achieve. After a year of touring, having grown into a mainstream entertainment figure and a fixture in American culture, Springsteen could have taken the stage in Los Angeles simply to celebrate.
Granted, there's plenty of that in this month's archive release, Los Angeles Memorial Coliseum, September 27, 1985, the stand's opening night. The 30-track set features most of Springsteen's blockbuster seventh LP, a half-dozen covers (including Jimmy Cliff's "Trapped," making its first archive series appearance, and a stark take on Woody Guthrie's "This Land Is Your Land"), and two songs played for the first time: "War" and "Janey, Don't You Lose Heart."
Not content to merely acknowledge the end of his most successful era on the road, Springsteen took the opportunity to clarify what it all meant, using Edwin Starr's 1970 Motown hit "War" (written by Norman Whitfield and Barrett Strong) to drive the message home. Debuting that night, the song went on to take a significant role, both in messaging and in creating yet another hit record.

Lean and uptempo, 9/27 embraces music of the day, namely six top-ten singles from Born in the U.S.A. (Columbia would release a seventh, "My Hometown," in time for the holidays). Many older numbers, like "Rosalita" and "Jungleland," were put aside; compared to the 1984 run at the nearby Sports Arena, more than a quarter of the set was new. Turnover like that was healthy, just one way Springsteen kept pace with the Born in the U.S.A. hit parade. As the 15-month tour went on, his storyboard approach to setlists let the show evolve: a creative peak followed the 1984 campaign rally in which President Reagan implied a connection with Springsteen, who countered with a longer, more nuanced section from Nebraska. By the middle of 1985, only "Johnny 99" and "Atlantic City" stayed in most nights (as they do here), making room for "Seeds," which debuted in the U.K. in July, and an expanded version of "The River."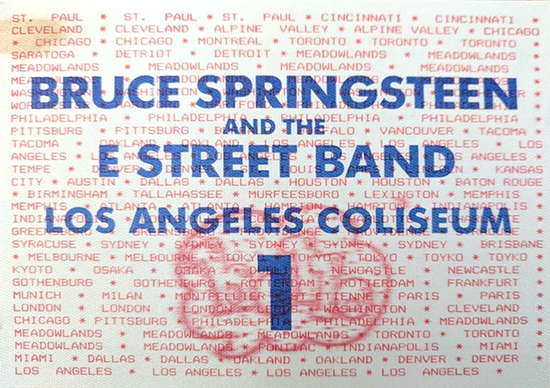 Springsteen's success and unprecedented exposure that year led audiences to pack enormous open-air sports stadiums in Australia, Europe, and North America (he visited Japan, too, but played smaller indoor venues). Though the scale made Springsteen and the E Street Band look smaller, they sounded mightier than ever, with "Born in the U.S.A." their sonic proving ground each night. Here, why Springsteen shouts "incoming!" during the song's breakdown remains open to interpretation; whether a heat-of-the-moment exhortation or something else, it doesn't sound out of place as the band reenacts the spontaneity heard on the original studio recording. That roar led the E Street sound for most of 1985, thrilling newly-minted fans and old timers alike.

Near the end, non-LP B-sides appeared back-to-back — manna for serious fans, and an opportunity for others to get a jump on traffic. A gold-medal sprint through the "Glory Days" B-side "Stand On It" gave way to the first-ever "Janey, Don't You Lose Heart," a Born in the U.S.A. outtake just released as the B-side on "I'm Goin' Down," the LP's sixth single. (In a twist, they omit the Clarence Clemons solo that graces the studio version, opting instead for Roy Bittan playing the solo on piano and keyboard.)
The encore began, however, on a more serious note: standing by himself in front of 83,000 people, Springsteen sang "This Land Is Your Land," calling it perhaps "the greatest song… that has ever been written about America." Its spare arrangement and Springsteen's sincerity made for a study in performance, and he sang a timely verse that he hadn't on The River tour.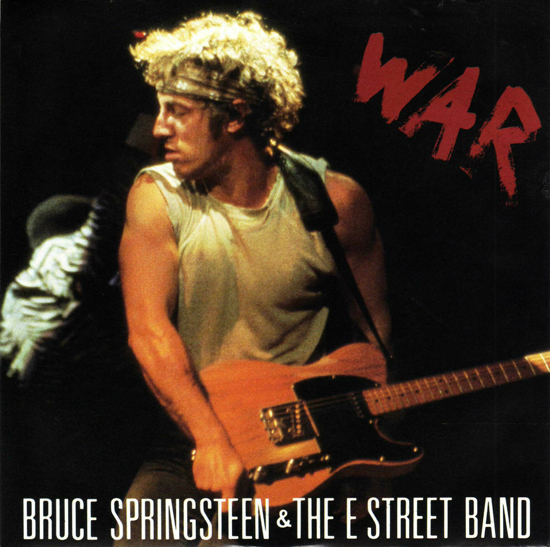 And then there's "War." This final phase of the Born in the U.S.A. tour found Springsteen seemingly in search not for an exclamation point, but an underscore. Many people heard "Born in the U.S.A." for something it was not, putting Springsteen in the uncomfortable position of having to explain his music and his views. Springsteen may not have been able to control public perception of his work or image, but he came to Los Angeles ready to have the last word.
For a year, he'd worked to frame the discussion on more basic levels, both metaphorically and practically. For its B-side, the "Born in the U.S.A." 45 featured another coming-home-from-war narrative, "Shut Out the Light" — maybe Springsteen's best-ever single. In concert, he talked about the danger of blind faith and the disappearing safety net. He pushed back against the president and talked explicitly about hunger, working with food banks to highlight a nagging American problem. All this worked — to a point.
He couldn't exactly stop the concert to deliver a lesson on "Born in the U.S.A." — its work was done early, when the enormous American flag backdrop collapsed at song's end. Whatever that dramatic moment meant — for some patrons, perhaps commentary on the American experiment; for others, simply the start of "Badlands" — remained ambiguous. "War," however, was not only cathartic, it was explicit and hard to misinterpret. He dedicated it to young people, warning that "blind faith in anything, your leaders, in 1985, will get you killed."
Passing on the lessons from his generation, Springsteen created something of a public reckoning of his own experience around the time of the war in Vietnam. As the stand went on, he refined his remarks before "The River," introducing the number not as one about economic woes, but instead as one of acceptance and reconciliation.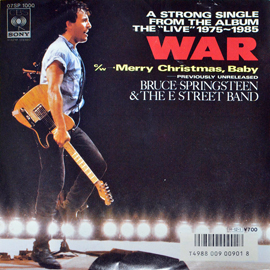 "War" got better as the band got its hooks in: their version landed in the top 10 in 1986 (using the take from September 30, which became a significant source for the box set Live/1975-85). For the Tunnel of Love tour in 1988, Springsteen paired it with "Born in the U.S.A.," reprising both in a way that was difficult to miss.

The enormity of 1985 obscured it for some — by the end, even Springsteen himself felt "Bruced-out." All along, however, he remained focused on the music, any era's rightful yardstick. And, 35 years since its release, historians are still discussing what "Born in the U.S.A." means. This recording, from start to finish, contains a few more hints; they're just louder.
Also read: Erik Flannigan's latest nugs.net blog entry, "Tell Your Mama"
- April 5, 2019 - Jonathan Pont reporting



BLINDED BY THE LIGHT LOS ANGELES PREMIERE, APRIL 3
"I'll Stand By You Always" a post-Sundance addition to the film
Sarfraz Manzoor is a British journalist, documentary filmmaker and broadcaster. He's also a bit of a Bruce Springsteen fan. Manzoor has attended more than 150 Springsteen concerts. His memoir, Greetings from Bury Park, is about his life growing up in the 80s in Luton (Bedfordshire), England, as an immigrant from Pakistan, with Springsteen a driving force in helping the writer pursue his passion and leave the rest behind. After an acclaimed Sundance premiere in January, the memoir's big-screen adaptation will arrive in theaters on August 14. Blinded by the Light (Warner Brothers) tells the story of Manzoor's late teens in Luton, at the precise moment he discover's Springsteen's music, and the tidal wave of inspiration that will shape his life.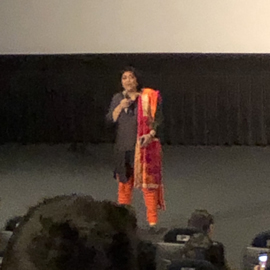 Manzoor, also lead screenwriter for the film, was on hand with director Gurinder Chadha (right) to introduce the film at Wednesday night's Los Angeles premiere, including a triumphant tale of getting a "yes" from Springsteen, who allowed his music to be used in the film. Springsteen is well known for guarding his music from commercial use, often one of the most reluctant of artists to clear music rights. Chadha and Manzoor got an informal go-ahead to use it after waiting patiently for Springsteen at the 2010 London premiere of The Promise: The Making of Darkness on the Edge of Town. As Chadha tells it, surrounded by fans, reporters, and cameras, Bruce recognized Manzoor, having read and loved his memoir. In that moment Chadha screamed, "We want to make his book into a movie and we need your music!" To which Bruce replied, "Sounds good."
In the film, set in Luton in 1987, a meek fifteen-year-old Javed (played skillfully by Viveik Kalra, his first leading role in a feature film) wants to be a writer. His only creative outlet is writing songs for his friend's band. Javed is kind-hearted and locked into the traditions of his parents and Pakistani culture; he and his family face racism daily from members of the far-right British National Front. Fate puts Javed in the path of fellow student Roops (Aaron Phagura), who is all-Bruce, all the time. The cassettes Roops lends him — Darkness on the Edge of Town and Born in the U.S.A. — immediately transform Javed.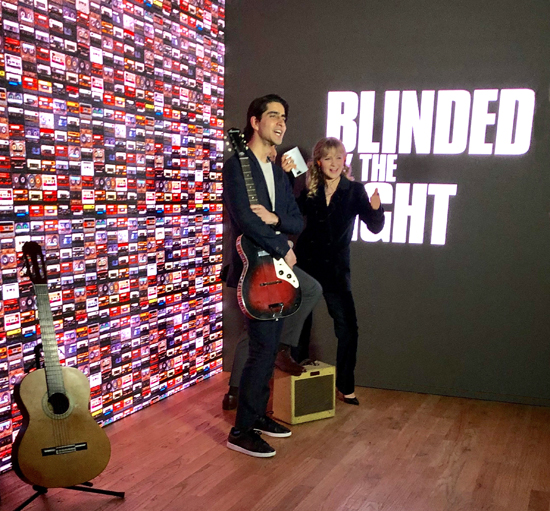 Viveik Kalra and Nell Williams, Los Angeles, April 3, 2019
There will be delightful surprises and moments of recognition throughout the film for any Springsteen fan. While Blinded keeps music of-the-era, focusing primarily on Springsteen's work leading up to and including Born in the U.S.A., the film does use the Springsteen on Broadway version of "The Promised Land" to carry the weight of the moment musically. One of the biggest Easter eggs is a new addition, added since its Sundance screenings: over the credits, Springsteen's "I'll Stand by You Always" finally makes its way to the silver screen. Bruce originally wrote the song for Chris Columbus' Harry Potter film two decades ago; it remained on the cutting room floor. In Blinded, "I'll Stand by You Always" serves its purpose well as a button to a film about another British boy finding his own magic.
Are some moments slightly campy? Sure. The film does challenge the audience to stand in it, to strip away cynicism and give in to fully heartwarming, completely earnest moments. In one scene in particular, as Javed begins singing "Thunder Road" to Eliza (Nell Williams), the entire market joins in, singing and dancing. It becomes an explosion of emotion, as though everyone in a casual Saturday farmers market is suddenly in the pit at an E Street Band show.
In another scene "Born to Run" is there to be felt the way we have all imagined it as we blast it on headphones, the whole world around you going from black-and-white into color. Heart stoppin,' pants droppin' joy. These are moments of bliss worth holding on to as Blinded reminds the audience that there is always a force that will fight against your elation. The film blurs the heightened world of possibility and freedom with the harsh realities of a bad economy, family despair, violence, and bigotry.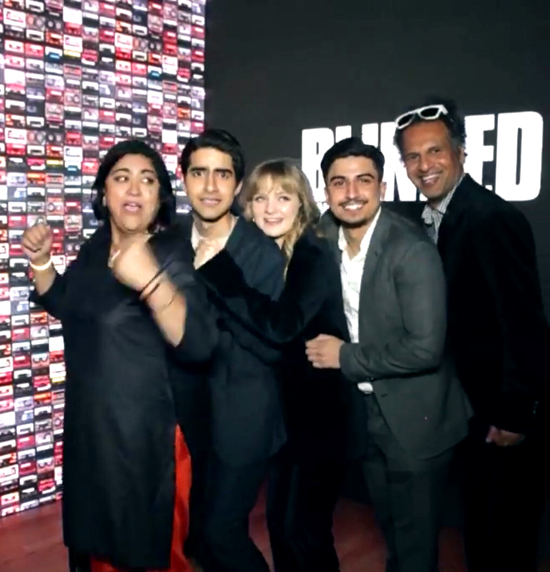 L-R: Gurinder Chadha, Viveik Kalra, Nell Williams, Aaron Phagura, and Sarfraz Manzoor, Los Angeles, April 3, 2019
Blinded by the Light is a film that will move most fans of rock 'n' roll ; to have it focus on a Springsteen fan is a pure treat. It's a perfect reminder of the moment in every fan's life when youth and vulnerability met Springsteen's work. And as with any successful musical — which, in a way, this film is — the music and the lyrics are the vehicle that move Javed's story forward to find his own piece of salvation.
- April 3, 2019 - report and photographs by Emily Dorezas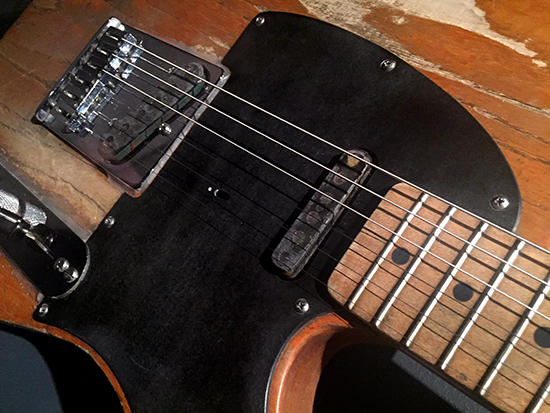 TURN IT UP!
Bruce's Esquire, Clarence's sax, and more sacred totems of rock 'n' roll now on display at the Met
There are more than 130 instruments showcased at the Metropolitan Museum of Art in their exhibition opening today, titled Play It Loud: Instruments of Rock & Roll. As you wind your way through the rooms past the guitar Chuck Berry played on "Johnny B. Goode," Jerry Lee Lewis' piano, Keith Richards' legendary Micawber, Wanda Jackson's leather-tooled Martin D-18, Stevie Ray Vaughan's composite Strat — and many, many, many more instruments of similar provenance and import — there are two items of particular interest to Backstreets readers.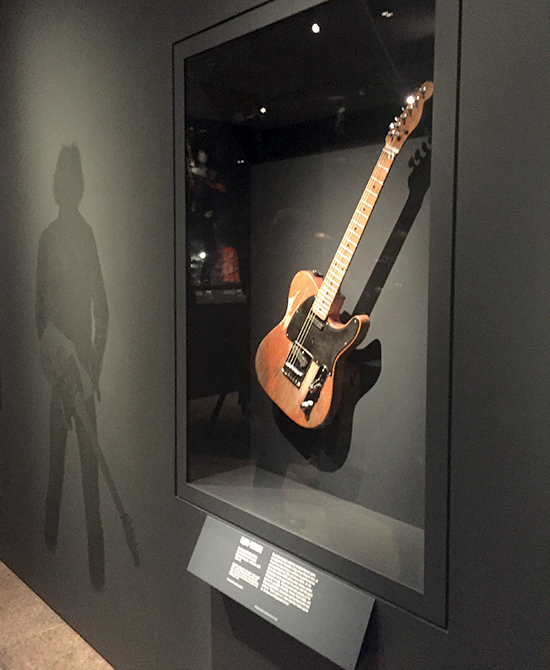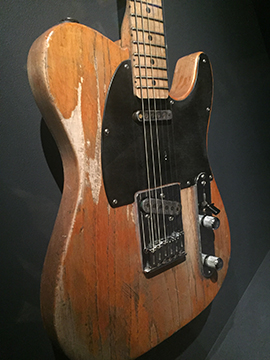 First of all, the Esquire is in residence, suspended as if by magic in its own deep display case. (As the exhibition notes, Springsteen's beloved, trademark guitar is actually a modified composite, with an Esquire neck on a Telecaster body.) If you didn't get to see it when it was in repose at the Rock and Roll Hall of Fame, now is your chance to walk up as close to it as most of us are likely to get, and just, well, stare at it.
You will know it from across the room, even without a familiar Eric Meola-composed silhouette on the wall adjacent; you would likely know that particular shape, the wear at the top of the body on the curve, just parallel with the pickup, that well-worn path etched from decades of chords. The fretboard and the headstock seem so... unremarkable, when you stop to consider the music that has emanated from that particular piece of wood. The Esquire is towards the end of the exhibit, so when you hit the video room, turn around and come back for another look, because you will always want one more chance to look at that guitar.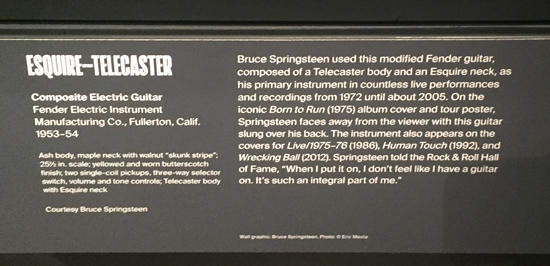 But the item that held the most interest for me was past the big wow instruments in the first few rooms, in a vitrine against the wall as you walk past the Roots' setup to your right and a vast selection of keyboards to your left (say hello to Ian McLagen's Wurlitzer that he played on "Miss You"). In a corner, sharing space with Patti Smith's clarinet, is a beaten and battle-worn Selmer Mark VI tenor saxophone (serial no. 146268) that belonged to Clarence "Big Man" Clemons and was used to play the solos on "Jungleland" and "Thunder Road."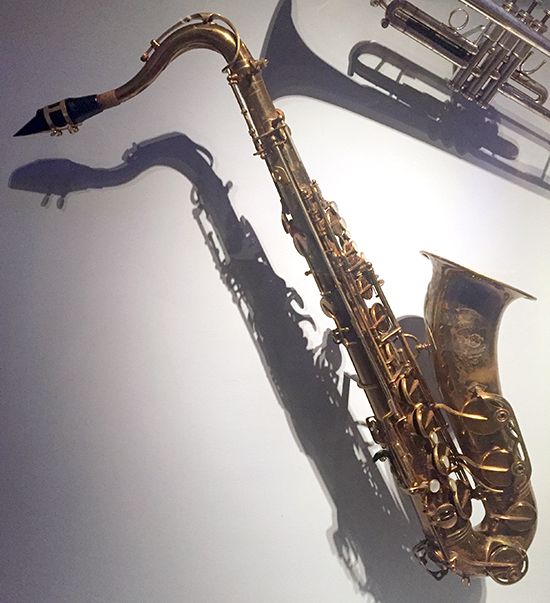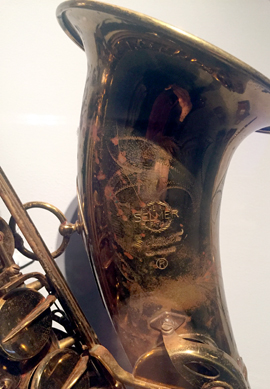 In the room just past the saxophone, you can watch a wonderful interview with Keith Richards where he waxes rhapsodical about the connection between the electricity and the life force in our bodies and brains, and how that enables musicians to channel some kind of divine force. It is wonderful because I agree wholeheartedly with him, wandering this maze of absolutely familiar and absolutely sacred totems that are representative of the place music plays in our lives as well as the vehicles directly through which the generated magic is transmuted.
So maybe it is fantastic or dramatic to assert, standing adjacent to this saxophone played by that human on those songs, that the Big Man's saxophone holds some kind of mystical vibration that, if you want to, you can feel or connect to or will into existence... but that would exactly be the power, the glory, the mystery, and the ministry… of rock 'n' roll, now wouldn't it?
Honorable E Street alumni mention goes to several of Tom Morello's instruments featured in the exhibition as well.
Play It Loud: Instruments of Rock & Roll is at the Metropolitan Museum of Art from April 3 to October 1, 2019. More information is here. The exhibition will travel to the Rock and Roll Hall of Fame in Cleveland in November 2019.
- April 3, 2019 - report and photographs by Caryn Rose

LONG TIME COMIN', NOW HE'S HERE
E Street Radio finally gets a Danny DeVito Guest DJ
E Street Radio has tried for years to have legendary actor and filmmaker Danny DeVito as one of their Guest DJs. It actually started to seem like it'd never happen, but recently the stars finally aligned (particularly with DeVito out and about promoting Tim Burton's new live-action Dumbo remake, in which he plays the circus ringleader), and E Street Radio finally got their man.
DeVito, born in Neptune, NJ and raised in Asbury Park, is a longtime fan of his fellow Oscar winner and New Jersey Hall of Famer Bruce Springsteen. He's also a frequent Springsteen concert attendee. "I try not to miss any of his performances wherever I go, if I'm out of the country, even," says DeVito during his Guest DJ session. "I've seen him in Spain. I've seen him in London. I've seen him all over, and I'm very fortunate that I could do that."
DeVito's Guest DJ session debuted over the weekend — catch him talkin' Bruce and playing his top ten favorite Springsteen tracks, replaying tomorrow and for the next week:
Wednesday, April 3 at 5pm
Friday, April 5 at 4pm and 11:59pm
Saturday, April 6 at 8am
Sunday, April 7 at 5pm
Monday, April 8 at 4pm and 11:59pm
Tuesday, April 9 at 8am
Wednesday, April 10 at 6pm
All times are ET, exclusively on Sirius/XM Channel 20.
- April 2, 2019 - Shawn Poole reporting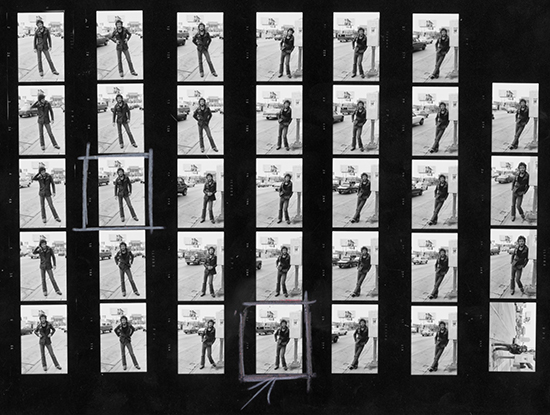 LONGREAD: THE BACKSTREETS INTERVIEW WITH BRIAN HIATT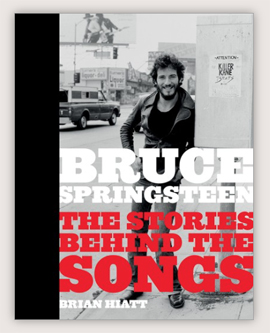 How to find something fresh to say about Bruce Springsteen's body of work? You could start with a whopping 60 hours of new interviews with key players — musicians, producers, and engineers — which is just one element in the mix for Brian Hiatt's new Bruce Springsteen: The Stories Behind the Songs.
Just published by Abrams Books in the U.S. and Carlton Books in the U.K., the book is a soup-to-nuts, Greetings-to-High Hopes survey of Springsteen's entire recorded catalog of original songs. More than 300 of them, taken on chronologically and one-by-one.
From early associates to latter-day collaborators, with many that span the years, Hiatt's Who's Who list of interviewees is worth once again typing out: Larry Alexander, Ron Aniello, Mike Appel, Roy Bittan, Bob Clearmountain, Danny Clinch, Cameron Crowe, Neil Dorfsman, Jimmy Iovine, Randy Jackson — and the names keep coming, dawg — Rob Jaczko, Louis Lahav, Nils Lofgren, Gary Mallaber, Tom Morello, Brendan O'Brien, Thom Panunzio, Chuck Plotkin, Bary Rebo, Marty Rifkin, Sebastian Rotella, David Sancious, Toby Scott, Soozie Tyrell, Max Weinberg, and Thom Zimny.
That's on top of interviews the author had already done with Springsteen (five times), Steven Van Zandt, Jon Landau, and more in his 15 years at Rolling Stone, plus transcripts shared by his colleagues. Combined with his own extensive research and insights as a longtime fan, Hiatt has created a rich survey of the Springsteen songbook that is, even for major fans, as enlightening as it is entertaining.
With his book hot off the presses, Brian will be heading to his publisher's office in New York for us shortly, to sign The Stories Behind the Songs especially for Backstreet Records customers. Order now to guarantee a signed copy.
In the meantime, a longread.
In late March, Backstreets editor Chris Phillips spoke at length with Brian Hiatt, delving into the thought process, detective work, close listens, and conversations that informed The Stories Behind the Songs. After a Greetings listening session with David Sancious and a chat with Chuck Plotkin that left him limping, Brian kindly sat for an epic conversation with Backstreets — nowhere near 60 hours, but long enough to dig into Springsteen's 1977 "Star Wars tape" and how Barry White inspired Max Weinberg.
We had a much briefer Q&A with Hiatt in December, but after receiving an advance copy and devouring it cover-to-cover… just like the book, we wanted to go deep.
Read: The Stories Behind The Stories Behind the Songs:
The Backstreets Interview with Brian Hiatt
- March 31, 2019 - Getty Images / from Bruce Springsteen: The Stories Behind the Songs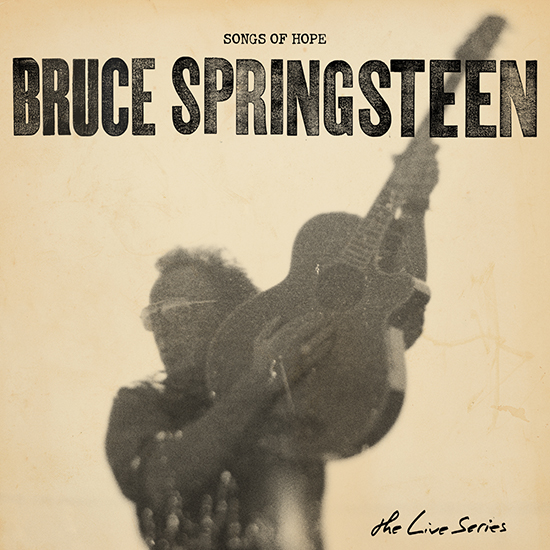 BELIEVE IN THE HOPE
Songs of Hope joins live archival playlists on streaming services
After last year's Songs of the Road, and January's Songs of Friendship, Springsteen's The Live Series continues today with Songs of Hope. The streaming series of playlists brings together live performances from the ongoing live.brucespringsteen.net archive releases, curated by theme. With Songs of Hope, another 15 live tracks have just been added to streaming services:
| | | |
| --- | --- | --- |
| 1 | Land of Hope and Dreams | Apollo Theater, New York, NY - 03/09/12 |
| 2 | Badlands | Agora, Cleveland, OH - 08/09/78 |
| 3 | The Rising | MetLife Stadium, East Rutherford, NJ - 08/30/16 |
| 4 | Does This Bus Stop at 82nd Street? | HSBC Arena, Buffalo, NY - 11/22/09 |
| 5 | Night | Tower Theater, Upper Darby, PA - 12/31/75 |
| 6 | The Promised Land | King's Hall, Belfast, UK - 03/19/96 |
| 7 | My Lucky Day | Ullevi Stadium, Goteberg, Sweden - 06/25/16 |
| 8 | Tougher Than the Rest | Stockholms Stadion, Stockholm, SE - 07/03/88 |
| 9 | This Is Your Sword | Times Union Center, Albany, NY - 05/13/14 |
| 10 | My City of Ruins | Olympiastadion, Helsinki, Finland - 07/31/12 |
| 11 | From Small Things (Big Things One Day Come) | Time Warner Cable Arena, Charlotte, NC - 04/19/14 |
| 12 | The Promise | Palace Theatre, Albany, NY - 02/07/77 |
| 13 | Living Proof | MetLife Stadium, East Rutherford, NJ - 08/30/16 |
| 14 | Lucky Town | Ippodromo delle Capannelle, Rome, Italy - 07/11/13 |
| 15 | This Hard Land | Estadio de Anoeta, San Sebastian, Spain - 05/17/16 |
Spanning more than 40 years of living proof from the U.S. and Europe, from 1975 to 2016, the dope is that this playlist will provide some surefire uplift (other than, maybe, cashing in those dreams on "The Promise")... may its hope give you hope. Listen now via Apple Music or Spotify.
- March 29, 2019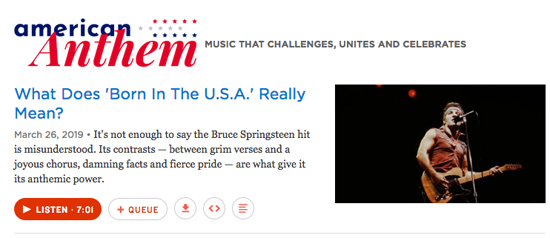 "BORN IN THE U.S.A.": ANOTHER SHOT TO GET IT RIGHT
Kicking off last July and running through this July, American Anthem is a yearlong NPR series focusing on "songs that rouse, unite, celebrate and call to action." Rich territory for This Thing of Ours, and indeed, the latest episode focuses squarely on Bruce Springsteen: "What does 'Born in the U.S.A.' really mean?"
Airing this week on Morning Edition — with host Steve Inskeep asking of Springsteen's hit, "How was it so widely misunderstood?" — the piece covers a lot of ground in seven minutes. NPR Music director (and Friend of Backstreets) Lauren Onkey offers solid history, discussing the song's origins in Bruce's early-'80s involvement with the veterans movement, his demo of "Vietnam," and the evolution of the song before things move on to George Will, Ronald Reagan, Chris Christie (who, say what you will, does understand the song) and the rest. After decades of misinterpretations, rearrangements, and recontextualizations, Inskeep concludes, "Maybe the meaning of 'Born in the U.S.A.' is the distance between the grim verses and the joyous chorus."
"Born in the U.S.A.," says Onkey, "describes the ambiguities and challenges of the country that I have grown up in. And for me, it's a rock 'n' roll anthem: This singer, and the scream, and the sound of the guitar, and the scale of the song suggest that rock 'n' roll is big enough and important enough to tell that story."
Visit the episode page to stream or download the audio, and find more installments in the American Anthem series here.
- March 28, 2019


JOHNNY BYE-BYE: RENOWNED PRINCETON ECONOMIST, ROCKONOMICS AUTHOR, AND SPRINGSTEEN FAN ALAN B. KRUEGER
Following the death earlier this week of economist Alan B. Krueger [above right], we heard from Volker Grossmann, Professor of Economics at University of Fribourg in Switzerland, calling the New Jerseyan "one of the greatest economists of the world… and, like myself, a great fan of Bruce Springsteen." We asked Dr. Grossmann to tell us more, and he provided this obituary for Backstreets.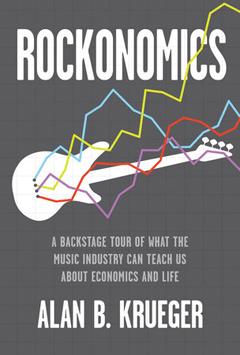 It was shocking news: one of the world's greatest and most widely cited economists, Alan B. Krueger, Professor of Political Economy at Princeton University and dedicated Bruce Springsteen fan, died by suicide on March 16, 2019, at age 58. Alan grew up in Livingston, NJ. Like Bruce, he was deeply motivated in giving a voice to the economic situation of the poor and disadvantaged.
By his mid-30s, Krueger had already become a star in academia. In a widely cited and co-authored article published in 1994, he took advantage of a minimum wage reform in New Jersey to provide clean evidence for the possibility of raising minimum wages without endangering employment. His results were contrary to conventional wisdom at that time and supported by later evidence. They continue to influence minimum wage policies around the globe. Most economics professors (including myself) were convinced that, sooner rather than later, he would receive the Nobel Prize in Economics for making it a hard, empirical science.
Serving as an economic advisor for both the Clinton administration and the Obama administration, Alan was heavily involved in U.S. politics (helping to overcome the deep financial crisis starting in 2008), and he became publicly well known. He delivered a widely acclaimed speech at the Rock and Roll Hall of Fame in 2013, when he served as Chairman of the Council of Economic Advisors, borrowing the title of his speech from Springsteen's masterpiece "Land of Hope and Dreams." [See: "Land of Hope and Dreams: Rock and Roll, Economics, and Rebuilding the Middle Class"]. His main theme was that the U.S. income distribution has evolved as a winner-take-all economy, resembling the highly unequal distribution of concert tour revenues in the music industry.
Alan also popularized what he called "The Great Gatsby Curve," showing that higher income inequality in a country means greater dependence of personal income on the economic status of parents. Again, his conclusion challenged conventional wisdom; surging income inequality has made the U.S. the land with the least equality of opportunity in the Western world, rather than the land of hope and dreams.
His forthcoming and, sadly, final book is about the economics of the music industry, entitled Rockonomics (from Penguin/Random House, to be published in June). You can be sure he included references to Bruce Springsteen.
- March 22, 2019 - Dr. Volker Grossmann reporting - photograph by Pete Souza

SPRINGSTEEN ARCHIVES ON THE BIG SCREEN FOR APMFF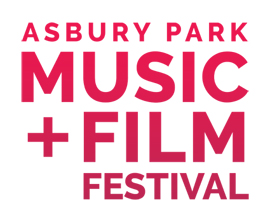 Just added to the 2019 Asbury Park Music and Film Festival lineup in April: a special screening of rare Springsteen footage from the vaults. Thom Zimny will be on hand at the Paramount Theatre to present this archival material on the big screen, and Backstreets' Chris Phillips will moderate a panel and Q&A discussion afterward. From today's press release:
The Asbury Park Music & Film Festival (APMFF) and the Bruce Springsteen Archives and Center for American Music at Monmouth University are proud to announce The Bruce Springsteen Archives taking place at the Paramount Theatre on Saturday, April 27 at 4pm ET....

Thom Zimny, long time film director and archivist for Bruce Springsteen, will present an exclusive screening of rare and never before seen footage of Springsteen from the Thrill Hill Vault spanning from his early years to recent tour highlights. Following the screening, a panel discussion and Q&A will take place moderated by Backstreets editor, Chris Phillips....

"We are thrilled to have Thom Zimny present rare concert footage spanning Bruce Springsteen's live career on stage at this year's Asbury Park Music & Film Festival," said Eileen Chapman, Bruce Springsteen Archives and Center for American Music at Monmouth University. "The historic Paramount Theatre will serve as the perfect venue to witness this very special afternoon of unique Springsteen archival film and video."
Tickets for this special screening are on sale now at apmff.org/tickets.
The Bruce Springsteen Archives joins previously reported Springsteen/E Street-related content at this year's APMFF, including the screening of a new cut of the Clarence Clemons: Who Do I Think I Am? documentary. Phillips will also be moderating the panel following Asbury Park: Riot, Redemption, Rock 'n' Roll.
The 2019 Asbury Park Music and Film Festival runs from April 25 to April 28, benefitting the underserved children in Asbury Park by providing music education, instruments, and social connection opportunities. Funds raised through the APMFF will support three programs including Hope Academy, The Hip Hop Institute, and the Asbury Park Summer Recreation Music Camp.
- March 20, 2019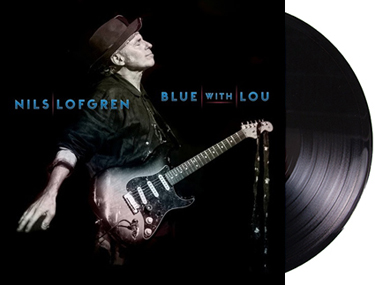 SOMETHING BLUE,
THE REST ON SALE
Save 10% off Nils Lofgren's back catalog in advance of Blue With Lou
Blue With Lou, Nils Lofgren's first studio album in eight years, is coming next month — it features a dozen new recordings, half of them written with the late, great Lou Reed.
In case you missed our original offer, Nils has very kindly offered to autograph copies for Backstreets customers. Blue With Lou is coming on vinyl and compact disc on April 26, and he'll be signing both for us — pre-order yours now to have his new album signed by Nils!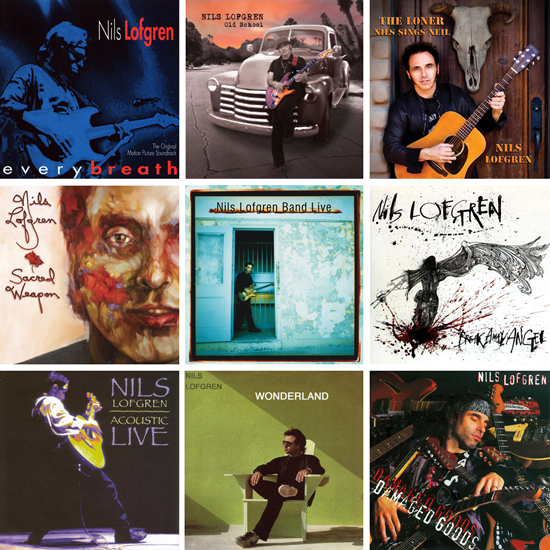 With that new album on its way, we've also stocked up on Lofgren's back catalog — some we're carrying for the first time — and we're putting all of these titles on sale to celebrate. While a good deal of Nils's output remains out of print, there's plenty of great stuff available, including live albums, 1983's Wonderland and his 2009 tribute to another boss, The Loner: Nils Sings Neil.
Use the coupon code LEFTY to get 10% off any and all of the following:
Compact Disc
DVD
Vinyl
Don't forget to use the coupon code LEFTY at checkout to receive the 10% discount. Coupon expires April 27, 2019.
- March 19, 2019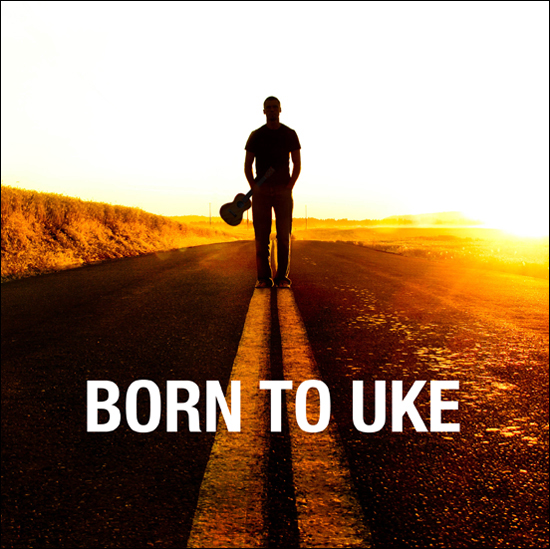 FOR UKE, FOR UKE, I CAME FOR UKE
Born to Uke and more four-string phenoms
"Today I'm going to try to convince you that what the world needs now is ukulele. You know it's the underdog of all instruments. I've always believed it's the instrument of peace. I believe that if everybody played the ukulele the world would be a happier place." — Jake Shimabukuro from a TED Talk in 2010
"There I was.... I woke up in the Disneyland Hotel with two hookers, five Mouseketeers, and this ukulele in the bed." — Bruce Springsteen introducing "I Wanna Marry You" in E. Rutherford, NJ, November 17, 2005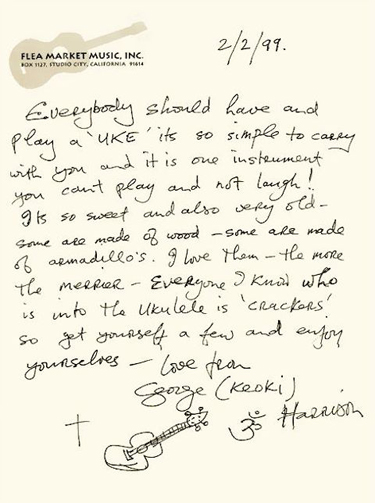 One of the most popular YouTube videos of the past dozen years is a grainy, almost primitive clip shot in Central Park of Jake Shimabukuro, performing a beautiful rendition of George Harrison's "While My Guitar Gently Weeps" — on ukulele. At more than 16 million views to date, the viral video is almost rivaled by Shimabukuro's ukulele take on Queen's "Bohemian Rhapsody," at more than 9 million views. What's going on in the music world, particularly our little corner of it, when there's so much activity around what seems the unlikeliest of rock 'n' roll instruments?
Take a deeper dive and you'll find, when in the right hands and used properly, the ukulele can be a potent shading instrument in the toolbox of the folk and rock elite. Beyond George Harrison, a modern ukulele pioneer, you'll find R.E.M., Amanda Shires, Brian May of Queen, Eddie Vedder, Magnetic Fields, Taylor Swift, Jack Johnson, Roger Daltrey and many others who have brought the ukulele front-and-center (or at least into the conversation) in recent years.
During the last six weeks of his 2005 Devils & Dust tour, Bruce Springsteen used the ukulele to open his encores, rotating between "Growin' Up," "I Wanna Marry You," and "Does This Bus Stop at 82nd Street." In fact, the latest release in Springsteen's live archive series from nugs.net, the final Devils & Dust show from Trenton, NJ, 11/22/05, features a performance of "Growin' Up" on a uke.
Then there was the off-Broadway tribute by musician Jim Boggia: as a companion to Springsteen on Broadway, Boggia performed Bruce Off Broadway entirely on the 19th century instrument popularized by King Kalakaua of Hawaii. The show received raves, and Boggia still performs it occasionally in both New York and Boston.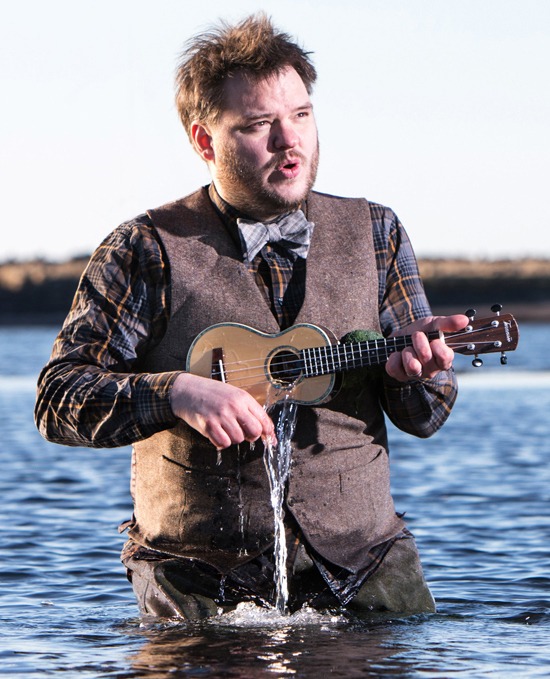 Iceland's Svavar Knutur, who takes "Night"on a midnight run for Born to Uke
Born to Uke
Now, we're presented with Born to Uke: a new compilation featuring the songs of Born to Run performed by some notable and new Americana artists, all on ukelele — yes, the entire Born to Run album, reimagined with only ukulele, bass, and vocals. Hearing about Born to Uke, one's first thought could reasonably be "Why?" Does the world need another Springsteen tribute, much less one centered around Tiny Tim's weapon of choice?
In fact, yes, Born to Uke is a warm, worthy addition to the canon of Springsteen tributes. Born to Uke takes what is essentially a tour de force of a day in the life of characters Bruce sings about, and distills it into a perfect Sunday morning record. Songs that have seared themselves not only into our consciousness but the collective American consciousness are stripped down to their essence. While some of the more complex orchestrations and melodic movements from the originals don't carry over to these interpretations, their directness and emotional resonance remain intact.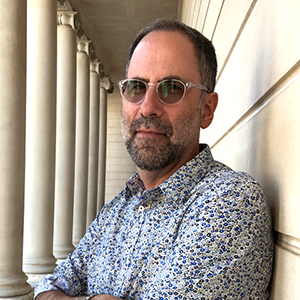 Born to Uke producer and contributor ("She's the One") Keith Metzger [right] explains, "What I think is unique about the ukulele is the intimacy of the instrument. The feeling, and the sound — for me, playing the ukulele is just more of an intimate experience than when I play guitar. That feeling can easily carry over to a performance or a recording. Maybe that's why songs that were conceived with a loud rock 'n' roll band in mind still work on something as relatively sparse as Born to Uke — because of how deeply intimate the lyrics are."
While this is the case throughout the record, nowhere does it ring as true as on the one-two punch of Svavar Knutur's reading of "Night" and The Weepies' gorgeous take on "Backstreets." Iceland's Knutur takes Springsteen's screaming rocker and transforms it into a Sufjan Stevens-esque meditation. Despite the change in tempo and vocal, Knutur's contribution shows what can be done by taking a great song apart and putting it back, piece by emotive piece.
The Weepies — husband-and-wife team Steve Tannen and Deb Talan — place "Backstreets" very much into the here and now, turning a song about a dying relationship of one's youth into a more mature, middle-aged lament about a relationship that could just as easily have fit on Tunnel of Love. Deb Talan's lightly layered harmony lifts the track to a place of elegance against Tannen's silvery lead vocal.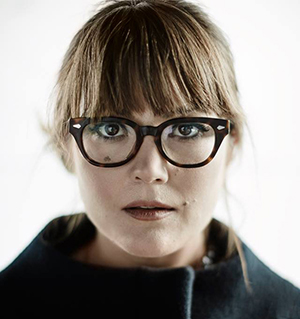 Born to Uke is full of intimate moments like this. Opening with former Nickel Creek vocalist Sara Watkins, the sublime performance of "Thunder Road" sounds like Watkins is in a wooden rocking chair, singing on the porch where Mary's dress waves.
The album's last song, "Jungleland," might have been particularly daunting, given the length, complexity, and, frankly, unsurpassable performances of the original. For one thing, how do you pull off this classic without Clarence Clemons' signature saxophone? The modern retro approach of Kai Welch [right], which approximates moments of Manfred Mann's "Blinded by the Light" and lush vocals a la 10cc, moves the song forward and keeps it from being held hostage by its glorious past.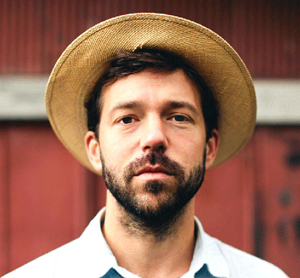 Kai Welch explained his approach to Backstreets recently: "I recorded this a while ago, back in 2013 or 2014, in my bedroom. You have to stand back and look at that song like you're taking in the Taj Mahal or something. I thought, 'It's going to hurt my brain to try to figure out how to do this whole thing.' You have to take it in pieces. So I just started from the top. I sat there with the ukulele, trying to think of a way to express [each piece]. I just played it over and over, and I did it in sections. So when it came to Clarence's sax solo portion, and the whole transition into the outro of the song, I used my voice as an instrument to come up with a harmonic chord structure, and I recorded my voice a bunch of times to keep the process moving."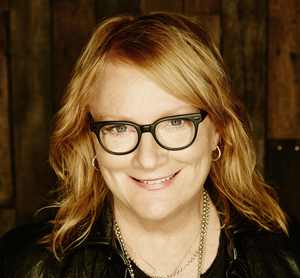 Indigo Girls singer Emily Saliers [right] told Backstreets that she recorded her version of the song "Born to Run" for the project and then became enamored of Springsteen.
"You know it's interesting… It's not that I didn't get him, but I just came to the party late. I remember being really, really struck by "Born in the U.S.A.," because it was a hit on the radio. It was talking about very powerful social issues regarding the war, and I thought it was interesting that people could hear that and take it as a patriotic anthem. Amy (Ray) was a die-hard Bruce fan, and so honestly I didn't start digging into him until this project. [Born to Uke] happened, and then I fell in love with him. I watched all the videos, and I ended up seeing him on Broadway. It was just… I don't know how to describe it. The stories, his humility, his charisma and command of the stage, going back through his catalogue… it means so much to me. In fact, I'm so glad that I met his music when I did in life, because I think earlier, when I was waaay into Joni Mitchell and Heart and Jackson Browne, I might not have had room for him then. And now there was this opening for him to just come in and blow me away."
Born to Uke, also featuring Will Kimbrough's take on "Tenth Avenue Freeze-out" and Albatross's "Meeting Across the River," is available to download or stream on all major music services. Proceeds benefit Little Kids Rock, a group that works to serve children through inclusive music education programs in public schools throughout the country.
The Beatles, Boggia and Beyond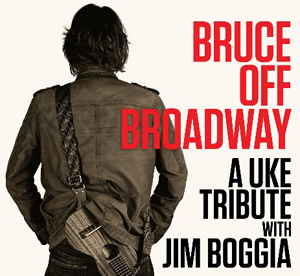 Jim Boggia knows a thing or two about the ukulele, performing his one-man Bruce Off Broadway show throughout New York City, Los Angeles and recently in Boston. A longtime Philadelphia resident and well-known musician to the WXPN crowd, Boggia took up the ukulele about 10 years ago right as the current swell of interest in the instrument took off. He thinks the resurgence in popularity been driven by a couple specific things:
"If you want to pick up an instrument and play a few things fairly quickly, it's pretty forgiving in that way," Boggia tells Backstreets. "It makes so much more sense to give one to a kid whose hands are small. You're still learning all your right-hand and left-hand techniques, and this all transfers over to guitar very easily."


The most ardent proponent of the ukulele in the rock era was George Harrison. Such was Harrison's love for the ukulele, stories have circulated about how he'd buy scores of them and give them to friends. (There were also salacious rumors of Harrison engaging in intimate acts, playing his ukulele throughout.) Though good-intentioned, the low point of Paul McCartney's previous tours has been a ukulele version of George Harrison's "Something," which takes one of the best love songs of all time and makes it sound like a throwaway 1930s rag. Yes, Harrison loved the ukulele and played and gifted it often, but McCartney's tribute unfortunately missed the mark.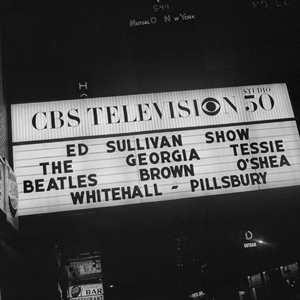 And yet it's The Beatles and their appearance on The Ed Sullivan Show back in February 1964 that connects to all of this ukulele craze. It's very easy to watch those Beatles performances on YouTube without any context. But at the time, the evening The Beatles made their television debut on Ed Sullivan, another of the program's guests was Welsh singer/ukuleleist Tessie O'Shea.
O'Shea was given seven minutes to perform. That might have seemed like an eternity to a teenager waiting to get a glimpse of their impending heroes — in Born to Run, Springsteen describes his young self that night as "filled with ten thousand watts of high-voltage anticipation… waiting for the first real look at my new saviors" — but looking back on O'Shea's performance is astounding.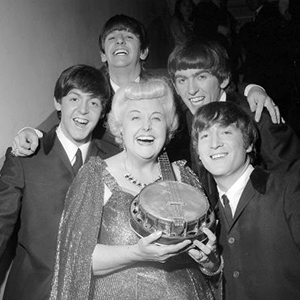 She comes out singing like the Broadway singer she was, in that old-time stage style. About two minutes in, she puts down her mink stole and picks up her ukulele banjo (Gibson Model UB-5), still vocally vamping on "Tender Trap." During an instrumental break in the song she starts strumming her uke and letting loose. It's during her final song, "Two Ton Tessie," that she goes nuts. Maybe she knew The Beatles were the reason everyone was tuning in, but she wasn't going down without a fight. And maybe a 14-year-old Springsteen caught a glimpse of it that night.
Boggia has seen the Tessie O'Shea video as well. "Yeah, she was a monster! She had a monster right hand. And it's like the fifth thing she's paying attention to. Because she's that old-time show business, where she has set looks and moves to set song lines. But her right hand is just killing it. Four years ago, when it was the 50th anniversary of The Beatles on Ed Sullivan, I went back to watch who else he had on that night — it was the first time I saw her. and I was like, 'Oh my God! Holy crap!' [Laughs] I can approximate the sound of what she does with her right hand, but I'm going to find someone who can really show me some of the moves she had."
- March 17, 2019 - Bob Zimmerman reporting - special thanks to Keith and Jeff Metzger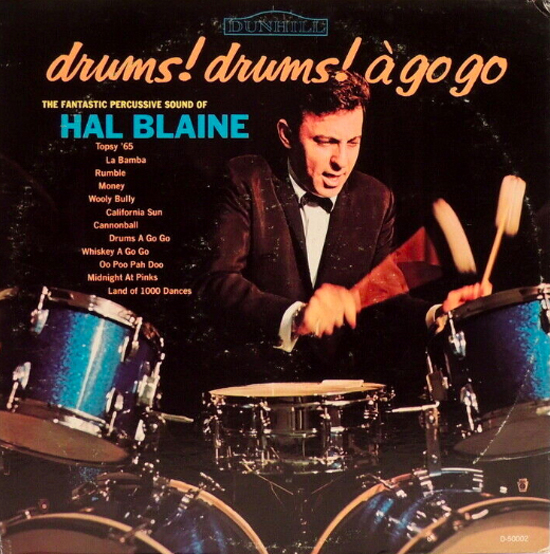 "INTENSELY SOFT": MIGHTY MAX ON HAL BLAINE
Hal Blaine, the Rock and Roll Hall of Famer and session drummer who played on 40 number-one singles — more hit records than any other rock-era drummer — died Monday at 90. Blaine's drumming, especially his work with producer Phil Spector on classics like The Ronettes' "Be My Baby" and The Crystals' "Da Doo Ron Ron," was an enormous influence on the E Street sound.
Upon learning of Blaine's passing, Max Weinberg, who interviewed Blaine for the book The Big Beat: Conversations with Rock's Great Drummers and became a close friend, expressed his feelings on Facebook, paraphrasing a comment on Blaine once made by Bruce Gary, the late drummer for The Knack. "Fifty of my favorite drummers died today," wrote Max, "They were all named Hal Blaine."
Max also called in to E Street Radio's Live From E Street Nation on Wednesday to discuss Blaine's enduring influence and legacy with co-hosts Dave Marsh and Jim Rotolo. The conversation lasted almost an hour and could have gone on much longer. Quoth Max: "I think it was Art Blakey, the great legendary jazz drummer, who said the hardest thing in the world is to play intensely soft. Hal Blaine could do that."
Here via YouTube is the complete audio of Max's Live From E Street Nation appearance, courtesy of our friends at E Street Radio. Even after hearing this, however, it's still worth tuning in to Sunday night's replay beginning at 6pm Eastern on SiriusXM channel 20, so you also can catch the great all-Blaine playlist with which E Street Radio's program director Vinny Usuriello closed the show, inspired by this conversation with Max:
The Ronettes - "Be My Baby"
The Beach Boys - "Don't Worry, Baby"
Jan & Dean - "Dead Man's Curve"
The Crystals (lead vocal by Darlene Love) - "He's a Rebel"
Sam Cooke - "Another Saturday Night"
Nancy Sinatra - "Drummer Man"
- March 15, 2019 - Shawn Poole reporting - special thanks to Jim Rotolo and Vinny Usuriello at E Street Radio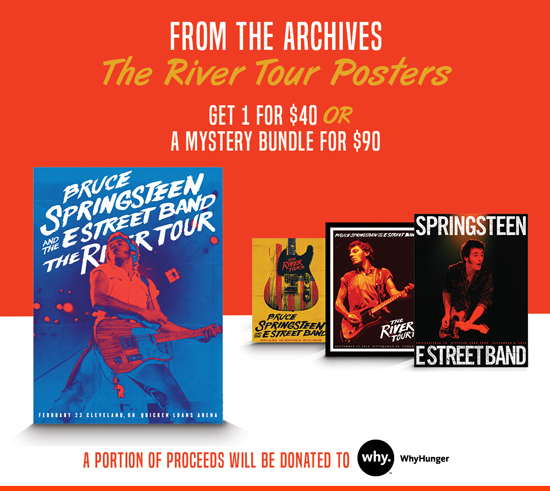 RIVER TOUR POSTERS COME OUT OF THE VAULT FOR WHYHUNGER
On Bruce Springsteen and the E Street Band's 2016 River Tour — as you'll surely remember, if you have any collector impulse in you at all — a different, unique concert poster was created for every stop on the itinerary. Many featured imagery from the original River era, some featured local iconography — it was a cool, creative efort that harkened back to all the unique, city-specific backstage passes from 1980-'81. Most of these limited poster runs sold out at the venues... but some leftovers have now surfaced and are on sale to benefit WhyHunger.
Click here to purchase select 2016 River Tour posters from the archives, with portions of the proceeds to be donated to WhyHunger. Cities include Baltimore, Cleveland, Brooklyn, Buffalo, Cleveland, Philadelphia, Pittsburgh, Seattle, Virginia Beach, and Washington DC. Posters are $40 each, or $90 gets you a "Mystery Bundle" of three.
- March 14, 2019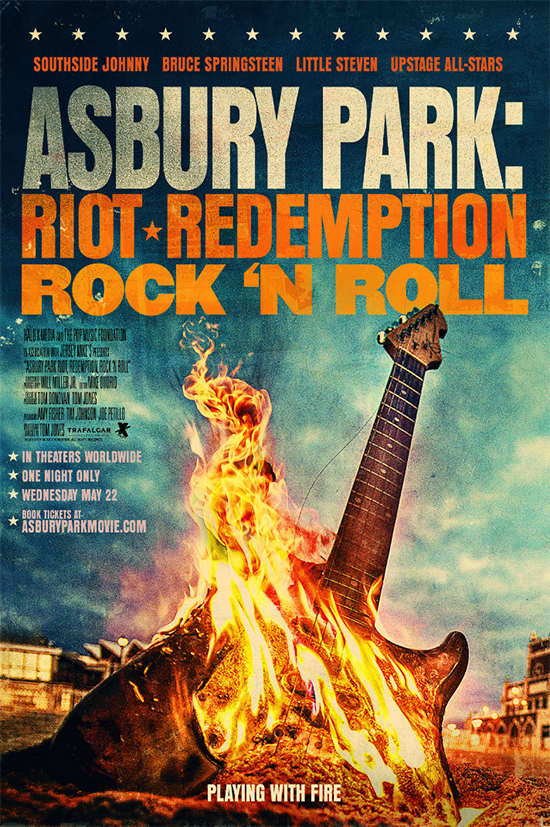 NEWLY RECUT DOCUMENTARIES ADDED TO APMFF SLATE
April in Asbury brings a packed weekend of film and music — and films about music
With the annual Asbury Park Music and Film Festival coming back to town next month, April 25-28, a pair of previous festival favorites are returning in new, expanded cuts to the Paramount Theatre. With Chris Phillips of Backstreets moderating a panel or two, we'll hope to see you there!
Asbury Park: Riot, Redemption, Rock 'n' Roll previously screened at the festival two years ago, as Just Before the Dawn. Since then the documentary has been re-edited to included new interviews with participants including Bruce Springsteen and Max Weinberg. With a story springing out of the legendary Upstage club scene that brought area musicians together in the '60s, the film tells "the story of the long troubled town of Asbury Park and how the power of music can unite a people divided." Also part of the new cut is footage from the now-legendary Upstage Jam that accompanied the 2017 APMFF premiere, featuring Springsteen, Little Steven, Southside Johnny, and more.
Directed by Tom Jones, Asbury Park: Riot, Redemption, Rock 'N Roll will premiere on Sunday, April 28 (and look for a screening event in theaters worldwide on May 22). Special to the APMFF premiere will be a panel discussion and Q&A afterward, moderated by Backstreets editor Chris Phillips.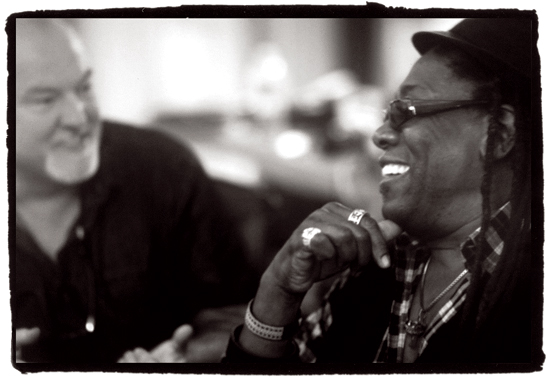 Clarence Clemons with Who Do I Think I Am? director Nick Mead - photograph by Jo Lopez
Clarence Clemons: Who Do I Think I Am?has gone through a metamorphosis since its Garden State Film Festival premiere in 2011. Originally a passion project for Clarence himself, along with his friend director Nick Mead, Who Do I Think Am? began with a very specific focus on the Big Man's travels in China. Clarence attended that original standing-room-only premiere, two months before his death; Mead told Backstreets, "On the way there, we got a text saying that the fire marshal was turning people away. He loved that." In the years since, the film has expanded to take in much more of C's life and legacy.
Featuring new interviews with fans and friends including President Bill Clinton and Joe Walsh, along with former bandmates and close family members, Mead's new cut of the film will debut on Saturday, April 27. A panel discussion and Q&A will follow.
Both screenings go on sale to the general public tomorrow morning, 10am Eastern, at www.apmff.org/tickets.
The two documentaries join an already enticing APMFF line-up — at venues including the Paramount, the Stone Pony, The House of Independents, and the Wonder Bar — which includes:
The New Jersey premiere of Echo in the Canyon on opening night, a documentary about the birth of the Laurel Canyon music scene with appearances by Tom Petty, Brian Wilson, Stephen Stills, David Crosby, Graham Nash, Michelle Phillips, Jackson Browne, Roger McGuinn, Cat Power, and many more
Echo in the Canyon executive producer Jakob Dylan, in concert with Cat Power and other guests as part of the oepning night festivities, playing the music of The Byrds, The Beach Boys, and The Mamas and Papas
The New Jersey premiere of David Crosby: Remember My Name, followed by a Q&A with Crosby and director Cameron Crowe
A collection of rare Bob Dylan footage from the vault, Dylan Archives IV, presented by the Bob Dylan Center
An Evening with the Farrelly Brothers: a career retrospective, with both Peter and Bobby Farrelly in discussion with Deadline Hollywood's Mike Fleming
Gary U.S. Bonds performing with Joe Grushecky & The Houserockers and more special guests for The Gary U.S. Bonds Unusually Big Birthday Bash
The Music of Bruce Springsteen for Kids presented by The Rock and Roll Playhouse. An early and often first introduction to a child's lifelong journey with live music, The Rock and Roll Playhouse is geared for babies and kids, offering games, movement, and stories — and here, an opportunity to rock out at the Stone Pony
More APMFF concerts include Danny Clinch's Tangiers Blues Band headlining The Po Boy Jam at the Stone Pony; Bobby Bandiera at the Wonder Bar; Hot Water Music celebrating 25 years.
For additional information on the 2019 Asbury Park Music and Film Festival, visit apmff.org.
- March 11, 2019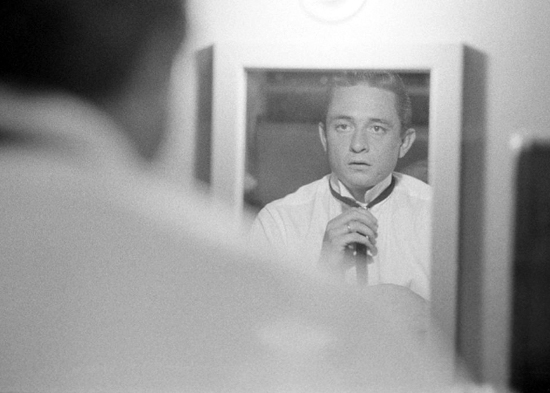 A NEW GIFT FROM THOM ZIMNY
Last night brought the world premiere of The Gift: The Journey of Johnny Cash at SXSW 2019, with an appearance from director Thom Zimny along with John Carter Cash, below.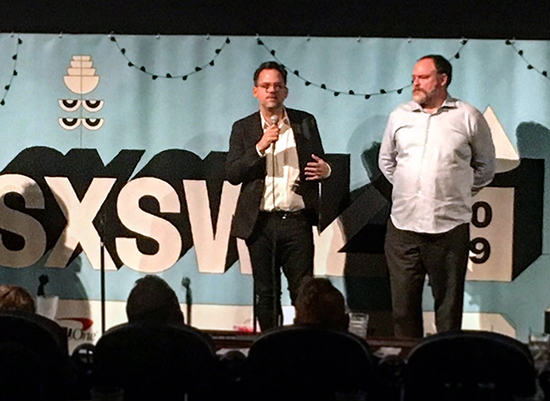 Bruce Springsteen is among those featured in the documentary film via voice-over commentary, just as he was last year in Zimny's Elvis Presley: The Searcher. Stay tuned for more from Backstreets on The Gift, coming soon.
- March 10, 2019 - Shawn Poole reporting - photograph courtesy of Thom Zimny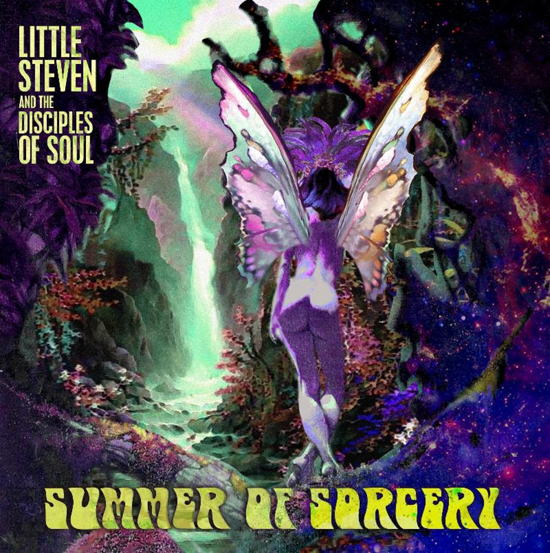 SUMMER LOOKS GOOD ON STEVIE
New Disciples of Soul album Summer of Sorcery due in May
Stevie van Zandt lit the Soulfire in 2017, and he'll keep it burning with a follow-up this spring: Summer of Sorcery, his new studio album with the Disciples of Soul, is coming May 3. While Soulfire was largely a showcase for songs Van Zandt had written for other artists over the years, peppered with some choice covers, Summer of Sorcery is his first album of new material since Born Again Savage 20 years ago.
Written, arranged, and produced by Little Steven (with co-producers Marc Ribler and Geoff Sanoff), Summer of Sorcery came together while Stevie and the Disciples were on the road for Soulfire: "What I'd hoped would happen was, you put the whole tour, all of those songs, into a funnel and out of that funnel comes a new album. And that's exactly what happened."
"The concept was capturing and communicating that first rush of summer," Van Zandt says in today's press release. "The electricity of that feeling of unlimited possibilities. Of falling in love with the world for the first time. Obviously, there are occasional personal references, and a bit of what's going on socially scattered throughout, but I achieved what I set out to do. I created a collection of fictional movies scenes that feel like summer. I'm quite proud of it."
"I always work thematically," Stevie continues. "I can't just throw together a collection of songs; there has to be some kind of overriding idea that drives it. This time I wanted to capture the excitement of that first summer of consciousness. That one special summer where you first fall in love with life, that thrill of just being alive."
Lead single "Superfly Terraplane," above, premiered today at rollingstone.com, where you'll also find Steven talking more about the album with David Browne.
The full tracklist:
1. Communion
2. Party Mambo!
3. Love Again
4. Vortex
5. A World of Our Own
6. Gravity
7. Soul Power Twist
8. Superfly Terraplane
9. Education
10. Suddenly You
11. I Visit the Blues
12. Summer of Sorcery
Following the Disciples of Soul's final Soulfire Tour stops, next month in Australia and New Zealand, the Summer of Sorcery Tour begins in May with record release shows in Los Angeles (The Saban, May 4) and Asbury Park (Paramount Theatre, May 8) before heading to Europe through June. Browne writes that the Summer of Sorcery Tour will take Stevie "through October. He hasn't heard anything about future E Street Band roadwork, but he knows he needs to take advantage of his break — and the chance to play his own songs — as much as possible. 'If Bruce goes back out,' he says, 'we could be gone two years.'"
For dates and ticket links, visit littlesteven.com/on-tour.
The album, on Stevie's own Wicked Cool label, will be released on CD, digitally and on vinyl as double LP on 180-gram black vinyl. All digital pre-orders will be joined by an instant grat download of "Superfly Terraplane," and pre-ordering is open now. We'll have pre-ordering for physical media through Backstreet Records as well, though a limited colored vinyl version — psychedelic swirl, of course — will be exclusively available via uDiscover.
- March 8, 2019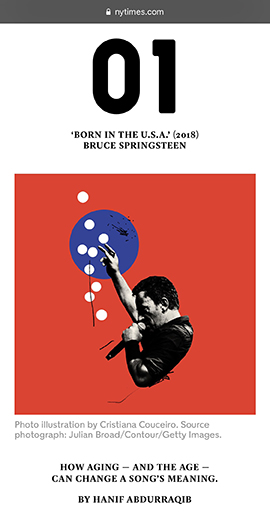 "BORN IN THE U.S.A.": THE ACHE BEHIND THE FURY
In its new 2019 Music Issue, The New York Times Magazine assembles "The 25 Songs That Matter Right Now." You might be surprised to see a 35-year-old song top that list... but given its recent reworking on Springsteen on Broadway, and how that 2018 solo performance resonates with our times, "Born in the U.S.A." is, as ever, evergreen.
In an essay titled "How Aging — and the Age — Can Change a Song's Meaning" poet Hanif Abdurraqib writes:
To hear "Born in the U.S.A." presented without an instrument is to hear the strain that pushes toward the edge of anger, that hovering sentiment that was lost in the original's bombastic wall of sound and perhaps camouflaged by its imagery...

...with the drums and bursts of keyboards gone, the relentlessly hollow hope of the song is gone, too. On the isolated stage of a theater, all that's left is knowing that the singer has loved and dreamed and lost in a country sometimes not worth loving and dreaming and losing in.
He concludes:
The song matters now in a different way than it did in 1984, largely because of the artist behind it: Springsteen, trying to wrestle not only with the song's current legacy but also with how it might be co-opted decades from now, when he won't be around to make sure people understand the ache behind the song's fury.
"Songs That Matter Right Now" has Springsteen sharing space with Ariana Grande, Mariah Carey, Meek Mill, Travis Scott, and 20 more. Read Abdurraqib's full "Born in the U.S.A." essay, and see the full list, at nytimes.com.
- March 7, 2019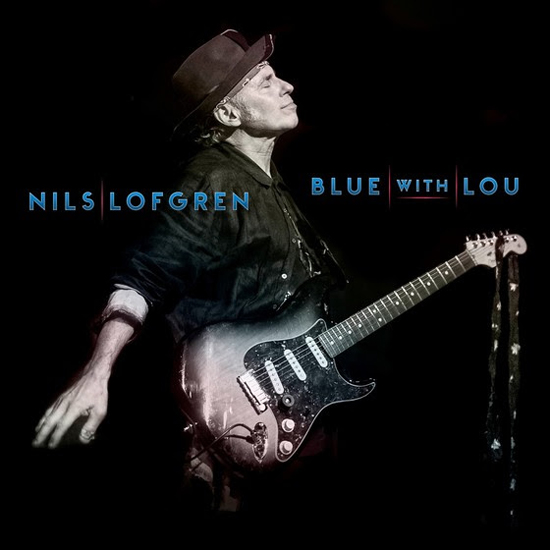 NILS LOFGREN GETS BLUE WITH LOU, APRIL 26
Pre-order CD or vinyl from Backstreets for a signed copy
Forty years ago, connected by producer Bob Ezrin, Nils Lofgren and Lou Reed teamed up to write, penning 13 songs together. About half of those collaborations came out on solo albums — three made it to Reed's The Bells, and more featured on Lofgren's records over the years (Nils, Damaged Goods, and Breakaway Angel). The rest have remained unheard.... until this spring, with the release of Blue with Lou.
Nils's first studio album in eight years, since 2011's Old School [CD/vinyl], the 12-track Blue with Lou is an even mix of those collaborations and new Nils compositions: "City Lights" is a new recording of a song originally released on The Bells, with five more previously unheard co-writes: "Attitude City," "Give," "Talk Thru the Tears," "Don't Let Your Guard Down," and "Cut Him Up."
Nils says of these tracks, "They got left by the wayside. Years went by, and it kept nagging at me. I thought, look, Lou's not here to deliver these lyrics. He was inspired when he did this. It would be a shame not to share it."
Produced by Nils and Amy Lofgren, Blue with Lou will be out April 26 on both CD and vinyl (a two-record set), on Lofgren's own Cattle Track Road Records. The album's title track is Nils's new tribute to his erstwhile songwriting partner, while another new song, "Dear Heartbreaker," raises a glass to the late Tom Petty.
We're thrilled to announce that Nils will be autographing Blue with Lou for Backstreet Records customers. For a signed CD or a signed 2LP set, place your pre-order now to reserve a copy. The number of pre-orders we receive will determine how much signing Nils does for us, so order yours now to guarantee fulfillment! View both formats and read more about the album in our online shop.
You can also read more about Blue with Lou on rollingstone.com, along with a premiere of "Attitude City."
- March 5, 2019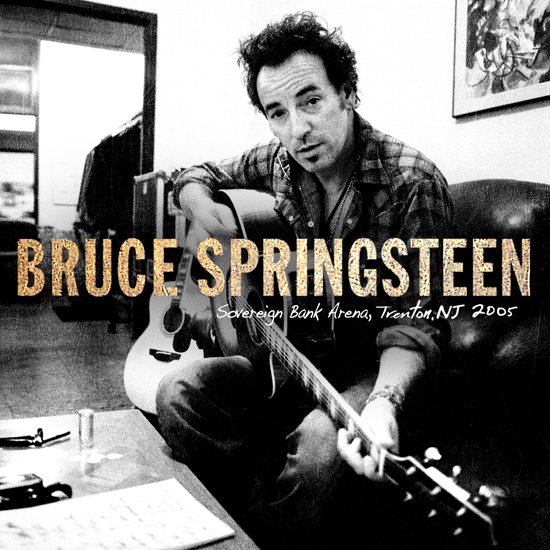 BRUCE SPRINGSTEEN CROSSED WITH TRENTON
2005 Devils & Dust finale takes a bow for March's First Friday
Bruce Springsteen's 2005 solo trek remains one of his shorter ones. Confined to a single calendar year, Devils & Dust was a mote compared with the solo acoustic tour a decade earlier for The Ghost of Tom Joad, which sprawled from 1995 to 1997. But it was dense. From two April rehearsals in Asbury Park, NJ, to November's closing pair in Trenton, NJ, Springsteen rang the changes from show to show in theaters and arenas, with a constantly shifting mix of instruments and deep cuts from the catalog.
So while the live archive series has already embraced 2005 with two entries from that celebrated summer (Columbus and Grand Rapids), there are depths that remain to be plumbed in Springsteen's most ambitious — in material, if not in miles — solo outing.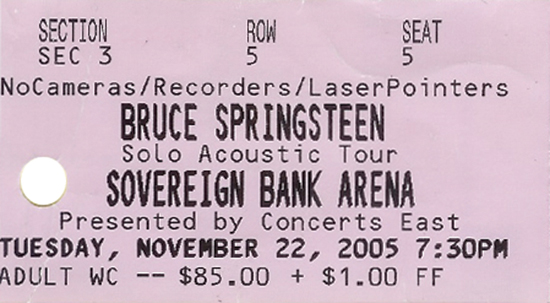 Today's First Friday release continues the devilry with the final D&D concert, the second of two at the Sovereign Bank Arena, Trenton, NJ, November 22, 2005. It's a showcase of styles and sounds that plays back like few releases in the archive series — or for that matter, any other official Springsteen release — and a concert Backstreets described at the time as bringing "the seven-month tour to a triumphant close, momentarily doubling as a tour finale and holiday show."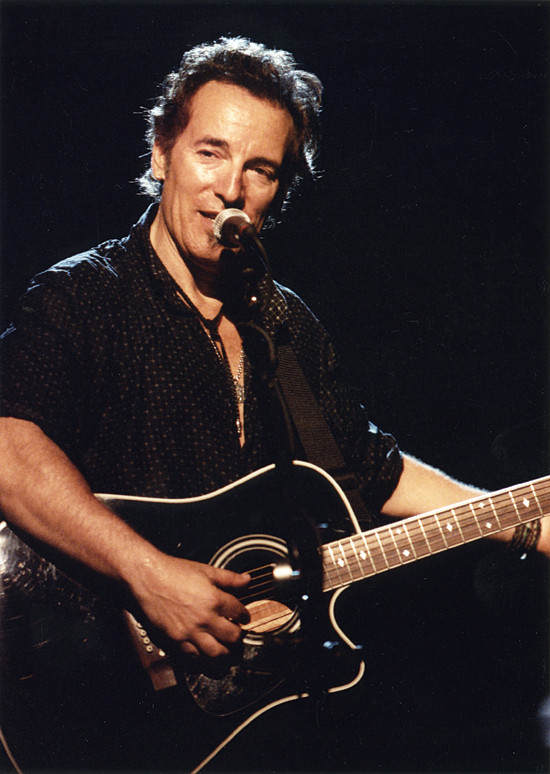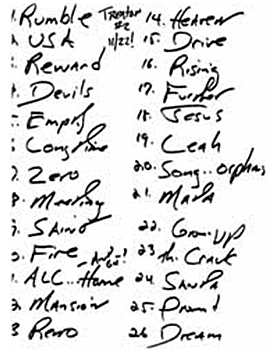 The two nights in Trenton held six tour premieres — alone, evidence enough that throughout 2005 Springsteen never stopped sifting songs through his fingers, re-examining, re-imagining, and revealing new facets. Devils & Dust is an eclectic record; perhaps its nature inspired a similar branching-out when he took it on the road. Even here at the end, Bruce was still working out new arrangements and digging out blasts from the past, like the long-lost "Song for Orphans," performed on November 21 for the first time since 1973.
Closing night's excitement was palpable well before the lights went down — and when they did, Donna Summer's "Last Dance" blasting from the P.A. only amped things further. Springsteen met the buzz head-on with a foot-stomping "Rumble," debuted the night before as a tribute to Link Wray (who'd passed away earlier that month). As the set progressed, Springsteen switched between instruments and styles with efficiency and poise. He'd done it that way all year long, playing everything from the electric guitar to the electric piano, the autoharp to the ukulele. Hitting one of his trusty Takamines for a muscular "Empty Sky," the acoustic guitar sounded grand, too — this stark treatment fits perfectly.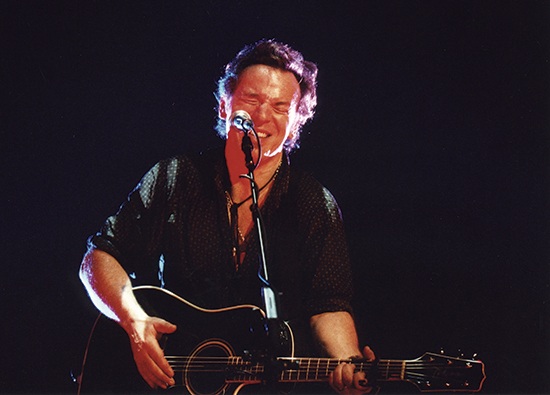 Springsteen had played the Garden State's capital city before, but not in decades — those who were there for concerts at Trenton War Memorial have a serious 1974 feather in their cap. Upon his return, Bruce clearly had those old days in mind — breaking out early favorites such as "It's Hard to Be a Saint in the City" (in a brand new bullet mic arrangement), "Growin' Up" (on ukulele!), and "Thundercrack" — but it wasn't just because of locale.
Rather, it was because Springsteen, already in career-retrospective mode, had been listening to E Street Radio. After giving carte blanche to the new all-Bruce channel on what was then Sirius Satellite Radio — "If you can find it, you can play it" was the general idea — he tuned in himself (other reports suggest that Bruce had been exploring his history via YouTube, too).
That feedback loop brought startling rediscoveries to Trenton. "Song for Orphans," played both nights (with crew man Alan Fitzgerald, "the man behind the curtain," on keys), surely would never have surfaced again otherwise. Another jewel for closing night: the never-in-my-wildest-dreams "Zero and Blind Terry."
Introducing this slice of classic juvenilia, Springsteen said it was among "fables that were these sort of fantastic… almost like children's stories that I wrote around the time of my first and second record." Here's how Backstreets reported this premiere and three others that night:
The first came as Bruce sat down at the piano for the first time: "I'm gonna play something tonight I've never played before. Can't let the night pass without one of those!" And while Bruce has actually played "Zero and Blind Terry" before, back in '73 and '74 with the E Street Band, this Tracks tune was near the top of the snowball's-chance-in-hell list until tonight. (Even better, it went right into a magnificent "Backstreets," also at the grand, the only audible of the night.)

#2 was "Fire," a stripped-down, playful performance on the harp and bullet mic that was also a nod to the late, great Wray (he and Robert Gordon covered the Springsteen tune on 1978's Fresh Fish Special).

For #3, Bruce brought out his "way better half," Patti Scialfa, for a duet on "Mansion on the Hill." (With that performance, just squeaking in under the wire, Bruce has played every song from Nebraska on the Devils & Dust tour.)

And for #4, it was the real "attack of the relatives," as Patti came back onstage along with about 15 more friends and family members for "Santa Claus is Comin' to Town." Their kids were part of the throng, Sam sitting on the piano bench next to his dad, as everyone shook tambourines, jingled bells, and sang along for this official start of the holiday season. Bruce had noted the kids' presence in the crowd earlier in the show, as he introduced "Long Time Comin'": "I got my babies in the house tonight, so I'll send this out to Evan, Jessie, and Sam... Daddy's coming home!"
Any tour debut is conspicuous, but this set also delivers key 2005 songs that had yet to appear in the archive series: the bullet mic "Born in the U.S.A.," "My Beautiful Reward" on pump organ, "All That Heaven Will Allow" on electric piano, and a thrilling "Drive All Night" on the grand. From Devils & Dust, "All the Way Home" and "Leah" are here for the first time, too. Come for the rarities… stay for all the sounds of Springsteen's last show of the tour, last show of the year, and last full-scale one-man production until Springsteen on Broadway.
Also read: Erik Flannigan's latest nugs.net blog entry, "Songs of Hope and Eternal Damnation."
- March 1, 2019 - Christopher Phillips & Jonathan Pont reporting - photographs by Rene van Diemen

For older news, visit our News Archives