MASSIVE CAREER RETROSPECTIVE FOR NILS LOFGREN DUE NEXT WEEK
Backstreets taking pre-orders now for 10-disc Face the Music box
In 2002, in his first extensive interview with us, Backstreets spoke with Nils Lofgren about the possibility of getting more of his old music back out there in the digital realm, from reissues to outtakes. Prospects didn't look good: "Up until really '95 or '96," he told us then, "all my old music is owned by the record companies. These companies are not open to any creative discussions with me. I'm small potatoes with them — they don't want to bother with me. Most of my old records are out of print. I've asked them to put them back in print, and they've refused."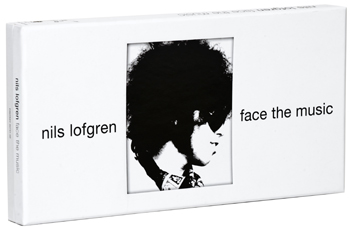 Fast-forward 12 years, and after a smattering of reissues in and out of print along the way, Nils is about to release a treasure trove of material from 45 years of recording — comprised of his favorite tracks from every record and every label. Face the Music, due Tuesday, is a limited edition box set with a whopping ten discs (nine CDs and one DVD, 169 tracks) covering Lofgren's entire recording career.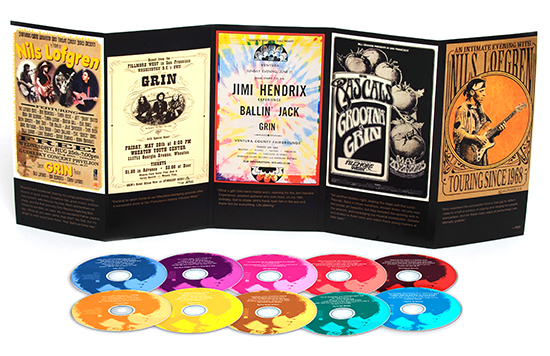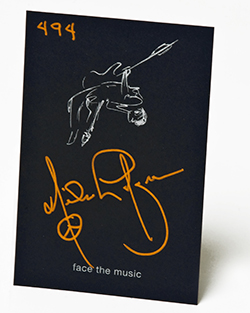 "It's a momentous thing," Nils tells Backstreets now, "after having so much of my old music out of print, to have a company, Fantasy/Concord, that wanted to go back and let me hand-pick the best of 45 years.... for them to go back and get every track I picked, I gotta hand it to them. They worked out the deals. I think four of the nine CDs technically had to be made by the other companies! It just kind of blows my mind this exists, because over the years, I called the old companies and offered them five bucks a record to get some copies of old records out of print and they always said no."
Click here to see the track listing, an amazing personal selection including two discs of previously unreleased material.
Lofgren has provided an autograph for each copy of this limited run: "Every one has this beautiful sketch, a black card with a white 'flip' sketch by a great artist out here that I love, and I've signed it in really sharp, Dayglo bronze. I've numbered each one by hand and personally signed every one."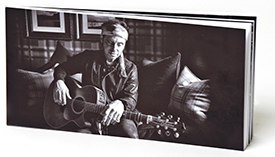 Nils also wrote extensive liner notes, a massive project that turned into a book packaged with the dsics: "I was working with Dave Marsh, who was editing my writing — he insisted I write the story, which I hadn't counted on. I was hoping Dave would take care of all that! But I couldn't argue with him... when we looked at what I wrote and he edited, I have to admit, it was more interesting than having someone else, even someone familiar with your work, write the story. It's probably the closest thing to a book I'll ever get to writing."

"It'll surely be my first, last, and best boxed set," says Nils. "It's 18 months of hard work representing 45 years."
Order Face the Music now from Backstreet Records
Nils also talked with us about getting back on the road himself: "I'm firing up the show that's been dormant for a few years. It'll be exciting — I'm excited to get out and play, and we'll be posting all the dates on my website soon. A U.K. tour is in the works for January, and I am committed to playing September 26 and 28, Friday and Sunday, at the Hard Rock in Vegas. October 3 is the Talking Stick in Scottsdale, Arizona; October 4 is the Fox Theater in Tucson. Those are definites."
Stay tuned in the coming days for an exclusive advance peek at the box set's book, as well as much more of our lenghty interview with Nils.
- July 31, 2014 - Christopher Phillips reporting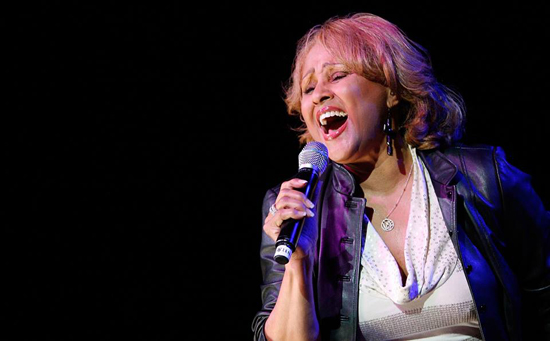 NINETEEN FEET FROM STARDOM... EIGHTEEN...
Steven, with Bruce guesting, to helm new album for Darlene Love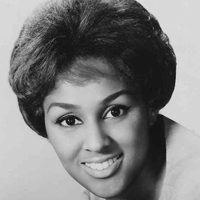 The fabulous Darlene Love has been on a hot streak of sorts lately, having been more in demand than ever as a live performer as a result of her acclaimed performance in 20 Feet From Stardom and ensuing appearance on this year's Academy Awards broadcast. There is already a biopic reportedly in the works, and now things are about to get even busier for Darlene, as Steven Van Zandt has announced that he's going to be working with her on a new CD of original material which is shaping up to be a project of all-star proportions. In addition to doing some songwriting himself, Van Zandt is calling in favors from the likes of Elvis Costello, Barry Mann and Cynthia Weil, Bruce Springsteen, Mike Stoller and Carole King.
Van Zandt told Rolling Stone that he had promised Love he'd make an album with her back in the early '80s, but that he's excited it's "finally" coming together. "Everybody I know that is a great songwriter, I'm talking to," Van Zandt said. "We're hoping to have an all-star album for Darlene, which she deserves." The CD, which will be released on Steven's Wicked Cool label, is tentatively scheduled for December release.
This is not the first time Steven has worked in the studio with Darlene Love; in 1992, he wrote and produced her holiday single "All Alone on Christmas," which appeared on the Home Alone 2 soundtrack and featured appearances by Van Zandt and other members of the E Street Band with the Miami Horns.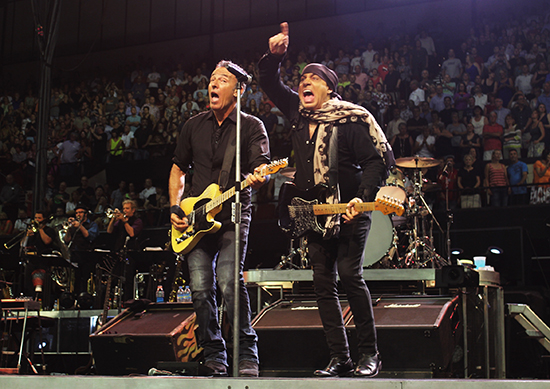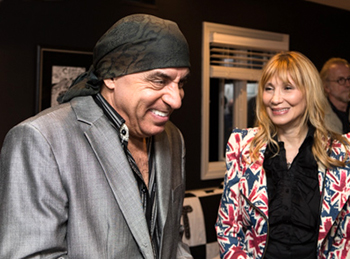 In other Van Zandt news, Red Bank's Count Basie Theatre has announced that Steven and wife Maureen will receive the theater's inaugural Vanguard Award, which is being presented in recognition of "a lifetime of devotion towards the arts here in New Jersey." The Van Zandts will be honored on August 22 as part of "A Tribute to Woodstock & The Age of Aquarius," a theme concert curated by Steven that features performances by Rockit!, a collaborative of musicians who are part of the ongoing music instruction project hosted by the Basie.
Tickets are $20 and will be on sale this Friday at noon either online or through the theater box office. VIP packages that include a meet and greet with the Van Zandts are also available; call (732) 842-9000.
The couple's Rock and Roll Forever project has just rolled out its "Rock and Roll: An American Story" social studies curriculum, a free online program designed to provide coming generations with instruction on U.S. history within the context of rock 'n' roll. The curriculum will be launched in Van Zandt's hometown school district of Middletown, NJ beginning this fall.
- July 29, 2014 - Lisa Iannucci reporting - Darlene Love photos courtesy of the artist - "Ramrod" photo by Patrick Lion - Steve & Maureen photo by Michael Zorn


THROWBACK BIRTHDAY
In honor of Patti Scialfa's birthday today, a real blast from the past: newly uncovered footage of her performance at The Sounds of Asbury Park Concert, Paramount Theatre, Asbury Park, NJ, August 30, 1980. Happy birthday, Red!
- July 29, 2014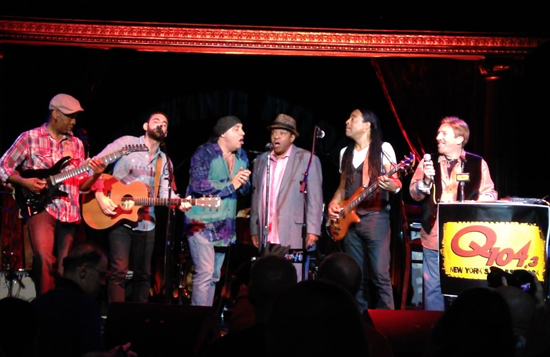 AN IMPERIAL SUMMIT: LITTLES STEVEN AND ANTHONY
Last weekend, Steve Van Zandt joined Ken Dashow for Q104.3's Breakfast with the Beatles, with fellow guest Little Anthony — one of the music legends who inspired the Little Steven moniker. "One of my namesakes, for sure," Steve told Dashow. "The first record I ever bought was 'Tears on My Pillow'." On Sunday, the two artists shared a mic on "All You Need is Love" [pictured above, video here], and Steve joined Living Color for "Back in the U.S.S.R." as well [video here].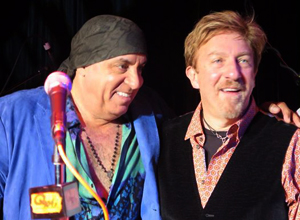 Dashow also noted a special milestone: "You know what happened on this date in 1975? In Providence, Rhode Island?" [Steve: "No..."] "On this date in '75, on the first night of the Born to Run tour, Miami Steve Van Zandt played his first concert as a member of the E Street Band. How about them apples?"
Steve actually recalls something about that night: "I remember coming from the studio, they were trying to finish Born to Run. They're still working on the album as we're leaving to go to the gig! Bruce is still doing overdubs and things — it was a crazy moment, the record wasn't quite ready, and all that drama. But it was fun, because me and Bruce had played together through the years in various bands; we went back ten years before that. Next year or so, we're gonna be friends for 50 years."
- July 25, 2014 - images courtesy of Sammy Steinlight

15 SHOWS, 15 YEARS AGO: SUMMER OF '99 IN THE SWAMPS OF JERSEY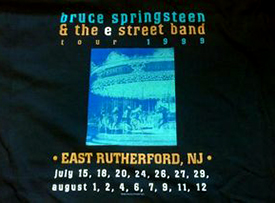 Hard to believe it's been 15 years since Bruce and the E Street Band took over the Meadowlands for a big chunk of the summer, for their long-awaited homecoming on the reuinion tour. Over the course of a month, from July into August, and 15 nights on stage, Bruce and the band played sold-out shows at the Continental Airlines Arena. It's the closest thing we've seen to a residency, before or since. At this point in '99, we were just three shows in... and their love was not letting us down.
Stan Goldstein has put together a great retrospective posted today at NJ.com, looking back at the 15-night run with words, images, and video. Whether you saw none, some or all... maybe you were sleeping in an old abandoned beach house for the occasion, getting wasted in the heat... it's well worth your time.
Read: "Bruce Springsteen's 15-night Meadowlands stand in '99: A look back"
- July 23, 2014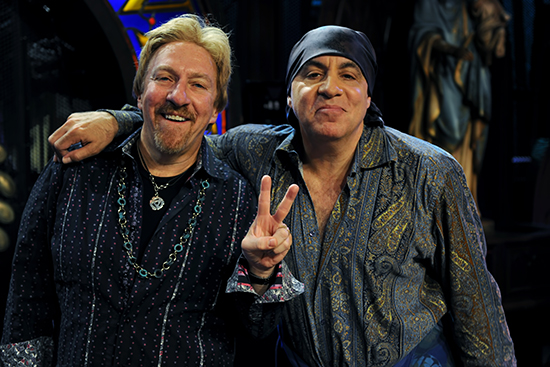 LITTLE STEVEN ON THE AIR WITH KEN DASHOW, LIVE SUNDAY
This weekend, Steven Van Vandt will be co-hosting Breakfast With the Beatles with Ken Dashow (above) live on Sunday, July 20 at The Cutting Room. Little Anthony and Living Colour will each also be performing a Beatles song live. The show starts at 8am EST; if you're not in the NYC area, you can listen to a livestream at Q104.3.com.
- July 18, 2014 - photograph courtesy of Sammy Steinlight

HEAR JUSTIN TOWNES EARLE COVER "GLORY DAYS" ONLINE NOW
Justin Townes Earle, who has also been known to cover "Racing in the Street" and "Atlantic City," strips down "Glory Days" on the forthcoming tribute compilation, Dead Man's Town. EW.com has the debut audio: listen here.
Earle says: "The importance of Springsteen cannot be overstated. Songs like 'Glory Days' speak to the heart. Looking back we will find that life is much more losing than winning. No matter our talents and drive, sometimes circumstance plays the biggest role of all."
Dead Man's Town: A Tribute to Born in the U.S.A is out 9/16 on Lightning Rod Records.
- July 17, 2014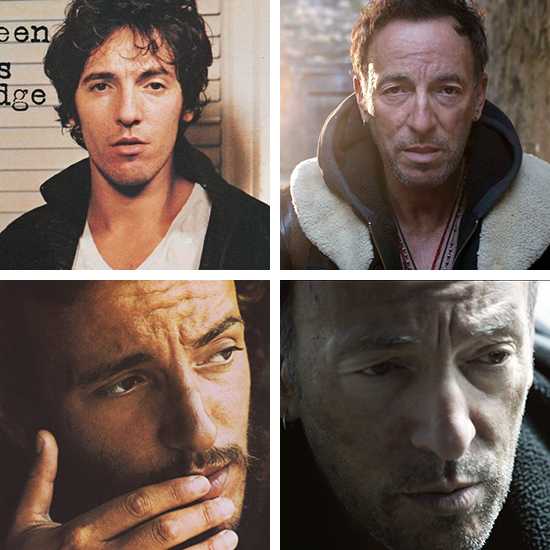 "WHAT ELSE TO EXPLAIN?"
Thom Zimny to talk Hunter live on E Street Radio on Wednesday
Tomorrow makes a week since the online premiere of Hunter of Invisible Game, the short film co-directed by Thom Zimny & Bruce Springsteen. Some fans have spent that time plumbing the depths of its meaning and mystery. Us, we found some ghosts of the past in their vision of the future.
Zimny surely has favorite elements of his own to point out, and he'll be stopping by E Street Radio's Live From E Street Nation tomorrow morning to discuss the film with host Dave Marsh and his crew. Time permitting, selected listeners who call 877-70-BRUCE also may get a chance to have Thom address their own questions or comments about Hunter of Invisible Game.
Live From E Street Nation with special guest Thom Zimny will air tomorrow, Wednesday July 16, 10am - 12pm ET on Sirius/XM channel 20. A repeat broadcast also will be aired on Sunday July 20, 6-8pm ET.
- July 15, 2014 - Christopher Phillips and Shawn Poole reporting


LERA LYNN'S "RITE OF PASSAGE"
Up-and-coming Americana artist covers something besides "I'm on Fire"!
Above, an exclusive clip of singer/songwriter/guitar picker Lera Lynn taking on "Fire" live at Nashville's Cotton Mill Studio. "Learning to play a Springsteen song is a rite of passage for all serious songwriters," Lynn says. "There are few who can compete with his penchant for melody and simple, yet extremely effective lyrics. Adding 'Fire' to my repertoire was based on a request from a fan who loves us both, and he couldn't have chosen better. I really feel that I've been able to reach an intimate place with this song and sing as if it were my own. Damn it, I wish I'd written it!"
Lynn's new album The Avenues will be released on September 9, featuring lead single "La Di Da." Find more at leralynn.com.
- July 11, 2014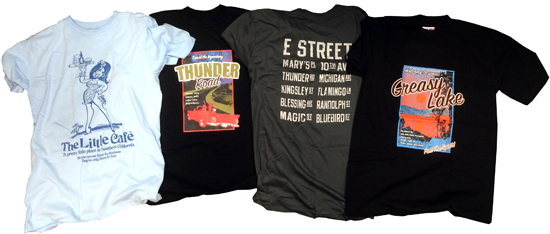 E STREET HOTSPOT SHIRTS RESTOCKED
We've just done a major restock of these shirts here at Backstreet Records, so the getting is now good if you've been waiting for a certain size of one of these: The Little Cafe (Rosalita) - Thunder Road - E Street Nation - Greasy Lake. A wide size range, Small through Triple-X with everything between, and we ship worldwide. Check out all current shirts in stock here.
- July 10, 2014


GREETINGS FROM ASBURY PARK: NEW EXHIBITS AT MONMOUTH U
Beginning this fall, Monmouth University's Pollak Gallery will host a pair of special photography exhibits related to Asbury Park's music history. The first, titled "Glory Bound: Photographs by Barry Schneier," is a collection featuring Bruce Springsteen, Van Morrison and Patti Smith in performance at what were pivotal moments in their respective careers. The photos of Springsteen are from his legendary May 9, 1974 appearance at the Harvard Square Theatre in Cambridge, MA, the show that prompted music journalist and future manager Jon Landau to declare that he had seen "rock and roll future." Indeed, the rarely seen images of Bruce and the band are striking: he and the E Streeters seem impossibly young and full of promise, their future as yet unwritten.
The second exhibit, titled "Asbury Park's Springwood Avenue Harmony: Celebrating The West Side's Unique Musical Legacy," features photographs and memorabilia documenting the city's long history as a jazz, gospel and R&B mecca. Prior to the 1970 riots, Asbury's West Side was home to several music venues that hosted both local and national talent; legends like Count Basie and B.B. King and local heroes like Billy Brown, Lenny Welch, Bobby Thomas and Joe Major were just a few of the countless musicians who shaped what came to be called the Sound of Asbury Park. In 2011, the city featured the music of the West Side in a pair of special concerts, one of which featured a surprise appearance by Bruce Springsteen. [Below, The Vibes, circa 1956, with (L-R) Thomas, Welch, Major, and William Penha.]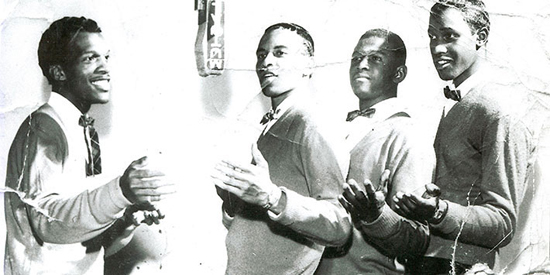 "Glory Bound" opens on Sep. 2, with an opening reception and gallery talk on Sep. 11, while the West Side exhibit opens Feb. 1, 2015, with an opening reception Feb. 4. Both exhibits are free; see the Monmouth University events calendar for further information. Monmouth University is also the home of the Bruce Springsteen Special Collection.
- July 10, 2014 - Lisa Iannucci reporting - Springsteen photo copyright Barry Schneier - Vibes photo courtesy of Bobby Thomas via Classic Urban Harmony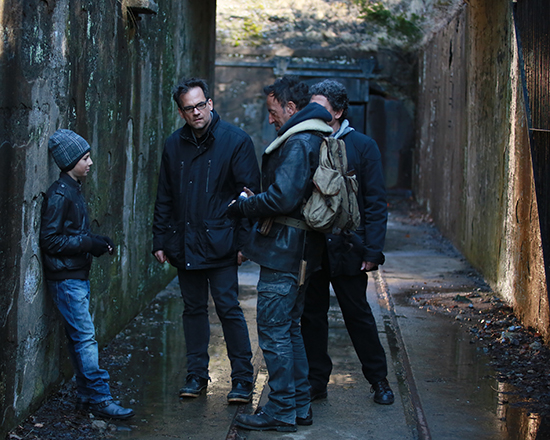 ON LOCATION
A behind-the-scenes look at the Hunter of Invisible Game shoot, above, with Ludo Roveda as "Boy" and filmmakers Thom Zimny and Bruce Springsteen. The ten-minute film premiered yesterday on brucespringsteen.net.
- July 10, 2014 - photograph by Jo Lopez

SUMMERTIME BLUES: HANK LOCONTI, AGORA FOUNDER, DIES AT 85
Hank LoConti Sr., founder and owner of the legendary Agora club in Cleveland OH, died yesterday at the age of 85. In addition to starting the Cleveland Agora in 1966 and turning it into a national brand, buoying the careers of countless rock acts along the way, LoConti is also credited with helping to bring the Rock and Roll Hall of Fame to Cleveland.
The Agora played an important role in Bruce Springsteen's career, with several performances there captured for posterity — one of them becoming one of the most famous bootlegs of all time. Springsteen first performed at LoConti's club on June 3, 1974, a two-hour show edited to 50 minutes for broadcast on WMMS. But the big one was August 9, 1978, still a legendary performance thanks to the live broadcast celebrating the station's tenth anniversary.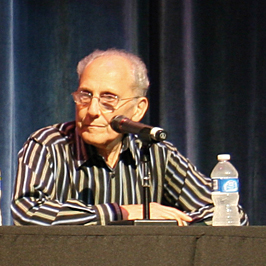 In 2010, Hank appeared on a panel at the Rock Hall to discuss the history of Springsteen in Cleveland [right], of which Bruce's Agora appearances are no small part. By 1978, Springsteen had graduated to larger venues; describing how that 8/9/78 club gig came about, LoConti recalled, "[Springsteen's agent] said to me, 'How would you like to have Springsteen at the Agora?' I said, 'Well, I'd like to walk on the moon, too! But it isn't gonna happen!"
In his book The Buzzard: Inside the Glory Days of WMMS and Cleveland Rock Radio, WMMS Program Director John Gorman tells how it did happen: "Darkness was Springsteen's first album in almost three years. Columbia wanted to use it to reignite his career... They suggested a series of free concerts, broadcast from key markets on ad hoc regional radio networks.... Steve Popovich and others at the label insisted that Springsteen do Cleveland and the Agora, which he believed was the best rock and roll club in America. Fortunately, it turned out to be an easy sell. Everyone in the Springsteen camp wanted the deal too. The tie-in would be WMMS's tenth anniverary, the Agora would be the venue, and we would broadcast the show regionally."
LoConti continued, "That '78 show, I can't even tell you... I've been in the business 45 years, I've watched many acts, been to hundreds of his shows, but that show had something about it — I don't know how you can beat it! The show was three hours, and we recorded every inch of it — in fact, I still have the 24-track that we recorded the show on. To have a guy play a three-hour show in a club, it was unheard of."
LoConti fondly remembered treating his mother to a front row seat that night:
"My mother, who was 79 at the time — I thought that was old then, but I just passed that mark — was there. He did an intermission after the first hour and a half. So during the intermission, we moved her up. We set the stage with a 'T' coming out into the audience, and so we set her right at the corner of the T. So you can picture Springsteen playing with a 79-year-old woman, sitting there watching him. She enjoyed every bit of it. We took her backstage afterwards, and she told him what a good-looking man he was! And that some day he was going to be a superstar. She didn't realize he was already a superstar."
Springsteen returned to Cleveland at the end of that month, for his August 30 show at the Richfield Coliseum, but he took the stage at the Agora again later that night to jam with Southside and the Jukes — a show that was being filmed for the Live at the Agora TV series, as LoConti recalled:
"We were sitting there with five cameras, I remember Wild Horses was the opening act. And Southside calls, and he says, "You gotta hold the show. I'm getting on the stage with Springsteen, and then I'm coming there.' I said, 'What time are you gonna be here?' He said, 'I can't tell you, but it's gonna be after 11.'... Finally, Southside gets on stage, and he's got Miami Steve with him. And about 20 minutes after he got on, here comes Clarence Clemons. Well, the anticipation was there, and Springsteen got there for the last 28 minutes of the show. Which actually ruined our [broadcast]! Springsteen and his managers both said, yes, we could use the 28 minutes. So we put our show together, we go to New York, we show it to Miami Steve. Miami, after looking at it, said 'You know what? I'm not going to allow you to use the 28 minutes.' We asked him why, and he said he didn't want Southside tied to the apron strings of Bruce Springsteen. Which actually ruined our show — did you ever try to do a show and you lose the finale? This was the finale! Southside always closed his show with 'Havin' a Party' and things like that, and here we're stuck with the top end of the show!"
Of course, that footage eventually surfaced: courtesy of YouTube, watch "The Fever" above, along with "I Don't Wanna Go Home" and "Havin' a Party" at the Agora in the wee hours of August 31, 1978.
As recently as two years ago, LoConti was pushing for an official release of the August 9 show from his 24-track master. We can only hope to get exactly that, somewhere further on up the road, in honor of his legacy. Until then, you can listen to the broadcast here: Part I - Part II - Part III
A job well done, Hank. Rest in peace.
- July 9, 2014 - report and photograph by Christopher Phillips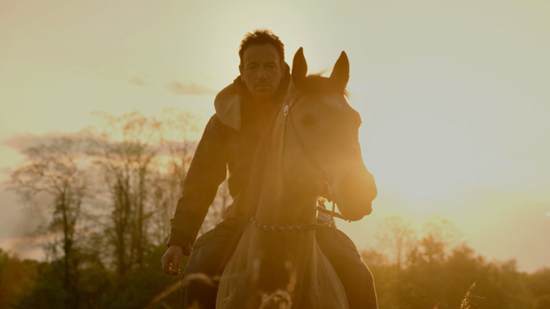 NOW PLAYING
At a website near you. Thom Zimny & Bruce Springsteen's Hunter of Invisible Game is a ten-minute, post-apocalyptic vision to accompany the High Hopes track, posted today along with a note from Bruce promising, "We take this break with a sense of joy, renewed purpose and filled with the spirit to bring you our best in the future. We've still got a few surprises for you..."
A hearty thank you to our friends and fans who supported us on the High Hopes leg of our World Tour. Our South African and Australian/New Zealand shows were a particular highlight, but a big shout out has to go to our American fans who brought us down the home stretch.

The past 2 plus years and nearly 170 shows have been a life changer. Thanks to you, we have dwelled deep within the transformative power of rock n' roll. You've helped us bring a new and revitalized E St. Band into being. We take this break with a sense of joy, renewed purpose and filled with the spirit to bring you our best in the future. We've still got a few surprises for you.

For a long part of the year, Thom Zimny and I have been talking about shooting a short film for "Hunter Of Invisible Game." We've finally got the job done, and we think it's one of our best. Thanks Thom for the hard work and brotherly collaboration. You and your crew bring it all. And to all of you out there in E St. Nation, we hope you enjoy! See ya up the road.
- Bruce Springsteen
- July 9, 2014

FILM ON THE RADIO
Reminder: Hunter of Invisible Game premieres tomorrow
E Street Radio's Live From E Street Nation, which normally broadcasts on Wednesdays 10am - 12pm ET, will remain on the air for an extra hour tomorrow to discuss the online premiere of Thom Zimny & Bruce Springsteen's film Hunter of Invisible Game (marking Springsteen's first official credit as a filmmaker.) Host Dave Marsh and his crew will be joined by Backstreets.com's own Shawn Poole. Tune into Sirius/XM channel 20 to catch all of the action, and call 877-70-BRUCE for a chance to give your own review of the film.
- July 8, 2014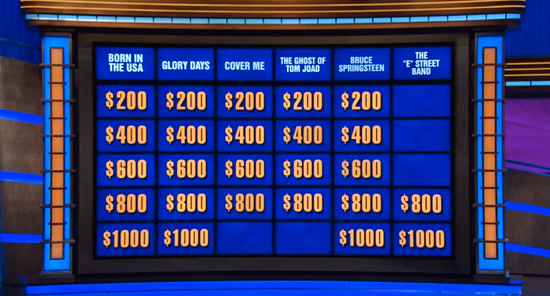 WHAT IS "I'M GOING TO RUN THE WHOLE GODDAMN BOARD, ALEX"?
Jeopardy show #6874. Click here for video; view all answers on j-archive.com.
- July 7, 2014 - hat tip to Bob Zimmerman


HAPPY 4TH!
- July 4, 2014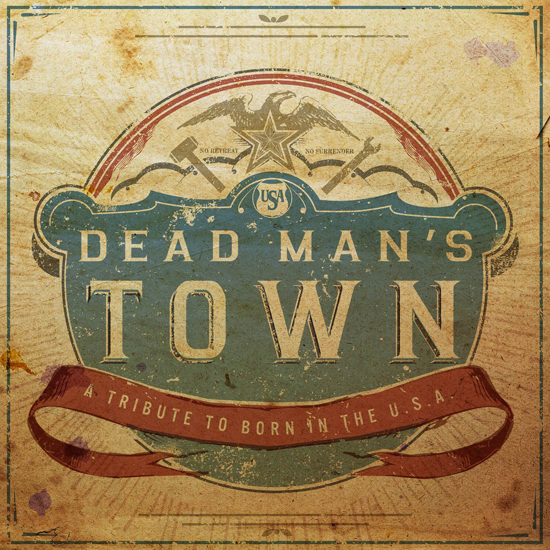 BORN IN THE U.S.A. TRIBUTE ALBUM COMING IN SEPTEMBER
In the year of its 30th anniversary, Born in the U.S.A. is getting the tribute album treatment from Lightning Rod Records this fall. The label has annouced that they will release Dead Man's Town, an album featuring 12 Americana and alternative artists covering the Born in the U.S.A. album, start to finish. This isn't the first time such an undertaking has occurred — in 2000 Sup Pop Records released Badlands: A Tribute to Bruce Springsteen's Nebraska — but Dead Man's Town contains tracks by some very popular and up-and-coming acts, recorded exclusively for this album.
Jason Isbell, a major Springsteen fan who has been known to cover "Atlantic City" live, starts off the proceedings with a stripped-down take on "Born in the U.S.A." (based on Bruce's original demo) that also features Isbell's wife, Amanda Shires. Isbell received high praise from Springsteen himself during the NPR interview that aired on January 15; of Isbell and his critically acclaimed Southeastern album, Bruce said, "I believe he was part of the Drive-By-Truckers. He's got a lovely album out himself."
Three of the album's 12 tracks — "Cover Me" by Apache Relay, "No Surrender" by Holly Williams, and the Isbell/Shires track — were produced by Dave Cobb, who manned the boards for Isbell's Southeastern album.
With Born in the U.S.A. producing seven top ten singles on the Billboard Hot 100, familiarity might be an issue for some folks, but the performers involved in Dead Man's Town have put their own respective spins on the tracks that make up the iconic album. Rollingstone.com, premiering the lead track yesterday, wrote that the tribute's artists are "reimagining Born in the U.S.A....with a reduced approach more influenced by that of the acoustic Nebraska."
Luther Dickinson of North Mississippi Allstars, who close the album with 'My Hometown," says "any of those songs could be played with acoustic guitar alone and still be great."
Other artists paying their respects include Joe Pug ("Downbound Train"), Justin Townes Earle ("Glory Days"), Low ("I'm on Fire"), Quaker City Nighthawks ("Darlington County"), Blitzen Trapper ("Working on the Highway"), Ryan Culwell ("Bobby Jean"), Trampled By Turtles ("I'm Goin' Down"), and Nicole Atkins ("Dancing in the Dark").
Dead Man's Town is due out on September 16.
- July 3, 2014 - John Howie, Jr. reporting


ASBURY ASS-WHUPPIN'
Last Friday, the Drive-By Truckers and the Hold Steady teamed up at the Stone Pony in Asbury Park — and if that sounds like the perfect storm* for a Springsteen cover, well, you're damn skippy. Our shore correspondent Lisa Iannucci, who was in the house, reports, "Both bands are longtime fans, yet neither even said Bruce's name, letting the intensity of the show — and the music itself — do the talking. And who else but the Truckers would cover Neil Young and Jim Carroll while also evoking Skynyrd?" Watch their joint set above; tune in around the 7-minute mark (or 7:30 to avoid a NSFW intro) to hear "Adam Raised a Cain."
*Speaking of storms and the Stone Pony: on a far less fun note, tonight's Southside Johnny show on the Summer Stage, an annual tradition, has been postponed due to weather, rescheduled for August 2. See stoneponyonline.com for details.
- July 3, 2014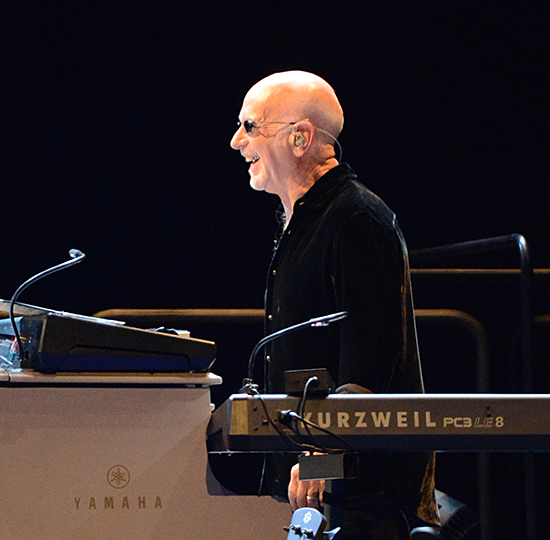 AT THREESCORE AND FIVE, I'M VERY MUCH ALIVE
A very happy birthday to Professor Roy Bittan, born July 2, 1949, who turns 65 today!
- July 2, 2014 - photograph by Alan Chitlik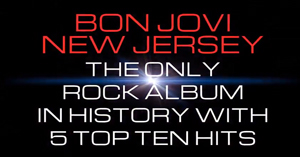 BE TRUE
Today, Bon Jovi reissues its 1988 New Jersey album as a Super Deluxe Edition to celebrate the thirtieth anniversary of the band's formation. What's notable about New Jersey, according to this official promotional video, is that it's "THE ONLY ROCK ALBUM IN HISTORY WITH 5 TOP TEN HITS."
Of course, Born in the U.S.A. had seven. Springsteen's 1984 album is tied with Michael Jackson's Thriller for most top ten hit singles.
But if it's exactly five you want, and no more... look no further!
- July 1, 2014 - Shawn Poole and Christopher Phillips reporting