CELEBRATING SPRINGSTEEN ON CELEBRATION ROCK
The Celebration Rock podcast, hosted by Uproxx music critic Steven Hyden, has returned from hiatus with a new multi-part series called 20th Century Boss. It's shaping up to be a deep dive worth taking, some eight hours of continuous thunder for Springsteen fans. Also the author of Your Favorite Band is Killing Me, Hyden writes:
Similar to our series on Pearl Jam last year, we will be digging deep into the discography of an American rock 'n' roll institution, Bruce Springsteen. The series is called "20th Century Boss," and as the title suggests, it covers every studio album released by Springsteen from his 1973 debut, Greetings From Asbury Park, N.J. up through 1995's The Ghost of Tom Joad.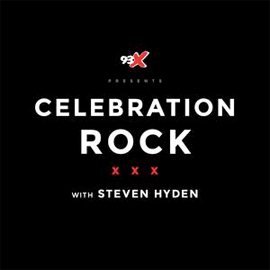 The first two episodes premiered this week and are available now: Part 1, titled "Bruce Begins," has guest Brian Fallon (Gaslight Anthem) talking about Greetings and The Wild, the Innocent & the E Street Shuffle. Part 2 focuses on Born to Run, with guest Jeff Rosenstock.
Hyden will continue with a different guest for each episode: "I also wanted to talk exclusively to musicians for this series, and there are few artists that are as influential, or name-checked as often, as Springsteen. Luckily, I had little problem finding great guests who were willing and able to speak insightfully about what exactly makes Springsteen great. The result, I believe, will fascinate long-time fans and provide a handy primer for neophytes."
Upcoming episodes will feature Julien Baker on Darkness; Patrick Stickles (Titus Andronicus) on The River; Phoebe Bridgers on Nebraska; Patterson Hood (Drive-By Truckers) on Born in the U.S.A.; John Darnielle (The Mountain Goats) on Tunnel of Love; and Tim Showalter (Strand of Oaks) on "Bruce in the '90s" (Human Touch, Lucky Town, and Joad).
You can subscribe to Celebration Rock on iTunes, Sticther and Spotify.
- February 15, 2018


HAPPY VALENTINE'S DAY: "THE THIRD LONELIEST DAY" OF THE YEAR!
"Valentines's Day: a day of love... but a day of heartbreak, too." This is Bruce Springsteen introducing "Back in Your Arms" in Australia, one year ago tonight. "There is no lonelier day of the year — maybe Christmas Eve... maybe New Year's Eve... It's the third loneliest day. Just a little holiday! But, if you've blown a good thing, this is a day you're gonna remember." And February 14, 2017 was a night to remember, as Springsteen and the E Street Band treated the Brisbane crowd to a number of rare songs of love — and of heartbreak, too. Enjoy "Janey Don't You Lose Heart," "Rendezvous," "Be True," "Back in Your Arms," "Leap of Faith," and "Secret Garden," all fan-shot and all from Valentine's Day 2017. And we hope today your scales are tipping toward love.

- February 14, 2018

LAST CALL FOR NILS AUTOGRAPHS
Nils Lofgren has produced a limited-run DVD edition of his Blind Date Jam film, and he's signing copies especially for us. The number of pre-orders we receive determines how much signing he does, and that time is almost upon us... so order now to guarantee yours!
Blind Date Jam is an 80-minute impromptu jam session that we recorded to capture the magic of the moment at Cattle Track gallery in front of a small group of friends.

Featuring Greg Varlotta on guitar, keys, trumpet, trombone and tap dance, Gary Bruzzese on drums, and John Willis on bass. You'll see me presenting ideas on the spot, talking through the chords brießy and launching in to each piece. It's primitive, rough and inspired jamming that I feel and hope as music fans you'll enjoy. Amy designed a beautiful southwest set for us to play on and produced the adventure with me. I hope some of you decide to check it out.

I'll autograph copies of this limited run DVD ordered through Backstreets. If you try it and enjoy it, please spread the word for us as this is a grassroots, homegrown endeavor. Best and enjoy! — Nils
- February 9, 2018

THIS IS US: NOTHIN' BUT TEARDROPS
So I'm watching what has become known as the saddest show on television this past Tuesday night, and a Springsteen connection comes across the screen that just sends me right down to Thunder Road.
Most of America will know what I'm talking about, but for those who don't, the show is This Is Us, and the past two episodes have dealt with what has become known quite simply as "Jack's death" — the subject matter the entire show revolves around.
Jack Pearson, father of three, beloved and devoted husband of wife Rebecca, perished from smoke inhalation after going back into the family home which was engulfed in flames to save his daughter Kate's dog. Jack was the father and husband we all want to be. Flawed yet perfect at the same time.
But what we did not know is that Jack was also a huge Springsteen fanatic. This first comes to our attention early in the episode where Jack and Kate discuss the similarities between Bruce and Alanis Morisette (who, if you follow the show's timeline, had just released Jagged Little Pill). Kate loves Alanis, so Jack puts on a cassette of "My Beautiful Reward" to show why he loves Bruce.
But that's just the beginning. You see, Jack, being the husband/father of the year kind of guy, left a huge surprise for the family. On the morning of his burial, an envelope with five tickets to see Bruce and the band is found in the glove compartment of the family car. That's where the tear ducts open up. If you're a parent and if you love Bruce, one of the biggest joys in life is taking your kids to see the band for the very first time. I have done it with my own daughters. It is without question a thing that we all do, and something that we never forget. Trust me on that fact.
The show ends with the family heading to see the show in Pittsburgh the same night as Jack's funeral. The acknowledgement that life will go on and everyone will be fine — or as fine as they can be — sets the tone for the finale. And the fact that Bruce Springsteen and the E Street Band will help them get there is just perfect and as real as the show can be. The music has been there for all of us.
Also read:

"This Is Us Presents Alternative Bruce Springsteen Tour History" [ultimateclassicrock.com]
Bruce Springsteen concert helps Pearsons mourn lost father on NBC's This Is Us" [app.com]
"This Is Us: Which Bruce Springsteen Song is Each Character?" [ew.com]
- February 8, 2018 - Joe Amodei reporting

- February 8, 2018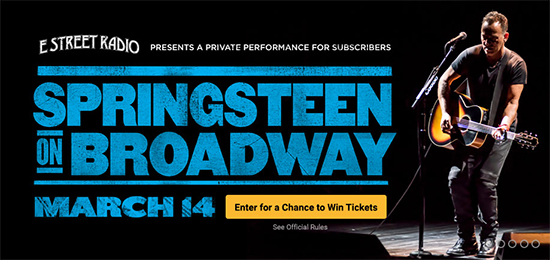 WHEN YOU CAN'T FIND A TICKET, YOU'VE STILL GOT THE RADIO
SiriusXM contest to get subscribers in for a private Broadway performance
Bruce Springsteen will perform Springsteen on Broadway for a selected audience of SiriusXM subscribers at the Walter Kerr Theatre — including faithful E Street Radio listeners, of course — on Wednesday, March 14.
SiriusXM subscribers will have the opportunity to win tickets to this private SiriusXM performance through giveaways on E Street Radio and through an invitation sent by email. Plus, SiriusXM subscribers since January 23, 2018 can enter for the chance to win the grand prize: a trip to New York City including airfare, hotel stay and a pair of tickets to the show. See Official Rules for complete details and enter the sweepstakes at siriusxm.com/Springsteen. Entries are being accepted through 3:00am ET on March 7, 2018.
E Street Radio will host pre-show and post-show broadcasts, where hosts Dave Marsh and Jim Rotolo will be discussing Springsteen on Broadway and talking to SiriusXM subscribers in attendance. The pre-show will air on Wednesday, March 14 at 6pm ET, and the post-show will begin at 10pm, on channel 20 and on the SiriusXM app.
- February 7, 2018


GRAND RAPIDS '05: THE WHOLE DAMN THING WAS GRAND
Archive series returns to Devils & Dust high point; ten new songs
The Tower Theater. Madison Square Garden. The Agora. Van Andel Arena. Van Andel Arena? Well, yes, actually: Bruce Springsteen's 2005 appearance in Grand Rapids, Michigan, probably didn't show up on many fans' shortlist for release the way its more famous counterparts might. But it's an excellent concert, and today it arrives as the second installment from the solo acoustic tour behind Devils & Dust.

That year, Springsteen mounted his first extended series of shows alone on guitar and piano, setting the stage for Springsteen on Broadway today. The August 3 performance happened in the middle of an extraordinary Midwest run, arguably the apex of the 2005 tour, where Springsteen complemented the music from his new LP with a seemingly endless array from his songbook. Some numbers he played just once, like "Lift Me Up," which opened a show in Columbus, Ohio, four nights earlier. Columbus, of course, appeared in 2015 as the archive series' first — and until today, the only — official 2005 release.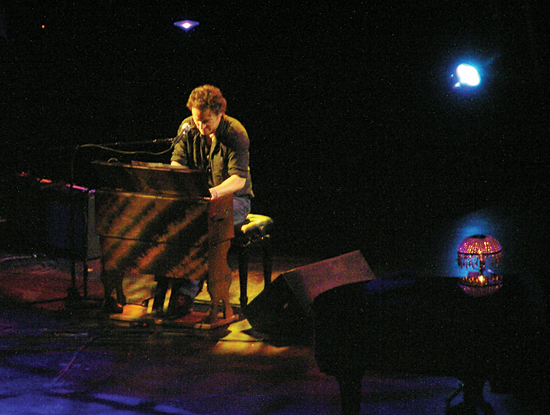 Like that date, Grand Rapids reflects the creative streak that made this summer stretch special. Its 25-song set includes ten selections not performed in Columbus on 7/31. "Sherry Darling" and "Saint in the City" make their first tour appearances, and so does "Tunnel of Love," right out of the gate: "I'm gonna start with something I haven't played before," Springsteen said. Performed on electric piano, this version not only became an instant rarity but also completed a cycle, giving all songs from his 1987 LP at least one play on the 2005 tour. And just listen: slowed down, framed by basic chords and sung with deliberation, the arrangement sounds more like a Colts Neck bedroom than a Shore amusement park. Springsteen never played it that way again. Few performances merit an official release as much as this one does, making 8/3 a must as soon as the lights go out.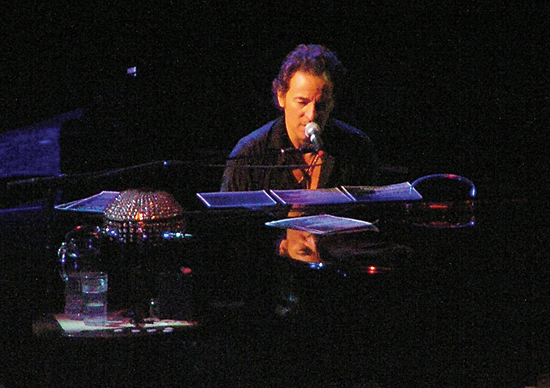 But that's just the first number. August 3 features seven songs from Devils & Dust, including "Black Cowboys," a personal and overland journey narrative (and the least-performed track from the record). It shows up fourth, completing an intense segment near the top of the show. "Long Time Comin'" and "Sherry Darling" lighten the mood; Springsteen calls the River party tune a "good summer song" and plays it on electric piano, a concert first (though he and Steve Van Zandt mugged their way through the song on keys in the studio, shown in The Promise).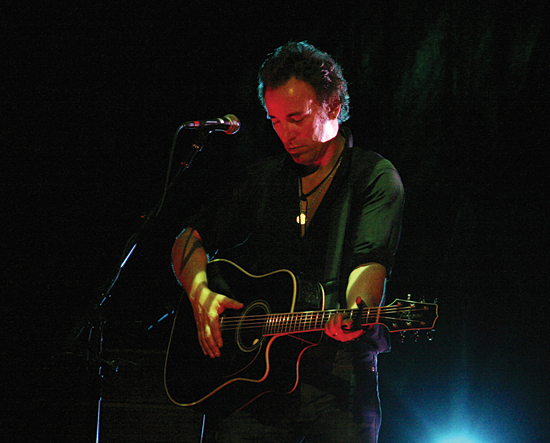 The set plays out as other dates did that summer: Springsteen accompanies himself with different stringed instruments and keyboards, reprising the Joad tour version of "The Promised Land" before finishing with Suicide's "Dream Baby Dream." And despite good humor — Springsteen speaks often, joking that he'd gone out looking for the rapids, and though he didn't find any, "the whole damn thing was grand!" — a dark thread runs throughout. That's apparent in remarks around "Part Man, Part Monkey" ("we've come a long way, baby… and we're going back") and "Matamoros Banks" ("we're in hard need for a humane immigration policy") and in the last verses of "Tunnel of Love" and "Racing in the Street."
One fan pointed to arrangements that shifted subtly from previous ones, giving "Cynthia" a less cheerful tone than the studio recording. And "Saint in the City" sounded like more like the early demo recording from 1972, when a 22-year-old kid sang for a shot at a recording contract. In reviewing Grand Rapids, Backstreets.com noted Springsteen's "focus and intensity: 'The Rising,' though played nightly, stood out as exceptional, as did 'Further On (Up the Road)' with a particularly aggressive intro and drawn-out ending."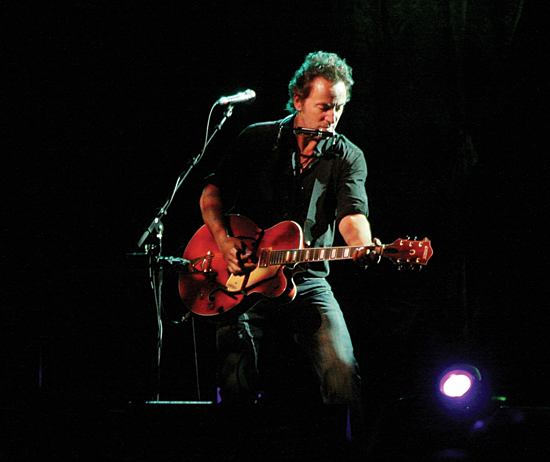 It may seem early to return to a tour that Columbus represented so well. But Springsteen truly made the most of the solo acoustic format, and as July 2005 turned to August, tour premieres and lesser-played numbers began to fall like summer rain. In the five shows from Columbus through Milwaukee, 61 different songs appeared, remarkable by any performer's standard. Grand Rapids brings the first official releases of keyboard arrangements for "The River," "Nothing Man," "I Wish I Were Blind," and "Racing in the Street"; the last song played here (and again, not in Columbus) is "Ain't Got You." A virtual box set from that week would make an astounding document. But not yet: fans await official recordings from tours that have yet to emerge (The Rising 2002/'03; The River 1981), ones that are surely in the works.
Order now from live.springsteen.net. Also read Erik Flannigan's latest essay on the nugs.net blog, "On Any Given Wednesday: Bruce Springsteen Devils & Dust Tour 8/3/05."
- February 2, 2018 - by Jonathan Pont, with additional reporting by Jason Berkley - Devils & Dust tour photographs by Riku Olkkonen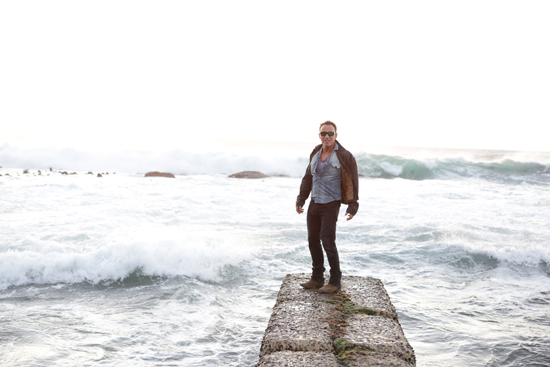 JO IS ROLLING DOWN THIS TRACK
Jo Lopez, an old friend of Clarence Clemons who became his saxophone tech, also wound up becoming the tour photographer for Bruce Springsteen and the E Street Band. You've seen his work at brucespringsteen.net, as the band toured the world for Working on a Dream, Wrecking Ball, and High Hopes, as well as on the covers of London Calling: Live in Hyde Park and Rolling Stone, and in the pages of Backstreets (see #91 for our interview with Jo).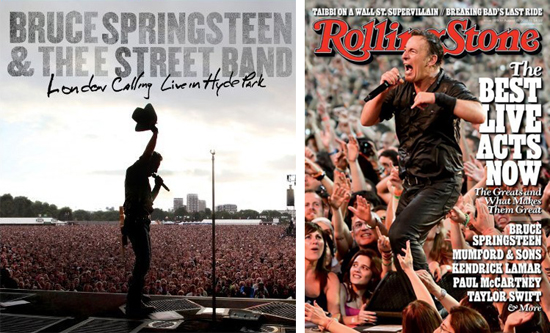 This summer, you can see his work up close in the U.K., as his new exhibition "Photographing Bruce Springsteen" has 12 stops across the country, one-night-only events at British horse racing courses and motor racing circuits.
Organized by Off Beat Lounge, "Photographing Bruce Springsteen" features
stunning on- and off-stage images, including rehearsal and "down-time" shots never seen by the public before, from New Jersey to Cape Town, and Sao Paolo to Barcelona. Lopez will be in attendance himself, talking about his work with Clarence and Bruce.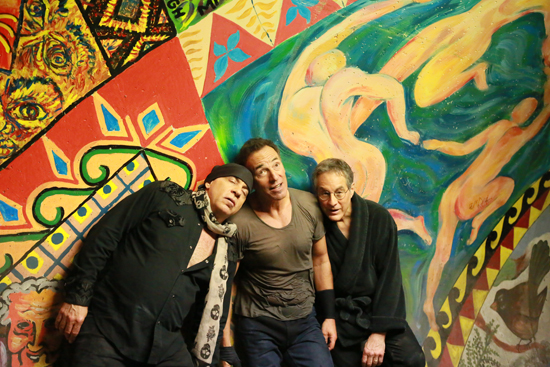 "I'm delighted to be able to tour this collection of photographs," Jo says. "The time I spent with Bruce and the band is very special to me, and selecting the images for this tour has fired up many wonderful memories. I'm delighted that fans will get to see some of my more close-up work. It means a lot to have originally selected these shots with Bruce at the time, too!"
July 10 - Newmarket Racecourse - Suffolk
July 12 - Brands Hatch Race Circuit - Longfield
July 13 - Brands Hatch Race Circuit - Longfield
July 17 - Carlisle Racecourse - Cumbria
July 19 - Aintree Racecourse - Liverpool
July 20 - Cheltenham Racecourse - Gloucestershire
July 24 - Exeter Racecourse - Devon
July 26 - Epsom Racecourse - Surrey
July 27 - Epsom Racecourse - Surrey
July 31 - Oulton Park Race Circuit - Taporley
August 1 - Oulton Park Race Circuit - Taporley
August 3 - Warwick Racecourse - Warwick
All events will run from 7:30pm to 9pm for standard admission tickets, with VIP ticket holders gaining access at 6:30pm for a Q&A session with Jo and private viewing. Visit offbeatlounge.co.uk for tickets and more information.
- January 31, 2018 - photographs by Jo Lopez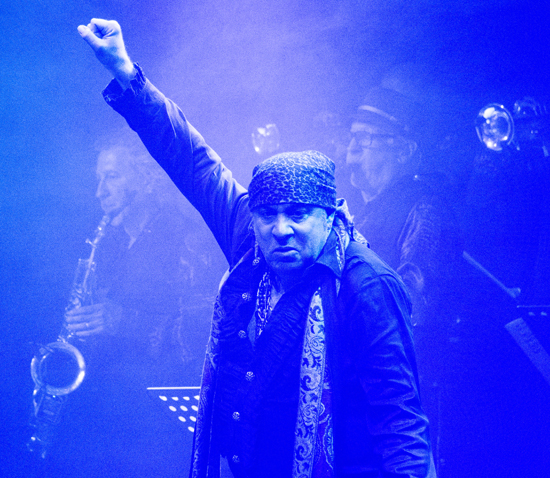 THE PRIDE OF MIDDLETOWN, NEW JERSEY
Congratulations to Steven Van Zandt: the New Jersey Hall of Fame is pulling him in. After being announced as one of 51 nominees for the honor in November, the 2014 Rock and Roll Hall of Famer has been named as one of 21 to be inducted in the Jersey hall's Class of 2017. As NJ.com reports, Governor Phil Murphy made the announcement today at Trenton's New Jersey State Museum, with some of Steven's fellow inductees including Debbie Harry, Meryl Streep, Al Leiter, and the Four Seasons.
The New Jersey Hall of Fame currently has no permanent physical location, but the induction ceremony will be held in a space Stevie and many of us know well: at the Paramount Theater on the Asbury Park boardwalk, May 6.
- January 30, 2018 - photograph by Geoff Robinson [London, November 4, 2017]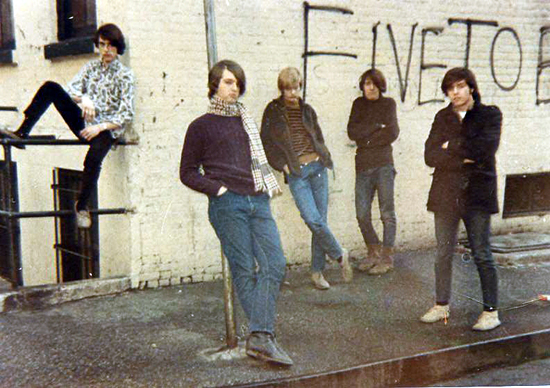 SUNDAY IN THE POST WITH GEORGE
Today's Salisbury Post catches up with local resident George Theiss, Springsteen's bandmate and vocalist in the Castiles 50 years ago: "Springsteen, George and [his wife] Diana have reconnected in the past year. Near the end of 2016, Springsteen called George out of the blue, only to learn his old bandmate was in the hospital, having just been diagnosed with lung cancer.... Through radiation and chemotherapy, the 68-year-old Theiss is 40 pounds lighter but doing well and enjoying his retirement with Diana."
The Post's Mark Wineka talked with Theiss about his pre-Castiles bands (The Five Diamonds, The Sierras), practicing at Marion and Tex Vinyard's house, the Freehold High School principal ordering the Castiles to get haircuts, and more. Read "George and the Boss: Theiss is forever linked to his glory days of playing, writing songs with Springsteen."
- January 28, 2018 - The Castiles (c. 1967) photograph courtesy of Billy Smith [L-R: Vinnie Maniello, Theiss, Curt Fluhr, Springsteen, Paul Popkin]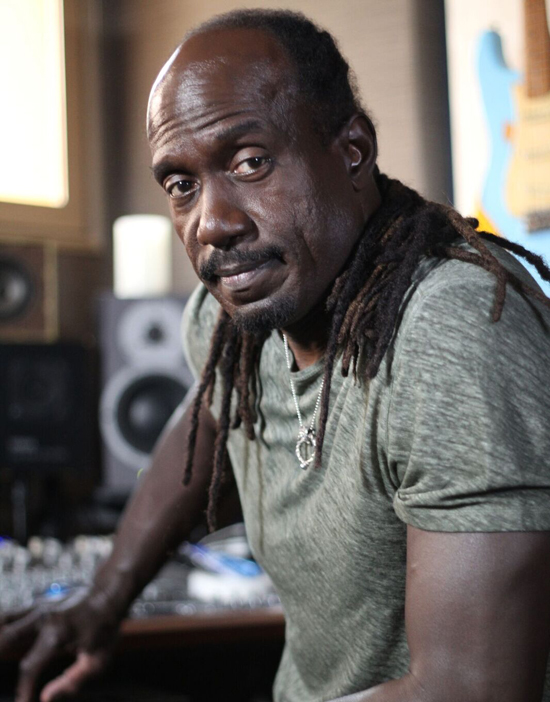 photograph courtesy of 825 Records
CURTIS KING JR. SINGS THE CHANGES: THE BACKSTREETS INTERVIEW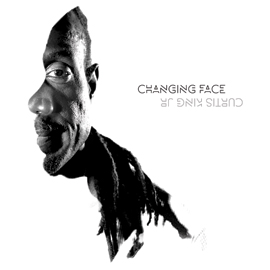 Vocalist Curtis King Jr. is certainly recognizable to Bruce Springsteen fans the world over. He first started working with Bruce in 2006 as a part of the touring Seeger Sessions Band and later became a member of the extended E Street Band for the 2009-2014 tours.
In addition to his work with Springsteen, Curtis has had a long and successful career in the music business. As a backup singer and studio musician for more than three decades, Curtis has worked with a who's-who list of music industry giants: from Duran Duran, David Bowie, and Billy Joel, to Madonna, Joe Cocker, and countless others. Curtis has also appeared over the years on Saturday Night Live and on Late Show with David Letterman, backing up musical guests like Stevie Wonder and Darlene Love.

Curtis was nice enough to sit down recently with Backstreets writer Erik Remec to talk about the release of his very first solo album Changing Face and about his experiences working 20 feet from Springsteen.
You've had a very successful career in the music business for over 30 years, so what made you decide that this was the right time to put out your first solo album?
I started going into the studio around 1996 and tried recording just to see if I could do it. I played around in the studio a bit, but then the tours called. I got a call from Duran Duran to go out on tour, and then Carly Simon asked me if I would go out on tour with her [while I was on tour with Duran Duran]. As crazy as it was, the open dates I had were the dates that she had booked. So she flew me back and forth between Duran Duran and her tour. Along the way I recorded a song here and there; you know, at least I was writing, but it just wasn't coming together.
I had a lot of songs, but it became a whole other journey of finding the songs that I felt fit me. I had written songs that I liked, but they were not necessarily for me — maybe a cool song from a writer's perspective, but now I'm thinking of me as the artist, so I had to start writing from that vantage point. It just took awhile to kind of find my own voice in all of that.
I officially started, believe it or not, just the year before Bruce called for the Seeger Sessions Tour, in 2005. My [Changing Face] co-producer Butch Jones had been bugging me about really locking in on the album, and as soon as I lock in, Bruce Springsteen called.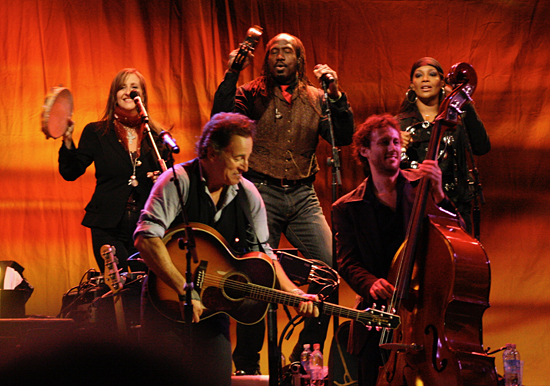 Verona, Italy, October 5, 2006 - photograph by Mauro Regis
So how did the whole Bruce thing start?
I got a call from Steve Jordan [drummer/producer who has worked with Patti Scialfa among many others] in 2006. He said that Bruce Springsteen had been auditioning male singers for the Seeger Sessions Band and hadn't come up with anybody that he liked, and he thought I would be the perfect guy for him. I'm really grateful to Steve Jordan for helping me out like that.
The band was rehearing at the Convention Center, I think, at the time. So I walk in, and Bruce introduces me to the guys, and then he starts to sing and asks me to harmonize with him. I sang some harmonies, and Bruce says, "Okay, that sounds good, come up on stage." I said, "But I don't know the material!" And Bruce says, "Don't worry — you'll learn it along the way." That was my audition!
Continue reading our Q&A with Curtis King Jr.
- January 26, 2018 - interview by Erik Remec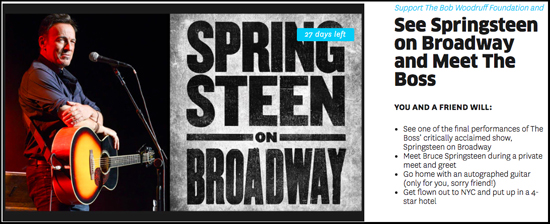 LAY DOWN YOUR MONEY
A couple of online opportunities to score a pair of Springsteen on Broadway tickets have cropped up recently. Over at eBay, there's an auction of two 11th Row Center Orchestra seats for the April 11 performance. All auction proceeds will be donated to the Sister District Project. Bidding closes Monday, and right now the minimum bid is $6,999. Anyone who wants to skip the bidding process altogether may consider buying the pair outright for $9,999. Click here for details.
1/26 Update: The minimum bid has been lowered to $2,499.
If the Sister District Project's politics run too blue for your blood, or if your pockets just ain't that deep, don't forget the ongoing Springsteen on Broadway contest over at Omaze.com. As we reported previously, the winner will receive not just a pair of tickets to one of Springsteen on Broadway's final performances, but also a private meet-and-greet with Bruce, an autographed guitar, and air transportation to and from New York City with four-star lodging in the Big Apple. Entries to this contest are made via donations to the Bob Woodruff Foundation. An online donation as small as $10 generates at least 100 entries into the contest; the more you donate, of course, the better your chance to win. Click here to enter the contest, which ends on February 20 at 11:59 pm PT. The winner will be announced on or around March 1.
- Updated January 26, 2018 - Shawn Poole reporting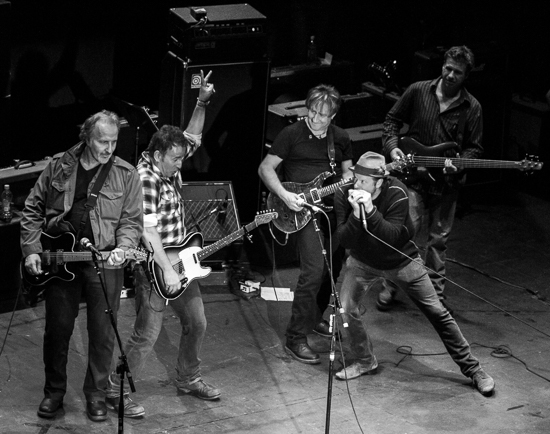 THREE IS A MAGIC NUMBER
And for the birthday trifecta, it's Danny Clinch — shown here at a Light of Day jam, because when he puts down his camera it's usually to pick up a harp. Happy birthday Danny!
- January 24, 2018 - photograph by A.M. Saddler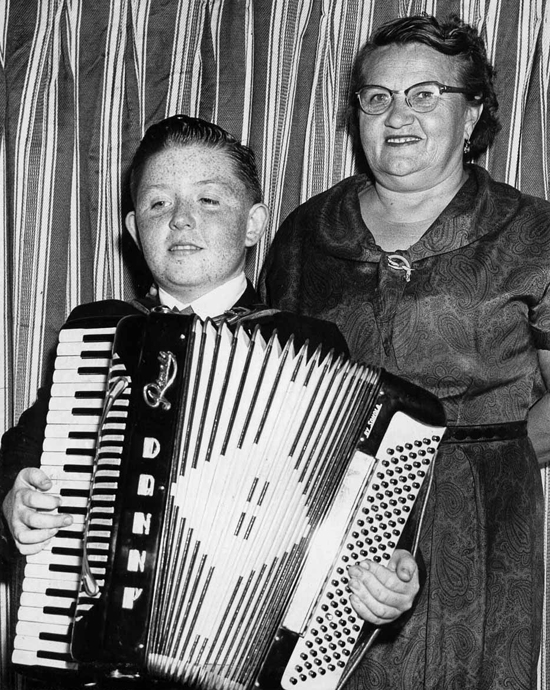 BEFORE HE WAS THE PHANTOM
Young Danny Federici's mom was very proud of her boy — wouldn't you be? Thinking of Danny today on his 68th birthday, and reminding you that the Danny Fund continues its good work supporting melanoma research.
- January 23, 2018 - photograph courtesy of Danny Federici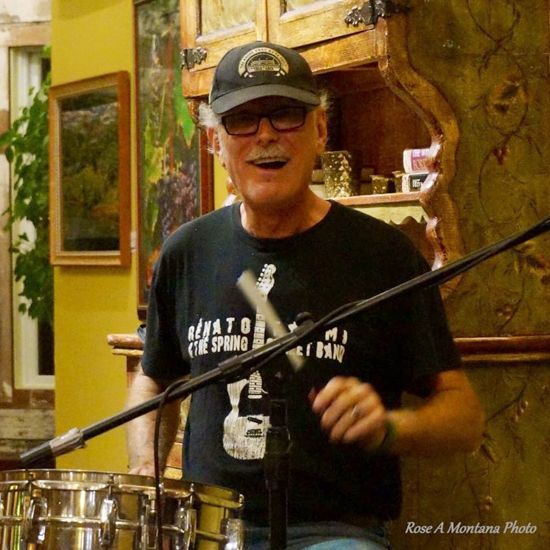 HAPPY BIRTHDAY VINI!
Original E Street Band drummer Vini "Mad Dog" Lopez is 69 today, born January 22, 1949.
- January 22, 2018 - photograph by Rose A. Montana

"LATE NIGHT LEGEND MAX WEINBERG ON DRUMS!"
Max Weinberg returned to
Late Night
last week to kick off a mighty tellyvision two-fer: Thursday night, above, he was back at 30 Rock to hold down the beat for Glen Hansard, performing "Roll on Slow" on
Late Night with Seth Meyers
. On Friday, Max's episode of
Blue Bloods
aired on CBS, with his guest turn as Mario Vangelis. You can watch "Erasing History" now at
CBS.com
.
- January 22, 2018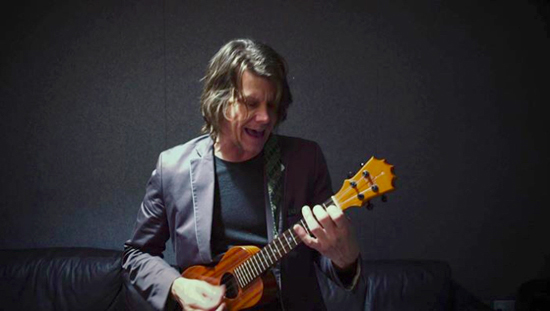 HEY, SOMEBODY HAD TO DO IT!
Thank goodness it turned out to be somebody with the necessary chops. For one night only (at least for now,) Philly-based professional musician Jim Boggia is bringing Bruce Off Broadway: A Ukelele Tribute To The Boss to the Big Apple on Saturday, January 27 at Arlene's Grocery. Tickets are a whopping $10 each and yes, there is a "Verified Fan" process that works as follows: Got ten bucks? Congrats; you're verified. Now click here to buy your tix.
Go ahead, laugh it up — after all, that's a big part of the idea. At the same time, however, this also promises to be an evening of well-performed Springsteen covers by somebody who actually has learned how to make his ukulele talk. Boggia, who's performed or recorded with many famous musicians in addition to gigging and recording on his own over the past two decades, is a talented pro as well as a Springsteen fan.
For a preview of what to expect, check out Boggia's recently released video clip of him and his uke taking on "Tenth Avenue Freeze-Out" and a 2016 clip of "Thunder Road" getting ukefied, too (with a bit of "Born to Run" playing as the credits roll.) Act fast before Bruce Off Broadway sells out and you're forced to pay secondary-market prices as high as... FIFTEEN bucks!
- January 18, 2018 - Shawn Poole reporting

THE NEW CHRISTIE MINSTREL
On January 16, Chris Christie's second term as the 55th governor of New Jersey came to an end. On January 17, the first day of the rest of his life, Christie crossed the river to take in some theater: Springsteen on Broadway, of course. Today, the New York Times set the occasion to music.
Well they kicked the old governor out of Trenton last night
Kicked him out of the mansion, too
But down on Broadway, he was getting ready for a night
Seems like the Boss can carry him through...
Continue reading Nick Corasaniti's "On Stage Was Springsteen, in the Audience, Chris Christie"
- January 18, 2018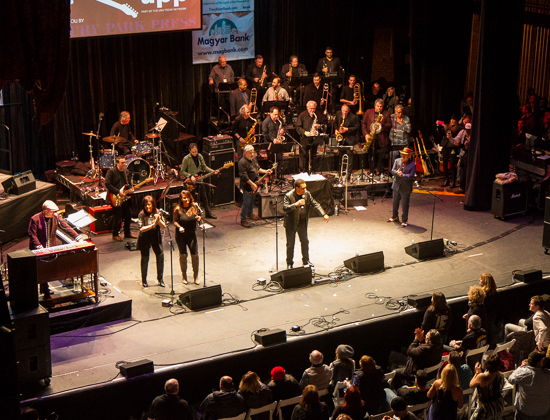 GREETINGS FROM ASBURY PARK: GOOD TIMES ROLL AT LIGHT OF DAY 18
January 2018 has been both frenetic and freezing, bringing with it another Light of Day Winterfest without Bruce Springsteen. Unlike other years in which Bruce was absent from the festivities, however, concertgoers purchased tickets for the annual event knowing its longtime champion would not be appearing on the Paramount Theatre stage for Saturday night's main event. But as they've done for the last couple Bruce-less years, fans showed up to support the musicians, the organization and its cause. The more-than-respectable attendance figures for this year's 18th annual Light of Day festivities demonstrate that the event has indisputably transformed Asbury Park into a winter destination for music tourists of all stripes regardless of Bruce's plans.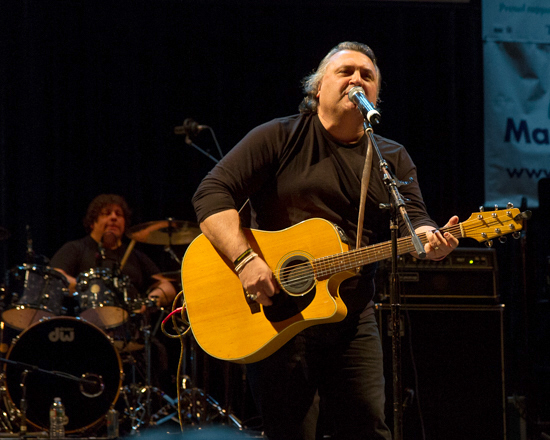 Light of Day stalwart Joe D'Urso - photograph by A.M. Saddler
This year's optimistic theme was "Eighteen to Life Without Parkinson's," and Light of Day founding artists Joe Grushecky, Joe D'Urso, and Willie Nile once again were the backbone of the operation, supporting not just Saturday night's Birthday Bash for the indomitable Bob Benjamin, but the entire international concert series. Other returning artists included John Easdale (Dramarama), Jeffrey Gaines, Garland Jeffreys, and James Maddock, as well as the standout Remember Jones, whose dynamic, versatile band has gained a nationwide following performing both originals and tribute shows.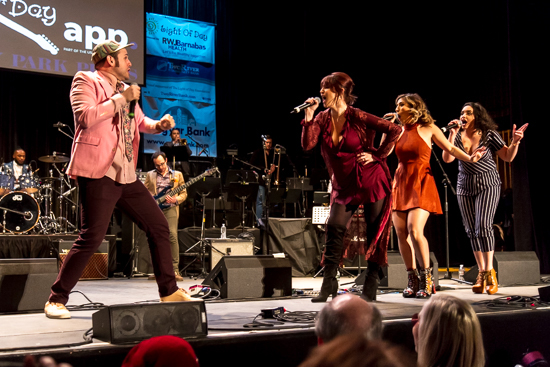 Remember Jones - photograph by A.M. Saddler
The evening, which was capped by the return to Light of Day of Richie "La Bamba" Rosenberg and his Big Band, followed typical LOD structure of full-band main stage performances interspersed with emcees and acoustic performers like Gaines, whose melodic cover of Sam Cooke's "Twistin' the Night Away" was one of the highlights of the evening.

Rob Dye (left) with Danny Clinch on harp - photograph by A.M. Saddler
Over the years, Light of Day performances have also become fitting moments to pay tribute to those who have passed on. This year was no different, as D'Urso honored recently deceased Smithereens singer/songwriter (and former Light of Day performer) Pat DiNizio with a set-opening "Behind the Wall of Sleep," and Nile opened with a cover of Tom Petty's "Running Down a Dream." Willie Nile was his usual ebullient self, and he had the audience up and dancing for the duration of his set, while Grushecky and band turned in a workmanlike performance that included standards like "Code of Silence" and "Pumping Iron, Sweating Steel" along with a couple of new songs from his upcoming album More Yesterdays Than Tomorrows.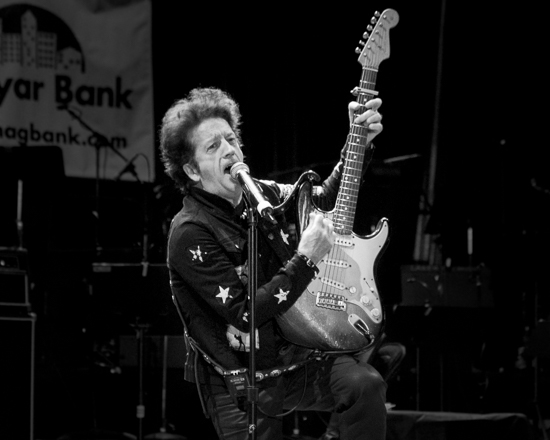 Willie Nile, workin' on a mystery - photograph by A.M. Saddler
But the night belonged to La Bamba and his band; this year's iteration included both current and former Asbury Jukes like guitarist Bobby Bandiera, trumpeters Rich Gazda and Mike Spengler, saxophonist Stan Harrison, and keyboardist Jeff Kazee. In fact, there were so many exceptional ex-Jukes in the extra-large horn section that one hardly missed Ed Manion (who was just up the road in Red Bank with another ex-Juke named Van Zandt) or Rosenberg's onstage foil and partner-in-crime, Mark "The Loveman" Pender.
La Bamba has always used the Big Band format to satisfy his eclectic musical taste, and in typical fashion, Saturday night's set veered from jazz instrumentals to jump blues like "Let the Good Times Roll" to Curtis Mayfield's "Move on Up" to '70s urban soul like Bobby Womack's "Across 110th Street" before switching gears to honor Clarence Clemons with a rousing "Paradise by the C." Always a natty dresser, Rosenberg cut quite the figure in a shiny purple suit and matching fedora as he ran around the stage directing traffic.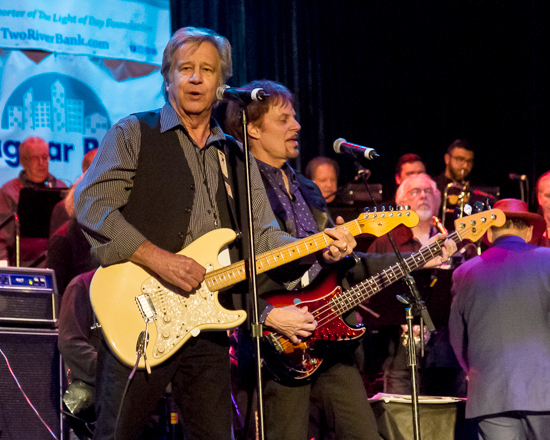 Greg Kihn has a rendezvous with La Bamaba's Big Band - photograph by A.M. Saddler
Joining the festivities later in the set were Greg Kihn — who dropped in after his headlining show at nearby McLoone's to treat the audience to a couple power pop tunes including his cover of the Springsteen gem "Rendezvous" — and the irrepressible Gary U.S. Bonds, who was in rare form. Having spent most of the evening backstage waiting to go on (and consuming a glass of wine or two), he proceeded to rile up the crowd with snarky comments before getting down to business with "New Orleans," a rowdy audience sing-along on the Springsteen-penned "This Little Girl," and his classic "Quarter to Three."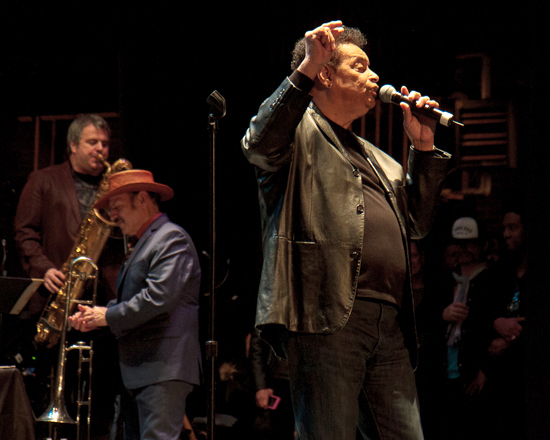 Bonds fronts the swinginest band they'd ever had - photograph by A.M. Saddler
But they weren't done yet, as familiar strains of Jackie Wilson's "(Your Love Has Lifted Me) Higher and Higher" began to echo through the dusty rafters of the Paramount. (What good is a big band with an extra big horn section if you're not going to play some Jackie Wilson?) Bonds, ably supported as usual by his wife and daughter on backing vocals, enthusiastically traded verses with La Bamba as other performers meandered onstage to help close out the night. Indeed, the end was near, but not before an audience sing-along/band introduction on "Havin' a Party."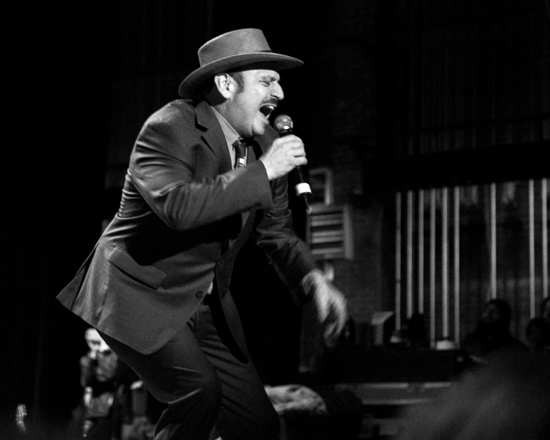 Richie "La Bamba" Rosenberg - photograph by A.M. Saddler
It was a long evening and a long week. There were plenty of late nights and drafty venues from Convention Hall to Cookman Avenue. And between the weather and a little thing called Springsteen on Broadway, this year's Light of Day Winterfest could easily have been overlooked by music fans. But the strength and durability of the idea, driven by its indomitable founders and staff, by the countless artists who year after year devote their time and efforts, and by the fighting spirit of its inspiration, Bob Benjamin, have turned Light of Day into an essential annual ritual. After 18 years, it's about time.
- January 17, 2018 - Lisa Iannucci reporting - photographs by A.M. Saddler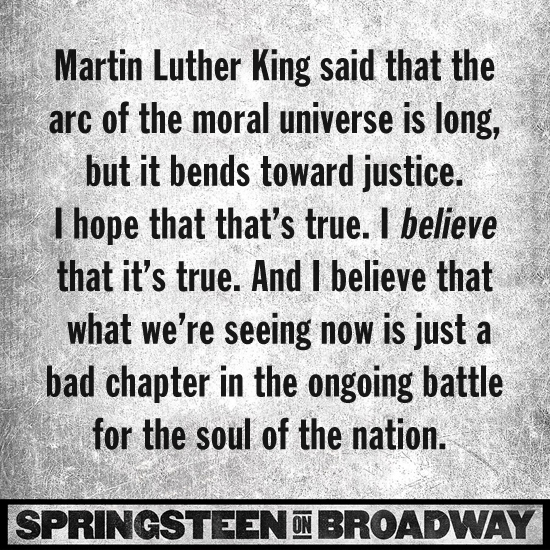 - January 15, 2018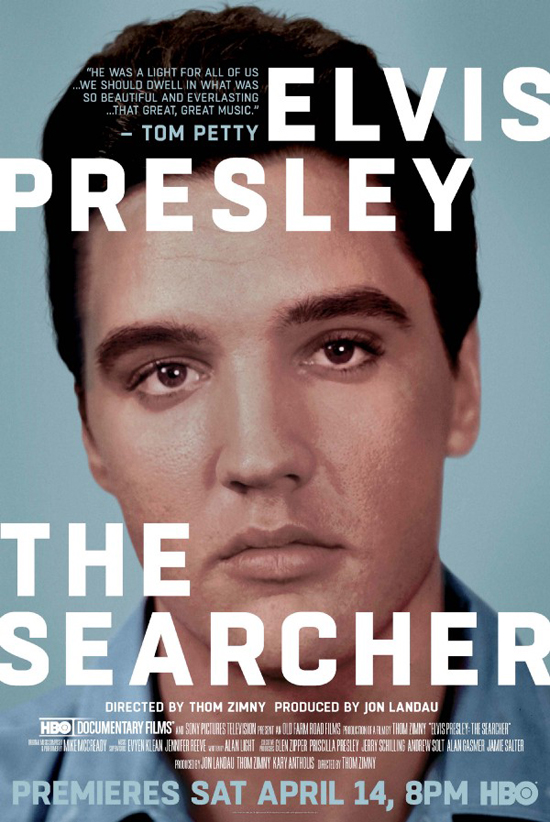 THE SEARCH IS OVER APRIL 14
42 years after Bruce jumped the wall, Zimny & Landau take us inside Graceland
Finally, the world is ready for Thom Zimny's Elvis doc. Of course, you might remember Thom from such films as Wings For Wheels, The Promise, and The Ties That Bind.... As we've reported previously, Elvis Presley: The Searcher is his latest directorial project, an extensive HBO documentary he's been working on with producer Jon Landau, and we now have a premiere date: Saturday, April 14 at 8pm ET/PT.
This three-hour, two-film presentation focuses on Elvis Presley the musical artist, taking the audience on a comprehensive creative journey from his childhood through the final 1976 Jungle Room recording sessions. The films include stunning atmospheric shots taken inside Graceland, Elvis' iconic home, and feature more than 20 new, primary source interviews with session players, producers, engineers, directors and other artists who knew him or who were profoundly influenced by him.The documentary also features never-before-seen photos and footage from private collections worldwide, and includes an original musical score composed by Pearl Jam lead guitarist Mike McCready.
Bruce Springsteen is one of the many interview subjects represented in the film, along with late greats Scotty Moore and Tom Petty.
One month prior to the premiere, Zimny and Landau will appear at the SXSW Festival in Austin, for a March 14 panel discussion also featuring executive producer Priscilla Presley. Further details in the HBO press release.
- January 12, 2018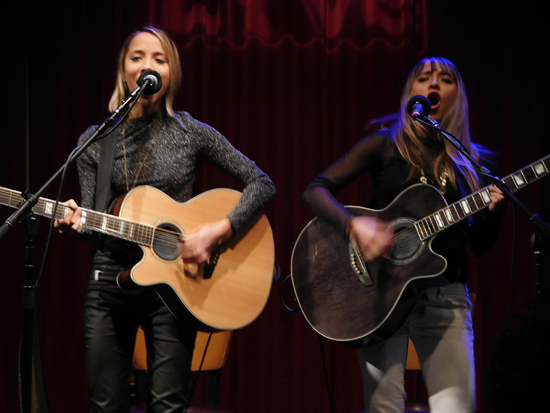 NALANI & SARINA TAKE CARE OF THEIR OWN
New single and new Springsteen cover from Jersey-based duo
Nalani & Sarina have started off 2018 right with "Young & Inexperienced," the debut single from their forthcoming album. They also kindly recorded another Springsteen cover for us to share with our readers: "We Take Care Of Our Own," in a beautiful arrangement for two guitars and voices.
The twenty-something Flemington-NJ-based Bolton twins, who perform regularly both on their own and backed by a full rock band, recently talked to us about "Young & Inexperienced," "We Take Care Of Our Own," and the connections they make between the two songs.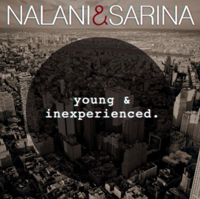 "'Young & Inexperienced' was based on some of our closest friends, people we've known since at least high school," said Nalani. Finding decent-paying, meaningful work after college has proven to be much more difficult than their friends expected. Of course one of them eventually uttered the oft-heard complaint, "I can't get the job without the experience, but I can't get the experience without the job." For these people, it was "a real punch in the gut," added Sarina. "This is the real world." Yet Nalani & Sarina themselves have known about that world for quite some time, since deciding to pursue full-time careers in music right after high school.
Writing and recording "Young & Inexperienced" was a way for them to give voice to all-too-common concerns about finding work, money and, most important, respect.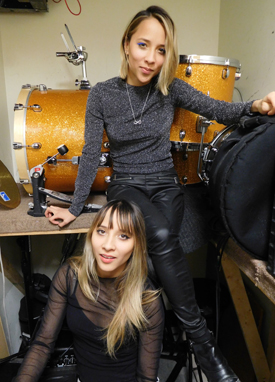 As for their recording of "We Take Care Of Our Own," first and foremost it's one of their favorite Springsteen songs. "Being younger fans," they told us, "the first Springsteen album we really got into was Wrecking Ball. The version of 'We Take Care of Our Own' that opens the album, of course, just rocks, but we also were bowled over by his solo acoustic version, like the one he performed at Stand Up For Heroes." They also agree that Springsteen's line "Where's the work that'll set my hands, my soul free?" connects especially well with the issues raised in "Young & Inexperienced," and both songs take phrases that have become clichés and convert them into meaningful pleas for recognition and dignity.
Their FREE mp3 of "We Take Care of Our Own" is on our Downloads page, where you also can check out other recordings that Nalani & Sarina have shared previously. "Young & Inexperienced" is available from online music services including Apple Music, Spotify, and Amazon. For more, visit NalaniSarina.com.
- January 12, 2018 - report and photographs (from Light of Day Philly 2018) by Shawn Poole

PRE-ORDER NEW NILS LOFGREN DVD NOW FOR A SIGNED COPY
Originally available as a digital download, Nils Lofgren's Blind Date Jam is now on DVD for the first time — and Nils will be autograping copies just for us. Click here to pre-order and reserve yours!
Blind Date Jam is an 80-minute impromptu jam session that we recorded to capture the magic of the moment at Cattle Track gallery in front of a small group of friends.

Featuring Greg Varlotta on guitar, keys, trumpet, trombone and tap dance, Gary Bruzzese on drums, and John Willis on bass. You'll see me presenting ideas on the spot, talking through the chords brießy and launching in to each piece. It's primitive, rough and inspired jamming that I feel and hope as music fans you'll enjoy. Amy designed a beautiful southwest set for us to play on and produced the adventure with me. I hope some of you decide to check it out.

I'll autograph copies of this limited run DVD ordered through Backstreets. If you try it and enjoy it, please spread the word for us as this is a grassroots, homegrown endeavor. Best and enjoy! — Nils
See all Latest Additions at Backstreet Records here.
- January 11, 2018



HAPPY CLARENCE CLEMONS DAY
Thinking of Clarence Clemons on his 76th birthday, we can't help but smile at this series of images shared with us by director/photographer Nick Mead (click to enlarge). As work continued on his Who Do I Think I Am? documentary, Mead put this triptych together from a personal shoot he did with his friend.
"It's another example of Clarence taking me out of my comfort zone — even when he's no longer physically around," Mead tells Backstreets. "Two things I avoid when photographing are color and laughter. Here they are in all their glory. Blessed to share this image on his birthday. Miss him every day."
We hope Clarence Clemons Day brings you color and laughter, too.
- January 11, 2018

THE LIGHT OF DAY KIHNECTION
Greg Kihn makes his first appearance at Light of Day this Saturday night in Asbury Park, playing at McLoone's Supper Club along with the Ben Arnold Band. Showtime is 7pm; it wouldn't be at all surprising to see him turn up later that evening on the big stage across the boardwalk at the Paramount Theatre for the LOD Main Event (aka Bob Benjamin's Birthday Bash), headlined by La Bamba's Big Band featuring Gary U.S. Bonds.
Kihn covered Bruce Springsteen's "For You" on 1977's Greg Kihn Again, his second album. He also famously released Springsteen's "Rendezvous" way before Bruce ever did, on his 1979 album With the Naked Eye.
Always curious about the backstory, I was excited to have him on the Bruce Brunch on 105.7 The Hawk at the Jersey Shore this past Sunday. He delivered and then some. Plus, he talks about playing Alcatraz with The Big Man. Tough to beat that. Listen below.
Light of Day hits New York City tonight, with Bonds headlining the Cutting Room, and then takes it to the streets of Asbury Park on Thursday, Friday, Saturday and Sunday. The festivities will include a live broadcast of the Bruce Brunch on Sunday morning from the Anchor's Bend in the Grand Arcade at Convention Hall, including plenty of bleary-eyed special guests. Come hang with us!
Full details about this year's festival at lightofday.org.
- January 10, 2018 - Tom Cunningham reporting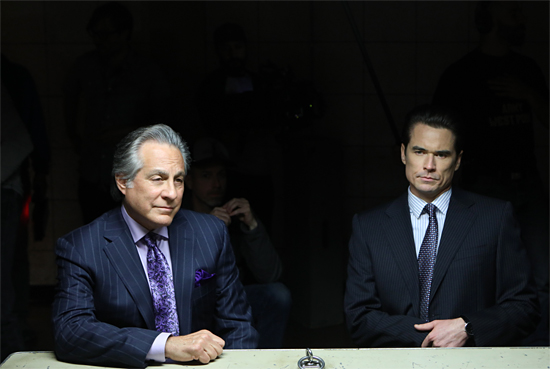 WORKING BLUE: MAX IS BACK ON CBS
Max Weinberg is flexing his acting muscles again, following his recent recurring role on CBS's Hawaii Five-0 with a guest spot on Blue Bloods. In a new episode on January 19 called "Erasing History," the Mighty One is featured as a character by the name of Mario Vangelis.
"I play a mobbed-up New York real estate developer who is 'liked' for a hit on a guy," Max tells Backstreets. "I had an absolute blast doing several scenes with Donnie Wahlberg and Marisa Ramirez, who plays his partner Baez — both fantastic actors and people!"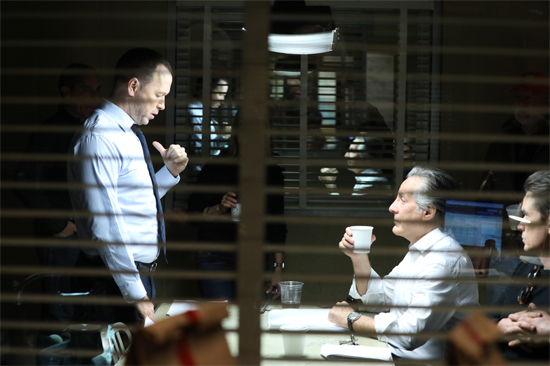 Above, Wahlberg and Weinberg rehearse Mario's interrogation; below, Mr. Vangelis speaks with Detective Baez.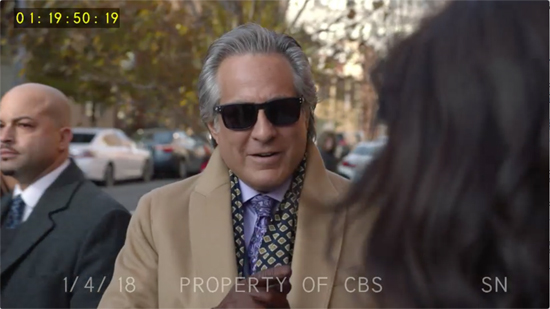 Tune in to Blue Bloods on CBS, Friday, Janauary 19, at 10pm Eastern. Also visit Max's new site at maxweinberg.com for tour dates (including Jukebox, Big Band, Quintet, and speaking engagements), as well as news, videos, and photos.
- January 10, 2018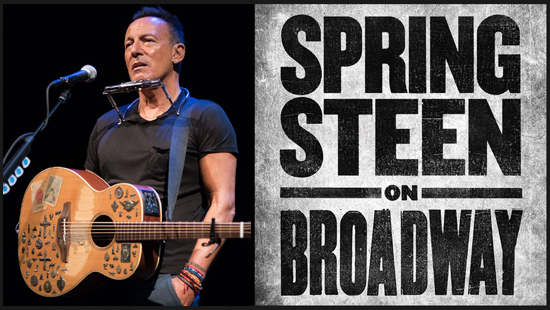 BACK ON BROADWAY
Tonight, Bruce Springsteen returns to the stage for the first time in 2018, to resume the regular Tuesday-to-Saturday schedule of Springsteen on Broadway after a holiday break. Last time Bruce performed the show, shortly before New Year's, Patti Scialfa had been out with the flu for five shows running (see 2017 setlists here). We hope she's feeling tip-top and back on the boards again tonight.
Springsteen on Broadway is currently booked to run through June 30 at the Walter Kerr Theater. In addition to the ongoing Lucky Seat lottery for each performance, the Bob Woodruff Foundation offers another chance at seeing the show: their donate-to-win contest includes not only tickets for one of the show's final performances, but also a meet-and-greet with Springsteen, an autographed guitar, travel and lodging.
Visit Omaze.com to donate and enter, with all proceeds benefitting the Bob Woodruff Foundation and their efforts to stand up for heroes.
- January 9, 2018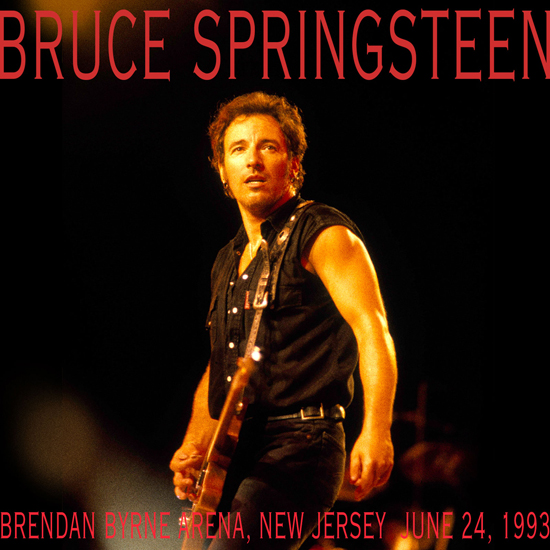 LIVING PROOF: NEW JERSEY '93 IS HERE FOR FIRST FRIDAY
Benefit show with "new" band is a 35-song stunner
As hard as it is to believe, we're more than 25 years past the time when Bruce Springsteen released dual solo records, Human Touch and Lucky Town, and undertook a year-long tour to support them — his first without the E Street Band. Today's archive series installment marks the first complete show from that era to emerge: Brendan Byrne Arena in East Rutherford, New Jersey, June 24, 1993, a benefit billed as "A Concert to Fight Hunger." It touches all the bases that made the music from that era compelling and features a guest segment that shook the building. And the recording restores a moment that many know about but few actually got to hear.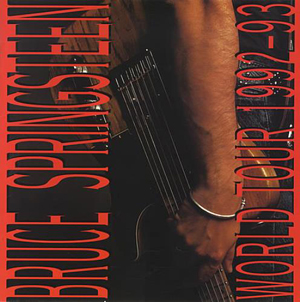 This performance came at the end of a time where listeners found themselves divided over Springsteen's bold new step. No band can match the power of the E Street Band, which for my money is the best there ever was. In 1992 and '93, many fans wouldn't accept anyone on stage with Springsteen except the E Streeters. Sprung from his comfort zone, however, he basked in the freshness his new backing musicians brought. And he worked his ass off, playing more lead guitar than on E Street tours in the '80s and huge performances throughout. Full disclosure: I loved it. I saw 21 shows in 1992 and '93 and had a blast. To this day, two remain among my personal favorites: the Count Basie rehearsal show on March 23, 1993 and the one released today.
A year earlier, Bruce had played 11 nights in the same building, the first ones in the U.S. with his new band. Then, setlists combined material from the new albums and earlier classics. Some fans who otherwise were accepting of the new band thought the shows didn't depart enough from the E Street era. Among them was Los Angeles Times rock critic Robert Hilburn, who laid out his thoughts in a provocative feature during the New Jersey stand. When the tour resumed in Los Angeles (perhaps not coincidentally the writer's home base) in the autumn, sets included more '92 material and less from before, meeting Hilburn's challenge. He wrote again, stating, "I never thought I'd again see a Springsteen performance as stirring as the one he put on Thursday at the Los Angeles Sports Arena." Yet more change came when the tour headed back to Europe in the spring of 1993.
That model carried the June 24 performance: ten songs from the new records, the new opening acoustic set, more prominent use of the backing singers, and of course the surprise appearances by Clarence Clemons and fellow E Street Band members who joined for a long encore. There was no debate about direction or which songs belonged: it was a night of celebration. Judging from the resounding crowd response, all fans were on board 100 percent and loved every minute. It was the best performance of the 1992-'93 tour.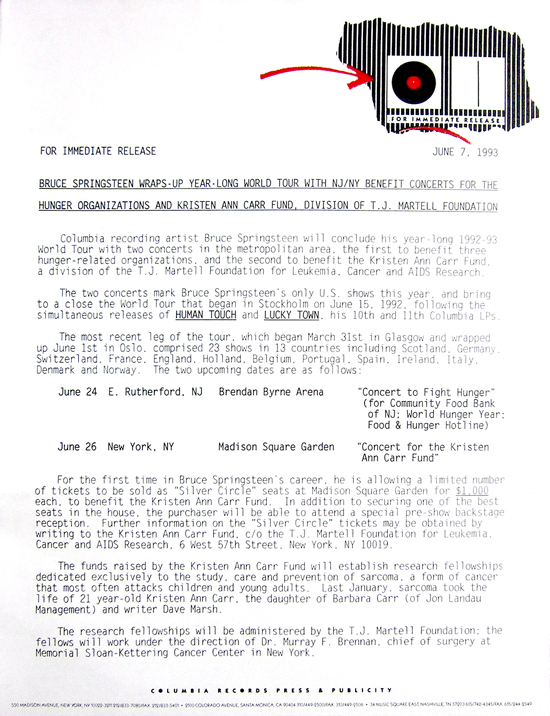 The sole New Jersey date was something of a homecoming one-off (the tour would end two nights later at Madison Square Garden, a concert to benefit the Kristen Ann Carr Fund), and fans anticipated something big would happen. The afternoon of the 24th, Clarence Clemons went on WFAN radio with Mike and the Mad Dog and revealed that he would be in the building. That fueled the fire even more: as the lights went down, there was a buzz in the air.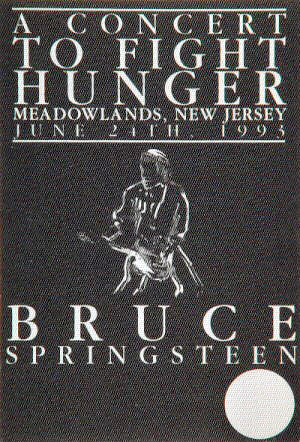 In keeping with the evening's theme, Springsteen opened with a beautiful take on Woody Guthrie's "I Ain't Got No Home," with Bruce's friend Joe Ely joining for a verse. Three solo acoustic numbers followed, including fan-favorite "This Hard Land" — the outtake wouldn't be officially released until 1995, and its debut at the Count Basie rehearsal show had stunned fans. Otherwise, the first set stuck to the 1992-'93 standards, starting with fiery takes of "Better Days" and "Lucky Town." It concluded with its customary trifecta: "Leap of Faith," "Man's Job," and "Roll of the Dice." One notable addition: a gorgeous take on Emmylou Harris' "Satan's Jewel Crown." This arrangement shone, just the kind we'd waited to hear with this new cast of players.
At intermission, rumors of guest appearances by much of the E Street Band circulated. Buzz gave way to shock when the second set opened with Bruce and Roy Bittan on "Does This Bus Stop At 82nd Street?" (Its surprise performance at the Count Basie was the first since December 31, 1975.) "Because the Night" followed and brought the energy higher. Patti Scialfa joined for "Brilliant Disguise" and "Human Touch." Later, a spine-tingling thematic sequence began with "Who'll Stop the Rain" and tour staple "Souls of The Departed."
Usually, "Souls" led into "The Star Spangled Banner"/"Born in the U.S.A.," but on this night, Bruce dropped in a note-perfect version of "Living Proof," with a powerful vocal that was stunning. He was a new father, and the song's theme clearly translated — and from a unique place, too: except for this night, the song always appeared in the first set. Normally "Souls"/"Born in the U.S.A." made for a dark pairing but here, he brought light to the sequence with one of the era's pivotal songs. On "Born in the U.S.A.," listen for an altered vocal delivery, distinct from other performances on the tour. The set closed with the standard "Light of Day," capping the best set of music I saw the 1992-'93 band play.
Joe Ely returned to open the encore with a blistering version of his own "Settle For Love." The opening line "You say you want drama, I'll give you drama" would prove prophetic: there was much drama to come. "Glory Days" followed with special guest Little Steven, the first confirmation that the buzz might be true. "Thunder Road" was next, which Bruce and Roy played, as they had every night of the tour. Then the cavalcade of guests continued: Bruce introduced Southside Johnny with some gentle ribbing about the South's move to Connecticut. Standing together at center stage, Bruce, Steve, and Southside launched into "It's Been a Long Time," singing about decades of friendship together. At its conclusion, Southside thanked Bruce for all the help over the years.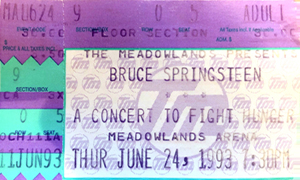 Then Bruce turned back to the mic and counted the band into "Tenth Avenue Freeze-out." The crowd let out a roar of recognition. At the back of the stage, the Miami Horns appeared. A quarter century on, I remember this moment like it was yesterday. I was in the fourteenth row, and the entire crowd on the floor was standing on their chairs. As the horns burst in, the crowd's energy rose even higher, like everyone had just received a shot of adrenalin. And then Bruce arrived at the middle of the song and sang, "Well, the change was made uptown…" Suddenly, the building was shaking in a way you wouldn't think was possible, with the most thunderous ovation I've ever heard. If I close my eyes, I can still hear that roar. The Big Man had joined the band.
The song came to a close. The ovation at that volume continued for a full minute. Bruce and Clarence hugged. Bruce remarked, "Damn, can't have the Big Man here without doing this one. It's the Jersey set here. Only for the Garden State!" and launched into "Born to Run." The crowd's frenzy continued.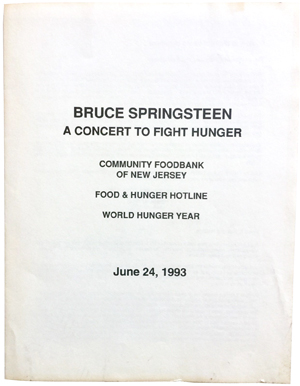 Now, as exciting as "Tenth Avenue" had been, there was one minor problem: Clarence's sax was pretty much inaudible. Bruce was aware of this, so as the "Born to Run" sax solo approached, he stuck his mic into Clarence's sax. This time, the classic solo, perhaps the signature E Street Band moment, boomed throughout the arena. In a way, it was fitting. Fortunately, today's release includes the "Tenth Avenue" solo, and whatever problem kept the sax from being heard in the monitors and PA is gone. Now, all these years later, this important moment in Bruce's performing history is fully audible and accounted for.
The guests left the stage. A beautiful version of "My Beautiful Reward," the closing track from Lucky Town, gave fans a chance to catch their breath. Joe Ely came back out with Patti and Soozie Tyrell for a foot-stomping "Blowin' Down This Road." The Jersey theme continued with a rollicking "Having a Party" with Southside, Steve, and the horns, making an arena in East Rutherford feel like a hot summer night on the Shore. It was now after midnight but the show wasn't over yet: another E Streeter, Mighty Max Weinberg, took the stage to drum on "Jersey Girl." As the final notes faded, Bruce thanked everyone for coming out and slid right into Curtis Mayfield's and The Impressions' "It's All Right." Incredibly, it was the 35th song of the night. The song's refrain "it's all right to have a good time" was the perfect note to send people out on, ending a night that lucky fans will always remember.
Aside from a live version of "Leap of Faith" (recorded on August 6, 1992, at Brendan Byrne), the only official material released from this tour was XXPlugged, recorded at Warner Hollywood Studios on September 22, 1992. Today's addition replaces an audience recording that fans traded (and Crystal Cat released as Meadowlands Night). Different versions of the recording shared a glaring issue: "Born to Run" cut off just before the final verse. Now we have a complete account, the first from the 1992-'93 tour, and hope the series finds a spot for the March 23 rehearsal show at the Count Basie in the future!
- January 5, 2018 - Hal Schwartz reporting
Editor's Note: As we finished today's review, news broke that Brendan Byrne, who served two terms as New Jersey governor, passed away last night at age 93. Springsteen played the first concert in the arena named for Byrne in 1981; this release documents the 28th and final time he played there before the name of the venue was changed. Backstreets offers its sympathies to Governor Byrne's family and friends.

A BIG DOC FOR A BIG MAN
If you're snowed in like we are, this could be the perfect time to settle in with The Story of the Big Man, a fan-made documentary that runs more than five hours long. Created by Dennis P. Laverty, who has also posted lengthy docs to Vimeo on Southside Johnny and the Asbury Jukes and Elvis Presley's Influence on Bruce Springsteen, his new labor of love similarly culls and compiles extant footage to tell the story of Clarence Clemons. No need to fall down a YouTube rabbit hole when Laverty does it for you, sequencing an abundance of obscure footage to recount Clarence's life and career.
Thanks to Jay Lustig for pointing us to the film — read more about it at his site, njarts.net.
- January 4, 2018


"THE LAST LINE OF DEFENSE IN MUSIC OR IN SPORT"
Courtesy of NHL Studios, Max and Jay Weinberg at Monday's Winter Classic, where Max Weinberg's Jukebox served as house band.
- January 4, 2018

OBAMA TAPS SPRINGSTEEN FOR HIS BEST-OF-2017 LIST
Bruce Springsteen may not have released an album or a single in 2017, but he still made Barack Obama's list of his favorite music of the year. On Facebook, Obama shared "the books and music that I enjoyed most... From songs that got me moving to stories that inspired me," and he included a live performance from Bruce as a bonus selection: "'Born in the U.S.A.' by Bruce Springsteen (not out yet, but the blues version in his Broadway show is the best!)"
Though Springsteen on Broadway is dark this week for a little New Years vacation, Springsteen will get back to playing that "Born in the U.S.A." blues and all the rest of it, Tuesday through Saturday nights, beginning January 9.
- January 2, 2018


WELL THE RANGERS HAVE A HOMECOMING...
And Mighty Max is driving his sleek machine, with his Jukebox as house band
On New Year's Day, Max Weinberg comes back to network television for the 2018 Bridgestone NHL Winter Classic, as Max Weinberg's Jukebox will serve as the house band at Citi Field. With the Buffalo Sabres and New York Rangers facing off at the home of the Mets for this outdoor game, Max's band will be playing throughout.
In keeping with his Jukebox shows, Max has been taking requests for this performance as well — you can vote in polls on Twitter and Facebook. And tune in to watch the live broadcast on NBC, Sportsnet and TVA Sports, on January 1 at 1pm Eastern.
The New Year's Day show kicks off another busy year for the Mighty One: Max is playing the City Winery NYC on January 3 with his five-piece Max Weinberg Jazz Quintet, and then again on January 4 with the Jukebox. View his 2018 schedule so far — with new dates being added weekly — at maxweinberg.com.
- December 29, 2017

TONIGHT, THE ROLE OF PATTI SPRINGSTEEN WILL BE PLAYED BY...
The show must go on, and of course with Springsteen on Broadway there are no understudies. Patti Scialfa has been ill and unable to perform the past couple nights (12/26 and 12/27), giving rise to a couple of changes in the set: following "Tenth Avenue Freeze-out," Springsteen replaced their duets with "The Ghost of Tom Joad" (which had been tried in previews) and "Long Time Comin'" (which had not).
With these first substantive changes to the performance since opening night, Springsteen talked a bit about fatherhood between the two songs (saying something to the effect of, "I guess I'll say something about the kids instead") after explaining that Patti had been sick over Christmas weekend. 'Tis the season.... flu season... and we wish her a speedy recovery.
See the Setlists page for these and other recent show reports,
as well as our review of Springsteen on Broadway
- December 28, 2017


MERRY CHRISTMAS, MERRY MERRY MERRY CHRISTMAS
It's so exciting, baby. After you've laughed and shaken like a bowlful of jelly, you can purchase Stevie's new single here. And further for your holiday playlist, ICYMI: from 9/20/78, the surprise new release in Bruce Springsteen's live archive series, "Santa Claus is Comin' to Town" is available as a free MP3. Merry Christmas and happy holidays to all!
- December 24, 2017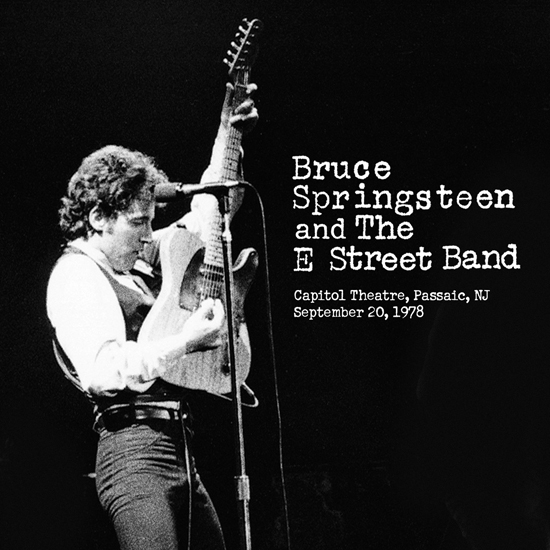 HAVE YOU HEARD THE NEWS?
Passaic '78 — second night! — released as holiday bonus
When it comes to discussions of Bruce Springsteen's greatest tour, the 1978 outing for Darkness on the Edge of Town usually tops the list. Many of its dates became legendary, not only because of the high-intensity performances, but also because of that tour's radio broadcasts. There were five that year, beginning in July at the Roxy in Los Angeles and going on through December at Winterland in San Francisco. To date, only one of these has seen an official, standalone release: the magnificent August 9 performance at Cleveland's Agora Ballroom.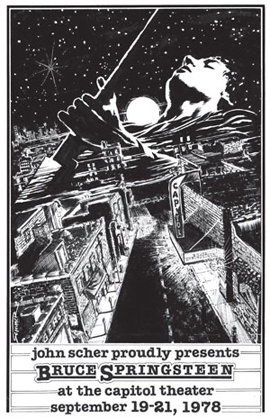 Enter our holiday gift from Springsteen and Nugs: a recording from September 20, 1978, at Passaic, New Jersey's, Capitol Theater. Separate from the First Friday release schedule, Passaic is a midwinter treat, an underheard Darkness gem that's proximal to a classic broadcast (September 19, also at the Capitol). It's the first complete 1978 show to come out as a fully-mixed document (the Agora relied on a two-track stereo mix, and the recent Promise companion audio set from the Houston Summit used soundman Bruce Jackson's front-of-hall mix). Bob Clearmountain returns to the console, reprising a role he's taken for Springsteen's studio and live recordings, and unveils something new in the process.
Right: artwork created for the Capitol Theater program by Arlen Schumer, who also designed the marquee for the stand
Before the last notes floated over the airwaves on the 19th, Passaic had made its first-ballot Hall of Fame case. But the three-night stand was just getting started. Springsteen led the 20th with a fun, humorous edge. "It's just me and you tonight," he says with a laugh, alluding to not being on the radio. Counting off "Good Rockin' Tonight," he points at the start to a set list that turns out to be less formal than the one from the night before. A rare-for-'78 "It's My Life" appears in the first set; after intermission, Springsteen adds the first "Santa Claus is Comin' to Town" since 1975 (complete with fake snow falling on stage). It's a rollicking version that sounds like it delights the band as much as it does the audience. New and unreleased songs include "Independence Day" and "Point Blank," both in fresh-off-the-line arrangements, and Springsteen steps out for an extended solo on an excellent take of "Because the Night."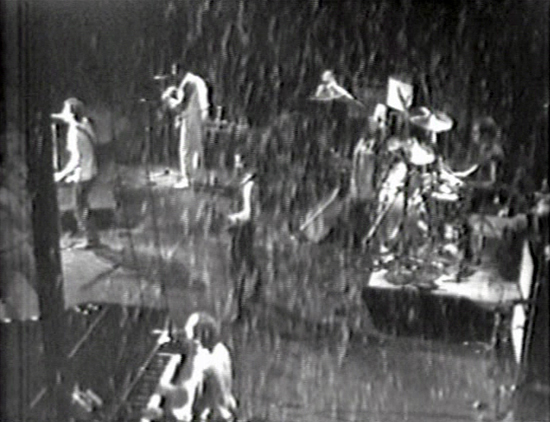 Through the "snow"... Santa Claus comes back to town after three years away, 9/20/78
Throughout, Springsteen is loose, making his way amiably through a steady stream of early birthday gifts from the audience (T-shirts, bourbon, junk food, and later, arguably the best one: a vinyl seven-inch single of Elvis Presley's "Follow That Dream," which Springsteen would cover in the '80s). Phil Petillo, the New Jersey-based luthier, gets a shout-out for his care and upkeep of Springsteen's trusty guitar, known as the Esquire. That inspired "Prove It All Night" (with its '78 intro, of course), dedicated to Petillo. The entirety is a classic Darkness performance, one that features more rarities than usual, including an intricate, jazzed "Kitty's Back" and the catch-it-if-you-can pairing of "Incident on 57th Street" and "Rosalta" to close the second set.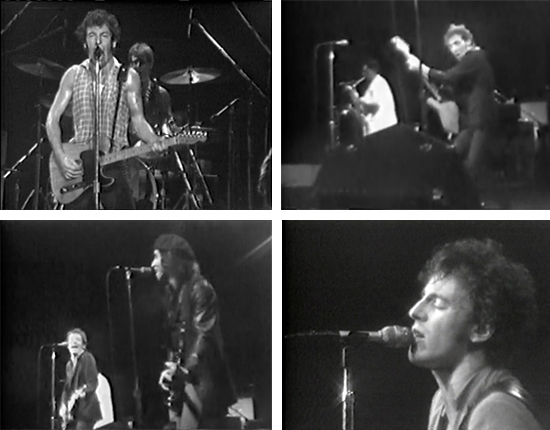 Before today's release, September 20 existed as an eminently watchable black-and-white video (from the Capitol's in-house system — spotting himself on a monitor during "Spirit in the Night," Springsteen stops and asks, "We're on the TV?" as he looks around for the camera). Separately-sourced audio, circulating as Douceur de Vivre, is outstanding (and so is its name, a clever night-two play on Piece de Resistance, the vinyl set of the previous night and one of the more famous bootlegs of all time). But even the most careful and attentive fan-based effort can't match the quality and dynamics contained by professionally recorded multi-track master tapes. Sourced this way, Passaic now has the hallmarks of an official live release, whether it's the separation between instruments, overall liveliness, or the lack of imperfections on the version (like dropouts and patches applied to make songs complete) that found its way to collectors.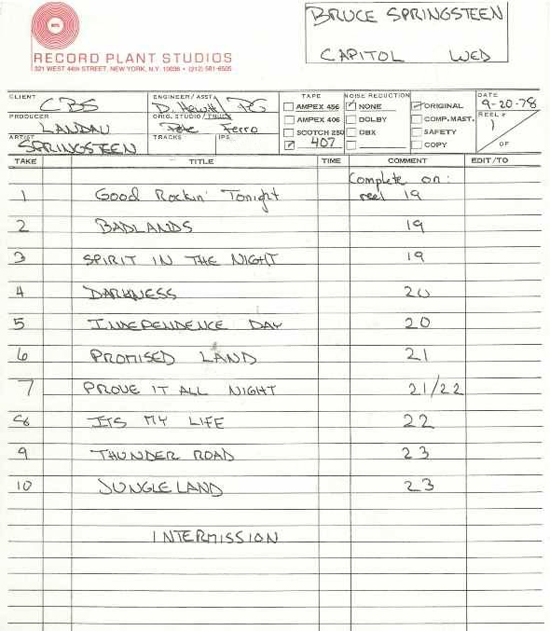 Each of the five broadcasts from '78 has its appeal, but Passaic is unique because New Jersey was home. Like the music and the mythology, the radio signal originated there. Whether on fans' tapes or bootleggers' vinyl, what people heard helped fuel the "you-have-to-see-him" ethos that carried Springsteen and the E Street Band into the '80s. In time, one could imagine a more prominent commercial role for something that was a Darkness-era standard bearer. But the archive series' design allows for that great second night, the one where the FM station played something else but the tape kept rolling in the truck outside. That's part of what makes September 20 a great choice, especially as a holiday surprise. The rest you'll have to hear for yourself.
- December 22, 2017 - Christopher Phillips and Jonathan Pont reporting


COUNTIN' ON OUR MIRACLES
On the first day of Christmas, E Street Radio plays commercial-free... 100 Springsteen songs, then some Southside on New Year's Eve!
The satellite radio channel recently collected from its listeners over 31,000 votes for their favorite Springsteen songs. Now Dave Marsh and Jim Rotolo will co-host The E Street Shuffle, a countdown of the top 100 vote recipients. It will feature songs introduced by the fans, including some famous fans like Kevin Bacon, Maria Bello, Roy Bittan, Ed Burns, Jake Clemons, Nils Lofgren, Michael J. Fox, Rob Lowe, and more.
The countdown debuts on Christmas Day at 9 am ET and will repeat continually through New Year's Eve at 10:30 pm ET. Then the channel will commence its annual live broadcast of Southside Johnny and the Asbury Jukes' New Year's Eve Show at Red Bank, NJ's Count Basie Theatre, with an encore presentation at noon ET on New Year's Day. Catch all the action on Sirius/XM channel 20.
- December 22, 2017 - Shawn Poole reporting

SOUTHSIDE JOHNNY TAKES A DETOUR FOR HIS SECOND RELEASE OF 2017
Catching up with the Grinch as a busy year nears its end
Legendary Jersey Shore icon Southside Johnny, along with his Asbury Jukes, have long been known for their associations with a broad array of genres, styles, and musicians with whom they collaborate. Add a new notch to that belt, as Southside recently released his highly-anticipated, sincere tribute to the incomparable Billie Holiday.
Detour Ahead: The Music of Billie Holiday, debuted November 24 on Leroy Records as part of Record Store Day's Black Friday offerings. Johnny tells Backstreets in a new interview, "This was very much a jazz-inflected album, so people took it seriously — which is against my nature." (He says half-seriously.)
The eight-song, vinyl LP was arranged, produced and mixed by longtime Asbury Jukes saxophonist John Isley and recorded in January 2017, featuring "Don't Explain," "Ain't Nobody's Business," "Lover Man," "Crazy He Calls Me," "Detour Ahead," "In My Solitude," "Billie's Blues," and "You Don't Know What Love Is." The CD version is set for release tomorrow; visit Southside's online shop here.

- Amsterdam, June 24, 2017 - photograph by Rene van Diemen
The Jukes have enjoyed a very busy 2017, with the continued success of their latest studio CD Soultime!, touring throughout the country, and performing overseas in London, Paris, Amsterdam, Tokyo and Osaka, Japan. Earlier this year, they also released a limited run EP, Live on E Street (also known as Live From 10th Avenue), recorded live at The Stone Pony. To wrap up the year, the Jukes are preparing to return to the Count Basie Theatre in Red Bank, NJ, for their annual New Year's Eve extravaganza on Sunday, December 31.
On his way to Virginia for back-to-back shows last week, Southside spoke via phone with Brandon Shaw for Backstreets about the new record, his longtime influences, and his intention not to slow down, now or ever. John called 32 hours prior to the scheduled call, explaining that he runs on "Southside time," which seems to be the free-flowing style with which Johnny Lyons lives his life. Following is an edited excerpt of that phone interview.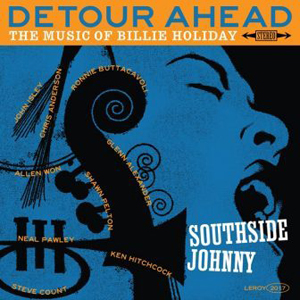 What was the impetus for the Billie Holiday record?
My parents loved Billie, and they would come home and play the records. I really had heard her voice since I was an infant. You know, this is very unique for me, it's a unique idea: There's no rock 'n' roll with these. The songs that she's associated with — of course, a lot of them I know, but a few of them I had to learn. This whole record was distinctive for me in that yes, in some ways it was very easy for me, but different than the Jukes records of the past: there was very little overdubbing, and it felt very natural. Old school, but in a way that fuels the recording, that makes it full and raw and is rare today but gives it that incredible sound.
It was more fulfilling — it's hard to say fun, but more enjoyable in the sense that you felt like you were creating something. Recording with the Jukes is usually more fun, obviously, more off the cuff; this was very much a jazz-inflected album, so people took it seriously — which is against my nature. I'm not sure recording ever felt more like work than it did on this particular record, but that is something that goes along with the nature of this music.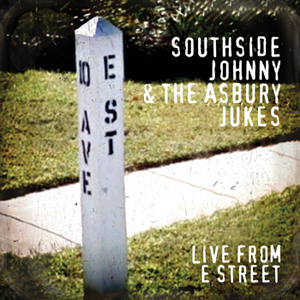 What's the story behind the Live on E Street record?
Every February, we do something for the fans at the Pony to break up winter. This year, we'll do love and not love songs, love good and bad at the Pony. Last year, I decided we'd do an E Street songs show. The entire set was songs that Bruce had written — some of which we had done before, obviously, like "The Fever" and "Sherry," but most were just new for us to learn and rehearse and to come out on the Shore and do. It came out well enough that we figured we'd put some of it out.
Steve Van Zandt has jumped back into his solo career, and you guys have played together a few times ths year — talk to me about his influence on you, how he's impacted your career and the Jukes.
Obviously, performing Steven's music live, his collaboration with me over the years, his friendship, has all been invaluable. I'm amazed at the productivity we've had, and the people who I'm surrounded with want to do great things, want to do musically interesting things. It's a cliche, but the people who are there with you really do shape the direction you take — or of course, in some cases, you don't. We've been blessed to have some of the best folks along for the ride.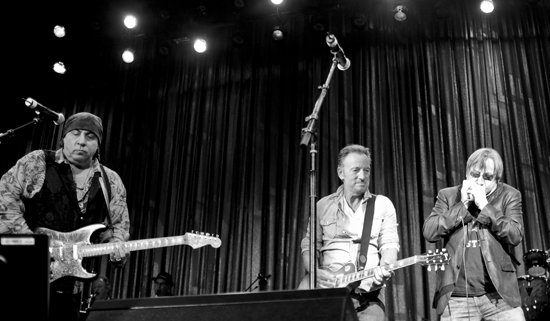 - Asbury Park, April 21, 2017 - photograph by Mark Krajnak
Where do you see things going for the Jukes over the next decade or so? Do you feel some level of nostalgia, or are things just looking upwards and forwards?
If I have a whim, a crazy idea, these guys make it real, as I say. We're writing the next Jukes album right now. It has been a very productive ten years or more. It's gone a lot better than I ever imagined. I wanted to try and keep the band going, and we have. It's not really nostalgia — I'm just astonished that people know the songs!
You've collaborated, on record and on stage, with so many artists over the years. Anyone you'd like to write with, to perform with, to collaborate with, that you haven't yet had the opportunity?
Bonnie Raitt is probably among the top of the list, I'd love to do a duet with her; Ry Cooder, that whole kind of roots, great players stuff. We did a show with Jeff Beck — I played Saturday and he played Sunday — at one of these charity shows. I'd love to have him come up and play with us.
I love the charity things like that, it's for a good cause, but it's always fun, because people let loose and we do lots of strange things on stage. There's a freedom in that, the camaraderie of knowing these same Chuck Berry songs, these same Bo Diddley songs, you throw out anything and everyone can play it. That same enjoyment — of knowing most of the chords, and the thrill of learning those you may not know — draws back to my first point, of why this Billie Holiday record is so important, and so fulfilling to me.
I've seen you a few times out here on the West Coast: at the world famous Whiskey A Go Go, at The Canyon Club in Calabasas. The last time I saw you out here, Richie Sambora got up for "It's Been a Long Time," and a few more.
Again, back to the shared history. We all came up together, played the same bars, the same songs, went through many of the same challenges and enjoyed our successes together. So in each city, if there's someone that can get up and rock the joint with me, I love that. Obviously, Richie is ridiculously talented, and to be able to infuse that Jersey soul wherever we might be is great fun.
Next time, I want the three of us together on "Sherry Darling," please. Toss me a Telecaster and I'll fake my way through "The Fever" as well.
You, me, and Richie? Sure. Bring your own Tele, though.
- December 21, 2017 - Brandon Shaw reporting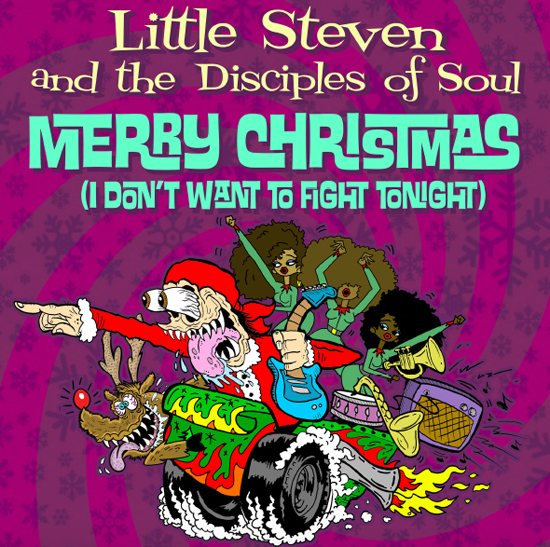 HEY! HO HO HO! LET'S GO!
Just in time for Christmas comes a wonderful new present from Little Steven and the Disciples of Soul. Their new single is a soulful, Spectorian, horns-laden version of the late, great Joey Ramone's "Merry Christmas (I Don't Want to Fight Tonight)," now available on multiple digital-music platforms. Click here to pick your option.
Recorded just last month during a soundcheck in Utrecht, Netherlands, Stevie's version of "Merry Christmas" clocks in at 5:05, over twice as long as the original Ramones recording. The additional length accommodates an additional verse:
Where is Frosty, baby, and his snow?
Where did all of the Christmas carolers go?
Where's the love, baby? Where's the peace from above?
"I channeled Joey," Steve told Rolling Stone, "and wrote what I feel is the third verse he would have written. His brother, Mickey [Leigh], heard the record and gave me his blessing."
The Ramones' original version of "Merry Christmas (I Don't Want to Fight Tonight)" was released in 1987 as the B-side of their "I Wanna Live" single and then in 1989 as the closing track of their Brain Drain album. It was produced by Disciples of Soul alumnus Jean Beauvoir.
Joey Ramone's ballad-tempo solo recording of the song (which also is over twice as long as the original Ramones recording) was released posthumously in 2002 on the EP Christmas Spirit... In My House. A decade later, a slightly tweaked version of that recording was included on Ramone's second posthumous solo album "...ya know?" Little Steven wrote that album's liner notes and contributed overdubbed performances on several of the album's tracks, though not "Merry Christmas."
Little Steven and the Disciples of Soul's "Merry Christmas" digital single comes with a digital booklet featuring artwork by Louis Arzonico. Arzonico did similarly styled artwork, inspired by Ed "Big Daddy" Roth, for the cover of Little Steven presents Christmas A Go Go. That 2008 compilation features some of Stevie's favorite Yuletide records, including of course the Ramones' version of "Merry Christmas."
Speaking of Christmas and Little Steven, his 2017 dates with the Disciples of Soul wrap up this week with two holiday-themed shows: the First Annual Holiday Bowl A Go Go at Brooklyn Bowl on December 20 and the Holiday Homecoming at Red Bank, NJ's Count Basie Theatre on December 23. Visit littlesteven.com for details.
- December 19, 2017 - Shawn Poole reporting

BRUCE BRUNCH BONUS
Hear Pat DiNizio perform "Downbound Train" and more from 2013
For this past Sunday's Bruce Brunch, host Tom Cunningham planned a tribute to the late Pat DiNizio, with an interview and performance from the archives. Unfortunately, due to a technical glitch, it was unable to run on the 105.7 The Hawk radio show. So we'll send it out here over the Backstreets airwaves — over to you, Tom.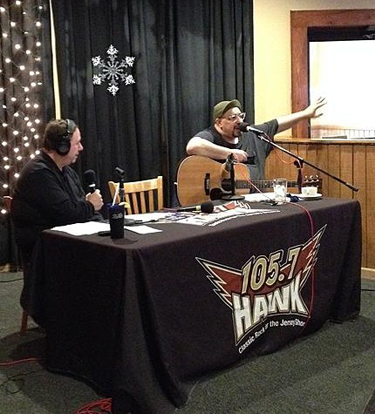 Pat DiNizio was the musical guest for the show's 10th anniversary wingding on December 8, 2013. We were live that morning at the River Rock in Bricktown and awash in drummers, with surprise guest Max Weinberg and a return appearance of the very first guest I'd ever had on the show, Vini Lopez. Stan Goldstein was on too, to talk about the book he co-authored with Jean Mikle, the latest edition of The Rock & Roll Tour of the Jersey Shore.
I'd long wanted to have Pat on the show, and it was worth the wait. The Smithereens are New Jersey rock 'n' roll royalty. Pat wore Jersey on his sleeve — both of them, actually. I had the good fortune to have had a front row seat as their albums on Capitol began to be released beginning in 1986. Their songs always jumped out of the radio, and we took great pride in helping to break them out of Jersey at WPST, where at that point I was the music director and eventually program director.
They'd recorded a version of "Downbound Train" for the 1997 Why Hunger Year project One Step Up/Two Steps Back: The Songs of Bruce Springsteen. This was the first time that Pat performed it live by himself. He also graced up with a killer version the band's "Blood and Roses."
Thanks to Gary Titus for all his help pulling this together. And thanks, Pat DiNizio — a man who could turn pop songs into rock songs and make sweet music that'll last the test of time.

- December 19, 2017

MAKING A LIST, CHECKING IT THRICE, FOR TOMORROW'S ONSALE
Are you Verifed? Have you even been Verified? Well, watch your email.
Tickets for Springsteen on Broadway's new dates, for the extended run through June 30, will go on sale Tuesday, December 19 — to a pool of fans who had already registered and been authenticated for Verified Fan earlier this fall. With so many already-Verified Fans still without tickets, the powers-that-be elected not to reopen registration for this third onsale. As The Guardian notes, "the list — run by Ticketmaster's Verified Fan process — is closed, and is likely to remain so."
As for who on that list will get a code, the selection process is again random. As with previous Springsteen on Broadway onsales, notification emails are sent out the night before the sale — that's tonight — to those selected for codes:
If you've been authenticated by Ticketmaster Verified Fan, you'll receive an email on December 18 confirming if you've been randomly chosen to receive a code. Those Verified Fans with codes are then eligible to purchase tickets when they go on sale December 19; however, receiving a code does not guarantee you'll get tickets.
For any further clarifications, we point you to Bruce Springsteen's Facebook page, where the Springsteen Team have been responding in the comments to questions about the process.
- December 18, 2017

'TWAS THE WEEK BEFORE CHRISTMAS...
Still holiday shopping? We've got you covered!
If you're still looking for the perfect gift for your favorite Springsteen fan, be sure to visit our online shop — and yes, there's still time! Our Standard Shipping deadline has passed, but using our Expedited Shipping services, Backstreet Records can deliver via UPS to any U.S. address in one or two days, and we'll be working this week to make sure everyone gets what they need. Expedited orders placed by 2:00 p.m. Eastern will ship the same day.
For delivery on:
Order by:
Expedited Shipping
Wednesday, 12/20
Tuesday, 12/19, 2:00 p.m.
Overnight
Thursday, 12/21
Tuesday, 12/19, 2:00 p.m.
Wednesday, 12/20, 2:00 p.m.
2-Day
Overnight
Friday, 12/22
Wednesday, 12/20, 2:00 p.m.
Thursday, 12/21, 2:00 p.m.
2-Day
Overnight
Two-day shipping adds $25 to standard shipping charges; Overnight adds $60. Just make sure to specify a street address, as UPS can't deliver to PO boxes.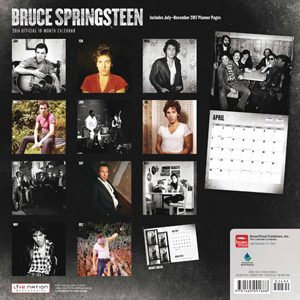 Please note: the one item that can't be guaranteed by Christmas is Frank Stefanko's Further Up the Road, which ships directly to our customers from the publisher in Italy.
But everything else we offer is here on our warehouse shelves at Backstreets HQ and ready to ship, including copies of the official Bruce Springsteen calendar for the new year, always a hit.
View our Latest Additions page to see what else is new.
For all U.S. customers who ordered Standard Shipping by December 12: as promised, your items are scheduled for delivery prior to Christmas. As always, we appreciate you getting your Boss fix through us!
- December 18, 2017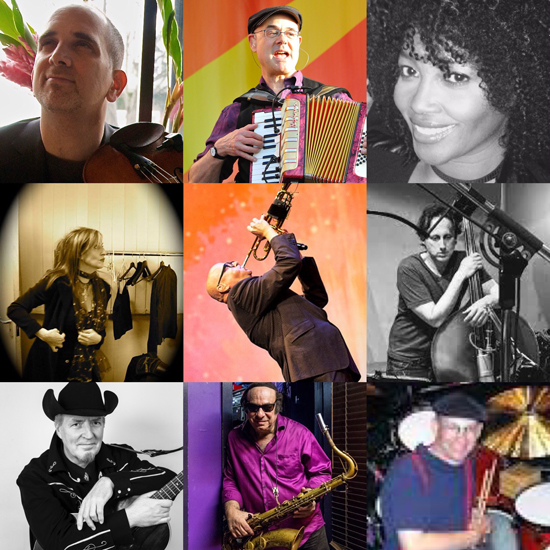 WHAT ARE YOU DOING NEW YEAR'S EVE?
At NYC's Tribeca Grill, you can party like it's 2006
Another mini-reunion of the Seeger Sessions Band is just a couple weeks away. After much of the gang got back together in 2015 for the Kristen Ann Carr Fund's A Night to Remember, they're doing it again at Tribeca Grill for New Year's Eve.
An evening of dining and music at the New York resturant on December 31 includes a five-course menu and a live performance by The Big Band, a group put together for this event by Sessions Band fiddler Sam Bardfeld.
Restaurateur (and longtime Bruce Springsteen fan) Drew Nieporent called Sam up about six weeks back, hoping he could put something together for New Year's Eve that was "in the spirit of the Seeger Sessions project."
Bardfeld tells Backstreets, "It was impossible to get all 18 of us — and that one singer dude was especially pesky about not missing his gig uptown — but I'm real excited about our nine-piece band.
"Seven out of the nine of us are Bruce associates and Sessions Band members," Sam continues, "including Cindy Mizelle, one of the greatest singers in the world; Mark 'Loveman' Pender (trumpet/vocals); original Sessionette Lisa Lowell (vocals); Charlie Giordano (accordion); Jeremy Chatzky (bass); Larry Eagle (drums); and myself on fiddle." Those Sessions players will be joined by Arno Hecht on tenor sax (Rolling Stones, Tom Waits, etc.) and Gene Casey (The Lone Sharks) on guitar and vocals.
"Mark Pender is flying in from L.A. just for the occasion, and we're all excited to be making music together — and who knows, maybe we'll have a guest or two."
Much like the original Sessions Band, The Big Band will be serving up a mix of American genres: "We'll be focusing on American roots and soul music from about 1945-1970," says Sam, "with a special nod to music from New Orleans and Memphis, and we're planning on burning the house down. So we'll go from zydeco, rockabilly, Irma Thomas, Big Mama Thornton and Louis Jordan up through Dusty Springfield, Tina/Ike Turner and The Band."
The five-course dinner and the evening's entertainment is priced at $195 per guest (exclusive of beverages, tax & gratuity). Reservations can be made by calling (212) 941-3900.
- December 17, 2017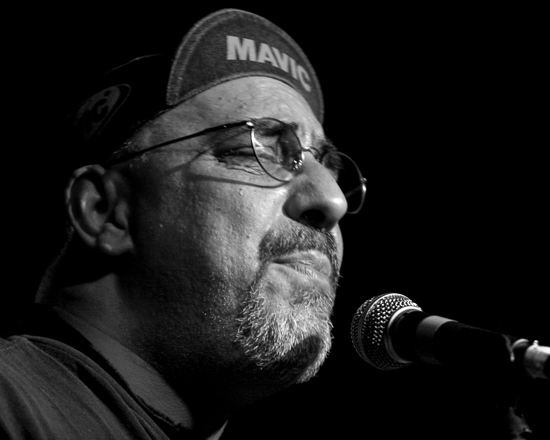 ESPECIALLY FOR YOU
Pat DiNizio, 1955-2017
The Smithereens were always accessible, with little to divide them from their audience. After forming in New Jersey in 1980, they enjoyed modest success, though they weren't a "college" band like R.E.M. and would never get as big, either. They never got the cred that a band like The Replacements had in the '80s or Uncle Tupelo did in the '90s. But they made good records, played great live shows, and, being from New Jersey, they rocked it like they walked it, never in anyone's shadow.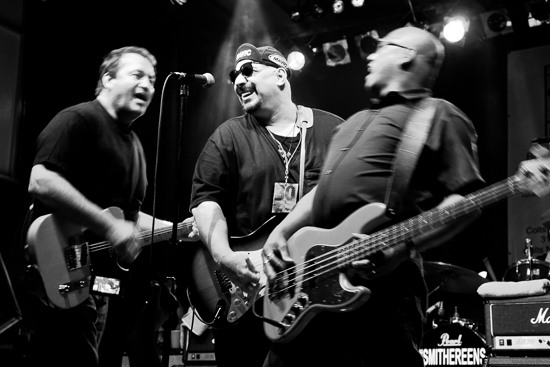 Any shadow they cast was their own, and even within their range, the darkness gave songwriter Pat DiNizio a pretty cool palette to work with. He cut his teeth on The Beatles and Buddy Holly and found inspiration in the works of Japanese writer Yukio Mishima and film noir, which found their way into songs like "In a Lonely Place," "Spellbound," and "Evening Dress." DiNizio's songs brimmed with messy love affairs, that one last cigarette, and sad endings. Some of that played out in the band's commercial life: catchy songs and the odd Top 40 hit — "A Girl Like You," from 1989's Smithereens 11 — never translated into huge sales. Which in the case of that record or the one before, 1988's Green Thoughts, is really too bad.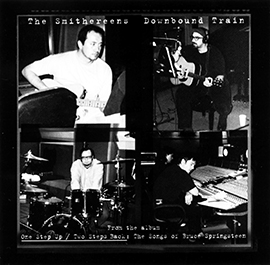 Being a New Jersey band in the mid-'80s could have been a dicey proposition. But the Smithereens sounded nothing like Bruce Springsteen and had loads of talent and plenty of hooks to help them forge a place. Dennis Diken is a first-rate music historian and a powerful drummer: listen to his fills at the end of "Room Without a View." Guitarist Jim Babjak is as good as any other, and DiNizio consistently wrote good songs, sometimes great ones. They had far more in common with The Kinks and The Who than they ever did with Bruce Springsteen (their cover of "Downbound Train" will tell you as much). Nirvana admired them: as the story goes, the Smithereens' pop sensibility followed the band from a tape played repeatedly in their van to Van Nuys, where they recorded Nevermind. Kurt Cobain knew good music when he heard it, especially when it was just beyond the grasp of the mainstream.
But to the end, the Smithereens worked their asses off and their fans loved them for it. After its initial success, the band endured a cultural shift toward "alternative" music, and later, the departure of founding bass player Mike Mesaros and DiNizio's health struggles. Through it all, they chugged along, making a Christmas record here, a tribute to The Who's Tommy there, and gigged regularly. DiNizio appeared in a one-man musical and spoken-word retrospective, toured the country as a house concert mainstay, and ran for public office.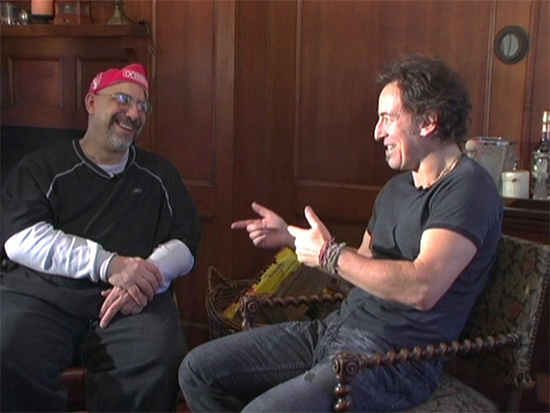 - Pat DiNizio and Bruce Springsteen in a still from 7th Inning Stretch
In 2006, DiNizio pursued a "vision quest" to play minor league baseball; that story was documented in an ESPN special 7th Inning Stretch, and featured his pal Bruce Springsteen. You can watch the entire documentary here. The Smithereens and Springsteen crossed paths, but never in an opening-band capacity, at least as far back as 1992. Early that year, DiNizio told Rita Wilde on the radio call-in program Rockline that they'd only visited while working at A&M Studios in Hollywood.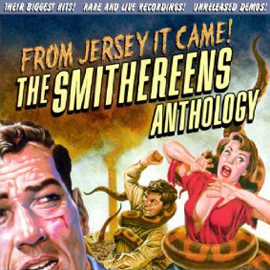 A couple of months ago, DiNizio announced intentions to turn his childhood house (and birthplace of the Smithereens) in his Scotch Plains, New Jersey hometown into a space for music. Whether in rock or in the community, his heart was in the right place. In fact, his presence on the Jersey Shore was consistent in his last years. He not only performed a weekly show in Asbury Park, but also at Light of Day benefits. The Smithereens headlined Bob's Birthday Bash in 2016. That fit exactly for a band that called a 2004 compilation From Jersey It Came!
Rock in peace, Pat DiNizio.
- December 15, 2017 - Jonathan Pont reporting - photographs by A.M. Saddler


- December 14, 2017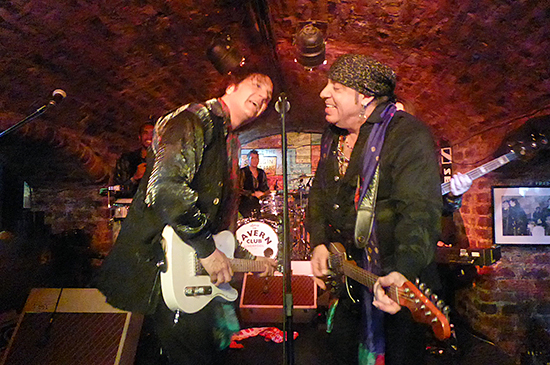 LITTLE STEVEN'S FAB FOURTEEN STAGE NEW BRITISH INVASION
A roundup of the Disciples of Soul's just-wrapped European tour
A strong sense of popular music history and the enduring influence of The Beatles loomed large over the recent U.K. tour by Little Steven and the Disciples of Soul, their first since 1987 and their longest since the original band's debut tour in 1983. Between November 4 and 16, they played seven shows (six in England and one in Scotland) in the country that exported so much timeless music to the world over half a century ago. Effectively staging a British Invasion in reverse, they walked onstage each night to the sitar-dominated sounds of the Beatles' "The Inner Light," the George Harrison-composed, 1968 B-side to "Lady Madonna."...
- December 13, 2017 - reporting and photographs by Mike Saunders

FOR MY CHILD AND YOUR CHILD, TOO
E-Street-Meets-Broadway music from Christmas Past, featuring Everett "Papadelic" Bradley
Springsteen on Broadway is hardly the first time that E Street has intersected with The Great White Way. Both before and after they joined the E Street Band, several members established Broadway ties. Back in the early 1970s, the pre-E Street Roy Bittan and Max Weinberg could be found working in the orchestra pit for Broadway productions like Godspell. In 2013, Steven Van Zandt and his collaborators brought The Rascals: Once Upon a Dream to Broadway, and Stevie has since continued to explore production of other Broadway and off-Broadway shows.
No other E Streeter, however, can top E Street percussionist Everett Bradley's Broadway credentials. Long active in live theater both on and off-Broadway, Everett received the prestigious Theater World Award in 2000 for his debut Broadway performance in Swing!, the musical to which he also contributed arrangements.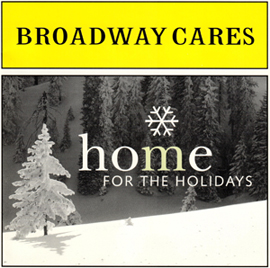 A year later, Everett was featured on the benefit CD Broadway Cares: Home for the Holidays. He joined many other Broadway figures in the 2001 yuletide compilation to support Broadway Cares/Equity Fights AIDS — the same organization for which Springsteen recently raised more than a million dollars with his Broadway opening. Everett's contribution to the holiday album was a version of the classic Bowie/Crosby duet "Peace on Earth/Little Drummer Boy," recorded with Broadway star Anthony Rapp, who made headlines recently as one of the Silence Breakers.
Seventeen Christmastimes later, you still can purchase the Broadway Cares: Home for the Holidays CD and support Broadway Cares/Equity Fights AIDS. Click here to purchase the CD. You also can get the album or just Everett's track through Apple Music or as an iTunes download. Click here to link to the album/track via Apple Music or the iTunes store.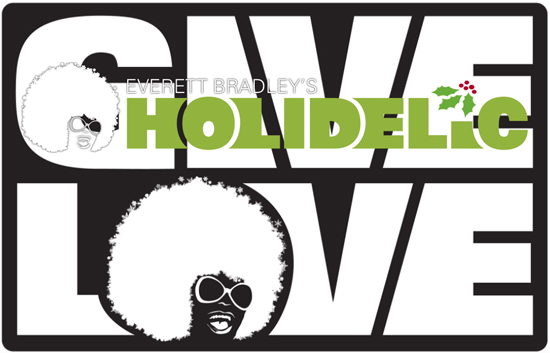 And as for Christmas Present (as well as Hanukkah Present and Kwanzaa Present), Everett Bradley once again is transforming himself into "Papadelic" and presiding over Holidelic, Bradley's wonderful annual "holiday funk-tacular... a show for all races, creeds and lifestyles... even for all ages with a little parental guidance!" Click here for tickets and further information.
- December 12, 2017 - Shawn Poole reporting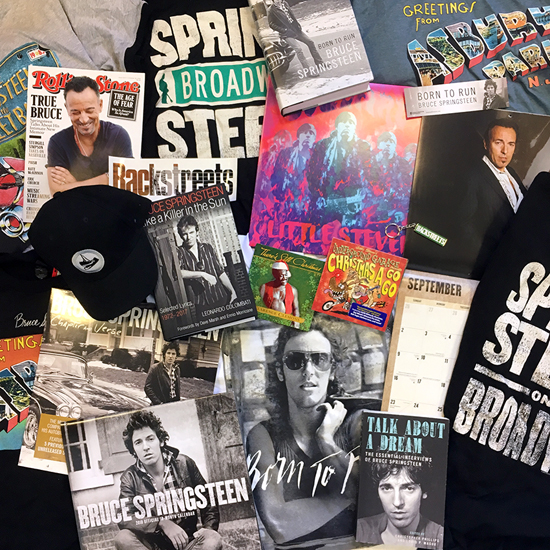 HOLIDAY SHOPPING AT BACKSTREET RECORDS:
ORDER BY MIDNIGHT TUESDAY FOR PRE-CHRISTMAS DELIVERY
This year, we're guaranteeing pre-Christmas arrival for all orders placed by December 12 that are shipping to U.S. destinations. So if you're still in need of some Boss holiday gifts from Backstreet Records, Tuesday is the "Standard Shipping" deadline. (We can't guarantee arrival times outside of the U.S., due to customs, but we'll be working hard to ship orders out to everyone as quickly as possible.)
If you wind up ordering later and need something prior to Christmas, you can always select "Expedited Shipping" to have it in one or two days within the U.S... but ordering by midnight tomorrow will save you some serious dough on postage.
Check out lots of new T-shirts in stock, the official 2018 Springsteen calendar from Thrill Hill, signed copies of Like a Killer in the Sun, and other new Boss books, CDs, records and more in our Latest Additions section... plus many more categories to peruse:
Concert Shirts • Concert Souvenirs • Signed Items
CDs - Springsteen • CDs - Covers/Tributes • CDs - Other Artists
Vinyl • DVD/Blu-ray • Posters & Prints • Calendars
Books • Songbooks / Sheet Music • Promo / Other
Magazines • Backstreets Back Issues • Backstreets Merch
Thanks for supporting Backstreets and shopping with us!
- December 11, 2017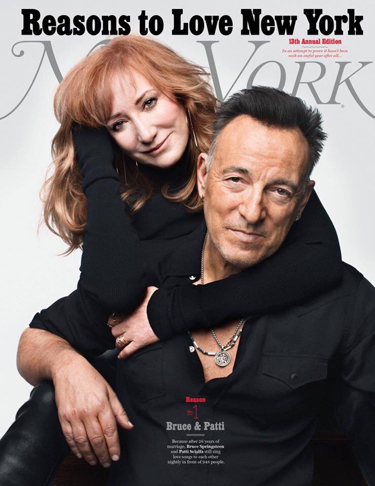 NEW YORK SERENADES THE SPRINGSTEENS
"In an attempt to prove it hasn't been such an awful year after all," New York magazine presents its 13th Annual "Reasons to Love New York" list.
Not only making the list but featured on one of three covers for this issue as "Reason No. 1": Bruce and Patti Springsteen.
"Because after 26 years of marriage, Bruce Springsteen and Patti Scialfa still sing love songs to each other on Broadway — and their run was extended for four more months."
Click here for the full listand more great photography from Danny Clinch.
- December 11, 2017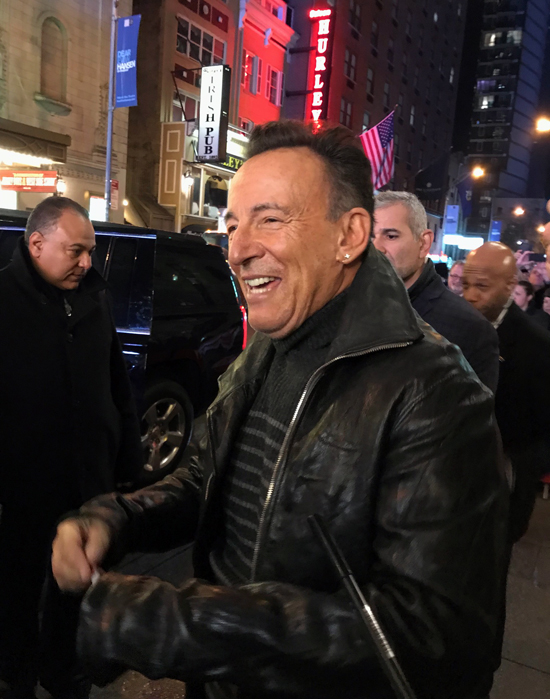 BRUCE SPRINGSTEEN IS MOST INTRIGUING
We knew that, but People makes it official as year-end lists start rolling in. Bruce Springsteen leads off their 2017 list of 25 Most Intriguing People of the year, "the heroes, icons, and shining stars who helped shape society and light up a dark time." People writes, "Is there anything the Boss can't do? He's got the rock star thing down, his 2016 memoir topped bestseller lists, and now he's the hottest ticket on the Great White Way."
Springsteen tells the magazine, "I've got a job where thousands of people call my name. Why would I retire from that?"
- December 8, 2017 - photograph by Jim Shive

THROWBACK THURSDAY: SURPRISE, SURPRISE (SURPRISE!)
That time when Springsteen became Jim Nabors' "opening act"
The passing of Jim Nabors last week brought to mind one of the strangest, funniest Springsteen stories we ever reported in Backstreets. On the weekend of August 8, 1996, Bruce attended the wedding of Toby Scott in Whitefish, Montana and performed at the reception with local band The Fanatics. Their 40-minute set included rock and soul classics like "Around and Around," "You Send Me," "Hold On, I'm Coming," "Mustang Sally," "Long Tall Sally," and "Shake, Rattle and Roll."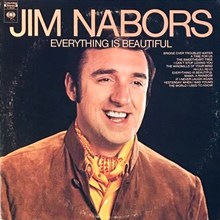 Among the celebrities attending the reception were Dave Clark (who later would perform his Dave Clark Five classic "Because" with The Fanatics,) Danny DeVito, Rhea Pearlman... and longtime Whitefish resident Jim Nabors.
After Bruce left the stage, as Charles R. Cross reported in Backstreets #54, "Jim Nabors joined the band — apparently on his own accord — and proceeded to reprise 'Long Tall Sally,' thanking Bruce 'for being such a great opening act.'"
We're not sure which concept is odder: that of Bruce Springsteen opening for Jim Nabors, or that of Nabors actually performing his own version of "Long Tall Sally." No matter how you slice it, this story still delivers some chuckles over two decades later. Thanks for that, "Gomer," and rest in peace.
- December 7, 2017 - Shawn Poole reporting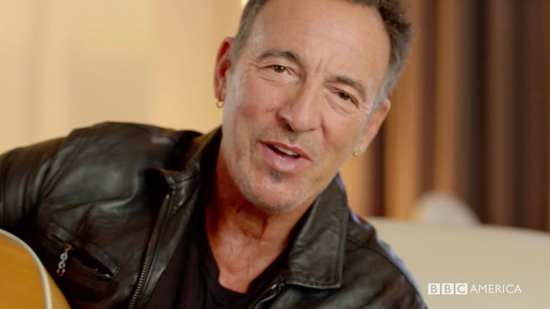 BRUCE AT THE BEEB
Finally the U.S. is ready for Bruce Springsteen: In His Own Words. Through Christmas Day, U.S. cable/satellite customers with access to BBC America can catch the 2016 British documentary both on-demand and online: click here to stream.
After airing in the U.K. a year ago, and on HBO Canada in May, Bruce Springsteen: In His Own Words made its BBC America debut on November 26. It was directed by Nigel Cole and is a collaborative effort between London-based Lonesome Pine Productions and Springsteen's own Thrill Hill Productions.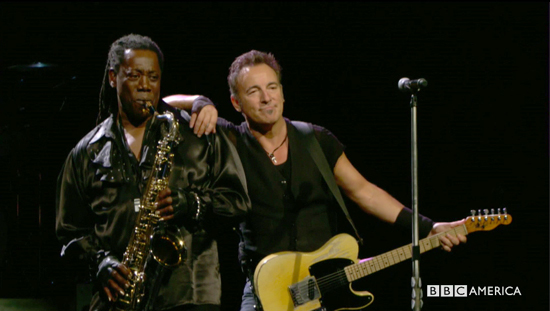 The 70-minute film offers an overview of Bruce's life and career centered around the structure of his Born to Run autobiography. It includes extensive footage from a 2016 conversation with Springsteen that Thom Zimny conducted and filmed specifically for In His Own Words, as well as many clips from the official Thrill Hill film/video archives, some of which have never been released previously.
- December 6, 2017 - Shawn Poole reporting


TONIGHT: LITTLE STEVEN ON DAN RATHER'S THE BIG INTERVIEW
If you've got AXS TV, tune in tonight for the premiere of Steven Van Zandt on The Big Interview with Dan Rather at 9pm Eastern/8pm Central. A sneak peek above has Stevie talking about his conversion to the religion of rock 'n' roll and his relationship with Bruce Springsteen: "We really couldn't do anything else... were the last two guys left standing when everybody else took a job." If, like many of us, you don't have access to AXS, you can buy episodes online for two bucks apiece.
- December 5, 2017


YOU BETTER WATCH OUT, YOU BETTER NOT CRY...
"You better not lie to the F.B.I...." Jimmy Fallon revisits a favorite impression with "Robert Mueller's Comin' to Town" from last night's The Tonight Show.
- December 5, 2017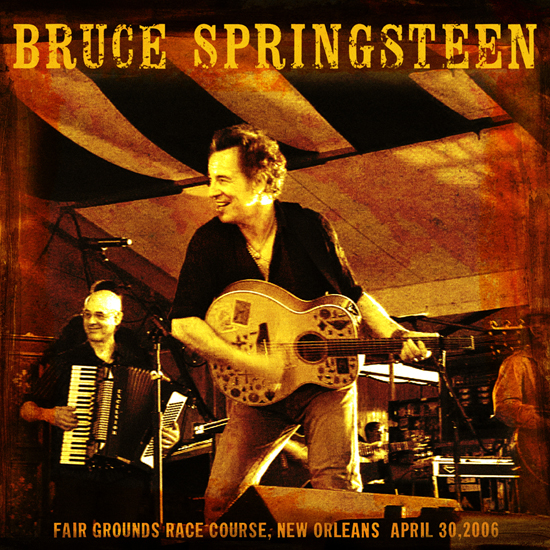 JAZZ FEST 2006 RISES UP FOR FIRST FRIDAY
New live archive release captures a "defining musical moment" for both Bruce Springsteen and New Orleans
The 2006 edition of the New Orleans Jazz and Heritage Festival, the first time Bruce Springsteen appeared at that venerable event, came very close to not happening. In the aftermath of Hurricane Katrina and Hurricane Rita, the New Orleans Fair Grounds Race Course, where the festival had taken place since 1972, was in rough shape. Five feet of sludgy water had flooded the grassy infield and dirt-track perimeter, wind had torn gaping holes in the roofs of buildings, and plumbing and electrical systems were wrecked. Even beyond the ravaged festival grounds, which would take an as-yet-unassessed but surely huge amount of time and money to repair, there was the city itself to consider: basic services like water, transportation, hospitals and police were wobbly, not to mention hotels and restaurants.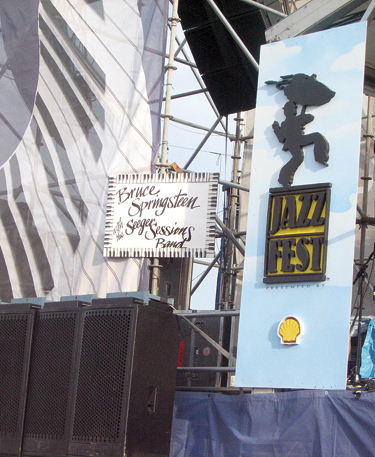 A couple of New Orleans' other major festivals decided to either take a powder for the year or heavily modify their presence. Essence Fest (which was also produced at the time by Jazz Fest producer and director Quint Davis) held its 2006 event in Houston, and the Voodoo Music Experience put on a free, scaled-down version of its show. Even the Mardi Gras parade schedule was shrunk to accommodate diminished resources.
But Jazz Fest decided to press forward and make it happen. The initial lineup, announced in early February, actually didn't include Bruce Springsteen. According to longtime New Orleans music critic Keith Spera's 2011 book Groove, Interrupted, which chronicles the first few years of recovery and rebuilding post-Katrina in the New Orleans music community, it took some convincing. First, Wynton Marsalis wrote a letter to the Springsteen camp encouraging him to perform. Then, at rehearsals for the 2006 Grammy Awards telecast — where Springsteen performed with a gang of both New Orleanians and passionate fans of the city's music, including Dr. John, Irma Thomas, Allen Toussaint, Elvis Costello and Bonnie Raitt — Quint Davis repeated the invitation to Bruce in person, while telecast producer Ken Ehrlich urged his management to consider the gig.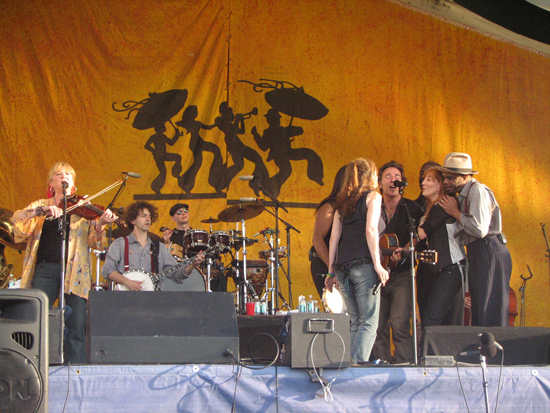 Apparently, the question really wasn't the tenuous state of the city. The Seeger Sessions album was set for release April 25, 2006, the same week that Jazz Fest (which always takes place during the last weekend of April and the first weekend of May) was set to open. The headlining festival slot on Sunday, April 30 would be the official start of Springsteen's tour and the launch for the album.
"Would [the] new Seeger Sessions band," Spera wrote, "be ready in time?" As we know now, of course, they weren't just ready; they presided over a perfect storm of sound and emotion that's gone down in the New Orleans history books as one of that city's defining musical moments.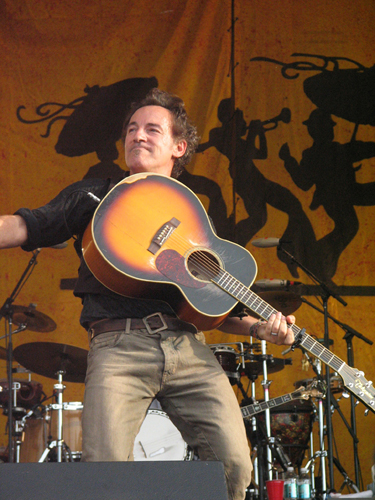 Today, that complete performance becomes the new entry in Springsteen's live archive series: Fair Grounds Race Course, New Orleans April 30, 2006. This is the first archive release featuring the Sessions Band, joining Live in Dublin as an official document of Springsteen's sui generis 2006 tour and capturing one of his most acclaimed concerts of the new millennium. The music speaks for itself, but the context of the performance, the momentousness of the occasion, has a powerful bearing on this set like none other yet in the series.
In April 2006, eight months after the floods, New Orleanians were feeling rough, raw and battered. They had lost homes and jobs. Plenty had lost friends and relatives — the sick and elderly, and those without the means to evacuate — to the water itself, the stifling heat, or to the lingering effects of the trauma. They had watched, horrified, on motel room TVs, as their neighbors sat trapped on rooftops and highway overpasses for days on end, hoping for some kind of rescue or response, steaming in the August humidity, or they had waited on those rooftops and overpasses themselves. They heard themselves called "refugees," on the news, in their own country. They listened to pundits blaming them for living there in the first place and debating whether the city should be rebuilt at all.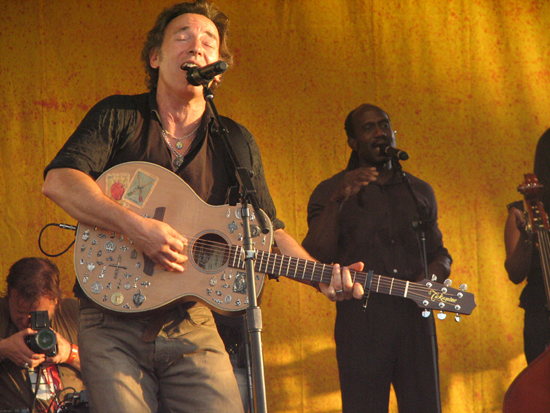 Jazz Fest is the peak of the embarrassment of riches that is the New Orleans live music calendar, and serves as a sort of microcosm of the whole city: two main stages host marquee guests like Springsteen, and the rest of it is given over to zydeco, gospel, blues, traditional and contemporary jazz; artisans demonstrate how to carve a pirogue; chefs sell gumbo, crawfish, and trout sautéed as elegantly as in one of the city's old-line Creole dining palaces. Second-line clubs and Mardi Gras Indians parade through the grounds. To have it return, when the real-life health of all those traditions was so shaky, was going to be intensely powerful already.
The plainspoken songs on We Shall Overcome: The Seeger Sessions, vernacular folk and gospel tunes, were adopted by Pete Seeger into his repertoire because of their deep, DNA-level place in the body of American music: the way they harnessed the beauty of the country and its people at their best, championed them, and sought to buoy them up when they faced hardship. Lord knows New Orleans needed that: songs that sounded like they knew what we were going through, songs we could get angry to, songs that reminded us that some things were still beautiful.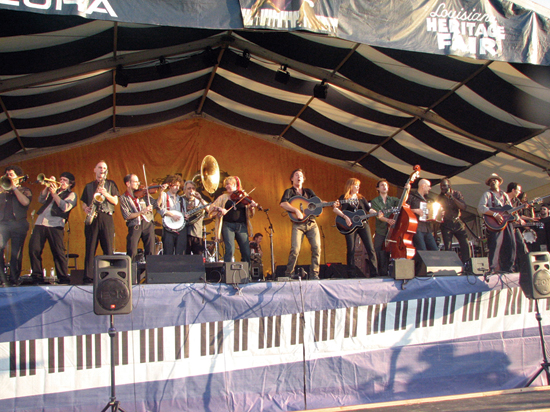 Some of the Seeger Sessions songs, like the opening "O Mary Don't You Weep," with its old-time jazz horn and barrelhouse piano, and Springsteen's own "You Can Look (But You Better Not Touch)," reworked with bouncy zydeco accordion and scratching washboard, had New Orleans and Louisiana sonic signifiers that made them feel personal. Other songs in the two-hour set took on extra resonance the way every heartbreak song feels like it's about you when you're going through a breakup, except more so. "My City of Ruins" in particular, with its images of rain, wind and empty streets — punctuated by the repeated "rise up!" — was chilling and cathartic.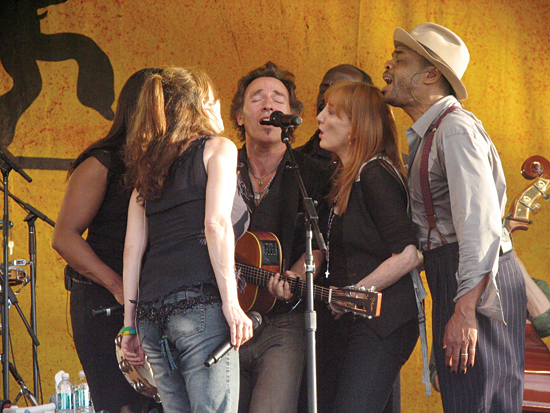 One of the most intense moments of the show resonated all the more, with those who were there, for feeling like it was about the people who couldn't be. Huge swaths of the population were still scattered around the U.S., their homes gone or in the case of public housing dwellers, shuttered; many of those who fell victim to the water and the heat, of course, were the poorest of the poor. "How Can a Poor Man Stand Such Times and Live?" was a fierce rallying cry, with new lyrics written in response to the Katrina debacle: "Them who's got, got out of town, those who ain't got left to drown." Bruce, who had toured the wreckage in the Lower Ninth Ward the day before the show, said he'd seen "sights I never thought I'd see in an American city. The criminal ineptitude makes you furious." Jabbing at George W. Bush's lackluster response to the emergency, he dedicated the song to "President Bystander." The jangling bombast of the performance felt like a punk anthem.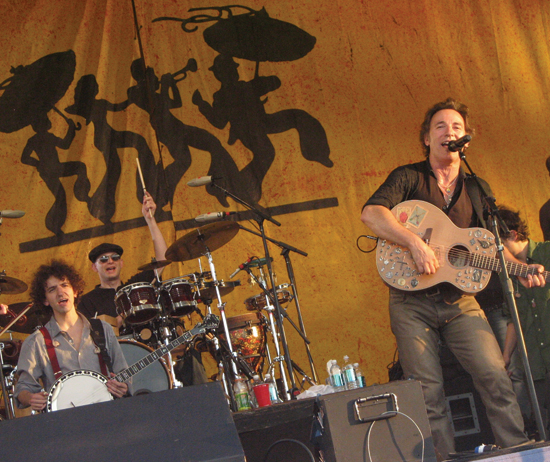 What turned out to be a legendary Jazz Fest moment, not to mention one of the most storied Springsteen shows in recent years, didn't get there easily, though. It was a relatively sparse crowd for the mainstage; the event as a whole saw an understandable dip in attendance that year. Those who made it out that Sunday, even the Bruce diehards, were still seeing a new band playing a set of largely new material in the always-tricky setting of an outdoor festival, with its particular acoustic challenges. The band had to work hard to get the vibe rolling, and work they did — not just because, with a long tour ahead, they had to get the show in shape, but because, as Springsteen wrote later, they knew how much it meant. In Born to Run, Bruce writes that the 2006 Fest set was "not only one of the finest of but one of the most meaningful of my work life."
"I understood the great symbolism the festival would have to New Orleans that year and I wanted to make sure we honored it," he went on. "They'd been through hell, with half the population lost, their city destroyed; people would be attending for deep, deep reasons and that would need to be taken into consideration."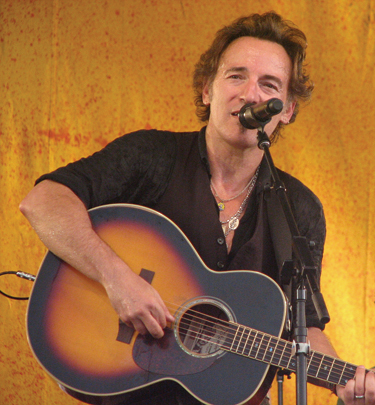 It was those feelings, meditating on the heavy task facing him on the Jazz Fest stage, he wrote, that led him to study "When the Saints Go Marching In" — which is, as he writes, "the city's unofficial theme song."
A church tune, in New Orleans (and by bands seeking to evoke a New Orleans good-time vibe) "When the Saints Go Marching In" is most often played in rollicking, hanky-waving, upbeat second-line style, but Springsteen reimagined it: he played it as a wistful, acoustic-guitar-led coda to the set, half-whispering the less-commonly-sung lyrics he'd sought out. It felt like a promise, as he sang "Now some say this world of trouble / is the only one we'll ever see / But I'm waiting for that morning / when the new world is revealed."
Listening to Bruce close with that gospel song, as the audience generated as much sobbing as applause, it felt like a reminder of how music unlocks our most primal emotions — especially when we experience it together. Every live recording, of course, is unique, but the New Orleans 2006 Jazz Fest set is something else entirely: a snapshot of raw joy and pain, anger and uncertainty, true American history caught on tape.
- December 1, 2017 - Alison Fensterstock reporting - photographs by Ruth Barohn

WHEN THAT TRUMPET SOUNDS
Backstreets reconnects with Steve Paraczky, horn player on the '76/77 tour
"I'll never forget that first night in the Phoenix Coliseum. I had to play the intro to 'Something in the Night' with Roy Bittan. I was shaking in my boots. All I could see was an ocean of faces. Pretty scary stuff for a 21-year-old."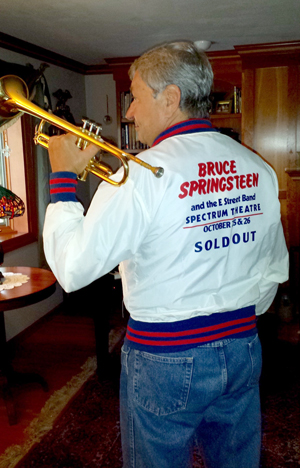 That nervous 21-year-old was Steve Paraczky, one of two trumpet players in the four-piece Miami Horns line-up that took part in Bruce Springsteen's "lawsuit tours" in late 1976 and early 1977. The recent release of live 1977 recordings from Albany and Rochester has thrown those 40-year-old concerts into sharper focus, allowing long term fans, new converts, and Paraczky himself to hear high-quality audio from that period for the first time.
Steve first shared his memories with Mike Saunders in Backstreets #88. Now, in the wake of those 1977 releases, Mike and Steve have worked together again to expand and update the original interview, which provides a fascinating glimpse into life on tour with Bruce Springsteen and the E Street Band in the mid-'70s.
"It was a wonderful life experience," says Steve. "A little overwhelming, although it was the right time in my life to do it. It was great fun being a rocker for a while. Wish it could have lasted a lot longer!"
Read the full Backstreets Interview with Steve Paraczky
- November 30, 2017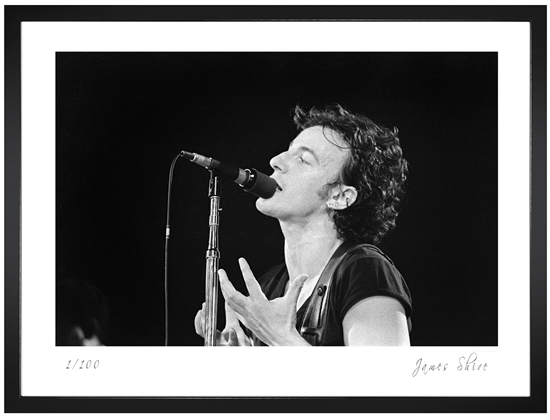 "THE 1977 COLLECTION" FROM PHOTOGRAPHER JIM SHIVE
Every year at this festive time, rock photographer Jim Shive — a longtime contributor to Backstreets — digs deep into his vast archive of rock 'n' roll images for some special prints of Bruce Springsteen and the E Street Band. In 2015, he went down to the river in honor of Bruce's revival River Tour, curating choice images that he was privileged to photograph during the original River Tour in 1980. In 2016, he celebrated the Spirit of '76, delving even further into his vault to offer vintage photographs taken on the 1976 tour for Born to Run.
Now to commemorate the recently released recordings of Bruce's phenomenal shows in Albany and Rochester, NY, Jim is offering the perfect companions to those soundtracks in an extensive selection of prints called "The 1977 Collection." Jim captured these images of Bruce and the E Street Band during the same stretch of shows in March 1977; 40 years later, he revisited his seemingly bottomless vault of negatives and slides to resurrect and carefully restore them — images that have never been seen before or offered to the public until now.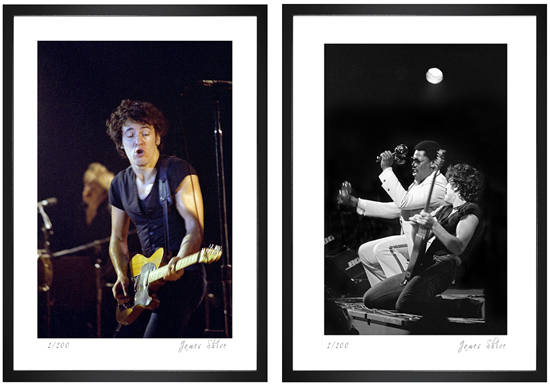 "The 1977 Collection" provides Bruce fans and collectors the unique opportunity to add to their personal memorabilia some classic images of Bruce and the E Street Band performing live in 1977, in prints that are both in black & white and color.
In addition to the '77 Collection, this year Jim is also extending his offering to three new prints that are affordably priced, exclusively to the Backstreets community, all of which are available on a limited basis while prints last: shivearchive.com/backstreets-special-editions
View more of Jim's work at shivearchive.com.
- November 29, 2017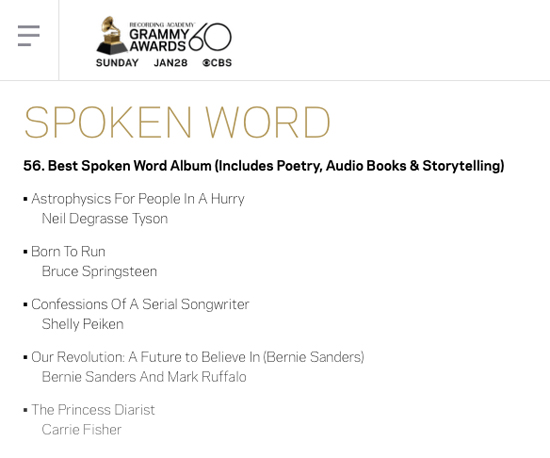 STEP INTO THE RING, NEIL DEGRASSE TYSON
Before Springsteen turned his memoir into a one-man Broadway show, he read the whole damn thing cover to cover for the 16-CD Born to Run audiobook — which has just been nominated for a Grammy, in the Best Spoken Word Album category. The 60th annual Grammy Awards will be broadcast Sunday, January 28, on CBS.
- November 28, 2017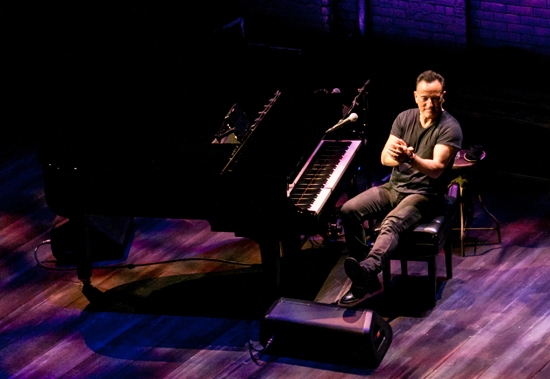 ENCORE! SPRINGSTEEN ON BROADWAY EXTENDED THROUGH JUNE
Bruce's Broadway run just got broader: rather than closing on February 3, Springsteen on Broadway has been extended with four additional months of performances, February 28 to June 30.
Tickets for the newly added dates will go on sale on December 19, with only those who have already registered for Verified Fan being eligible. As noted on brucespringsteen.net/broadway:
Due to overwhelming participation in the original Onsale powered by Ticketmaster Verified Fan®, there will be no additional registration for this extension. Fans who previously registered and were verified but placed on Standby and did not receive a code, and fans who received a code but were unsuccessful in purchasing tickets will be contacted by Ticketmaster with further information about the added shows.
The digital lottery at luckyseat.com will also continue for the new dates.
- November 27, 2017 - photograph by Raphael Pour-Hashemi


LAST DAY FOR BIG BOSS BOOK SALE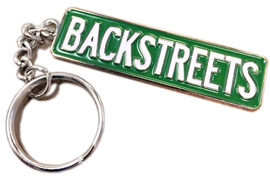 Our Thanksgiving Weekend sale ends tonight — order before midnight to save 20% on all books in stock, including songbooks, blank notebooks, and signed books too.
Use the coupon code BLACKBOOKS to have the discount applied at checkout, and if a book is already on sale, you'll get an additional 20% off the sale price.
Plus, a FREE Backstreets keychain with any order of $75 or more.
Start shopping Latest Additions here
- November 27, 2017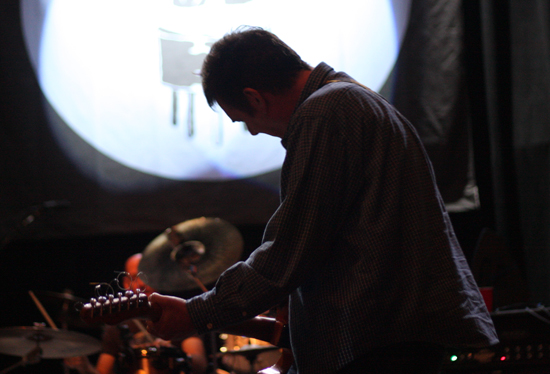 R.I.P. TOMMY KEENE (1958-2017)
The dear departed power pop great on Springsteen and Darkness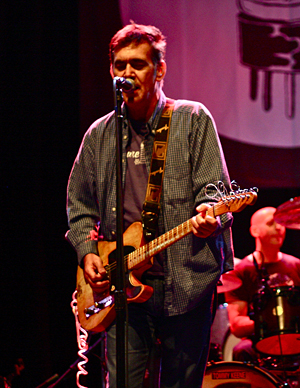 Sad news in the world of rock 'n' roll, as underground power pop/rock journeyman Tommy Keene passed away on Thanksgiving morning at the age of 59. In addition to having a lengthy career as a pioneering indie musician, Tommy was a lifelong Bruce Springsteen fan. He grew up in Bethesda, MD and graduated from Walter Johnson High School, the same high school attended by E Street band member Nils Lofgren. In fact, Nils's younger brother Mike Lofgren played in one of Tommy Keene's first bands. In 2006, Keene told Magnet about the experience:

"Yep, we played in a band together. He was a year older than me in junior high school. I used to go see Nils's group, Grin, a lot back then. In fact, Nils was really a huge influence on my guitar style and my songwriting. When people ask my influences, I always say the Beatles, Who and Stones, but I think the people that influenced me the most were the people I came into contact with when I was learning how to play. Nils's brother Mike basically showed me how to play guitar."

While Keene's music style more closely resembled early- and mid-'60s British Invasion bands, many of his jangly, tight, driving songs could have comfortably fit on a mythic Springsteen album that contained "Loose Ends," "Take 'Em as They Come" and "Restless Nights."

Keene also told Magnet that Bruce's influence could often be found in his music, despite their sometimes-disparate styles: "A little bit of Bruce always seeps in. For example, the lead break in 'Driving Down the Road in My Mind" is a total Springsteen-style bombastic arena solo. But I'm so far away from him vocally and personally, in terms of how he grew up. I'm not a working-class guy from Jersey, I'm a middle-class suburban kid from Maryland."


In 1982, Tommy Keene was recruited by singer Tom Chalkley to play the guitar parts on the Springsteen novelty single Bruce Springstone Live at Bedrock ("Meet the Flintstones" b/w "Take Me Out to the Ballgame"), recorded at Rockville Maryland's Hit & Run Studios. The single was released the same week as Springsteen's Nebraska.

His solo career took off when he released the Places That Are Gone EP on Dolphin Records, receiving a lot of airplay on DC indie station WHFS. Keene followed up Places with another terrific EP featuring one of the '80s most gorgeous songs, the title song "Back Again (Try...)."

A major label signing to Geffen Records in the late 80's failed to ignite as Geffen was more about Don Henley, Guns & Roses and Whitesnake than power pop during that time. Keene worked with Guided By Voices lead singer Bob Pollard in the band The Ascended Masters, and he was Paul Westerberg's guitarist for the 1996 Eventually tour. Most recently, he opened a U.S. tour for Matthew Sweet that ended just a few months ago.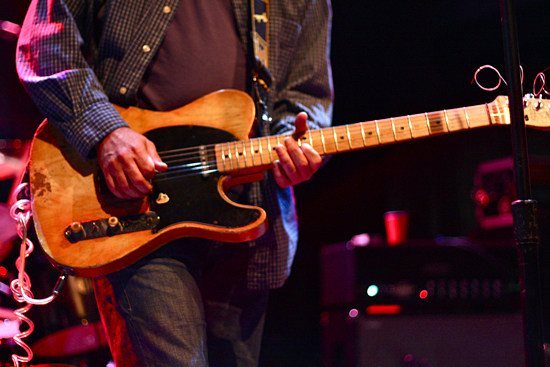 Back in late 2010, Backstreets was trading emails with Tommy Keene regarding his thoughts about the Darkness on the Edge of Town album, with the imminent release of Springsteen's box set The Promise. Tommy was gracious enough to type out his thoughts and let us know how much Bruce, Darkness, and the 1978 tour meant to a young indie musician.
I first saw Bruce Springsteen in February 1975, at DAR Constitution Hall in Washington DC, though I pretty much had to be dragged there by my older brother's friends. I'd heard Bruce's first two albums and was impressed but not ecstatic. The songs I remember liking were "Growin' Up" and "It's Hard to Be a Saint in the City." The show opened very theatrically with Bruce in jeans, white T-shirt, and a black leather jacket, emerging like Brando out of the shadows to sing the opening lines of "Incident on 57th Street."

The show was very jazzy with a heavy Van Morrison influence, and Bruce played hardly any guitar. It was enjoyable, but a little outside my musical sphere as a15-year-old rock fan.

Born to Run came out that fall, and the greatness of that LP coupled with his triumphant show at Georgetown University's McDounagh gym completely won me over. By the time the Born to Run tour came back around six months later to the same venue, Bruce had begun rocking out a little more. He was taking long guitar solos, and the endings of the songs were getting longer, a feature of later shows.

In 1977 everyone had heard about Bruce's lawsuit with his former manager, Mike Appel. Bruce was touring relentlessly because he wasn't legally permitted to enter a recording studio. I was a freshman at the University of Maryland, and a friend of my brother's was a cousin of Bruce's legendary light man, Marc Brickman. As my brother's friend and an accomplice took off following the band for a month of shows at colleges in the snowy northeast, I begged them to take me along. Unfortunately, there was no room for a +2.

The tour eventually came to Towson State College, and I got a ticket in the third row. Bruce had really changed his look by shaving off his beard and donning a cool black vintage suit. After opening with "Night," the band tore into a new song, "Don't Look Back." It was obvious that he'd been listening to a lot of English punk bands, especially The Clash. Bruce's performance was transcendent. He rocked out like there was no tomorrow, and maybe that was how he felt, considering his legal troubles.

A year or so later when Darkness on the Edge of Town finally came out, I saw the first DC area show at the Capital Centre (captured on a bootleg called Summertime Blues). This time the show centered on Bruce's guitar playing. When he stomped the footswitch to kick in his overdriven Fender Bassman, his transformation from '70s troubadour to full-out rock 'n' roll god was complete.

The moments when Bruce lets loose on guitar are still, for me, the highlights of his shows today. I'll always associate this transformation with the Darkness album, and that's what has kept me coming back to his shows — 60 or so and counting — all these years.
Our hearts go out to Tommy's family and friends.
- November 26, 2017 - report and photographs by Bob Zimmerman



THROUGH THANKSGIVING WEEKEND: 20% OFF ALL BOOKS IN STOCK!
From now until Monday, every book in stock at Backstreet Records is on sale: take 20% off with the coupon code BLACKBOOKS. You'll find loads of Boss books in our Springsteen specialty shop, including our own Talk About a Dream, and the sale applies to songbooks, blank notebooks, and signed books too.
Discount will be applied when you enter the code at checkout, and if a book is already on sale, you'll get an additional 20% off the sale price. (Sale does not apply to Frank Stefanko's new Further Up the Road, which ships to customers directly from the publisher in Italy.)
Plus: with any order of $75 or more, we'll incude this Backstreets keychain FREE, nickel-plated solid iron and normally selling for ten bucks. Offers end Monday night, November 27 at midnight EST.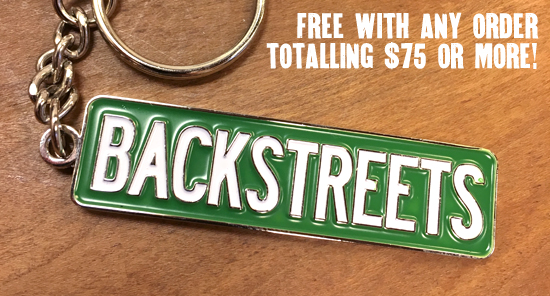 We've got lots of new Springsteen items in stock, including official calendars for the new year and a big batch of fresh T-shirts including Broadway and more, so there's plenty to put in your sack for the holidays!
Start shopping Latest Additions here
- November 23, 2017


COUNTING OUR BLESSINGS
Thanksgiving and the holiday season following it offer many of us some prime opportunities to inventory and appreciate our good fortune. Our friends at E Street Radio certainly have gotten into the spirit. Over Thanksgiving weekend, Jim Rotolo will host a countdown of the top ten performances from Bruce Springsteen's official 2017 archival releases. You can catch the countdown at Sirius/XM channel 20 on Thanksgiving Day at 9am and 4pm, Friday 11/24 at 6am, 3pm, 6pm and 10pm, Saturday 11/25 at 11am and 5pm, Sunday 11/26 at 10am and 4pm and Monday 11/27 at 8am and 7pm (all times ET.)
And beginning today, fans also will be able to vote for E Street Radio's Top 100 Springsteen songs countdown, which will air on Christmas Day with repeat airings scheduled through New Year's Day. Cast your online votes from now through December 14.
- November 22, 2017 - Shawn Poole reporting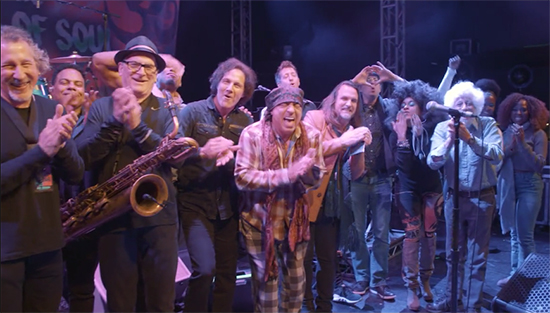 HE SAYS IT'S THEIR BIRTHDAYS
Earlier this month, Steven Van Zandt said this Beatles classic would "come in handy," as he and the Disciples of Soul played it for the first time in honor of his wife's birthday. And he's right — it comes in especially handy today, as we celebrate his own. Happy birthday, Stevie — and a belated just-as-happy one to Maureen!
- November 22, 2017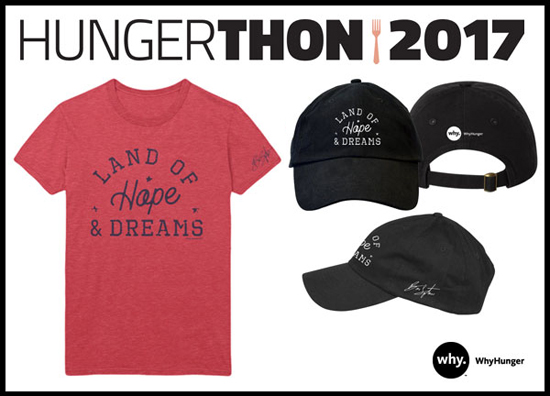 HUNGERTHON'S ROLLING DOWN THIS TRACK
With Thanksgiving upon us it's Hungerthon time again, and WhyHunger has some special new Springsteen items to support their annual campaign. Among the gifts available when you support the cause are a 2017 Bruce Springsteen "Land of Hope & Dreams Tee," for a donation of $50, and a 2017 Bruce Springsteen "Land of Hope & Dreams Baseball Cap," for a donation of $40.
You can also take part in the Hungerthon 2017 auction at charitybuzz.com. Some notable lots currently open for bids:
Hungerthon is an annual Thanksgiving radio tradition started in 1975 by WhyHunger to raise awareness about hunger and poverty and to invest in long-term solutions that help people in need in communities across the country. Funds raised through Hungerthon support innovative community-based solutions that fight hunger and poverty at its root causes. Donations help 41 million Americans, including more than 13 million children, get the healthy food they need.
- November 21, 2017

LITTLE STEVEN'S WORLD CAFE DEBUT TOMORROW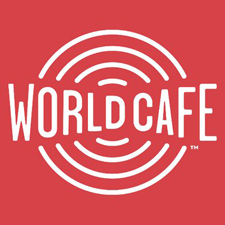 Little Steven Van Zandt will be making his first-ever appearance on the critically acclaimed World Cafe radio program on Tuesday, November 21. The long-running NPR show — for more than a quarter century — is based out of WXPN in Philadelphia and runs on over 200 radio stations across the country.
World Cafe Executive Producer and WXPN Program Director Bruce Warren makes a rare appearance, stepping out from behind the scenes to the mic to interview the guest of honor.
Stevie and the Disciples of Soul also recorded three songs for the program in September (9/19/17) at Carroll Music Studios in New York City.
Station list is here, check local station for air time — or stream on WXPN at 2pm Eastern.
- November 20, 2017 - Tom Cunningham reporting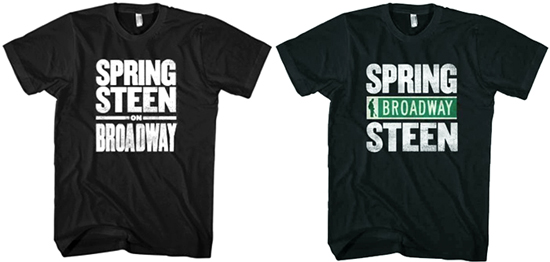 BROADWAY SHIRTS ARE HERE
Just in at Backstreet records, official Springsteen on Broadway T-shirts! From Thrill Hill Productions: the regulation "Springsteen on Broadway" white on black, as well as an exclusive not sold at the show featuring the Broadway street sign. Both are available now, in all sizes ranging from small to XXL.

Plus three more new shirts have just arrived: the Pink Cadillac design from the '84-85 tour on a ringer tee, and Greetings From Asbury Park T-shirts in both black and heather blue. Again, all sizes from small to XXL are currently in stock. Just in time for the holidays... come and get 'em!
- November 17, 2017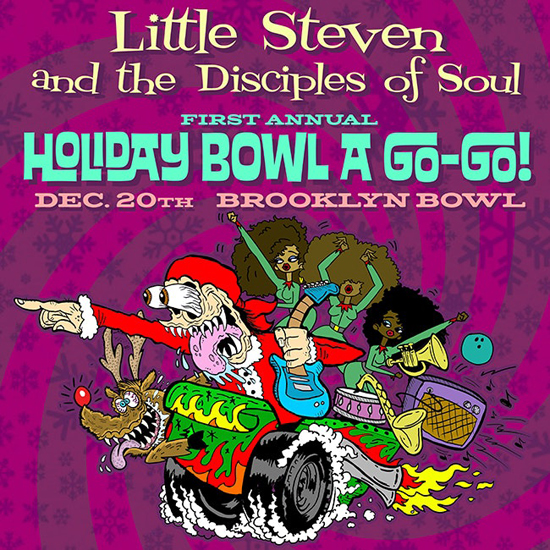 HAVE A BALL WITH LITTLE STEVEN & THE DISCIPLES OF SOUL
Lace up your dancing shoes and your bowling shoes: tickets have just gone onsale this morning for Little Steven and the Disciples of Soul's first annual Holiday Bowl-a-Go-Go, December 20 at Brooklyn Bowl. In addition to regular GA tickets, a VIP Soundcheck package includes a meet-and-greet and a big ol' gift bag. Both are available now through Ticketfly.
The Brooklyn show will be the penultimate concert of the year for Stevie and the Disciples, followed by their Count Basie Theatre gig on December 23. That one's sold-out, but Basie ticket holders can still upgrade to a VIP Soundcheck package package here.
- November 17, 2017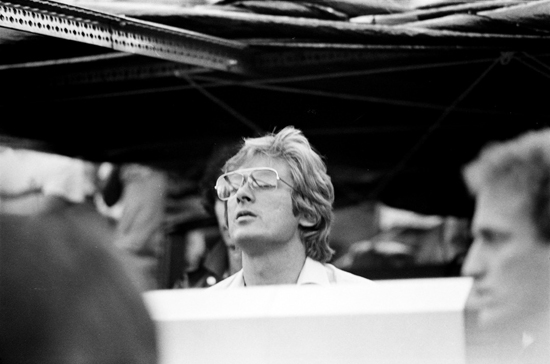 "THE OTHER BRUCE"
The Backstreets Interview with Bruce Jackson, Sonic Genius (1949-2011)
2017 has become a particularly good year for remembering the legacy of the late, great Bruce Jackson, the pioneering Australian concert-sound expert. Jackson served as Bruce Springsteen's Front of House (FOH) Engineer for the decade spanning from the Darkness on the Edge of Town tour through the end of the Tunnel of Love Express Tour.
After his retirement from the position, Jackson continued to be consulted on occasion for concert-sound issues and even returned briefly as FOH Engineer for the legendary 1990 Christic Institute shows. Jackson's recorded mix of those shows served as Springsteen's official 2016 Christic Institute release; this year's benefit release of The Summit, Houston, TX, December 8, 1978 marked the second summer in a row in which Springsteen fans had Jackson to thank directly for the sound of an official archival recording.
This year also marks the 50th anniversary of Jands, the highly influential Australian concert-sound company that Jackson co-founded. And finally, as 2017 nears its end, "the other Bruce" (as he occasionally referred to either Springsteen or himself, depending on the situation) gets much love in veteran concert photographer Watt Casey, Jr.'s beautiful new book My Guitar is a Camera. Bruce Jackson is one of two people to whom the book is dedicated, and his significant role in Casey's career is lovingly documented. Casey, whose live Springsteen photographs have been used for several official releases over the years, got to work with the Springsteen camp thanks to Jackson's enthusiastic endorsement of his photography.
In celebration of the publication of Casey's book, which also contains a chapter on his Springsteen photography and an excerpt from the interview below, Backstreets is proud to present our previously unpublished complete 2011 interview with Bruce Jackson, conducted by Shawn Poole shortly before Jackson's untimely death.
Click here to read
"THE OTHER BRUCE:" The Backstreets Interview
with Bruce Jackson, Sonic Genius (1949-2011)
- November 16, 2017 - photograph [River tour at Red Rocks, August 17, 1981] by Watt Casey, Jr. from the book My Guitar is a Camera

COOKBOOK OF DREAMS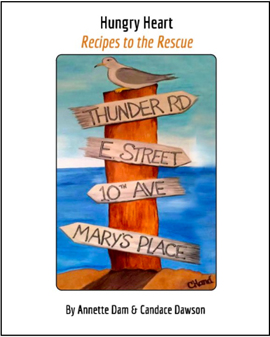 As the holiday season draws ever closer, many Springsteen fans' thoughts are turning to food, glorious food and feasts with loved ones. Seeking something extra-special for your holiday table this year? Look no further than Hungry Heart - Recipes to the Rescue, the cookbook that seeks to answer the question, "What would you be really proud of serving, should Bruce or any E Streeter stop by for a visit?"
Co-editors Annette Dam and Candace Dawson compiled recipes, artwork and photography from Springsteen fans of all ages, and from all over the planet: 27 countries in all. Best of all, 100% of their book's net sales proceeds will be donated to WhyHunger, the anti-hunger organization long supported by Bruce Springsteen.
There's something for everybody here: appetizers, side dishes, main courses, vegan/vegetarian items... and desserts, desserts, desserts! You want clever, cutesy titles? Check out dandies like "Bruce Stringbeans," "Cosmic Kid Cookies," "Hungry Hearty Chili," "Lasagna of Hope and Dreams" and "Risotto in the Street."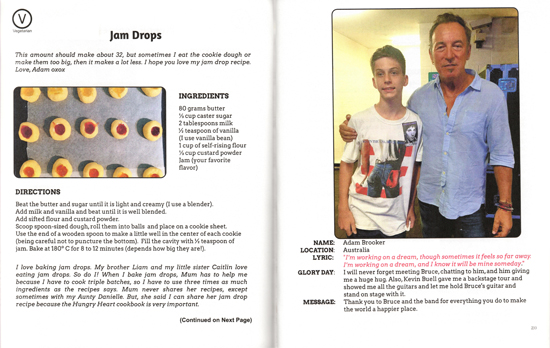 There's even a section on "In The Spotlight Chefs" where you'll find recipes from the Clemons, Lofgren and Mizelle families' kitchens, along with contributions from Jason Heath and the Greedy Souls (including Jason Federici) and longtime WhyHunger supporter and board member Joe D'Urso. (Not to mention Steve Van Zandt's unique "contribution" to this section, which is as hilarious as one would expect.)
You still can get your copy of Hungry Heart - Recipes to the Rescue in time to plan next week's Thanksgiving feast, but it's a book to be referenced and enjoyed year-round, not just during holidays, especially knowing that your purchase helps to provide crucial continued support in the ongoing fight against hunger. Click here to order yours.
- November 15, 2017 - Shawn Poole reporting

BRUCE BRUNCH REQUEST LINES OPEN SUNDAY AT 9am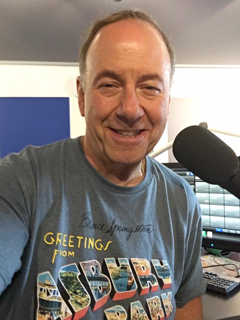 It's time again for The Bruce Brunch's annual all-request edition, with all proceeds benefiting Fulfill (formerly The FoodBank of Monmouth and Ocean Counties). For the 12th year running, host Tom Cunningham will be playing all requests on the Sunday after Thanksgiving, with request lines opening up the Sunday before.
For this special all-request show The Bruce Brunch expands from two hours to three; that gives space for 20 songs, with a $25 (minimum) donation for each song with proceeds going to the foodbank. Listeners are welcome to pick the Bruce Springsteen song of their choice and include a personal dedication along as well.
"I look forward to the all-request show every year," Tom says. "In addition to helping to raise thousands of dollars over the years for our local food bank, the folks who participate always come up with some amazing requests and dedications. Collecting donations to end hunger touches people on a most local and fundamental level. I can't remember the last time that I've walked out of one of Bruce's shows and there's not been someone from a local food concern accepting donations. It's 12 years in, and I'm very proud to continue to partner with the Bruce Brunch, everyone at The Hawk, and the great team at the Townsquare Media Shore to help benefit Fulfill."
Requests will be taken on Sunday, November 19 beginning at 9am ET via telephone at (732) 643-5891 with donations accepted by credit card. The special request program will air on Sunday, November 26 from 9am to noon ET on 105.7 The Hawk.
- November 14, 2017


LITTLE STEVEN AND THE SISTER CITIES OF SOUL
At his gig last week in Bristol, England, Little Steven treated the audience to a rare blast from his past, when he worked the early-1970s "oldies circuit" with acts like The Dovells and Dion. For a local special, he led the Disciples of Soul through a sharp-as-a-pistol version of "The Bristol Stomp."
The Dovells' hit was recorded and released in 1961 by Philadelphia-based Parkway Records and inspired by a dance craze that began in the working-class Philly suburb of Bristol. More than 50 years later, Steven and his band built quite an impressive bridge connecting Bristol, Pennsylvania to Bristol, England, especially since, as he noted onstage, he and the Disciples never played "The Bristol Stomp" together before, "not even in soundcheck."
Little Steven and the Disciples of Soul's Soulfire Europe tour continues through the next month. Visit littlesteven.com for ticket information.
- November 12, 2017 - Shawn Poole reporting


HAPPY VETERANS DAY
"This is for any of our veterans out there — not just Vietnam, but Iraq, Afghanistan... this is a short prayer for my country," Bruce Springsteen said as he performed "The Wall" on tour in 2014.
Three years later, Springsteen talks about Walter Cichon and Bart Haynes again, and the Wall in Washington, as he introduces "Born in the U.S.A." in Springsteen on Broadway. "Having paid body and soul," Bruce says, "our veterans — our Vietnam veterans, our Iraq veterans, our Afghanistan veterans — have earned the right many times over to claim and shape their birthplace, their piece of home ground."
- November 11, 2017

BRUCE TICKETS CONSIDERED
Yesterday on NPR's All Things Considered, Robert Siegel introduced a piece on "one of the hottest tickets on Broadway" — you can guess which one. "Bruce Springsteen on Broadway Comes With an Economics Lesson" has Planet Money's Kenny Malone taking a look at Bruce tickets, the Endowment Effect, and economic irrationality. Listen below.

- November 10, 2017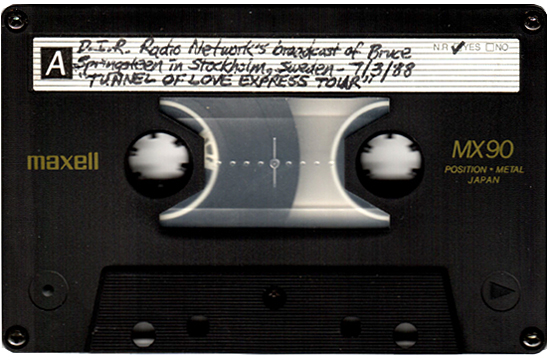 FLASHBACK FRIDAY: "THE MOMENT IS AT HAND"
From the original worldwide live radio broadcast, as carried here in the U.S. over DIR Broadcasting's radio network, here's a moment that didn't get included in the new Stockholms Stadion, Sweden 1988 official archival release. Before we got to hear the E Street Band play a note in Stockholm, we broadcast listeners first got to listen as they took the stage to Freddy "Boom Boom" Cannon's 1962 hit "Palisades Park" (written by the late Chuck Barris.) In the DIR feed of the broadcast, the walk-on moment had running commentary by radio legends and longtime Springsteen supporters Kid Leo and the late Scott Muni. If you haven't yet listened to last week's archive release — a great improvement over our old cassettes — let this set the scene:

- November 10, 2017 - Shawn Poole reporting

SPRINGSTEEN OFF BROADWAY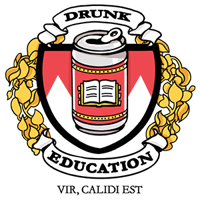 Brooklyn's "Drunk XEd Talks" takes him on
Drunk Education was the vehicle, Littlefield was the venue, Brooklyn was the borough. And Bruce Springsteen was the subject for last night's 90-minute "Like a Boss" multimedia production, where five performers took an equally engaged audience through different Springsteen-related topics. Academics have been doing this for years, using his work to explore theology, sociology, and the like. "Drunk Ed" — part spoken-word, part stand-up, part PowerPoint — uses the popular TED Talks series as its model and is no less serious (despite the laughs) or authoritative (despite the name).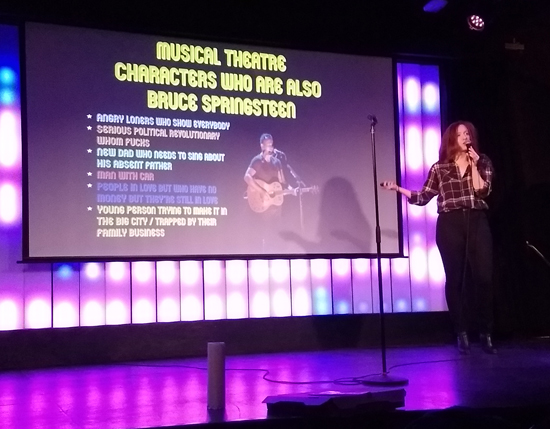 Each presenter made that the case: Helena Fitzgerald compared Springsteen with musical theater, calling Grease a piece that "wants to be a Bruce Springsteen song when it grows up." Blythe Roberson imagined him riding shotgun for her set on road trips, and Brittany Spanos explored the use of fire as an image in his songs (which neatly dovetailed into an homage to Springsteen's firefighter son, Sam).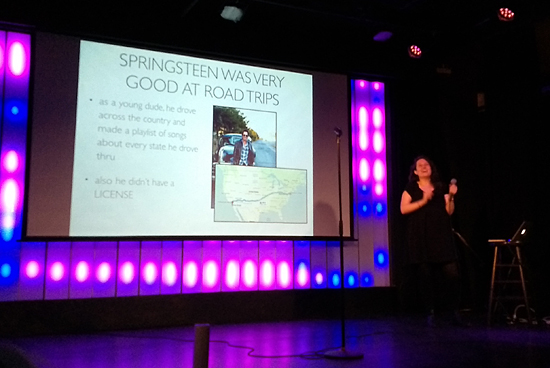 Billed as "An Appreciation," the evening had no stuffy hallmark of academia: it was packed with laughter, beginning with Backstreets contributor (and the evening's co-host) Caryn Rose's inquiry into questionable lyrics and just how much Springsteen knows about the inner workings of the automobile.
Lindsay Zoladz spoke of Chris Christie's relationship with Springsteen. Framed by the former's string of public pronouncements and the latter's consistent rejoinder of "no comment," Zoladz's piece became an exquisitely-timed exploration of illusion.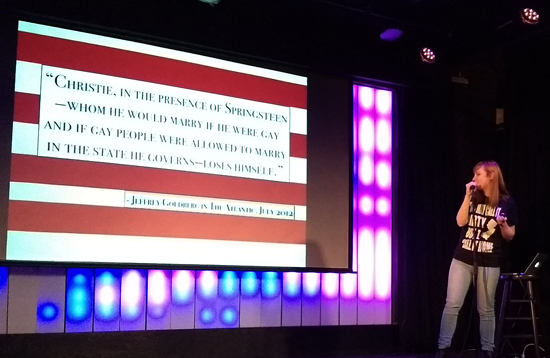 This one-night-only installation hit the mark. Whether on stage or off, the entirety skewed younger, which gave it a burst of energy. The presenters' facility with Springsteen's work couldn't have been more obvious. That showed in the originality of the material and the audience's reaction. And the venue was tidy, wired for sound just right, and, befitting the evening, stocked with a range of signature cocktails at the bar. The evening's top ticket was the only ticket, setting one back by eight dollars (with no need to verify ahead of time). Like its competitor over at the Walter Kerr Theater, the thoughtful "Like a Boss" appreciation is a performance a fan only need see once, but most probably won't. And that's too bad, because everyone should have the opportunity.
- November 9, 2017 - report and photographs by Jonathan Pont

STEFANKO CELEBRATES AT MORRISON HOTEL GALLERIES
Last week, Frank Stefanko celebrated his massive new monograph of Springsteen images with an exhibition opening at Morrison Hotel Gallery in Los Angeles. Some notable friends also turned up — Frank fills us in:
The evening was a wonderful surprise. With the final game of the world series, and the last chance for the L.A. Dodgers, we expected a light turnout. Not only did we get a great turnout, and a successful show, but some of the people who showed up were really special. Great photographers, such as Timothy White, Ellen Berman, and Guido Harari. Legendary song writer Jeff Barry, who, with his wife Ellie Greenwich and Phil Spector, wrote so many of the great girl-group songs of the '60s, including "Be My Baby," "Chapel of Love," "Then He Kissed Me," "Leader of the Pack", "River Deep - Mountain High," and many more. Jeff has also worked with Steven Van Zandt on some projects as well.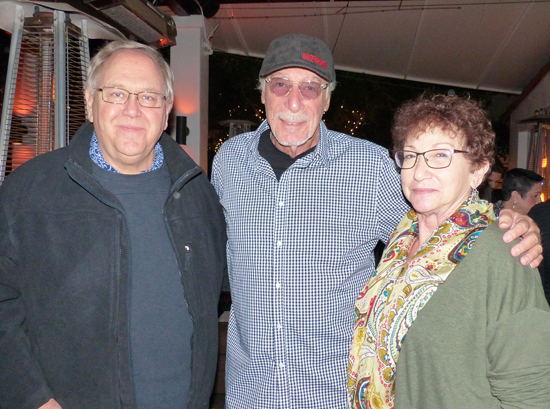 L-R: Frank Stefanko, Jeff Barry, Frank's wife Carol Reed - photograph by Guido Harari
But the best part of the night was when my friend Pam Springsteen stopped by and spent most of the evening. I showed her my new massive book, Bruce Springsteen - Further Up the Road, and she went through all 400 pages carefully. At times she laughed, and at times she seemed to become melancholy, but mostly she remarked at how beautiful the book was. She actually got to see it before her brother.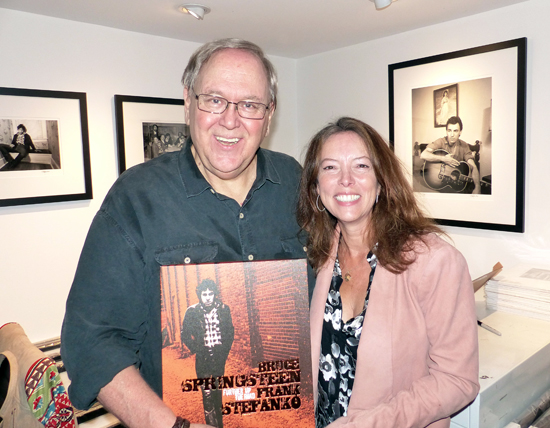 Stefanko and Pam Springsteen - photograph by Carol Reed
We will continue this celebration of my 40 years of working with Bruce this week with another gallery show opening Thursday night, November 9, at the Morrison Hotel Gallery on Prince Street in Soho. Guido Harari will attend this show as well before we all take off for the third, and last, gallery show opening at his Wall Of Sound Gallery in Alba, Italy on November 18.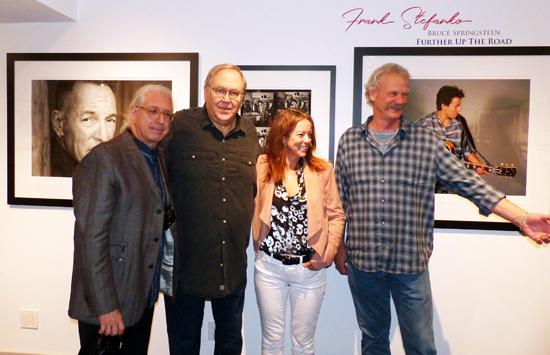 L-R: Further Up the Road publisher Guido Harari, Stefanko, Springsteen, and MHG's Peter Blachley - photograph by Carol Reed
If I can survive all this, I should hopefully make it home for Thanksgiving, and this year, with this new book, and three gallery shows, I have a great deal to be thankful for. —F.S.
Tonight's opening at NYC's Morrison Hotel Gallery is by invitation only, but the exhibit will be open to the public for at least three weeks in the Soho location, beginning Friday, November 10. Further Up the Road is still available for pre-order from Backstreet Records in Deluxe and Collector editions, but for not much longer: Guido Harari's Wall of Sound will be shipping books directly to our customers shortly.
- November 9, 2017 - all photographs courtesy of Frank Stefanko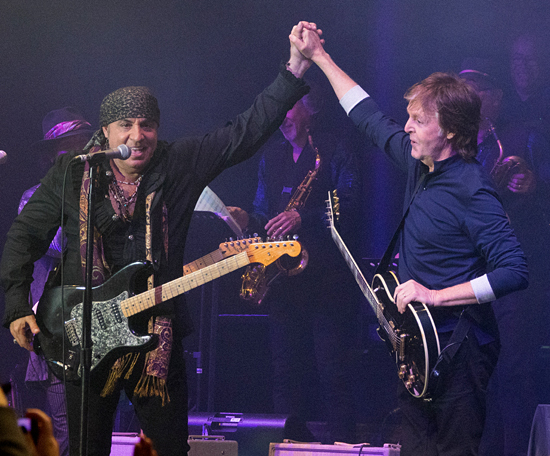 "UNFINISHED BUSINESS": STEVIE & SIR PAUL IN LONDON
Pretty much goes without saying that Steven Van Zandt is a Beatles disciple. On Saturday night, November 4, he and his own Disciples of Soul got a special treat as they were joined in performance by none other than Paul McCartney. As Stevie and his band kicked off their European tour at the Roundhouse in London, Sir Paul put the cherry on top with an encore guest spot on a horn-fueled "I Saw Her Standing There." McCartney played lead guitar, shared the center mic, and declared at the end, "We love you, Stevie!" Watch it here:
Little Steven's tour continues through the UK for the next week or so, after which the Disciples will hit Sweden, Norway, Denmark, Germany, the Netherlands, Italy, and Spain. See littlesteven.com for the full itinerary.
- November 8, 2017 - photograph by Geoff Robinson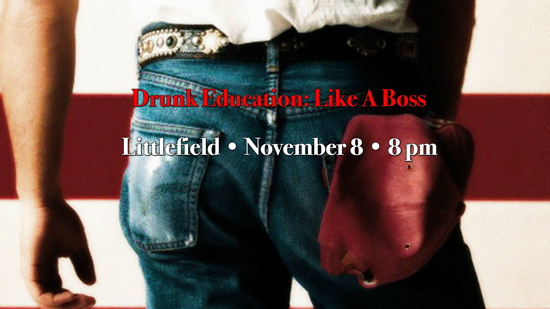 'TIL YOU GET YOUR FILL: ALL-BRUCE DRUNK ED, 11/8 IN BROOKLYN
New York City! It's been a rough year, but Drunk Ed is ending it with a bang: a full-on appreciation of Bruce Springsteen. Join a slate of excellent writers and comedians at 8pm this Wednesday night, November 8, at Littlefield in Brooklyn as they ask the important questions about The Boss. Is he the only good white man? How many people has he tricked into visiting New Jersey? What the hell is a dynamo and why are there so many people near it? Featuring talks by Helena Fitzgerald, Blythe Roberson, Brittany Spanos, Lindsay Zoladz, and co-hosted by Eric Thurm and Backstreets' own Caryn Rose.
Drunk Ed (formerly Drunk TED Talks) is the world's premiere source of drunk knowledge since 2013. Tickets are available via Ticketfly, and more information is available at drunkeducation.com.
- November 6, 2017



THIS IS RADIO STOCKHOLM… COMPLETE!
The view from Sweden, July 3, 1988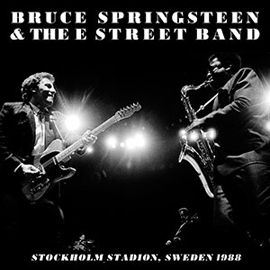 When Bruce Springsteen's archive series began, a release of the Tunnel of Love Express Tour in Stockholm — the source of a high-profile live broadcast on July 3, 1988 — seemed like a given. Then in 2015, a Los Angeles Tunnel show from April appeared, and it felt like Stockholm could take a while longer. But just two years later, here it is. And a fine show it proves to be, in full, beyond the broadcast first set: 35 tracks, including 12 songs not performed in L.A. and 11 in a long encore.
For most non-Swedes, it's hard to imagine just how big Springsteen was here at the time. When each of the evening papers features an insert of a dozen or more pages before the shows, and that seems perfectly normal, you know something major is happening. Already, national media had reviewed both the U.S. and European premieres (in Worcester and Turin, respectively); the frenzy continued when news broke that the second Stockholm show would be broadcast live via satellite around the world. Or at least the first half would be. So while Swedish newspaper readers overdosed on Springsteen coverage, the first 14 songs — and the announcement of the upcoming Amnesty International tour — were heard by millions, making this set a familiar affair to many.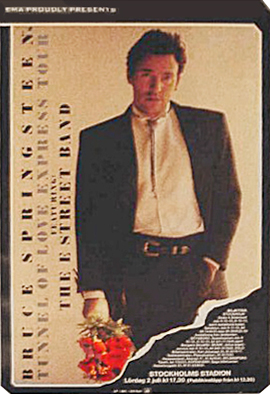 The 1988 Stockholm performances took place in the middle of the European tour. That's when the warhorses that Springsteen had set aside at indoor shows in the U.S. began to appear. Still, the Tunnel of Love album and tour featured new sounds and themes. A different stage set-up, not to mention placements of the E Street Band members. A horn section. A different look, less rock 'n' roll and more… adult. And it's an LP from the first third of Bruce's album career. Looking back, it looks like both the start of the new Bruce, and the end of the old.
On the road, the tour evolved from one thing to another like no previous one had. Despite what many say, this was not the Born in the U.S.A. tour, Part Two. Of the 12 songs played here and not at the LA show, at most half — like "The River," "Downbound Train," "Because the Night" — could be called staples from the previous tour. The other half, "Boom Boom," "Chimes of Freedom," "Paradise by the 'C'," and "Quarter to Three," take us back to The River tour or earlier.
The shows took place at the 33,000-capacity Stockholms Stadion. Even for the middle of summer, it was incredibly warm: plenty of audience members would faint and get lifted across the fence at the front. At the time, there was no pit or partition to control the push and crush of the audience. Having been up front the day before, I decided to stay a little safer and watched the show from about halfway back on the field.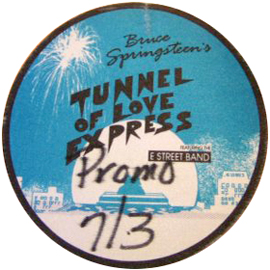 These were the first of several shows I saw on the tour. Almost 30 years on, it's hard to recall more than short details: the start with the ticket booth and the way the band walked out; the frantic "Roulette" making its European debut; and "Tougher Than the Rest," which this night sounded particularly good. It's still a favorite of mine, and while there's no bad version, the freshness of Bruce and Patti's relationship at the time added a hard-to-sustain element.
Springsteen announced the Amnesty International tour near the end of the first set, confirming what some already knew. I remember from that speech thinking he must have been bitten by something because while he was talking, he kept scratching his face. If that sounds like a weird memory to keep for 30 years, it's because it looked weird. I had to Google it to see if I remembered correctly.
Next came a personal highlight. I had always loved the one-off "Chimes of Freedom" done in Detroit, September 1, 1978, a great show and favorite boot. I couldn't believe my luck in hearing it twice this weekend. I somehow had missed news of its tour premiere in Rotterdam a few days earlier. (I must have been so busy that I forgot to call the Backstreets hotline to find out what had been played there.)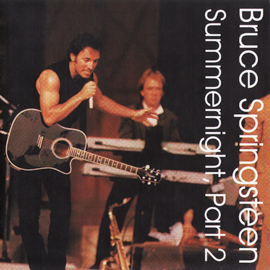 Now, obviously what is most exciting is getting to hear the rest of the show in excellent quality. Having heard the first set many times, it still took a decade or so for a decent recording of the second set to surface (on the Piggham label). Prior to this new archive release, few have been as familiar with this part of the show, which was not broadcast. It began with "Paradise by the 'C,'" a track played in 1978 (and brought back in Rotterdam). It was an exciting rarity and one that never appeared after 1988. After a great start to the second set, Springsteen added the tour's first "Downbound Train" and picked up steam again with "Because the Night." Nils Lofgren's guitar and dancing on the latter has made it a favorite of the Swedish audience.
Then we got to the 11-song encore, one of the longer ones on record (tied with one played in Philadelphia, 8/29/92). Clearly, Springsteen was having a great time onstage, and the whole stadium was in party mode along with him. "Can't Help Falling in Love," another favorite since the '81 shows in Stockholm, hushed the audience for a few minutes; otherwise, it was a singalong dance party for the last hour or so. And when we thought it was all over save for the obligatory "Twist and Shout," Springsteen said, "We haven't played this one for a long time." As I looked at my friend for a millisecond, wondering what that could be, the band jumped into "Quarter to Three." I went nuts — I think I launched about three feet in the air.
Coincidentally, both "Roulette" and "Chimes of Freedom" would have made the top ten in a list of songs I would love to hear performed but probably never would. Number one on that list: "Quarter to Three," which Springsteen had played a lot in the '70s. After a few airings on the (original) River tour, it seemed retired for good. Making it even more of a longshot, it wasn't a well-known number here. But "Twist and Shout" certainly was, and sounding as lively as ever, a nine-minute version closed the show.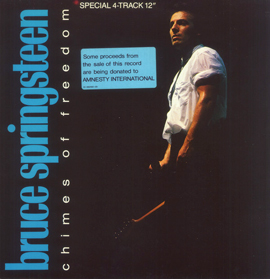 Whether the broadcast itself, the aforementioned L.A. release, or any number of bootlegs, many fans interested in a show like this have likely heard recordings from this tour. Toby Scott was on hand to mix the broadcast and did a fine job of capturing the show. The result quickly became one of Springsteen's most bootlegged recordings. "Chimes of Freedom," of course, served to anchor an official release, a four-track EP released that August to coincide with the Amnesty International tour, complete on vinyl but edited to accommodate space limitations of the CD-3 format.
Nearly 30 years later, Jon Altschiller presents a new mix. And the quick verdict is that he hits it out of the park. Granted, it will take a few more listens to be sure, but for now I can't think of another archive release that seems to get as much right in regards to the mix. This sounds really good, like every instrument and certainly Springsteen's voice — which sounds excellent throughout, just like I remember — is more prominent compared to the broadcast. That of course had the relative disadvantage of satellite transmission and FM compression, not to mention on-the-fly mixing. So it's not really a fair fight. But generally, this mix just sounds correct: nothing seems out of place. There might be a solo missed somewhere, but if there is I haven't noticed. A sonic flaw at the 3:42 mark of "Born in the U.S.A." gets fixed; another, where Nils Lofgren's effects didn't work on his "Tunnel of Love" solo, remains. Whether it could have been fixed in post-production or would have required a re-recording, it merely sounds now as it did then, and that's okay.
Overall, the crowd sounds slightly louder in this mix. For most of the show they can be heard as they should, at a distance so you can hear that it's a live concert, but not so loud that they disturb the listening. Still, for the first verse of "Hungry Heart" it appears that no microphones aimed to capture the crowd. They're heard, but not loud enough for the singing parts. But other times, like the call-and-response in "Raise Your Hand," they sound just right.
Considering that this took place 29 years ago, it's strange to hear the second part like this. It's like you're back in 1988 and the radio people forgot to turn off the signal. Today, Stockholm remains one of the tour's better shows — some say its best — with a compelling setlist and a great mix; these elements make this release a must-have. Stockholms Stadion, Sweden 1988 is available now in MP3, Lossless, HD-Audio, DSD or CD at live.brucespringsteen.net.
- November 5, 2017 - Johan Bjernick reporting


BOUNCING OFF A SATELLITE
New download: Stockholm, July 3, 1988, with never-broadcast second set
Touring with the E Street Band behind Tunnel of Love in 1988, Bruce Springsteen's first radio broadcast in a decade had much to recommend. The 14-song first set neatly encapsulated a terrific range of material: new songs, older ones, hits and covers. That applied to the second set, too, which included surprising break-outs and a dazzling, 11-song encore. Trouble is, the broadcast only included the first set.
Making good on tapes stored in the archive, the November "First Friday" installment now offers fans a complete version of July 3, 1988, the second concert in Stockholm on the Tunnel of Love Express Tour.
The entire show and a new Jon Altschiller mix — an upgrade for sure — complement another 1988 performance (from Los Angeles, April 23), which was an early archive release in 2015. Stockholm features a dozen different songs. And it's where Springsteen told the world about the upcoming Human Rights Now! Tour for Amnesty International, a global trek he and the E Street Band would take that fall with artists like Peter Gabriel and Tracy Chapman. A live cover of Bob Dylan's "Chimes of Freedom," recorded here, became the foundation for a four-song EP and an Amnesty-era touchstone.
Fans around the world heard the first set on the radio, and the broadcast quality kept it in unofficial circulation for years. Now, joined by the second set, everyone can hear what happened after the broadcast ended, nearly 30 years ago. Backstreets will publish a complete review shortly. Stockholms Stadion, Sweden 1988 is available now in MP3, Lossless, HD-Audio, DSD or CD at live.brucespringsteen.net
Read: Erik Flannigan's "The Tunnel of Love is Open to Everyone" at blog.nugs.net.
- November 3, 2017 - Jonathan Pont reporting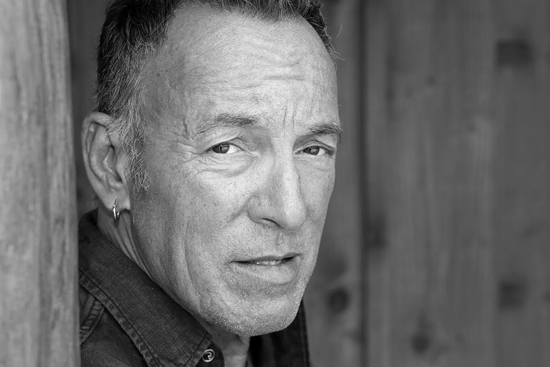 "Hard Land" 2017 Colts Neck, New Jersey © Frank Stefanko
FRANK STEFANKO'S FURTHER FESTIVAL
Photographer Frank Stefanko is in the news a lot this week, from Time to Rolling Stone, to mark the impending publication this month of Further Up the Road, a lavish anthology of his Springsteen images from the last 40 years. Published by Italy's Wall of Sound Editions, the book collects photographs (seen and unseen) from the Darkness and Nebraska eras Frank is known for, as well as from numerous shoots since — including one this year in Colts Neck specifically for the book. "With me, in terms of portraits, it's always the eyes first, then the rest of the face comes into view," Frank has said. As you can see from "Hard Land" above, he's still got it.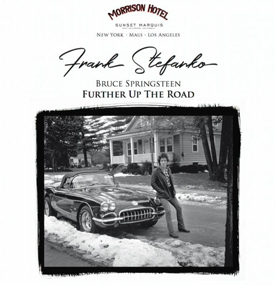 Stefanko's photography will be the subject of several gallery showings in conjunction with the book, beginning in Los Angeles. Frank himself will be there tonight at Morrison Hotel Gallery in West Hollywood for the opening of Bruce Springsteen – Further Up the Road: A Forty Year Photographic Retrospect, which will be open to the public from November 2 through November 12.
The exhibit will be up at Morrison Hotel's Soho location in New York City for a three-week run starting November 10, a must-see for anyone in town for Springsteen on Broadway.
From there, Frank will head to Italy and the home of Wall of Sound Gallery in Alba, where an exhibition will begin on November 18 and run through January 28, 2018. Frank will join Further Up the Road publisher and editor Guido Harari at the opening to inaugurate their creation two years in the making.
Further Up the Road is still available for pre-order from Backstreet Records in both the Deluxe edition and Collectors edition, but we're getting to last call: pre-order now if you'd like your copy shipped directly to you from the publisher in Italy later this month. Weighing in at 10 pounds and 400 pages, with transparencies and fold-out pages, it's a limited edition of just 1,978 copies, celebrating the year that Stefanko and Springsteen began working together.
"It's Bruce's life," Stefanko tells Rolling Stone of Further Up the Road, "as I've seen it by working with him. I've had the rare privilege of vicariously taking this journey with him for about a 40-year period. That to me is awesome. I hope the people who look at this book will take the journey with me, and appreciate the intimacy as how I see Bruce Springsteen."
- November 1, 2017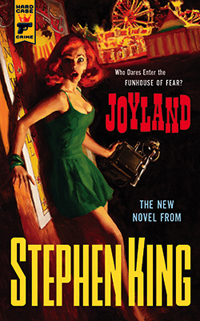 SIR, I GUESS THERE'S JUST A MEANNESS
IN THIS WORLD
Eagle-eyed readers Ben Watson and Gene Casaretto reminded us of one more nod to Count Clarence from the pen of Stephen King, writing in the voice of his central character/narrator Devin Jones:
"The world has given me a good life since then, I won't deny it, but sometimes I hate the world anyway. Dick Cheney, that apologist for waterboarding and for too long chief preacher in the Holy Church of Whatever It Takes, got a brand-new heart while I was writing this — how about that? He lives on; other people have died. Talented ones like Clarence Clemons."
— Joyland (2013)
- November 1, 2017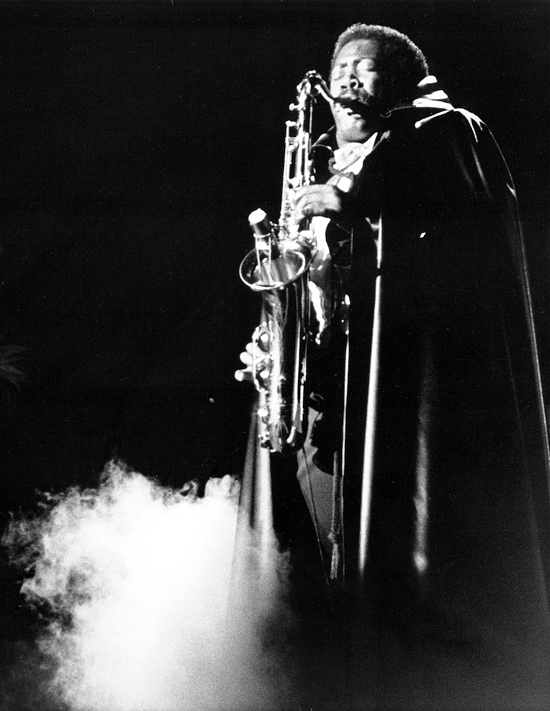 HAPPY HALLOWEEN 2017 FROM COUNT CLARENCE
While he's long been associated with the joy of Christmas on E Street, Clarence Clemons might not spring as readily to mind when enjoying some Halloween horrors. Nevertheless, the ghost of Big Man can be found right there partying with all of the other spirits, ghouls and goblins associated with All Hallows' Eve.
Let's start with the beautiful black-and-white image above, where Count Clarence has donned a Dracula-like cape and looks like he's wailing away on the set of a classic Universal monster movie. It's from a photograph by Chris Walter, shot at the now-demolished Los Angeles Memorial Sports Arena on Halloween 1980. That was the night that Bruce Springsteen & the E Street Band opened their show with a rockin' version of the Jumpin' Gene Simmons classic "Haunted House" right after Bruce emerged from a coffin and grabbed his guitar. "Better be GONE when the morning comes," Clarence warned both Bruce and the crowd ominously.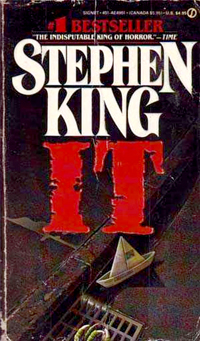 It wouldn't be the only time that Clarence's presence was used to try to lure somebody away from messing with dangerous supernatural beings. In Stephen King's novel IT, the character of Richie Tozier has grown up to be one of Los Angeles' top disc-jockeys in 1985. When Richie decides to return to Derry, Maine and rejoin his childhood friends to fight IT once more, Richie's KLAD program director Steve Covall is more than a bit perplexed:
"What do you mean, going away? According to the log I have right here in front of me, you're on the air tomorrow from two in the afternoon until six p.m., just like always. In fact, you're interviewing Clarence Clemons in the studio at four. You know Clarence Clemons, Rich? As in 'Come on and blow, Big Man'?"

"Clemons can talk to Mike O'Hara as well as he can to me."

"Clarence doesn't want to talk to Mike, Rich. Clarence doesn't want to talk to Bobby Russell. He doesn't want to talk to me. Clarence is a big fan of Buford Kissdrivel and Wyatt the Homicidal Bag-Boy. He wants to talk to you, my friend. And I have no interest in having a pissed-off two-hundred-and-fifty-pound saxophone player who was once almost drafted by a pro football team running amok in my studio."

"I don't think he has a history of running amok," Rich said. "I mean, we're talking Clarence Clemons here, not Keith Moon."
King's novel also opened with a line from "Born in the U.S.A." and name-checked Springsteen, along with several more of his songs, throughout the plot. The Clarence mention didn't make it into the 1990 television adaptation of IT (which changed adult Richie Tozier from a top L.A. DJ to a popular comedian.) It's also unlikely to make it into the planned sequel to this year's highly successful film adaptation, which has moved the timeline about thirty years forward from the novel's timeline.
Stephen King again wrote about Clarence Clemons in his 2000 non-fiction book On Writing. This time, however, the focus was on Clarence's real-life impact on his son Owen, who grew up to be a writer himself, most recently collaborating with his father on Sleeping Beauties:
When my son Owen was seven or so, he fell in love with Bruce Springsteen's E Street Band, particularly with Clarence Clemons, the band's burly sax player. Owen decided he wanted to learn to play like Clarence. My wife and I were amused and delighted by this ambition. We were also hopeful, as any parent would be, that our kid would turn out to be talented, perhaps even some sort of prodigy. We got Owen a tenor saxophone for Christmas and lessons with Gordon Bowie, one of the local music men. Then we crossed our fingers and hoped for the best.

Seven months later I suggested to my wife that it was time to discontinue the sax lessons, if Owen concurred. Owen did, and with palpable relief — he hadn't wanted to say it himself, especially not after asking for the sax in the first place, but seven months had been long enough for him to realize that, while he might love Clarence Clemons's big sound, the saxophone was simply not for him — God had not given him that particular talent.
Young Owen King shouldn't have felt bad at all, of course. There is, was, and always will be only one Big Man. And as we've noted already, he still can be found among all those spirits partying away every Halloween, just as he was back in 1990 in this vintage Miller Lite ad:
Yikes! Happy Halloween, all. Please drink responsibly.
- October 31, 2017 - Shawn Poole reporting - photograph ©Chris Walter


DVR ALERT: U.S. PREMIERE OF 2016 SPRINGSTEEN DOC, 11/26
Bruce Springsteen: In His Own Words is coming to BBC America for its U.S. premiere next month. The documentary originally aired in late 2016 on Britain's Channel 4; HBO Canada showed it in May. Directed by Nigel Cole, In His Own Words will debut on BBC America on November 26 at 10pm Eastern. From the channel's website:
Throughout the documentary, Bruce will explore his early years growing up in Freehold, New Jersey, recounting the seminal moments that fueled his relentless drive to become a musician, his years as a bar band king in Asbury Park, the rise of the E Street Band and his eventual ascendancy to the top of Rock's hierarchy.

Bruce's conversation will be supported by rare and previously unseen archive of Bruce at various stages throughout his life, provided in consultation with the Grammy and Emmy award-winning filmmaker Thom Zimny, who has collaborated with Bruce for the past 18 years.
BBC America president Sarah Barnett says, "This documentary is fully Bruce, in his own words, speaking directly to audiences. With limited interruptions, fans can fully immerse themselves in this fantastic film, experiencing an intimate connection with a remarkable storyteller."
- October 30, 2017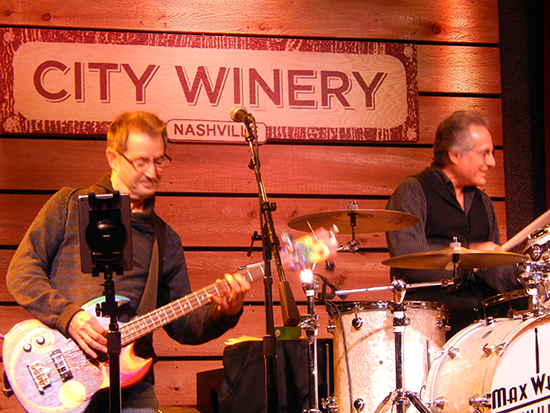 THE BAND WAS JUMPIN' AND THE JOINT BEGAN TO SWING
Birthday boy Garry Tallent joins Max Weinberg in Nashville
Celebrating his 68th birthday today, Garry Tallent was a special guest with Max Weinberg's Jukebox this week in his hometown. At the Nashville City Winery on Wednesday night, the E Street rhythm section reunited for "Jailhouse Rock." The performance was in honor of Elvis Presley drummer DJ Fontana, who was also in the house, joining Garry to take in Max's show.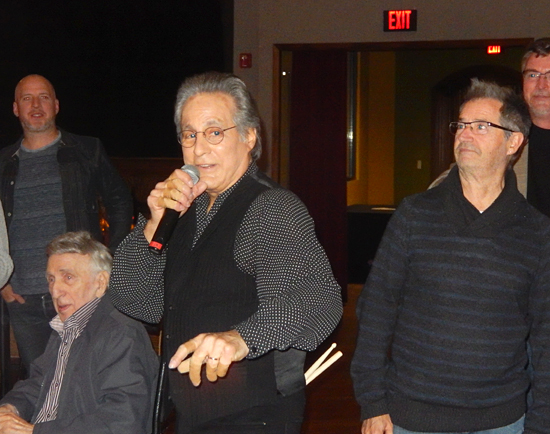 Max talked about how seeing Fontana with Elvis on the Milton Berle show made him want to be a drummer. That wasn't the only tribute of the evening: the first fan request Max took was for Tom Petty's "American Girl," and when a request came for a Fats Domino song, he and his Jukebox band broke out "I'm Walking."
Garry wasn't the only guest performer either: Max gave up his drum seat to his son (and E Street fill-in) Jay Weinberg, who played on the Ramones' "Blitzkreig Bop" and Bruce Springsteen's "Radio Nowhere." (The latter was Jay's signature performance as an E Streeter and, as the proud dad related to the crowd, Bruce told him that Jay played it better.)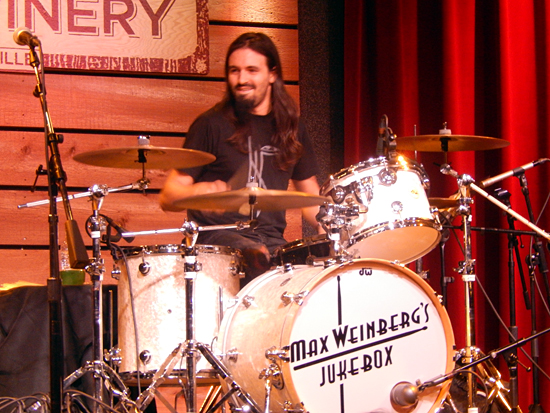 Max tried to get Garry to play another after "Jailhouse Rock," but the Tennessee Terror appeared happy with just the one and went back to his table — under which he modestly ducked, getting some laughs, when Max went out to the crowd to introduce him. But you just can't hide that kind of Tallent... happy birthday, Garry!
- October 27, 2017 - photographs by Michael Bodayle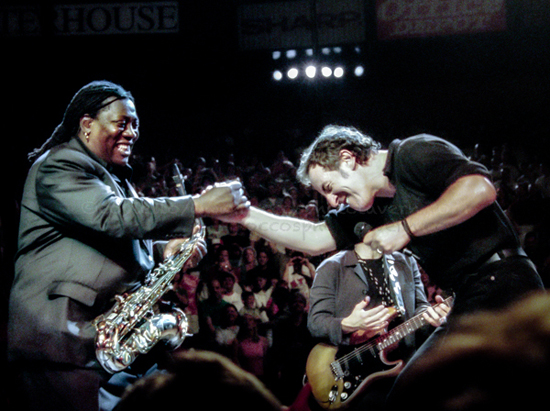 THROWBACK THURSDAY: JULY 1, 2000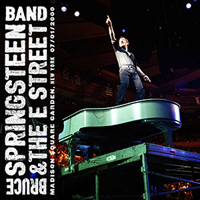 Photographer Rocco Coviello captured the night of the latest Nugs release
Once again, we bring you sights to go with the sounds: as you're listening to the newest installment in Springsteen's live archive, Madison Square Garden, New York, NY, July 1, 2000, let your eyes feast on these images from that night, the final show of the E Street Band's reunion tour, courtesy of our pal Rocco Coviello.
For more on that performance and the archive release, read Flynn McLean's "Back to the Garden" and Erik Flannigan's "Blood Brothers Reunited."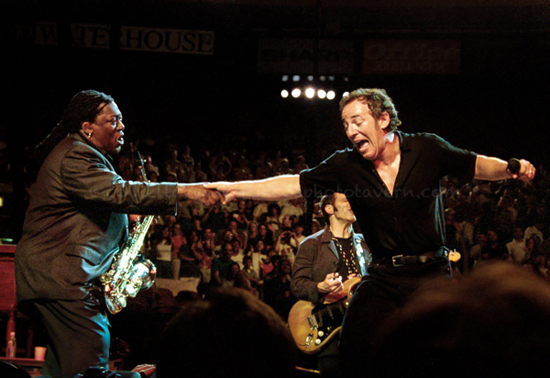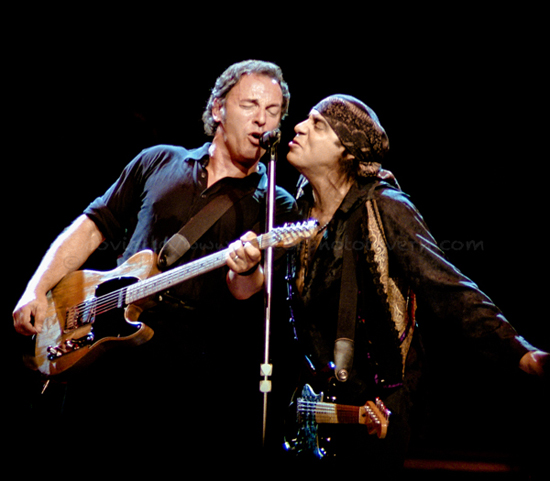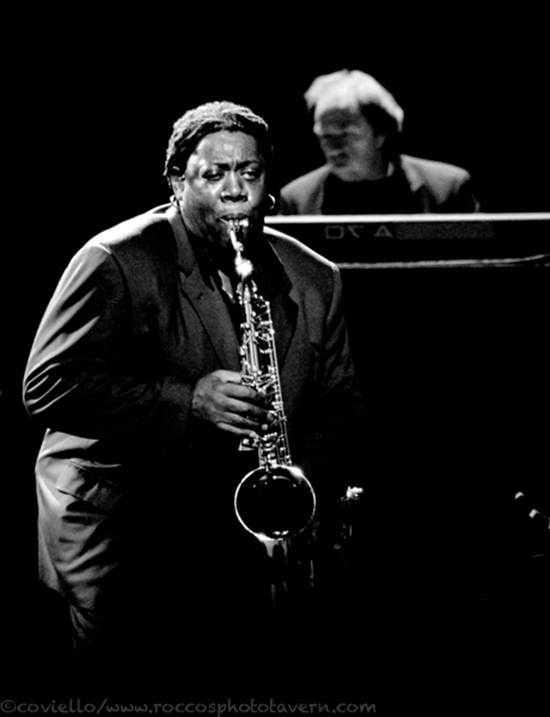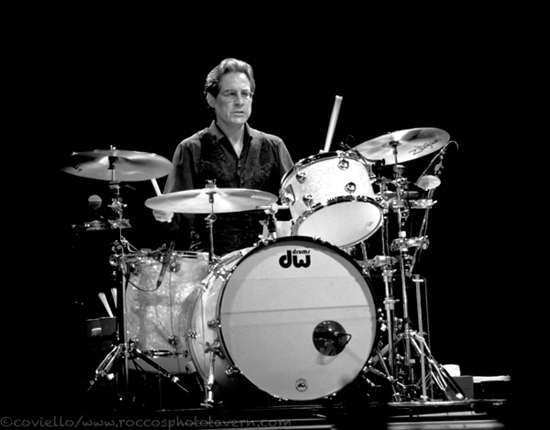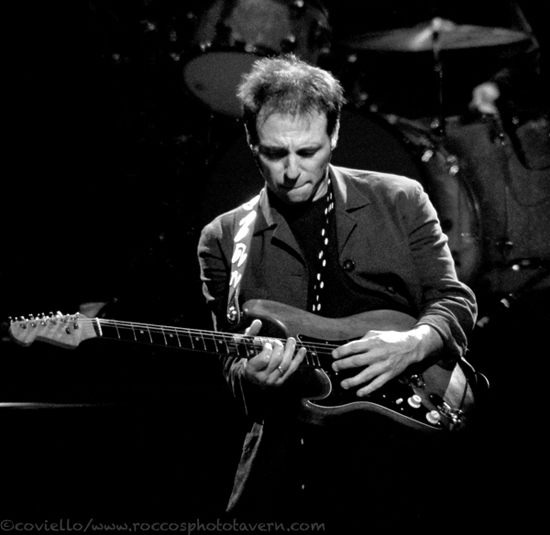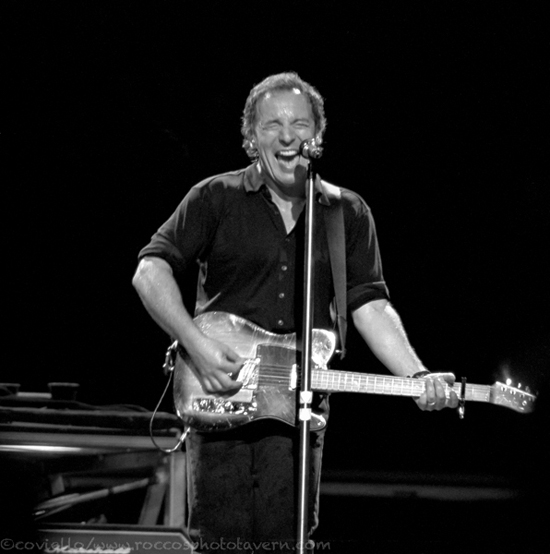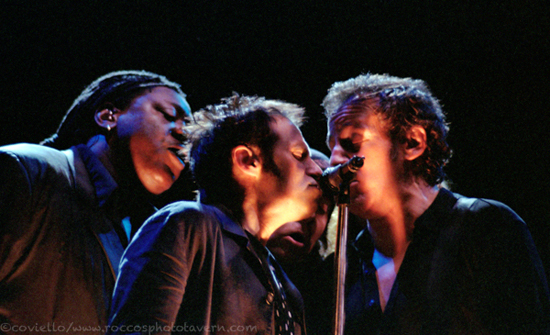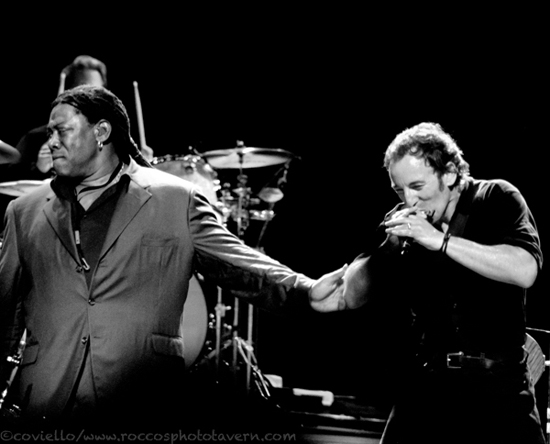 For more of Rocco's photography, visit roccosphototavern.com. From now through October 31 at midnight, use the discount coupon code BACKSTREETS for 20% off all prints.
- October 26, 2017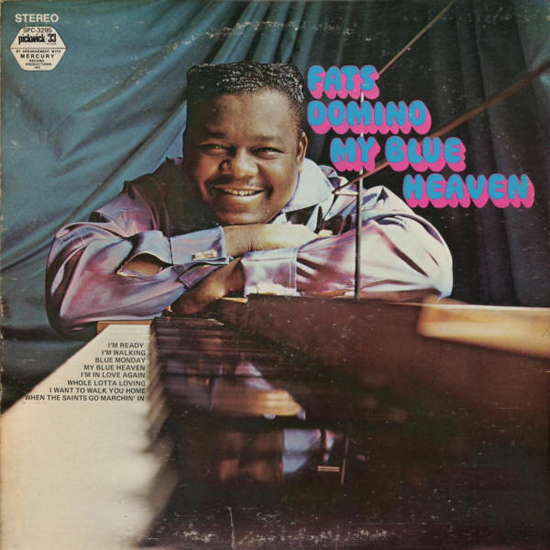 "THOUGH WE'RE APART, YOU'RE PART OF ME STILL..."
The sad news broke today that we've lost another of rock 'n' roll's founders, Fats Domino, who died yesterday at 89. Jay Lustig at NJArts.net surveys Domino's influence on E Street and the available audio of Bruce Springsteen's Domino covers over the years. Click here to read and listen.
Several times in 1981 while speaking from the stage during the original River Tour, Springsteen identified as one of his favorite song lines the couplet "Though we're apart, you're part of me still," from Domino's version of "Blueberry Hill."
According to Max Weinberg's official BruceSpringsteen.net bio, it was Max's performance on a version of Fats Domino's and Dave Bartholomew's "Let the Four Winds Blow" during his E Street Band audition that got him the gig. Listen here to Bruce and the band's epic medley of "Let the Four Winds Blow" and another Domino classic, "I'm Ready," broadcast live by WMMS-FM from Cleveland's Agora Ballroom on June 3, 1974.
- October 25, 2017 - Shawn Poole reporting - special thanks to Ryan Hilligoss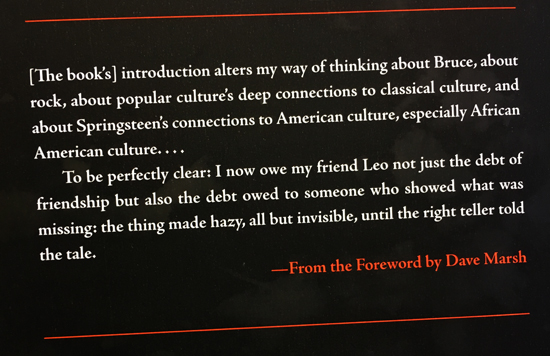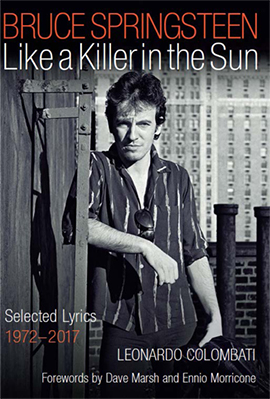 PRE-ORDER LIKE A KILLER IN THE SUN, SIGNED BY THE AUTHOR
Bruce Springsteen: Like a Killer in the Sun was originally published in Italian; thanks to Backbeat Books, November brings its first English edition. And here at Backstreet Records, we're happy to keep your shelf of signed books expanding.
This hefty hardcover, subtitled Selected Lyrics, 1972 - 2017, presents, annotates, and examines more than 100 of Springsteen's greatest lyrics, with author and longtime Springsteen follower Leonardo Colombati engaging in some fascinating literary criticism. Colombati also put together an engaging biographical timeline for this volume, with forewords by Dave Marsh and Ennio Morricone.
In November, Colombati will be signing for Backstreets customers — a cherry on top for anyone who might be looking at Killer in the Sun as a perfect gift for the holidays.
Pre-order now, and we'll ship to customers right after Leo signs for us in mid-November.
Guarantee a signed copy by pre-ordering now!
- October 25, 2017


SPRINGSTEEN CALLS CADENCE IN FILM OPENING FRIDAY
As I reported last month, one of the genuine surprises of the upcoming film Thank You For Your Service was the inclusion of a new song by Bruce Springsteen over the end credits.
The film stars Miles Teller and is written and directed by Jason Hall, who is probably best known for his Oscar-nominated, adapted screenplay for Clint Eastwood's American Sniper. Based on David Finkel's book by the same name, Thank You For Your Service covers a lot of authentic ground about the plight of the modern-day veteran's return home and the post-war struggles to reestablish a normal life.

Springsteen's contribution to the film is a dirge-like take on the "Freedom" marching cadence, often known as "Some Say Freedom is Free," credited to PFC Roger L. Southard (I'm pretty sure I saw Ron Aniello listed in the credits as producer, likely along with Springsteen).

I recently had a conversation with director Hall, star Teller, and Adam Schumann, subject of Finkel's book and the real-life veteran Teller portrays. I was able to shed a little light on how one gets Springsteen on board and how the track came to be. This is actually how the interview began:
Steve Prokopy: I'll ask you the first question, Jason, because it's the most important question you're going to get today.

Jason Hall: Knock it out.

SP: How the hell do you get Bruce Springsteen to do a new song for your movie?

JH: Adam got him to do it.

SP: Really?

Adam Schumann: Sort of. I think it was more Jon [Kilik, producer, who is best known for doing producing a great number of Spike Lee's films as well as The Hunger Games movies].

JH: Adam had a cadence that they sang in boot camp, and Jon recorded him singing it on his cell phone. Jon is friends with Bruce and played it for him. Bruce was like, "Oh, that's cool. How'd the movie turn out?" "Movie turned out great." We played him the movie. Bruce loved it, watched it twice, and then said, "Send me that recording, come back in a month, and bring that kid." So Adam went up there with Jon and recorded the song with him.

SP: Are you on the song, Adam? I know there's a male choir on it.

AS: Yeah, I'm in the background there. We all chime in. It's me, Jon Kilik, and Bruce Springsteen.

SP: I'm familiar with versions of that song, and I know different people do it different ways…

JH: Yeah, Bruce rewrote some of the lyrics to the song.

SP: If I heard it right, some of the lyrics are callbacks to "Born in the U.S.A." even. There are new words in there. But that's the nature of that song, right? Don't different people tailor it to their experience?

AS: Yeah, once you hear a cadence in basic training, it just becomes that mantra in your head, so you carry that on wherever you go, and then when you've got guys under you and you're calling cadence, you call the same one. So it's just passed down through generations, but changed from time to time.

Miles Teller: You got the scoop! [everybody laughs]
The film opens this Friday, October 27, with free tickets being made available for veterans and active military. Visit thankyouforyourservicemovie.com for further details.
- October 23, 2017 - Steve Prokopy reporting


FROM ONE GREAT SONGWRITER TO ANOTHER
Courtesy of our pal Rich Russo, here's an excellent YouTube clip of legendary songwriter Mike Stoller introducing Little Steven and the Disciples of Soul at their October 19 Orpheum Theatre gig in L.A. We even get a snippet of Stevie and the Disciples opening the show with their version of Tom Petty's classic "Even the Losers."
The Soulfire Tour wraps up its current U.S. leg with Texas and Florida dates this week, followed by a November/December return to Europe and then a just-announced December 23 "Holiday Homecoming" show at the Count Basie Theatre in Red Bank, NJ. Tickets go on sale this Friday, October 27 at 12 pm. Visit littlesteven.com for regularly updated info on all upcoming shows.
- October 23, 2017 - Shawn Poole reporting


SEEN THE LIGHTS GO OUT ON BROADWAY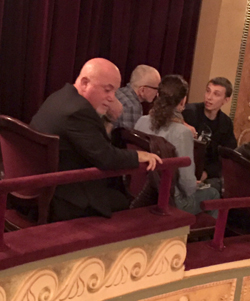 Spotted in the crowd at Wednesday's Springsteen on Broadway: Billy Joel, Jimmy Kimmel, and Howard Stern. At right, Billy's probably looking down at the other two from his "Abraham Lincoln" spot, hoping to get their attention, as he told it last night on Jimmy Kimmel Live.
Watch the clip above to see Billy and Jimmy debrief, after all that heat generated on 48th Street.
Billy even does a pretty passable Boss impersonation after naming his favorite Springsteen song. Almost as cool as his pick is the fact that he could call out the chords to Paul Shaffer as he sang. And just as cool as that: managing to pick a song that Shaffer didn't know.
Joel also tipped a hat to Broadway with a performance of his own "Miami 2017," watch it here, and the full interview is here.
- October 20, 2017 - photograph by Harvey C. Brill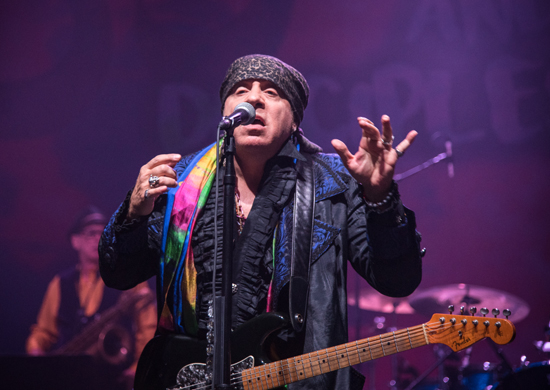 STEVIE ON SPRINGSTEEN'S "REMARKABLE" BROADWAY SHOW AND MORE
We've already heard Steven Van Zandt's review of Springsteen on Broadway — at least, the nutshell version: "Spoiler Alert! It was fucking great!" In a new interview with Billboard, Stevie refines and expands on that a bit as he talks about potential future plans:
Bruce's thing is fluid at the moment. He's done [on Broadway] in February. It's such a remarkable show. I saw it twice. My hope, and I haven't spoke to him about this, but I would hope for the rest of the world to get the chance to see it, maybe he would take it on the road a little bit. This is not inside information. For all I know he may stay on Broadway forever or not or say, "Let's do an E Street Band tour."
He says of Tom Petty, "We were really friendly without ever talking and that's kind of weird, but I felt very close to him." You'll want to catch Stevie enumerating his Five Crafts of Rock 'n' Roll, too. It's a great conversation with Melinda Newman.
Read: "Steven Van Zandt Talks Donald Trump, Tom Petty, Bruce Springsten & His Greatest Disappointment"
- October 20, 2017 - photography by Jerry Frishman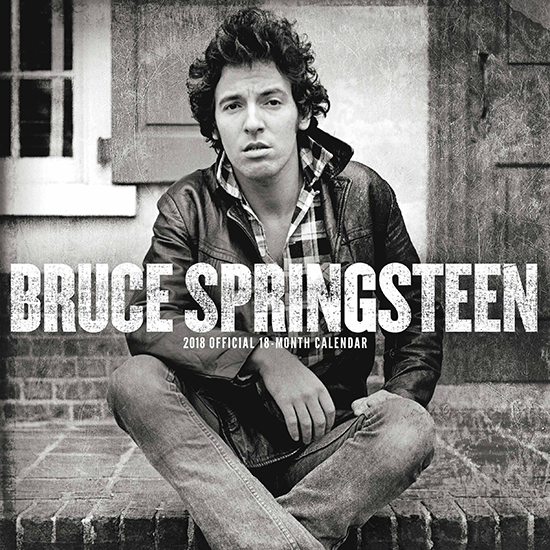 2018 CALENDAR IN STOCK NOW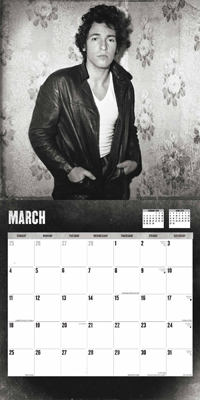 An annual favorite holiday gift has arrived: the official Bruce Springsteen calendar for the new year from Thrill Hill.
This one consists entirely of Springsteen images (with and without the E Street Band) as shot by Frank Stefanko. For each month, the new calendar features striking his portraits from the Darkness, River, and Nebraska eras, through to shots from this millennium, onstage and off, in color and black & white.
Stefanko is the cover photographer for Darkness, The River, the Born to Run memoir and Chapter and Verse. Frank also has a limited edition, career-spanning book of his Springsteen photography coming next month from Italy's Wall of Sound (we're still taking pre-orders for the Collectors and Deluxe editions of Further Up the Road).
But for a fraction of that price, with the new 2018 calendar you can have his images up on your wall all year long.
Click here for more calendar images
and to order from Backstreet Records
- October 19, 2017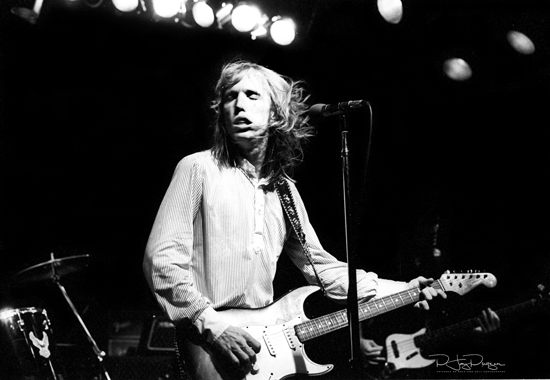 "A LONG LOST BROTHER": SPRINGSTEEN ON PETTY IN ROLLING STONE
Rolling Stone's David Fricke spoke with a number of Tom Petty's friends, bandmates, and peers for the magazine's lengthy tribute, "Remembering Tom Petty, 1950-2017," including Lucinda Williams, Peter Wolf, Stevie Nicks, Benmont Tench, Mike Campbell, Dhani Harrison, manager Tony Dimitriades, and Bruce Springsteen. Recalling receiving the news of Petty's death, Springsteen told Fricke:
I got the phone call and told the folks in my house. There were shrieks of horror. You couldn't quite believe it. We were from the same generation of rock & rollers. We started around the same time and had a lot of the same influences. And when I lived in California, I got to know him quite well. He was just a lovely guy who loved rock & roll and came up the hard way.
Rolling Stone has also published more of Fricke's conversation with Springsteen, which took place two days after Bruce dedicated his first Springsteen on Broadway preview to Petty. "My recollection of the time I spent with him was very lovely," Bruce says. "When we left California, I didn't see him as much. But when I did, it was like bumping into a long, lost brother. Patti and I — we were devastated. It's unimaginable, losing him."
Read: "Bruce Springsteen Remembers Tom Petty"
Fricke lets Springsteen have the last word in the tribute:
"It's sad that he's gone," Springsteen says of Petty, "but it was nice to be alive in his lifetime." And the work remains. "Good songs stay written. Good records stay made. They are always filled with the promise and hope and life essence of their creator.

"Tom made a lot of great music," Springsteen points out, "enough to carry people forward."
- October 18, 2017 - photograph by PJay Plutzer [Paradise Theater, Boston, MA, 1978]



THE FRIENDS OF BRUCE SPRINGSTEEN SPECIAL COLLECTION, INC. DONATES THOUSANDS OF ITEMS TO MONMOUTH UNIVERSITY
Expansive collection finds permanent home at Springsteen Archives
Per today's press release:
When Monmouth University announced plans for its collaborative partnership to establish The Bruce Springsteen Archives and Center for American Music earlier this year, global interest in the Bruce Springsteen Special Collection skyrocketed.
Much of the Collection, comprised of Springsteen's written works, photographs, periodicals, and artifacts, had been on loan to the University for the past six years. Now it has been formally gifted to the University for inclusion in the Archives by The Friends of the Bruce Springsteen Special Collection, Inc., a not-for-profit organization for people interested in helping to preserve the history of Bruce Springsteen and his music.
"When Bob Crane and I started this collection more than 15 years ago, we imagined something big: something impressive, permanent, and unique, an unparalleled resource of use to fans, students, and scholars around the world," said Christopher Phillips, publisher and editor of Backstreets and president of the Friends of the Bruce Springsteen Special Collection.
"Given the importance of Bruce Springsteen's work in our own lives," Phillips continues, "we wanted to preserve and consolidate all this material before it faded away. But I don't think either of us imagined how much the collection would grow — thanks to the dedication, labor, and generosity of fans worldwide — and that we'd eventually find such a perfect home. As a founder, I couldn't be more pleased to have discovered a partner in Monmouth University to preserve and expand the collection for future generations. And to be able to augment Bruce Springsteen's personal archive is literally a dream come true."
The Bruce Springsteen Special Collection originated in the summer of 2001 when Backstreets organized a fan-to-fan campaign to collect and organize essential documents from each phase of Springsteen's career, ensuring that the historic record would be publicly accessible to all who have a serious interest in Bruce Springsteen's life and music.
Originally held in the Asbury Park Public Library, the university acquired the collection on loan in 2011. At that time, the Asbury Park Public Library also donated its own collection to the University. The collection offers Springsteen fans the chance to explore various aspects of his career. Students, scholars, and journalists continue to benefit from the enhanced access to the diverse holdings.
The collection has continued to grow with the addition of recordings, photographs, oral histories, film footage, and other documents, totaling nearly 35,000 items from 47 countries, all of which will be housed in The Bruce Springsteen Archives and Center for American Music at Monmouth University.
"The Archives represent a learning opportunity for our students that will resound for decades to come," said Kenneth Womack, dean of the Wayne D. McMurray School of Humanities and Social Sciences at Monmouth University. "We owe a great debt to the Friends for establishing the Collection and for working with Monmouth University to expand the holdings and seek out new ways for sharing music education across our local communities and beyond."
The Bruce Springsteen Archives and Center for American Music will preserve and promote the legacy of Bruce Springsteen and his role in American music, while honoring and celebrating icons of American music like Woody Guthrie, Robert Johnson, Hank Williams, Frank Sinatra, and others. The expanded partnership will help to more deeply integrate the history and inspiration of American music into the curriculum and research experience at Monmouth. It will also serve to bolster an already highly successful music industry program at the university, one of only 14 university affiliates of the GRAMMY Museum.
- October 18, 2017

CHANCES WE GOTTA TAKE
Two contests each offer a pair of Springsteen on Broadway tix
Still looking to score tix for Springsteen on Broadway? In addition to the daily lottery, one of these contests just might be your lucky day.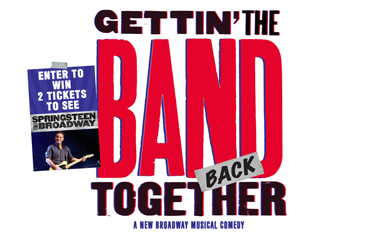 The producers of the musical comedy Getting' the Band Back Together, which will make its Broadway debut next summer, are holding a random drawing to give away a pair of tickets (valued at $200 each) to the Saturday, December 30 performance of Springsteen on Broadway.
You must answer an online question correctly to be entered into the random drawing, but it's multiple-choice and anyone who visits this site regularly (or, frankly, has a pulse) can ace it. According to the official rules, the contest is "open to all humans age 21 or older at time of entry. Residents of Taiwan, South Korea, Portugal, Italy, Austria, China, Russia, Hong Kong, Greece, France, Japan, Spain, and Czech Republic are not eligible to enter or win." The entry deadline is November 2, 11:45 pm UTC. Click here for the rest of the rules and to enter.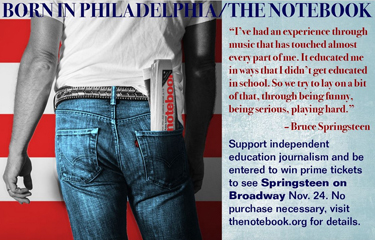 Meanwhile, in the City of Brotherly (and Sisterly) Love, The Philadelphia Public School Notebook also is giving away a pair of Springsteen On Broadway tickets.
The independent newspaper/website, which has covered public-education issues in the Philadelphia area for almost a quarter-century, is offering to one lucky winner a pair of orchestra seats (total value "at just under $1500") for the Friday, November 24 performance.
The Notebook's random-drawing contest is open to all U.S. residents who are 18 or older at the time of entry (excluding Notebook employees and board members, of course. Full disclosure: This Philly-based writer and public-school administrator is a former member of the Notebook's advisory board.) If you donate $50 or more to the Notebook on or before November 10, you'll be automatically entered into the contest, and only one entry per person is allowed. If you're unable to make a $50 donation, you still can enter the contest, too. Click here for all of the details and to make your donation.
Notebook publisher and longtime Springsteen fan Maria Archangelo also just posted her online essay about the contest entitled "What does Springsteen have to do with the Notebook?"
We're hoping to report on more opportunities to win Springsteen on Broadway tickets, and we're seeking help on that front from our readers. If you hear of any other "chances we gotta take," please let us know!
- October 17, 2017 - Shawn Poole reporting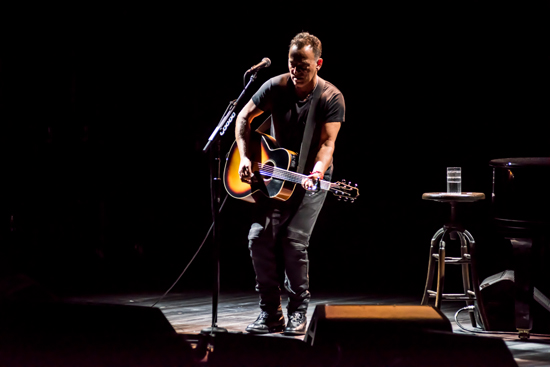 SPRINGSTEEN ON BROADWAY: THE BACKSTREETS REVIEW
They say there's always magic in the air...
From the Magic Rat to "magic in the night" to Magic Street, Bruce Springsteen is no stranger to the conjuring arts. For decades, his concerts have been described as feats nothing short of miraculous, and he has discussed his own songwriting in terms of a magical act: creating, from out of the air, something where there was nothing before. Now he does it again. Written and directed by the man himself, Springsteen on Broadway is an act of alchemy, taking familiar elements — from his songbook, his concerts (particularly his solo tours), his memoir — and combining them, with a new venue, to create something we've never seen before, something that has had preview audiences… well, spellbound.
Opening October 12, the performance starts simply — not with a familiar "Good evening, New York City!" but instead with a list of essentials, stated plainly at center stage. In fact, as simple starts go, this is almost as basic as it gets: "DNA," says Bruce. That is just one of "the elements that will come in handy should you come face-to-face with eighty thousand screaming fans who are waiting for you to do your magic trick. Waiting for you to pull something out of your hat, out of thin air, out of this world…. I am here to provide proof of life to that ever elusive, never completely believable 'us.' That is my magic trick."
With just guitar, piano, harmonica, and a very talented magician's assistant billed as Patti Scialfa Springsteen, Bruce makes good on this implied opening promise. Chekhov would probably agree: if you talk in the first act about having a magic trick, you'd better demonstrate it by the end. And Springsteen doesn't let us down. It's hard to say exactly when it happens — it's a gradual effect, a gathering of forces, a calling-up of spirits, great greasepaint ghosts on the wind — but by the end of this at-times mesmerizing performance we've found that proof of life...
Continue reading Springsteen on Broadway: The Backstreets Review
- October 12, 2017 - Christopher Phillips reporting - photograph by Rob DeMartin

SPRINGSTEEN ON BROADWAY SEMI-FREQUENTLY ASKED QUESTIONS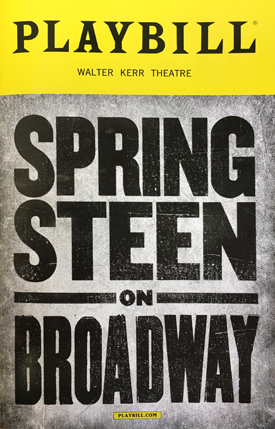 Tonight, after a couple days off, Bruce Springsteen is back on the boards for Springsteen on Broadway. The show is still in previews as we enter its second week... but only for two more nights, with the big opening on Thursday.
Of course, we're bound by decades of theater-media tradition not to review Springsteen on Broadway while it's in previews, making the October 5 performance I was lucky enough to witness off-limits for setlists, spoilers or critical interpretation.
For instance, I can't say "Holy (redacted)-ing (redacted)"; I can't tell you how many times my hair stood on end, how many tears fell, or how many times I had to stuff a Playbill in mouth to stop from screaming "HE'S PLAYING (REDACTED) ON (BLANK)" and getting booted right into Dear Evan Hansen. On the other hand, for hours after after I left the Walter Kerr, the best I could come up with is "Gah," and I'm pretty sure that doesn't need to be redacted.
So instead of reviewing a show I can't review, or listing a setlist I can't list, I'll instead share these few key pieces of safe, functional, non-review information for those Backstreets readers who may consider attending Springsteen on Broadway.
Can I bring a backpack?
The nice people at Jujamcyn Theaters, which is a word I cannot say (every time I try, it comes out "calvary"), ask in a pre-show email to "Please avoid bringing large bags or backpacks" and later to "Please refrain from bringing large bags and backpacks." As you may have determined, these are less "hard restrictions" and more "polite requests." I brought in a backpack containing a portable charger, a notebook, my wife's backup shoes and a bag of airline almonds I'd totally forgotten about. But the seats are a tight enough squeeze that Jujamcyn probably has the right idea.
So do they check your bags?
And how! Bags are inspected before you enter the theater, but we found the process speedy and friendly.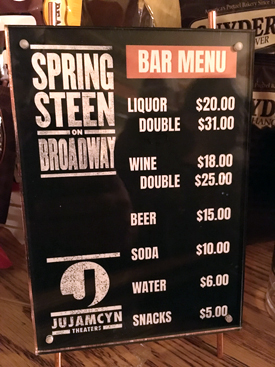 If I'm planning to have a drink or two, should I do so outside the theater first?
SWEET SWORD OF ORION, YES, if you were put off by the $850 price tag, let me introduce you to the $25 Glass of Wine. To be fair, if you think of it as merch, too, maybe it's not so bad: drinks come in a commemorative Springsteen on Broadway plastic cup (which you can take home in your large backpack).
What's the opening song?
That is a trick question. Don't think I can't see what you're doing.
Do I act like I'm at a concert or on Broadway?
It'll be interesting to see how this develops. Night 3 felt a vibrant but sometimes strange mix of the two. For my money, I'd have liked a little more cheering and singing along ["Noooooooo!" —Ed.]. This show was the first time I didn't actively sing along to (redacted) — but it does feel weird to do so in a Broadway theater. I imagine audiences will dictate this going forward.
Can you take pictures during the show?
The courteous and professional staff did a heroic job of reminding people that their tickets indicated no photos or video were allowed inside the theater, which was probably huge news to the rugby scrum of people holding portrait sessions right in front of the stage. Once the lights dim, photogs are pretty easy to spot, since phones comes with a luminous light-blue glow that's also a huge narc.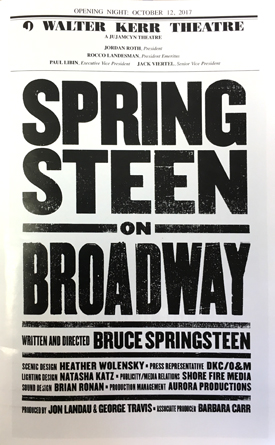 Do I get a Playbill?
Yes! It's Broadway, after all. And it's a bit of a spoiler, but we can confirm that the cast includes Bruce Springsteen. The show is also written and directed by Bruce Springsteen. If this sounds a little like Mr. Burns's movie, yes.
Is that Mr. Landau?
Probably! Springsteen on Broadway Producer Jon Landau was in the house on Night 3, posing for selfies and taking credit for writing many of Bruce's songs. (He's kidding.) On the way out, someone in the crowd yelled to Jon asking how Bruce kept doing it. Landau's response: "Good management!"
When should I get there?
Our show started at 8 — and promptly at 8 — and the doors opened at 7. We waltzed right in at 7:05, after the security check. Others who arrived at 7:30 had a bit of a longer line but were still inside with plenty of time to settle in.
What's the merch situation?
I am pretty sure that even in the context of a non-review I can say that Springsteen on Broadway objectively features the Smallest Bruce Springsteen Merch Table Since 1969, and I have to think that some of the Jersey VFWs at least had a folding table for Castiles soap or something. The line will be pretty long before the show, but both merch tables are open after, as is a larger table outside in the breezeway by the Crowne Plaza. $40 for T-shirts, $65 for a hoodie, $40 for a poster. There were coffee mugs, but I'll just use my $25 wine cup.
If, hypothetically some wang's cell phone keeps making noises behind you, particularly during the end of (redacted) and during the (redacted) part where he's (redacteding) on the (redacted) and you can't believe you're actually hearing (redacted), what is your appopriate response?
Grab the person's phone out of their hands and ask an usher to take it out to 48th Street so cabbies can drive over it. They'll probably say yes.
What was your favorite song?
I literally never thought I would hear (redacted) live. Or the (redacted) version of (redacted). Gah.
- October 10, 2017 - Jeff Vrabel reporting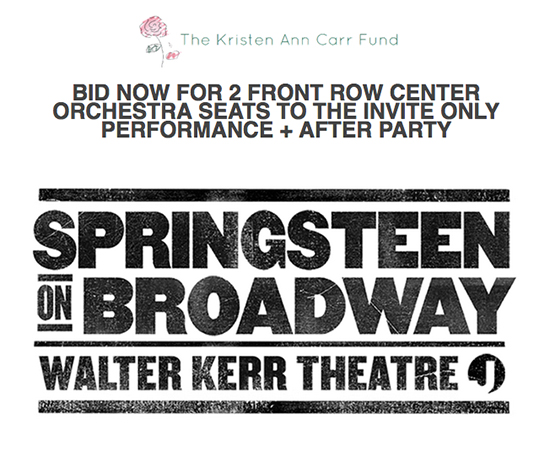 KACF AUCTION FOR FRONT ROW, OPENING NIGHT, ENDS TOMORROW
For the bigger spenders out there: a benefit auction is live now for a special Springsteen on Broadway opening night package: two front-row, orchestra-center tickets for the October 12 performance, plus entry to the afterparty.
Opening night is largely invitation-only and VIPs. While some tickets are being sold to benefit Broadway Cares/Equity Fights AIDS ($5,000/$10,000 via broadwaycares.org), this is the only way we know of to guarantee front row for the big night, and proceeds support the good work of The Kristen Ann Carr Fund.
Visit kacfauction.com to bid; auction closes Wednesday, October 11, at 4:30pm Eastern.
- October 10, 2017


FROM US THERE IS MUCH TO LEARN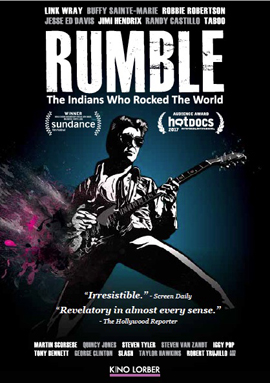 New doc RUMBLE: The Indians Who Rocked The World features Little Steven among the participants
Happy Indigenous Peoples' Day. If you're in the Milwaukee area this evening, there's no better way to celebrate than catching tonight's screening of RUMBLE: The Indians Who Rocked The World, the new documentary about the indigenous influence on American popular music. See the official trailer above, and click here to buy tickets for tonight's screening.
The film is the brainchild of guitarist and producer Stevie Salas, an Apache Indian who co-created the 2010 exhibition Up Where We Belong: Native Musicians in Popular Culture at The Smithsonian Institution's National Museum of the American Indian.
Steven Van Zandt is among the many musicians interviewed in the film. Here's a bit of Stevie on the important and enduring influence that Shawnee Indian Link Wray's "Rumble" riff has had on rock and roll:
Bruce Springsteen actually recorded with Link Wray, playing piano on the version of Springsteen's "Fire" that Robert Gordon recorded with Wray in 1977. (Click here for some great audio of Gordon, Springsteen and Wray performing "Heartbreak Hotel" in New York on the night after they recorded "Fire" together.) Wray later sat in with Springsteen and the E Street Band during their concerts on June 2, 1981 in London and July 25, 1988 in Copenhagen.
In 2005, shortly after the news of Link Wray's death broke, Springsteen paid tribute by opening with a cover of "Rumble" at each of his final two shows on the Devils & Dust Tour.
Screenings of RUMBLE: The Indians Who Rocked The World currently are scheduled to continue across the U.S. and internationally through early 2018. Click here to find a screening near you. As of October 24, RUMBLE also will be available in DVD and VOD formats via iTunes, Amazon and Google Play.
- October 9, 2017 - Shawn Poole reporting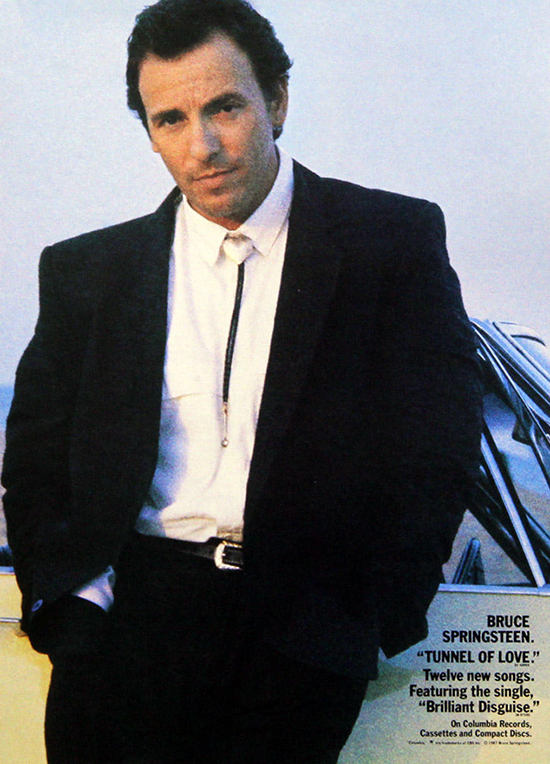 30 YEARS AGO TODAY
Happy birthday to Tunnel of Love, released October 9, 1987.
Update: Or was it October 6? Signs point to yes; that would have been a Tuesday in 1987, the day of new releases. In any case: the impeccable Tunnel of Love turns 30 this week, one of Springsteen's most adult-oriented albums leaving its twenties behind.
- October 9, 2017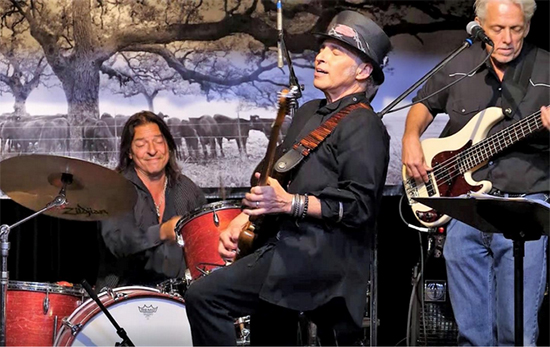 I CAME TO JAM
Watch Nils Lofgren wing it with musician friends in Blind Date Jam
How does Nils Lofgren spend his downtime between solo touring, recording, and E Street Band tours? By getting back to the unbridled joy and spontaneity of just playing music with fellow musicians. With his Blind Date Jam project, you can watch him do it.
Lofgren explains the Blind Date Jam as a concept "where musicians jam with no rehearsal, no homework, no advance discussions. I throw out an idea and we go to town and see where it leads us. Reckless, raw, unique and in the moment. Trust and enjoy our musical instincts interacting in the freedom of the unknown."
Digital video download of the new installment, an 80-minute jam, is available for pre-orders at nilslofgren.com now and will be released on November 17. Here's a taste: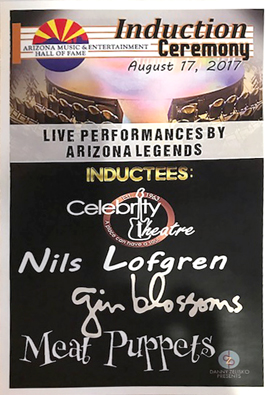 In August, Lofgren was welcomed into the Arizona Music & Entertainment Hall of Fame, along with Phoenix's Meat Puppets and Tempe's Gin Blossoms. Though Nils in his early career was associated with the Washington DC area and Southern California, the induction program notes: "He grew fond of Arizona and eventually settled in Scottsdale, where he has been for over two decades. Nils and his wife Amy are involved in local charitable causes and he plays in local venues with Arizona musicians."
Backstreets reader Kim Smokowski was there for the ceremony at the Celebrity Theatre in Phoenix, telling us it was "a really great night — Nils started his performance with 'Wonderland' and was well received by the crowd. He thanked everyone including his wife Amy — talking about how their first and second dates were 15 years apart — and son and friends who were there. He came out and joined the Gin Blossoms on 'Hey Jealousy' as well and killed it with his guitar solo."
Watch his induction video below.

- October 9, 2017 - thanks to Kim Smokowski for the Induction program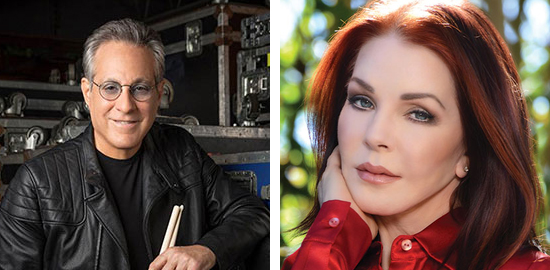 MAX WEINBERG TO HOST AN EVENING WITH PRISCILLA PRESLEY
"Elvis & Me" special event in NJ as Max's Jukebox tour rolls on
On October 27, Priscilla Presley will appear at the State Theatre in New Brunswick, NJ, in conversation with host Max Weinberg. Elvis & Me features Mighty Max interviewing Priscilla about her fascinating life and also moderating a Q&A with questions from the audience.
Thanks to our friends at the State Theatre, we have a special discount for Backstreets readers: use the promo code mighty when ordering tickets online at stnj.org or by phone at (732) 246-7469 (discount does not apply to meet and greet package).
The event with Priscilla falls in between stops of Max Weinberg's Jukebox 2017 Tour, which resumes tomorrow night in Milwaukee. In October, November, and December, you'll be able to catch the all-request Jukebox show up and down the east coast — see below for dates.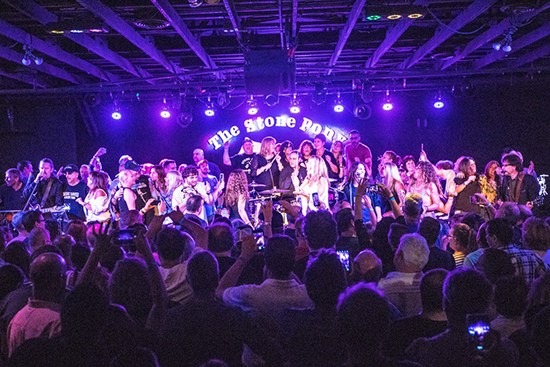 - Max Weinberg's Jukebox at the Stone Pony, 8/30/17 - photograph by Jeff Crespi
| | | |
| --- | --- | --- |
| Oct 8 | Turner Hall | Milwaukee, WI |
| Oct 10 | Horseshoe Tavern | Toronto, ON |
| Oct 11 | Wolf Trap | Vienna, VA |
| Oct 13 | The Odeum | East Greenwich, RI |
| Oct 16 | City Winery | Boston, MA |
| Oct 17 | World Cafe Live | Philadelphia, PA |
| Oct 18 | White Eagle Hall | Jersey City, NJ |
| Oct 24 | City Winery | Atlanta, GA |
| Oct 25 | City Winery | Nashville, TN |
| Oct 26 | McGlohon Theater | Charlotte, NC |
| Nov 2 | Tupelo Music Hall | Derry, NH |
| Nov 4 | Hollywood Casino | Charles Town, WV |
| Nov 5 | Diana Wortham Theater | Asheville, NC |
| Nov 17 | Landmark Theater | Port Washington, NY |
| Nov 18 | Landis Theater | Vineland, NJ |
| Dec 3 | Daryl's House | Pawling, NY |
| Dec 8 | Newton Theater | Newton, NJ |
| Dec 9 | Winchester Music Tavern | Cleveland, OH |
For more details, visit maxweinberg.com.
- October 7, 2017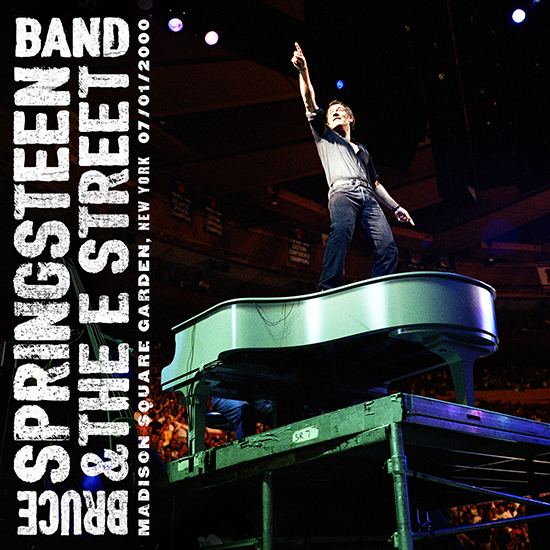 BACK TO THE GARDEN: NYC, JULY 1, 2000
New download presents final Reunion show, complete!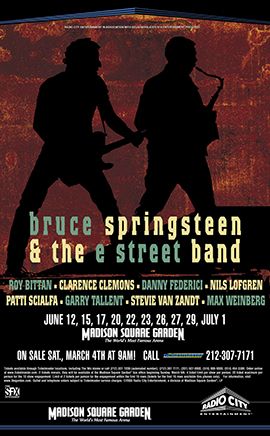 Bruce Springsteen and the E Street Band wrapped up their 1999-2000 "Reunion" tour with a ten-night stand at Madison Square Garden in New York City, the last of which, July 1, 2000, is the latest installment in Springsteen's live archive series. Most of 7/1 appeared in 2001 as Live in New York City (in combination with material from 6/29), but this release features the entire 28-song tour finale and a new Jon Altschiller mix.
Named the Reunion tour by fans, the 1999/2000 trek was Springsteen's first with the E Street Band since the Human Rights Now! Tour in 1988; after spending much of the '90s creating music that was decidedly not from the classic E Street mold, such a reunion often seemed like a pipe dream to fans. One listen to the call and response between Springsteen and fans on "Atlantic City" from this night, with the intensity rising on each pass, shows how much in concert they were throughout the tour.
This era's complex setlists celebrated the band's history, re-examined Springsteen's solo work, and looked to the future. For most of the tour, the setlist embraced classic songs from Born to Run, Darkness on the Edge of Town, The River, and Born in the U.S.A. Springsteen made room for solo work, outtakes (from the 1998 box set Tracks), and a new song written specially for the tour, "Land of Hope and Dreams." By tour's end, Springsteen had added more off-E Street material and new, unreleased songs. That gave the later shows a forward-looking tilt.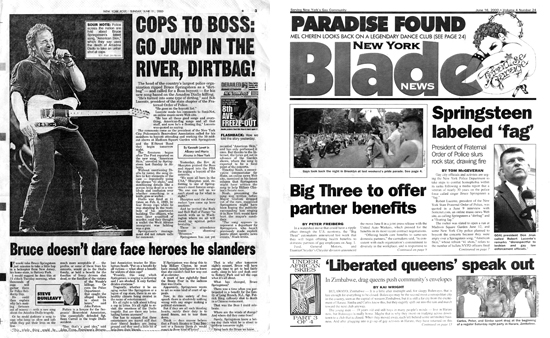 One new song, "American Skin (41 Shots)," debuted in June 2000 in Atlanta, right before the Garden run. It recalls a 1999 police shooting of an unarmed African man in New York City, and it touched a nerve. Perceived by some as anti-cop, the song made headlines, a genuine achievement for something practically no one had heard. The head of the Patrolman's Benevolent Association called for a boycott, and others called Springsteen derogatory names. Against that backdrop of tension, the NYC shows set to end the tour, originally viewed as a celebration, took on a much different tone.
Springsteen met that tension head on, opening in New York with another new song, "Code of Silence." It would open seven of the ten Garden shows, including the finale. And, yes, "American Skin" was in the set that very first night (June 12), earning boos, cheers, and a few middle fingers. Undeterred, Springsteen kept it in the set, usually following its lamentation with a rejuvenated performance of "The Promised Land."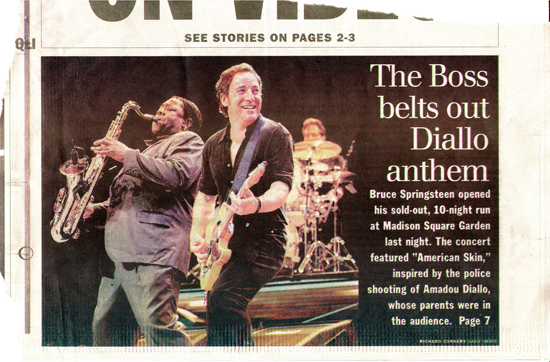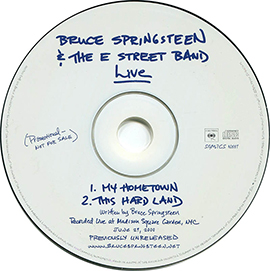 Between the audio and video releases of Live in New York City, much from the last two shows at Madison Square Garden exists officially (that includes a promo CD with two songs from 6/29, "My Hometown" and "This Hard Land"; "Code of Silence" appeared as a bonus track on the 2003 Essential CD). Though non-LP B-sides are always welcome, fans wondered: why not release the entire show? Well, today's installment of the "First Friday" series does just that, and it includes the missing nuggets that made this show special, such as the first live E Street Band release of "Further On (Up the Road)," one of four new songs Springsteen premiered over that last month of the tour (leaving only "Another Thin Line" on the shelf).
Of course, the most welcome addition is the show-closing "Blood Brothers," easily the emotional high point of the tour. Springsteen had written a new verse for this final performance that raised the song from the ambivalence of its Greatest Hits arrangement ("I don't know how I feel"); the new lyrics paid tribute to his longtime relationship with the E Street Band, surprising many and moving more than a few to tears, including a few on stage.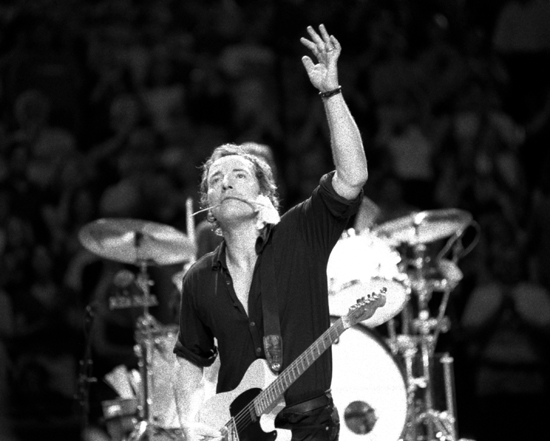 - July 1, 2000 - photograph by Paul Kaytes
This version of 7/1 features a mix by Jon Altschiller, who has worked on every Springsteen Nugs title since early 2016. Like Bob Clearmountain's mix for Live in New York City, it's excellent — they are professionals, after all — but there are a few differences. The biggest is that Altschiller mixed Bruce's vocals slightly lower. While that may read like a negative, it means Bruce's vocals blend with the rest of the band in a more natural way, making for a warmer sound overall. This is especially evident in the louder songs, such as "Murder Incorporated" and "My Love Will Not Let You Down."
Altschiller uses a different approach to get the "live" sound for which his mixes are known. First, he's created a drum sound that focuses more on the bass, which, again, gives it a warmer and deeper sound. This emphasis also provides the "big" arena sound, whereas Clearmountain used reverb to convey the feel of the venue. Additionally, he mixes in more audience sound to give it that "you are there" feel.
Fans of the of the E Street Band's three-pronged guitar attack will have a field day with this release. Altschiller has mixed Nils, Steven, and Bruce so that each guitarist is easily identifiable during most of the show, with any solo standing out. In fact, their guitars are panned in accordance with where the band members stood on stage. During "Murder Incorporated," for example, Nils is panned left, Steven to the right, and Bruce center, placing the listener in the front row.

- July 1, 2000 - photograph by Ken Lesnik
Compared to other reunion-era tours, setlists in 1999/2000 were relatively static. A handful of slots stayed open for rotation, and each night fans watched the one post-"Tenth Avenue Freeze-out" for a wild card. On July 1, Springsteen played two such songs. "The E Street Shuffle" he introduced by saying, "Let's continue to be silly, now!" (after having fun with the band intros during "Tenth"). The second was a stunner: the first performance of "Lost in the Flood" since 1978. In the encore, "The Promise" appeared in a solo piano arrangement, one of only four times he played it on the tour (including the March '99 rehearsals).
While the "American Skin"/"Promised Land" one-two punch constitutes this show's "big statement," another combination not only manifested a career-long anti-war theme, but also worked well in a musical sense: the searing guitar solo at the end of "Lost in the Flood" flowing perfectly into the Delta blues opening riff of the acoustic "Born in the U.S.A."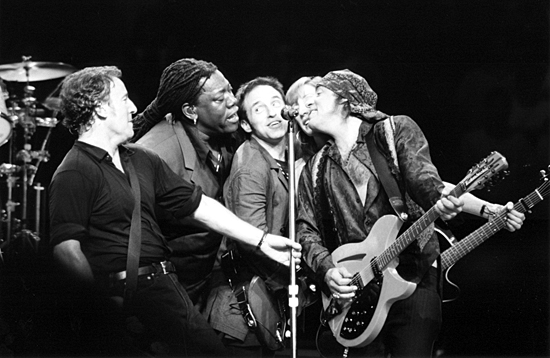 - July 1, 2000 - photograph by Rocco Coviello
Fifteen months earlier, on the cold boardwalk at Asbury Park's Convention Hall, Springsteen introduced "If I Should Fall Behind" by saying that first show was a "re-dedication of our band… and our commitment to serve." Now, on the last night of the tour, Bruce echoed those comments and added, "I hope we've done that well this year, and we'll continue to try and do so." Seventeen years and six tours later, that dedication and commitment endure.
For more on the Garden performance, read "Blood Brothers Reunited: MSG 7/1/2000," Erik Flannigan's nugs.net blog post. Madison Square Garden, New York, NY, July 1, 2000 is available now in various digital formats and for pre-order on CD from live.brucespringsteen.net.
- October 6, 2017 - Flynn McLean reporting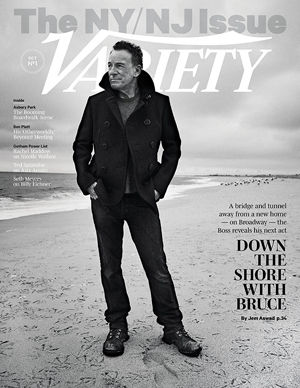 THE JOY OF MUSIC:
SPRINGSTEEN IN VARIETY
It was inevitable that Bruce Springsteen would do some press before Springsteen on Broadway's opening night, and given that he's now stepping over that line into EGOT (Emmy / Grammy / Oscar / Tony) land, it made all the sense in the world that one of those interviews would go to Variety. It's not a publication that most music fans are reading on the regular, but they cover the wide swath of "entertainment" better than anyone else.

This might be why the Variety interview by Jem Aswad managed to coax out quotes and information that were new, fresh, and revealing, and that provided some insight to why Springsteen on Broadway is happening right now. Much of the discussion focused on Bruce's legacy and how he himself views it — the old "getting all summational" that we're accustomed to at the end of a tour, not the beginning of one — but it arrives there indirectly, through the act of the interview. And although Springsteen is a skilled interview subject well capable of deftly parrying questions he does not want to answer, the conversation provided many thoughtful moments. It's one of those pieces you'll want to read through a few times.
On why certain music gets released and other music does not:
We've made many more records than we released. Why didn't we release those records? I didn't think they were essential. I might have thought they were good, I might have had fun making them, and we've released plenty of that music [on archival collections over the years]. But over my entire work life, I felt like I released what was essential at a certain moment, and what I got in return was a very sharp definition of who I was, what I want to do, what I was singing about. And I still basically judge what I'm doing by the same set of rules.

About that Aaron Copland album in the can:
"I don't know if anybody made that particular connection. Really, that record is influenced by Southern California pop music of the '70s."

On the definition of "Jersey Soul," and what makes the E Street Band different:
There's a lot of bands that are good at playing hard or playing cool, but there aren't a lot of bands that do joy very much. And one of the things the E Street Band aspired to was a certain joyful feeling that I particularly got from the Italian side of my family, which I was always able to communicate to a big crowd.

On political songwriting:
"I never wanted to be just a proselytizer for an ideological point of view. That's not my job; that's somebody else's job. And if you even look back to Woody Guthrie's material, he didn't do that. He wrote these very full character pieces that, whether you were there in the Depression or not, they live today. They weren't hollow, they weren't one-dimensional; they were these very full character pieces about the times. I still aspire to that, really, and if it has political implications that's fine and if it doesn't that's fine too."

On being married to someone you work with:
"Some places we have a more professional approach, like if I walk into the studio while she's working, I have certain boundaries where if she requests my opinion or asks for my help, I give it on a very professional level."

On his relationship with Jon Landau:
"My relationship with Jon [Landau, Springsteen's manager since the mid-1970s] is one in a million and one of the most important relationships in my life, and it's maintained its creative edge since the day we got together. I still feel an excitement when we get on the phone together — like something could happen! We might learn something together that we haven't known the other 10,000 times we've talked."
Variety cover story part 1: "Bruce Springsteen on Broadway, His Next Album, and Loving New Jersey" by Jem Aswad
Variety cover story part 2: "Bruce Springsteen Talks Politics, Marriage and Why He Won't Write an 'Anti-Trump Diatribe'" by Jem Aswad
Sidebars and more from Variety:
- October 6, 2017 - Caryn Rose reporting - Variety cover photograph by Danny Clinch


THE CITY WEEPS TONIGHT
Sunday night in Philly, Little Steven & the Disciples of Soul ended another wonderful evening of great music with what has become their standard set-closer of late, "Out of the Darkness." In a manner very similar to what he had done the week before in Port Chester, NY (see video above), Stevie introduced the song by telling the crowd, "We're in for some dark times... It's more important than ever that we stick together and love each other, and together we will find our ways out of the darkness." Of course, nobody onstage or in the audience knew what would occur a few hours later out in Las Vegas. Nevertheless there were no better words, and no better song, with which to face the next day's news.
At his very next show in Baltimore on Monday night, Steve and his band also paid tribute to the late, great Tom Petty with a version of Petty's classic "Even the Losers" that was soaked in mournful horns. Below, more images from that night in Baltimore, through the lens of Jerry Frishman.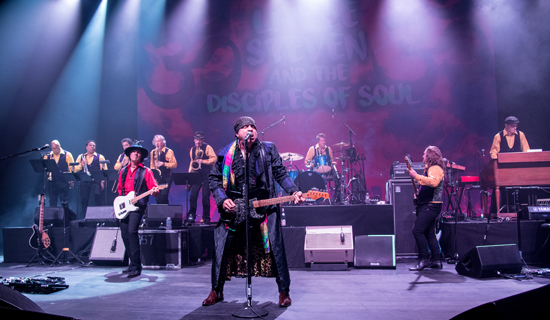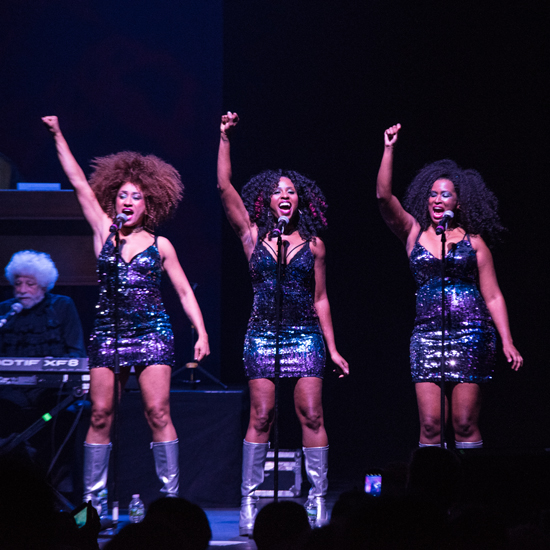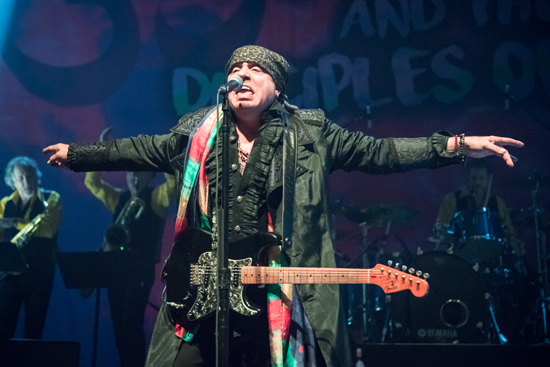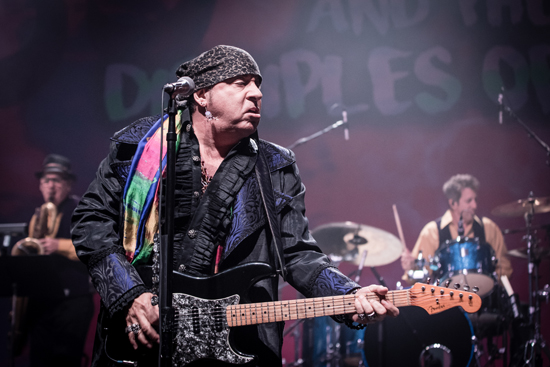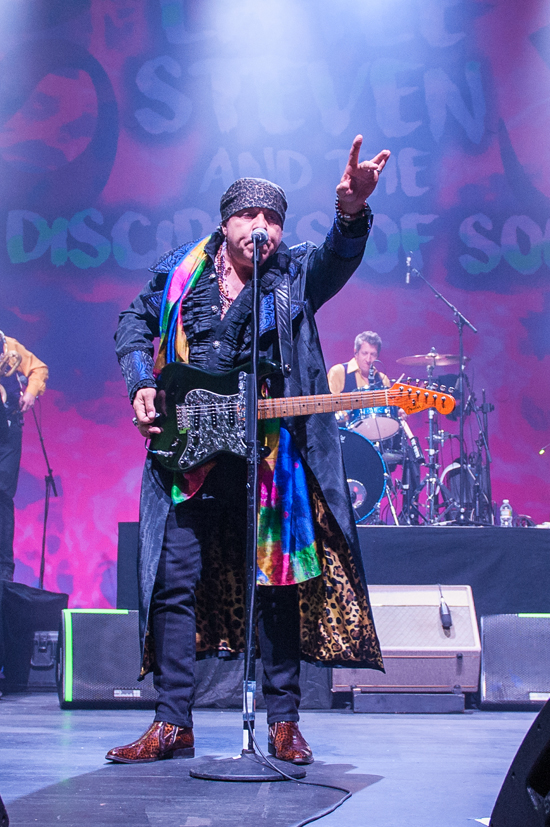 And the Soulfire tour rolls on, hitting Ohio on Friday night. Get there if you can.
- October 5, 2017 - Shawn Poole reporting - photographs by Jerry Frishman


THROWBACK THURSDAY, TOM PETTY EDITION:
"IT WAS OUT ON THUNDER ROAD..."
Back in 2013, Tom Petty sat down with Rolling Stone's Andy Greene after Petty & the Heartbreakers had just finished a small series of intimate, rarities-filled concerts in Hollywood and New York. Among the highlights of these concerts were the first public performances of "Tweeter and the Monkey Man," a Traveling Wilburys song long thought to have been written primarily — if not solely — by Bob Dylan, who sang the lead vocal on the recorded Wilburys version. Petty revealed to Greene, however, that the song actually was a Dylan/Petty collaboration. He also affirmed that while the song was filled with imagery from and references to Bruce Springsteen songs, it was intended as a respectful homage as opposed to a spiteful parody.
"Yeah, it was not meant to mock him at all," Petty told Greene. "The song was supposed to... It started with Bob Dylan saying, 'I want to write a song about a guy named Tweeter. And it needs somebody else.' I said, 'The Monkey Man.' And he says, 'Perfect. Tweeter and the Monkey Man.' And he said, 'Okay, I want to write the story and I want to set it in New Jersey.' I was like, 'Okay, New Jersey.' And he was like, 'Yeah, we could use references to Bruce Springsteen titles.' He clearly meant it as praise. We weren't trying to knock anybody, and there's not much of it in there anyway. So we sat and wrote the song. The English guys [George Harrison and Jeff Lynne] left, actually. It was the only song that they were like, 'This is just too American. We're out on this one.' So the two of us just sat there for most of the afternoon, and then we edited it down the next day."
Tom Petty & The Heartbreakers' epic live version was almost twice the length of the Traveling Wilburys record. A professional recording from New York's Beacon Theatre was featured on the fan-club-only release Tom Petty & The Heartbreakers Live 2013. The fan-filmed video above is a slightly longer version performed at Hollywood's Fonda Theatre.
- October 5, 2017 - Shawn Poole reporting - special thanks to Jeff Calaway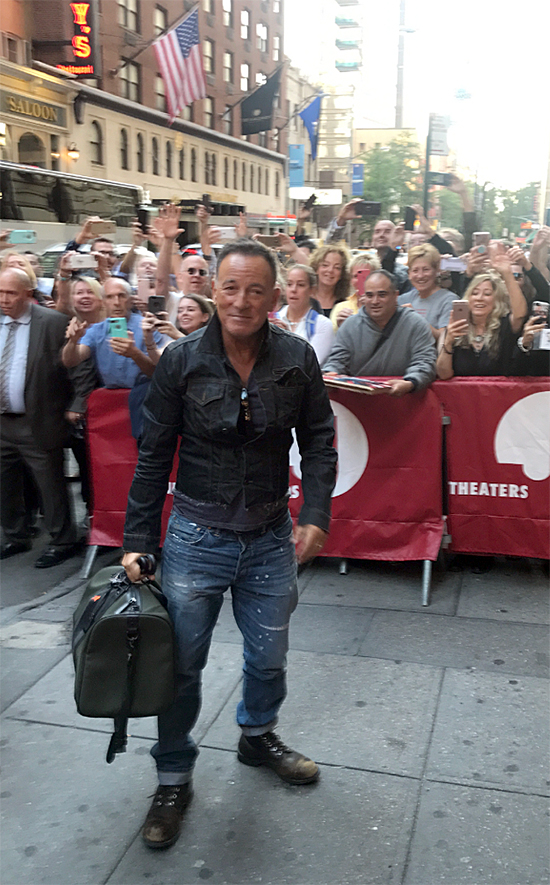 SPRINGSTEEN ON BROADWAY, PREVIEW 2
Wednesday, October 4
A non-spoiler note: The best Broadway shows do more than educate or entertain. Something happens in a theater that differs from what takes place at a lecture or a concert. There is present what Springsteen calls a "third entity," an experience that transcends the verbal and the musical to become something else: captivating, emotional, visceral. When it succeeds, you feel it. This is the magic of the theater, and Springsteen, who in his autobiography describes his success as a master illusionist and a magician, aims dead center for that mysterious theatrical ether.
The show made me laugh, weep (twice), and like all great theater helped me understand something not about the performer, but about myself. Of course to hear Springsteen so intimately, in what feels like one's living room, makes the alchemy possible. Bruce has always been a storyteller, but the stories on stage have usually been in service of the songs. Now the songs serve the stories, and because of that we get to hear them in a new way. It will be fun, once the show officially opens, to talk about story and song choices and maybe even suggest titles for Springsteen on Broadway. What I know is I've got four months to acquire another ticket.
- October 5, 2017 - Louis Masur reporting - photograph by Ben Masur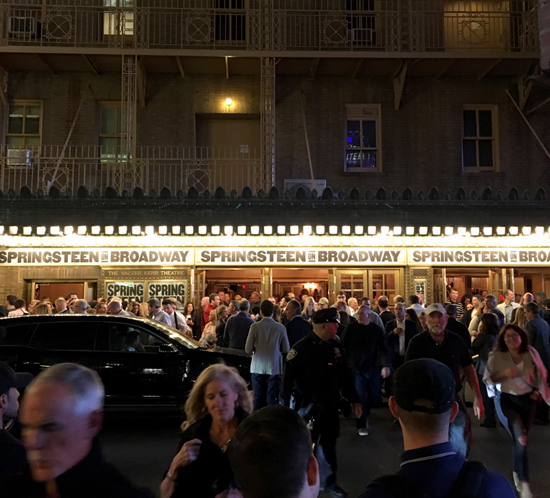 SPRINGSTEEN ON BROADWAY PREVIEWS BEGIN
Tonight on 48th Street, Bruce Springsteen made his Broadway debut to rapturous applause — at the outset, throughout, and of course, at show's end. It's already amusing to look back at what Jon Landau said in Sunday's New York Times about "the conventions of Broadway": "The show starts, there's absolute silence. People stay in their seats." Not tonight, that's for sure. Wait, is "Brooocing" a Broadway convention? No? Well, while we like the idea of a bit more appropriate audience decorum for this new venture (we're not gonna actually make him tell us to "shut the fuck up," are we?), the excitement in the air for this first night of previews made the lack of restraint pretty forgivable.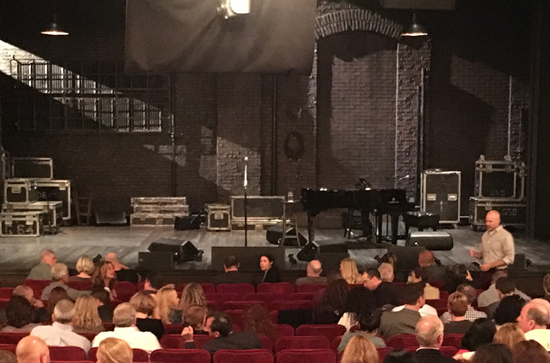 While we're going to respect Broadway protocol — no reviews 'til opening night, don'tcha know, no spoilers here — a few unique moments are worth reporting.
When cheers went up in the crowd before lights went down, one might have thought Springsteen had pulled a "Boss sneak" and come out early... but no, they were for Stevie Van Zandt, slipping into his seat in the orchestra to see his pal take on the Great White Way.
And when Springsteen did take the stage, his first order of business was to "dedicate this show to my good friend Tom Petty... sending our prayers out to the Heartbreakers and his family."
- October 3, 2017 - Christopher Phillips reporting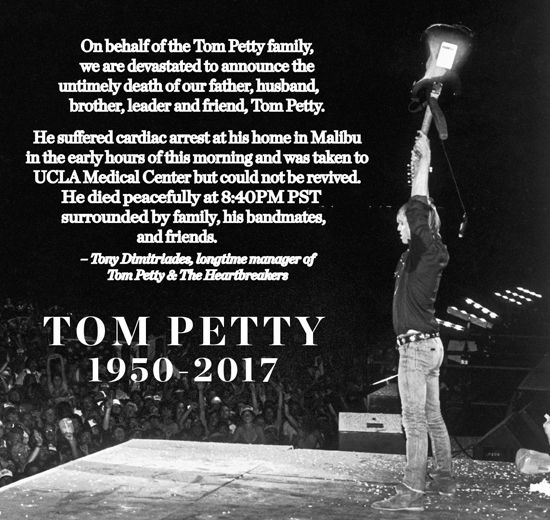 AMONG THE WILDFLOWERS
Tom Petty (1950 - 2017)
Tom Petty's untimely death at age 66 leaves a great space open, one he filled in a way few musicians, whatever their level of popularity or record sales, can imagine or occupy. Petty aged, but he didn't change much: his showmanship, his setlist, and his band all remained in place. Even when he'd make a record without the Heartbreakers, they'd dutifully assemble to hit the road with him. And when he didn't make a record, they'd play for the hell of it. That was the case with their 40th anniversary tour, which ended a week ago.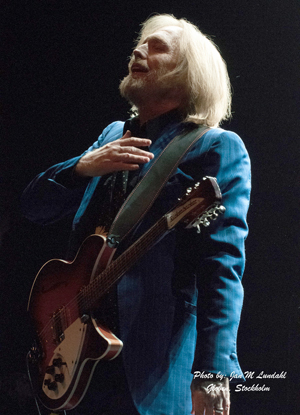 Coming from Gainesville, Florida, Petty shared much in common with Bruce Springsteen, his New Jersey kindred spirit. After kicking around and honing their crafts, they both broke out with their third record (Jimmy Iovine had a hand in both, coincidentally). They overcame legal problems that threatened to keep them from moving forward. And of course, they both had father trouble. Still, when they finally met, probably sometime in the mid-'70s, they did the rocker thing, loading up on eight-track tapes and driving through Los Angeles to the water's edge.
They worked together in a loose sense: the No Nukes shows in 1979, and the first Bridge School benefit concert in 1986 (okay, they were both there). But they never really collaborated, and maybe it would have felt gimmicky anyway. Petty was always unguarded: anyone who remembers "Don't Come Around Here No More" will tell you that. And anyone who read Warren Zanes' excellent biography will, too. (To really experience Tom Petty, go to YouTube and watch him with Garry Shandling, probably the most fascinating 20 minutes you'll spend today.)
Their careers took different paths. As a child, Tom Petty met Elvis Presley. As a working musician, he and his band backed Bob Dylan. Petty battled his record company over how much his records would cost; Springsteen built enough credibility with Columbia that putting out Nebraska merely took Walter Yetnikoff one listen. Springsteen and Petty made summational records in 1987, after which Petty made Full Moon Fever without telling all the Heartbreakers. Springsteen dismissed the E Street Band and made Human Touch and Lucky Town.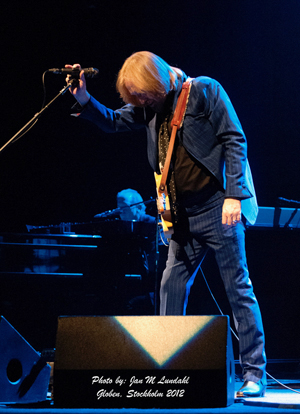 Another difference was MTV. At the dawn of the '80s, Springsteen spent years making records in New York recording studios. Tom Petty made videos that fed the earliest demands for the new format. That's how most Gen X fans caught on to him, whether it was the stark, black-and-white reading of "A Woman in Love (It's Not Me)" or the post-apocalyptic road trip that played out in "You Got Lucky." Tom Petty reached people with images, and in a big way: he was a quick study with videos, and he rode cable to greater success. (Springsteen did alright himself, just don't you worry about that.)
And Heavens to Murgatroyd, did Tom Petty ever have the songs to back him up: "Louisiana Rain," "Nightwatchman," "Runaway Trains," "The Last DJ," "I Should Have Known It" — and these are just the back-benchers, but great ones nonetheless. Their sole misfortune was coming from the same imaginative soul that produced a 20th-century American songbook that carried over into the next, codified by jukeboxes from Gainesville to Malibu, and a Greatest Hits collection that's sold 12 million copies in the U.S. He made great records, too, long-players in the true sense, none more splendid than Wildflowers, none more passed over than the underrated Let Me Up (I've Had Enough), none more celebrated than Full Moon Fever. Or Damn the Torpedoes. Good work if you can get it, I say.
No, great work.
Godspeed, Tom Petty.
- October 3, 2017 - Jonathan Pont reporting - Stockholm 2012 photographs by Jan Lundahl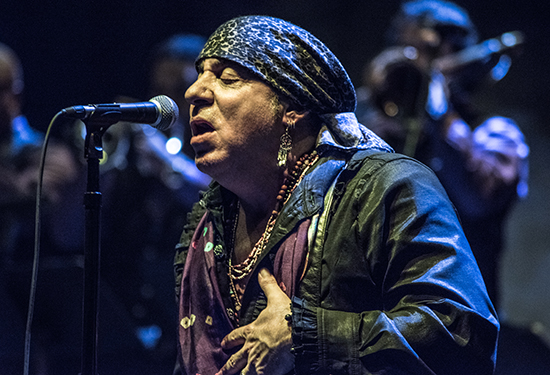 HELLO BOSTON! IT'S GOOD TO BE BACK HOME!
Little Steven and the Disciples of Soul
Orpheum Theatre, Boston, MA, 9/29/17
Writing about Little Steven and the Disciples of Soul will unwittingly reveal my age. Because the release this year of Steven's latest album Soulfire brought for me a return to the vintage years when music was making its first indelible mark on me.
In the mid-1960s, pop music reigned. For me first it was the R&B perfection of groups like the Four Tops, Martha and the Vandellas, and the other hitmakers from Motown that put a bounce in my step. Phil Spector's Wall of Sound in songs like "He's a Rebel" would become our teen anthems. And then enter the Beatles, the British Invasion, and a new genre of pop would give birth to the garage band. Everyone was part of the pop revolution.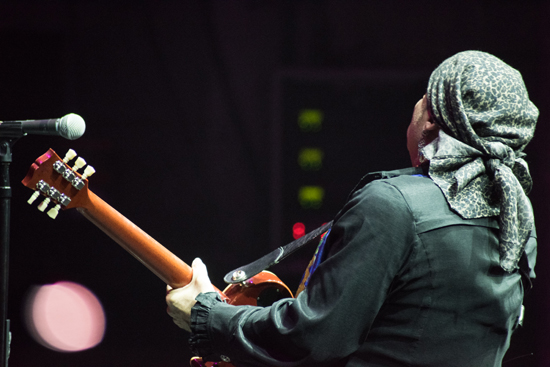 But behind all these sounds were masterpieces of production and arrangement. And to get that big sound, you needed a lot of layers. And to get that sound live, you need a lot of players. Which makes it no surprise when Steven adds 14 members to his band to bring that sound to you live.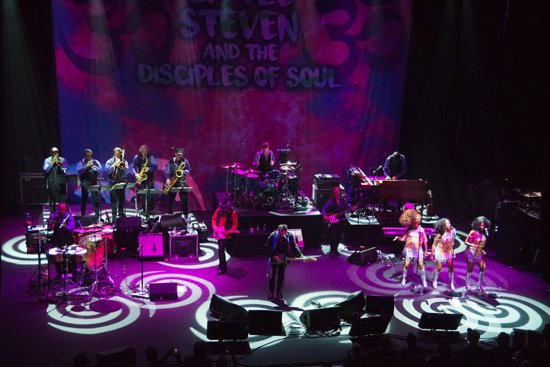 It's clear that this sound of an era is close to his heart, as it is to mine. Not so much nostalgia, but a fondness for a sound that's rich and gets the body moving. It's about the fun and joy of a rock 'n' roll show that's part entertainment and all fun and joy. I mean, who can't marvel at five horn players moving in syncopation and three female singers shimmering in silver lamé as they swerve and curve in harmony. It's almost like you can hear Steven saying to you, "It's showtime, baby!"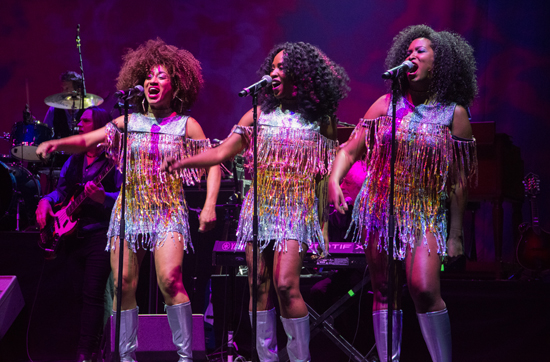 The album Soulfire, which this tour supports, is a great mix of pop, R&B, blues, and all things that make music great. It's as if the album exists to be played live — like the album, the show is full of energy and a nod to a sound gone by that Steven has never lost touch with. His expertise in producing this sound has long been a point of acclaim, as noted in his producing and arranging work with Darlene Love and Gary U.S. Bonds.
His love for this sound is evident from the moment the show begins. Behind a closed curtain we hear the funky guitar rhythm that opens Soulfire. The curtain slowly rises, the horns picking up the melody line, building anticipation, and Steven strolls on to the stage. This is old school, baby! It's showtime.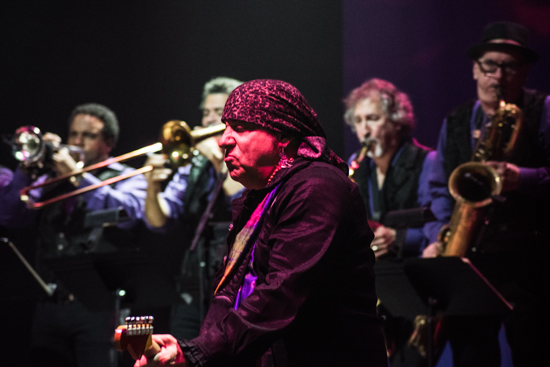 "Hello Boston! It's good to be back home!" That's right, Steve Van Zandt was born in nearby Watertown and lived there until his family moved when he was seven years old. During his pre-show meet and greet, a fan showed Steven a shot of his old home on his phone. Steven loved it and pointed out the front steps he once tumbled down as a child, recalling his mother coming out to see what all the commotion was about.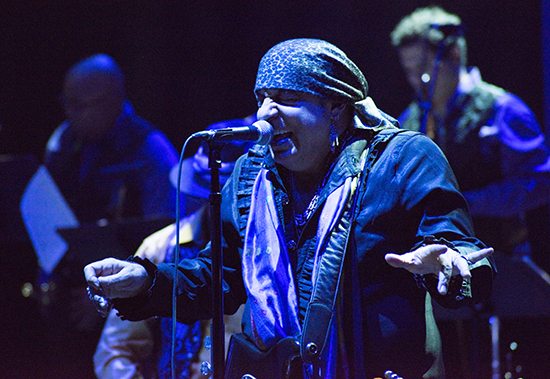 A live Little Steven show is part entertainment and part education. Drawing from his many rock and soul tunes from Soulfire, Steven moved from song to song embracing its lyrics and emotion with those expressive hand gestures and his infectious smile that speaks to his pure respect and love for the art. He told tales of working with the great Gary U.S. Bonds and what it's like to work with people that inspire you. He gave a brief history lesson on the origins of the Doo Wop street corner style as a way of segueing into "The City Sleeps Tonight," then spoke to the great soul sound of songs in the tradition of "Shaft" and launched into "Down and Out in New York City."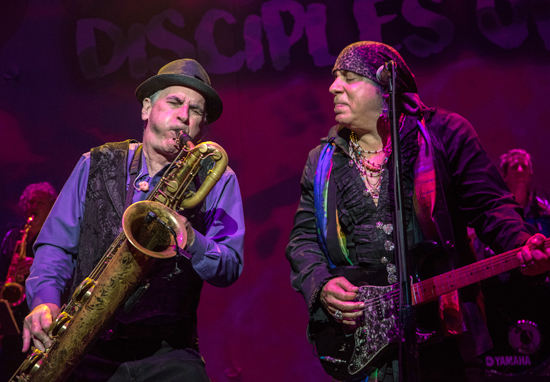 A pure love fest with the audience hardly sitting down, Steven then presented the audience with a little hometown surprise as he brought out, in his words, "a local boy who made good." Enter the whammer jammer himself, Peter Wolf, as the band dug into the J. Geils catalog for the encore, ending with a show-stopping version of "Freeze Frame," a song the Disciples of Soul sounded as if they were meant to perform.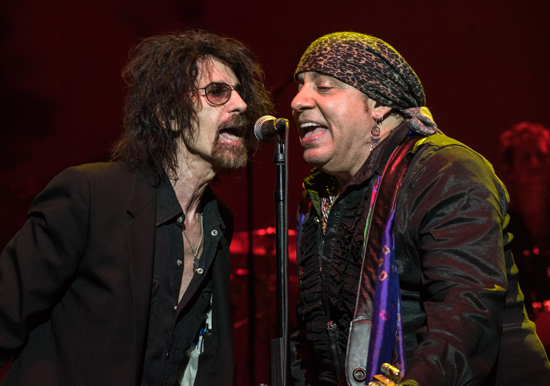 Steven and the Disciples head to Baltimore tonight and Huntington, NY on October 4, with ten more US dates before the band returns to Europe for the last leg of this year's tour.
- October 2, 2017 - Report and photographs by Barry Schneier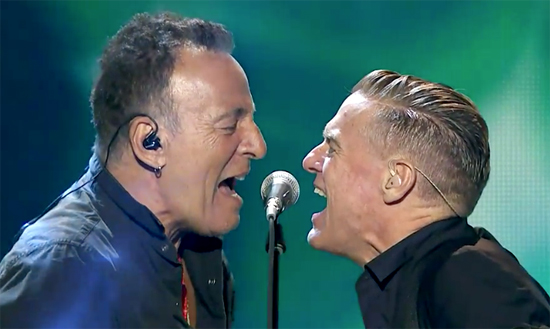 SPRINGSTEEN & BRYAN ADAMS TEAM UP TO CLOSE INVICTUS GAMES
There is always, for me at least, a certain feeling one gets on the day of a Bruce Springsteen show, and the Invictus Games Closing Ceremony on Saturday was no exception. I knew in the back of my mind it would be an abbreviated set, likely acoustic, but that didn't matter. It was an opportunity to see Bruce perform once again, as I didn't have the luck, or the funds, to obtain tickets for the upcoming Broadway performances.
Making our way to the Air Canada Centre, it was clear that this was not going to be an ordinary show night, with a security perimeter setup around the entire arena. Not surprising, considering the dignitaries in attendance included Invictus Games patron HRH Prince Harry, Vice President and Mrs. Biden, and Mme Trudeau, our Prime Minister's wife.
As we entered the arena, we were handed a program which outlined the ceremony and included bios of all the performers. It was a bit of a shock to see that Bruce was not listed as the final act of the night — that honor went to Bachman & Turner. (Also on the bill: Coeur de Pirate, Kelly Clarkson, and Bryan Adams.) While I thought that scheduling was unusual, I was certain there would be a surprise or two as the evening progressed. After the parade of athletes and a few other announcements before the television audience joined the proceedings, it was off to the races.
Sound issues in my section — the upper confines of the arena — did not resolve themselves as the evening progressed, unfortunately, and it was clear the sound was being mixed for the "tellyvision" broadcast and not for the live concert. But an hour or so in, there was no mistaking the chorus of "Bruuuuce" that greeted our man as he stood solo, center stage, acoustic guitar at the ready.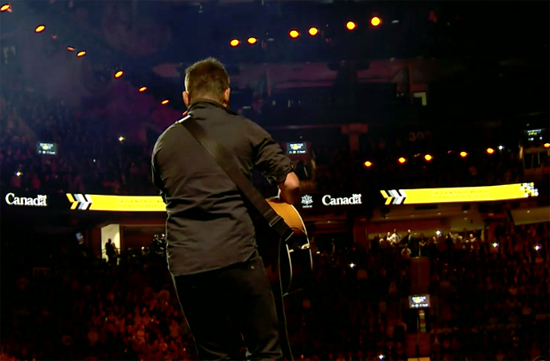 Springsteen launched into "Working on the Highway" first — an odd choice, I thought, perhaps a selection that he knew the non-fans in the audience would recognize, but it was clear that this was definitely a Bruce-friendly crowd.
The second song, "The Promised Land" was absolutely sublime, and Bruce appeared to get emotional and lose himself in the moment.
Last we were instructed by the Boss to put on our dancing shoes as he busted out "Dancing in the Dark." Another odd choice, I thought, but this collection of songs could be top of mind for him as potential arrangements for the upcoming Broadway run.
Before you knew it, Bruce's acoustic performance was over. Quick, but enjoyable despite the sound issues. Surely this wouldn't be the last we would see of him this evening, I thought — and fortunately I was right.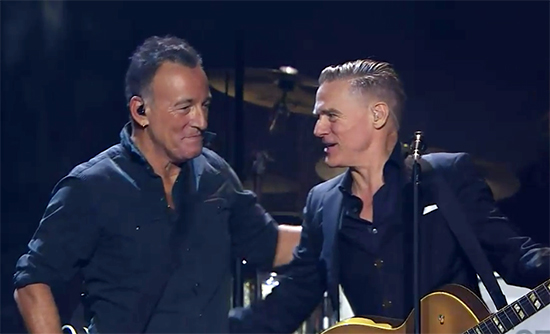 After Bryan Adams finished playing his smash hit "Sumer of '69" with his band, he summoned "The Boss" and they launched into a full-band version of "Cuts Like a Knife." (This was the first time I had ever witnessed Bruce wearing in-ear monitors which were non-existent during the acoustic set.) Springsteen had performed the song acoustically himself a few years back, but this was a chance to see him let loose on the song's standard rock arrangement, sharing vocals with Adams.
Springsteen stayed on stage for one more song as Bryan explained it was time to return the favor and play one of Bruce's tunes. What followed was an impressive version of "Badlands," complete with chanting from the Bruce-centric crowd. Kudos to Bryan's harmony vocals, and to his band for stepping into some very large E Street Band shoes and doing the song justice. There was no sax player to be had, so the sax solo was replaced with guitar solos.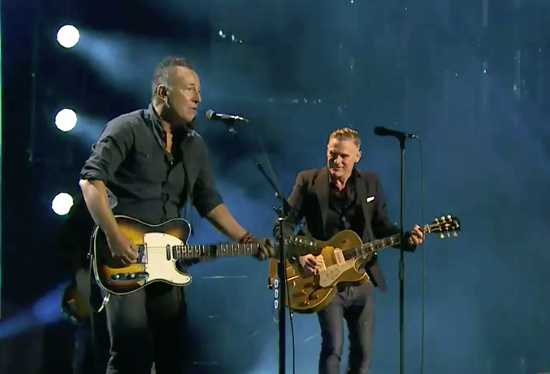 The crowd continued the "whoa-oh-oh-ohs" as the song concluded and as HRH Prince Harry took the stage to embrace and thank both Bruce and Bryan. Alas, this wasn't a concert but a ceremony that was being televised, so strict timelines needed to be adhered to. In the Prince's address to the athletes and crowd, he had mentioned that the atheletes had asked him last year to get Bruce for the closing ceremonies, so he proved to be a man good to his word!
The final act was the iconic Bachman/Turner. Unfortunately that did not include a surprise guest appearance from Bruce, but it was fun nonetheless as they performed a medley of some of their greatest hits, finishing with "Takin' Care of Business" — which I thought would be right up Bruce's alley, but it was not to be.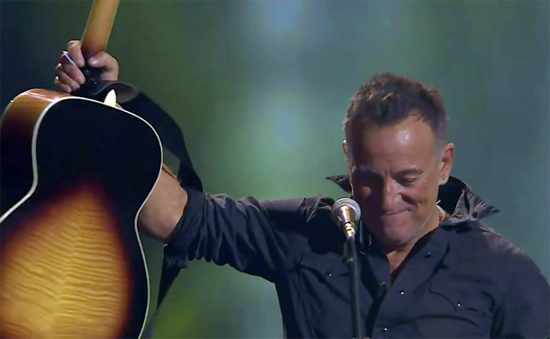 As we made our way out, we were wishing some U.K. team members a safe flight home and also had the opportunity to stop and speak to one of our Canadian athletes, Jay, who was proudly sporting his bronze medal he had won earlier in the week. We shook his hand, thanked him for his service and sacrifice to our country, and told him how proud we were of him. He spoke of how he wanted to continue in some fashion with the Invictus movement, and I can certainly understand why.
Invictus is latin for "unconquered." It was amazing to witness these amazing athletes, many with horrific injuries suffered in service to their respective countries. With all due respect to Bruce and the other performers, to me that was the highlight of the evening.
You can watch the Invictus Games Closing Ceremony at ctv.ca (Springsteen's acoustic set at 0:52; with Bryan Adams at 1:23). Below, Springsteen and Adams give us a taste of Springsteen's acoustic "Cuts Like a Knife" arrangement as a backstage duet, via of @bryanadams/Instagram.
For the full setlist from this and other recent performances
see our Setlists page
- October 1, 2017 - Joe Cormier reporting

Friday night at the Walter Kerr Theatre: Patti Scialfa called it "dress rehearsal," the ticket called it "Workshop #3," we call it one more double secret preview, just a few days before the official
Springsteen on Broadway
previews begin.
- September 30, 2017

SAM BARDFELD'S "BECAUSE THE NIGHT" OUT TODAY
Sessions Band violinist covers his old Boss on The Great Enthusiasms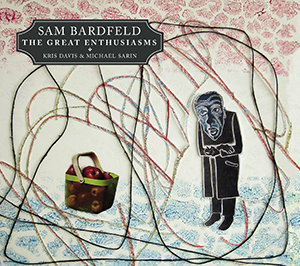 On the 2006 tour, you saw Bruce Springsteen and the Sessions Band genre-hop like nobody's business, fusing elements of gospel, blues, folk, rock 'n' roll, bluegrass, honky-tonk, Zydeco, swing, second-line, Dixieland... but they never quite made it over to modernistic jazz.
Sam Bardfeld, Soozie Tyrell's fellow fiddler in the Sessions Band, is a jazz violinist/composer by trade, and on his new album he lets his freak flag fly.
The Great Enthusiams is Bardfeld's "Weird America" record, and while it's mostly originals, he also takes "Because the Night" and rips the bones from its back.
Sam knows it's not for everyone, but as he tells us of his own music, "It makes me particularly happy when general listeners — not specialized jazz listeners — like it and can appreciate the ideas and emotions in the music." So whether left-leaning jazz is your thing — calling all hepcats — or it's not, give it a listen here.
"Much of my favorite American music is eccentric and forward while grounded in the vernacular," Sam writes in the album's liner notes. "Maybe it's not a total accident that my three most important employer-mentors are all great musician-poets of weird America and all with significant local roots: Bruce Springsteen, Roy Nathanson (Jazz Passengers), and Anthony Braxton. Bruce is (among other things) a poet of the noir side of the city — the ne'er-do-wells and hookers and guys looking for a piece of the action... 'Because the Night' written by Springsteen and Patti Smith is a perfect, wild New York 70's love song."
The Great Enthusiasms is out today from Brooklyn Jazz Underground Records; you can purchase the album on CD or as a digital download from Bandcamp.
Join Sam at the CD release party, Thursday, October 5, at the Cornelia Street Cafe. As on the album, he'll be performing with his trio, featuring pianist Kris Davis and drummer Michael Sarin.
Thanks to Sam and BJURecords for sharing the track with us.
- September 29, 2017



REMINDER: SPRINGSTEEN TO CLOSE INVICTUS GAMES TOMORROW NIGHT
On Saturday night, September 30, Bruce Springsteen will be among the performers for the closing ceremony of the 2017 Invictus Games in Toronto. The event will be broadcast live on CTV at 8pm Eastern, and it should be livestreaming as well — we'll be checking here and here.
Also on the bill: Bryan Adams (time to finally do "Cuts Like a Knife" together?), Bachman & Turner (the Boss could put them into overdrive), Kelly Clarkson (that wouldn't suck either), and Coeur de Pirate (je n'en sais pas plus que vous).
- September 29, 2017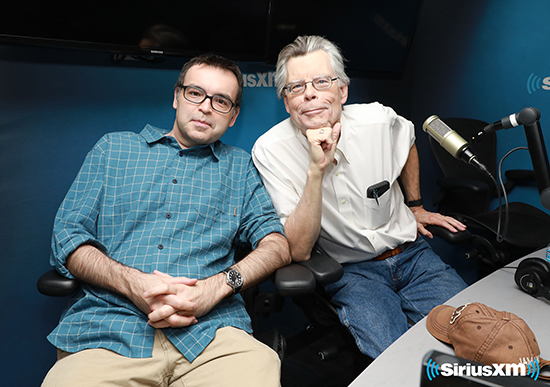 DEAR CONSTANT LISTENER,
Stephen King, with son and Sleeping Beauties co-author Owen along for the ride, makes his E Street Radio Guest DJ debut tomorrow at 4pm Eastern on Sirius/XM Channel 20.
For just over an hour, the father/son writing duo will talk Bruce and spin a dozen of their favorite Springsteen tracks. Rebroadcasts are scheduled for Saturday 9/30 at 12am & 8am, Sunday 10/1 at 5pm, Monday 10/2 at 4pm, Tuesday 10/3 at 12am & 8am and Wednesday 10/4 at 6pm.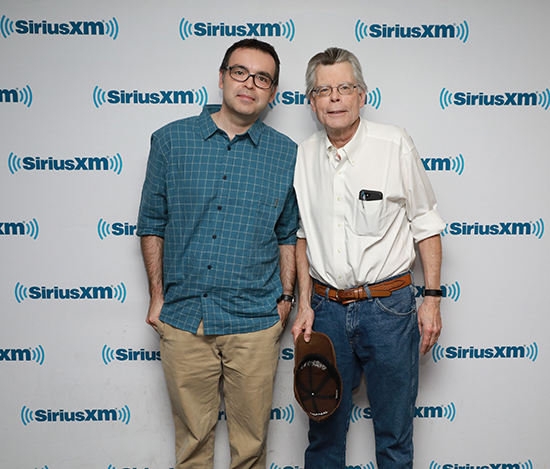 Check out this clip from the show, in which the King men reveal how they each kindled the other's Springsteen fandom.
- September 28, 2017 - Shawn Poole reporting - photos by Maro Hagopian - special thanks to Vinny Usuriello at E Street Radio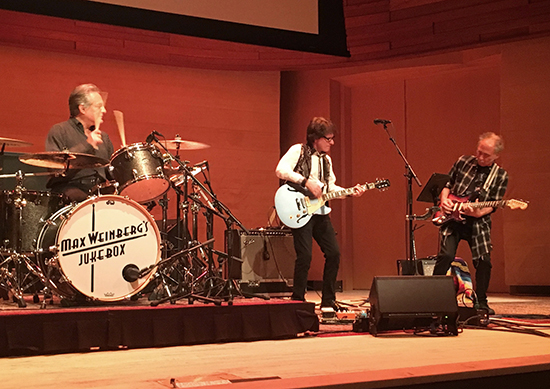 OUT IN THE DESERT, AN E STREET RENDEZVOUS
Last night, while Stevie was undoubtedly killing it on Staten Island, we were treated to a little E Street experience out in the desert. Max Weinberg's Jukebox was just a few songs into their show at the tiny theater inside Phoenix's Musical Instrument Museum, when Max invited a guy who lives down the street to join him on stage. The crowd was elated when Nils Lofgren rose from his seat and made his way to the front.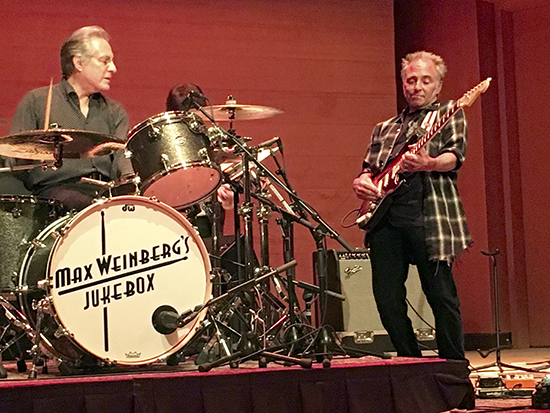 After a hug and a few accolades from Max, Nils grabbed a guitar and helped guide the band through the request-only set. Nils remained on stage for the rest of the show, for songs including "If I Should Fall Behind," "She's the One," Joe Walsh's "Rocky Mountain Way," and Neil Young's "Cinammon Girl," turning in an amazing solo at the end of "Dancing in the Dark" [video].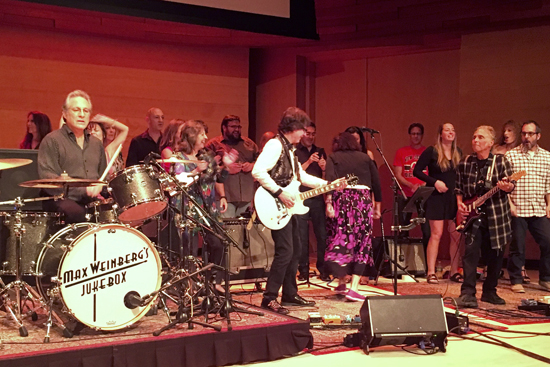 For an encore, Max invited the audience to join the band on stage, "grab a tambourine," and enjoy some "Glory Days" of our own. Lots more Max Weinberg's Jukebox dates coming up in October and November — see maxweinberg.com for the full schedule.
- September 28, 2017 - Mark Redlich reporting - photographs by Ed Gray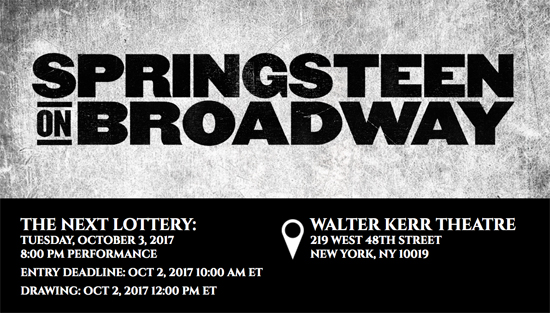 ANOTHER ROLL OF THE DICE
Springsteen on Broadway digital lottery adds more $75 tickets to the pool
Here we go — the Springsteen on Broadway online lottery referred to by Jujamcyn Theaters is here, with a limited number of tickets for each performance to be sold to winners of a random lottery drawing.
These tickets — 26 of them for every show, according to Playbill.com — will be sold for $75 each plus service fees (that's the cost of a balcony seat, though lottery seat locations will vary).
Beginning September 28, the lottery will offer five performances at a time for entry. Entry closes at 10 AM ET the day prior to the performance. Winner and non-winner notifications will be sent at 12 PM ET the day prior via email or SMS. Only one entry is permitted per person. Repeated entries and invalid email addresses will be discarded. Tickets must be purchased online with a credit card by 4 PM ET the day prior to the performance using the purchase link and unique code in a notification message. Tickets not claimed by 4 PM ET the day prior to the performance are forfeited. Lottery tickets will be void if resold.
The first five preview performances are up now at luckyseat.com/springsteen-broadway. Only one entry per person per performance, with tickets limited to two per winner (entrants may select one or two tickets).
Playbill also reports that tickets are now available for October 12, the official opening night for Springsteen on Broadway (not available through the initial Ticketmaster onsale), to benefit Broadway Cares/Equity Fights AIDS. These $5,000/$10,000 tickets are partly tax dedutcible, include the afterparty, and help a good cause: "Funds from these tickets will support emergency grants currently being made to organizations providing immediate assistance after the devastating natural disasters that have ravaged communities in Florida, Texas, Mexico and, most recently, Puerto Rico." Visit broadwaycares.org/springsteen for details.
- September 28, 2017

YOU DROPPED A CODE ON ME
In our post-onsale anaylsis for Springsteen on Broadway we wrote, "Whether it's a contest, ticket drop, or fan-to-fan exchange, hope remains alive that at least a few more dogged fans still can get in the door." Lo and behold, yesterday afternoon some lucky fans yesterday were surprised to receive Verified Fan codes from Ticketmaster and score newly released tickets. We might have been able to guess a drop would happen... but alerting and connecting individual fans directly to a ticket drop is a VF perk we hadn't considered. A few e-mails below that we received from readers who found "standby" to be no sad ending after all.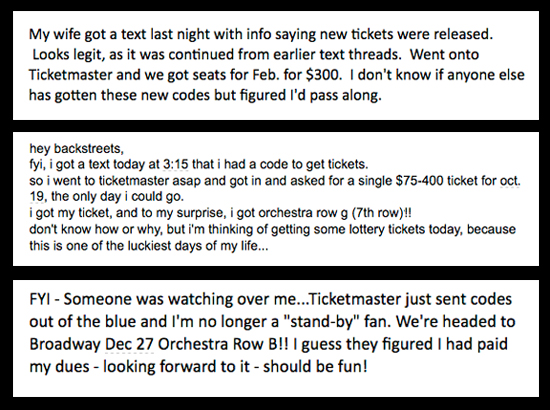 - September 27, 2017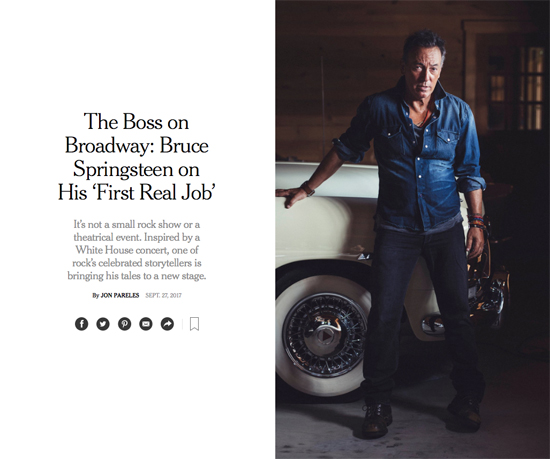 FROM THE WHITE HOUSE TO THE GREAT WHITE WAY
"My first real job," Springsteen says of upcoming Broadway show
With previews for Springsteen on Broadway less than a week away, today's expansive New York Times interview connects a few dots. One compelling element: Bruce Springsteen found himself enthused by his January performance at the White House, and he uses its style and structure as the template for the upcoming performances.
"Really, John Hammond would love this show," Springsteen tells Times writer Jon Pareles, speaking of the late Columbia Records legend who signed him as a solo act in 1972. "This is the closest thing to what I would have done at Max's Kansas City in 1973, when I was coming up by myself."
Pareles and Springsteen don't reveal specific songs or stories, but the piece makes it clear that Springsteen on Broadway will be a scripted affair, with little movement from night to night. "This is a locked-in piece of music and script that I'm going to be performing pretty much the same on a nightly basis," Bruce says. "It's a solidified piece of work."
Springsteen also reveals who hasn't read his autobiography and mentions the record he finished in the context of creativity. A version of today's web article will appear in the October 1 print edition of the New York Times.
Read: "The Boss on Broadway"
- September 27, 2017 - New York Times photo by Bryan Derballa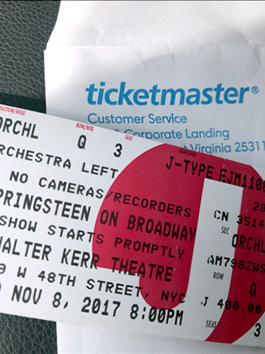 LONG TIME COMIN', MY DEAR
Springsteen, Ticketmaster united for fairer ticket sales... How'd they do?
In this brief lull between ticket sales and the curtain rising on Springsteen on Broadway, it's a good time to take a closer look at Ticketmaster's Verified Fan system, the method used to sell tickets for 79 performances at New York's Walter Kerr Theatre.
Beating the scalpers is what Ticketmaster's Verified Fan system is purportedly all about. After years of fans calling for action to combat scalping, the spawn of bots, and system failures, Ticketmaster tried something different. And it had an effect. Is everyone happy? Of course not. Considering the supply and demand for these shows — one source tells Backstreets that as many as 300,000 people may have signed up for verification — it was a given that many dedicated fans would get frozen out.
Whether 1998's Come Together benefit for the late Sgt. Patrick King or numerous nights at Madison Square Garden, a tough ticket is familiar to Bruce Springsteen fans. Performances like those have sold out within minutes of going on sale, a story that has been told and retold all over the world (a tip o' the cap to our friends in Ireland). But that was not the case with Springsteen on Broadway, probably the hardest ticket to come by in recent times. So let's consider what the new system did and did not do to give Springsteen fans a fighting chance....
- September 24, 2017 - Christopher Phillips and Shawn Poole reporting - photo by Nancy Calaway - special thanks to Jeff Calaway, Erik Flannigan, and Jonathan Pont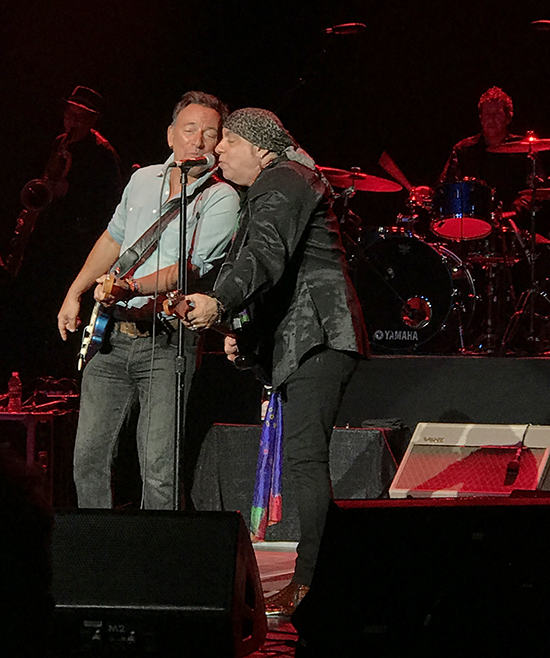 "LIGHTEN UP WHILE YOU STILL CAN..."
Thursday in Holmdel, NJ, Bruce Springsteen took a break from working up Springsteen on Broadway to join Little Steven and the Disciples of Soul, who start their own tour of North America and Europe tonight in Port Chester, NY. Full report from the 9/21 Laid Back Festival, including Springsteen's guest spot with Jackson Browne, on our Setlists page.
- September 23, 2017 - photograph by Doug Mishkin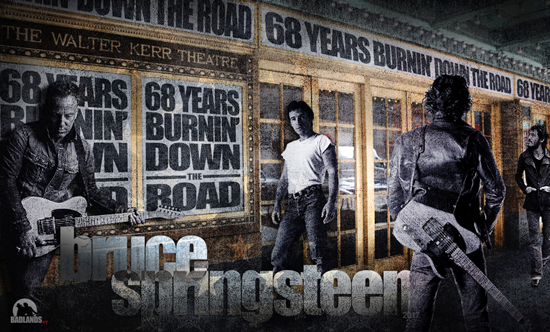 THEY SAY THE NEON LIGHTS ARE BRIGHT
And today there's extra magic in the air — happy birthday, Bruce!
- September 23, 2017 - thanks to Nuno Amante at Badlands Portugal


WITH MY MIND ON THE FREEZE-OUT AND THE FREEZE-OUT ON MY MIND
Tonight at Holmdel, NJ's PNC Bank Arts Center, the Laid Back Festival played host to Little Steven and the Disciples of Soul — as well as their special guest, Bruce Springsteen. Wicked cool to see them turn "Tenth Avenue Freeze-out" into a duet, with thanks to Mitch Slater for the video evidence; they also teamed up for "It's Been a Long Time."
Update: later in the night, Springsteen also joined headliner Jackson Browne for "Take It Easy" and "Our Lady of the Well."

- September 21, 2017 - videos courtesy of Mitch Slater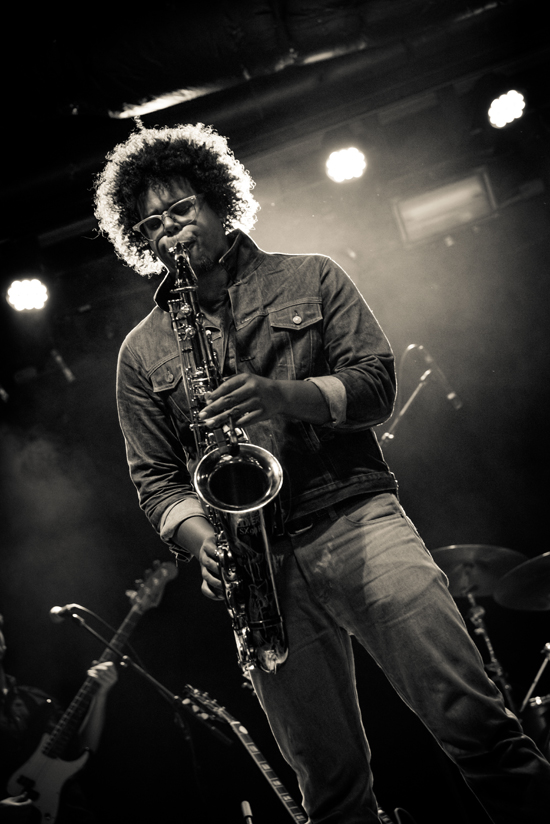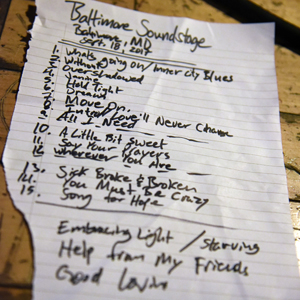 JAKE CLEMONS BAND
Baltimore Soundstage, Baltimore, MD, 9/18/17
Backed by a fantastic band, Jake Clemons put on a great show for an enthusiastic crowd in Baltimore on Monday night. Intense, charismatic, and multi-talented, not only does Jake play the sax, but the guitar and keyboard as well. Great vocals, too, and his storytelling reminds me of another great storyteller we know. The warm-up act was Aaron Yealdhall, who also came out at the end of the show to sing with Jake on "With a Little Help From My Friends."
For upcoming dates on the Fear < Love Tour, visit jakeclemons.com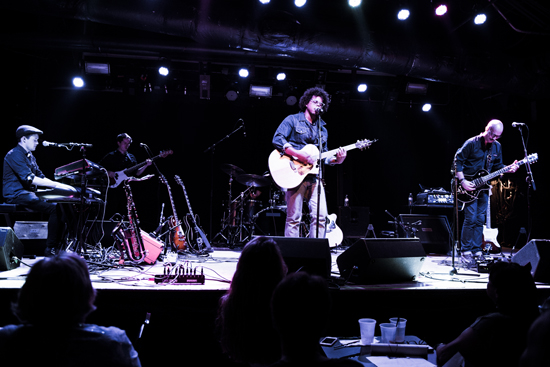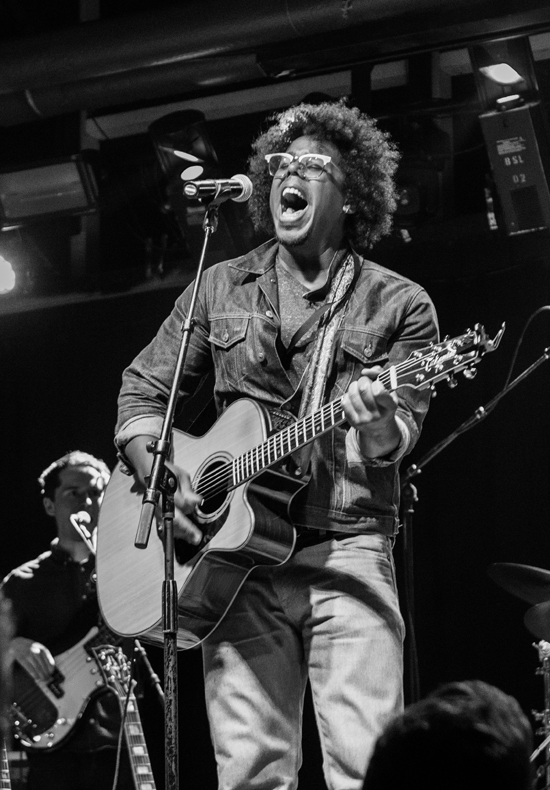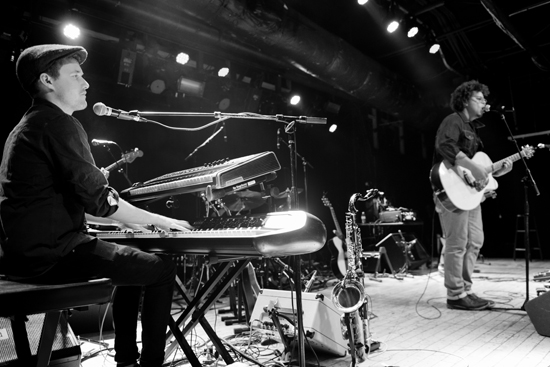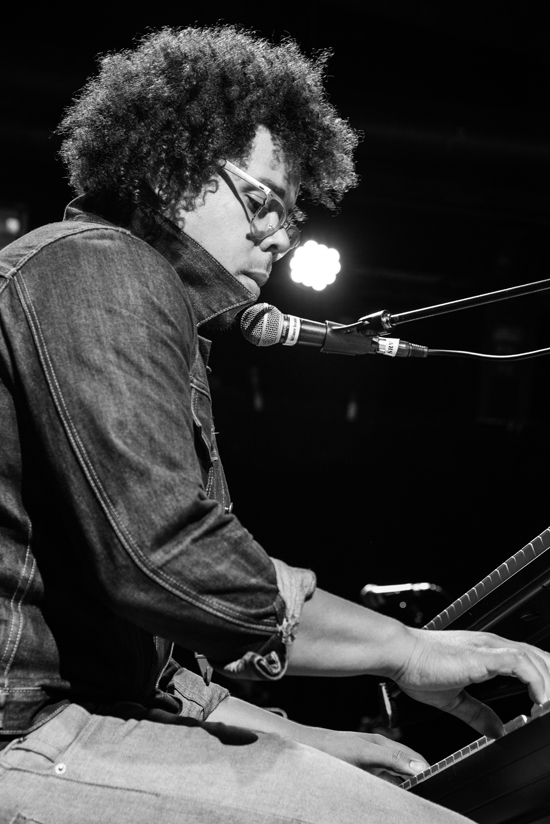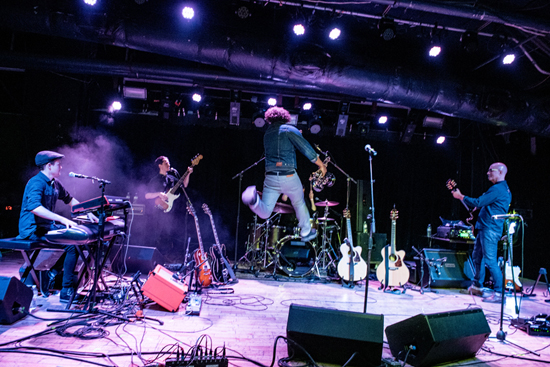 - September 21, 2017 - report and photographs by Jerry Frishman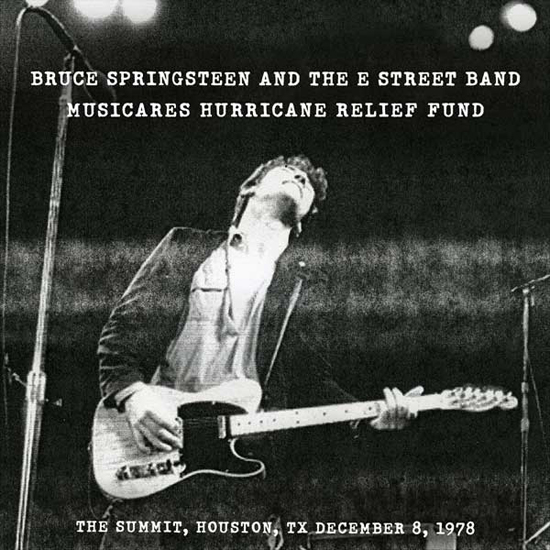 OUT NOW: HOUSTON '78 TO BENEFIT MUSICARES HURRICANE RELIEF
After the Hammersmith '75 concert film appeared in the 2005 Born to Run 30th Anniversary box, it was a mere two months before the audio had an official release. As for Houston '78, film of which was a cornerstone of the 2010 Darkness box, it's taken until... today.
A surprise release from nugs.net — it's not a First Friday, after all — is a special addition to Springsteen's live archive series, issued in response to the recent devastation and flooding in Houston and other storm-ravaged areas in the south. The Summit, Houston, TX December 8, 1978 will benefit the MusiCares Hurricane Relief Fund, to aid those affected in both Texas and and Florida.
In a press release, nugs.net CEO Brad Serling says, "Fans had been asking for a stand-alone audio release of Houston '78 since the Darkness box set came out several years ago. Its release-ready availability gave us the opportunity to move quickly to support people in Texas and Florida."
That release-readiness is, of course, due to the full concert film's inclusion in The Promise: The Darkness on the Edge of Town Story, with the audio from the original line cut recorded and mixed by the late, great Bruce Jackson (Springsteen's Front of House sound engineer in 1978) and later mastered by Bob Ludwig.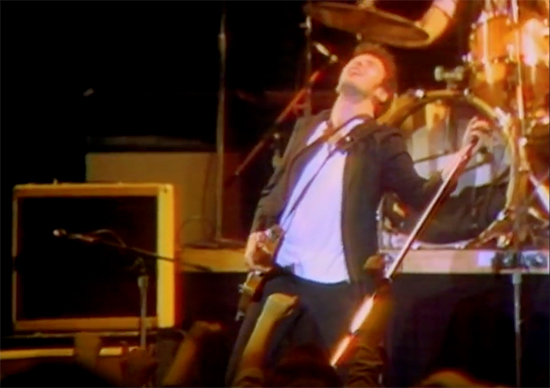 The performance is from the tail end of the Darkness tour, just a week before the classic Winterland broadcast, with Bruce and the band in full-on blow-'em-away mode. The following day in the Houston Post, critic Bob Claypool wrote of Springsteen "pumping out rock 'n' roll as though he were the man who invented it in the first place, sending out scores of guitar solos that were powerful enough to shake your fillings loose, yet so tasteful and utterly right, so full of promise, they made your calloused heart beat like a school-kid's."
Texas was an "early adopter" when it came to The Boss, joining other markets like Richmond, Philadelphia, Cleveland, and Phoenix along the way in appreciating Springsteen before he went nationwide and worldwide. December 8 was the Darkness tour's second visit to Houston, as Claypool also noted:
...this was Bruce's largest audience ever in Houston, which is, self-admittedly, one of his "best" cities. The Summit was sold out, which means that this was about twice the number of people who saw the Coliseum show back in July, and Heaven only knows how many more listeners this was than the number who attended the original gig at Liberty Hall years ago.

All of which goes to prove that Springsteen is hardly the mere "critic's favorite" he was once tagged. No critic or "cult" artist could cause the kind of madness he inspred in 17,000 plus at this Friday night show.
As for the set, you've got classic hallmarks of the '78 tour, including "Badlands" out of the gate, the extended "Prove It All Night" intro, and new songs that would make their way to The River: "Independence Day," "The Ties That Bind," and "Point Blank." Outtakes "The Fever," "Fire," and "Because the Night" all turned up, as did "Santa Claus," and the whole thing ended with a wild "Quarter to Three."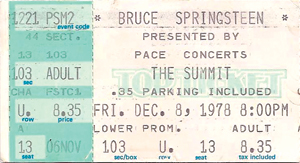 Backstreets reader Ed Gray, who was a high school senior and a first-timer at the Summit on 12/8/78, tells us, "That night at The Summit would recalibrate my appreciation of music and live music for the rest of my life, unquestionably. I had seen Led Zeppelin, Aerosmith, Bad Company, The Eagles, Journey... and I remember at the time thinking that those bands' entire shows didn't pack the energy and passion that I had just seen, heard, and felt with just the 'Badlands' and 'Streets of Fire' opening. That Houston Summit show is the finest musical experience of my life. Obviously, it made me a Bruce fan to this day."
As with other releases in the live archive series, The Summit, Houston, TX December 8, 1978 is being offered in various digital audio formats (available now) and on CD (available for pre-order). Bruce Springsteen, the E Street band, Sony Music and nugs.net will donate all their proceeds to the MusiCares Hurricane Relief Fund. For more information on MusiCares and their relief efforts, visit www.musicares.org.
Further reading: Erik Flannigan writing for the nugs.net blog, "You Can't Sit Down — The Other Great Shows of the Darkness Tour"
- Updated September 21, 2017 - Christopher Phillips reporting - ticket stub courtesy of Ed Gray

NEW SPRINGSTEEN TRACK CLOSES THANK YOU FOR YOUR SERVICE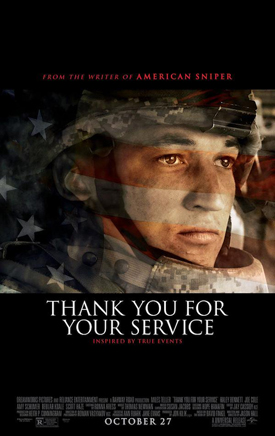 Thank You for Your Service, a forthcoming film starring Miles Teller, recently screened for press; it's about a group of soldiers returning from Iraq and facing a host of troubles, including PTSD, issues with acquiring benefits for physical and mental issues, and reconnecting with their families. It's the first film directed by actor-writer Jason Hall (who wrote Clint Eastwood's American Sniper).
It's a very powerful, authentic drama about the struggle back home, and after it was over, I heard this dirge-like drum track and Bruce Springsteen's unmistakable voice. The song sounded familiar, but not as a Springsteen original. It's his version of the "Freedom" marching cadence, often known as "Some Say Freedom is Free," credited to PFC Roger L. Southard. The standard words are here, although I've heard variations, and I'm pretty sure that Bruce changed/added a few himself. I'm 99 percent sure that in the verse about Vietnam, he added a reference from "Born in the U.S.A.," with a line about "a brother at Khe Sahn." There's also a male choir element to the song that makes it all the more haunting.

Thank You For Your Service opens October 27.
- September 20, 2017 - Steve (Capone) Prokopy reporting

I'LL BE ON THAT CAMPUS WITH EVERYTHING I GOT
Monmouth U planning Darkness Springsteen Symposium for April 2018
Over the last 12 years, Monmouth University played host to a Bruce Springsteen symposium called Glory Days, welcoming fans and scholars to their campus in 2005, 2009, and 2011 for a Bruce conference organized in conjunction with Virginia Tech and Penn State-Altoona. Next year, Monmounth — now home of The Bruce Springsteen Archives and Center for American Music — will hold their own.
Bruce Springsteen's Darkness on the Edge of Town: An International Symposium will be a four-day scholarly conference at the University in West Long Branch, NJ, from April 12-15, 2018. The theme: "Hard Truths in Hard Rock Settings." The call is out now for abstract submissions and panel suggestions, with a deadline of December 1, 2017. Click here for possible subjects, further info, and how to submit. Registration details will follow.
- September 18, 2017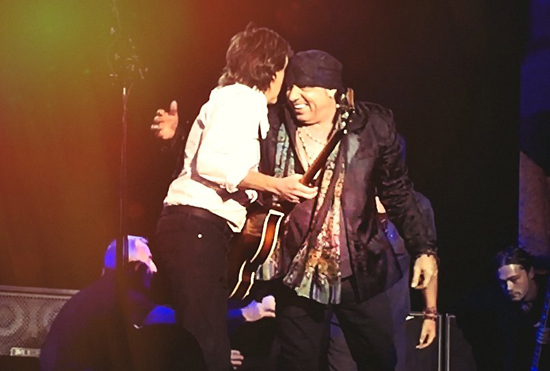 A BILLION-TO-ONE SHOT
On Sunday morning, Steven Van Zandt spoke to NY rock radio legend Ken Dashow for an exclusive interview on his weekly Breakfast With the Beatles radio show about Friday night's "unforgettable" experience with Paul McCartney:
"As Bruce said before we walked onstage, 'What are the odds of us being little kids listening to the first Beatles album in our rooms trying to learn those songs and that one day we would be on stage with that very same Beatle we were so amazed by as kids?' We stopped trying to figure out the odds of it happening, since it was a billion to one."
- September 18, 2017 - thanks to Sammy Steinlight - photograph by @dinaregine

FRIDAY NIGHT VIDEOS
Paul McCartney with Bruce Springsteen and Little Steven, on September 15 at Madison Square Garden, with a song so nice they played it twice. Hat tip to Jim Powers for catching 'em both.

- September 17, 2017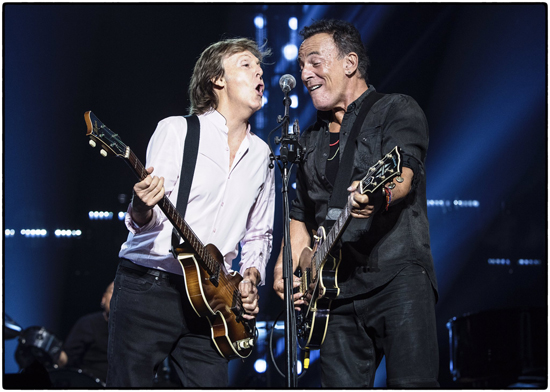 MY HEART WENT BOOM BOOM
Bruce & Stevie with Paul McCartney last night in NYC
Midway through the encore of Paul McCartney's Friday evening performance at Madison Square Garden, with the final dulcet notes of "Helter Skelter" still ringing in everyone's ears, Sir Paul announced that there were two special guests who had agreed to join him on stage for the next song. He mentioned that the last time they'd played together, at Hyde Park in London, they'd had the plug pulled on them by the authorities, so this time he hoped they'd be able to finish their song. When he shouted Bruce Springsteen's name, the roar of the crowd was so loud that it drowned out the subsequent announcement that Little Steven would be joining too.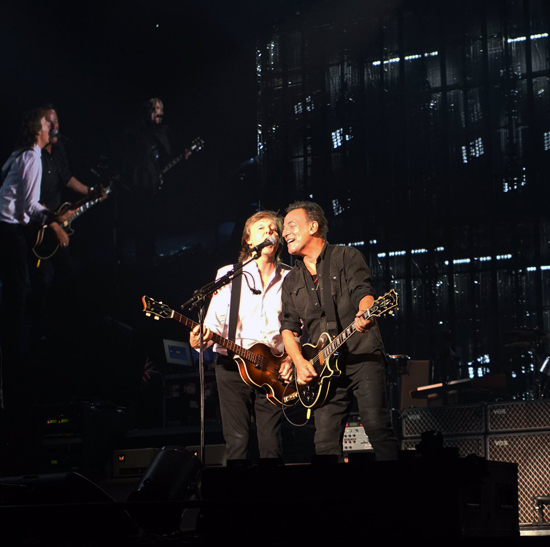 The band lit into a very energetic version of "I Saw Her Standing There," with a beaming Bruce trading verses at the same microphone as Sir Paul. After playing it once, they made a snap (and wise) decision to play it again. Afterwards, as Bruce left the stage — grin still plastered to his face — he could be seen wiping a tear from his eye. An emotional night for all involved — especially the very lucky audience.
- September 16, 2017 - Tom Prochnow reporting - photographs via @PaulMcCartney and @TheGarden

BOOKPLATE OF DREAMS
Last call: thanks to Simon & Schuster, we have 20 bookplates signed by Bruce Springsteen to give away when we ship out copies of the new Born to Run paperback. Order Born to Run by noon EST tomorrow (Friday, September 15) to be eligible, after which we'll select 20 orders at random (using the random number generator at random.org) to receive a "golden ticket."
- September 14, 2017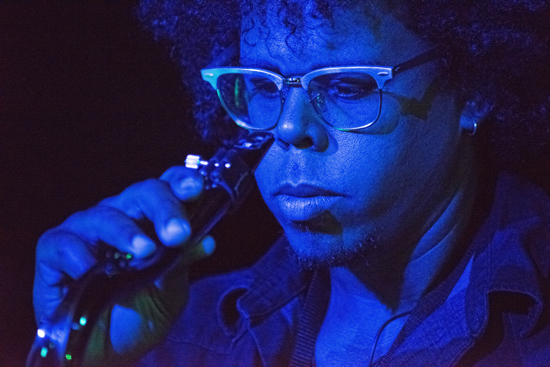 SOUL MAN
The Jake Clemons Band at Middle East, Cambridge, MA, 9/12/17
There's a chapter in Born to Run in which Bruce Springsteen discusses auditioning Jake Clemons for the E Street Band. He had asked Jake to learn the "Jungleland" solo, but when Jake arrived at Bruce's home, he hadn't done his homework. A mild scolding and Jake was sent home, returning later having completed his assignment.
As a parent, I related to the lesson. Sometimes a little tough love is needed to teach our children a lesson. These can be valuable lessons for life as we look to mentor and guide those under our care as they mature. And mature Jake Clemons has. Many who saw him at various stages on the 2016 River Tour commented how he grew into his role as the tour progressed and soon found a real confidence and ease on stage. He found his place with the E Street Band, endearing himself to all who witnessed his transformation.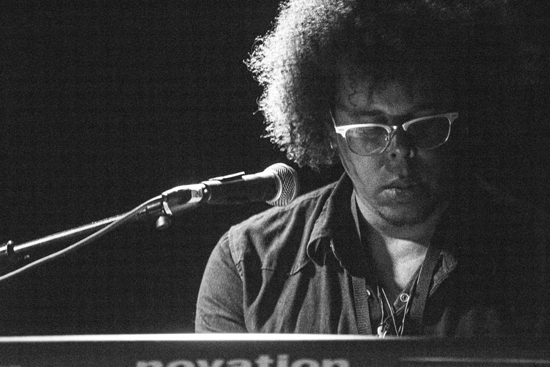 Last night at The Middle East in Cambridge, MA, Jake Clemons kicked off his tour to support Fear & Love. And what we witnessed was not just a musician coming into his own, but a man with a great soul. A soul that speaks out against injustice and domestic violence, admits to his own frustration with the divisiveness our country is experiencing, and identifies the need we all have to soothe an aching heart no matter what cause. He believes in hope and wants all of us to believe in it too.
Backed by an outstanding band, Jake displayed his multi-instrument talents through numbers such as "Hold Tight," which in its own eerie fashion uses an impending hurricane as a metaphor, and the dynamic and troubling "Janine," in which a woman who is caught up in an abusive relationship is told to "get out." Jake's passion for this issue has led him to launch The Janine Project, an online resource for women in abusive relationships, providing information, pointing to services, and offering hope.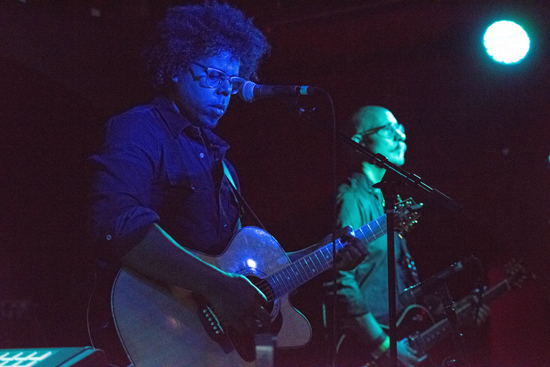 Throughout the night each song was delivered with purpose and from the heart. That's soul music. Jake's music is also a whirlwind of styles, from the sweet and melodic sound of "Fear and Love" to the country-influenced sound of "Dream." Jake would move from guitar to piano and then to his beloved sax. Special attention should be paid to the band members, who Jake would let loose to display serious jazz and improvisational chops. On guitar, Mark Roshette; bass, Lorcun O'Dwyer; drums, Cian Hanley; and on keyboards, Kevin Corcoran.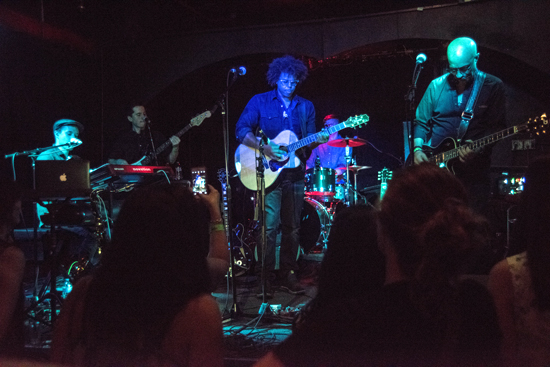 There's no denying the audience was made up of E Street fans looking for a fix, and Jake didn't hesitate to entertain them, often walking into the audience and even posing for a selfie while dancing with a fan.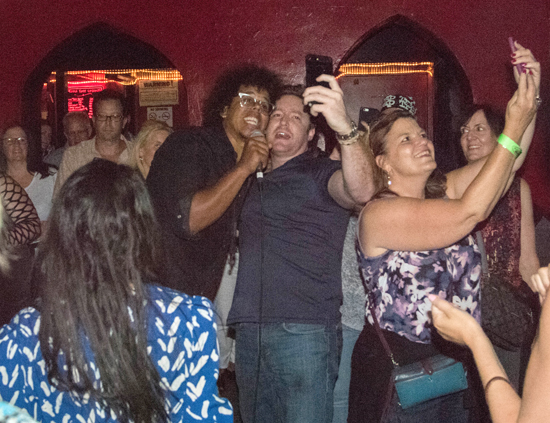 Judging by this opening night, Jake has definitely found his groove. What he has learned along the way, he wants to share with his audience. Much of that was summed up in an encore sing-along of "With a Little Help From My Friends" segueing into a soulful "Good Lovin" to close the night, Jake working the audience like the true soul man he is.
For upcoming dates on the Fear < Love Tour, visit jakeclemons.com
- September 13, 2017 - report and photographs by Barry Schneier

STEVENESS
Our pal Peter Chianca, of Blogness on the Edge of Town, interviewed Little Steven for Wickedlocal.com, previewing the September 29 Disciples of Soul concert at Boston's Orpheum Theatre. Along with talking Soulfire and his live show, Stevie tells Pete he's "writing more with the intention of doing solo records now on a regular basis," and he also reveals that he's not at all out when it comes to TV: "I've got five different scripts I've written — I'll either create a show myself, or I'm also getting some offers... In an ideal world I'll do a new TV show in the winter, and then tour every summer either with Bruce or with the Disciples. That's the plan anyway.... You never know — you plan these things out and who the hell knows what happens?"
Read: "Springsteen sideman Van Zandt bringing solo 'Soulfire' show to Boston"
Stevie's North American tour kicks off in less than two weeks — see littlesteven.com for dates.
- September 12, 2017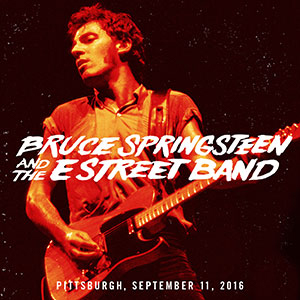 LOVE AND DUTY
A year ago tonight, I was in Pittsburgh, to see Bruce Springsteen and the E Street Band's second stop there on the 2016 River Tour. Considering the date, the 15th anniversary of the 9/11 attacks, The Rising was on many of our minds. Would Bruce mark this occasion? The full River album performance was no longer in the set... could that maybe, possibly, make room for a full Rising sequence? A pipe dream, of course, and it's hard to imagine anyone really thought otherwise. Most of those album tracks were distant memories in the band's repertoire, and Springsteen was clearly invested in the 1973 wayback machine that typified these fall 2016 shows.
So it still came as a surprise when Springsteen and the band followed their opening serenade with "Into the Fire." And "Lonesome Day." And "You're Missing," and "Mary's Place" — not the full album, but a full-throated and full-hearted revisitation of the thrust of it, its power and spirit. And later in the set, the back-to-back "My City of Ruins" and "The Rising" itself clinched the night's through line. I was struck all over again by the brilliance of that piece of work, the way The Rising reflected the falllout of 9/11's horrors in so many facets — loss, resilience, courage — much the same as his previous masterpiece, Tunnel of Love, investigated love and marriage. And to feel those songs come to life again a year ago, so viscerally, was the very best medicine for a day that had been full of sad reminders.
I have mixed feelings about marking days like this. In fact, I'd rather not. I'm more prone to celebrate the anniversary of a record, a concert, a piece of art that moved me, which may be why I'm focusing more today on Pittbsurgh 2016 than on where I was on that awful day in 2001. But sometimes, like today, the two things are just inseparable. As we're facing so many natural disasters — hurricanes, floods, forest fires, earthquakes — it seems that what made the 9/11 attacks particularly horrific is that they were no acts of god, but something humans alone were responsible for. "Man's inhumanity to man," as the English lit cliche goes. But what's inspiring to me is that, whatever the source of the "meanness in this world," the response of good, brave souls remains the same, first responders and those who follow. The same spirit that gave rise to songs like "The Rising" and "Into the Fire" can be seen in responses to these devastating hurricanes today, from individuals — have you read this? — to communities:
It's enough to give you faith.
So we're thinking today of those who died, suffered, and lost 16 years ago, and of those who are displaced, making their way through the darkness, and on rocky ground today. But we're also thinking of all those, everywhere, who come to their aid. Your strength gives us strength, and your hope gives us hope.
- September 11, 2017 - Christopher Phillips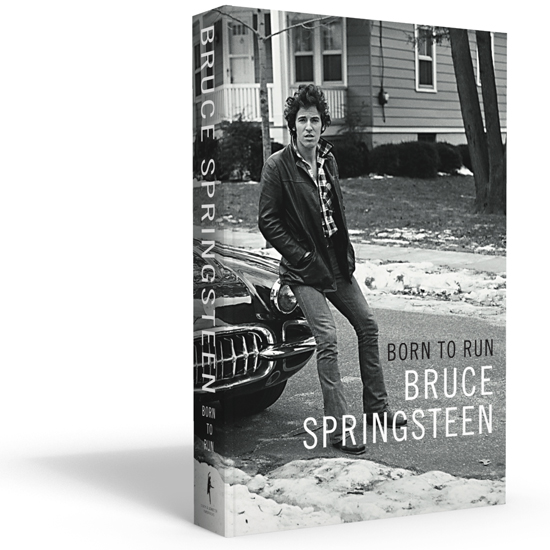 BORN TO RUN PAPERBACK IS HERE
Order from Backstreets for a chance at an autographed bookplate!
Something that might have gotten lost in the shuffle this past week, with all the Springsteen on Broadway business: the trade paperback of Springsteen's Born to Run memoir is hot off the presses. And if you've still got the stomach for "games of chance"... don't worry, this is a fun one... I don't think Backstreets has ever had Springsteen autographs to give away.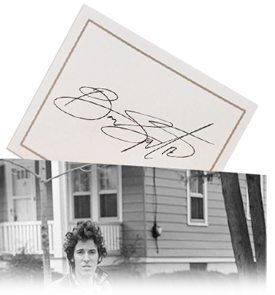 Thanks to Simon & Schuster, we've got some serious "golden tickets" we'll be slipping into Born to Run sofcovers as a bonus as we ship them out. We have 20 bookplates signed by Bruce Springsteen specifically for Born to Run to give away to Backstreet Records customers.
These are hand-signed, of course, and the same bookplates they used for the hardcover; adhesive backing is still on, so lucky recipients can choose whether to affix it here or on a hardcover edition.
Order before Friday, September 15, at noon Eastern for a chance at one of these 20 signed bookplates. We'll be inserting them into packages completely at random (using a random number generator) as we begin fulfilling orders. Your odds depend on how many orders we receive for the softcover before the 9/15 deadline -- if 40 people order, you've got a 50/50 shot; if 400 people order, it's a five percent chance -- but that's a healthy number of autographs to give away no matter how you slice it.

And everyone who orders the softcover edition from us will get a FREE Born to Run bookmark (above), a promotional item provided for us by Simon & Schuster.
Order the Born to Run softcover now: 20 golden tickets await!
- September 9, 2017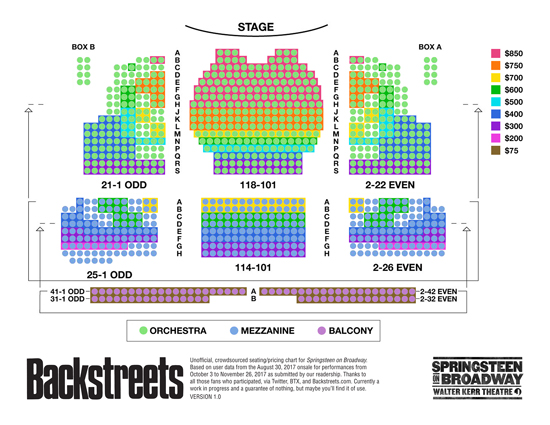 BROADWAY ONSALE, THE MORE YOU KNOW PART II: THE PRICE YOU PAY
For the first Springsteen on Broadway onsale, we posted some info the night before about what to expect. As we find ourselves on another Verified Fan Onsale Eve, you may want to check our that post below. Last time, the advance "prep" emails starting coming around 9:25pm Eastern the night before the sale. Ticketmaster's Springsteen on Broadway #Verified Fan Onsale FAQ can also answer many questions.
Something we didn't have last time around: a seating chart with prices. Thanks to many fellow fans, we've put one together based on tickets purchased on August 30. Our readership collaborated by sending in seat locations and prices from that first go-round, so that we now have a very good idea of what you might get when you look to pay your money down tomorrow morning. (Locations not color-coded on the chart means we received no information for those seats; whether they were sold or not is currently unclear.) Click the image above for a larger jpeg, or click here for a printable PDF (v1.1).
Many thanks to everyone who pitched in — a true community effort. And good luck in the morning. May every Standby be Selected!
- September 6, 2017

- September 4, 2017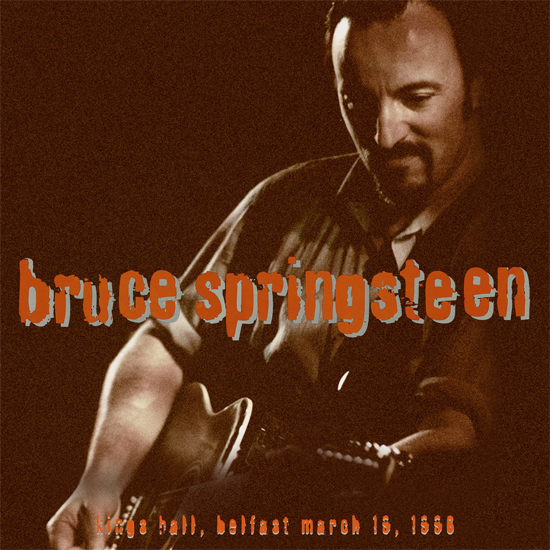 ONE-MAN HOOTENANNY: JOAD TOUR'S BELFAST CONCERT OUT TODAY
While we gear up for the 17-week run of Bruce Springsteen's solo show on Broadway, the official archive series flashes back to his first solo tour with the release of Kings Hall, Belfast, March 19, 1996. This 23-song set features Springsteen alone on acoustic guitar and harmonica and marks the first official concert release from the world tour for The Ghost of Tom Joad. And it represents that time well, capturing the classic structure, spirit, and intensity of the acoustic music that took Springsteen (and guitar tech/"mystery keyboardist" Kevin Buell) around the world over the span of 18 months from late 1995 to the middle of 1997.
Since that time, we've become far more accustomed to Springsteen performing alone, whether behind Devils & Dust or for VH1 Storytellers, (both in 2005), the Somerville benefits, or even campaign rallies; when the Joad tour began, however, you had to look way back to the early '70s to find him performing acoustically with any regularity.
When Springsteen gave the E Street Band their walking papers at the dawn of the 1990s, the idea, as he told Rolling Stone, was "to mix it up... to get rid of some of the old expectations... I wanted to get to a spot where if people came to the show, there'd be a feeling of like, well, it's not going to be this, it's going to be something else." The tour that followed with the "other band" in 1992-'93 was, like it or not, not that sort of radical departure. A brief solo-acoustic set added to those shows in Europe in 1993 hinted at his next direction. But in 1995, the shattering of expectations truly began, as Springsteen brought a dark, quiet, band-free, singer/songwriter performance to theaters and other small venues.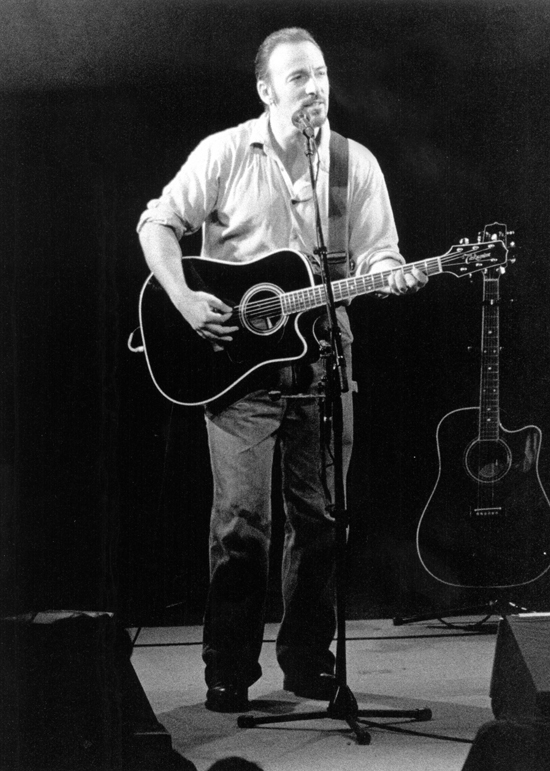 Europe 1996 [Brussels, May 1] - photograph by Rene van Diemen
The Joad tour fulfilled Springsteen's desire to "have something new to bring to the table" without the E Street Band, and it also made good on the promise of rare, tantalizing solo performances like the 1986 Bridge School Benefit and the 1990 Christic Institute shows. Famously, there was no tour for Nebraska. Given the opportunity to go unplugged for MTV in 1992, Springsteen remained plugged in with his new band. But in the fall of 1995, he embraced the acoustic aesthetic all the way. Unlike the Christic shows, where Springsteen played piano as well as guitar, or the 2005 Devils & Dust tour which also brought the pump organ, ukulele, electric piano, electric guitar, and more into play, Joad was straight no chaser: Bruce. A small fleet of Takamine guitars and harmonicas. And of course, a firm request for everyone in attendance to "shut the fuck up."
Springsteen meant business, but the Joad tour was hardly a dour one. There were certainly somber stretches each night, particularly when he'd bring out a stool at the end of the main set for the border songs: "Sinaloa Cowboys," "The Line," "Balboa Park," and "Across the Border" ("The New Timer" made infrequent appearances, too). But the artistry on display — songwriting, arranging, storytelling, guitar-playing, displaying a newfound falsetto, holding a crowd in the palm of his hand — provided light even through the darkest material.
Many hits and concert favorites were nowhere to be found; in Belfast, nothing before Darkness on the Edge of Town. But performances like that 1978 album's title track, in an arrangement borrowed from Christic and strummed urgently on 12-string, could be as rousing as anything on the E Street stage. And as the tour rolled on, Springsteen's reworking of older songs and introduction of new material leavened the set. "It's the Little Things," a number never performed before or since, gets its first official release here.
The Belfast stop at The King's Hall, Springsteen's first performance ever in Northern Ireland, came about four months into the World Acoustic Tour and captures its core spirit. Along with its standards — ten album tracks from Joad, the masterful reimagining of "Adam Raised a Cain" — we get stopovers in Nebraska (the title track as well as an ultra-stark "Reason to Believe"), another Christic revisitation with "The Wish," Tom Joad outtake "Brothers Under the Bridge," a guitar arrangement of his latest smash hit "Streets of Philadelphia." The striking, percussive arrangement of "The Promised Land" turned out sturdy enough to close Devils & Dust shows ten years later.
The Tom Joad tour was truly a world tour. In North America, it hit older theaters in city centers and in smaller markets like Fresno, Normal, and Youngstown. Overseas, Springsteen visited not only Europe, further cementing his long-established bond with audiences there, but also Australia and Japan, where lyric sheets with translations were handed out to concert-goers in an attempt to offset the language barrier. In Belfast there likely was no such issue, but across Europe on this stretch Springsteen made sure to thank audiences for coming along on such a different ride, one where stories and songs asked a lot of even English-as-first-language audiences: "This is music that means a lot to me and I appreciate being able to come out here and do this like this... it's a real collaboration between the singer and the audience. It's a gift that you give me, and I want to thank you for it." Today, it's a gift that keeps on giving.
For more on the Belfast performance, see Erik Flannigan's nugs.net blog post, "Bruce Springsteen Going It Alone: The Ghost of Tom Joad Revisited." Kings Hall, Belfast, March 19, 1996 is available now in various digital formats and for pre-order on CD from live.brucespringsteen.net.
- September 1, 2017 - Christopher Phillips reporting

For older news, visit our News Archives