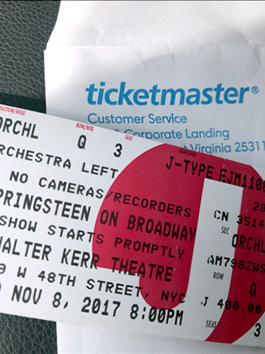 LONG TIME COMIN', MY DEAR
Springsteen, Ticketmaster united for fairer ticket sales... How'd they do?
In this brief lull between ticket sales and the curtain rising on Springsteen on Broadway, it's a good time to take a closer look at Ticketmaster's Verified Fan system, the method used to sell tickets for 79 performances at New York's Walter Kerr Theatre.
Beating the scalpers is what Ticketmaster's Verified Fan system is purportedly all about. After years of fans calling for action to combat scalping, the spawn of bots, and system failures, Ticketmaster tried something different. And it had an effect. Is everyone happy? Of course not. Considering the supply and demand for these shows — one source tells Backstreets that as many as 300,000 people may have signed up for verification — it was a given that many dedicated fans would get frozen out.
Whether 1998's Come Together benefit for the late Sgt. Patrick King or numerous nights at Madison Square Garden, a tough ticket is familiar to Bruce Springsteen fans. Performances like those have sold out within minutes of going on sale, a story that has been told and retold all over the world (a tip o' the cap to our friends in Ireland). But that was not the case with Springsteen on Broadway, probably the hardest ticket to come by in recent times. So let's consider what the new system did and did not do to give Springsteen fans a fighting chance....
- September 24, 2017 - Christopher Phillips and Shawn Poole reporting - photo by Nancy Calaway - special thanks to Jeff Calaway, Erik Flannigan, and Jonathan Pont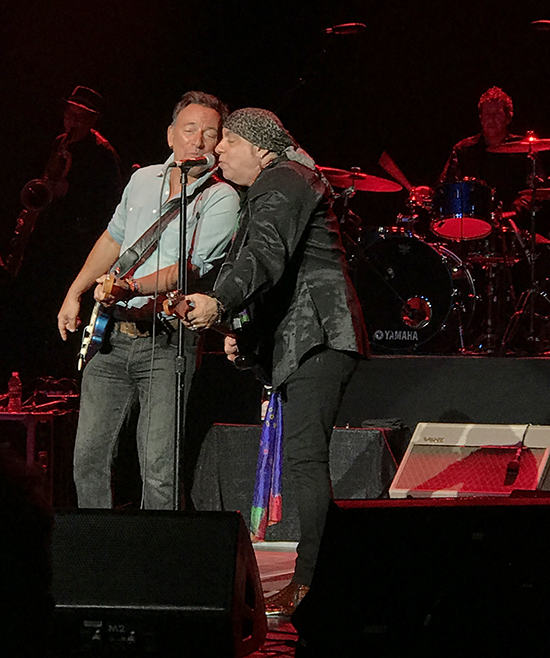 "LIGHTEN UP WHILE YOU STILL CAN..."
Thursday in Holmdel, NJ, Bruce Springsteen took a break from working up Springsteen on Broadway to join Little Steven and the Disciples of Soul, who start their own tour of North America and Europe tonight in Port Chester, NY. Full report from the 9/21 Laid Back Festival, including Springsteen's guest spot with Jackson Browne, on our Setlists page.
- September 23, 2017 - photograph by Doug Mishkin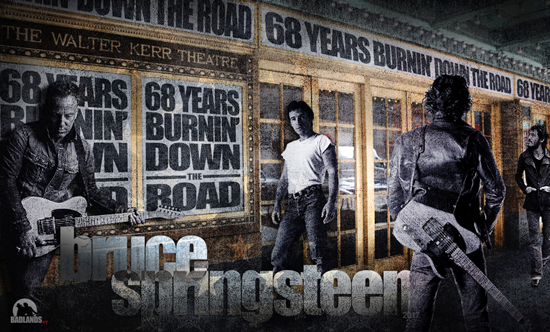 THEY SAY THE NEON LIGHTS ARE BRIGHT
And today there's extra magic in the air — happy birthday, Bruce!
- September 23, 2017 - thanks to Nuno Amante at Badlands Portugal


WITH MY MIND ON THE FREEZE-OUT AND THE FREEZE-OUT ON MY MIND
Tonight at Holmdel, NJ's PNC Bank Arts Center, the Laid Back Festival played host to Little Steven and the Disciples of Soul — as well as their special guest, Bruce Springsteen. Wicked cool to see them turn "Tenth Avenue Freeze-out" into a duet, with thanks to Mitch Slater for the video evidence; they also teamed up for "It's Been a Long Time."
Update: later in the night, Springsteen also joined headliner Jackson Browne for "Take It Easy" and "Our Lady of the Well."

- September 21, 2017 - videos courtesy of Mitch Slater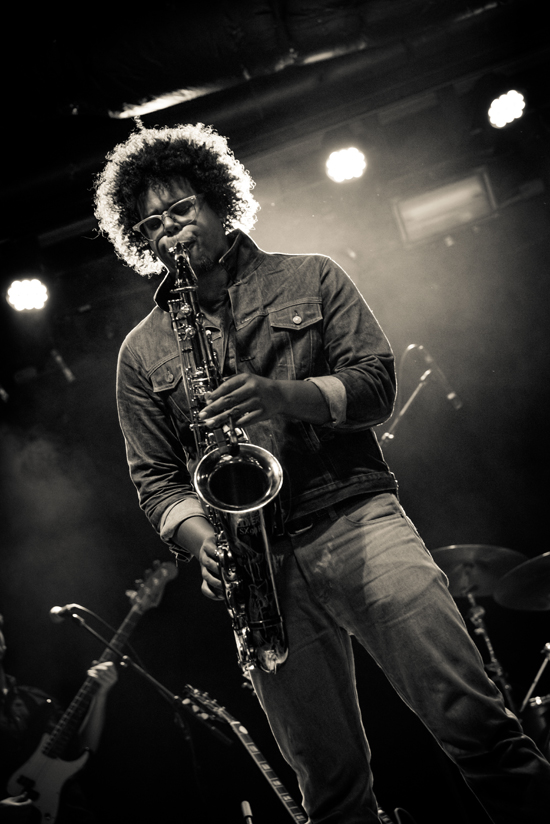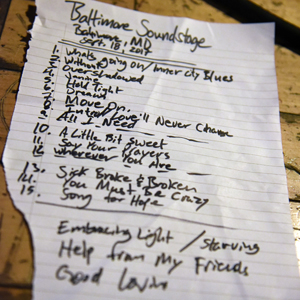 JAKE CLEMONS BAND
Baltimore Soundstage, Baltimore, MD, 9/18/17
Backed by a fantastic band, Jake Clemons put on a great show for an enthusiastic crowd in Baltimore on Monday night. Intense, charismatic, and multi-talented, not only does Jake play the sax, but the guitar and keyboard as well. Great vocals, too, and his storytelling reminds me of another great storyteller we know. The warm-up act was Aaron Yealdhall, who also came out at the end of the show to sing with Jake on "With a Little Help From My Friends."
For upcoming dates on the Fear < Love Tour, visit jakeclemons.com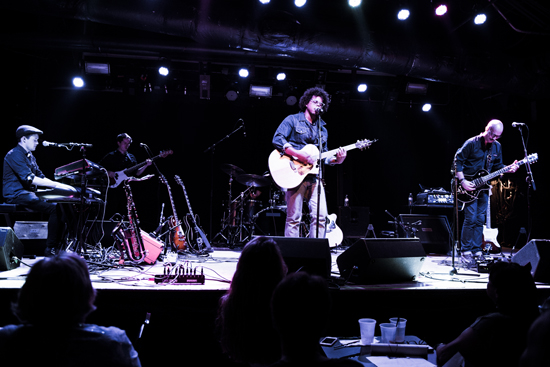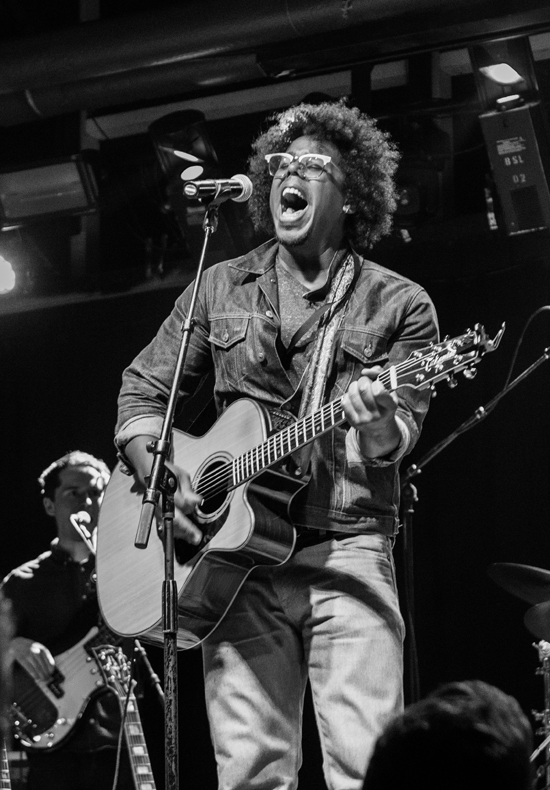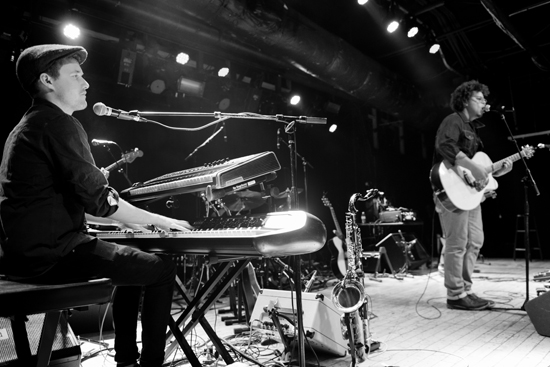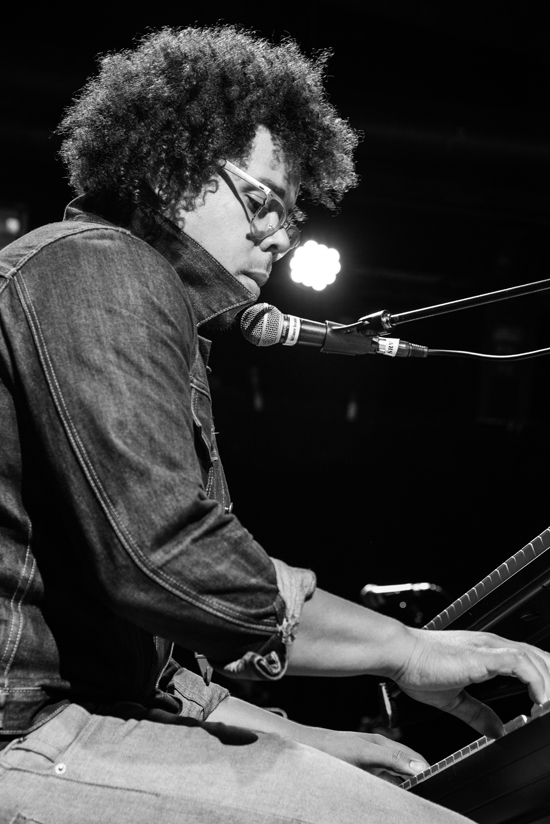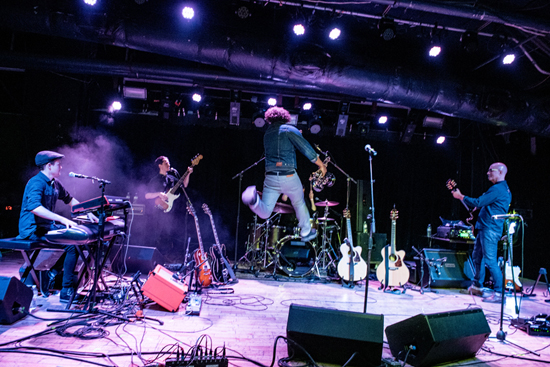 - September 21, 2017 - report and photographs by Jerry Frishman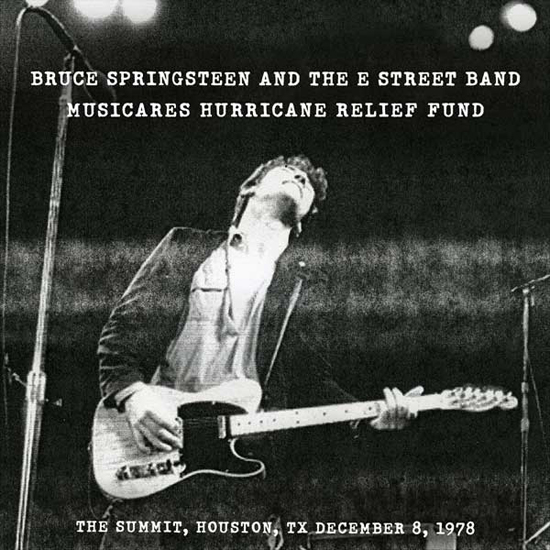 OUT NOW: HOUSTON '78 TO BENEFIT MUSICARES HURRICANE RELIEF
After the Hammersmith '75 concert film appeared in the 2005 Born to Run 30th Anniversary box, it was a mere two months before the audio had an official release. As for Houston '78, film of which was a cornerstone of the 2010 Darkness box, it's taken until... today.
A surprise release from nugs.net — it's not a First Friday, after all — is a special addition to Springsteen's live archive series, issued in response to the recent devastation and flooding in Houston and other storm-ravaged areas in the south. The Summit, Houston, TX December 8, 1978 will benefit the MusiCares Hurricane Relief Fund, to aid those affected in both Texas and and Florida.
In a press release, nugs.net CEO Brad Serling says, "Fans had been asking for a stand-alone audio release of Houston '78 since the Darkness box set came out several years ago. Its release-ready availability gave us the opportunity to move quickly to support people in Texas and Florida."
That release-readiness is, of course, due to the full concert film's inclusion in The Promise: The Darkness on the Edge of Town Story, with the audio from the original line cut recorded and mixed by the late, great Bruce Jackson (Springsteen's Front of House sound engineer in 1978) and later mastered by Bob Ludwig.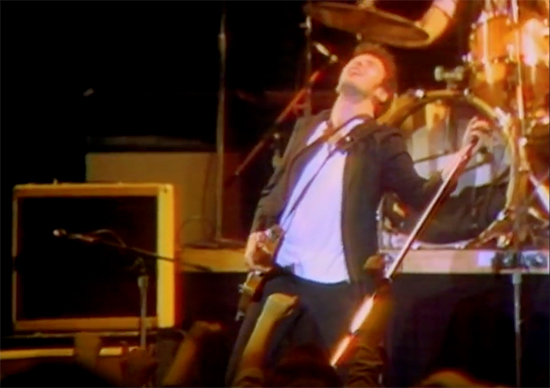 The performance is from the tail end of the Darkness tour, just a week before the classic Winterland broadcast, with Bruce and the band in full-on blow-'em-away mode. The following day in the Houston Post, critic Bob Claypool wrote of Springsteen "pumping out rock 'n' roll as though he were the man who invented it in the first place, sending out scores of guitar solos that were powerful enough to shake your fillings loose, yet so tasteful and utterly right, so full of promise, they made your calloused heart beat like a school-kid's."
Texas was an "early adopter" when it came to The Boss, joining other markets like Richmond, Philadelphia, Cleveland, and Phoenix along the way in appreciating Springsteen before he went nationwide and worldwide. December 8 was the Darkness tour's second visit to Houston, as Claypool also noted:
...this was Bruce's largest audience ever in Houston, which is, self-admittedly, one of his "best" cities. The Summit was sold out, which means that this was about twice the number of people who saw the Coliseum show back in July, and Heaven only knows how many more listeners this was than the number who attended the original gig at Liberty Hall years ago.

All of which goes to prove that Springsteen is hardly the mere "critic's favorite" he was once tagged. No critic or "cult" artist could cause the kind of madness he inspred in 17,000 plus at this Friday night show.
As for the set, you've got classic hallmarks of the '78 tour, including "Badlands" out of the gate, the extended "Prove It All Night" intro, and new songs that would make their way to The River: "Independence Day," "The Ties That Bind," and "Point Blank." Outtakes "The Fever," "Fire," and "Because the Night" all turned up, as did "Santa Claus," and the whole thing ended with a wild "Quarter to Three."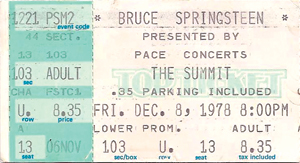 Backstreets reader Ed Gray, who was a high school senior and a first-timer at the Summit on 12/8/78, tells us, "That night at The Summit would recalibrate my appreciation of music and live music for the rest of my life, unquestionably. I had seen Led Zeppelin, Aerosmith, Bad Company, The Eagles, Journey... and I remember at the time thinking that those bands' entire shows didn't pack the energy and passion that I had just seen, heard, and felt with just the 'Badlands' and 'Streets of Fire' opening. That Houston Summit show is the finest musical experience of my life. Obviously, it made me a Bruce fan to this day."
As with other releases in the live archive series, The Summit, Houston, TX December 8, 1978 is being offered in various digital audio formats (available now) and on CD (available for pre-order). Bruce Springsteen, the E Street band, Sony Music and nugs.net will donate all their proceeds to the MusiCares Hurricane Relief Fund. For more information on MusiCares and their relief efforts, visit www.musicares.org.
Further reading: Erik Flannigan writing for the nugs.net blog, "You Can't Sit Down — The Other Great Shows of the Darkness Tour"
- Updated September 21, 2017 - Christopher Phillips reporting - ticket stub courtesy of Ed Gray

NEW SPRINGSTEEN TRACK CLOSES THANK YOU FOR YOUR SERVICE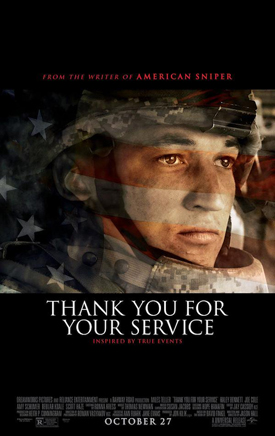 Thank You for Your Service, a forthcoming film starring Miles Teller, recently screened for press; it's about a group of soldiers returning from Iraq and facing a host of troubles, including PTSD, issues with acquiring benefits for physical and mental issues, and reconnecting with their families. It's the first film directed by actor-writer Jason Hall (who wrote Clint Eastwood's American Sniper).
It's a very powerful, authentic drama about the struggle back home, and after it was over, I heard this dirge-like drum track and Bruce Springsteen's unmistakable voice. The song sounded familiar, but not as a Springsteen original. It's his version of the "Freedom" marching cadence, often known as "Some Say Freedom is Free," credited to PFC Roger L. Southard. The standard words are here, although I've heard variations, and I'm pretty sure that Bruce changed/added a few himself. I'm 99 percent sure that in the verse about Vietnam, he added a reference from "Born in the U.S.A.," with a line about "a brother at Khe Sahn." There's also a male choir element to the song that makes it all the more haunting.

Thank You For Your Service opens October 27.
- September 20, 2017 - Steve (Capone) Prokopy reporting

I'LL BE ON THAT CAMPUS WITH EVERYTHING I GOT
Monmouth U planning Darkness Springsteen Symposium for April 2018
Over the last 12 years, Monmouth University played host to a Bruce Springsteen symposium called Glory Days, welcoming fans and scholars to their campus in 2005, 2009, and 2011 for a Bruce conference organized in conjunction with Virginia Tech and Penn State-Altoona. Next year, Monmounth — now home of The Bruce Springsteen Archives and Center for American Music — will hold their own.
Bruce Springsteen's Darkness on the Edge of Town: An International Symposium will be a four-day scholarly conference at the University in West Long Branch, NJ, from April 12-15, 2018. The theme: "Hard Truths in Hard Rock Settings." The call is out now for abstract submissions and panel suggestions, with a deadline of December 1, 2017. Click here for possible subjects, further info, and how to submit. Registration details will follow.
- September 18, 2017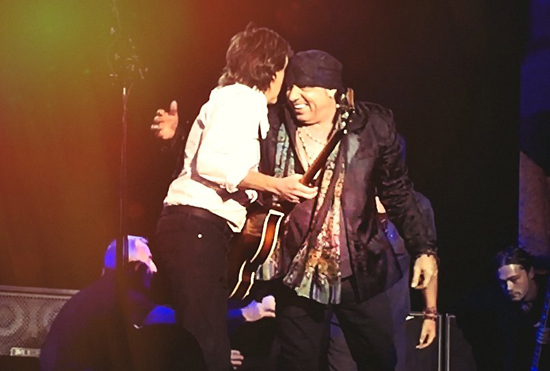 A BILLION-TO-ONE SHOT
On Sunday morning, Steven Van Zandt spoke to NY rock radio legend Ken Dashow for an exclusive interview on his weekly Breakfast With the Beatles radio show about Friday night's "unforgettable" experience with Paul McCartney:
"As Bruce said before we walked onstage, 'What are the odds of us being little kids listening to the first Beatles album in our rooms trying to learn those songs and that one day we would be on stage with that very same Beatle we were so amazed by as kids?' We stopped trying to figure out the odds of it happening, since it was a billion to one."
- September 18, 2017 - thanks to Sammy Steinlight - photograph by @dinaregine

FRIDAY NIGHT VIDEOS
Paul McCartney with Bruce Springsteen and Little Steven, on September 15 at Madison Square Garden, with a song so nice they played it twice. Hat tip to Jim Powers for catching 'em both.

- September 17, 2017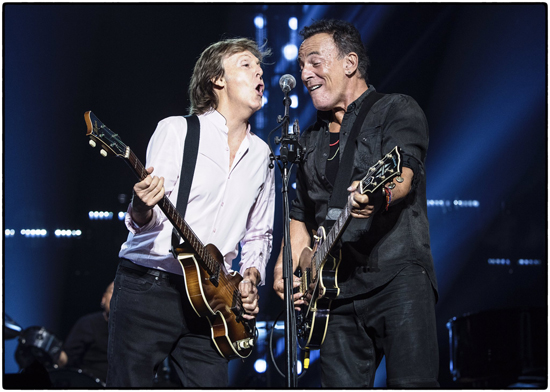 MY HEART WENT BOOM BOOM
Bruce & Stevie with Paul McCartney last night in NYC
Midway through the encore of Paul McCartney's Friday evening performance at Madison Square Garden, with the final dulcet notes of "Helter Skelter" still ringing in everyone's ears, Sir Paul announced that there were two special guests who had agreed to join him on stage for the next song. He mentioned that the last time they'd played together, at Hyde Park in London, they'd had the plug pulled on them by the authorities, so this time he hoped they'd be able to finish their song. When he shouted Bruce Springsteen's name, the roar of the crowd was so loud that it drowned out the subsequent announcement that Little Steven would be joining too.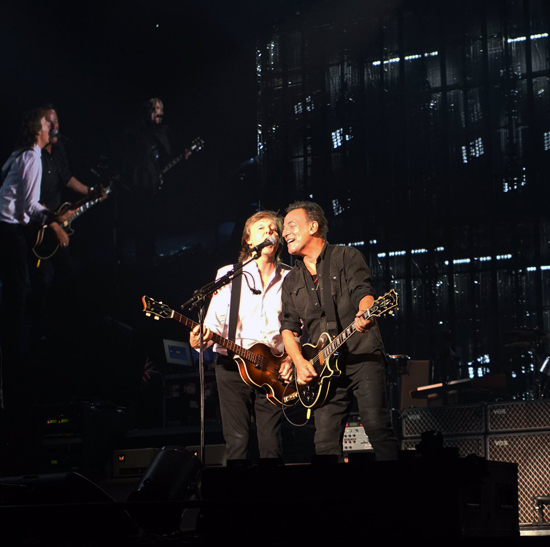 The band lit into a very energetic version of "I Saw Her Standing There," with a beaming Bruce trading verses at the same microphone as Sir Paul. After playing it once, they made a snap (and wise) decision to play it again. Afterwards, as Bruce left the stage — grin still plastered to his face — he could be seen wiping a tear from his eye. An emotional night for all involved — especially the very lucky audience.
- September 16, 2017 - Tom Prochnow reporting - photographs via @PaulMcCartney and @TheGarden

BOOKPLATE OF DREAMS
Last call: thanks to Simon & Schuster, we have 20 bookplates signed by Bruce Springsteen to give away when we ship out copies of the new Born to Run paperback. Order Born to Run by noon EST tomorrow (Friday, September 15) to be eligible, after which we'll select 20 orders at random (using the random number generator at random.org) to receive a "golden ticket."
- September 14, 2017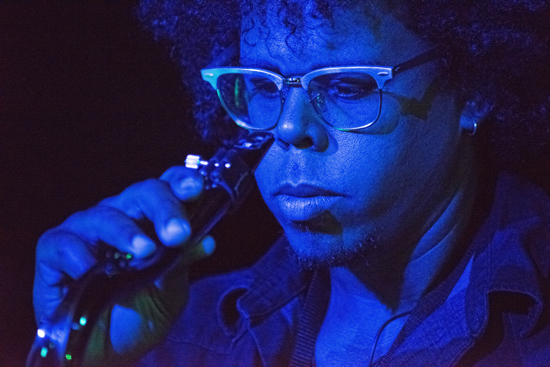 SOUL MAN
The Jake Clemons Band at Middle East, Cambridge, MA, 9/12/17
There's a chapter in Born to Run in which Bruce Springsteen discusses auditioning Jake Clemons for the E Street Band. He had asked Jake to learn the "Jungleland" solo, but when Jake arrived at Bruce's home, he hadn't done his homework. A mild scolding and Jake was sent home, returning later having completed his assignment.
As a parent, I related to the lesson. Sometimes a little tough love is needed to teach our children a lesson. These can be valuable lessons for life as we look to mentor and guide those under our care as they mature. And mature Jake Clemons has. Many who saw him at various stages on the 2016 River Tour commented how he grew into his role as the tour progressed and soon found a real confidence and ease on stage. He found his place with the E Street Band, endearing himself to all who witnessed his transformation.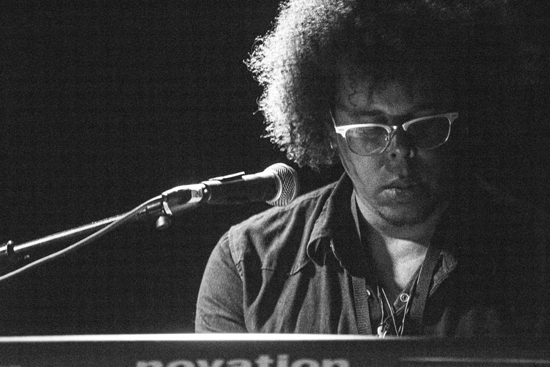 Last night at The Middle East in Cambridge, MA, Jake Clemons kicked off his tour to support Fear & Love. And what we witnessed was not just a musician coming into his own, but a man with a great soul. A soul that speaks out against injustice and domestic violence, admits to his own frustration with the divisiveness our country is experiencing, and identifies the need we all have to soothe an aching heart no matter what cause. He believes in hope and wants all of us to believe in it too.
Backed by an outstanding band, Jake displayed his multi-instrument talents through numbers such as "Hold Tight," which in its own eerie fashion uses an impending hurricane as a metaphor, and the dynamic and troubling "Janine," in which a woman who is caught up in an abusive relationship is told to "get out." Jake's passion for this issue has led him to launch The Janine Project, an online resource for women in abusive relationships, providing information, pointing to services, and offering hope.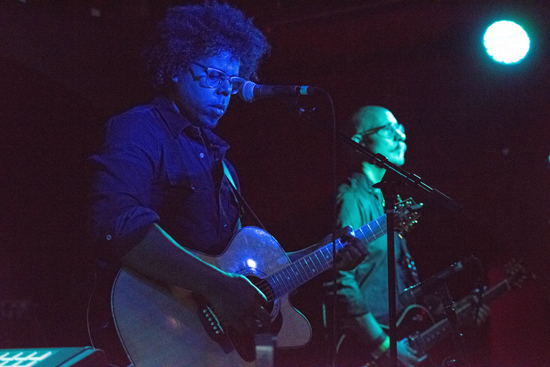 Throughout the night each song was delivered with purpose and from the heart. That's soul music. Jake's music is also a whirlwind of styles, from the sweet and melodic sound of "Fear and Love" to the country-influenced sound of "Dream." Jake would move from guitar to piano and then to his beloved sax. Special attention should be paid to the band members, who Jake would let loose to display serious jazz and improvisational chops. On guitar, Mark Roshette; bass, Lorcun O'Dwyer; drums, Cian Hanley; and on keyboards, Kevin Corcoran.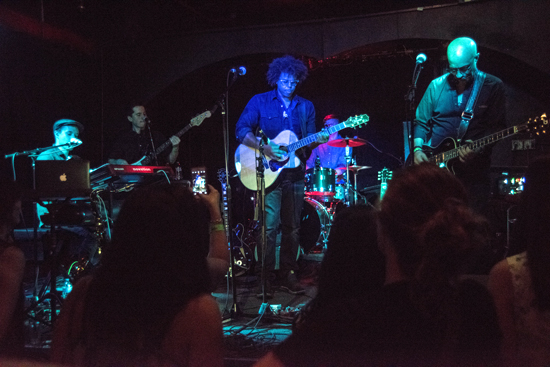 There's no denying the audience was made up of E Street fans looking for a fix, and Jake didn't hesitate to entertain them, often walking into the audience and even posing for a selfie while dancing with a fan.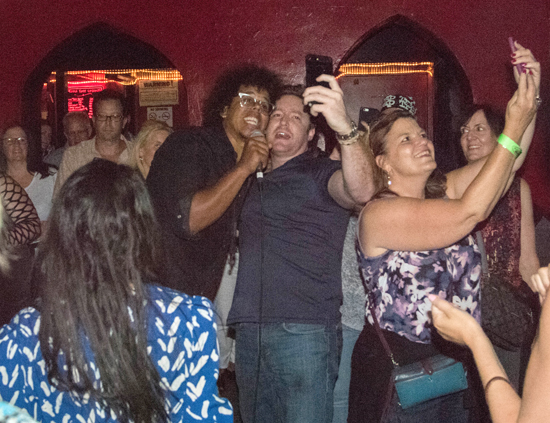 Judging by this opening night, Jake has definitely found his groove. What he has learned along the way, he wants to share with his audience. Much of that was summed up in an encore sing-along of "With a Little Help From My Friends" segueing into a soulful "Good Lovin" to close the night, Jake working the audience like the true soul man he is.
For upcoming dates on the Fear < Love Tour, visit jakeclemons.com
- September 13, 2017 - report and photographs by Barry Schneier

STEVENESS
Our pal Peter Chianca, of Blogness on the Edge of Town, interviewed Little Steven for Wickedlocal.com, previewing the September 29 Disciples of Soul concert at Boston's Orpheum Theatre. Along with talking Soulfire and his live show, Stevie tells Pete he's "writing more with the intention of doing solo records now on a regular basis," and he also reveals that he's not at all out when it comes to TV: "I've got five different scripts I've written — I'll either create a show myself, or I'm also getting some offers... In an ideal world I'll do a new TV show in the winter, and then tour every summer either with Bruce or with the Disciples. That's the plan anyway.... You never know — you plan these things out and who the hell knows what happens?"
Read: "Springsteen sideman Van Zandt bringing solo 'Soulfire' show to Boston"
Stevie's North American tour kicks off in less than two weeks — see littlesteven.com for dates.
- September 12, 2017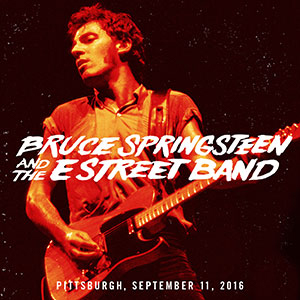 LOVE AND DUTY
A year ago tonight, I was in Pittsburgh, to see Bruce Springsteen and the E Street Band's second stop there on the 2016 River Tour. Considering the date, the 15th anniversary of the 9/11 attacks, The Rising was on many of our minds. Would Bruce mark this occasion? The full River album performance was no longer in the set... could that maybe, possibly, make room for a full Rising sequence? A pipe dream, of course, and it's hard to imagine anyone really thought otherwise. Most of those album tracks were distant memories in the band's repertoire, and Springsteen was clearly invested in the 1973 wayback machine that typified these fall 2016 shows.
So it still came as a surprise when Springsteen and the band followed their opening serenade with "Into the Fire." And "Lonesome Day." And "You're Missing," and "Mary's Place" — not the full album, but a full-throated and full-hearted revisitation of the thrust of it, its power and spirit. And later in the set, the back-to-back "My City of Ruins" and "The Rising" itself clinched the night's through line. I was struck all over again by the brilliance of that piece of work, the way The Rising reflected the falllout of 9/11's horrors in so many facets — loss, resilience, courage — much the same as his previous masterpiece, Tunnel of Love, investigated love and marriage. And to feel those songs come to life again a year ago, so viscerally, was the very best medicine for a day that had been full of sad reminders.
I have mixed feelings about marking days like this. In fact, I'd rather not. I'm more prone to celebrate the anniversary of a record, a concert, a piece of art that moved me, which may be why I'm focusing more today on Pittbsurgh 2016 than on where I was on that awful day in 2001. But sometimes, like today, the two things are just inseparable. As we're facing so many natural disasters — hurricanes, floods, forest fires, earthquakes — it seems that what made the 9/11 attacks particularly horrific is that they were no acts of god, but something humans alone were responsible for. "Man's inhumanity to man," as the English lit cliche goes. But what's inspiring to me is that, whatever the source of the "meanness in this world," the response of good, brave souls remains the same, first responders and those who follow. The same spirit that gave rise to songs like "The Rising" and "Into the Fire" can be seen in responses to these devastating hurricanes today, from individuals — have you read this? — to communities:
It's enough to give you faith.
So we're thinking today of those who died, suffered, and lost 16 years ago, and of those who are displaced, making their way through the darkness, and on rocky ground today. But we're also thinking of all those, everywhere, who come to their aid. Your strength gives us strength, and your hope gives us hope.
- September 11, 2017 - Christopher Phillips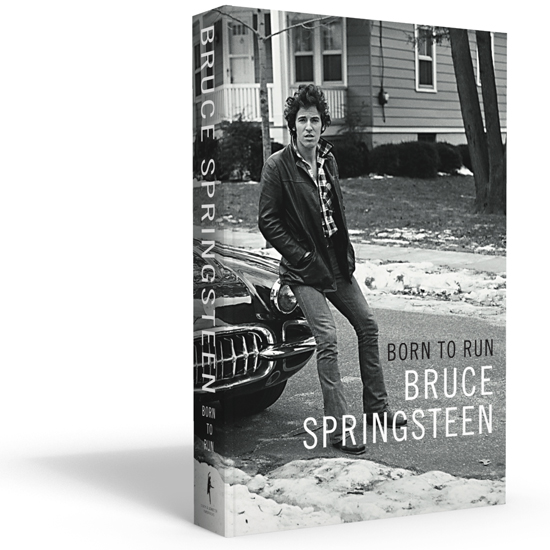 BORN TO RUN PAPERBACK IS HERE
Order from Backstreets for a chance at an autographed bookplate!
Something that might have gotten lost in the shuffle this past week, with all the Springsteen on Broadway business: the trade paperback of Springsteen's Born to Run memoir is hot off the presses. And if you've still got the stomach for "games of chance"... don't worry, this is a fun one... I don't think Backstreets has ever had Springsteen autographs to give away.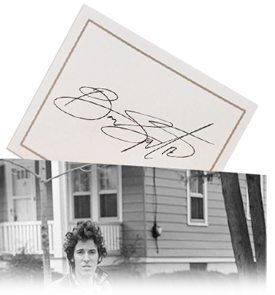 Thanks to Simon & Schuster, we've got some serious "golden tickets" we'll be slipping into Born to Run sofcovers as a bonus as we ship them out. We have 20 bookplates signed by Bruce Springsteen specifically for Born to Run to give away to Backstreet Records customers.
These are hand-signed, of course, and the same bookplates they used for the hardcover; adhesive backing is still on, so lucky recipients can choose whether to affix it here or on a hardcover edition.
Order before Friday, September 15, at noon Eastern for a chance at one of these 20 signed bookplates. We'll be inserting them into packages completely at random (using a random number generator) as we begin fulfilling orders. Your odds depend on how many orders we receive for the softcover before the 9/15 deadline -- if 40 people order, you've got a 50/50 shot; if 400 people order, it's a five percent chance -- but that's a healthy number of autographs to give away no matter how you slice it.

And everyone who orders the softcover edition from us will get a FREE Born to Run bookmark (above), a promotional item provided for us by Simon & Schuster.
Order the Born to Run softcover now: 20 golden tickets await!
- September 9, 2017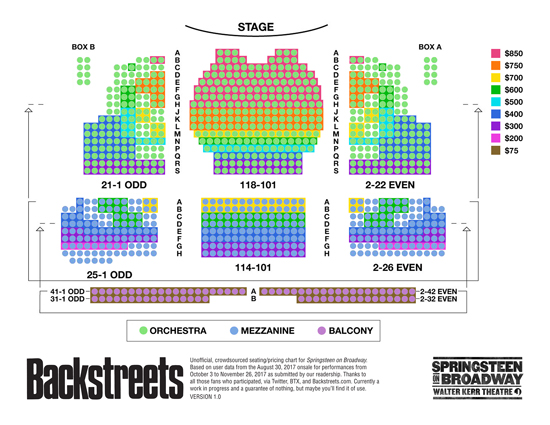 BROADWAY ONSALE, THE MORE YOU KNOW PART II: THE PRICE YOU PAY
For the first Springsteen on Broadway onsale, we posted some info the night before about what to expect. As we find ourselves on another Verified Fan Onsale Eve, you may want to check our that post below. Last time, the advance "prep" emails starting coming around 9:25pm Eastern the night before the sale. Ticketmaster's Springsteen on Broadway #Verified Fan Onsale FAQ can also answer many questions.
Something we didn't have last time around: a seating chart with prices. Thanks to many fellow fans, we've put one together based on tickets purchased on August 30. Our readership collaborated by sending in seat locations and prices from that first go-round, so that we now have a very good idea of what you might get when you look to pay your money down tomorrow morning. (Locations not color-coded on the chart means we received no information for those seats; whether they were sold or not is currently unclear.) Click the image above for a larger jpeg, or click here for a printable PDF (v1.1).
Many thanks to everyone who pitched in — a true community effort. And good luck in the morning. May every Standby be Selected!
- September 6, 2017

- September 4, 2017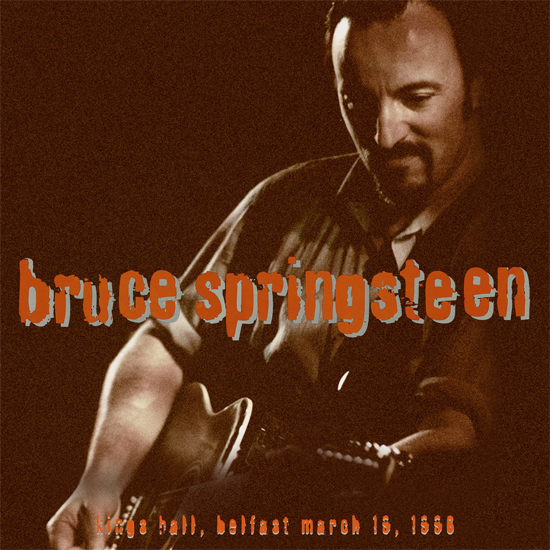 ONE-MAN HOOTENANNY: JOAD TOUR'S BELFAST CONCERT OUT TODAY
While we gear up for the 17-week run of Bruce Springsteen's solo show on Broadway, the official archive series flashes back to his first solo tour with the release of Kings Hall, Belfast, March 19, 1996. This 23-song set features Springsteen alone on acoustic guitar and harmonica and marks the first official concert release from the world tour for The Ghost of Tom Joad. And it represents that time well, capturing the classic structure, spirit, and intensity of the acoustic music that took Springsteen (and guitar tech/"mystery keyboardist" Kevin Buell) around the world over the span of 18 months from late 1995 to the middle of 1997.
Since that time, we've become far more accustomed to Springsteen performing alone, whether behind Devils & Dust or for VH1 Storytellers, (both in 2005), the Somerville benefits, or even campaign rallies; when the Joad tour began, however, you had to look way back to the early '70s to find him performing acoustically with any regularity.
When Springsteen gave the E Street Band their walking papers at the dawn of the 1990s, the idea, as he told Rolling Stone, was "to mix it up... to get rid of some of the old expectations... I wanted to get to a spot where if people came to the show, there'd be a feeling of like, well, it's not going to be this, it's going to be something else." The tour that followed with the "other band" in 1992-'93 was, like it or not, not that sort of radical departure. A brief solo-acoustic set added to those shows in Europe in 1993 hinted at his next direction. But in 1995, the shattering of expectations truly began, as Springsteen brought a dark, quiet, band-free, singer/songwriter performance to theaters and other small venues.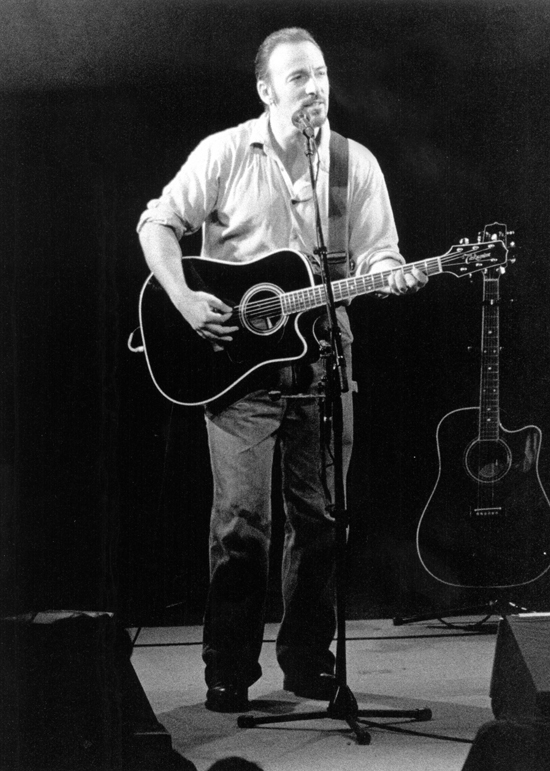 Europe 1996 [Brussels, May 1] - photograph by Rene van Diemen
The Joad tour fulfilled Springsteen's desire to "have something new to bring to the table" without the E Street Band, and it also made good on the promise of rare, tantalizing solo performances like the 1986 Bridge School Benefit and the 1990 Christic Institute shows. Famously, there was no tour for Nebraska. Given the opportunity to go unplugged for MTV in 1992, Springsteen remained plugged in with his new band. But in the fall of 1995, he embraced the acoustic aesthetic all the way. Unlike the Christic shows, where Springsteen played piano as well as guitar, or the 2005 Devils & Dust tour which also brought the pump organ, ukulele, electric piano, electric guitar, and more into play, Joad was straight no chaser: Bruce. A small fleet of Takamine guitars and harmonicas. And of course, a firm request for everyone in attendance to "shut the fuck up."
Springsteen meant business, but the Joad tour was hardly a dour one. There were certainly somber stretches each night, particularly when he'd bring out a stool at the end of the main set for the border songs: "Sinaloa Cowboys," "The Line," "Balboa Park," and "Across the Border" ("The New Timer" made infrequent appearances, too). But the artistry on display — songwriting, arranging, storytelling, guitar-playing, displaying a newfound falsetto, holding a crowd in the palm of his hand — provided light even through the darkest material.
Many hits and concert favorites were nowhere to be found; in Belfast, nothing before Darkness on the Edge of Town. But performances like that 1978 album's title track, in an arrangement borrowed from Christic and strummed urgently on 12-string, could be as rousing as anything on the E Street stage. And as the tour rolled on, Springsteen's reworking of older songs and introduction of new material leavened the set. "It's the Little Things," a number never performed before or since, gets its first official release here.
The Belfast stop at The King's Hall, Springsteen's first performance ever in Northern Ireland, came about four months into the World Acoustic Tour and captures its core spirit. Along with its standards — ten album tracks from Joad, the masterful reimagining of "Adam Raised a Cain" — we get stopovers in Nebraska (the title track as well as an ultra-stark "Reason to Believe"), another Christic revisitation with "The Wish," Tom Joad outtake "Brothers Under the Bridge," a guitar arrangement of his latest smash hit "Streets of Philadelphia." The striking, percussive arrangement of "The Promised Land" turned out sturdy enough to close Devils & Dust shows ten years later.
The Tom Joad tour was truly a world tour. In North America, it hit older theaters in city centers and in smaller markets like Fresno, Normal, and Youngstown. Overseas, Springsteen visited not only Europe, further cementing his long-established bond with audiences there, but also Australia and Japan, where lyric sheets with translations were handed out to concert-goers in an attempt to offset the language barrier. In Belfast there likely was no such issue, but across Europe on this stretch Springsteen made sure to thank audiences for coming along on such a different ride, one where stories and songs asked a lot of even English-as-first-language audiences: "This is music that means a lot to me and I appreciate being able to come out here and do this like this... it's a real collaboration between the singer and the audience. It's a gift that you give me, and I want to thank you for it." Today, it's a gift that keeps on giving.
For more on the Belfast performance, see Erik Flannigan's nugs.net blog post, "Bruce Springsteen Going It Alone: The Ghost of Tom Joad Revisited." Kings Hall, Belfast, March 19, 1996 is available now in various digital formats and for pre-order on CD from live.brucespringsteen.net.
- September 1, 2017 - Christopher Phillips reporting

For older news, visit our News Archives