LITTLE STEVEN LOOKS BACK, AND MOVES FORWARD, WITH "A WORLD OF OUR OWN"
Another track from the forthcoming Summer of Sorcery
The world can now listen to another preview track from Little Steven & the Disciples of Soul's forthcoming album Summer of Sorcery. First previewed exclusively at Billboard.com and now available on Little Steven's YouTube/Vevo channel, "A World of Our Own" clearly recalls the glories of Steven Van Zandt's musical past, as someone who grew up loving '60s rock, pop and soul and then later got to make his own contributions to the music as a songwriter, performer and bandleader. Longtime listeners will recognize the sound and sensibility of the girl groups and Southside Johnny & The Asbury Jukes (including a lyrical nod to a "heart of stone"). There's even what sounds like an honest-to-God harpsichord thrown into the mix. At the same time, the song concludes with the very modern, mature recognition that none us really gets to live in a world of our own, and we desperately need to stop trying to do so. "A World of Our Own" is one of Little Steven's most beautiful, heartbreaking ballads; it's also just as socially and politically astute as anything he's ever done.
- April 18, 2019 - Shawn Poole reporting

ARE YOU TALKING TO ME?
Springsteen, Scorsese slated to appear at May Netflix event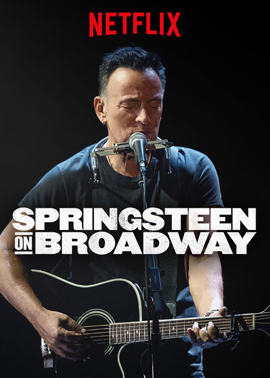 It's always awards season somewhere, and this spring Netflix wants people to know. That's why it's reprising FYSee (short for "For Your Consideration"), a month-long series of events designed to promote its offerings ahead of nominations for the 2019 Emmy Awards. And it has help from Bruce Springsteen, who will appear at a May 5 kickoff event in Los Angeles.
We're biased: we obviously loved Springsteen on Broadway, Thom Zimny's long-form document of the hit Broadway performance. (We're fans of The Crown, Black Mirror, and Ozark, too.) Like the choices consumers face for their bundling or app dollars, now Emmy nominations and voting are matters of serious competition. With the success of Springsteen on Broadway — not to mention an EGOT hanging in the balance — it's easy to see why he'd be eager to promote the platform.
To that end, the partnership with Netflix worked well enough that Springsteen agreed to join fellow creators like Oprah Winfrey, David Letterman, and Martin Scorsese. While a press report in Variety didn't make clear whether Springsteen and Scorsese will sit down for some type of joint question-and-answer session — an event that should be a Netflix special on its own — we can only hope. We've reached out to Netflix to learn more, including whether there will be any public ticket availabiity (most FYSee events appear to be open to Television Academy National Active members).
Emmy nominations take place for two weeks in June and are slated for announcement on July 16; the awards telecast takes place on September 22.
- April 17, 2019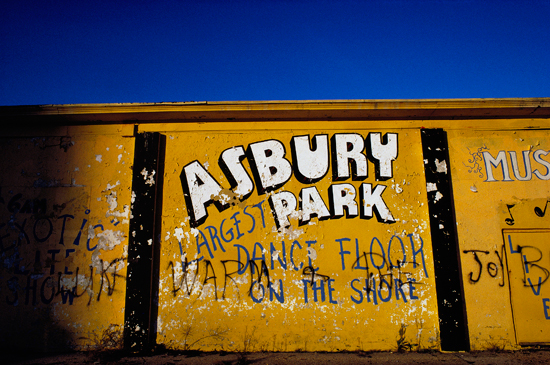 IN CAHOOTS IN ASBURY PARK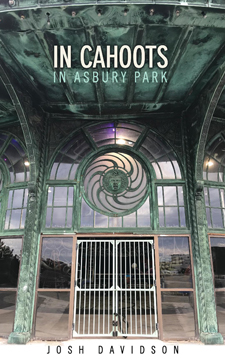 From author Davidson, a look at foundations of the local scene
Josh Davidson's In Cahoots in Asbury Park is an entertaining insider look at the Jersey Shore music scene of the 1970s, focusing upon local bands that laid the foundation for breakouts like the Jukes and the E Street Band later in the decade. The book traces the rise of a handful of local musicians from the closing of the Upstage, the late night club where many of the artists integral to the Asbury Park sound initially met, to the emergence of the Stone Pony as a hangout, giving voice to the likes of Ernest "Boom" Carter and the local and visiting jazz artists of the West Side who inspired him to pursue his own music career.
The other focus of Davidson's book is the formation of Cahoots, the hardworking bar band comprised of area musicians who were the backbone of the scene: George Theiss, Tony Amato, John Luraschi [below], John Oeser, Steve Schraeger, Tommy LaBella and Mike Scialfa. Where other accounts of the Asbury Park scene typically center upon Bruce Springsteen and Southside Johnny, Davidson takes a closer look at the foundational role of early Shore bands like Cahoots, The Shakes, and The Shots that regularly graced the stage in the early days of the Stone Pony.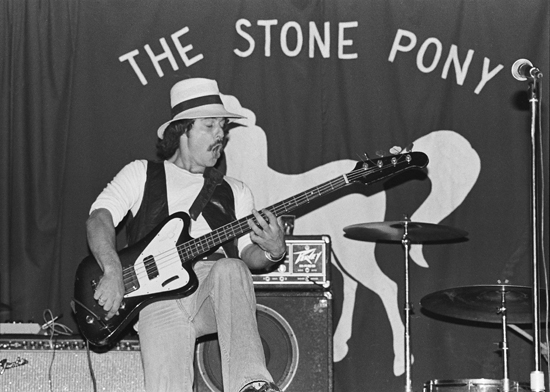 The familiar rock 'n' roll themes are all here: band formations and breakups, brotherhood, bawdy antics, record company blues, and the shot at the elusive brass ring. The camaraderie between these local bands and Bruce's E Streeters is heartwarming and inspiring, and keyboardist Tomy Amato [below] credits Steve Van Zandt (who booked Cahoots) and Bruce for championing the emerging scene even as their own fortunes rose.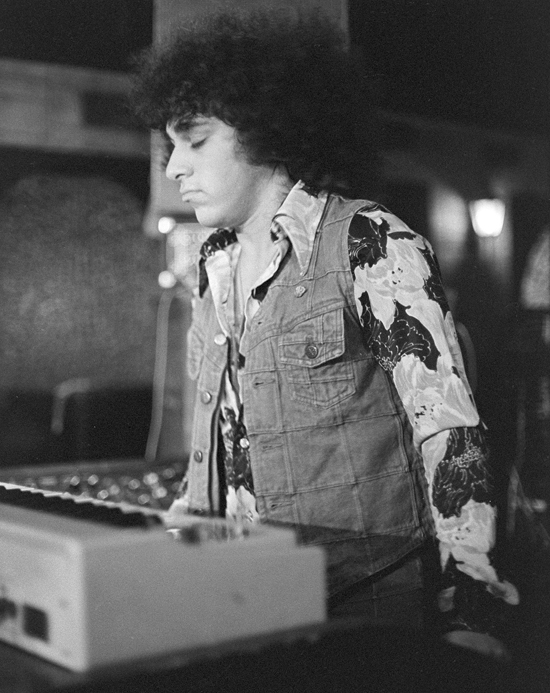 "You can't talk about the Asbury music scene or the Jersey Shore at that time, in that era, without mentioning Bruce Springsteen and Steve Van Zandt," says Amato. "They had a lot of input in to our bands. Steve helped the Shakes, Bruce helped Cahoots. Steve Van Zandt is 80 percent responsible for the sound of Asbury Park and 80 percent responsible for that whole music. He created it."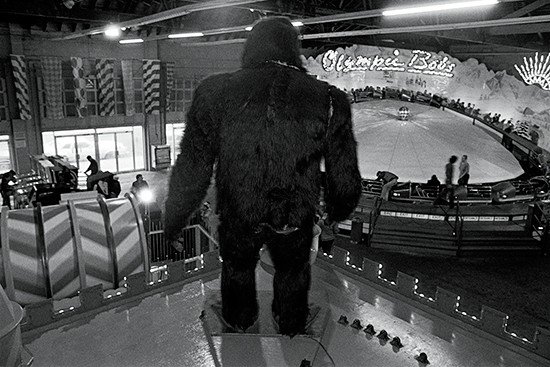 Inside Palace Amusements, Asbury Park, NJ, 1981 - photograph by Lewis Bloom
In Cahoots is chock full of gossipy tales of the band's constant battles with original Stone Pony owners Butch Pielka and Jack Roig; Davidson also gives voice to longtime fans like journalist/historian Robert Santelli, guitar-slinger Billy Hector, and Lewis Bloom, whose photography perfectly captures the excitement and passion of the Asbury scene. Like Anders Martensson's Local Heroes, In Cahoots illuminates the essential but often overlooked role of local musicians who paved the way and helped write the history of the city that became internationally famous.
Independently published, In Cahoots in Asbury Park is available now from Amazon (Paperback/Kindle), Barnes & Boble (Paperback/Nook), and Google.
- April 17, 2019 - review by Lisa Iannucci and Craig Scupp - book cover by Michelle Slevin - photographs by Lewis Bloom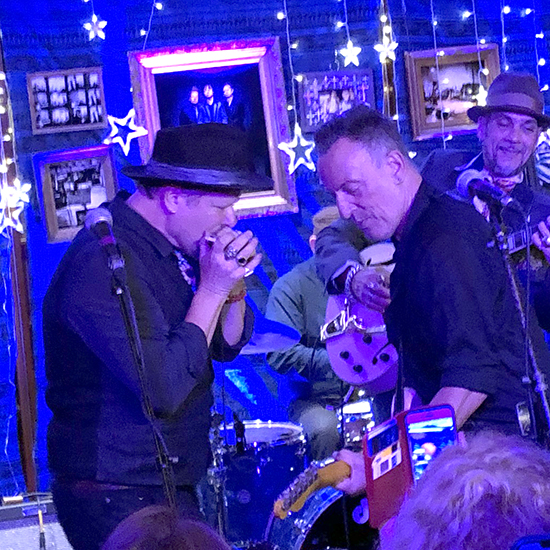 A NIGHT TO REMEMBER 2019
Springsteen straps on a guitar for Danny Clinch's big night
Saturday night in New York, Bruce Springsteen returned to the stage for the first time since Springsteen on Broadway, rocking out on two songs with the Tangiers Blues Band.
Featuring Danny Clinch on harp, the band was entertaining at the Kristen Ann Carr Fund's annual A Night to Remember benefit. After opening with bluesy takes on Prince's "Kiss" and the Velvet Underground's "I'm Waiting for the Man" as Springsteen watched from offstage, the band was joined by Asbury Park's Rachel Ana Dobken for a vocal duet with Danny. Dobken, whose When It Happens to You LP came out in October, is also Musical Director at Clinch's Asbury-based Transparent Gallery. So Danny had an easy segue for the night's next special guest: "Do we have any other New Jersey musicians who want to join us?"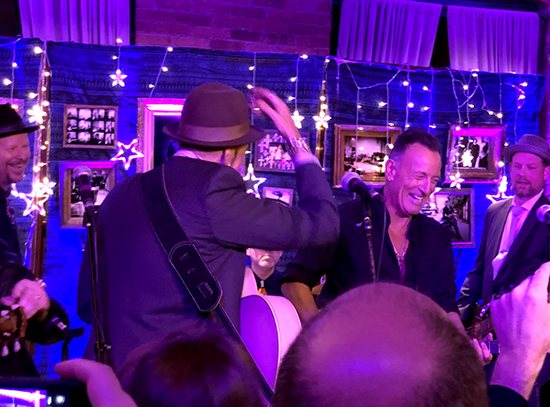 From stage left, a lean-and-mean Springsteen grabbed a Fender Telecaster and stepped right up. At center mic, Bruce led the band into "Rockin' Pneumonia and the Boogie Woogie Flu." The room — the upstairs loft at Tribeca Grill — was even smaller than the Walter Kerr Theatre, where Springsteen had been in residence all of last year, but the noise was bigger, and it was a thrill to see Bruce crank it up for a couple of shouters.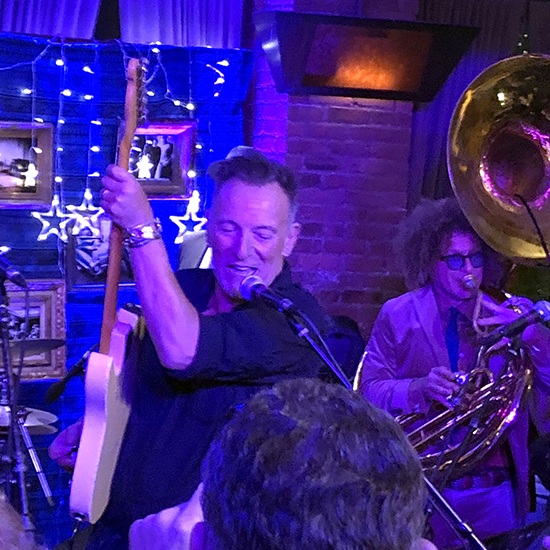 Joined by the Preservation Hall Jazz Band's Ben Jaffe on tuba, Springsteen took lead vocal again on "Down the Road a Piece." After shredding on guitar and facing off with Clinch at center stage, Bruce called out a few times to keep the song going before finally calling it good. It was a short but inspiring burst of rock 'n' roll from Springsteen, his first public performance of 2019 — and considering this is the year the man turns 70, a potent confirmation that he ain't too old to rock and roll. As if you had any doubt.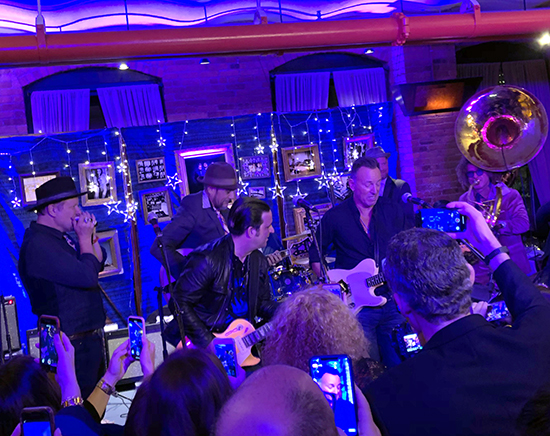 Springsteen has jammed with the Tangiers Blues Band before, celebrating the reopening of Absury Lanes last June by jumping on stage with Clinch and his band for these two songs plus two more.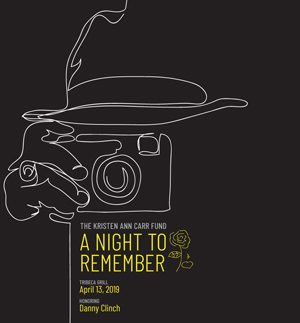 This time, Bruce was in the house specifically to raise a glass to Danny Clinch, this year's Honorary Chair for A Night to Remember. At the evening's outset, Clinch was brought on stage along with wife Maria to be thanked for his work on behalf of the Kristen Ann Carr Fund. The Fund's Michael Solomon called the rock 'n' roll photographer "always the coolest guy in the room, which is saying something," before remarks from Kristen's parents, Dave Marsh and Barbara Carr.
"Danny Clinch is a wonderful friend, a colleague, a member of the E Street family," said Carr. "We called him the renaissance man from Asbury Park, because he does so many different things — he's such a generous guy that I can't really list all the things he's helped or all the different people he's brought together, all the great people he's photographed. We're very proud, Danny, to have you here tonight, and your lovely wife Maria, and your son and daughter."
"I'm the guy who wrote, 'I have seen the future… of... photography!" said Jon Landau, throwing his arm around Danny's shoulder. "And it's this man, right here!"

L-R: Barbara Carr, Danny and Maria Clinch, Michael Solomon, Bruce Springsteen, Jon Landau
Introducing the next one to speak, Landau continued, "He's known as The Boss wherever he goes, whatever street he walks down there's always somebody: 'Hey, Boss, how you doing'…. Actually, there are not many people for whom he's the boss. But along with Mrs. Landau, he's my boss…" and as the crowd laughed, Bruce took the mic.
"Danny's been such a big part of my life," Springsteen said. "He's contributed so much to my work. We've had a lot of great adventures together. I want to say he's a fabulous photograher, but he's also been tremendously important to us down in Asbury Park. He's part of our community, and he's a great friend of mine."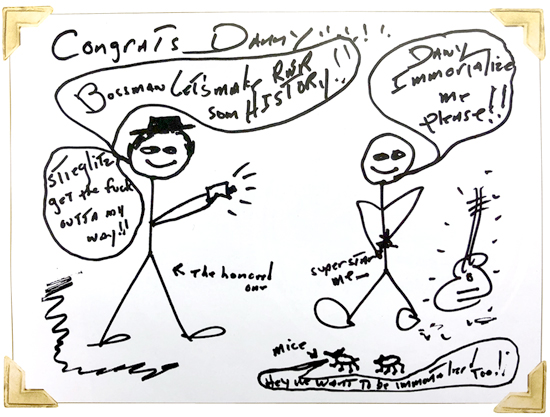 Clinch and his subject as envisioned by "Superstar" Springsteen himself, from the night's program
Clinch himself said a few words, before his band took the stage and the night's entertainment began: "I'm really honored and grateful to be here, in honor of Kristen and the great work that her family has done — Sasha [Carr], Dave, and Barbara. As I was growing up, I gravitated toward a lot of great music and great bands that got me excited about wanting to document them. One being Bruce Springsteen and the E Street Band. Pearl Jam, bands like Dave Matthews, Patti Smith, and the Beastie Boys.... funny enough, those are all people who give back to their community. It's been a big inspiration to me and part of the reason why I do that sort of thing."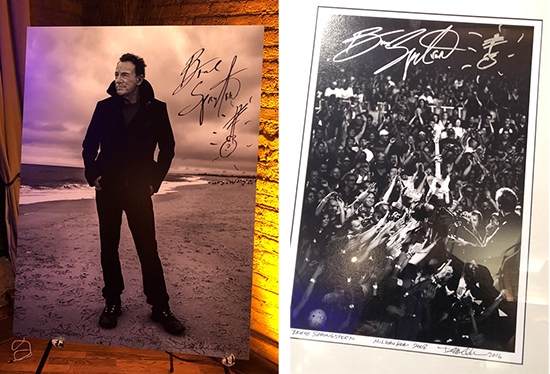 A couple of Springsteen-signed Danny Clinch prints the photographer donated to Saturday night's auction
The Kristen Ann Carr Fund provides grants for sarcoma research and seeks to improve the lives of cancer patients. A silent auction — featuring prints by Clinch and fellow photographers Eric Meola, Frank Stefanko, Pete Souza and more, as well as an Eddie Vedder-signed ukulele — raised funds for KACF on Saturday night. Additional items are on the block now at charitybuzz.com, including a Little Steven & the Disciples of Soul ticket-meet-and-greet package, with more to be added in the coming weeks. You can also donate to the KACF online at sarcoma.com.
- April 15, 2019 - report and photographs by Christopher Phillips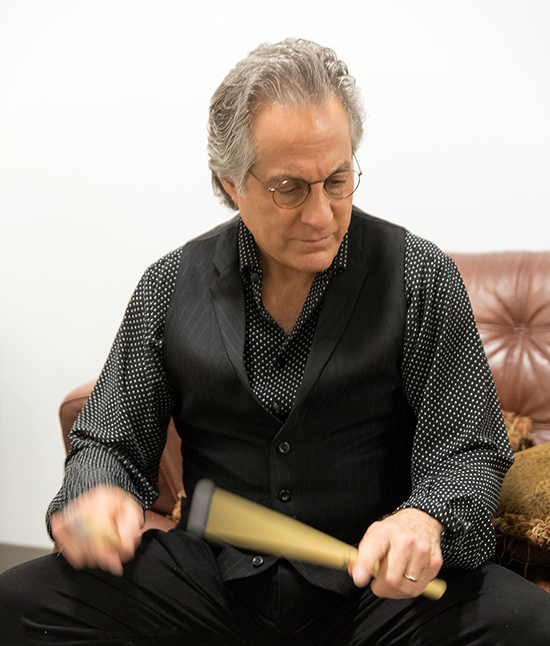 HAPPY BIRTHDAY, MIGHTY MAX!
Max Weinberg turns 68 today, born April 13, 1951. He returns to the road later this month with Max Weinberg's Jukebox, playing Hopewell NJ's Hopewell Theater on April 25, with many more shows to follow throughout the summer and into the fall. See the full schedule at maxweinberg.com.
- April 13, 2019 - photograph by Leland Sandberg


1974 IN FOCUS: MIKE APPEL WITH BACKSTREETS' JONATHAN PONT
May 19 event in NYC looks back on the lead-up to Born to Run
Forty-five years gone by now, 1974 was a year of change for Bruce Springsteen, bringing shifts on a host of fronts. On May 19, Springsteen's first manager and producer Mike Appel (above) will join Backstreets Associate Editor Jonathan Pont to look at the events and music that shaped the year.
"There are years that history tends to obscure, and 1974 is one," Pont says. "So much went into setting up the success that Born to Run became."
Appel, of course, served Springsteen from 1972 to 1976, and they formally parted ways in the spring of 1977. "Mike tells the story as only he can," Pont says. "He was there for everything, from the business and the creative side."
"In Conversation: Mike Appel" takes place on Sunday, May 19, at 3pm as part of the Hamilton Park House Concerts series on Staten Island. See the Facebook event page for further details and advance tickets.
- April 11, 2019 - photograph courtesy of Mike Appel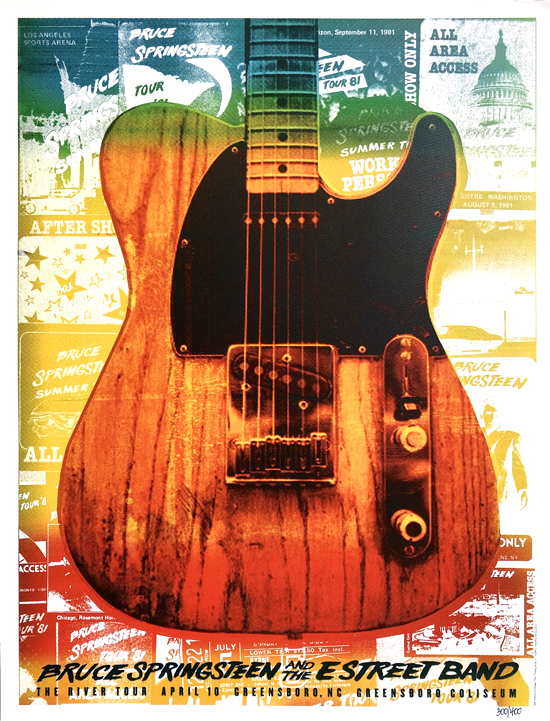 GREENSBORO POSTERS: OUT OF THE VAULT AND ONTO YOUR WALL
Previously unseen, original 4/10/16 concert posters to benefit Equality NC
Three years ago today: the Greensboro show that wasn't. After North Carolina state legislators passed the discriminatory HB2 (The Public Facilities Privacy & Security Act), Bruce Springsteen made the decision to bypass the state on his 2016 River Tour. Taking a stand in "this fight against prejudice and bigotry," he cancelled the E Street Band's April 10 concert — the tour's only scheduled stop in North Carolina — "with deepest apologies to our dedicated fans in Greensboro." [See Springsteen's full statement here]
From the Backstreets office in Chapel Hill, NC, we wrote three years ago tonight:
At this very moment, in a parallel universe, we're just down the highway in Greensboro, NC, reveling in the power and the glory of the E Street Band in concert, with friends and family from our homestate and from much farther afield. Over there, they're at "Born to Run" right about now. Of course, that alternate timeline is one in which Bruce Springsteen doesn't hold the conviction that nobody wins unless everybody wins.

Can't say there's much pleasure in not seeing a Springsteen show tonight, but the sense that this was an important stand to take rules the day.
While the show itself did not go on, show posters had already been designed and printed for the Greensboro Coliseum concert. The eleventh-hour cancellation was too late to stop the presses — but it's clear from the rainbow-themed design that the Springsteen camp had already been paying attention to the human rights issues taking center stage in North Carolina.
Unseen and unsold until now, these original Greensboro posters are now for sale through Backstreets. We thank the Springsteen organization for making them available to us, to raise funds for an non-profit in our home state that continues the fight Bruce spoke of.
Last month, additional concert posters from other stops on The River Tour 2016 were sold to benefit WhyHunger (a few remain — see the offering here). The Greensboro poster is exclusive to Backstreets, with proceeds benefitting Equality NC.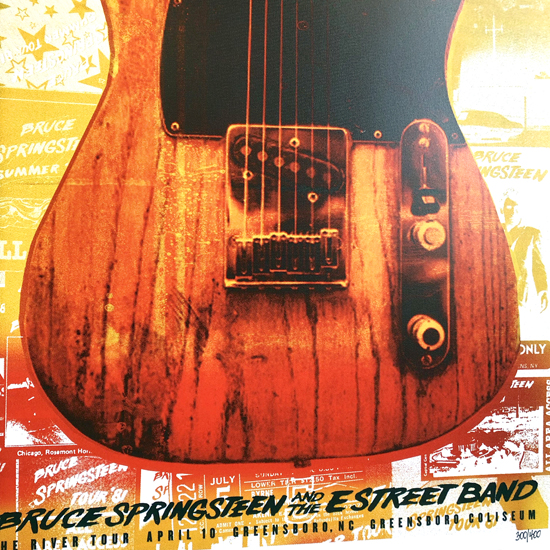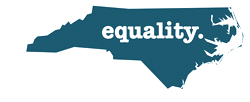 As Equality NC executive director Kendra R. Johnson tells Backstreets, the non-profit "is engaged in the ongoing fight to secure equal rights and protections for all LGBTQ North Carolinians. Much of our efforts are currently focused on anti-violence work for the most vulnerable members of our communities and ensuring that LGBTQ people are protected to the fullest extent of the law."
Johnson tells us that they were "impressed by the attention that Bruce Springsteen and others brought to the discriminatory nature of HB2," describing the boycott as "a useful tactic at the time... [it] sent a message to legislators that discrimination against our transgender brothers, sisters and siblings won't be tolerated."
In 2017, following boycotts by Springsteen, Pearl Jam, Ringo Starr, and other entertainment acts — as well as the NBA, PayPal, Deutsche Bank, and numerous other corporations and state governments — NC state legislators repealed HB2.
They replaced it, however, with a compromise bill, HB142, which "remedies some of the problems encompassed by its predecessor while still failing to adequately remedy the damage done," according to Johnson. "Notably, HB142 still imposes discriminatory restrictions on public accommodations for trans people and prevents local municipalities from passing non-discrimination ordinances until 2020."
Proceeds from our sale of these original Greensboro posters will aid Equality NC's efforts as they work with lawmakers to repeal HB142 and thereby fully and finally repeal HB2.
A limited quantity is available of this piece of history, from a hand-numbered edition of 400. See the poster in our shop for more information and to order, while they last. Limited to two (2) per customer, please.
- April 10, 2019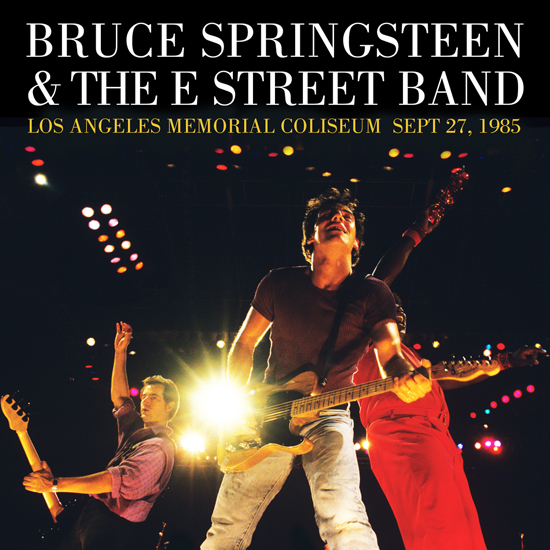 GOOD GOD, Y'ALL! IT'S LOS ANGELES, 1985
As the tour's last stand begins, it's "War" as Springsteen stays on point
The end of the Born in the U.S.A. tour was Bruce Springsteen's biggest public moment, a four-night stand at the Los Angeles Coliseum that showed everything he and the E Street Band had worked more than a decade to achieve. After a year of touring, having grown into a mainstream entertainment figure and a fixture in American culture, Springsteen could have taken the stage in Los Angeles simply to celebrate.
Granted, there's plenty of that in this month's archive release, Los Angeles Memorial Coliseum, September 27, 1985, the stand's opening night. The 30-track set features most of Springsteen's blockbuster seventh LP, a half-dozen covers (including Jimmy Cliff's "Trapped," making its first archive series appearance, and a stark take on Woody Guthrie's "This Land Is Your Land"), and two songs played for the first time: "War" and "Janey, Don't You Lose Heart."
Not content to merely acknowledge the end of his most successful era on the road, Springsteen took the opportunity to clarify what it all meant, using Edwin Starr's 1970 Motown hit "War" (written by Norman Whitfield and Barrett Strong) to drive the message home. Debuting that night, the song went on to take a significant role, both in messaging and in creating yet another hit record.

Lean and uptempo, 9/27 embraces music of the day, namely six top-ten singles from Born in the U.S.A. (Columbia would release a seventh, "My Hometown," in time for the holidays). Many older numbers, like "Rosalita" and "Jungleland," were put aside; compared to the 1984 run at the nearby Sports Arena, more than a quarter of the set was new. Turnover like that was healthy, just one way Springsteen kept pace with the Born in the U.S.A. hit parade. As the 15-month tour went on, his storyboard approach to setlists let the show evolve: a creative peak followed the 1984 campaign rally in which President Reagan implied a connection with Springsteen, who countered with a longer, more nuanced section from Nebraska. By the middle of 1985, only "Johnny 99" and "Atlantic City" stayed in most nights (as they do here), making room for "Seeds," which debuted in the U.K. in July, and an expanded version of "The River."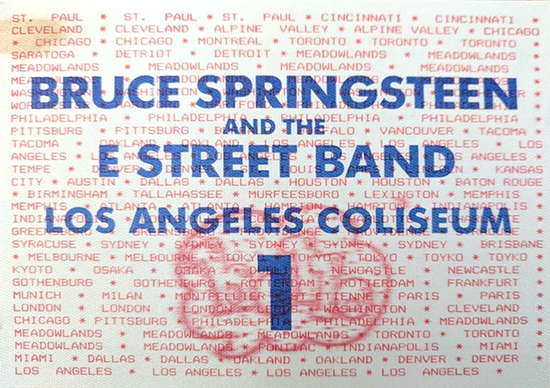 Springsteen's success and unprecedented exposure that year led audiences to pack enormous open-air sports stadiums in Australia, Europe, and North America (he visited Japan, too, but played smaller indoor venues). Though the scale made Springsteen and the E Street Band look smaller, they sounded mightier than ever, with "Born in the U.S.A." their sonic proving ground each night. Here, why Springsteen shouts "incoming!" during the song's breakdown remains open to interpretation; whether a heat-of-the-moment exhortation or something else, it doesn't sound out of place as the band reenacts the spontaneity heard on the original studio recording. That roar led the E Street sound for most of 1985, thrilling newly-minted fans and old timers alike.

Near the end, non-LP B-sides appeared back-to-back — manna for serious fans, and an opportunity for others to get a jump on traffic. A gold-medal sprint through the "Glory Days" B-side "Stand On It" gave way to the first-ever "Janey, Don't You Lose Heart," a Born in the U.S.A. outtake just released as the B-side on "I'm Goin' Down," the LP's sixth single. (In a twist, they omit the Clarence Clemons solo that graces the studio version, opting instead for Roy Bittan playing the solo on piano and keyboard.)
The encore began, however, on a more serious note: standing by himself in front of 83,000 people, Springsteen sang "This Land Is Your Land," calling it perhaps "the greatest song… that has ever been written about America." Its spare arrangement and Springsteen's sincerity made for a study in performance, and he sang a timely verse that he hadn't on The River tour.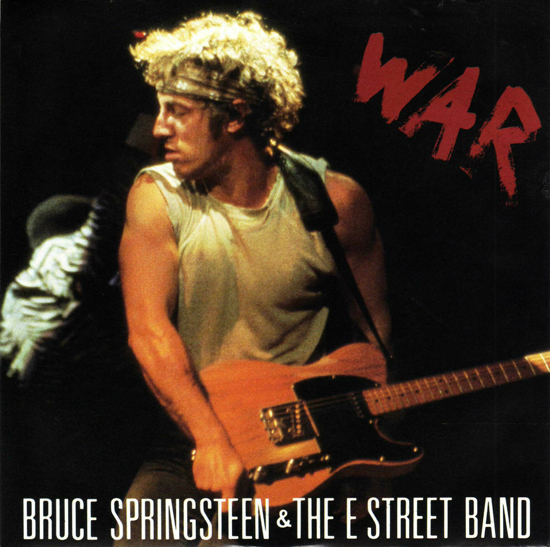 And then there's "War." This final phase of the Born in the U.S.A. tour found Springsteen seemingly in search not for an exclamation point, but an underscore. Many people heard "Born in the U.S.A." for something it was not, putting Springsteen in the uncomfortable position of having to explain his music and his views. Springsteen may not have been able to control public perception of his work or image, but he came to Los Angeles ready to have the last word.
For a year, he'd worked to frame the discussion on more basic levels, both metaphorically and practically. For its B-side, the "Born in the U.S.A." 45 featured another coming-home-from-war narrative, "Shut Out the Light" — maybe Springsteen's best-ever single. In concert, he talked about the danger of blind faith and the disappearing safety net. He pushed back against the president and talked explicitly about hunger, working with food banks to highlight a nagging American problem. All this worked — to a point.
He couldn't exactly stop the concert to deliver a lesson on "Born in the U.S.A." — its work was done early, when the enormous American flag backdrop collapsed at song's end. Whatever that dramatic moment meant — for some patrons, perhaps commentary on the American experiment; for others, simply the start of "Badlands" — remained ambiguous. "War," however, was not only cathartic, it was explicit and hard to misinterpret. He dedicated it to young people, warning that "blind faith in anything, your leaders, in 1985, will get you killed."
Passing on the lessons from his generation, Springsteen created something of a public reckoning of his own experience around the time of the war in Vietnam. As the stand went on, he refined his remarks before "The River," introducing the number not as one about economic woes, but instead as one of acceptance and reconciliation.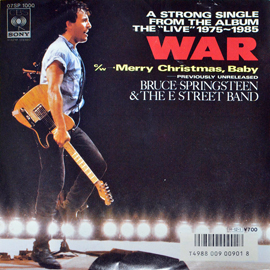 "War" got better as the band got its hooks in: their version landed in the top 10 in 1986 (using the take from September 30, which became a significant source for the box set Live/1975-85). For the Tunnel of Love tour in 1988, Springsteen paired it with "Born in the U.S.A.," reprising both in a way that was difficult to miss.

The enormity of 1985 obscured it for some — by the end, even Springsteen himself felt "Bruced-out." All along, however, he remained focused on the music, any era's rightful yardstick. And, 35 years since its release, historians are still discussing what "Born in the U.S.A." means. This recording, from start to finish, contains a few more hints; they're just louder.
Also read: Erik Flannigan's latest nugs.net blog entry, "Tell Your Mama"
- April 5, 2019 - Jonathan Pont reporting



BLINDED BY THE LIGHT LOS ANGELES PREMIERE, APRIL 3
"I'll Stand By You Always" a post-Sundance addition to the film
Sarfraz Manzoor is a British journalist, documentary filmmaker and broadcaster. He's also a bit of a Bruce Springsteen fan. Manzoor has attended more than 150 Springsteen concerts. His memoir, Greetings from Bury Park, is about his life growing up in the 80s in Luton (Bedfordshire), England, as an immigrant from Pakistan, with Springsteen a driving force in helping the writer pursue his passion and leave the rest behind. After an acclaimed Sundance premiere in January, the memoir's big-screen adaptation will arrive in theaters on August 14. Blinded by the Light (Warner Brothers) tells the story of Manzoor's late teens in Luton, at the precise moment he discover's Springsteen's music, and the tidal wave of inspiration that will shape his life.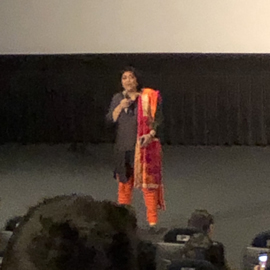 Manzoor, also lead screenwriter for the film, was on hand with director Gurinder Chadha (right) to introduce the film at Wednesday night's Los Angeles premiere, including a triumphant tale of getting a "yes" from Springsteen, who allowed his music to be used in the film. Springsteen is well known for guarding his music from commercial use, often one of the most reluctant of artists to clear music rights. Chadha and Manzoor got an informal go-ahead to use it after waiting patiently for Springsteen at the 2010 London premiere of The Promise: The Making of Darkness on the Edge of Town. As Chadha tells it, surrounded by fans, reporters, and cameras, Bruce recognized Manzoor, having read and loved his memoir. In that moment Chadha screamed, "We want to make his book into a movie and we need your music!" To which Bruce replied, "Sounds good."
In the film, set in Luton in 1987, a meek fifteen-year-old Javed (played skillfully by Viveik Kalra, his first leading role in a feature film) wants to be a writer. His only creative outlet is writing songs for his friend's band. Javed is kind-hearted and locked into the traditions of his parents and Pakistani culture; he and his family face racism daily from members of the far-right British National Front. Fate puts Javed in the path of fellow student Roops (Aaron Phagura), who is all-Bruce, all the time. The cassettes Roops lends him — Darkness on the Edge of Town and Born in the U.S.A. — immediately transform Javed.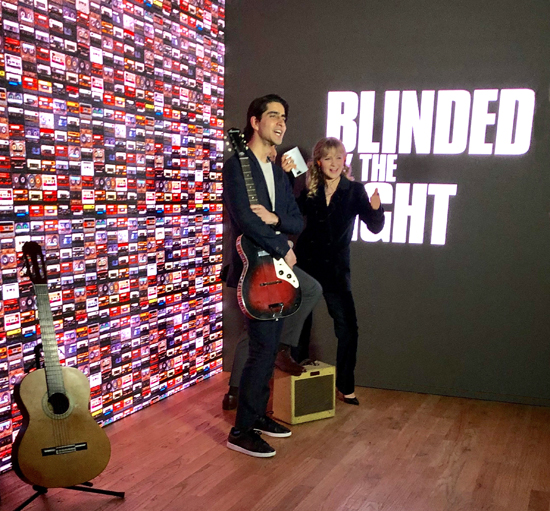 Viveik Kalra and Nell Williams, Los Angeles, April 3, 2019
There will be delightful surprises and moments of recognition throughout the film for any Springsteen fan. While Blinded keeps music of-the-era, focusing primarily on Springsteen's work leading up to and including Born in the U.S.A., the film does use the Springsteen on Broadway version of "The Promised Land" to carry the weight of the moment musically. One of the biggest Easter eggs is a new addition, added since its Sundance screenings: over the credits, Springsteen's "I'll Stand by You Always" finally makes its way to the silver screen. Bruce originally wrote the song for Chris Columbus' Harry Potter film two decades ago; it remained on the cutting room floor. In Blinded, "I'll Stand by You Always" serves its purpose well as a button to a film about another British boy finding his own magic.
Are some moments slightly campy? Sure. The film does challenge the audience to stand in it, to strip away cynicism and give in to fully heartwarming, completely earnest moments. In one scene in particular, as Javed begins singing "Thunder Road" to Eliza (Nell Williams), the entire market joins in, singing and dancing. It becomes an explosion of emotion, as though everyone in a casual Saturday farmers market is suddenly in the pit at an E Street Band show.
In another scene "Born to Run" is there to be felt the way we have all imagined it as we blast it on headphones, the whole world around you going from black-and-white into color. Heart stoppin,' pants droppin' joy. These are moments of bliss worth holding on to as Blinded reminds the audience that there is always a force that will fight against your elation. The film blurs the heightened world of possibility and freedom with the harsh realities of a bad economy, family despair, violence, and bigotry.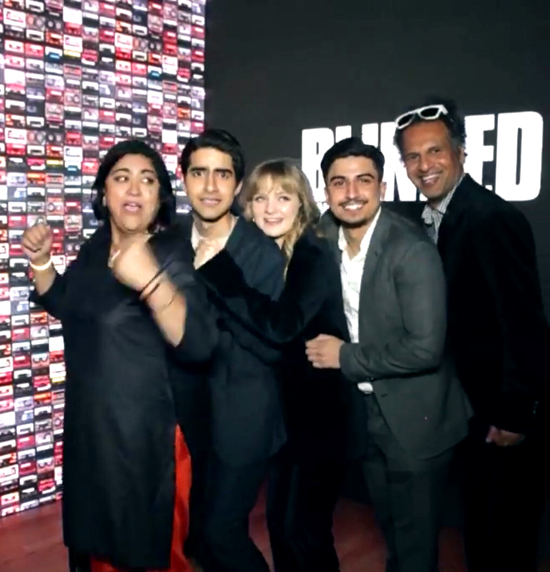 L-R: Gurinder Chadha, Viveik Kalra, Nell Williams, Aaron Phagura, and Sarfraz Manzoor, Los Angeles, April 3, 2019
Blinded by the Light is a film that will move most fans of rock 'n' roll ; to have it focus on a Springsteen fan is a pure treat. It's a perfect reminder of the moment in every fan's life when youth and vulnerability met Springsteen's work. And as with any successful musical — which, in a way, this film is — the music and the lyrics are the vehicle that move Javed's story forward to find his own piece of salvation.
- April 3, 2019 - report and photographs by Emily Dorezas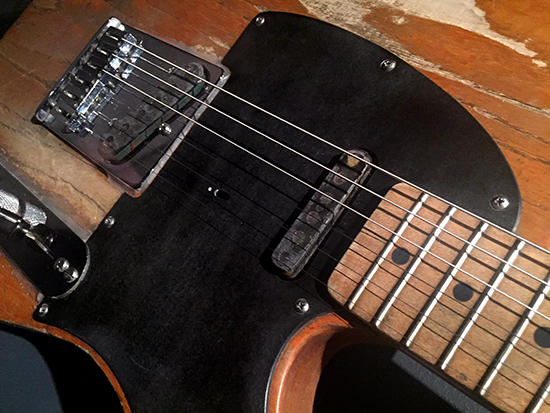 TURN IT UP!
Bruce's Esquire, Clarence's sax, and more sacred totems of rock 'n' roll now on display at the Met
There are more than 130 instruments showcased at the Metropolitan Museum of Art in their exhibition opening today, titled Play It Loud: Instruments of Rock & Roll. As you wind your way through the rooms past the guitar Chuck Berry played on "Johnny B. Goode," Jerry Lee Lewis' piano, Keith Richards' legendary Micawber, Wanda Jackson's leather-tooled Martin D-18, Stevie Ray Vaughan's composite Strat — and many, many, many more instruments of similar provenance and import — there are two items of particular interest to Backstreets readers.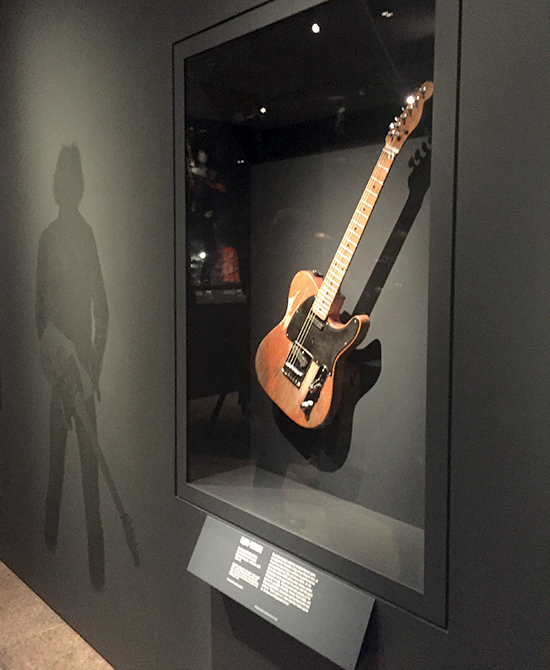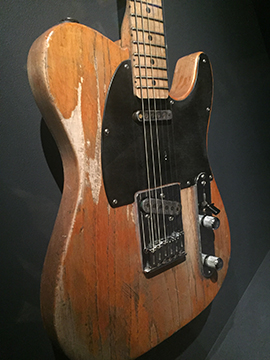 First of all, the Esquire is in residence, suspended as if by magic in its own deep display case. (As the exhibition notes, Springsteen's beloved, trademark guitar is actually a modified composite, with an Esquire neck on a Telecaster body.) If you didn't get to see it when it was in repose at the Rock and Roll Hall of Fame, now is your chance to walk up as close to it as most of us are likely to get, and just, well, stare at it.
You will know it from across the room, even without a familiar Eric Meola-composed silhouette on the wall adjacent; you would likely know that particular shape, the wear at the top of the body on the curve, just parallel with the pickup, that well-worn path etched from decades of chords. The fretboard and the headstock seem so... unremarkable, when you stop to consider the music that has emanated from that particular piece of wood. The Esquire is towards the end of the exhibit, so when you hit the video room, turn around and come back for another look, because you will always want one more chance to look at that guitar.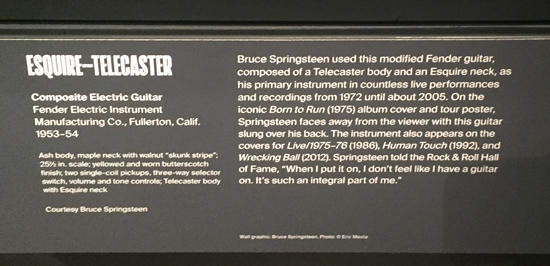 But the item that held the most interest for me was past the big wow instruments in the first few rooms, in a vitrine against the wall as you walk past the Roots' setup to your right and a vast selection of keyboards to your left (say hello to Ian McLagen's Wurlitzer that he played on "Miss You"). In a corner, sharing space with Patti Smith's clarinet, is a beaten and battle-worn Selmer Mark VI tenor saxophone (serial no. 146268) that belonged to Clarence "Big Man" Clemons and was used to play the solos on "Jungleland" and "Thunder Road."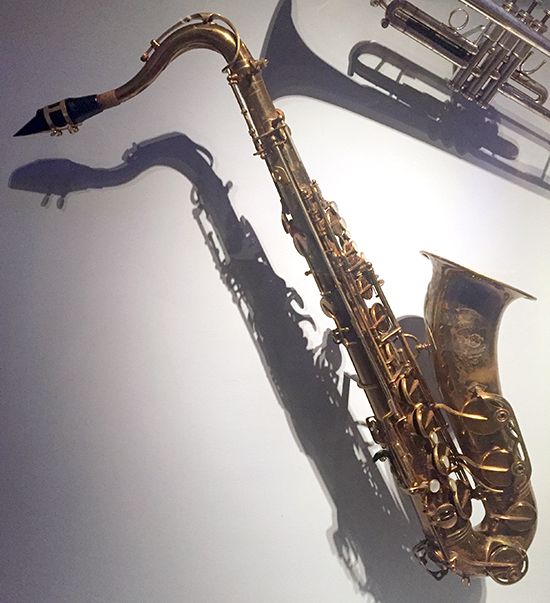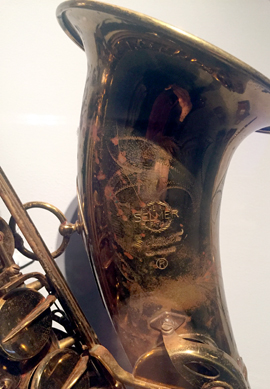 In the room just past the saxophone, you can watch a wonderful interview with Keith Richards where he waxes rhapsodical about the connection between the electricity and the life force in our bodies and brains, and how that enables musicians to channel some kind of divine force. It is wonderful because I agree wholeheartedly with him, wandering this maze of absolutely familiar and absolutely sacred totems that are representative of the place music plays in our lives as well as the vehicles directly through which the generated magic is transmuted.
So maybe it is fantastic or dramatic to assert, standing adjacent to this saxophone played by that human on those songs, that the Big Man's saxophone holds some kind of mystical vibration that, if you want to, you can feel or connect to or will into existence... but that would exactly be the power, the glory, the mystery, and the ministry… of rock 'n' roll, now wouldn't it?
Honorable E Street alumni mention goes to several of Tom Morello's instruments featured in the exhibition as well.
Play It Loud: Instruments of Rock & Roll is at the Metropolitan Museum of Art from April 3 to October 1, 2019. More information is here. The exhibition will travel to the Rock and Roll Hall of Fame in Cleveland in November 2019.
- April 3, 2019 - report and photographs by Caryn Rose

LONG TIME COMIN', NOW HE'S HERE
E Street Radio finally gets a Danny DeVito Guest DJ
E Street Radio has tried for years to have legendary actor and filmmaker Danny DeVito as one of their Guest DJs. It actually started to seem like it'd never happen, but recently the stars finally aligned (particularly with DeVito out and about promoting Tim Burton's new live-action Dumbo remake, in which he plays the circus ringleader), and E Street Radio finally got their man.
DeVito, born in Neptune, NJ and raised in Asbury Park, is a longtime fan of his fellow Oscar winner and New Jersey Hall of Famer Bruce Springsteen. He's also a frequent Springsteen concert attendee. "I try not to miss any of his performances wherever I go, if I'm out of the country, even," says DeVito during his Guest DJ session. "I've seen him in Spain. I've seen him in London. I've seen him all over, and I'm very fortunate that I could do that."
DeVito's Guest DJ session debuted over the weekend — catch him talkin' Bruce and playing his top ten favorite Springsteen tracks, replaying tomorrow and for the next week:
Wednesday, April 3 at 5pm
Friday, April 5 at 4pm and 11:59pm
Saturday, April 6 at 8am
Sunday, April 7 at 5pm
Monday, April 8 at 4pm and 11:59pm
Tuesday, April 9 at 8am
Wednesday, April 10 at 6pm
All times are ET, exclusively on Sirius/XM Channel 20.
- April 2, 2019 - Shawn Poole reporting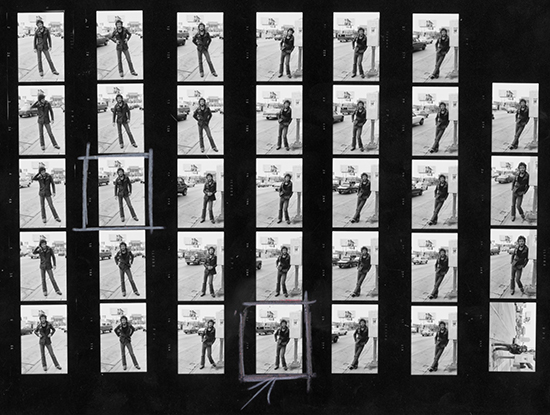 LONGREAD: THE BACKSTREETS INTERVIEW WITH BRIAN HIATT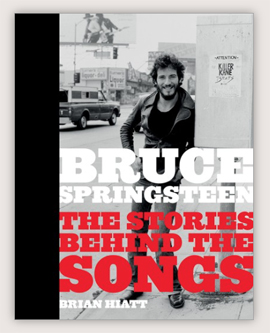 How to find something fresh to say about Bruce Springsteen's body of work? You could start with a whopping 60 hours of new interviews with key players — musicians, producers, and engineers — which is just one element in the mix for Brian Hiatt's new Bruce Springsteen: The Stories Behind the Songs.
Just published by Abrams Books in the U.S. and Carlton Books in the U.K., the book is a soup-to-nuts, Greetings-to-High Hopes survey of Springsteen's entire recorded catalog of original songs. More than 300 of them, taken on chronologically and one-by-one.
From early associates to latter-day collaborators, with many that span the years, Hiatt's Who's Who list of interviewees is worth once again typing out: Larry Alexander, Ron Aniello, Mike Appel, Roy Bittan, Bob Clearmountain, Danny Clinch, Cameron Crowe, Neil Dorfsman, Jimmy Iovine, Randy Jackson — and the names keep coming, dawg — Rob Jaczko, Louis Lahav, Nils Lofgren, Gary Mallaber, Tom Morello, Brendan O'Brien, Thom Panunzio, Chuck Plotkin, Bary Rebo, Marty Rifkin, Sebastian Rotella, David Sancious, Toby Scott, Soozie Tyrell, Max Weinberg, and Thom Zimny.
That's on top of interviews the author had already done with Springsteen (five times), Steven Van Zandt, Jon Landau, and more in his 15 years at Rolling Stone, plus transcripts shared by his colleagues. Combined with his own extensive research and insights as a longtime fan, Hiatt has created a rich survey of the Springsteen songbook that is, even for major fans, as enlightening as it is entertaining.
With his book hot off the presses, Brian will be heading to his publisher's office in New York for us shortly, to sign The Stories Behind the Songs especially for Backstreet Records customers. Order now to guarantee a signed copy.
In the meantime, a longread.
In late March, Backstreets editor Chris Phillips spoke at length with Brian Hiatt, delving into the thought process, detective work, close listens, and conversations that informed The Stories Behind the Songs. After a Greetings listening session with David Sancious and a chat with Chuck Plotkin that left him limping, Brian kindly sat for an epic conversation with Backstreets — nowhere near 60 hours, but long enough to dig into Springsteen's 1977 "Star Wars tape" and how Barry White inspired Max Weinberg.
We had a much briefer Q&A with Hiatt in December, but after receiving an advance copy and devouring it cover-to-cover… just like the book, we wanted to go deep.
Read: The Stories Behind The Stories Behind the Songs:
The Backstreets Interview with Brian Hiatt
- March 31, 2019 - Getty Images / from Bruce Springsteen: The Stories Behind the Songs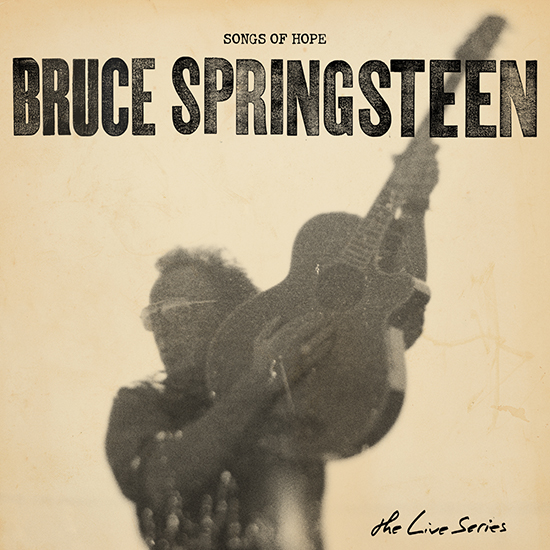 BELIEVE IN THE HOPE
Songs of Hope joins live archival playlists on streaming services
After last year's Songs of the Road, and January's Songs of Friendship, Springsteen's The Live Series continues today with Songs of Hope. The streaming series of playlists brings together live performances from the ongoing live.brucespringsteen.net archive releases, curated by theme. With Songs of Hope, another 15 live tracks have just been added to streaming services:
| | | |
| --- | --- | --- |
| 1 | Land of Hope and Dreams | Apollo Theater, New York, NY - 03/09/12 |
| 2 | Badlands | Agora, Cleveland, OH - 08/09/78 |
| 3 | The Rising | MetLife Stadium, East Rutherford, NJ - 08/30/16 |
| 4 | Does This Bus Stop at 82nd Street? | HSBC Arena, Buffalo, NY - 11/22/09 |
| 5 | Night | Tower Theater, Upper Darby, PA - 12/31/75 |
| 6 | The Promised Land | King's Hall, Belfast, UK - 03/19/96 |
| 7 | My Lucky Day | Ullevi Stadium, Goteberg, Sweden - 06/25/16 |
| 8 | Tougher Than the Rest | Stockholms Stadion, Stockholm, SE - 07/03/88 |
| 9 | This Is Your Sword | Times Union Center, Albany, NY - 05/13/14 |
| 10 | My City of Ruins | Olympiastadion, Helsinki, Finland - 07/31/12 |
| 11 | From Small Things (Big Things One Day Come) | Time Warner Cable Arena, Charlotte, NC - 04/19/14 |
| 12 | The Promise | Palace Theatre, Albany, NY - 02/07/77 |
| 13 | Living Proof | MetLife Stadium, East Rutherford, NJ - 08/30/16 |
| 14 | Lucky Town | Ippodromo delle Capannelle, Rome, Italy - 07/11/13 |
| 15 | This Hard Land | Estadio de Anoeta, San Sebastian, Spain - 05/17/16 |
Spanning more than 40 years of living proof from the U.S. and Europe, from 1975 to 2016, the dope is that this playlist will provide some surefire uplift (other than, maybe, cashing in those dreams on "The Promise")... may its hope give you hope. Listen now via Apple Music or Spotify.
- March 29, 2019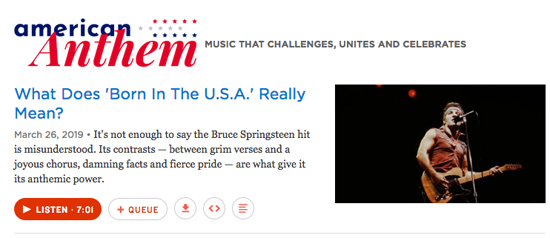 "BORN IN THE U.S.A.": ANOTHER SHOT TO GET IT RIGHT
Kicking off last July and running through this July, American Anthem is a yearlong NPR series focusing on "songs that rouse, unite, celebrate and call to action." Rich territory for This Thing of Ours, and indeed, the latest episode focuses squarely on Bruce Springsteen: "What does 'Born in the U.S.A.' really mean?"
Airing this week on Morning Edition — with host Steve Inskeep asking of Springsteen's hit, "How was it so widely misunderstood?" — the piece covers a lot of ground in seven minutes. NPR Music director (and Friend of Backstreets) Lauren Onkey offers solid history, discussing the song's origins in Bruce's early-'80s involvement with the veterans movement, his demo of "Vietnam," and the evolution of the song before things move on to George Will, Ronald Reagan, Chris Christie (who, say what you will, does understand the song) and the rest. After decades of misinterpretations, rearrangements, and recontextualizations, Inskeep concludes, "Maybe the meaning of 'Born in the U.S.A.' is the distance between the grim verses and the joyous chorus."
"Born in the U.S.A.," says Onkey, "describes the ambiguities and challenges of the country that I have grown up in. And for me, it's a rock 'n' roll anthem: This singer, and the scream, and the sound of the guitar, and the scale of the song suggest that rock 'n' roll is big enough and important enough to tell that story."
Visit the episode page to stream or download the audio, and find more installments in the American Anthem series here.
- March 28, 2019


JOHNNY BYE-BYE: RENOWNED PRINCETON ECONOMIST, ROCKONOMICS AUTHOR, AND SPRINGSTEEN FAN ALAN B. KRUEGER
Following the death earlier this week of economist Alan B. Krueger [above right], we heard from Volker Grossmann, Professor of Economics at University of Fribourg in Switzerland, calling the New Jerseyan "one of the greatest economists of the world… and, like myself, a great fan of Bruce Springsteen." We asked Dr. Grossmann to tell us more, and he provided this obituary for Backstreets.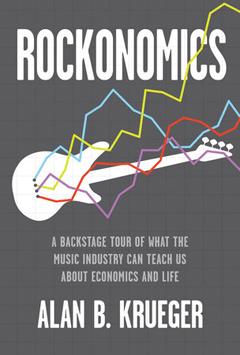 It was shocking news: one of the world's greatest and most widely cited economists, Alan B. Krueger, Professor of Political Economy at Princeton University and dedicated Bruce Springsteen fan, died by suicide on March 16, 2019, at age 58. Alan grew up in Livingston, NJ. Like Bruce, he was deeply motivated in giving a voice to the economic situation of the poor and disadvantaged.
By his mid-30s, Krueger had already become a star in academia. In a widely cited and co-authored article published in 1994, he took advantage of a minimum wage reform in New Jersey to provide clean evidence for the possibility of raising minimum wages without endangering employment. His results were contrary to conventional wisdom at that time and supported by later evidence. They continue to influence minimum wage policies around the globe. Most economics professors (including myself) were convinced that, sooner rather than later, he would receive the Nobel Prize in Economics for making it a hard, empirical science.
Serving as an economic advisor for both the Clinton administration and the Obama administration, Alan was heavily involved in U.S. politics (helping to overcome the deep financial crisis starting in 2008), and he became publicly well known. He delivered a widely acclaimed speech at the Rock and Roll Hall of Fame in 2013, when he served as Chairman of the Council of Economic Advisors, borrowing the title of his speech from Springsteen's masterpiece "Land of Hope and Dreams." [See: "Land of Hope and Dreams: Rock and Roll, Economics, and Rebuilding the Middle Class"]. His main theme was that the U.S. income distribution has evolved as a winner-take-all economy, resembling the highly unequal distribution of concert tour revenues in the music industry.
Alan also popularized what he called "The Great Gatsby Curve," showing that higher income inequality in a country means greater dependence of personal income on the economic status of parents. Again, his conclusion challenged conventional wisdom; surging income inequality has made the U.S. the land with the least equality of opportunity in the Western world, rather than the land of hope and dreams.
His forthcoming and, sadly, final book is about the economics of the music industry, entitled Rockonomics (from Penguin/Random House, to be published in June). You can be sure he included references to Bruce Springsteen.
- March 22, 2019 - Dr. Volker Grossmann reporting - photograph by Pete Souza

SPRINGSTEEN ARCHIVES ON THE BIG SCREEN FOR APMFF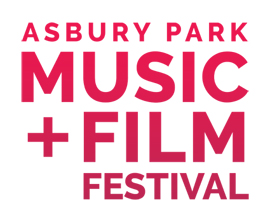 Just added to the 2019 Asbury Park Music and Film Festival lineup in April: a special screening of rare Springsteen footage from the vaults. Thom Zimny will be on hand at the Paramount Theatre to present this archival material on the big screen, and Backstreets' Chris Phillips will moderate a panel and Q&A discussion afterward. From today's press release:
The Asbury Park Music & Film Festival (APMFF) and the Bruce Springsteen Archives and Center for American Music at Monmouth University are proud to announce The Bruce Springsteen Archives taking place at the Paramount Theatre on Saturday, April 27 at 4pm ET....

Thom Zimny, long time film director and archivist for Bruce Springsteen, will present an exclusive screening of rare and never before seen footage of Springsteen from the Thrill Hill Vault spanning from his early years to recent tour highlights. Following the screening, a panel discussion and Q&A will take place moderated by Backstreets editor, Chris Phillips....

"We are thrilled to have Thom Zimny present rare concert footage spanning Bruce Springsteen's live career on stage at this year's Asbury Park Music & Film Festival," said Eileen Chapman, Bruce Springsteen Archives and Center for American Music at Monmouth University. "The historic Paramount Theatre will serve as the perfect venue to witness this very special afternoon of unique Springsteen archival film and video."
Tickets for this special screening are on sale now at apmff.org/tickets.
The Bruce Springsteen Archives joins previously reported Springsteen/E Street-related content at this year's APMFF, including the screening of a new cut of the Clarence Clemons: Who Do I Think I Am? documentary. Phillips will also be moderating the panel following Asbury Park: Riot, Redemption, Rock 'n' Roll.
The 2019 Asbury Park Music and Film Festival runs from April 25 to April 28, benefitting the underserved children in Asbury Park by providing music education, instruments, and social connection opportunities. Funds raised through the APMFF will support three programs including Hope Academy, The Hip Hop Institute, and the Asbury Park Summer Recreation Music Camp.
- March 20, 2019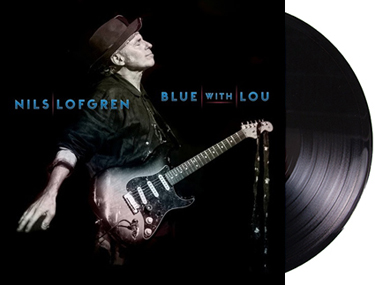 SOMETHING BLUE,
THE REST ON SALE
Save 10% off Nils Lofgren's back catalog in advance of Blue With Lou
Blue With Lou, Nils Lofgren's first studio album in eight years, is coming next month — it features a dozen new recordings, half of them written with the late, great Lou Reed.
In case you missed our original offer, Nils has very kindly offered to autograph copies for Backstreets customers. Blue With Lou is coming on vinyl and compact disc on April 26, and he'll be signing both for us — pre-order yours now to have his new album signed by Nils!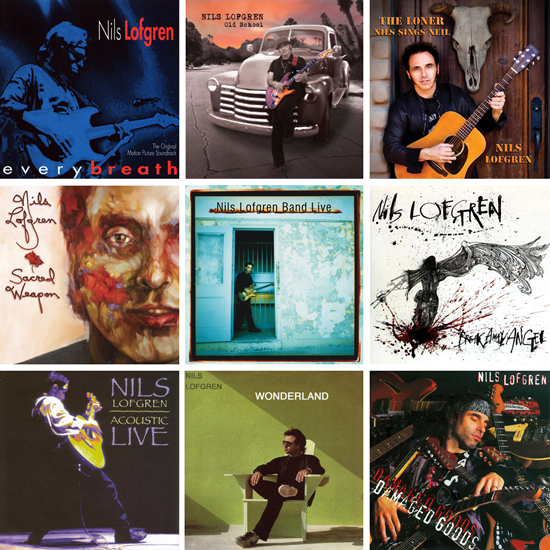 With that new album on its way, we've also stocked up on Lofgren's back catalog — some we're carrying for the first time — and we're putting all of these titles on sale to celebrate. While a good deal of Nils's output remains out of print, there's plenty of great stuff available, including live albums, 1983's Wonderland and his 2009 tribute to another boss, The Loner: Nils Sings Neil.
Use the coupon code LEFTY to get 10% off any and all of the following:
Compact Disc
DVD
Vinyl
Don't forget to use the coupon code LEFTY at checkout to receive the 10% discount. Coupon expires April 27, 2019.
- March 19, 2019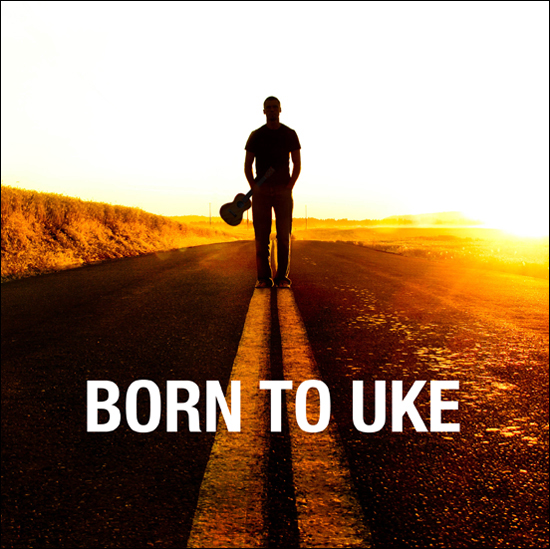 FOR UKE, FOR UKE, I CAME FOR UKE
Born to Uke and more four-string phenoms
"Today I'm going to try to convince you that what the world needs now is ukulele. You know it's the underdog of all instruments. I've always believed it's the instrument of peace. I believe that if everybody played the ukulele the world would be a happier place." — Jake Shimabukuro from a TED Talk in 2010
"There I was.... I woke up in the Disneyland Hotel with two hookers, five Mouseketeers, and this ukulele in the bed." — Bruce Springsteen introducing "I Wanna Marry You" in E. Rutherford, NJ, November 17, 2005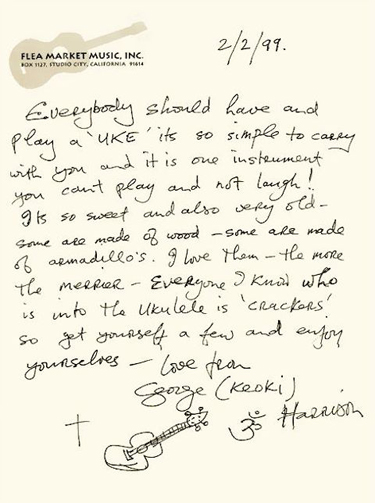 One of the most popular YouTube videos of the past dozen years is a grainy, almost primitive clip shot in Central Park of Jake Shimabukuro, performing a beautiful rendition of George Harrison's "While My Guitar Gently Weeps" — on ukulele. At more than 16 million views to date, the viral video is almost rivaled by Shimabukuro's ukulele take on Queen's "Bohemian Rhapsody," at more than 9 million views. What's going on in the music world, particularly our little corner of it, when there's so much activity around what seems the unlikeliest of rock 'n' roll instruments?
Take a deeper dive and you'll find, when in the right hands and used properly, the ukulele can be a potent shading instrument in the toolbox of the folk and rock elite. Beyond George Harrison, a modern ukulele pioneer, you'll find R.E.M., Amanda Shires, Brian May of Queen, Eddie Vedder, Magnetic Fields, Taylor Swift, Jack Johnson, Roger Daltrey and many others who have brought the ukulele front-and-center (or at least into the conversation) in recent years.
During the last six weeks of his 2005 Devils & Dust tour, Bruce Springsteen used the ukulele to open his encores, rotating between "Growin' Up," "I Wanna Marry You," and "Does This Bus Stop at 82nd Street." In fact, the latest release in Springsteen's live archive series from nugs.net, the final Devils & Dust show from Trenton, NJ, 11/22/05, features a performance of "Growin' Up" on a uke.
Then there was the off-Broadway tribute by musician Jim Boggia: as a companion to Springsteen on Broadway, Boggia performed Bruce Off Broadway entirely on the 19th century instrument popularized by King Kalakaua of Hawaii. The show received raves, and Boggia still performs it occasionally in both New York and Boston.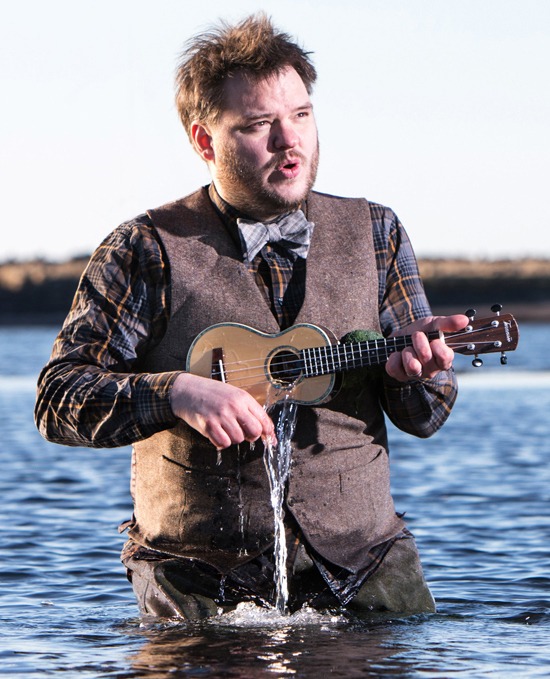 Iceland's Svavar Knutur, who takes "Night"on a midnight run for Born to Uke
Born to Uke
Now, we're presented with Born to Uke: a new compilation featuring the songs of Born to Run performed by some notable and new Americana artists, all on ukelele — yes, the entire Born to Run album, reimagined with only ukulele, bass, and vocals. Hearing about Born to Uke, one's first thought could reasonably be "Why?" Does the world need another Springsteen tribute, much less one centered around Tiny Tim's weapon of choice?
In fact, yes, Born to Uke is a warm, worthy addition to the canon of Springsteen tributes. Born to Uke takes what is essentially a tour de force of a day in the life of characters Bruce sings about, and distills it into a perfect Sunday morning record. Songs that have seared themselves not only into our consciousness but the collective American consciousness are stripped down to their essence. While some of the more complex orchestrations and melodic movements from the originals don't carry over to these interpretations, their directness and emotional resonance remain intact.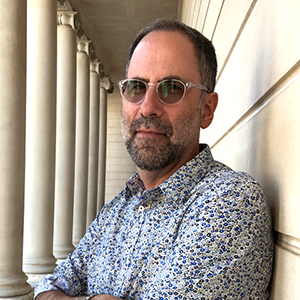 Born to Uke producer and contributor ("She's the One") Keith Metzger [right] explains, "What I think is unique about the ukulele is the intimacy of the instrument. The feeling, and the sound — for me, playing the ukulele is just more of an intimate experience than when I play guitar. That feeling can easily carry over to a performance or a recording. Maybe that's why songs that were conceived with a loud rock 'n' roll band in mind still work on something as relatively sparse as Born to Uke — because of how deeply intimate the lyrics are."
While this is the case throughout the record, nowhere does it ring as true as on the one-two punch of Svavar Knutur's reading of "Night" and The Weepies' gorgeous take on "Backstreets." Iceland's Knutur takes Springsteen's screaming rocker and transforms it into a Sufjan Stevens-esque meditation. Despite the change in tempo and vocal, Knutur's contribution shows what can be done by taking a great song apart and putting it back, piece by emotive piece.
The Weepies — husband-and-wife team Steve Tannen and Deb Talan — place "Backstreets" very much into the here and now, turning a song about a dying relationship of one's youth into a more mature, middle-aged lament about a relationship that could just as easily have fit on Tunnel of Love. Deb Talan's lightly layered harmony lifts the track to a place of elegance against Tannen's silvery lead vocal.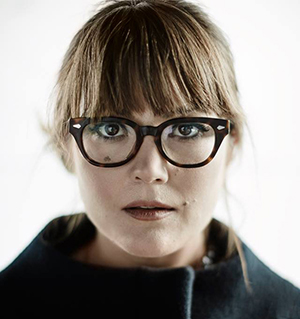 Born to Uke is full of intimate moments like this. Opening with former Nickel Creek vocalist Sara Watkins, the sublime performance of "Thunder Road" sounds like Watkins is in a wooden rocking chair, singing on the porch where Mary's dress waves.
The album's last song, "Jungleland," might have been particularly daunting, given the length, complexity, and, frankly, unsurpassable performances of the original. For one thing, how do you pull off this classic without Clarence Clemons' signature saxophone? The modern retro approach of Kai Welch [right], which approximates moments of Manfred Mann's "Blinded by the Light" and lush vocals a la 10cc, moves the song forward and keeps it from being held hostage by its glorious past.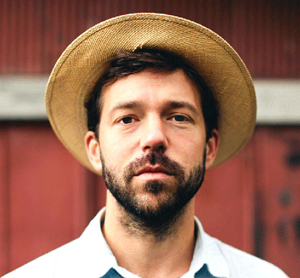 Kai Welch explained his approach to Backstreets recently: "I recorded this a while ago, back in 2013 or 2014, in my bedroom. You have to stand back and look at that song like you're taking in the Taj Mahal or something. I thought, 'It's going to hurt my brain to try to figure out how to do this whole thing.' You have to take it in pieces. So I just started from the top. I sat there with the ukulele, trying to think of a way to express [each piece]. I just played it over and over, and I did it in sections. So when it came to Clarence's sax solo portion, and the whole transition into the outro of the song, I used my voice as an instrument to come up with a harmonic chord structure, and I recorded my voice a bunch of times to keep the process moving."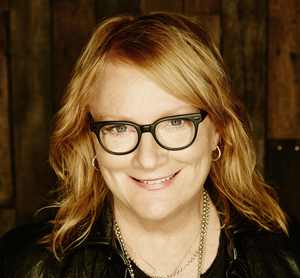 Indigo Girls singer Emily Saliers [right] told Backstreets that she recorded her version of the song "Born to Run" for the project and then became enamored of Springsteen.
"You know it's interesting… It's not that I didn't get him, but I just came to the party late. I remember being really, really struck by "Born in the U.S.A.," because it was a hit on the radio. It was talking about very powerful social issues regarding the war, and I thought it was interesting that people could hear that and take it as a patriotic anthem. Amy (Ray) was a die-hard Bruce fan, and so honestly I didn't start digging into him until this project. [Born to Uke] happened, and then I fell in love with him. I watched all the videos, and I ended up seeing him on Broadway. It was just… I don't know how to describe it. The stories, his humility, his charisma and command of the stage, going back through his catalogue… it means so much to me. In fact, I'm so glad that I met his music when I did in life, because I think earlier, when I was waaay into Joni Mitchell and Heart and Jackson Browne, I might not have had room for him then. And now there was this opening for him to just come in and blow me away."
Born to Uke, also featuring Will Kimbrough's take on "Tenth Avenue Freeze-out" and Albatross's "Meeting Across the River," is available to download or stream on all major music services. Proceeds benefit Little Kids Rock, a group that works to serve children through inclusive music education programs in public schools throughout the country.
The Beatles, Boggia and Beyond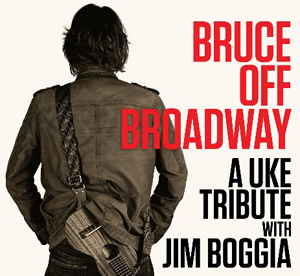 Jim Boggia knows a thing or two about the ukulele, performing his one-man Bruce Off Broadway show throughout New York City, Los Angeles and recently in Boston. A longtime Philadelphia resident and well-known musician to the WXPN crowd, Boggia took up the ukulele about 10 years ago right as the current swell of interest in the instrument took off. He thinks the resurgence in popularity been driven by a couple specific things:
"If you want to pick up an instrument and play a few things fairly quickly, it's pretty forgiving in that way," Boggia tells Backstreets. "It makes so much more sense to give one to a kid whose hands are small. You're still learning all your right-hand and left-hand techniques, and this all transfers over to guitar very easily."


The most ardent proponent of the ukulele in the rock era was George Harrison. Such was Harrison's love for the ukulele, stories have circulated about how he'd buy scores of them and give them to friends. (There were also salacious rumors of Harrison engaging in intimate acts, playing his ukulele throughout.) Though good-intentioned, the low point of Paul McCartney's previous tours has been a ukulele version of George Harrison's "Something," which takes one of the best love songs of all time and makes it sound like a throwaway 1930s rag. Yes, Harrison loved the ukulele and played and gifted it often, but McCartney's tribute unfortunately missed the mark.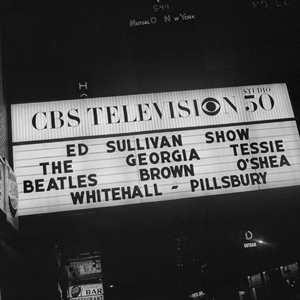 And yet it's The Beatles and their appearance on The Ed Sullivan Show back in February 1964 that connects to all of this ukulele craze. It's very easy to watch those Beatles performances on YouTube without any context. But at the time, the evening The Beatles made their television debut on Ed Sullivan, another of the program's guests was Welsh singer/ukuleleist Tessie O'Shea.
O'Shea was given seven minutes to perform. That might have seemed like an eternity to a teenager waiting to get a glimpse of their impending heroes — in Born to Run, Springsteen describes his young self that night as "filled with ten thousand watts of high-voltage anticipation… waiting for the first real look at my new saviors" — but looking back on O'Shea's performance is astounding.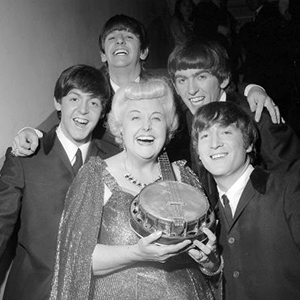 She comes out singing like the Broadway singer she was, in that old-time stage style. About two minutes in, she puts down her mink stole and picks up her ukulele banjo (Gibson Model UB-5), still vocally vamping on "Tender Trap." During an instrumental break in the song she starts strumming her uke and letting loose. It's during her final song, "Two Ton Tessie," that she goes nuts. Maybe she knew The Beatles were the reason everyone was tuning in, but she wasn't going down without a fight. And maybe a 14-year-old Springsteen caught a glimpse of it that night.
Boggia has seen the Tessie O'Shea video as well. "Yeah, she was a monster! She had a monster right hand. And it's like the fifth thing she's paying attention to. Because she's that old-time show business, where she has set looks and moves to set song lines. But her right hand is just killing it. Four years ago, when it was the 50th anniversary of The Beatles on Ed Sullivan, I went back to watch who else he had on that night — it was the first time I saw her. and I was like, 'Oh my God! Holy crap!' [Laughs] I can approximate the sound of what she does with her right hand, but I'm going to find someone who can really show me some of the moves she had."
- March 17, 2019 - Bob Zimmerman reporting - special thanks to Keith and Jeff Metzger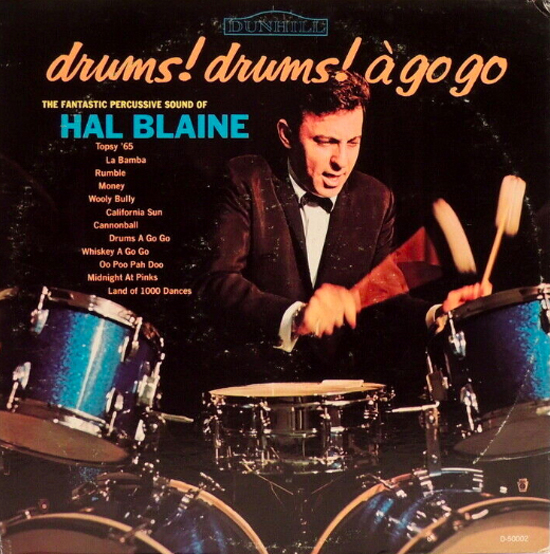 "INTENSELY SOFT": MIGHTY MAX ON HAL BLAINE
Hal Blaine, the Rock and Roll Hall of Famer and session drummer who played on 40 number-one singles — more hit records than any other rock-era drummer — died Monday at 90. Blaine's drumming, especially his work with producer Phil Spector on classics like The Ronettes' "Be My Baby" and The Crystals' "Da Doo Ron Ron," was an enormous influence on the E Street sound.
Upon learning of Blaine's passing, Max Weinberg, who interviewed Blaine for the book The Big Beat: Conversations with Rock's Great Drummers and became a close friend, expressed his feelings on Facebook, paraphrasing a comment on Blaine once made by Bruce Gary, the late drummer for The Knack. "Fifty of my favorite drummers died today," wrote Max, "They were all named Hal Blaine."
Max also called in to E Street Radio's Live From E Street Nation on Wednesday to discuss Blaine's enduring influence and legacy with co-hosts Dave Marsh and Jim Rotolo. The conversation lasted almost an hour and could have gone on much longer. Quoth Max: "I think it was Art Blakey, the great legendary jazz drummer, who said the hardest thing in the world is to play intensely soft. Hal Blaine could do that."
Here via YouTube is the complete audio of Max's Live From E Street Nation appearance, courtesy of our friends at E Street Radio. Even after hearing this, however, it's still worth tuning in to Sunday night's replay beginning at 6pm Eastern on SiriusXM channel 20, so you also can catch the great all-Blaine playlist with which E Street Radio's program director Vinny Usuriello closed the show, inspired by this conversation with Max:
The Ronettes - "Be My Baby"
The Beach Boys - "Don't Worry, Baby"
Jan & Dean - "Dead Man's Curve"
The Crystals (lead vocal by Darlene Love) - "He's a Rebel"
Sam Cooke - "Another Saturday Night"
Nancy Sinatra - "Drummer Man"
- March 15, 2019 - Shawn Poole reporting - special thanks to Jim Rotolo and Vinny Usuriello at E Street Radio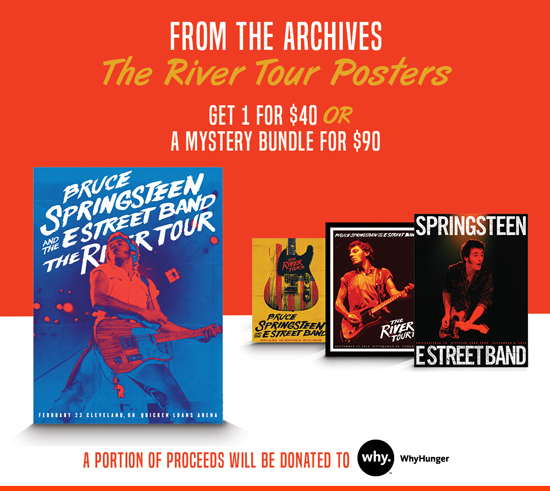 RIVER TOUR POSTERS COME OUT OF THE VAULT FOR WHYHUNGER
On Bruce Springsteen and the E Street Band's 2016 River Tour — as you'll surely remember, if you have any collector impulse in you at all — a different, unique concert poster was created for every stop on the itinerary. Many featured imagery from the original River era, some featured local iconography — it was a cool, creative efort that harkened back to all the unique, city-specific backstage passes from 1980-'81. Most of these limited poster runs sold out at the venues... but some leftovers have now surfaced and are on sale to benefit WhyHunger.
Click here to purchase select 2016 River Tour posters from the archives, with portions of the proceeds to be donated to WhyHunger. Cities include Baltimore, Cleveland, Brooklyn, Buffalo, Cleveland, Philadelphia, Pittsburgh, Seattle, Virginia Beach, and Washington DC. Posters are $40 each, or $90 gets you a "Mystery Bundle" of three.
- March 14, 2019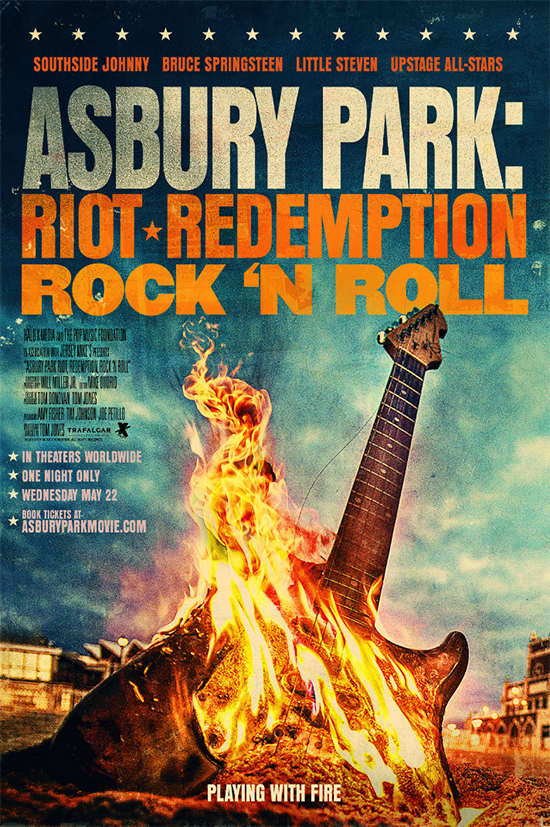 NEWLY RECUT DOCUMENTARIES ADDED TO APMFF SLATE
April in Asbury brings a packed weekend of film and music — and films about music
With the annual Asbury Park Music and Film Festival coming back to town next month, April 25-28, a pair of previous festival favorites are returning in new, expanded cuts to the Paramount Theatre. With Chris Phillips of Backstreets moderating a panel or two, we'll hope to see you there!
Asbury Park: Riot, Redemption, Rock 'n' Roll previously screened at the festival two years ago, as Just Before the Dawn. Since then the documentary has been re-edited to included new interviews with participants including Bruce Springsteen and Max Weinberg. With a story springing out of the legendary Upstage club scene that brought area musicians together in the '60s, the film tells "the story of the long troubled town of Asbury Park and how the power of music can unite a people divided." Also part of the new cut is footage from the now-legendary Upstage Jam that accompanied the 2017 APMFF premiere, featuring Springsteen, Little Steven, Southside Johnny, and more.
Directed by Tom Jones, Asbury Park: Riot, Redemption, Rock 'N Roll will premiere on Sunday, April 28 (and look for a screening event in theaters worldwide on May 22). Special to the APMFF premiere will be a panel discussion and Q&A afterward, moderated by Backstreets editor Chris Phillips.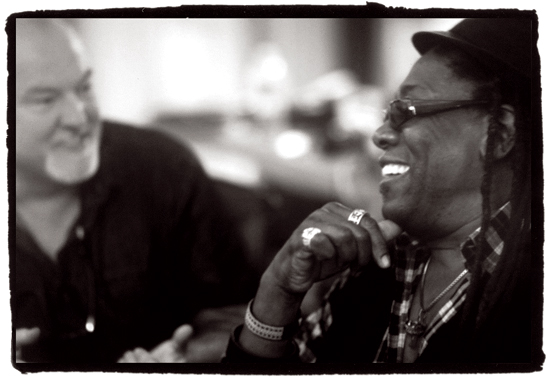 Clarence Clemons with Who Do I Think I Am? director Nick Mead - photograph by Jo Lopez
Clarence Clemons: Who Do I Think I Am?has gone through a metamorphosis since its Garden State Film Festival premiere in 2011. Originally a passion project for Clarence himself, along with his friend director Nick Mead, Who Do I Think Am? began with a very specific focus on the Big Man's travels in China. Clarence attended that original standing-room-only premiere, two months before his death; Mead told Backstreets, "On the way there, we got a text saying that the fire marshal was turning people away. He loved that." In the years since, the film has expanded to take in much more of C's life and legacy.
Featuring new interviews with fans and friends including President Bill Clinton and Joe Walsh, along with former bandmates and close family members, Mead's new cut of the film will debut on Saturday, April 27. A panel discussion and Q&A will follow.
Both screenings go on sale to the general public tomorrow morning, 10am Eastern, at www.apmff.org/tickets.
The two documentaries join an already enticing APMFF line-up — at venues including the Paramount, the Stone Pony, The House of Independents, and the Wonder Bar — which includes:
The New Jersey premiere of Echo in the Canyon on opening night, a documentary about the birth of the Laurel Canyon music scene with appearances by Tom Petty, Brian Wilson, Stephen Stills, David Crosby, Graham Nash, Michelle Phillips, Jackson Browne, Roger McGuinn, Cat Power, and many more
Echo in the Canyon executive producer Jakob Dylan, in concert with Cat Power and other guests as part of the oepning night festivities, playing the music of The Byrds, The Beach Boys, and The Mamas and Papas
The New Jersey premiere of David Crosby: Remember My Name, followed by a Q&A with Crosby and director Cameron Crowe
A collection of rare Bob Dylan footage from the vault, Dylan Archives IV, presented by the Bob Dylan Center
An Evening with the Farrelly Brothers: a career retrospective, with both Peter and Bobby Farrelly in discussion with Deadline Hollywood's Mike Fleming
Gary U.S. Bonds performing with Joe Grushecky & The Houserockers and more special guests for The Gary U.S. Bonds Unusually Big Birthday Bash
The Music of Bruce Springsteen for Kids presented by The Rock and Roll Playhouse. An early and often first introduction to a child's lifelong journey with live music, The Rock and Roll Playhouse is geared for babies and kids, offering games, movement, and stories — and here, an opportunity to rock out at the Stone Pony
More APMFF concerts include Danny Clinch's Tangiers Blues Band headlining The Po Boy Jam at the Stone Pony; Bobby Bandiera at the Wonder Bar; Hot Water Music celebrating 25 years.
For additional information on the 2019 Asbury Park Music and Film Festival, visit apmff.org.
- March 11, 2019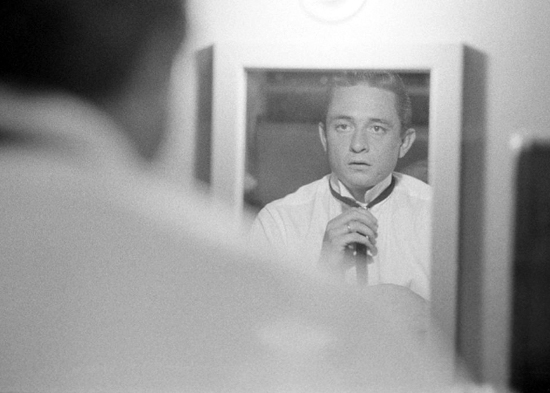 A NEW GIFT FROM THOM ZIMNY
Last night brought the world premiere of The Gift: The Journey of Johnny Cash at SXSW 2019, with an appearance from director Thom Zimny along with John Carter Cash, below.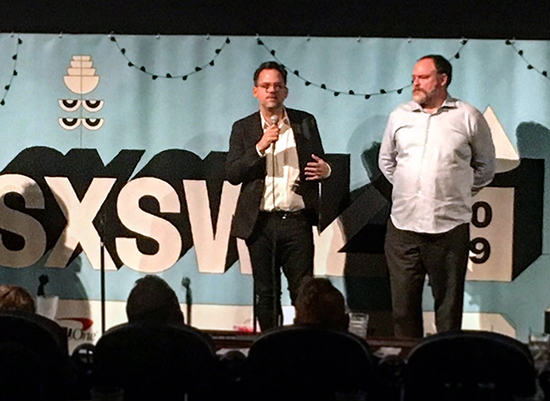 Bruce Springsteen is among those featured in the documentary film via voice-over commentary, just as he was last year in Zimny's Elvis Presley: The Searcher. Stay tuned for more from Backstreets on The Gift, coming soon.
- March 10, 2019 - Shawn Poole reporting - photograph courtesy of Thom Zimny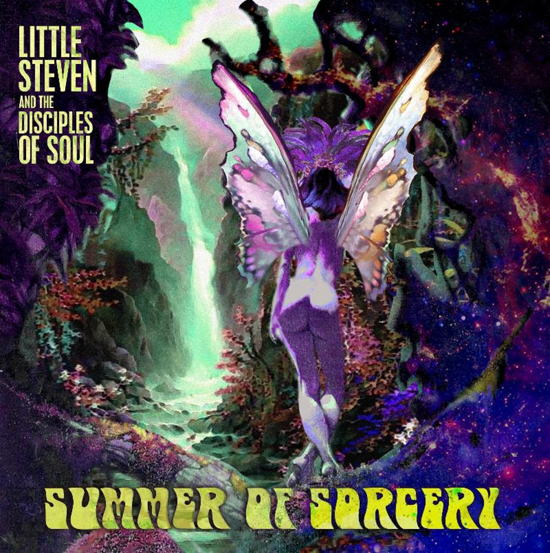 SUMMER LOOKS GOOD ON STEVIE
New Disciples of Soul album Summer of Sorcery due in May
Stevie van Zandt lit the Soulfire in 2017, and he'll keep it burning with a follow-up this spring: Summer of Sorcery, his new studio album with the Disciples of Soul, is coming May 3. While Soulfire was largely a showcase for songs Van Zandt had written for other artists over the years, peppered with some choice covers, Summer of Sorcery is his first album of new material since Born Again Savage 20 years ago.
Written, arranged, and produced by Little Steven (with co-producers Marc Ribler and Geoff Sanoff), Summer of Sorcery came together while Stevie and the Disciples were on the road for Soulfire: "What I'd hoped would happen was, you put the whole tour, all of those songs, into a funnel and out of that funnel comes a new album. And that's exactly what happened."
"The concept was capturing and communicating that first rush of summer," Van Zandt says in today's press release. "The electricity of that feeling of unlimited possibilities. Of falling in love with the world for the first time. Obviously, there are occasional personal references, and a bit of what's going on socially scattered throughout, but I achieved what I set out to do. I created a collection of fictional movies scenes that feel like summer. I'm quite proud of it."
"I always work thematically," Stevie continues. "I can't just throw together a collection of songs; there has to be some kind of overriding idea that drives it. This time I wanted to capture the excitement of that first summer of consciousness. That one special summer where you first fall in love with life, that thrill of just being alive."
Lead single "Superfly Terraplane," above, premiered today at rollingstone.com, where you'll also find Steven talking more about the album with David Browne.
The full tracklist:
1. Communion
2. Party Mambo!
3. Love Again
4. Vortex
5. A World of Our Own
6. Gravity
7. Soul Power Twist
8. Superfly Terraplane
9. Education
10. Suddenly You
11. I Visit the Blues
12. Summer of Sorcery
Following the Disciples of Soul's final Soulfire Tour stops, next month in Australia and New Zealand, the Summer of Sorcery Tour begins in May with record release shows in Los Angeles (The Saban, May 4) and Asbury Park (Paramount Theatre, May 8) before heading to Europe through June. Browne writes that the Summer of Sorcery Tour will take Stevie "through October. He hasn't heard anything about future E Street Band roadwork, but he knows he needs to take advantage of his break — and the chance to play his own songs — as much as possible. 'If Bruce goes back out,' he says, 'we could be gone two years.'"
For dates and ticket links, visit littlesteven.com/on-tour.
The album, on Stevie's own Wicked Cool label, will be released on CD, digitally and on vinyl as double LP on 180-gram black vinyl. All digital pre-orders will be joined by an instant grat download of "Superfly Terraplane," and pre-ordering is open now. We'll have pre-ordering for physical media through Backstreet Records as well, though a limited colored vinyl version — psychedelic swirl, of course — will be exclusively available via uDiscover.
- March 8, 2019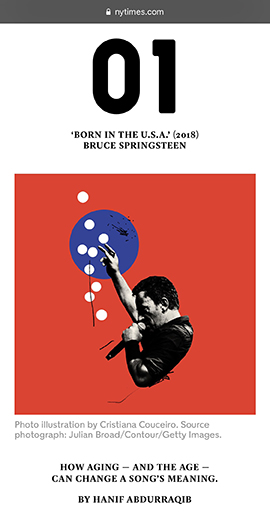 "BORN IN THE U.S.A.": THE ACHE BEHIND THE FURY
In its new 2019 Music Issue, The New York Times Magazine assembles "The 25 Songs That Matter Right Now." You might be surprised to see a 35-year-old song top that list... but given its recent reworking on Springsteen on Broadway, and how that 2018 solo performance resonates with our times, "Born in the U.S.A." is, as ever, evergreen.
In an essay titled "How Aging — and the Age — Can Change a Song's Meaning" poet Hanif Abdurraqib writes:
To hear "Born in the U.S.A." presented without an instrument is to hear the strain that pushes toward the edge of anger, that hovering sentiment that was lost in the original's bombastic wall of sound and perhaps camouflaged by its imagery...

...with the drums and bursts of keyboards gone, the relentlessly hollow hope of the song is gone, too. On the isolated stage of a theater, all that's left is knowing that the singer has loved and dreamed and lost in a country sometimes not worth loving and dreaming and losing in.
He concludes:
The song matters now in a different way than it did in 1984, largely because of the artist behind it: Springsteen, trying to wrestle not only with the song's current legacy but also with how it might be co-opted decades from now, when he won't be around to make sure people understand the ache behind the song's fury.
"Songs That Matter Right Now" has Springsteen sharing space with Ariana Grande, Mariah Carey, Meek Mill, Travis Scott, and 20 more. Read Abdurraqib's full "Born in the U.S.A." essay, and see the full list, at nytimes.com.
- March 7, 2019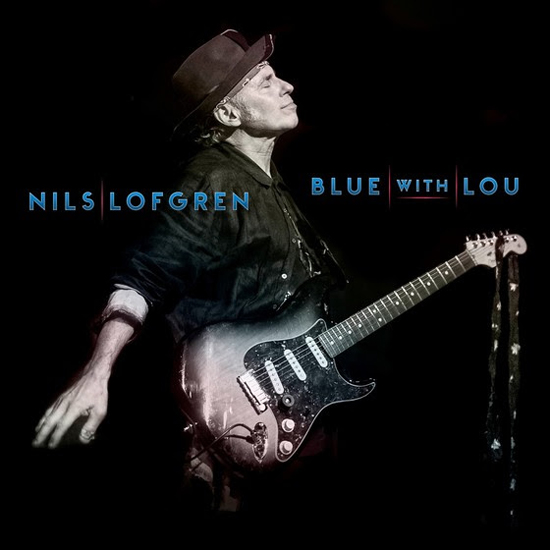 NILS LOFGREN GETS BLUE WITH LOU, APRIL 26
Pre-order CD or vinyl from Backstreets for a signed copy
Forty years ago, connected by producer Bob Ezrin, Nils Lofgren and Lou Reed teamed up to write, penning 13 songs together. About half of those collaborations came out on solo albums — three made it to Reed's The Bells, and more featured on Lofgren's records over the years (Nils, Damaged Goods, and Breakaway Angel). The rest have remained unheard.... until this spring, with the release of Blue with Lou.
Nils's first studio album in eight years, since 2011's Old School [CD/vinyl], the 12-track Blue with Lou is an even mix of those collaborations and new Nils compositions: "City Lights" is a new recording of a song originally released on The Bells, with five more previously unheard co-writes: "Attitude City," "Give," "Talk Thru the Tears," "Don't Let Your Guard Down," and "Cut Him Up."
Nils says of these tracks, "They got left by the wayside. Years went by, and it kept nagging at me. I thought, look, Lou's not here to deliver these lyrics. He was inspired when he did this. It would be a shame not to share it."
Produced by Nils and Amy Lofgren, Blue with Lou will be out April 26 on both CD and vinyl (a two-record set), on Lofgren's own Cattle Track Road Records. The album's title track is Nils's new tribute to his erstwhile songwriting partner, while another new song, "Dear Heartbreaker," raises a glass to the late Tom Petty.
We're thrilled to announce that Nils will be autographing Blue with Lou for Backstreet Records customers. For a signed CD or a signed 2LP set, place your pre-order now to reserve a copy. The number of pre-orders we receive will determine how much signing Nils does for us, so order yours now to guarantee fulfillment! View both formats and read more about the album in our online shop.
You can also read more about Blue with Lou on rollingstone.com, along with a premiere of "Attitude City."
- March 5, 2019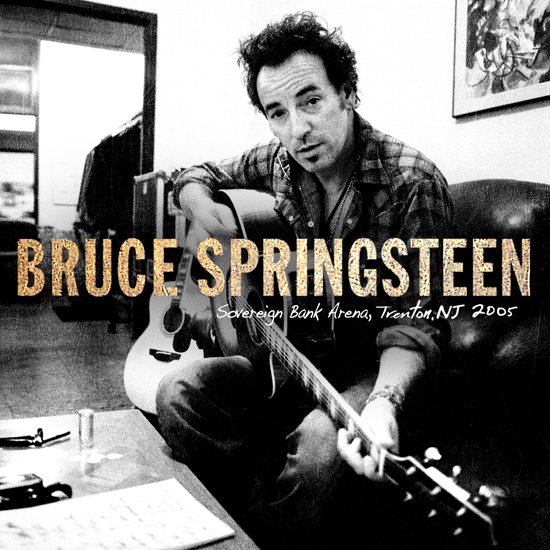 BRUCE SPRINGSTEEN CROSSED WITH TRENTON
2005 Devils & Dust finale takes a bow for March's First Friday
Bruce Springsteen's 2005 solo trek remains one of his shorter ones. Confined to a single calendar year, Devils & Dust was a mote compared with the solo acoustic tour a decade earlier for The Ghost of Tom Joad, which sprawled from 1995 to 1997. But it was dense. From two April rehearsals in Asbury Park, NJ, to November's closing pair in Trenton, NJ, Springsteen rang the changes from show to show in theaters and arenas, with a constantly shifting mix of instruments and deep cuts from the catalog.
So while the live archive series has already embraced 2005 with two entries from that celebrated summer (Columbus and Grand Rapids), there are depths that remain to be plumbed in Springsteen's most ambitious — in material, if not in miles — solo outing.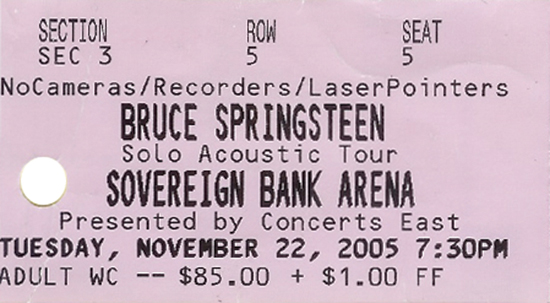 Today's First Friday release continues the devilry with the final D&D concert, the second of two at the Sovereign Bank Arena, Trenton, NJ, November 22, 2005. It's a showcase of styles and sounds that plays back like few releases in the archive series — or for that matter, any other official Springsteen release — and a concert Backstreets described at the time as bringing "the seven-month tour to a triumphant close, momentarily doubling as a tour finale and holiday show."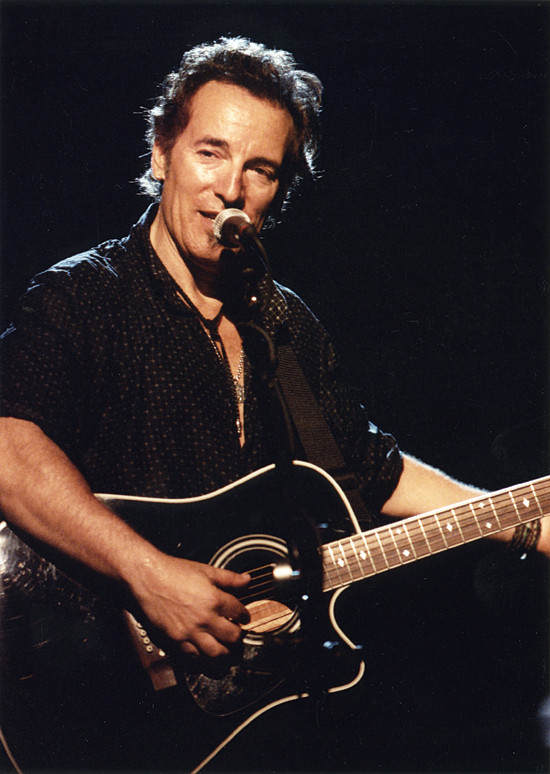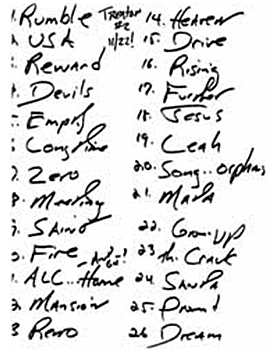 The two nights in Trenton held six tour premieres — alone, evidence enough that throughout 2005 Springsteen never stopped sifting songs through his fingers, re-examining, re-imagining, and revealing new facets. Devils & Dust is an eclectic record; perhaps its nature inspired a similar branching-out when he took it on the road. Even here at the end, Bruce was still working out new arrangements and digging out blasts from the past, like the long-lost "Song for Orphans," performed on November 21 for the first time since 1973.
Closing night's excitement was palpable well before the lights went down — and when they did, Donna Summer's "Last Dance" blasting from the P.A. only amped things further. Springsteen met the buzz head-on with a foot-stomping "Rumble," debuted the night before as a tribute to Link Wray (who'd passed away earlier that month). As the set progressed, Springsteen switched between instruments and styles with efficiency and poise. He'd done it that way all year long, playing everything from the electric guitar to the electric piano, the autoharp to the ukulele. Hitting one of his trusty Takamines for a muscular "Empty Sky," the acoustic guitar sounded grand, too — this stark treatment fits perfectly.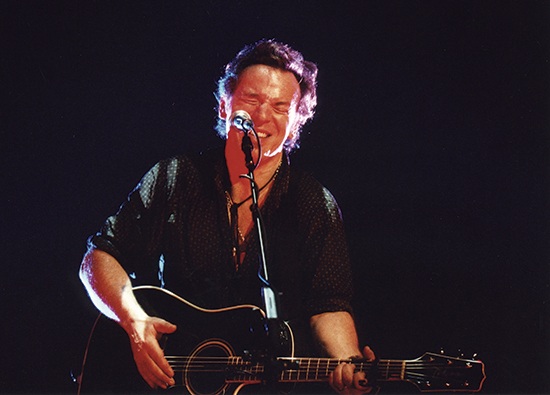 Springsteen had played the Garden State's capital city before, but not in decades — those who were there for concerts at Trenton War Memorial have a serious 1974 feather in their cap. Upon his return, Bruce clearly had those old days in mind — breaking out early favorites such as "It's Hard to Be a Saint in the City" (in a brand new bullet mic arrangement), "Growin' Up" (on ukulele!), and "Thundercrack" — but it wasn't just because of locale.
Rather, it was because Springsteen, already in career-retrospective mode, had been listening to E Street Radio. After giving carte blanche to the new all-Bruce channel on what was then Sirius Satellite Radio — "If you can find it, you can play it" was the general idea — he tuned in himself (other reports suggest that Bruce had been exploring his history via YouTube, too).
That feedback loop brought startling rediscoveries to Trenton. "Song for Orphans," played both nights (with crew man Alan Fitzgerald, "the man behind the curtain," on keys), surely would never have surfaced again otherwise. Another jewel for closing night: the never-in-my-wildest-dreams "Zero and Blind Terry."
Introducing this slice of classic juvenilia, Springsteen said it was among "fables that were these sort of fantastic… almost like children's stories that I wrote around the time of my first and second record." Here's how Backstreets reported this premiere and three others that night:
The first came as Bruce sat down at the piano for the first time: "I'm gonna play something tonight I've never played before. Can't let the night pass without one of those!" And while Bruce has actually played "Zero and Blind Terry" before, back in '73 and '74 with the E Street Band, this Tracks tune was near the top of the snowball's-chance-in-hell list until tonight. (Even better, it went right into a magnificent "Backstreets," also at the grand, the only audible of the night.)

#2 was "Fire," a stripped-down, playful performance on the harp and bullet mic that was also a nod to the late, great Wray (he and Robert Gordon covered the Springsteen tune on 1978's Fresh Fish Special).

For #3, Bruce brought out his "way better half," Patti Scialfa, for a duet on "Mansion on the Hill." (With that performance, just squeaking in under the wire, Bruce has played every song from Nebraska on the Devils & Dust tour.)

And for #4, it was the real "attack of the relatives," as Patti came back onstage along with about 15 more friends and family members for "Santa Claus is Comin' to Town." Their kids were part of the throng, Sam sitting on the piano bench next to his dad, as everyone shook tambourines, jingled bells, and sang along for this official start of the holiday season. Bruce had noted the kids' presence in the crowd earlier in the show, as he introduced "Long Time Comin'": "I got my babies in the house tonight, so I'll send this out to Evan, Jessie, and Sam... Daddy's coming home!"
Any tour debut is conspicuous, but this set also delivers key 2005 songs that had yet to appear in the archive series: the bullet mic "Born in the U.S.A.," "My Beautiful Reward" on pump organ, "All That Heaven Will Allow" on electric piano, and a thrilling "Drive All Night" on the grand. From Devils & Dust, "All the Way Home" and "Leah" are here for the first time, too. Come for the rarities… stay for all the sounds of Springsteen's last show of the tour, last show of the year, and last full-scale one-man production until Springsteen on Broadway.
Also read: Erik Flannigan's latest nugs.net blog entry, "Songs of Hope and Eternal Damnation."
- March 1, 2019 - Christopher Phillips & Jonathan Pont reporting - photographs by Rene van Diemen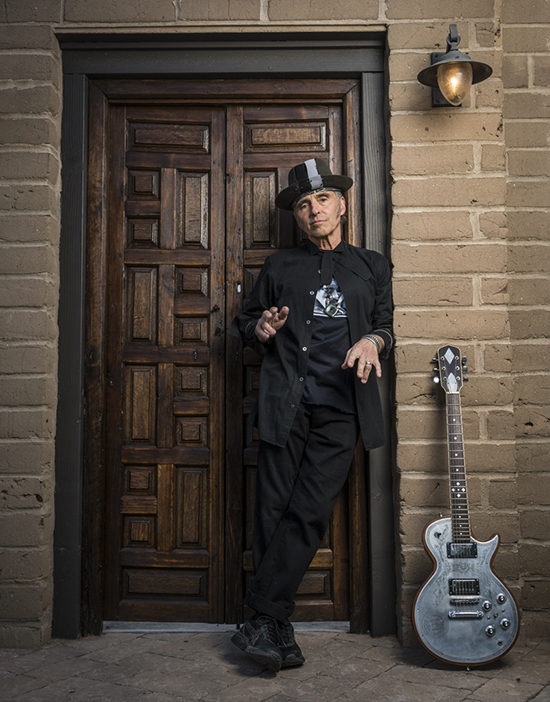 CITY BY CITY, NIGHT AFTER NIGHT...
Catch the Nils Lofgren Band on tour beginning in May
This spring, the great Nils Lofgren will hit the road in support of a forthcoming new album, and U.S. dates have been announced for May into June. After a stretch in the midwest beginning May 10, Nils will hit Boston and NYC before heading south to Virginia, Tennessee, Georgia, and Texas. Most of these shows go on sale to the general public this Friday, March 1, with a few pre-sales happening sooner; see below for links to tickets and further info.
Nils Lofgren Band 2019 Tour Dates:
May 10 - Dakota - Minneapolis, MN (onsale 3/1)
May 11 - Potawatomi Casino - Milwaukee, WI (onsale 3/1)
May 12 - City Winery - Chicago, IL (onsale 2/28)
May 13 - City Winery - Chicago, IL (onsale 2/28)
May 15 - Memorial Hall - Cincinnati, OH (onsale 3/1)
May 16 - Kent Stage - Kent, OH (onsale 3/1)
May 18 - City Winery - Boston, MA (onsale 3/1)
May 19 - City Winery - New York, NY (onsale 2/28)
May 20 - City Winery - New York, NY (onsale 2/28)
May 21 - The Birchmere - Alexandria, VA (onsale 3/1)
May 22 - The Birchmere - Alexandria, VA (onsale 3/1)
May 24 - City Winery - Nashville, TN (onsale 3/1)
May 25 - City Winery - Nashville, TN (onsale 3/1)
May 26 - City Winery - Atlanta, GA (onsale 3/1)
May 27 - City Winery - Atlanta, GA (onsale 3/1)
May 30 - The 04 Center - Austin, TX (onsale 3/1)
May 31 - The Heights - Houston, TX (onsale 3/1)
June 1 - Jefferson Theater - Beaumont, TX (onsale TBA)
June 2 - Kessler Theater - Dallas, TX (onsale 3/1)
While Lofgren's recent performances have largely been solo or as an acoustic duo, this new outing is with a full band — Nils writes that it's the first time in more than 15 years. Joining Nils in the five-piece will be his brother Tom (guitar, keys, vocals), bassist Kevin McCormick, Sessions Band/E Street Band backing vocalist Cindy Mizelle, and drummer Andy Newmark.
Nils is "excited to feature my new album, out before the tour, along with the best of 50 years on the road. Amy and I worked together in our home with great musicians and we look forward to sharing this new music soon." We'll have more on that new album soon, as well.
- February 27, 2019 - photograph by Carl Schultz


ME AND PAUL: "THE THRILL OF MY LIFE"
Yesterday, Little Steven returned to Q104.3's Breakfast with the Beatles, to co-host with Ken Dashow. Along the way they taked about performing with Sir Paul McCartney — not only has Stevie done so onstage with the E Street Band, but also with his own Disciples of Soul, as captured on the recently released Soulfire Live! Blu-ray and 7LP vinyl set.
"It was the thrill of my life, honestly," said Steven. "I mean, it was great having him join us with Bruce — that was fantastic, that alone. But you know, him coming on my stage, with the Disciples of Soul, to endorse what I'm doing, was literally the thrill of my life."
Check out yesterday's discussion above (thanks to Sammy Steinlight for the clip), and watch "I Saw Her Standing There" (live in London, 2017) below.

- February 25, 2019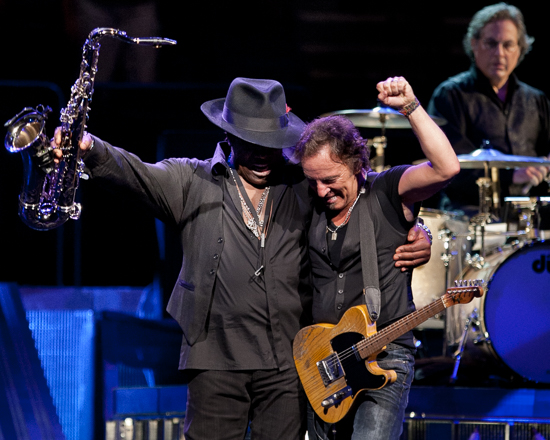 FLASHBACK FRIDAY: TAMPA, APRIL 22, 2008
Courtesy of photographer A.M. Saddler, here are more sights to go with the sounds of St. Pete Times Forum, Tampa, FL, February's installment in Springsteen's live archives series.
All images here are from April 22, 2008, the E Street Band's powerful first performance following the funeral of Danny Federici. For more on the show, and more of Saddler's photos from the concert, see our feature on this latest archive release below as well as our original concert report.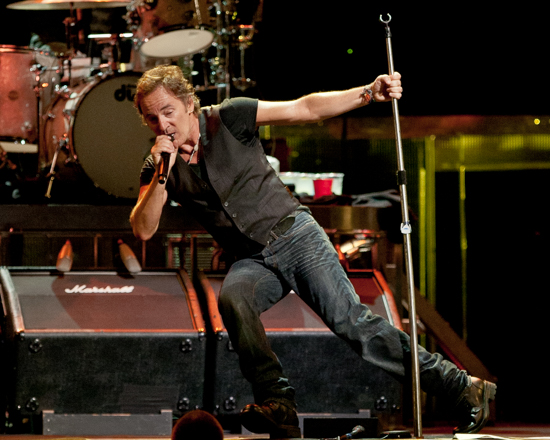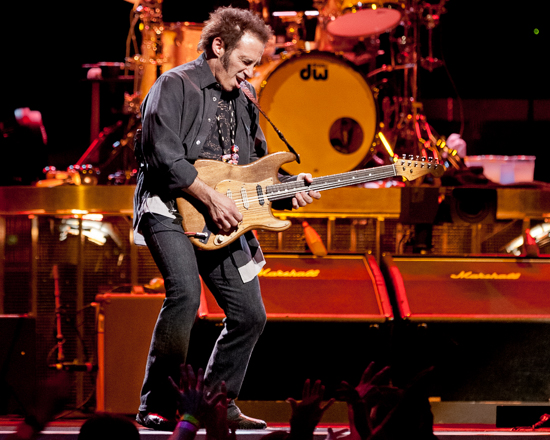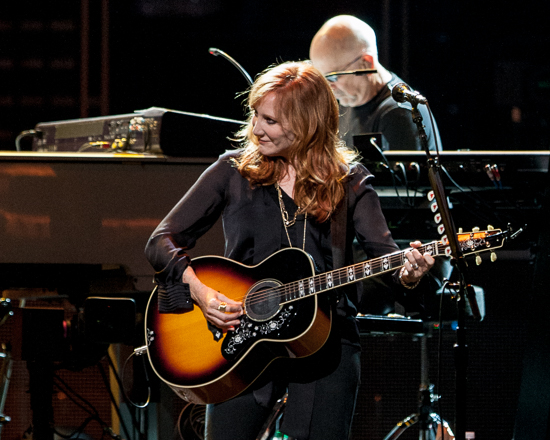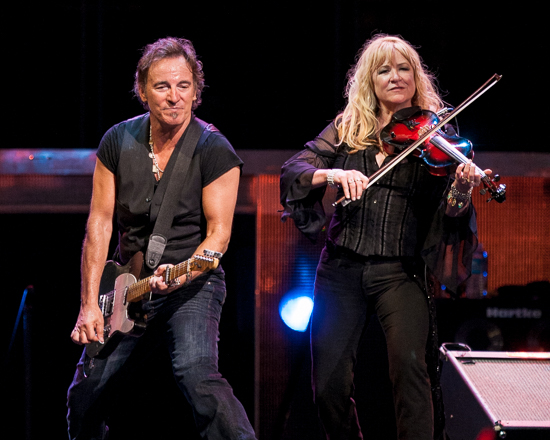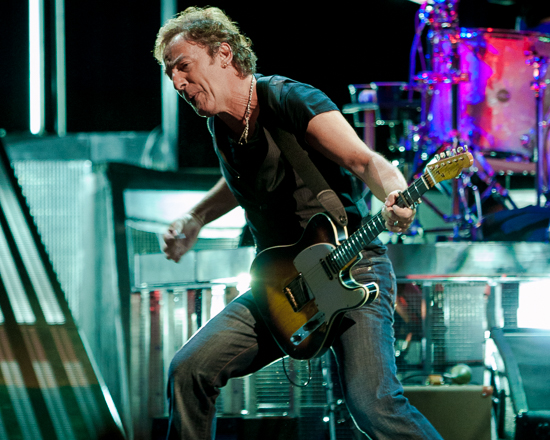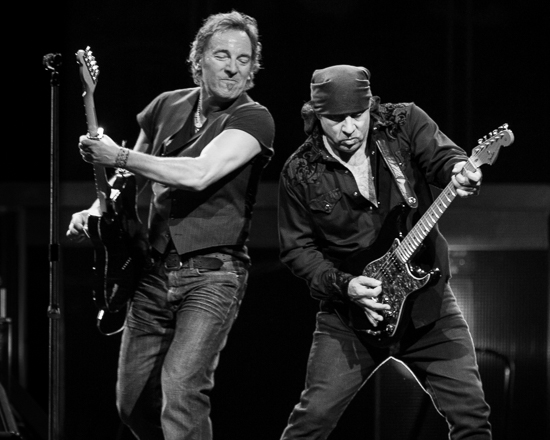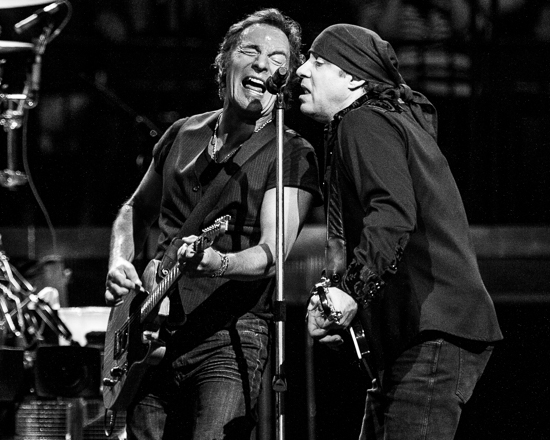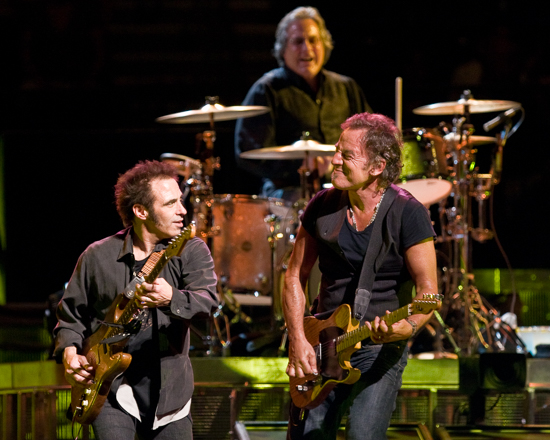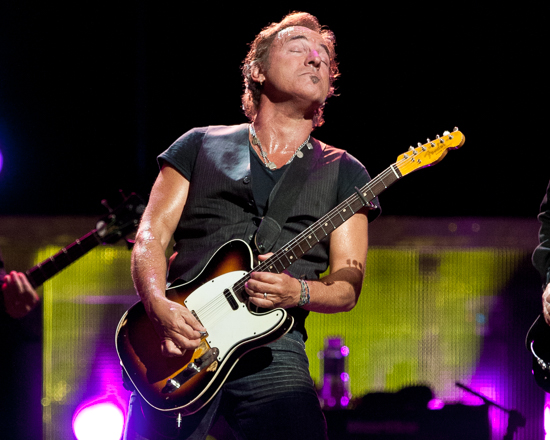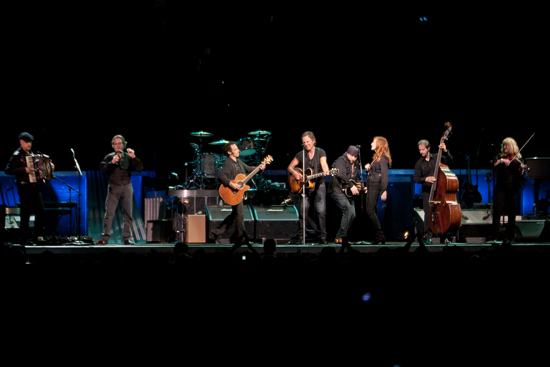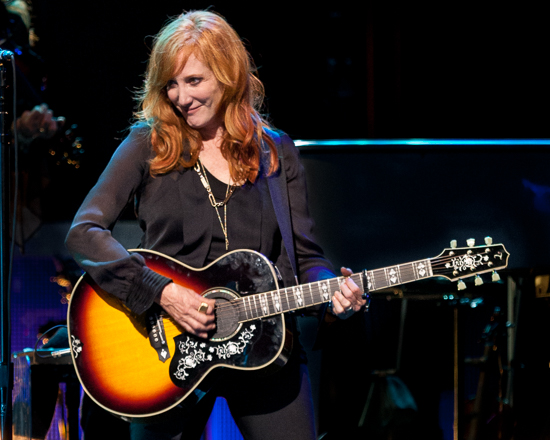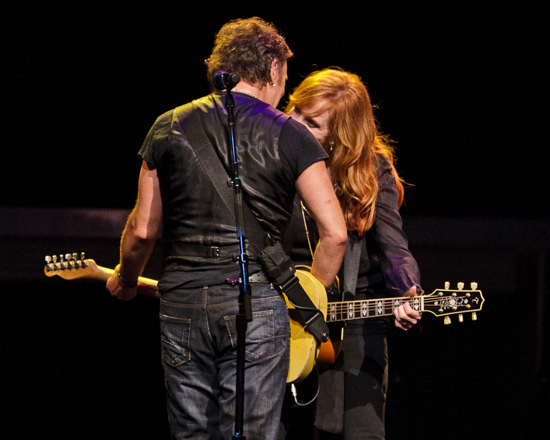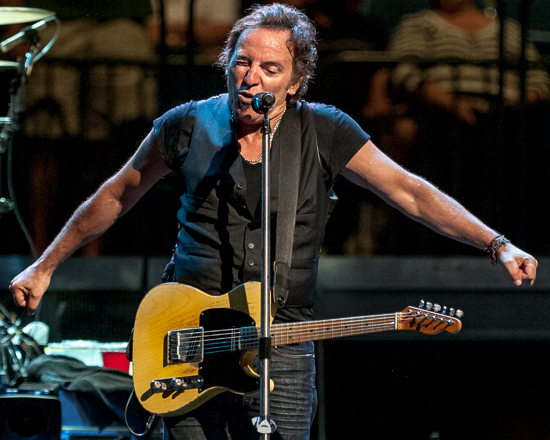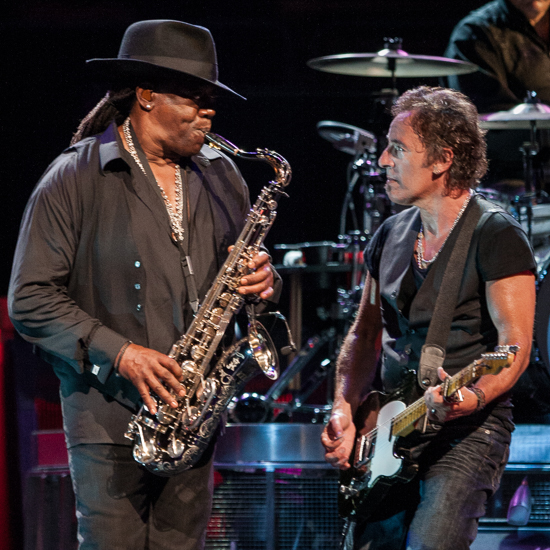 - February 22, 2019 - photographs by A.M. Saddler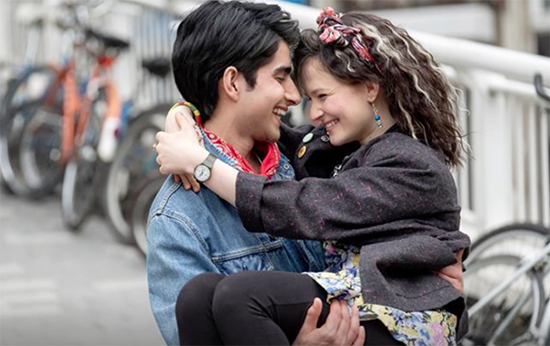 IN THE SUMMER WITH A TEENAGE DIPLOMAT
Blinded by the Light coming to theaters August 14
After last month's auspicious premiere at the Sundance Film Festival, Blinded by the Light now has an official release date: the film, featuring Bruce Springsteen's music, will open in the U.S. on August 14.
Directed by Gurinda Chadha and based on Sarfraz Manzoor's Greetings From Bury Park memoir, Blinded by the Light was, The Wrap reports, "one of the biggest acquisitions out of the festival. Warner Bros.'s New Line banner acquired the film in a $15 million-plus deal." According to IMDB, it's "the second biggest payday Sundance has ever seen."
In an interview at Sundance, Chadha described the film to Women and Hollywood:
Blinded by the Light chronicles the experiences of a British Muslim teenager growing up in 1980s Luton and the impact Bruce Springsteen's lyrics had on him. It's about a young man's dreams, and how he is inspired by someone from a totally different cultural background writing about their own life thousands of miles away in New Jersey...

With all of my films, I want to show how similar we are to people that we thought were different to us. I want audiences to feel a human connection to my characters and to leave feeling that the world is not only an unequal place full of problems, but also a joyous world where there is always the possibility of transcendence. And I want audiences to fully appreciate what an incredible man, writer, and musician Bruce Springsteen is — he deserves it!
- February 20, 2019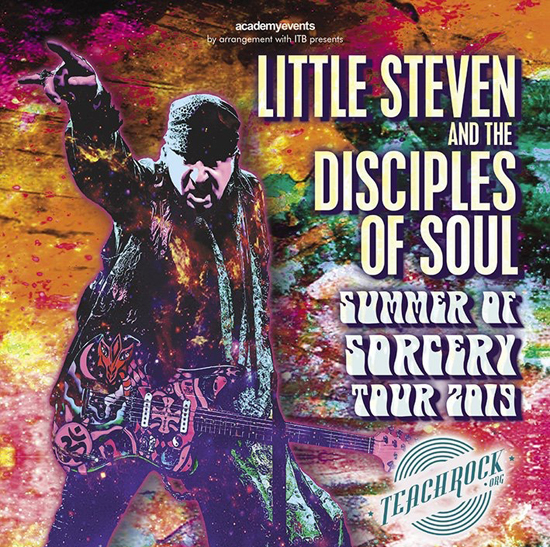 LITTLE STEVEN WRAPS TOUR, MEETS SANTA, READIES NEW ALBUM, PLANS SUMMER OF SORCERY
What, Stevie busy? Let's round it up, baby
On December 16, Little Steven and the Disciples of Soul ended their two-month, coast-to-coast Soulfire Teacher Appreciation Tour of North America. They began the 28-date trek on October 18 in Wilkes-Barre, PA, and gradually made their way to the west coast via Atlantic City (their only New Jersey date this time around), Detroit, Milwaukee, Oklahoma City, Las Vegas, and lesser-known locations such as Green Bay, Snoqualmie, and Wabash, Indiana, where they opened the show with "The Wabash Cannonball." Shortly before they set off, they played The Electric Flag's "Groovin' Is Easy" live on Facebook and John Lennon's "Working Class Hero" live on Instagram.
Special guests on the tour included Jim Sohns, lead singer of local heroes The Shadows of Knight, for a version of the Van Morrison/Them classic "Gloria" in Chicago; Nick Gravenites, former lead singer of The Electric Flag, for a performance of "Groovin' Is Easy" in San Francisco; and fellow E Streeter Nils Lofgren, who sang the Grin favorite "Moon Tears" and took part in a guitar duel with Little Steven and Disciples music director Marc Ribler at the final show in Phoenix, which also included The Ramones' "Merry Christmas (I Don't Want to Fight Tonight)."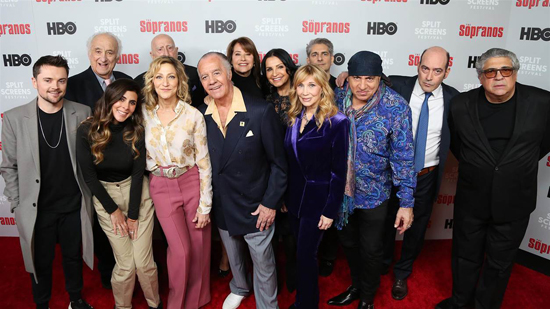 In the new year, Little Steven attended an event at the SVA Theater in Manhattan on January 9 that celebrated the 20th anniversary of HBO's The Sopranos, in which he played Silvio Dante, consigliere to the late James Gandolfini's mob boss Tony Soprano. The reunion included interviews (including TODAY) and a 90-minute panel discussion with members of the cast and crew.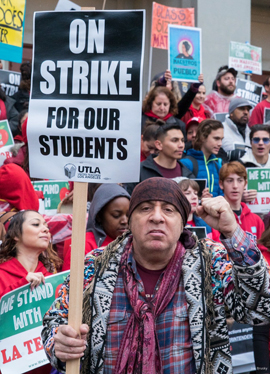 On January 17, Little Steven declared his support for the teachers strike in Los Angeles by joining a picket line and speaking at a rally organised by the UTLA (United Teachers Los Angeles) union.
"I consider teachers in the same category as our military, our police, our firemen," Van Zandt said. "I'm calling on all of our brothers and sisters in the music world, from pop, rock, hip-hop, country and jazz, come out and march with the teachers." He was also interviewed on CNN's Quest Means Business and spoke to Rolling Stone: "We've been engaged with teachers for a couple of years, trying to raise awareness. Teachers are an under-funded and under-appreciated part of our working class. We just finished a tour, and everywhere we went, there were teachers on strike — West Virginia, Kentucky, Arizona, Oklahoma. Teachers are on the front line fighting against ignorance, and boy, do we need that right now."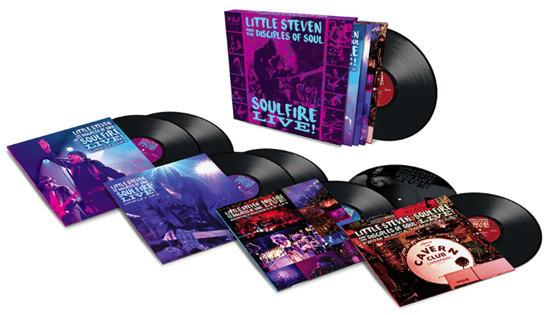 New releases
After a 3CD release of Soulfire Live! last year, the much-delayed 7-LP vinyl boxed set (available from udiscovermusic.com) and 2-disc Blu-ray video formats finally see the light of day today.
The vinyl format includes all of the material from the 3CD set on six LPs (with one blank side), while a seventh Beatles-themed LP (titled "From Macca to Mecca") adds Little Steven's Liverpool Cavern Club concert of 14 November 14, 2017, and covers of "I Saw Her Standing There" (with Sir Paul McCartney) and "Birthday" from other shows. The Blu-ray features video of every song on the vinyl edition, plus exclusive interviews, behind-the-scenes footage, and a documentary featurette about the Cavern gig.
The various formats of Soulfire Live! have appeared months apart, and each successive release has included additional material. A 24-song digital download debuted in April last year. The 3CD version arrived in August, with a further 12 songs, ten of which were covers. The vinyl format now adds another ten covers to the overall total, while the Blu-Ray includes video of all 46 songs and more besides.
Anyone considering a purchase should note that the Blu-Ray features absolutely everything; the vinyl includes every song; the CD leaves out the Beatles covers, and the download omits all 24 bonus songs from the CD and vinyl formats. Little Steven recently said that the bonus content on the vinyl set will eventually "be added to the CD box and digital download."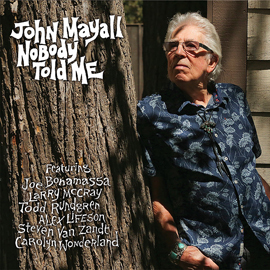 Scheduled for release on February 22 is Nobody Told Me, a new album from 85-year-old UK blues legend John Mayall. Among several special guests are Joe Bonamassa, Todd Rundgren and Little Steven, who plays incendiary guitar on "It's So Tough."
Mayall describes it as "a song I wrote about the troubles going on in the world right now. Steven Van Zandt did a powerful job capturing the mood of the song with his dynamic guest guitar contribution."
Co-producer Eric Corne added, "Little Steven absolutely nailed the feeling in this track. His vibrato is sick!"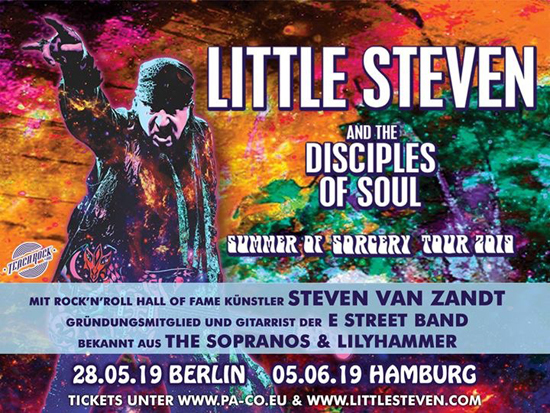 Back on the road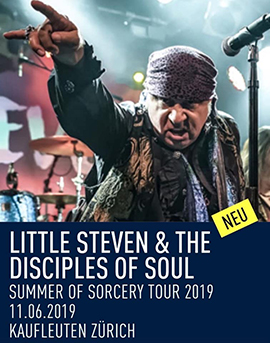 The Disciples of Soul took a break after their final show in Phoenix in December, but they'll be back on the road in the spring. Following Bruce Springsteen's formal confirmation that no E Street Band activity was planned in 2019, Stevie is putting an extensive new international tour together, which begins in Australia and New Zealand in April. There may be some West Coast U.S. shows in early May, before appearances in Europe (May, June and August) and North America (July, September and October). This will be the band's third consecutive year on tour. The practice of allowing free admission to teachers who register for a pre-show TeachRock workshop is likely to be continued.
The dates in Australia and New Zealand have yet to be confirmed but look set to include two appearances at the annual Byron Bay Bluesfest (April 18 and 20) and regular gigs in Melbourne (23), Sydney (25), and Auckland (27). Little Steven has said that he's also hoping to play in Perth (14) and Adelaide (16).
Tickets for the European Summer of Sorcery Tour, which includes three festival appearances, are on sale now:
May 18 - Leeds, England - O2 Academy
May 20 - Glasgow, Scotland - O2 Academy
May 22 - Bristol, England - O2 Academy
May 24 - London, England - O2 Forum
May 26 - Catton Hall, Derbyshire, England (Bearded Theory's Spring Gathering)
May 28 - Berlin, Germany - Huxley's Neue Welt
May 30 - Jelling, Denmark - Jelling Musikfestival
June 1 - Stockholm, Sweden - Circus
June 3 - Oslo, Norway - Rockefeller
June 5 - Hamburg, Germany - Fabrik
June 7 - Brussels, Belgium - Ancienne Belgique
June 9 - Emmen, Netherlands - Hello Festival
June 11 - Zurich, Switzerland - Kaufleuten
June 13 - Milan, Italy - Alcatraz
Further European dates are expected in August, including more U.K. shows and possible gigs in Ireland, France and Spain. It's also likely that Little Steven will return to Norway to teach at his annual Blues School in Notodden.
One North American appearance has been advertised so far: Little Steven and the band will make an appearance during the Big Blues Bender at the Hard Rock Hotel and Casino in Las Vegas, which runs from September 5 to 8.
Next album
As Little Steven confirmed last year, the 2019 shows will have "very different" setlists, which will include material from a new 12-track studio album that's scheduled for release on May 3. While Soulfire featured Little Steven's own recordings of older material that he wrote for other artists, this will be his first collection of new original songs since Born Again Savage two decades ago.
"The great news is it's the same band that we've had together for two years," Steven said. "The longer a band is together, the better it gets." He compared the sound of the album to putting the 90 songs of the Soulfire tour into a blender and adding a little spice. "The new one won't be out until May, so we'll probably do the Soulfire show for the last time in Australia, but we'll throw in a new song or two."
Four months ago, as the recording sessions ended, horn section leader Eddie Manion announced on social media that "this new album will surprise you. It is off the charts but will probably be No. 1 on the charts. It is amazing and will be worth the wait when you finally hear it." In January, he continued, "you have been warned! This year's new album with the Disciples of Soul will be the greatest addition to your music collection. It was an honor to record this album and I'm proud of it. I'm telling you now. I've done a lot of recording. Nothing like it."
Reissues
The new album will be followed in September by the long-awaited re-release of Little Steven's solo back catalogue in a lavish boxed set. This will include Men Without Women (1982), Voice of America (1984), Freedom, No Compromise (1987), Revolution (1989), and Born Again Savage (1999), plus the all-star anti-Apartheid album Sun City (1985). The remastered collection will also feature "outtakes, extended 12-inch mixes, DVDs of key representative shows and interviews from each album." It's not known whether the individual albums will be made available separately.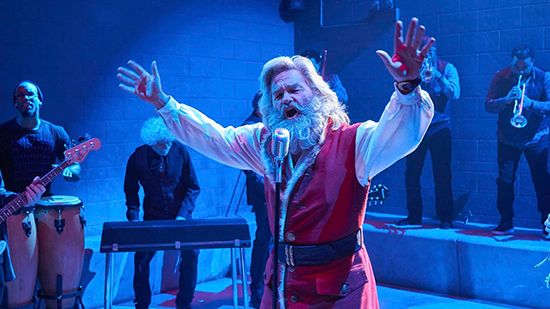 Wolfie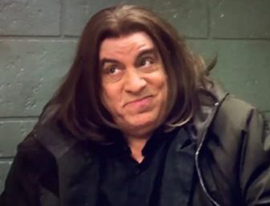 In addition to touring far and wide last year, Little Steven and the Disciples of Soul made their incognito movie debut playing various drunks, miscreants and "party girls" in The Christmas Chronicles, which premiered on Netflix on November 22 (Thanksgiving Day and Little Steven's 68th birthday).
Starring Kurt Russell as a cool, modern-day Santa Claus, it was directed by Clay Kaytis and produced by occasional Van Zandt collaborator Chris Columbus. Little Steven (wearing a long-haired wig and playing "Wolfie"), Marc Ribler ("Dusty"), Ravi Best, and Jaquita May had brief lines of dialogue, while Maureen Van Zandt got in on the act as "party girl with tambourine."
Having been thrown in jail, Santa magically turns his cellmates into backing musicians and sings the lead vocal on a cover of Leiber and Stoller's "Santa Claus Is Back in Town" (first recorded by Elvis Presley on Elvis' Christmas Album in 1957). "The scene is so much fun," said Columbus. "I decided to feature the entire song in the film. It's Jailhouse Rock Part 2!"
"Not bad for our first gig," says Santa, who turns to the band and pleads, "Try to be good." "We can keep these, right?" asks Wolfie, clutching the shiny new guitar that Santa produced for him.
The scene was filmed over four days in Toronto (doubling for Chicago) in March 2018. Kurt and the band mimed to a studio version of the song they recorded at Little Steven's Renegade Studios in New York two weeks previously.
"Kurt laid down the track in three takes and that was it," said Columbus. "That was his natural voice. [Steven] didn't have to change anything. It took Kurt probably 45-50 minutes to record the lead vocal." The studio recording also played over the end credits of the movie, which reportedly clocked up 20 million streams in its first week on Netflix.
- February 15, 2019 - Mike Saunders reporting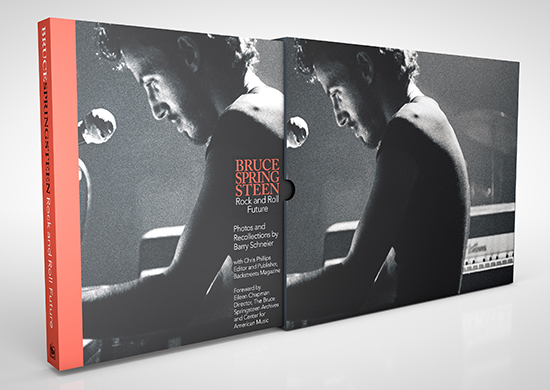 I SAW BRUCE SPRINGSTEEN: ROCK AND ROLL FUTURE...
And you can too — reserve your copy now!
Pre-ordering is open for Bruce Springsteen: Rock and Roll Future, Barry Schneier's beautiful new coffee table book. This forthcoming hardcover from Backstreets Publishing features Barry's photographs and recollections from the E Street Band's legendary May 9, 1974 concert at Harvard Square Theatre, which inspired Jon Landau's "quote heard 'round the world."
Also in these pages: a Foreword by Eileen Chapman, Director of the Bruce Springsteen Archives and Center for American Music; Introduction by Backstreets' Christopher Phillips; and reminiscences from all of the era's living E Streeters: Ernest Carter, David Sancious, and Garry Tallent.
Made possible by a 2018 Kickstarter campaign, Rock and Roll Future will be available to all this spring and can be pre-ordered now from Backstreet Records, including options to bundle additional limited items: a custom slipcase (pictured above) and/or exclusive 8x10 prints signed by the photographer.
Read more about the book and pre-order now
See all Latest Addtions at Backstreets Records
- February 14, 2019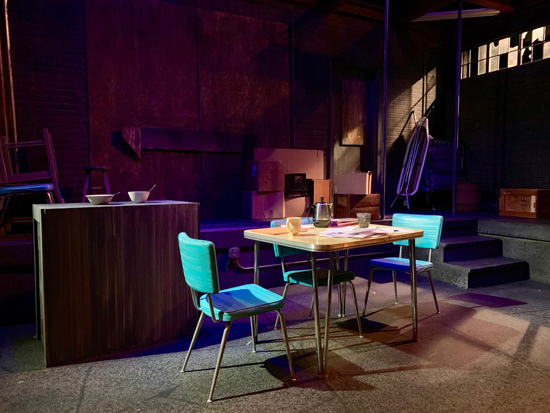 SPANISH HARLEM REVISITED
The spirit of Bruce Springsteen returns to Union College
Nearly 45 years ago, Bruce Springsteen played Union College in Schenectady, NY, and his spirit came back to town last night in a new form. Union College Department of Theatre and Dance presented When The Promise Was Broken, short plays inspired by the songs of Bruce Springsteen, running through the weekend. The original collection features 13 short plays written by various playwrights, each taking an individual Springsteen song as inspiration.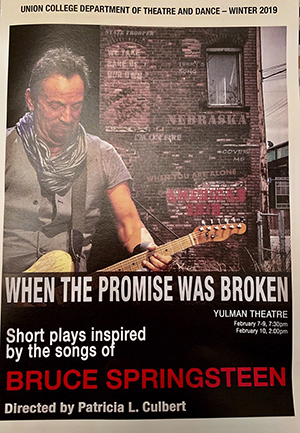 For last night's official premiere, nine of these plays were performed, included Valhalla Correctional, inspired by "We Take Care of Our Own"; Bloody River, inspired by "American Skin (41 Shots)"; Object Permanence, inspired by "Terry's Song"; Drive All Night, inspired by "Drive All Night"; A Semi-Autobiographical Response…, inspired by "I'm on Fire"; Gospel Hour, inspired by "State Trooper"; Merry-Go-Round, inspired by "Cover Me"; Pick Up Beds, inspired by "When You're Alone," and Glad For the Company, inspired by "Nebraska."
Yulman Theatre is an intimate venue, seating fewer than than 100 patrons. Pre-show music featured music by Springsteen and included "Your Own Worst Enemy," "Sugarland," and "This Hard Land." As the performances began, each play either began or ended with the song it was inspired by. The acting was excellent, and the rapid-fire pace of each act kept the evening moving along.
The theme of each play did vary, with some representing a song fairly literally, and others that required a bit more thought to discover the connection. None of these short performances recreated the lyrics word-for-word in live action — the key phrase is "inspired by." The Magic Rat driving his sleek machine was not to be seen.
In fact, some of the characters may not exist at all: while a protagonist in Drive All Night seemed real enough at first, two women in the play wind up debating whether he was just an image they had created, one they wanted to be true. In "Object Permanence" ("Terry's Song"), the character is talking to the ghost of her brother, whom she has to eulogize, but she's having difficulty because his death was not supposed to happen. And yes, he broke the mold.
What made the evening particularly impressive is that the actors are all of college age, 18-22 years old, born around the time the reunion tour was underway. To see these undergraduates not only embrace Bruce's music but create and embody new characters that take his lyrics one step further is a real joy. And hearing the words and themes put forward in a different light brings a new appreciation to these songs.
If you are within driving distance of the Capitol Region, this performance is well worth checking out and will continue through Sunday, February 10 — see union.edu for details.
- February 8, 2019 - reporting and photographs by Howard Kibrick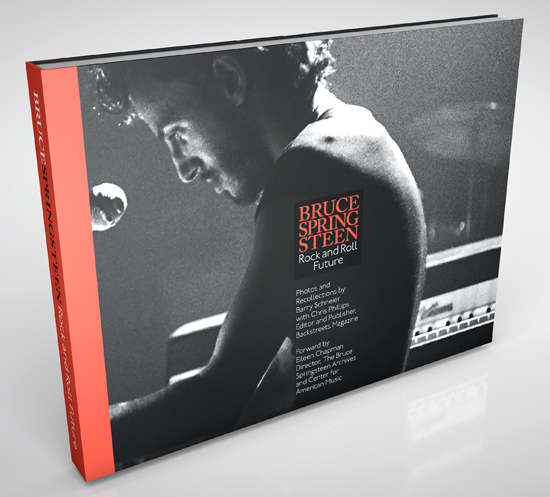 COME SEE ROCK AND ROLL FUTURE THIS WEEKEND IN NEW JERSEY
Coming this spring from Backstreets Publishing is Barry Schneier's Bruce Springsteen: Rock and Roll Future, a handsome book of Schneier's photography and memories from a historical night in the career of Bruce Springsteen and the E Street Band.
Not only was Barry was in the house on May 9, 1974 at the Harvard Square Theatre when Jon Landau famously "saw rock and roll future," he was a professional photographer with camera in hand — the only one on the scene for the occasion. Barry's new book presents his photography from that very night, in both black & white and color, along with his stories of how the show came to be and what it was like to witness. Also included are reminiscences from all three living members of that era's E Street Band depicted in the book: Ernest Carter, David Sancious, and Garry Tallent. Backstreets editor Christopher Phillips wrote the Introduction, and Eileen Chapman, director the The Bruce Springsteen Archives and Center for American Music, contributed a Foreword.
This 152-page hardcover, made possible by a Kickstarter campaign, will be available from Backstreets in the spring — watch this space, as we'll be taking pre-orders soon.
In the meantime, if you're in the New Jersey area, you can help Barry celebrate his impending release this weekend, including talks and signings of an early shipment of books, which have arrived just in time for these events.
On Saturday, February 9 at 3pm, Danny Clinch's Transparent Gallery in Asbury Park will host an event with Barry Schneier and Chris Phillips, a conversation moderated by Bruce Brunch DJ Tom Cunningham, followed by a book signing. The 3pm event is FREE, admission is first-come first-served, with limited seating. See the event page on Facebook.
On Sunday, February 10 at 3pm, the Princeton Public Library will host, featuring Barry and Chris in conversation with Princeton University professor Sean Wilentz, author of Bob Dylan in America. Another book signing will follow. The 3pm event is FREE, admission is first-come first-served, with limited seating. See the event page on Facebook.
We hope to see you there!
For further reading, check out Gary Wien's interview with Barry for New Jersey Stage: "Photographer Barry Schneier Talks About His New Book Featuring Springsteen Photos From a Legendary Night."
- February 5, 2019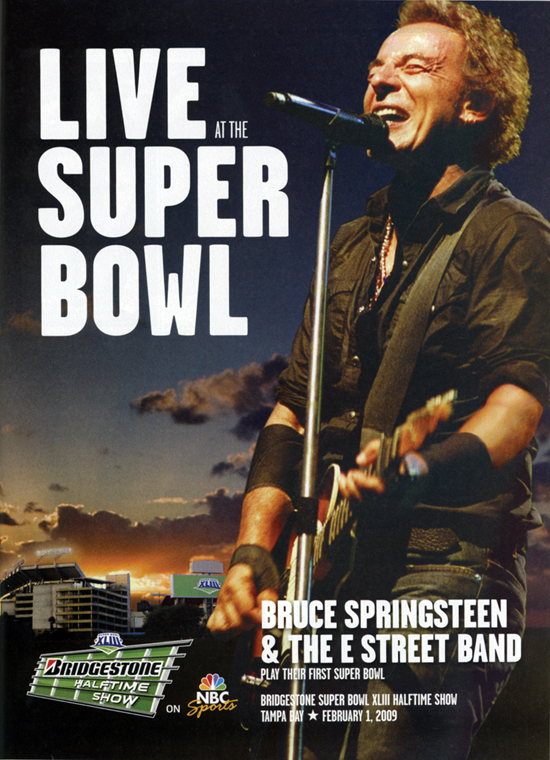 TEN YEARS BURNING DOWN THE FIELD
Hard to believe it's been a full decade since Bruce Springsteen's 12 righteous and mighty minutes at Super Bowl XLIII. (You can probably pick those chicken fingers back up now.) ICYMI, here's NFL's behind-the-scenes film from halftime on E Street:

- February 3, 2019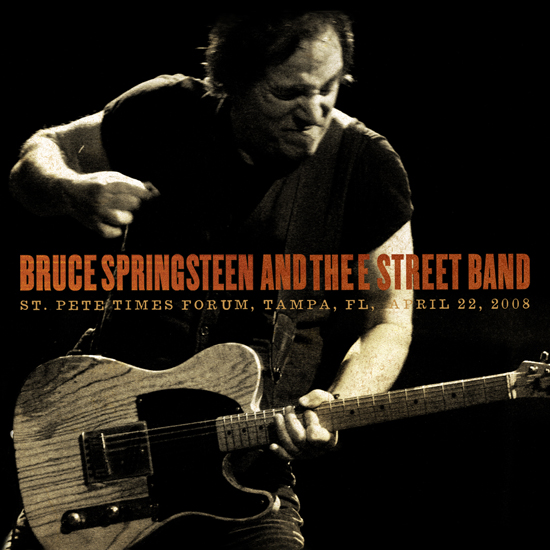 THE FIRST SHOW BACK: "SOMEBODY'S WATCHING"
To mourn Dan Federici, the E Street Band rocks Tampa, 4/22/08
Few shows in the career of Bruce Springsteen and the E Street Band have held such gravitas as the one in Tampa, Florida, performed April 22, 2008. As the February archive series release from live.brucespringsteen.net and nugs.net, it's available today.
Less than a week after the passing of Danny Federici — who played alongside Bruce in various band incarnations since 1969 — and just one day after his funeral [read Springsteen's eulogy here], the Magic tour resumed. To remember and honor the E Street Band's founding keyboardist was the night's major theme.
Dressed in black, Springsteen and the band took the stage as usual, but instead of counting into the opening song, Bruce said, "We want to start with something for Danny." That set up a short film with live footage and still photos of "Phantom Dan" playing with the E Street Band over the years, set to the Greatest Hits version of "Blood Brothers."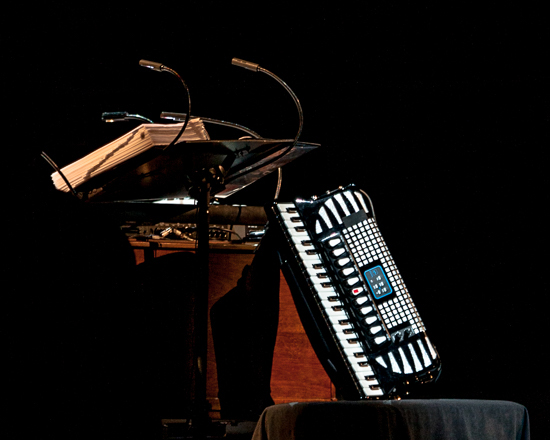 When the pre-recorded song ended, the stage went black for a few seconds before Danny's riser — including his accordion — was hit with a spotlight, and Roy Bittan began playing the opening notes to "Backstreets." Charlie Giordano, who had been filling in for Danny since the European leg in the autumn, did not play on the opener, which underscored Danny's absence and heightened the song's emotion. Bruce brought something extra to the vocals that end the song and pointed to Danny's spot on the stage in tribute.
After that extraordinary start, the E Street Band (complete with Patti Scialfa on this night) did what they ordinarily do: they rocked. Springsteen let the crowd know that even as we acknowledge death, life still needs to be celebrated — he asked the crowd if "anyone was alive out there" before launching into "Radio Nowhere." In a solemn time, it was a night to make noise.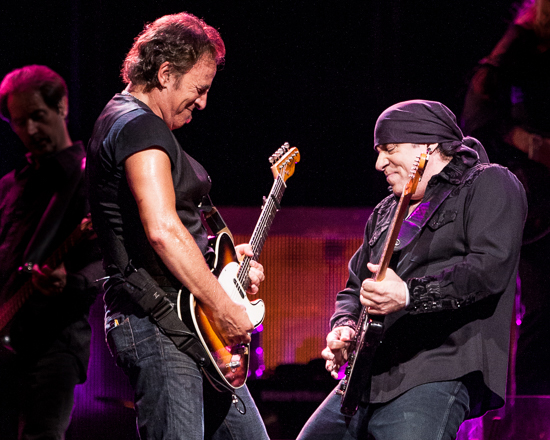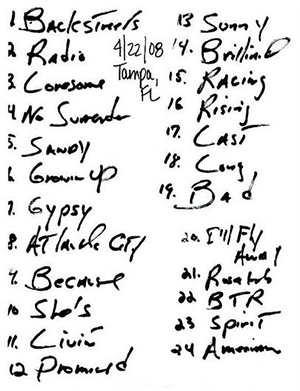 With tours of the U.S. and Europe now under their belts, the E Street Band had been on a roll: that spring, they had opened 18 consecutive shows with a different song. With a few exceptions, the setlist in Tampa was typical for that stretch; several songs, however, carried extra meaning on this night, especially "Lonesome Day," "No Surrender," "Gypsy Biker," and "Darkness on the Edge of Town." Bruce even altered a key lyric in the last of these.
Danny's accordion is perhaps most famous in creating the sound and atmosphere of "4th of July Asbury Park (Sandy)," which appears here in his honor. Prior to the song, Springsteen thanked fans for their prayers and condolences and related a bit about Danny playing in Indianapolis, his final appearance on stage with the band, calling it "a lovely night." Roy strapped on the accordion for "Sandy," and Bruce told him, "You better get this one right, man. Somebody's watching." The Professor played it just right, and so did the rest of the band. (Madam Marie, who was living in Florida at the time, got a shout-out, too.) "Growin' Up," which Bruce introduced as "one more fairy tale," this time set in Flemington, NJ, made it a two-fer.
The balance of the set included a variety of songs from the catalog. Before singing "Brilliant Disguise" with Patti, Bruce speculated about what their children — teenagers at the time — were doing back home without adult supervision. "Racing in the Street" segued perfectly out of "Brilliant Disguise," another testament to the sound Danny helped build. Performed only twice on that leg, "Racing" just gets better and better as it goes on, settling beautifully into the instrumental segment that ends the number.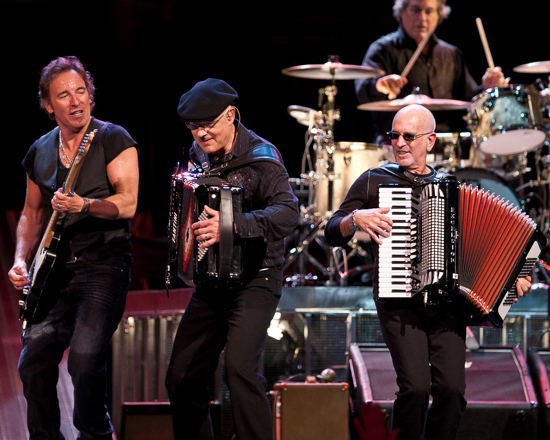 When "Badlands" powered to its end, Springsteen counted off "Out in the Street," thus not only ending the set with a different song but also touching on every record he'd released during the first E Street era, including Nebraska and Tunnel of Love. It was an appropriate way to mark the evening.
Springsteen began the encore with another tribute to Danny, a one-off of "I'll Fly Away." For the Depression-era gospel song, both mournful and celebratory, Bruce had the entire band, including Max Weinberg, stand with him for the performance. The song evoked the Seeger Sessions, complete with fiddle and mandolin solos by Soozie Tyrell and Little Steven, respectively ("New Jersey bluegrass," Bruce quipped).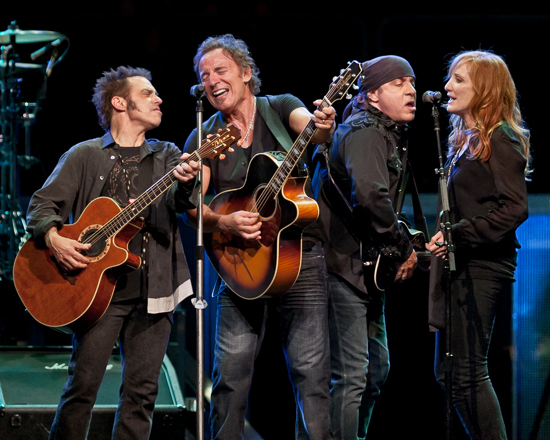 Following the release of the legendary St. Louis '08 concert and Boston '07, Tampa marks the third archive series installment from the Magic tour. It provides a snapshot from the spring leg and serves as a poignant coda to Boston, which was Danny's last complete show.
Also read: "One More Fairy Tale," Erik Flannigan's latest entry at blog.nugs.net.
- February 1, 2019 - Flynn McLean reporting - photographs by A.M. Saddler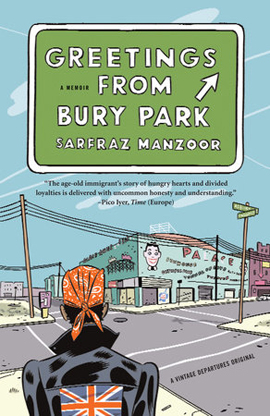 GREETINGS FROM PARK CITY
Sundance Film Festival hosts premiere of Blinded by the Light
Bruce Springsteen didn't have to come to Sundance for Bruce Springsteen to come to Sundance. The world premiere of Blinded by the Light took care of that. The film, from director Gurinder Chadha (Bend It Like Beckham) and screenwriter/author Sarfraz Manzoor (based on his 2007 memoir Greetings From Bury Park), features 17 Springsteen songs, and as credits rolled to "Born to Run," the fans began to show themselves.
"1-2-3-4!" one film festival attendee quietly intoned on his way out the door, seconds before Springsteen, in song, did the same. Soon after that, three women who were gathered at the back of the Eccles Theater "whoa-oh-oh-ed" in unison, something that also happened at the typically more staid press and industry screening.
But that's what Blinded by the Light is all about: the power of Bruce Springsteen's music to transform and save you, in situations both big and small, regardless of who you are or where you come from. In Sarfraz Manzoor's case, that was Luton, an industrial town 30 miles northwest of London that was voted Britain's "worst place to live" in 2016.
In the movie, Sarfraz becomes the fictionalized Javed (played by Viveik Kalra), a teenager and aspiring writer struggling to find himself (and a girlfriend) while fighting with his laid-off autoworker father. "In my house, no one's allowed opinions except for my Dad," he tells his English teacher (played by Hayley Atwell). Javed's life changes when his Sikh friend Roops (who wears a red bandana under his black turban) gives him cassettes of Born in the U.S.A. and Darkness on the Edge of Town. It's 1987, so the Walkman also plays a major role.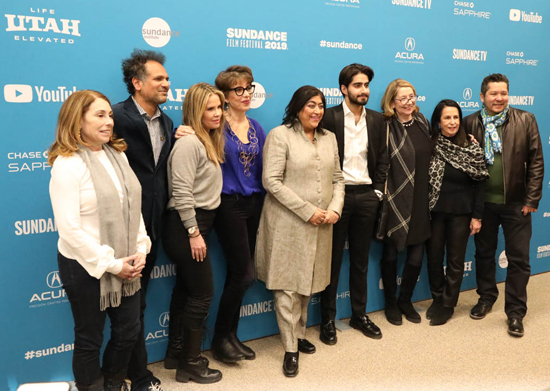 The Blinded film team at the January 27 premiere, including director Chadha (center), writer Manzoor (second from left), Tracy Nurse (third from right) and Barbara Carr (second from right) - photograph by Weston Bury, courtesy of Sundance Institute
"Music can actually transcend borders," Manzoor said before the Sundance Film Festival world premiere on Sunday. "I come from a really pretty crappy town in England, and Springsteen completely connected with me. I knew more about Asbury Park than I know about my own town. His words were like the ammunition, or like a map, to take me to a better place. It speaks to the genius of Springsteen: that this music that seems like it is very specific is actually completely universal."
In a remarkable coincidence, Bury Park is the name of the then-increasingly Muslim neighborhood in Luton where Manzoor grew up, alongside English kids and teenagers in thrall to Britain's racist National Front. The new title for the movie was his own suggestion.
"Greetings From Bury Park is a cool title, but you need to know about Greetings From Asbury Park to make the title work," he said. "Blinded by the Light's quite good, and when you see the film, there's a reason why it's called that. And Gurinder's had great luck with film titles that start with a 'B'" (Bend It Like Beckham, Bride and Prejudice, Bhaji on the Beach).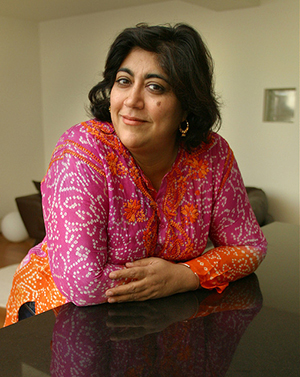 This was not the only time the filmmakers had to make concessions to a general audience. "I'm going to tell you something outrageous now," Chadha said at the post-screening Q&A, after one Sundance questioner noted that some of the music usages, including the title song, seemed truncated. "Can you believe that there were people who said, 'What about people watching this movie who aren't Bruce fans?' Isn't that horrific?"
Right: Blinded by the Light director Gurinder Chadha - photograph by Graham Barclay, courtesy of Sundance Institute
"I feel it the same as you," she continued. "The film is one hour, 46, 47 minutes. And that's long. But boy, do I need an extra verse of 'The River'… Boy, do I need an extra verse of every goddamn song. They all cut off too soon. I'm just getting into singing them, and then they're gone. But if we had put as much of his music in as I would have liked, we'd still be here three hours later."
Or maybe even four! Needless to say, Chadha is as big a Bruce fan as Manzoor. The two are also friends. When Greetings From Bury Park came out, the director told him, "Yeah, I know how to make this into a film. But we can only make it with Bruce's permission. Otherwise, it will never work."
Their opportunity came at the 2010 UK premiere of The Promise documentary: Chadha scored an invite, and she took Manzoor as her plus-one. As Bruce made his way down the red carpet they both had their cameras out, hoping for a moment, but the truth is, Manzoor was already known to Springsteen. After all, he's been to — spoiler alert — 150 shows.
"And he's like, the only Pakistani with Afro hair," Chadha joked. "Bruce has often said: 'Hey, man! What are you doing in Pittsburgh?' (or whatever far-flung city the British journalist appears in).... So he walked over to Safraz and said, 'I read your book, it's beautiful,' and Safraz started hyperventilating. 'Omigod, omigod you read my book.'"
"You weren't that relaxed yourself," Manzoor interjected.
"No, I wasn't," Chadha said. "I was also high-pitched. But I grabbed that moment and said, 'We want to make a film of the book, will you help us? I made Bend It Like Beckham, and I know your kids liked it!' Really cool [of me], y'know?... And he kind of looked away from us, like, with that amazing mouth, and the bite. And then he looked at us and said: 'Sounds good. Talk to Jon.'"
By the next day, Jon Landau had a picked up a copy of the book, and Chadha was in touch with Barbara Carr and Tracy Nurse.
"When we started working on the script, we knew that we didn't have to please financiers, or anybody, for this," Chadha said. "The only person we had to please was Bruce. So we sat down and wrote a screenplay for Bruce Springsteen. What I had to do was find a way of using the songs as if he'd written the songs for our movie."
Indeed, the songs are so integral to the narrative that Springsteen could have easily been given story credit (his actual credit is "inspired by the words and music of..."). In the movie, "Independence Day" and "The River" feel like they are almost explicitly about Javed, while "Dancing in the Dark," "The Promised Land" and "Prove It All Night" are integral to both plot and character. The film is basically a musical, both literally (one scene is pure Bollywood) and in the same way that a film like Trainspotting relied on Iggy Pop and Underworld. And if it sometimes feels a bit packed with perfect plot twists and overly grand gestures, well... have you seen Bruce Springsteen?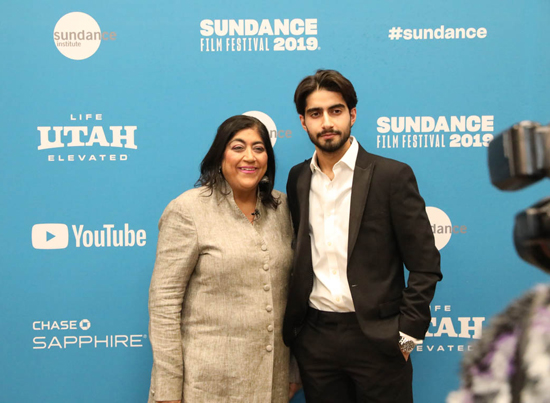 Chadha with lead actor Viveik Kalra, at the January 27 premiere - photograph by Weston Bury, courtesy of Sundance Institute
The Boss approved the script and, eventually, the finished film, which he watched in New York City on a Springsteen on Broadway off-day. Springsteen sat in the front row of the screening room, and Chadha, unable to help herself, moved from the back to sit behind him.
"I had to see what he was thinking," she said. "I could just see the sides of his eyes, his sort of wrinkles there. So I could see when he was smiling. And there were certain places where he really laughed a lot. He liked when the main character quotes the lyrics to 'Born to Run,' and his friend says those lyrics are shit. And then at the end, it finished, and everyone was waiting for his reaction. He gave me a big hug and a kiss, and he said, 'Thank you for looking after me so beautifully.'"
Springsteen didn't come to Utah, Chadha said, because he didn't want his presence to distract from the movie. But it is easy to imagine him watching the film and thinking, 'Wow, these people get me.' The heart of Blinded by the Light is its uncanny parallels between the story of Javed and his father and the story of Bruce Springsteen and his father — all the more so for the fact that Greetings From Bury Park was published long before Springsteen's own memoir. The film has a lot of empathy for the father character, and Javed even comes to a deeper understanding of Springsteen's music once he moves beyond his teenage self-absorption.

Talking about his own late father at Sundance, Manzoor once again returned to Springsteen's lyrics. "There's a line in 'The Promise' where he says, 'I hit it big once, but I paid a big cost. Inside I carried the broken spirits of all the other ones who lost.' The reason I wrote the book, and the reason I wanted to make the film, was to try and have a conversation with my dad in his absence, and to try and honor him in a way that I wasn't able to do when he was alive."
After the screening, one woman said the movie made her cry tears of joy like she hadn't since before November 7, 2016. That left Manzoor wondering if 16 year-old him — "a Pakistani living in Britain, absolutely loving America and in love with the most American icon there is" — could feel that way in 2019.
"One of the things I love about Springsteen is, I think he kind of embodies the best of American values," Manzoor said. "If more people could live by the words of Bruce Springsteen, that really would be a way of making America great again."
Blinded by the Light received a rapturous reception from reviewers and on social media, and the film is reportedly being purchased by New Line for $15 million, so expect it in theaters later this year.
- January 31, 2019 - Jason Cohen reporting


LEANN RIMES LETS YOU KNOW SHE'S REALLY THERE
Recorded last month at SiriusXM's "fishbowl" studio, here's LeAnn Rimes delivering a beautiful, heartfelt performance of "Secret Garden" — so heartfelt, in fact, that Rimes broke down ever so briefly at the line "so you know she's really there." According to both E Street Radio's Jim Rotolo and Rimes herself, though it may appear to be just a bit of laughter at a small flub, it actually was a moment when Rimes truly was overcome by the emotional power of Springsteen's lyrics.
- January 31, 2019 - Shawn Poole reporting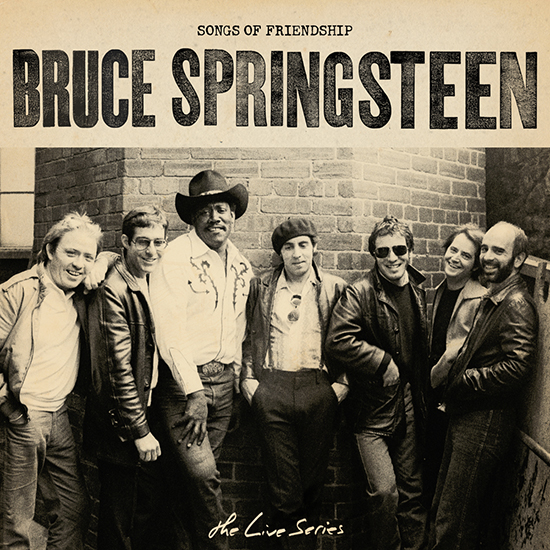 NEW LIVE SAMPLER: SONGS OF FRIENDSHIP
Second archival playlist brings more live tracks to streaming services
In November, a new series of curated Bruce Springsteen playlists began with Songs of the Road, cherrypicking tracks from Springsteen's releases at live.brucespringsteen.net for a thematic digital sampler. Today, "The Live Series" continues with a second installment, Songs of Friendship, another 15 live tracks just added to streaming services.
| | | |
| --- | --- | --- |
| 1 | Two Hearts | Madison Square Garden, New York, NY - 07/01/00 |
| 2 | No Surrender | Wachovia Spectrum, Philadelphia, PA - 10/20/09 |
| 3 | If I Should Fall Behind | Mohegan Sun Arena, Uncasville, CT - 05/17/14 |
| 4 | Growin' Up | Brendan Byrne Arena, East Rutherford, NJ - 08/20/84 |
| 5 | Bobby Jean | Gillette Stadium, Foxboro, MA - 9/14/16 |
| 6 | Spirit in the Night | Tower Theater, Upper Darby, PA - 12/31/75 |
| 7 | Better Days | Brendan Byme Arena, East Rutherford, NJ - 06/24/93 |
| 8 | Darlington County | Olympiastadion, Helsinki, Finland - 07/31/12 |
| 9 | Dancing in the Dark | Brendan Byrne Arena, East Rutherford, NJ - 08/05/84 |
| 10 | Blood Brothers | Madison Square Garden, New York, NY - 07/01/00 |
| 11 | The Ties That Bind | The Summit, Houston, TX - 12/08/78 |
| 12 | Glory Days | Brendan Byrne Arena, East Rutherford, NJ |
| 13 | Backstreets | Palace Theatre, Albany, NY - 02/07/77 |
| 14 | Further On (Up the Road) | Madison Square Garden, New York, NY - 07/01/00 |
| 15 | Janey, Don't You Lose Heart | Brisbane Entertainment Centre, Brisbane, Australia - 02/14/17 |
While Songs of the Road was a mix of solo and band performances, Songs of Friendship is, fittingly, culled from full-band shows. Covering more than 40 years, show dates range from 1975 to 2016. A great sampler for toe-dipping if you haven't taken a full plunge into the archive, or just a solid mix to play on a ride, ride, ride. Listen now via Apple Music or Spotify.
- January 25, 2019 - playlist cover photograph by Jim Marchese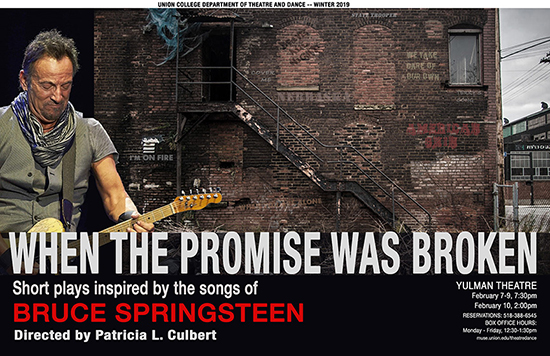 UNION COLLEGE TO STAGE WHEN THE PROMISE WAS BROKEN IN FEB
At Union College in Schenectady, NY, the Theatre Department has put together When the Promise Was Broken, a collection of short plays inspired by the work of Bruce Springsteen. Titles include "Bloody River" (inspired by "American Skin (41 Shots)"), "Gospel Hour" (inspired by "State Trooper"), and "A Semi-Autobiographical Response to Feelings of Sexual Inadequacy Prompted by Repeatedly Listening to Bruce Springsteen's 'I'm On Fire' for Four Hours Straight" (inspired by, you guessed it, "I'm on Fire").
Each by different playwrights, additonal plays have their roots in "We Take Care of Our Own," "Terry's Song," "Drive All Night," "Cover Me," "When You're Alone," and "Nebraska." Performances run from February 7-10 at the college's Yulman Theater; visit union.edu for further detals.
- January 25, 2019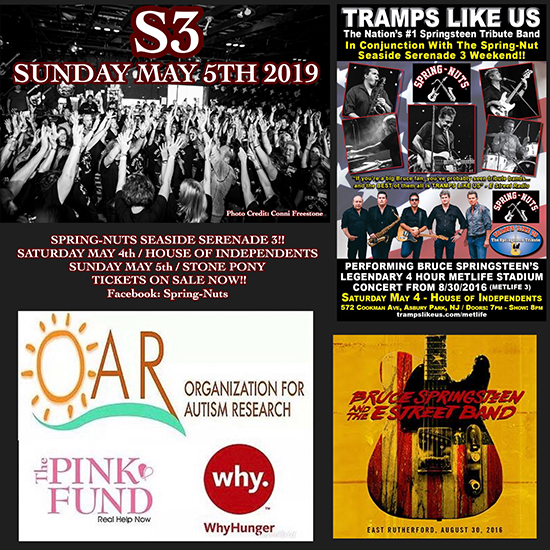 LET'S GET NUTS!
Spring-Nuts Seaside Serenade 3 coming to Asbury May 4-5
The Spring-Nuts, as you might already know, are like a lot of us: nuts for Springsteen. Check 'em out on Twitter, Facebook, and their website, springnutsworldwide.com. In addition to their "daily POSITIVE worldwide fan interaction," they've starting holding a yearly gathering on the Jersey Shore, called the Spring-Nut Seaside Serenade. This year's event, the third annual, will be held over the first weekend of May, in Asbury Park, and tickets are available now.
Spring-Nut Seaside Serenade 3 will be spread across two days for the first time, with the main event at the Stone Pony on Sunday, May 5, precededed by a Saturday night special: tribute band Tramps Like Us at downtown Asbury's House of Independents, performing Bruce Springsteen's entire 8/30/16 MetLife concert from start to finish.
"We are really excited for this year's event," Spring-Nuts creator Howie Chaz tells Backstreets. "To have Tramps Like Us join up with us and play the Saturday night gig, recreating not only my favorite Springsteen show, but arguably the best River show of the 2016 tour, is just tremendous. I'm expecting a lot of Spring-Nuts to call out Monday morning to recover from Serenade 3 Weekend!"
Chaz describes the Serenade as "not just a Springsteen-music-filled weekend" but a time when "Springsteen fans from literally around the world make the pilgrimage to Asbury Park and make those connections that Bruce always talks about, with other Springsteen fans who 'get it.'"
The event has seen a lot of growth since the first Serenade in 2017. "The first year we hoped to get maybe 80 or 100 people," Howie says. "We ended up selling out the Wonder Bar at 320 attendees. The second event we needed to move to a bigger venue because we surpassed the Wonder Bar capacity. We held Serenade 2 at the Stone Pony, with over 400 Spring-Nuts busting down the doors. We expect our Spring-Nut Seaside Serenade 3 to be our biggest and best event yet — we hope to surpass last year's numbers and blow the roof off of the Pony."
As those numbers climb, it also means additional funds raised for three charities the Serenade benefits: the Pink Fund, the Organization for Autism Research, and WhyHunger.
For further details, the weekend's schedule, and tickets, visit eventbrite.com.
- January 24, 2019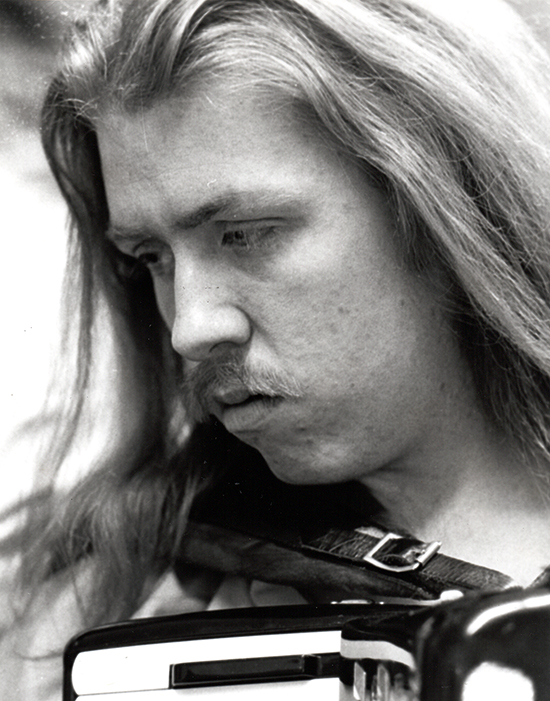 HAPPY BIRTHDAY TO PHANTOM DAN
We're thinking of Danny Federici on his birthday today, born January 23, 1950. Courtesy of our friends at Point Blank come these historical shots of Danny from the very early days of the E Street Band, on organ and accordion in 1973. For more, visit springsteenphotos on Instagram.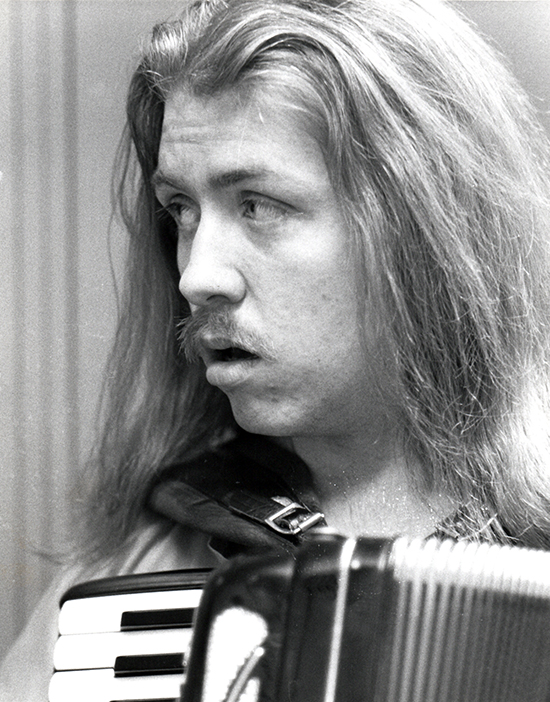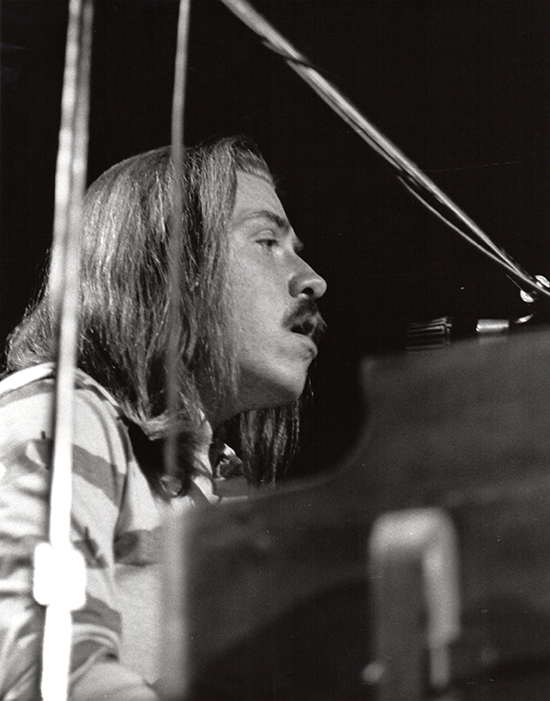 - January 23, 2019 - special thanks to Salvador Trepat/Point Blank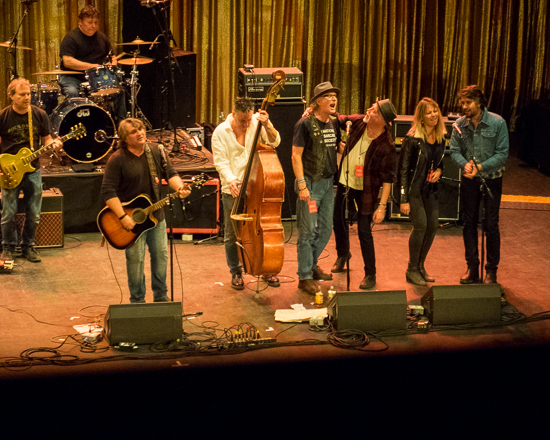 GREETINGS FROM ASBURY PARK: LIGHT OF DAY WINTERFEST 2019
Originating as a birthday celebration for artist manager Bob Benjamin nearly 20 years ago, Light of Day (LOD) has grown from a single event to a positive, dynamic force for change, both personal and political. The movement has raised millions for Parkinson's research while raising awareness and promoting activism across continents. And as LOD's focus has grown and shifted, so has Benjamin's own focus, as Parkinson's has again and againover the years asserted its dominion over his fragile body, invisibly exacting its daily toll. Each year, despite inevitable health setbacks from the dread, relentless disease, Benjamin has remained a staunchly positive and powerful presence during the Winterfest events. He now uses a wheelchair for mobility and is able to speak only a few words at a time, but Benjamin wasn't going to miss the Saturday night "Birthday Bash" in his honor that has long been the centerpiece of the LOD movement, on January 19.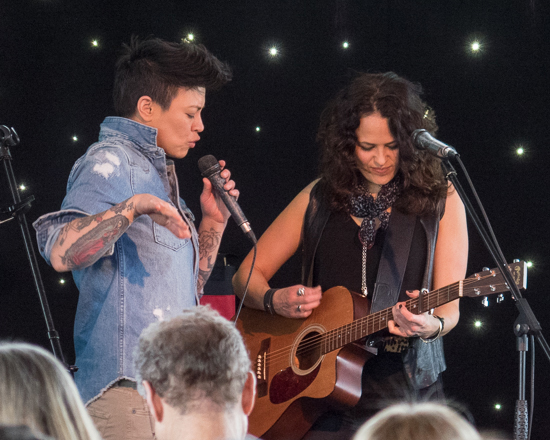 Kiyomi M and Lisa Bianco - photograph by A.M. Saddler
As the outside world continued apace on its chaotic and distressing trajectory, LOD Winterfest 2019 in Asbury Park seemed once again to serve both as welcome respite from and triumph over the daily chaos. Bruce Springsteen, also a part of the LOD movement since its origins, was not present for this year's festivities; happily, as his absence becomes more the rule than the exception for Winterfest, attendance has remained strong, with patrons from around the world gathering to celebrate at venues large and small throughout the fortnight of scheduled events.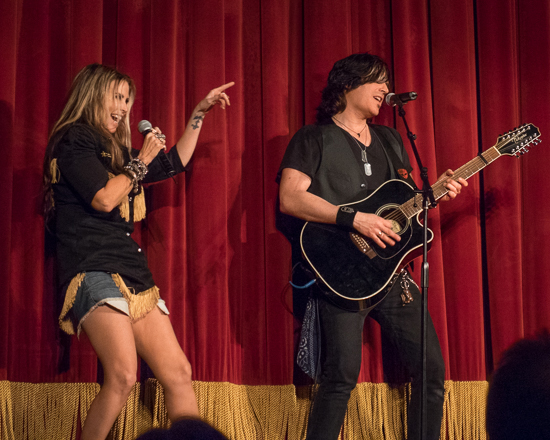 Williams Honor - photograph by A.M. Saddler
This year's Asbury Park kickoff show featured guitar wizard Albert Lee at McLoone's Supper Club last Saturday, while Thursday night began the main weekend's festivities with a set by the ever-popular Sensational Soul Cruisers at McLoone's and a truly stellar lineup at Cookman Avenue's House of Independents. The latter featured standout duo Williams Honor, bassist extraordinaire Johnny Pisano's Punk Rock Pizzeria, guitar wizard Marc Ribler's Who tribute, and finally dynamic headliner Remember Jones, commanding the stage as always with his massive soul revue.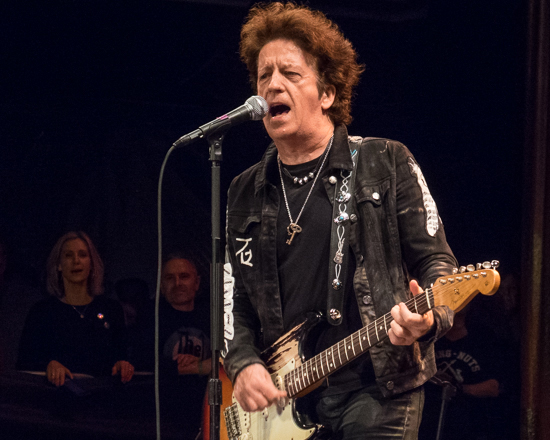 Willie Nile - photograph by A.M. Saddler
Friday night saw the induction of a new group of Asbury Angels at the Stone Pony, accompanied by instrumental legends The Ventures and local power pop favorites The Weeklings, while LOD veteran Willie Nile and garage rockers The Grip Weeds led another great lineup at the House of Independents.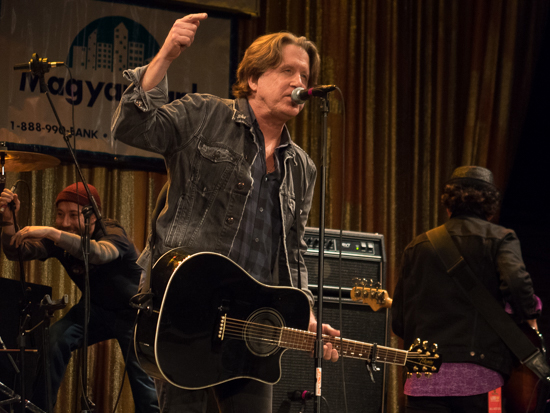 John Eddie - photograph by A.M. Saddler
Saturday afternoon's festivities included the return of the ever-popular Asbury Blues showcase at the Wonder Bar (which once again featured a standout performance from local veteran JoBonanno), the always inventive Asbury Underground music series, showcasing local artists like The Sunday Blues in pop-up-style performance spaces in downtown Asbury Park, and an engaging set by singer/songwriter Jeffrey Gaines at McLoone's.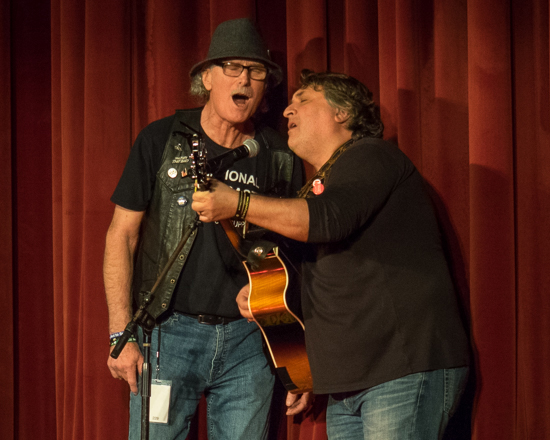 Vini "Mad Dog" Lopez with Joe D'Urso - photograph by A.M. Saddler
But it's the Saturday night event billed as "Bob's Birthday Bash" that has always been the centerpiece of the Light of Day efforts, and many of the usual cast of characters, led off by Joe D'Urso & Stone Caravan, kept the festivities going till nearly midnight. Highlights included a powerful, understated performance by Steve Forbert and the Renditions, a raucous, rabble-rousing set by Philadelphia rockers Low Cut Connie (enjoying their first foray onto the main stage).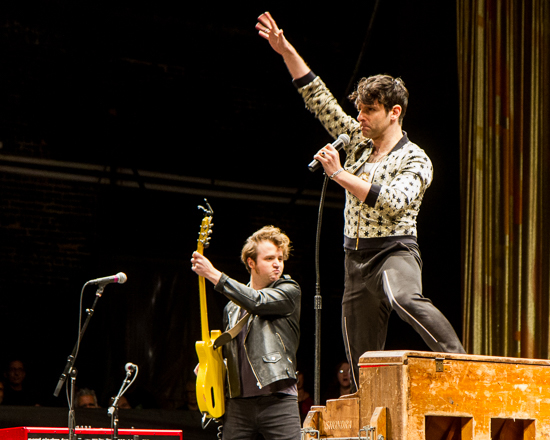 Low Cut Connie - photograph by A.M. Saddler
A brief but powerful set from Jesse Malin, whose unique blend of driving, punk-infused rock 'n' roll and snarky stage banter was a focal point of the evening (look for a new record/tour from him this year). Joe Grushecky and band followed up with a handful of crowd-pleasing Stones, Who and Dylan covers, leaving the peripatetic Willie Nile to bring down the house with sing-alongs on favorites like "One Guitar" and "Heaven Help the Lonely."

Jesse Malin and Catherine Popper - photograph by A.M. Saddler
The night ended as these Birthday Bashes always end — with a brief, emotional speech by Bob Benjamin, the presentation of his birthday cake, and a sing-along jam on Springsteen's "Light of Day" to close out the evening. Benjamin, seated at center stage, was joined by original E Streeter Vini "Mad Dog" Lopez, who seated himself to Bob's right, placing an arm around his shoulder as he sang along with the others. "We're all still here," he seemed to be saying, "and just for tonight, it's all going to be all right."
- January 22, 2019 - Lisa Iannucci reporting - all photographs by A.M. Saddler

ICYMI: DAN RATHER ON SPRINGSTEEN ON BROADWAY

- January 21, 2019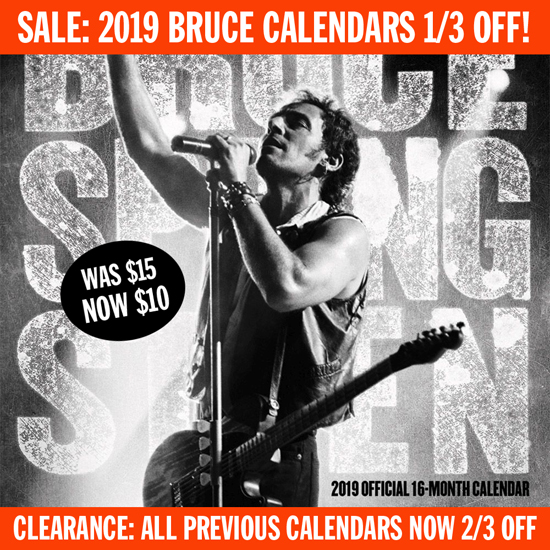 ALL SPRINGSTEEN CALENDARS ON SALE AT BACKSTREET RECORDS
A couple weeks into the new year, we still have a small stack of the 2019 Bruce Springsteen calendars in stock, so we're putting them on sale: Save 33% and get the new official Bruce calendar for just 10 bucks.
These are the official calendars from Thrill Hill — and we have a few leftovers from years past as well, which are all now 66% off! The utility may be low, but so is the price: just 5 bucks each. Keep 'em sealed and add 'em to your collection... wallpaper your bathroom... help us clear 'em out!
See all Thrill Hill calendars here, all on sale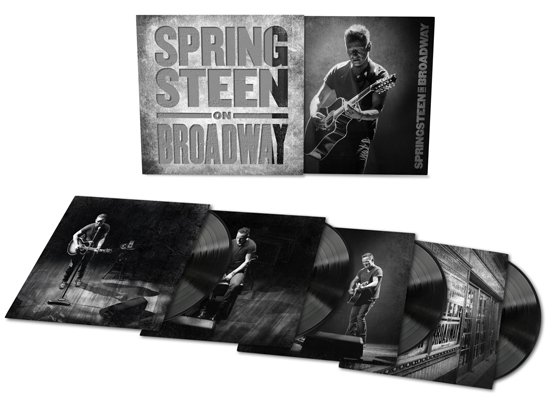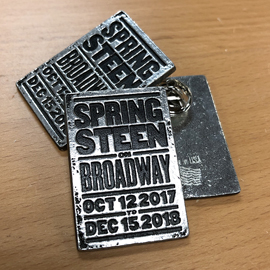 Also at Backstreet Records: we're getting ready for Springsteen on Broadway on vinyl, due out a week from today. The label had to delay the vinyl release, but January 25 is almost upon us.
If you've already pre-ordered the 4LP set, we'll be shipping yours out next week.
If you'd like to make sure you get a copy, pre-order ASAP so we can make sure to have enough stock on hand!
All copies of Springsteen on Broadway ordered from Backstreet Records, on either vinyl or compact disc, will come with an exclusive pewter/enamel pin, pictured here: an official, limited edition piece of memorabilia, listing the dates of Springsteen's historic, 236-show run. Available only from Backstreet Records.
- January 18, 2019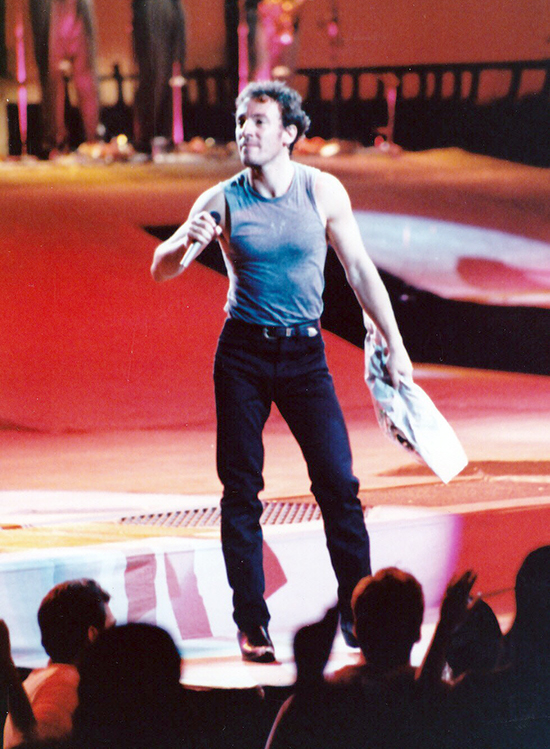 THROWBACK THURSDAY: SOUND & VISION, 5/23/88
Earlier in January, Nugs released Madison Square Garden 1988 as the new entry in Bruce Springsteen's live archive, capturing the E Street Band performance from May 23, 1988 (see our report below). Ken Lesnik was at the Garden that night with camera in hand, and thanks to him we have some images from that last show of the stand to supplement your listening pleasure.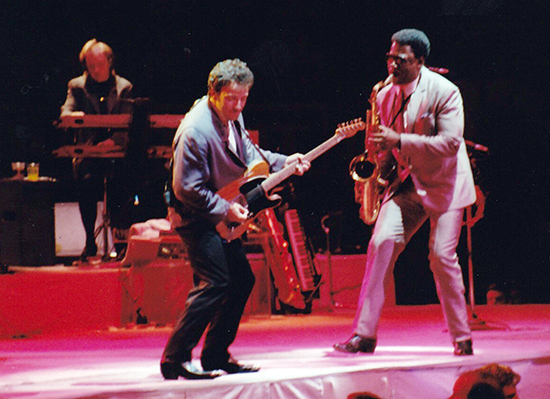 "I worked for the promoter," Ken tells Backstreets, "and back then, there were no issues bringing in a big lens to shoot. This was a great show, and a great five-night run. My memory for detail isn't what it used to be, but I do remember how cool it was when they broke into 'Born to Be Wild' in the middle of 'Light of Day' — that rocked!"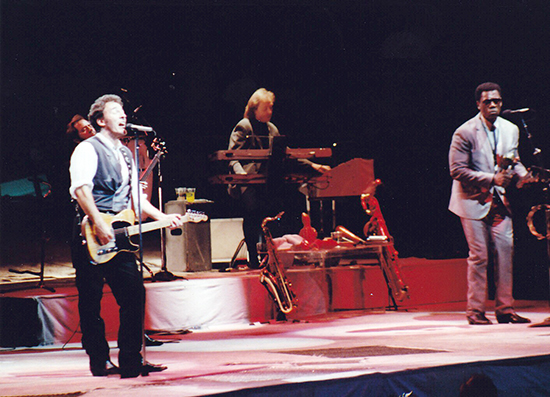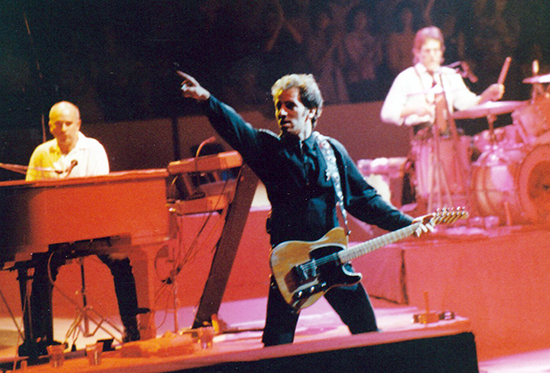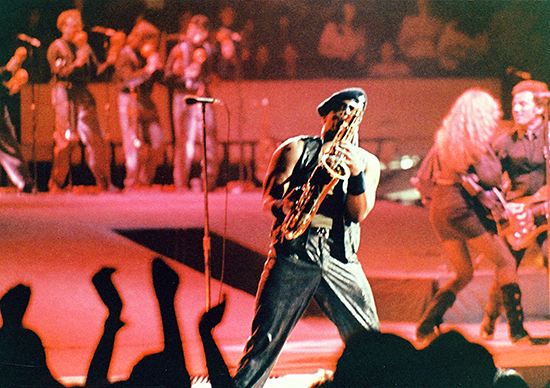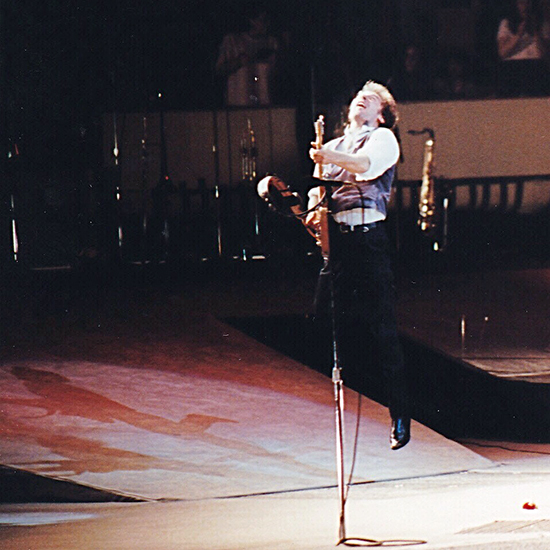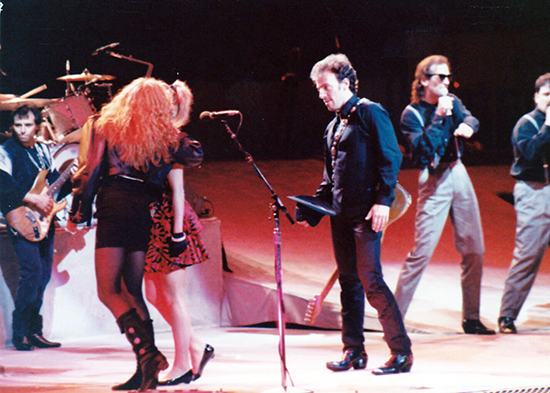 - January 17, 2019 - photographs by Ken Lesnik


ITALY'S MARDI GRAS RELEASE BENEFIT SINGLE FOR LIGHT OF DAY
While all eyes will be on Asbury Park for this weekend's Light of Day Winterfest, here's a reminder that the Parkinson's-fighting Light of Day is not just a Jersey Shore effort but an international one.
Rome-based Mardi Gras has gotten aboard the Light of Day caravan in Europe, including a 2015 acoustic show in Rome for LOD10, when they opened for Jake Clemons, Joe D'Urso, Eddie Manion, Vini Lopez, and more. After the success of their 2018 singles "Shoes" and "Tried," Mardi Gras are back with a benefit single for the Light of Day Foundation, a cover of Willie Nile's "One Guitar."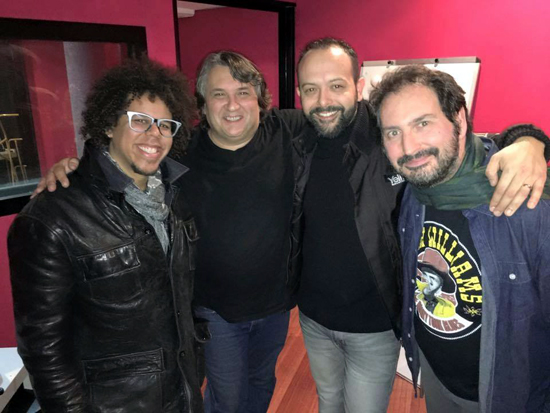 L-R: Clemons, D'Urso, Mardi Gras bassist Carlo di Tore Tosti and guitarist Fabrizio Fontanelli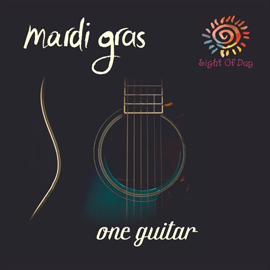 "One Guitar," written by Nile and Frank Joseph Lee, has become "sort of a hymn for the Light of Day Foundation," says Mardi Gras guitarist Fabrizio Fontanelli. "Along the years it has been closing the Light of Day Concerts all across Europe and the U.S.A, with even Bruce Springsteen featuring as a special guest."
Mardi Gras' version of "One Guitar" is available now on Spotify and other digital stores and streaming services — visit mardigrasoneguitar.hearnow.com for links. The band will be will donating all the proceeds of this single to the Light of Day Foundation, which utilizes the power of music to raise money and awareness in its continuing battle to defeat Parkinson's disease and related illnesses such as PSP and ALS within our lifetime.
You can also hear Mardi Gras cover "Land of Hope and Dreams" on For You 2, Ermanno Labianca's 2010 compilation of Italian artists covering Bruce Springsteen.
Visit lightofday.org for more on this weekend's Winterfest, and to keep up with other LOD events around the world throughout the year.
- January 16, 2019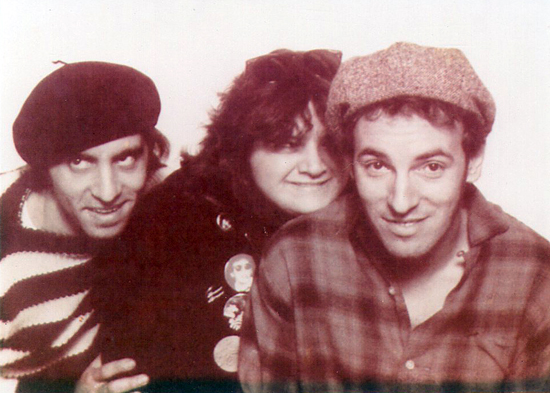 ASBURY ANGELS TO INDUCT OBIE DZIEDZIC AND MORE ON FRIDAY
Angels concert part of the weekend's annual Light of Day Winterfest
On Friday January 18 at 7pm, the Stone Pony will host the 2019 Asbury Angels concert, which as always will include a celebration of this year's group of inductees. The Asbury Angels distinction, which memorializes local figures who have made significant contributions to Asbury Park's music scene, will be part of what has become a featured event of the annual Light of Day Winterfest. This year's group of inductees includes Springsteen superfan Obie Dziedzic, Pat DiNizio of the Smithereens, Asbury Park musician Gladstone Trott, and journalist "Uncle Mike" Lisa.
Dziedzic, who was designated "#1 Fan" by Bruce himself, was a longtime friend and supporter whose lively presence was a hallmark of Springsteen's live shows for many years. She is credited with making big changes to Bruce's life, persuading the notorious junk food junkie to eat a more healthy diet, and helping him purchase both his first car and first home. Always a passionate fan, she was also a strong supporter of the Asbury Jukes and advocated for artists like John Eddie and John Cafferty & his band Beaver Brown, both of whom she personally introduced to Bruce. No matter what show she was attending, Obie could always be found front and center in the audience, dancing like a maniac and grinning from ear to ear, and she was always gracious to fellow fans.
Obie passed away in 2017; you can read our Stan Goldstein-penned obituary here.
Featured artists in this year's Asbury Angels show include The Ventures, The Weeklings and the Billy Walton Band. Tickets are available via Ticketmaster. For more upcoming Light of Day Winterfest events, visit lightofday.org.
- January 15, 2019 - Lisa Iannucci reporting - photograph courtesy of Billy Smith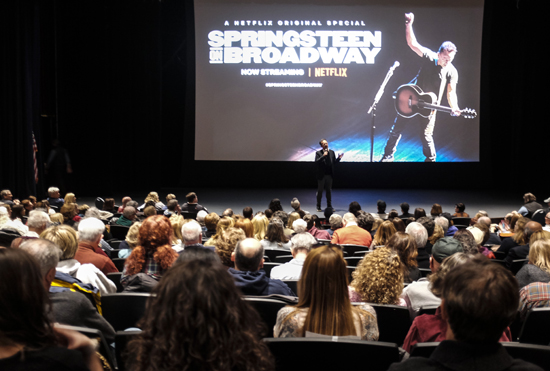 PLAYING IT LOUD AT MONMOUTH UNIVERSITY, 1/13/19
On a chilly Sunday afternoon, a capacity crowd filled the 700-seat Pollak Theatre on the campus of Monmouth University to watch the big-screen presentation of Netflix's Springsteen on Broadway. Little did most of them know that the man they were watching on screen was also sitting in the audience.
Monmouth University president Grey Dimenna and long-time Springsteen videographer and director of the Netflix film, Thom Zimny [on stage above], hosted the free event that was open to the public, though tickets had to be reserved in advance.
They both said a few words before the film rolled, expressing how thrilled they were that the screening was happening at the Pollak, the very place where Bruce did a dry-run of the show that would run for 236 sold-out performances at the 960-seat Walter Kerr Theater.
Before leaving the stage to let the film roll, Thom had two pieces of advice: Enjoy the film since it was special to him, and play it loud.
The star of the film, baseball cap pulled low, slipped in to his middle seat, rear center, after the lights went down. He sat with Zimny and his longtime manager Barbara Carr.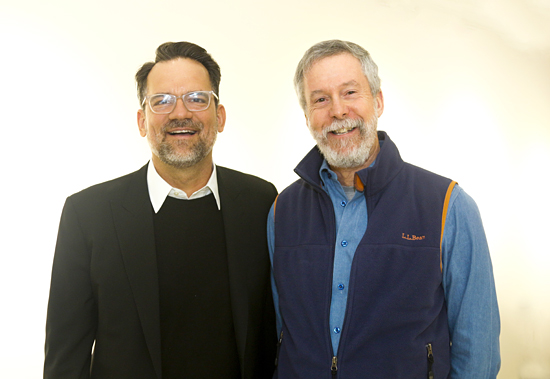 At a private reception before the film, President Dimenna [above right, with Zimny] also noted how Monmouth University is the home to the newly established Bruce Springsteen Archives and Center for American Music. As such, it's the official repository of Springsteen's written works, photographs, periodicals and artifacts. The collaboration broadens the existing relationship between Springsteen and Monmouth, which has been the home of the Bruce Springsteen Special Collection since 2011.
After the film ended and the house lights came up, Bruce shook hands with a few fans on the way out, many of whom were surprised to see the star in their midst. Then he was gone, like a spirit in the night.
- January 14, 2019 - report and photographs by Mark Krajnak

LET IT ROCKFORD!
As The Sopranos turns 20, seeds of Silvio were planted 40 years ago
In the midst of celebrating
The Sopranos @20
, it's also worth remembering just how many embryonic elements of the groundbreaking show can be found in another great TV program for which
Sopranos
creator David Chase wrote:
The Rockford Files
. You'll find a glimmer in Chase's eye of Silvio Dante there, as well as a nod to Bruce Springsteen himself, all back in 1979.
The penultimate Rockford Files episode, entitled "Just a Coupla Guys," was written by Chase 20 years before The Sopranos debuted on HBO. When Rockford star James Garner died in 2014, writer Will McKinley detailed the show's Sopranos connections thoroughly on his "cinematically insane" blog, noting that the two Jersey-based mobsters in Chase's "Just a Coupla Guys" "can be seen as younger prototypes of Paulie (Tony Sircio) and Silvio (Steven Van Zandt), two of The Sopranos' more memorable characters."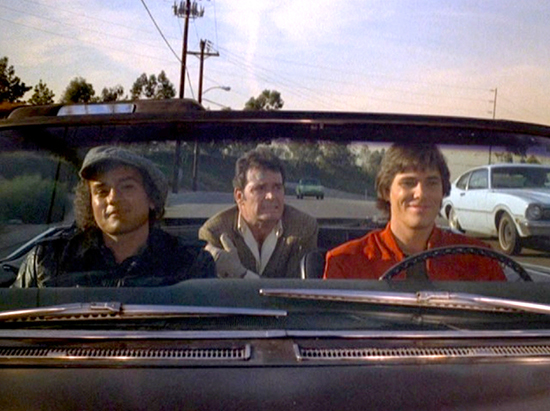 McKinley's article remains a fun, well-researched read, despite a few minor errors and misses. One notable miss that may amuse Backstreets readers especially: At the end of the episode, young mobster Mickey informs his fellow mobster Eugene (who incidentally looks like he's wearing a Born to Run-era Bruce Halloween costume) that he'll soon be "goin' up to the Springsteen concert in Boston."
Chase himself gave a nod to the Rockford Files connection in The Sopranos pilot he wrote and directed, with the beginning of an episode of Rockford playing on the television at the Green Grove nursing home.
Read: "The 1979 Rockford Files Episode that Inspired The Sopranos"
- January 14, 2019 - Shawn Poole reporting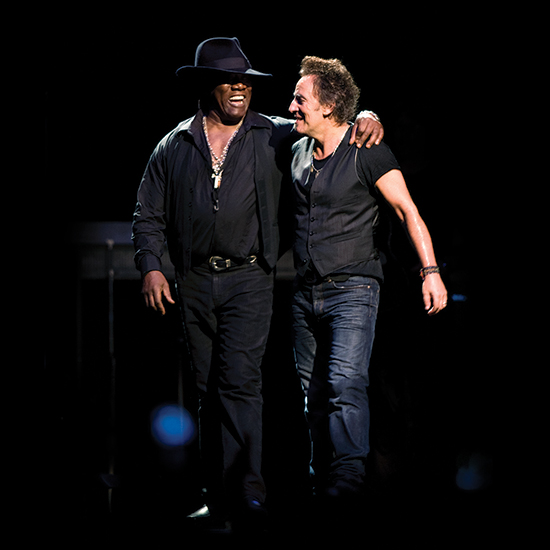 HAPPY BIRTHDAY, BIG MAN
Weighing in at heavier than you, Clarence Clemons was born 77 years ago today, January 11, 1942. Photograph by Joseph Quever.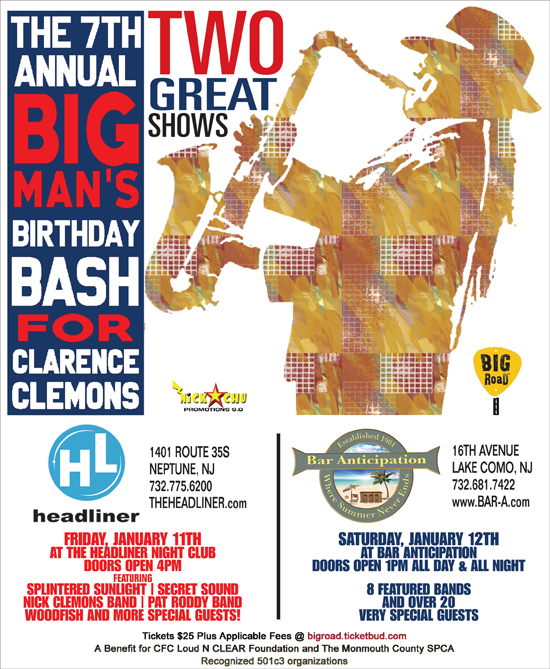 THE 7th ANNUAL BIRTHDAY BASH FOR THE BIG MAN'S 77th
Tomorrow will mark the anniversary of a seismic event: 77 years since Clarence Clemons's birth, on January 11, 1942. In honor of the Big day, there'll be a Big Man's Birthday Bash this weekend on the Jersey Shore. The seventh annual celebration will be spread over two nights for the first time: Friday, January 11 at the Headliner in Neptune, and Saturday, January 12 at Bar Anticipation in Lake Como.
Bash co-producer Terry Camp says, "When Clarence passed, Wonder Bar in Asbury Park hosted the Sensational Soul Cruisers and The Nick Clemons Band for a memorial show in July 2011. Bruce was kind enough to join us that epic night, and we've been building on it since.... The show gets bigger and bigger every year, and now it's two big days with two incredible line-ups."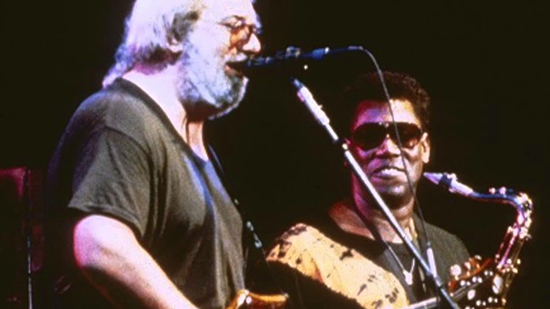 Friday's focus will be on the Big Man's "jam years" — off E Street, of course, Clarence was known to sit in with many other artists, and that included Jerry Garcia and The Grateful Dead. This night will featuring a recreation of a set by Clemons, Garcia, and John Fogerty from Memorial Day weekend 1989. Bands include Splintered Sunlight, Pat Roddy Band, Nick Clemons Band, Secret Sound, Waiting on Mongo, and Woodfish. For more information, see the event's Facebook page.
On Saturday, more of the Jersey Shore sound you'd expect, at an all-day affair with both a main stage and an acoustic stage. The bill includes another set from the Nick Clemons Band as well as Clarence's son Jarod, plus the headlining Big Man Bash All-Star Band featuring J.T. Bowen, Eddie Testa, Jobonanno, Lisa Sherman, "Philly Elvis" Nick Ferraro, Bob Polding, Tommy LaBella, and many more. For more information, see the event's Facebook page.
Produced by BIG RoaD, the Birthday Bash benefits CFC Loud N Clear and the Monmouth County SPCA. Tickets are $25 per show or $40 for both nights, available online at bigroad.ticketbud.com.
Over at NJArts.net, Jay Lustig was inspired by the event's "Jam" focus to compile a bevy of clips featuring Clarence with other bands — including not only The Grateful Dead, Garcia, and Fogerty, but also Ringo Starr, Liza Minelli, and, of course, the Red Bank Rockers. Dive in to "When the Big Man joined other bands" here.
- January 10, 2019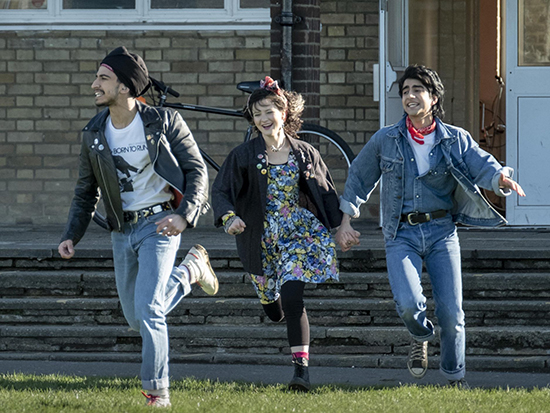 BLINDED BY THE LIGHT TO PREMIERE AT SUNDANCE, JAN 28
As we've reported before, Sarfraz Manzoor has adapted his Greetings From Bury Park memoir for the big screen, for a film directed by Gurinder Chadha (Bend It Like Beckham) — with approval from Bruce Springsteen to use his music. Described as a "hybrid musical" and planned for wide release later in 2019, the movie will have its world premiere this month at the Sundance Film Festival.
In Blinded By the Light, according to IMDB, "during the austere days of Thatcher's Britain, a teenager learns to live life, understand his family and find his own voice through the music of Bruce Springsteen." The film will premiere on Sunday, January 27, with three more screenings in the following days at the festival in Park City, UT. See dates and times at sundance.org, and read more at inews.co.uk.
- January 8, 2019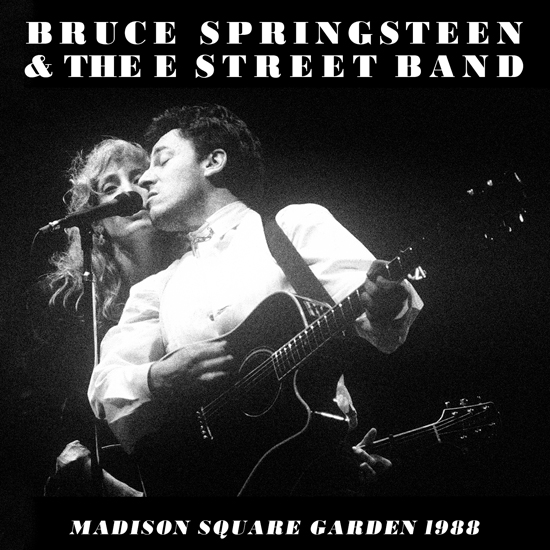 END OF THE LINE FOR THE U.S. TUNNEL OF LOVE EXPRESS
All aboard for the final Tunnel performance at MSG, 5/23/88
When Bruce Springsteen decided to go on the road with the E Street Band to tour for Tunnel of Love, he knew that he didn't want to ride in on the coattails of Born in the U.S.A., and he knew he didn't want to be a nostalgia act. Springsteen knew more about what he didn't want out of the next tour than what he did, as he described to Rolling Stone: "I said, 'I don't know if I have a set.' Jon said, 'Well, you know, that's your job, you've been doing it a long time, you do it good, so it'll happen. So I took his word for it."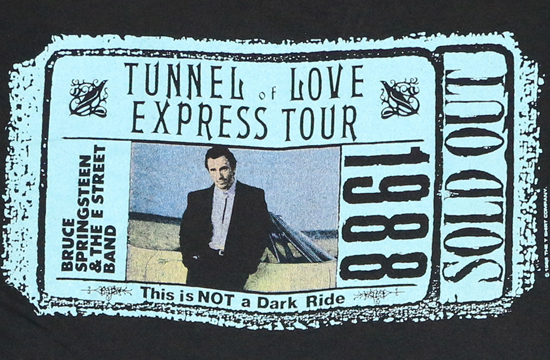 Mr. Landau was right. It's hard to imagine Bruce's trepidation, given that the set he rolled out on the first night of the tour (Worcester, MA, in February 1988) would remain essentially the same for most of the 40-something nights of the entire U.S. tour. Of course, he would tinker with the show here and there — this is Bruce Springsteen, after all — but the core setlist, and the stories he wanted to tell, remained in place.
This might sound like a terrible proposition, except, again, this is Bruce Springsteen, and within those constraints, he found liberation. The Tunnel tour setlist would be constructed from: songs from the new album; songs from previous albums that meshed with the themes of the show; outtakes that should have been on previous albums (his words, not mine); rock 'n' roll classics that drew from the E Street members' early origins; rewritten oldies that both fit and let Bruce have fun; and finally, true to form, a carefully curated selection of oldies but goodies, smash hits, and (in the case of "Born to Run") deconstructed favorites.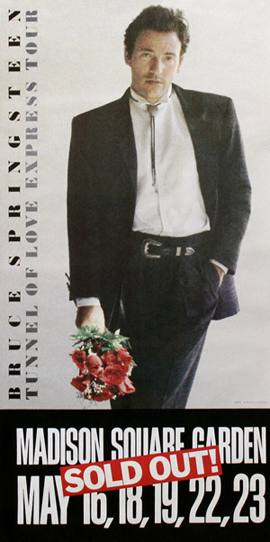 By the time the Tunnel of Love Express Tour came coasting back home for five sold-out nights in New York City, the band — and especially, the Boss — were in peak form. Exceptionally so on May 23, 1988, the final night of the stand (and of the U.S. leg of the tour) and today's release from the live archives. While Madison Square Garden 1988 is the third officially released show from that year, they are so different in emotion and intention that the listener will take something very different, and very special, from each one. This isn't a repeat.
The most notable element in this particular night is the quality of Bruce's vocal performance. Obviously, Springsteen is a tremendous rock 'n' roll singer, who draws from the great traditions of gospel, soul, and rhythm & blues. But it's rare that we get to hear him using all of that to its full power and, even more rarely, throughout the duration of the entire set.
You hear it out of the gate with that "Tunnel of Love" into "Boom Boom" one-two punch, which is, well, raw sex, plain and simple. The delivery on "Adam Raised a Cain" is absolutely goosebump-inducing, Bruce testifying to that father-son conflict with ferocious intensity. "Adam raised a Cain... gotta break that chain," he sings towards the end, before pulling out a reference to Muddy Waters' "Mannish Boy": "I'm a MAN — I SPELL M-A-N." He is not singing so much as testifying at this point. There's a reason it took until this run of shows for Bruce to put "Lonely Teardrops" into the set as the closing number no less, instead of just playing around with it at soundchecks. You don't toy around with Jackie Wilson, and you don't try to approximate the delivery of a man known in his day as "Mr. Excitement" unless you plan to come correct. Bruce does, nailing Wilson's lilt, warmth, and utter hot-buttered-soul smoothness.
The rest of the E Street Band shows up in fine form as well — listen for the guitar stylings of Mr. Nils Lofgren on "Seeds" and "Vigilante Man," the latter in the set due to the taping of the video for the Folkways release the day before. (There's a hilarious moment after "Seeds" when Max drives straight into the opening drum roll for "Roulette," clearly forgetting that "Vigilante Man" was taking its place.) The minimalist blues riffs are perfect, and the segue from "Seeds" is fitting. The Guitar Slinger of Central Jersey also represents, particularly at the end of an absolutely bonkers "Born in the U.S.A.," which has the crowd extending the song, singing the chorus over and over again.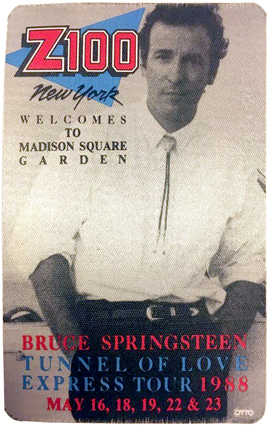 On that note, let's hear it for a Tri-State Area audience, whether it's the screaming women during "I'm on Fire," or the sounds of people losing their goddamn minds all the way up to the blue seats when the intro chords for "Backstreets" sneak up on them. At the end of "Part Man, Part Monkey" (complete with a "Love Is Strange" tag which sounds more sinewy than it has for most of the tour, but that could just be hindsight talking), there's this meandering, Morricone-esque riff on the guitar and some vague piano noodling, and then: "This is for all our old fans out there." That gets a cheer of recognition, but nothing like the the reaction when those "Backstreets" chords roll out. It is genuine and warm and sustained and, combined with the intensity in Bruce's voice, will give you goosebumps for the duration of the song.
And, of course, any discussion of a Tunnel show would be remiss without mentioning the Horns of Love: Richie "La Bamba" Rosenberg, Eddie Manion, Mark Pender, Mario Cruz, and Mike Spengler. The anticipation of that moment in "Tunnel of Love" when the horns come in on the refrain is sheer, soaring liftoff for your heart. The horns change whatever song they are on: they make "Adam" both sharper and brighter; they make "Cover Me" darker, soaking up the synth over-sweetness. The horn players are also important because of the doo-wop styled harmonies that they offered. There's glee in Bruce's voice when he shouts "C'mon, Richie!" in the pre-song business before "All That Heaven Will Allow," and further contributions on "I'm a Coward" and "You Can Look (But You Better Not Touch)" — that bit of choreography is hard to forget once you've seen it.
The encore is, quite frankly, insane. "Light of Day" is just an excuse to show off how hot they are, every single member of the band: Bruce and Nils are tossing off hot licks; Danny is riffing gorgeously, just bubbling out of stage left; Max is both technical and muscular; Garry is throwing down a bass line that is the only thing anchoring them all to the stage; and the horns — it's one of the best Horns of Love arrangements, on a par with something straight out of Memphis. You're going to listen to it and think, "Hey, this sounds like 'Born to Be Wild'," and, you know, clearly that's what the band thought too, because then they take us on a full-fledged Steppenwolf detour including horn arrangements. By the time Bruce decides to take a mid-song break and introduce the band, you are grateful for the chance to catch your breath.
This is, as the T-shirts advertised, Not a Dark Ride. Buon viaggio!
P.S. Also included, for the first time on any of Springsteen's archive releases, is a song from the night's soundcheck: a cover of the '50s oldie "For Your Love," originally recorded back in 1958 and unavailable anywhere by Springsteen until now.
Also read: Erik Flannigan's entry at blog.nugs.net, "I'm Gonna Fight My Way Through All This Goddamn Darkness"
- January 4, 2019 - Caryn Rose reporting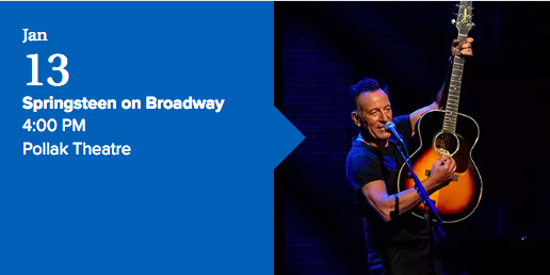 BROADWAY HITS THE BIG SCREEN
Free screening to be introduced by Thom Zimny at Monmouth U.
Monmouth University, along with the Bruce Springsteen Archives and Center for American Music housed at the university, in partnership with Netflix, will hold a free public screening of the film Springsteen on Broadway on Sunday, January 13 at 4pm in Pollak Theatre. The film screening will feature an extended introduction by Emmy Award-winner Thom Zimny, director and producer of the film.
Ticket reservations for the screening are now available online and are required for entry. There is a limit of two reservations per guest. Admission of registered guests will begin on Sunday, January 13 at 3pm on a first-come, first-served basis. Seats are not guaranteed. Non-perishable food items will be accepted in support of The Nest, Monmouth University's food pantry for students in need, and Fulfill (formerly the FoodBank of Monmouth and Ocean Counties) will also be accepting monetary donations.
- January 3, 2019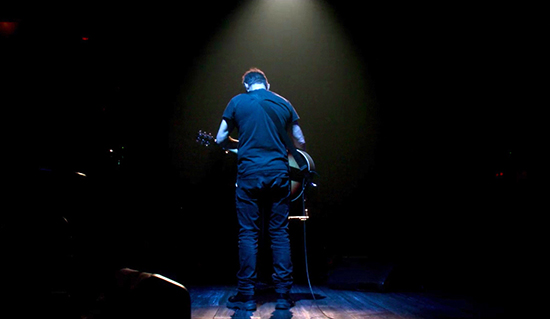 FATHER TIME
The performance of "Long Time Comin'," along with the storytelling that accompanies it, form a key musical and emotional high-point in the Springsteen on Broadway film and soundtrack album. Amazingly, as director Thom Zimny has revealed in several recent interviews, the decision to capture the performance for posterity was a last-minute one made by Bruce Springsteen shortly before filming commenced.
Why did Bruce suddenly feel it necessary to add "Long Time Comin'" and its accompanying story about his father adding "a new end" to their relationship, a relationship dominated (and publicly documented) for so many years by distance, neglect, and emotional abuse? It's a question that especially intrigues me because both before and after Springsteen on Broadway was recorded in the summer, "Long Time Comin'" remained a live rarity, subbing in only for the relative handful (just over 11 percent) of shows for which Patti Scialfa was unable to attend.
Not surprisingly, an apparent clue to what was on Bruce's mind can be found in his Born to Run autobiography, on which Springsteen on Broadway was based. In the chapter that's also entitled "Long Time Comin," he directly compared "Long Time Comin'" to "My Father's House," the song about his father that Springsteen played at every show during his Broadway run. "'My Father's House' is probably the best song I've written about my dad," wrote Springsteen, "but its conclusion wasn't going to be enough for me. In 'Long Time Comin'' I lay out the wish I've had for my children. We honor our parents by not accepting as the final equation the most troubling characteristics of our relationship.... This is how we claim our own lives as sons and daughters, independent souls on our piece of ground. It's not always an option. There are irretrievable lives and unredeemable sins, but the chance to rise above is one I wish for yours and mine."
Regardless of whatever may have motivated Bruce to add "Long Time Comin'" to the official record of Springsteen on Broadway, I have my own personal reasons to be very glad that he did. Like many of my fellow Springsteen fans, my relationship with my own father falls more into that "irretrievable lives/unredeemable sins" category, still shining 'cross the dark highway in "My Father's House." Alcohol became his main demon, transforming him into an angry, even sometimes violent drunk. It ultimately forced his long-suffering wife to remove herself and her three young children from his life when the oldest son — yours truly — was just seven years old. The few times I ever saw him after that were mainly court appearances where my mother tried, usually with little to no success, to wrangle some badly needed child-support money from him. Seeing my father have to be dragged into court, just to provide some money for the basic needs of my brothers and me, made it clear early on that for whatever reasons, alcohol and/or other things in his life had become far more important to him than we ever would be.
Fortunately, my mother, who died in 2014, did something similar to what Adele Springsteen did for her children. She made three young men growing up in working-class Southwest Philadelphia feel as loved, safe and cherished as if we had not just two parents, but two hundred parents. She certainly had her own flaws and struggles as all of us do, but for the three of us, she truly was the perfect parent.
Nevertheless, any chance at any kind of reconciliation and reconnection with my father, after years of willful absence and neglect, was a possibility that essentially died long ago. Finally, it truly came to an end for me just recently when I learned of his death. The news came through a bit of online research I conducted, as fate would have it, just after having been fortunate enough to catch one of the final live performances of Springsteen on Broadway which featured the "Long Time Comin'" story and performance. At this point, all I know — from a passing reference in another relative's obituary — is that the man died sometime before last June; I still don't know exactly when or how. I also see little to no need to spend much time pursuing any such details. As one of my younger brothers (who experienced his presence in his life for even less time than I experienced it in mine) wisely noted when I shared my discovery with him, "He was dead to us for a long time before that."
My father chose to write a very different ending for his story than Douglas Springsteen chose to write for his, but "Long Time Comin'" is still a song that resonates deeply with me, and not only because of those lines about "my daddy" being "just a stranger... just somebody, somebody I'd see around" (or even its passing reference to that other famous Neil Diamond song about alcohol, "Cracklin' Rosie.") At its heart it is the celebration of a possibility and a goal that still exists for so many of us who've survived whatever our own individual encounters with abandonment, abuse, emotional distance and/or neglect may have been over the years. That goal, ultimately, is to find a way to bury that old soul of our past, dance on its grave, and move on, to follow that dream and find the love we need, in whatever form it arrives at each given moment in our lives... a supportive family-member, friend, significant other... learning to embrace, trust, enjoy, nurture, protect, and appreciate each of them as the precious gifts they are.
"I wanted to know my story, your story... and where were we were going together as a people," Bruce Springsteen stated towards the end of every performance of Springsteen on Broadway. "More than anything else, I wanted to tell that story well to you." Yet again, mission accomplished.
- December 31, 2018 - Shawn Poole reporting - special thanks to Jeff Calaway, Ryan Hilligoss, Hannah McSwain, Brian Poole and Michael Poole



THE RETURN OF THE BIG BAND, RINGING IN THE NEW YEAR
What are you doing New Year's Eve? If you're in the NYC area with no firm plans for tomorrow, we'd highly recommend spending the evening at 375 Greenwich Street as the odometer rolls over to 2019.
Entertanment will be provided by some very familiar faces, as you can see in the clip above — The Big Band, as this group is known, features seven Springsteen associates and Sessions Band members, all returning to Tribeca Grill tomorrow night for another evening of dining and dancing to welcome the New Year.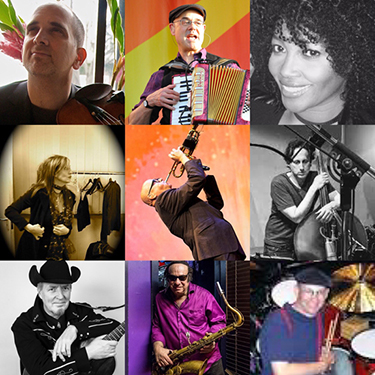 Sessions Band fiddler Sam Bardfeld put this lineup together for last December 31, and he's bringing them all together again: along with Sam himself, there's Cindy Mizelle (vocals); Mark 'Loveman' Pender (trumpet/vocals); Lisa Lowell (vocals); Charlie Giordano (accordion); Jeremy Chatzky (bass); Larry Eagle (drums). Those Sessions Band players will be joined by Arno Hecht on tenor sax (Rolling Stones, Tom Waits, etc.) and Gene Casey (The Lone Sharks) on guitar and vocals.
New Year's revelers will be treated to, as Sam described to us, "American roots and soul music from about 1945-1970, with a special nod to music from New Orleans and Memphis... from zydeco, rockabilly, Irma Thomas, Big Mama Thornton and Louis Jordan up through Dusty Springfield, Tina/Ike Turner and The Band."
Bardfeld told Backstreets, "Last year's gig was epic — raucous merriment ensued! Getting to see Cindy front a band of her own is worth the price of admission alone. Lisa is soulful and fabulous as always. Everyone knows Mark is a superlative trumpet player, but I had forgotten what a great frontman/vocalist he is, and Gene is a hidden NYC gem. The backing band with Charlie, Larry, Jeremy, Arno and myself is pretty decent, too. We're all really looking forward to doing this again!"
The five-course dinner along with the evening's entertainment is priced at $195 per guest (exclusive of beverages, tax & gratuity). Reservations can be made online, or by phone at (212) 941-3900, and you can see the menu here.
- December 30, 2018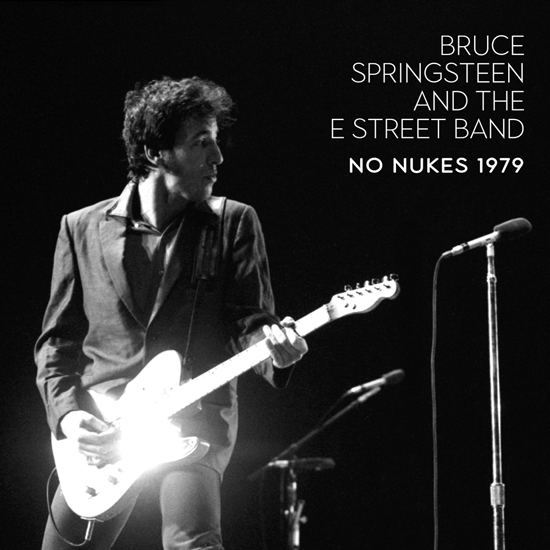 SPRINGSTEEN'S LIVE ARCHIVE GETS A HOLIDAY BONUS
Santa Claus brings No Nukes 1979 to town — both nights, full sets
At about 4 a.m. on March 28, 1979, Reactor 2 at the Three Mile Island nuclear reactor experienced a failure that led to a partial meltdown. This was (and still remains) the most serious accident in U.S. commercial nuclear power plant operating history. The following month, 65,000 people would march in a protest against nuclear energy in Washington, D.C.; Jackson Browne, Bonnie Raitt, Graham Nash and John Hall would form Musicians United For Safe Energy (M.U.S.E.) and announce two benefit concerts that would take place at Madison Square Garden in September.
Bruce Springsteen entered the picture after attending a Jackson Browne concert in Los Angeles, where he was asked if he'd consider joining the effort. Two MUSE concerts would grow to five, followed by a No Nukes triple album and documentary film, the latter in 1980 being the cinematic debut of Bruce Springsteen and the E Street Band. It's long been understood that there were professional recordings of both nights of Bruce's appearance, and versions of the soundboards have circulated in the taping community but had never been officially available until today: No Nukes 1979 joins the live archive as a holiday surprise.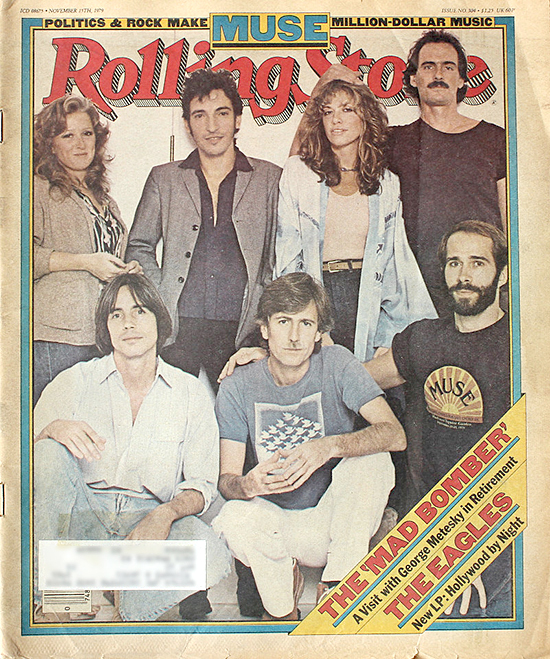 These were essentially the band's first performances of 1979, since the end of the Darkness tour on January 1; they had spent much of the interim in the studio. Wisely, given rabid fandom in the area, Springsteen and the E Street Band were scheduled to close the MUSE shows on September 21 and 22. Even though these two nights were sold out or very close, there's still a sense that Bruce and the band are trying to prove something to someone. The Friday night performance crackles like a roman candle from the first note of "Prove It All Night." But the excitable crowd was inattentive at best, and chatty at worst (okay, the jabroni who brought one of those canned air horns was the actual worst). It will be intriguing to see how Jon Altschiller's mix changes the listening experience. In any case, you might feel bad for the artists who were lower on the bill and in volume.

The lineup for the week of shows leaned decidedly West Coast, folkie, singer-songwriter; Tom Petty was the closest to Springsteen in temperament and spirit. Dave Marsh made a comment about "the remarkable kick-ass rock and roll the E Streeters played in an essentially folk-rock setting." You don't see Bruce or E Street in any of the considerable backstage footage in the No Nukes film, and this, perhaps along with a little touch of nerves, is likely why.
It takes a lot of moxie to decide to debut a brand new song that you're just working your way through in the studio, and yet, this was the first time anyone would hear "The River" in concert, including Bruce's sister Virginia. What's even more impressive is how absolutely stunning the performance is — it feels like they'd been playing it forever. You can hear the relief in Bruce's voice when he introduces "Sherry Darling" on Friday, dedicated to the people behind the stage: "It's like watching a jeans commercial all night; get the ol' Jordache look back there," he jokes. The fans serenade him with "Happy Birthday" both nights; on Friday he good-naturedly complains about the cheap knick-knacks people bring him. The audience participation is perfectly on cue, whether in "Thunder Road" or "Jungleland," and Bruce gives them that room to show up. Of note on "Jungleland" are the stunningly beautiful organ riffs from Danny that seem to materialize out of nowhere and then dissolve into the cosmos.
By the time the band hits "Born to Run," performed at a dangerously breakneck pace, during which Max never misses a beat, we've gone from zero to 60 to 120mph. The putative encore — these are "only" 90 minute sets — features a cover of a cover of a cover: the oldie "Stay," originally by Maurice Williams & the Zodiacs, popularized by the Four Seasons, and made a staple of FM radio by Jackson Browne. Bruce brings out Browne and Bonnie Raitt, as well as Rosemary Butler, Browne's backing vocalist. Clarence's lovely, warm baritone holds down the bottom of this particular number.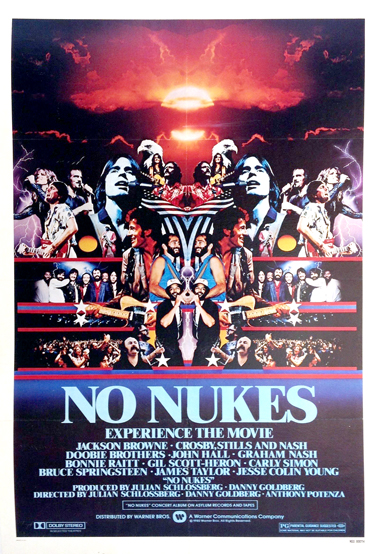 But the clincher is, decidedly, the "Detroit Medley." Yes, the fact that "The River" was performed is important. Yes, every other song was sharp and focused and delivered with the confidence and warmth and energy that every E Street loyalist knew the band had in them. But the Medley was the thing you could drag your friends to see when the movie came out, and point at, and say, "See? See! I told you!" Because it was,and still is, rocket fuel.
By the end of the show, you believe that rock 'n' roll can save the world… except that it's not likely that most people remembered why they were at these particular shows in the first place. Bruce makes no reference to the topic of the evening, short of an acknowledgement to Jackson Browne before "The Promised Land": "It was his sense of purpose and his conviction that got me down here tonight." Springsteen is the only artist who didn't contribute a statement to the concert program; he didn't even play "Roulette," a song literally written and recorded on tape four days after the Three Mile Island incident.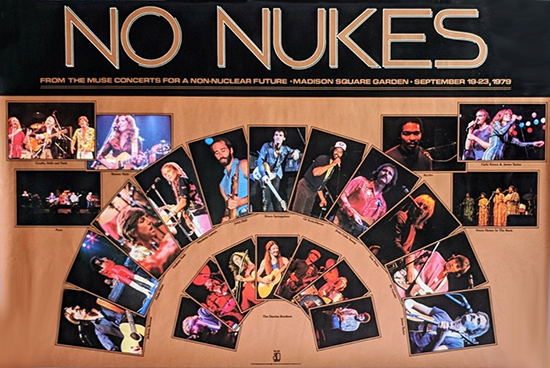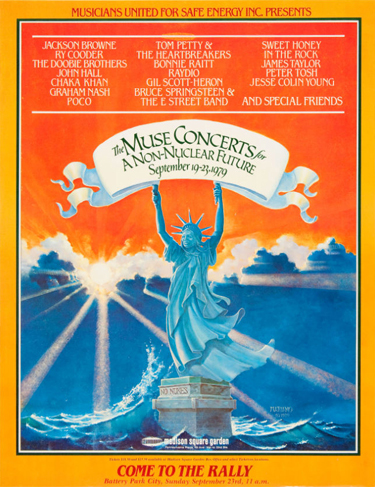 The Saturday night show is just as accomplished as Friday, but decidedly more intense; the vibe that comes through is that of a coiled spring. It is the eve of Mr. Springsteen's 30th birthday, and the occasion is apparently weighing on his mind, along with the new record he may have felt was finished but was now having second thoughts about. "Sherry Darling" has Bruce muttering about how "I'm officially over the fucking hill… can't trust myself no more…" and by the time the band reaches "Jungleland," you can hear the tension in his voice. In "Rosalita," when Bruce sings, "I ain't here on business, I'm only here for fun," you don't quite believe him about the "fun" part.
But it's definitely not all gloom and doom, and to the outsider, all of this could just sound like stage fright. The "Rosie" intros are classic: Roy is "Mr. E-mc-squared," Garry gets the always delightful "His mother was a talent, his father was a talent...," Max is "representing everybody from North Jersey," which unsurprisingly gets a huge cheer, as Stevie evokes "Wipe Out" just underneath the melody line.
"Stay" gets a reprise, which feels lackluster compared to Friday's, but the vibe comes back as Bruce counts off "Quarter to Three," his voice relaxed and filled with joy. He milks the James Brown bit for all that he's worth: "I gotta take a little break here," Bruce insists, "I can't go on like this!... I'm thirty years old! My heart's starting to go on me!" Even with a lengthy vamp in the middle during which (as we now all know from the history books) Bruce escorted Lynn Goldsmith off of the photography platform, the night closes on a high note as he declares to one and all, "I'm just a prisoner…. of rock 'n' roll!"
Also read: Erik Flannigan's entry at blog.nugs.net, "Lights, Camera, Action"
- December 24, 2018 - Caryn Rose reporting


HOW THE BOSS SAVED CHRISTMAS
"It's Gonna be a Bruce Springsteen Christmas" is a comedic holiday celebration of all things Bruce. The song was written by songwriting team Xander Green and Gil Varod, and performed by Xander Green.
- December 23, 2018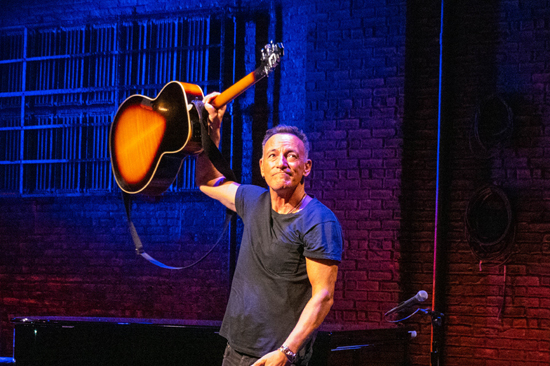 DISHING WITH ZIMNY AND MORE BROADWAY READS
Over the past week, we've marked the Springsteen on Broadway passing of the torch, from the stage to screen, with several pieces including Marc Dolan's report from the final night and Chris Phillips's Bruce Springsteen Superstar, covering the whole shebang.
But there's lots more out there on the web — including a 94% Fresh rating on rottentomatoes.com ("Critics Consensus: The Boss holds court with arresting charisma and storytelling skill in this one-man show, delivering a rollicking rumination on America's past, present, and future") — so let's round up some of the particularly notable links.
First of all, some video — Springsteen on Broadway director Thom Zimny, in addition to speaking with Backstreets last week and appearing on E Street Radio this week, sat down for the BUILD series, a half-hour conversation you can watch below.
Longtime Backstreets scribe Caryn Rose reviewed the soundtrack album for Pitchfork, which gave it an 8.0 out of 10. Rose writes:
Intimacy isn't simply a function of size and proximity; it's about connection, about vulnerability and the ability to effectively tell a story. For Bruce, it's both a talent and a learned skill. (Or as he tells us twice in the course of the evening, "That's how good I am.") All of that comes through like an electrical charge if you were fortunate enough to witness Springsteen on Broadway live, but it also transmits in a similarly visceral way on record.
As for the film, NPR Music's Lauren Onkey is insightful as usual, with the perspective of a longtime fan:
The stories in his show come from many years of therapy, yes, but they have also been honed over years of onstage storytelling. Springsteen has woven long, often harrowing tales into his stage shows since the early 1970s. If you've followed him a long while, you know that these stories are the ones that won't leave him alone.
David Ehrlich writes for Indiewire that Springsteen on Broadway "might be the single best thing that Netflix has ever done."
In the New York Times, TV critic Mike Hale raves that the Broadway show is "a master class in pacing, dynamics, modulation of volume and tone, and the film brings you right up onstage with Springsteen, giving you a more intimate view of his technique — understated, seemingly casual but absolutely controlled — than you could get in the theater."
The L.A. Times' Randy Lewis: Zimny "has done a remarkable job capturing the intimacy, the honesty, the inspiration and the music of Springsteen on Broadway. His film honors the show's spirit without engaging in any fussy camera work, backstage interviews or other behind-the-scenes material."
In a prime case of "Your Mileage May Vary" there's Bobby Oliver for NJ.com: "Goodbye and good riddance to Springsteen on Broadway, a low point for The Boss."
Another rare detractor is Carlos Valladres in the San Francisco Chronicle, calling the film "a butt-numbing slice of Canned Life™… a neat substitute for those of us too far away or poor to see the Boss rummage through his life and his songs… But it arrives to us lukewarm, without the popping, in-person spectacle that made the show a hit."
Billboard notes, "The only challenge is to experience this film as attentively and as communally as fans experienced the Broadway performance. So Netflix viewers would be well advised to invite friends over, turn down the living room lights and, please, turn off all cell phones and electronic devices."
Sonia Saraiya also considers the tellyvised experience in Vanity Fair: "It's rare that Netflix feels as immediate and live as traditional TV does: it is less a channel than a database, a bank of content that can be accessed at will. Springsteen on Broadway, though, marries the electric energy of live performance with around-the-clock accessibility. It's similar to John Mulaney's highly enjoyable Kid Gorgeous, or better yet, Mulaney and Nick Kroll's Oh, Hello, which similarly took a filmed Broadway show and turned it into a Netflix original.… The power of Springsteen's show radiates from the screen, seizing the viewer with its sincerity."
For Drowned in Sound, Andrzej Lukowski finds Springsteen on Broadway "less a concert than a monument to a life."
Chris Jordan writes in the Asbury Park Press that "the Netflix version of Springsteen on Broadway might be even better than the Broadway version" for its inclusion of the rarely performed "Long Time Coming."
For vintagerock.com, James Arthur Casey proposes: "Neil Young sang 'It's better to burn out than it is to rust.... Maybe.... Alternate title for Springsteen on Broadway: Rust-Proof."
In The American Conservative, "Politics is missing from the show and politics is present in nearly every line.… Springsteen's politics are bigger than one passing president, same as his vision for us," writes Peter Van Buren.
Spencer Kornhaber in The Atlantic: "Mythmaking about mythmaking is rock and roll's whole objective, but while artists like Bob Dylan — a common comparison point early in Springsteen's career — serially lie to conjure the unknowable, Springsteen does it to help define and sort the world. Springsteen on Broadway is his perfectly crafted, highly emotional explainer video."
The A.V. Club gives the film an A-, David Anthony writing, "While it could be viewed as a fans-only affair, there are moments so evocative that they could make even life-long detractors give his work a second look.… Springsteen on Broadway doesn't feel like cheap wish fulfillment for fans, but instead acknowledgment of the symbiotic relationship between performer and audience.… Springsteen on Broadway sets a standard for all musicians entering their twilight years, as the man up on stage offers his most moving work in a catalog full of them."
Update: don't miss a typically thoughtful piece from our friend Danny Alexander on his Take 'Em As They Come blog, "No Place Left to Hide: Springsteen on Broadway, Hard-Fought Reminders and Fresh Keys to the Universe."
- December 21, 2018 - updated December 23 - closing night photograph [top] by Hal Schwartz/@shotsfromthecrowd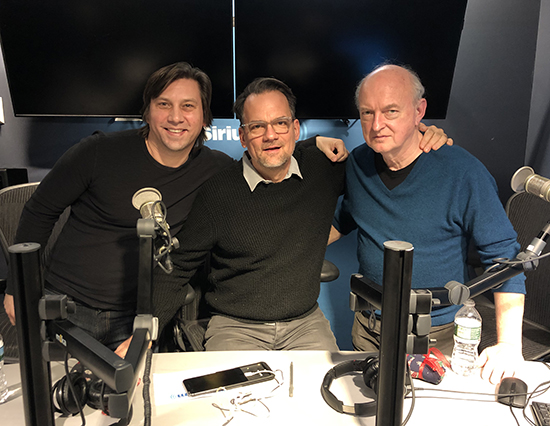 "GOOD MORNING, BRUCE SPRINGSTEEN..."
Thom Zimny [above, center] was this morning's special in-studio guest on E Street Radio's Live From E Street Nation. Co-hosts Dave Marsh [right] and Jim Rotolo [left] conducted an in-depth conversation with Zimny about his Springsteen on Broadway film. As usual, given the show's live call-in format, their conversation was supplemented by some questions and comments from callers... and one of the earliest callers was none other than Mr. Bruce Springsteen himself.
Springsteen expressed much appreciation and praise for Zimny's work on the Springsteen on Broadway film. "Thom just did an incredible job on that," said Bruce. "I had the easy part; I did the same thing I do every night. Thom's planning and the meticulous shooting of the thing was just incredible... I was a very, very, very small part of the editing process, in that I believe I had one suggestion [laughs]. That's how much Thom nailed it... I saw it, I had one very small suggestion, and then it was done. The incredible look of the film was exactly what we wanted, and the measured approach to the directing... that's all a part of Thom's mastery, and I have to thank him for it."
Rotolo then asked Bruce how he feels now that Springsteen on Broadway's live run has ended. "I'm certainly going to miss a lot of it," Springsteen replied. "I got to visit all those people, as I'd say at the end of the show each night, and I think I will miss that, but there are other projects to take up my time now, and I'm looking forward to doing some other things.
"At some point, I'll probably get back to this or something like it in the future," Springsteen continued, "because it was such an enjoyable format to work in. Plus, it was an extension of my talents and my abilities to address and communicate with my audience. It's another way of doing that, and I think it will be a template in the future... a way I'll be able to communicate besides the live shows and other things. It'll find its purpose again somewhere down the road. We talked about taking it to London and some other places, some other cities in the States.
"At some point, that would be nice to do, but right now I'm gonna go back to my day job, and work on some new music and some rock music, and see where that takes me."
Catch a replay of this entire edition of Live From E Street Nation, including much more behind-the-scenes insight from Zimny about the making of his Springsteen on Broadway film, on Sunday December 23 at 6 pm ET exclusively on Sirius/XM channel 20.
12/20 Update: listen to the call online at http://siriusxm.us/SpringsteenSXM
- December 19, 2018 - updated December 20 - Shawn Poole reporting - photograph courtesy of Vinny Usuriello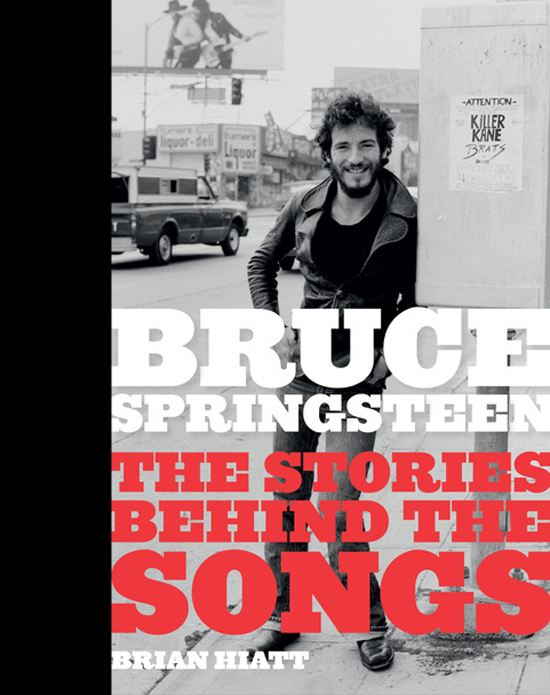 STORIES TO TELL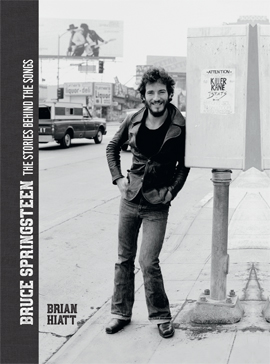 Brian Hiatt takes on the whole damn Springsteen canon
Something we already have to look forward to in the new year is Bruce Springsteen: The Stories Behind the Songs, by Brian Hiatt, coming in March 2019. The hardcover, to be published by Abrams Books in the U.S. [above] and Carlton Books in the U.K. [right] documents a Herculean task — because by the songs, it means ALL the songs.
Hiatt, Senior Writer for Rolling Stone, has written about each and every released Bruce Springsteen studio track for his forthcoming book, from every studio LP in the Springsteen catalog — including outtake collections. That's roughly 300 songs, organized by album, with outtakes grouped with their albums of origin. And we're not just talking blurbs about the songs here, but detailed background, context, dot-connecting, and insight based on numerous fresh interviews.
"An editor named Roland Hall approached me about the idea, which sounded like an intriguing challenge," Hiatt tells Backstreets. "And once I heard about it, I couldn't really stand the idea of another writer doing it!"
And if someone's gotta do it, Hiatt is an excellent person for the job, having been a fan for a quarter-century and covered Springsteen much of that time, including five interviews with the man for Rolling Stone.
Other writers have gazed up this particular mountain, if not set out for the summit. But Hiatt correctly notes, "It's the first book ever to cover Springsteen's entire recorded catalog of original songs, with tons of fresh reporting and moments that should hopefully surprise even truly hardcore fans. There's a substantial amount of new information about the actual music — how it was arranged, recorded and produced — in this book. It's often about the making of the records as much as it's about the writing of the songs."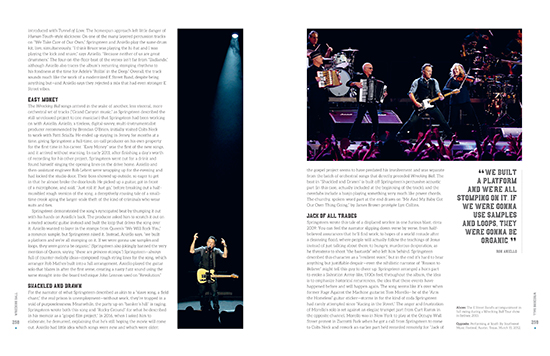 Even just a quick flip will likely land you on a little revelation, like this glimpse of the creation of "Easy Money": "Springsteen demonsrated the song's syncopated beat by thumping it out with his hands on [producer Ron] Aniello's back."
The Stories Behind the Songs is also well-illustrated with color and black-and-white photography, as you can see from some sneak-peek spreads here. "In all," Hiatt says, "I hope it's a fun potential addition to your coffee table that also expands the historical record."
Brian Hiatt will be signing copies for Backstreet Records customers — you can pre-order the U.S. edition now to guarantee a signed copy upon its publication in late March.
Hiatt corresponded further with Backstreets about his Bruce history and some of the elbow grease that went into The Stories Behind the Songs.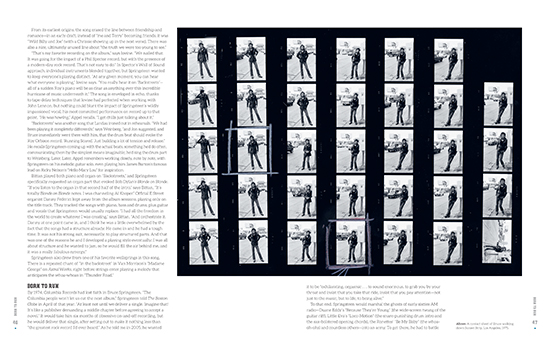 Backstreets: I can imagine just how much work, blood, sweat, tears, and brain-racking went into covering each and every song. Is there one that stands out as the most difficult? Whether too much or not enough to say?
Hiatt: There were a lot of complex ones. The "Born in the U.S.A." entry definitely has a lot going on in it. It stands out in part because Roy Bittan and Max Weinberg — who both gave me amazing, lengthy interviews — have totally different memories of the genesis of the album version. "You should call this chapter Rashomon," Max told me.
It definitely felt strange to write the "American Skin (41 Shots)" entry, in that I was the reporter who did the infamous "dirtbag"/"floating f**" interview with Bob Lucente of the Fraternal Order of Police very early in my career.
How long have you been following Springsteen? What was your first show, or your "epiphany" moment?
I started out in the early '90s, when it was not at all cool to be a young Springsteen fan, even in New Jersey. I went to my first show with my dad at the Brendan Byrne Arena — July 23, 1992, with the Other Band. It had a solo-electric "Dancing in the Dark" and the last-ever performance of "With Every Wish." As best as I can remember, it was the combination of Nebraska and a cassette bootleg of the first Christic Institute show that really opened the doors for me.
I know you've interviewed Bruce quite a few times … how many, exactly? And what was the first?
I've done five interviews with Springsteen, all for Rolling Stone, where I started in 2004. My first was for a preview of Devils & Dust, very shortly after starting at RS. I remember I was very interested in just how "All the Way Home" went from a soul ballad for Southside Johnny to its Devils arrangement, which is exactly the kind of question this book attempts to address — not that Bruce had a ton to say on the matter. My most recent was for his last RS cover story.
I'm sure those interviews informed the book quite a bit. What or who else stands out as particularly helpful as you put this thing together?
My own interviews with Springsteen were certainly helpful, as were transcripts (with Springsteen and others) shared with me by generous colleagues — shout-out to Mark Binelli, David Browne, Anthony DeCurtis, Andy Greene, and Joe Levy.
At least as important were the 60-plus hours of brand-new interviews I did for this book, which went deep. Everyone in Bruce-land seems to have unearthly stamina — that's how you survive concerts and studio sessions that never end. It all started with many, many hours of chats with Chuck Plotkin, who was kind and deeply thoughtful. I can see exactly why he's a great sounding board in the studio. The final couple interviews I did were with Max Weinberg — who has an incredibly precise and vivid memory, and very generously talked for six fascinating hours or so — and, at the very last minute, the omniscient Toby Scott.
There were so many memorable interviews, and I'm so grateful to everyone who talked. I'll just share the list from the acknowledgements: Larry Alexander, Ron Aniello (who was kind enough to welcome me into Springsteen's Colts Neck studio), Mike Appel, Roy Bittan, Bob Clearmountain, Danny Clinch, Cameron Crowe, Neil Dorfsman, Jimmy Iovine, Randy Jackson, Rob Jaczko, Louis Lahav, Nils Lofgren, Gary Mallaber, Tom Morello, Brendan O'Brien, Thom Panuzio, Chuck Plotkin, Barry Rebo, Marty Rifkin, David Sancious, Toby Scott, Soozie Tyrell, Max Weinberg and Thom Zimny.
There were tons of other essential resources, of course, from Brucebase to newspaper archives (random example: I learned from an old Philadelphia Inquirer article that Little Jimmy Scott actually shot scenes for the "Streets of Philadelphia" video) to previous books and interviews to, well, the nearly complete collection of Backstreets I bought off eBay during the process.
- December 18, 2018 - Christopher Phillips reporting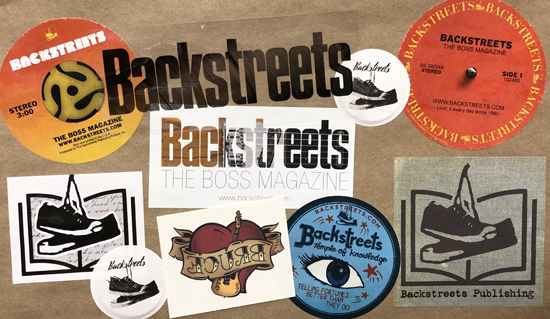 'TWAS THE WEEK BEFORE CHRISTMAS...
Still holiday shopping? We've got you covered!
If you're still looking for the perfect gift for your favorite Springsteen fan, be sure to visit our online shop — and yes, there's still time! Our Standard Shipping deadline has passed, but using our Expedited Shipping services, Backstreet Records can deliver via UPS to any U.S. address in one or two days, and we'll be working this week to make sure everyone gets what they need. Expedited orders placed by 2:00 p.m. Eastern will ship the same day.
For delivery on:
Order by:
Expedited Shipping
Wednesday, 12/19
Tuesday, 12/18, 2:00 p.m.
Overnight
Thursday, 12/20
Tuesday, 12/18, 2:00 p.m.
Wednesday, 12/19, 2:00 p.m.
2-Day
Overnight
Friday, 12/21
Wednesday, 12/19, 2:00 p.m.
Thursday, 12/20, 2:00 p.m.
2-Day
Overnight
Monday, 12/24
Thursday, 12/20, 2:00 p.m.
Friday, 12/21, 2:00 p.m.
2-Day
Overnight
Two-day shipping adds $25 to standard shipping charges; Overnight adds $60. Just make sure to specify a street address, as UPS can't deliver to PO boxes.
Please note: the one item that can't be guaranteed by Christmas, though still highly recommended, is Frank Stefanko's Further Up the Road, which ships directly to our customers from the publisher in Italy.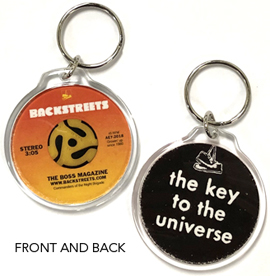 But everything else we offer is here on our warehouse shelves at Backstreets HQ and ready to ship. We've just added a couple new stocking stuffers, including a Backstreets Sticker Pack (stickers pictured above) and our new "Key to the Universe" keychain, plus we still have the Springsteen on Broadway CD with the FREE exclusive pewter/enamel pin, the official 2019 Bruce Springsteen calendar, and much more.
View our Latest Additions page to see what else is new.
For all U.S. customers who ordered Standard Shipping by December 11: as promised, your items are scheduled for delivery prior to Christmas. As always, we appreciate you getting your Boss fix through us!
- December 17, 2018

"BRUCE SPRINGSTEEN: THE JOURNEY" ON DISPLAY NOW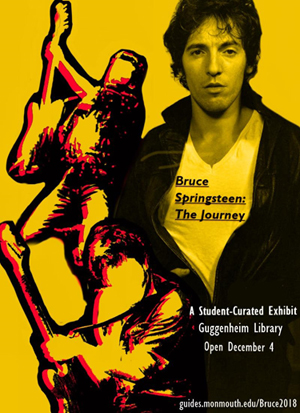 Monmouth University, home of the Bruce Springsteen Music Archives & Center for American Music, is currently displaying a selection of items from its collection in anticipation of a forthcoming exhibit titled "Springsteen: His Hometown," set to begin next September 23 at the Monmouth County Historical Association (MCHA) in Freehold. The MCHA, which is not far from the Monmouth County Courthouse, has a museum space on its ground floor.
Melissa Ziobro, specialist professor in history at Monmouth, will curate the exhibit, with Springsteen Center administrator Eileen Chapman and Grammy Museum executive director (and MU alum) Robert Santelli acting as advisors. Next year's exhibit, which will be the largest to date drawn from the Center, will be hosted by MCHA as part of the centennial of Freehold Borough as well as Bruce's 70th birthday.
The current display, curated by students in the university's Fall 2018 Museums and Archives Management Basics class, is being hosted by MU's Guggenheim Memorial Library and is free and open to the public. Visit the library website for hours/availability.
- December 17, 2018 - Lisa Iannucci reporting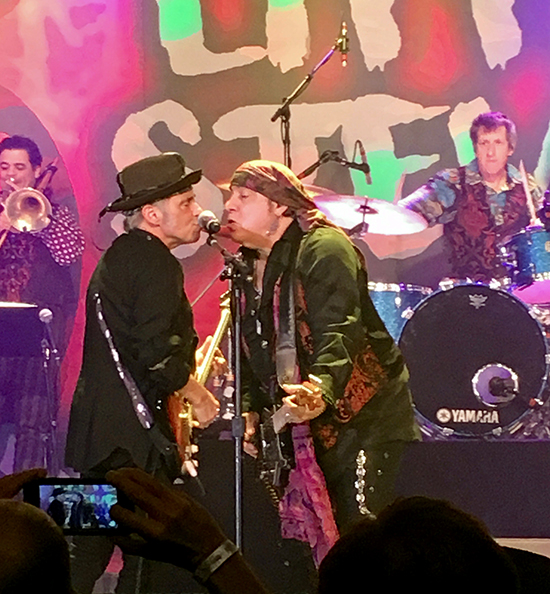 LOVE ON ALL SIDES OF TOWN
One night in Phoenix with Little Steven, Nils Lofgren, Tom Morello
Little Steven brought his tour to a close last night in Phoenix, and it was one hell of a show at The Van Buren... has to be my concert of the year. Local Nils Lofgren jumped in late in the evening to celebrate the finale, as Stevie brought his E Sreet Bandmate out for the first song of the encore, Nils's own "Moon Tears." It's a rocker, and Nils and Steven just wailed on it.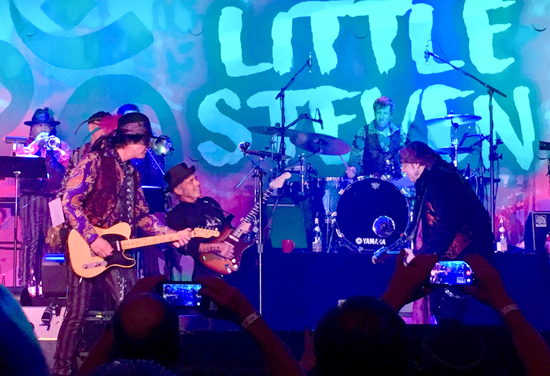 Stevie told the crowd at the end of the night that they'll be back around next year — in the meantime, congratulations to Little Steven and the Disciples of Soul for a terrific Soulfire Teacher Solidarity Tour 2018.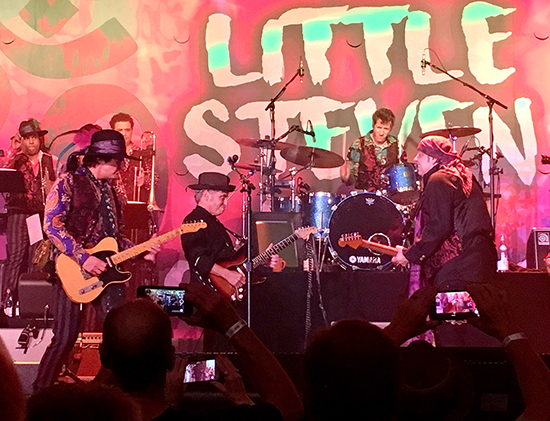 And even more love was in town last night, as Tom Morello was playing a club just a couple of blocks over, supporting his new The Atlas Underground... Just great fun in Phoenix.
- December 17, 2018 - photographs and reporting by Ed Gray


THE LAST DANCE ON BROADWAY
December 15 / Walter Kerr Theatre / New York, NY
Onstage your exhilaration is in direct proportion to the void you're dancing over.
—Bruce Springsteen, Super Bowl Diary
When I finally got a slot in the (last) Ticketmaster lottery, my old tour instincts kicked in — go for the last night. The last night of a multi-night Springsteen stand was always the best night to see. The band was looser. You had a better chance for rarities. And I am definitely the kind of Springsteen fan who lives for hearing rarities.
Then again, this wasn't the last night of a three-night stand at the Worcester Centrum or a five-night stand at the Brendan Byrne Arena. This was the last night of a fourteen-month stand, hundreds of performances at the Walter Kerr Theatre, a righteous Broadway house for righteous jewel-box productions. I had seen Ron Liebman and Jeffrey Wright here in Angels in America during the first year of Bill Clinton's Presidency, and I had seen Angela Lansbury and Catherine Zeta-Jones here in A Little Night Music during the first year of Barack Obama's Presidency. And from all I heard, Springsteen wasn't calling any audibles during this stand. The setlist, and the script, were legendarily set in stone.
So, no, Springsteen didn't make any major changes in the setlist for the last night of Springsteen on Broadway. The one slight change was that he swapped in the variable "Ghost of Tom Joad" for "Long Walk Home." (The setlist was the same as on the soundtrack album released on Friday, except "Long Time Comin'" wasn't in it.) His last performance at the Walter Kerr Theatre wasn't like the last night of a multinight rock stand, nor was it like the last night of a profit-turning run of a Broadway musical. It was the last performance of a one-man show.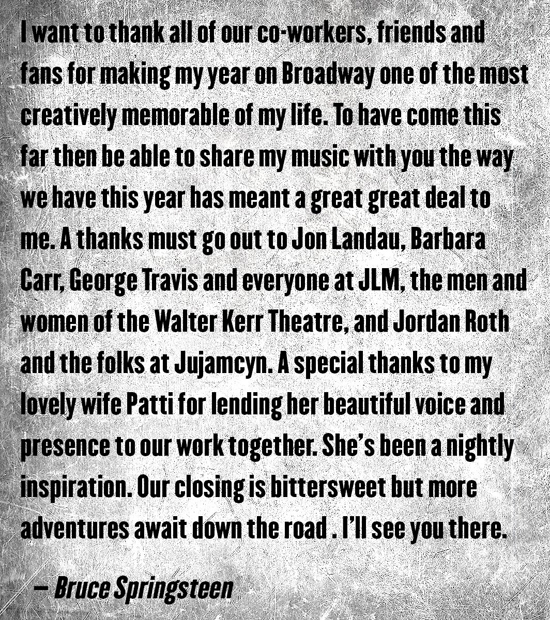 Bruce's statement on the closing of Springsteen on Broadway, posted December 15, 2018
Since the 1980s at least, there has been a familiar rhythm to Springsteen's full-band concerts: the crowd is welcomed in the first quarter of the concert and reassured during the back half. The second quarter is where Springsteen has usually put the heavier stuff. That was where most of the Nebraska songs went on the Born in the U.S.A. tour, and where "American Skin" went in more recent years. "I never try to tell my audience things," he says in Springsteen on Broadway, "but I do try to remind them of things." On the E Street Band tours of the 1980s and 2000s, that was where those reminders went: in the second quarter of the concert.
In Springsteen on Broadway, that familiar rhythm was wholly ignored. Springsteen led off with a variation on the Foreword to his autobiography, then gave us the trustworthy stemwinder,"Growin' Up." After that, he spent the next hour, about half the show, taking us into some very dark and deep territory: "redneck" Freehold, his childhood memories of his father and mother, the first taste of freedom leaving his hometown, and his first desperate drive across the US. There were jokes to be sure, some of them wheezers, but the overall tone was intense.
I don't think I've ever seen Springsteen pause in performance before, to take a breath and just leave the silence to fill the air. Even when he went from high electric to acoustic in previous performances, it was all non-stop, each new color following the other, with no purely silent pauses to break the momentum. In Springsteen on Broadway, on this final night of the run, he paused. He waited. He would linger on a word. He even lingered on notes and phrases in his later duets with Patti Scialfa on "Tougher than the Rest" and "Brilliant Disguise," and I saw the concentration needed in those cases to stay in harmony.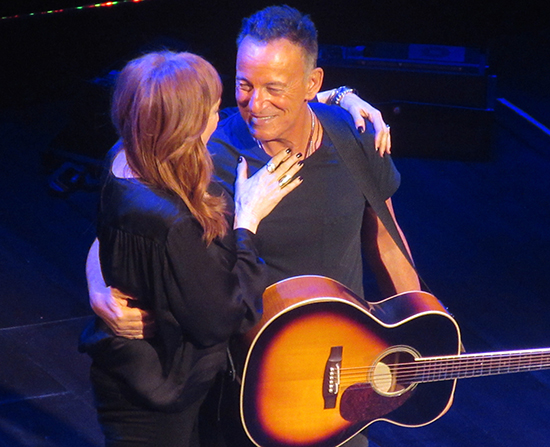 December 15, 2018 - photograph by Sammy Steinlight
Previous reviews have established that almost all the blocking of Springsteen on Broadway was planned out to the last detail beforehand. Nevertheless, Springsteen's fidgetiness during the long monologues... if it wasn't authentic, was a fascinating bit of acting. I haven't watched the Netflix special yet — I wanted to go into the show as cold as possible — but I am dying to know how precisely Springsteen's physical movements were planned in advance. My most indelible memory of the entire show is Springsteen sitting on the piano bench the wrong way, fingers together, rocking up and down as he talked at length about what it was like to walk through Freehold as a child with his mom. In that moment, Springsteen was like Marlon Brando walking through the park in Hoboken with Eva Marie Saint in On the Waterfront: even if all these movements were repeated nightly, they seemed vital in performance. Even after fourteen months of this show, Springsteen appeared fully in the moment as we watched him, as if the act of memory was happening spontaneously onstage.
The pauses and hesitations were all a part of that. Throughout that first half, he seemed frequently on the verge of slipping into reverie. Once again, that may have been acting, but if so, it was good acting. In this performance, Springsteen seemed as if he could get lost in memories if he let himself. After having read so many articles about the subject, I already understood some of the inherited mental health issues that Springsteen has overcome with the help of therapy and pharmacology. In those moments onstage, however, I didn't just understand those issues. I felt them. For the first time, I truly saw the potential dangers for this man of letting either silence or inaction get the better of him.
In a way, Springsteen has been drafting this show for the last half-century, trying to use fragments of his life in his onstage performances since his signing with Columbia at the very latest. Inspired by FM DJs, the young Springsteen told stories between songs during his set, some true, some exaggerated, many mythic. From his descriptions of living next door to Ducky Slattery's gas station in 1974 to the infernally reenacted kitchen sit-downs with Douglas that introduced "It's My Life" a few years later, down to tales of his visits to the draft office and one of his old family homes in Freehold, Springsteen's first 15 years of wide performance were dotted with autobiographical tidbits. In those early cases, the anecdotes were shorter and less unified. The only traces of all those older, bootleg-inscribed anecdotes in Springsteen on Broadway were a condensed version of the story of the night he met Clarence Clemons, and the tagline of the "Growin' Up" legend he told on the Darkness tour. Tellingly, in both cases, he reduced the scale of the stories in this performance, stripping them of their more legendary or mythical qualities.
In general, though, the stories in Springsteen on Broadway were longer than the ones Springsteen told onstage during the 1970s and 1980s. Especially during that first arresting hour, Springsteen's songs were not the main event. The stories around them were. During that section of the show, the songs served as punctuation at the end of Springsteen's anecdotal sentences. He used songs in Springsteen on Broadway the way Hannah Gadsby used jokes in her one-woman show Nanette — to drive larger points home, and to turn dramaturgical corners.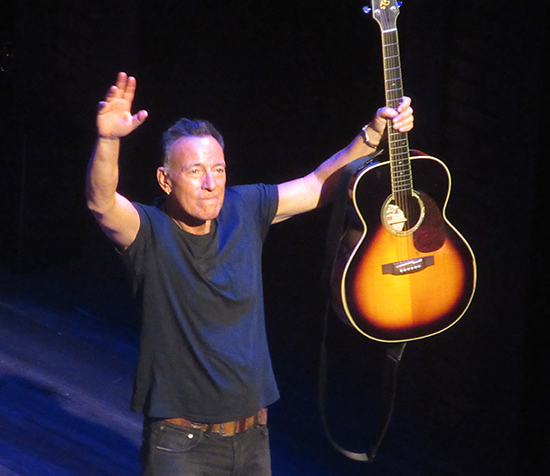 December 15, 2018 - photograph by Sammy Steinlight
The audience, seemingly a mixture of true fans and occasional listeners, all seemed relieved in the second half of the show when Springsteen finally returned to some of his better-known hits. The deep blues version of "Born in the U.S.A." that he has previously used on several of his solo tours received the ultimate compliment a well-performed dramatic song can receive in a stage musical: stunned silence after its conclusion, rather than the usual, automatic, post-climax applause. After that, the crowd exhaled when he slid into "Tenth Avenue Freeze-out." After that number, the balance was flipped. The songs were more the point now than the stories, until "The Rising" finally arrived with no introduction or conclusion at all. This was where the more casual fans in the audience could finally get a version of the intimate Springsteen concert they might have come in expecting.
This, too, had been planned, of course. The most audacious transition of the night was when Springsteen moved directly from "Dancing in the Dark" into "Land of Hope and Dreams." In both songs, he testified to the most essential faith that he had absorbed from his mother Adele Zerilli Springsteen: that dancing is its own form of revolution and revelation, that fun and politics belong in the same concert. It is a lesson of which he has spent most of this century trying to remind his audience.
Earlier in the show, Springsteen had introduced "Thunder Road" by talking about his love of open spaces, even empty spaces, and that indeed was how he had ended his autobiography, by talking about taking out his bike on the last good day of riding weather. He ended Springsteen on Broadway differently, however, with the story he tells in the penultimate chapter of his autobiography: about the tree outside his childhood home, and how he believes the spirits of those who have passed on are still present in the places they inhabited.
Back in the early 1970s, could any original Springsteen fan have predicted that the climax of one of his performances would ever reside in a relatively devout recitation of the Our Father? (They probably would have considered that about as likely as Bob Dylan turning born-again Christian.) In a lot of ways, though, this was perfectly in keeping with the last decade of Springsteen's career, which began with him singing "Tonight all the dead are here" as jubilantly as he could. He might be half-Italian, but Springsteen's Irish fraction abided in the vital beginning and end of this show, with the crowd-pleasing part capped in the middle.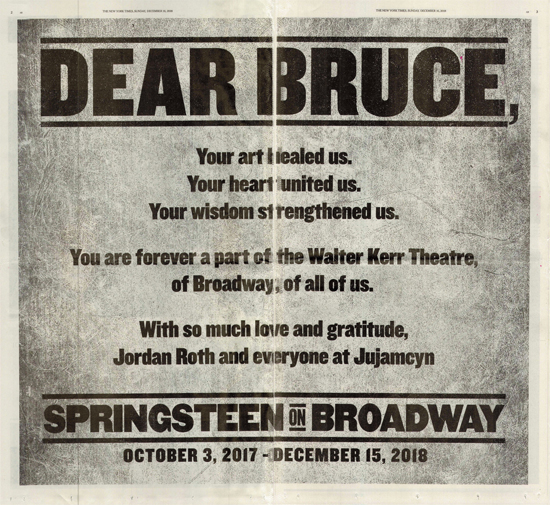 In the New York Times Arts & Leisure section, December 16, 2018
At the end of the day, I don't think I just saw the last concert of a Springsteen tour. I think I just saw the last Broadway performance of a Springsteen play, a memory play like the ones that Tennessee Williams and Conor McPherson have written. Theoretically, it could be performed in future years by another performer, as an autobiographical musical like Jonathan Larson's tick…tick…boom (originally a one-man show) has been restaged over the last two decades with performers other than its author.
The point in this play is not the prowess of the performer. The point is the skill of the storyteller. Bruce Springsteen has told a story in it, one that he has been trying to tell for almost half a century. He has traced a full arc of his life, deeper than his scattered 1970s anecdotes, fuller than the first draft of his autobiography that we got in the carefully sequenced 1986 live set, more sharply drawn the periodic summations he has offered to reporters from Rolling Stone, The New York Times, and The New Yorker over the years, and more powerful (because more compressed) than even the story that he finally told us in his autobiography.
And what is the arc that Springsteen has traced? A story of transformed desire, of a boy who wanted one set of things and a man who discovered that he needed another. Of a guarded individual who discovered that, while the superficial love of thousands can be the sweetest addiction, the deep love of just four people can be an entire world. Of a long-haired greaser who discovered that a nation at its best can be not just a death trap for its young, but a hope for every nation on earth. Of a superstar who discovered that, when life is at its best, we don't just pull out of here to win individually. We ride toward hope and dreams together. It's like what Little Richard famously said on that talk show, "HE GOT WHAT HE WANTED BUT HE LOST WHAT HE HAD!" In Springsteen's case, that counts as a happy ending.
Now that he's told this story, I'm dying to see the next open space that Bruce Springsteen tries to inhabit. Let the great work begin.
Just beyond the hill, just along the river
We're perched on the edge of the great abyss
What you can't dismiss or anticipate
Just wait, wait 'til you see what's next
—Jason Robert Brown
- December 16, 2018 - Marc Dolan reporting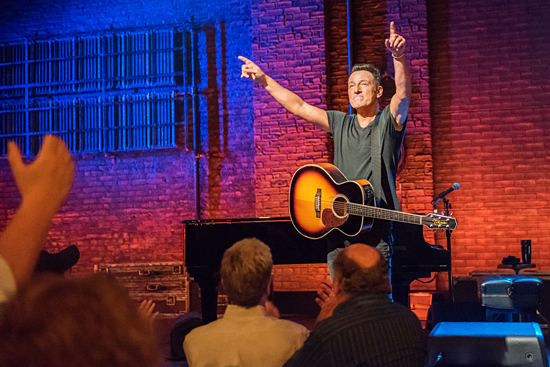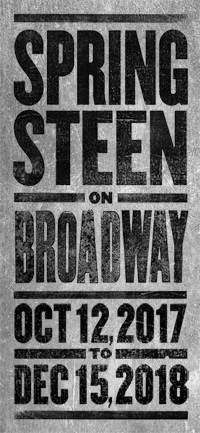 BRUCE SPRINGSTEEN SUPERSTAR
Springsteen on Broadway, off the stage, on demand, and into your living room
If Springsteen on Broadway had a curtain, it would come down for the final time tomorrow. After 14 months, 236 performances with no understudy in sight, and a Special Tony Award, Bruce Springsteen leaves behind (as he's noted from the stage) the only five-days-a-week job he's ever held. At virtually the same time, audiences everywhere can experience the smash of the season for an insignificant fraction of the not-insignificant Broadway ticket cost — you don't even have to be deemed a Verified Fan.
With today's release of the Springsteen on Broadway soundtrack, this is by far the quickest Columbia Records has ever followed up a Springsteen live venture with a corresponding document. And over the weekend, Thom Zimny's snout-to-tail Springsteen on Broadway film will have a similar global reach, bowing on Netflix December 16, where it will stream for the foreseeable future.
Springsteen on Broadway is dead — long live Springsteen on Broadway!
Even if you couldn't experience your own Incident on 48th Street, frequent visitors to this site probably have a decent sense of Springsteen on Broadway, its nuts and bolts. Inspired by Springsteen's Born to Run memoir (and further by a private, summational farewell show at the White House in the final days of the Obama administration), Springsteen on Broadway is less of a concert than a soliloquy with piano and guitar. It's a theatrical performance befitting the Great White Way. It's a one-man show — except for most nights, when the one man was joined by his one woman. It's an intimate night with one of music's most larger-than-life figures, a stadium performer inviting you into his living room. It's a showcase for the showman's multitude of talents, from storytelling to rocking and rolling, song arranging, and comedic styling. It's an acoustic show. It's spoken word. It's a dark ride. It's a revealing, autobiographical recontextualization of some of Springsteen's most well-known and well-loved songs, tracing a path from boyhood to manhood, or from innocence to experience, or from a narrow scope of vision to a broad one, or all of the above.
It's the better part of a grand, depending on when and how you procured your tickets. Or at least, it was. (Though let's hear it for the cheap seats, $75 for the balcony in the daily Lucky Seat lottery drawing, we should all be so lucky.)...
Continue reading "Bruce Springsteen Superstar"
- December 14, 2018 - Christopher Phillips reporting - photograph by Rob DeMartin

THE MAN AT THE TOP
An excerpt from the forthcoming Backstreets Interview with Pete Souza
Pete Souza, Official White House photographer for Presidents Barack Obama and Ronald Reagan, has captured many important historical images in his time, from intimate moments with world leaders to... well, every Springsteen concert he can.
Souza's work has been collected in such recent books as the irreverent Shade: A Tale of Two Presidents and the more reverent Obama: An Intimate Portrait. You may know him from his vaunted Twitter and Instagram feeds. You may not have known that he's a major Springsteen fan. Or, if you've been reading Backstreets for long enough, you're probably aware of that, too.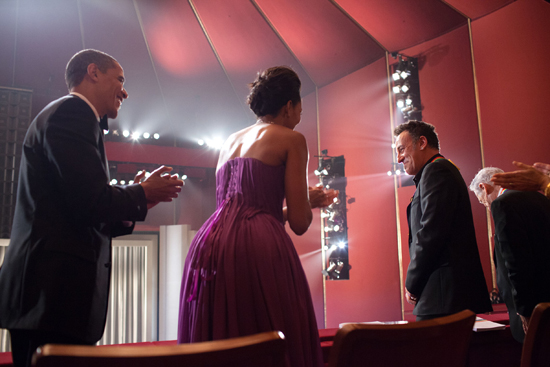 - photograph by Pete Souza
Souza has slipped us some fantastic photos when the worlds of Bosses and Presidents have collided, and he's been represented in some Backstreets features like this year's "Hidden Worlds That Shine: Celebrating 40 Years of Darkness on the Edge of Town." So we've been having correspondence with Pete for years, occasionally floating the idea that we should talk music and Springsteen "on the record" sometime... and this year it finally happened.
Bob Zimmerman — a longtime Backstreets contributor specializing in photography, who has also interviewed Lynn Goldsmith, Frank Stefanko, and Eric Meola for us — sat down with Souza for an in-depth conversation. We'll be running the complete interview in the next issue of Backstreets magazine. That issue, #92, is something we've been foretelling for far too long... so as it inches ever closer to completion, and as we greatly appreciate your patience while it does, we want to keep giving you tastes of what's to come.
In this excerpt, Pete and Bob talk about the Reagan era, when Michael Jackson wore one glove and Bruce Springsteen was pretty sure Nebraska wasn't the President's favorite album.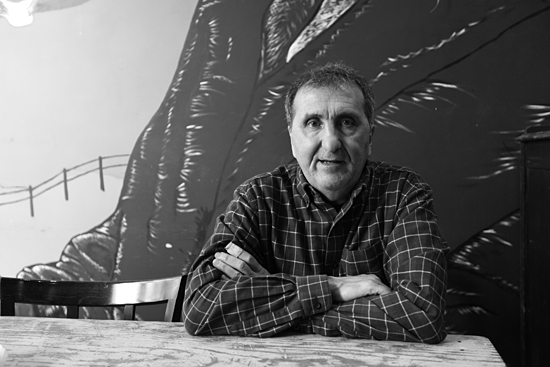 - photograph by Bob Zimmerman
Backstreets: I think everyone knows of your work those eight years with Obama, but in doing research on your career, I was blown away by your photographs of Ronald Reagan. I may have known but probably forgot that you had served in the Reagan White House as a photographer for three years?
Souza: Five.
Five? Okay, so how did that come about?
So that was one of those flukey things where it was a Kansas connection, actually. Someone I knew who had been a former photo editor in Kansas City continued to follow my career and then became the photo editor at the White House. And in 1983, they had an opening to work under the Chief Photographer.
And that was…
Michael Evans. She called me up and said, "You might want to apply for this job." At that time I was working for the Chicago Sun-Times. I had only been there for a year and a half, things were going really well, and this kind of threw me for a loop. I mean, I wasn't a fan of Reagan. But I thought to myself, well, when am I ever going to have this chance to do this? And you talk about photographers wanting to document history... it can be a front-row seat to doing that. So that's how that job came about.
And it's understandable that people may not know me from that. It was a long time ago, and I was kind of an unknown photographer. And there was no such thing as the Internet or Instagram or Twitter, so people wouldn't have necessarily been familiar with my photos as much as they are with the Obama photos, because that was just a different era.
Some of the interesting things you witnessed with Reagan — I'm sure you witnessed a lot of interesting things, but from a pop culture perspective, you took that really great photo of The Reagans and Michael Jackson.
Yup. Looking like he's a part of the wallpaper.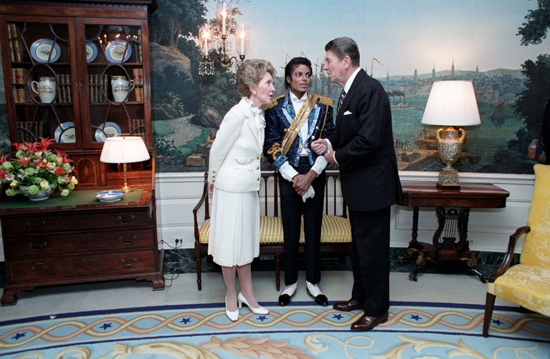 - photograph by Pete Souza
How was that experience?
To go back to that time... it was 1984, I think? It was 1983 or '84. And of course there was a lot of excitement that Michael Jackson was coming to the White House. He was being honored for this drunk driving awareness campaign that he was the spokesperson for, or something like that. And this is in the days when he was wearing the white glove and the sequined blue uniform. Of course the staff had been told not to bring their kids, and of course they all brought their kids. So they were parading them in the Diplomatic Room, the Reception Room, to try to get a picture with Michael Jackson, and he ended up freaking out. Not outwardly. Inwardly. And he went and hid in the men's room for like an hour.
Really?
Yeah. Because it was like, too much was happening. And so this picture you refer to was taken just before he and the Reagans walked out to the South Lawn for the formal event. The President and Mrs Reagan were exchanging... it looks like they were having a little bit of an argument, I'm not sure exactly what was going on. But Michael Jackson's like the bystander in the middle. And if you look at the two-dimensional photo, it looks like he's a part of the wallpaper.
During your five years as a Reagan White House photographer, you were there in September 1984 when President Reagan, on a campaign stop in New Jersey, said, "America's future rests in a thousand dreams inside your hearts. It rests in the message of hope in songs so many young Americans admire: New Jersey's own Bruce Springsteen. And helping you make those dreams come true is what this job of mine is all about." As a Springsteen fan and someone working in the White House, what was your personal reaction?
I didn't make every trip with Reagan like I did with President Obama. So I was actually not on that trip. But I was absolutely mortified when I heard what Reagan had said. Clearly, Reagan didn't know what "Born in the U.S.A." was all about, and it was shoddy staff work to not realize what putting that line in the speech would mean.
I remember hearing about Springsteen reacting the next night, and I thought to myself, right on!
Skip ahead to Obama giving the commencement address at Rutgers in 2016: "As a friend of mine who happens to be from New Jersey, a guy named Bruce Springsteen, once sang: 'they spend their lives waiting for a moment that just don't come.' Don't let that be you. Don't waste your time waiting."
The next day I sent that highlight plus the entire speech to Barbara Carr, who was with Bruce overseas. I thought they should know and might not have heard about the speech. She messaged me back saying that they indeed didn't know, and by sheer coincidence Bruce had opened with "Badlands" the same night. Wow, I thought.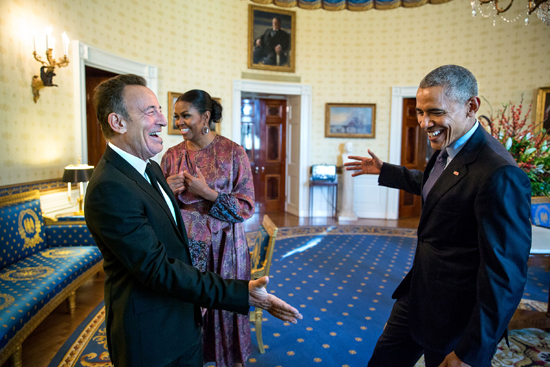 - photograph by Pete Souza
During your time in the Reagan White House, what did you learn from the people you worked with that ultimately prepared you for your most recent stint in the White House?
I mean, I learned a lot. Because I didn't have the same kind of access during Reagan — I wasn't the Chief Photographer then — I learned how you deal with people that powerful.
And the fact of the matter is, they're just people like anybody else. Because of that, and the life experiences I had between leaving the White House the first time and coming back 20 years later... well, when President Obama asked me to do this job, I already knew him. I knew him pretty well. Because I had been working for the Chicago Tribune and had gone on a couple trips with him, and so we had already established this professional relationship. He sort of knew about me. He knew how I worked.
So I felt very confident going in that I could do this job as good as, if not better than, anybody had in the past. I set my goals really high. I wanted to create the best photographic archive that had ever been done on a President. And I thought the circumstances were exactly right. I knew this guy, he understood the value of what I was doing, plus I knew how the White House worked. And I knew how powerful people sometimes reacted to things, and I knew how to deal with that in a way that no one would thwart my access. So it was just like all the stars aligned.
Thanks to Pete's fandom and generosity, we have another 25 copies of the signed, Deluxe Edition of Obama: An Intimate Portrait to offer Backstreet Records customers — each with an additional 8x10" bonus print, also signed by Pete just for us, of Springsteen and Obama meeting at the White House, seen above. A Backstreets exclusive, all at the book's original retail price. While they last!
- December 12, 2018 - interview by Bob Zimmerman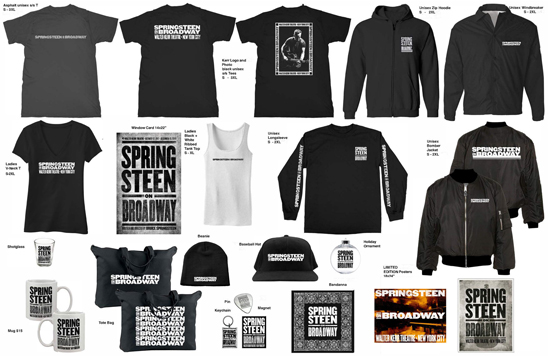 SEE ANYTHING YOU LIKE?
Aisles and aisles of dreams await you... or at least a signicant offering of Springsteen on Broadway wares, this weekend at an official Springsteen Pop Up Store in NYC. In the Crowne Plaza Times Square hotel — right next door to the Walter Kerr Theatre — a temporary Sony Music/Live Nation shop open on Friday and Saturday will feature all of the merchandise sold in-theater during the show's run.
They'll also be selling the Springsteen on Broadway CD, freshly released on Friday. One of the frustrating things about this crazy ol' modern world is that, despite the major label release of the soundtrack, you might be hard-pressed to find a physical copy, considering the fate of so many record stores. The City That Never Sleeps is also the City With Limited Availability of Physical Media... but New Yorkers can pick one up at Broadway & 48th.
Pop-Up Store Hours:
Friday, December 14, 4PM - 11PM
Saturday, December 15, 12PM - 11PM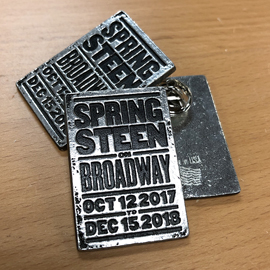 For more details on Springsteen's physical Pop Up store, see the press release at shorefire.com.
For those not boogalooing down Broadway, you can also get the Springsteen on Broadway soundtrack CD by mail-order from us, along one of these pewter/enamel pins, FREE, exclusively for Backstreet Records customers. They just arrived here at HQ, just in time, and they look beautiful — first look, at right! Thanks, All American Pewter! And thanks to Sony, Live Nation, and the Springsteen organization for giving us something special to go along with this new release. A pin will also ship with each pre-ordered copy of the Springsteen on Broadway 4LP vinyl, now scheduled for January 25.
- December 12, 2018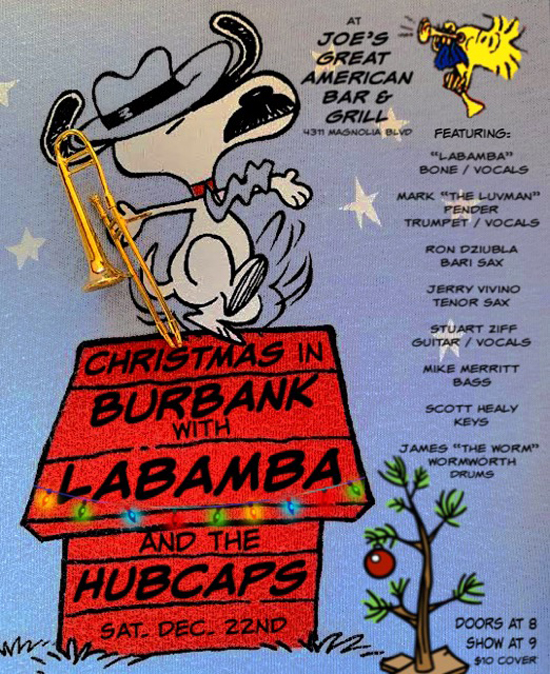 IN THE YEAR 2018... LABAMBA AND THE HUBCAPS LIVE ON!
Earlier this year, TBS announced that Conan would be swithcing to a half-hour format, with the last hour-long episode airing in October. When the show returns in January 2019, not only will it be a half-hour shorter, it will be leaving the musical element of the show behind. After 25 years — from the Max Weinberg 7 (and, briefly, Max Weinberg and the Tonight Show Band) on NBC, to The Legally Prohibited Band, to TBS's Jimmy Vivino and The Basic Cable Band — we have to say goodbye to a quarter-century of these Jersey Shore-pedigreed familiar faces and brilliiant musical talents on late night tellyvision.
But all is not lost. LaBamba's Hubcaps aren't falling off, and the Luvman woud never be so callous as to just leave, right? In fact, many of these players are getting back together for a holiday show, just ten days away.
Christmas in Burbank, with LaBamba and the Hubcaps, will celebrate the season on Saturday, December 22, at Joe's Great American Bar & Grill. In addition to Richie "LaBamba" Rosenberg on trombone and vocals, and Mark "The Luvman" Pender on trumpet and vocals, there's also Stuart Ziff on guitar, Mike Merritt on bass, Scott Healy on keys, James "The Worm" Wormworth on drums, and the horn section filled out with Ron Dziubla and Jerry Vivino on saxophones.
LaBamba tells Backstreets, "Twenty-five years was a hell of a run... but I'm continuing my efforts to keep the Hubcaps rockin' and a rollin'." Keep up with his activities at labambamusic.com, as well as on Facebook and Twitter.
- December 12, 2018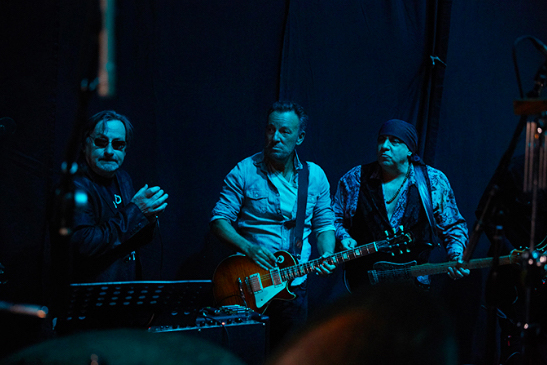 THREE WISE MEN
This beautiful print of Southside Johnny Lyon, Bruce Springsteen and Little Steven Van Zandt photographed backstage by Danny Clinch (and signed by the photographer) is up for bid, along with many other cool items, as part of The Rock and Roll Forever Foundation's online Charitybuzz auction. Auction proceeds will benefit the ongoing work of the Foundation, which was established by Little Steven to provide curriculum, professional development and other cost-free resources/support to teachers using the Foundation's developed, fully funded TeachRock curriculum. Click here for details on the auction, each of its available items, and how to place your bids.
- December 11, 2018 - Shawn Poole reporting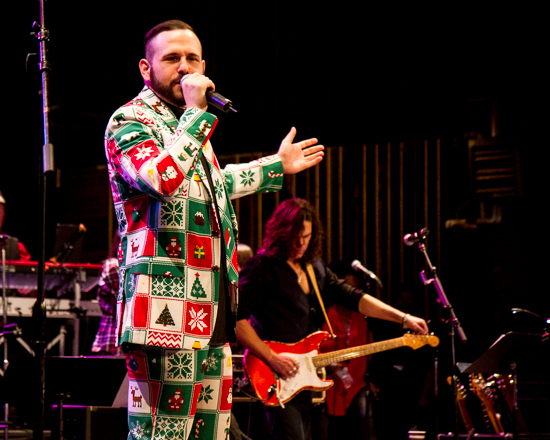 GREETINGS FROM ASBURY PARK: A VERY ASBURY HOLIDAY SHOW
Paramount Theatre, December 9, 2018
A sold-out house was ready for a holiday party Sunday night at Asbury Park's Paramount Theatre. While some of that ticket demand may have been due to visions of a special guest appearance or two, no one seemed particularly disappointed when the evening's lineup did not deviate from what had been announced. Convention Hall was gaily decked out for the city's annual holiday bazaar, the Paramount Stage was lit by Christmas tree and menorah lights, and many in the crowd were themselves decked out in holiday attire. In short, the proverbial stage had been set for a festive evening, and the 50-odd musicians participating in "A Very Asbury Holiday Show" did not disappoint.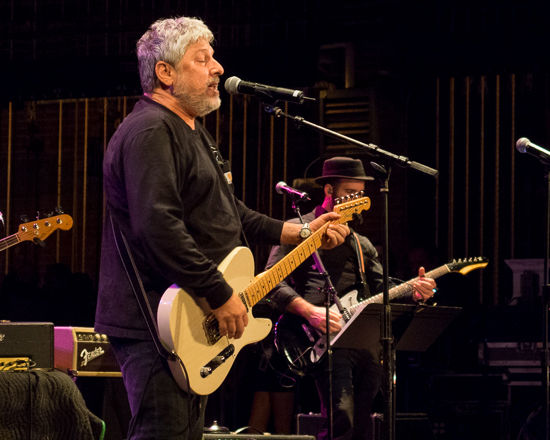 Local hero Bobby Bandiera - photograph by A.M. Saddler
The event was presented by the Asbury Park Music Foundation, benefiting that organization along with several other local charities. The evening's lineup, which ran the gamut from Jersey Shore music scene veterans like Joel Krauss, Lance Larson, Bobby Bandiera and Glen Burtnick to The Blue Tones, a group of high school students studying at the Lake House Music Academy, was loaded with talent. Perusing the program, one might legitimately wonder if it was perhaps too much of a good thing, but with former Stone Pony DJ Lee Mrowicki emceeing the proceedings, the show was in good hands.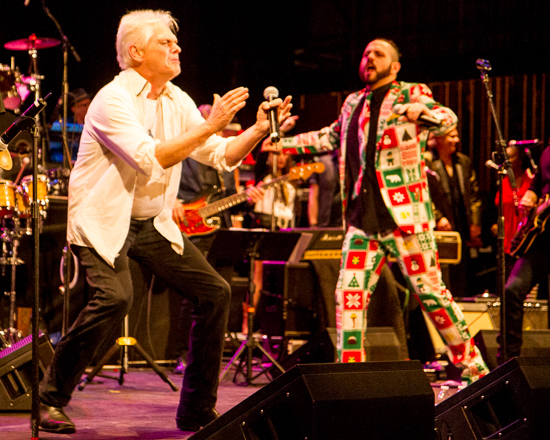 Lance Larson, left, with Remember Jones and one hell of a holiday suit - photograph by A.M. Saddler
The massive house band, led by musical director Tony Perruso, was laid out in standard big band format, boasting a lineup that included ex-Jukes, current Kings of Suburbia (Jon Bon Jovi's backing band for his solo gigs), and an assortment of local guitarists, keyboardists and guest vocalists. The horn section was anchored the legendary Joey Stann, while the rhythm section — which was augmented by an extra drum kit — benefited from the talents of Graham Maby (Marshall Crenshaw, Elvis Costello) on bass, Rich Scannella on drums, and Joe Belia on percussion.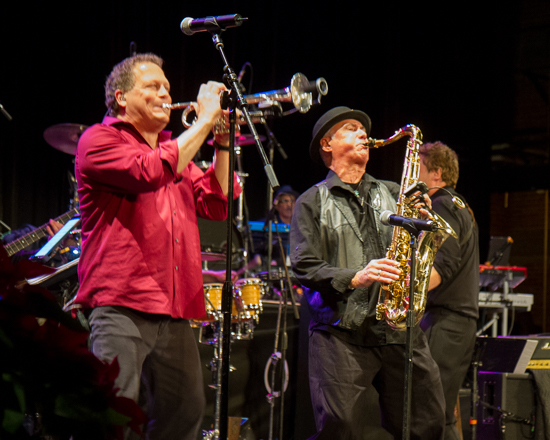 Bandleader Tony Perruso and saxman Joey Stann bring some Jukes flavor - photograph by A.M. Saddler
Local cover band favorites like Mike Dalton, JoBonanno, Brian Kirk, and Pat Roddy expertly brought the audience to its feet several times throughout the night, and unusual guest artists like Anthony Krizan of the Spin Doctors (whose rendition of "Stand By My Woman," co-written with Lenny Kravitz, was a highlight of the evening) along with vocal powerhouses Remember Jones, J.T. Bowen, Layonne Holmes, and Deseree Spinks, country duo Williams Honor, and vocalists like CC Coletti and Mackenzie Brown kept the energy level high throughout the night. There were so many fine performances, in fact, that it was almost too much.
The duration of the event, along with a surprising lack of holiday material, made the "Very Asbury" show both a bit disappointing and slightly overwhelming (as the show zoomed past the four-hour mark, folks definitely began to sidle toward the exits). However, with Bruce Springsteen's legendary and standard-setting holiday shows of the early 2000s but a memory and Bandiera's series of holiday Hope shows in their final year, a new Jersey Shore holiday tradition is certainly most welcome. Happily, since organizers stated several times that it was only the first of what they promised would be annual events, there will be plenty of opportunity to fine-tune the somewhat sprawling event.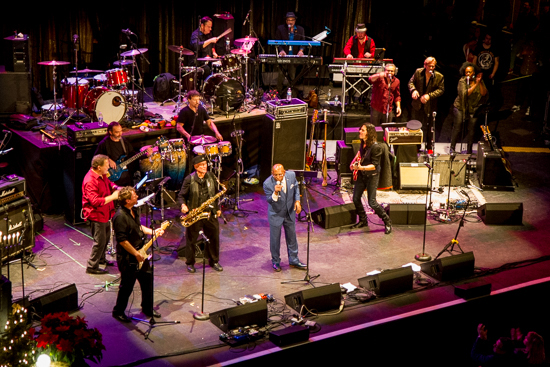 J.T. Bowen fronting the house band - photograph by A.M. Saddler
Among the many highlights: a show-opening performance by the house band of Steven Van Zandt's classic "All Alone on Christmas"; Shore blues guitar legend Billy Hector's lively rendition of "Barefootin''; The Weeklings' power pop gems "Little Elvis" and "In the Moment"; Joel Krauss leading the band through a rousing "(Your Love Has Lifted Me) Higher and Higher"; the nattily attired J.T. Bowen prowling the stage as he belted "A Woman's Got the Power"; an insanely addictive rendition of Bryan Adams '80s hit "It's Only Love" by Mike Dalton and Deseree Spinks; and a set-closing "Santa Claus is Comin' To Town" performed in full Springsteen-esque fashion by Brian Kirk and the entire crew. See you next year!
- December 11, 2018 - Lisa Iannucci reporting - photographs by A.M. Saddler



AIN'T NOBODY HERE FROM BILLBOARD… BUT YOU ARE
Live archive series returns to the Roxy for a Born to Run-era showcase
When Bruce Springsteen, one of rock 'n' roll's greatest performers, finally released a live album in 1986, the opening track — the first song that your average music fan was presented with as an initial impression — would be a bare-bones version of "Thunder Road." With just Springsteen on vocals and Roy Bittan on piano, the track was sourced from the early show at the Roxy on October 18, 1975. It was widely believed that the entire set was professionally recorded, but there was no proof of that… until today.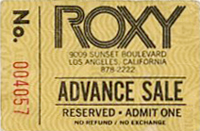 The Born to Run tour began on July 20, 1975, and would run for 116 shows through May of 1976. Bruce and the E Street Band pulled into the City of Angels early on for a four-night, six-show stand at the legendary Roxy Theater. Because the band had been in the studio much longer than anyone anticipated (the tour kicked off literally the day after the band completed mixing Born to Run), tour rehearsals took place in a marathon 20-hour session before they left for the first date in Providence, RI. They still had to teach the new guy — none other than Miami Steve Van Zandt — all the songs.

The band had only a few weeks to get into fighting trim before the main event: a now-legendary five-night, ten-show run at New York City's Bottom Line. So it's not surprising that Springsteen would lean heavily on the tried-and-true road favorites for as long as possible, waiting until those Bottom Line shows to kick the set off with, hey, a song from the actual album we're touring for. Bruce would continue to toy with the setlist as the band worked their way across the country, playing both existing strongholds (Detroit, Texas) as well as new markets (Wisconsin, Iowa).
Springsteen had tried out "Thunder Road" as an opener at the Bottom Line but didn't venture to try it again until Los Angeles. It was a bold choice to open Live/1975-85, and it was a "go large or go home" choice in the moment: a show in Los Angeles by default means an audience full of critics, industry honchos, and other musicians (as well as whatever fans can get themselves through that filter).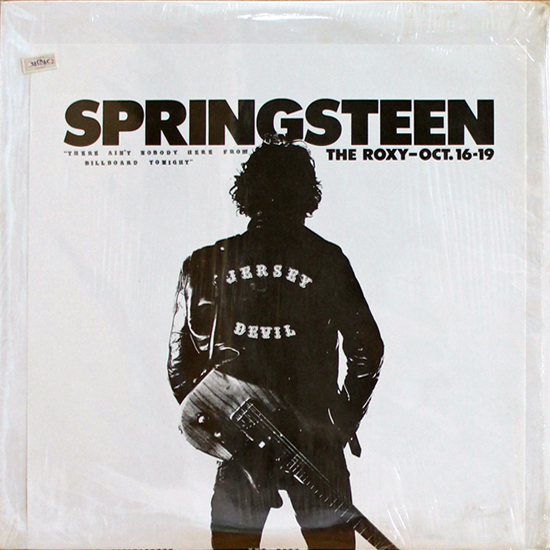 The show we're hearing, presented in the live archive series as The Roxy 1975, is the first from night three (and the fourth overall). Most fans are well familiar with the 10/17 early show, as it was broadcast on KWEST-FM and became one of the earliest live Springsteen bootlegs: Ain't Nobody Here From Billboard Tonight would run you a cool $75 at Bleecker Bob's at the MacDougal Street location a few years later.
But there's a slightly different quality to 10/18, possibly because he was past the pressure of night one (which Columbia filled with industry insiders, resulting in a lackluster audience which upset Bruce on multiple levels) and on the other side of the live broadcast. It might be your imagination, but this set sounds just a tad looser, and you can just about feel what it's like to see Bruce Springsteen in a 500-person club.
Then there are all the small '75-era hallmarks we know and love: Miami Steve's guitar flourishes — the chicken scratch guitar at the start of "Tenth Avenue Freeze-out" will never get old — and in the era when "All Must Sing" (to quote the Village Voice ad that recruited Max and Roy), the full-throated choruses on "She's the One" and "Kitty's Back" are just delightful.

"E Street Shuffle" doesn't drive; it's slower and more languorous than its studio arrangement, and it segues briefly into "Havin' a Party" — it's such a contrast to the tone of "Spirit in the Night," which is as buoyant and youthful as it ever was and continued to be. "4th of July, Asbury Park" invokes angels and not waitresses, and when Bruce sings, "Well, he ain't my boss no more," it's less defiant than matter of fact. There are easily dozens of these small observations throughout the show, and every fan will have their favorites or an element they care about the most. But the impact of this show isn't going to be song-by-song; as always, it's the performance as a whole, the experience and emotions created and sustained.
"When You Walk in the Room" in the cleanup spot seems curious, but it's interesting to compare it to the presence of "Goin' Back" at the end of the set. "Goin' Back" is a Goffin-King original, first recorded by Dusty Springfield, and then later by the Byrds. It's obvious that this particular selection had significance to Springsteen, as "Goin' Back" appeared in each set at the Roxy. While Springsteen mentions both King and the Byrds in his introduction, his delivery is closer to Springfield's: it's meant to be a vocal performance. Same with "When You Walk in the Room": this isn't a guitar showcase or a complex musical composition, but it requires focus and intensity in the lyrical delivery, or you might as well not bother. Bruce never trivialized any of the pop songs he covered in his career, and he delivers this Searchers classic with the enthusiasm of a cover band in a crowded bar on a Saturday night.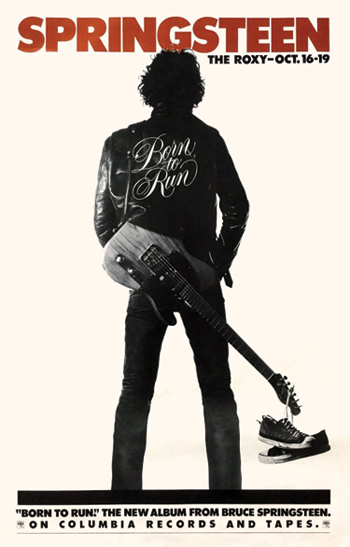 The segue from "When You Walk in the Room" into "She's the One" might not make sense at first, but a few bars into the intro, the harmonica riffing on "Not Fade Away" underscored by warm, harmonic chords before that organ riff ripples in — you get it. They are directly connected: it's the bridge from teenage lust into adult desire, and if you think I'm wrong, just wait for the band to chime in on the chorus, again, and then again. It's a very rhythmic, guitar-driven "She's the One," and even if you never saw Clarence Clemons in a white suit standing stage right, shaking the maracas, this version of "She's the One" will make you feel like you have, and you will want a cigarette by the time they're done.

A big change for more recent fans, and for those who aren't avid collectors, is having "Born to Run" in the middle of the set, at the apex of the narrative arc. There's palpable excitement from the crowd when the intro is played — It's the new song! It's the big hit! — but it's not an anthem yet: it's an important song, to be sure, but it's not yet what it would become. The band is excited to play it as well: the album was released at the end of August and, by the time of the Roxy shows, had just peaked at #3 on the Billboard album charts.

Not many bands with a #3 album on the Billboard charts are going to stack a 17-minute free-jazz exploration in the back half of their set. (Note: it's kind of crazy, when you look at that back half, "Backstreets" and "Kitty's Back" are half an hour, and that's before "Jungleland" and "Rosalita," the last of which hits the band intros five minutes in, leaving another seven minutes for hijinks). There's a good few minutes between the end of "Backstreets" and "Kitty's Back" that is either for tuning or equipment problems — we hear a Chuck Berry riff, we hear the audience yelling requests — but then two notes later, and YOW. We're back to the Jersey Shore beach rat telling tall tales about Catlong and Kitty.

Seventeen minutes does not guarantee that a song will be epic. Seventeen minutes could be a lot of pointless messing around, especially in 1975. But this is particularly… insane. Danny Federici begins the keyboard interlude with some low rumblings that wouldn't have been out of place on an Emerson, Lake & Palmer LP, before pulling up into a brighter, jazzier mode that gently bubbles under the surface. Garry Tallent anchors everything together with a minimal, elegant refrain, Max alongside in a straight 2-2 beat. There's specific applause at the end of Danny's run and a slight break before the Professor takes his turn, pulling his melody more directly from the body of the tune, with a brisker pace. Max and Garry shift seamlessly to support him, and Roy ratchets up the pace a few measures before Clarence comes in briefly, and then we cut to the guitar solo. (Did I mention that this was 17 minutes long?) Here she comes, Bruce yells, and the audience claps along. Then, in a stage whisper — and on the extant bootleg of this show, amazingly the only thing you hear is the audience clapping enthusiastically along before the call and response begins — Here she comes / HERE SHE COMES. The audience eventually takes over as the tension builds, and then: "Kitty's back in town!'

At the end is a goofy and exuberant "Carol," and you can hear the relief in Bruce's voice just a little. There's some righteous guitar, Roy gets a piano solo, Clarence is on the baritone sax, Bruce breaks things down on the bridge and turns the joint into a dance party on the Chuck Berry number before bringing the whole thing home, drums crashing, audience cheering. You can see the smiles and the sweat and feel the heat. I'm gonna learn to dance if it takes me all night and day.

Two weeks later, Bruce would be on the covers of both Time and Newsweek, and playing 500-seat clubs would be in the rear-view mirror.
Also read: "Thinking Young and Growing Older is No Sin," by Erik Flannigan
- December 7, 2018 - Caryn Rose reporting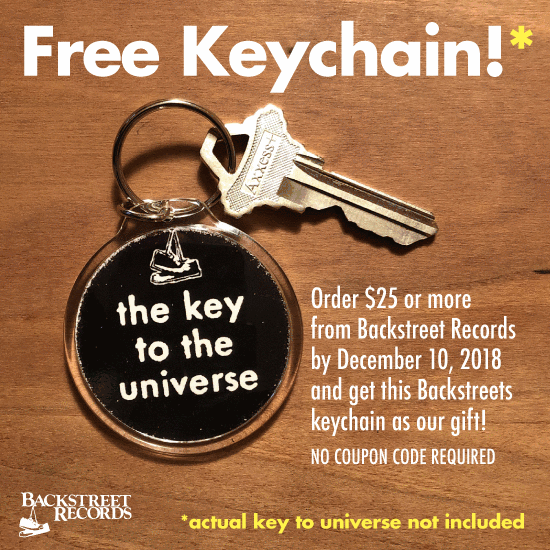 HOLIDAY SHOPPING AT BACKSTREET RECORDS:
ORDER BY MONDAY NIGHT FOR PRE-CHRISTMAS DELIVERY
This year, we're guaranteeing pre-Christmas arrival for all orders (and pre-orders) placed by December 10 that are shipping to U.S. destinations. So if you're still in need of some Boss holiday gifts from Backstreet Records, next Monday is the "Standard Shipping" deadline. (We can't guarantee arrival times outside of the U.S., due to customs, but we'll be working hard to ship orders out to everyone as quickly as possible.)
If you wind up ordering later and need something prior to Christmas, you can always select "Expedited Shipping" to have it in one or two days within the U.S... but ordering by midnight Monday will save you some serious dough on postage.
Plus, order by that date and you get you one of our brand new keychains, too! A FREE gift from us with any merch totalling $25 or more, now through December 10.
We're currently taking orders for the Springsteen on Broadway CD due next week, plus officially licensed T-shirts from Springsteen on Broadway and more, and official Springsteen calendars for 2019 from Thrill Hill. There are new Boss books, CDs, records and more in our Latest Additions section... some cool Stocking Stuffers... plus many more categories to peruse:
Concert Shirts • Concert Souvenirs • Signed Items
CDs - Springsteen • CDs - Covers/Tributes • CDs - Other Artists
Vinyl • DVD/Blu-ray • Posters & Prints • Calendars
Books • Songbooks / Sheet Music • Promo / Other
Magazines • Backstreets Back Issues • Backstreets Merch
We're often asked around this time of year if we have anything special, a bigger-ticket item for an important gift — sometimes for a loved one, sometimes for a Bruce-loving boss.
This year we'll point you to something extremely cool and extremely rare: a stunning fine art print by the late, great David Gahr, specially offered by his estate exclusively for Backstreets. This limited edition print comes in a package with a hardcover retrospective of Gahr's Springsteen photography, signed by editor Chris Murray.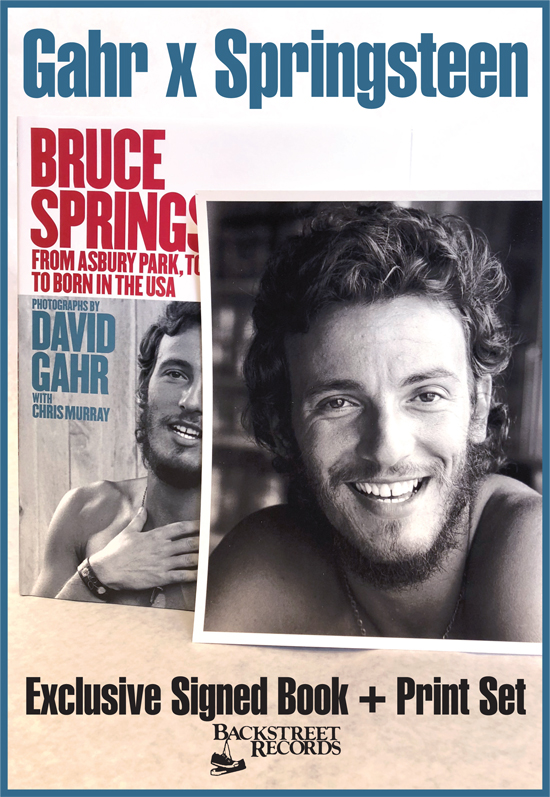 Purchase the book + print set here — these won't be available for much longer.
To read more about David Gahr and his Springsteen photography, and the book Bruce Springsteen: From Asbury Park, to Born to Run, to Born in the USA, read The Backstreets Interview with editor Chris Murray.
Thanks for supporting Backstreets and shopping with us!
- December 5, 2018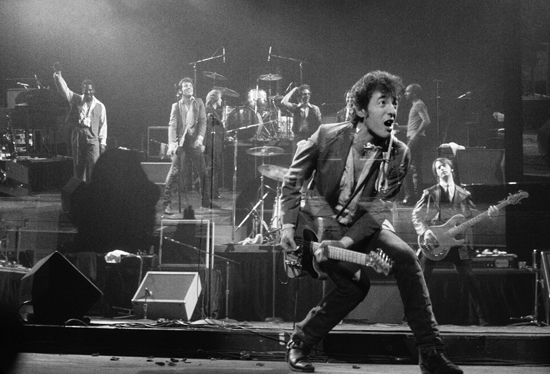 IT TAKES TWO
Double exposures from George Lange are pure serendipity
Accidents will happen, as a fine bloke once sang, and happy accidents can result in great art. Take photographer George Lange, who began shooting Springsteen concerts more 40 years ago, starting with Boston Music Hall in 1977. At the 12/28/78 Pittsburgh concert at the Stanley Theater, he made a goof that might be familiar to many photographers who've been around long enough to use actual film... he shot twice on the same roll.
"It was totally accidental," Lange tells Backstreets. "I shot the roll once in the balcony, then snuck downstairs and shot closeup — running the film through again by accident."
It happens. Especially if you're excited and in the moment. It's typically the facepalmy kind of thing that soon goes in the trash, and that's that. In this case.... well, take a look. There was magic in the night.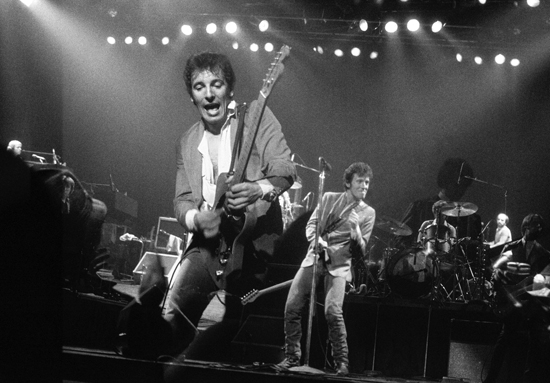 A couple of frames from this double-exposed roll were previously shared in Lawrence Kirsch's Light in Darkness book, but the other images from that roll were never printed or even looked at until this fall.
"No one had ever seen them — including me!" George laughs. "When I first put my loupe to the film in October, I was so blown away that these had been hiding in a folder for 40 years. And when I made some large prints, I was really taken back. There is such poetry in these images that I never saw before we made these new prints."
Lange has selected seven of these double exposure images to offer as signed art prints on archival rag paper, in two sizes, either 13 x 9 or the large 17 x 22 he references above. You can view all seven images online in his Bruce Springsteen Collection, where you can order signed prints with a letter of authentication.
George tells us he priced these "to get prints in as many hands as possible," thinking of Backstreets readers. "I really want people at the fan level to be able to afford these prints — they are really stunning." Additionally, to that end...
Use coupon code BACKSTREETS at georgelange.com
to get 10% off
"I remember the show being very raw, very passionate," Lange says of that Pittsburgh show, 40 years ago this month, "and feeling like Bruce was almost turning himself inside out to connect with the audience. This was not a 'fun' show. The man was on a mission. It seemed like he was spending every ounce of his soul trying to prove that he was real — and that proof meant everything."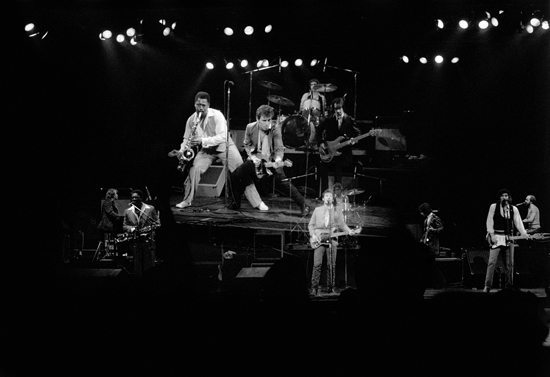 Lange is clearly "one of us" — he's attended numerous shows around the world since, from Pittsburgh's Civic Arena stop on the Born in the U.S.A. tour to this millenium's legendary San Siro show in Milan, the night of the lightning storm. He recalls a night at the Staples Center in L.A., "a show I found really 'off' and almost left, until Bruce sat down at the piano and played 'The Promise,' which totally turned the night around. Kind of like the Devils & Dust solo show at the Beacon that was received in relative quiet until he said, 'This is what I have been trying to say all night,' and lit into 'The Promised Land' — blowing the place away."
But throughout the years, this kind of serendipity doesn't strike often. "I have been taking pictures every day since the age of seven, and still that search for the magic is real. That is my job, being a professional photographer. Sometimes it happens by design — you set up your lights, you create a space for your subjects to play — sometimes you just take a ride on the momentum your create.
"I am sure at first when I unspooled this roll to dry in the darkroom I was heartbroken. I had such amazing shots of Bruce close up that were all messed up by double exposing the film. Then, years later, I discover that this 'mistake' was the purest magic of all. From the time I took them in 1978, to the discovery of a couple frames maybe ten years ago, then really examining the whole roll this past October — to last week, making my first big art prints — it's been thrilling."
- December 4, 2018 - Christopher Phillips reporting - photographs by George Lange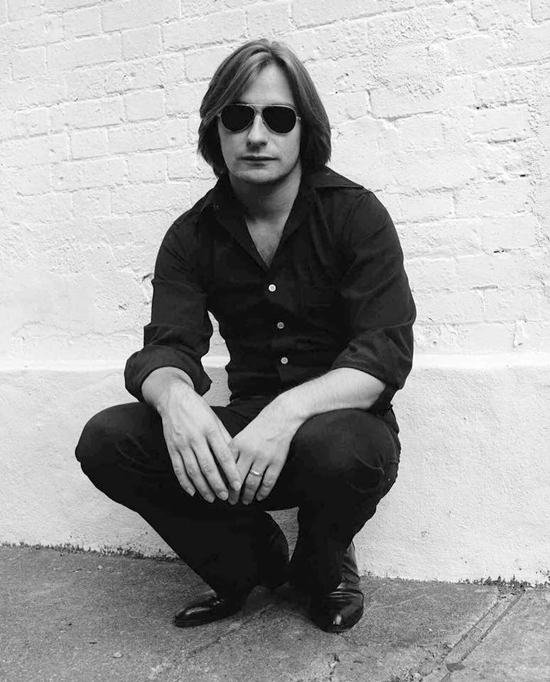 Southside at 30, from Frank Stefanko's NYC shooting session for Hearts of Stone in 1978
SOUTHSIDE AT 70
Big birthday wishes to Southside Johnny, born this day in 1948
One of our favorite artists clocks up 70 years on the planet today, 43 of them as leader of the the band that bears his name: Southside Johnny & the Asbury Jukes. Born in Neptune, NJ, in 1948, the young John Lyon grew up in Ocean Grove in the only house where the police were called to ask his parents to turn their music down. As a teenager, he began hanging out in Asbury Park and was a regular at the Upstage Club, where he met Steven Van Zandt and Bruce Springsteen.
After a spell in Richmond, VA, in the early '70s, he returned to Asbury and hooked up with the Blackberry Booze Band. That outfit morphed into the Asbury Jukes in March 1975, after Miami Steve came onboard and eventually landed a deal with Epic.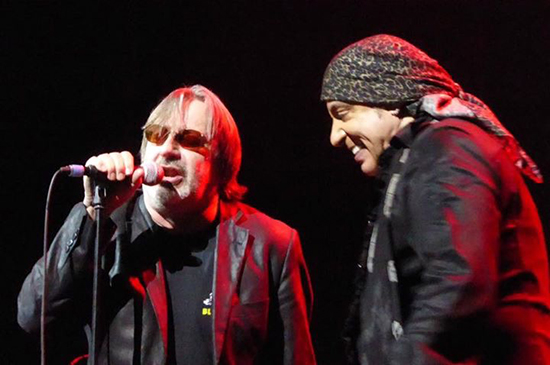 Southside with frequent partner-in-crime Stevie Van Zandt - photograph by Mike Saunders
Thousands of shows and more than four decades down the road, Southside can justifiably look back with pride on a career in music that has taken him around the United States and Europe more times than he can remember, up to the Arctic Circle and beyond to Japan and North Africa.
Southside's career has also included the release of several classic albums — we'd put I Don't Want to Go Home, This Time It's For Real, Hearts of Stone and Better Days all in that category — as well as more recent albums that maintain a high bar: Going to Jukesville, Pills And Ammo, and Soultime, plus Grapefruit Moon and Detour Ahead, his heartfelt tributes to Tom Waits and Billie Holliday. Not content with his regular touring schedule with the Asbury Jukes, he also plays with his alternative outfit, the Poor Fools.
And the road goes on forever: Following his annual New Years Eve gig at the Count Basie in Red Bank, Southside will be taking the Asbury Jukes to the U.K. next March, on the 42nd anniversary of his first tour there with Graham Parker and the Rumour, in the days when the band wore three-piece suits and Gerald Ford was president.
It's often been a rocky road, with many setbacks and disappointments, but Southside has endured. He has a legend to maintain and a mission to entertain. Long may he run. Wherever you are tonight, raise a glass of Jack Daniels in his honor.
- December 4, 2018 - Mike Saunders reporting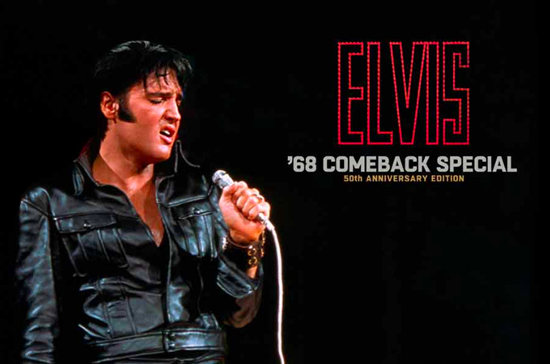 THE '68 COMEBACK: "IMPRINTED ON MY MEMORY FOREVER"
Fifty years ago today, on the evening of December 3, 1968, NBC aired the one-hour television special Singer presents ELVIS, now known more commonly as "the '68 Comeback Special." In less than an hour (not counting the commercials for sewing machines), Elvis Presley re-established himself as an artist to be reckoned with in contemporary music.
The television special launched a revival of Presley's musical career with a new streak of artistically and commercially successful recordings, as well as a series of concert appearances in Las Vegas and elsewhere that would feature many of his greatest performances. It was a major, hopeful triumph after years of increasingly disappointing recordings and films, and it arrived at the end of a year filled with violence and hopelessness, including the assassinations of Martin Luther King, Jr. and Robert Kennedy, which Presley addressed head-on in the special's closing gospel-inspired performance, "If I Can Dream."
"I remember I waited for weeks for the '68 Special...I knew it was coming. I can remember exactly where our TV was set up in the dining room, the exact place I was sitting. I mean, it's one of those things that's imprinted on my memory forever, but you weren't sure if he had the ability to focus and gather it all together one more time to create musical explosiveness."
— Bruce Springsteen, as interviewed for Elvis Presley: The Searcher

"There is something magical about watching a man who has lost himself find his way back home. Last December, on an hour television special, Elvis Presley found his way back, back to the role he plays best — 'A Swinging Little Guitar Man.' He sang with the kind of power people no longer expect from rock 'n' roll singers. He moved his body with a lack of pretension and effort that must have made Jim Morrison green with envy. And while most of the songs were ten or twelve years old, he performed them as though they were written yesterday."
— Jon Landau, "Eye on Records" column, Eye Magazine vol. 2, no. 4 (April 1969), p. 14

"That show was one thousand percent Elvis. His fingerprint was on the first frame to the last frame. He was a man on a mission."
— Jon Landau, as interviewed for Elvis Presley: The Searcher
Sony Legacy Recordings has just released Elvis Presley: '68 Comeback Special (50th Anniversary Edition), a 5CD/2Blu-ray disc box-set containing "all previously released and newly restored video from the taping of the special" in one set, including outtakes and alternate versions.
The video restoration was overseen by Thom Zimny, and the box set also contains an 80-page book with photos and an oral history of the Comeback Special derived from Zimny's interviews conducted for his 2018 documentary Elvis Presley: The Searcher, including comments on the special from Bruce Springsteen and Jon Landau.
In celebration of today's anniversary, Backstreets is pleased to share a digital reproduction of Jon Landau's complete essay on the '68 Comeback Special (and its accompanying soundtrack album), which originally appeared in Landau's 1969 "Eye on Records" column for the now-defunct EYE Magazine.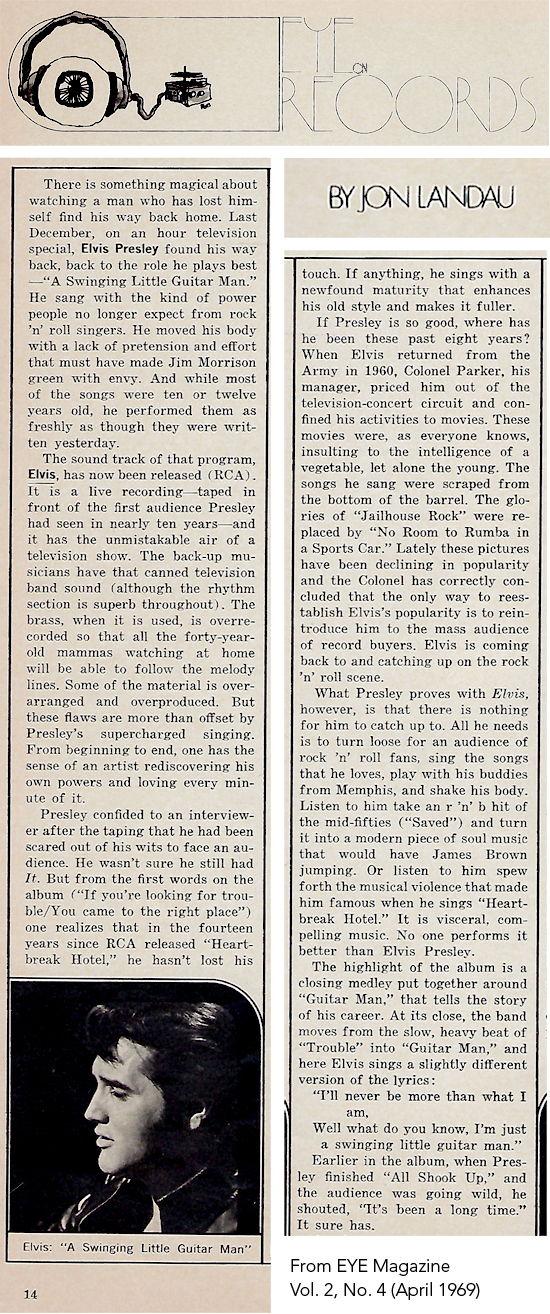 Excerpts from Landau's essay have been quoted often over the years in many books, articles, and even on the walls of Graceland exhibits. This Backstreets.com appearance, however, marks the first time that Landau's essay has been properly cited in full, after our own Shawn Poole conducted extensive research and tracked down an original copy of the magazine where the essay first appeared. Shawn plans to donate the copy he found to The Bruce Springsteen Archives & Center for American Music. Check out Shawn's Facebook post for more information.
- December 3, 2018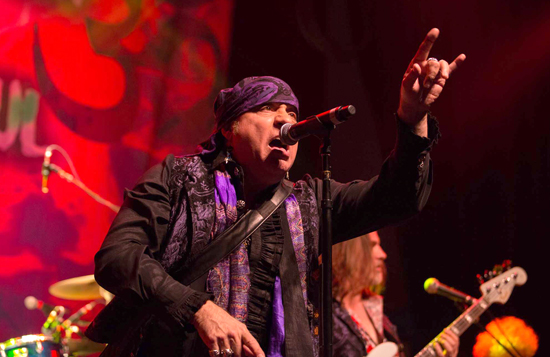 LITTLE STEVEN & THE DISCIPLES OF SOUL GET INTO DENVER
11/30/18, Gothic Theatre, Englewood, CO
The band hit the stage at 8:04pm Friday night with a vengeance I haven't seen since... well, my last Bruce show. Go figure. And the energy just kept building with each song!
They tore into "Sweet Soul Music," the Arthur Conley classic. Stevie quickly checked in with the crowd, doing his "I think you can bring more" routine, while the band paused behind him until the crowd reached an appropriate pitch of fervor. Then... "Do you like good music?!..." and we were off again. A rockin' "Soulfire" followed, and we were on a non-stop two-and-a-half hour ride on the Disciples' carousel of soul, blues and rock.
I hadn't seen a Stevie show before, so while I expected to have my face rocked off and get my dollar's worth (and what a deal at $40!) I somehow expected the setlist to be the same as the live album, maybe because of all those musicians in tow. Wrong! The performance deviated from that set, notably dropping the reggae-tinged trio of "Solidarity," "Leonard Peltier," and "I am a Patriot."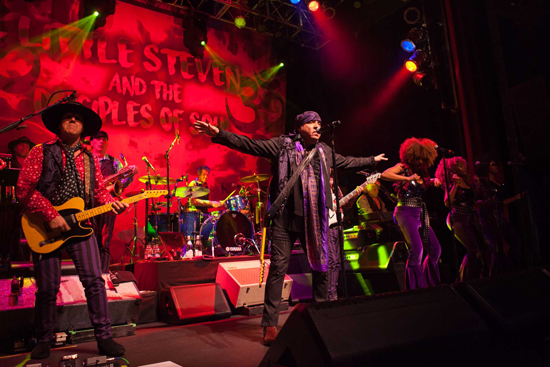 Particular favorites of mine were numbers off the new album, Etta James' "Blues is my Business," "Standing in the Line of Fire" (with a nice nod to Gary "U.S." Bonds and Ennio Morricone), and "Down in Out in New York City," which stretched out to around 12 minutes, letting this incredibly talented band stretch and flex its muscle.
There were also several Southside collaborations in there, with Stevie giving him a nod for helping keep his music alive while he was off for all those years "trying to be a gangster," he joked.
I was just blown away by this show! I can't believe this tour is not getting more attention and press. You just don't see this anymore. It felt like what being at the Fillmore back in the day might have been like, with Curtis Mayfield, Herbie Hancock, King Curtis, Wilson Pickett, Duane Allman, James Brown — all on stage together!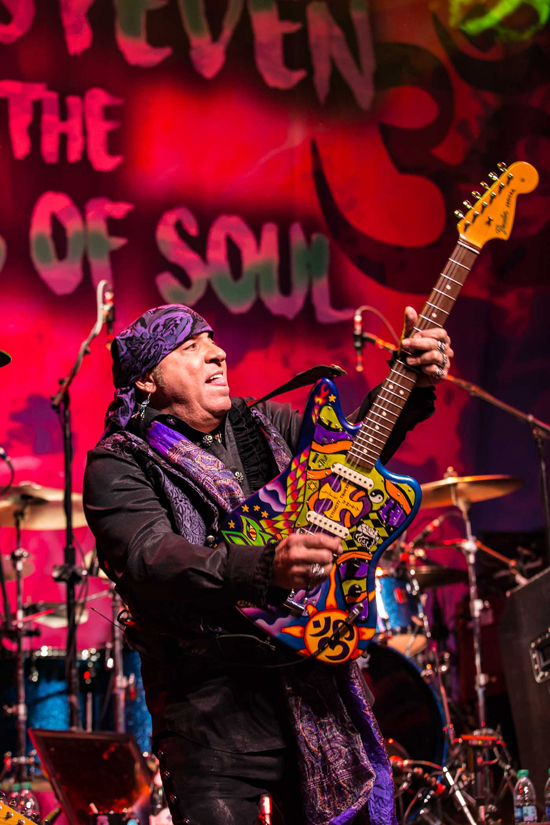 The tour still has two weeks left to catch them if you can (click here for dates), and don't forget, teachers get in free!
Click below to view more Denver photographs by Garrett Hacking, shot Friday night for Backstreets.
- December 3, 2018 - reporting and photographs by Garrett Hacking/Photography G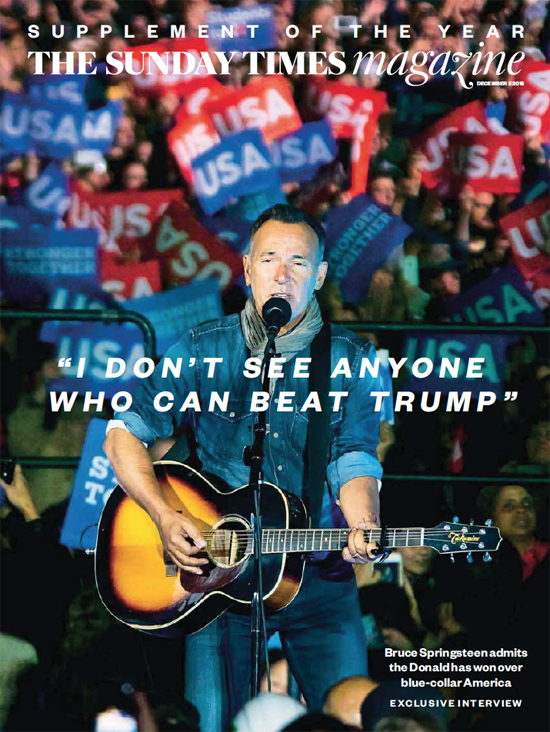 NEW YEAR... NEW ALBUM, NEW TOUR?
Springsteen tells Sunday Times he'll soon be "back to my day job"
Hot on the heels of his Esquire cover feature, Bruce Springsteen appears on the cover of today's Sunday Times Magazine (UK) for another interview. Political talk is the lede, and of course there's Springsteen on Broadway as well, but we have to highlight this long-awaited glimpse of what's coming next:
Will he throw his bandana into the [Presidential candidacy] ring for a last-chance power drive? Springsteen laughs. "No, not in any way, in any form," he says. "I'd be terrible." In any case, he'll soon be "back to my day job" — touring with the E Street Band, including venues in the UK. He will also release a new album, his first for five years: "For lack of a better word, it's a singer-songwriter album — more of a solo record." His fans would prefer to see "the Boss" on stage than on the stump, he says.
The Times' Nick Rufford later writes, "When he tours in the next few months with the E Street Band...." Of course, there's no official announcement at the moment, of either album or tour, and we don't expect one in the near term. But The Sunday Times ain't fake news.
Read: "Bruce Springsteen on how Donald Trump won over his blue-collar fans"
Update: Stevie's responses on Twitter are worth sharing...
- December 2, 2018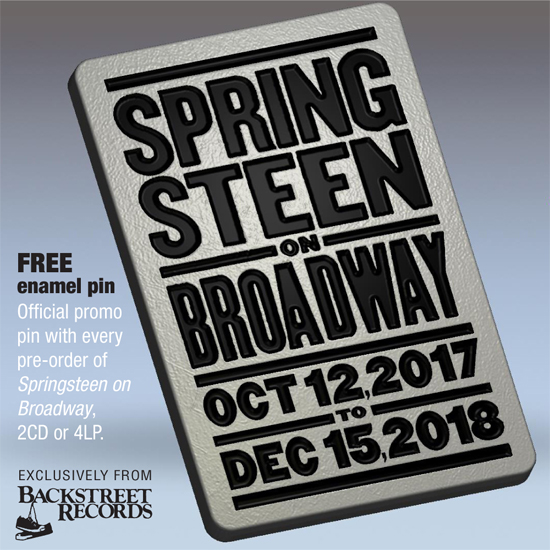 FREE ENAMEL PIN WITH ALL BROADWAY PRE-ORDERS
Two weeks from today, Springsteen on Broadway drops on CD (a two-disc set) and vinyl (four LPs). We've got a special promo item we'll be including FREE with all pre-orders: an official Springsteen on Broadway enamel pin, displaying the opening and closing dates of the 236-show run. Available exclusively from Backstreet Records. Order now to guarantee yours!
12/2 Update: The official release date of the 4LP vinyl has been pushed back to 2019, now set for January 25. The CD set is still coming on December 14. Pre-orders for both CD and vinyl from Backstreet Records will still include the bonus enamel pin. Iif you pre-ordered the vinyl along with other items, we'll ship twice: in-stock merch will ship in time for the holidays, and we'll send the vinyl separately upon its January 25 release.
Pre-order Springsteen on Broadway on CD
Pre-order Springsteen on Broadway on vinyl
- November 30, 2018 - updated December 2, 2018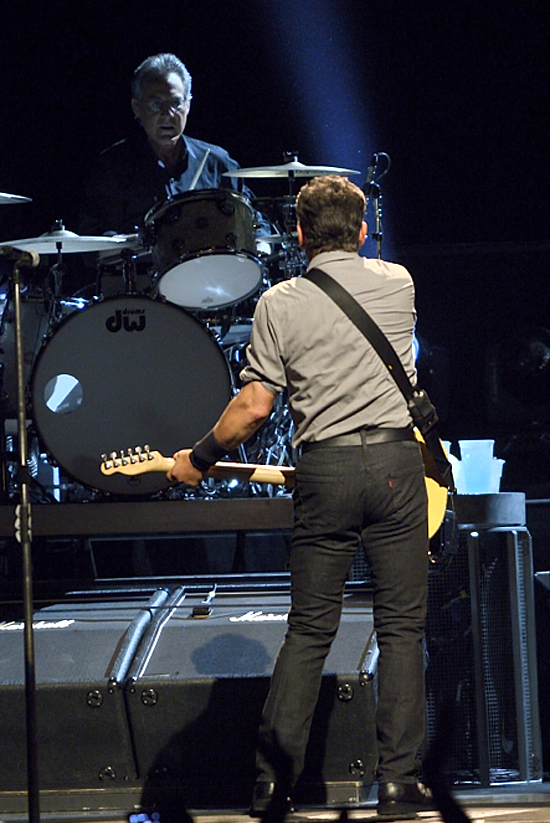 ANOTHER LOOK AT LEEDS
7/24/13 photographs by Rene Van Diemen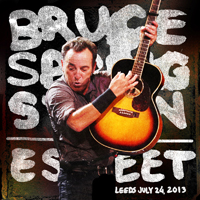 December is only hours away... but today isn't quite First Friday. While we wait one more week for Springsteen's next live archive installment, let's take another look back at Novemeber's: Leeds, July 24, 2013.
Further down, regular Backstreets scribe Mike Saunders wrote about this Wrecking Ball tour stop, which he attended. Also at the show that night was regular Backstreets photographer, Rene van Diemen, with camera in hand, and here we've got a portfolio of his images to accompany your listening.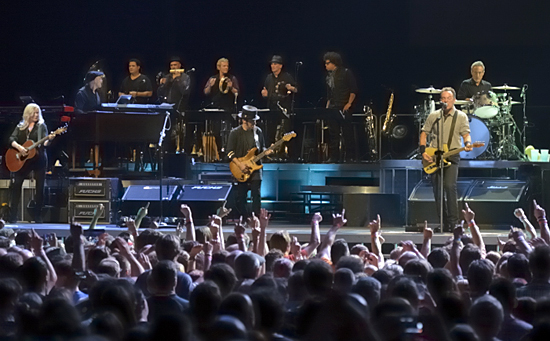 Rene recalls, "I think this was one of the last times Bruce played two nights in a row in different cities — he had just played Cardiff the night before. With the theatrical premiere of Springsteen & I the night before that, it was a great week, with unsual high temperatures for that part of Europe. Cardiff was in a half soccer stadium, and it was very hot during the day — but a great atmosphere in the queues despite the heat, and a fantastic show as well (including "TV Movie"). Right after the Cardiff show, many people jumped in the car to "drive all night" to Leeds, to start queuing over there. The highway was alive that night. I myself took a train the following morning. Leeds was a very intimate show, and a bit strange to have this indoor stop between all the outdoor shows. But it was a very memorable night, with so many of my Bruce buds there and some very nice tour premieres. After the Leeds show, many of my friends who did both queues without much sleep in between were truly wrecked... but deeply satisfied."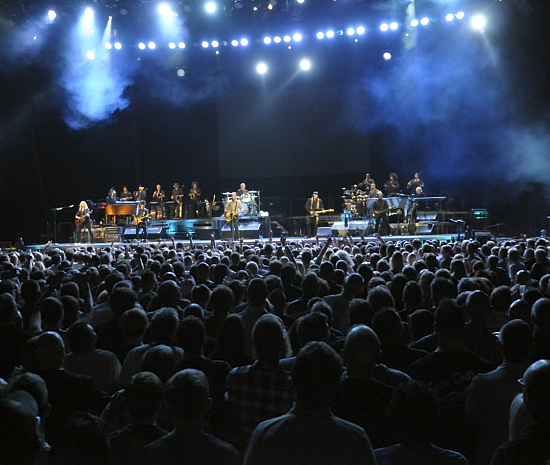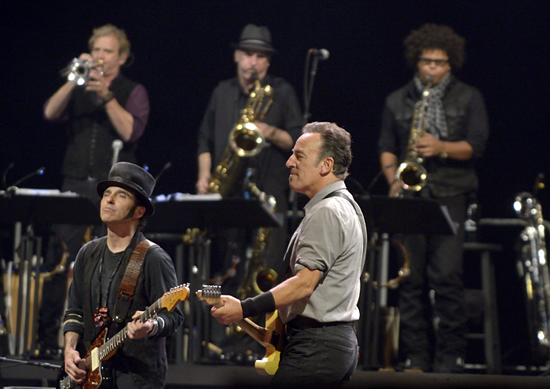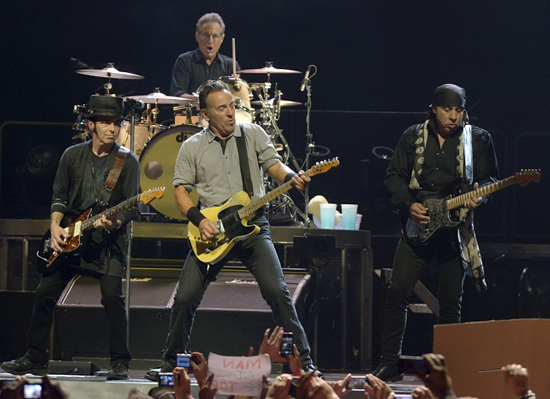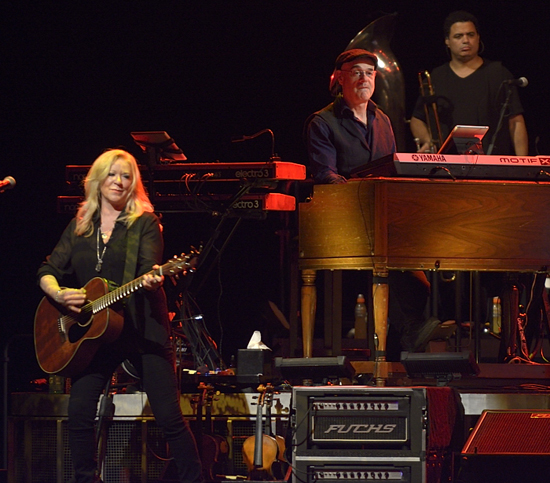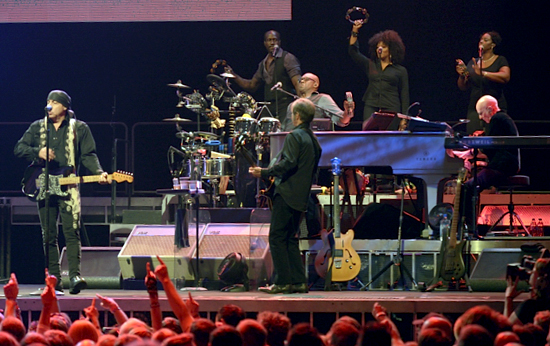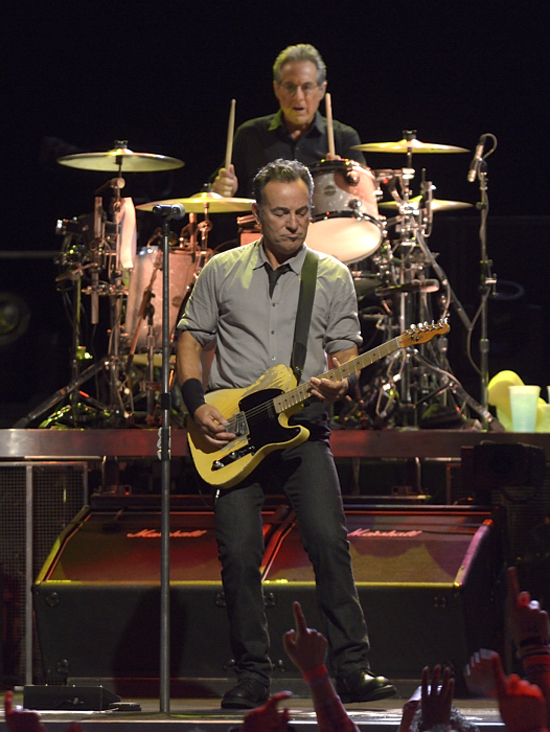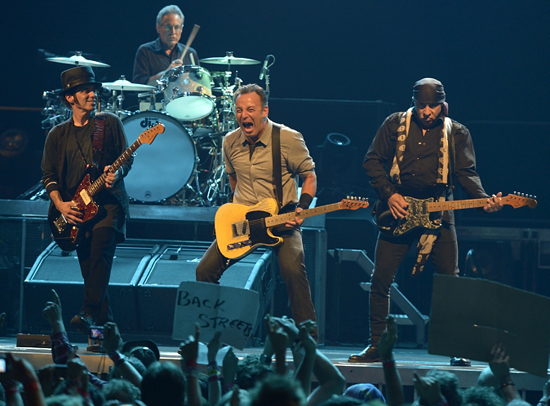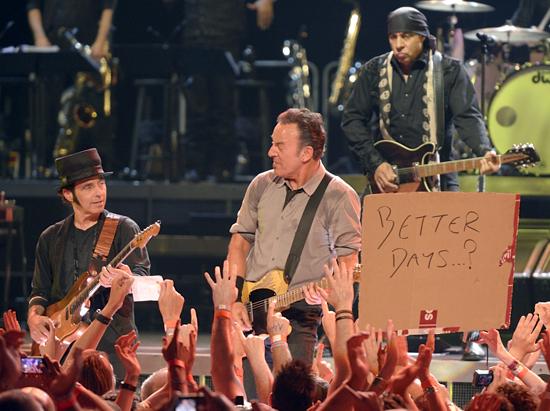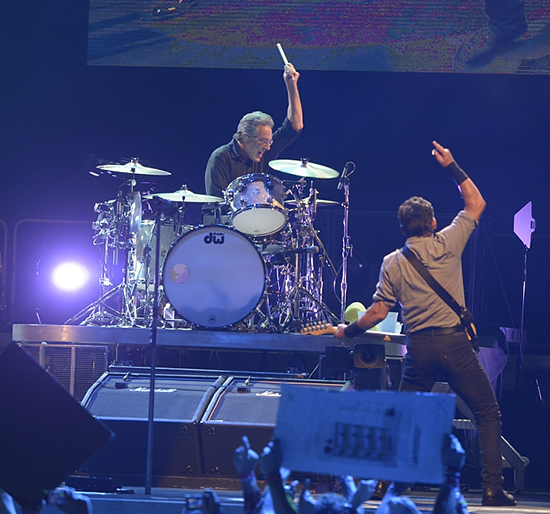 - November 30, 2018 - photographs by Rene van Diemen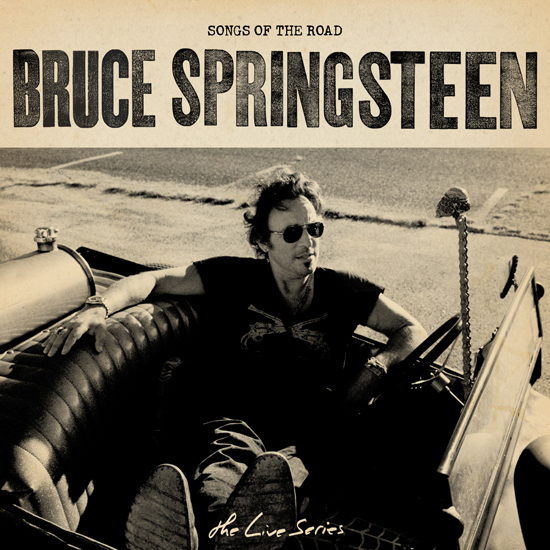 NEW LIVE SAMPLER: SONGS OF THE ROAD
Live archive tracks come to streaming services
Maybe you haven't taken the plunge on Springsteen's monthly live archive series (we won't judge — not much). Or maybe you've been selective, not keeping up with each and every release. Or maybe you just like a good mix tape. In any case, this comes as fun news: tracks from the Nugs releases at live.springsteen.com have just arrived on streaming services today, via what appears to be a new series of curated playlists.
The first to drop in The Live Series on Spotify and Apple Music is Songs of the Road, with thematic selections spanning from 1977 to 2013:
| | | |
| --- | --- | --- |
| 1 | Thunder Road | Palace Theatre, Albany, NY - 02/07/77 |
| 2 | Highway 29 | King's Hall, Belfast, UK - 03/19/96 |
| 3 | Incident on 57th Street | Capitol Theatre, Passaic, NJ - 09/20/78 |
| 4 | Open All Night | Jazz and Heritage Festival, New Orleans, LA - 04/30/06 |
| 5 | Stolen Car | ASU Activity Center, Tempe, AZ - 11/05/80 |
| 6 | Tenth Avenue Freeze-out | Auditorium Theatre, Rochester, NY - 02/08/77 |
| 7 | Out in the Street | Wachovia Spectrum, Philadelphia, PA - 10/20/09 |
| 8 | Drive All Night | Madison Square Garden, New York, NY - 11/08/09 |
| 9 | Born to Run | Brendan Byrne Arena, East Rutherford, NJ - 08/05/84 |
| 10 | Used Cars | St. Rose of Lima School, Freehold, NJ - 11/08/96 |
| 11 | Action in the Streets | Palace Theatre, Albany, NY - 02/07/77 |
| 12 | Racing in the Steet | Agora, Cleveland, OH - 08/09/78 |
| 13 | Working on the Highway | Ippodromo delle Capannelle, Rome, Italy - 07/11/13 |
| 14 | The E Street Shuffle | TD Banknorth Garden, Boston, MA - 11/19/07 |
| 15 | Cadillac Ranch | Nassau Veterans Memorial Coliseum, Uniondale, NY - 12/31/80 |
Killer performances, a great mix of band line-ups and solo performances, this looks to be a great way to expose more listeners to not only some more obscure Springsteen songs, but the brilliance and variety of his live performances. What's next? Songs of Protest? Songs of Family? Songs of Womens' Names? Songs of Rivers and Trees? Songs of Blue Collar Occupations? We'll be staying tuned.
- November 30, 2018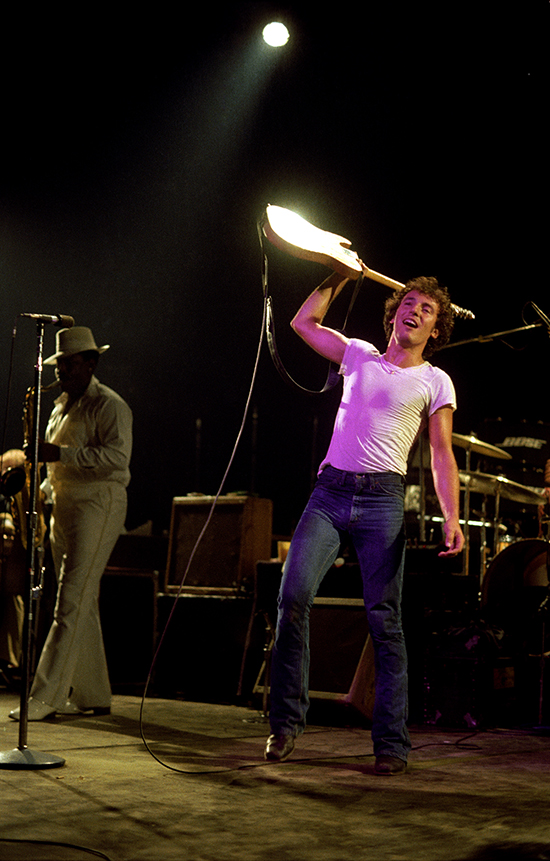 INSTAGRAM TAKEOVER: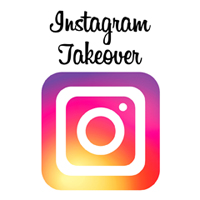 SHIVE ARCHIVE AT THE WHEEL
Photographer Jim Shive will be (temporarily) taking over the Backstreets Instagram account as of this afternoon. Wanna see new, rare images of Bruce and the E Street Band? Wanna relive some of those early history-making performances from 1974, 1975 1976, 1977, 1980 and more? Follow backstreetsmag on Instagram.
A lifelong professional photographer, Shive produced thousands of images of rock 'n' roll's most illustrious concerts from the mid-1970s through the mid-'80s, providing a dense visual record of these formative years and enduring live performances. For many Springsteen concerts, Jim Shive was often the only professional photographer in front of the stage during this time period and is generously sharing these images for all to see, exclusively on our Instagram account.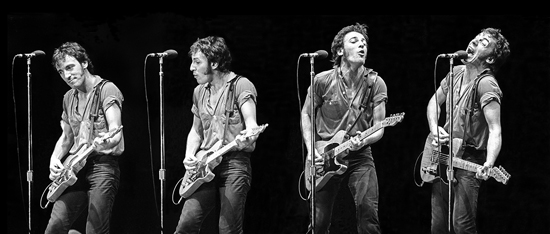 If you see one you love, visit shivearchive.com where you can choose one of these pretty pictures to hang up on your wall — and Backstreet readers save 75 bucks on Shive Archive purchases with the code INSTAGRAM2018.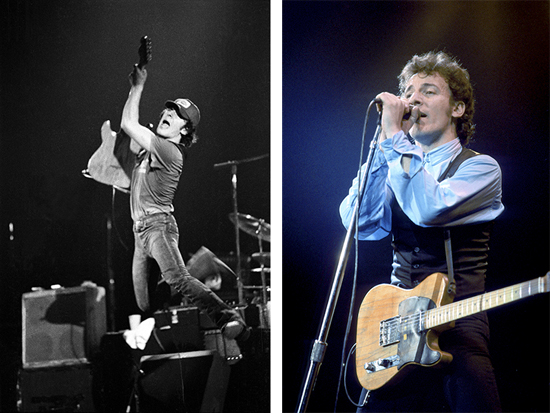 - November 28, 2018 - photographs by James Shive

STREAM BABY STREAM
Soundtrack sweepstakes will send a winner to Broadway
With the release of the Springsteen on Broadway soundtrack album coming up on December 14, Sony's running a sweepstakes for U.S. and Canada with a hell of a prize, and it's easy to enter. As long as you can stream. Got Spotify? Got Apple Music? Simply pre-save or pre-add the album to your collection via this link on or before December 4, and you'll be automatically entered to win.
The prize: a trip to see one of Bruce's final performances at the Walter Kerr Theatre, with hotel and airfare included. One winner will get two tickets for the December 13 performance of Springsteen on Broadway, two roundtrip airfare tickets, and two nights' hotel accommodations in New York. Click here to enter.
The Springsteen on Broadway soundtrack will be released in physical formats, too — pre-order the 2CD set or 4LP vinyl from Backstreet Records to score a free Springsteen on Broadway enamel pin, pictured above, an official promo item exclusively available here.
- November 27, 2018


FIRST LOOK: OFFICIAL NETFLIX TRAILER FOR BROADWAY
Thom Zimny's Springsteen on Broadway film is coming to Netflix just hours after Bruce takes his final bow on the boards on Saturday night, December 15, and a trailer posted today gives us a two-and-a-half-minute taste.
If you'll be watching the clock or planning a viewing party, Springsteen on Broadway launches globally on Netflix on Sunday, December 16 at 12:01am PT, 3:01am ET, 8:01am GMT.
- November 27, 2018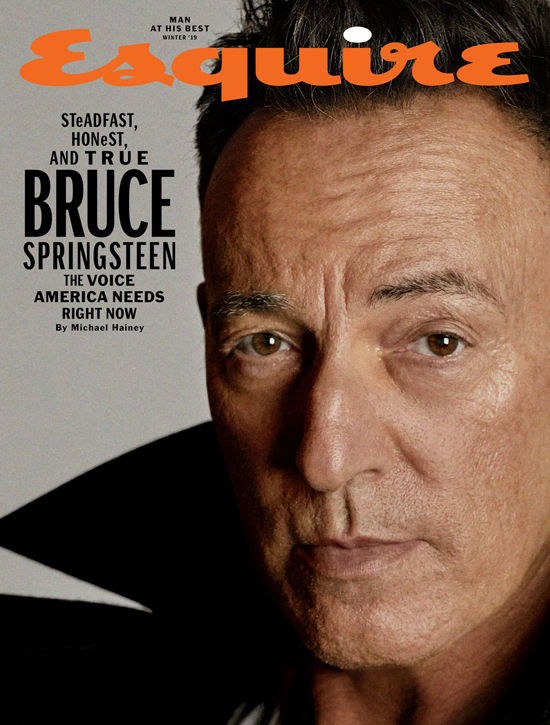 "STEADFAST, HONEST, AND TRUE": BRUCE IN THE NEW ESQUIRE
With an eye on the end of the Springsteen on Broadway run and the associated film's Netflix debut, Bruce Springsteen talks with Michael Hainey for a new Esquire interview. They talk DNA, growin' up, mothers and fathers, men and women, and putting it all on the Broadway stage: "It's me reciting my 'Song of Myself.'"
Springsteen also talks about the current state of the nation ("the partisanship and the country being split down the middle is something that's gravely dangerous"), his personal struggle with depression, and the universal struggle to find identity and a true self: "The only thing in life that's sure is: If you think you've got it, you don't have it!... Bruce fucking Springsteen is a creation. So it's somewhat liquid — even though at this point you would imagine I have it pretty nailed down. But sometimes not necessarily."
Read: "Beneath the Surface of Bruce Springsteen," from the Winter '19 Esquire
- November 27, 2018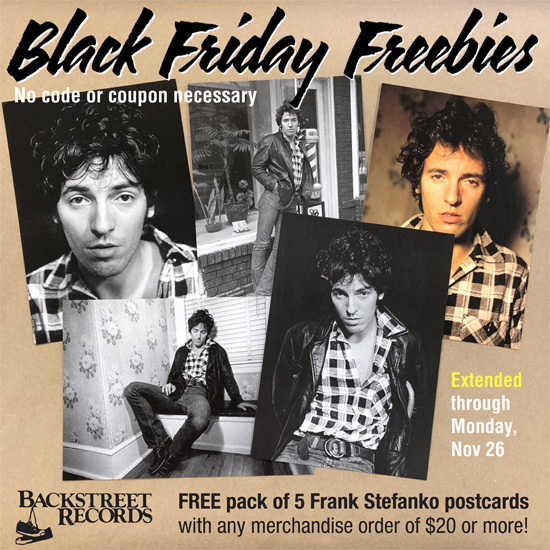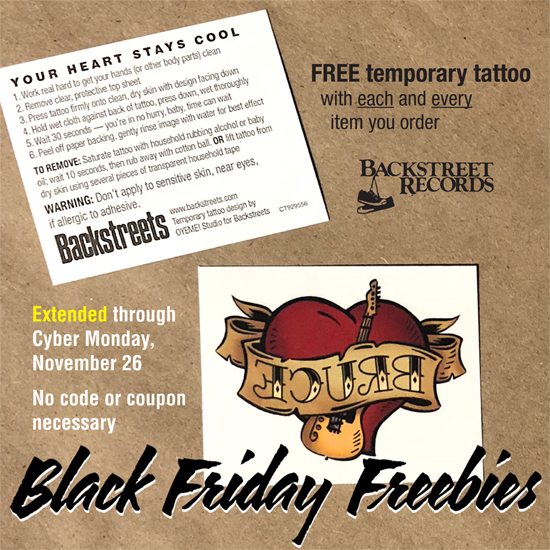 BLACK FRIDAY GIVEAWAYS EXTENDED THROUGH CYBER MONDAY
Stock up on Springsteen, get a jump on holiday shopping, and get these freebies from Backstreet Records!
Latest Additions - Signed Items - Stocking Stuffers
- November 26, 2018

BLACK FRIDAY FREEBIES, NOW THROUGH THANKSGIVING WEEKEND
Holiday shopping season is upon us, and there's no shortage of Springsteen stuff on our shelves this year for your favorite fan. Check our Latest Additions page for recent arrivals, from official Springsteen on Broadway T-shirts to newly remastered and reissued vinyl.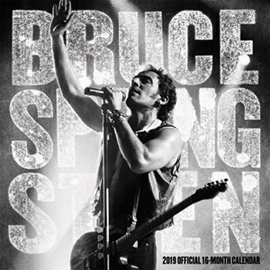 One of our most popular items each year is the official Bruce Springsteen calendar, and for 2019 it's available once again from Thrill Hill Productions. This new one has a focus on the '80s and '90s to coincide with this year's Album Collection Vol. 2 box set. Each month of 2019 features a large image (12" x 12"), of Bruce Springsteen on and off stage, with and without the E Street Band
You can peruse hundreds of Bruce books, CDs, records, and more at Backstreet Records by category, including SIGNED ITEMS and STOCKING STUFFERS, or start with our new arrivals.
To kick off the season, we're offering a couple of FREEBIES to help stuff those stockings. From now through Sunday night at midnight: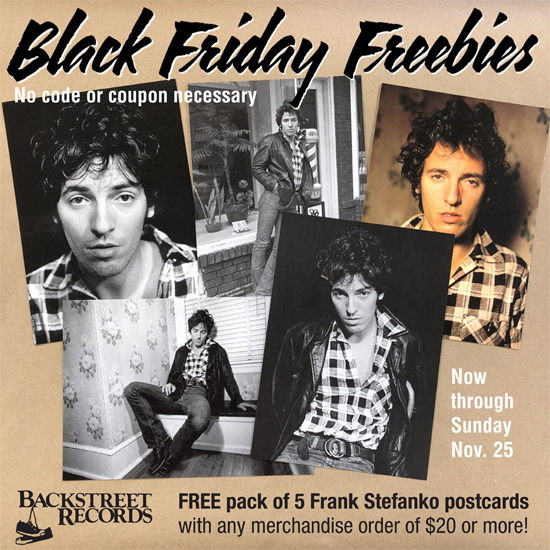 FREE Stefanko postcard pack: Five killer images from Frank Stefanko's cover sessions for the Darkness/The River albums, in a set of postcards exclusively available from Backstreets... yours FREE when you order merch totalling $20 or more. And if you order Frank's book — the monster-sized, slipcased Further Up the Road — we'll triple the freebie and send you three postcard packs.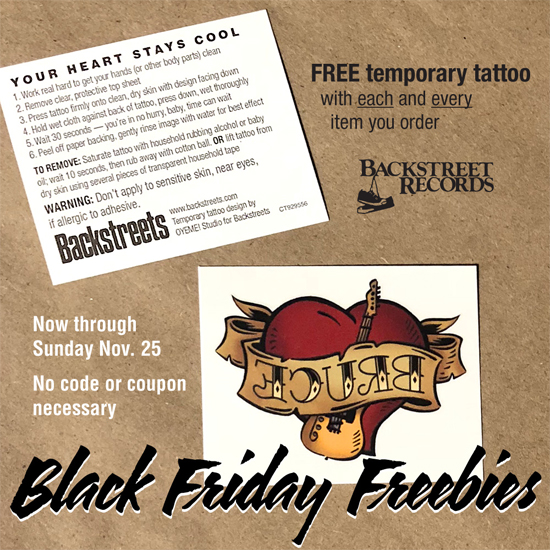 FREE temporary tattoos: Wear your heart on your sleeve (or on your arm, or wherever your want), with no minimum order on this one: order a CD, a bumpersticker, anything in our shop, and you also get this temporary tattoo. Order a CD and a T-shirt, get two tattoos. A CD, a book, and a T-shirt... three tattoos. You get the idea. And if these items total $20 or more, you also get the Stefanko postcard pack.
No coupon necessary, no need to add these items to your shopping cart. Simply place your order between now and midnight Sunday, November 25, and we'll send the freebies out with all qualifying orders.
Click here for Latest Additions
Thank you for supporting Backstreets, hope you and yours have a happy Thanksgiving weekend!
- November 22, 2018

Warm wishes to everyone this Thanksgiving — hot yams, cold milk, warm wishes. We're especially thankful for Steven Van Zandt, born this day in 1950. Happy birthday, Stevie! Over on E Street Radio, they'll be celebrating Tracks@20 all weekend long, with Dave Marsh and Jim Rotolo's track-by-track rundown of the box set receiving multiple airings. Meanwhile, live.brucespringsteen.net has a 50% Off Downloads sale running through Monday (with 25% off CDs). And stay tuned here on Backstreets.com for a couple of cool freebies we'll be giving away with Black Friday orders from our online shop. Whatever your plans may be for this holiday weekend, enjoy — and thank you for being part of this thing of ours.
- November 22, 2018 - special thanks to Shawn Poole for the photograph

HUNGER IS A CRIME — HELP FIGHT IT WITH HUNGERTHON 2018


Every Thanksgiving, we like to remind everybody about WhyHunger — fighting hunger all year long, but particularly with their annual Hungerthon. Originally named World Hunger Year, co-founded by Harry Chapin and Bill Ayres in 1975, this is the organization that Bruce Springsteen turned to for direction when he wanted to help local FoodBanks around the country. Bruce is a current Artist Ambassador for WhyHunger, and they note: "Over 20 years, Bruce Springsteen has raised millions of dollars in support of over 130 grassroots organizations while on tour, helping millions of American families get nutritious food."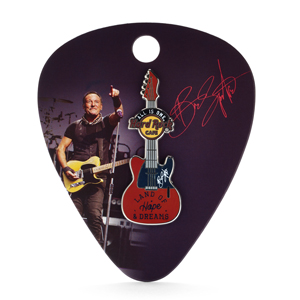 You may have dropped some bucks in those buckets after a show; you can also help by donating online for Hungerthon.
Some cool new gifts available with your Hungerthon donation this year include a Springsteen "Land of Hope and Dreams" pin, and a couple Tom Morello items too: a "Hunger is a Crime" baseball hat, and a "Hunger is a Crime" raglan shirt.
A Hungerthon charity auction includes prime seats for Springsteen on Broadway, E Street Radio guest host spots with Dave Marsh on Live From E Street Nation and with Jim Rotolo on The Wild and The Innocent, a private acoustic house concert with Joe D'Urso, and lots more.
Our thanks to WhyHunger for continuing to fight the good fight!
- November 20, 2018

THE EXPANDED STAN LEE/SPRINGSTEEN/MARVEL UNIVERSE
Upon
the passing of Stan Lee
last week, we posted on social media our own small (but heartfelt) Springsteen-connected salute to the Marvel Comics visionary
[above]
. It featured the cover of Marvel Comics'
The Transformers
issue # 14, March 1986, where the robots-in-disguise met "Brick Springstern (aka 'Springhorn') and the Tenth Avenue Band."
In addition to revitalizing Marvel Comics by co-creating some of his medium's greatest characters and storylines, Lee was quite a significant role model for many of us here at Backstreets: an innovative writer and publisher who retained his enthusiasm and passion for his work throughout a long, happy and productive life. So as we continue to remember Stan Lee and his Marvel Comics legacy, here are some additional, interesting Springsteen/Marvel mashups to enjoy.
First up, we can't quite finish with those Transformers, True Believers, until we note yet another Springsteen/Transformers intersection that occurred in issue # 31 (October 19, 1985) of Marvel UK's weekly The Transformers comics-magazine. In that issue, human-friend-of-robots Buster Witwicky played a cassette featuring "Glory Days" through a tape-deck he was trying to fix.
Then there are these variant covers for IDW's 2006 reissue of The Transformers issue #14 (as The Transformers: Generations #3.) We came across these babies just this week while re-digging into our previous research on Springsteen appearances/references in comics over the years, most of which got used for our full-length article in Backstreets Magazine issue # 90 (now out of print.) Check out these additional images of "Brick" and his incredible "Big Man" bandmate in action: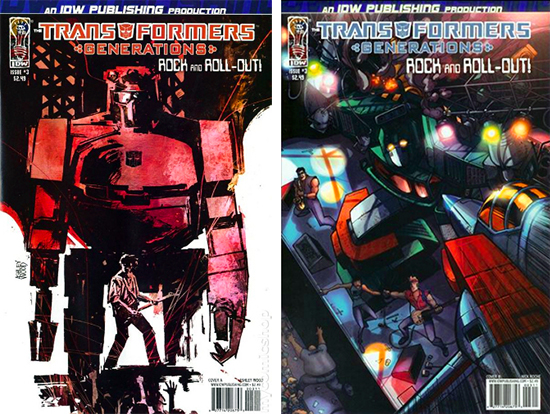 Also featured in that out-of-print issue #90 of Backstreets was this series of sketches of Larry Underwood drawn by Mike Perkins for the Marvel Comics adaptation of Stephen King's The Stand. The Underwood/Springsteen resemblance is... uncanny.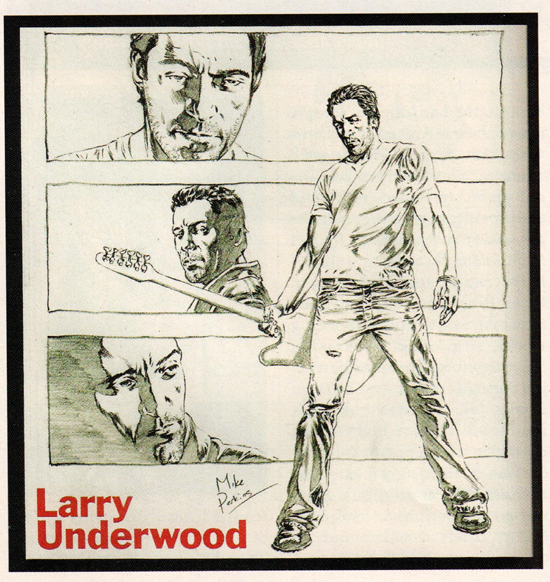 Finally, read our archived online addendum to issue #90's Bruce-in-the-comics article, where several more amazing Springsteen-Marvel mash-ups can be found in fantastic issues of Conan the Barbarian, G.I. Joe and Wolverine.
Rest in peace, Smilin' Stan — your work lives on. 'Nuff said.
- November 19, 2018 - Shawn Poole reporting

BRUCE BRUNCH TAKING REQUESTS, NO SIGNS REQUIRED
Call in this Sunday to have your request FULFILLed Sunday next
It's Thanksgiving time, which means the Bruce Brunch's annual all-request show is almost upon us — this Sunday is the day to call in and let host Tom Cunningham know what you want to hear, and help in the battle against hunger at the same time.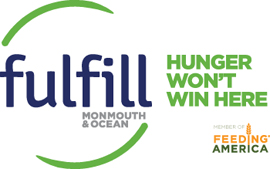 Tom's Bruce Brunch radio program, on Townsquare Media's 105.7 The Hawk (WCHR-FM) and now in its 15th year, features the music of Bruce Springsteen and other Jersey Shore legends on Sunday mornings; this will be Cunningham's 13th annual all-request edition, raising money for FULFILL (formerly, The Foodbank of Monmouth and Ocean Counties).
There's space for 20 songs, with a $25 (minimum) donation for each song, all proceeds going to the New Jersey hunger-fighting charity. With a donation, listeners are welcome to pick the Springsteen song of their choice and include a personal dedication as well.
Requests will be taken beginning at 9am this Sunday, November 18, by phone at (732) 643-5891, with donations accepted via credit card payment. A week later, those requests will make the air in a special three-hour program, Sunday, November 25, from 9am to noon.
"I look forward to the all-request show every year," says the Bruce Brunch DJ. "In addition to helping to raise thousands of dollars over the years for our local Foodbank, the folks who participate always come up with some amazing requests and dedications.
"Collecting donations to end hunger touches people on a most local and fundamental level," Tom continues. "I can't remember the last time that I've walked out of one of Bruce's shows and there's not been someone from a local food concern accepting donations. It's 13 years in, and I'm very proud to continue to partner the Bruce Brunch, everyone at The Hawk, and the great team at the Townsquare Media Shore to help benefit FULFILL."
- November 16, 2018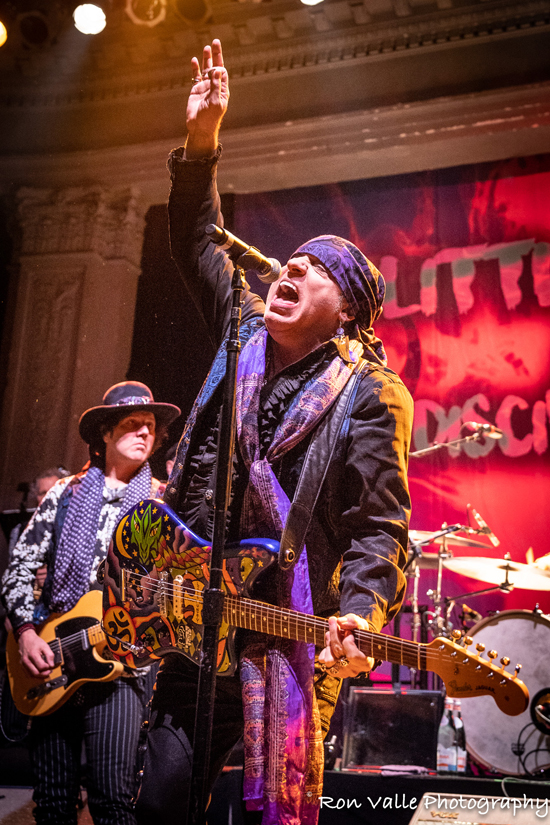 LITTLE STEVEN & THE DISCIPLES OF SOUL, COLUMBUS, 11/14/18
Little Steven & the Disciples of Soul performed last night at America's longest continually running rock club, Columbus' Newport Music Hall, on their Soulfire Teachrock Solidarity Tour 2018 — and to teach us what good rock 'n' roll is all about. The band came out swinging with a rousing cover of Arthur Conley's 1967 hit "Sweet Soul Music," setting the scene for a 20-song R&B/garage rock blowout that included Stevie's own album tracks as well as soulful takes on songs recorded by Etta James, James Brown, Gary "U.S" Bonds, Cocktail Slippers, The Breakers, Jimmy Barnes, and, naturally, Southside Johnny and the Asbury Jukes.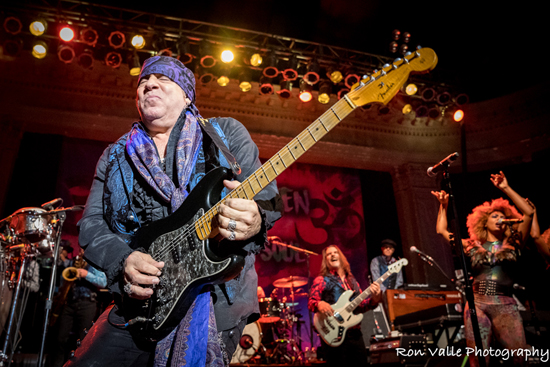 The well-seasoned and psychedelically attired Disciples of Soul were all given their moments to shine with solos — Little Steven, too, demonstrated that he can still shred on guitar. The energetic night concluded with two stellar encore songs: "I Don't Want to Go Home," which Van Zandt penned for Southside, and his own 1984 classic "Out of the Darkness." The tour still has one month left to catch them if you can (click here for dates), and don't forget, teachers get in free!
Click below to view more Columbus photographs by Ron Valle, shot last night for Backstreets.
- November 15, 2018 - reporting and photographs by Ron Valle


FOUR SONGS, TWO DIRTY JOKES, AND A HAPPY VETERANS DAY
Last week, Bruce Springsteen returned to perform once again at the Stand Up For Heroes benefit, including duets with Patti Scialfa and Eric Church. The annual concert, which honors military veterans and supports the Bob Woodruff Foundation, raised more than $5.4 million to help our nation's wounded, ill, and injured veterans, service members and their families. Here's Bruce's full set, fan-shot — today's a good day to watch. Happy Veterans Day, and thank you to all who serve.
- November 11, 2018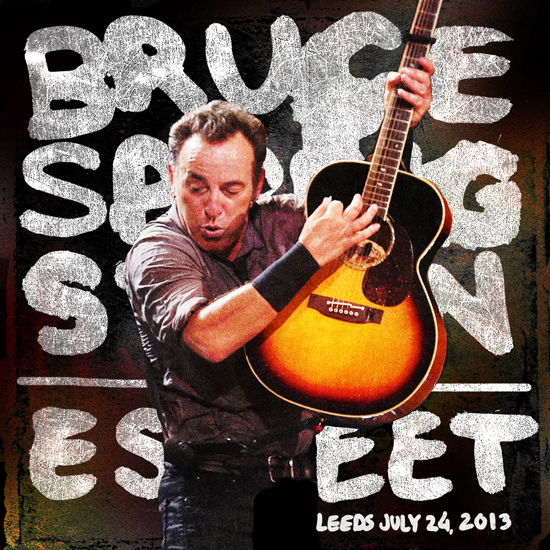 LIVE AT LEEDS WITH THE E STREET ORCHESTRA
A rare U.K. arena show from 2013 for November's "Second Friday"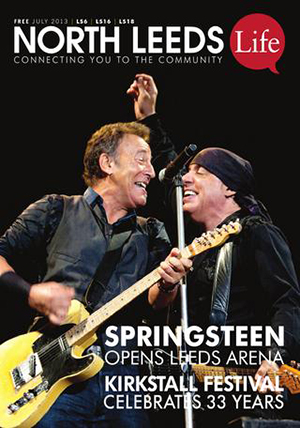 Such is Bruce Springsteen and the E Street Band's popularity in the U.K. that they typically appear in large outdoor venues to meet demand. For the Wrecking Ball tour in 2012, it was business as usual: four stadium and festival appearances that summer. It was a big show by a big band in big venues: with many open-air dates, Springsteen and his 16-piece band would cover North America, South America, South Africa, Australia, and New Zealand, and tour Europe twice in consecutive summers.
Near the end of that 18-month trek, however, on their 2013 European "victory lap," they scaled things down for a comparatively intimate night, christening a brand-new indoor arena in Leeds.
It was Springsteen's first concert in this northern city since 1985, when he played for 80,000 people at Roundhay Park; the new arena had a capacity of 13,500. Tickets sold out in minutes, and fans began arriving several days early to secure a place at the front. Today, Leeds, July 24, 2013 joins Wrecking Ball-era recordings from the Apollo Theatre, Helsinki, and Rome, making a worthy addition to the archive series.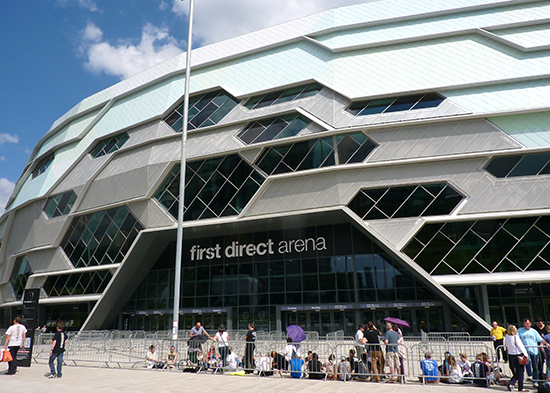 When Springsteen and the E Street Big Band (including five horn players and three backing vocalists but without Patti Scialfa) walked onstage at the First Direct Arena, it had yet to officially open. Elton John was due to perform the inaugural show in September, but press reports suggested that Springsteen requested this special "pre-launch concert" at the £60 million venue.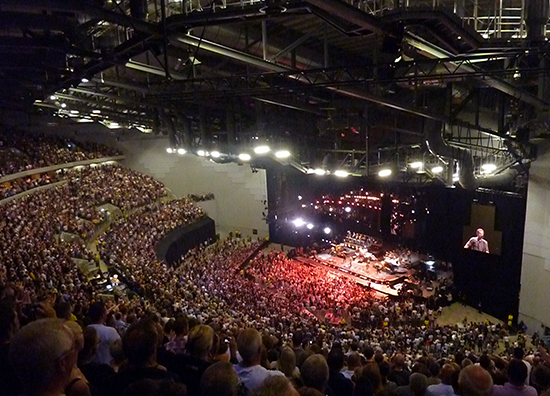 After more than 120 shows, the band was firing on all cylinders. The concert began with Max Weinberg's pounding introduction to "Roulette," and the barrage continued with "My Love Will Not Let You Down" and "No Surrender." The tempo slowed for a deep-cut pairing of a majestic "Something in the Night" and the U.K. debut of the brooding "American Skin (41 Shots)."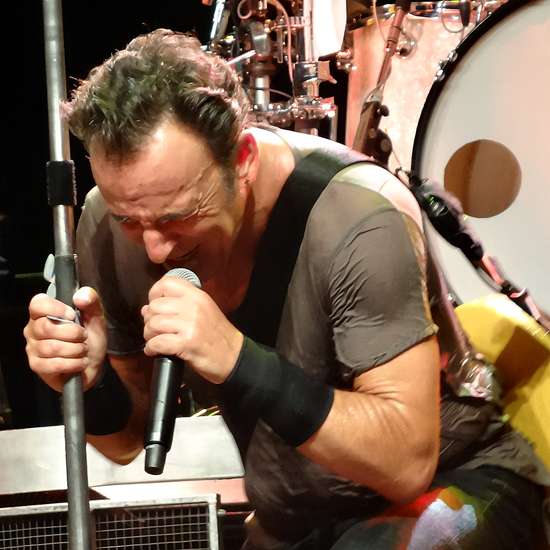 As a tour progresses, Springsteen shakes up the setlist, throwing in rarities, curve balls, and one-offs. Leeds was one of those nights, with four tour premieres, five U.K. debuts, and two European debuts.
Three tour premieres in a row came after Springsteen scooped up armfuls of request signs. The first selection was already on the setlist. "We knew this was coming, and we've done a little bit of rehearsal on this," he admitted. With the relevant sign ("Local Hero – We Dare U!") placed in front of his microphone stand, he began the first performance of the song in a decade. Extended to six minutes and driven by the horn section, it reinforced the argument that all those early-'90s albums needed was some serious E Street muscle.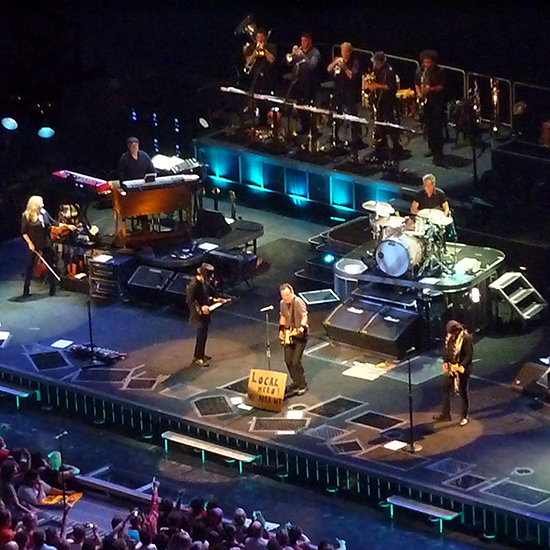 The only tour performance of Darkness outtake "Gotta Get That Feeling" from The Promise ("Steve's always complaining that we don't play anything off of this record…") was followed by the Creedence classic "Bad Moon Rising," last played with John Fogerty on the Vote For Change tour in 2004. This two-and-a-half-minute classic was flawless, a reminder that the E Streeters have always been a top-notch covers band.


"We're gonna try one more crazy request here," Springsteen announced, adding, "We may not get through the middle of this, because it gets tricky…." With multiple twists, turns, and shifting tempos, the U.K. debut performance of 1973's "Thundercrack," a quirky ten-minute opus, made for a joyous blast from the ancient past.

Five songs from Wrecking Ball dominated the show's second half, including the exuberant, gospel-flavored "Shackled and Drawn" ("Preach it, Cindy!"), the set-closing "Land of Hope and Dreams," and the rarely played "This Depression," one of the record's superior cuts. It's a song of quiet desperation that many can identify with, and it always deserved greater exposure.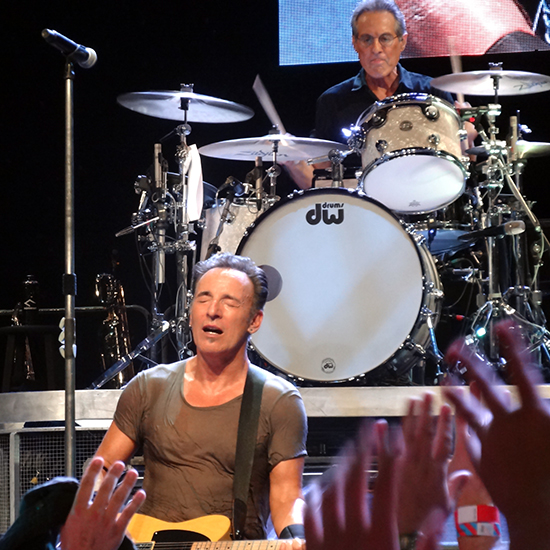 Returning for the encores, with just a few stops left on the tour (two shows to come in Ireland and four in South America), Springsteen took a moment to acknowledge the efforts of his travelling army of diehard followers. "They're there every night, and they provide a tremendous amount of fuel and inspiration for our band."
"Secret Garden," a surprise request, led the encore, performed for the first time since June 2000 in New York. "A song we might have played once or twice," Springsteen rightly noted — and they've only played it a few times since. "Atlantic City" preceded a string of greatest hits that ended with "Tenth Avenue Freeze-out."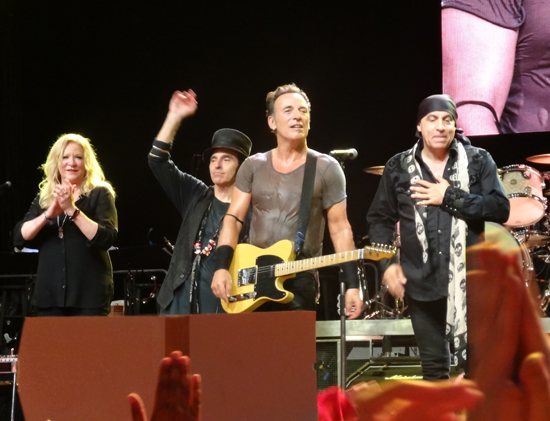 The band left after a climactic, eight-minute version of the Isley Brothers' "Shout" — but Springsteen wasn't finished. He returned alone, his T-shirt soaked with sweat after nearly three-and-a-half hours onstage. "Nothing to it," he said, pausing to take a breath. Ending the 29-song show with solo-acoustic renderings of "If I Should Fall Behind" and "Thunder Road," he added, "Thanks for a great night. This is a beautiful building! It's a great place to play. Really loved it here."
Local press concurred: "If last night's opening showcase was anything to go by, the future looks bright for the city's First Direct Arena," said the Yorkshire Evening Post, describing the concert as "the most anticipated gig of the year in Yorkshire" and emphasizing that it was "one of the most intimate shows that Springsteen will play on his global tour."
The indoor setting allowed us to fully appreciate the power of the E Street Orchestra, the contributions made by the horns and singers, and the amazing energy that Springsteen exerted. It's bound to come through in the recording. This was truly one for the ages: a show that had apparently been organized at Springsteen's request, in a venue that was half the size of most American arenas, with a setlist to die for.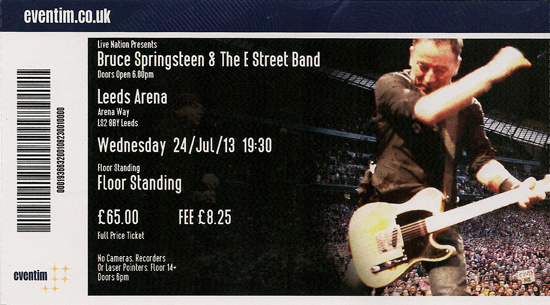 Also read: Erik Flannigan's nugs.net blog, "Maximum R&B"
- November 9, 2018 - Mike Saunders reporting - all images courtesy of Dan French and Mike Saunders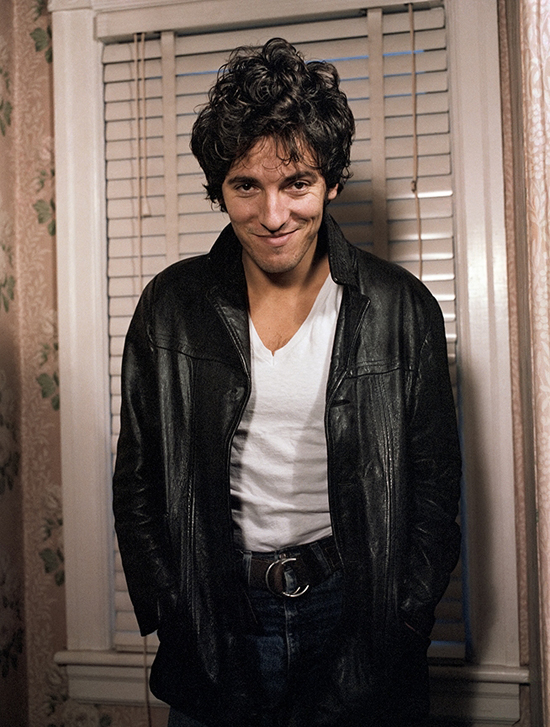 THE MYSTERY OF THE LOST DARKNESS PHOTOGRAPHS
By Frank Stefanko
Forty years ago, when Bruce Springsteen and I were working on the album cover photos for Darkness on the Edge of Town, some of my babies slipped away and were lost for decades.
Back then, before the days of digital photography and lightning-fast e-mail, I used film in analog cameras. The processing and the transportation of these images was notoriously slow. So when Bruce called and asked for certain images to be sent to the record company "right away," there was no time to print and ship the photos overnight. As a result, I dispatched original negatives — with the understanding that these would be returned to me in short order.
I did receive many of my negatives back. Nevertheless, some of my original Darkness outtakes went missing. Lost for four decades!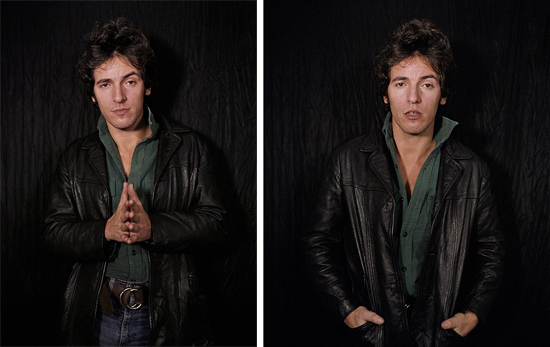 The mystery began to unravel last year, when my book Bruce Springsteen: Further up the Road was released. At the gallery openings, I ran into some old friends who had been involved with the Darkness album production.
At Morrison Hotel Gallery in West Hollywood, I met Jimmy Wachtel, art director for The River album. That cover was shot during the Darkness sessions. Jimmy thought he might have the full-frame inter-negative from The River. "Ah HA! A clue!"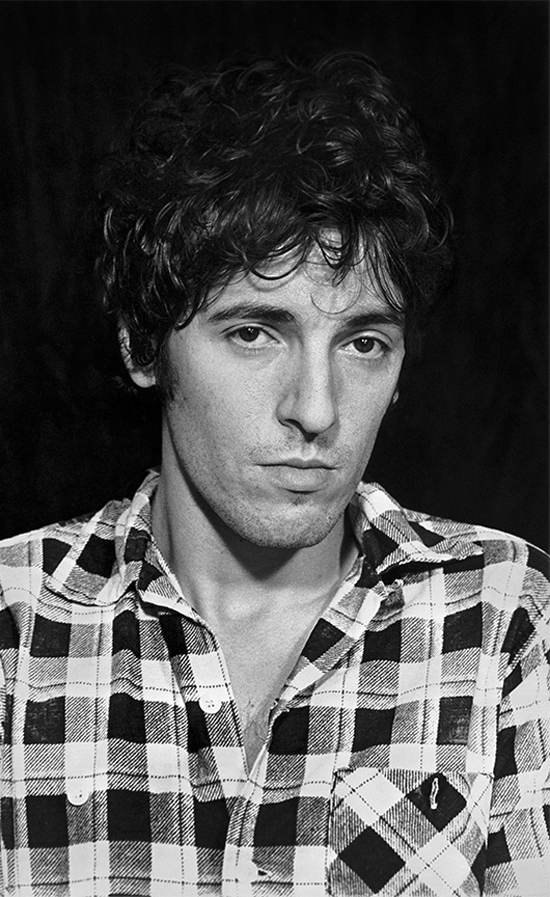 Next, I met Dick Wingate in Morrison Hotel Gallery, New York. Springsteen's product manager at Columbia in 1978, Dick thought he still had some original Darkness negatives somewhere in his attic. "Somewhere in his attic? Ah HA!"
Over time, both gents, true to their words, sent my wayward babies back to me. Thanks, guys! Mystery solved!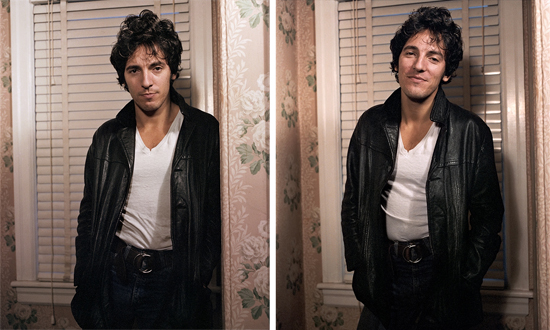 The negatives were a bit worse for wear after 40 years but lovingly received. After evaluating some 20 of them, I chose six that looked worth cleaning and printing.
So now, nearing the end of the 40-year anniversary of the release of Darkness on the Edge of Town, in time for the holidays, I will be releasing these six lost photographs to the galleries that represent me:
- November 7, 2018 - all photographs by Frank Stefanko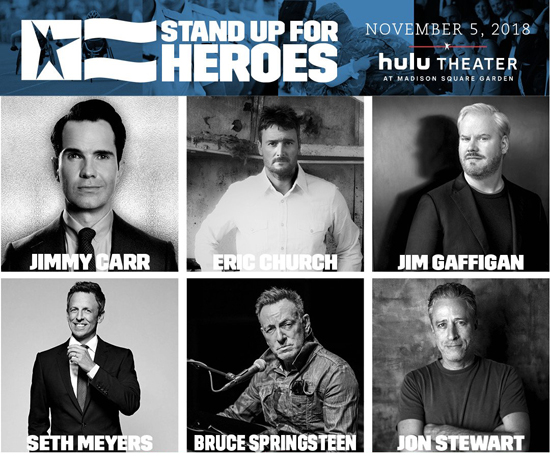 "BRUCE IS BACK!" LAST NIGHT AT STAND UP FOR HEROES 12
At Stand Up For Heroes, the evening usually begins with Bob and Lee Woodruff welcoming the donors and the honored guests, both active duty and veterans of the US armed forces. This year, they weren't onstage for more than a few minutes before Bob Woodruff gleefully announced, "Bruce is back!"
After missing 2017 — his only absence in 12 years — Mr. Springsteen boogalooed down Broadway from the Walter Kerr to the Hulu Theater At Madison Square Garden (once upon a time, known as the Felt Forum) to join the annual fundraiser for the Bob Woodruff Foundation.
True to the maxim amongst the fan base that Stand Up For Heroes should be known as "Three Songs and Two Dirty Jokes," Bruce returned to his usual formula. As you may remember, this benefit is under the auspices of the New York Comedy Festival, and while there are always some actual comedians on the bill (tonight featured Jimmy Carr, Seth Myers, Jim Gaffigan, and Jon Stewart), Bruce always feels that it is his duty to tell some dirty jokes since there are servicemen (and women) in the audience.
Looking trim and chic in some artfully faded denim, one sleeve rolled up to not get in the way of his guitar playing, Bruce opened the evening with a vibrant rendition of "This Hard Land." While his appearance seemed like a return from vacation, it can be easy to forget that the man has been performing for hours, night after night, for the better part of a year. (Although after a normal Springsteen tour, Broadway probably feels like a vacation).
When the applause had died down, with obvious relish, Bruce launched into the first joke of his segment. "I'm not a comedian, but I'm going to tell a joke. My jokes are not comedian jokes, so you've got to cut them a little slack," he prefaced his first comedy bit.
A piano player who's looking for work goes into an agent's office. The agent says, "Well, let me hear what you got."

So the piano player plays, and the agent thinks it's one of the most beautiful things he's ever heard. Tears are coming down his cheeks. He says, "That's one of the most beautiful pieces of music I've ever heard. What's it called?"

He said, "It's called, 'Hot Tits and Ass on a Saturday Night.'"

Agent says, "Why don't you play another piece?" When he's done, the agent's in tears. "That's gorgeous, what is that called?"

"That's called, 'My 10-Year-Old Son Is Addicted to Porn.'"

"Tell you what, I have a job for you on the weekend — a high-class wedding. This is exactly the kind of music they want. Just don't mention the titles."

"Sure, no, problem."

So the guy goes to the wedding, and he's playing the reception, and he's going over like gangbusters. People are in tears, they're holding each other, they're holding each other's hands.

He takes a break to go to the bathroom, he takes a leak, he comes out. I guess on the way out he forgot to zip himself up, and the mother of the bride comes up and says, "Sir, do you know that your penis is hanging out of your pants?!"

"Do I know it? I wrote it!"
*boom cha*
Without further ado, Bruce lost no time in introducing his first guest, "Miss Patti Scialfa." The First Lady of Love stepped out to join her husband for a lovely, relaxed, and buoyant "If I Should Fall Behind," feeling for all the world like they were singing it to each other without several thousand people watching.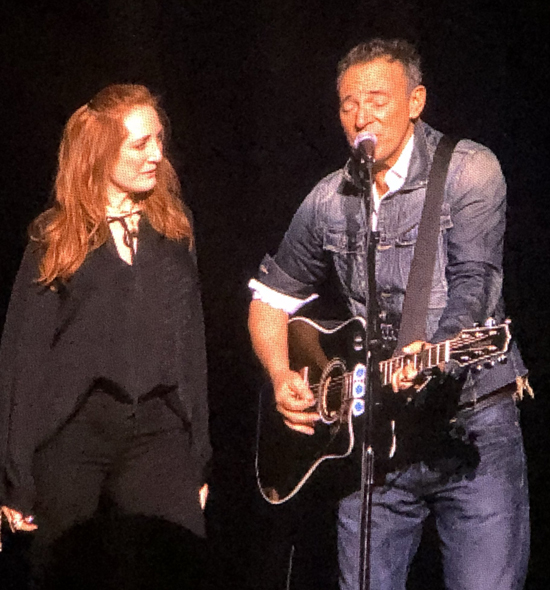 Patti took her leave stage right, as Bruce looked to the other side and said, "C'mon out!" With that, a leather-clad Eric Church, the evening's other musical guest (who had preceded Bruce), came out of the wings, armed with an acoustic guitar, and joined Springsteen on a deliberate and enthusiastic rendition of "Working on the Highway." The two gleefully traded lines in the verses and added harmonies to the other's lead on the choruses.
Bruce's enjoyment in being matched by Church was obvious (as was the reverse), and Church's presence on the song added the right touch of exuberance and restored its rightful rockabilly heritage, without some of the comedic exaggeration that's been a hallmark of the song in recent years.
Church departed the stage to enthusiastic applause — truth be told, there were more screams for him tonight than there was Bruuucing — which meant that it was time for Bruce to share his second dirty joke of the evening, involving a gypsy lady (no, seriously) and a voodoo penis. The evening would round out with the now-familiar, stripped down "Dancing in the Dark," wistful yet longing, before the evening would come to an end.
One big change this year: no live auction where Bruce would up the ante by offering guitars, guitar lessons, motorcycle rides, or family recipes; the fundraising came between the comedy and the music this time, raising almost half a million dollars by the close of the night, even without the enticement of Adele's lasagne.
Setlist:
This Hard Land
If I Should Fall Behind (with Patti Scialfa)
Working on the Highway (with Eric Church)
Dancing in the Dark
A sweepstakes on Omaze.com raises additional funds for the Bob Woodruff Foundation, with a grand prize including tickets, airfare, and hotel for two to see Springsteen on Broadway, a meet-and-greet-and a signed Telecaster.
From November 1-19, every time you use #SaluteToService on Twitter, the NFL will donate $5 to its Salute To Service partners, including the Bob Woodruff Foundation.
- November 6, 2018 - Caryn Rose reporting - photographs via Twitter/@Stand4Heroes

VAN ZANDT AND COLUMBUS ARE BACK IN TOWN
Director Chris Columbus and Stevie Van Zandt go way back. Case in point: the modern classic "All Alone on Christmas" from Columbus's Home Alone 2, more than 25 years ago. Now they've teamed up again for a new holiday treat. Little Steven and the Disciples of Soul have recorded another Christmas song for — and are featured in — a forthcoming movie Columbus produced for Netflix. Stevie and his band provide back-up for... not Darlene Love this time, but..wait, who's that as Santa Claus? We thought Snake Plissken was dead!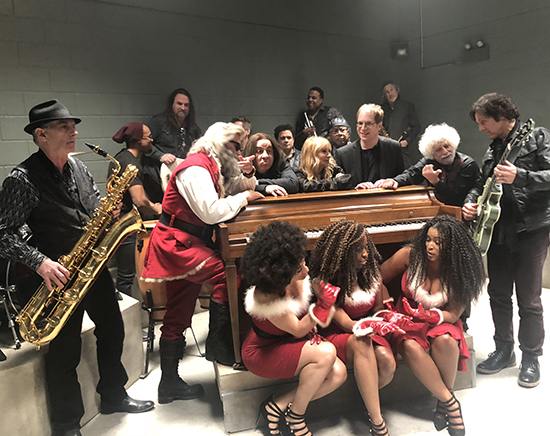 Above, from the 2018 shoot for The Christmas Chronicles: Stevie and Maureen Van Zandt, center, with the Disciples of Soul and Kurt Russell as Santa Claus.
Columbus gave Backstreets the scoop:
I wanted a musical number in the The Christmas Chronicles. Soulfire is my favorite record of the last five years — maybe of all time — and Steve and I have worked together on films since 1992. So I approached him about recording a version of Lieber and Stoller's "Santa Claus Is Back in Town," with the Disciples backing Kurt's vocals.

We recorded the song at Steve's studio in NYC. And we shot a musical number with Kurt and the entire band for three days, earlier this year. There are a few moments of it in our trailer, which just dropped. But the scene is so much fun, I decided to feature the entire song in the film. It's Jailhouse Rock Part 2!"
You can see what he means in the official trailer, around the two-minute mark:
The Christmas Chronicles will debut on Netflix this Thanksgiving Day, November 22. For more on the director's E Street ties, read our 2016 story, "Confundus! Chris Columbus on 'I'll Stand By You.'"
- November 5, 2018 - photograph courtesy of Chris Columbus


LISTEN: "LAND OF HOPE AND DREAMS" FROM SPRINGSTEEN ON BROADWAY
This morning's album announcement comes with a first taste of the Broadway recording, the acoustic "Land of Hope and Dreams." Lauren Onkey writes about it for NPR Music:
"Land of Hope and Dreams" is the penultimate song of the Broadway show, an uplifting end to a night that features a lot of heartbreaking stories of characters — including Springsteen himself — who fall into isolation. Rooted in the gospel song "This Train" and The Impressions' 1965 gospel-soul hit "People Get Ready," "Land of Hope and Dreams" imagines a communal train where all are welcome — saints, sinners, whores, gamblers, thieves, lost souls, fools, kings, the brokenhearted — as it heads off to unknown future. It's classic Springsteen: grand, optimistic, spiritual and open-ended enough to be embraced by a big audience....

Springsteen has performed "Land of Hope and Dreams" often for benefit concerts and political rallies, including campaign stops for Barack Obama in the 2012 presidential election. It seems no coincidence, then, that he's released it on the eve of the midterm elections, and into the teeth of a violent and divisive time in American life. It's an assertion that we're all in this together.
- November 2, 2018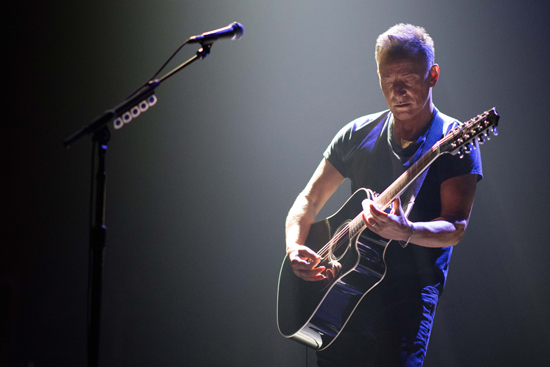 BROADWAY COMES HOME: SOUNDTRACK DUE DECEMBER 14
And yes, it's an Original Cast Recording!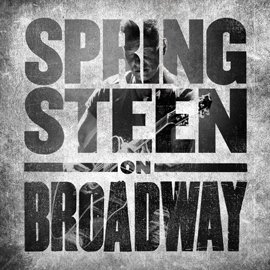 On December 15, 2018, Springsteen on Broadway will have its last performance on Broadway. A few hours after the final curtain, Thom Zimny's film of the show will launch globally on Netflix, available to be seen around the world at 12:01 a.m. Pacific Time on Sunday, December 16.
Just before this transition from stage to screen, Columbia Records will release the soundtrack album on Friday, December 14, in both CD and vinyl formats as well as digital downloads and streaming.
The complete audio from the Netflix special, recorded live at the Walter Kerr Theatre, Springsteen on Broadway includes all the songs and stories from Bruce's one-man show along with Patti Scialfa's guest appearances on "Tougher Than the Rest and Brilliant Disguise.
On vinyl, the set is spread across four 150-gram LPs, each in a printed picture sleeve; on compact disc, it's a 2CD set.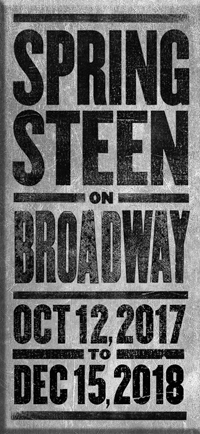 Backstreets exclusive: pre-order now from Backstreet Records and receive this FREE Springsteen on Broadway pin (shown right). Whether you order the 2CD set or the 4LP vinyl, each will come with this official, limited edition piece of memorabilia, which lists the dates of Springsteen's historic, 236-show run. Available only from Backstreet Records.
The track listing:
Growin' Up (introduction & song)
My Hometown (introduction & song)
My Father's House (introduction & song)
The Wish (introduction & song)
Thunder Road (introduction & song)
The Promised Land (introduction & song)
Born in the U.S.A. (introduction & song)
Tenth Avenue Freeze-out (introduction & song)
Tougher Than the Rest (introduction & song)
Brilliant Disguise (introduction & song)
Long Time Comin' (introduction & song)
The Ghost of Tom Joad (introduction & song)
The Rising (song)
Dancing in the Dark (introduction & song)
Land of Hope and Dreams (song)
Born to Run (introduction & song)
Not to worry, the introductions have been split into separate tracks. The audio was mixed by Bob Clearmountain and mastered by Bob Ludwig. The vinyl set includes a download code for the mp3s. Get ready to Boogaloo — or bawl, or both.
See all Latest Additions at Backstreet Records
- November 2, 2018

For older news, visit our News Archives