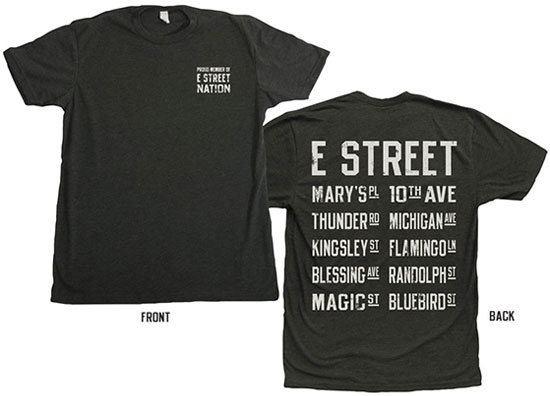 WHEN I'M OUT IN THE STREET...
I wear what I wanna wear — and we've got the brand new E Street Nation shirt courtesy of our friends at Protect, the National Association to Protect Children. Their line of T-shirts from fictional locales benefits the great work that they do, and once again they're letting us make this one available to our readers through Backstreet Records, with proceeds benefitting Protect.org.
This soft, two-sided tee reads "Proud Member of E Street Nation" on the front chest, and on the back lists a number of the Nation's important highways and byways — including, of course, Thunder Road, Tenth Avenue, and Flamingo Lane. In stock now, in all sizes from Small to Triple-X.

More Boss T-shirts from Protect still available:
- May 18, 2013

BRUCE AND DKM'S "ROSE TATTOO" OUT NOW, TO BENEFIT BOSTON INJURED
As we reported earlier this month, Springsteen's latest recording is another collaboration with Dropkick Murphys, contributing vocals to their "Rose Tattoo" to benefit victims of the Boston Marathon bombings.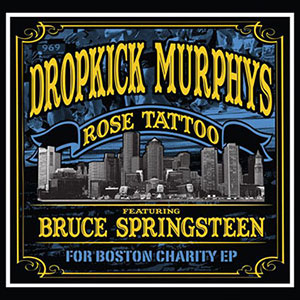 The digital, three-track For Boston charity EP is out now, as announced on dropkickmurphys.com, with their Bruce collaboration followed by "two live acoustic tracks recorded at the Gibson Showroom in Las Vegas just four days after those tragic events. It's available exclusively through iTunes for the special price of $1.29. Everyone involved has agreed to donate 100% of the money raised through this release."
The funds will be distributed through the Dropkicks' own charity, The Claddagh Fund, "a nationally-recognized official 501(c)3 charity whose mission is to serve the most vulnerable in our communities."
Click here to view and download from iTunes.
- May 17, 2013



MAY 16, HERNING: NOT WHAT YOU'D EXPECT WHEN YOU'RE EXPECTING
After one night off between the two Denmark dates, Bruce and the band took the stage in Herning to deliver a very different show than the first. Copenhagen was great, we had a house party... but tonight's show in Herning's Boxen was freaking awesome, with high energy from start to end.
After the "Long Walk Home" opener, "My Love Will Not Let You Down" had the pit going nuts. Bruce really seemed to be wanting to make that connection tonight, playing both "Out in the Street" and "Hungry Heart" and doing the crowd surf during the latter. Soon he was picking up a lot of signs... and there was one sign he could not pick up, "Tougher Than the Rest," written all over a pregnant belly! But Bruce did grant the request, telling us he'd never seen anything like that in 40 years.
More requests brought full-band versions of two songs from Greetings, "Does This Bus Stop At 82nd Street?" and "For You," before an extremely rare solo acoustic version of"I Wish I Were Blind." When picking the sign he said it was a tough one to play while laughing, "Hope I can remember!" It was a beautiful performance.
Another real highlight was the live '78 version of "Prove It All Night," Bruce very strong on the guitar intro, and later in the song Nils had his spotlight and delivered a not-of-this-earth solo himself — playing with his teeth! The guitar assault continued from Bruce, Nils, and Steven too, as "Murder Incorporated" followed.
"I'm sweating like a dog here," Bruce said after "Johnny 99," "and you're still sitting on your asses!" People got up for "Open All Night," and they stayed up for the rest of the show as Bruce just kept the energy flowing. One girl got her wish fulfilled during "Dancing in the Dark" — she asked for a dance with Jake — and another got onstage and was handed a guitar to play along. Bruce and the band took the party to an even higher level with a wild "Ramrod" before closing the show, and an incredible Scandinavian run, with "Tenth Avenue Freeze-out."
For the full setlist from this and other recent performances,
see our Setlists page
- May 17, 2013 - Søren Juhl reporting - photographs by Jan M. Lundahl

A THANK YOU NOTE TO SWEDEN
Over the weekend, Springsteen and the E Street Band wrapped up their three-night, sold-out stand at Stockholm's Friends Arena; today, Sweden woke up to a special thank you note.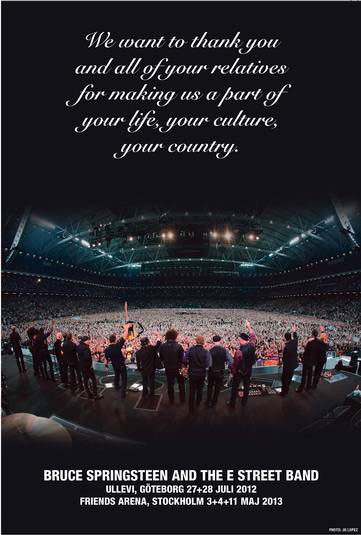 As reported in Aftonbladet (translated from the Swedish), the newspaper in which Springsteen placed a full-page advertisement:
Bruce Springsteen, 63, has left Sweden. But not without a salute to the Swedish people. In today's Aftonbladet, the Boss surprised [everyone] by buying a full-page ad to thank Sweden.
"We want to thank you and all of your relatives for making us a part of your life, your culture, your country," he says in the ad.
The idea came from Bruce Springsteen himself. On Saturday night, the artist moved by the reception he has received in Sweden over the years.
"The idea came after these three concerts. He wanted to show his gratitude to the Swedish people. It has just been extraordinary, the reception and the number of tickets sold," says Kristofer Akesson on Live Nation.
Springsteen's ad notes the 2012 concerts in Gothenburg, as well as this recent Stockholm run.
- May 13, 2013

CIAO FROM LANDAU
More talk with Jon Landau as the Italian dates approach: Gianni Sibilla talked with Springsteen's manager — in his own words, "the executor of Bruce's vision" — for Rockol.com. In addition to discussing the Wrecking Ball tour, its crew, its success, and his own role in Bruce's work, Landau was also asked about reissues and plans for the future:
A part of Bruce's work has been devoted to important reissues, such as the Born to Run and the Darkness on the Edge of Town/The Promise one. Do you see something like that coming for The River and Nebraska?
Bruce was totally into those projects, especially The Promise. We were very proud of the product, thanks to the collaboration with such great guys as director Thom Zimny. I think each one has to have a different approach and we work on these things when we have time. I think eventually, yes, there will be something, but we don't have a timetable. We're not close to ready to put out anything like that out. We'll do it when we'll do it and when they're ready to go we put them out.
Read: "Bruce Springsteen's evangelist: Jon Ladau, the Rockol interview"
- May 10, 2013


TWENTY FEET FROM STARDOM: "IT'S A BIT OF A WALK"
An audience favorite at the Sundance and SXSW Film Festivals, Twenty Feet From Stardom is finally coming to theaters soon. Director Morgan Neville shines a spotlight on some of the greatest — and often unsung — backup singers in rock and soul music, including Darlene Love, Merry Clayton, Lisa Fischer, Tata Vega, Judith Hill, Claudia Lennear, Gloria Jones and Dr. Mable John. Along with Mick Jagger, Stevie Wonder, and Sting, Bruce Springsteen features prominently in the film, as you can see in the new trailer above. Twenty Feet From Stardom opens June 14 in New York and Los Angeles, and the top 50 markets will open by Mid-July.
- May 9, 2013

IL MINISTRO DELLA CONGREGAZIONE ROCK!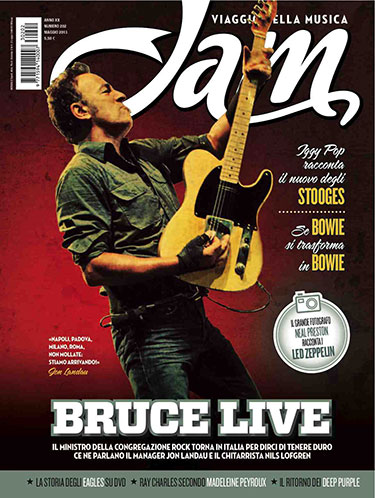 Bruce Springsteen appears on the handsome new cover of Italy's monthly rock magazine, JAM, with a nine-page story on his upcoming Italian dates. "Rock Against the Economic Crisis: an Interview with Jon Landau and Nils Lofgren. 'Hold on, we're coming!' says Landau to the Italian fans."
Landau tells JAM, "Bruce is well aware of the economic and social condition in Europe and Italy. So, the show is intense... But it has all of the joy, the positivity, and the spiritual uplift that Bruce always brings with him.
Nils adds, "I'm like anyone else in the audience: these songs make me sad and make me laugh, make me ecstatic to be alive and make me feel goofy. We want to inspire people and send them home with some hope."
Sample more of the cover story online in both English and Italian. Bruce and the E Street Band move on to Italy following their remaining dates in Scandinavia; they'll play Naples, Padua, Milan and Rome, spread out from May to July.
- May 8, 2013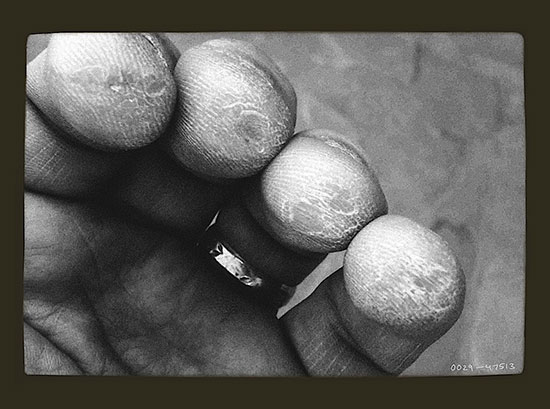 DOING HEAVEN'S WORK WELL: THE LATEST LESSON FROM NILS
So... do you need callouses like Nils to play the "Youngstown" solo? Or do you get callouses like Nils by playing the "Youngstown" solo? Find out for yourself, as Nils Lofgren has posted the latest installments of his Online Guitar School instructional videos, with Intermediate Lessons 8, 9, and 10 comprising more three-and-a-half hours of tutoring — "note by note, lick by lick" — on his signature guitar lead from "Youngstown" live. "After years of promising," the guitarist tells Backstreets, "I finally got this one done, probably the most frequent request I've gotten for the Guitar School."
You can get a taste of it with this YouTube sample and see Nils knock out the solo in real time at home, bare bones and up close; to break it down and work through it one-on-one, download the videos from nilslofgren.com. The latest Note From Nils has more on the solo, the song, and the lessons.
- May 6, 2013 - photograph by Nils Lofgren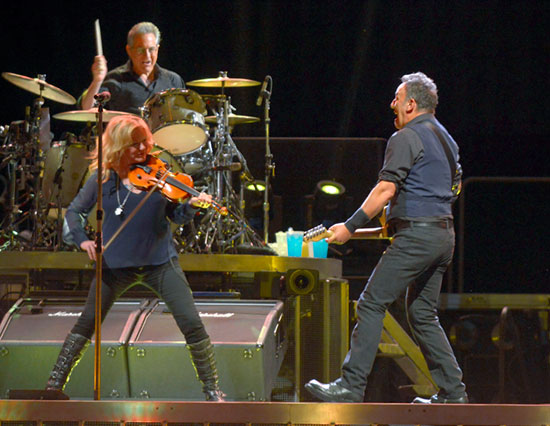 ADELE AND SOOZIE, TWO BIRTHDAYS ARE BETTER THAN ONE!
We're sending out warm wishes today to two great women in the Springsteen family/"family" who happen share a May 4 birthday: Bruce's mom Adele Springsteen, who turns 88 today, and "Sister" Soozie Tyrell, who'll be spending hers as she did her birthday eve [above], onstage with the E Street Band in Stockholm, Sweden. Happy birthday to you both!
- May 4, 2013 - photograph by Rene van Diemen


BASIA BULAT'S HOME RUN
With baseball season now in full swing, Canadian singer/songwriter Basia Bulat, using just her pianoette (hammered harp) and beautiful voice, belts one out of the park this week with her unique version of "Glory Days," courtesy of The Onion's A.V. Club.
- May 3, 2013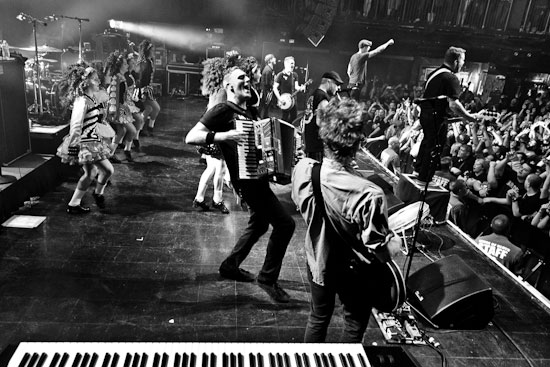 MR. SPRINGSTEEN CALLING FOR MR. CASEY...
Bruce and DKM team back up, helping Boston victims with "Rose Tattoo"
While Bruce Springsteen's body was in Olso on Sunday, his heart must have been with with his pals the Dropkick Murphys during the band's "For Boston" benefit concert [above] to raise funds for the Boston Marathon bombing victims.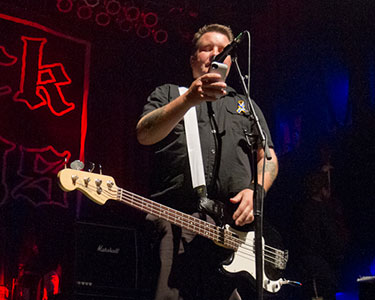 From the stage at the House of Blues, DKM frontman Ken Casey explained that the band had a three-pronged plan to raise funds for the victims. The first part was the release of a For Boston T-shirt with 100% of the proceeds going directly to the victims and their families. The second was the concert, put together in less than three days, that included Bar Room Heroes, The Old Brigade, The Parkington Sisters, Big D and The Kids Table, State Radio before finishing up with the Dropkicks.
The third way to raise funds: a re-release of the Dropkick Murphys' "Rose Tattoo," with some additional help from Bruce Springsteen. The band announced this third prong live on stage, and originally Springsteen's voice was to be part of the announcement [above, Casey attempts to connect with Bruce's call]. As everyone knows, cell phones have been known to misbehave at the most inopportune moments... in the middle of a benefit, this was one of those times.
But the collaboration itself is in the can. Guitarist James Lynch told Backstreets, "Bruce actually called us up the day of the bombing and asked what he could do to help. We didn't have to reach out. He was there for us." Ken Casey added, "As soon as we figured out what we were going to do, Bruce went into the studio, recorded his parts and nailed them right away."
The Dropkick Murphys / Bruce Springsteen recording of "Rose Tattoo" is expected to be available next week on iTunes, with proceeds directly benefitting the victims of this tragedy; stay tuned for further details.
- May 3, 2013 - reporting and photographs by A.M. Saddler



THE DANNY FUND TEXTING CAMPAIGN BEGINS
May is Melanoma Awareness Month; text DANNY to 50555 now to donate $10 for the Danny Federici Young Investigator Award
After original E Street Band member Danny Federici passed away five years ago, the Danny Fund was started in his name as the Melanoma Research Alliance (MRA) and the Federici family joined together to help fulfill his dying wish — to raise melanoma awareness and fund the most promising scientific research in the quest to cure this disease. Our readers and E Street Band fans around the world were generous in responding to the Danny Fund's initial call; now, they need our help for a special campaign.
The Danny Fund Texting Campaign: Today, the MRA is launching a texting campaign in collaboration with the Danny Fund, along with Bruce Springsteen, AT&T, and mGive. Proceeds from the campaign will raise funding for an MRA Young Investigator Award in Danny's name. MRA is dedicated to supporting promising research to advance the pace of scientific discovery toward a day when no one suffers or dies from melanoma. Its Young Investigator Award Program funds researchers whose innovative and ambitious projects often spearhead groundbreaking scientific developments. A simple text will donate $10 for the Danny Federici Young Investigator Award.
Text DANNY to 50555*
Reply with YES to confirm your $10 donation to MRA and the Danny Federici Young Investigator Award
You can also:
Visit http://mgv.cc/danny and make a donation.
Visit Facebook to donate and share with your friends.
*$10.00 donation to the Melanoma Research Alliance. Charges will appear on your wireless bill, or be deducted from your prepaid balance. All purchases must be authorized by account holder. Must be 18 years of age or have parental permission to participate. Message and Data Rates May Apply. Text STOP to 50555 to STOP. Text HELP to 50555 for HELP. Full Terms: mGive.org/T. Privacy Policy.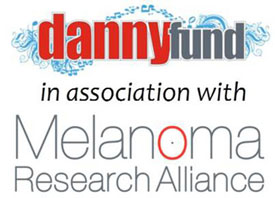 A letter from Jason Federici:
Just a few days ago, on April 17th, my family remembered the fifth anniversary of my father Danny Federici's loss in his battle against melanoma, the deadliest form of skin cancer. To honor my father and his hope to raise melanoma awareness and funding for scientific research, I am asking for your participation in the DANNY Campaign. Today, you can help us reach our goal by texting DANNY to 50555 to donate $10 to The Danny Fund and Melanoma Research Alliance. 100% of you contribution will go to support a $225,000 Young Investigator Award in honor of my father and his fight with this deadly disease.
For those of you who didn't know my dad, he was a talented and passionate man who — when he wasn't recording or touring with Bruce Springsteen and the E Street Band — devoted his time to his family and friends. He reveled in all that life had to offer, always with a smile on his face. His vivacity and "carpe diem" attitude never diminished, even after he was diagnosed with Stage II melanoma in 2006. His fight was an inspirational one. He sustained hope and continued to play with the band until he was physically unable to perform. In his last few weeks alive, he adopted a mission to awaken the public to the dangers of the sun and advance outcomes for patients plagued by what is now the fastest growing cancer in the U.S.
Since my father's death, my family and I created a foundation dedicated to raising funds for melanoma research, The Danny Fund (www.dannyfund.org). Today, we are honored for the foundation we built to be a program of the Melanoma Research Alliance (www.curemelanoma.org.) Together, we are working to fund the most promising melanoma research worldwide that is hastening the discovery of better treatments and hopefully, a cure. Your participation today will directly support a young investigator whose ambitious and innovative research often spearheads groundbreaking scientific developments.

To take part in this meaningful movement, please consider donating $10 today by texting DANNY to 50555. Our family, as well as all individuals and their loved ones touched by this disease, are truly grateful and thank you for your support.
- May 1, 2013