BRUCE SPRINGSTEEN & THE SUNDANCE KID
In January, the 2016 Sundance Film Festival's Short Film Grand Jury Prize was awarded to Thunder Road, written, directed by, and starring 29-year-old independent filmmaker Jim Cummings. Last week the film, in which Bruce Springsteen's music is a crucial element, was made available for viewing on Vimeo after Cummings' successful open-letter-to-Springsteen campaign secured permission to use Bruce's music for the film's wider release.
Thanks to the agreement that Cummings brokered, his beautifully constructed, 12-minute film now can be seen by a much larger audience — in fact, you can watch it right here:
Set at a funeral where a young police officer eulogizes his mother, Thunder Road is at turns moving, disturbing, and darkly comic. It also explores some extremely relevant territory, given recent news headlines.
After watching, check out Shawn Poole's conversation with Jim Cummings for Backstreets about the making of the film and the importance of Springsteen's music in it:
- July 25, 2016



JULY 23, GOTHENBURG 3: A SORT OF HOMECOMING
Following two fantastic concerts in June — one which has proved to be the longest on this tour so far, and one which arguably had among the best setlists — Bruce and the E Street Band (minus Patti Scialfa) were back at Ullevi Stadium for a third Gothenburg appearance in in less than a month. The announcement of this third concert truly felt like a treat from Bruce and the band to the Swedish fans for making Ullevi such special place for them. Responding in kind, and likely inspired by the fans at San Siro, Gothenburg greeted the returning heroes with a stadium-wide choreographed display in yellow (from the Swedish flag), reading, "Welcome Home, Bruce and the E Street Band." Bruce responded instantly — "I'm impressed, it's beautiful!" — as he took a moment to enjoy this heartfelt dedication from the fans.
Being the only European city to be granted three shows, hopes were high for a special night; after the full River album performance in Paris, many fans hoped that this could be repeated here at Ullevi. If it were, it would be the first time that this concept would be tested in an outdoor stadium setting. Well, did we get the full album sequence of The River? Yes. And did it work in a stadium with a crowd of 63,000? Absolutely, yes.
Following the regular routine from the U.S. album performances, the show kicked off with "Meet Me in the City," only its second outing in Europe, and a very welcome opener — particularly as a clear sign that our prayers for a full River performance were about to pay off. Bruce followed the outtake with a quick announcement simply stating that they would play The River start to finish. This received an absolutely deafening ovation from the crowd.
With only complete River sequence in Europe to this point, it seemed that this had some positive effects on the performance itself, which felt inspired and fresh while still benefitting from having been played many times earlier this year: they delivered a flawless performance of the album's 20 songs. As has been the case during the latter part of the European tour, the first record really rocked; highlights for European fans were clearly "I Wanna Marry You," complete with the "Here She Comes" intro, as well as a rather wild "Crush on You." At the end of "The River," Bruce waited for the crowd to return to the humming of the title track's chorus; it creating a lovely transition into the second record and "Point Blank," with Roy Bittan providing the intro first introduced during the original River Tour.
Following the crowd-pleasers "Cadillac Ranch" and "I'm a Rocker," two of the night's biggest highlights came with a beautiful "Fade Away" and an intense "Stolen Car," complete with fireflies filling the stadium as the evening darkness replaced the sunny Northern skies. After a rocking "Ramrod" we got a truly amazing performance of "The Price You Pay" with the crowd shouting out the opening and closing chants, suggesting that this song was made for a stadium setting. The fireflies were back in full during "Drive All Night," which really feels like a defining song for Ullevi, including Bruce's riff on "Dream Baby Dream" during the "don't cry now" segment. Again, a truly fantastic performance. "Wreck on the Highway" closed the full album performance on a somber note, including Bruce's speech saying The River was about "the passage of time."
With no time to really bask in the excellent full album performance, Bruce and the band fired on all cylinders straight away for the next portion of the show, launching right into "Badlands." Particularly hot versions of "Candy's Room" and "She's the One" followed before Nils once again took the spotlight on "Because the Night".
Following what would normally be a main-set closer, "Land of Hope and Dreams," there was no pause at all as this transitioned directly into "Born in the U.S.A." to kick off a rather standard set of encores until the very end, with the only sign request of the night. A big banner read, "It's time for the stadium breaker." Bruce clearly agreed, as we got "Twist and Shout" as a bonus, and it appeared that this time Bruce and the band clearly tried very hard to break the stadium just as they literally did 31 years ago. A fitting finale to a tremendous show that delivered all we hoped for and a little bit more. Referencing the stadium display at the start of the concert, Bruce left us with not only "We'll be seeing you," but also "Thanks for welcoming us home."
For the full setlist and reports from this and other recent shows,
see our Setlists page
- July 24, 2016 - Ivar Noer reporting - photographs by Jan Lundahl

NEW MIKE APPEL INTERVIEW IN THE TIMES OF ISRAEL
David Horovitz, founding editor of The Times of Israel, recently spoke at length with former Bruce Springsteen manager Mike Appel, a conversation published online this week. They cover numerous subjects, including the evolution of Springsteen's music, his aspirations, the shift from David Sancious to Roy Bittan, and Appel's successor as manager, Jon Landau:
Jon had a lot of success. But I think he deserved it. It's not easy working with Bruce. [Landau] soldiered through an awful lot of difficult times and all sorts of problems that arose that are not publicly known. He managed to get through all that and come out on top. My hat's off to him. The guy's not some wussy guy. The guy's a hard-working guy. He's in it for the long run. He didn't give up.

He told me some stories which I knew Bruce was certainly capable of. Oh boy. Oh boy, Jon, you had your hands full. My hat's off to you. I really have good feelings about Jon. He put in all the time. Look at how long he's been there, for God's sake.
Appel and Horovitz also discuss Judaism (Appel is a quarter Jewish) and the fact that Springsteen has never played Israel: "Well, the thing is this, he should've. And I don't know why he hasn't. I'm absolutely baffled by it."
Read: Why Springsteen never made another album like 'Born to Run,' and other questions only Mike Appel can answer
- July 22, 2016

LANDAU TALKS RIVER TOUR, SOLO ALBUM, WITH BILLBOARD
When the River Tour was announced, it also came with the news that Bruce Springsteen would be putting a solo effort on hold in order to tour behind the Ties That Bind box. As Springsteen told Backstreets in December, this E Street Band tour "was a surprise to us, too... We were kind of heading on a slightly different path — I had some new music, which was a little more of a solo record. I thought that I'd be out on that next."
But even as the River Tour rolls on, the solo album has not been forgotten: talking with Billboard for an article published today, Springsteen manager Jon Landau indicates that the postponed album — "a very different kind of record" — is something we can look forward to in the new year. Though he qualifies that "it's premature to say much about it," Landau does go on to whet some appetites:
It's a wonderful record, and we'll see how the next year unfolds.... All I can say is that there is a solo record — and when I say solo record, I'm not talking about an acoustic record. It is, in fact, a very expansive record, a very rich record. It's one of Bruce's very creative efforts. Stay tuned, and we'll see exactly how that shapes up next year.
Landau also discusses the ongoing River Tour, which tops Billboard's mid-year touring report with 1.1 million tickets sold and box office revenue of more than $135 million. In addition to touching on notable elements of the tour so far — the full album sequence, the stripped-down band, the Greensboro cancellation — Landau also offers this big-picture analysis in the era of "live" performance:
…One thing that occurs to me as I watch the shows — and I'm out here most of the time — is Bruce remains a 100 percent live presentation. There are no pre-records: zero. That's how we work, that's his idiom, that's what he grew up with, that's how he likes it. He's one of the last artists who doesn't use ear buds: he wants to hear the music blasting in monitors, coming right at him.

I know we're certainly not alone in their doing this, but I think if you want to see live live music, the choices are gradually narrowing. But if that's what you want to see, we're the place to come hear it, because that's what we're doing.
Read: Bruce Springsteen Manager Jon Landau Talks 'The River' Tour, Forthcoming 'Expansive' Solo Album
- July 21, 2016


JULY 20, HORSENS, DENMARK: FOLLOW THAT DREAM BABY DREAM
Horsens was the odd Danish city on the tour itinerary, in between Paris, Rome and Gothenburg, cities known for their intense shows. As the E Street Band takes the stage on this hot summer night I wonder what we'll get. Will this be as grand and crazy as the nights before? Will he mention the passing of Alan Vega?
We didn't have to wait long for an answer: Bruce and the band started off with a heartfelt version of Vega's "Dream Baby Dream," intense and haunting. You could feel his pain through every word. It was a lovely tribute, but I couldn't help but wonder if more than 10 percent of the crowd knew the song or knew about the Suicide singer's passing. It just felt a bit too quiet.
But those who thought we'd get a sad and dark show after that opener were wrong. The band was really having fun, laughing and goofing around on stage. It felt like Bruce wanted to celebrate life, walking around on the small stages, shouting "Let's hear some party noises!" before "Sherry Darling." They were having a great time. The odd thing was, it almost seemed like they were the only ones — the crowd was flat, hardly reacting. Somehow the energy you normally get from the band and crowd interacting wasn't there at all.
It didn't seem to bother the band, but it did make the show feel a bit odd and sometimes a bit unbalanced. After all the uptempo songs it was nice to slow down a bit with a lovely "Independence Day," which got a great intro about the relationship between parents and their kids, but after that it was back to another party song with "Hungry Heart."
While Max was still drumming after "Out in the Street," it was time to collect some signs. Bruce held off on "American Skin (41 Shots)" (he left the sign on the small stage and would play the song later in the show), and he showed us "Cover Me," too, but he decided to collect another one first. Probably because he'd seen a sign he loved, but also to go easy on Max: "I gotta give him a break. You see, Max doesn't only play songs, he plays in between songs as well. Which he doesn't get paid extra for…."
So the "Cover Me" sign had to wait; first it was time for a fun version of Chuck Berry's "You Never Can Tell." He practiced some vocals first ("It goes like this every time we cover this") and was thankful for the crowd clapping along ("We need some help with this one!") before they went into a great version, with solid solos by Roy, Soozie and Nils.
Another highlight was another tour premiere, the lovely summer song "Frankie," for a sign made by Danish fan Bodil who was there with her daughter. Not sure what key to play it in, the band had to restart the intro. Bruce smiled — "So far the band isn't doing that good. What key? F? Let's try again!" — before going into a wonderful version of the perfect song for this summer evening.
It wasn't the last time the E Street Band was challenged in Horsens. Nils had some trouble coming up with the lines for "Darlington County" after the Boss decided to drink some beer and handed him the mic. We got some extra "sha la laas" before Bruce spat out some beer and rescued Nils by taking the mic again. And later on Bruce decided to test the band after he took a sign for "Follow That Dream." Helping the band out by showing them the bridge ("and you have to play that twice"), Bruce started the song on his own, bringing the band in after the first verse, making it an intense but quiet highlight.
Almost all the lights on stage went out after the regular set, showing Bruce with his guitar in the air, staring quietly at the audience for what seemed like minutes before going into a roaring "Backstreets." Most of the Danes seemed to prefer "Born in the U.S.A.," though, which came after that. The audience went wild (which didn't happen very often), and Max gave us all he had and a little more during his solo. As one of the signs in the audience read, Max is definitely born to drum.
After Bruce and Steve messed up the lines during "Ramrod" (they where laughing so hard they couldn't sing), it was time for "Dancing in the Dark." The E Street Band got twice as big with dancing partners for Steve, Soozie, Max, and Jake, as well as a guy giving all he had on a guitar Bruce was more then happy to lend him. Then, after a fun "Shout," the band waved goodbye, leaving Bruce on stage for a heartwarming "Thunder Road." The audience went crazy, singing along with every word. You could see him smile after they roared "and that's all right with me," and you could softly hear him say, "That's good." And it was.
For the full setlist and reports from this and other recent shows,
see our Setlists page
- July 21, 2016 - Hannet Johannes reporting - photographs by Steven Strauss

- July 18, 2016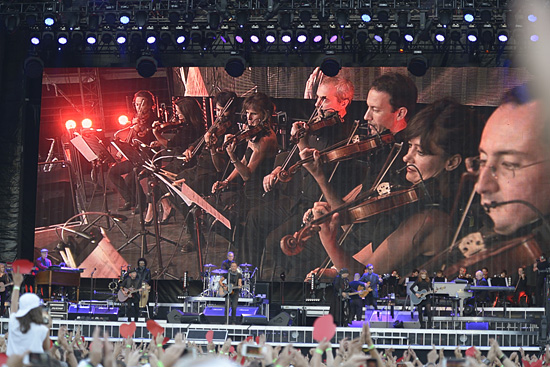 JULY 16, ROMA: SPRINGSTEENUS MAXIMUS
Don't bother Googling Rome's Circus Maximus — I've done that for you. The dusty, sun-scorched field is an ancient chariot racing arena (damn, 400 years older than the Colosseum!) which, according to Wikipedia, has marked the site of thousands of years' worth of religious, sports and spiritual experiences.
Some things never change. As a group of smartly clad Italians stride out on stage we have our first inkling that something extra special — extra spiritual — is going to happen tonight. It's a string section. Then the goosebumps come. I feel mine first, then see the rest; an old fella in front of me shivers, his bronzed skin coated in teeny tiny bumps and raised hairs as Roy plays those first few bars.
"Por Roma!" Bruce calls out to a 70,000-strong gathering of passionate Italians and holidaying Brits, Americans and more, before leading us into a near 15-minute long rendition of "New York City Serenade." Close-up camera shots of his face are broken up with big-screen snippets of a beaming Rome Symphony orchestra. The crowd? Shocked. Silent. Then "singing, singing, singing," before Bruce blows the string group three kisses, shakes the conductor's hand to say thank you/farewell and…
And we're off. "Badlands" rips out over the all-standing audience, which is crammed into a seemingly never-ending valley sandwiched between crumbling Roman ruins and towering pine trees. It's the perfect setting, Bruce realizes, grabbing an early sign, to wing a sketchy yet infectious tour premiere cover of Eddie Cochran's "Summertime Blues." A strong run from The River album follows. The crowd, unlike Milan this year (frenzied, manic, amazing) and Rome 2013 (pushy pushy, eager, amazing) strikes the balance between crazy-energetic, chilled, and, well… amazing. As the likes of "Sherry Darling" and "Jackson Cage" are belted out underneath the pinky moonlit sky, it's clear we're all in for a big old sing song.
And what's better than "Boom Boom"? Bruce grants the sign request (props to the cut-out, Telecaster-shaped cardboard that he opts for a little jam on), and the crowd shakes its ass to the track, which has us, and the entire E Street line-up, grinning. Bruce is in the mood for sign requests, and better yet, there's some good ones. Up next is a Motor City skyline and the hastily scrawled words "Detroit Medley." "Work that tambourine, Jake," Bruce whoops, and a raucous party ensues on a rare mid-set Mitch Ryder blowout. A particularly furious "Death to My Hometown" has the crowd going wild with jabbing hands and full-pelt singing. (Okay, shouting. It was definitely shouting.)
Then the E Street Band leaves the stage, and the lights dim to an eerie green. Can we handle another "Serenade"-level surprise? "This is a request… for the Italian social workers on the front line," Bruce tells us, all eyes on his acoustic guitar and harmonica. The crowd holds its breath for "The Ghost of Tom Joad," arguably the most captivating performance of the night. Haunting, spellbinding. Relevant. It's followed up with a gorgeous version of "The River," the audience relishing the chance to sing the falsetto back at Bruce as the track ends — he's clearly struck by the effort — before he signals for that "Point Blank" intro. And we're silenced — again — by a chilling, intense, poetic take on another River favorite. The men and women around me shake their heads at the effect of this power trio, "Mio Dio" (my god) whispered around me as we try to take it all in.
"Light 'em up," Bruce hollers at the start of "The Promised Land," soon leading into some classic staples including "Working on the Highway," "Darlington County," and "Bobby Jean." The camera pans the grinning, sweat-slicked faces along the barrier. "I risked a divorce to be here," one sign reads. Hell, we all know that feeling.
Another sign soon grabs him: "My mom's favorite song," it reads, before Patti slow dances over to Bruce at the center mic for a smoldering rendition of "Tougher Than the Rest." Ciao Roma! A spectacular "Drive All Night" has the crowd hypnotized and hushed — yet again — for the entire track. It's rounded off with a run of barely audible, husky whispers from Bruce. "Don't cry now," he comforts us, over and over. Cue tears.
Sure, avid set list watchers will have come to expect it by now, but "Because the Night" was remarkable, the lights flashing black and white and heads furiously nodding as Nils delivered his blistering guitar solo, working the crowd into an absolute no-holding-back cheering frenzy. Nils steps up again for an extended intro on "Land of Hope and Dreams." "For Nice, for our French brothers and sisters," Bruce tells us. The change is subtle, the tempo ever so slightly slowed, but this version feels raw and even more emotion-packed than usual. "Let me see your hands," he commands. Circus Maximus obliges.
Surely we're in for the obligatory heavy-hitting closers now? Not before the encore starts with a blinding "Jungleland," which is delivered to a — you guessed it — silent, appreciative crowd. Noise comes, in cheers and applause, following Jake's sax solo, when Bruce turns his back to the audience and gives his bandmate a hug.
Another dancing frenzy's next: a solid "Born in the U.S.A." (the Italian crowd always responds well to this track), a chant-heavy "Born to Run," a flirty, hip-dipping "Ramrod" before "Dancing in the Dark," which prompts at least 30 on-the-shoulder Italian signoras to try their luck with various signs. They're humored with points and smiles, but the main dancers this evening are with the E Street Band — one for Garry, a 13-year-old boy for Max, another for Stevie. Bruce opts for a 64-year-old woman whose cardboard reads, "65 soon, dance with me before it's too late!" next to a dodgy passport pic. Shortly after, "Shout" works the crowd into a mental Dad-dancing-style party.
"Graze mille," Bruce tells us, repeating the words before and after a sublime acoustic closing "Thunder Road." Around me the crowd shouts, whispers and cries their own grazie milles back. As for those spiritual experiences that have taken place in Rome's Circus Maximus? Add Bruce Springsteen and the E Street Band to that list.
For the full setlist and reports from this and other recent shows,
see our Setlists page
- Updated July 18, 2016 - Hannah Summers reporting (Hanna writes a burger- and Springsteen-inspired blog over at burgersandbruce.com) - photographs by Rene van Diemen

BTX: PLEASE STAND BY...
We apologize for the technical difficulties on our BTX message boards this weekend, and for any inconvenience; our ISP is working to fix the issue and have us back up and running ASAP. We'll keep you posted and appreciate your patience in the meantime.
- July 17, 2016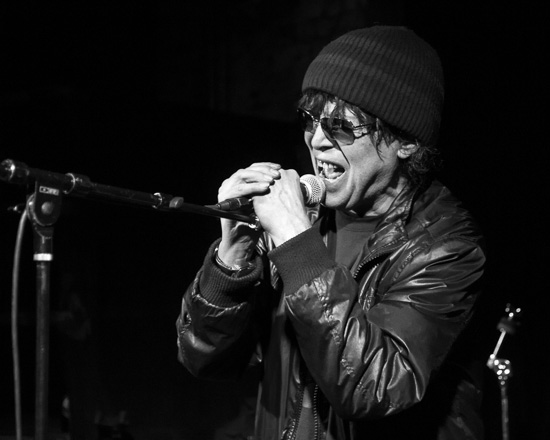 TEARDROPS ON THE CITY: ALAN VEGA, 1938-2016
"You know, Alan, if Elvis was alive today, he'd be you… you know, Alan, you're 20 years ahead of your time." —Bruce Springsteen on Alan Vega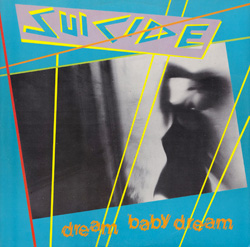 Punk rock pioneer, New York's own Alan Vega, part of the groundbreaking duo Suicide, passed Saturday night at the age of 78. The connections between Vega and Bruce Springsteen might seem improbable, but critics saw the similarities between "State Trooper" and Suicide's "Frankie Teardrop" around the release of Nebraska. In 2005, Bruce began performing Vega's "Dream Baby Dream" during the Devils & Dust tour, leading to Springsteen and Vega reconnecting as a result.
Springsteen and Vega met back in the late '70s, when they were both recording at the Power Station. Bruce was working on The River, and Vega was working on the second Suicide record. They were introduced by Ric Ocasek of the Cars, who was producing Vega. "...I said, 'Bruce, let's go and get a drink,'" Vega told Backstreets in 2005. "And he said, 'No, my manager doesn't want me to,' and I said, 'Come on in the men's room, Bruce,' I had a little bottle of vodka with me... and here we are, two guys in the bathroom, like in high school, smoking cigarettes or something.'" And when asked how he felt about the comparisons between Suicide and Nebraska, Vega said, "Good for him, that he listened to me and managed to make it commercial!"
When asked what his favorite Springsteen song was, Vega replied: "Dream Baby Dream." On my death bed, that's the last thing I'm going to listen to. I'll play it at my funeral.
Click here for our Devils & Dust-era interview with Alan Vega,
from Backstreets #83/84
- July 17, 2016 - Caryn Rose reporting - photograph by A.M. Saddler [4/30/12]


EDDIE MANION: A TALE OF TWO OCEAN GROVES
Eddie Manion is about to bring the Light of Day to Australia. "I'm leaving for Ocean Grove, Victoria on Monday," the Kingfish tells us, to be a featured artist for two Light of Day Australia shows. Above, he's created a video sending love from Ocean Grove, NJ to its sister city Down Under (with speeches from church and town officials, LOD founder Bob Benjamin, and LOD president Jean Mikle), set to "Amazing Grace" and "A Change is Gonna Come" from his recent Nightlife release.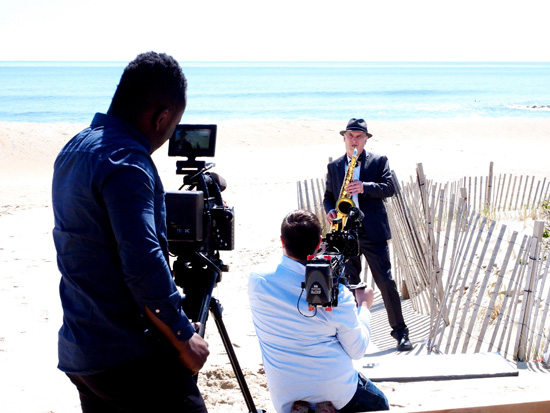 Eddie writes, "My mission to Australia is twofold. To raise money and awareness for Parkinson's disease and its related illnesses, and to rekindle a spirit of goodwill, love and peace between two sister cities Ocean Grove, Victoria and Ocean Grove, New Jersey who share so much history together." He'll be playing two Light of Day Australia shows, Friday July 22 and Saturday July 23, as well as participating in a special church service at the Ocean Grove Uniting Church, Victoria. Visit lightofdayaustralia.com for details. And bon voyage, Ed!
- July 16, 2016 - video filmed by Ryan Celli - photograph by John Cavanaugh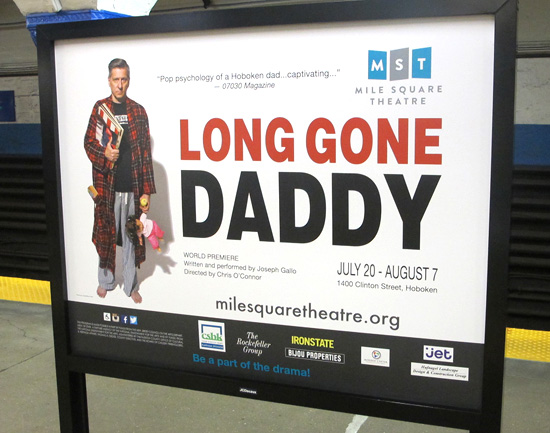 LONG GONE DADDY OPENS NEXT WEEK
Does the title of this NJ/NY subway platform ad seem familiar? You only need to look at the LPs tucked under playwright/performer Joseph Gallo's arm to confirm the reference. (Also note the Maxwell's rock club T-shirt — the location for the "Glory Days" video, directed by another Hoboken native, John Sayles.) Gallo's one-person play will have its world premiere on Wednesday, July 20 and run through August 7 at Hoboken, NJ's Mile Square Theatre.
Bookended by Bruce Springsteen concert stories that Gallo developed while performing at The Moth storytelling series in New York, Long Gone Daddy is the follow-up to his critically acclaimed Off-Broadway solo play My Italy Story. Checking-in with his alter-ego, Thomas DaGato, Long Gone Daddy chronicles the comic misadventures of being a stay-at-home father. Gallo's semi-autobiographical play also wrestles with the memory of his own Dad, a former fireman, and the existential question, "When does a father earn the right to be called Dad?" For tickets and more information, visit milesquaretheatre.org.
- July 15, 2016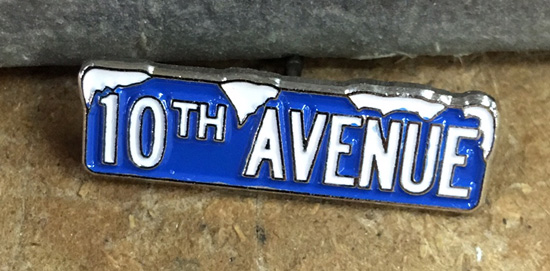 PRINT MAFIA HITS YOU WITH A...
Earlier this year, our friends at Print Mafia created an E Street enamel pin, which still available from from printmafia.net. Now they're offering another cool one — freezing, even. Walk pretty with their new 10th Avenue enamel pin.
- July 15, 2016


JULY 13, PARIS 2: INTO THE RIVER WE DIVE
European prayers have finally been answered. If Monday's fuse-blowing Paris concert demonstrated for the first time on this tour the magnetic energy generated from combining the intimacy of a typical American arena with the the signature passion of a European crowd, the second AccorHotels Arena show tested what would happen when these fans were finally treated to the first-ever full album performance of The River in Europe. After much begging, cajoling, pleading, screaming, and yes, even praying on the part of the European fan contingent, it was well worth the wait.
The concert opened with an equally rare occurrence: the first performance in Europe (the third ever in the world, and only the second with the E Street Band) of "Iceman." The Darkness outtake was given a tight, focused, and intense full band treatment (sans Patti) with Bruce's voice fittingly gruff to match the song's subject. They kept the rarities coming with "Lucky Town," which was once again capped with a fiery Boss guitar solo.
And then, it was time for the main event. When Springsteen revealed in a little speech — in French, no less —that The River would be played in its entirety for Paris, the crowd erupted with a deafening ovation of sheer joy. As many fans have made clear since this European leg began, they've been waiting years for the opportunity to see one of Bruce's greatest albums performed in full. It felt like all of the anticipation and hoping and dreaming was released in a rush of excitement to the opening chords of "The Ties That Bind," and this ceaseless enthusiasm was sustained through the final notes of "Wreck on the Highway."
Their starved desire for these tracks makes even more sense considering how rarely a lot of them have been played in Europe since the original River Tour 35 years ago: "Stolen Car," never since 1981; "Wreck on the Highway," one time (solo); "Fade Away," three times. Ignoring performances on this tour, "I Wanna Marry You" (never performed since 1981), "The Price You Pay," (performed once) and "Independence Day" (performed four times) are almost as rare. The entire crowd responded in a way that made it feel like they understood the special significance of this evening.
Everyone from the pit to the upper deck looked and sounded engaged from beginning to end, rarely allowing the energy to wane enough even to sit down — the first two sides of the record were basically a non-stop sing-along, jump-along, and chant-along party — while always remaining deadly silent for the ballads. Many fans clearly bought tickets for this River Tour 2016 to hear The River, and not only its greatest hits: the whole place bellowed the lyrics to "Jackson Cage"; applause greeted the opening chords of "Stolen Car"; "The Price You Pay" elicited a decibel-busting level of crowd participation that rivaled "Badlands"; and the entire arena respectfully applauded through the final coda of "Wreck on the Highway."
Bruce brought back a lot of the same stage blocking from the American leg, including a "Hungry Heart" crowd surf that was way slower than normal — it seemed the handlers in the pit wanted to pass Bruce back and forth to give everyone a chance to touch the Boss. As he did in Baltimore, Bruce once again oversaw a wedding proposal during "I Wanna Marry You," pronouncing them "Mr. and Mrs. Rock 'n' Roll… in the name of rock 'n' roll!" Two songs later, the crowd continued Bruce's soul-stirring humming at the end of "The River" all the way through the silence while Bruce and the Band cued up "Point Blank." Bruce waited until this humming had organically reached the melody's end before having Roy seamlessly begin the song — a hauntingly beautiful transition between the two records.
All together the evening felt like one long ecstatic catharsis. Tears, hugs, kissing, jumping, clapping, singing, chanting, smiles, all plentiful throughout. More than any other show on this tour, the concert actually felt the most like the first time The River was played in its entirety way back in 2009 at Madison Square Garden. Since the crowd knew this wasn't a nightly occurrence, a special vibe of overwhelming elation was in the air. Judging from the rousing standing ovation that greeted the album's conclusion, their lofty expectations were exceeded, and then some.
With the exception of a story-less performance of "Growin' Up" — the only sign request of the night — the rest of the night felt predictable and a little rushed; the set-ending "The Rising" literally went directly into the encore-opening "Born in the U.S.A.," with not even a second of a pause between them. But after The River, any other song was just gravy for this crowd. These fans had finally gotten what they had been waiting so long to hear — what more could they ask for?
Paris will only enhance the legendary status of the "grass-mowing, fuse-blowing, legendary E Street Band's" full album River performances ("Ramrod" also included a bevy of references to fuse-blowing by Bruce and Stevie), and I'm sure all of the European fans not in Paris will be chasing it for the remainder of the tour. Gothenburg 3? Zurich for the final European stop? They can only pray…
For the full setlist and reports from this and other recent shows,
see our Setlists page
- July 14, 2016 - Steven Strauss reporting - photographs by Rene van Diemen


JULY 11, PARIS 1: WHEN THE LIGHTS GO OUT
It was a wild night in Paris. Bruce arrived to a city that was stuck in between the heartbreak of a national soccer team loss and the celebration of a historical revolution. Before the three hour and forty-seven minute* show concluded, the crowd would witness three tour premieres, Bruce making his own sign requests, and the long-awaited fulfillment of a Bruce Springsteen and the E Street Band unplugged show.… in some fashion, at least.
Bruce took the stage alone and greeted the crowd. "Bonjuor Paris! Comment allez-vous? Tres bien," he said, before taking a seat at the piano. In soft purple and turquoise lighting he fumbled around for a few chords before settling into a nearly ten-minute "Incident on 57th Street." A hush fell over the crowd, and I saw at least one person reaching for their eyes as Bruce lent his powerful voice to an incredibly personal rendition. The applause in AccorHotels Arena was overwhelming as Bruce played the gentle outro and the band took the stage.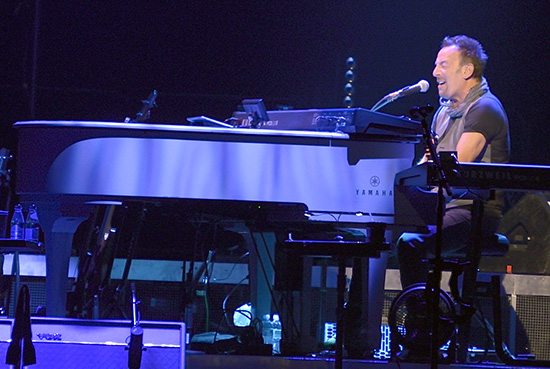 Bruce's solo "Incident" was the first of several in the set that leaned towards the intimate and the emotional. Springsteen reached for some unusual selections that could be heard to address the troubling news back home in the U.S. — "American Skin" isn't the only song in his back pocket for mean times like these. For the first song with the band, he brought back the distorted bullet microphone effect from the Devils & Dust and Magic tours for a 2016 premiere of "Reason to Believe."The full-band arrangement featured a blues rhythm and Little Steven at the front on the teardrop-style guitar. The instrumental bridge had the floor jumping and Bruce dancing in the center cutout, silhouetted against a dark stage.
Workhorse "Badlands" kept the crowd's blood pumping, with Bruce shuffling to the back of the stage to point at some familiar faces dancing wildly on the first row. And the songs about faith and hope in dark times continued: "Fella outside the hotel today lost his wife recently," Bruce said. "This was one of her favorite songs." In dim lightning Soozie opened with a few long and mournful notes on the violin before Bruce and the band joined in the tour premiere of "Into the Fire." Springsteen would later take the stage alone with a 12-string for another tour premiere from his 1982 solo album. With the shrill sound of his harmonica, standing in a single spotlight on an otherwise dark stage, Bruce played "Nebraska" — performed at only one other E Street Band show since 1985, at Belfast '13.
Despite the rare dips into Nebraska, this was most certainly a River show: the set featured 15 songs in total from the tour's eponymous album, and for a stretch it seemed like they might play the whole thing. The band had a little trouble finding all the right instruments for "Jackson Cage." "We'll be right there," Bruce said. He stopped during "Hungry Heart" to shake the hand of a young girl on her father's shoulders, and he pulled another fan up onto the walkway for a lengthy hug during "I'm a Rocker" while the band continued to play.
The intimacy would continue with the River album standouts "Point Blank" — with Roy bathed in hard purple and red light and the silhouette of Bruce whispering tenderly to the audience — and "Drive All Night,"featuring a booming Jake Clemons saxophone solo. Bruce turned his affection towards Patti Scialfa for a duet on "Tougher Than the Rest," serenading his wife on the harmonica to close the song. The Queen of E Street's vocals also featured heavily on "Darlington County" and "Because the Night."
After the main set, which brought us out of the valley with "The Rising" and "Land of Hope and Dreams," Bruce came to the mic and hushed the crowd. He turned his back and held his guitar over his head while Roy and Soozie started "Jungleland." Elliott Murphy and his son Gaspard joined Bruce on stage for "Born to Run," with Bruce falling to his knees to plead to the crowd, "Lemme see your hands!"
"Steve, look over yonder, see the Eiffel Tower lights," Bruce said, beginning Ramrod. Little did he know, his words would prove inauspicious. For the second time in just over four years, the E Street Band was too much for the Parisian power grid, and the lights and sound failed mid-song. The crowd went wild as the band kept right on playing, with lighting equipment crackling and sputtering overhead. Bruce, with a bewildered look on his face, led everyone to the front of stage to dance and play. The only sound that could be heard from the band were the drums and the occasional faint hint of saxophone.
The crowd filled the void with chanting and wild cheering as Bruce and the band marched their way onto the floor. Charlie and Nils picked up accordions to join the procession and try to be heard by the nearby crowd at least. Overhead speaker loops were calling for evacuation, but the fans refused to leave. By the time the band had made its slow circuit of the pit, the stage was crawling with techs trying to figure out what was going on.


The band circled around for an impromptu meeting on stage, Bruce and Patti laughing and gesturing at one another. Bruce asked to borrow a fan's sign and wrote his own request on the back — for five more minutes — and held it up for the crowd. Bruce, Patti, and Jake sat down on the front of stage and started signing autographs while Garry tossed water bottles to fans in the crowd. Annie Leibovitz even took to the stage and started snapping candid photos of the mayhem.
When the lights finally returned, the band performed a quick, 30-second sound check. Bruce took the microphone after what had been about a 20-minute intermission. "Stevie," he said, "Is it quitting time? Is it fuse-blowing time?" The crowd went crazy, the show returned to something like normalcy, and the band jumped right back in to the end of "Ramrod"like this was any other hijinks.
Bruce wasn't finished having fun with the band's misadventure. "Can you hear me?" he asked to start "Shout." "Are you sure?!" Bruce drenched himself in water, once for the front of stage and again for the back, and Steve cloaked Bruce in a shining coronation mantle embroidered with a "Boss" insignia. "You've just seen the heart-stopping, pants-dropping... rock out till the lights are out, legendary E Street Band," Bruce hollered before one last verse of "Shout."
Bruce took a moment to reflect on the evening before a solo acoustic "Thunder Road." "What a surprising night. What a great night," he said, "Electricity is on. It's off again. It's on. It's off. Nothing stops the mighty E Street Band. Thanks for sticking in with us." Rolling with the punches, Bruce and the band took full advantage of the smaller venue and stage to provide a uniquely intimate performance, with three solo arrangements, three tour premiers, and enough E Street Band power to shut out the lights.

*with intermission
For the full setlist and reports from this and other recent shows,
see our Setlists page
- July 12, 2016 - Andrew Telesca reporting - photographs by Rene van Diemen (1-5), Lucas Girard (6,9) and Geoffrey Robinson (7,8)


JULY 9, WERCHTER, BELGIUM
Arriving at 9am in Werchter, we heard "The Ties That Bind" being soundchecked as we walked from our carpark to the venue. My heart stopped and took a leap toward what was going to be a good night! At noon the doors opened. A little struggle and a mad dash, but we — my husband, my "Bruce hubbie," and myself — found a good clear spot in the right pit next to the center barrier. We had to wait ten hours before Springsteen was going to put a foot on stage — as Werchter's TW Classic is a festival, we had other bands like Simply Red and Lionel Richie first — but faith will be rewarded.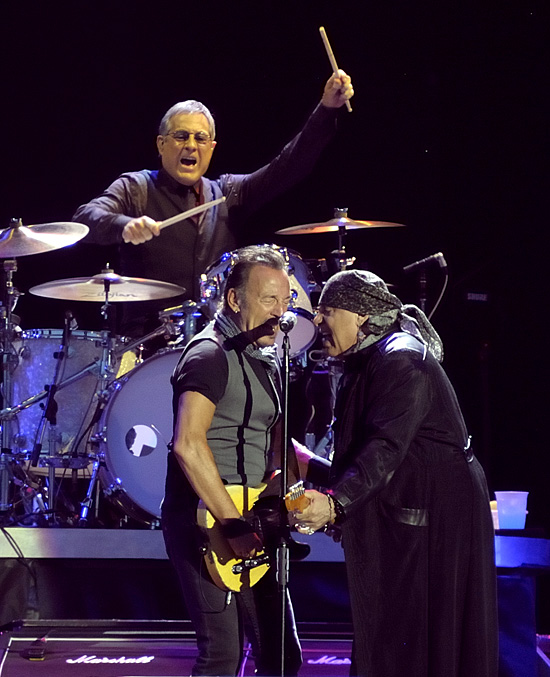 The Werchter Classic has a tight schedule, but Bruce proved who's the Boss: he and the E Street Band took the stage ten minutes before their scheduled 10pm showtime, to maximize the length of their set. They opened with a strong "Prove It All Night," and the crowd went crazy! Even my husband went crazy — this was his first Springsteen show. After "Prove It," it looked like Springsteen was in a hurry to give 65,000 attendees as many songs as possible in their alloted time. (Though scheduled for a two-and-a-half hour slot, Bruce and the band not only started ten minutes early but went 15 minutes long, bringing it closer to three hours). "Darkness on the Edge of Town" went quickly into "No Surrender," "The Ties That Bind," and the always funny "Sherry Darling."
After a drink of cool water, it was "Spirit in the Night." Bruce interacted with the fans as usual, going to the left side of the stage, to the right, and walking through the center. Fans held out their hands, and Bruce took it like a big, warm hug. Jake's sax was like a warm blanket. Bruce always has a lot of interaction with the crowd, but this felt particularly special. Someone handed him a drink —like fuel for a great night — and he even managed to get 65,000 people absolutely pin-drop quiet. It was magical.
There were multiple sign-selection moments, and after "Spirit" Bruce picked out "Thunder Road" for a rare mid-set performance. Whether it's on the setlist or not, when you get your sign chosen it's a special personal moment when he's singing your song. I think the lucky ones can agree on this. After "Hungry Heart" came another request, written on a T-shirt: "Cover Me."
The next request was the tour debut of "Mansion on the Hill" [video]. He didn't pick up the sign, but he read it in the crowd, pointing and saying, "This one is for you. It's from the Nebraska album." So the beautiful "Mansion on the Hill" was played solo acoustic. How lucky can you get!
We have all seen the news or read about the terrible things happening in America, so "American Skin (41 Shots)" [video] was very powerful. While Bruce was singing, Jake Clemons was standing in the back with his hands held up high. The crowed followed. It must have been a moving view from the stage to see all these people holding their hands up. "Promise Mama you'll keep your hands in sight"… and so we did.
Back on the setlist after being skipped in Milan was "Waitin' on a Sunny Day." A girl with a handwritten sign got picked out, and she sang great! Wearing a cap that read "Amazing" — and this must have been the most amazing night for this girl —she waved to the audience from Bruce's shoulders. The crowd went wild during "Because the Night," and we all pointed out with our little fingers to the band — our expression to show the love we feel for them. On a beautiful "The Rising," fingers became hands in the air; after our hands, our feet didn't touch ground during the set-closing "Badlands."
To start the encore, two "Born" songs in a row, first "Born in the U.S.A." and then the national anthem of Springsteen fans, "Born to Run." The crowd went wild, and during "tramps like us" our Springsteen "family" grew with 65,000 new members. With the first notes of "Dancing in the Dark," all the signs asking for a dance went up: a dance with Bruce, a dance with Soozie, or with the whole band. There were two guys for Soozie, one woman got a dance with Bruce, but then, just when you thought luck didn't come your way, Bruce looked back into the crowd…. He left the stage and ran to a family of two young boys and their mother. Their sign featured a big guitar, and it said the boys were promised a guitar if they could get on stage to dance. They all went on stage — and hopefully mama keeps her promise!
By the time a beautiful "Bobby Jean," finished, it was curfew time. But Bruce still wanted to play one more, an acoustic closer. He had already played "Thunder Road," so I guessed we'd get "This Hard Land" — but no, one more surprise for Belgium. "If I Should Fall Behind" [video] was another solo acoustic tour debut.
As I mentioned, it was my husband's first Springsteen show (please forgive him, he's not a bad guy!). While waiting I asked him, "What sign do you want me to make for you?" He said, "If I Should Fall Behind," and so I did. While Springsteen ran past us, my husband showed him his sign. I saw Bruce read it, but he didn't pick it. But you can imagine what I was wondering… did that sign make him sing "If I Should Fall Behind"? My husband said that Springsteen looked at him when he finished the song, so he decided to stay on Cloud Nine — Bruce sang this song for him. Best first Springsteen show ever!
For the full setlist and reports from this and other recent shows,
see our Setlists page
- July 10, 2016 - Shui Fan reporting - photographs by Rene van Diemen

"THE COUNTRY WE CARRY IN OUR HEARTS IS WAITING." AND STILL WAITS.



—Bruce Springsteen, 2004
- July 8, 2016 - from Springsteen's 8/5/04 op-ed in the New York Times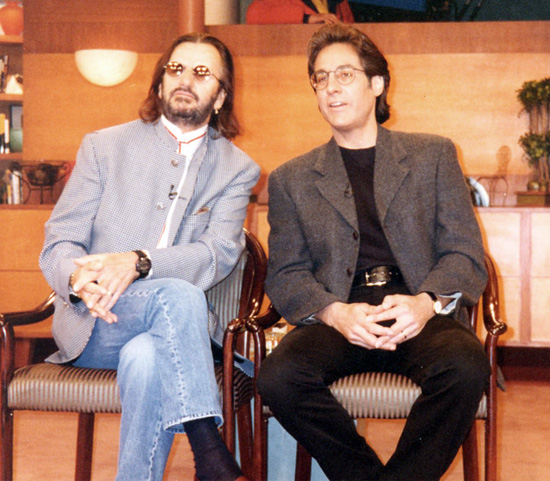 PEACE & LOVE & BIRTHDAY WISHES
Happy birthday to Ringo Starr, 76 today, and pictured here in the mid-'90s with fellow drumming great Max Weinberg — one of countless musicians influenced and inspired by Mr. Starkey. #peaceandlove
- July 7, 2016 - photograph by Billy Smith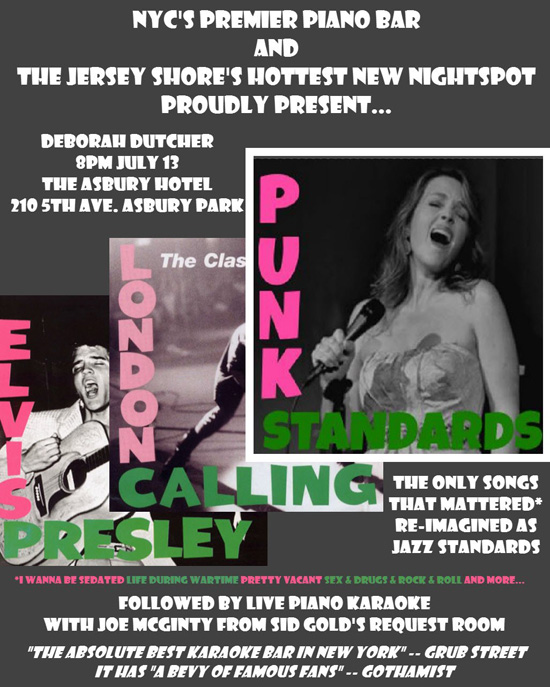 DOWN THE SHORE EVERYTHING'S SO PRETTY, OH SO PRETTY
If you've been interested in checking out The Asbury — a boutique hotel that's putting a spotlight back on Asbury Park, in the New York Times among others — that's just one reason to catch Punk Standards, a free show at the new hotel next week. Conceived and produced by our pal Phil Kuntz, Punk Standards comes to the Jersey Shore after two successful NYC stints and features Rumson vocalist Deborah Dutcher's jazz stylings on songs by The Ramones, the Clash, Sex Pistols, New York Dolls, and more. The Sessions Band's Jeremy Chatzky holds it down on bass. Check it out Wednesday, July 13, at 8pm.
- July 7, 2016

UNA LETTERA D'AMORE A MILANO
On Springsteen's official site today, Bruce and the E Street Band have a message for the faithful in Milan, "to thank the fans for two wonderful nights at San Siro and to send out a special thanks to the amazing 'audience art' team..." Read it at brucespringsteen.net.
- July 6, 2016


JULY 5, MILAN 2: SEVENTH NIGHT TO ROCK!
The second River Tour stop at Milano's famous San Siro Stadium was the seventh Bruce Springsteen concert ever held here. After Sunday's show and Springsteen's remark about San Siro having the best audience in the world, expectations were very high for Tuesday — especially with the first night's setlist looking like a set for a one-night stand.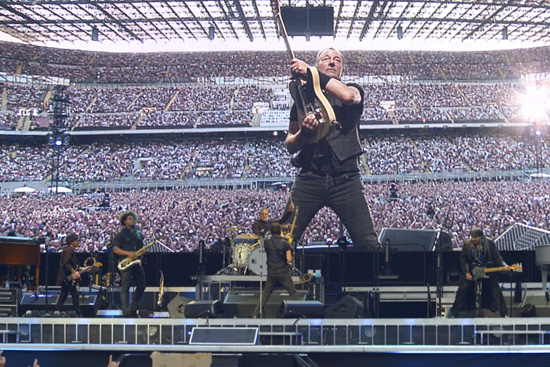 The weather was again hot and humid. But if you thought that the long roll call procedure in the heat and the long wait inside the stadium (more than five hours between doors and show time) might take its toll on the spirit of the audience… you'd be proven wrong. The show started with the usual Ennio Morricone music over the PA — no message displayed from audience members in the stands, no massive signs like the first night's "Dreams Are Alive Tonight." At least, not yet. The first song was the long-overdue European premiere of "Meet Me in the City," which opened the show for the first time since Brooklyn. The River outtake sounded fresh and crisp, not like a song that had been put aside for more than two months now.
"Prove It All Night" followed, with Steve doing a great guitar solo at the end. With "Roulette" as the third track we already had two River outtakes. To be fair, as great as it was to hear "Roulette," it was far from getting the greatest response of the night. But we were very much in River territory, as "The Ties That Bind" and "Sherry Darling" followed. Bruce came down from the stage for the first time during "Sherry Darling" and collected a few signs. There were lots of them, some very large, some pretty obscure — "Life Itself," anyone?
"Spirit in the Night" was the first granted request. Tonight's version was a bit looser than Sunday —Bruce himself seemed a bit looser than on Sunday overall, and he let Jake play a short and very quiet solo. Another warhorse from the '70's followed: "Rosalita" came out for a 15-year-old who requested the song, (only its second performance on this European leg after being a regular encore in the U.S.), and the audience ate it up, using almost every opportunity to sing along and join the fun. The most impressive request sign was a cardboard replica of the stadium itself, picturing that "Our Love is Real" banner from the last visit and asking for "Fire," yet another classic from the '70s. "Something in the Night" seemed to be an audible and gave the audience a good opportunity to sing along with the intro of the song. And after another dip into The River it was back to request signs, as "Mary's Place" got its second airing in 2016.
With "The River," always a favorite here, another display in the stands opposite the stage suddenly appeared. Lights from cellphones created a heart and three letters: ESB, for E Street Band. It was a very moving and beautiful thing that the fans did again here in Milan, with the help of the promoters. Bruce was clearly moved by it, and a beautiful rendition of "The River" was one of the emotional highlights of the evening.
The next came right after, with "Racing in the Street." It was a perfectly played version (with a slightly shorter coda than in Gothenburg a week earlier) that almost brought silence to the whole stadium. "Cadillac Ranch" was a perfect fit as a follow-up. Much too rarely played on this European tour, it got the whole crowd back on its feet to sing and clap along and feel the power of the E Street Band.
The setlist for the first night was obviously centered around a lot of songs that gave the San Siro audience opportunities to do what they are famous for. With the setlist for tonight's show, Bruce seemed to be trying three things at the same time. First, to play many songs not played on Sunday (which he achieved with 51 different songs over both shows, the highest number after the two Gothenburg shows in June). Second, to play an impressive number of deep cuts or rare tracks for the critical "hardcore" fans; and third, to keep the brilliant atmosphere from Sunday's show going strong and not lose the momentum. Therefore, the setlist might look a bit uneven on paper, but it worked very well.
Especially noteworthy is that "Waitin' on a Sunny Day" wasn't played at either show, even here in the city that probably invented singing along to a tune like that. But the Italian crowd had plenty of opportunities to do what they do. After "The Price You Pay" was played at Ullevi in Gothenburg, it was pretty clear that the song is not wasted in a stadium. Here in San Siro, the vocal audience took over the melody, and Bruce encouraged them to do so. It was the next highlight of the show and proof that sometimes songs hidden in the shadows for far too long can come out and shine brightly.
The highest energy of the night was reached during Nils' guitar solo for "Because the Night." Somehow the band and audience drove themselves into a frenzy during that song that was unparalleled over both nights. And maybe Bruce was thinking afterwards that he would like to do a guitar solo himself — at least he had a grin on his face as he told the rest of the band that "Streets of Fire" was next. On paper the tour premiere was a very unusual choice, but it worked to control the ebb of flow of the show and play something rare (which was also requested). Bruce guitar solo was mean, dirty, and really great, even though it didn't get the same response as Nils's.
"Badlands" ended the main set with the double reprise at the end, and the audience and atmosphere was back to maximum power. The only point during the show Bruce had some slight trouble with the control of the show was during the interlude of an otherwise beautiful and strongly sung "Backstreets." He could not calm down parts of the stands in the stadium.
After that it was full blast until the E Street Band left the stage. A mass sing-along for "Born to Run," a rocking and rolling "Seven Nights to Rock," "Dancing in the Dark" with a partner for Jake (same hairstyle!), a drumming aide for Max, a bachelorette to dance in style with Bruce and a young boy to strum guitar with him. Instead of the "James Brown"-like cape routine at the end of "Shout" on the first night, it was the stretcher routine: two men (one of them apparently local promoter Claudio Trotta) dressed as paramedics tried to carry an exhausted Bruce off stage. Of course he was soon back to life to finish another wild version of the song, with "Bobby Jean" added on top of it, creating an impressive sea of waving hands and arms in the stadium.
After a short speech in Italian in which Bruce thanked the crowd for the two nights here in Milan, he played a beautiful solo version of "This Hard Land." He took his time to finally leave the stage of this famous place after three and a half hours and to leave behind the fans of San Siro — the best in the world, as he said before. And judging by all seven shows he has played here since 1985, he might have a point.
For the full setlist and reports from this and other recent shows,
see our Setlists page
- July 6, 2016 - Ralf Dissman reporting - photographs by Rene van Diemen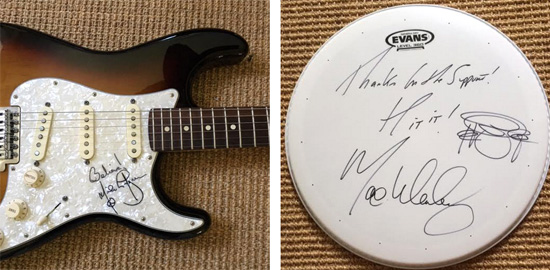 WITH THIS DRUMHEAD AND THIS GUITAR
Max & Nils sign items for auction to benefit Friends of the Bruce Springsteen Special Collection
Looking to cut someplace of your own? Got some bucks to bid in support of a worthy organization? Click here for your shot at winning a Fender Stratocaster signed by Nils Lofgren and an Evans drumhead signed by Max Weinberg. The online auction closes at 3 pm ET this Thursday, July 7, so place your bids now. Auction proceeds benefit The Friends of the Bruce Springsteen Special Collection.
- July 5, 2016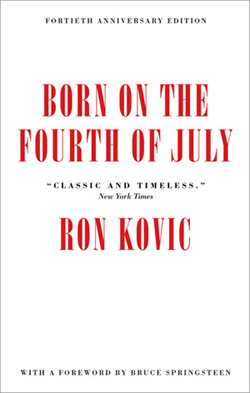 HAPPY BIRTHDAY RON KOVIC —
HAPPY 4th OF JULY!
Bruce Springsteen discovered Vietnam veteran Ron Kovic's memoir Born on the Fourth of July just a couple years after its 1976 publication. His reading of Kovic's book, followed by a chance meeting with the author, would have a great effect on not only Bruce's own writing and worklife in the coming years, but on the vets movement as a whole, as it led to his crucial, River-era "A Night For the Vietnam Veteran" concert.
Today, after years of mass-market paperbacks and movie tie-ins and even some time out of print, Born on the Fourth of July is being published in a handsome 40th Anniversary edition. Springsteen has written a new foreword for the book, published by Akashic, celebrating its "unrelenting power." At rollingstone.com you can listen to Springsteen himself reading his foreword for the 40th anniversary's audio edition.
This new edition of Born on the Fourth of July is available now from Backstreet Records in both hardcover and softcover.
And another fitting treat for today: last night's performance of "Independence Day," from San Siro Stadium in Milano. Happy Fourth!
- July 4, 2016


JULY 3, MILAN: DREAMS ARE ALIVE TONITE
The early concertgoers at the storied San Siro Stadium were treated to a pre-show acoustic version of "Growin' Up." I wasn't there for that. Mental note: get there earlier on Tuesday. This is Springsteen in Italy, after all.
There was a sign hanging high in the rafters across from the stage that read "Welcome Home Blood Brother," but that wasn't the one that everyone noticed. That latter, made possible by thousands of fans working together, was an amazing, stadium-wide choreographed display in River teal and white, proclaiming: "Dreams are Alive Tonight." It wasn't just Bruce's jaw that dropped at this effort, a follow-up to a similar message reading "Our Love is Real" here in 2013 — Milan once again set the bar high.
Then with a shout of "Andiamo!" — let's go! — the band kicked in with the only song that Bruce introduces each and every time he plays it: "This is 'Land and Hope and Dreams'!" I looked at my friend who had traveled from the U.S. to meet me here, and with tears in our eyes we hugged each other at those words. Leave behind your sorrows – indeed. Okay, it's going to be one of those kinds of nights. I braced myself for the emotional roller coaster that was to come.
That Bruce enjoys playing Europe, especially Italy, is apparent; he looks tan and fit and happy as he blasts through the first few opening numbers including "My Love Will Not Let You Down." It was clear to all of us that it never has. His love for us is shown in the music he writes; it is the river that flows through our lives. The mighty Max Weinberg hammered that point home with a blistering drum solo that drove the crowd wild. Bruce may love us, but he sure wasn't being easy on us as he delivered the first seven songs with no break in intensity, almost daring us to keep up. More than half of them were from The River, in a concert that would continue the tour's trajectory of putting the emphasis back on the 1980 album — tonight we got 14 of its 20 songs.


It was only after "Two Hearts," delivered fast and as hard-rocking as all those that came before, that the show slowed down a bit, for "Independence Day." Bruce introduced it in Italian as a song about a father and son. The audience adores his use of their language and listened intently to his heartfelt delivery of the song about the tension between loving and leaving family. In the end with his emotions playing all over his face, Springsteen pleaded, "Can't you say goodbye?" The words now hold so much more nuance, the passing of time clearly felt with the visual of young Jake Clemons standing by Bruce's side, blowing out the solo.
Jake has really come into his own on this leg of the tour; during "Hungry Heart" he ran to join Bruce on the back pit riser, blowing his saxophone the whole way. Bruce grasped the hand of a young boy of about 11 years old on his run through the pit. Afterward, as Bruce blew kisses to the Italians from the stage, I glanced back to see the lad brushing away the tears that were streaming down his face. Yes, it is that kind of night. Love flows freely from the stage to the audience.
The first request of the evening was delivered by a card-carrying creature from another world, "Lucille" held in the hands of a what looked like a space alien stuffed animal. Garry Tallent, cool rockabilly hero in black shades, nodded his approval at this Little Richard cover from the '50s, and when Roy Bittan joined in with the piano riff, his playing was out of this world. Don't try to stump the E Street Band — they had the whole crowd twisting.
Judging by the audience response to the opening notes of "The River," this was what they came to hear. The haunting and plaintive melody set the stage for the next group of songs, and there was quiet in the crowd as they listened to the heartbreak of dreams that don't come true. "Point Blank" was delivered in what can only be described as performance theater, Bruce pacing inside the cage of a spotlight, glaring out at some unknown enemy, at some memory of love that was a lie, the song delivered in hopeless anger at the injustice of the world, the bitterness of the memory, his words echoing through the stadium challenging us, "Did you forget how to love, did you forget how to fight?" And then into "Trapped" and a collective howl of understanding from everyone in the audience. This three-song trilogy of the ways love can go wrong was followed up by a personal favorite for setting your life right, "The Promised Land." Jake was especially effective at blowing away all that anger and heartbreak not only with his sax, but by putting his whole heart and soul into singing the back-up chorus with arms outstretched.
The next sign request, "Lucky Town," showed off Bruce's guitar chops. Any doubt that this show is a show about love was dispelled by the intensity of "I'm on Fire" leading right into "Drive all Night."
At the beginning of "The Rising," I glanced up at the night sky to see the first star had appeared. The sky of memory and shadow took me back to 13 years ago, hearing this song in this same stadium. Our country and I personally were reeling from loss then. I remembered how hearing those words helped our country to heal, how hearing the Italians sing them that night all those years ago helped me to heal. Hearing them now, when this song has taken its place next to all the great classics in Bruce's catalog, it is clear that the music is the river, flowing through our lives, delivering the love that unites us and ties us together. Yes, it was that kind of night.
In the end, Bruce stayed behind with his vest off and his harmonica on, and he sang to us a lullaby of "Thunder Road." The audience listened, only singing along when he asked them to. As the notes faded away, he said San Siro is the best audience in the world. I couldn't help but agree.
For the full setlist and reports from this and other recent shows,
see our Setlists page
- Updated July 4, 2016 - Brenda VanHorn reporting - photographs by Florian Spintler (1) and Rene van Diemen (2-7)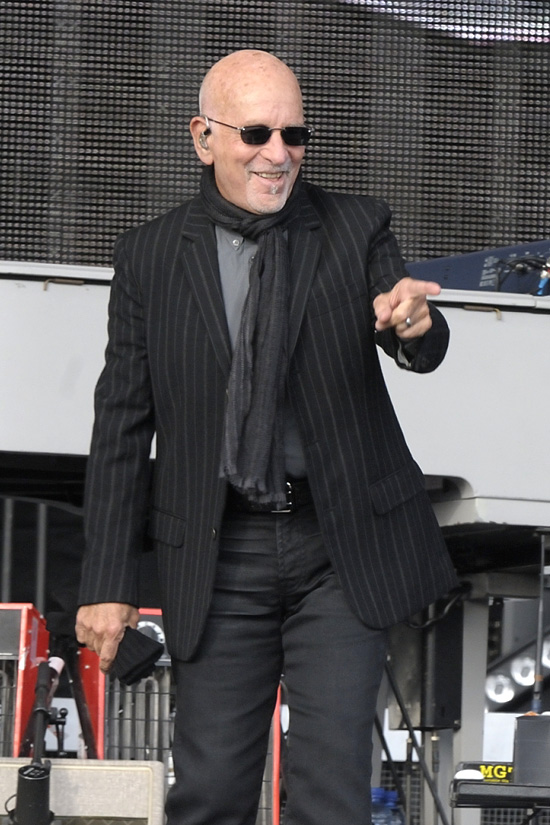 HAPPY BIRTHDAY, PROFESSOR!
Roy Bittan came out of the box 67 years ago today, July 2, 1949. We're sending a big buon compleanno over to Milano!
- July 2, 2016 - photograph by Rene van Diemen [6/14/16, Den Haag]

For older news, visit our News Archives