Since stepping into Bobby Bandiera's shoes as guitarist for Southside Johnny & the Asbury Jukes over a decade ago, Glenn Alexander has secured a place in the pantheon of New Jersey axemen (Kansas branch). But his Jukes membership is only the tip of a large iceberg. He's also a veteran of La Bamba & the Hubcaps, La Bamba's Big Band, and The Mark Pender Band, and has worked with diverse other artists in a long and accomplished musical career.
Several years back, not satisfied with being a full-time Juke, Glenn formed Glenn Alexander & Shadowland, a band that includes the Jukes horn section and his daughter Oria Aspen, a talented singer-songwriter in her own right. Featuring mostly original material and "guitar-driven, horn-laced, in your face, blues-drenched music," their self-titled debut album was released in 2016. Jukes drummer Tom "Goose" Seguso played on every track, and Jeff Kazee and Southside Johnny made guest appearances.
Their second release, Knockin' on the Door, appeared last year, around the same time as L.A.X. by LaRue/Alexander, a partnership comprising Glenn and his friend, bass player Dave LaRue, that plays "high-powered blues-rock material with a southern influence." In addition to playing Jukes concerts, occasional shows with Shadowland and LaRue/Alexander, and duo and trio jazz gigs with Oria, Glenn also teaches at Sarah Lawrence College in Bronxville, NY. I caught up with him during the Jukes' winter break.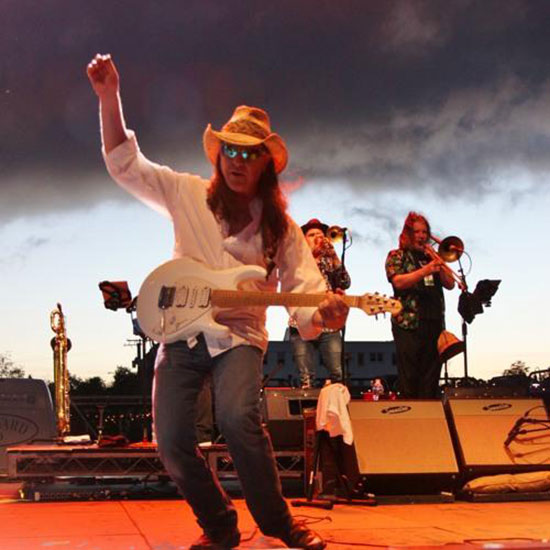 You're from Kansas originally. How did you end up in New Jersey?
I was born and raised in a farm community — Maize, Kansas. I went to a small community college on a music scholarship. Wound up with a scholarship to Wichita State University, where I finished my BA in music and was then immediately hired to teach 40 guitar majors, because the world-renowned Jerry Hahn had taken a sabbatical. I did that for a year and then realized I had played with all of the best players there and had the best teaching gig, and there was nowhere to go but down. So I moved at age 23.
I was heavily into jazz at the time and was interested in New York City, but I had a dog and liked the idea of trees and grass, so Jersey became home. I arrived in 1982, I believe. [New York City is] where I hung out and did most of my playing. I landed a gig with renowned jazz drummer Chico Hamilton and played all kinds of festivals, Carnegie Hall, with incredible musicians. Sadly, I was starving to death. I took a gig out of Los Angeles and ended up spending more time there for a couple of years, playing a lot with Dave LaRue. We formed the power trio Stretch and recorded an album in 1984.
Who are your biggest musical influences?
That is a long list. The short list is Glenn Campbell, Roy Clark, Lynyrd Skynyrd, ZZ Top, The Allman Brothers, Jimi Hendrix, Merle Haggard, Johnny Cash, Waylon Jennings, Miles Davis, Wes Montgomery, George Benson, Pat Martino, Pat Metheny, Mike Finnigan, Bill Champlin, Ray Charles, Wilson Pickett, Steve Morse, Allan Holdsworth, Jerry Hahn, and too many others.
Who did you play with before the Jukes?
I had my own worldwide releases beginning in 1984 with Stretch, then Glenn Alexander, Rainbow's Revenge, the supergroup The Connection, and my acoustic album Oria. I played with all kinds of folks — Chico Hamilton, Max Weinberg, Levon Helm, Randy Brecker, Liza Minnelli, L Shankar, Jan Hammer, The Mahavishnu Project, Brenda Russell, Tom Scott, Phoebe Snow, [and] of course Mark Pender and La Bamba, which is how I met Southside Johnny.
La Bamba, Mark and I go back a long way. I used to play in both The Hubcaps and the Big Band for La Bamba, and played for a dozen years in Mark Pender's band as well as subbing for Jimmy Vivino on the Conan O'Brien show. I played on Mark's album (Mark Pender Band, 2003) and on Grapefruit Moon — The Songs of Tom Waits (2008), the album La Bamba did with Southside. We have been on many a gig and session together, and we always have a blast. I hold those guys in high regard.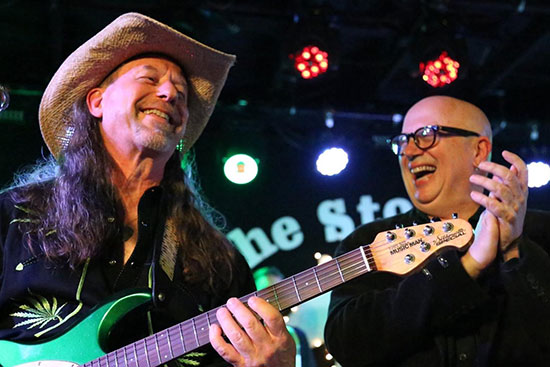 You played La Bamba's Holiday Hurrah in December [above, with Mark Pender] and just got back from playing with Mark in Iowa.
The Stone Pony was packed to the gills [for the Holiday show], sold out. The La Bamba Big Band is just that, a gazillion horns. All of the current Jukes horns were there, Chris Anderson (trumpet), Neal Pawley (trombone), and John Isley (saxophone), as well as a ton of other incredible horns. We also had keyboardists Mike Mancini and Jeff Kazee, special guests Bobby Bandiera and Billy Walton, and of course the big dog, Southside. I sang Albert King's "Santa Claus Wants Some Lovin'," and Oria and I had a blast singing Graham Parker's "Soul Christmas" together.
I went to Iowa with Mark Pender to play a jazz and blues festival. [We] played it for six or seven years straight [but] haven't been in ten years. I have many friends there. We flew into Omaha, Nebraska, the closest large airport. My friend Rick Angell came down in his private plane and picked me up so we could get back and do the sauna/ice water plunge. We cut a hole in the ice on the pond and sit in the sauna next to it. It gets up to 180 degrees or so. When you feel like you're going to pass out and your head is going to explode, you jump into the ice water to cool down. We do a couple rounds of that and then drink home brew, which is some of the best beer I have ever had anywhere in the world. It's an amazing experience that I so enjoy with my great friends there in Cherokee, Iowa.
You don't get more diverse than Liza Minnelli and the Mahavishnu Project.
I worked with Liza before I left Kansas. She had dates in Oklahoma and a few cities in the Midwest. I got the call because I could read [music] pretty well. She carried some key players, drums, conductor, and a musical director and hired everyone else. The reading was pretty challenging. It was a large group, maybe 60 pieces, strings, the whole nine yards. I thought it would be goofy, but she knocked me out. What a performer!
I did the Mahavishnu Project right before I joined Southside. I never was into the Mahavishnu Orchestra, but I knew of this drummer, Gregg Bendian, who had put together a group playing all of this music. The group had fantastic players, and we did some gigs with Jan Hammer. I decided it would be a great experience to have to learn all of that music and play in every odd meter known to man, with songs in 3/4, 5/4, 5/8, 6/8, 7/4, 7/8, 9/8, 9/16, 10/8, 13/16, 15/16, etc. We performed every song that John McLaughlin and the various incarnations of Mahavishnu recorded. I did it off and on for approximately four years. It was an amazing experience for sure. Then I got kind of burnt out with having to dedicate so much time to that, and I wanted to do other things musically. I really love playing different kinds of music.
How did you hook up with the Jukes?
I subbed a few times for Bobby Bandiera. I turned the gig down initially because I was too busy. After the Conan O'Brien show moved to the west coast, I [missed] a lot of work. Southside sounded me out again, and I accepted.
How did it feel to join a legendary New Jersey band?
Well, not being from New Jersey, I didn't think much about it. For me at the time it was just another gig. It wasn't until well after I was in the band that I realized how special, how heavy it was.
What stands out the most to me is the uniqueness of Southside, how he puts on a show, and what is expected of the Jukes. He loves improvisation in every sense of the word: in the way he calls the show, reading the audience and trying to keep it moving, and in the music itself. All other gigs I have done, there is a set list and they pretty much stick to it. I get it — people want a slick, polished show — but Southside is an old school entertainer, and he likes to change it up every night, every moment. Keep everyone, including the band, guessing as to what will happen next. It makes it very interesting, exciting, and frankly, nerve-wracking. No polished rehearsed set in the Jukes. You better be ready to play whatever he calls or just starts to sing. Brilliant.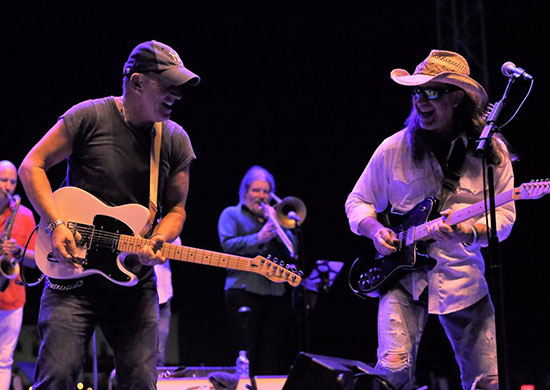 Last July, Bruce guested with the Jukes at the Stone Pony summer stage for a bunch of songs [above]. What's that like from a musician's point of view? Is there time to savor the moment, or are you focused on playing?
Having Bruce sit in with us is always fun and raises everyone's game a little. Frankly, we never know for sure when it's going to happen, so there's no way to really prepare for it. I think he played seven songs with us, and although it has happened a few times, this was the most fun. He was really engaging, and we had a blast on stage. I think we both enjoyed playing "Kitty's Back" together and interacted on several other songs. Bruce is a great musician. I am very focused on playing when he is onstage, but at the same time I'm havin' a ball and enjoying the show.
Last October, the Jukes played in Spain for the first time.
The latest European tour was fantastic. Every stop was pretty damn good. The Paradiso [in Amsterdam] is always a highlight for us. [It's] one of our favourite places to perform, and this year it was a killer audience and show. Our final show in Bilbao was also off the hook. The audience there was on fire. It was sold out, and those people are passionate about music and the Jukes. It would have to rank as one of the top shows for 2019 for us. We always love Europe — and this trip to Sweden, Finland, and [The Netherlands] was great — but Spain was a special treat. It was such a great experience. The people, weather, food, and wine were all spectacular.
The Jukes ended 2019 with their traditional New Year's Eve gig in Red Bank.
New Year's Eve at the Count Basie is always special, as the place is packed, usually sold out with total Jukes fans, so the energy is pretty ridiculous. This year was really special because we had "The Return of Hood." As folks may or may not know, Hood has been the roadie for Southside Johnny and the Asbury Jukes for 40 years or better. He recently had a massive heart attack and was hospitalized for over four months. We nearly lost him, so it was cool this year to have Hood back on board. We love that venue. They treat us great there, the stage crew is great, the backstage food is tremendous, and it is a tradition that I look forward to and enjoy every year.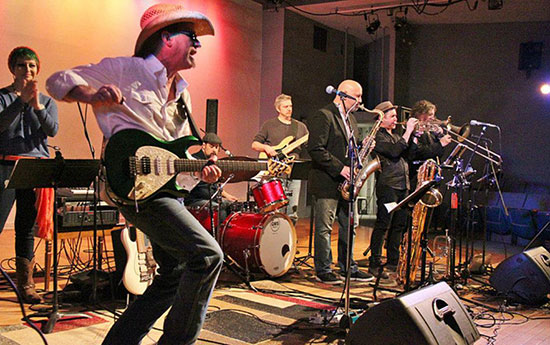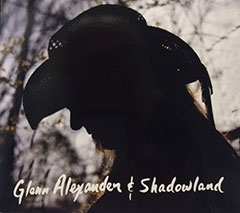 How did Shadowland [above] come together?
Shadowland is the result of working with John Isley and Chris Anderson from the Jukes. John was aware of my previous releases, and we shared a love for jazz and music in general. John wanted to start doing a live broadcast from my studio basement. He and I invested in gear, and John put it together. He is a brilliant musician and a tech head. Once that began we started doing other songs with me singing blues, country, and rock material. John kept saying, "You need to do another album featuring not only your guitar work but also your vocal material." One thing led to another, and I felt it was time to document what we were doing.
I was looking for a name for the band and based it on Shadowland, the club in Wichita where Gage Brewer debuted the first electric guitar in the world in 1932. It seemed like the perfect name, and "Glenn Alexander & Shadowland" was born.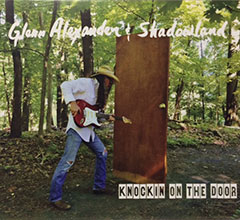 Tell me about the second Shadowland album.
I feel like Knockin' on the Door is in many ways the album I've always wanted to make. Great songs, great horn writing and playing, a lot of guitar work, great vocals by Oria as well as the lead on "I Had to Go Thru Hell to Get to Heaven." "Born Under a Bad Sign" is just killin', if I have to say so myself. Two of my favorites are Frankie Miller's "I Can't Change It" and my song "Laudie Laudie Lee." [The album] has one of the baddest, most soulful vocalists and B3 players on planet earth on it, Mike Finnigan. Not too many cats recorded organ with Jimi Hendrix and vocal duets with Etta James. Mike is simply bad to the bone, ridiculous. [He's] also on the LaRue/Alexander album, singing a verse on "Wichita Town" and harmony on several others.
What's the story behnind your cover of "Born Under a Bad Sign"?
I have been playing that song for a good part of my life. I never dreamed I would meet the writer, but a few years ago I was doing a gig with Southside at the Apollo Theater in New York City. It was a birthday celebration and tribute to Billie Holiday. Southside and John Isley had put together and released Detour Ahead — The Music of Billie Holiday (2018), which I played on. On that same bill was the legendary William Bell, the composer of "Born Under a Bad Sign." We talked about that song and his writing it in 1967, and of Albert King's incredible recording. It seemed like it was an invitation for me to record it.
Every guitar player and their dog has recorded "Born Under a Bad Sign," but none are quite like ours. My mission was to maintain the integrity of the classic Albert King recording but put our stamp on it. John Isley did a brilliant horn arrangement. I wanted Oria to put backing vocals on it, beefing up the hook. Had Mike Finnigan play piano and organ. My "police officer" Al Sellinger and I [did] a crazy intro. I am really proud of our version.
I sense a theme on "I Picked the Wrong Day (To Stop Drinkin')" on the first Shadowland album and "I'm Gonna Drown Standin' Up" on the new one.
Well, to be honest, drinkin' and drinkin' too much has led to some really fun times and some really bad times and caused a lot of heartache for me and those close to me. I quit drinking for many years, and then it came back. I was in my studio with Shadowland one day and was having a tough day. I humorlessly said, "I picked the wrong day to stop drinkin'…" and my bassist Greg Novick said, "That sounds like a good song!" Based on love lost in my own life, the song just came out.
"I'm Gonna Drown Standin' Up" is based on a true story. I was on tour with Southside and the Jukes. We were in Chicago. After the show I went to a local bar with my good friend Mark Morrow. It was a nasty night, raining, wind blowin' like mad. When it was time to get back, the rain was literally blowing sideways and coming down hard. We had downed a few too many, were already drowning in alcohol, and as we stepped outside, we couldn't see, could barely catch our breath, and finding the bus was a struggle. We were seemingly drowning standin' up in every sense of the word. Then it became a metaphor for other parts of life, and the song was born.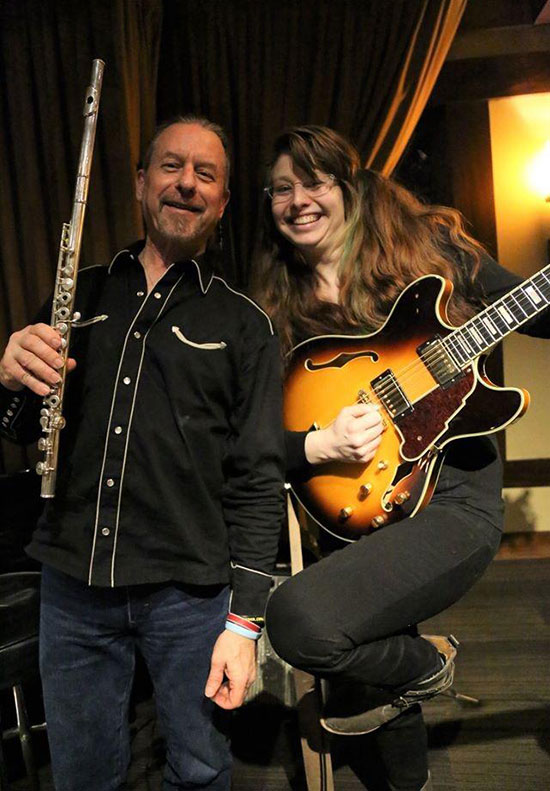 Oria [above, with her dad] is effectively singing about her life on "I Had to Go Thru Hell to Get to Heaven."
She is a tremendous talent. Writes and sings her own material and is a huge asset to Shadowland. She has gone through hell and crawled out the other side, and I wrote that song for her to sing. After severe depression, OCD, and other mental health diagnoses, she tried to commit suicide on several occasions and spent three years in mental health facilities. After proper medication and therapy she is on a healthy path. Music saved her life. She has lived every word of that song and sings the hell out of it. I know it's coming, but I can't imagine doing a Shadowland gig without her. I depend on her, and she can sing phrases with me so perfectly no matter how I change it or what I do.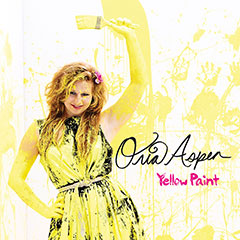 You produced her debut album Yellow Paint a decade ago.
Yellow Paint is an amazing album. I am proud of that record. It has 14 songs, all but one written by Oria or Oria and me. [She] wrote some of those songs when she was a mere 12 years old, and every note on it was recorded, mixed, and mastered before her 17th birthday. One of my favorite cuts on the album is her cover of "What a Wonderful World." We recorded that in Nashville when she was 15, a duet with her and Southside. Johnny plays an absolutely killer harmonica solo. It is a very different and unique version of that classic Louis Armstrong hit.
Songs like "Be My Rock Star," "Party Song," "Get Back," and "Yellow Paint" still put a smile on my face. Oria plays piano on quite a bit of the album and flute on "Lucky to Be Me." That was a really fun, sometimes painful album. As we were making it, Oria was diagnosed and dealing with some serious mental issues. Some of the songs will bring you to tears: songs like "Scars," "M3NT@L," "Forbidden Love," and "Party Song" which is cool and upbeat with a punk vibe, but ultimately it's about being locked in the psych ward. Jukes John Isley, Chris Anderson, Neal Pawley and John Conte are on it, along with NYC session greats Shawn Pelton and Bob Magnuson.
How did Shadowland enjoy opening for Jake Clemons at the Stone Pony last September?
Loved it! Shadowland was on fire, and we blew the roof off of that joint. Jake is a really sweet guy, and we were thrilled to open for him. He was gracious, kind, and supportive. He has a really good band and writes great songs.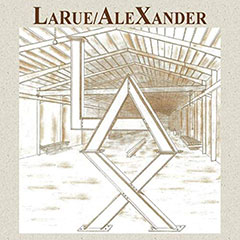 Last fall, you also released the debut album by LaRue/Alexander.
LaRue/Alexander is a partnership with world-renowned bassist Dave LaRue. We have been working together for decades. Folks have written about us saying it is like Stevie Ray Vaughn meets The Dixie Dregs meets The Allman Brothers. That is quite flattering, but maybe there's some truth in it.
There are many great songs on the new album, most about the homeland, growin' up in Kansas — like "Wichita Town," which has some trivia about some of the most badass players I have ever heard anywhere. It also has the best song I have ever written, "I Can Have the Blues," which features blues harp master Southside. "Highway 96" is straight up countrified.
Metaphorically, "F5" could be about a woman ripping your world apart, taking all you got and leaving you nothing, but it is about the biggest, baddest tornado there is: the big F5. In Kansas, I witnessed many tornados and the destruction they cause. The unpredictability and frenetic beginning of this song represents what happens in tornado alley: the sky swirls, it's cold, it's hot, sometimes lightning, the wind blows, it calms, and then all of a sudden the big bitch drops out of the sky and cleans your home. It'll scare the pants off you, I'll tell you that.
Dave and I play some insane lines on the intro; we trade solos on "Phoney Baloney" and have killin' unisons and solos on "Stone Cold," a bad-to-the-bone shuffle blues. "Noble Red Man" is a story about the Native Americans, particularly Lakota chief Mathew King. It was written and taken from a book called Wisdom Keepers that I encourage everyone to read. It's deep. That album is on fire. There is some pretty salty guitar pickin' that will knock folks out. I certainly hope so.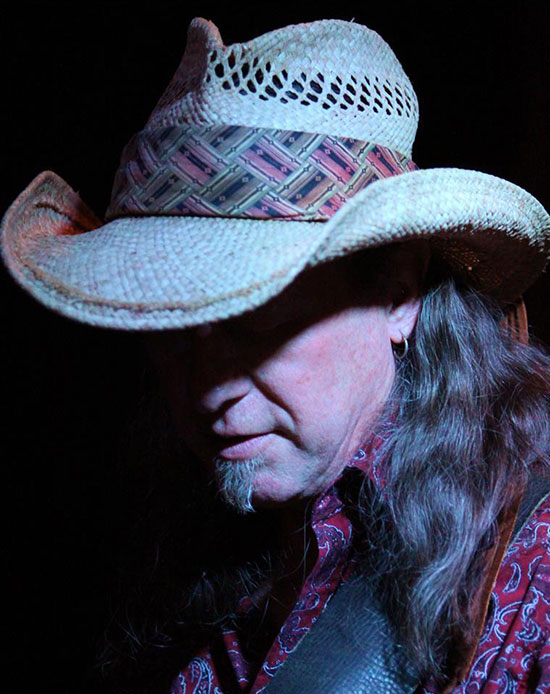 Tell me about the Pig Gig, your annual benefit for the Fibrolamellar Cancer Foundation (FCF) in honor of your late nephew Jay Alexander.
Fibrolamellar cancer is an extremely rare cancer of the liver that attacks young adults, teens, and those in their twenties. No one has survived yet. They need money for research, and we are doing everything we can to raise money and someday save someone's life. Our slogan is "Here's to Jay."
It all began as just a social event, really. A few years back in December, my brother Greg, Jay's father, said to me, "Hey, I'm comin' out to visit you in a couple of weeks, let's do a pig roast." So I called my friend Bill the butcher, and he said, "I got it covered." He brought the pig on a spit, the local deli brought some sides, we invited friends out to the house. About 60 showed up, and we played music, ate, and drank till the wee hours of the morning. It was a hell of a time.
I had already been trying to put together a cancer benefit concert in honor of Jay, and it was seemingly impossible to get going. Then we had the brainstorm idea of merging the pig roast with the concert, doing it on a larger scale, and here we are headed into our sixth year. We eat our faces off, drink, party, play music, dance [and] raise money for FCF. Every penny is donated. Southside has done it for the past four years, I believe. He is an amazing cat: buys tickets, donates money, shows up and sings and takes lots of pictures with folks. He has helped us a tremendous amount. Pig Gig V on November 10 was a tremendous success, donating over $16,000 to FCF.
Apart from playing in three bands, you also have a teaching gig.
I am Director of Jazz/Blues Studies at Sarah Lawrence College [in Bronxville, NY]. Been there for 25 years. I enjoy working with college students, and I learn as much or more from them as they do from me. I teach Advanced Jazz Theory, Jazz History, Jazz Improvisation, guitar lessons. I have instrumental jazz, vocal jazz, and blues ensembles. Our faculty is made up of world-renowned musicians: Matt Wilson (drums), Bill Moring (bass), Billy Lester (piano), John Isley (saxophone, Jazz Arranging and Composition), and Chris Anderson (trumpet).
What's your take on the CD versus vinyl argument?
I don't think vinyl is really ever coming back. There is clearly nothing like it — it sounds incredible. It's what I grew up on and had for a good part of my life. I love technology, but none of it ever sounds better. It's just more convenient and makes things easier. I remember when we felt that CDs were a compromise — that they didn't hold up to vinyl at all. Now the standard format is mp3s, and I can say with confidence they suck. If that is your everyday listening, you are depriving yourself of good sound. They are missing a huge amount of frequencies. Convenient but lacking. They make CDs sound like the gold standard.
Do you still have any unfulfilled ambitions?
I always have goals that keep me pushing forward pretty hard. One is to get Glenn Alexander & Shadowland to the point of being able to tour the world, playing similar venues that I do with Southside Johnny & the Asbury Jukes. It isn't easy launching new, original music. I have no interest in playing cover music in a tribute band, which seems to be really popular these days. In my early life I had success with many worldwide releases in the instrumental jazz-rock genre. Some bad business deals led to me leaving that world and re-inventing myself, going back to my roots, which led me to Southside. I have no regrets; I love what I'm doing and just want to keep growing and expanding.
What's coming up for you in the next few months?
The next order of business is to release Oria's new single, "Wannabe." It's an amazing song reminiscent of Janis Ian's "At Seventeen." I'm very excited about it. It is very different from what I do, and I was smart enough to produce it by letting others do what they do. The spring is heating up with tons of dates with Southside Johnny & the Asbury Jukes, as well as a few gigs in between with Shadowland and LaRue/Alexander. I am still promoting and performing in support of those albums. I have another band with John Isley, Humblebrag, and we are looking to go into the studio in late May and knock out some songs. It's non-stop from now until the middle of June. I'm always writing new songs and have other outside projects and records in mind.
You're one of those guys who never stops moving. Blink and you'll miss him!
I can't get it all done, but it keeps me out of trouble. Never a dull moment. Life is good!
Keep up with Glenn Alexander and his various projects online:
glennalexander.com
glennalexandershadowland.com
glennandoria.com