MARCH 31, VANCOUVER: IT'S A BEAUTY WAY TO GO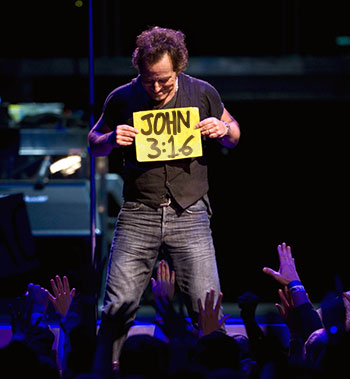 For the third of their three Magic shows in the Pacific Northwest, Springsteen and the E Street band were clearly a band on a mission. Mission impossible? We thought so, but straight out of the gate last night came "The Price You Pay," a song Springsteen hasn't touched since the River tour. 27 years later, and no rust on this one.
After "Radio Nowhere" and "Lonesome Day," Bruce reached even deeper into his black top hat to pull out another big rabbit:"Crush On You." Yes, it was a difecta of long-lost River cuts, thought to be lost to the sands of time. When Bruce had trouble remembering the chorus (when is this man gonna get a teleprompter?), none other than Garry W. Tallent stepped up to take over lead vocals for the rest of the song. C'est magnifique, Garry!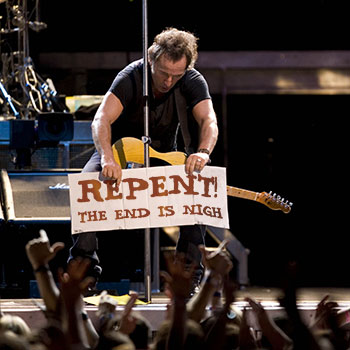 Otherwise a pretty standard main set, ticking off Magic mainstays like "New York City Serenade," "Pretty Flamingo," and "Jack and Diane," Clarence hanging upside-down from the mic stand right on cue. Bruce was literally checking his watch between songs (and was seen mouthing to Steve, "What time's our flight?" and "Did you pack the Corn Nuts?"), but just when you thought he'd checked out for the night, out came a wildly unpredictable run to end the main set: "Devil's Arcade" right into "The Rising," with "Last to Die" and "Long Walk Home" hot on their heels, capped by "Badlands." Talk about a quintuple-shot surprise.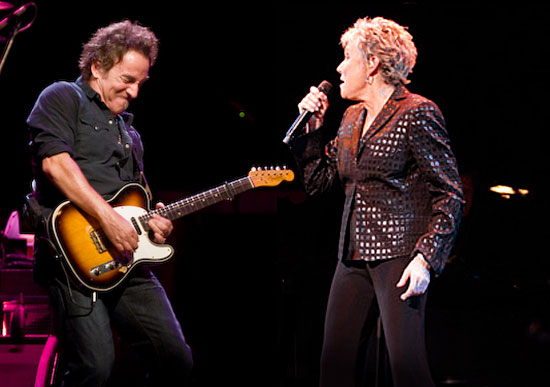 The encore is where things really got crazy. Or should we say, they really got crazy, eh? That's right, the advance rumors were true, as Canadian songbird Anne Murray took the stage. After a rousing "Protection," Springsteen told the crowd, "Let's have a big hand for Ms. Anne Murray! This has been a long time comin' -- we opened for her in Central Park many, many, many years ago -- some of you probably weren't born yet -- and, and she got booed off the stage. We thought that was funny at the time. Ah, the folly of youth, the folly of youth."
After encouraging Murray to lead the E Streeters through her own "I Just Fall in Love Again," Bruce and Steve began mugging and cracking each other up, even breaking into a slow dance together, rolling their eyes at their once-headliner. It was classic Bruce and Steve! "You know, Bruce," said Murray, her voice breaking as she stopped mid-song, "It's true what everybody always says about you -- you can be a real bastard." Roy's piano work on this one was truly magnificent.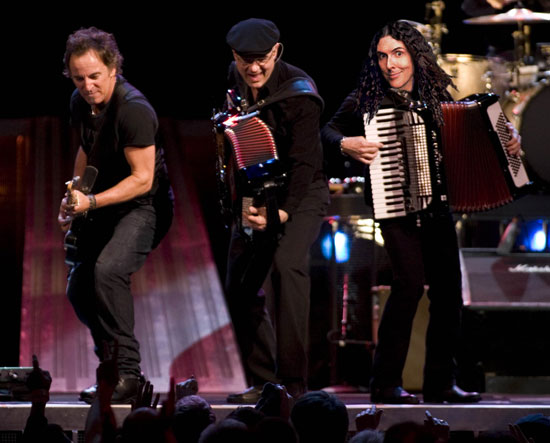 The Canadian flavor continued, as the Guess Who joined in for an "American Woman" / "American Land" medley, and for the standard show-closing "Santa Claus is Comin' to Town" they were joined by Bob & Doug McKenzie, Geddy Lee, and a moose.

Next: The third annual Cabo Wabo Cruise!
For the full song list, and reports from other recent performances,
see our Setlists page.
- April 1, 2008


HAPPY BIRTHDAY, DARKNESS ON THE EDGE OF TOWN!
The 30th Anniversary treatments continue with a Darkness repackage


Is your Born to Run 30th Anniversary box feeling lonely? Not for much longer, as a 30th Anniversary box set for Springsteen's 1978 classic, Darkness on the Edge of Town, is about to keep it company. Fans will welcome the remastered version of an album represented for decades now only on a CD that, according to Rolling Stone, "sounds like somebody scraping dogshit off their bicycle tire with the lid from a can of sweet peas." But the remaster is only the beginning of this five-disc set (two CDs, two DVDs, and one curling disc) that will be a delight for any fan of the Darkness era -- and will likely make some new fans, too!
The second CD, not simply a collection of outtakes, finally confirms a long-standing rumor of a second album ready to go in the spring of '78 and seriously considered for release. "There were two ways to go," says Springsteen manager Jon Landau, "into the darkness, if you will, or into the light. We went with what we went with, because it felt like more of a continuation of the story that Bruce wanted to tell in his music. But this one felt like part of a conversation Bruce and I had been having for months. A conversation about happy things."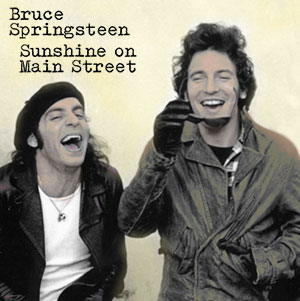 Sunshine on Main Street, as Bruce tells it, is "like the turn lane on a four-lane road. You know, the [Mike Appel] lawsuit had me in a pretty dark place. So I put my turn signal on, just for a minute, y'know, thinkin' maybe we ought to do a U-turn, or maybe just pull the car over for a minute and check the map. I decided to floor it instead, and I'm proud of the Darkness record. But this is what it would have sounded like if I'd kept that turn signal on."
The tracklisting:
I Wanna Be with You
Be Nice to Your Brother
The Happy Way
I Fought the Law (And I Won)
The Highway's Bright
It's OK to Look Back
Racin' and Relaxin'
Candy's Got a Boyfriend (Who, Me? Yeah, Me!)
All Play and No Work
Sunshine on Main Street
Goodlands
The first DVD represents a holy grail of sorts: a full-color, pro-shot, complete concert from the 1978 Darkness tour -- never before seen. Phoenix, Largo, been there done that... this is the full Houston, TX show from July 15, 1978, clocking in at two hours and 48 minutes.
Editor Thom Zimny really had his work cut out for him this time. When the footage was uncovered, there were no reels, no canisters -- just stacks and stacks of randomly ordered, individual film frames, which Zimny had to first painstakingly reorder, and then splice together by hand. At 24 frames per second, that's 241,920 puzzle pieces, and 241,919 little pieces of Scotch tape. Completion of this part of the set will ultimately determine the release date; Zimny is currently locked in a darkened editing suite, on a cocktail of Imitrex for the headaches, Codeine for the back, Ritalin, Valium, Lorazepam, Clonazepam, and a Red Bull I.V. drip. The twitch won't stop. Can someone please make it stop?
DVD numero dos presents a "making of" documentary titled Shut Down Strangers and Hot Rod Angels: From Monroe to Angeline via Waynesboro and Fairview, which is packed with revelations. Did you know that the original lyric was "For the ones who had an ocean, an ocean deep inside"? The doc features reminiscences on the creation of this landmark album from Vini Lopez, David Sancious, Ernest "Boom" Carter, Nils Lofgren, Soozie Tyrell, Patti Scialfa, Mike Appel, and presumptive Republican presidential nominee John McCain.
- April 1, 2008


ADAM RAISED McCAIN?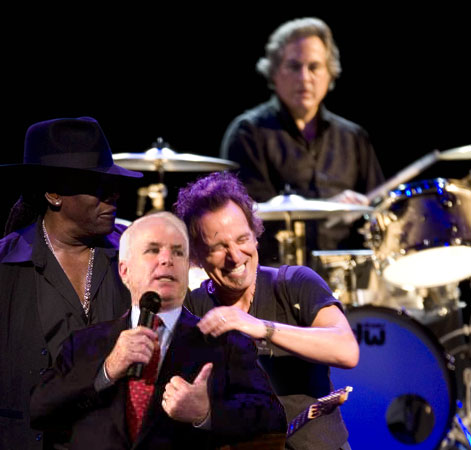 With what is sure to be a hotly contested election just around the corner, Springsteen has finally revealed his post-August tour plans: a twelve-city swing through the U.S. in support of presumptive Republican nominee John McCain.
While Springsteen's partisan politics may have surprised some with 2004's "Vote for Change" tour, the 2008 "Vote for More of the Same" tour is sure to raise even more eyebrows. But Springsteen is clear about his reasoning: "Well, as I've said, the country I've been carrying in my heart is waiting. And it's been waiting, and waiting... and I'm sure it's gonna keep on waiting. Carrying that sucker around starts getting heavy. I'm thinking the burden will be easier to bear if I at least get to keep my tax cuts!"
Some may ask: What about hope? What about change?
"Yeah, well, come next April 15," says Springsteen, "I'll hope to get a little more change in my pocket, if you know what I mean! You know, it's like some wise man once said, 'If a young man is not a liberal he has no heart, if an old man is not a conservative he has no head.' Let's just say that I ain't that young anymore. I just got my taxes back -- and this well-to-do guitar player needs a little bit more well-to-do!"
"It's not about tricks," Springsteen says, "it's about magic. And Johnny Mac's got it!"
- April 1, 2008


VAN SCIALFA
Patti explains tour absence, unveils new project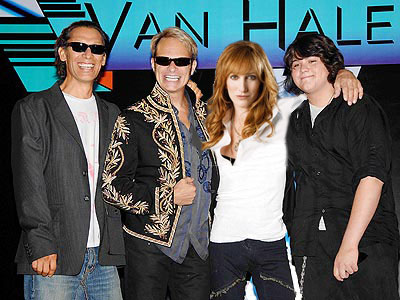 Those wondering why E Street Band singer and guitarist Patti Scialfa has missed this leg of the Magic tour now have an answer: known up and down the Jersey Shore for her blistering take on "Eruption," the Red Headed Woman is replacing Eddie Van Halen in the reunited VH. She's not just stepping in for the current tour; the band with Scialfa at the helm has recorded a new album, OU8aHashBrownie2. Songs will include "Hot for Elvis," "Ain't Talkin' Bout Love's Glory," "23rd and Mean Street," and a cover of that Cream song Alex and Wolfgang won't stop playing at soundchecks.
"I will always be an E Streeter," Scialfa said at a press conference today. "It was great fun teaching Nils those 'Prove It All Night' and 'Because the Night' solos. But I've developed a gnarly improvisational tapping, triple hammer-on technique that needed a subtle, truly understated vocalist to complement them. I'm certain David Lee Roth is that vocalist."
- April 1, 2008


HOT OFF THE PRESSES!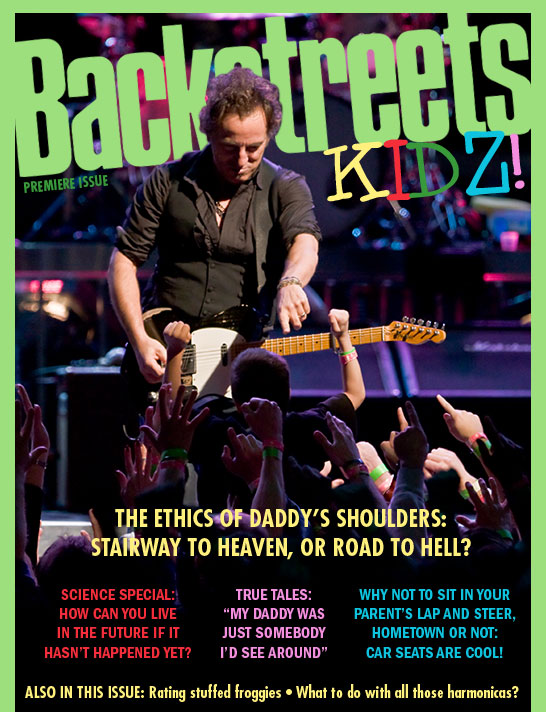 - April 1, 2008