News
updated April 1, 2007


MORRICONE SESSIONS DUE APRIL 24
Bruce follows his muse for another off-E Street detour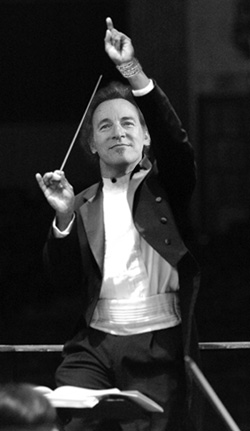 While conventional wisdom suggested that Springsteen would finally return to E Street in 2007, the much-awaited E Street Band record is once again on hold. Despite frequent Boss sightings in Atlanta, where various band members have been recording new Springsteen material (the blogosphere is buzzing with word of Max Weinberg's recent cowbell overdubs), the man himself has decided to take another sidetrack. According to a Shore Fire Media press release leaked today, April 24 will bring the Columbia Records release of Springsteen's Once Upon a Time: The Morricone Sessions.
As regular readers of this page know, Springsteen recently recorded his take on Morricone's "Once Upon a Time in the West" for a Various Artists tribute to the Maestro. According to the new press release, Springsteen was so inspired by "the joy of making music together, live, just as they did 300 years ago in little opera houses and symphony halls all across Europe" that he went back into the studio in February for a two-day session with the Bayonne Symphony Orchestra. It was planned as a one-day session, but it took a day to determine that he couldn't fit the 73-piece orchestra in his farmhouse (even, according to the liner notes, with the horns in the hall, the oboes in the bathroom, and the violas in the hayloft).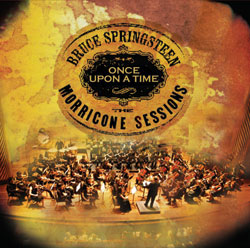 "This record feels like part of a conversation Bruce and I have been having for decades," says Springsteen manager Jon Landau says. Indeed, Once Upon a Time: The Morricone Sessions has been decades in the making. Springsteen first assembled the Orchestra for a one-day session way back in 1976, then brought back the surviving members for a second one-day session in 2004. While listening to the recordings for possible inclusion in the now-also-on-hold Tracks 2, Springsteen "thought there might be something here" and "threw myself into it." The set will be heavy on music from the Spaghetti Western soundtracks Morricone did for director Sergio Leone, but will also include some of the soundtrack master's more recent scores. Highlighting the loose spontaneity of the recording, Springsteen can be heard tapping his baton, calling out "Piccolos!," and even adding some guitar here and there.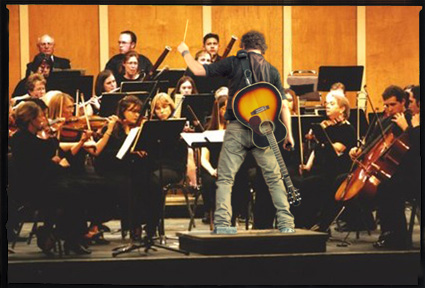 The full track listing remains tentative, but a five-track promo sampler CD includes "Once Upon a Time in the West," "Jill's America," "The Good, The Bad, and the Ugly," "Deborah's Theme," and "Once Upon a Time in the West (Arthur Baker Remix)." Eschewing the DualDisc of The Seeger Sessions, The Morricone Sessions will include an extra disc that doesn't play on anything.
More good news: there will be a tour, beginning in mid-May, featuring the entire Bayonne Symphony Orchestra, Soozie Tyrell, and Lars Ulrich; the ensemble has already begun rehearsing at Asbury Park's Paramount Theatre. "Expect the unexpected," Landau says. "I feel like I never really heard 'I'm Goin' Down' until I heard it as part of a medley with the theme to The Mission."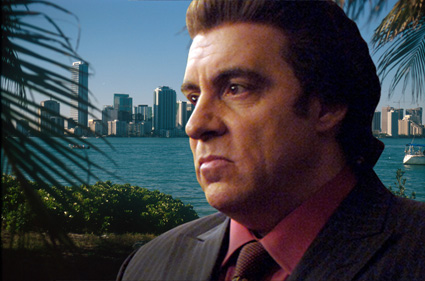 COMING TO HBO IN 2008: MIAMI SILVIO
Sopranos spin-off takes Silvio Dante down south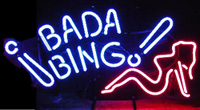 With the final episodes of HBO's Sopranos about to air, the cable network revealed today that at least one character will escape whacking: Steve Van Zandt's "Silvio Dante" character will get a second life in Miami Silvio, a spin-off in development now by David Chase. The dramedy will be set one year after the events of the Sopranos series finale, as Silvio and his wife pack their bags for sunny Florida to open Bada Bing South. In this classic fish-out-of-water scenario, the Dantes try to blend in and keep their line of work under wraps. But a nosy divorcee neighbor -- a boozy, flirty Beverly D'Angelo -- has eyes for Silvio, and it's only a matter of time before she discovers the truth. Meanwhile, her son (Jason Biggs) becomes an unlikely pal and confidante. The Bing gets a Latin twist with a slightly new look, and Silvio himself gets a new catchphrase: "Caliente!"


SAD BUT TRUE
Morricone scrapped; Metallica Sessions due April 31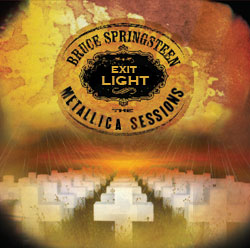 Yet another reminder that nothing in the world of Bruce Springsteen is set in stone until an official announcement. Even as the publicity machine began revving up for The Morricone Sessions, that project has been shelved, perhaps indefinitely. Instead, official word came today that Bruce Springsteen's next album will be Exit Light: The Metallica Sessions.
As regular readers of this page know, Springsteen tapped Metallica drummer Lars Ulrich to join him on the now-cancelled Morricone Sessions tour. As Springsteen reveals in the new album's liner notes, "One night, very late at the Paramount, we took a break from a new bluegrass arrangement of the theme to Cinema Paradiso. Lars started playing the beat to 'Leper Messiah,' I counted off the opening, and away we went." According to Jon Landau, "This record feels like apart of a conversation Bruce and his Fender have been having for decades." Indeed, Springsteen and Metallica go way back, having frequently traded advice on how to complete records more quickly.
Regarding the upcoming Metallica Sessions tour -- where Springsteen will be joined by Ulrich, Michael Anthony, Gary Cherone, and Soozie Tyrell -- Landau says to prepare for some surprises: "The scatting with Soozie on 'Master of Puppets' is truly something fans have never heard before. And following 'Seeds' with 'Harvester of Sorrow' is a recontextualization that will make you hear Bruce's music in a whole new light."


COWELL THROWS DOWN THE GAUNTLET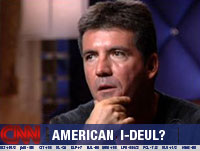 In an effort to prove once and for all his superiority to Bruce Springsteen, American Idol judge Simon Cowell has challenged the Boss to a duel. "Pistols at dawn," says Cowell. "I'm sure Bruce would rather race for pink slips... I don't mean to be rude, but I believe we should settle this like gentlemen. I really do. And I fully expect to be the Burr to his Hamilton." According to Cowell's suggested terms, the winner will take on the remainder of his opponent's Sony contract, while the losing party will go home "dead, in a pine box."
According to one source close to the artist, Springsteen may well accept the challenge -- not, the source insists, to defend his honor, but because "his kids love that show." While there is no guarantee that Springsteen will appear to pick up the gauntlet, the "Bruce Watch" is in full force, with fans already creating a self-monitored line for entry to the dueling ground at the Heights of Weehauken.


SPRINGSTEEN SHAVES HEAD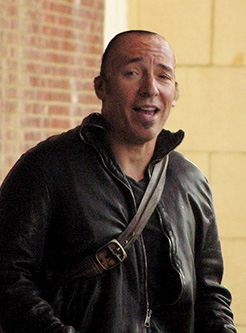 The Metallica Sessions is on hold. Mere hours after announcing an April 31 release date (and after considerable fan outcry on internet message boards, to which Bruce is known to pay perhaps too much attention), Springsteen entered a South Philadelphia barbershop and emerged with no hair.
"Oops, I did it again," Springsteen joked with uneasy fans outside the salon. "I told that barber to hit me baby, one more time. Whooooo!!" Before he could say another word, he was pushed into a Range Rover driven by Jon Landau, who said something about "continuing a conversation" before he sped away. Fans followed the pair to Atlanta, where they pulled into the parking garage of a hotel within blocks of Brendan O'Brien's studio.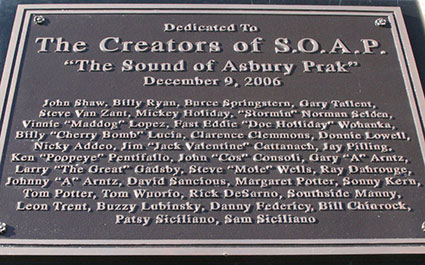 ASBURY PARK PLAQUE REVITALIZATION CONTINUES
Fans of "The Sound of Asbury Park" are hoping that the third time's the charm, as the boardwalk monument honoring "The Creators of S.O.A.P" will have to be replaced yet again. The orginal plaque was recast to correct the misspelling of "Southside Johny Lyon" [sic]; unfortunately, the replacement has only compounded the errors, inexplicably listing "Southside Manny" instead, as well as "Burce Springstern," and "Ken 'Poopeye' Pentifallo." While these setbacks come as no surprise to weary locals, who blame the gaffes on "a history of insidious political corruption," the inclusion of Eddie & the Cruisers remains a mystery.


MEET THE BACKSTREETS STAFF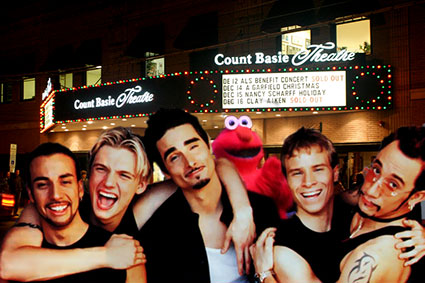 Main News
News Archives
Tour/Ticket Info
Setlists
Concert Calendar
Save Tillie
Library Project
Downloads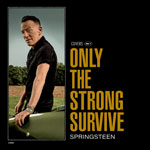 ONLY THE STRONG SURVIVE
The Backstreets Liner Notes, our own song-by-song printed booklet, comes exclusive and FREE with each CD & LP!
ORDER NOW
Backstreet Records is the mailorder division of Backstreets, delivering Springsteen merchandise to fans for more than 25 years. We carry numerous collectibles, tour shirts, books, magazines, and imported CDs and records.
The world's best selection of Springsteen collectibles, all available by mail.
See all the new arrivals in our online shop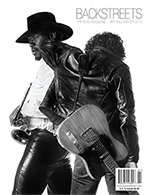 BACKSTREETS #91
Our most recent issue honors a very Big Man. More than half of the 116-page, perfect bound Backstreets #91 is a tribute to the life and music of... do we have to say his name?

Full contents list


Order a single copy


Back issues
---


You too can boogaloo! 1


You too can boogaloo! 2


You too can boogaloo! 3


You too can boogaloo! 4


You too can boogaloo! 5


You too can boogaloo! 6


You too can boogaloo! 7


You too can boogaloo! 8


You too can boogaloo! 9


You too can boogaloo! 10


You too can boogaloo! 11


You too can boogaloo! 12


You too can boogaloo! 13


You too can boogaloo! 14


You too can boogaloo! 15


But can you boogaloo like this?

Updated Apr 1, 2007
---


We also post all known concert dates for some of our favorite Jersey Shore (and Shore-adopted) musicians:

Willie Nile


Bobby Bandiera


Southside Johnny


John Eddie


JoBonanno


Joe D'Urso... and more.
For more information on upcoming shows such as these, check out our Concert Calendar.
Updated Mar 14, 2007
---


SAVE TILLIE
Many from the Springsteen community banded together to preserve this Asbury Park landmark.... and Tillie has now been saved!
Check our Save Tillie page for the latest developments.
Updated Jan 19, 2007
---