continued from Part 3: From Newcastle to Brighton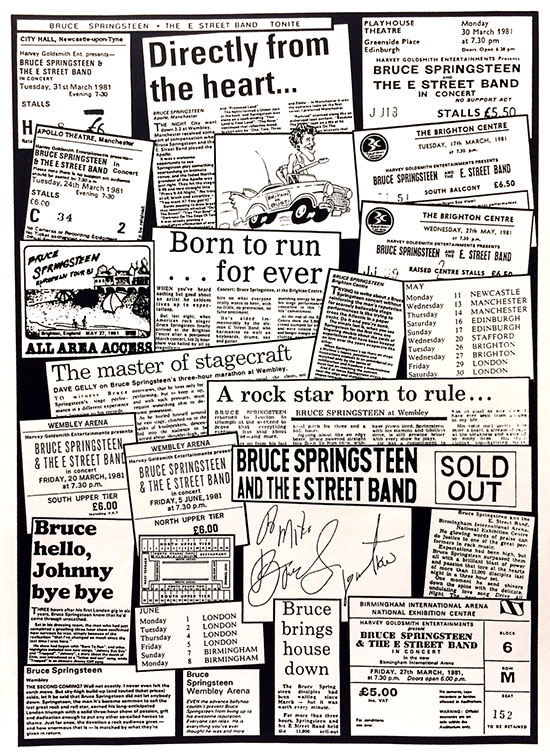 A Massive, Sprawling Entertainment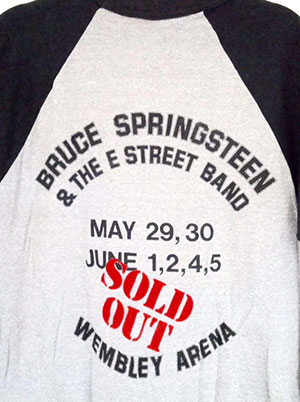 The superlative-strewn reviews continued rolling in. "Even for a man who lives to perform, and who can turn in a long exhilarating set night after night, this was clearly a special show," observed Robin Denselow in The Guardian about the opening gig in London. "Springsteen burst onto the stage fighting like a boxer, and by the second song he was wet with sweat. There was no elaborate stage set, for Springsteen's marathon depended on his own stamina and personality, on the excellent playing from his E Street Band and on some very subtle lighting. For the final medley, he had the houselights turned on and somehow made even the Wembley Arena feel like a large but intimate club."
In The Sunday Times, Derek Jewell noted that "Born to Run" was "like a keynote speech for much that followed. He kept racing exuberantly around the stage, diving onto speakers or piano, leaping into the audience, snapping and cracking his whip-cord body, sweat flying like power-boat spray. His demeanour during contemplative pieces was even more striking. Noticeably, Springsteen often let the audience sing his words for him. It was all unforced, spontaneous, an eloquent symbol of a bond between artist and listener which is as rare as Springsteen's talent."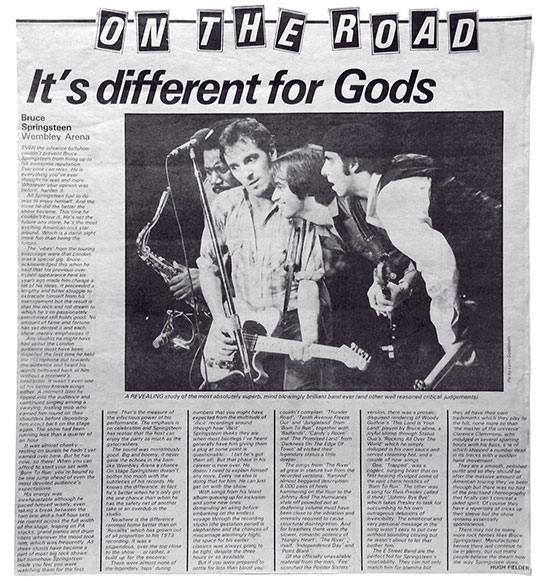 Still buzzing from the Brighton shows, I went up to Wembley Arena for the May 30 concert, the second of the six-night stand, and was struck by the comparatively cavernous nature of the arena and the enlarged PA system. The tour had moved into its final phase. With eight shows in theaters and medium-sized halls behind him, Bruce had begun a challenging sequence of eight performances in 11 days in two of the country's largest indoor venues.
That May 30 Wembley set featured "Trapped" (a Jimmy Cliff song debuted the previous night, that Bruce "heard on a cassette at an airport" and reworked with smoldering verses and a thunderous chorus), the European debut of "Jackson Cage," and, at the end of the night when the crowd had started to leave, the only U.K. appearance of "Twist and Shout."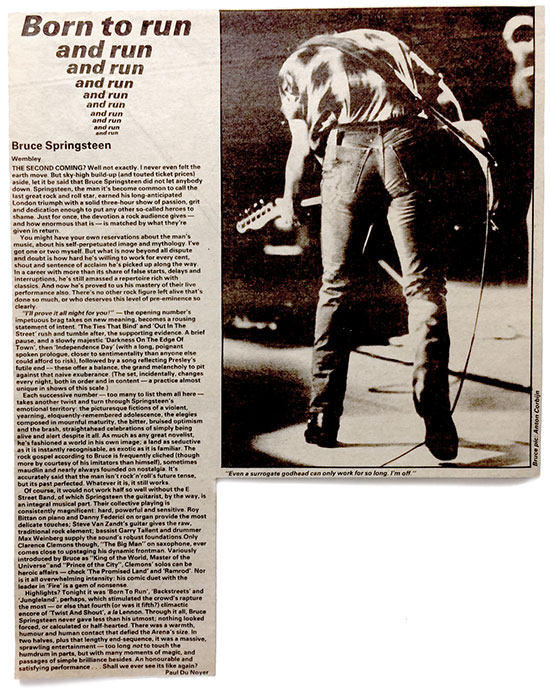 "Let it be said that Bruce Springsteen did not let anybody down," began the NME's review of the gig [above], which confirmed that he "earned his long-anticipated London triumph with a three-hour show of passion and dedication. Springsteen never gave less than his utmost. Nothing looked forced, calculated or half-hearted. There was warmth and human contact that defied the arena's size. In two halves, plus that lengthy end-sequence, it was a massive, sprawling entertainment. Too long not to touch the humdrum in parts, but with moments of magic, and passages of simple brilliance besides. An honourable and satisfying performance. Shall we ever see its like again?"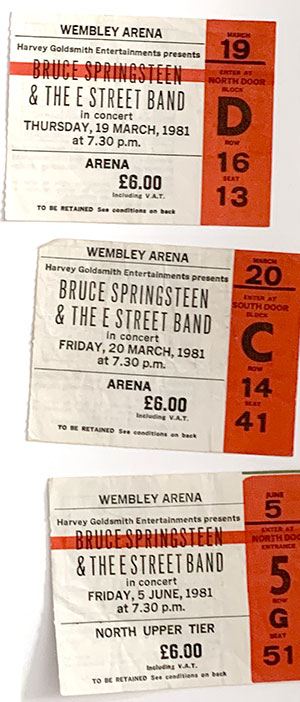 And so it continued throughout Wembley week. The tabloid press also got in on the act, with biographical stories headlined "Frantic Fugitive" (Daily Star), "The Astonishing World of Bruce Springsteen" (Daily Express), and "The Reluctant Millionaire" (Daily Mirror). In the Mirror, Bruce referenced his earlier exhaustion (for which he apologized to audiences): "I don't want to end up as some sort of casualty. I enjoy playing and touring, that's all I really want to do. But I stop when I start feeling run-down. There's no point coming over here when you're wasted."
In a piece titled "Smart People's Hero," the Daily Mail struck a more cynical note, suggesting that this blue-collar artist mainly attracted a young white-collar audience, "risking the creases in their jeans for a view of Bruce."
"He is not a particularly dazzling guitar player," the paper went on to opine, "nor does he have a remarkable voice, favouring a hoarse recital rather than singing. For someone who owes his success to his apparent accessibility, Springsteen remains aloof from his fans. Autograph hunters are turned away at the stage door and he is protected by ring after ring of aides."
The last statement was emphatically disproved by my Brighton experience and by that of Point Blank editor Dan French and friends, who encountered Bruce walking alone in Knightsbridge on May 31, on his way to Hyde Park.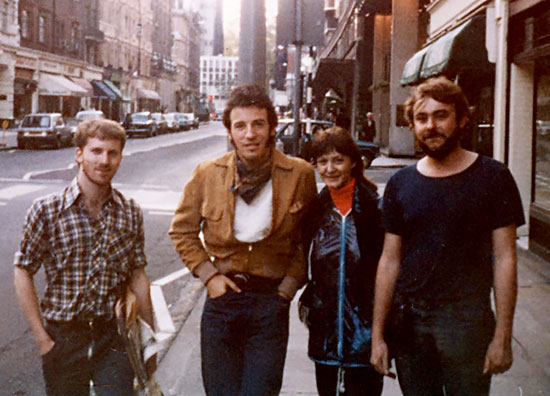 Dan French, Mary Speed, and Neil Fowler meet Bruce walking alone on the street in Knightsbridge, 5/31/81
Backstage guests at Wembley included U2, The Members (Bruce's favorites among the crop of up-and-coming new bands), Elvis Costello, and Dave Edmunds, who was famously gifted a song.
As Edmunds recalled in Bruce Springsteen: The Day I Was There: "We talked, about what I don't recall. He asked if I'd been recording lately. I said, 'No, got anything?' He strapped on his Fender Esquire and played 'From Small Things (Big Things One Day Come)' from beginning to end. 'It's yours, man!' He promised he'd lay down a cassette with just guitar and vocal. I could pick it up at his manager's office in New York. Sure enough, there was a cassette with my name on it. That's class!"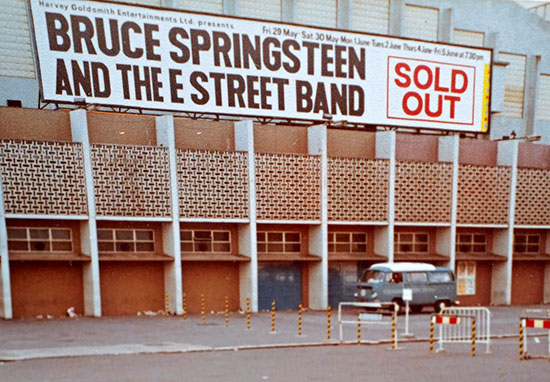 Wembley Arena during the six-night, sold-out stand - photograph by Martin Sinnock
A Snapshot in Time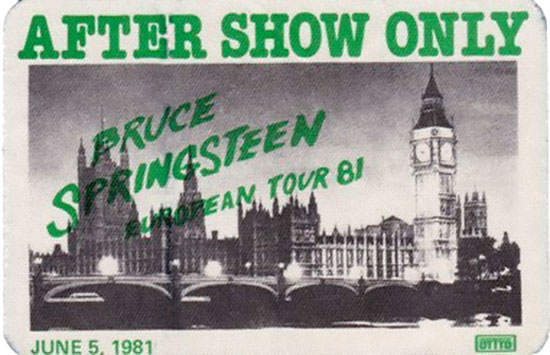 On the day of the final Wembley concert, having spent the week at home in Brighton bemoaning the fact that I had no more Springsteen gigs in my diary, I threw caution to the wind, jumped on a train, paid a scalper £35 for a £6.50 ticket, didn't think twice, never looked back, and had no regrets.
The notes I scribbled down when I got home in the small hours reveal that Bruce came on at 8:10, broke for the intermission at 9:20, returned at 10:00, and didn't walk off for the final time, after several encores, until 11:45. Bruce slid along the stage on his knees and danced with legendary U.S. superfan Obie during "Sherry Darling"; Clarence Clemons wore a bowler hat like a London city gent.
"Born to Run" opened the show again (there's no greater statement of intent than starting with your most famous song). It included both "Because the Night" and "Fire" and featured the U.K. debut (and only performance) of "Can't Help Falling In Love," completing the Elvis trilogy with "Follow That Dream" and "Johnny Bye Bye." There was also the first appearance on the tour of "Here She Comes"/"I Wanna Marry You," the live debut of "Jole Blon" from the Gary U.S. Bonds Dedication album, a cover of "I Fought the Law" (performed earlier that week with Link Wray), and a riotous, 11-minute, houselights-up "Detroit Medley" (with "Shake" and "Sweet Soul Music") to end the Wembley finale. The massive sound and lighting rig above the stage bounced gently up and down as the crowd stamped and cheered.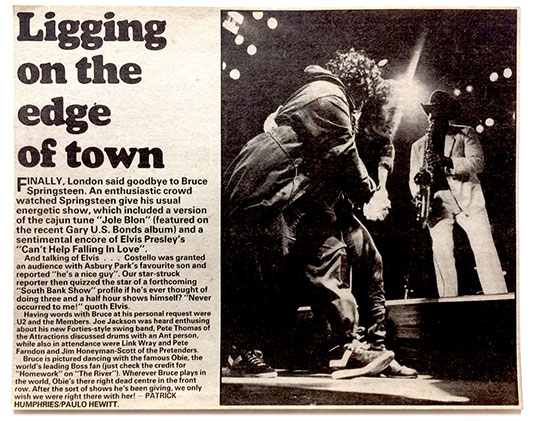 "Finally, London said goodbye to Bruce Springsteen." In the accompanying photograph, Clarence plays as Bruce dances with Obie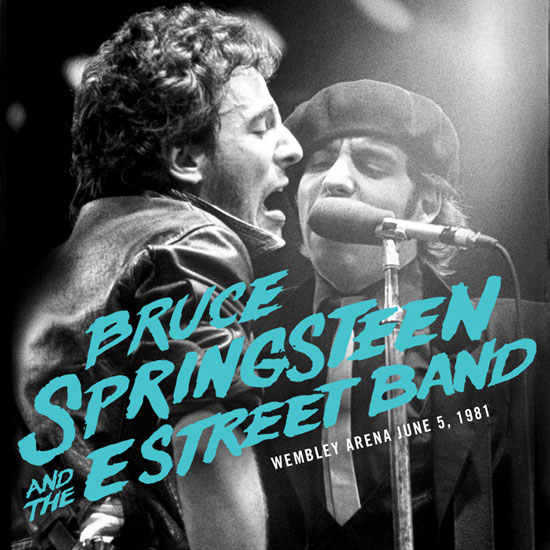 A mobile recording truck was spotted outside the arena that night; Point Blank fanzine subsequently reported that a four-track "Live at Wembley" EP was due for release later in the year, but the plan was scrapped. "There is to be no EP, although that show was recorded," confirmed Dave Marsh in correspondence with editor Dan French, while Springsteen fan and Capital Radio DJ Roger Scott told him, "Landau said it had been discussed but would probably not be happening because of lack of time for mixing."
The tape boxes gathered dust for 37 years until the show was released in Springsteen's Live Archive series in 2018 [right, cover photo by Jim Marchese], providing a pristine audio souvenir of that final Wembley concert, a unique snapshot in time and the only official live document from the 1981 U.K. tour.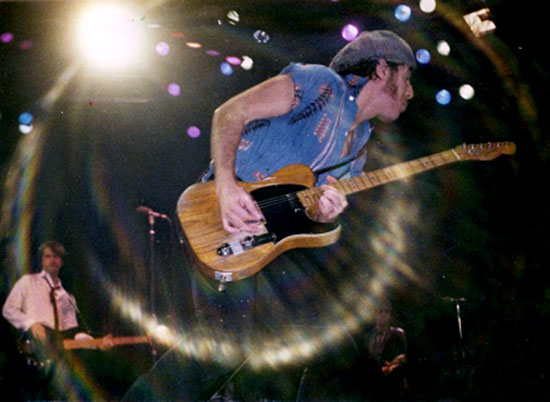 Front row for the last dance in Birmingham, 6/8/81 - photograph by Paul Markham courtesy of the Point Blank archive
The Grand Finale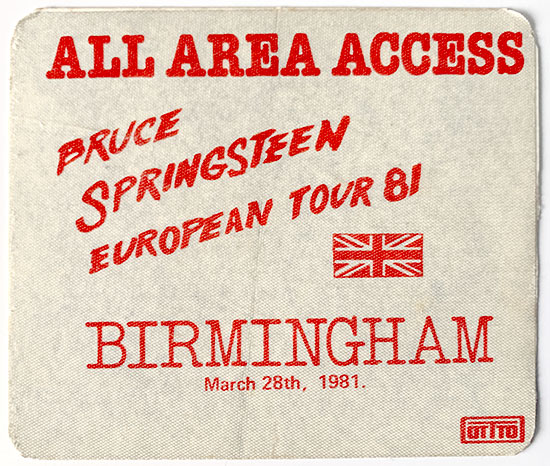 Bruce finished with a pair of shows on June 7 and 8 in Birmingham, at the International Arena in the city's National Exhibition Centre, the largest venue on the tour.
"No glowing words of praise can do justice to one of the great performers in rock," said the local Evening Mail. "Expectations had been high, but Bruce Springsteen surpassed them all with a brilliant blast of power and passion that tore at the hearts of more than 11,000 disciples in a three-hour set. After months on the road, the six-man band are tight, but they have maintained the spontaneity and enthusiasm which is the essence of good rock. They're helped by an excellent sound balance. The presentation is simple; no lasers, no smoke bombs, no dry ice. Springsteen's secret of success is that he enjoys himself. He leaps into the crowd, pulls a girl onstage for a dance and covers every inch of that stage. The greatest rock performance you're likely to see."
On June 7, after Bruce had dedicated "The Promised Land" to him earlier in the set, Pete Townshend finally joined the E Street Band onstage for the last two encores, "Born to Run" and the "Detroit Medley." Pete wasn't introduced; he was clean-shaven, dressed like Miami Steve (complete with hat), and largely unrecognized. No images exist of his guest appearance.

Too bad no one snapped a photo of Pete, but maybe if he'd guested during the first three songs… - pass courtesy of Gary Desmond
Townshend recalled the experience in Who I Am: "I played with Bruce as Stevie Van Zandt called out the chords. My role was to enforce the guitar part with Stevie by my side, while Bruce made that special connection with his audience. There is nothing like playing with Bruce Springsteen on 'Born to Run', a hymn to breaking free."
It's been assumed that Townshend's reluctance to join Springsteen onstage is because he was simply awestruck, but there are darker explanations. Although an admirer, Townshend realized that Bruce threatened his position in rock's hierarchy. Like Landau, he'd seen rock 'n' roll future, but he didn't share the enthusiasm.
In his autobiography, Townshend revealed that he saw a number of artists "guaranteeing my extinction, or at least forcing my early retirement, a thought that triggered mixed feelings." He also struggled with addiction and felt that The Who had lost touch with their fans. "Bruce Springsteen seemed to have swept up our crowd. The Clash threatened to challenge even him if they could survive."
Until Birmingham, Townshend may have felt conflicted, intimidated, or simply physically unable to perform. For him, it might have felt like the end of an era or the passing of a torch — "meet the new boss," as Pete himself wrote. Ultimately, Bruce, Miami Steve, or Dave Marsh might have twisted his arm. Or maybe, despite his reservations, he just couldn't resist.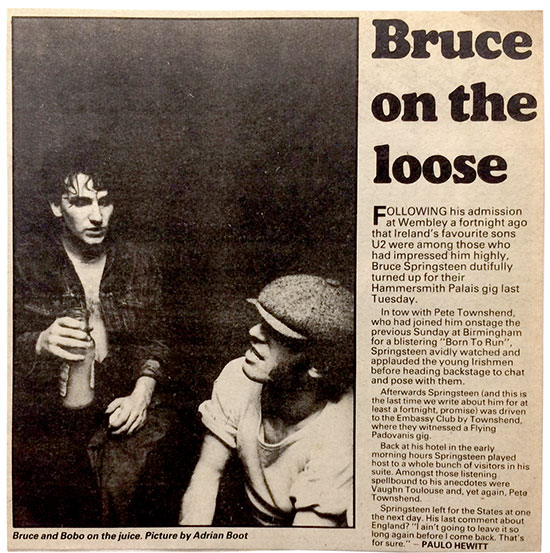 A Night on the Town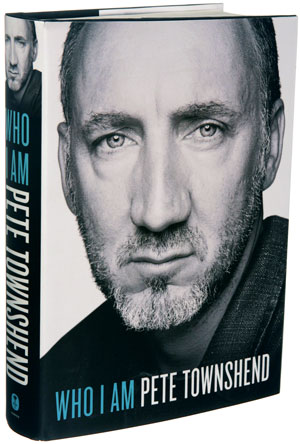 On June 9, having seen more than half of Springsteen's U.K. concerts, Townshend accompanied him for a night on the town on his final day in London. They began by attending a U2 gig at Hammersmith Palais. "Springsteen avidly watched and applauded the young Irishmen before heading backstage to chat and pose with them," reported Melody Maker.
In his autobiography Born to Run, Bruce remembered going to "a London club where a young band with their first album out was playing a powerful set. They had an unusual name, U2. Better keep a lookout over my shoulder."
In a story titled "What The Boss Does After Work," the NME revealed that Townshend then took Bruce ("casual and relaxed in a beige bomber jacket topped off by a woollen beret") to the Embassy Club, where The Flying Padovanis and Bananarama were playing. But Bruce saw little of either act because he was "besieged by Asbury aficionados" in the downstairs bar.
"He rapped enthusiastically with fans," NME reported, "but firmly waved away a bunch of parasitic hangers-on who aggressively demanded a round of drinks for having attended one of his Wembley shows." When asked about the tour, Bruce replied, "It's been incredible! Where have all these people come from? There's young kids who couldn't have heard of me last time I was over and then there's people into their thirties. It's right across the board."
Back in his hotel suite, Bruce entertained Townshend and others with anecdotes into the small hours. According to Melody Maker, his final comment about the U.K. was, "I ain't going to leave it so long before I come back, that's for sure."
Springsteen flew back to the U.S. on June 10, en route to the West Coast for an appearance at the Survival Sunday anti-nuke benefit at the Hollywood Bowl on June 14 and a guest appearance with Gary U.S. Bonds at the Old Waldorf in San Francisco the following night. In early July, he would begin the final 10-week North American leg of the River tour, which once again saw a number of shows rescheduled due to his ill health. Plans for appearances in Australia and Japan later in the year (mentioned in Melody Maker, the Daily Express, Billboard, and a pocket-sized American paperback of Dave Marsh's Born to Run biography) were later scrapped, probably because Bruce had suffered enough for one tour.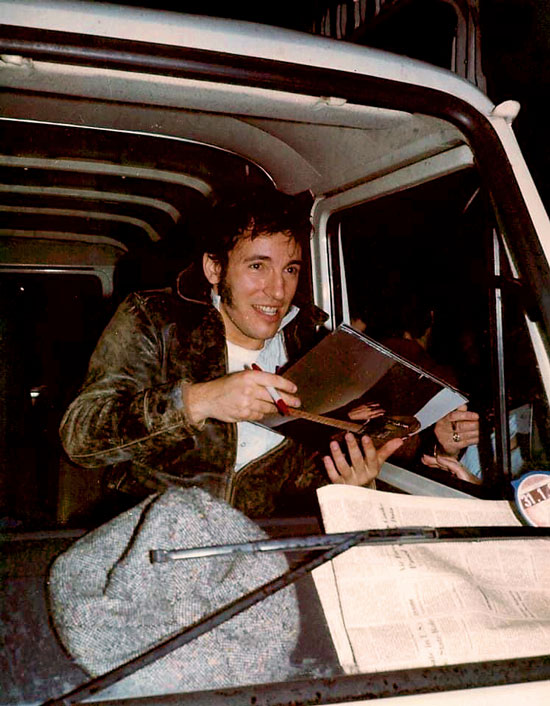 Springsteen meets fans and signs autographs in his white mini-bus - courtesy of the Point Blank archive
Statistics, Profit and Loss
In terms of attendance figures, customer satisfaction, intensity of performances, the establishment of footholds in new territories, and the allaying of fears about Springsteen's popularity in foreign parts, the 33-date European and U.K. tour was a major success — but it still made a loss.
"What fans may not realise is that, however much they spend on tickets, they are being heavily subsidised," wrote Richard Williams in The Sunday Times. "Few rock tours make money nowadays, their cost being reckoned a promotional expense. This one, with its 45-strong entourage of musicians, managers and technicians, relaxed schedule and long distance phone calls, will show a loss of one million dollars. This is being underwritten, apparently without condition, by Springsteen's record company CBS."
"It hasn't been quite in that area, but there has been a very substantial loss, certainly," Jon Landau told Billboard. "The only way for a U.S. artist to play Europe profitably would be to only play big places. We wouldn't have wanted to miss playing the smaller sites, for they were the greatest shows. CBS endeavours to help, but inevitably there is a tremendous amount of direct loss which Bruce himself absorbs. But that was an immaterial consideration. We wanted to come, and come in a particular way. Bruce doesn't usually make decisions on a profit and loss basis."

The Billboard feature, published soon after the U.K. tour ended, revealed that Bruce played for more than 100,000 people over those 16 nights. Promoter Harvey Goldsmith reportedly received 160,000 postal applications. If each one had requested at least a pair of tickets, it would have been enough to sell out the tour three times over.
Newcastle – 2000
Manchester – 5,200 over two nights (average 2,600)
Edinburgh – 5,900 over two nights (average 2,950)
Stafford – 7,400
Brighton – 8,700 over two nights (average 4,350)
Wembley – 48,900 over six nights (average 8,150)
Birmingham – 22,800 over two nights (average 11,400)
Their week-long visit in 1975 provided the briefest of introductions to a strange new world beyond U.S. borders, but their 1981 European tour took Bruce and the E Street Band out of their comfort zone for nine weeks, bringing their first significant exposure to foreign countries, languages, cultures and political perspectives (not to mention English regional dialects and the challenging Scottish accent). The landmark tour cemented a relationship with U.K. and European audiences that continues today, one that has developed to the point where their biggest market is thousands of miles from home.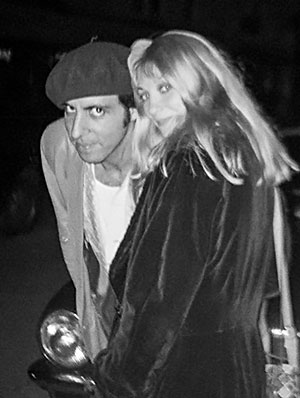 For Miami Steve, the 1981 tour was a revelation. One particular encounter was pivotal in reshaping his worldview. As he tells it, "A kid asked me, 'Why are you putting missiles in my country?' I said, 'I'm not, I'm a guitar player.' I realized, for the first time in my life, at the age of 30, that I'm an American."
Right: Stevie and Maureen in Brighton, May 1981 - photograph by Clive Moon
Later that year, he recorded his debut solo album Men Without Women and began a political solo career as Little Steven that would lead to his departure from the E Street Band for 15 years.
The Price You Pay
Now that Springsteen had finally ended the six-year hiatus since Hammersmith, his U.K. audience might reasonably have anticipated more regular tours of similar venues in the future — at least, based on the assumption that his career had peaked at arena level, a typical outcome for many artists. The Organization was certainly considering a return as soon as possible: "I don't think we'd ever do a major tour again and not come to Europe," confirmed Landau. "But it's likely to be 14 months at least before a second trip can be fixed. Almost certainly there will be another album first."
If Springsteen had released a rock album in 1982 instead of Nebraska, it's quite possible that he would have crossed the Atlantic in 1983 for more gigs at Wembley Arena or Birmingham NEC. But a massive increase in his popularity with 1984's Born in the U.S.A. ensured that when he finally returned to the U.K. after four years away, in 1985, his itinerary consisted entirely of outdoor stadium concerts. In E Street Band terms, at least, with notable exceptions, it's been that way over here ever since.
In 1981, Bruce and the E Street Band played 16 U.K. concerts in mixed-capacity indoor venues in one month, for a total of 100,000 people. Four years later, an audience of 70,000 attended one night at Wembley Stadium alone. And in the four decades that have elapsed since the U.K. River tour, they've only played 12 indoor shows here, all in arenas.
Longterm fans always wanted Bruce's music to find a larger audience. Their wish was granted in '81, but it didn't stop there. Intimacy and engagement were sacrificed and compromises were made in terms of the songs he could successfully play to mass outdoor audiences. A price had been paid for his superstardom, and there was no refund.
Bruce returned to Manchester Apollo, Newcastle City Hall, and Edinburgh Playhouse on the Tom Joad tour in 1996. With the E Street Band, he returned to Birmingham NEC on the Reunion tour in 1999 and to Wembley Arena on the Rising tour in 2002 (one show each). He did not perform in Scotland again with the E Street Band until 2009.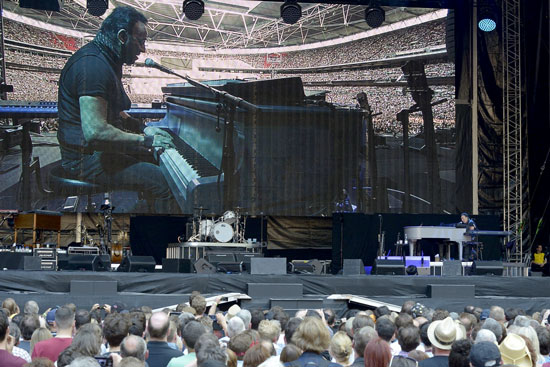 Wembley Stadium, June 5, 2016: Thirty-five years to the day after the 1981 Wembley Arena finale - photograph by Rene van Diemen
In 2016, Bruce revisited The River on the road, playing the entire record in sequence every night on a three-month U.S. arena tour. In Europe, the tour went outdoors and the shows mainly featured the uptempo songs, as in 1981. For European audiences, Bruce only played the entire record three times: in an indoor arena in Paris, and in outdoor stadiums in Gothenburg and Oslo.
Bruce Springsteen and the E Street Band's 1981 U.K. concerts comprised his first full-scale tour of this country, and it remains their longest. It was also their last to include theater shows, and the last by the classic E Street line-up. It marked the beginning and the end of a touring era here. It really only happened once at this level, which makes the tour particularly special for those who were lucky enough to be there. In many ways, it was never the same again.
Dedicated to the late, great Holly Cara Price, warrior queen of Manhattan, who never once gave thought to landing.
Mike Saunders reporting - additional images courtesy of Gary Desmond and the Point Blank archive - Many thanks to Fabrice Szabo and Graham Belchamber for additional background information, and to the numerous journalists, from the NME to The Sunday Times, whose work I've quoted in this four-part feature. Grateful appreciation as ever to Dan French for friendship, corroboration and general wildness and innocence.