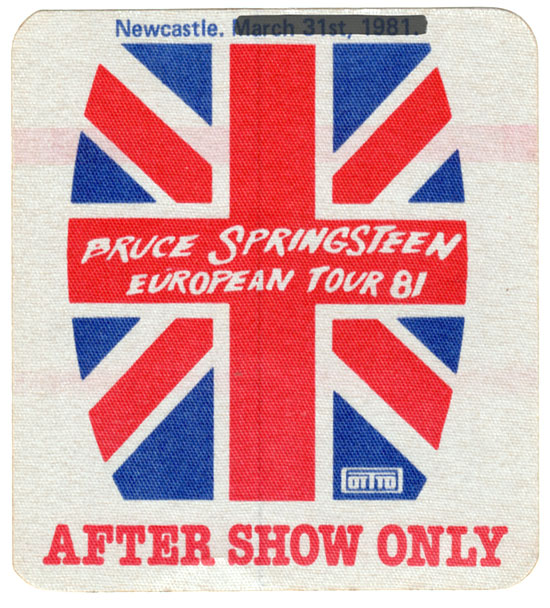 A Different World
Forty years ago tonight, Bruce Springsteen and the E Street Band entertained a capacity crowd of 2,000 at the City Hall in Newcastle, the smallest venue they've ever played in England. This was Bruce's first U.K. concert since his pair of performances at London's Hammersmith Odeon in November 1975, and it took place in a hall half the size and 300 miles away from the capital.

Newcastle was the opening night of his first (and still his longest) U.K. tour, which comprised 16 shows in four weeks, in support of The River in 1981. It was also the last to include E Street Band shows in comparatively small theatres and concert halls; it represented both the beginning and the end of an era in his U.K. touring career.

It's often been assumed that the reason for the six-and-a-half-year gap between Bruce's appearances beside the Thames and the Tyne was caused by frustration with his hype-ridden first Odeon performance and reluctance to return to these shores afterwards. But given the success of his subsequent shows in Stockholm and Amsterdam, and his comparatively triumphant return to Hammersmith a week later, this doesn't necessarily ring true.

Given the regularity of rumors in the intervening years, and the fact that on several occasions U.K. shows were apparently being considered immediately after an album release (even in advance of American gigs), it seems more likely that Bruce was willing to come back sooner, but circumstances (the Appel lawsuit, protracted sessions for Darkness on the Edge of Town and The River, constantly changing plans) prevented it.

Four decades is less than the blink of an eye in the arc of human history, but the world was a very different place for Springsteen aficionados in 1981. The younger reader may have difficulty imagining everyday existence without the Internet, computers, cellphones, email, texts, tweets and social media. It was a world where we communicated by phone and post and paid by cash or check. Tours were announced in print media — local and national papers, and music weeklies Melody Maker, New Musical Express, Sounds and Record Mirror. Vinyl was king, and music (albums and singles) was a physical product bought from record stores with actual money. Professionally printed concert tickets were obtained from box offices and other outlets by turning up in person or ordering by post. There was no "print your own" option, no instant access to music beyond the radio, and information was harder to obtain.

To fully understand the background behind Bruce Springsteen's 1981 U.K. tour, we need to go back to that world: to a time when his career was still on the rise; when fatherhood, marriage, and megastardom were distant dreams; when Patti Scialfa sang with Southside Johnny and the Asbury Jukes, Nils Lofgren was a solo artist with past Neil Young associations, and Miami Steve still lurked in the onstage shadows. Back to an era before stadium concerts, videos, and extended remixes, when the Springsteen operation was comparatively small-scale outside of the U.S., his public image virtually non-existent, and the small amount of media attention he received focused on the music. Back to a time of wildness and innocence. Back, some might say, to the good old days.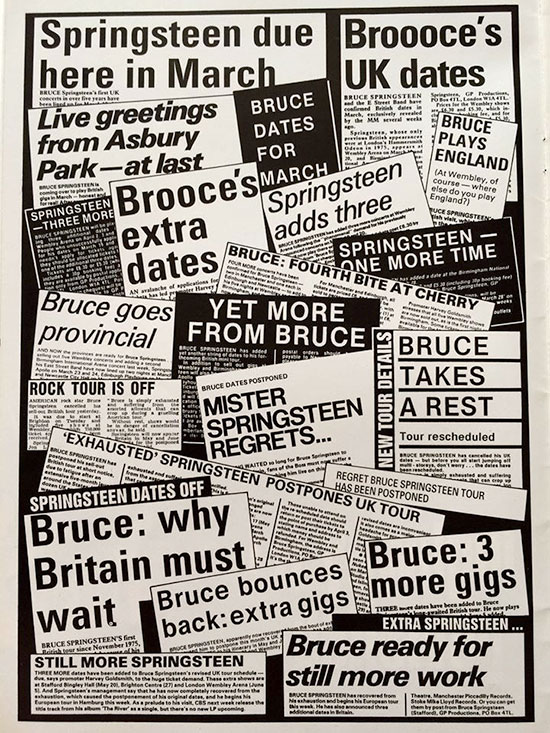 Rumours, Predictions, and Speculation
Before Bruce had played a note at Hammersmith, a British tour in early 1976 was under consideration. Promoter Harvey Goldsmith was apparently waiting to gauge reaction to the Odeon gigs before making a decision. Another report suggested "Springsteen may be back in Britain in March." Less likely but nonetheless fascinating was the prospect of a "Rolling Thunder-esque Springsteen tour" that was "being talked about for this country" in late 1976.

As the second "lawsuit tour" reached its finale in Boston in March 1977, trumpet player Steve Paraczky (part of the four-piece horn section that augmented the E Street Band at the time) recalled that he was asked to "keep in touch" because "Bruce said we'd be going to Europe for the next tour" (see the full interview in Backstreets #88).

When the Darkness tour began in May 1978, it transpired that a European leg was under consideration for later in the year. In an extensive review of Bruce's Philadelphia concerts, Melody Maker revealed, "In the next few months, Springsteen will play 75 concerts before a trip to Europe in the autumn."

In July, Sounds suggested that a period in October had been earmarked "for British and European dates." (It's known that a show in Paris was pencilled in for October 1). Record Mirror hinted that Springsteen's U.K. visit might be "as the opening attraction at a London nightclub based on New York's Bottom Line." This was a reference to The Venue, which opened in November. Ultimately, Bruce took a break from touring throughout October, then went back on the road in America until the end of the year.

As the end of the Darkness tour approached, Melody Maker reported that Bruce was one of several top American acts pencilling in U.K. tours in the first quarter of 1979. Later they revised their prediction, announcing that he would not appear "until mid-summer at the earliest." The delay was due to Bruce's decision to make another album, although more than one source suggested that he was considering offers to play a major U.K. open-air event for which he might interrupt the sessions, despite the fact that he was "none too keen on all-star outdoor shows."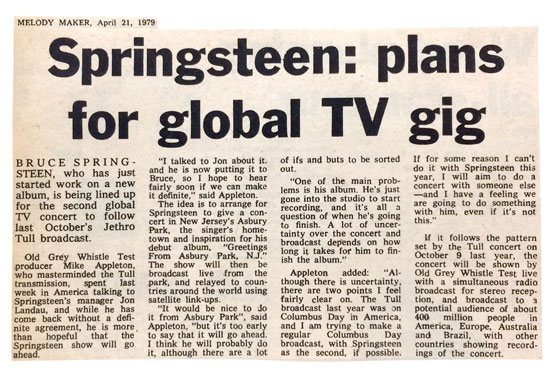 In March 1979, The Old Grey Whistle Test whipped up enthusiasm for a possible tour by airing the "Rosalita" video for the first time in the U.K. alongside a 1978 interview with Bruce by Bob Harris. The next month, Melody Maker ran an unlikely story about producer Mike Appleton's plan to persuade Springsteen to play a concert in Asbury Park for worldwide live satellite broadcast on Columbus Day. He hoped that it would air simultaneously on the Whistle Test and FM radio in the U.K., and he had already flown to America to pitch his ambitious plan to Jon Landau. "He is putting it to Bruce, so I hope to hear fairly soon if we can make it definite" were the last words Appleton ever said about it.
Bruce's progress in the studio was swift enough for a late-summer completion to be predicted, and the music press turned their attention to the possibility of U.K. concerts in autumn 1979. In May, Melody Maker revealed that Bruce's first intention after finishing the album was to tour Europe. "He would like to organize a full-length tour to make up for his last whistle-stop appearance." This would apparently include "a week of concerts, avoiding massive venues like Wembley Arena." The next month, they revealed, "The British tour that has long been in the offing for Bruce Springsteen is close to confirmation for October, with plans for a number of concerts, including several in London."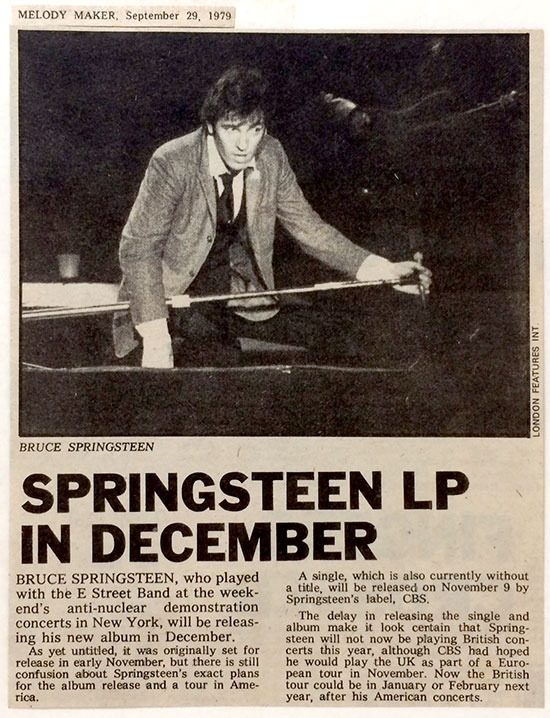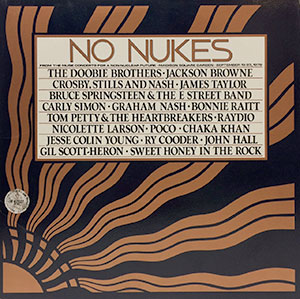 This was perhaps the closest Bruce came to playing U.K. shows between 1975 and 1981. But as history tells us, he instead played the No Nukes shows in September, turned 30, scrapped The Ties That Bind, and went back into the studio to create what eventually became The River, eliminating any chance of performing in the U.K. until the new decade.
Consolation for prospective ticketholders arrived in December with the release of the No Nukes triple album that included Bruce's first officially released live recordings with the E Street Band. Early reports said a double LP was planned that would include "Badlands" and "The Promised Land," but the final two selections were a version of the Maurice Williams and the Zodiacs hit "Stay" (with Jackson Browne) and the "Devil With the Blue Dress Medley" with its central monologue edited out.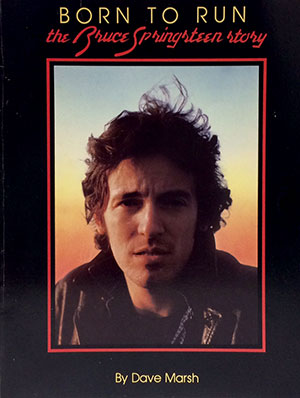 Also newly available were import copies of Dave Marsh's Springsteen biography Born to Run (published in September) and the inferior Bruce Springsteen by Peter Gambaccini, which Melody Maker 's Richard Williams derided as "a fast, scissors-and-paste job of considerable banality and no insight."
Before long, rumours of an early 1980 album release and U.K. tour began to circulate. The NME stated that dates were being submitted for Springsteen's approval and added, excitingly but improbably, that Mitch Ryder and the Detroit Wheels would be the support act. "According to CBS in New York, Springsteen is hoping to mount a British tour in February," reported Melody Maker. Ultimately, recording and mixing weren't finished until the summer of 1980.
A complete tracklist and mid-October release for The River were announced in September, and Springsteen hit the road with the E Street Band two weeks before the double album arrived in stores. It peaked at No. 2 in the U.K., which indicated a significant rise in popularity since 1975, despite his continued absence on this side of the ocean. "Hungry Heart" became the first single and was backed by Bruce's first non-album B-side, the brief but energetic "Held Up Without a Gun."
Although one source hinted at a November tour, it was now generally understood that U.K. gigs would take place in spring 1981. Record Mirror subsequently announced that Bruce would be playing around eight dates in February or March, with possible appearances at Hammersmith Odeon or Wembley Arena included in the schedule. "Reports from America suggest that the ball will be rolling into Britain before or during March," added Melody Maker. Bruce was believed to be "less than happy" about playing Wembley Arena, and while provisional dates had been booked for March 19, 20 and 21 at the northwest London venue, "it is hoped he will agree to a small tour including major provincial towns." They later warned that the extension of his U.S. tour "may mean his British visit will be put back."
Santa Claus Is Comin' to Town
Approximately a week before Christmas 1980, five years after his Hammersmith shows (and only two weeks after the music world was stunned by the murder of John Lennon), came the official confirmation that Bruce Springsteen and the E Street Band would be appearing at Wembley Arena on March 19 and 20, 1981 (the March 21 show that was previously mentioned by Melody Maker was never announced) and at Birmingham International Arena at the National Exhibition Centre (NEC) on March 27. This time it was for real. The announcement of further shows was expected, including a possible "warm-up" appearance in Ireland (presumably Dublin) that wasn't mentioned again.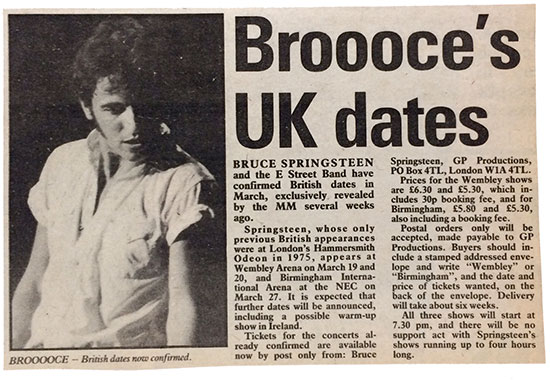 The first official announcement of U.K. concerts, December 1980.
Tickets were priced £6.30 and £5.30 for Wembley and £5.80 and £5.30 for Birmingham (including a controversial 30p "booking fee") and were available immediately by postal application from GP Productions in London. Payment would only be accepted by postal order, and buyers were asked to mark the venue, date, and ticket price required on their application, to include a stamped, self-addressed envelope, and to allow up to six weeks for delivery. This elongated process perfectly illustrates the difference between 1980 and today, when shows sell out in seconds.
"Live Greetings From Asbury Park – At Last" announced Sounds. "After providing more speculative stories than Elvis Presley and Bob Dylan combined over the last couple of years, Springsteen and his E Street Band have put news editors and fans out of their misery."
In addition to mountains of Christmas cards, Royal Mail workers soon found themselves sorting sackfuls of ticket applications. Buoyed by ecstatic reviews of shows in Los Angeles and New York in the music papers, fans were unlikely to know whether they'd been successful until after the holidays. Meanwhile, Bruce saw in 1981 with the last of three shows at Nassau Coliseum on Long Island, where he played for almost four hours. Exceptional even for him, but journalists soon made it the norm. If in doubt, print the legend.
In the first week of January, following "phenomenal" demand for the first three dates, the 1981 U.K. tour doubled in size with the announcement of more appearances at Wembley Arena on April 2, 3, and 4. The first two shows were sold out, and applicants who had not yet received tickets were advised they would be allocated seats for the new concerts instead. "A couple of other dates" were expected, including "another London concert at a smaller venue."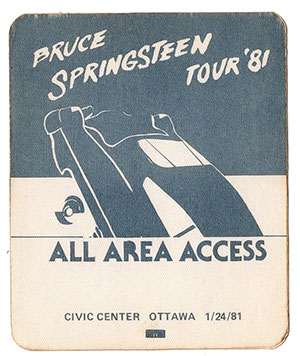 In mid-January, Bruce resumed his North American tour in Canada after a three-week break, and a second concert at Birmingham International Arena at the NEC was added for March 28. Tickets were available from the London postal address but also from selected outlets in the midlands, where local newspapers published the details.
Further provincial concerts were likely to be confirmed, revealed Melody Maker. "Springsteen's road manager has been in Britain for the last fortnight, checking out halls for addition to the tour, which precedes a string of European concerts."
Sure enough, in late January, having quenched the thirst of fans in the U.K.'s two largest cities with seven arena appearances, Harvey Goldsmith announced four comparatively intimate theatre gigs in the north of England and Scotland: Manchester Apollo (March 23 and 24), Edinburgh Playhouse (March 30), and Newcastle City Hall (March 31). All tickets were priced £6. The addition of "another couple of prestige concerts" was still possible.
In Newcastle, tickets were only available by post, directly from the City Hall, with payment accepted by check or postal order. In Manchester and Edinburgh, tickets were sold to personal applicants only. Box offices were due to open at 10am on February 1, but as there was already a long queue outside in the freezing cold, the management in Edinburgh decided to open around midnight. Although well-intentioned, this tactic caused a stampede. Fans that had queued for many hours ended up empty-handed, and anyone who turned up in the morning had no chance.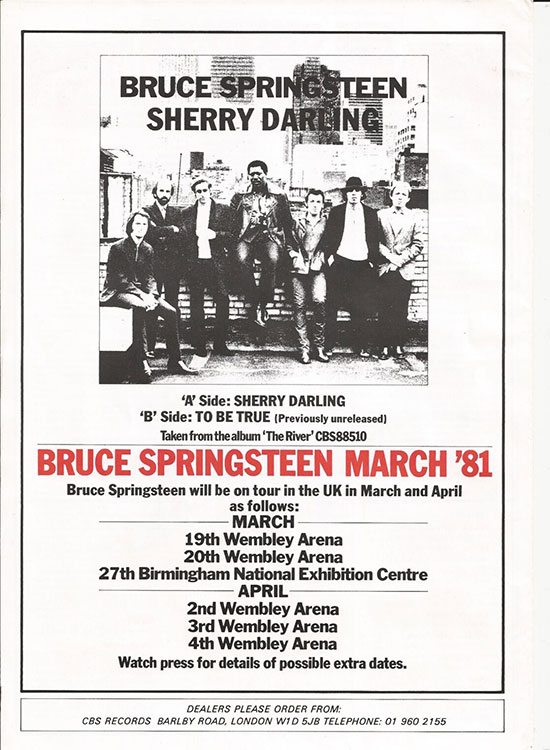 Courtesy of Salvador Trepat
The Calm Before the Perfect Storm
As the dust settled after the various concert announcements, the month of February passed uneventfully in the U.K., except for the release of "Sherry Darling" as the second single from The River, with another non-album B-side, "Be True" (originally planned for inclusion on the abandoned single album The Ties That Bind in 1979).
A two-page ad in Billboard announced the release of "Fade Away" as the U.S. A-side and included a full tour itinerary from January to May, which showed that the 11 U.K. gigs (March 19 to April 4) would be followed by 21 concerts on the European mainland (often referred to as "the continent"), kicking off in Hamburg on April 7 and ending with two nights in Paris on May 10 and 11.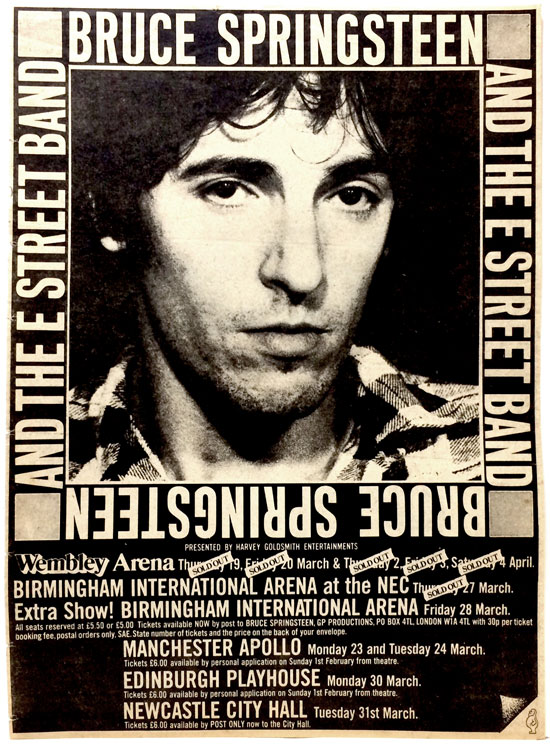 On March 2, Springsteen fans on the Sussex coast received an unexpected bonus, with the local announcement of a show at the Brighton Centre on March 17. Tickets cost £6.50 or £6 and went on sale to personal callers at 10am on March 4, less than two weeks before the gig was due to take place. (Roger Scott, Springsteen aficionado and DJ for Capital Radio in London, revealed that venues in Southampton and St Austell had also been shortlisted for this prestigious "warm-up" slot.) Brighton now held the distinction of being Springsteen's first port of call in the U.K. since Hammersmith in 1975.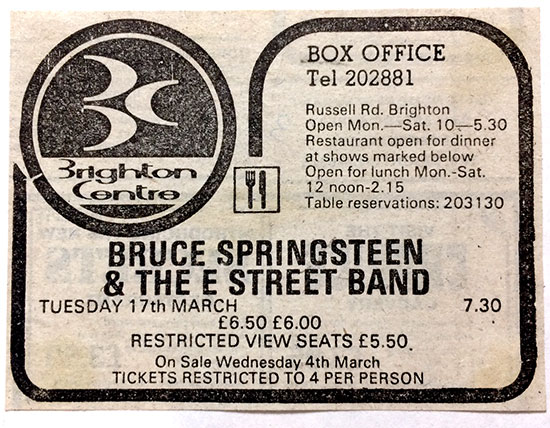 This final, last-minute addition brought the U.K. tour total to 12 indoor, all-seated shows. From Brighton, Bruce would head to London, travel around the country and return to London to finish the tour:
Brighton Centre – March 17
Wembley Arena – March 19, 20
Manchester Apollo – March 23, 24
Birmingham NEC International Arena – March 27, 28
Edinburgh Playhouse – March 30
Newcastle City Hall – March 31
Wembley Arena – April 2, 3, 4
These dates were now ostensibly set in stone — but they would soon be drastically rearranged.
On March 5, Bruce finally brought his U.S. tour to a close in Indianapolis, with the second of two shows postponed from mid-February due to illness. It had been a hard five-month trek, during which he'd played more than 70 concerts with the E Street Band, and he only had a 12-day break until the Brighton gig. But lack of access to information in the pre-internet days meant that U.K. fans had little knowledge of the itinerary, the set lists, or Bruce's state of health.
Springsteen later told Melody Maker that after 15 shows, he'd picked up a bronchial virus that he was unable to shake off through the cold winter months. Back then, he had yet to discover weights or specialist diets. Thin and round-shouldered, he survived on adrenalin, junk food, and rock 'n' roll. Writer Fred Schruers spoke to him in 1980 for an extensive on-the-road feature for Rolling Stone magazine (cover date February 5), which appeared in the U.K. at the end of the month. One night they hit McDonald's, where Bruce soon made two quarter-pounders disappear. "In high boots and a well-broken-in black cloth coat, he looks like a gravedigger off for the winter," wrote Schruers.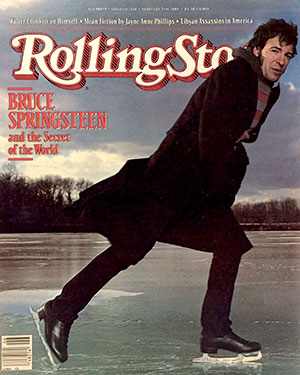 The Rolling Stone feature provided visual clues about Springsteen's physical condition. He appeared tired in the famous Annie Leibowitz "ice-skating" cover picture and in several candid backstage shots. In one, his ankle was being strapped. In another he was standing in a shower cubicle, staring blankly at the camera. He'd been pushing himself hard and playing increasingly longer shows while not in peak condition. It was a perfect storm. When Bruce walked offstage in Indianapolis, he was in no state to continue. His fitness had been eroded by the gruelling tour and the debilitating effects of the virus. In Bruce Springsteen On Tour, Dave Marsh explained, "The symptoms may have looked like flu, a throat infection or whatever diagnosis was given, but he'd flat knocked himself out to the point of exhaustion."
It may have been obvious to his inner circle that Bruce was unable to perform for the immediate future, but a week passed before any major decisions were made. The re-organization of an entire tour, with its logistical nightmares, repercussions, and consequences, should be avoided at all costs, so a "wait and see" policy was likely adopted in the hope that Springsteen would make a swift recovery.
Ultimately, common sense and medical advice dictated that it would be necessary to postpone his long-rumored, slowly assembled, and eagerly anticipated U.K. tour.
In PART TWO – Rescheduled dates, the cancelled Springsteen/Who gig, Dave Marsh in London, No Nukes film premiere, Dedication album, first 12" single, even more shows, music papers review Euro concerts.
Mike Saunders reporting - Many thanks to Fabrice Szabo for additional background information. Grateful appreciation as ever to Dan French for friendship, corroboration, and general wildness and innocence.