continued from Part 2: Rested, Rescheduled, and Recovered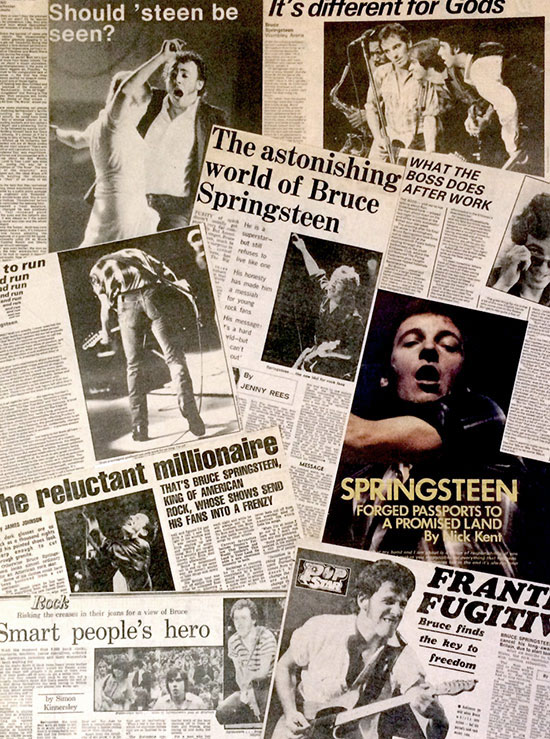 Change and Transformation
After 17 concerts in mainland Europe, where impressive attendance figures and an enthusiastic reaction proved that Bruce Springsteen's particular brand of American rock 'n' roll transcended language barriers and geographical borders, he flew into the U.K. with the E Street Band on May 10, 1981. His arrival simultaneously kicked off a four-week roadtrip and ended six years of tour rumors, speculation, abandoned plans, close calls, and near-misses, followed by four months of concert announcements, a complete reorganization, and a final round of additions.
Despite the fact that U.K. tours had been pencilled in and then erased multiple times, and there had been no major media exposure, Bruce's audience in this country had grown considerably. Ticket demand for his 16-date tour far exceeded supply. His performing legend had preceded him, ensuring sell-out gigs and healthy sales of The River.
Much had changed in the U.K. since his last visit, politically and musically. In November 1975, ticket prices for the Hammersmith shows were £2.20, £1.65, and £1.10; Labour's Harold Wilson was Prime Minister; and David Bowie was Number One with a re-released "Space Oddity." In May 1981, tickets for the U.K. tour averaged £6, Margaret Thatcher's Conservative government had been in power for two years, and after several musical revolutions from Punk to New Wave to the New Romantics, "Stand and Deliver" by Adam and the Ants topped the singles chart.
In those years, Springsteen's life and work had undergone upheavals and transformations. He'd survived the Appel lawsuit and spent more time in the studio than he had on the road. His songs had developed from lyrically complex, romantic epics into grittier character studies and ruminations on relationships, responsibilities, isolation, and similar existential concerns. He would soon align himself with Vietnam veterans and record the stark, acoustic Nebraska. He once took month-long vacations in the stratosphere but was now grounded, still growing but more experienced and self-aware. A different person (in terms of outward appearance, inner maturity, and artistic vision) to the man who tore down posters at Hammersmith Odeon in 1975, concerned that his career was spiralling out of control.
A Tour Within a Tour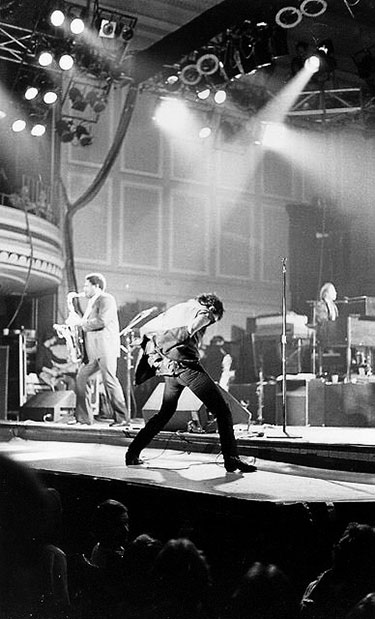 The first five shows, which took place in traditional balconied theaters with capacities of 3,000 or less, constituted a mini-tour by themselves, covering the North of England and Scotland before Bruce went south to play increasingly larger venues that weren't built with music in mind.
Right: Newcastle City Hall, 5/11/81 - photograph by Geoff Nagle
In only seven days, Springsteen and the band played at Newcastle City Hall (May 11), Manchester Apollo (May 13 and 14), and Edinburgh Playhouse (May 16 and 17). As the houselights dimmed each night, the roar of the crowd was mixed with sighs of relief that Bruce was finally in the building.
"It was our decision to play in depth," Jon Landau told Billboard. "To bring over a full crew and the entire elaborate production as seen in the U.S., to take that into not just major venues artists of Springsteen's stature commonly play, but into smaller halls and provincial cities. The Newcastle hall, 2000 seats, was the smallest venue he's played in five years."
The Manchester shows (the second was the shortest of the European tour and gave rise to further concerns about Bruce's health, but he bounced back), were the first to be reviewed by the music press and national papers.
"It was a welcome opportunity to see Springsteen play something approaching an intimate venue and the faded Northern grandeur of the Apollo was just right," said Patrick Humphries in Melody Maker. "They hit the stage at 8:05 and tore straight into 'Prove It All Night.' No trouble at all, brash and assertive. 'You want it? You got it!' The audience were great, savouring the experience rather than gluttonously devouring. Mesmerised silences during the contemplative songs were as much a tribute to them as to Springsteen's performance. It was a dream come true for the people there and a triumph for the band. A show with so many show-stoppers, you wonder how it ever got started."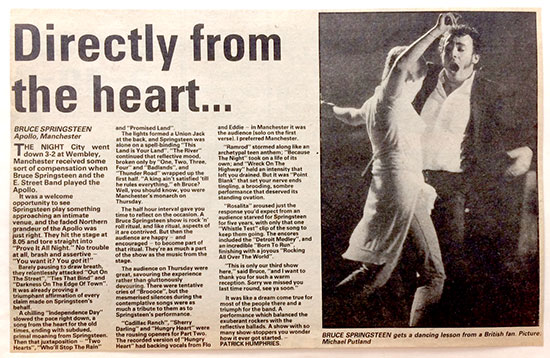 "Bruce Springsteen is here at last," wrote Richard Williams in The Times. "Not to save rock and roll, or to present us with a vision of its future, but to lead us to a rediscovery of all the qualities which made it mean something in the first place, and to entertain us as we have never been entertained before. Springsteen and his almost absurdly enthusiastic six-piece band seemed to be on their top form. He left us with a new illusion: that, after 25 years of larking about, this at last was rock and roll, and that what everybody else does ought to go by some other name."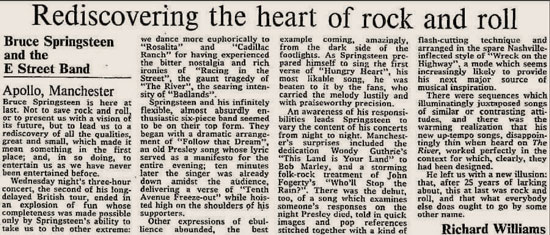 Springsteen next travelled to Stafford for an appearance at Bingley Hall, in the Staffordshire County Showgrounds. This was the first of the medium-sized venues, and it provided a stark contrast to the intimacy of the small theaters. In regular use at the time as a concert venue, hosting many of rock's biggest names, it was nevertheless primarily a cattle shed on the edge of town, more accustomed to holding agricultural exhibitions, with correspondingly poor acoustics and lingering odors. It's possible that Stafford was only chosen because a convenient third date wasn't available at the Birmingham International Arena at the National Exhibition Centre, only 30 miles down the road.
These first few shows established the basic template for the U.K. dates, which comprised approximately half of Born to Run, Darkness on the Edge of Town, and The River, plus "Rosalita" — the only survivor from Springsteen's first two albums.
This comparatively rigid framework would then be augmented by unreleased originals ("Because the Night," "Fire") and covers that always included the Mitch Ryder "Detroit Medley" and Woody Guthrie's "This Land Is Your Land." The latter was lyrically amended to mention "the streets of Brixton," referencing then-recent riots in South London. John Fogerty's "Who'll Stop the Rain" was also played at the majority of the shows, while his "Rockin' All Over the World" (best known in the U.K. as a 1977 hit for Status Quo) closed half of them. Nightly alternate choices, some setlist tinkering, and the occasional rarity or surprise kept the band sharp and ensured that no two sets were the same.
Elvis Presley was also an influence during the tour. At six of the shows, Bruce sang "Follow That Dream," a song from the movie soundtrack that he'd rearranged, rewritten, and blended with Roy Orbison's "In Dreams." On the first night in Manchester, Springsteen debuted a new original song, "Johnny Bye Bye," about Presley's untimely death, which borrowed its opening lines from Chuck Berry's "Bye Bye Johnny" and was performed at 10 shows.
Soundcheck in Manchester included a cover of Tom Waits' "Jersey Girl," which didn't make an appearance until the New Jersey stand in July. Also soundchecked in the U.K. but not played: "Night," "Be True," and "Strawberry Fields Forever."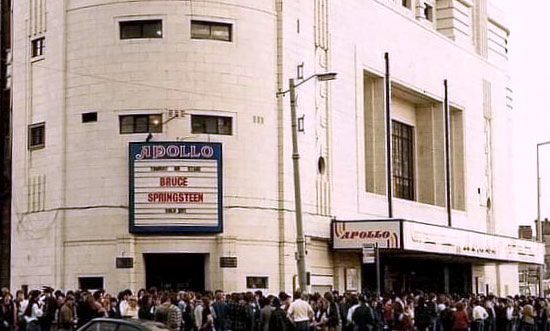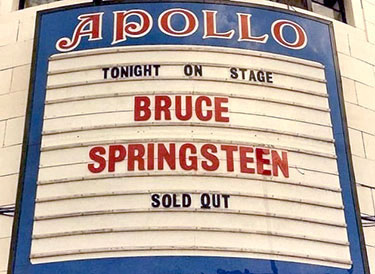 Two views of the Manchester Apollo by Sammy K Barton
In America, Springsteen started out the tour playing most of The River each night, but now that he'd cut his shows down to 150 minutes (not including intermission), he only had space for half of the new album in an average set. With the exception of "Independence Day" (included in 13 shows) and "Point Blank" (nine), his selection of River material favored fun rockers over significant ballads.
It was an understandable game plan, more likely to hold the attention of audiences, but it also ensured that the darker undercurrents of The River were under-represented. "Wreck on the Highway" was played six times; "Here She Comes / I Wanna Marry You," three; "Stolen Car" and "The Price You Pay," twice each; and "Drive All Night" only once. "Fade Away" didn't appear at all.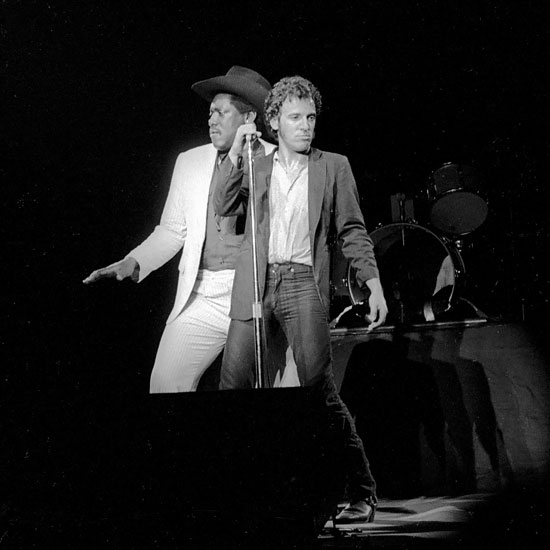 Brighton, May 27, 1981 - photograph by Tony FitzPatrick
Down the Shore Everything's Alright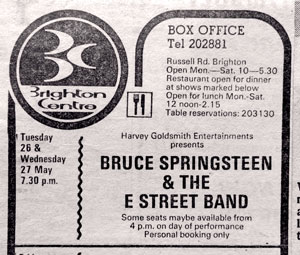 After a five-day break, the tour resumed on the South coast, with two shows at the Brighton Centre on May 26 and 27. This was the only city on the European tour (possibly on the year-long River tour) where the venue was across the street from a beach, within earshot of breaking waves and squawking seagulls. This may have put Bruce and the E Street Band in a Jersey Shore frame of mind, even if the geography, culture, and cityscape were unfamiliar.
Brighton was this writer's hometown back in the day. I'd trudged along the pebbles as a kid, walked the length of its two Victorian piers and frequented its pubs and bars. In July 1980, having been aware of his existence since 1975, I embraced the music of an artist who'd paid his dues in another shore town across the ocean a decade before and was preparing his fifth album. Little did I know that under a year later, aged 23, I would see Bruce Springsteen play two exhilarating, life-changing shows within walking distance of my home, that repeat attendees would later judge to be the best of his U.K. tour. Luck doesn't come into it. Reminiscing four decades later, it feels a lot more like fate.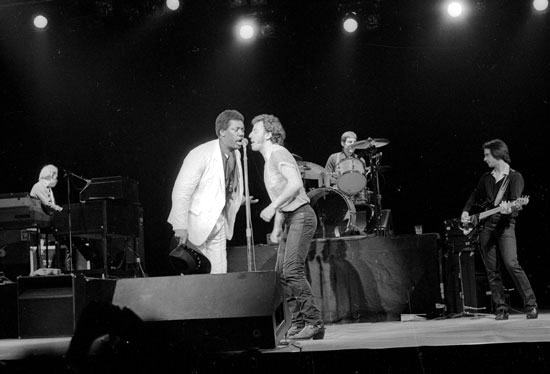 Brighton, May 27, 1981 - photograph by Tony FitzPatrick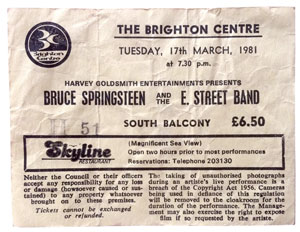 The first night began with "Prove It All Night," ended with "Rockin' All Over the World," and included "Because the Night," "Factory," "Wreck on the Highway," "Racing in the Street," and "Backstreets."
The second show kicked off with "Born to Run," wound up with the "Detroit Medley" (with bonus "High School Confidential"), and featured "Fire," the first U.K. performance of "Stolen Car," "Point Blank," "Candy's Room," the first "Jungleland" of the European tour, and the last "The Price You Pay" for 28 years.
I'd seen rock gigs before, but none as powerful or intense as these.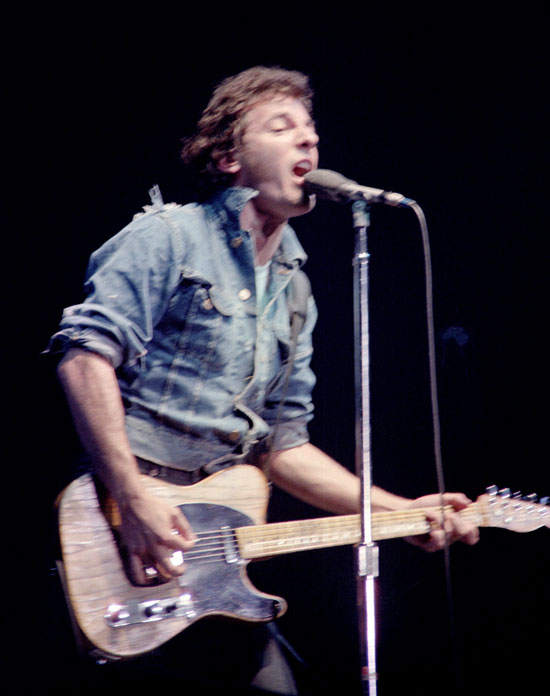 Brighton, May 27, 1981 - photograph by Gary Desmond
There were also moments of comedy — notably Springsteen's "emergency announcement" during the medley, when he warned that anyone with a weak heart should leave immediately, because the next part of the concert might be dangerous to their health! ("Don't sue me!") On successive nights, crew members dressed as medics or policemen tried to carry Bruce off on a stretcher (until he recovered, James Brown-style) or to arrest him for playing over time.
"When you've heard nothing but good about an artist, he seldom lives up to expectations," began the local Evening Argus after the first night, "but when American rock singer Bruce Springsteen finally arrived at the Brighton Centre after a postponed March concert, his show was hailed by all as magnificent. Sound quality was superb, with huge speakers suspended over the stage looking like a black battleship from Star Wars. At the end, the crowd stamped for an encore. The evening was paced with wit and professionalism. It was a show to remember for a lifetime."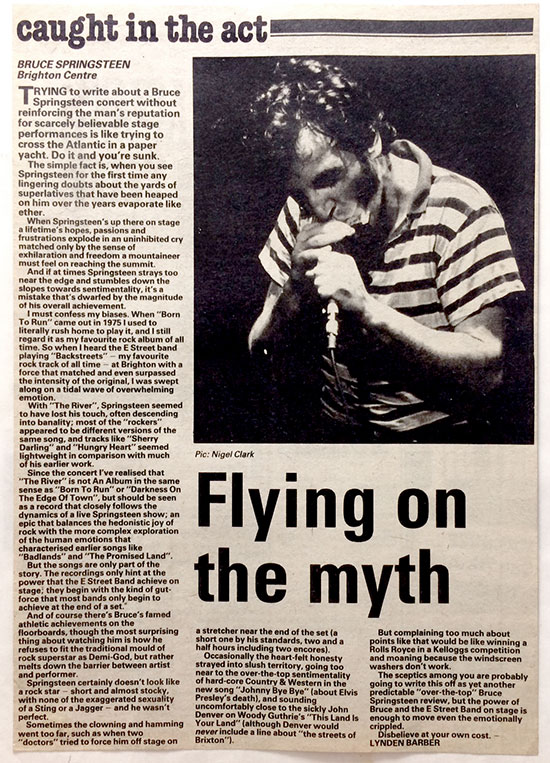 "When Springsteen's up there on stage, a lifetime's hopes, passions and frustrations explode in an uninhibited cry matched only by the sense of exhilaration a mountaineer must feel on reaching the summit," began Melody Maker. "And if at times Springsteen stumbles down the slopes towards sentimentality, it's a mistake that's dwarfed by the magnitude of his overall achievement. When I heard the E Street Band playing 'Backstreets' with a force that surpassed the intensity of the original, I was swept along on a tidal wave of overwhelming emotion. Disbelieve at your own cost."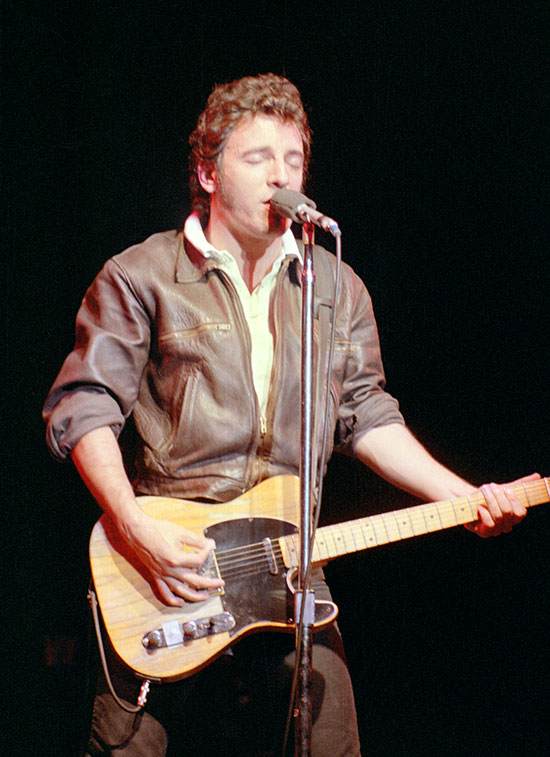 Brighton, May 27, 1981 - photograph by Gary Desmond

Magic in the Night
Richard Williams interviewed Springsteen while "strolling along the Brighton seafront" after the first concert, for a lengthy piece in The Sunday Times titled "A Responsible Rocker":
He is small and hunched offstage, a jockey with a lightweight boxer's muscles, and he took the walk back to his hotel in the scuffed leather jacket, scruffy jeans and boots he had worn onstage. His voice is hoarse, his speech slow and his thoughts introspective. In contrast to the eloquence of his lyrics, he has a tendency to search doggedly for the right word or phrase, often without success. What unfailingly cheers him is a chance encounter with his fans. Whatever the hour and however pressing the engagement ahead, he will chat, sign autographs and pose for Instamatics. He feels he is only returning loyalty.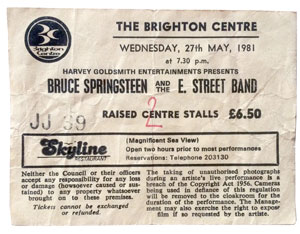 As I walked out into the night after the second show and wandered around to the stage door with my ears ringing, my head spinning, and no particular place to go, I was about to be a recipient of that generosity.
I joined a crowd of like-minded individuals, and we watched the E Street Band board their bus and drive away. We were occasionally told that Bruce had gone and that we should go home. Each time a few people drifted off, but a resolute hardcore stayed. Eventually, we were escorted to a white minibus that had driven out from the venue's underground garage and parked unnoticed down the street, where fans had queued overnight for tickets in March and April. In the front passenger seat was Bruce, no doubt exhausted, but nevertheless willing to take part in what I later discovered was a nightly ritual.
I thrust my ticket forward and he signed it on the dashboard. There was no conversation, just mutual understanding. Maybe the sea air had something to do with it, but there was magic in the night in Brighton. My only regret is that given the seaside location, Bruce hadn't been inspired to play "Fourth of July, Asbury Park (Sandy)".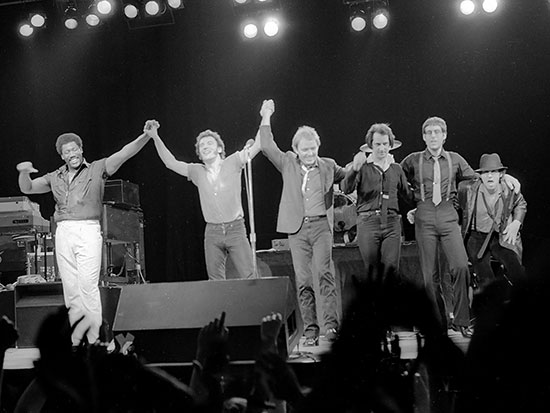 Brighton, May 27, 1981 - photograph by Tony FitzPatrick
The Dave Marsh Masterplan
Brighton was also the location of famous mid-'60s battles between Mods and Rockers, and the city was prominently featured in the 1979 Quadrophenia movie, so it was entirely appropriate that Dave Marsh (working on Before I Get Old: The Story Of The Who at the time) arranged for Pete Townshend to attend the shows.
The NME revealed that "a small coterie from the Who's office" also travelled south, as did a contingent from the London office of CBS and some rock journalists.
In a post-tour radio interview, Marsh recalled that he, Springsteen, and Townshend drove to Brighton together, and Gary Desmond's Spring-zine Candy's Room subsequently added that they enjoyed "a lazy day's fishing" at Roger Daltrey's trout farm in Burwash, Sussex en route to the coast. After the second Brighton concert, Townshend, Bruce, and members of the E Street Band and their crew dined at the Al Forno restaurant.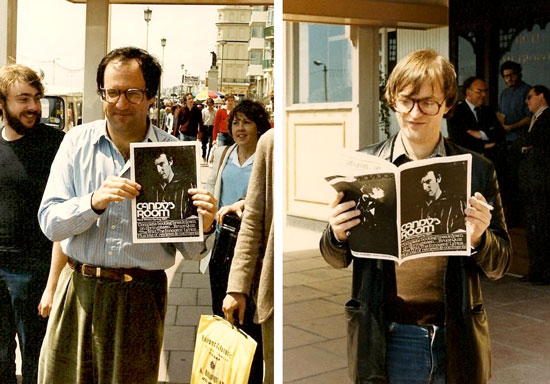 Jon Landau and Dave Marsh (and Candy's Room) in Brighton - photographs by Gary Desmond

Townshend was undoubtedly a fan. In a 1978 Melody Maker interview, he suggested that Bruce had realized rock music's full potential. "Listening to Bruce Springsteen, it's not fun, it's fucking triumph! To know he was a kid from New Jersey and he's broken out of that, taken the guitar and the pen and used them as weapons. To call that fun is trivializing."
In his 2012 autobiography Who I Am, Townshend added, "Rock for me was about catching fire onstage, going the extra mile. Springsteen believed in the story the audience needed to be told. He worked onstage the way I did, to complete exhaustion. He also honored Roger's approach to singing, from both the heart and the lungs at once."
Although the connection between Springsteen and Townshend didn't appear to continue beyond the 1981 U.K. tour, they spent a lot of time together over the next two weeks. Marsh's invitation was almost certainly a second attempt to unite the subjects of his biographies onstage after the pencilled-in gig for March 22 at The Venue in London fell victim to the tour postponement.
Ultimately, Townshend didn't make a guest appearance in Brighton. But he reportedly attended the remaining eight shows of the tour, and Marsh's wish was eventually granted on the penultimate night.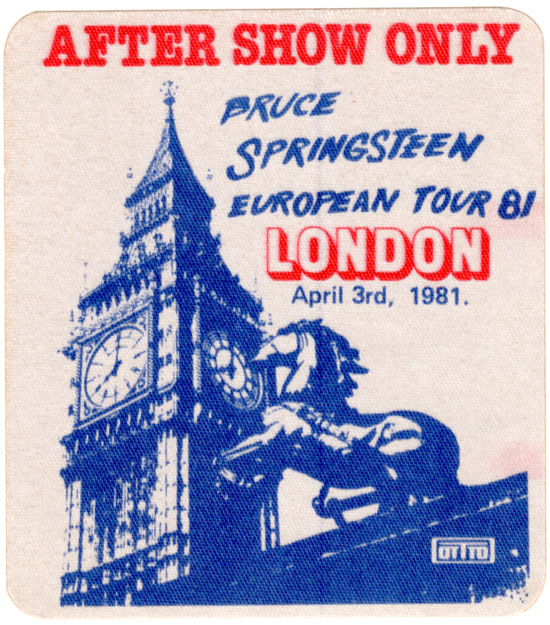 A Date With Destiny
After Brighton, the Springsteen entourage headed for northwest London. The six nights at Wembley Arena on May 29 and 30 and June 1, 2, 4 and 5 (attendees required tickets dated March 19, 20, April 2, 3, 4 and June 5) formed the centerpiece of the tour and were the focus of increased media attention.
Newspaper stories about the rock phenomenon taking the country by storm were everywhere, and anticipation was high, but Bruce was not in the mood to partake in the celebratory atmosphere. In his room at the Carlton Towers Hotel in Knightsbridge, he was anxious about the prospect of playing the capital for the first time since his hype-ridden Hammersmith double-shot. The second show in 1975 had been more successful, but he felt he'd yet to prove himself to a London audience.
"I tried to relax but my brain kept ticking over," he told the NME's Nick Kent. "First I started to think about my girlfriend. Then I started thinking about the show I had to play. See, I've always been haunted by the two gigs we played here back in '75. I've got absolutely total recall of those shows because the first one was so bad I was ready to blow up fuckin' Big Ben."
Nick Kent described how Bruce "sauntered onstage, plugged in and literally exploded into 'Born to Run'" on that first night at Wembley, only pausing to speak to the audience after three songs: "It's good to be back in London. Last time I was here, it changed the way I felt about a lot of things" constituted a "half-mumbled, evidently heartfelt, awkward hello."
"A lot of thought went into that show," Bruce revealed. "I chose to play that gig straight on the level because I was real nervous and realized I could only conquer the fear element by really submerging myself into the songs. I'm onstage for three hours and every muscle in my body is, like, tight. I feel like I got a stick up my back. It's all about that kind of tension. It was like when you're really scared, all tensed up, but you're real ready, y'know?"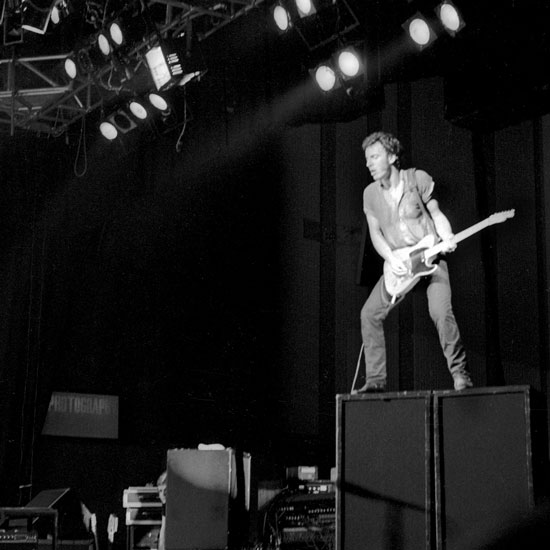 Brighton, May 27, 1981 - photograph by Tony FitzPatrick
"Any doubts he had about the London audience must have been dispelled the first time he held the microphone out and heard his words bellowed back at him without a moment's hesitation," reported Sounds. "A moment later he tipped into the audience and continued singing among a swaying, jostling mob who carried him on their shoulders before depositing him back on the stage. His energy was inexhaustible. He roared across the width of the stage, leaping on PA stacks, grand pianos and drum risers when the mood took him. 'Ramrod' beggared description: 8,000 pairs of heels hammering on the floor must have been close to the vibration required to cause structural disintegration. Even the advance ballyhoo couldn't prevent Bruce Springsteen from living up to his awesome reputation."
The London Evening Standard emphasized the opening night's success: "Bruce Springsteen returned to London in triumph at the weekend to prove that everything everyone has said about him is true. He exploded onto the stage hell-bent on giving a performance which would leave every person in the audience reeling. The show began like an encore and then by sheer will-power, energy, and physical intensity, Springsteen managed to keep it buoyed at that peak emotional pitch. It is this passion, this devotion to the needs of his audience, which makes Springsteen the most devastating rock performer in the world today. This wasn't simply a concert, it was an event in rock music."
In PART FOUR — Wembley, Birmingham, and beyond; Tour statistics; Closing statements.
Mike Saunders reporting - Many thanks to Fabrice Szabo, Graham Belchamber, and Clive Moon for additional background information. Grateful appreciation as ever to Dan French for friendship, corroboration, and general wildness and innocence.