continued from Part 1: From the Thames to the Tyne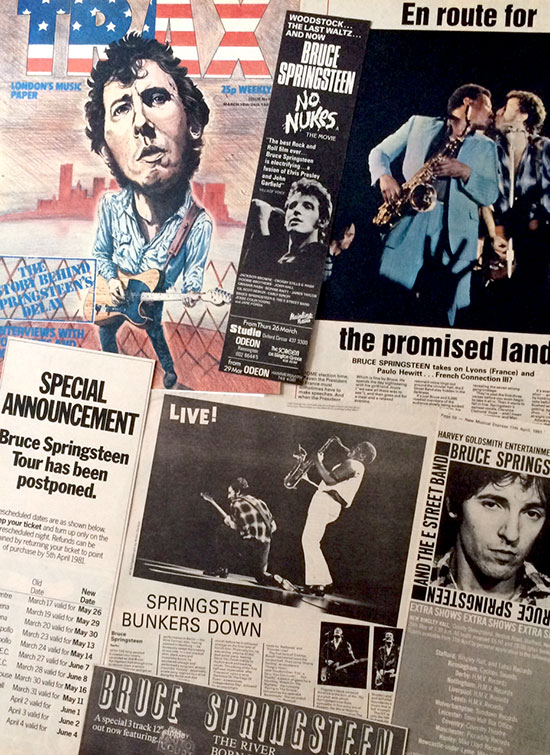 The E Street Reshuffle
The postponement of Bruce Springsteen's 1981 U.K. tour was big news. Such a drastic decision was rare in the rock calendar, but if any artist was likely to reschedule shows because of exhaustion, it was him. Springsteen had begun the original River tour in America on October 3, 1980, and, apart from a break around the holidays, worked solidly until March 5. He'd gradually extended the length of his concerts beyond three hours (not including the intermission), played most of his new double album and more besides, pushed himself to his physical limit, and suffered the consequences.
With no other choice, Jon Landau called promoter Harvey Goldsmith to explain that the imminent U.K. tour would have to be postponed.
"Awakened before the British dawn, Goldsmith first thought Landau must be kidding," said Dave Marsh in his second Springsteen biography Glory Days, published in 1987. "Finally convinced the decision was for real, he spent the better part of an hour trying to talk the manager out of it."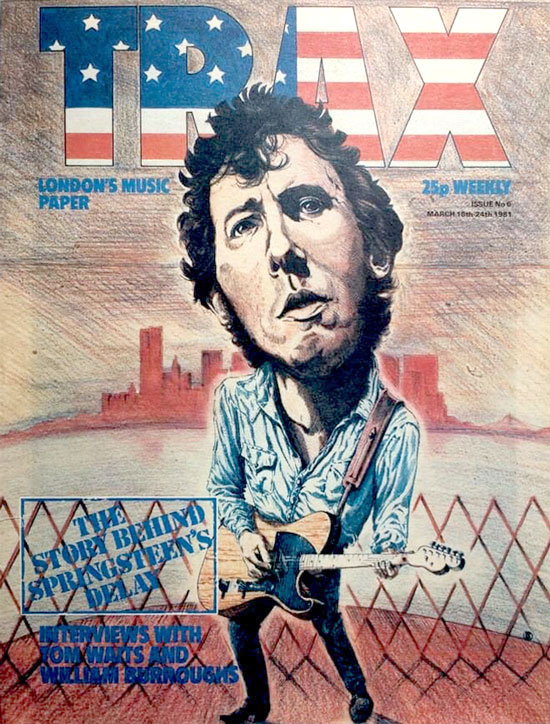 "With Bruce under contract, he could have enforced the agreement," said London Trax, "but he chose instead to attempt to reschedule the shows. With other acts pencilled in, Goldsmith muscled through and had the tour rearranged within one day. Not a man to mince words and with a formidable reputation built up over the last ten years, he pulled off the near impossible."

Goldsmith leapfrogged the U.K. dates over Bruce's shows in mainland Europe. Originally set to take place between March 17 and April 4, they were rescheduled between May 11 and June 8. This gave Bruce a further three weeks recovery time.

In the reorganization process, Brighton lost its prestigious opening spot to Newcastle, London lost its closing position to Birmingham, the five Wembley gigs were brought together, and a ten-day gap opened up in the middle of the tour between Edinburgh and Brighton. Original tickets were valid for the new dates, and anyone that was unable to attend was required to return their tickets to the point of purchase by April 3 for a refund.
Newcastle City Hall – May 11 (March 31 tickets valid)
Manchester Apollo – May 13, 14 (March 23, 24 tickets valid)
Edinburgh Playhouse – May 16 (March 30 tickets valid)
Brighton Centre – May 26 (March 17 tickets valid)
Wembley Arena – May 29, 30 and June 1, 2, 4 (March 19, 20 and April 2, 3, 4 tickets valid)
Birmingham NEC International Arena – June 7, 8 (March 27, 28 tickets valid)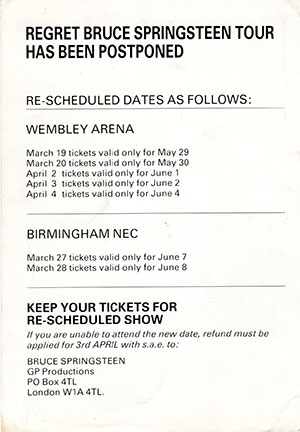 Having been the target of criticism about his 30p "booking fee," the gradual announcement of the U.K. dates, and the random method of ticket allocation, Goldsmith told Melody Maker, "This country doesn't have an efficient system of ticket distribution. We still use printed tickets; we still use the box office system and the problems of that show up when demand far out-reaches supply. Then there's the postal system. People complain that they wrote in on the first day and didn't get any. Come on, everybody writes in on the first day! If three times as many people apply to go to Springsteen as there are tickets available, of course a lot of people won't be able to get tickets, it's obvious."
Although the European dates stayed put while the U.K. tour was moved around them, they had also undergone an upheaval since being published in Billboard in February. That itinerary featured 21 shows in 20 cities between April 7 and May 11. This was then reduced to 17 shows in 14 cities between April 7 and May 8, by scrapping two gigs in Germany (Stuttgart and Cologne) and five in France (Montpellier, Avignon, Nantes, Bordeaux and Dijon), adding a concert in Barcelona (Madrid was also considered) and slotting in second nights in Rotterdam and Stockholm. The date of the opening gig in Hamburg on April 7 remained unchanged, but many others were rearranged. The closing shows in Paris on May 10 and 11 were brought forward three weeks, and the Continental tour now ended in Stockholm on May 7 and 8. The full story of how the European gigs were set up would probably fill another feature the size of this one.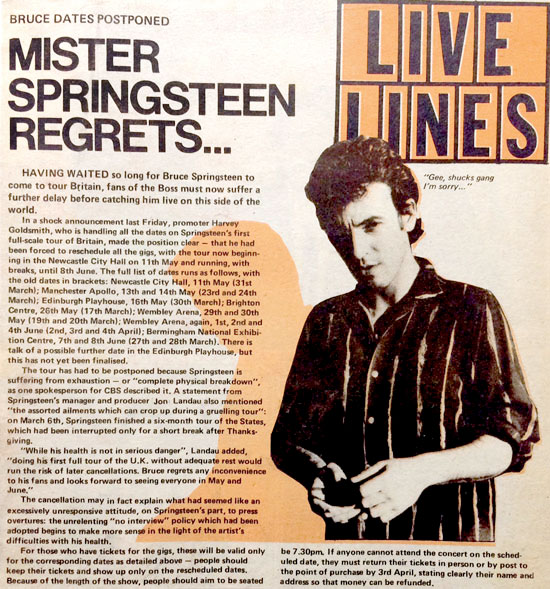 Friday the 13th
On Friday, March 13, of all days, four days before the tour was due to begin, a press release announced the news: "Bruce is simply exhausted and suffering from the assorted ailments that can crop up during a gruelling tour. While his health is not in serious danger, doing his first full tour of the U.K. without adequate rest would run the risk of later cancellations. Bruce regrets any inconvenience to his fans and looks forward to seeing everyone in May and June.

Because that week's music papers had already been published, the bad news primarily broke in local and national newspapers, which were full of predictable headlines like "The man who shot to fame with 'Born to Run' has had to stop running."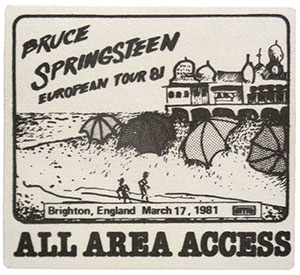 In Brighton, where hundreds had queued overnight for tickets only nine days previously, the Evening Argus ran a front-page story headlined "Weary Bruce Delays Show." It was followed the next day with a piece titled "Bruce Shocks the Whole Crew," which revealed that the postponement surprised even Bruce's crew, who were already setting up at the Brighton Centre for the following Tuesday's opening night. They apparently "had to pack away their rigging." This suggests that the original plan had been in place until the last minute, in hope that Bruce would recover. Given that a professional crew can set up a stage in hours, the fact that Bruce's team was in Brighton four days in advance also suggests that some rehearsal time may have been planned at the seafront venue.

The following week, the music papers covered the postponement. "The concerts have been sold out for weeks and heavily over-subscribed. The delay will cause disappointment to thousands of people, particularly those for whom the revised dates are inconvenient," noted the NME. "It comes as a headache for Harvey Goldsmith as well as for CBS, who'd launched a promotional campaign to tie in with his visit" (they'd dubbed March "Springsteen Month").

Additional information emerged regarding Bruce's health. In Melody Maker's report ("Bruce: Why Britain Must Wait Till May"), Barbara Carr of Jon Landau Management said, "It got so bad that he couldn't talk, yet he made it onstage. He didn't feel well at the beginning of last week and we thought 'uh-oh.' Bruce was looking forward to his European dates and meeting his fans. It was a hard decision for him to make."

Quoting an unidentified CBS spokesperson, Ireland's Hot Press said that Bruce had suffered a "complete physical breakdown." The Daily Star said that Bruce had collapsed with nervous exhaustion. The New Standard explained that his "frenetic performances had left him so enfeebled that his doctors had warned him he should not attempt to stand for more than one hour a day." In the biography Point Blank (1999), Christopher Sandford wrote that Bruce was suffering from fever and laryngitis, later diagnosed as flu. He "spent three days in bed, then strolled incognito around the bars of Asbury" — implying that he might have recovered faster than suggested, even if he wasn't fit to tour.

The Secret Springsteen / Who Gig
Melody Maker revealed that in addition to the postponed shows, a "planned special performance with The Who" had apparently been scheduled for March 22 (originally, between Bruce's second Wembley show and his first gig in Manchester) at The Venue in London, where he'd been rumored to play in late 1978. Springsteen had been due to travel to Southampton on March 15 (where The Who were preparing for the penultimate show of their U.K. Face Dances tour) to meet Pete Townshend and discuss details.

Although his name was never mentioned in connection with the gig, it's likely that Dave Marsh was somehow involved. A lifelong fan of The Who, he was in the process of researching and writing Before I Get Old: The Story of The Who (published in 1983 and described as "one of the best books ever written about rock 'n' roll"), and the temptation to unite the subjects of his biographies onstage must have been irresistible.

Patrick Humphries (future co-author of Blinded By the Light with the late Chris Hunt) wrote for Melody Maker in 1981 and recently recalled the story. "I distinctly remember the office on High Holborn — and the local, the Oporto, next door — buzzing with rumors that Bruce was going to play The Venue. Townshend was a huge fan, and there were strong rumors the gig was going to happen with Pete as a guest, rather than a full Who gig."

The chance to witness Springsteen and Townshend singing "meet the new boss" during "Won't Get Fooled Again" would have been unmissable, but after the postponement, this unique event was never rescheduled or mentioned again.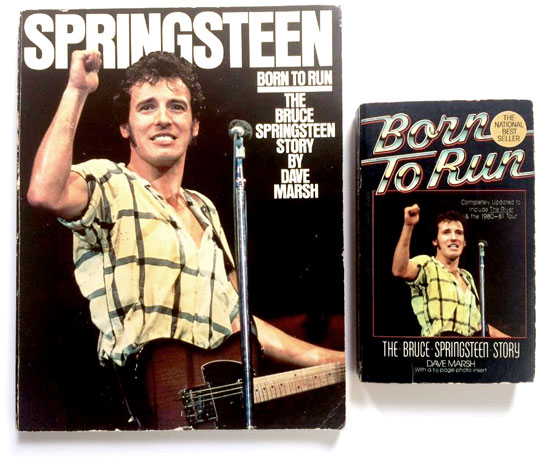 Springsteen on Celluloid
Once more, the dust settled after another major (albeit less exciting) tour announcement, and U.K. ticketholders began a further two-month wait. To compensate, events that were organized to coincide with the original dates went ahead anyway, beginning with the U.K. publication on March 26 of Dave Marsh's Born to Run biography.
The U.S. version, published in 1979, traced Springsteen's life and career up to the end of the Darkness tour in 17 lavishly illustrated chapters and provided the first publicly available lists of original songs, covers, and concerts. In the U.K., the book had a new cover design and an extra 18th chapter, which covered the River sessions and the No Nukes concerts, though the lists hadn't been updated.
While in London for the launch, Marsh visited the Melody Maker office, where he expressed dissatisfaction with the new chapter and "totally dismissed rumors in rival publications that it was the Messianic anticipation of his visit that caused Springsteen to postpone dates. He really is ill with bronchial trouble."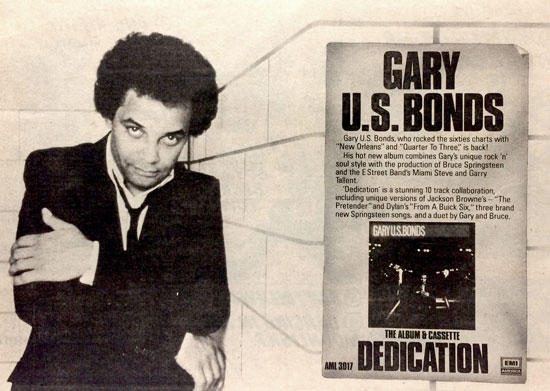 Marsh also brought along an advance tape of the forthcoming Gary U.S. Bonds LP Dedication, produced by Bruce and Miami Steve and featuring the E Street Band, the Asbury Jukes horns, three River-era Springsteen originals ("Dedication," "This Little Girl," and "Your Love") and a Bruce/Bonds duet on "Jole Blon."
"On one hearing," noted the Maker, "it sounds like the Southside Johnny album Bruce Springsteen should have made. Scorching."
Patrick Humphries reviewed the record ("Premium Bonds") before its U.K. release on April 21. "The album is glorious proof of rock and roll, alive and kicking today," he concurred. "Succumb now for the sake of your head, heart and feet!"
Also on March 26, the No Nukes movie (which premiered in the States in 1980) opened at three London cinemas: Oxford Circus Studio, Kensington Odeon, and the Screen on the Green in Islington. From March 29, it also went on show at London Hammersmith Odeon, Newcastle Odeon 3, Birmingham Cinecenta, and Edinburgh Playhouse. From April 5, it appeared at Manchester Odeon 3. Filmed over five nights at Madison Square Garden in New York from September 19 to 23, 1979, the film largely featured live performances by members of the politically active American soft-rock establishment, but the majority of critics and American cinemagoers agreed that Springsteen blew them offstage.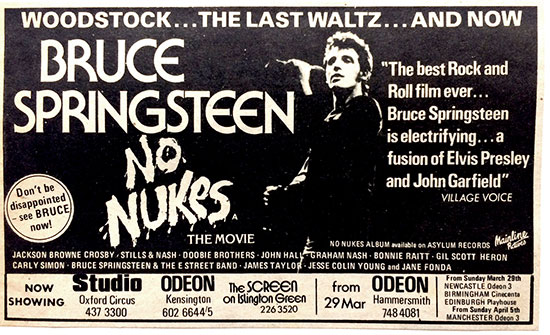 In the U.K., promotional posters (with the message "Don't Be Disappointed — See Bruce Now!") relegated Jackson Browne, James Taylor, Graham Nash, and Bonnie Raitt to the small print at the bottom and placed Bruce's image front and center as the star of the movie, even though he was only on screen (performing "The River," "Thunder Road," and the latter part of "Quarter To Three") for 15 minutes. "Springsteen steals the film," reported Melody Maker. "His three songs elevate the proceedings into a glorious celebration of rock and roll power."
Temporarily prevented from catching Bruce live, fans seized the opportunity to see him on celluloid in cities on the postponed tour. Point Blank fanzine editor Dan French saw No Nukes in Islington and recalled the audience standing and clapping at the end.
The European Tour Begins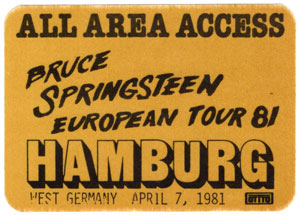 After a month off the road, Springsteen was recovered and ready to begin his tour of mainland Europe on April 7 in Hamburg.
The 17-night, 14-city, four-week itinerary included four shows in Germany, three in France, two each in The Netherlands and Sweden, and one each in Switzerland. Spain, Belgium, Denmark, and Norway. In the majority of cases, these were Bruce and the E Street Band's first appearances in these countries.
Soon, writers from the U.K. music papers — which had provided positive reviews of Bruce's American performances during the long wait since Hammersmith and played an important role in promoting his music and increasing his fanbase — made their way across the Channel to review the Springsteen live phenomenon abroad, whetting appetites for his U.K. dates.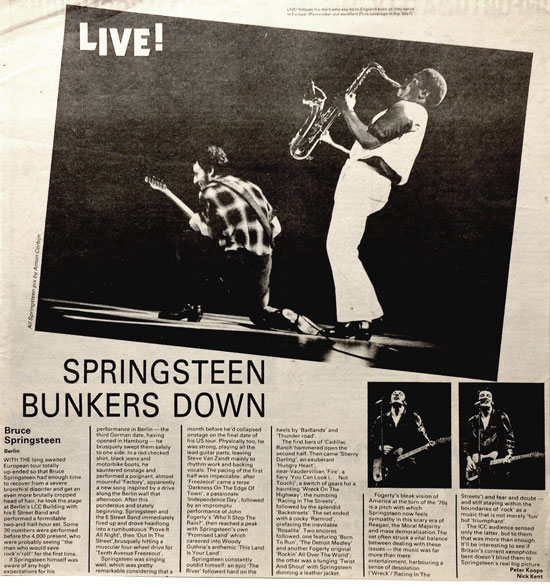 The NME [above] described Bruce's Berlin concert as "More than mere entertainment, harboring a sense of desolation and fear and doubt, and still staying within the boundaries of rock as a music that is not merely fun but triumphant."
Melody Maker later ran a significant feature over two consecutive issues (including their first color edition), based around Springsteen's appearance in Lyon, comprising a concert review and interview by Paolo Hewitt and a career overview by Patrick Humphries. "By the end of it, with all the houselights on and the hall dripping with emotion and fever, you're going to have to be a dying cynic choking on your own bile not to be impressed or in some way moved by the show," concluded Hewitt. "Bruce Springsteen is rare, in that he is totally unlike any rock star that I've come across. He actually is himself, not an image. There's no falseness, no show, no pretensions. He knows who he is and he isn't ashamed. He's intelligent, immensely likeable, a little vulnerable, moral, strong, and above all, alive."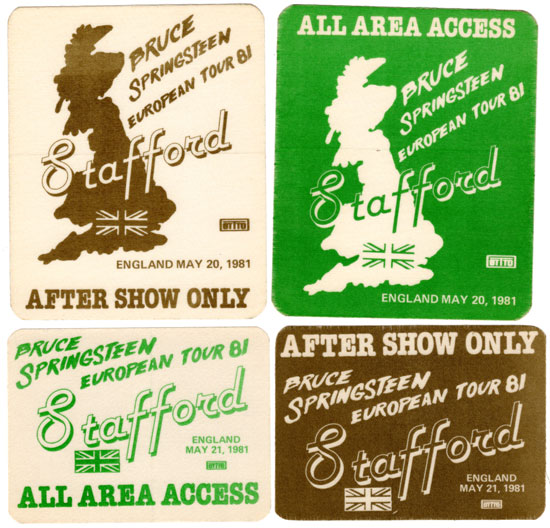 The U.K. Tour Grows Longer


Coinciding with the beginning of the European leg, even more shows were added to the U.K. tour. These were at Stafford Bingley Hall on May 20, Brighton Centre on May 27 and Wembley Arena on June 5. (A fourth concert at Edinburgh Playhouse on May 17, rumored in mid-March, had already been announced locally and was sold out).
Tickets for Brighton (£6.50 and £6) were available by personal application from 10am on April 11 and by post and telephone from April 13. For Wembley (£6.30 and £5.30) and Stafford (£6.50 and £6), they were sold by post via the usual London address. Prices included the 30p booking fee and all previous terms and conditions applied.
Stafford tickets could also be obtained from various other agents in the Midlands, including Bingley Hall and Lotus Records in Stafford; Cyclops Sounds in Birmingham; HMV Records in Derby, Nottingham, Liverpool and Leeds; Sundown Records in Wolverhampton; Leicester Town Hall; Coventry Theatre; Piccadilly Records in Manchester; and Mike Lloyd Records in Hanley and Newcastle-under-Lyme.
A second Stafford gig on May 21 was considered at some point but was never put on sale. Nevertheless, backstage passes were printed with that date, and it was listed in the band's personal tour handbooks and a subsequent pocket-size paperback edition of Dave Marsh's Born to Run (which had a revised 18th chapter, a review of The River as chapter 19, and updated lists).
While physical tickets for the rescheduled 12 shows showed dates in March and April, those for the four new concerts displayed the correct dates in May and June. There were now six nights at Wembley; two in Manchester, Edinburgh, Brighton, and Birmingham; and one each in Newcastle and Stafford, reducing the mid-tour break to five days.
The 16-show U.K. itinerary was finally complete, 14 weeks after the pre-Christmas announcement of the first three concerts.
Newcastle City Hall – May 11
Manchester Apollo – May 13, 14
Edinburgh Playhouse – May 16, 17
Stafford Bingley Hall – May 20
Brighton Centre – May 26, 27
Wembley Arena – May 29, 30 and June 1, 2, 4, 5
Birmingham NEC International Arena – June 7, 8
Also in April, CBS released a third single from The River in the U.K., pairing the title track with "Independence Day." It was joined in May by Bruce's first U.K. 12-inch single, which played at 33-1/3 rpm and featured "The River" and "Born to Run" on side one and "Rosalita" on side two. (Original reports said that it would include "Born to Run," "Independence Day," "Rosalita" and "one other track.")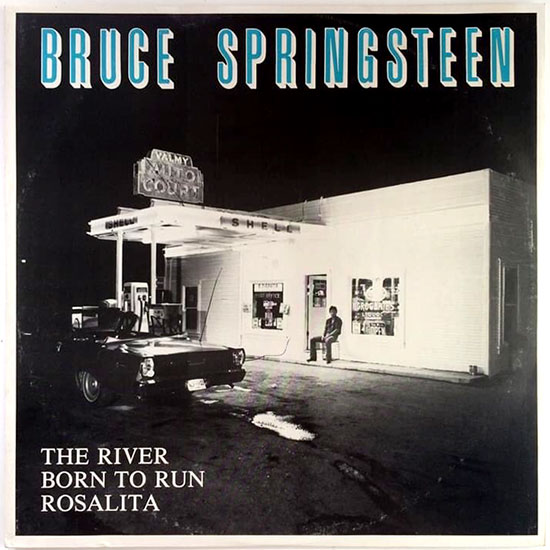 The now-familiar front cover image showed Bruce sitting outside a gas station in Valmy, Nevada, and dated from his "desert trip" in August 1977 with photographer Eric Meola. Effectively a U.K. tour souvenir, the rear sleeve listed the 16 dates but made reference to The East Street Shuffle and The East Street Band. Amended copies were fewer in number and rarer than the incorrect versions.
Having completed his European shows in Sweden, Bruce flew into Newcastle airport on May 10 to begin his long overdue U.K. tour. His energy and commitment were undiminished, but a price had been paid for his health scare. Presumably on medical and managerial advice, he'd cut his time onstage to two-and-a-half hours (60 minutes less than he'd averaged five months before), and the intermission grew longer as the tour progressed.
Concertgoers on this side of the ocean were getting less Bruce for their buck than their American counterparts — not that they were unduly concerned, or had even noticed. The fact that he was finally onstage in front of them was all that mattered.
In PART THREE – The U.K. tour rolls on to ecstatic reviews; Bruce strolls on the beach at Brighton and gives Dave Edmunds a song; Pete Townshend attends ten shows, plays onstage, and takes Bruce to see U2.
Mike Saunders reporting - Many thanks to Fabrice Szabo and Salvador Trepat for additional background information. Grateful appreciation as ever to Dan French for friendship, corroboration, and general wildness and innocence.