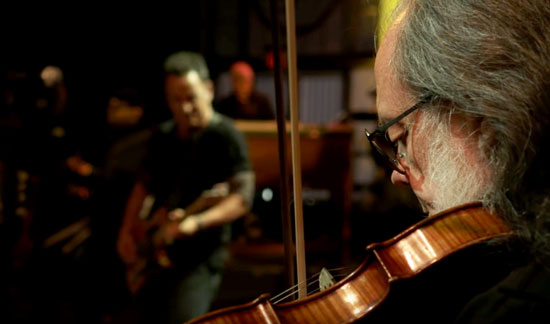 Our decade-ending celebration of #LiveAtTheCarousel continues with a special supplement to last week's downloadable PDF. At long last, here for your additional reading pleasure is Shawn Poole's previously unpublished 2013 Backstreets feature on and conversation with the Carousel show's special guest David Lindley.
On the night that Bruce Springsteen first met Jackson Browne and saw him perform, in the early '70s, Browne was accompanied onstage by "his great sideman, David Lindley," as Bruce noted when he inducted Jackson Browne into the Rock and Roll Hall of Fame. Browne himself called Lindley "my longtime collaborator and musical mentor" in his induction acceptance speech.

David Lindley must have made quite an impression on Bruce. Five years after that fateful first meeting, Lindley became one of the few non-E Streeters invited to participate in the recording sessions for Darkness on the Edge of Town.
Lindley's contributions to those sessions remained unreleased until 2010 with the arrival of the box set The Promise: The Darkness on the Edge of Town Story, featuring Lindley on both "Racing in the Street ('78)" and "Come On (Let's Go Tonight)." In December of that same year, David Lindley also participated in the Asbury Park Carousel House performance filmed by Thom Zimny for Songs From The Promise, released on DVD/Blu-Ray in 2011 and now available to stream at Springsteen's official Apple Music and VEVO/YouTube channels.
In 2013, Backstreets got to chat a bit with David Lindley during one of his visits to New York City for a performance at the legendary Iridium Jazz Club (the late Les Paul's former stomping ground.) We touched on his participation both in the Darkness sessions and Songs From The Promise, as well as his other connections to Bruce Springsteen and the E Street Band. Lindley also gave us a unique insight into one of Springsteen's most moving songs.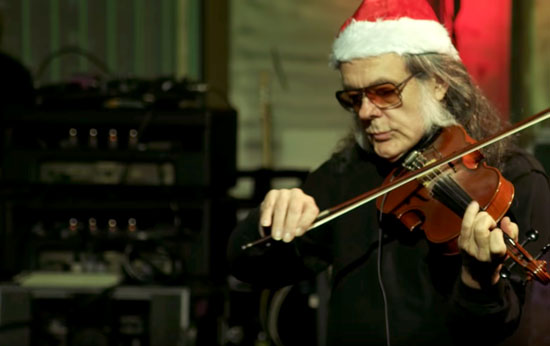 "He asked me to come to record with him," recalled Lindley, "and I said, 'Of course!' Because I'd heard him early on, and Jackson would say, 'This guy's gonna be huge… this guy is so good!' And I'd listen to him and go, 'Wow, check that stuff out.' It was all good, and it was true — he became giant."
Lindley said that he and Browne developed strong bonds with Springsteen and the E Street Band as they often encountered each other on the road in the early 1970s, especially at the legendary Main Point club in Bryn Mawr, PA, just outside Philadelphia, where both Browne and Springsteen gained some of their earliest and strongest fans.

Lindley recalls being asked to record overdubs for just the two Darkness-sessions tracks eventually released on The Promise: "Racing in the Street" and "Come On (Let's Go Tonight)."
"I did [the overdubs] with one of my fiddles that I no longer play. It actually was a yellow viola. I tuned it up real high with the viola strings on it. It had this amazing sound. To this day, I can't get that sound again. [Replicating that exact sound] was one of the things that Jon Landau was thinking about when I did [the Carousel House show] — but it can't be done. We did all kinds of shit with a U 87 [microphone]. Recording [back in '77] was unusually complex, and the studio was really complex. To recapture that exact sound [in 2010] couldn't be done. And that fiddle is non-functional now."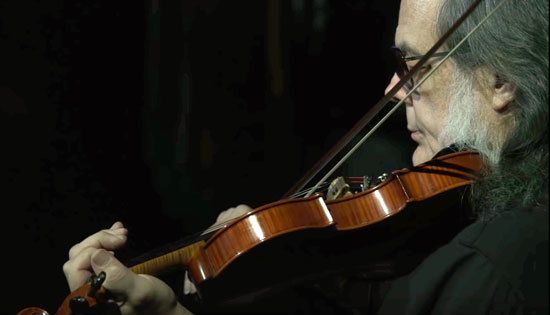 Nevertheless, David Lindley's contributions to the Carousel House performance still sound great, and he holds very fond memories of the entire evening: "It was fun playing with them again, and especially fun playing with Clarence, because that was one of the last times [I saw him].
"Clarence was very cool. I'd run into him at really strange places, like the Christmas party at George Lucas' Skywalker Ranch. It was amazing — he was always very cool. I really liked Clarence a lot. He was wonderful."
Lindley has also maintained close ties to Steven Van Zandt since working with Stevie, Jackson Browne, and other artists on the 1986 Japan Aid Concert for Peace. He is especially grateful to Van Zandt for serving as a trusted advisor when Lindley decided to launch his own record label (distributed through DavidLindley.com).
"I remember calling him up — I have his number at home under 'Viva Van Zandt.' It's like, if you're going to do a record-label thing, this is the guy to talk to. And he told me all about how you do that. He was very articulate, and it turned out real good. He's saved my ass several times."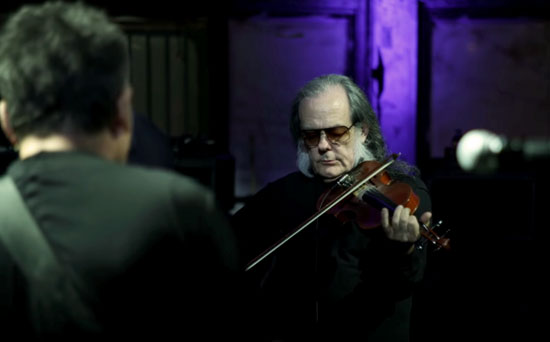 The Carousel House show also featured a stunning instrumental introduction to "The Promise," worked out between Springsteen and Lindley.
"It's called taqsim [an Arabic classical music term]. That's an improvisational, free-form piece that introduces the scales or modes that are going to be used. I do it in a lot of my songs, and it sets the mood for the song. For me, one of the most important parts of the whole process is to set it up, and it just came out. It was really a 'running start' that we did; in fact, the whole thing was done like that. [Bruce] said, 'Y'know, you can play the part if you want, but just mess around with it,' which was great."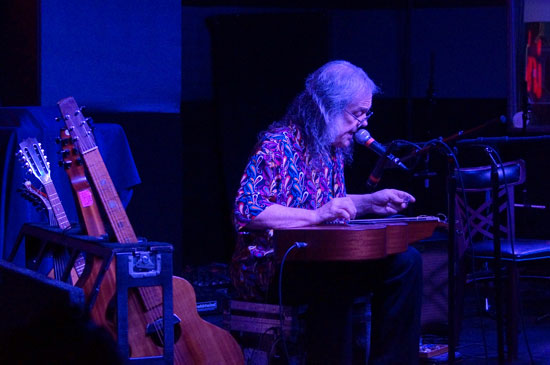 Lindley performing "Brothers Under the Bridge" at Iridium Jazz Club, April 29, 2013 - photograph by Shawn Poole
During his show at the Iridium on the night we spoke, Lindley performed a beautiful version of Springsteen's "Brothers Under the Bridge," the 1995 outtake that closes Tracks. Lindley often has performed the song at both his solo shows and his shows with Browne. He also shared with us a unique perspective on the child of the Vietnam War veteran in the song:
"'Brothers' is simply a great song, that's why I do it. It's also about some forgotten members of society who should not be forgotten. I encounter Vietnam vets all the time who thank me for doing that song. I never had any problem with the vets, just the government policies at the time. [Robert] McNamara said it was all a horrible mistake — kind of like the Iraq weapons of mass destruction pursuit we just are getting over.
"Springsteen made it a personal statement by someone who went there and later had to deal with the death of his child. This is the real thing and why I perform that song: to remind people... keep a focus on the forgotten."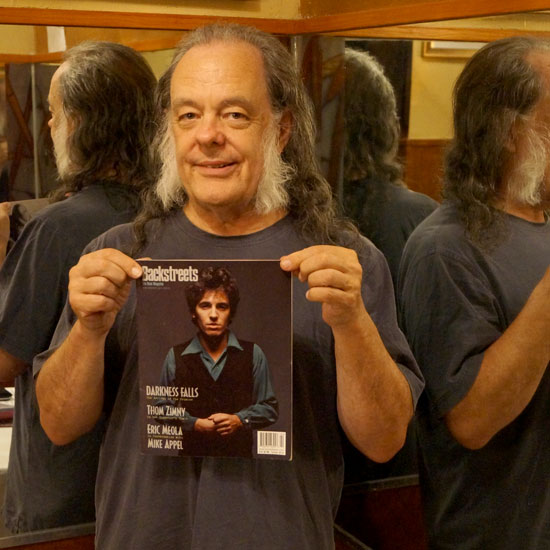 Backstage at Iridium Jazz Club, April 29, 2013 - Lindley holds Backstreets #90, which featured our Carousel House coverage - photograph by Shawn Poole
MR. DAVE MEETS SILVIO & THE BOSS
A Chronological Discography of David Lindley Crossing E Street
Jackson Browne - The Pretender (1976, Asylum)
Jon Landau produced Browne's classic album, his first production work after Born to Run. It's likely that Landau's work with Browne and Lindley on The Pretender played a role in getting Lindley on board for the Darkness sessions a year later. It also was during this period that Landau met Chuck Plotkin, then the head of A&R at Asylum, who later became a key member of Springsteen's production team on Darkness and future albums.
Hurricane Irene: Japan Aid Concert for Peace (1988, Virgin Music Video VHS)
Lindley joined Jackson Browne, Little Steven and the Disciples of Soul and other artists in this 1986 benefit/awareness concert. All artists joined together to sing The Beatles' "Revolution" in the finale.
John Prine - The Missing Years (1991, Oh Boy Records)
Lindley and Springsteen were among the many well-known musicians who supported Prine in recording one of his best albums. Though Lindley's contributions appear on various tracks throughout the album, he did not play on the one track featuring Springsteen, "Take a Look at My Heart."
The Indian Runner: Original Motion Picture Soundtrack (1991, Capitol)
Lindley worked with the late, great Jack Nitzsche on Nitzsche's score for Sean Penn's film, which was inspired by Springsteen's song "Highway Patrolman." Incidentally — and bizarrely coincidentally — one of the film's executive producers was Stephen K. Bannon, who later went on to serve officially as executive chair of Breitbart News and then the Trump Administration's Chief Strategist.
David Lindley & Wally Ingram - Twango Bango Deluxe (1998, Ulftone)
Lindley and Ingram covered Van Zandt's "I Am a Patriot" on this collection.
Warren Zevon - The Wind (2003, Artemis Records)
Lindley and Springsteen joined Jackson Browne, T-Bone Burnett, Jorge Calderón (Zevon's co-producer), Billy Bob Thornton, and Jordan Zevon as backing vocalists on "Prison Grove." Springsteen's vocals, however, were recorded at a different session than the rest of the singers'.
Bruce Springsteen – The Promise – The Lost Sessions: Darkness on the Edge of Town (2010, Columbia)
Lindley contributed stellar fiddling to "Racing in the Street ('78)" and "Come On (Let's Go Tonight)." His performances finally got released more than three decades after they were recorded.
Bruce Springsteen and The E Street Band – Songs From 'The Promise" (bonus feature on the 2011 Columbia Music Video single-DVD/Blu-Ray-disc edition of Thom Zimny's film The Promise: The Making of Darkness on the Edge of Town)
In Zimny's film of the December 2010 Asbury Park Carousel House performance, Lindley joins Bruce and the band on "Racing in the Street ('78)," "The Promise," and "Blue Christmas."
- Shawn Poole reporting