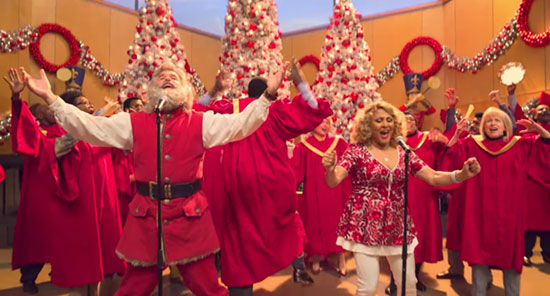 As we reported recently, Steven Van Zandt has written and produced a new Christmas song entitled "The Spirit of Christmas" for writer/director/producer Chris Columbus' new film The Christmas Chronicles 2, now streaming on Netflix.
Stevie's new song is performed in the film as a duet between Kurt Russell (as Santa Claus) and Darlene Love (as harried airline worker Grace), backed onscreen by a gospel choir that magically appears out of thin air. It's a full-scale song-and-dance production number, requiring eight days of filming, set in Boston's snowed-in Logan International Airport on Christmas Eve 1990. Offscreen, Love and Russell also were backed by Van Zandt's band the Disciples of Soul.
This marks the second time that Columbus, Russell, and Van Zandt have collaborated on a Christmas Chronicles film. Two years ago, Columbus co-produced the original Christmas Chronicles film (which remains available exclusively on Netflix, too), featuring Russell as Santa performing "Santa Claus Is Back in Town" in a jail cell — with a group of prisoners played by Little Steven and the Disciples of Soul, joined by Stevie's wife Maureen. Steven arranged and produced that recording of "Santa Claus Is Back in Town" as well.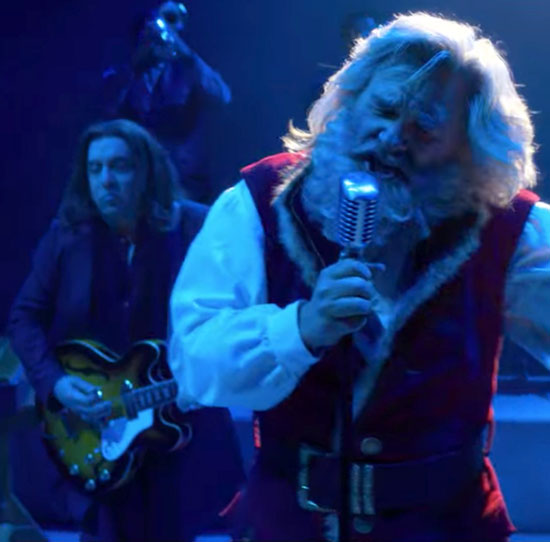 Stevie and Santa Kurt in The Christmas Chronicles (2018)
"The Spirit of Christmas" also reunites Darlene Love with Columbus and Van Zandt, almost 30 years after she recorded Stevie's song "All Alone on Christmas" for Columbus' film Home Alone 2.
Backstreets recently got to interview this trio of merry music and movie makers. They shared the history of their Christmas collaborations together, both Past and Present, and Stevie even teased the possibility of at least one more collaboration with Darlene Love for Christmas Future.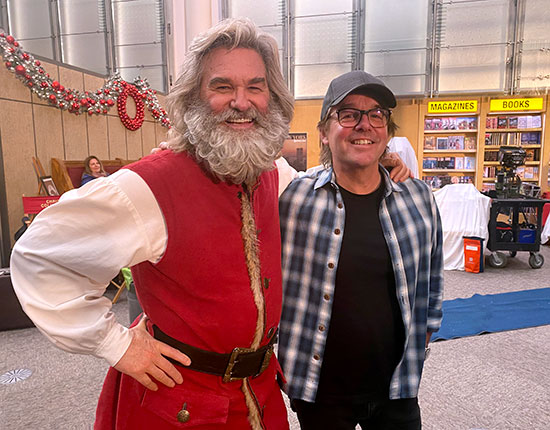 The Toymaker and The Filmmaker: Kurt Russell and Chris Columbus on set for "The Spirit of Christmas" production number in The Christmas Chronicles 2 (2020) – photo courtesy of Chris Columbus
"This all started," Chris Columbus told us, "because I was a huge fan of the first three Southside Johnny and the Asbury Jukes albums (I Don't Want to Go Home, This Time It's For Real, and Hearts of Stone). I had just moved to New York at that particular time, and those albums got me through my first couple of years of college and opened up to me a world of soul and rock 'n' roll that I didn't know existed. And there's no question that Steven is responsible for the brilliance of those first three albums. I'm a huge fan of Bruce, as well, but there's something about Southside's music and the songs that Steven wrote for them.
"You know, I've said to Steven for years that he should do a Broadway musical of those first three albums. There's a musical there — there's a great musical.
"Then the Disciples of Soul came along," Columbus continued, "and again, Men Without Women just carried on the torch of what Steven was doing with Southside. So I knew I always wanted to work with him, but I didn't know if we'd ever get the opportunity. By the time we got around to Home Alone 2 (in 1992), I needed a Christmas song for the film and I got in touch with him. I said, 'Would you mind writing a song for Home Alone 2?' This was our first conversation, and he said, 'Yeah, I'd love to. Uh, what do you think about Darlene Love recording it?' And I thought that would be a dream come true. 'Christmas (Baby Please Come Home)' is one of my favorite… it's everybody's favorite Christmas song, let's face it."
(Interestingly, the 1984 Christmas-horror classic Gremlins, one of Columbus' earliest professional screenplays, began with the original Phil Spector-produced recording of Love's "Christmas (Baby Please Come Home)" playing over the opening credits. Southside Johnny and the Asbury Jukes played a frat-party band in Columbus' professional directorial debut, 1987's Adventures in Babysitting, during which they performed a cover of the Gamble-Huff Philly soul classic "Expressway to Your Heart" and what Columbus calls a "beautiful" Southside-co-written original entitled "Future in Your Eyes," demos of which were included later on the Jukebox box set.)
"So Steven went back and thought about it," Columbus related. "And that initial conversation occurred right after the release of Better Days [the 1991 Jukes album that marked the return of Van Zandt writing and producing]. So he said, 'Listen to a song called 'Coming Back' — I'm going for that kind of sound for the song I'm writing.' Of course, I'd already heard and loved 'Coming Back,' so I said, 'That's great.' Then he sent me a demo of the song, which was fantastic, and I got to go to the recording session."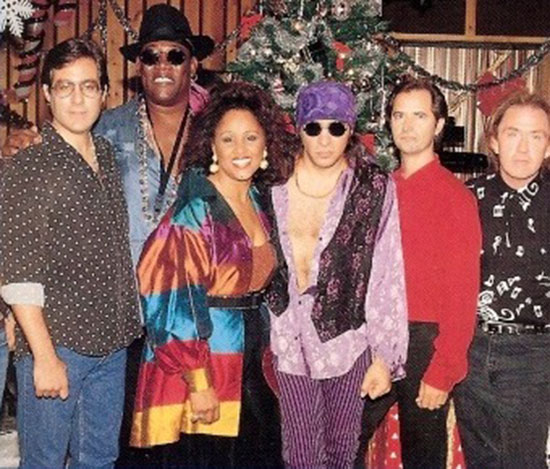 L-R: Max Weinberg, Clarence Clemons, Darlene Love, Steven Van Zandt, Garry Tallent, and Danny Federici at the 1992 "All Alone On Christmas" recording session (from the back cover of the "All Alone on Christmas" CD single)
Much to Columbus' surprise and delight, Van Zandt was able to assemble many E Street Band members for the "All Alone on Christmas" session with Darlene Love: "So I walk into the studio and, you know, Clarence is there, and Garry is there, Stevie, and Danny, and Max, and it's just… I'm like a kid in a candy store.
"And then I got an opportunity to direct the music video with Macaulay Culkin. We had an enormous amount of fun. It took us about six to eight hours on a Sunday, and it was one of the great days of my directing life, just being able to direct so many members of the E Street Band, having them all there at the same time. I looked at the video the other day, because I hadn't seen it in a while, and to see a young Macaulay Culkin on Clarence's shoulders is very moving indeed."
Darlene Love told us that having members of the E Street Band involved in the 1992 "All Alone on Christmas" recording session "made all the difference in the world, because I told Stevie a long time ago that Bruce and that band together sound so much like Phil Spector. Everything that you need is there. And I guess what a lot of people don't realize is that most of it is all rhythm: the drums and the bells and everything. Phil overdubbed all of that stuff, and it just got better and better. So Stevie knew exactly what he was going to do."
"Stevie and I have such a wonderful relationship," Love added. "I can just talk to him and tell him just how I feel. He gets to call me 'Doll.' Only two other people had gotten to call me that: Phil Spector and Paul Shaffer. And now Stevie. Stevie can write for me, too. He knows exactly what I should sound like, and he feels that the music has to be so powerful just to complement my voice."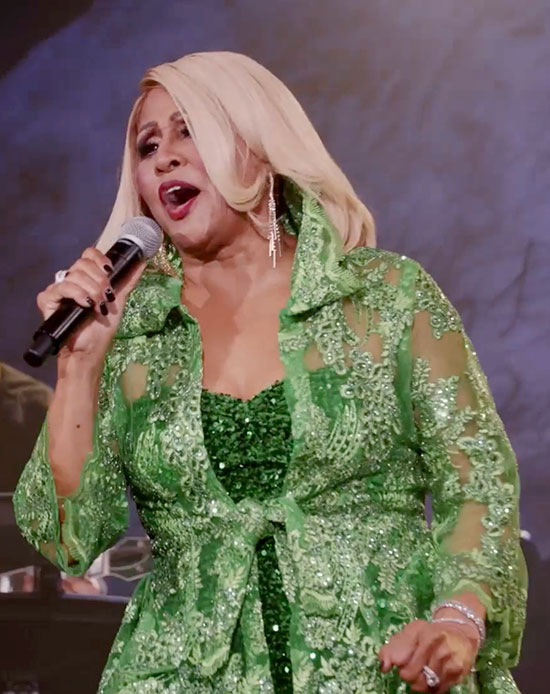 Darlene Love performing "All Alone on Christmas" during her 2020 streaming show Love for the Holidays, available here to purchase and stream through Christmas Day 2020
"All Alone on Christmas" is now a modern Christmas classic. It also has taken its place alongside "Christmas (Baby Please Come Home)," — the song that served as its main inspiration and for which it serves as an unofficial sequel or "answer record" of sorts — in the setlist for Darlene Love's annual Christmas shows.
In 2019, almost three decades had passed since Columbus, Love, and Van Zandt's first work together led to the creation of "All Alone on Christmas." Columbus reached out once again to Van Zandt, his now longtime friend and frequent film-music collaborator/advisor, to request that he write another original Christmas song for the in-production film Christmas Chronicles 2. Doing so initiated the process that led to the trio working together once more.

Clearly this man remains among the believers in the spirit of Christmas. Stevie Van Zandt mugging it up in Little Steven and the Disciples of Soul's 2017 music video for their cover of The Ramones' "Merry Christmas (I Don't Want To Fight Tonight)"
Stevie knew from the start that the director envisioned a big song-and-dance sequence for the Christmas Chronicles sequel. "He told me that," said Van Zandt in our recent interview, "and he also sent me a script so I could see where it would be placed in the film. I knew it was going to be a big number, and those kinds of challenges are fun. He also wanted it to be a duet, which really was the beginning of the songwriting process — because you write a duet slightly differently than something that's not a duet. And once he told me that it would be a duet between Kurt and a woman, of course my immediate thought was Darlene Love. So not only was I writing a duet, but I was writing a duet with her and Kurt in mind. And somewhere in the script, Kurt says something like, 'What we need is the spirit of Christmas,' so I thought that would work well as a title."
Van Zandt then related "the fun part" that began when he integrated some elements of the film's storyline into his composition of "The Spirit Of Christmas." He focused on the moment when the character that Darlene Love eventually would play in the film, the harried airline worker, is confronted by a crowd of angry, snowed-in customers.
"She has to get everybody's attention," Stevie said, "so I started off with her getting people's attention with the old Ronnie Isley improvisation from 'Shout'… 'Now wait a minute,' y'know? And Darlene… there's no one but her and Ronnie Isley in his prime who could hit those notes the way she hits them."
The musical structure of "The Spirit of Christmas," with its "Shout"-style intro and upbeat gospel-style arrangement, is similar to that of "Jesus Is the Rock (That Keeps Me Rollin')", the song that Stevie wrote to close Introducing Darlene Love, the great 2015 album he produced.
Love agreed enthusiastically: "Steven said that 'Jesus Is the Rock' was the last song he wrote for the album," she told us, "and he said he was up all night writing it because he had these things in his head that were trying to come out, that he wanted to put on paper. But he figured it out, and when I heard it I said, 'Whoa! Go, Stevie!'"
Van Zandt also agreed that "The Spirit of Christmas" and "Jesus Is the Rock" stem from the same grand musical tradition, adding, "There's nothing quite as dynamically inspirational as gospel music. When you really want to get the house rockin', there's nothing that compares to gospel."
Stevie eventually provided Columbus with a song and demo that ran approximately seven minutes. Among the elements that eventually got cut, he related, "I had a whole segment in the middle with Santa interacting with the kids (stuck in the airport.)" He created such a lengthy song purposefully: "I wanted to give Chris plenty, knowing that he would cut it back as needed. I also created the song in ways that made it very easy to edit. I had, like, three or four different bridge sections, but it was really easy to edit because I was conscious of that. I knew I had to keep these sections working together dynamically in terms of the storyline and the exposition, but I also had to make it in a way that was easy enough to edit in case we needed to change anything after the mix. And then it was just a matter of building the song so it ends up where I wanted it, with the whole airport singing along, making it like a real Busby Berkeley-meets-The Wiz thing."
While Steven immediately thought of Darlene Love as Kurt Russell's duet partner, she hadn't yet been chosen officially for that role. In fact, some members of the film's production team had been considering one of the current, younger female pop stars as a possibility. Van Zandt also hadn't yet gotten to share his idea with Chris Columbus.
"I was on the Pacific Coast Highway, driving," Columbus told us, "and I happened to be listening to Introducing Darlene Love. It's an amazing record, and the song 'Forbidden Nights' comes on, which is one of my favorite tracks, and halfway through the song, Stevie calls. The song's interrupted automatically, I'm still driving, and he says, 'Who do you think should sing this song with Kurt?' And I said, 'Well, the studio's pushing pop stars like Ariana Grande or Lizzo, but I'm tellin' ya, it's got to… it should be…' And then he interrupted me and said, 'Darlene Love, right?'
"Now, he didn't hear the music I was playing in the car, because it was interrupted by the phone call, so we kinda both had the idea at the same time."
Nevertheless, Columbus remained concerned as to convincing the rest of his production team. "And Steven said, 'Well, you know what I'm gonna do? I'm gonna have her record the demo. No one's gonna be able to say no to that.' So I got the demo from Steven, and the first time you hear it with great headphones, it just knocks your socks off. And immediately, everyone was on board. Some of the younger executives and producers knew Darlene Love's voice, even if they didn't know who she is. And when you hear that voice, it's hard to argue that it's not one of the greatest voices of the twentieth century, if not the greatest voice."
As he did with "All Alone on Christmas" back in 1992, Columbus attended the recording session for "The Spirit of Christmas," with Van Zandt once again producing in New York. Darlene Love would be present again, of course, but this time she would be singing with Kurt Russell, backed by Steven's own band, the Disciples of Soul.
"Kurt and I flew to New York," Columbus told us. "It's no secret that Kurt is not a huge fan of singing and performing, even though he's great at it. We met Darlene at Steven's studio in New York and basically, it was about a four-hour recording session. It was a little different for Kurt, because in the first Christmas Chronicles film's musical sequence, Kurt basically was playing Elvis again. He'd played Elvis, famously, in John Carpenter's Elvis TV movie, and in The Christmas Chronicles, he was singing like Elvis again, and he fit into that really well. But what Stevie wrote for The Christmas Chronicles 2 is a completely different type of musical number… firing on all cylinders, designed to be a show-stopper and a much bigger production than the first movie.
"At first, we tried to apply the Elvis mode to Kurt's vocals, and it didn't feel right. So Kurt, Steven, and I talked about it and we finally said to Kurt, 'Sing it in character as Santa Claus.' And then he found it. It took about three complete recordings of the song, and that was it. The great thing about watching Stevie work is that he makes everyone feel so comfortable in the studio. He's a true gentleman."
Whatever misgivings or hesitancy Russell may have had about his singing probably were allayed at least somewhat by Darlene Love's typically humorous, straightforward, and positive perspective on the situation. "I heard about Kurt not feeling very comfortable with his singing," Love told us, "and I told him, 'That's okay; you don't want to know all the people I've sung with who think they can sing!' — but he doesn't fit into that category."
Van Zandt added, "From producing Kurt in the first Chronicles film, doing the Leiber and Stoller song, I knew what he was capable of. It's just a matter of talking him into it, because he's so funny and he's so humble about his own voice. But I was like, 'You know, you can kinda 'talk-sing' this stuff. There are parts where you'll be singing, but a lot of it is sort of 'talk-singing,' which works for the part. Nobody expects Santa Claus to be Pavarotti. That's okay. You've got a lot of leeway when you're Santa Claus, a lot of forgiveness. But actually he did a great job with it. He's much better than he thinks he is."
"The Spirit of Christmas" provides The Christmas Chronicles 2 with another fun, entertaining musical moment in the midst of everything else this film series has going for it: lots of gorgeous Christmas-themed imagery courtesy of some stellar costuming, set-design and special-effects work, combined with clever, humorous twists on the traditional imagery of Santa Claus and some genuinely heartfelt dramatic moments that deal with issues like loss, forgiveness, maturing, and coming together during times of crisis. Of course both the film and the song are meant to be lighter family holiday entertainment first and foremost, but talking and singing about the importance of Christmastime togetherness can never be done quite as lightly during a year filled with pandemic concerns and seemingly chasm-like racial and political divisions.
"Who would have thought," observed Darlene Love, "when we were filming this back in January… that this thing was coming? This song fits right in the middle of it… the snowstorm… they can't get out of the airport… The song fits so much with what's happening in the world today. 'The Spirit of Christmas,' and Christmas is giving, loving one another, taking care of one another."
"I do try," added Van Zandt, "to get some substance into these songs that are basically built for entertainment. I think a song that entertains and has some substance to it has longevity and more emotional impact in the end. I did the same thing with 'All Alone on Christmas,' with the lines about mothers and children in the street. I think it's especially important these days to have some of that in entertainment. You can't just be one hundred percent celebratory anymore. There's too much suffering going on. There's too much pain and poverty and anxiety and frustration. It doesn't mean you go around crying all the time, either. Everybody wants to have a celebration now and then, and has certainly earned it and deserves it, but at the same time it's always at least a little bittersweet because you're always keeping in mind the people who cannot celebrate."
Van Zandt also clued us in to another touching lyrical link that exists between his latest Christmas collaboration with Darlene Love and his first, almost three decades earlier.
"In 'All Alone on Christmas,' I had Darlene singing about writing a letter to Santa Claus," Stevie reminded us. The officially released recording of "The Spirit of Christmas" includes some lines that were cut from the film version, in which Love sings once again about writing to Santa so long ago, this time with Santa also singing about receiving her letter and replying to it.
Finally, Stevie left us with a very merry vision of a possible Christmas Future project dancing in our heads: a full-length Darlene Love Christmas album produced by Steven Van Zandt. "I've been meaning to do that ever since we did Introducing Darlene Love," he told us, "and even before that. It's such an obvious thing that needs to happen. She is absolutely the Queen of Christmas, and we gotta try to do that this coming year."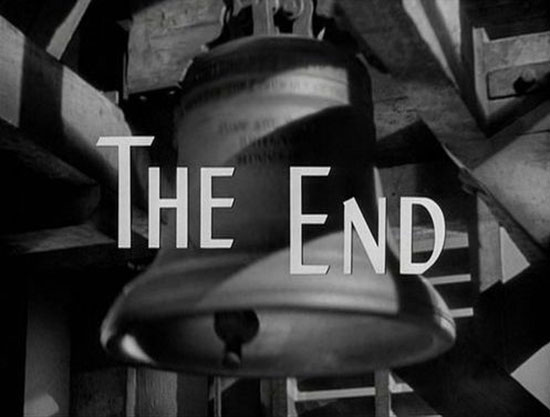 The Christmas Chronicles (featuring Kurt Russell performing "Santa Claus Is Back in Town" with Little Steven and the Disciples of Soul) and The Christmas Chronicles 2 (featuring Darlene Love and Kurt Russell performing Steven Van Zandt's "The Spirit of Christmas" with Little Steven and the Disciples of Soul backing them offscreen) remain available for streaming exclusively on Netflix.
Click here to watch a specially edited sequence from The Christmas Chronicles 2 that contains the complete "The Spirit of Christmas" musical production number as it appears in the film, including Darlene Love's "Shout"-like introduction, but without the non-musical plot-based material that had to be placed between the two musical segments.
Click here to hear the officially released recording of Kurt Russell and Darlene Love performing "The Spirit of Christmas" that includes the verse about letter-writing that was cut from the film version (but doesn't include the "Shout"-like intro.)
Click here to purchase streaming of or download the officially released recording of Kurt Russell and Darlene Love performing "The Spirit of Christmas"