Among Bruce Springsteen's special guests during his final L.A. Sports Arena concerts last week was Luis J. Rodriguez, the official Poet Laureate of Los Angeles. Rodriguez and Springsteen have known each other since 1984. In a 2007 Rolling Stone interview, Bruce recalled, "I met a fella named Luis Rodriguez, a writer and a poet, who had a... cultural center in Los Angeles. These are people I've known and worked with for a long time. These are the people trying to fill the holes that should long ago have been filled by government. Those are the people who give me optimism. They're relentlessly hopeful, and they face it all on the front lines on a daily basis."
The benefiting organization for Springsteen's final L.A. Sports Arena show was Tia Chucha's Centro Cultural & Bookstore, co-founded by Luis and his wife, author-activist Trini Rodriguez. Dave Marsh's photo below beautifully captures Bruce's reunion with his old friends backstage at the Sports Arena on 3/19/2016. (Tia Chucha's, incidentally, was named after one of Luis's beloved aunts.) Backstreets is honored to present this special essay by the L.A. Poet Laureate.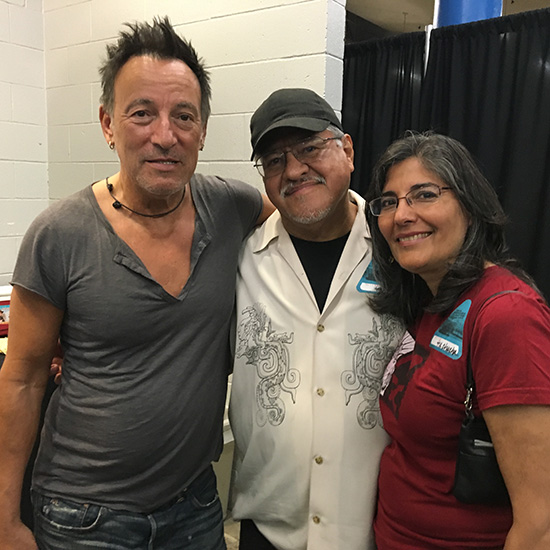 Springsteen's Post-Industrial Songs of Loss and a Haunted Los Angeles
By Luis J. Rodriguez
Bethlehem Steel's shift turn whistles
do not blast out in Maywood anymore.
Mill workers no longer congregate
at Slauson Avenue bars on pay day.
Bethlehem's soaking pits are frigid now.
Mill families, once proud and comfortable,
now gather for unemployment checks or food…
The site of the old Bethlehem Steel Plant in Southeast Los Angeles is now a warehouse, truck stop and strip mall. Once several thousand L.A.-area residents worked there when the plant's electric furnaces roared and its mills forged beams, rebar, wire, sheets, and other steel products before Bethlehem shuttered its doors in 1981.
The plant's 19th-century equipment was brought over from back east around World War II, when L.A. also boasted fabrication, assembly or refinery work in auto, tires, garments, canneries, shipbuilding, aerospace, meatpacking, oil, and more. We had GM and Ford plants, Firestone and Michelin, Boeing and Lockheed. This industry drew workers of all ethnicities from the U.S. South, the Midwest, the Northeast, Southwest, and Mexico for what were largely well-paid, mostly union jobs with pensions, health benefits, and a taste of blue-collar stability.
Despite being miles removed from the industrial powerhouses of Chicago, Detroit, Pittsburgh, Cleveland, and the like, the Los Angeles region became the largest U.S. manufacturing region. You could follow much of this industry from the northeast San Fernando Valley, to the Alameda Corridor north of downtown, down to the country's largest commercial ports, the Los Angeles/Long Beach harbors.
Whole towns with names like Commerce and Industry thrived.
When union-negotiated consent degrees in the 1970s brought African Americans, Mexicans, Native Americans, and women into the higher-paid skilled jobs previously dominated by white males, I began working at Bethlehem in the fall of 1974. I got hired into the mechanical "repair gang" shortly after marrying my first wife, which happened only two months after she graduated from Garfield High School in East Los Angeles. Not long after, we had our first child.
I felt then as if my life had purpose, direction, longevity. This was a job with rotating shifts, including "graveyard," often double shifts (16-hour days), and great pay, particularly with overtime. I recall donning my hardhat, safety glasses, steel-toed shoes, and mechanic's uniform and staring at the mirror, admiring this unlikely working class hero. (I was more likely a working class fool.)
Just like in a Bruce Springsteen song.
Don't get me wrong. The L.A. region still has industry — today we have more aerospace and defense work than any other area in the country. There are still bucket shops, garment-making storefronts, construction, and, of course, the largest creative economy (movies, music, fashion, etc.). But the deindustrialization of the country hit hard the poorest areas, creating instability that contributed to the rise of street gangs, the drug trade, and a general malaise of stress and depression.
The ghetto-barrios of South Central L.A. and East L.A. were largely established as worker enclaves for industry. For years, Garfield High School was known for its mechanic classes; Huntington Park High for its welding classes; Roosevelt High for its sewing machines. In my 20s, I also worked in a paper mill, lamp factory, chemical refinery, in construction and carpentry, including a job in one of the lead foundries that later became Exide Technologies, closed finally due to pressures to end the cancerous toxic leakages throughout the East L.A./Southeast L.A. communities.
Beginning in the mid-1970s and moving rapidly through the 1980s, advanced technology, including robotics, created the basis for deindustrialization. Labor-saving devices became labor-replacing. Major industries also sought cheaper labor markets in the South, Mexico, Central America, Southeast Asia, and such — impoverished areas with little or no regulation, down to $1-a-day wages, and low living standards. Profits, as always under capitalist economics, drove major policy and business decisions. This was primarily during the Reagan Administration when the worst recession since the Great Depression exploded in 1981-'82 and the unemployment rate went double digits (only the 2008 recession cut deeper.)
Homelessness became a permanent feature of American life.
We all know about the Rust Belt that traversed the Northeast part of the country to most of the Midwest including states like New York, New Jersey, Pennsylvania, Illinois, Michigan, and Ohio. Los Angeles may not have been considered part of the Rust Belt, but the impact was the same. As plants closed, the two most industrial cities — Los Angeles and Chicago — also became the "gang capitals" of the world.
Mass incarceration, which heightened in the 1990s, turned into one of the new "industries" arising from the crisis. In California alone, the state went from 15 prisons serving around 15,000 people in the early 1970s to a height of 34 prisons and up to 175,000 prisoners in the 2000s.
Bruce Springsteen's music served as a soundtrack to the losses — of idealized young love, jobs, families, homes, and, for too many, dignity.
Now when all this steel and these stories, they drift away to rust/And all our youth and beauty has been given to the dust/When the game has been decided and we're burning down the clock/And all our little victories and glories have turned into parking lots/When your best hopes and desires are scattered to the wind…
That's the way it felt, whether you were Mexican migrants in East L.A., blacks in Southside Chicago, or working-class whites in Jersey. The losses and growing hardness in the economy united us, if not politically or culturally, at least in the pocketbook.
I first met Bruce during his 1984-1985 Born in the U.S.A. Tour, when he helped fund the then-largest food pantry in the country, serving 6,000 to 10,000 families, out of the United Steelworker's Union Local 1845 hall after Bethlehem Steel closed down. An actress and theater director, Susan Franklin Tanner, also conducted writing workshops at Local 1845. Out of this came a play, "Lady Beth," that traveled around the country with former steelworkers reciting their words to rapt audiences.
I attended a couple of those workshops, including the day Bruce came to take part. A Los Angeles Times reporter showed up when I read my poem "Bethlehem No More," written about the plant's closing, to Bruce.
…Bethlehem, I never thought you'd be missed.
When we toiled under the girders, we cursed your name.
But you were bread on the table, another tomorrow.
My babies were born under the Bethlehem health plan.
My rent was paid because of those long and humid days and nights…
I also showed up, with other former steel workers, to one of Bruce's concerts at the Sports Arena during that tour. To raise funds, Bruce allowed us to hold buckets at entrances and exits for the fans to give as Bruce announced our plight and that of most working men and women. One former steelworker named Cruz, now deceased, turned to me and said, "I've never felt as proud being a steelworker as I do now."
This month, Bruce Springsteen played his last Sports Arena concerts, a place now slated for its own wrecking ball to make way for a soccer field. Some 32 years after my first Bruce concert, I returned on Saturday, March 19, with donation buckets. This time, we were allowed to collect donations for the cultural center and bookstore my wife Trini and I founded 15 years ago in the northeast San Fernando Valley: Tia Chucha's Cultural Center & Bookstore, not far from the former GM Plant in Panorama City and Price Pfister's Brass Foundry in Pacoima (both sites now strip malls).
Bruce continues to support nonprofits like ours trying to fill the gaps in those working class communities, which are at the same time scrambling to find a way through an economy that has largely written them off.
Even presidential-nominee candidates, from the right and the left, have galvanized this fractured U.S. working class that have tired of the political shenanigans that continue to make the one-percent wealthier and more powerful and the rest of us tired and poor. Evident to a growing multitude is that we have the same source and goals.
Unfortunately, the current political climate is also dividing workers along color lines, but to me such lines no longer have the sway they once had. Current and former workers need to stop falling into the vicious traps of racism, nativism, and narrow-minded politics. Bruce's music still speaks to the spirit of realizing one's dreams, one's passions, one's particular art, in a world filled with limitations and man-made walls, real and otherwise.
Bruce is still the working class voice in rock 'n' roll, in a time of diminishing work... still rebellious, still dreaming. Always crashing down, but also rising up. Too hungry to surrender, too determined to retreat. He keeps pointing out that it's time to engage our highest levels of imagination and vision, to realize societal compassion and cooperation.
Yes, I'm no longer toiling in foundries, mills, and factories. I've been a published writer since the 1980s with 15 books in poetry, fiction, nonfiction, and children's books, including the best-selling memoir Always Running: La Vida Loca: Gang Days in L.A. Today I'm also Los Angeles' current Poet Laureate, chosen by Mayor Eric Garcetti in 2014.
Here is the end of my poem, dedicated to Bruce in my 1991 poetry book The Concrete River (now reprinted by Curbstone Books/Northwestern University Press). I remember what Bruce told me during the writing workshops at Local 1845, something I carry with me always: "The poem is very powerful for me; you are the only one who could have written something like this."
…But Bethlehem you are no more.
We have made you rich, rich enough
to take our toil and invest it elsewhere.
Rich enough to make us poor again.
And still we rise.