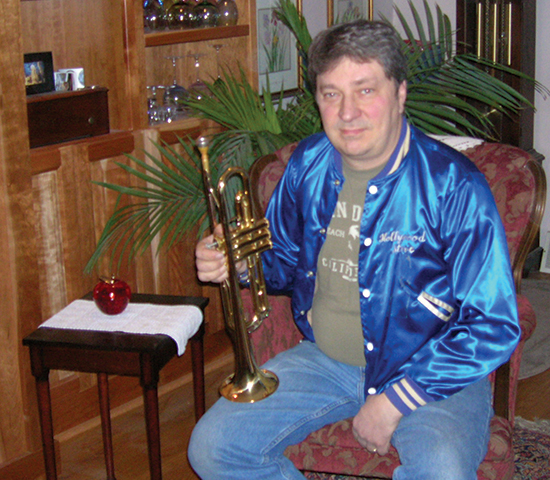 Paraczky at home in Pennsylvania with his "Hollywood Steve" jacket. Photograph by Marcia Paraczky
One of two trumpet players who took part in the "lawsuit tours" in late 1976 and early 1977, Steve Paraczky shares his recollections of life on the road with Bruce Springsteen and the E Street Band, including his nervous debut in Phoenix, a hot night jamming with Otis Rush in South Bend, a freezing photo shoot with David Gahr in Cleveland, racing in the street with Danny Federici in Florida and the mariachi shirt incident at the New York Palladium.
In the nine months between August 1976 and March 1977, while his legal battles with manager Mike Appel ran their course, Bruce Springsteen played 62 concerts in North America. Prevented from recording with producer-of-choice Jon Landau and no longer followed by the media spotlight that tracked his every move in the second half of 1975, Bruce hit the road to earn some money and keep body, soul and band together.
Beginning with a six-night stand in Red Bank, New Jersey, where he introduced a more streamlined set, Bruce and the E Street Band continued with single nights in Waterbury and Springfield later that month before setting off on a 21-date tour in the fall of 1976 that focused on major cities on the east and west coasts. A second, 33-date road trip followed in the winter of 1977 that meandered from Canada to Florida.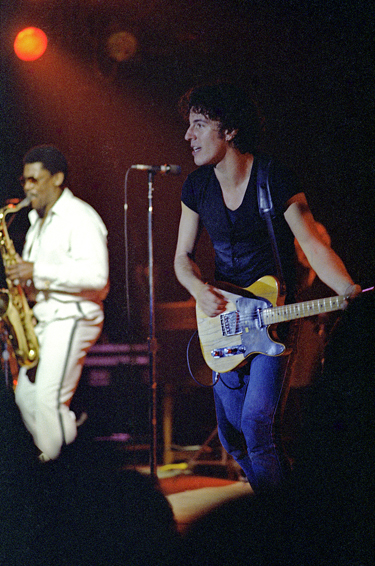 These tours included Bruce's first arena concerts at the Philadelphia Spectrum, two multi-night stands (six at the New York Palladium and four at Boston Music Hall), guest appearances by Patti Smith, Gary US Bonds, Ronnie Spector and Flo and Eddie, some unusual covers ("She's Sure the Girl I Love," "A Fine Fine Girl," "We Gotta Get Out of This Place," "Higher and Higher") and the live debuts of five new Springsteen compositions ("Rendezvous," "Something in the Night," "The Promise," "Action in the Streets," and "Don't Look Back").
The combined equivalent of a three-month North American tour, these less-publicized appearances bridged the gap between the tours for Born to Run and Darkness on the Edge of Town and featured some of Bruce and the band's most celebrated performances.
A distinguishing feature of the "lawsuit shows" was the appearance of a horn section on several songs, adding an extra dimension to the E Street wall of sound for the first time since Suki Lahav's violin two years before. For the Red Bank residency and the two shows in New England, Bruce borrowed Southside Johnny's Miami Horns during a break in his busy touring schedule with the Asbury Jukes. Assembled only a few months previously, the quartet which accompanied the E Street Band for the eight shows in August comprised Tony "Muff" Pallagrosi (trumpet), Rick "G the G" Gazda (trumpet), Eddie "Clams" Manion (baritone sax) and "Saxy" Carlo Novi (tenor sax). Knowing they would not be available for Bruce's upcoming dates, Miami Steve asked them to recommend substitutes.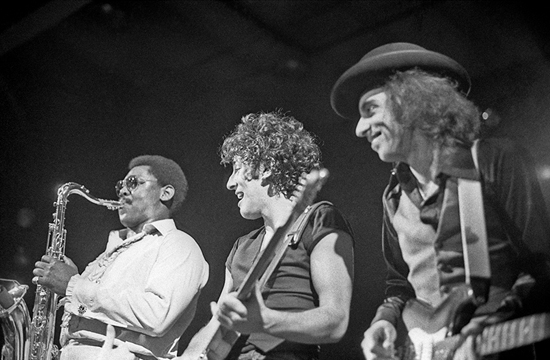 1977 concert photographs by James Shive
Gazda made a few calls to his hometown of Philadelphia, and soon afterwards the Miami Horns (E Street Branch) were formed, supplied with individually embroidered Asbury Jukes jackets and given compulsory nicknames. When Bruce and the band began the first tour in Arizona in late September, they were joined by "Hollywood" Steve Paraczky and John "Broadway Bink" Binkley on trumpets, plus two other musicians whose stage personas are unknown: Ed De Palma (baritone sax) and Dennis Orlock (trombone).
While the original Miami Horns undertook their first national tour with the Asbury Jukes in a parallel rock 'n' roll universe, the temporary alternative line-up joined the E Street Band at various points during the lawsuit shows. The horn section played on nightly regulars ("Tenth Avenue Freeze-out"and "Rosalita"), less frequent material ("Raise Your Hand," "Quarter to Three," "Action in the Streets") and occasional rarities ("A Fine Fine Girl," "You Can't Sit Down," "Little Latin Lupe Lu," "Higher and Higher").
In addition to the ensemble horn workouts, there were trumpet solos by Steve Paraczky in the original version of "Something in the Night" and "We Gotta Get Out of This Place," plus a baritone sax solo from Ed De Palma in "A Fine Fine Girl," during which he stepped down from the horn riser at the rear left of the stage and played beside Clarence, the only known occasion that any of the horn players left their designated position.
Rarely identified individually or captured on film, the E Street Miami Horns remained largely anonymous, although their names were revealed in print at least once, in a Boston Globe review. These "cats from Philly" (as Bruce called them in an interview for WNEW-FM in November 1976) were perfectly placed to provide a unique perspective on an important period in Springsteen touring history, but they slipped back into obscurity when the second tour ended, taking their memories with them.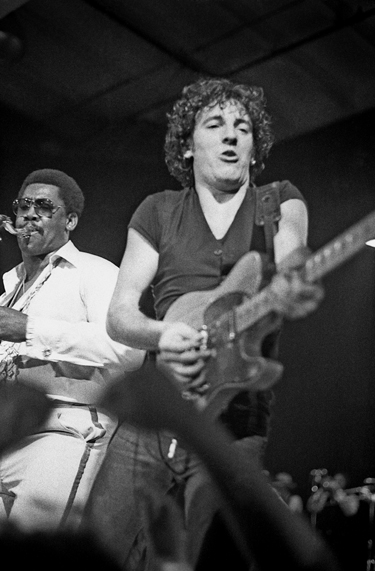 I'd always been fascinated by the "lawsuit tours" and the formative years of the Asbury Jukes, and I wrote a piece called "The Mystery of the Miami Horns" for issue #59 of Backstreets magazine in 1998. The article focused on that period, identified the horn players Bruce took on the road, and cleared up the common misunderstanding that he borrowed Southside Johnny's Miami Horns for both tours. At the time, I considered it highly unlikely that any of the E Street Miami Horns would see the article, but in 2002, I received an unexpected email from John Binkley's wife Mary (aka "Binky") who corrected the spelling of her husband's surname and casually mentioned a couple of John's memories: going on an airboat ride in the Florida Everglades with Danny Federici; Bruce and Miami Steve watching the first two Godfather movies on a Betamax machine on the tour bus. These were priceless memories that warranted further investigation. Mary subsequently offered to put me in touch with her husband, and I naturally jumped at the chance, but I never heard from her again.
Convinced that my only opportunity to interview any of these horn players had slipped away, I was excited to receive an email several years later from Heather Paraczky, daughter of Steve, who had also read my Backstreets article and gave me her dad's e-mail address. This time, the connection worked, and Steve proved more than willing to step back into the spotlight after 30 years to share his experience of those heady 14 weeks on the road.
Throughout 2005 and 2006, I gradually pieced together an email interview, jogging Steve's memory by sending him bootleg recordings from the Philadelphia Spectrum, New York Palladium, and Boston Music Hall. I ended up with an extensive document full of fascinating historical detail and entertaining stories that shone new light on a lesser-known but highly regarded period in Springsteen touring history. Following a few updates, it was eventually published in issue #88 of Backstreets in spring 2010, but it was understandably overshadowed by an extensive tribute to Danny Federici, so less people were aware of it than I'd hoped.
With the release of live recordings from Albany and Rochester in 1977 as part of Bruce Springsteen's ongoing archive series, the "lawsuit shows" become the center of attention for a while, and I decided that the time was right to rescue my interview with Steve Paraczky from the Backstreets archives, dust it down and give it a second chance online. Having lost touch with Steve a while back, I re-established contact on Facebook and took the opportunity to ask a new series of questions. Although ten years had passed since we worked on the original interview and four decades since Steve played with Bruce, he was nevertheless able to provide several more insights and anecdotes (and a few more pictures) to expand, update and illustrate the story of his 15 minutes of fame on tour with Bruce Springsteen and the E Street Band in the mid-'70s.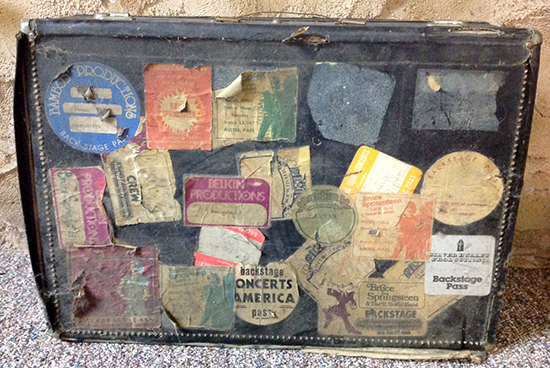 Paraczky's trumpet case from the E Street Band tours in '76 and '77
Had you met the other horn players before you worked with Bruce?
I met Dennis when I was around 17 or so. We were in a Top 40 band called Orange. The band played local clubs and had a nice following. That lasted for a couple of years. Dennis was a bit of a wild man. I remember one incident when we were playing a club down the shore near Atlantic City. We had to do an afternoon party for some ladies auxiliary club, a bunch of fuddy-duddies, probably younger than me at this point, who just wanted to sip tea. We started to play "Can't Turn You Loose." Dennis was on the lead vocal. The band started to cook, and Dennis, seeing that we weren't getting a rise out of this crowd, jumps off the stage, trombone in hand, dives in the outdoor swimming pool adjacent to the room we were playing in, comes back in soaking wet, gets back onstage, and finishes the tune. The look on those women's faces was priceless.
I forget how I met Eddy, probably through some gigs we played together. John, I really didn't know that well before Bruce.
How were you guys hired?
Dennis and I also played in an Earth, Wind and Fire-type group in Virginia for a few months. I think the band's name was Deziah. At the end, I contracted some sort of upper respiratory infection and had to come home. Dennis remained, but the band soon fizzled after that. I was pretty sick, and it took me a number of weeks to get back to normal. That's about the time I got a call from Dennis to play with Bruce. I think Rick [Gazda] called Dennis. Apparently I wasn't the first choice — Dennis has a brother, Danny, who plays trumpet. Fortunately for me, Danny wasn't interested in the gig, so I got the call. I was still recovering from my illness, but I decided to take it anyway.
Had you met Rick previously?
I met Rick in high school. We went to different schools but we both participated in the Philadelphia All City Jazz Band, which was made up of the best high school players in Philly. I also played in a high school band with Richie ("La Bamba") Rosenberg.
Had you heard of Bruce Springsteen before?
I'd only heard Bruce's name once before from a girl I was dating at the time. I didn't think much of it except that it sounded like a good-paying gig. There wasn't any audition to speak of. We all met at the Stone Pony. The Jukes happened to be performing that night. We met Miami Steve at the club. We talked a little, we played a line or two, and that was it. We rehearsed at a farmhouse in New Jersey a few times, and then the first tour began.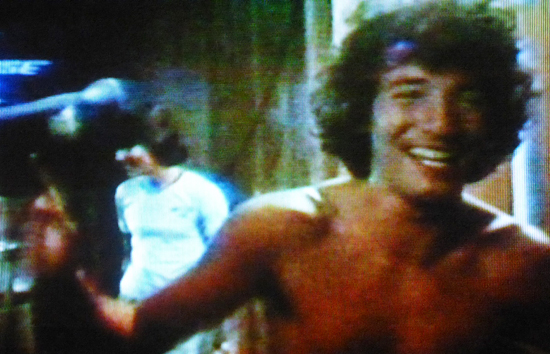 Steve Paraczky and Bruce during rehearsals, summer 1976, from The Promise documentary.
Those rehearsals were filmed, and footage was released in the documentary The Promise: The Making of Darkness on the Edge of Town in 2010. It shows a bare-chested Bruce playing with the E Street Band, and for a few seconds, some horn players are visible in the background.
That was us. I'll never forget how hot that house was, the middle of summer and no air conditioning. What a way to rehearse! I remember those big clunky cameras. Thinking back, they looked like something out of the Stone Age. I don't remember being filmed, but apparently someone was operating them.
How much input did Bruce have with the horn arrangements?
Bruce would have an idea what he wanted the horns to do, but Miami was the one who ultimately composed the horn lines. The biggest challenge playing with the band was dealing with the incredible volume. Being a brass player, it's hard to compete with electric instruments at that level of intensity.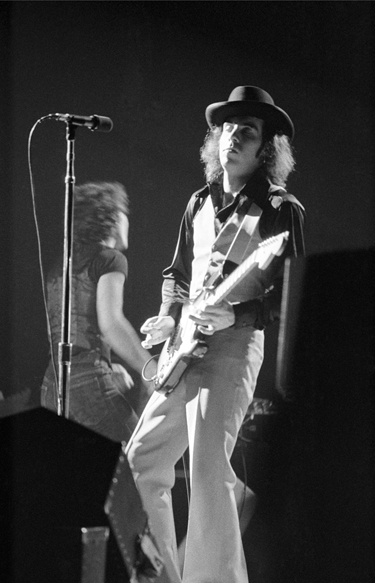 You were given souvenir jackets and nicknames as part of your initiation.
We were given them on the road. I guess Miami gave us our stage names. I don't recall the nicknames for the rest of the horns. Let's just call them "Dirty Dennis" and "Fast Eddie." Who'll know the difference?
Long soundchecks were part of the routine for Bruce at the time.
You better believe it! Soundchecks were always a pain in the ass. The one thing that seemed to take the longest was getting Max's snare drum mic'd right. The sound guy would take anywhere from 20 to 30 minutes, which I thought was a little overkill. When it came to the horns, we would get all of 15 seconds. There was one occasion I can recall John getting into hot water. We were running over one of the horn tunes when John screamed "No!" at the top of his lungs into the mic. He couldn't hear himself through the monitors. Miami really got pissed. I really thought that was it for John, but he apologized, so Miami let him go.
How did it feel to transfer from local gigs to a national tour with an established act?
I'll never forget that first night in the Phoenix Coliseum. I had to play the intro to "Something In The Night" with Roy Bittan. I was shaking in my boots. All I could see was an ocean of faces when I looked out over the audience, pretty scary stuff for a 21-year-old.
The arrangement of that song with the trumpet intro was eventually dropped.
Bruce would hole up in his room a lot, going over new tunes or changing current ones. I enjoyed playing that intro. I thought it sounded better with it in.
There were also horns in "It's My Life" and the one performance of "We Gotta Get Out of This Place."
That was a very young me on "We Gotta Get Out of This Place." I remember playing a trumpet improv at the beginning of that tune. [Bruce] just turned around and signalled that he wanted a little trumpet before he came in with the vocal. However, regarding "It's My Life," that was Clarence on soprano sax.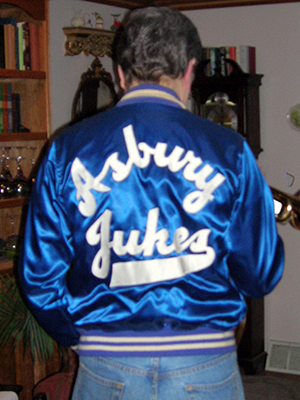 The Miami Horns were never announced onstage by their real names. Was that frustrating?
We were introduced by our stage personas on occasion. You never knew what Bruce was going to do.
He certainly gave you a lengthy introduction on the final night in New York (November 4, 1976).
We wore three-piece suits all the time, except on that occasion. Dennis had the idea to wear mariachi shirts and hats for "Rosalita." I don't think Bruce cared for that too much. You can hear his reaction on the Palladium concert [bootleg]. I wore a huge sombrero, which is now hanging in my bar area. Bruce called us "those incredible idiots" or something to that effect. To be immortalized as an idiot for eternity — thanks, Dennis!
Bruce's introduction of the inappropriately dressed Miami Horns that night ran as follows: "Here they come, them happy-go-lucky fellas, them devil-may-care bons vivants, them men of the world, them complete idiots, them good friends of Miami Steve who I just met before the show and who I have no association with."
What did you think of Bruce's music and how did you rate him as a live performer?
I found it mostly enjoyable, different than I thought it would be. I would classify it as rock/opera with a big dose of poetry. It wasn't the kind of music I would listen to on my own. I'm more of a jazzer. "Rosalita" was my favorite. He was and still is an extremely exciting performer. He would drink gallons of Gatorade and perspire to the point that he looked like he had taken a shower with his clothes on. I never really followed Bruce after the tours. I have to say that, in my opinion, he did his best work before he got big.
The E Street Band had a similar live reputation.
It was a well-rehearsed unit. These guys had been playing together for a while. After that much time together, you get a feel for each other, and it showed when the band performed.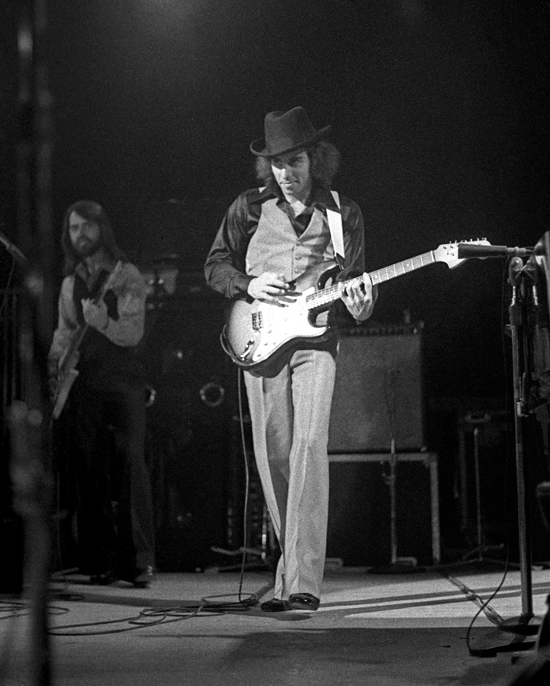 1977 concert photographs by James Shive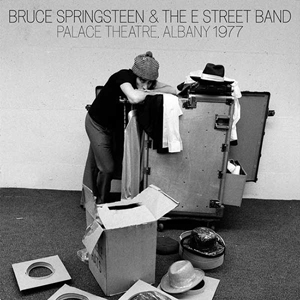 Miami Steve played an important role.
What a character! It took two roadies to carry his hat boxes. He had a collection of 15 boxes of hats, one for every one of his moods. He was always playing practical jokes, always laughing it up with Bruce. If Miami was around, he and Bruce would ham it up. They were clearly close friends.
Danny Federici passed away in 2008. In his eulogy, Bruce described Danny as "a one-man creator of some of the hairiest circumstances of our 40-year career." Does that ring true?
Danny was one of the friendliest E Streeters, just a regular guy, a very charming fellow. When you went out partying with Dan, you felt you could be yourself. When we were in Florida, we rented two bright yellow Datsun 280Z cars. They were two-seaters with a little room in the back if you didn't mind lying down. We took them out on the main drag and had a race, up to 125mph and no seatbelts, with me lying in the back. I was indestructible in those days. We were pulled over by a police officer, and Danny explained that the speedometer was broken so he couldn't tell he was speeding. He got a huge speeding ticket and a reprimand.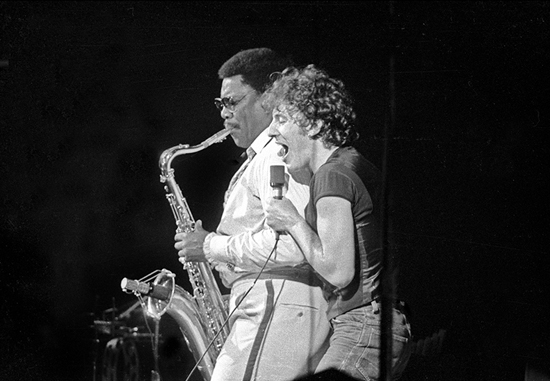 1977 concert photographs by James Shive
Clarence Clemons is also no longer with us. How do you remember the Big Man?
Clarence was a grand gentleman. He was the real deal, nothing phony about the man. At the time he had a cameo in a movie (New York, New York), he was Mr Hollywood. He was busy, but when he did hang with us he was one of the guys, a very warm persona. He was bigger than life, and his presence added so much to the show. It definitely would not have been as successful if he wasn't in the band.
How did you get along with the other guys?
Roy was a little standoffish but a nice guy. Max would hang with us once in a while. Garry was a loner, he didn't say too much.
What was life like on the tour bus?
We were like a big family on the road. Bruce hung out with of all of us, there was no hierarchy. It was pretty lavish for that time. The front of the bus was a living room with tables and a TV with a Betamax hook-up, the latest in techno gizmos. We tried it out with a copy of Deep Throat. There was also a fridge stocked with beer. Everybody hung out in that room, essentially the party room. The middle of the bus was the sleeping quarters. We each had personal headphones, so we could listen to our preferred sounds. The back of the bus was Bruce's bedroom. It was very private as it had a locking door. The second tour was mostly travelled by plane.
Was the audience reaction any different on the east coast compared to the rest of the country?
We got the same reaction wherever we played. We played to a packed house just about everywhere.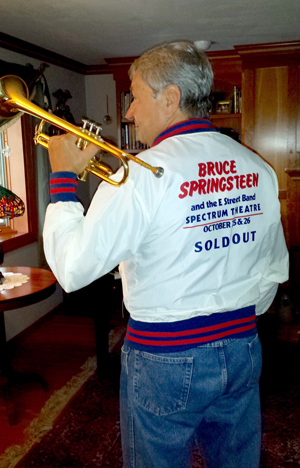 It must have been a blast coming home to play the Philadelphia Spectrum.
It was cool being the local celeb for a week. I remember the tour bus dropping me off at my house when we got to Philly. That caused quite a commotion. Imagine a bus as big as a house coming down a little one-lane street, and then I got off. People were scratching their heads for days. I remember getting free tickets to the show for my friends and family, which I handed out, but in the end no one showed up. Go figure!
The New York and Boston stands are legendary.
I remember being late for one of the Palladium gigs. It must have been a girl. All I recall is taking one hell of a scary cab ride to the gig. I told the driver to get me there as fast as possible and he did, almost killing me in the process. I remember in Boston, we were having problems with our monitor system. The band was in full swing playing "Tenth Avenue Freeze-out." We couldn't hear anything but bass and drums, so we overcompensated by playing louder. When the monitors came blasting back, the sound nearly blew us off the stage.
Ronnie Spector sang a mini-set in New York (November 4, 1976) and Cleveland (February 17, 1977).
She toured with the band most of the time. As I recall, Ronnie would come out on an encore tune and help out with some vocal harmony. I don't remember which tunes, though. Miami and Ronnie were quite an item. They were always hanging out together.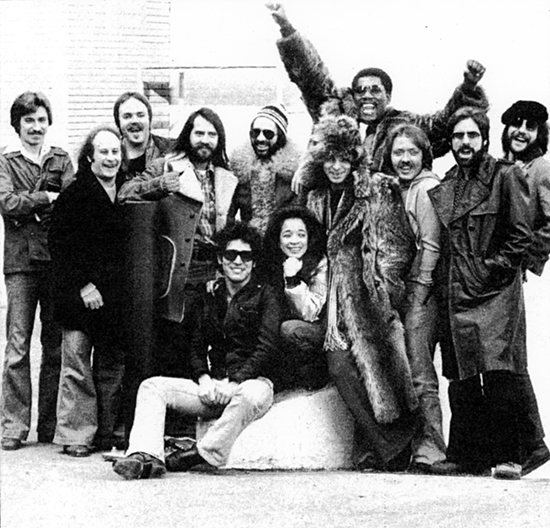 The Miami Horns (from left): Steve Paraczky, Ed De Palma, John Binkley and (far right) Dennis Orlock with Bruce, Ronnie and the usual suspects - photograph by David Gahr
There's an extremely rare offstage photograph of the Miami Horns with Bruce, Ronnie and the E Street Band, taken in Cleveland in 1977 by the late David Gahr.
I seem to remember [him] taking that shot of the whole group at the airport. All I remember is that it was freezing cold outside, and I wasn't exactly dressed for the weather. It took forever to set the shot up. I'm not exactly a happy camper in that photo.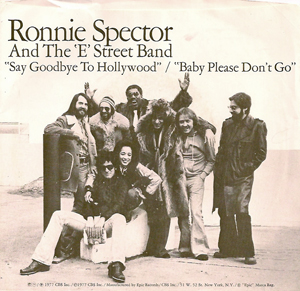 Another shot from the same photo session, without the horns, was featured on the cover of Ronnie Spector and the E Street Band's "Say Goodbye to Hollywood" single two months later.
How did you pass the time during the long periods when you weren't onstage?
In between songs we would just sit backstage, sometimes sucking down a beer or two. It got a little boring sitting around waiting to go on. Sometimes, if the venue permitted, a couple of us would go under the stage, being able to see the first couple of rows of fans. You could then pick your date for the night! Let's not forget the ladies. Did I mention there were a lot of ladies?
Did the horns hang out together on nights off?
The horns stuck together as a group, as we knew each other from past experiences. At the Santa Barbara County Bowl, we met the horn section from Chicago, who had come to check us out. Hope they were impressed!
Did Bruce or the E Streeters ever join you?
We were playing in South Bend, Indiana. A couple of us wandered around town and found ourselves in a blues club. Otis Rush was the headliner. We introduced ourselves to the band. They were nice folks. After a few beers they told us to come back and "bring the band with you." The next night, after our concert, we piled into our bus and had the driver drop us off at the club. It was a packed house. When we walked in we created quite a stir. Otis invited us to come up and jam with the band. What a scene! People were dancing on tables, jumping on their chairs, complete bedlam.
As I recall, just about everyone except Bruce and Miami sat in with the band. The horns would make up some blues licks on the fly to kick it up. We each had a turn at soloing, including Clarence. That was the first time I heard Clarence open up. Up to that point all I heard was the same licks night after night. After that, I had a new respect for the Kahuna. The man was quite an accomplished tenor man. I don't remember the tunes. They were just down home and dirty, the way the blues ought to be played. The only other thing I can remember was a long line of drinks that were bought for us. Of course we had to be polite and oblige them.
The E Street Band's previously unreported appearance with Otis Rush in South Bend most likely took place on October 9, 1976 after Bruce's show at Notre Dame University.
Any other memorable encounters or adventures?
We met Woody Herman on one of the airline flights. Woody Herman was a big band leader in the 1940s, Woody Herman and his Thundering Herd. We wanted his autograph, and he snubbed us because he didn't know who we were. When we got to the airport, our limos were waiting, and he did a double take, totally puzzled: "Who are those guys?" I enjoyed turning the tables on him.
In Canada, a few of us went to a jazz club. David Clayton-Thomas was there with members of Blood Sweat and Tears, and we were invited to have dinner and drinks with the band. In Atlanta, Bruce, myself, Dennis and a few other people went out clubbing. We met Frank Gorshin, The Riddler in TV's Batman. I sat in with a local band as I had my trumpet with me.
Was the 1977 tour already booked by then?
After the first tour I was playing locally with a one-hit-wonder whose name I can't even remember. I didn't know a second tour was planned until I got the phone call. I'm glad I was in town! When the end came in Boston, Bruce said we'd be going to Europe for the next tour, so "keep in touch." Alas, that never happened. So ended my brief encounter with fame and fortune.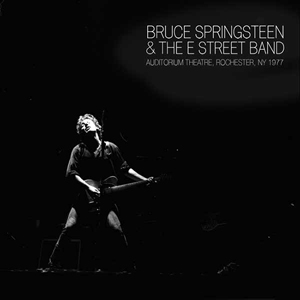 The first two concerts, in Albany and Rochester (February 7 and 8, 1977), were recently released as part of Bruce's ongoing live archive series. Can you remember those particular nights?
I can't really remember anything about those shows, they all ran together. Life on the road was rush, rush, rush. It was a long time ago, in a galaxy far, far away. I do remember standing in the wings, waiting to go on. I always had some butterflies in my stomach before going onstage — after all, I was just a kid at the time.
The quality is much better than the bootlegs. You can definitely hear some of the rough spots, which were kinda masked before!
Who did you work with after Bruce?
I played around with other show groups. I played for Teddy Pendergrass, Eddie Holman, The Flamingos, an Elvis impersonator whose name escapes me, to name a few. I got married in 1980. Dennis and I [worked] with a group of bands that made up an organization called The Entertainment Group. We played mainly lucrative society-type gigs. That lasted over ten years. I stopped playing trumpet in 1992 for medical reasons.
What are you doing these days?
I got married again to a wonderful girl called Marcia, and I'm currently living happily ever after. I'm retired at this point, just enjoying life, doing some travelling. This is funny, these summer days we go beaching at Asbury Park. We normally park ourselves in front of the Stone Pony, close to the water. I never heard of Asbury until Bruce came along, now we've been going for the last ten years or so. It's only a little over an hour from my house.
Have you kept in touch with the other guys?
I haven't seen or talked to anyone in years. Dennis and I played in groups since I was 17 years old. We worked in different bands, but we saw one another on occasion. For a while we were corresponding through e-mail, but that stopped. I haven't seen Dennis for about 25 years or so.
The Miami Horns are credited in The Promise documentary and in the notes accompanying the recent Albany and Rochester releases. Formal recognition at last. How does that feel?
It's kinda cool. It feels more like luck than anything else. I'm lucky that I was introduced to you, so the story could be told.
How would you sum up your time on the road with Bruce?
A wonderful life experience, something I won't forget, a little overwhelming for a 20-something kid, although it was the right time in my life to do it. It was great fun being a rocker for a while. We were treated like kings and wanted for nothing. What a great life. Wish it could have lasted a lot longer!
- interview by Mike Saunders - thanks to Heather Paraczky for the initial introduction and to Marcia Paraczky for the photos of Steve - portions of this feature originally appeared in Backstreets #88
- all 1977 concert photographs by James Shive - for prints, visit his "1977 Collection" at shivearchive.com.
The final show in Boston (March 25, 1977) was Bruce's last full-length live appearance for 14 months. In late May, the Appel lawsuit was settled out of court after 10 months of legal manoeuvring, and Bruce was finally free to record with Jon Landau as producer. A few days later, he returned to the studio with the E Street Band for the first time in two years to begin work on the album that would become Darkness on the Edge of Town. There had been a substantial reshuffle of priorities, which ensured that the proposed European tour and a rumoured Ronnie Spector and the E Street Band album would never see the light of day. Of the five new songs premiered on the road during the legal battle, only "Something in the Night" (in the arrangement without Steve Paraczky's trumpet intro) would make it onto the 10-track LP, although "Don't Look Back" was a contender until the last minute. The Darkness tour kicked off on May 23, 1978, and the rest is history.

LOOSE ENDS, 1976-1977
As the lawsuit drama began in July 1976, Bruce (now minus the beard) joined Southside Johnny and the Asbury Jukes onstage at the CBS Convention in Los Angeles.
In October, Bruce and Miami Steve made a guest appearance with Dion at the Roxy.
Clarence Clemons swapped instruments to play the role of a trumpet player in the Martin Scorsese movie New York, New York, released in 1977.
Before the end of the year, Southside Johnny's Miami Horns quartet expanded to a five-piece with the addition of trombonist Richie "La Bamba" Rosenberg, also from Philadelphia.
Between the tours, Bruce became the latest in a series of music business figures (including John Hammond) to attend a question-and-answer session with students enrolled in The Making Of Superstars course at The New School in New York City. According to Creem magazine, Bruce revealed that he and the E Street Band might tour with Bob Marley and the Wailers and that he would love to write a song for Ronnie Spector.
Although no Springsteen material was involved, Ronnie and the E Street Band went into the studio that winter to record Billy Joel's "Say Goodbye to Hollywood" and the Steve Van Zandt original "Baby Please Don't Go" for future single release. Bruce also played on the record but was uncredited.
Around the same time, Southside Johnny and the Asbury Jukes made their second LP, This Time It's For Real. Both of the above records were produced by (Sugar) Miami Steve, who sang, played, managed and wrote songs for the Jukes between Springsteen commitments.
As Bruce began the second tour in February 1977, Manfred Mann's Earth Band generated some useful publicity (not to mention royalties) by taking their cover of "Blinded By the Light" to the top of the Billboard chart.
After the Boston finale, Miami Steve and Ronnie Spector flew to the U.K. to join Southside Johnny and the Asbury Jukes onstage during their debut U.K. headlining gig at the Rainbow Theatre in London. Music weekly Melody Maker reported that Springsteen had been invited and was rumoured to be coming, but nothing came of it.
Ronnie's single (in a picture sleeve with liner notes by Dave Marsh) and the Jukes album (which included the string section's orders from a local deli among the credits) appeared in stores soon afterwards.
When he returned to New York, having spoken at length to the New Musical Express in London, Miami visited the WNEW-FM studios for another interview in which he talked about This Time It's For Real and recalled the "Say Goodbye to Hollywood" recording session (see "The Fabulous Ronnie Spector" in Backstreets # 36).