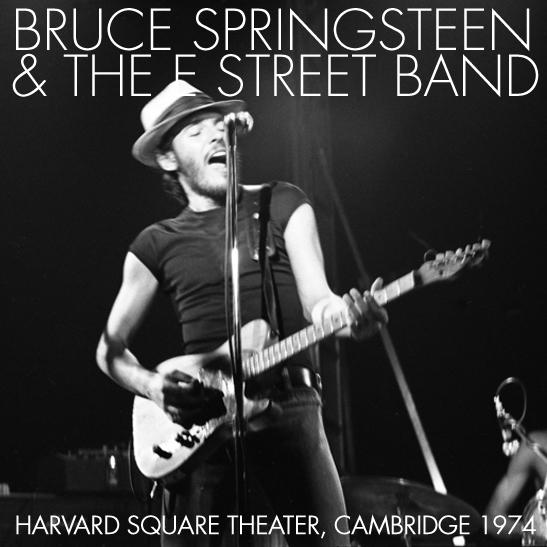 FROM THE VAULTS: "ROCK AND ROLL FUTURE" COMES HOME
The hits keep coming in the Springsteen Live Download series — and this time it's an astounding slice of history, as the recent release of Nassau '80 has been quickly followed by a holy grail from 1974: the legendary Harvard Square Theater show from May 9 in Cambridge, MA. Bruce Springsteen and the E Street Band performed twice that night, opening both an early show and a late show for headliner Bonnie Raitt; this new recording is from the much sought-after late show, from which there has been no circulating audio in the nearly 40 years since.
The late show from May 9 is, of course, the performance that inspired young Jon Landau, writing for The Real Paper, to declare "I saw rock and roll future and its name is Bruce Springsteen." Given that significance, Landau kindly spoke with Backstreets to provide some additional context. "I had met Bruce before that night, of course," Landau recalls, "But May 9 at the Harvard Square Theater is really when our ongoing conversation began. It's funny, though — in retrospect, it's not really that special of a performance. I can't point to much that's truly inspiring about it."
That might come as a surprise to fans familiar with Landau's famous "Growing Young With Rock and Roll" piece from May 22, 1974 (or to those who might expect Springsteen's longtime manager to want to "sell" the new release). "Bruce and I don't often disagree on these things, but we're putting this one out despite my major protestations. I finally just threw up my hands. Listening back to the tape now, and thinking about how effusive I was, it's easy for me to admit: I'm not always right."
Can he really discount his now-legendary article? "I was young," Landau audibly shrugs. "I didn't really know what I was talking about. I was probably hopped up on goofballs — I honestly don't even remember being there, except for Bonnie's performance, which was sublime. Bruce's set? Have a listen and tell me it's not a stinker."
So why put this one out? Landau sighs: "For Bruce... well, he says it's all about 'historical significance.' Honestly, he just loves that 'rock and roll future' thing and wants to make sure people don't forget. He's always loved that. Don't believe that crap about him tearing down posters in London because he was furious. He wanted to save them. He peeled them down as carefully as he could, for posterity. I watched him do it — extremely meticulous. Now it's the wallpaper in his bathroom, I kid you not."
Stinker or no, there can be no question of the concert's legendary status, making for yet another astonishing entry in the Live Downloads series. According to Toby Scott, reels for both the early and late shows were discovered last year in one of Bruce's old footlockers, buried underneath mounds of McDonald's wrappers, Ring Dings, long-expired cans of Reddi-wip, and boxes of strawberry jello. After a lengthy cleaning and restoration process followed by a digital transfer, Scott opines, "It's not that bad."
"I do want to say that magic still exists," Landau concludes, "and my mission is to tell a stranger that you won't find it here."
Harvard Square Theater, Cambridge 1974 is available for ordering now, on CD and mp3 format as well as high-res, lossless audio files.
- April 1, 2015 - photograph by Barry Schneier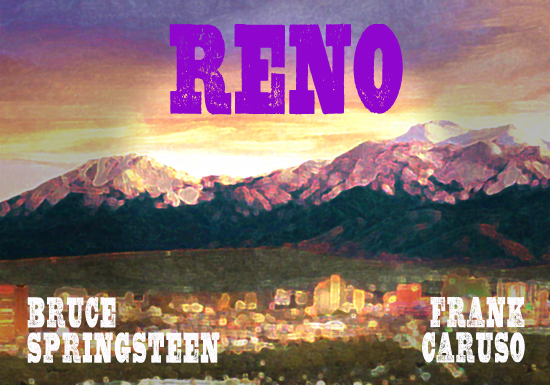 SPRINGSTEEN & CARUSO REUNITE FOR RENO
Following the success of Outlaw Pete, Simon & Schuster today announced a new collaboration by Bruce Springsteen and artist Frank Caruso. And if you thought their first book together was possibly unsuitable for children — with its depiction of Pete killing Bounty Hunter Dan with a knife to the heart — wait until you get a load of Reno.
"Yeah, this one is definitely, definitely not for kids," Springsteen says of Reno, to be published in May, based on a song that originally appeared on the 2005 album Devils & Dust. "It's a picture book, but not really a children's book. Then again, I think kids are more sophisticated than we give them credit for... but I'd still say caveat emptor."
For co-author and illustrator Caruso, Reno presented a new sort of challenge in bringing a Springsteen song to life on the page. "For Outlaw Pete," he tells Backstreets, "that character basically appeared to me fully formed in my head, when I first heard the song, thanks to the story Bruce was telling. Reno, on the other hand, is more inspired by my private sketchbooks of Bluto and Olive Oyl doin' it."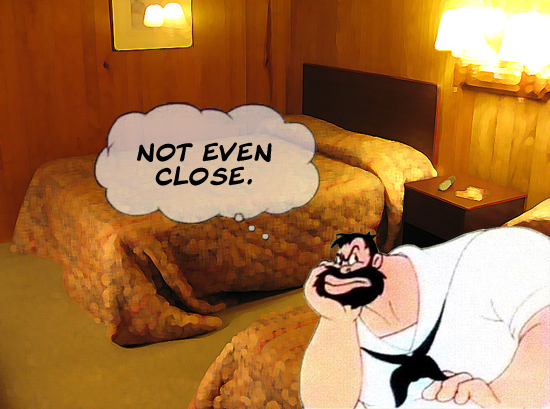 "I think Reno gets an unfair rap," Caruso continues, "like people just focus on the sex, or the sordid aspects of the song. So working on this book gave Bruce and me the chance to focus more on how moving the story itself is: the pathos and the beauty of the lyric, and the main character's interior life. Of course there's still the matter of the 250 bucks," he laughs as he pages through seemingly countless sketches of Bluto and Olive gettin' it on, "but you know, that's Bruce. He does have this ability to take us from Heaven to the gutter — or vice versa — in one song."
That penchant of Springsteen's has informed the ongoing collaboration between songwriter and illustrator, who already have a third book in the works. "'Hey Bruce', I said to him one day," Caruso recalls, "'Did you ever notice how you'll write like this beautiful song where everything's really touching and it sounds like something I could play for my kids, and then you make sure to drop an "F-bomb" at the end of it?'... I'll never forget what he said. He said, 'Shut the fuck up, Frank.' But then later, he sorta liked the idea of making that dichotomy an ongoing motif."
While Frank reveals that "Queen of the Supermarket" was under heavy consideration ("I've got a picture in my head already, sort of Betty Boop meets Jessica Rabbit," he says), next on the docket will be Long Time Comin', due from the pair this summer. Simon & Schuster has shared with us an exclusive sneak peek.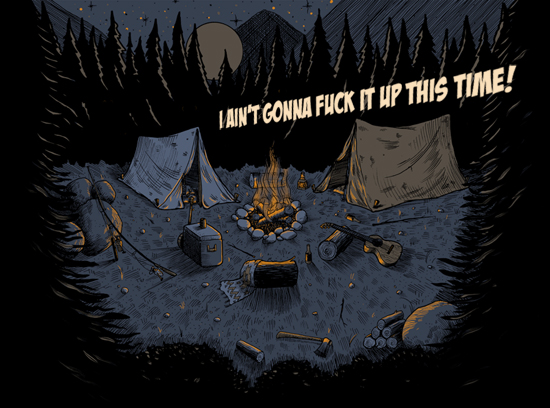 And if all goes well, the Pilgrim in the Temple of Love picture book will be on bookstore shelves just in time for Christmas.
- April 1, 2015

BRUCE TELLS ROY: "BOX" IT UP, I'LL TAKE IT!
Springsteen eyes Bittan debut album for new project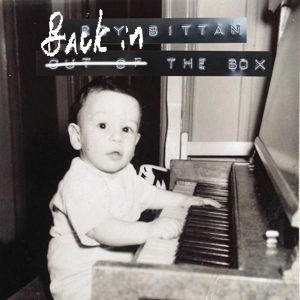 Collaboration is nothing new for Roy Bittan and Bruce Springsteen. The Professor's piano forms a hallmark sound that has anchored Springsteen's records and performances for 40 years. Now, the partnership is taking a new turn, courtesy of Bittan's first solo record, Out of the Box, released on iTunes this past November.
"I didn't just like it, I really liked it," Springsteen tells Rolling Stone. "In fact I was joking with Roy, 'What, you been holding out on me?'"
Turns out it's no joke, as Springsteen has announced his intention to buy Bittan out, and use the instrumental tracks as the basis for a new, unnamed project. "It'll be like 'Roll of the Dice,' but this time, Roy is going to get paid. Not just paid, but paid."
"Now, back in the box, Roy," Springsteen calls out with a laugh, "Back in that box!"
Patti Scialfa characterizes Springsteen's interest in the 10 songs on Out of the Box as "intense": "It used to be, say, in the middle of a quiet meal, Bruce might bolt straight up from his seat and shout 'Professor!' to no one in particular, but this is on another level."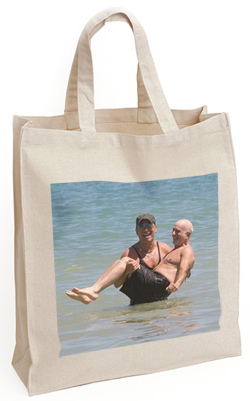 To raise money for the buyout, Springsteen aims to leverage online crowdfunding, attracting donors with thank-you gifts that fans will find unique and appealing. Mama Adele's Lasagna, of course, will feature prominently, joined now by Mama Adele's Chicken Parm, as well as tote bags emblazoned with an image of Roy and his Boss. "What can I say," Springsteen explains, "I'm a fan of public radio." You might have seen this amusing beach photograph before, but never like this — thanks to the Plangent Process, transferred to canvas at 9600 dpi.
Donors contributing at the highest levels to the repurposing of Bittan's lone solo album and the complete siphoning of the virtuoso keyboardist's creative energy can also choose from rewards including Bruce's voice on your home answering machine, a one-hour bullet mic lesson, and the chance to select outtakes for the forthcoming River box. Springsteen qualifies, "A little disclaimer here: just because you pick the songs doesn't mean I have to put them out. You'll still get a lasagna, though. And if you help me come up with a vocal hook for 'Jammin' With Myself,' I might let you pick a show for an archive release in 2016."
Other remarkable premiums appear courtesy of fellow musicians: Jon Bon Jovi, for one, has contributed a series of private house concerts. Donors contributing just a little more can upgrade to the next tier, a coffee mug.
Watch for more details via Kickstarter ("sort of a Born to Run thing, there, right?" Bruce chuckles), when funding begins later this spring.
- April 1, 2015

HELLO AGAIN: SPRINGSTEEN'S DEBUT GETS ANOTHER REMASTER
Ludwig debuts brand new process for Record Store Day exclusive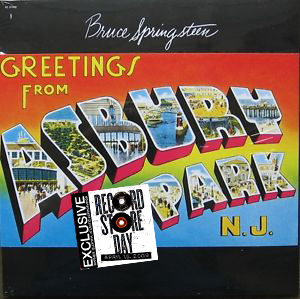 Less than six months after the release of Bruce Springsteen: The Album Collection Vol. 1 1973-1984, Springsteen's first album Greetings From Asbury Park, NJ will receive a fresh remaster, using yet another new breakthrough in remastering technology, just in time for its individual vinyl release on Record Store Day 2015.
"In addition to having the Plangent Process at our disposal," Springsteen's long-time mastering engineer Bob Ludwig tells Backstreets, "we now have the brand-new Tangent Process to work with, as well." The Tangent Process automatically eliminates all pretentious, superfluous lyrical and/or musical excursions on any recording. "Come April 18," promises Ludwig, "be prepared to hear 'The Angel' like you've never heard it before... by never hearing it again."
- April 1, 2015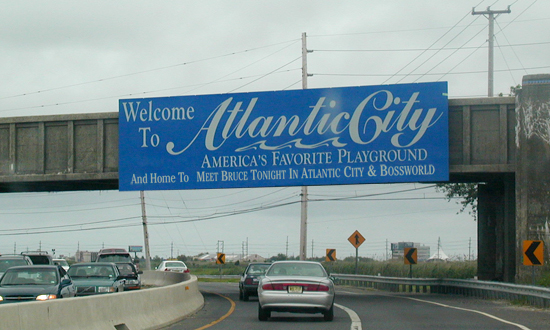 MEET BRUCE TONIGHT IN ATLANTIC CITY
Springsteen to open permanent residency at the WYNN:AC this September
Following in the footsteps of multi-year Las Vegas residencies by Celine Dion, Elton John and Britney Spears, Bruce Springsteen announced an open-ended series of live performances in partnership with hotelier Steve Wynn. But, true to his roots, Bruce's new permanent home won't be Sin City but Atlantic City, where he will perform ten shows a month at Wynn's new WYNN:AC Hotel (formerly the Borgata) under the banner MEET BRUCE TONIGHT IN ATLANTIC CITY.
In addition to the concert residency, WYNN:AC will also be home to BOSSWORLD, a museum of Springsteen memorabilia and interactive experiences that will bring fans "closer to Bruce's music than ever before," according to today's Shore Fire press release.
While unexpected, the decision to set up shop in Atlantic City may be the very thing that keeps Springsteen on stage. Given the back, spine, hip and knee issues that afflict many lifelong performers, doctors have been advising Bruce to come off the road for good, as the wear and tear of going city to city on an arena stage could cause permanent damage. As the Associated Press reports this morning, Springsteen was close to announcing his retirement from live performance when a chance meeting with Wynn and Monmouth College professor Frank Davis changed everything.
At this year's Robin Hood fundraiser gala, Wynn ran into Bruce and learned the terrible news about his pending retirement. As Springsteen described his concerns, Wynn called over his friend Davis, inventor of the Tempurpedic mattress and long-time fan, to ask if there was any material that could be used in the construction of a stage that would dramatically reduce stress on a performer's back and joints.
"I was just thinking out loud at first," recalls Davis. "I said it would require a permanent build-out to allow stage anchors to be set in polymer that would offer give and take with what was happening above ground. On top of that, the stage floor itself could have a 'memory foam' layer, not unlike one of my mattresses." It was then that Wynn had his epiphany.
"It's no secret Atlantic City has had a tough go of late," Wynn tells Backstreets. "And the only way I know how to turn something around is to go BIG. What better way to do so than with a homecoming by New Jersey's native son?"
On the spot, Wynn pitched Bruce the idea of making the WYNN:AC his permanent home, including tearing down the existing Chris Christie Theater For the Performing Arts and rebuilding it to include Davis' special polymer stage and the latest virtual reality technology and 4K screens to recreate any legendary venue from club to arena to stadium: the Bottom Line, Nassau Coliseum and Giants Stadium, all just a click away.
"I have known Bruce for more than 20 years," says Wynn, "and never in my wildest dreams could I have imagined he would play at one of my hotels, let alone call it his home. After I pitched the idea, Bruce just laughed a little and shook his head, but the next day Jon Landau called me, and said, 'Steve, get out your checkbook.'"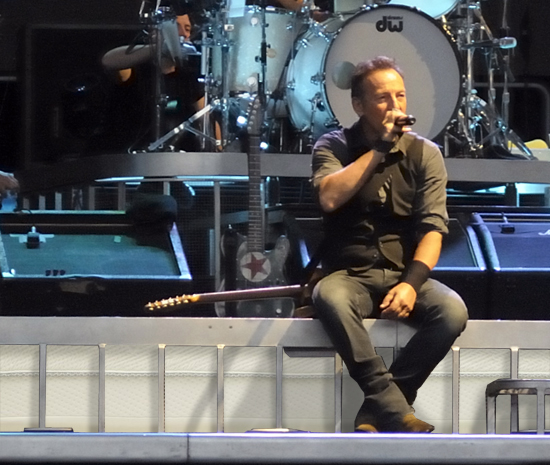 Soundchecking and foam-testing on the new stage in late March
MEET BRUCE TONIGHT IN ATLANTIC CITY "completely redefines the dinner-show experience," says Wynn. The nearly two-hour performance takes the audience on what he describes as "a journey spanning Bruce's entire career, from scruffy troubadour to arena rocker to stadium headliner, with period costumes to mark each era." The press release notes that members of the E Street Band, both virtual and actual, will accompany Springsteen, with his wife, Patti Scialfa, also appearing on select dates. "Muse" Tom Morello, of course, will be on hand at each show. There is a strict two-drink minimum for MEET BRUCE TONIGHT IN ATLANTIC CITY.
The residency starts this September with shows on September 3, 5, 6, 10, 12, 13, 18, 19, 25 and 26. Tickets are on sale tomorrow at 10 am through the WYNN:AC box office. Special room packages are available.
For fans, that feels like a long wait, but there is solace coming sooner when Bossworld opens at the Wynn on Friday, July 3. Curated by former Asbury Park Rock and Roll Museum founder Billy Smith, Bossworld features the greatest collection of Springsteen memorabilia ever assembled, with personal effects, clothing, hand-written lyrics, myriad bandanas, and instruments including the famous "dark clouds" keyboard used so often in the '90s, all contributed by Bruce himself and the entire E Street Band.
Bossworld also gives fans a chance to "join the band" through Virtual E Street™, a 3D audio and video simulator that puts "you in the boots of you favorite band member, playing along with Bruce!"
In the STUDIO simulator, take over Max's drum stool, while Springsteen yells "Stick! Stick!" during the Darkness sessions. In the STAGE simulator, don Nils Lofgren's giant foam cowboy hat and twirl like a merry-go-round. And in the TEMPLE OF SOUL simulator, find out what Clarence Clemons did to get ready before each show (note: children under 18 are not admitted in the TEMPLE OF SOUL simulator).
"I'm humbled to help revitalize Atlantic City and to call it my new concert home," said Springsteen in the statement. "I wasn't ready to hang up my rock 'n' roll shoes quite yet, so I invite fans to come take the journey with me and enjoy some of the most delicious prime rib I have ever eaten, all at the WYNN:AC. Hope we'll be seein' ya!"
- April 1, 2015

- 2015 Fools: Erik Flannigan, Jimmy Guterman, Christopher Phillips, Jonathan Pont, Shawn Poole