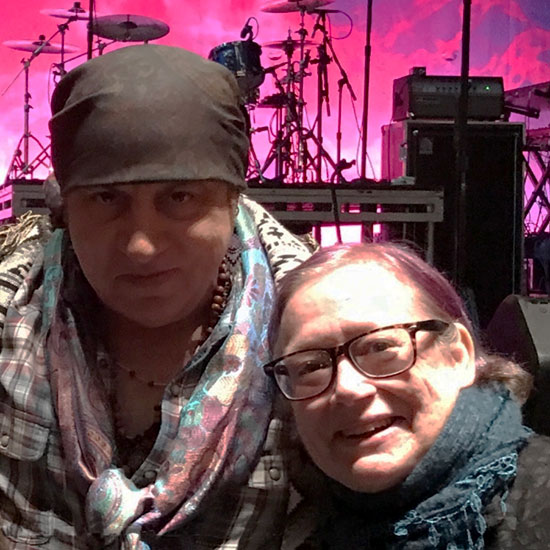 Little Steven Van Zandt with "lifelong assistant" and "true Disciple of Soul" Holly Cara Price - photograph by Ken Lesnik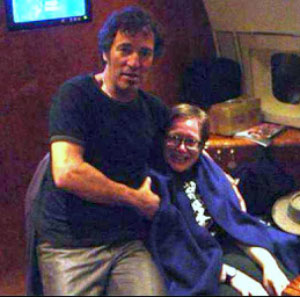 For those who knew and loved Holly Cara Price — and there were many of us — this past weekend was one of serious highs and lows. As many around the U.S. literally danced in the streets on Saturday, Holly passed away. A hardcore E Street fan since the late '70s who went on to work the other side of the velvet rope, Holly had lived with cancer for a decade — and truly lived.
Throughout her treatment, she remained an inspirational spirit for so long, often wearing her "Fuck Cancer" hat, but her health took a turn for the worse when she lost her mother over the summer. While Holly's passing on November 7 may not have come as a huge surprise to all those who kept in touch, read her online updates, or generously donated to Holly's Stage IV Cancer Campaign on GoFundMe, it's heartbreaking nonetheless.
A reassuring thought — especially for someone who cared so much about progressive politics, and music, and where the two meet — is that she died peacefully in her sleep after hearing the news about the Biden/Harris victory, while Letter to You played.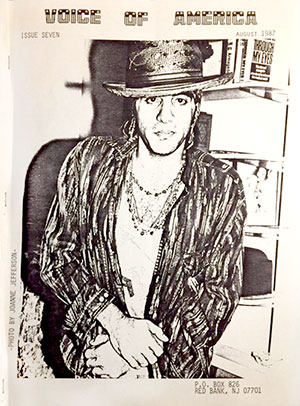 I was first familiar with Holly through her work as the publisher of Voice of America in the 1980s — a fanzine dedicated to Little Steven. A skilled editor, writer, researcher, and "agent provocateur," she became a longtime friend of and contributor to Backstreets. I recall a few "business calls" with her in the early '90s, but we really connected in 1998, as I was looking for someone to write about Bruce Springsteen's summer 1982 club appearances, for Backstreets magazine.
"Oh, you've got to talk to Holly," a mutual friend told me, "Not only was she there in '82, she kept a diary!" Soon Holly and I were back on the phone, but this time getting to know each other as she excitedly took me through that magical summer on the Shore; in Backstreets #60 we ran an edited version of her diary including photos she had taken along the way at Big Man's West.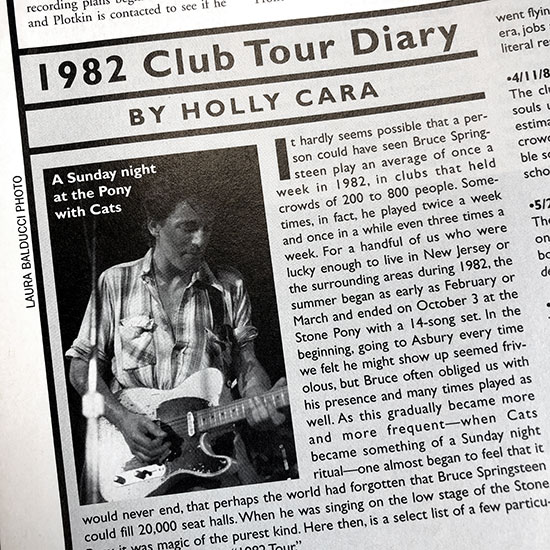 A year later I met her in person, as the Reunion tour got under way; we were soon friends, reconnecting at pre- and post-show gatherings over the years, speaking on panels together, and as she worked tirelessly for Little Steven, helping each other spread the word of the Disciples of Soul. I fondly remember her making sure to introduce me to Steven at his 2000 Tower Records meet-and-greet, taking the picture of us personally to make sure I got a good one.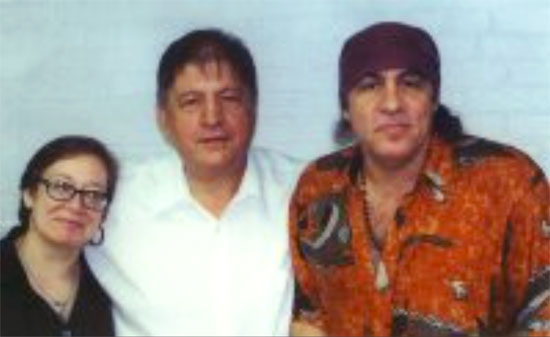 Holly and Steven with music industry legend Steve Popovich — she wrote a wonderful piece on HuffPost.com when he died in 2011, read it here
Holly's passion for the music never wavered, and it warmed my heart every time she said "Yes!" to something I hoped she'd write. Which was every time. Even when the answer was, "Yes! That's a perfect time for me to write something, since the worst of tomorrow's chemo treatment should be over by then."
Her writing ran on Backstreets.com as recently as May of this year, when she told the story of Springsteen's 7/9/81 Meadowlands show upon its Live Archives release; last year she wrote up the 11/24/96 Asbury Park release for us.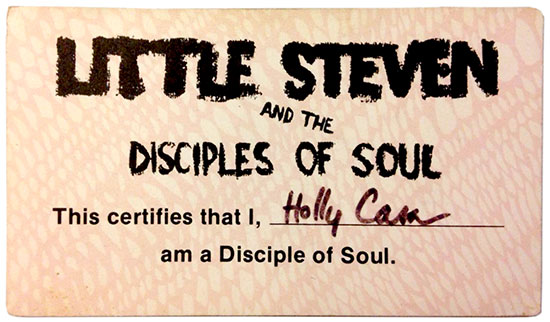 There's been an outpouring of love for Holly online in the wake of her death, from so many whose lives she touched, including the Van Zandt and Lofgren families. A card-carrying Disciple of Soul, she truly walked it, talked it, in her heart.
—Christopher Phillips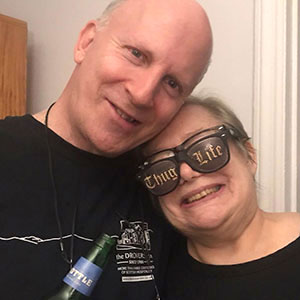 TOO BIG — IN SPIRIT — TO DIE
By Dan French
Too big in spirit to die. That's how Holly seemed to me: diminutive in size, but huge in heart and massive in mind. She was one of those people you couldn't imagine the world without. An inspiring, feisty, and fearless cancer warrior since April 2011, as embodied in her "Valkyrie Nun" symbol, fighting was her faith, reflecting her passionate outlook on all aspects of life.
I first made contact with Holly about 40 years ago; she was one of my first American contacts, when she wrote me a letter from New York having found a 1980 Springsteen concert review of hers reprinted in my U.K. Bruce fanzine, Point Blank. A fellow diehard fan since 1978, with over 20 concerts under her belt already, she immediately offered any help she could give, and that was her approach ever since.
We first met in September 1982, when I went with my friend John from the U.K. to spend three weeks in New York and New Jersey for the first time in my adult life. Holly proved the ideal guide to exploring the Jersey Shore area — a pilgrimage for us, as Bruce fans, of course. Thanks to her we were able to catch Bruce's unannounced guest appearance with Cats on a Smooth Surface at the Stone Pony on October 3, the hour-long finale of his club-hopping "tour" that year. Holly herself was convinced that Bruce was on the West Coast that night, but it was if she had a magic touch, bringing us luck.
Always an Anglophile, brought up on the music of The Beatles in the '60s, Holly was often amused at the curiosities of British culture. One of her favourite sayings came from travelling on the London Underground and hearing the announcement 'Mind the Gap!' Since she and I were separated by the width of the Atlantic, this became our signing-off phrase with each other.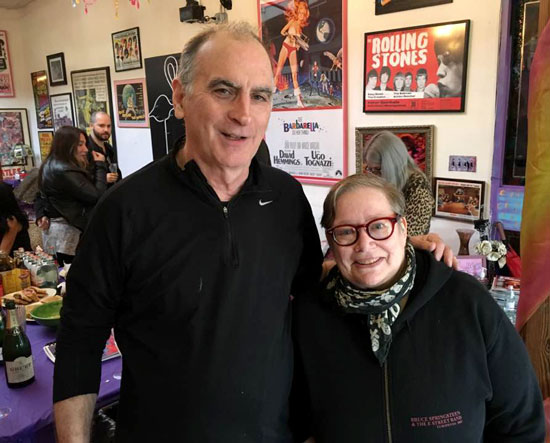 Holly with friend and client Eddie "Kingfish" Manion
Holly's list of professional achievements, often specializing in media production and research later in her life, is extraordinary. As an archival researcher and social media consultant, she wrote about books, music, photography, television, and health for The Huffington Post.
As her LinkedIn profile summarizes: "Holly Cara Price is a writer/editor and consultant for social media, audience development, niche marketing, public relations, archival research and rights and clearances in addition to talent relations and pre- and post-production. Clients have included Dr. Neha Sangwan, The Fresh 20, One Veda Naturals, Soozie Tyrell, Jake Clemons, Ed Manion, Little Steven's Underground Garage, Wicked Cool Records, Renegade Theatre NYC, The Rock and Roll Forever Foundation, and Amanda Palmer." With a brilliant, heartfelt writing style, she is easily one of my favourite bloggers. Witness her stirring posts here.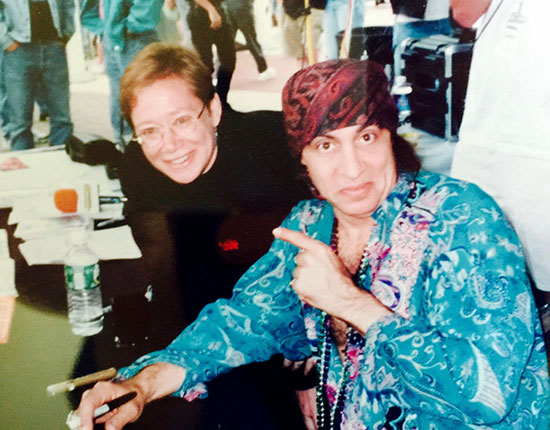 Holly with the Artist Formerly Known as Miami Steve - photograph by Michael Waldman
Although probably the most ardent Springsteen fan I knew in the early '80s, Holly was shy in Bruce's offstage presence, making great efforts to see him whenever possible, but ideally never getting closer than a few yards away. One equally fervent friend was less reserved and would often chat to Bruce on these occasions; in the late 1980s Bruce's curiosity prompted him to ask, "Who's your friend who never comes up to talk?" He was told, "That's Holly," and the conversation continued. The next time Holly saw Bruce he came right up to her, giving her a friendly pinch on the arm and saying, "Hey, Holly! How ya doin'?"
I got her stunned account of this encounter by post a few days later, with Holly exclaiming to me: "He knows my name! I'm a changed woman!!"
It was thanks to Holly that I met many other friends, and people from our world of music. She introduced me to Obie Dziedzic, having passed on my fanzines to her; and to John Eddie as "Dan from England" — John immediately christened me "England Dan." Mutual friends in the U.S. for whom I have to thank Holly include Deb Mayer, Debra Rothenberg, Barry and Nancy Rossnick, Flynn McLean and Claudine Gruen, Dayle Zelitch, Liz Clarke, and Molly Lenz.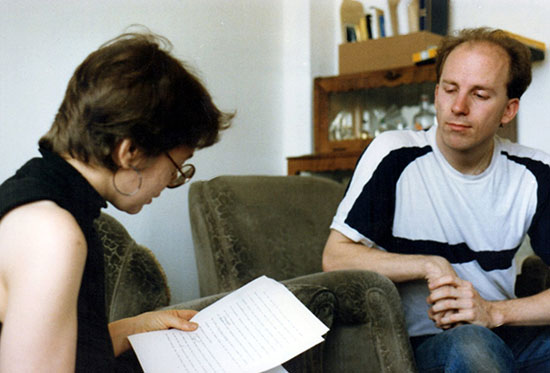 A couple of fanzine editors sitting around talking: Dan and Holly, June 1989
As if this was indeed a turning point in her life as a fan, Holly went on to produce Voice of America, a Little Steven fanzine, in the process making contact with Stevie Van Zandt, which led eventually to him inviting her to design his first website. This in turn led to an invitation to go on the road as assistant to Steven when the E Street Band went on the Reunion Tour in 1999, a role she held for many years. Quickly a firm part of the wider E Street family, she worked at different times for both Stevie and later Soozie Tyrell, on and off tours.
Holly's selfless generosity is best exemplified in a story from May 1988. I'd flown to New York in the hope of catching at least one of Bruce's Madison Square Garden concerts, which were marking the end of the U.S. leg of the 'Tunnel Of Love Express Tour' — without any tickets, just on a wing and a prayer. My 30th birthday was coming up, and I'd unexpectedly come into just the right amount of money for the air fare, so in a wild and innocent gesture, I put myself in the lap of fate.
The penultimate night of the stand, I joined the long line, hoping against hope for a ticket drop. After 8pm had passed with no result, I resigned myself to missing that show, just grateful that I wasn't more frustrated by hearing the concert from outside the arena. Imagine how I felt when Holly told me later she'd been inside but had come out again with a spare ticket for me!
As if that wasn't extraordinary enough of her, I was in line trying for a ticket again the next and final night, once more convinced my luck had run out as it was almost showtime, when I had my first "ticket angel" experience: Holly rushed up to me, pressed a ticket into my hand, and whispered urgently, "Run!" After a couple of seconds of shock and disbelief, I ran and made it to my seat just as the lights were going down. Holly's timing was perfect: "I know it's late, but we can make it if we run," indeed.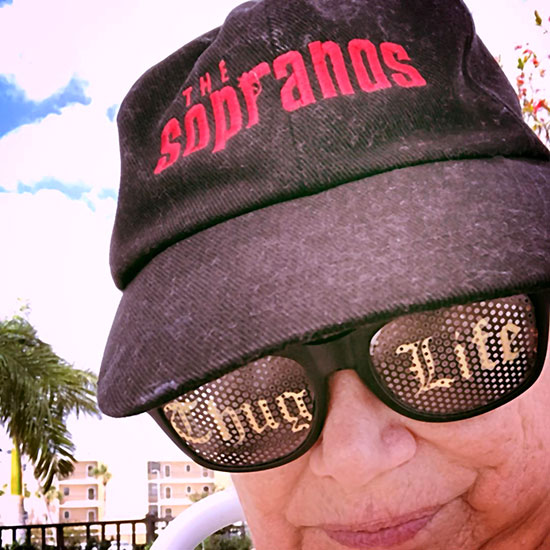 It was this generosity which achieved its full expression in July 2013, the last time Holly was able to travel to Europe. She was working as Soozie Tyrell's assistant on the Wrecking Ball tour, joining the band's crew for the final part of that European leg, for concerts in Leeds and Ireland. Most days she would text me asking for contact details of any friends who were struggling to get tickets; her motto was invariably, "Who can I help today?"
The last time I saw Holly in person was on January 18, 2018, appropriately enough in her hometown of New York, when I was there to see Bruce performing Springsteen on Broadway. Together with a big group of fellow fans from all over the world, we ate pre-show at John's Pizzeria before she and I went our separate ways. Holly had already seen the performance a few times, usually still helping others with tickets, as so often.
More than anyone else, she's been my ticket angel in this world; now she's a different kind of angel, in my heart and mind. Mind the Gap, dear "Miss Holly."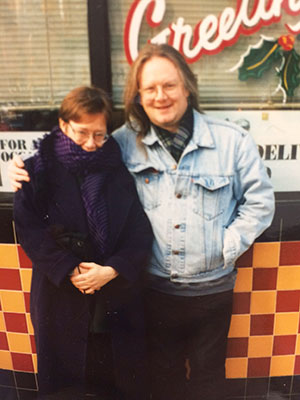 ONE MINUTE YOU'RE HERE...
By Mike Saunders
Two completely separate events last Saturday inspired deeply contrasting emotions for me. The elation of Joe Biden's win in the U.S. Presidential election after three days of almost unbearable tension was followed in just a few hours by sadness at the passing of my friend of 34 years, Holly Cara Price, after ten years of what at times was an almost unbearable illness.
For those who didn't know Holly, she was one of the original American '70s Springsteen superfans. She saw her first gig in 1978, followed the River tour around in 1980 and '81, and caught many of Bruce's New Jersey club appearances in 1982. And that's just for starters.
Although Holly saw Bruce in concert countless times and was as fervent a fan as it's possible to be, her primary claim to fame is her connection to Little Steven, the artist formerly known as Miami Steve. Between 1985 and 1989, Holly published 12 issues of her fanzine Voice of America. She interviewed Steven for one issue, went on to work on his first official website, then became his full-time personal assistant for many years, a 24/7 occupation that required dedication beyond the call of duty.
That gig took her out on the road with Bruce and the E Street Band on the Reunion and Rising tours and beyond, giving her the chance to see touring life from the other side of the curtain and being forever immortalized by Bruce as "Miss Holly" on the Live in New York City DVD. Holly continued to work for Steven in various capacities, most recently taking on the role of Archival Producer for The Early Work box set. In the extensive liner notes, Steven credits her "infinite and comprehensive knowledge of me".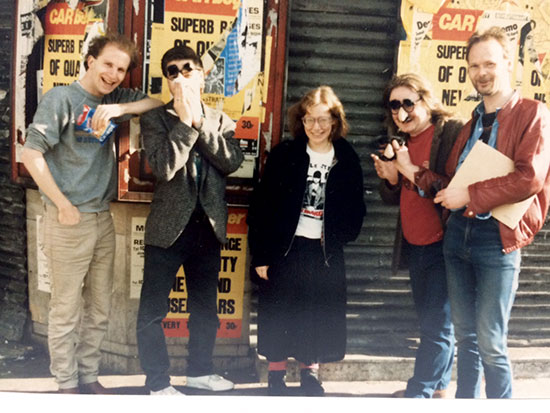 The Day of the Groucho Noses, London 1986. L-R: Dan French, Max Soden, Holly, Mike Saunders, Chris Hunt
I first heard Holly's name when I met the equally legendary Point Blank editor Dan French in 1984. She was one of his first U.S. correspondents when he began publishing in 1980. I finally met Holly in London in 1986. It was a genuine thrill to encounter a bona fide American Bruce fan, particularly one of Holly's stature. There is photographic evidence of this visit that for some long-forgotten reason, features Holly with a bunch of crazy English guys (including me, Dan, and the late, great Springsteen author Chris Hunt) wearing Groucho noses.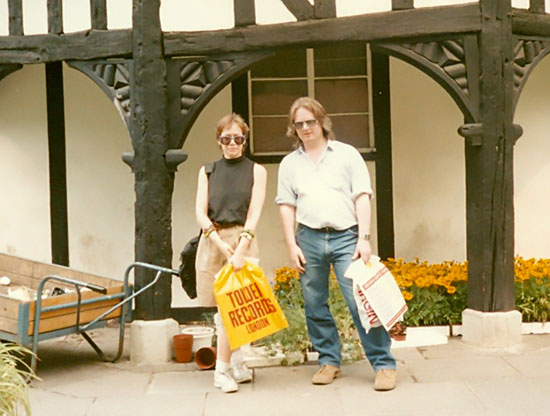 Holly in London, 1989. Above: with Mike in Soho Square after record shopping; below right, on Carnaby Street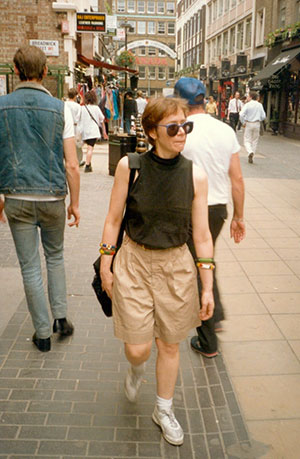 Holly returned to Europe in 1989 on a video assignment with director Hart Perry. She passed through London on her way back home and we spent time indulging her Anglophilia. As Dan wrote, she loved the London Underground "Mind the Gap" sign, and it became the sign-off for all our future correspondence. Any conversation that concluded this way was routinely conducted by our adopting an exaggerated upper-crust English accent.
I went to the States for the first time in 1994. At the time, Holly was working on a project about superfans of various bands for a video installation at the Rock and Roll Hall of Fame in Cleveland. She should have interviewed herself for that one. Holly suggested that I could be one of the subjects, in my capacity as historian and longtime fan of the Asbury Jukes, but the plan fell through. Dan and I nevertheless spent a couple of days with Holly, staying at her dad and stepmum's place in Colt's Neck and catching the Jukes on New Year's Eve in Red Bank. She also drove us to Asbury Park — my first time on the boardwalk.
Many other get-togethers, escapades and adventures with Holly followed, at irregular intervals. The E Street Band Reunion tour brought her to Europe for three months and enabled members of her U.K. fan club to catch sight of her on a regular basis. Sometimes we were able to have a conversation — the least enjoyable of which, for me, took place on opposite sides of the front barrier at a concert in Arnhem, Holland, while I was suffering from food poisoning.
Holly first introduced me to Little Steven in Cleveland, Ohio, in 1999. She told him I was the guy who researched and drew the Jukes family tree. Remembering a copy that I'd sent to the Better Days sessions at Southside's request eight years earlier, he stretched out his arms as though telling a fishing story and said, "You should see this thing, it's this big!"
The following year in London, while Steven was promoting Born Again Savage, Holly asked Dan and me to go shopping for him and Maureen because she was snowed under with her other responsibilities. We wandered into the west end, bought shampoo, a vibrating cellphone battery, and a Dave Clark Five compilation. We brought them back to the hotel, where we met Steven in the lobby. I met Holly again that summer at a group meal following Little Steven's personal appearance at Tower Records in Manhattan during Bruce's stand at Madison Square Garden, and ran into her once more at the "Jukestock" event in Tinton Falls with my friend Dave in early 2001.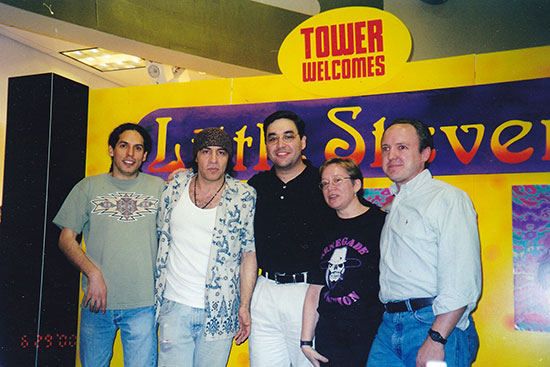 The penultimate night of the E Street Band's Reunion tour, Stevie had his own in-store for Born Again Savage at Tower Manhattan, wth Holly assisting. L-R: Alex Ewen from Renegade Nation, Little Steven, Ken Lesnik, Holly, and store GM Tim Devin.
Photograph courtesy of Ken Lesnik, who adds, "I loved Holly — she was such a kind soul, and it really is amazing how many lives she touched and friends she had. I actually spoke with her two weeks ago and was fortunate that she was awake and lucid — I'm so glad I got that moment with her."
Four years later, we met her at the Stone Pony, during a time when she was working with Soozie Tyrell. We had coffee in Manhattan in 2012 after Bruce's concerts at the Garden and met again at his gigs in Cardiff and Leeds the next year, her last time in the U.K.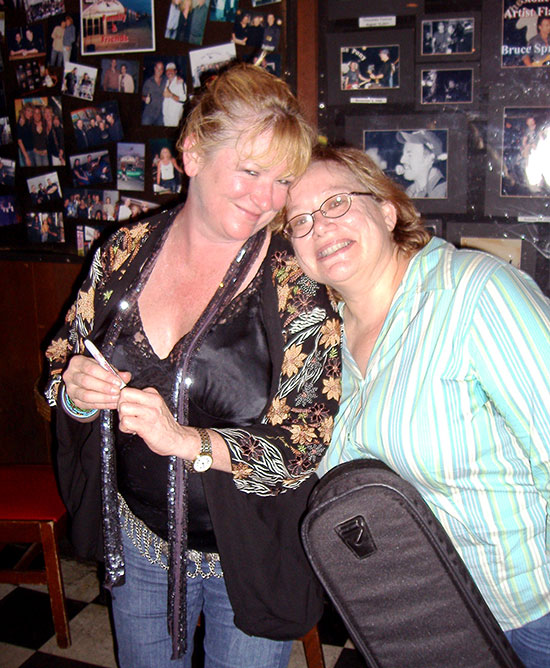 Holly giving Sister Soozie Tyrell a hand - photograph by Matt Orel
Holly was a generous soul who liked nothing better than making someone's day whenever she could. Like many others, I was often the beneficiary of her most excellent ticket allocation skills. At a Springsteen concert in Gothenburg, Sweden in 2008, she went one step further and arranged access for a bunch of us to the E Street Lounge before the show. This is usually a place where the band's friends and family hang out, with no guarantee of E Street Band members making an appearance. But on that day Little Steven walked in. Dan and I sidled up to him, and Dan told him I'd worked with the Jukes. "Southside," he said, "never listens to a fucking word I say!"
It was entirely thanks to Holly's intervention and determination that I was able to interview Little Steven for Backstreets in Newcastle in November 2017. When an earlier opportunity to speak to Steven fizzled out, she went into "leave it with me" mode and took it upon herself to bring us together. I've kept the extensive email and WhatsApp trail between us that finally led to that momentous meeting. I'll never forget her message of November 15: "He wants to meet you in Newcastle at 5pm. Can you get there by then?" — I could, just — or her astonishment later that he'd spoken to me for two hours. "Nobody gets that!"
I last saw Holly in December 2017, when I flew to New York to see Springsteen on Broadway. I'd planned to arrive just after Christmas, but changed my flights when she invited me to be her guest at Little Steven's final gig of the year in Red Bank. We watched the soundcheck together and sat in the sixth row during the show. Holly also introduced me to DJs Rich Russo and Tom Cunningham, and Steven's sister Kathi. During that trip, we ate at her local Mexican restaurant and spent some quality time at her apartment, where I encountered her Valkyrie Nun alter ego [right] and her also now sadly departed furry companion Mr. Boy. I'd hoped to get back to Manhattan to see her again, but it was impossible for reasons both financial and viral.
Given Holly's enthusiasm for various ongoing projects in the past decade, it was easy to forget that she was fighting Stage 4 metastatic breast cancer. Many friends contributed to her fundraising effort to cover medical expenses. There was cause for concern with each new spread as the years went by, but despite several operations and the debilitating side effects of her medication, she just kept going.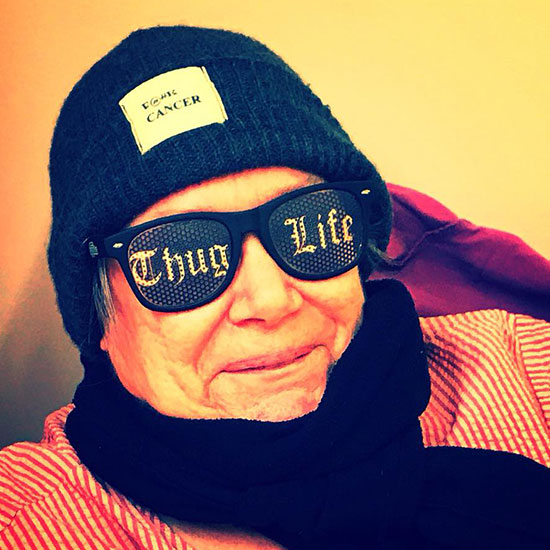 "Fuck cancer," she would say, "I've got stuff to do, places to go, people to see." With that steely determination, it sometimes seemed likely that she'd continue the battle for another decade, but in recent weeks she was told it had spread to her brain. We were last in touch little more than a month ago, but after that there was apparently a rapid decline. Close friends who were with her on Saturday say that she survived long enough to hear that Joe Biden had won, then slipped peacefully and painlessly away while Letter to You played in the background. I tend to think that the cancer didn't get her in the end, she just decided it was time to go. There was a conversation with Clarence Clemons, Danny Federici, and John Lennon to be had, among other things.
These have largely been my personal memories of Holly. There are hundreds more just like me out there with equally warm tales to share. I'm just glad that I'm one of them. Holly may have been diminutive in stature, but she was the living embodiment of "less is more," a prime example of someone who followed her dream, no matter what it took, and never once gave thought to landing. An example to us all. Now the undisputed warrior queen of the Upper West Side has laid down her shield and sword, her mighty battle finally over.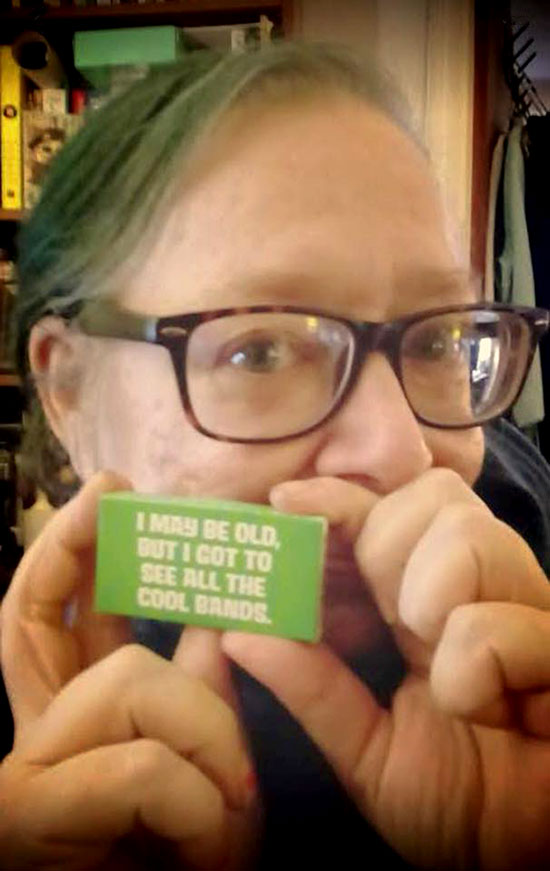 I'll miss Holly's sense of fun, her dry humor, her laugh, her stories, her emails asking for information. I'm glad she's not suffering anymore, but I wish she was still with us. She deserved a longer life. There was so much more to do, books to write, gigs to see, English guys wearing Groucho noses to hang out with. It would take an encyclopedia-sized volume to catalog her lifetime achievements and to list the people who knew her, loved her, or were aware of her legendary status. She leaves a giant hole in our lives for multiple reasons, but she's left behind an archive of priceless memories that we can draw upon when her absence gets too hard to bear.
Goodnight, Holly. I'll see you in my dreams. Do please mind that jolly old gap, won't you?

Also read: more of Holly's writing at huffpost.com
Also read: Holly's obituary in the New York Times
For anyone wishing to honor Holly's memory, you may send donations to The Humane Society of New York