An already auspicious week in Springsteen catalog news just got better with the announcement of live.brucespringsteen.net, a new addition to the official website offering high-quality live concert recordings as well as high-resolution digital releases of the Springsteen album catalog. It's powered by nugs.net, best known for its industry-leading work in the live download space with artists like Pearl Jam, Phish and Metallica, in cooperation with Columbia Records.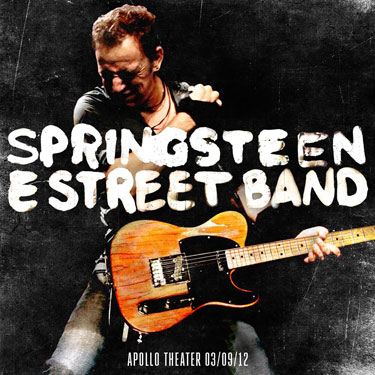 The new site launches today with the expanded re-release of 30 concerts recorded on this year's High Hopes tour, plus the first in a collectors' dream come true: a planned series of vault releases that kicks off with the Apollo Theater, New York, NY, March 9, 2012 [right].
The High Hopes shows were available for a limited time through Springsteen's Live Nation store before being sunsetted at the end of June. The new release adds key additional formats including three-CD sets and high-resolution, 24-bit downloads, as well as MP3s and lossless, CD-quality downloads.
Nugs.net founder and CEO Brad Serling talked to Backstreets about the start of a new partnership that has massive implications for fans of Springsteen's past and future live recordings. High hopes indeed.
The story begins more than five years ago, when it was announced that Bruce would make his first appearance at Bonnaroo.
"In January of 2009," Serling recalls, "I cold-called Landau's office because the Bonnaroo line-up for that year was Phish and Bruce Springsteen. We knew we'd be doing Phish, and we were already doing a live Bonnaroo program. I called out of the blue and asked if this was something Bruce would be interested in doing, as an on-going program like what we do with Metallica. They politely said, 'Thanks, but no thanks. It's not something Bruce would ever go for.' Which is the same kind of answer I've gotten from lots of artists."
Fast-forward five years and Serling sees the news of Springsteen entering the concert download space, albeit with an initial mixed reaction to elements like the USB wristband that had some fans posting, "Why don't you do what Pearl Jam and Phish do?" Serling says that soon thereafter, he got word that he should reach out to Landau's office again. "Long story short, we had a series of calls, then we went to New York for a meeting with Jon, Barbara, Jan and everyone. We thought it was going to be a half-hour meeting and we were there for three-and-a-half hours. It was a meeting of the minds. Unbelievable, like meeting a kindred spirit."
"The one question that we had," Serling offers, speaking for many fans, "was why now? We spoke to you five years ago. What changed? It was Bruce looking at YouTube and seeing fan-generated content from his recent shows, as well as archival stuff. And he was like, 'We can do better than this. We own the masters!' What's great is, he wasn't saying, 'Fuck those guys. Take that stuff down. Screw YouTube.' It was, 'If this is happening, we should be doing it officially.'"
And with that, a new partnership was born, though Serling is quick to point out that it couldn't have happened without commendable cooperation from Columbia and Sony.
"Sony really bent over backwards to accommodate us on this project," he says. "They gave us their blessing to release the live recordings directly on Bruce's site, and they licensed Bruce's catalog to us to sell direct-to-fan, which is really unprecedented for a major label and a marquee artist."
The return of the High Hopes shows in superior quality (and on CD), the promise of even better live downloads on future tours and the official release of the Apollo is all great news, but what many fans most eagerly anticipate is the potential of true vault releases.
Serling is excited and justifiably cautious about the topic, as plans are still coming together. But he did share a few tantalizing tidbits. "We know, of course, that fans want to dig deep," he says, adding that there's a working list of 30 shows "spanning Bruce's entire career" under consideration, and, by way of example, he confides a healthy percentage of them are circa 1973-78.
"It's very exciting to think about the different eras that will be covered. And what's really interesting is where the tapes are coming from. What's in the vault, what isn't. Not all of it is in their archives, so they are sourcing material now."
The ubers among us will be pleased to hear multi-track recordings, true soundboards, and radio broadcasts are all in the mix. "Nothing's off the table," says Serling, conceding even audience tapes have been used to patch gaps in prior releases from the Grateful Dead and Phish. While he was admirably tight-lipped about what shows are on the list, his history with those artists gives an indication of what to expect. And while it might seem somewhat counter-intuitive, his common-sense approach is likely spot on.
Serling told Landau his experience suggests the best-selling vault titles are the most widely circulated tapes. That's been true of the Dead and of Phish. "Our biggest archive releases are the ones that were most widely traded," he explains. "There's a simple reason for that: Free advertising. The one everyone already knows is the one everyone's going to buy the moment it goes on sale. It doesn't take a marketing genius to figure that out.
"The thing that you have to get over as an artist is just because everyone has it doesn't mean they don't want to buy it. And I don't mean that in any crass or commercial way. It's just that those shows are what's [top of mind], and fans are going to get very excited about the one that was the favorite tape in their collection for many years. That's apparent in what they are considering; it doesn't mean that's all they're working on, but there's a lot of overlap there."
The new live store will also serve as a retailer for high-resolution downloads of Springsteen's catalog albums through the nugs.net platform. To start, 24/48 versions of the first seven albums — the remastered Plangent transfers also available today in CD and vinyl box sets — will be available, along with other albums already mastered for the 24/48 format including We Shall Overcome - The Seeger Sessions, Working on a Dream and The Promise. Expect all on-going high-resolution releases to be available there.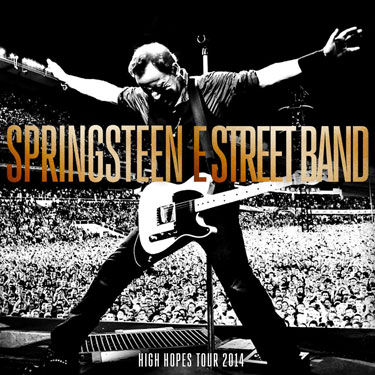 As mentioned above, the High Hopes shows are also being made available (in the same mixes and mastering as the initial releases) for the first time as high-resolution, 24/48 FLAC files, and Serling assures us he is committed to high-res formats long-term. "We will always release the highest-quality source available," he says. "In the case of the 2014 shows, John Cooper recorded them live at 24/48, so that's what we're releasing. Similarly, the Apollo show was recorded at 24/48, but later mixed by Bob Clearmountain and recently mastered for release by Bob Ludwig."
Why was the Apollo chosen as the inaugural release? "Frankly, when you're fortunate enough to sign a deal with Bruce Springsteen," Serling says with a laugh, "you don't really argue with his choice for the first release from his archives! What I've found with any actively touring artist, big or small, is that recent always trumps older in the artist's mind. There's an afterglow of big moments in the near-rear-view mirror that are more meaningful to them than the glories of the distant past."
But more vault titles are coming, rest assured, the only question is when? That timing is dependent on a number of factors including the unknown of when Bruce gets back on the road, which would switch focus back to new shows. But Serling hopes to see releases happen at regular intervals as is common with other nugs.net bands.
One thing that's very apparent throughout the conversation is that the voice of the fan has been heard, which is part of why nugs.net is now the platform of record. There's an "open loop" with the fans, Serling says, and the feedback, good and bad, is having an impact.
That Serling runs the most successful concert release platform is true to his roots as a taper of the Grateful Dead himself back in the day, bringing his deck and mics to shows in the '80s and '90s. Beyond the Dead, he grew up in Philadelphia listening to classic rock on WMMR and WYSP, on both of which Springsteen's music was a constant.
Ironically, it wasn't his Dead tapes, but the release of Springsteen's own Live 1975-85 in 1986 that first got Serling thinking about mass distribution of vault recordings. "A rock artist putting out a retrospective of their live material in a five-LP box, it was mind blowing," he says. After that, "a little light went off in my head."
- November 17, 2014 - Erik Flannigan reporting