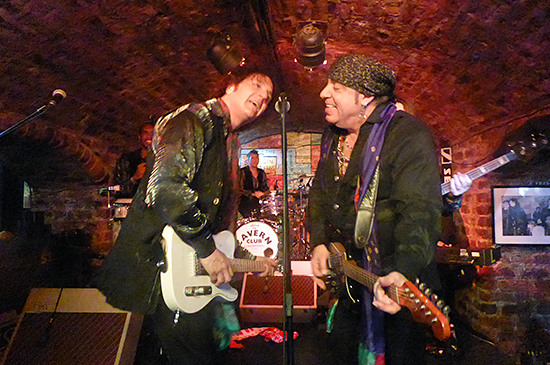 A strong sense of popular music history and the enduring influence of The Beatles loomed large over the recent U.K. tour by Little Steven and the Disciples of Soul, their first since 1987 and their longest since the original band's debut tour in 1983. Between November 4 and 16, they played seven shows (six in England and one in Scotland) in the country that exported so much timeless music to the world over half a century ago. Effectively staging a British Invasion in reverse, they walked onstage each night to the sitar-dominated sounds of the Beatles' "The Inner Light," the George Harrison-composed, 1968 B-side to "Lady Madonna."
The band line-up for the tour was Marc Ribler (musical director, guitar); Rich Mercurio (drums); Jack Daley (bass); Andy Burton (organ, accordion); Lowell "Banana" Levinger (piano, mandolin); Anthony Almonte Leon (percussion); Eddie Manion (horn section leader, baritone sax); Stan Harrison (tenor sax, flute); Ravi H Best (trumpet); Ron Tooley (trumpet); Clark Gayton (trombone) and Jaquita May, Sara Devine and Tania E Jones (backing vocals).
One northern city in particular held the greatest fascination for the American tourists. Having played "I Saw Her Standing There" with Sir Paul McCartney on opening night in London and "Birthday" in Leeds in honor of Maureen Van Zandt's birthday, it was no big surprise when an afternoon show at Liverpool's legendary 200-capacity Cavern Club was added to the itinerary. "Liverpool to us is literally Mecca," said Steven. "My religion is rock 'n' roll and that is the holiest town, the Cavern being the holiest site."
Fans attending the Birmingham show on November 10 had to wait outside longer than usual while the band extended their soundcheck to rehearse exclusive material for the new gig, which was announced the next day. Disciples Musical Director and guitarist Marc Ribler later posted a video of the band rehearsing "All You Need Is Love" on their tour bus en route from Glasgow to Liverpool, providing a sneak preview of what was to come. While in the city, Little Steven and several band members boarded a bus for the Magical Mystery Tour of Beatle-related locations such as Penny Lane and Strawberry Fields.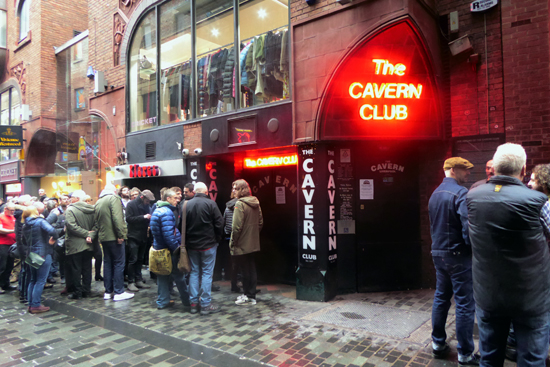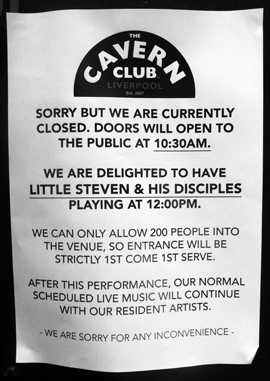 Fans began turning up at the Cavern Club at 5:30am on November 14, and when the doors opened at 11:30am, a long line stretched down Mathew Street for the first-come, first-served free concert at the spiritual home of the Fab Four. As close as anyone can get to it, anyway. The present-day building is a copy, faithfully rebuilt on the same side of the street, using some of the brickwork from the original club, which was demolished in the '70s — a fact that the artist formerly known as Miami Steve discovered when he first visited Liverpool during a break in the U.K. leg of the River tour in 1981.
At 12.30pm, the musicians squeezed into position, carefully avoiding falling over each other's instruments. Drums, bass, guitars, organ, piano and less percussion paraphernalia than usual were set up on the main stage under one brick arch, while the five horn players and three backing singers were huddled together under the adjoining arch, partly hidden from the rest of the group.
For the next 30 minutes, the band played a lovingly reproduced, eight-song set of Beatles material, equally split between originals and covers. Opening with "Magical Mystery Tour," they continued with "Boys," "Slow Down," "Some Other Guy," "Soldier of Love," "Good Morning, Good Morning," "Got to Get You Into My Life" (which was on the London setlist but not played), and "All You Need Is Love."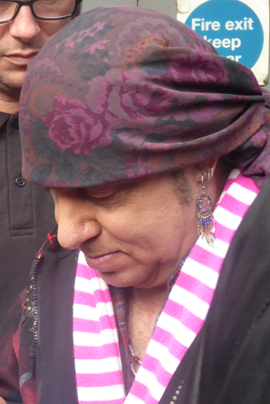 Once it was over, attendees were asked to leave immediately, to allow the road crew to clear the stage and get equipment transported to the O2 Academy, where they would set up for the full-length evening gig. Little Steven and the band also left the club soon afterwards, taking a one-minute stroll around the block to the Hard Day's Night Hotel, greeting fans and signing autographs on the way.
Immediately prior to the show, while the crowd waited in the basement, Little Steven took part in a ceremony at street level that saw his name added to the Cavern's Wall of Fame. Footage of this event, and of the band's performance of "Some Other Guy" was posted on the club's Facebook page, with a review on its website.
The Cavern appearance provided some unforgettable memories for the band and the lucky 200 that made it into the club (there was an option to view it on a large screen in another room for those who didn't make the cut), a unique moment to cherish on this stretch of performances that went from Macca to Mecca.
It was also just one highlight of a tour that did much to reinforce the live reputation of Little Steven and the Disciples of Soul and ensure their future touring viability on this side of the Atlantic.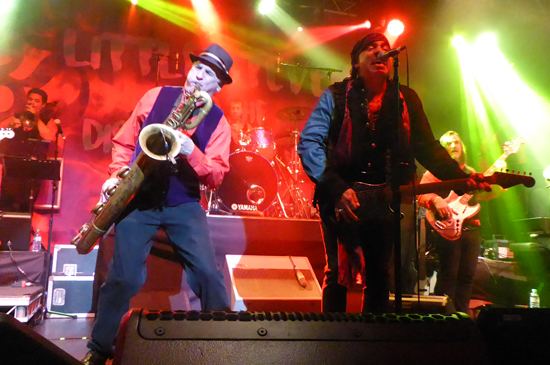 The band were smoking-hot after several weeks on the road in North America, and each show was inspirational, motivational, and educational: a two-and-a-half-hour masterclass in musical styles (from rock to soul, jazz, blues and reggae) and a comprehensive overview of Little Steven's songwriting achievements. Not to mention a history of doo-wop preceding "The City Weeps Tonight," in which he spoke of more innocent times when kids formed vocal groups and sang on street corners, without managers, agents, or record companies, creating a sound that was greater than its individual parts.
There was little variation from night to night, but when the music was this good it hardly mattered. In addition to the entire Soulfire album, the sets included several selections from Men Without Women ("Until the Good Is Gone," "Angel Eyes," "Princess of Little Italy," "Forever") three from Voice of America ("Solidarity," "I Am a Patriot," "Out of the Darkness") and one each from Freedom No Compromise ("Bitter Fruit"), Revolution ("Leonard Peltier") and Born Again Savage ("Salvation").
"There's a story being told during the show," said Steven in an upcoming interview for Backstreets. "It's in the songs I've chosen, and there's a message, having to do with non-partisan solidarity and common ground. Those themes have more meaning than ever. People feel that, and we're giving them spiritual nourishment the best way I know, which is real great music. The arrangements, the songs, the presentation. We're doing everything we can to make it an unforgettable experience. I'm proud of that, and it makes me feel useful, as I have to transition myself to a new non-political career. I gotta figure out what that is. This tour is helping me not only come back and reconnect, but also start to push it forward in an evolutionary sense."
Although tickets were still available each night, the attendance figures were impressive and the crowd reaction was strong and heartfelt. In Newcastle, during Little Steven's nightly speech about gathering "in cathedrals like this" to find sanctuary from politics and listen to good music that was made without the use of Auto-Tune or lip-syncing, a fan near the front shouted, "Hallelujah!"
While in the U.K, Little Steven's promotional activities included an appearance on the Liz Kershaw show on BBC Radio 6 Music, an interview for The Sun newspaper, a webchat for The Guardian online (answering pre-submitted questions), and a pre-recorded appearance on Johnnie Walker's Sounds of the 70s on BBC Radio Two, in which he talked about his '70s memories and played favorite records.
After the U.K. gigs, the tour moved on to mainland Europe for performances in Stockholm (November 18), Oslo (20), Copenhagen (22), Hamburg (23), Stuttgart (25), Groningen (27), Utrecht (28), Tilburg (30), Berlin (December 2), Munich (3), Milan (5), Barcelona (7) and Madrid (8).
The final two gigs in Padua (December 11) and Rome (13) were subsequently postponed. "I apologize to our friends in Padua and Rome," tweeted Little Steven. "An invitation for a TV pilot has come exactly at the wrong time, but I must seize the opportunity. You are two of my favorite cities, so we are planning to come back for summer and we will see you then. Thank you for your understanding."
A German newspaper later reported that the TV pilot is for a family show, not another gangster series. Steven's statement provided the first hint that the Disciples of Soul will be back on the road next year. Soon afterwards, Bruce Springsteen extended his Broadway run to the end of June, making that possibility appear even more likely.
At Rockefeller in Oslo, the band played AC/DC's "You Shook Me All Night Long" in memory of recently-departed guitarist Malcolm Young, in addition to their regular tribute performance of Tom Petty's "Even The Losers."
Little Steven celebrated his 67th birthday at Amager Bio in Copenhagen, with balloons, cake, candles and the tour's second performance of "Birthday." "Thank you one and all for the wonderful birthday wishes," he tweeted. "It is after all just an arbitrary measure of chronological time, fortuitously irrelevant for those of us continuing to make a living in a teenage industry!"
The Stuttgart concert was recorded, and at least part of it is scheduled to be broadcast on SWR1 in Germany on December 26.
The show at the Columbiahalle in Berlin included a performance of "Checkpoint Charlie" and a cover of the Ramones' "Merry Christmas (I Don't Want To Fight Tonight)" which remained on the set list for the rest of the tour. (The band apparently also rehearsed "Santa Claus Is Coming to Town").
In addition to his scheduled concerts, Little Steven hosted Underground Garage dance parties at the Hard Rock Cafes in Stockholm on November 17, Berlin (December 1) and Barcelona (6). In Berlin, he played a recording of the Ramones' "Merry Christmas (I Don't Want To Fight Tonight)" from the Utrecht soundcheck, subsequently telling the crowd in Barcelona (where he played "Boys" and "Slow Down" from the Liverpool Cavern Show) to "look out for it next week," suggesting that an official release is imminent. Soon afterwards, pictures of the backing singers wearing Santa costumes appeared on social media, increasing speculation. Performing "Merry Christmas" in Madrid (December 8) he told the crowd, "This is our new single, coming out next week."
The presence of a professional film crew on the tour (footage of "I Saw Her Standing There" and "Birthday" can be found on Little Steven's Facebook page) prompted one fan in particular to ask Steven if a live DVD was planned. "DVD we'll have to see," he tweeted, adding, "We're seriously considering a live album. A lot of new arrangements compared to the album versions makes it valid for me."
There were additional temptations for European tour ticketholders. The $250 "Meet & Greet Upgrade Package" gave buyers the chance to meet Little Steven, have a picture taken with him, and take away an autographed poster, a collectible laminate, a limited-edition single, and a $20 Code to the online store, while the $100 "Merchandise Upgrade Package" offered the poster, single and code.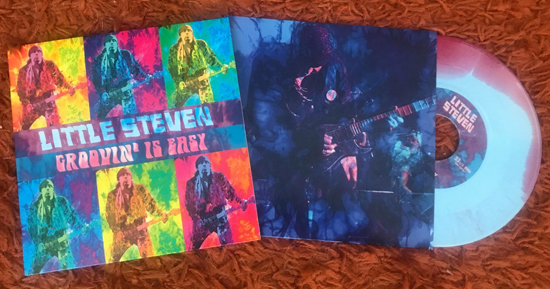 The seven-inch single plays at 33 1/3 rpm, comes in a full-color picture sleeve, is pressed on multi-coloured vinyl, and is limited to 2000 copies. The A-side features a cover of The Electric Flag's "Groovin' Is Easy" (one of four outtakes from the Soulfire sessions) and the B-side is a live performance of "The Time Of Your Life" (originally recorded for the 1995 Hugh Grant movie Nine Months) from the Count Basie Theatre in Red Bank on May 27. Little Steven played "Groovin' Is Easy" during his DJ set in Barcelona (it was also performed every night on tour) and hinted that it will appear on his next studio album at some point in the future.
Those who opted not to attend the expensive meet-and-greet sessions could always pay their respects for free at the stage door after the gig. My friends Dave and Deborah spoke to Little Steven at the O2 Academy in Newcastle, where he'd played "We Gotta Get Out of This Place" in honor of local legends The Animals (one of 12 covers the band added to their repertoire during the U.K/ tour, but one of only two, the other being The Dovells' "Bristol Stomp" in Bristol, that were not Beatle-related). Dave told Steven that he saw most of the shows on the 1983 UK tour. "Are we getting any better?" he asked.
The answer, to quote Lennon and McCartney, is emphatically yes: they're getting better, a little better, all the time. Anyone who has hesitated to buy a ticket so far should procrastinate no more and catch this band next time around. Disappointment will not be an issue.
Meanwhile, Little Steven and the Disciples of Soul will close a highly successful year with homecoming gigs at the Brooklyn Bowl (December 20) and the Count Basie Theatre in Red Bank (23). A splendid time is guaranteed for all.
Little Steven: The Backstreets Interview with Mike Saunders, coming soon.