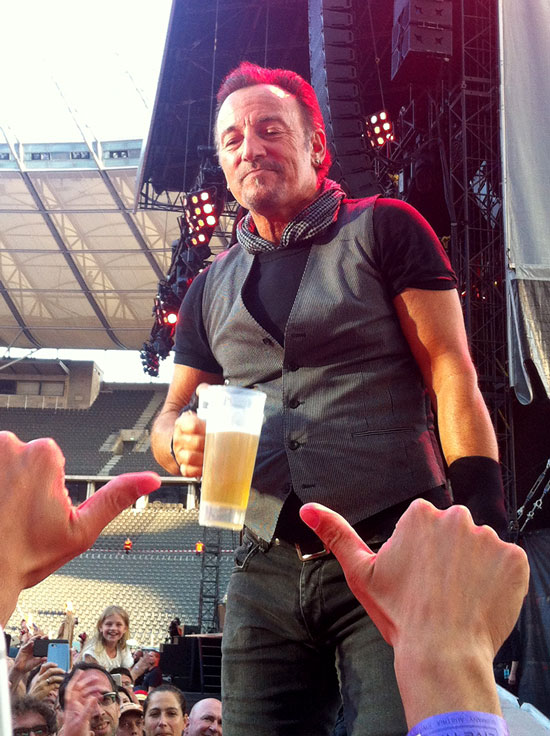 Photograph by Rene van Diemen, Berlin 2016
Unless you're driving, or, say, in a National Recreation Area, it's rarely a bad time to pair beer and Bruce Springsteen. But today being National American Beer Day, we can take things a step further.
How's this for a playlist: Springsteen has 13 album tracks that explicitly mention beer. The list spans his entire Columbia recording career, from his first album to his most recent. The music ranges from his early sprawling stories and exuberant lyricism to later tight character studies in the American social and political landscape, as Springsteen refined his craft. And here, you'll find (mostly) American craft beers to match.
As Springsteen himself said in a recent From My Home to Yours episode, "I just want you to drink beer and go apeshit listening to this music." I can't advise guzzling 13 bottles in the time it takes to listen to these songs, but I've provided the pairings and will leave it to you to pace yourself.
The conceit here is picking the brews. Like any conceit worth its name, it's the flaw too: not necessarily the best-tasting or most representative of styles, my choices emerge from idiosyncratic biases, geographic caprice, and whim. These aren't likely what the songs' characters might drink. But the point is to enjoy the songs, not live them. There are going to be disagreements (hey, sways/waves), but it's Bruce and beer — there are no wrong answers! And if this can spark conversation over a few cold ones… well, as the man says in our playlist's opening track, that's where the fun is. —P.G.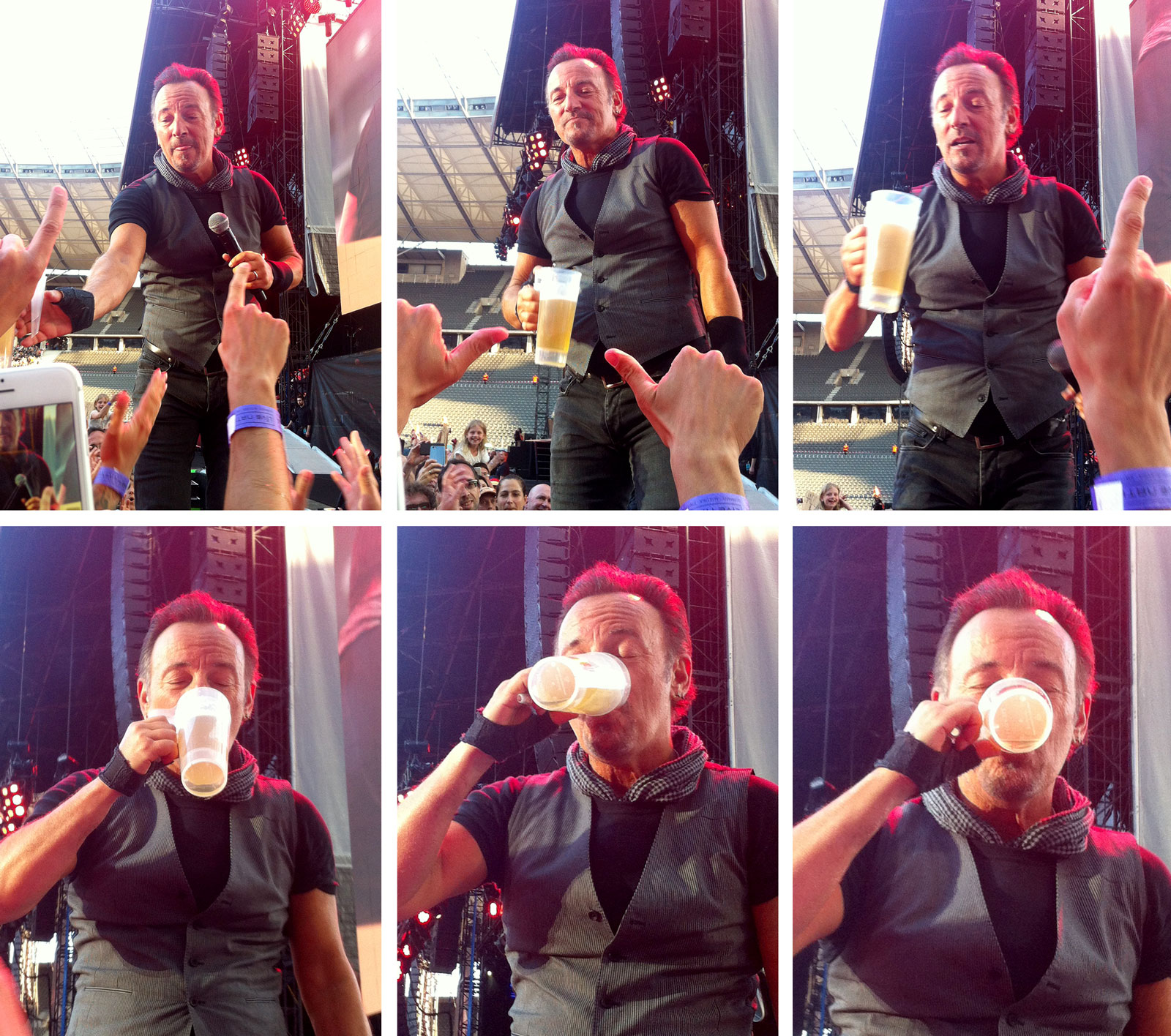 Photographs by Rene van Diemen, Berlin 2016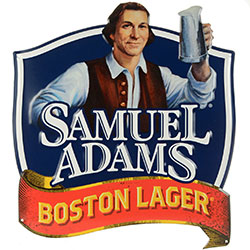 1. "Blinded By the Light"
Greetings from Asbury Park, NJ (1973)
Samuel Adams Boston Lager
Boston Beer Company
Boston, MA
Oh, some hazard from Harvard was skunked on beer, playin' backyard bombardier
The first song on Springsteen's first album is a kaleidoscope of images and rhymes, with lyrics that often have little to do with each other. It's all a fun pastiche — famously aided by a rhyming dictionary.
While "skunk" and beer don't usually go well together, choosing a pairing was ultimately easy — which demonstrates my unreasonable subjectivity. "Harvard" suggests Boston Lager, my gateway to craft beer, just as "Blinded" introduced me to Bruce (even if it was via the Manfred Mann Earth Band cover).
---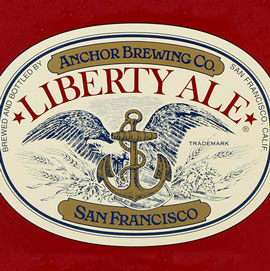 2. "Jungleland"
Born to Run (1975)
Liberty Ale
Anchor Brewing
San Francisco, CA
Barefoot girl sitting on the hood of a Dodge
Drinking warm beer in the soft summer rain
Bruce's most sensual beer reference launches a nine-and-a-half-minute rock opera Romeo-and-Juliet story against the backdrop of a gang war fought with musical instruments that climaxes with an enormous saxophone solo, echoed and punctuated by Bruce's howl of desperate defiance. That image! Warm beer, soft rain, barefoot girl. At once prosaic and evocative, it's a simple counterpoint to the unfolding grand drama.
In the year "Jungleland" came out, Anchor Brewing, rescued a decade before by Fritz Maytag, released Liberty Ale to commemorate Paul Revere's defiant ride — and maybe the upstart movement it helped launch. An early craft beer for me, its gentle carbonation also reminds me of that soft summer rain — and the barefoot girl.
---
3. "Sherry Darling"
The River (1980)
Jai Alai IPA
Cigar City Brewing
Tampa, FL
Well I got some beer and the highway's free
And I got you, and baby you've got me
Beer, you, me: if that's not a statement of commitment, what is? One of Springsteen's most simply fun releases, this is a less romantic version of "Born to Run." They're never getting out of that town — or away from mom.
He's trying to drive Sherry to the beach, so why not a beer from a state that is all about beach? Jai Alai has a little bitter for "Mamma's yapping in the backseat" and a gentle aftertaste that helps "the brokenhearted love again."
---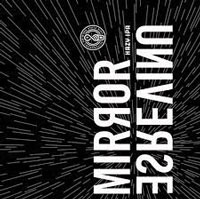 4. "Brothers Under the Bridges ('83)"
Tracks (1998)
Mirror Universe New England IPA
Fair State Brewing Cooperative
Minneapolis, MN
Well, every spring when the weather gets warm
They come pouring into town straight off of them farms
Driving 455s running hard and strong
They'd scratch built in them tool sheds all winter long
'Neath the trestles drinking the beer and the wine
Now some came to run, some just to pass the time
This Springsteen car song from the rich cutting room floor of Born in the U.S.A. rings of the male bonding in the era's buddy movies (and, one supposes, in the E Street Band). Girlfriends sometimes upend those relationships. Under those bridges, these brothers bring "girls with that distant look in their eyes" — like the girl in "Racing in the Street" after taking up with a racer who also built a car "straight out of scratch."
Coming from the Heartland, almost all the farm brothers I know belong to agricultural cooperatives, which justifies pairing with my favorite species of my favorite style, from the member-owned Twin Cities brewery.
---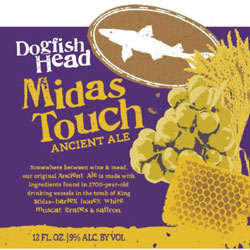 5. "With Every Wish"
Human Touch (1992)
Midas Touch
Dogfish Head Craft Brewing
Milton, DE

Jim took that hook pole and me right over the side
Went driftin' down past old tires and rusty cans of beer
The angel of the lake whispered in my ear
"Before you choose your wish son, you better think first
With every wish there comes a curse"
It's difficult to resist the alluring leap. Even after rivers crossed, mistakes, and a "heart grown weary and more than a little bit shy," Bobby here knows "on the far banks there's always another forest where a man can get lost" but can't withstand "someone waitin' with a look in her eyes."
How often I've wished I hadn't wished for that last beer! Based on the archaeology of one of humanity's oldest drinks, Midas Touch resonates with those ancient angels' mirth at mere mortals' decision making.
---

6. "Straight Time"
The Ghost of Tom Joad (1995)
Bourbon County Brand Stout
Goose Island
Chicago, IL
In the basement hunting gun and a hacksaw
Sip a beer and thirteen inches of barrel drop to the floor
Another song about wishes and curses. When the wife of this released convict, who is bristling at living straight, watches him play with their baby "out of the corner of her eye," he realizes "you can't get any more than half-free." As he drinks to his decision to return to crime, we wonder what he misses: the life that got him into prison — or prison.
The boozy, biting, heavy Bourbon Stout seems appropriate for his decision, and the aroma reeks of the outlaw life.
---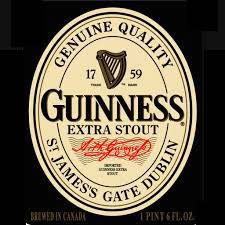 7. "American Land"
We Shall Overcome: The Seeger Sessions - American Land Edition (2006) and Wrecking Ball (2012)
Original Extra Stout
Guinness, St James' Gate
Leinster, Ireland
There's diamonds in the sidewalk, the gutters lined in song
Dear, I hear that beer flows through the faucets all night long
Inspired by the bill of goods sold to attract workers to America, this song speaks of the immigrants who died "building the railroads... in the fields and factories," whom "we're always trying to keep out." And yet, true to much Irish and Springsteen music, the runaway melody almost masks the bitter lyrics (c.f., "Born in the U.S.A.").
But what a beer line! Despite this being a national holiday, an exception is in order: the most consciously Irish-ed up song has to get the most Irish brew. A timeless beer, Guinness predates American mass immigration by a century — and the extra stout adds an extra ironic bite.
---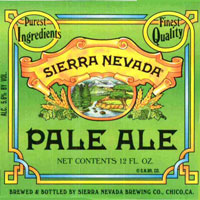 8. "Wrecking Ball"
Wrecking Ball (2012)
Pale Ale
Sierra Nevada
Chico, CA
I was raised out of steel here in the swamps of Jersey, some misty years ago
Through the mud and the beer, and the blood and the cheers, I've seen champions come and go
New Jersey's Meadowlands stadium, built by the real and figurative descendants of immigrants in "American Land," taunts the wrecking ball. The steel sphere wins, of course, but in the memories of games and concerts, the stadium still stands, like that mythic neighborhood tree in Bruce's autobiography.

I almost selected Rolling Rock (impertinently tying a Pennsylvania beer to Giants stadium), but its ownership by Big Beer contradicts the song's defiance. All of today's remaining craft breweries have in some way survived Big Beer (unless they joined them), and Sierra Nevada Pale Ale, one of the earliest craft beers, is still standing.
---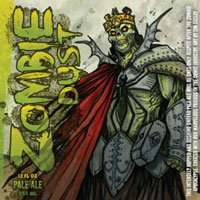 9. "Frankie Fell in Love"
High Hopes (2014)
Zombie Dust
Three Floyds Brewing Company
Munster, IN
Einstein and Shakespeare sitting having a beer
Einstein trying to figure out the number that adds up to bliss
Shakespeare says, "Man, it all starts with a kiss"
Einstein is scratching numbers on his napkin
Shakespeare says, "Man, it's just one and one make three
Ah, that's why it's poetry"
Man, that's one crazy beatnik Shakespeare! A simply happy song — after all, "world peace is gonna break out" since "our Juliet says her Romeo's been found."
For a song that is so fun and joyful, I had to pick my favorite: a hoppy pale ale, Zombie Dust tickles your mouth and makes you happy.
---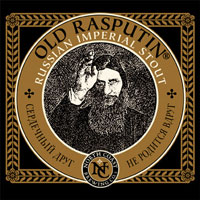 10. "The Wall"
High Hopes (2014)
Old Rasputin Russian Imperial Stout
North Coast Brewing Company
Fort Bragg, CA
Cigarettes and a bottle of beer, this poem that I wrote for you
This black stone and these hard tears are all I got left now of you
An angry, bitter ode about the lost of the Vietnam War, particularly deceased Jersey musicians — anger, for McNamara and "the men who put you" on the Vietnam Veterans Memorial Wall; and bitter, for other surviving lost, like the narrator who asks his dead friend, "if your eyes could cut through that black stone, tell me would they recognize me?" Echoing "Straight Time," he adds, "For the living time it must be served, the day goes on."
The bottle of beer should probably be one supplied to troops, but that was likely to be a mass produced lager or Pilsner, not craft — and not the dark and heavy beer here, aesthetically appropriate for the song. As a toast to the departed by the living, Old Rasputin has the weight of the time served, but the smoothness to help the day go on.
---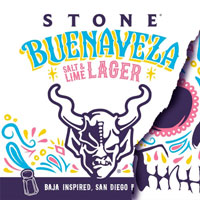 11. "Sleepy Joe's Café"
Western Stars (2019)
Buenaveza Salt and Lime Lager
Stone Brewing
Escondido, CA
Saturday night the lights are bright as the folks pour in from town
Joe keeps the blues playing, at the bar May lays the beers down
I come through the door and feel the workweek slip away
See you out on the floor and Monday morning is a million miles away
Four decades later, this might have appeared on The River near "Out in the Street." Like that younger narrator looking to break out of the work week — "Monday when the foreman calls time / I've already got Friday on my mind" — the more mature singer here also finds life in a party where they keep laying the beers down.
Buenaveza, Stone's homage to cerveza, acknowledges the song's Latin influence and craft beer's debt to international styles.
---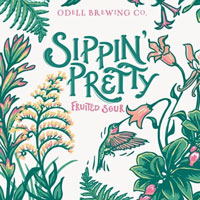 12. "Moonlight Motel"
Western Stars (2019)
Sippin' Pretty Sour
Odell Brewing
Fort Collins, CO
A half-drunk beer and your breath in my ear
In the Moonlight Motel
I hear Frank Sinatra — in the wee small hours of the morning, it's quarter to three at the Moonlight Motel. Sinatra sings, "So make it one for my baby / and one more for the road." Parked at the Moonlight Motel and recalling his own episode perhaps more fondly than Sinatra (with a sensual lyric that recalls the barefoot girl), Springsteen sings, "I pulled a bottle of Jack out of a paper bag / poured one for me and one for you as well / then it was one more shot poured out onto the parking lot" — literally for the road — "to the Moonlight Motel."
While the torch song genre suggests a martini, and the singer's pouring Tennessee Whiskey, this is about the beer. What is the half-drunk beer? Like most sours, Sippin' Pretty is both sour and sweet, like the memory here.
---
13. "Last Man Standing"
Letter to You (2020)
[Name your beer]
You pack your guitar and have one last beer
I take Bruce at his word that there's more music in him, and he's anxious to tour again, but there's a valedictory feel to this album's reflections on a half-century of music, his letter to us. "Last Man Standing," inspired by the death of the other remaining member of Springsteen's first band, hearkens back to days before "Blinded By the Light," the first song on this list. While the beer line, about the end of a show, echoes that sense of finality, the song allows some light. At its center Bruce sings, "You count the names of the missing as you count off time." A song of the past and music and loss, it ends with a "One, two, three, four" — a count-in that stirs hope for more to come.
"Have one last beer" is, appropriately, the best note on which to end this playlist and taplist. Choose your favorite and raise "one last beer" to an incredible career — and to many more years and beers to come.

Patrick Gallagher lives and writes in Aberdeen, South Dakota, where he works for a foundation. He has previously written about Springsteen for Notre Dame Magazine and U.S. Catholic.